Hello you lovely lot! How amazing is this weather we're still having?! I don't know about you but I'm loving it and hoping it will last a little longer.
Who'd have thought it, the UK with an actual summer?! Anyway, back to this lovely wedding. Today's bride and groom were married in their hometown and what a gorgeous day it was indeed. So without further ado, let's introduce you shall we? Project manager Sarah-Jane and security consultant Marc were wed on 15th September 2017 at stately Georgian country house Longueville House in Mallow, Cork, Ireland.
"Our wedding ideas were very much centred around pastels and romance with the shabby chic feel. We wanted a relaxed and personal feel to our day, so went down the country wedding route with just 95 guests (an incredibly small number of guests for an Irish wedding!)."
Photography by Art Wedding Photography
Sebastian Felisiak from Art Wedding Photography captured their day beautifully on camera after the couple were blown away by his portfolio.
"We chose Seb as our photographer as is portfolio is absolutely breathtaking! You can see from all of his blog posts that his wedding photographs tell a story and capture the emotion of the day. I felt safe in the knowledge that his photos would be first class and we definitely weren't disappointed. We're still getting compliments on his photography style today. Everyone was blown away!"
The bride chose an utterly stunning 3/4 sleeve Naomi Neoh gown, in keeping with the relaxed and shabby chic theme of the day.
"From the minute I saw Naomi's designs in her flagship Pimlico store, I knew I had to wear one of her dresses on my wedding day. When I visited in November 2016 with my mum and two aunties, we were absolutely blown away by the quality and craftsmanship in every single one of her dresses (there was a valiant effort from me to try on the entire store) and I could have happily walked down the aisle in at least 10 different designs."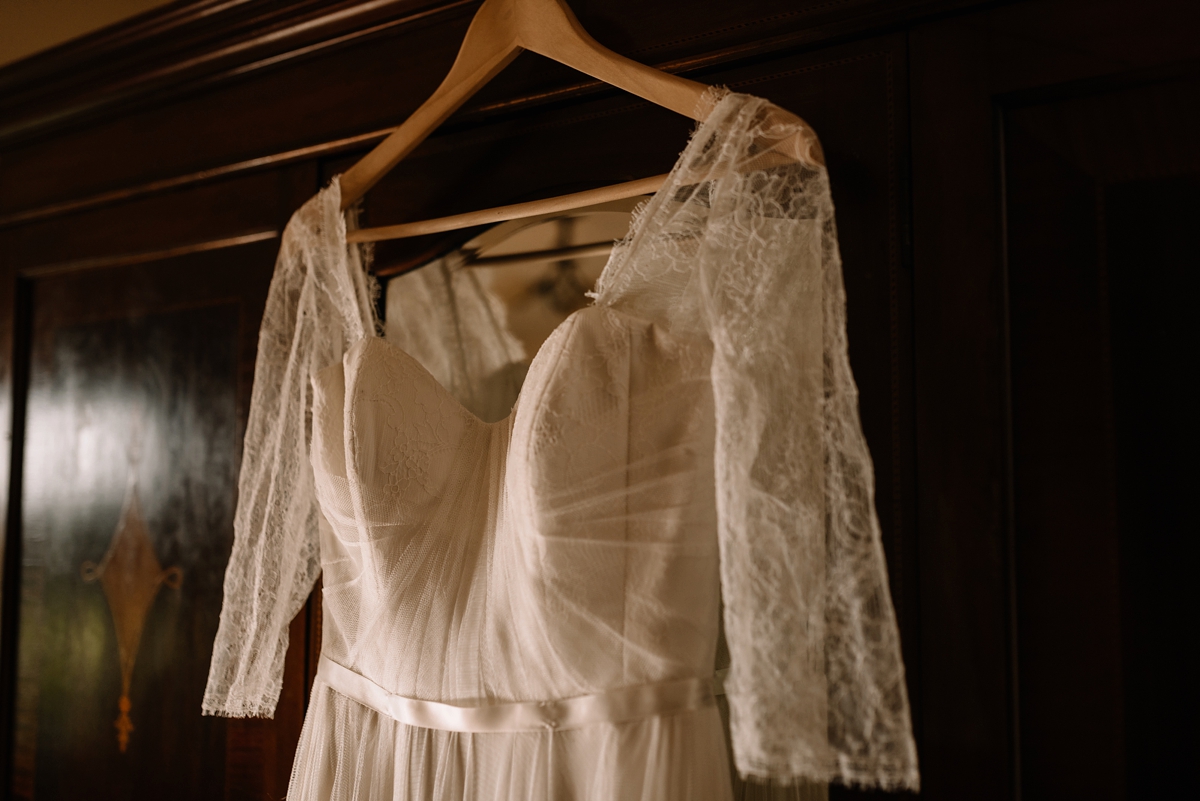 "However, the moment I tried on the Willow gown, I was in love. It's not a conventional wedding dress but it was very me. The top of the dress fitted me like a dream and the skirt moved so beautifully! From the delicate lace sleeves to the colour of the silk, I couldn't have imagined a more beautiful dress to have spent my wedding day in."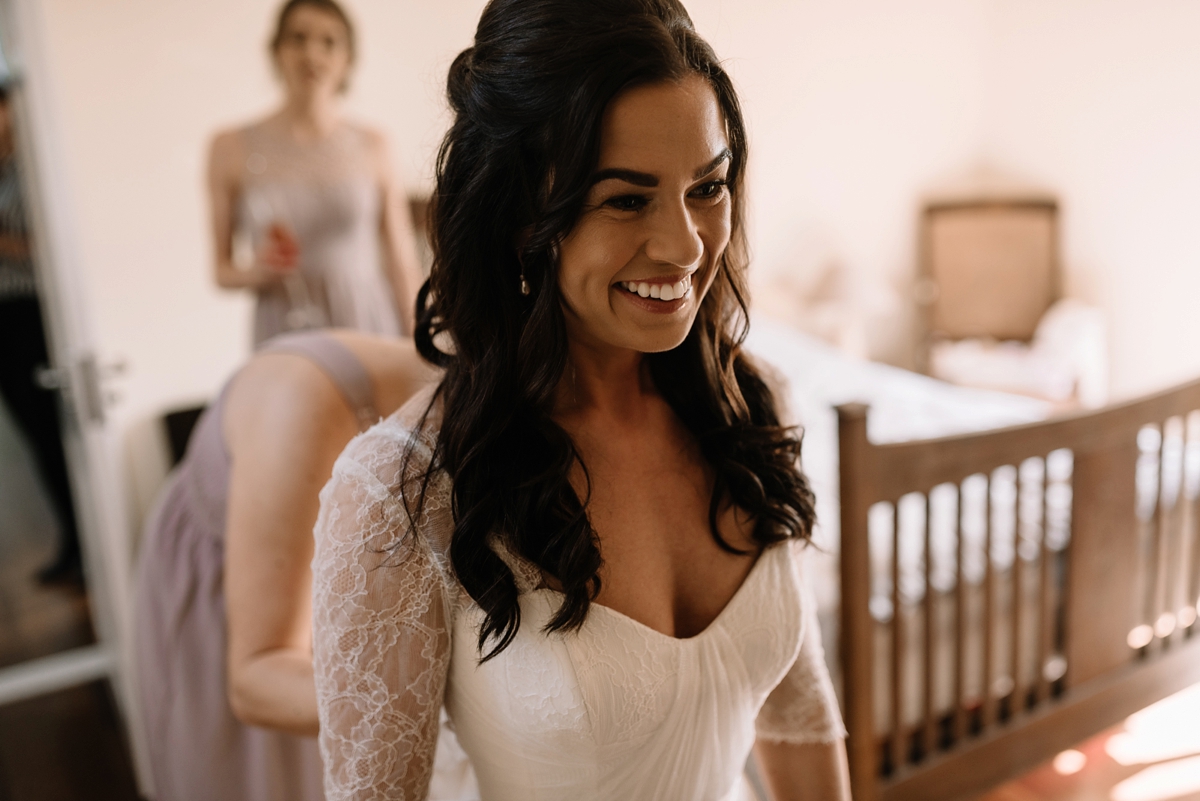 Sarah-Jane chose a gorgeous pair of Jimmy Choo platform heels for the ceremony which complimented her dress perfectly, and a pair of Hunter wellies to brave the grounds of the venue in later in the day. Jewellery was kept simple and delicate with a pair of drop earrings from Katherine Swaine, with her bridal style finished off with a spritz of Blooming Bouquet by Miss Dior.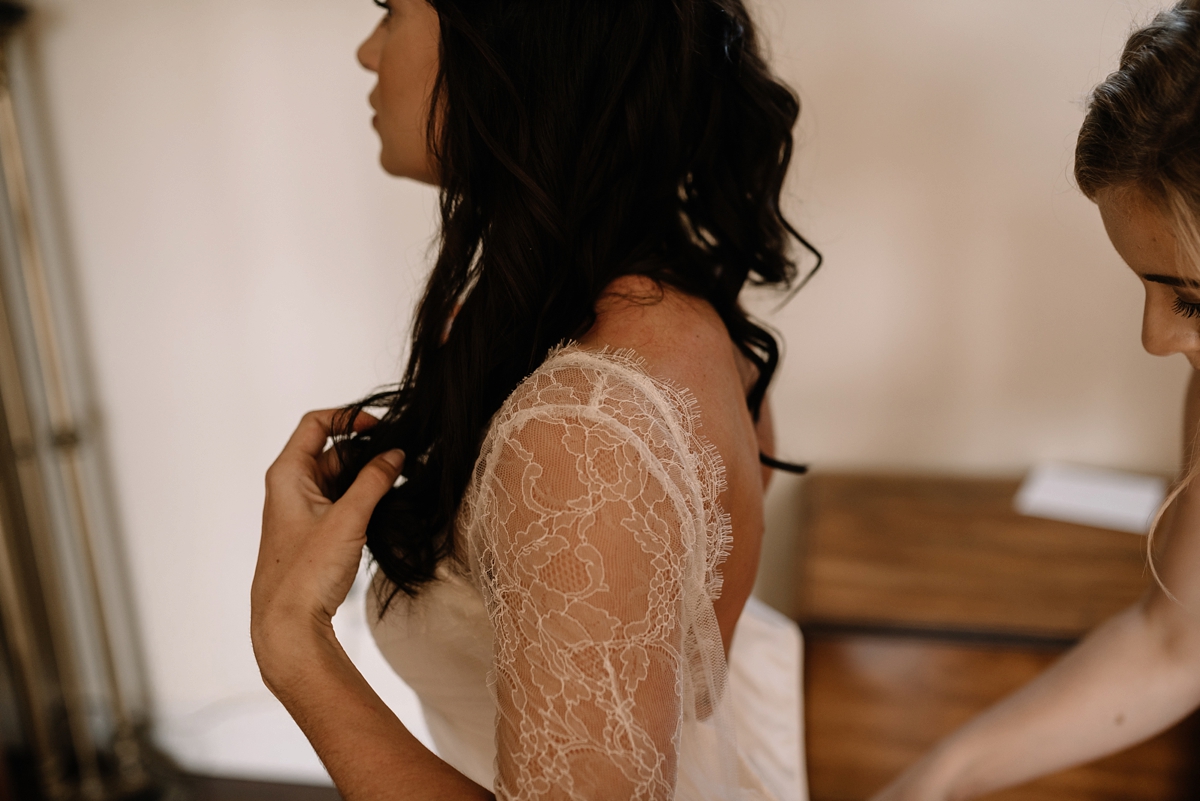 The waved down do was styled to perfection by Hair Passion in Cork, and her flawless make up look created by Lola Desmond from Make Up By Lola.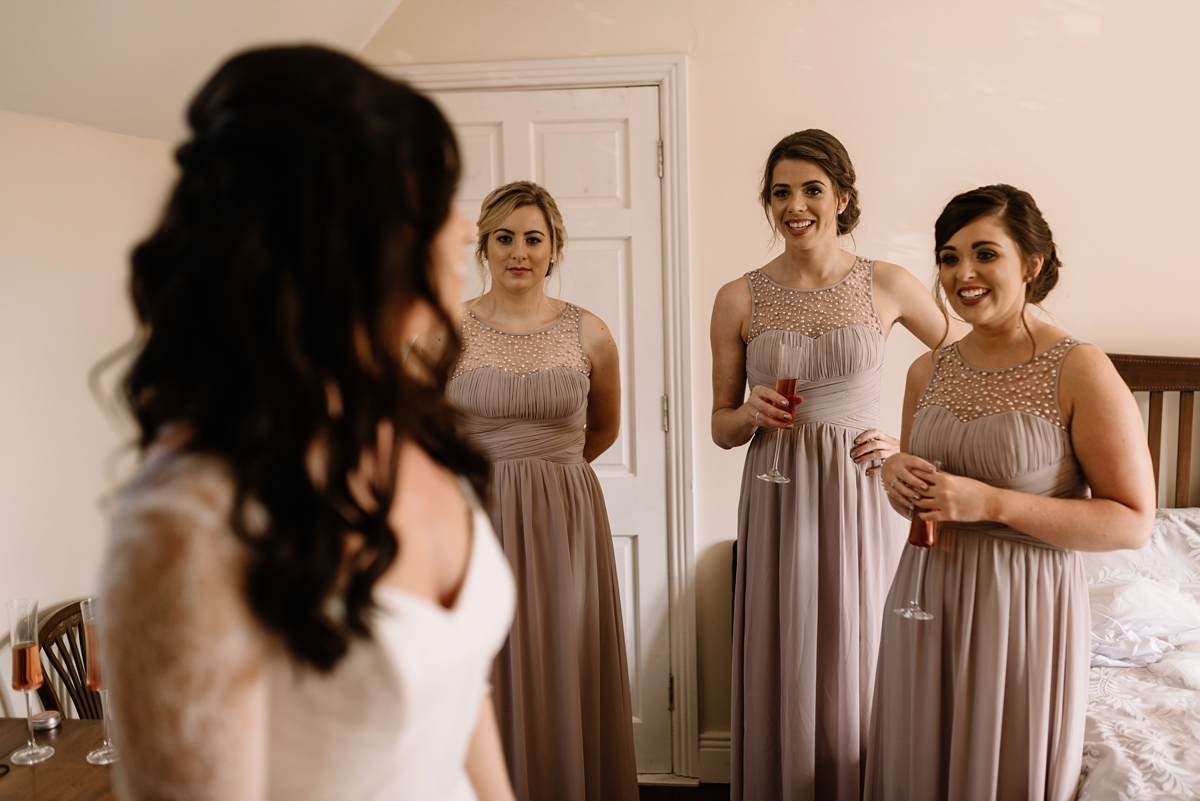 "We explored destination weddings for quite a while when we were planning our wedding, but decided that we wanted to tie the knot closer to home in the end. As we're both from Cork, our plans naturally drifted back to Ireland. My one condition was that if we were having an Irish wedding, then I wanted to get ready in my own bedroom!"
The bridesmaids wore matching full-length sleeveless beaded Little Mistress gowns and Victoria Walls earrings, creating a bridal party look in keeping with the days theme.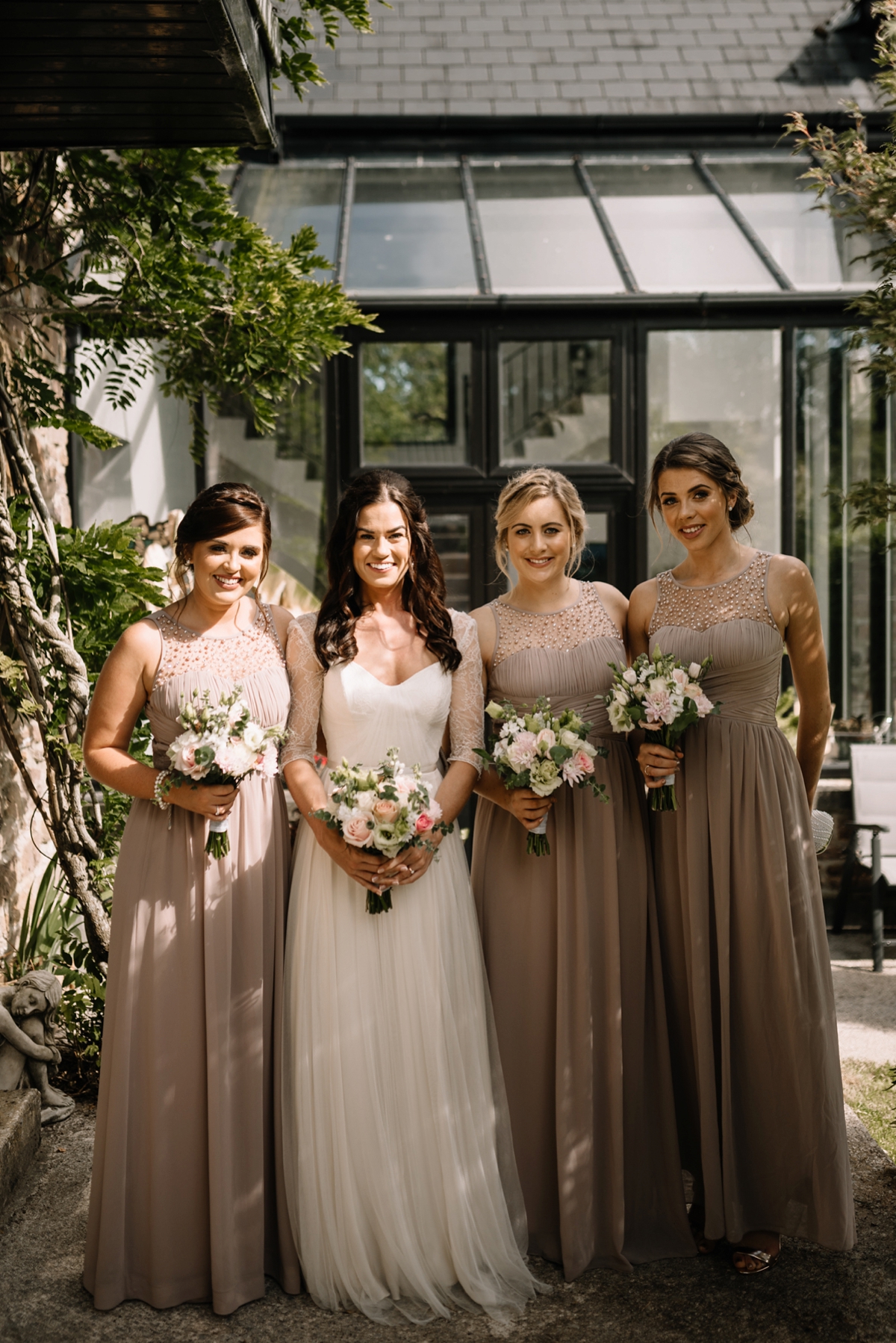 "My family have spent many Sunday afternoons at Longueville House and it was a front-runner for us in terms of the quality of the food (they make their own cider and apple brandy too!), and the relaxed shabby chic vibe of the house really suited the romantic, rustic, floral theme that we were looking to encompass on the day."
The groom didn't disappoint, scrubbing up well in a 3-piece dark blue suit from a Thai tailor.
"Our best man had the grooms and groomsmen suits made up by a Thai tailor who flew into London to take their measurements especially. They also each had a hip flask and a pair of cufflinks each from Etsy and we gifted the groomsmen a cigar from Montecristo."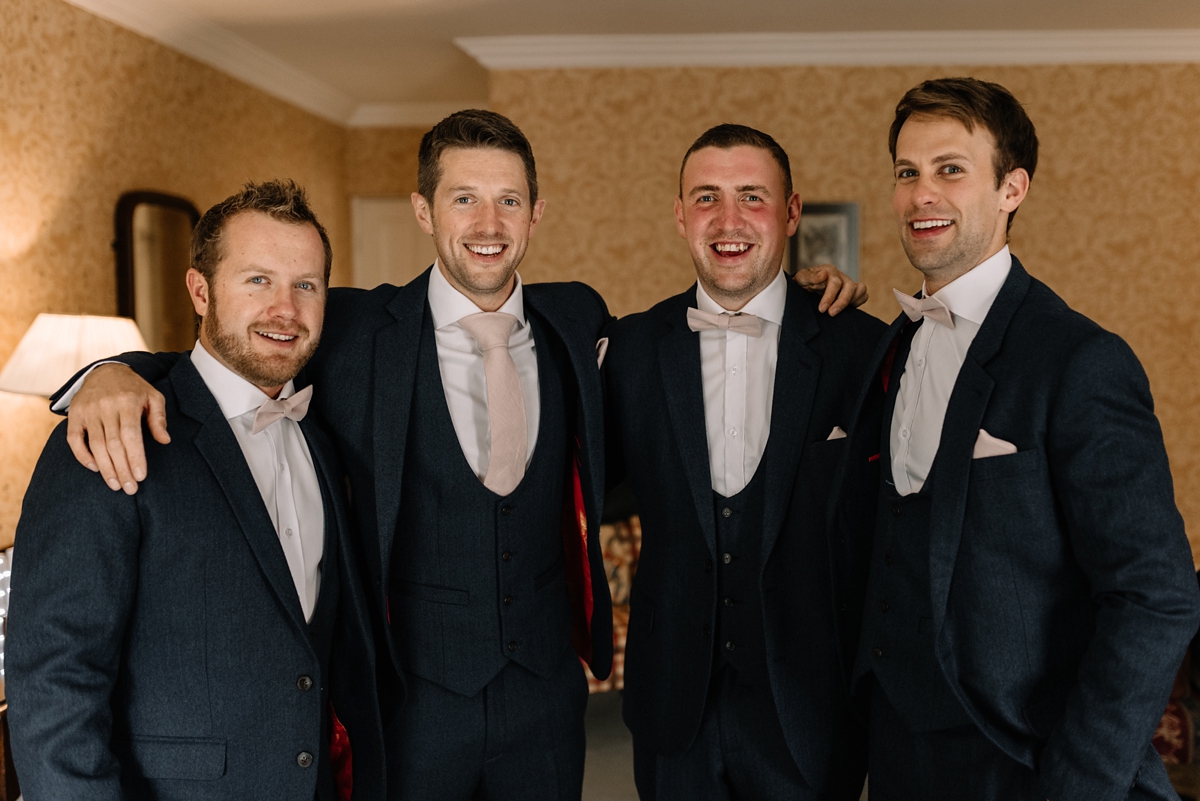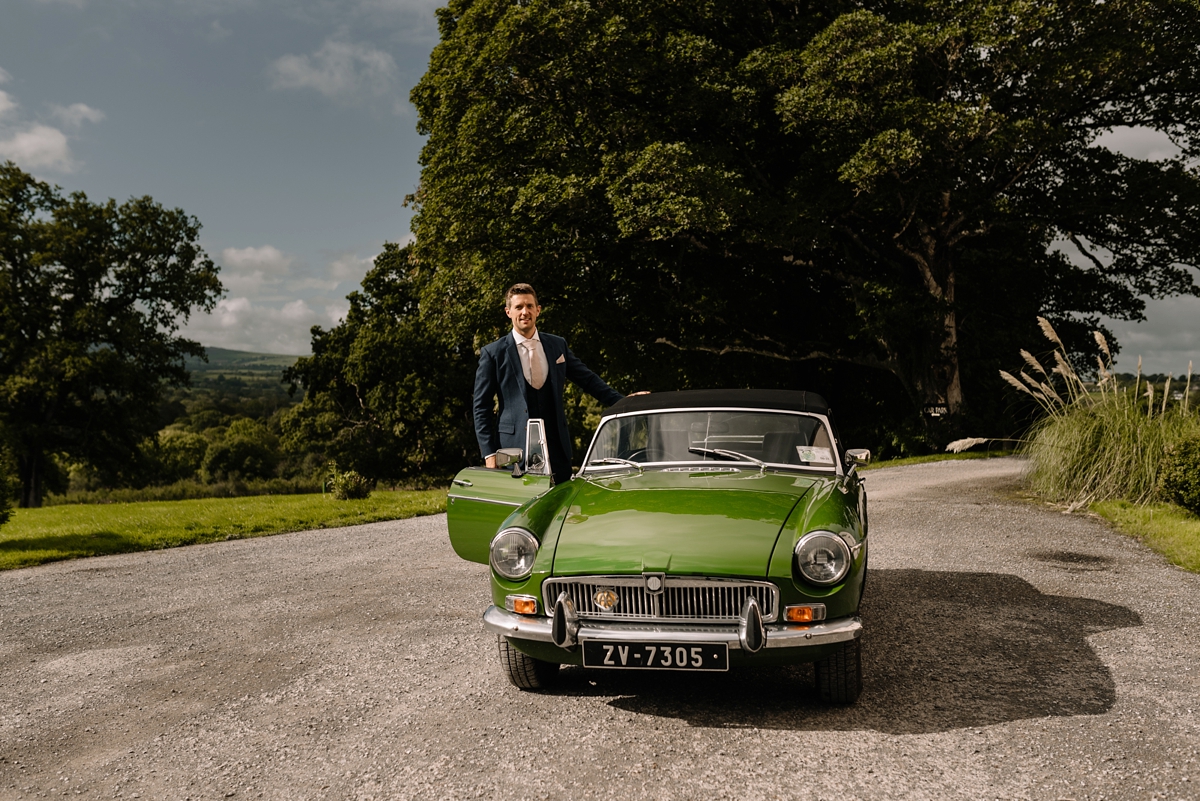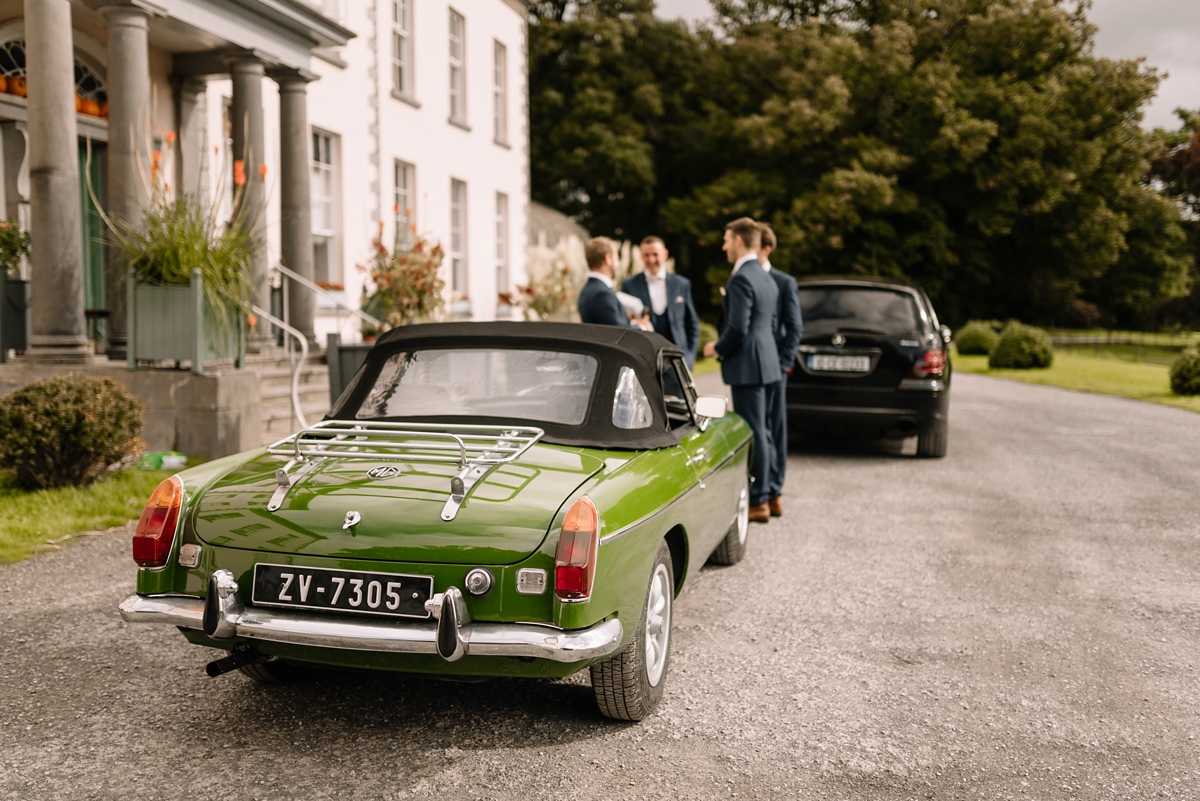 "My uncle allowed us to use his pristine, mint condition MG which Marc drove to the church and then to the reception venue. My close friend Rea also drove her 1992 Landrover Defender 90 all the way from Scotland to Cork to take me to the church in. We blinged it up with bunting and flowers and it was the perfect alternative bridal transport!"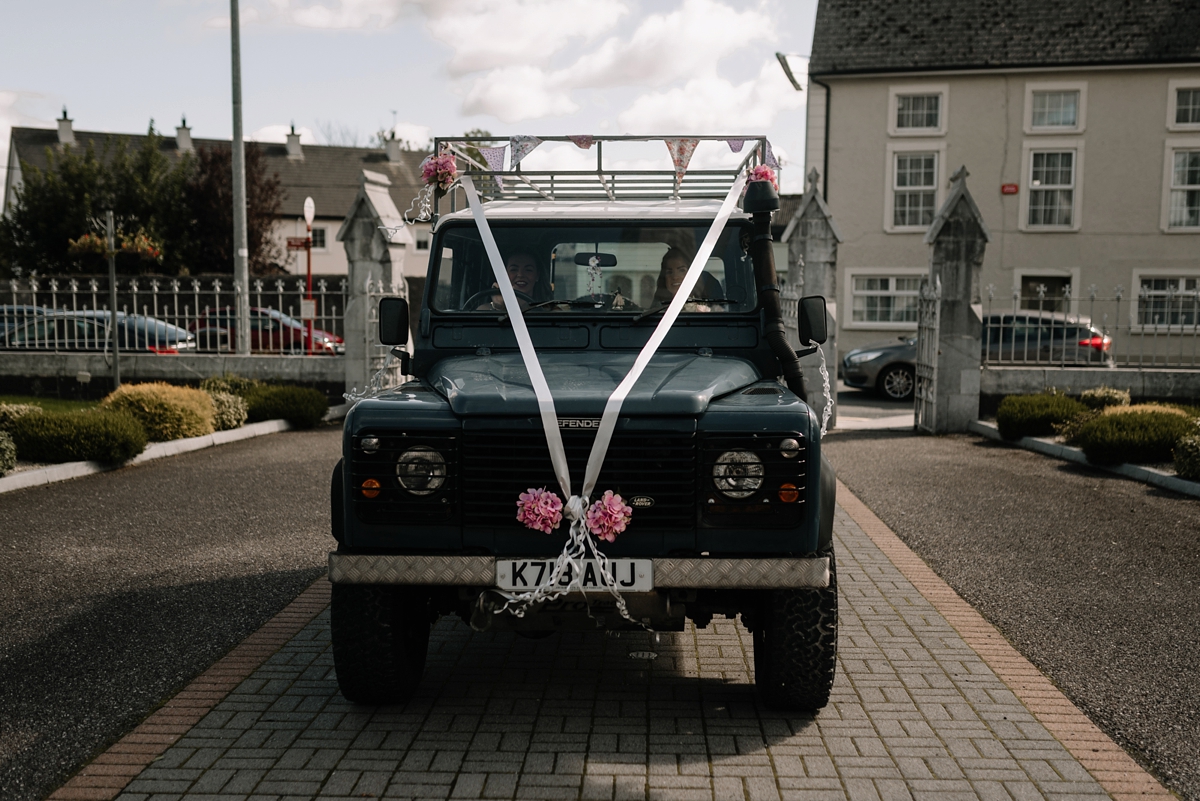 "Maggie Newenham, a family friend, did our wedding flowers for us from her garden. I spoke with Maggie at length about the relaxed feel we were going for on the day. I wanted soft, delicate bouquets and arrangements that looked like they had just been picked from a country garden. Similarly, for the button-holes we went for understated roses."
And what a marvellous job she did with the gorgeously delicate pew ends adding a romantic element to the church ceremony, and the cascading greenery hanging from the roof of the room the wedding breakfast was served in providing the wow-factor.
The couple shared their first kiss at a Valentine's disco back in 2006 after meeting at school then, after losing touch for a while, they got back together with Marc proposing 3 years later.
"Marc and I went to school together which is how we met – Marc was in the year above me. When Marc went to university 6 months after the Valentine's disco, we broke up and lost contact for 5 years before crossing paths again at a mutual friends Christmas party…and the rest is history! We were together for 3 years when we bought our first home, and on our first night, wearing tracksuits with paint in our hair, Marc got down on one knee in the living room with a stunning rose gold solitaire ring."
"I felt like the luckiest girl in the world! We were engaged for two and a half years and in the months leading up to the wedding, I decided to change jobs and move from Edinburgh to Brighton. In hindsight it wasn't the best idea whilst in the latter stages of wedding planning!"
"Both Marc and I felt having a religious ceremony was an important first step into marriage. My dad walked me down the aisle and we just about held it together, although there were a few tears once we'd reached the top! Jean Elliott-Murphy sang me down the aisle with Christina Perri's A Thousand Years. She's a cork-based soprano with a spectacular voice."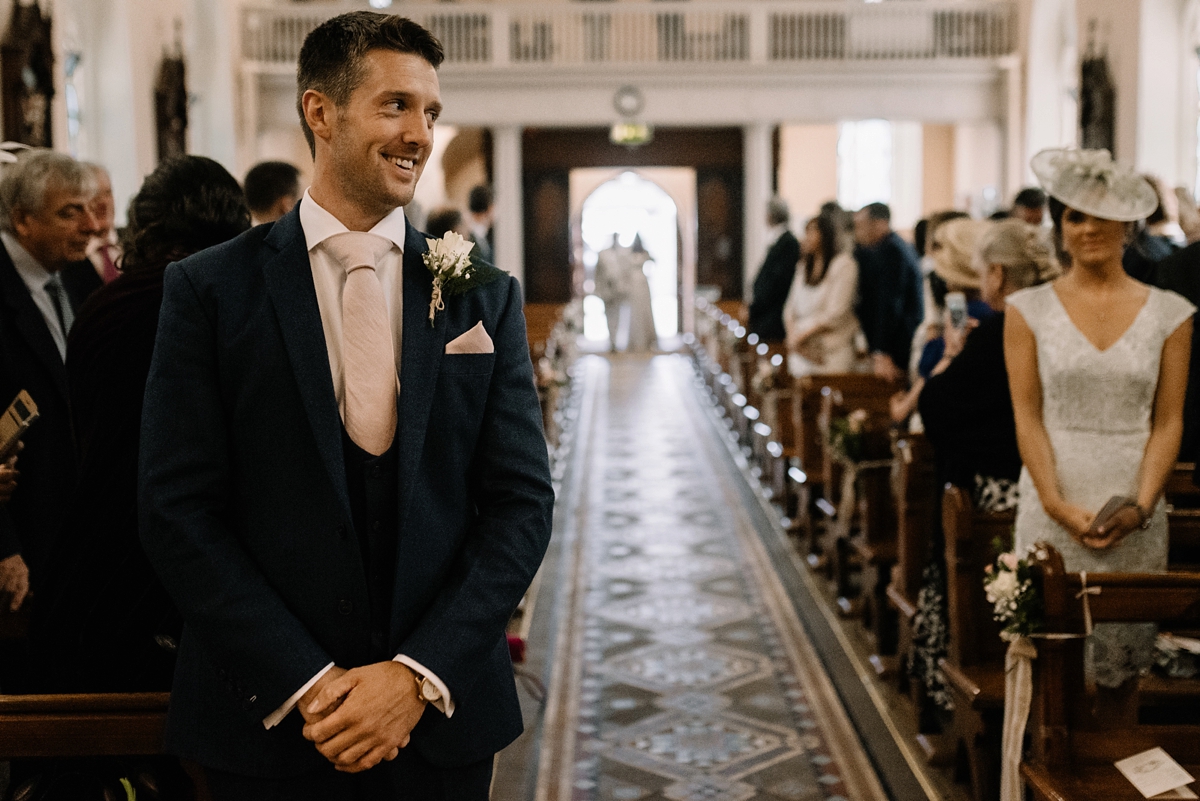 "As we had a catholic ceremony, our vows were set by the church. We also included a reading from the book of Ruth called 'Wherever You Go, I Will Go. Wherever You Live, I Will Live'. We also had a reading from the first letter of St Paul to the Corinthians and my favourite was the reflection after Communion."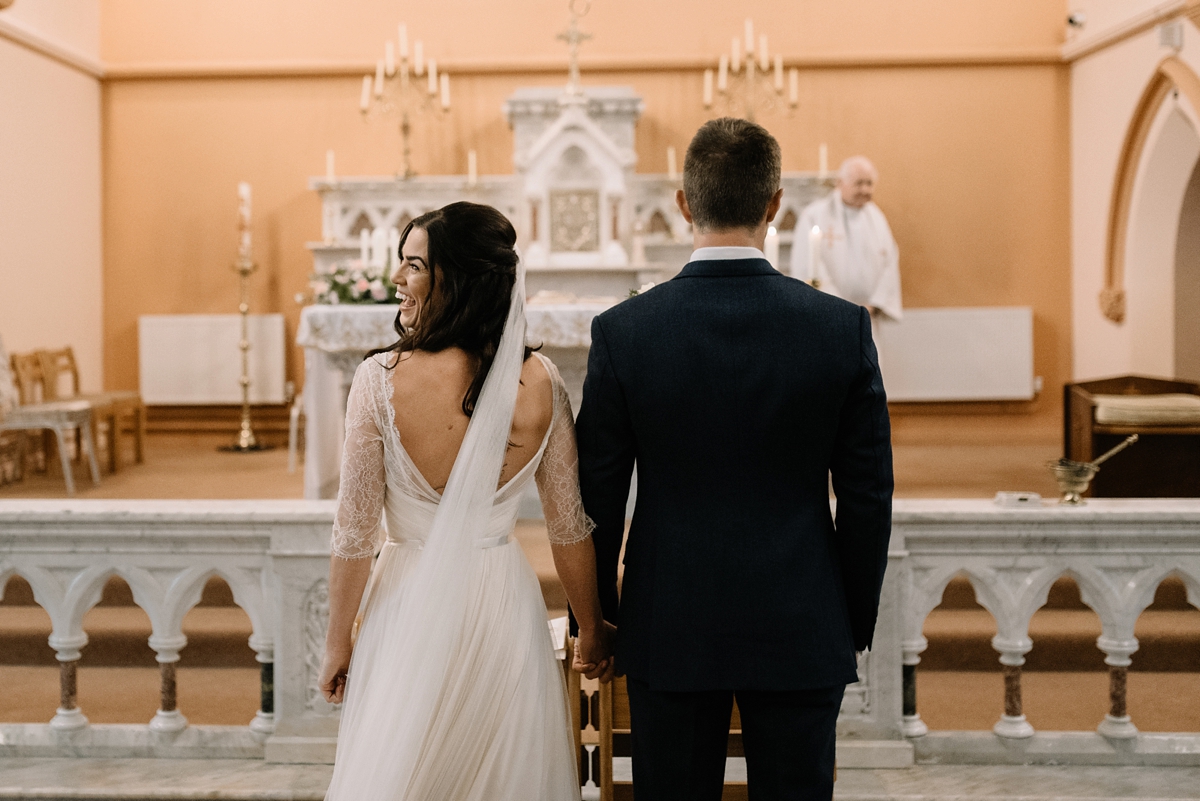 "Marc purchased my rose gold solitaire engagement ring from Biagio the Jewellers. It has the most delicate band to it so we knew my wedding band would have to be equally as dainty and from the same jewellers. It has a twist in the band to allow my engagement ring to sit flush on my finger – perfection! Marc wanted an understated brushed palladium ring as he does lots of manual work so we got his from Beaverbrooks. He was afraid gold would be too soft to withstand his lifestyle."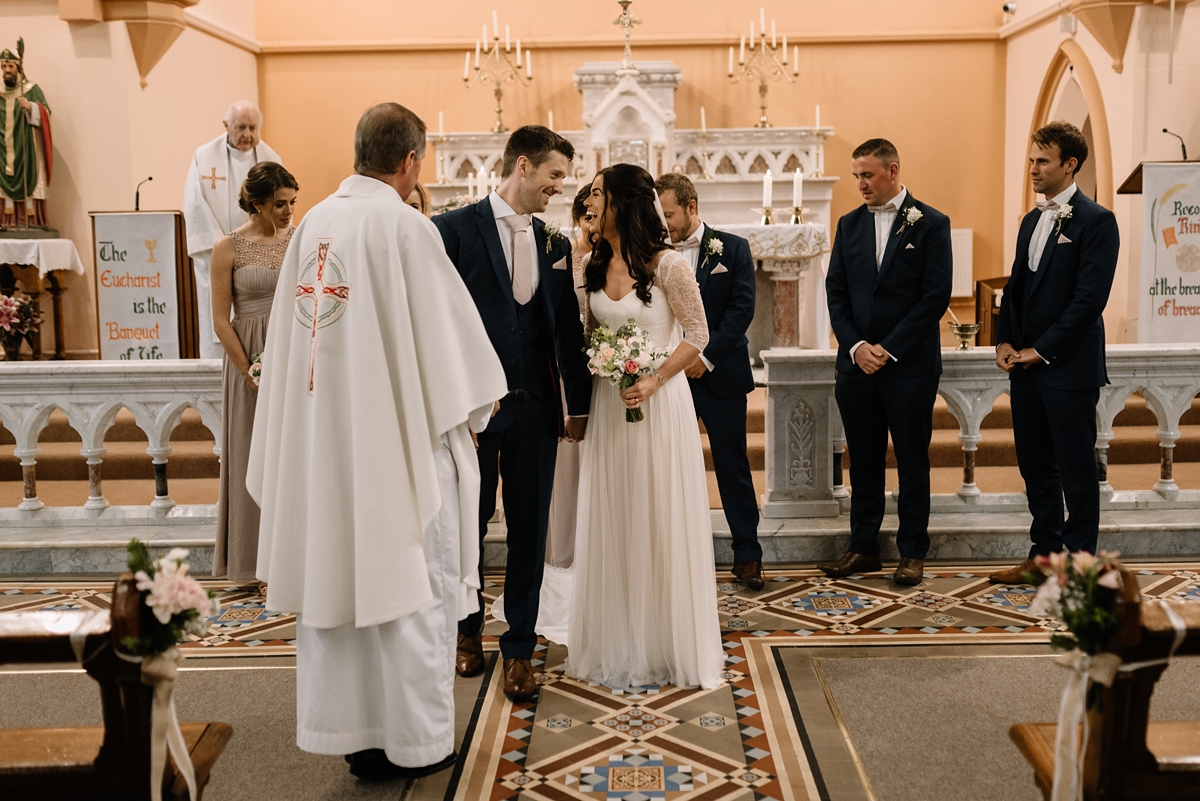 "Our favourite part of the day was definitely our ceremony! From waiting to walk down the aisle with my dad, to walking back up it with my new husband, every aspect was perfect. Our celebrant was absolutely fantastic and really engaged with our guests. He came up to me after and said he had never seen a bride smile her way through a ceremony like I had – proof I was absolutely in my element! The whole experience was topped off with spectacular music from Jean Elliott-Murphy."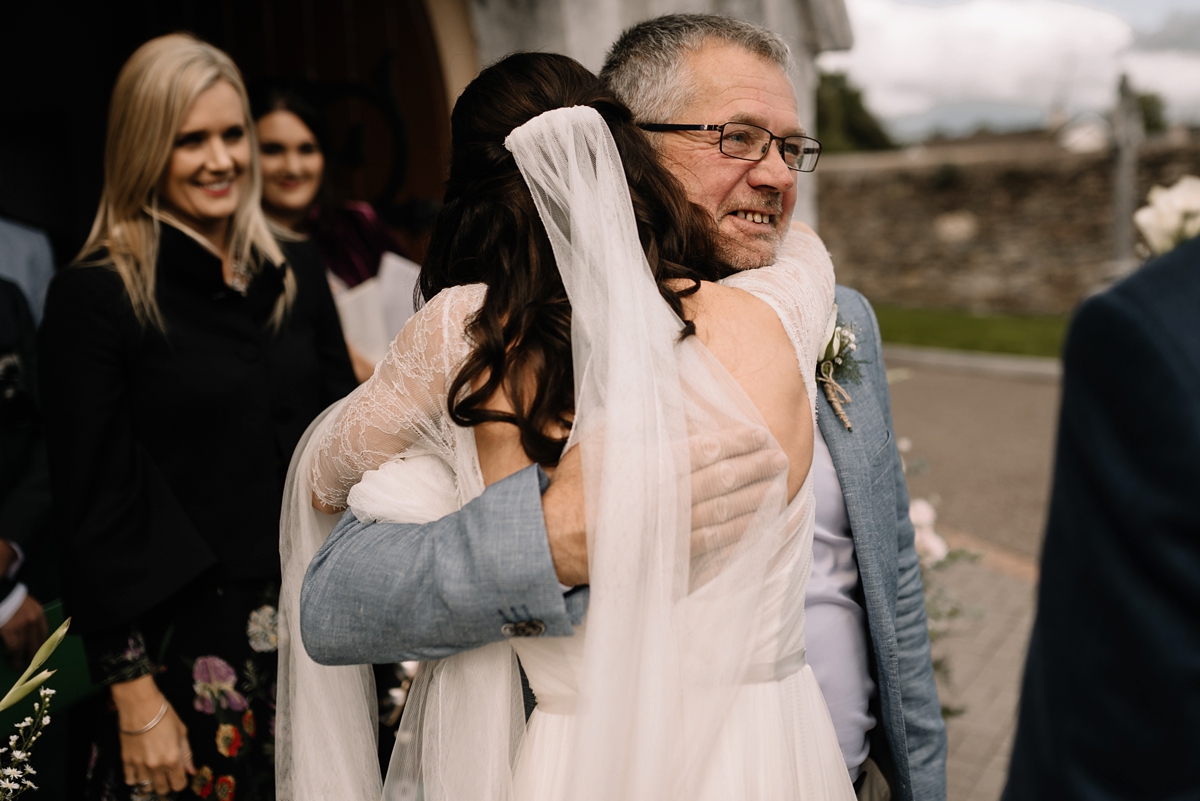 Following the ceremony, the newlyweds hopped into a Mark 3 1972 MGB in British racing green to drive from the ceremony to the church, with the weather even allowing them a top-down moment.
"Our reception venue was a 45-minute drive from the church which gave us a great opportunity to spend some quality time together and to reflect on our marriage. We knew the day would fly by so we really appreciated some us time."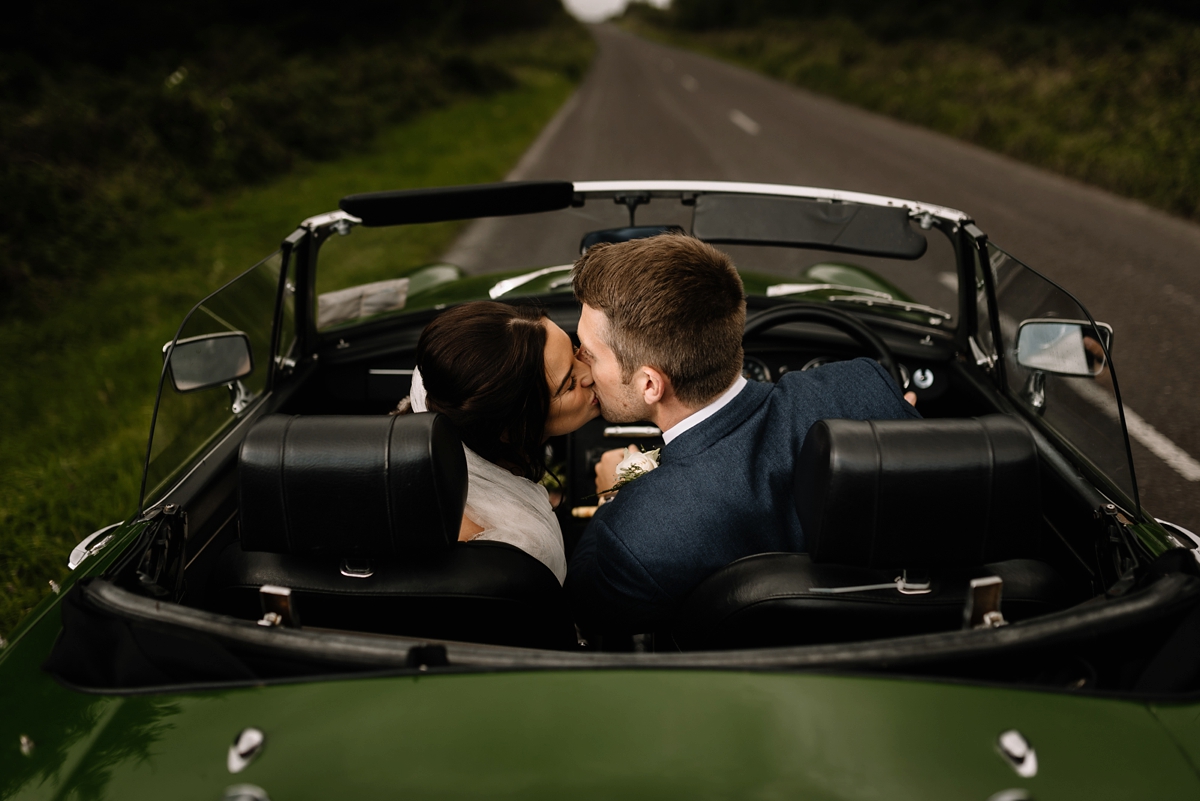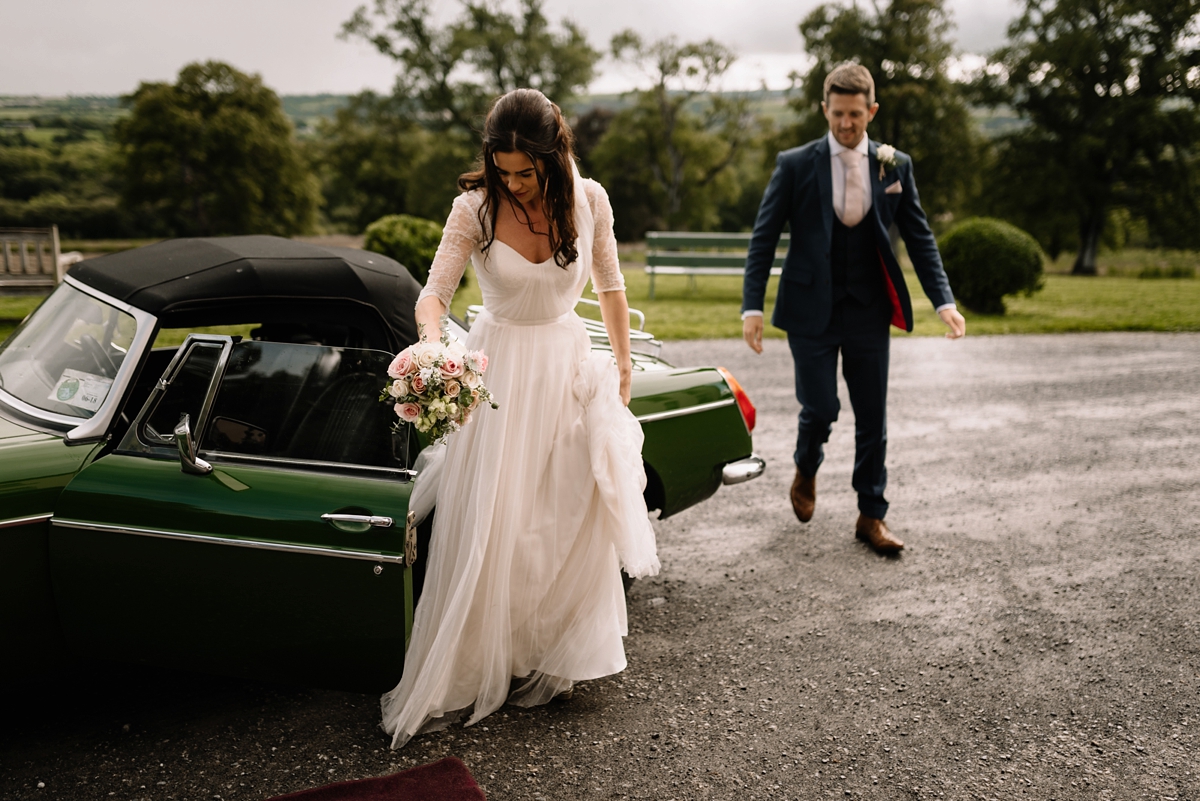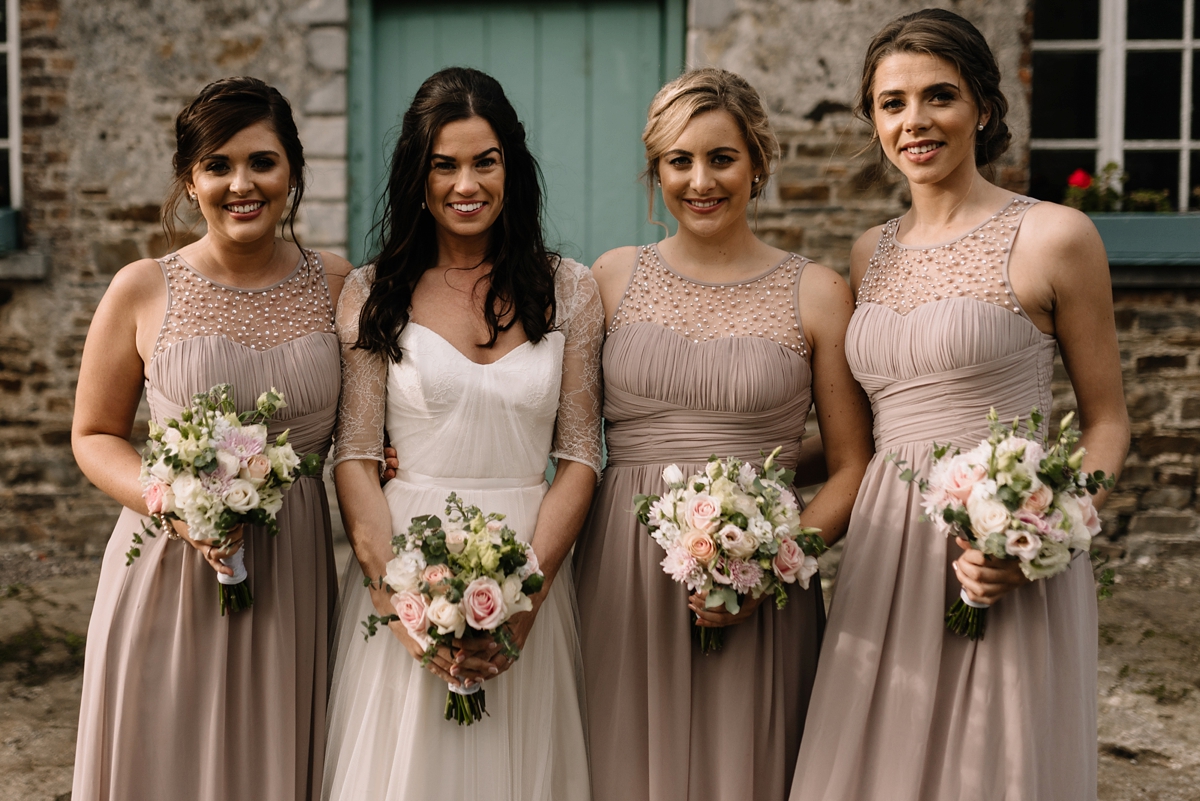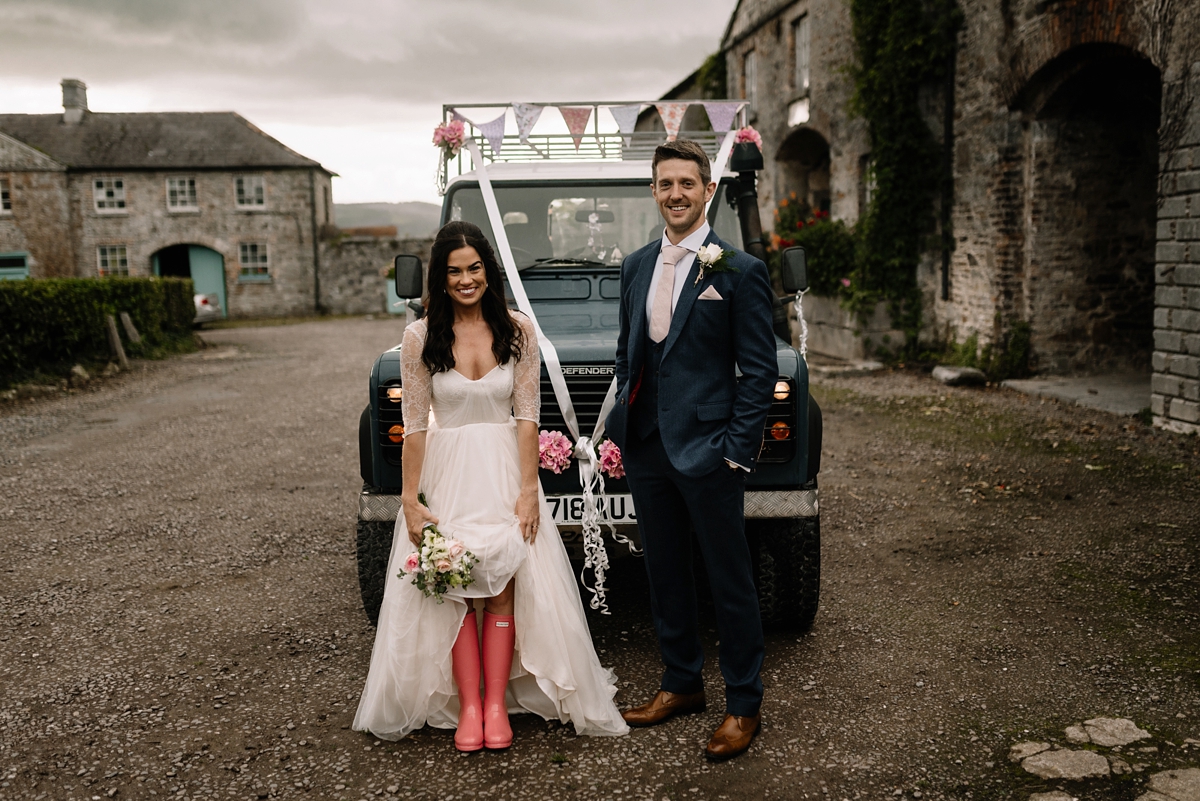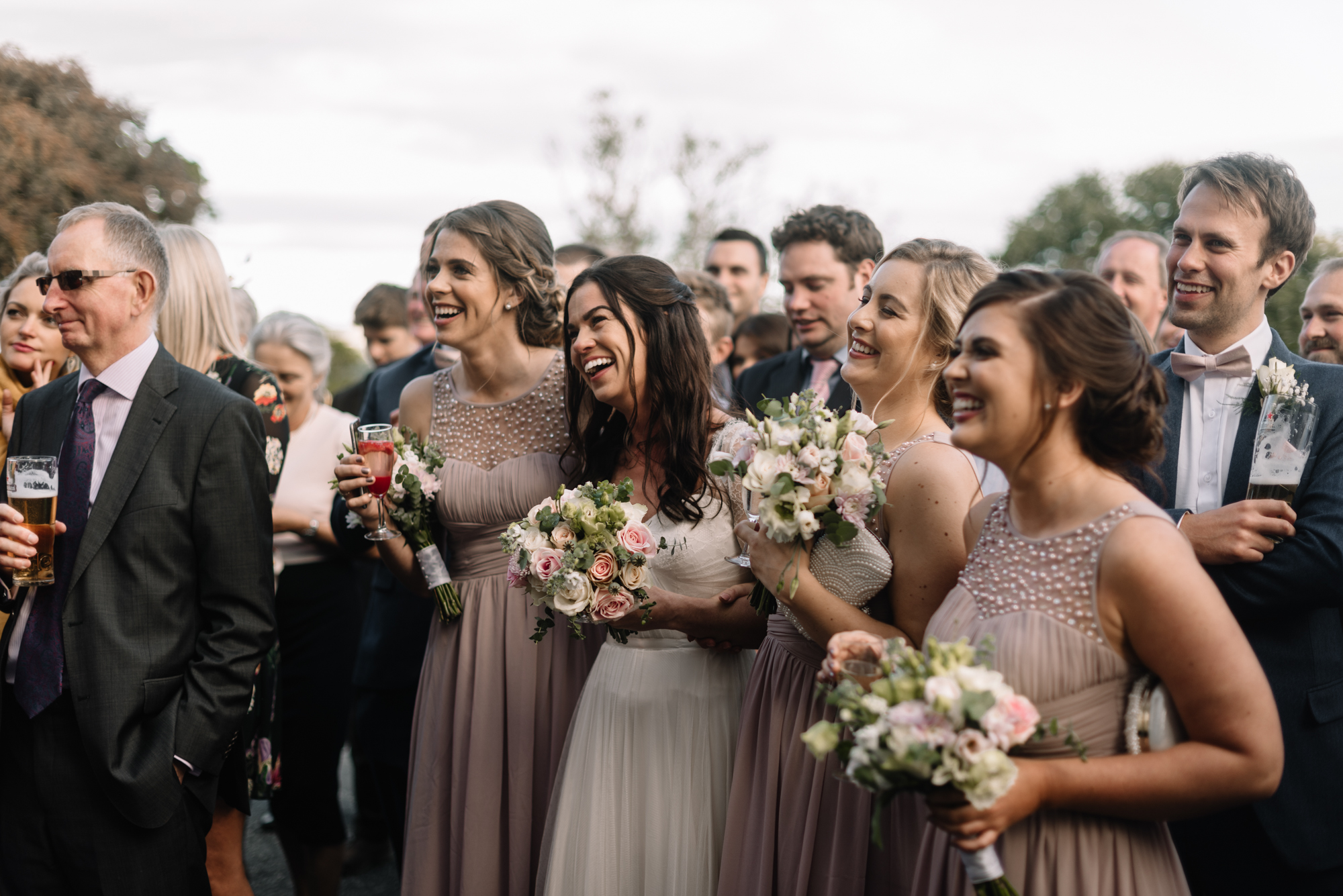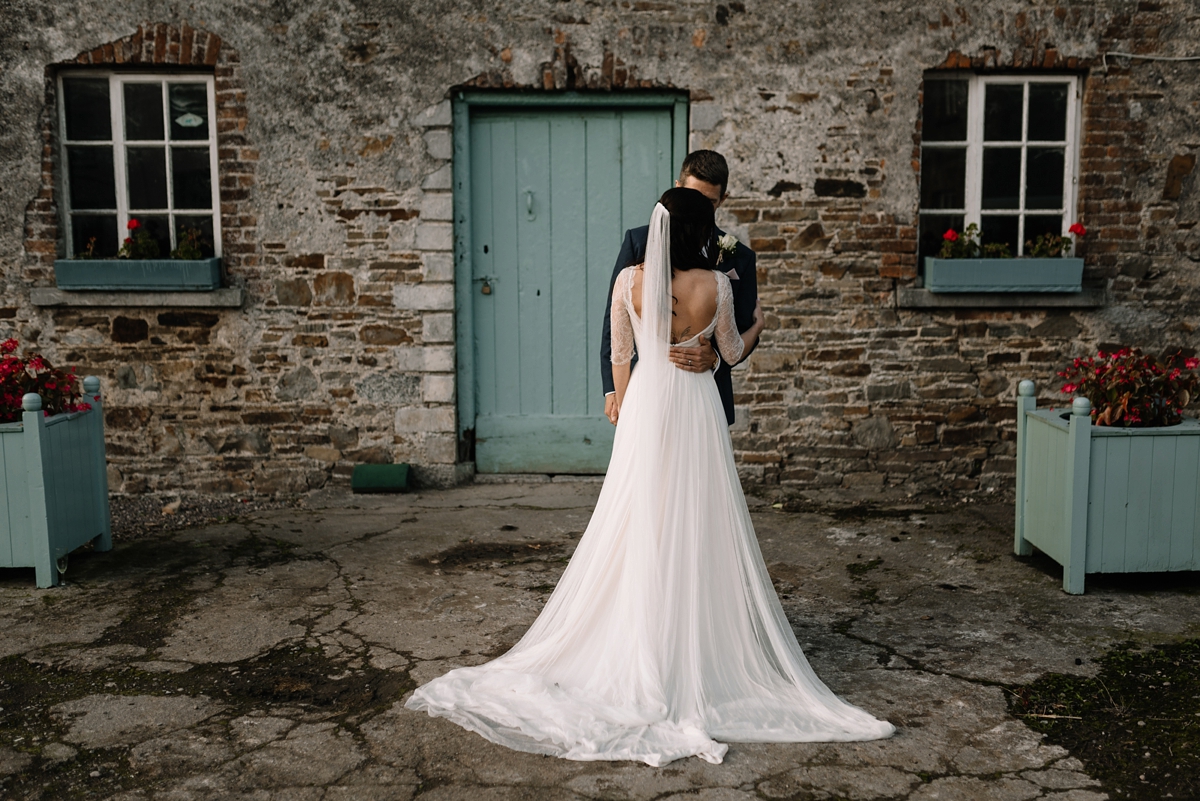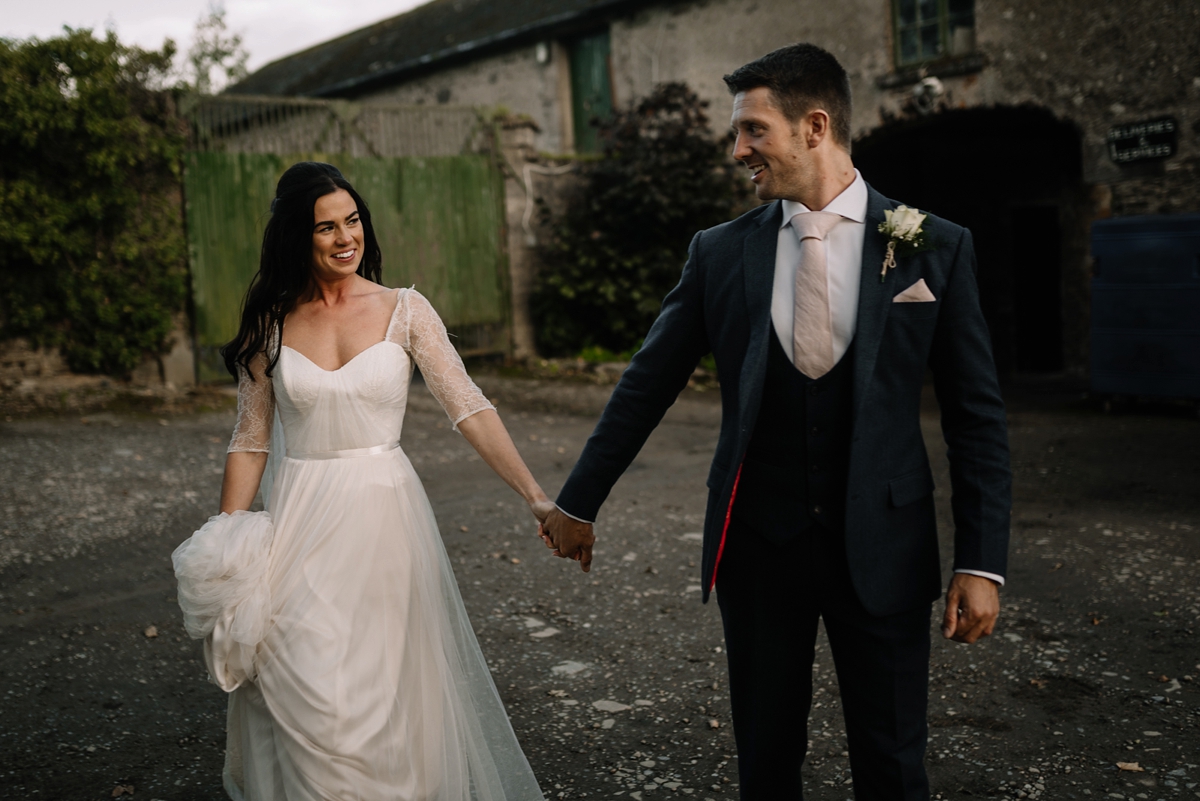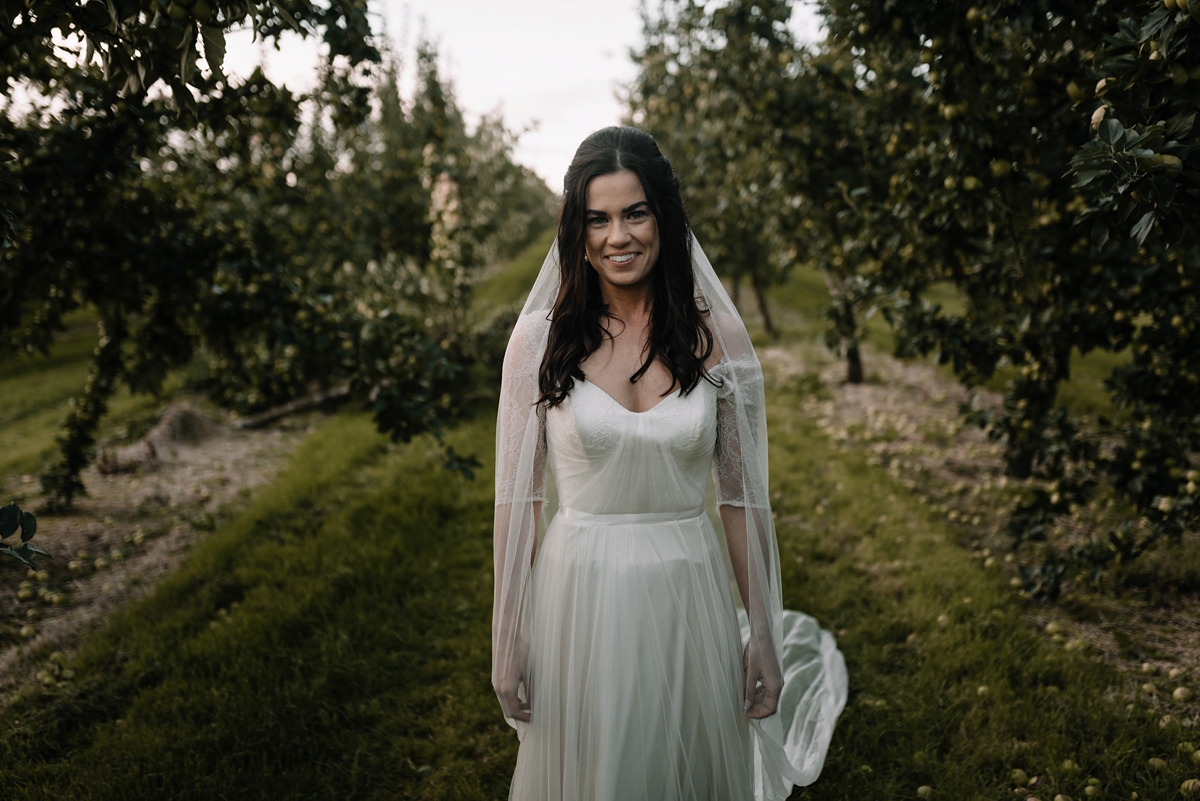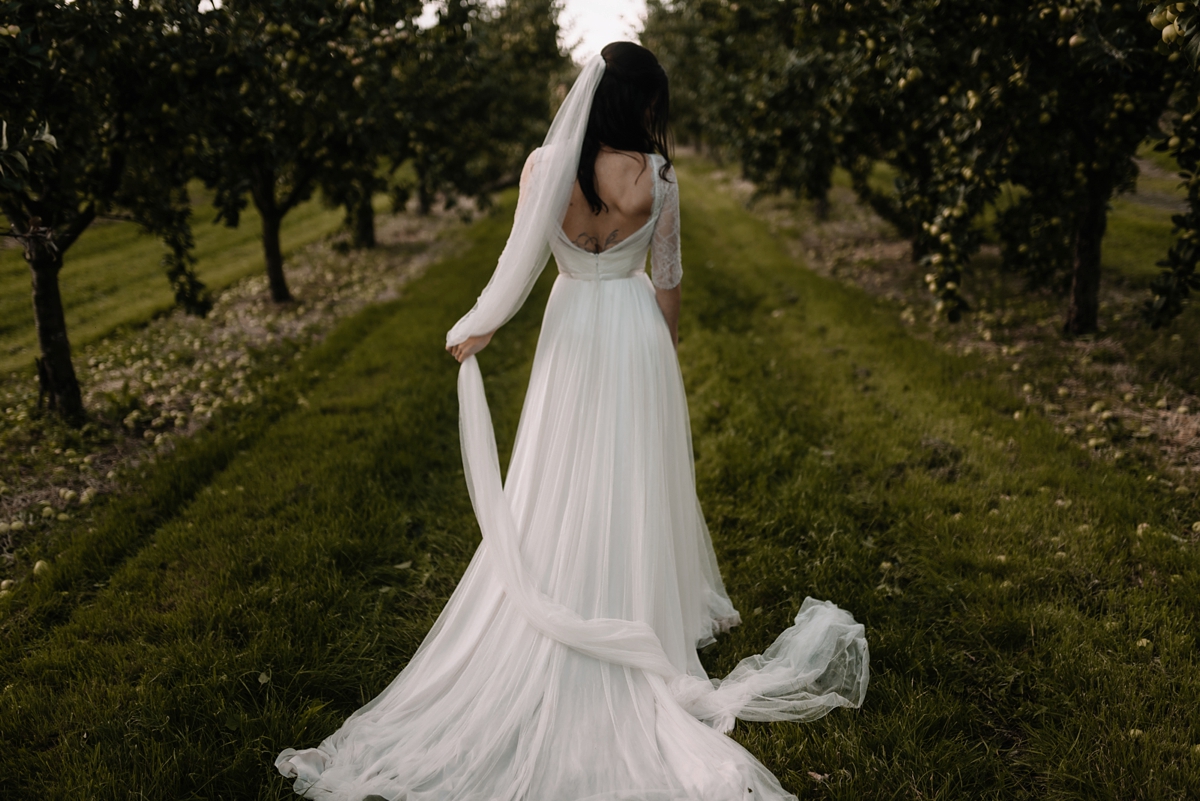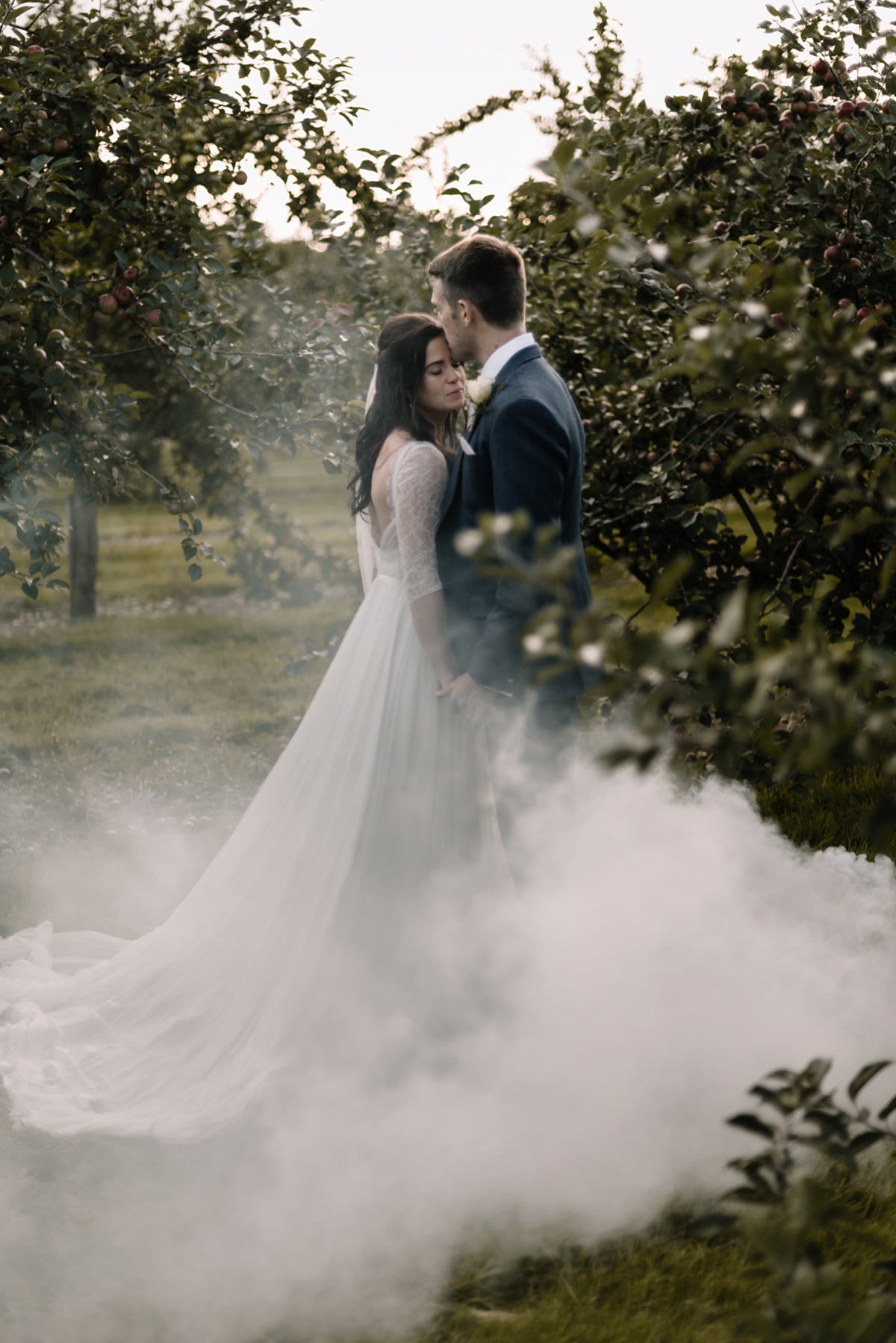 The couple were greeted with a cocktail reception upon arrival at Longueville House before heading indoors for the wedding breakfast.
"Arundo played traditional Irish music during our drinks reception. I played trad music growing up so for me it was the perfect nod to my childhood. I even borrowed their flute and played a few jigs and reels."
"We spent the evening before the wedding putting all of our finishing touches to the venue ready for the big day. We were very lucky that Longueville is naturally a very beautiful space. We set up a sweet cart and the Pimp My Prosecco stand, had a huge chalkboard photo backdrop and confetti helium balloons as decor."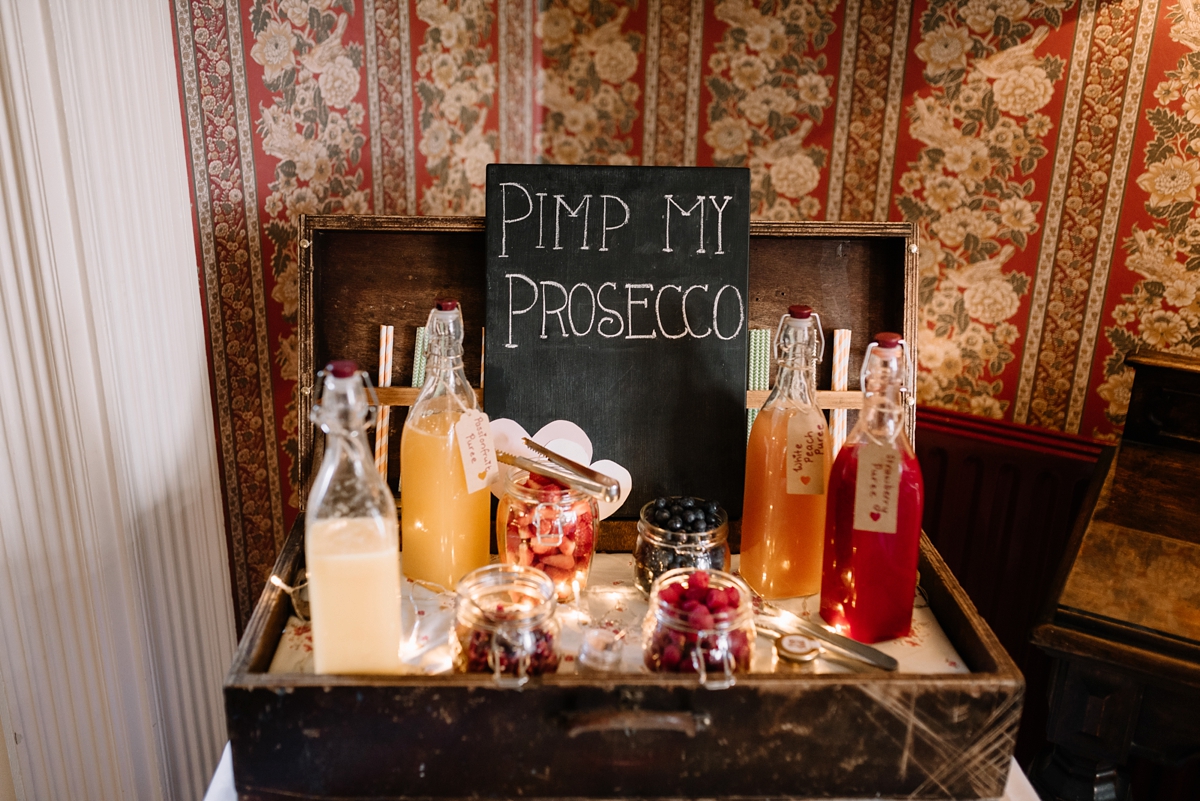 "We chose a naked Victoria sponge cake as our wedding cake made by Rebecca's Kitchen. It was decorated with fresh flowers and was almost too pretty to be eaten! A friend we both went to school with opened her own kitchen and farm shop in West Cork. After seeing her products we decided she would be the perfect choice to create a rustic cake for us."
"Marc decided two days before that we also needed to have a tiered cheese cake, so the day before the wedding he dragged his sister (one of my bridesmaids) and his best man around Cork tasting cheeses. Then in the evening they created the display and labels to go out on the chutney. At the same time they also created a Pimp My Prosecco stand out of Marc's dads old toolbox! No rest for the wicked."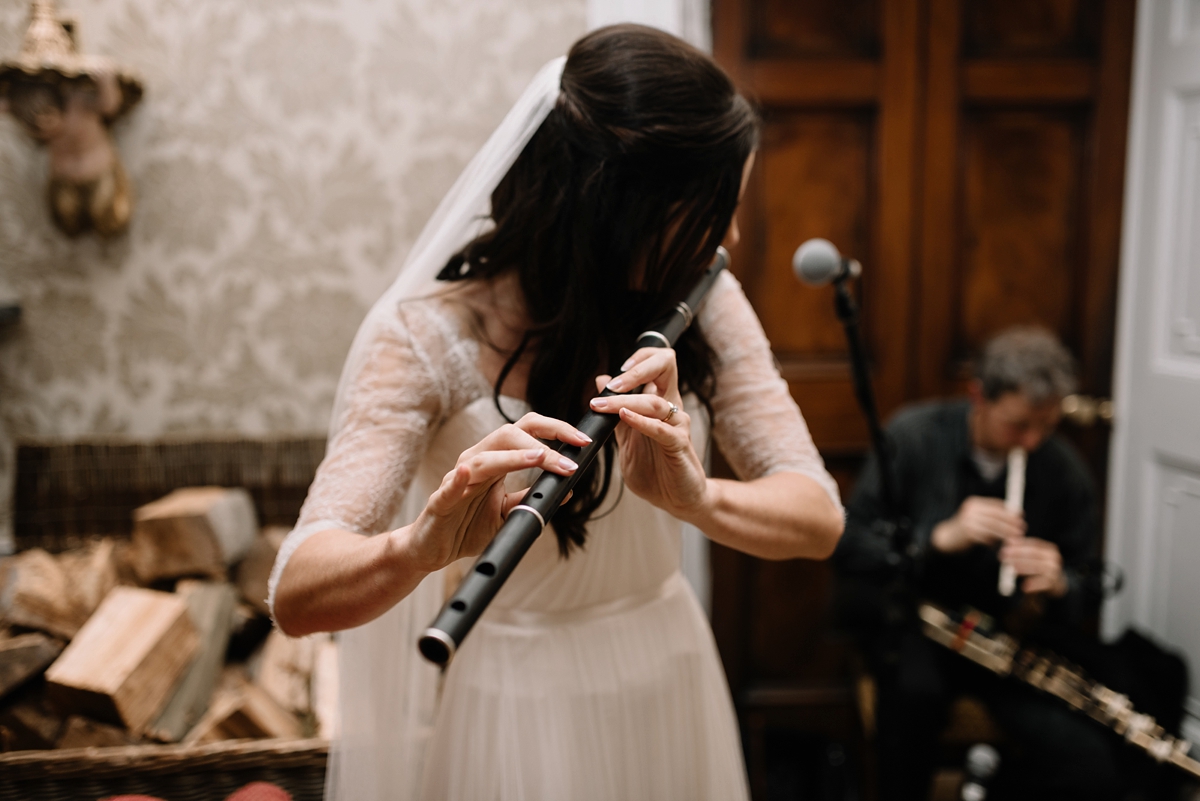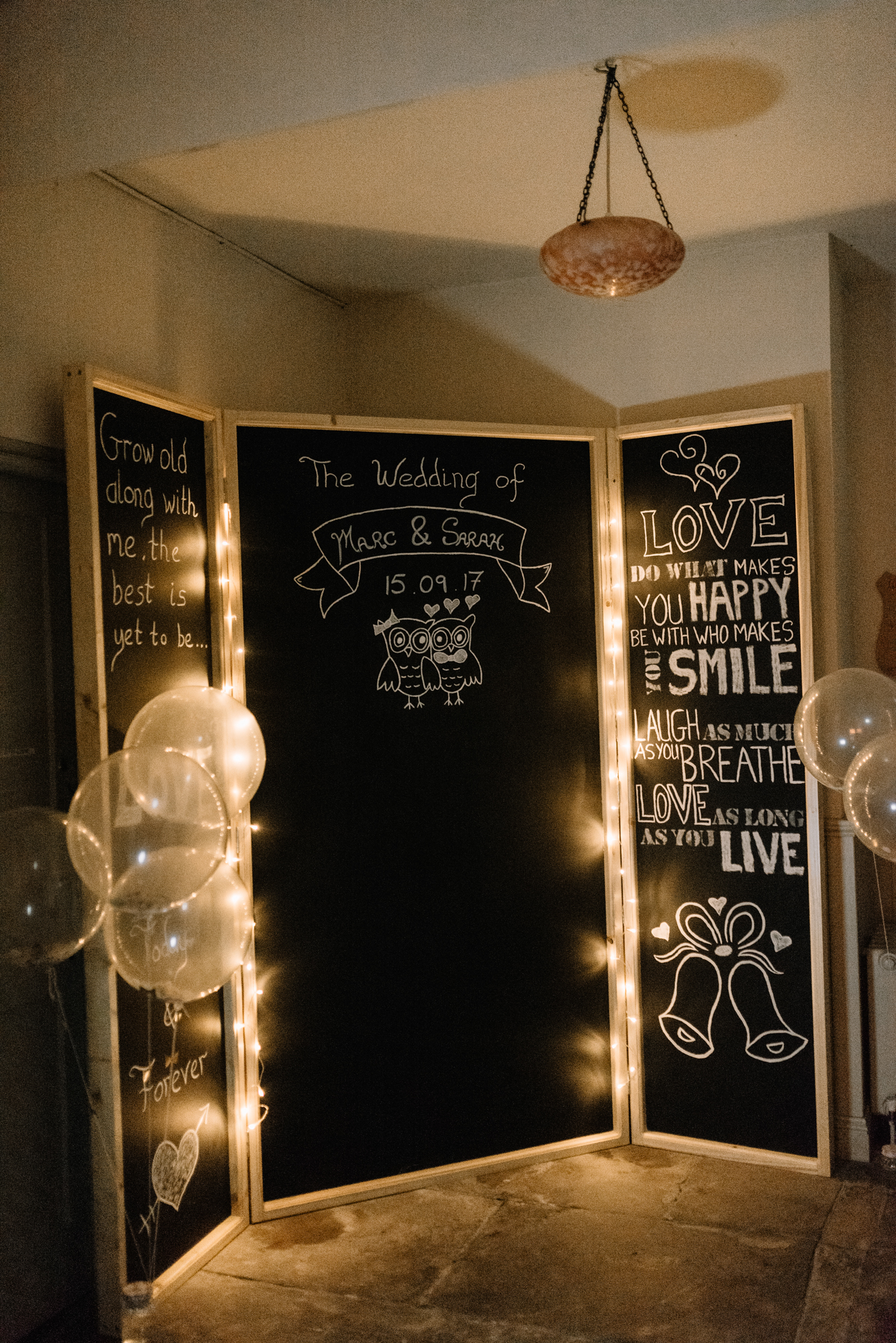 The couple enjoyed a first dance as newlyweds to Just You And I by Tom Walker.
"This song is everything about us! Our bridal party absolutely loved it. I can listen to it for hours on end. Unfortunately we asked our band Sway Social to perform it live…and they got the words wrong! After their performance, they also provided a DJ to play into the night."
"The only thing I would have changed but be to have not asked the band to play our first dance song. We had our dance choreographed and hadn't thought that the band would perform their own take on it (i.e. make up their own lyrics!)."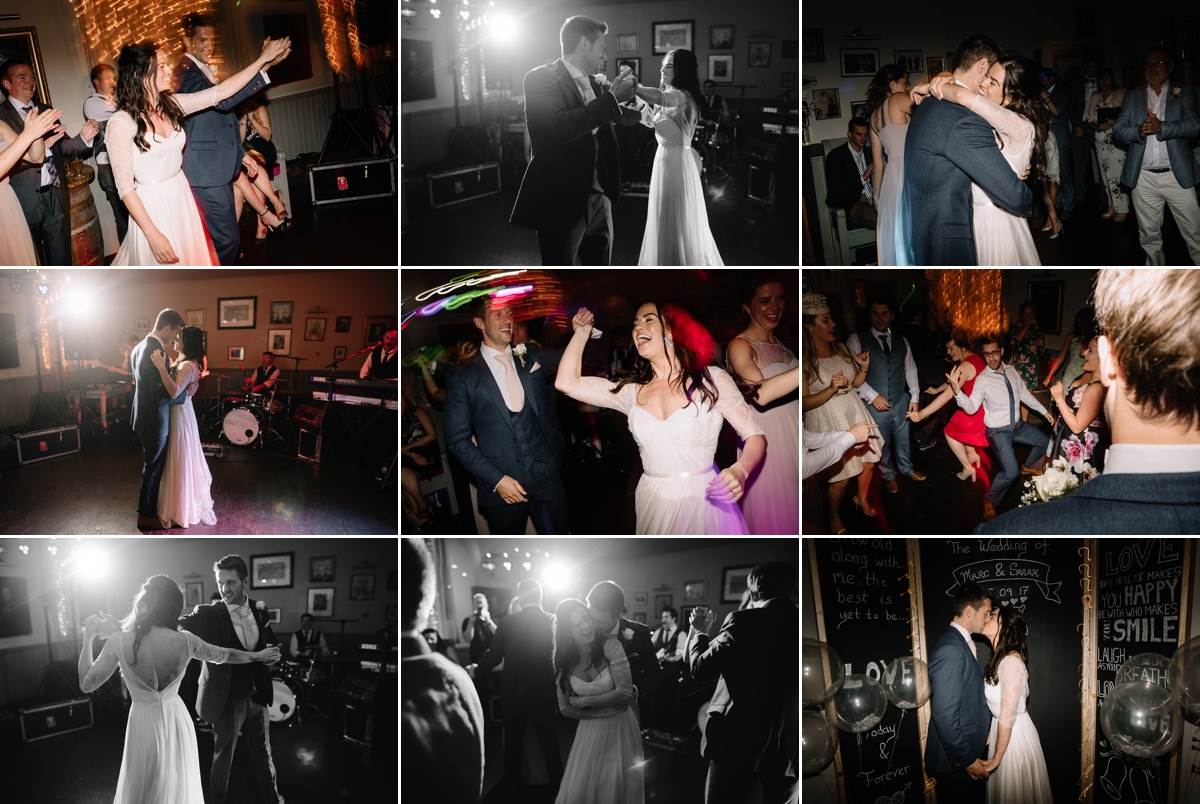 Words Of Wedded Wisdom
"The best piece of advice I received was to limit the amount of people visiting the house on the morning of the wedding. I had such a beautiful morning getting ready at home with my bridal party. The less people, the less stress!"
"Make sure you eat breakfast. Aside from sneaking a couple of canapes in, we didn't find time to eat until we sat down for dinner at 6pm."
"Make sure you invite the people YOU want. We have been to several weddings where there are hundreds of guests and you get to say a fleeting hello to the bride and groom. We really wanted to avoid that so limited ourselves to 70 guests, which creeped up to 95, 35 from each side of the family and 35 of our closest friends. This meant that we could have a proper catch up and a dance and really enjoy time with family and friends."
"We decided to have two photographers and budget permitting, I would highly recommend it. It was lovely to look back on the photos of Marcs morning and having a second aspect has made for some beautiful wedding snaps!"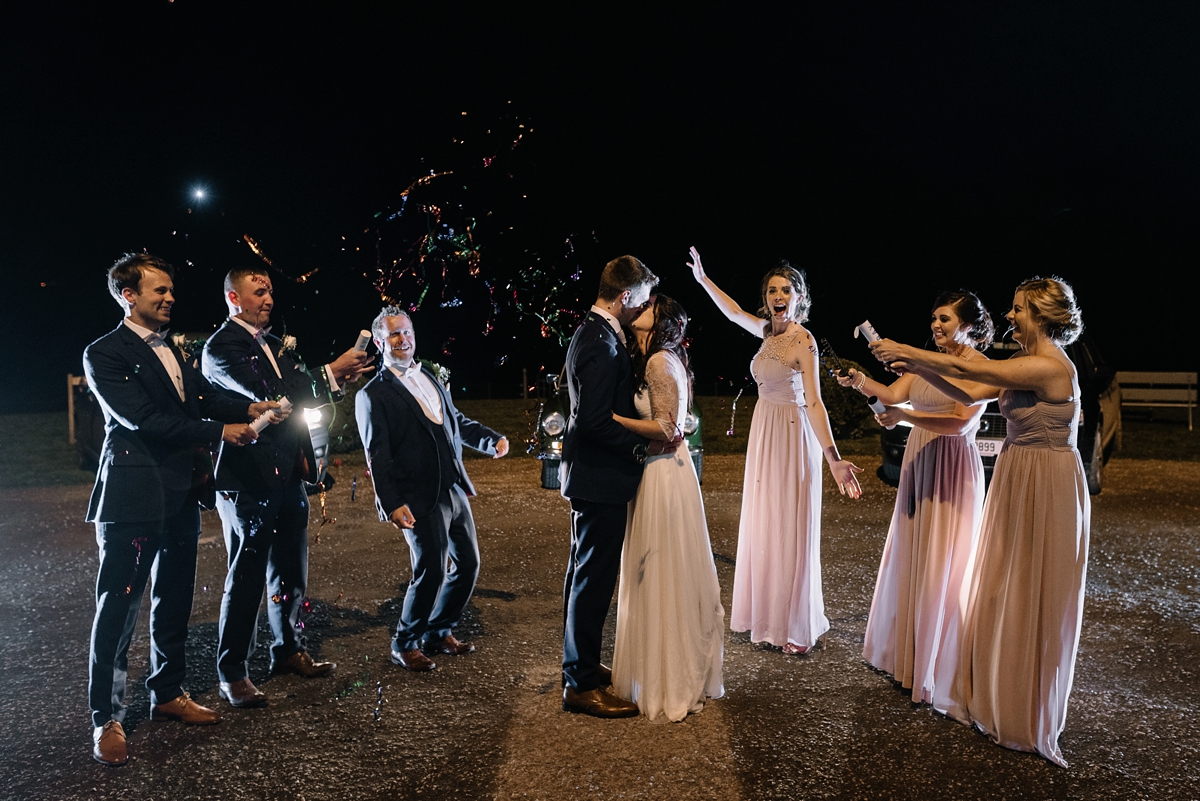 I just love how well Sebastian's soft photography style compliments the romantic vibe of the day, so a big thank you to Art Wedding Photography for sharing these gorgeous images with us, and to the newlyweds for letting us take a peek into their special day.
Until next time…
Much love,
Holly