Hello lovelies! When I saw the photographs of this wedding today I literally could not wait to start writing. Bride Leah wore the most divine bridal separates by Halfpenny London, a British designer who we are incredibly proud to support. If you love Leah's feminine, individual style, then please make a note to visit our Collections pages here where you can see many more of Kate Halfpenny's exquisite creations.
Come with me to Suffolk to meet Leah and Harry, who married on 30 September 2017 in the beautiful setting of Bruisyard Hall, Saxmundham. The pair live and work in London, as a corporate partnerships manager at the University of the Arts, London and a director of brand and campaigns, and wanted to marry outside of the city. Suffolk was a clear choice as they visit regularly, and the Hall offered a beautiful venue with on site accommodation, perfect for their relaxed celebrations inspired by autumn with a few nods to Leah's family's Caribbean roots.
Let's shine the spotlight on Leah's incredible feathered gown, designed by Halfpenny London and chosen at her Bloomsbury boutique. I love the combination of fitted, off-the-shoulder 'Andrea' bodice and ethereal, oh-so bridal feathered 'Swan' skirt which shows off Leah's petite figure so beautifully.
"I was quite keen on finding a dress that had something a little different and quirky about it, but still wanted it to feel bridal. In a previous job I'd worked round the corner from Halfpenny and had walked past it most days.. When Harry and I got engaged I knew that I wanted to try on Halfpenny dresses as the ones I'd seen fitted my brief perfectly."
Photography Him & Her Photography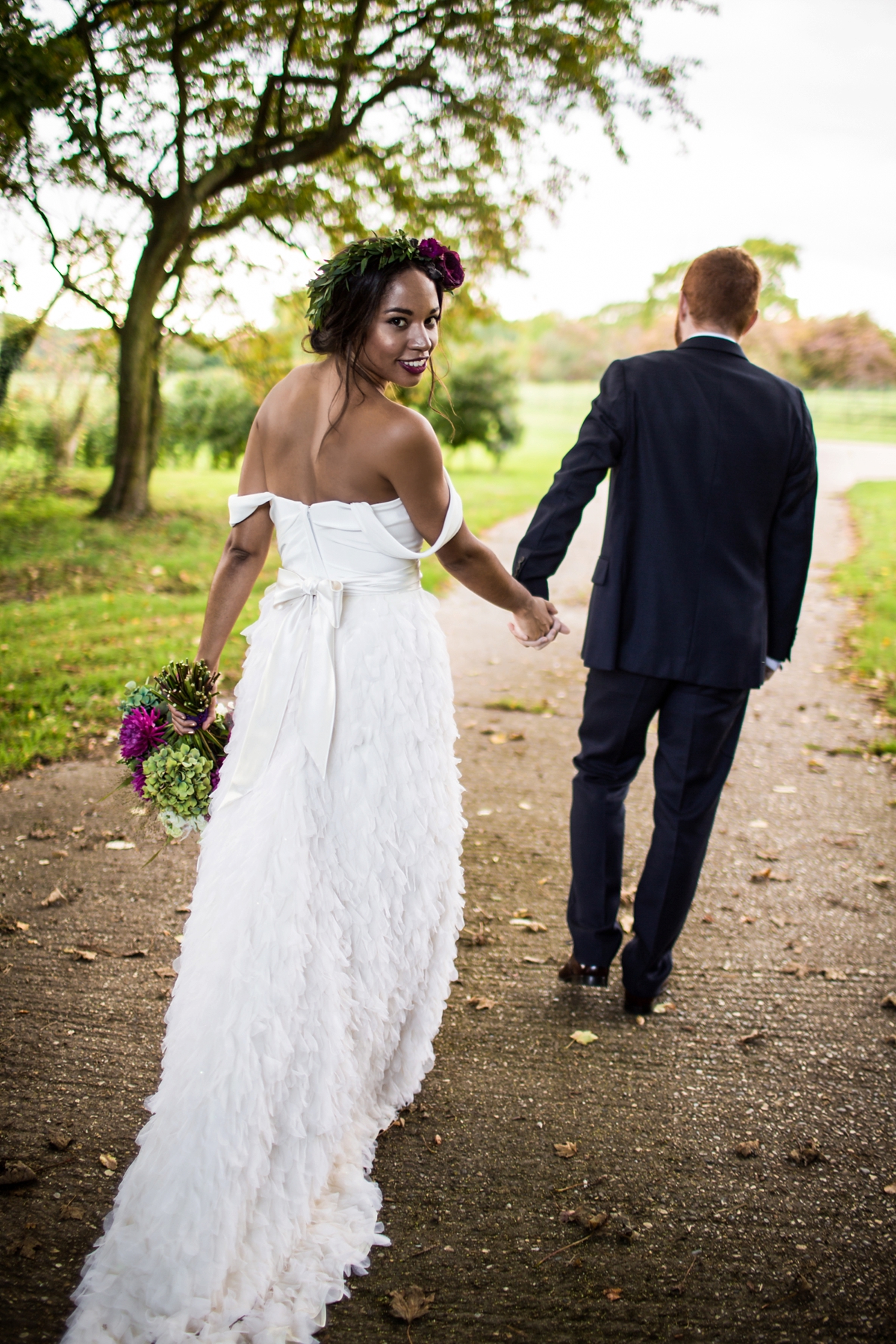 "I went to Halfpenny with my mum (who was surprisingly excited given her general lack of enthusiasm for dresses) and one of my bridesmaids. I instantly fell in love with the Andrea corset. It was so beautiful but unbelievably comfortable. I decided to stick with that and try on the different skirts on offer. They were all incredibly dreamy and beautiful, but there was something so special about the Swan. I felt like I hadn't seen anything similar before, yet it wasn't so out there that it didn't look like a wedding dress. Bridesmaid Becky encouraged me to try on a sash, which I had originally been against (I was worried that I'd look a little bit too much like a little girl at first holy communion), but it brought the top and the skirt together perfectly."
Leah's beautiful dark hair was worn in a relaxed low bun to showcase the divine neckline of her bodice, and her face framed by wavy tendrils – isn't this such a romantic look? It was styled by Gemma Holiday Hair Artistry, who the bride had discovered via the Wedding Industry Awards.
"They'd previously won 'best hair stylist' for East of England so I knew they'd do a great job.   I knew I wanted it up and out of the way of the dress, but other than that, was led by Cara who showed me a few options at my trial. I was happy for the bridesmaids to all choose what they wanted, but in the ended they opted for the same style, half loose and the other half in a fishtail braid."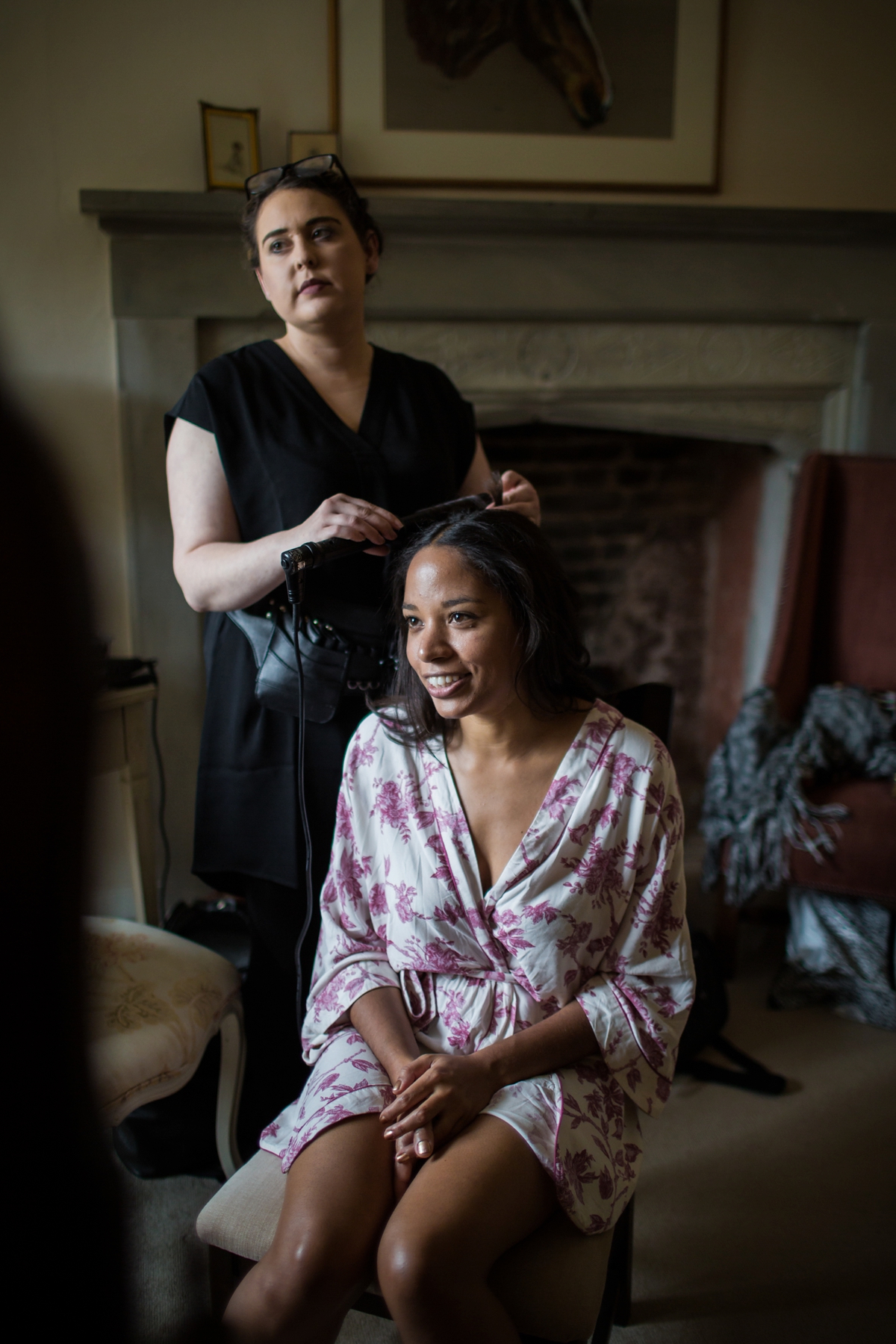 "Cara not only did a fantastic job of styling our hair, she was also great fun to be around and helped out with little things like transporting all of our makeup and bits we'd need during the day from the house to the barn. It's these little extras that really set a supplier apart as they go so far in helping the day run smoothly."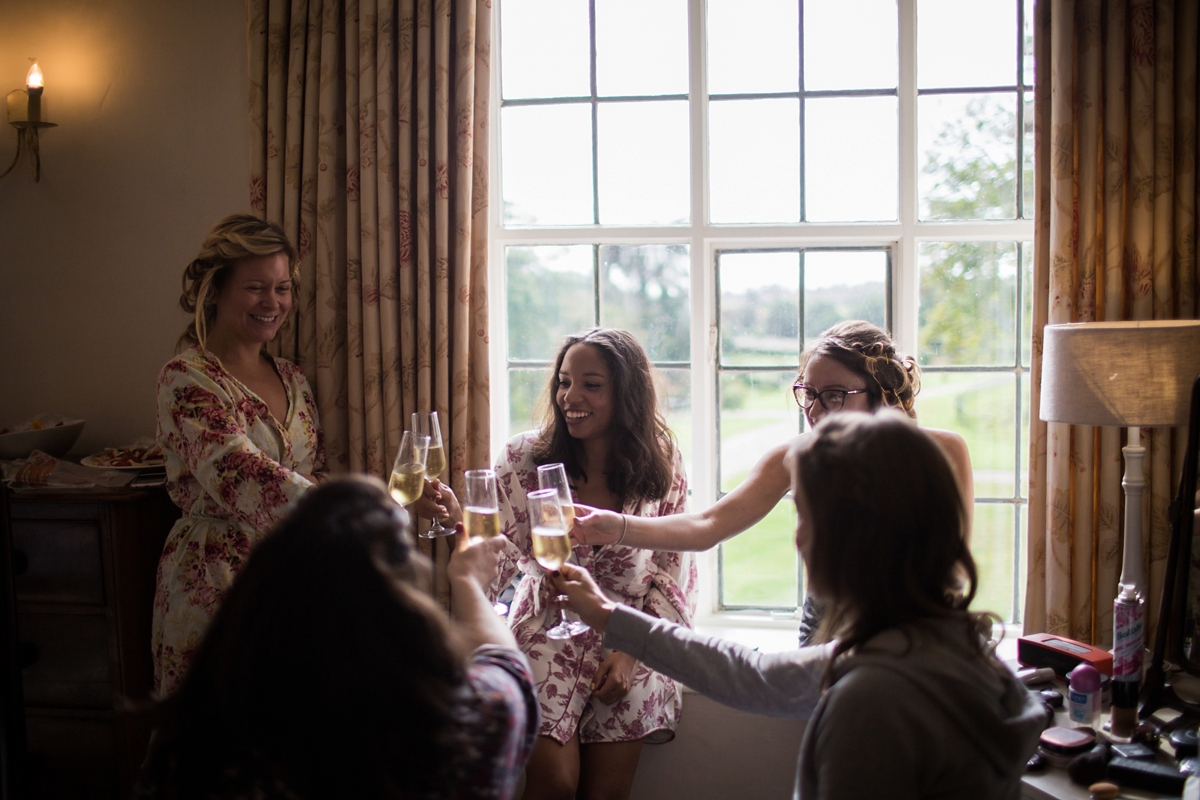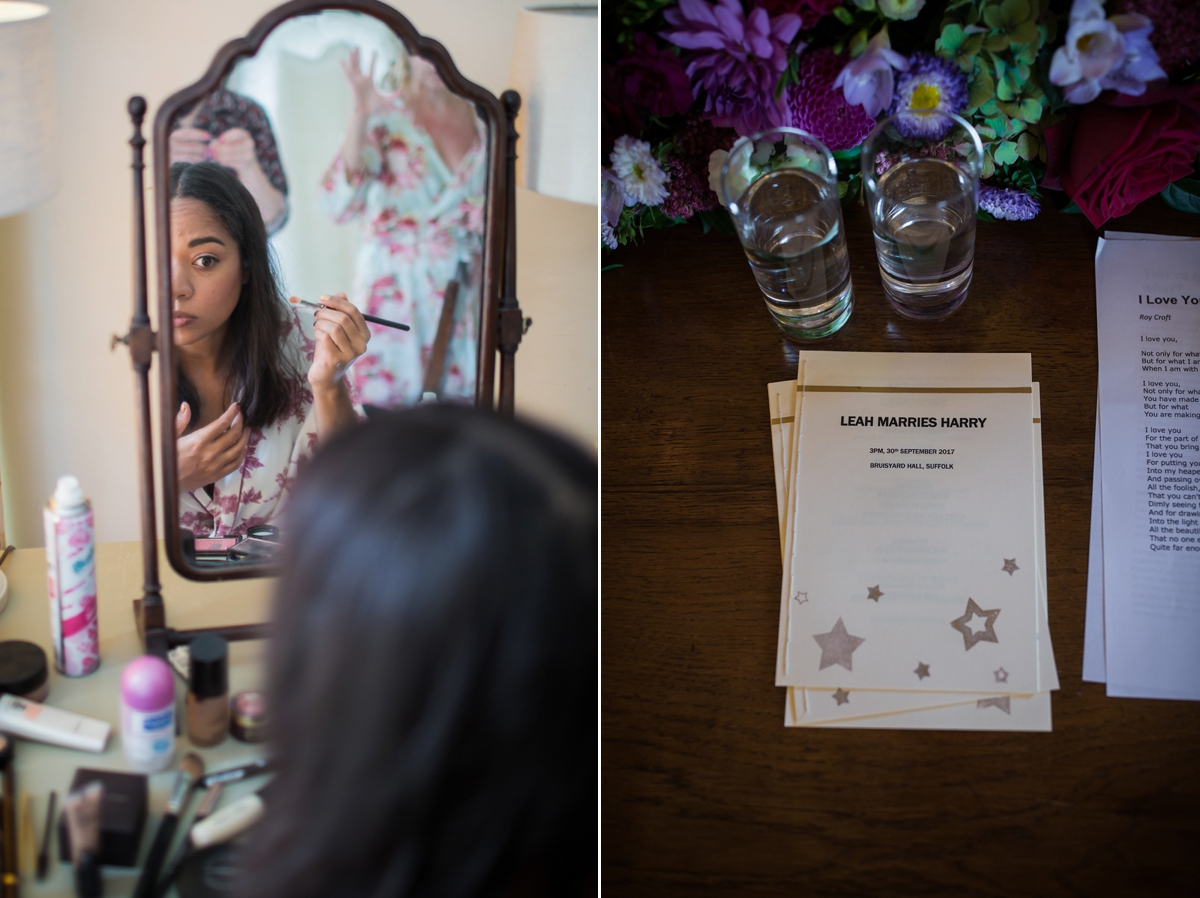 Leah opted to wear a pair of faithful Dune heeled sandals in nude, which she knew would be comfortable, and her florist Denise at Garden Gate Flowers created this gorgeous flower crown, so sumptuous with its fresh green leaves and opulent, romantic blooms in deep purples and pinks.
"I didn't wear any jewellery other than a small pair of diamond and pearl studs. They were a gift from my parents and included pearl because that's my birthstone. I chose not to wear anything else so as not to take away from the dress."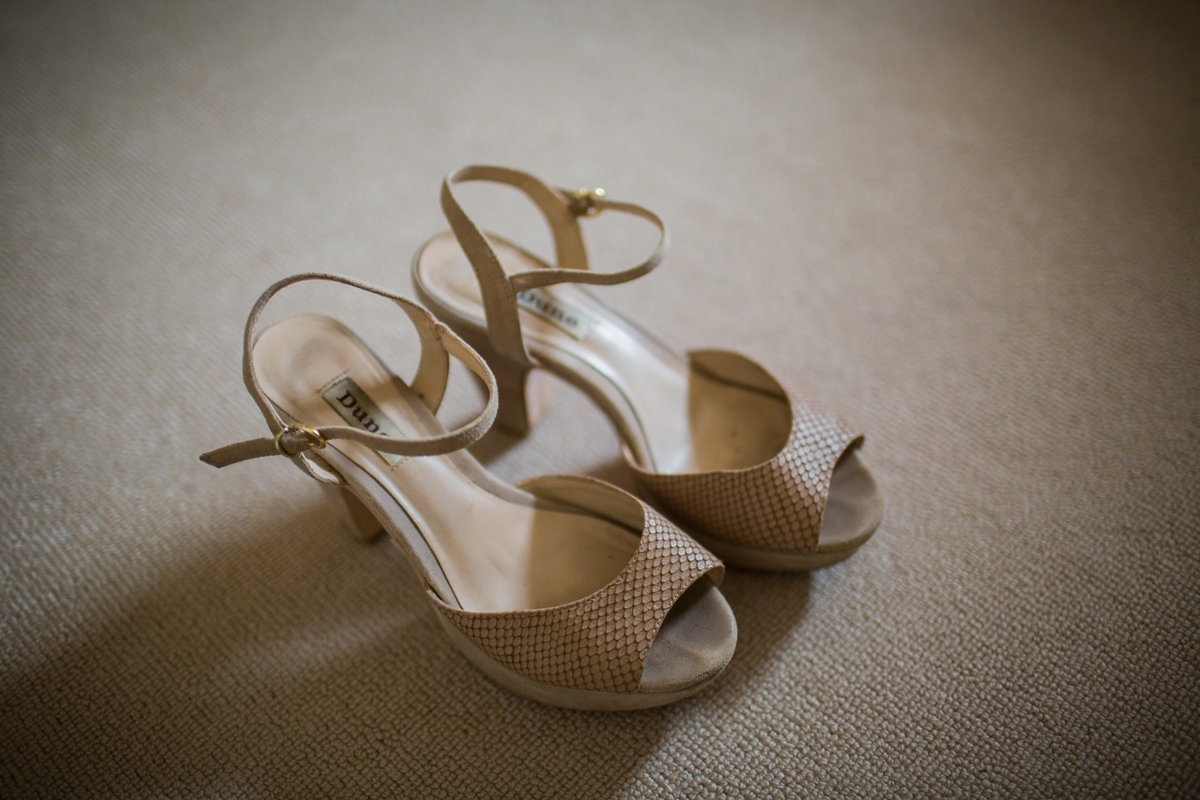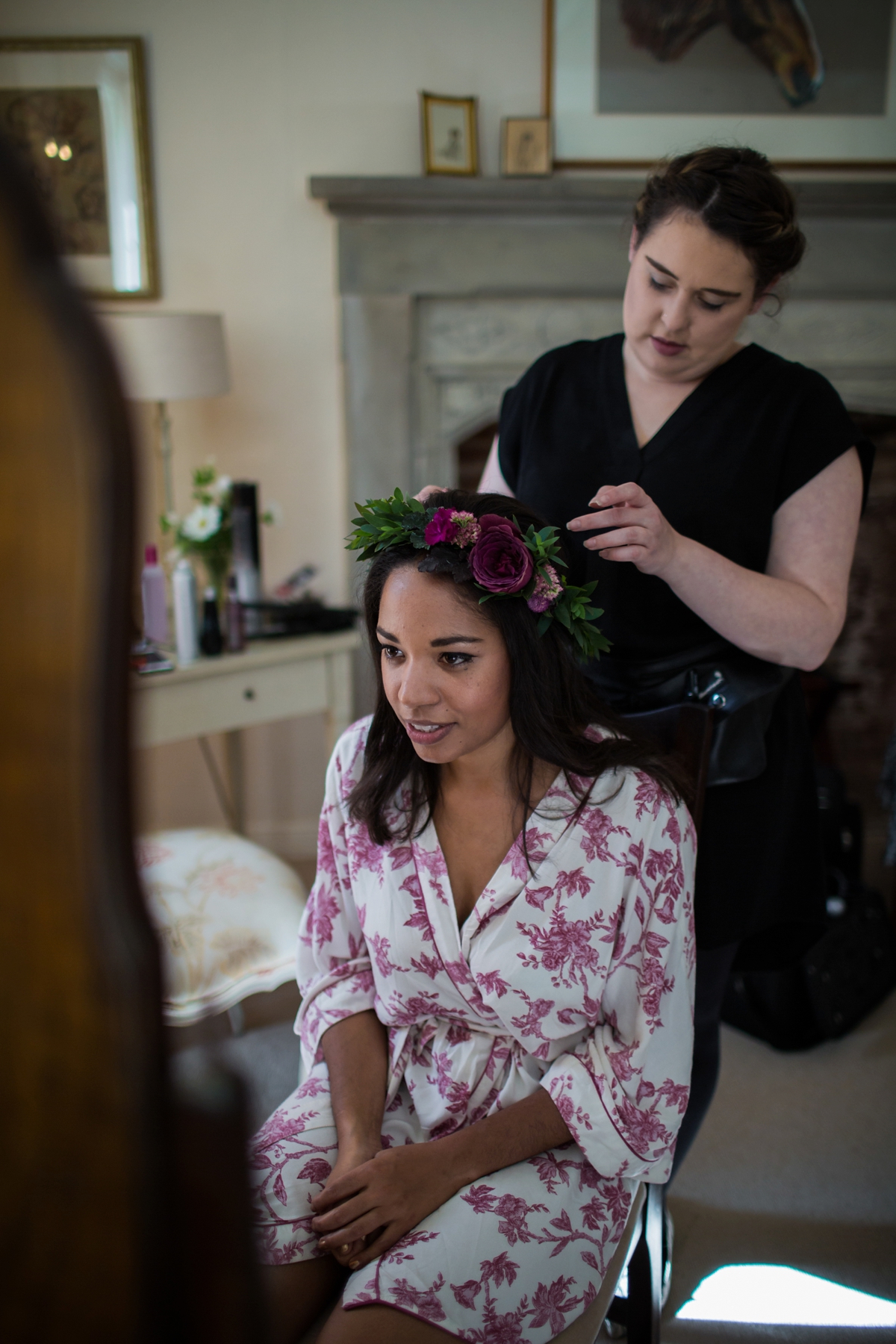 "The team at Halfpenny were great from start to finish. I felt properly looked after all the way through the fittings process. Two more of my bridesmaids came to one of my fittings to learn how to get me in my dress."
"I decided not to share any pictures of me in my dress before the day outside of my parents, bridesmaids and the colleague-now-friend who used to walk past Halfpenny with me. We went to her wedding three weeks before ours so it seemed right!"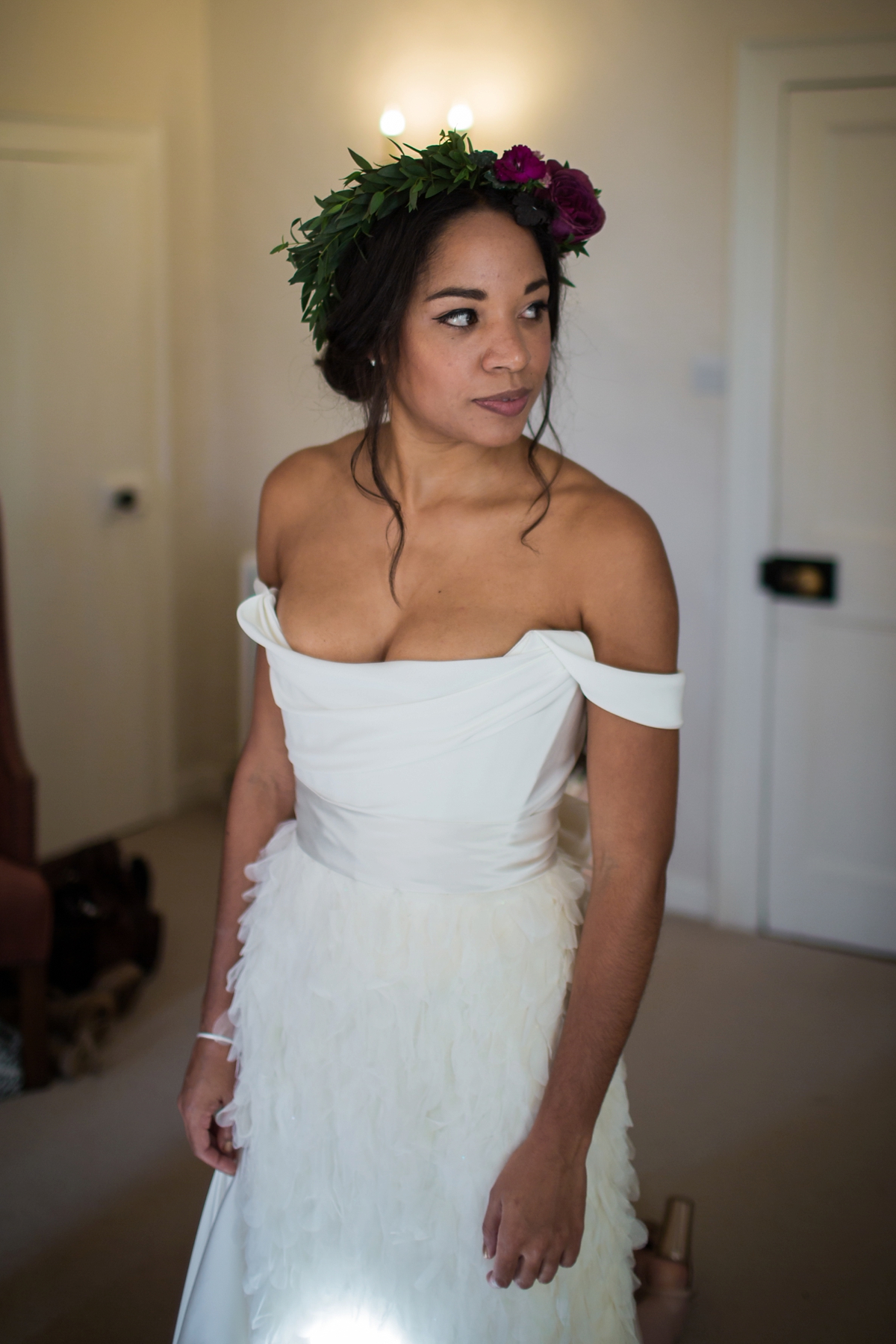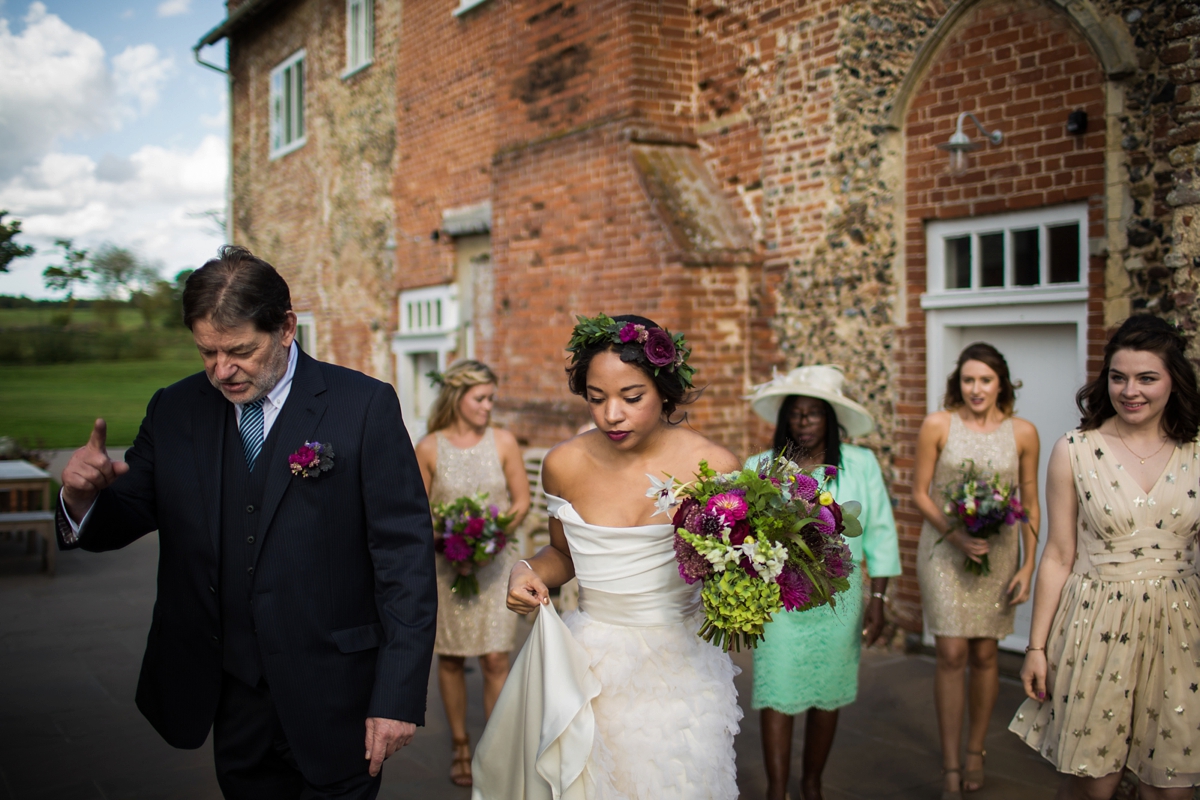 Leah and Harry first met online, becoming engaged in Porto after three and a half years together. They planned their autumnal celebrations for a year after.
"We met online through the Guardian's dating website. It seemed really modern at the time, but since the evolution of Tinder, filling in a questionnaire and uploading a full profile to a website seems terribly old fashioned!"
"We wanted it to be informal but still with a sense of occasion. We knew from the start that we wanted an autumn wedding. Being blessed with red hair, Harry's main concern was that he would clash with the brights of summer. I was keen on the idea of a beautiful crisp autumnal day. Whilst holding out for any kind of good weather is a risk in the UK, it felt less so with autumn somehow. No one was expecting blazing sunshine so when we got it after a week of rain it was a real treat."

"We spend a lot of weekends in Suffolk as Harry's family have a house there. We knew we wanted to get married outside of London (where we live) and Suffolk feels like the next best thing to home." 
"Bruisyard Hall was perfect because the onsite accommodation was not only super convenient, but also really beautiful and luxurious. There are two barns on site which meant that we could get married and have the reception all in one place without needing to move around while rooms got reset. We also loved how beautiful Bruisyard was without the need for much decoration."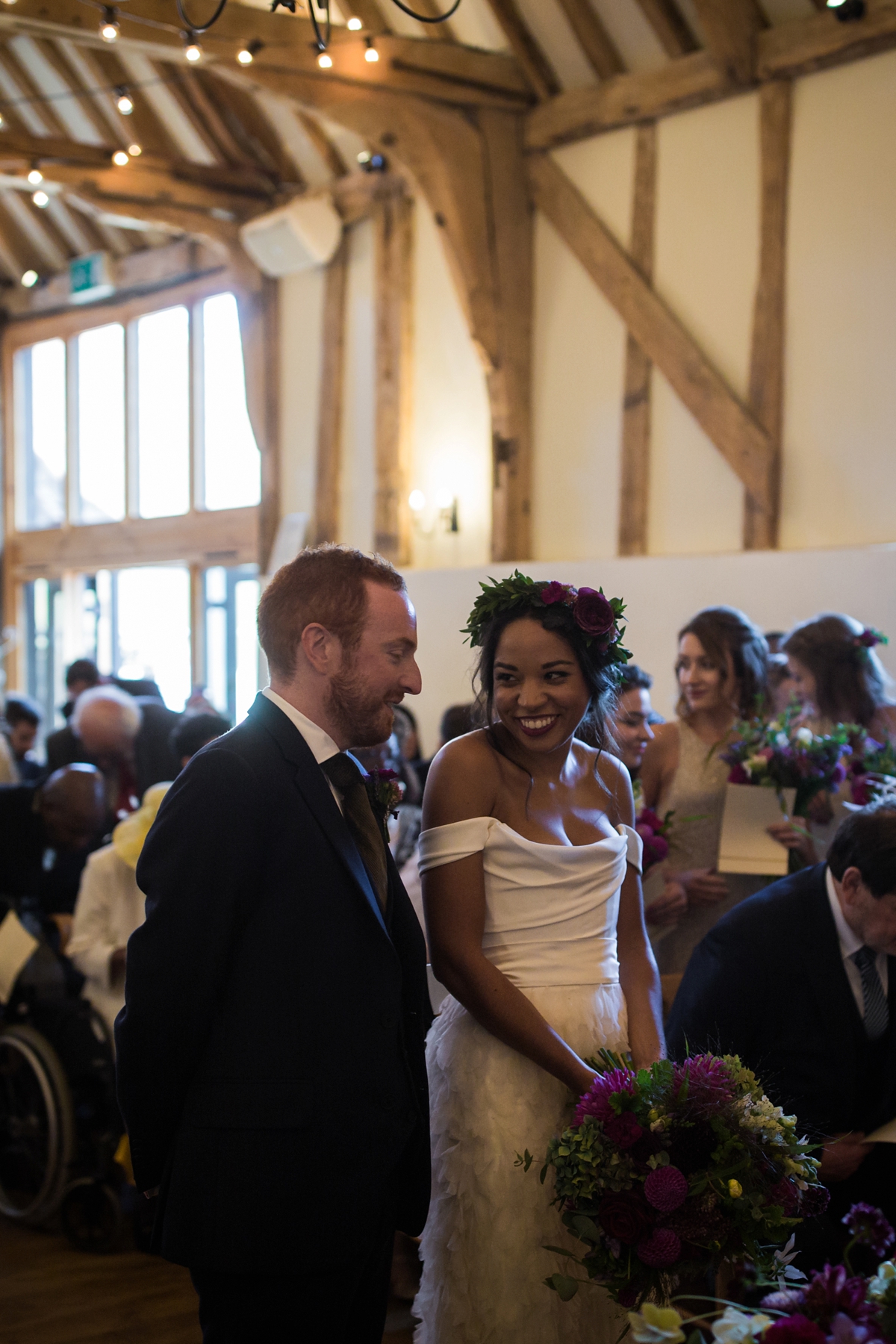 When it was time to prepare for the ceremony, Harry donned a smart Paul Smith suit with a cord tie, made by Imo, a friend of the couple who is a tailor.
"Getting ready was a favourite part of the day for both of us. Harry had to vacate our room nice and early so that I could start getting ready. He'd sent instructions to all of the guys staying in the house to bring their football kits so that they could have a match that morning. We could see them out of my window, still not dressed for the wedding with less than an hour to go."
"Harry had been best man for his best man the year before and they'd had a day out where they bought matching Paul Smith suits and shoes followed by a lovely lunch. Harry describes it as one of the best dates he's ever been on. It seemed silly to buy a whole new matching set of suits so they wore the same again (despite the temptation for a second date)."
The civil ceremony was held in the high-ceilinged, beamed barn, and Leah and her father walked down the aisle together as the couple's friends sang.
"My dad walked me down the aisle, although I was very clear that he was not 'giving me away'! We're very lucky to have some very talented friends, three of which, Lara, Beth and Imo, sang an arrangement of The Beatles' 'Blackbird' while I walked down the aisle. It's a song we both love and it timed perfectly that I walked in just as they sang the line 'You were only waiting for this moment to arrive'.
"We both loved the bride's entrance. There is so much anticipation leading up to that moment. We were both very involved in the planning of the wedding, so it felt so weird that Harry didn't know what I was wearing – such a huge detail of the day – until that moment."
The ceremony was led by Becci Sharp from Woodbridge Registrars and the couple chose a reading each to personalise the service.
"We decided against writing our own vows, mostly because we both gave speeches and were worried about running out of material! We also really liked the idea of saying the same words that so many other people have said over the years. Whilst neither of us were particularly tied to traditions, we were surprised that this one actually felt quite important to us. We're both quite light-hearted people and our guests were expecting lots of jokes and laughter, which did come later in the day, but sticking with traditional vows was our way of showing that this was the bit we felt serious about. We broke the seriousness by having everyone sing 'Can You Feel the Love Tonight?' from 'The Lion King' immediately after."
"Harry asked his friend Jim to read 'Love' by Roy Croft. Whilst this is a poem that will have been read at countless weddings over the years, the words have particular, personal meaning to us. I asked my friend Ruth to read and there was no way I could have asked her to read a traditional reading about love. It's not me and it's not her. I'm a big fan of the website The Pool and had come across a piece by Daisy Buchanan called 'You've had the wedding so now what?'. It's about her first nine months of marriage and how lots of things about her relationship have stayed the same, but that there is something about marriage that just makes it feel better. I thought it was a really honest, modern take on marriage."
I love the story behind the newly-weds' rings; Leah opted to have her engagement ring act as her wedding ring as well.
"Harry wanted me to be able to choose my own engagement ring so he proposed with a placeholder. It's a really sweet gold ring from Alex Monroe that looks like a little knotted piece of string to show that it was temporary. For my actual engagement ring, I really liked the idea of having something with a little bit of history and so chose an art deco diamond ring c. 1925. We got it from S. J. Phillips because we know one of the owners and knew that he would help us to find something beautiful. I  don't actually have a wedding ring as I like the way my engagement ring looks on its own. Harry's wedding ring is a rose gold band from Webley in Hatton Garden. It has 'Property of Leah Broadfield' inscribed on the inside (his choice, not mine!)."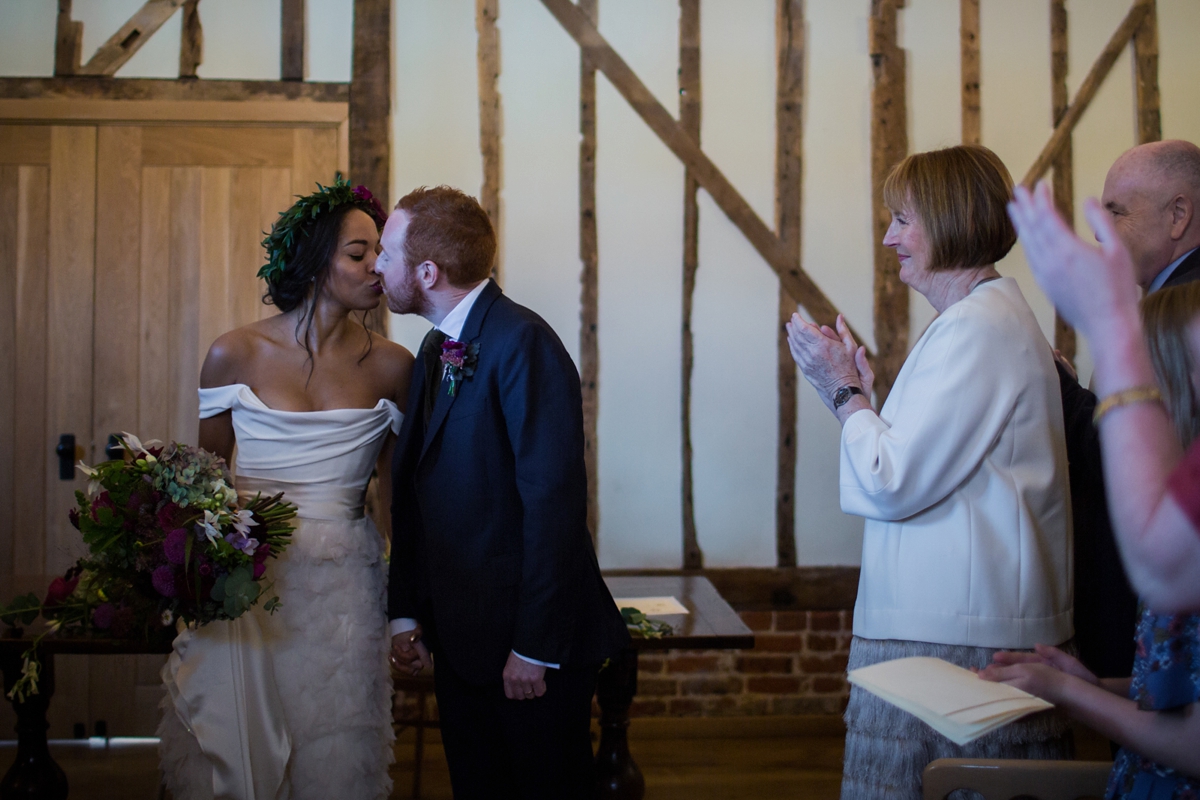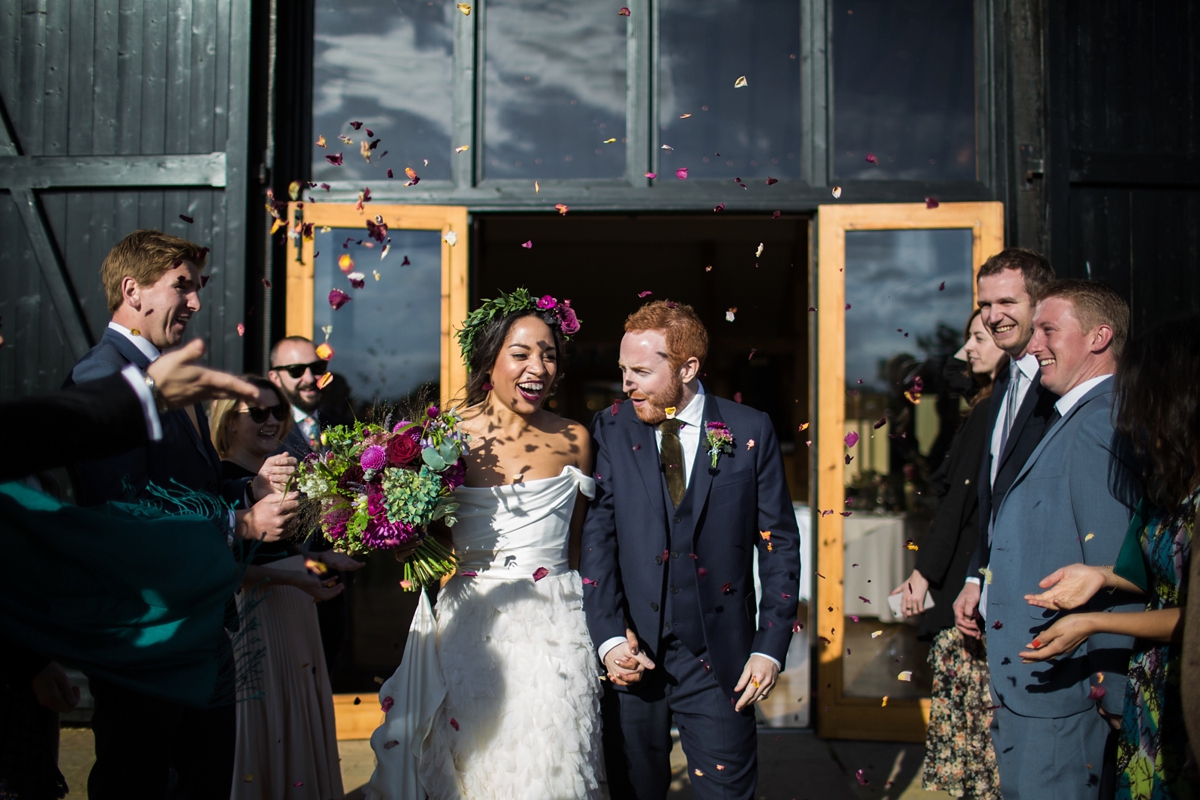 After the ceremony, the couple celebrated in the September sunshine with their guests, at a drinks reception inspired by Leah's family's Caribbean heritage.
"Immediately after the ceremony we had a drinks reception which is where we decided to incorporate a little bit of Caribbean influence. My mum's family are from Montserrat and I felt like I wanted to have a nod to that as everything else about our wedding was so English. We had a steel band (TNT Steel Combo) play during the reception while those who were brave enough opted for traditional Caribbean rum punch over sparkling wine."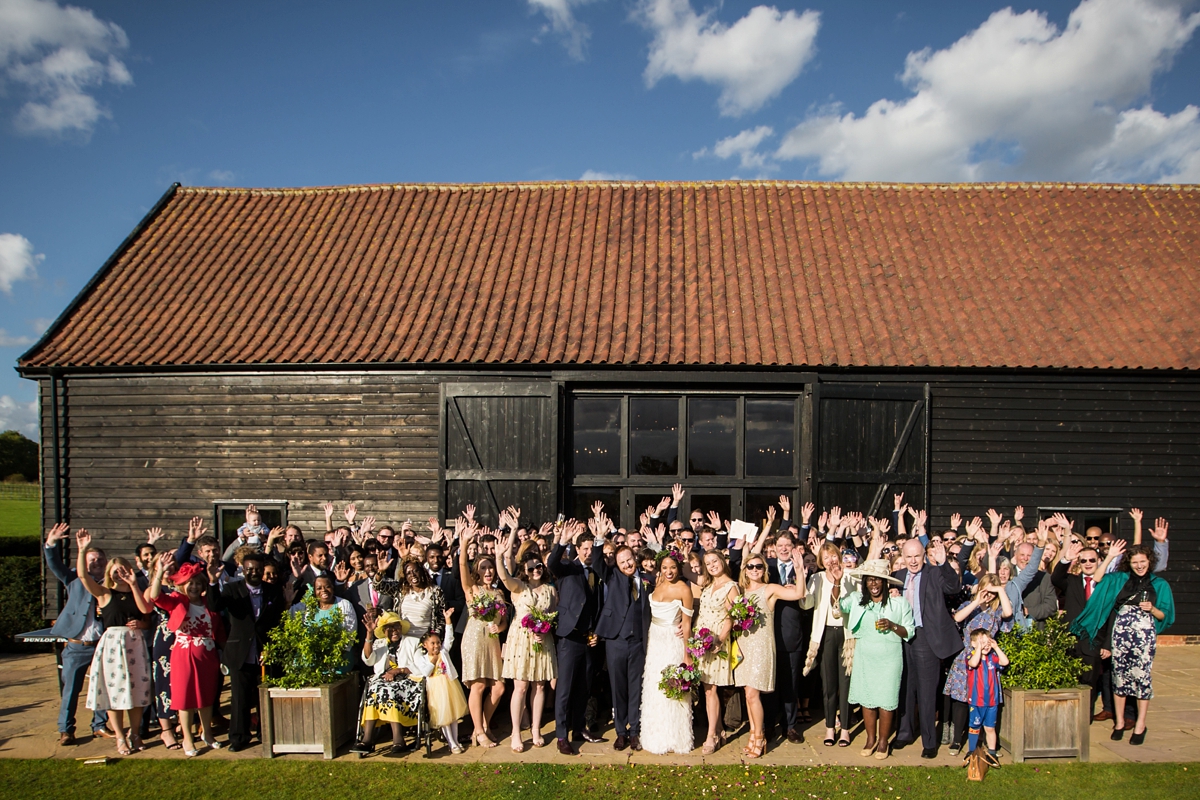 To complement the rich autumnal colour palette, the bridesmaids chose metallic, starry gowns from Anthropologie and wore them with elegant fresh flowers in their hair.
"I'm not a huge fan of bridesmaids dresses and so looked on the high street instead. Since we had no real colour scheme, metallic seemed to be a good way to go as it works with everything. We also thought that gold would look particularly pretty in the autumn.  We chose two different styles and each of the four bridesmaids chose the style that she preferred."
These beautiful photographs are the work of Him & Her Photography, who have brought their creative documentary style into play to capture intimate moments, laughter and love.
"We chose Him & Her Photography after having a browse around their website. We liked their style, particularly the way the captured the non-formal elements of the day. In the end we were mostly sold on their love of cats as our own cat is our favourite topic of conversation."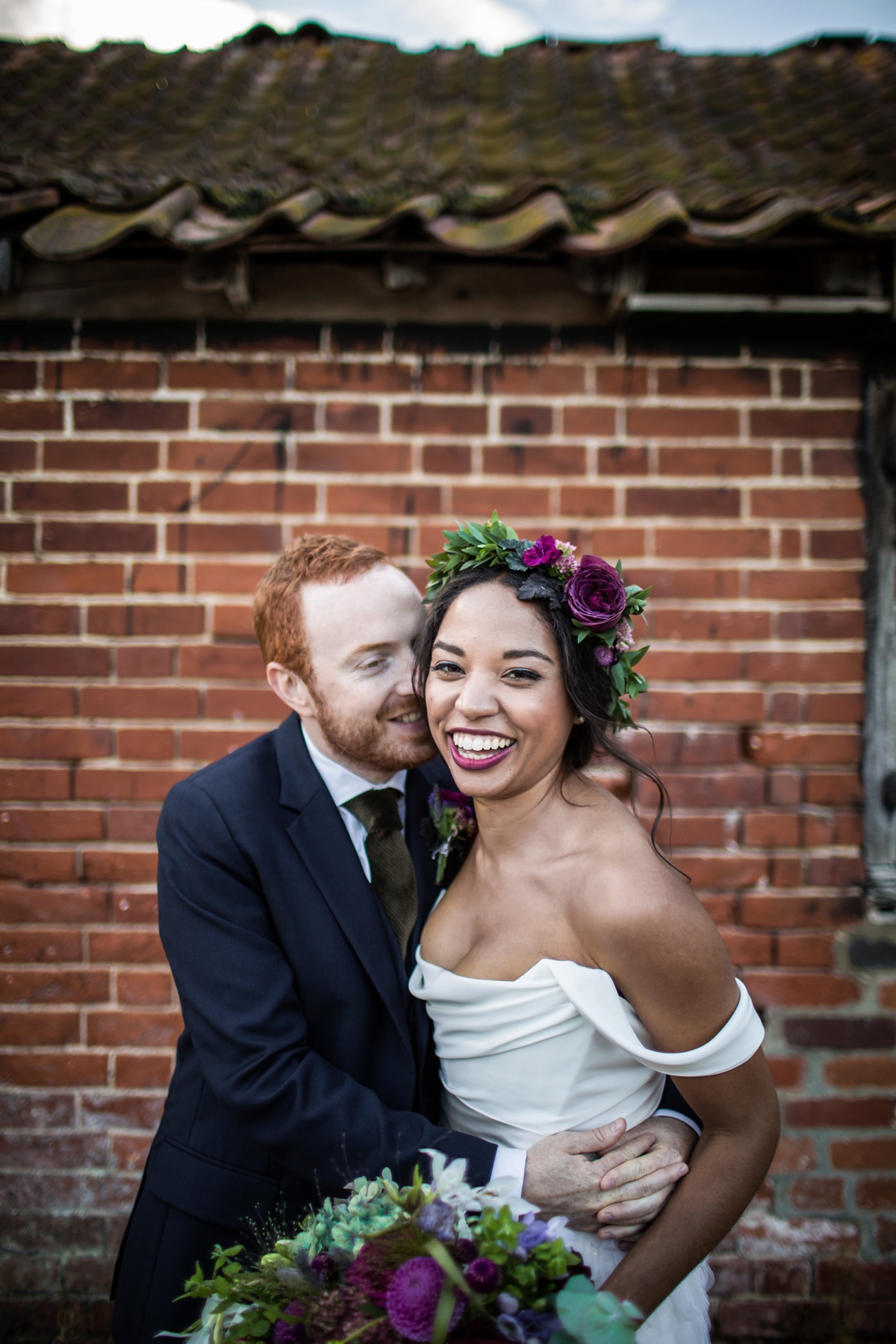 "We couldn't be happier with the pictures which we feel truly capture the joy of our day. They were great at capturing really special moments without being prompted. We were incredibly impressed that they managed to capture someone who wasn't even present at the wedding. Harry's 99 year old grandmother had been too ill to attend but had arranged to watch the ceremony via Skype. Neil managed a snap over Harry's brother's shoulder (no mean feat given that he's 6ft 8) showing her watching via the wonders of modern technology."
"Lisa and Neil got the balance just right between making suggestions and moving things along and knowing when to step back. Suggestions they gave us in the run up were really helpful in planning how the day would run. They were also great at working with our other suppliers who have all commented on the quality of photography. The speed at which we got our finished photographs was astonishing. It was such a lovely thing to come back to following our mini-moon and so nice to be able to share with friends and family while they were all still buzzing about the day."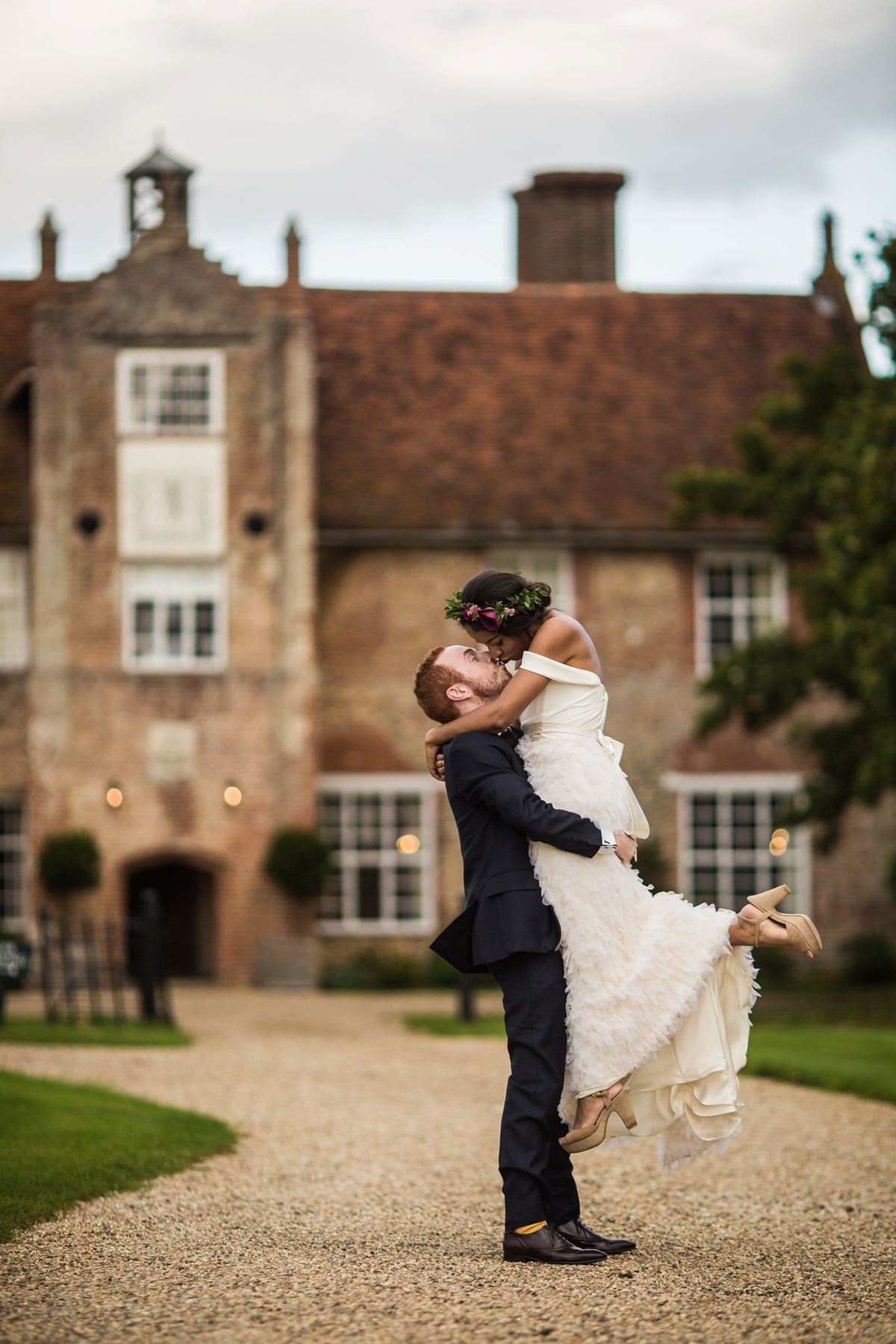 "I made all of the stationery along with the help of some crafty friends. We printed the menu cards and order of service booklets at home and used gold leaf pens and star-shaped stamps to decorate them. It was a complete coincidence that the bridesmaids ended up in star print dresses! I then sewed each order of service booklet together by hand whilst watching 90s teen movies and romcoms. We also made all of our own signage. Nothing particularly flashy; you can do a lot with some black foam board and a gold marker pen."
The wedding breakfast was catered for by the Hall's in-house team Heathcote & Hare. I love the fun 'sandwich board' that displayed the table plan.
"The crafty moment we were most proud of was the table plan sandwich board that we made for Harry's brother Joe, our MC for the day. All of the tables were named for reasons relating to the people on them. We had good fun coming up with those."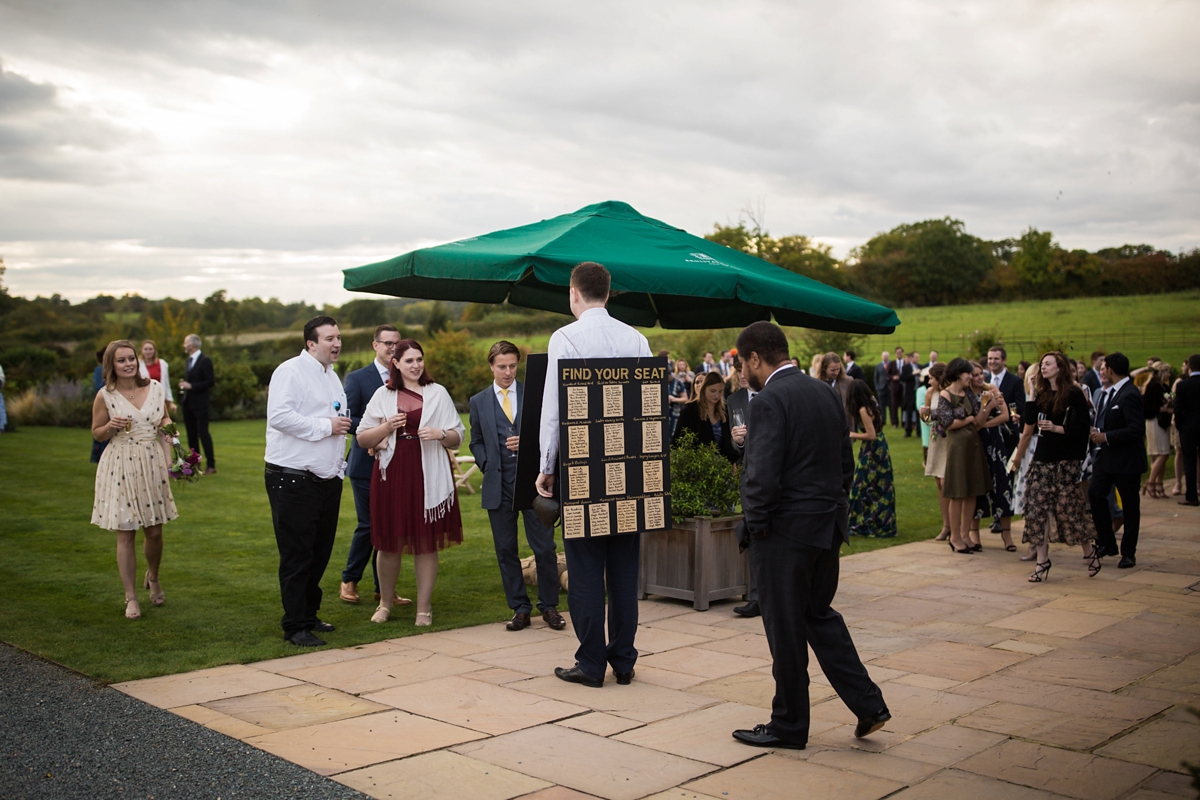 Amy at Cookie Delicious baked the magnificent naked cake which sounds absolutely delicious.
"Neither of us are fans of fruitcake and so wanted something a bit more modern. The cake was three tiers, each with a different flavour: lemon, cherry Bakewell and sticky toffee. In keeping with the rest of the wedding, we didn't want particularly fussy or overly formal decoration, so Amy did a wonderful job of decorating it with seasonal fruit."
"Amy's service was great. As we aren't local to where we got married she couriered us a sample box of cake so that we could choose our flavours from her selection. That was definitely one of the most fun parts of planning. The only thing we'd have done differently is that we would have remembered to hide some wedding cake so that we could have had some!"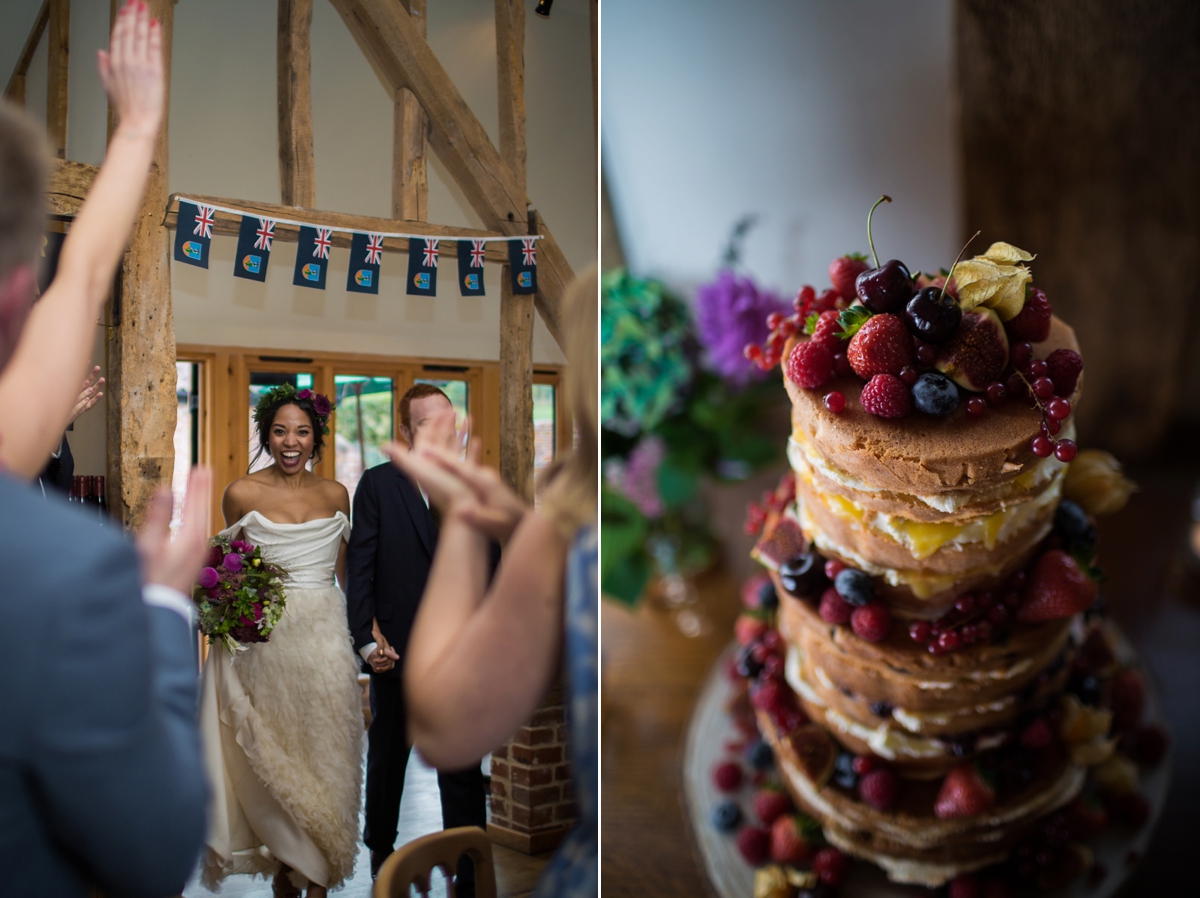 "The venue is so beautiful that we didn't want to distract from its features too much. We had festoon lighting hung from the 14th century beams, a few fairy lights in jam jars that we had decorated with metallic tape and then small jars of flowers dotted around. One final touch was a small amount of Montserrat flag bunting on the bar as another nod to my family's Caribbean roots."
I'm sure you'll agree that Bruisyard looks wonderful with its floral decoration and crafty bits here and there, which Leah and her friends created. Hire of Bruisyard includes a dedicated event co-ordinator, who Leah rates very highly.
"We worked with Serena who knew the venue inside out and was so helpful throughout the planning and kept everything running smoothly on the day. The whole team at Bruisyard are great."
The flowers were designed by Denise, from Garden Gate Flowers, Southwold, and I love the colour palette of rich greens and romantic, deep purples.
"We absolutely loved working with Denise. The flowers were probably the thing that our guests commented on the most. We really didn't give a huge amount of direction other than a few particular favourites, a request for lots of green and the colours to avoid. Having seen some of her work on her website and Instagram we fell in love with her relaxed style."
"My godmother, also a keen gardener, re-planted some of the scented geraniums from my bouquet and they are thriving; a really nice keepsake to have from the day and a top tip for anyone wanting to preserve their bouquet."
"We wanted to keep the flowers seasonal and local which is what Denise specialises in. She grew most of them herself with a little help from a few other local growers. The hair accessories she made for the bride and bridesmaids were particularly fantastic, as was Denise's ability to match my bouquet to my lipstick. The staircase decoration made the whole room smell like a gorgeous herb garden. We loved the colours that Denise used so much that we've recently planted our garden based on the same scheme." 
"We brought in some of our own wine which was from a vineyard called Clos Lenticus in Spain. We visited it on a family holiday a few years ago and alongside loving the wine, have some really happy memories. We had their sparkling wine for the drinks reception and the speeches."
"We had no favours except for a few bottles of wine from a local vineyard for people who had helped out. The vineyard is in Framlingham and they make their own sparkling wine called Frampagne. We couldn't resist the pun."
The speeches were interspersed throughout the meal, a really great idea.
"We both hugely enjoyed the speeches. The one wedding tradition we both hate is that a group of men speak on behalf of the women. For that reason we always knew that I would speak as well. I would describe that part of the day as warm, funny and verging on competitive. As that made four speakers in total (father of the bride, bride, groom and best man) we decided to stagger our speeches through the meal, a top tip we picked up at a friend's wedding."
As the evening drew in, it was time for the newly-weds to let their hair down and do some serious dancing. Both The Hot Shots and TNT Steel Combo were found via Alive Network Entertainment Agency, whom you can find out more on our Little Book here.
"We had a live band who did great rock and pop covers. They had won the Wedding Industry Awards for East of England for a couple of years in a row and did not disappoint. They also provided a DJ service."
"Our first dance was to 'Romeo & Juliet' by Dire Straits which our band learnt. We have a very happy and rather drunken memory of dancing together to this song in Harry's sister's kitchen when we'd massively outstayed our welcome at her house-warming party. I remember thinking at the time that if we ever got married, that would have to be our first dance. Being a song about a couple drifting apart, it's not the obvious choice for a first dance, but it always makes us smile."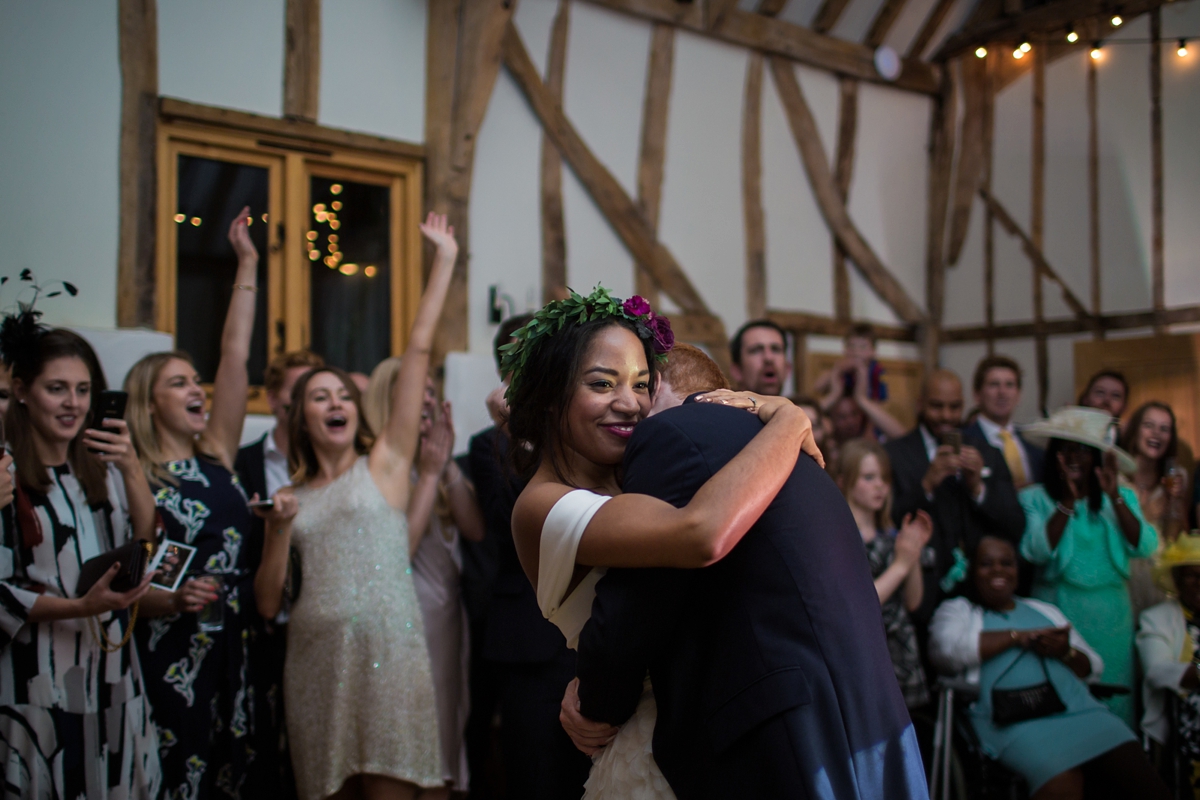 "We both loved the part of the evening where the dancefloor really got going. It's the best feeling, looking around at all of the people you love spending time together. Friends of ours that had never met each other before dancing and laughing with each other will remain one of our happiest memories."
Words of Wedded Wisdom
"Our main piece of advice would be to choose suppliers whose work and style you like and that you trust and let them get on with their job! Everyone commented on how relaxed we were on the day and that was mostly down to the fact that we weren't running around trying to be in charge of everything."
"We knew we had a great team around us who all understood exactly what we wanted out of the day. There was no need for us to get involved in anything logistical on the day, we just focused on having a good time."
Leah and Harry, thank you so, so much for sharing your wedding and providing us with such a great insight into the detail and styling. I've loved writing about you both today, in fact you feel like a friend. I also adore your choice of bridal separates, and could drink up these wonderful photographs for hours. Thank you Him & Her Photography for letting us publish them today. If you'd like more autumnal wedding inspiration then please take a look here for many more September and October weddings..
Ele xx