Hello lovely ones, I'm going to mix the usual flow of content up a little today and instead of starting out with a beautiful real wedding to inspire you, I'd like to share this absolutely glorious set of images that showcase the work of London based bridal designer, Kate Edmondson Bridal Couture.
I've known Kate for a good while now – certainly going back to c.2011/12, and have thoroughly enjoyed watching her business grow. Kate was designing for brides during the earlier years of Love My Dress and I met her on a few occasions at wedding events.
She's lovely, and talented and as anyone who knows me will know, it gives me great pleasure to support and promote such individuals – especially if they happen to be women. Kate recently teamed up with another favourite talent of mine, the wonderful Rebecca Goddard, to create these beautiful images you see here today that showcase the elegance of Kate's dresses most beautifully. I fell in love with this photoshoot instantly – all that high-collar and low-back drama, utterly divine.
Film by Rachel Takes Pictures
Kate Edmondson designs are effortless and contemporary.  The designer herself takes inspiration from stylish fashion moments of the past; those divine high collars of the Victorian era, puff sleeves from the 70's, flower power inspired lace from the 60's, drop waist detail from the 1920s – everything updated to work stunningly for the modern bride.
Kate describes her ideal client as self assured, elegant and independent, a girl who appreciates romance. As her designs are bespoke, they're totally tailored to the individual, inimitable personality of each bride that wears them. The luxurious materials and sumptuous cuts of her designs dance on the body. These images were created to showcase the the gowns in their very best light. I hope you love them as much as I do.
Images by Rebecca Goddard Photography
Photographer Rebecca says "we wanted a venue for our photoshoot that had the same criteria, and Queen's House at the Royal Museums, Greenwich, was the perfect setting for this. Originally conceived as a 'House of Delight' for a queen, it lived up to its name with all the elements of a modern fairytale: perfectly geometric tiling, a bold and sweeping staircase, the  floral wall of dreams, and a psychedelic swirled flooring fit for a wonderland."
To keep things fresh and modern, makeup artist Ana Ospina Ruiz matched the high neckline of Kate's first look with a more contemporary dewy look. The focus was on brows, lashes and a glowing complexion, perfect for the bride who wants a barely-there-but-there look, the kind we know many of our readers love.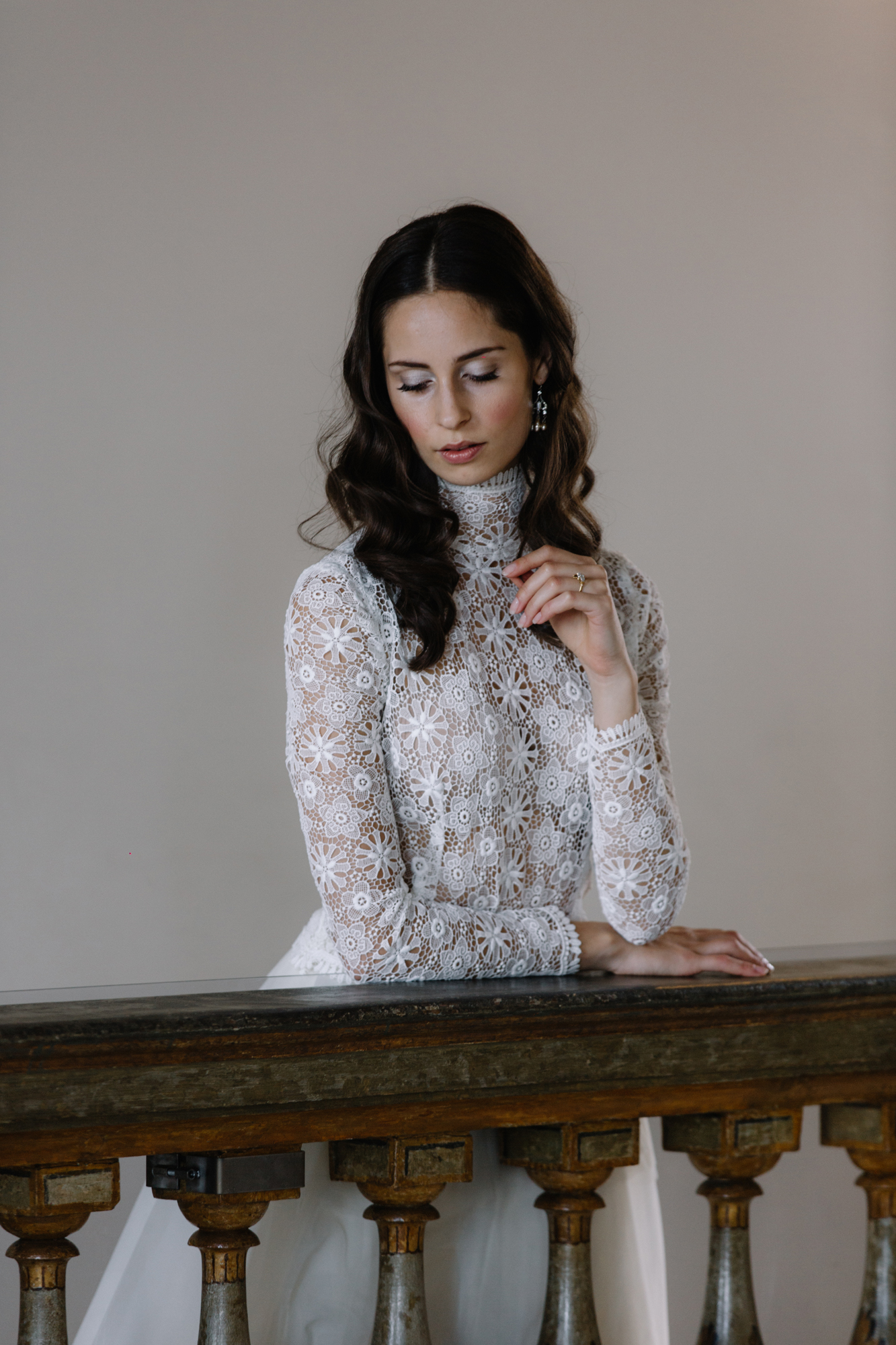 Kate says "for the look below, we let our hair down a little with a gorgeously floaty number that featured a really unique curved waistline. Blush-toned makeup kept it soft and romantic, whilst Love Hair By Lou's neat plaited half-up-do kept the look the chic side of bohemian."
"In keeping with the vintage inspiration behind every bespoke piece, we accessorised this with an Agnes Walker Signature headpiece, featuring enamel and rhinestone jewellery from the 1950s-70s ,combined with Swarovski crystals and pearls."
The third look in this shoot was bold and unapologetic with serious edge; perfectly befitting a bride getting married in one of London's stunning architectural city venues or a bride who wanted to pay homage to starlets of years gone by.
A contemporary ankle-length skirt shape from Kate's 'London City Chic' range showed off Faber Novella heels, whilst a slicked-back yet voluminous ponytail mirrored the slim fit of the dress with the structured puff sleeve.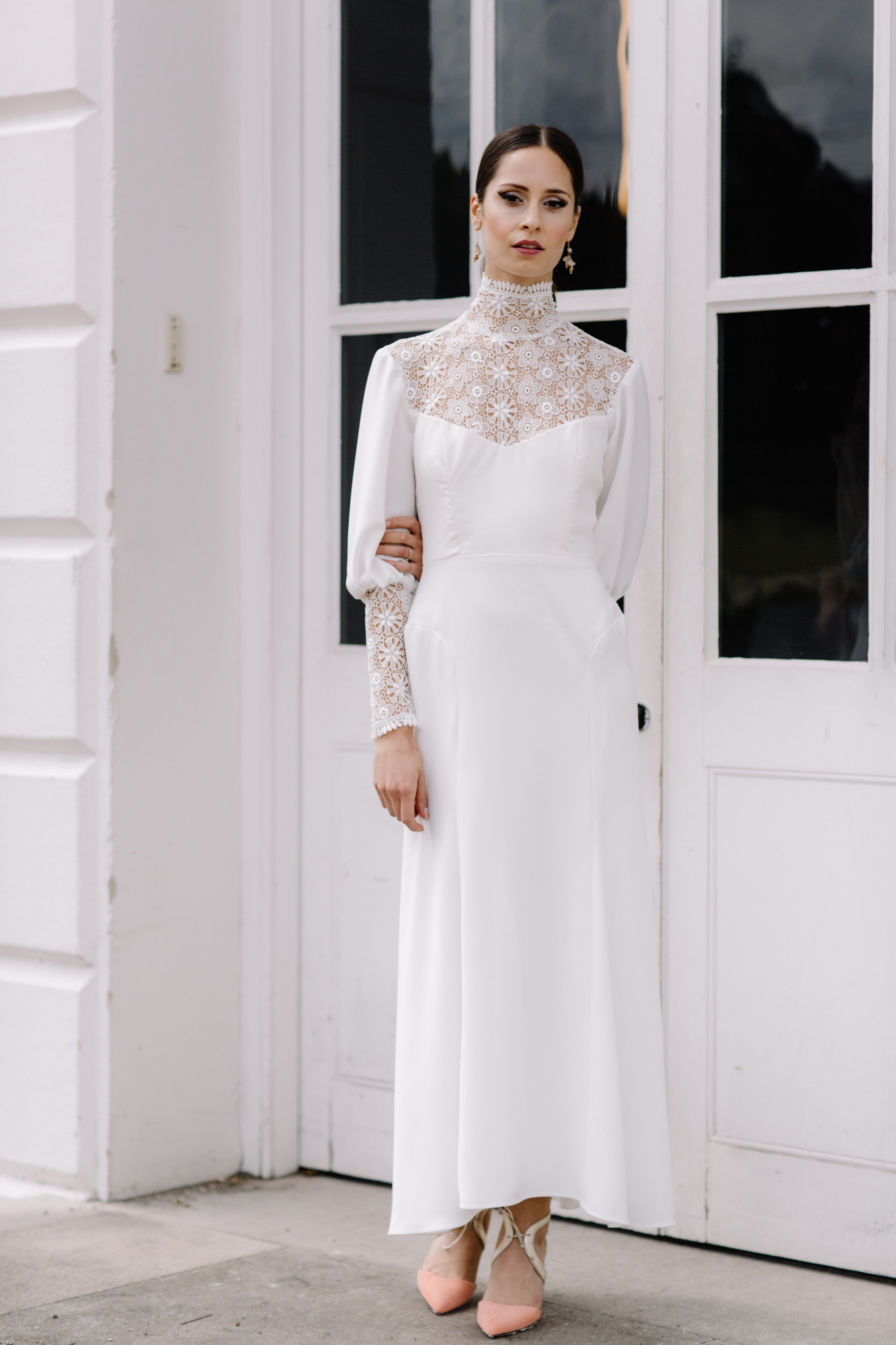 "It should be imperative in bridal fashion that women feel like a special version of themselves, not like they're dressing up as someone else, so Ana used a black winged eyeliner and berry coloured lip for brides who don't steer towards subtle on any other day, and so shouldn't for their wedding."
"The daring and low back, embellished lace and flowy sheer sleeves of our fourth look leant a Spanish feel, so we opted for a warm gold and red tones for the make-up and a chic, effortless low bun for the hair."
The flowers used in each look were the work of the wildly talented Bloomologie, who took inspiration from the gorgeous garden at Queens House to create delicate, light arrangements using seasonal British flowers. English-grown wild rambling roses, delicate phlox 'Crème brûlée' and lacy orlaya were taken from her cutting garden and teamed with soft pink astilbe, nude pink roses and seasonal snap dragons for a little drama. She also added scented jasmine trails and wild poppy heads to give a rebel vibe and bring some overall edge to the look, perfect for the modern, independent bride.
I adore the unstructured and natural vibe of this bouquet. So, so beautiful…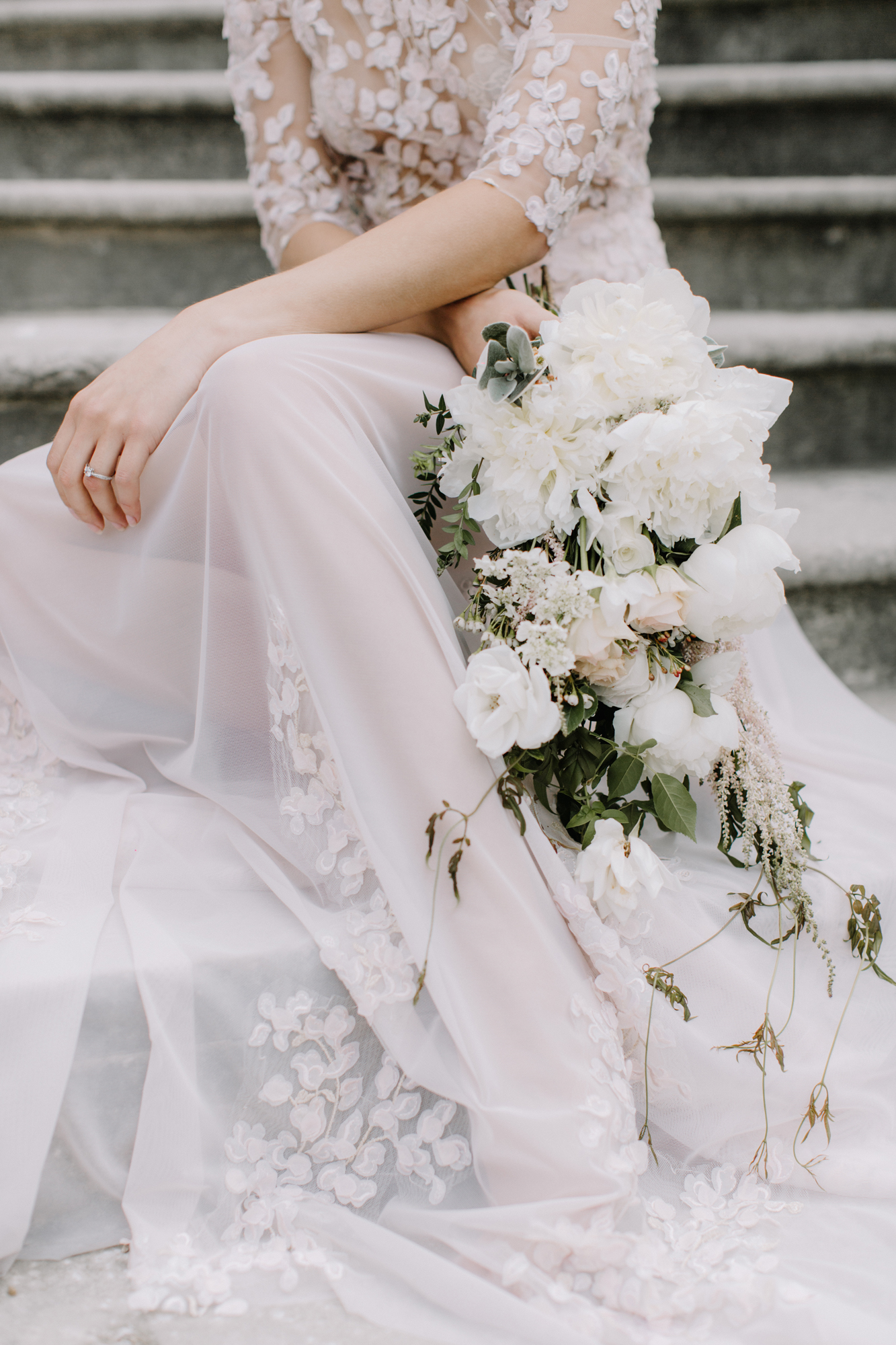 For more information on Kate Edmondson Bridal Couture, please visit Kate's website.
Kate will shortly be joining our Little Book For Weddings – in the meantime, you can learn more about her dresses and design services by visiting her website and exploring her Instagram feed.