Much as I would love to embrace them, Mondays are not my favourite thing.  However, a sure fire way to make a Monday a much nicer prospect is to spend some time looking through some beautiful wedding photos and I have the perfect ones to get your week off to a great start.
Meet Helen and Charlie, who tied the knot on the 15th July 2017 at Stoke Newington Town Hall, with a reception at Abney Public Hall, on Stoke Newington Church Street, in classic 'white wedding' style
"I was inspired by vintage white weddings from multiple eras and I wanted to bring in an element of kitsch, with an over-the-top vintage Bride and Groom cake topper (which was a real battle to get Charlie to agree to!), swan vases and cut glassware.  Charlie designed and illustrated our stationery and took some of my inspiration while adding his own touches."
Images by Lisa Jane Photography
"I gave the bridesmaids a contribution towards their outfits and asked them to choose their own, as I really wanted them to feel happy in what they were wearing.  Both of Charlie's sisters had recently had babies and were still breastfeeding, so I really wanted them to be comfortable. The only guidelines I gave them was to wear white.  My lovely flowergirl wore a little white sun dress from Next and carried her flower crown down the aisle, along with a little bride bunny that I gave her as her present."Helen looked fabulous in a beautifully simple gown by Essence of Australia, which she purchased from Angelica Bridal Boutique in Islington.
"I'm quite small, so I didn't want a dress that overwhelmed me.  The dress I chose just made me feel like myself as soon as I put it on and seemed to speak to my personality.  I loved the vintage silhouette and seaming and I added some 17th century vintage lace panels that I found from a seller on Portobello Road market.   I couldn't recommend Angelica Bridal more highly- they were so incredibly sweet and helpful."
"I really felt the pressure to feel like it was the dress of my dreams and I wasn't sure I felt that intensely about it so I really worried that I had picked something too quickly, but I can honestly say that on the day I felt so amazing and unbelievably happy in it and I knew then that I had made the right choice."
Helen's chapel-length veil was from ieie Bridal on Etsy, while on her feet she wore floral heels from Topshop.  For jewellery, she opted to keep things simple with two pairs of earrings from & Other Stories and her perfume was her favourite Stella by Stella McCartney.
"We loved the look and feel of Stoke Newington Town Hall, as the Art Deco decor give it just the right amount of grandeur, but it still felt intimate.  Abney Hall provided the right blank canvas for us,  with lovely features like gorgeous metal beams and festoon lighting."
"It's a family run space and Tanya was so helpful from the get go.  It was great to have the option to bring in our own alcohol and food and we loved the idea of walking up the road with our guests to the venue."
Helen and her dad were driven to the ceremony by Helen's neighbour, and her dad then accompanied her down the aisle to 'Sea of Love' by Cat Power, looking incredibly proud.
"'Sea of Love' is in a really lovely part of the film Juno, which me and Charlie used to watch all the time at the beginning of our relationship. Charlie didn't know that I had picked that song and I think he cursed me a little when it started, as it definitely didn't help him to hold the tears in."
The couple wrote their own personalised vows, and made every part of the ceremony theirs, choosing a perfect song in place of a reading.
"Both of our dads are very musical and so is Charlie's best man, so between them they performed 'Must Be Love' by Madness.  They did the most amazing job and it really helped us to get over the some of the emotion after walking down the aisle."
"The ceremony was the most amazing thing.  I don't think either of us had anticipated the emotions we would feel and the whole thing was really quite overwhelming.  Even though you are standing up in front of all of your guests, it's amazing how it feels like it is just the two of you.  It's the most magical feeling."
Best friend and maid of honour, Ciara Bowles, made the wedding rings and worked with Helen and Charlie to create bespoke designs.
"It meant so much to have our rings made by someone that we loved and it added another layer of emotional connection too."
Charlie wore a dark blue suit from Suit Supply, paired with shoes from Next and a beautiful tie and pocket square made by Helen from Nani Iro fabric.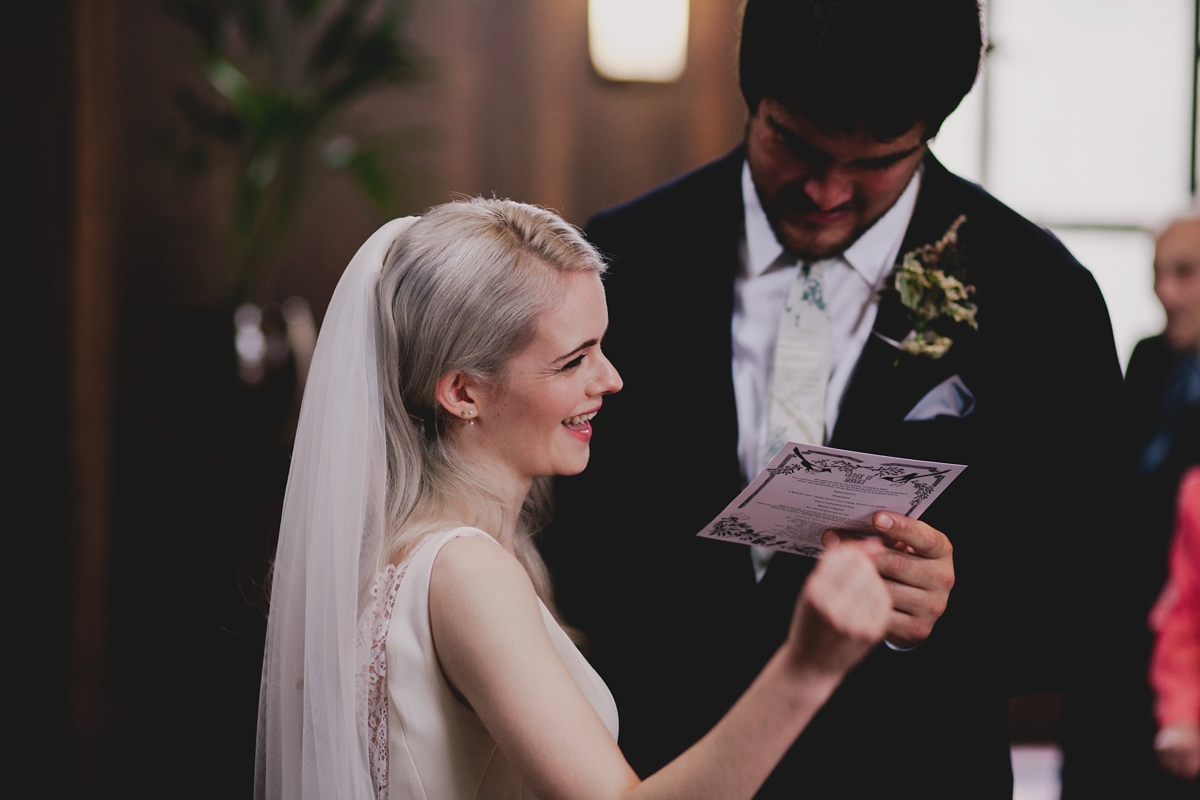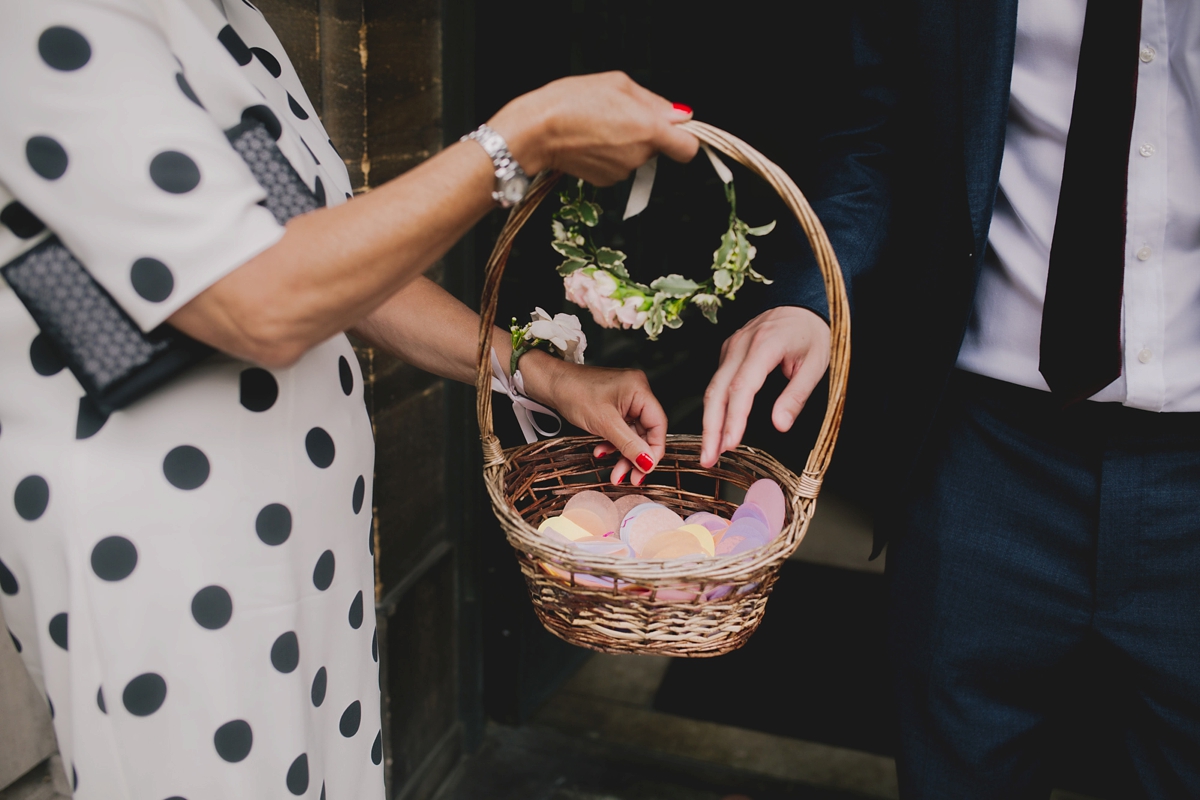 Helen's ash blonde locks were styled at Lindsey's Hair Salon in Leytonstone, for whom she once worked as a Saturday girl.  The soft waves and relaxed style perfectly compliment the romantic vintage style this wedding encapsulates.
"Sylwia at Kristina Gasperas did my make up.  I was over the moon with the natural look that she gave me; she made me feel so beautiful but most importantly not too done up.  She was so incredibly sweet, supportive and attentive, really helping to calm my nerves and telling me to 'think of my toes' when I felt emotional.  Whilst blubbing down the aisle my dad was muttering "toes, toes, toes" to me."
The talent behind today's soft, vintage-feel images is Lisa Jane Photography.
"We couldn't recommend Lisa highly enough.  We fell in love with the relaxed, candid and creative shots that are her signature style and I was so excited by the fact that she used different mediums, like using her old Polaroid camera.  It's amazing how much time you spend looking at other people's beautiful wedding photos before you actually get married and to finally get through your own beautiful wedding shots is the most magical and emotional thing."
"Your whole wedding day is so overwhelming, and nothing that you are quite prepared for, and Lisa warmly steered us through all of this.  From keeping us calm and chilled through our portraits and keeping all the guests in the right place in the most relaxed and friendly way, she was a total godsend."
"Helen from Petal & Pot was a joy to work with from start to finish.  It was such a magical moment seeing my bouquet and the reception venue for the first time, and she worked so hard to find unusual flowers to get the right 'white wedding' look."
"The venue had enough character that meant we didn't have to add too much, but Helen put in an amazing wild-looking arrangement on the central windowsill and eucalyptus hanging from the beams to add interest."
"We kept decor simple, placing white runners down the centre of the tables and added interest with vintage blue and white crockery and cutlery that we hired from Classic Crockery, embroidered vintage napkin favours and vintage glass candlesticks and tealight holders I collected on eBay.  I fell in love with the look of vintage swan vases, so I collected a few of these for the flowers, and these worked alongside cream vintage urns and cut glass vases that our florist supplied."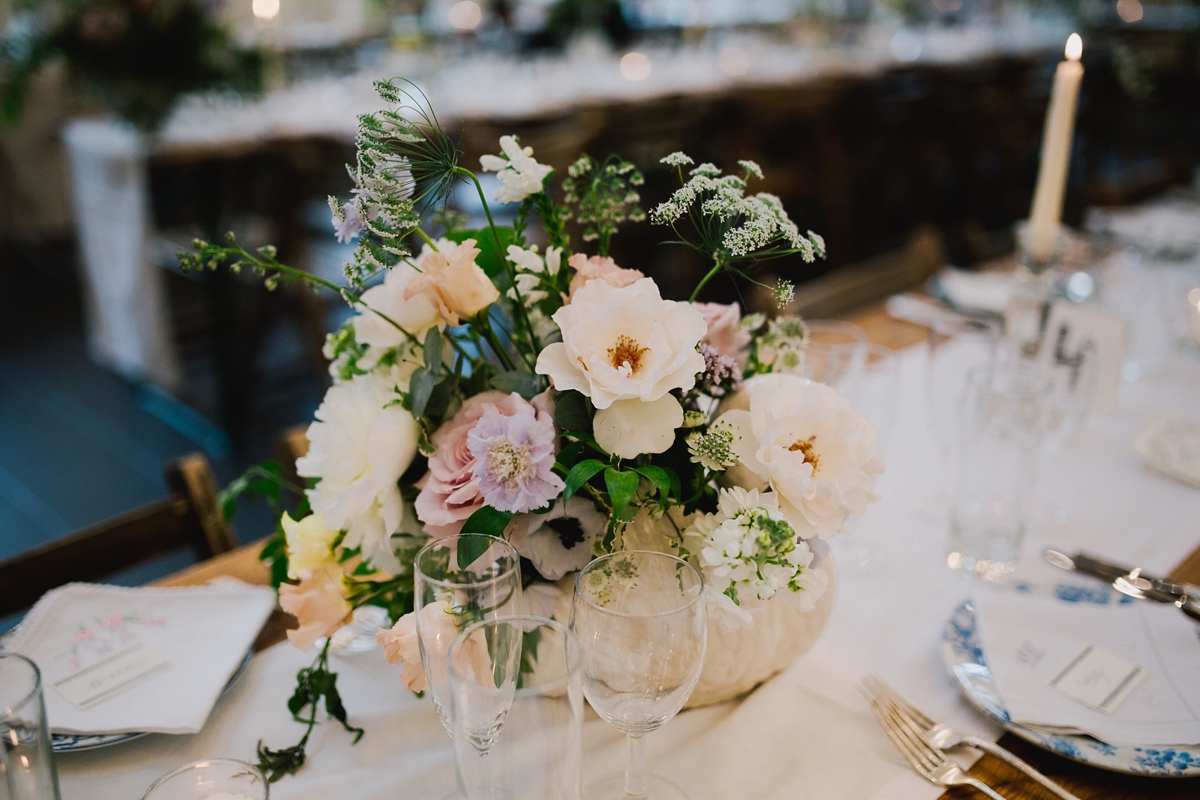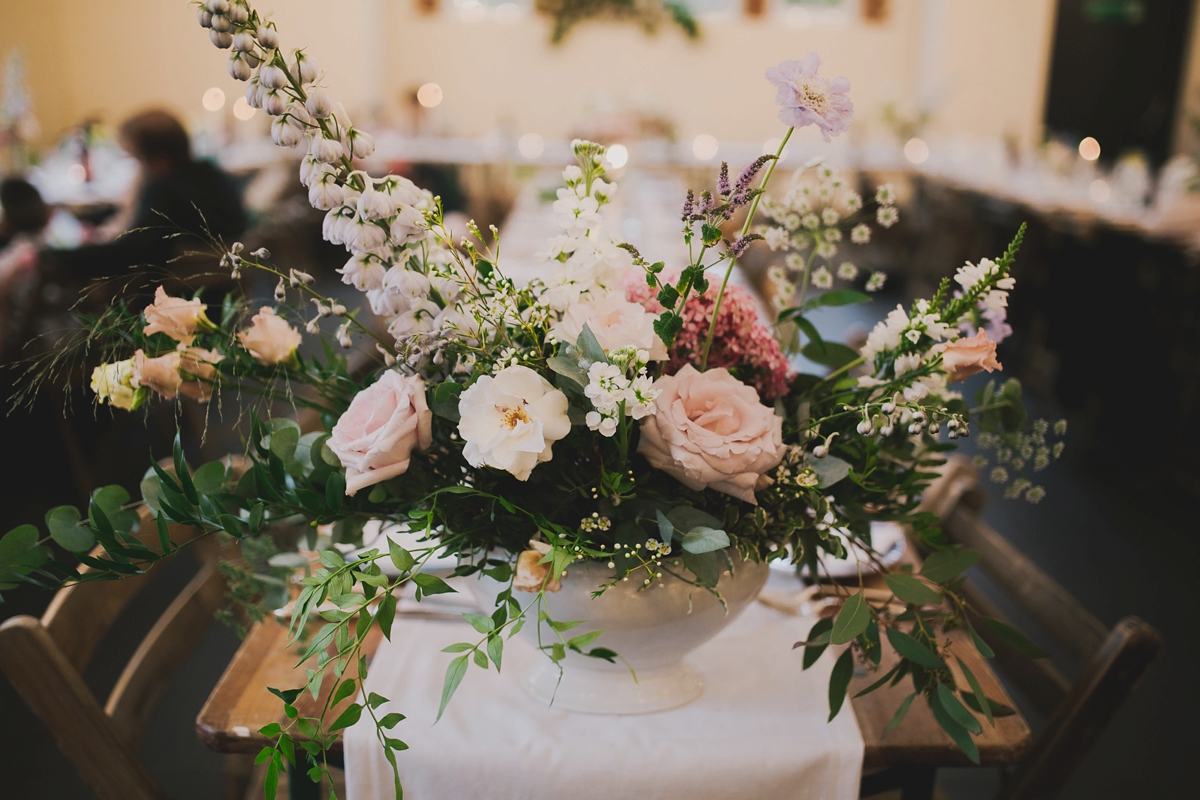 The beautiful traditional cake was the work of Helen and Charlie's mothers and was topped with the inspirational kitsch bride and groom (as were the dessert doughnuts!).
"We also placed wedding photos of our parents and grandparents on the cake table.  My grandma wasn't able to be at the wedding, so it was so nice to feel like she was there in some way."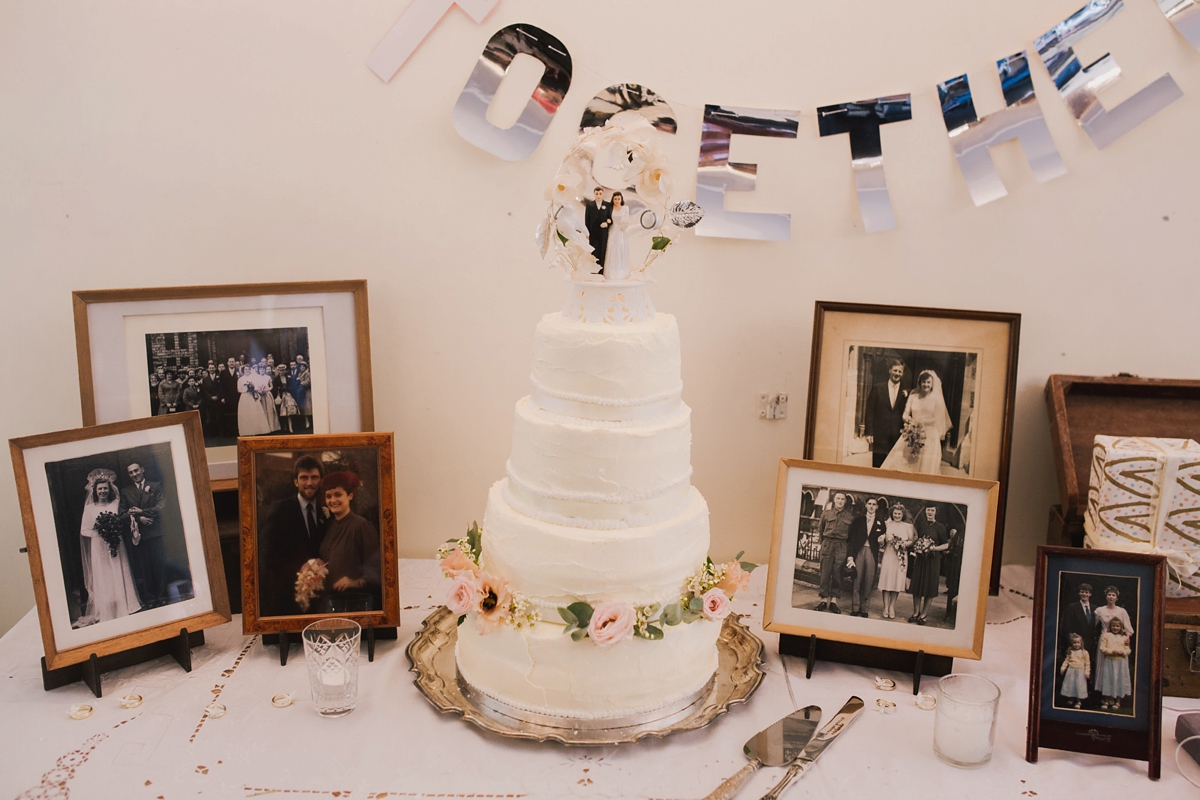 "Rasa provided an amazing vegetarian Indian feast for us, while for our evening buffet we had a fantastic cheese tower from Froth & Rind.  Fraser was so helpful, and we definitely enjoyed our tastings."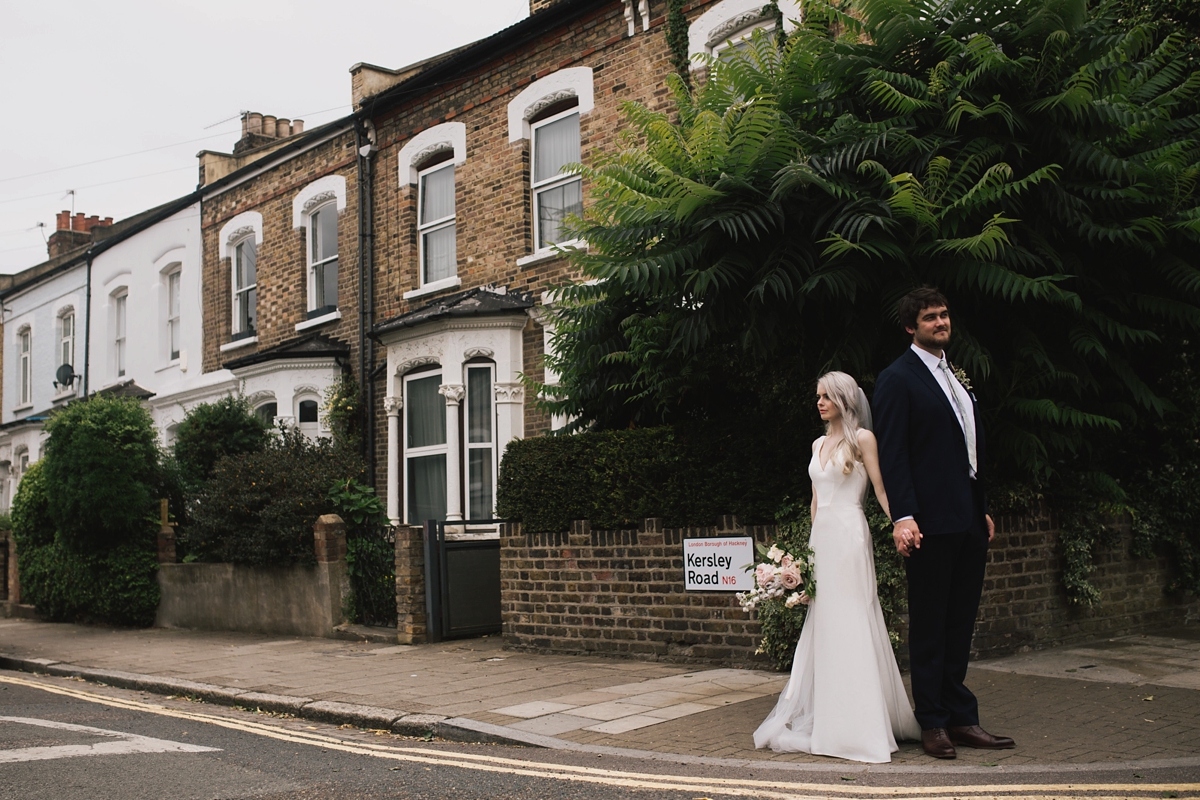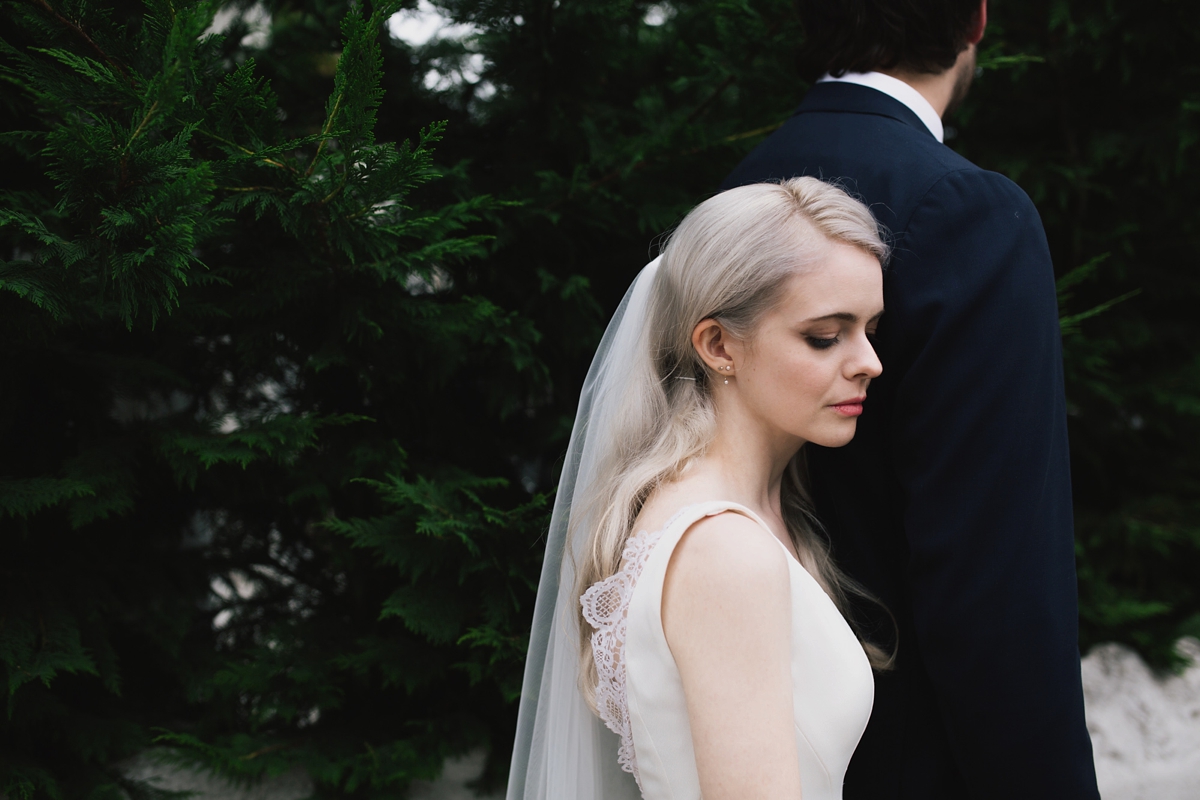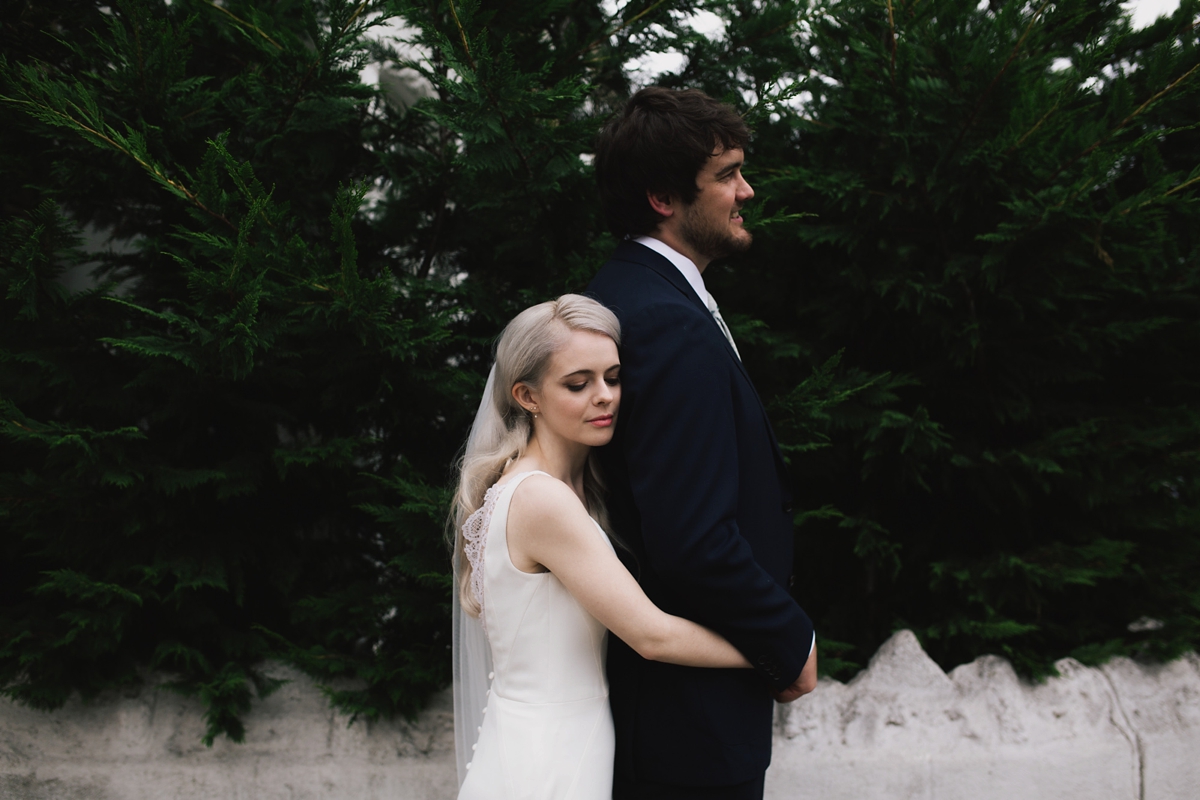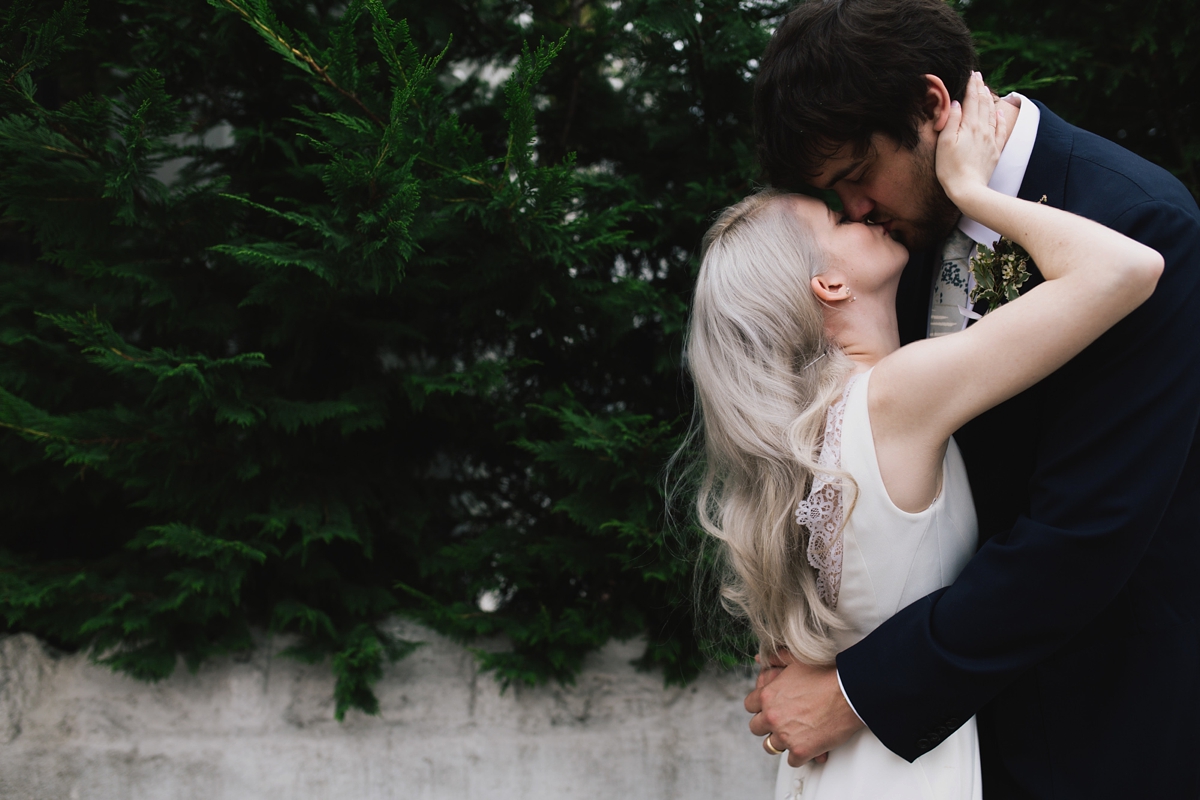 "Charlie plays in the Waltham Forest Brass Band, who gave our guests an amazing performance.  We also had the Hitsville Soul Stirrers perform a fantastic Motown set in the evening. We have seen them a couple of times before, and we've never danced so much."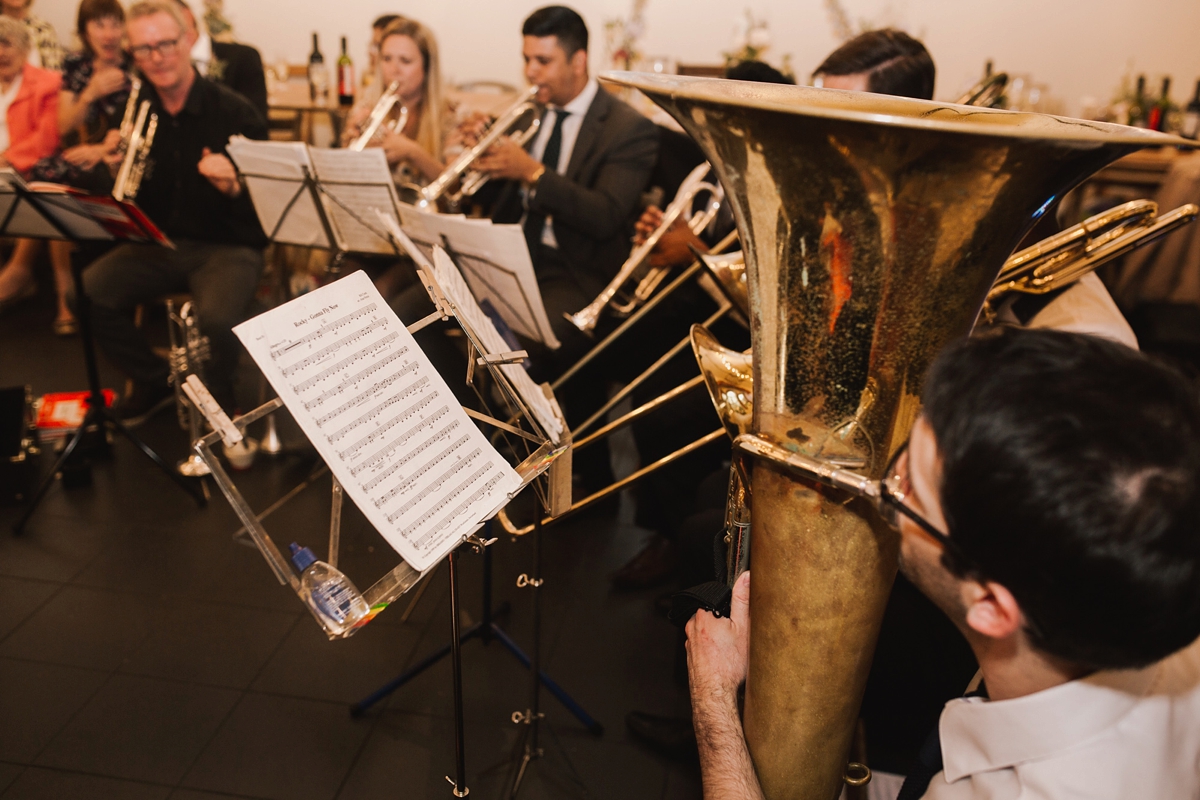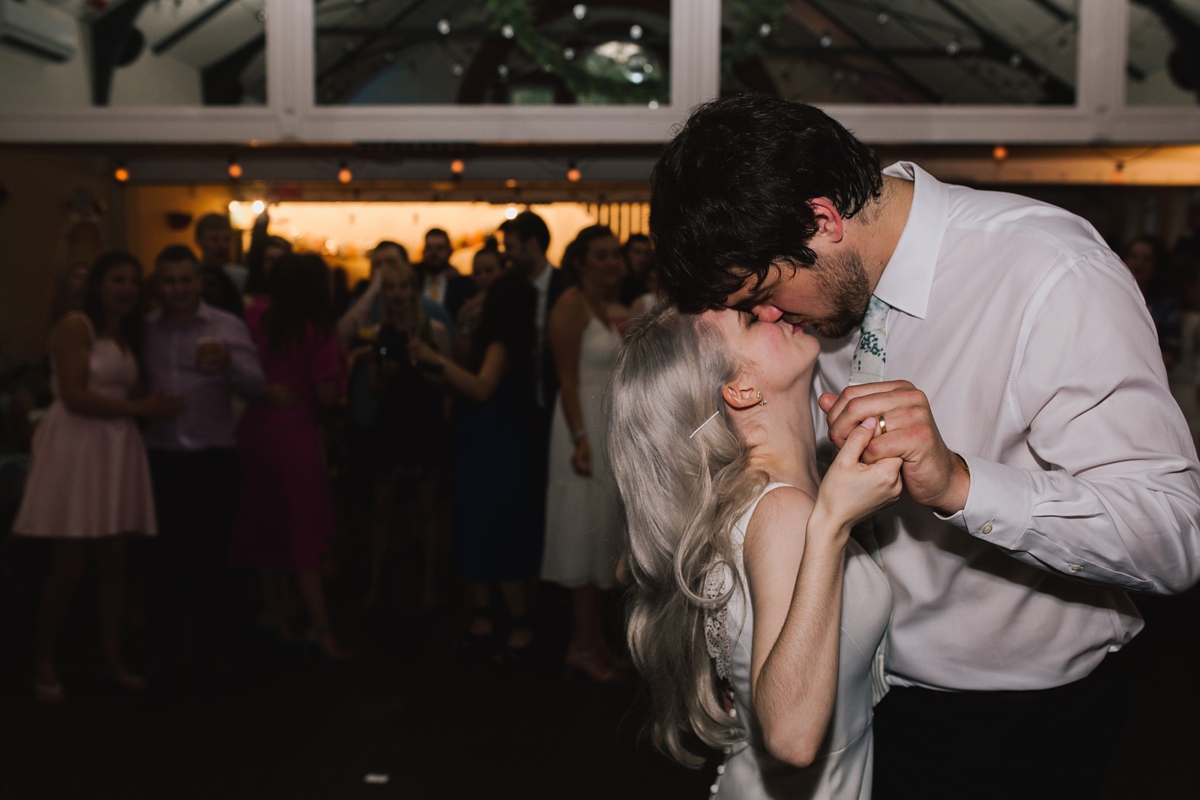 Words of Wedded Wisdom
If you are DIYing, try to start as early as possible.  I felt a bit overwhelmed by all the things I planned to do in the last two weeks, and therefore it didn't all happen
Get your loved ones involved as much as possible
Try to take in as much as you can on the day.  The whole day is so overwhelming so this is so much easier said than done, but have lovely chats with your guests, eat the beautiful food and go with the flow as much as you can.
Don't stress about all the little details on the day, take some moments with your wonderful new spouse and just be happy.
Huge thanks to Helen and Charlie for sharing their fabulous day, and of course to Lisa Jane Photography for the beautiful images.  Stoke Newington Town Hall is a popular venue with Love My Dress Brides- if you love it too, take a peek here to see more weddings taking place there- there's something for everyone.
Much love,
Shona x