Sunday, lovely Sunday, and how are you darlings? I've been saving this wedding with you all week long for you to enjoy during your weekend lie in (and hoping you are getting one).
I'm a little bit extra excited than usual about this particular wedding too. The bride is herself a wedding photographer, and an exceedingly fabulous and talented one at that. We actually shared her beyond romantic engagement film on Love My Dress and have featured a number of her weddings and real brides too. Her name is Grace Elizabeth and she makes up one half of Grace Elizabeth Photo and Film – the other half being of course, her husband Mitch.
Grace and Mitch's wedding took place on 8th September last year at the local Scout camp in their hometown of Nottingham, followed by a reception at The Walled Garden. She looks so beautiful in her Needle and Thread dress and I was so thrilled to discover that the couple discovered their film makers, The Lawson, through Love My Dress.
"We don't even have words, Pete and Laura of Lawson Films are too good! The films blew us away, they so perfectly captured the essence and atmosphere of the day, which take us right back. Each frame is like a beautifully composed photo, their eye, attention to detail and ability to tell a story so well is just breath taking, we are so so glad we found these guys and were able to have them film our day. They are also so friendly and wonderful to work with!
Film by Lawson Films
"We wanted a slightly bohemian, botanical, very natural and greenery toned wedding style – and we managed, with the amazing help of family and friends, to make and do everything we had envisioned. We were so so pleased with how it all turned out! We wanted to be outdoors and if we weren't outdoors we wanted to bring the outdoors in. We were really inspired by Pinterest and other weddings on wedding blogs. Also due to our job being a wedding photographer/videographer we were inspired by things we had seen work really well at wedding we had shot as well."
Images by Photo by Betsy + Gloria Goode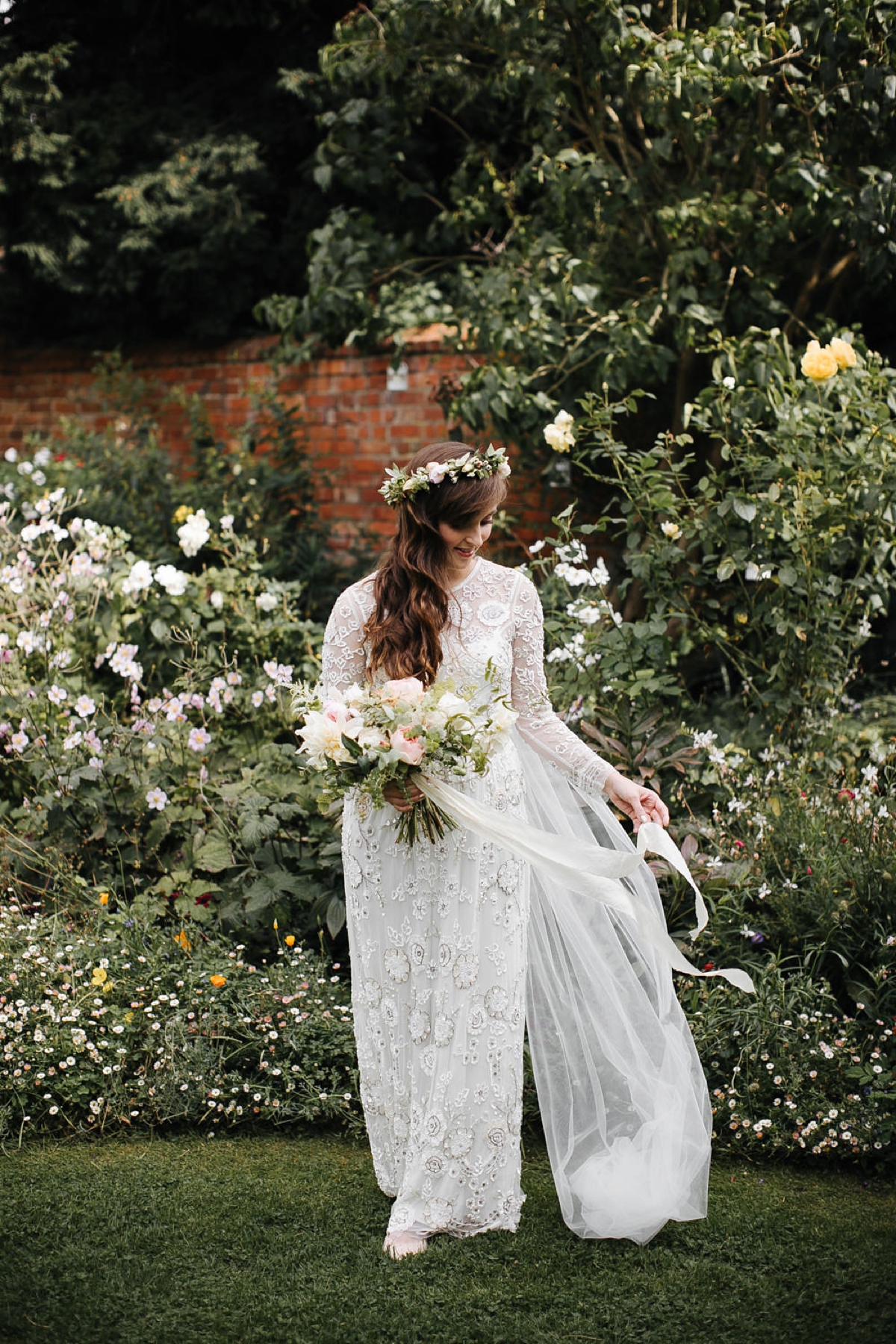 "Our photographer Betsy and her second shooter Gloria flew from Texas USA to come and photograph our wedding which was amazing! I had met Betsy on a photography school I had done in the USA back in 2014 but only for a week, we kept up with each other over social media ever since. A few weeks after Mitch and I got engaged Betsy messaged me and offered to shoot our wedding, I had always loved her work (she was the first wedding photographer I ever knew of waaaayyy before I had ever even thought of being a wedding photographer myself) and I always loved how well she seemed to get on with her couples, so we were blown away by her offer. We skyped and said YES!""Betsy brought her good friend and also amazing photographer sidekick Gloria Goode with her, and they were a great team. They were so fun to have with us on the day – they felt like guests and there are so many photographs we now have to remember our day."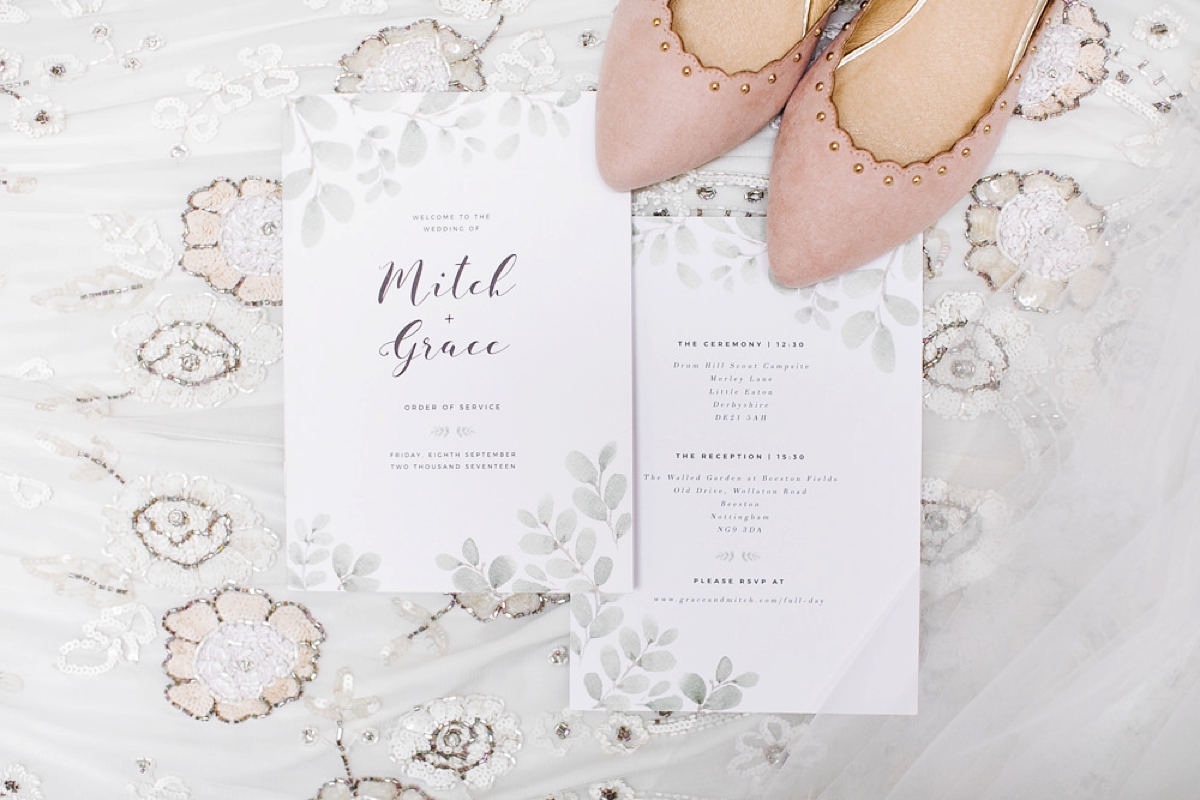 "We really loved painted greenery designs, so I asked my friend Becky to paint a water colour greenery pattern for us, that we could then use on all our wedding stationery which we designed ourselves, we felt it really represented the theme and style of the whole day. We also made our own table plan."
"Us girls got ready at the lovely Langar Hall in Nottingham, an amazing orange front old house with really unique and artsy rooms – we booked 2 rooms, one being the bohemia room which I absolutely loved!"
"I had met Jo of Jo Ace Style through her doing hair and makeup for a few of my past brides, I wanted a really natural look which I had seen her do so well in the past and I loved that she did both hair and makeup! I was so happy with my hair and makeup, Jo was so lovely and helpful throughout."
"I had admired the work of Louise at Number 27 Floral Design for ages, I loved her wild bouquet style and her florals were always incredible with such beautiful colours and tones – I knew I had to have her do our wedding flowers, so I was so pleased when she was able to squeeze us in."
"We met with her twice before the day and she was so helpful, friendly and accommodating, I absolutely trusted and knew that whatever she made I would love and this was so true – I loved our bouquets/flower crowns/button holes/small jars of table flowers.|
"I had been admiring Needle and Thread for ages, actually there was a particular bride featured on Love My Dress who wore my dress – I kept going back and looking at her wedding and I just absolutely loved the dress and knew I had to try it. I really didn't want a 'traditional wedding dress' and I really wanted something with sleeves and anyone that knows me knows I love anything embroidered/embellished."
"I wasn't overly fussed about a veil as I only planned to wear it for the ceremony so purchased from Ebay."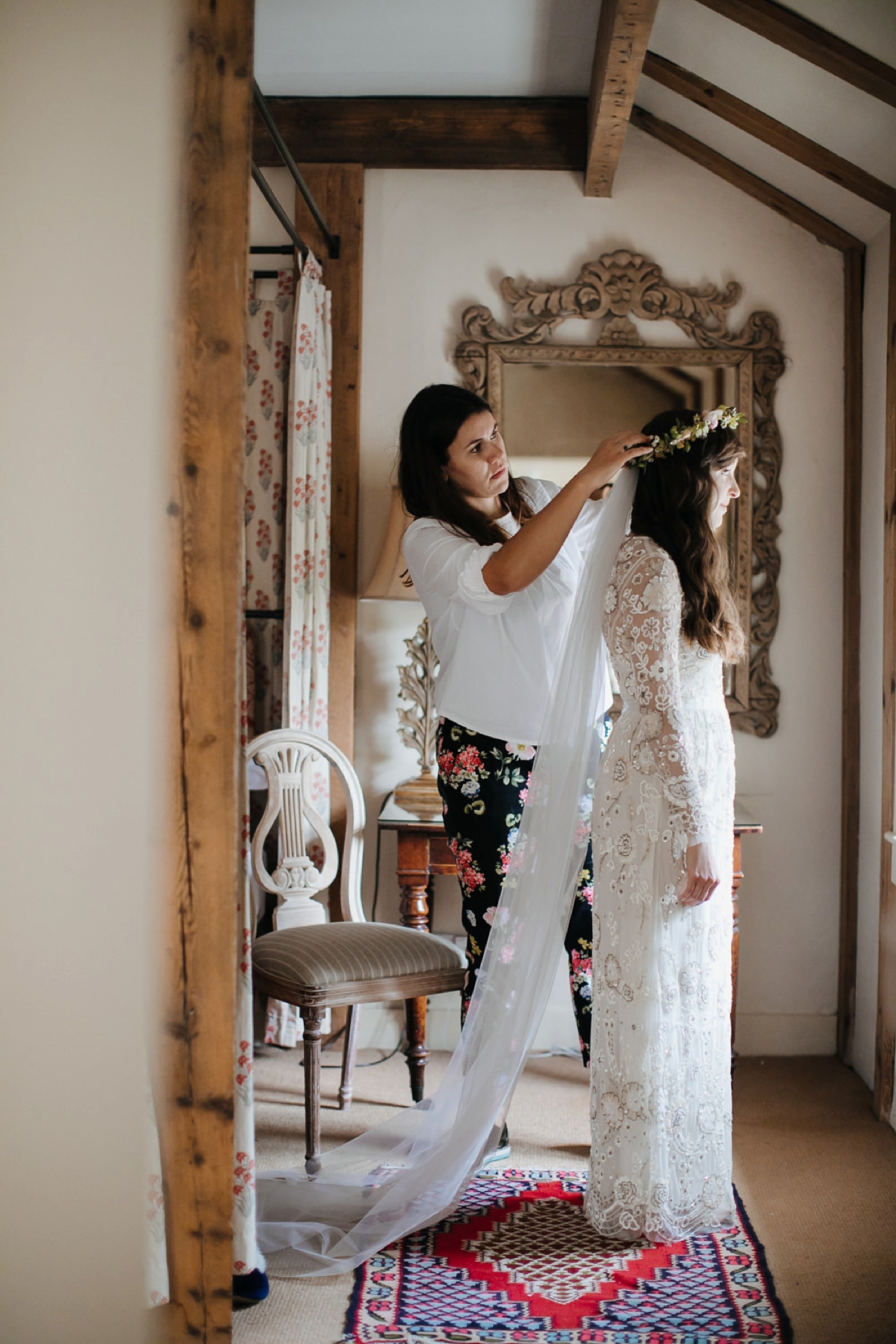 "I ordered the needle and thread dress online, tried it on, loved it but also wanted the 'wedding dress shopping experience' so that weekend I went to some bridal stores with my mum and maid of honour, tried lots on and just nothing compared, which made me absolutely certain I had the perfect dress already waiting back at home for me."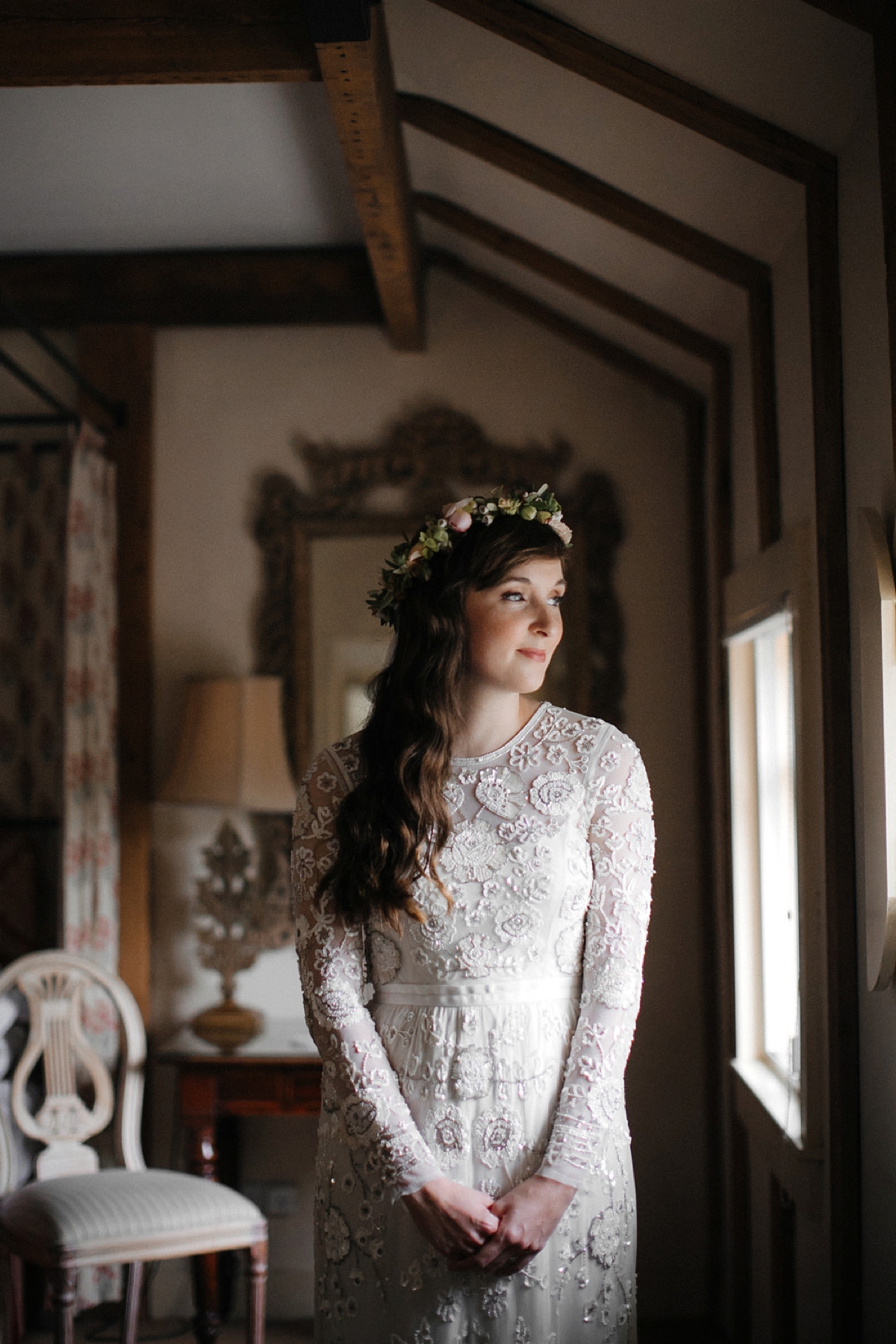 The bride chose to wear her go-to, every day scent, Chanel Coco Mademoiselle.
"The dress was such a statement with it's embellishments that I didn't really need to add anything else, I wore a set of drop pearl gold earrings which I already owned which used to be my mums."
"Mitch and I are quite close in height so heels were a big no no, but equally I am awful at walking in heels so this was totally fine! I got some lovely comfortable flats from oasis, which were nude toned and had lovely scalloped detailing."
"Myself and the bridesmaids all wore flower crowns made by Louise from Number 27 Floral Design, our florist. I love flower crowns – they were a big feature on my hen weekend too! So I always knew I wanted them, I sent Louise some general photos of what I liked, but I absolutely love Louise's style, I completely trusted her and knew whatever she made we would love – which we did! They were so pretty and dainty and the colours tied in perfectly with all the dresses and details from the day."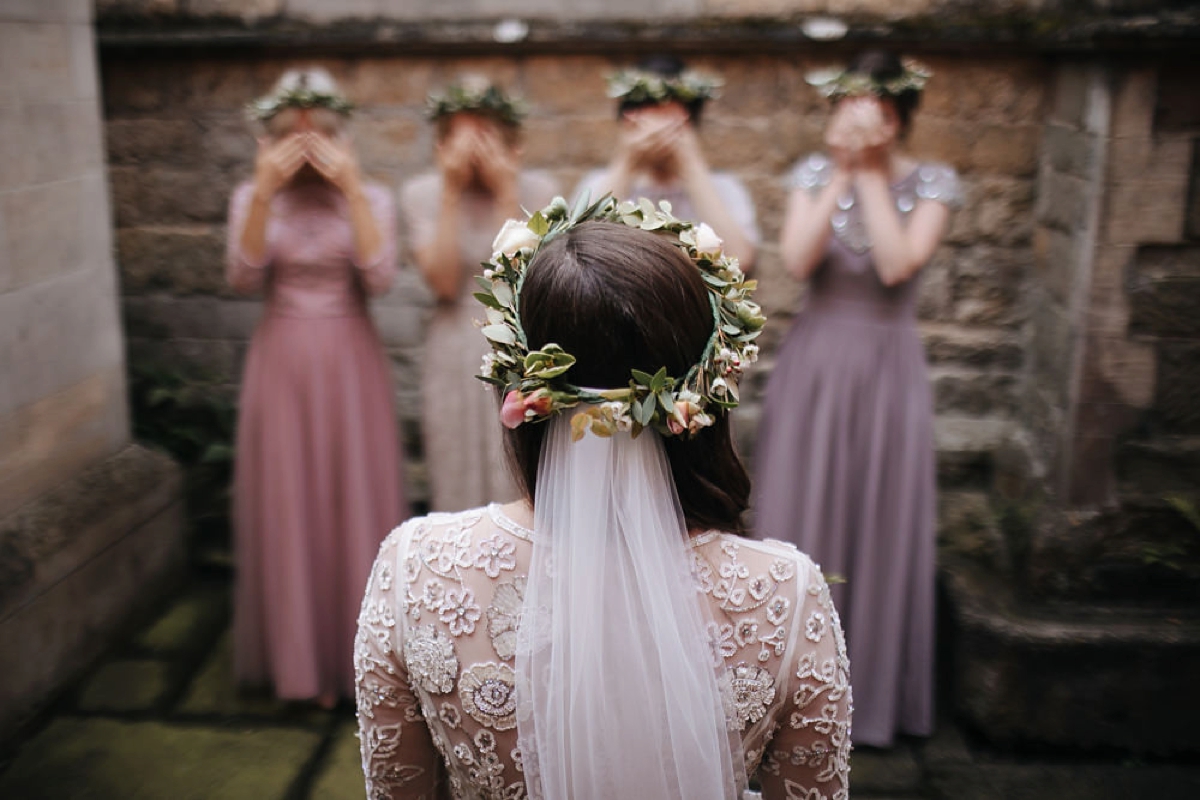 "I had loved the look of mix-match maxi bridesmaid dresses, so when the January sales came around I spent hours scrolling through the ASOS dress sale, I knew the general tones I was going for but not much else."
"I ordered a bunch of dresses and we did a big bridesmaid-try-on session. They chose two from ASOS and 1 from ChiChi London and my maid of honour's dress was one I had been searching and watching for ages on eBay and I was so glad when we won the bid for her lovely (also Needle & Thread) dress which had lovely embellishment all over it too."
"We had dreamed of wanting an outdoor woodland ceremony, but this proved really hard to make happen, we searched for months and visited countless spots but everything turned into a dead end. We were so close to thinking it wasn't going to be possible to get married in a woodland but then my Dad suggested looking at a scout camp in Derbyshire, at first hearing this we were not convinced, but we went and looked and the space was perfect!"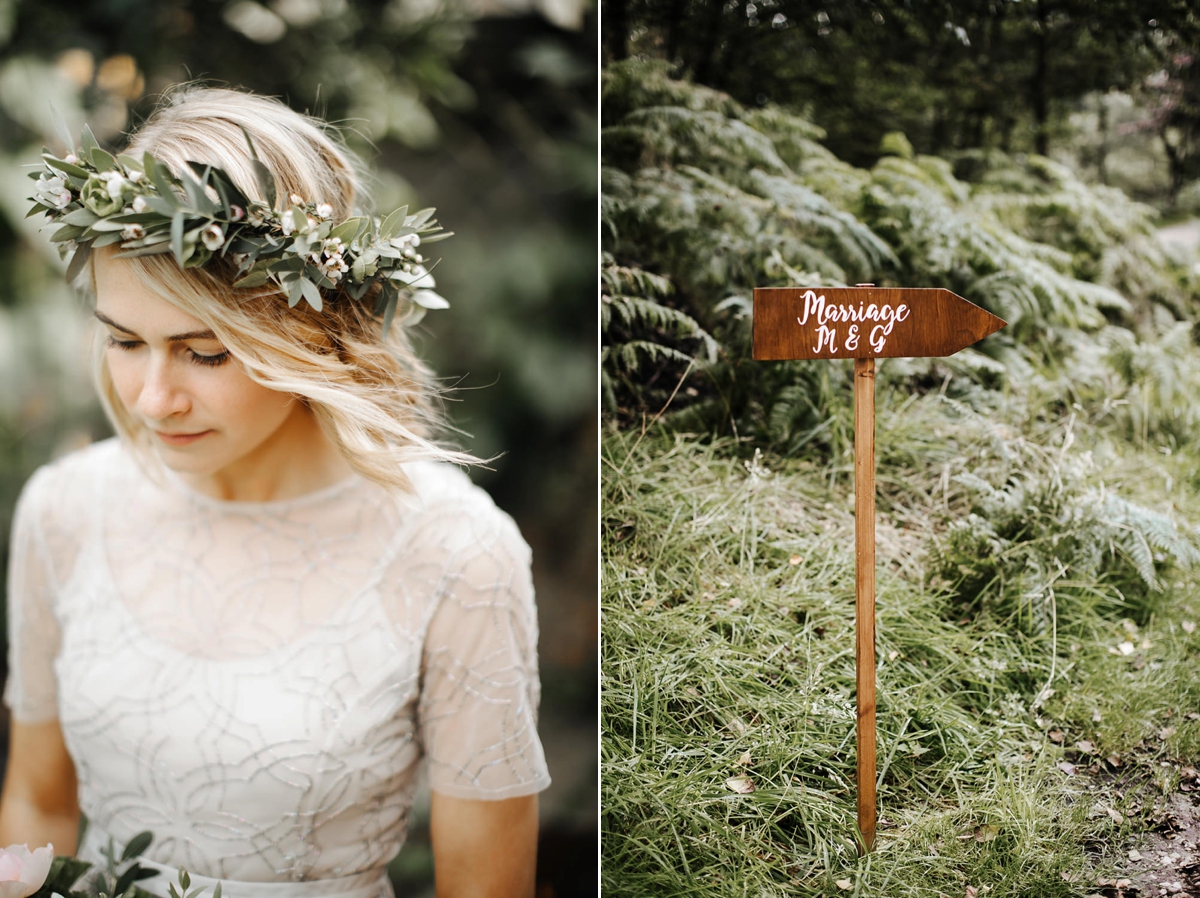 "The woods were beautiful, it meant there was also parking and toilets on site so we didn't have to worry about those details which otherwise come with a DIY outdoor ceremony. The space was so beautiful, you would never know it was a scout campsite and going down this root also meant it was crazy affordable compared to other options we looked at."
"We chose to do it close to home as we have lots of family in Scotland and Norfolk and I went to University in Plymouth and lots of our closest friends are originally from Nottingham, so it was the perfect middle ground for all our guests."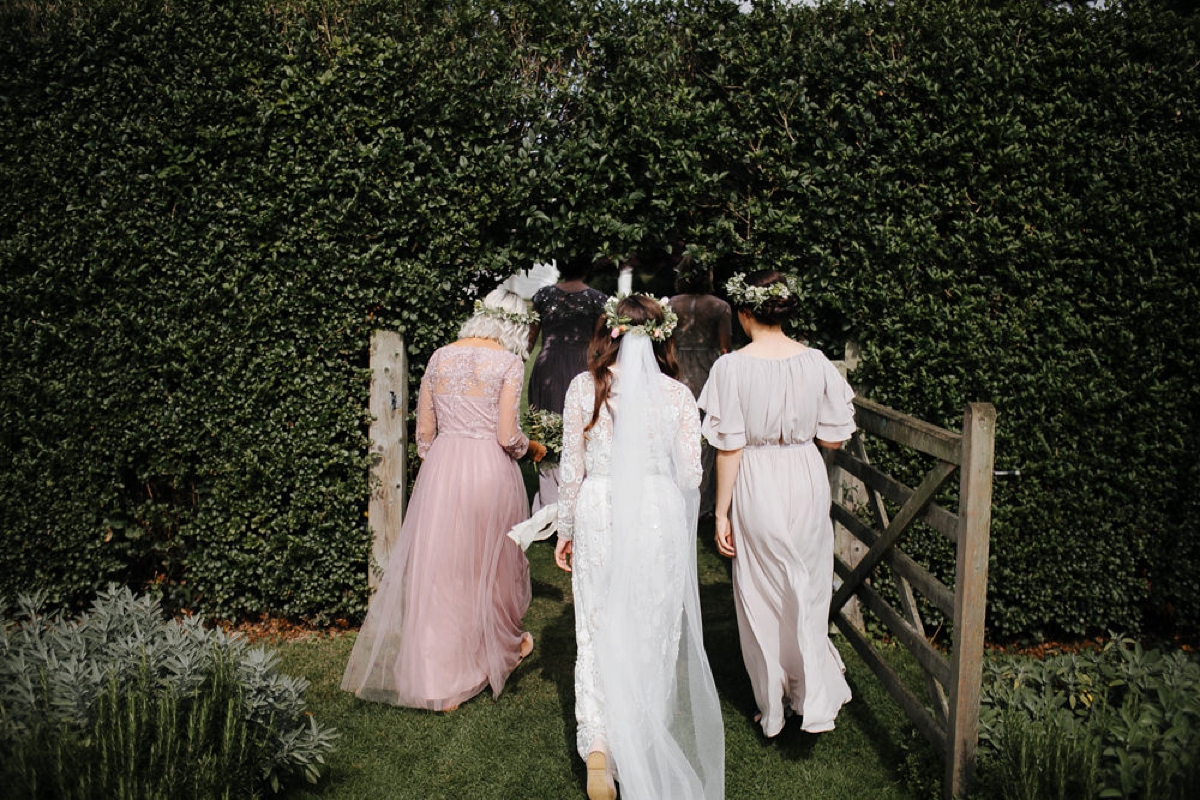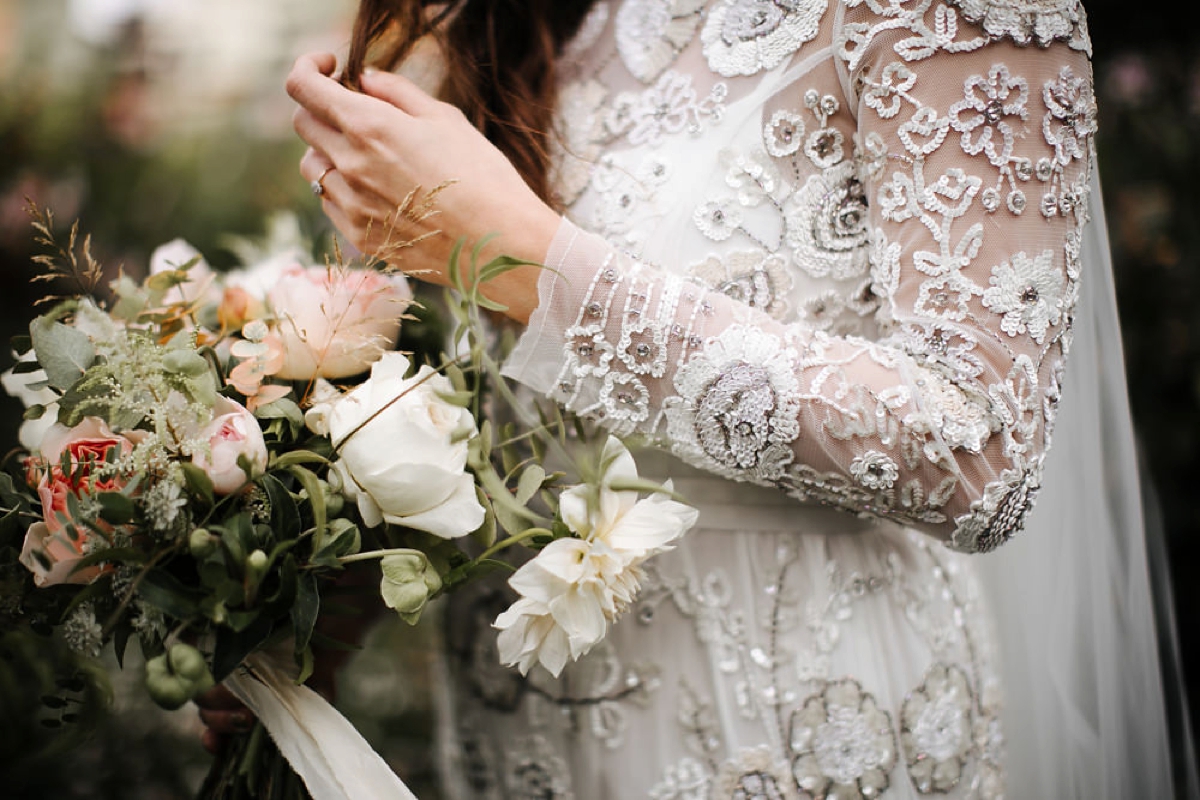 "Mitch and I met by chance in 2013 and had a bit of a whirl wind romance where we only dated for two months before we went into two and a half years of long distance relationship – UK to USA for six months and then Nottingham to Plymouth for two years."
"The long distance made our relationship so strong so quickly. We got engaged in summer 2016 – our engagement story is actually on Love My Dress and we were engaged for fourteen months, which flew by."
"Having a wedding car was something we really weren't bothered about and had said from the beginning we would just go in our own cars. My dad drove me, my mum and MOH in his car to the ceremony and Mitch drove himself and me from the ceremony to the reception. We were so glad we made this decision, transport was something we never wanted to spend money on and it was so nice and special having that 30min drive completely to ourselves in the middle of all the craziness of the day, to reflect and revel in the fact we had just got married!
The bride's father accompanied her down the grassy aisle to the sound of Viridian (Interlude) by Bethel Music album Without Words.
"We are both Christian, as we got married outdoors, we actually got legally married a few weeks before at a registry office with our immediate families and then had a christian blessing ceremony in the woods.  As we had a christian blessing ceremony we had classic church vows, however in hindsight if we had had more time in the lead up to the day we would have loved to have written our own vows as well."
"Our readings included 1 Corinthians 13 vs 4 – 7, Romans 12 vs 9 – 13 and Colossians 3 vs 12 – 16. All these bible readings really spoke to us about what marriage and love is all about; 'Love is patient, love is kind. It does not envy, it does not boast, it is not proud. It does not dishonor others, it is not self-seeking, it is not easily angered, it keeps no record of wrongs. Love does not delight in evil but rejoices with the truth. It always protects, always trusts, always hopes, always perseveres. Love never fails."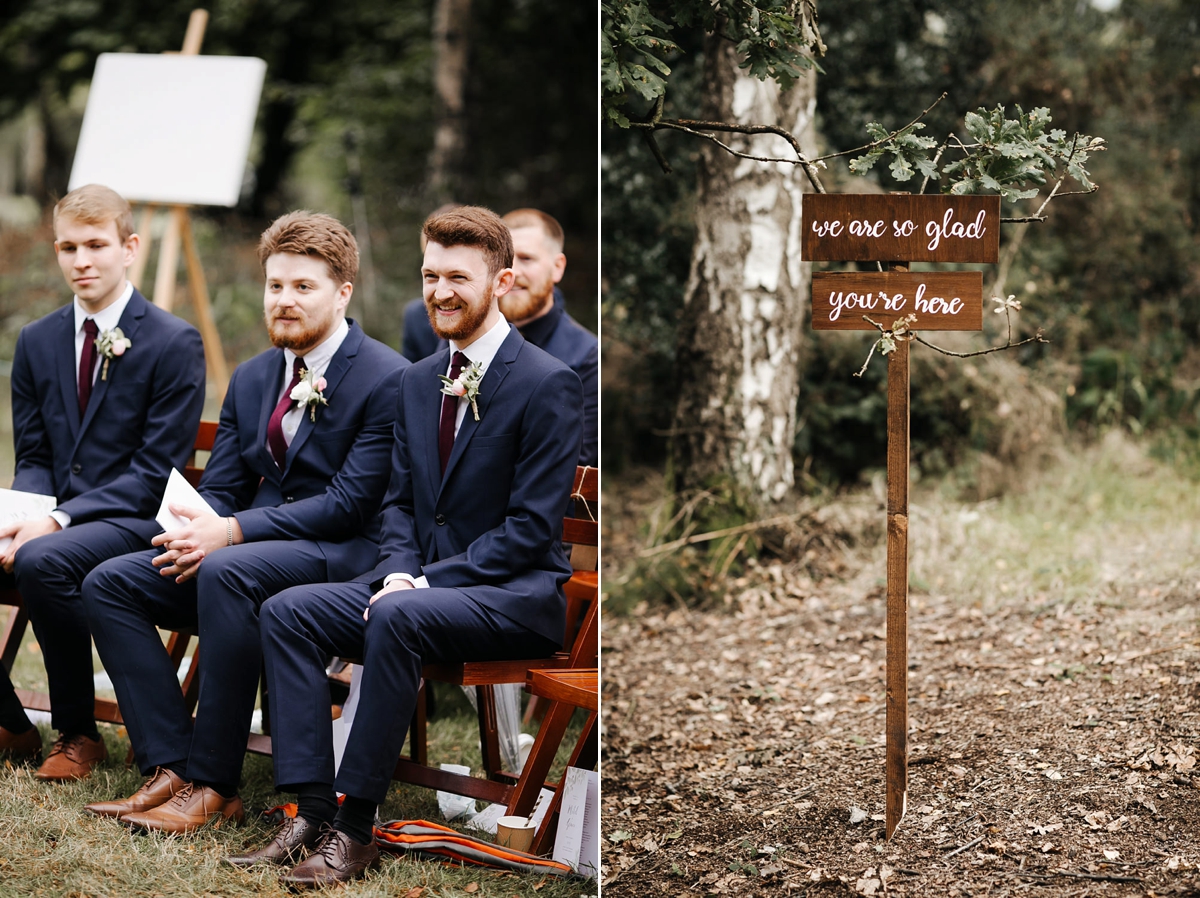 "We had found my antique engagement ring at Michael Levin's together after we got engaged so when it came round to choosing our wedding rings this was the first place we looked and within 10 mins we had both found our perfect wedding rings in their shop."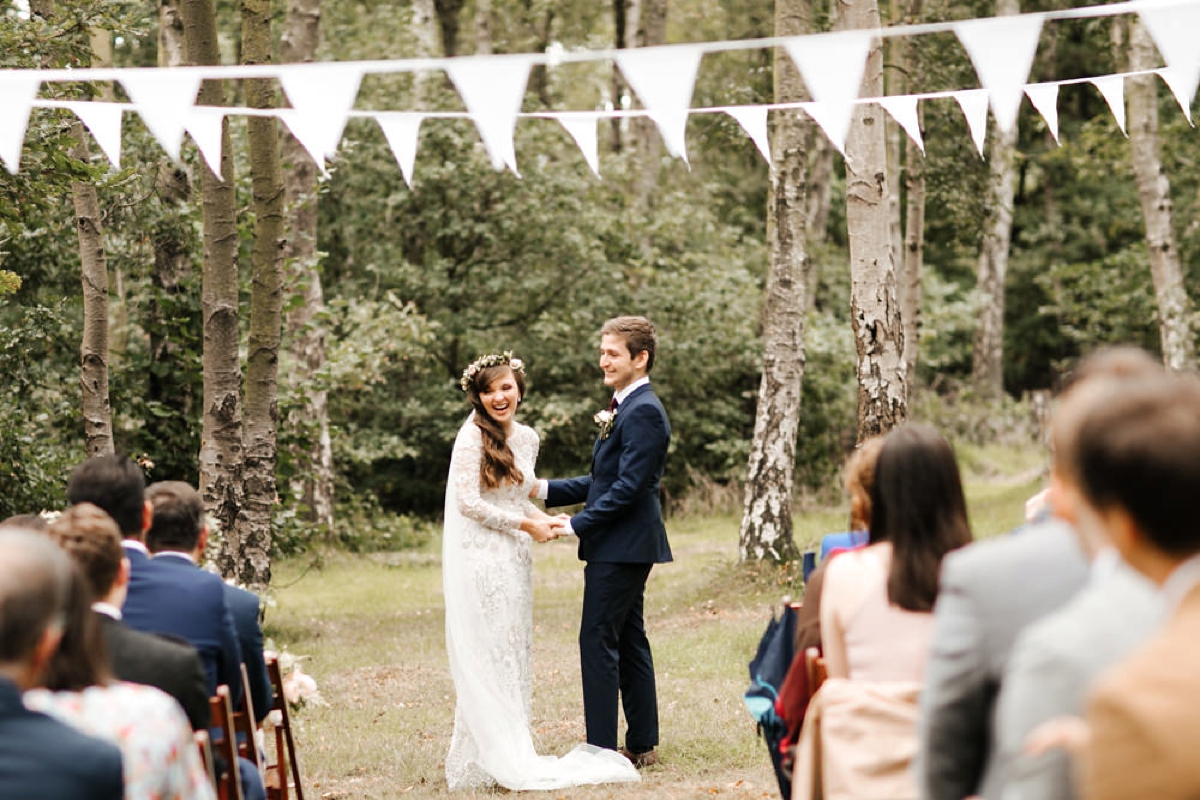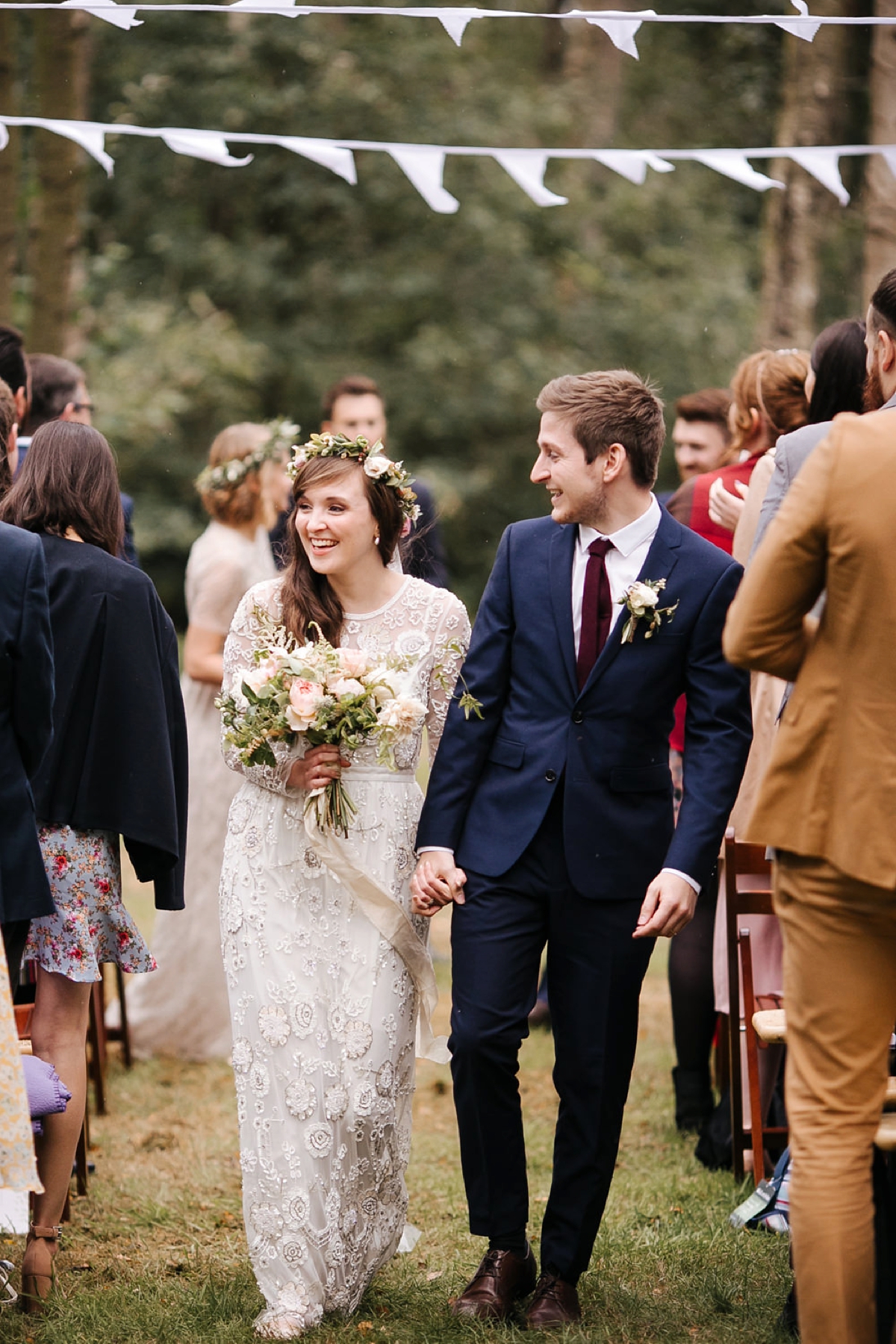 "Straight after the ceremony we had a picnic in the woodlands with all our guests which was so lovely. Then when we arrived at the Walled Garden we had the drinks reception where we had some garden games like croquet and giant jenga, which people really got into. It was so lovely to have these social times with all our guests outside."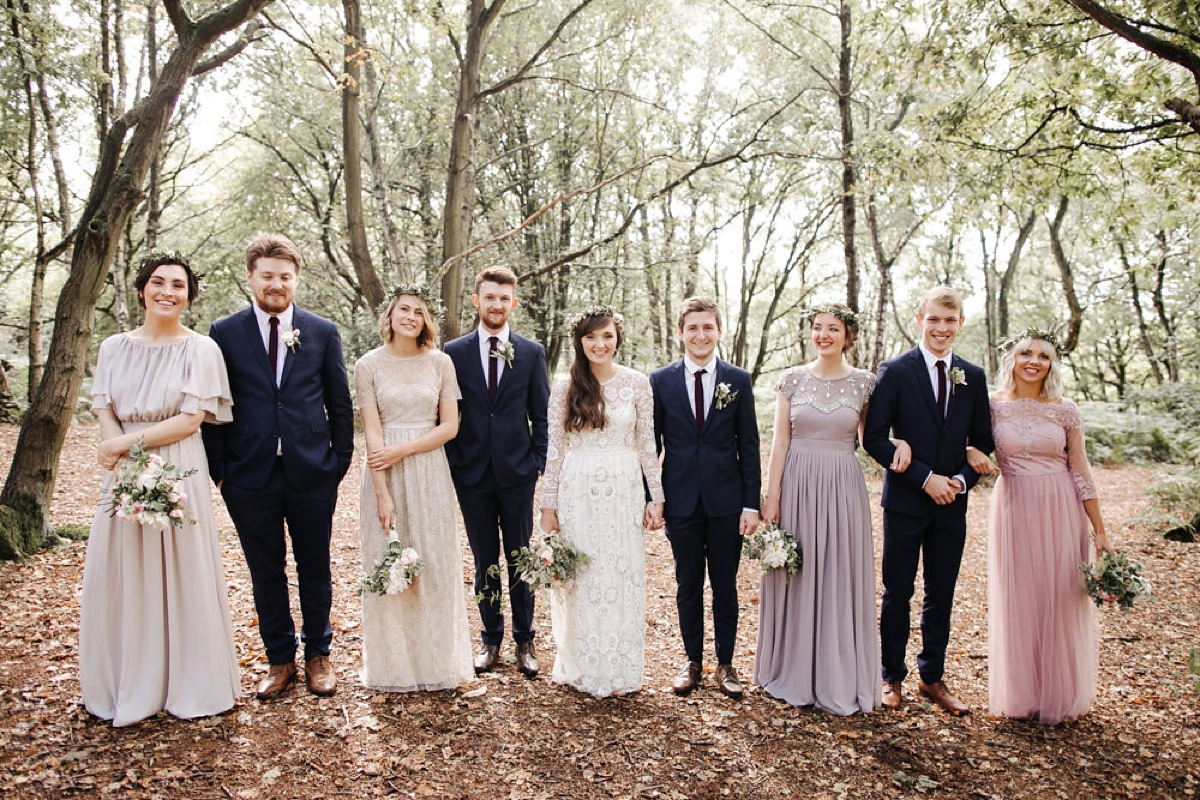 "The funny thing is my wedding dress was the first I tried on, I would have thought the dress would have been the big hard decision but surprisingly it was actually Mitch's suit which was the impossible choice! He was looking for a navy suit and ordered I don't know how many and after months of searching we finally found the perfect one at Burton."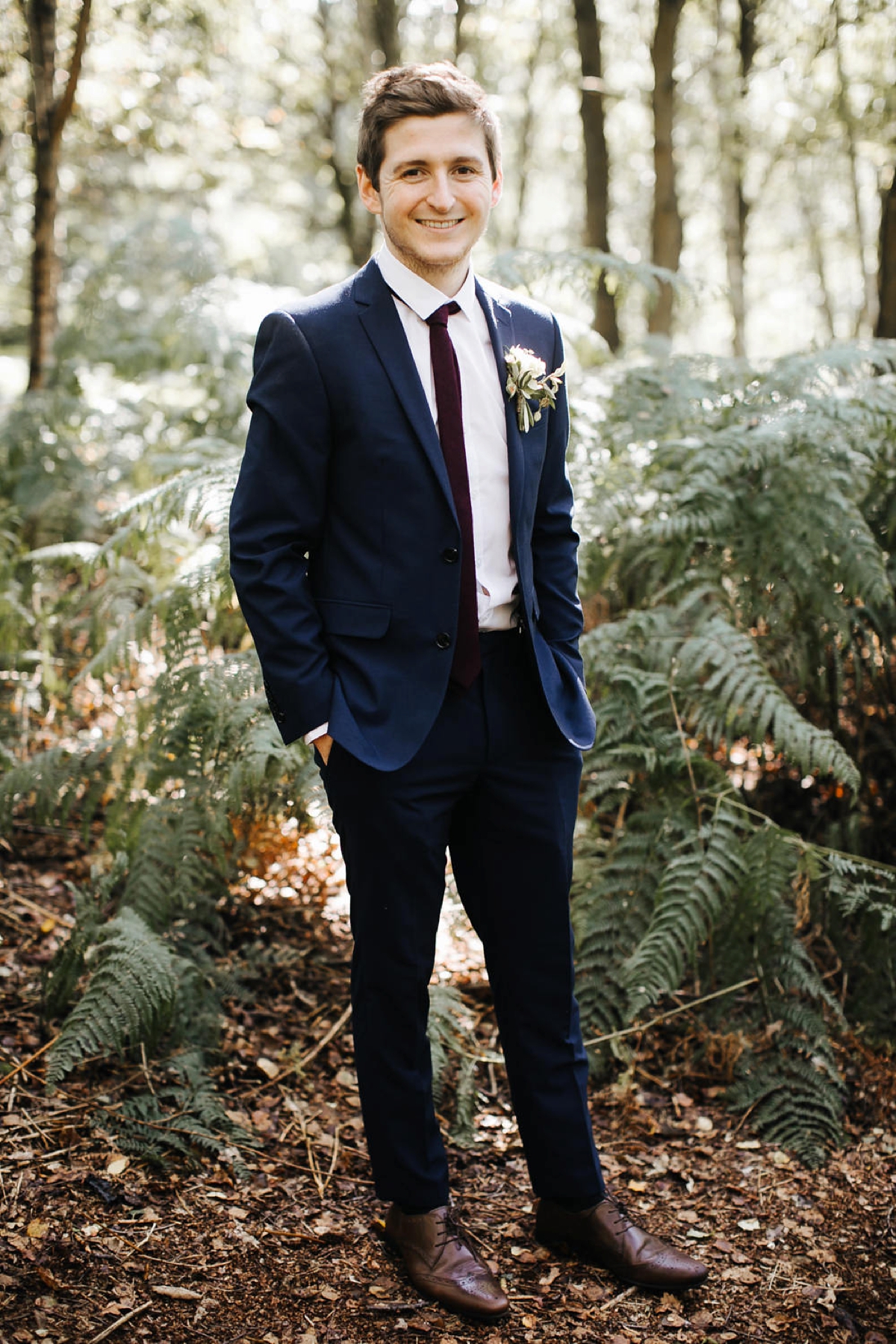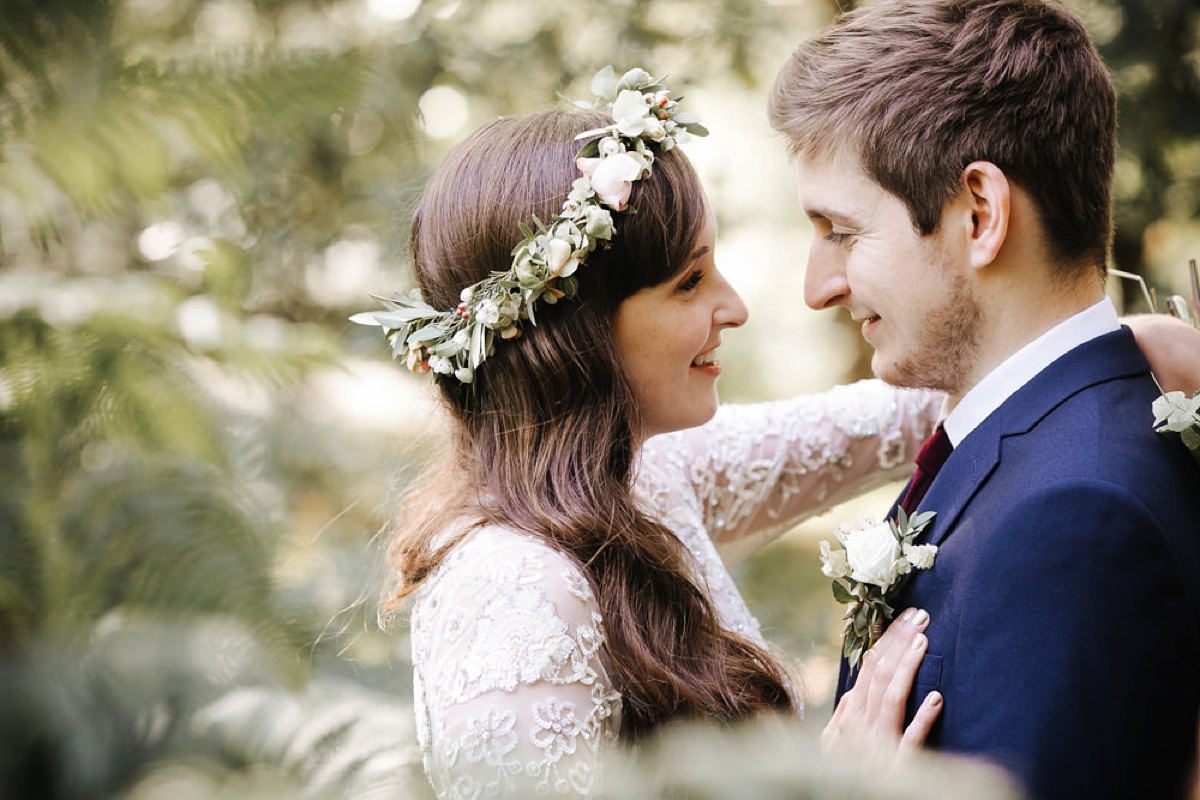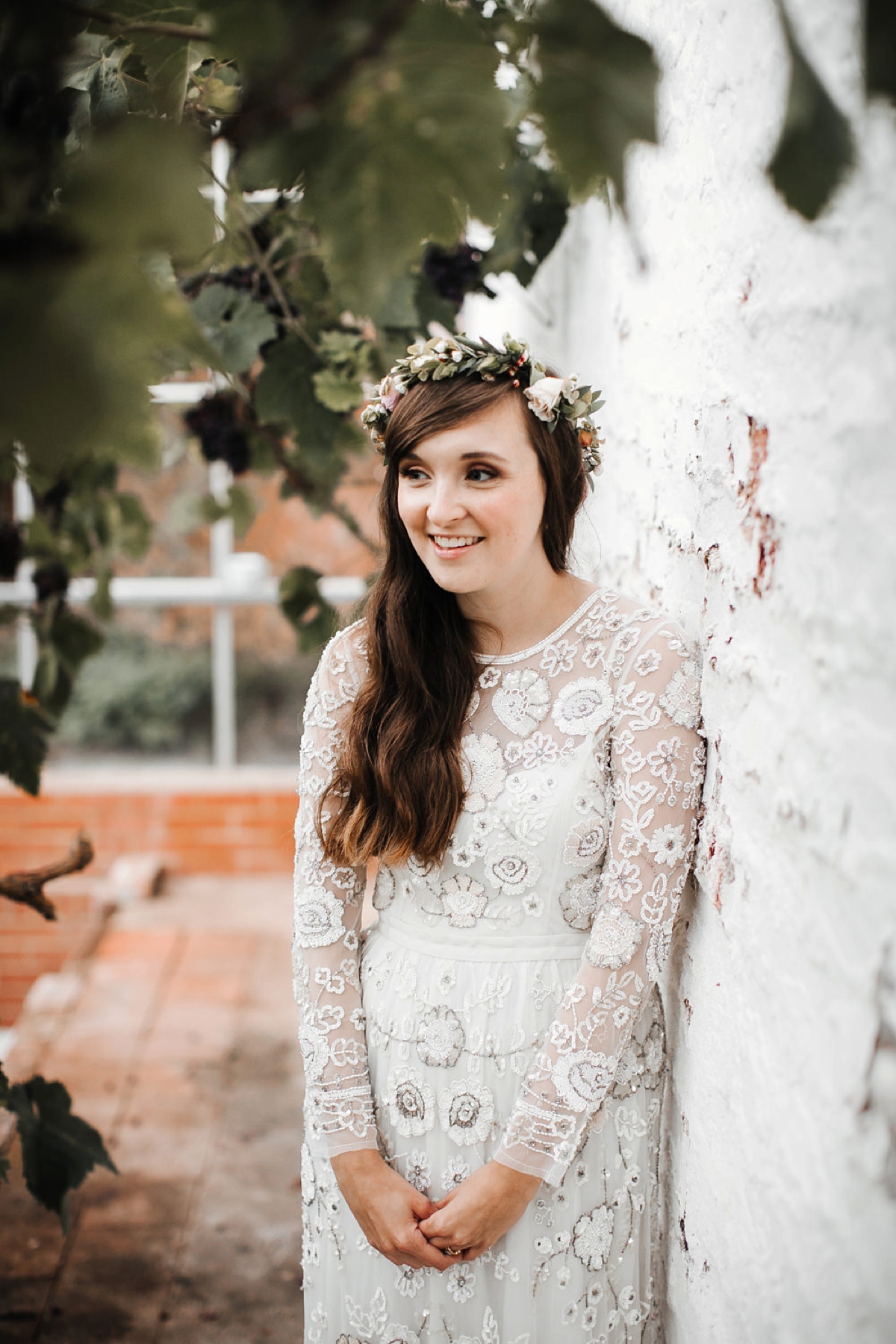 "We came across The Walled Garden when we were asked in 2015 to photograph a wedding there the year later, we fell in love with the venue straight away and funnily enough it's only 10mins from my parents house but it was quite new at the time and we hadn't known it was even there! We wanted our day to be as outdoors as possible so the walled garden was perfect, the gardens are so beautiful and there's a greenhouse too which I was obsessed with!"
"It's also a really nice size, very contained, we didn't want a huge venue where everyone is split off and in all different kinds of rooms – we wanted it to feel all together in one space, so the gardens and marquee were great for this. The marquee is permanently there which is so helpful and is pretty plain so you can dress it exactly how you want which we loved and so we were able to make the space completely our own."
"My Dad cut and stained all the signage for us and my Maid of Honour and I spent a whole day designing and writing all our signs – we were so happy with how they all looked. My Dad and Mitch's Mum also made the backdrop to our top table, we didn't want the view behind us when we were seated and for speeches etc, to just be the dance floor and back of the marquee, so they made us a lovely backdrop inspired by various things we had seen on Pinterest. Mitch's Mum and Auntie also very kindly spent hours making us meters and meters of lovely white bunting to decorate the ceremony space with."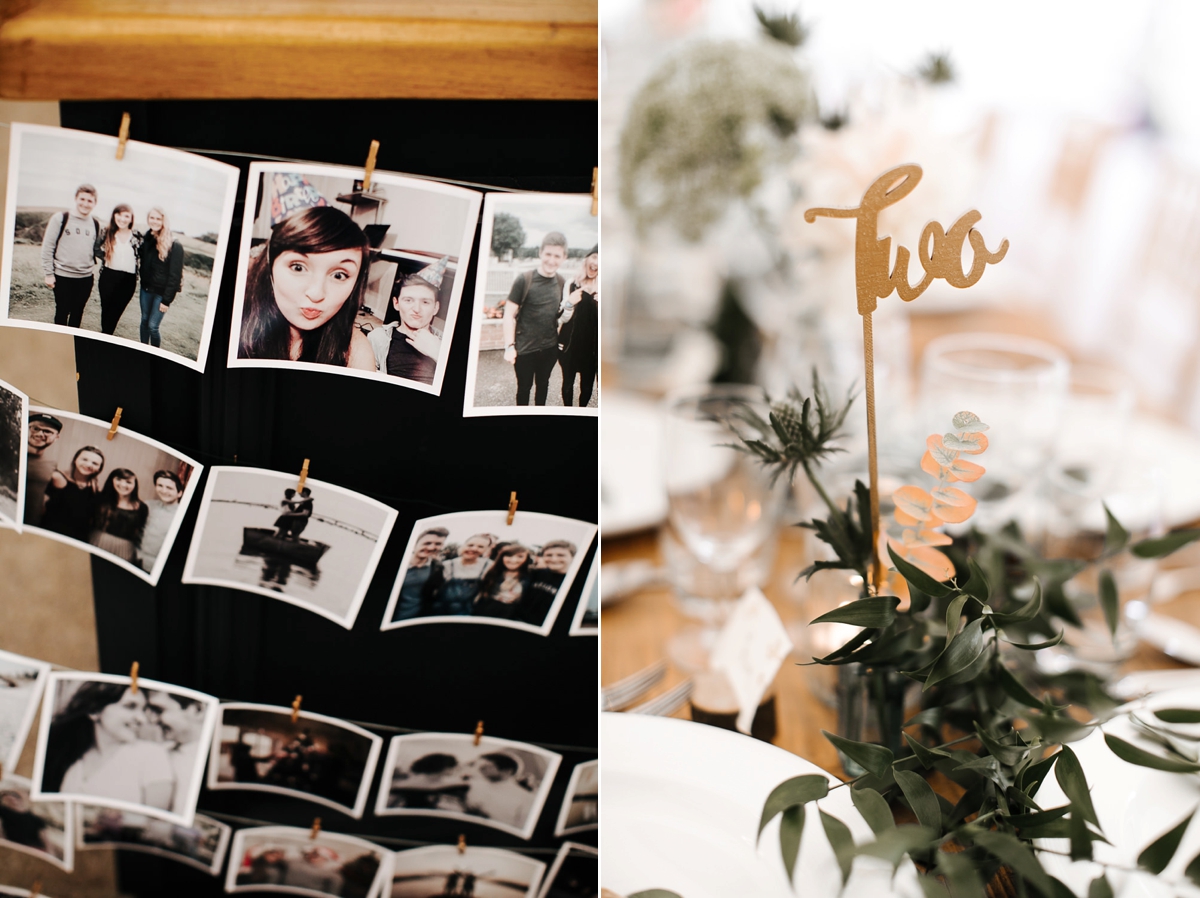 "For decor our main thing was greenery! We ordered a ton of greenery from an online wholesalers (Triangle Nursery) and spent the entire day 2 days before the wedding making meters and meters of greenery garlands with 10 of our friends – it was such a fun day of DIYing and the greenery garlands completely transformed the space in the marquee – it felt like a massive undertaking at first as the marquee is pretty big but we were so pleased with how it all turned out – we could not have done it without our friends amazing help!"
"We also used the greenery to make hoops to go behind the wedding cake table and lined the tables with greenery too. Louise our florist also made jars of flowers to go along the tables which were a lovely finishing touch and she has loads of amazing different shaped and sized vintage bottles she let us borrow. We also had candles in jars everywhere!"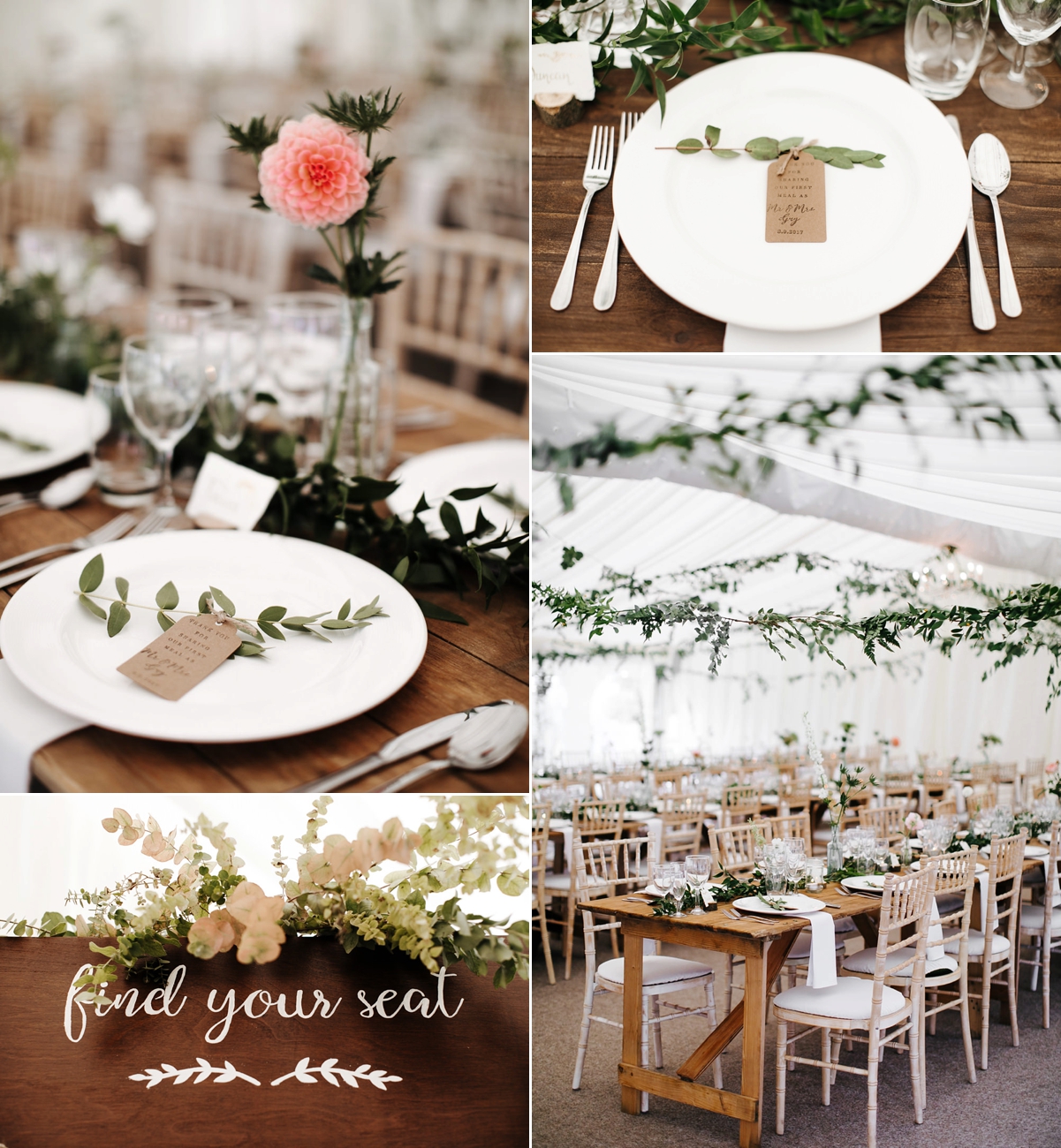 "We spent ages searching and sourcing all the perfect furniture for our day – we specially ordered in long wooden tables from beeventhire.co.uk as our venue only had round tables, we also hired our wooden ceremony chairs/benches from 'BE event hire' too. I searched for ages for the perfect sideboard to use as a wedding cake table and managed to find a lovely old piece on Facebook Marketplace. We used a lovely charity-shop-find white sideboard we have at home to put our card box on.
We also had a table for our guestbook (www.etsy.com) and a date ideas jar which we had our parents and grandparents wedding photos framed on which was a lovely personal sentimental touch."
"For our meal we chose the Walled Garden's Italian menu as our favourite food in the entire world is pizza and pasta, so we were so glad that we got to have these as our wedding meal."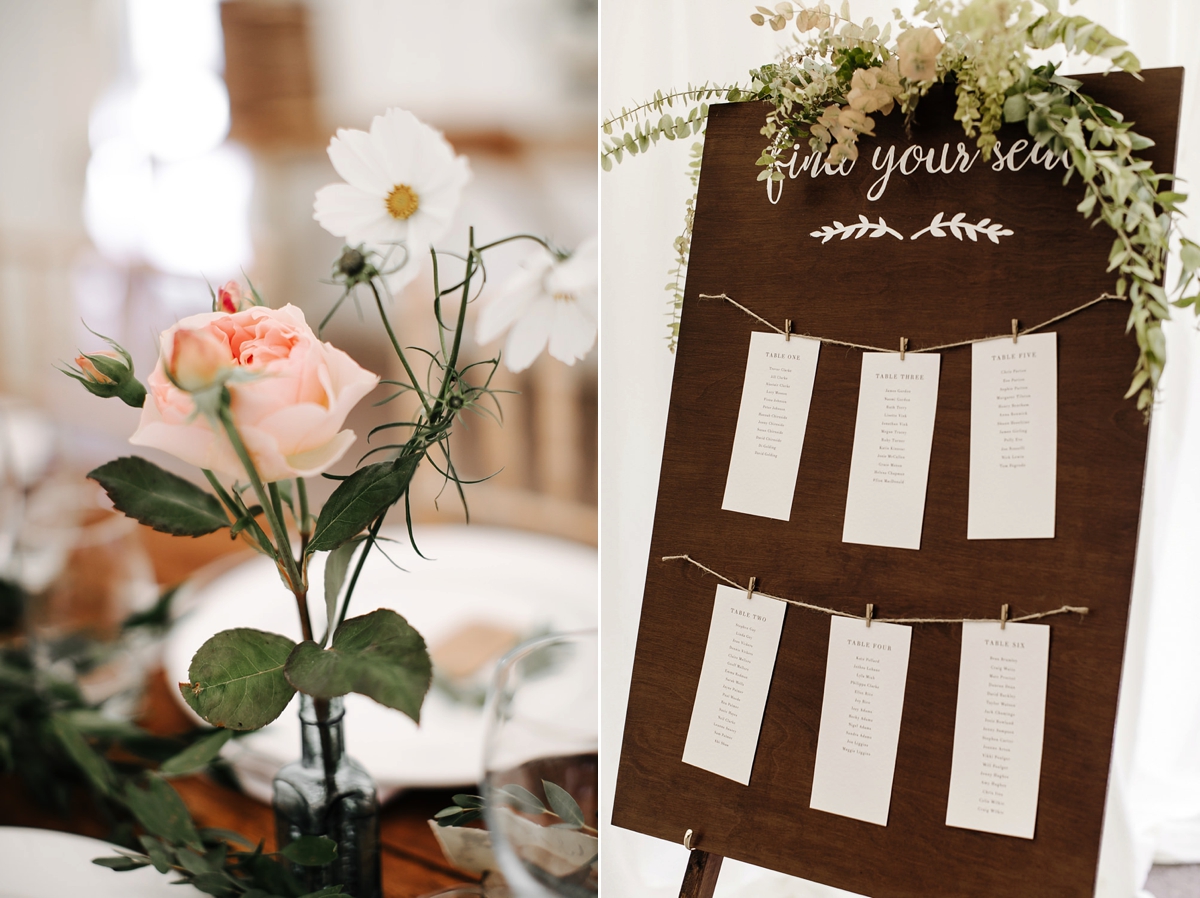 "My auntie kindly learnt calligraphy in order to make all our place name cards for us – they looked so beautiful, with gold foil detailing on them too and we presented them on the tables in little wooden logs kindly cut and made by some friends of ours. My cousin laser cut our table numbers for us and we spray painted them gold and they went into a jar of flowers on each table."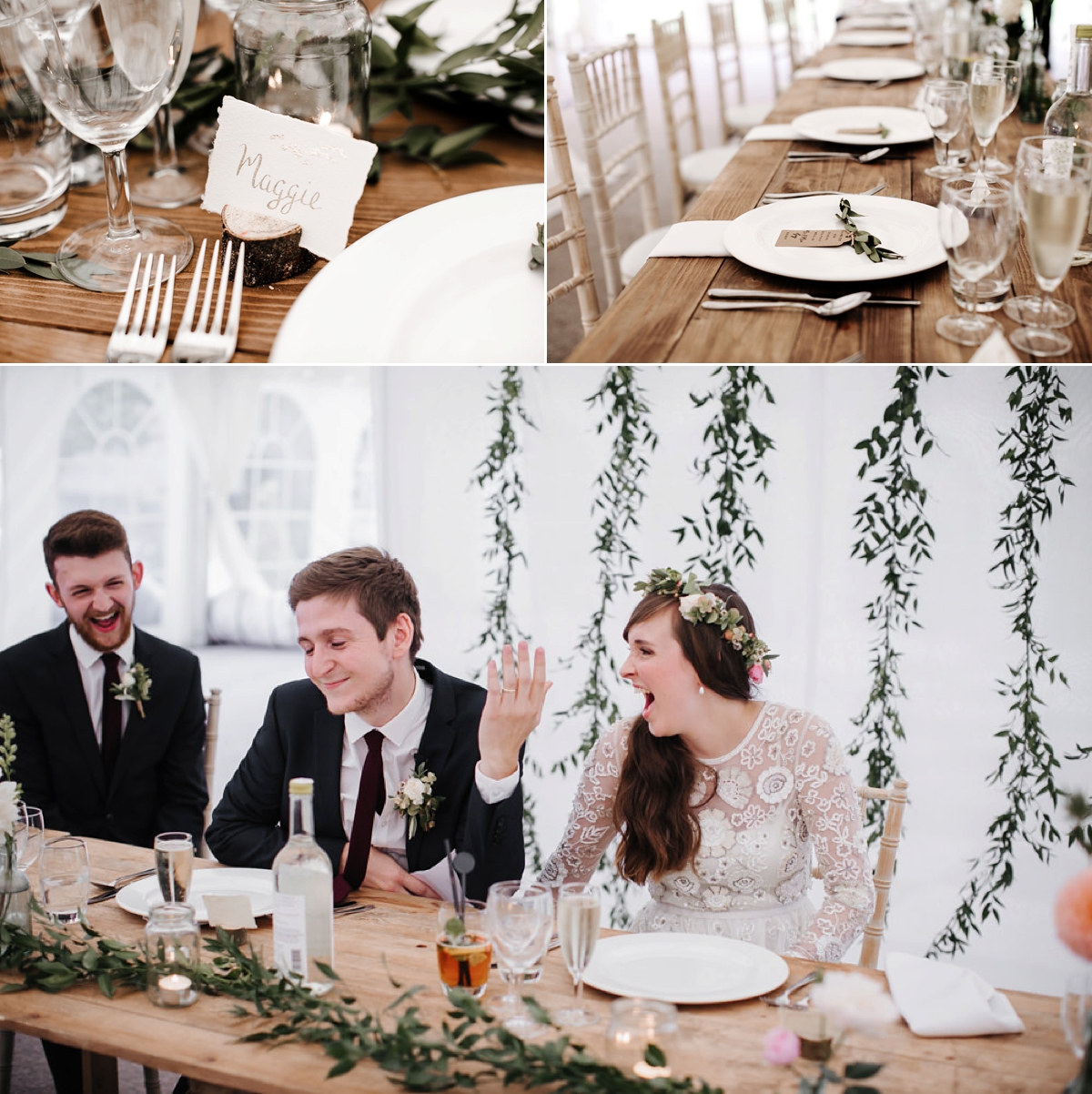 "I had met and worked with Jenny of Edible Essence on some wedding styled shoots when I lived in Plymouth where she is based and I was in awe of her talent, her cakes are just 'wow' they are absolute masterpieces. We were blown away when Jenny got in touch to offer to make our wedding cake, we travelled down to Plymouth for a cake tasting consultation with her in her studio – which was amazing, the taste and flavours on offer were incredible – her cakes don't just look amazing, they seriously taste it too!"
"I told Jenny that I loved gold foil and pressed flowers but other than that we totally left it up to her to surprise us and she literally exceeded all expectations, our wedding cake was by far the best we've ever seen, simply because of Jenny's insane talent! We loved it so much! We also chose a different flavour for each layer we opted for the classic Victoria Sponge, Lemon and then salted caramel on top – it was so delicious.
Jenny also won 2017 best wedding cake maker in the UK in The National Wedding Industry Awards so we felt extra honoured to have her making our wedding cake."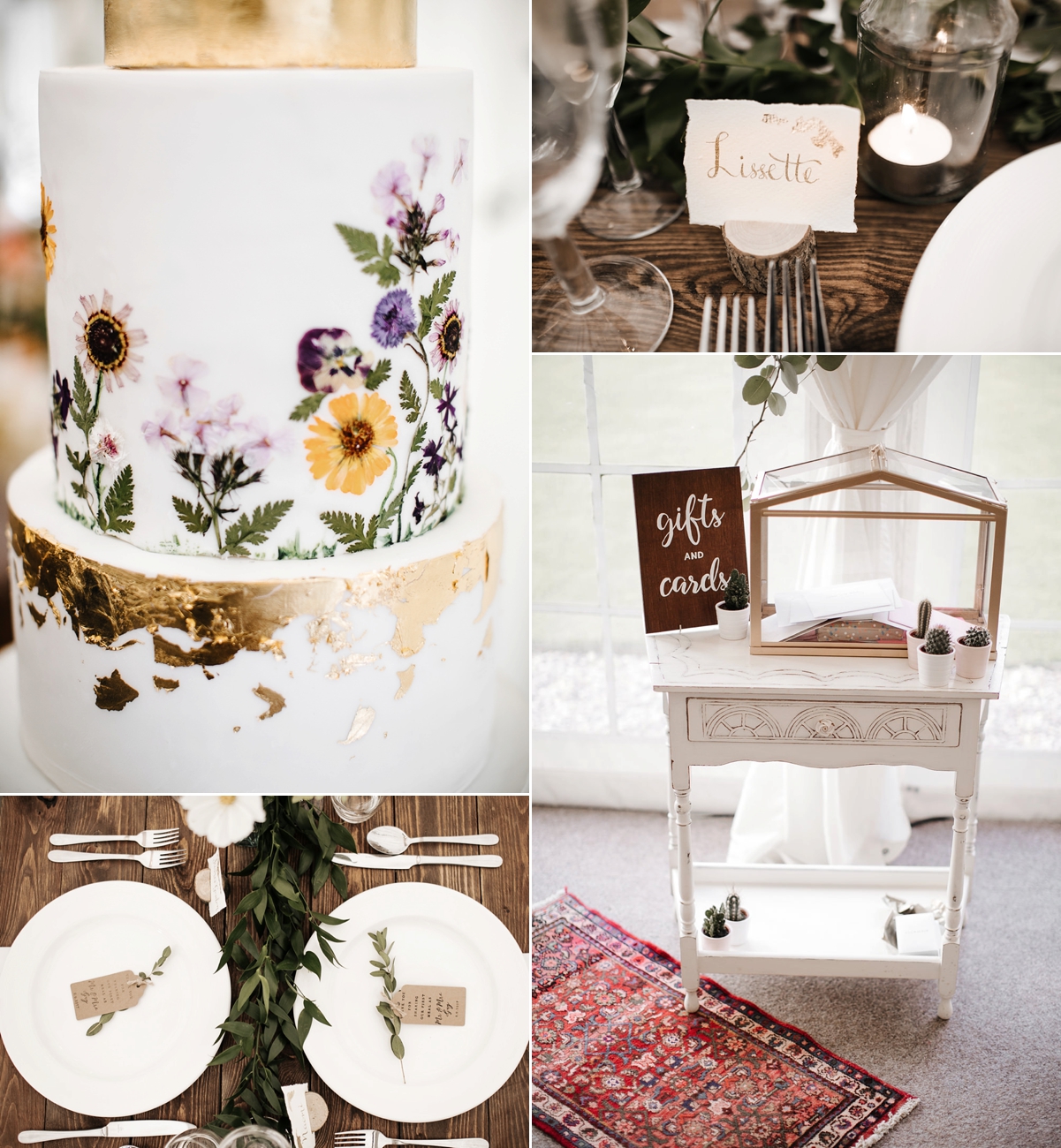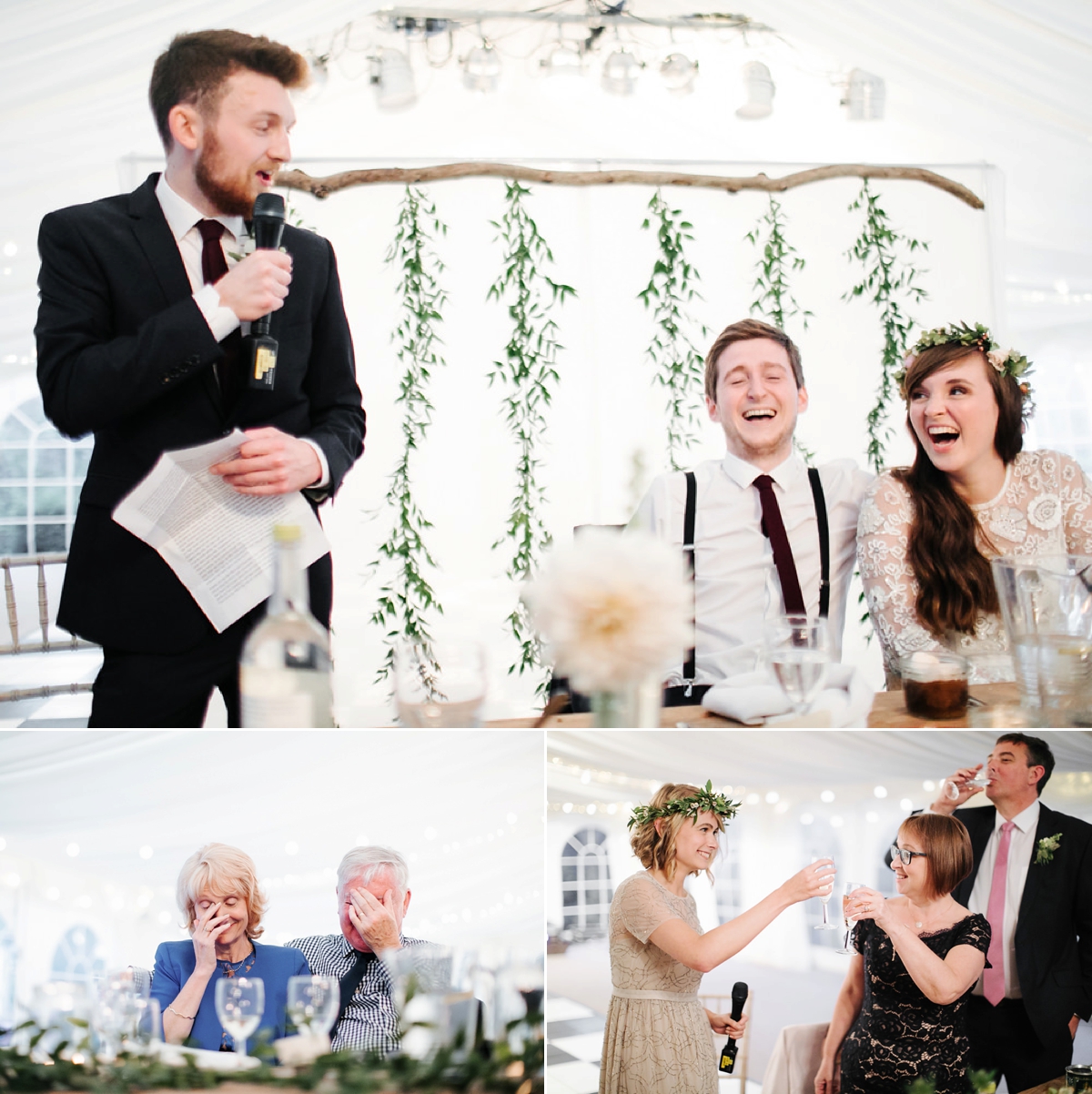 "In the speeches 3 of the bridesmaids sang a song they wrote for us which was so funny and so sweet and then our family also got up mid speeches and did a surprise song they had also wrote for us to the tune of S club 7 – reach for the stars (a childhood fav of grace's) it was hilarious and so fun!"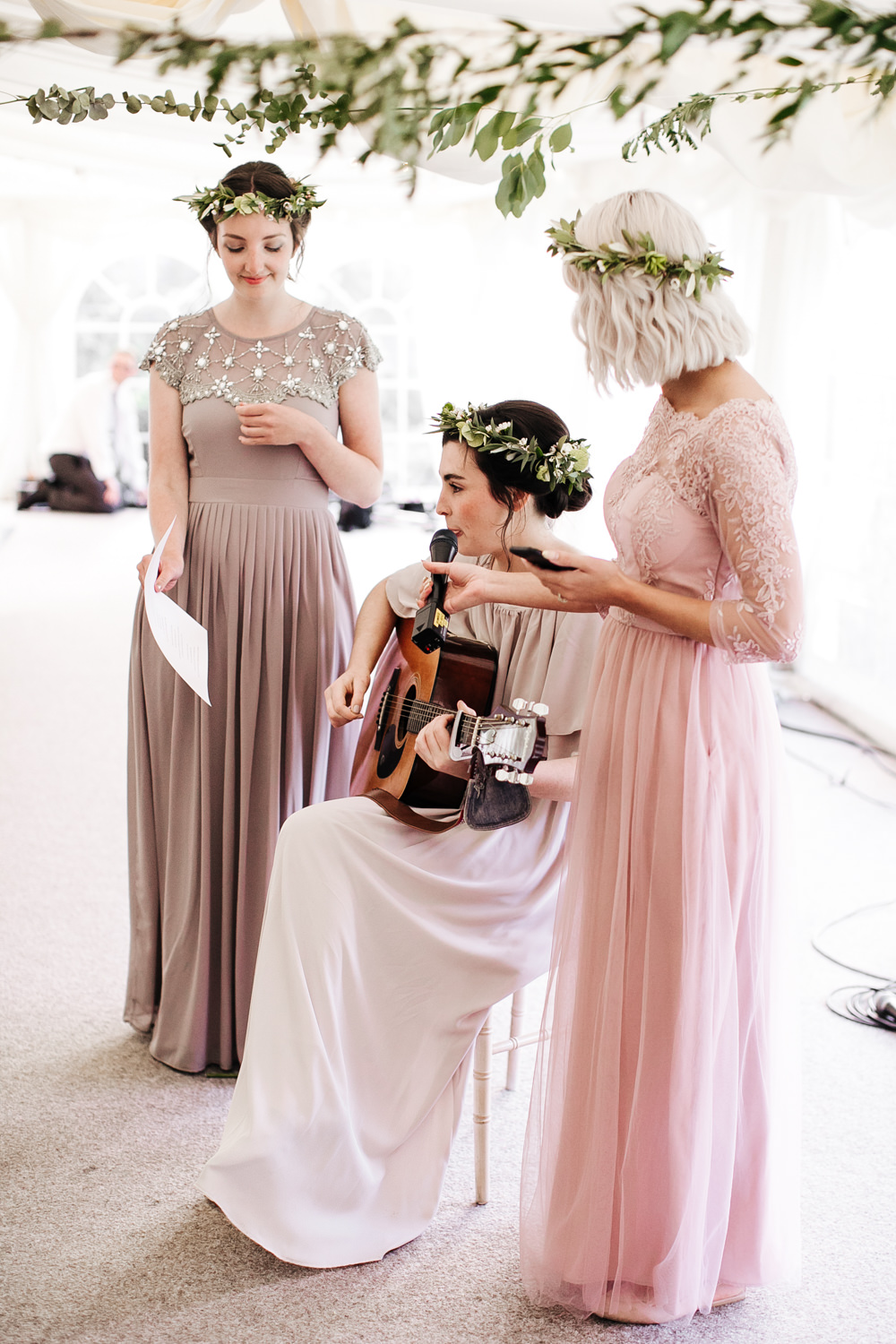 "Our first dance was to 'Latch' by Sam Smith. We had never had a song which we had wanted for our first dance song or a song which was notabley 'our song' so we found this choice really tough. We searched all over youtube and stumbled across this song and just loved the lyrics so much. Our amazing friend Joy Mumford acoustically sang her own version of the song for us which was so special, she is incredibly talented and it meant so much to us that she was able to be apart of our day in this way."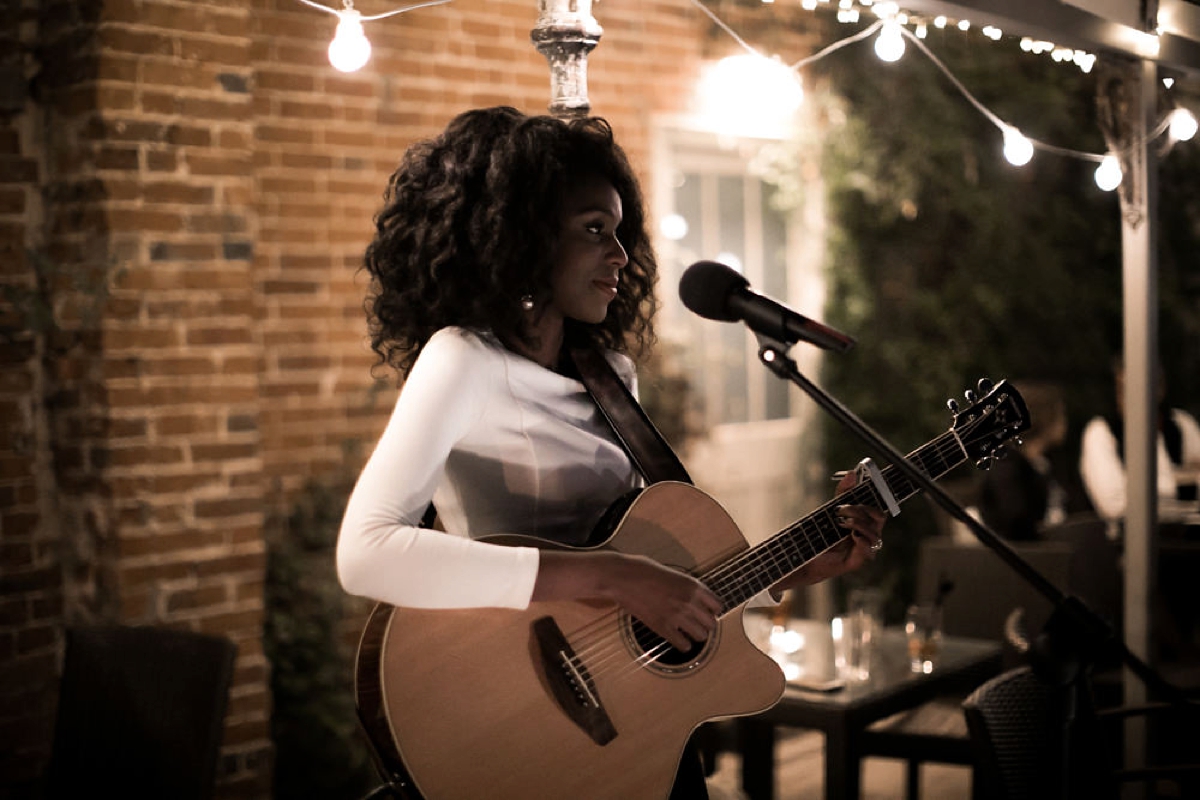 "Someone very kindly let us borrow 200m of festoon lights which we covered the outdoors with, so we could have our first dance outside under the bandstand and we lay lots of lovely Persian rugs we had sourced from gumtree all over the ground in the bandstand – it made for the perfect setting and with our amazing friend Joy (www.youtube.com/channel/UCrQHa7v0vuoxaSrbepy9R1A) sang our first dance song acoustically – this was such a special setting for our first dance."
"We met Schuggie at a wedding we shot in 2016 and thought he was so great! We knew we wanted half ceilidh and half our own party playlist for the evening, we didn't want the mess of a whole band set up, as otherwise with it being all in one marquee this would have been the view behind the top table, so in order to minimalise clutter, we loved that Schuggie was a 1 man act who could lead the ceilidh for us and it was so fun! Our guests absolutely loved it, friends raved about him afterwards and everyone joined in the dancing! We also had gold confetti canons and pots of glitter so the girls could decorate themselves with glitter during the party (and some of the guys – there was a glitter beard!)"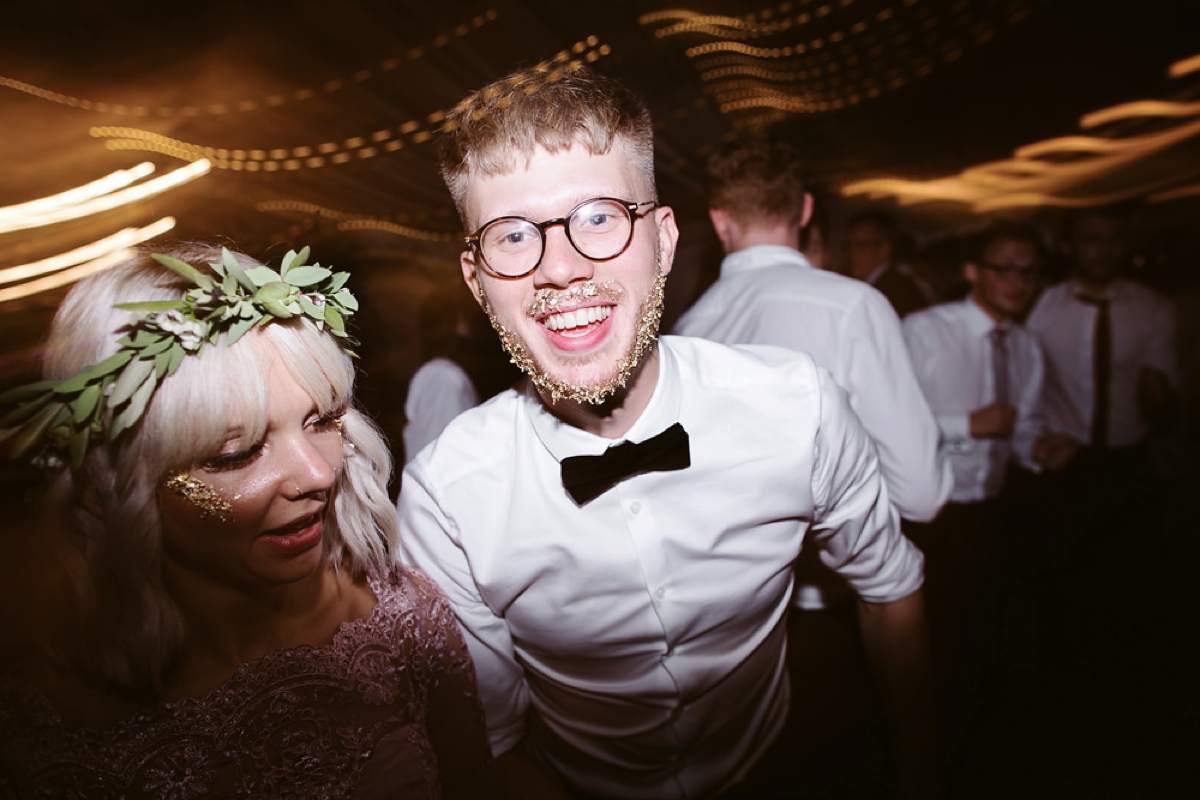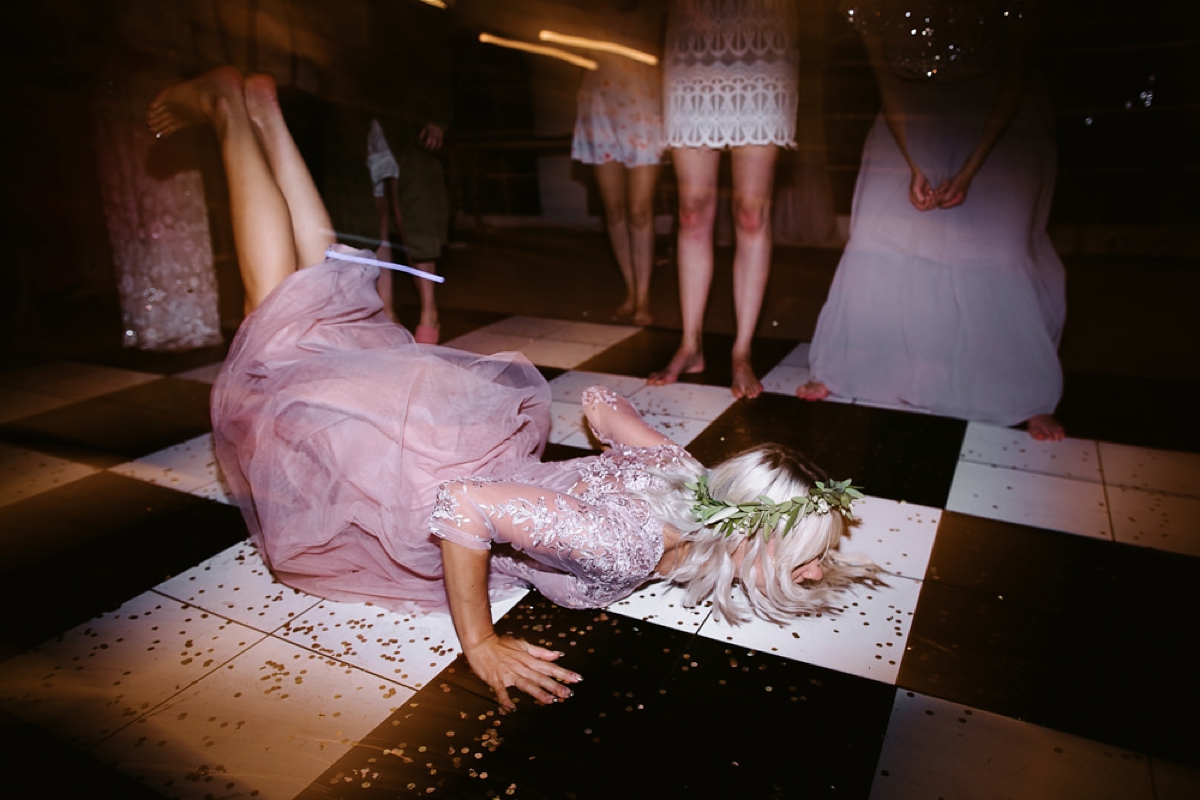 "In the evening we had a candy floss machine hired from the Elite Candy Cart Company, which everyone loved and we also had a fire pit outside, with a yummy smores station. We also did bring and share desserts in the evening and our family/friends brought some amazing desserts to be shared which we presented on wooden logs."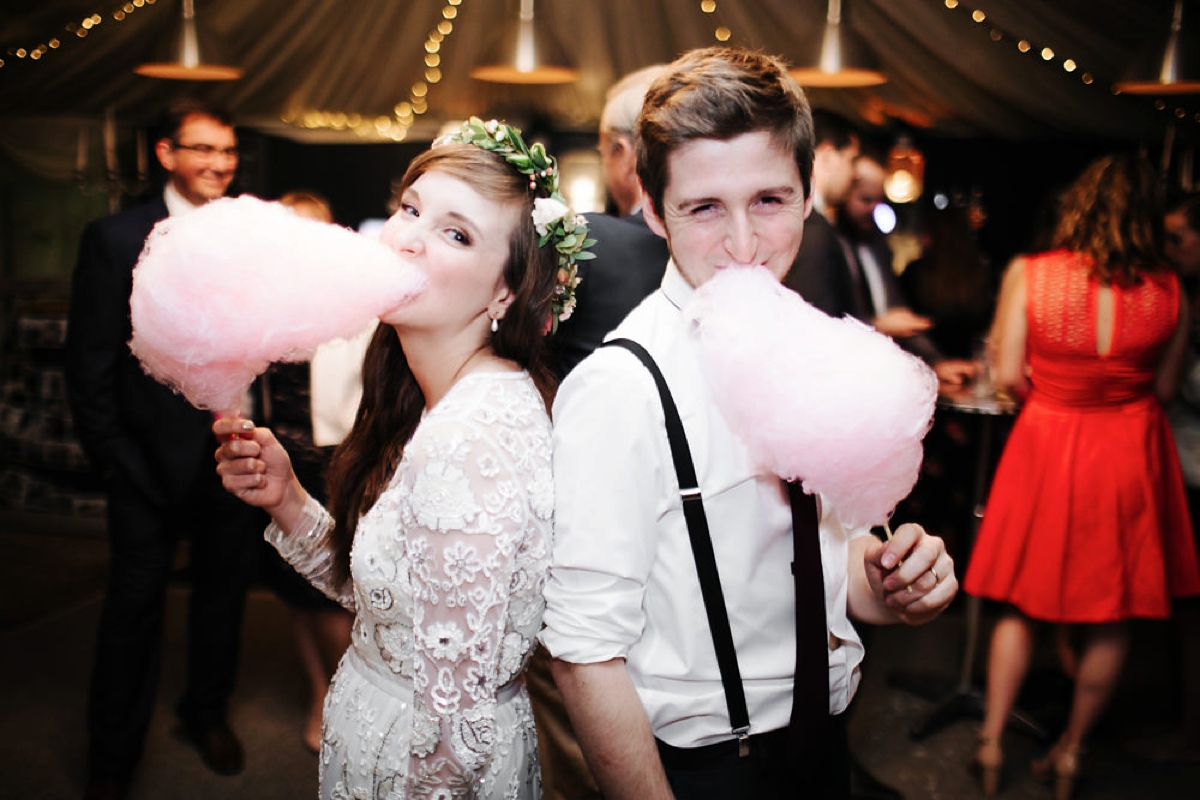 "It is honestly so hard to pick a favourite part, the entire day was perfect and every bit was the best. I think if we had to pick a favourite bit it would be the ceremony, stood under the trees saying our vows to one another was amazing. But also there was a moment in the meal when Mitch and I just looked out across all our guests chatting to each other, many who had never met before, all these different stages of our lives coming together and we just looked at each other and said we have to remember this moment, this is so special looking out onto a room of everyone we love all in one place – what a once in a lifetime experience!"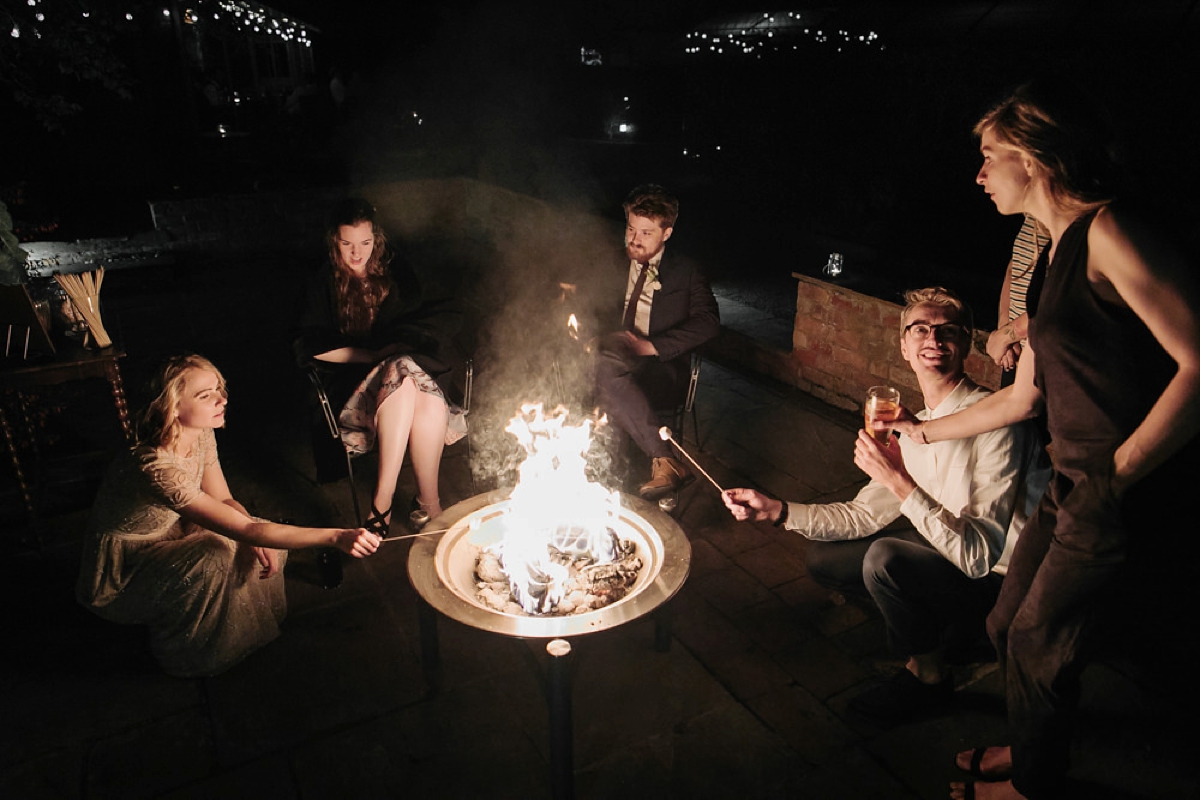 Words of Wedded Wisdom
"If you're having an outdoor ceremony make sure you have a wet weather back up as the UK weather is just too big a gamble not to. We did have a wet weather back up but it wasn't great and we are so glad we didn't have to resort to it! But it was threatening to rain all day on our wedding day and it actually rained just before the ceremony began as the guests were waiting in the forest, but thank goodness it stopped just as us girls arrived and we got the outdoor ceremony we always dreamed of! But's it's definitely not worth the risk and stress if things don't go to plan – have a wet weather back up!"
"One place we went very wrong was in leaving lots to the last minute, this was exhausting. Being wedding photographers ourselves and getting married mid wedding season was kind of crazy, we were slammed busy and we also brought and moved house in the same month too – we shot a wedding in Jamaica the week before our own wedding and got back with just 5 days to go and with the longest to do list still to face. Despite the fact we had the best day ever on our wedding day, we were thoroughly exhausted – so definitely do as much in advance as you can.
Lists will be your life savour, we had the longest and most thorough to do lists and it meant we didn't forget anything! Do your lists digitally if you can, so you can edit and amend them, as plans change and you are constantly thinking of things you've forgotten! It was also really helpful to have our wedding to do list digitally on our phones, so we could edit it whenever something random popped into our heads that we needed to remember and also when you're out and about you can remember things you may need to buy etc."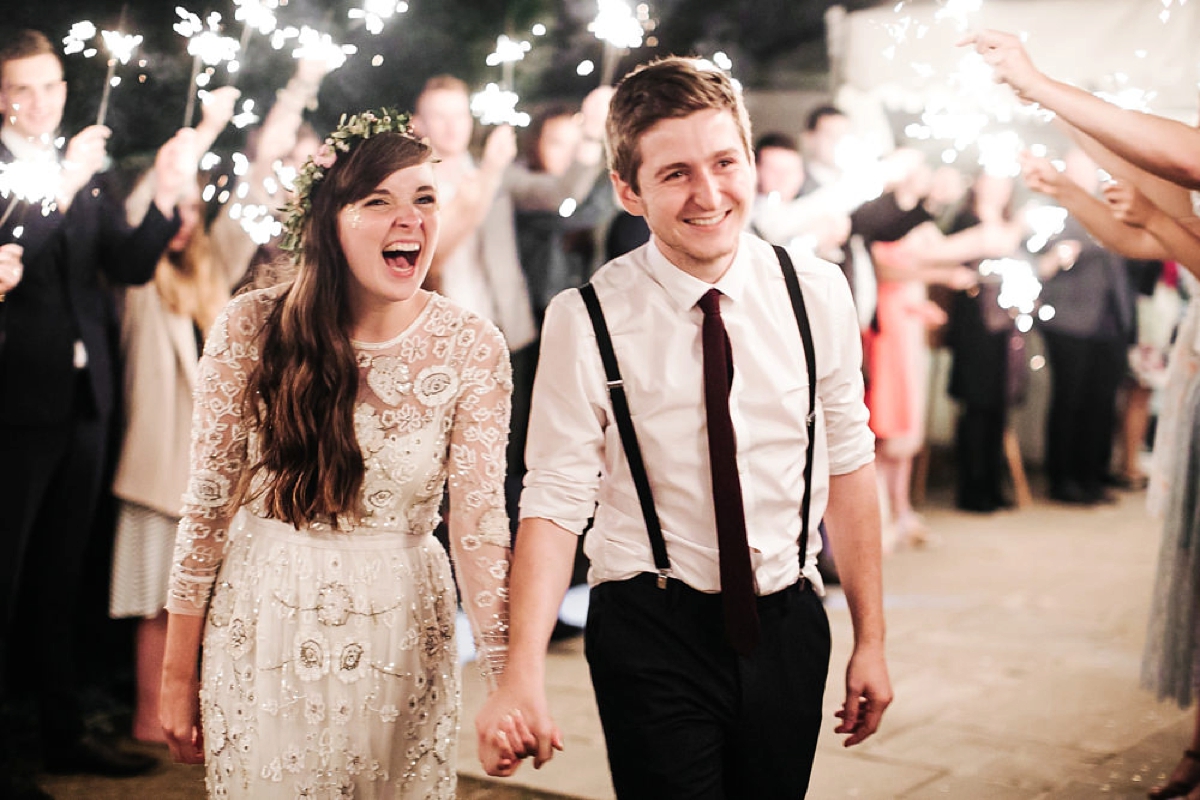 Utterly gorgeous in every single way. Grace and Mitch, thank you so much for sharing your precious memories with Love My Dress, I'm so honoured we got to share your engagement and wedding and inspire so many others. Sending love to you both today.
Readers – you can see more Needle and Thread brides here. I hope you  have enjoyed reading through this beautiful wedding as much as I have had the pleasure preparing this feature for your delectation!
Love Annabel x