Oh my! Today's bride chose the brilliant Emma Beaumont to design her gorgeous gown, the same dress designer who designed my own wedding dress of dreams back in 2016 (and the bride even gives me a little mention below!).
I was totally in love with my own wedding dress and have also fallen head over heels for this brides dress too. So without further ado, let's take a look shall we? Lawyers Jen and Joe were married over the Easter Weekend on 31st March 2018 at Elmore Court in Gloucestershire.
"I have always loved reading Love My Dress so the beautiful weddings on the blog provided me with lots of inspiration for our own wedding. Whittling down the wedding style to just one was quite hard as there's so much inspiration out there; colourful weddings, classic, rustic…the list goes on."
Film by Mrs Mashup
"I was keen not to have a strict matchy matchy colour scheme and focused mostly on the flowers, supplemented by a few other finishing touches such as the wedding photo display, the Mr and Mrs balloons and the Polaroid place names, but wanted to keep the look classic and simple. Flowers were the most important thing to me in terms of styling but they are also one of the most expensive elements so I had to tone down my ideas to fit the budget!"
Images by Emily & Steve
"Elmore provided us with lots of support in the planning of the wedding and were particularly amazing on the day. We had to provide a wedding bible outlining how we wanted everything to be set up and as if by magic it happened! It meant neither of us had to run around setting up on the day."
"We'd looked at a lot of venues online and in person but didn't fall in love with any of them. When we walked into Elmore Court I cried. We just knew it was the one straight away. The main house is just stunning and has been updated to preserve the history of the house whilst also bringing it stylishly up to date with gorgeous fabrics and colours."
"For our stationery, the timeline of the day was made by Wildflower Co Illustration whom I came across via Love My Dress. Karl was lovely to deal with and was very helpful. The order of service, table plan and menu were from Etsy. I left the stationery a bit to the last-minute as I found all the choice rather overwhelming.
My lovely and talented pal Sam (who is a print designer in fashion) designed our invites for us. They had a drawing of the venue on them with a floral design."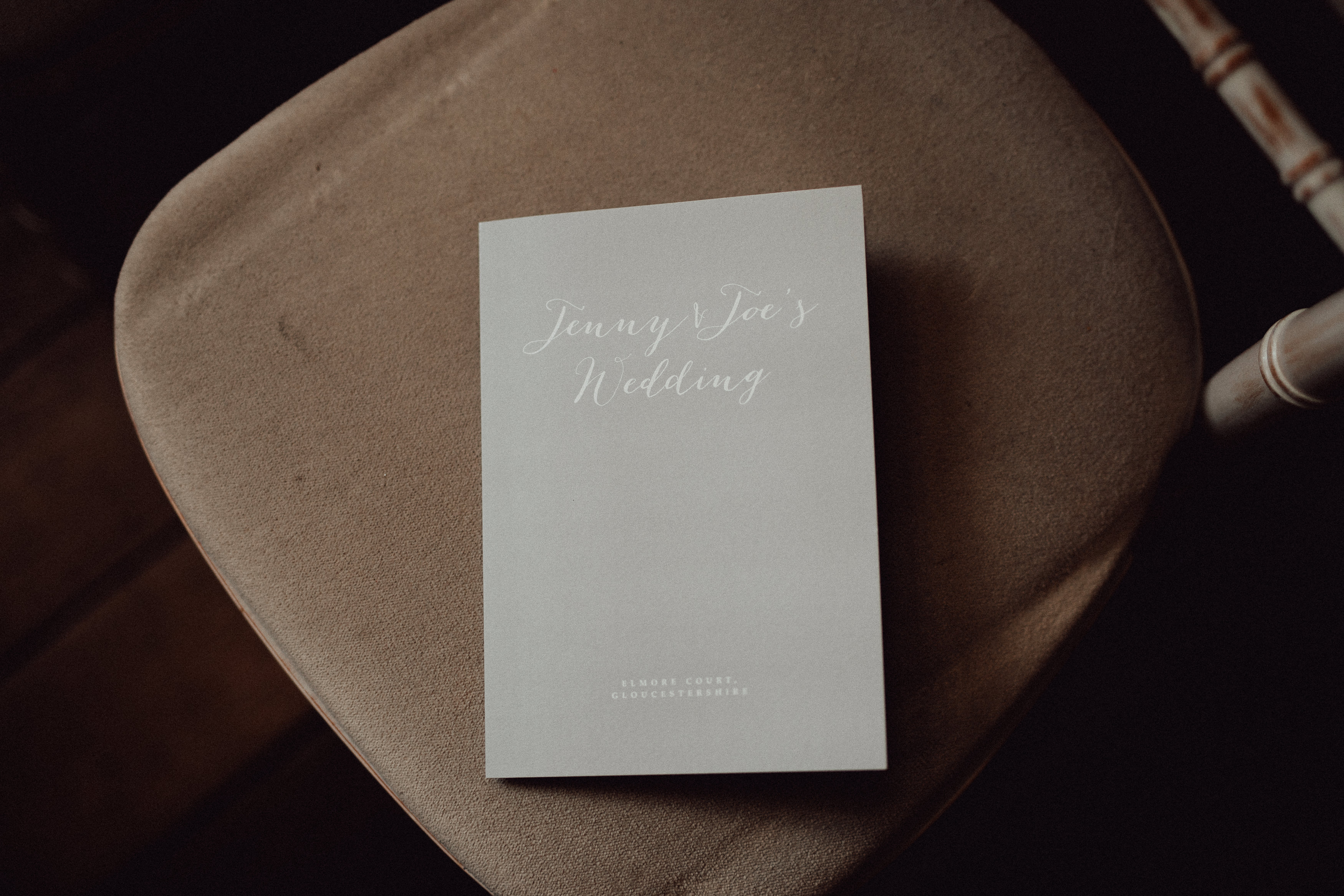 The bride chose the talented Knutsford-based dress designer Emma Beaumont to design and make her beautiful backless long-sleeved lace dress.
[JP-VIDEO]
"The dress was a labour of love and such an amazing process. The design process is something I will always remember and treasure. I had seen one of Emma's dresses featured in a blog online (the Holly dress – if you know, you know) and so approached Emma with an idea for a dress which I hoped she could make for me."
"However, once the creative process began and the original idea evolved, the dress emerged over several sessions and incorporates elements from many different dresses I had seen and tried."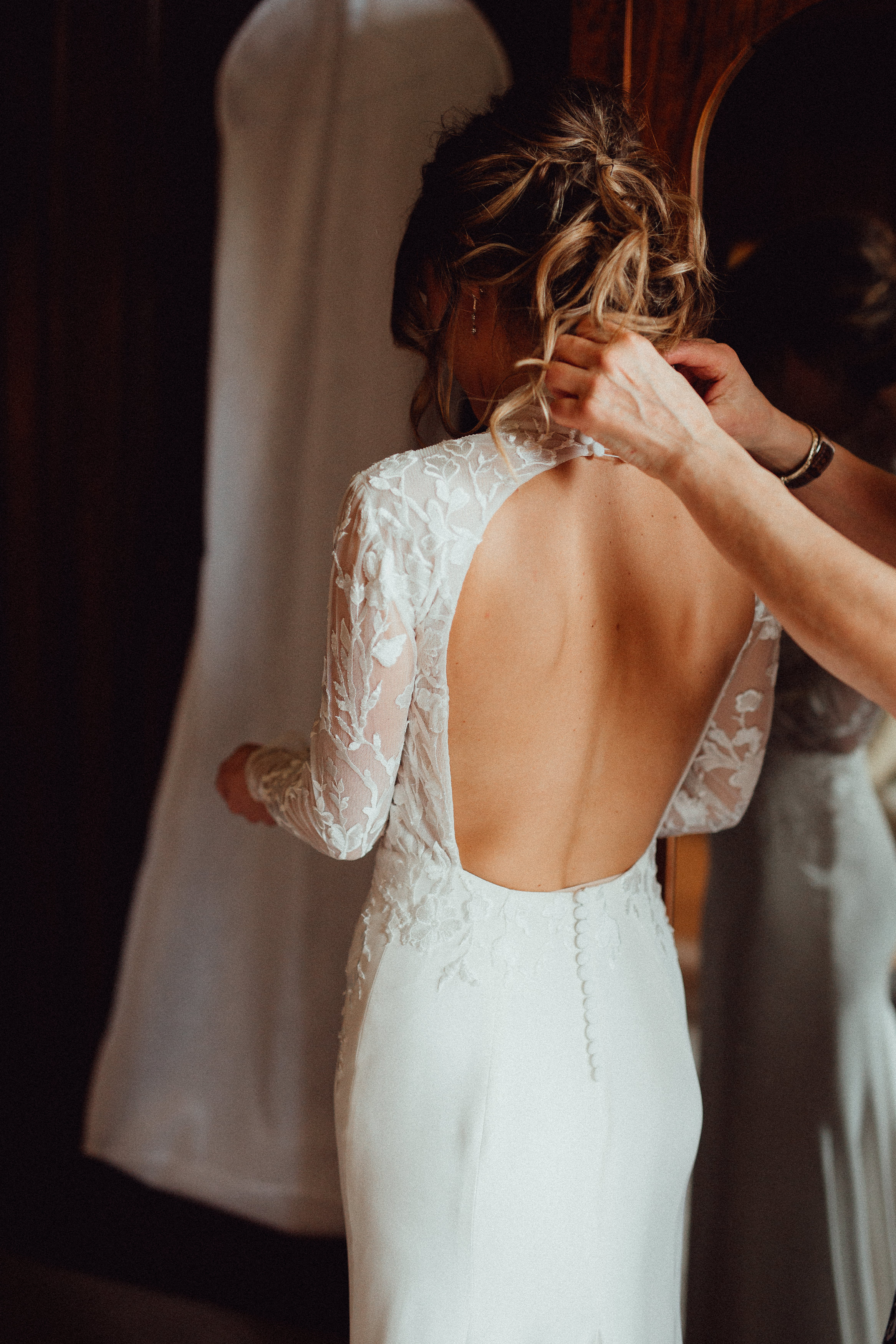 "I adored the little high neck, the open back and the clean lines of the skirt. I also love the button detailing on the neck and skirt and sleeve and my absolute favourite element is the little frill around the cuff which was my mums idea when we were playing with some laces during one of our appointments. The little frill is the edging to another lace and my mum had the idea of using it to finish the sleeve."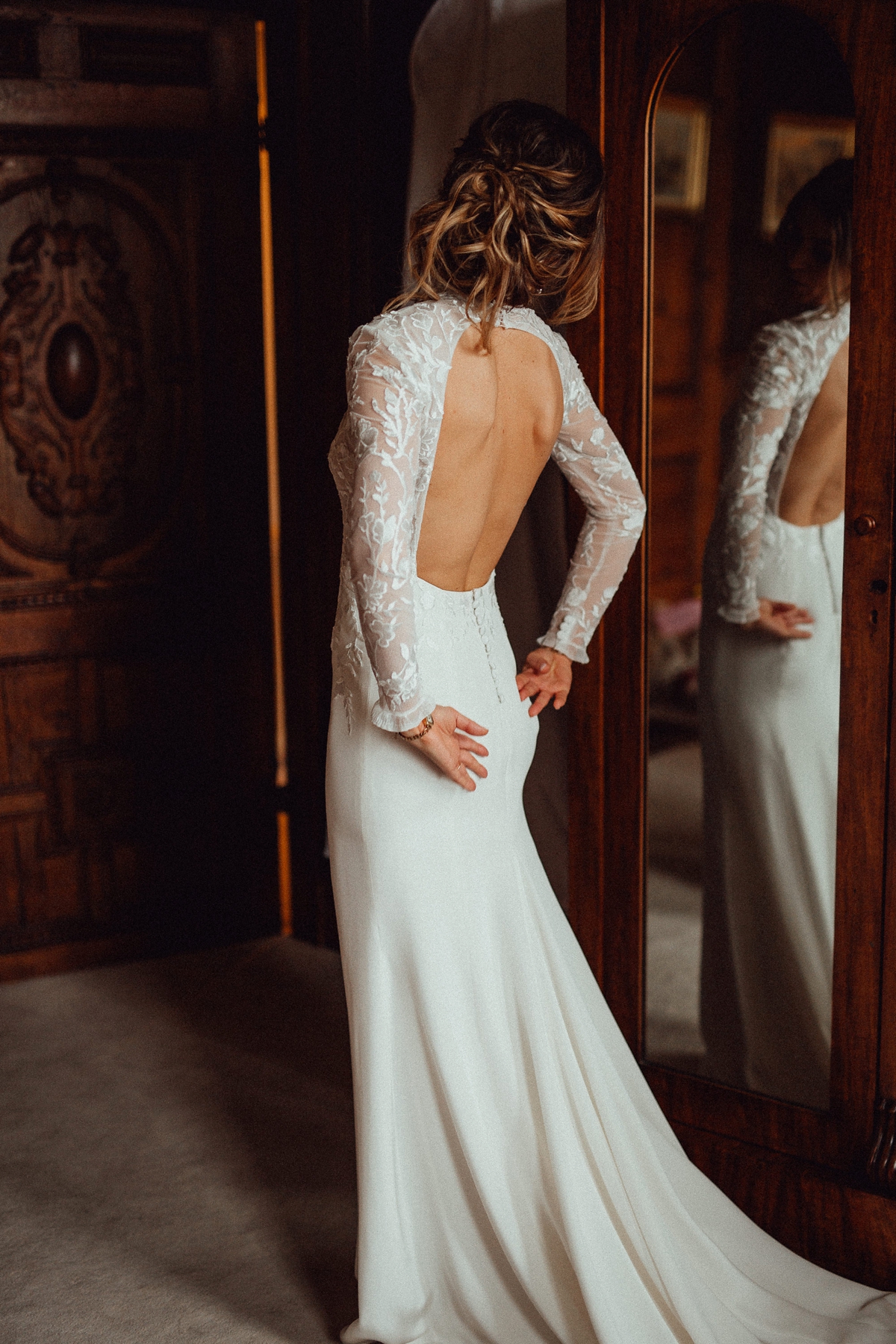 "I loved my veil almost as much as I loved the dress! Again it was a labour of love and designed bespoke for me by Emma. Each of the flowers on the veil were hand appliqued by Emma and her team. I didn't want to take it off and only did because people kept standing on it and I worried I would trip myself up during the first dance."
"Both my hair and my bridesmaids hair was done by my talented friend Annie. It was so lovely having her with us on the morning of the wedding. My make up was done by Charli Avery. Charli was also our DJ and was an absolute dream to have around on the day."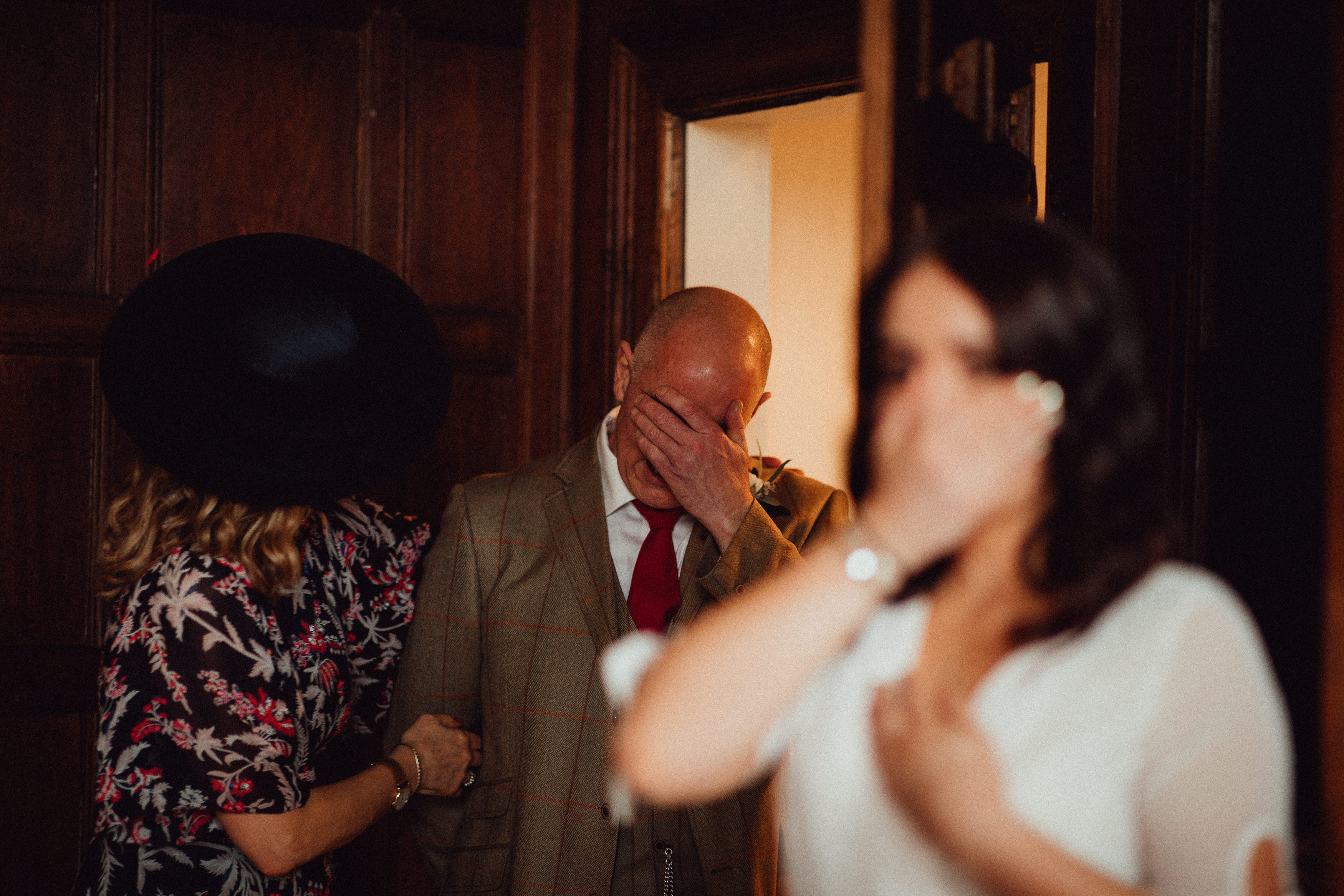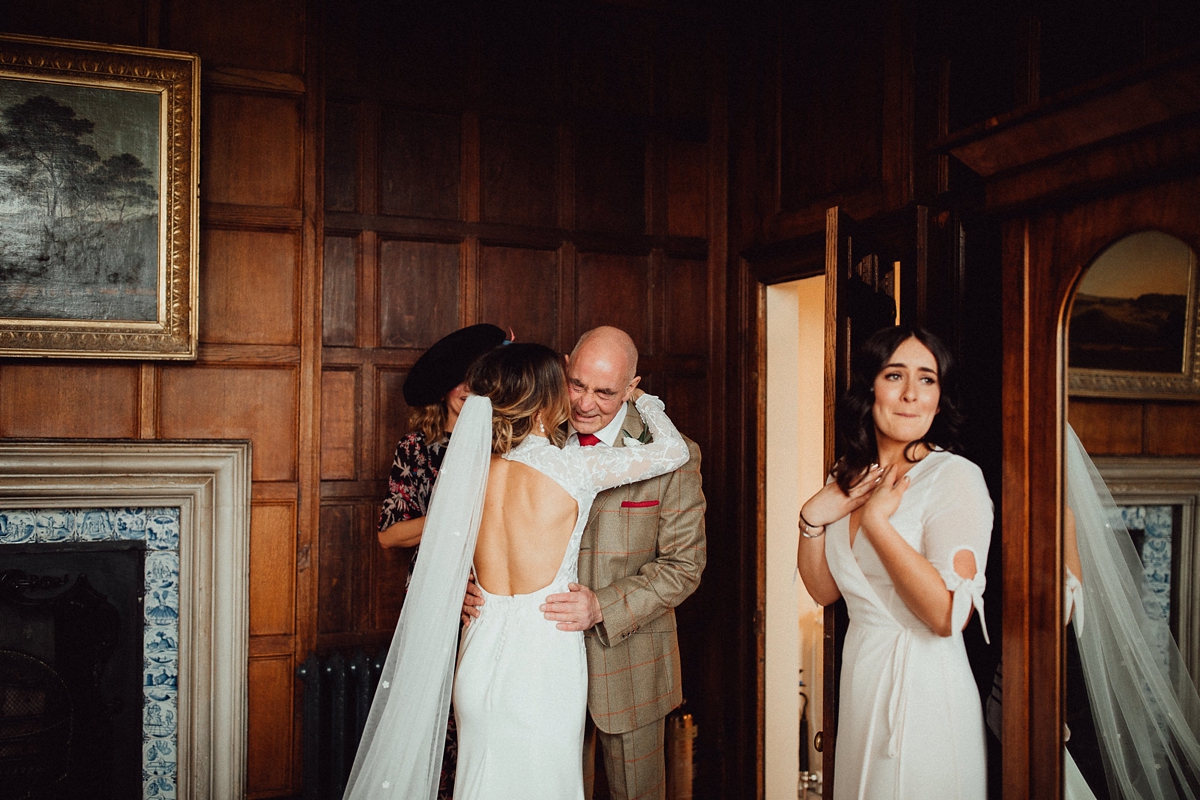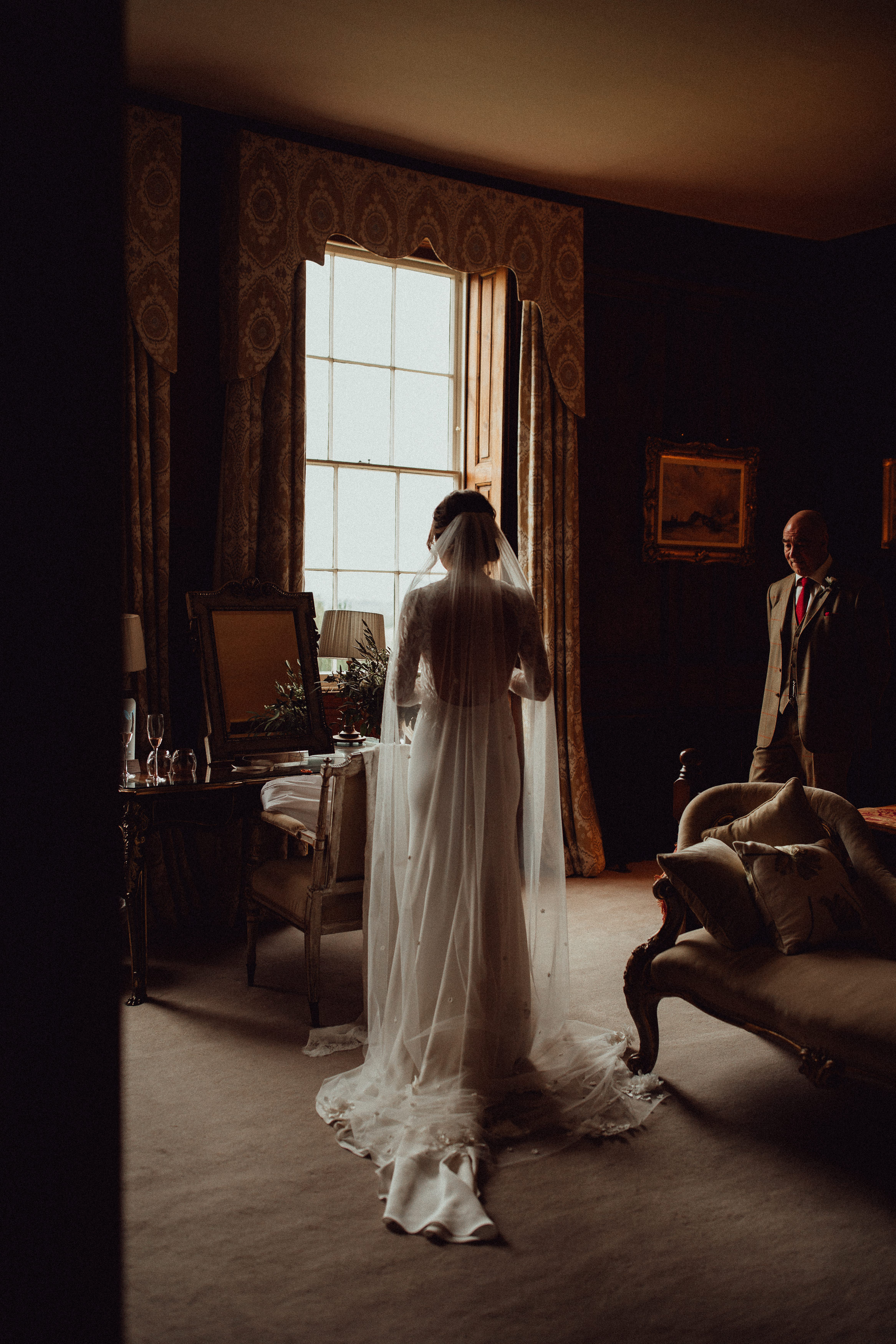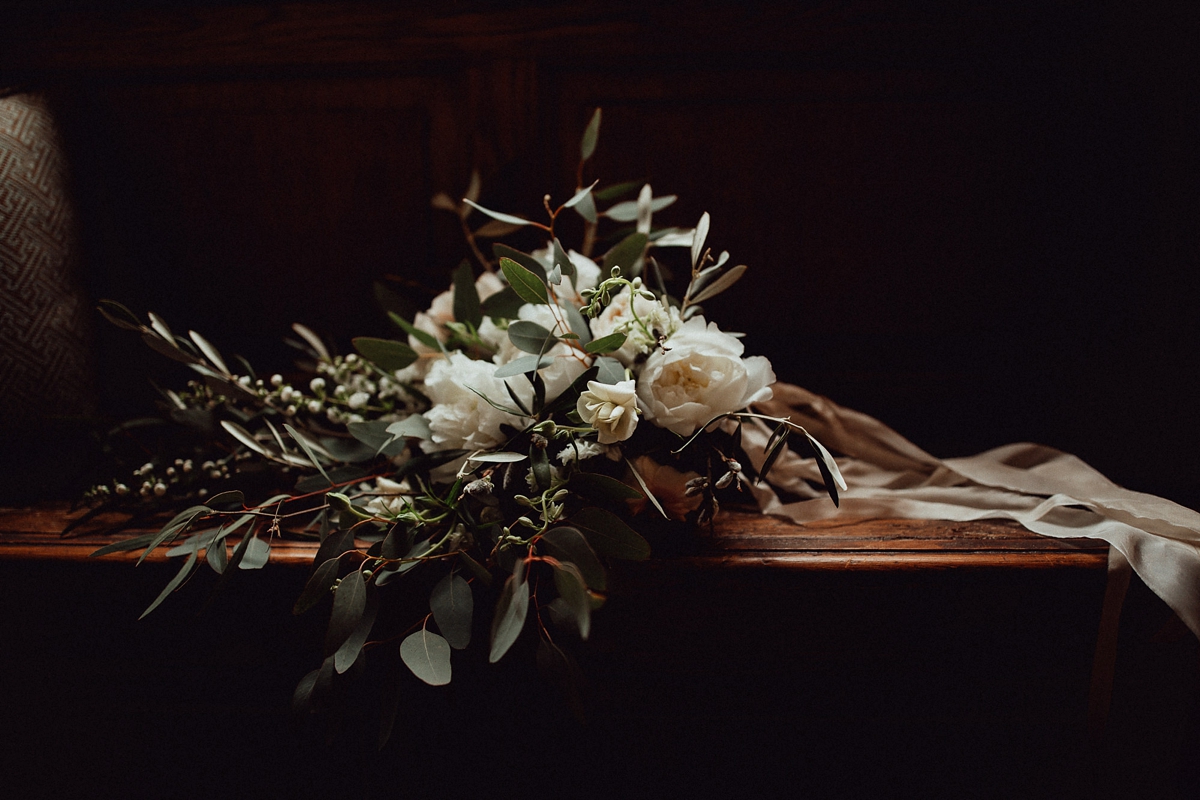 "My shoes were Valentino Rock Studs in bronze with a kitten heel, which meant I could wear them all day and night. I wore my usual perfume Coco Chanel Mademoiselle. I just love the scent and didn't find anything I loved more before the day."
"I wore my mums grandmothers gold dress watch, which my mum gave me as a gift before the wedding. I loved wearing it, it's so beautiful and delicate. I also wore some diamond drop earrings which were generously leant to me by an old colleague which I feel complimented my dress perfectly."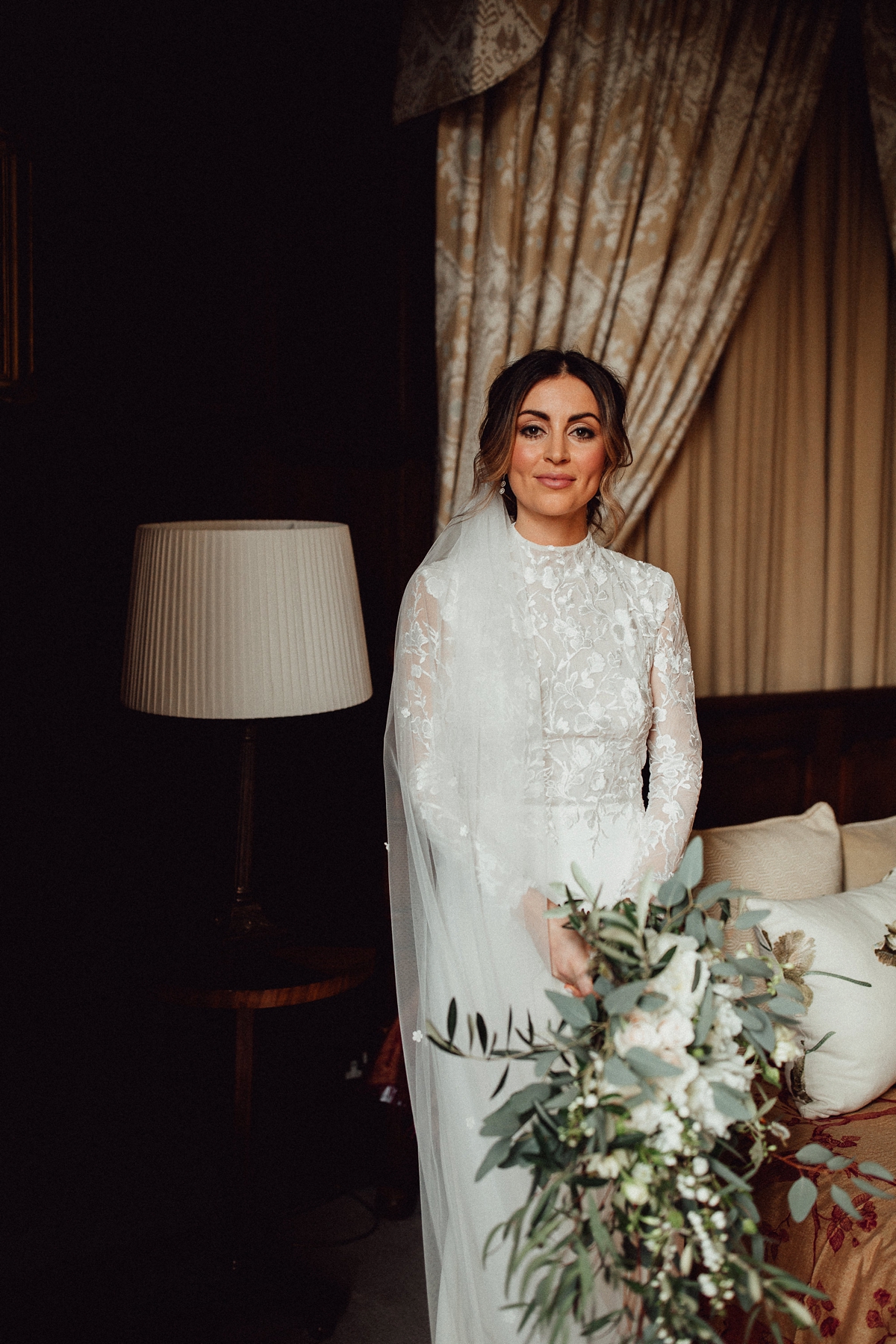 "Joe and I first met whilst we were both trainee solicitors. Our relationship blossomed over boozy nights out in the local karaoke bar and we had a long distance start to the relationship when I was on secondment in Prague and Joe was on secondment in Bucharest."
"We both moved back to East London when our secondments were over and after a year or so, we moved in together. Joe proposed on the beach outside the Old Neptune Pub in Whitstable."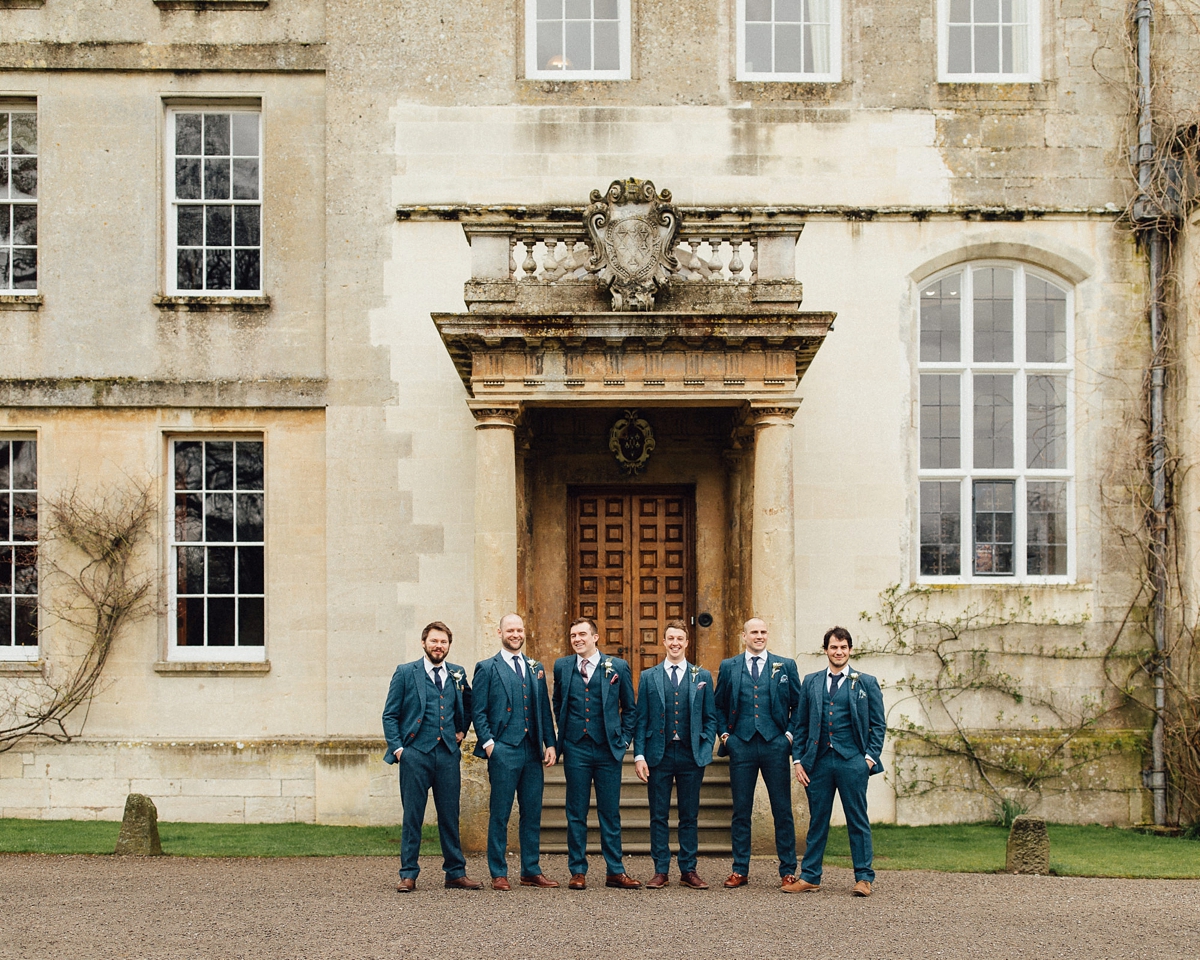 "Joe and his groomsmen's suits were from the Vintage Suit Hire Company. The groomsmen were able to hire theirs and Joe got the same suit made to measure, which meant they could have matching suits but we didn't have to buy them all. They are reasonably priced and good quality."
"The boys all had ties from Marks & Spencer and pocket squares sourced from Etsy and TM Lewin. A couple of the pocket squares were William Morris fabric which we felt was a nice link to our home as we live in Walthamstow where William Morris also lived. Joe had a pair of Loake brogue shoes bought in the sale, a Liberty of London tie and a Lanvin pocket square bought together on a wedding shopping trip. His shirt was Thomas Pink via Selfridges."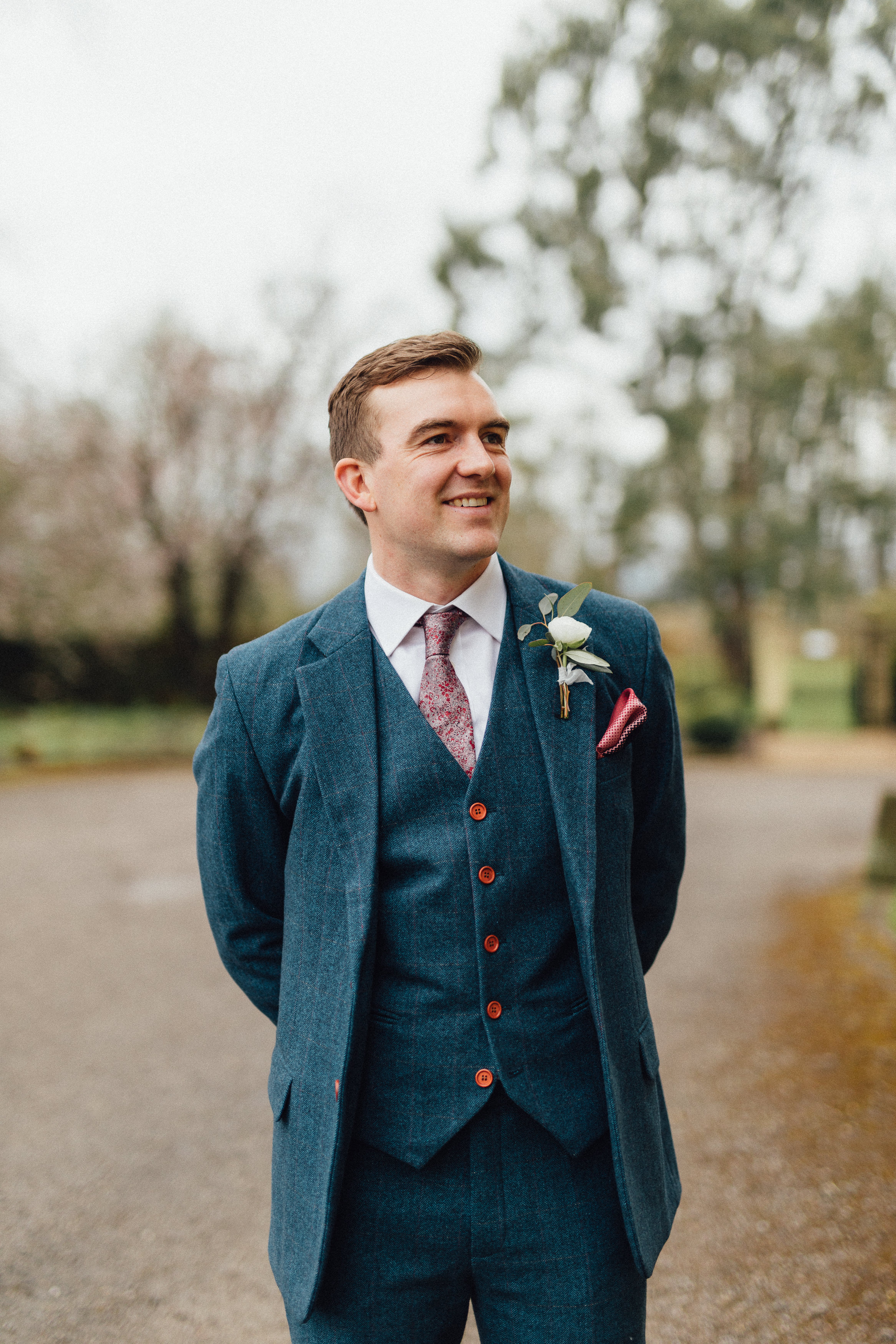 "It sounds terribly romantic (and it was) although it was late at night in winter, so it was also freezing! Joe surprised me with a ring we had seen together in a jewellers in Bourton on the Water in the Cotswolds which Joe had gone back to get without me knowing. We were engaged for a year and 3 months before the wedding."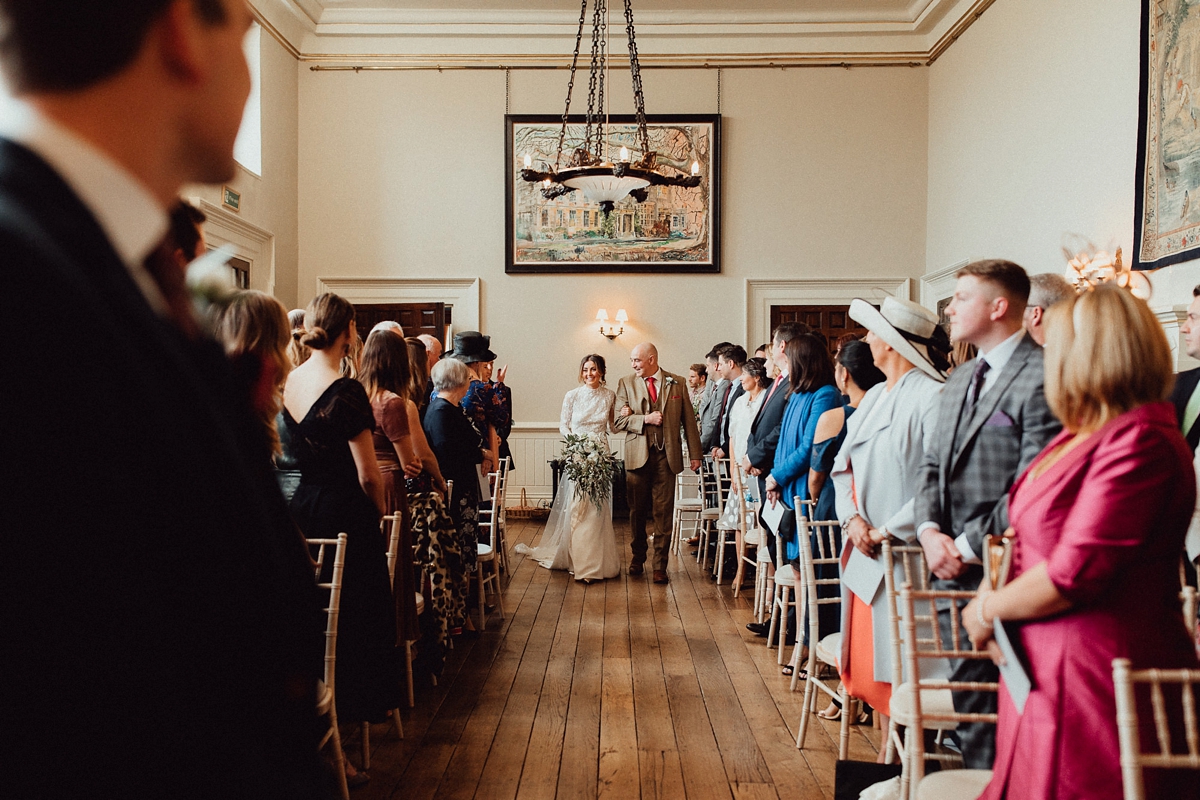 Jen's dad walked her down the aisle to a popular aisle choice, Here Comes The Sun by The Beatles.
"We were both so anxious and nervous before we went in. My heart was thumping and I was clinging onto his arm so tightly! I'm so glad he was there to accompany me and make sure I didn't fall over with all the nerves and anxiety. Hearing the music start and knowing the girls were walking down the aisle and I would be next was such a terrifying but amazing feeling."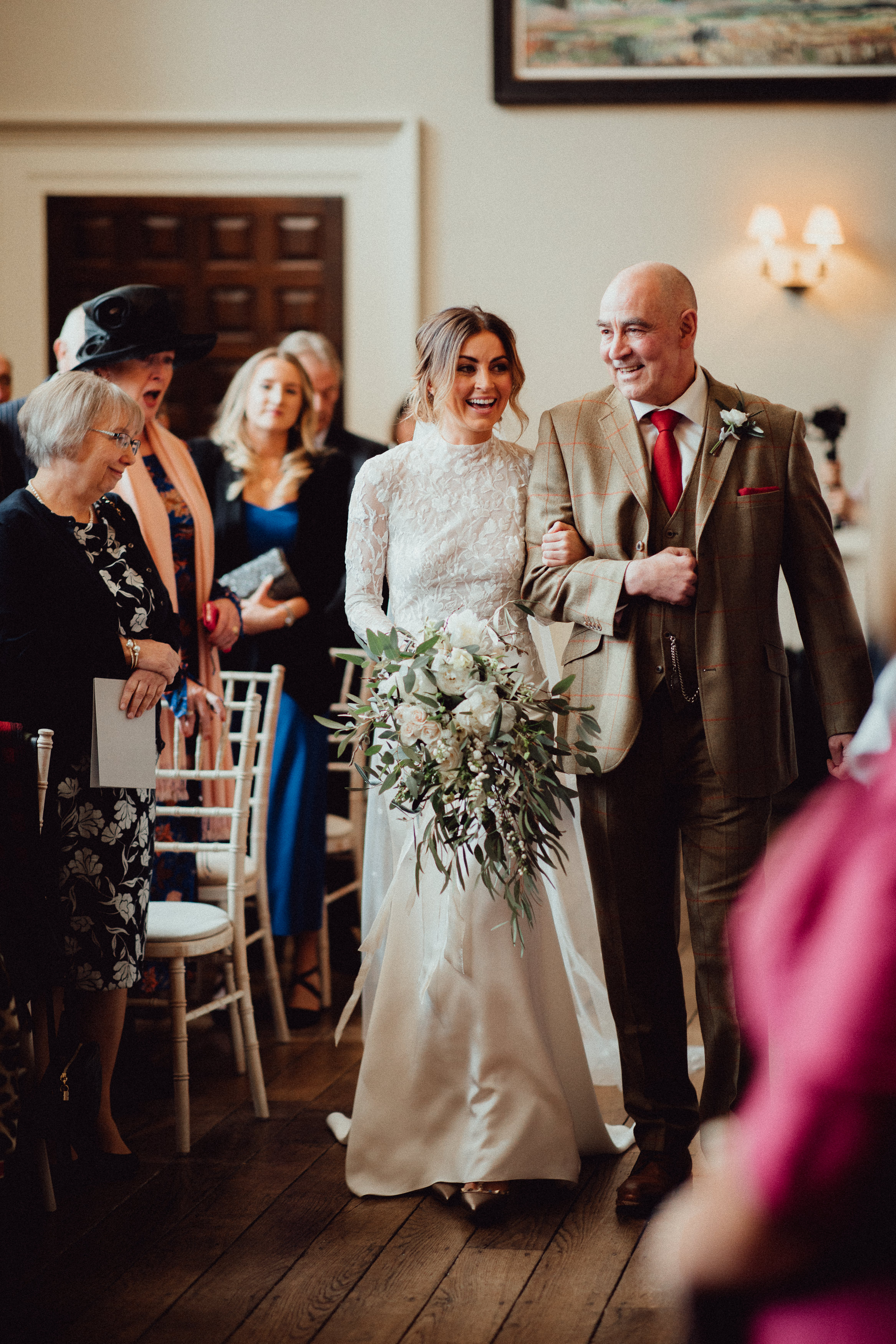 "We decided not to tailor our own vows as we couldn't put into words what we wanted to say without resorting to clichés! We did have two readings, The Vow by Roger McGough and Yes, I'll Marry You My Dear by Pam Ayres. We loved the hopeful sentiment of the Roger McGough poem and the lighthearted ironic toned of the Pam Ayres poem. I particularly liked a part from the Roger McGough poem which I thought was romantic in its simplicity and hints at the inevitable ups and downs of marriage…"
"I vow to bear in mind that if, at times
Things seem to go from bad to worse,
They also go from bad to better
The lost purse is handed in, the letter contains wonderful news.
Trains run on time, 
Hurricanes run out of breath, floods subside,
And toast lands jam side up…"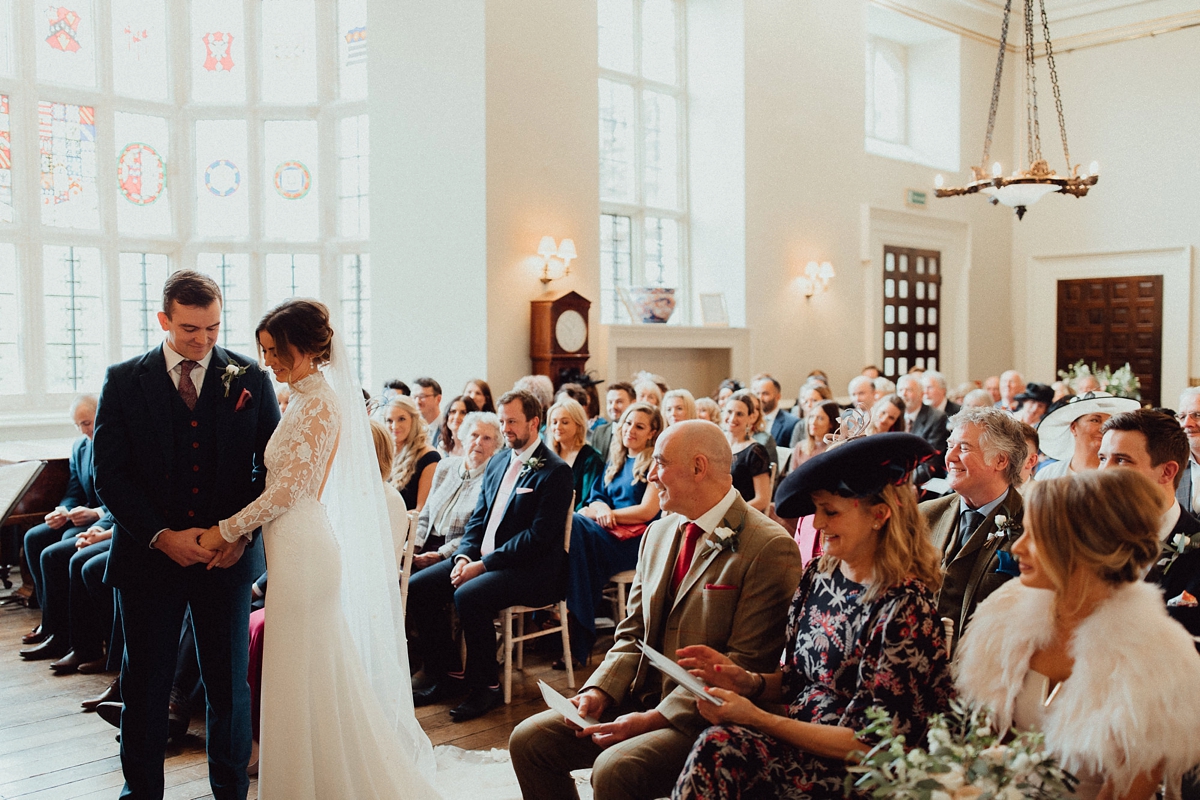 "We found choosing readings really difficult as lots of the typical wedding readings just felt a bit cheesy or traditional or those readings that I liked Joe didn't and vice versa! The two we chose were a result of many evenings spent on Google. The Pam Ayres one was suggested by my mum and was meant to be tongue in cheek"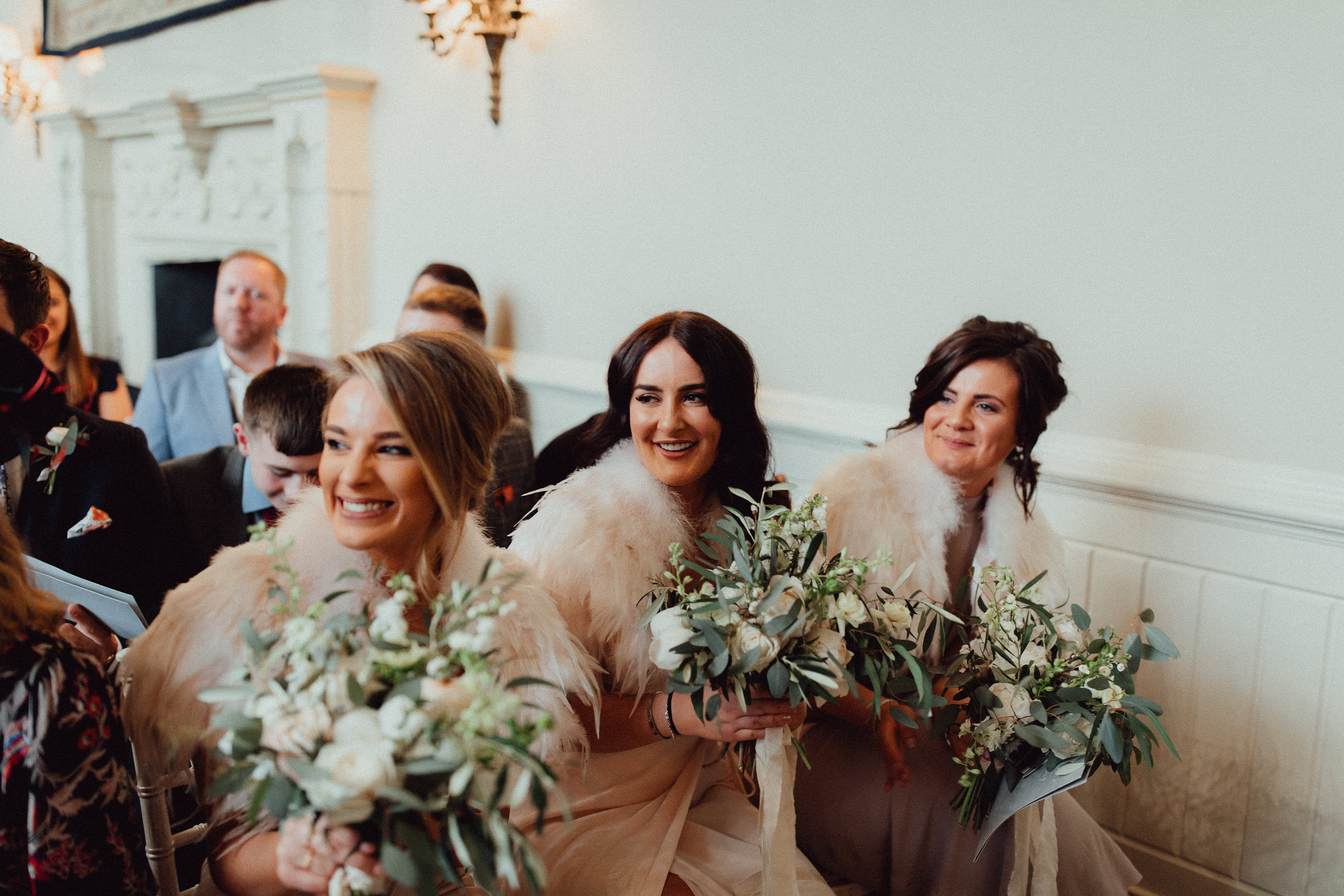 "We bought our wedding rings from Hatton Garden. I chose a 3 quarter diamond eternity ring in gold with white gold setting which I felt complimented my engagement ring and had the obligatory bit of sparkle. Joe chose a classic gold band. Both rings are engraved with our wedding date on the inside."
The bridal party looked absolutely stunning in full-length light blush dresses from Reiss and Maids to Measure, bought then tailored to fit each bridesmaid.
"The girls all wore their own shoes and jewellery and they had feather boleros from Jenny Packham at Debenhams too. I liked how the feather boleros tied all their looks together as they were each wearing different dresses."
Following the ceremony, guests were treated to a drinks reception and live music from The Washboard Resonators.
"I'm from Yorkshire and had met the Leeds City Stompers when they were performing outside a pub in Adlingham and thought they were brilliant and different from the usual wedding bands. We asked their sister band The Washboard Resonators to play during the drinks reception. They were really amazing and played on their banjo, washboard and sang too."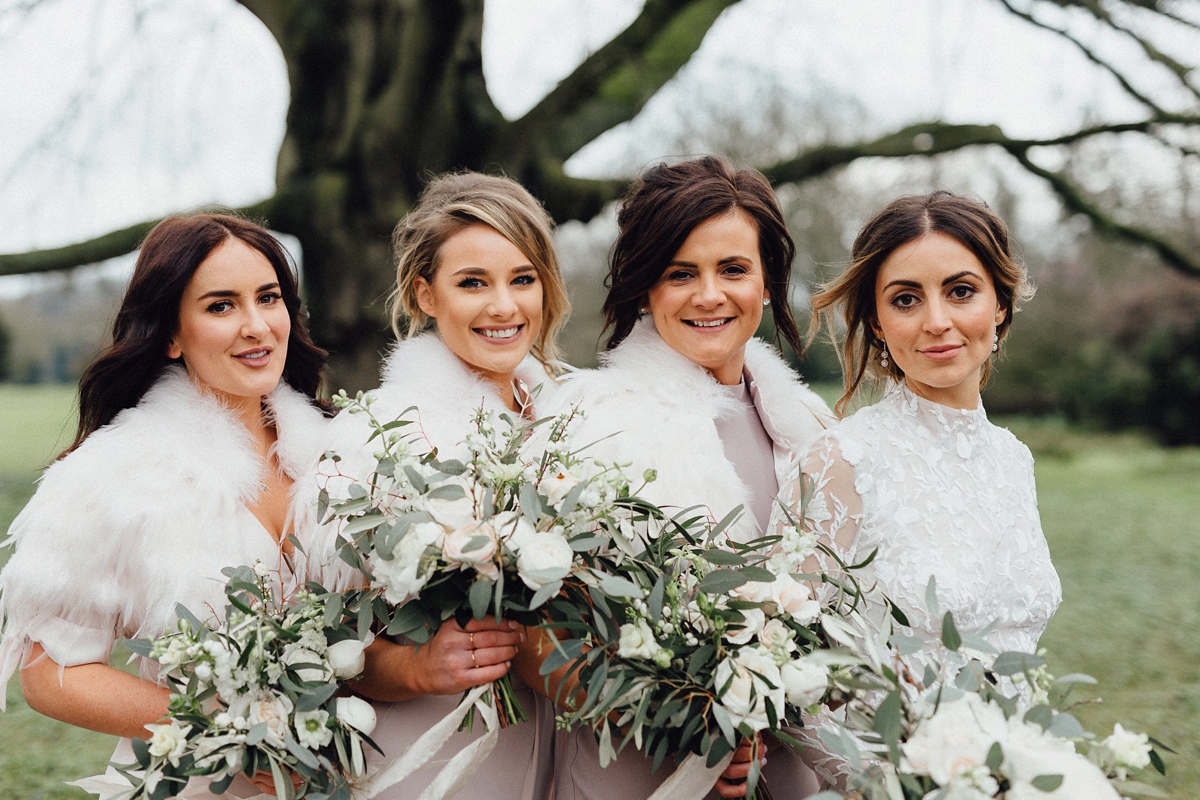 On hand to capture the memories of the day camera were husband and wife photography team Emily & Steve with Love My Dress favourite Mrs Mashup on videography duty.
"We found Emily and Steve via wedding blogs online. The photography was one of the main parts of the day for me so we spent a long time researching photographers. I loved the way Emily and Steve capture emotion in their photos. Looking at the photos just brings all the different emotions of the day flooding back."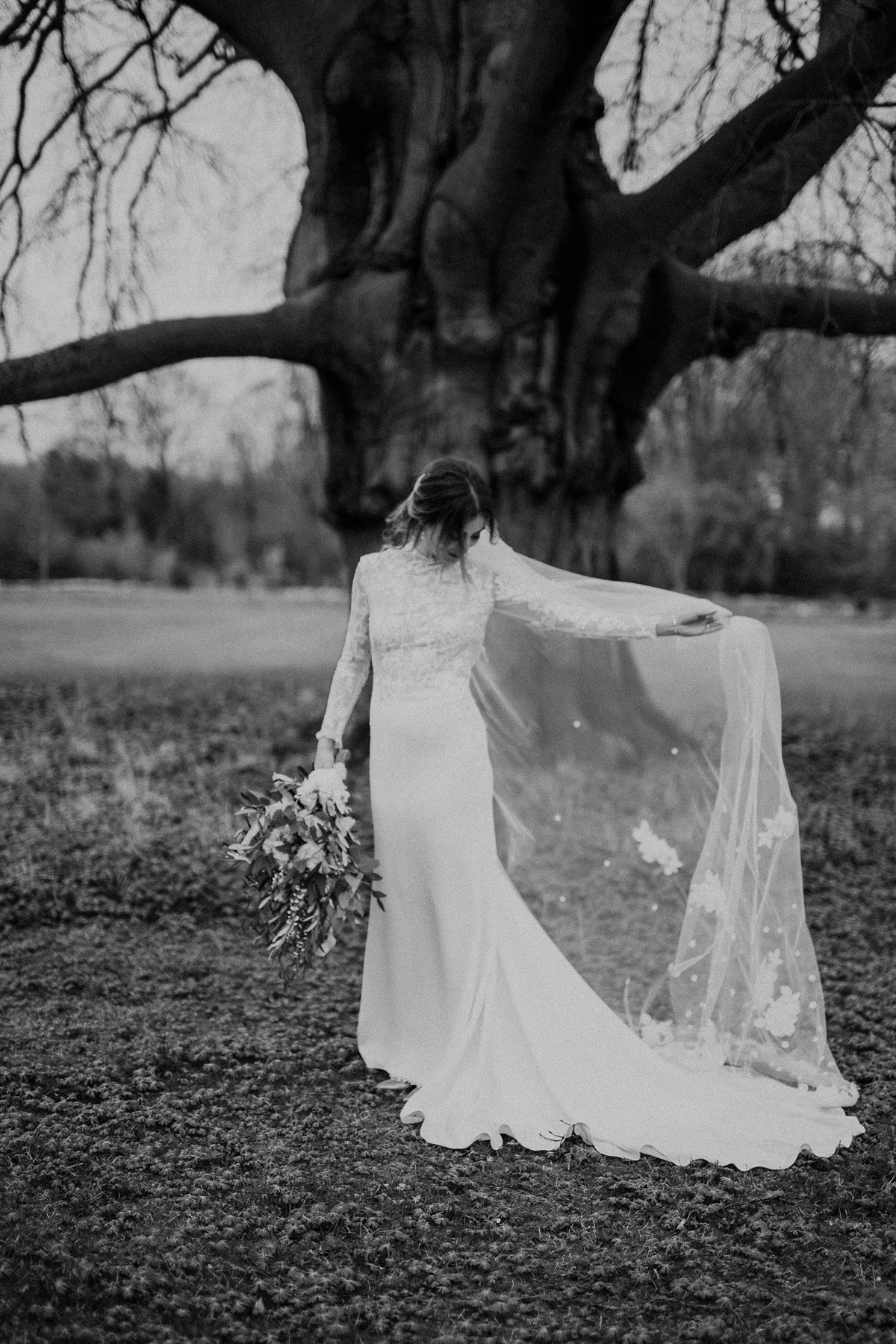 "Looking back on the day, my dad's reaction to seeing me in my wedding dress for the first time was something I'll never forget. I also really loved walking down the aisle with him. I made sure I looked at people as I walked down and I remember seeing everyone's faces full of happiness and emotion."
"I also loved Joe's speech which was funny, emotional and perfectly timed and we loved walking around chatting to people during the meal. We made sure we spent lots of time together during the day and so I have lovely memories of dancing and chatting with my new husband."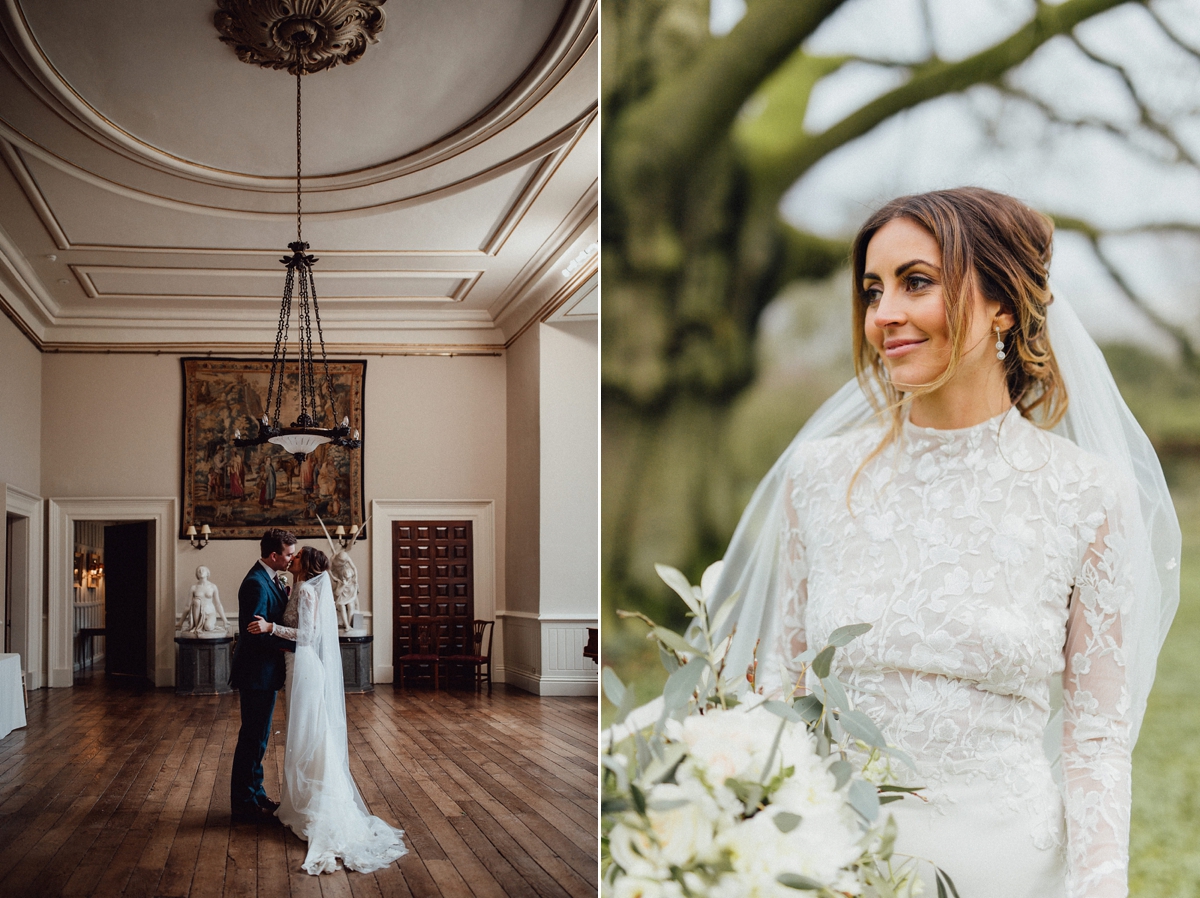 "The Gillyflower eco building, where we had our wedding breakfast and party, provides the perfect contrast to the traditional vibe of the main house. The Gillyflower reminds us od beautiful barn venues whilst the ceremony room felt appropriately church-like. We also loved all the bedrooms and bathrooms in the house which have luxurious bathrooms and lovely decor and meant we could stay over with our families the night of the wedding."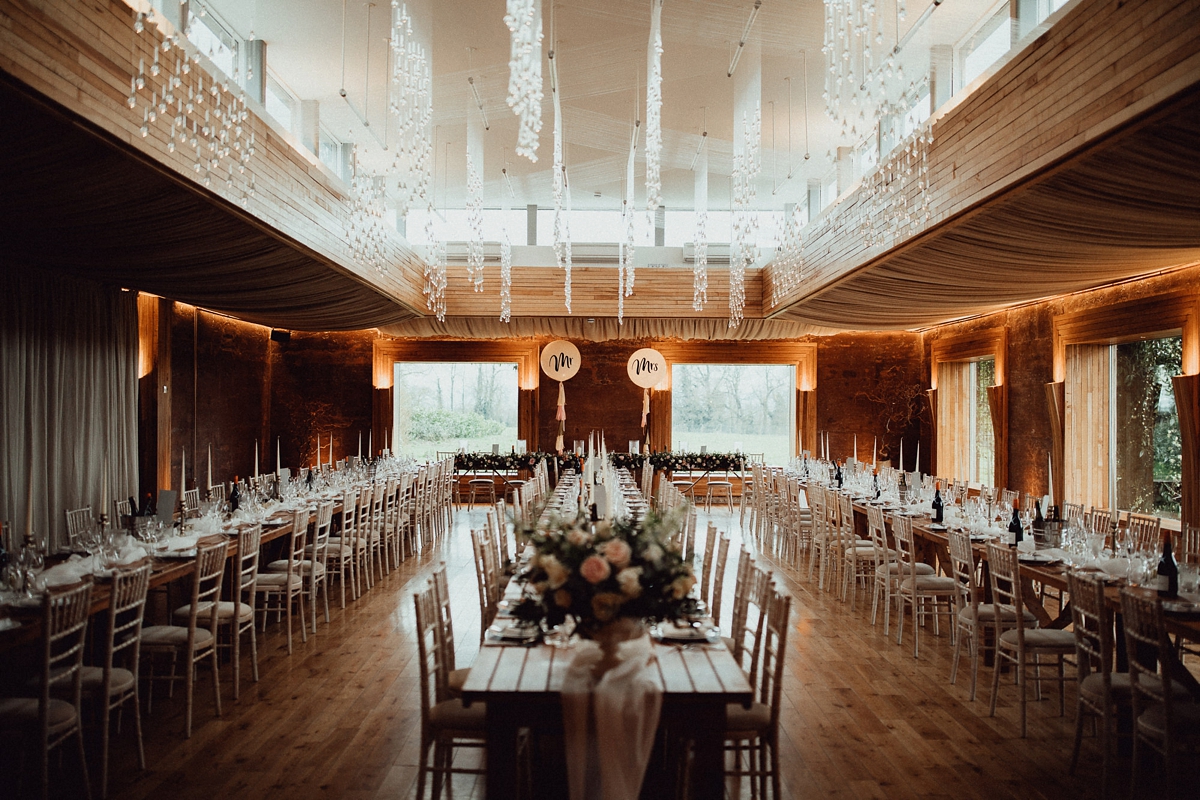 "When we first started planning, I had lots of grand ideas about voluminous balloon displays (I couldn't get the images of Kate Halfpenny's window balloons out of my head) and abundant flowers, but reality meant we kept decor to a minimum."
"In the end I decided that we would let the venue do a lot of the talking with a few simple and thoughtful elements to the decor. I was also keen not to stress myself out too much with giving myself lots of DIY projects to do."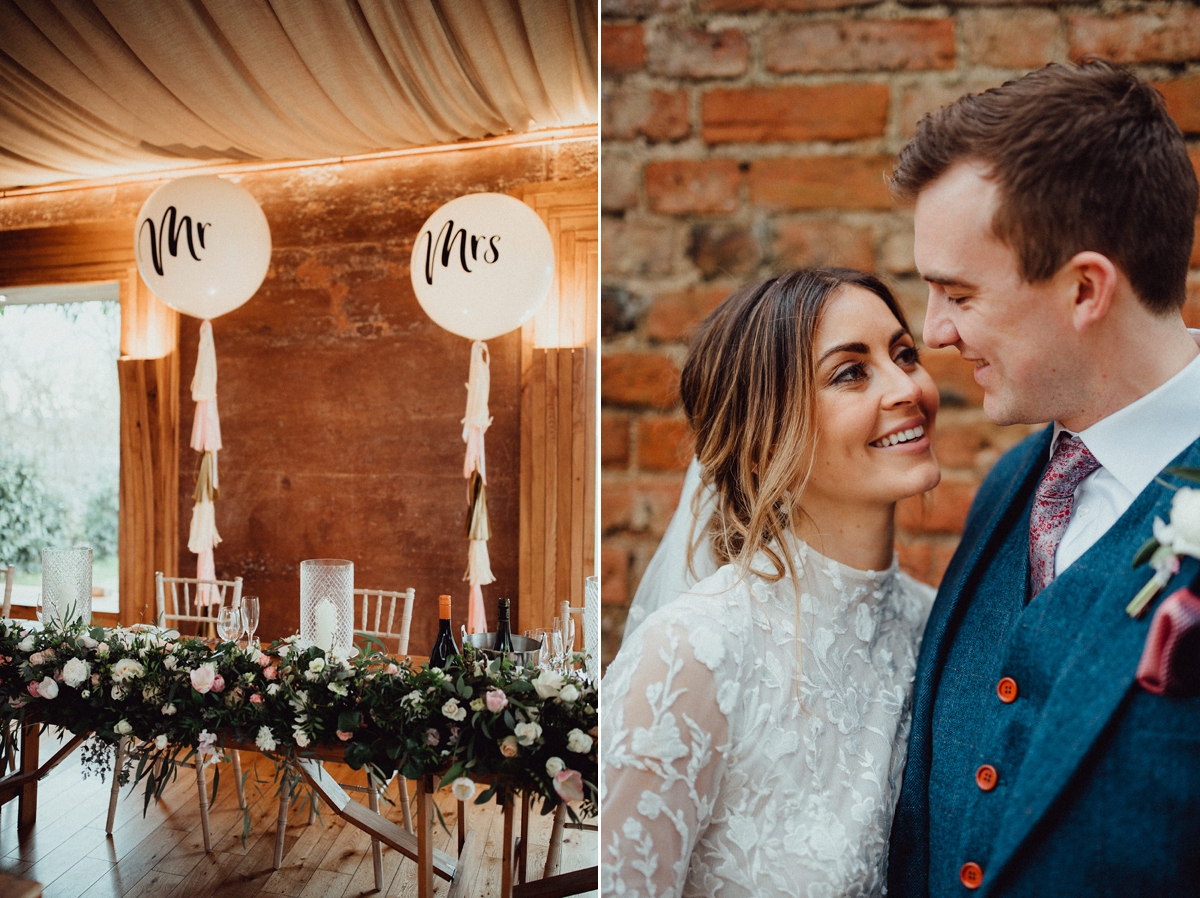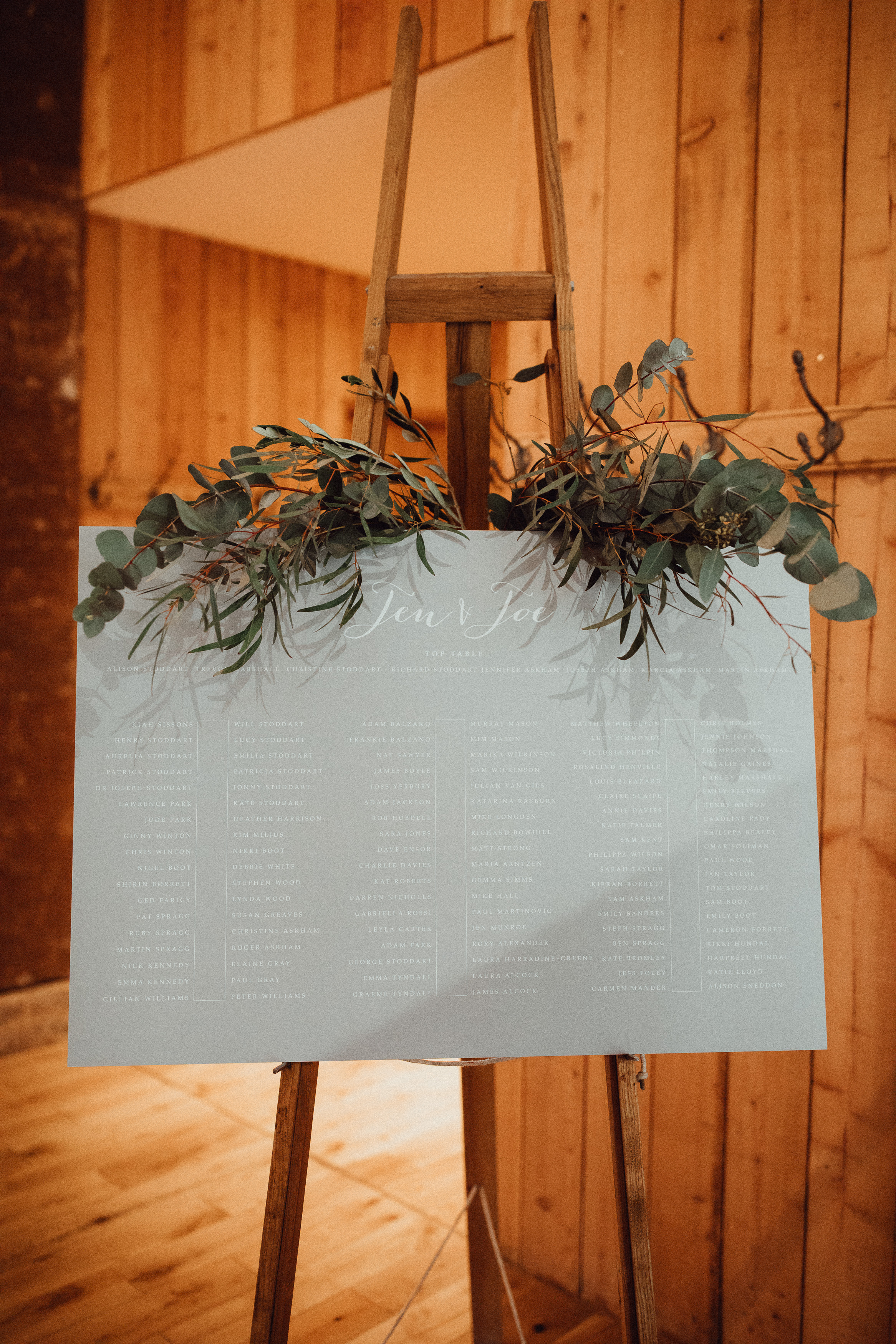 The wedding breakfast took place in the gorgeously rustic Gillyflower building where guests were seated at long banquet-style tables and served a feast provided by the venue.
"We had a tapas sharing starter including patatas bravas, manchego cheese, prawn and courgette tortillas and home-made empanadas. As we got married on the Easter weekend and it's our favourite, we chose roast lamb (carved by guests at the tables) with dauphinoise potatoes and vegetables. The lamb was absolutely delicious and so many people have since commented on how delicious the food was. We served wedding cake for dessert with cream and ice cream and fresh fruit which meant the cake didn't go to waste."
"One of our friends runs a catering company called Wild Thyme Food. Mim makes delicious food (including wedding cakes) so it was an obvious choice for us to ask her to make our cake for us. I knew I wanted a drip cake and we went for carrot and sticky toffee flavours with caramel sauce as we felt these were quite pudding-like flavours. Carrot cake is also Joe's favourite."
"We had organised a food van The Fish Guy to serve prawn tacos, fish and chips and calamari and chips as the evening food but unfortunately the weather meant he couldn't park up outside and so the food had to be served via the kitchen, so in the end I'm not sure many of the guests knew he was there. However I had some fish and chips and they were totally delicious and James from That Fish Guy was great to work with in the lead up to the wedding."
With the main focus decor-wise being on the flowers, Jen kept the rest of the decor quite simple but still incorporated some elements to keep the day personal to the couple.
"We used a mini greenhouse as the cards box with a cards decal I bought from Etsy. I DIY'd a display of wedding photos of our parents and grandparents which I loved making and looking as and we had sparklers with sparkler tags. We also had Mr and Mrs balloons bought from Fetti & Bow which we used to decorate the ceremony room and then placed behind us in the Gillyflower."
"We decided not to provide wedding favours as it seemed to me to be an extra expense and in my experience they often get left behind at the end of the night. Instead we decided to choose Polaroid photos of each of the guests which doubled up as place names and we hoped would also provide a talking point. We spent hours trawling through old photos and Facebook but it was a giggle to do and lots of people have since said they loved the idea."
The evening was then rounded off with music from live band The Set Makers sourced via Richer Music followed by a DJ set by Charli Vos.
"For our first dance we chose This Is The Last Time by The National. When we first started going out, we listened to a lot of The National as they're one of Joe's favourite bands and we've also been to see them live a couple of times. I found the first dance really nerve-wracking and made sure my bridesmaids were ready to storm the dance floor after about 30 seconds, which they gladly did!"
"When the band finished my super cool make up artist who also happens to be a DJ played a mix of disco, RnB and 90s classics. I can't recommend Charli enough for her chilled vibes and talents with both make up brush and decks!"
"We had a photo booth too provided by Booth Frenzy which printed two copied of each photo, one of which went into the guest book for guests to write a message next to. It has been hilarious to go back through the photos."
Words of Wedded Wisdom
"For me the wedding was never about just the one day, it was all the moments created as part of the planning process as well as the day itself so make sure you take time to enjoy and appreciate those lovely moments to look back on as part of the wedding as a whole. There were so many lovely and precious memories created during the planning which brought our families closer together that I will always look back on with happiness."
"It's a common bit of wedding advice but be prepared for things not to work out exactly as you planned. The weather was terrible in the run up to our wedding which meant the fish and chip van we had arranged couldn't park up and we couldn't use the fire pits out the back of the venue and we couldn't get the confetti shots I had planned. You will daydream about how the wedding will go before the day and some of the things I had imagined didn't happen the way I expected but even more amazing things did, so try to enjoy the day as it unfolds and remember no one else will notice!"
"I am a perfectionist so a few of the decor details I think I would do differently if I could do it all again (I wish I'd have had more balloons for example) and I'm still a bit sad that the fish and chip van couldn't make it round the back of the Gillyflower, but that couldn't be helped really. I wouldn't do anything major differently other than perhaps trying to chat to more of the guests and family!"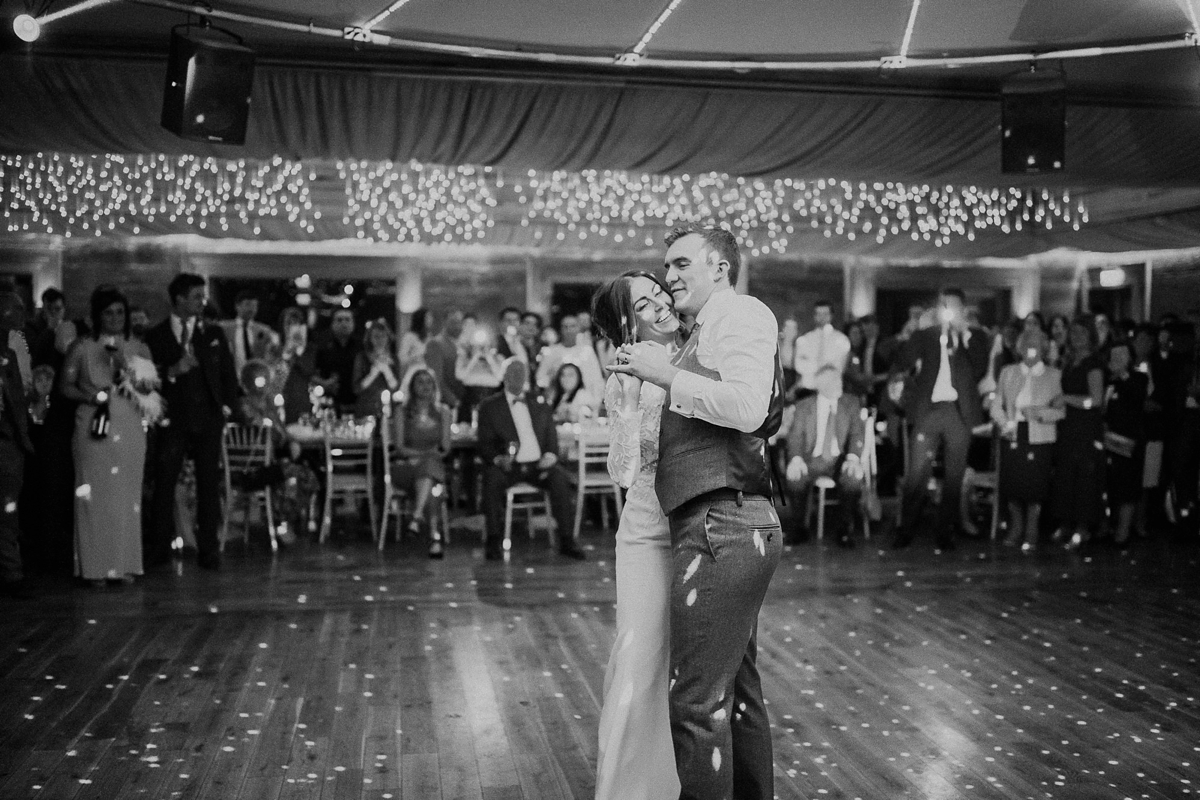 What a stunner of a day! I'm still swooning over the dress and it's taking me right back to my own wedding day memories. A big congratulations to the happy couple and thanks to Emily & Steve for sharing these precious images with us.
Until next time…
Much love,
Holly x