Sometimes a wedding lands in my inbox that I'm just blown away by. Today's bride really put her all into making the day extra special and included a whole host of personal touches, from the small details to her parents replanting their garden so the couple could host the reception there.
Well I have to say, it was more than worth it and just goes to show, if you're willing to put the hours in, you really can achieve the dream. So let's meet this amazing duo shall we? Human rights workers Stefan and Gabriella said their I Do's on 19th May 2018 at the Richmond and Putney Unitarian Church, followed by an afternoon tea reception in the brides parents garden in Teddington. Gabriella looked utterly gorgeous in her Grace Loves Lace gown, but more on that shortly…
"When it came to getting married, our guiding themes were that it should be soulful, unpretentious, multicultural (we joked a lot about it being an anti-Brexit wedding, bringing Belgium and the UK back together), not cost the earth and be inspired by nature. I come from a family of artists and, as time went on, I realised how important to me it was that it was immersive, beautiful and artistic for people, but in the most natural and relaxed way possible. Feathers, flowers, dried flower heads and petals and floral prints all ended up being woven into everything, without me ever quite realising that was the theme."
Photography by Carrie Lavers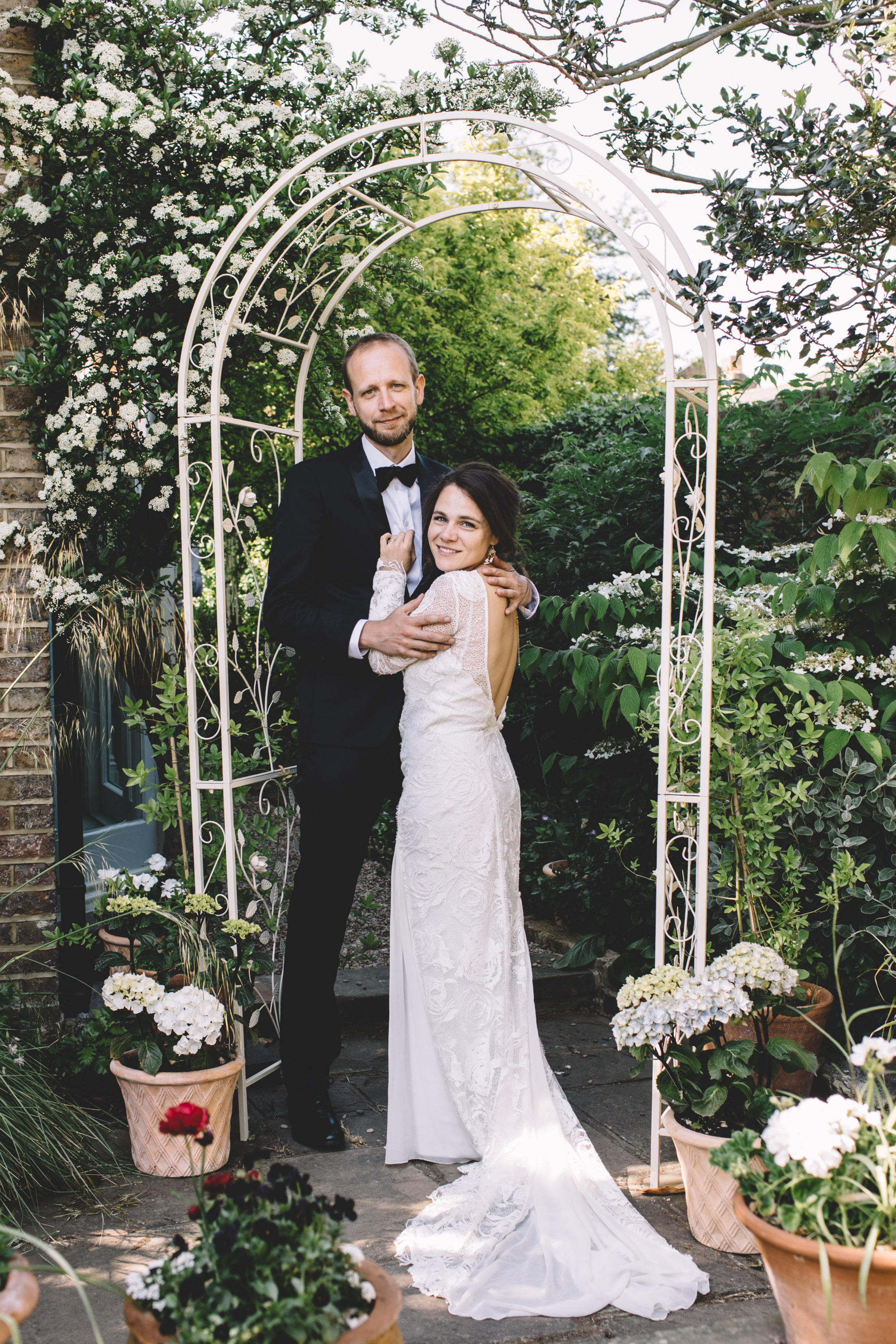 "For the day I chose the Camille dress by Grace Loves Lace (and member of the Love My Dress Little Book Wedding Directory). I'm lucky in being 5 foot tall that almost anything is workable! The most important thing then was to get it really well-tailored. I found Tatiana Prembova in Richmond, who did a flawless job. You couldn't see where she's even touched it, but it fitted perfectly and was like a different dress once she'd finished with it.""In my dress search I was looking for something bohemian, relaxed and unique. I have a white long-sleeved cotton lace dress Stefan bought me in a market in Italy, and he always loves me wearing that, so it remained in the back of my mind. I tried the Camille dress on in the Grace Loves Lace showroom with my mum and we immediately felt it was just the most delicious, relaxed and creative dress."
"The lace was made up of layers of different styles, with fine web-like lace, layered with fat, sumptuous embroidered roses. There were panels of sheer silk around the hips, which were both flattering and flowed beautifully when I moved."
"Stefan and I have a thing about the scent of orange blossom. It's in our favourite sunscreen and reminds us of summer, so I wore Guerlain, Aqua Allegoria mandarin basililicum as my scent on the day. We bought this perfume together. I wanted to smell familiar and of happy memories."
"It felt like a dress that the designer had simply indulged in! It was such a daring combination of artistic, sexy and relaxed, whilst being simultaneously understated and totally over the top. I simply felt lovely, and totally myself. I knew Stefan would adore it too. As soon as we left the church, he winked and whispered 'best dress ever'. It felt awesome."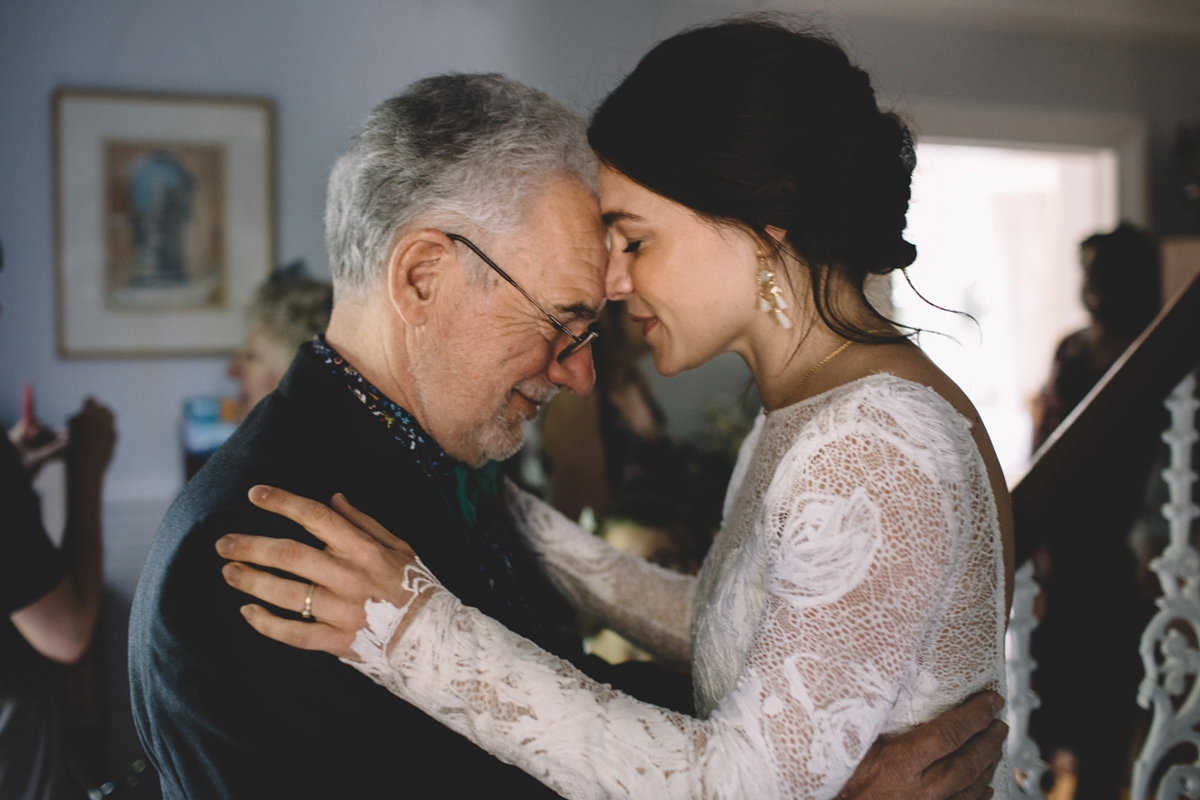 "Some brides might be horrified by this, but I'm not really a shoe person. I just wanted something comfortable so I could forget about my feet and focus on the day. I looked and looked for a pair I'd feel comfortable in but to no avail. In the end I went with a very old pair I had bought for salsa dancing, by a Spanish brand called Zinda. They were amazing. My feet never got tired, even though I barely sat down all day."
The bride and groom first met whilst working together for a small human rights non-profit organisation in Belgium. After Stefan moved to Congo, Africa, Gabriella thought all hope might be lost, but after lots of long distance Skype sessions, the pair decided they wanted to be together and were engaged in March 2017.
"We met six and a half years ago. I moved to Belgium and Stefan was the Director of the non-profit. I immediately couldn't focus or form a coherent sentence around him – I was just so drawn to him. After a few months he moved to Congo and I was devastated. Although I thought it might be at least a chance to stop thinking about him every two seconds."
[JP-VIDEO]
"We started Skyping though and as first I thought he felt sorry for me being alone in a new country, but before long the Skypes were running into the early hours and we began making all sorts of summer plans together, to go to festivals in Belgium and camping. Eventually I dared to think he might be falling in love with me too. The first break he took to come back to Europe, he came straight to my front door and we've been together ever since."
"In the early years, Stefan travelled a lot to some pretty scary places, but it meant we got to know each other really well over Skype and our time together when he was home was really precious. We got engages on a ski trip we had organised for our friends and family. Both Stefan and I can be a bit reckless and we'd both ended up needing a day off skiing on the last day due to some ill-advised attempts at stunts. His lungs were hurting so much I had actually become a bit concerned he'd fractured a rib and I kept insisting on checking it out."
"We went for a walk instead that day, on a nearby hillside overlooking a river. We reached a sunlit clearing and he stopped and asked me to check his rib again. I tried but kept telling him something block-like was in the way. He kept insisting I try harder until eventually he gave up and pulled out a ring box. I couldn't believe it! It took a while for us to stop laughing and crying."
"The lovely thing was that evening we surrounded by friends and family. My brother went out and bought champagne and two swan-shaped pastries and we all celebrated together in a big, boozy hot tub, surrounded by snow. It was so joyful."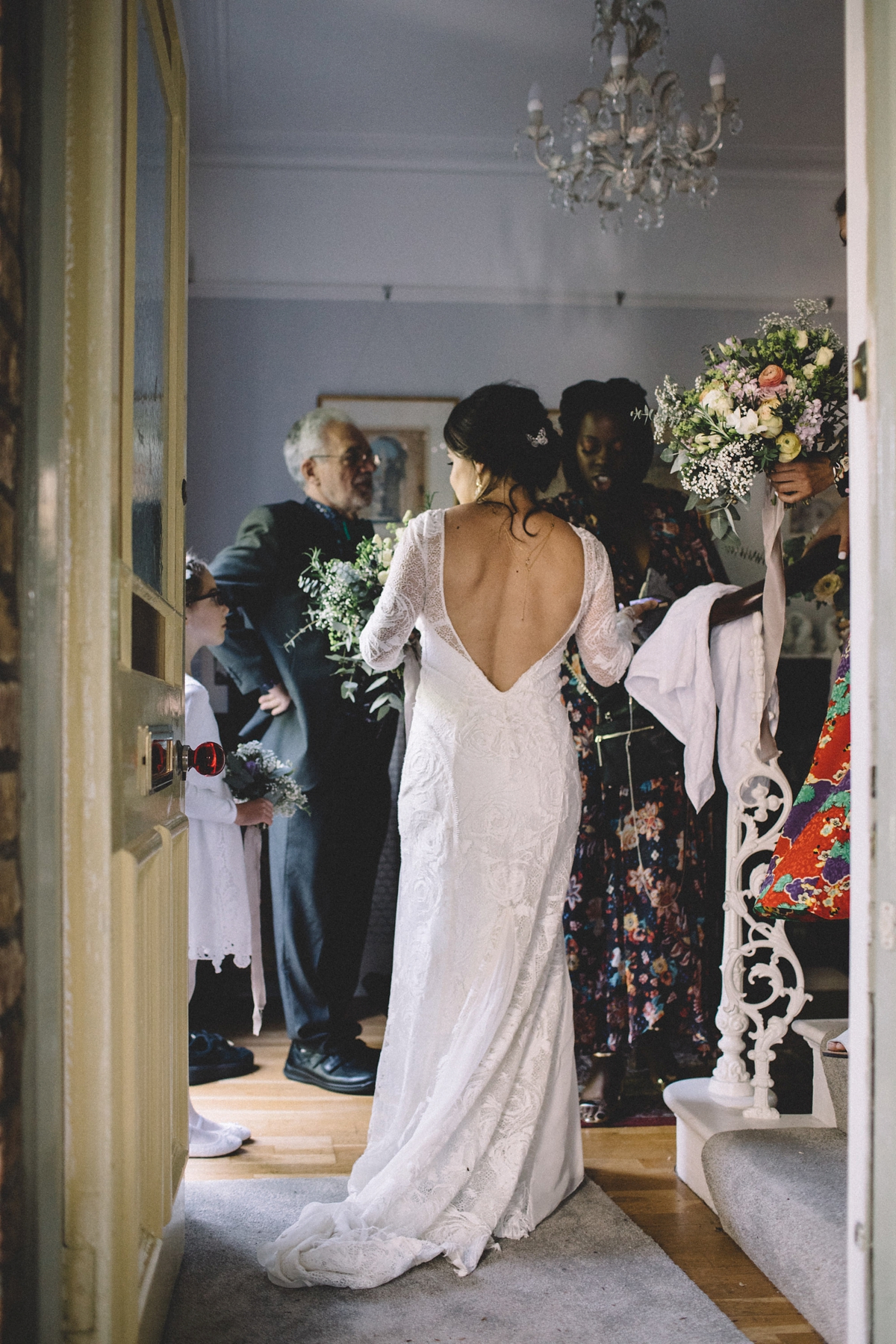 "The back necklace I wore was from De La Luna on Etsy. I wanted something that would make me feel less exposed. I felt extremely aware of all that back on show! And my dress was so intricate at the front that a simple gold chain was more than enough. My bracelet was a family heirloom and my earrings from Chan Luu via Net A Porter.
The search for those was the longest; for something gold, white and bohemian. I scoured Etsy and boutique designers. I even tried to make my own using tassels (disaster!). These ended up working so well with the relaxed feel of the dress."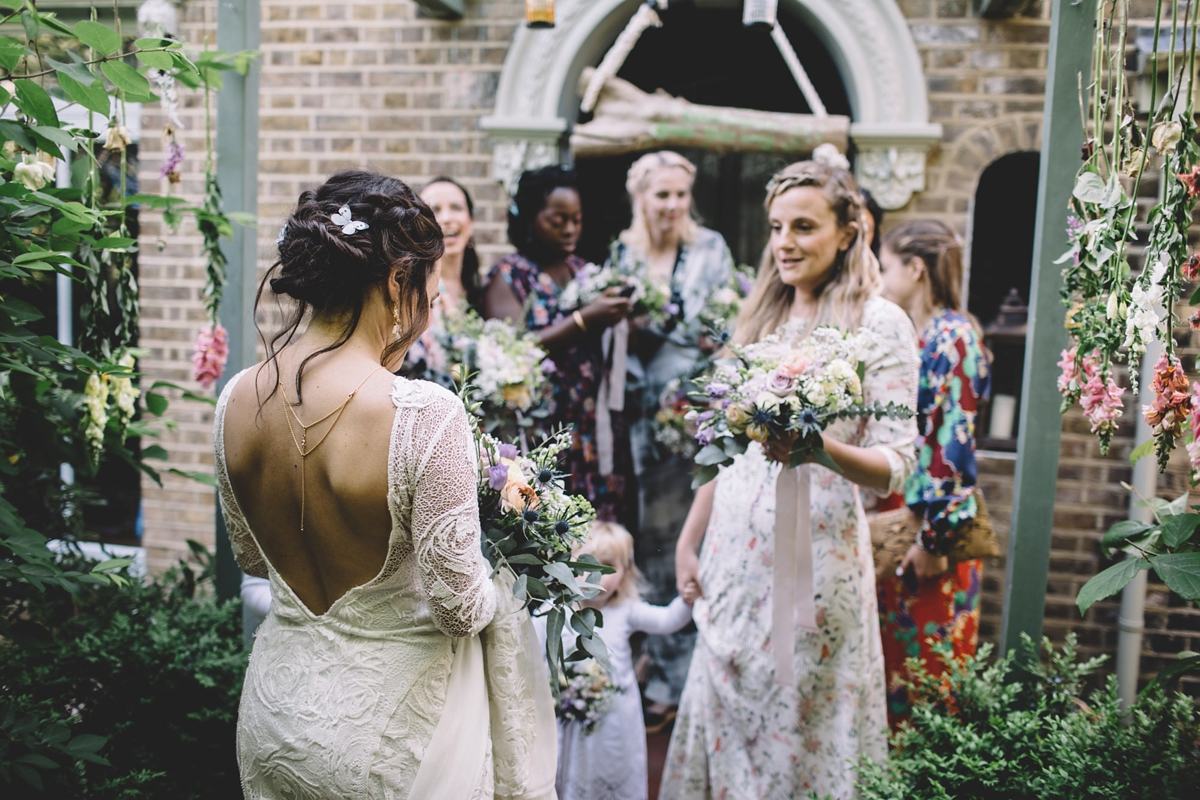 "In terms of my bridesmaids, I'm not crazy about matching dresses as it can look a bit too coordinated which, for better or worse, is just not me. I also wanted my wonderful women to feel like themselves and it's hard to do that when you're in a dress that isn't totally you.
With seven bridesmaids it seemed particularly against the grain of our nature-inspired wedding to ask seven very different women to wear the same dress, and particularly a dress they might only wear once. I wanted them to wear something they'd love, feel like themselves in, and wear over and over again."
"I created a Pinterest board with lots of options that were on sale, and asked the girls to choose one, suggest one they already had, or find one themselves. The only brief was that they be long, floral(ish) and floaty. It took a long time to find all the dresses. I think my bridesmaids were concerned I was compromising but I kept insisting I wanted them all to look different."
"My friend Sarah made our ten bouquets and they were literally a dream. She tied them with silk ribbon that I made by tearing up gorgeous mushroom coloured silk from Beckford Silk. I made the church aisle posies and clipped them onto the church chairs with clothes pegs."
"We all found the end result so beautiful. My seven best friends wore a combination of The Kooples, ASOS, Hallhuber, Rixo, Haute Hippie and Silk Fred. One wore the dress her sister had worn as a bridesmaid at her wedding. My maid of honour, Emma, wore one she'd chosen with her mama, who passed away a year ago, which moved me so much.
My cousin wove plaits and butterflies into their hair, and that, along with matching bouquets and earrings in the same style, created the minimal level of coherence I'd been looking for."
"The earrings my bridesmaids wore I bought in Thailand where I had recently been with work. They all had the same shape but colour coordinated with their dresses. In the morning, when they woke up, I had laid out dressing gowns which my maid of honour had got specially made in Kerala, India, from old sari silk (she is half Indian and had been there for the past year), their earrings and their butterflies, along with a little hand written card with a watercolour feather on."
"We all got pretty emotional! It meant a lot to be able to show these amazing women how important they are to me and how much I valued everything they had done to support this crazy wedding."
"My two god-daughter's wore little white broderie anglaise dresses. They were a combination of eBay finds and Vertbaudet."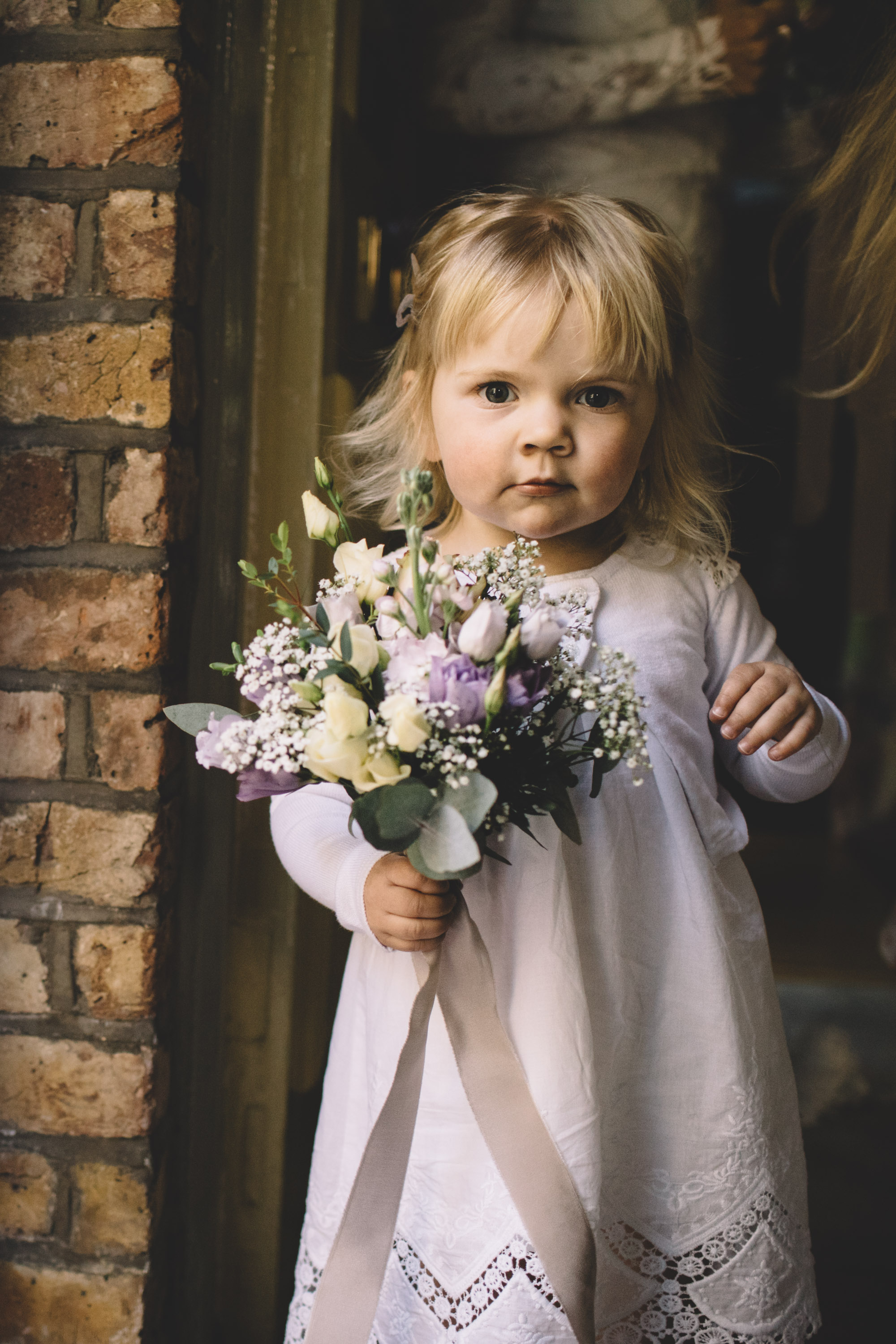 "Hair stylist Gavin Harvie did our hair and he was just beyond good and I can't recommend him enough. The whole bridal party completely fell in love with him. I had a really specific style in mind, inspired by one of Olivia Palermo had worn, with lots of tiny plaits and messiness. I showed it to Gavin and he understood it immediately. We tried one style in our test session and we didn't need to try anything else.
On the day I felt like the style just got cooler and more natural as time went on. There were so many cuddles and people ruffling my hair on the day. I love that I didn't need to worry about anything falling out-of-place and just felt like it looked increasingly more bohemian. I was so sad when I finally had to take it out."
"Andrea from Panda Make Up did our make up on the day. I wanted something 'barely there' for me, and for my mum to feel amazing. Andrea totally fulfilled the brief and created dewy skin with natural eyes and lips. It stayed on so well whilst still looking natural. I had planned on doing my make up myself but changed my mind at the last-minute, and I'm so glad I did."
"I bought my bridesmaids, mum, mother in law and sisters in law butterflies from Flutter Designs on Esty to match their clothes and personalities. I also bought myself two little white ones as a back up to wear in my hair, and on the day they looked so sweet."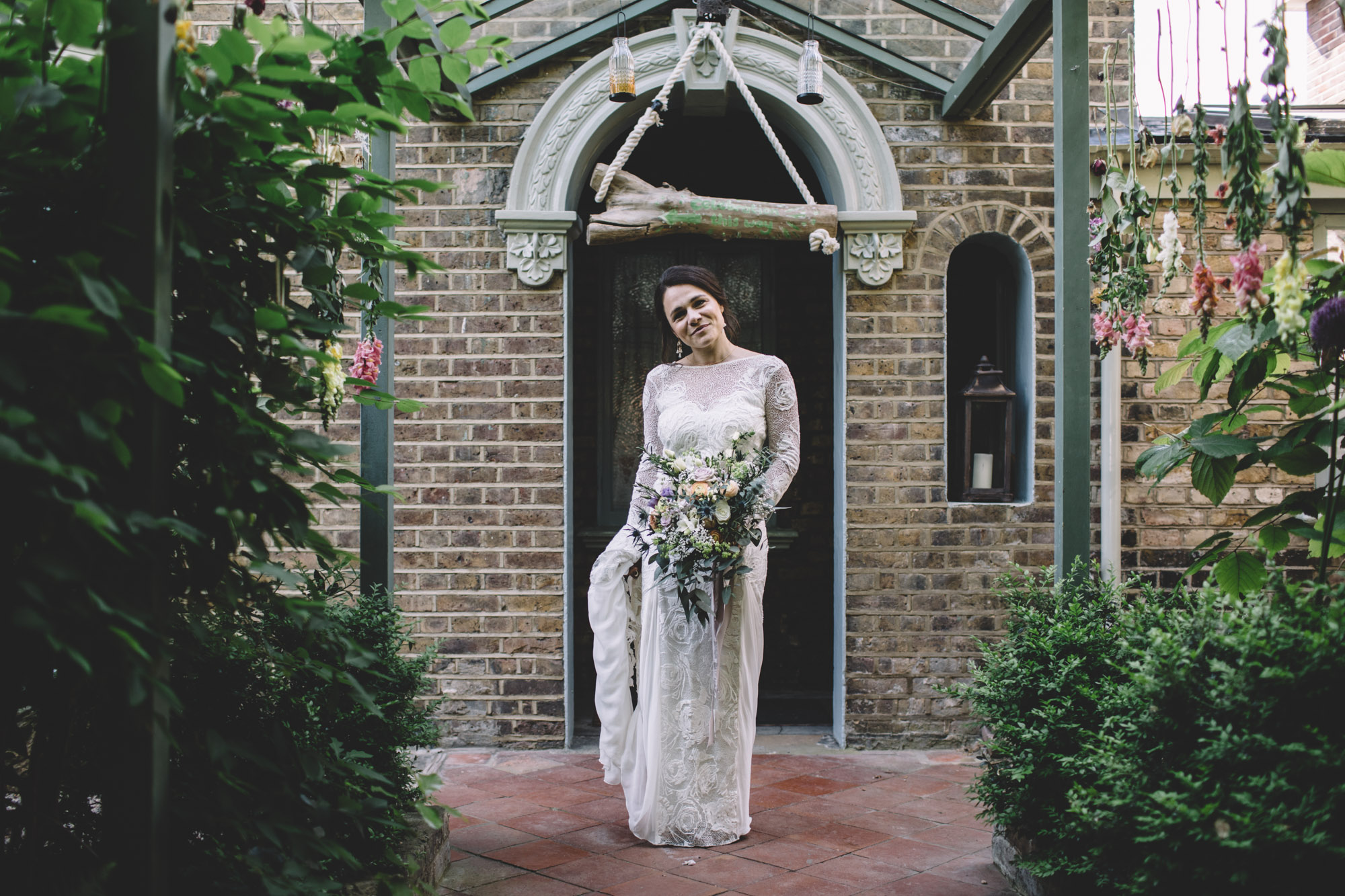 "We took a boat, provided by Colliers Launches, from Teddington to the church and back which was one of Stefan's 'must have's' and it worked so well. We live on a boat, so it's part of our identity. At the same time, we wanted to show our Belgian friends and family some of the local area as they were travelling so far to be with us. It was also a bit of a no-brainer, given that both the Church and my parents garden are so close to the River Thames, and preferable to a big coach. We were blessed with stunning weather on the day too."
"Stefan got his James Bond inspired suit beautifully tailored in his hometown of Mechelen in Belgium by Cassari. It was really important for his mum that this was something they chose together. I was excited about what they would choose, as my mum in law in gorgeous, and Stefan always looks amazing in a suit. It was a surprise on the day and I loved that. I just thought he looked so handsome."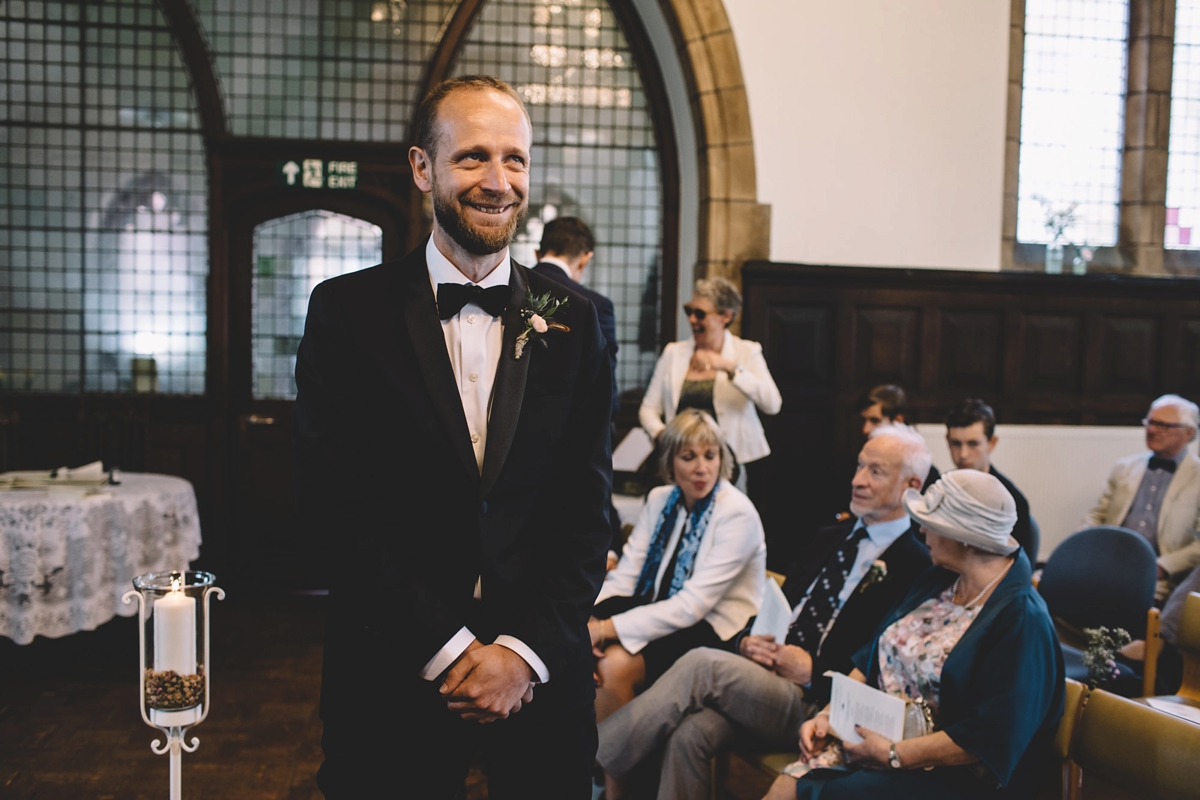 "We chose Richmond and Putney Unitarian Church because it's where we (try!) to go to take some time on a Sunday to reflect and be more mindful. It's an extremely inclusive community where you don't need to have any specific faith or ideas, just be enquiring and open-hearted. It's also just an exquisite venue, with the cornflower blue dome and altarpiece."
"We considered this day as 'the first half' of our wedding. The second half was to take place the next weekend in Belgium, where we threw a big dinner and dance in a beautiful old art nouveau hall in Stefan's old school, and cemented our vows by saying them in Dutch."
"For this wedding however, we chose Richmond and Putney Unitarian Church's Minister, Simon Ramsey, to officiate the ceremony. He is a dear friend and a wonderful man. Many people said on the day that he made them feel so included in the service. I can't recommend our church enough, for your wedding day or for finding a place to quietly reflect on a Sunday. It is 'radically inclusive' and welcoming to people of all faiths, sexualities and backgrounds, and makes sure that weddings are completely inclusive, including same-sex weddings."
"My lovely papa walked me down the aisle. My brother and his wife are folk musicians and they played an exquisite traditional piece of music called the First Of September by Mirander Rutter for us to walk to. Stefan and I both fell apart when they started playing.
I really though I wasn't going to make it down the aisle without sobbing and remember burying my face in my dads arm. Our minister gave Stefan a big cuddle to help him pull himself together too. By the time I'd reached the alter, we were both a bit calmer."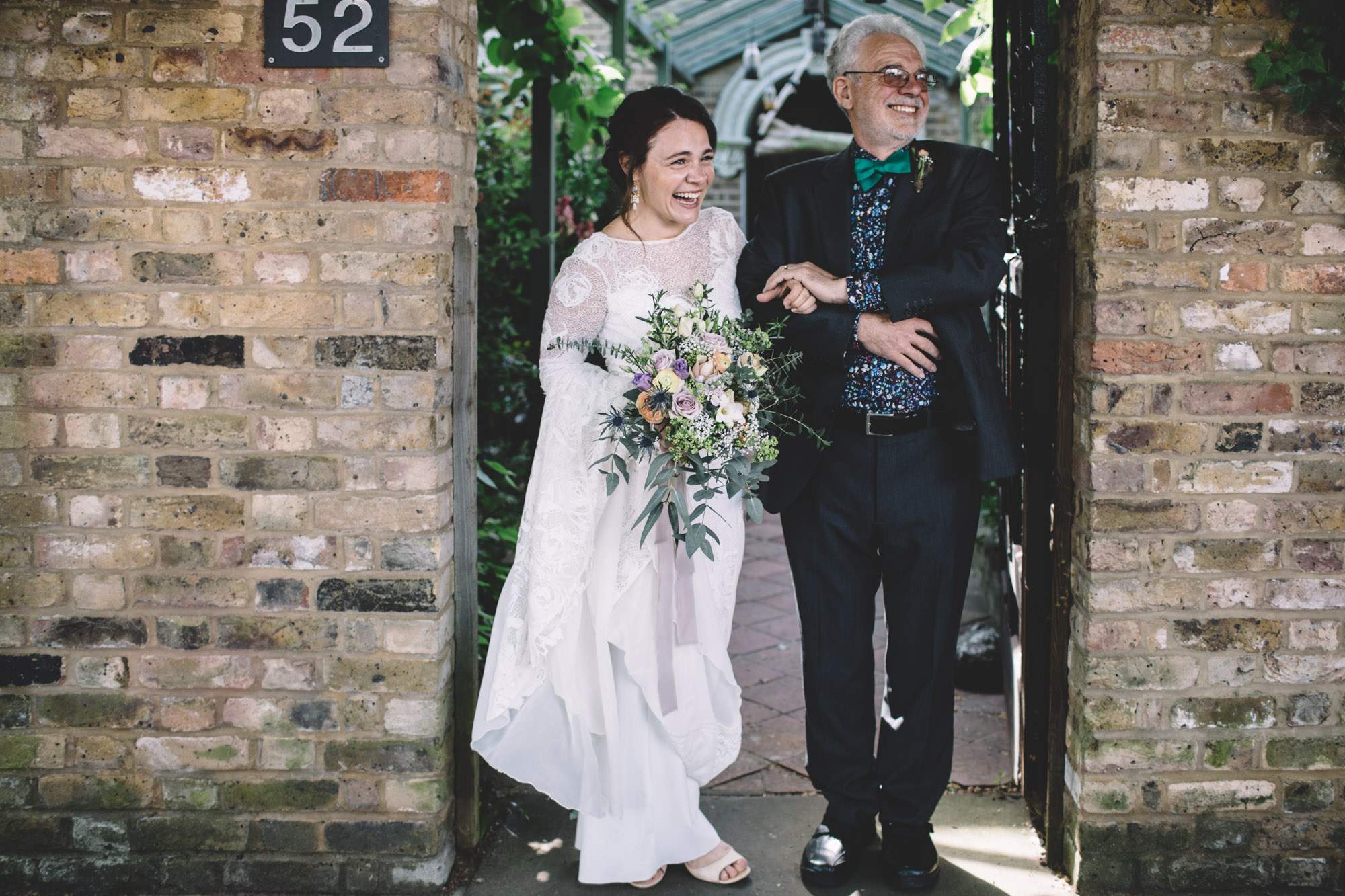 "We chose to use the classic Church of England vows, even though we married in an Unitarian church, where you can say whatever you want (with legal limits of course!). We liked the idea that traditional vows were the same words that had been said so many times before, and they are already so beautifully crafted.
However before the wedding, we took a weekend away just to think about what these vows mean. We pulled them apart a bit, like scientists! We ranked different elements within them from least to most important (have, hold, love, honour, cherish etc.), and we defined exactly what those words meant to us, which is particularly important when you have different mothering tongues."
"We fortunately found we had very similar understandings of what we were committing to, and similar priorities. Cherishing and respecting each other were paramount. So on the day, when we made our vows, there was a deep understanding of what those words meant. We both felt totally prepared and present. As one of our friends said, 'there's been way too much soul put into this wedding!'"
"My brother read Touched By An Angel by Maya Angelou as one of our readings during the ceremony, and Stefan's sister read one in Dutch, which we translated into English for our Order of Service. Bothe of the poems spoke to how love is a choice and a courageous one at that, but at the same time, completely beyond your control and something you just have to submit to. They reminded us of how lucky we were to have found such love, but also that we shouldn't take it for granted, and that we were committing to be brave, bold, and love each other fiercely."
"During the service my bridesmaid Sheyi sang an acoustic version of Swedish House Mafia's Don't You Worry Child. We were moved to tears and so were many other people. She is an extraordinary singer and so professional – we were so lucky to have her."
"We designed my engagement ring together at De Boeck in Mechelen, Belgium and for our wedding rings, they came from Silver Stones in Mechelen and were made from matching hammered champagne gold. Mine's a thin band and Stefan's is lovely and wide."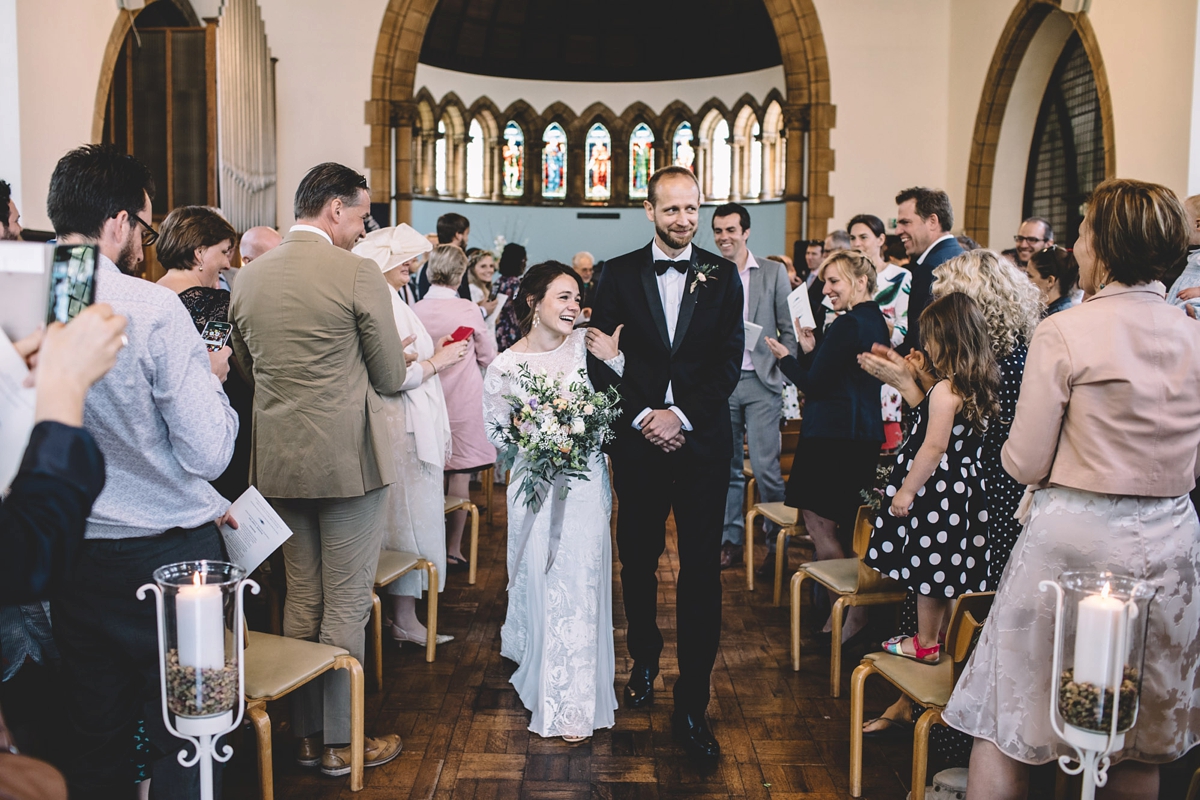 On hand to capture the glorious day was Hampshire based photographer Carrie Lavers.
"We found Carrie through Fearless Photographers and completely fell for her documentary style – so artistic, tender and honest. We chatted quite a lot to get to know each other and Stefan and I really liked her attitude and how in love she clearly is with her job. We had quite a lot of specific feedback and ideas for her and she just got it. We knew that on the day we could really relax and not worry about what to pose for and when. Carrie was on it! On the day it felt like Carrie was a friend, and there to support and love us, but she was also so understated and stayed so subtly in the background that I can at times barely remember her being there. She was just quietly and calmly documenting our day."
"Flowers were really key to the wedding and together with my mum and friend Sarah, we did the flowers ourselves! The colours we chose were dusky pinks, blues and purples, with lots of lush greens like eucalyptus. As a starting point, I have a good friend who is a florist called Miriam Faith, and she extremely kindly offered to order the flowers for us."
"Miriam went totally beyond that though. I made a spread sheet full of my ideas for each area of the wedding and suggestions of flowers and colours and gave her a budget. She reworked it to make it affordable, chose some showstopper flowers for the bouquet, and gave loads of invaluable suggestions. When the flowers arrived she created little recipes for us. And all this whilst she was 8 months pregnant – what a heroine!"
"When the photos came back it was the most exciting thing. Reliving the day and seeing moments that had passed us by in the chaos was amazing. My favourite photo is of us having a quiet cuddle in a peaceful moment. We were so tired and happy and we just wanted to close our eyes and hold each other for a moment. Carrie captured that and it is so precious. She's really extraordinary."
"Our very kind friend at Josh Williams recorded the speeches for us on video, which was beyond the call of duty as he's a very in-demand cinematographer and doesn't usually do weddings!"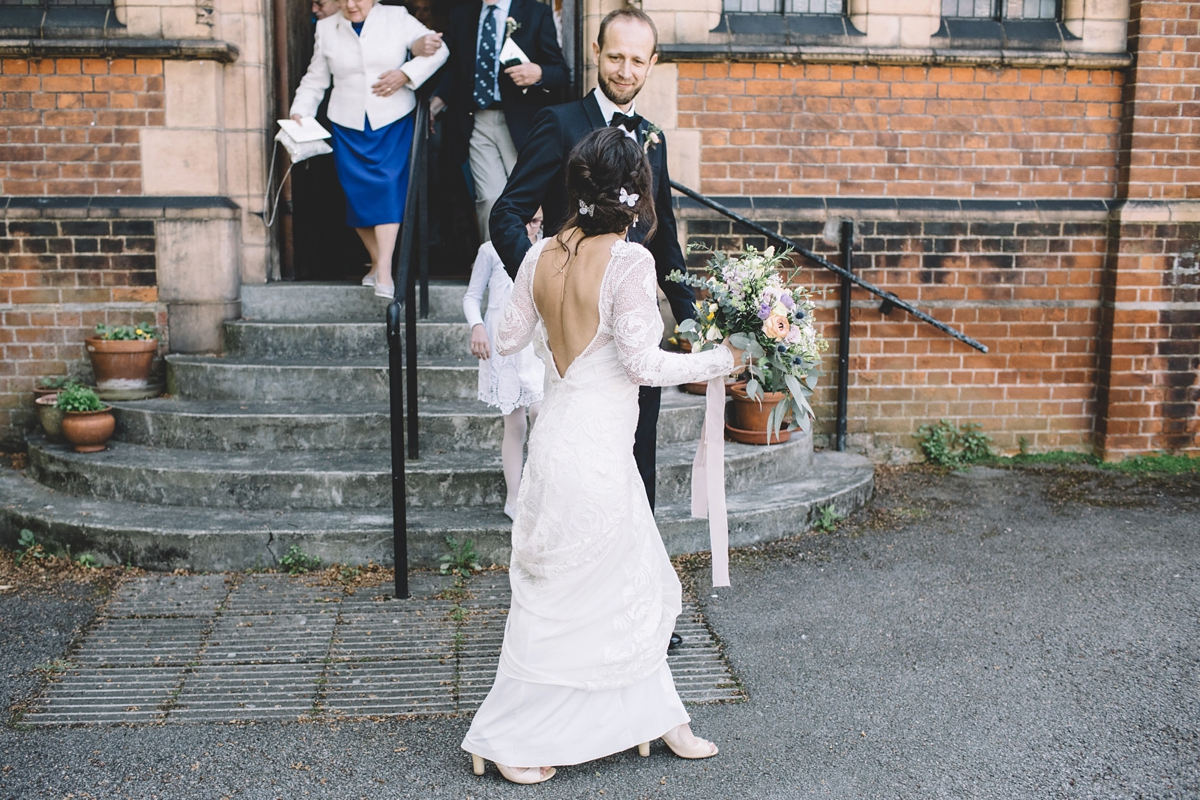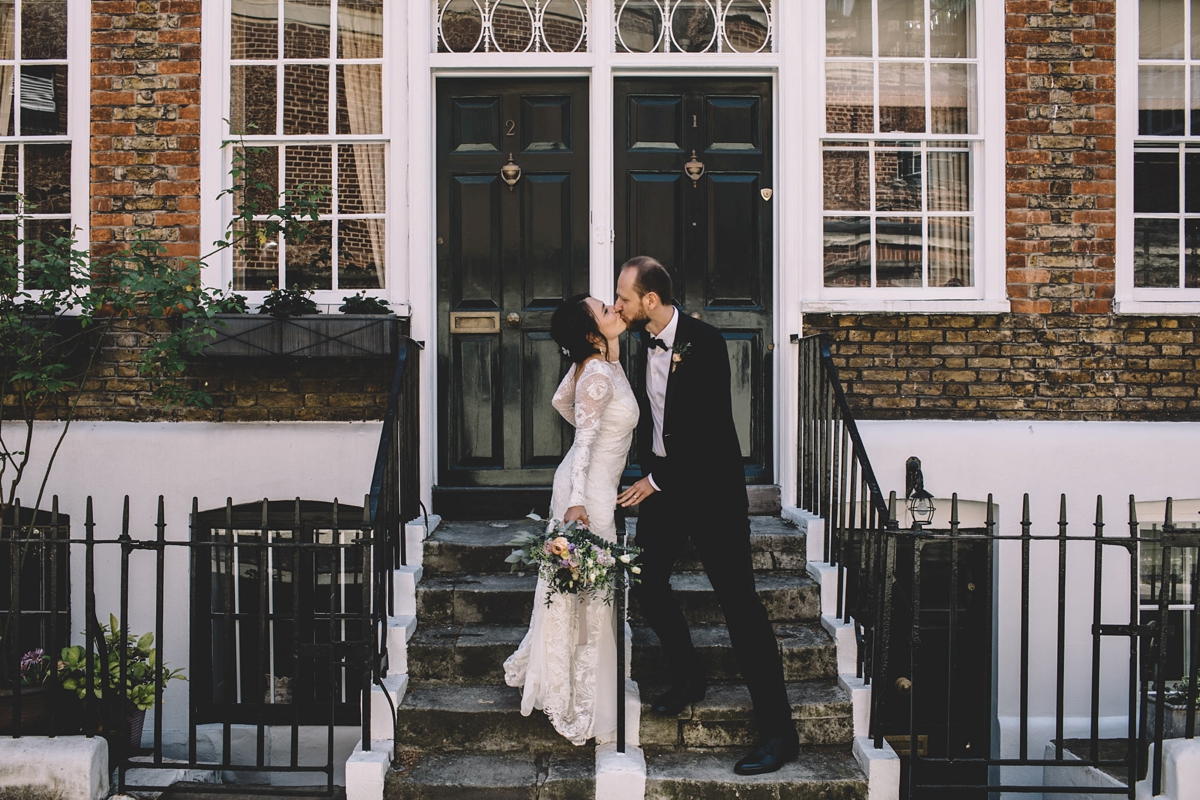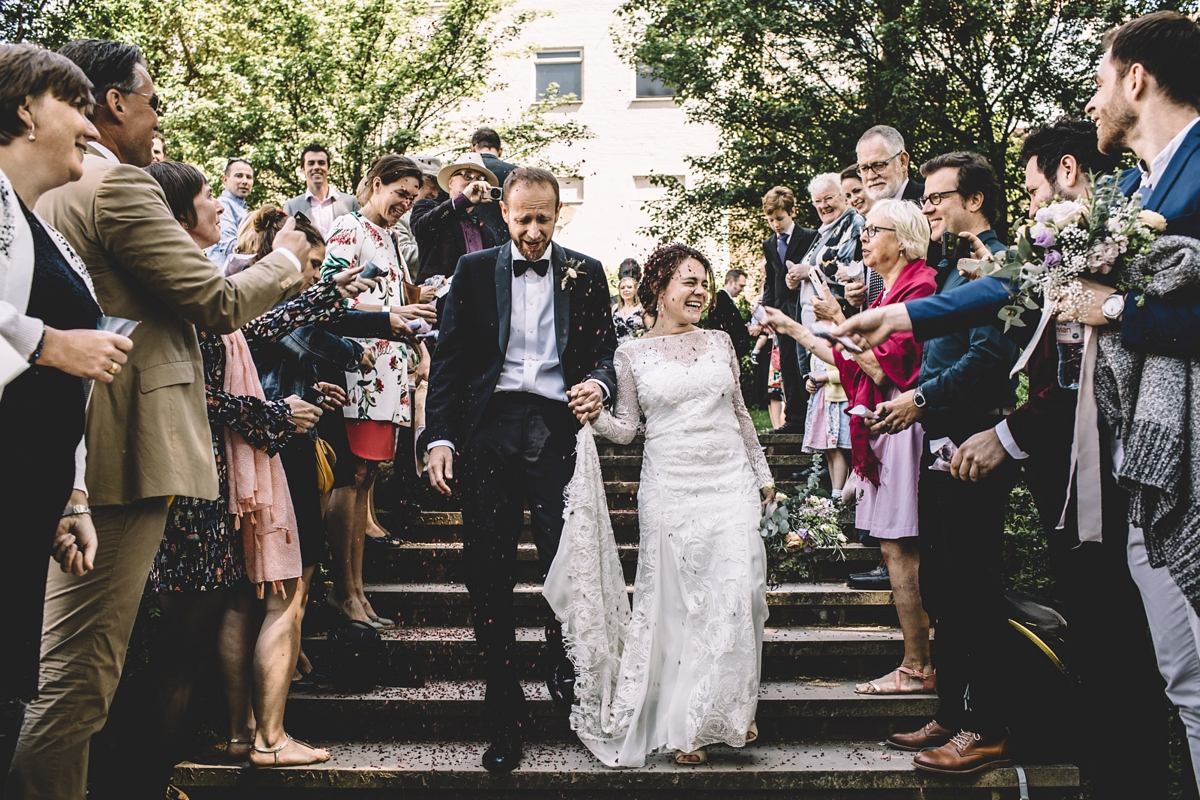 Following the ceremony, the couple hopped onto a boat and cruised down the Thames to Gabriella's parents house where they were greeted with a drinks reception, before heading inside the marquee for the wedding breakfast.
"We did the catering ourselves which was a bit mad…I hired all the crockery, tables and chairs from Capital H Catering. Stefan made 30 afternoon tea stands out of vintage plates we found at a Belgian second-hand shop. He drilled each one though – it was a long job! Our friend Rowan from South Street Cafe made the sandwiches, salads and scones, hired waitresses and was in charge of the day. We sourced savoury tarts from a local cook and other salads from Waitrose Entertaining. We went to Costco and Bookers and bought everything else – from jam to cucumber for the infused water!"
"Stefan's dad had secretly made up a song about us to the tune of Ode to Joy. While we were taking photos he taught it to all our guests, and when Stefan and I arrived to the boat, everyone was singing to us. It was such a glorious surprise!"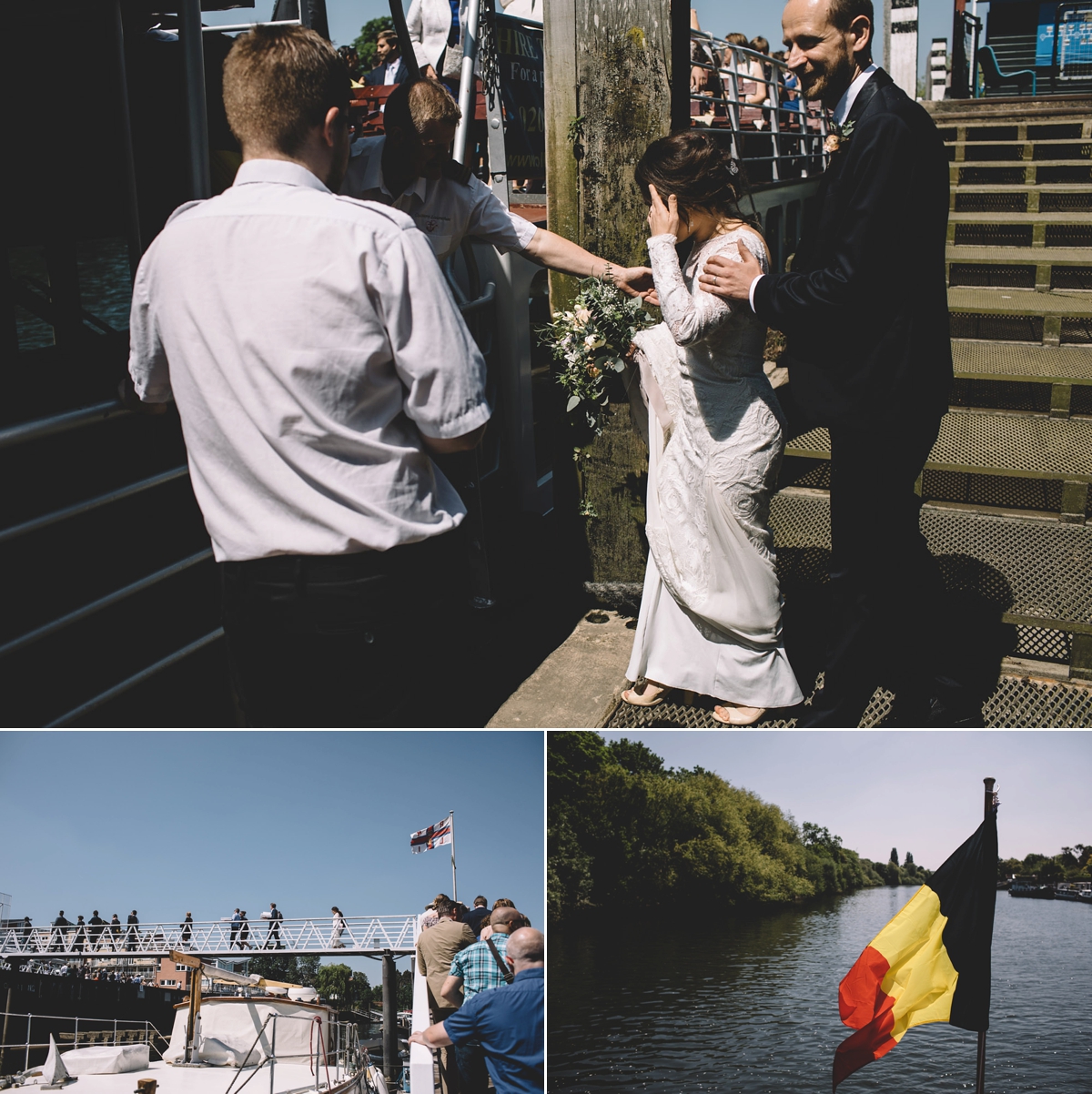 "Celebrating in my parents garden has been a dream of mine since I was young, I feel like I spent most of my childhood in that garden and it holds so many happy memories for me as well as being one of the prettiest gardens I know – my mum is such a gifted gardener."
"It also meant we would have total freedom to do whatever we wanted with no time constraints. My parents spent a good year working on the garden, even moving flower beds to fit the marquee in. They were incredible. We found a marquee with transparent sides from Sandhurst Marquees who were so flexible, helpful and affordable, and took it from there!"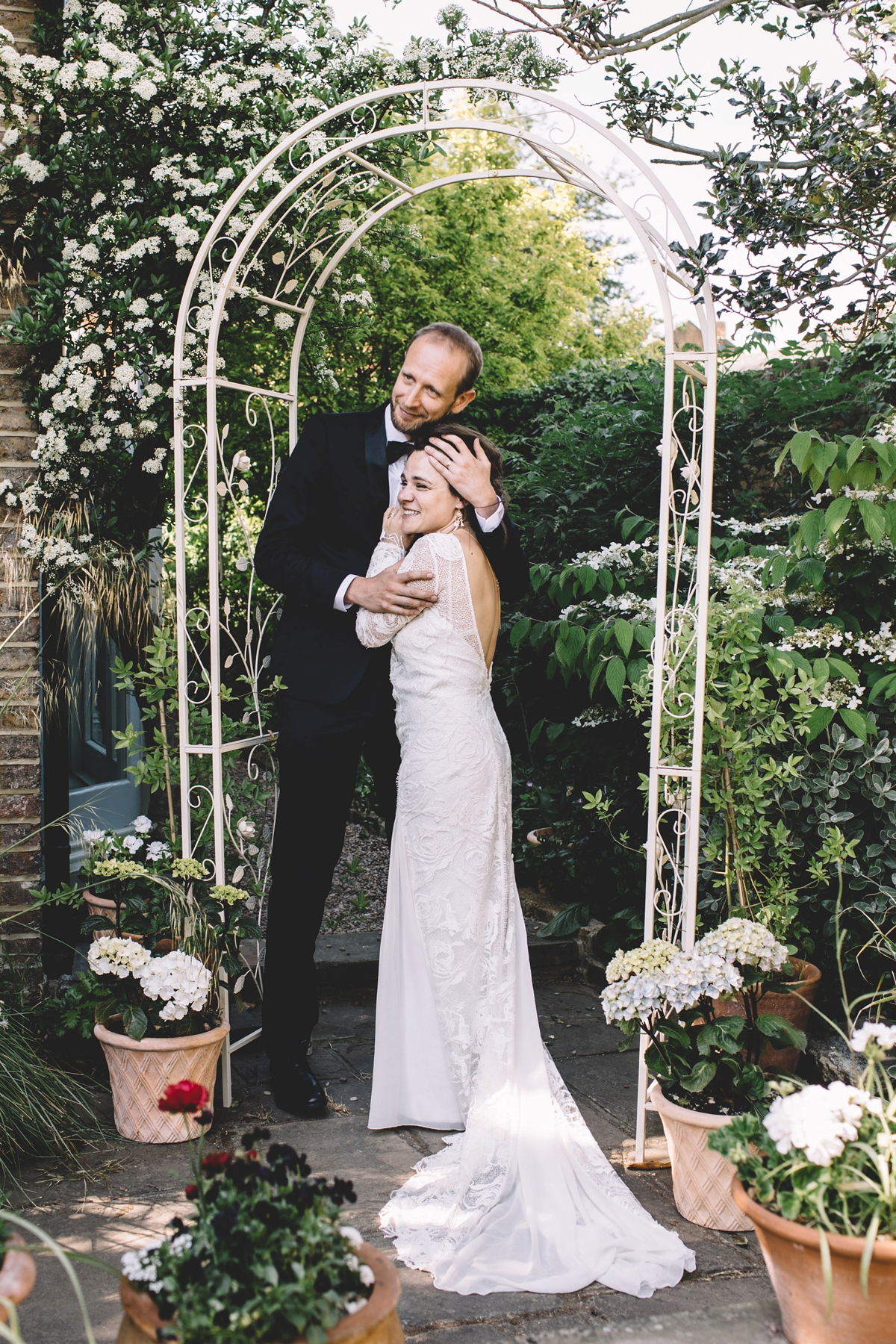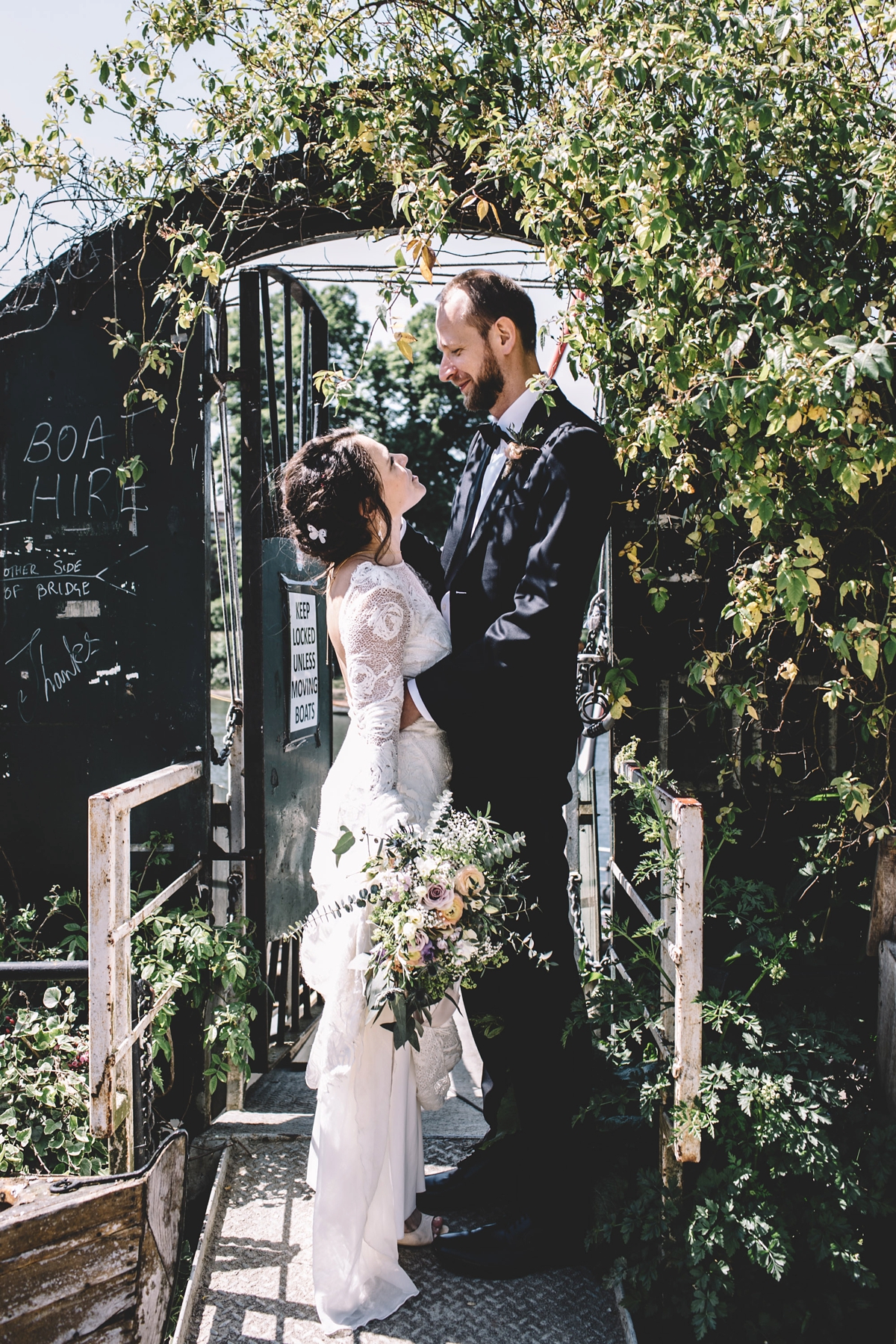 "We also made all our own stationery ourselves. We used a design from Vistaprint for the invites, which had a really fitting botanical background. It was important to us that these had Dutch on one side and English on the other, so that from the outset, people felt we were bringing our cultures together. I sealed each card with a watercolour feather sticker, our initials in a logo that I drew myself and had turned into a stamp, and some little stripes of gold paint. The table numbers we designed and printed using a print that we found on Google."
"For the decor in the marquee, I got inspiration for the roof from Pinterest. We hung snapdragon from poles, which we wrapped in ruscus. I interspersed these with dried flowers and petals I'd been making strings of for months! I had also bought loads of silk orchids on a trip to Thailand, which we hung throughout. It turned the marquee into a flower grotto and walking in felt like walking into an extension of the garden. I was still up a ladder at midnight the night before the wedding but it was worth it!"
"For our wedding cake we bought three cakes from Lola's Cupcakes and my bridesmaid Joss stacked them on top of an old trunk we'd pulled out of the river next to our boat, and adorned them with flowers. I thought the cake just looked so cool. When the cake topper arrived (a little wooden bunting sign from eBay), they had accidentally sent us MRS & MRS. We realised this a few hours before the wedding and re-tied it. I actually wish we hadn't altered it now!"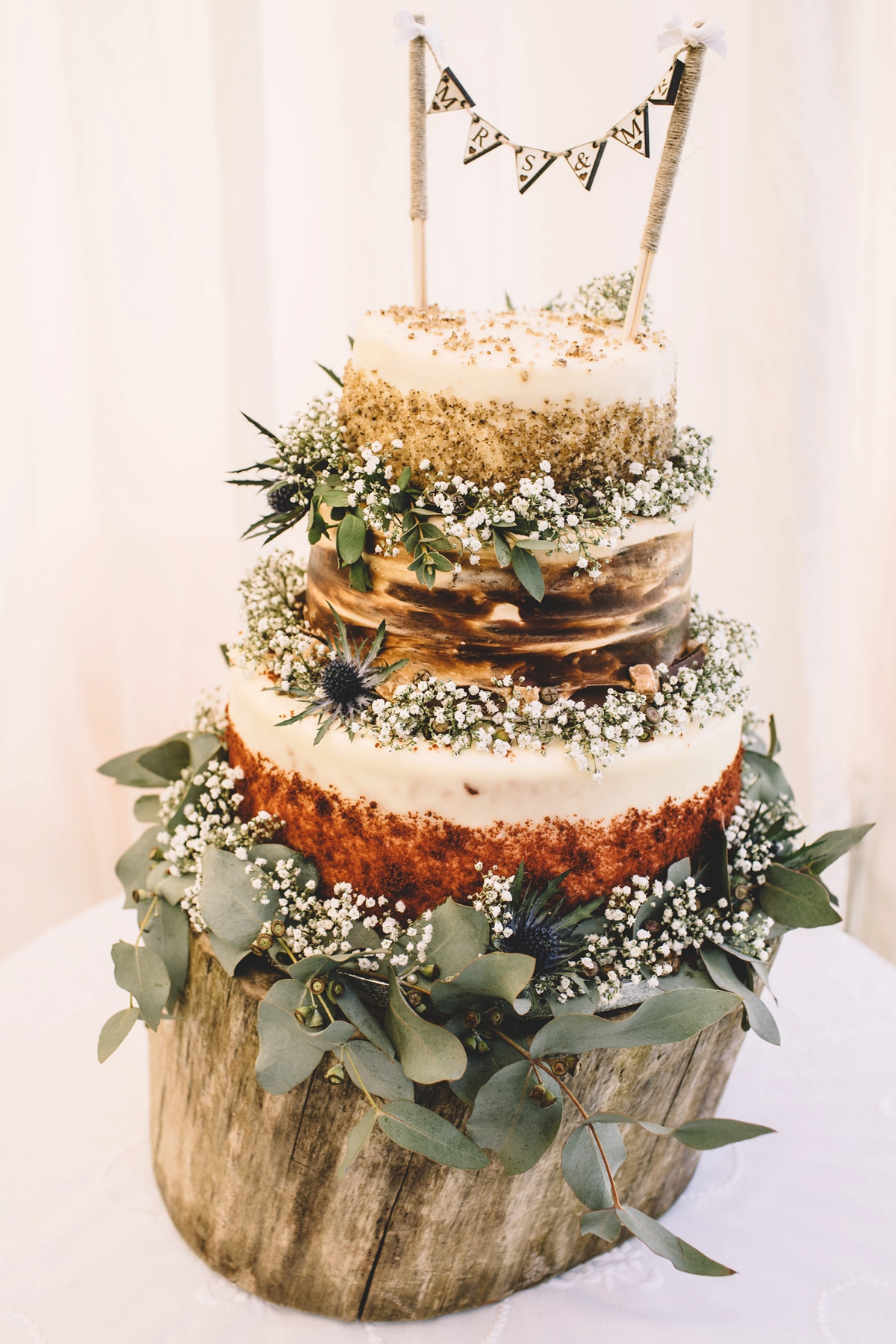 "For our table plan, I found wooden hoops, wrapped them in ruscus, pinned ribbon across them then glued the names to those. We hired our table linen and added extra vintage lace table cloths from my auntie. I bought loads of cool floral fabrics in Thai markets, including a fine mesh with flowers embroidered onto it."
"We made lots of signs with old wood and rope that we pulled out of the river next to our boat and my bridesmaid painted them. We bought light boxes and memo boards which we put the bar menu on in Dutch and English. We wanted the napkins to look amazing on the tables so we folded up some botanical paper ones from Zara Home, wrapped them in raw bamboo twine and put a little feather and a dried hydrangea in them."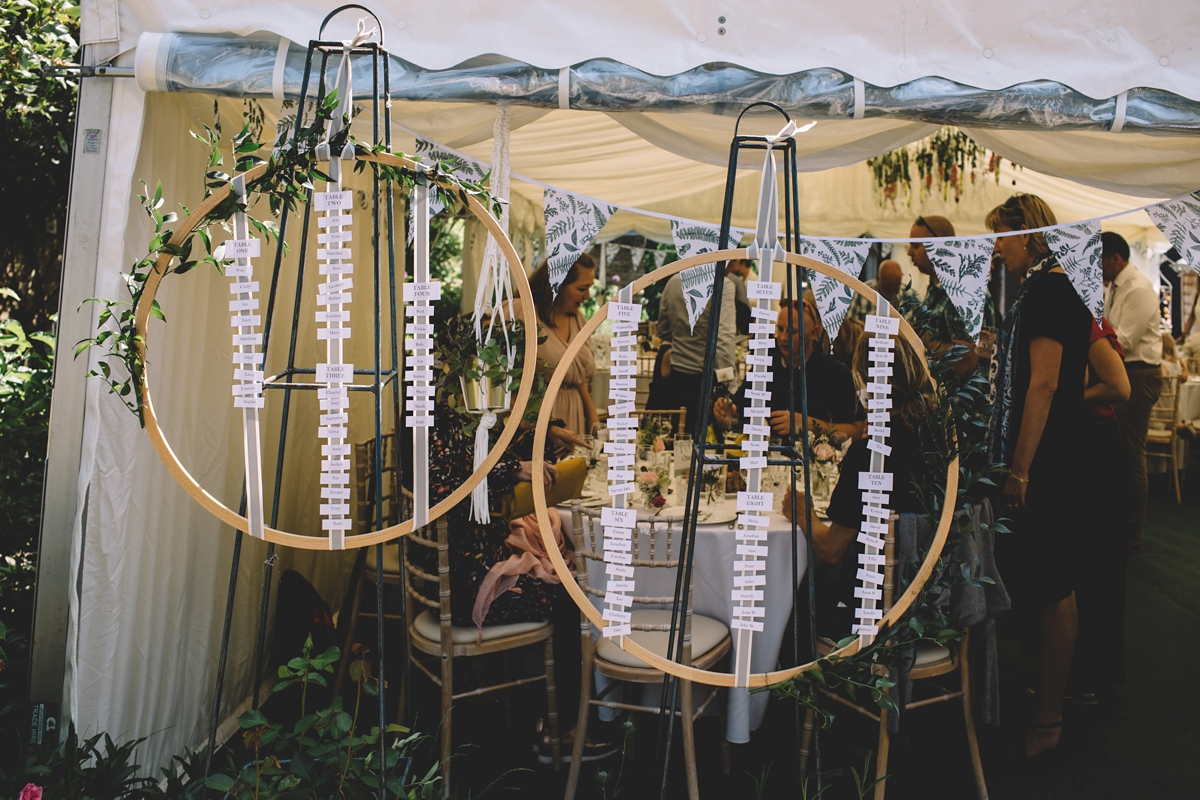 "I bought lots of glassware in second-hand shops in Belgium. It took a year of scavenging but we ended up with about 100 glass vases of varying sizes for the flowers. My mum created the delicate flower posies for the tables and the glorious church altar pieces, using a combination of fresh and silk flowers. My mum also spent a year planting tulips and alliums in the garden – it all looked glorious! She froze little pansy heads into ice cubes for the arrival cocktails and made a bowl of ice, petals and fruit."
"Our name cards doubled up as favours and contained love in a mist seeds. I found the envelopes via Unqiue Envelopes on Etsy which were handmade with reused paper. I decorated the front with the same watercolour feather stickers I found on a work trip to China, the person's name and some cornflower blue painted details. We put them into tiny chemistry bottles with an equally tiny bouquet! People have already sent us pictures of their seeds growing – it's so special!"
"Looking back on our amazing day, walking into the church with my mum, Stefan's family, my best women, my dad at my side, my brother and sister-in-law playing our favourite piece of music and so many smiling at me was one of my highlights. And at the end of the aisle, Stefan trying to stand tall and not cry whilst I walked towards him and our new future. I can still feel how sacred and powerful that moment was."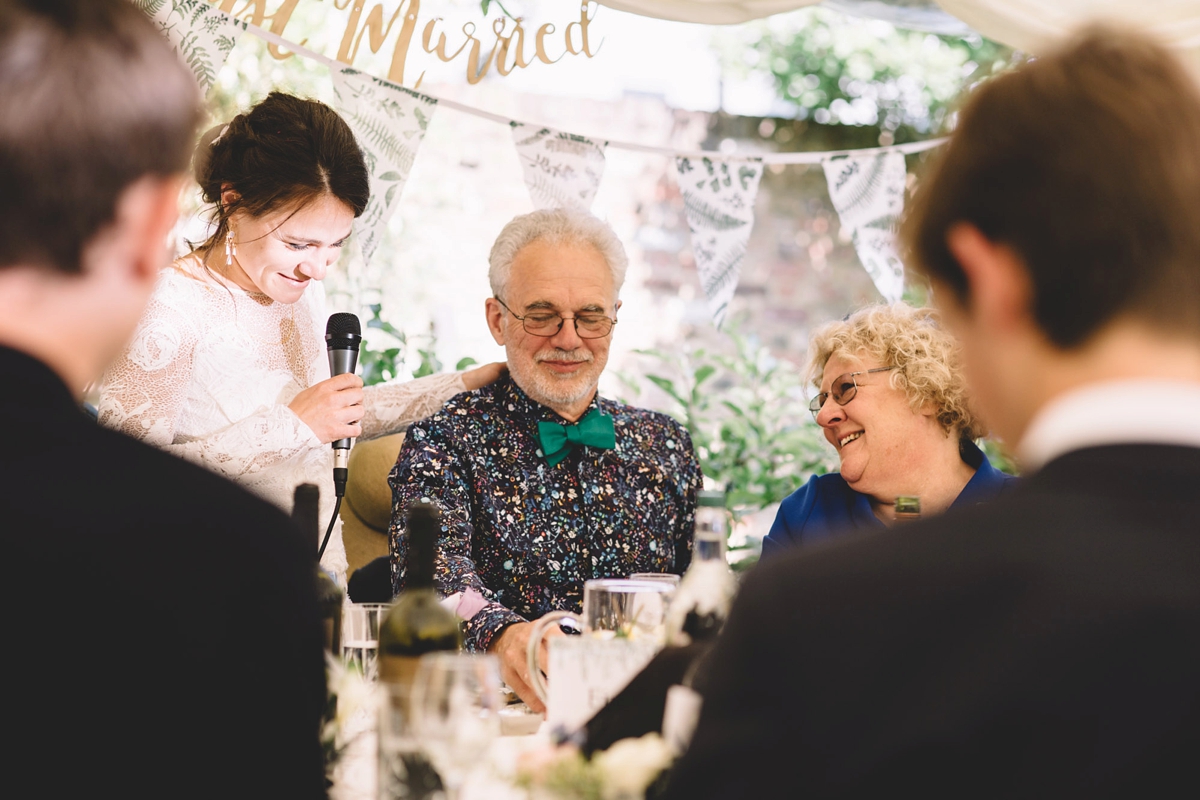 "The other moments that stay with me are Stefan and my dads speeches, both of which I cried all the way through. Even though they were full of funny moments, I was overflowing with emotion and gratitude by that point. Later in the day, Stefan's dad gave us a statue of two swans he had carved for us out of marble. It was related to us living on the water and the fact that he had asked me when we first met what I would love a carving of. It was so moving and tender."
Words Of Wedded Wisdom
"Firstly, remember why you're doing it. Take a weekend before the wedding to just focus on one another and the commitment you're about to make. Even the most resilient and grounded people can get lost in the admin of it all. I thought I'd be immune but I definitely wasn't!"
"Secondly, you can absolutely have a day that feels like a total dream, without spending precious funds that you would rather put towards your future life. Buy second-hand, go to car boot sales and charity shops, look for suppliers on eBay. Ask people for help too."
"You'll be amazed by how sincerely people want to give you their time, because they love you and want to support you. The whole thing will take a lot of time, energy and persistence. You'll potentially get a bit exhausted when folding napkins at 1am on a Wednesday night. But it will all be worth it when something beautiful comes together that aligns with you principles."
"And lastly, as a woman, if you're brave enough, make sure you also have a voice. Both my mum and I did a little speech. I didn't want women to be passive at our women, as they can often be in the UK. I'm so glad I spoke, and so grateful to my mum and for her beautiful words."
"The only thing I would do differently if I was to do it all over again would be to capture a few moe precious moments and things. I wish I had even a simple video of our ceremony to watch back for example. Although Carrie fulfilled our brief to perfection and captured everything we'd asked for, there were some additional people who, on reflection, we would have asked her to focus on, so I wish I'd thought more carefully there."
One word: WOW! What a day. Gabriella and Stefan really worked hard to create the day of their dreams, and they certainly pulled it off, and more! A big thank you to the happy couple for sharing such special moments with us, and to photographer Carrie Lavers for capturing every detail so beautifully.
Until next time…
Much love,
Holly x