Darlings, it's part of our role to introduce you to and inspire you with beautiful bridal fashion, and I also consider it an incredibly important role of mine personally to support and nurture suppliers in this industry who want to create and share gorgeous imagery.
With that in mind, I hope you enjoy this absolutely beautiful set of images sent in by the very lovely Chloe, owner of Black Swan Bridal Studio, and featuring head-turning gowns by Gemy Maalouf and Alice Temperley, provided by Chloe herself. With thanks to the creative team who worked on this shoot.
"This shoot was inspired by the pre-Raphaelite movement. Using bold colours and pushing the boundaries of style, this group of talented wedding suppliers have come together to display not only their individual talents but their shared interest in creating a new benchmark for a modern and exciting way to be creative and inclusive when it comes to weddings."
Images by Zaki Charles
Owner of our highly recommended bridal boutique Black Swan Bridal Studio talks us through her choice of bridal gowns for this shoot…
"Everyone involved with this shoot believes that love is love and we are all in full support of same sex marriage. Getting the opportunity to dress two models was very exciting so I chose to showcase two of my designers, Britain's finest 'Alice Temperley MBE' and red carpet go to, Lebanese 'Gemy Maalouf'.  Both designers fit beautifully with the theme of this creative shoot."
"Gemy Maalouf's tailored pieces have adorned the silhouettes of many glamorous celebrities. Dressing artists like Gwen Stefani, Shakira, Iggy Azalea, Nicole Scherzinger, Kris Jenner, Carmen Electra and Gina Rodriguez, these exquisite gowns stand out through their remarkable finesse and intricate detailing. The first Gemy Maalouf dress W18 5191 could have been designed for this shoot! The long, slender, crepe satin, mermaid dress is finished with French lace and extravagant voluminous bell sleeves."
"The second Gemy Maalouf dress W18 5211 is a guipure gown dress with a full voluptuous skirt, a fitted bodice, dropped v neck line and falls slightly off the shoulder."
"The third choice had to be an Alice Temperley dress, famous for her deeply romantic, ethereal and decadent wedding dresses exquisitely executed from the finest tulles, silks and laces and adorned with intricate embroidery crafted and applied by hand, she was the perfect choice. I picked the Rosalind gown."
"Combining diaphanous silk chiffon with soft tulle and exceptional hand applied embellishment the dress includes hand folded organza flowers, softly sparking crystals and glass beading. The two layer chiffon skirt which falls from the waist gives the gown a real wow factor that can be showcased in photographs so well."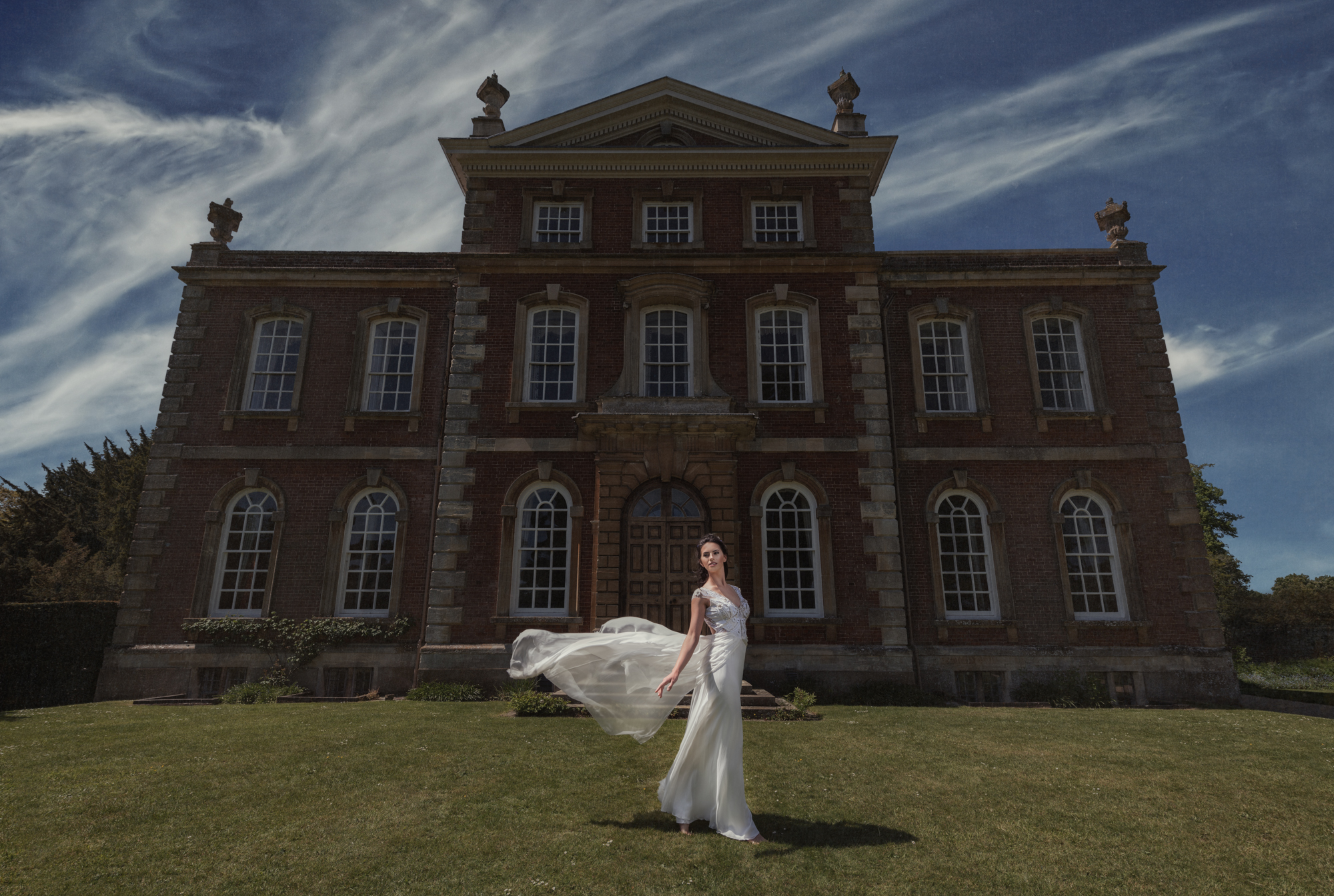 "We chose the 'pre-Raphaelite brotherhood' as we felt that their values and vision were similar to that of our working group of suppliers, and that their intentions were to push forward a new art form which included rejecting the mechanistic or traditional approach to art. They also not only celebrated women in their art they also encouraged them to be artists themselves."
"Ultimately this is why we chose Kingston Bagpuize House as our backdrop which offered the perfect setting for the style we wanted. Not only the grandeur of the house but also the Pavilion and Gardens gave you the feel of the famous paintings that you see from that era, think Ophelia in the lake. Zaki really used the venue in the most incredible ways to create so much drama and intrigue."
"In regards to styling the shoot, we wanted to use bold colours as the pre-Raphaelites did and create a shoot that stood out for it's use of lighting, drama and decadence."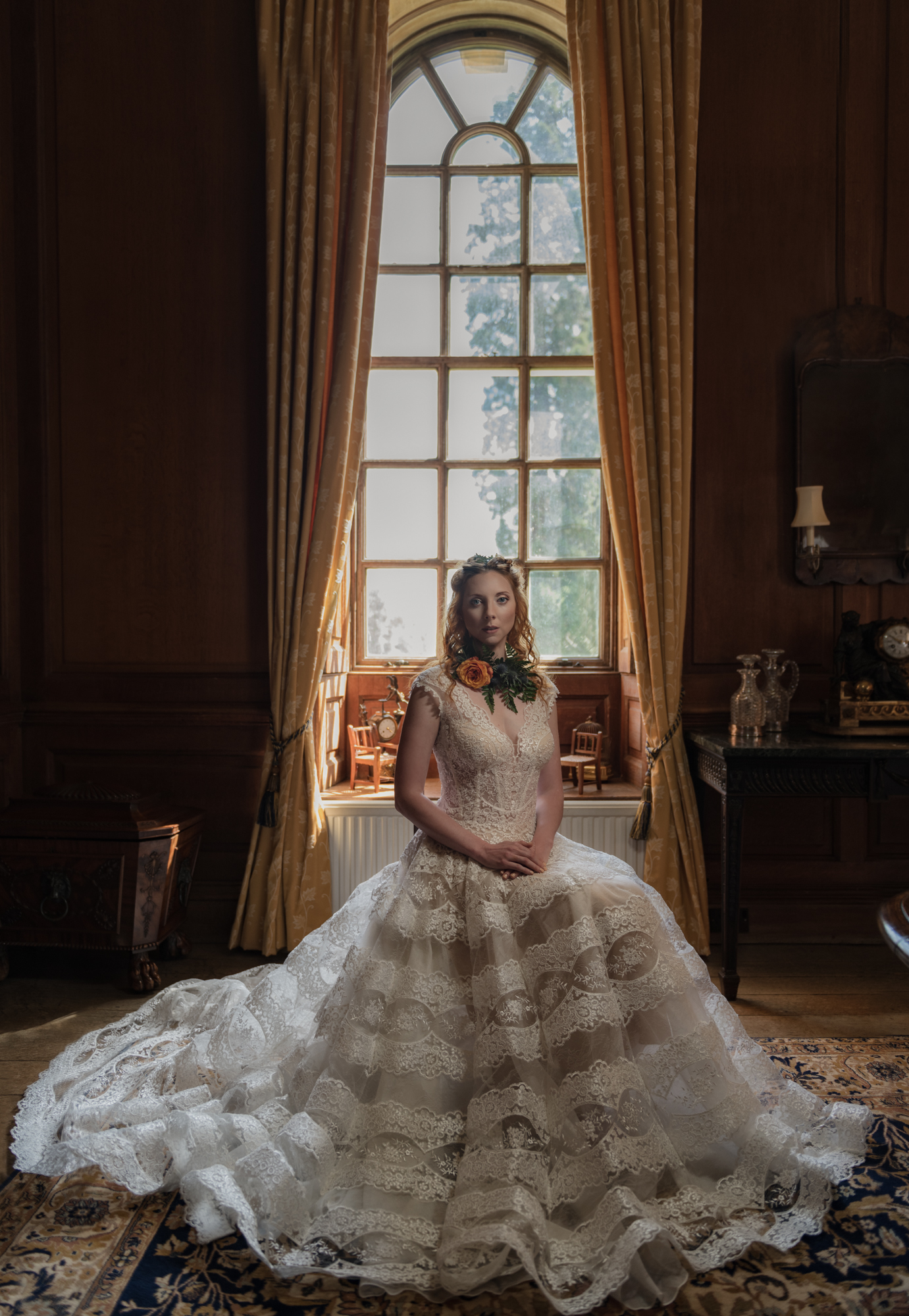 Hair stylist Katie Jane Whitlock said "I wanted to create something really exciting with the hair incorporating waves, braids and dainty flowers to almost give the feel that the models were 'of the garden' with just a touch of ethereal. I chose colours which would compliment the style of the shoot as well as their individual hair colours, keeping most of their hair down and soft to reflect the pre-Raphaelite era. Keeping the hair down also complimented the dresses which had lots of fine detail and structures. The flowers chosen to be used within Natalie's hair complimented the incredible floral details on the Gemy Maalouf gown, both dainty and subtle but with pops of colour that you don't often find in bridal wear."
"I chose not to use flowers in Kate's hair as the strong auburn colour just cried out for the greenery of the fern that I used, parts of the fern were braided into Kate's hair to give the idea that you didn't know where Kate ends and the garden begins."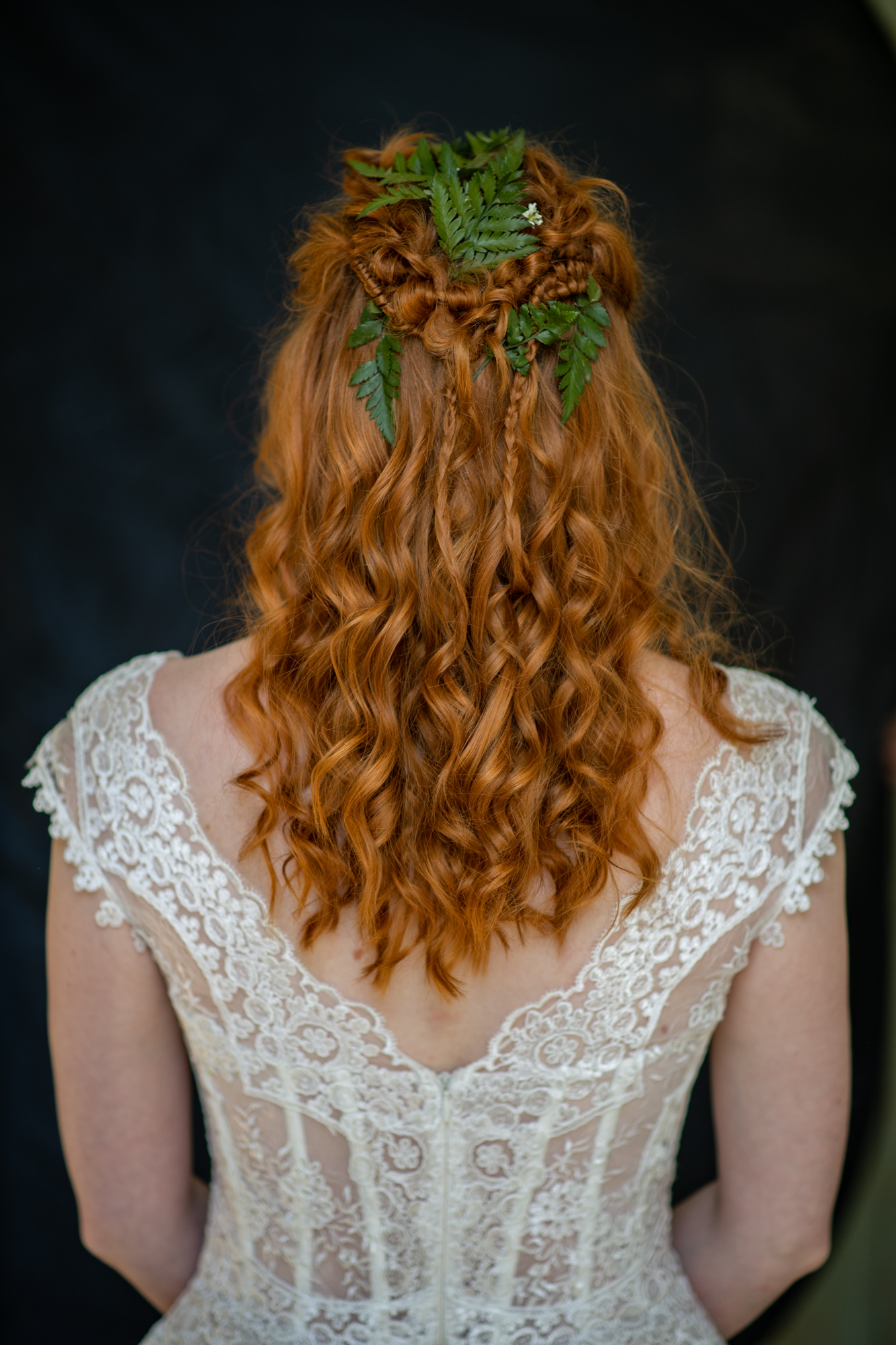 "I wanted the flowers to be bold and beautiful and be used as pieces of jewellery. Pushing the boundaries of what flowers are usually used for.  I also incorporated flowers on the body creating a beautiful edge to Natalie's dress and also a pop of colour against the Pavilion's green backdrop.
The floral necklaces really cemented the 'of the garden, ethereal' feel that we wanted to create."
Makeup Artist Katie Burt says "I wanted to create a makeup look that embodies a modern Pre-Raphaelite beauty. With Kate's copper coloured hair and English Rose complexion I was inspired by those beautiful bronze and red tones and wanted to emphasise her blue eyes and virginal skin tone. With Natalie's look I wanted to play on the seduction and romance of the Pre-Raphaelite movement. With soft brown smokey eyes it was essential to emphasise her soft luminosity and sensuality. Natalie has amazing voluptuous lips which were perfect to create an alluring over all look just by using a nude brown lip colour.
I kept the whole look relatively simple so that the florals that we were using as jewellery would really pop. We also used dainty pansies on Natalie whilst shooting in the pavilion as an extra nod to the Pre-Raphelite era as many women throughout the pieces are always surrounded by flowers, almost as if they are 'of the garden' themselves."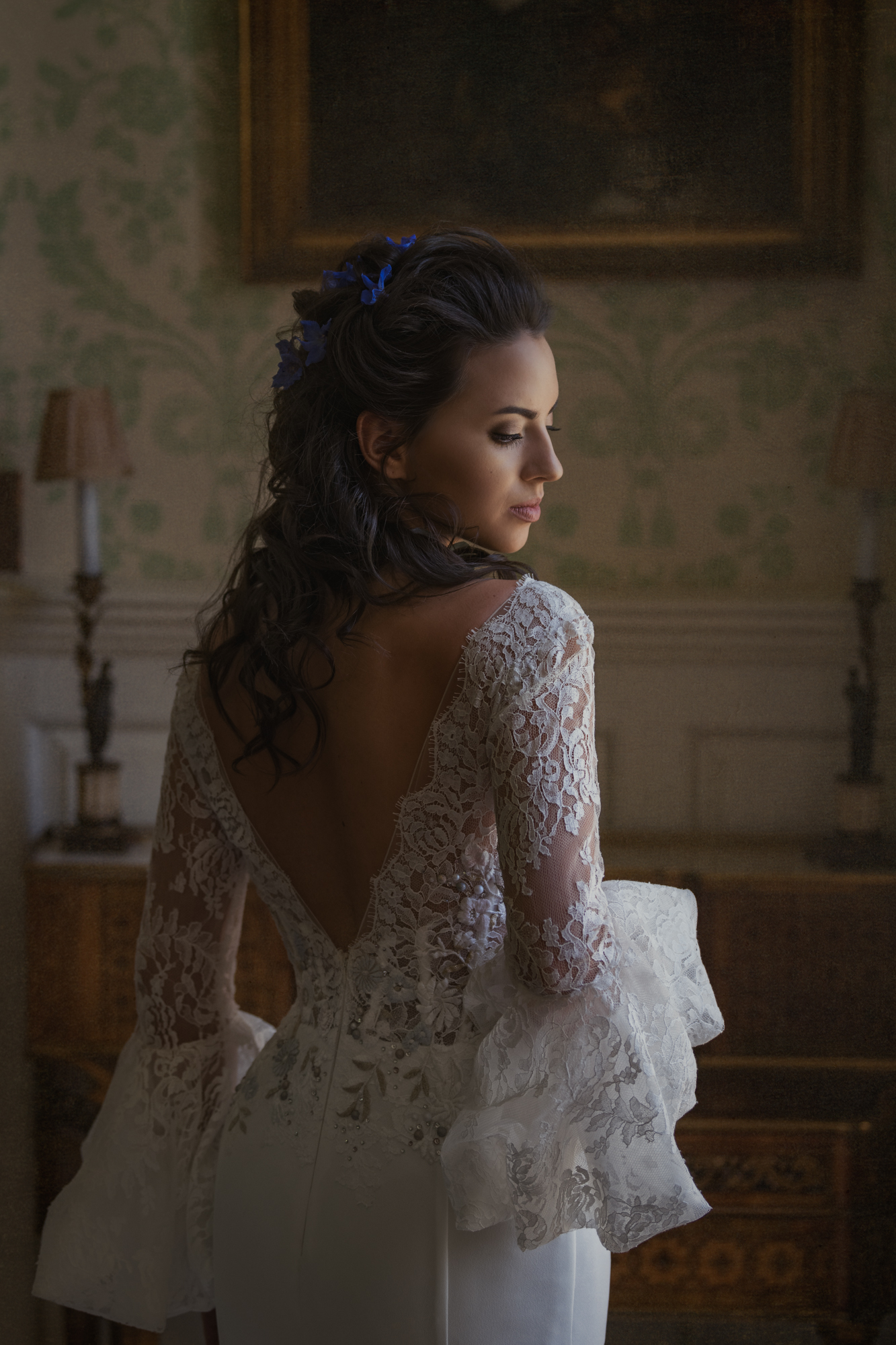 Stylist Bayley of BE Eventful says "I wanted to showcase a sweetheart table which is becoming more popular with brides as wedding trends evolve. I used the deep burgundy and teal colours to add to the luxury but used the texture of the table cloth to add a more relaxed and earthly feel. The glassware is all antique pieces that Virginia, the owner of Kingston Bagpuize House kindly lent us and we spent a fantastic few hours being shown the pieces that her family have collected or been gifted throughout the years. The artichokes were used as they symbolise hope for a prosperous future and pineapples that have long been used as symbol of being welcome."