Happy Friday lovely readers, do you have any nice plans for the bank holiday ahead?  Whatever you're up to and whatever the weather where you are, be sure to make some time for this gorgeous Scottish wedding, featuring the most beautiful Jenny Packham gown, a perfect pooch with a flower collar and lots of glitter and glitz. Its the perfect thing to start off your weekend.
Meet Kirsty, an actor, and Neil, a software developer, who married on the 3rd of June 2017 at Pratis Barn in Fife.  The couple got engaged at Christmas 2015 when Neil proposed in front of the whole family (who were in on the secret), cue lots of tears before a very surprised Kirsty said yes!
Kirsty wore a beautiful gown by our Little Book member, Jenny Packham, which she purchased from Anne Priscilla Bridal in Glasgow.  Jenny Packham gowns are always stunning and Kirsty's was no exception- I adore the beading, the little sleeves and the flattering v neckline; "It fitted like a glove and I felt a million dollars in it."
Images by Tub of Jelly
Today's gorgeous light-filled pictures come to us from Tub of Jelly, who we have featured before and who I'm delighted to welcome back to the blog.  Kirsty and Neil also chose to have their day captured on moving film by Connor and Mikey at Stag and Doe.
"Tub Of Jelly were an absolute breath of fresh air and a joy to work with.   They captured some really special moments and my favourite part of our whole day was standing in the middle of a field as husband and wife with Betty and David 50 meters away snapping the moment."On her feet Kirsty wore a fabulous pair of gold heels from Dune, while her sparkly jewellery came from Jenny Packham.  In her braided hair she wore tiny flowers, sourced from florist Gillian of Gifted, Carluke, while for scent she opted for Pomegrante Noir by Jo Malone.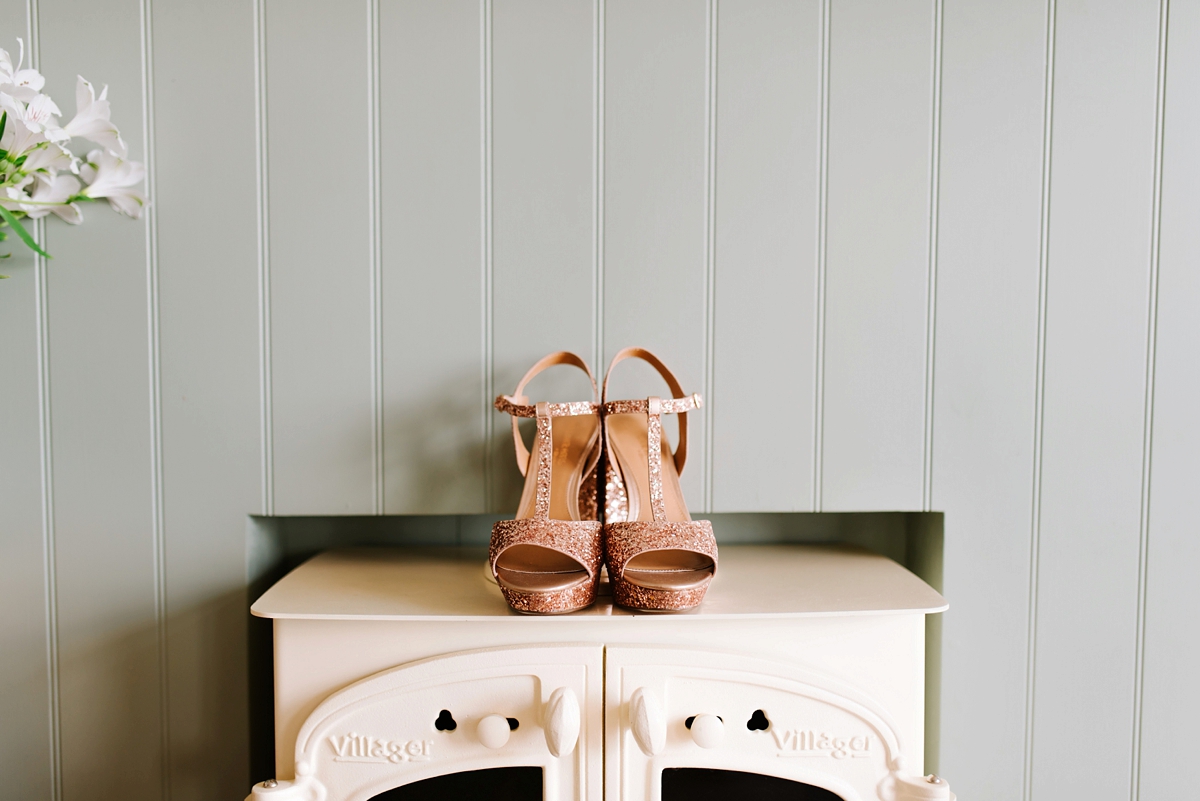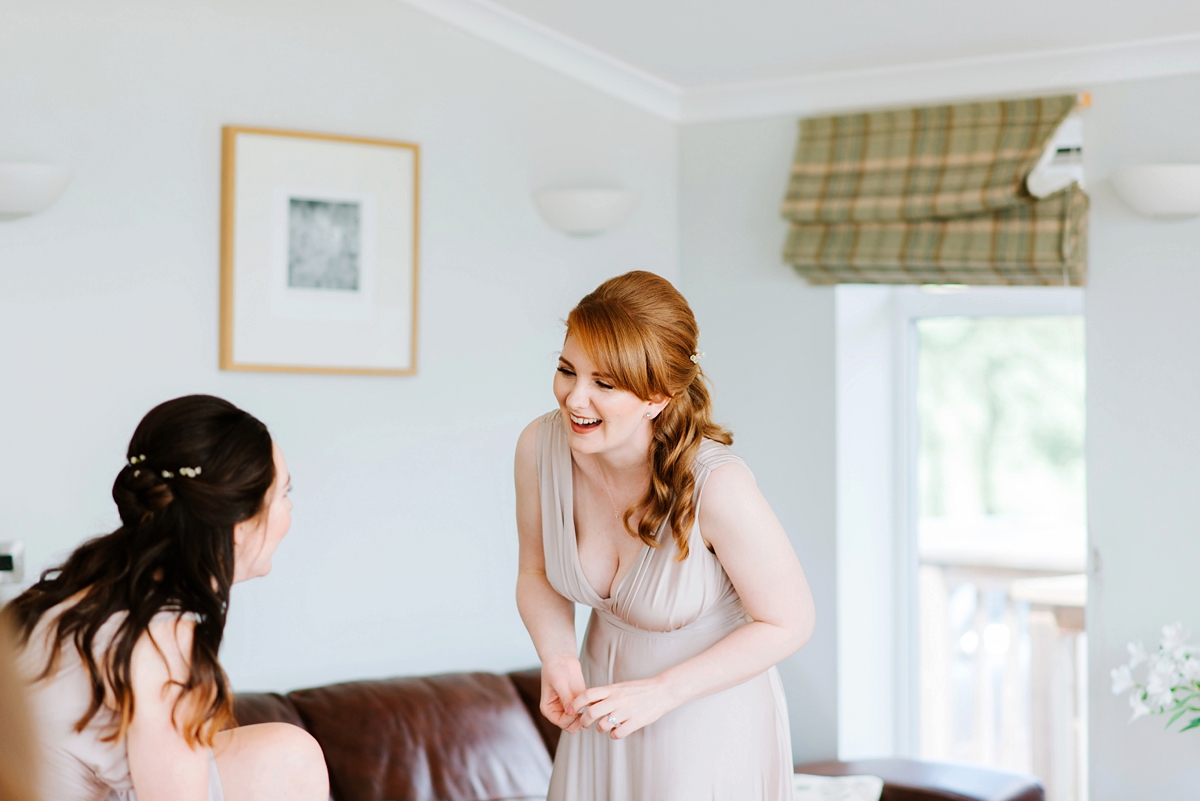 For makeup Kirsty opted for a pretty natural look with deep pink lip, by MHM Styling, while for her hair she chose a romantic braided half up, half down style threaded with fresh flowers, by Louise Hair and Beauty.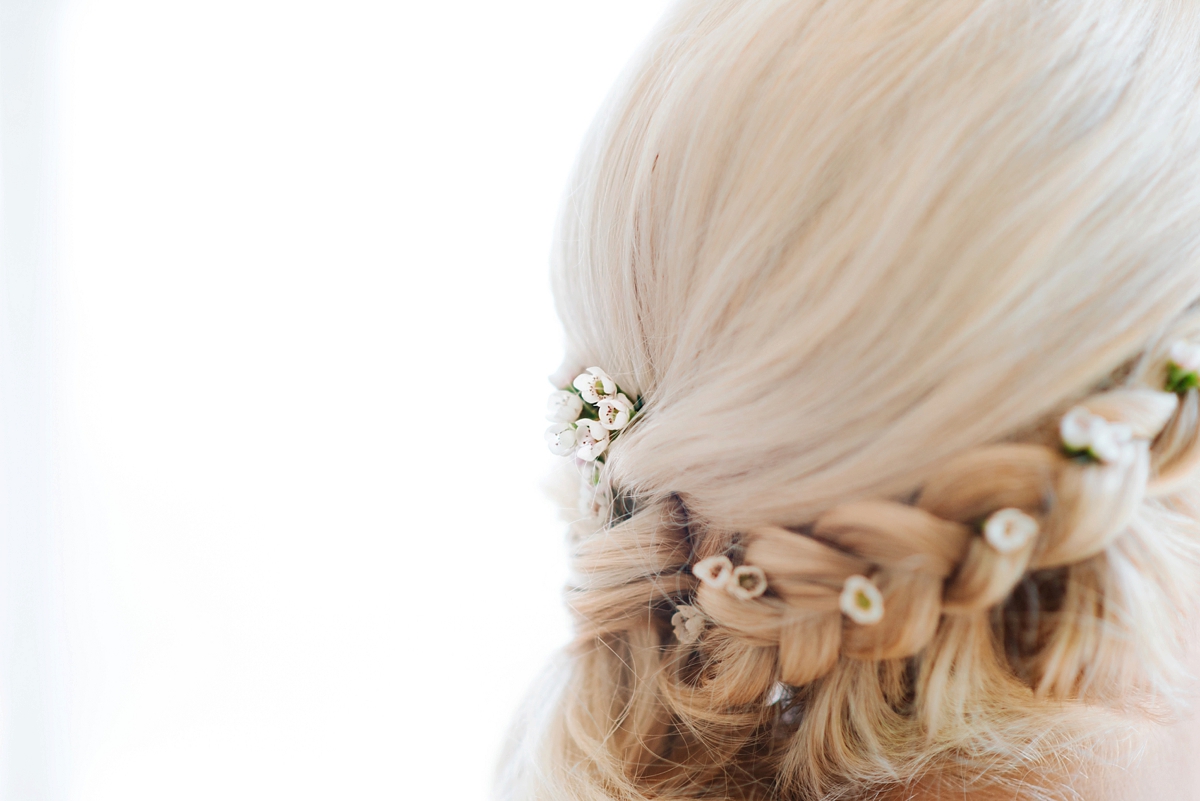 The delicate summer flowers were the work of Jillian at Gifted in Carluke and graced the venue in little jam jars.  For her bouquet, Kirsty chose to make one from brooches and Jillian also assisted with the creation of this as well- isn't it fabulous?
[JP-VIDEO]
"Jillian was an absolute legend when it came to flowers – I looked on Instagram and sent her a selection that I liked and then she pulled it all together and put names to them -Miss Piggy, Cherry Brandy, Baby breath to name a few.  She even went to the special effort of making personalised corsages for our mums and helped me pull together my bouquet."
"We went to high school together but dated other people.  What we didn't know until years later was that we actually went to playgroup together as well – our mums both produced a similar nursery school photograph with Neil as a sheep and me as a star in our first nativity play.  We started dating six years ago this July and moved in together after two months because we both knew it was right.  Neil asked me to marry him on Christmas day 2015, giving us a year and a half to plan our wedding."
"Our wonderful friend Wendy Weatherby played the cello pre-wedding and during the ceremony.  She was incredible and it was so perfect having her there."
"We wanted our wedding to reflect us and our relationship- fun, outdoorsy and easy going.  We also wanted to get everyone we love together in one room and have a big party!  We have a dog and it was really important to us that she could be part of our day in some way too."
"I was really keen to hand make as many things as possible too, from the invites to my bouquet (which was made of brooches).   It was really important to Neil that the food was tasty and plentiful and that there was enough booze to go round."
"We knew we wanted to get married on the east coast of Scotland (it rains so much less than the west) and we knew that we wanted to be able to have fun and be creative. We drew up a big long list of potential barns and rustic venues, Neil made a spreadsheet and I arranged the viewings. Pratis was our first venue. When we arrived and met Susie, we fell in love and cancelled every other viewing."
The bridesmaids wore elegant full length gowns in champagne from House of Fraser, paired with their own shoes, a necklace from Not On The High Street, and nails by Vanda De Luca (Hey VDL).
Good friend Steven drove the bride and her dad to the ceremony, which was a lovely personal touch.
"I was lucky enough that my lovely dad is fit and healthy and he walked me down the aisle to 'Highland Cathedral'."
Neil and his groomsmen all wore kilts with tweed jacket and traditional accessories, from Top Kilts.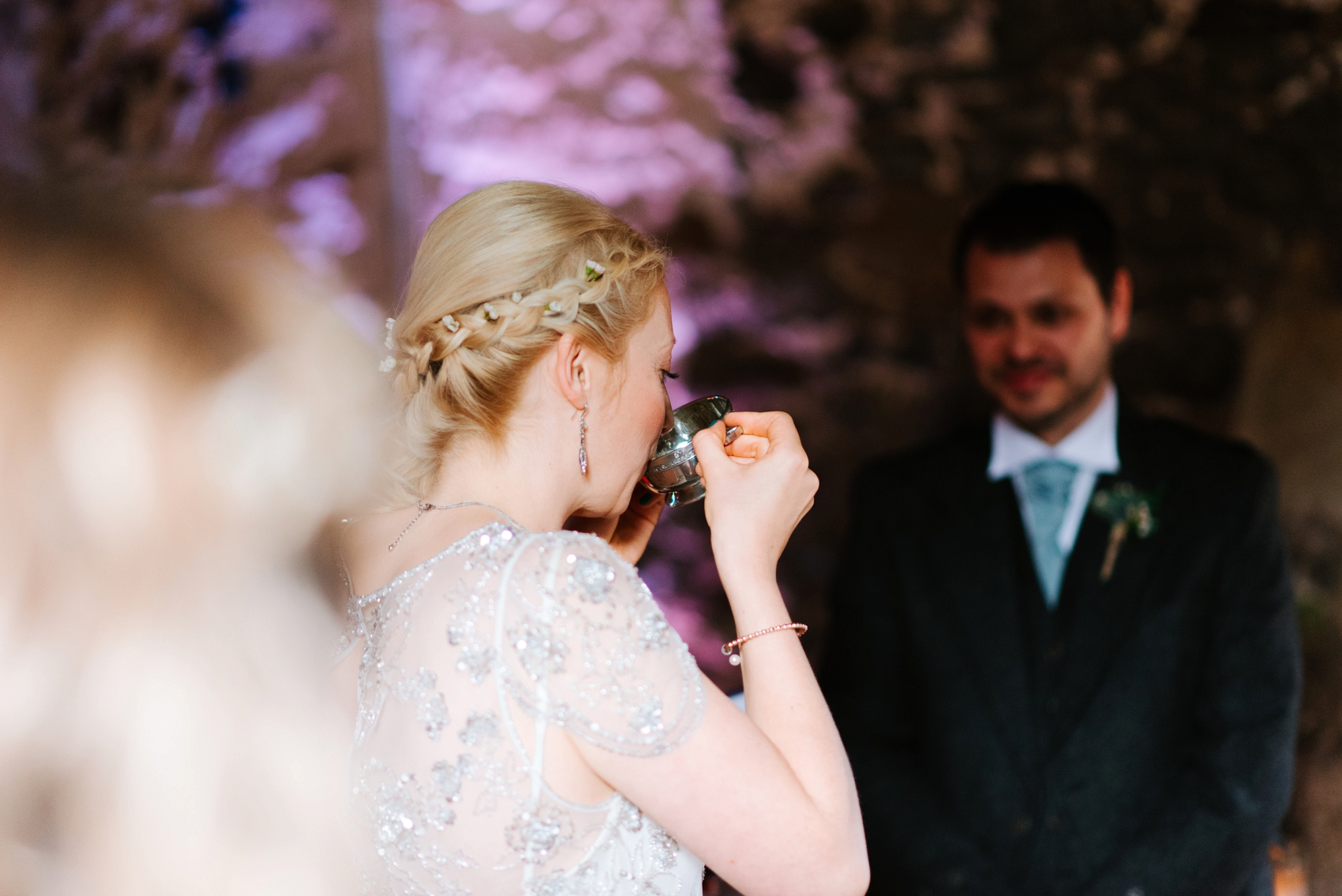 Kirsty's dad looks so proud to be doing the honours, and Neil definitely looks a little damp eyed at seeing his beautiful bride!
"For readings, we chose 'A lovely love story' by Edward Monkton and 'I love you' by Roy Croft as the first one made us laugh and the second one made us cry."
"The ceremony itself was my favourite part of the day as it was so perfect and tailored to us with lots of laughs and tears.  Our Humanist celebrant Anne Wilks was the perfect person to marry us.  She brought so much joy to our vows."
To cement their vows, the newlyweds exchanged rings from H Samuel, and also drank from a quaich (a special two-handled drinking cup, often called a 'love cup').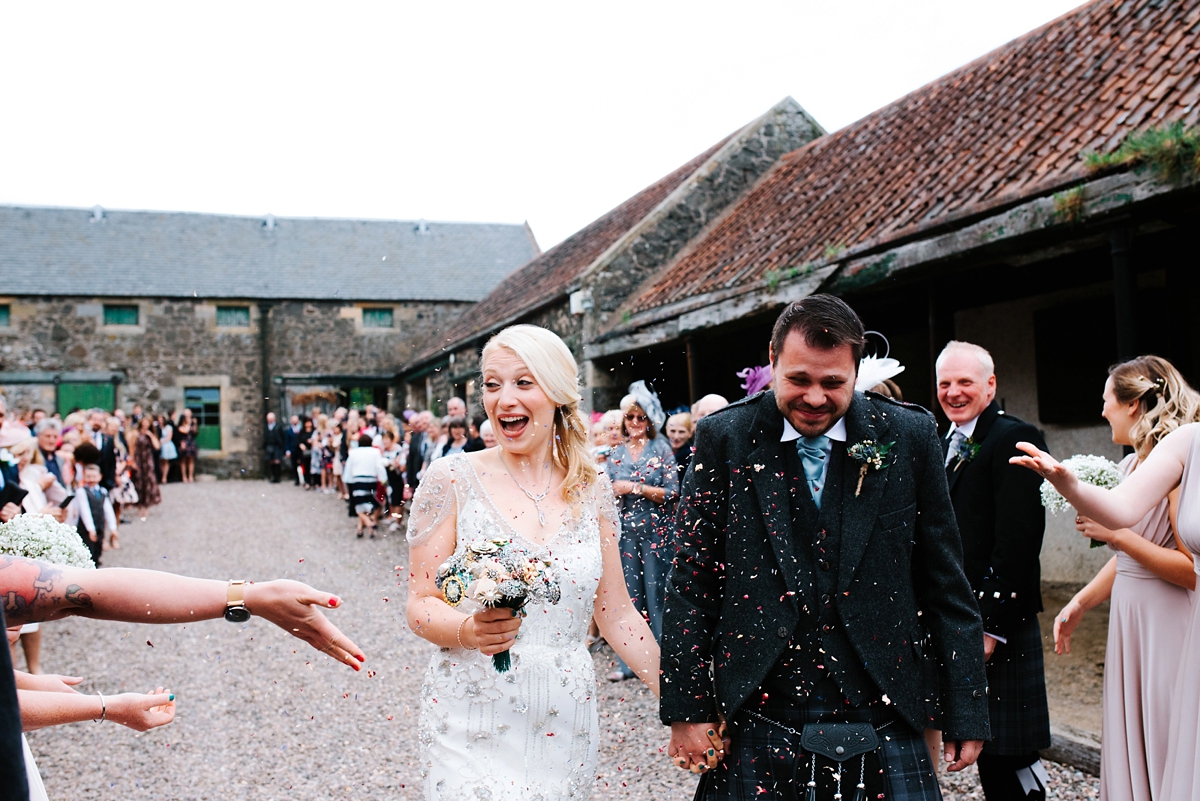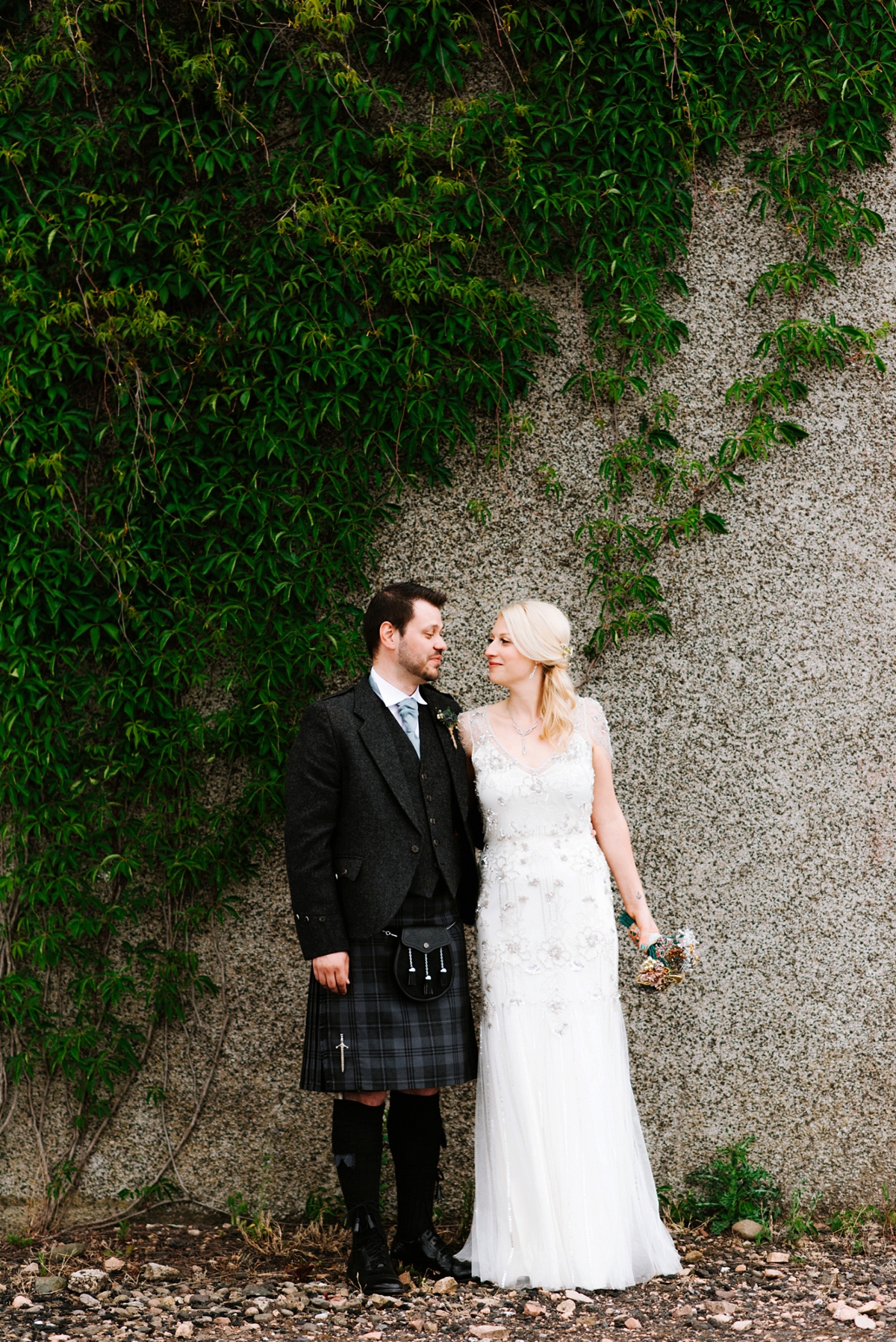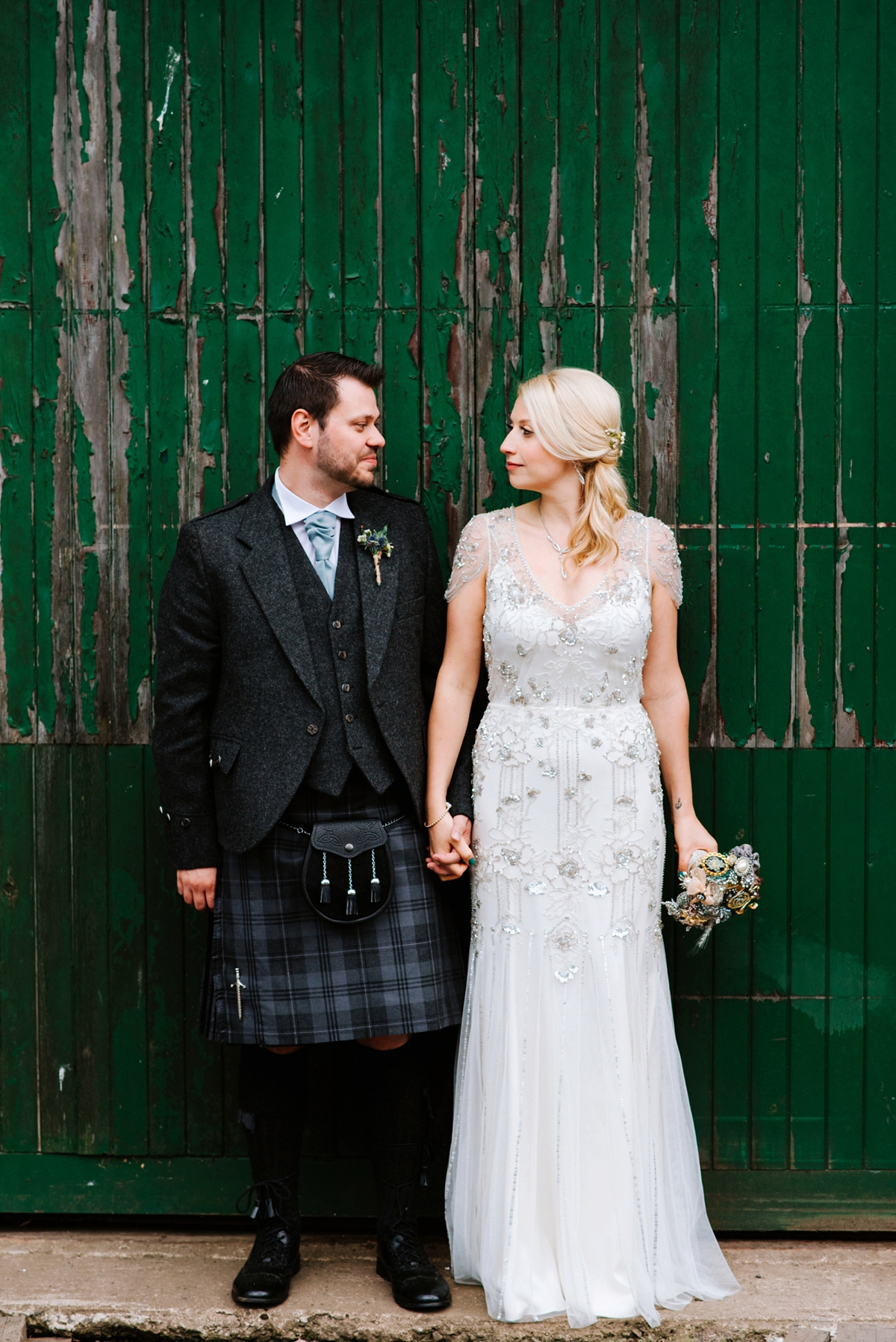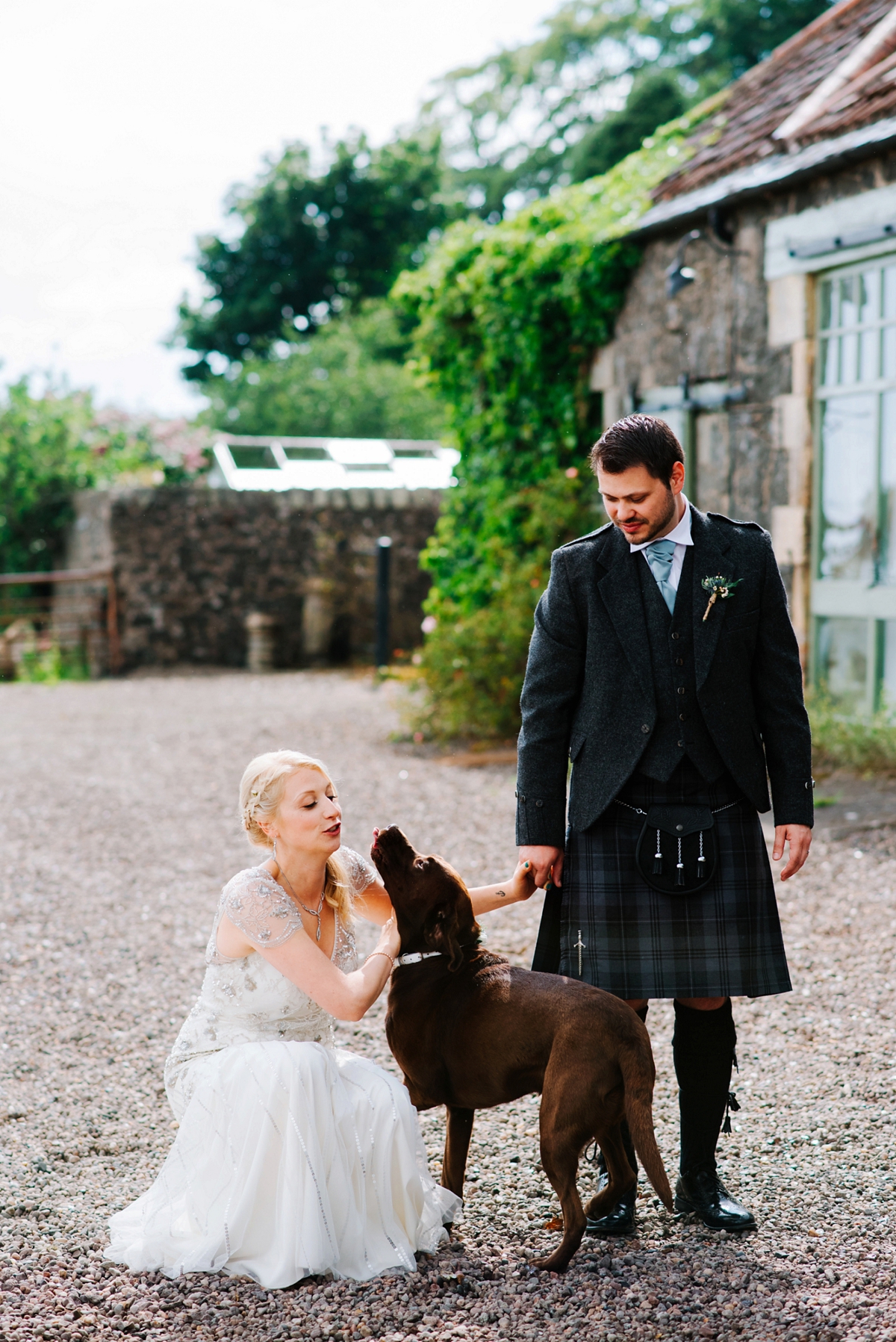 Catering was the work of Gourlay Events who provided an enormous banquet-style meal with loads of vegetarian options to feed each guest to repletion.
For the wedding cake, Kirsty and Neil organised a 'wedding bake off' and the results were spectacular!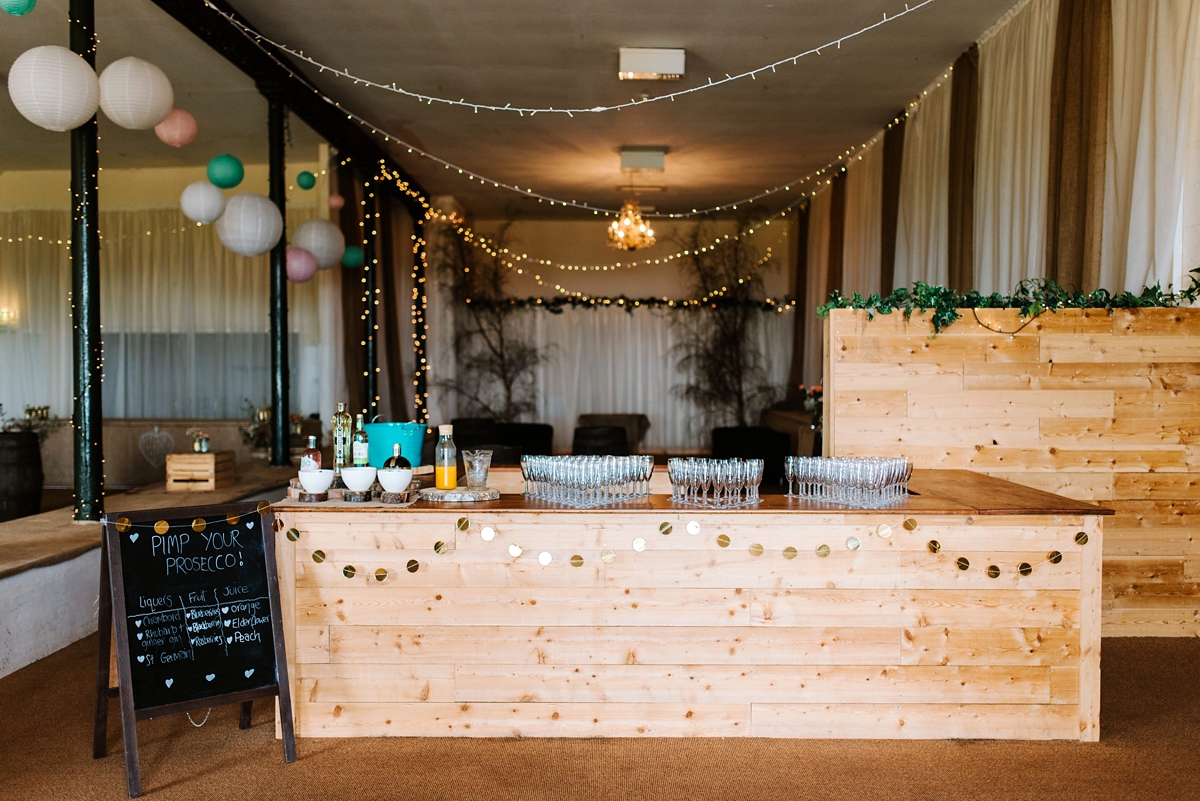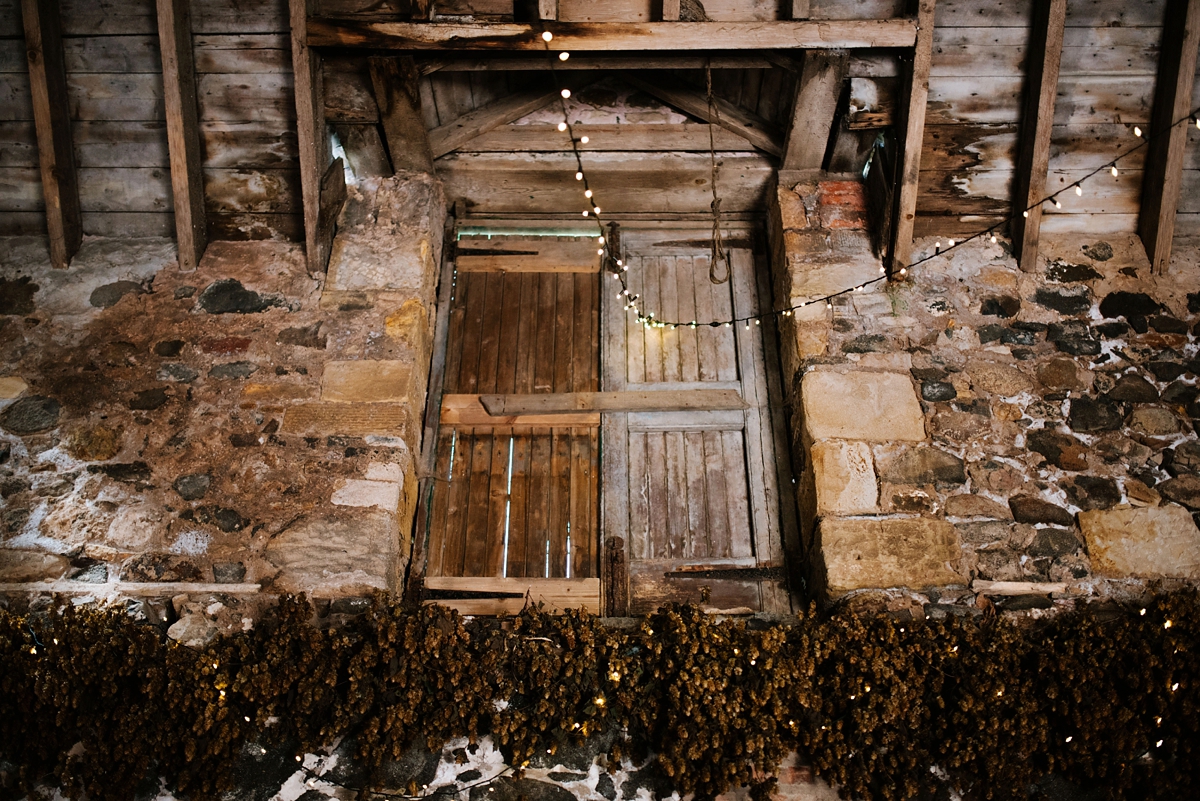 Kirsty was personally responsible for all the stationery, while for decor the couple chose an electric mix of empty spirit bottles, ladders they found at the venue, string, a wheelbarrow, glitter and hundreds of jam jars filled with summer flowers.
To link with the decor, for favours guests received miniature bottles of Jaeger or Baileys.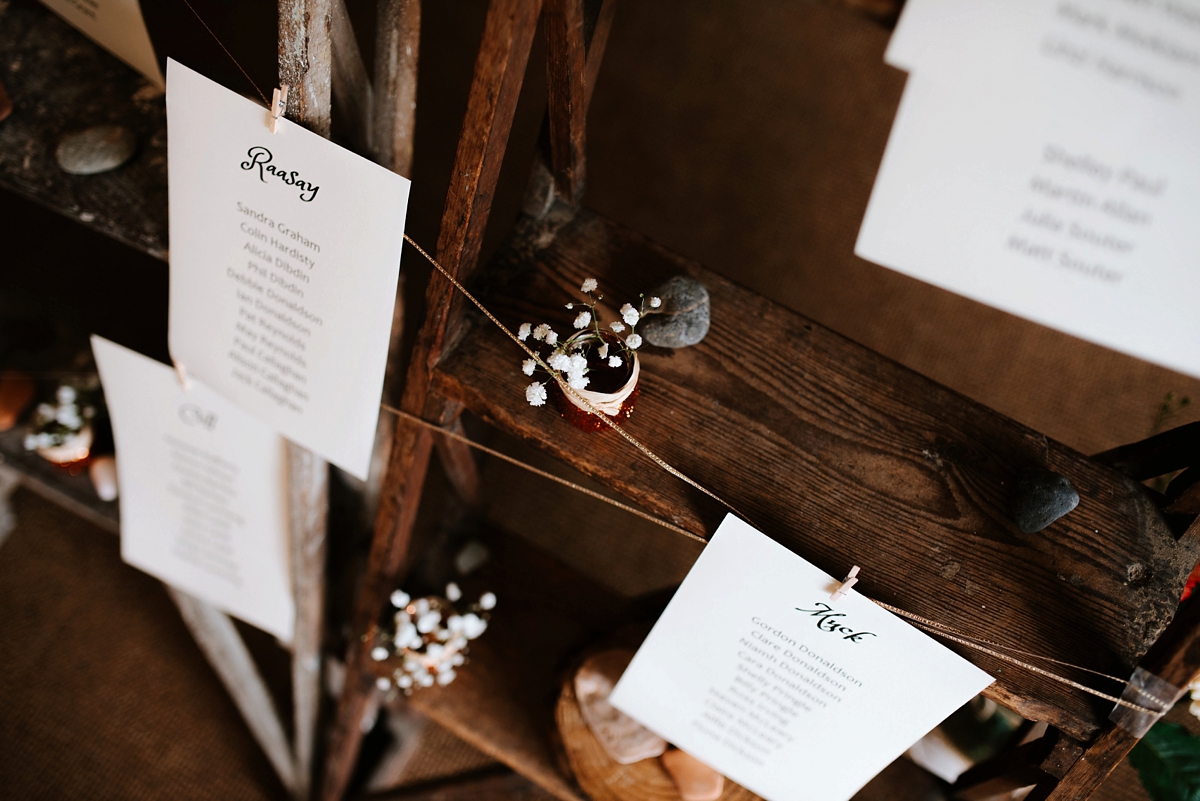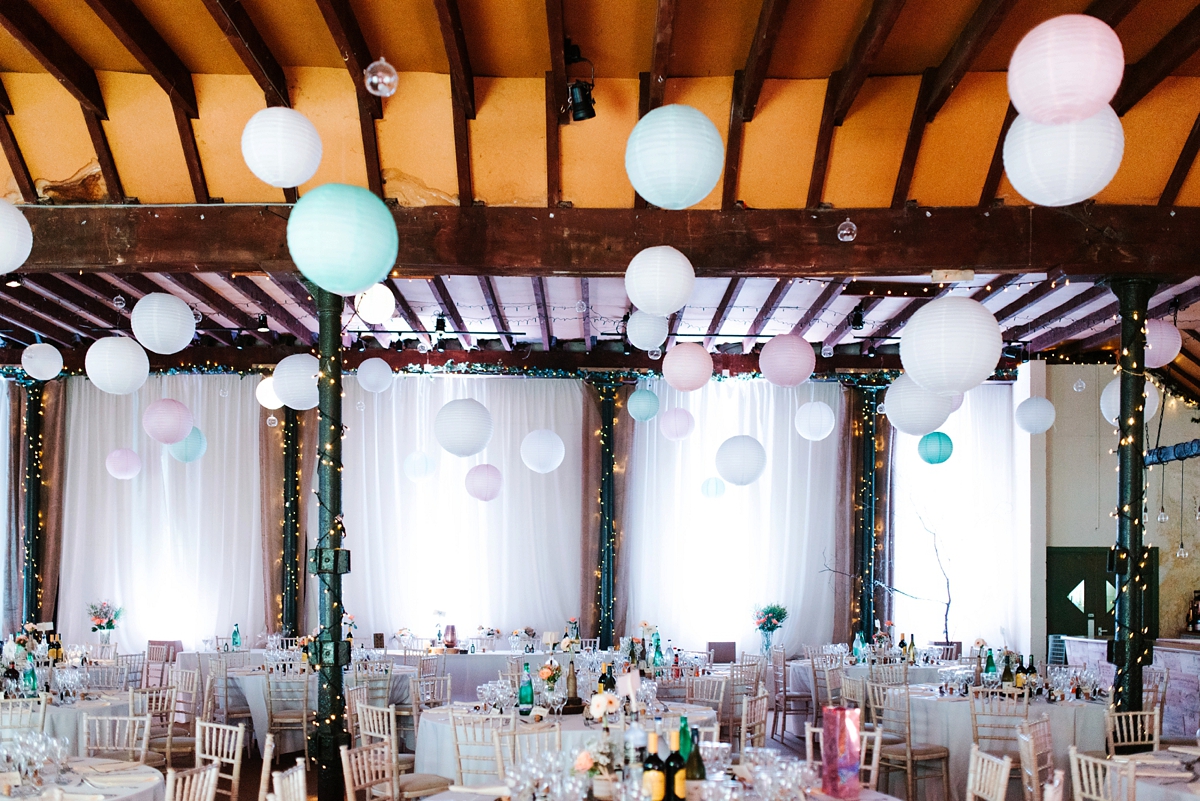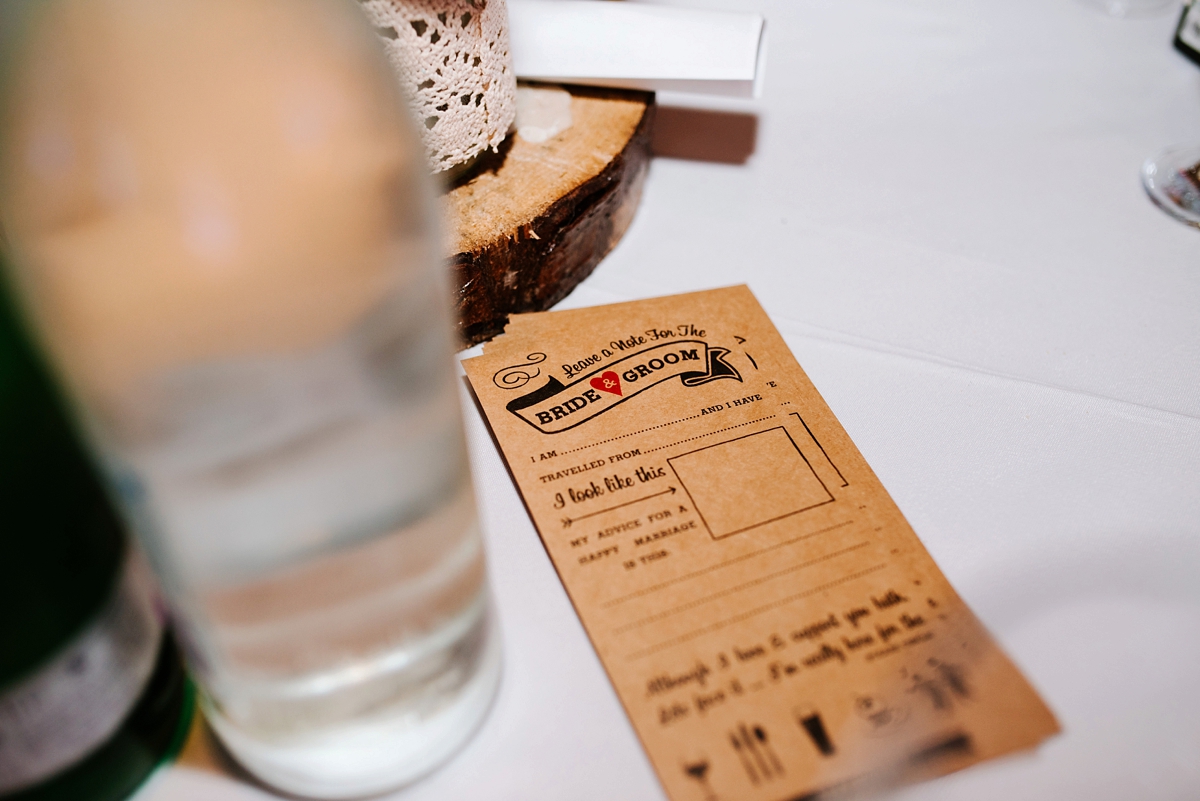 Entertainment came in the form of band Elwood, who kept the dance floor filled all evening and Kirsty and Neil and their first dance as a married couple to their favourite song- 'Hey Ho' by the Lumineers.
I love this track, and actually very nearly chose it as my own first dance song, so very much approve of their chocie.
Words of Wedded Wisdom
"Just enjoy it, everyone around you is there for you both and that's really special.  It feels amazing to have so much love and support surrounding you on your day."
So many thanks to Neil and Kirsty for sharing their special day with us all, and of course, to Betty and David of Tub of Jelly for sharing their images.  You know, I've never yet found a Jenny Packham gown I didn't want to put on immediately!  Take a peek here for more Love My Dress brides wearing dresses from this iconic designer (I recommend a second cuppa for this- you may be a while).
All love,
Shona x