Before I say anything else, have you seen our brand spanking new Wedding Readings resource? And, can you believe that it's the end of August already? Much as I want to squeeze every last bit of sunshiny warmth out of the last of the summer days, I have to accept that the colder months are coming around quickly.
Today's festive wedding has made it a little bit easier for me to accept that December will be on us before we know it. For all of you lovelies who are planning a winter wedding, these nuptials are packed full of delicious details that will ensure your celebrations will conjure up a magical, festive feel.
Please meet Lucy and Rob, who invited their friends and family to join them for their marriage on 9 December 2017 at 12th century St Michael & All Angels church with a properly wintry celebration at Georgian retreat Middleton Lodge, Richmond, North Yorkshire. Rob, a project leader at Alrec UK, hails from nearby Skipton and Lucy, a client lead at Channel 4 and native southerner, jumped at the chance to wed in wildly beautiful North Yorkshire. They opted for a full weekend of wedding celebrations, and the extensive accommodation at Middleton Lodge allowed them to spend as much time as possible with their friends and family. They aimed to create a magical yet cosy feel which was also natural and rustic, drawing on an elegant period vibe done in a modern way. Cue lots of candles, log fires and twinkly lights, a divine colour palette of blues, plums, evergreen and sage green and a beautiful modern gown.
Film by Green Biscuit
"I'd never visited Yorkshire before I'd met Rob and I totally fell in love with how beautiful it is, so I knew I wanted to get everyone up there to experience it for themselves and any excuse to coax everyone up to the stunning countryside of North Yorkshire for a full weekend of partying got my vote. We'd always wanted to have more than just one day so that we could properly enjoy the time with our friends and family – and the second we saw Middleton Lodge, in a tiny village called Middleton Tyas –we knew it was the one."
Photography Adam Cherry Photography
"We didn't want a traditional summer wedding, and we wanted it to be longer than just a day, so somewhere we could have for three to four days was always the plan, allowing for a family dinner, then a dinner and drinks night with as many as wanted to come, before the wedding day itself. We had exclusive use of the main house, a stunning Georgian mansion that had sixteen gorgeous bedrooms, a library bar, snooker room, dining room, drawing room and kitchen – plus we took over eleven The Coach House rooms and the Farmhouse. All of our close family and bridal party were together on the main estate, with others staying up the road in Richmond or Darlington."
It's time to talk about Lucy's wedding gown, a long-sleeved, lacy number with an unexpected, totally sexy open back. I love how the front it completely classic and elegant, yet from the back it's edgy and modern. A chance scroll on Instagram led her to finding 'the one'.
"It was a Wtoo by Watters dress called 'Anastasia' which I bought in Emma Elizabeth Bridal in Twickenham. It was where my sister got the bridesmaid dresses for her wedding a few years before, and Emma and her mum remembered us so it was lovely. All the way through my fittings there was a real family feel about it all. A genuinely fantastic experience."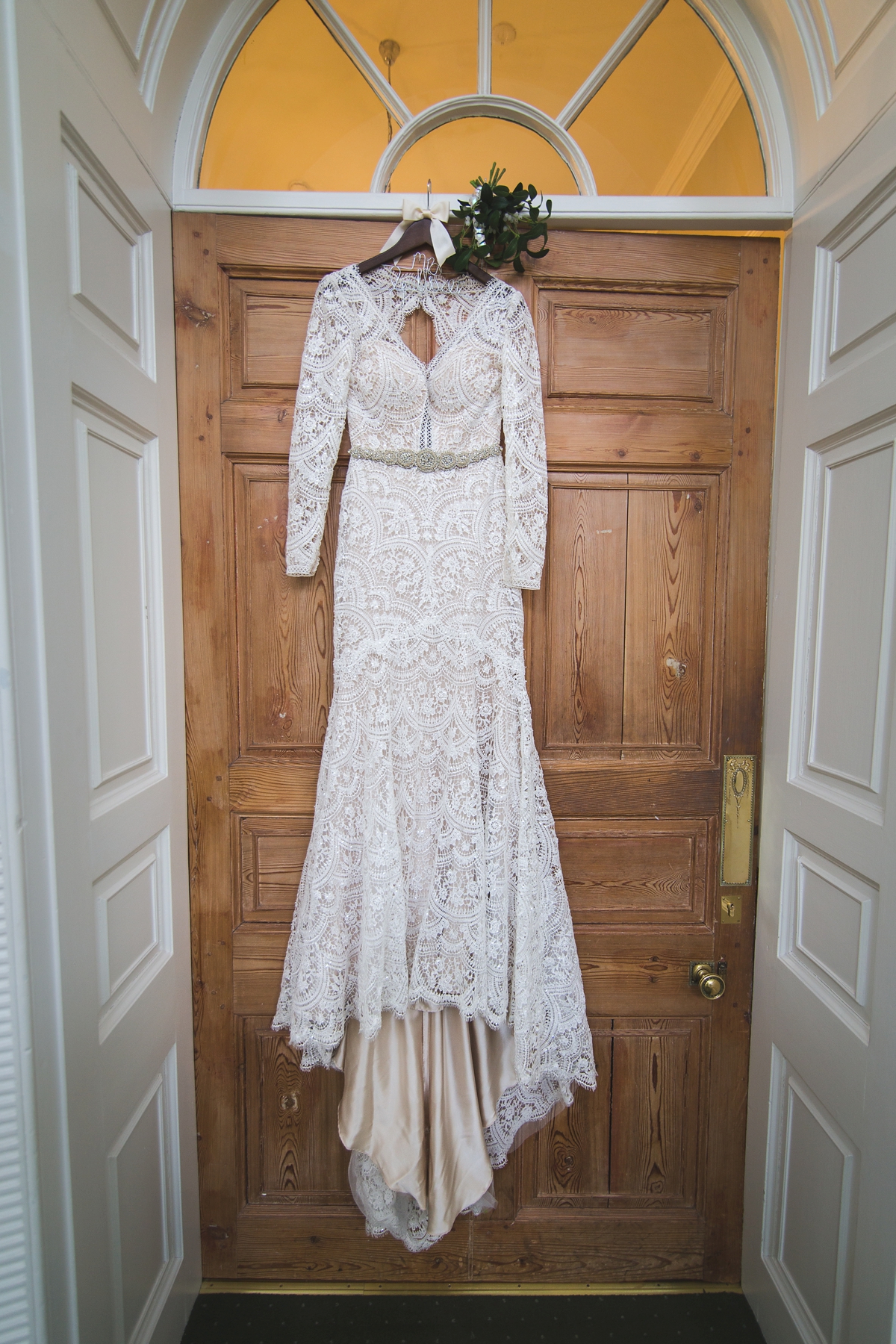 "I'd been to five bridal shops in London and Surrey, always knowing I wanted lace, fit and flare, ideally with sleeves and definitely a bit of sparkle so it was never a case of choosing a style, more finding one that was on brief but had something unusual about it too. I was eventually down to two dresses, one from Pronovias on Bond Street and another one from Watters at Emma Elizabeth, when I was scouring Instagram one evening and saw a flash of this amazing dress from the New York bridal shows. I immediately screen-grabbed and sent it to Emma who knew what it was and that it was the new Wtoo collection that would, amazingly, be arriving at her shop as part of a Watters trunk show in two weeks' time."
"As soon as I tried it on we all knew it was the one. It was elegant and vintage-looking but also sexy and modern, especially from the back with it gorgeous open design, and it had tiny iridescent sequins all over it so it gently twinkled. The only thing I added was that I wanted a belt to define my waist. I'd seen the perfect one in Pronovias so Emma ordered it and I had it sewn onto the dress. The dress was now beyond perfect and I loved that I knew people would be surprised by it."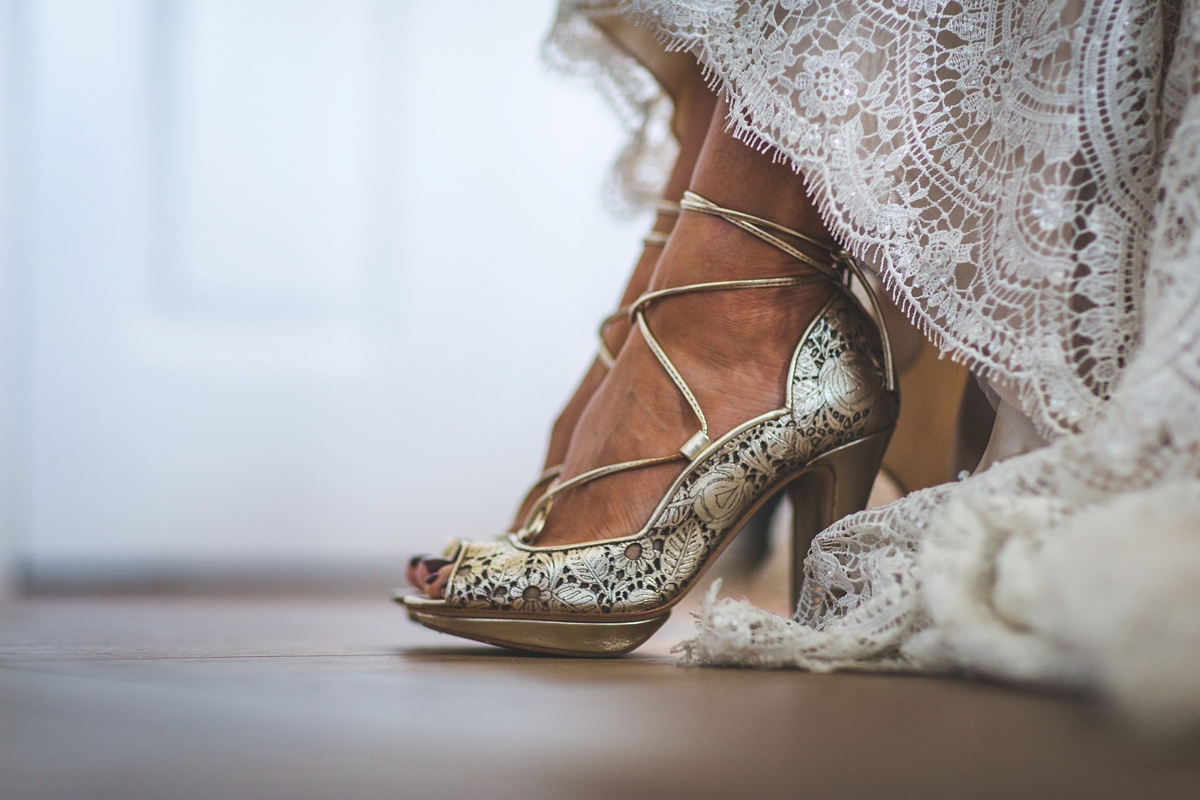 If you haven't taken a look at our Little Book for Weddings supplier directory yet then you really must, as this is what led Lucy to Harriet Wilde, where she found her laser-cut, metallic wedding shoes.
"I saw the most perfect shoes on Harriet Wilde's website. They were called 'Dakota', gold leather and handmade in Spain and looked like they were made of lace, so they literally appeared like they were made to be worn with my dress. They were unbelievably comfortable, laced up round my ankles and were like wearing really fancy little clouds."
More vintage detail came from her Art Deco-inspired 'Aubrey' hair comb in gold and crystal, made by Lola & Alice. So elegant worn just above her veil.
"I wore an antique gold, seed pearl and diamond pendant that was my grandmother's and which my sister also wore on her wedding day and gold, pearl and diamond earrings I borrowed from my mum.   Once back from the church I used a white 'Mrs' pouch from Katie Loxton (that matched the navy ones I'd given the bridesmaids as gifts). My bridesmaids had sewn into the lining of my dress a silver wishbone charm from Links and I also wore the gold Kindred Soul bracelet from Links that Rob had given me one Christmas."
[JP-VIDEO]
"Hair was by Be Première Hair in Darlington and make-up was the truly excellent Jo Leversuch – who came down to London for my first trial, and then came and met my family and friends for drinks on the Thursday night before the wedding so she could get a feel for how everyone was and so they all felt like friends on the day. She was a dream to work with, really easygoing and fun, and everyone looked stunning – especially our mums who wanted to look totally natural and not like Barbara Cartland which was pretty much my mum's greatest fear."
The bridesmaids wore Art Deco-style beaded gowns from Adrianna Pappell, chosen for their vintage glamour.
"I never wanted traditional style dresses because my bridal dress wasn't traditional. I wanted them to be modern with a vintage look and, because it was the Christmas season, to have some twinkle about them. My sister was maid of honour and wore a lilac/pink version of the gown, which we then had to have adapted by adding a tulle skirt. My second niece was born two weeks before the wedding so my sister needed a bit more room than the original dress offered. My two best friends wore the original Art Deco beaded dresses but in a gorgeous heather colour."
"I never wanted traditional style dresses because my bridal dress wasn't traditional. I wanted them to be modern with a vintage look and, because it was the Christmas season, to have some twinkle about them. My sister was maid of honour and wore a lilac/pink version of the gown, which we then had to have adapted by adding a tulle skirt. My second niece was born two weeks before the wedding so my sister needed a bit more room than the original dress offered. My two best friends wore the original Art Deco beaded dresses but in a gorgeous heather colour."
"I gifted the girls navy Katie Loxton bags that said 'One In A Million'. My sister also wore a gold dreamcatcher bracelet I gifted to her which I got from Dainty Edge Jewellery and they all had personalised thank you cards from Sweet Pea Sunday."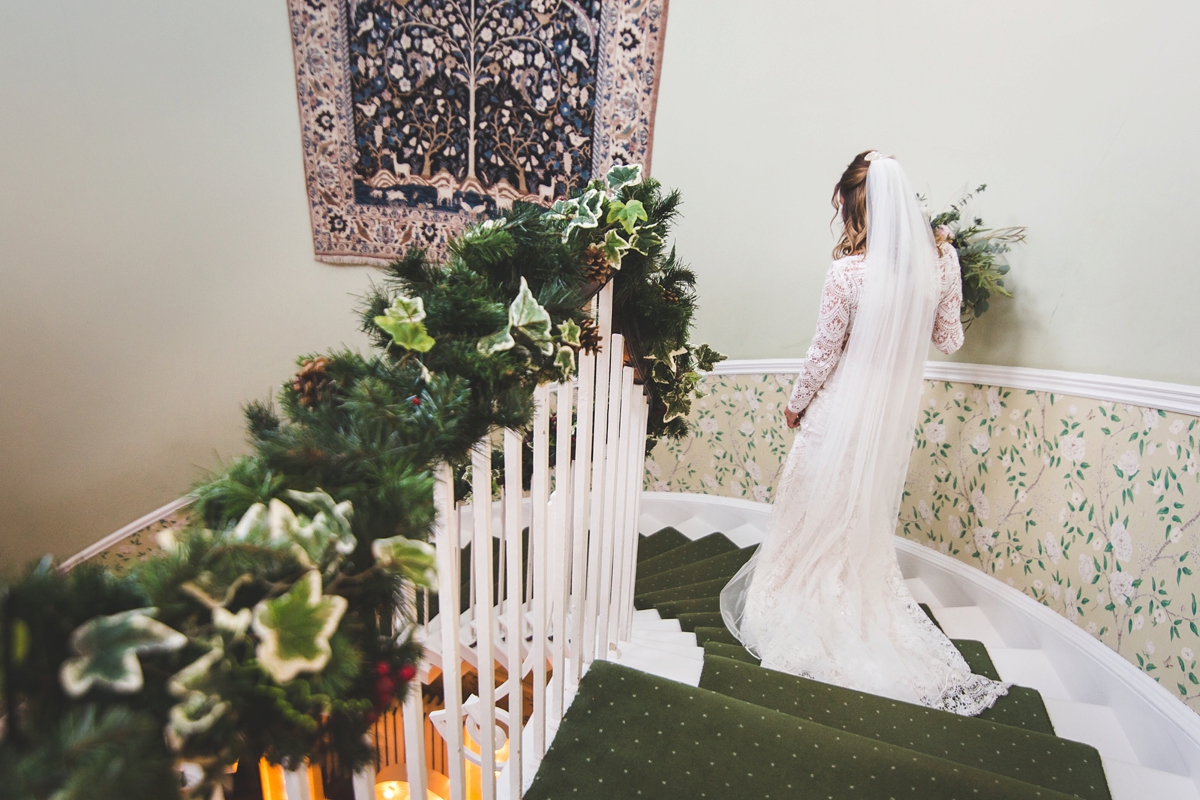 The couple live together in London, and met online on Tinder in March 2014. I love the story behind the engagement ring.
"My best friend also met her now fiancé that way, about two months before Rob and I met. None of us took it that seriously to be honest, not remotely expecting to meet anyone we'd marry, so it surprised us all. We had our first date in Clapham as I was living in Fulham at the time and Rob was in Brixton. We moved in together in October 2015 and got engaged in Dubai in May 2016, so we were engaged for 19 months. My engagement ring was made by a jeweller in London's famous Hatton Garden, Yeraua, who were recommended to Rob by a friend."
"I always wanted something that looked vintage and had three stones, and in fact the central diamond was given to me by my mother, and had been her engagement ring from when my parents were married. It's actually an antique Victorian 1.1ct diamond with a unique cut that doesn't get made anymore. We added two new pear-shaped diamonds either side of the solitaire and had it set in platinum. It's my dream ring and I love the sense of history – both that it was Victorian (which was a period I studied as part of my degree) and that it was my mum's engagement stone." 
Rob opted for a bespoke Saville Row suit, in a mid-blue tweed suit with a paler blue waistcoat which looks oh-so comfortable and warm, as well as being beautifully-fitted. He added a T.M.Lewin shirt, brown Goodwin Smith boots and a pale pink herringbone tie from Frederick Thomas. His Burberry mother of pearl cufflinks were gifted to him on the day by Lucy.
"A friend at work who had just got married recommended Cad & The Dandy – a Savile Row tailor who were challenging convention and cost in terms of what a bespoke suit should be. Rob loved the process and he'd always wanted to embrace the country vibe and wear tweed, in navy/pale blue/plums to match the overall wedding theme."
"The five best men and groomsmen, my dad, Rob's dad and my brother-in-law all wore blue tweed blazers from M&S, pink herringbone ties from Frederick Thomas and pocket squares from T.M.Lewin – with their own navy trousers, white shirts and brown brogues. My dad was wearing Ellie Ellie cufflinks we gifted him that were made from 1954 farthings, the year he was born, and engraved on the underside with 'Thanks Dad x'."
Lucy and Rob worked with Middleton Lodge's in-house planner to style their weekend. There are so many gorgeous details to drink up; I adore the cinnamon sticks and sprigs of rosemary that adorned the place settings, as well as the incredible swathes of foliage with the twinkling candles which must have looked beautiful as day turned into an early dusk. Oh, and don't miss the pew ends which combined tealights in jars with greenery and seasonal berries.
"Middleton Lodge assign you a planner to help with whatever you need to plan the day; we had Anna Russell. Nearer the time you meet with whoever will be responsible for running the wedding on the day – and we had the truly wonderful Jess Graham who was an absolute delight."
Little Book for Weddings member Wedding & Events Floral Design was responsible for the wonderful foliage decorations and bouquets, which combined rich green foliage and fresh eucalyptus with faded cream, pink and plum blooms. Please do visit her page here to find out more about her approach and see more examples of her style. She is so highly recommended by Lucy, too.
"When we went to look around the venue the first time, Jane was setting up for another wedding and she literally flew across the room at me in her vivacious, warm manner and accosted me with her business card. Safe to say I loved her from that moment on and she was an absolute dream to work with. On visits to either the venue or to see Rob's parents, we regularly popped in to Jane's house in Thirsk for a cup of tea and to go through Pinterest boards and pictures from weddings Jane had done in order to refine what we wanted."
"She did more than just provide the flowers; she helped us to style the entire marquee and understood fully my brief to create a natural, rustic, winter woodland wonderland feel – with tons of greenery (eucalyptus featured heavily), twigs, candlelight, succulents, figs and sumptuous winter florals. Everyone gasped when they walked into the marquee to see the magical winter wonderland she'd created for us and she nailed the brief totally. We were blown away and it created the most magical backdrop to proceedings. It looks incredible in the photos and even they don't really do it justice."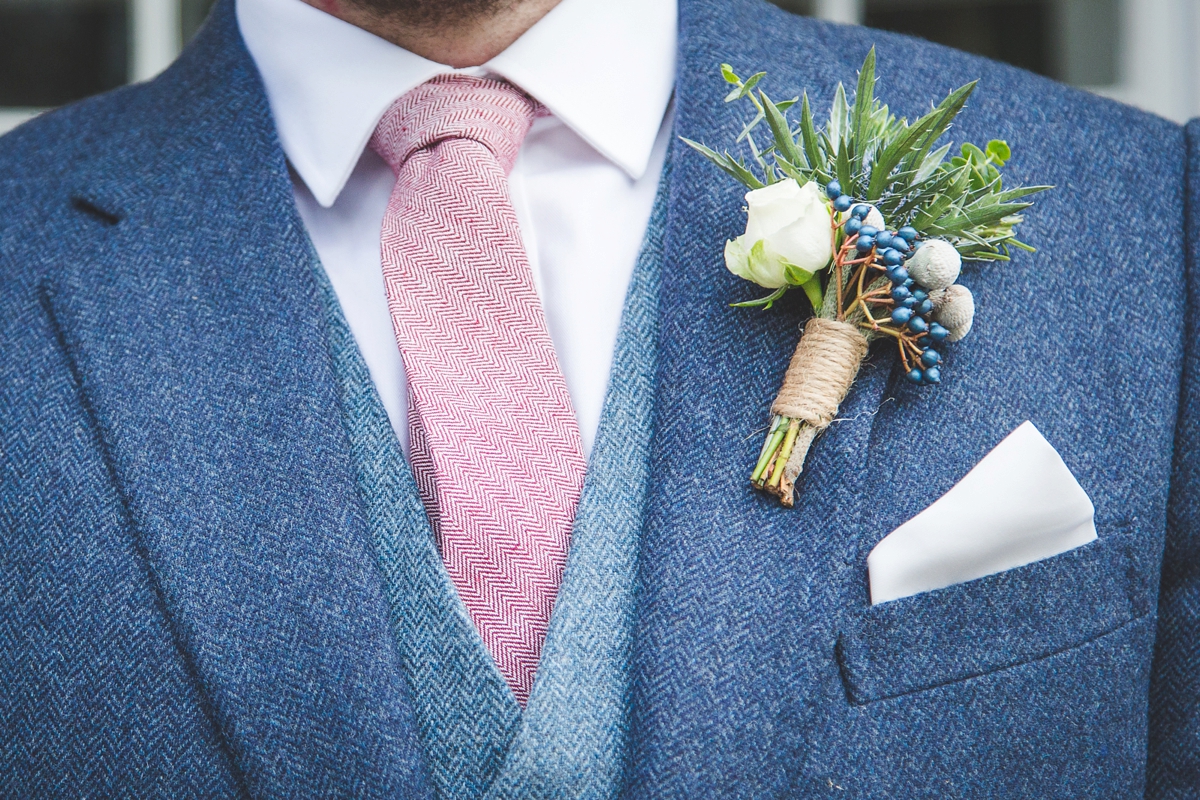 "For my bouquet I wanted something quite grand but wild; a tight posy didn't suit me or my dress. I asked for tons of eucalyptus with thistles, winter berries, and winter roses in pale pink/plum colours to reflect the overall theme. Same for the girl's bouquets and the buttonholes. Just very rustic and natural."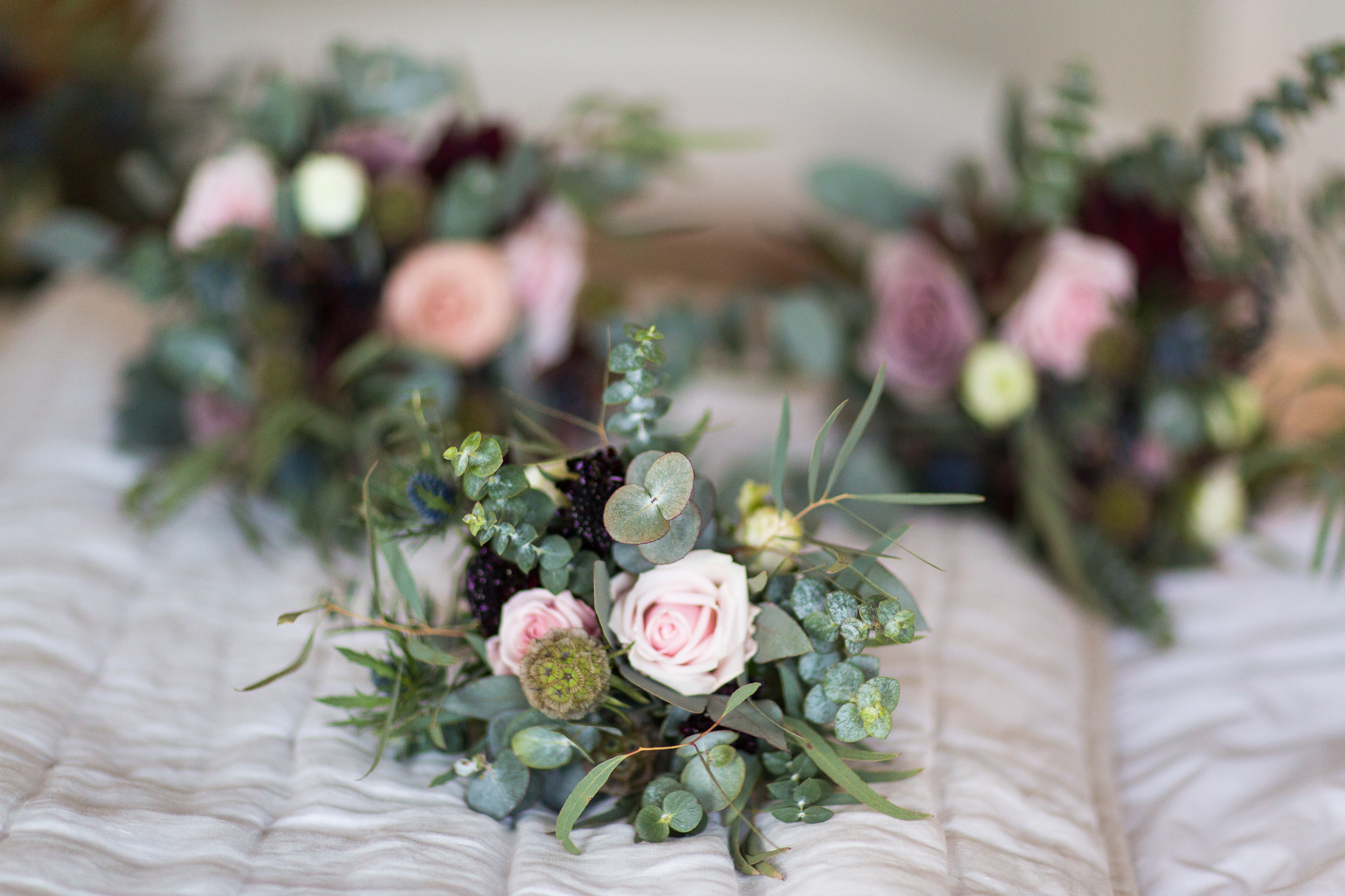 Lucy's two-year-old niece Lottie was flowergirl for the day, looking adorable in an ivory satin and tulle dress by Sevva with a cream faux fur shrug from Monsoon. I adore the wild crown of eucalyptus and leaves, crafted by Jane Steel at Wedding & Events Floral Design (more on this wonderful Little Book for Weddings supplier later).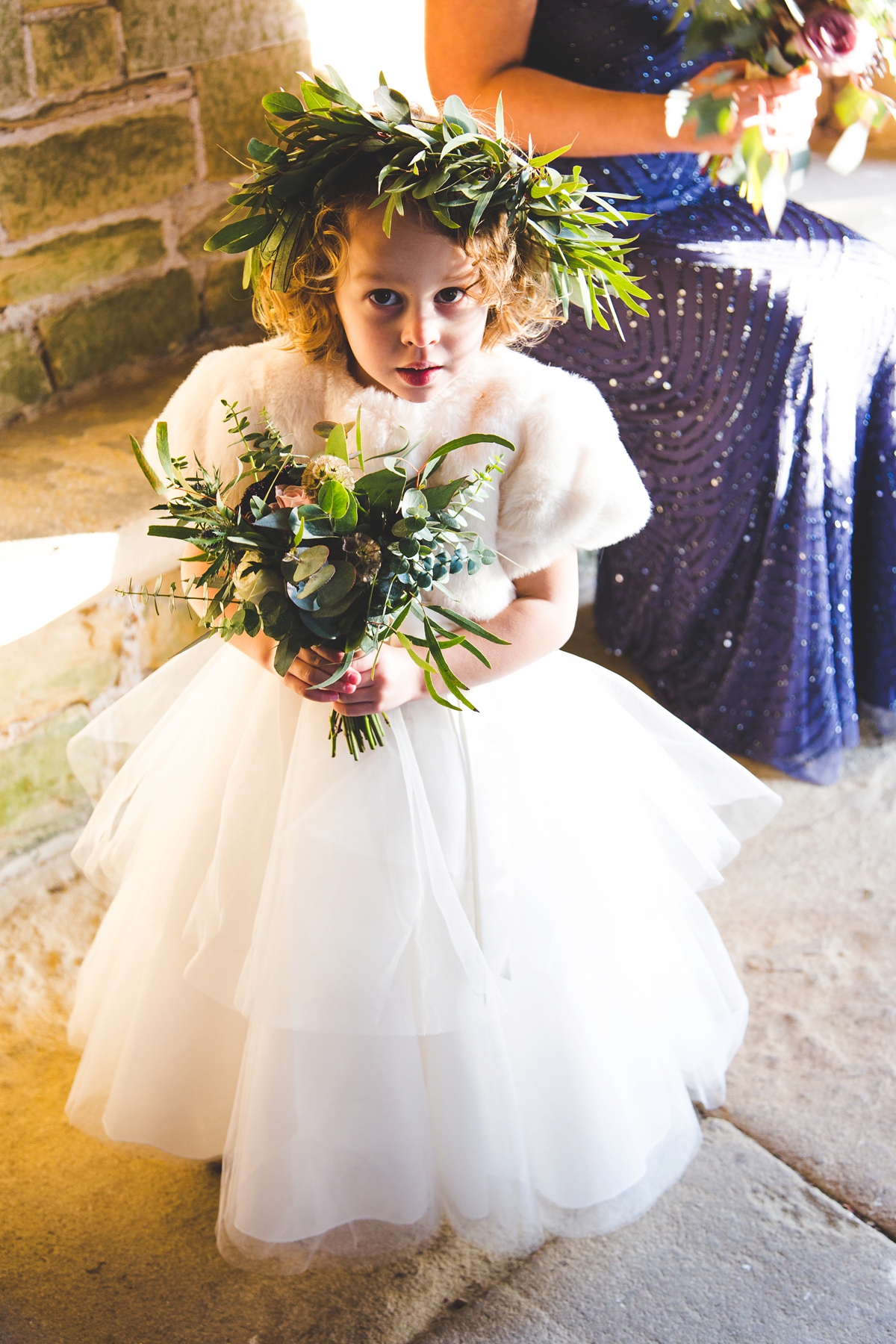 The tone for the day was set by the hand-illustrated wedding stationery, all of which was designed by the bride's artistic sister.
"The save the dates heralded what was to come, as they were navy with gold and a green wreath with winter berries and little bird. We chose a velvet smooth paper so that it felt quite sumptuous. The main invites were an expanded version of this & were wrapped with copper wire with rustic tags before being posted out. Then for the order of service, table names and menus, we switched to a white version, with the same greens, blues and pinky/plummy colours. She did an amazing job and we loved the personal touch."
After all the preparations at Middleton Lodge is was time to head to the church for the traditional Church of England ceremony. Whilst the guests travelled the short distance in a coach, Lucy and her dad went in a 1960 navy blue Mark 2 Jaguar and the bridesmaids in a 1949 white Riley, both from Grooms & Vrooms.
"Dad's ultimate fave is Nat King Cole, whose Christmas album he introduced us to as children, and whose music means a lot to our family. We walked in to 'Let There Be Love' and it was such a joyous, warm tune that had us all grinning! We'd done a church playlist, so before we arrived our guests had been sat there singing along to Rat Pack Christmas songs, Nat King Cole, Ella Fitzgerald, Etta James, Nina Simone, Michael Buble etc so they were all in a romantic festive mood!"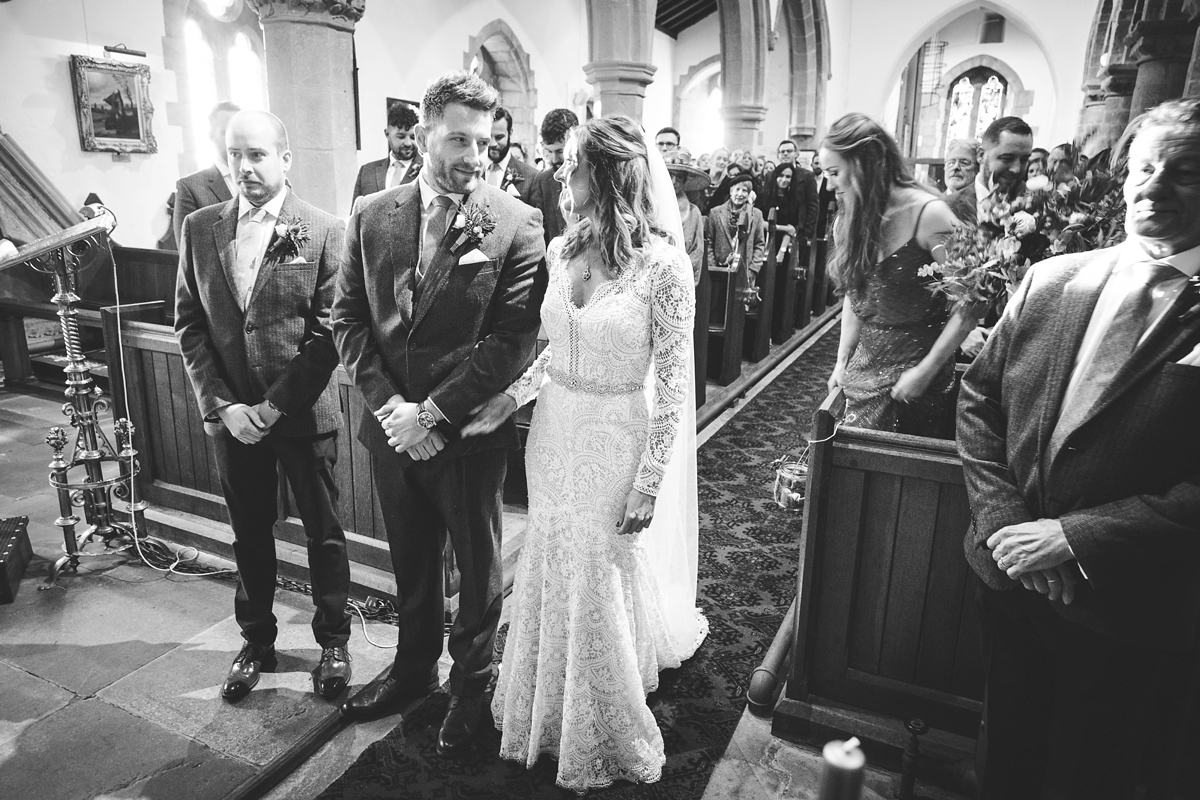 The ceremony was led by the Reverend Jenni Lane, who the couple had got to know during their trips to the church before the wedding.
"She was brilliant on the day, really fun and added to the warmth in the church and relaxed everyone before my arrival and during the service – even explaining to them all that I'd bashed my wedding ring finger a few days before (don't ask!) and it had swollen, so we weren't even sure I'd get my wedding band on. I did, thank goodness, and Adam captured the moment I waggled it in the air to prove it had gone on! Rob and I both wanted classic platinum wedding bands, so got these from an online jeweller, Bands of Love, and had them engraved on the inside with our initials and wedding date.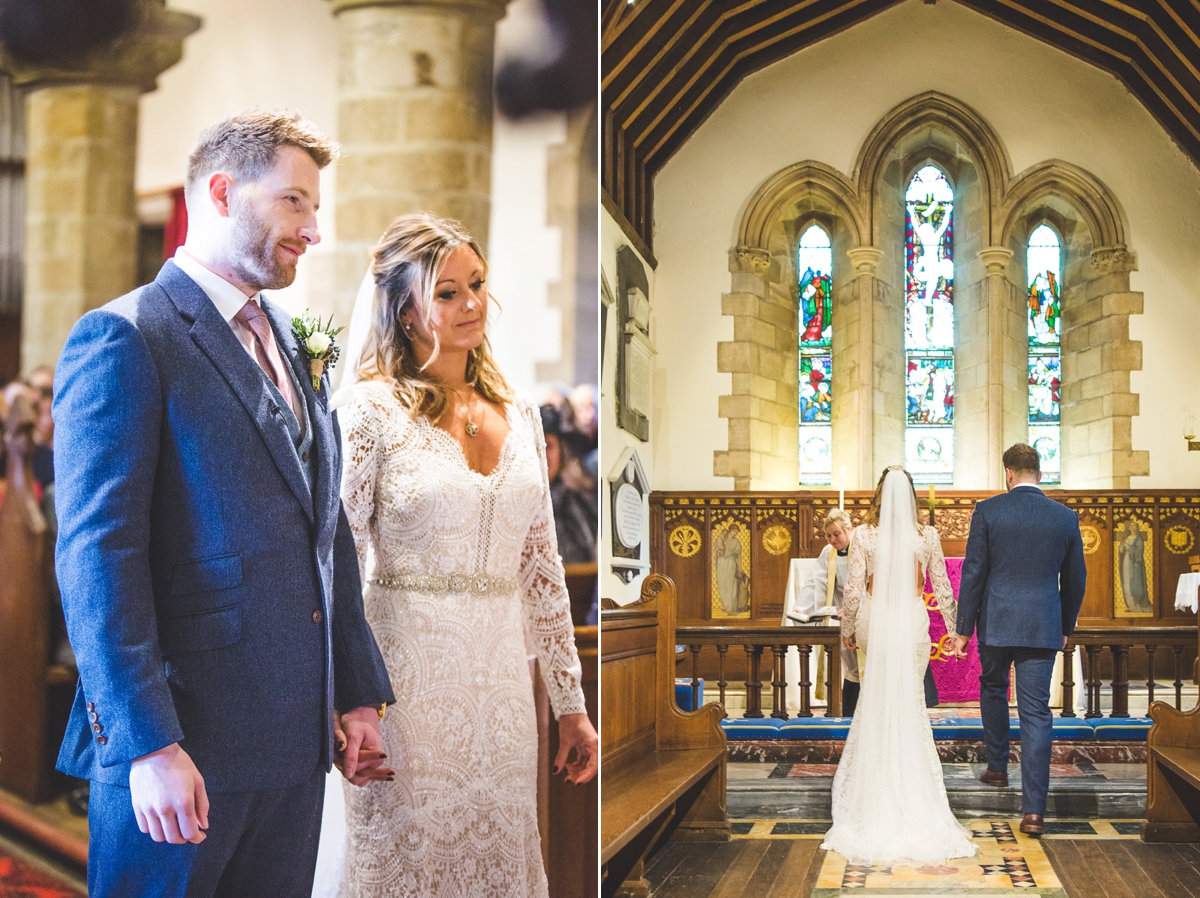 The service was personalised with readings carefully chosen by Lucy and Rob.
"It was very important to me that all they felt like real love does and reflected what an actual relationship is like in real life – and not in the movies. It was also important that those doing the readings felt like it was something they would say themselves and sounded like it could have been written about Rob and I.  We had to have one religious reading – and one of the groomsmen did this so we chose Ecclesiastes 4:9-12 which is simple and unfussy. Three of my friends then did readings, two were excerpts from novels. Emma read an excerpt from 'Blue Eyed Devil' by Lisa Kleypas. Hannah read a slightly amended excerpt from 'The Five People You Meet In Heaven' by Mitch Alborn, then Julia read a slightly adapted Bob Marley quote."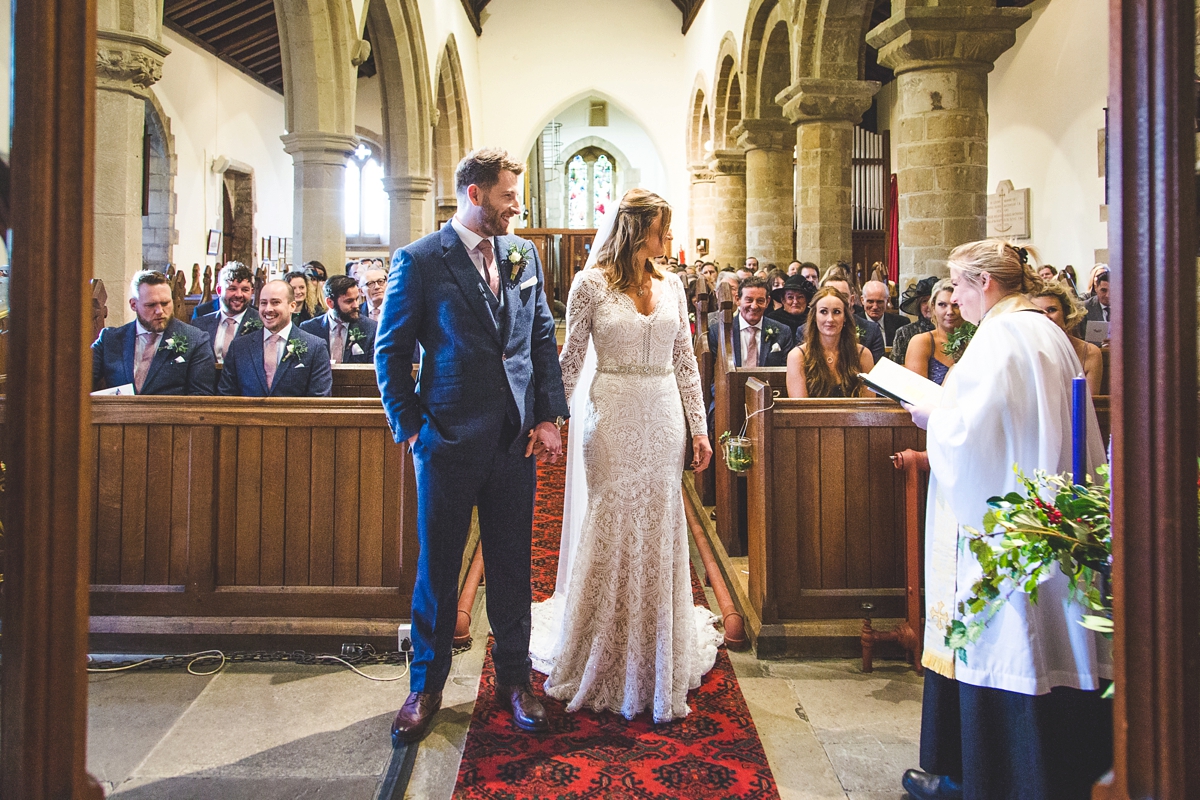 "Walking with my Dad to Nat King Cole, the Christmas carols in church and then dancing out of church with Rob to Mariah Carey's 'All I Want For Christmas Is You' was BRILLIANT and all our guests danced out, saying it was like being in a movie."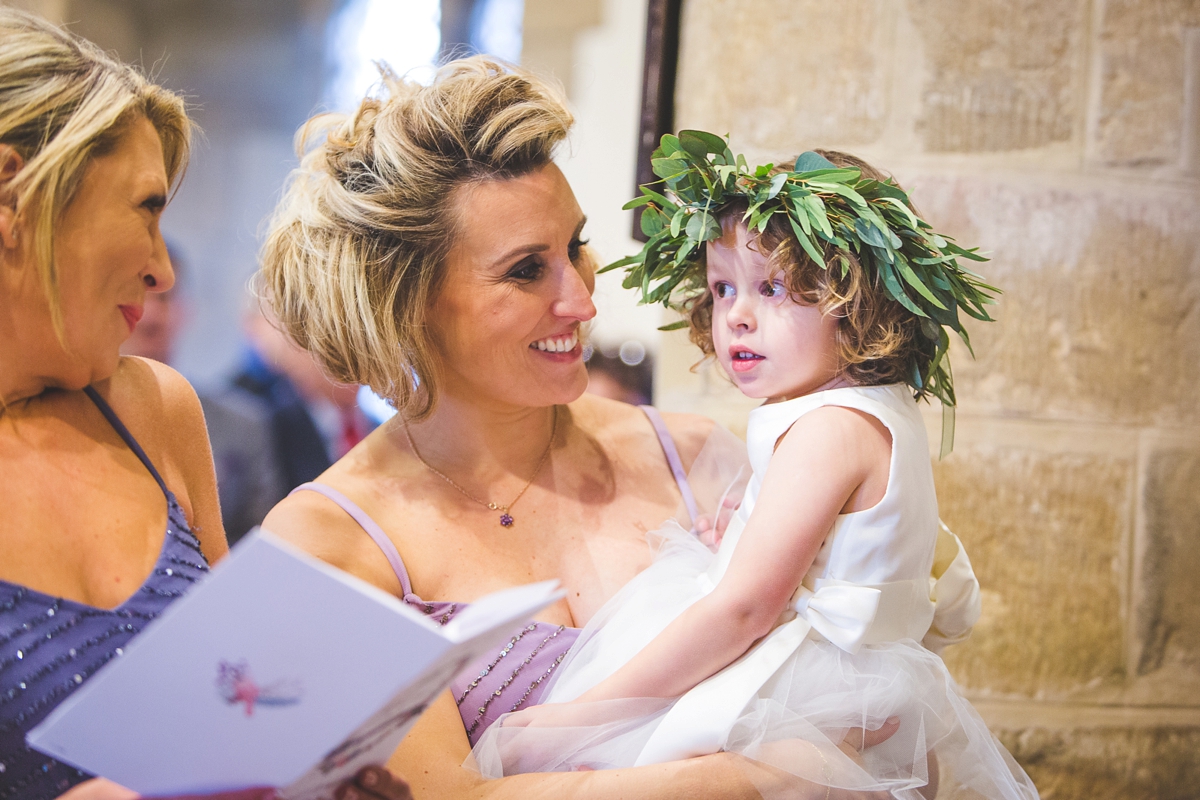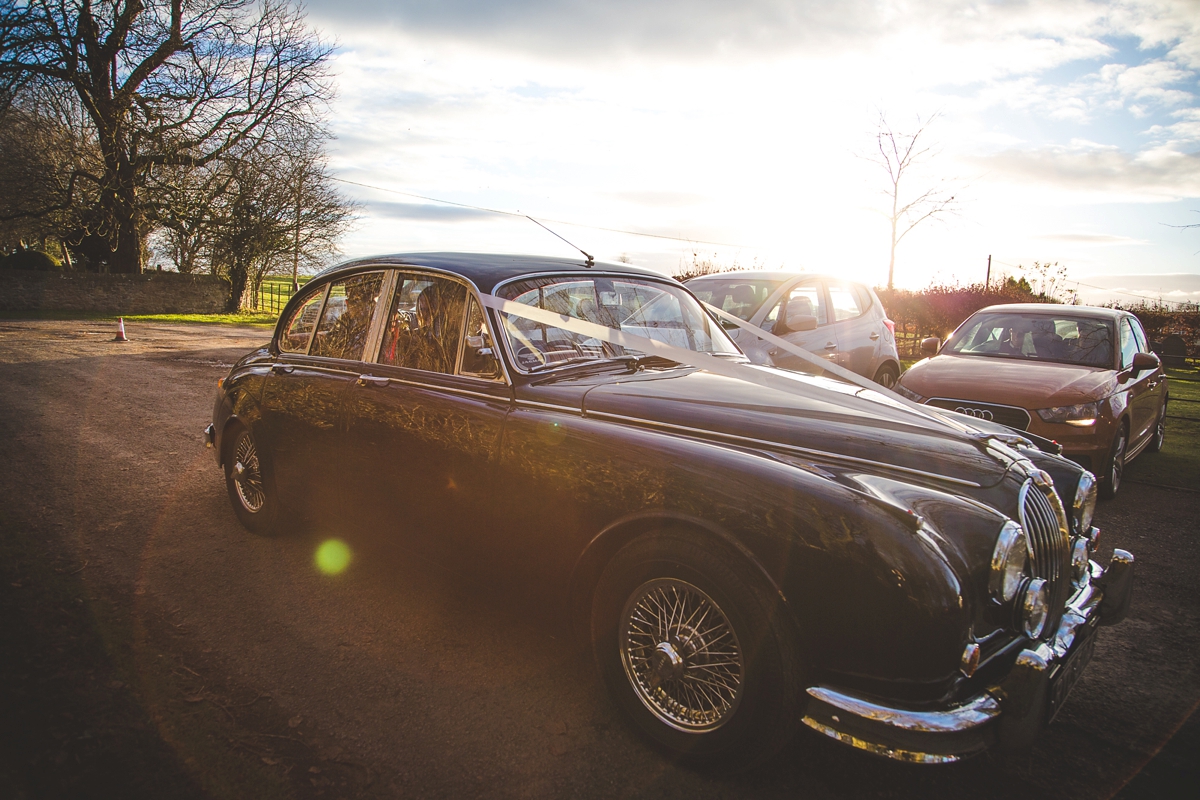 These wonderful photographs, full of warmth and detail, are the work of Adam Cherry Photography, whom the bride has known since 2003. I love how they are flooded with natural light despite the short December day, and how he's created such an intimate, cosy feel through his artistic close-ups of the festive details and the wedding party enjoying themselves. Middleton Lodge is really shown off to perfection, too.
"We both worked at the same media agency together, so it was brilliant having a good pal take our pictures as lots of friends knew him already, and it meant he could be a part of the wedding and do his thing seamlessly without a lot of formality. It also meant he really captured the spirit of the day, and of me and Rob, as he knows us and we were able to totally relax around him."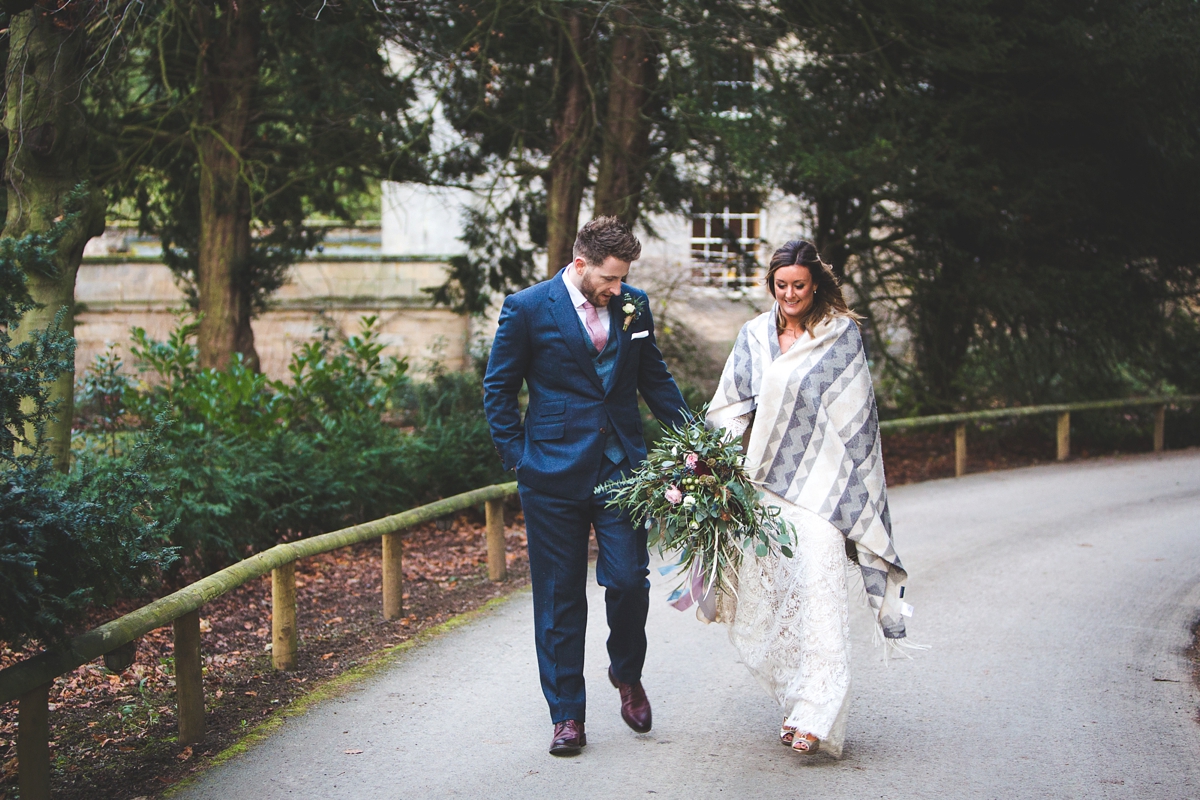 "We had a lot of chats in advance about how we wanted lots of different environments for the photos, that showed off the beauty of Middleton Lodge and its grounds and felt more arty and editorial; and that we didn't want a lot of posed shots and stiff smiles as in all honesty, reportage is more reflective of the day, and we weren't willing to give up a ton of time at the reception when we'd rather be drinking with everyone."
"The posed group shots we chose to do inside, in the library bar – partly because it was about -5 degrees outside, but mainly as I wanted them to look like old school Victorian photos. Weddings usually feature lots of family shots of people posed on lawns; we didn't want that and ours have a certain relaxed, jumbled feel to them as people literally ran in, got papped, and left. We didn't want to intrude on anyone's ability to enjoy the moment by loitering about for ages waiting for photos."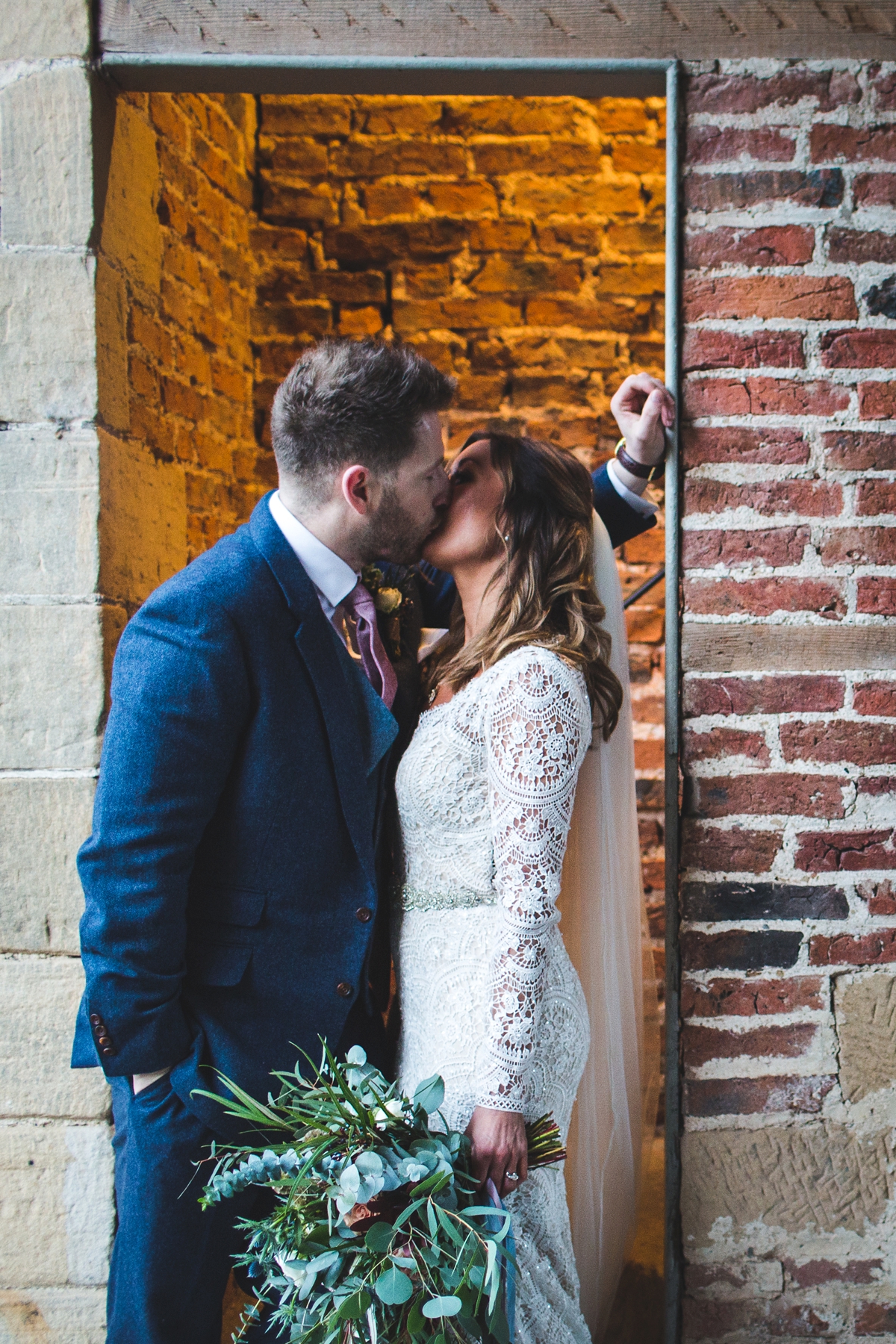 Lucy and Rob opted for a wedding videographer too, and they chose Wayne at Green Biscuit who was recommended to them by Middleton Lodge.
"As soon as I saw his work I was sold. He does beautifully slick, arty videos where warmth and love shine through. Again, we didn't want anything too traditional and Wayne had a beautifully personal yet theatrical feel to his work that we really liked. On the day you'd barely have known he was there, he just did his thing with minimal fuss and him and Adam coordinated what they needed really well together."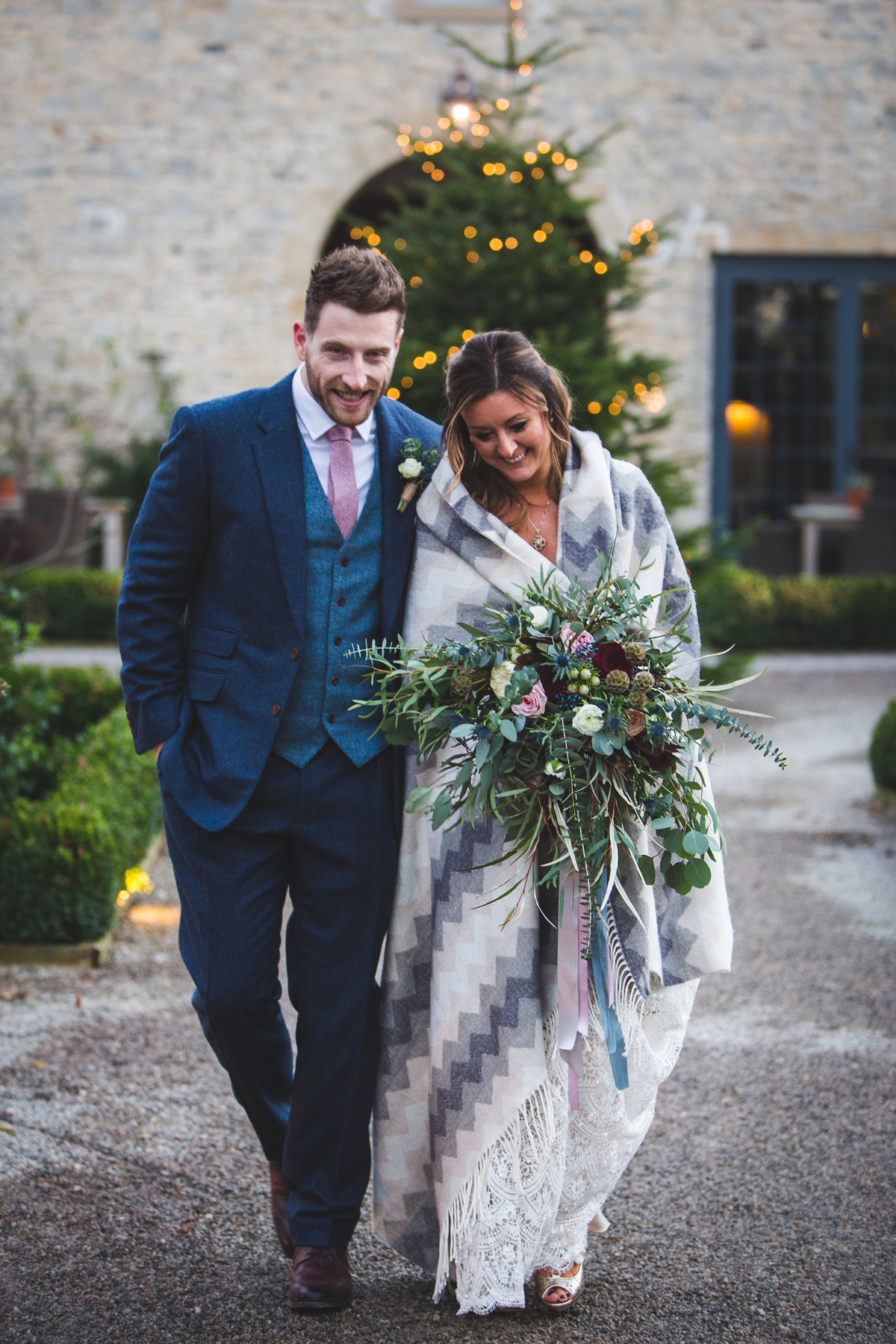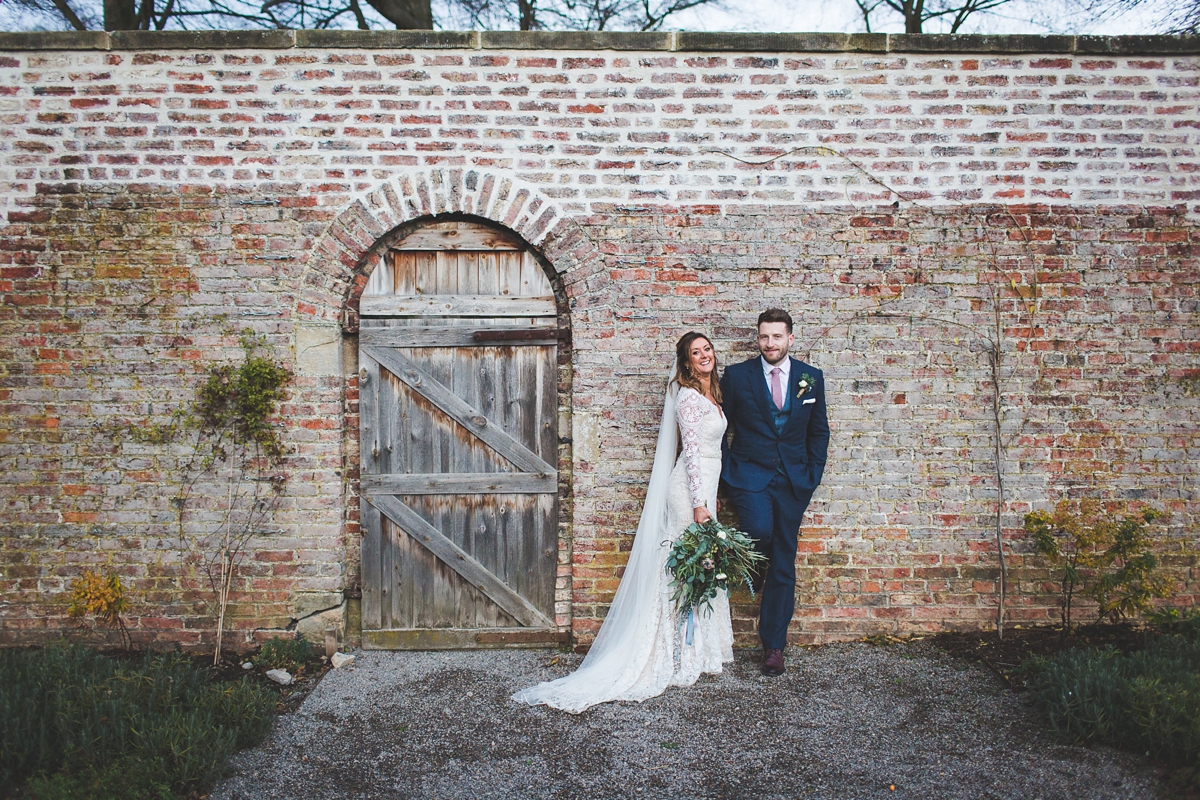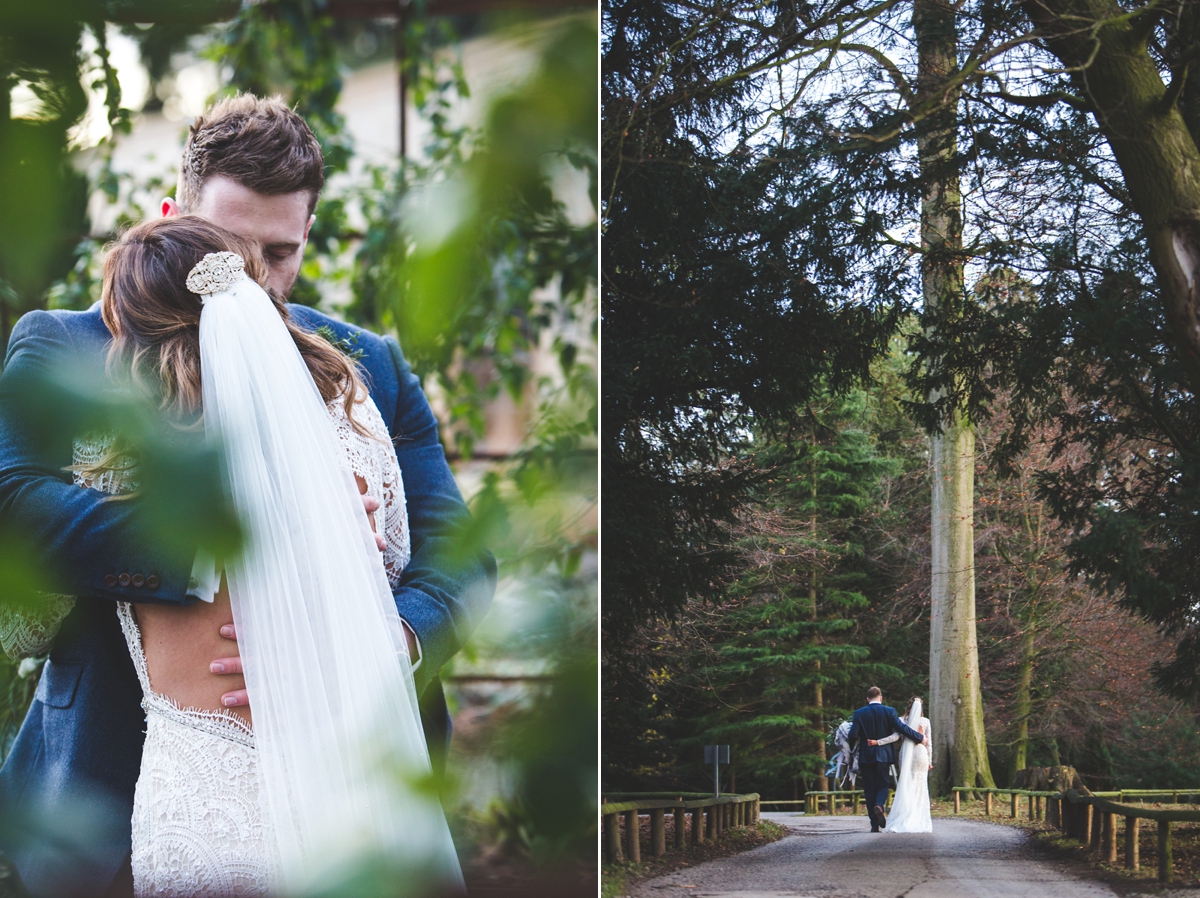 Back at Middleton Lodge, the marquee was a magical wonderland for the festivities to begin.
"We had the tables laid out feast style, so we had five long tables with a top table that ran across the top of them all. All the guests really loved as it was so sociable and unusual. Table names were romantic Christmas songs, with the top table being a twist on the classic Pogues song – 'Fairytale of New York(shire)'. We also had 'Santa Baby' (Eartha Kitt), 'Baby It's Cold Outside' (Dean Martin), 'I've Got My Love To Keep Me Warm' (Dean Martin), 'Merry Christmas Darling' (The Carpenters), and finally the same song we danced out of the church to, Mariah Carey's 'All I Want For Christmas Is You'."
"Middleton Lodge provided all the delicious food – and Rob's mum made a load of her special Christmas cake that we served with cheddar in the evening. We kept favours simple and wanted to get the party started with a communal cheers – so in little glass jars were shots of Sipsmith Sloe Gin for the ladies, and Royal Lochnagar Single Malt Whisky for the lads."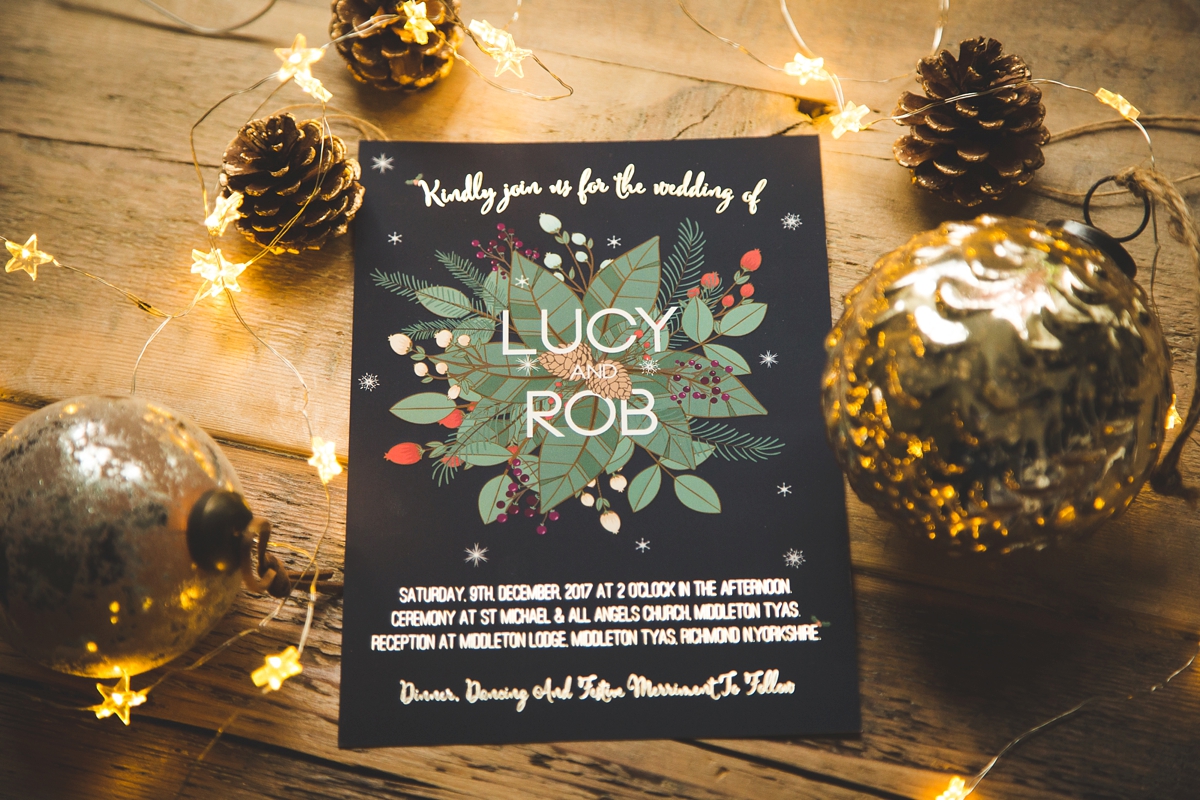 I'm handing over to Lucy to explain the inspiration for the styling.
"I'd always wanted an autumnal/winter wedding with lots of candles, log fires and cosy warmth, where it gets dark early so it feels like the partying goes on for longer. We then aimed for a Christmas wedding – not so early that it didn't feel properly festive yet, but not so late that everyone was getting frantic and losing their marbles in the rush for gifts and turkeys. We sent our save the dates out a year in advance to make sure we gave everyone plenty of time to save/farm the kids out for the weekend as we appreciate that December is an expensive time for everyone and we wanted to give people as much time as possible to prepare."
"We both agreed that we wanted blues/plum colours/evergreen and sage green with lots of twinkly lights and rustic tones. And definitely NO tinsel! I was also clear that a historical venue, ideally a mini-manor house was the vibe I wanted, something you'd imagine from a Jane Austen novel as I am an enormous history geek.  I wanted this period/vintage/bygone era vibe but done in a very contemporary way which was evident in my engagement ring, dress, jewellery and accessories, as well as the music we chose and how we styled the whole weekend."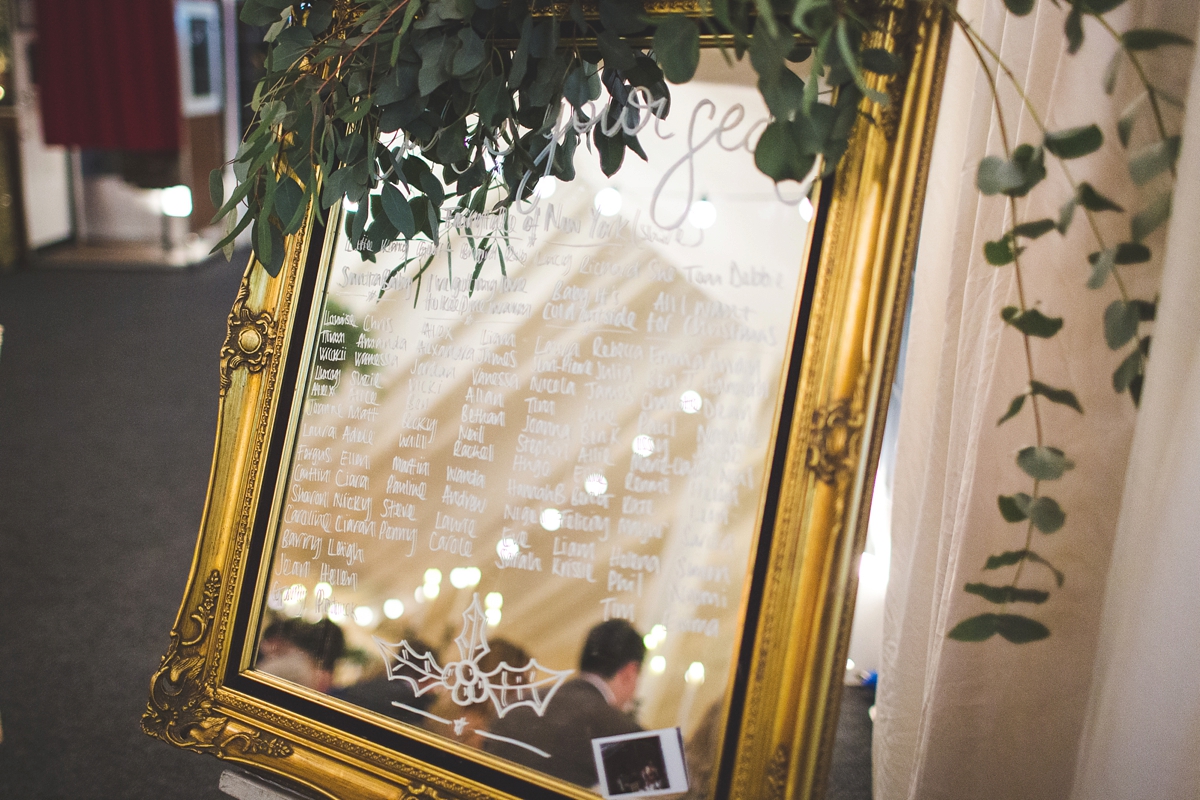 "Jane Steel of Weddings & Events Floral Design ensured the marquee was a twinkling winter wonderland, using eucalyptus hanging wreaths, giant candelabra and a bespoke twig and leaf bough above the top table with hanging baubles with tealights. Eucalyptus, candles, tealights, figs and roses were down the length of each feasting-style table. The five foot LOVE lights sat at the dancefloor end of the marquee with the Snaparazzi booth at the other. The roof of the marquee was adorned with lights too, which Middleton provided."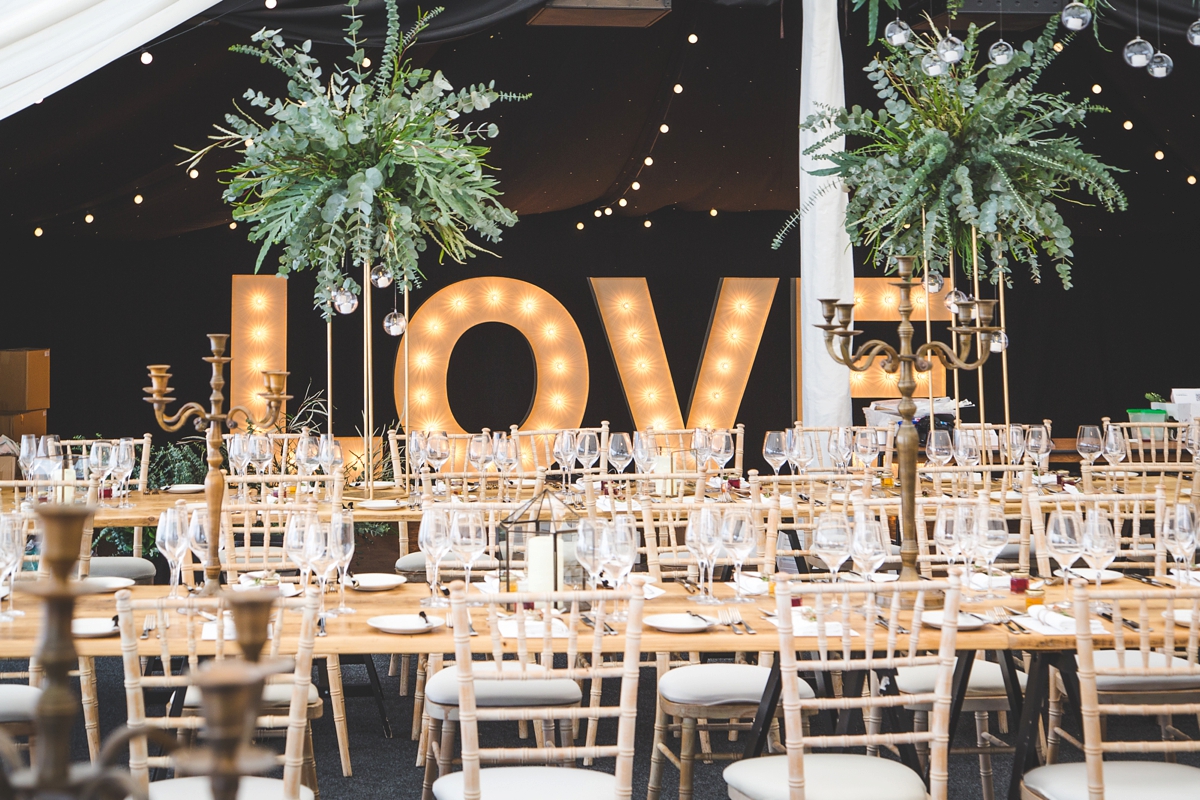 "To add décor to the main house, my mum and I added garlands, winter wreaths, winter berries and fairylights to every surface that Middleton hadn't already put them on. We also ensured all the log fires were roaring and decorated the walkway from main house to marquee with Luminara candles, poinsettia pots and mini-Christmas trees covered in fairy lights. The church was beautiful as it was so we just added some simple jars with tealights, greenery and berries to the pew ends."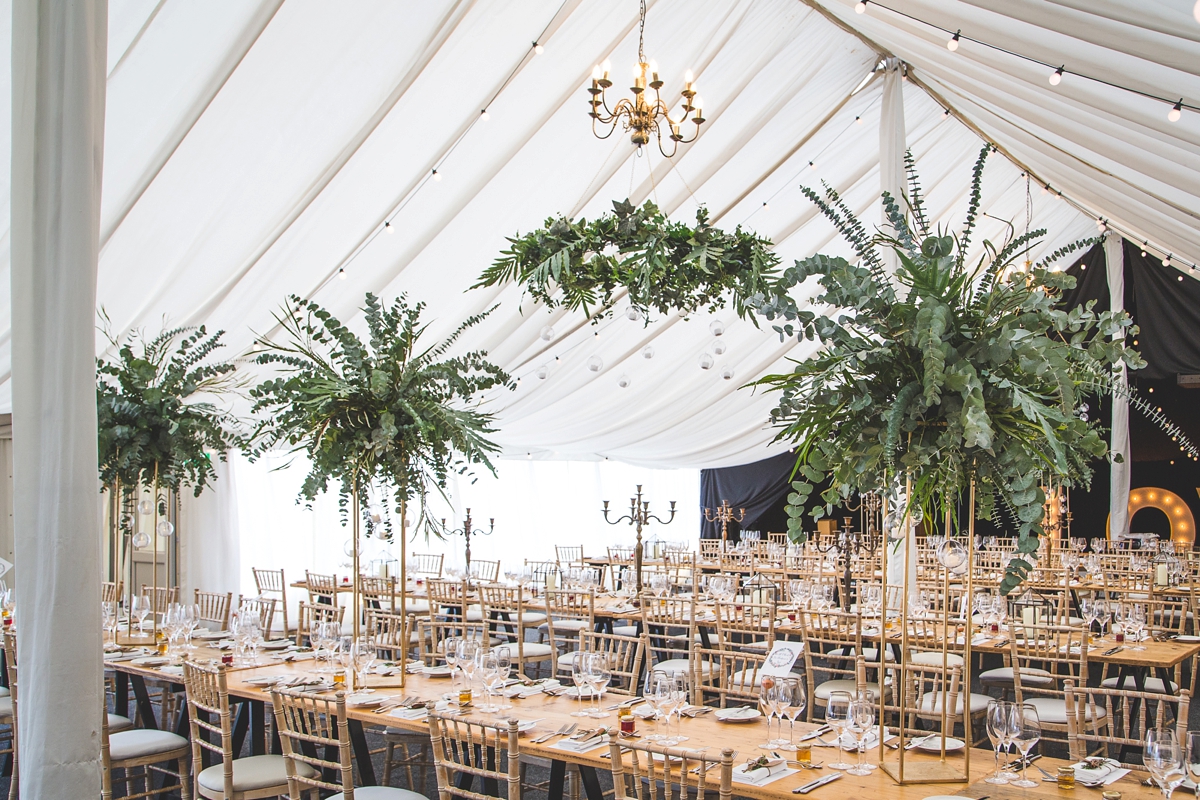 The party was fuelled by the magnificent tiered naked cake by Adele Marshall at Sweet Charlotte Cakes, which looks truly delicious.
"Adele lives about five minutes from Middleton Lodge and we popped in for tea and cake tasting. Like Jane, Adele was fabulous at working with me and the million Pinterest images I sent her on how I wanted the cake to look. Again I wanted it to look natural and rustic.  We had a four-tier semi-naked cake, with two vanilla layers, one chocolate and one lemon, all of which was to be served with bowls of winter berries and cream – and to be decorated with winter berries and figs."
The wedding breakfast was packed full of entertainment, with courses punctuated by games and speeches.
"I loved bits that we'd planned to pick out of the day that are a bit unusual – like between the starter and mains we moved to the dancefloor and sat on chairs in front of our giant LOVE lights to play a game of Mr & Mrs, with my brother-in-law posing the embarrassing questions. It was really fun and gave us time sat near some of our guests who were further away from the top table. The five best men did a short speech each, regaling the guests with stories personal to them and Rob, which were hilarious, sweet and all totally different."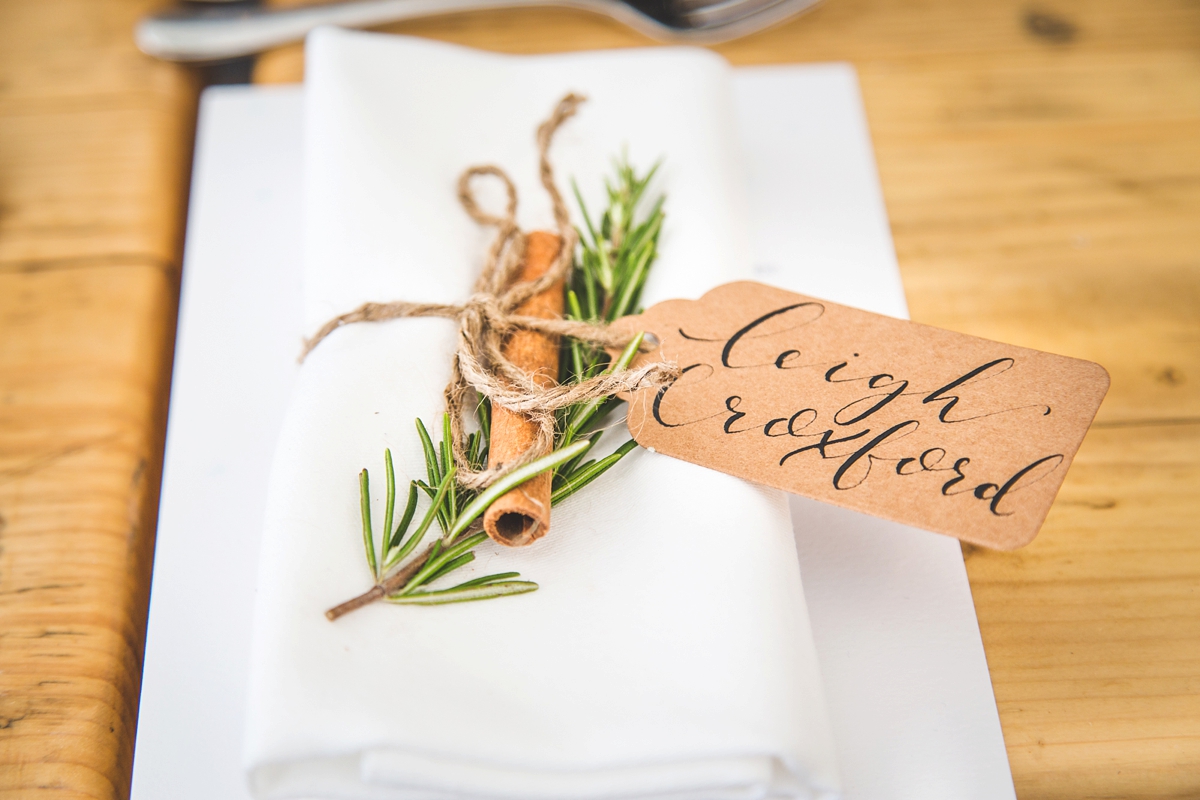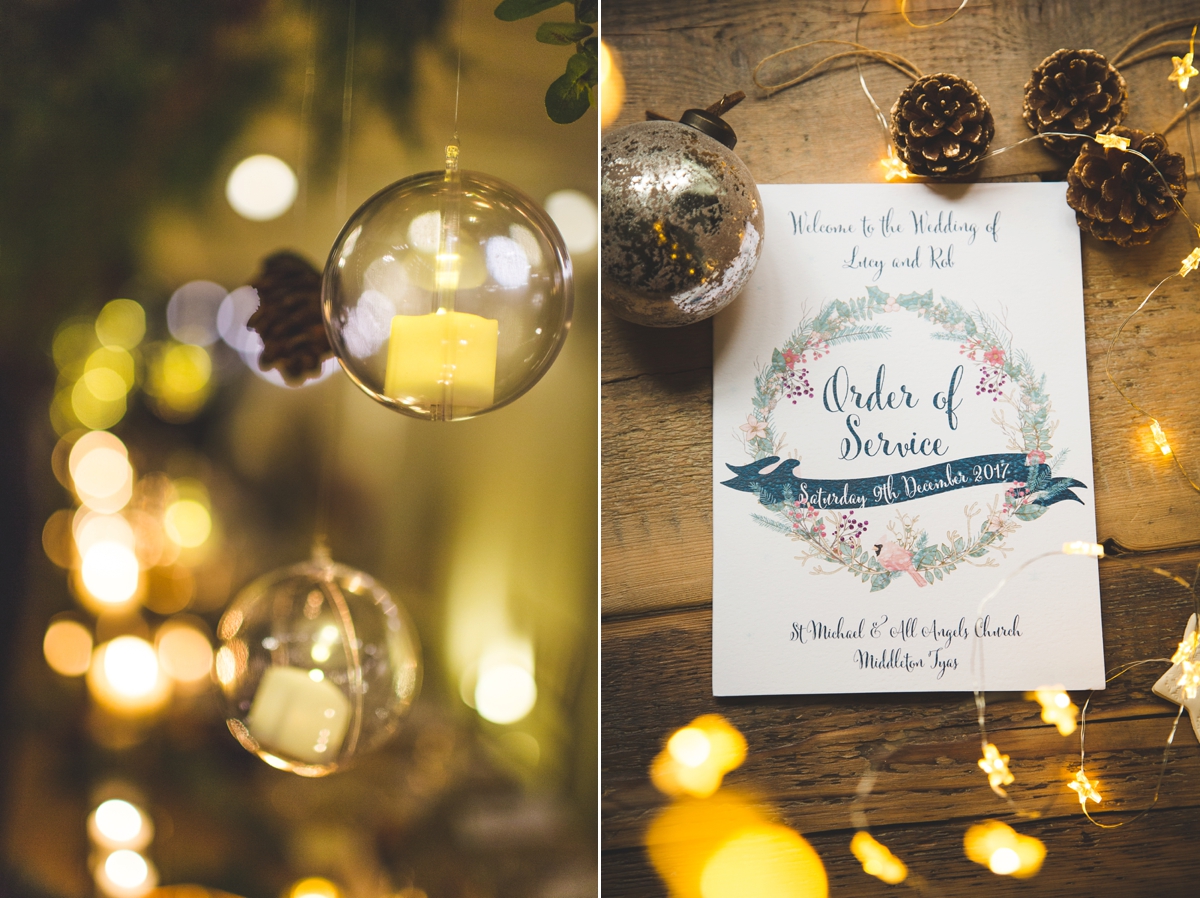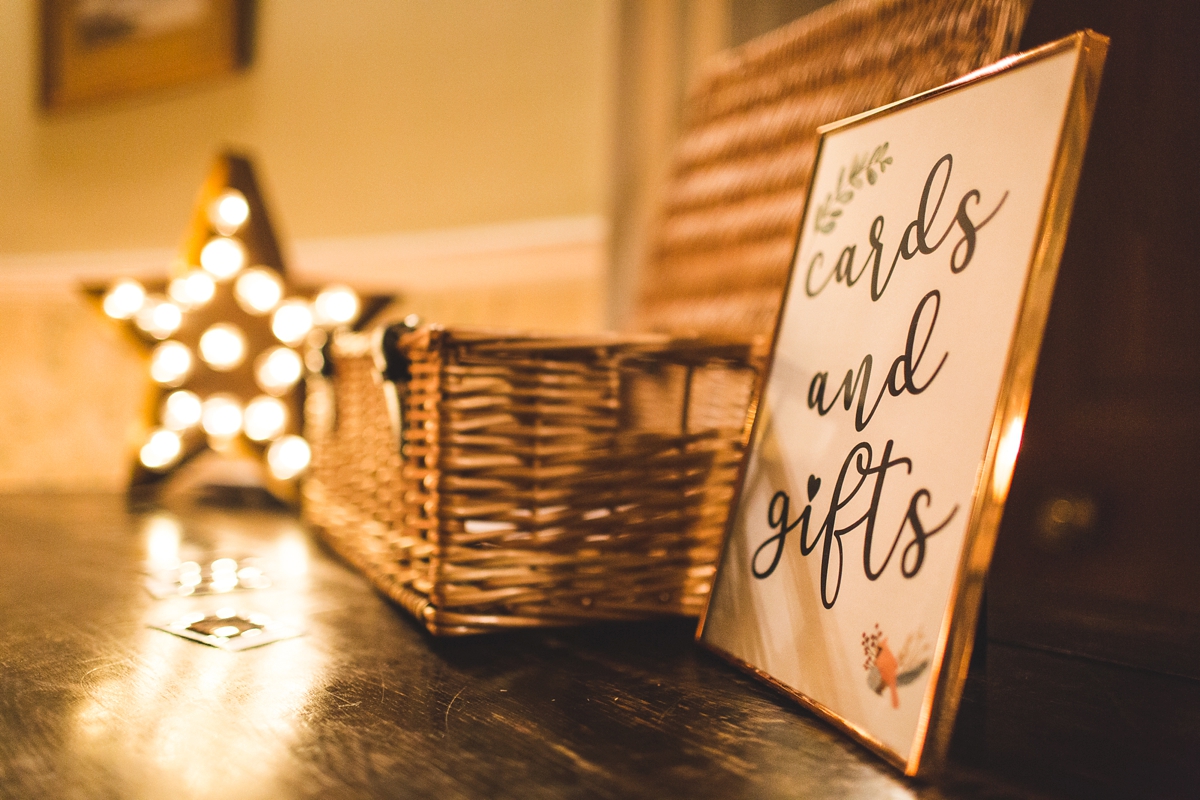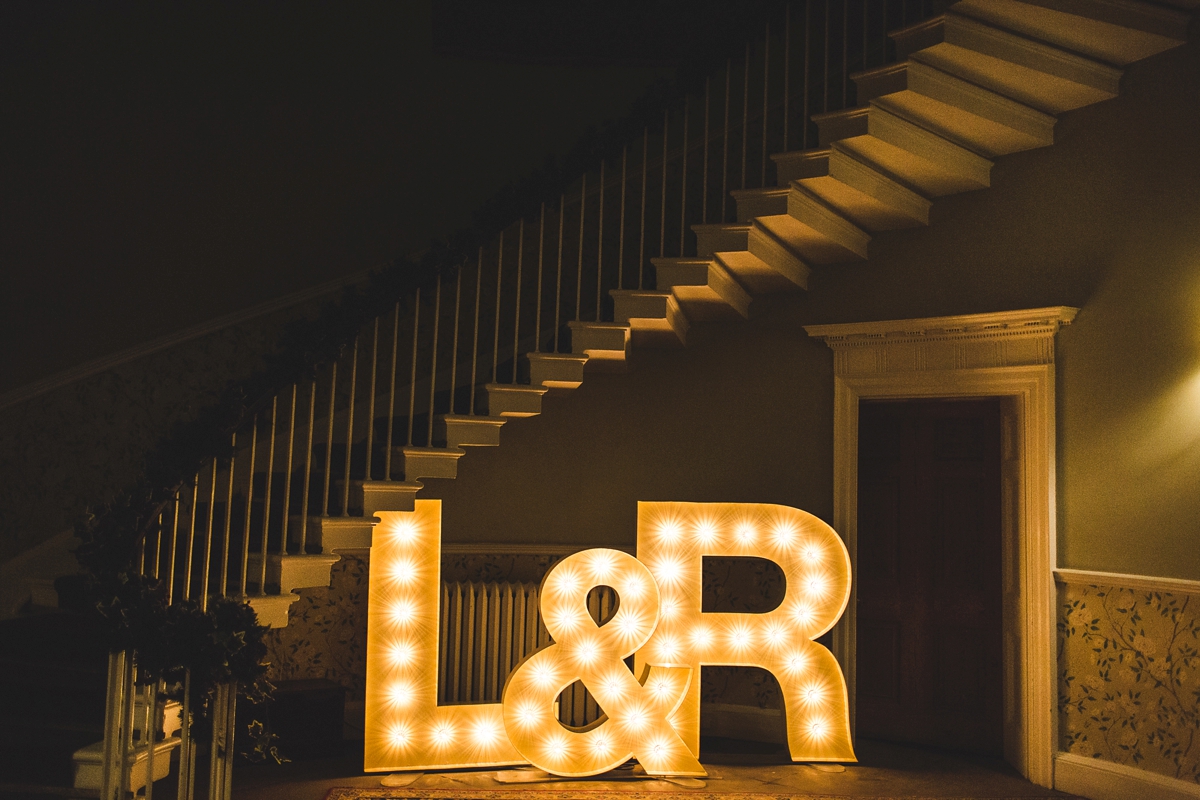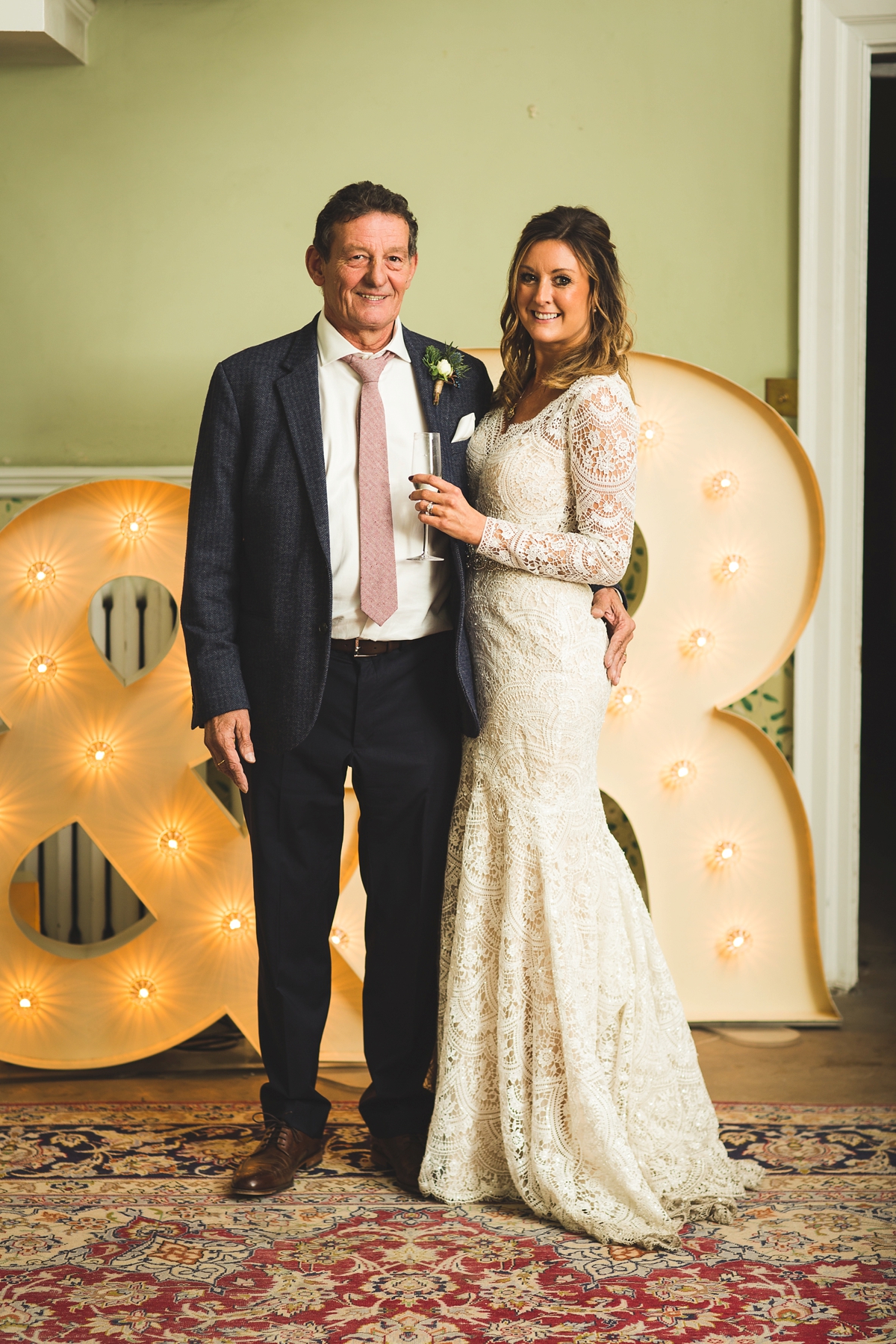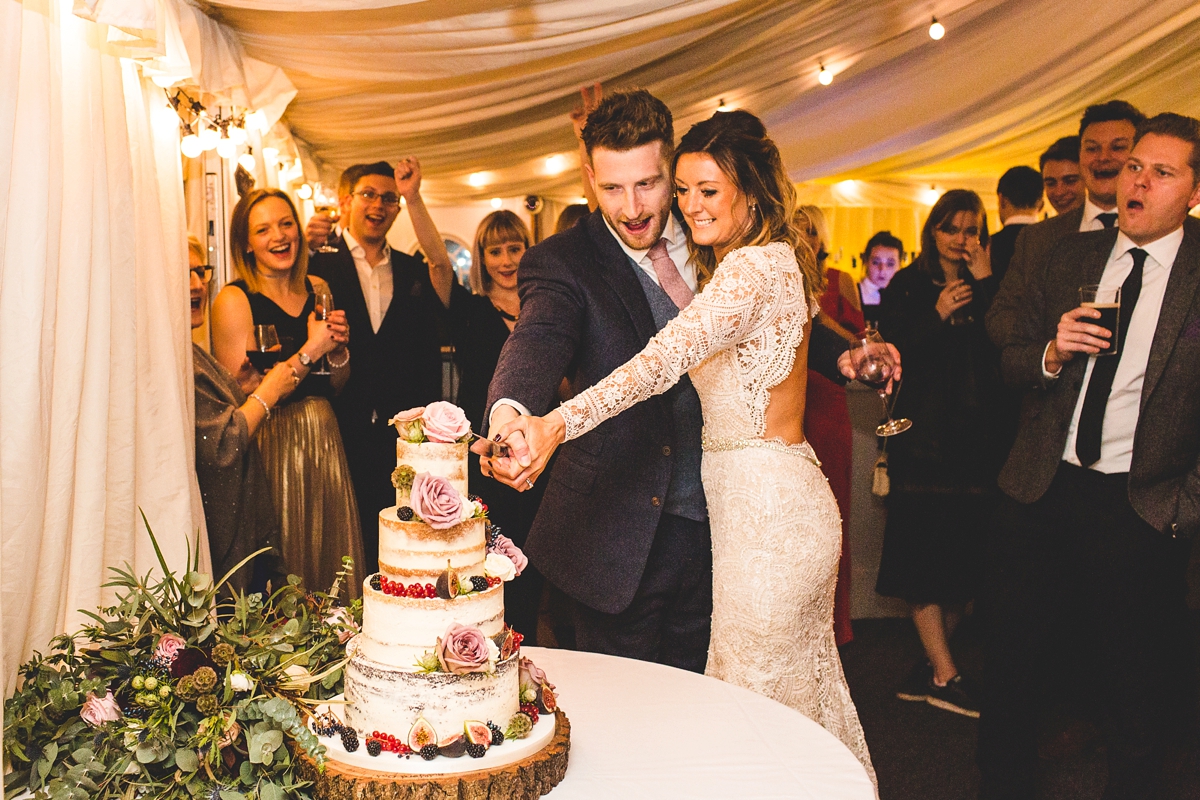 The afternoon turned into evening, then continued in the cellar bar until the early hours with a massive party.
"We loved when we went off with Adam for photos in the grounds of Middleton Lodge – it was freezing but the pictures are beautiful and the ones of me laughing and wrapped in a massive blanket are some of the nicest he took as they're so candid and not at all what you usually see from wedding photos. We really listened to everyone that had advised us to take time for ourselves during the day and we had a few moments alone, away from the madness together to just take it all in. I remember sitting at the top table and just drinking in the room, the laughter, the beauty of it all, and took a couple of pics on my phone so that I could remember exactly how it looked in that moment."
"Our first dance was sung by one of the ushers, James Newman (brother of pop singer John Newman) who belted out a fantastic rendition of James Arthur's 'Say You Won't Let Go'. We wanted a song that felt real and reflected what our actual relationship is like. We loved the words to the song and asked James Newman to sing it for us as it would be so much more personal. And he did – and he nailed it! And everyone absolutely loved it."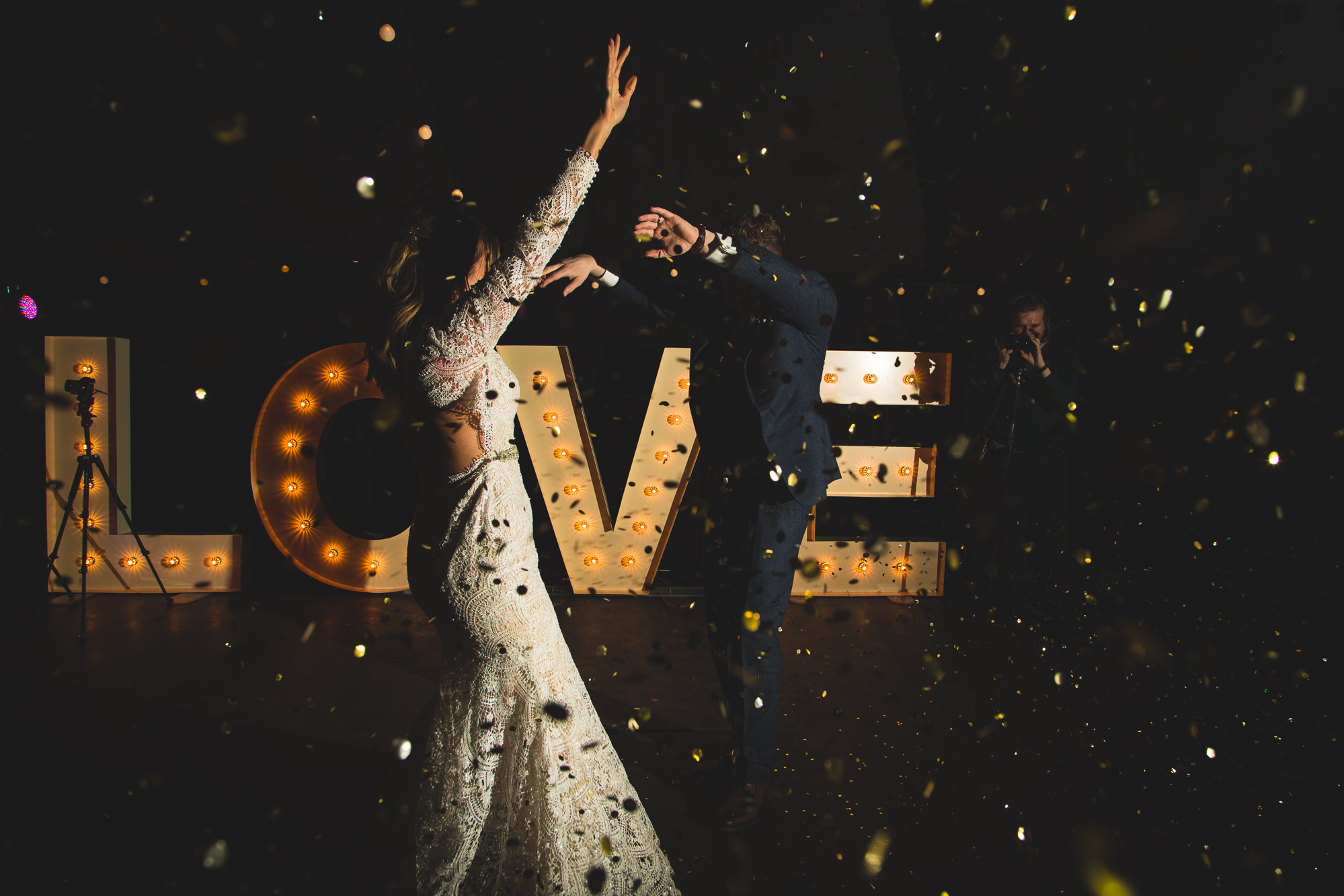 "We had a photobooth provided by Rob's friend at Snaparazzi which provided a brilliant album for us to look through the next day full of ridiculous pics and even more ridiculous drunk messages. Their sister company Coco Luminaire also provided the brilliant backdrop to the marquee in the form of five foot high LOVE lights, and we also had matching L&R inside the main house and DANCE downstairs in the cellar bar."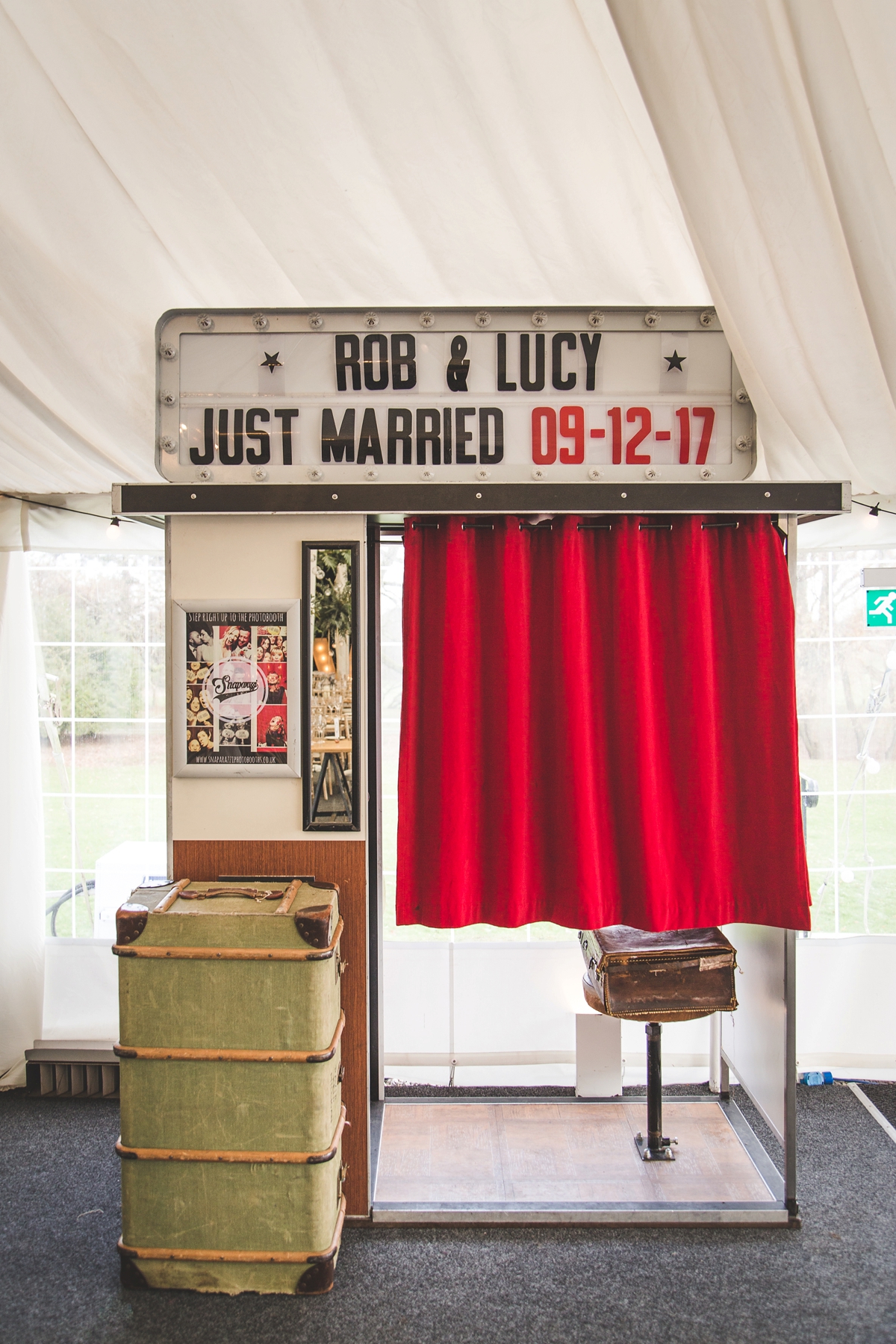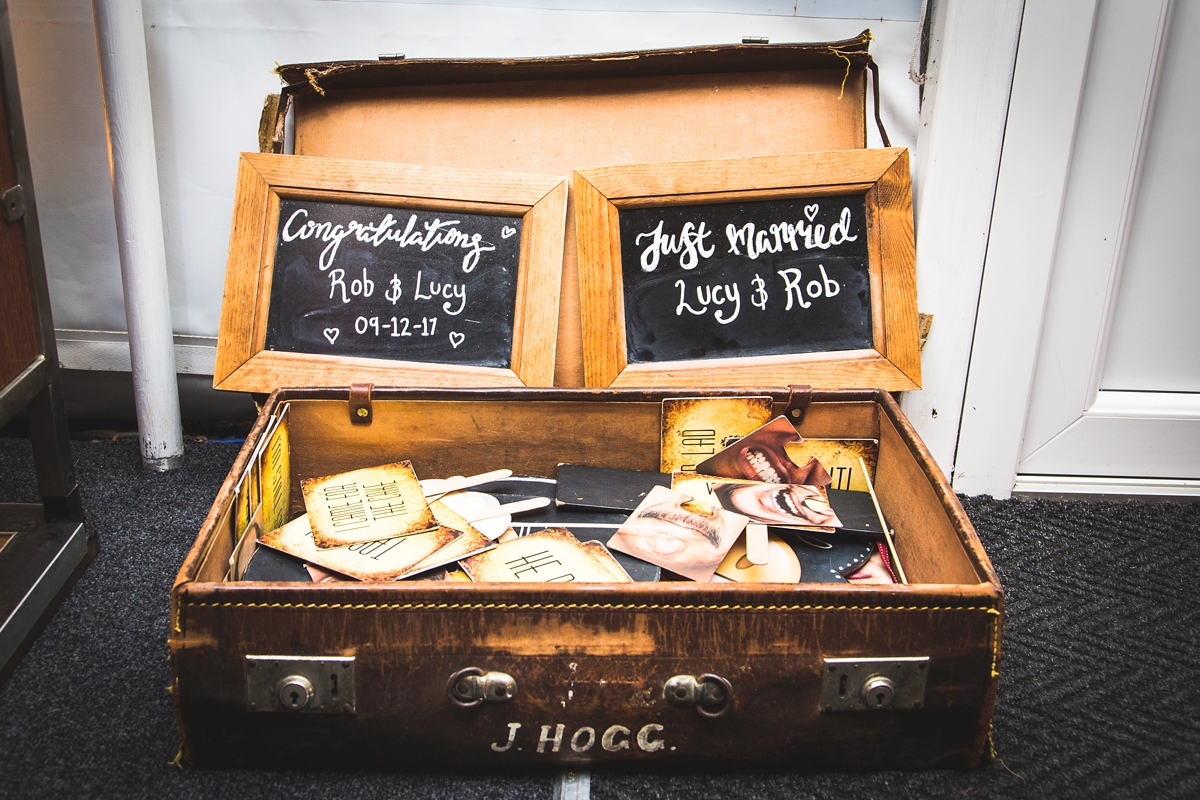 "James was followed by the incredible band Func on the Rocks, who we chose as they had the perfect mix of old school Motown and soul, mixed with covers of big vocal house hits and current chart crackers so there was something for everyone. The two female singers had insane voices (think Jess Glynne or Florence Welch). Bands bring so much more to the day than just a DJ can and everyone really does get up and dance to a band."
"They played two sets and DJ'd in-between, which took us through to 11.30, whereupon we all descended into the Cellar Bar at the main house until the wee small hours with our iPods plugged in with banging tunes and plenty of shots flowing. Having the cellar bar to party in until 2.30 and the house to ourselves meant we loved having a 3am sing-a-long and dance-off in the enormous kitchen, including Rob's mum jigging about on top of the massive kitchen island."
Words of Wedded Wisdom
"Enjoy every second of the process. I unashamedly got every bridal mag on my iPad, had Pinterest boards, read blogs; I just really enjoyed it all."
"Start early. I bought things as I went along so that costs didn't all mount up and bunch together too much at the end and I didn't feel panicked or pressured into any decision. It also allowed the themes and choices to evolve organically; some things we thought we'd want, changed and others were added."
"I had phenomenal attention to detail, remembering all the things I'd liked and disliked about other weddings, and really wanting every tiny detail to be covered to ensure all our guests had the best time, even down to getting special white/gold/rose gold/navy napkins and straws for the canapes, hand-written calligraphy name tags, putting a basket of toiletries and stuff into the girls' toilets, creating a playlist for the church and reception to set the right vibe, and decorating the walkway from the house to marquee, that usually nobody bothers with – so that on the day itself every little thing was just how we envisioned it, and I had nothing to worry about or wish I'd done differently."
"Crucially the one piece of advice I had from a lot of people, and listened to – was take time out on the day together, to breathe, to watch, to take it all in. I'm so grateful I did that as those little moments are crystal clear in my memory now."
"The entire weekend was perfect. The only thing I'd change probably get Rob to not cry as much as he did a beautiful speech about everyone else, then got to talking about me and just cried. We also loved that we'd hosted dinner and drinks for everyone on the Friday night so we'd had an evening with all our nearest and dearest before the main wedding day which was so fun and meant we didn't feel pressured to get round everyone on the day itself as we'd seen them all ."
Oh my gosh Lucy and Rob, your wedding has totally got me in the mood for the cooler months ahead. Sending all of my love and congratulations to you on your marriage, as well as my thanks for letting us share all of the exquisite details on these pages. I really hope that they inspire lots of you who are reading this today. Thank you also to Adam Cherry for your work; so beautiful and I hope to see your photographs on these pages again soon.
Ele xx
Credits & Thanks
Photographer - Adam Cherry Photography
Film - Green Biscuit
Planner/Stylist - Anna Russell + Jess Graham at Middleton Lodge
Venue  - St Michael & All Angels Church, Middleton Tyas, Richmond + Middleton Lodge
Wedding Dress - Wtoo by Watters via Emma Elizabeth Bridal, Twickenham + Pronovias belt
Veil - Joyce Jackson via Emma Elizabeth Bridal
Headpiece - Lola & Alice haircomb
Shoes - Harriet Wilde

Accessories - Her grandmother's pendant, mother's earrings, 

Links

 wishbone charm + bracelet, 

Katie Loxton

 pouch

Perfume - Jo Malone Pomegranate Noir
Groom - Cad & The Dandy suit, T.M.Lewin shirt, Goodwin Smith boots, Frederick Thomas tie + Burberry cufflinks
Bridesmaids - Adrianna Pappell gowns, Katie Loxton pouch + Dainty Edge Jewellery bracelet
Florist - Weddings & Events Floral Design
Cake - Sweet Charlotte Cakes
Transport - Grooms & Vrooms
Entertainment - James Newman + Func on the Rocks, Snaparrazi + Coco Luminaire
Rings - Yeraua (engagement ring) + Bands of Love
Catering - Middleton Lodge
Stationery - The bride's sister
Hair Stylist - Be Premiere, Darlington
Makeup Artist - Jo Leversuch