Well lovelies, how are you? Today's wedding takes us back just a few months to the beginning of the heatwave for a June wedding full of sunshine and flowers. So, let's head over to the beautiful English Cotswolds for the wedding of Jen and Dan.
On 2 June 2018 Jen, a chartered accountant, wed fiancé Dan, who works as a heating and ventilating engineer, in the glorious Orangery of Grittleton House, near Chippenham, Wiltshire. The couple fell in love with the beauty of this secluded country mansion, and drew from its elegant Jacobean style to set the tone for the day; adding masses of beautiful, organic blooms and their own personal touches to create a romantic, stylish day that wove the historic setting together with their own modern outlook. The venue inspired Jen's choice of gown; an embellished column gown from Jenny Packham that emphasises her slim figure and fits in so well with the elegant surroundings.
Jen visited Exquisite Bridal Couture in Winchester to purchase her gown, and we are really so proud to list both Jenny Packham and Exquisite Bridal on our Little Book wedding supplier directory – and we most highly recommend Exquisite Bridal as a boutique to visit, through our partnership with Luxe Bride.
Photography Benjamin Stuart Photography
It's always lovely to hear when brides are inspired by Love My Dress and the experiences of other brides. This couple worked with the venue's in-house planner Emma Horrex to create their day.
"The Love My Dress real weddings words of wedded wisdom helped us to evaluate our wants and needs. The Instagram images were inspiring and Love My Dress Facebook posts from real brides of real life planning was amazing for achievable ideas."Although she'd had a delicate hair piece filled with flower, pearl and diamanté beadwork custom-made by DaisyChainsUK to compliment the gown, it was overlooked at the last moment. She wore her long hair in simple ringlets, caught back from her face with her veil. The final touches were her own earrings and her grandmother's brooch, worn pinned to her hand-tied bouquet.
"Dan bought me Jo Malone Jasmine Sambac & Marigold cologne as a wedding morning gift."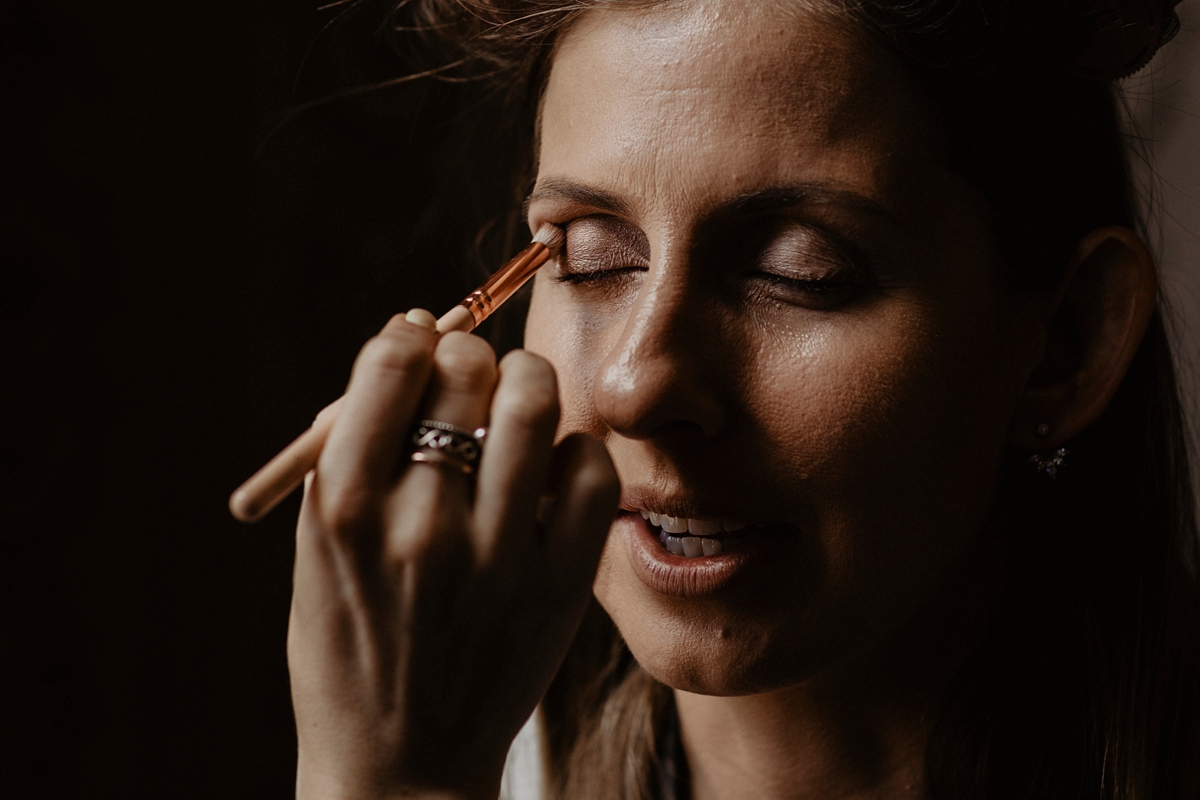 Jen and Dan met through mutual friends, and have a four year old daughter together.
"We knew of one another through mutual friends and Jen's love of watching local football games with her dad whilst Dan was playing. We became friendlier after speaking to one another at events and on nights out. We got engaged in Paris."
"Dan got down on one knee after a very long day sight seeing under the Eiffel tower which was on our way back to our hotel. We went back out to toast with fizz! We looked at loads of venues before we found Grittleton but we married within 15 months."
Just as the House inspired Jen's choice of gown, it informed Dan's choice of fine Italian fabric for his deep blue, tailor-made suit, made by Simon Dowling Bespoke using Vitale Barberis Canonico 1663 cloth. He wore a TAG Heuer Carrera watch, and Jen gifted him some other finishing touches.
"A tie pin and cuffs presented in a box of thoughtful items as Dan's wedding gift on the wedding morning which included Dan's late grandad's gold chain necklace, a sentimental loan and a few other silly items."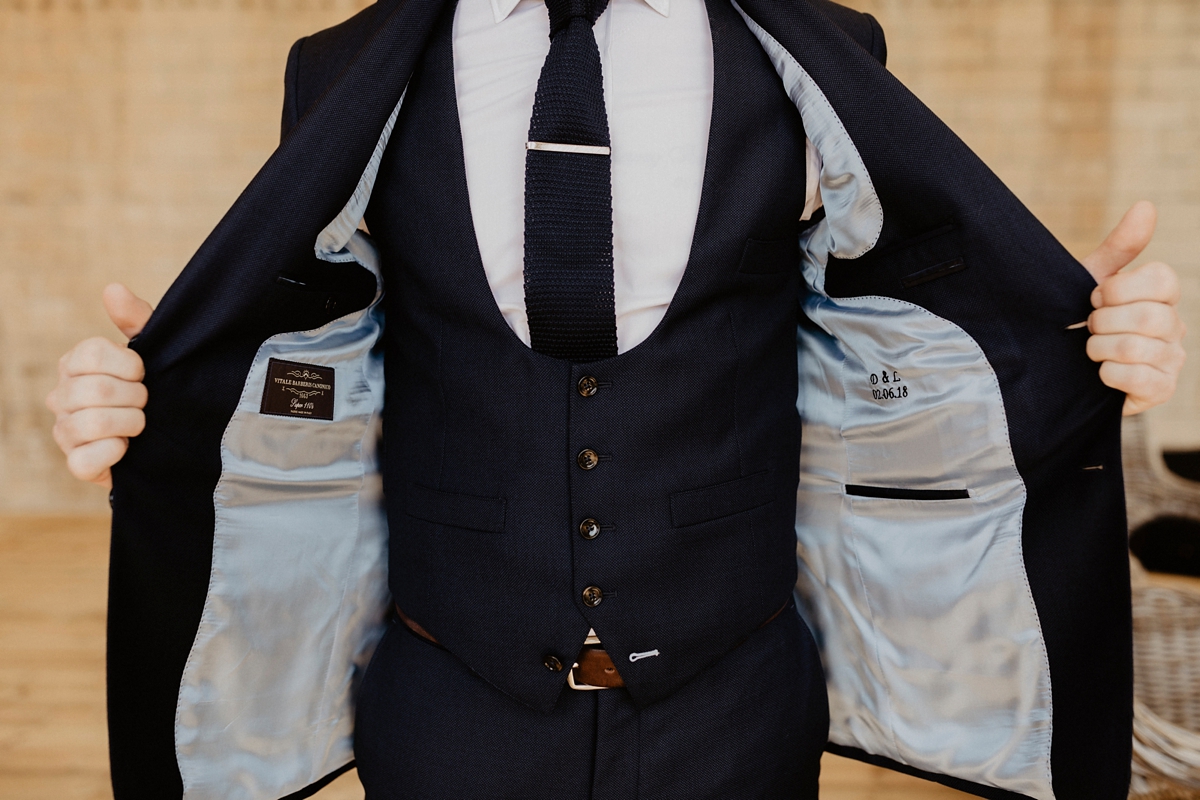 "We chose it as it's a secret beautiful Cotswold venue that we've never been to before. We agreed not to look at barns and venues we had attended weddings at; we wanted to find a venue which was different. I viewed Grittleton solo, it set all the others apart, it was unique and elegant, with varied style."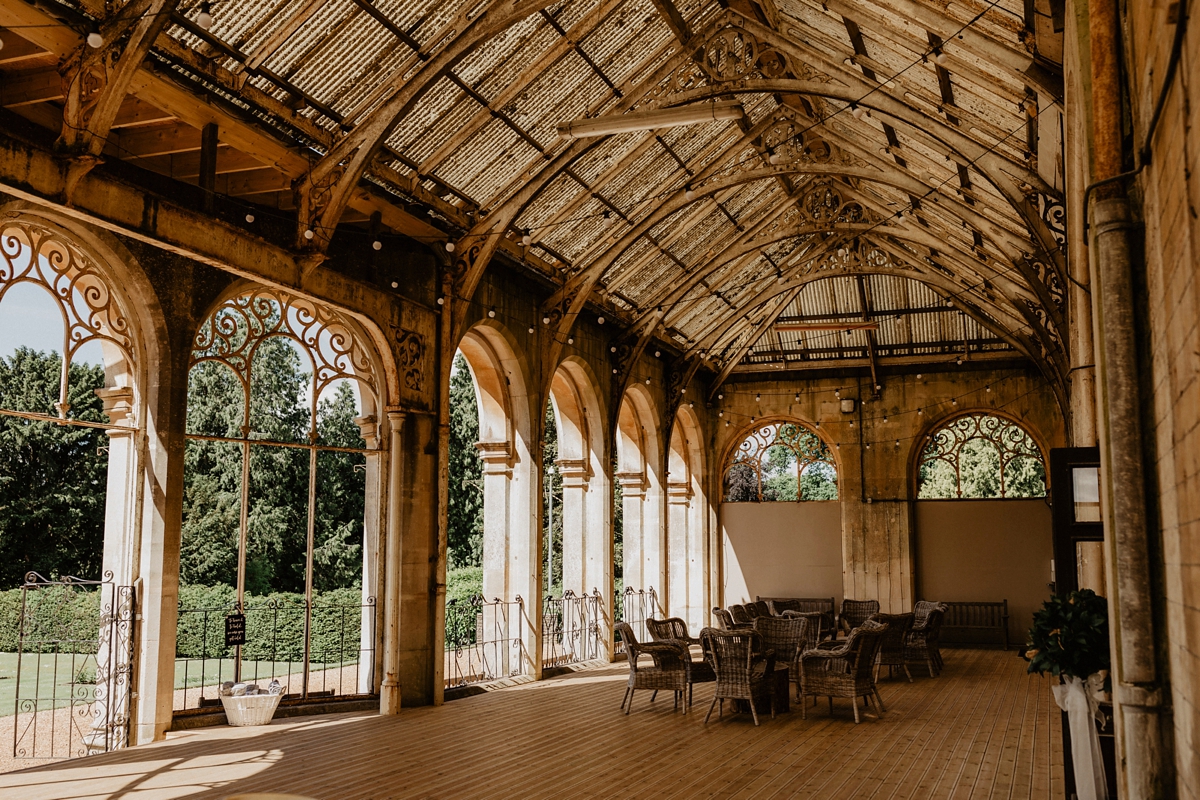 "The house is a typical British Jacobean Manor, styled to demonstrate the former owners wealth with its grand estate entrance, elaborate halls, intricate ceilings, flocked wallpaper, sophisticated double staircase plus its unpolished Orangery; so many styles yet I imagined the simplicity of photos amongst the Cotswold stone at the Stables and different again within the Italian sunken gardens."
"The wide scope was favoured and when Dan saw it he was as equally taken by it. The décor called for minimal styling."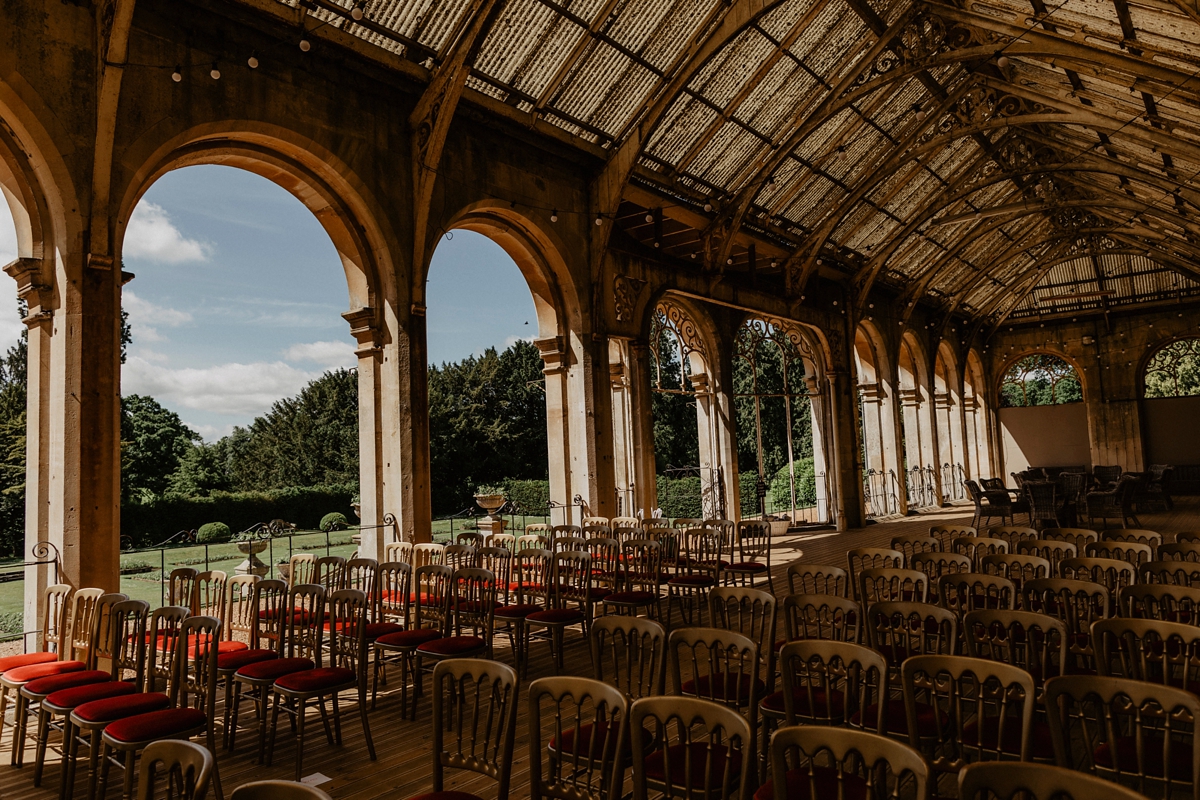 Have you fallen in love with Jen's choice of flowers, just as I have? Their wild, organic style, created by The Wessex Flower Company, is so reminiscent of an English country garden, and so fitting for the Cotswold location. The floral arch which acts as a backdrop to the wedding ceremony is my favourite element. It is so beautiful with a contemporary twist.
"We fell in love with our florist Alicia Billyeald, another supplier from our initial meeting we felt got us and oozed with confidence. We agreed the venue called for minimalist display of pales to compliment the varied colour scheme of each of the spaces."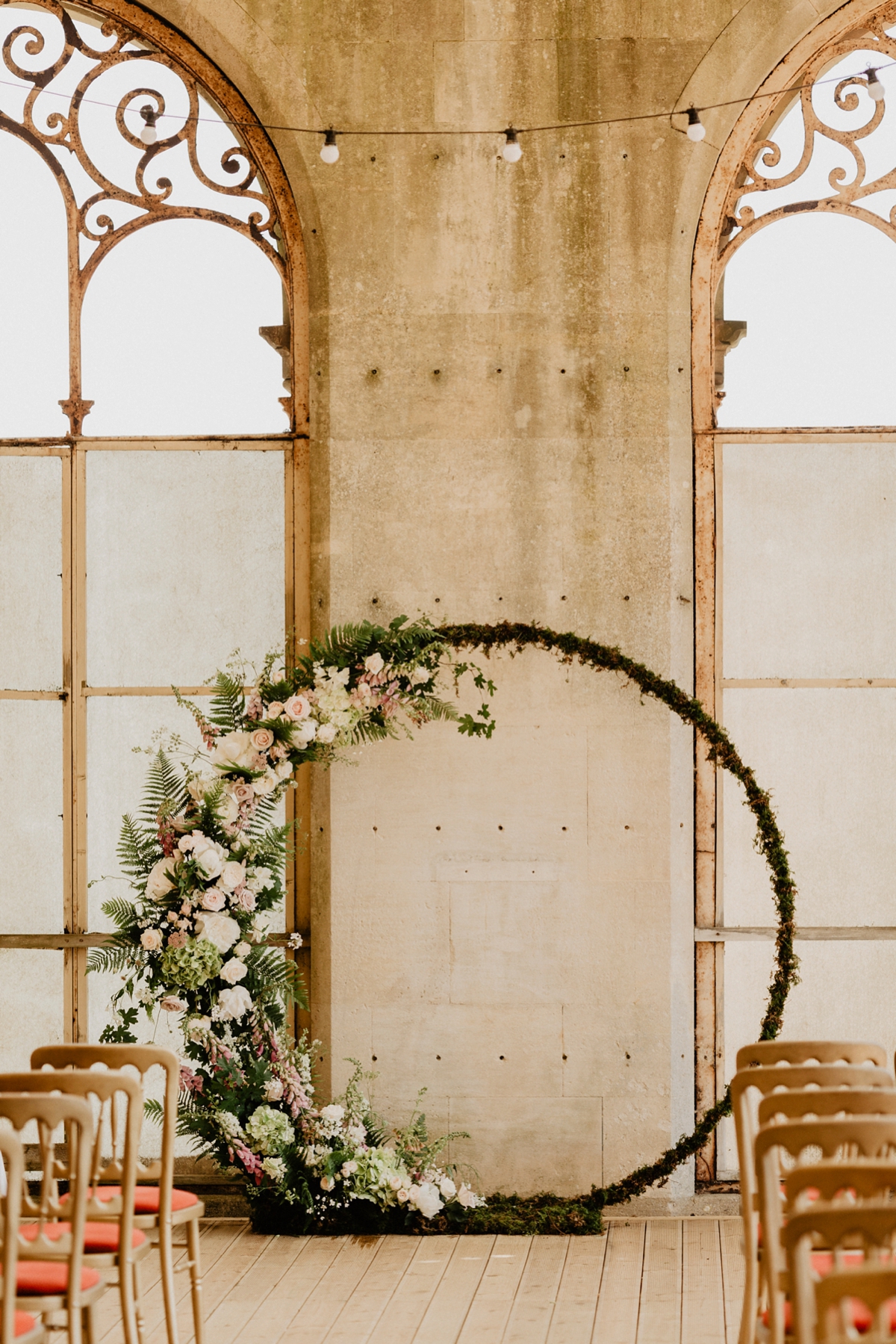 "We opted for a tall rectangular stands for the round table centrepieces, a statement flower moon arch which was styled asymmetrically with gorgeous foxgloves. The bridal handtied flowers were a large whimsical bouquet including some divine Austin David roses."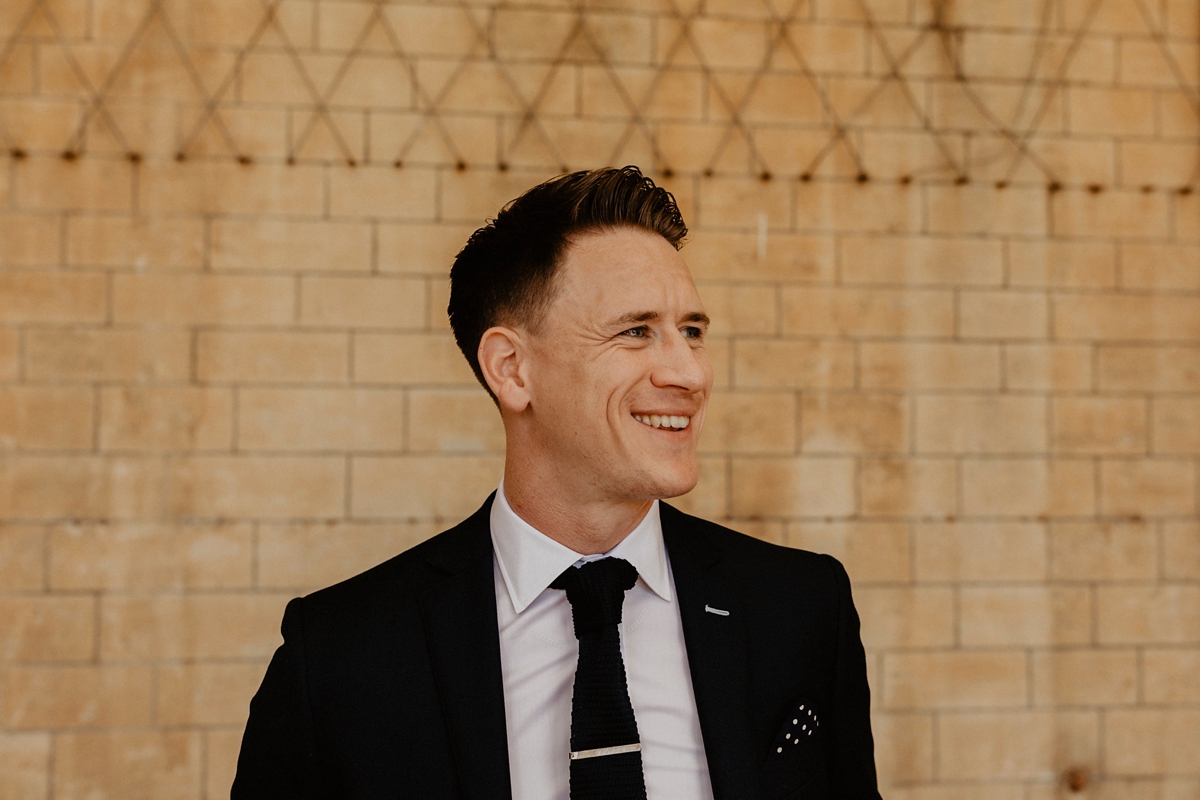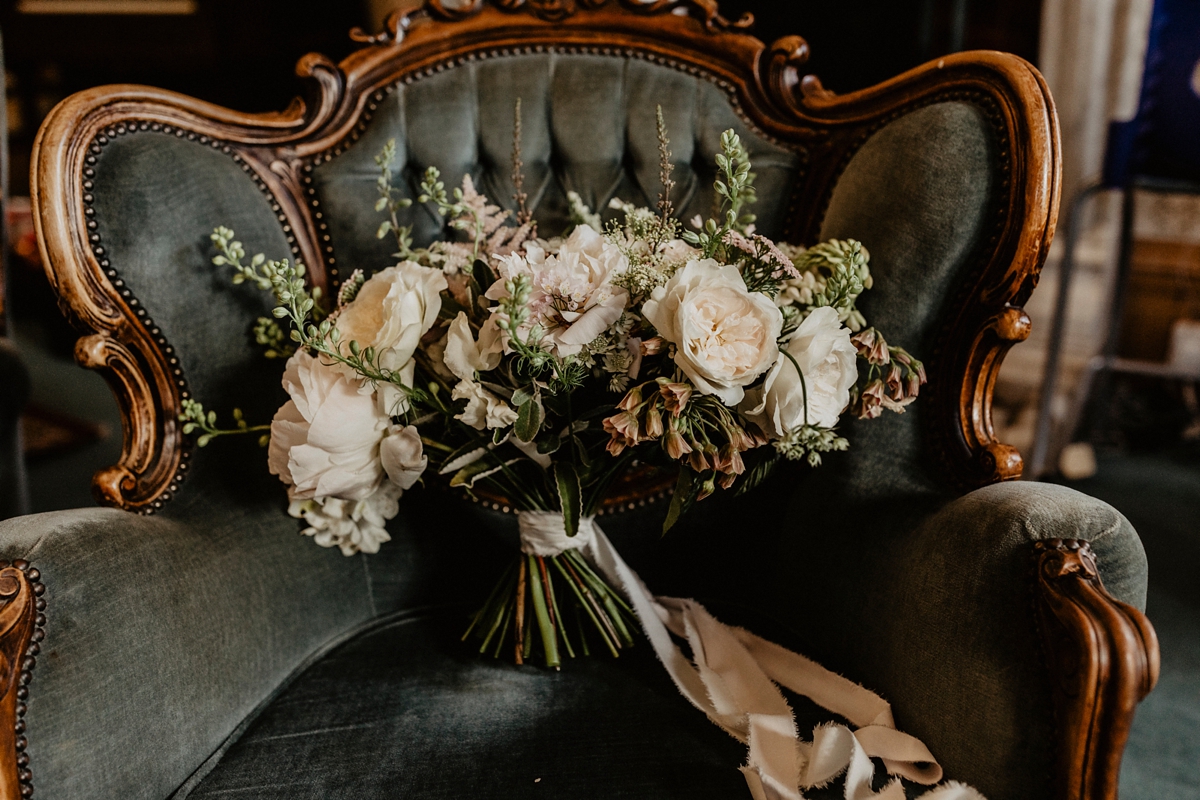 "I wore a fully embellished gown to compliment the splendour of the venue. I wanted a column dress that was comfortable. I fell in love with the embellishment all the way down the body of the dress plus the Chantilly lace illusion back. The beadwork was romantic and classy and its weight meant it hung without any need of structuring underneath."
[JP-VIDEO]
"I first saw it at Jenny Packham's flagship store in London and then I found it in a sample sale. I did have doubts what people would say about it because it was different but Dan reminded me of my love for different style and to be me. The dress sleeves were altered from a teardrop to a floaty cap sleeve so to make it a touch different too."
Jen paired her gown with an ethereal veil, sourced from one of our wonderful Little Book suppliers, Blossom and Bluebird. I love its simplicity, and how it flows behind her for a gorgeous sense of drama. To see more of Sian's incredible, hand-made designs then please take a look at her listing here.
"I wore a cathedral-length lightweight plain Fine English tulle from Sian at Blossom and Bluebird. Fine English tulle has a little more structure and volume to flare slightly around you when you move and our amazing photographer captured just that!"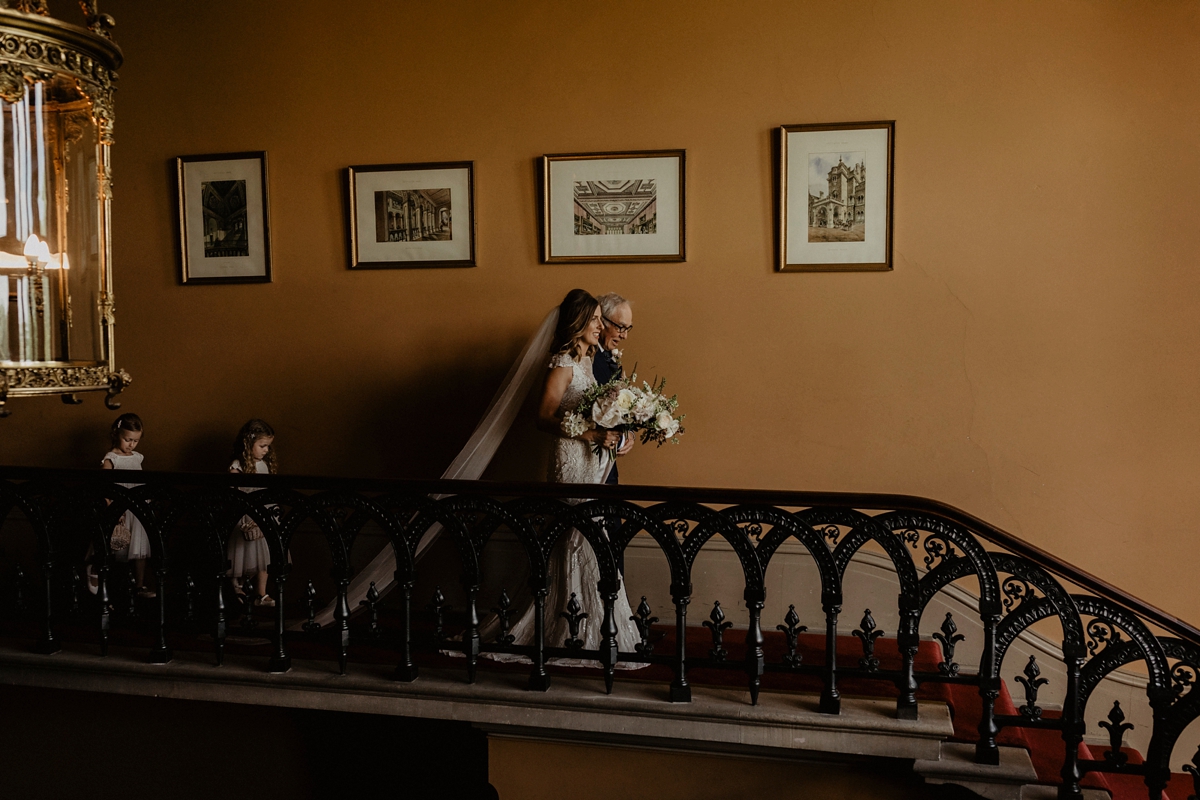 After getting ready upstairs, Jen swept down the venue's amazing staircase of the House, ready to walk down the aisle with her father.
"Our photographer Ben captured some beautiful candid moments for our long walk to the ceremony space. Dan chose Cristina Perri's 'A Thousand Words', the piano version, because of its simplicity and to focus on the instrumental."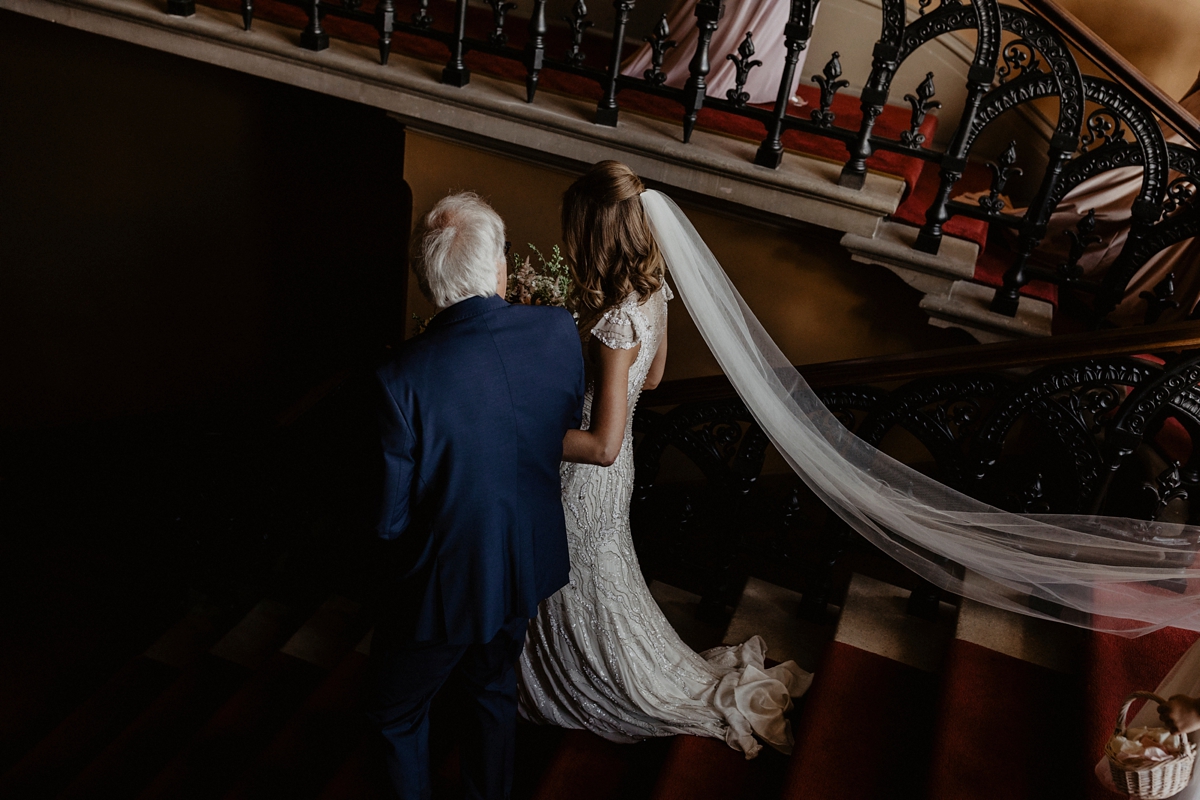 I really love this idea for the order of service; such a lovely idea and a wonderful keepsake.
"We tailored our vows which were presented in our wedding newspaper, they were based on the suggestions by Wiltshire Registry Office but we felt none said enough. We have framed our newspaper so our vows are on show now at home."
"I poured hours into the creating the 'Lachacz Times' on a cumbersome online design platform and got it printed just a couple of days before which enabled the inclusion of a relevant weather forecast and a special new baby announcement – that of our nephew who was our youngest guest aged just seven days."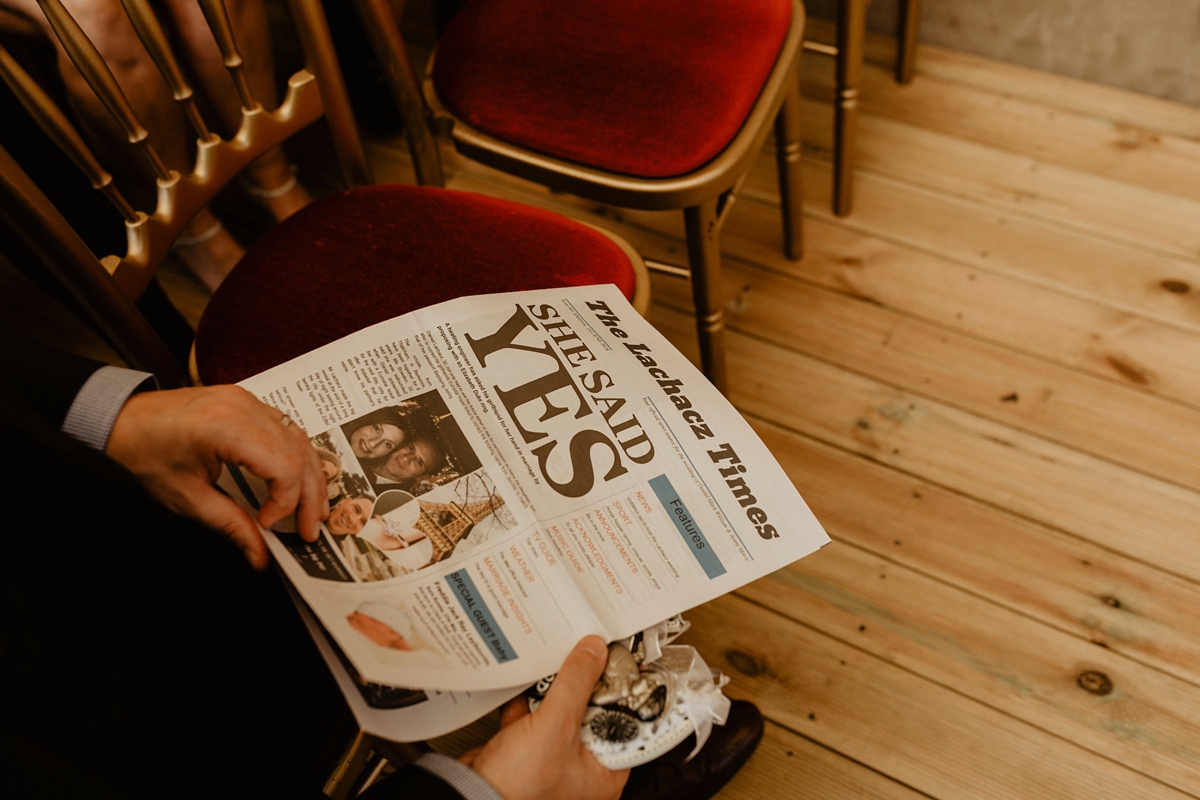 The four bridesmaids look so graceful and relaxed in their range of long gowns in tonal shades of blush pink, found at Ghost, Maids to Measure and twobirds. They wore them with their own shoes and wore fresh gypsophila in their hair. The little flowergirls were dressed in Monsoon's 'Estella' dress, and each had a Mimi & Luna hair clip. As they walked up the aisle they also carried cute little woven baskets.
"I presented the bridesmaids with white snapshut gift boxes which contained a Katie Loxton pouch, candle, pyjamas and personalised thank you notes. The flowergirls had little bouquet charms on blue ribbon from Etsy seller TheWeddingBellsShop. I hope they will wear them on their wedding days as something old and blue."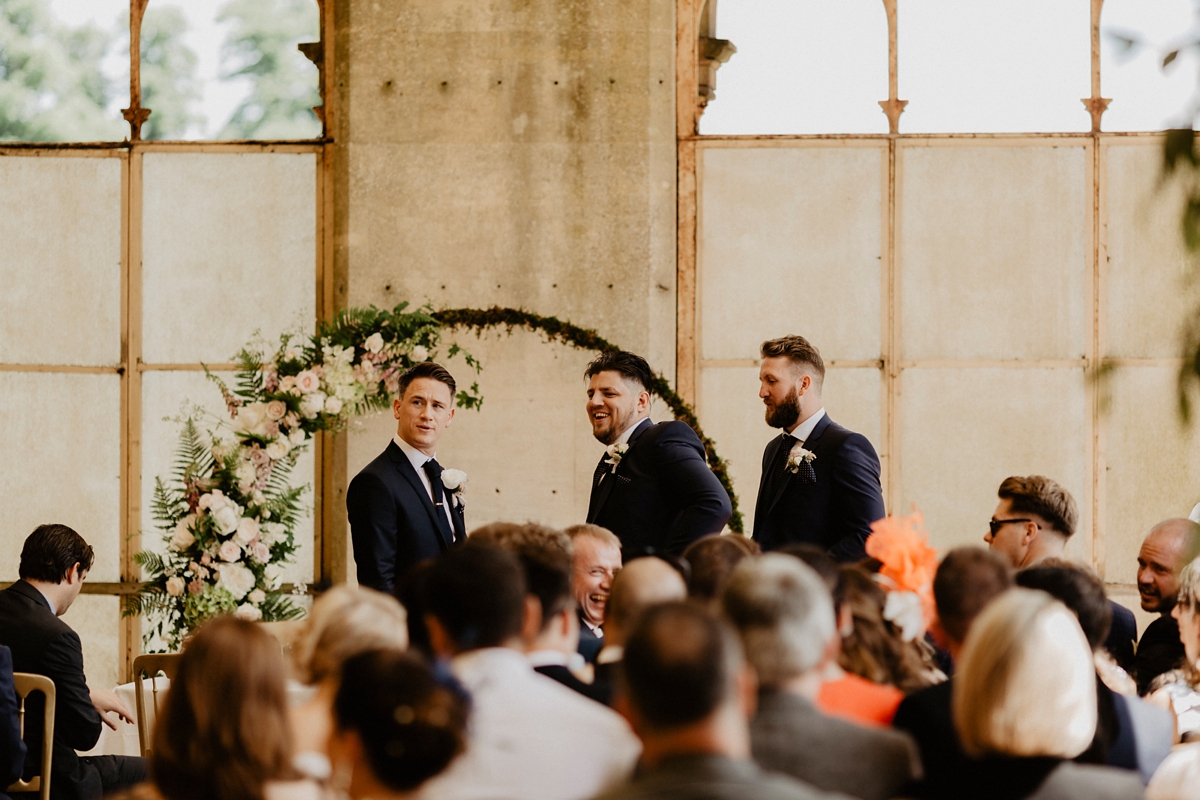 Chunky block heels in white satin, which lasted the whole day, were found at high street staple New Look.
"I struggled to find any small block heels and bought & returned loads before I fell on the New Look ones from their teenage 915 range! They were totally wrecked and I'm so glad I only spent £20 on them."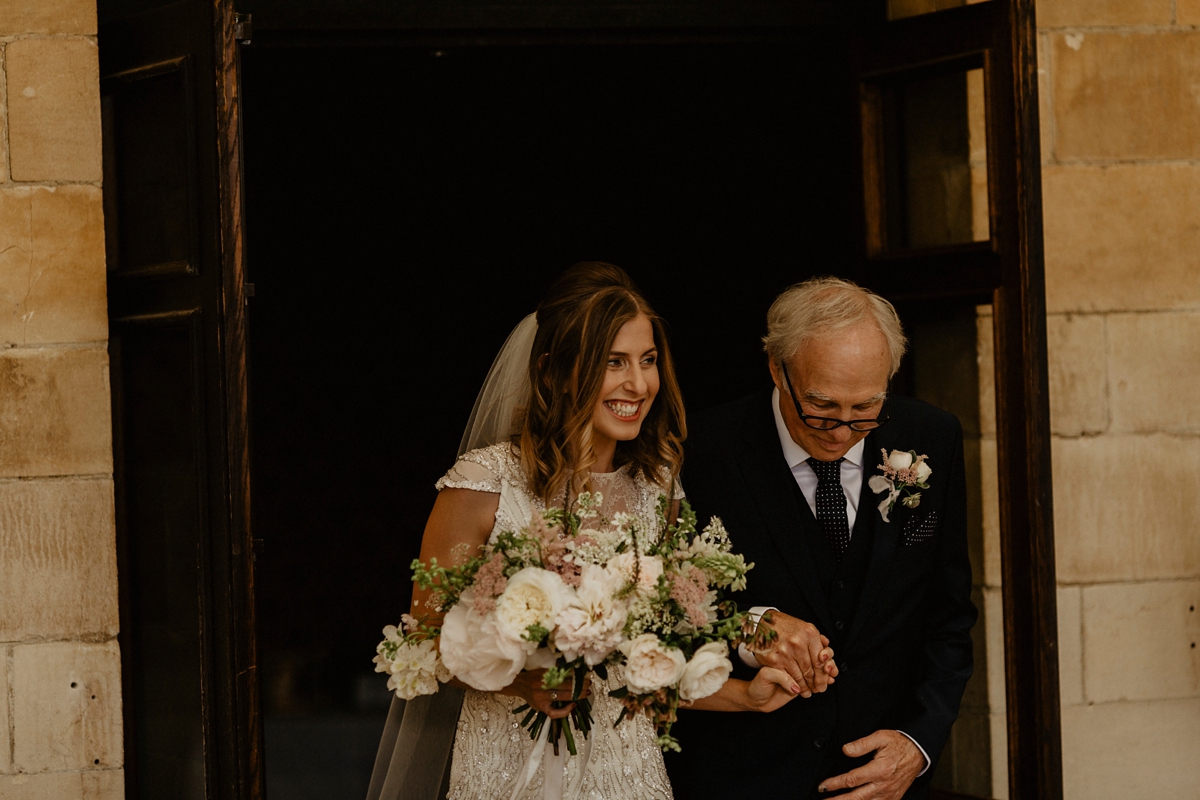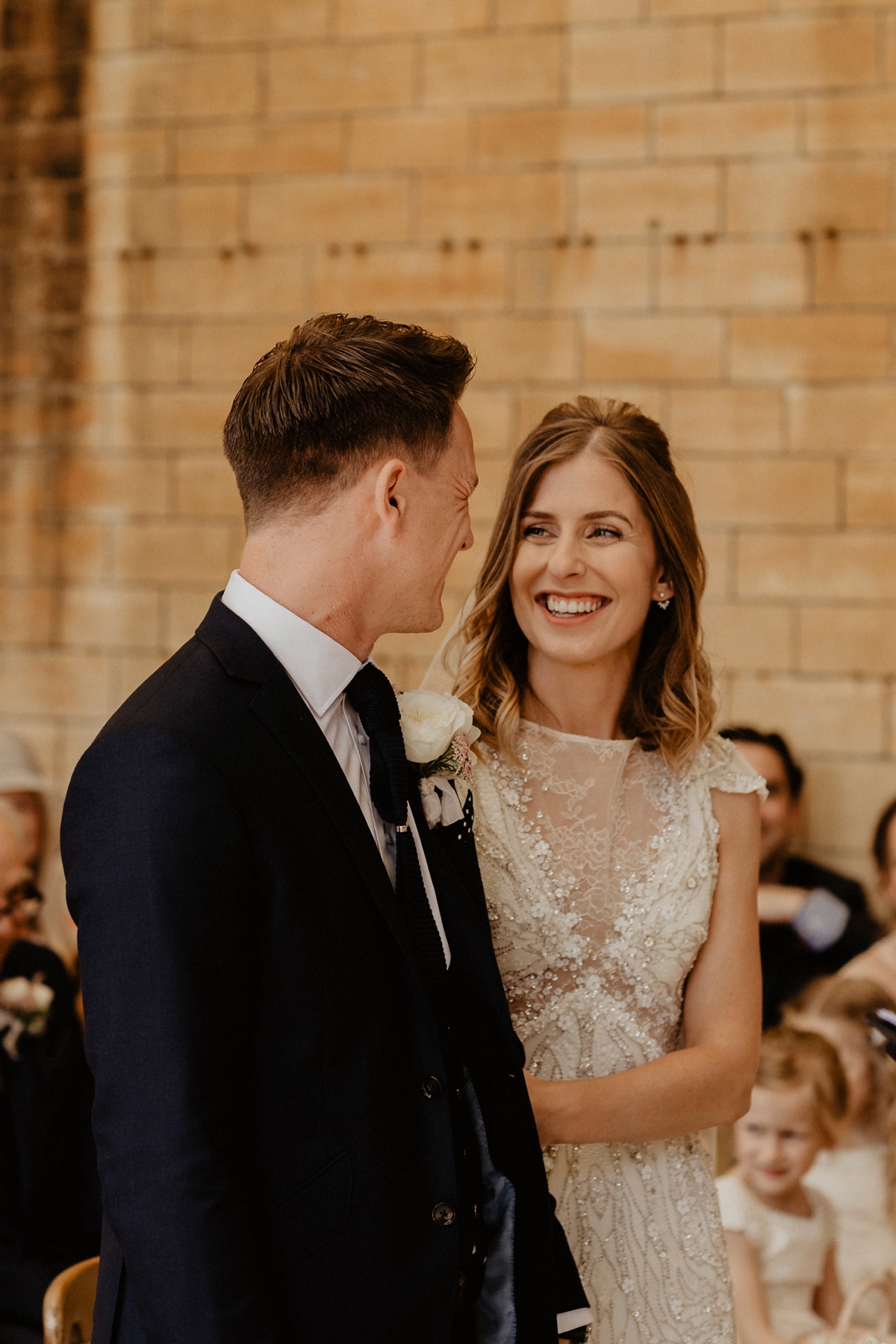 "We looked at many readings but none we felt we really wanted nor were we ever fussed to ask any of our guests to speak."
"Dan chose a 6mm band which has two metal finishes from F Hinds. I chose a plain fine band to sit snug against my yellow diamond oval halo engagement ring. Both rings designed and crafted by local independent jeweller Bradley & Willows."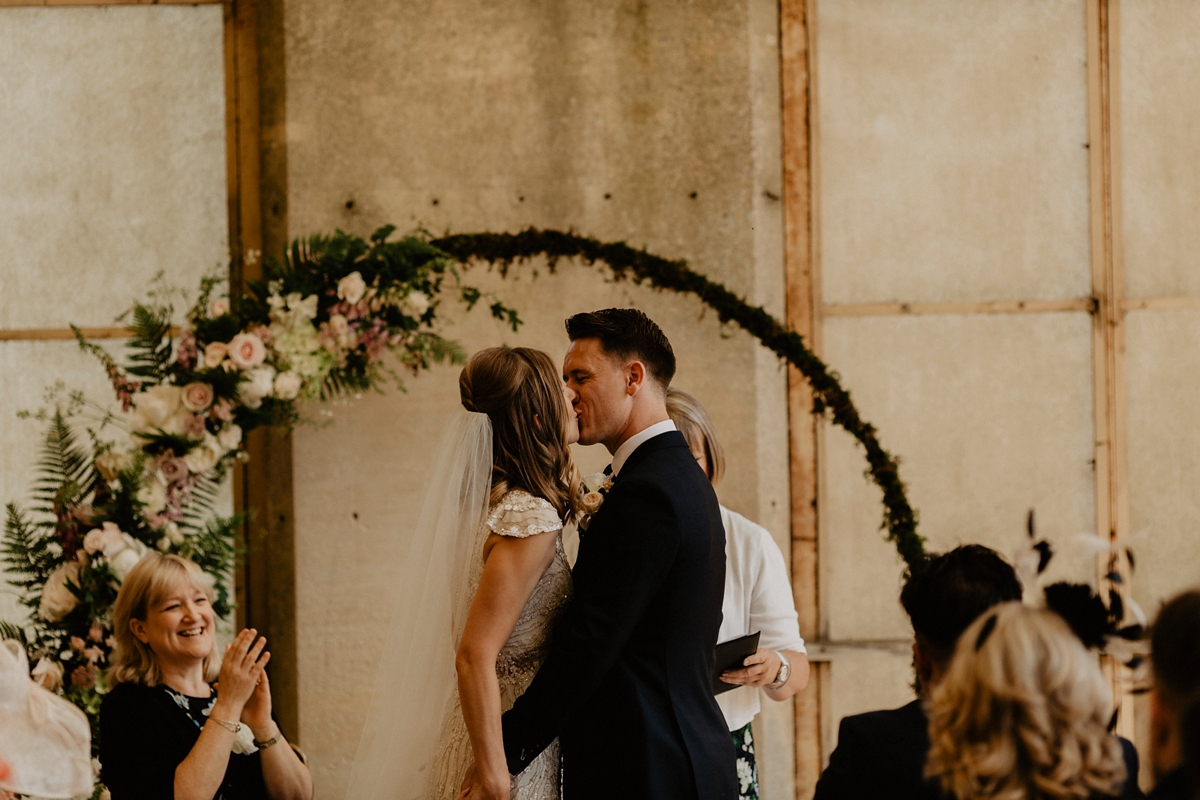 Having being declared husband and wife, Jen and Dan escaped outside to enjoy time together and to be photographed by Benjamin Stuart for these divine, countryside images. The house really does make the perfect backdrop, especially for the colourful confetti shots.
These wonderful, light-filled images are from Benjamin Stuart Photography, who the bride met at a wedding showcase. I love his timeless style, and how he's captured the relaxed feel of the day along with its most intimate and emotional moments.
"When Ben came to visit us it was an opportunity to see whether we were a good fit for one another (after all, if you dislike the individual that is going to be by your side on one of the most important days of your life, it's unlikely they will capture you at your best)."
"After a beer and a chat establishing mutual friends (through local football and work) we built a bit of a relationship. A good bit of advice we received early on was that there are few tangible items you take away from your wedding day: there's the rings and the cards you box away yet photos displayed will always be a tangible reminder of your day."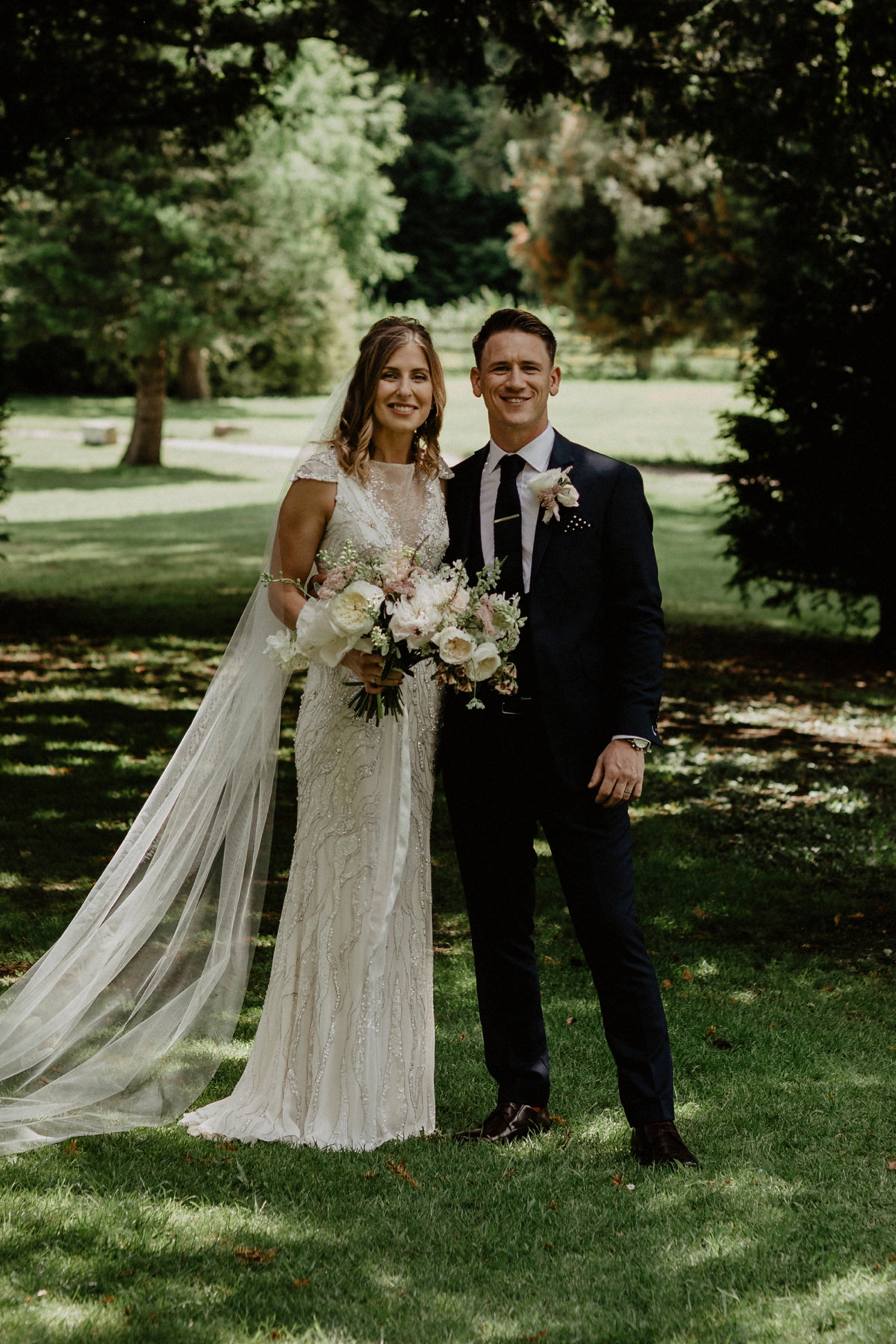 "The photographer was among some suppliers that we agreed early in our planning that was most important to us both. As the engagement shoot and wedding neared nerves became the better and the shoot provided for much-needed discussion of our feelings and the plan of the day. Ben shared his experiences and displayed his expertise which helped us to feel more comfortable with our anxieties."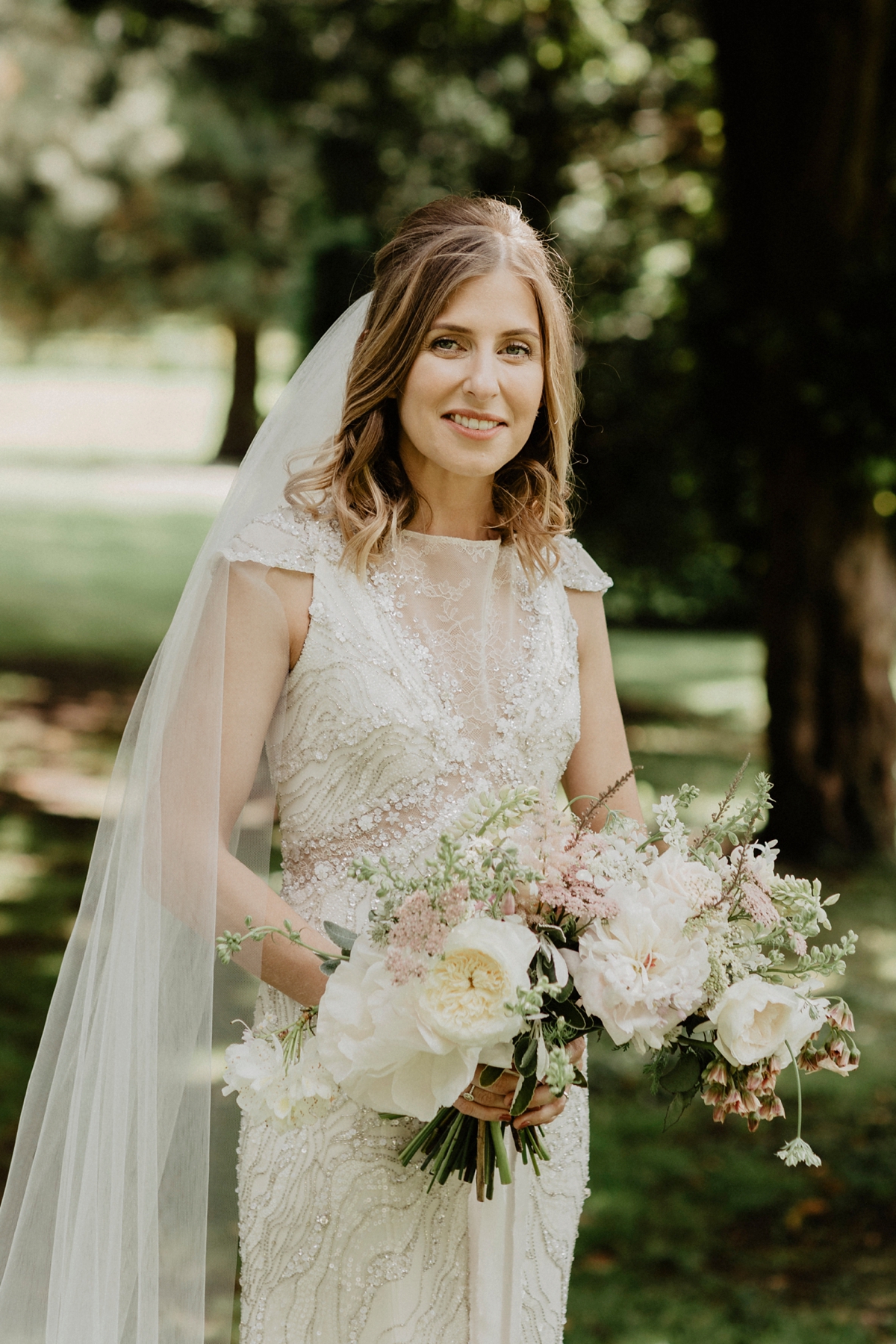 "Our guests complimented Ben and Zoe's approach, their friendliness on the day and we are thrilled with our images."
The couple opted against a wedding videographer, but managed to get some special shots courtesy of their guests.
"We didn't have a videographer as we couldn't bear to watch ourselves on film but on the day our close friends and keen photographers captured some precious moments that each of us at times would be unable to see."
"For instance when Dan was waiting at the altar, when the bridesmaids and flowergirls walked down the aisle ahead of me. We are so grateful for our friends doing that because when you watch through a lens it's harder to watch the moment."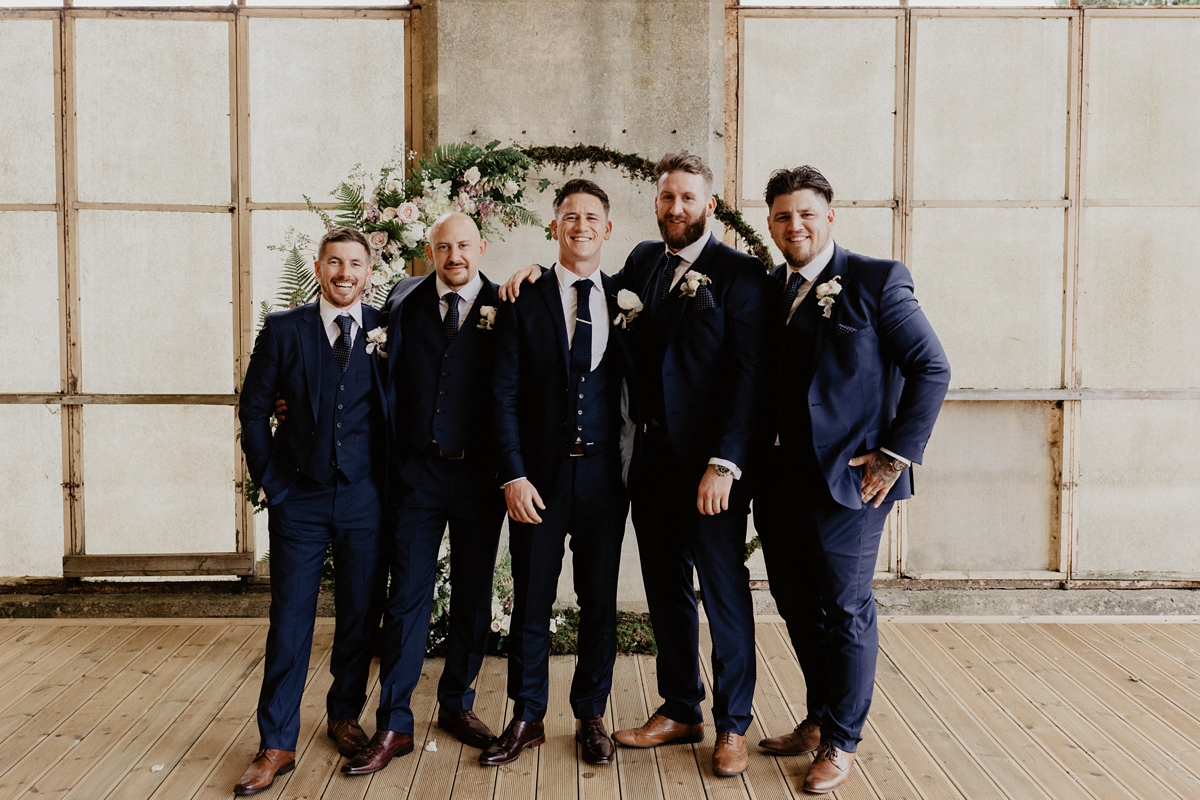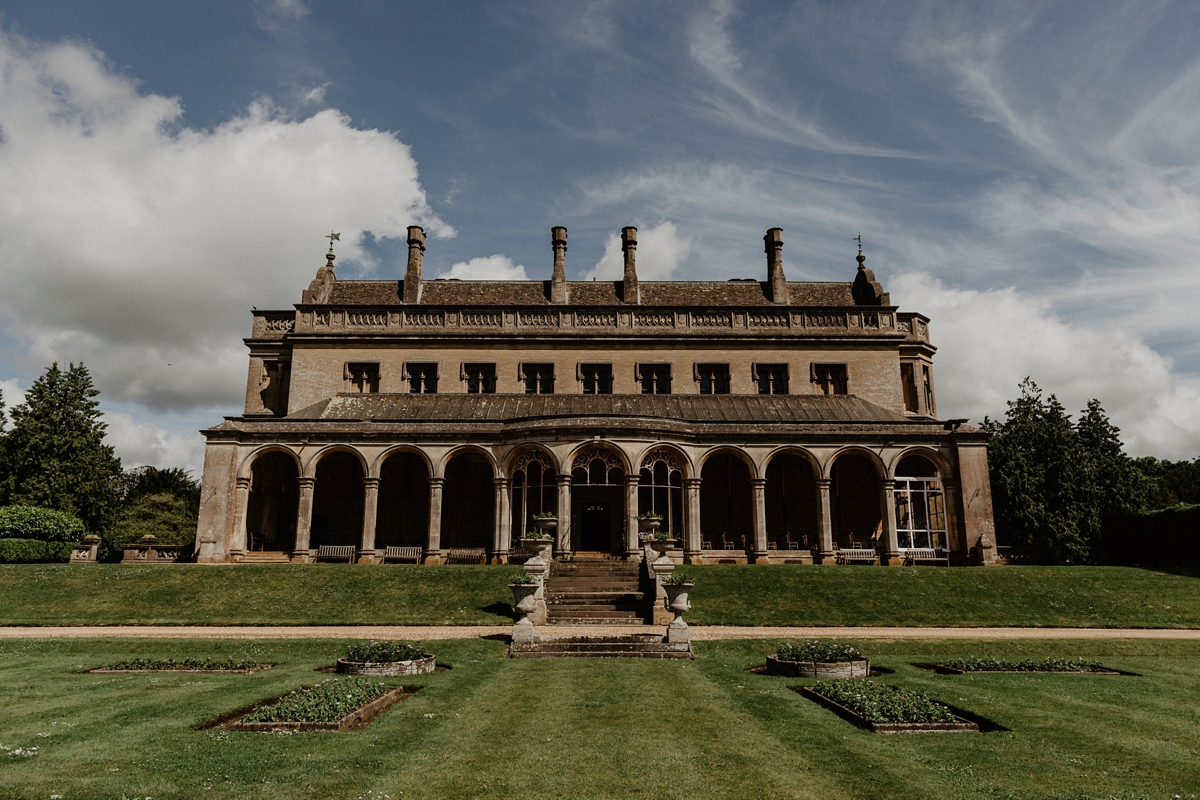 In preparation for the day, Jen and Dan designed signage to direct the proceedings, and add some tongue in cheek humour too.
"The invitations, table menus, gift/thank you sign was a design I got customised by an artist on Zazzle and printed via printed.com. The wedding website was a custom build on WordPress. Our civil ceremony didn't require an order of service but I loved the idea of a newspaper to entertain guests whilst they sat waiting for the bridal party."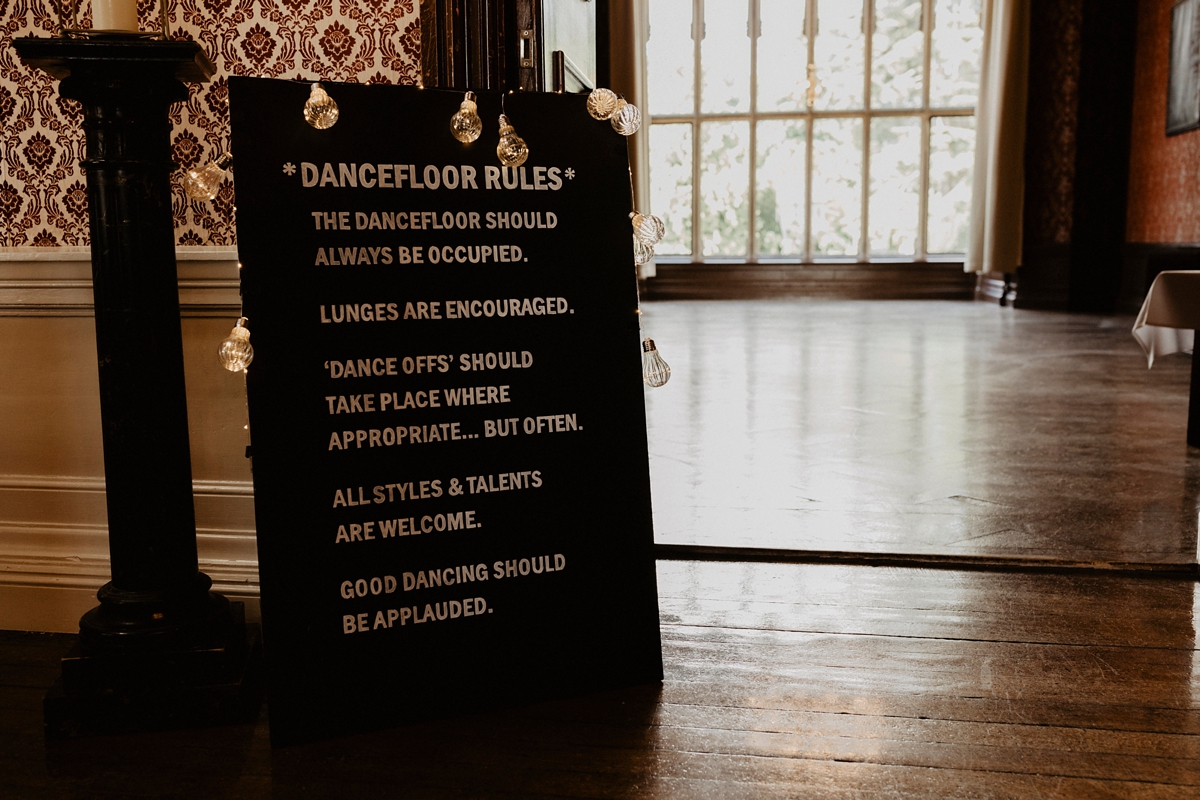 Back inside, it was time for the wedding breakfast. The guests had to locate their table, where Limoncello awaited, using the fun Polaroid table plan.
"Our table plan was Polaroids of our guests. We hand wrote their table number – a year of our relationship – which directed people to their table for them to seat themselves as we didn't like the idea of specifying where people sat and saved the need for place cards."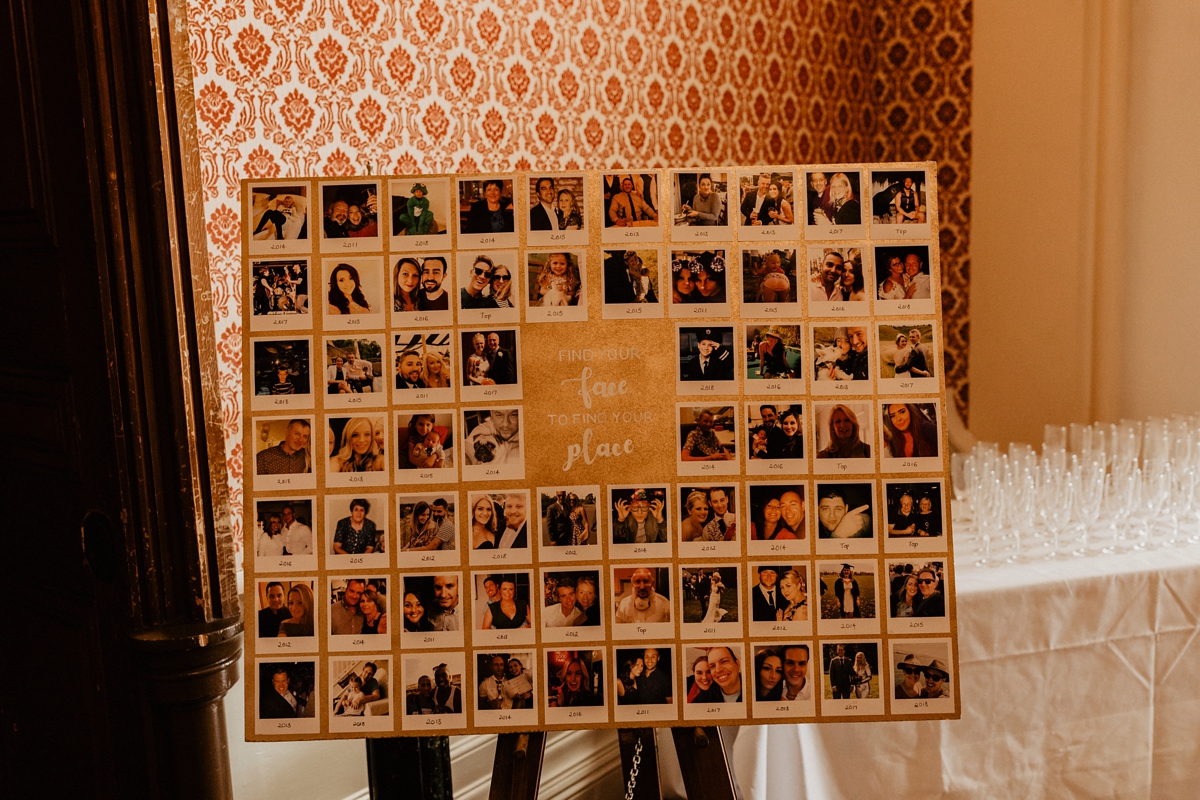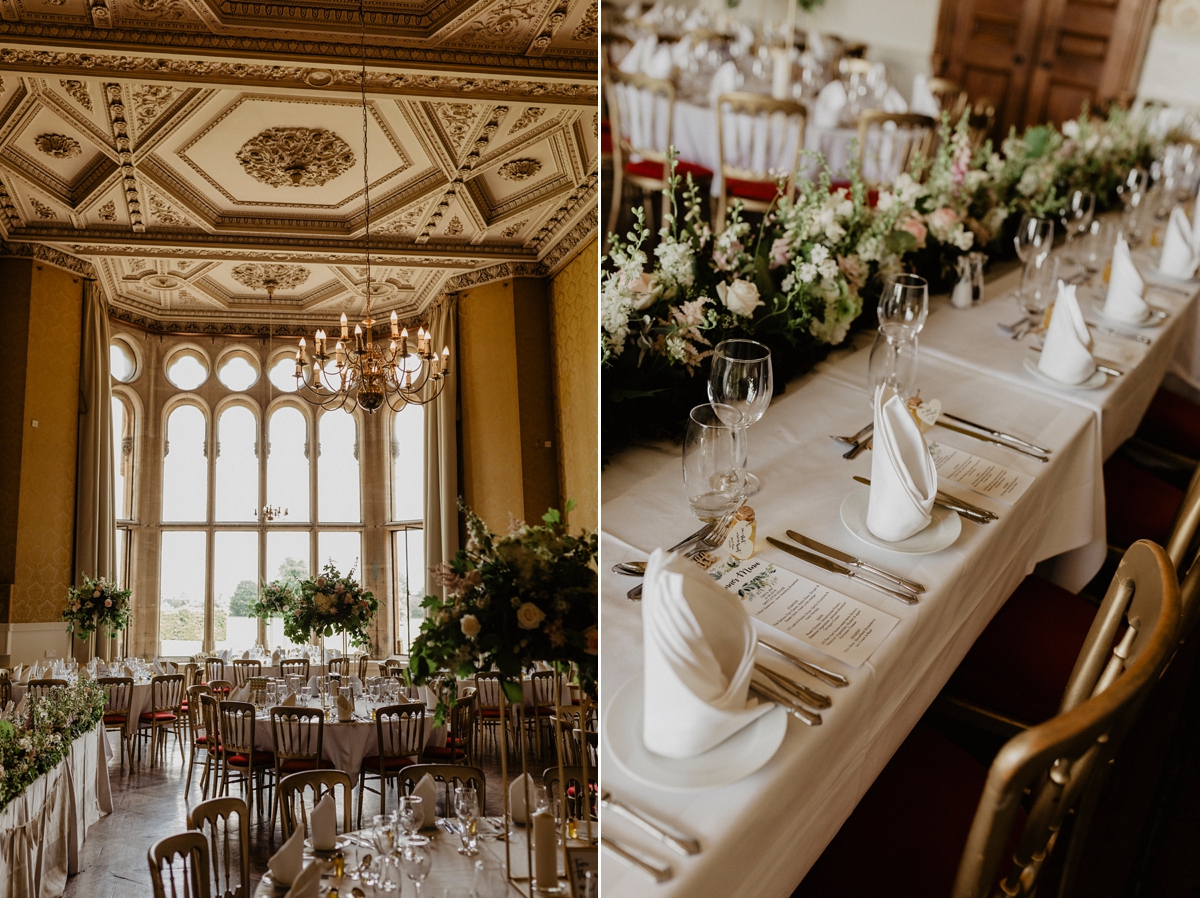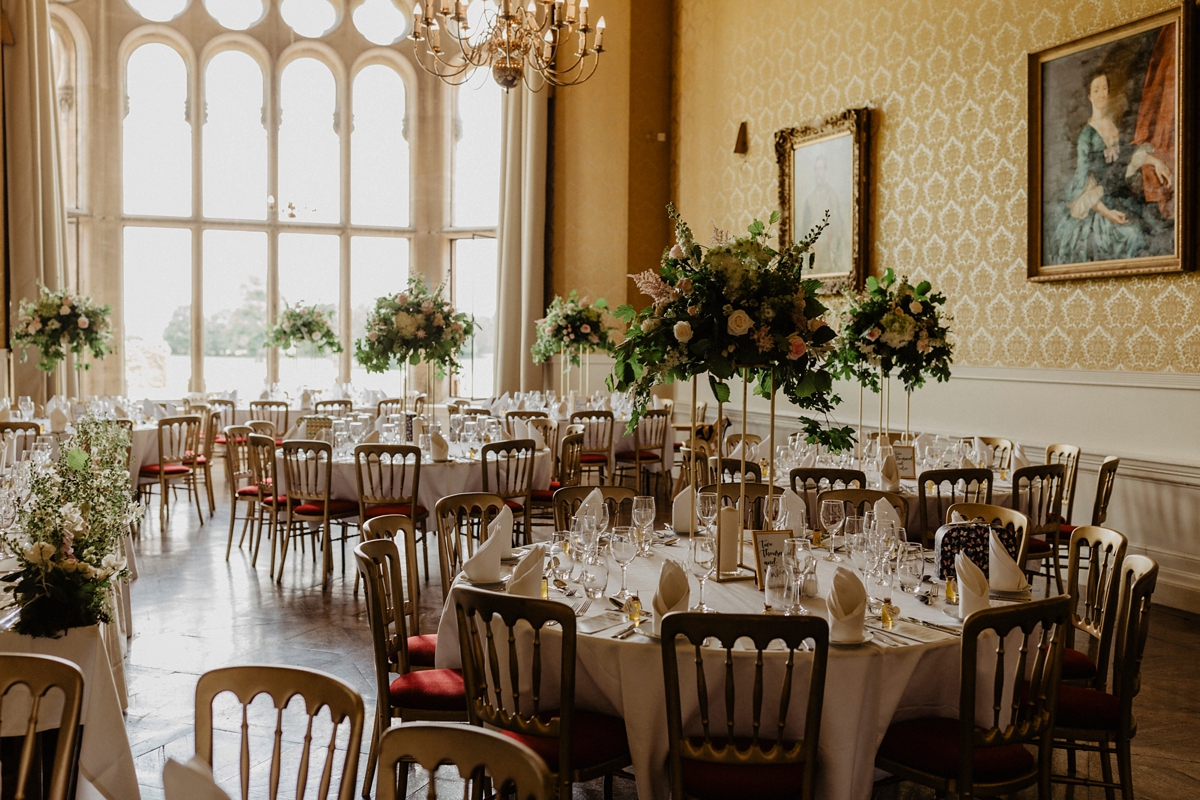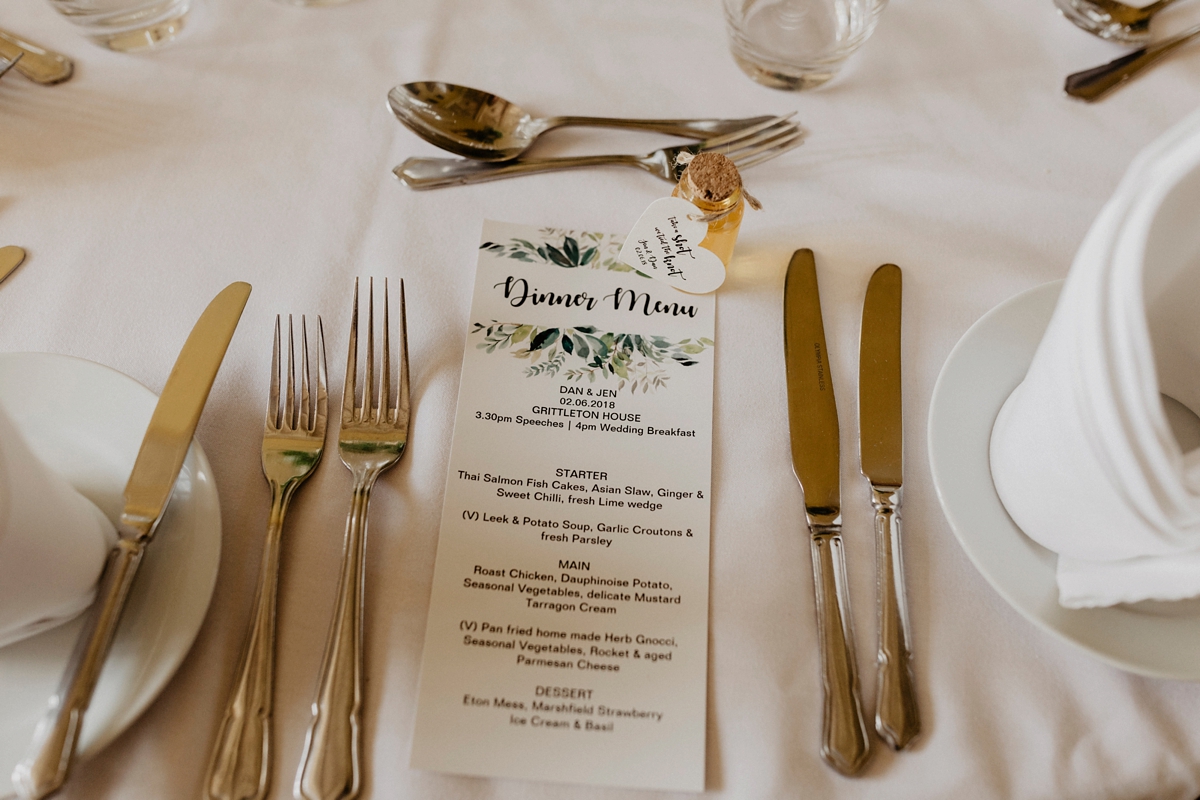 "Our wedding favours were shots. I sourced little glass bottles with cork stops from an eBay shop and the Limoncello was from Italy. The Limoncello was a loose tie to the venue's Italian sunken gardens and an easily enjoyable shot that bought back memories to a friend's wedding in Tuscany that a lot of our guests attended."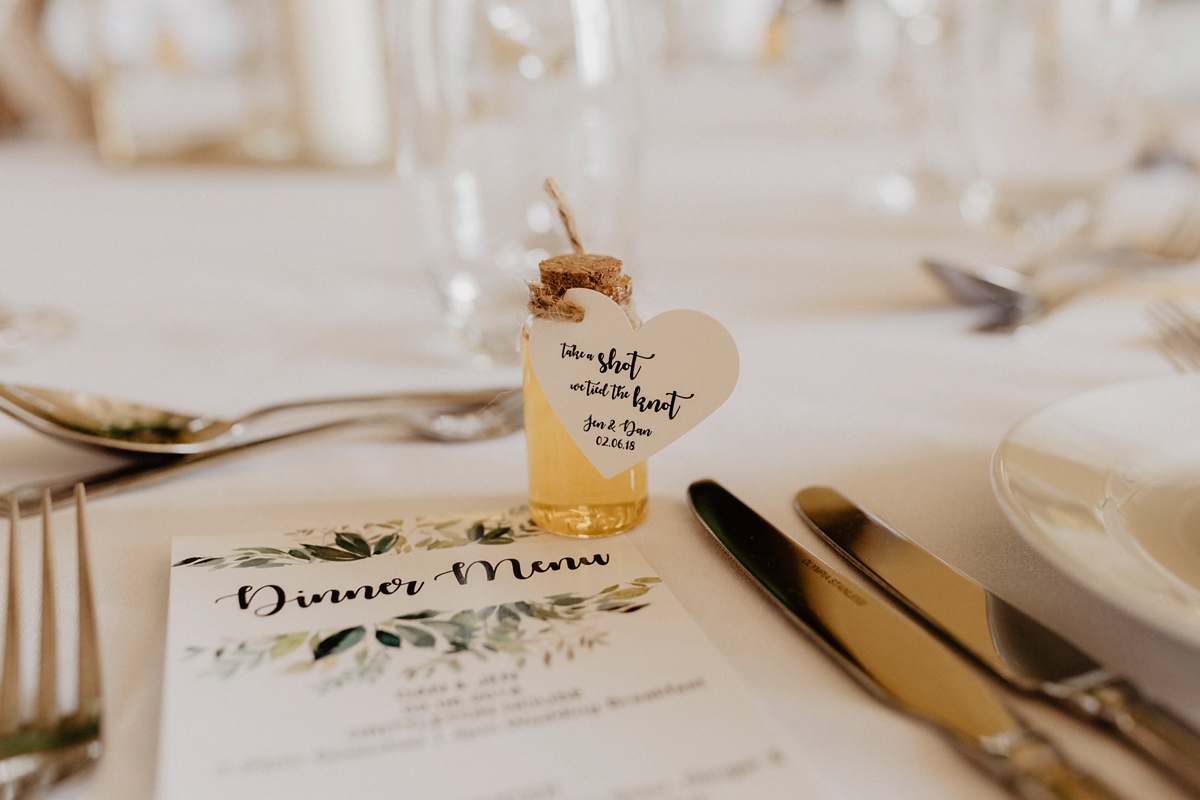 "The flower girls each had mini suitcases at their table filled with table toys, personalised wedding colouring books and some sweet treats. Our newborn nephew got a special gift at his table too to indicate how much his and his parents presence meant to us."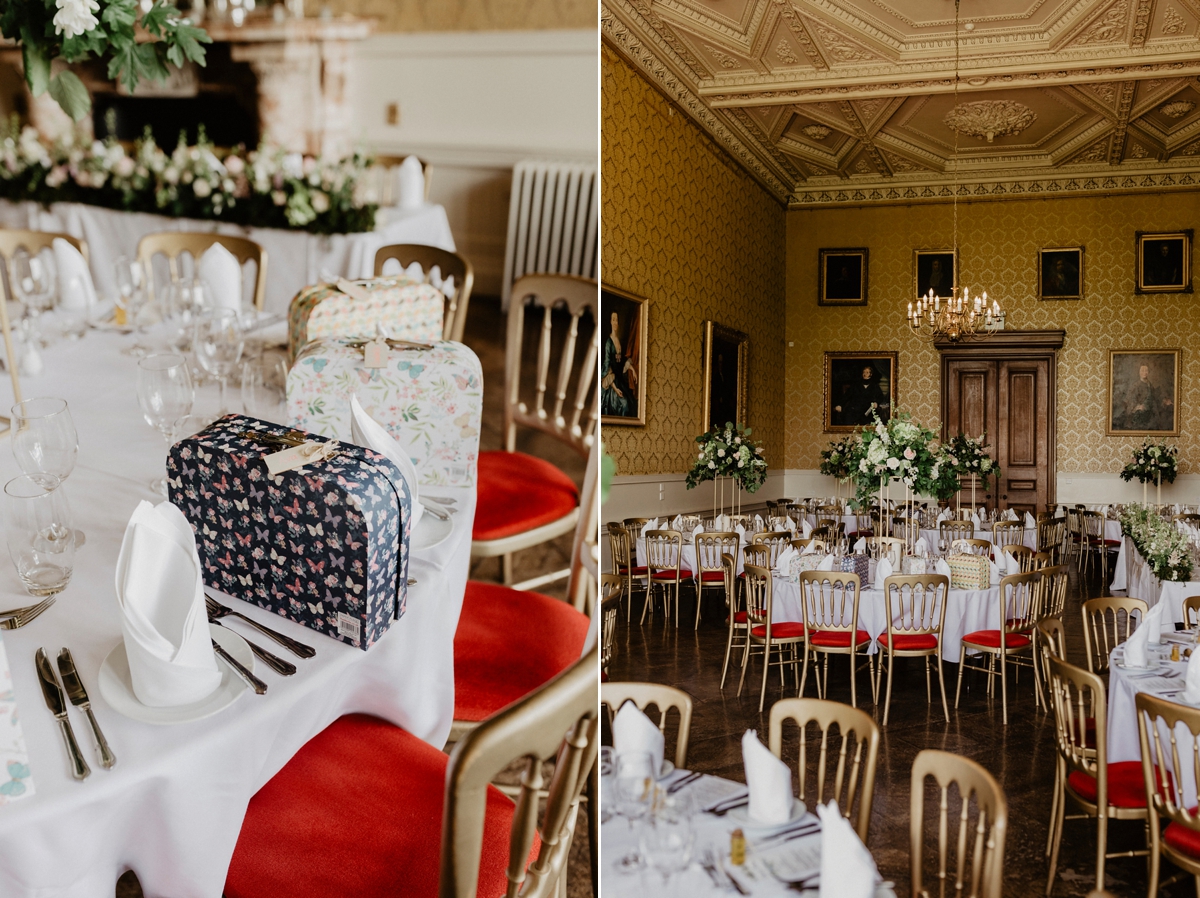 The Grittleton House catering team served the wedding breakfast, and the 'wedding cake' was a tempting display of doughnuts.
"We chose the cheapest dinner package but we tailored each course with a sauce or accompaniment which was outside of their menu suggestions. The catering team also happily obliged when we asked for pizza for evening food despite never doing it before. The wedding breakfast was plentiful and exceeded our expectations."
"We were never fussed about a cake. We considered a Krispy Kreme tower in the early planning stages after attending an amazing festival-themed wedding and whilst our wedding was never going to have such a cool vibe we opted for it at the last minute. The donut tower very much a 2018 trend was a hit with our guests."
There are so many thoughtful yet simple details that Jen and Dan used to personalise their day. I hope you get inspired by some of these finishing touches.
"Dotted around the venue were many chalkboard signs that were aids to direct people to extra touches like 'Darling, just f*cking own it' positioned next to the toiletry basket in the ladies, others next to the photo booth props, the blankets, the flip flops and umbrellas that fortunately weren't needed. I underestimated the demand for the flip flops; all 40 I bought were gone and some guests approached me to ask if there were any more."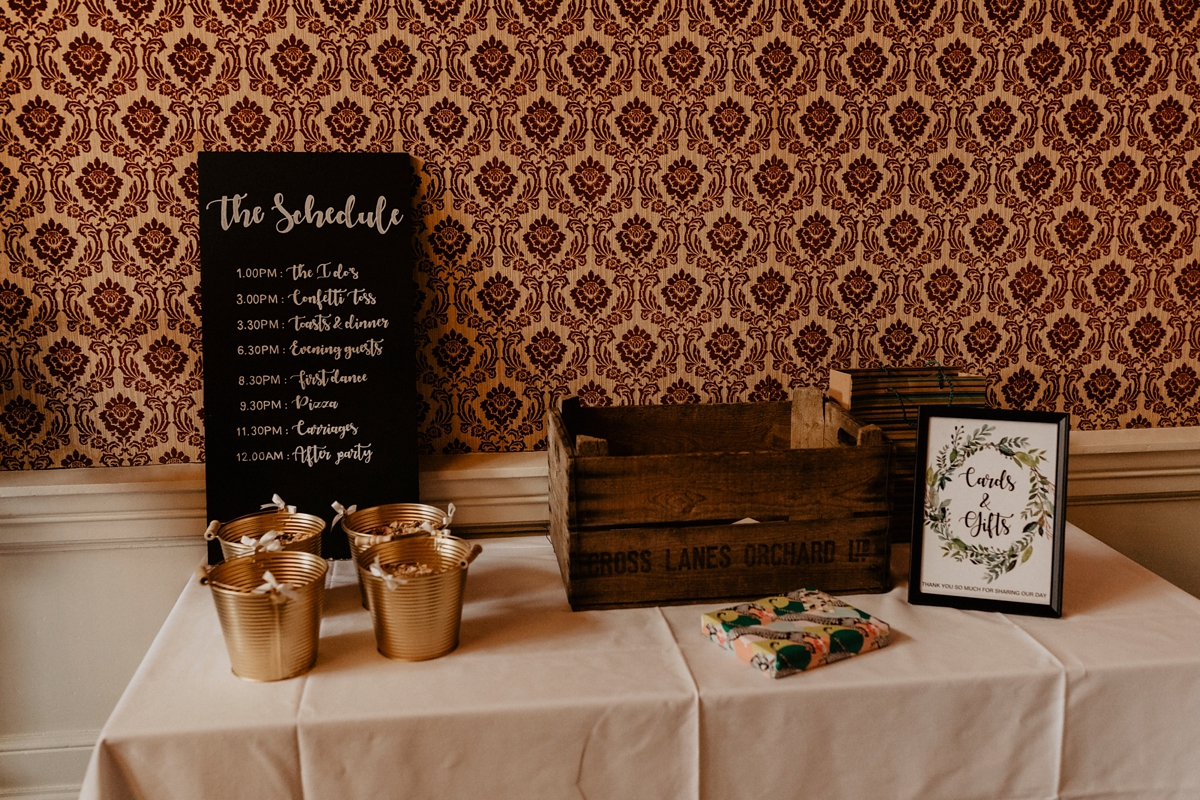 What an incredible day; it sounds like Jen and Dan really did have the best time. Here are their favourite moments.
"We've both got so many! Mine was the wedding breakfast; the speeches were somewhat heartfelt by all and unexpected from the best men. We took in many moments casting our eyes at all our loved ones together in one room and it was a perfect opportunity to get round to speak to everyone.  Plus the magician's performance to mark the end of the wedding breakfast was mind-blowing and all our guests were his audience and got to share in the same magical disbelief."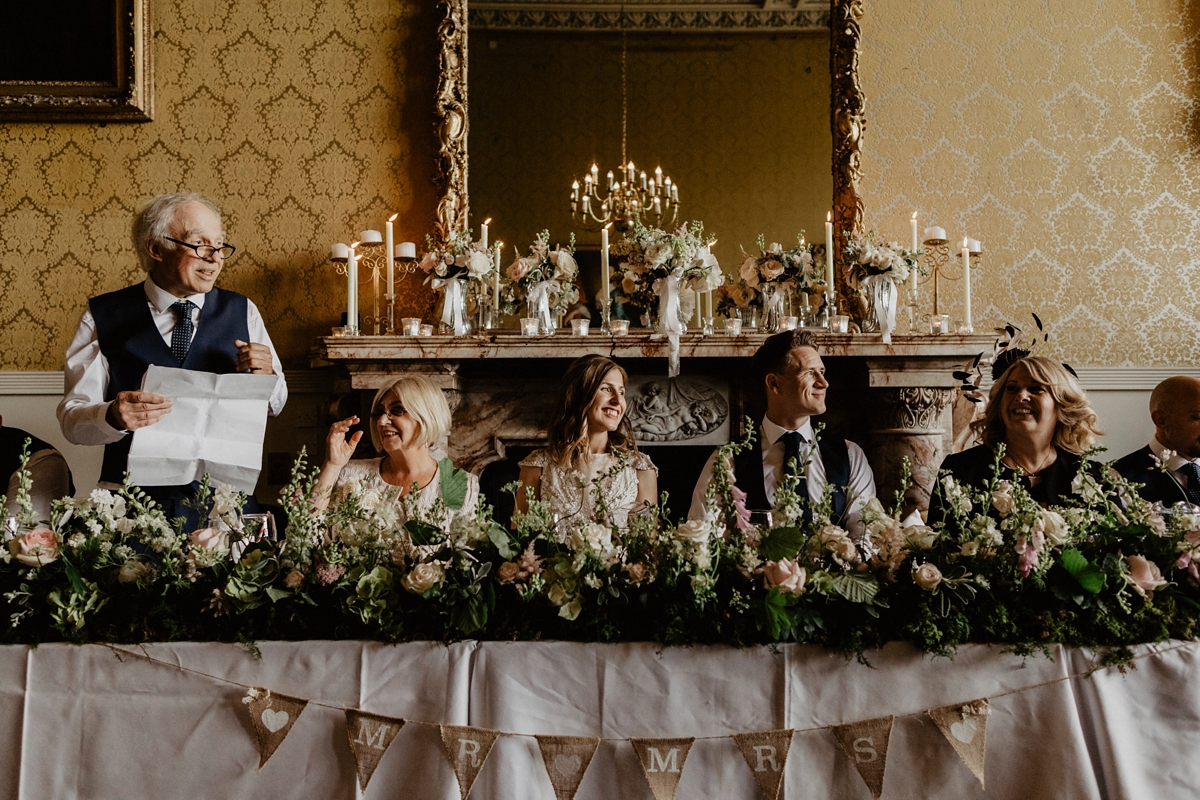 "I set up the 'Gary Glitter bar', a station of glitter gels and paintbrushes which was well used by nearly all our female and male guests. Lawn games included horsey hopper races. One race featuring Dan's friends was captured on video and is comedy gold."
"Finally, our live music, indie rock & roll band Alive (my own must) made it, helped by their stage being outdoors – a total touch on a balmy summer evening and by their music genre. For their sets they filled what was a huge dance floor."

"Another stationery item was some fabric drawstring bags, I used a local screen printer to commission hangover kits with two different sayings. They were left in all rooms that are overnight guests stayed in, at the venue and in the village B&Bs. The hangover goodies were an effort to show our guests how much we appreciated them staying overnight to party with us."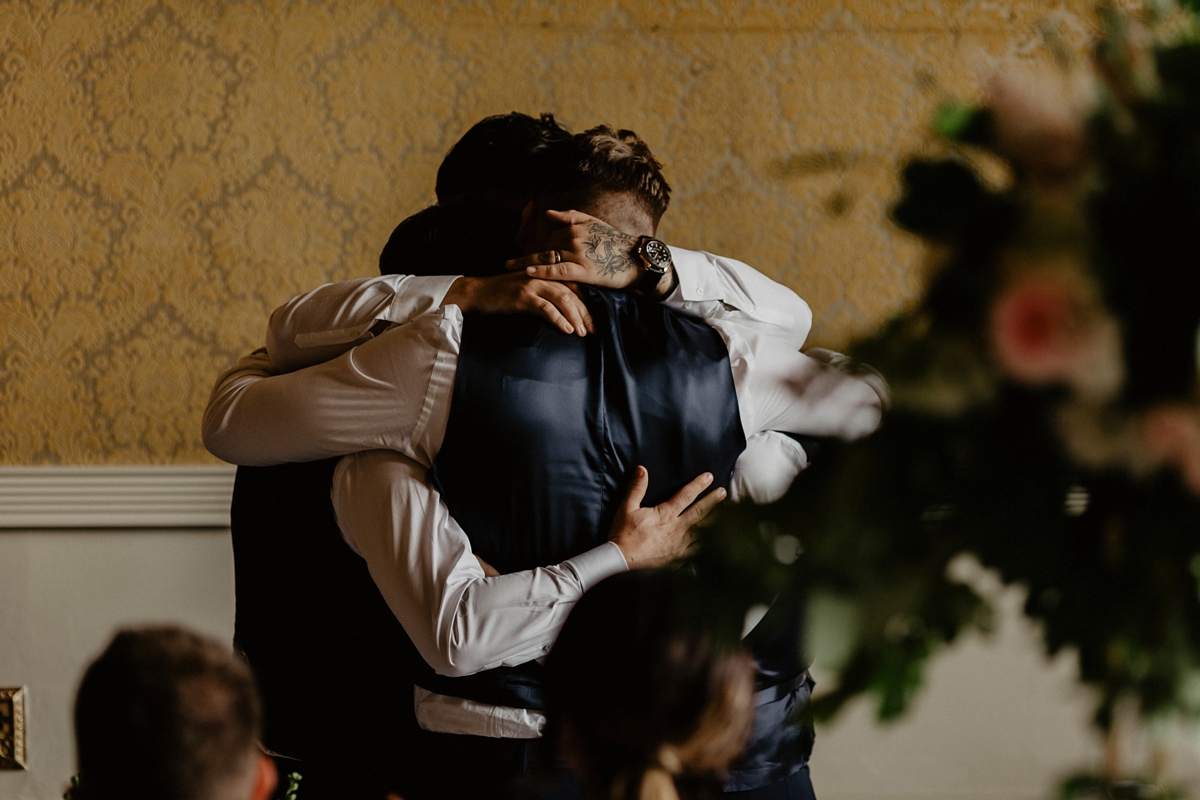 "Our first dance was unknown to many of our guests; it was 'Grow Old With Me' by Tom Odell. We didn't really share a special song (although now we share a good few from our day) and we both loved the lyrics and it suited our shared music taste."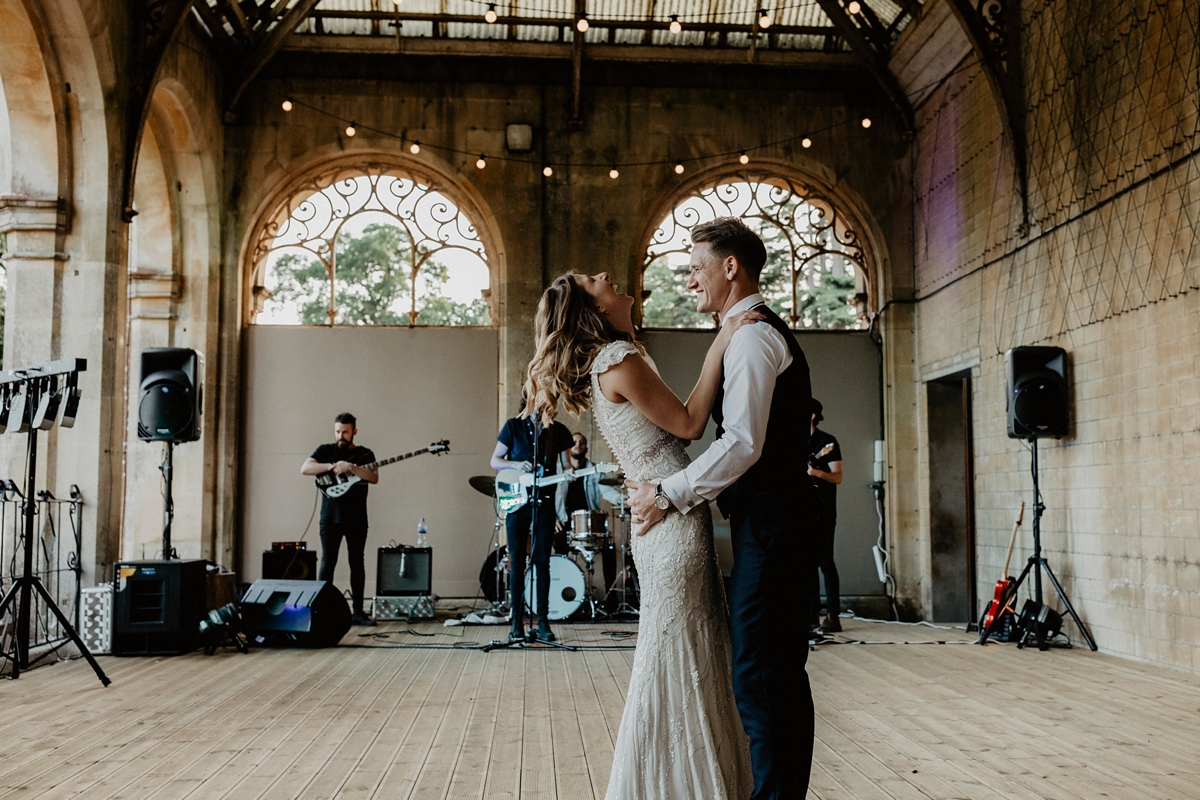 "Dan says his very favourite part was seeing me loving life with our daughter in my arms up with the band sharing a microphone singing and dancing. He says he recalls looking on with happiness for how relaxed I was enjoying the day we made that I was so anxious about."
"Entertainment was important; guest enjoyment was something we didn't want to compromise on. We had Royal Soul, a jazz, pop and soul duo consisting of Rebecca, a singer and pianist, and Harry, a guitarist. They performed our aisle recessional music and entertained our guests immediately after the ceremony up to our wedding breakfast. The  vibe as drinks and canapés were being served was relaxed in the grounds of the house."
"We both would have spent more moments with our daughter. We listened to all the sound advice from our friends about taking in the moments together but we should have extended that to sharing it with our overtired and overwhelmed four year old."
The entertainment at Jen and Dan's day sounds wonderful; with live music, a magician, a casino and a photobooth.
"As our guests finished the third course our casino tables (one of Dan's musts) by Berkshire Wedding Hire were being set up whilst our magician entered providing a cabaret performance for all our day guests to be involved in. Coffees were served outside to encourage our day guest fall out and evening guests arrived promptly at 6.30pm to enjoy the early evening entertainers."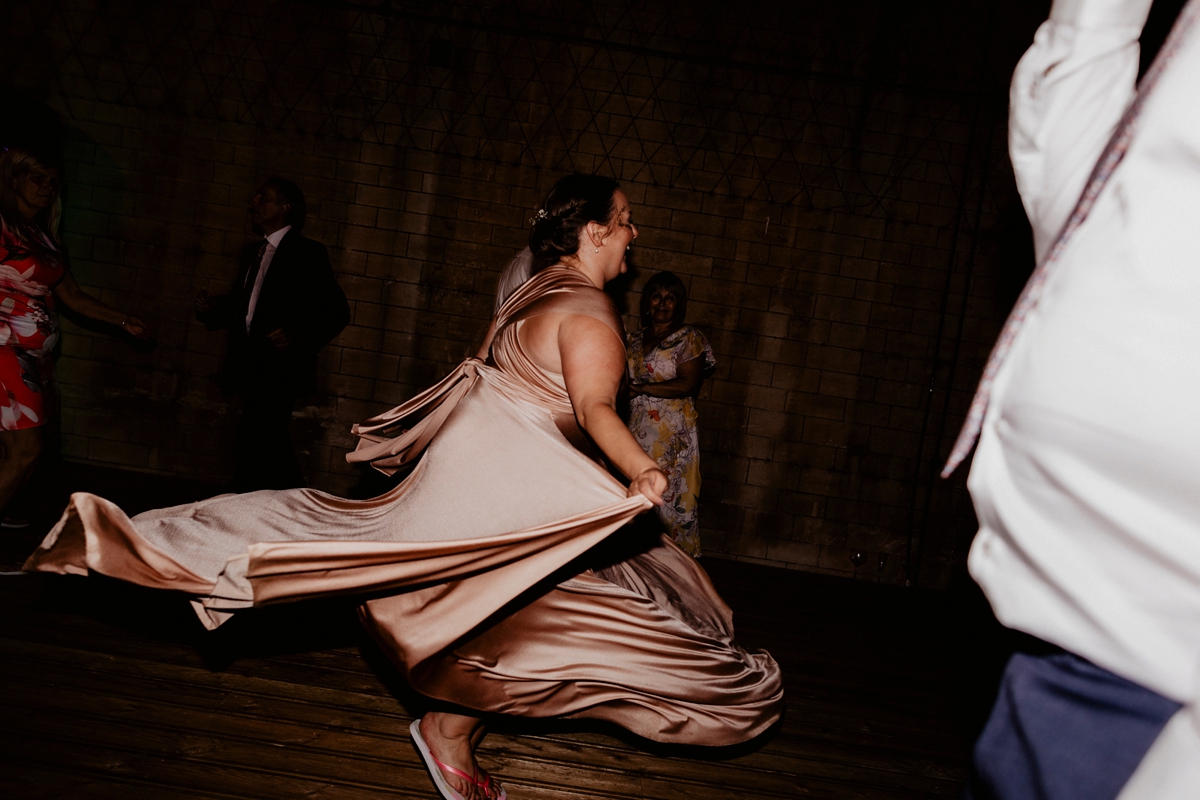 Words of Wedded Wisdom
"Agree on what's most important to one another. Compromise, do exhaustive research and communicate everything because it helps to shape the budget and the spending can easily spiral and be the cause of undesired friction so be sure to do it together!"
"I was an organised bride. I boxed up everything a week before and had time to do extra touches like writing more chalkboard signs because I enjoyed doing them."
"We scheduled our toasts before we ate to ensure our speakers could relax and enjoy their food!"
"Throughout all the planning I overthought everything. I was incredibly anxious but the last few days were calm as it was too late to worry about things!"
"If you don't choose a videographer get a guest to capture some film of your day."
"On reflection we would have invited more evening guests. Nearly all our evening guests invited attended, but we didn't invite some that we didn't think would travel but so many did!"
What an incredible day! Jen and Dan, sending so many congratulations. I love the pale colour palette of country flowers that you chose, and you both look so, so calm and happy. Very many thanks for letting us publish your wedding on these pages, and also for your invaluable words of advice and insight into how you created the day.
Thank you of course to Benjamin Stuart Photography. We've got more weddings captured by him for you to enjoy here, as well as more elegant, country house weddings here.
Ele xx