As much as I enjoy my holidays, I also love a little armchair travelling, and I hope you find today's wedding transports you as much as it has me! We're heading for Ibiza's dramatic, sun-drenched coast for a relaxed, boho wedding celebration, and a couple fully embracing the laid back and chilled out island style.
Meet Sam, a make-up artist of 15 years, whose work takes her to red carpet events for TV, film and fashion, as well as wedding make-up, too. She married her love Nick, a Creative Director for Fusion, an automotive events agency on the 14 June 2017 at Elixir on the west coast of Ibiza. London wedding videographer, Miki Studios captured the whole day beautifully on film…
"Miki – we owe this guy the world. He agreed to help us out on a budget best described as 'challenging'. He's such a nice guy to hang around with, you forget he's working, it's just so natural. And the fact that he's an award-winning photographer too means he understands what is important to capture on the day."
"If you see it, you'll see why we picked it. It's set on a cliff, overhanging a quiet beach, so the prospect of watching the sunset as we ate dinner with our friends was too good to turn down. Also, Vicki and the team there were so helpful and enthusiastic, right from the first enquiry email, their attitude sold it."
Images by Lina and Tom Wedding Photography
It's a delight to share the stunning work of Lina and Tom Wedding Photography, and the resulting images are a sun-soaked, evocative wonder packed with subtle detail.
"Lina and Tom – utterly wonderful. They are an award-winning married couple, both ace photographers in their own right, but combined they make magic. They were a dream to work with, and the moments they captured are so emotional, and included our drinks at Cafe del Mar and a post-wedding shoot around Ibiza town. We cannot recommend them enough and we're so glad we brought them with us from the UK. They nailed it."
Sam chose an incredibly chic ruffled, halterneck gown by Temperley London , from the designer's London boutique.
"The fit, the shape was stunning, the low back looked really elegant and was perfect on a hot day, with light ruffles going around with a small train."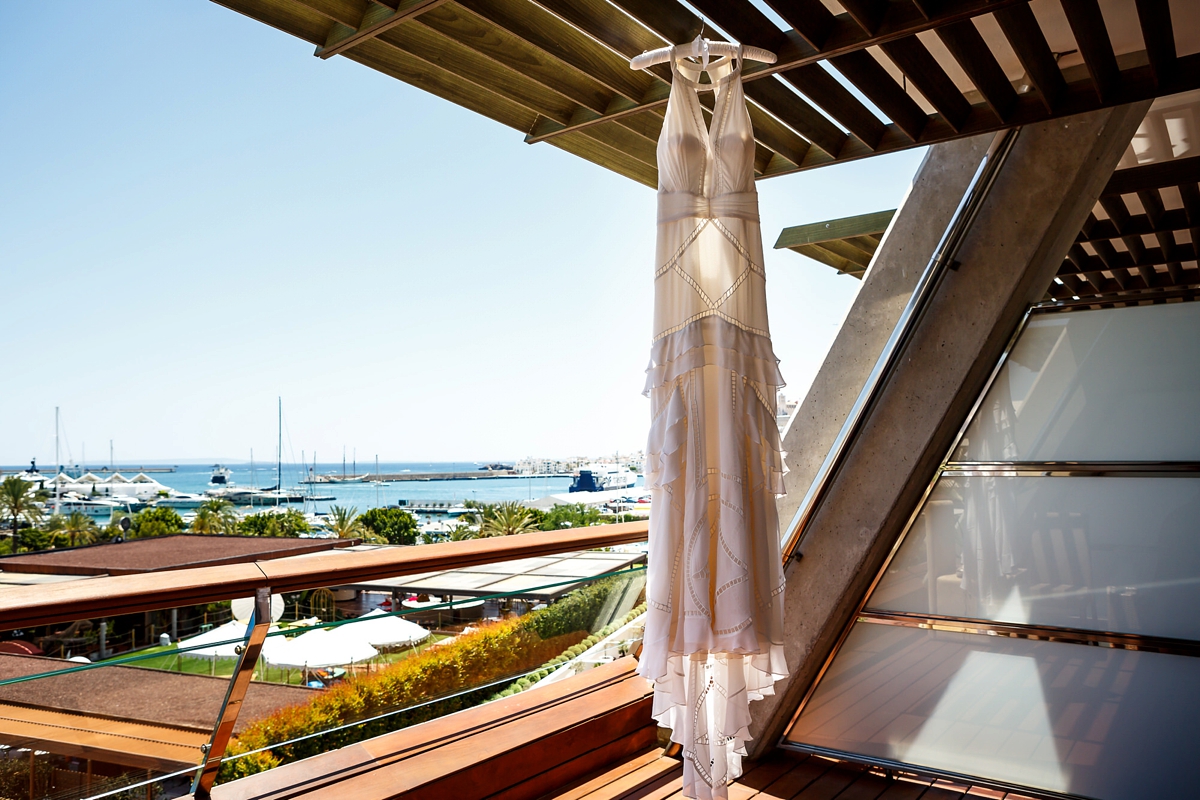 Earrings were a sweet leaf design in gold from Astley Clarke, and Sam also carried a gorgeous and glittery clutch bag in ivory and gold from SoS15. Her perfume of choice was Chanel's Coco Mademoiselle.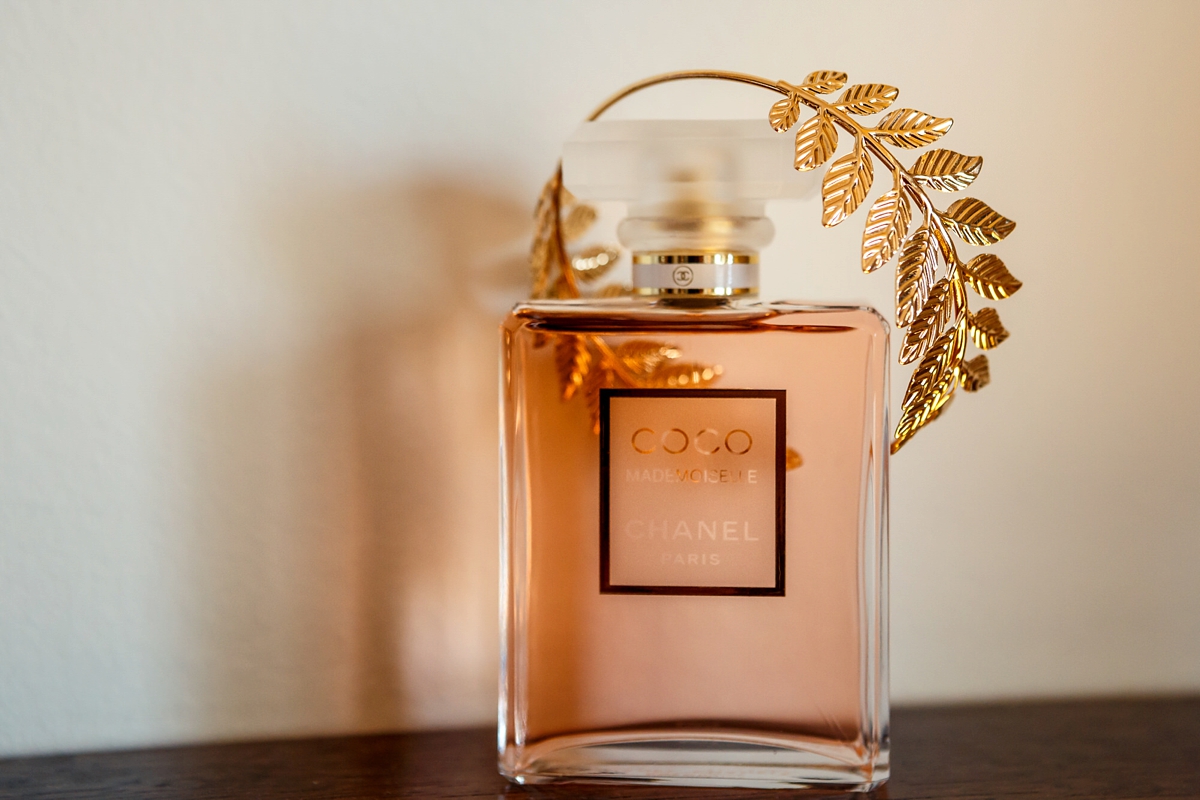 On her feet, Sam chose 'Blossom' sandals by Charlotte Mills – just perfect for a relaxed beach wedding.
"I opted for flats that laced up the leg, as it was important to me that I felt comfortable and they were! They are soft leather, cream and gold with hearts on, which I love."
The lovely bridesmaids each chose their own dress in a soft blush colour (no further details supplied) with their own shoes and a pretty gold leaf design hair slide each from Etsy (no details provided). They also carried sparkly clutch bags to match Sam's – from SoS15.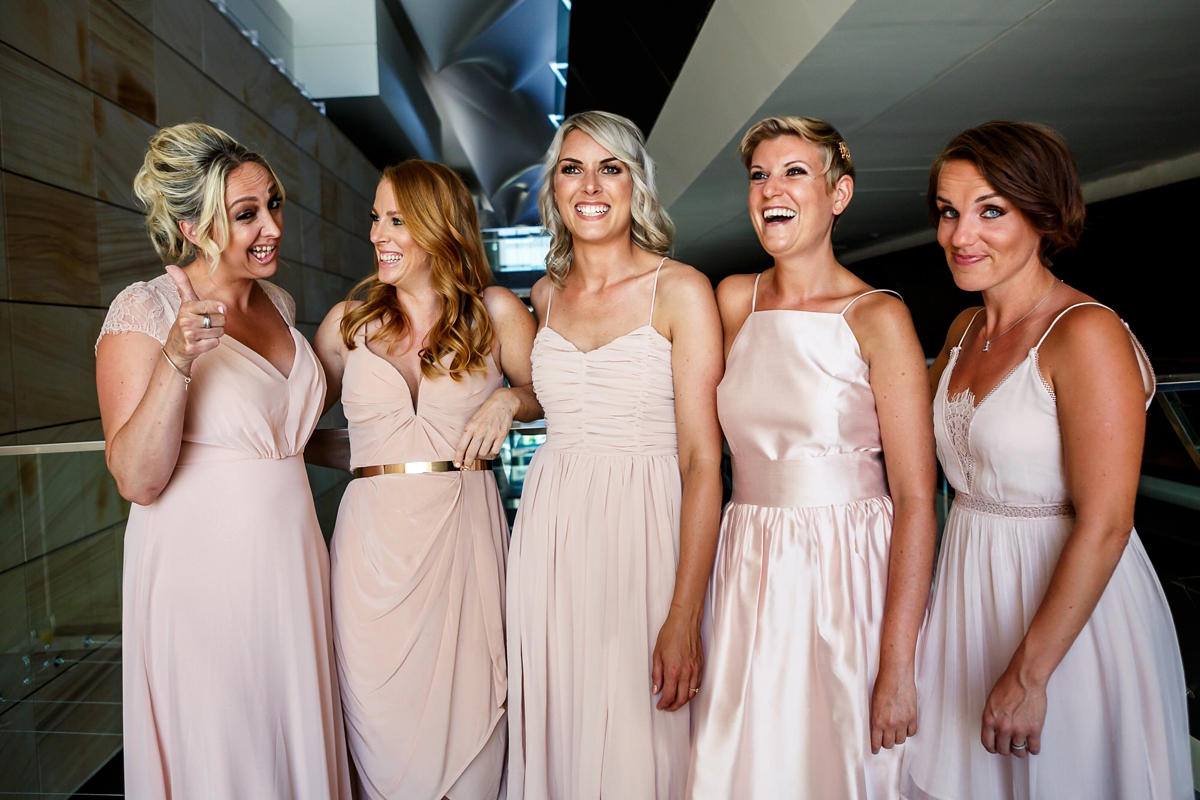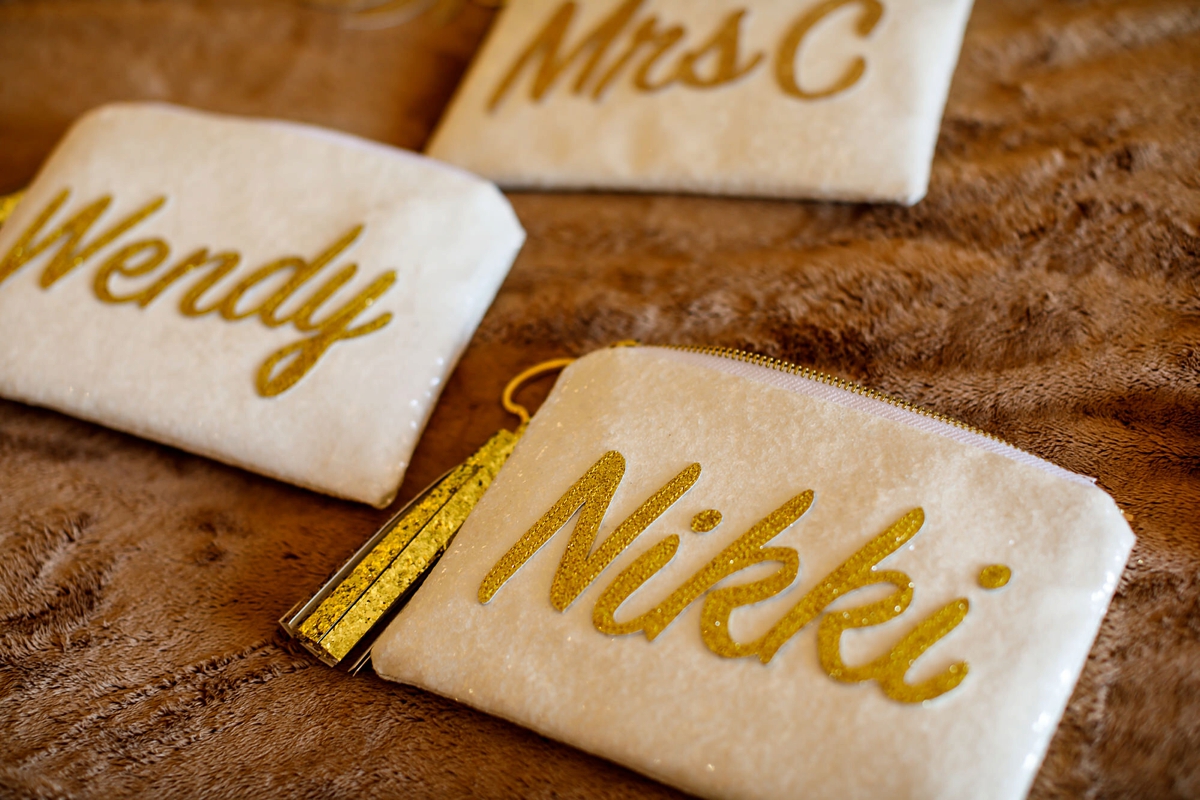 Sam's friend and bridesmaid Nicola Johnson is also a talented make-up artist, and she was on hand to create a radiant look for the bride (I especially love the smoky eye). Sam's hair was styled in relaxed, beachy waves by Kinga Evans and adorned with a beautiful gold flower crown from Net-a-Porter, which was also Sam's 'something borrowed.'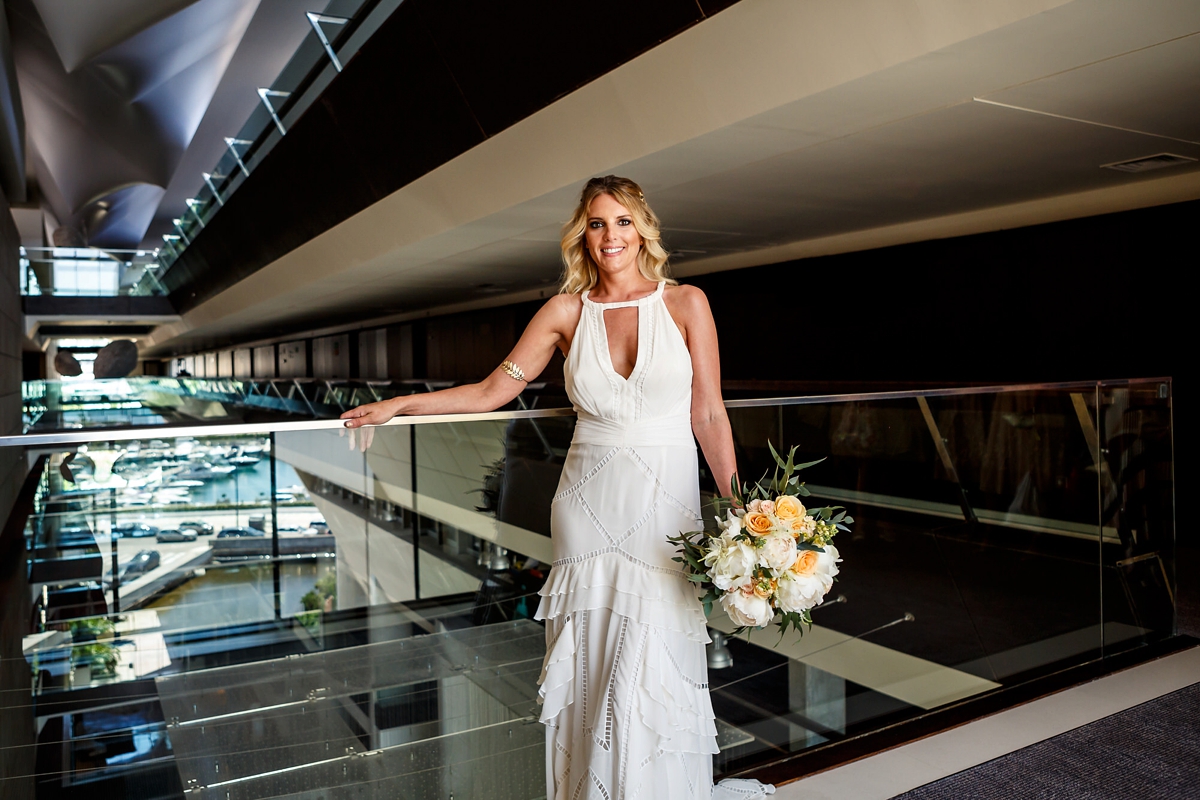 Sam chose a wonderful summer bouquet of blowsy white peonies, roses and Mediterranean foliage, created by El Ramo de Flores.
"Chosen for simple elegance and beauty. A clean colour palette, letting the sea and sky add the colour."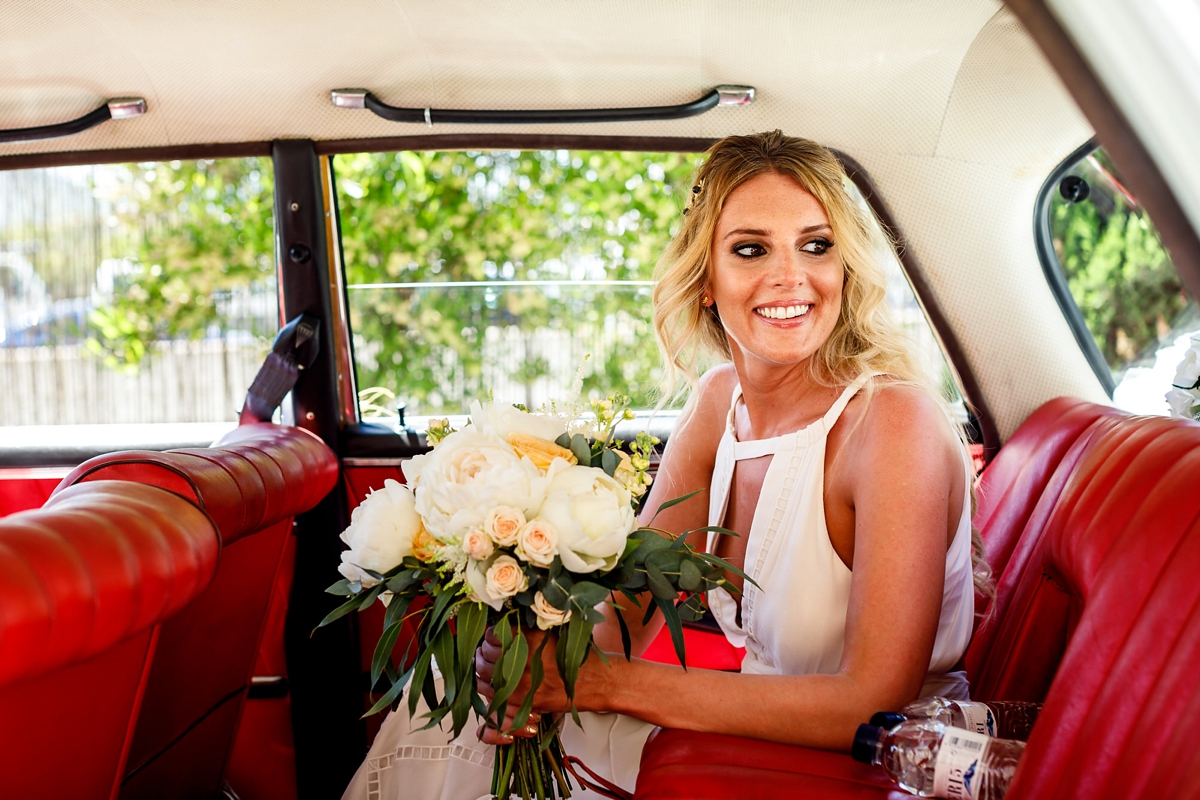 Wedding transport came in the form of super-stylish vehicles, reflecting Nick's love of cars and design, hired from Ibiza VIP Bus. Nick, the groomsmen and bridesmaids were driven in Mercedes Vito minibuses, and for Sam, it was a beautiful 1963 Mercedes 220 SE with a striking red leather interior.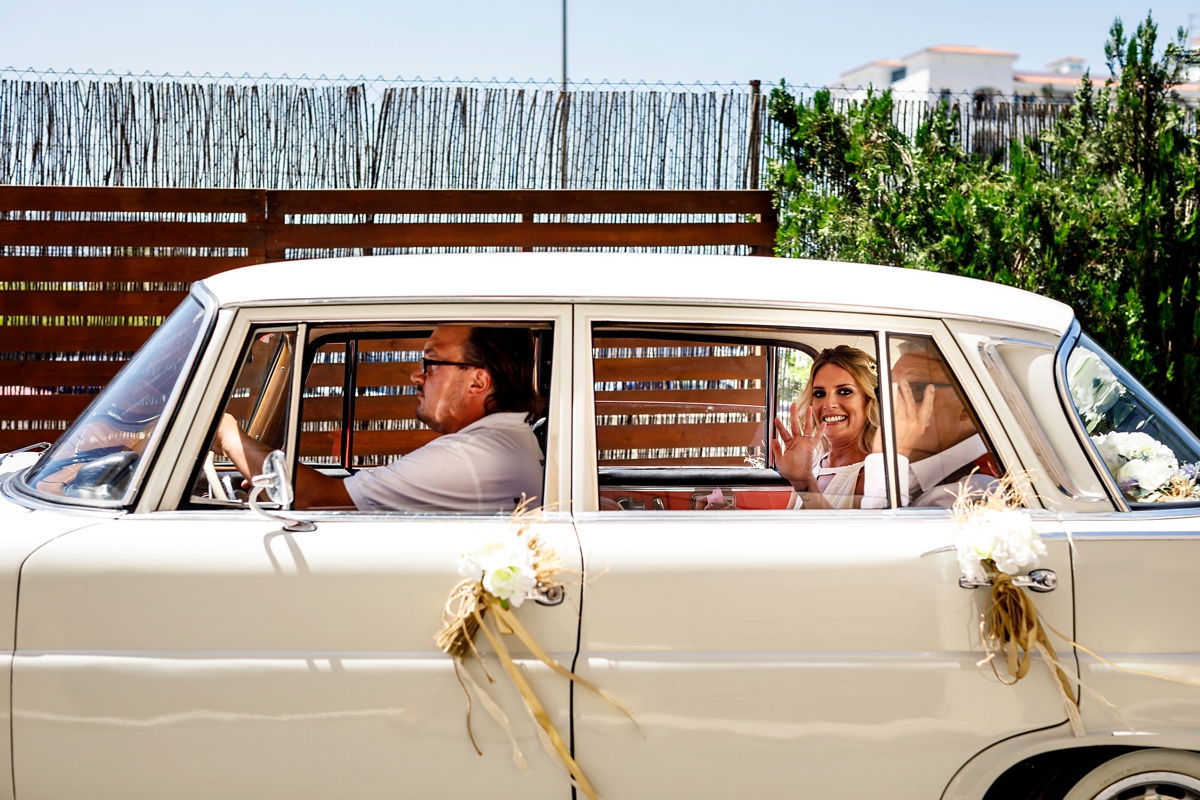 Nick mixed and matched his outfit, with a navy blue jacket from Ted Baker, crisp white shirt from Eton and relaxed chinos from Slowear, which he purchased at Selfridges. He completed his smart yet relaxed look with loafers from Tod's, which he also picked up at Selfridges.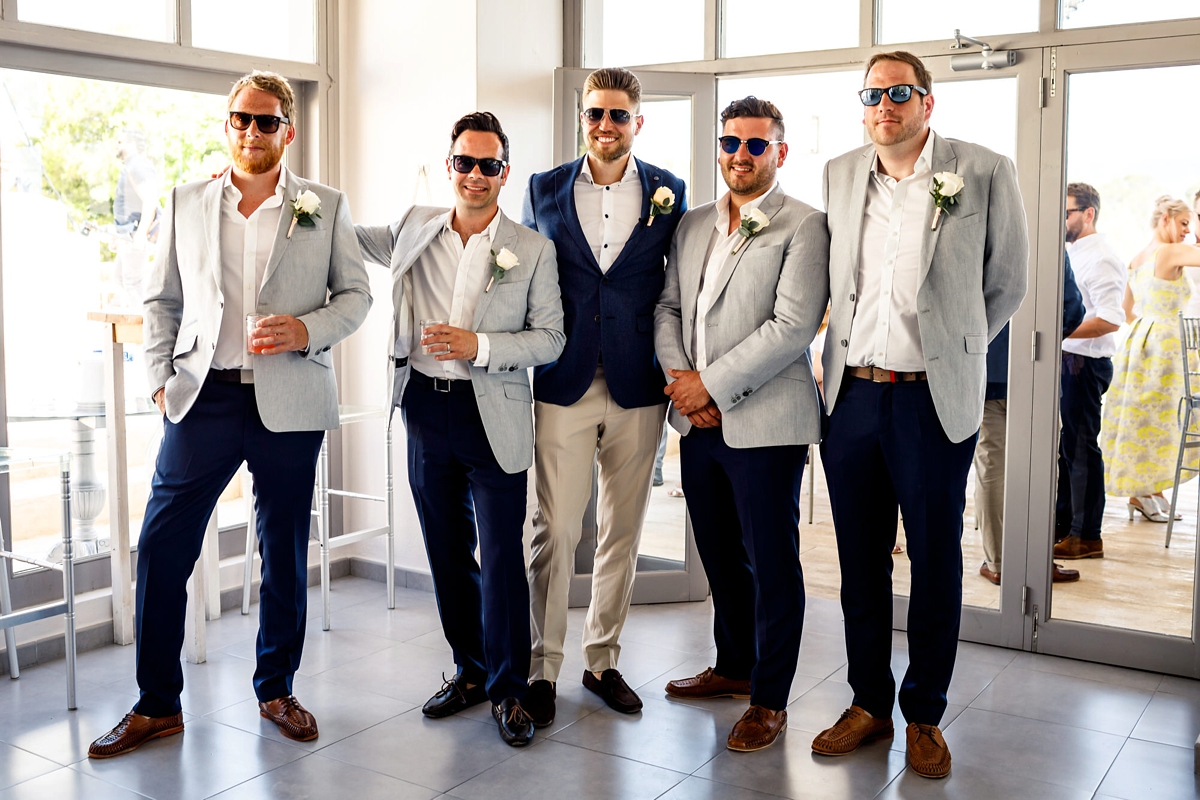 Sam and Nick first met through mutual friends and family at a birthday barbecue in a country pub garden. Nick knew after one day of conversation with Sam that she was the one, and his proposal story is incredibly sweet and thoughtful.
"I spent two months having a ring made in Hatton Garden, sourcing a bespoke ruby from Sri Lanka. The day was chosen to be Sam's birthday (mainly because I spent all my money on the ring!) so I booked a table at Galvin at Windows, Fred Sirieix's restaurant above the Hilton Park Lane."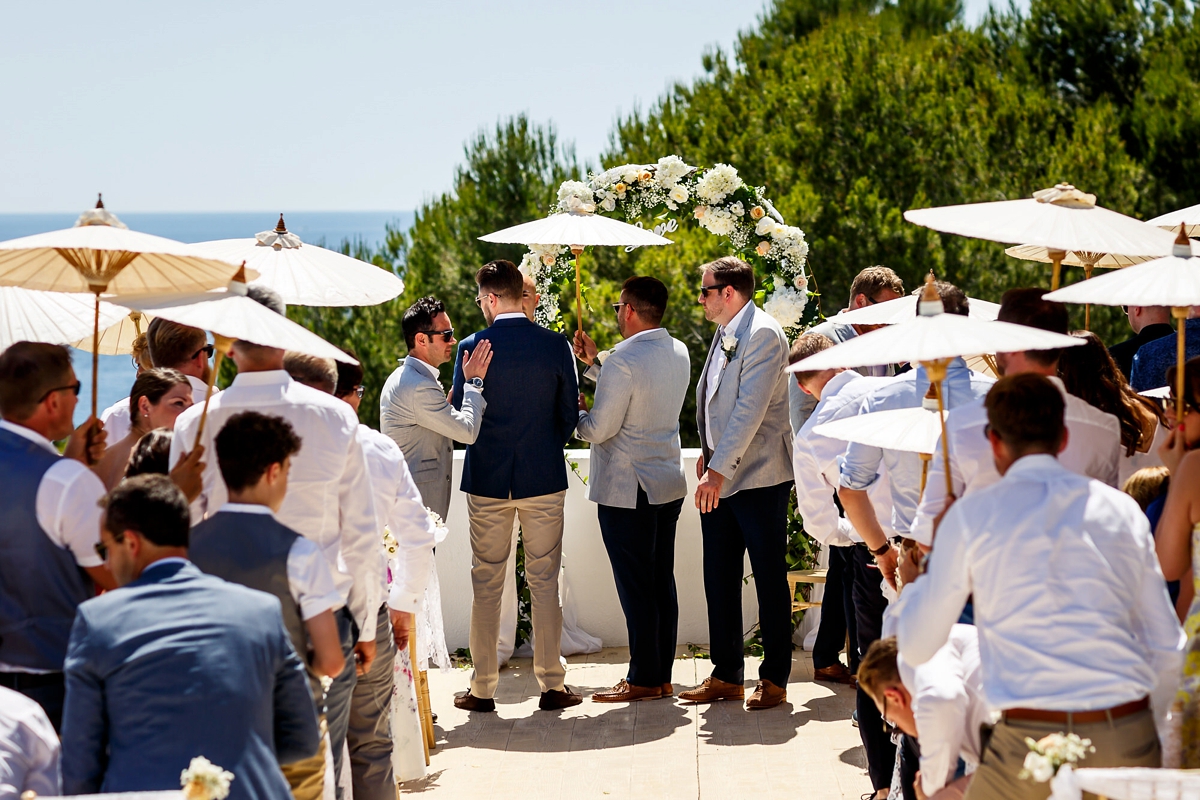 "They were fab – totally up for setting up a ruse. So after we'd finished the main course, the waiter asked if we'd like a tour of the kitchen. As we walked through the kitchen, a chef subtly handed me the ring (the box was chunky so I had to leave it in my coat in the cloakroom…!) and we were taken to a private balcony overlooking London, they closed the door behind us, and let me ask the question. I had to ask twice because she just kept shouting 'Are you actually doing this?!' "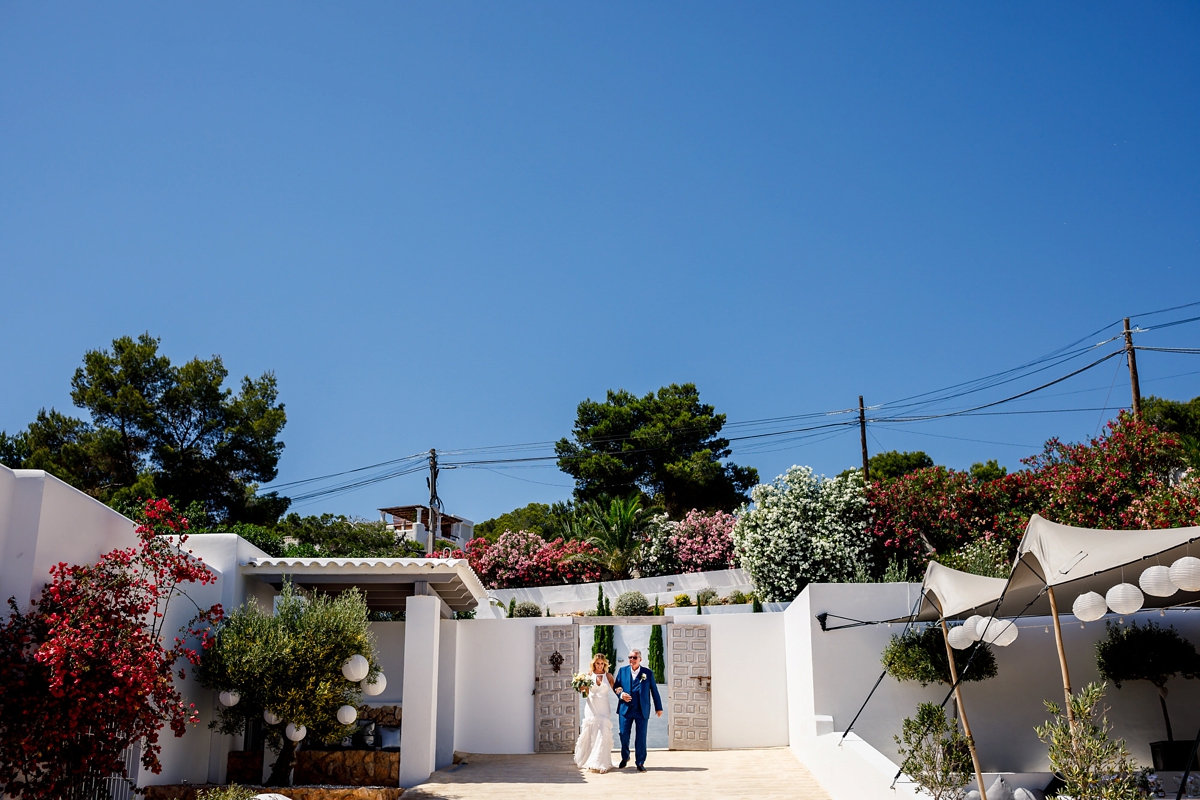 The couple were engaged for two years before marrying in June 2017.
"Elixir offered a wide range of styles and a really thorough website, allowing you to pick and choose everything. We chose a relaxed, romantic, bohemian style, gentle colours and chilled vibe. We wanted to embrace the chilled Ibiza vibe, and the ceremony was spiritual, but not religious…"
Against the azure ocean backdrop, Sam was accompanied down the aisle by her dad, Alan, to the song So Good to Me by The 1975.
Celebrant Melchior from Ibiza Ceremony conducted the ceremony, and the couple had taken the time to sit down with him and write their vows together.
"We took individual lines and words we liked, and re-wrote them in a way that we loved the sound of. All vows will convey love and commitment, but if you enjoy saying the words and the way they sound, it makes it so personal."
"There were no readings. We were conscious that we didn't want to keep people sitting in the heat longer than necessary, so we went for just Melchior's words and our vows."
Sam's rose gold and diamond wedding band came from Hatton Garden in London (jeweller details not supplied), and Nick opted for a meteorite rock ring from Etsy based seller SkyGemstone.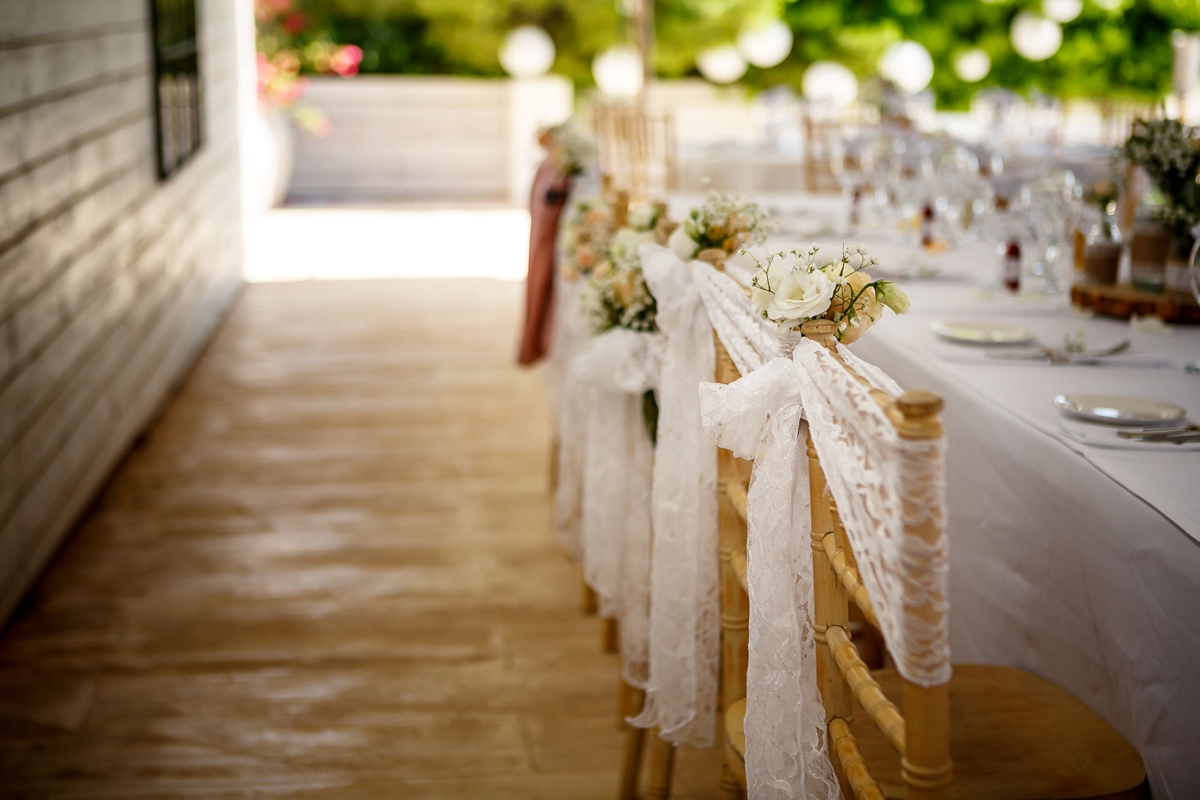 Nick designed and made all of the wedding stationery himself, including amazing celestial themed table names and seating plan.
"Décor was provided by Elixir as part of the styling package we chose. It included lanterns, fresh flowers, wood and slate serving platters, a giant lit-up 'LOVE' sign and candles."
Guests dined in the shade of a beach-inspired pavilion, and received bespoke cocktails in miniature vintage bottles as favours. Their dinner was a delicious luxury barbecue with lots of lovely Mediterranean flavours.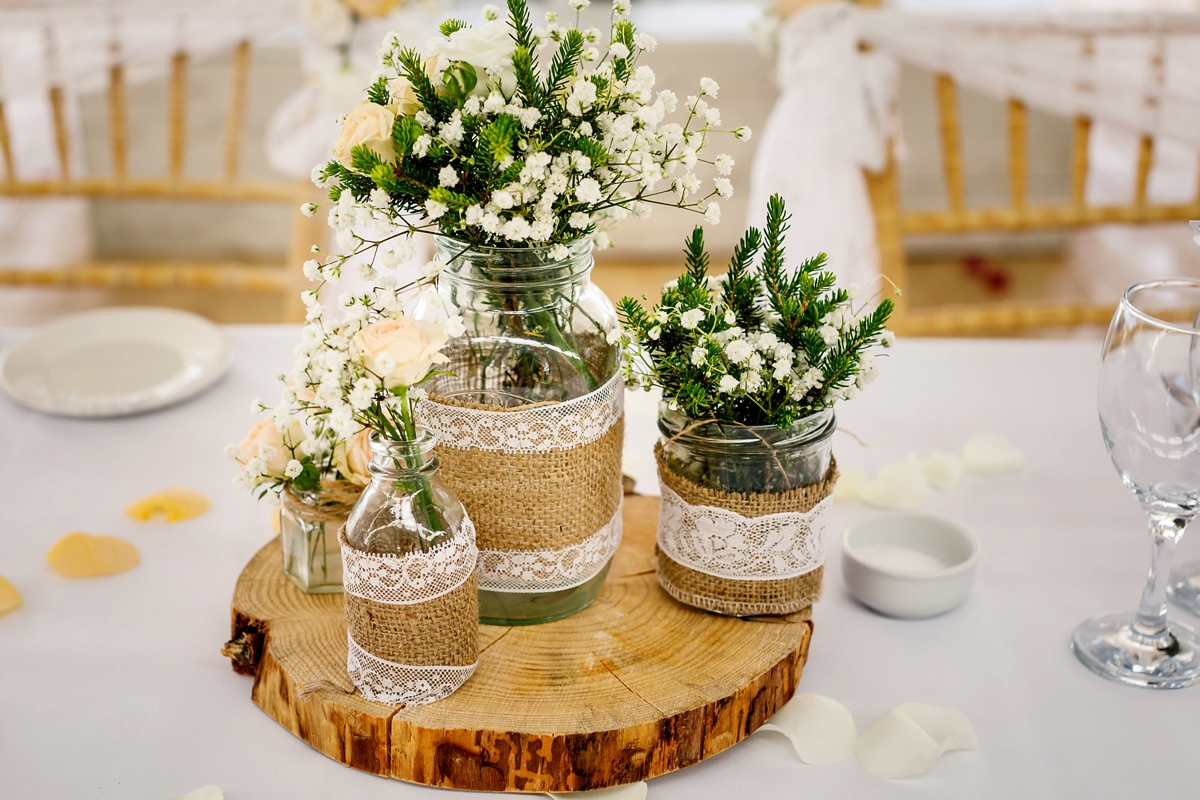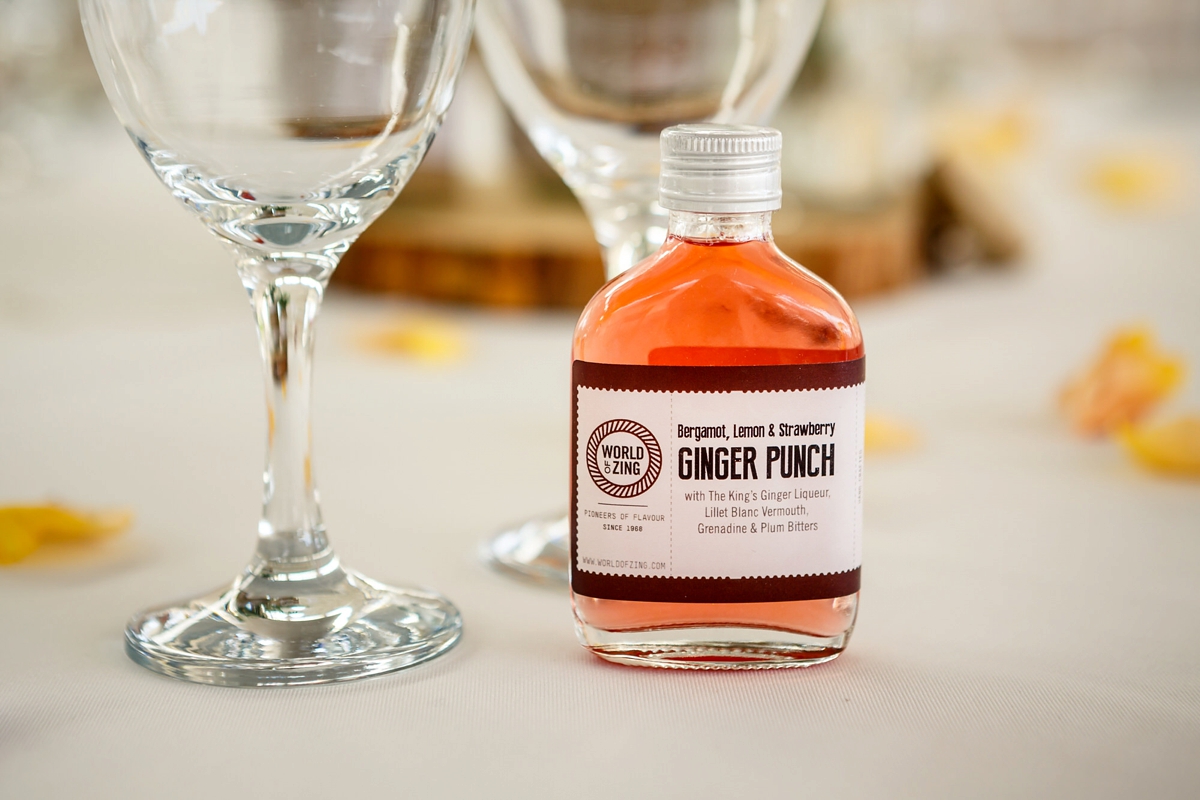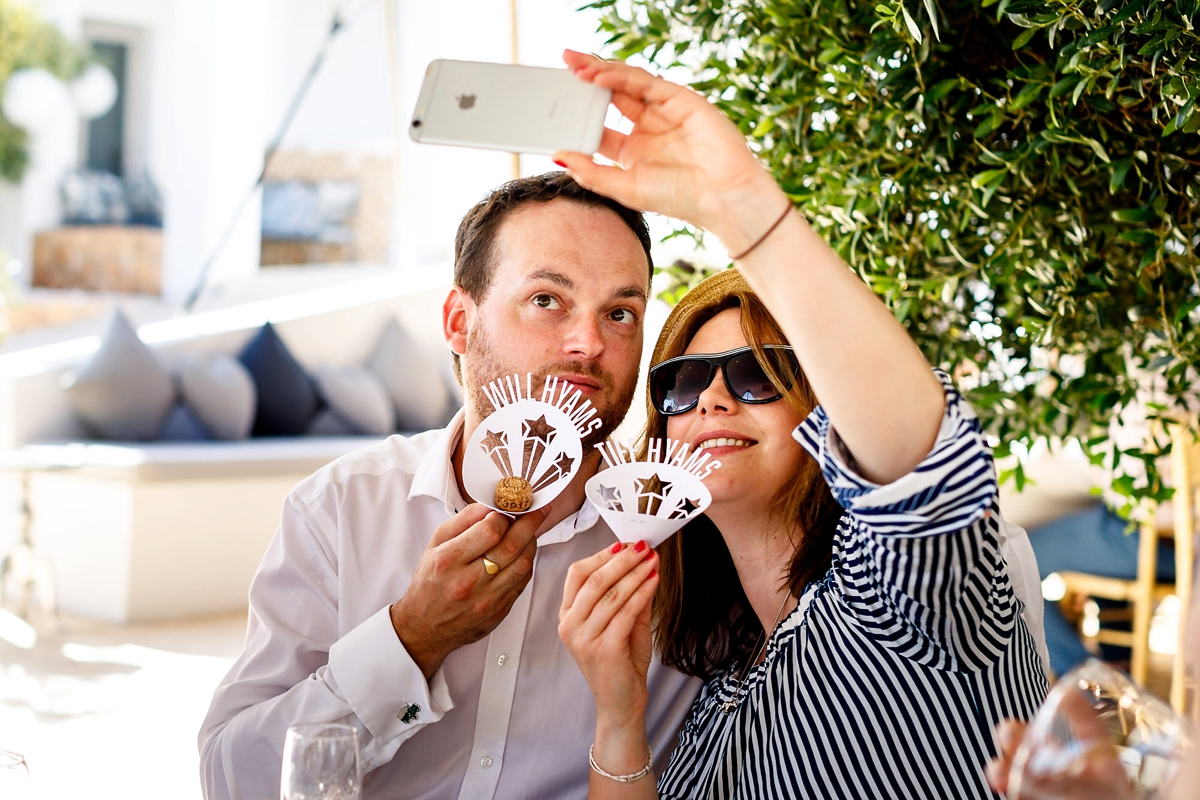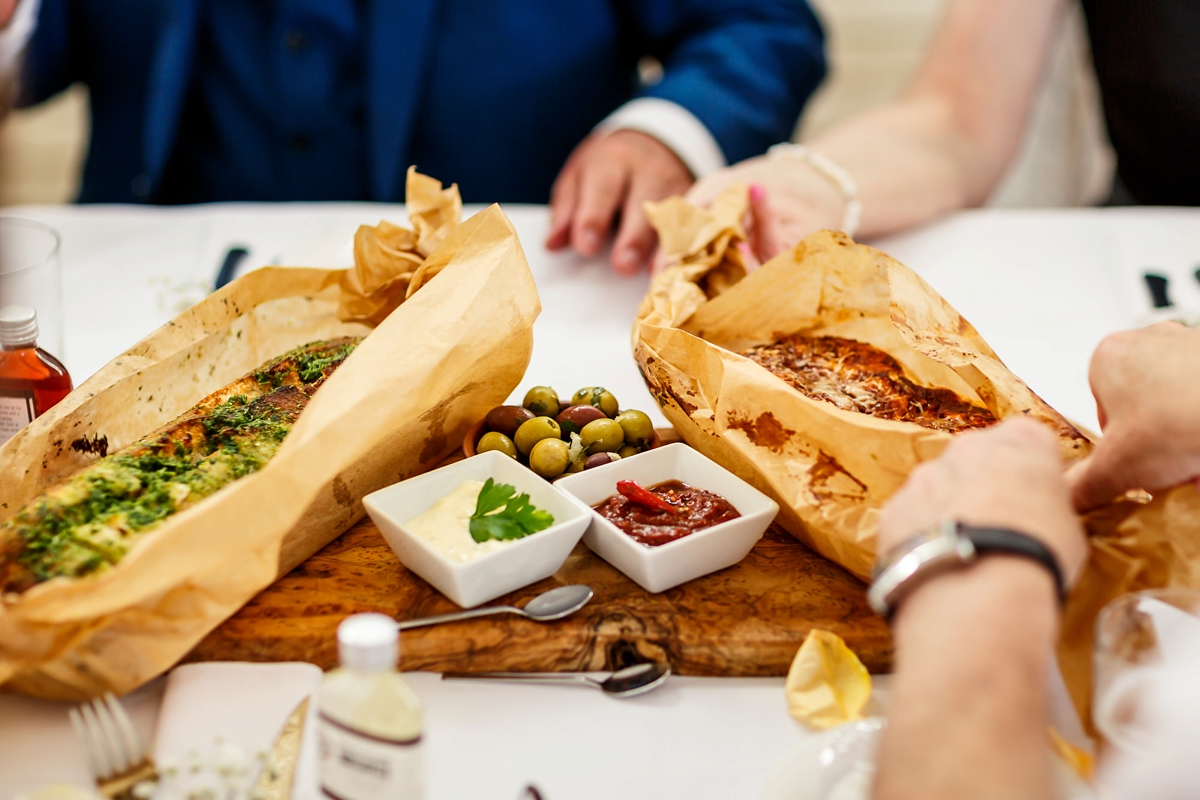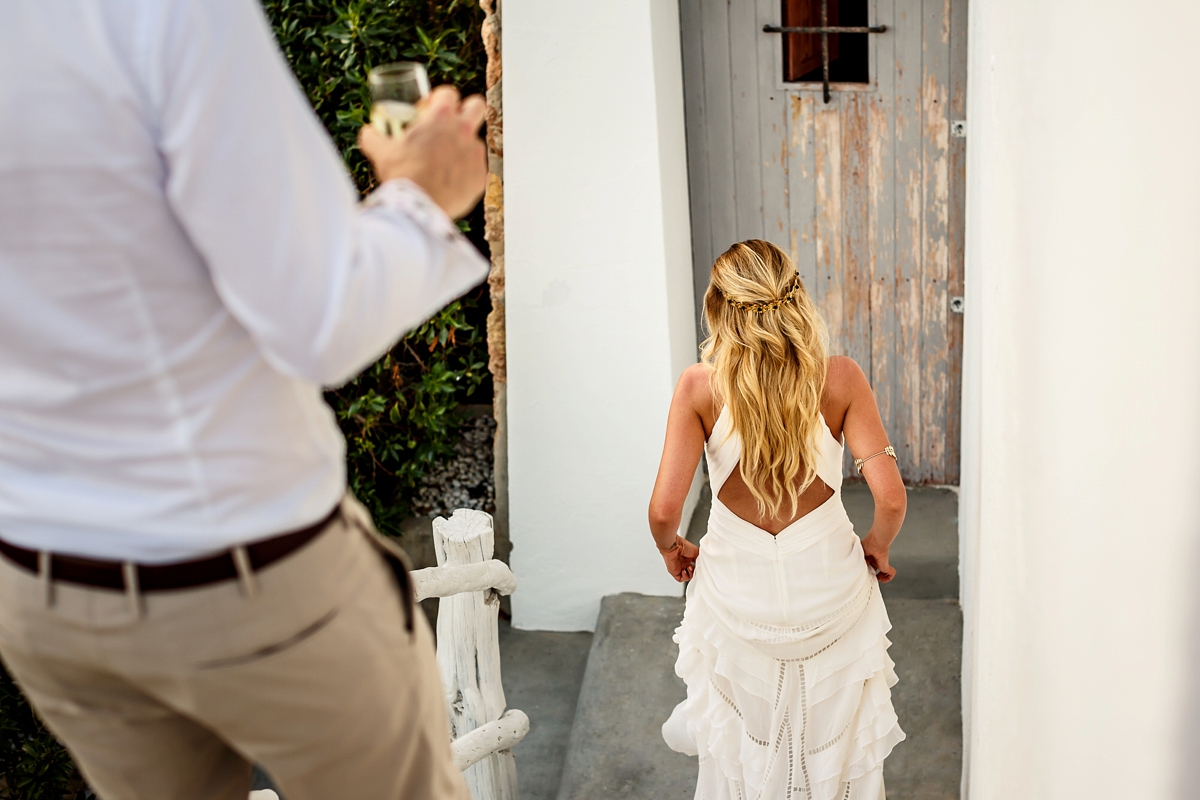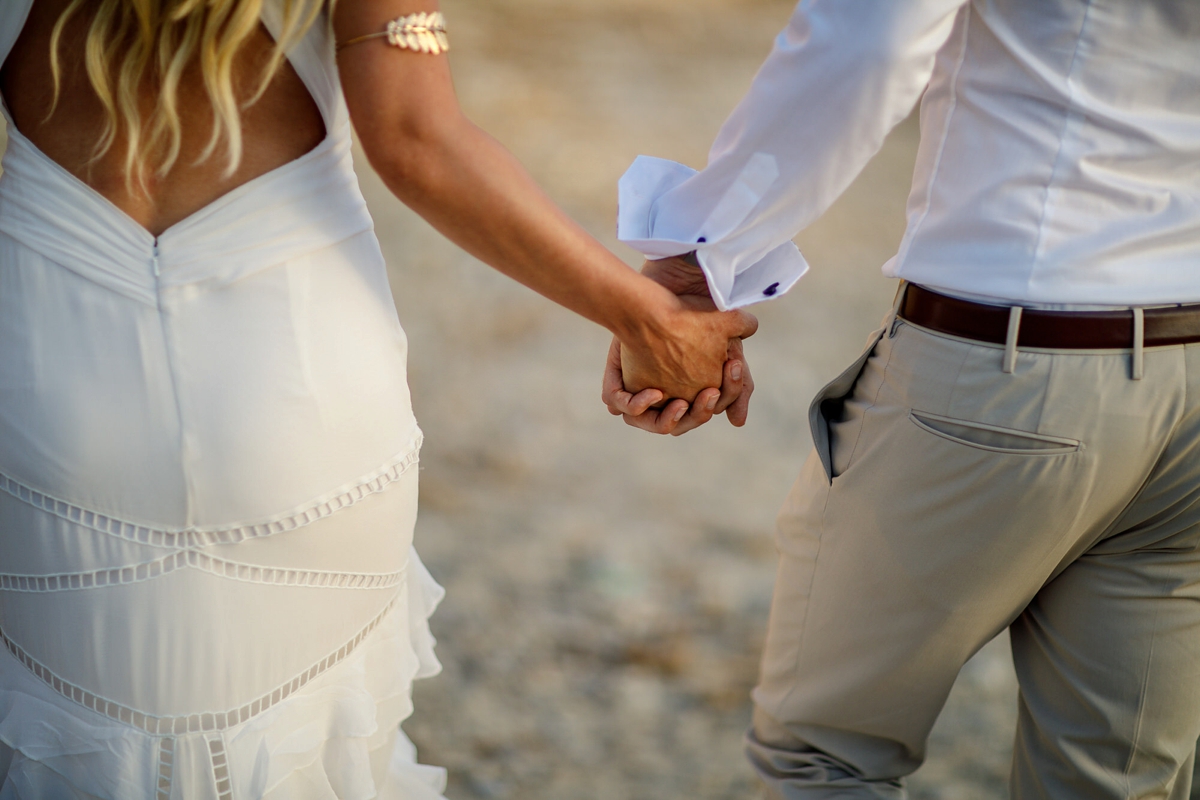 Unsurprisingly, the couple found it tough to choose just one favourite moment from their day, and collectively have many, which they treasure.
"Nick – It's so hard to choose, it couldn't have gone any better. But probably seeing each other for the first time, that took some beating. Also, standing up to speak, and seeing all our favourite people in the world (from all over the world) in one place. Once in a lifetime, you need to let that soak in."
"Sam – getting ready with the girls, walking down the aisle with my dad, dancing with my mum, seeing my brother's face, speeches, seeing each other,the food, the love shared with everyone, all of it!"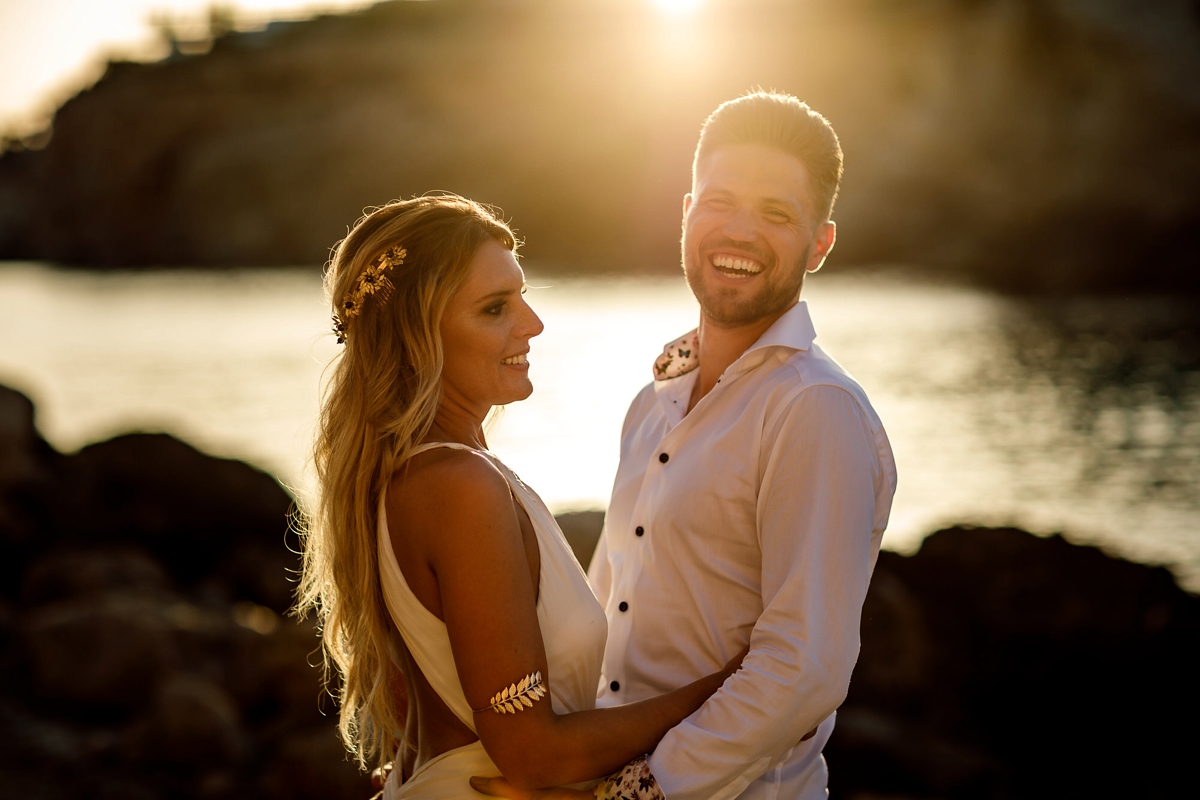 Following a breathtaking Balearic sunset, the couple also had a lovely, fun and memorable first dance together as newlyweds.
"A close friend called Neil (a DJ) helped remix two versions of Higher Love – a beautiful, slow romantic version by James Vincent McMorrow, mixed into the lively original by Steve Winwood."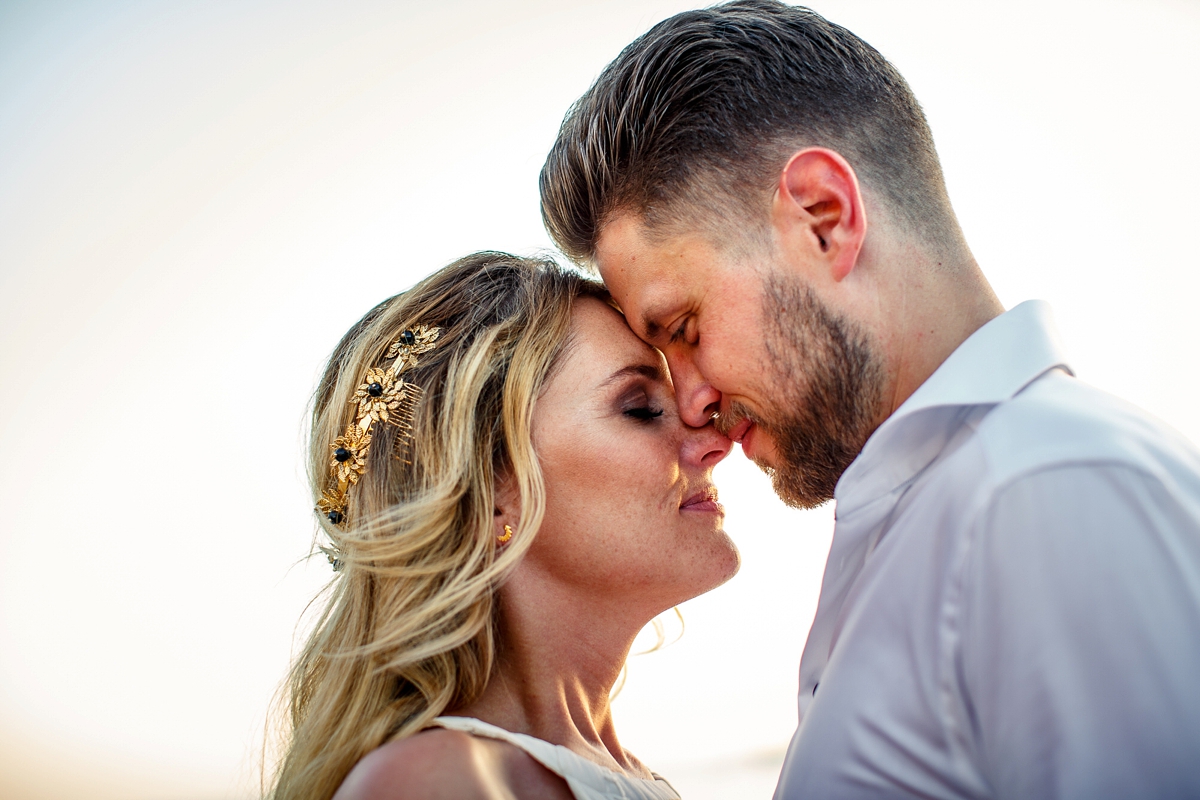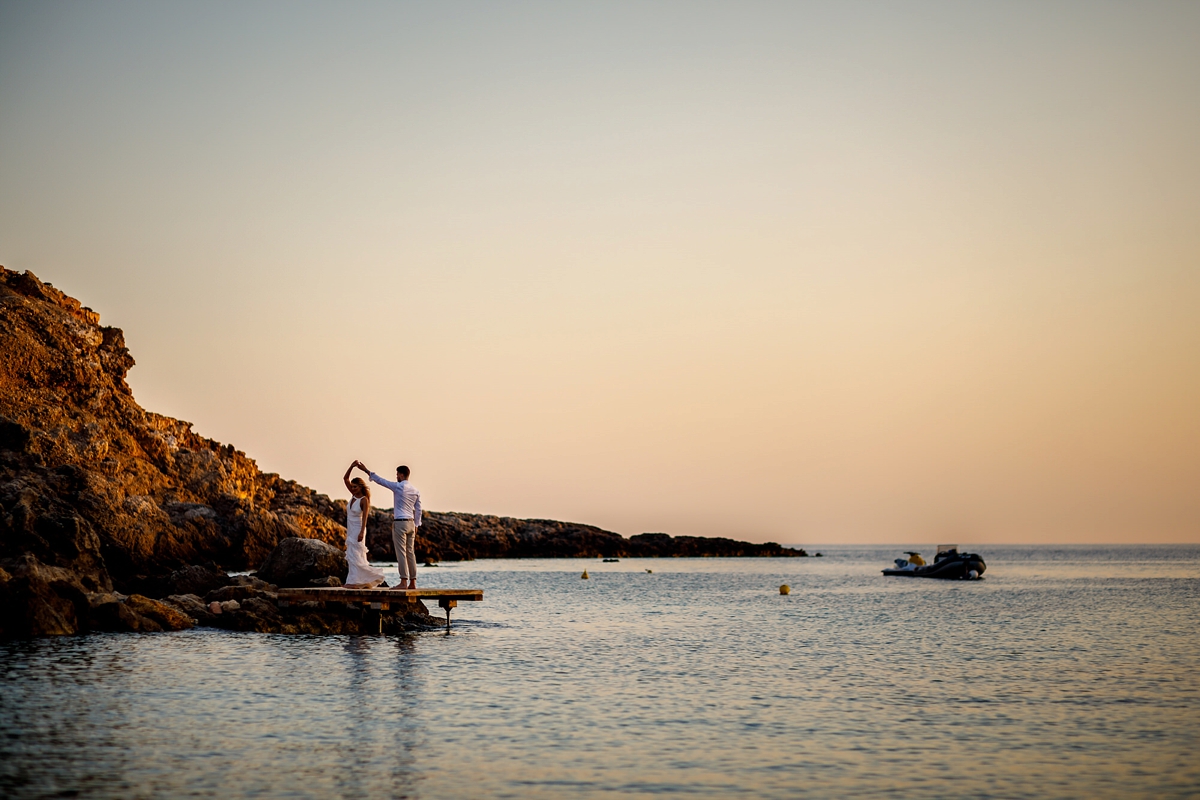 Later in the evening beautiful sharing platters of charcuterie and cheese were served up, along with music from Elixir DJ, Steve.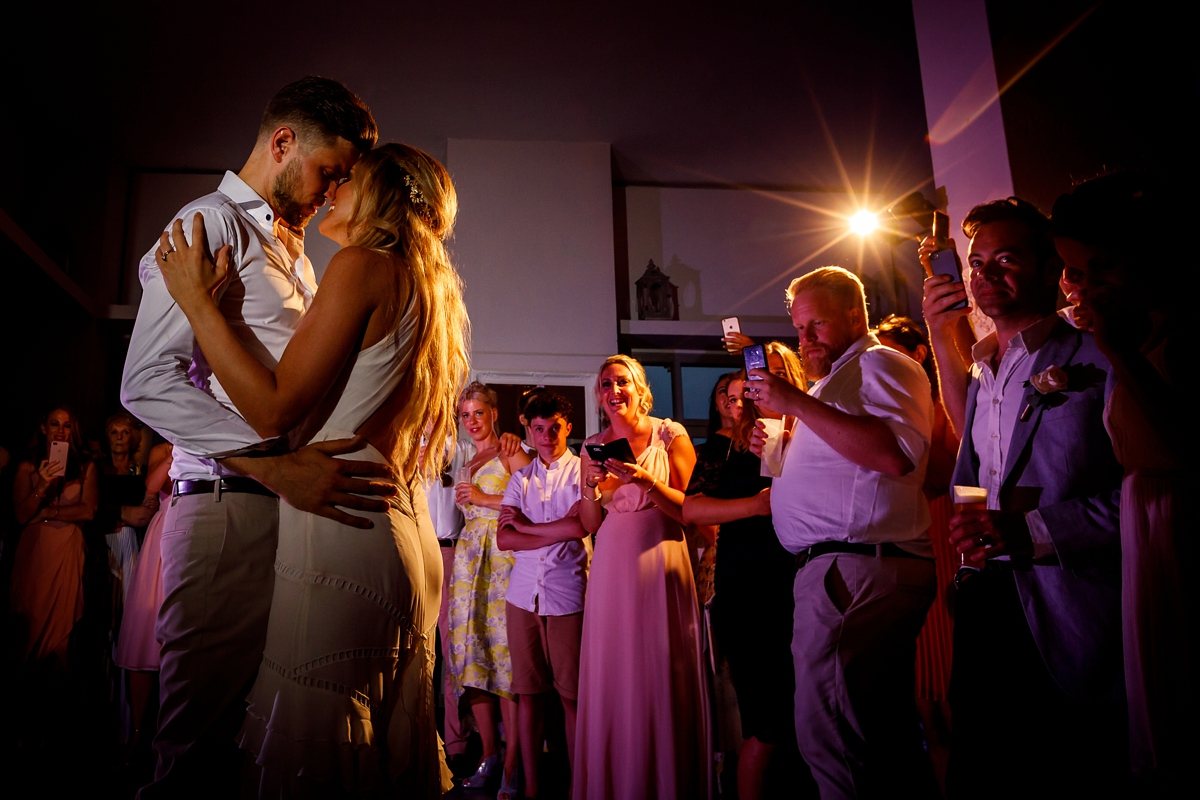 Words of Wedded Wisdom
"Approach it with a relaxed attitude, enjoy the planning stage, it's amazing. We would also obviously recommend an island like Ibiza. It has the perfect balance of chilled-out peacefulness and plenty of nightlife, meaning guests were really keen to fly out for longer. This in turn made people more relaxed, and we arranged an afternoon of drinks two days before the wedding, so everyone could meet."
"Don't feel pressured into paying for things you don't actually want. We chose not to have a cake, because we had so much lovely food, we felt there would be too much waste. That saved us about £800 alone. Just choose the stuff you really want. It sounds obvious, but don't do something just because it's tradition."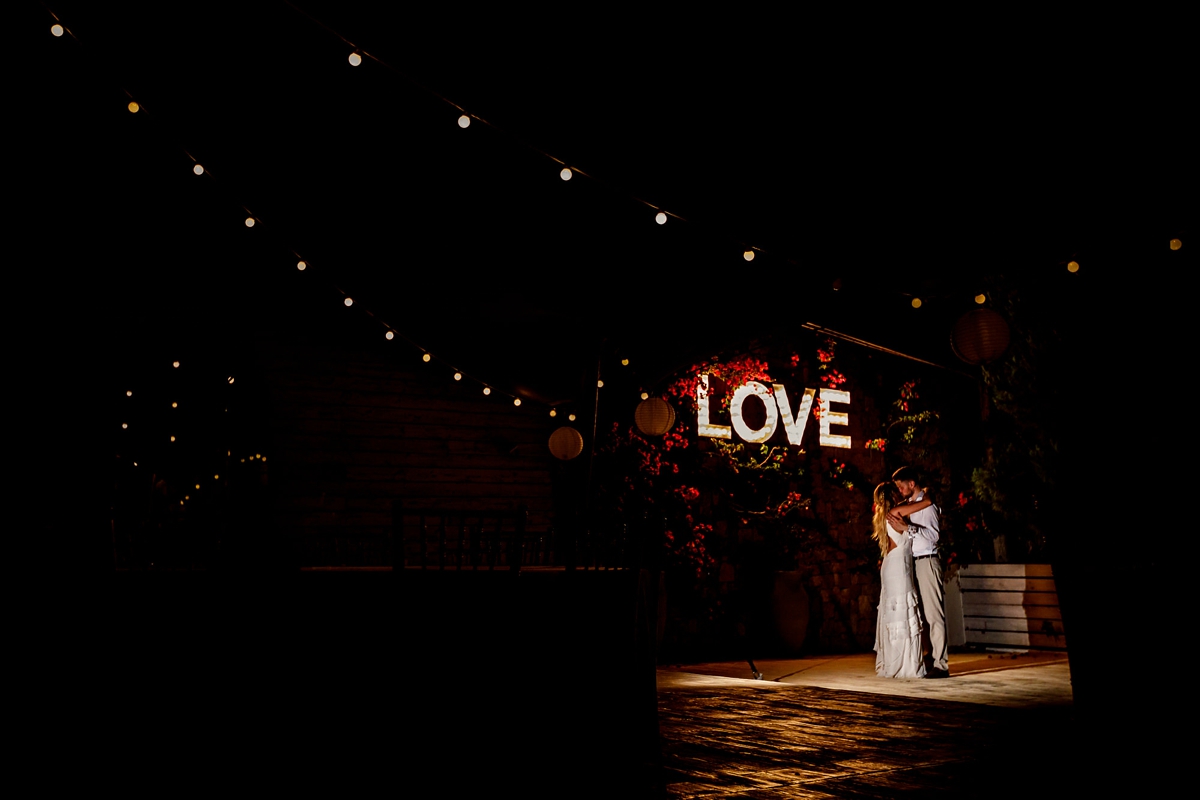 Wow, what a completely enchanting day you had, Sam and Nick – huge thanks to you both. Thanks also go to the talented Miki Studios and Lina and Tom Wedding Photography for capturing it all so beautifully. If this gorgeous island wedding has left you wanting to see more, we have lots more Ibizan inspiration on our pages, here.
Until next time!
With love,
Laura