Hello lovelies! I trust your well? I love a city wedding. There's something so easy-going and personal about them isn't there? Usually the couple have chosen the location due to its sentimental value to them which then shines through on the day, and today's couple are no different.
They chose the city of Leeds, where they first met, as their wedding destination and tasked their photographer with a trip around the city centre to take photos in front of their much-loved places. So without further ado, let's introduce you. Mental health practitioner Laura and wines and spirits advisor Dan were wed on 13th January 2018 at Leeds Civic Hall, followed by a reception at Left Bank in Hyde Park, Leeds.
Wedding film by Jolly Films
Capturing the magic of the wedding day on camera was Leeds based wedding photographer Jamie Sia who the couple found during an online search.
"I fell in love with Jamie's photos as soon as I saw them online and particularly liked the stylised arty shots. I immediately felt comfortable speaking to Jamie when we met for a consultation and he was really supportive during our practice shoot when I was a bit camera-shy! Jamie really liked our idea of going to some of our favourite places around Leeds for photos and it was one of our favourite parts of our wedding day."
Images by Jamie Sia
Capturing the magic of the wedding day on camera was Leeds based wedding photographer Jamie Sia who the couple found during an online search.
"I fell in love with Jamie's photos as soon as I saw them online and particularly liked the stylised arty shots. I immediately felt comfortable speaking to Jamie when we met for a consultation and he was really supportive during our practice shoot when I was a bit camera-shy! Jamie really liked our idea of going to some of our favourite places around Leeds for photos and it was one of our favourite parts of our wedding day."
The couple also chose to go down the route of hiring a wedding videographer so they would have a wedding film to look back on and treasure forever.
"We hired James Homer from Jolly Films as our videographer. James stayed with Dan the night before the wedding and partied with us well into the night so was there for the full wedding day. He was so much fun to be around and worked really well alongside Jamie to capture our day perfectly."
"Dan and I met in November 2011 in our final year of university at a charity speed dating event! We each went along with a group of friends for a bit of a laugh and ended up as a 'match'. After speed dating, we emailed back and forth before meeting up for a 'first date' on 13th January 2012."
"We met for a drink and have been together ever since. Dan proposed to me whilst we were away celebrating our four-year anniversary and we got married exactly 6 years on from our first date and two years on from his proposal."
"My three bridesmaids, Ella, Ellen and Olivia, all wore dresses from TFNC in a lavender fog shade. My maid of Honour wore a dress from Chi Chi London and my niece Olivia, who was our flower girl, wore a dress from Monsoon to match the bridesmaids dresses."
"The bridesmaids were then given free rein on their shoes and accessories! However I did have a bracelet made for each of them to match the style of my own jewellery. They were made by my friend Lisa Mortimer of Ellem Jewellery."
For her wedding day, our bride chose a stunning three-quarter length sleeve lace dress by designer Kate Beaumont, accessorising with a single tier veil edged with Claire lace trim also from the same designer.
[JP-VIDEO]
"My dress was a bespoke version of Kate's design called the Dahlia, which we tailored to have longer fitted sleeves and a faux silk slip. I looked on Kate's website and found a few dresses I liked before going to her incredible studio to meet her and try a few of them on. I really liked the Dahlia because of the heaviness of the skirt and how it pools on the floor, and was so pleased Kate could offer a bespoke design to suit my tastes. Attending Kate's studio for fittings and getting to know her made buying my dress such a special experience."
"To compliment the dress, I chose a pair of John Lewis flat two-part court shoes, which were metallic silver on the back and sparkly silver on the front. In the evening I changed into a pair of silver Converse trainers so I could dance! I also wore an oval frame pendant necklace, which matched my wedding ring and was handmade by Hannah Bedford."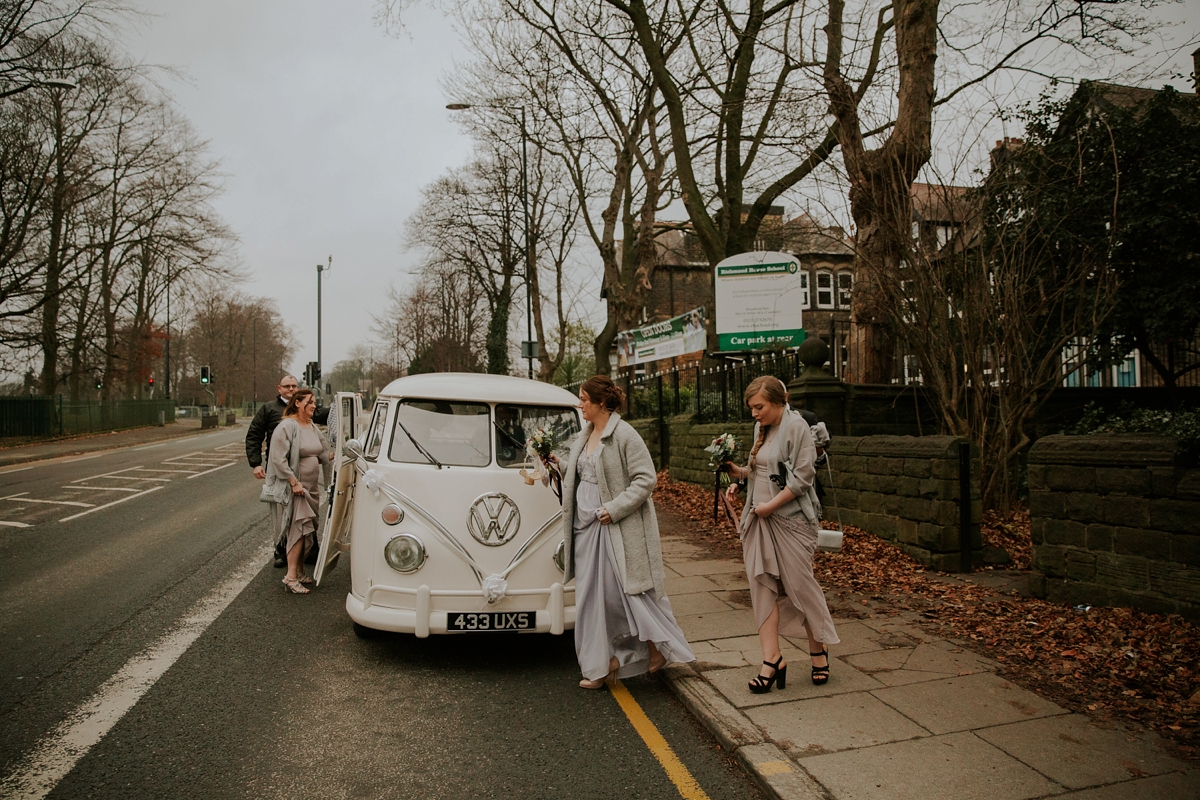 "My hair was done by Olivia at Westrow Westpark and I did my own make up using Urban Decay products, with some assistance from one of my bridesmaids."
The groom looked fabulous in his 3-piece navy blue checkered suit from Moss Bros, accessorised with a pair of Simpsons piggy cufflinks from Goellnerd via Etsy. His best man Simon and groomsmen Tom, Alex and Luke wore matching suits to the grooms.
"We chose to be married at Leeds Civic Hall as it's a central landmark of the city where we met and is also an easy venue for all of our local friends to get to. The Banquet Hall that we used for the ceremony is beautiful and there is a sweeping staircase up to the room that was great for photos."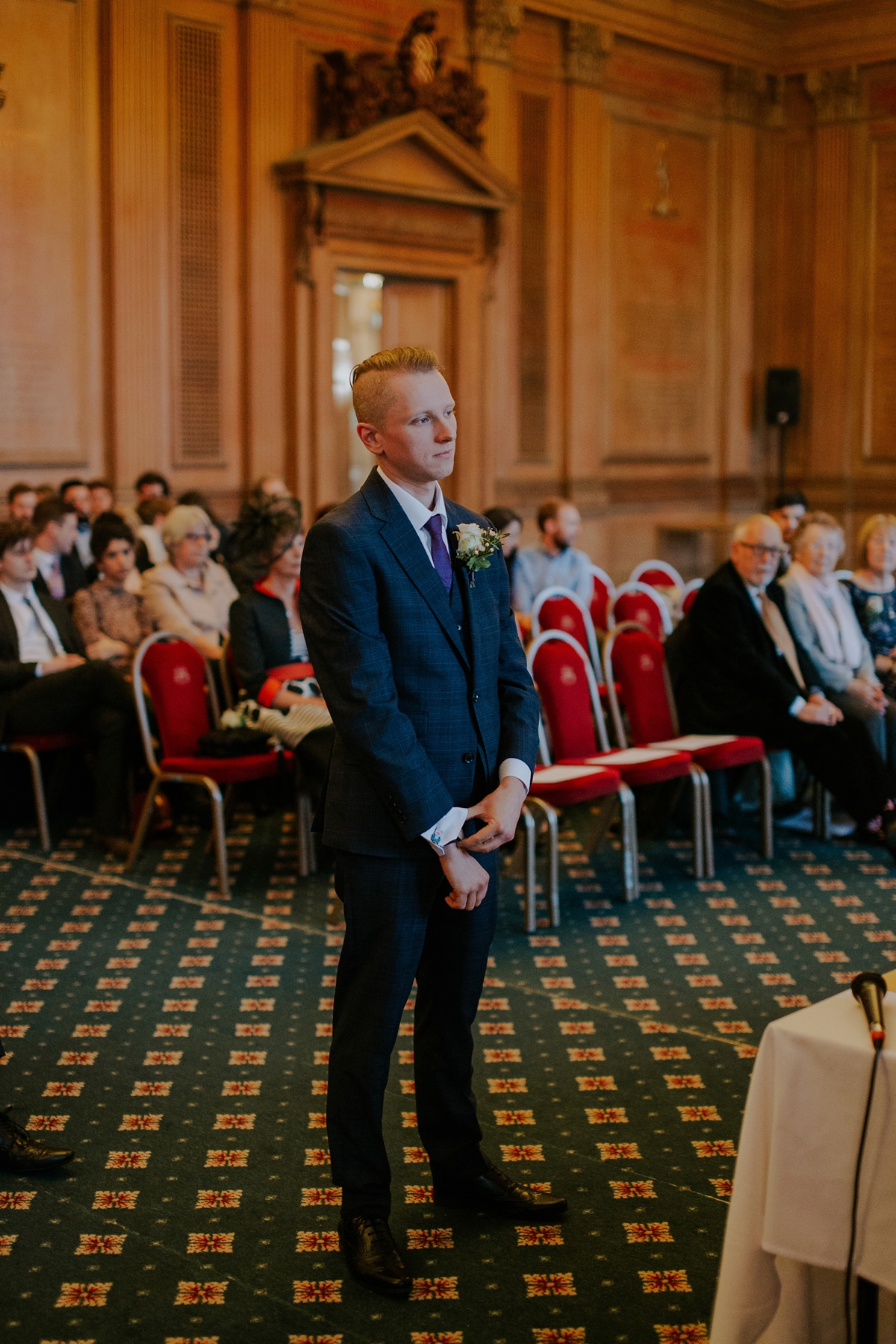 "Left Bank is an amazing arts venue located in a former church. It's a beautiful space and so special. When you first walk in, you'd never expect the incredible architecture from its simple exterior."
"We had previously visited Left Bank for art exhibitions, beer festivals and to watch live music and thought it would be the perfect space for a wedding party. Again we were keen to make the reception accessible for our local friends without them having to spend a fortune on hotels and taxis."
Laura's dad accompanied her down the aisle to the sounds of her bridesmaid Olivia singing Here Comes The Sun by The Beatles with a piano accompaniment from the couple's friend Olly. A registrar organised through Leeds City Council then officiated the ceremony with the couple reciting structured vows from the registrar's office.
"For the ceremony we also chose some readings to express what we wanted to say to each other and I made some 'alternate' vows during my speech at the reception too. I asked my mum to suggest some readings to us and she made an excellent choice which she also kindly read for us during the ceremony"
" One of the readings she chose was called The Prophet by Kahlil Gibran and it suggest that, although married, you can still have independence whilst being connected. We love how it mentions trees at the end too which was in keeping with our natural tree wedding scheme."
"My mum also suggested the second reading called Dance Me To The End Of Love by Leonard Cohen which was read by one of our friends James."
To close the ceremony, the couple swapped wedding rings custom-made by Hannah Bedford.
"I saw Hannah's rings in an art gallery shop in Liverpool and got in touch before meeting Hannah on a trip to London. I had a white gold version of her crown ring and Dan had a brushed effect white gold band."
The bride and her bridesmaids all carried a beautiful bouquet of flowers each, created by the very talented Sheffield-based florists Swallows and Damsons.
"I saw their flower arrangements on some of my wedding dress designer Kate's dress shoots and thought they looked amazing and very natural. I arranged a meeting with Anna in her shop in Sheffield and was so pleased with the beautiful bouquet's she put together."
Following the ceremony, the newlyweds hopped into a converted VW Campervan hired from The Yorkshire Wedding Car Company for their photo shoot with Jamie around Leeds, before dropping them off at the Left Bank to kick off the celebrations.
With no obvious colour scheme in mind for the wedding, the couple embraced their Leeds city centre location and went for all things natural when it came to the decor, focusing on trees and plants to add a personal touch to the ceremony and reception.
"We mainly used ivy and fairy lights to decorate the venue spaces. Left Bank is so beautiful as it is, it speaks for itself so didn't need much else doing to it. We did make photo bunting with pictures of Dan and I, we used an old pallet for the order of the day and a sanded down door for the seating plan – all of which we did ourselves."
"I illustrated all of our save the dates and invitations with a little graphic design help from my friend Steph. The seating plan and table signs I also did myself, photocopying images from an old Observer Book of Trees."
"Our food for the reception was provided by the amazing Waagosh Vegan Food Collective team who drove up to Leeds on the day, all the way from East Sussex. We had canape starters, followed by a sit down mezze main and dessert. We also ordered pizzas for the evening. Our original supplier let us down but Ecco Pizza in Headingly were able to step in last-minute and save the day with delicious wood fired pizzas."
"Our cake was made by Elly at That Old Chestnut, who specialise in vegan baking. Elly made us an incredible 4-tier cake with a different flavour on each tier; fruit cake, carrot cake, red velvet and Victoria sponge., iced to look like a pile of birch logs to match our nature theme and centre pieces."
"For our entertainment, my bridesmaid Olivia, who also sang during the ceremony, performed whilst the evening guests arrived. Dan also arranged a surprise live band with his friends who played a set of our favourite songs and were so much fun. Our friend Adam then DJ'd all the way through the night, up until 1am."
"We had a chill out area with comfy sofas and an Nintendo Wii set up with Mario Kart projected onto the wall for those who weren't into dancing or who wanted a break. We also had a photo booth from Booth Revolution who were brilliant and accommodating all night. The photos were great quality and each guest got a print out which they stuck in the guest book. We also got an online folder to look through them all after the day itself."
\
"Our first dance was to Do You Love Me? by The Contours. We wanted to dance like we do around our living room to something upbeat and fun. In the end we didn't get a chance to practice and had to just go for it on the night."
"One of my favourite parts of the day was the two-hour break between the ceremony and reception where we drove around Leeds with James and Jamie taking photos at some of our favourite places. It was a great chance to spend time together straight from the ceremony and we even managed to sneak a drink in at our favourite pub, Brudenell Social Club, as well as getting photos outside where we had our first and second dates."
Words Of Wedded Wisdom
"For any brides considering a winter wedding – go for it! There's no worrying about the weather as you just presume it will be bad and can then be pleasantly surprised if it's nice! I'd also really recommend visiting an independent wedding dressmaker like Kate. The dress cost no more than a lot of lesser quality dresses you see in bridal shops and the time with Kate is priceless. I enjoyed every visit and really got to know Kate – she even came to our wedding reception and I'm going back to see her in a few weeks to show her my wedding photos!"
"Try and enjoy every second of it! Don't worry if something catastrophic happens like a supplier cancels or guests drop out last-minute. You are getting married to the person you love and want to spend the rest of your life with. Nothing else matters."
"The only thing I would have done differently on the day would be to remember my speech as we had to drive home and get it! I wish I'd been able to enjoy the incredible food more but I lost my appetite with all the excitement of the day."
Congratulations Laura and Dan! What a fabulous wedding and a big thank you to Jamie Sia for getting it all on camera – I particularly love the photos around the city centre at places cherished by the couple.
Until next time…
Much love,
Holly x