Dear readers, please could someone kindly tell me where this year has gone already? I can't believe it's September – where has the time gone?! We may be coming towards the end of the wedding summer season, but it doesn't mean we're short on gorgeous summer weddings for you. Today's is an understated but completely and utterly beautiful affair, taking place on the couple's own doorstep.
Production Manager Christopher and Floral Designer Clare said their vows on Friday 21st July 2017 at St George's Church in Beneden, Kent, followed by a reception outside their own home ont the Iden Green Pavilion in Iden Green.
"We also had our daughter christened on her first birthday at St George's Church and although Christopher isn't religious in the slightest, he's always loved church buildings, and ours is especially pretty."
Photography by Rob Power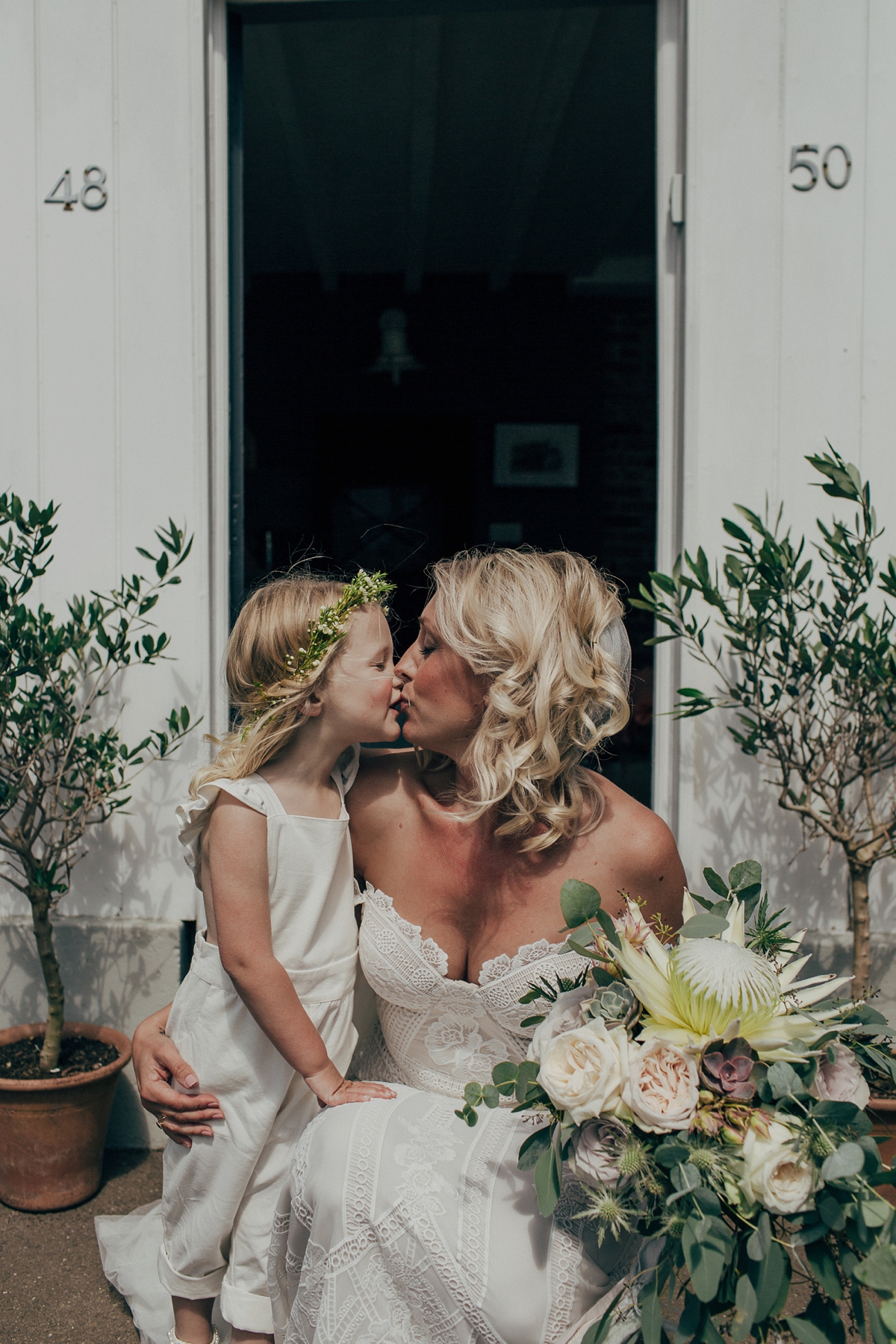 "We both had a good idea as to how our day should be and both had an equal impact throughout the planning process. We really wanted a day that truly reflected us, which was relaxed and fun. No formalities but with good food, good music and good times. We live in a beautiful rural hamlet on the border of Kent and Sussex and our home is opposite a lovely little white weather boarded village hall and green so our rural existence really led our theme. Our village green was the perfect setting and allowed us to use it as a blank canvas."
"My friend Polly from Fern and Field designed and printed our stationery for us. She knew our style and beautifully hand painted and drew a map for the back of the invites. Polly also provided us with some vinyl for our wedding signs which my dad applied to wood signs made by another friend Pete from Peter Alexander Cabinets."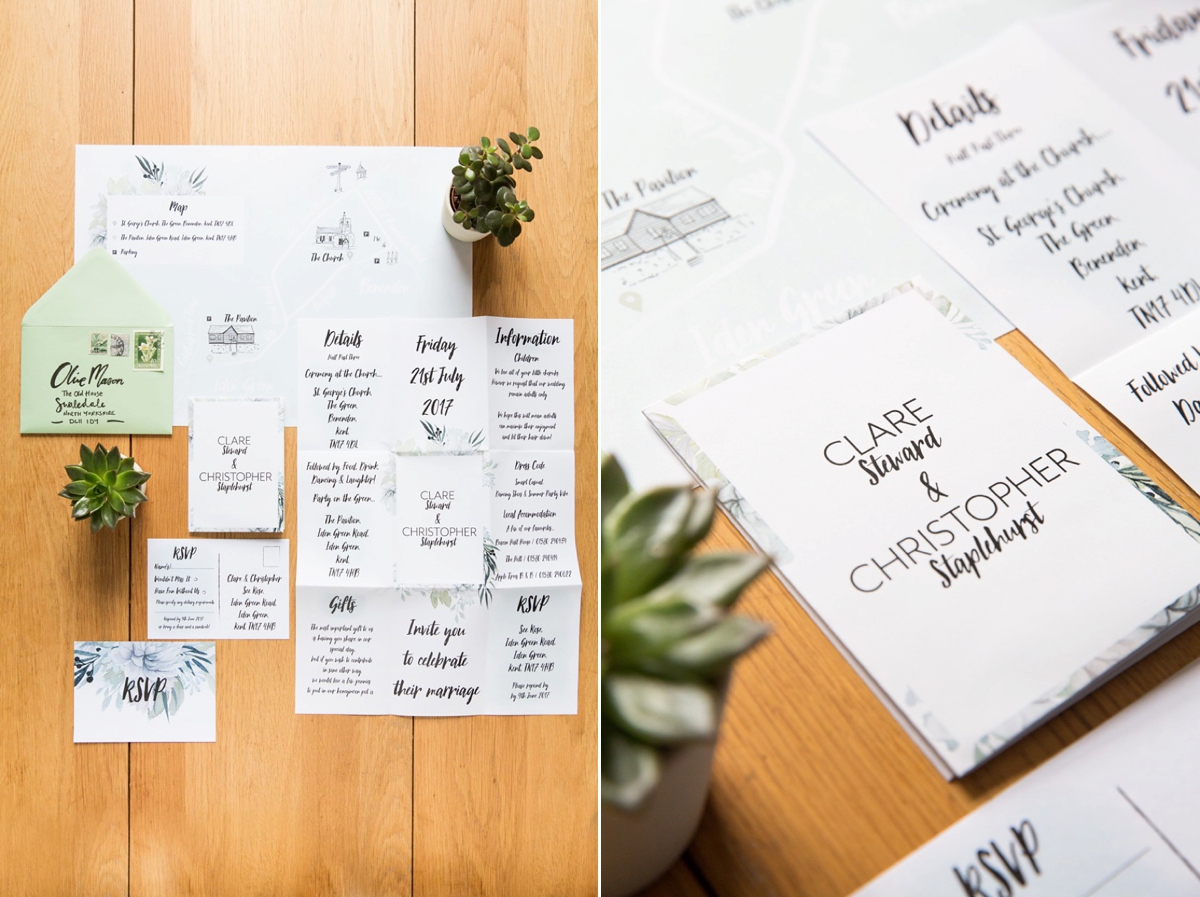 As a florist herself and owner of See Rose Floral Design, the bar was set high for the flowers for the wedding, so instead of hiring someone else who might not live up to her own standards, Clare decided to do her own, with the help of friends and family.
"I have been a florist for 13 years and most people would assume it's easy to choose the flowers for your own wedding, however I must have changed my mind at least 10 times before I settled on what to do for ours. Chris had an input too – he wanted blue thistles in his button-hole so I had to take this into consideration too. I have a real love for succulents, foliage and unusual blooms, along with a love of the classics. I knew I definitely wanted White King Protea to feature but this wasn't guaranteed as they were just coming to the end of their season when we were getting married."
"Luckily my supplier pulled through and managed to bag me the last 10 stems available! My bridesmaids carried single stems of the White King Protea. They are truly beautiful and in my opinion, they didn't need anything else with them as they make a statement alone. I had a Protea in my bouquet along with some beautiful garden roses, white thistle and succulents with various eucalyptus. The soft tones were gorgeous with my dress and the feel of the wedding."
"I had a vision of walking through a path of flowers in the church, so I created a flower aisle of white Delphinium, white Scabiosa, foliage and grasses. It worked perfectly and I couldn't have been happier with the result. We didn't have a sit-down meal so we didn't need table centrepieces, however two of my friends transported the flowers from the church and placed them in and around the marquee."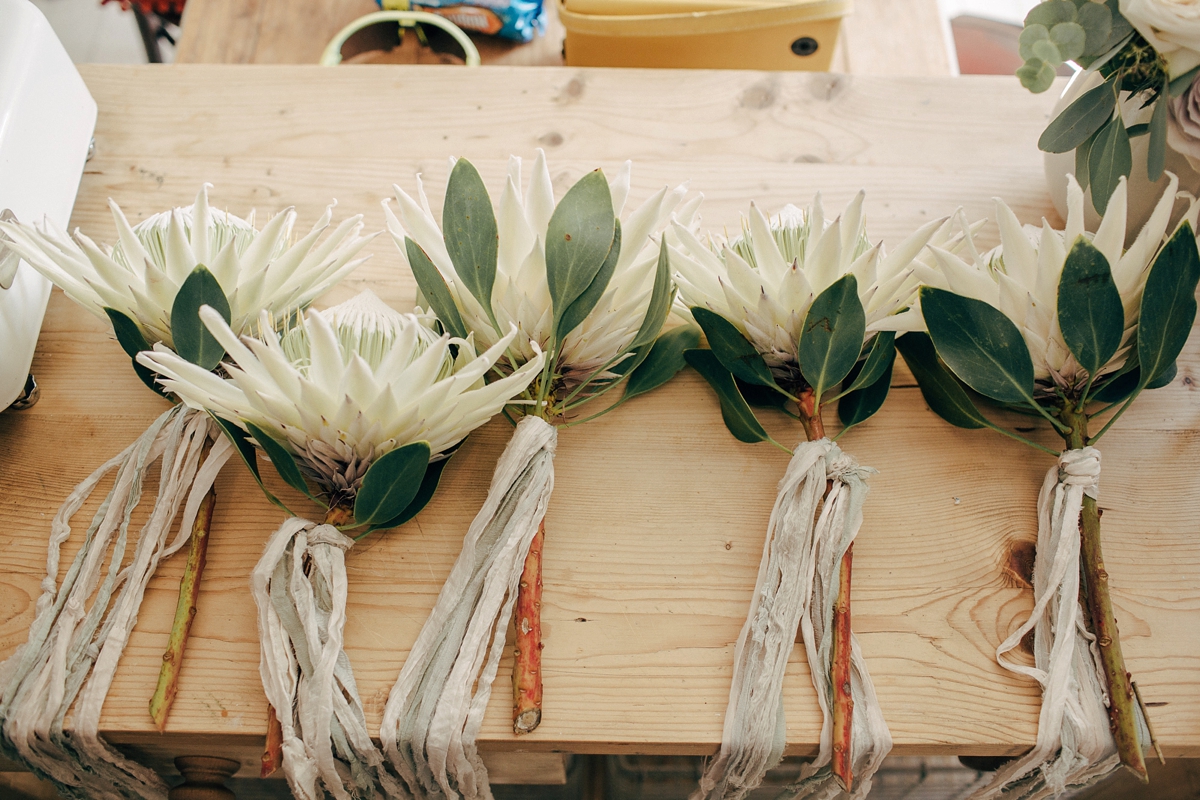 "I love the scent of jasmine and have always loved Marc Jacobs Classic Perfume which has a fresh and floral aroma, so I wore it on the wedding day too. I didn't really need to think about accessories that much as I felt the dress and veil was enough and wanted to stay true to my usual style. One of my bridesmaids found some rose gold geometric earrings in Bath and bought them for me as a gift. I wear them regularly on nights out now too. My parents bought me a rose gold bracelet to wear on the day as well."
"Being a florist I think everyone expected me to have a flower crown but unfortunately they do not suit me! I kept it simple instead and wore my hair down with loose curls and my veil. My hairdresser Kim from Mobile Hairdresser Kent was amazing. Michelle Steward did my make up and I might be a bit biased as she's my sister but she is amazeballs at make up! I'm useless at it so I knew who to call on when it came to our wedding day!"
The bride and groom first met at work and, after an unconventional start to their relationship, they became engaged in 2016, marrying 1 year and 3 months later.
"In 2013, I started a full-time job whilst still running my wedding floral design business. Christopher sat opposite me and that was it – love finds you when you least expect it, that's for sure! Our relationship started off a little unconventionally though and, after being told I couldn't have children, I unexpectedly fell pregnant not long after we got together – a pleasant surprise! Our daughter Ellie was born about 3 weeks before her due date."
"We had spoken about getting married many times before, and after a family friend asked when we were going to get married, Chris told me he would ask me when I least expect it to happen. I always said I wouldn't mind how or when he asked and that he could propose with a haribo ring and I'd still just be happy that he'd asked me."
[JP-VIDEO]
"In 2016 I booked a night away and a meal at our friends restaurant for our 3 year anniversary. I also invited Chris's and my parents. Chris seemed a little annoyed at that but I didn't think anything of it at the time. The day after the meal we were heading from Oxford to Milton Keynes for lunch with some friends that were moving to Dubai, but before lunch we nipped into the local shopping centre for a mooch. Chris disappeared for a while and when we met up again and went to the car, I noticed he was carrying a shopping bag, but I didn't want to pry."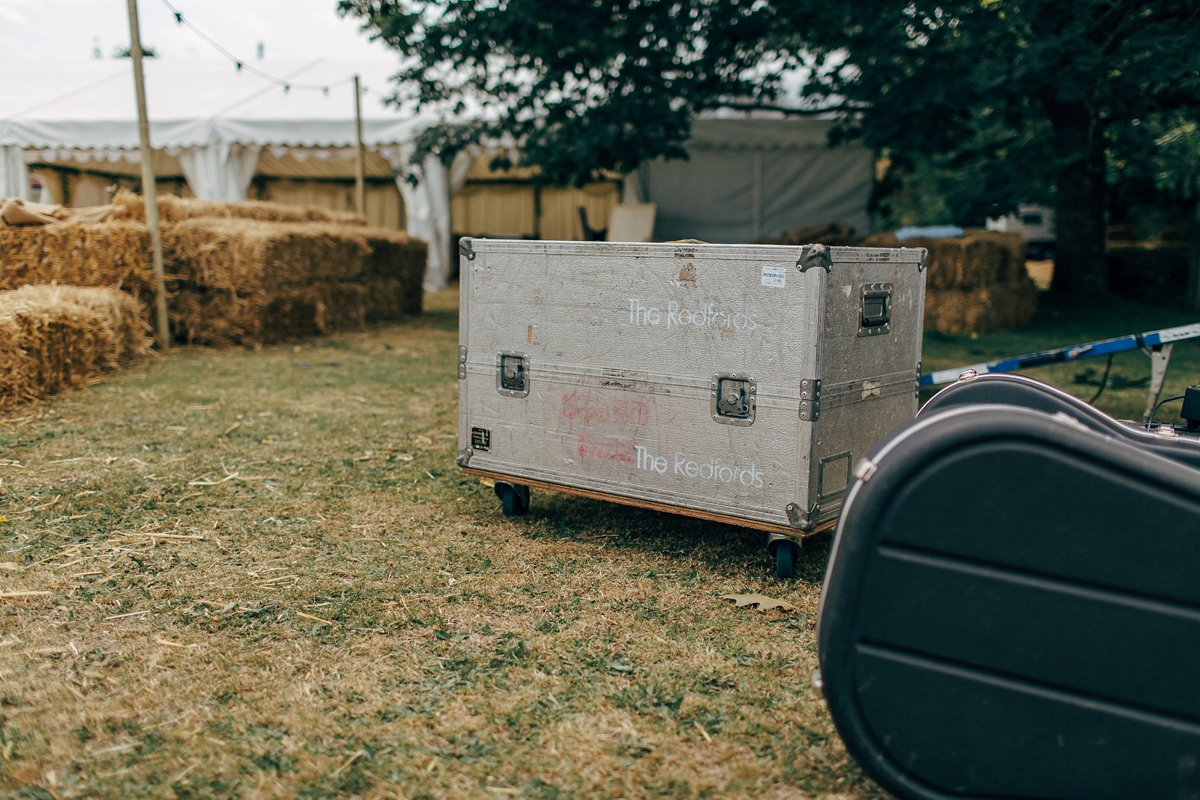 "It was pouring with rain and we were sat in the car outside the shopping centre when Christopher gave me a camera case with a lovely new DSLR camera inside. I was over the moon! He then said 'haven't you missed something?' On the strap of the camera was a haribo ring and then he asked me if I would be his wife."
"At first I thought he was joking as I really hadn't expected a proposal! I obviously said yes after he confirmed he wasn't taking the micky! It turned out that he was planning to ask me the day before at the meal but I had completely scuppered his plans. We then announced it to some of our friends at the lunch and got to celebrate with them which was lovely."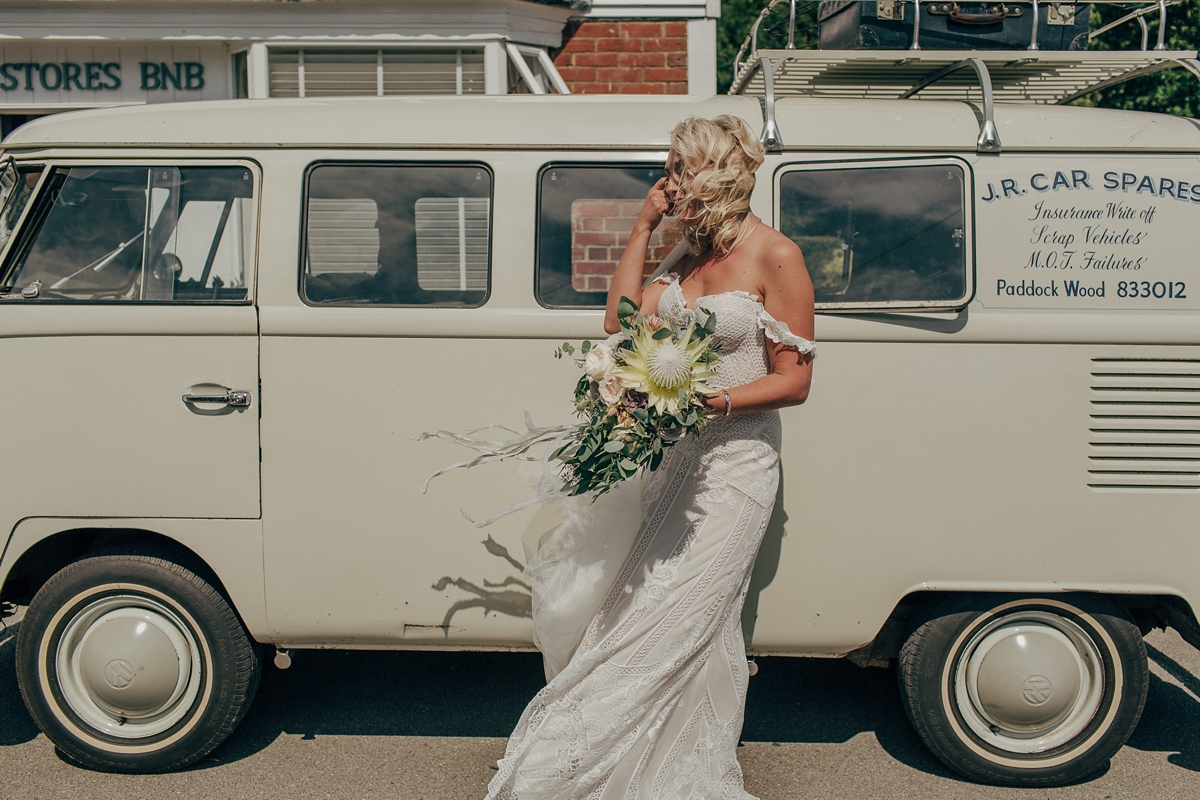 "I am lucky to have some fantastic friends including a friend with a VW camper van or two. Steve was more than happy to drive us to the church and wedding breakfast afterwards. I have always loved VW's and used to own a 1971 Beetle myself many years ago, so this was an easy choice to make. I dressed the camper with a foliage garland about 30 minutes before putting my dress on."
"Chris and his groomsmen wore waistcoats and trousers from E J Bennett in Rye, along with a white shirt and shoes of their own choice."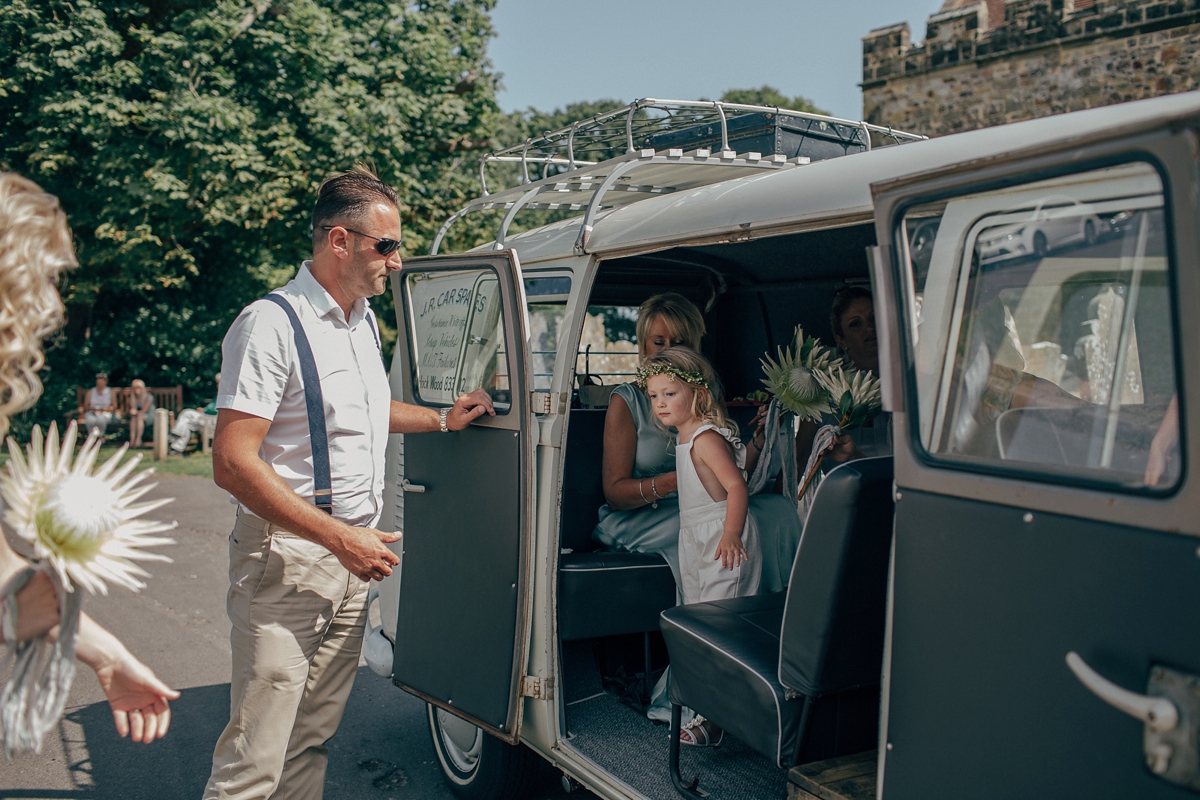 "We had one flower girl, our daughter Ellie, and she's not a typical girl. After a year of searching for the perfect outfit for her, I found the perfect jumpsuit on Instagram from Daughter with a month to spare! Ainsley was so helpful, and it was shipped and arrived in plenty time from Australia. Our nephew Thomas was our page-boy. I found him some trousers with braces and a waistcoat from M & Co."
"Whilst wedding dress shopping for me, my sister and I found a sample Ghost dye to order dress in Leonie Claire's sample sale. It was the Salma dress in dusty green. The other bridesmaids chose either green or grey Ghost dye to order dresses too in Salma and Claudia. I wanted them to feel great and comfortable on the day so I gave them the choice. They wore their own choice of shoes too, and two of the bridesmaids wore the same shoes as me."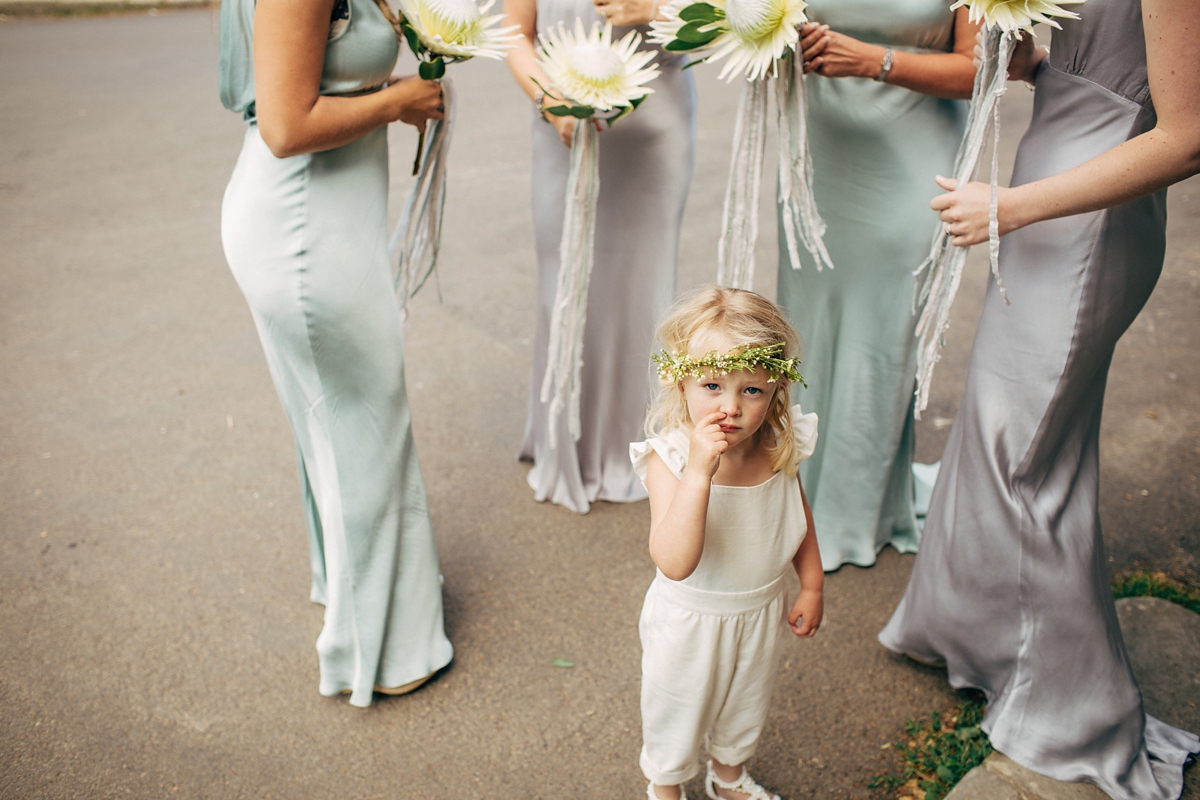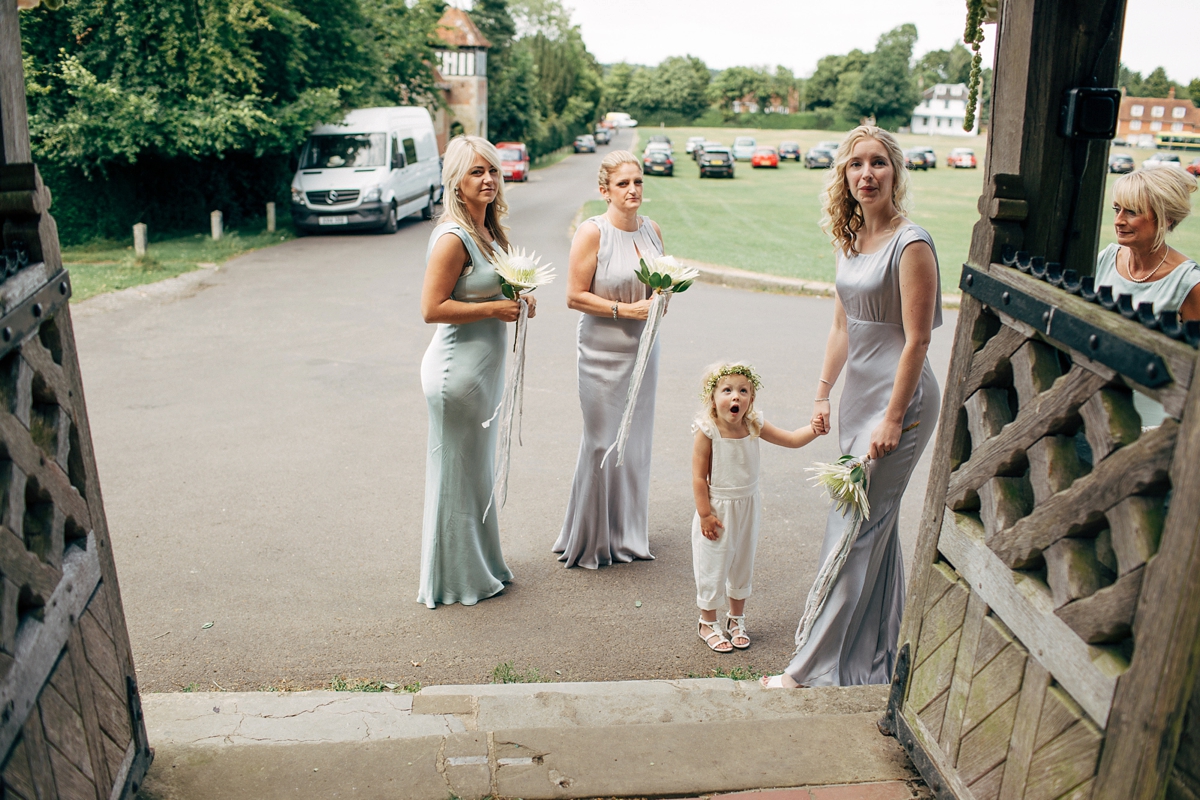 For the day, the bride chose the most beautiful off-the-shoulder gown from one of my personal favourite designers Rue de Seine, purchased from East Sussex based bridal boutique Leonie Claire.
"Having done a styled shoot whereby some dresses from Rue de Seine were used (one being my gown!), I just had to book an appointment to try some on. They are so beautifully designed and crafted and a little unusual. I am not a typical girly girl so lusted after dresses that were plain and simple until I found Rue de Seine."
"On my first appointment I refused to try on the Fox dress as the model on the styled shoot was one of my bridesmaids and she looked stunning in it, I didn't think I would do the dress the same justice. On my second appointment at Leonie Claire they had a trunk show on and one of the Rue de Seine designers was there with samples of their new collection. She convinced me to try on the Fox, along with another similarly cut dress from the new collection. I slipped the Fox on and I knew instantly. I came out of the dressing room grinning from ear to ear, I was in love! I felt amazing and comfortable in it. It looked like a wedding dress but didn't feel like one. It suited our relaxed style for the wedding too. The Fox is the right combination of classic lace and contemporary lines and the train is just exquisite."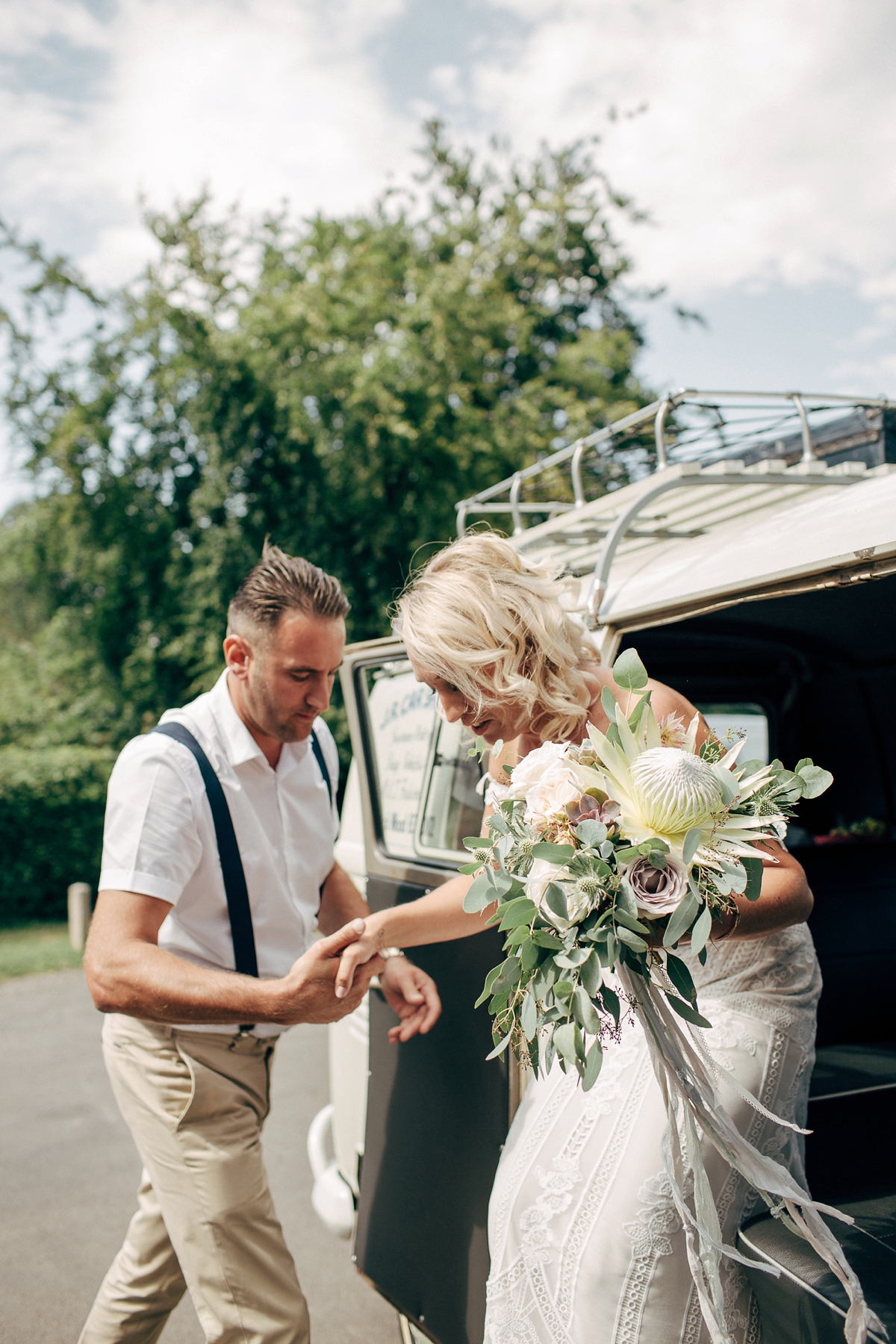 "I hadn't really thought about a veil to wear until Leonie got me to try one on in the shop. It was simple and elegant and made me feel more bridal. I don't wear heels as a general rule but felt I needed a bit of height with the dress as Christopher is quite tall. Heels weren't an option due to the village green, but I found some Jesus Peiro [a Little Book For Brides member] wedges which I tried on with the dress in Leonie Claire and they were the perfect solution. Plus I could wear them again as they were comfortable, practical and ideal. A couple of my bridesmaids got them too."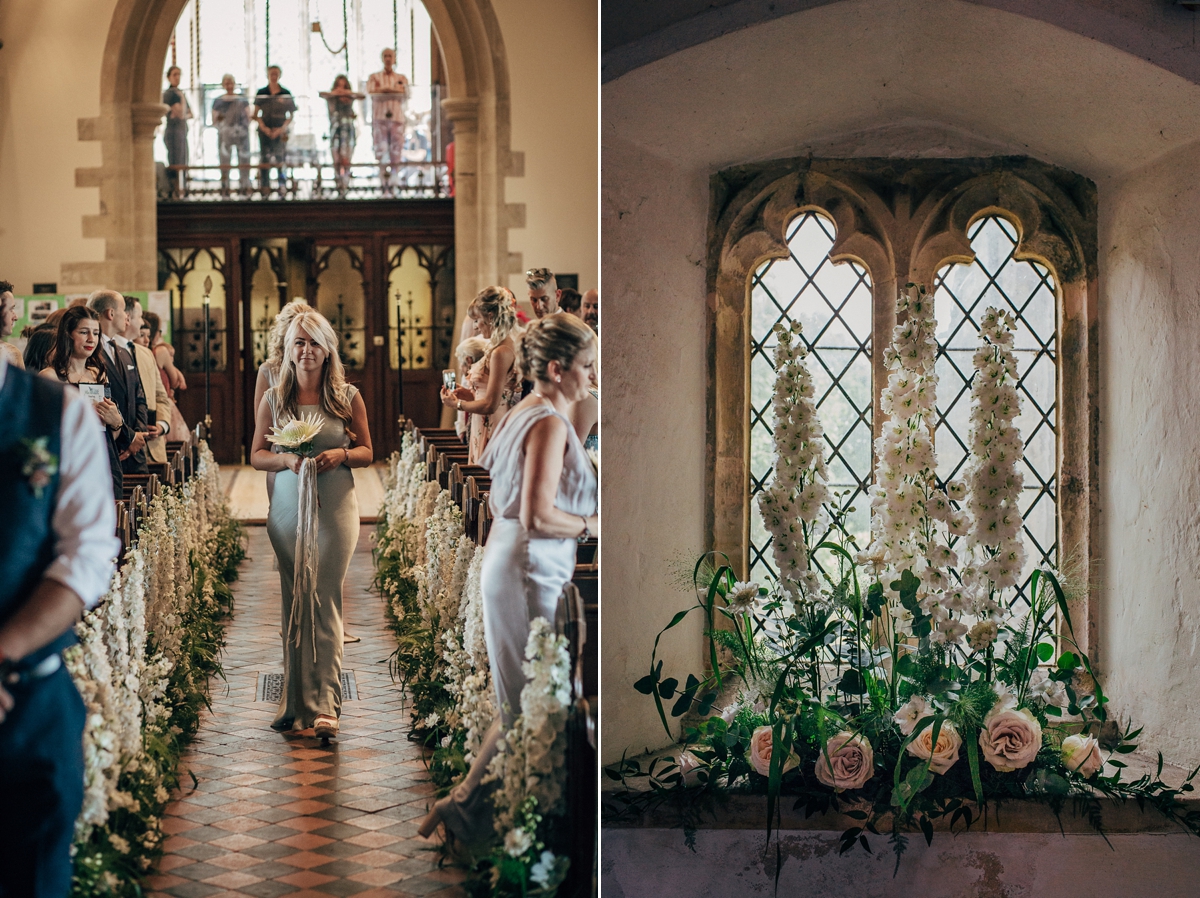 "My dad Alan walked me down the aisle. I think he was more nervous than me but he was great. He kept me calm and got me to slow down as I was such an eager beaver! We walked down the aisle to Too Good To Believe by Dolly Varden and performed by The Redfords Duo. We asked Matt from The Redfords to choose our entrance song as this is something Chris and I couldn't agree on. It was perfect and one of Matt's favourites which has incidentally become one of ours too. It was a song that we hadn't heard before and I believe not many people have."
"As I say, Christopher isn't religious however my parents used to take me to church services as a child and have had close connections to my old local church since I was little. Graham Lewis is an old family friend and the vicar from my old local church, who also played a part in Ellie's christening, so it seemed fitting for him to play a part in our wedding ceremony too."
"Graham and David Commander (the vicar at St George's) worked together to create a service that truly reflected us and was far from the traditional church wedding our guests were expecting.
"We had readings by my cousin Rachel who read a short but sweet reading from Dr Seuss and Chris's sister Nicola read a beautiful and touching excerpt from The Song Of Solomon which our friend Graham chose for us as a surprise. The ceremony couldn't have been more perfect and to top it off, Chris surprised me Love Actually style with a change of exit song and a few extra musicians appeared from nowhere!"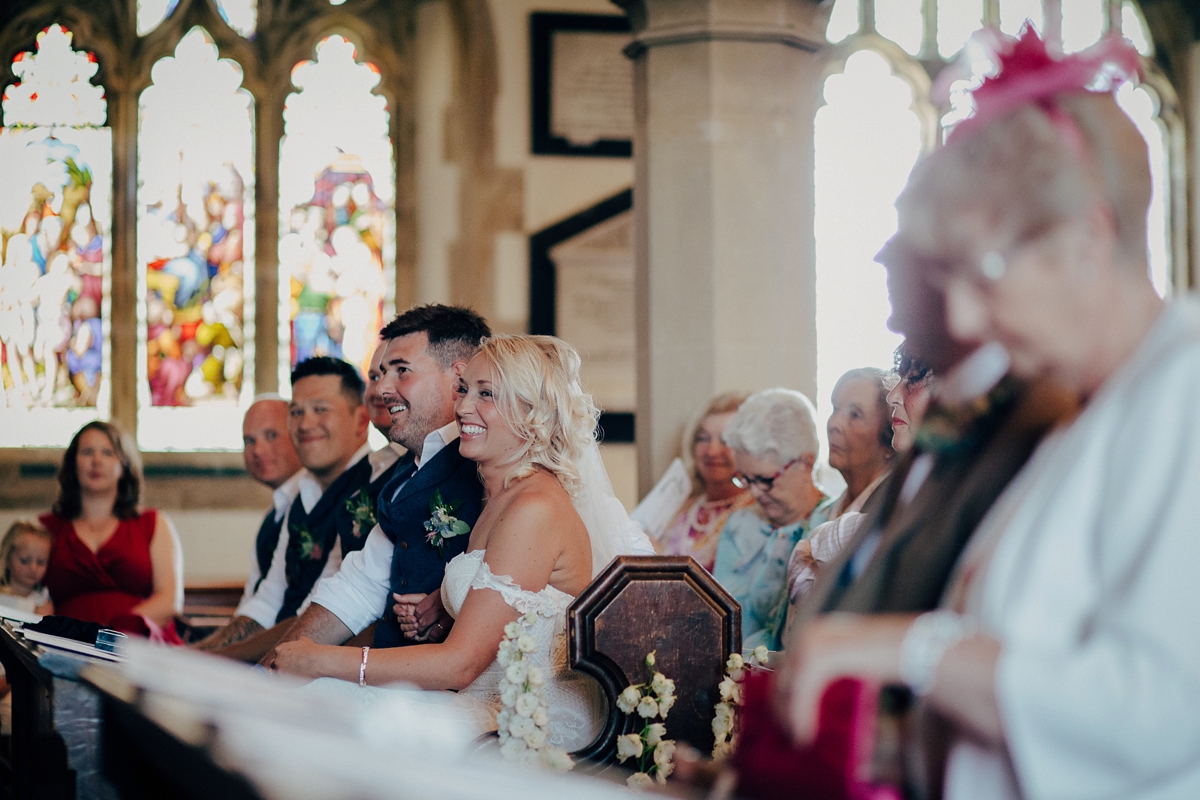 "My brother and my god-daughter sadly and tragically passed away some years before our wedding, so to honour them and make them a part of the ceremony, my best friend (whose daughter was my god-daughter) and I lit candles for them at the beginning of our ceremony."
"My ring was designed by Rebecca Mundy who also designed my gorgeous engagement ring. I chose Rebecca to make something to compliment the engagement ring she had made as she already knew my style. I chose to have a knife-edge shaped wedding band set with a row of salt and pepper diamonds, which really complimented the rose gold perfectly and the hexagonal set grey Burmese spiral."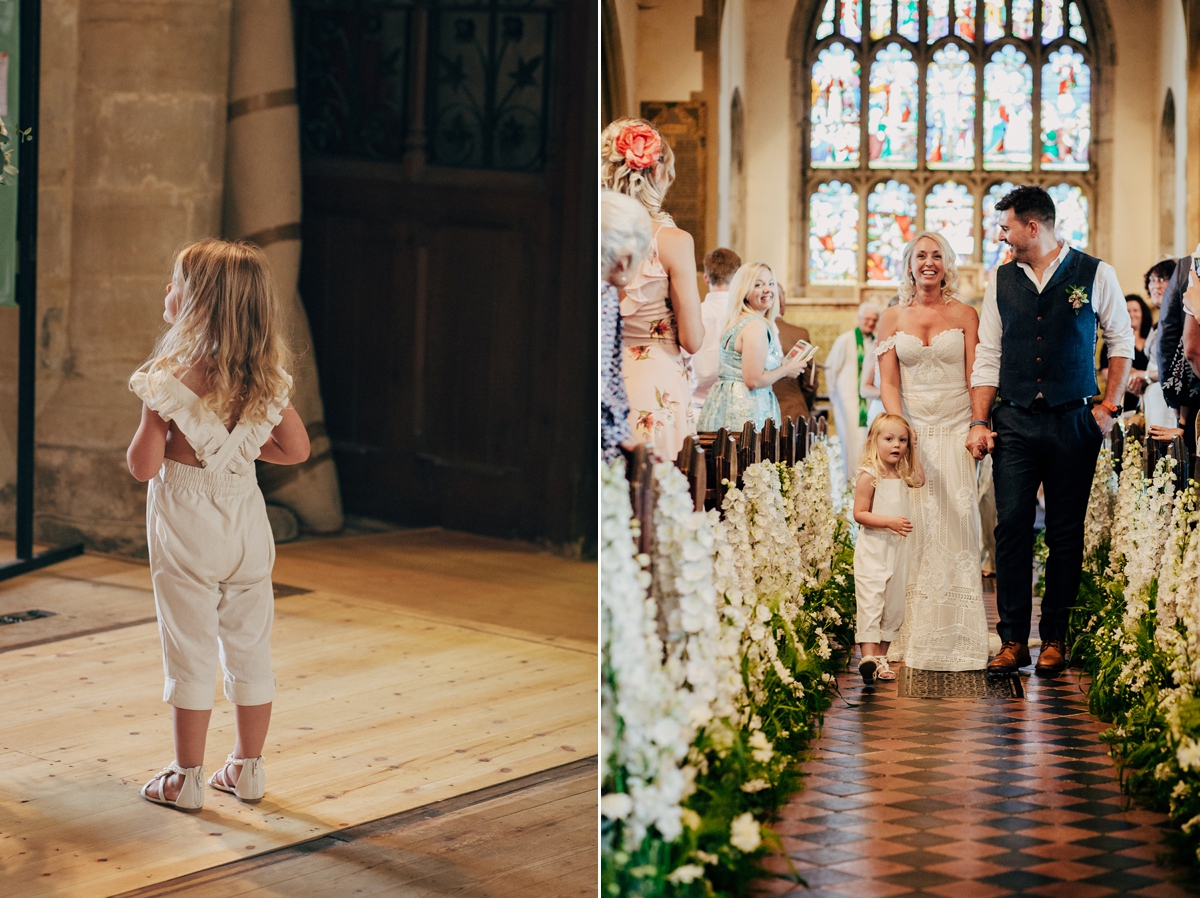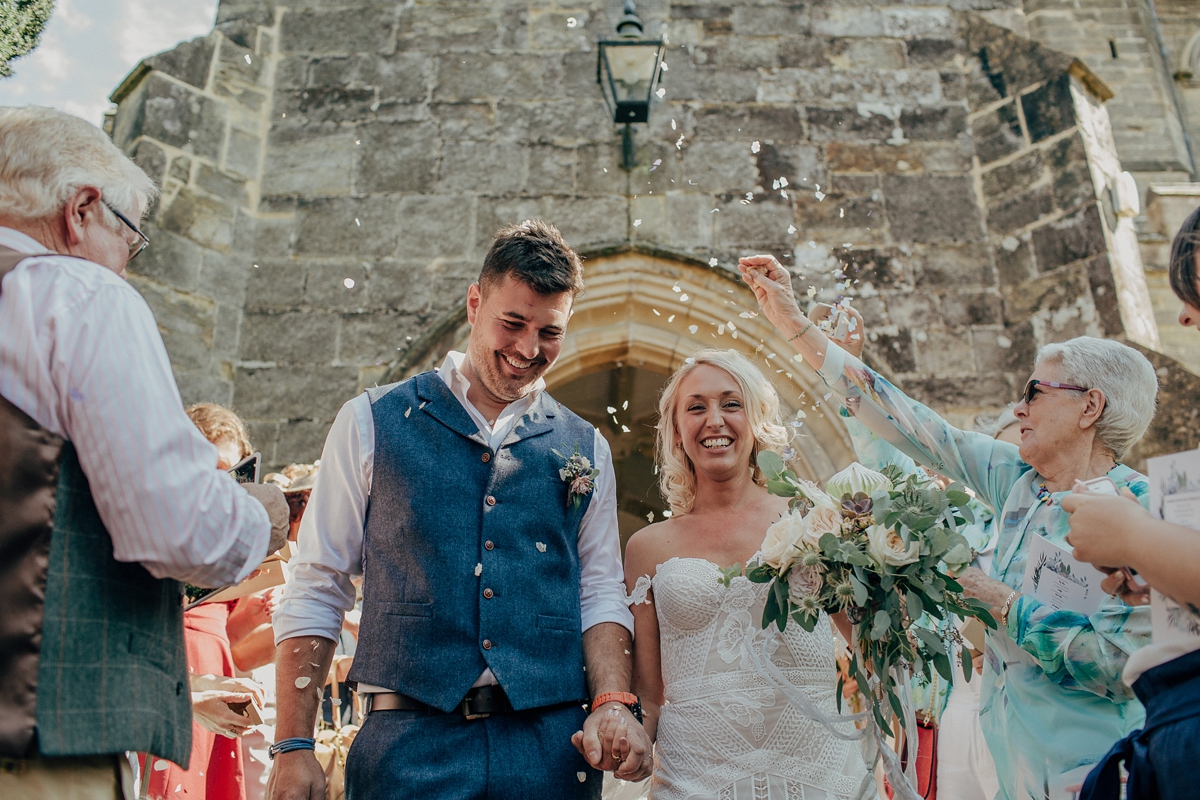 "We chose Iden Green Pavilion as it's just outside of our house and we love where we live and love the sense of community there. So we decided it would be lovely to have our wedding breakfast on the green opposite our home in Iden Green. We hired the Pavilion (where we've also had a few family parties since we moved in 5 years ago). We also hired a marquee for the green and Chris and his friends made straw bale sofas for seating."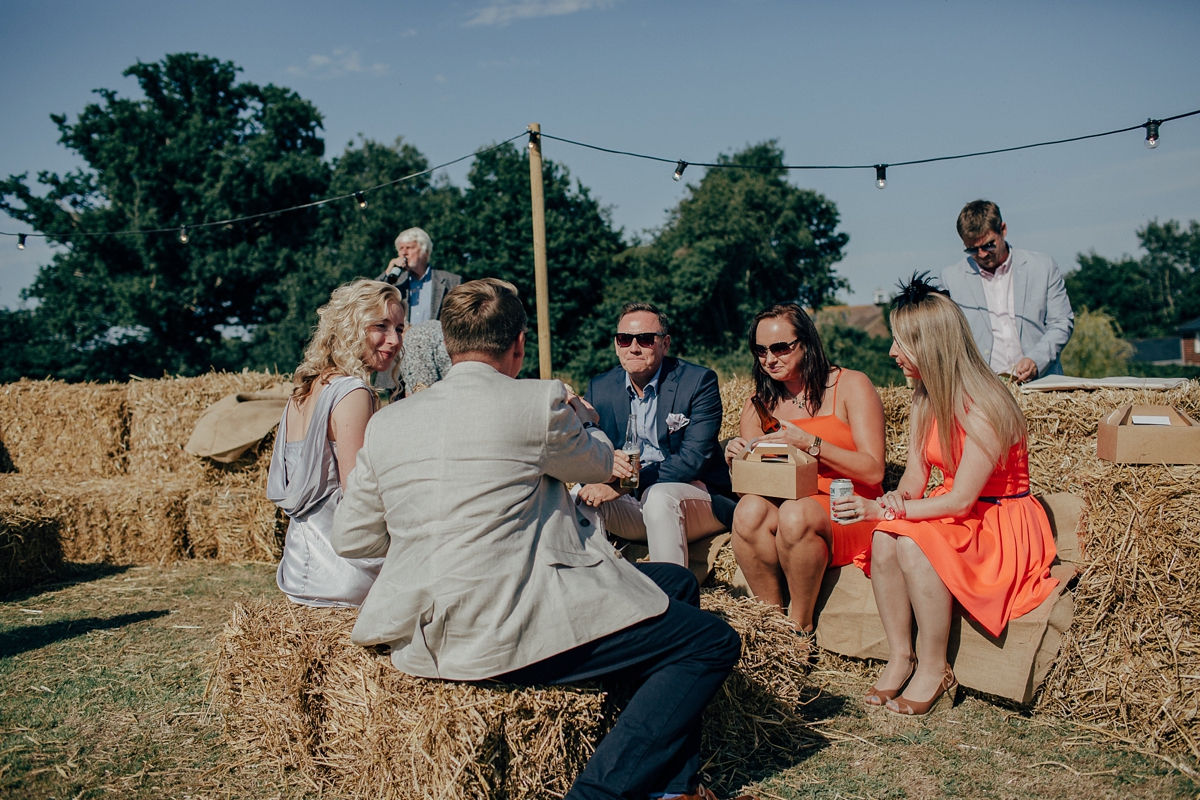 "A few years ago now I was setting up some wedding flowers and the musician was sound checking there. He was playing one of my favourite songs The Weight by The Band. I asked him for a card and told him I would give him a call and book his band when my wedding came around (I wasn't even engaged at that point and hadn't yet met Chris!). When we got engaged I called The Redfords first to check their availability so we could book our date around them."
"They play a great mix of music and also have another band called Nashville Exile which play Americana which was perfect for the vibe we were going for. Cat and Matt played in the church then at the reception they played as a trio, and for the evening the full band playing dance floor fillers along with a song written for Chris and I. They were amazing! Everyone loved them and loved the fact they offered something other than the usual wedding play list."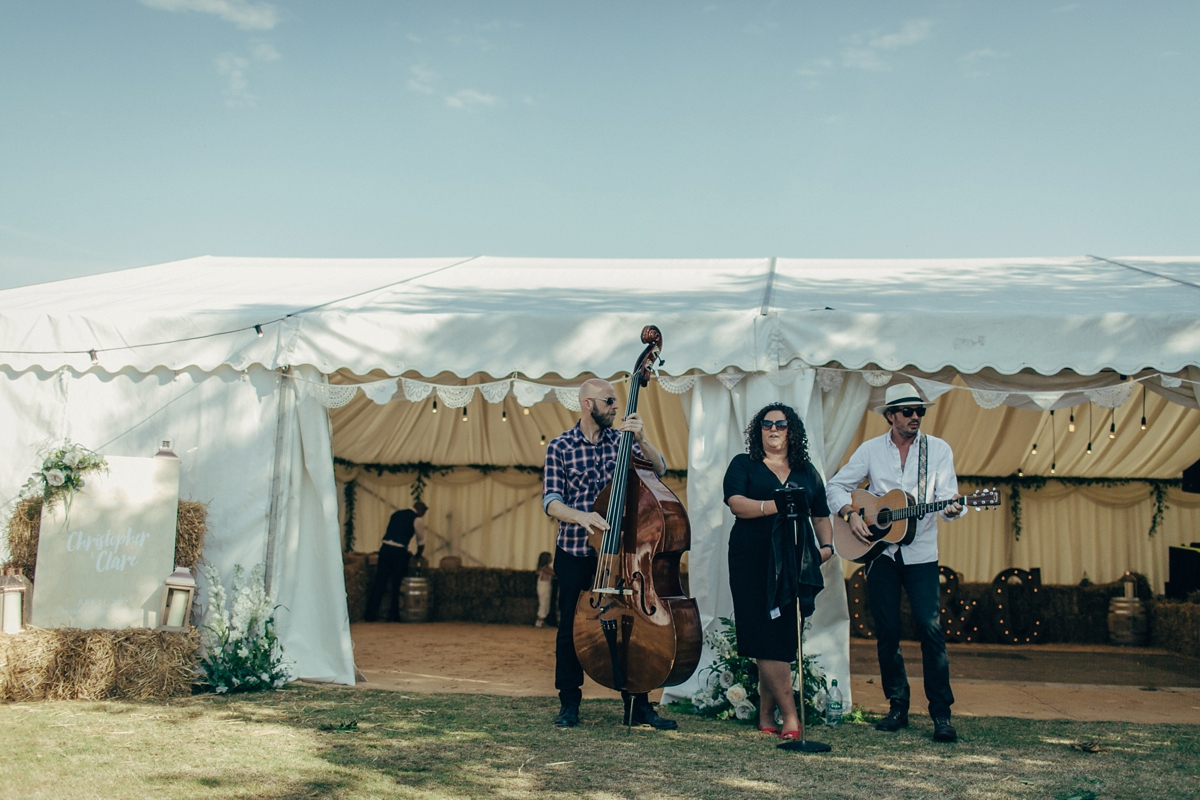 "We decorated the inside of the marquee with foliage garlands, festoon lighting, C&C light up letters, copper terrariums with succulents inside, glass cloches on moss, vintage lace bunting and other geometric copper elements inside and outside. Chris and his friends made hay bale sofas and seating outside which looked awesome at night with poles of festoon lighting and the Swedish eco torch pathway."
"The flowers from the church were transported down to the green after the ceremony and these were also placed inside and outside the marquee. This created a great place for guests to sit and enjoy the beautiful summer weather we were so lucky to have."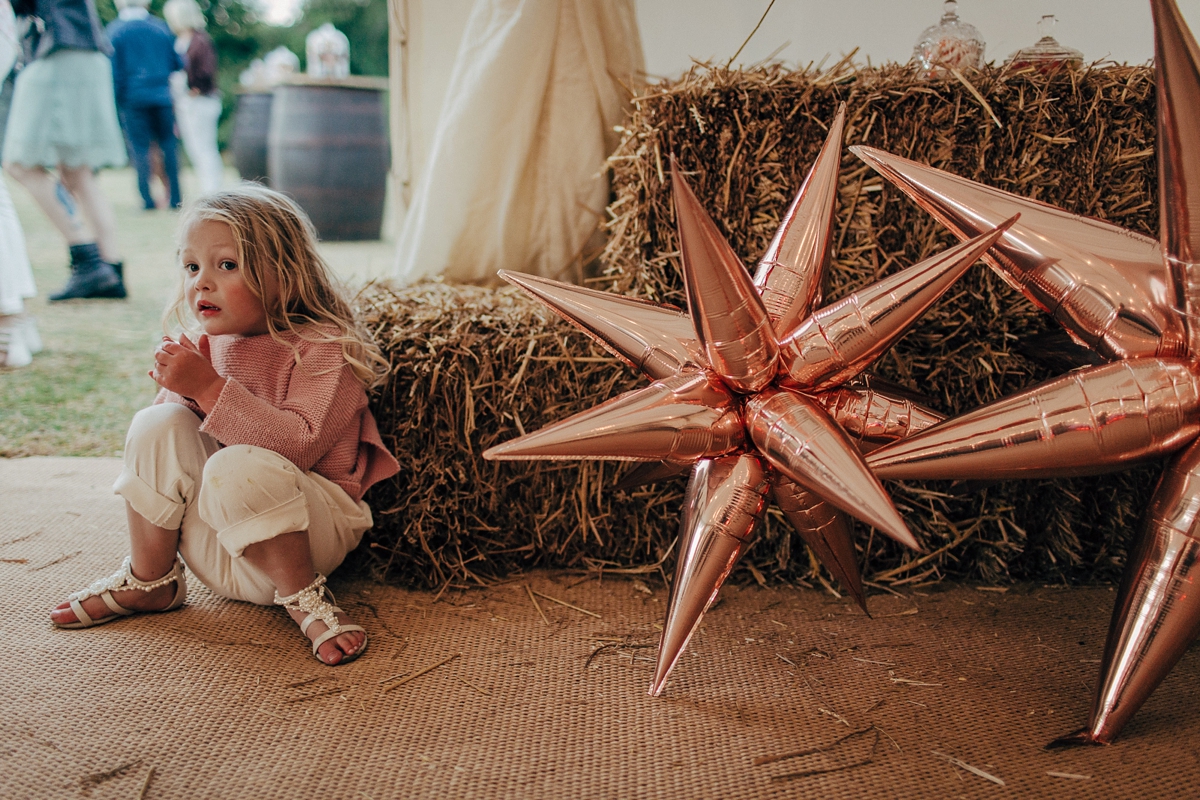 Opting for a more casual BBQ rather than a traditional sit-down meal, Clare appointed street food company Eat The Farm to cater the day who provided burgers served from a VW camper van.  The cake was provided by Hartley Farm and again, deviating from the traditional, was a pile of delicious doughnuts, 100 ring ones and 100 jam ones, displayed on a tiered stand hired from Hire Love.
"Chris was a chef once and we really do enjoy our food. We wanted something that would suit the style of the day but something that was also tasty and fun. We like nothing more than a good old BBQ with friends and family when the weather permits, so we wanted something to reflect this. We found Eat The Farm and sampled their burgers at a local food festival. They were perfect for our relaxed and informal event and even better that they were served from a VW camper van. For the main event we had the choice of different burgers and later in the evening they served breakfast baps."

"Our friend Louise also made some packed lunches for us and our guests as a snack before the main food arrived from Eat The Farm. Louise makes amazing sausage rolls and quails scotch eggs, along with a veggie option too. We made some lunch boxes up for Louise to finish on the day of the wedding. We also included some Real Crisps and Tunnocks Caramel Bars."
"We've hosted a few BBQ's in our garden for friends and family before and they've all gone down well with our guests, so we wanted to recreate that vibe with our wedding day. I also love foliage and unusual flowers so this influenced our colour scheme."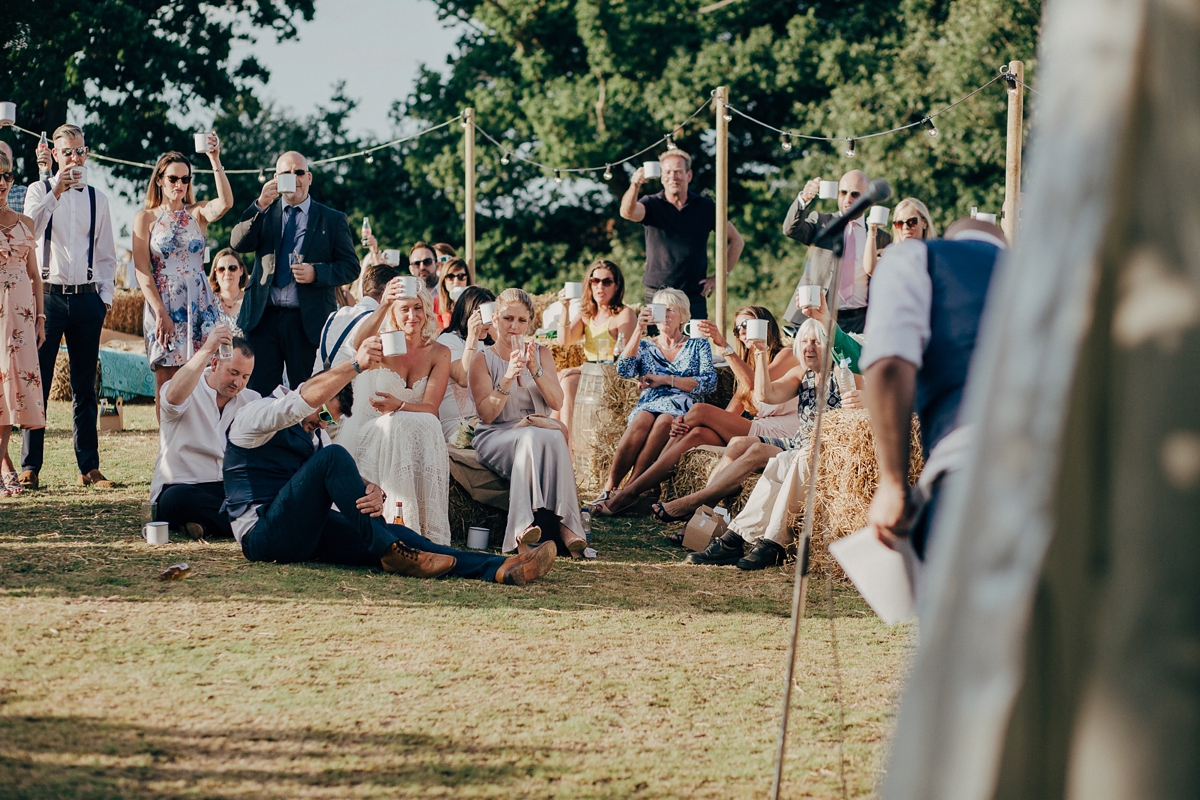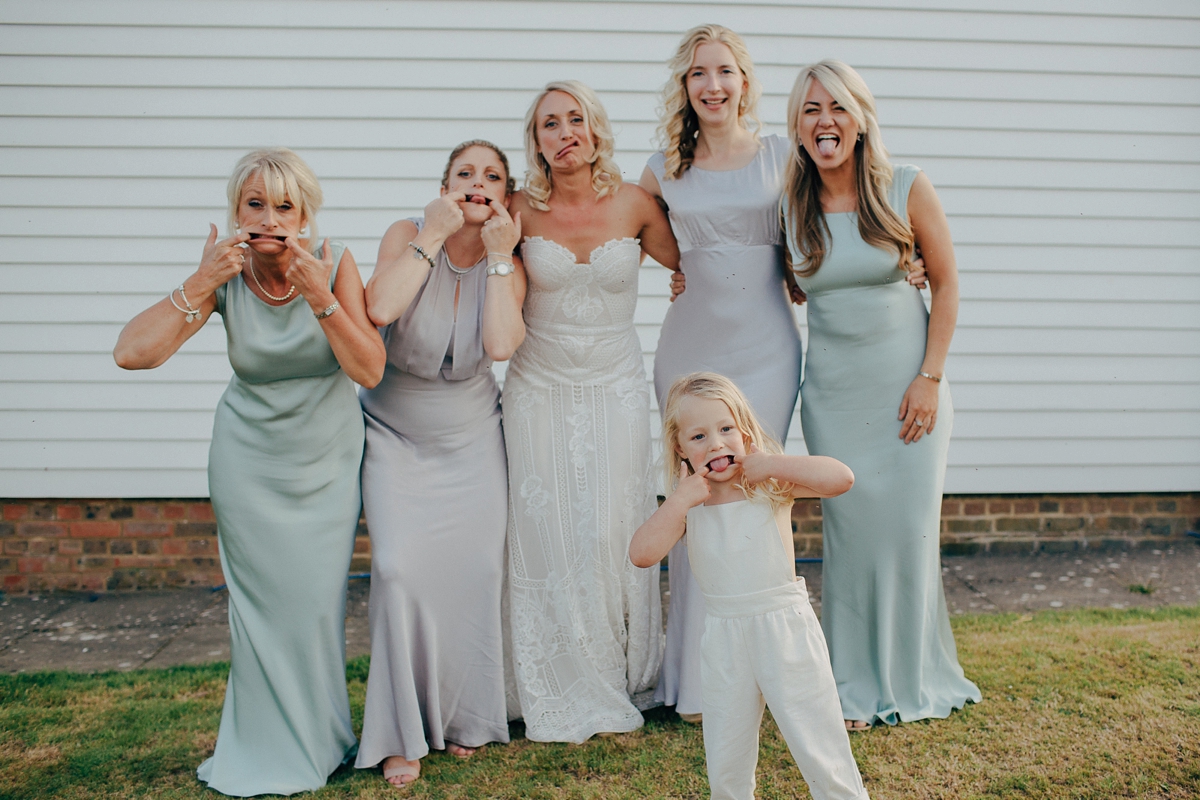 Clare chose old school friend turned photographer Rob Power to capture the couples day on camera and, with her job being in the wedding industry herself, she had also worked with him on a few weddings and shoots previously.
"We have become good friends during the time of our working relationship so he was an obvious choice when it came to selecting a photographer to capture our day. He made everyone feel relaxed in front of the lens and captured the day perfectly."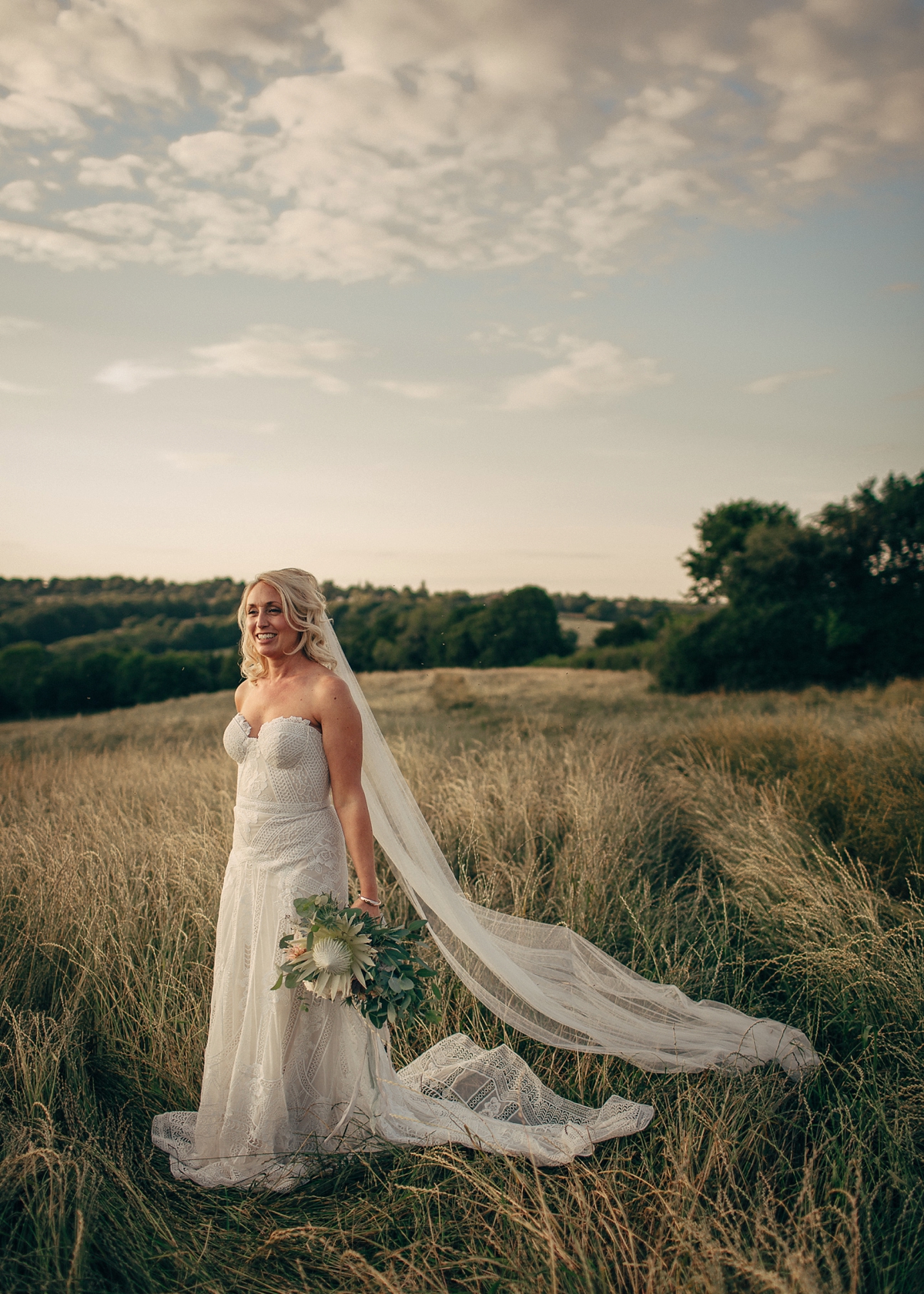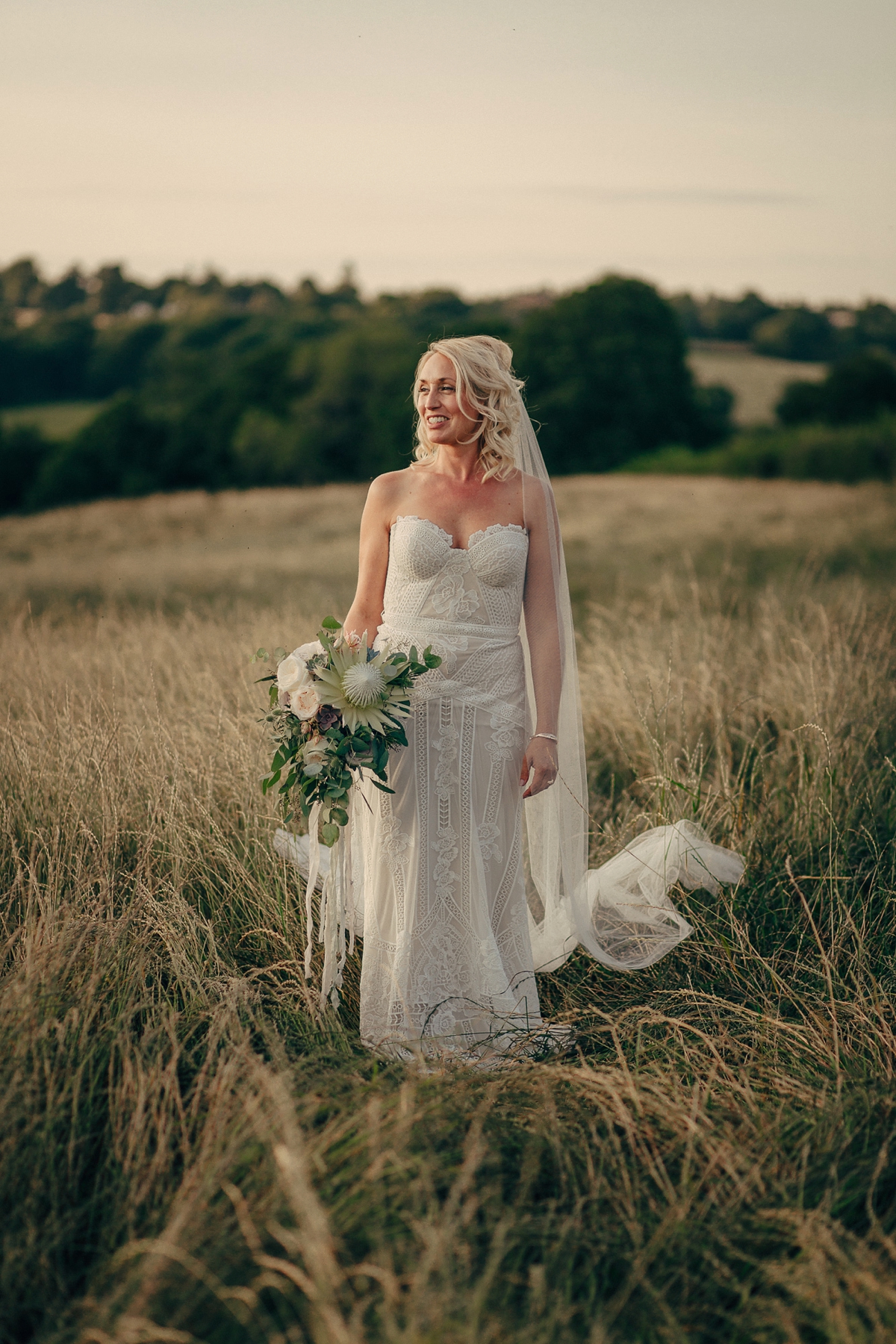 "Chris chose our first dance track, Just Like Fred Astaire by James. There were a number of times prior to the wedding where Chris would put it on at home and grab me for a dance around the kitchen. The Redfords performed it for us."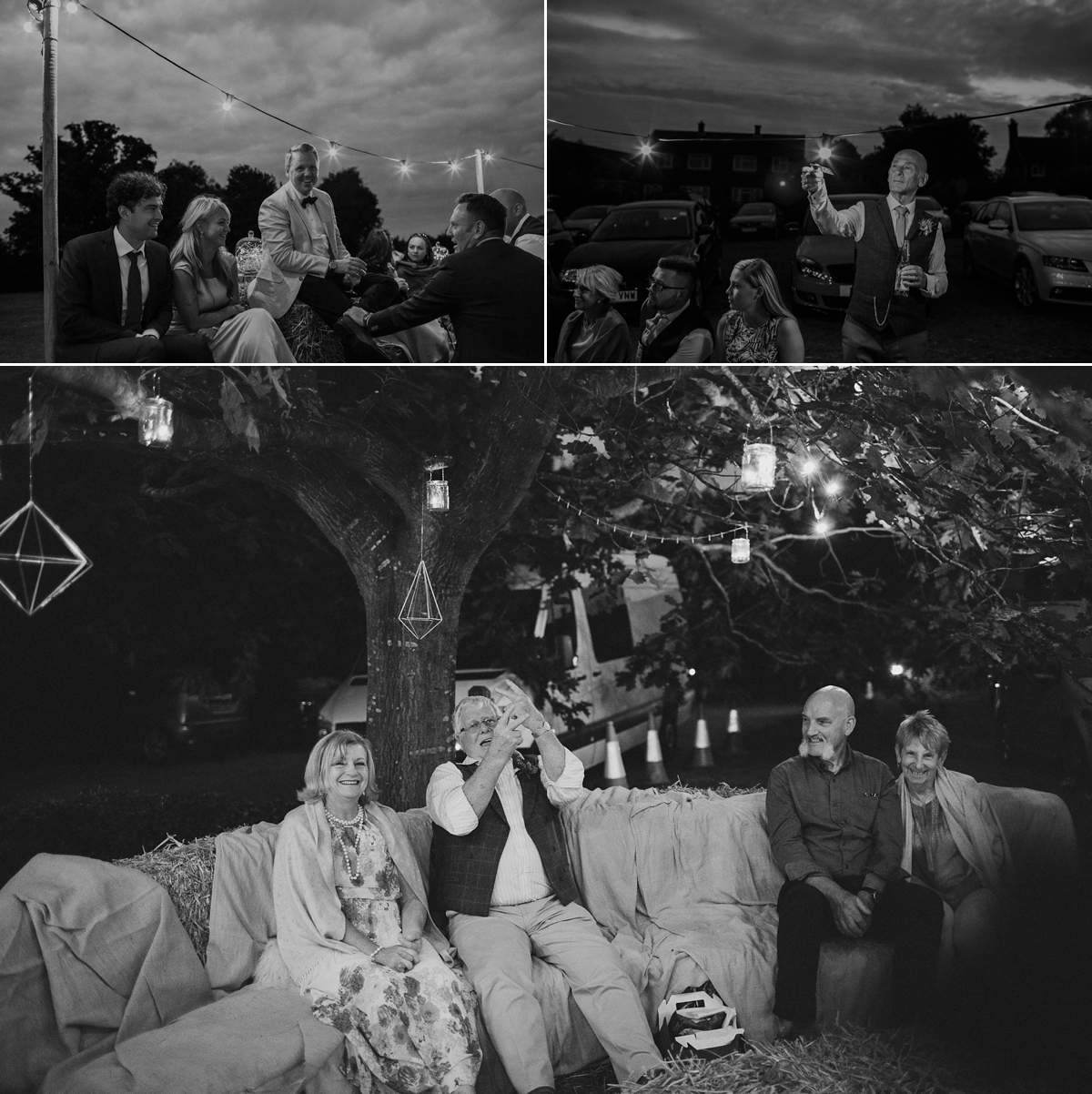 "To be totally honest, I loved every single part of our wedding. The parts that truly stand out for me was seeing Chris waiting for me at the end of the aisle and getting to walk down with my dad. The surprise change of exit song was also a highlight, having seen the film so many times and hoping someone would do something like that for me one day and then it coming true was amazing and heart warming."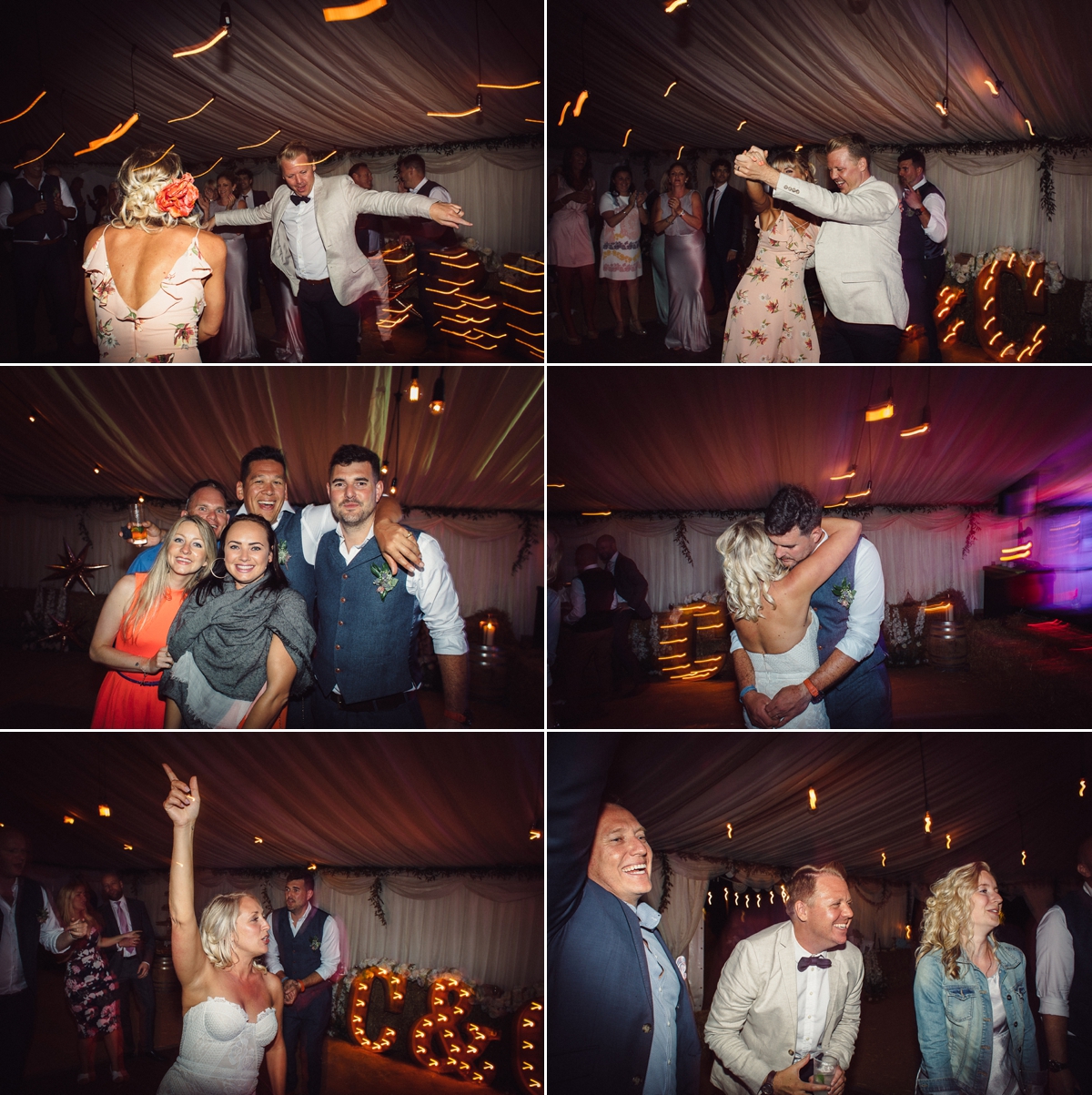 Words of Wedded Wisdom
"Without wanting to repeat what other brides have said before, do it your way. Create a day that truly reflects you as a couple and ignore what people say you should do because it's traditional or because someone else did it. Just remember that it's your day and that's all that matters."
"Choose friends and family that you know you can rely on to make the day about you and your partner – they are invaluable. Enjoy every second because it really does fly by – everyone says it because it's true! And lastly, book a great photographer and if you can, get a videographer – these in my opinion are a must."
"The only thing I'd do differently would be to hire a videographer. I wish we would have had room in our budget for this as I would love to be able to watch back those moments. The wedding day is etched into my memory but to be able to see it back would be amazing."
How gorgeous are the flowers in this wedding?! I'm head over heels with them, the floral aisle in the church in particular – it's what wedding dreams are made of.
A big thank you to Rob Power for capturing the whole day so perfectly on camera and to the happy couple for sharing it with us. We wish you all the love in the world!
Until next time…
Much love,
Holly x