I have to admit; I fell in love with this wedding at first glance. Everything from the sexy crocheted and tasselled gown to the simple colour palette of deep foliage green and delicate pink, to the sunken garden setting for this outdoor ceremony and marquee reception, not to mention the succulent favours and exquisitely elegant calligraphy has captured my heart.
Itching to find out more? Then come with me to Norfolk for the wedding of Natalie and Sam. In the midst of this summer's heatwave, on 7 July 2018, Natalie, a full-time mum to son Cole, and Sam, a graphic designer,  wed in the breathtakingly-beautiful outdoor location of The Keeper & The Dell, Ringland, Norfolk. The perfect July day was an ideal setting for Natalie's dream of a simple, bohemian-inspired day. Everything about the day, from the arty, rustic floral hoops to the crochet Rue De Seine gown, the gourmet BBQ and the wandering brass band, was inspired by outdoorsy, nomadic-style weddings in Australia and New Zealand – making for a truly unique day in the heart of Norfolk.
"I've never really been a girly girl so have always known I would want my wedding to have a very relaxed vibe. I think having an outdoor venue really inspired me to draw inspiration from nomadic-style weddings I'd seen based in Australia and New Zealand online. So it became quite clear that our day wouldn't really be dictated by a particular theme or colour scheme, we just wanted it to be simple with a bohemian feel to it."
Photography Gina Manning Photography
Natalie worked closely with Lolly, who owns this glorious venue, to create her boho style.
"Luckily, Lolly has a wealth of knowledge when it comes to local suppliers and has a great 'Love' page on her website with lots of handy recommendations. Her team of helpers on the day made sure everything went to plan as much as they could and dealt with any little hiccups along the way… including providing last-minute beverages for guests who were waiting in the sun for almost an hour when our bridal cars were a no-show and I ended up having to hitch a ride in a white van with my maid of honour to my wedding."
Drawing on her photography experience, Natalie had booked rooms at nearby The Dial House in Reepham, Norfolk for the weekend."We booked rooms at this gorgeous boutique town house hotel for the weekend. I'm all about the small details and just loved how all of the rooms are different themes so thought this would give the wedding prep photos an amazing backdrop."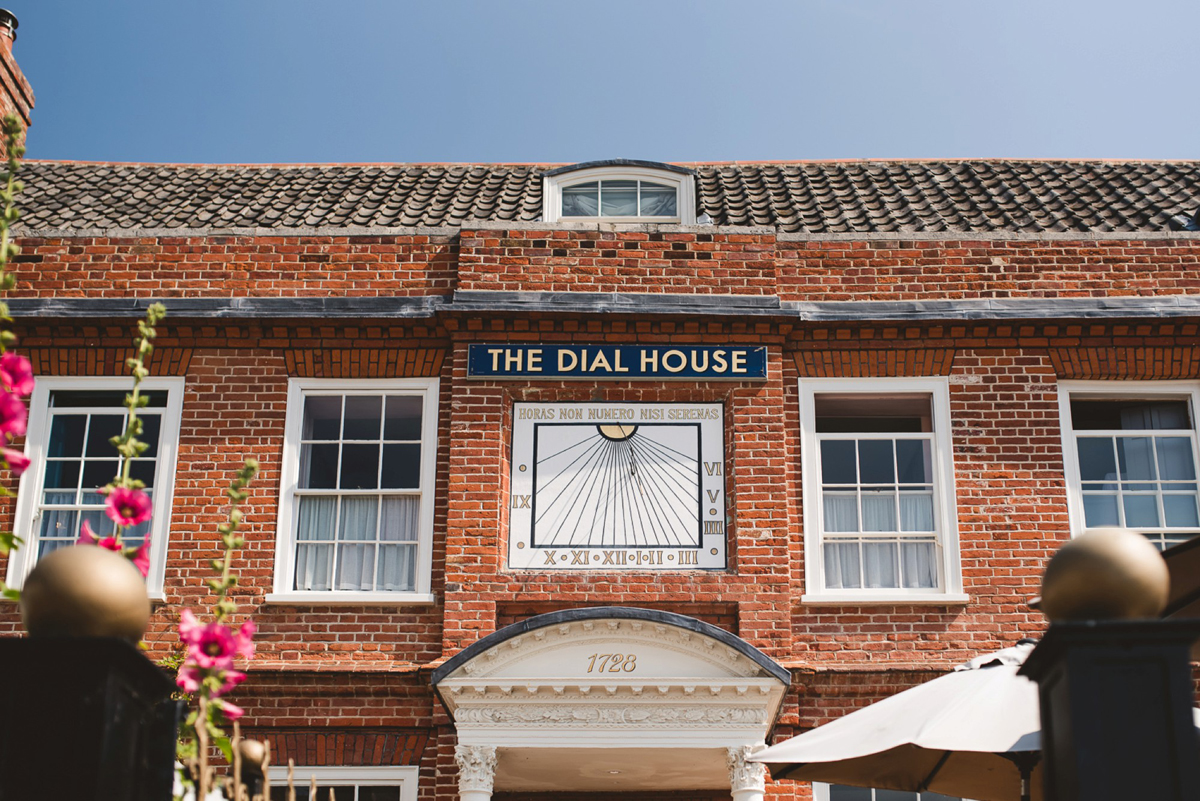 I really have to talk about Natalie's gorgeous choice of gown which totally inspires a boho, festival vibe from first glance. It's unmistakably a Rue de Seine design, found at Brighton bridal boutique Leonie Claire. Now before we say say any more, we need to advise any of you who might have been considering visiting or making an enquiry with Leonie Claire that it's owner, Leonie, closed her boutique this summer so that she can fulfil her important new full time role over at Luxe Bride. But fear not brides, if you are looking for a reputable Rue de Seine supplier in the UK, you need to visit The Wild Heart Bride.
I love how Natalie transformed her look for the reception and party by switching her simple vintage-inspired veil for a crown of foliage. Just divine.
"I've always loved New Zealand since travelling both islands a few years ago so knew as soon as I'd started pinning inspiration for the style of the day I should look for designers based there. It didn't take me long to realise I had to get my hands on a Rue De Seine dress and I couldn't believe my luck when I found out their designers were doing a trunk show at Leonie Claire. Luckily I got an appointment and it was just the most divine experience!"
"When I fell pregnant I decided to put my dress plans on hold and went back after having my son when they launched their new collection. When I first laid eyes on the Blake gown I just knew it was the one. It was the second dress I tried on after my original first choice and I knew no other dress would compare."
"The dress wasn't too fitted, but the shape and the way the beautiful tassels fell made it flattering, it also came with detachable sleeves which I wore after the ceremony along with a foliage crown to create a second look for the day. Most importantly the dress was entirely crocheted which is what I'd always dreamed of."
"It was so far from the traditional wedding dress. My mum and maid of honour both agreed it was very me and showed off my personality and style. I got such lovely compliments from our guests on how unique it was and also lots of requests to shimmy…if only I could shimmy my way through every day in that dress!"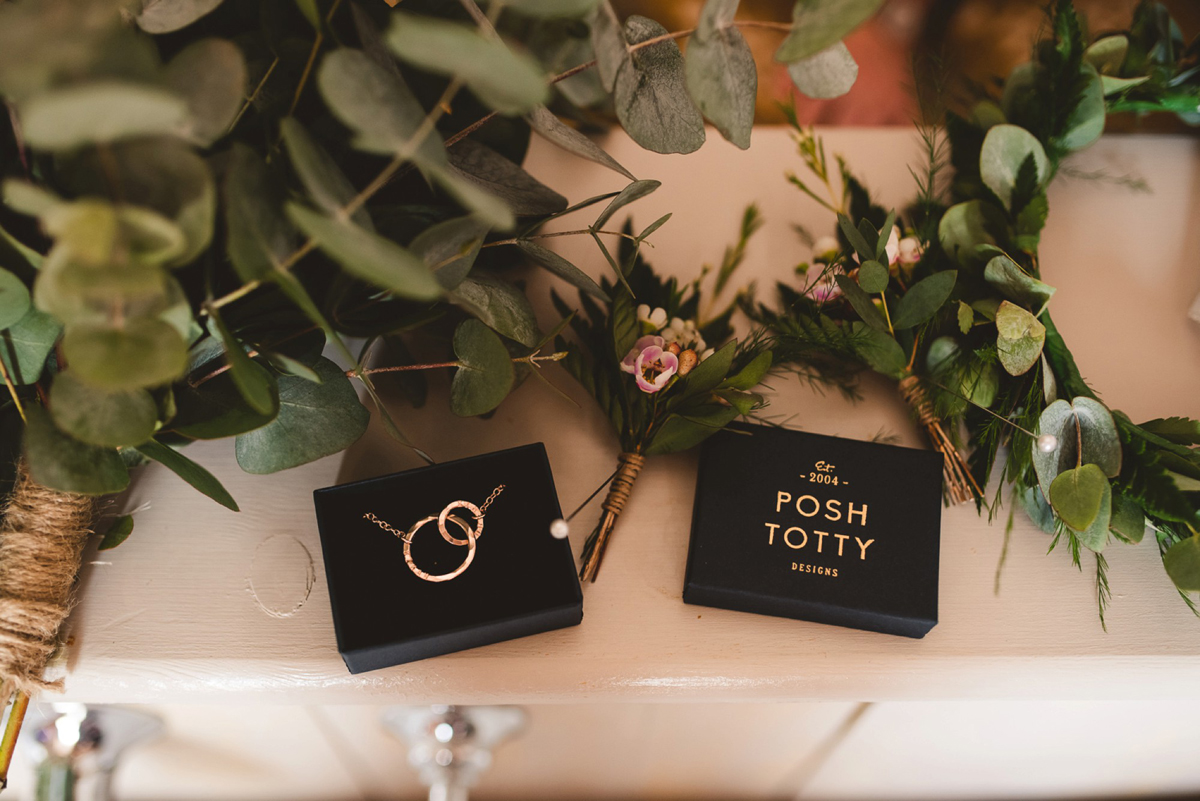 Lucy Morris Makeup spent the morning with the girls and created their natural and fresh make-up look, whilst Natalie's own hairdresser Aimee Morris travelled from home to style their hair.
"I contacted the Norwich School of Beauty for recommendations and Lucy got in touch with me directly. She was a joy to chat to and kept in contact all the way from booking up to the morning of the wedding. All of our make up was perfect on the day and she helped to make the prep in the morning such a fun experience."
[JP-VIDEO]
"My hairdresser Aimee travelled to our hotel to do all the bridal party's hair. The bridesmaids had theirs waved and put up into a half-up half-down style, with wax flowers and eucalyptus pinned in. Sam's mum and mine had theirs in a similar style but without the flowers. For my hair we trialled lots of different styles but on the day I decided to go with a simple down-style with waves. This helped with the ease of getting my veil and crown on and off."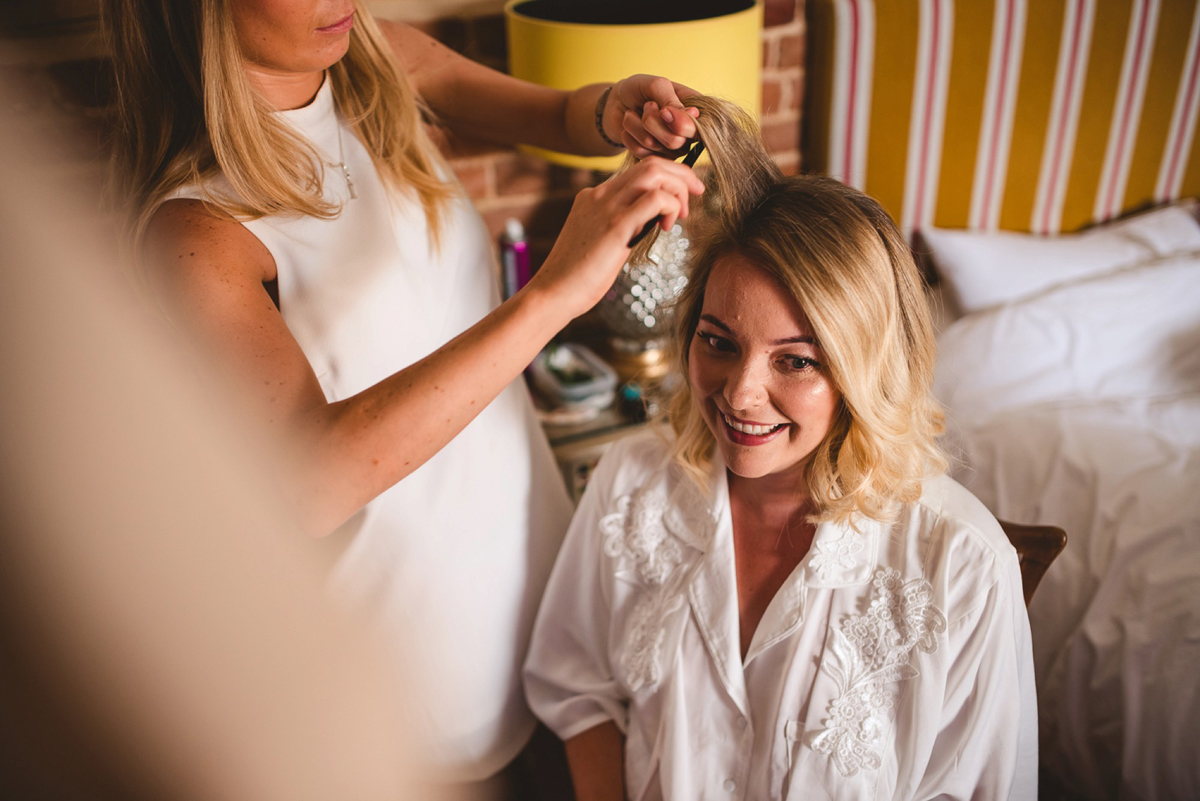 With a thought for the steep slope down to the dell where the ceremony was held, Natalie opted for a luxe pair of Carvela block heel sandals in nude velvet.
"Other than my engagement ring the only other jewellery I wore was a pair of Kingsley Ryan leaf ear climber earrings, which I bought from ASOS."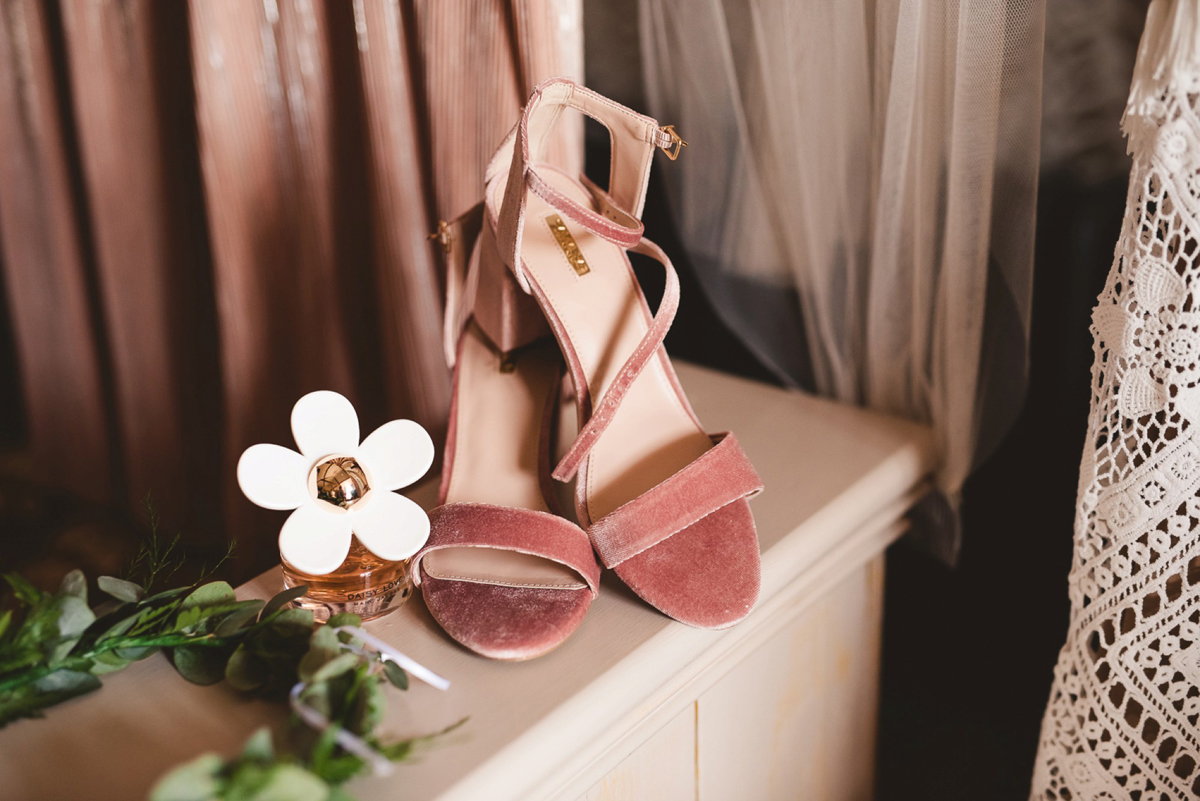 "I hunted high and low for a laid back intimate venue that gave me all the bohemian feels and The Keeper & The Dell did just that! It was only the second venue on our list of viewings. I actually ended up having to go without Sam and booked it then and there without him even seeing it! Luckily he trusts me enough and fell in love with the place when we had our first site visit in the run up to the wedding."
The couple met back in 2008 at university and have a gorgeous son, Cole, together.
"Sam and I had our first brief introduction during our first year at university at my best friend and future maid of honour's birthday party as they shared the same halls. It wasn't until we got together officially in 2009 that I found out it wasn't the first he had seen of me and had told one our close friends that he would make me his girlfriend sooner or later."
"Fast forward to Christmas Day 2014 and we were sat at our dining table popping our homemade Christmas crackers over dinner when Sam nervously got down on one knee and asked if I'd read my joke. Question; 'What did Santa ask his girlfriend at Christmas? Answer; 'Will you merry me?' It's been hard to top that Christmas cracker each year since!"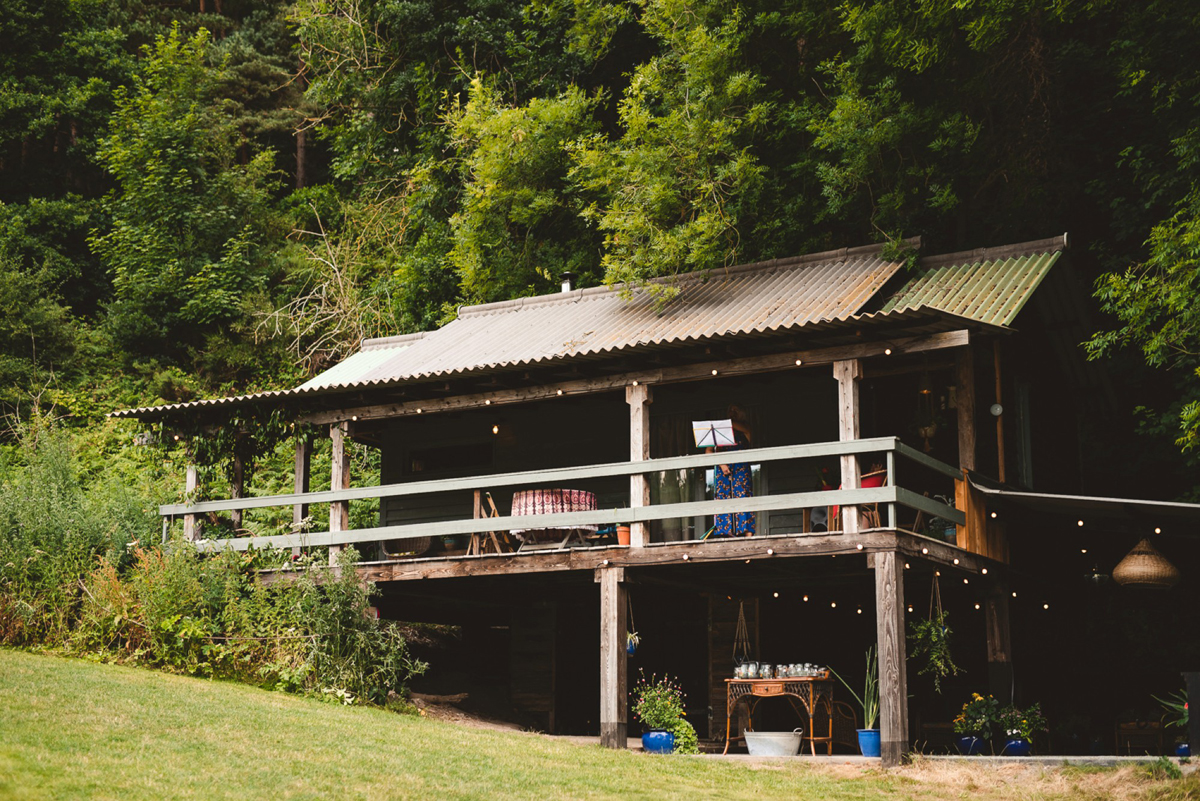 "Originally we booked the venue to get married July 2017, however I fell pregnant with our son in early 2016 and decided to push it back a year. Lolly, who runs our venue, was very flexible with our decision and helped us move the date to the following July."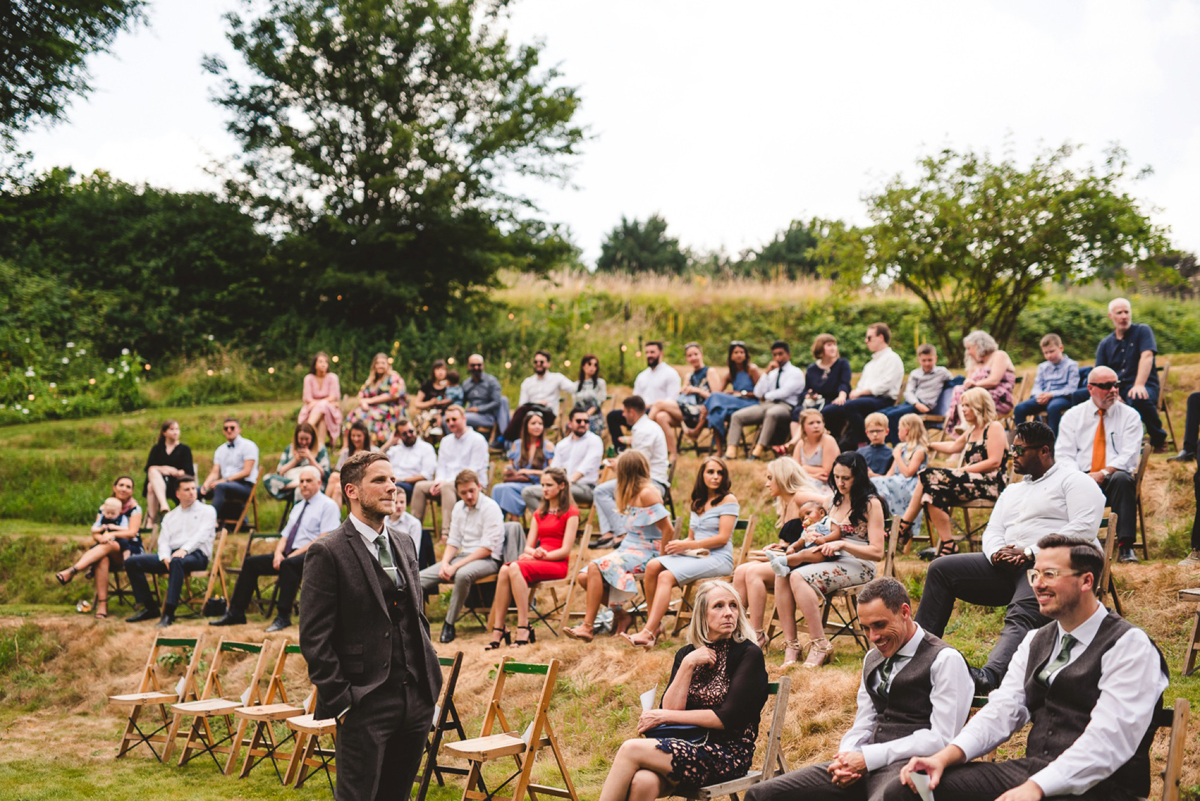 Unfortunately, the cars booked to transport Natalie and her maids from The Dial House to the The Keeper & The Dell didn't show up, so she hitched a lift in a white van instead, before being walked down the outdoor aisle by her mum. As the venue didn't receive their wedding licence until a few weeks before the wedding, the couple had married in their local registry office the week before. This did, however, mean that Natalie's aunt Sarah could act as celebrant.
"My beautiful mum walked me down the aisle. I honestly don't know what I would've done without this woman in my life, especially the past few years with all the planning. I know she was just as nervous as I was walking down that aisle but she did a stellar job at not letting me fall down the hill. We walked down the aisle to John Williams' 'Jurassic Park Theme' played on the violin by our friend Mallory Hamm."
The ceremony was a completely personal affair, with vows written by the bride and groom and bespoke rings from AJM Jewellery.
"We wrote the entire script for our ceremony and got lots of inspiration online from other couples that have shared theirs. We didn't go down the route of making them personal to each other but we wrote the script so that it was modern yet still held some tradition. Our bridesmaid Catherine read 'Union' by Robert Fulghum. We both wanted a reading and it took a while to agree on one but when we found 'Union' there was no hesitation that it was the right one."
"Our rings were designed and made by Adam McLaren of AJM Jewellery. Sam isn't used to wearing jewellery so Adam helped him choose a thin palladium band with a brushed effect. To make my ring we used the diamonds from the eternity ring my dad gave my mum after I was born."
"Adam created a gorgeous nesting style ring that curves round my engagement ring. The sentimental value meant a lot to me as my dad passed away ten years ago so although he wasn't there to walk me down the aisle a part of him was waiting at the end of it for me."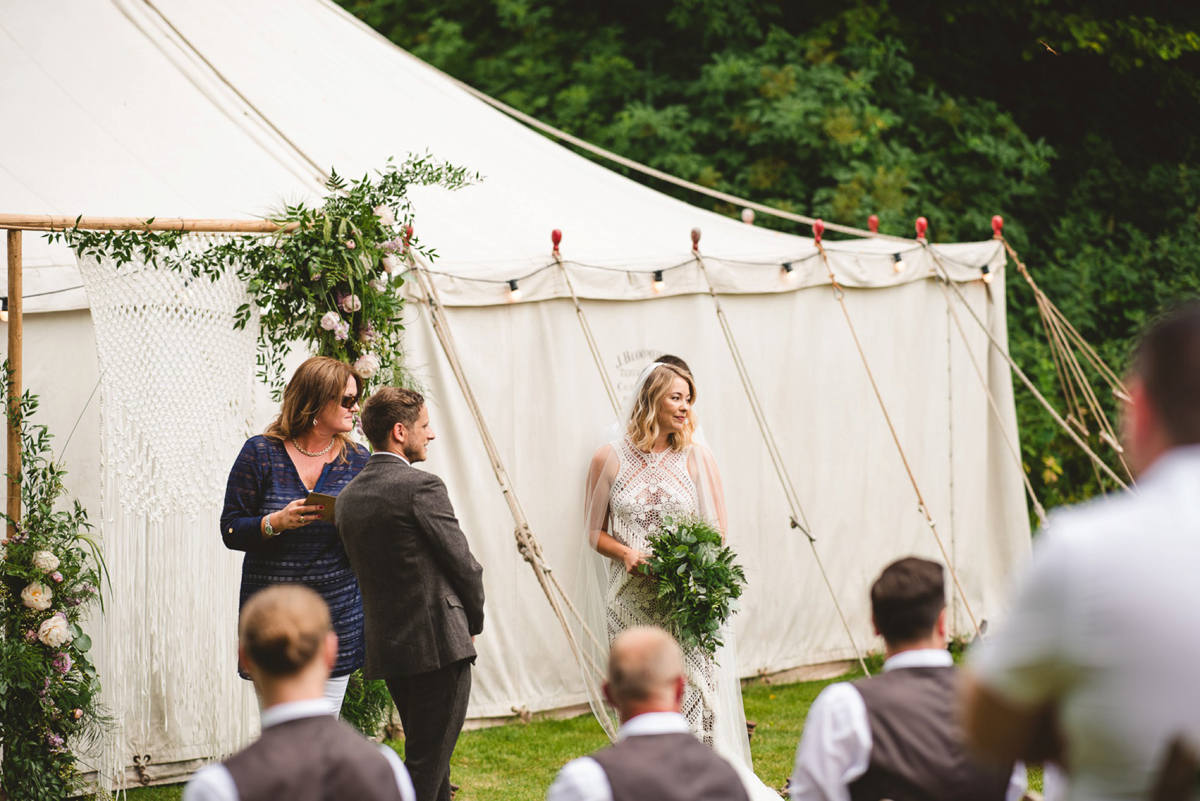 "I was really against a veil at first as I always knew I'd want a crown of foliage but when I went back for my first fitting one of my bridesmaids who came along convinced me to try a very simple vintage tulle style one on. The simplicity of it against the detail of the dress just finished the look off perfectly."
I love, love, love the idea of a brass band playing in the outdoors – this must have created such a carnival atmosphere!
"The music was the one thing Sam really wanted to take control of and was really keen to get some live entertainment booked in the form of a brass band. We found the King Brasstards and booked them in as a four-piece to pop up and surprise our guests with an hour set when we said our 'I dos'. It worked a treat and our guests loved the best-kept secret! They played Beyonce's 'Crazy in Love' at our request as we walked back up the aisle as husband and wife."
"Jeff Taylor was our caterer for the entire day and helped us create a really laid-back menu. Our meal was a gourmet BBQ served down the middle of the tables for people to share and pass around followed by pizzas in the evening…perfect bite size food for dancing! Our wonderful caterer's wife Stacey made our delicious cake."
As a graphic designer, Sam just had to design the wedding stationery himself, using simple and elegant calligraphy as a starting point.
"He designed all of our stationery and signage for the day. Our save the dates were gorgeous homemade wood slice magnets. He kept everything consistent with the typography throughout and wrote or hand-painted all of our signage. One of our bridesmaids dad's is a bespoke printer (Perrott Bespoke Printing) so once Sam had designed the invites he printed them in copper foil on natural brown card."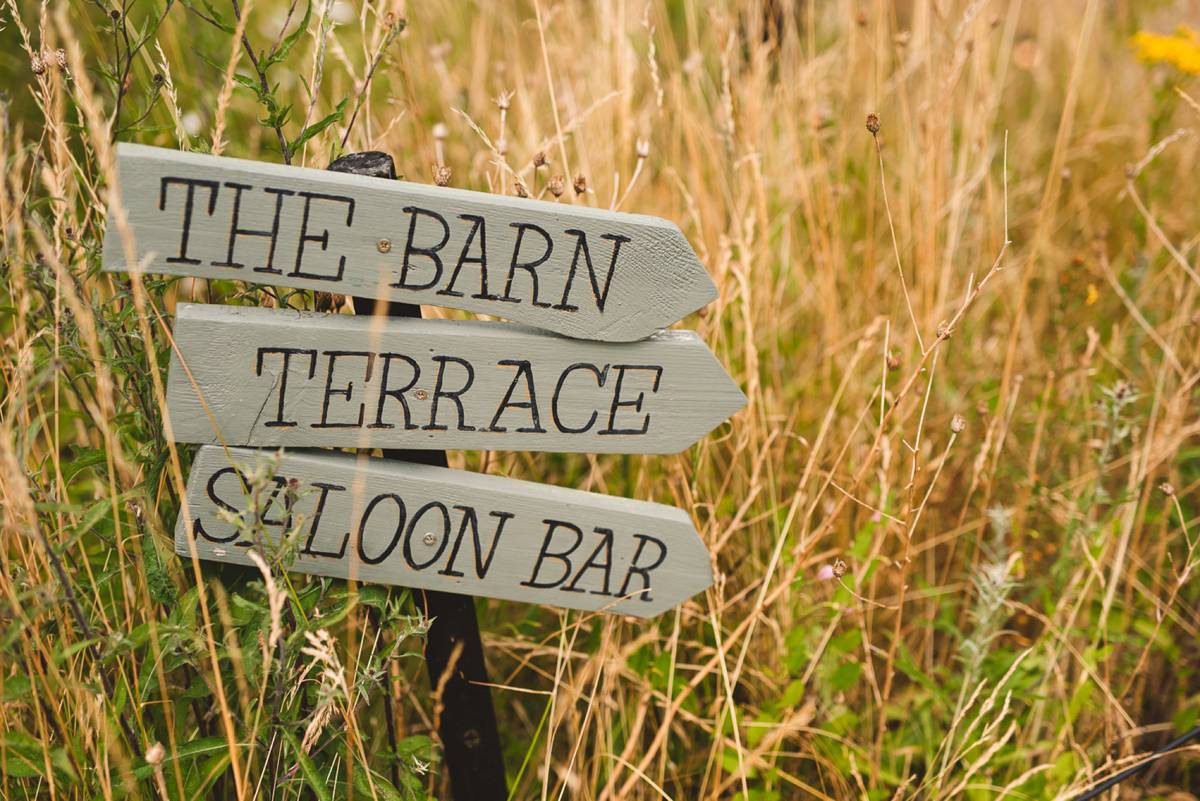 Gina Manning Photography is the talent behind these wonderful photographs, which capture the joy of the day and its incredible location so perfectly. My favourites have to be the family shots of Natalie, Sam and Cole, having fun in the beautiful wooded landscape.
"Being a photographer myself I knew how important it was to find someone who would capture the essence the day and Gina did just that and more! We're so lucky to have found her and her candid approach really put us both at ease, as neither of us feels comfortable in front of a camera."
"With Gina it felt more like having another friend at the wedding rather than someone there to do a job. She was so personable with everyone and our son absolutely adored her. We were actually competition winners of Gina's so were completely blown away by her generosity and willingness to give us the same experience as the rest of her customers. She's such a talented photographer!"
If you've fallen in love with this impeccable styling, the Natalie has been so kind as to share details of how she created this foliage-rich look which decorated the open-sided marquee.
"I knew I wanted to keep the flowers minimalistic and opted for lots of green foliage. My bouquet was a heavy foliage cascading arrangement made up of lots of eucalyptus, fern and other stems and I had Lydia of Rambling Rose Florist make up smaller token-sized bouquets of just eucalyptus for the bridesmaids. Sam and the groomsmen had buttonholes made up of thistles and a succulent and the mother of bride and mother of the groom had buttonholes of foliage and wax flower. My crown was also made up of the foliage used in my bouquet."
"Our tables were set up in three-long banquet style settings and we had Lydia decorate the centre rods and beam of the marquee with a heavy foliage arrangement that hung low over the centre table. We also had a bespoke wooden sign with our surname 'The Ozkans' wrapped with foliage to create a wreath-style around the outer edge which hung behind us on the top table. Our chairs were also decorated with foliage."
"For our name places we used potted succulents and cacti that doubled up as people's favours."
"We hired a beautiful arch with a macramé backdrop for our ceremony and Lydia again used lots of trailing foliage to decorate that and also added some lovely dusty pink peonies. I spent a year meeting with the amazing Lydia and exchanging endless emails and phone calls to make sure everything was perfect for the day and she made it all absolutely worth it."
"We hired a few key pieces from Penny of The Little Lending Company; the wedding arch with the macramé backdrop, two peacock chairs that we used for our chairs at the top table decorated with foliage, a mix of brass vessels scattered down the middle of the tables with stems of fern and foliage in for decoration, a large glass vessel for our cards, a donut wall 'Hole Lotta Love' for our evening snack of Krispy Kreme donuts and some vintage garden games, giant Connect 4 and Jenga. Penny was great with accommodating any last-minute requests and her choice of décor matched the style of our day perfectly!"
"When it came to the tableware I hired vintage style champagne flutes, wine glasses and water tumblers along with crockery and cutlery from The Banqueting Hire Service. We also transformed a vintage caravan on site at the venue into a DIY photobooth and brought along our own props."
"We didn't want anything to fancy so opted for a tiered naked Victoria sponge decorated with stems of foliage and lavender. I made our cake topper… three gold velociraptor dinosaurs to symbolise myself, Sam and our son Cole (we're huge dinosaur fans)."
The guests were treated to a fabulous best man's speech and a gourmet BBQ feast – perfect for sharing and socialising.
"Our best man was Sam's elder brother Eren and we couldn't have imagined anyone else doing a better job. We've both heard our fair share of best man speeches over the past few years but Eren's was by far the most savage and memorable. He must've started collating that material from the day we got engaged and has definitely provided us with an extra story to tell about our day!"
The simple, relaxed style continued for the bridesmaids and maid of honour, who all wore a nude maxi dress with an overlay top layer in a plisse material from ASOS, worn with their own shoes and finished with fresh white wax flowers and eucalyptus pinned in to their hair.
"I was pleasantly surprised to find a style that was flattering on all of them and something they all felt comfortable in. I bought the girls a personalised engraved necklace with their initial as their thank you gifts, which they all wore on the day."
The boho vibe continued in Sam's lightweight suit and olive green tie from ASOS. Oh, and just how cute is Cole, who was pageboy?
"Sam's suit was a three-piece brown Donegal suit from Moss Bros. We both favoured tweed suits but with the wedding being in July decided against such a thick material so when we found this suit it seemed like a perfect compromise as it had the look of tweed yet its made of a much thinner material. Sam wore the full three-piece suit for the ceremony so that he had a slightly different look to the groomsmen. He also had the same olive green tie as the groomsmen."
"We bought all of our groomsmen a silver tie bar from Etsy with their initials engraved and which Sam also had and wore on the day."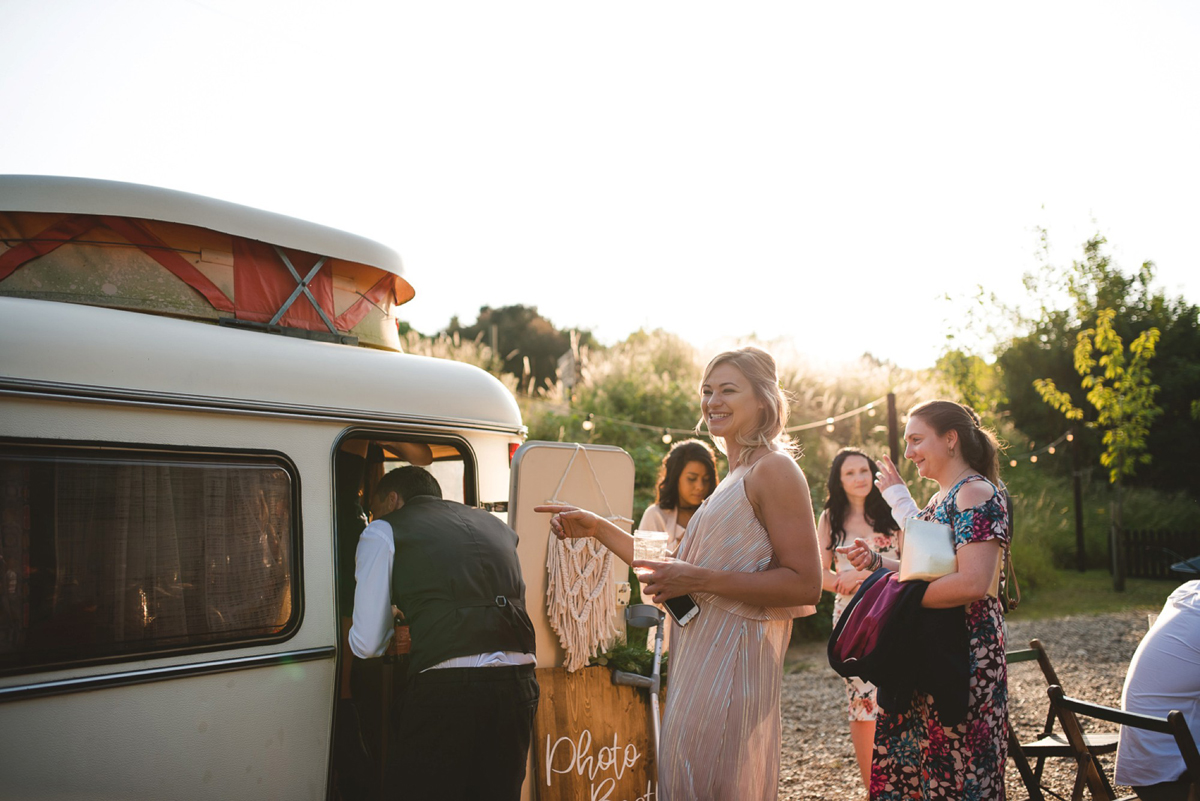 It looks as if the guests had an incredible time playing games in the summer sunshine, then dancing the night away on the marquee's dance floor.
"We had Sam's friend Mark Sullivan DJ in the evening, he had everyone up on their feet all night. He even threw in a cheeky football-related song request from Sam after confirming England had made their way through to the semi-finals."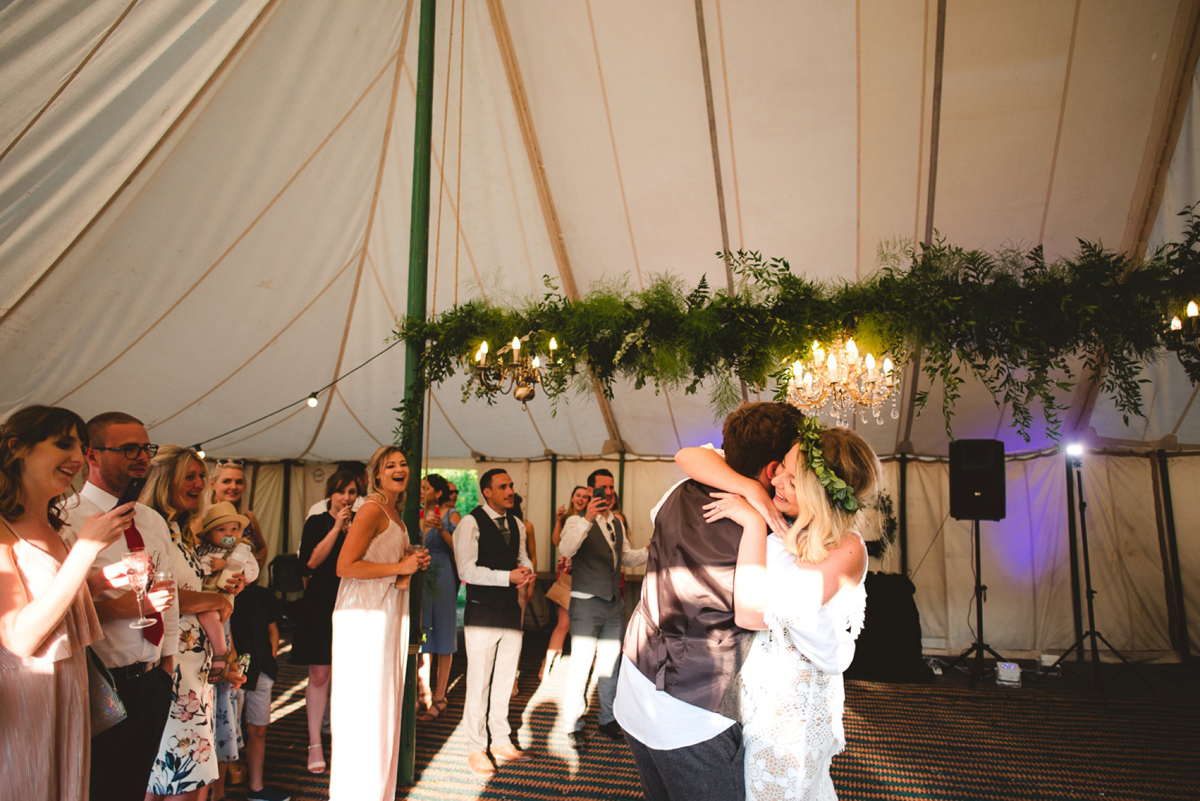 "Our first dance was to Fleetwood Mac 'Everywhere'. One of our most memorable dates was to a Fleetwood Mac concert and we wanted something upbeat so it seemed like the perfect choice."
The entire day must have been so memorable, but the bride has a couple of special moments that she'd like to share with us.
"For me it was during the meal when I had a moment to sit back and look around at everyone enjoying themselves. It was one of those moments where I was able to soak up the atmosphere with no interruptions. Also, the last dance of the night… everyone was wasted by this point but dancing with my new husband and not wanting the day to end was such an amazing feeling."
"Words can't describe how grateful we are to every person who had a role to play in our special day, from our family and friends to our suppliers. It was one of the best days of our lives and if we could do it over again every weekend we would."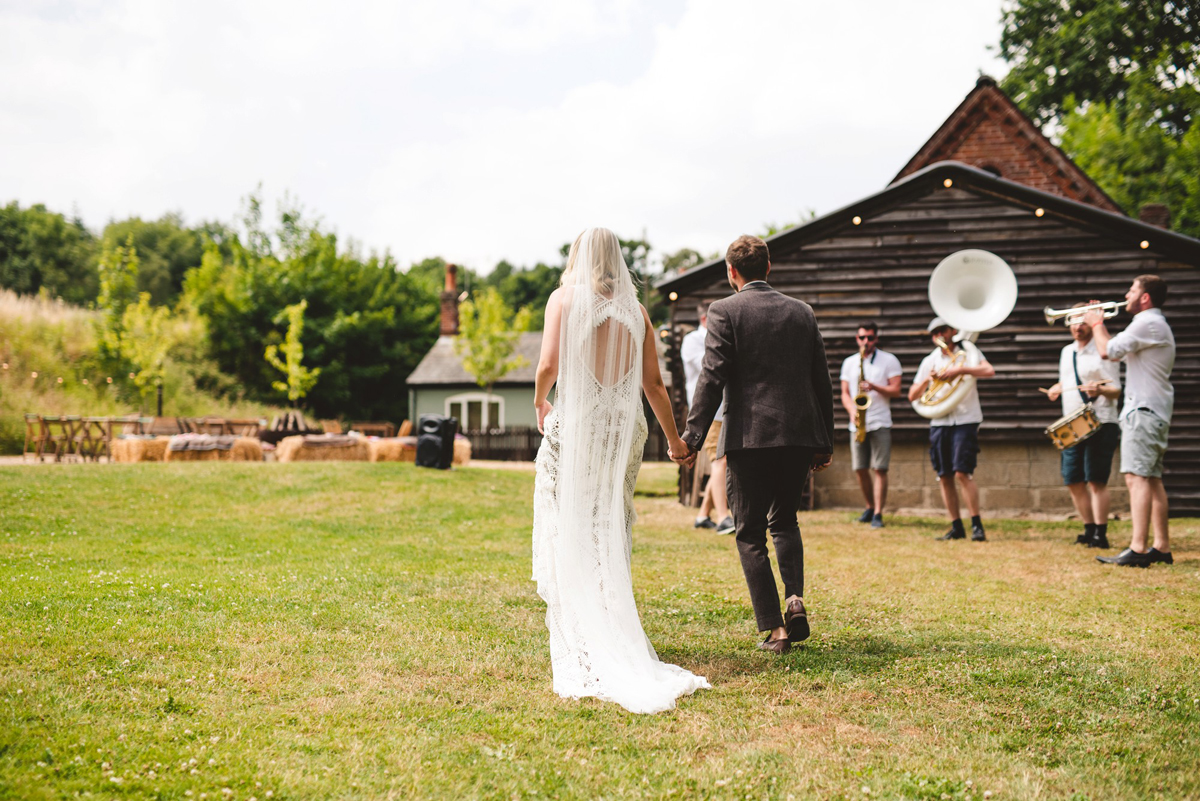 When it came to budget, Natalie and Sam went over slightly to achieve this beautifully bohemian day.
"Our budget was £10k and we spent £12k in the end."
Words of Wedded Wisdom
"I spent two years planning our wedding and sadly as organised as you try to be there will always be things that go wrong. We had lots of hiccups in the week running up to the wedding with a majority of those taking place on the actual day. I would say try not to get caught up in any of those moments on the day and surround yourself with people who can handle it for you. We were lucky to have some of the best people we know and love in our wedding party who contributed massively to us having the best day ever."
"We were so lucky to have a venue that we didn't have to spend lots of money dressing up as it's such a beautiful place but I do think it's the small details that make a wedding. So, even if you have people telling you that no one will notice, go with your gut if you think it counts. I've had so many people tell me it's one of the best weddings they've been to and partly because of all of the little details and thought that went into it."
"Most importantly, enjoy yourself! Try to steal those moments where you can soak up the atmosphere as it's true what they say, the day goes by so quickly."
Thank you so much Natalie and Sam for letting us share your wedding today, and thank you for all those wonderful details for bohemian, foliage-rich weddings – you've been a real treasure trove of information.I'm totally in love with your day, and am sending so much love and congratulations to you both and your son Cole. I have to thank Gina Manning too for her beautiful work. If this wedding has got your ideas going, then we have more bohemian-style weddings for you to enjoy here.
Ele xx