Pastel prettiness is the order of the day today, and our bride rolled with her vision of roses, golds, pastels and dusky pinks to create the day of her dreams. I love it when a bride knows exactly what she wants and executes it to perfection, it makes for one gorgeous and dreamy day.
Hannah, a community nurse, and Dan, a project manager, chose 28th April 2018 to be married at their local parish church of St Edwards King and Confessor Catholic Church in Clifford Wetherby, North Yorkshire. They followed the nuptials with a reception at Rudding Park in Harrogate and their beautiful day was captured on video by the oh-so-talented Adam Wing Films who captured the essence of the wedding and packaged it up into a gorgeous 8 minutes worth of footage.
Wedding film by Adam Wing Films
The gown Hannah had in mind for her big day was a stunning sleeveless structured Caroline Castigliano dress with a full skirt from The Bridal Collection store in Harrogate.
"My wedding dress reflected my usual style. I'm very much into particular designers within my own normal clothing and always go with quite minimal styles, but with great cuts, for example Whistles and COS. I knew instantly I wanted a Caroline Castigliano gown for our day."
"I really wanted a British designer and Caroline herself described a Castigliano bride and it was so me! As soon as I put the dress on, I knew it was the one for me. It was plain but it had pockets. It was high at the front but it had an exposed back. I wasn't just comfortable, I felt a million dollars! I felt I was channelling the modern-day Audrey Hepburn but with an extra princess feel."
Images by Helen Russell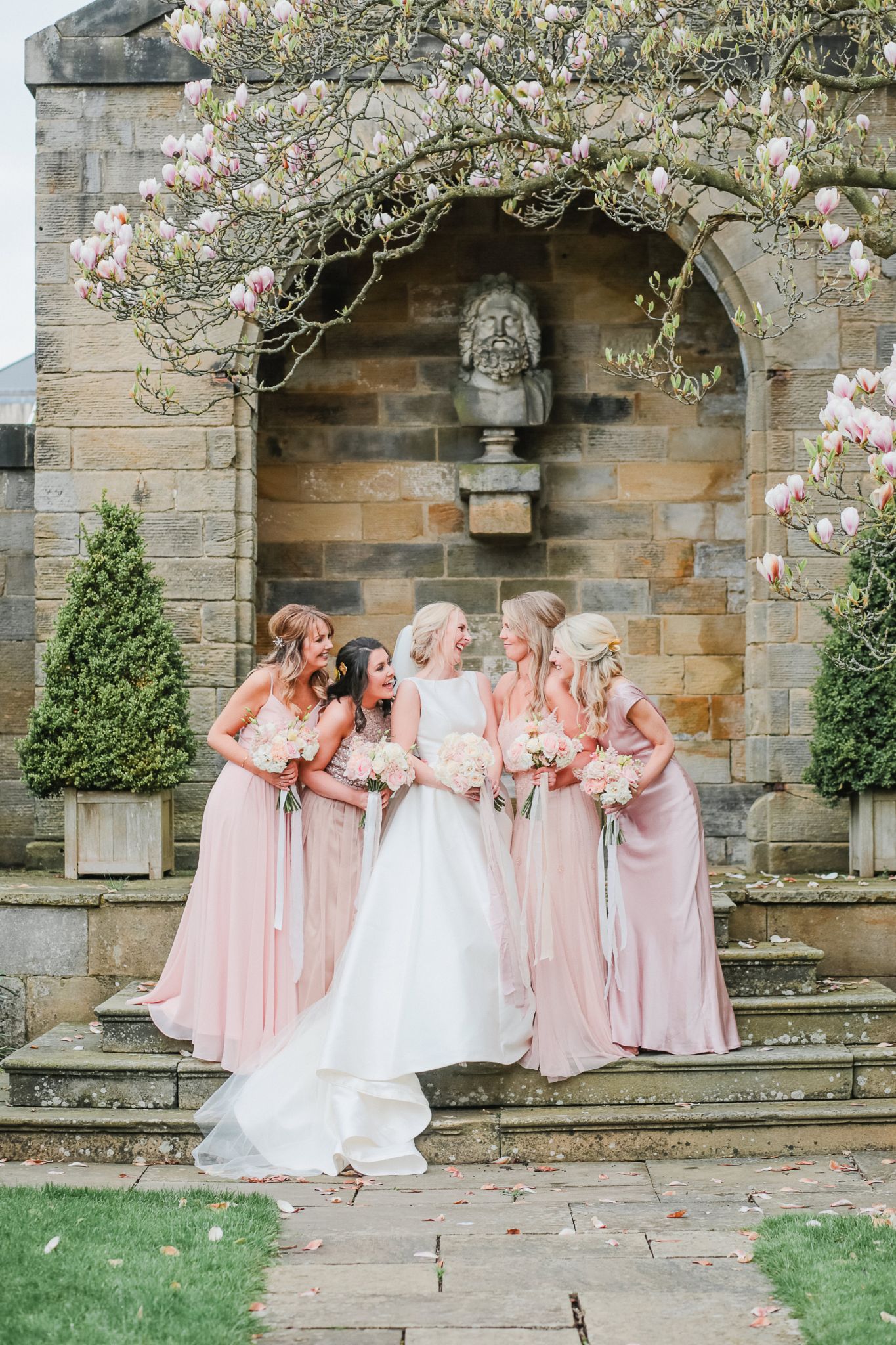 The day was also beautifully captured on camera by photographer Helen Russell who managed to portray the soft gorgeousness of the day perfectly.
"Helen was the first supplier I booked. I knew I wanted the fine art look as it was soft and beautiful. Helen was amazing. She clearly understands the process of a wedding and photographs the elements you spend months and months choosing. She's so natural with her photos and is professional yet fun. She was really discreet as well. Honestly, I could not recommend Helen enough. She really captured the love and laughter that was our wedding day.""My veil also came from The Bridal Collection and was a plain cathedral length veil. My shoes were pale blue Manolo Blahnik's and I wore a Tantrums and Tiaras handmade vintage hair piece for the ceremony, and a rose gold hairband from Etsy for the evening reception."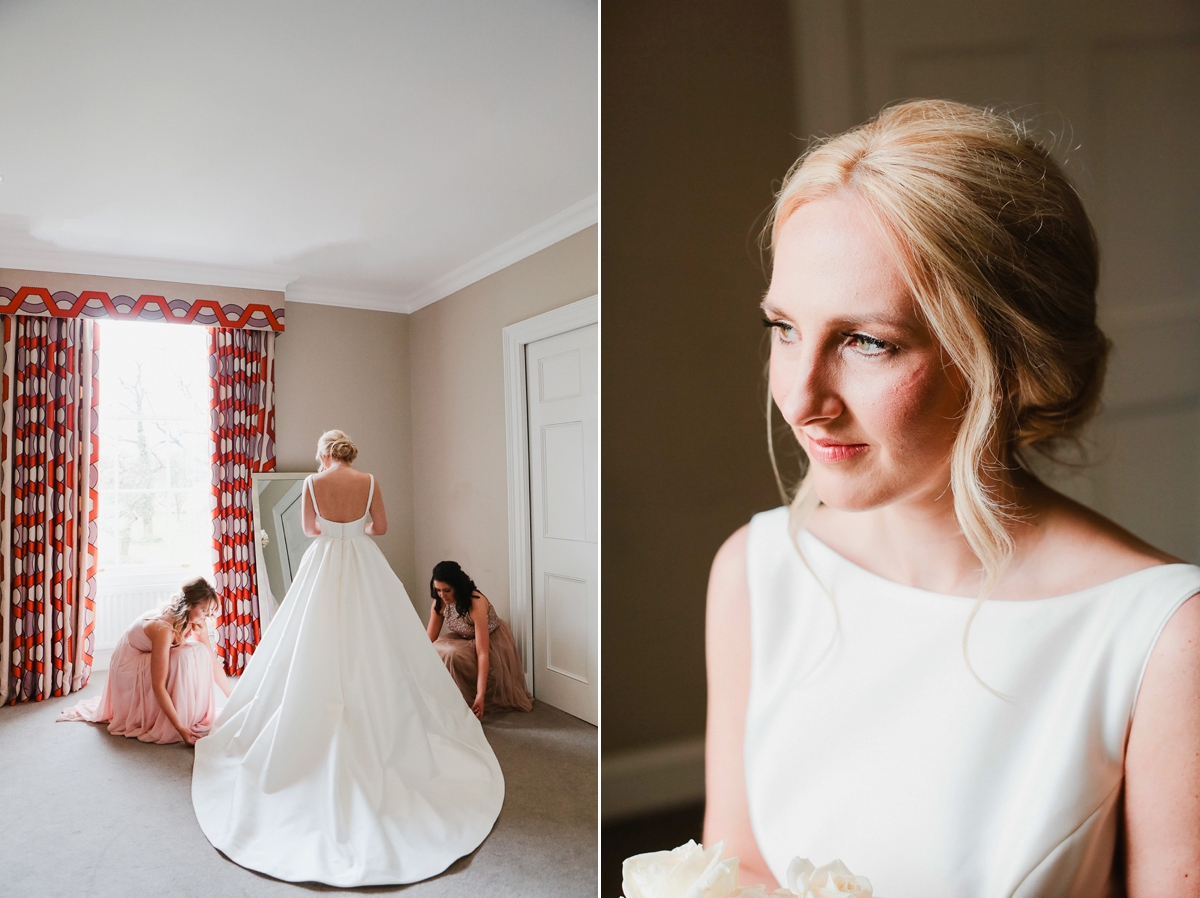 "It was actually the decor of the shop I bought my wedding dress from, The Bridal Collection in Harrogate, which inspired me for the wedding theme. The building is so old and ornate with lots of gold and muted pinks and minks, and the dress curtain was velvet. I just loved the idea of textures and using different fabrics."
"Oh, and I love gold! I'd describe the day as a traditional spring English day, filled with fun, romance, elegance and pampas grass"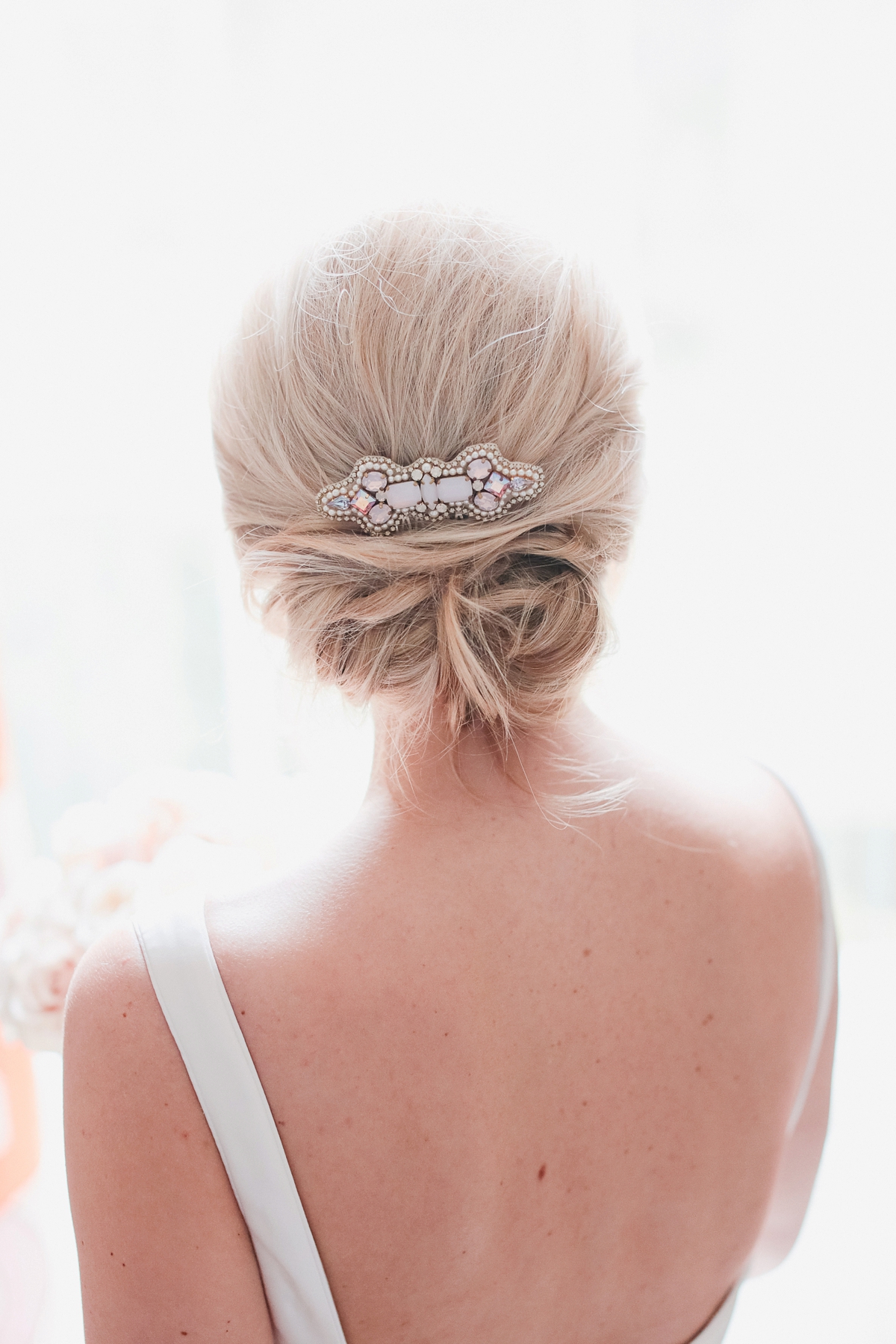 "I wore YSL Supreme Bouquet as my perfume on the day. It was a new scent I wanted specifically for my wedding day. It's oil based so lasts for a long time. It also smells beautiful and I also love the name of it!"
"And finally, I wore a pair of pale pink stud earrings as my 'something old'. They were a gift from Dan from Dubai back when we first met."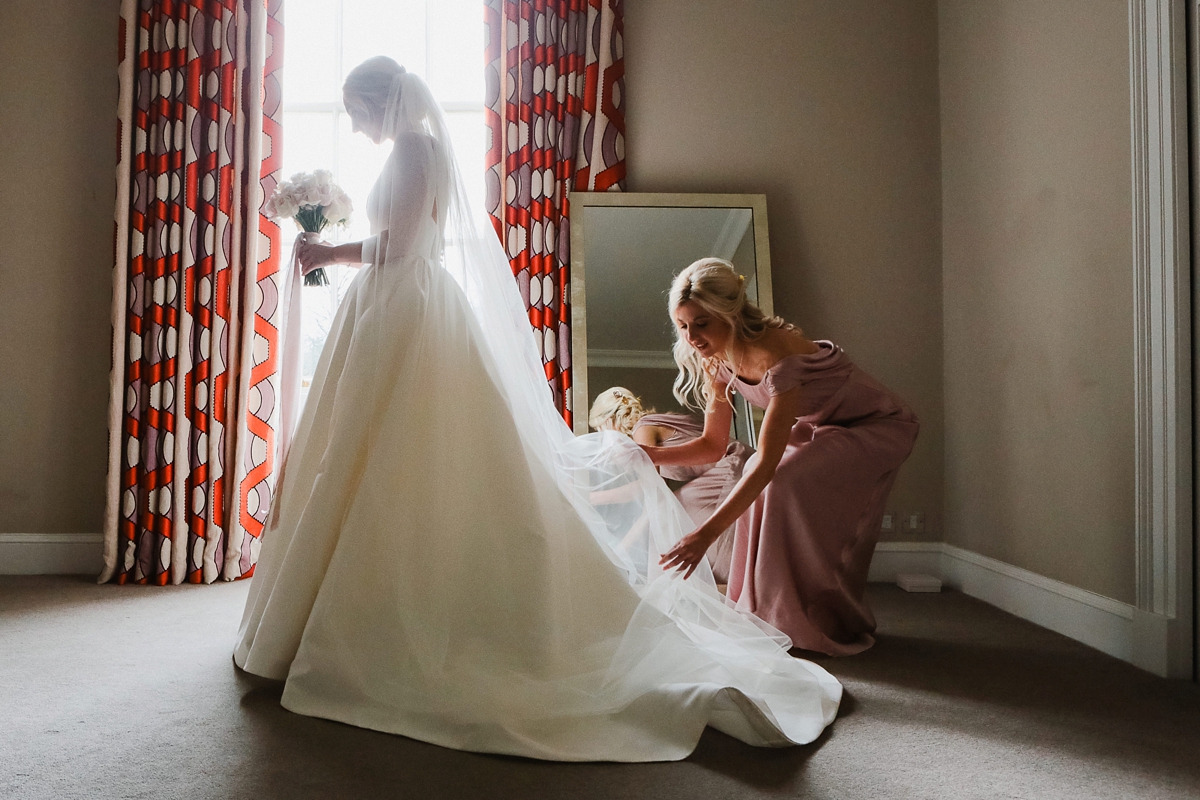 "Dan and I first met through mutual friends back in 2011. From the get go that was it for us. We then got engaged in July 2016. We actually just decided together that we wanted to get married, so instead of a surprise proposal, we decided to buy my Tiffany & Co. engagement ring (one that's I'd always dreamed of!) whilst we were on holiday at Disneyworld Orlando Florida. Dan got down on one knee whilst we were at home privately."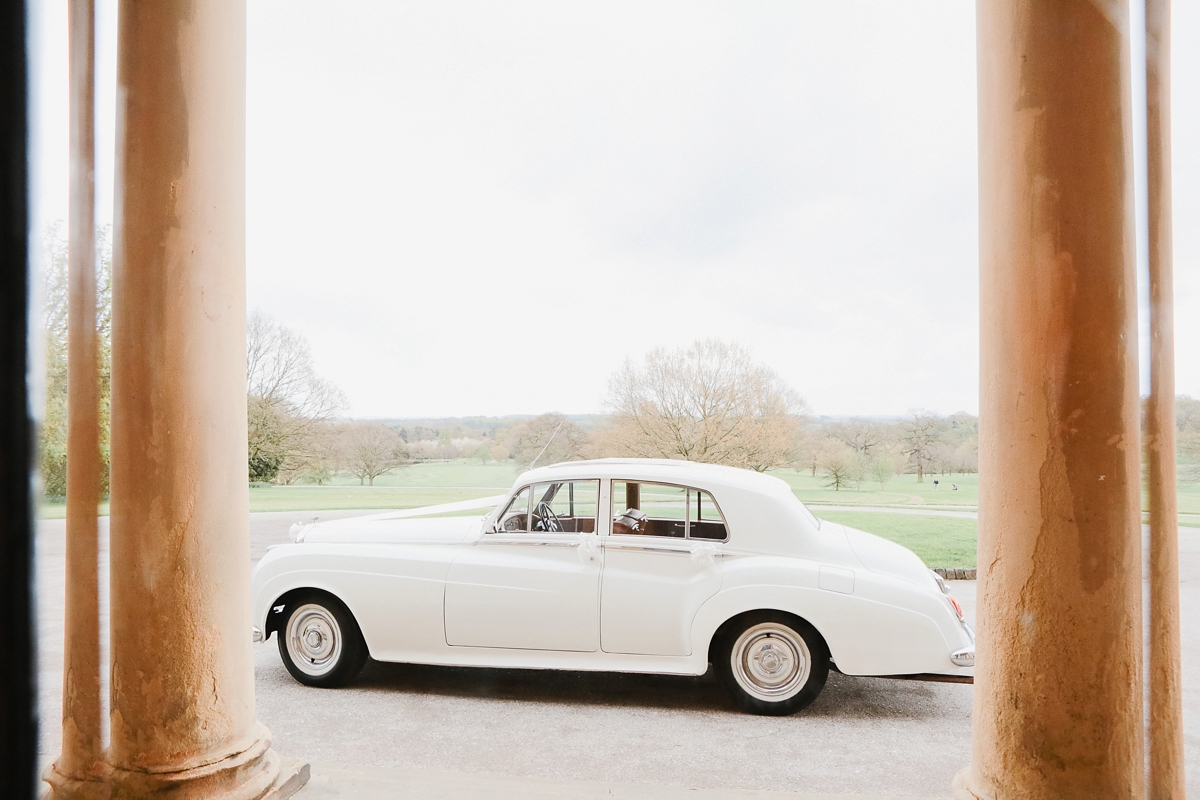 Hannah's bridesmaids wore a different mismatched dress each, in the same dusky blush hue, from various places including ASOS, TH&TH and Ghost. Their different looks were all beautifully tied together with a rose gold and gold flower hair pin from ASOS and hair vine from Etsy, and gorgeous semi structured bouquets by the talented Caroline at Floral Designs.
[JP-VIDEO]
"I opted for no green foliage in my wedding flowers so the neutral and pure flowers could be focused on. Roses are my favourite in particular.  Caroline and I sat down and chose each individual rose and other flower and colour choices as I wanted to be a very much involved bride! She also sprayed ferns and rucus foliage gold to compliment the blush, gold and ivory colour theme."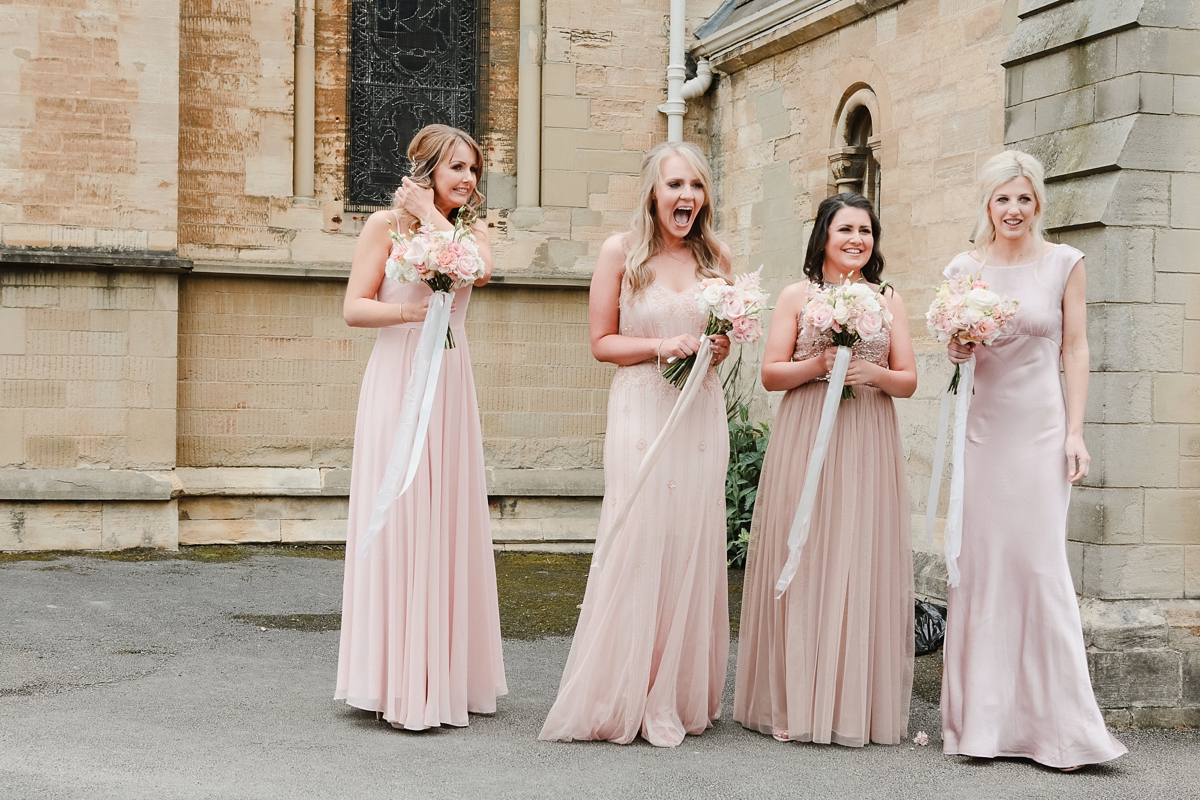 "I also wanted some pampas grass as I love its fluffy consistency and I think it adds a wow factor, and rose petals to add a romantic touch. Caroline understood my vision and the gold urns were really stunning."
"I was taken aback by how beautiful they were. I also had hand dyed ribbons, which were used on the main invites and I had them trailing from my bouquet and slightly shorter on the bridesmaids posies."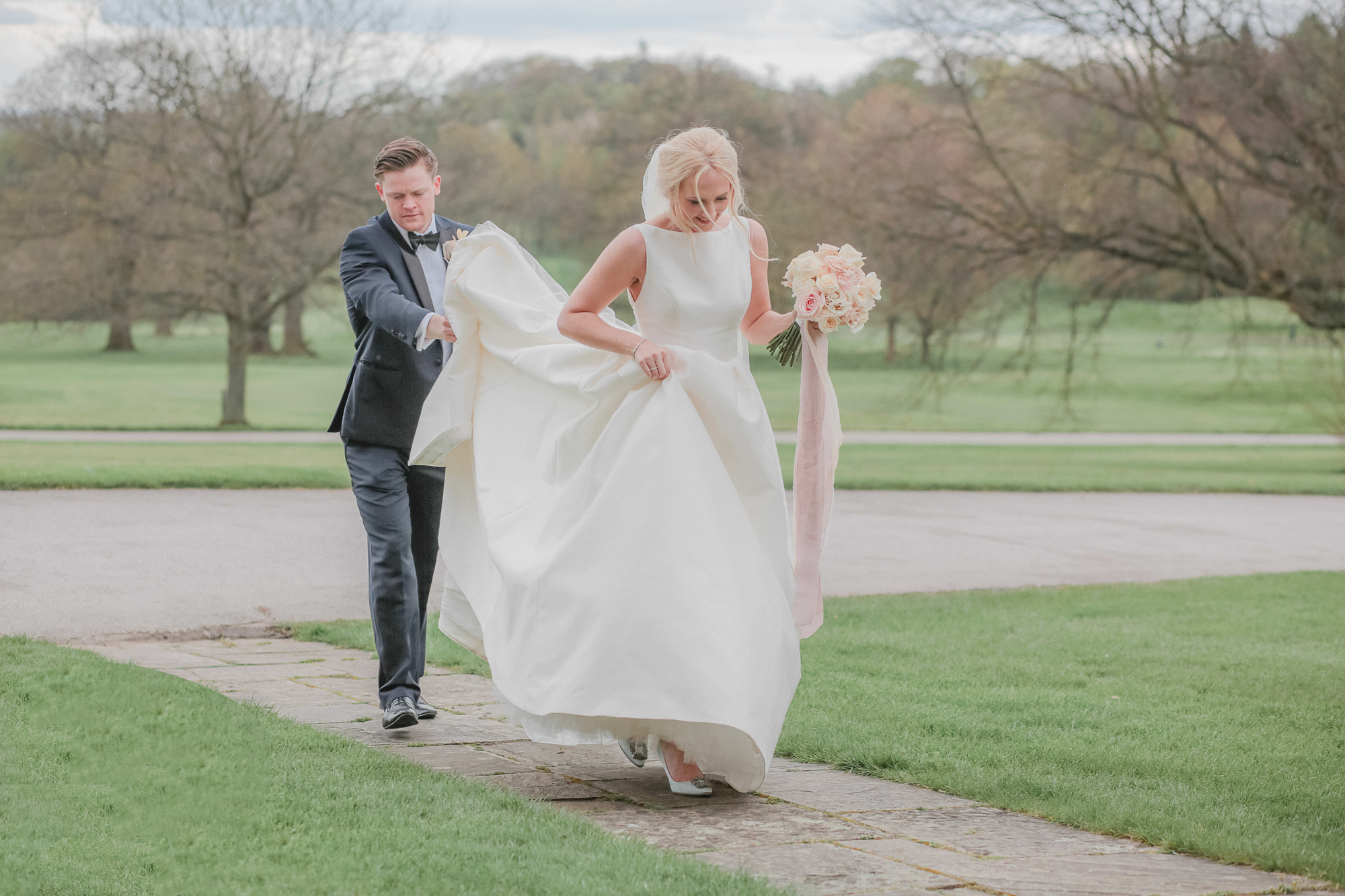 "We chose our local parish church to be married as inside it is all Yorkshire stone and it's absolutely beautiful. We chose Rudding Park as the reception venue as it gave us a special and grand feeling and I loved the large sash windows and the regency style of it. I already knew the style of dress I wanted and knew it would fit perfectly in this venue and overall theme of the wedding."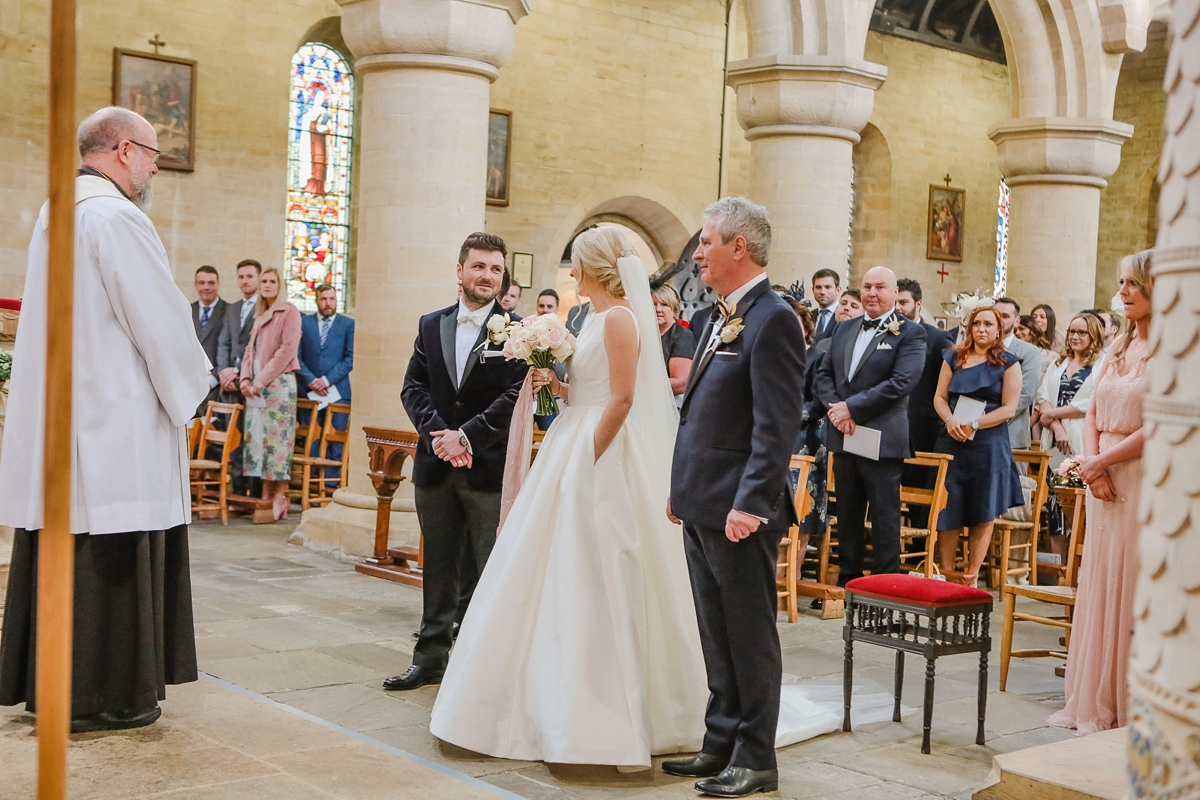 The bride walked down the aisle alongside her dad to a violin cover of A Thousand Years played by Amy Fields. The parish Priest Father Newman then officiated the wedding using the traditional wedding vows.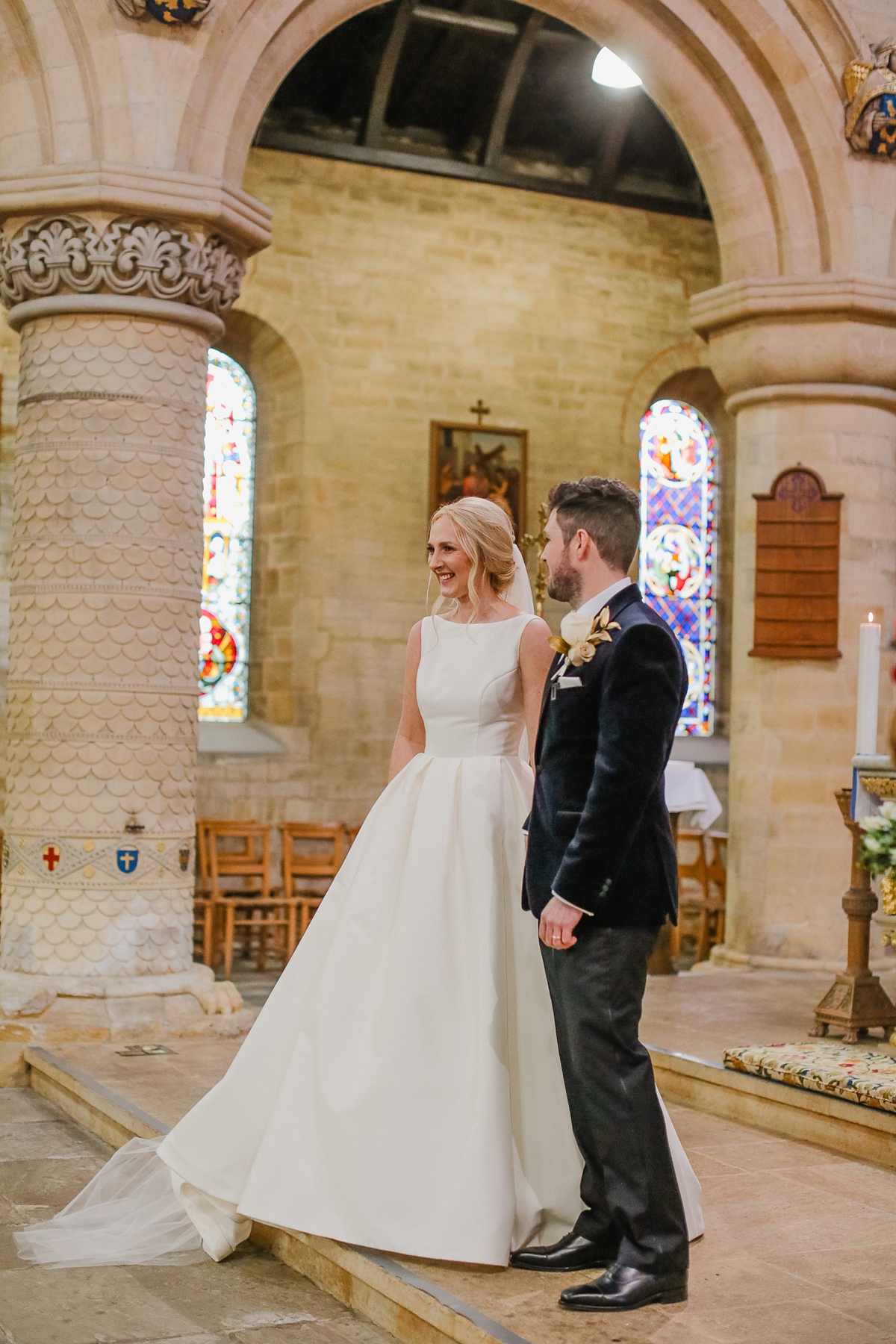 "We chose two religious readings from the Bible and one piece of literature called Union by Robert Fulghum. We chose this as it really was exactly what the process of a wedding was for us personally as a couple."
"Our favourite part of the reading was 'The symbolic vows that you are about to make are a way of saying to one another, 'you know all those things that we've promised, and hoped, and dreamed – well, I meant it all, every word.'"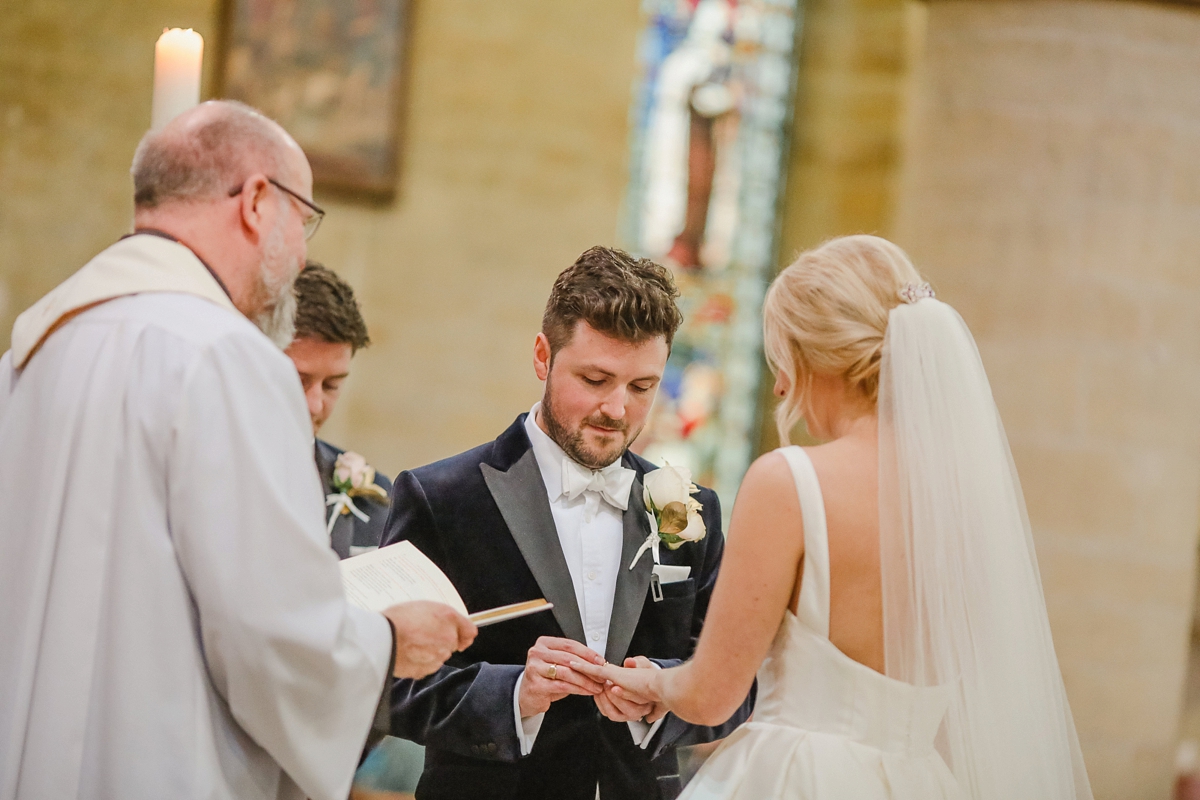 The couple then swapped wedding bands, Hannah's bought from Tiffany & Co. to match her engagement ring, and Dan's from a local Yorkshire jewellers.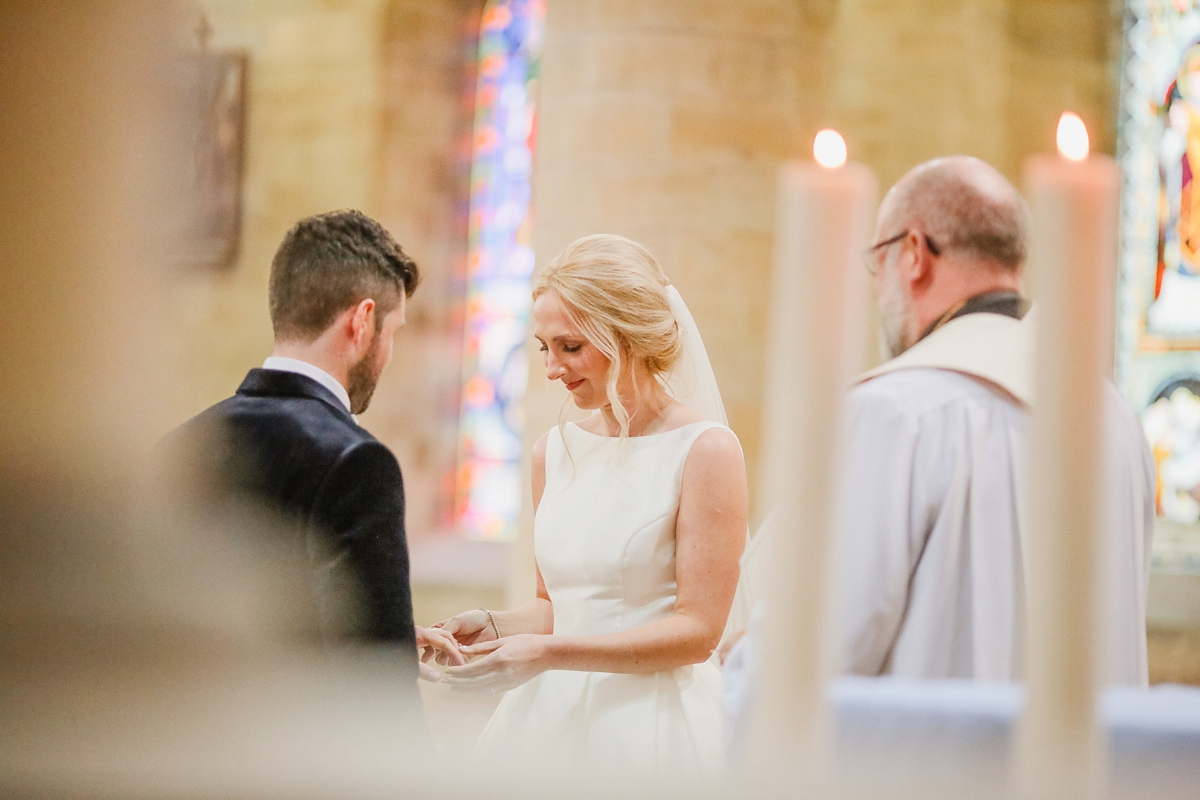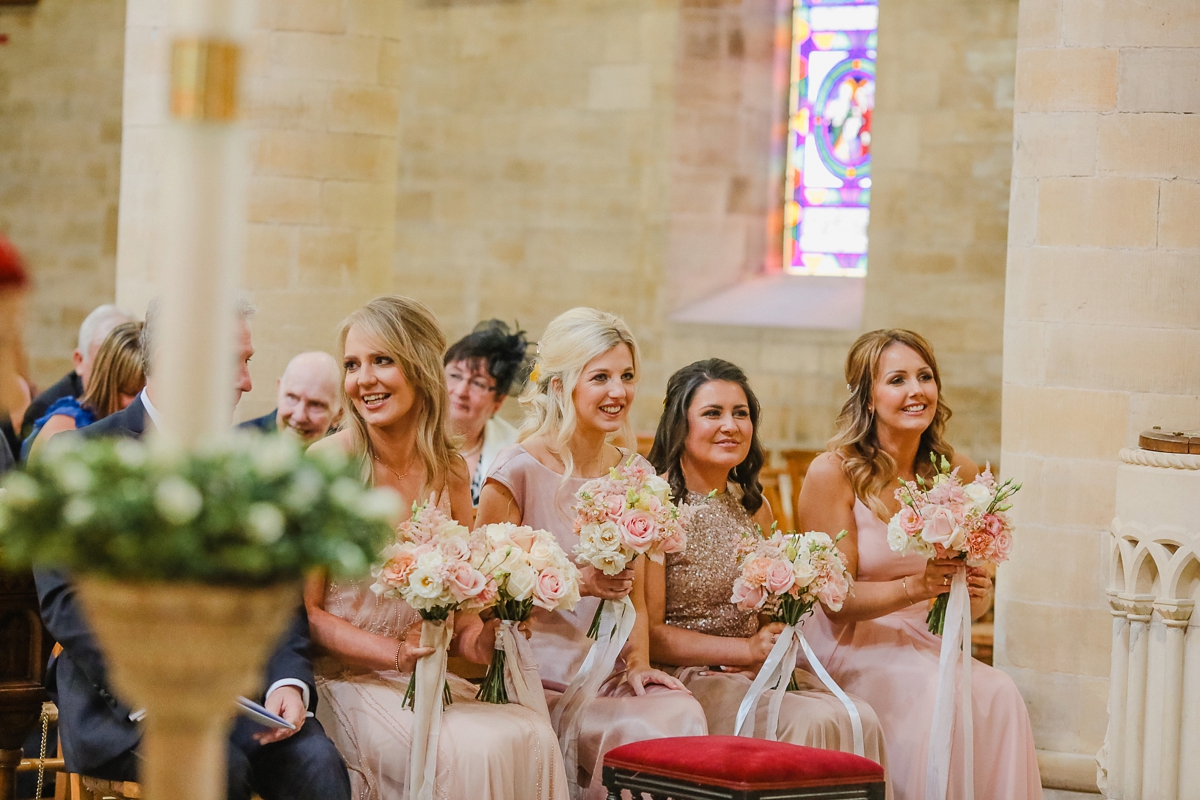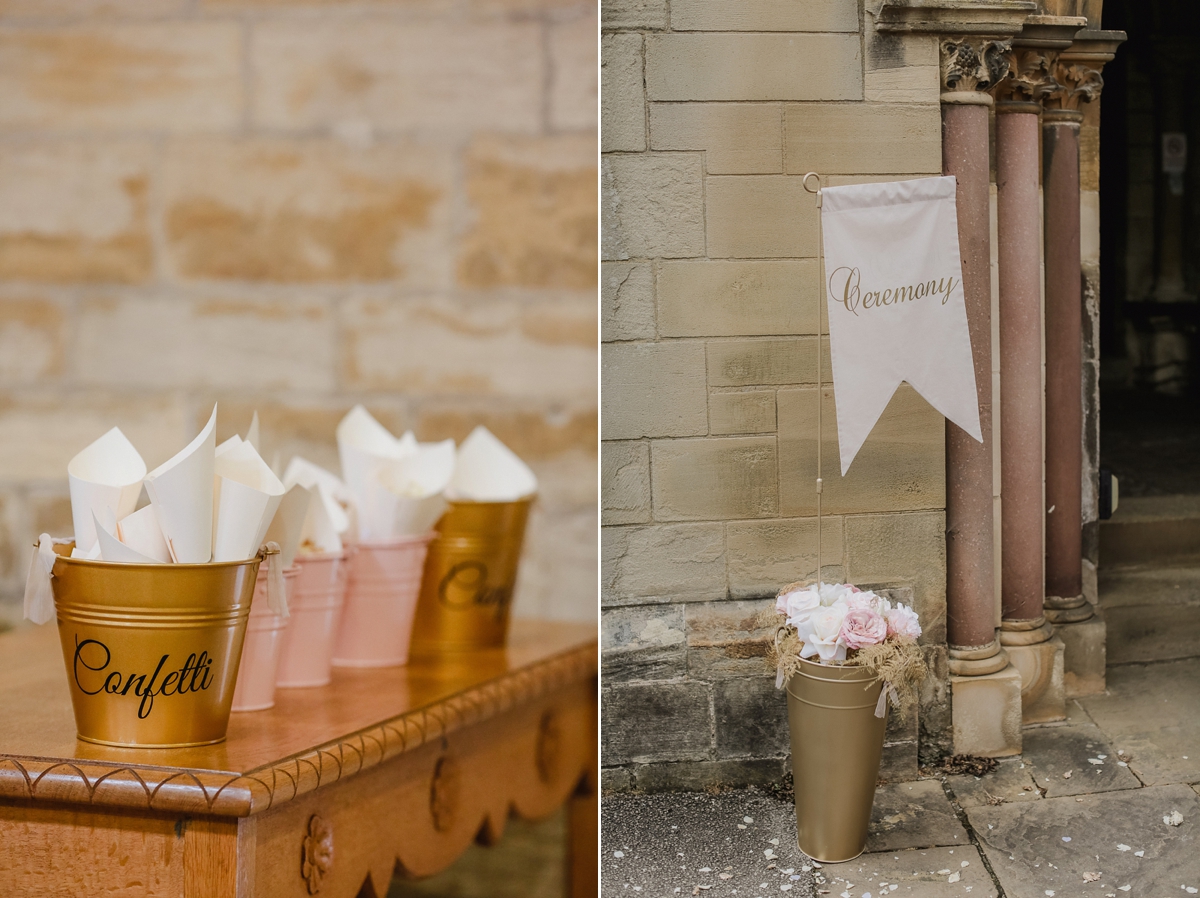 The groom looked classically handsome in a pair of black dinner trousers and navy coloured tuxedo jacket from Moss Bros with an ivory bow tie from Mrs Bow Tie. The groomsmen followed suit in navy tuxedos with black bow ties as requested by the bride.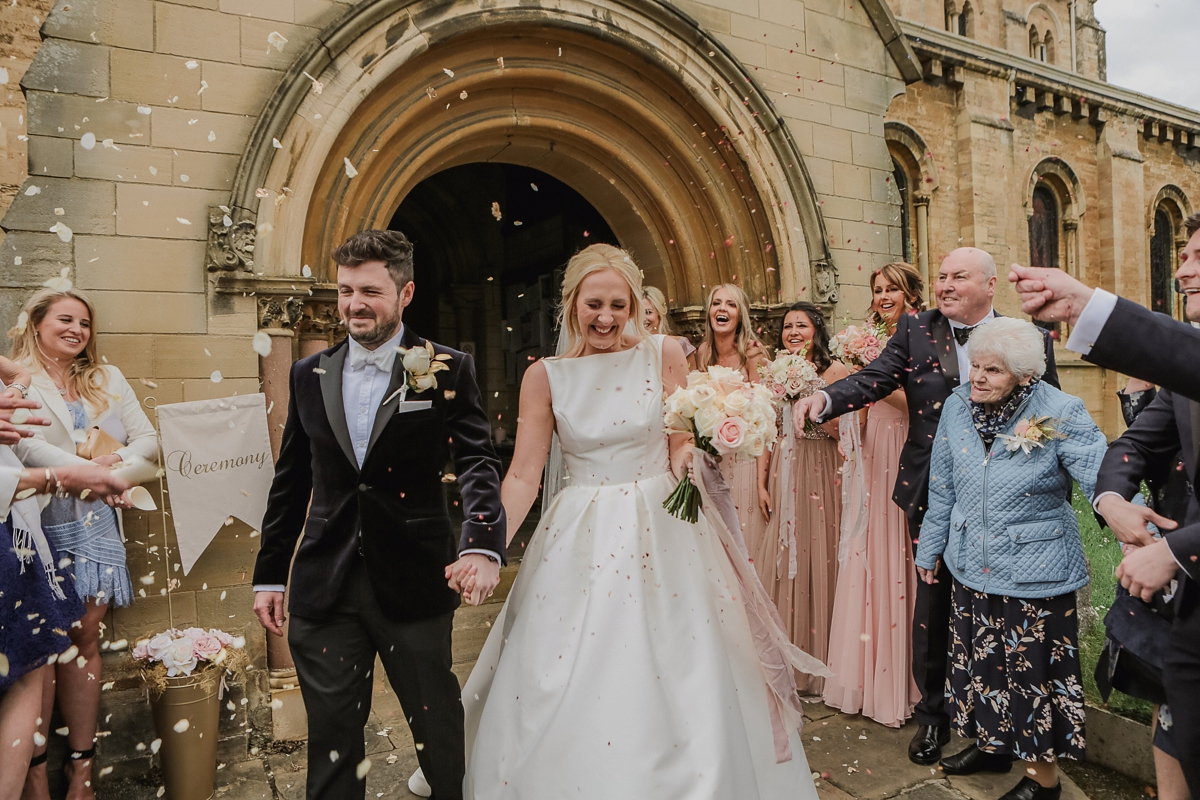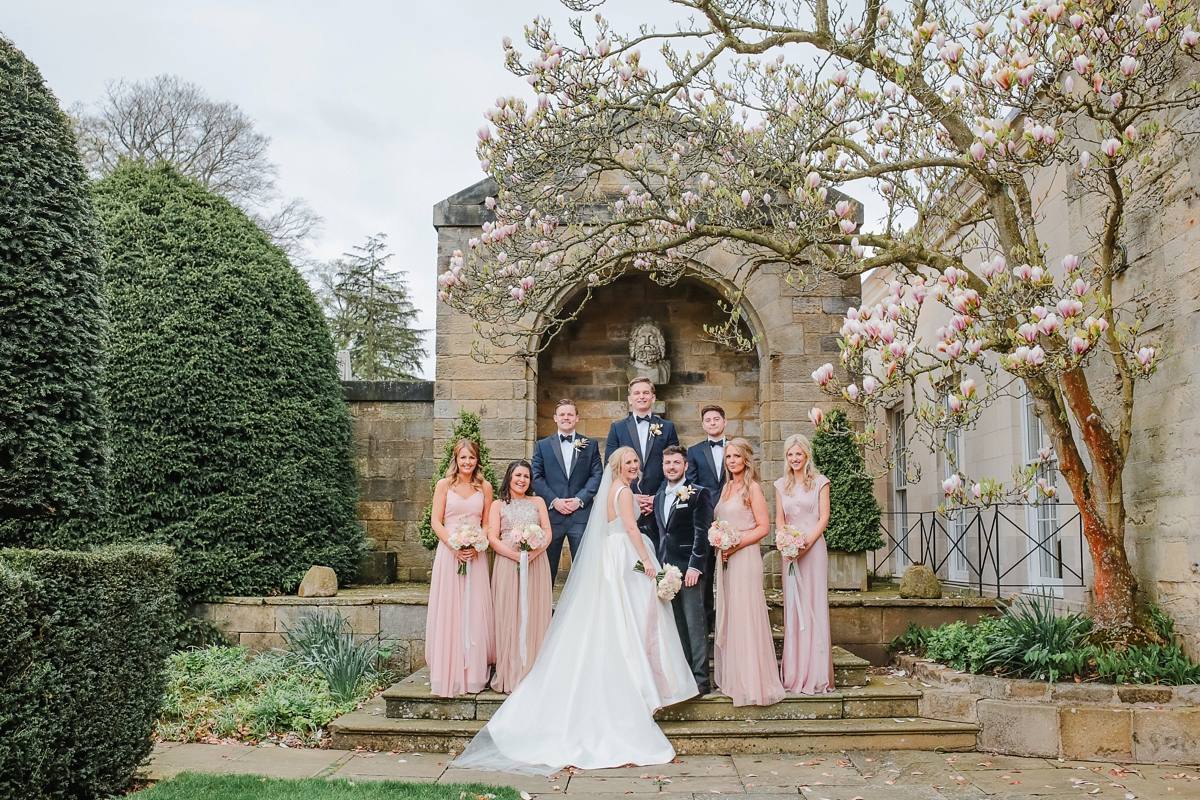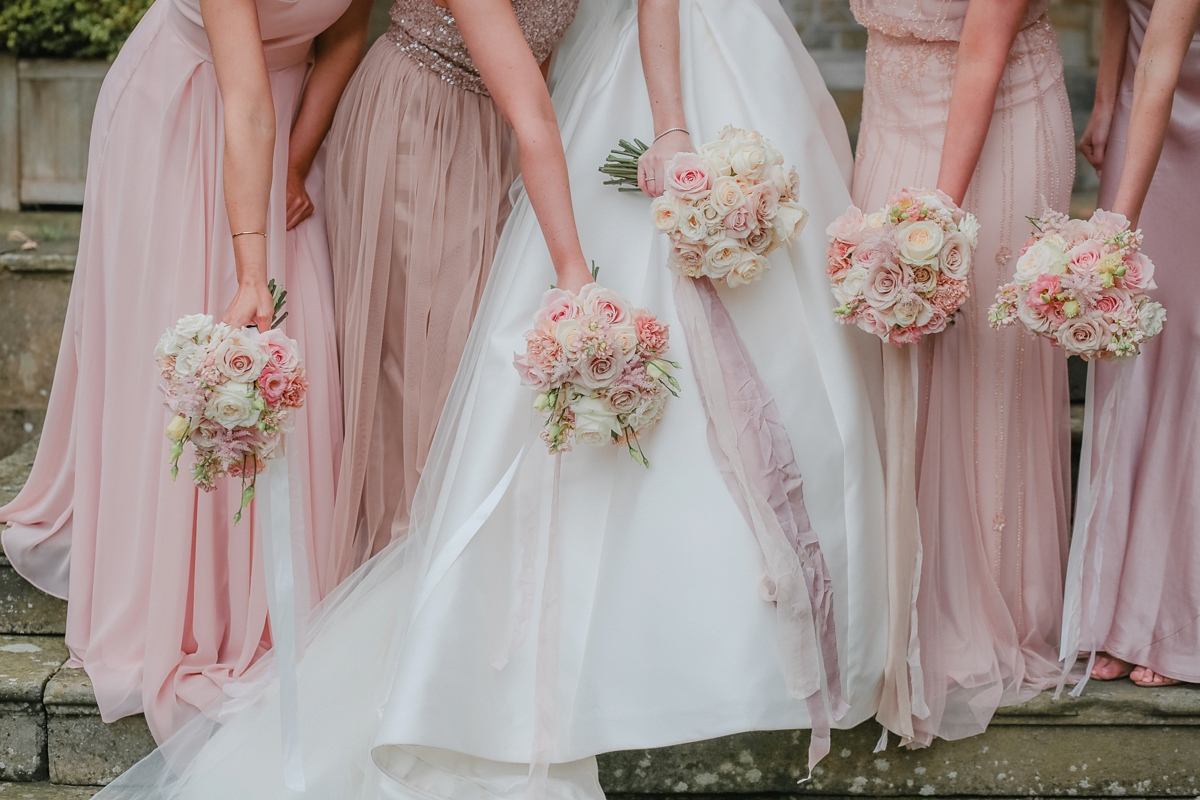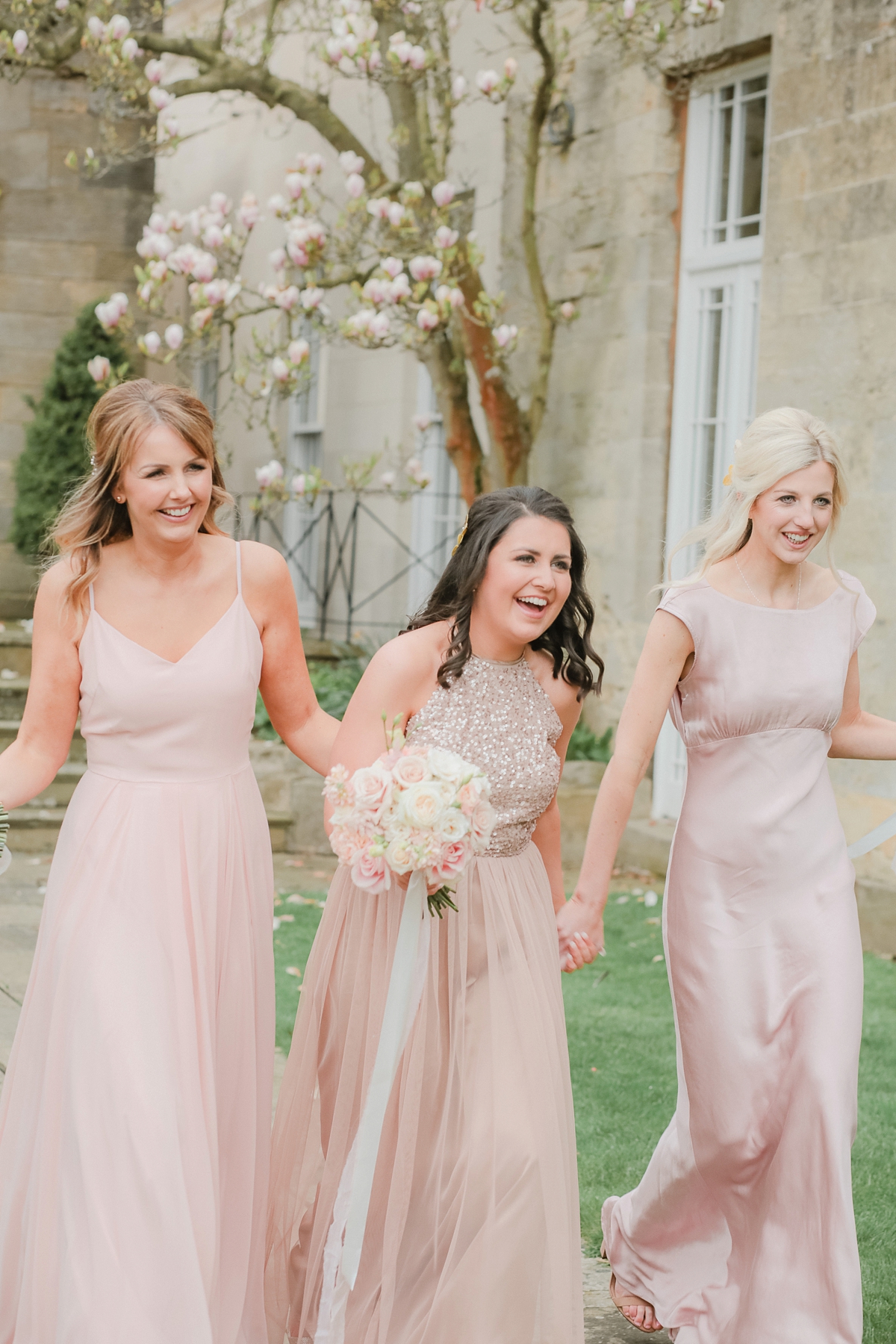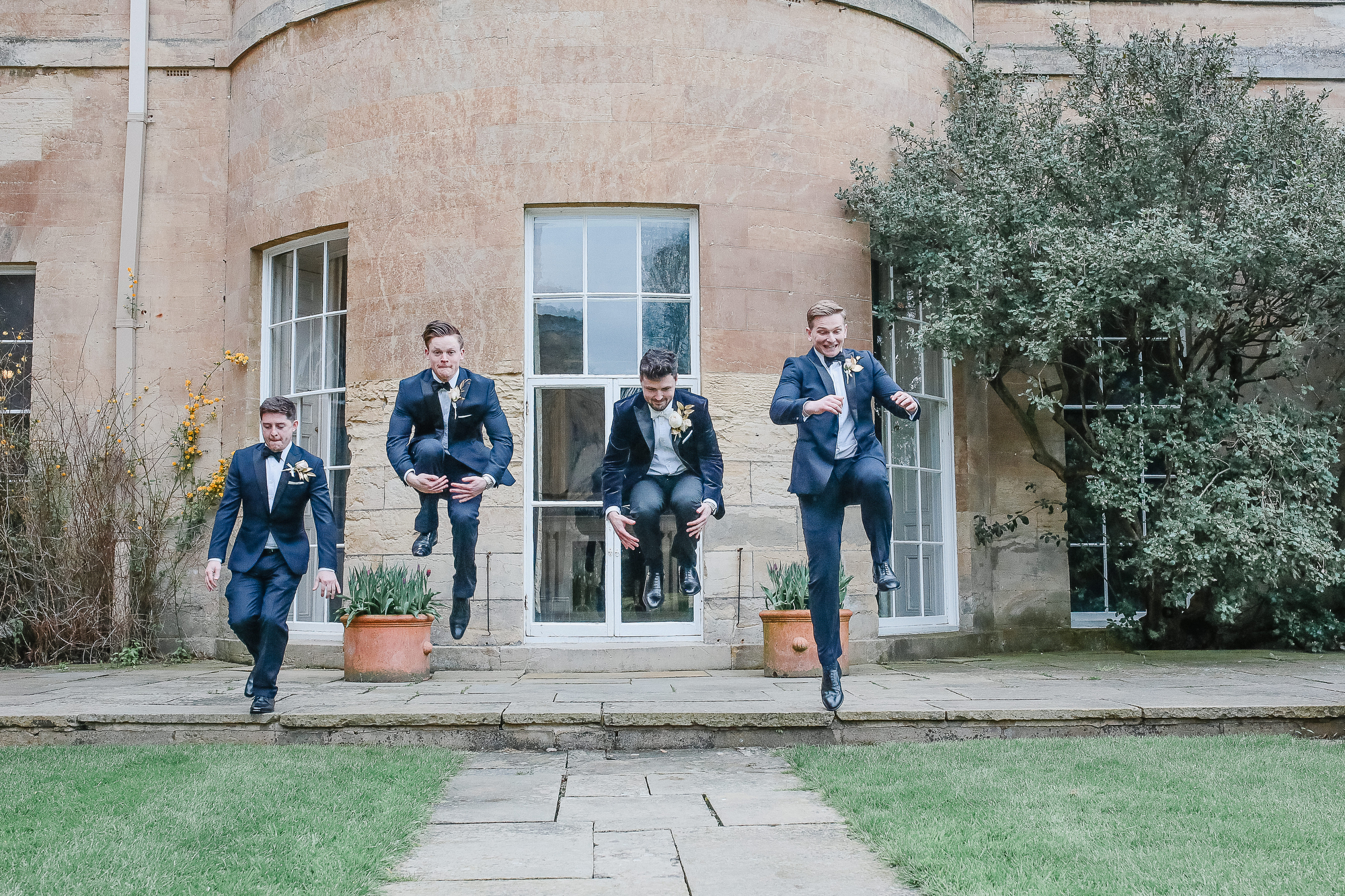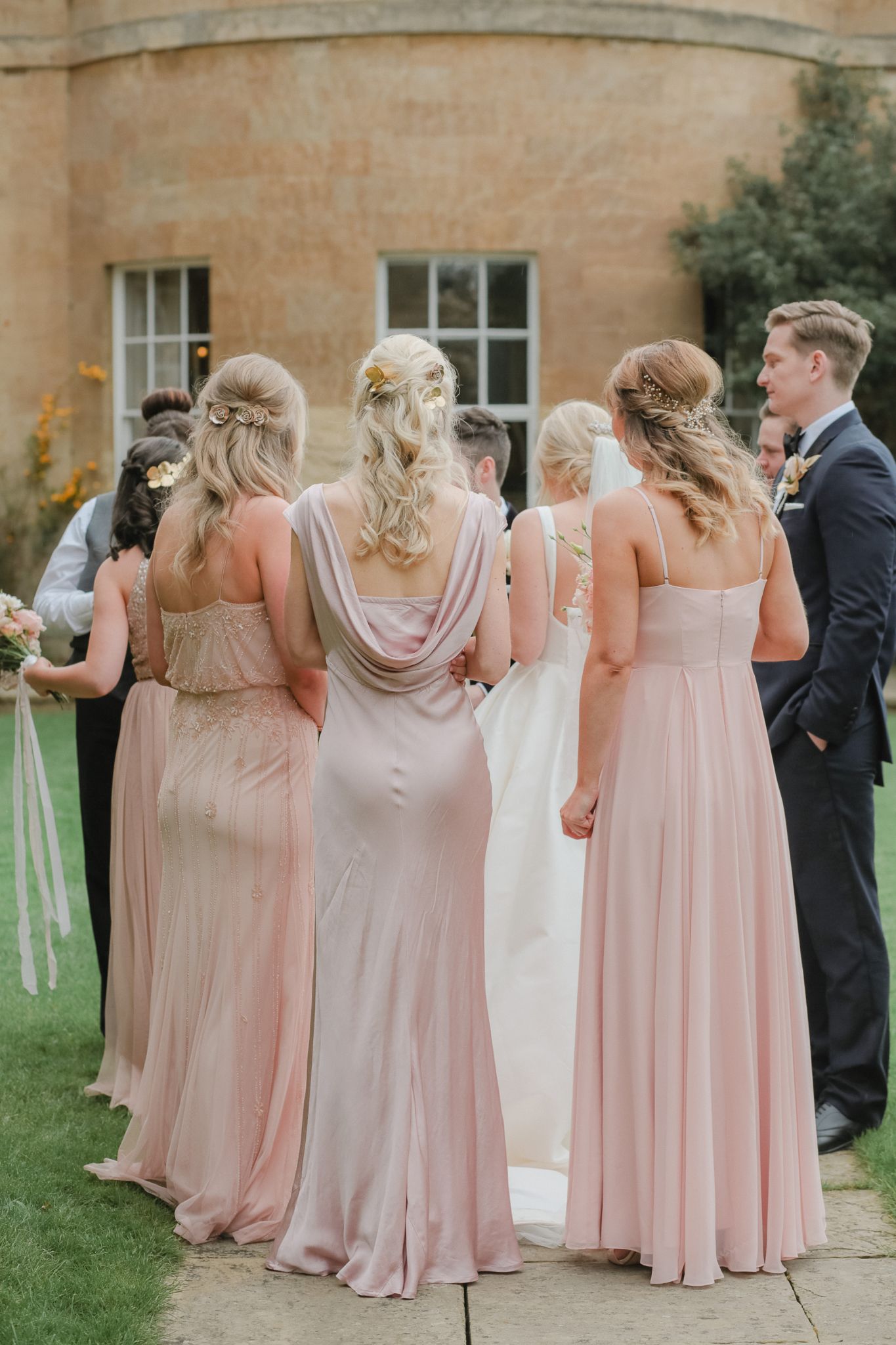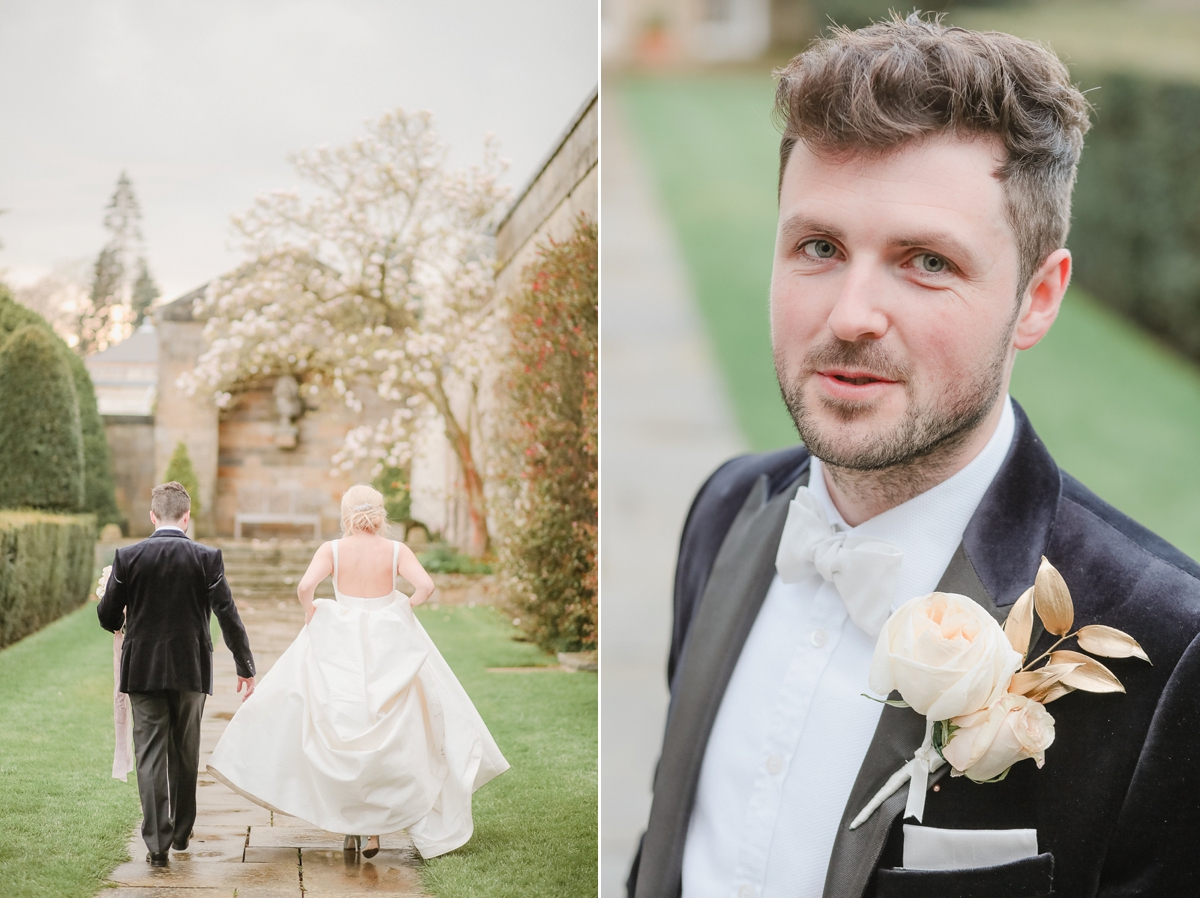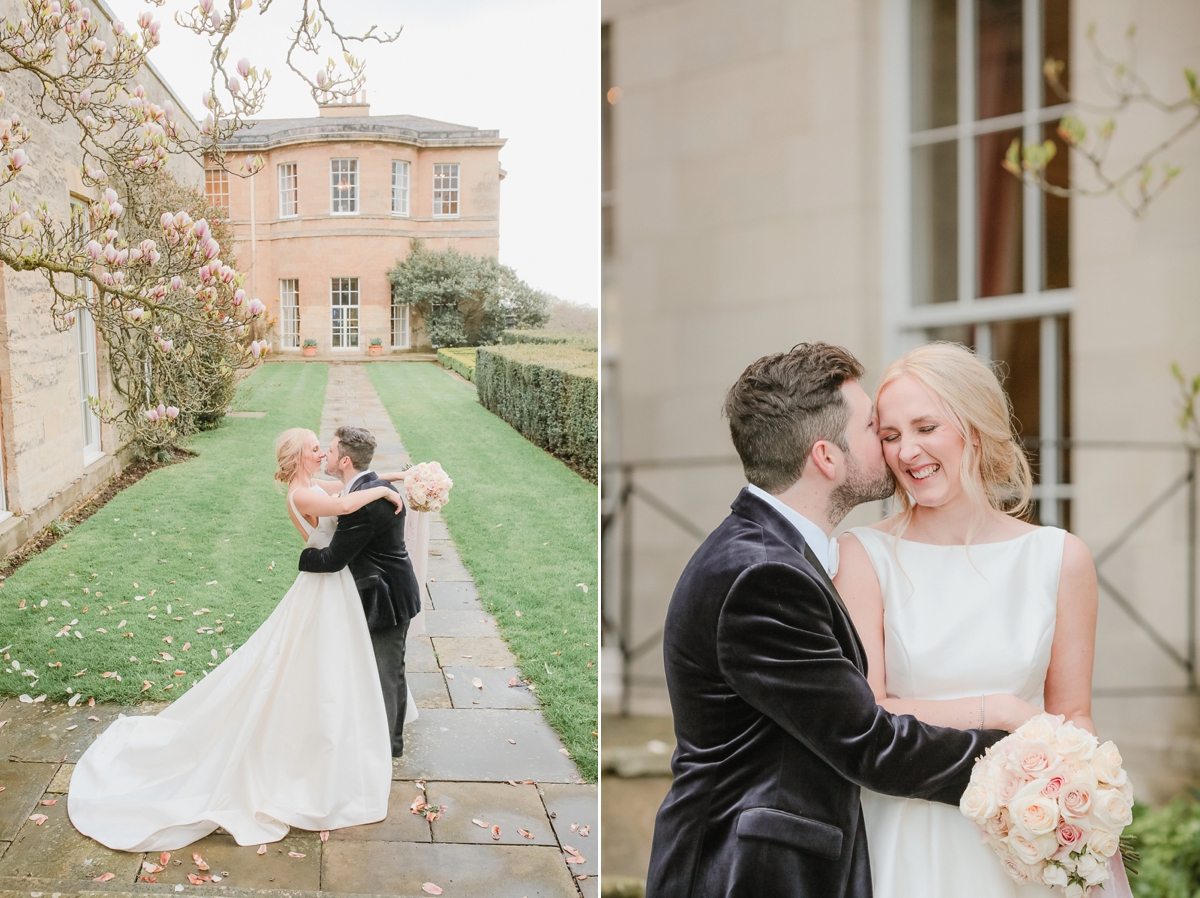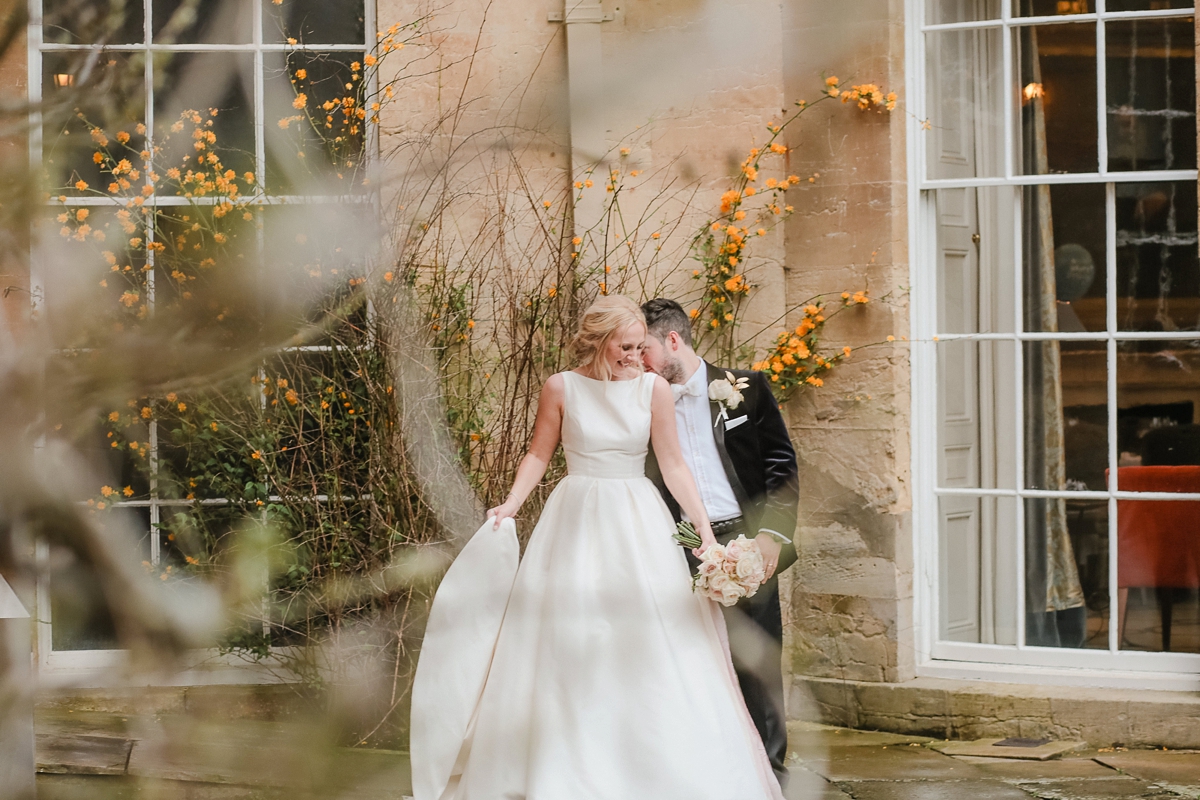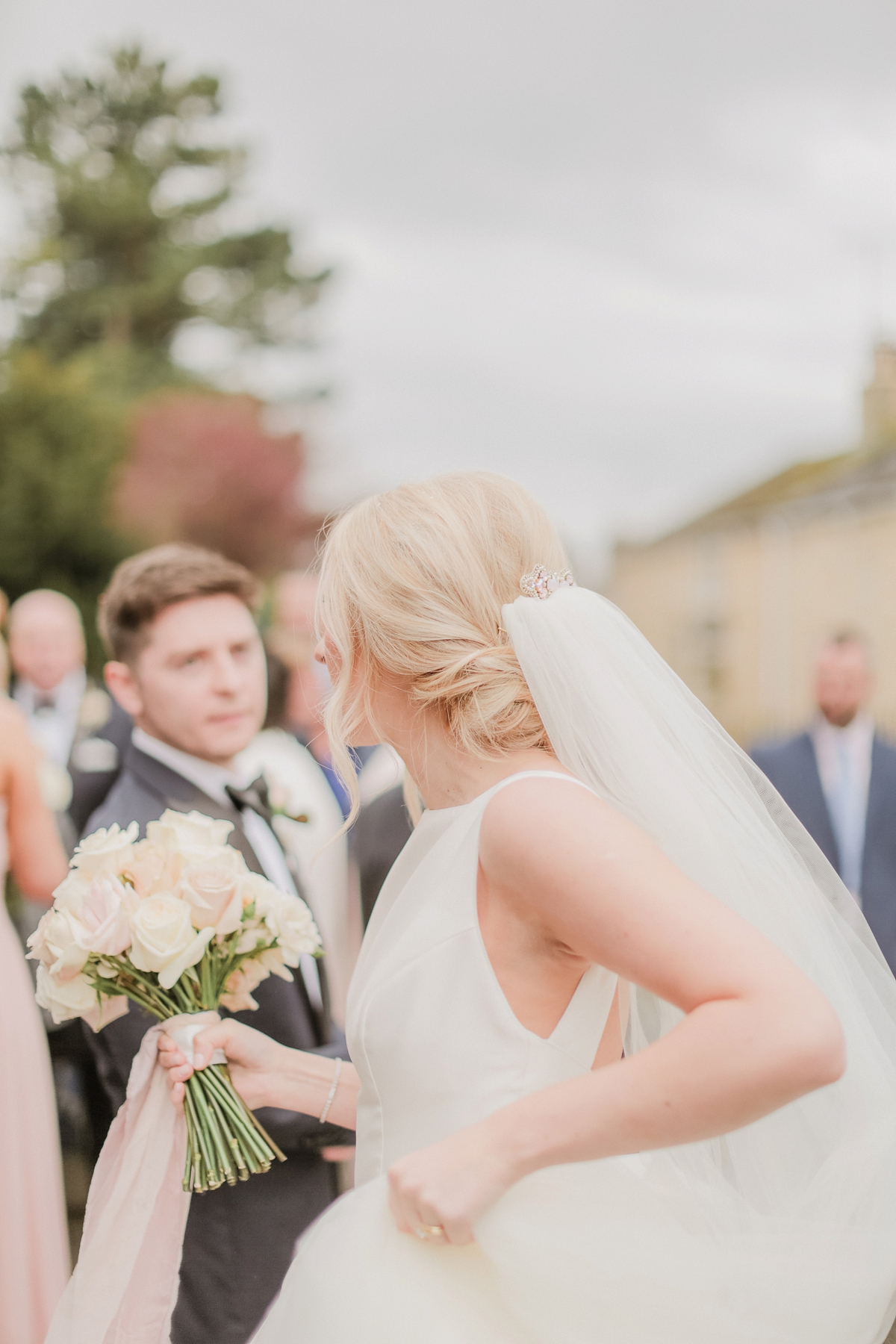 Greeted by a confetti shower on their way out of the church, the couple and their guests then made their way over to Rudding Park to kick off the celebrations. The bride and groom travelled in style in a 1957 white Bentley hired from KS Wedding Cars.
"We used Hana Large from Ambience Venue Styling in Harrogate to decorate the venue for us. I had a lot of input into the styling of the day and worked alongside Hana on it. I searched endlessly for the right colour of blush candles for the candelabra."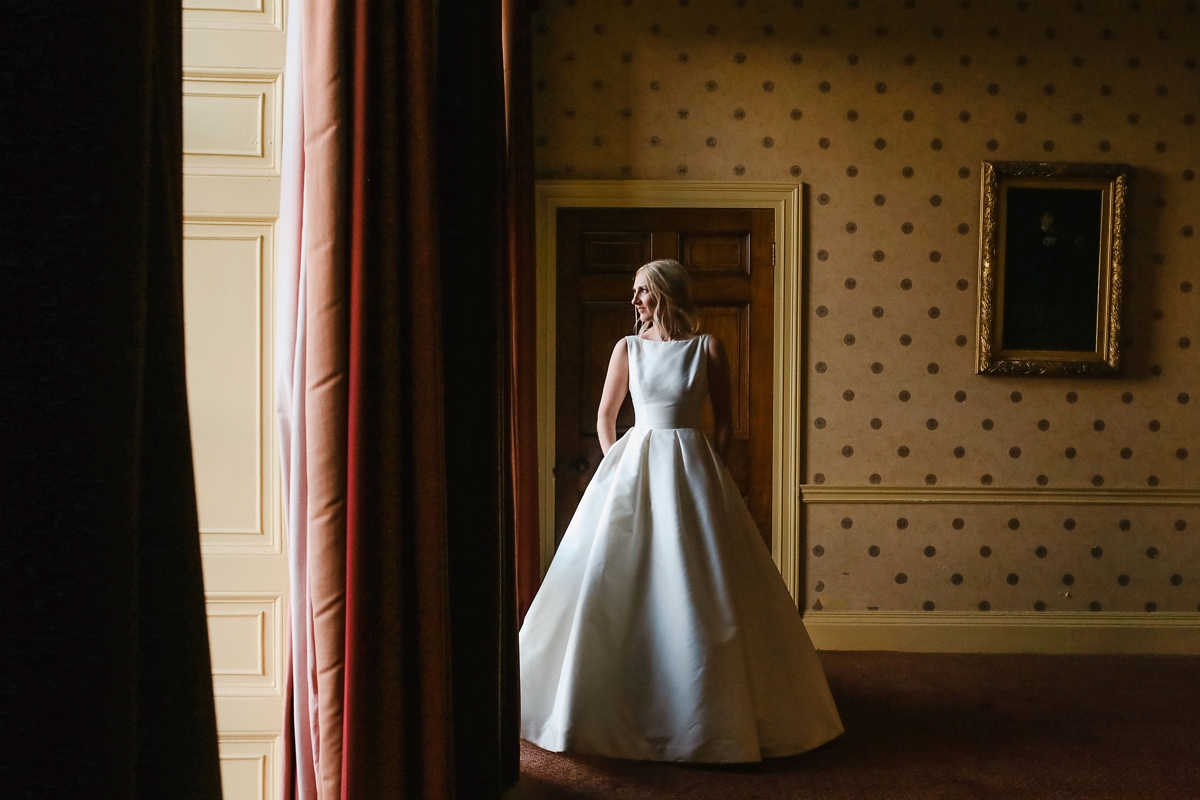 "My father designed all of the wedding stationery and I printed them at his workplace (as he works at a printing firm). It was fitting to have a subtle 'Be our guest' sign as guests walked into the entrance hall too. I added hand dyed ribbon to the main invited with a vellum overlay and tied the ribbon into a soft bow."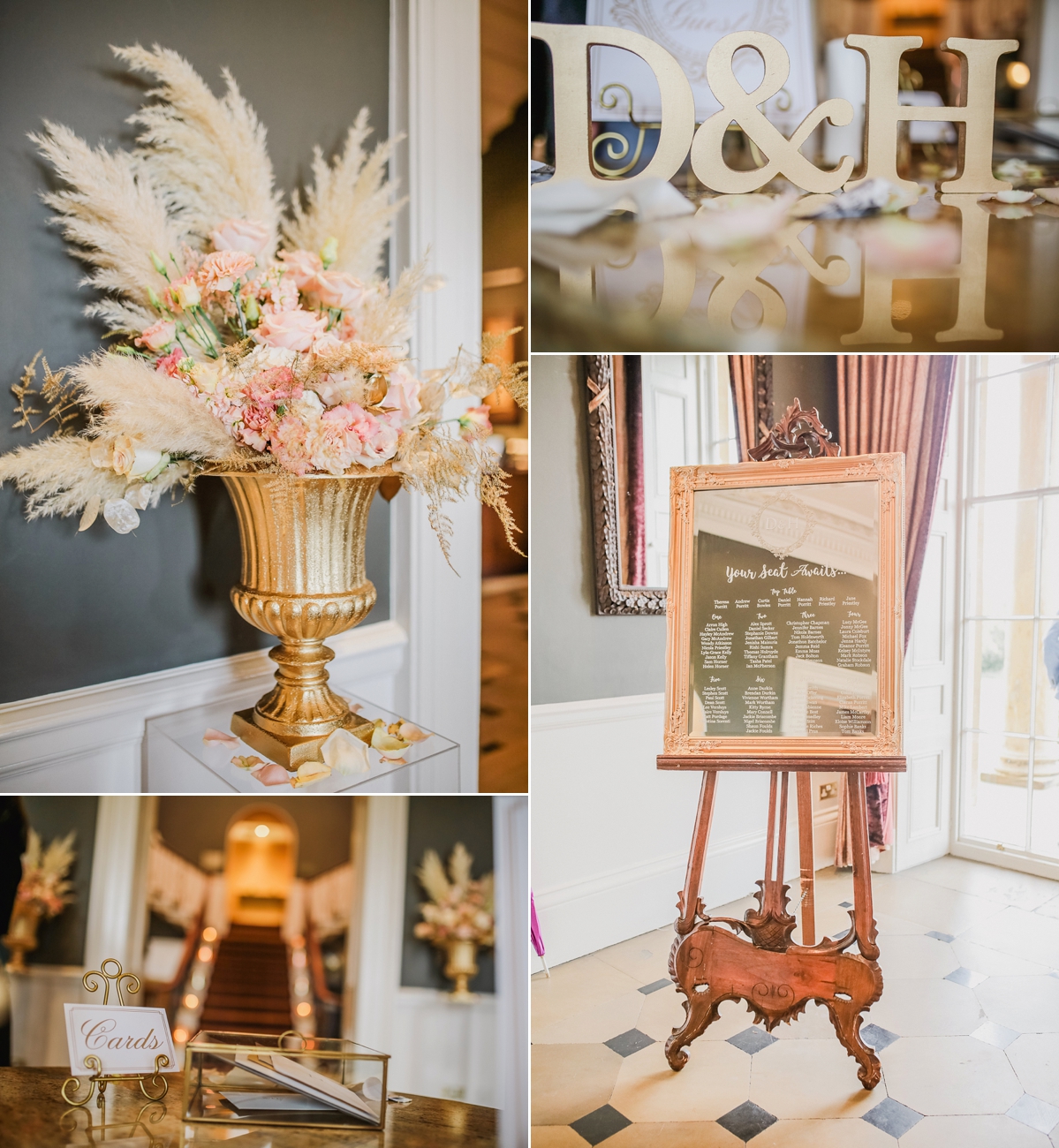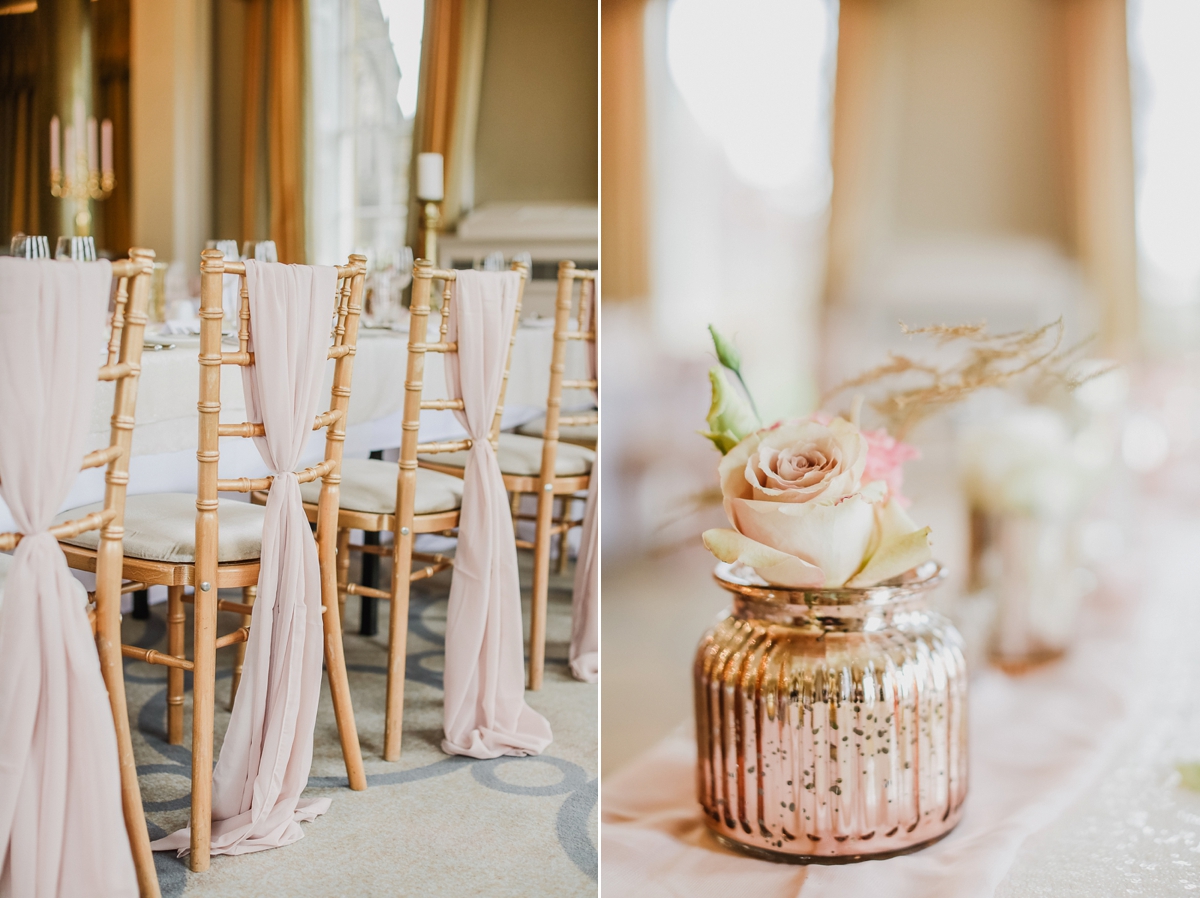 "We chose an overall theme of blush draping against glorious sequins with gold and glass for the styling. An additional part of the day included a champagne tower. I absolutely love the 1920s coupe glasses so we had a champagne tower which we managed to get an awesome pour shot of, instead of a shot of us cutting the wedding cake."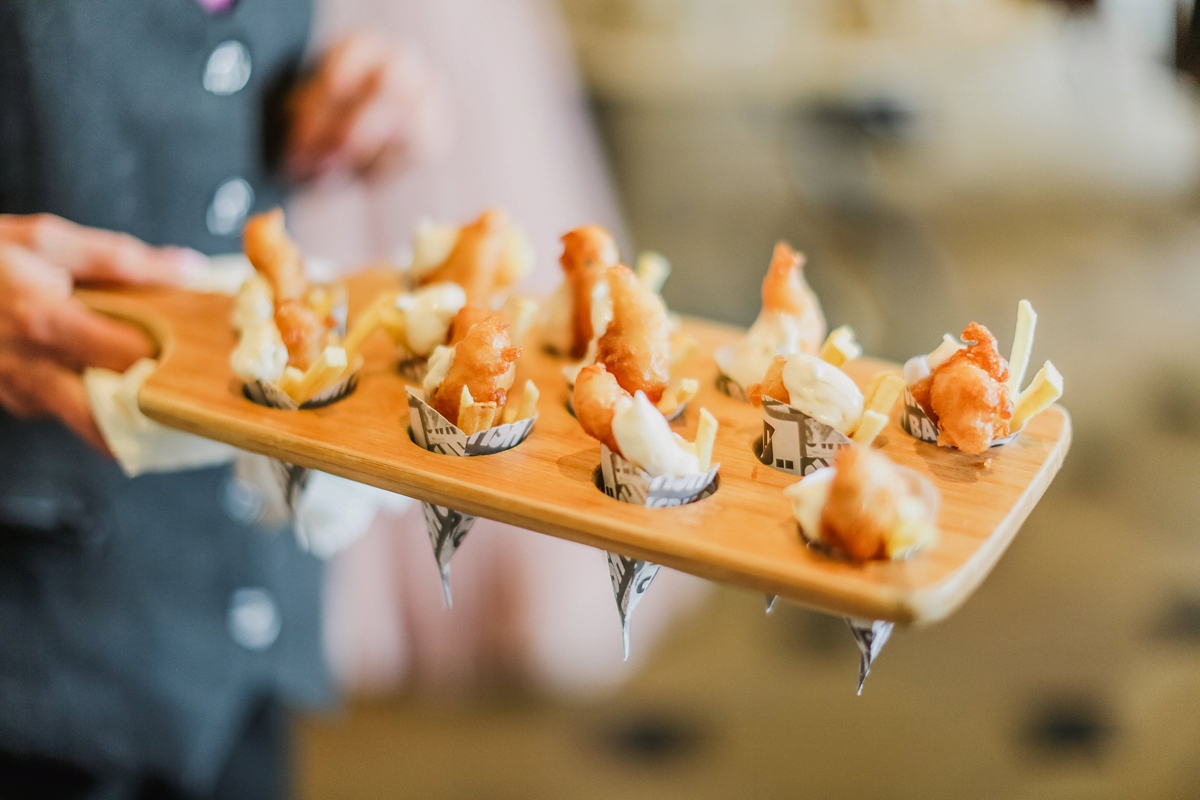 "The wedding cake was created by Kean and Stephen at Blossom Tree Cake Company. They are absolutely wonderful people and Kean's cakes are utterly stunning. I wanted something really clean-cut, a bit like my dress! We chose 3 layers; a lustre peachy pink middle tier with gold leaf scattered up the middle, and a sugared rose with gold leaf at the top."
"The flavours were lemon and vanilla, passion fruit and white chocolate and Victoria sponge. Kean makes all his curds in-house too and the taste was just as wonderful as the design."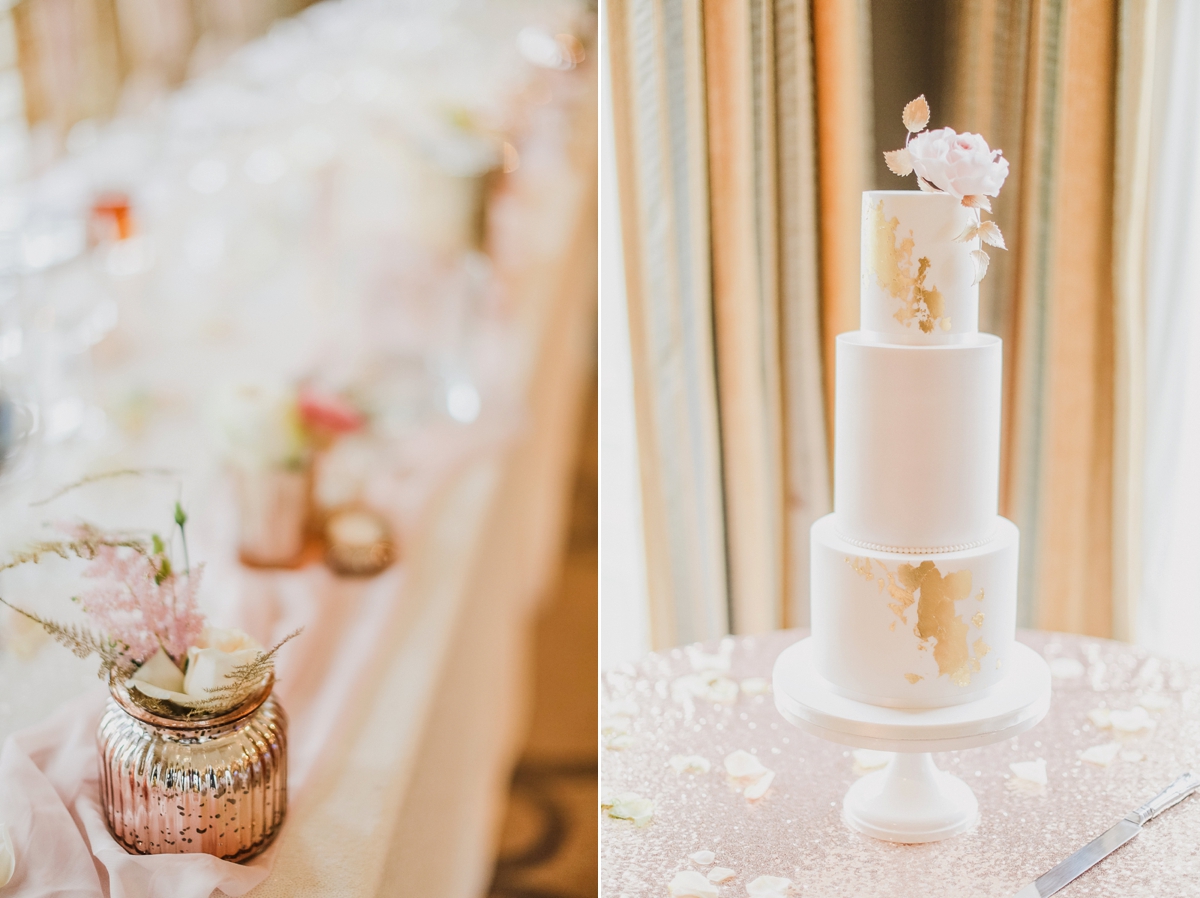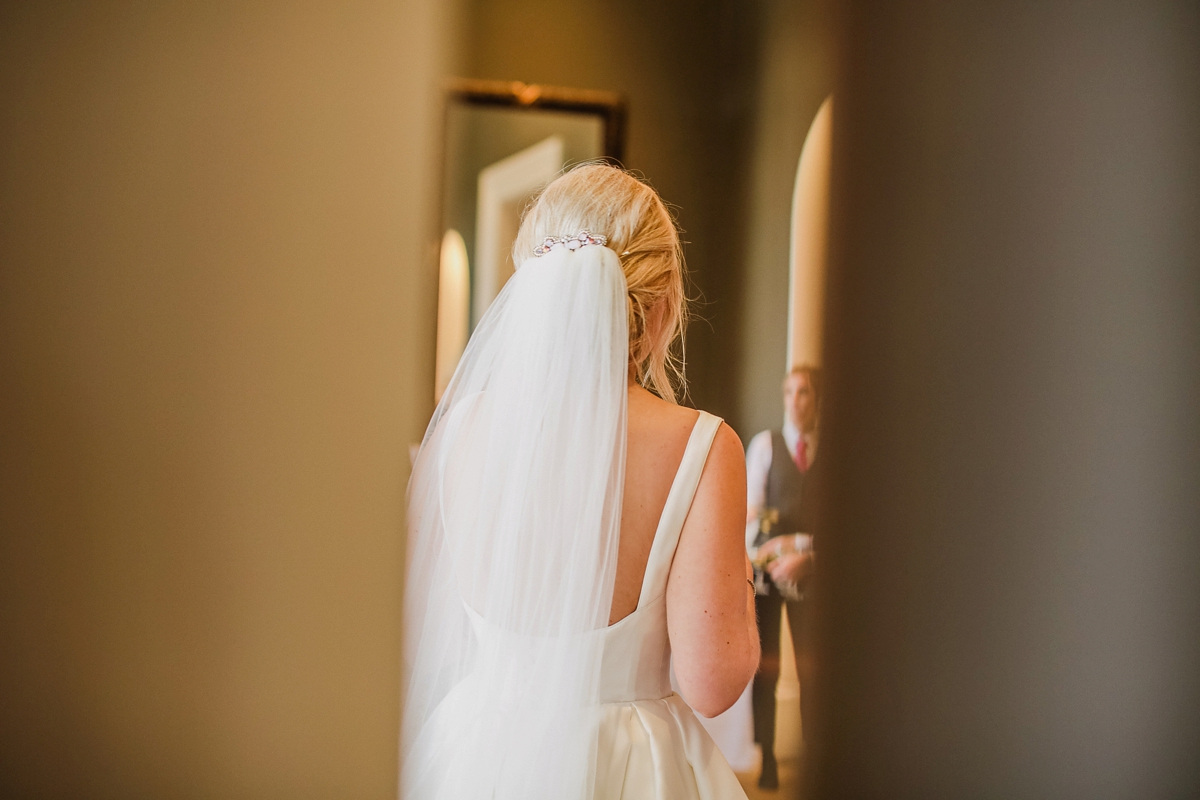 My favourite part of our day was just seeing every single person we love all in one room – we spent all day either dancing or laughing! At 3.30pm, me and my bridesmaids were dancing with our flowers in the entrance hallway to our violinist playing Calvin Harris and Rihanna We Found Love.
This was a special moment between my best friends and I. Some very special and true emotion and all very reflective of us as friends. I don't think you can get much better than that! It was exactly how I wanted it to be."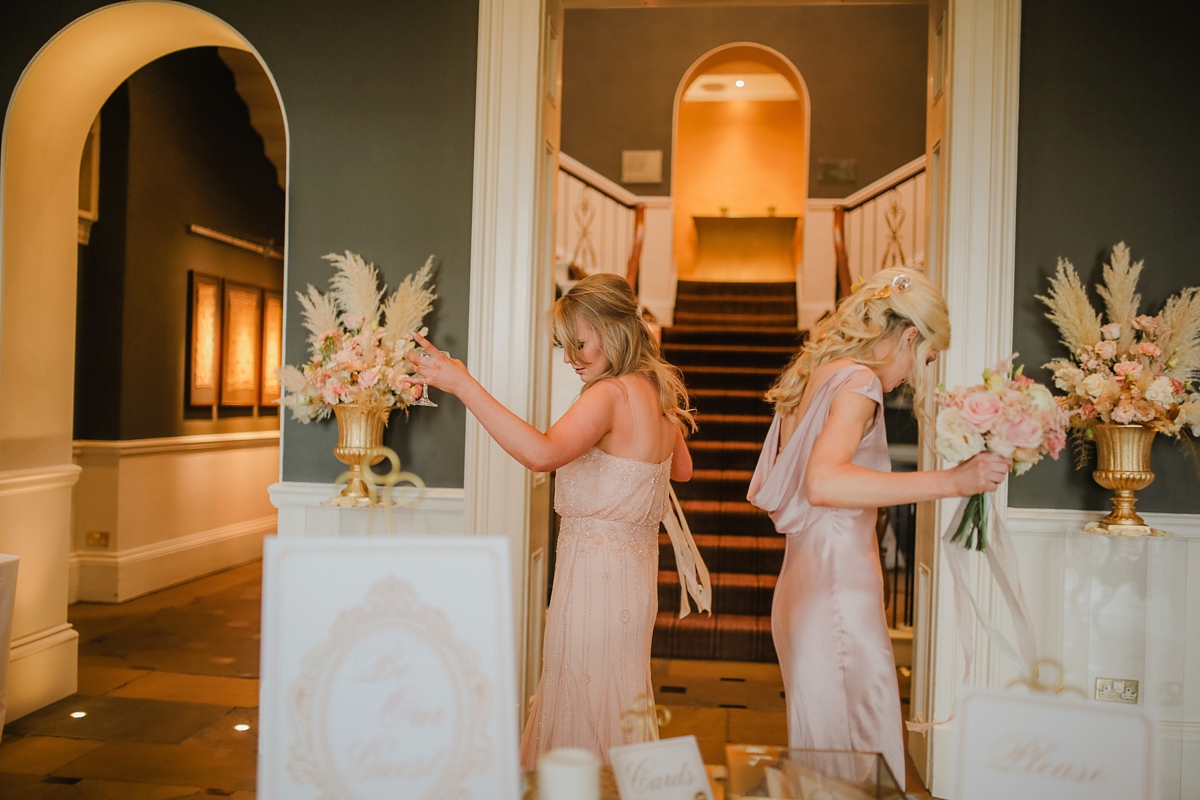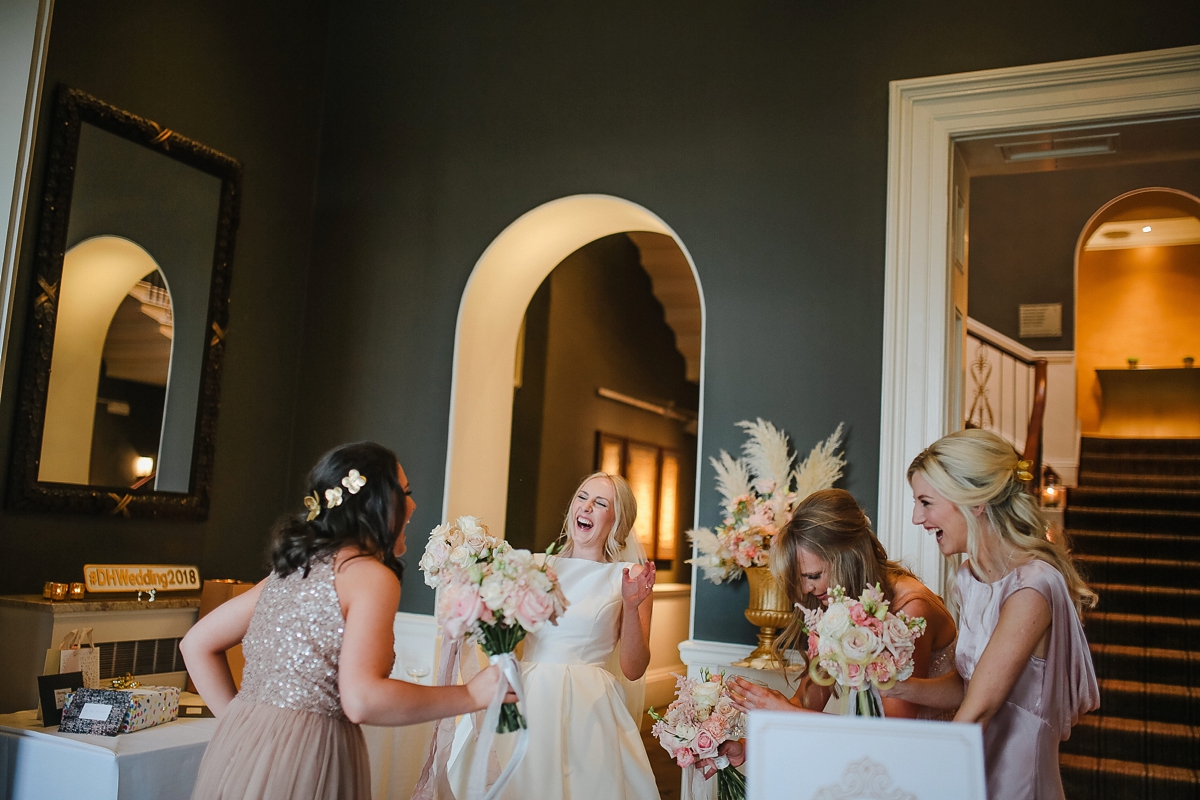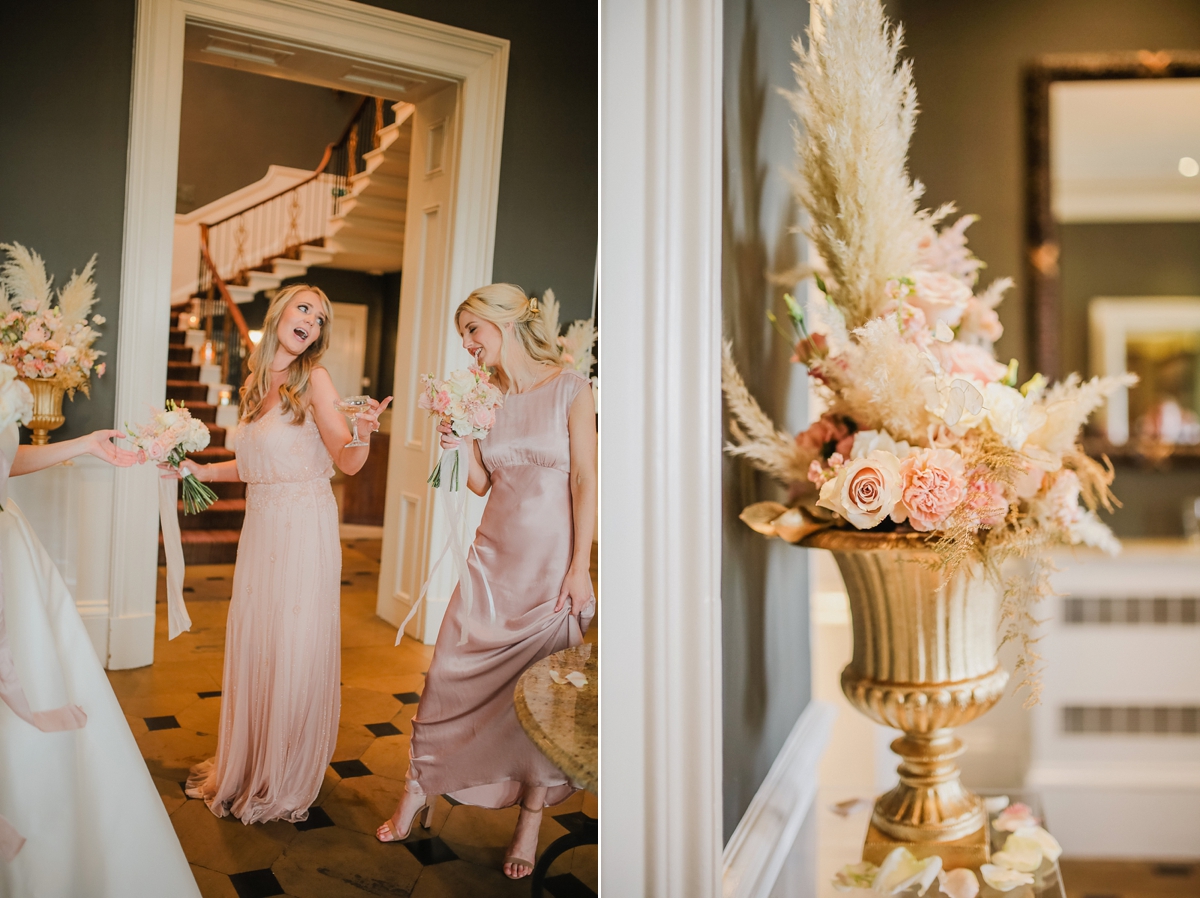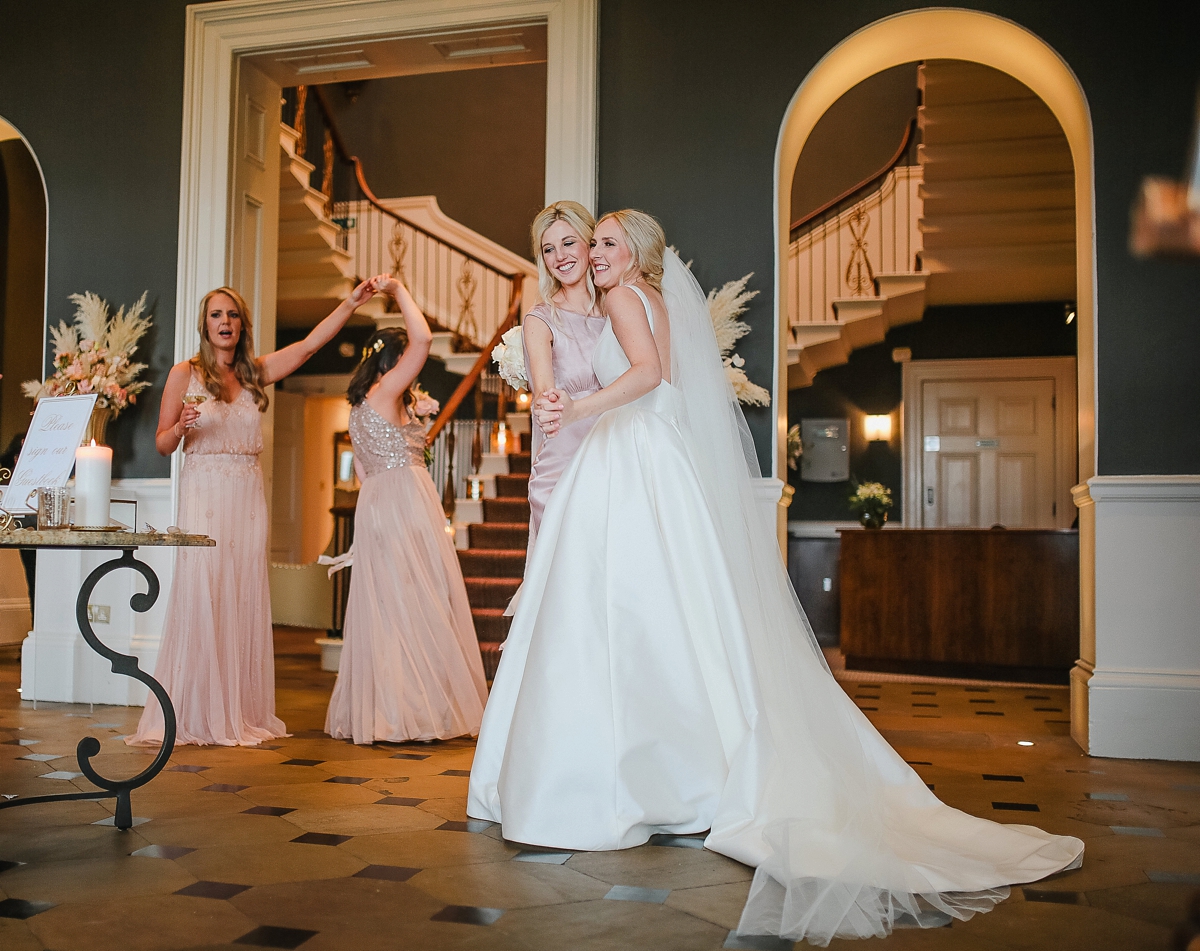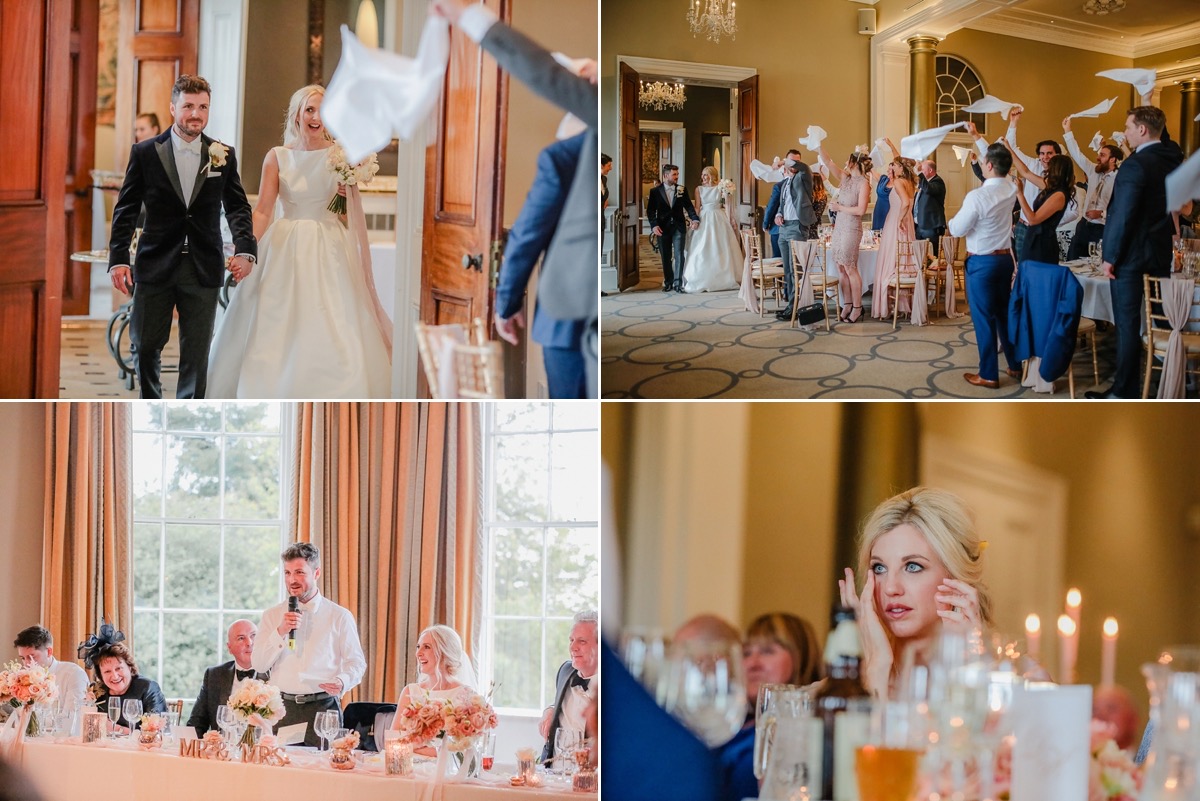 "Our wedding favours were a poem which read, 'chocolate cookies and candies are sweet and normally you find a treat at your seat, but what instead we have decided, is to give one that helps others to live'. They were favours of a contribution to a charity which was personal to each guest."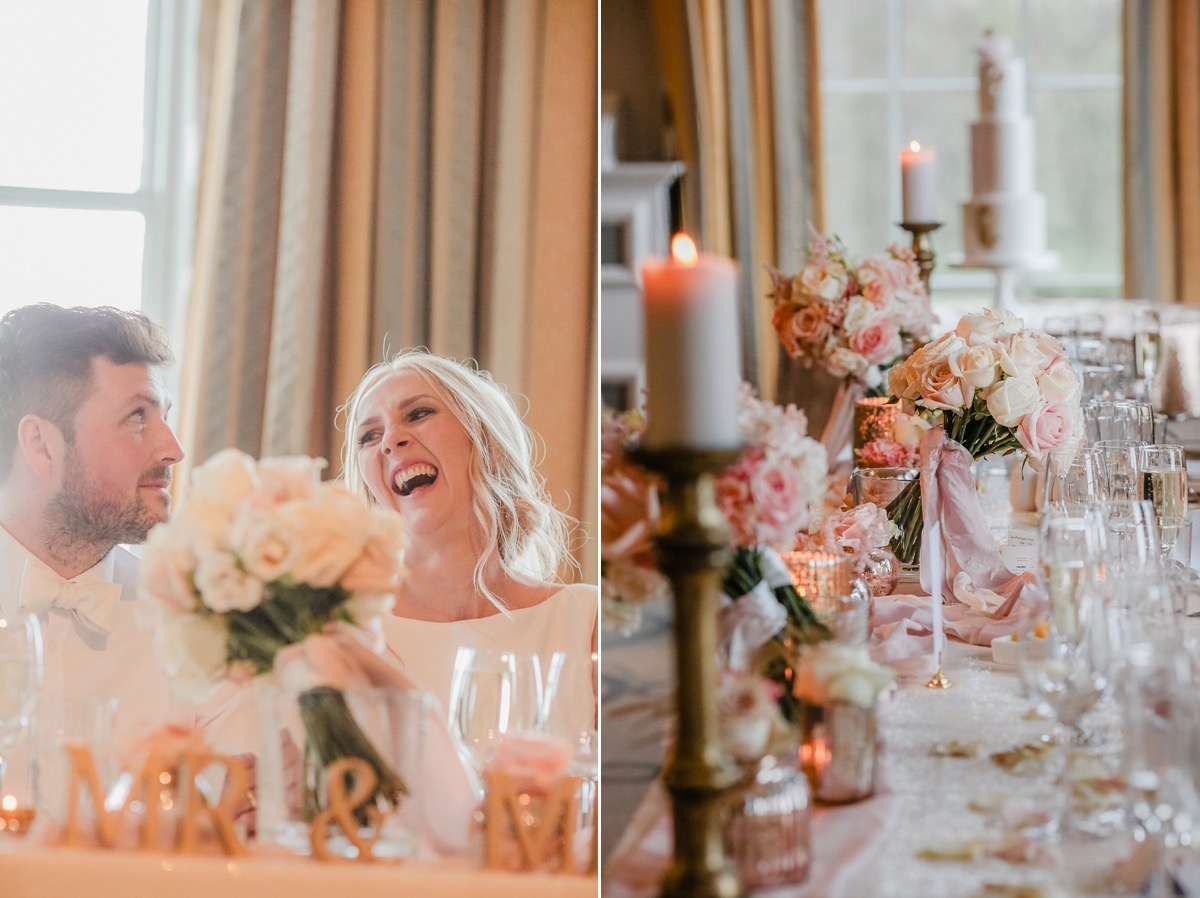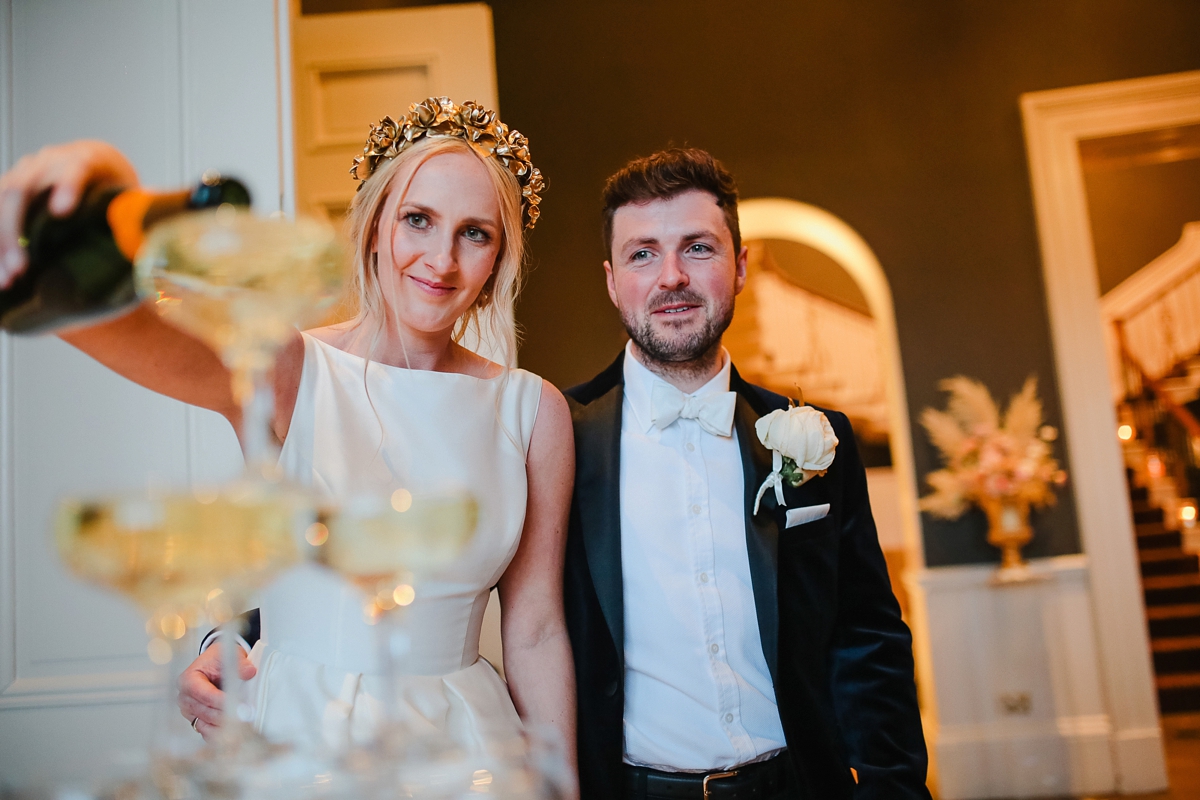 "I don't think I would have done anything differently if I could do it all again, though it's always easy to want more and add more to the day. However sometimes, you don't need more, it's remembering what the day is about which is getting married and spending the day with the people you love."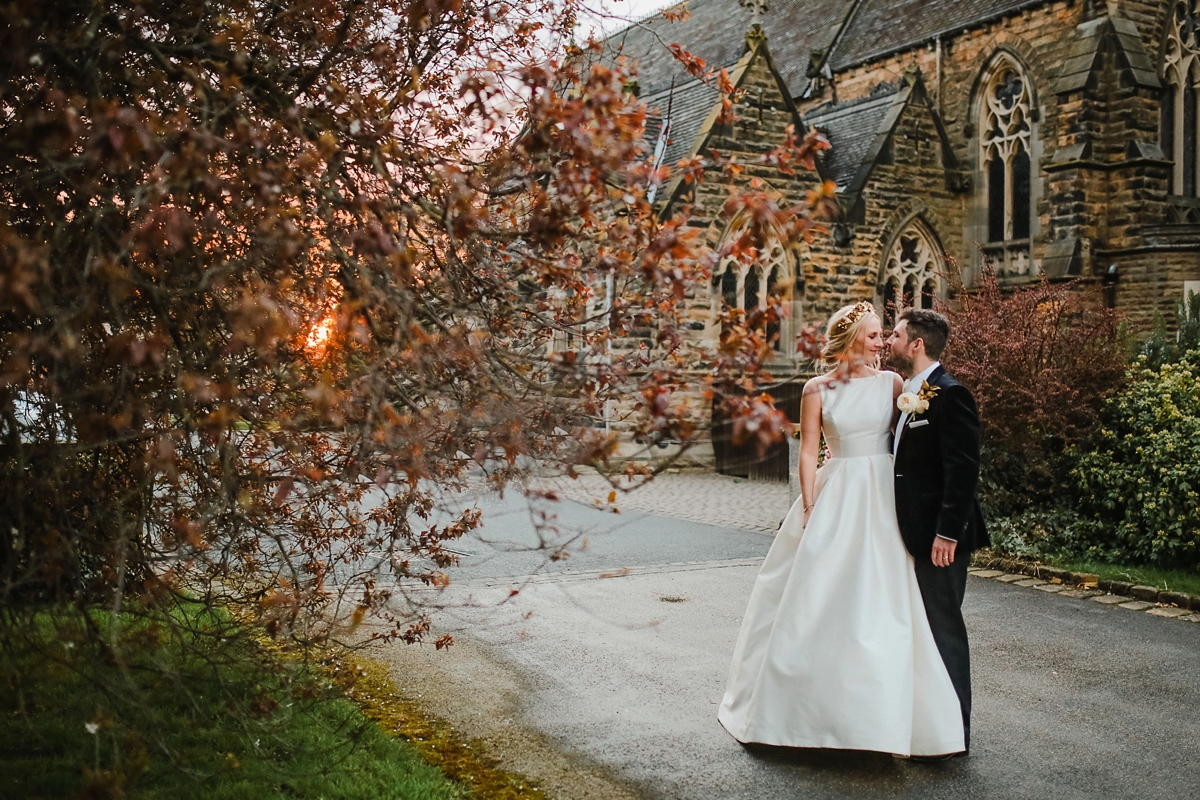 The evening was then played out by the fantastic wedding band Soulfire, found via the Love My Dress Little Book through Warble Entertainment.  The couple performed their first dance as newlyweds to Kiss Me by Sixpence Non The Richer.
"Soulfire were really excellent! The main keyboard player even got up during one of the songs and rapped!"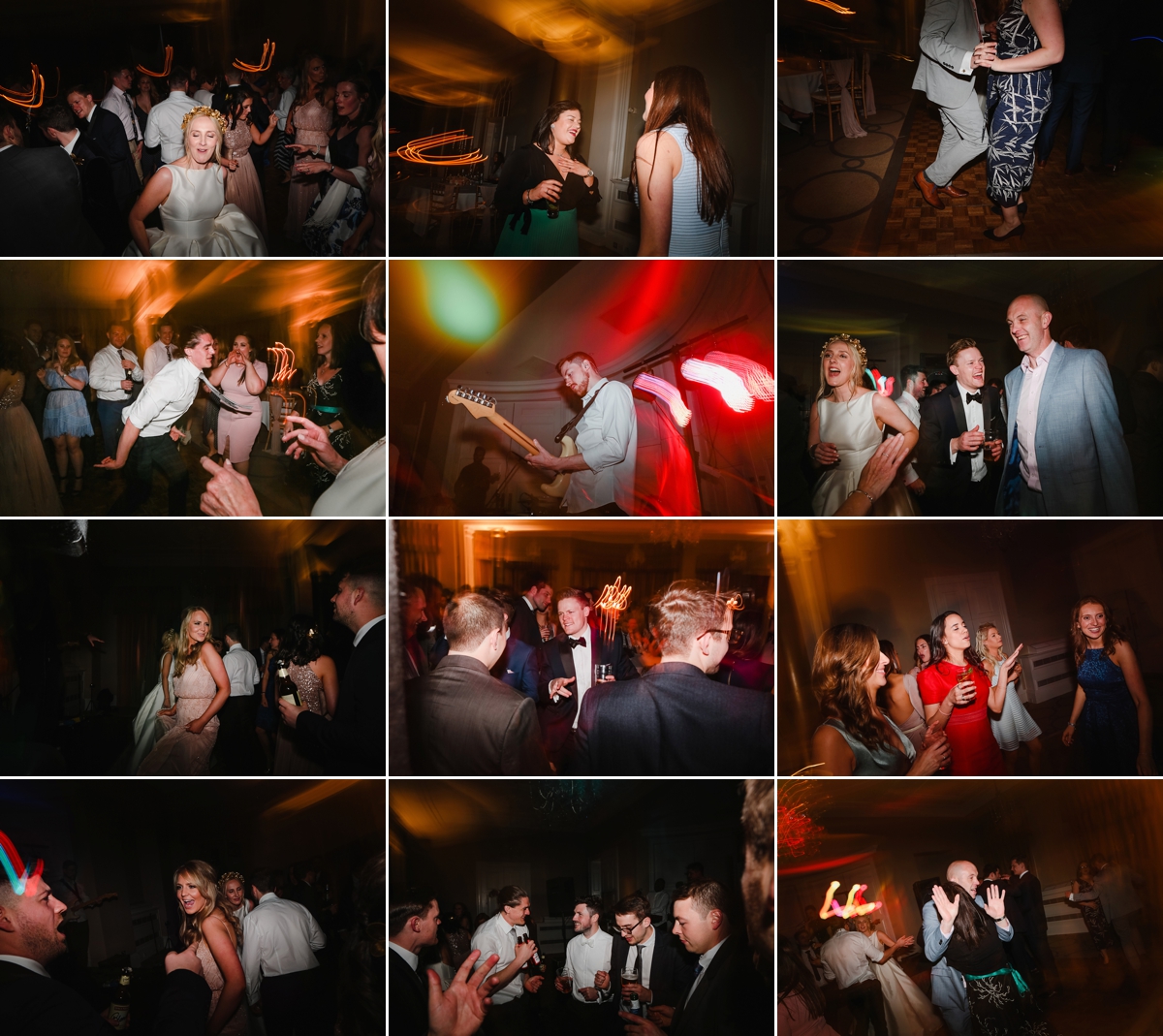 Words Of Wedded Wisdom
"If anything goes wrong, you're the only one who will know about it. It's so easy to feel stressed the week of the wedding and prior. I really would advise prior planning and organisation so the run up is an exciting time and not stressful as there is a lot to do in those final months before the big day."
"Remember to take 10 minutes to look around with your husband at what you have created. You spend so much time planning your day and it's over in a flash. Remember why you chose to marry and enjoy every single minute with all your friends and family. Just have fun! Weddings are a celebration."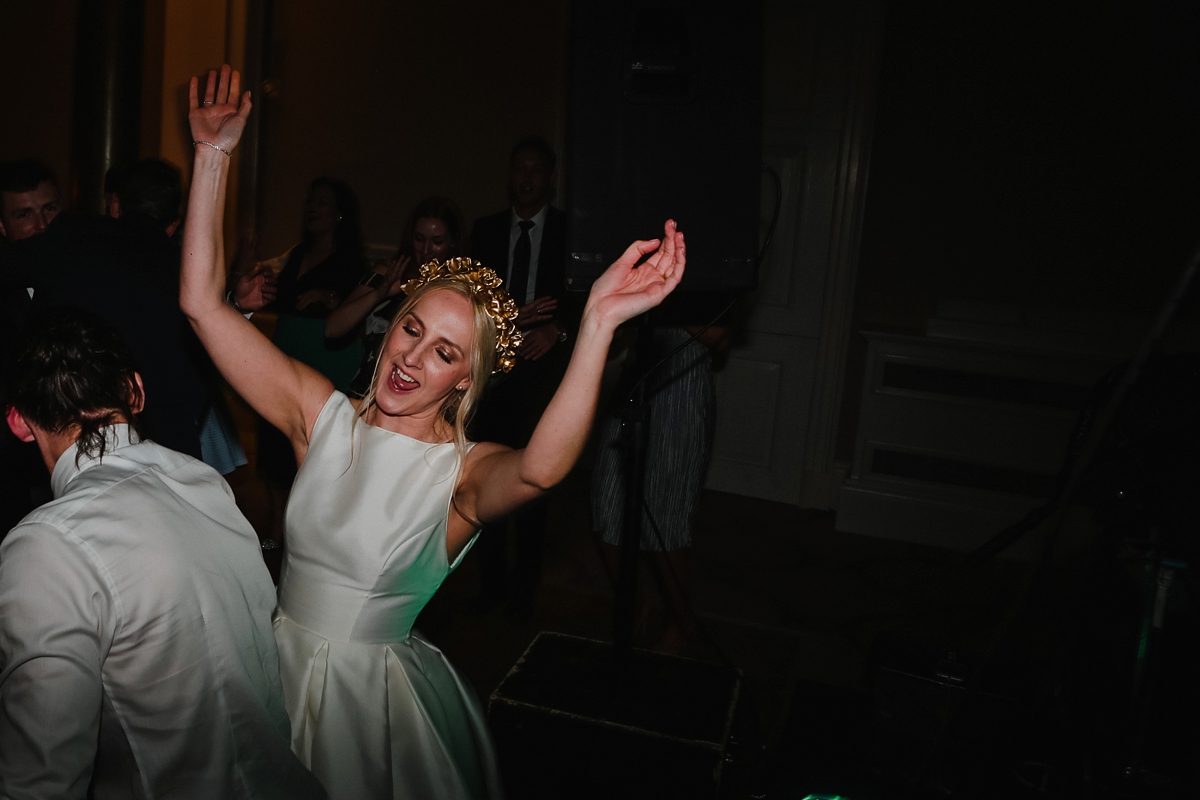 What a gorgeous day, wouldn't you agree?! The pastel colours and softness of the photography is just beautiful. A huge congratulations to the newlyweds and thanks to Helen Russell for the gorgeous photography work.
Until next time…
Much love,
Holly x