This effortlessly chic and stylish suite of images were sent in by wedding planner and stylist Penelope Cullen of Tigerlily Weddings, who I've had the pleasure of knowing for a number of years now.
Penny is a highly experienced wedding planner and stylist with a fantastic eye for perfection and detail. She is also superbly connected in the industry so when it came to her wanting to realise this bohemian-luxey vision in real life,  she was able to pull in beautiful products and services from some truly brilliant British wedding suppliers (make sure every one of those suppliers listed in the credits at the end is in your contacts book ladies!).
Penny and her team wanted to create a range of looks that were luxurious and modern with a soft romantic edge – their own version of 'Luxe-Boho' and looks that would be completely achievable for real brides. The drop-dead gorgeous gowns you see in these photographs were provided by Mirror Mirror – one of London's best regarded luxury bridal boutiques who we are exceptionally proud to recommend to all brides through our partnership with Luxe Bride.
They include designs by Nurit Hen and Pronovias Atelier, but more on those shortly. For now, let's hear from Penny more about this insanely Pinterestable set of images.
"We wanted to keep the design elements of our photoshoot clean, with some classic and organic detailing, so used a range of soft muted tones and hues via our florals and paper accents. We also have a mix of textures to provide depth. We hope the readers of Love My Dress love the results as much as we do.  The looks we have created are intended to inspire and be replicated in real life, from the gowns through to the hair and makeup, shoes and accessories."
Film by Rolta Films
The shoot focused on three key looks, featuring gowns with soft detailing and embellishments that were selected to be worn alongside accessories that added touches of simplicity. The hair and makeup was purposefully styled to look and feel natural and accessible with understated sophistication.
The first look featured the stunning 'Charlie' gown, by Israeli designer Nurit Hen – a dress with a  deep V-plunge neckline which is softened by organic lace motifs on nude illusion tulle. Embroidered 3D florals enhance the dreamy, gathered tulle skirt.
Images by Voyteck Photography
Makeup wise, artist Sylwia Makeup focused on a very natural 'no makeup' look, enhancing the skin with a flawless, healthy and luminous glow.
Hair stylist Ondine Cowley of Nicky Clarke wanted to create a floaty, bohemian inspired chic look with the summer bride in mind for this look.
The second look features another gown by Nurit Hen, 'Natasha', once again, available exclusively at Mirror Mirror Bridal boutique. This beautiful, contemporary, cotton guipure lace bridal gown brings a twist to the classic princess dress with a daring thigh high split and head-turning fluted long sleeves. I'm in love with this dress!
Makeup wise, the focus was on a timeless bridal look that enhanced the natural beauty of the bride; radiant with softly blushed cheeks and peachy lips. The faux- individual lashes complement every eye shape and give the right amount of definition without making the look too dark.
Penny explains "With this look, we wanted a very neat look with an editorial feel, the model had a bridal twist with a backwards French roll, leaving softness on the sides and front to complement the whole look."
The third and final look features the strapless mermaid cut 'Runis' gown by Pronovias Atelier.  The large leafy lace design makes this dress very unique.
The team focused on a modern Brigitte Bardot inspired look with a rock'n roll vibe. The sultry eyes say it all – very dark and smoky eyes need flawless skin and a hint of blusher to give the illusion of a truly natural colour.
Penny explains "This look was all about luxe/glam vibes – we kept the softness at the side and front and added and a side ponytail with waves to keep the look modern, playful and youthful."
The Details
Penny paid exceptional attention to detail when curating this editorial and we're loving the accessories.
The Clara Veil by Britten Weddings (below) is a beautiful hand- crafted wedding veil with cut edge. Clara is made from Britten's pure soft silk tulle. Nothing quite compares to the feel of this pure silk veil! Clara is slightly narrower than Britten's other veils at 140cm wide.
The Clara Veil can either be worn at the crown of the head with the tulle draping over the shoulders or slightly further down so that the tulle drops straight to the ground.
Mirror Mirror provided their Grace Veil – a circular cut, single tier, 3 metre long veil finished with a fine edge stitch. So elegant.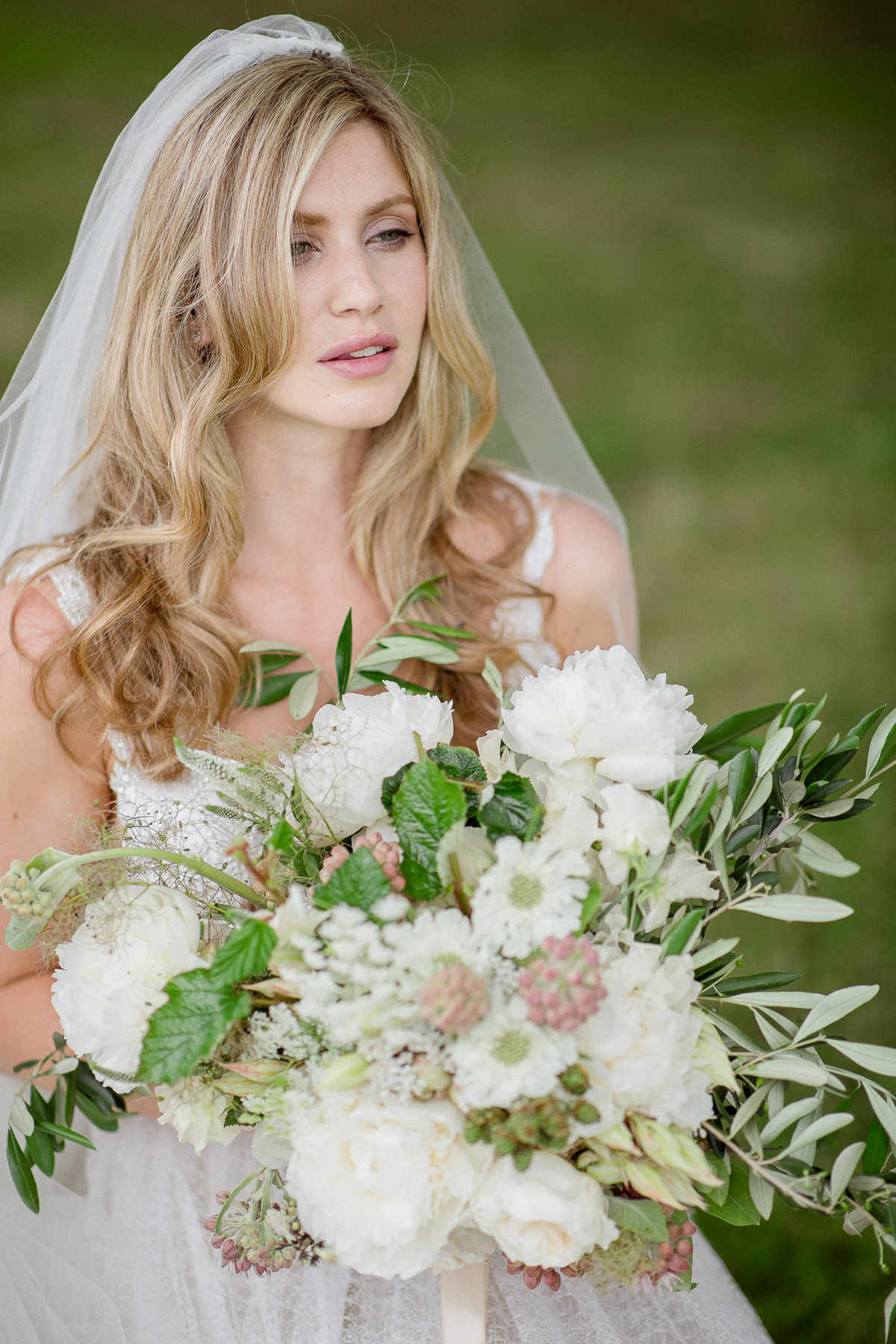 "The shoes were the 'Gabrielle Gold' design by Freya Rose. This beautiful shoe is a classic statement piece. The 5-inch heel is guaranteed to accentuate the legs as well as the allure of the wearer. The perfectly proportioned silhouette with a special memory foam lining and ankle strap for added support are designed to keep any bride comfortable until the early hours of their very special day."
"Accessories designer Luna Bea creates delicate and modern, imagined floral pieces which are sensitively cut in silk and coated in porcelain, giving a fluid natural movement full of life with a chalky modern texture. Set onto a gold plated brass cuff, one size fits all."
[JP-VIDEO]
"DryBy are home to the best Shellac manicures in London. For our shoot they provided a manicure for our model designed as part of new bridal collection in collaboration with beauty blogger Alex Steinher. The manicure was a nude combination of CND Shellac Beau layered on top of Negligée with a red dot and is called (you got it!) 'The Dot'."
"Headpieces, earrings and other accessories were provided by Jennifer Behr and Luna Bea. The Borealis earrings by Jennifer Behr  are handmade in New York City, using Swarovski crystals, these delicate yet powerful stars appear at first glance to be magically suspended midair, framing the face and creating a halo of glow."
"For the tables and floral bouquets, florist Wild Renata Flowers used a mix of beautiful summer blooms including peonies, blushing bride, white scabios, sweet peas, smoke bush, wild blackberries and Queen Anne's Lace. Garlands were hand strung of carnations to wrap around the swing ropes. The floral look was soft with a slight wild touch to capture the boho essence."
"The food element was provided by modern caterers Social Pantry – who source all of their chicken from the superb Ashby's, a long- standing London butcher of great repute, who deliver sensational birds with both excellent flavour and idiosyncratic corn- fed colour.  They have then paired this outstanding chicken breast with a combination of the sweet and dark flavours of aged black garlic and the most emphatic of seasonal vegetables, English Asparagus, to create a stand out main course that will convert even the most carnivorous of red meat enthusiasts."
Great Hire provided all the furniture and props (bar those provided by the stylist herself – see the credit list at the end of this article).
"This enchanting dining table gives the illusion of floating to your catering setting. The Clean Air dining table is formed entirely of clear Perspex polished to a dazzling shine with a sleek, geometric design.
Order together with our designer Louis Ghost armchairs to bring a sense of neoclassical elegance to this very modern dining set. This modern design hits a unique balance between unimposing design and striking, creative construction and allows light to shine uninterrupted throughout your event space."
"Bringing modern design materials to the dining room, the Victoria Ghost Chair is constructed of a single piece of white polycarbonate. Robust, comfortable, and weather resistant this chair is sleek and reliable. The silhouette displays great charm with contrasting curves and geometric lines, which fit elegantly into any event surrounding."
"Woodland tree swings are made from the finest quality, seasoned English Oak boards. The swings are planed and finished to a thickness of 48mm. Every one of our tree swings are made by hand in our Suffolk workshop, from seasoned board to the finished product. Every swing is lovingly crafted with keen attention to detail."
"The Collection Drink Trolley is a chic table with a decadent, 1920s deco feel. The stunning gold gilt frame supports two sleek, smoke finish glass shelves making this the most glamorous piece for serving your guests."
"The spectacular four tier ivory fondant cake was provided by cake maker extraordinaire, Rosalind Miller. The stunning ferns were delicately painted by hand. The cake was then adorned in an abundance of beautiful sugar leaves and blossoms in varying shades of garden greens to provide a magical and enchanted forest feel."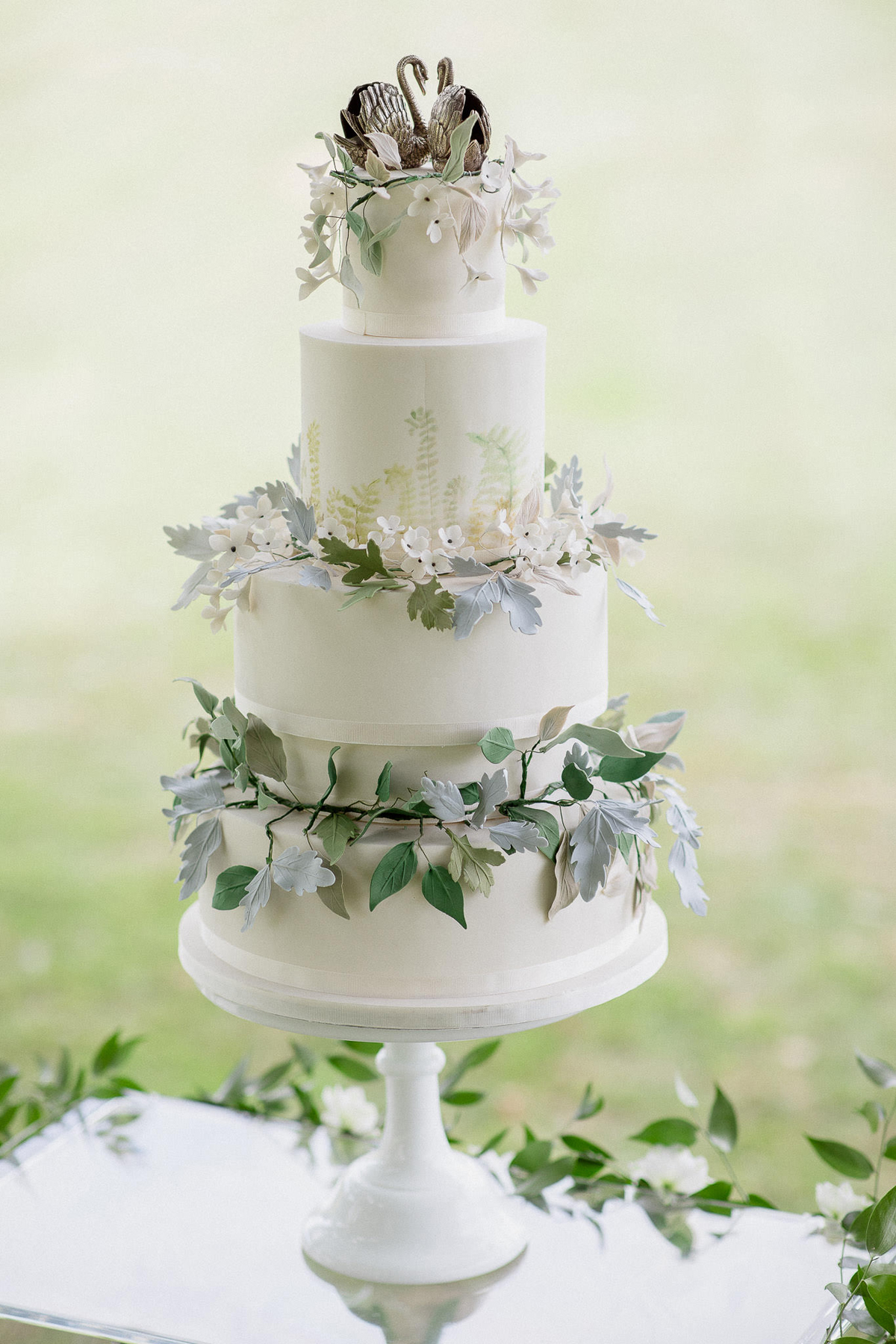 "Simplicity was key to the stationery design, provided by Lou Paper, for this shoot. A paired back contemporary design in cool simplistic colours of soft greys and whites, combined with modern calligraphy gave it a real edge. Materials were key with the use of uncoated smooth card stock mixed with transparent layers of vellum hand calligraphy for a real bespoke finish. The look was completed with a tassel, what's more to love?"
Our love and thanks to Penny Cullen of Tigerlily Weddings and the creative team she brought together to produce these images – it's such a pleasure to share the creative vision of so many talented British wedding suppliers.