Hello lovelies! I hope you're all ready for an explosion of colour today, as this wedding is a rainbow-hued one done tastefully with some serious style and sass. So who are the pair behind this vibrant day? There's only one way to find out…
Bride Harriet is a post producer in Shoreditch and groom Andy a VFX assistant. The couple chose 2nd September 2017 as their wedding date, saying their I Do's at Banbury Town Hall in Oxfordshire, followed by a reception at Hadsham Farm in Horely. One thing the bride did know she wanted was an ethical wedding dress, which narrowed down her choices considerably when it came to dress shopping. After spotting vintage inspired bridal store and Little Book member Indiebride London, whilst browsing Love My Dress one day, Harriet immediately booked an appointment with them at their London showroom.
"The dress was a two-piece from Minna's main collection. Their collections are dreamy and handmade from recycled and ethical materials. My mum and sisters joined me at their showroom for my appointment and we had a lovely morning in their studio trying on pretty much everything in stock. The studio is above a church in Oval and we were so lucky as the gospel choir were practising downstairs during the fitting."
Images by Potter's Instinct Photography
"We had the studio to ourselves which eased my nerves slightly as this was my first time trying on anything bridal. The lovely assistant who was there with us observed us and listened to all the feedback we had."
"It was in the last 10 minutes of the fitting that by eliminating what we liked and didn't like about the dresses, she came up with the combination of skirt and top that became my wedding dress. It was perfect. A low back with a bow at the back and lace sleeves with a gorgeous but small train."
"The little details are so lovely and considered. Hooks were added into the top so my bra straps stayed upright and hook and eyes on the back of the dress under the bow so the gap between skirt and top seemed seamless."
"The skirt was made slightly shorter at the front so that brides don't trip up on it. This was a must for me as I'm so clumsy! I really wanted to feel comfortable on the day, with the chilled vibes of the wedding and reception I didn't want to feel constricted by corsets and knowing we had portaloo's, I didn't want to run the risk of not being able to go to the loo on my own. I felt so special in the dress and it was heartbreaking taking it off at the end of the day."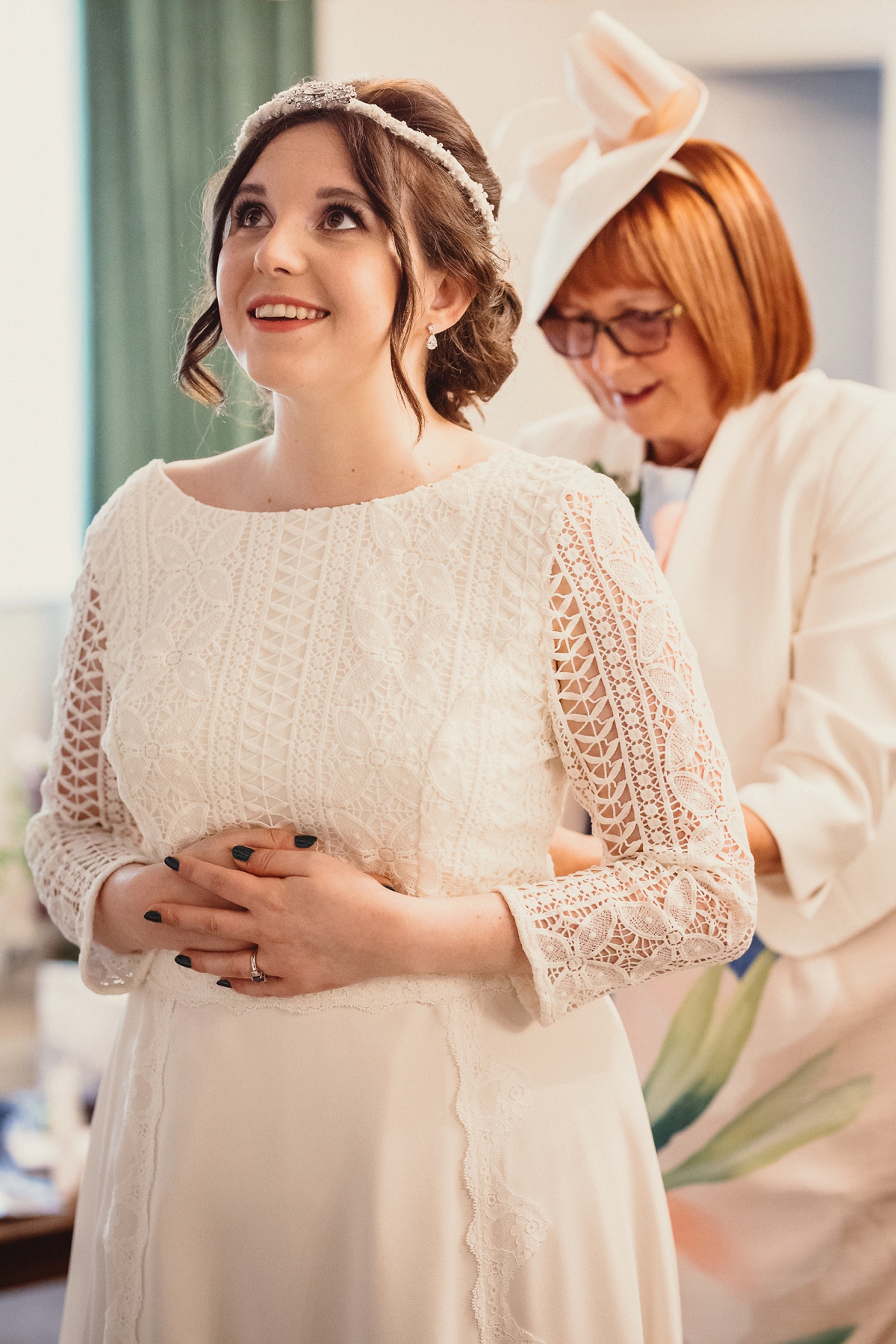 "My bridesmaids all chose their own dresses. It was really important to me that everyone felt comfortable on the day and wore something that they didn't feel awkward in. I chose the sapphire blue out of the jewel colours that sort of became the colour references for the day. The bridesmaids were from all over, with Meg even flying in from Australia, so joint shopping trips would have been tricky to say the least. The bridesmaids consisted of my twin sister, eldest sister and two best friends."
"They're all very different people and it would have been so hard to find something that worked for everyone. We had a Whatsapp group where ideas and options were posted and kept in touch this way. I loved the dresses the girls chose. They were all so different but really reflected them as individuals. They all looked so beautiful."
"They all bought and chose their own shoes. They were given a brief of silver and sparkly and they all chose something to suit their outfits and own personal styles. They also wore Origami crane hairpins from Crown and Glory. I bought these as part of their thank you gifts as a little reminder of the day. We had 1000 paper cranes as part of the decor. They also had their silver clutch bags from Threaded by Pooja."
"I chose not to wear a veil as a lot of the detail in my dress was on the back. I did however have a gorgeous headpiece made by the ladies at Minna using the same lace as the details on my dress, with a vintage brooch in the centre."
"My shoes were emerald-green sparkly flats by Irregular Choice. I wanted to wear flats as I'm so clumsy and wanted to feel as comfortable as possible on the day. I chose these as they were so special, bright and colourful, and a bit different. These were the first thing I bought for the wedding and had them for 11 months before the day. Every time Andy would be out I'd sneak them on and strut around our flat in them."
[JP-VIDEO]
"The only other jewellery other than my headpiece I wore on the day were a pair of earrings from Liberty In Love. The teardrop shape and crystals really complimented the brooch from the headpiece that Minna had made for me. I didn't want to spend a fortune as at this stage, budget was running quite tight. I also don't really change my earrings on a day-to-day basis so I wouldn't have got much wear in the future."
"Andy and I met at work. I had only been at the company for a few weeks, we chatted briefly and shared a cheeky not-so-secret kiss at the office Christmas party (cringe!). It paid off though and we've been together since. We got engaged in Bristol. It's somewhere we've been thinking about relocating to and we went for a long weekend visit to scope out the area and explore."
"Andy had another agenda though and had snuck an engagement ring in his pocket. After a few foiled attempts due to rain and being too hungry to go for a walk, he was eventually able to pop the question sat by the marina with our legs dangling over the edge. This was at 11pm at night. We then went to a bar and bought a bottle of prosecco surrounded by students (it was a Friday night). The hangover the next day was atrocious!"
"We were actually only engaged for 11 months before the wedding. We were looking to get married the year after but when we spoke to the reception venue to enquire about availability, they mentioned they had some dates still free for 2017. We picked 2nd September and ran with it. Having a speedy engagement was quite a positive thing as it meant we didn't over think everything as we needed to get things booked as soon as possible. We had the best day so it definitely worked for us."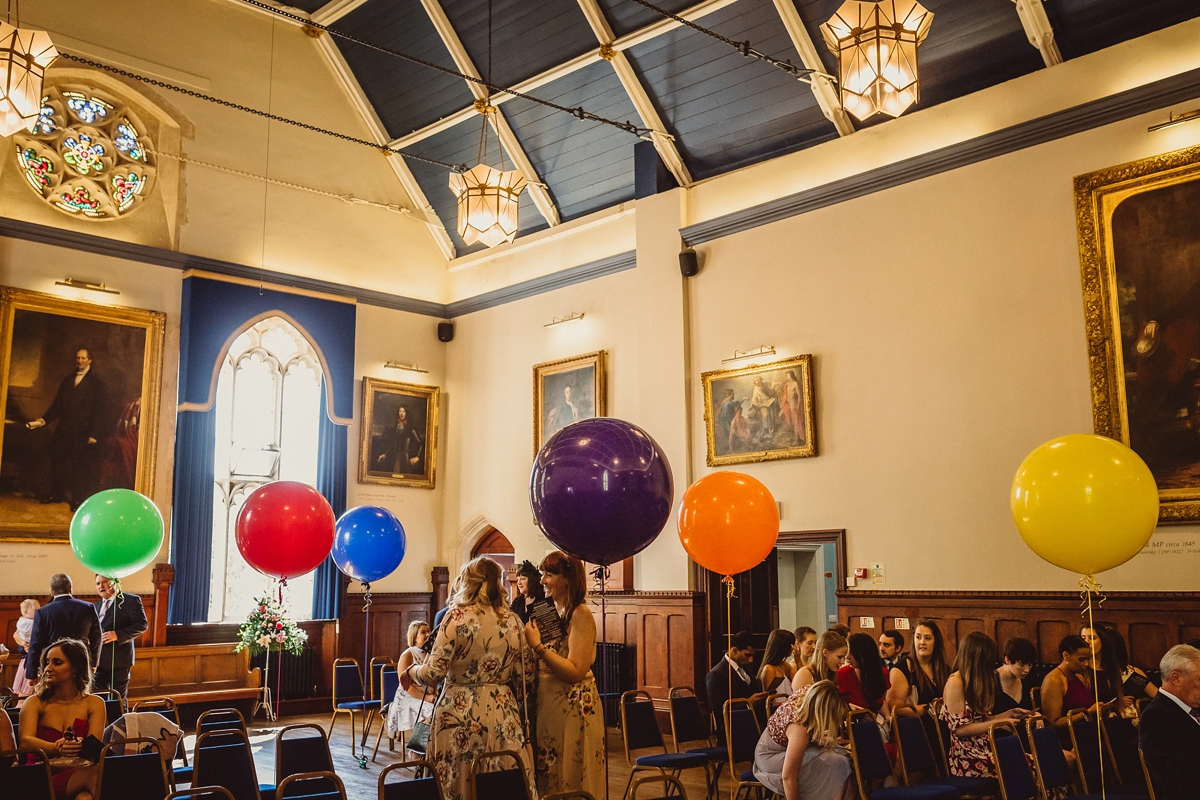 "We didn't really set a specific theme or style for the day. We both wanted it to be relaxed and as comfortable for everyone attending as possible We had a barbecue and Ska band and games and activities for both the adults and the kids. We just wanted a great party with all our favourite people there."
"Our colour scheme was basically all of the colours and some gold glitter. We found that not setting a particular theme meant it was a bit easier to find bargains etc. And we didn't have to worry about anything matching as nothing really did. The main colours used were based on the giant balloons we had which were jewel coloured."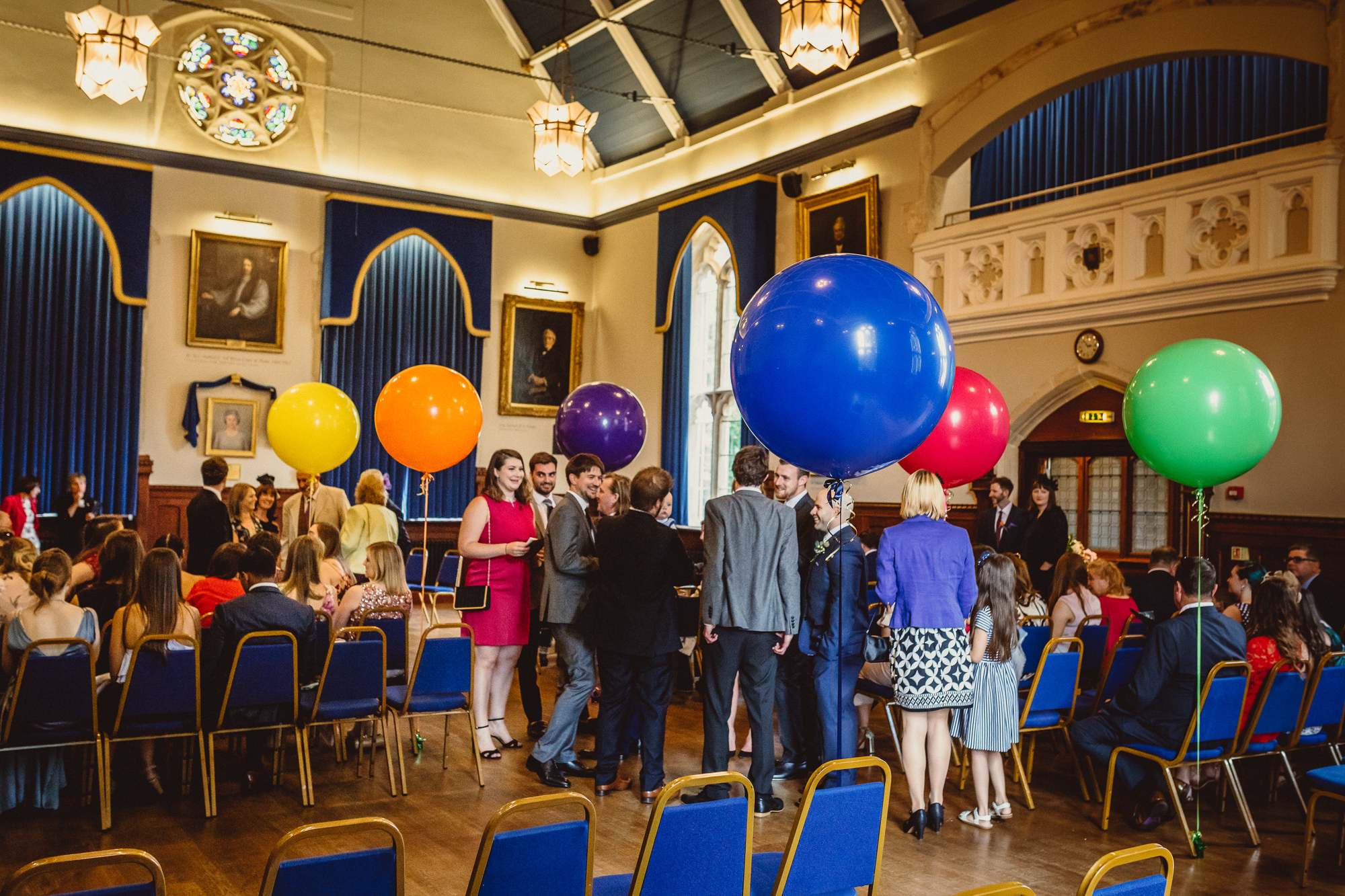 "Andy chose to wear a navy blue 3-piece suit from Ted Baker bought from Moss Bros in Brent Cross. His shoes were brown leather brogues, also from Moss Bros and his shirt a plain white one from John Lewis. He chose a purple bow tie with matching pocket square from DQT."
"I designed all of our stationery using Photoshop, and hand painted the chalkboards. The theme was a rustic chalkboard effect. We didn't provide favours as such. We had a sweet cart with different childhood sweets on there with bags for people to take home with them."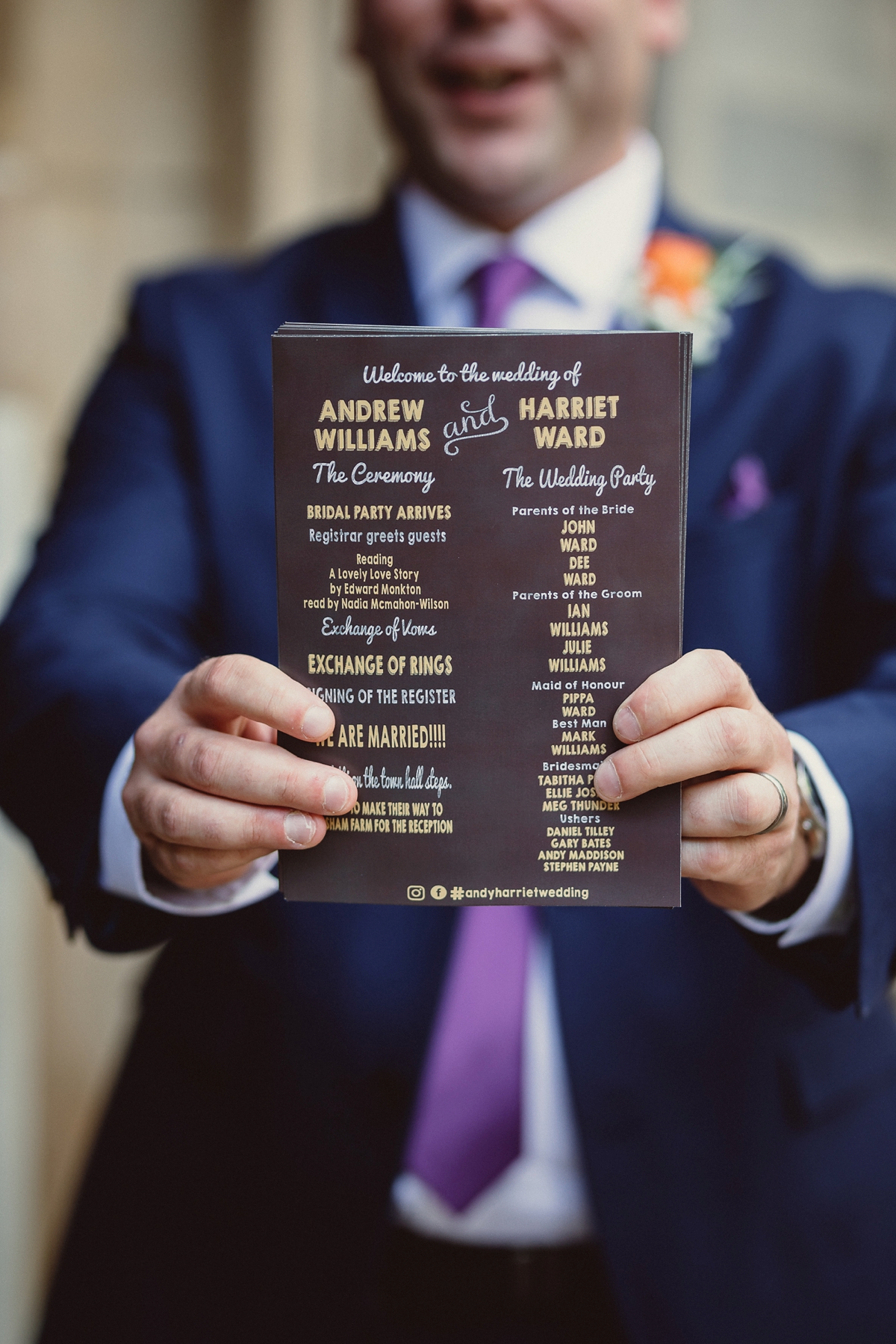 "My dad accompanied me down the aisle. I didn't really like the idea of being 'given away' so we didn't see it as that. We just saw it as my dad walking me down the aisle. It was such an emotional moment and so lovely to see Andy that I practically sprinted down, my poor dad had to drag me back to slow me down. We walked in to the Detectorists Theme Song by Jonny Flynn, a favourite show of ours and a lovely sentiment to the song. It's only short so works really well for walking down the aisle to."
"We didn't use a celebrant but did have a registrar and opted for the traditional wedding vows. We had just one reading which was the Lovely Dinosaur by Edward Monkton. We loved how much it rang true to us as people and was light-hearted and sentimental. It was read by Nadia, a school friend of mine who did an amazing job."
"Our wedding rings were bought from a shop local to us in Muswell Hill called Angela Rose. We both went for white gold to match my engagement ring. My wedding ring is a thin plain band and Andy's is slightly different with grooved edges, almost like a bolt."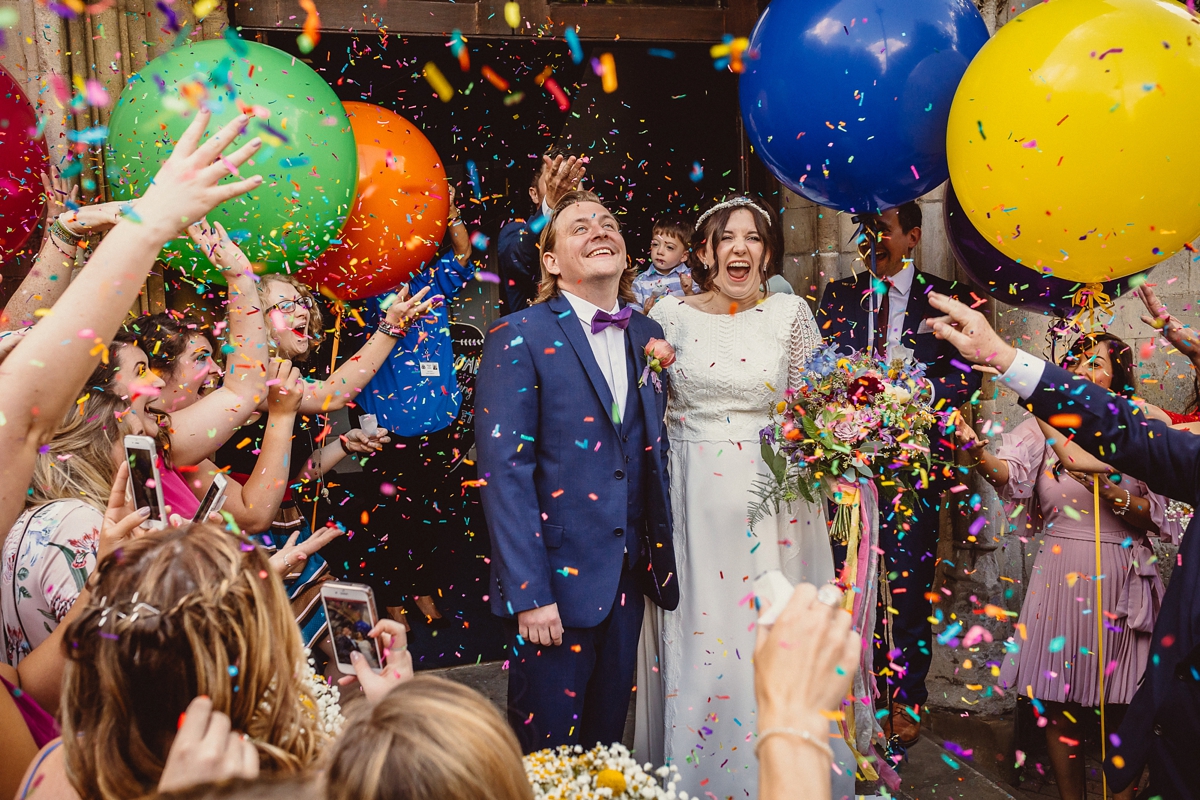 "After the ceremony, Andy and I were driven to the reception in a beautiful VW named Seren, hired from Triple White Weddings. We had a champagne bucket waiting for us which was a lovely touch! They were very obliging with sticking around to take lots of photos with the giant balloons."
"One of my highlights in terms of the decor were the giant balloons. We had 6 of them which were provided by Frog Orange Balloons in Banbury. These became the backdrop for the town hall and for our couple's photos. We didn't want to do too much in the town hall as we'd only be there for such a short amount of time. The balloons were perfect because they were transportable and meant we could utilise them in both locations."
"We chose Banbury as the location to get married as it's between both of our parents homes and not too far to drive from us in Muswell Hill in North London. We knew we wanted a farm venue and the reception venue was the first thing we searched for. We were Googling in the car on the way back from our engagement trip when we saw the website for the venue. We went to visit on a freezing cold day in October in the rain and mud and still loved it and saw the potential there. It was the only place we visited or looked at."
"We loved that it was a blank canvas and we could really put our own spin on it. The field was the perfect size for a marquee and overlooks a stunning lake. They also don't charge a corkage fee which was fabulous. It meant we could provide our own bar tailored to our tastes. Lots of gin for me and Welsh Beers for Andy as a nod to his heritage. We ordered the wine and prosecco from Majestic in Calais and had so much fun hiring a van and driving over there for it all."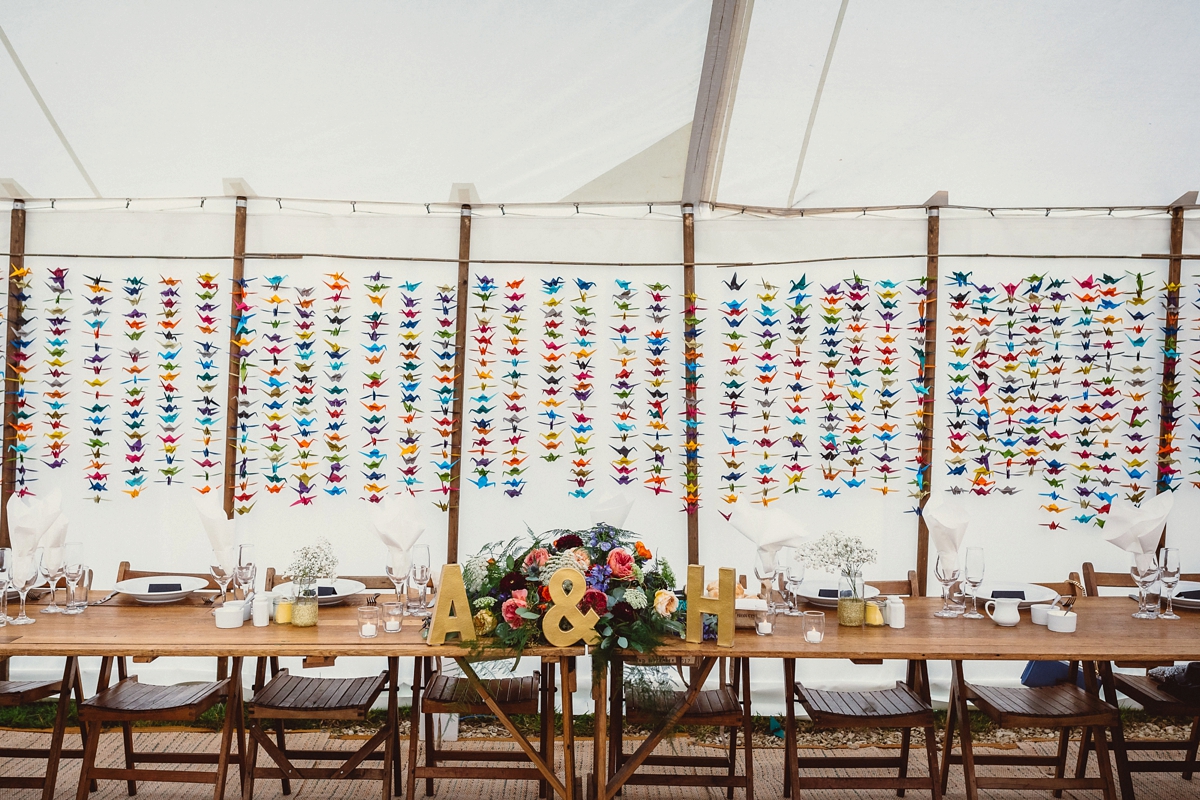 "Hadsham Farm has changed slightly since our wedding and now has gorgeous teepees available for inclusive hire. The team at Hadsham Farm are so helpful and friendly. We couldn't recommend them more. The location is absolutely stunning. Once we had picked the reception venue we began searching for somewhere to hold the ceremony. Neither of us are particularly religious so we were looking for somewhere not too far from the reception venue to hold a civil ceremony."
"Our criteria was somewhere large enough that we could fit everyone in as everyone had to travel to attend the wedding we didn't want to have separate day and evening guests. We also wanted somewhere a bit historic and picturesque, preferably with steps for the all important confetti shots. We found Banbury Town Hall in the centre of town and it ticked all of our boxes. The team were so friendly from the get go, they couldn't have done more for us. The town hall is upstairs so the light streams through. It's a gorgeous venue and it was quite fun being in the centre of town!"
"Cotswold Marquees provided the marquee. We chose an unlined traditional marquee, as we wanted to decorate it ourselves and love the rustic feel of the traditional marquees. They provided the festoon lighting and a heater, which was perfect as the temperature started to drop in the evening. The backdrop for the top table took months to create as it consisted of a thousand hand folded Origami paper cranes in all different colours."
"It was a beast of a challenge but something I'm glad we stuck with as it looked incredible. A few weeks before the wedding we had a call from the marquee company as unfortunately due to theft, they didn't have quite enough of the festoon lighting to completely cover the marquee. They suggested using fairy lights over the dance floor, which actually looked incredible, and we were so pleased as it made that area really stand out for the boogie-ing."
"The tables and chairs, bar, ice bath and chalk frame were all hired from the fantastic Rustic Hire. The furniture is all so stunning and rustic so we didn't want to do too much to cover these up."
"We also bought some paper tassels from the fab Pop Pop Papier. These were in the same jewel tones as the balloons and cranes, with some gold added in. We had these running behind the band, cake table and in the mini marquee that had the games and hay bales for guests to sit on. They looked great – it was probably our favourite wedding post to open. Full of confetti and loveliness."
"We had sparkly Just Married and 'Til Death Do Us Party banners, bought from Pom and Pom via Etsy. These were behind the band and cake table and pulled everything together."
"The confetti was environmentally friendly and super bright, called Unicorn Poop from the Sugar Stop Company via Etsy. You get loads in a bag. We then bought little glassine bags and made personalised stickers and gave them out after the ceremony. The pictures came out amazingly – so bright and colourful, which was exactly what we were looking for."
"My big sister Tabitha made our amazing wedding cake. Our granny was a cake maker and even baked the wedding cake for a member of The Smiths. Granny unfortunately passed away a couple of years ago so it seemed only right that we honoured her traditional fruitcake recipe."
"Tabitha made a dreamy 3-tier fruit cake that granny would have been proud of! It was delicious. It was decorated with butterflies in all different bright colours. Guests provided the other cakes as we had a bake-off for the pudding and had some very yummy contributions!"
"My mum did a cracking job of collecting all different shapes and sizes of jars to make up the centrepieces. Some of these were dunked in gold glitter, some filled with fairy lights and some with little battery candles. The flowers on the tables were baby's breath that was sourced from a local wholesale flower seller. We accidentally bought way too much so managed to cover the archway leading to the site too which was a happy accident."
"All of the bright ribbon on the jars and archway were taken from my granny's cake baking collection – another little way of her being there. My mum also collected flip-flops and blankets which made for nice touches in the evening. They were popped into vintage apple crates bought from eBay."
After coming across the work of photographer Kevin Potter from Potter's Instinct Photography at one of Harriet's friends weddings, the couple knew they couldn't have gone with any other photographer for their own day and signed him up as soon as they found out he had availability on their wedding date.
"Kevin invited us to his home studio to discuss the day and meet and generally chat. It was so comfortable speaking with Kevin and we loved the albums and packages he offers. In the lead up to the day Kevin was great. We had a phone call to discuss the requirements for the day and go through the timings etc. He made sure he would be able to capture as much as possible which was great. On the day he was fantastic and a fabulous addition to the getting ready party, cracking jokes and keeping everyone calm."
"He commanded the guests for the group confetti shots so well, efficiently and with great humour. We are so pleased with the photos – it was such a hard decision picking the ones for the album and to frame as there are so many we love. We look through them on a regular basis and pick new favourites all the time. He's really captured the spirit of our day."
"My favourite accessory was my clutch bag that I had made by the amazing Threaded by Pooja via Etsy. Pooja was amazing. I sent her pictures of my shoes and she matched the fabric perfectly. I had a sea green sparkly clutch made for me and then 4 sparkly ones made for my bridesmaids. I wanted somewhere to pop some tissues and lipstick in on the day, so things didn't wander off."
"Our florist for the bouquets and buttonholes was the incredible Lisa from Meadow Dreams Florist. She's amazing! We didn't really have anything specific we liked, just lots of bright colours and an informal look. We wanted plainer bridesmaids bouquets made of daisies and babies breath to bring out the blue in the dresses. Lisa also had the idea of adding in Crespidia which looked fab. My bouquet was hands down the most stunning bouquet I've ever seen. The colour and style was absolutely perfect."
"Lisa asked if I'd be happy with tumbling ribbon – not something I'd thought of but looked absolutely amazing. She chose divine hand dyed colours from Silk and Purl. I loved the flowers so much I don't think I put the bouquet down all day. The buttonholes were all individual and slightly different, using flowers taken from the bouquet. The mums had corsages, which were also lovely. We have no idea about flowers and trusted Lisa's judgement. I sent a rough Pinterest board with ideas and Lisa took this and ran with it. She did such an incredible job and I'd recommend her to any bride."
"A couple of days before the wedding, Lisa called and said that if we didn't mind, she had some flowers left over so had made us a top table decoration if we wanted it. We absolutely did of course! It was amazing and such a lovely thing for her to do for us."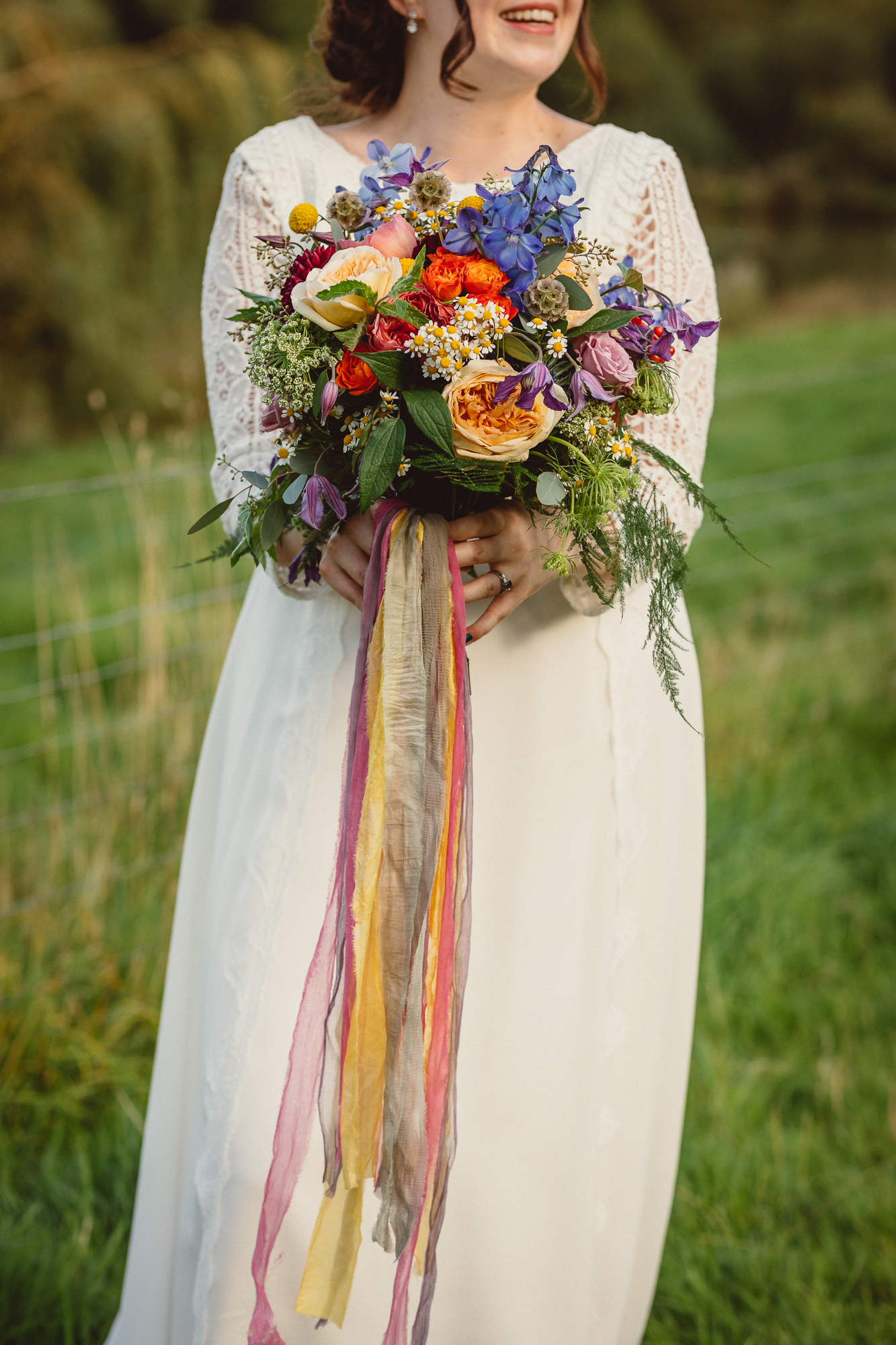 "The delicious food was provided by the amazing Banbury Catering. They were fantastic and also provided all the crockery and glass wear, which was fantastic. We had canapes as the guests arrived. The mini yorkshire puddings looked incredible! This was followed by a BBQ."
"I'm vegetarian and lots of the guests were too. Tracey and Eddie at Banbury Catering were amazing and very accommodating of all diets and created a varied and tasty menu for us to choose from. The BBQ was great and guests still comment on how tasty it was now."
"Music was provided by an incredible Ska band called the Skatoons. My dad is a drummer and recommended them and they were fantastic. Everyone danced all night from as soon as they came on stage. Our only criticism is that we had quite a lot of drink left over as everyone was too busy dancing to go the bar. The playlist during dinner and in between the bands sets was carefully curated by my dad and twin sister."
"We didn't choose a first dance song. We weren't actually going to have a first dance but caved to peer pressure on the day. Our fabulous band chose Cupid by Sam Cooke which was perfect. This then went into a version of Swing Low Sweet Chariot."
"There were so many amazing moments on the day, it's so hard to pick my favourite. Getting ready with the girls in the morning was so much fun, it was lovely being surrounded by some of my favourite people. My mum helping me into my dress was very special too, and my dad seeing me in the dress for the first time. I think my ultimate highlight was walking into the town hall and seeing everyone and Andy at the top of the aisle with the biggest grin on his face."
"Andy says his favourite bit of the day was two moments. Firstly, and most clichéd, was turning around and seeing me for the first time as I came down the aisle. His second favourite moment was leaving the town hall in the VW so we could take a moment just the two of us and reflect on what had just happened."
Words of Wedded Wisdom
"I think it's important to sit down with your other half and think about what is important to the two of you. Then you can tailor your day around your requirements and not end up with something that doesn't reflect you. Your wedding day is about you as a couple and not anyone else. Also, if people are offering to help, definitely take them up on the offer! It's a stressful time planning a wedding and you can't really do it all yourself."
"Try to enjoy the process and not get bogged down with the little things. It's not worth getting to breaking point over! Try to be as organised as possible. You might be accused of being a bridezilla, but having detailed to-do lists and budget spread sheets will really help you in the long run. We found assigning specific tasks for the set up really useful as it meant that everyone was able to get on with things on the day."
"Try and allocate a part of the day to spend some time just the two of you. Apart from the car journey to the reception, we barely saw each other until we were back in the hotel room."
What an amazing day! I love that this pair weren't afraid of colour and let their personalities shine. A big congrats to the happy couple and a big thank you to photographer Potter's Instinct Photography for capturing all the magic on camera.
Until next time…
Much love,
Holly x