There are several birthdays in my life in September and October, so this time of year is always a lovely chance to catch up with a group of my favourite people around a table somewhere and enjoy their company.  This sharing of a special occasion around a happy table is exactly the atmosphere of celebration today's bride and groom wanted to capture for their December wedding, and so for their big day they chose an intimate celebration with a Christmas day feel for their relaxed farmhouse reception.
Meet Alex, a Biomedical Scientist, and Andy, a Patient Services Manager for a research company, who married on the 9th of December 2017 at Aykley Heads Registry Office in Durham, followed by a family party at New Hall Farm Cottages in Wolsingham.  The day was planned by C & C Parties.
Film by Craig Crouchman
To capture their big day, Alex and Andy chose Sally Thurrell of SallyT Photography to do the honours.  I love the intimate atmosphere of the images she took and the way the emotion of the day shines through in every shot.
"After seeing the beautiful photographs from a friend's wedding, I had hoped that one day Sally would be my wedding photographer. The photos she did are quite simply our most prized possession.  She captured the absolute essence of the day and also was a total gem to have around.  From the details to the group shots, they're all just exactly what we wanted and she listened to us, which is so important.  She also made a stop motion film that is so lovely and quirky and I love showing it people as a quick run through of our day."
Image by Sally T Photography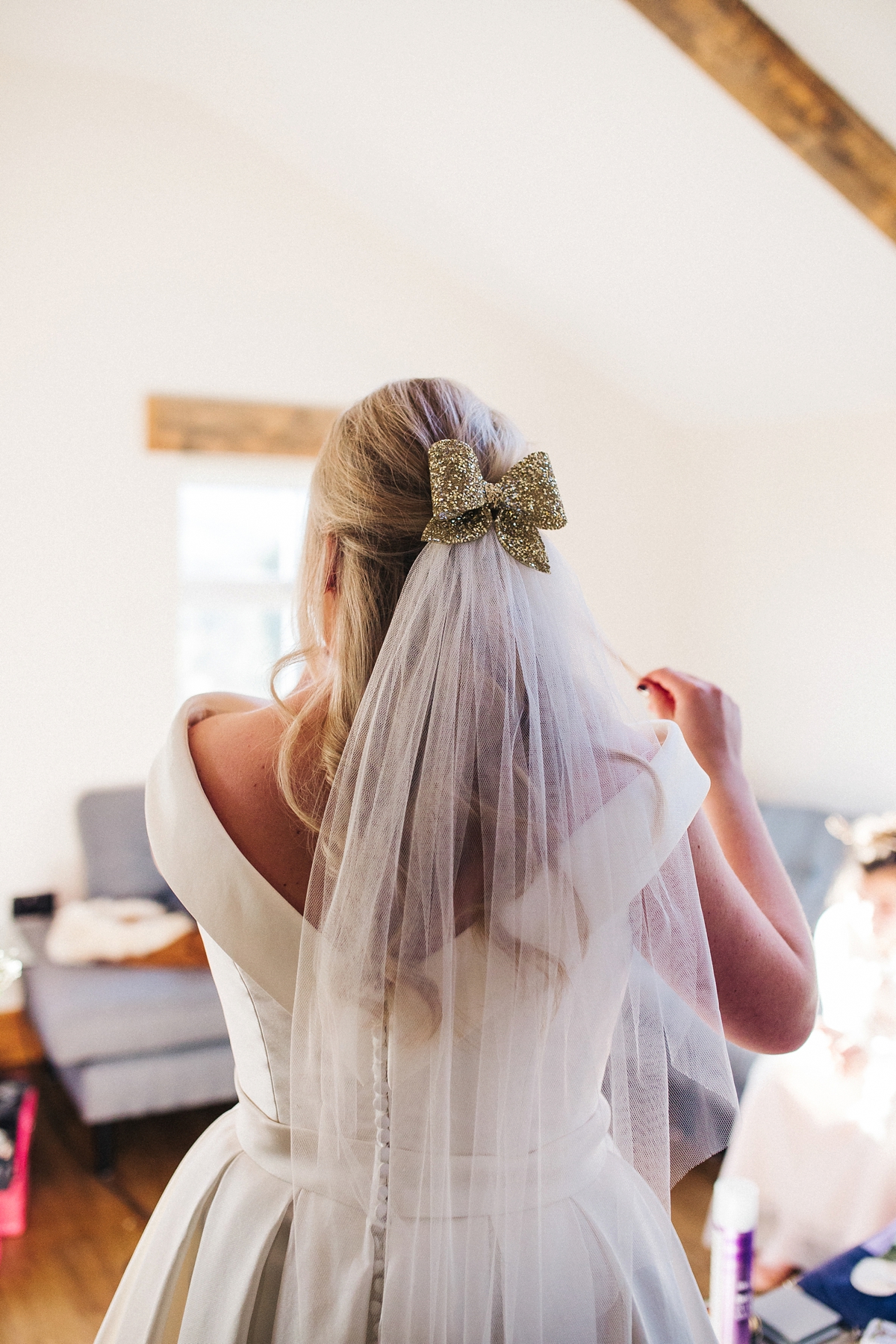 Alex wore a beautiful tea length gown by Ronald Joyce.  I love the elegant silhouette and the fabulous pleated skirt.
"I just loved it straight away.  It was comfy, it flattered me and it was my kind of style.  It also had pockets, which was amazing!"
For scent Alex chose Modern Muse by Estee Lauder, while for jewellery she opted for 'Mrs' earrings by Kate Spade and a gold bangle by the same designer.
Alex wore her hair pinned back from her face in soft waves (by Jess Pearson, sadly we have no details to share), while for make up she chose a glamorous look with a deep pink lip, perfect for a winter wedding, by Linzi Foden.
"We met whilst working at James Cook Hospital in the Biochemistry Lab.  My initial impression of Andy was that he was a bit of a surly fella, but after a few dates he had surprised me so much with how funny and charming he was that I was pretty much smitten from the get go!"
"We got engaged in July 2016 in Edinburgh. We're the type of couple who make all of our decisions together so we went to Edinburgh for a trip away with the intention of finding an engagement ring."
[JP-VIDEO]
"We went in a few shops, and stumbled across a tiny antique shop called 'Cavanagh – The Antique Shoppe' on Cockburn Street.  As soon as I tried the ring on I knew it was the one, a gold band with sapphire and diamonds.  We walked back to our hotel and Andy asked me officially then, mainly because I wanted to wear my gorgeous new ring."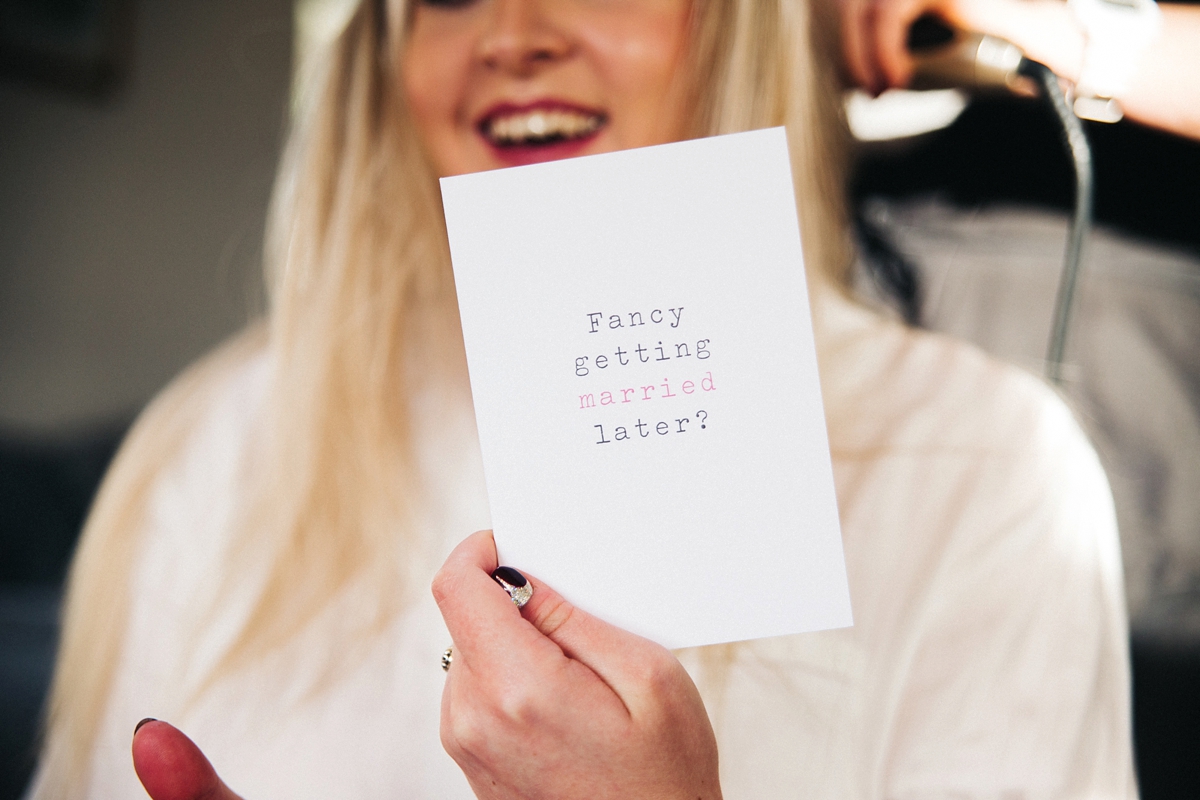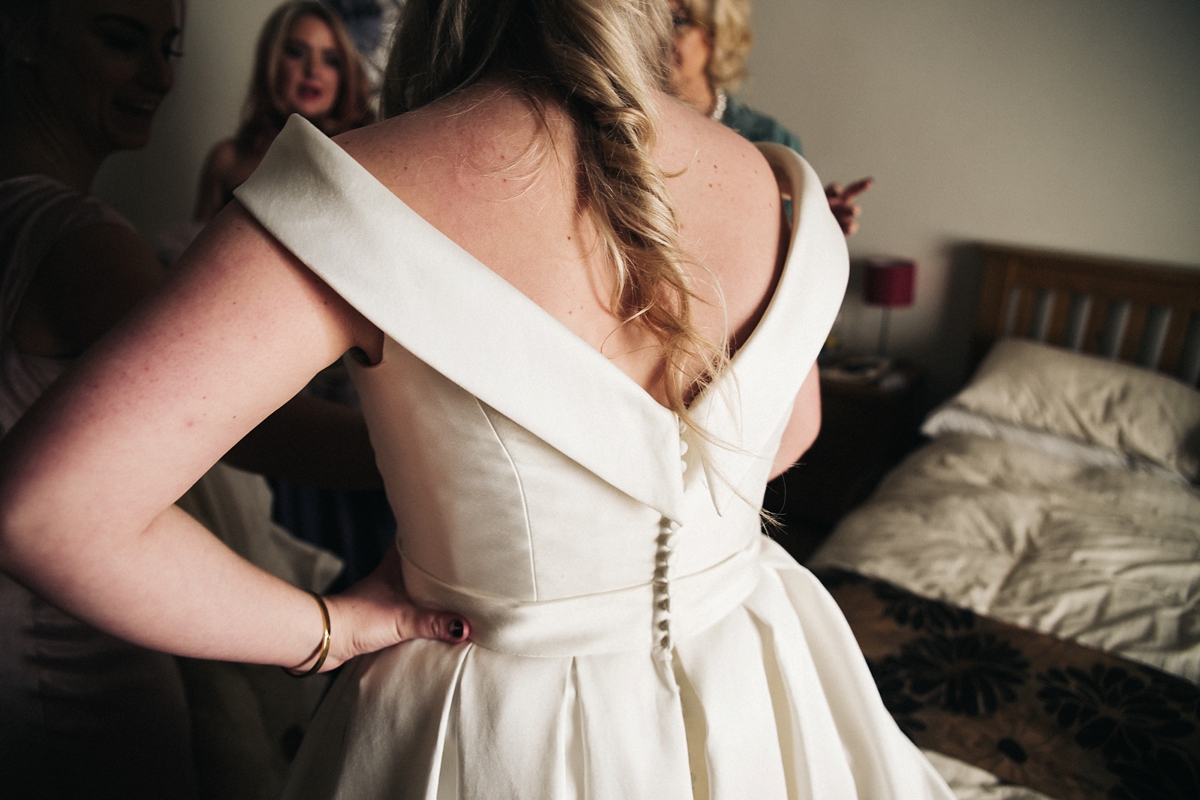 Andy wore a dark blue Gibson suit with a red waistcoat and deep red tie, which he purchased from Psyche in Middlesbrough.
The all-white and neutral florals were the work of Butterflies in Middlesbrough.  Alex wanted to keep it local and seasonal so asked for eucalyptus and white flowers, which kept the look simple and elegant.
Alex was accompanied down the aisle by her dad to 'Where you are' by Gavin Degraw, a very special song to her and Andy.  For readings, the couple chose 'The Lovely Love Story' by Edward Monkton.
"It just felt so right and fit with mine and Andy's own love story.  We also had our niece pick out her own poem about love and read it out, which was really lovely."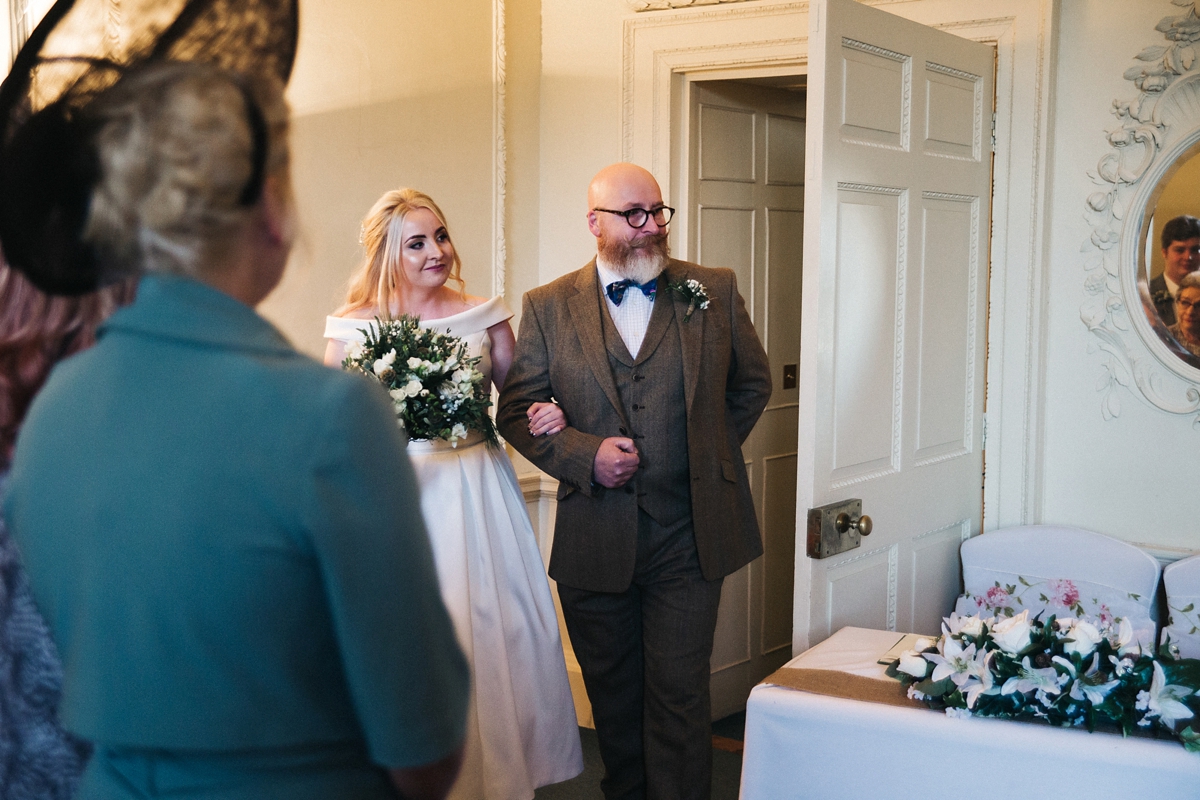 "Andy bought his ring from an Etsy shop called EbonCrowAdorments.  It's a wooden ring with a strip of silver, it's very different and he gets a lot of compliments about it.  I got my ring from Wedding Rings Direct.  I wanted a plain, thin gold band to slot under my engagement ring as it is quite large, so needed something small and dainty.  They were really good and sent out samples of the rings in different sizes for me to try on and send back."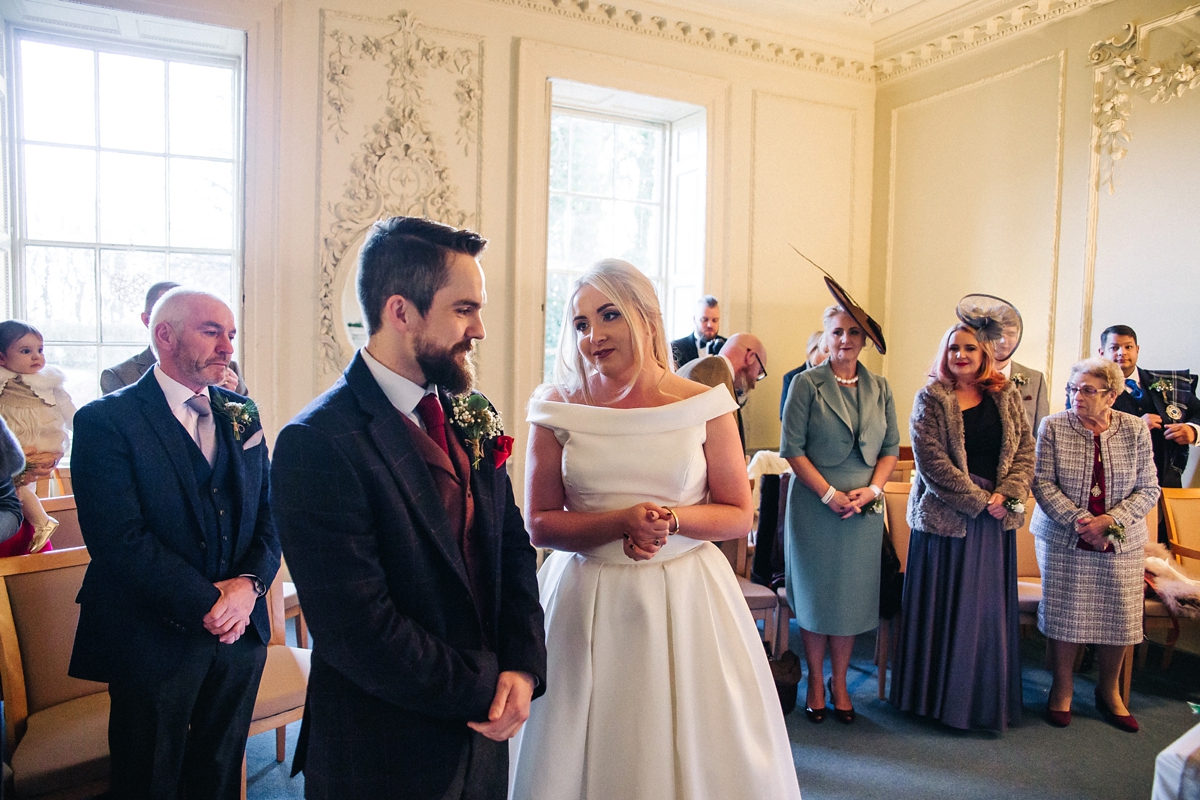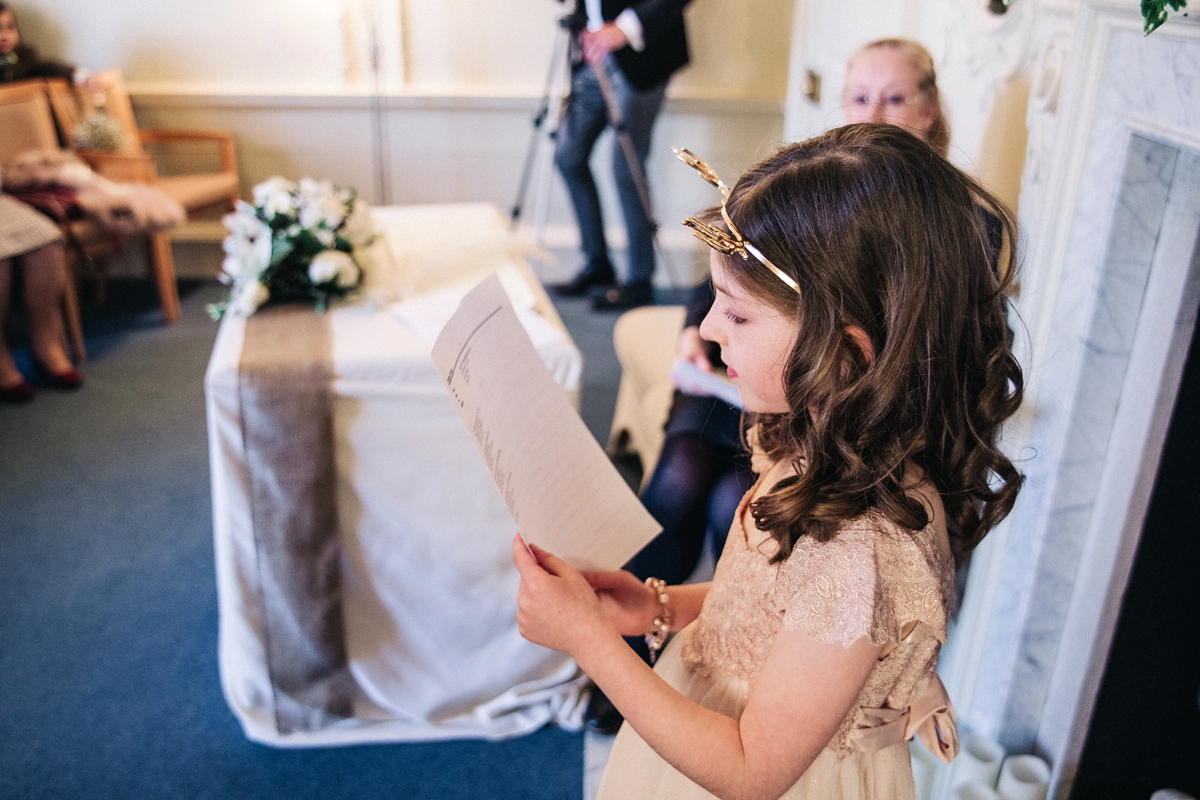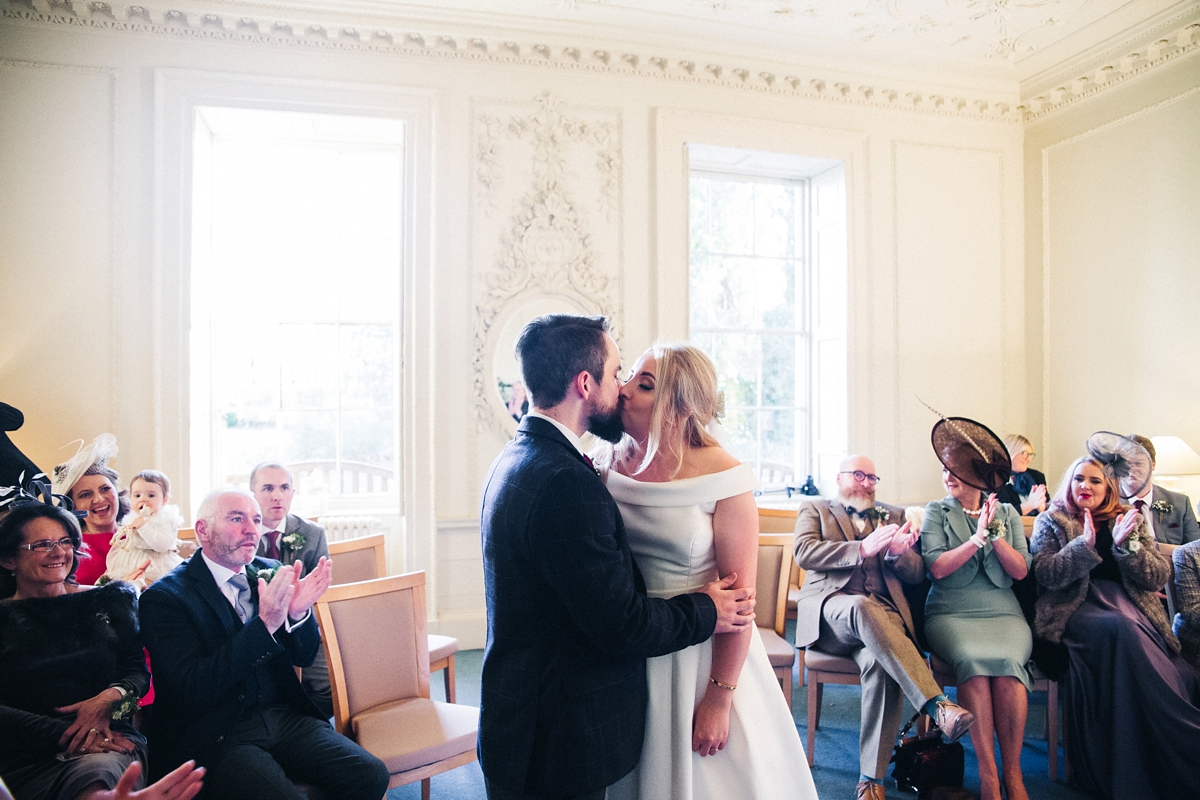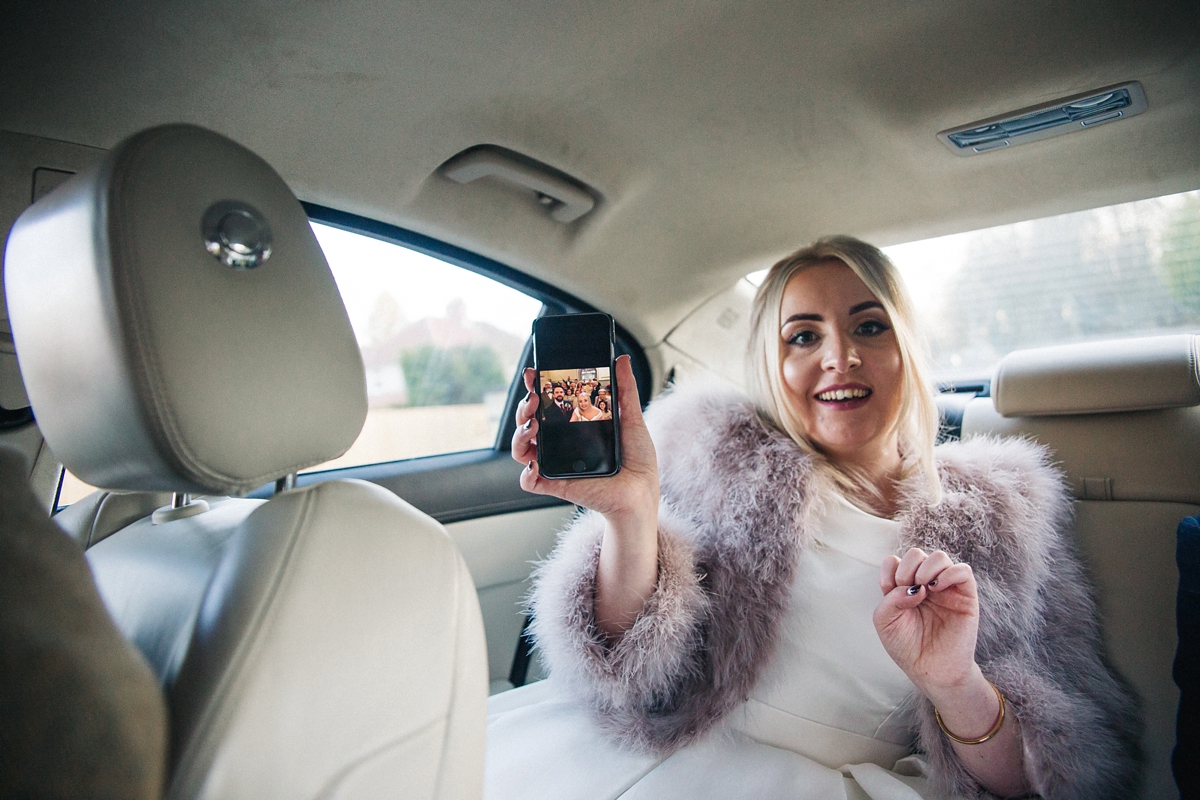 "We were nervous at first with it being an intimate wedding that it wouldn't be right having a photographer, but Sally was part of the family by the time she was leaving and there was talk of making her a bed up!  I recommend her to anyone."
"We had Craig Crouchman as our wedding videographer.  He is the best ever and the video is perfection."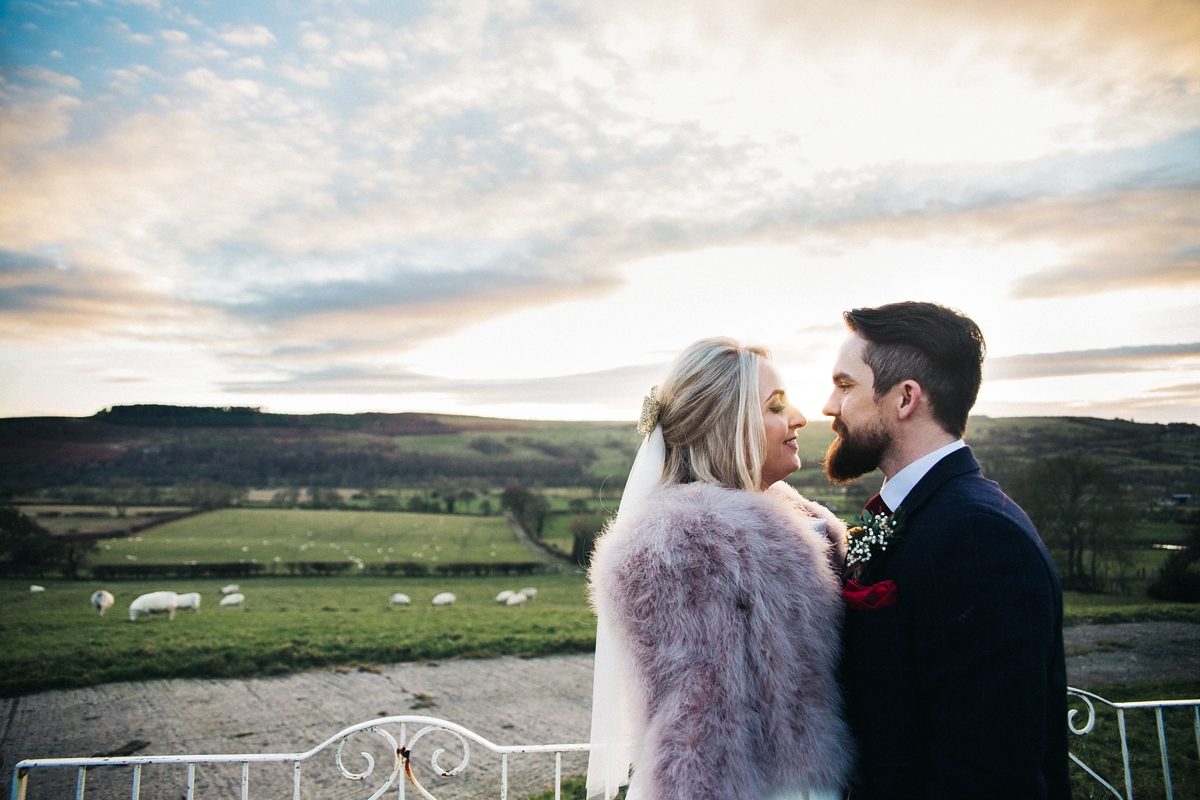 Alex's elbow-length veil was from Blossom and Bluebird on Etsy, while her glittering gold heels were from vegan shoesellers Beyond Skin.  Her large gold glitter bow came from the children's section in Monsoon and added a touch of fun to the ensemble.
"We chose our venue because we were looking for a house that would fit all our immediate family in, with a table that we could all sit around together."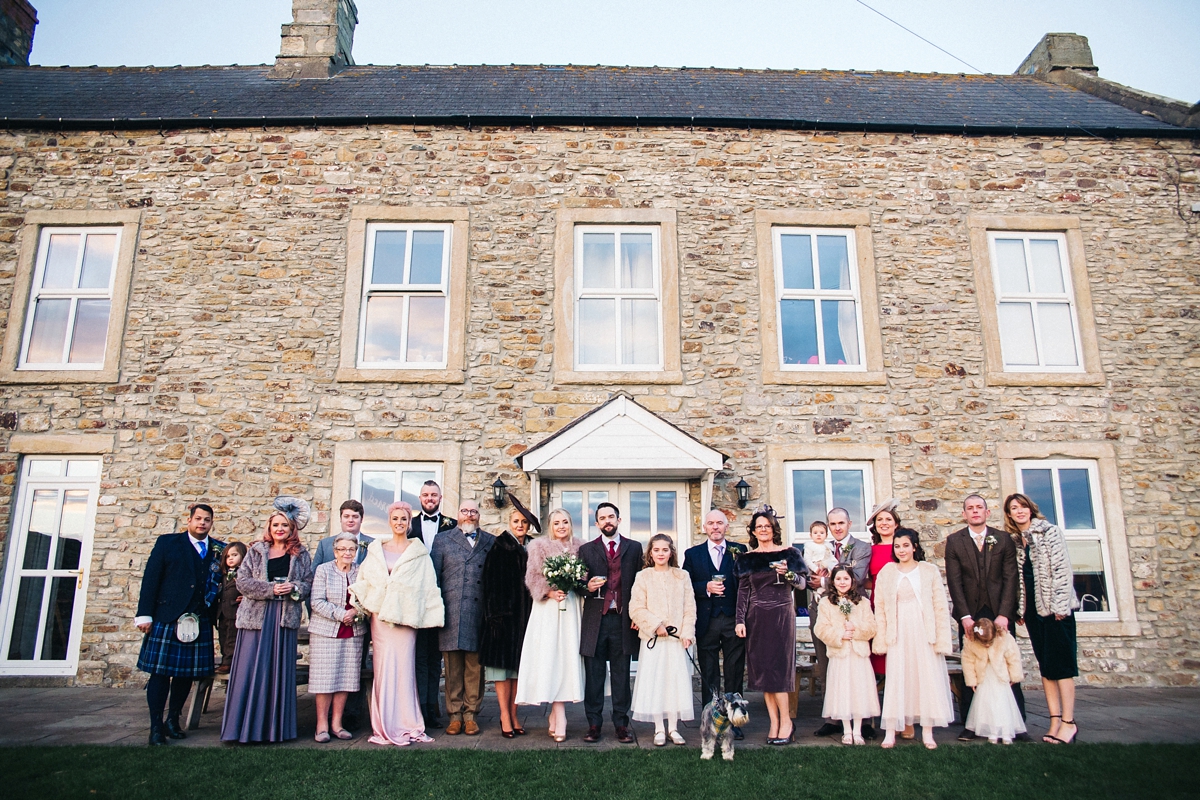 "I'd always wanted a winter wedding, so that helped to narrow down a theme, with green, white and festive gold tones. We tried to pick things we liked rather than make everything match on purpose.  It worked out better than we expected and it all went together quite well."
"The feel of the day we wanted to be like Christmas day, where everyone is together and really happy and grateful for each other."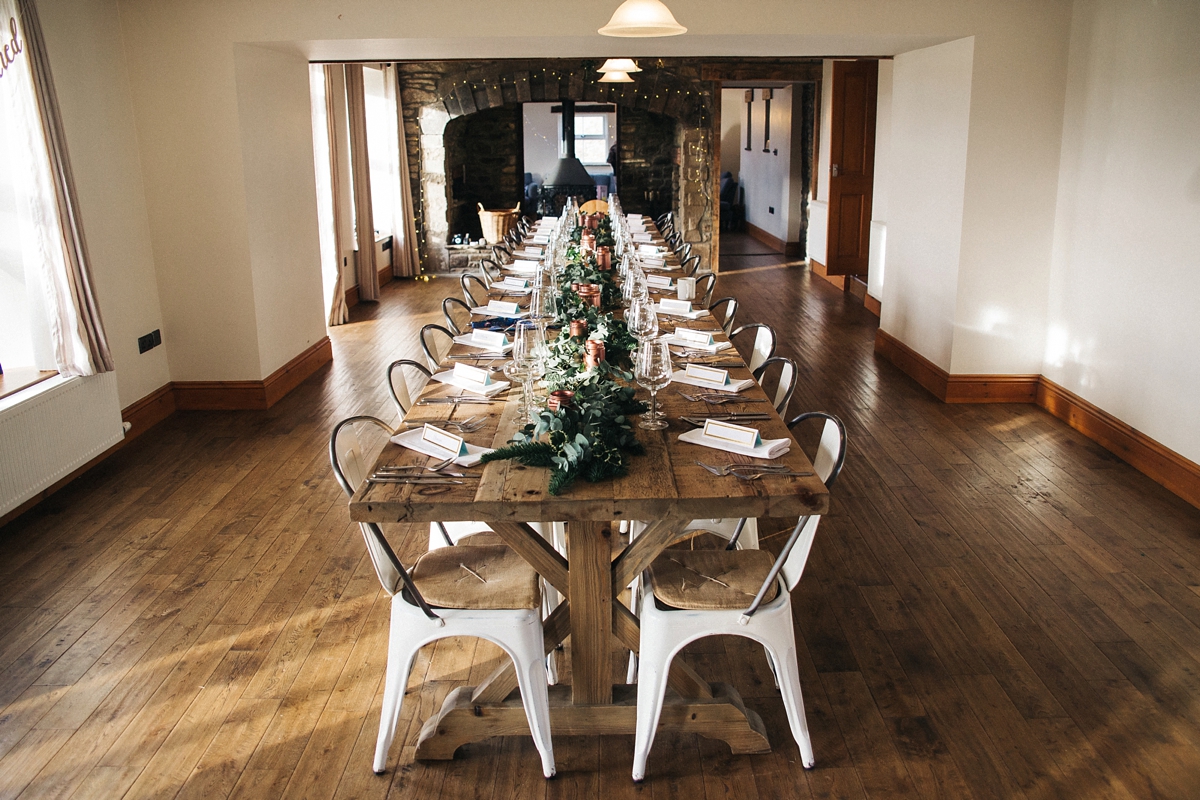 "We bought everyone an individual gift and gave them out after the meal, placing them all in a Santa sack to make it feel like Christmas . Everyone got a personalised little gift and it was absolutely amazing watching everyone playing with them."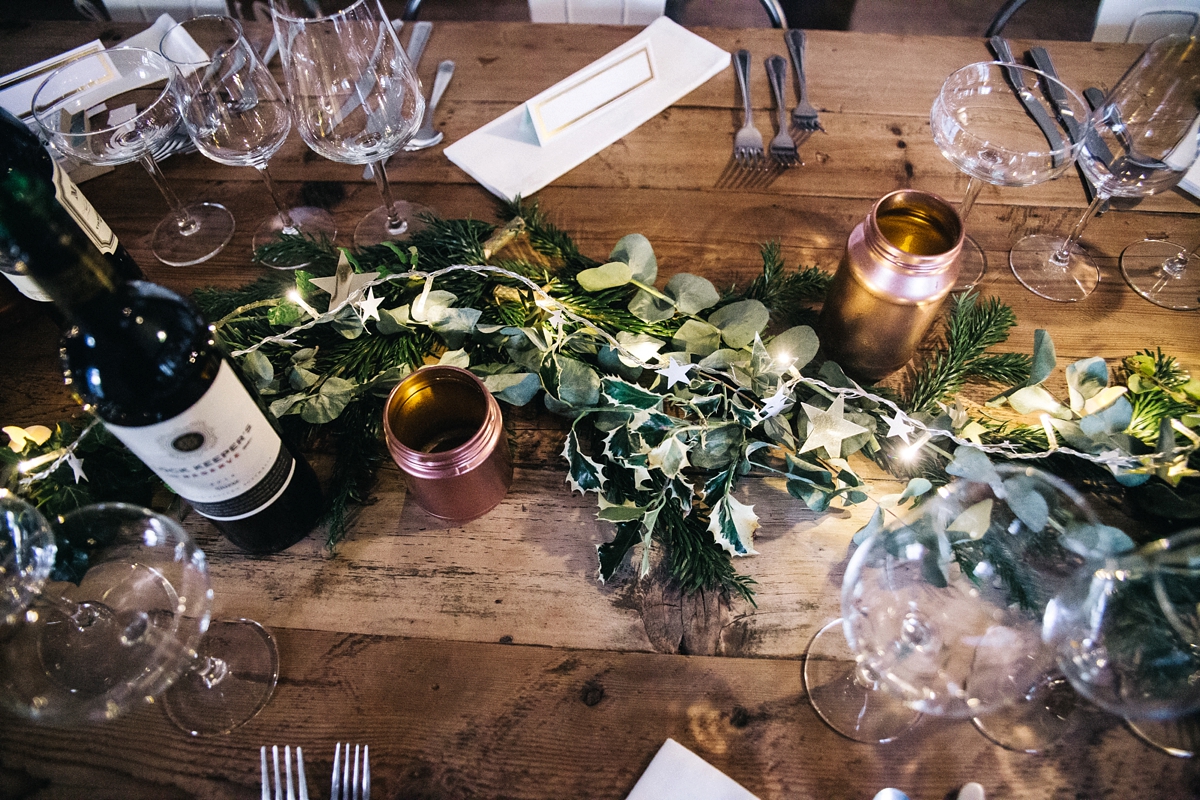 Catering was the work of The Cellar Door, whose food Alex describes as 'impeccable', while for cake, she and Andy chose Christmas themed cupcakes from Songbird Bakery.
"We had an 'official' first dance at our larger reception the weekend after to 'Last Love' by Tristan Mckay."
"We had Tristan perform at our wedding reception with friends and family (which took place the week after).  Andy chose the song, as he had heard it and he just knew it fit us perfectly."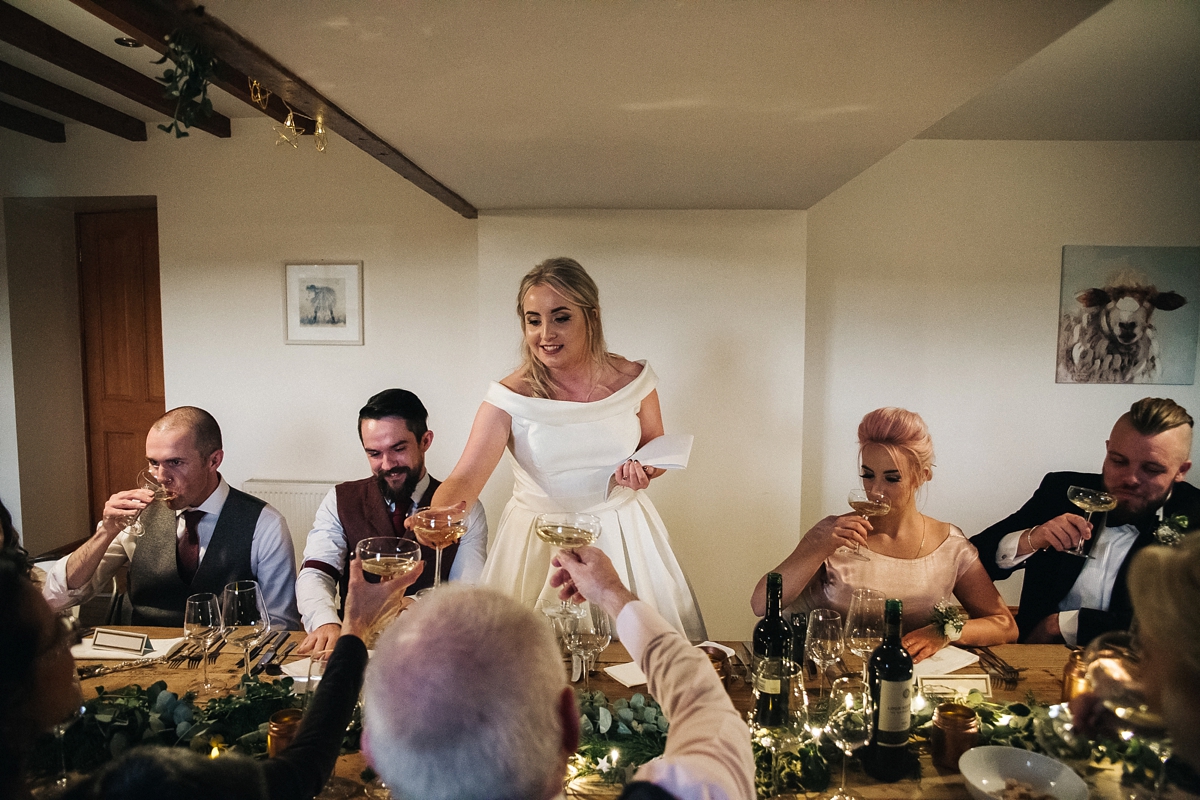 "If I had to pick out a favourite moment it would be after dinner when we were giving out our wedding favours which were wrapped up like Christmas presents.  Everyone was relaxed, watered and fed and so happy and animated when receiving them."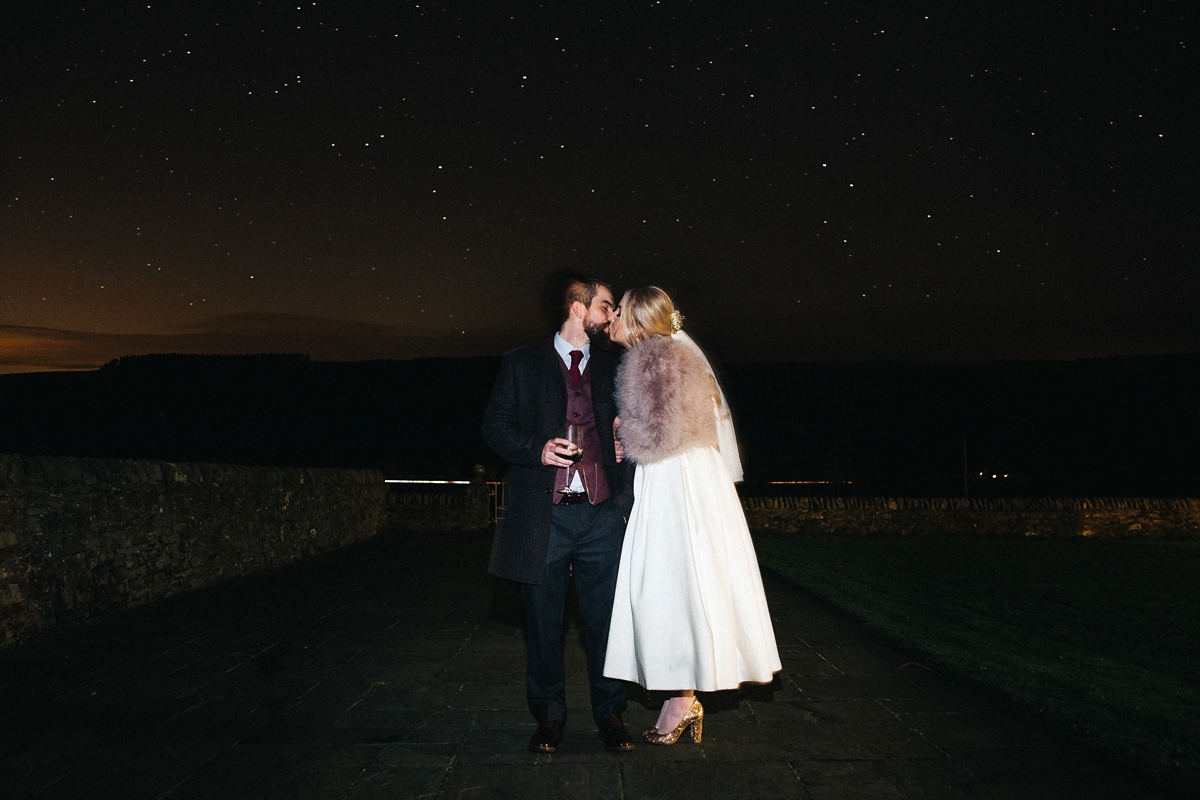 Words of Wedded Wisdom
"When I was planning, a lot of brides would say 'try not to sweat the small stuff' and every time I used to get even more stressed because I was stressed about daft things.  My advice would be try not to get stressed but if you are stressed, be kind to yourself.  Its normal to get stressed about the small stuff as this is one of the most important days of your life, but try taking a step back every now and again and think whether these issues are going to bother you six months after you get married.  They're probably not going to at all!"
"Also, we picked things we liked and didn't necessarily have a theme and I think that helped to reduce stress levels as we really weren't bothered about things totally matching, and it actually worked out really well in the end."
Huge thanks to Alex and Andy for sharing their beautiful wintry wedding day, and of course thanks are also due to SallyT Photography for the fabulous images.  Are you having a small and intimate wedding?  If so, you might like to take a look here for some further inspiration?  Or if you just love Alex's Ronald Joyce gown, take a look here for more beauties!
Much love,
Shona x