Are you thinking about having a tipi for your wedding reception? If so, you're going to love what we've got in store for you today, which features a majestic tipi from Papakata, a wonderful team who we are so proud to support on our Little Book wedding directory.
Their tipis are so incredibly versatile and can be styled however you choose, so keep reading to find out how Steph and Chris dressed theirs for their celebrations. Now, there are some weddings that drop in to my inbox which take my breath away with their beauty, and I literally could not wait to share this gorgeous day with you.
Steph and Chris, who both work in recruitment, wed on 2 September 2017 in the beautiful house and grounds of Arniston House, Gorebridge, Midlothian. The venue offered the perfect space for them to create an elegantly rustic look using the suppliers of their choice. They married in the stately Orangery and then celebrated in style in the beautiful Papakata tipi in the gardens. With a simple colour palette of white, deep green foliage and touches of soft blue, the look is overwhelmingly beautiful and romantic.
Photography Jayne Lindsay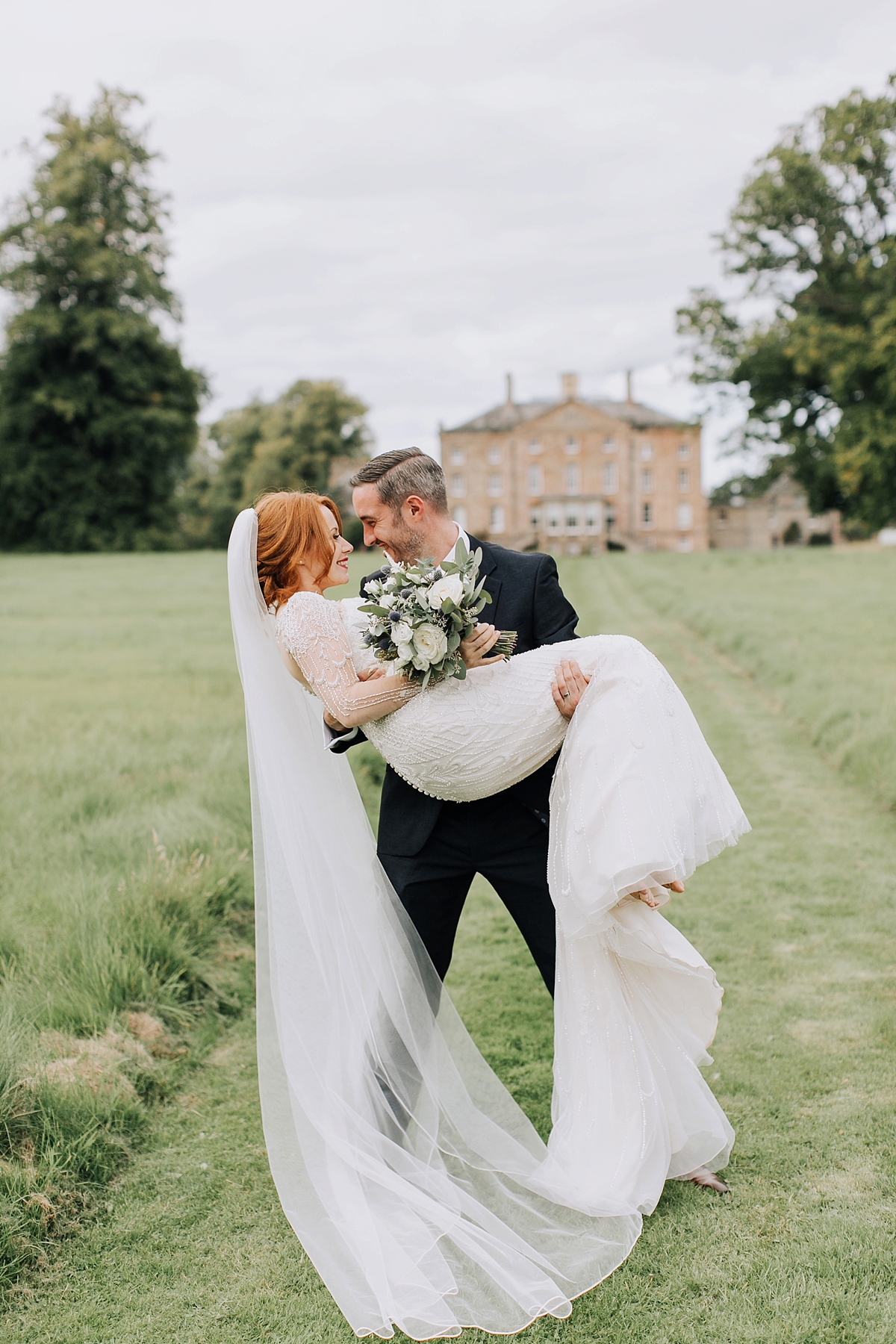 "We wanted to be able to use a space how we chose, to arrange our own suppliers etc. We needed outdoor space for tipis and they had a beautiful, rustic Orangery for us to have the ceremony in. We wanted a really relaxed rustic feel and wanted tipis with a fire-pit."
To set the tone for the wedding, Steph and Chris commissioned bespoke stationery from Norma & Dorothy, another of our much-valued Little Book suppliers. Please do visit their listing here to see more of their thoughtful, personalised work and brand new cake toppers.
Steph's beautiful auburn hair was swept up into a divine, elegant up-do, and adorned just with her pure white veil which sweeps behind her as she walks. The final touches were pearl earrings, a birthday gift from Chris, a spritz of Chanel's Allure and a bold red lip to complement her flawless skin.
What do you think of Steph's beautiful choice of fishtail gown? A long-sleeved, beaded Justin Alexander design in pure white from Pretty Woman in Edinburgh, I think Steph looks utterly gorgeous. I'm so taken with the embellished illusion bodice.
[JP-VIDEO]
"It has beautiful detail across a really fitted bodice and dropped down into a gorgeous fishtail that, although it was also shaped and fitted, was soft and floaty so nice and relaxed. I loved that although it had a strapless bodice, it had a beaded mesh that went up to my collarbone and had the most gorgeous, detailed sleeves. It just felt really different and everyone said it was very 'me'."
Are any of you choosing black bridesmaids gowns? I love these Dessy dresses, in different styles to suit each bridesmaid's figure. They make such a statement, and look elegant and comfortable – the perfect combination, in my eyes.  The girls all got ready at the venue aided by hair stylists from Blo, who created Steph's updo, and Paterson SA, who looked after the bridesmaids and Steph's mum.
Each bridesmaid wore a gift of silver earrings from the bride. "I bought the bridesmaids earrings as a thank you – they were silver knots for helping us tie the knot."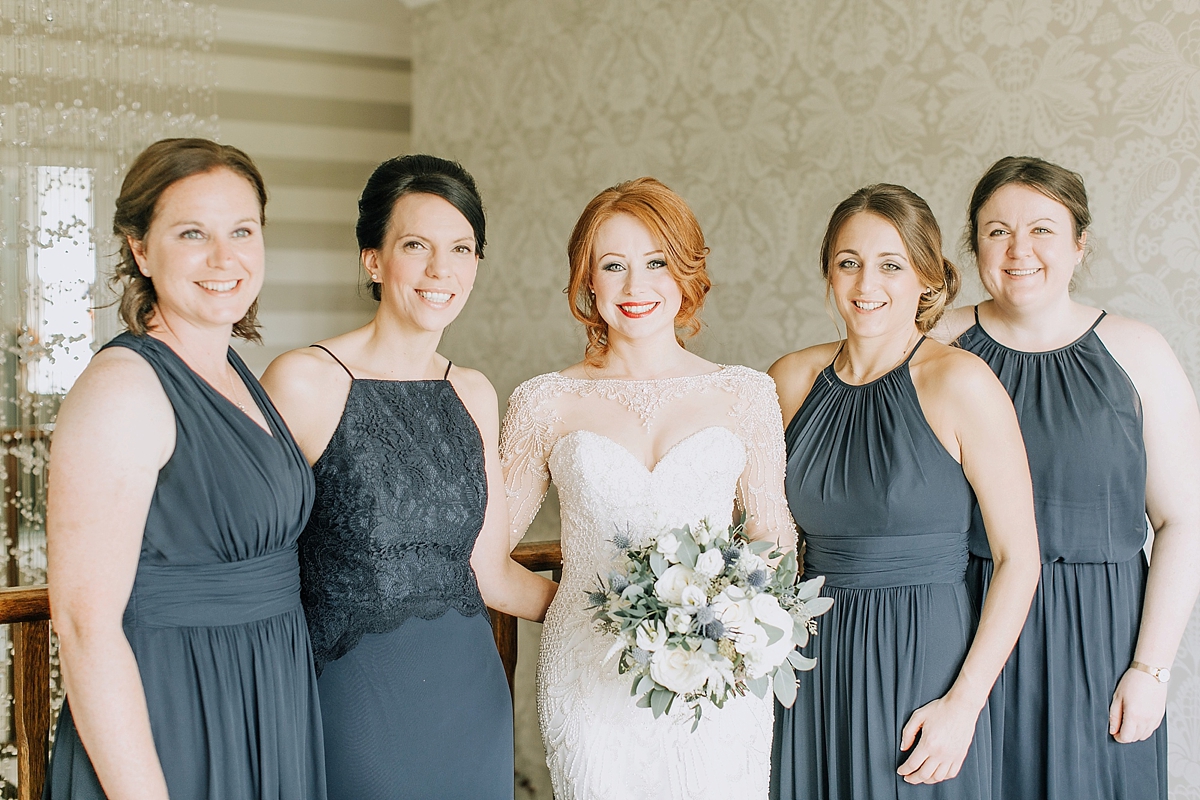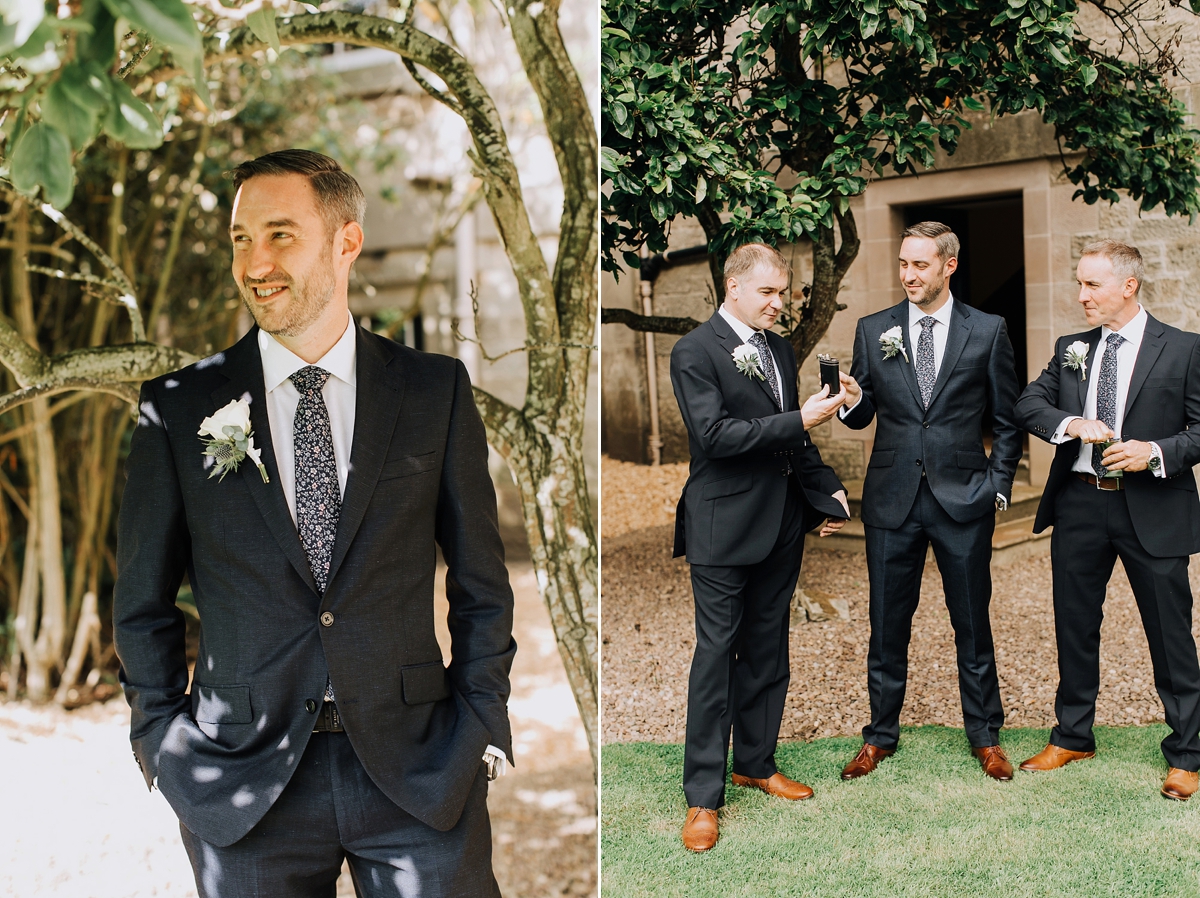 The couple met through work, and knew pretty soon that they had something special.
"I had never been too bothered about the idea of marriage but we did know early on that we wanted to have kids together, and so we had our little boy Brodie. After Brodie was born, marriage seemed more important for us as a family. Although we had discussed it, Chris surprised me by proposing on my birthday which is in October, and we got married the following September."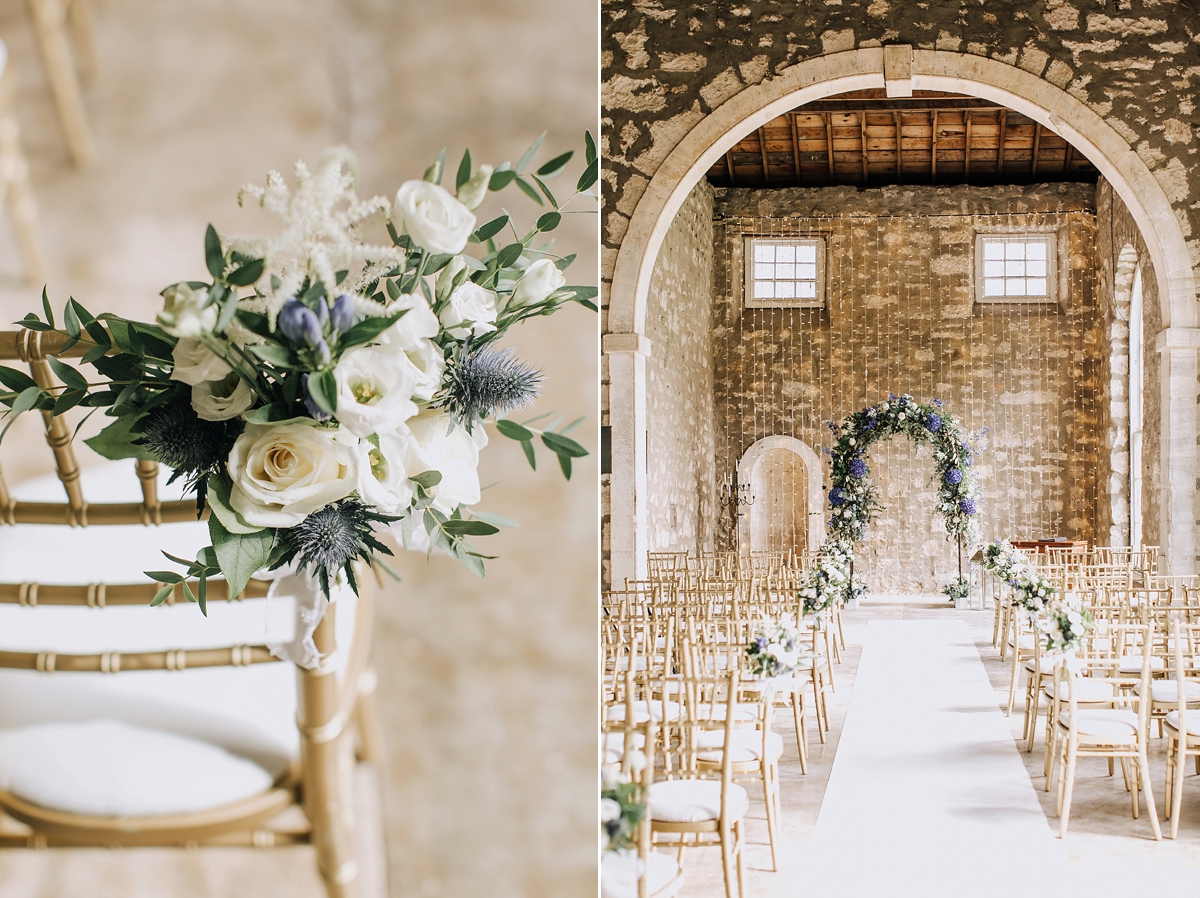 The wedding ceremony was held in Arniston House's Orangery which looks so beautiful dressed with fairy lights and a floral archway. Steph walked down the aisle with her dad as Chris waited for her, looking super-smart in a House of Fraser suit.
"We had a mix that we found of Pachelbel's 'Canon' and 'With or Without You' by U2. It was really romantic."
The humanist ceremony, presided by celebrant Fiona Bennie allowed the couple to choose their own vows. I've not come across a sand ceremony before, but it looks absolutely beautiful and so full of meaning.
"We wrote our own vows, really just to talk about our own relationship and to include our beautiful son Brodie in our story. We also did a sand ceremony which allowed Brodie to have a part in the ceremony. The three of us poured our own colour of sand into a vase to symbolise our family being bonded together."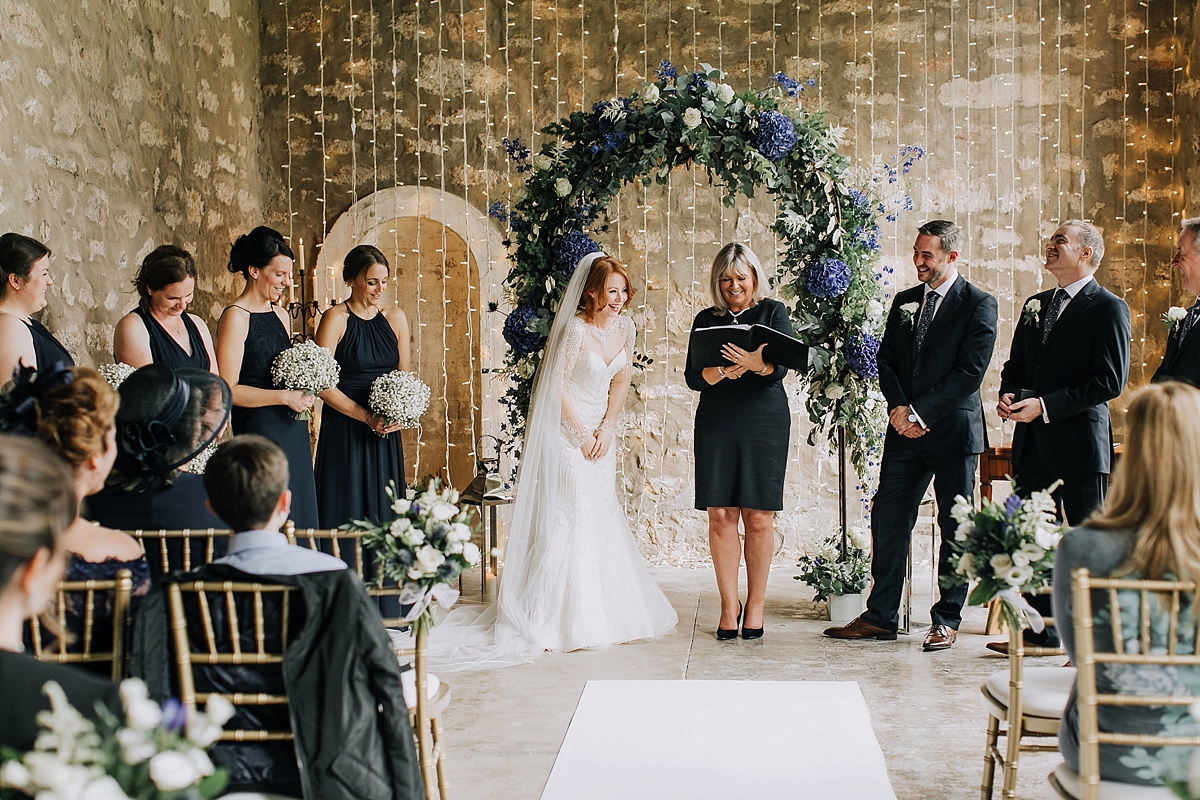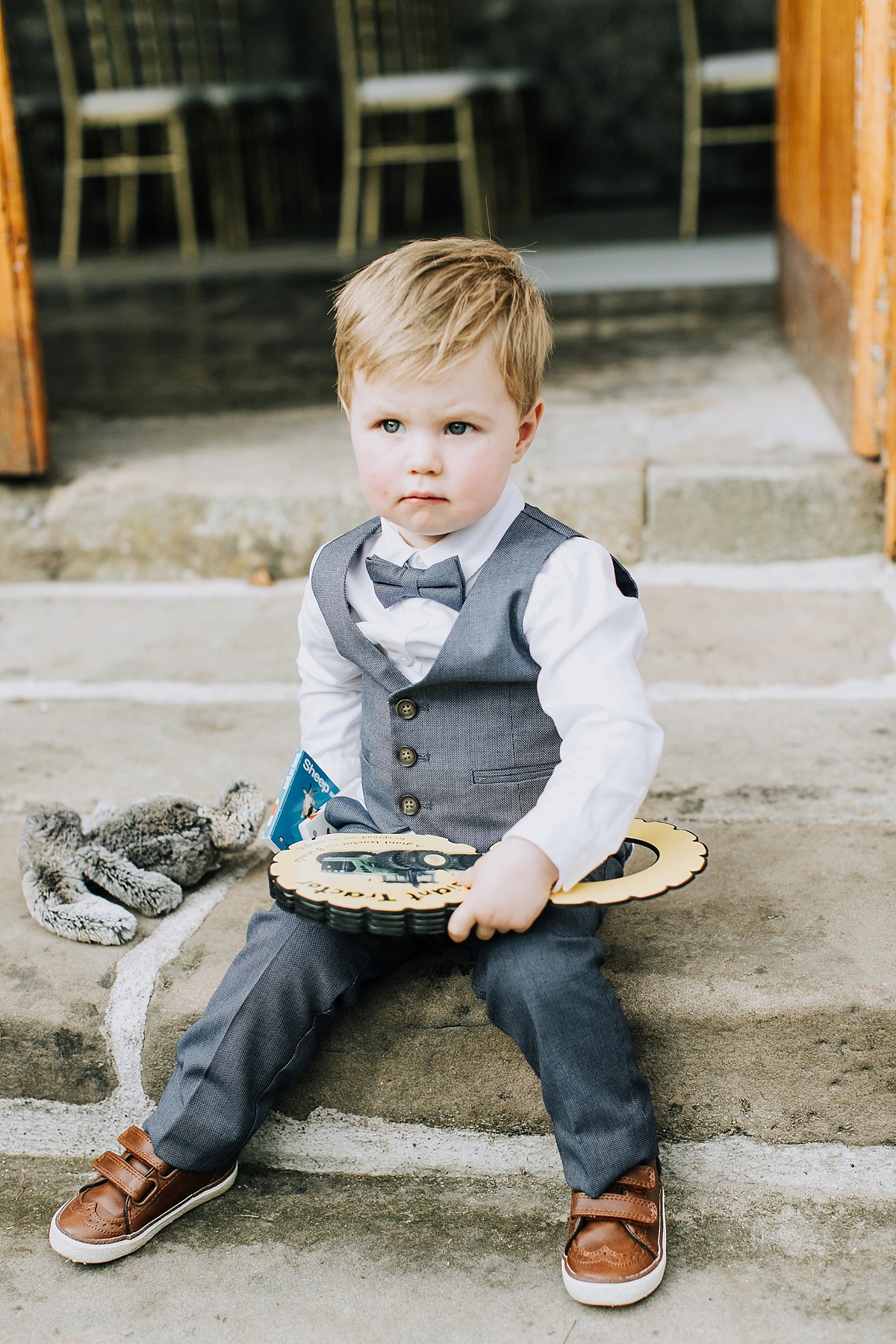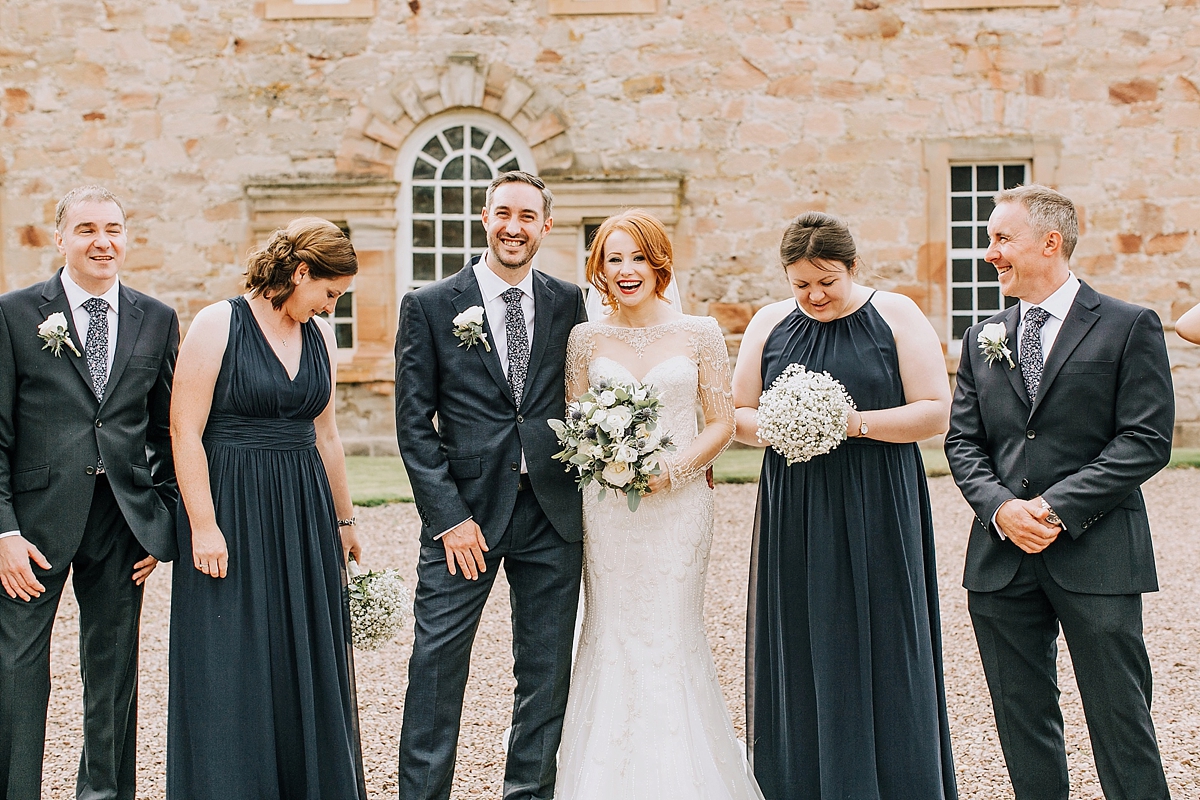 Steph is lucky enough to count photographer Jayne Lindsay as a friend, and she's swept me away with her breathtaking, light-filled images which have such amazing clarity. From the photographs of the venue to her stunning bridal portraits, I'm a serious fan of hers having seen her work. Are any of you planning to ask a friend to photograph your wedding?
"We worked together (and lived together for a while) in Edinburgh, before Jayne moved back to Northern Ireland. We lost real contact for many years but were connected on social media. I remembered Jayne's love of photography from when she was in Edinburgh and was delighted as I saw her business grow."
"I was always amazed by how beautiful her photographs are – she always captures the most beautiful light and her shots are always really soft and romantic. I was delighted when she agreed to come over to Edinburgh to do our wedding – and it was so lovely having an old friend to be the one to capture all the wee intimate moments of the day. She's amazing."
The bride's wonderful mum worked closely with her and the venue to style the day. She's done such a beautiful job and must have been so proud with how her planning came together.
The day's weather was fine, allowing the guests to spill out in to the gardens and enjoy relaxing around this beautiful tipi from Papakata. It is dressed so beautiful, and I love the cosy look given by that firepit outside. Are you taken with this idea? Get more inspiration on their Little Book listing here, or take a look at these other weddings and features which showcase just how versatile these tipis and sperry tents are. Once the structures were in place, Steph and her mum's vision came to life.
"Our tipi supplier was Papakata and the team was incredible – they created a truly magical atmosphere."
"We had everything from the white carpet for the aisle to hurricane lamps inside the orangery for the ceremony, fairy lights down the full back wall of the orangery, candles, tons of tealights, a candelabra… we even bought a dozen white umbrellas to have by the doors of the orangery, the tipis and the toilets; thankfully it didn't rain."
"My mum got a sense of what I had in mind and totally ran with it – she missed her calling! I was working full-time and we had a one year old to manage so she became the event planner. She did an incredible job – she had folders and spreadsheets – it was a military operation."
"We were really lucky too though as the venue historically simply hired out the area, but in the lead-up to the wedding they actually hired an Events Manager Kim, who made sure that the day ran seamlessly. The day itself wouldn't have run half as smoothly without her; she was fab."
"We wanted someone local and we met Paula of Liberty Blooms and she was great. We really didn't know much about flowers or have any strong ideas; we just knew the 'feel' we were trying to create, so she really listened and put together a board on Pinterest for us to help steer us."
"We went for mostly white and blue, with a lot of foliage. I had some roses and thistles in my bouquet, Chris and the boys had thistles and the bridesmaids had really simple bouquets of baby's breath."
In keeping with the overall rustic theme, the guests were served with a traditional hog roast by Gary Moore Catering, and sweet treats came in decadent marshmallow-form. The simple tiered wedding cake, decorated with a cascade of fresh roses, was from M&S.
"We gave each guest a bag of hand-made marshmallows by Art of Mallow to toast on the fire-pit, a box of matches with our wedding date on the box, and a sparkler."
"We actually didn't want a cake but my mum insisted so we just bought three tiers from M&S. We had Paula from Liberty Blooms decorate it with flowers."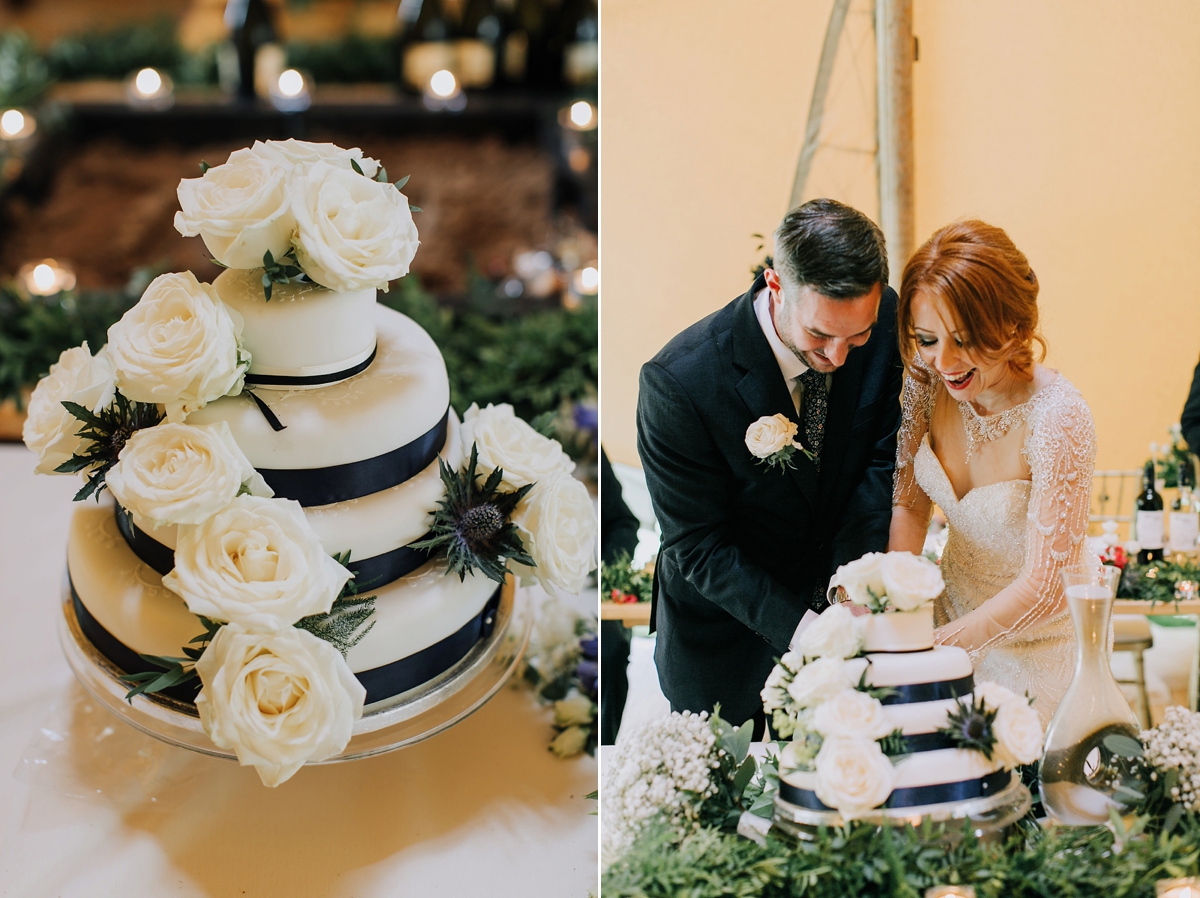 The evening party began with the newly-weds' first dance to 'Everlasting Love' by Love Affair.
"It's a really old track but one I've always loved. When Chris and I first listened to it together the words really resonated – it's an old school love song."
"We had the most incredible day – from start to end it was exactly what we wanted. But the best part, weirdly was the very end. Everyone had left and Chris and I had stayed behind (we had a bit of an 'after-party' as we stayed in the tipis by the fire for a few drinks with some family and friends) and we hung around to make sure the generators were shut down. As we were on our own, we quietly put some music on and had a dance in the empty tipi. It was a lovely chance just to take it all in together as it had been 100 miles an hour."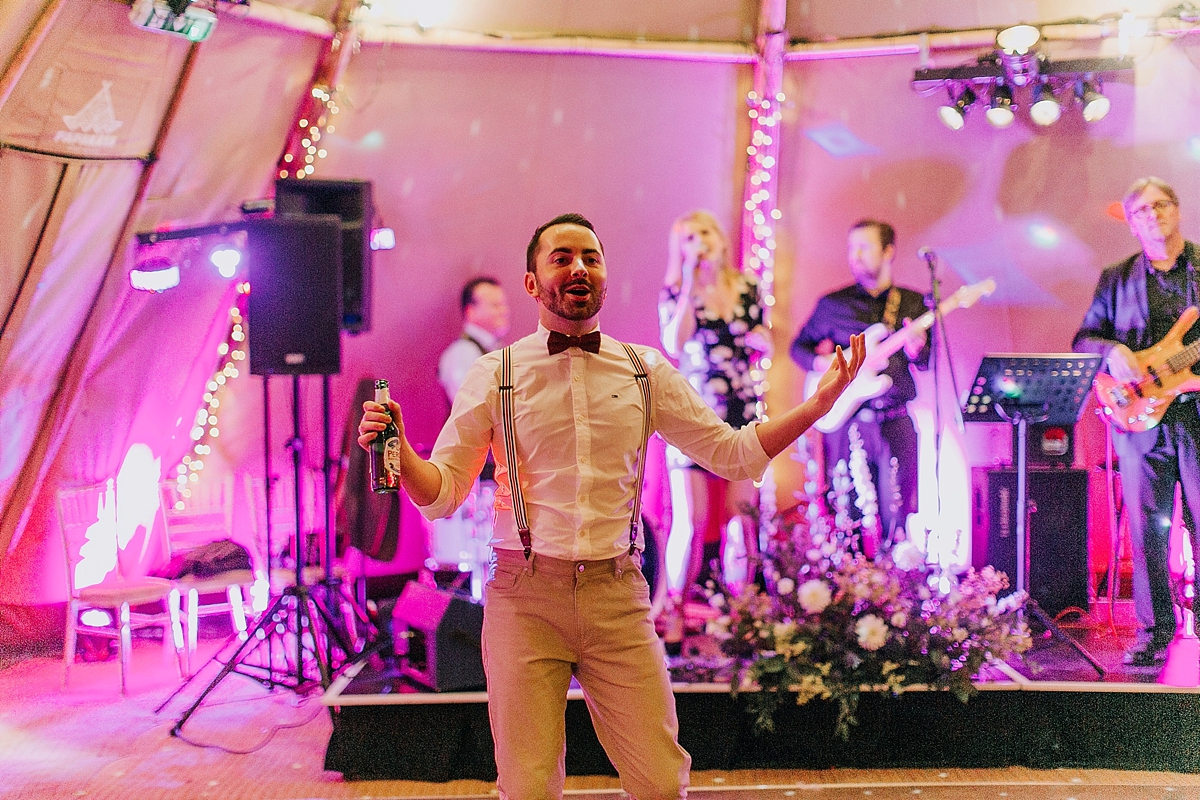 Words of Wedded Wisdom
"Don't lose sight of the fact that it's about 'getting married'. Whatever you choose, whatever happens on the day, the whole point is sharing your vows with the people you love the most. It's easy to get caught up in all the excitement (and pressure!) of planning, just stay true to what it all actually means to you – and enjoy it – it goes so fast, take it in."
"We massively exceeded the budget. Massively. I thought we could do the whole thing for a max of £15K – that flew out of the window!"
"The music was really important to us and we just wanted all the people we love to be able to share our day and have a great celebration. As the organising took hold, the day did grow arms and legs and became far more elaborate than we'd imagined. I think because we had to source literally everything, it gave us an opportunity to choose literally everything."
What a pleasure it's been to write about this wedding, so thank you so much Steph and Chris. I love your styling, and the inclusion of the sand ceremony too. Thank you so much Jayne Lindsay for your photographs, too. How lucky this couple are to have you as a friend.
Ele xx