What has the weekend got in store for you, lovelies? My own excitement is mounting, as today I'm a bridesmaid at my school friend's wedding in a castle just outside Edinburgh.
This week has been a whirlwind of preparations – creating decorative details, cake-making, hosting a hen evening – and today's addition to our beautiful wedding blog has got me even more into the celebratory mood. Come with me to Sintra, near Lisbon in Portugal, and drink in these beautiful images of the wedding of Melissa and Philip.
PR & communications manager Melissa and Philip, an investment analyst, married on 24 September 2017 in a Roman Catholic service with a reception afterwards at Casa dos Penedos, Sintra, Portugal. Melissa's family are from Lisbon and she's been visiting Sintra since she was a child and her childhood dream was to marry in this Casa. After getting engaged, the couple fell head over heels for the faded glamour of this crumbling, ancient manor house. They embraced its natural beauty to create a rustic and romantic look based around a cream and white colour scheme, with touches of the English countryside through their choice of white and pink roses, gypsophila and peonies.
Photography by ADORO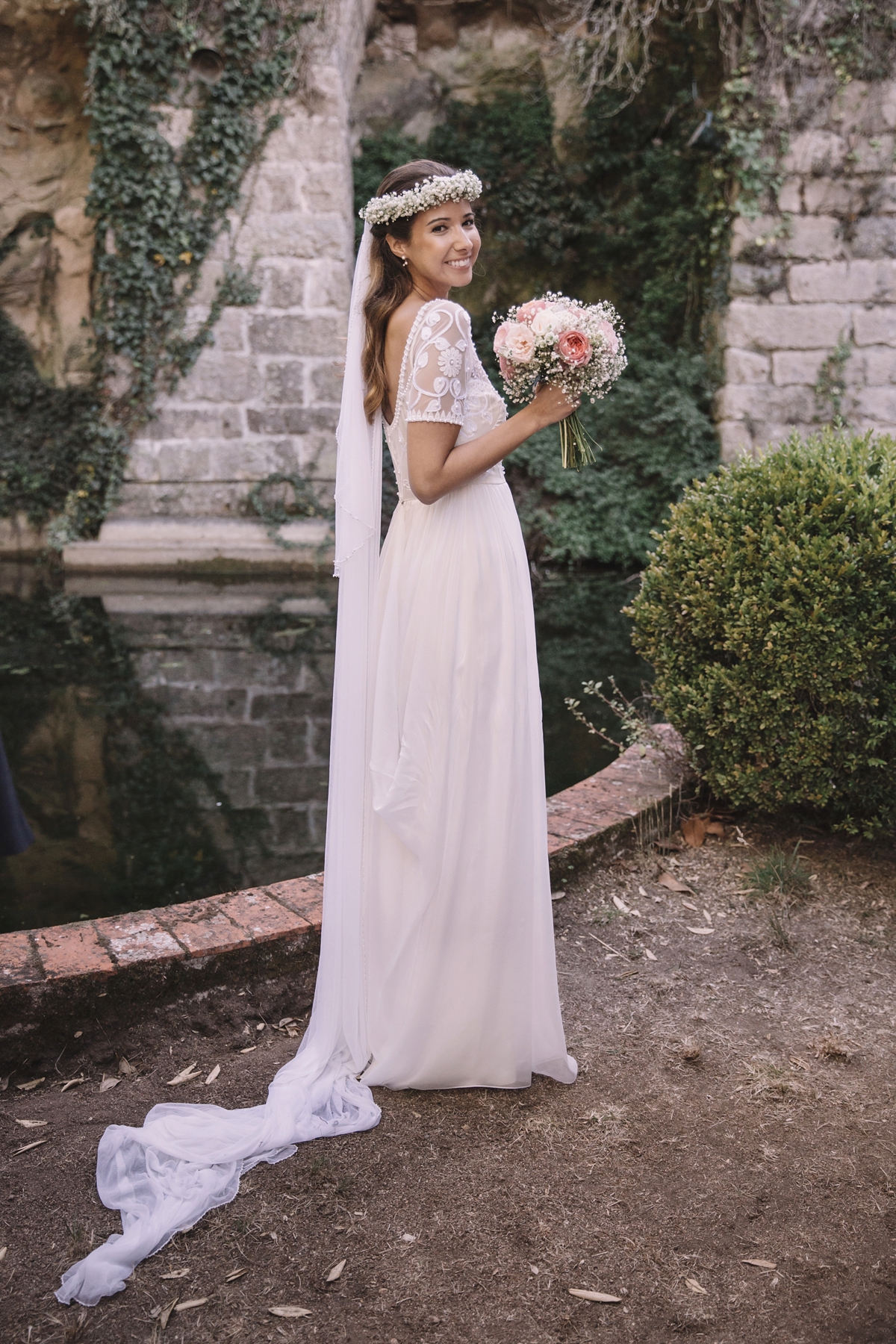 "We visited Love My Dress to read the wedding stories for inspiration. We particularly loved the way Love My Dress is so attentive to each detail of a couple's day. We loved the real wedding stories and soaked up all the words of advice from the couples. And, of course, all the lovely imagery to give us advice on our own wedding day styling."
In contrast to the classic style of the gown, a flash of contemporary glamour came from her skyscraper silver 'Arlena' heels from Rupert Sanderson and a pair of pearl ear climbers from Martha Jackson.
"As my dress bodice was so intricate I didn't feel the need for any other jewellery. I wore Jo Malone English Pear & Freesia to bring a little touch of England to the day."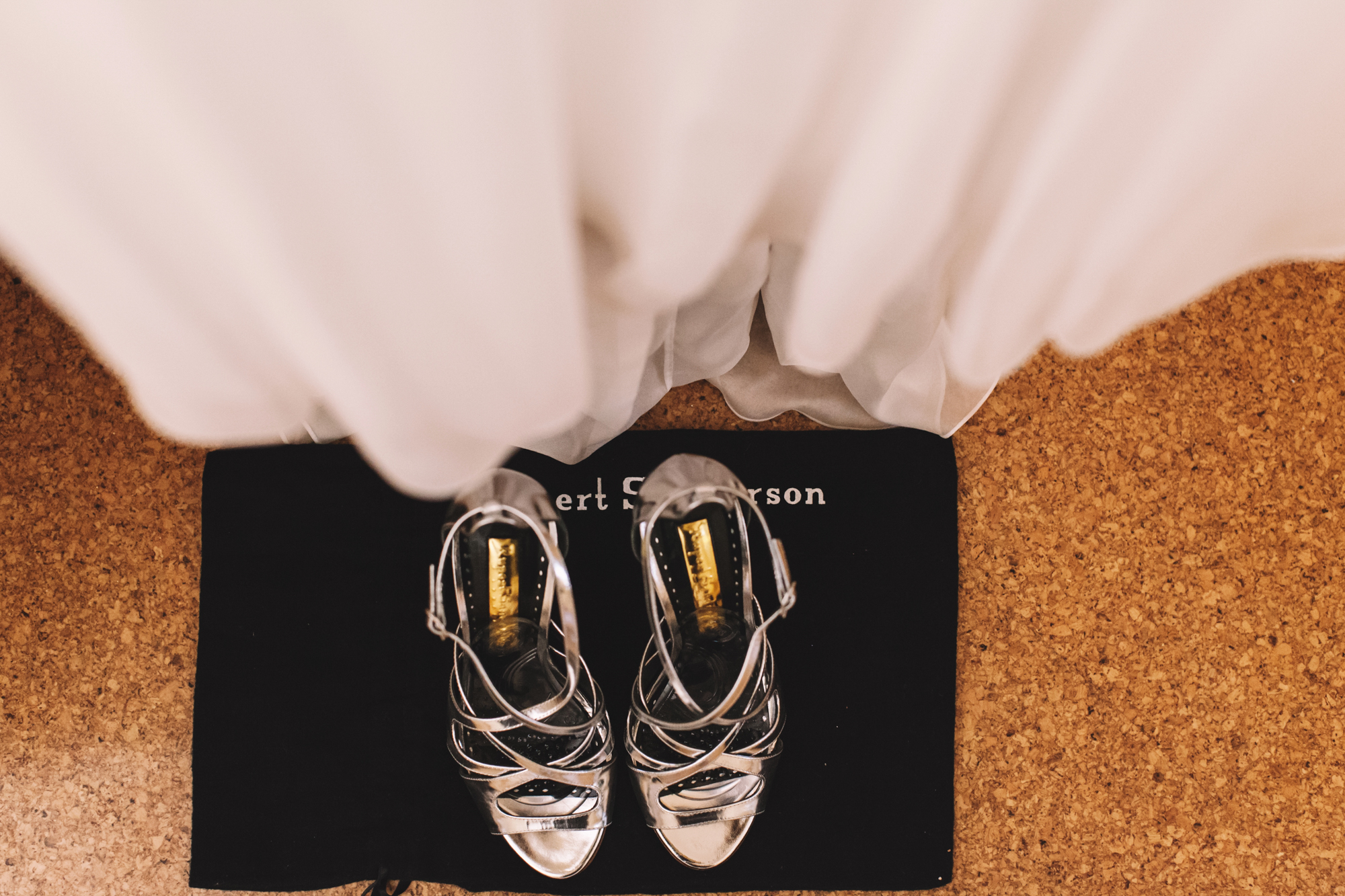 The morning of the wedding looks like such a special time for Melissa and the girls, and they were helped by hair and make-up artist Vera Garcia.
"I found Vera Garcia on Instagram and I'm so thrilled I did. She's great and we have stayed in touch since the wedding. She understood straight away the look I wanted and we decided on boho waves and a romantic braid for the day.  It suited my flower crown perfectly. My makeup was very simple as I don't tend to wear a lot anyway and I wanted to look like myself on the day. A week in Portugal prior to the wedding had also left me quite tanned luckily."
In keeping with the historic feel of the venue, Melissa's choice of gown is so elegant and classic, with gorgeous embroidered detailing on the bodice and a flowing skirt. She found her 'Saffron' gown by Temperley London at their Mayfair boutique, and her words really sum up how finding a gown to suit her own style made her feel.
[JP-VIDEO]
"It was one of the first dresses I saw in a bridal magazine shoot after getting engaged and I instantly fell in love with its elegance and simplicity. It had a little boho-look to it as well which I loved. I really threw myself into finding a dress as soon as we got engaged and tried on various styles to try and find what suited me best. It was clear very early on the traditional bridal gown wasn't for me. I felt like I was playing dress up! "
"I'd secretly always dreamed of a Temperley dress and when my mum took me to the boutique, I fell in love with every gown I tried on. Finally, I tried on the Saffron dress (that I'd seen months earlier in a magazine) and everything fell into place. I knew straight away in that moment I'd be a Temperley bride. The detailing on the bodice was so beautiful and ethereal and the fit was exquisite. I still felt like a princess, but most importantly I felt like me."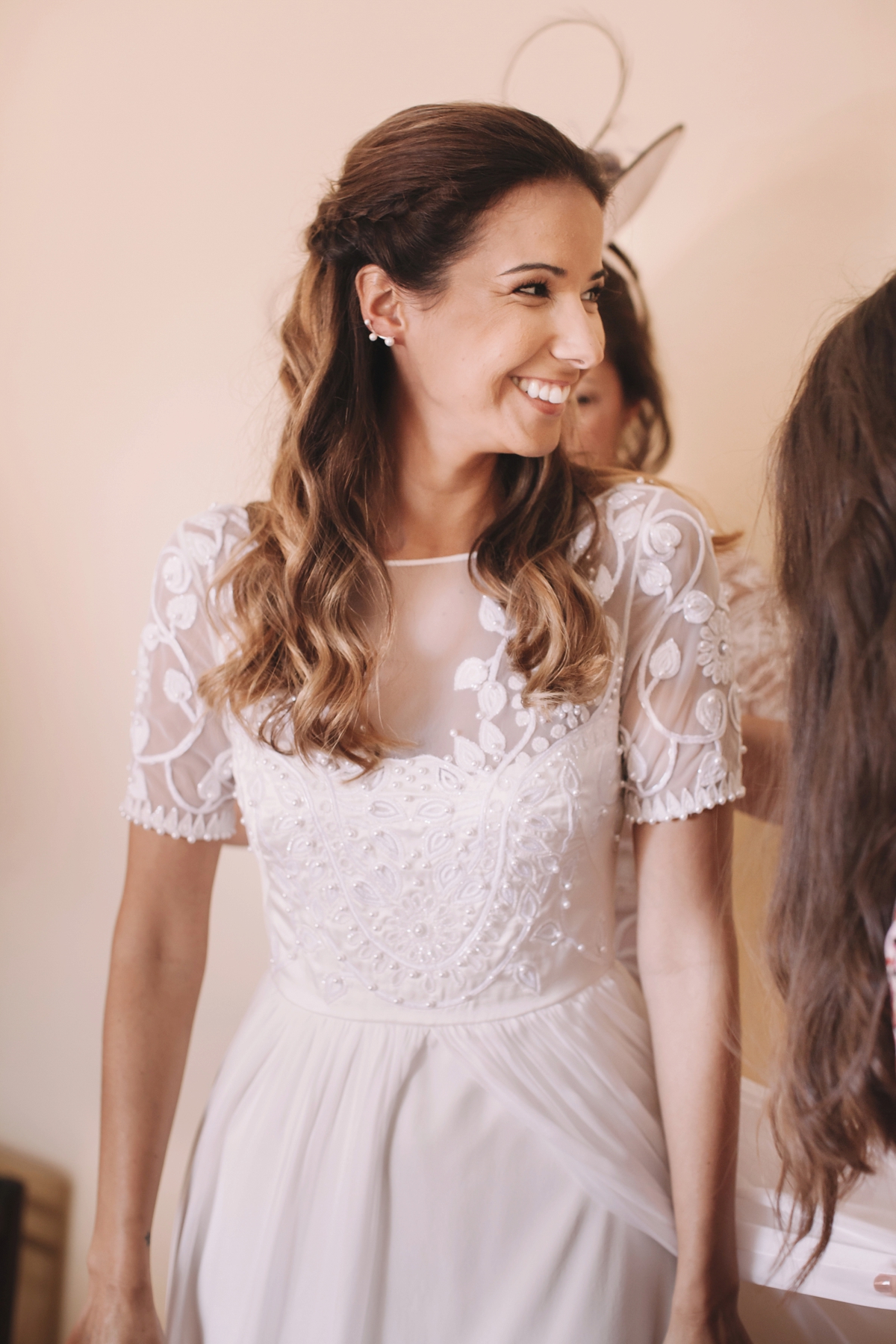 "We chose to get married in Portugal to celebrate my heritage as well as to ensure there was plenty of sunshine on the day! We've had so many lovely times in Portugal together and it means so much to us that we wanted to share that with all our family and friends in the UK. I always dreamed of getting married in the pink castle at the top of the hill when I was a little girl, so I couldn't believe my luck when I found out they actually hosted weddings after we got engaged."
Philip and his groomsmen chose navy three-piece suits by Tommy Hilfiger, pink rose and gypsophila boutonnieres and pink ties from twobirds to match the bridesmaids.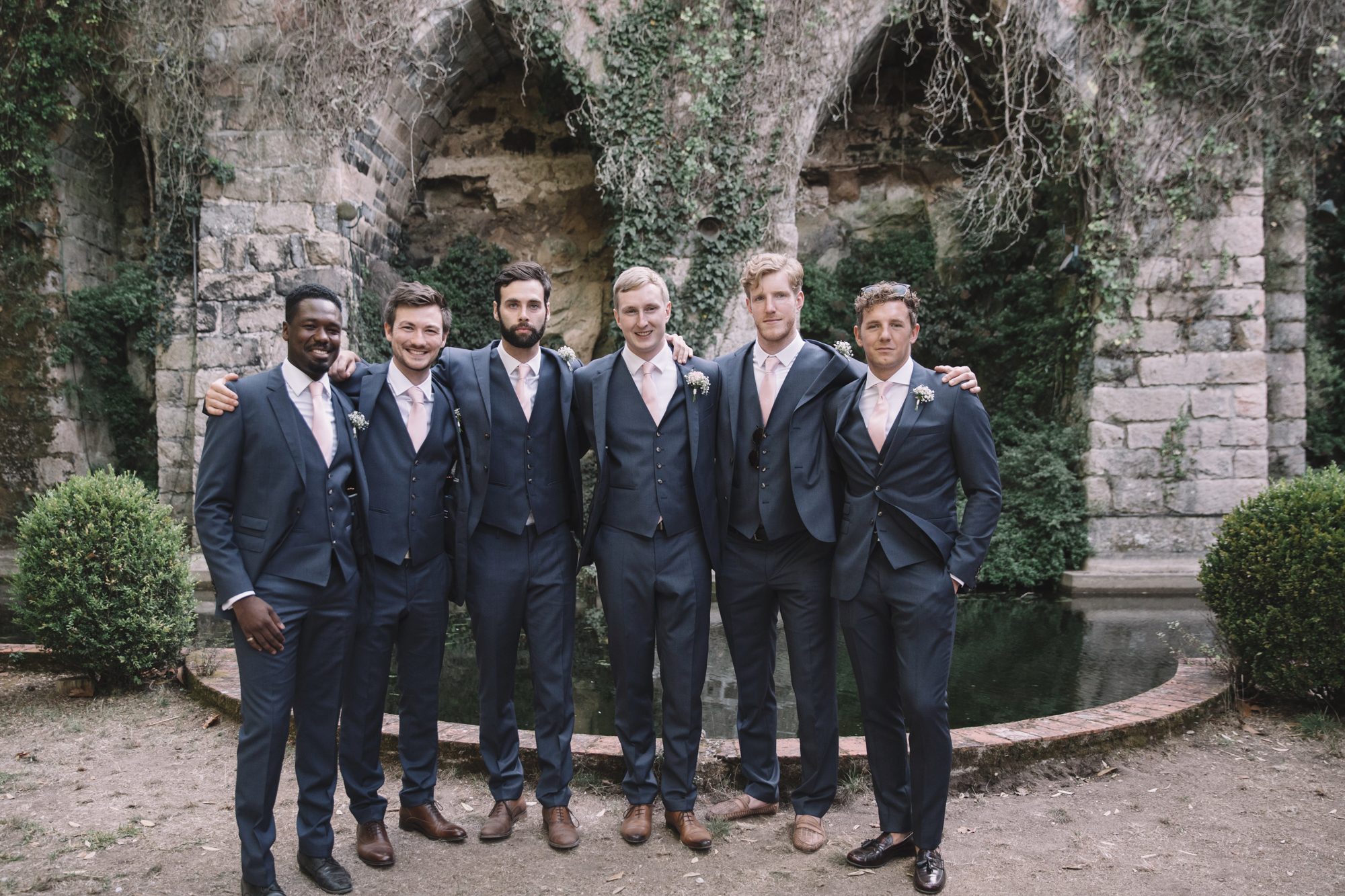 Melissa enhanced the subtle boho vibe of the gown with her choice of pure white gypsophila crown from Amor e Lima, worn to the front of her head and holding her Temperley London chapel-length, beaded veil in place. Does this remind anyone else of a beautiful, romantic, medieval princess, particularly with her long dark waves and plait detail?
"My dress already had a small train, but I loved that the chapel veil provided an even longer train on top of the dress."
The bridesmaids' gowns set the colour scheme for the day, and I love the pale pink hue and elegant drape. They're by twobirds, who create a beautiful range of multiway gowns in some gorgeous colours but that are only now available to order direct from the US.
"I fell in love with the twobirds dresses as I loved that they could be styled to suit each girls' shape and style. They all styled their dresses beautifully on the day and looked stunning. We wanted the girls to be comfortable on the day we were very much aware we would have to contend with both the heat and the traditional Portuguese cobbled streets! As there was some walking involved from the church to the venue, we thought it wise to let them choose shoes they felt comfortable walking in (and dancing in later). They chose River Island sandals in the end."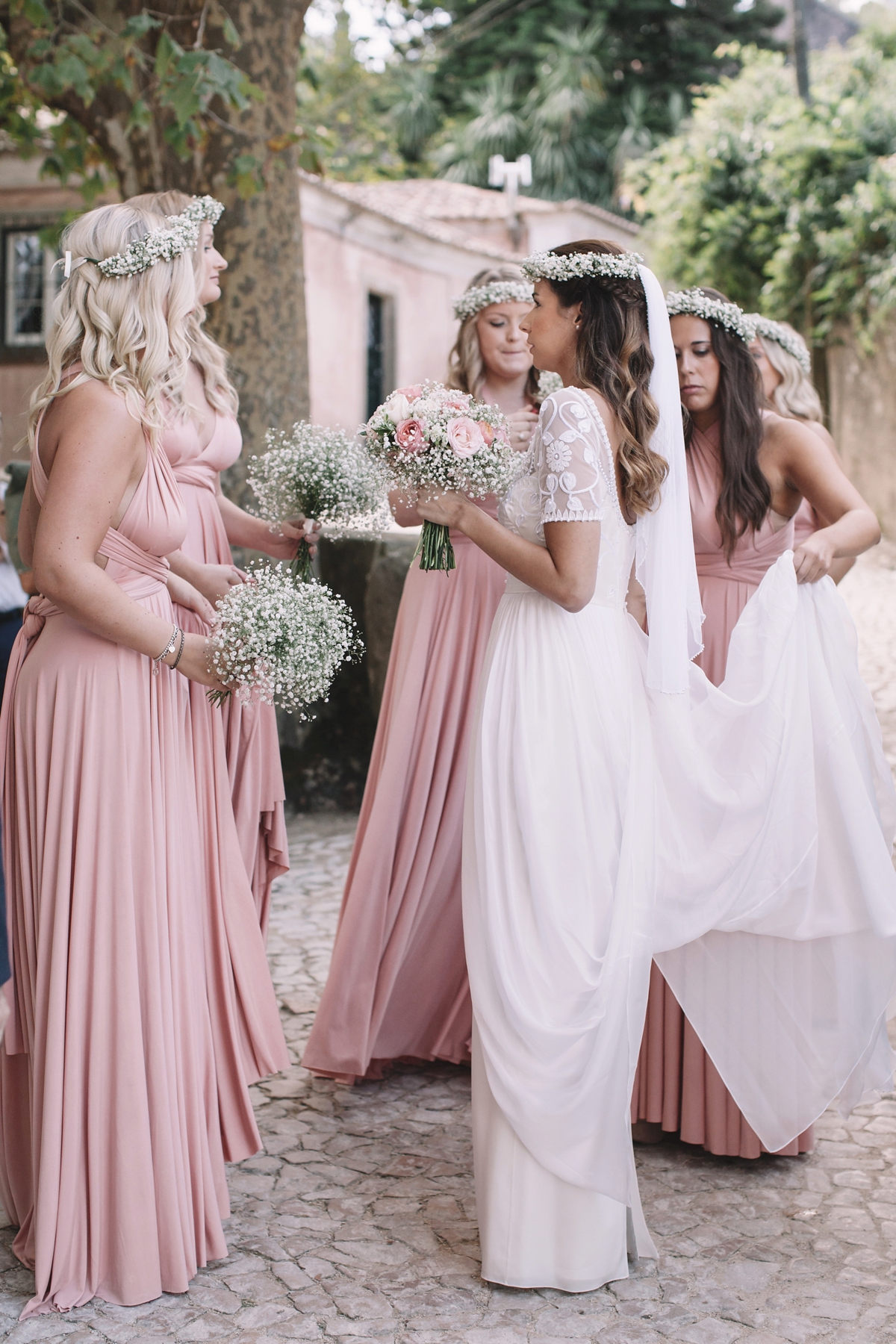 Both Melissa and Philip's families are Roman Catholic, so the couple married in a traditional Catholic service in a 14th century church up in the Sintra hills. Melissa and her dad travelled to the church in a 1928 black and white Ford A Phaeton, and the very fact that he was able to be there made this beautiful part of the day so very special.
"My dad walked me down the aisle and this was particularly poignant as he was diagnosed with adrenal cancer two months before our wedding. He underwent surgery and was told he wouldn't be able to travel to our wedding, but he wasn't going to accept that he wouldn't be walking his only daughter down the aisle. The last few weeks leading up to our wedding were a very stressful time for us all, but nothing was going to stop my dad and he astounded doctors with his recovery. They managed to remove the tumour successfully and he made it Portugal so it was without doubt the best wedding present we received. It was so special to have him walk me down the aisle and we were all holding back the tears in that moment."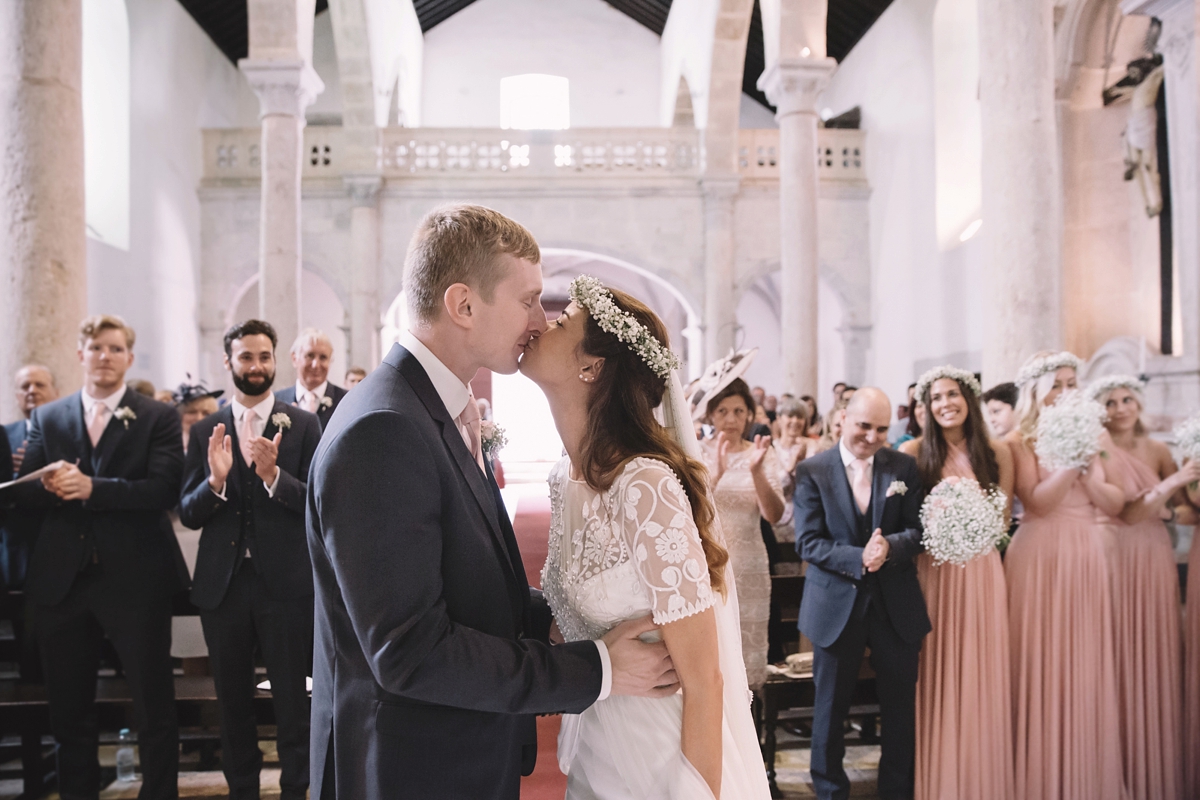 Melissa walked down the aisle towards Phil to an instrumental version of Christina Perri's 'A Thousand Years', before marrying him in a truly personal service.
"A friend of the family made our orders of service. They included my favourite quote from 'Winnie-the-Pooh' by A. A. Milne on the back. We were married by my family's priest which meant a great deal as he knew us all so well and made the service so personal and thoughtful. Incredibly, he delivered the service half in Portuguese and half in English, which was a lovely touch and meant everyone could understand what was going on. He also took a selfie with us at the end of the ceremony, which had the guests in fits of laughter. Though many of our guests weren't religious, they all told us how much they enjoyed the service afterwards."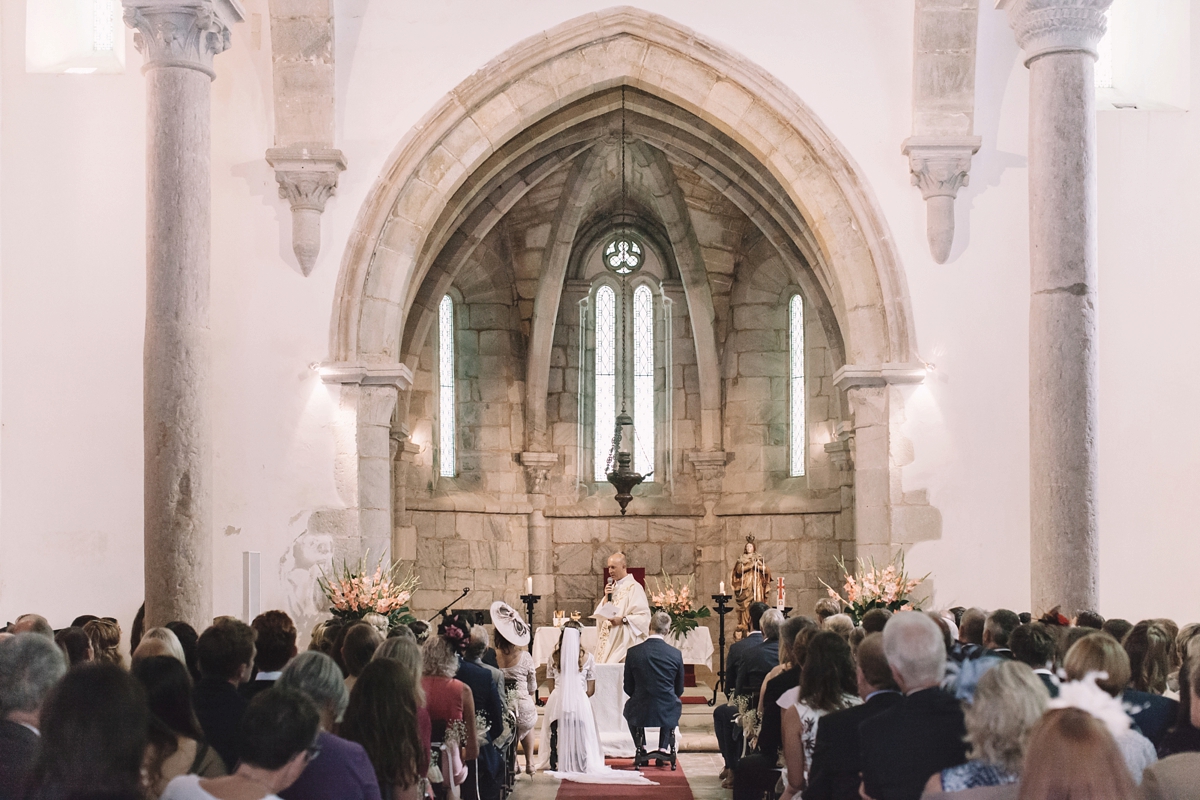 "Our priest asked us to write our own vows as he wanted the service to be as special and meaningful for us as possible. Philip definitely won in the vow department as he almost reduced the entire congregation to tears!"
"Our rings were sourced from an independent retailer in the Jewellery Quarter in Birmingham, where Philip is from. It is also where he bought my engagement ring."
Their two readings, read by close friends, came from one of Melissa's favourite books, 'Captain Corelli's Mandolin' by Louis de Bernières, and 1 Corinthians 13:4-13.
These photographs, which really do capture Casa dos Penedos' faded glamour and beautiful gardens and views, are from ADORO. They come so highly recommended by Melissa and Phil, for their discreet approach and their skill at capturing really special moments. I love the timeless sense of the images, especially those of the newly-weds woodland walk together.
"We met the amazing ladies behind Adoro Dias Felizes at a family friend's wedding earlier in the year. We loved watching them work; you would scarcely realise they were there, but they were everywhere and captured every emotion beautifully. We asked them there and then if they would shoot our wedding and they luckily still had the day free!"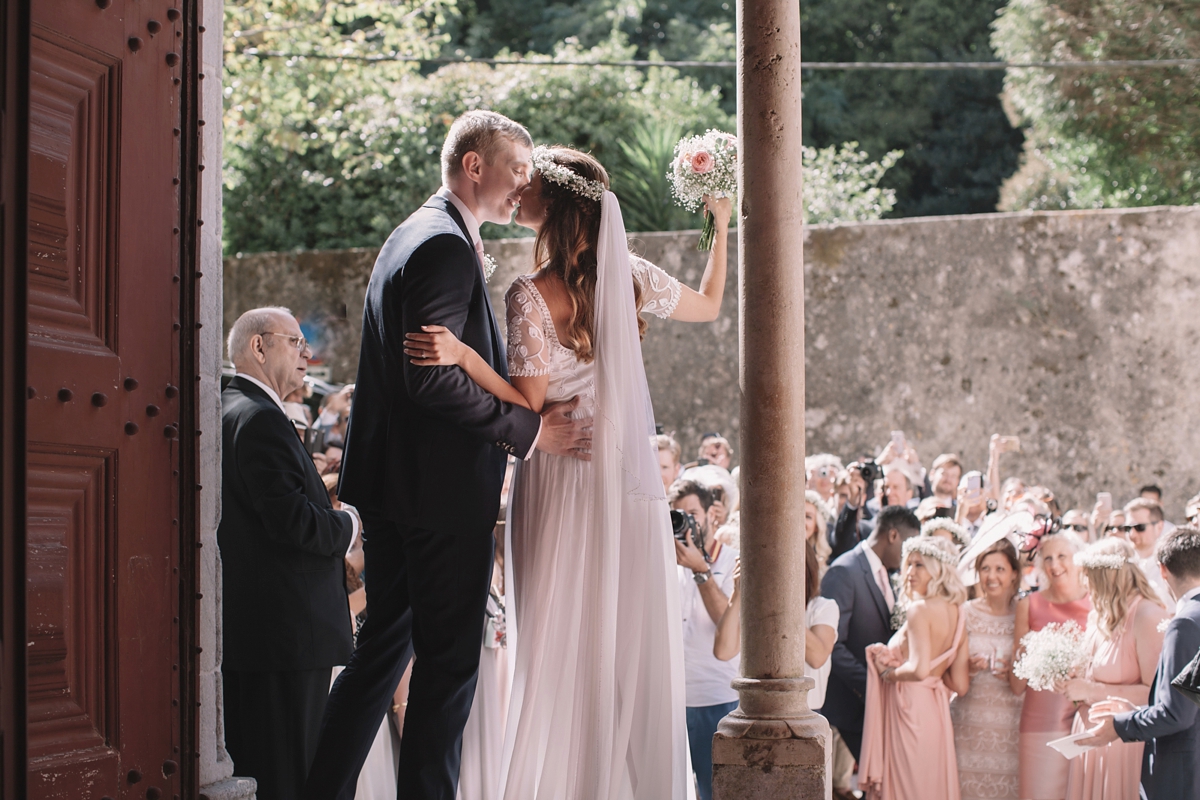 "Philip isn't keen on posing for photographs and we both felt uncomfortable about the prospect of 'over-posed' photos on the day. What we love about our photos is how candid they are. You can really see how much fun we were having on the day. We hardly realised we were being photographed at all and that's just what we wanted."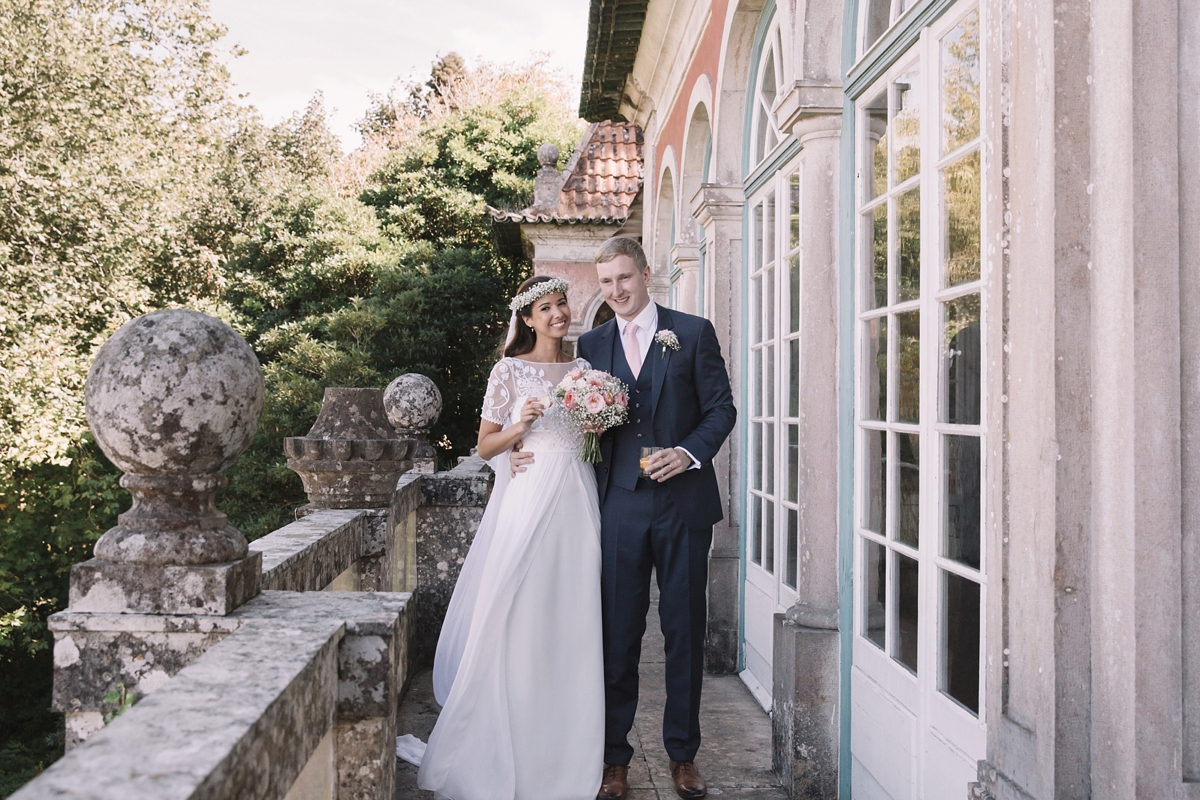 Melissa and Philip met in their second year at university in Manchester.
"After following each other to various cities in the years that followed graduation (London, Birmingham, back to London). Phil proposed a year before we were married on August 22, six years after we first started dating."
"The proposal took place in private at Phil's parent's summer home in Freshwater East, Pembrokeshire whilst they were on holiday. It couldn't have been more perfect; we were in one of our favourite places, the sun was setting over the balcony overlooking the bay and it was just the two of us."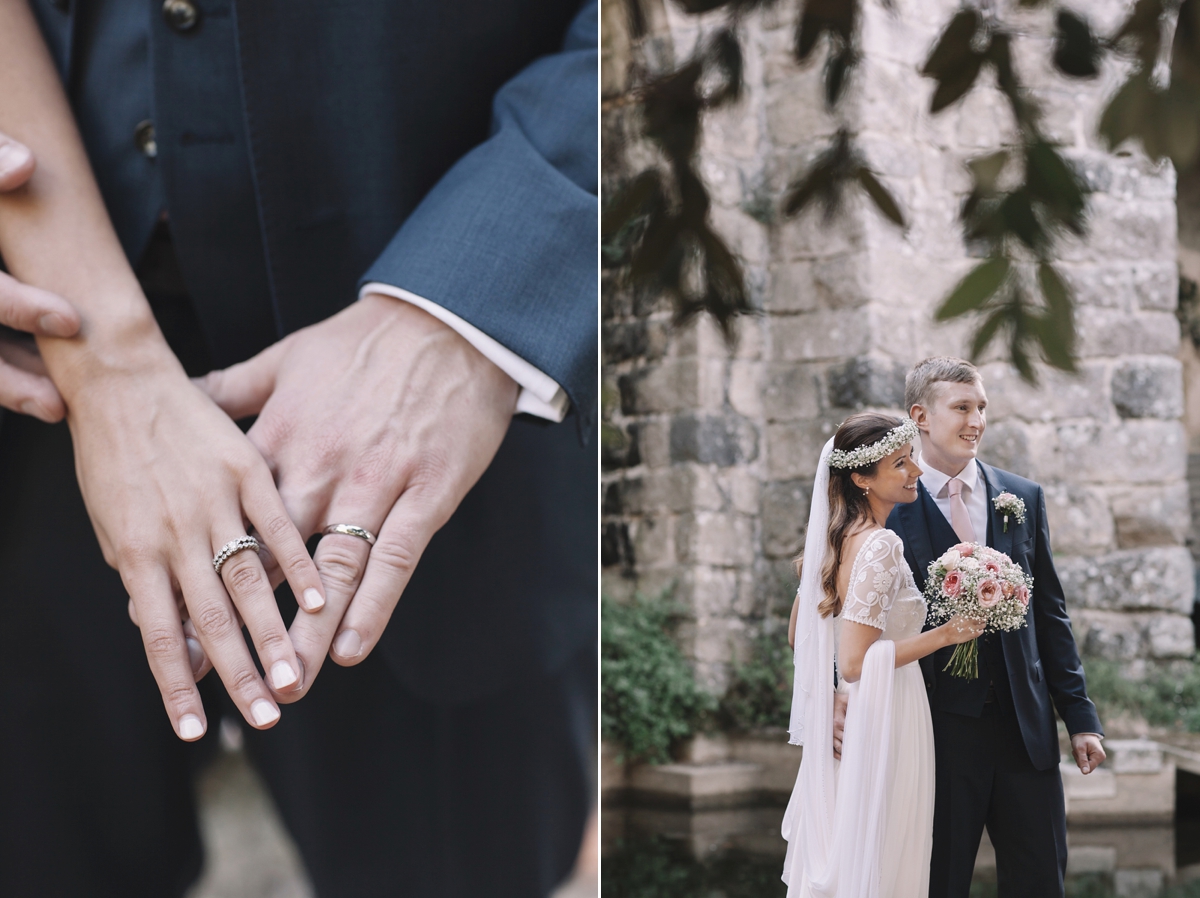 A touch of English countryside romance came via Melissa's bouquet.
"I fell in love with Amor e Lima's beautiful floral designs on Instagram after months of searching for a Lisbon-based florist. I am a huge fan of Scarlet & Violet in London and I was after someone who could create something similar in Lisbon. I met with the Amor e Lima team and explained my vision of wanting to incorporate the English garden theme and we decided on white roses for the table centrepieces. For my bouquet we decided on pink and white roses, gypsophila, peonies and succulents. The bridesmaids had gypsophila bouquets to match our flower crowns."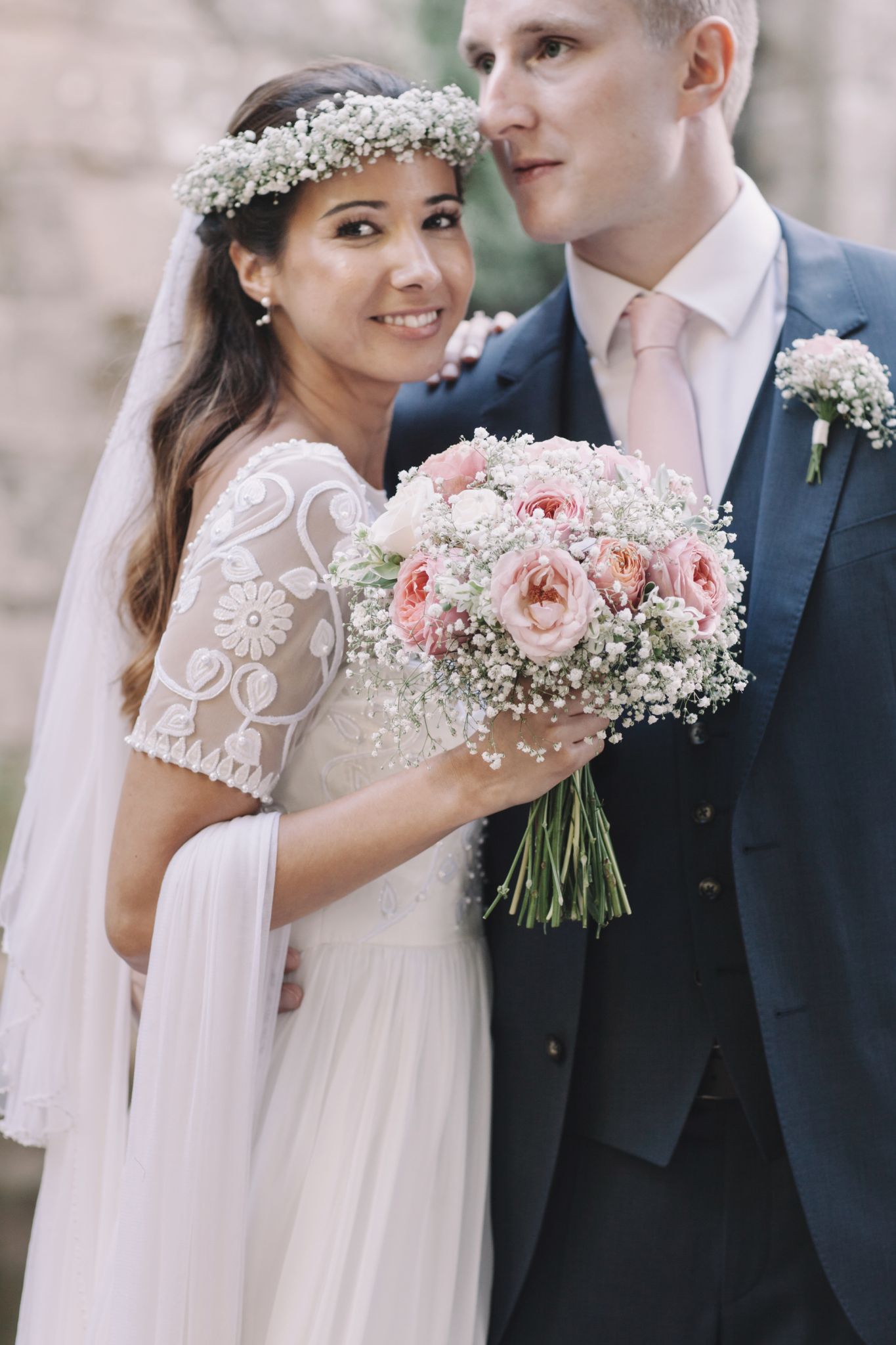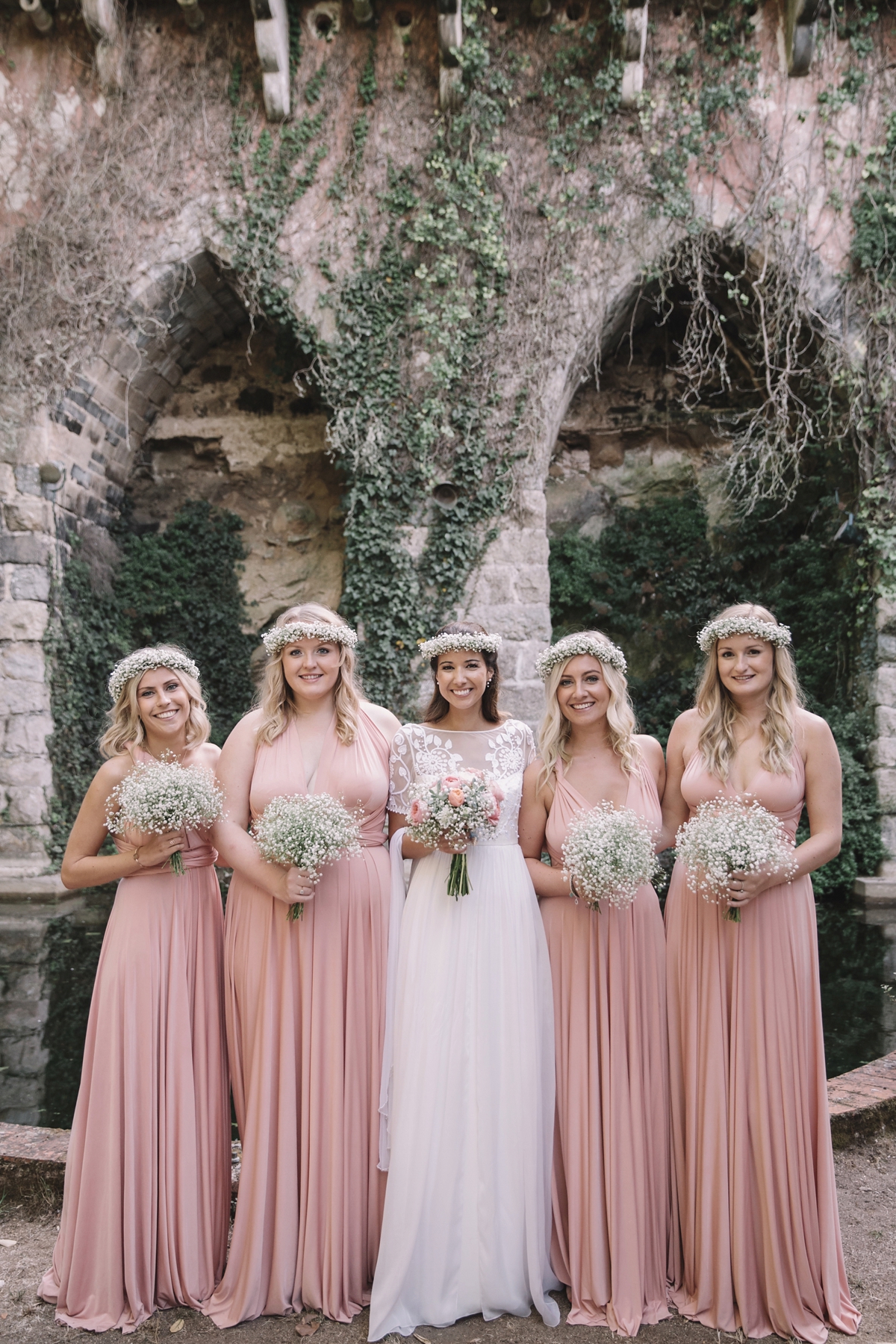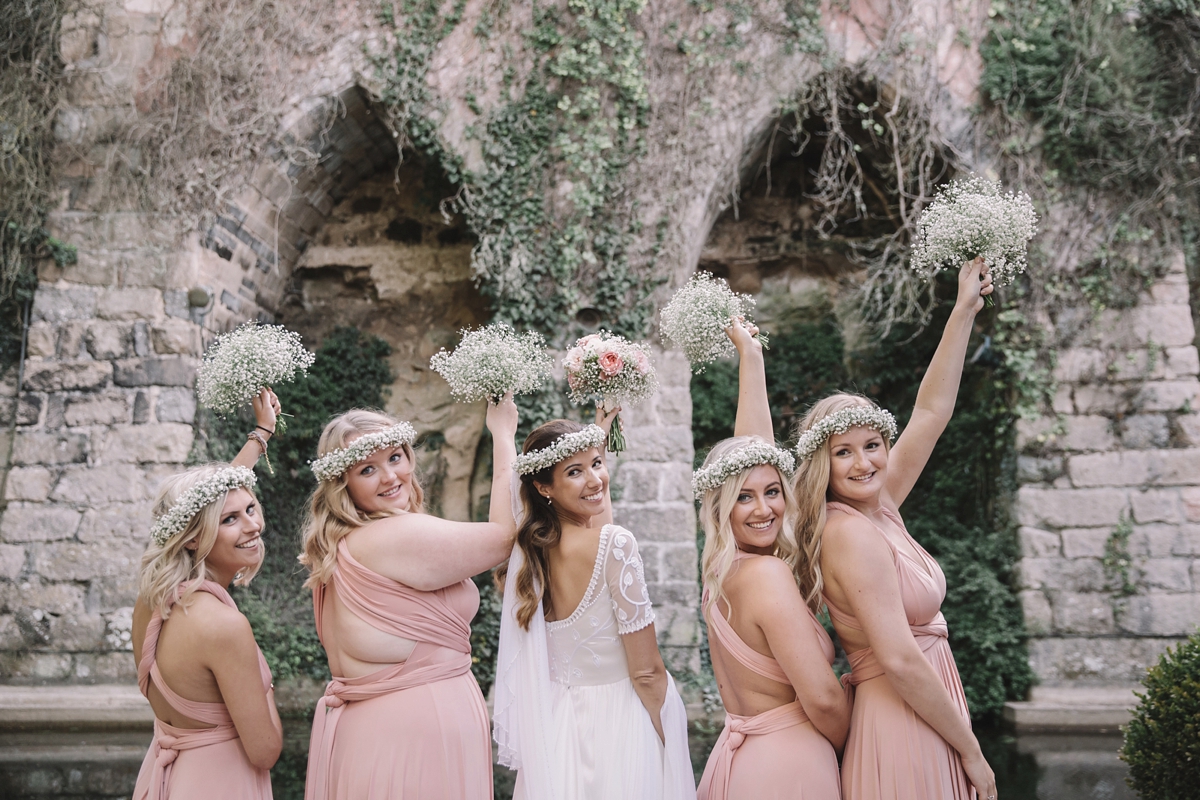 After the service, it was time for the guests to make their way down the utterly beautiful, winding streets to Casa dos Penedos. Melissa has shared details about how they created such a romantic, sumptuous look.
"We had explained our vision to the amazing team at Discovery Events & Catering and we really left them to it. When Philip and I walked in on the day, we were mesmerised. It was beyond perfect and just what we had envisaged in all the months of planning."
"The venue itself is so charming and so decadent it hardly needed anything else with its crystal chandeliers and ceiling frescoes, as well as the original marble and stone fireplaces, parquet flooring, and traditional Portuguese azuleijos in the grand entrance hallway. However, the team ensured that there were flowers and tea-lights everywhere making it even more romantic and actually quite intimate."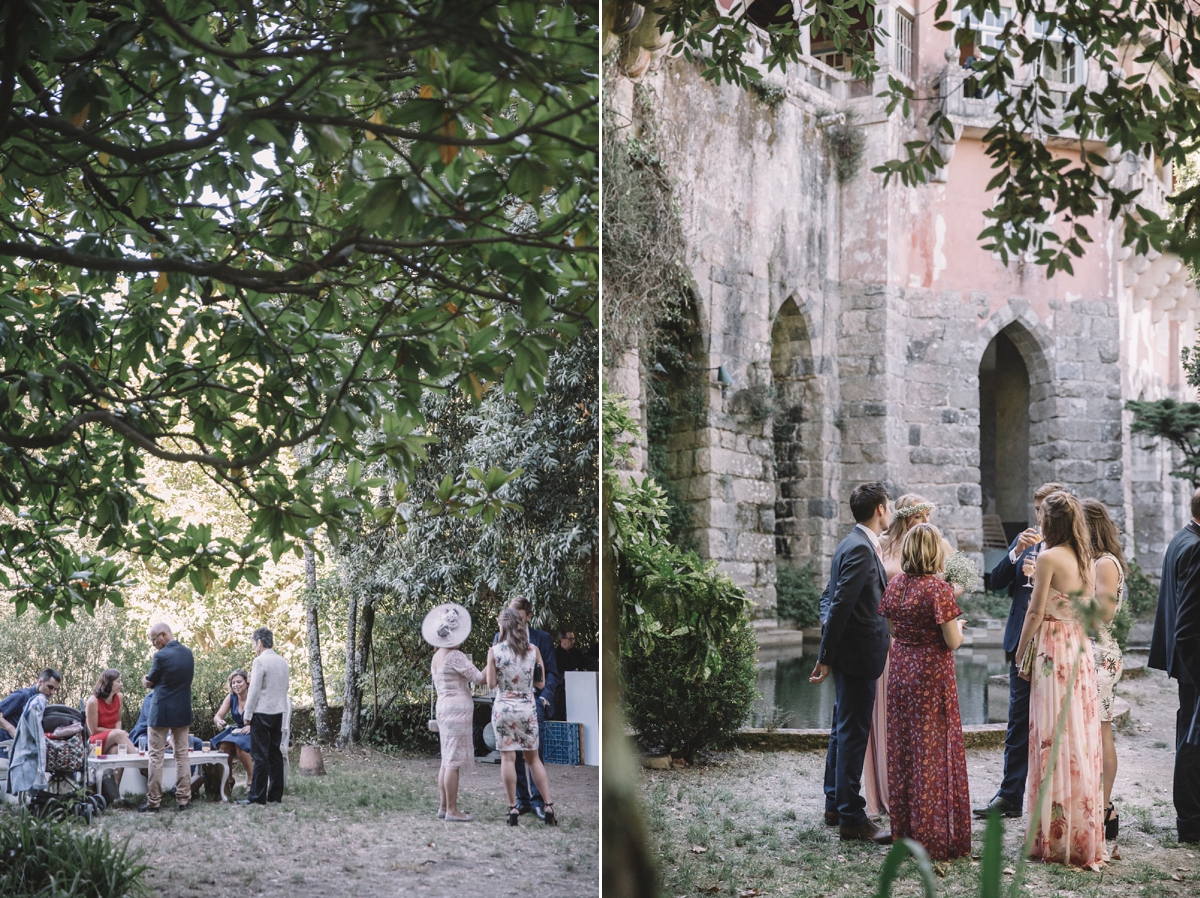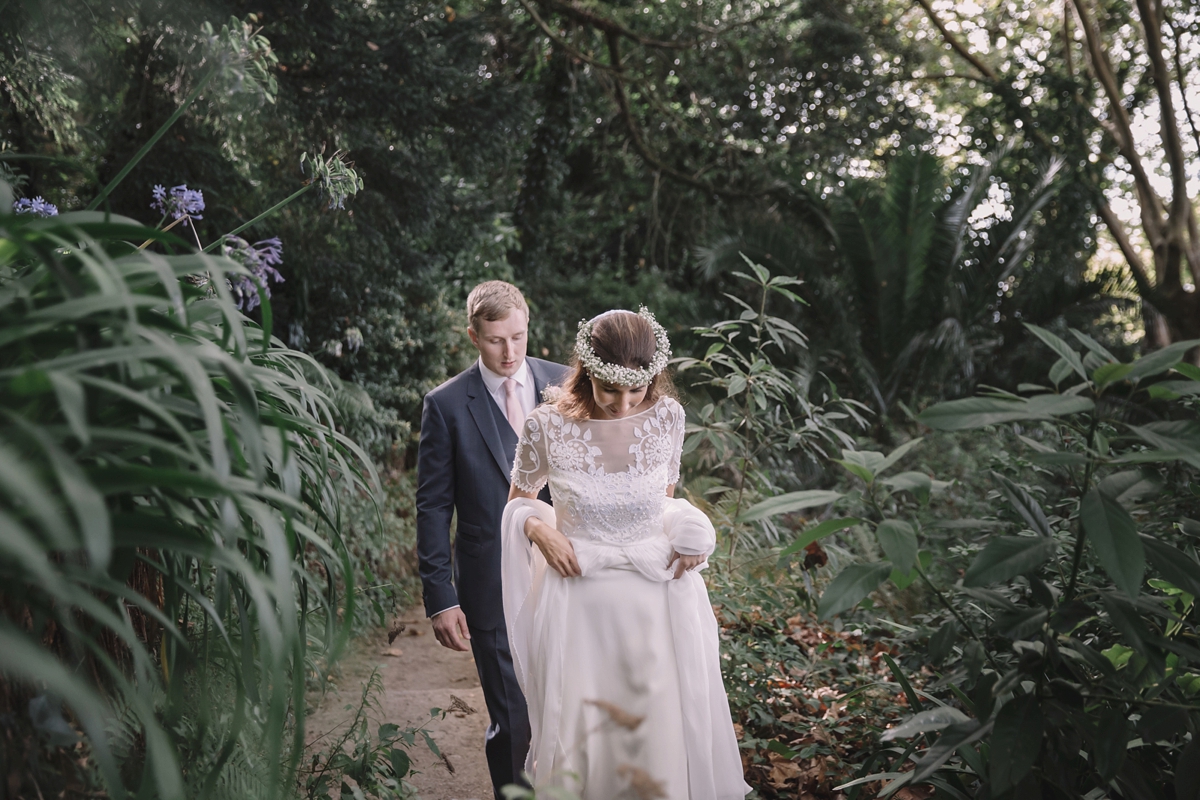 I really love how the guests sat down to dinner overshadowed by a spectacularly carved stone wall. The space was transformed by the addition of sumptuous flowers, and the wedding breakfast sounds wonderful.
"We'll always remember the feeling of pure love and joy as we sat down to dinner surrounded by all our family and friends. Our hearts were so full in that moment that we wish it could have lasted longer."
"Discovery Events & Catering organised the menus and sourced all the produce for the day. We flew out to Lisbon a few times for tastings (arguably our favourite part of the planning process). We are such foodies at heart and we knew we wanted to serve delicious food that we both enjoyed. For cocktail hour, guests enjoyed mini hamburgers, traditional Portuguese Salgados, Caprese salad, king prawns, smoked salmon, veal roulades and stuffed mushrooms. We served sparkling white and rose wines and Port cocktails."
"For dinner, we feasted on seafood risotto and Iberico pork tenderloin fillet with potato gratin and a selection of Portuguese wines.  We had desserts and cheeses set up in one of the lounges so that guests could keep going back for more as the night progressed. This proved very popular indeed! We also always knew we wanted a free bar, as we didn't want our guests to worry about anything on the day, especially as so many had paid so much to travel to our wedding."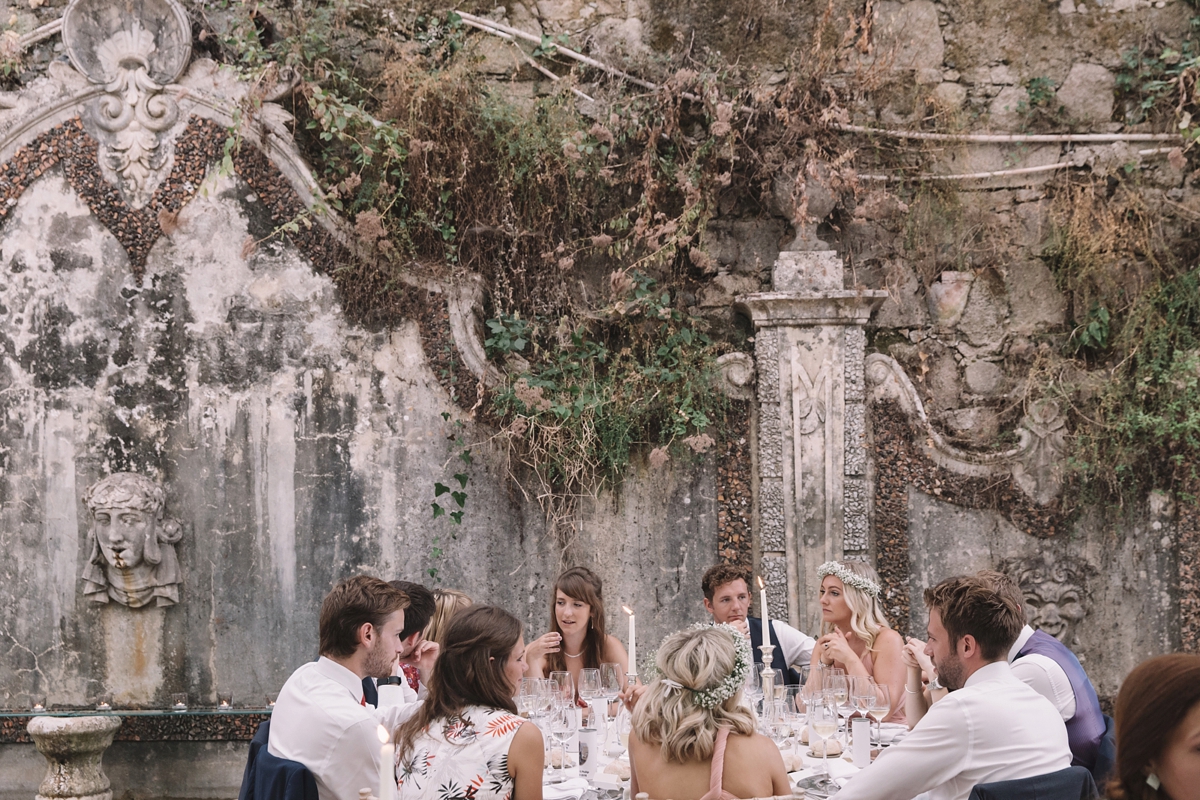 Having confirmed their dream venue, the couple worked with its owners, Discovery Events & Catering (who also own a few other venues in Lisbon) to plan their day.
"We are both fans of the rustic yet romantic look and Casa dos Penedos really was everything we had ever dreamed of. The at-times crumbling exteriors only made us love it more; It was our forgotten treasure atop a hill. We also knew from the beginning of the planning process that we loved the idea of complete privacy and exclusivity on the day. The conservatory, lounges, ballroom and gardens were all beautiful and our friends and family had a wonderful time exploring them during our wedding celebrations."
"Discovery Events & Catering were impeccable and sourced all the food, venue décor, cake and entertainment. Planning a wedding in Lisbon from London was stressful to say the least, but the amazing team at Discovery Events were fantastic at keeping us in the loop every step of the way and sourcing all the things we wanted on the day."
"Whilst we didn't have a particular theme, we knew we wanted to incorporate a little bit of the English garden look on the day and this was very much reflected in the flowers and decorations. We chose white and pink roses, gypsophila and peonies for the floral arrangements and had tea lights dotted everywhere around the venue."
I have to tell you about the wedding favours, made by Melissa's grandfather, who runs a successful bespoke packaging business in Portugal.
"In particular they are known for producing the cylindrical Port tubes for many of Portugal's leading Port houses. We knew we wanted all our guests to take away something native to Portugal, but also personal to us. My grandfather created bespoke mini cylindrical tubes with a photo of the couple and the wedding date. These were then filled with mini bottles of white and red port to be given out as favours on the day."
"In terms of a colour scheme, I knew from very early on I wanted the bridesmaids dresses to be pink. So then naturally pink found its way into other areas of our wedding from the invitations, orders of service and table-plans, to my bridal bouquet, the boy's boutonnieres and their ties."
"Our entertainment was organised by Discovery Events & Catering. We chose to have a DJ and he was set up in the ballroom all night. He was fantastic! He played everything from Justin Bieber to the Red Hot Chili Peppers to Queen and had our guests (even the older ones!) dancing all night long. We also chose to bring in a photo booth because who doesn't love a photo booth! Tom and Jess from Memory Box were such great fun on the night and everyone loved playing around with all the costumes and props."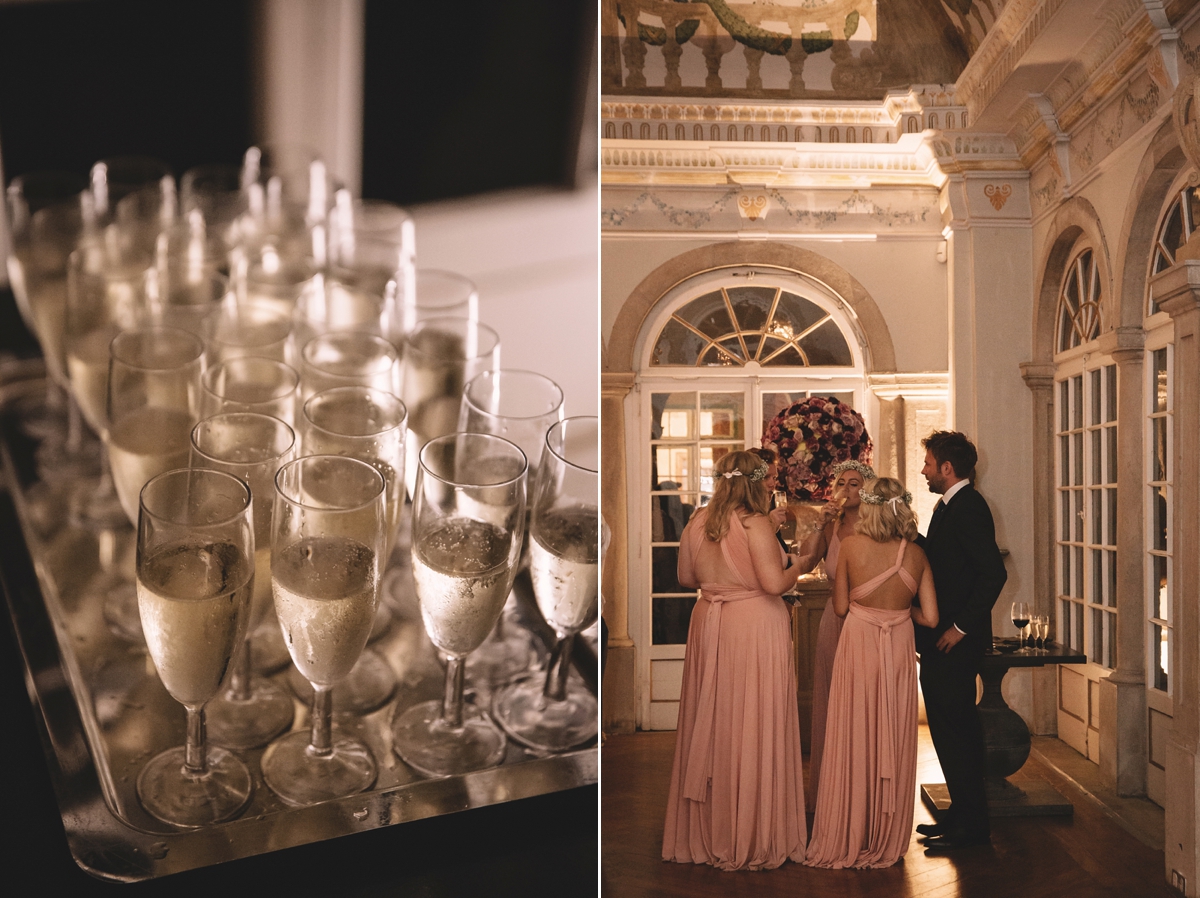 The afternoon stretched in to evening, with music from DJ, a photo booth and a first dance to 'All of Me' by John Legend.
"We didn't have a particular song that was 'ours' or that we felt strongly attached to. We 'd always been fans of John Legend's music and we thought this particular song was beautiful.  Not particularly confident dancers, we actually took dance lessons in the lead up to big day. When it came time though, I chickened out of the choreographed routine!"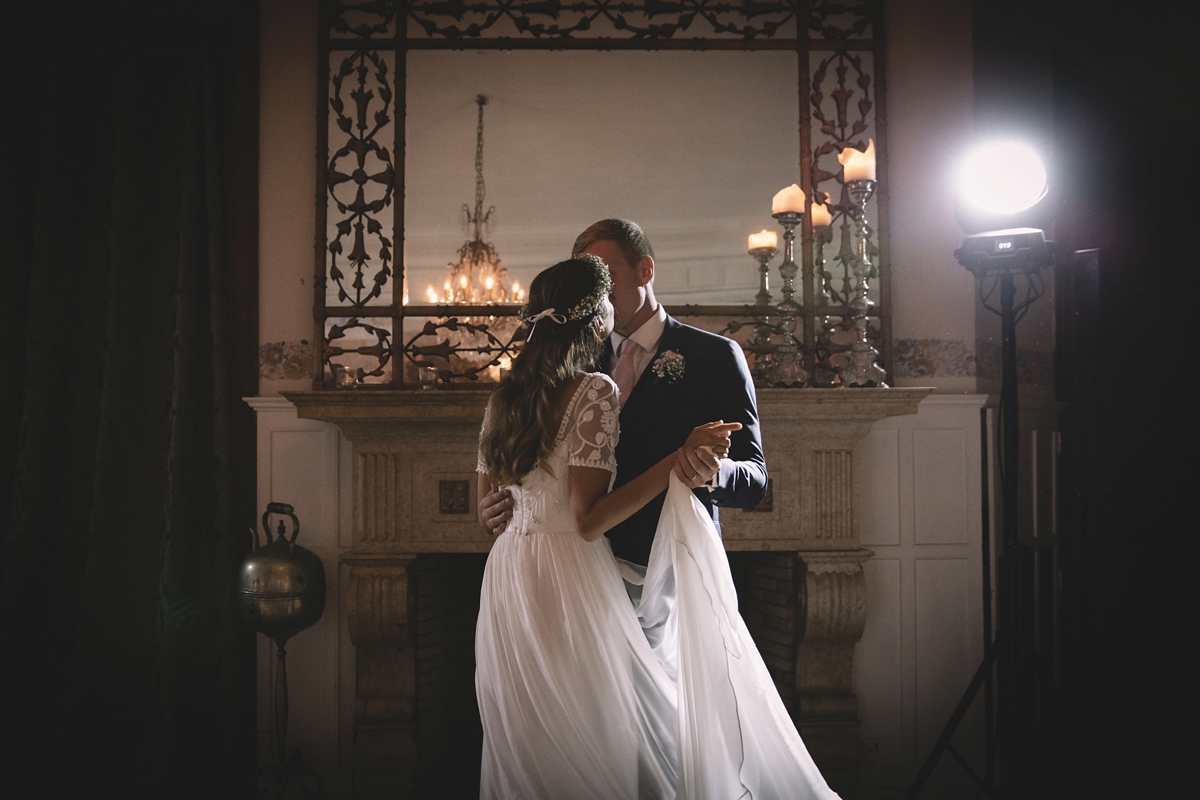 Words of Wedded Wisdom
"Take everything in on the day; It is an incredible feeling having all your loved ones in one place to celebrate such a joyous moment in your lives – savour every second!"
"Don't sweat the small stuff. On the run up to the big day little things may not go quite to plan, but just keep smiling and don't let them get you down."
"We were both incredibly lucky to have had help from our parents when it came to paying for our wedding. Whilst there was never a set budget in mind, we didn't want to go overboard and were hoping not to exceed £20,000. We just about managed, though my dress did almost bring us slightly over… ."
How lucky have we been to share this beautiful wedding in Portugal? Thank you so much Melissa and Philip and congratulations too. It looks as if your day was so special, and how lovely that you were able to incorporate touches of the English countryside in to your day. Sending many thanks, also, to ADORO for your beautiful imagery. If you've been inspired by this Portuguese day, then click here to see more destination weddings.
Wishing you all a very lovely weekend,
Ele xx