So, this feature is a little different. Today we're sharing a personal story from one of our readers and also sharing expert advice from a marvellous photography duo.
If you're planning your wedding at the moment, then I have to say that the first part of this feature might be a little hard to read but hopefully the second half will give you advice, perspective and concrete information so that you can protect yourself and your wedding.
We all dream of beautiful wedding photos. We want our precious images to capture the day and provide memories for the rest of our lives. We want to feel that our suppliers are on our side and we want to look back on our wedding days with no regrets. And that's absolutely what should happen and indeed does happen in the majority of cases.
However, sometimes, things don't go to plan and this is one of those stories.
PLEASE NOTE: The images in this article are of a couple who very much *did* love their photographs, captured by The Caryls. You can view the full, beautiful wedding right here. These images are not related to the individual whose story we are sharing today, but are instead being used as an example of excellent wedding photography that the couple were delighted with.
Photography by The Caryls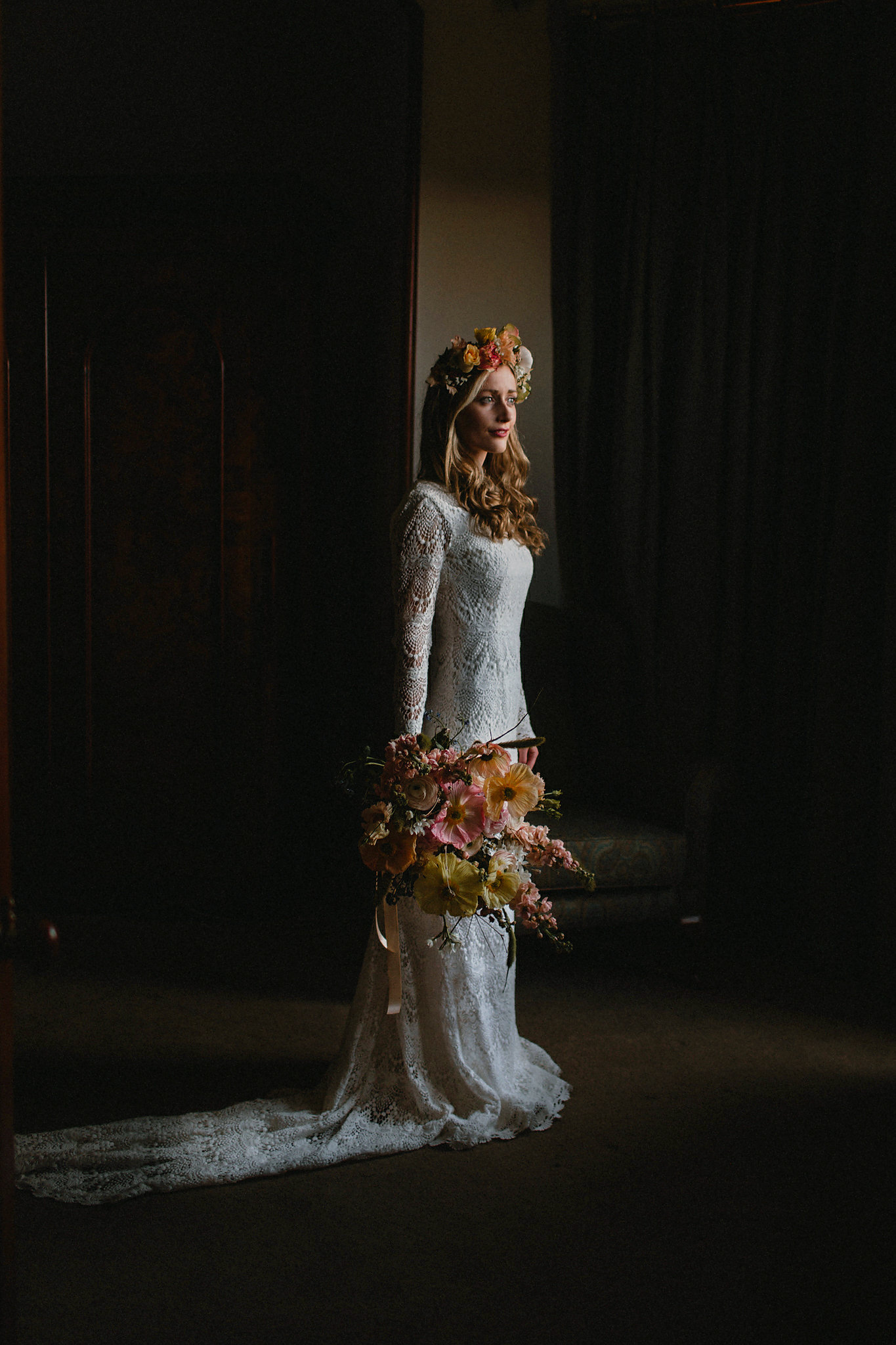 An excellent example of an uncluttered room and controlled, natural light
Images by The Caryls
The Story
"On our recent first wedding anniversary, my husband and I spent a lot of time reflecting on our day. We can both agree that it wasn't a perfect wedding but it was the most memorable, fun and truly awesome day of our lives. We're in agreement; if we could change one thing, it would be the photography. This isn't an expose or moan at the wedding photography industry but I have decided that maybe it's time to turn something negative into something positive by trying to offer some (hopefully) helpful advice to anyone in the throes of wedding planning."
"For us, finding a wedding photographer was not an easy process. After many 'sorry, that date is already booked' emails, the other challenge was money. We're an ordinary couple who work in the arts. Finding the money to do everything we wanted was challenging, even with parental support. Our photography budget just wasn't going to cut it." 
"We made peace with the fact that we might not be able to have a full day package and, after week's of searching, I came across who would become our wedding photographer. The photos online and on social media looked fantastic and look like the style we liked plus, they offered reduced hour packages."
"We hastily booked during a call – the photographer was available and had previously shot at our venue. It sounded like their approach aligned with our ideas, something creative and less focused on the traditional posed pictures. I explained our budget and an affordable price was offered. Thrilled, we accepted and ticked the job off our to do list."
Now, we know that quite often, things change as you plan your wedding. Timings alter and you might end up adjusting things as time goes on. That's what happened to our bride and she admits that, perhaps naively, she didn't communicate these changes to her photographer because she didn't think there would be a problem. During a day of wedmin, she contacted her photographer to explain the changes and, very quickly, received a phone call that came across as less-than-friendly.
"I was 'changing things' they said and I remember feeling absolutely mortified. Worried that we were going to end up photographer-less, I didn't question what was being said and a new plan for the day was negotiated. We did contemplate finding someone new but it was highly unlikely we'd find anyone available at this late stage and we couldn't afford to lose our £500 deposit. We kept thinking back to all the positive reviews we'd read online – it would all be fine, this was just a blip." 
"One month before the big day, we me our photographer for the first time at our venue and we wanted to leave this meeting with a sense of excitement. But, like that phone call, something didn't gel but out wedding was a month away and there were so many other things to worry about. We had to put our trust in our photographer."
So, after the wedding, our couple had a three month wait for their photos and when they received them, they didn't love them. The photos they received weren't like the beautiful images they'd seen online and there was only a small handful that they were really happy with. Our bride says "it felt like we'd been given a budget version of the amazing pictures from our photographer's social media account. It was devastating."
As you can imagine, our bride spent a long time questioning things (including with the photographer) but the thoughts of 'why hadn't our day been captured in the same way as everyone else's' and 'was our day just awful?' kept revolving around her head. The couple do now have a set of photos they're happy with thanks to the kindness off a friend and neighbour and they can now joke about the photos but at the time, it definitely wasn't funny.
The Advice
Our bride admits that she made 'a lot of rookie errors' and 'booked something without any real thought or understanding of what we might get' but that's kinda understandable. When we're planning our weddings, we've not done this before. We're cast into a world we don't always understand and expected to make big decisions. It sure is difficult but let's stop this happening to anyone else shall we?
Here's what our bride has learned (and what she wishes she's known at the time) plus LOTS of advice from The Caryls, wedding photographers extraordinaire who you'll find in our Little Book Wedding Directory, along with a whole host of other talented professionals.
As you start to plan…
Katy and Jim, the absolutely exceptional photographers that are The Caryls, offer this advice:
"First and foremost, select a photographer whose work you love (there should be plenty of examples on their website) and whose style chimes with you as a couple and your vision for you day. Photography is a highly personal art-form, and every photographer's style will reflect them personally; no two photographers are the same." 
"We would strongly suggest either meeting your prospective photographer in person or chatting via Skype before you book them – to check that you connect with them on a personal level. (Remember, they are going to essentially be another guest at your wedding, and will be by your side for the entire day…) Most photographers are more than happy to do this – and will probably suggest it themselves – as they will also want to make sure they feel that they're a good fit for you." 
"Don't get swept up by social media," says our bride. "Remember five Insta shots are very different to 500 photos and these are just a snapshot of a much larger story. We never thought to ask to see photos outside of what we'd seen online so we made a really big decision on a relatively small number of images from different weddings. My advice would be to ask to see a complete album from at least one wedding."
"Get everything in writing," says our bride. "It's also really important to clarify everything before you book. Before we booked our venue, we visited it and combed through our agreement, checking all the details. We weren't this thorough with our wedding photos and there were a lot of little details we didn't even consider until the actual wedding day itself."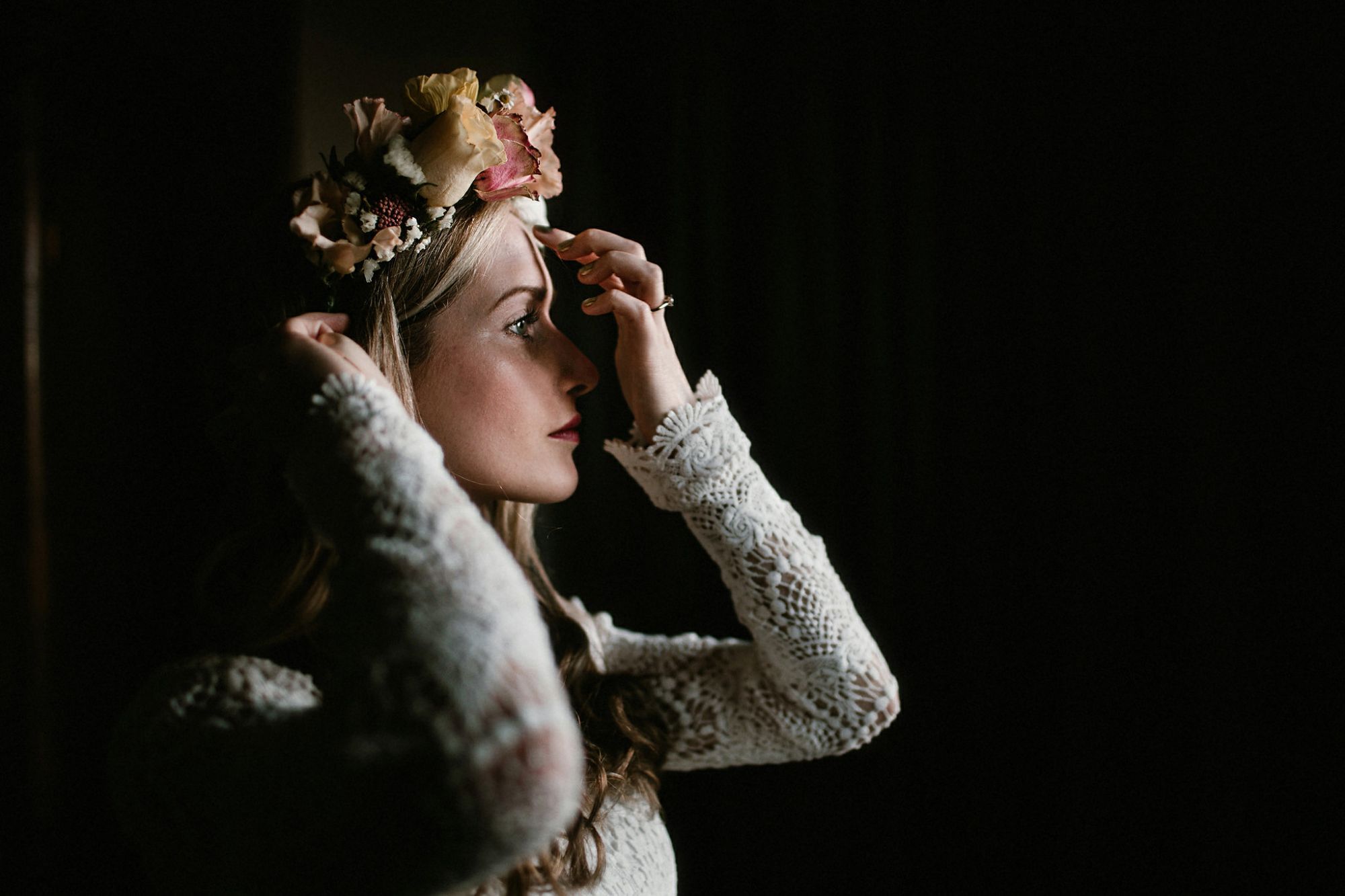 A great example of a portrait taken using only natural light
Images by The Caryls
If You're on a Budget
Wedding budgets are always tough to balance and it's so hard to know how to apportion your cash. However it is, as The Caryls explain, important to keep things in perspective:
"We absolutely understand that some couples will be on a budget. But we would really urge them to think about what they prioritise and where they choose to spend their money. We sometimes find it strange that a bride will think nothing of spending £3,000+ on a wedding dress but then be unwilling to spend £1,500 for a good photographer to capture beautiful images of her looking lovely in it! Ultimately, when all the delicious food has been eaten and the wine drunk, what you have left is your memories…and your photographs. Your wedding photographs are the memories that you can have-and-hold; they are the heirlooms that you will pass on through future generations of your family. View them as an investment. Don't skimp on them!"
And what about discounts and deals? Should you ask? Well, as the saying goes 'if you don't ask, you don't get' but if you don't get, it's important not to hold that against your photographer. Here are The Caryls with some more insider information:
"Do be aware that photographers have to make a living just like everyone else. They aren't getting a 'deal' on their mortgage or monthly bills. Is it fair to ask them to do a 'deal' on your wedding? How would you feel if your boss asked you to do a 'deal' on your wages because the company's profits were a bit down this month?" 
"Also, do keep in mind that if you book a photographer for a 'budget' rate, you are preventing them from being booked by another couple at their full rate on your wedding date. It doesn't really make good business sense for them to do this and they're fully entitled to say no."
"Ultimately, with wedding photography, as with so many things in life, you get what you pay for. If photography is important to you, and you want a really good photographer to capture beautiful images of your day, you will need to pay the going rate for them. If this stretches your budget, perhaps think about what can give – do you really need those Jimmy Choo shoes for your wedding day? Or could you go for something a bit more budget-friendly and put the money towards photography, for example."
What To Share With Your Photographer
The Caryls say that it's important to keep your photographer in the loop about everything to do with your wedding so that they're best-placed to do a great job for you on your wedding day. So, make sure that you tell them, at the very least:
Where you're getting ready.
If you'd like to do a 'first look'.
Will you be suggesting an 'unplugged' ceremony? "ALL photographers would prefer this! So many otherwise beautifully poignant ceremony images are ruined by a guest with their iPad out taking a snap (that will probably never see the light of day) in the background!"
Have you allowed time during the day for couples shots? Half an hour before sunset is perfect!
Is there lighting during your first dance?
"Ask your photographer for their advice! They have photographed a lot of weddings before, so they are in a great position to give you tips on what works well and what works less well – in every element of your day. They will be wanting to do a really great job for you – and take lots of stunning images – and there are certain things that you can do, in terms of your planning, that will really help them to do this."
"For example, we always suggest that the couple think carefully about the room that they choose to get ready in. A small bedroom, full of clutter, with lots of underwear, boxes and wrappers on the bed, is not going to make for beautiful preparation images. Whereas a larger, clutter-free room, where you can control the light (by closing some of the curtains), will allow the photographer to place the bride in a pool of flattering natural window light. This will greatly improve your preparation photographs."
"Keep talking to your photographer as you plan – they'll be excited to be part of the process and will be happy to advise you along the way. We always feel that we arrive at the wedding as the couples' friend, now just 'the photographers' and we feel this is reflected in the images that we take. The couple are then really relaxed in front of us, they trust us and they know that we will have their backs, in every way, on the day."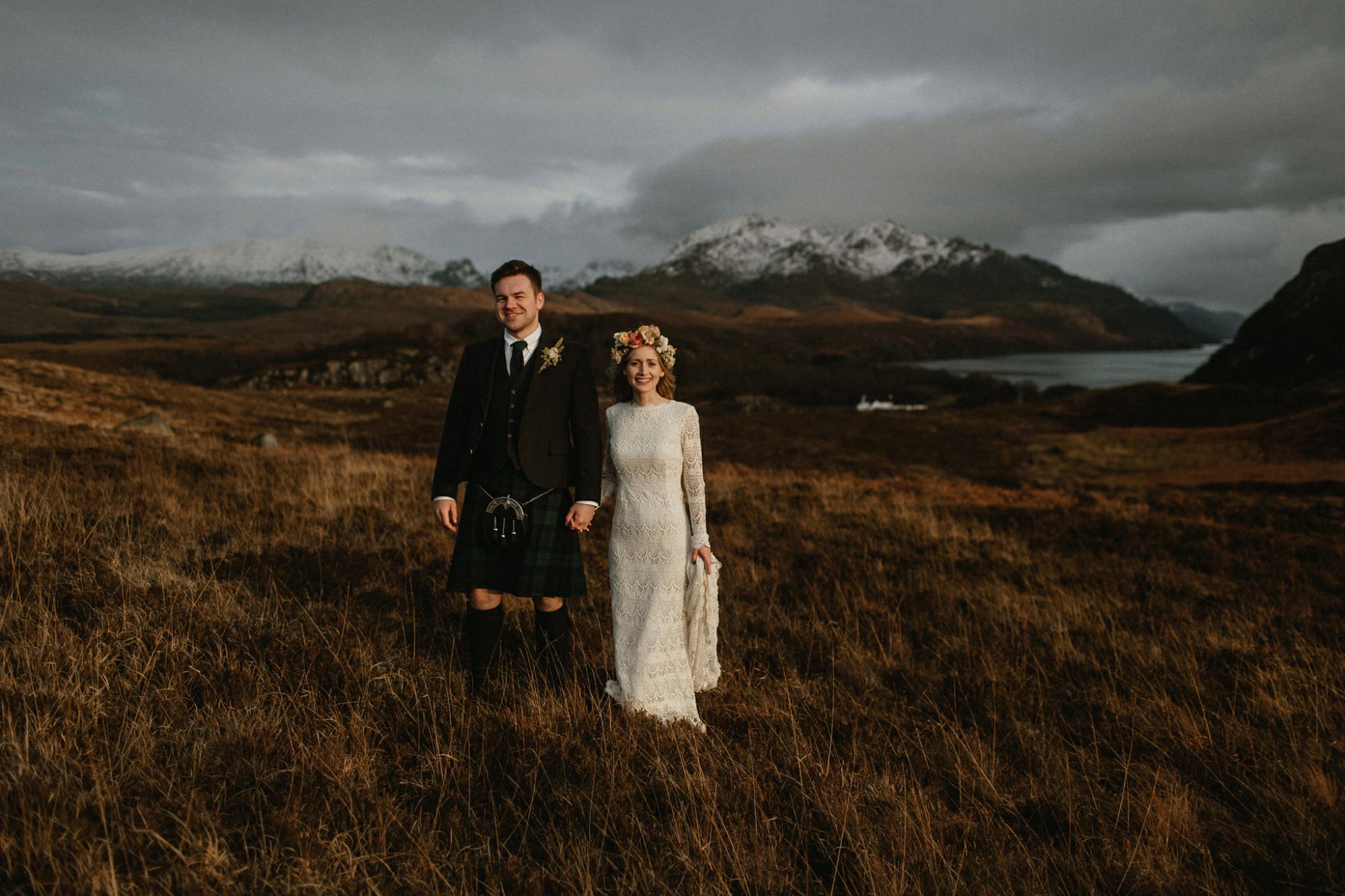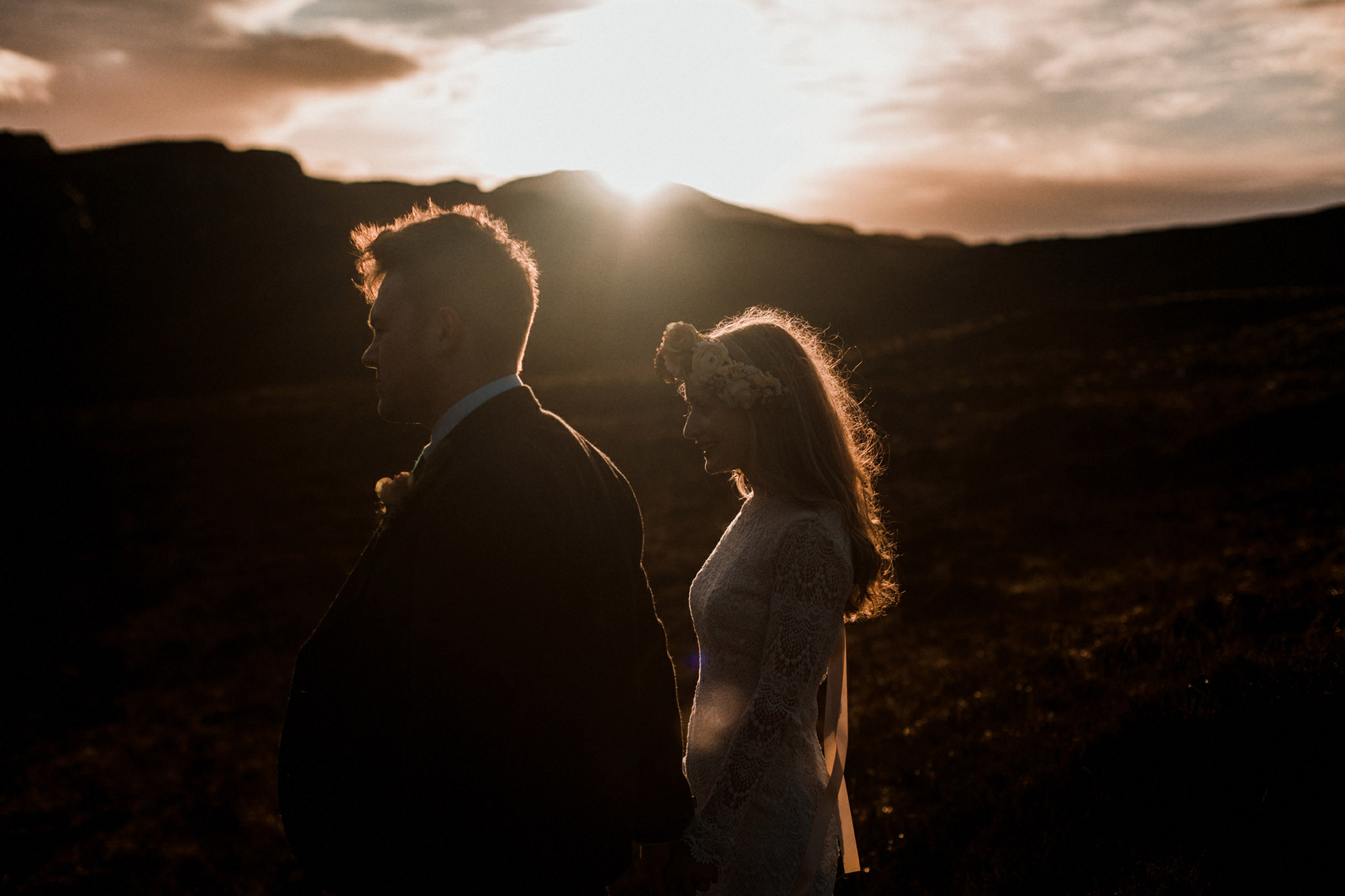 Two great examples of why it pays to schedule images around sunset
Images by The Caryls
If You Don't Love Your Wedding Photographs
So what do you do if you don't love your photos? When is a complaint justified? The Caryls explain:
"Obviously, every photographer really wants their couples to LOVE their photos. Most photographers will have done everything in their power to get great images. Sometimes, this can be hard: if the venue isn't that aesthetic, or has unflattering lighting, for example or if the couple haven't allowed enough time within the day for couples shots, the photographer might have been faced with a challenging situation that they struggled with."
"A complaint would be justified if the images you receive are not in line with those on the photographer's website, in terms of style and processing. However, do remember that they will be showcasing their very best images. Not every single wedding will look the same. You've also got every right to be unhappy is the photographs are technically poor (a lot of out of focus images for example) or if there are a lot of unflattering images. It is part of the photographer's job to direct the couple and pose them in a way that is flattering to them. (Shooting from under a woman's chin, for example, is never going to be a good look)."
Our bride says this is absolutely what NOT to do if you're upset with your photos:
Tell the photographer that you're happy because you don't want to offend them or send a few veiled messages hoping they'll read between the lines and see you're unhappy.
Get upset and/or angry.
Send an emotionally charged message to your photographer after a bad night's sleep.
Instead, she suggests that you sleep on it, ask a couple of close friends for their opinion and then try to remain rational. Importantly, she suggests speaking to your photographer and explaining, calmly, how you feel.
A huge thank you to our bride and to The Caryls for their honest and informative input.
We so hope that this feature has been useful and we'd love to publish more advice and personal experiences so if you've got something you'd like to share, do get in touch with your story.
Love,
Tamryn x
____________________
**Please note: Imagery included in this feature is of a couple who very much *did* love their photographs, captured by The Caryls. You can view the full, beautiful wedding right here.