As 2018 draws to a close and proposal season is fast approaching, we thought it might be nice to explore some of the popular bridal headpiece looks we are anticipating seeing being worn by 2019 brides.
These images were sent in by hair and makeup artist Victoria Percival. Victoria worked with a creative team to showcase four key bridal headpiece looks, using her skill as a professional hair and makeup artist to style each look to perfection.  The trends emerging are both whimsy and striking, drawing inspiration from all things starry and botanical to suit every brides taste.
Let's see what Victoria and her team are predicting will be popular over the coming 12 months…
Photography by Sarah Ann Wright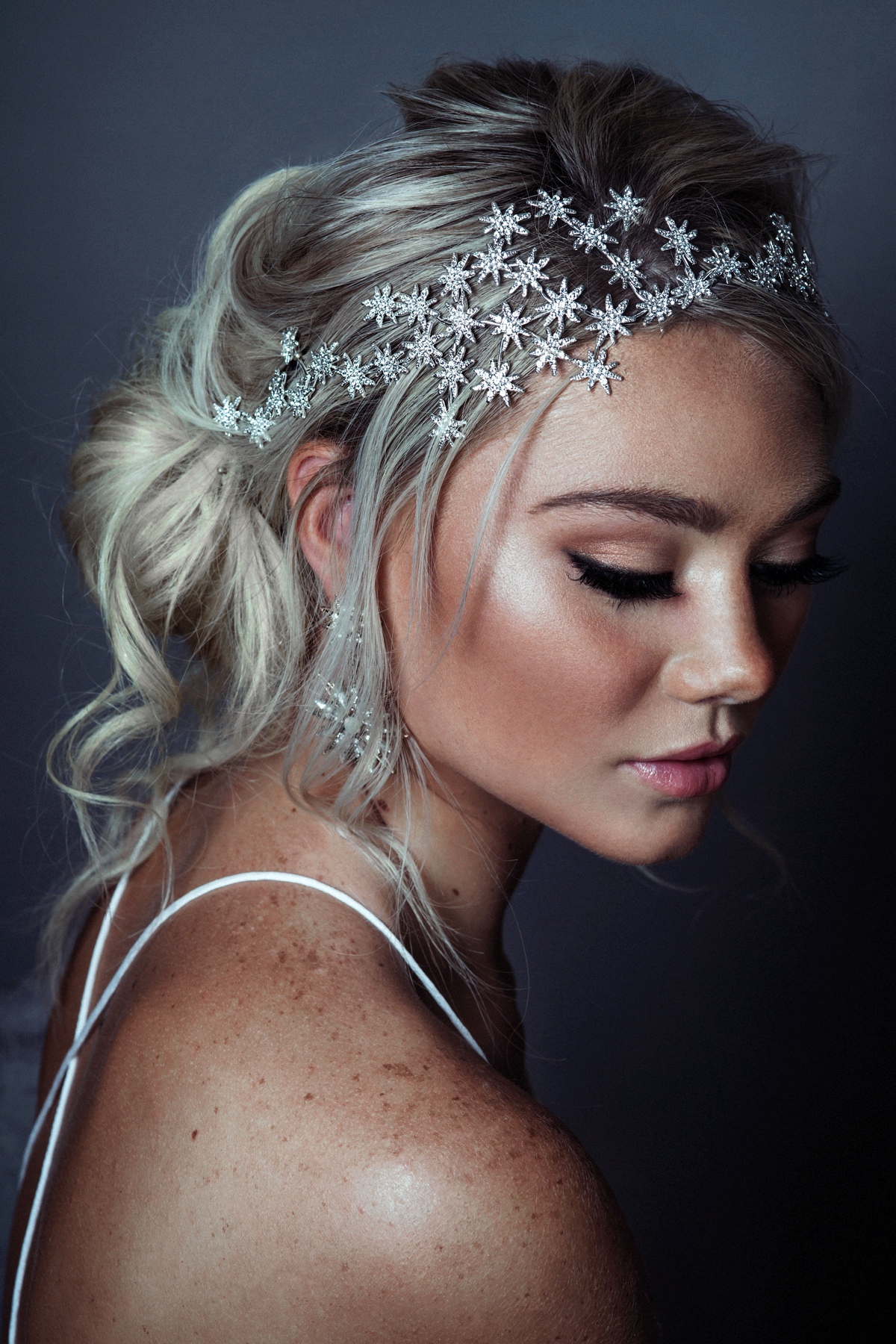 Celestial
"Stars are still big news in 2019.  The galactic trend is still going strong after a starry explosion onto the catwalks in 2017 and really is such a versatile look."
"Wear individual star pins to add a touch subtle of sparkle to your look from Red Rose White Rose, or make a statement with a bold galaxy of crystal stars in a headpiece by Flourish . For more a vintage feel, why not adorn your forehead with a twinkling array of cut crystal stars for a hint of 1920's glamour from Miss Clemmie.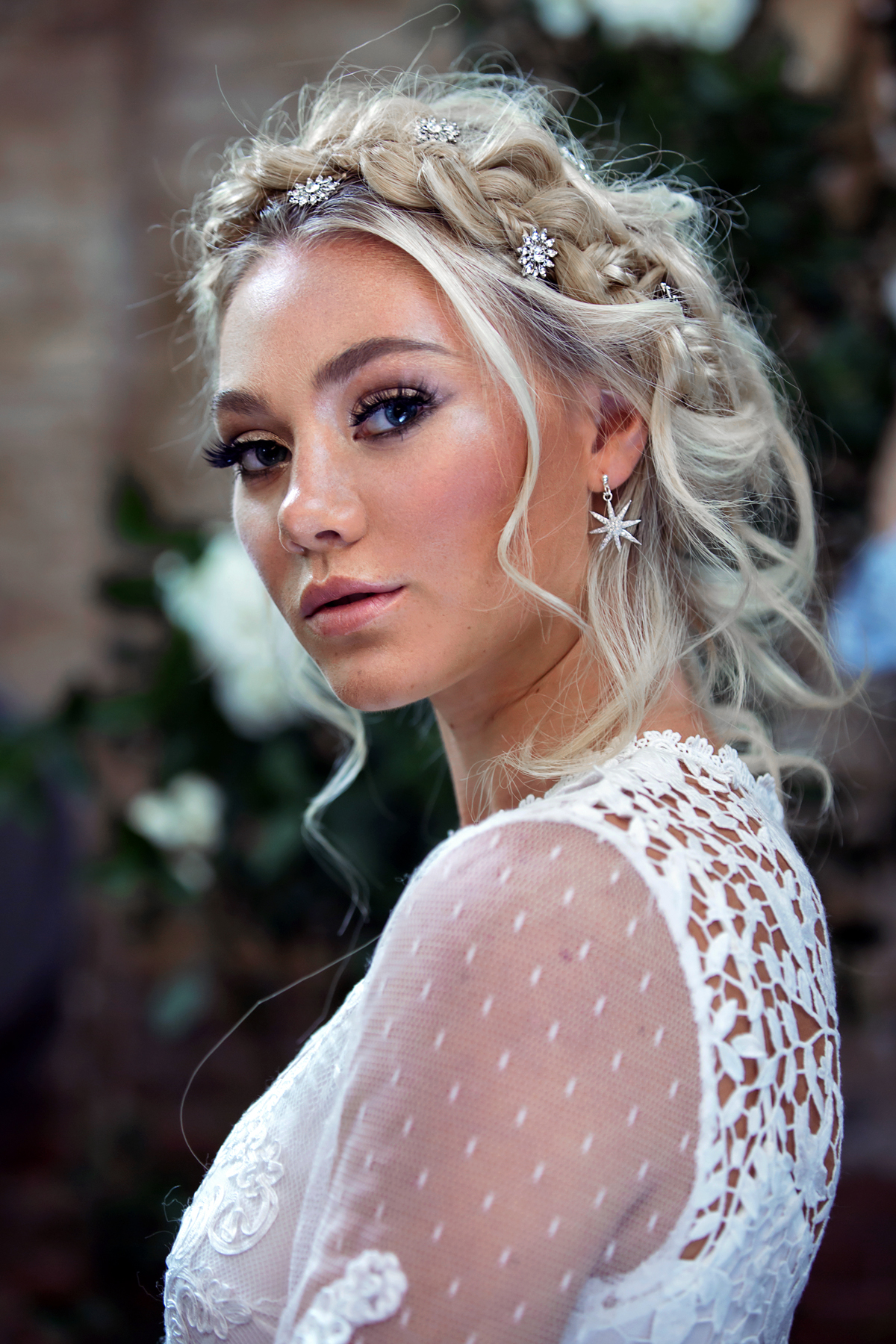 "The celestial trend is one of my absolute favourites as it can be worn so many ways. For smaller star pieces, try weaving pins through tousled, soft hair or peaking them through braided crowns to highlight the natural colours and movement in the hair."
"Keep hair soft and unstructured with dewy make-up and long lashes to emphasise the eyes. Keep this look is fresh and modern with glowy skin and soft, boho hair."
Modern Day Tiara
"After the first royal wedding this year, we've all gone a little bit tiara crazy – and after Princess Eugenie's wedding this week, and that sensational emerald green Royal tiara, we anticipate this trend only growing. But many brides feel that wearing one on their wedding day can feel a bit old fashioned. The hottest trend for tiaras right now is to use non-traditional elements (think coloured crystals, geometric gems and larger proportions) to give a more modern look."
"For a bride who wants to wow her guests, tiaras are still a go-to but we are now seeing them paired with really simple, figure hugging gowns and no veil for a more easy-going, contemporary look. Hair should be really simple – pulled back into a soft updo or ponytail, with lots of softness around the face to help balance out the height of the tiara."
"Make-up wise you can have some fun with this – think about your dress and what brings the look together with your tiara. For a more vintage full lace look consider a pop on the lips with a deep red lipstick, or keep it with more neutral with a creamy nude tone, like 'Boy' from Chanel – my ultimate favourite bridal lipstick.'"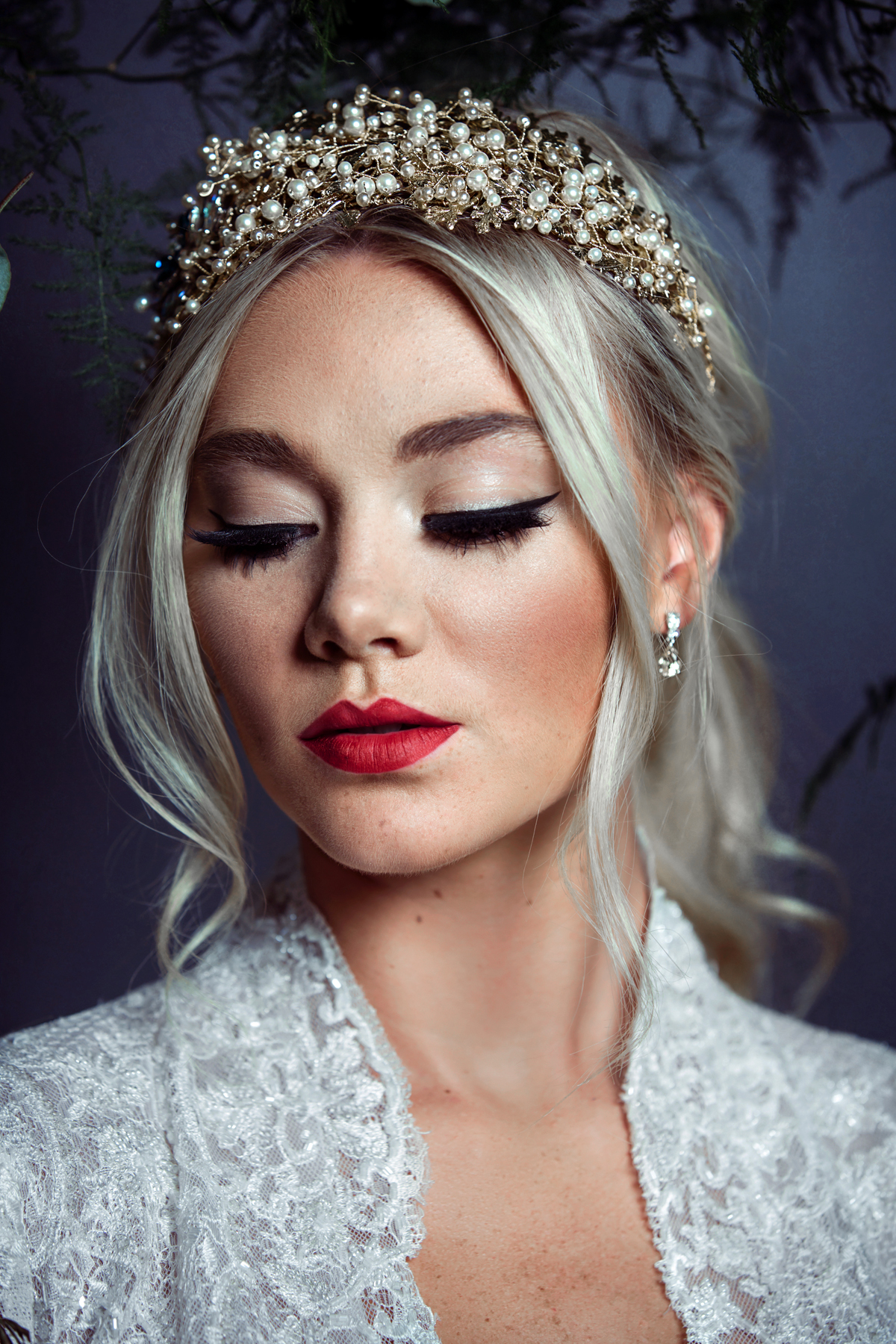 Midas Touch – Statement Crown
"If you didn't already know it, gold is the new black. And no one does stunning golden statement crowns quite like Hermione Harbutt. This beautiful shining crown of golden leaves is the perfect piece to capture everyone's attention."
"This piece so reminds me of the golden era of Hollywood in the 1930's – there is only one way to wear this in my opinion which is with a stunning full gown and glamorous bouncy hair and with flawless skin and sultry, shimmering eye make-up."
3D Florals
"One thing that came out of the catwalks for Spring 2019 is that statement shapes are in, so go big or go home. If you are a modern bride who wants to wear something different for your big day then this stunning 3D Floral Hairpiece from Lizzie McQuade is for you. Its hand made using metallic faux leather and can be positioned anywhere in the hair."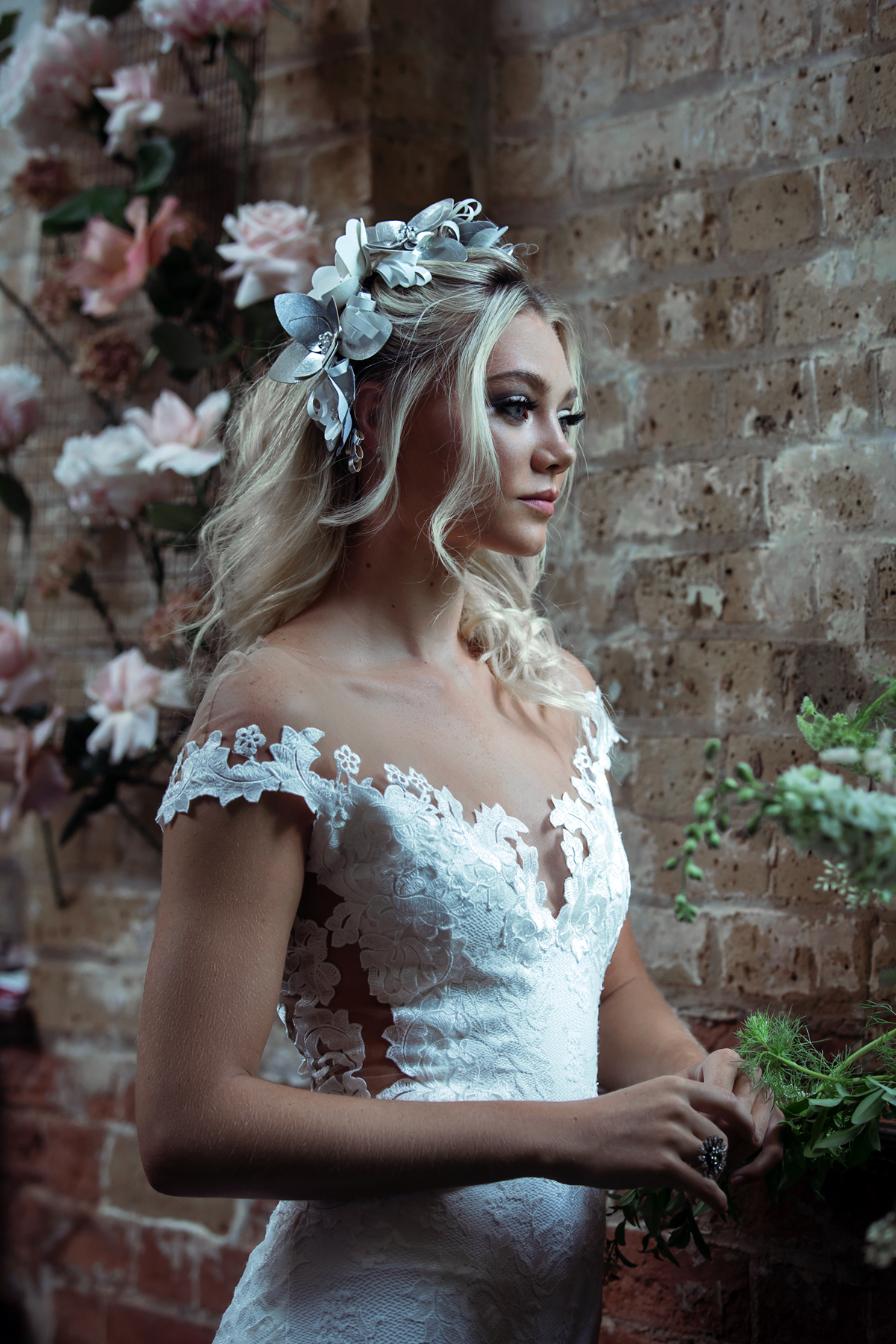 Crystalised flower hair vines are still big news in bridal, but with a fresh look by Flouish, this season sees them taking on a more modern feel.
"The botanical elements of these pieces are gorgeous because they can compliment an intricate lace dress or a very simple sleek gown. Because these are statement pieces, keep the hair very soft and simple just perhaps with a gorgeous wave and deep smokey eyes."
"Be adventurous on how to wear your hairpiece. Consider vines that can be worn as side pieces, or positioned off centre to give a modern, unique look."