Well, sound the trumpets and prepare to celebrate – Grace Loves Lace now has a flagship showroom in New York! We know that lots of our readers find themselves in the Big Apple, especially at this time of year, so we just had to share the details of this glorious showroom.
However, if you're not going to find yourself in NYC anytime soon, don't worry because you can enjoy the Grace Loves Lace experience closer to home too so read on…
Grace Loves Lace, designers of beautiful, luxurious and effortlessly feminine gowns for the modern bride, threw open the doors to the NYC showroom on 18th October and it seems that Stateside brides can't get enough of the Australian label.
And it's not surprising – mix together a gorgeous showroom, a fabulous styling service and a special, intimate atmosphere and you're sure to have a hit on your hands. Add in the fact that the NYC showroom is the only place in the world where you can buy Grace Loves Lace straight off the rack and you've got a bridal experience like no other.
Located in the heart of historic Soho at 43 Wooster Street, the showroom is everything you'd expect from this cool Aussie label. Exotic tiles, velvet furnishings, brushed gold hardware and hardwood floors create the laidback luxe vibe that Grace Loves Lace is known for.
Founder and Create Director, Megan Ziems, is rightly excited about the move to New York:
"Our mission is to create an engaging retail space where brides-to-be can come and relax, bring their girlfriends, hang out and enjoy our warm Aussie hospitality. The space is a dreamy serenity for brides-to-be where they can come in, unwind and let us take the stress out of finding the dress."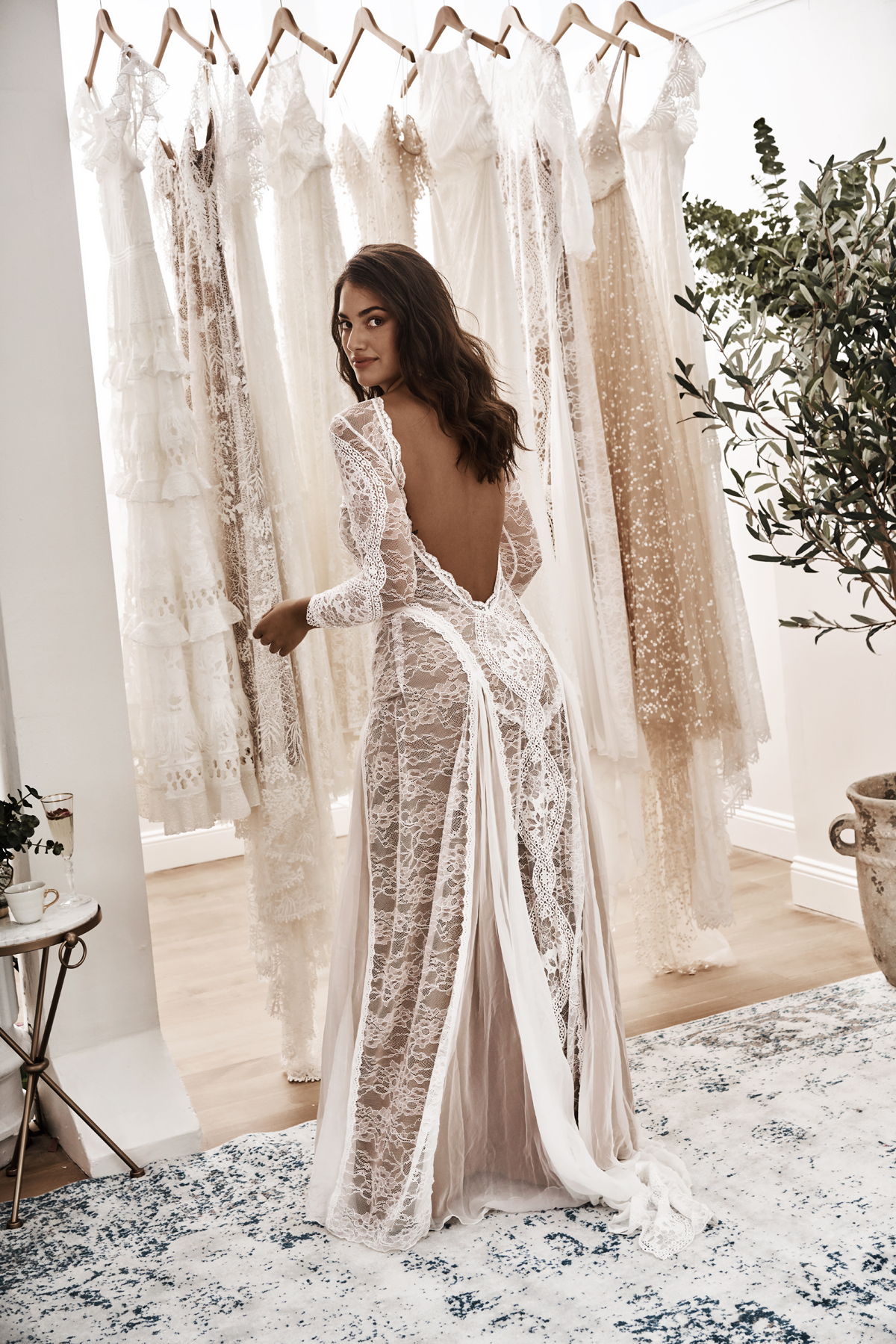 And that's not all – the label's first ever retail store is located at the front of the space and offers a revolutionary experience for brides-to-be. You can shop the range of wedding gowns, accessories and occasion wear off the rack – perfect if you're only in NYC for a few days or if you can't secure an appointment.
"This space allows brides-to-be to have a shopping day with their girlfriends, try on their favourite GLL gowns and take the dress home that day! As the original disruptors in bridal, we have an obligation to reflect the changing face of the modern bride, particularly the way that she shops for her dress."
If you book an appointment, the exclusive showroom space is located at the back of the store, featuring five personal fitting rooms and a lounge area for guests. It's available by appointment only, offering an intimate one-on-one bridal experience in fantastic surroundings.
Think wild eucalyptus floral arrangements, Australian sparkling wine and Australian rose tea and you'll get an idea of just how relaxing the showroom is! If you want to indulge with your own appointment in New York, you can book here.
Of course, if you're all out of annual leave and can't make the trip or if you'd prefer to shop here in the UK, the Grace Loves Lace London showroom offers styling appointments in their stunning Shoreditch home. You'll be greeted by your personal stylist, treated to bubbles or the GLL signature tea and then invited to try on a selection of your favourite Grace Loves Lace gowns.
There are breath-taking glass ceilings, exposed brick walls and chic copper accents not to mention the wonderful welcoming atmosphere. It's bridal heaven, closer to home!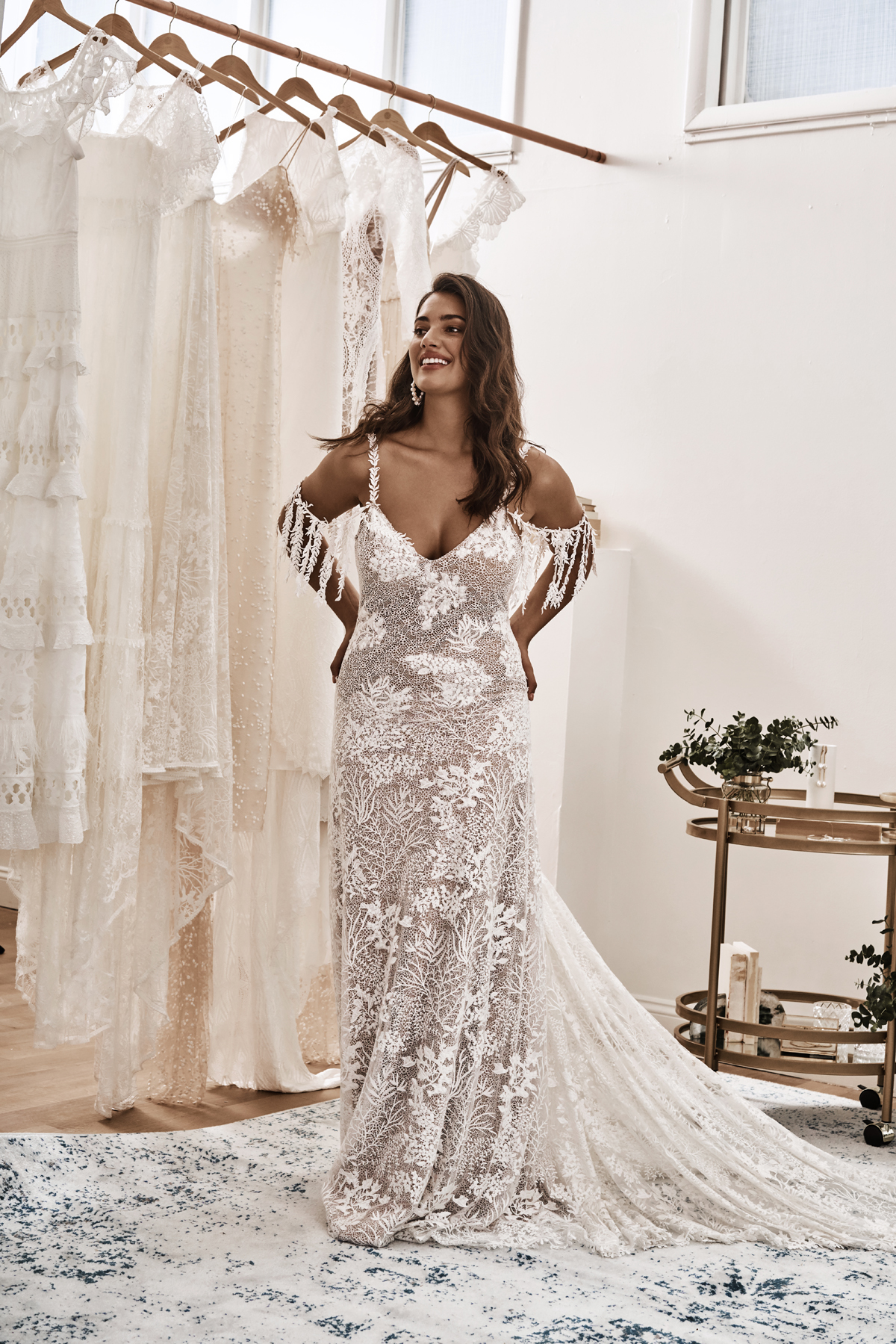 So welcome to New York, Grace Loves Lace – we know you're going to make a lot of brides very happy!
To find out more about Grace Loves Lace and to take a look at the showrooms online, just visit the website. You can also book appointments at your chosen showroom here and view/shop the collections too.
Love,
Tamryn x