I can't promise you summer weather today but I can promise you a wedding full of fun, colour, love and wild, natural details with this Hampshire countryside wedding.
It's a particular joy to share this celebration with you because these delightful, creative photographs are by Emma and Ian of Big Bouquet Photography, a team very close to Love My Dress as Ian is the talent behind our own blog's design. So, are you ready? On 11 August 2018, Katie and Ben wed in a chic barn ceremony and tipi wedding reception at Broughton Water Buffalo, Stockbridge in Hampshire.
The couple are both graphic designers and were inspired by clean, modern Scandinavian style and a simple fern leaf motif to theme their magical day, which was lit by fairy lights and candles. Katie works in fashion and retail (she also runs her own bespoke stationery brand Paper Bow London) and Ben is in the motion graphics industry; their eye for style is evident to see in their gorgeous colour palette of deep green, rich navy, dove grey and white with accents of copper.
Photography Big Bouquet Photography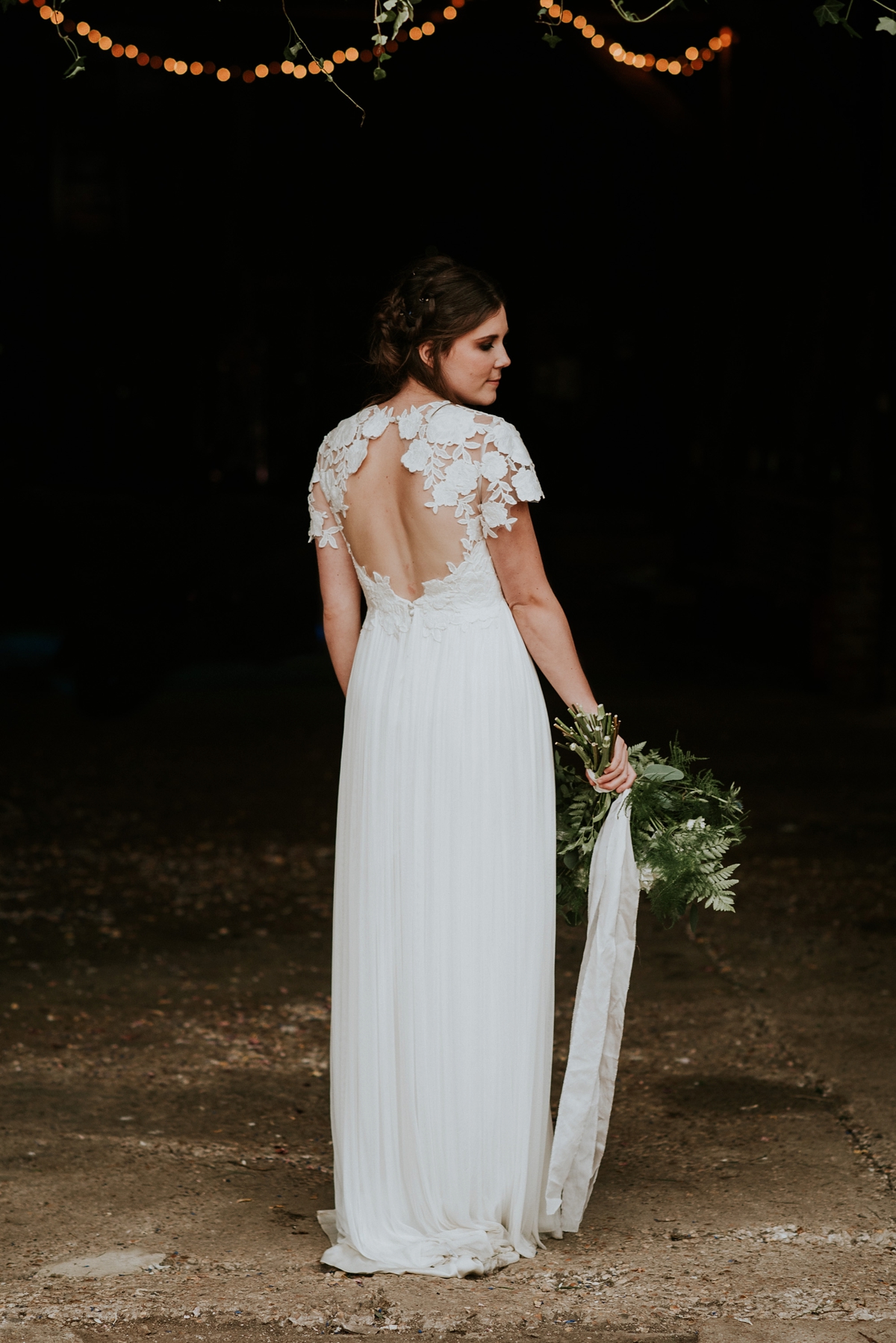 "Having worked in the fashion and retail industry for seven years, I thought my experience would make finding a photographer an easy job, but turns out that it only made it harder. After trawling through many, many portfolios, we found Big Bouquet through Instagram by searching #hampshireweddingphotographer."
"After looking at Big Bouquet's portfolio, I just knew they'd be the right fit. I loved the way that they captured each couple's day in a warm, natural and relaxed way so that you can see the happiness radiating from every image."
"Emma and Ian's friendly nature meant we relaxed instantly in front of the camera and a number of our guests asked how long we'd been friends with them they fit in so well at our wedding! It was this, combined with Emma and Ian's organisation and professionalism, which meant we spent hardly any time away from our guests, but got some absolutely incredible pictures that tell the story of our day from start to finish."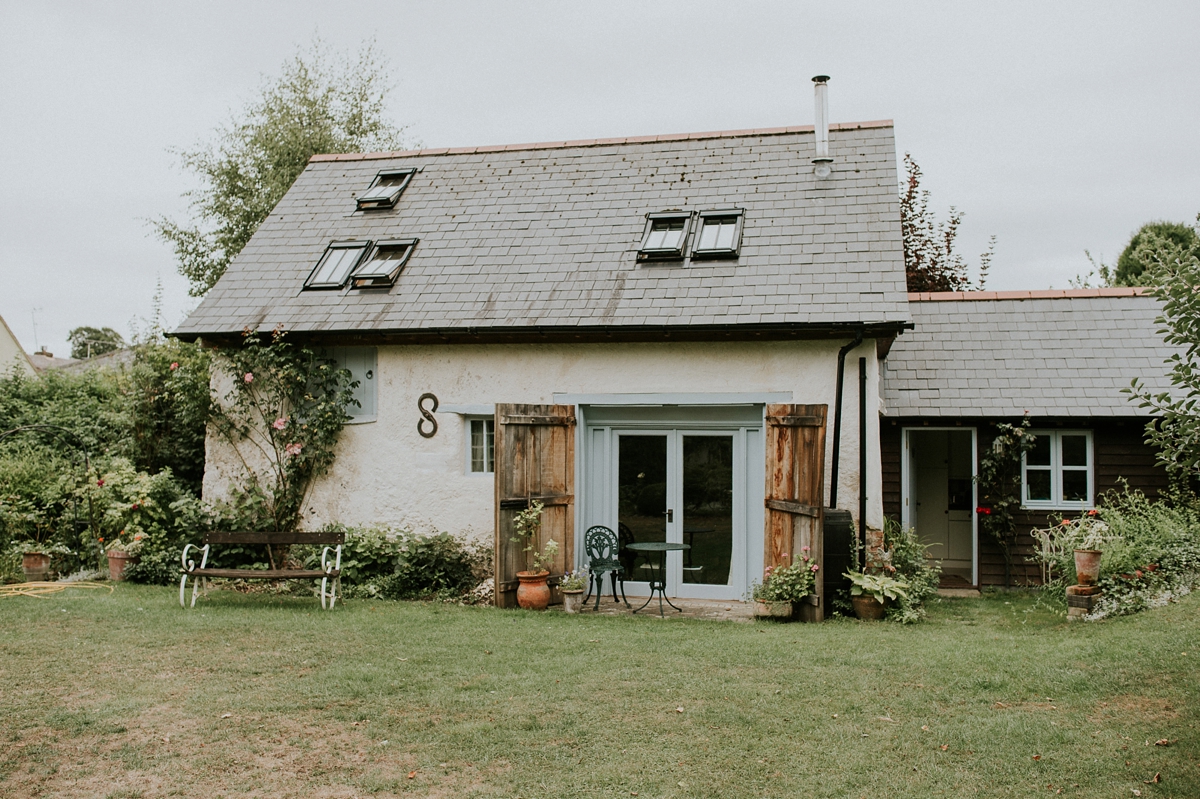 The couple first met at university in Leeds, when they lived in halls in rooms opposite each other.
"Ben proposed 2000 metres up while we were skiing in Austria in March 2017. It was a secluded little spot looking over the most incredible view of a valley and a moment that will be treasured forever. Having been together for nine years, the subject of marriage and weddings had already been discussed. So, ten minutes after getting engaged while we were sitting on a ski lift, Ben turned to me and asked 'Do you still want to do tipis in a field then?'. I said 'yes' and the planning began."
[JP-VIDEO]
The couple's first decision was the venue, and the beautiful barn and fields of Broughton Water Buffalo near Stockbridge in Hampshire was a perfect canvas for their vision.
"Broughton Water Buffalo was the first venue we saw, and the last. Once we saw the space, we fell in love. As well as the large open space to put some tipis on, the field at the farm also has an old barn, which was full of character as it hadn't been renovated and also it allowed us to create different spaces throughout the day. From the moment we arrived, my mind was already styling the space."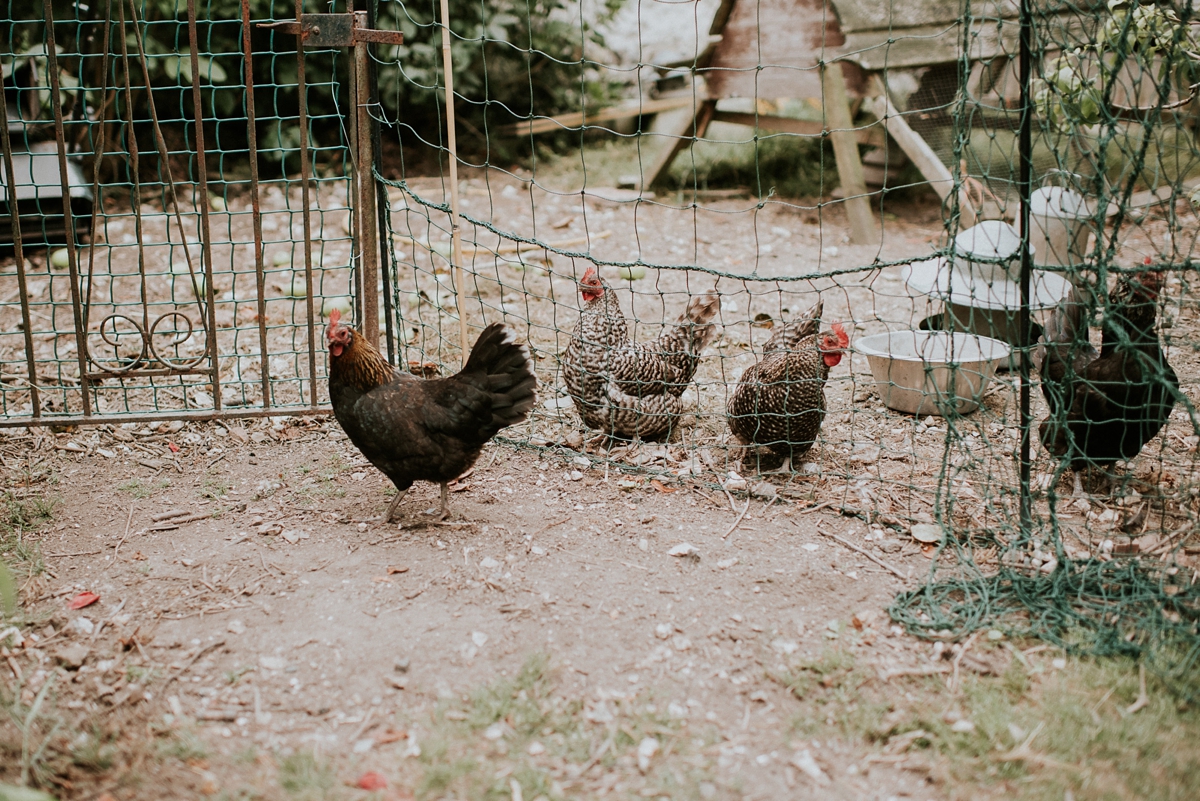 Very romantically, Katie wore fragrance that Ben gave her on the wedding morning.
"We had agreed not to give each other gifts on our wedding day but instead bought each other fragrances as a small personal touch. I have always been a Diptyque fan, wearing Eau Duelle on a daily basis. I visited their Bond Street boutique, where I tried Volutes on the staff's recommendation for a deeper, woodier smell than Eau Duelle but with the amber and vanilla notes that I love. It was the perfect variation to have a special fragrance for the day. Ben wore Acqua Di Parma Cedro di Taormina for a fresh, summer scent."
"A personal friend of mine, Lori Woodhouse, kindly offered to do my makeup on the day. I've always loved a smokey eye and wanted to add a bit of drama through my eye makeup. Paired with Charlotte Tilbury's 'Pillow Talk', it was the perfect combination! I asked my childhood hairdresser, Shaz Timbrell, to do mine, my sister's and my mum's hair in a natural, loose look with lots of texture and braids to give an undone, boho look. Being surrounded by people I know and love made all the difference that morning."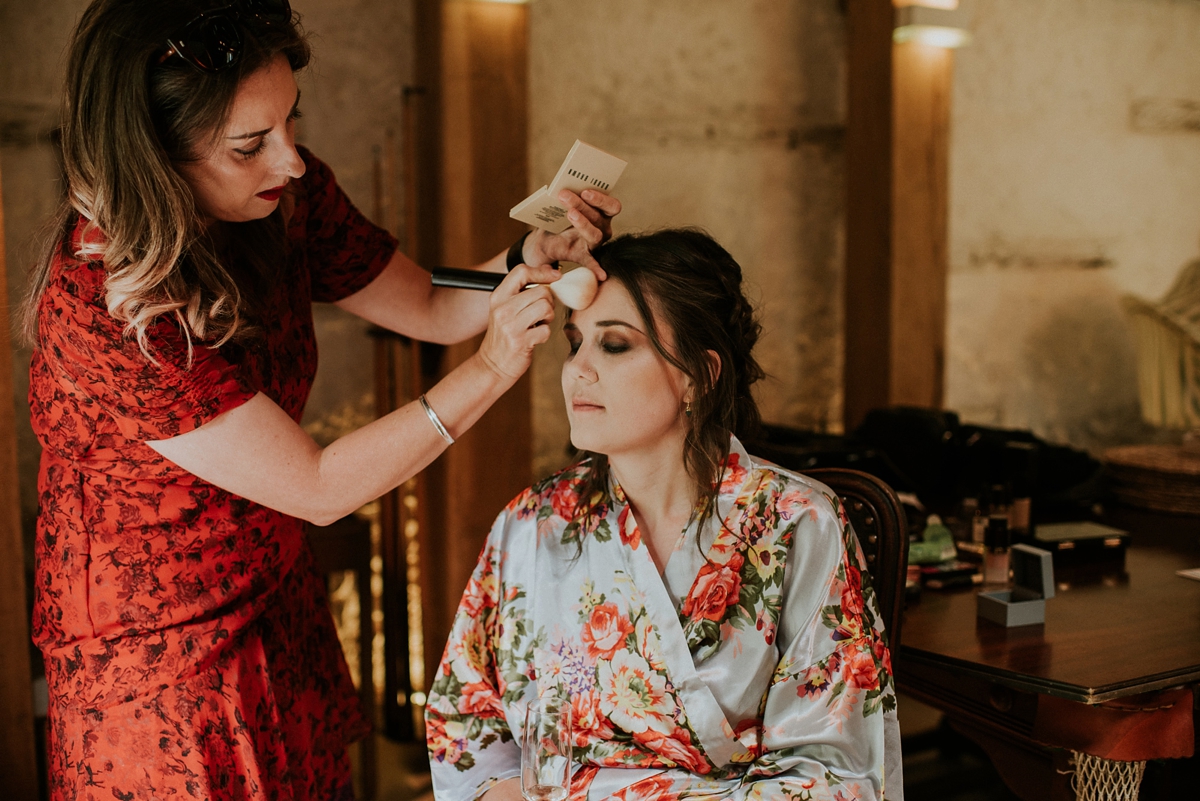 I think Katie has nailed the modern yet classic look she envisioned so perfectly in her choice of dress. This Catherine Deane gown is a floaty, faintly-boho style with the most beautiful appliqué cap sleeve detail and open back which looks wonderful in the natural, outdoors setting. Katie used the 'Search by designer' function of Love My Dress to help her find her gown; have you tried it yet?
"The 'Search by designer' function… honestly, this was a godsend when looking for a dress. Every time I thought I'd found a designer I might like, I'd look at real people wearing the dresses to see how they fit on a real body rather than a model."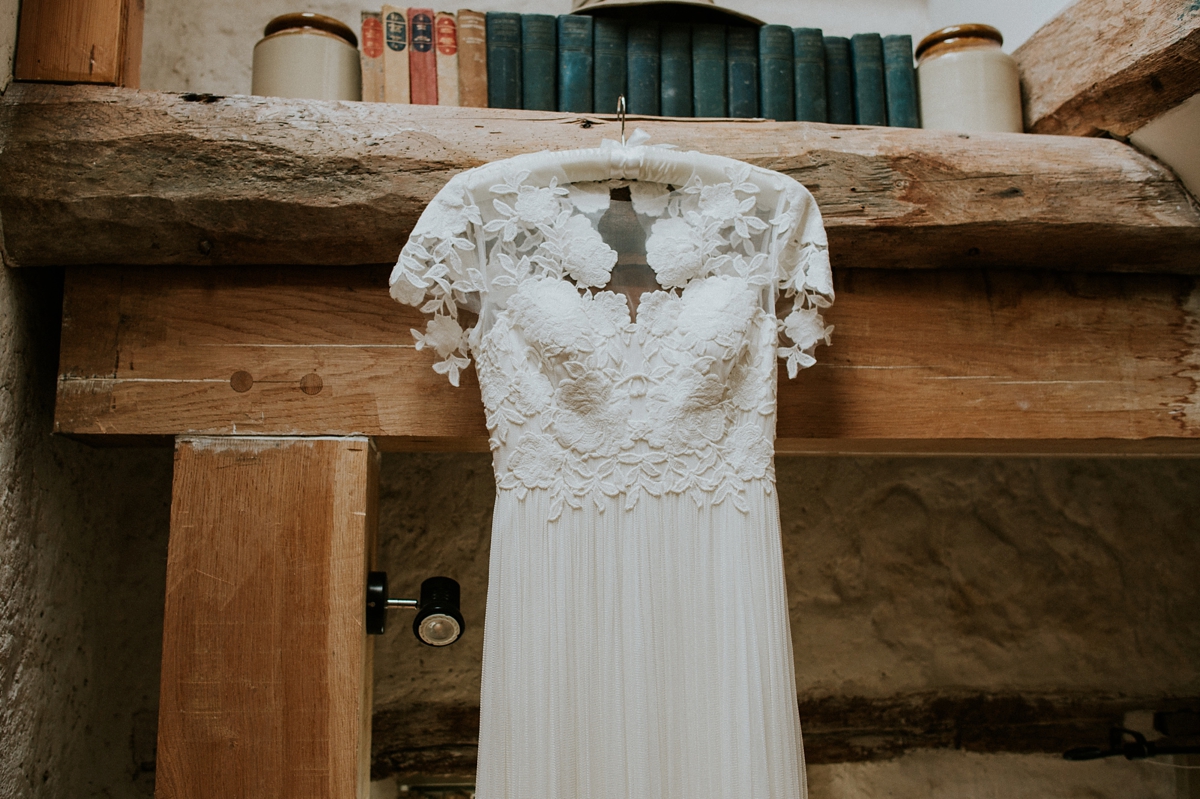 "I wore the Jazelle dress by Catherine Deane, purchased directly from their London showroom. Sandra, the stylist at CD, was an absolute DREAM. I was very nervous about trying on dresses, but she made every single second of the experience amazing."
"I had always envisaged something that reflected me but made me feel special. I am not a shopper at heart so I looked at hundreds of dresses online to avoid the process of trying on as many. I narrowed it down to just two designers, and if I am honest, had fallen in love with the Jazelle before even visiting the showroom."
"When I tried it on, I just knew it was the right dress for me. It felt like it fitted our day perfectly, while also making me feel like myself, but better! The flowing silk tulle skirt moved incredibly, something ideal for outdoors, and the appliqué florals were the perfect detail. The most best detail of the whole dress for me was the open back; it is such a feminine, and statement detail that felt so organic."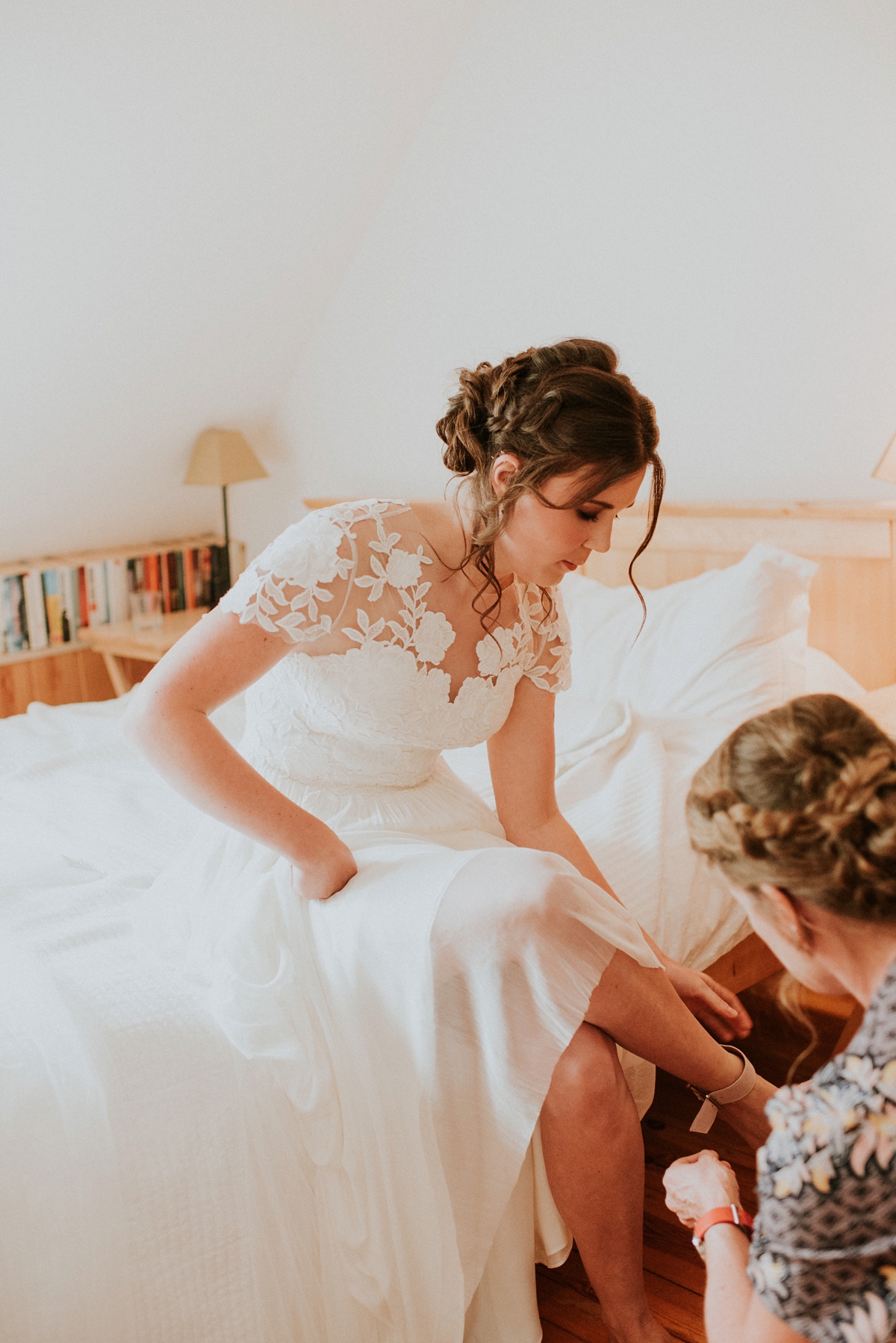 For the countryside location, Katie had to choose practical shoes and found her perfect pair of dusty pink block heels at & Other Stories. Just so pretty.
"Block heels were a must for the outdoor setting! I changed into a pair of custom white Converse in the evening, embroidered with 'Mrs C.' on the back, because being able to dance without worrying about sore feet was an absolute must."
I'm so pleased to hear that Katie found Love My Dress a source of inspiration and support in the planning of her own wedding.
"Something that was an incredible help and reassurance was Katrina Otter's articles on Love My Dress, some of which I read umpteen times. The article 'The Pressure of Having A Perfect Day' particularly resonated. As a designer, and one involved in the wedding industry, I had put a lot of pressure on myself to plan the most incredible, detail-orientated day, so I frequently visited this article for words of calming advice from an absolute industry pro. 'Your Guide To Planning A Dry-Hire Wedding' also proved helpful considering we were working with a field that had little more than an old barn."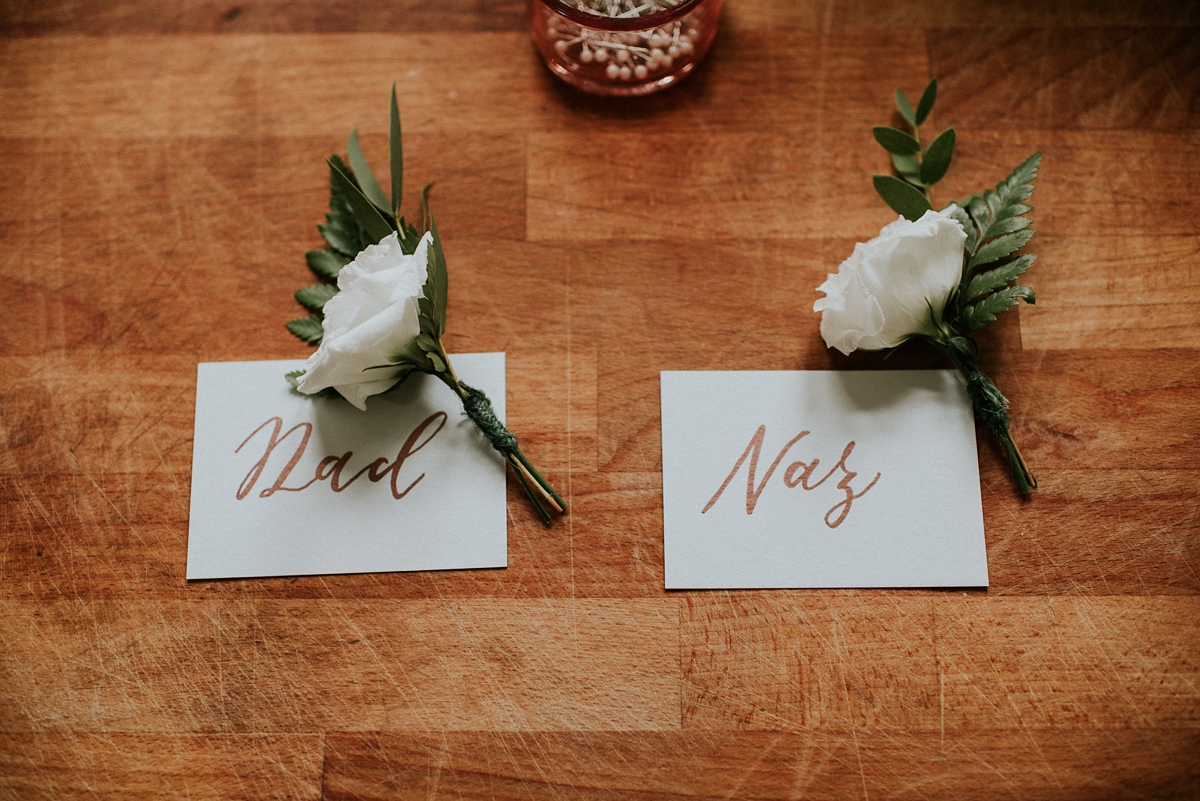 I could hardly believe my eyes when I read that Katie sourced and arranged all of the wedding flowers herself, including these wild and natural bouquets. I love the simple scheme of deep green and white which is so, so timeless. She bought her flowers wholesale from Triangle Nursery.
"This was probably my bravest decision of the whole wedding, to do the flowers myself. Though it was hard work, it was a part of the process I loved and I put it down to the flowers that I remained quite as calm as I did throughout the set-up days. My focus was on seasonal white flowers and lots (and lots!) of foliage, arranged in a loose, wild look. It was important for me to include a fern leaf in reference to my many childhood summers spent with my family on Dartmoor, and had been the motif for our wedding from the day our 'save the dates' got posted. Both mine and my sister's bouquets were wrapped in grey and ivory trailing silk ribbon from C Fleurs Design for a feminine final touch."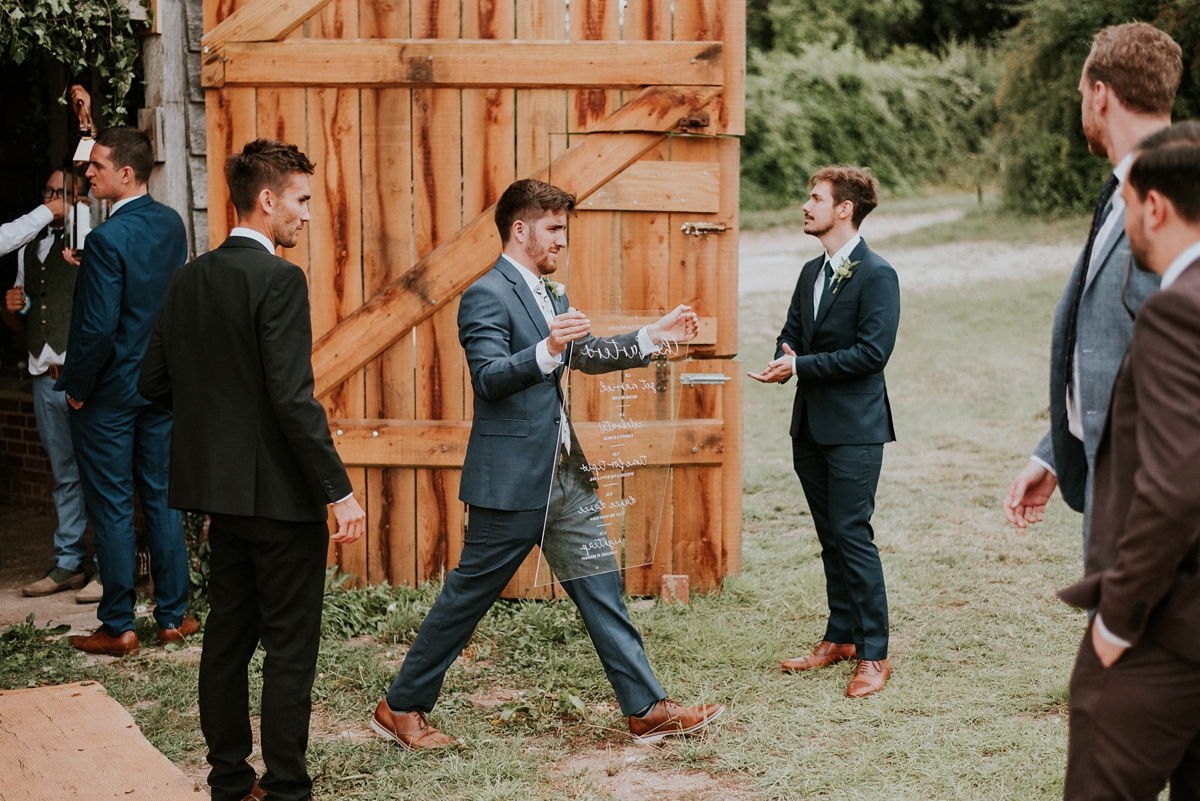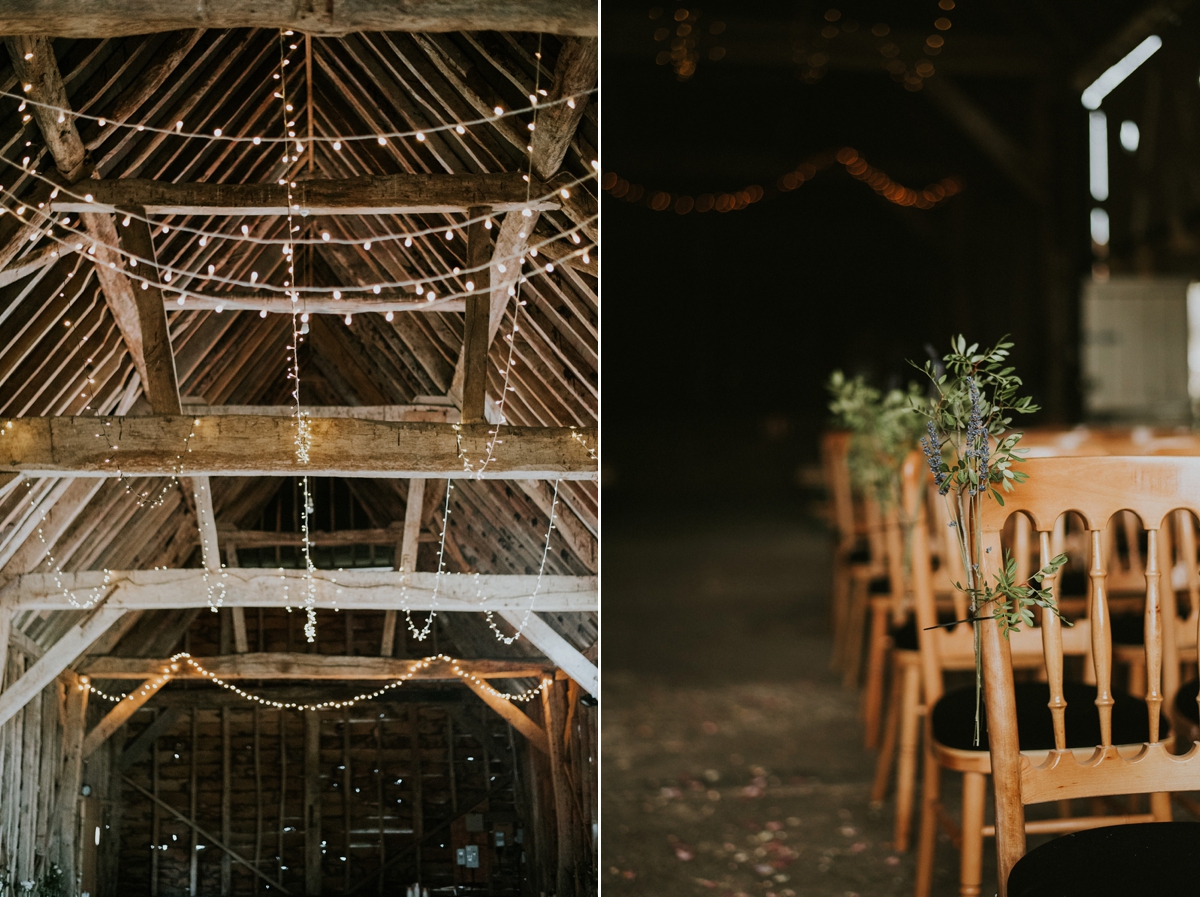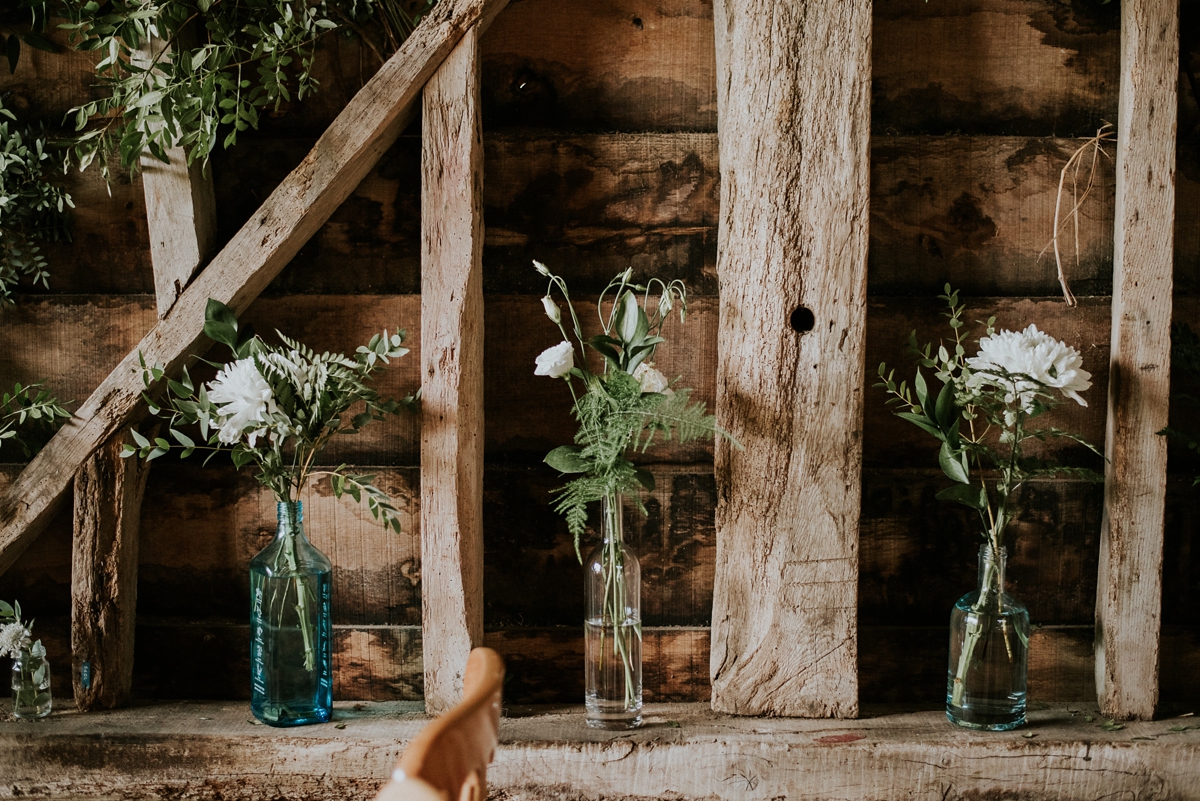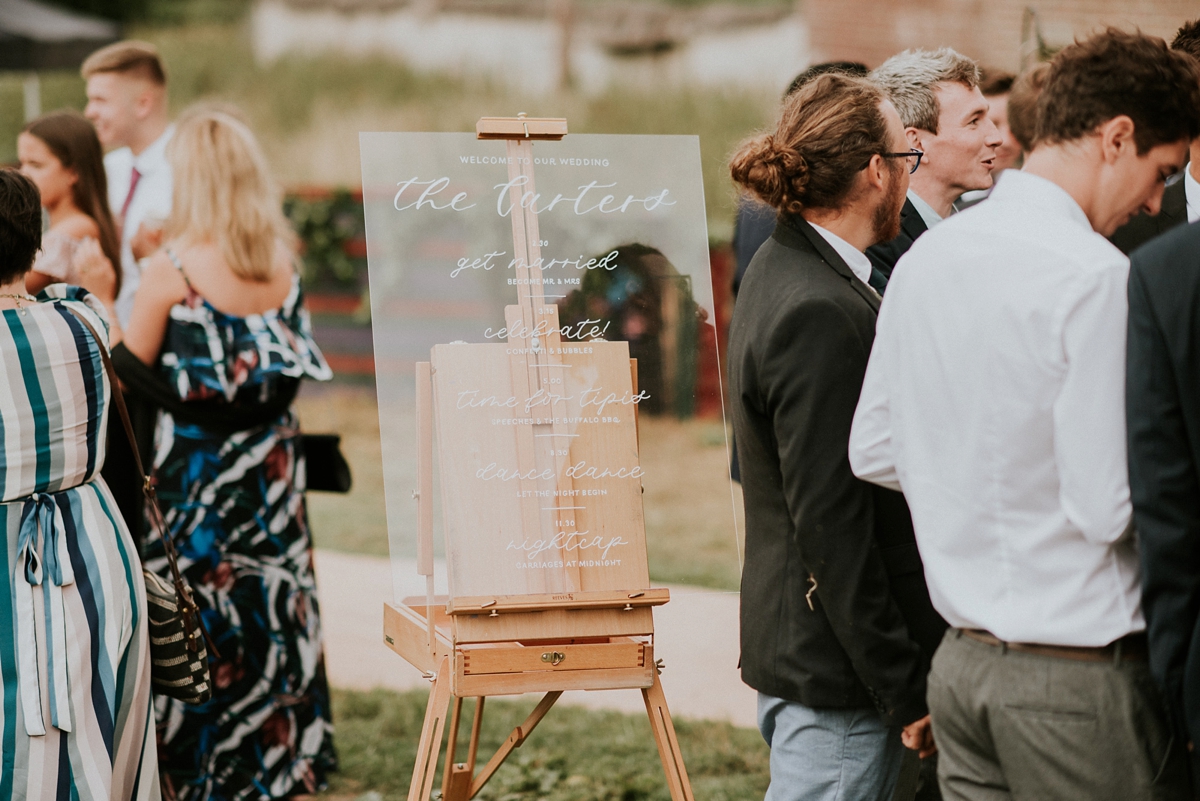 The deep green colour palette sang in the maid of honour's gown; a floaty midi dress from Coast with a Bardot neckline and dipped hemline. The maid of honour, Katie's sister, wore the same gold and malachite Missoma hoop earrings, a gift from Katie for the day.
"It turns out we struck lucky with the deep green colour scheme being a very on-trend colour last Autumn/Winter so we had our pick of beautiful dresses."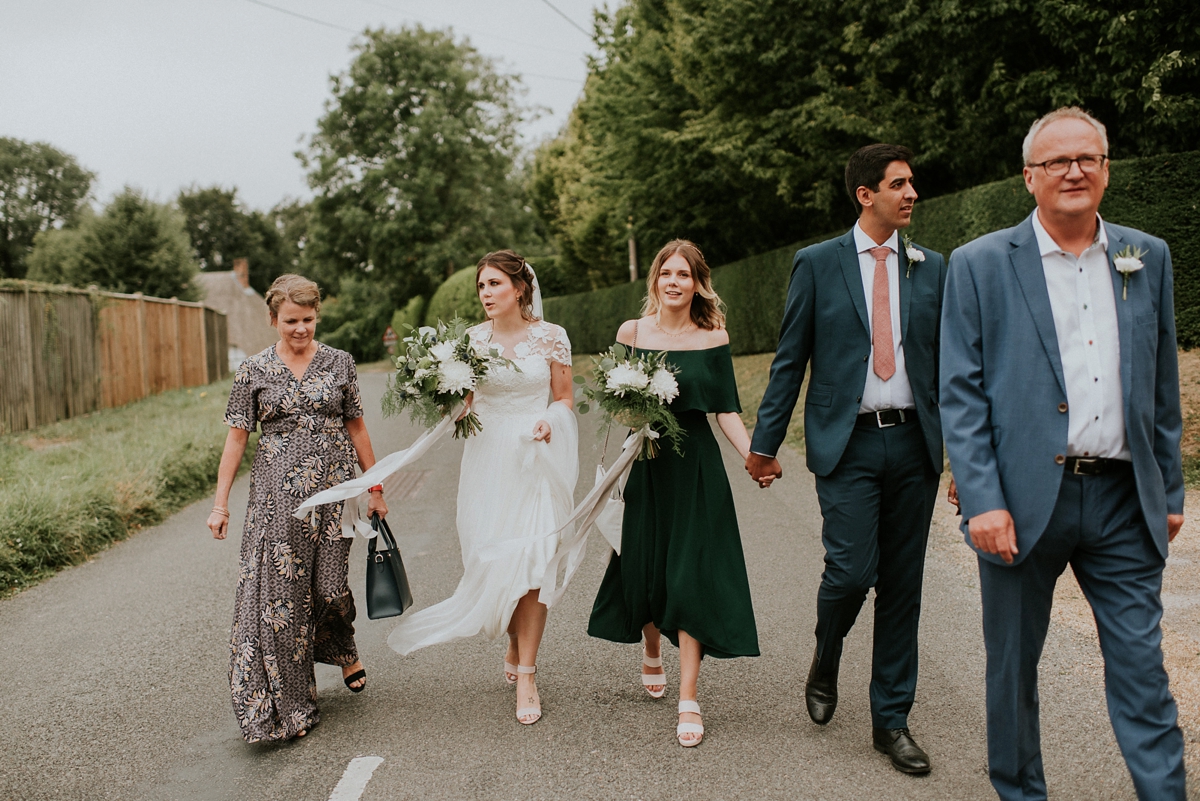 In line with the overall simple approach, Katie's jewellery was pair of pretty gold hoop earrings from Missoma.
"I decided to keep accessories to a minimum to let the dress speak for itself so wore a pair of Missoma hoops with malachite shields to fit in with the greenery in my bouquet."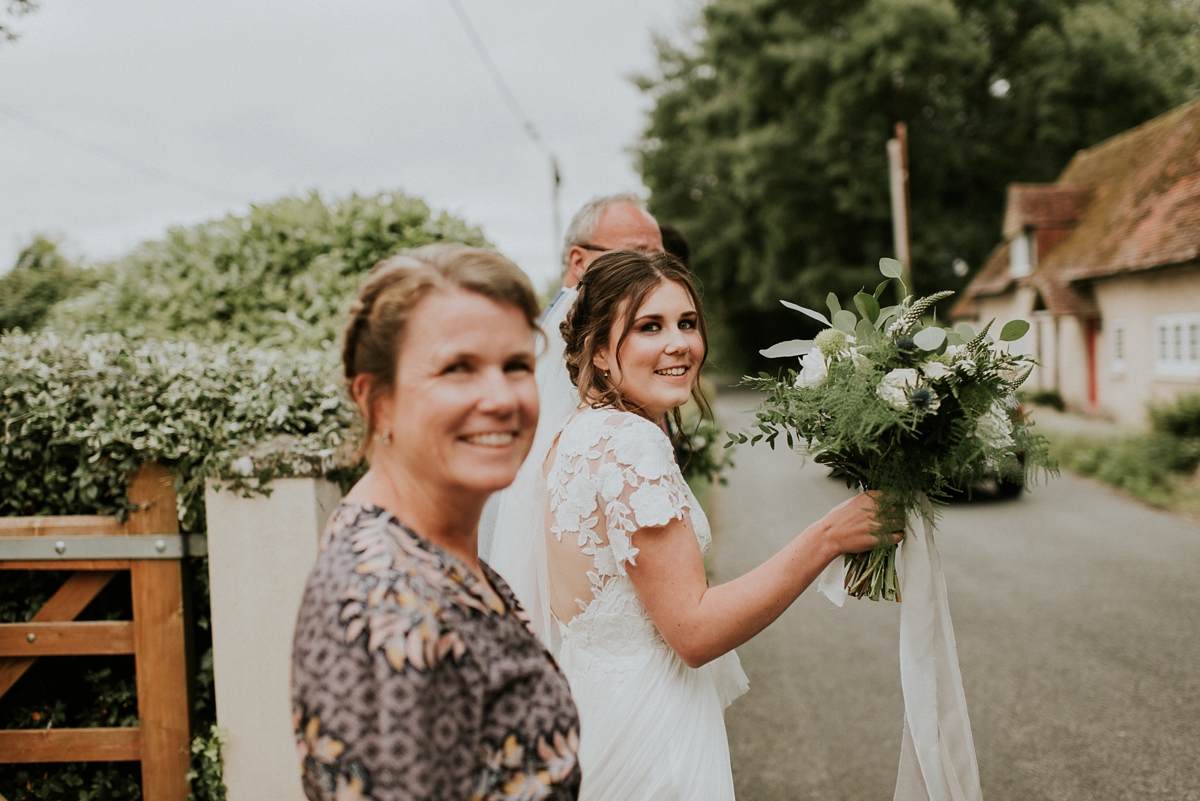 The bride's full, sheer veil was the Chelsea veil, also from Catherine Deane.
"I had previously said I wouldn't wear a veil but the Catherine Deane one changed everything for me. I didn't realise veils could come in such delicate floaty silk and not the stiff netting I'd always envisaged. When Sandra at the showroom said I should try one on, I was so surprised. The addition of the veil gave me the slight train I would have loved with a dress but with the convenience of being able to take it out for dancing and walking around the field."
Ben and Katie stayed together the night before their wedding at Foords Barn, a detail which Katie really loved.
"Ben and I both stayed in a local holiday cottage the night before the wedding in the hope it might help us to get some sleep, but one of my favourite parts of the morning was waking up together, having a cup of tea as if it were any other normal day, then waving him goodbye as he went to get ready at his mum's house. I got ready at the cottage with my family and walked to the venue. It was lovely to see people waving as they drove past and there's nothing like some fresh air to calm the nerves."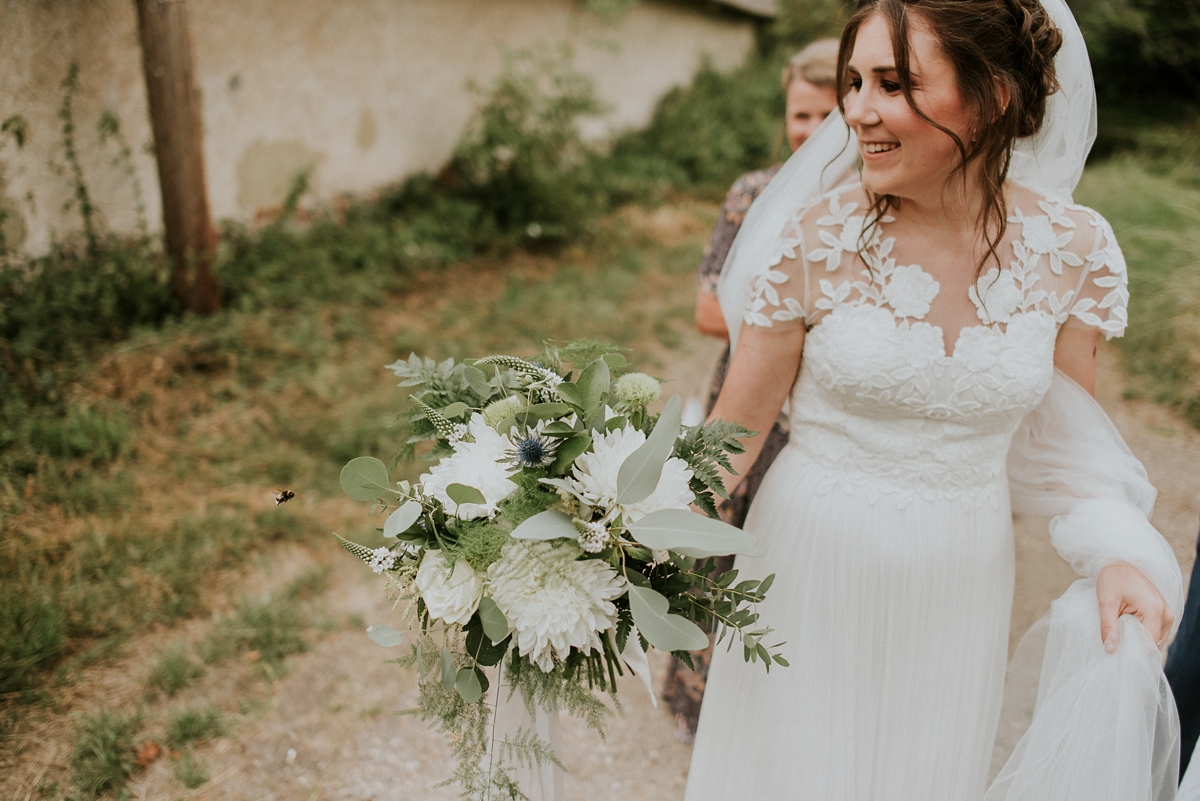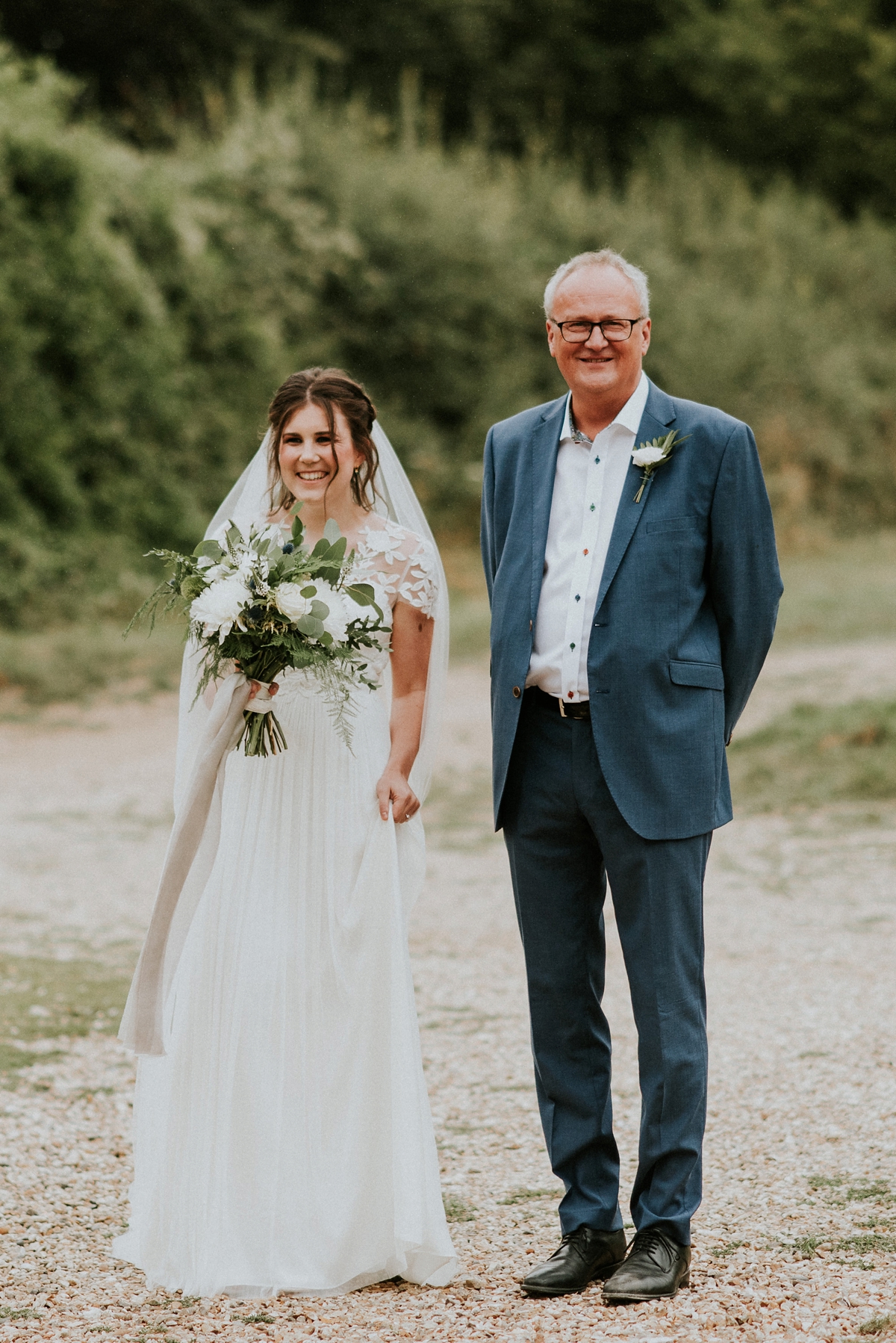 The couple's ceremony was held in the venue's barn, decorated especially for the occasion. Katie and Ben had previously married a few days before, so they could completely personalise the ceremony to have as much meaning as possible. The bride entered on the arm of her father, to an instrumental version of 'The Only Exception' by Paramore.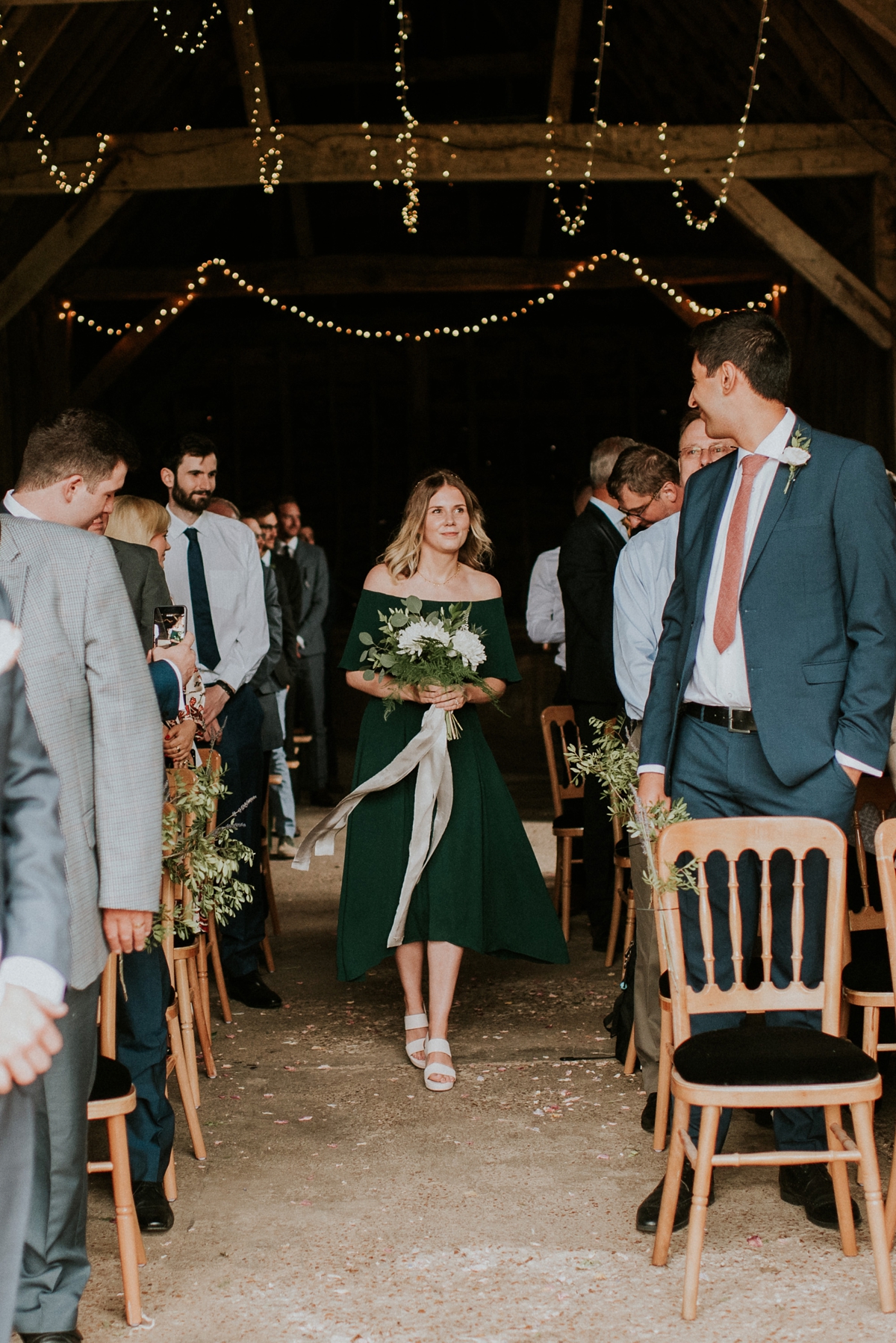 "Before the ceremony, some of our guests were struggling to get their heads around the fact we had legally signed the marriage register on the Friday but weren't deeming ourselves 'married' until our ceremony on the Saturday. However, we were overwhelmed with the number of people who said how personal, loving and authentically us our ceremony was. This is a huge testament to our celebrant, Lisa Lane, who wrote the most beautiful script that was tailored perfectly to mine and Ben's personalities."
"Ben and I wrote our own vows and decided not to share them with each other before the day itself. Needless to say that there wasn't a dry eye in the house after this. With so much meticulous planning having gone into the day it felt exciting to know there was a part that would be a surprise to us both, and made this moment even more special and personal."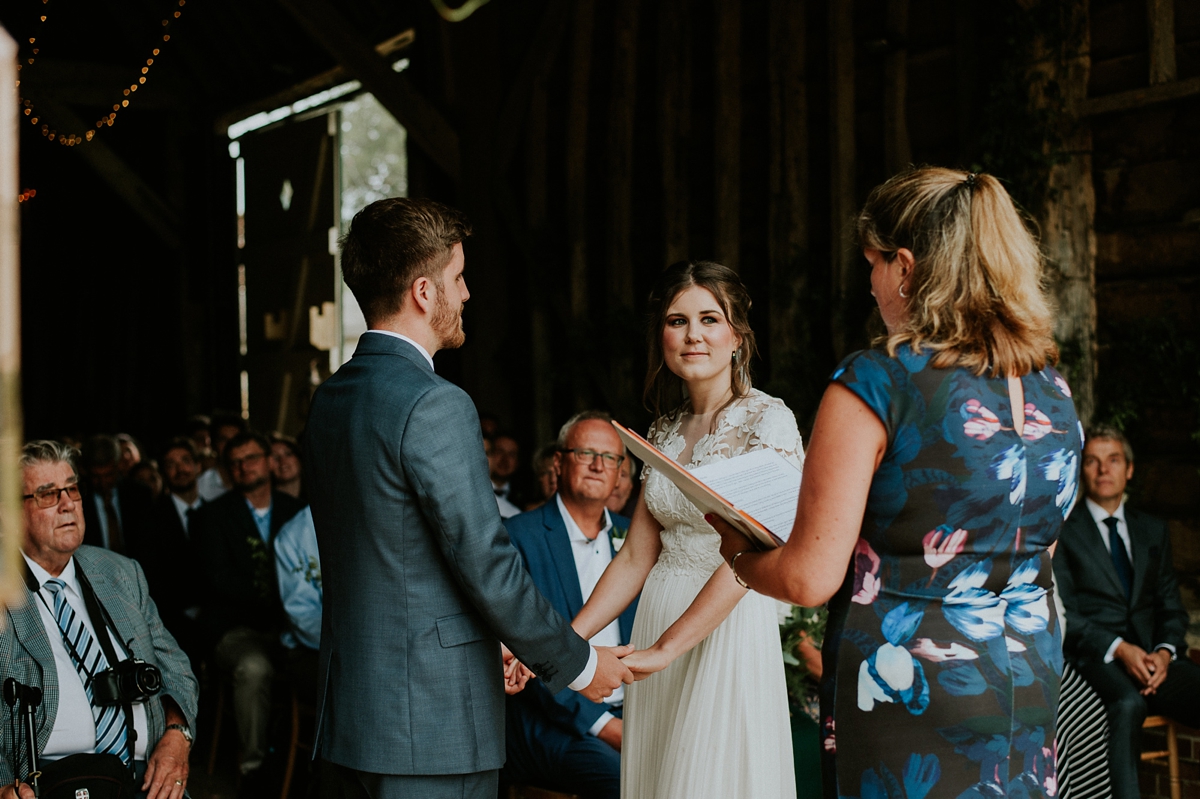 "We struggled with readings and had quite a lot of criteria. Originally we had wanted three but only actually found two we loved. We are not super-serious or overly-romantic people and wanted something that felt real and, more importantly, had a sentiment that we valued."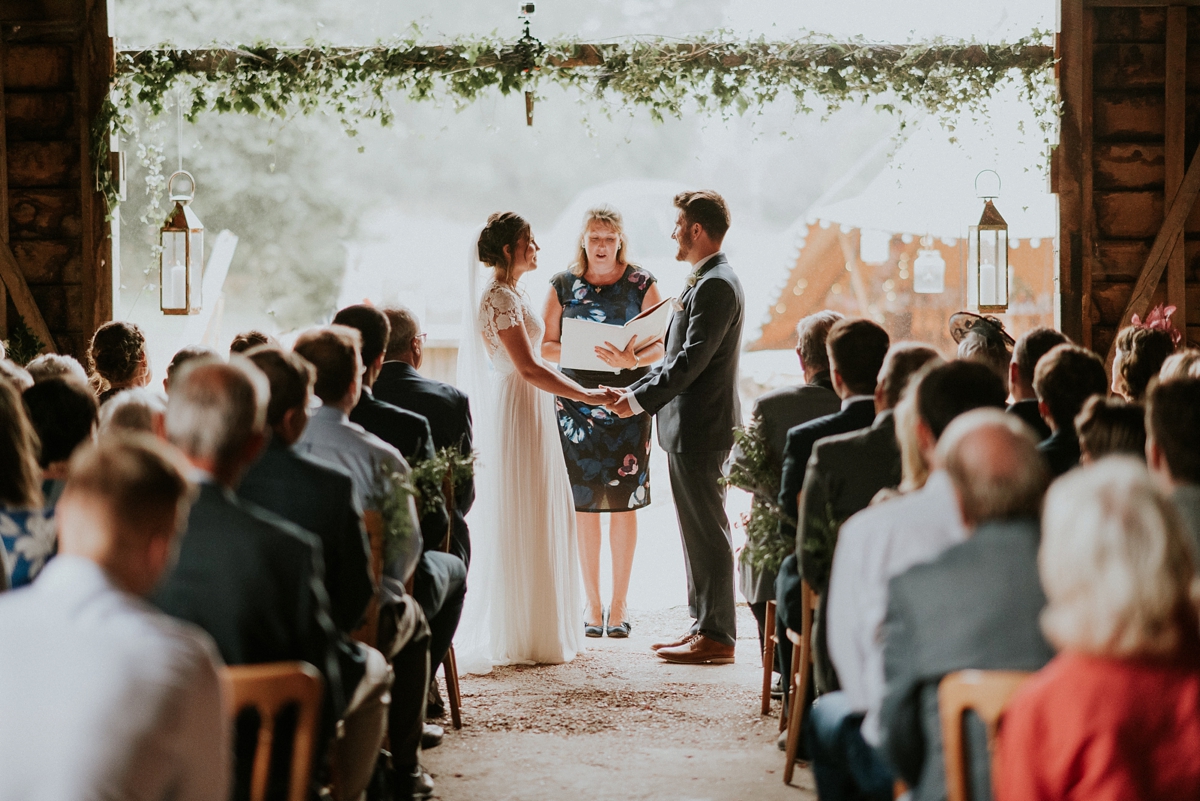 "We had our soon to be brother-in-law, Naz, read an untitled poem by one of our favourite authors, Neil Gaiman. This was done as an 'introduction' to our ceremony and set the tone wonderfully. We then had our close friend from university, Sophie, read 'He's Not Perfect' by Bob Marley, a reading that resonated so much the first time we read it, it almost felt like it was written for us."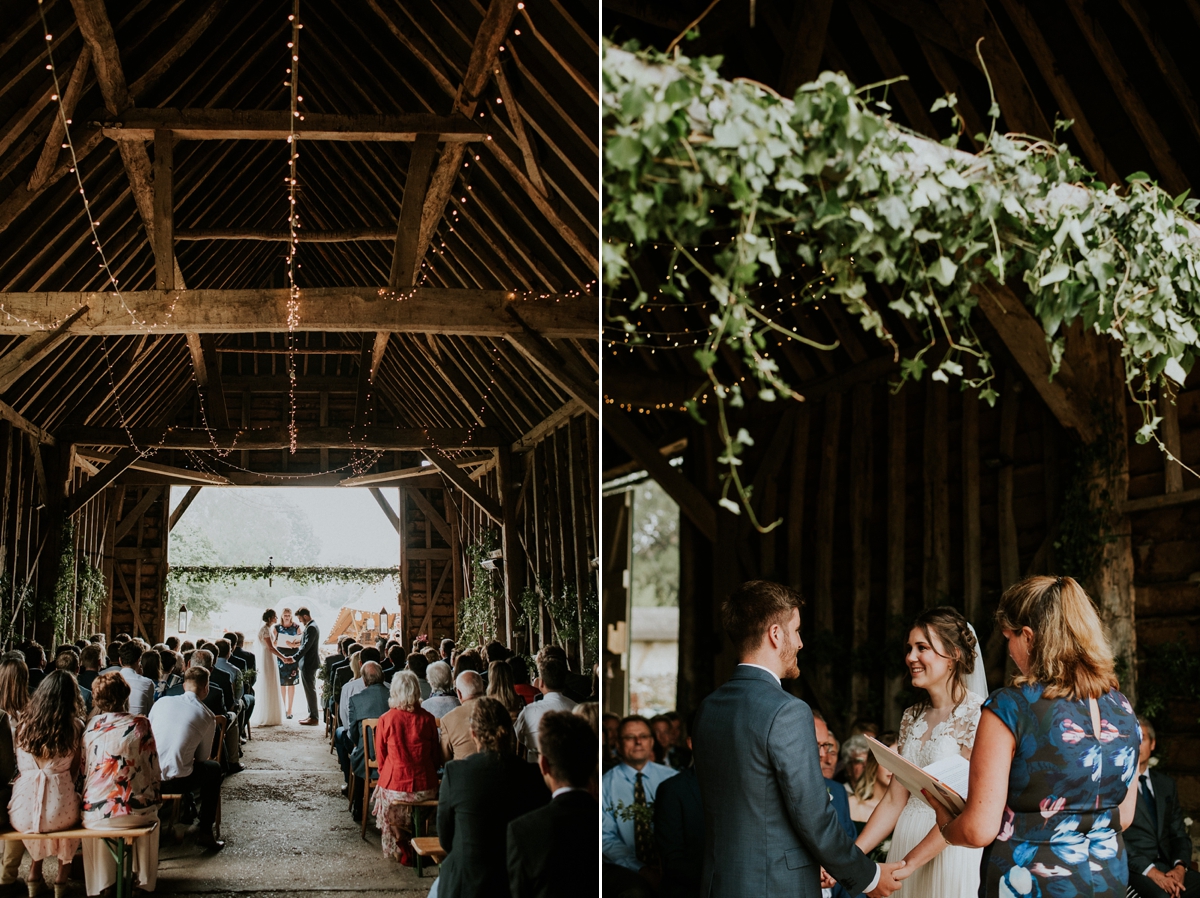 The couple's rings came from Hatton Garden jeweller Heming London.
"Living in London meant we had easy access to Hatton Garden, where we bought our wedding rings from the same jeweller who made my engagement ring."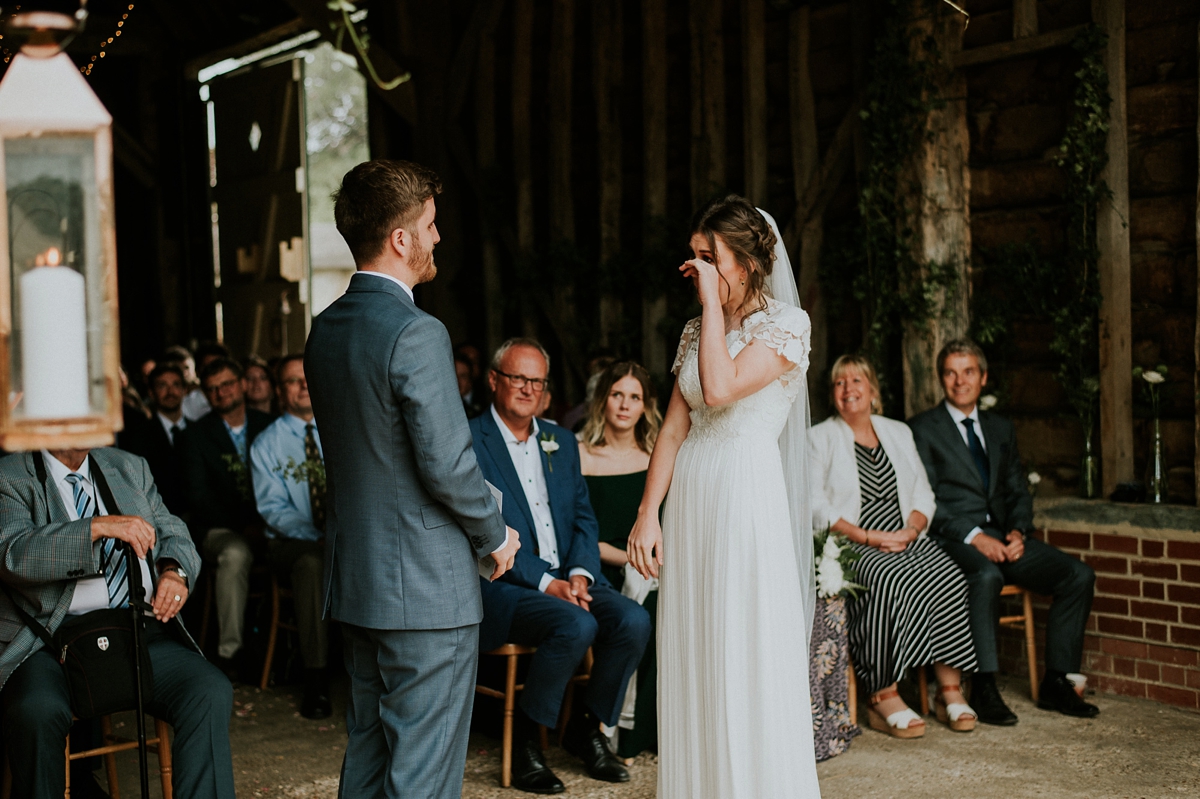 I could hardly believe my eyes when I read that Katie sourced and arranged all of the wedding flowers herself, including these wild and natural bouquets. I love the simple scheme of deep green and white which is so, so timeless. She bought her flowers wholesale from Triangle Nursery.
"This was probably my bravest decision of the whole wedding, to do the flowers myself. Though it was hard work, it was a part of the process I loved and I put it down to the flowers that I remained quite as calm as I did throughout the set-up days. My focus was on seasonal white flowers and lots (and lots!) of foliage, arranged in a loose, wild look. It was important for me to include a fern leaf in reference to my many childhood summers spent with my family on Dartmoor, and had been the motif for our wedding from the day our 'save the dates' got posted. Both mine and my sister's bouquets were wrapped in grey and ivory trailing silk ribbon from C Fleurs Design for a feminine final touch."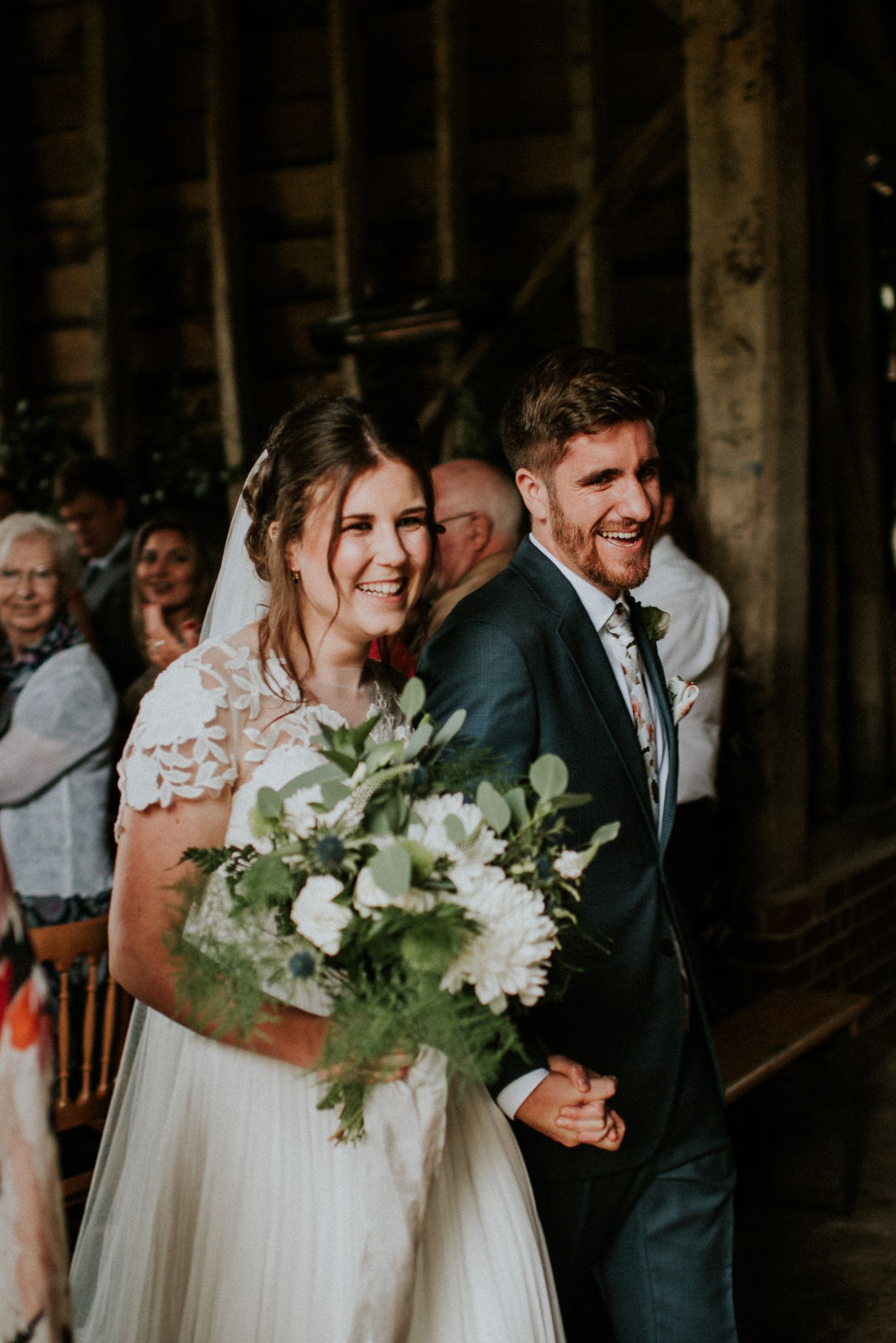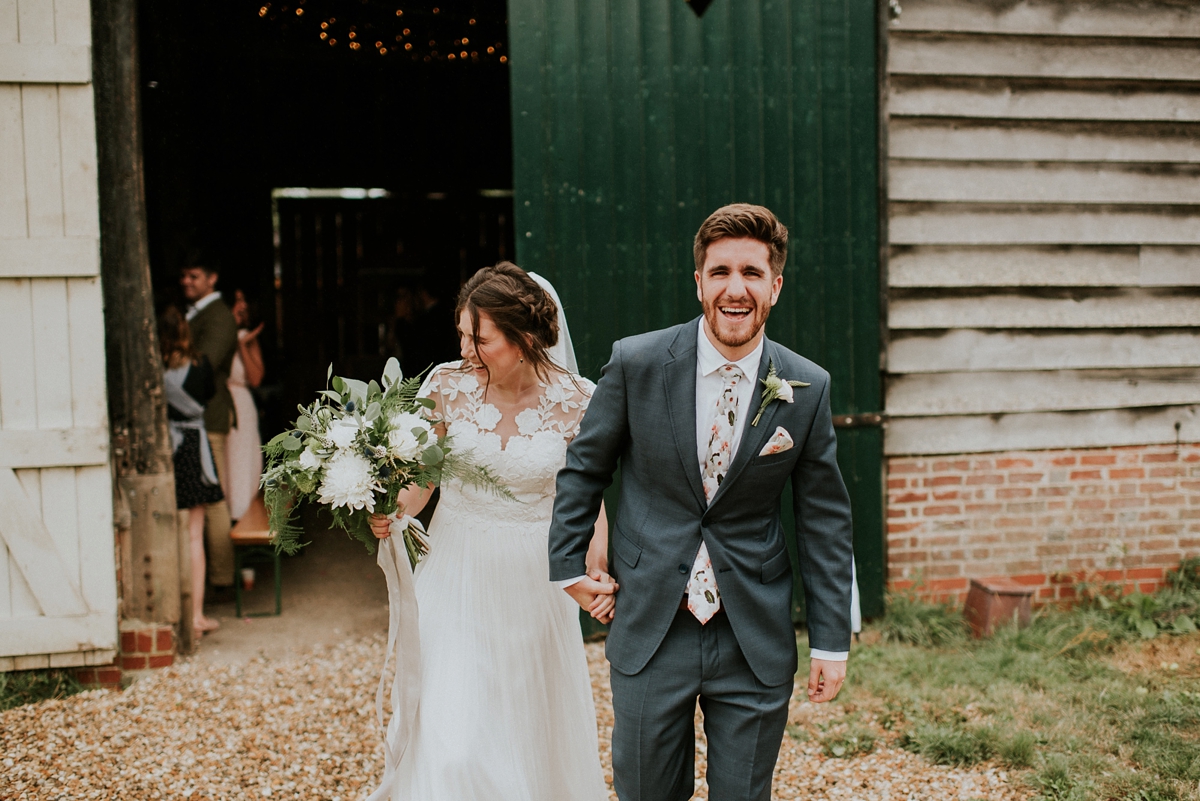 Ben chose a slim-fit suit from Ted Baker, tailored to fit and worn with a crisp woven cotton shirt, and a tie and pocket square in a beautiful floral-print, all from Ted Baker. I love this unusual take on adding colour to a groom's suit. Ben's finishing touch was a copper tie clip, stamped with his initials.
"Ted Baker's in-store service at the Regents Street store was incredible. They took the time to go through with us the fit of the suit, pinned it in and had all the alterations done in a couple of days."
"Ben had the sum total of TEN best men which included all of his old school friends (in his words, it's all of them or none of them), which was quite the contrast to my one maid of honour and no bridesmaids! He knew he wanted his best men to be comfortable and relaxed so made the decision to ask them to wear their own suits. As a gift on the day, Ben gave all of the best men copper tie clips to match his. All were engraved with their initials and the date of the wedding on the back; a small touch to tie them all together."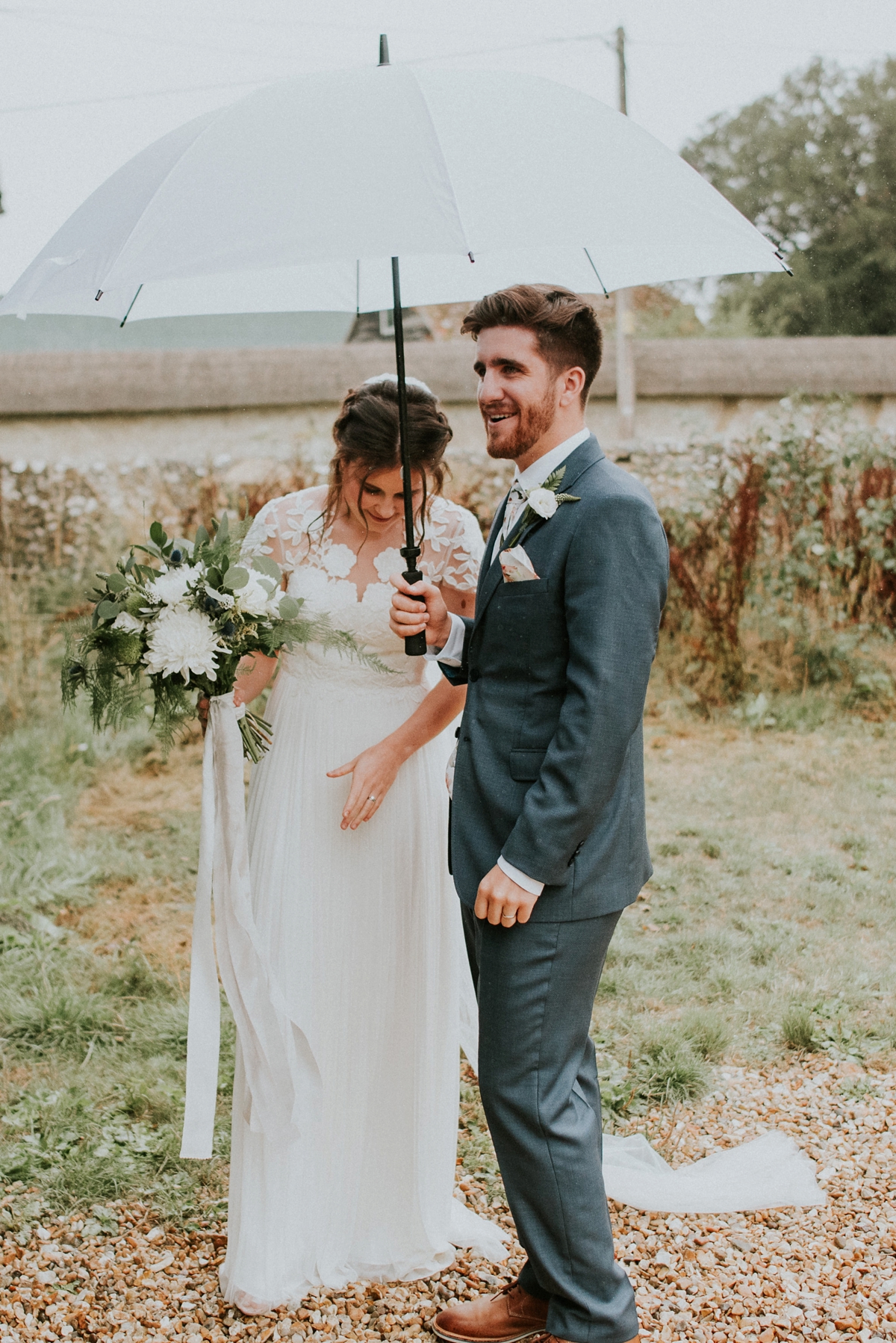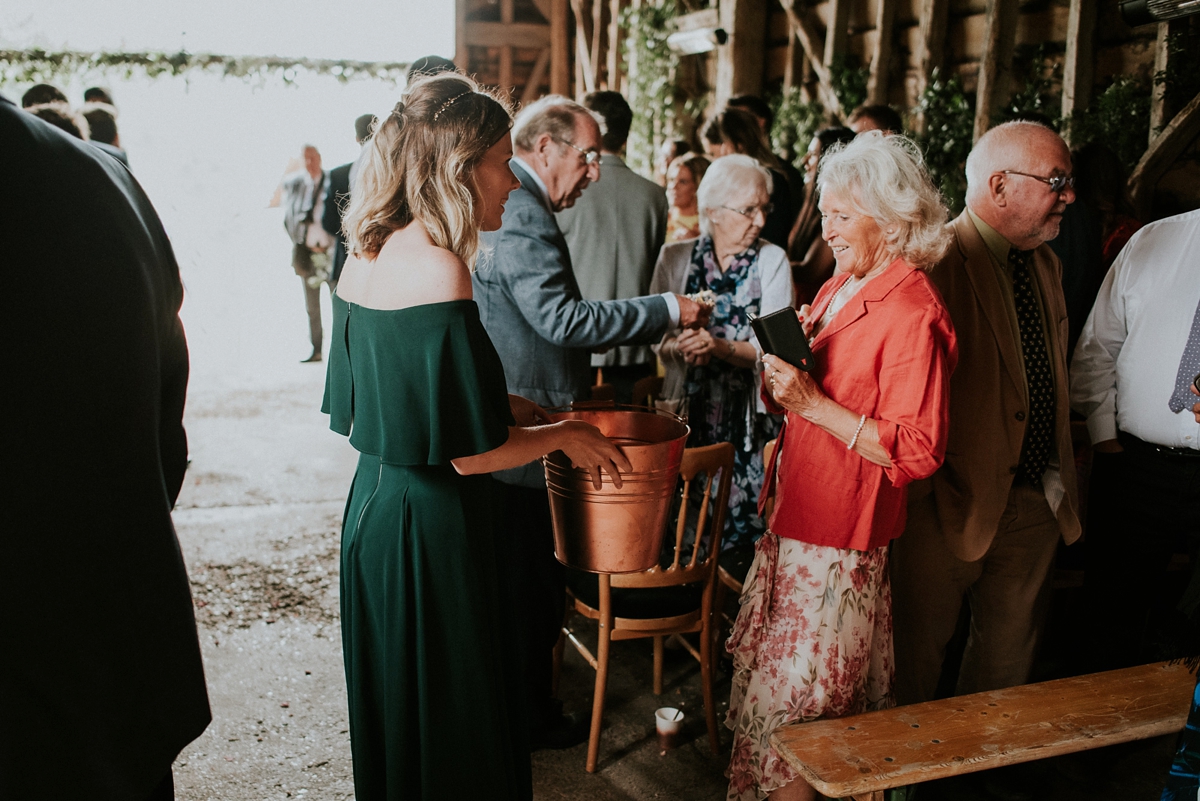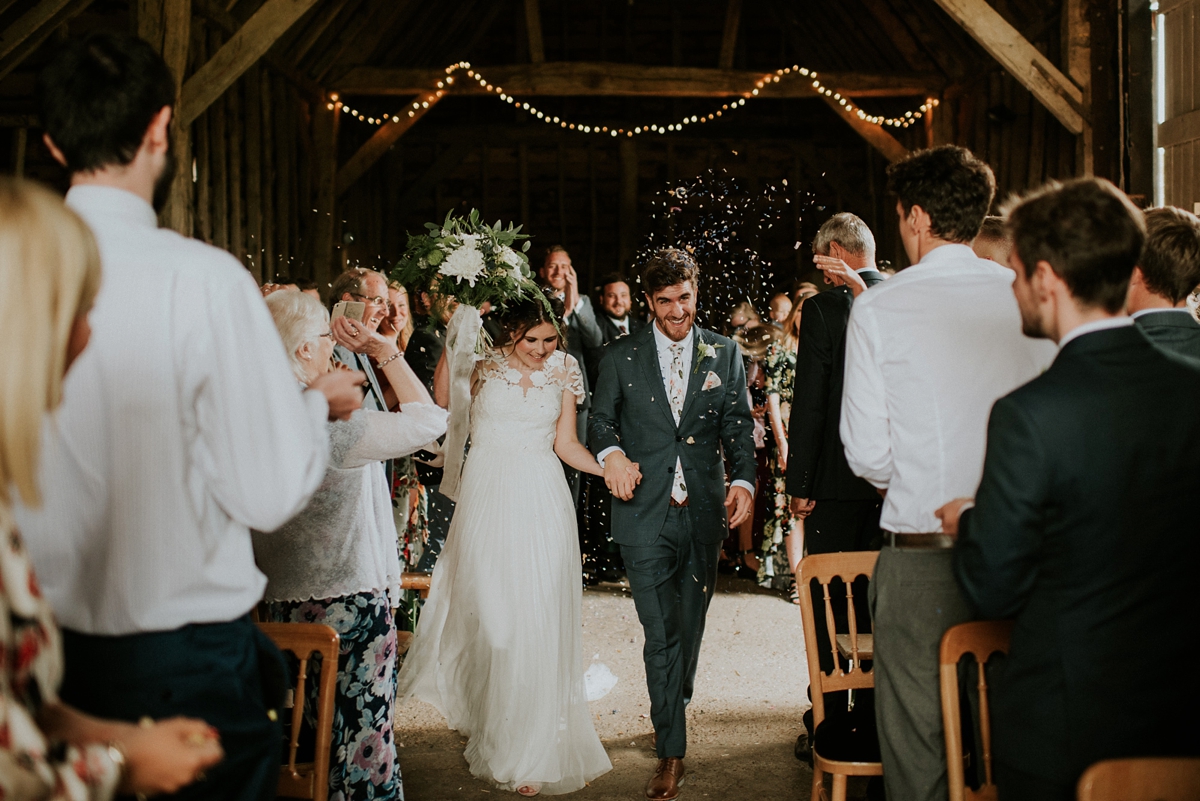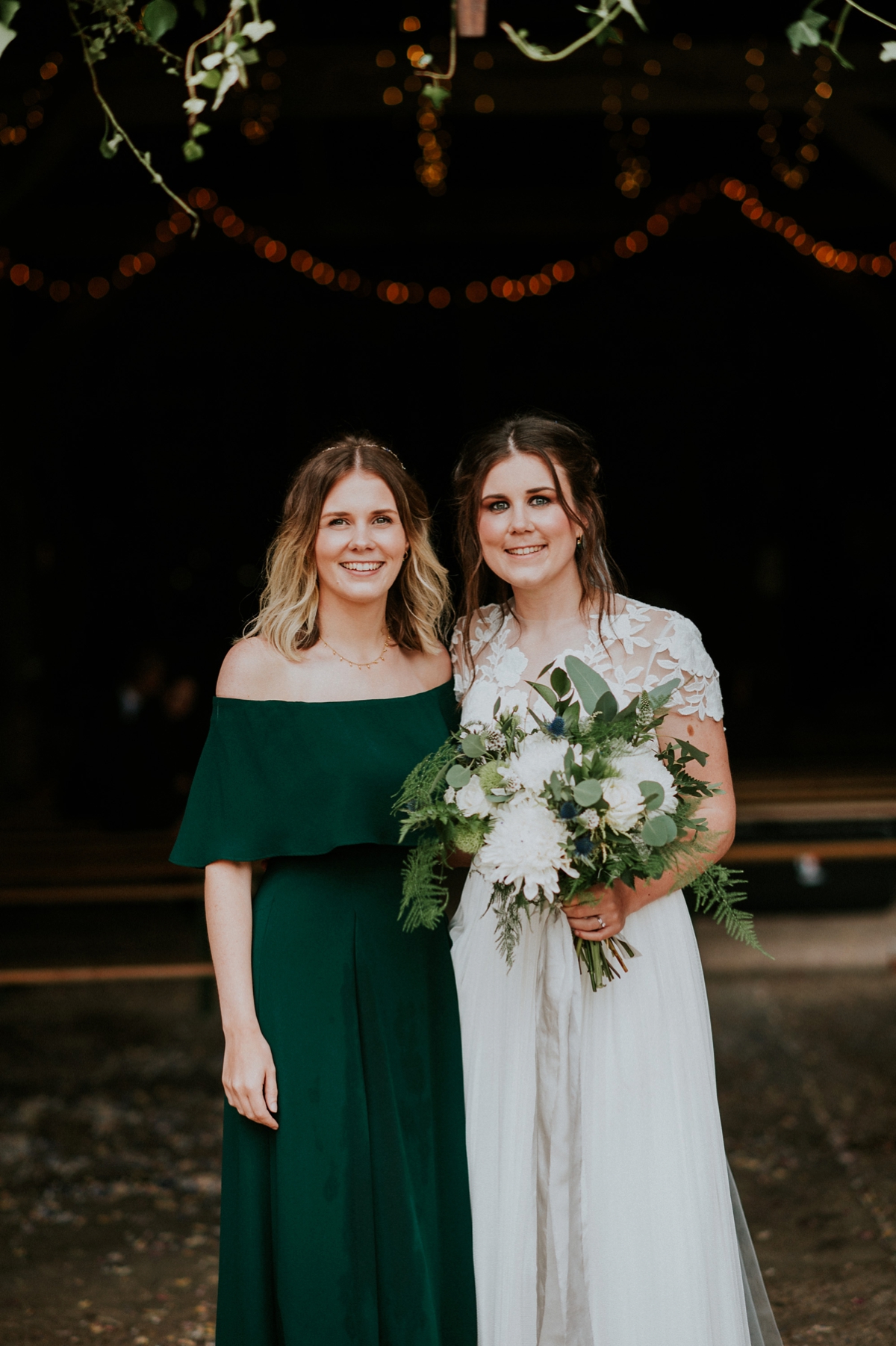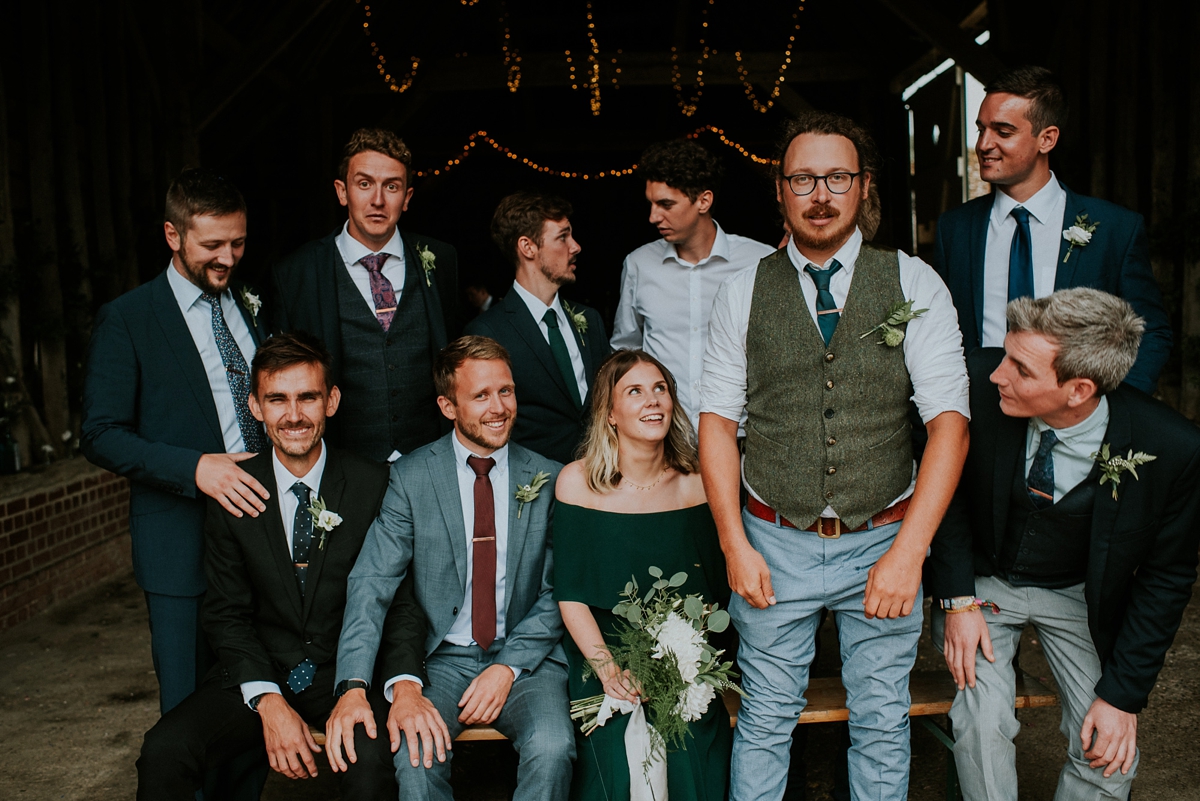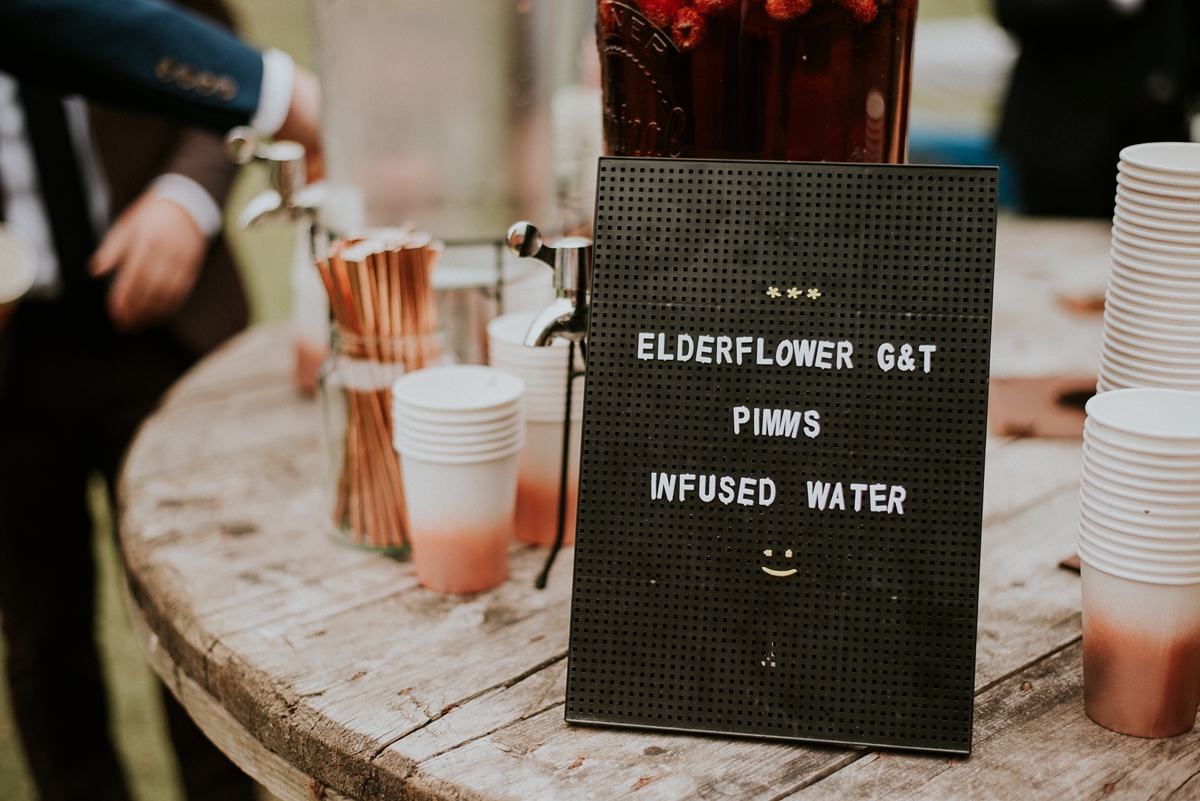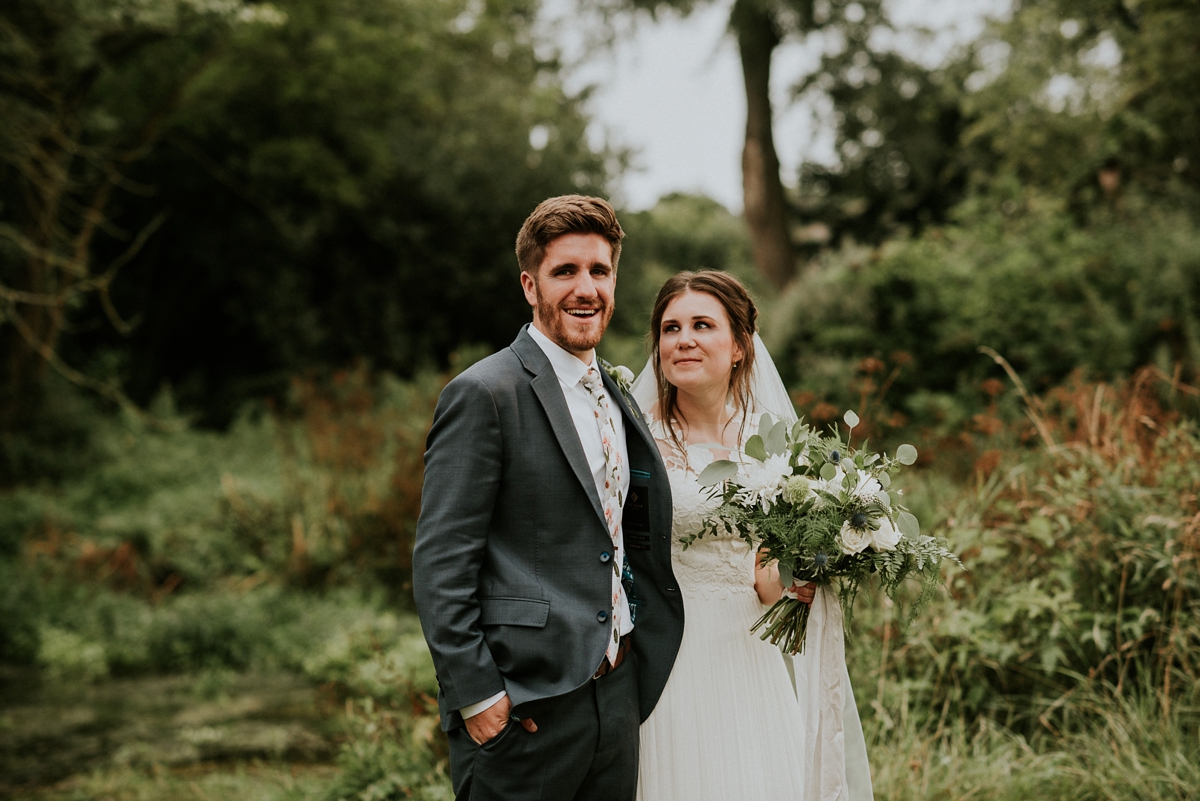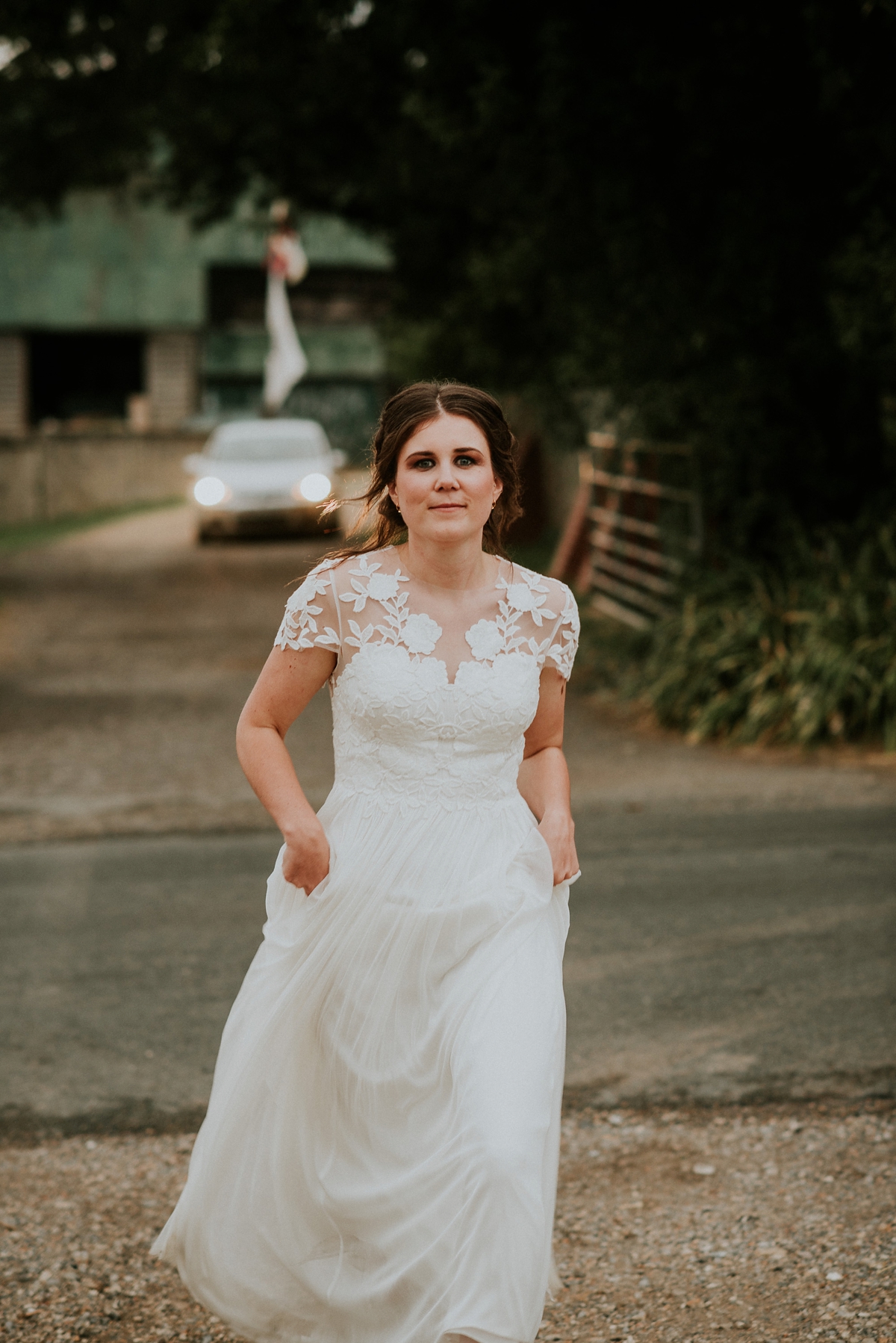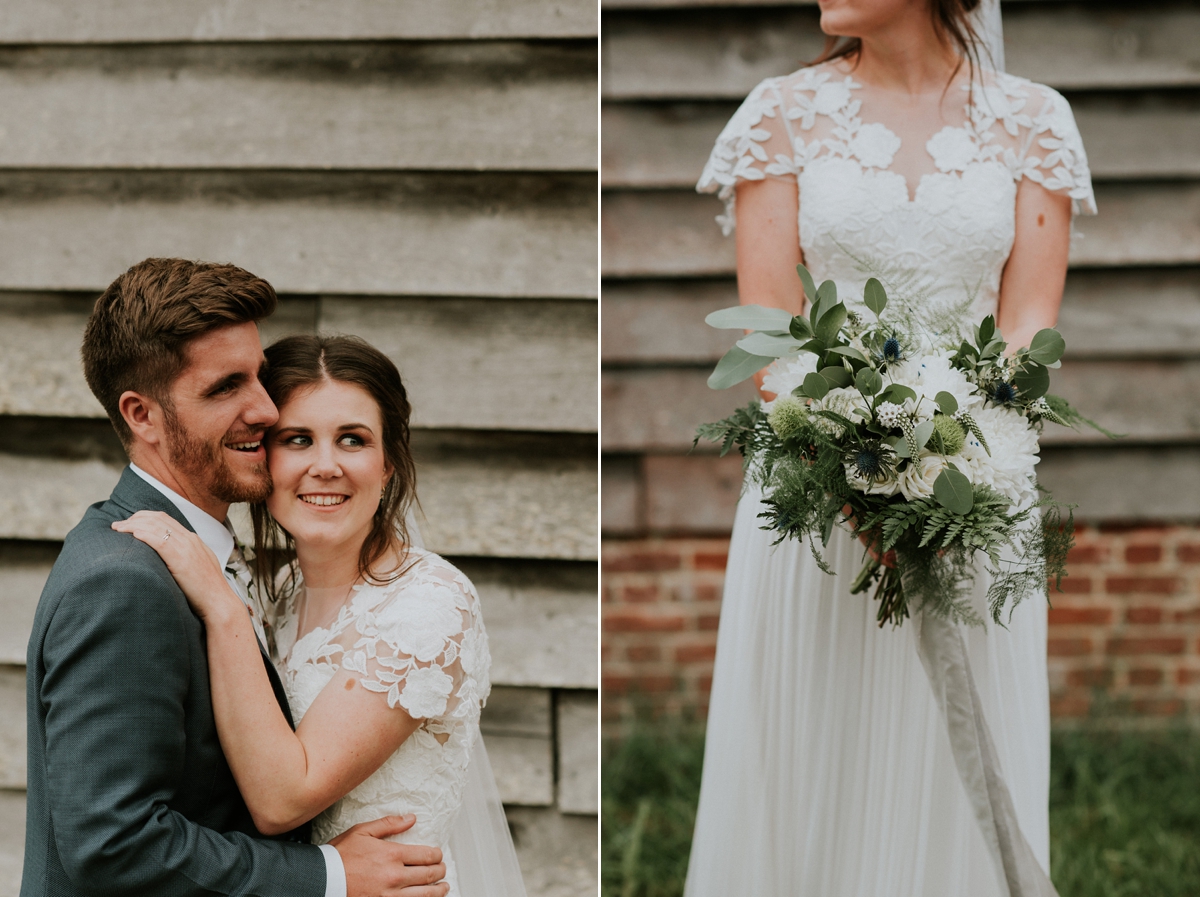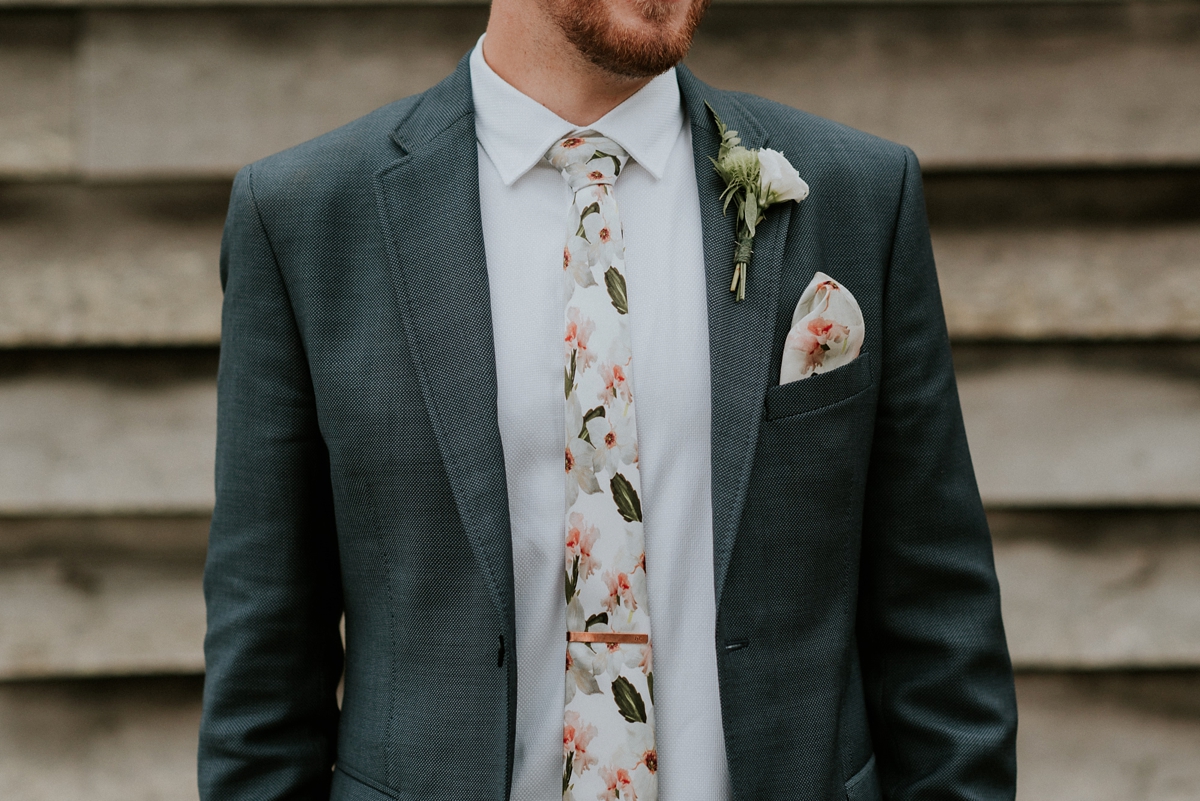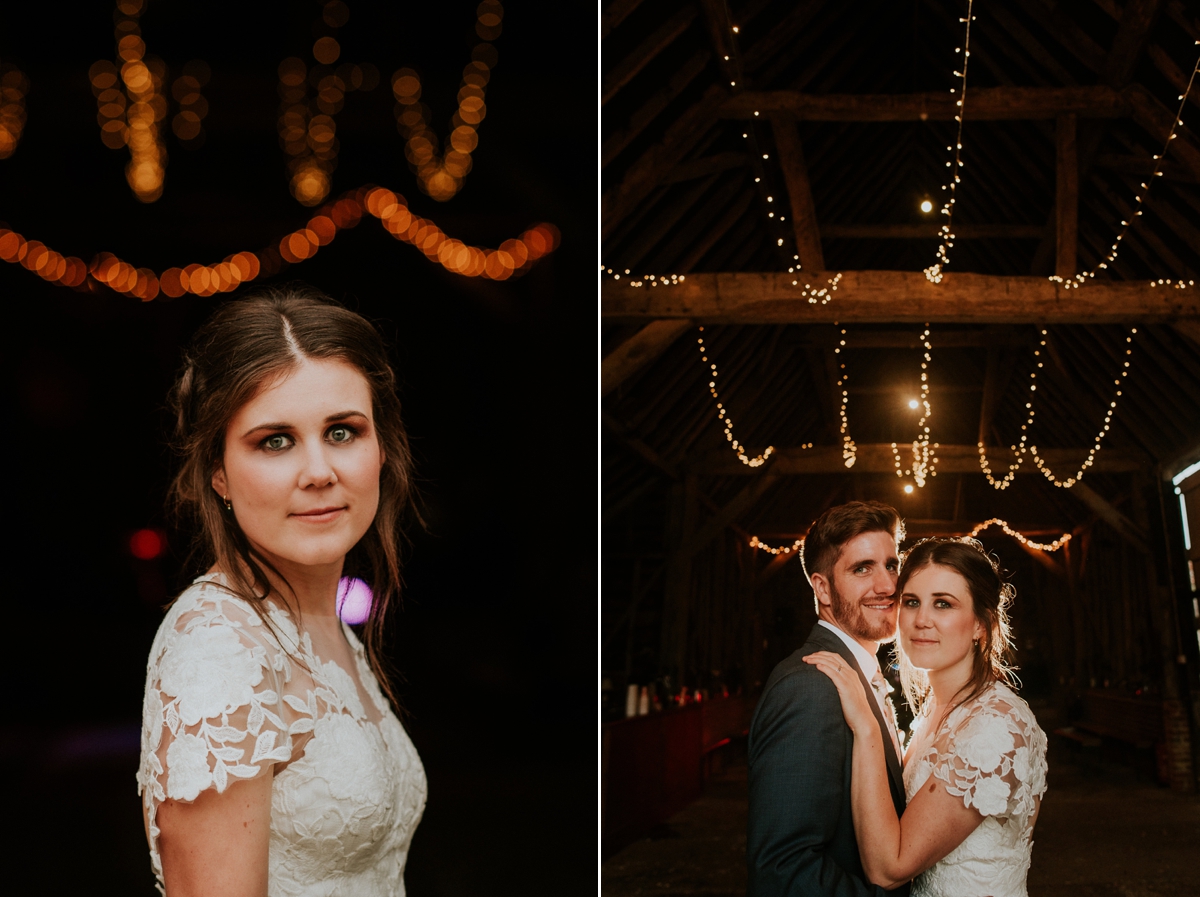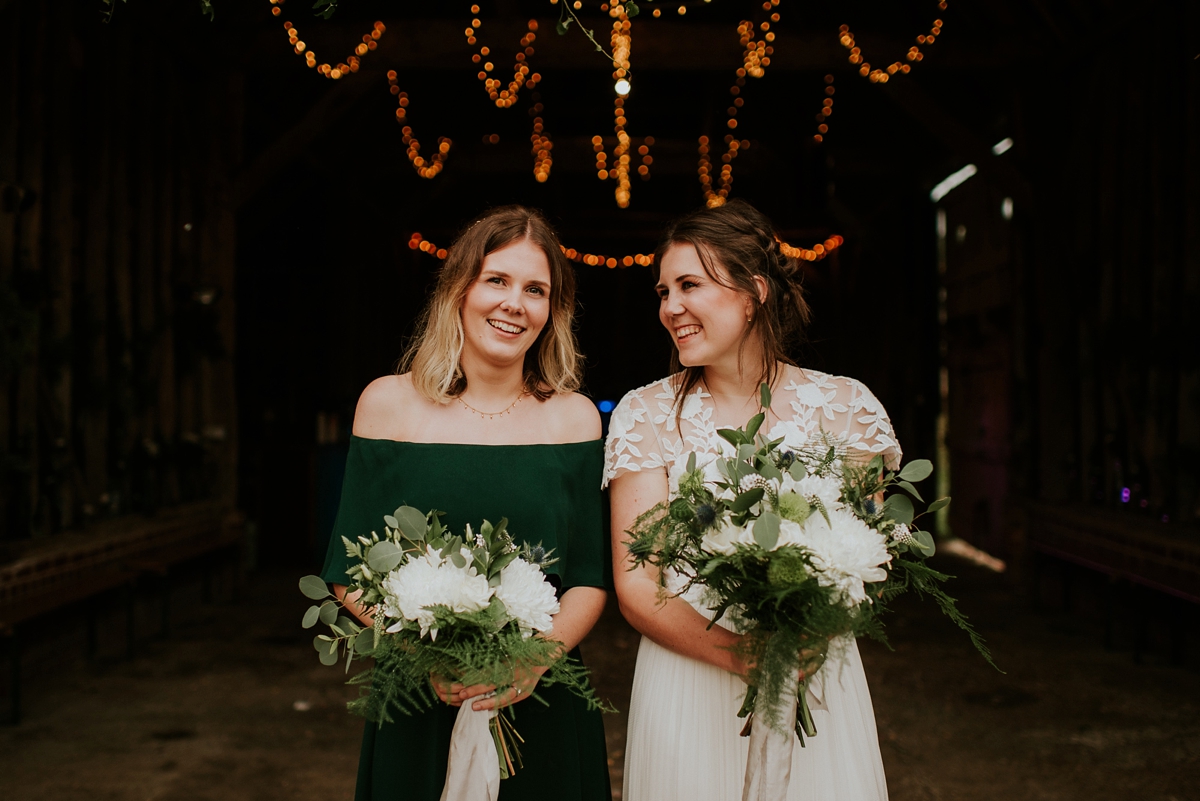 Whilst the barn played host to the couple's ceremony, they held their beautiful reception in these majestic Scandi-style tipis, hired from White Bison Tipi Hire.
"Tania at Broughton Water Buffalo put us in contact with Stuart at White Bison Tipi Hire who we worked with to compile our perfect tipi set-up. We arranged our long tables around the two fire pits and had every beam wrapped in fairy lights to create a magical, inviting atmosphere."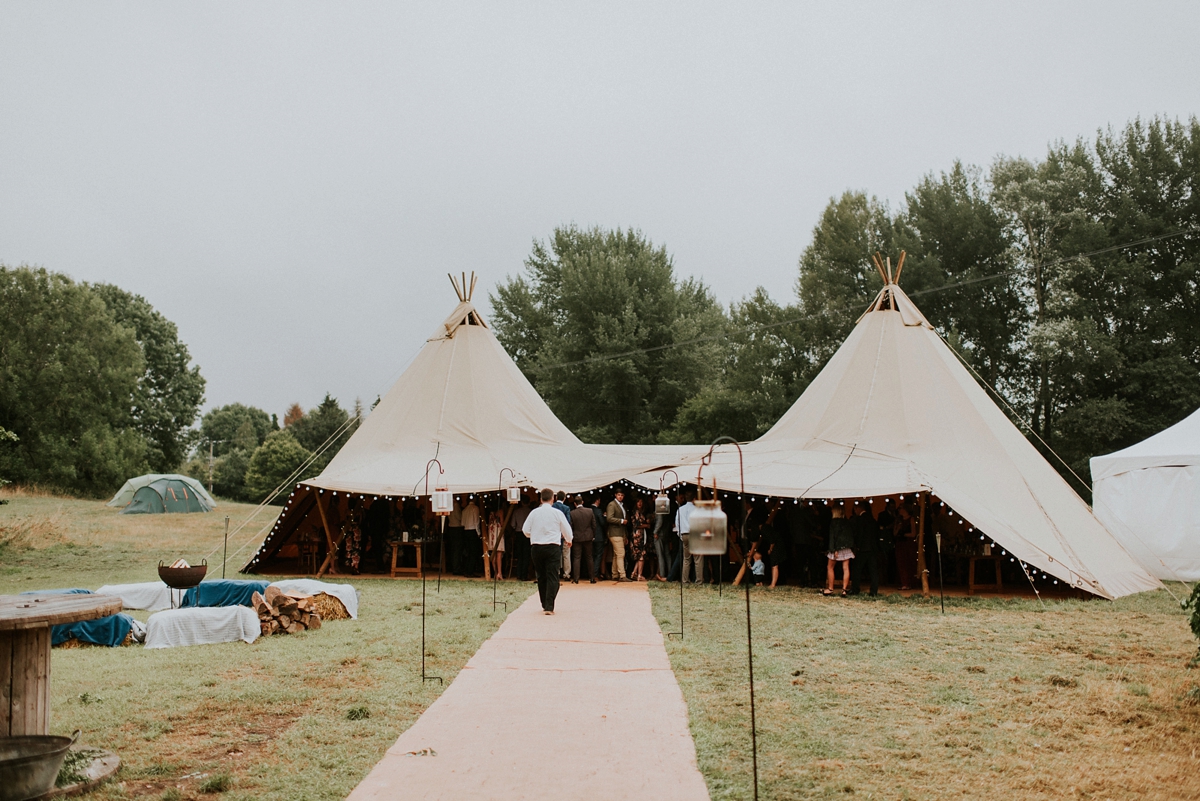 "My vision for the wedding had always been Scandinavian style, which for me bridges that gap of modern yet timeless. Both being designers, we could get our heads around our vision quite quickly (plus I love making moodboards), but some of our friends and family struggled with the idea that we were having an outdoors-style wedding without it being a 'festival' or 'country fête' theme. At this point, I adopted the motto 'If The White Company did weddings', which quickly put an end to the bunting suggestions…"
The tipi and barn look so wild and natural dressed for the wedding day, and the couple put so much thought and effort in to every single detail, as Katie explains.
"The venue was a blank canvas and so décor was completely up to us. Being true to the Scandinavian style, we knew there were two things that would be integral to transforming the space and creating the right atmosphere – foliage and lighting.  We lined the barn with glass bottles filled with florals, then enhanced this by tucking foliage into the wooden slats and wrapping the beam at the front in ivy to create a statement piece where our ceremony would take place. In the tipis, we lined the tables with more floral bottles and even hung some from the beams to add a finishing touch."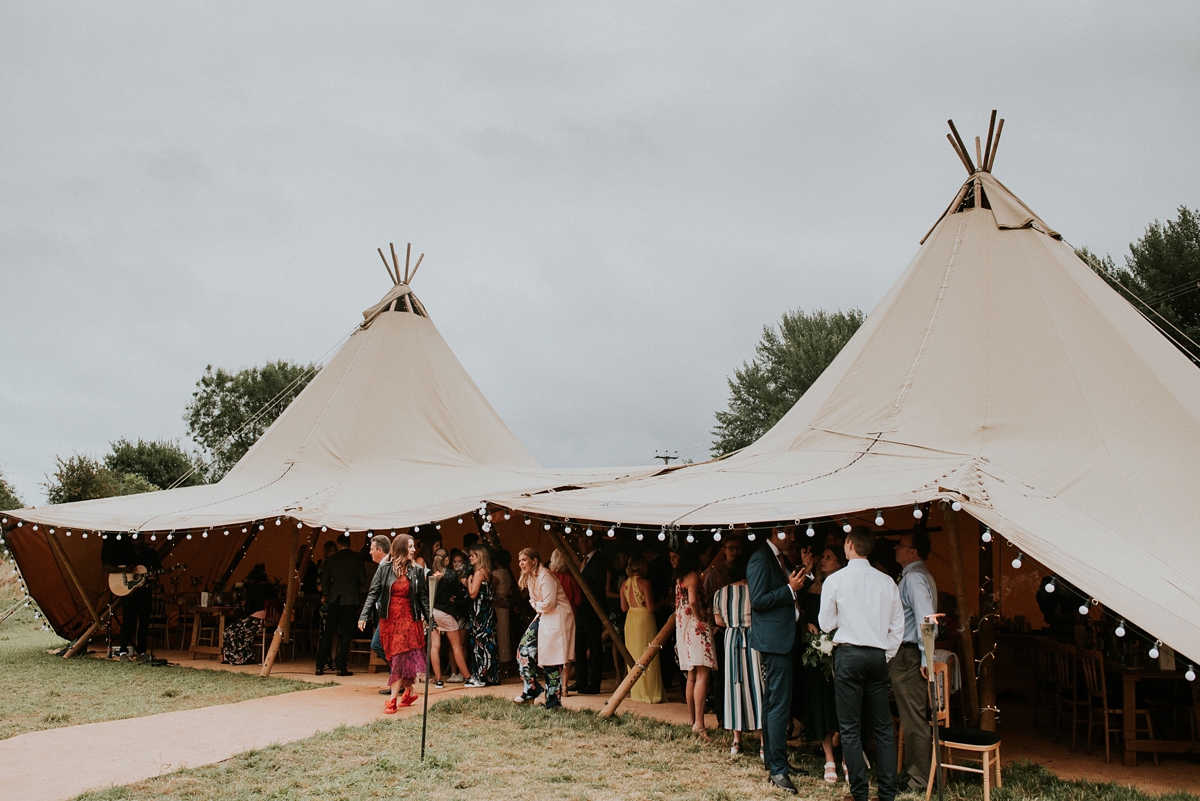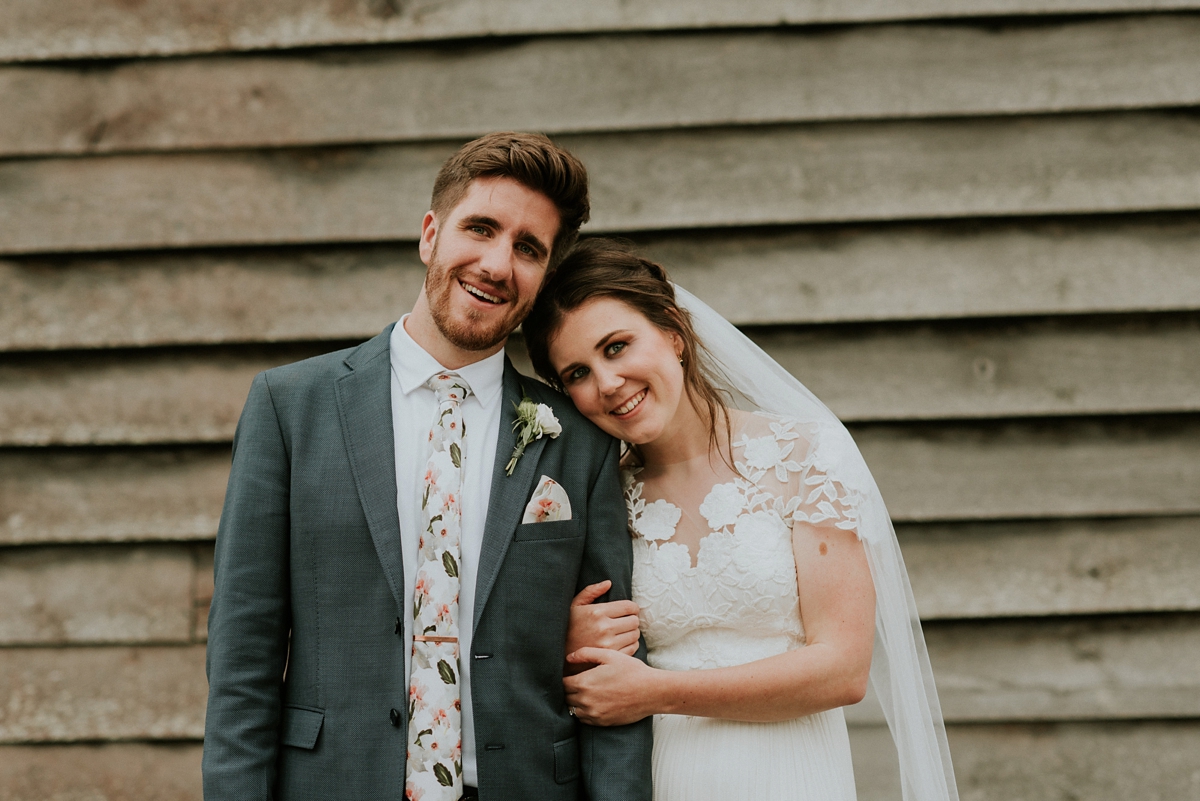 As a graphic designer, of course the bride had to design the stationery. The resulting designs are so lovely with the simple deep green fern motif at their heart. Katie has shared more details about how she created her look.
"Running my own wedding stationery business meant that stationery design was a huge part of the whole process for me. As soon as we had a date I started crafting the stationery look and feel, making sure that it represented us as a couple and the day we had planned. After all, your invitation is the first glimpse your guests get into the style and tone of your day."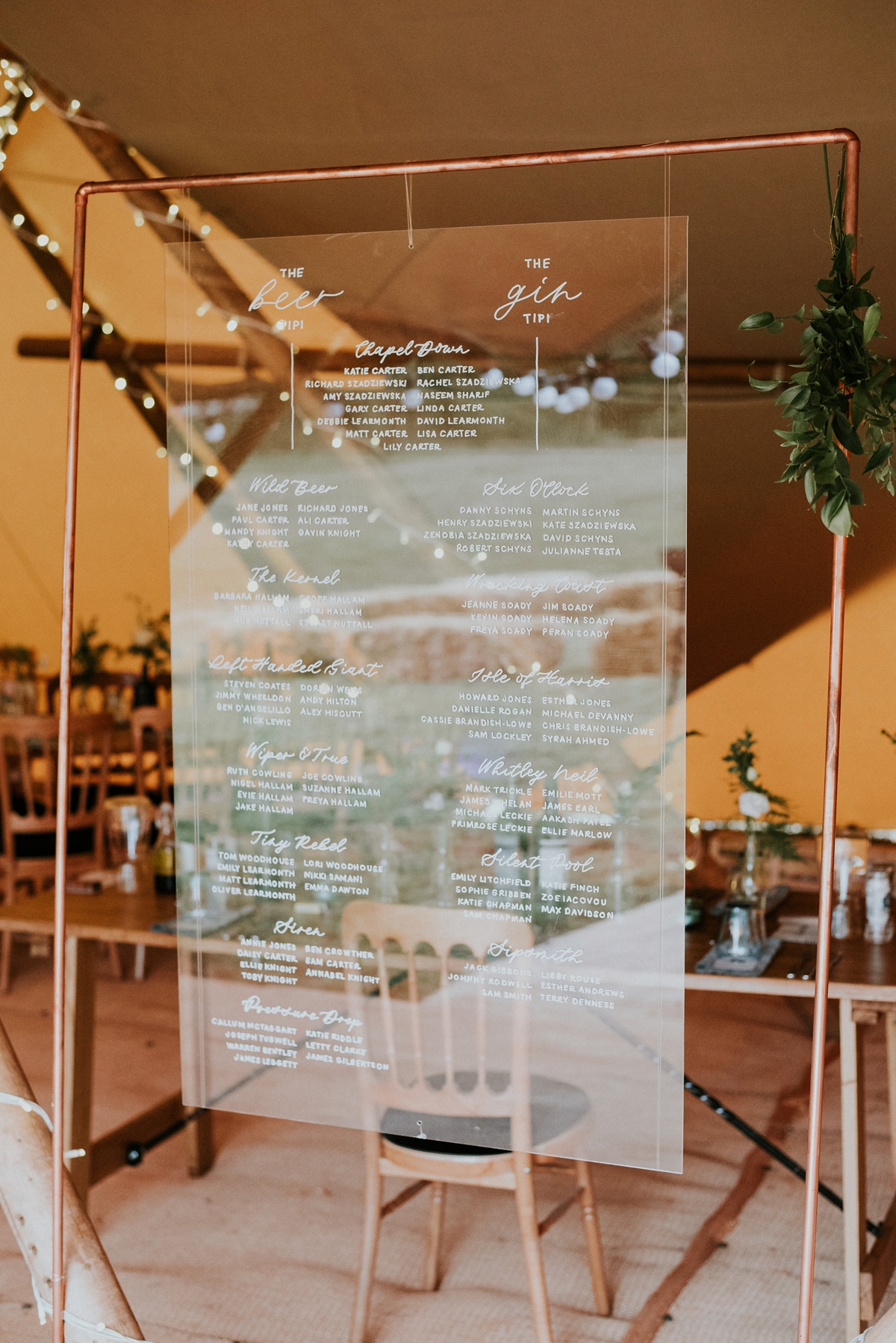 "We had already pinpointed the fern as our main motif, in reference to both the outdoors setting and also my childhood days spent on Dartmoor with my family. This was echoed in our flowers and throughout the venue on the day for a cohesive style."
"I played on the contrast between the deep green and dove grey with the luxury touch of copper foil to create a dramatic invitation suite that our guests would love opening. Our invitation suite was then wrapped in a translucent marble wrap and sealed with a copper fern wax seal so that guests could enjoy the process of revealing our invitation."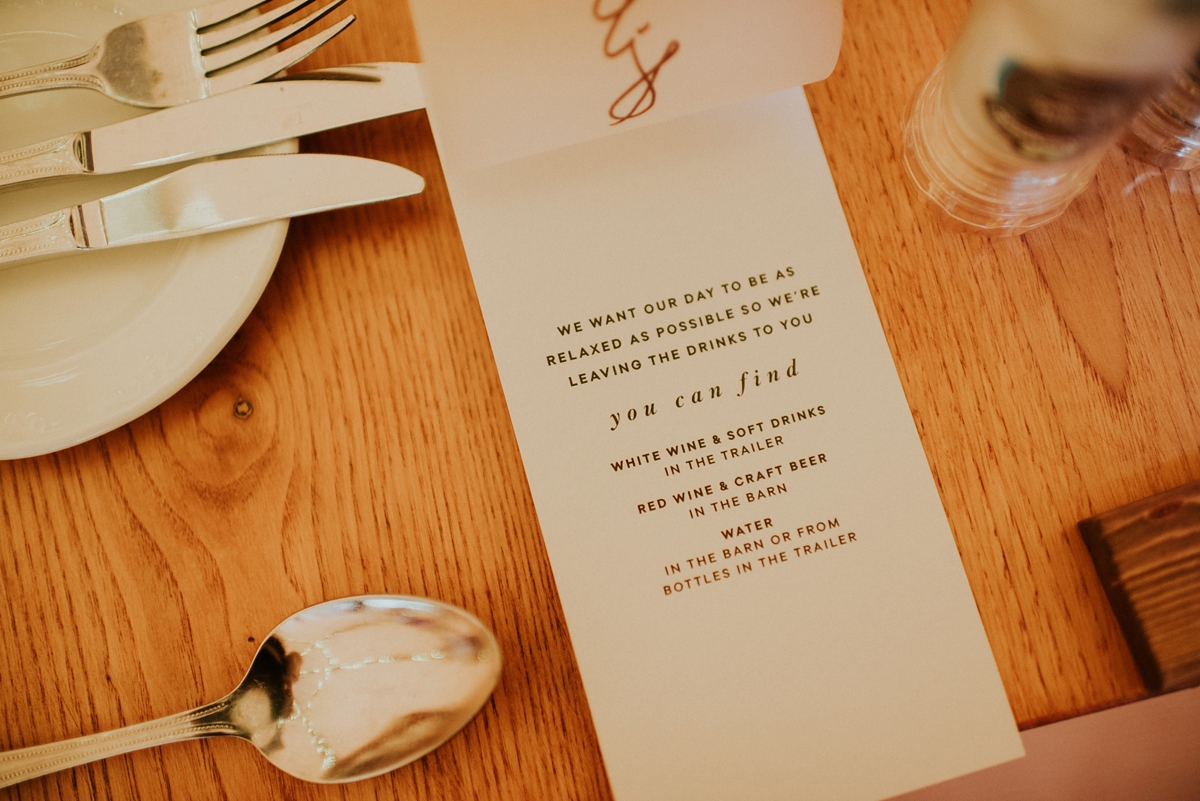 "As we were providing the glassware and drinks, we were conscious of people 'hanging on' to their glasses through the day and evening.  I therefore embarked on the biggest DIY of the wedding, which was hand-lettering every person's name in copper onto a blue glasses from Ikea. When we came to do the clear-up on the Sunday, there were only a few glasses left behind which is a massive compliment that everyone wanted to take their glass home."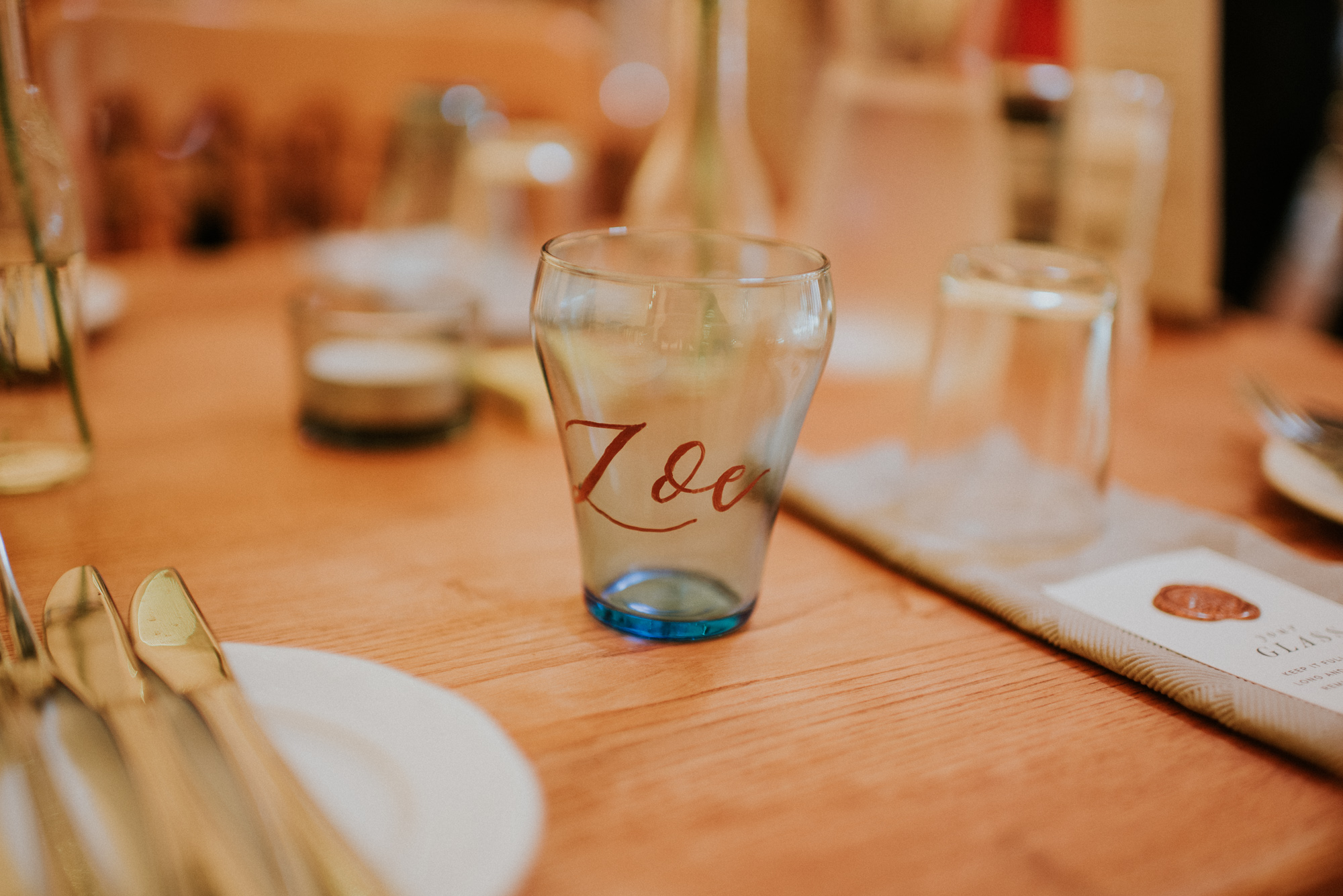 The groom's mum, who owns Chocolate Craft, created this magnificent, oh-so-tasty, wedding cake.
"The most important part of the cake to us was taste. We wanted an indulgent cake we could cut on the day and savour every last crumb. We are very lucky that Ben's mum, Debbie, is an incredibly talented chocolatier and offered to create a four-tier cake with alternating chocolate and lemon layers."
"The day before the wedding Ben's grandparents even helped to decorate the cake, making it a true family effort.  As well as the chocolate cake, Debbie also kindly made us some huge chocolate shards that were an indulgence later in the evening and also perfect for using to make S'mores on the fire pits in the tipis."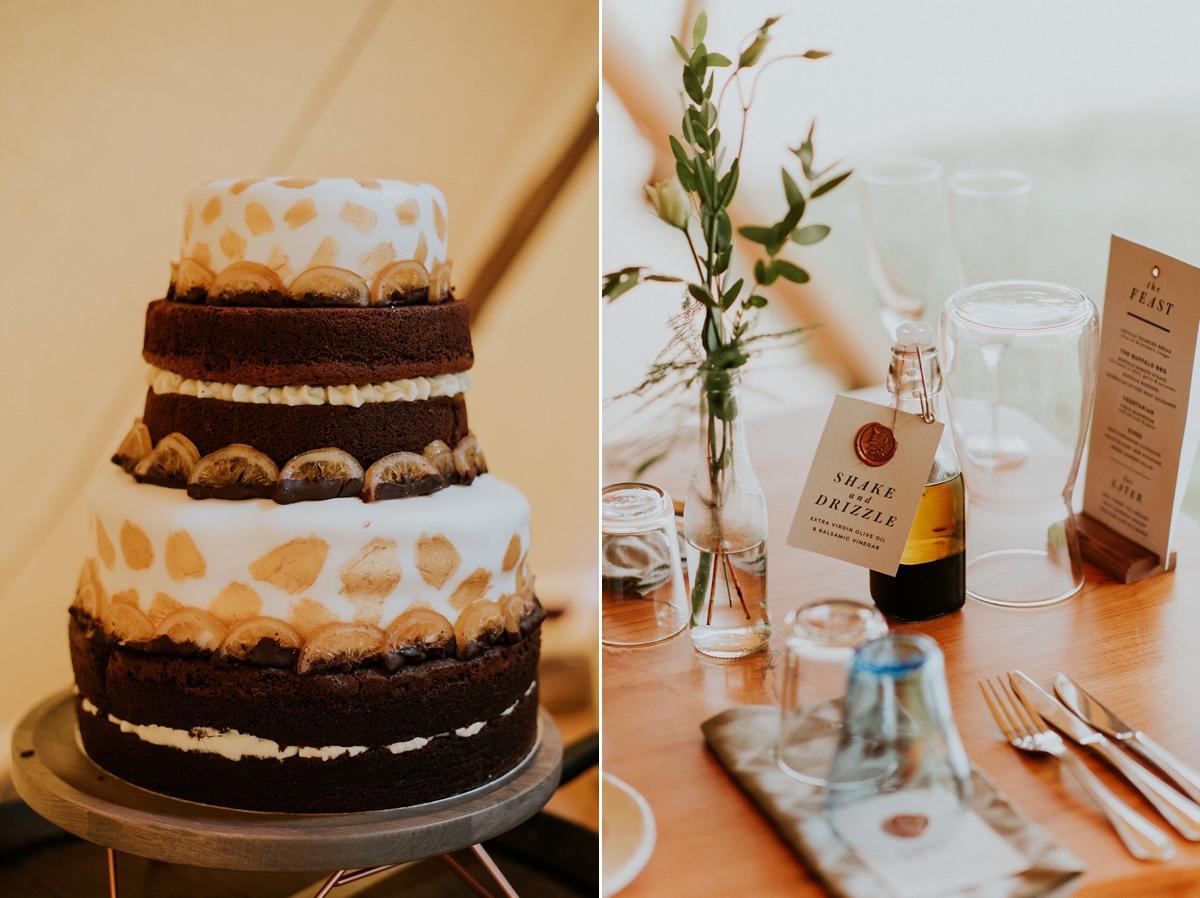 Hiring a tipi gave Katie and Ben the flexibility to choose whatever food and drink they wanted, so they asked the Broughton Water Buffalo team to provide a locally-sourced barbeque.
"In the spirit of the relaxed family atmosphere we were trying to create, we asked the farm to host a barbeque filled with local produce. Salads were placed in large sharing bowls on the tables and barbecued buffalo collected straight from the barbeque grill – perfect for the relaxed atmosphere we were aiming for on the day. Instead of having a formal dessert, we had Julie from Traditional Ice Cream come and serve New Forest Ice Cream from her wonderful bike which went down an absolute storm."
"Ben is a huge craft beer fan and so making sure we had beer on tap was important to him. We spoke to our local craft beer shop, Craft Tooting, who let us rent their tap equipment and set us up with two beers from the brewery five minutes from our home, Gipsy Hill. This was a really special touch and meant we had over 100 pints to work  through!"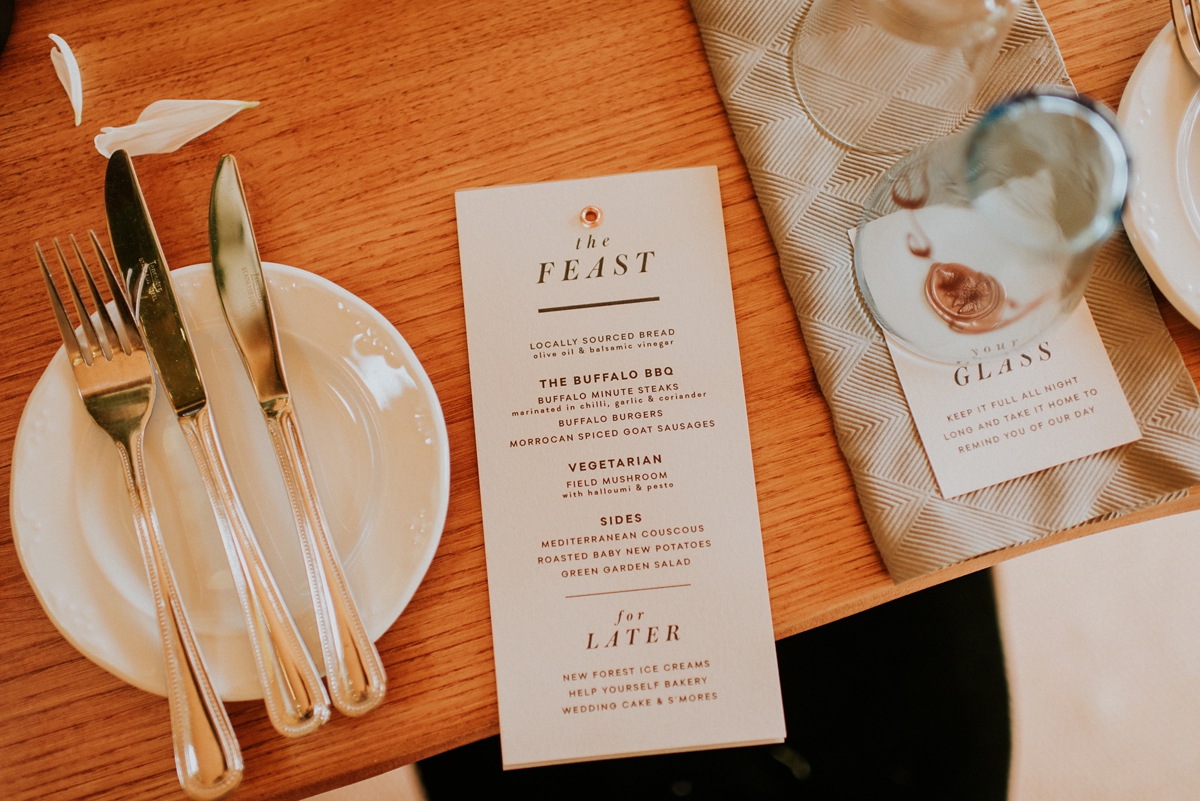 "We created a candle-lit walkway from the barn to the tipis using large storm lanterns hung on shepherds crooks and made sure that the barn and tipis were both filled to the brim with fairy lights and festoons. In the evening, the site seemed to glow with warmth. All of this wouldn't have been possible without the army of helpers we had on our two set-up days, who brought our vision to life."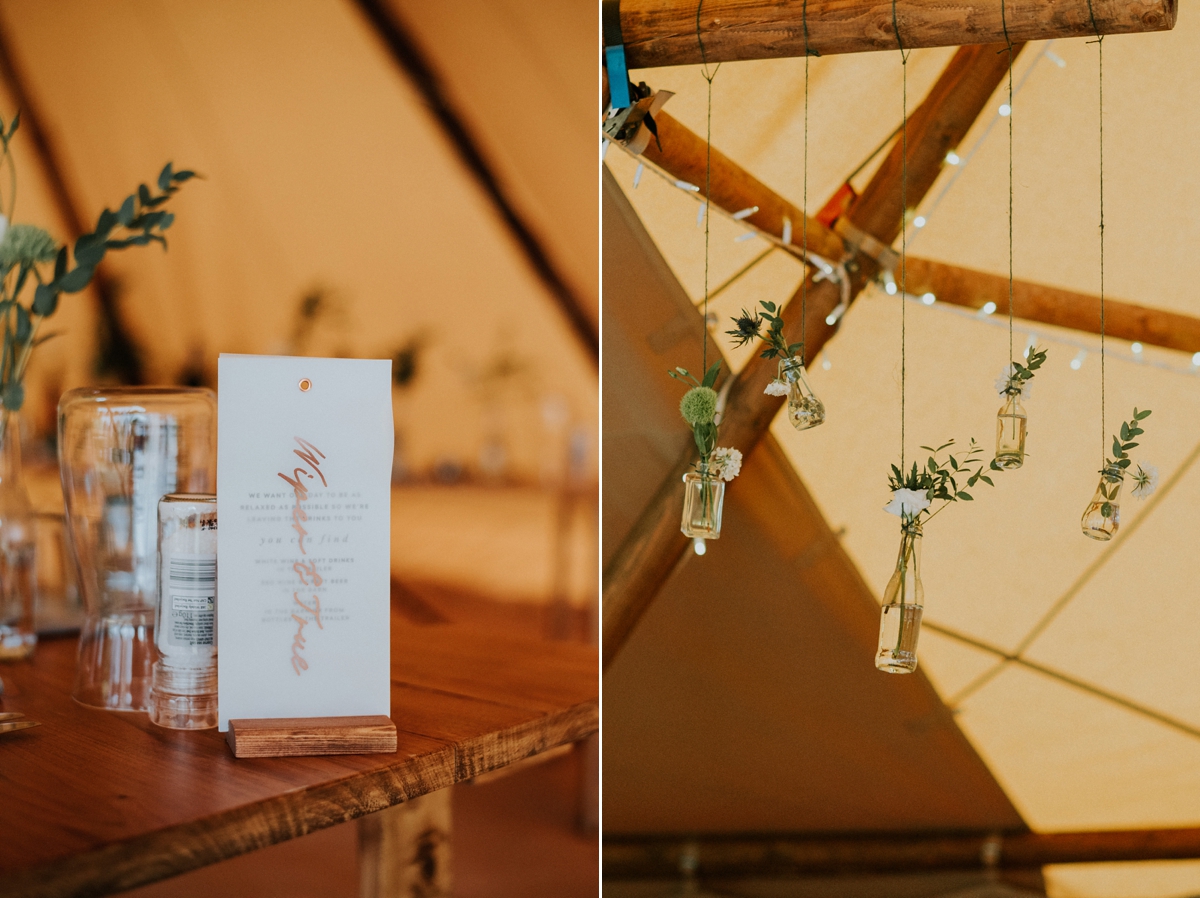 "Table centrepieces and barn decorations were simple florals placed into around 150 collected glass bottles – we had family members drinking anything in a bottle for the entire 18 months before the wedding and filling their garages with them once empty! It's a simple decoration but with the right touch, it adds height and dimension to any table or venue."
"On the day we had stationery dotted around the tipis, from Prosecco tags to menus, printed onto dove grey and finished with a copper fern wax seal. Our menus doubled up as table names as we added a translucent layer with the table names hand-written in copper. The stand-out stationery was our clear perspex table plan and welcome sign. Both were entirely handwritten, with the welcome sign placed on an easel outside the barn, and the table plan hung from a home-made copper arch at the entrance to the tipis."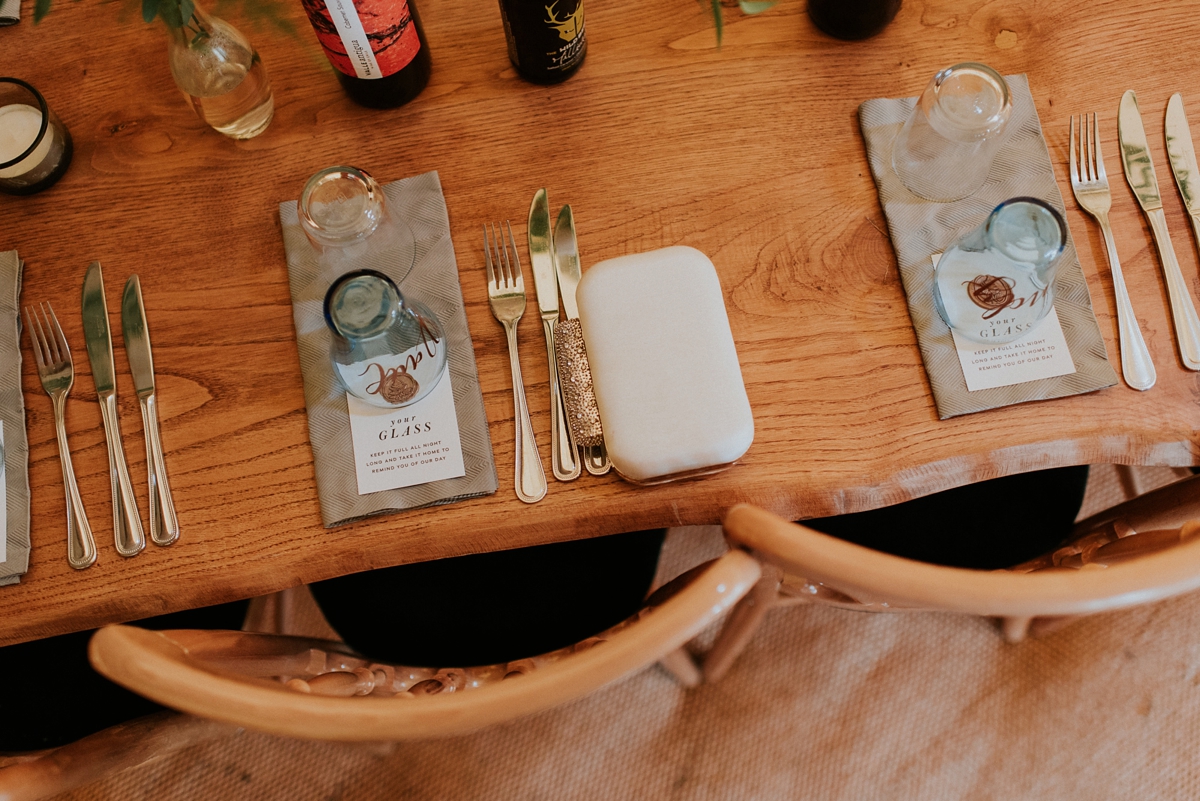 "It is so hard to say what my favourite part of the day was as, to me, it was the atmosphere we had managed to create by bringing all of our friends and family together in a relaxed but celebratory environment. Some of the highlights have to be the ceremony – this was so special and I attribute this to the amazing job our celebrant, Lisa, did; it felt so true to us and the band – The Hype were genuinely better than some bands I've gone to gigs to see. If it's any testament to how great they were, I am genuinely convinced that the time between 8.30pm and 11.30pm was about thirty minutes, not three hours."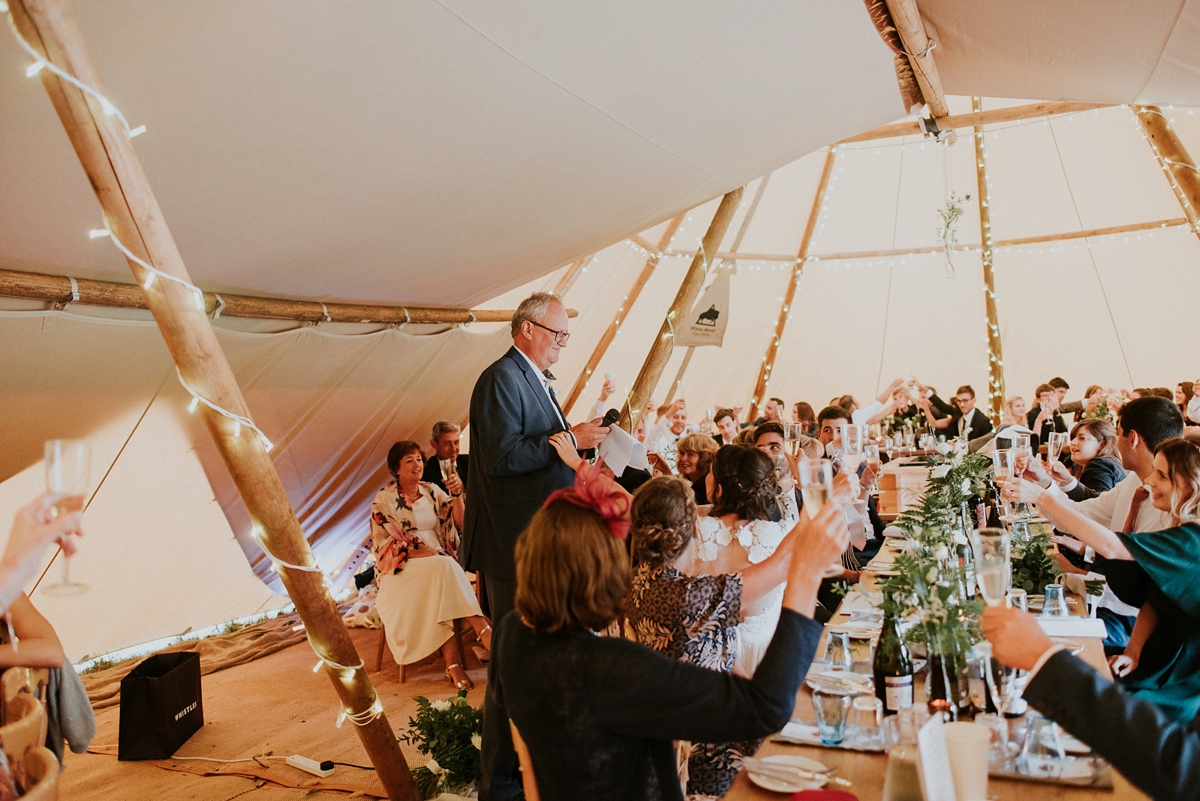 The couple's budget didn't allow them to hire a videographer but they had an innovative solution which I'm sure you'll like.
"We had heard from friends that the ceremony will go by in a blur  so we decided to fix a GoPro in the barn to record this as a personal reminder of that moment. We loved rewatching this the day after the wedding and not looking at ourselves, but instead looking at our guests and seeing their reaction throughout the ceremony!"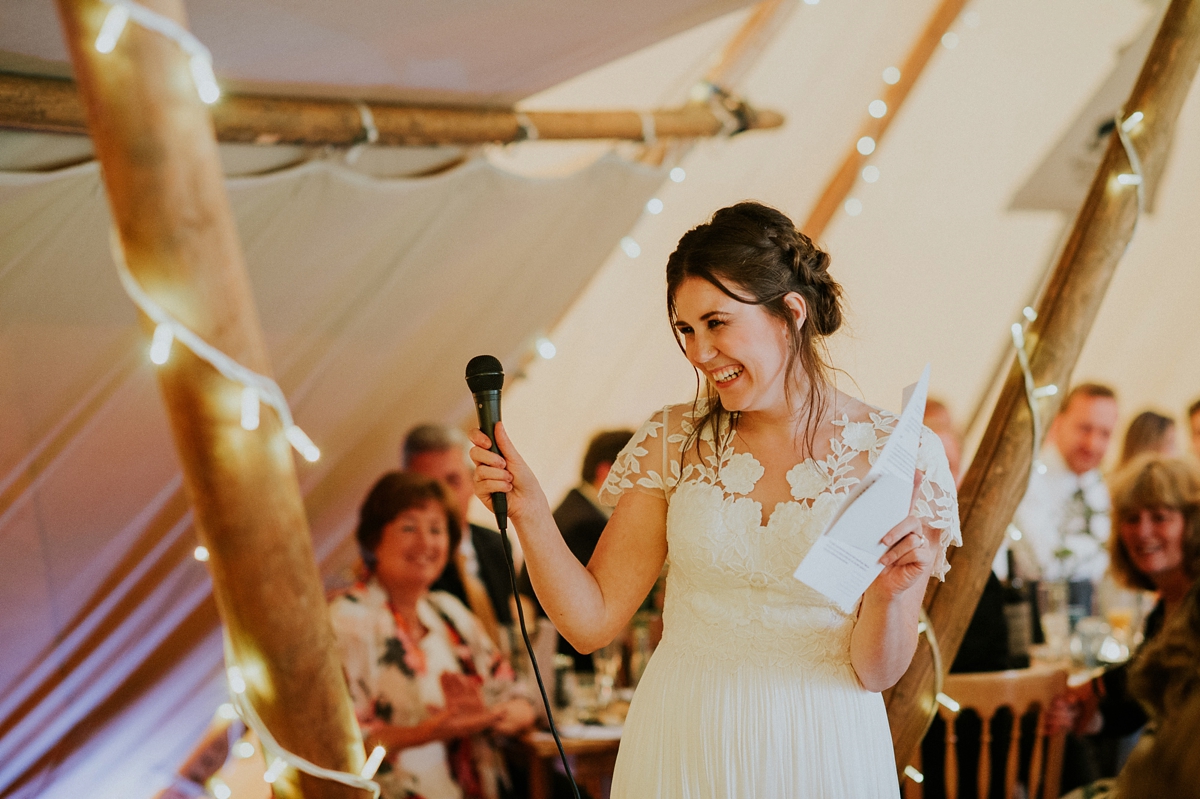 "During the evening, the farm set up a 'help yourself' bakery and cheese table. One of my culinary discoveries from the day was the amazing local Lyburn Gold cheese that made up the base of the cheese cake. The S'mores station also proved a massive hit and everyone got on board with toasting marshmallows over the fire pits."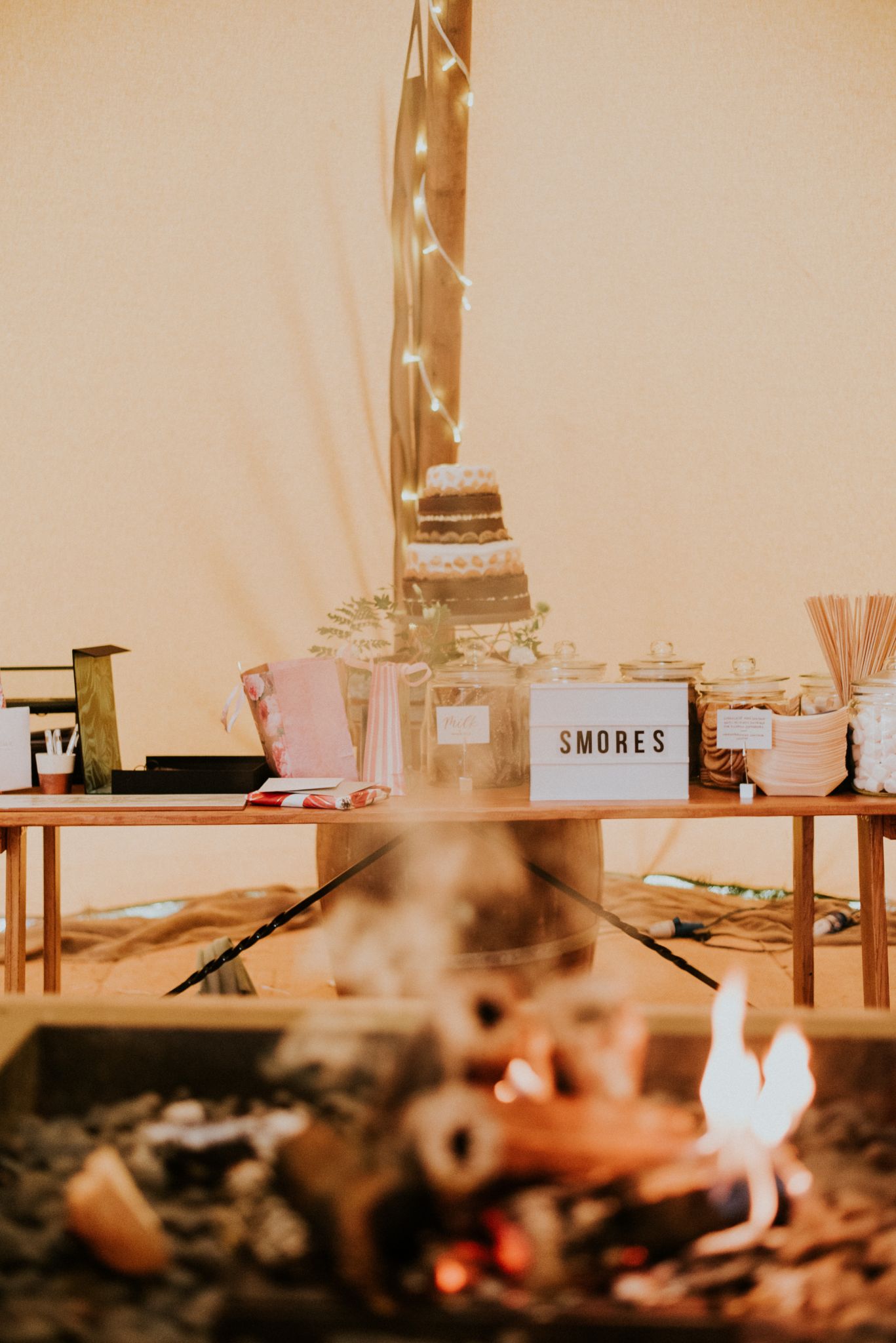 The soundtrack to the day was provided by The Hype, booked via our Little Book-recommended supplier Warble Entertainment.
"The band was one of the stand-outs from the day and is something that our guests still talk about. They turned the music up loud, got everyone dancing and even played on encore. Oasis' 'Don't Look Back In Anger' will forever be etched in my memory as the final song of the night where our friends crowd surfed Ben and I round the barn in true rock and roll style! We barely left the dance floor all night as they played hit after hit and made the evening pass by in an absolute flash."
"We also had The Hype play an acoustic set before we sat down for dinner which really set the tone for the day. They were even able to accommodate a last minute, and secret, request from Ben's brother to play 'It's All About You' by McFly (my favourite teenage band!) during the speeches. Matt had even re-written the words and had got lyric sheets distributed between all the tables without us knowing… an incredible surprise."
"Ben and I are big indie and rock music fans and so there were a lot of acoustic tracks we could have chosen but, similar to the reading, we wanted to make sure that the lyrics suited us and the occasion.  We settled on 'My Favourite Story' by Jack in Water. I'm 99% sure no-one else knew the track, but it meant we could have a small moment that was just shared between us two."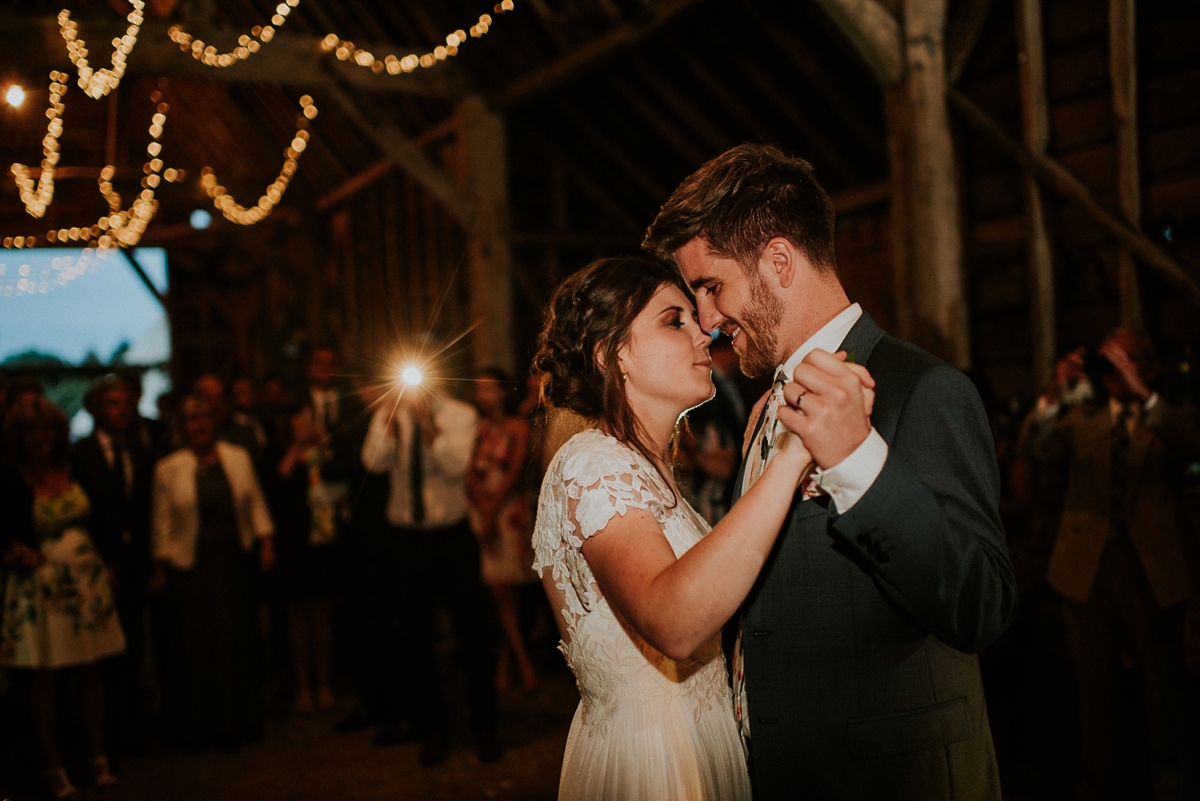 Words of Wedded Wisdom
Katie has shared some valuable nuggets of practical information to help you create your own DIY day.
"Know what is important to you. Think about the day as a whole and know what elements mean the most to you – is it the food, the music, the flowers or something else entirely? Any time you find yourself getting stressed about napkins or the exact shade of your bridesmaids dresses, remind yourself of those key elements."
"Make sure the day reflects you as individuals and as a couple. Fill your days with personal touches that reflect not just you as the bride, but your groom, and you as a couple. It's these touches that make your day yours, and not a cookie cutter wedding from Pinterest. Do what feels right as a couple, and not because anyone else tells you that you should."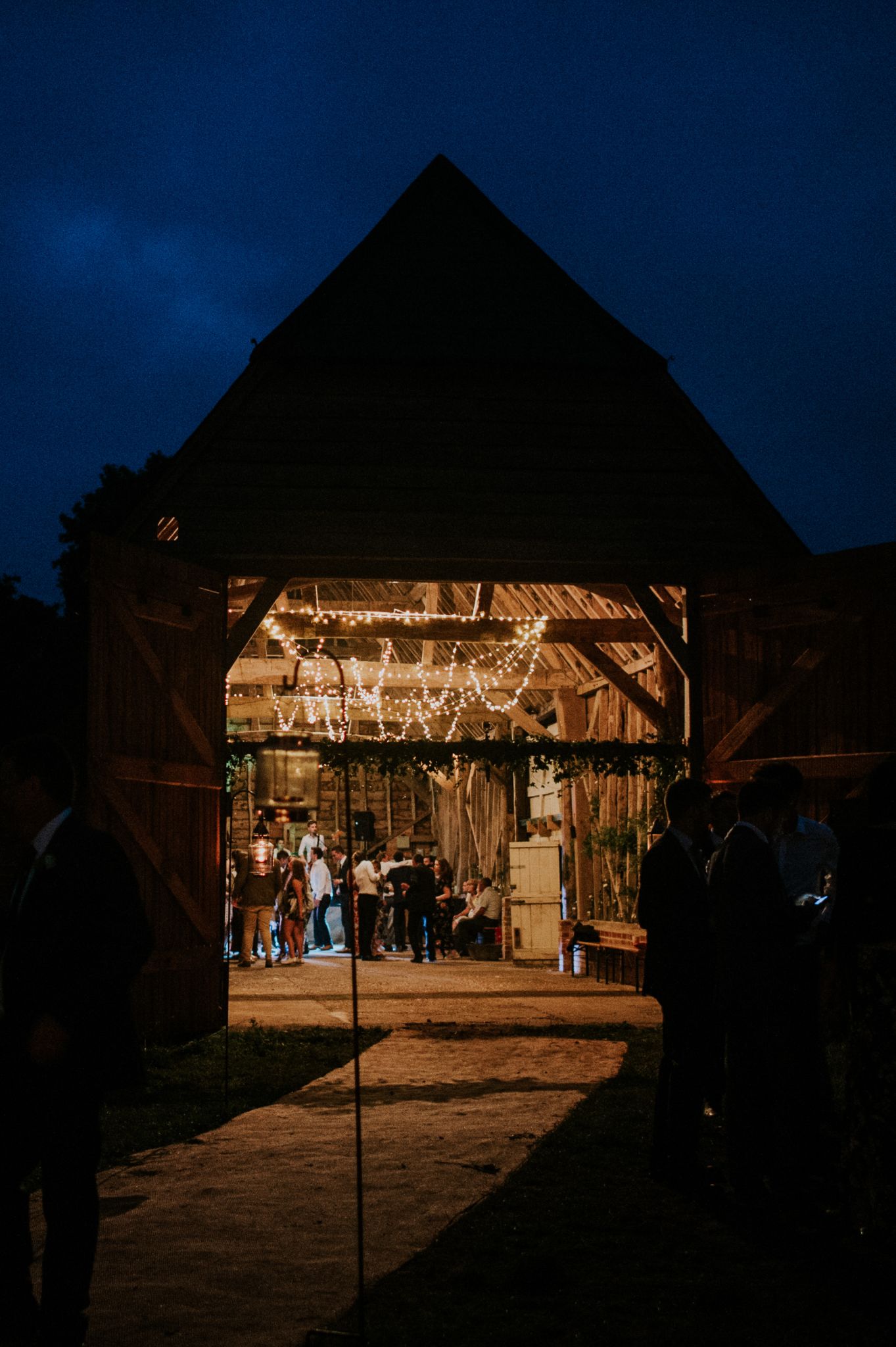 "About two weeks after the wedding, I started dwelling on elements that hadn't perhaps gone exactly to plan, but I quickly reminded myself of the fact I could not stop smiling and laughing throughout the day, and that mattered way more than the table plan being exactly straight… Sometimes being a designer can be a curse as the focus is on the small details when the overall atmosphere is what counts!"
"Despite being creative I am a spreadsheet demon and so keeping to budget was important for my own sanity. We knew we wanted a day that we wanted, filled with friends and family, but within reason. Our budget was circa £20,500, which seems specific but at the start of the process, we made sure to allocate a set budget to each part of the day to keep us on track. We went over by about £500 due to some of the more practical elements costing more than initially expected."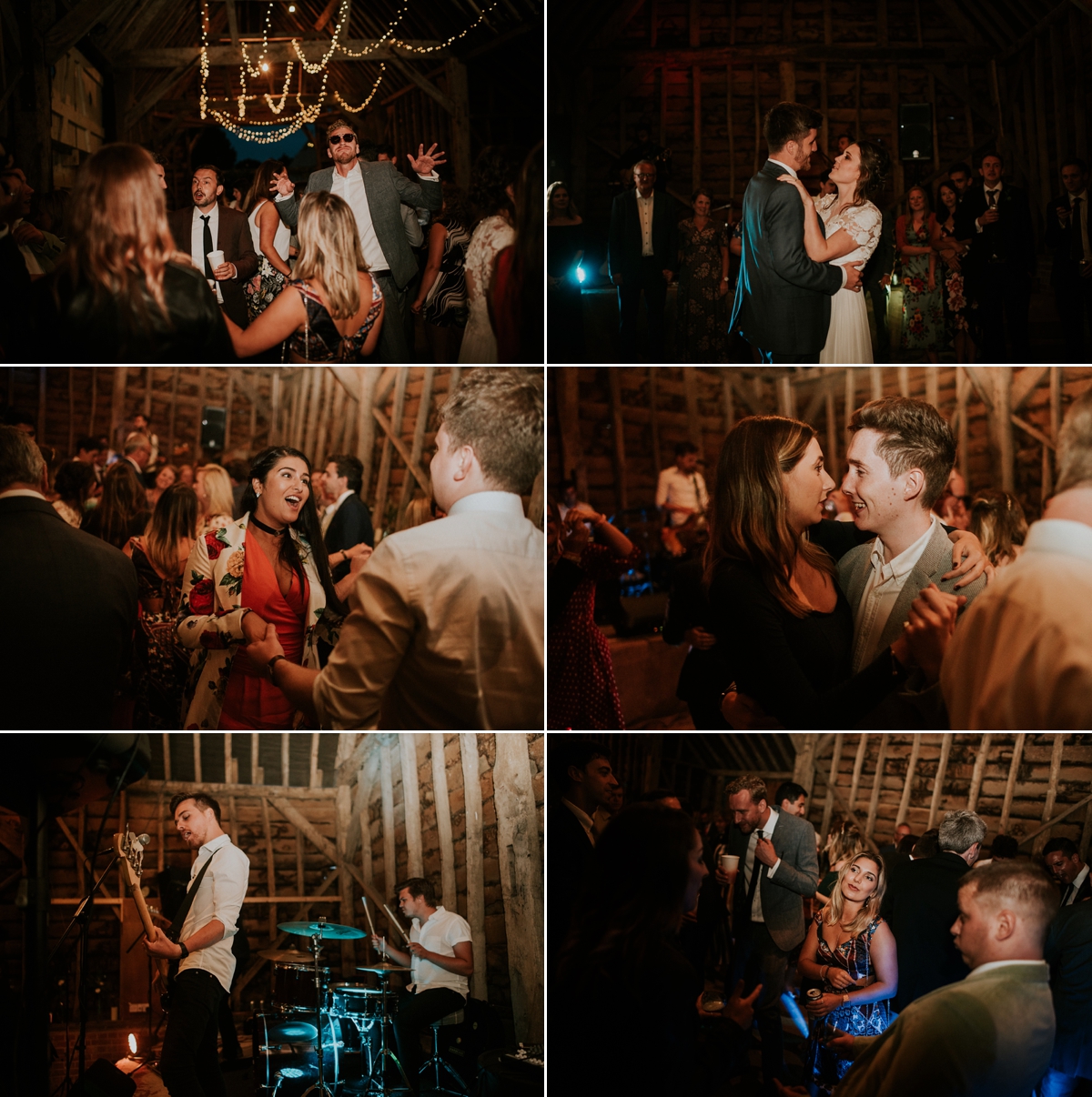 "For dry hire, be organised so that you can relax and enjoy your day.  No one loves a bridezilla, so even if it means a spreadsheet with over thirty tabs, get yourself organised beforehand so that you can sit back and enjoy your hard work on the day. Make sure to share your plans with close friends and family so that you don't get bombarded with questions. Two weeks before the wedding, we circulated a 'master plan' for the days before and after the wedding so that our family was in the loop and knew when we might need help without having to ask."
"Most importantly, enjoy yourself, lose track of time, smile so much your cheeks hurt, and soak up all the love and happiness around you because it is those feelings that you will remember for the rest of your life."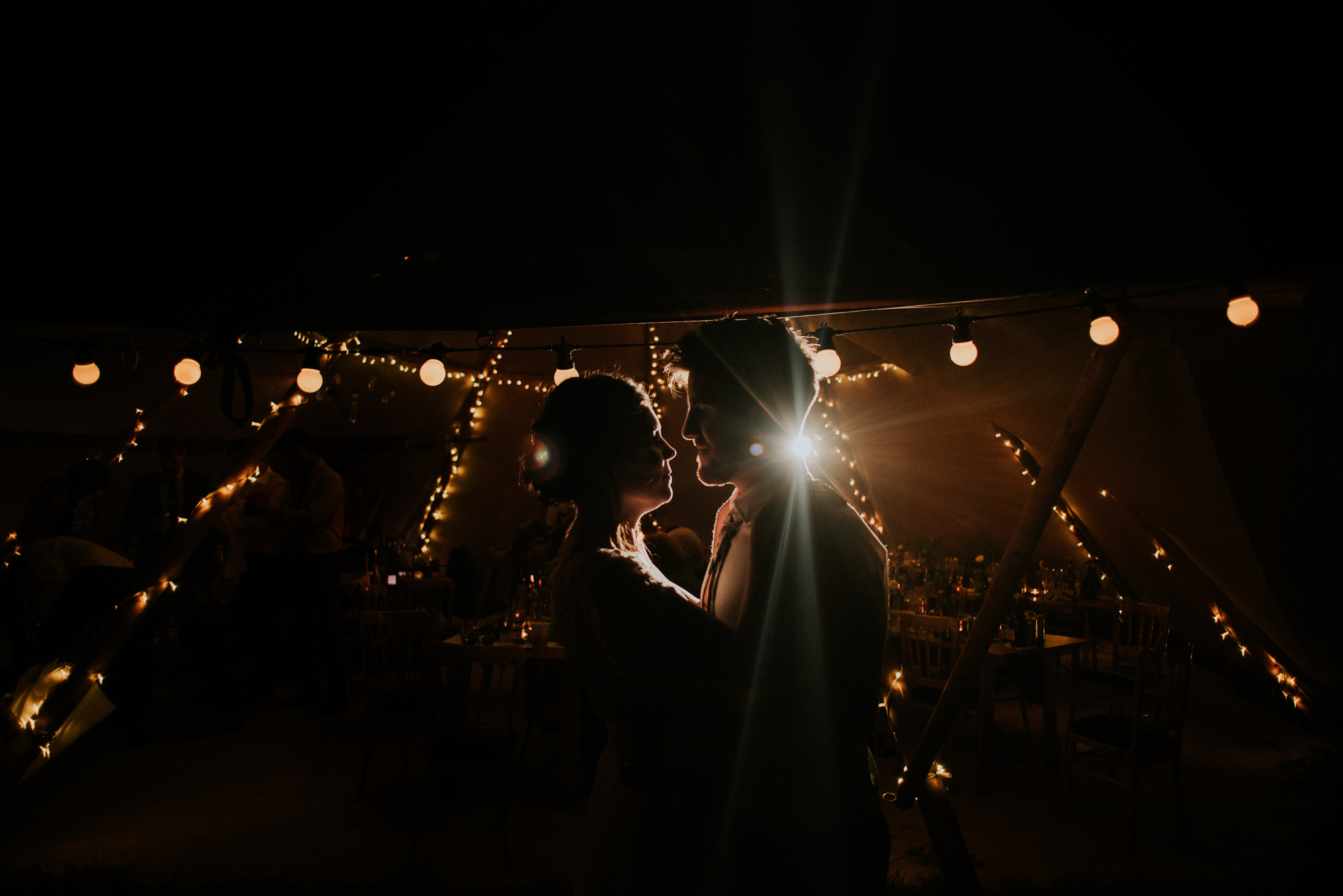 Wow, what a day. Please join me in sending thanks and congratulations to Katie and Ben on your wedding. It's been such a joy to share your photographs (Thanks Big Bouquet!) and all of the details about the styling of your venue. I'm so pleased that you found these pages so helpful to your planning, and I can't wait to check out your stationery business.
For more tipi wedding inspiration please do visit these Love My Dress weddings and to see more of Big Bouquet's modern, colourful work take a peek here.
Ele xx