Well a BIG hello to you all today and happy mid wedding season (it's middle-ish, right?)! If you're recently engaged and new to the world of wedding planning then a big hello from me and congratulations on the start of your wedding planning journey.
As a quick intro (it's been a while since I said hi!), I'm Katrina, a wedding planner, co-founder of Coco & Kat and Planning Redefined and a features writer for Love My Dress since 2015.  If you haven't read any of my features before and are looking for some honest wedding planning advice then you can find all of my previous features (including my most popular and still VERY relevant feature, Transparency, Honesty & Clarity In The Wedding Industry – Things To Watch Out For When Planning A Wedding) right here.
If on the other hand you're in the midst of wedmin, finalising schedules and counting down the days to your wedding OR you're recently married and can't bear to say goodbye to your daily fix of Love My Dress, then hello again!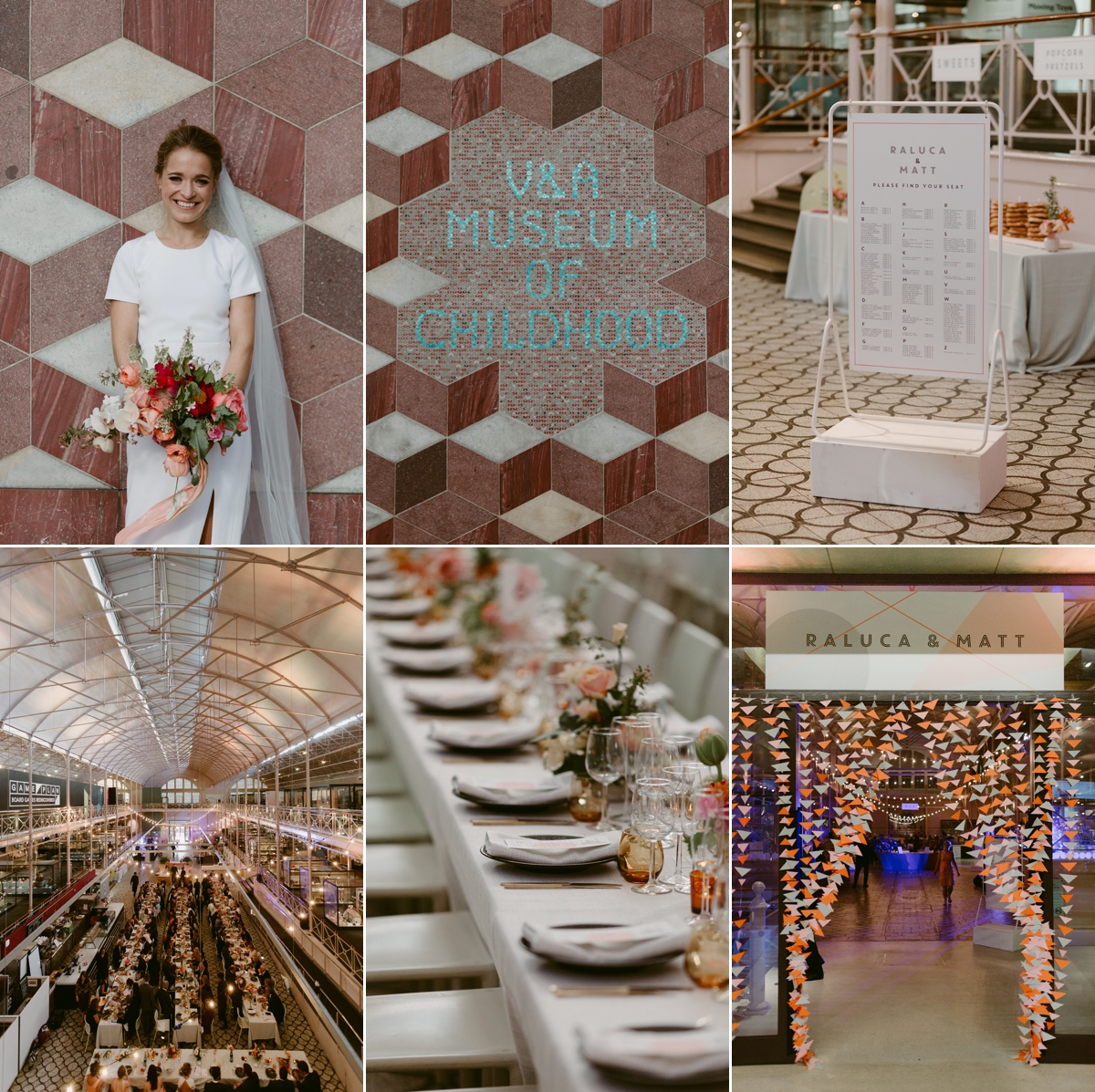 Raluca and Matt's venue,  The V&A Museum of Childhood, was a dry hire venue.
See their full wedding here on Love My Dress
Image by Ben Millar Cole
Anyhoo, enough about me and the intros…! Today's wedding planning feature seems to be a very popular topic of conversation at the moment – dry-hire venue weddings.
Before I start, a few words of explanation.  What exactly is a dry-hire, or blank-canvas, wedding venue?  Well, if you imagine a building and nothing else, then you've got a great starting point!  Of course, the venue can take many forms, from gritty urban spaces to fabulous country houses and even marquees or similar structures in gardens but the essential fact remains the same – you've hired a venue and nothing else.
And it's VERY easy to see the appeal.  No packages, no set structure, no feeling that your wedding is a carbon copy of someone else's.  Instead, you get to make absolutely everything your own, from the furniture, to the suppliers, to the decorations, to the whole entire vibe and flow of your day.  In a nutshell, you've got total freedom to create the day that you want and you've got ALL the flexibility to do so.
I don't know about you, but for me personally the above nutshell sounds IDEAL, and I know the whole ethos behind dry-hire will particularly appeal if you're a creative type or you're looking for something that more traditional style venues just can't provide.However, just as you found out when you were growing up, freedom always comes with a big old dose of added responsibility and extra work so you need to make sure that you're ready for it!
Instead of fitting into a structure or having certain elements of your wedding day in place, at a dry-hire venue, it's all down to you.  You might need to think about catering facilities, power, furniture hire, parking, bar staff and a whole host of other things that up until now, you've never even considered.  This is not a reason not to consider dry-hire venues or to write them off as being way too complicated or time consuming but if you're going to choose this style of wedding venue then you absolutely need to enter into the decision with your eyes open!
So, now I've led us neatly to that point, what do you need to think about?  Well, let's start at the beginning and think about budget.  Quite often, dry-hire venues look considerably cheaper on paper.  It's easy to compare figures without necessarily comparing like-for-like.  If price is important then you need to work out a draft budget before signing on the dotted line.  Add in guideline prices for everything you need from catering to decorations so that you can be sure that your dry-hire venue does represent value for money.
Then you need to quiz your dry-hire venue or marquee supplier to find out exactly (and I mean exactly!) what's included and what's not.  Some venues might provide furniture or equipped kitchens and others don't.  With dry-hire venues, you can't assume anything.  Will there be lighting, heating, toilets and waste disposal?  Ask for a truly comprehensive list of what's included and if something's not on the list then you need to organise and pay for it yourself.
That last paragraph should give you the hint that usually, choosing a dry-hire venue (or marquee) for your wedding can involve liaising with many more suppliers than you'd need to if you were planning your wedding at a 'standard' venue.  This in turn means more admin, more research and, potentially, a much more complicated run-up to the big day.  You'll be the one arranging the timelines and schedules, ensuring that everyone and everything is in the right place at the run time and generally acting as project manager without potentially having the reassurance of in-house staff.
When you're working out your plans, remember that as you're essentially building a wedding venue from scratch, you need time and plenty of it.  Speak to suppliers and find out how long things will take, enlist helpers for your set-up and break-down and if you think it's going to take you 4 hours to decorate, allow 6 because if one thing creates pre-wedding stress, it's time related pressure.
Of course, the suppliers that you choose to work with will have a massive impact in alleviating the pressure.  To help you out as much as possible, it's always a good idea to check with prospective suppliers that they're totally comfortable working in a dry-hire environment and that they're fully aware of the essentials, including access and logistics.  They need to understand the potential issues and you need them to make your life easier, not harder.  So be upfront with your suppliers, put together a total dry-hire A-Team and you'll free yourself from a lot of the worries and questions because your wedding pros will be as in love with AND in control of your plans as you are.
And it's not just the wedding experts that you need on your side, your friends and family will have a big role to play too and if there's one thing that really makes dry-hire weddings work, it's delegation.  Make sure that your nearest and dearest are on side before you confirm your booking because you're definitely going to need them to bring everything together.
You'll potentially also need them onsite in the days leading up to your wedding, on the day and even after your wedding for any post celebration packing, clearing and cleaning! Confirm availabilities, allocate precise jobs and roles and please please please don't try to do everything yourself because that way, madness lays. In fact, sharing this part of your wedding with friends and family can be a LOT of fun, especially if (I speak from experience here) you bring the bubbles and start the party early!
Now, it would be remiss of me not to mention styling dry-hire venues, especially because the endless options and freedom that blank-canvas venues give are, quite often, one of the major selling points of venues of this type.  I could be here for days (quite literally!) if I start listing out all of the fantastic things that you can do with a dry-hire venue so rather than give you a lesson in styling, I'll pass on a few pointers that apply to the organisation of your décor because these apply to everyone:
Site visits – do more than one! Ideally with some of your core suppliers as well to plot, plan and visualise.
Ask for advice – if you're hiring items, speak to people rather than guessing or making your own estimates and assumptions. Suppliers will know what works and what doesn't, so asking for advice and trusting your suppliers' experience is essential.
Confirm access and logistics – if you have ambitious styling plans then it's crucial that you ask about access and timings (from the outset) and that you're comfortable with the amount of time that you've got to set-up and breakdown. Everything takes much longer with dry hire venues so always make sure that you can a. access the venue and b. for as long as possible.  If access and timings are restricted then PLEASE be realistic about how much you can achieve.
Putting together your plan – work backwards and remember that communication is key! When you're planning timings and access to your venue, start with your ceremony or arrival time and then speak to your suppliers in turn to work out priorities and formulate your plans. Don't be afraid to put suppliers in touch with each other so they can make arrangements without involving you in the backwards and forwards. Just work logically through things until the whole process makes sense.
Don't forget the clear-up! The more you put up the more you'll have to take down – Simple maths!
So, how are we now feeling about dry-hire as a potential venue option?  If there's one thing that I don't want this feature to do, it's to put you off or dissuade you from investigating dry-hire venues but I do want you to understand exactly what's involved before you set off down the dry-hire route.  In fact, the hardest thing from a planning perspective is that I can't write you a definitive list of pros and cons to help you on your way.  That's simply because every couple will have their own take on the positives and negatives that these venues bring.
It might be that the ability to bring in absolutely everything yourself excited you or it could absolutely terrify you.  You might be totally enlivened by the creative prospects or frozen in horror with no idea where to start.  It's crucial that you know yourselves, are honest about your strengths and weaknesses, are sure about the style of wedding that you want to create and you know that you have the time to plan a dry-hire venue wedding before you fully commit.
Of course, if you LOVE the thought of dry-hire but can't imagine yourself dealing with all the admin or you don't know where to start with styling your blank canvas then a great wedding planner or stylist might be just the investment that you need.  And, just like wedding venues, there are wedding planners and stylists to suit your style.  Take some time to find the planner and/or stylist that's right for you and you'll absolutely get the wedding that you want and your dry-hire venue will be transformed into a genuinely once-in-a-lifetime location.
Love,
Kat x