For a long time now, I've wanted to take my own children to the place we used to holiday on those beautiful Scottish lakeside shores. My memories bring me beautifully to this morning's wedding.
Lisa, a Media Partnerships Manager at Expedia, and Steve, an Innovation Strategist at Macquarie Bank, married in June this year at The Byre at Inchyra in Perthshire, Scotland.
The couple hired Cinemate to create their wedding film and the wonderful Twins to capture their images.
"The Twins took our wedding photos- we were drawn to their artistic and candid style. We were thrilled with how they turned out. We also loved the modern and edgy style of Cinemate Films."
Film by Cinemate Films
"We wanted the style to be romantic and magical with a modern edge. Our key design themes were metallics, geometric shapes, watercolour, florals and greenery. Our colour palette was a mix of blues and greys, dusty pink, green and crimson with touches of gold and copper."
Photography by The Twins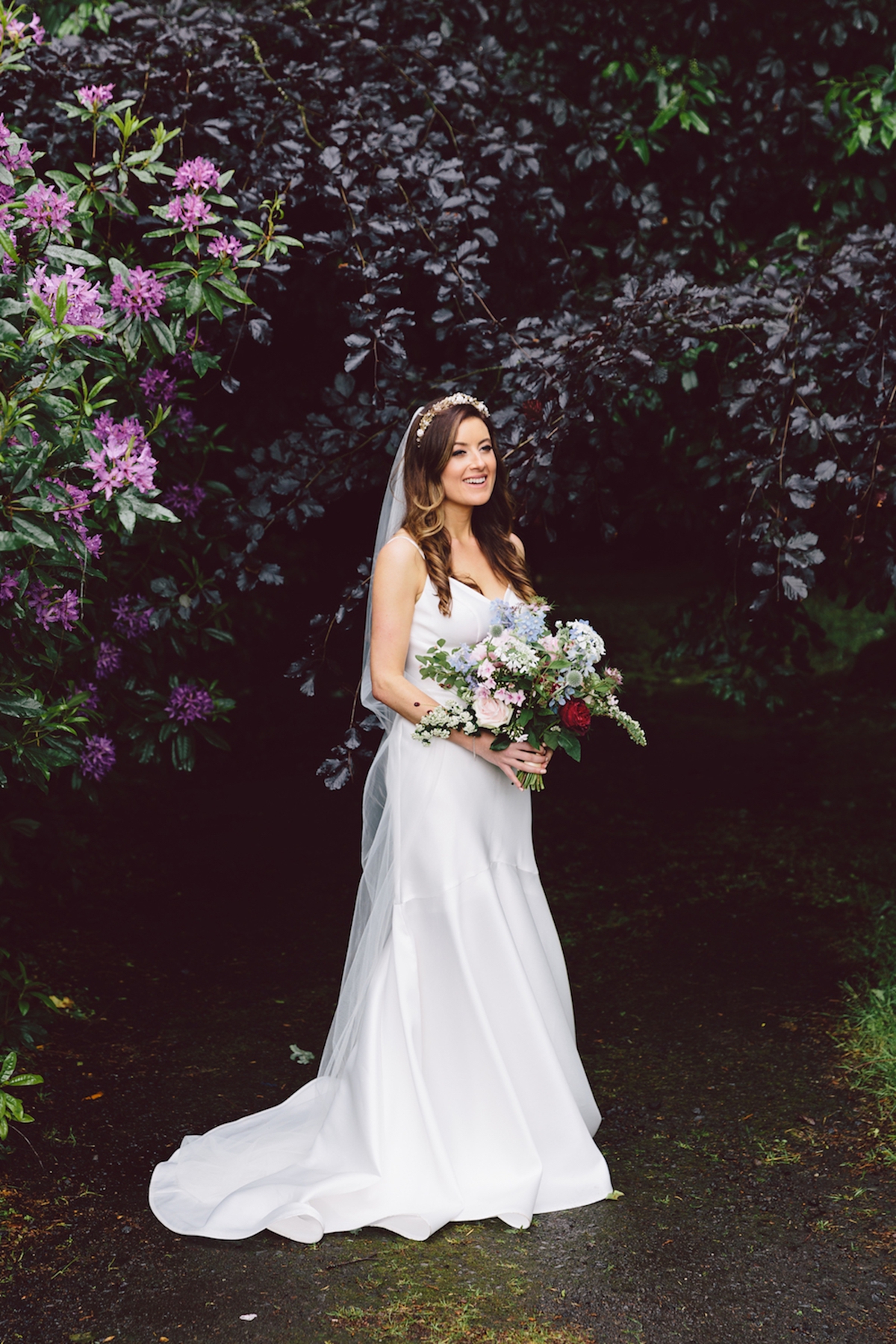 "My wedding dress was from the Karen Willis Holmes flagship store in Sydney. My evening skirt was from Sass & Bide. I originally thought I would go for lace or floral dresses but in the end I loved the modern, simple and elegant style of my dress – ivory satin with a low back and slit up the front.""I wore a long simple veil for the ceremony and swapped the veil to a train for our dinner. Before our first dance, I changed into a fun Sass and Bide skirt with sequins and feather detail and a simple ASOS cami.  If you can't have three outfit changes on your wedding day, when can you?!"
"My shoes were from Emmy London and were my 'something blue'. They had a subtle art deco style and the colour matched the bridesmaid's dresses."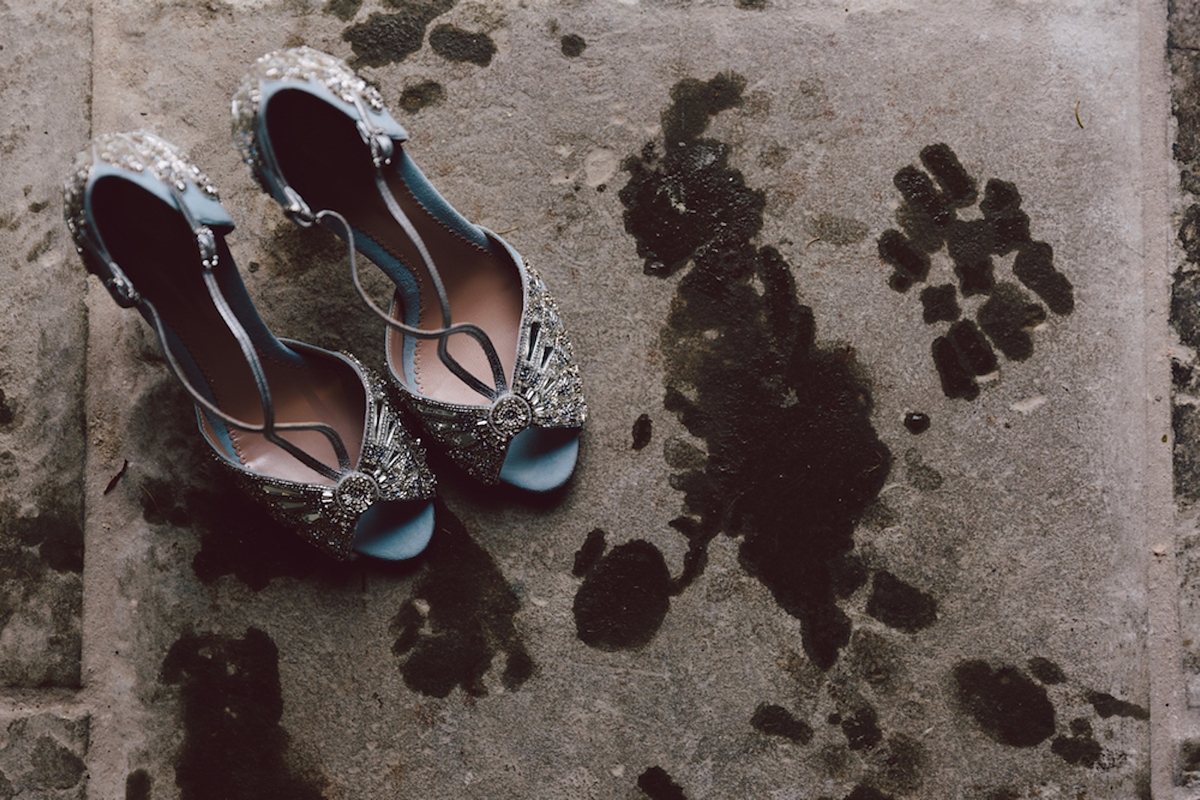 "On the day of my 30th birthday, Steve surprised me with a sunrise picnic in Bondi Beach where we live and a whirlwind trip back to New York; where we met- it was amazing. We were engaged 18 months before our wedding day."
"The simplicity of my dress allowed me to pick a statement head piece. I fell in love with the Tania Maras Tempest crown – delicate gold wire with pearl detail."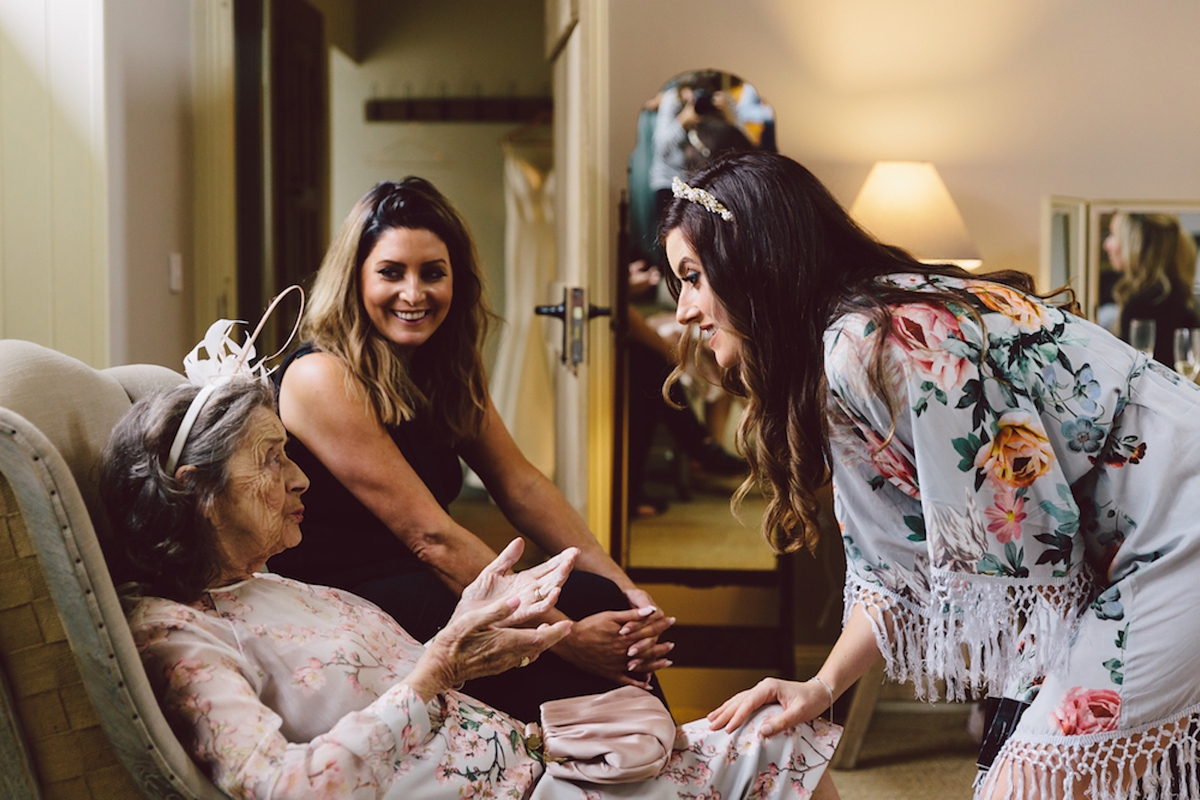 "I changed my mind on the bridesmaid dresses a few times but in the end went for Rewritten as they were modern with clean lines and I loved that the girls could pick the style that suited them."
[JP-VIDEO]
"I chose marine blue as it was the perfect Scottish summer colour. My Sister, Maid of Honour wore a pale green silk dress from ASOS that suited her beautifully."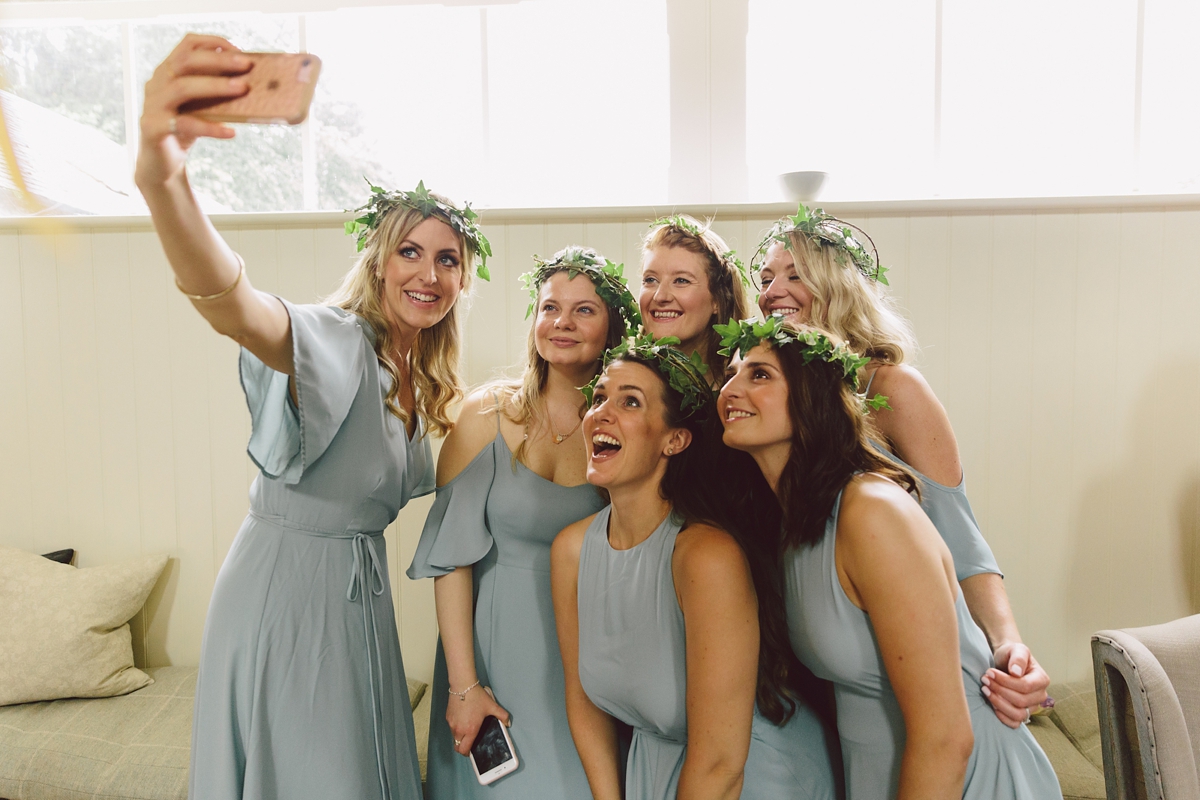 "Steve wore a kilt from Slanj Kilts in Edinburgh. We picked SRU tartan for its blues and greens to match our colour palette. Even though he is English he was happy to embrace the national dress!"
"The groomsmen wore navy ties with a white stag head print, thistle corsages. My dad surprised the groomsmen with date engraved sgian-dubhs for everyone."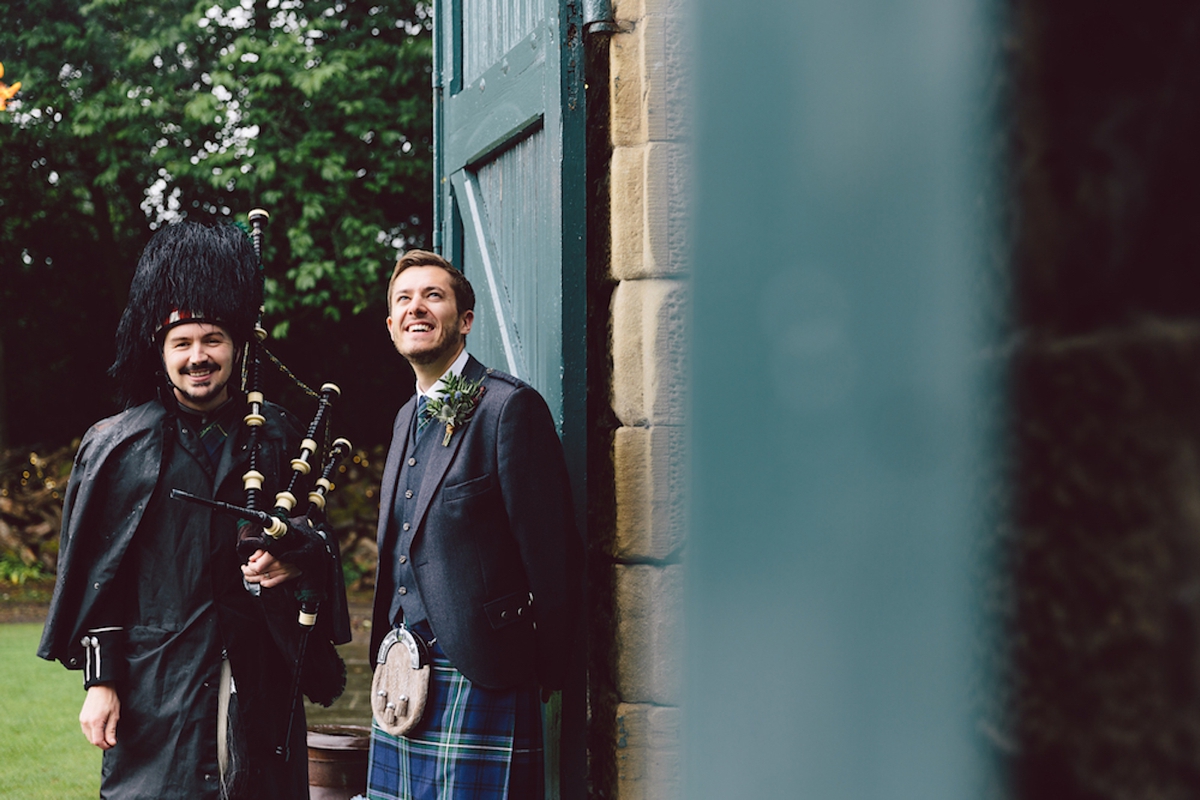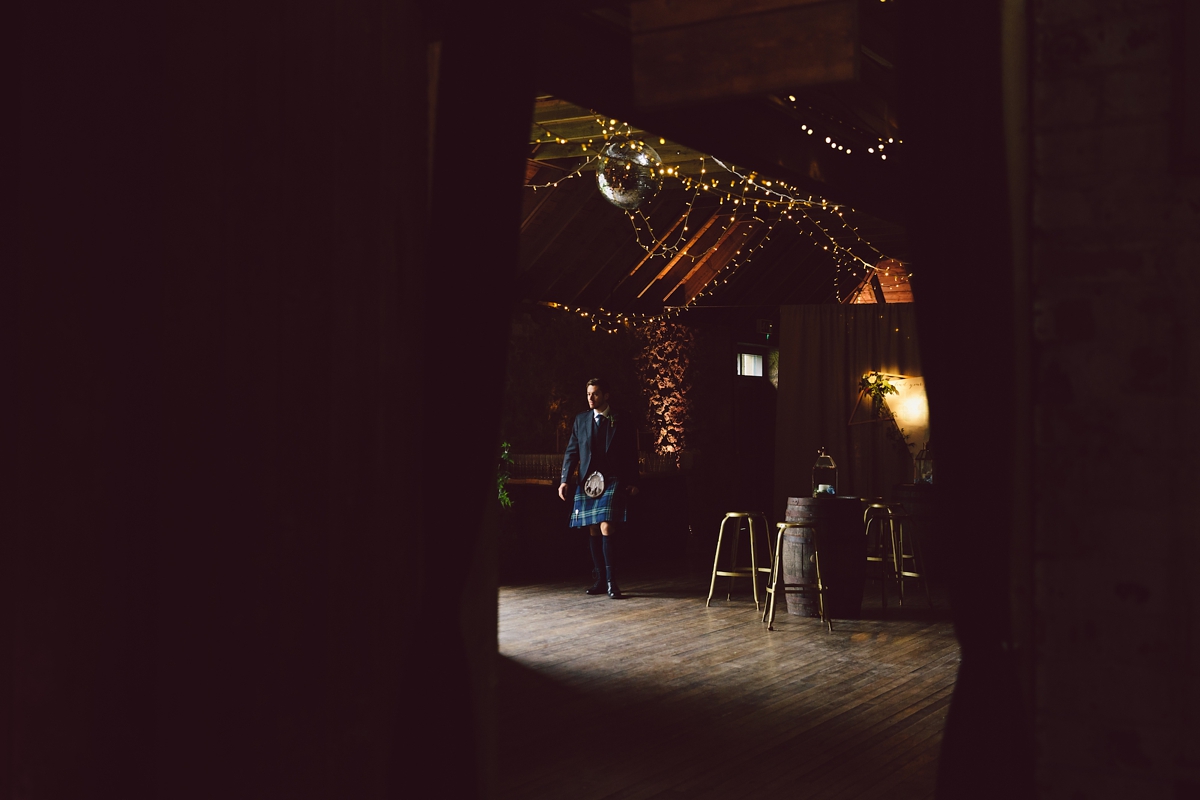 "I wore Stella by Stella McCartney. It's one of my favourites and I didn't want to try anything new."
"I asked the girls to wear metallic shoes to tie in with the theme but I encouraged them to wear different styles."
"I wore some simple pearl earrings given to me by a friend and a delicate silver bracelet from my Mum that I never take off. I borrowed a garter from one of my bridesmaids."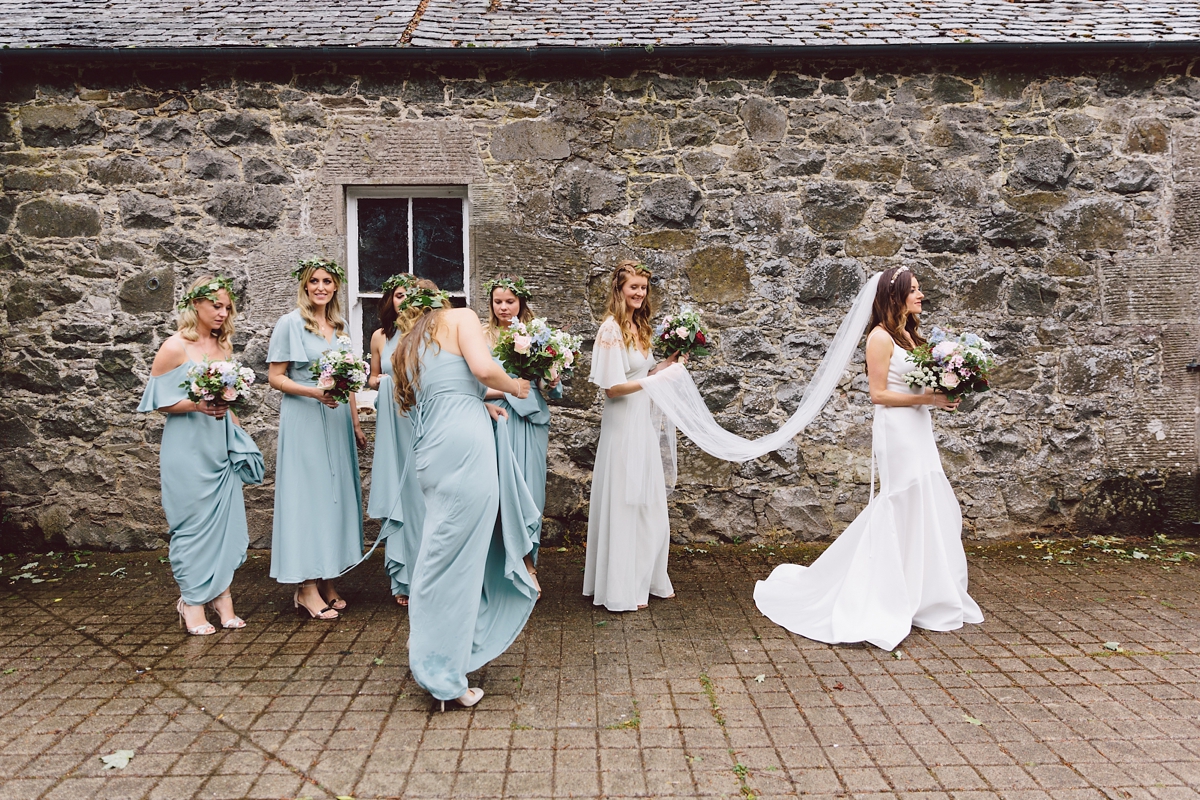 "The bridesmaids wore vine crowns and my Sister had fern leaves styled into her hair. I wanted the accessories to echo the greenery of the grounds and our décor."
"I gave the girls a copper hexagon necklace with their first initial on the morning of the wedding."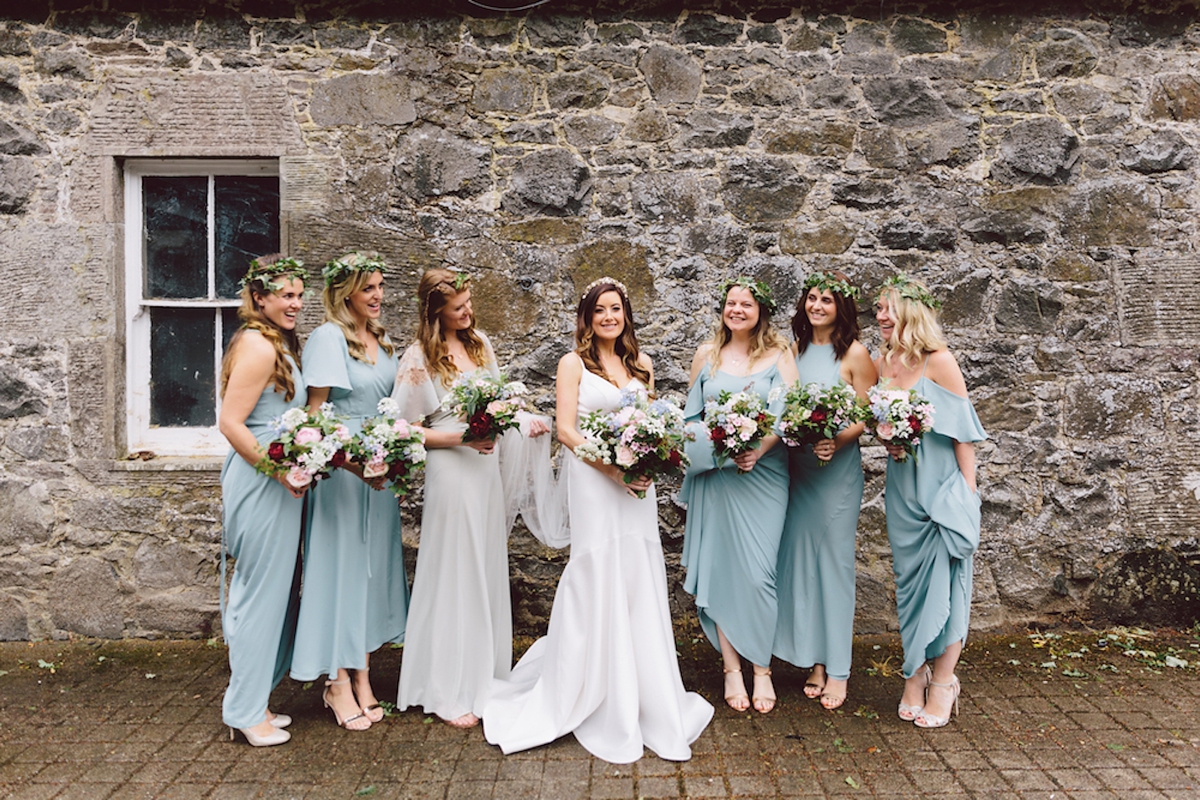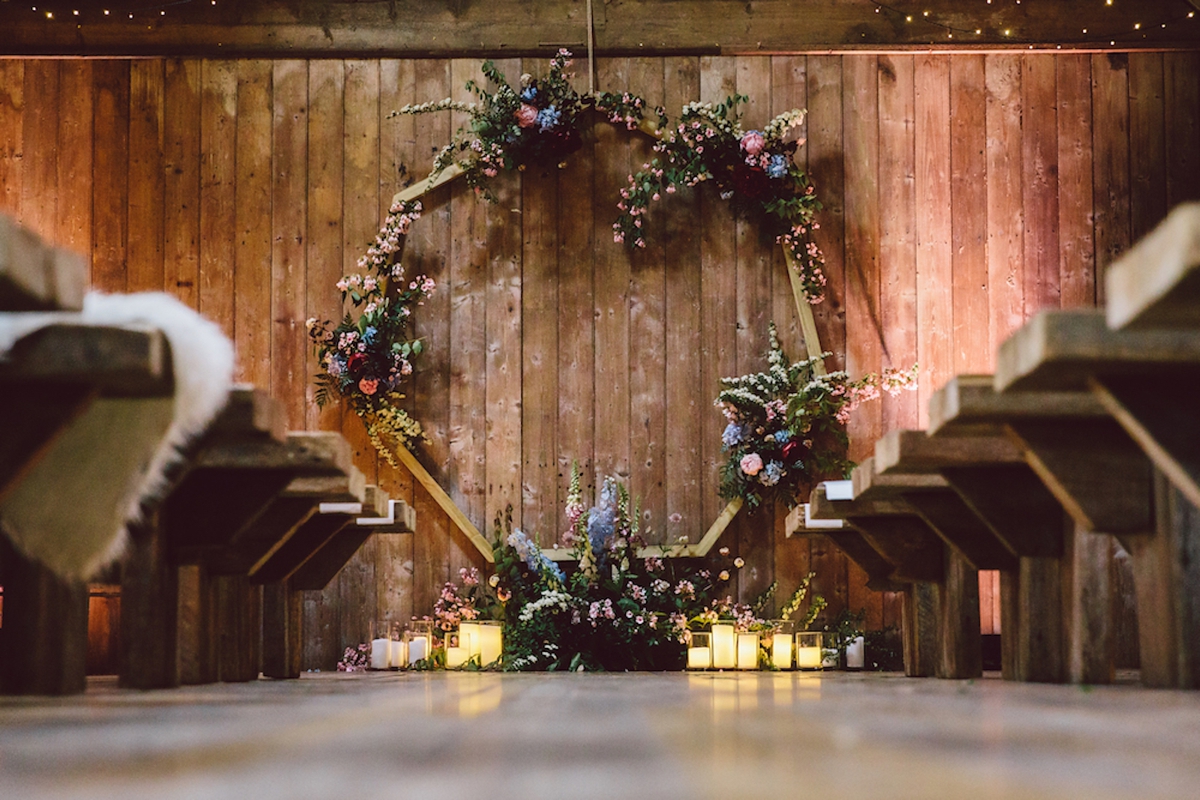 "Lemonbox Studios designed our stationery. Our order of service featured a charming illustrated map of the grounds and venue with points of interest."
"Our menus included the same floral design as our invitations. Our place cards were different geometric shapes with a watercolour design."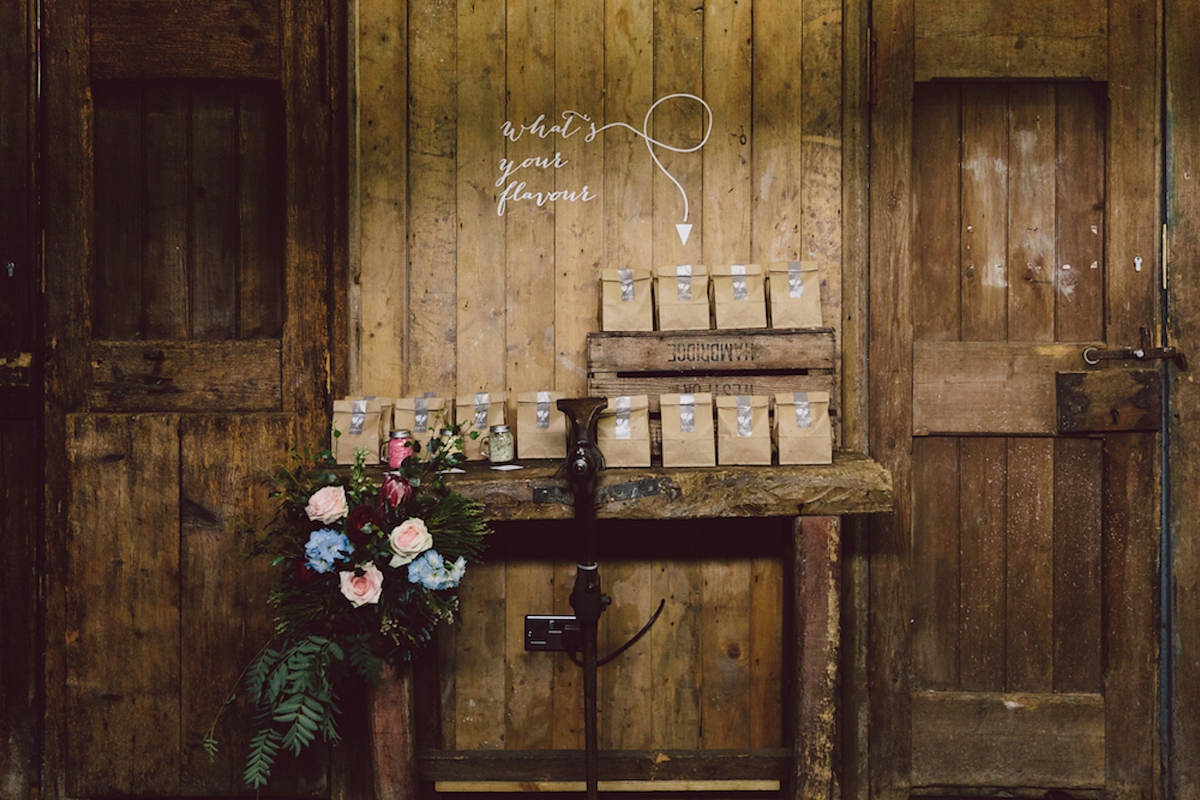 "My Dad walked me down the aisle- it was a tradition I wanted to keep. And was this to any particular track or song? Our swing band did an instrumental of La Vie en Rose by Louis Armstrong."
"We chose Grew & Co, an Australian brand for our wedding rings as we were impressed with their contemporary designs. My wedding ring has a rose gold band with a fan of stones that frames my engagement ring. Steve's matte silver ring has an inner rose gold band that ties the two together."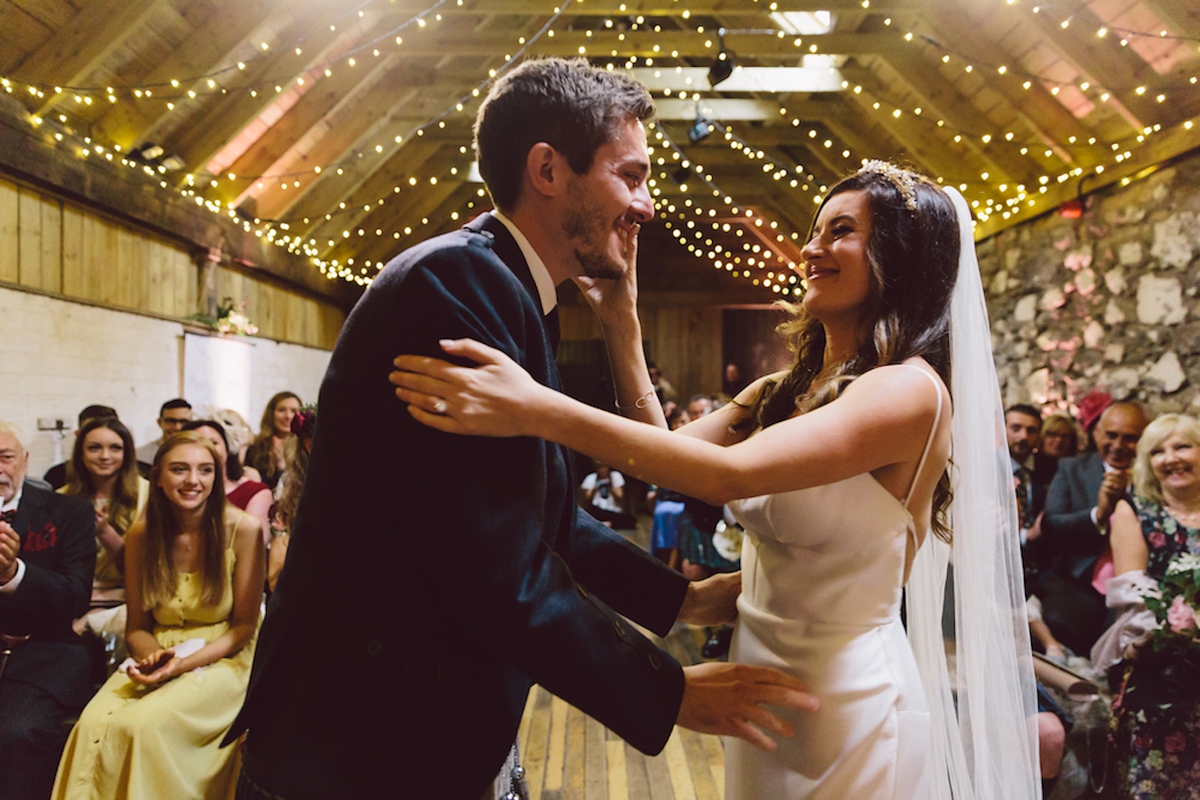 "Thirza Wilson, a Humanist Celebrant married us. She brought a relaxed feel to the ceremony."
"We tailored our vows to reflect us – we wanted to keep them simple and personal. During our ceremony we did a warming of the rings ritual where they were passed round the guests. We also drank whisky from a quaich."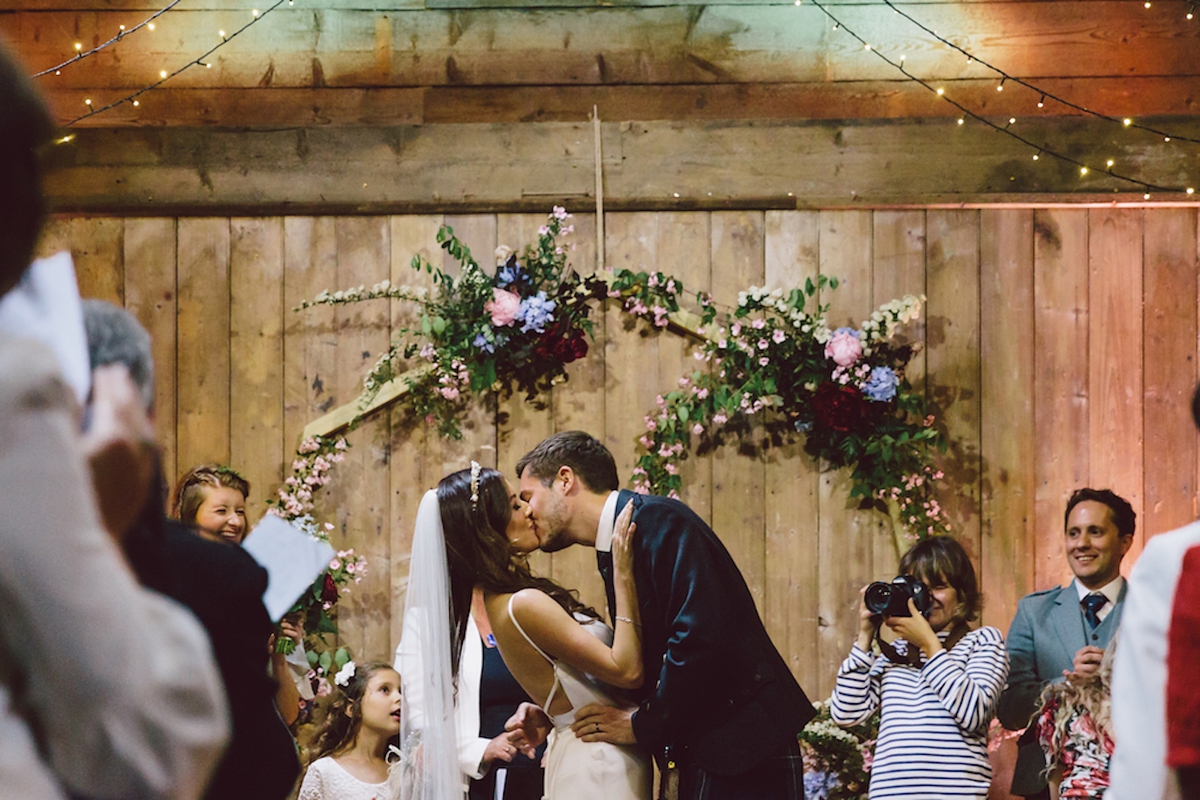 "My Mum read a poem that she wrote herself which was very special. Steve's Dad read our second reading- 'Oh the Places You'll Go!' by Dr Seuss- we picked this as it was light and we felt this represented the adventures we have ahead together."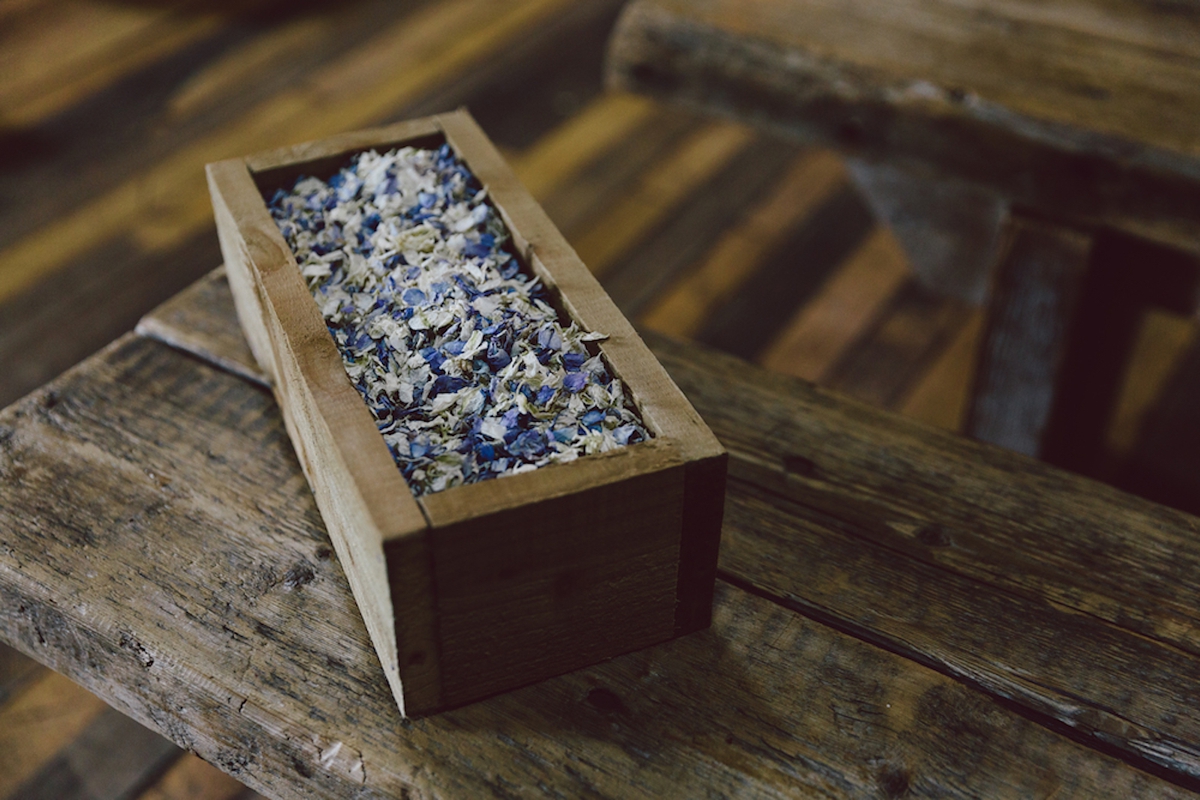 "Myrtle & Bracken was our florist. I had seen examples of her stunning installations and liked the wildness of her bouquets – I didn't want anything too polished. The flowers included roses, thistles and peonies, greenery and even herbs for a truly sensory experience."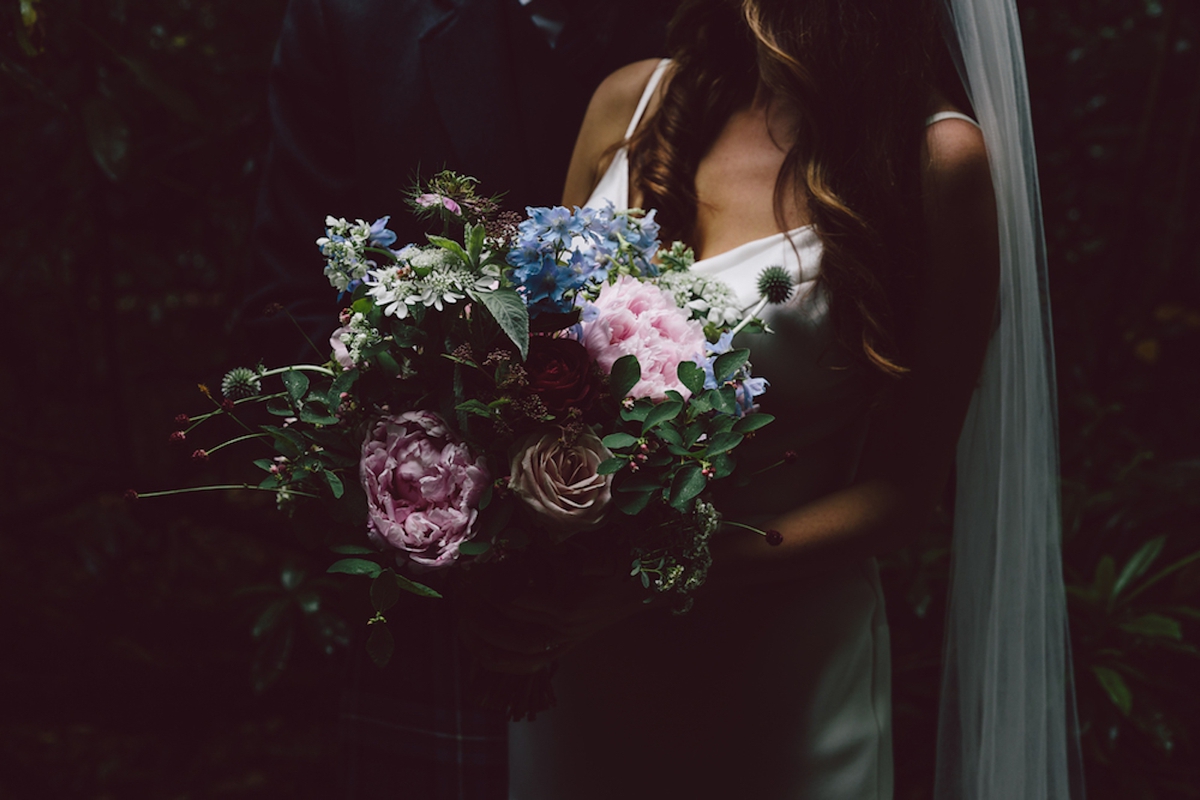 "Our page boy wore a small kilt in the same tartan as the groomsmen. He carried our rings down the aisle in a tiny gold terrarium."
"The flower girls wore dresses from Lily Rose Bridal. They had pretty lace sleeves and fun tutu skirts that made them look like fairies. They walked up the aisle holding flower wands."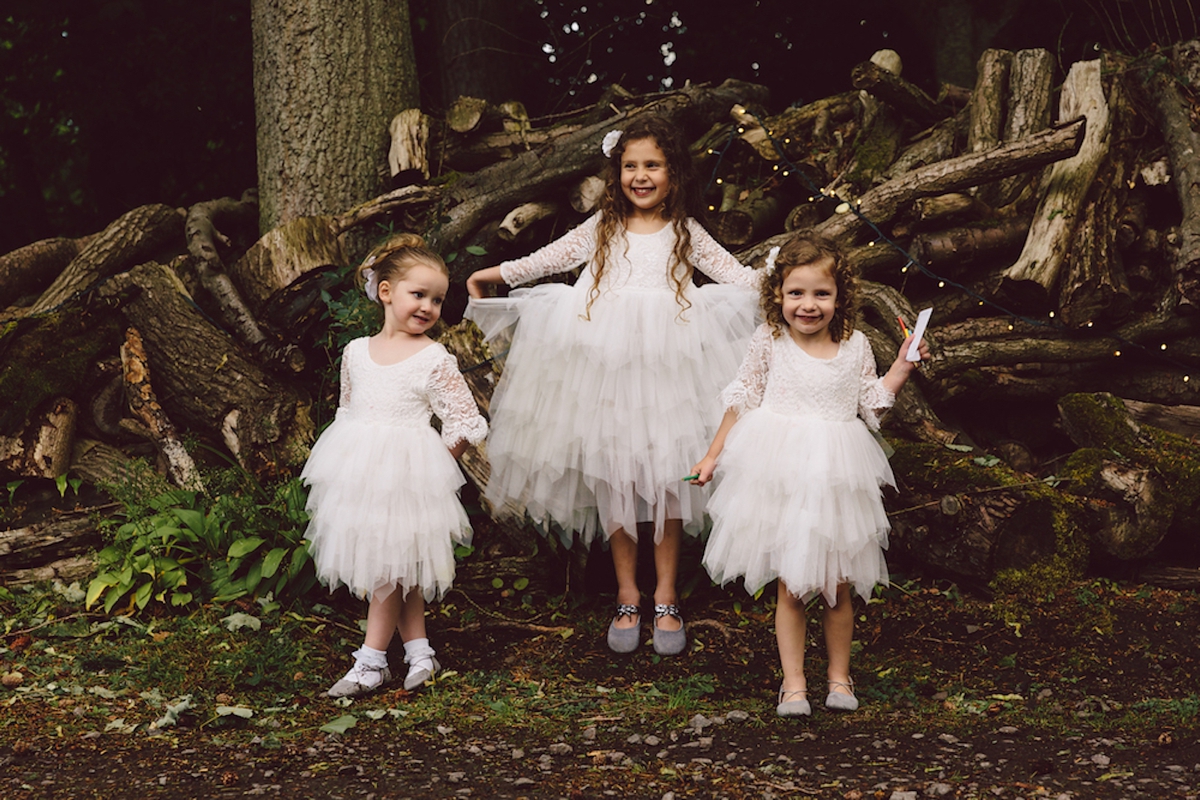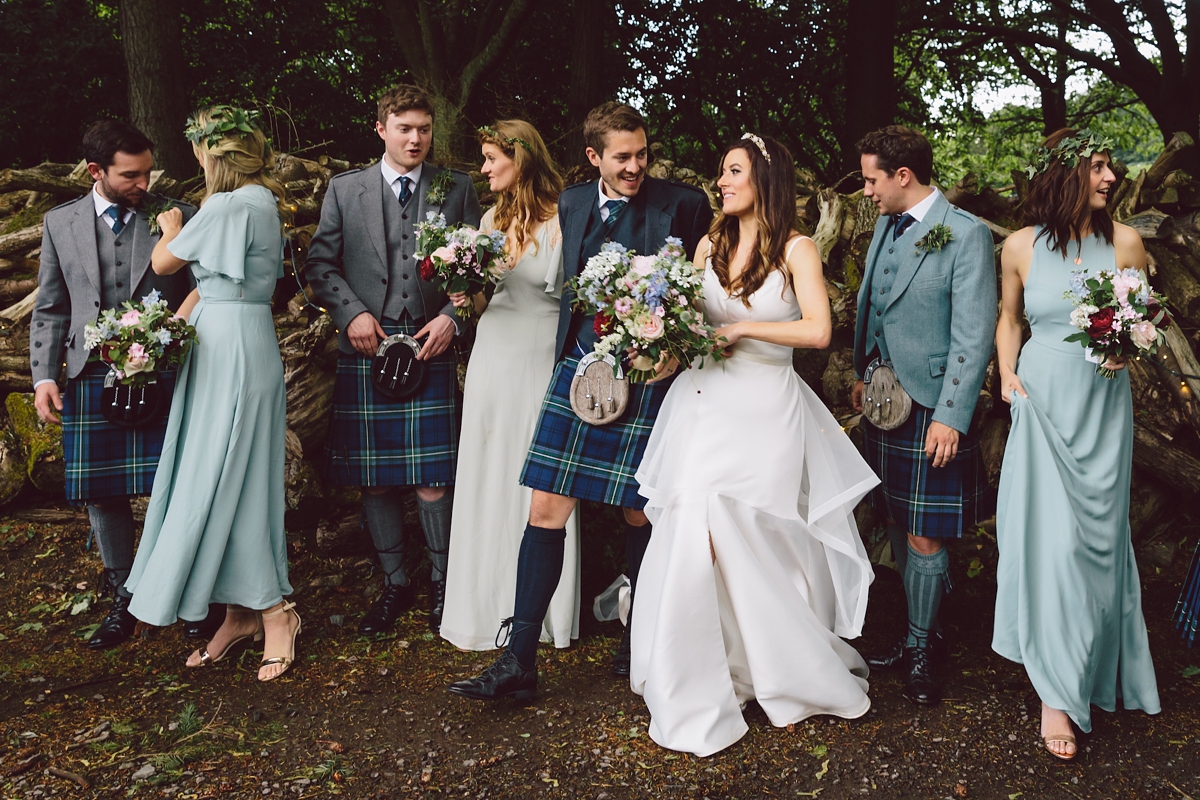 "I knew the minute I saw The Byre, it was our place. It was booked up for two years and we were lucky to get a weekend cancellation. We loved the beautiful grounds and the rustic space of the barn- a blank canvas that could be transformed."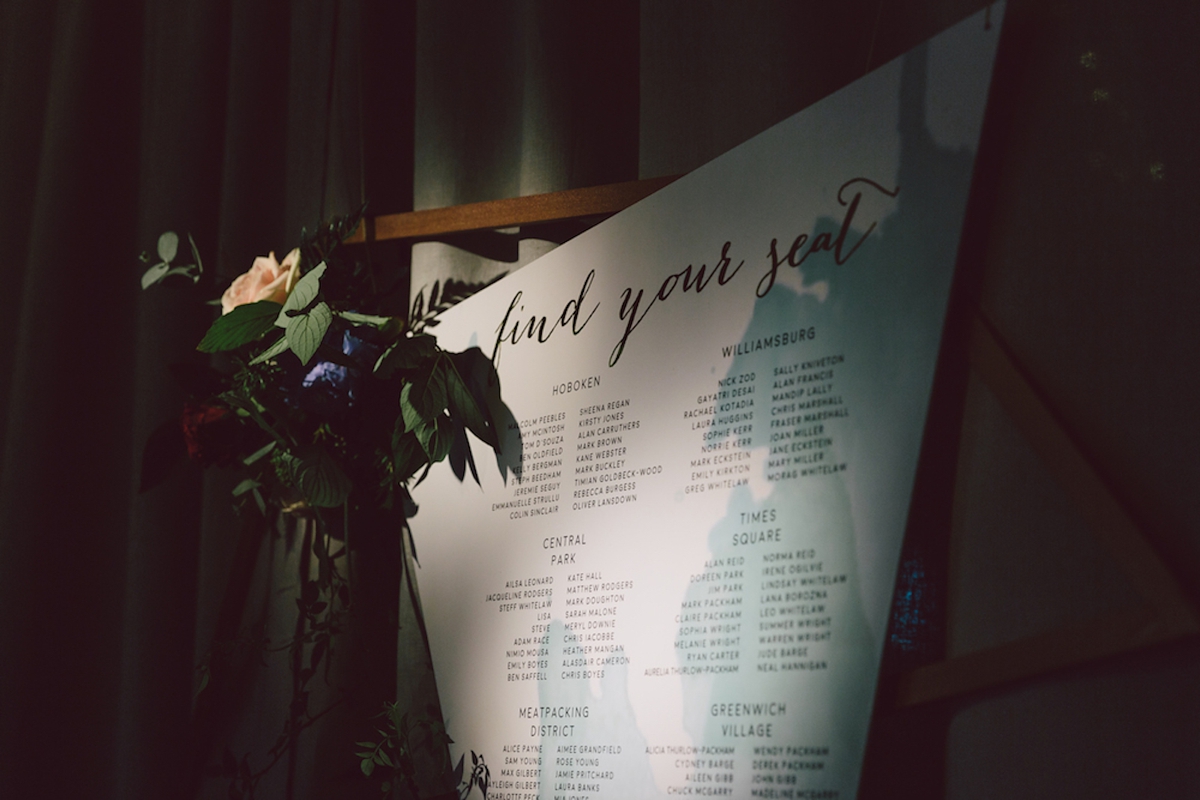 "Lemonbox Studios did an incredible job styling the space to reflect our themes and bring our ideas to life. Some favourite design elements were the flower adorned geometric ceremony backdrop, hanging bulbs throughout the dinner space, copper cutlery and a metallic balloon installation beside the dance floor."
The seating plan they designed was a work of art in itself, triangular suspended boards with metallic and watercolour elements. I've never seen anything like it."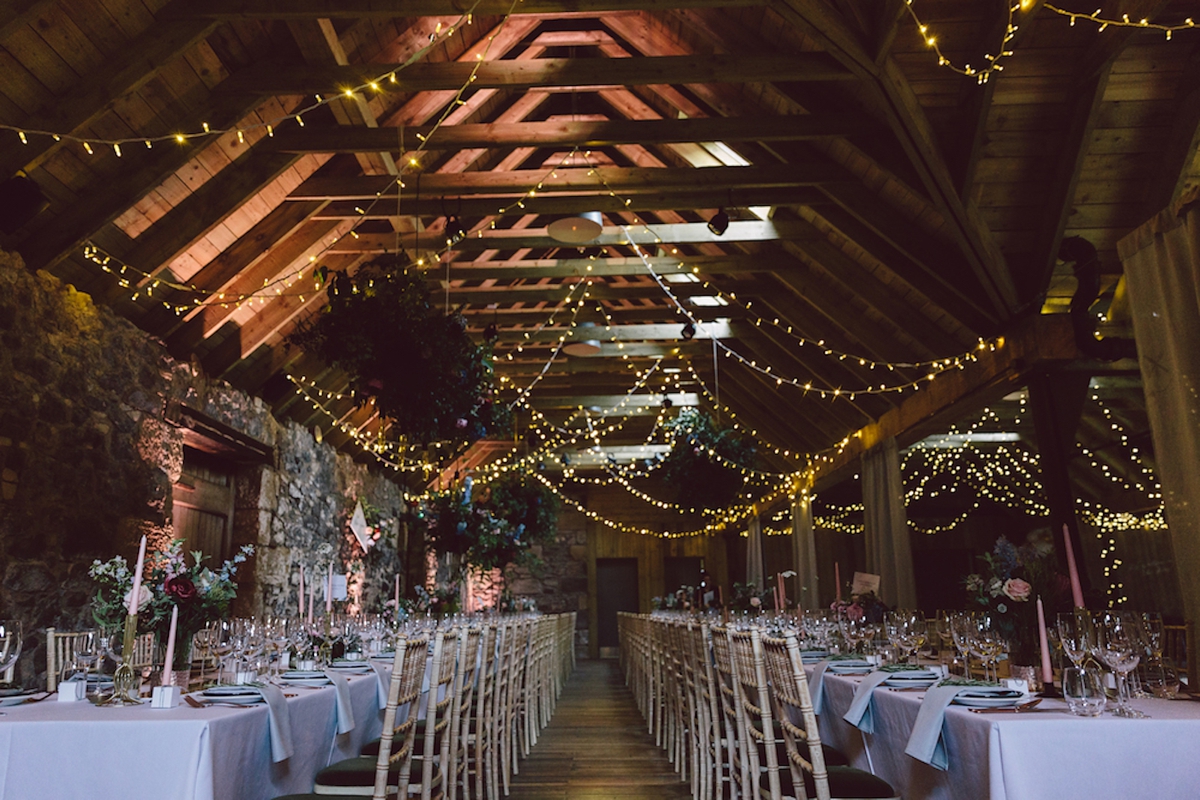 "We hired Lemonbox Studios as they were familiar with the venue and we were impressed with their creative work."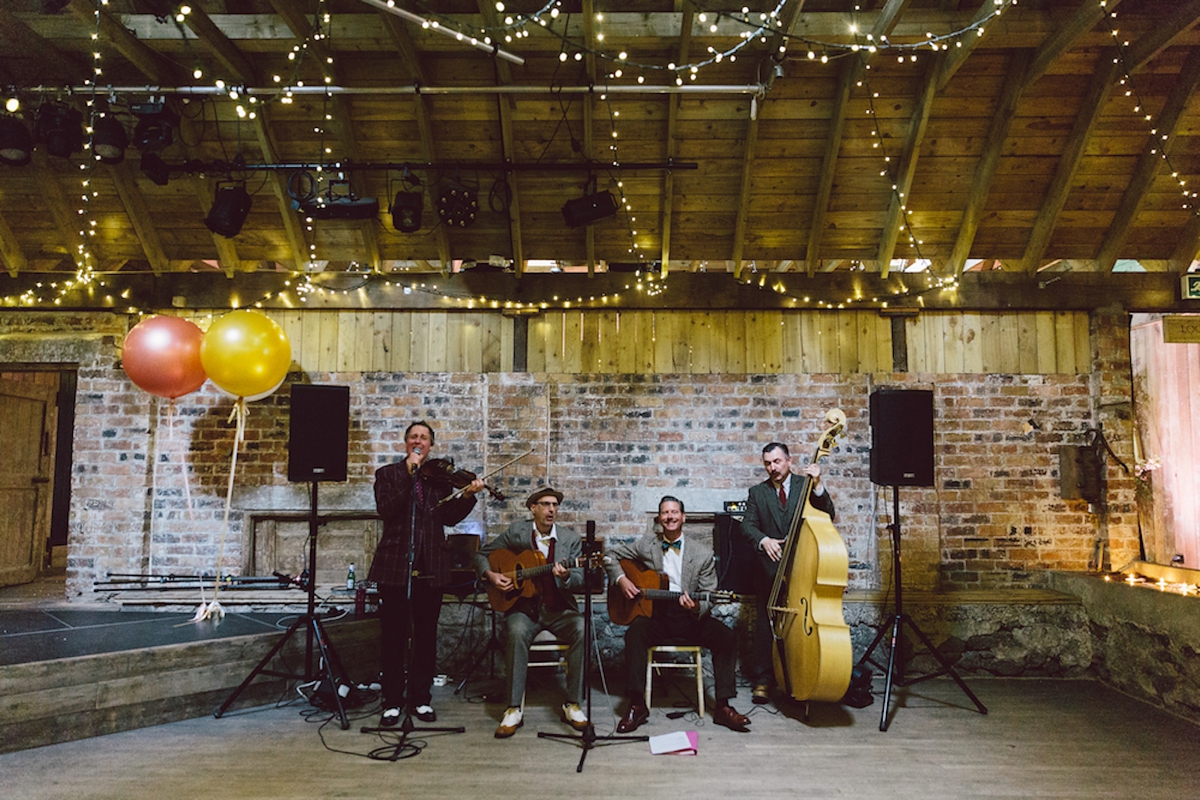 "Lazy Sundays did our catering- we picked them as it was important we had a high a quality vegan option for some VIP guests. We had fun working with them to develop a menu that reflected us."
"Our food included haggis bon bons, pea soup shooters, quail eggs with caviar, mezze platters, pan-fried seabass, vegan moussaka, espresso shots with mini donuts, a cheese board and mini pie selection before midnight."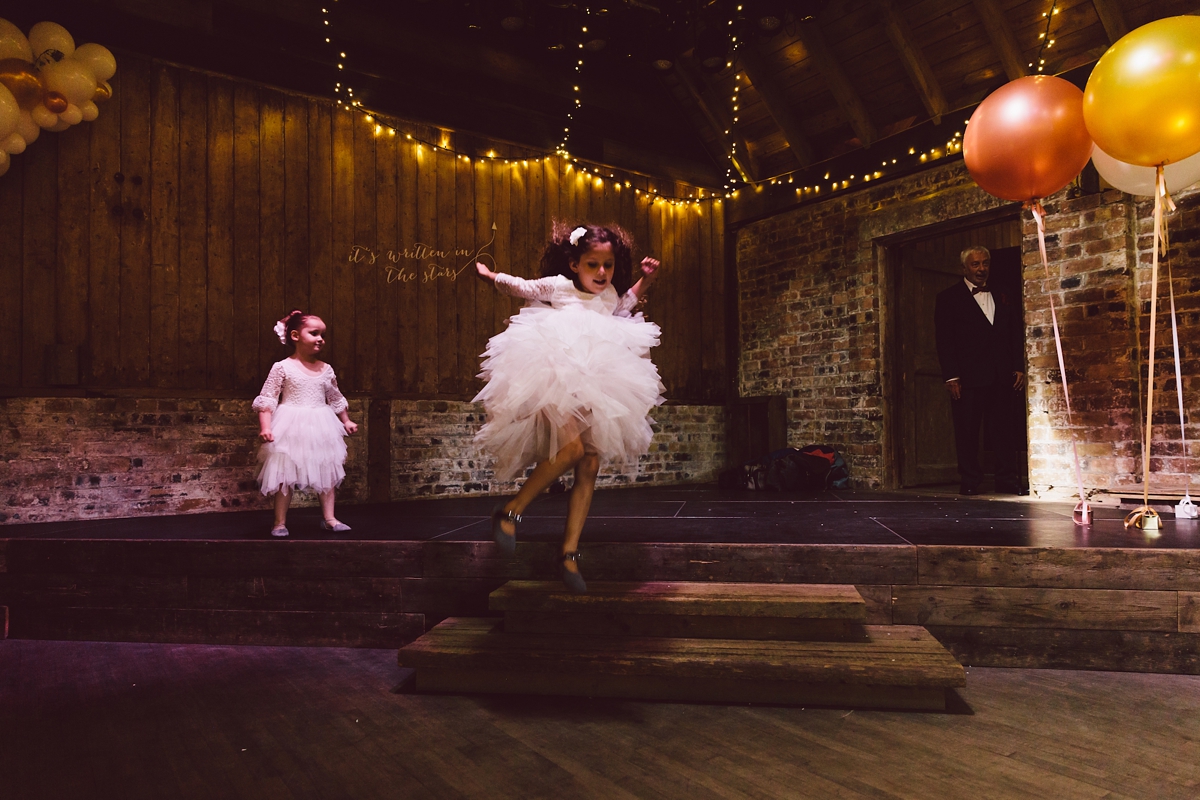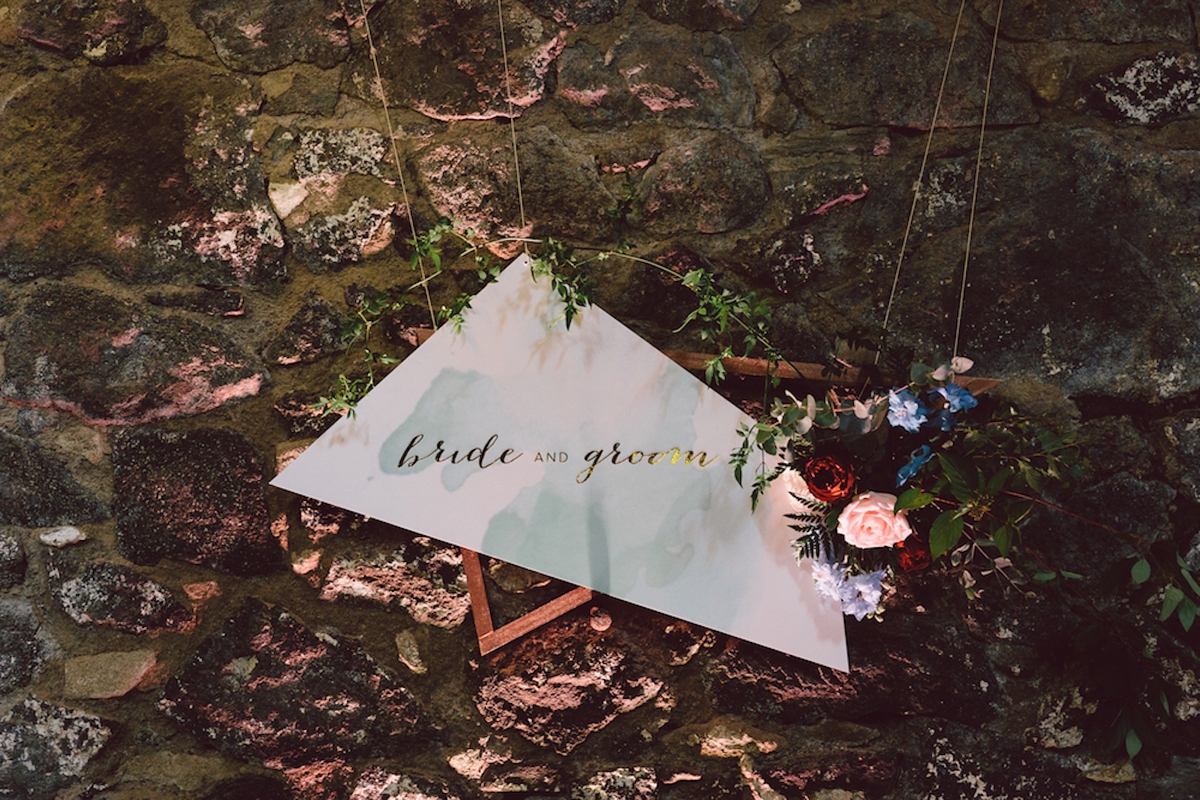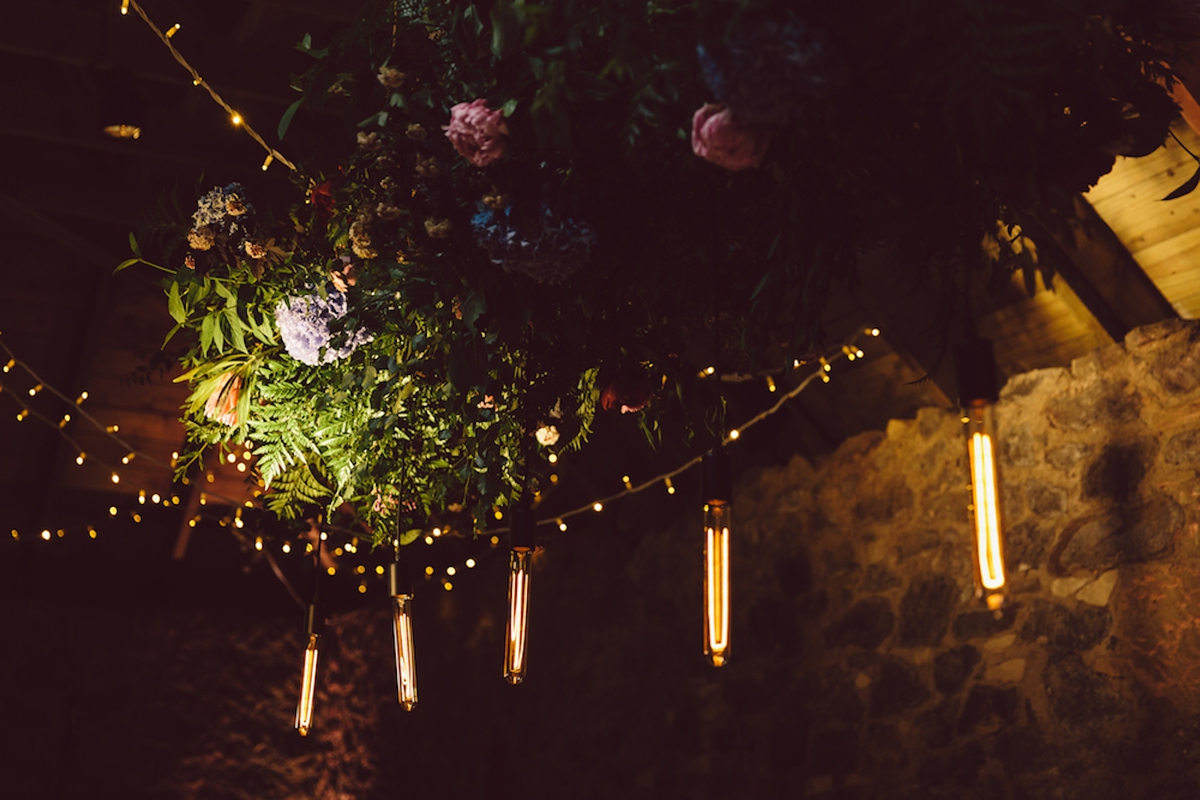 "We provided gold leaf marshmallows in little boxes for people to toast on the fire pits outside."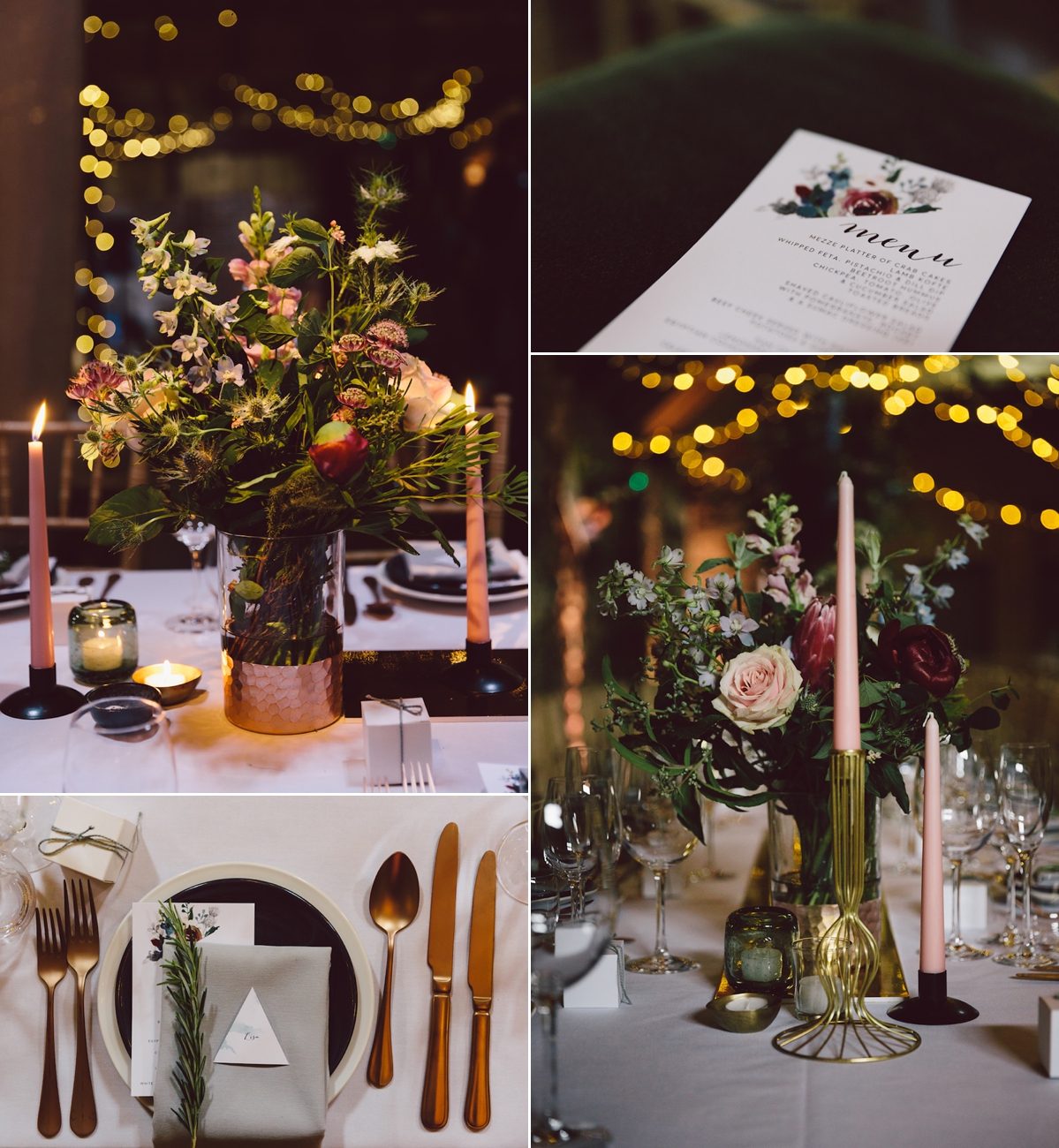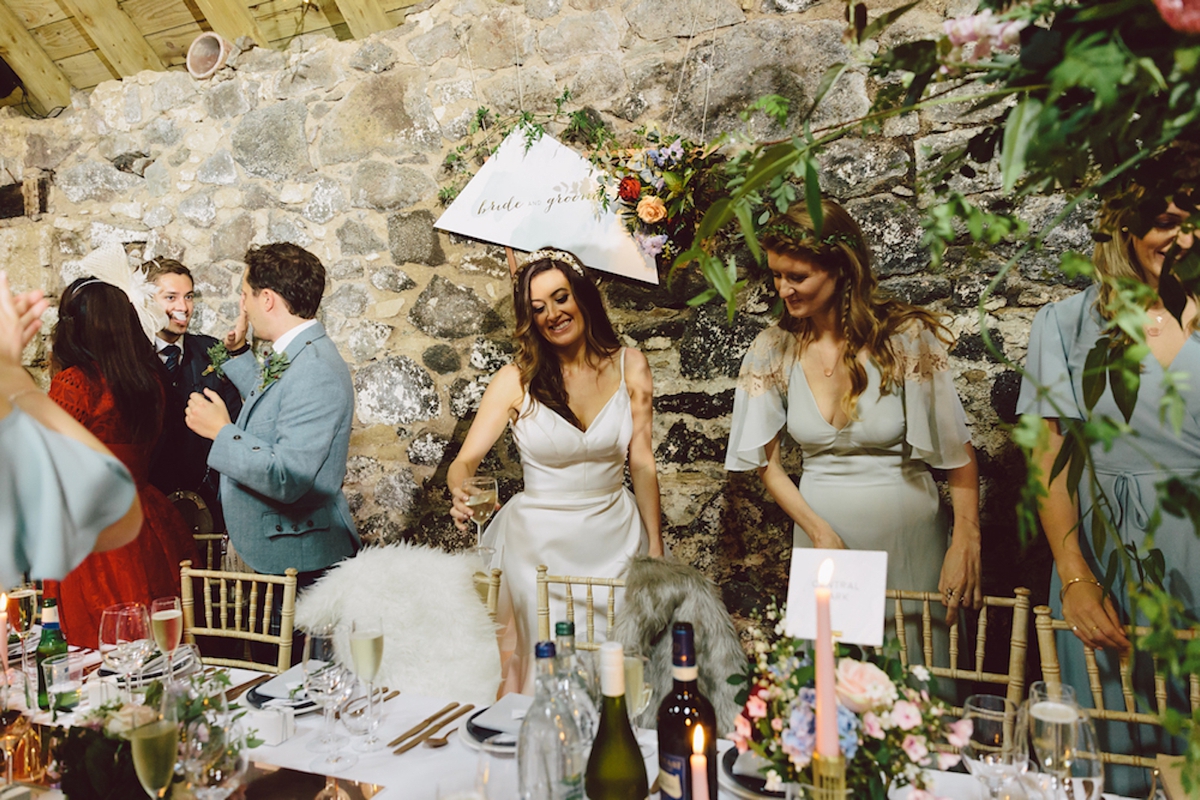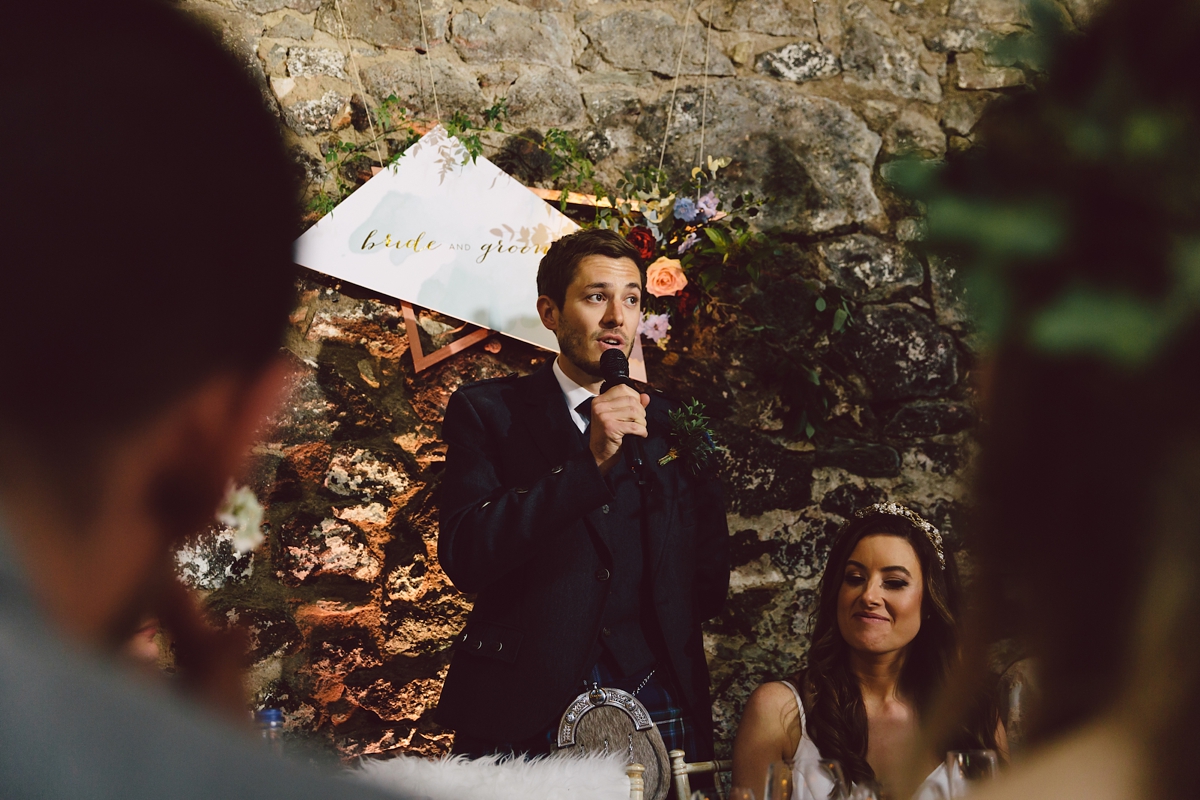 "Happy Hills Cakes designed our wedding cake. We had a 3 tiered cake with different flavours- lemon and raspberry, sticky date and salted caramel."
"The cake reflected our design themes- the top tier was covered in copper icing and the bottom tier featured grey ombre icing."
"AMM did our hair and makeup. I was lucky enough to have Anne-Marie do my hair- she is a hoot and brought a lot of positive energy with her to our wedding morning."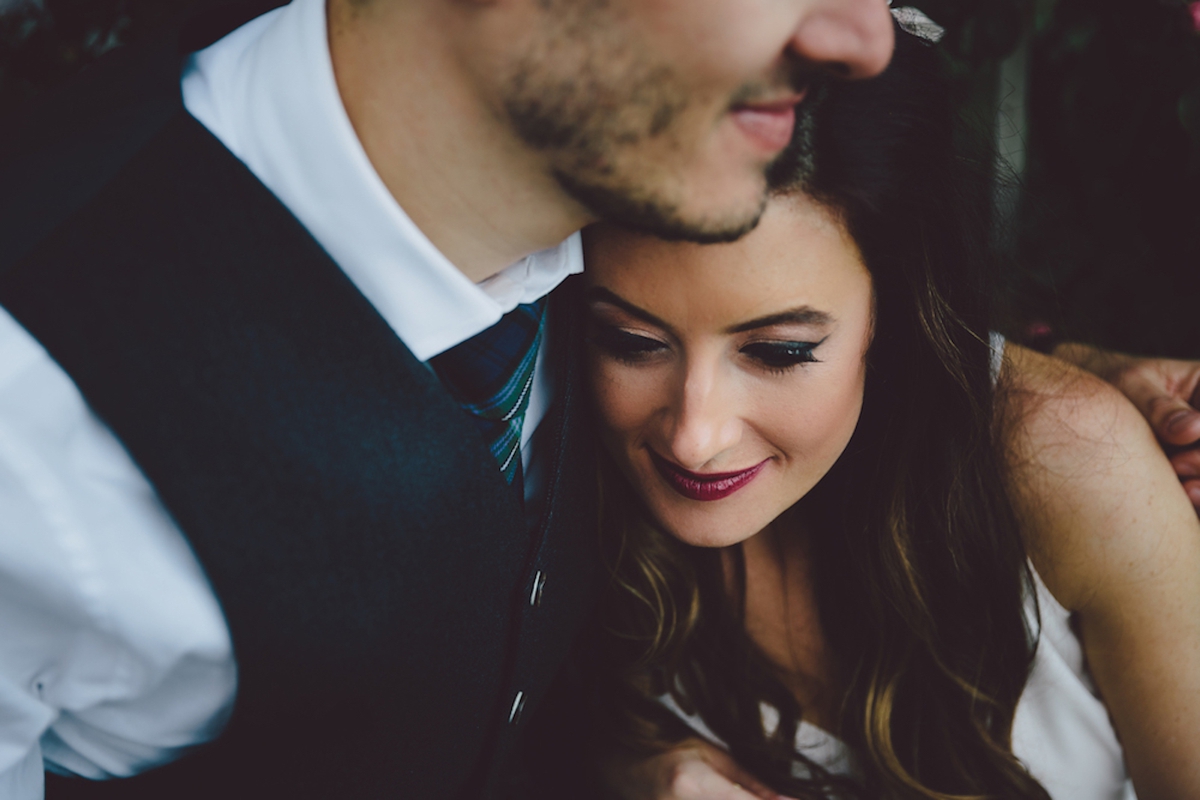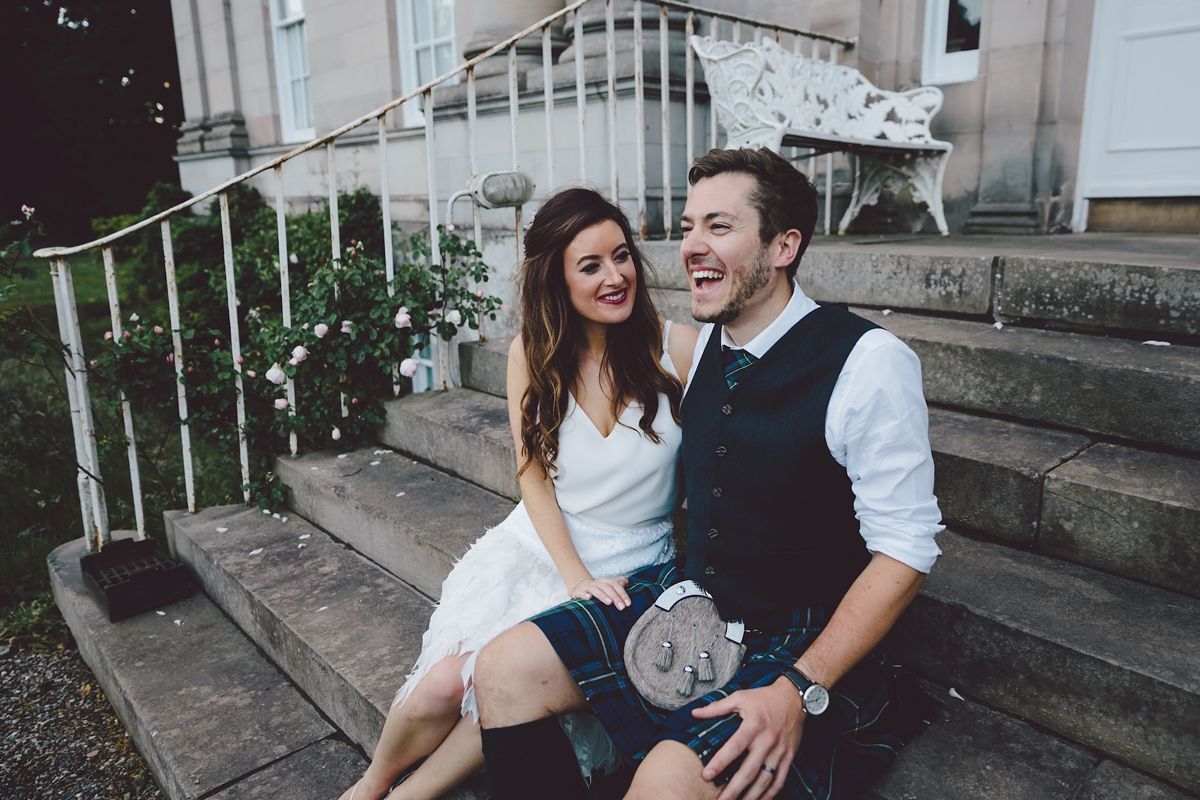 "I changed the crown to a rose gold Etsy hair comb for the evening."
"Entertainment was really important to us and we love music; we wanted our guests to have a blast. A piper greeted people as they arrived and we booked a swing band to play during our ceremony and drinks reception."
"We wanted to do something fun, and so learnt a routine to Frank Sinatra's New York, New York. It then mixed into Jay Z's Empire State of Mind where our wedding party joined us on the dance floor."
"Later on we had a band for our ceilidh (Scottish country dancing) and more dancing later on."
"We hired a Blushbooth to for guests upload boomerang videos and photos to a wedding Instagram account we created."
"There were so many magical moments but walking down the aisle to meet Steve surrounded by the smiling faces of loved ones or when our dance practice paid off and we successfully managed the lift!"
Words of Wedded Wisdom
"If you could impart any words of wisdom to a Bride to Be planning her marriage and wedding day, what would they be? Readers love to read the 'Words of Wedded Wisdom' left by other brides. This is often the most popular part of the features that we share."

"My biggest piece of advice would be not to fret about the weather in the lead up to your wedding. Rain changed some of our plans but it all worked out and was better that we could have hoped. I wasted a lot of energy worrying about the rain instead of fully enjoying the exciting few days before."
"We wanted to have some unique elements in our day. We turned a small room into a secret cinema with bags of popcorn and flavoured toppings. This cinema showed a video about the story of us with pictures and videos of guests that being part of our life."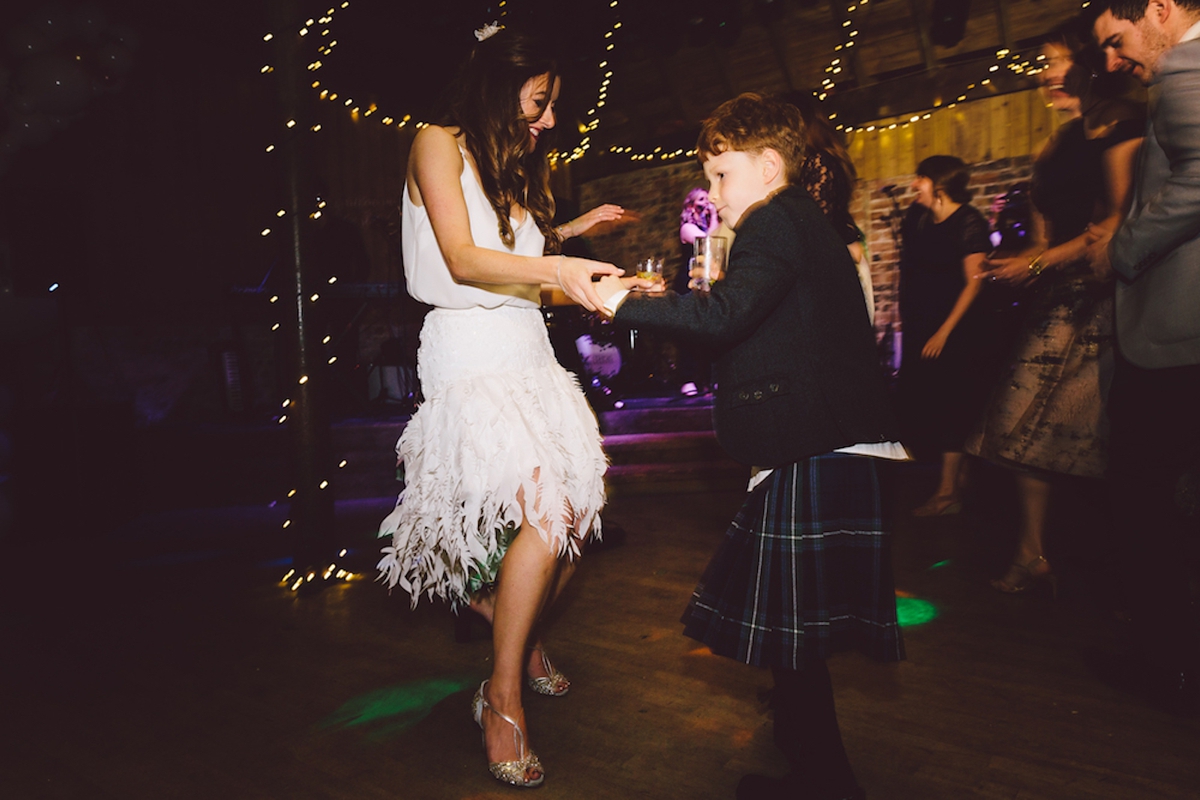 "Rather than a guest book, we hung maps of our home towns Edinburgh and Felixtowe for guests to sign. As only two were able to attend, to respect and in memory of we hung photos of all eight grandparents on a tree within the venue which became our 'Grandparents Tree' feature."
"As we met in New York, we had a NYC theme throughout- drinks specials named after our favourite landmarks and our seating plan was divided into our favourite NYC neighbourhoods. Our first dance was part of this theme too."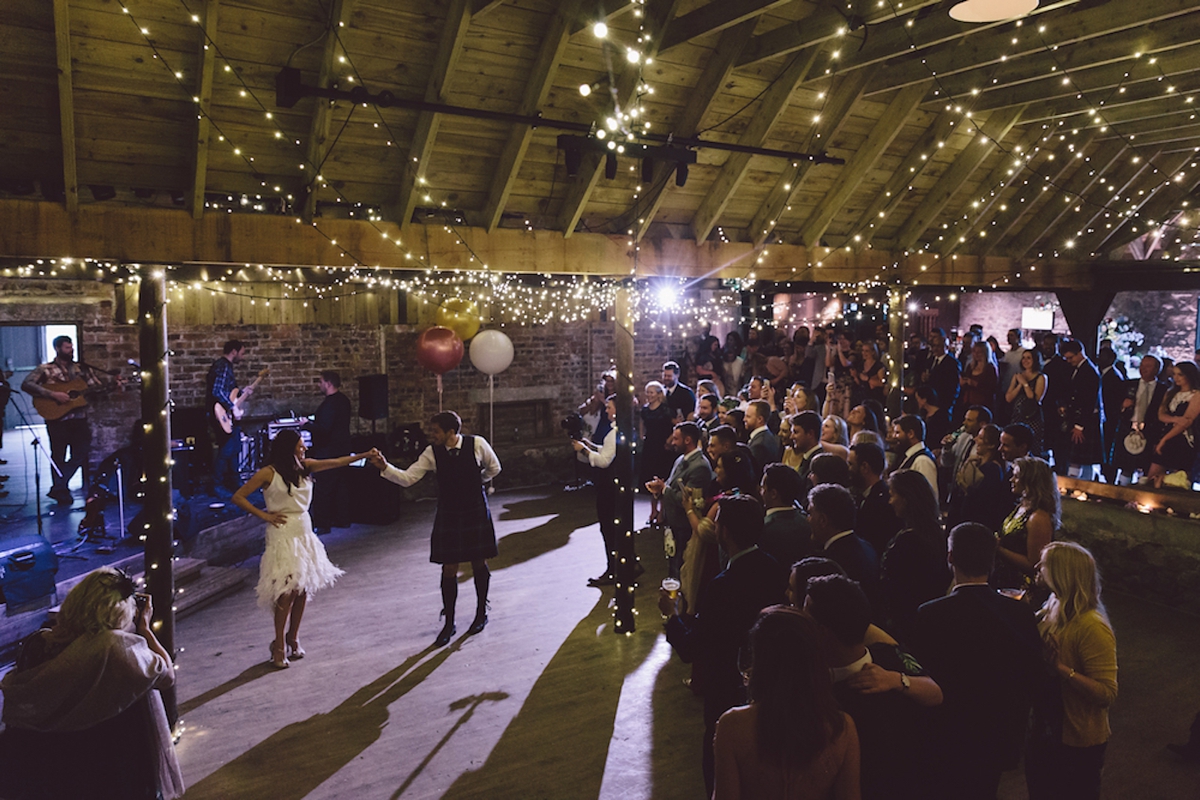 Utterly gorgeous! Love and thanks to you Lisa for sharing your utterly beautiful day with us. Readers, you can see more wedding photography from The Twins here on Love My Dress.
Annabel x