Come with me for a few minutes of unbridled and completely lovely escapism in today's showstopping summer wedding. There's an elegant couture gown of dreams, the most gossamer light veil, colourful flowers in rich shades of yellow, orange, red and pink, and at the centre of it all an exuberantly joyful couple celebrating their day in a multilingual occasion with loved ones from all over the world.
Meet Julia and Dmitrii, who were married on the 14 June 2018 at Hazel Gap – a warm and inviting barn venue from the team at Cripps, situated on the Welbeck Estate in Nottinghamshire.
"We wanted to show the beauty of nature throughout our wedding and we loved how the simplicity and location of Hazel Gap reflected this. We were inspired by the baroque style although we didn't want to lose the beauty of nature in our wedding; that's why we tried to have lots of flowers and chose Hazel Gap as our venue due to its simplicity and location."
Images by Helen King Photography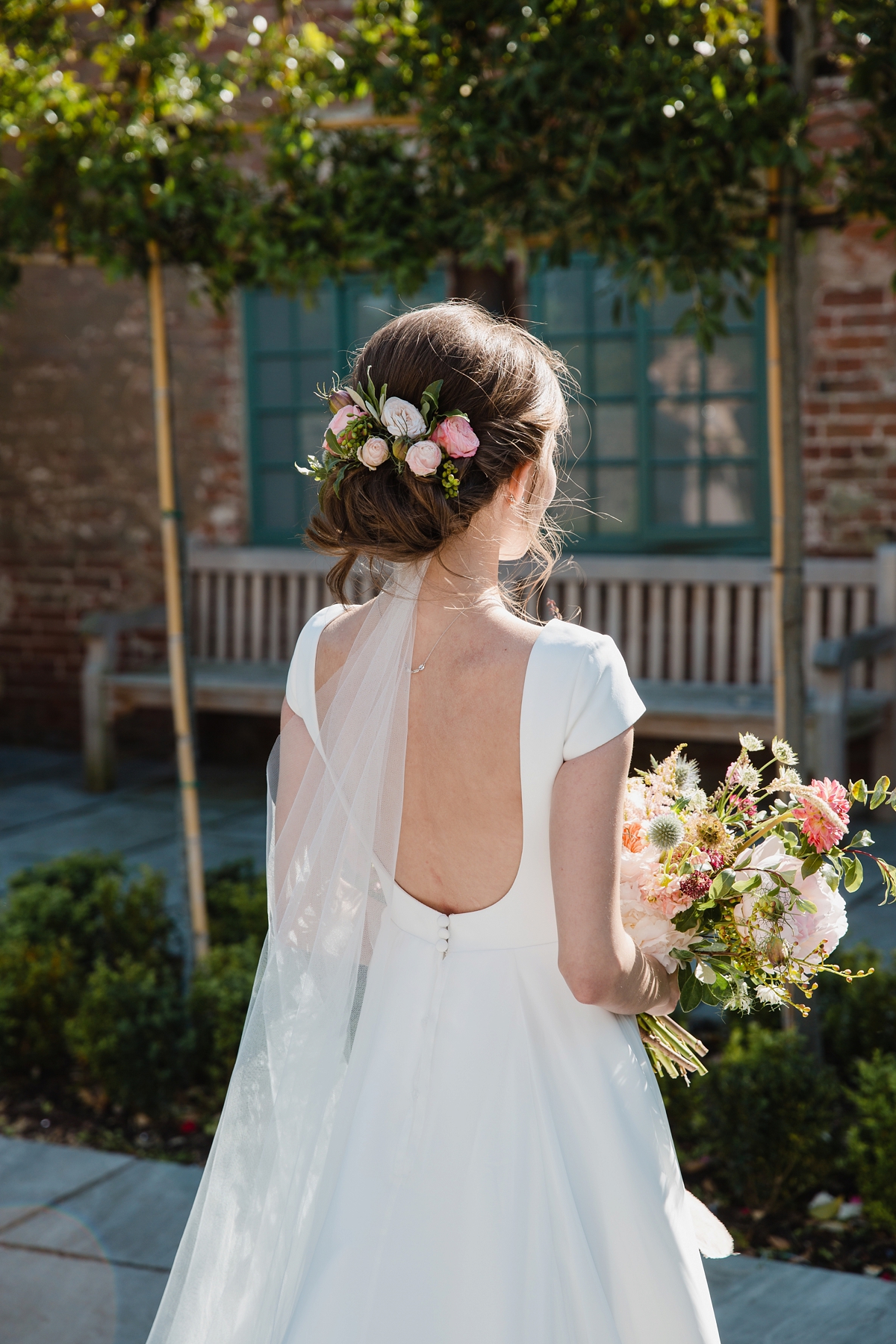 Julia's exquisite gown was custom-made for her by Jesus Peiro at their Barcelona atelier, and what an incredible experience that must have been. We just love the designer's work and ethos here at Love My Dress, and the love, care and attention that go into all of their beautiful gowns.
"It was made from scratch… which allowed me to have a couple of changes to the design to make my dress just as I wanted it…Minimalist, elegant, a timeless look. Perfect for a 150 cm tall bride!"Photographer Helen King beautifully captured the spirit and essence of Julia and Dmitrii's day, and the resulting images are filled with sunshine, colour and elation.
"She created wonderful photographs of our day. We never doubted that she was the right photographer for us who would capture best moments of our day. To say that our photos are amazing would not be enough, and our English is not enough to describe how thankful we are!"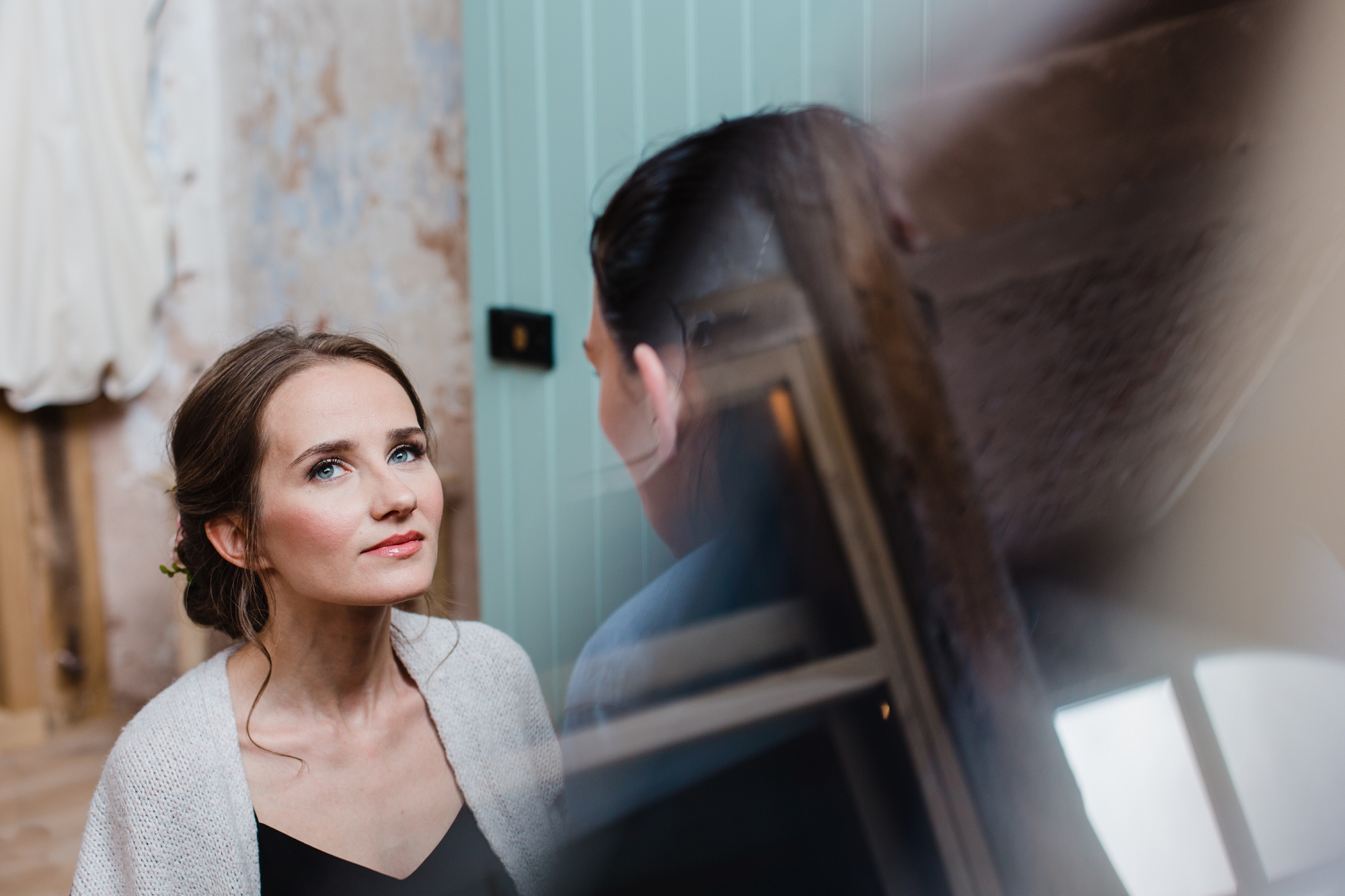 https://www.jesuspeiro.com/en/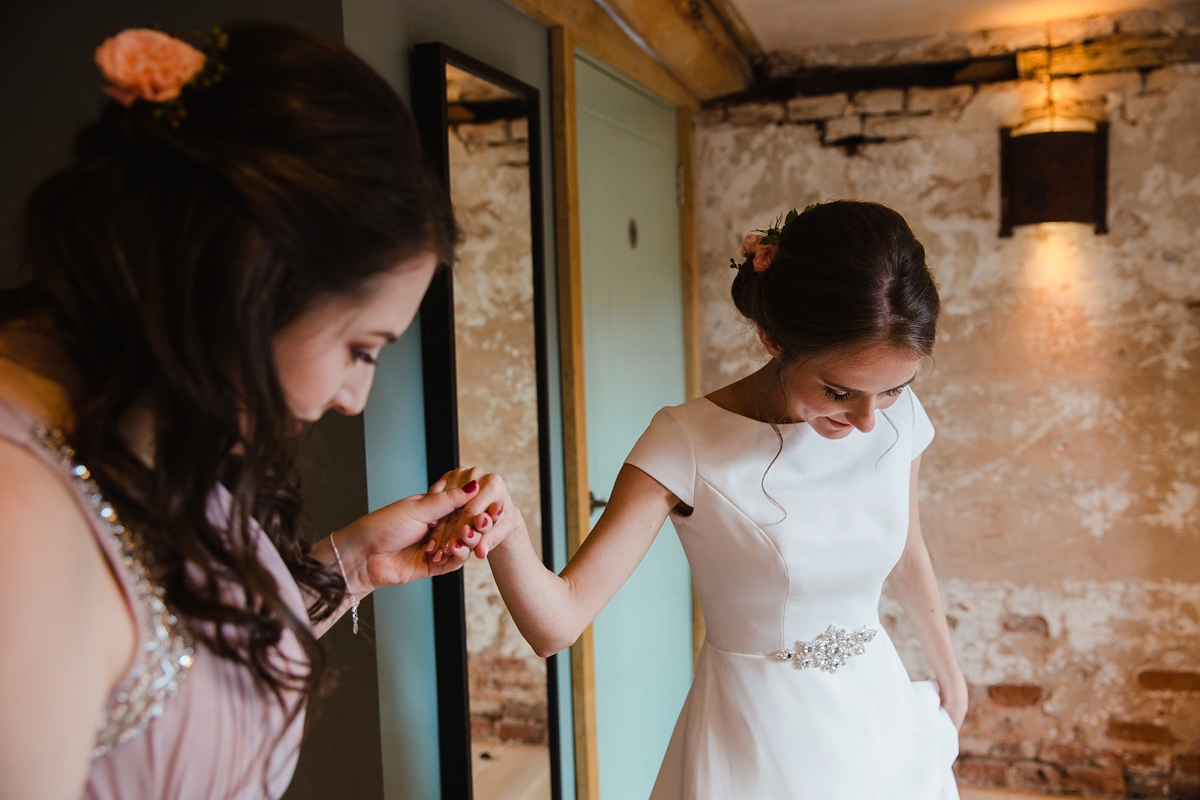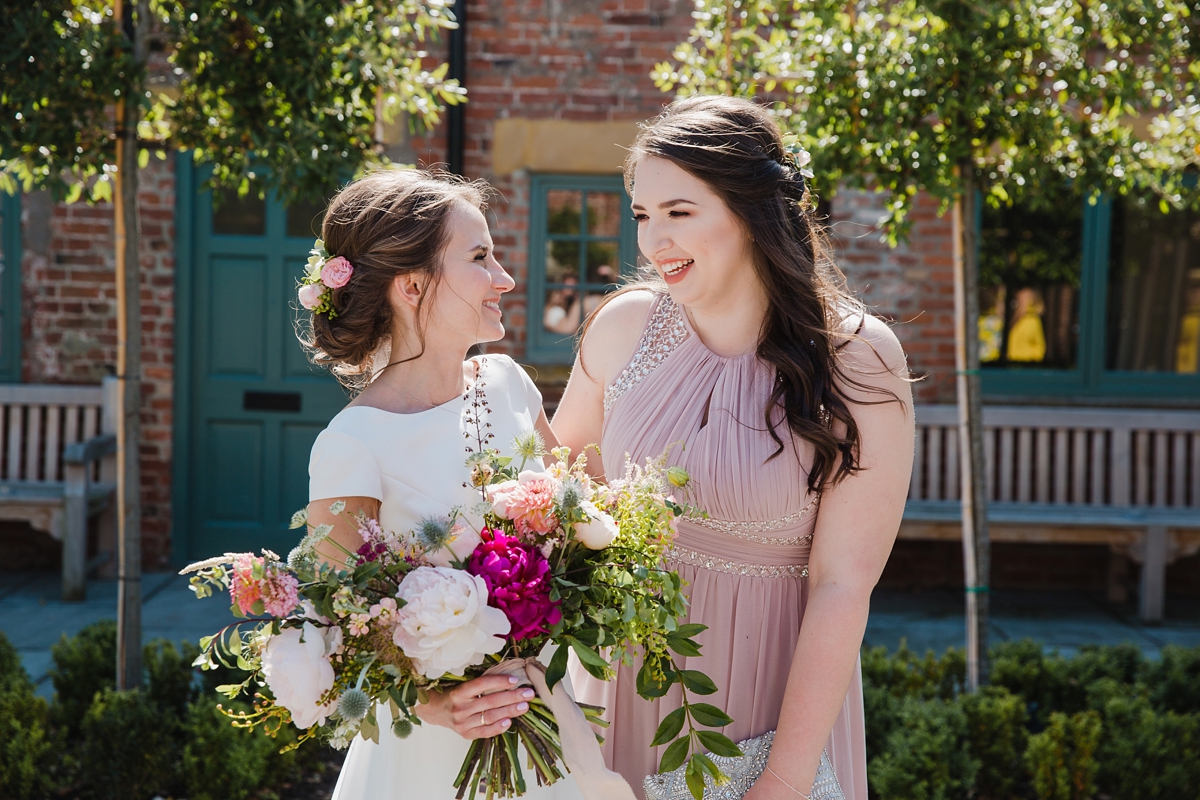 Outside the barn, the basket of a charming bike was filled with an abundance of gently nodding flowers and trailing greenery, and Julia carried a breathtaking bouquet of bright peonies and pastel roses, mixed with lots of interesting textures in thistles and grasses, created by florist Rebecca Cadel of Floral Deco.
[JP-VIDEO]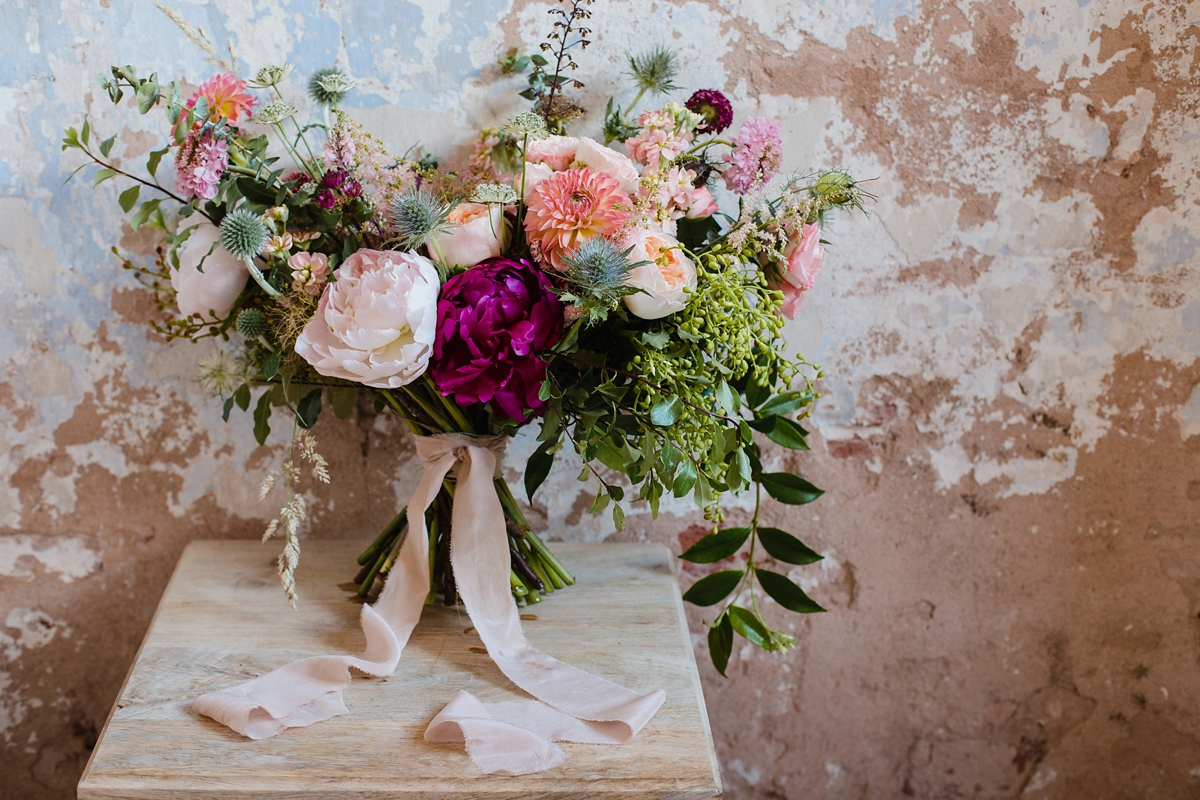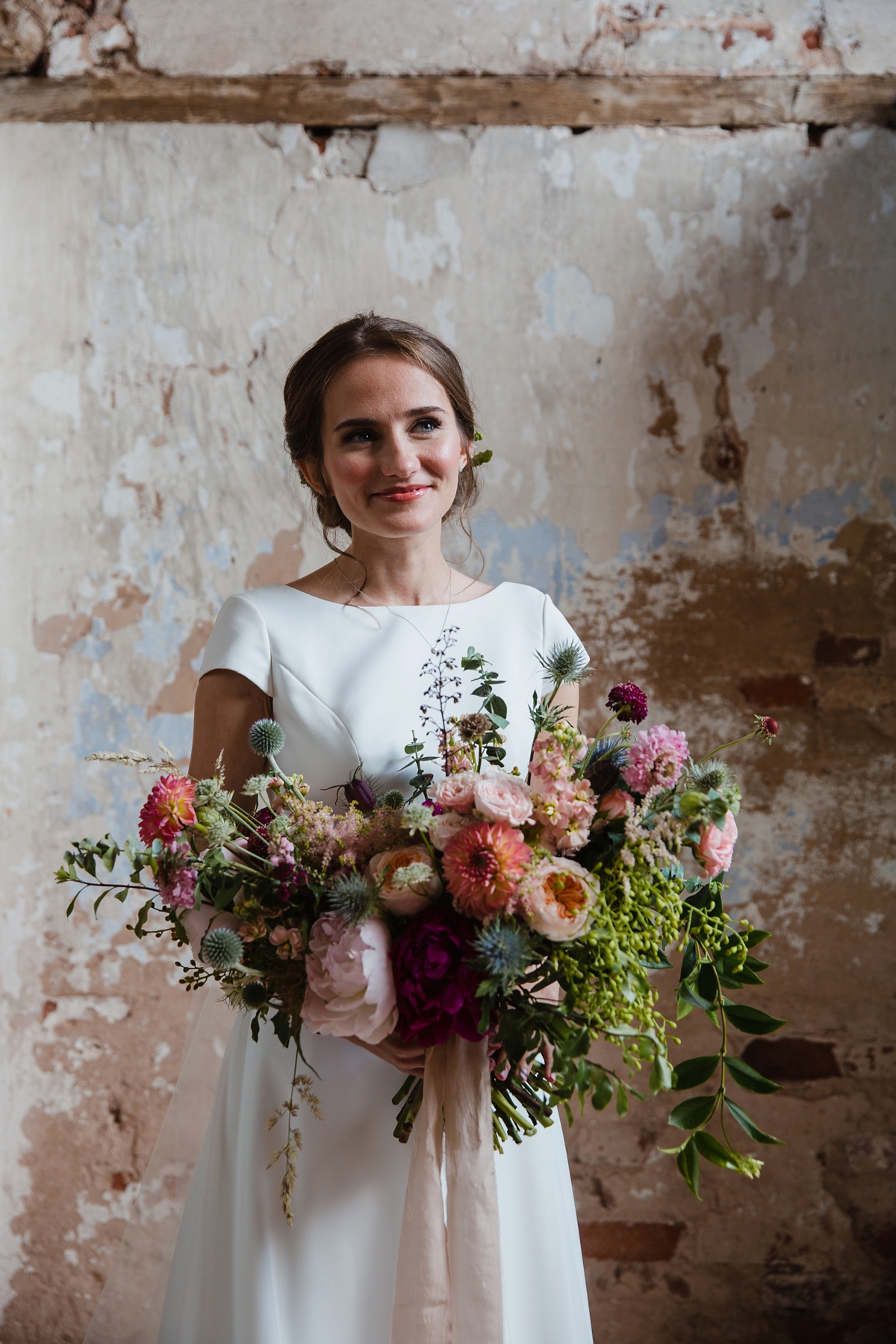 To go with her gown, Julia chose the 'Skylar' 'barely there' veil by one of our talented Little Book members, Britten Weddings, as she was conscious that the back of her gown should be seen.
She wore shoes and fragrance by Jimmy Choo and pretty jewellery from Barcelona-based Rabat.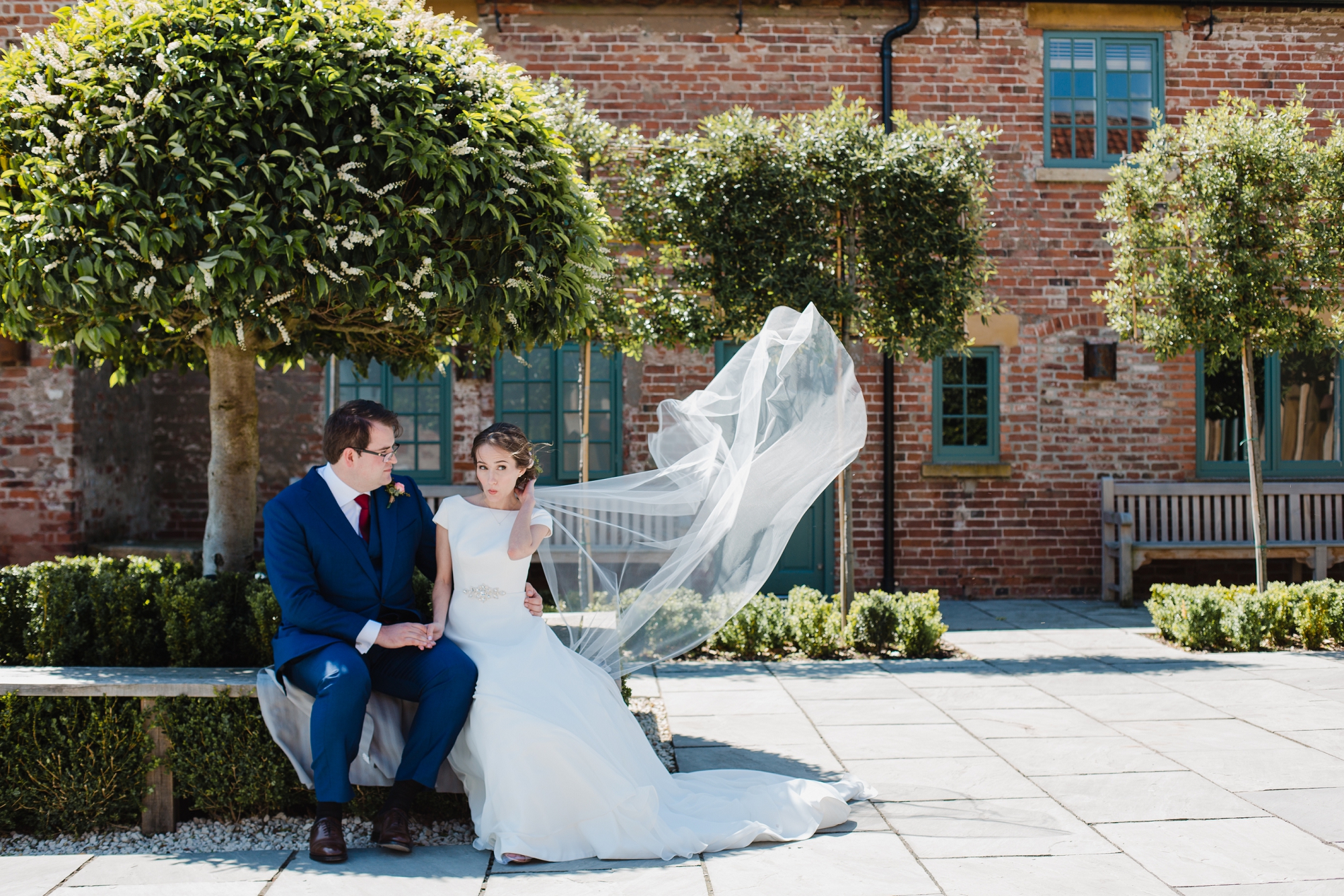 Julia and Dmitrii first met in Moscow – they were both living in different countries at the time, but work trips took them both to the city.
"Dmitrii invited me to visit a musical 'The Phantom of the Opera', but during the interval we left to have chance to chat and find out more about each other as we both had to leave Moscow soon, so I never learned how the musical ended! We didn't believe in love at first sight, but what was that if not love at first sight?"
Dmitrii's smart three-piece suit was made at Santa Eulalia in Barcelona, which he paired with a deep red tie and shoes from Ferragamo.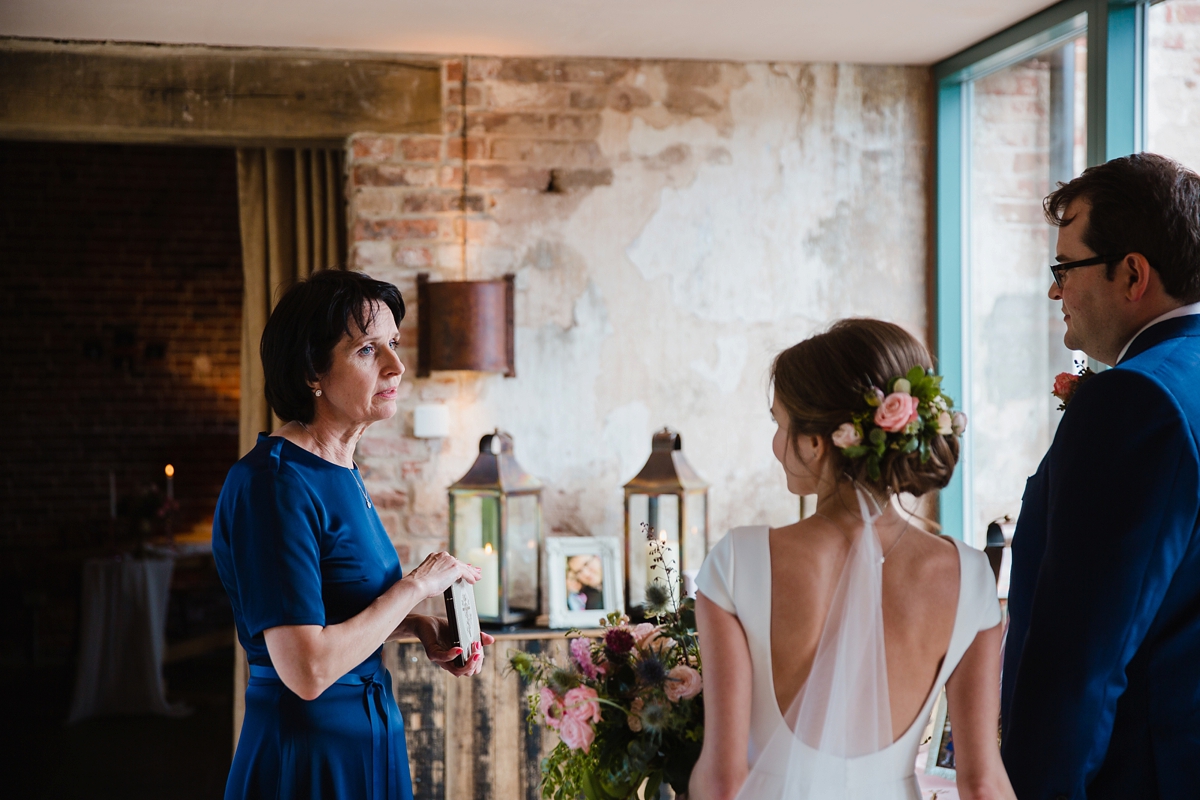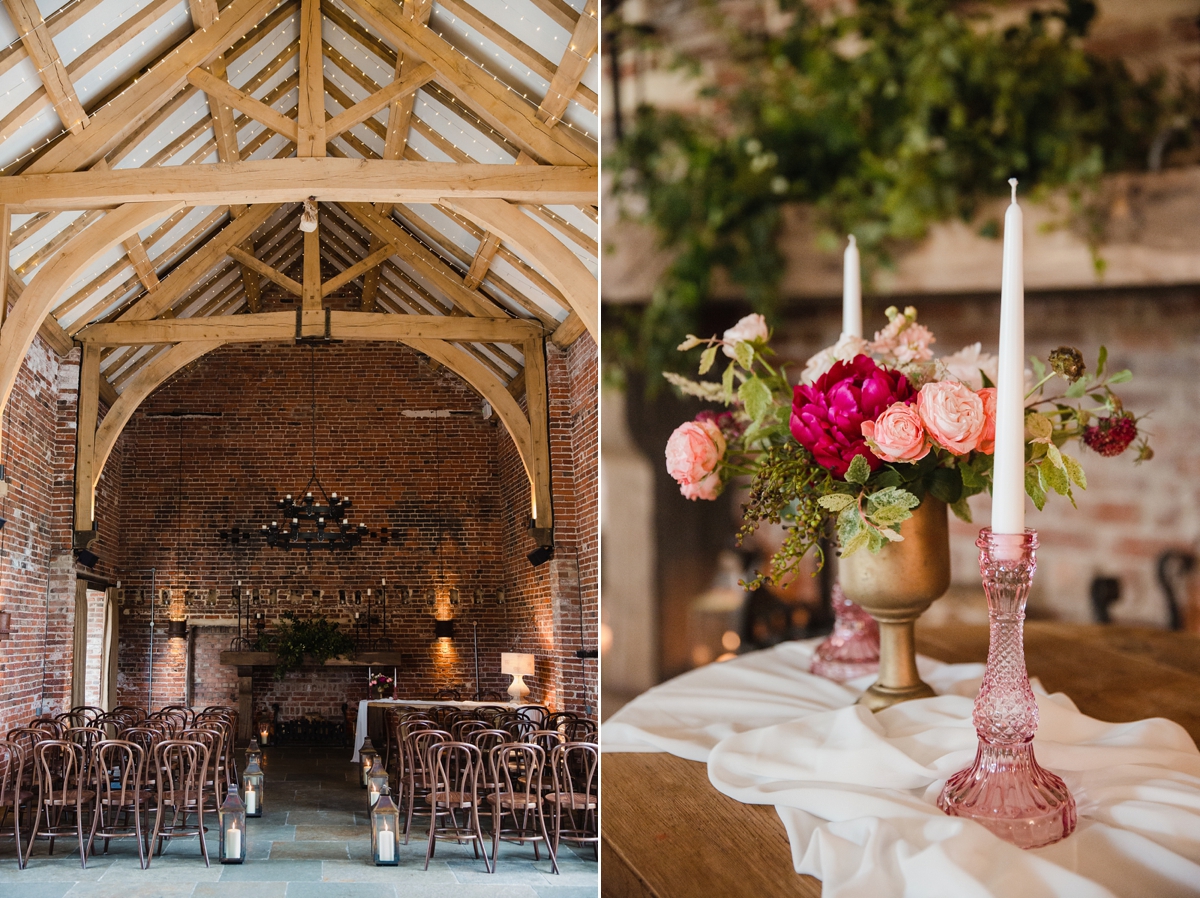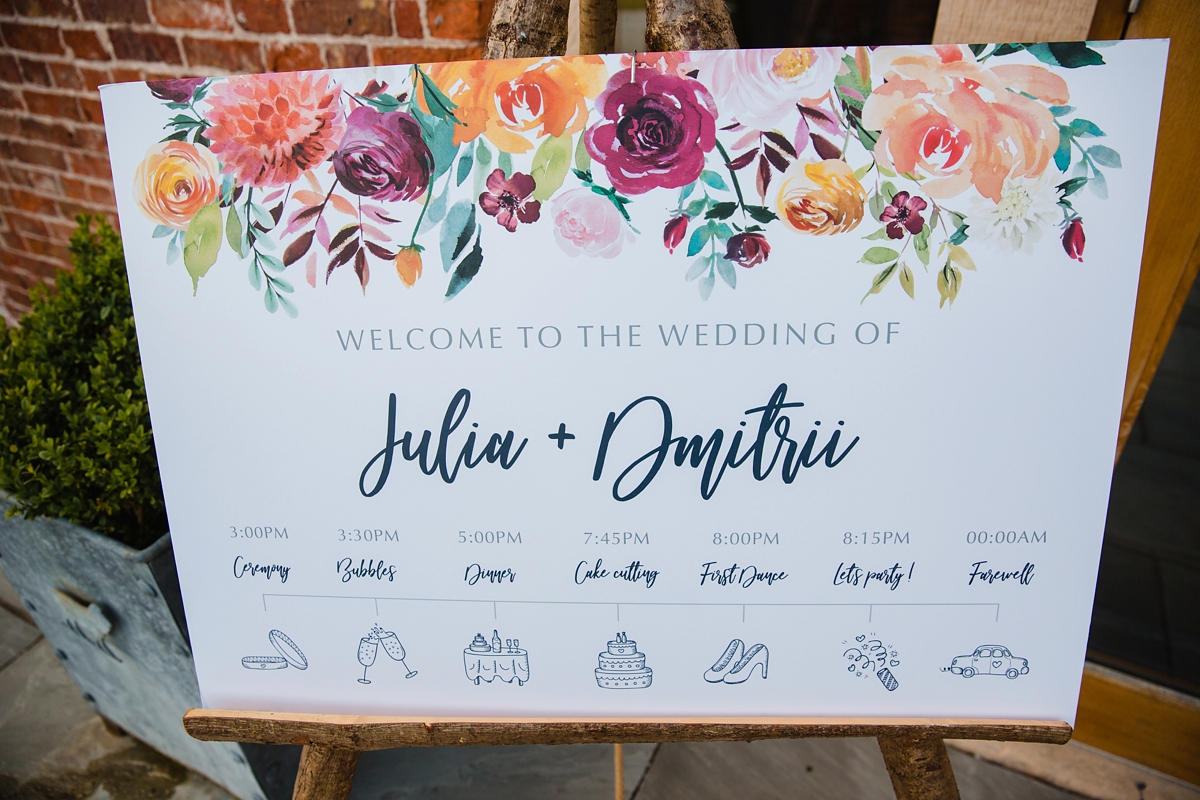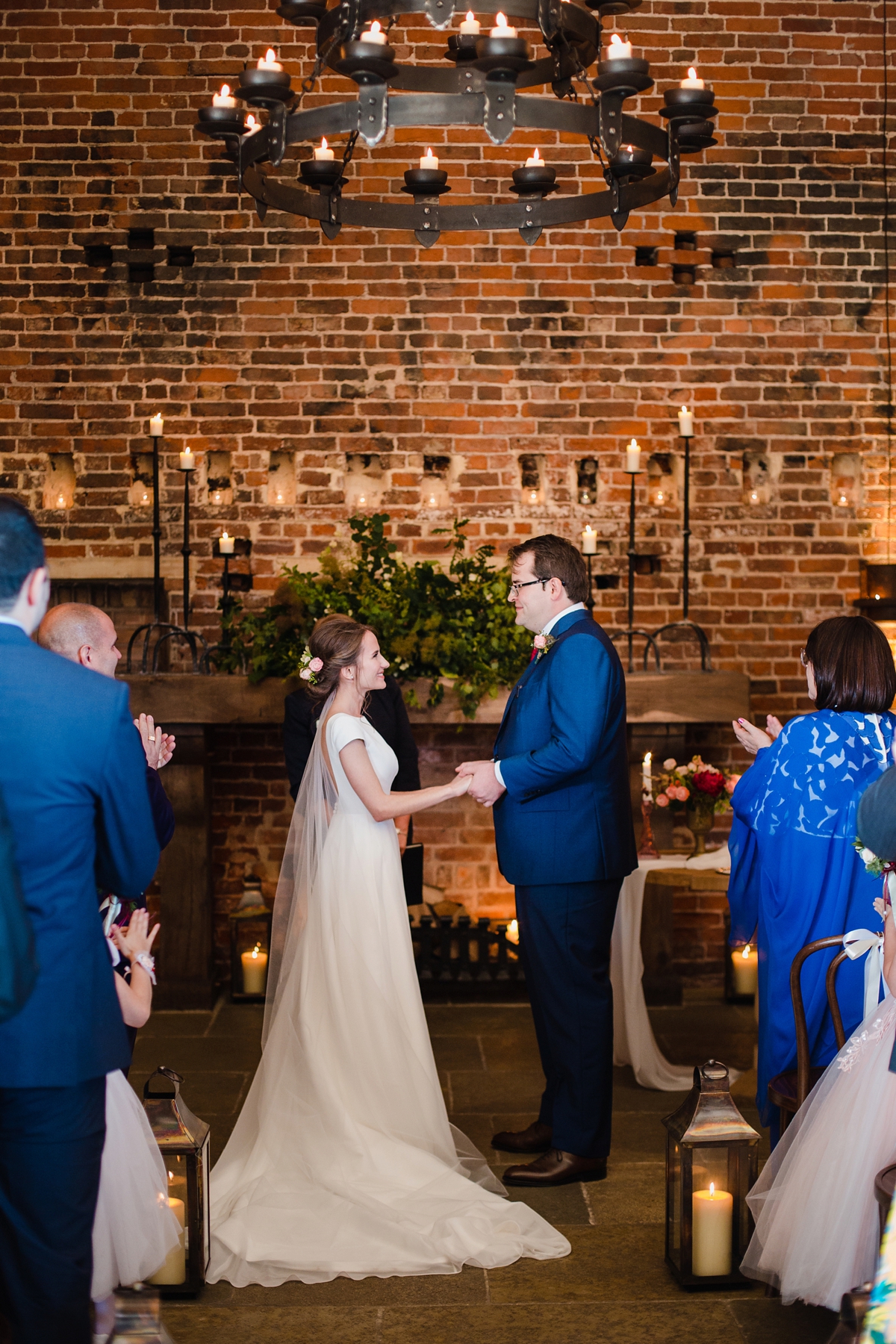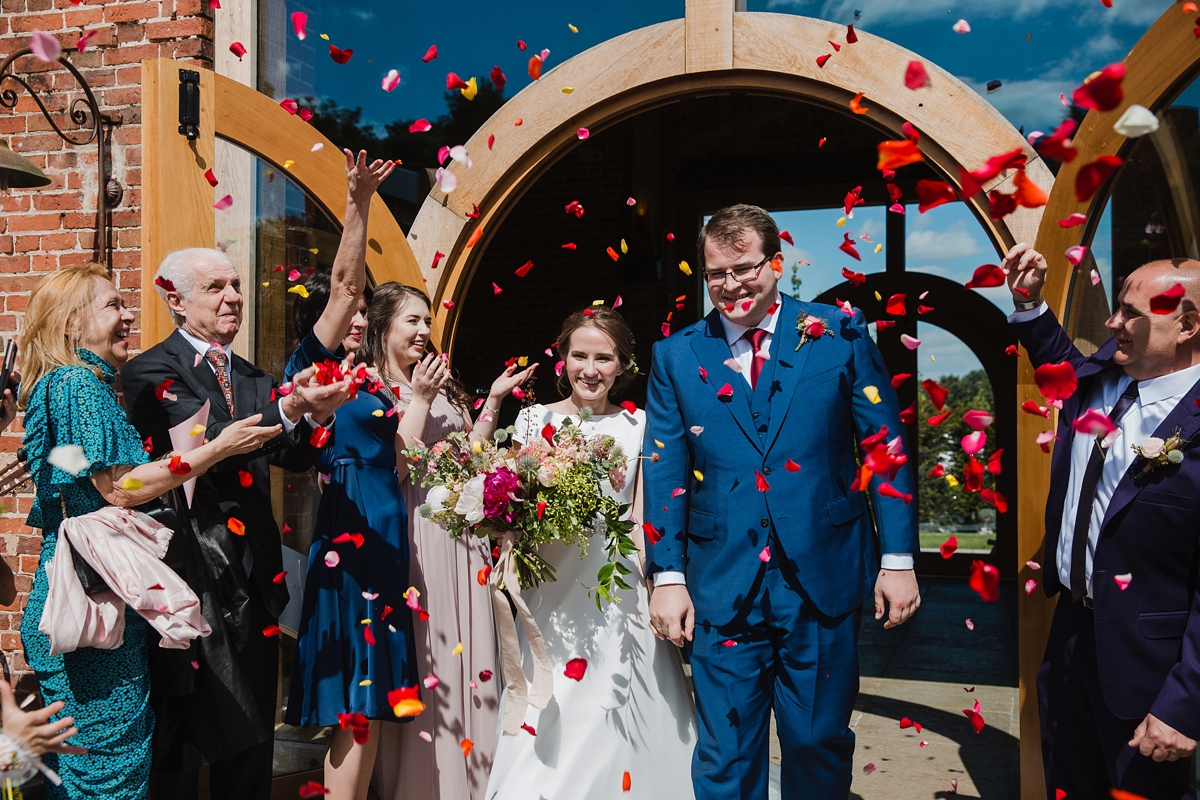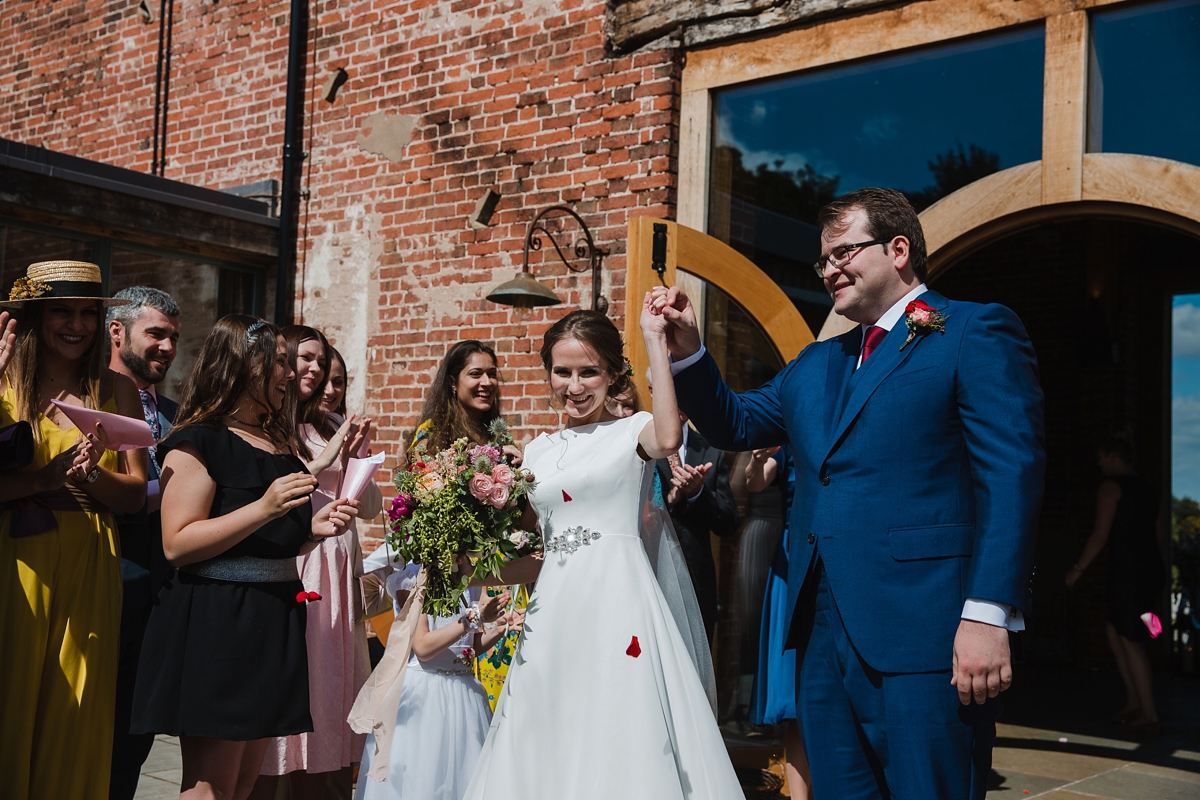 "Thank you for taking so many photos and for capturing wonderful unexpected moments!…The moment when I almost lost my veil, or the moment I saw my flower girls, so, so many beautiful moments and now unforgettable because you captured them!…We are absolutely happy! Over the moon!"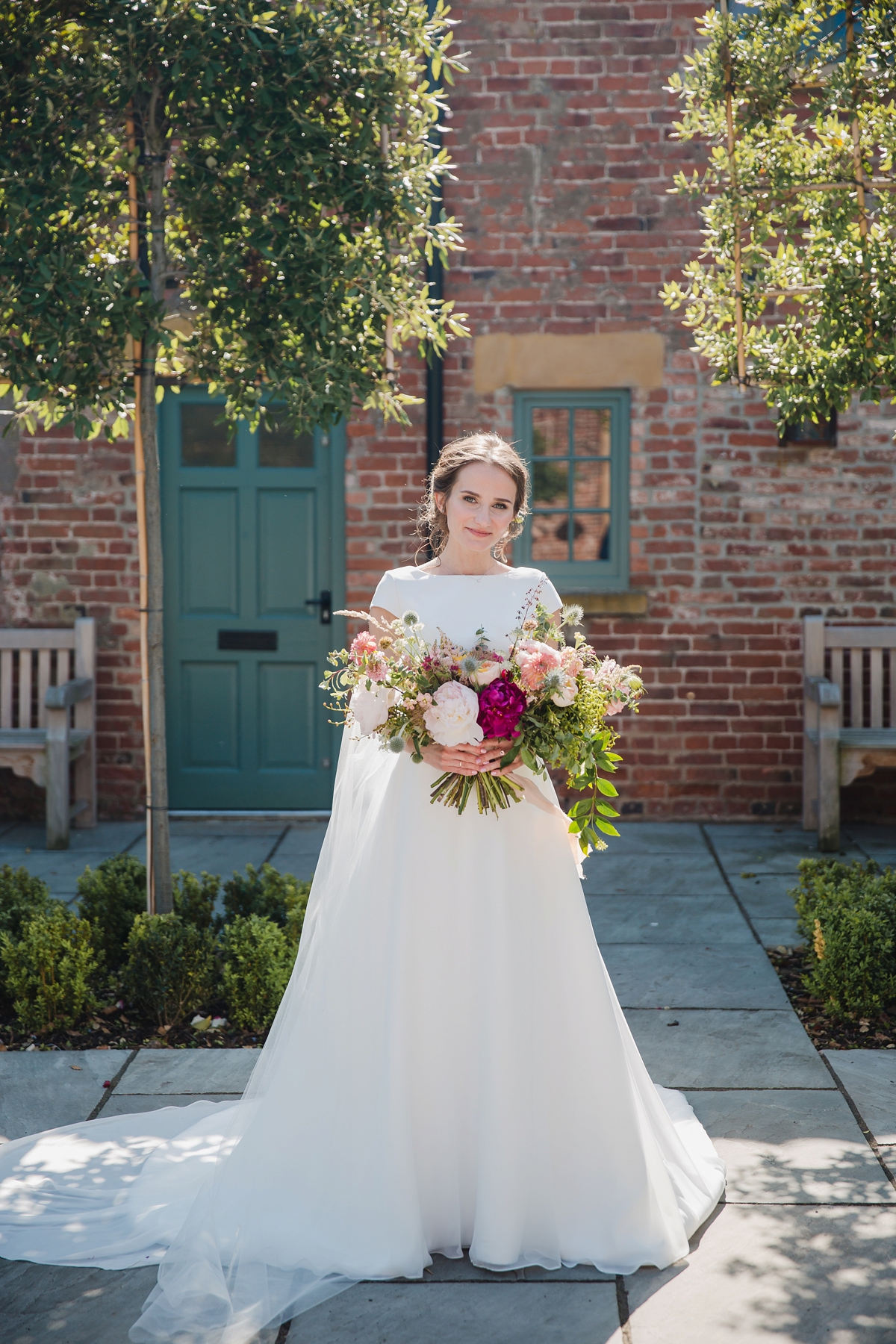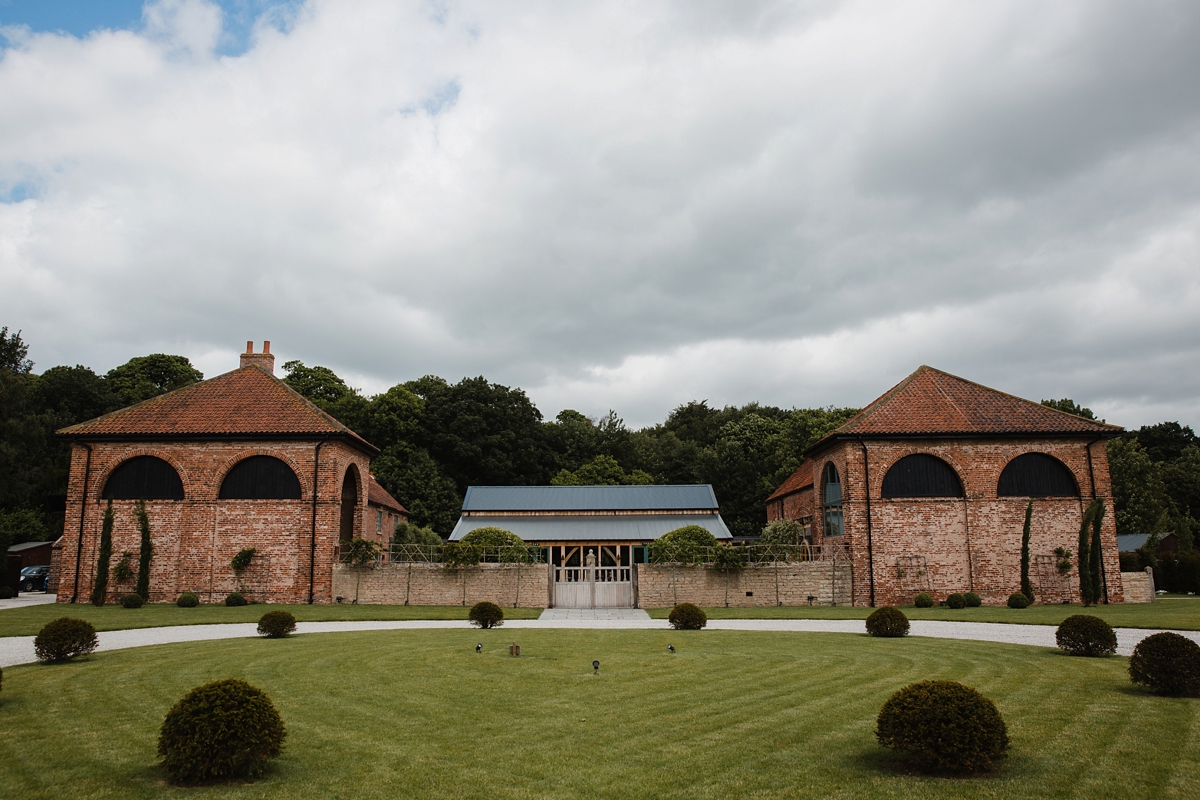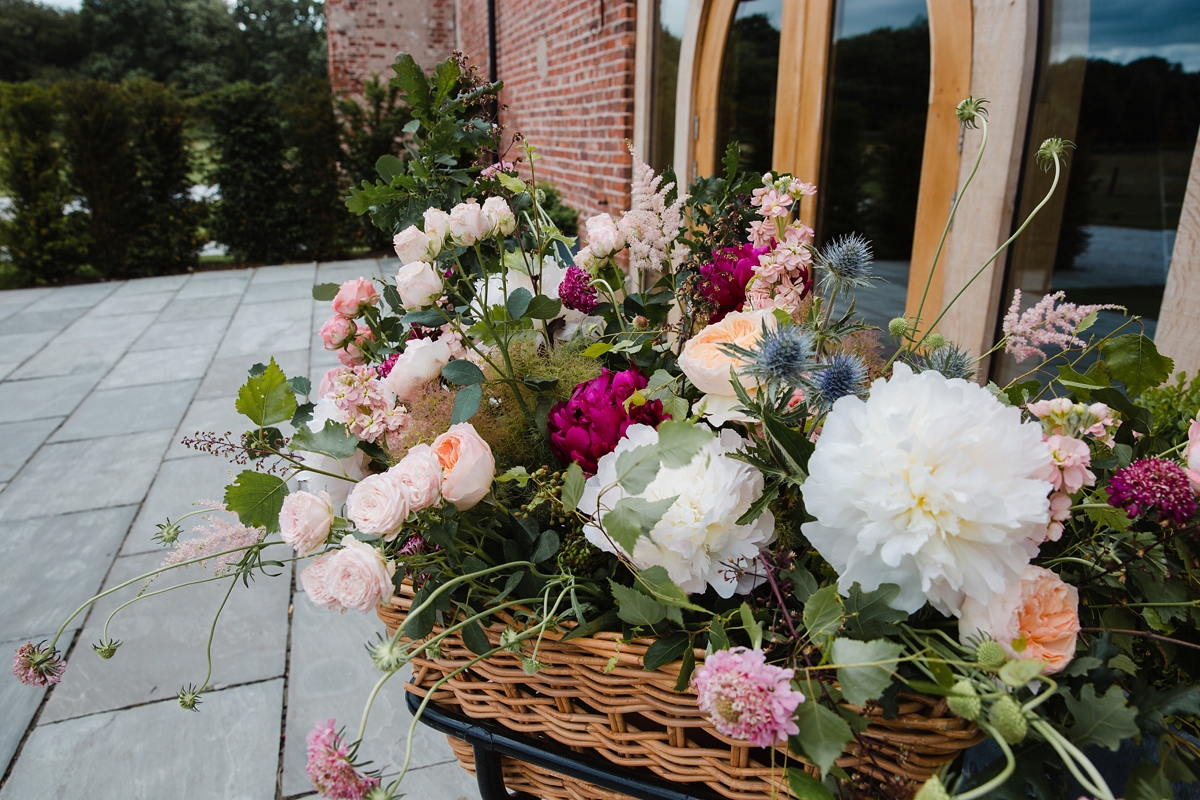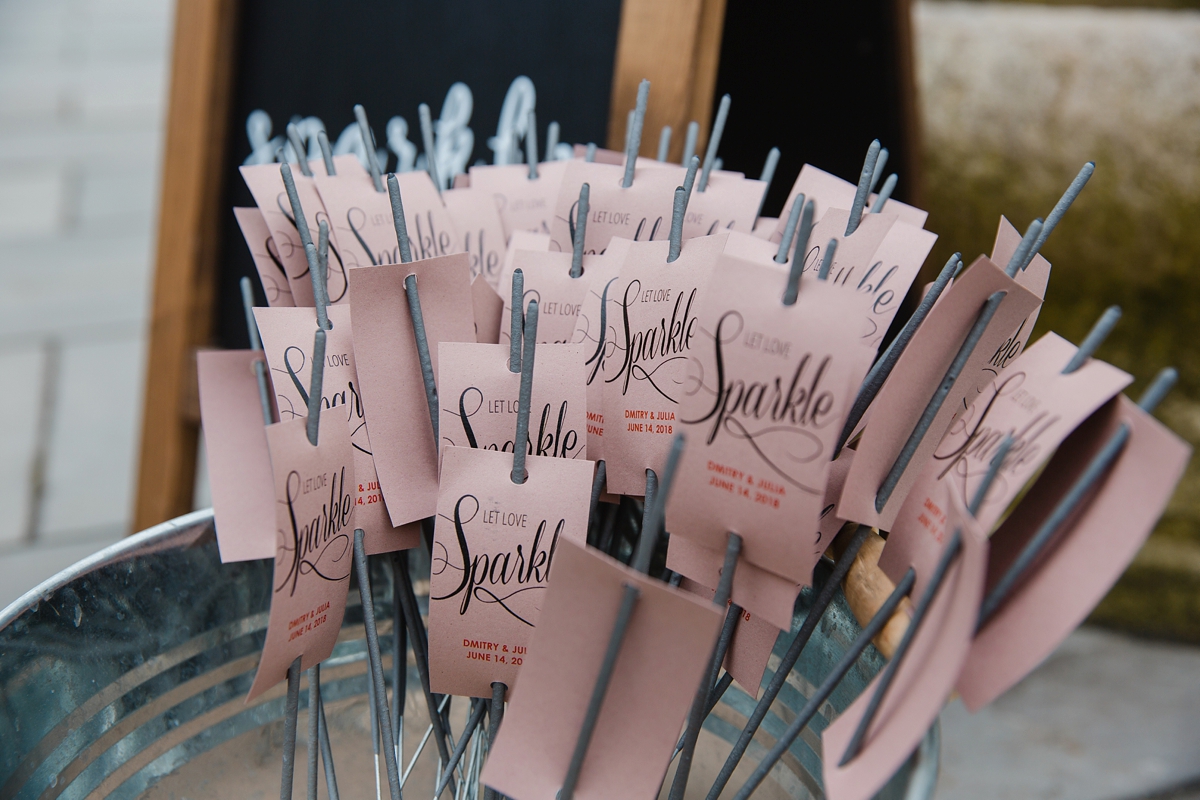 Inside the barn glowed with an assortment of pillar candles, and the aisle was lined with lanterns. Julia walked down the aisle alone to Pachelbel's Canon in D, and at the end she met her father on one side and Dmitrii on the other.
"We are both Russian, though Dmitrii's home is Spain. We studied in England and met wonderful people from around the world, that's why our wedding was international."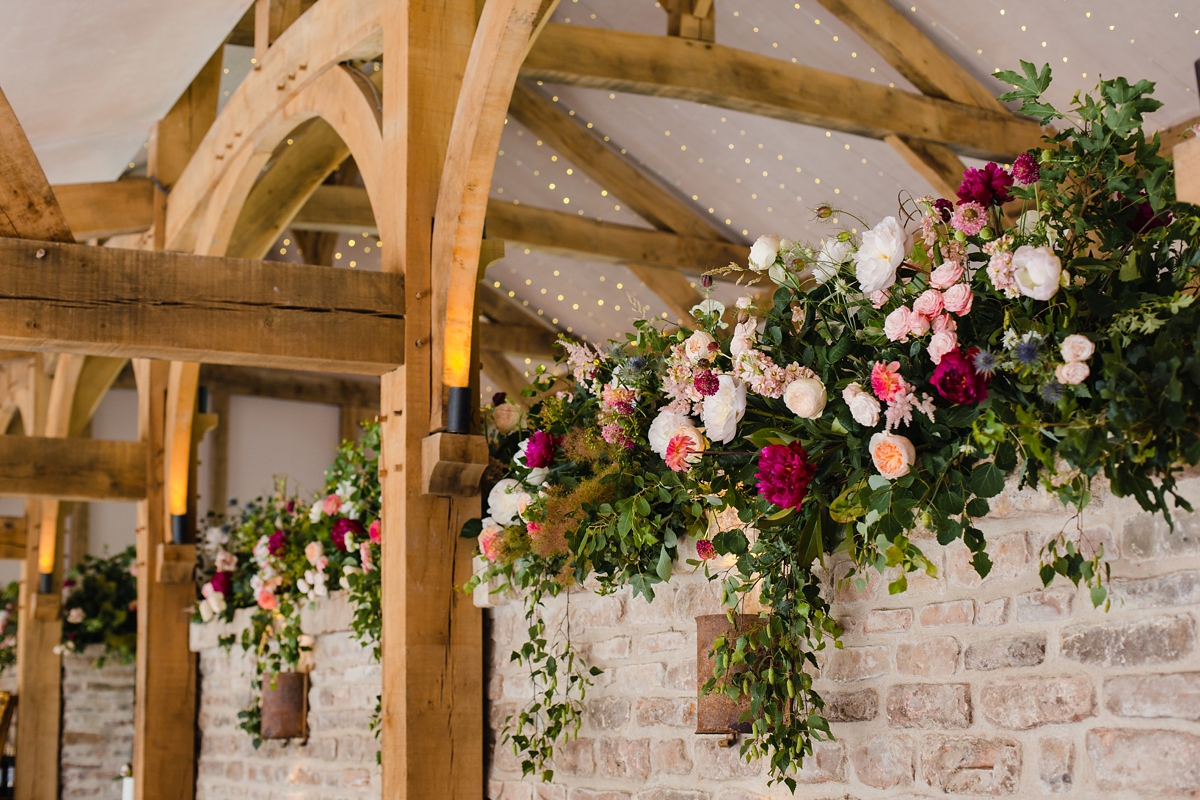 "We had guests not only from England but also from Spain, Russia, Latvia, Belgium, United Arab Emirates, Cyprus…We tried to make the timeline of the day easy to follow for all guests… A multilingual wedding isn't easy but possible to organise!"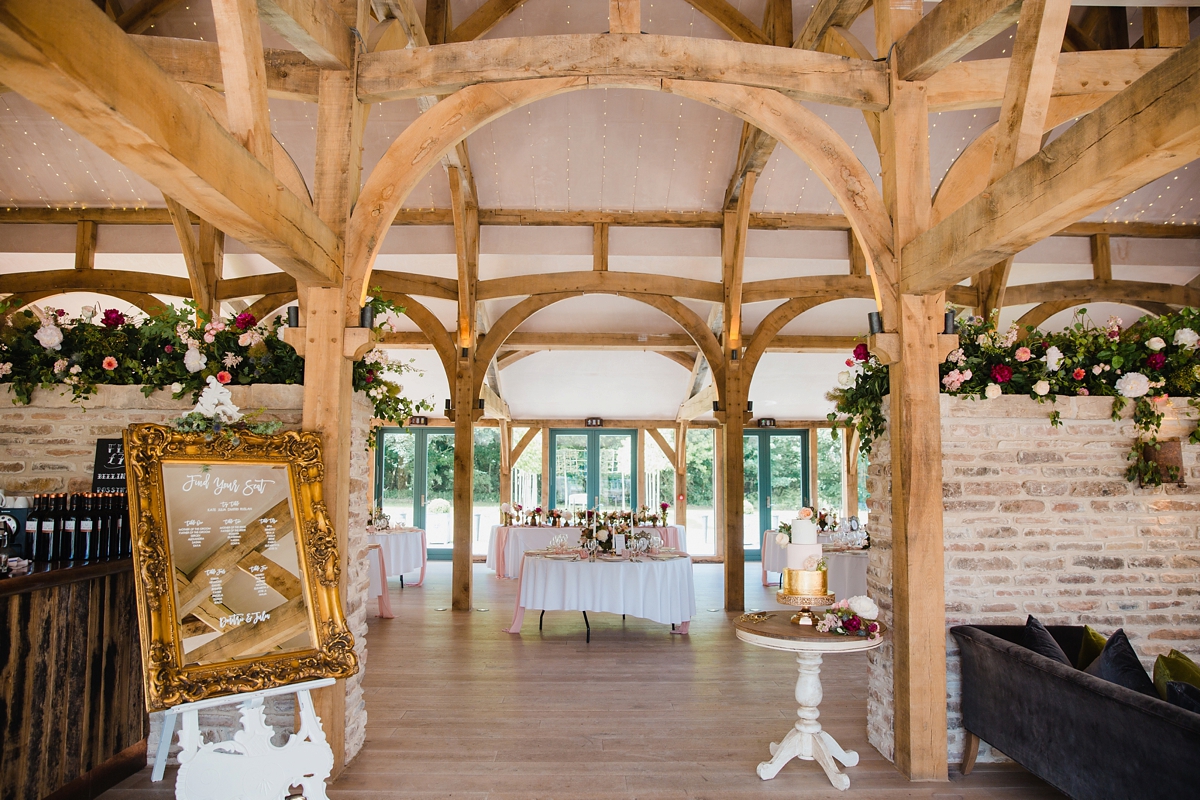 Everyone sat down to a wonderful feast, including salmon blinis, mixed grill and a lemon sorbet with shots of iced vodka. The Sweet Stuff made a sumptuous three-tier cake in shades of gold, pale pink and ivory, monogrammed with the couple's initials and decorated with fresh flowers.
"There were a few elements to the day that were a little different to how traditional UK weddings run. The speeches took place during the meal, and any of the guests at any time throughout dinner can stand and say a few words to the happy couple."
"It created such a warm, intimate and relaxed atmosphere to both the speeches and the dinner."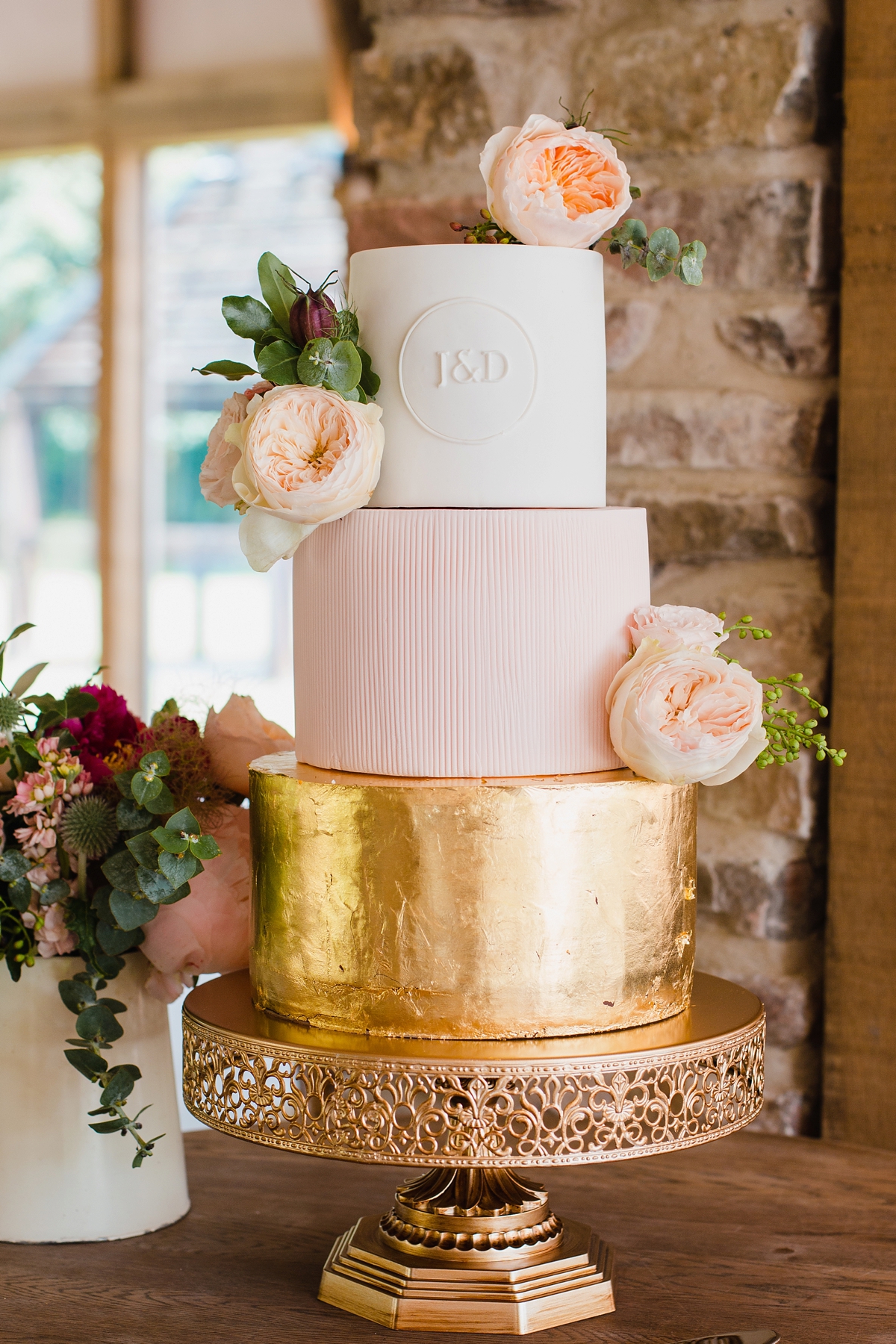 The light and rustic reception space was completely filled with flowers. As I look through these images, I can see them spilling from almost every surface, in long garlands and smaller table arrangements in a variety of engraved, vintage brass vases and jugs, alongside candlesticks in gold and brass, with that nod to the luxury and opulence of baroque style that Julia and Dmitrii wanted.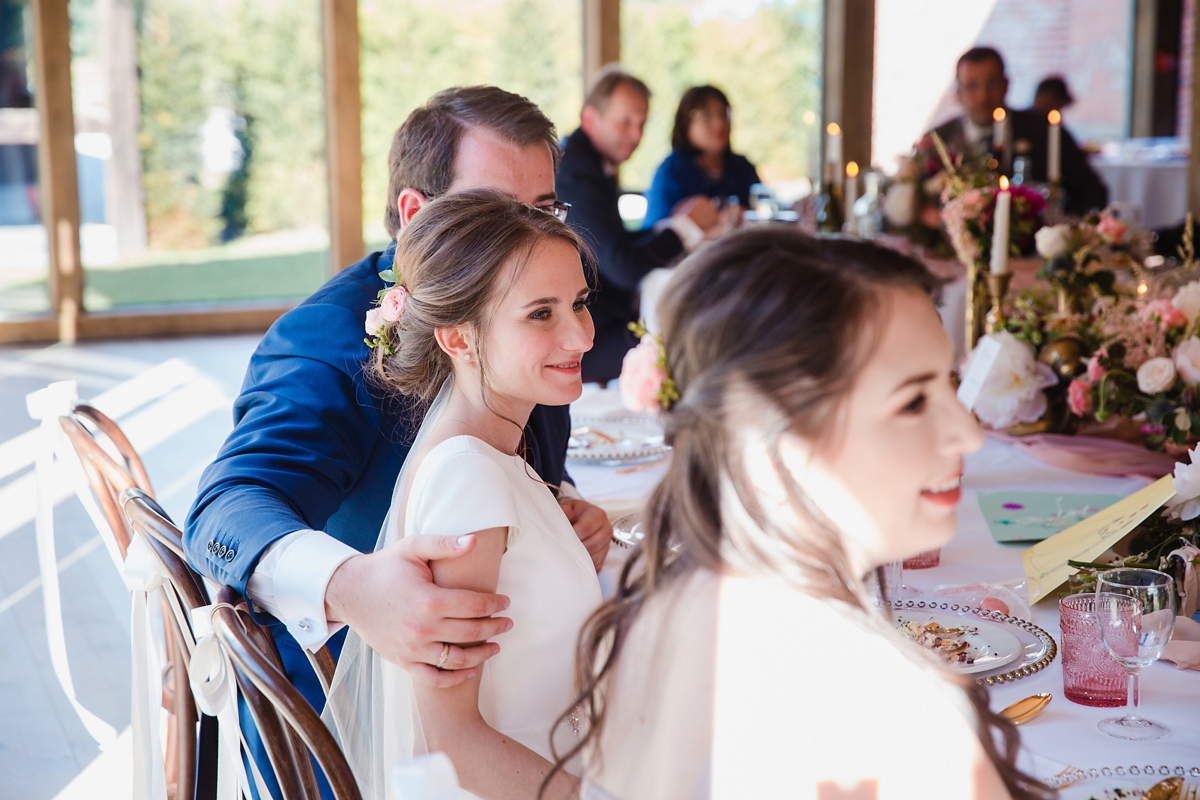 In the evening, Julia and Dmitrii danced to Lonestar's Amazing for their first dance (complete with a dry ice machine, no less, for extra atmosphere!) and there was more fun from Navi, a Michael Jackson tribute artist!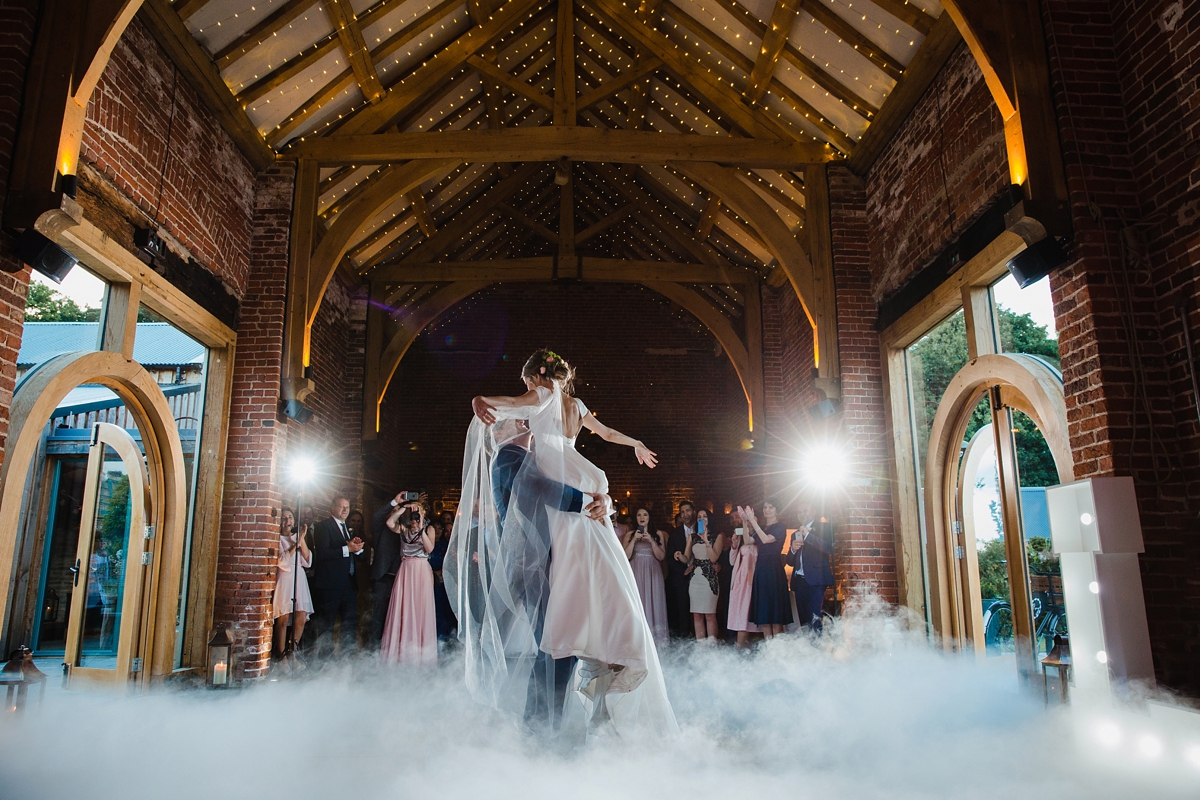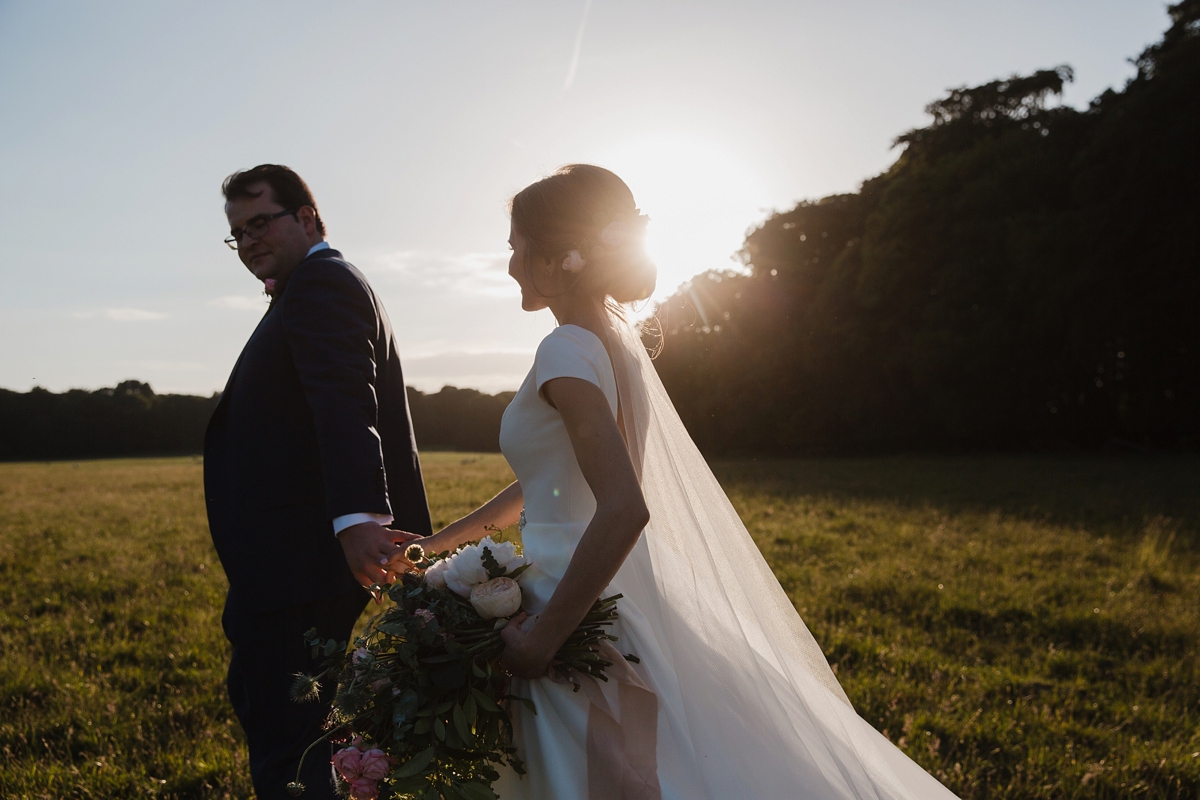 Words of Wedded Wisdom
"Flowers are essential for any wedding, they make a dramatic change to a venue. They might be expensive but it's a key to a fairytale. A week before the wedding we added more flowers and that was the wisest decision."
"Share responsibilities, you don't have to do everything yourself (like we did)! A wisdom that my maid of honour Kate told me in the morning, 'Your wedding day will fly so fast, don't forget to enjoy it!' It is true, so on the day forget planning and thinking, just enjoy the moment."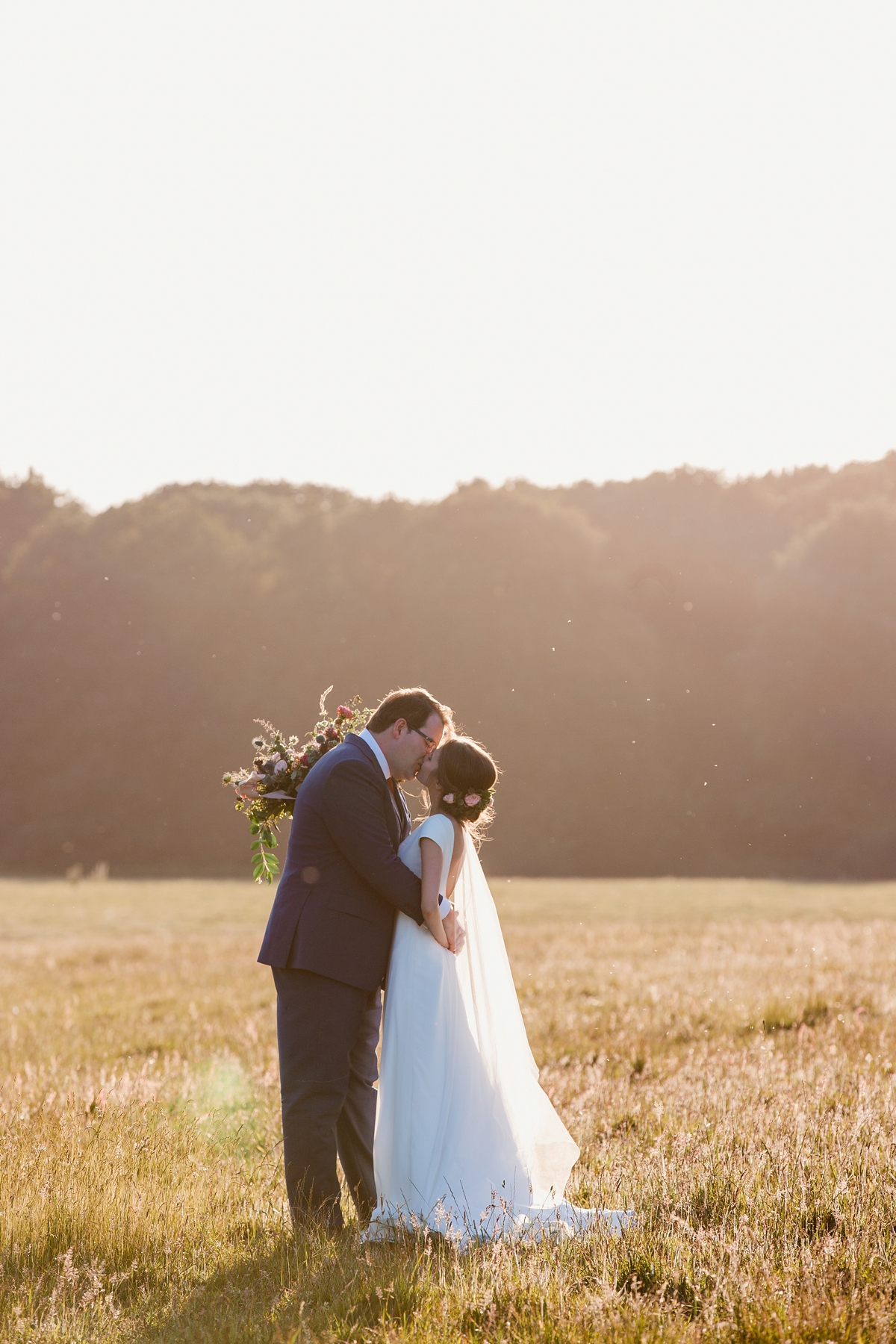 Congratulations Julia and Dmitrii, and thank you for this glimpse into your amazing day. Big thanks also go to Helen King for these lovely images, too. You can take a look at more Jesus Peiro brides on Love My Dress, here.
With love,
Laura