Today's completely charming summer wedding brings you all the beauty and magic of the wonderful English countryside, and a couple who were married in the part of the world they both grew up and spent the formative years of their relationship. There is a lovely sense here of coming full circle, and so much to transport and inspire.
Let's meet our couple, Laura and Ollie. Laura is a Digital Marketing Team Leader and Ollie is a Social Worker. They celebrated their marriage on the 8 July 2017, with a ceremony at St. Margaret's Church, Wattisfield, followed by drinks at Ollie's parents' house and a reception at Columbine Hall, a beautiful and historic moated manor house in Stowmarket.
"As we are from rural Suffolk this set the scene instantly and we knew we wanted to play on the natural beauty and have a very botanical wedding that wasn't too rigid in its structure."
Images by Emily & Steve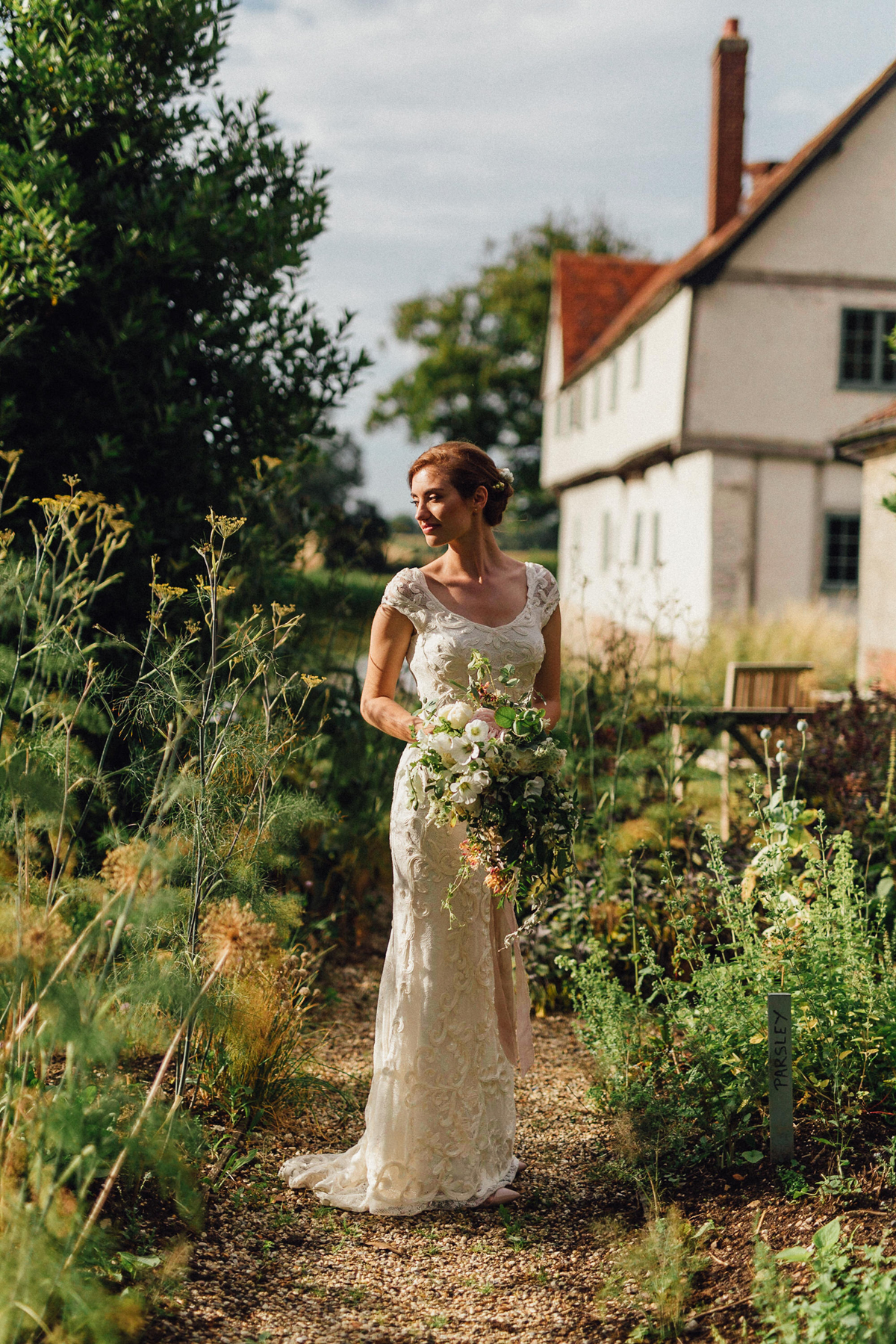 Laura's first wedding purchase were a pair of chic vintage sandals by Christian Louboutin, which paired wonderfully with an elegant gown with beautiful, sinuous tapework from Phase Eight, which she spotted and purchased online.
"I had kindly been gifted a beautiful cocktail dress from the incredible Roland Mouret, and despite not being quite right for the ceremony I knew it would be perfect for dancing the night away…Knowing I had a lovely dress to change into I decided I didn't want to spend a fortune on my dress for the ceremony – it was more important that the style was in line with what I had dreamt of!"
"I actually found my dress at Phase Eight – they no longer stocked it in store but I found one online and jumped at it. I tried it on and knew immediately that it was the right dress for me… I didn't even step foot in a dress store! I loved that it was so comfortable and seemingly simple, but actually incredibly intricate."
Bridget from Moss & Stone created the most wonderful, wild and natural floral arrangements for the day, taking inspiration from the ebullience of the English countryside in summertime.
[JP-VIDE]
"We knew we wanted the flowers to be big but natural looking – Bridget not only grows a lot of her own flowers in the village next door to where we were getting married, but also has the best eye for creating beautiful natural looking bouquets – I was sold!"
Laura wore her hair in a classic and polished bun, which was styled for her by Sarah Dawes (sadly, no details supplied) and adorned with fresh flowers picked from the church floral arrangements! Makeup By Mary created a gorgeous, radiant look for Laura, with subtle rose gold eyeshadow and a sweet pink lip.
Jewellery was kept to a minimum, with simple gold diamond studs, which had been an engagement gift to Laura. Her perfume was English Pear and Freesia, by Jo Malone.
"My favourite scent that reminds me of balmy summers in Suffolk. I also layered this with their divine Peony and Blush Suede body crème."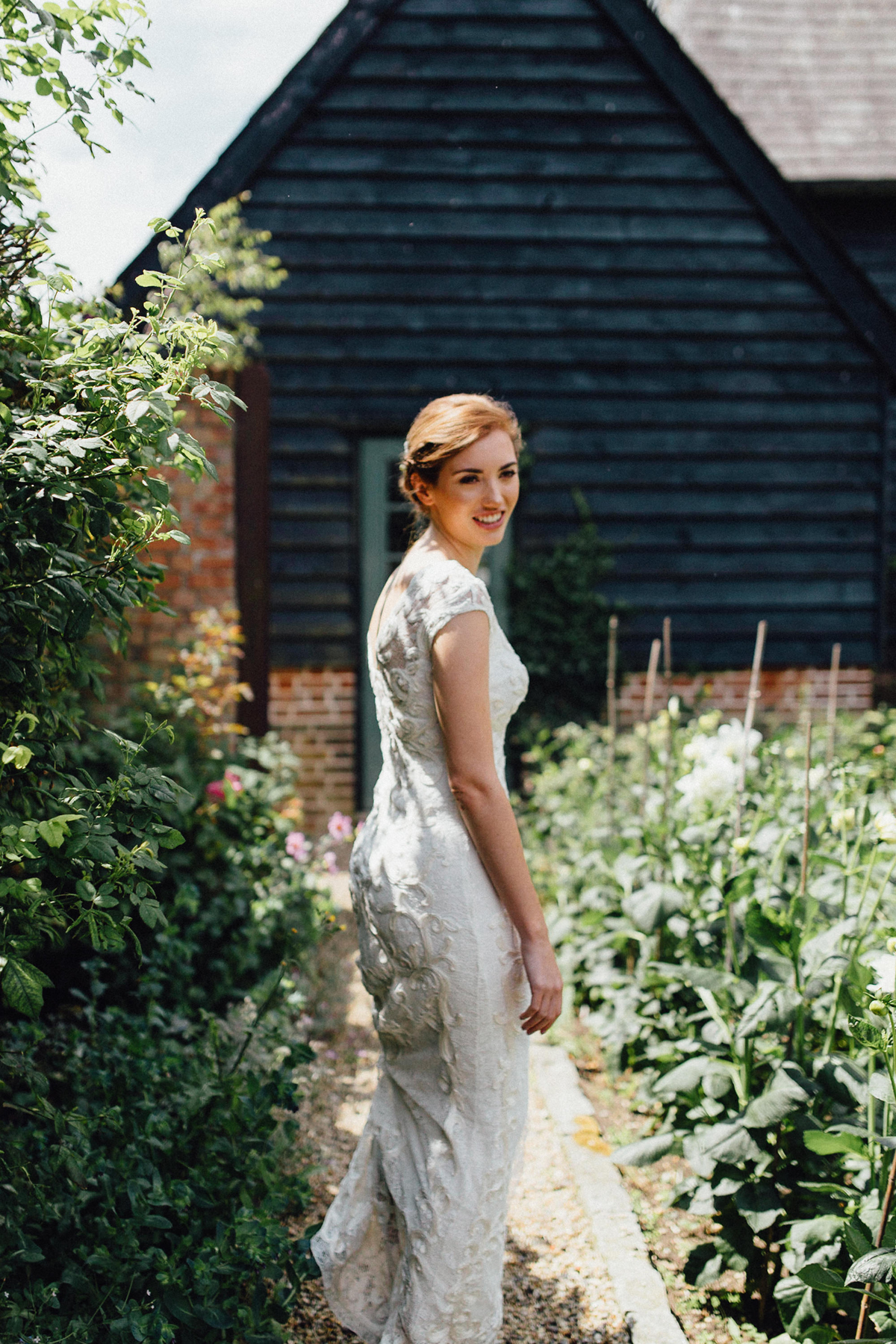 "Ollie and I met at school and were high school sweethearts (as much as we cringe at the term!). We were together throughout school and despite going to separate universities and spending a couple of years in different countries we remained together throughout!"
"Ollie proposed in Paris – on a rainy July afternoon.A few months earlier I had spent the afternoon on the Promenade Plantée (think the NYC high line, but in Paris!) with some good friends admiring the gardens and views. We had been walking behind an elderly couple who were holding hands tightly throughout."
"When we got to a seemingly nondescript bridge the couple stopped and got out a love lock and clicked it onto the bridge (very far removed from the heavily adorned Pont des Arts bridge! This was in fact the only lock on the bridge!). My friends had continued walking but I was stood staring at this couple with tears rolling down my face."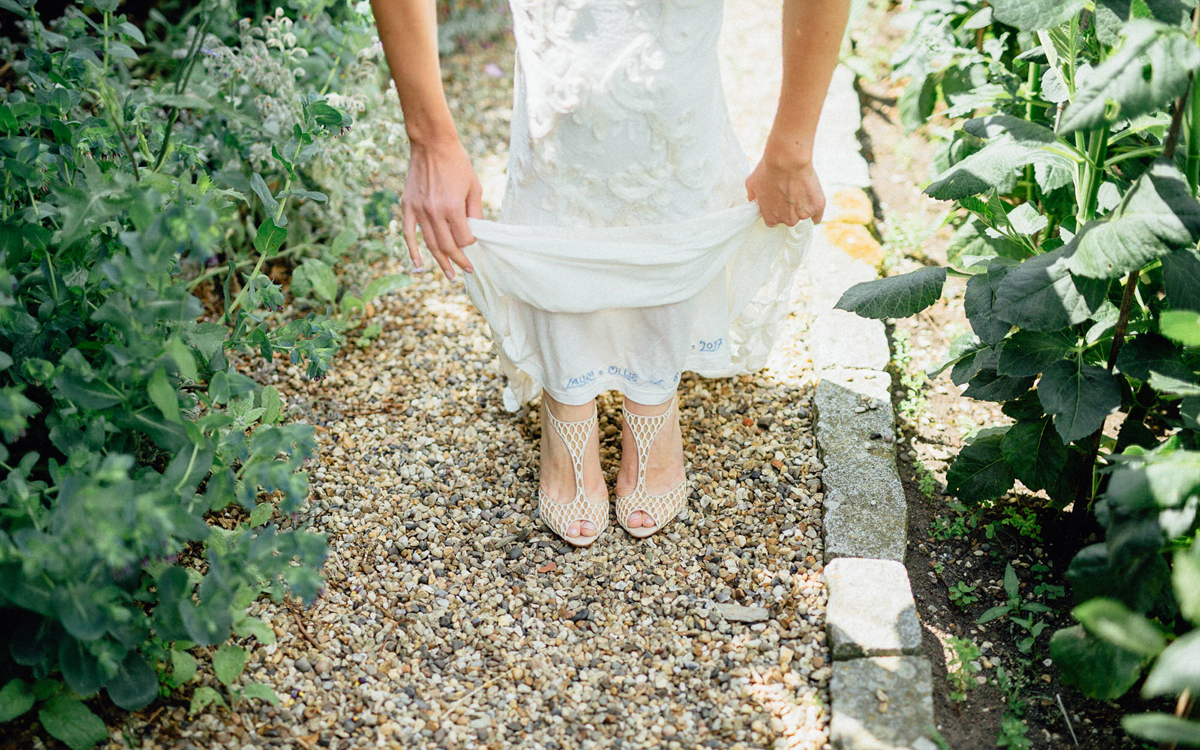 "I was so moved by the tenderness this couple shared and the commitment to each other after what seemed to be a lifetime together. I loved too how this wasn't a clichéd spot, but was clearly a unique spot to them. I was privileged that I got to share in the moment, albeit at a distance, with them…"
"Ollie proposed a year later in the exact same spot, 3 years to the day before we got married. This time, however, it was pouring with rain so the entire green-line promenade was empty, with just us, huddled underneath our umbrellas."
Ollie wore a smart and simple navy blue suit from Kin at John Lewis, paired with a pale pink tie and white shirt from Marks & Spencer.
Laura was accompanied to the church and down the aisle by her dad, and a piece from Tchaikovsky's The Nutcracker was played on the church organ. The couple chose to say traditional vows to one another, and exchanged rings from jewellers Johnson Walker, based in the beautiful Burlington Arcade in London.
"I had a custom-made platinum wedding band with embedded diamonds to match my vintage engagement ring (it belonged to Ollie's great grandmother). Ollie had a custom-made gold wedding band."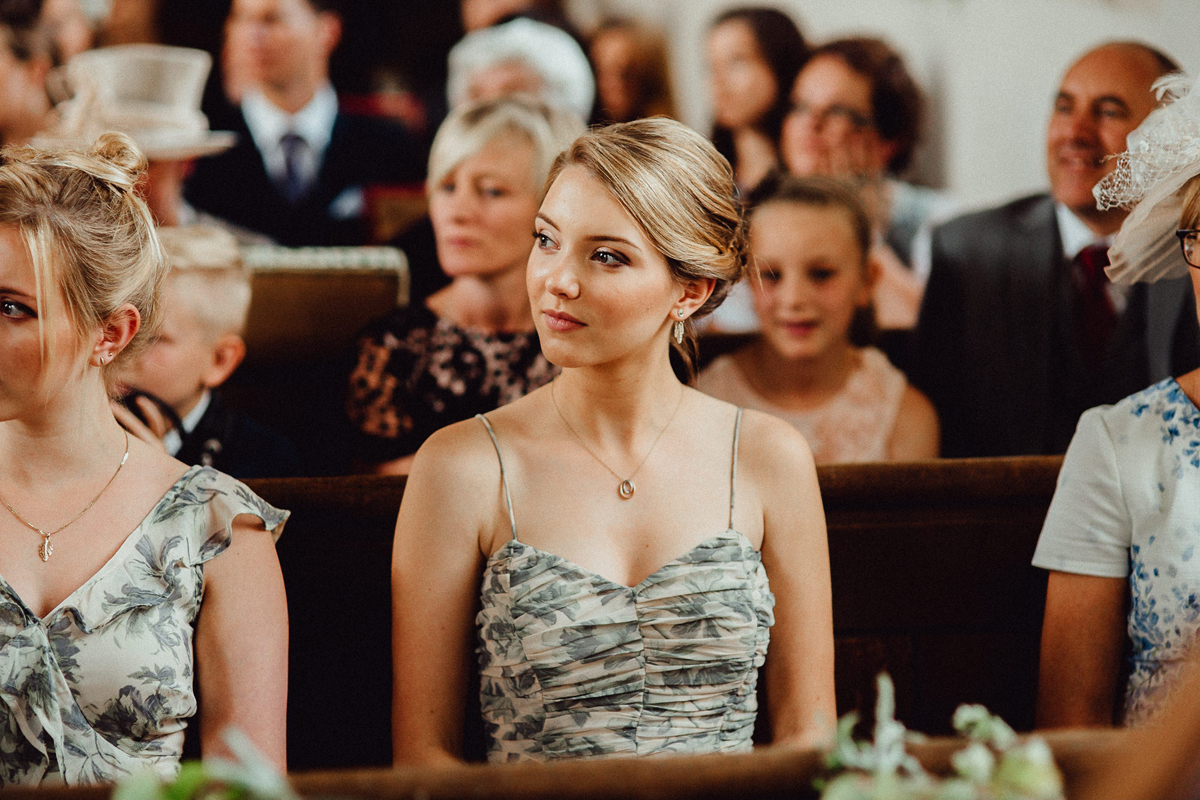 Laura's brother Matthew read Ecclesiastes 4:9-12, which Laura and Ollie chose for its poignant message. Ollie's sister, Laura read a passage from one of his favourite books – Kahlil Gibran's The Prophet.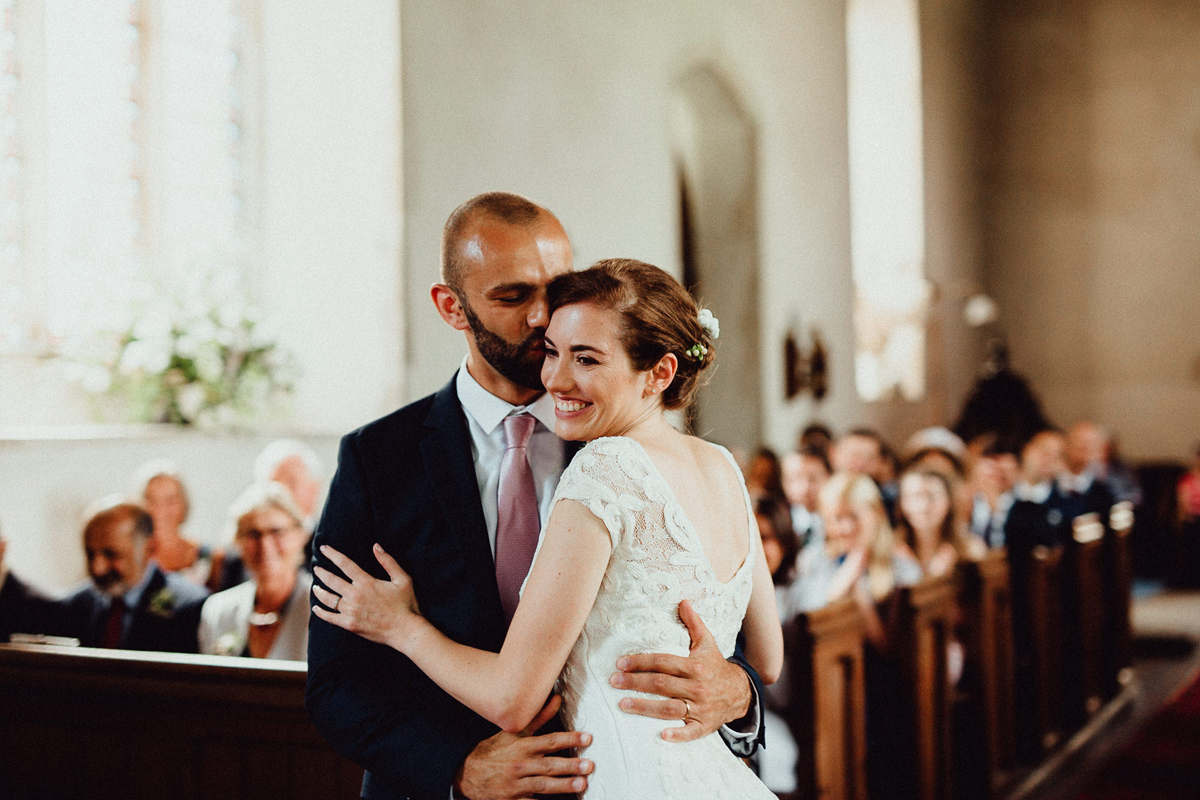 "The best part of the day for us was walking down the aisle, turning around to see the smiling faces of family and loved ones, some of whom we had not seen for months."
"We greeted and hugged every guest before exiting the church under a canopy of confetti (we had been saving petals for years and it was a beautiful visual representation of our relationship blossoming)."
The couple hired a vintage red Routemaster bus (no details provided) to transport guests from St. Margaret's Church to Laura's parents for a relaxed drinks reception. Two friends from school (no details supplied) played acoustic guitar as loved ones reclined in shady spots out of the hot sunshine, or enjoyed a game or two of table tennis on the lawn!
\Later it was over to the glorious, rustic space at Columbine Hall for dinner and evening entertainment, and there were more fun and games laid on upon arrival, with skittles, hoopla and croquet.
We have brilliant husband and wife team Emily & Steve to thank for these breathtaking, creative images of Laura and Ollie's day. There is such joy in these photographs, and the duo cleverly wove in the couple's wish for a lush, botanical feel.
"We were looking for artistic photographers to help bring our botanical-themed vision to life! We absolutely loved the photos."
The bridesmaids wore light and summery floral print dresses from ASOS, together with shoes, also from ASOS.
"I wasn't worried what the girls wore, so they picked their own jewellery to complement their style and dresses."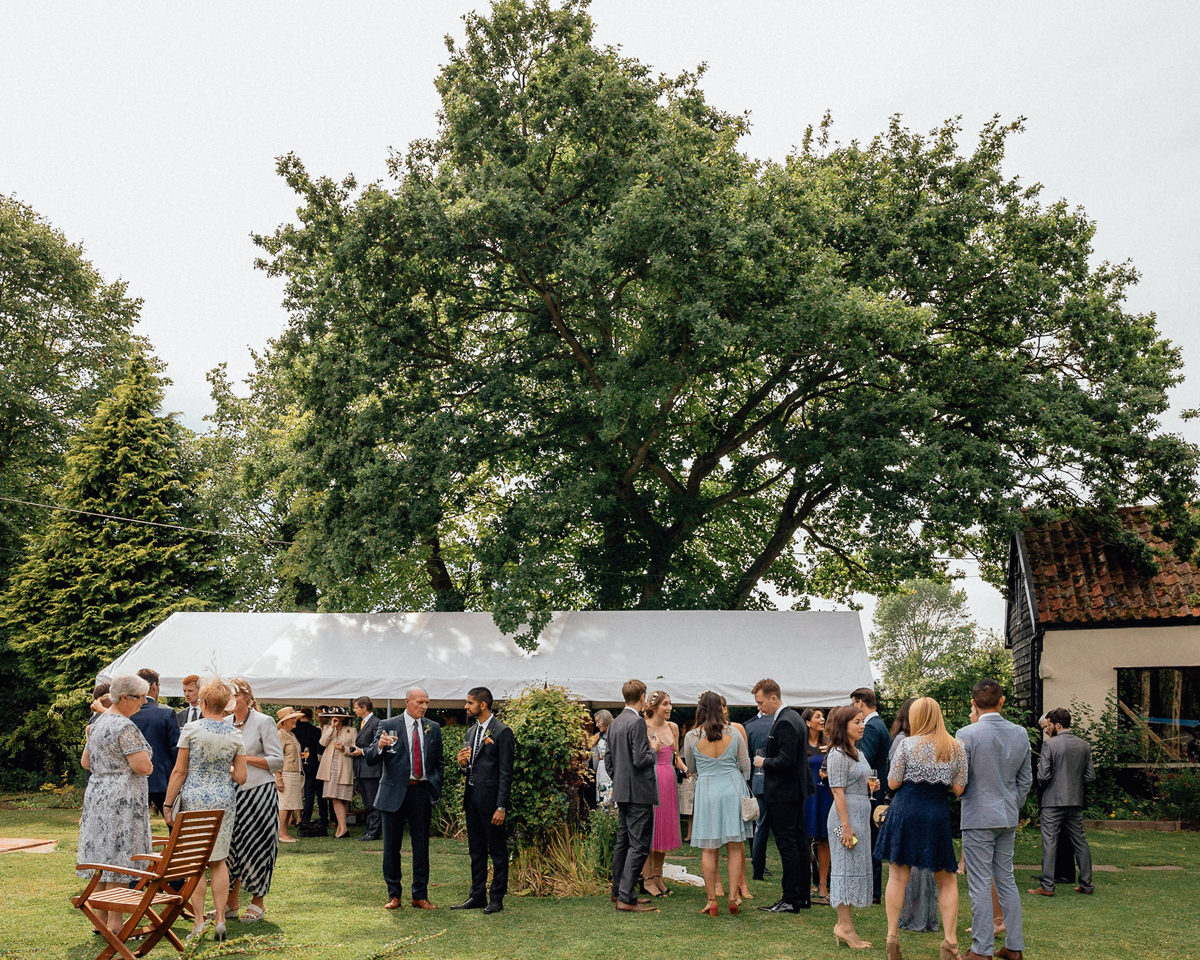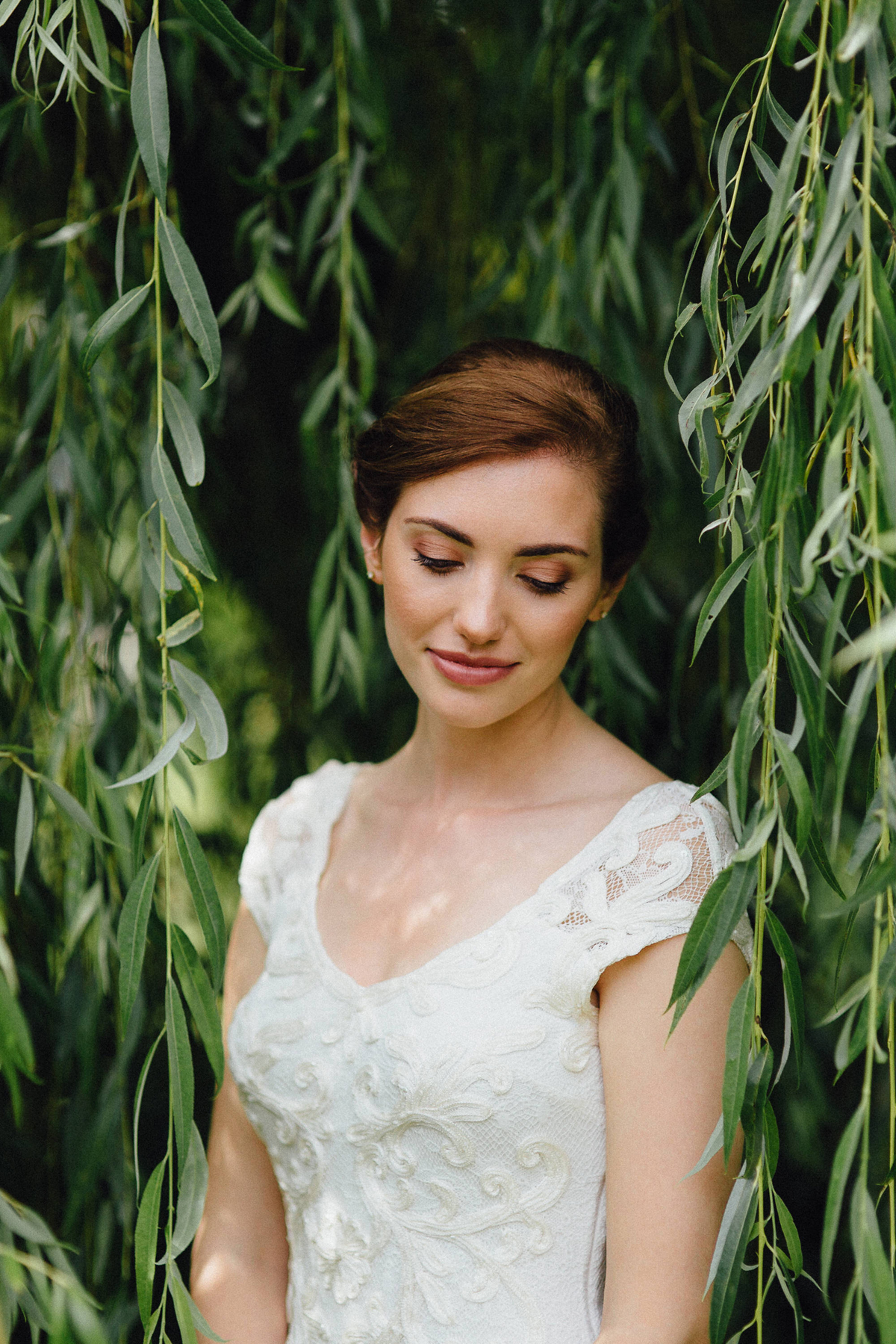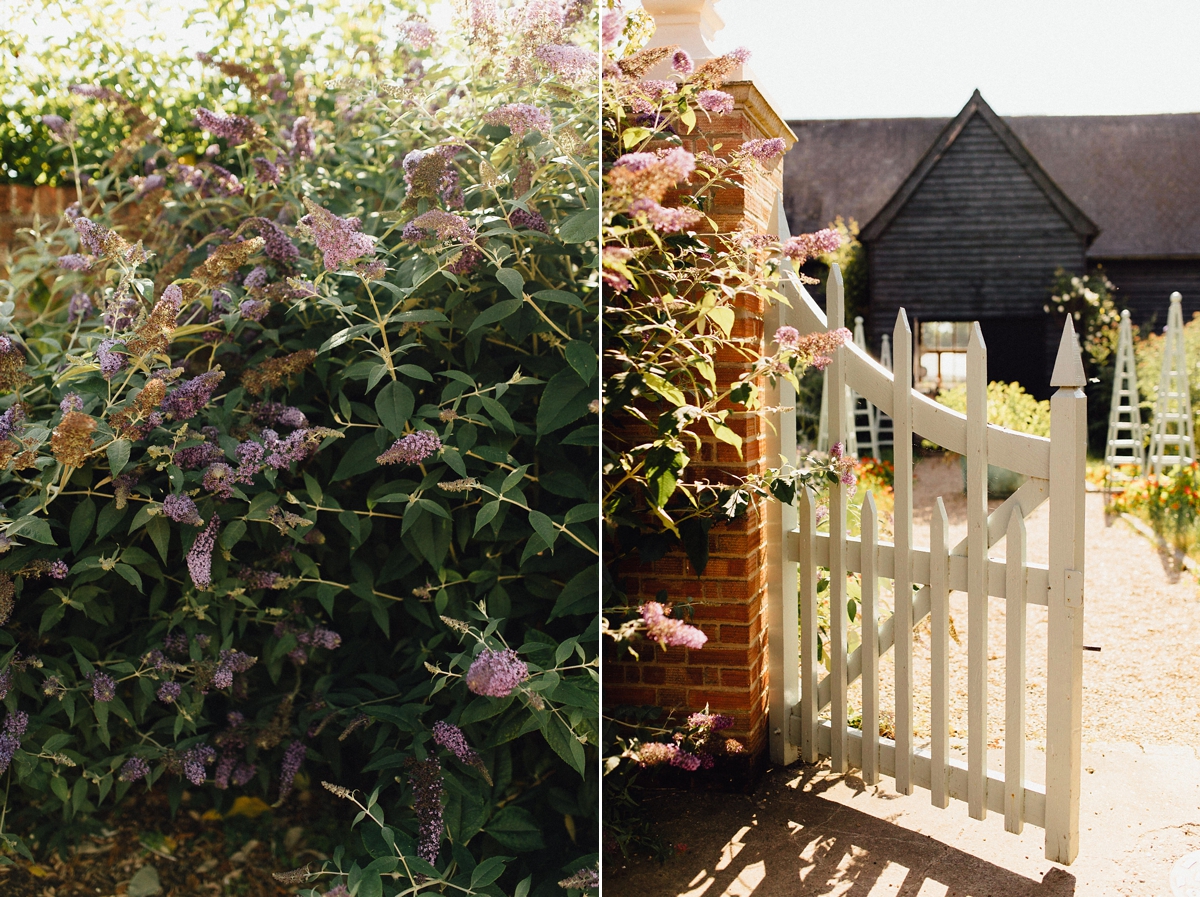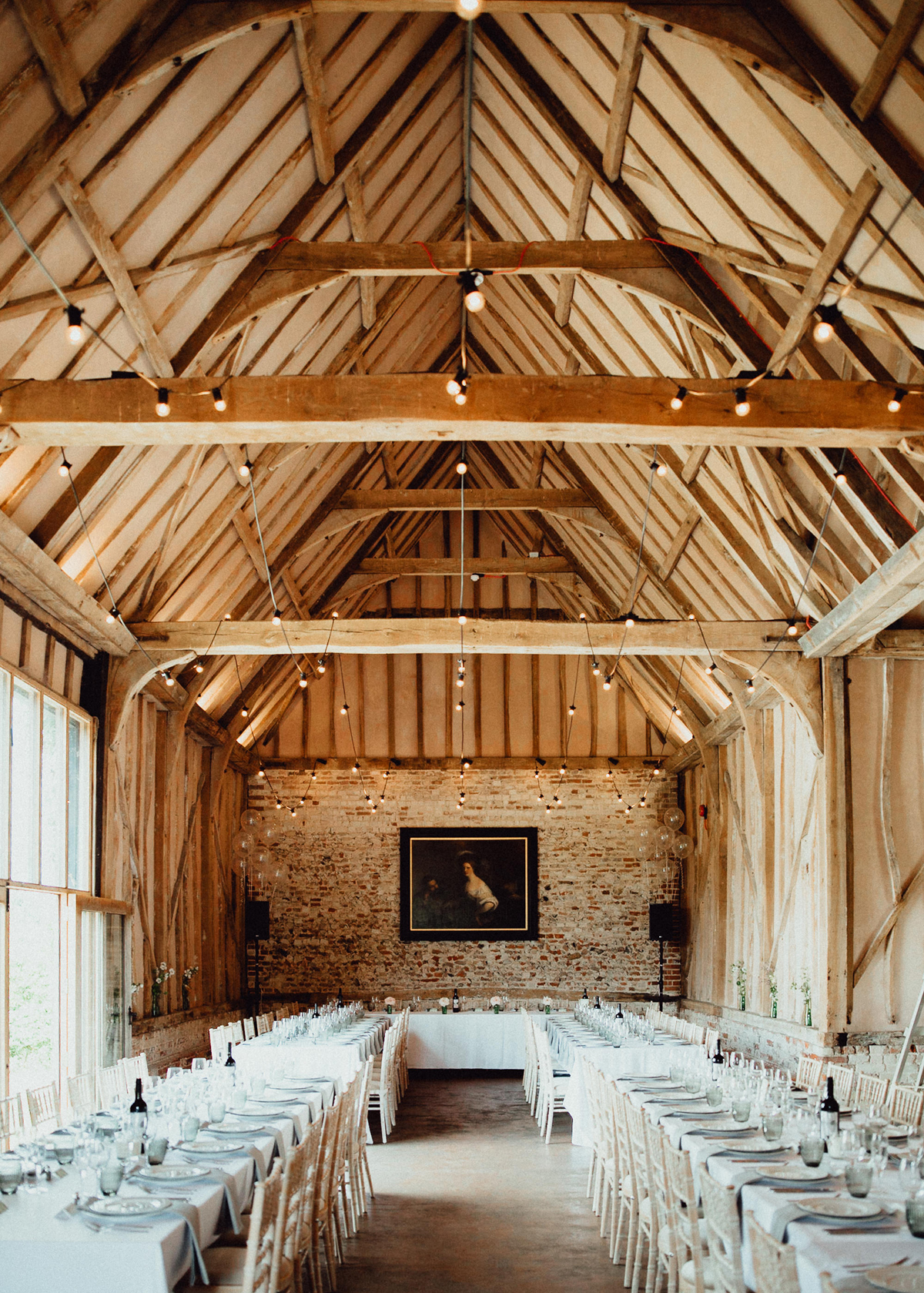 The beautiful weathered brick and timber at the venue provided a lovely, rustic backdrop for Laura and Ollie's botanical decor, with stationery from Papier, and green glassware and bottles filled with wild summer blooms and verdant ferns.
"We had been collecting vases and bottles for months and I filled these with the blooms that Bridget delivered on the morning of the wedding – whilst many people don't want to be busy that morning I actually found it really therapeutic having that time to myself to arrange the flowers!"
The wedding feast was prepared by Catering For Suffolk, and included sharing platters, leg of lamb and a selection of colourful salads.
"We didn't have a traditional cake as neither of us were super keen on the idea of lots of sponge! Instead we had lot and lots of baklava and Indian sweets – a nod to Ollie's Indian ancestry but also the perfect pairing with the Middle Eastern Lamb we had for the main."
"It is no secret that I love tea and really wanted to incorporate this into the day. With the loving support and guidance of my Aunt I created my very own tea blend for the reception which was served with the dessert and also presented to each guest in a small glass vial with an L&O sticker. The tea was Orange, Hibiscus & Elderflower Earl Grey – Earl Grey is my favourite tea so I knew this would be the base."
"Hibiscus and orange were a beautiful pairing to the middle Eastern inspired food and the elderflower was harvested from the nature reserve opposite our London flat."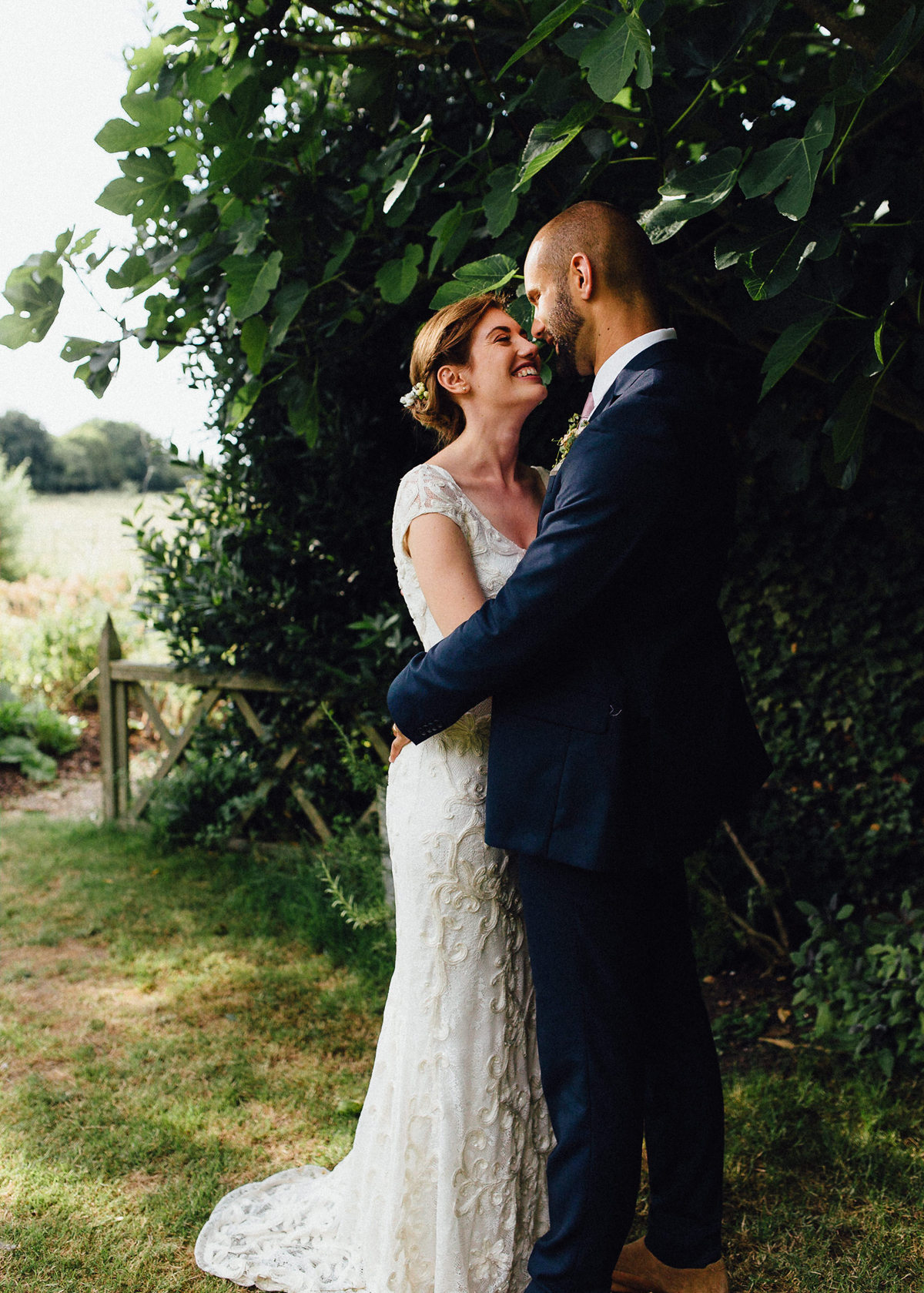 Later in the evening Laura changed into her chic Roland Mouret cocktail dress, just perfect for dancing. The couple chose an informal first dance to FatBoy Slim's Praise You, which was a great opportunity to get everyone up and onto the dance floor to join in!
"In the evening, we had a playlist that we had compiled – we asked our guests to send song recommendations with their RSVPs – the dance floor was never empty!"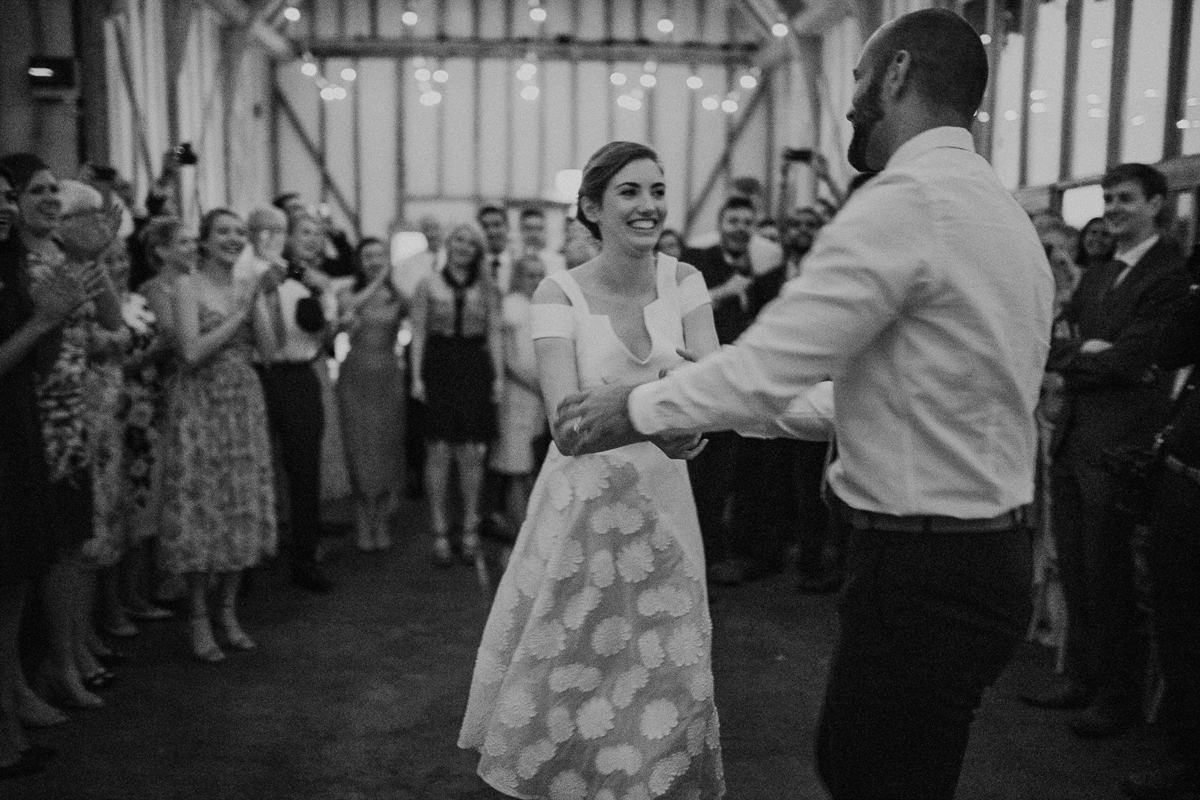 Words of Wedded Wisdom
"My main advice would be to not worry about the things you feel you should have – it is your day! We didn't have a cake or a DJ – it saved costs, but the main reason was because we didn't want it!"
"Similarly we were both dreading the first dance – so we avoided it! Your day, your way. Your guests will embrace and they will love even more that it is a true reflection of you as a couple."
Thank you so much Laura and Ollie for sharing your magical summer day with us, it was an absolute pleasure to write about! Thanks also go to photographers Emily and Steve for these superb images. You can see more weddings captured by this creative team on our blog pages, right here.
Until next time, dear readers!
With love,
Laura