Lovelies, I hope you had a good weekend? Let's kick off a new week with a splash of cool. Come with me to Chelsea, London to meet Gina and Edde.
I do hope you enjoy these vibrant photographs by Elaine Williams, a photographer who I personally love for her bold, creative images and eye for strong colours and amazing city backdrops.
The bride and groom are Gina, a real estate consultant and Eddie, a systems accountant, who wed on 19 May 2018 in an intimate civil ceremony at Chelsea Town Hall with a dinner reception at Chelsea pub The Phene. The couple wanted to symbolise their cultural heritages in their low-key wedding day, and used their own national flowers throughout; the Scottish thistle for Eddie and the South African protea for Gina. The overall style is simple yet effective, and oh-so vibrant with colour and joy.
Photography Elaine Williams Photography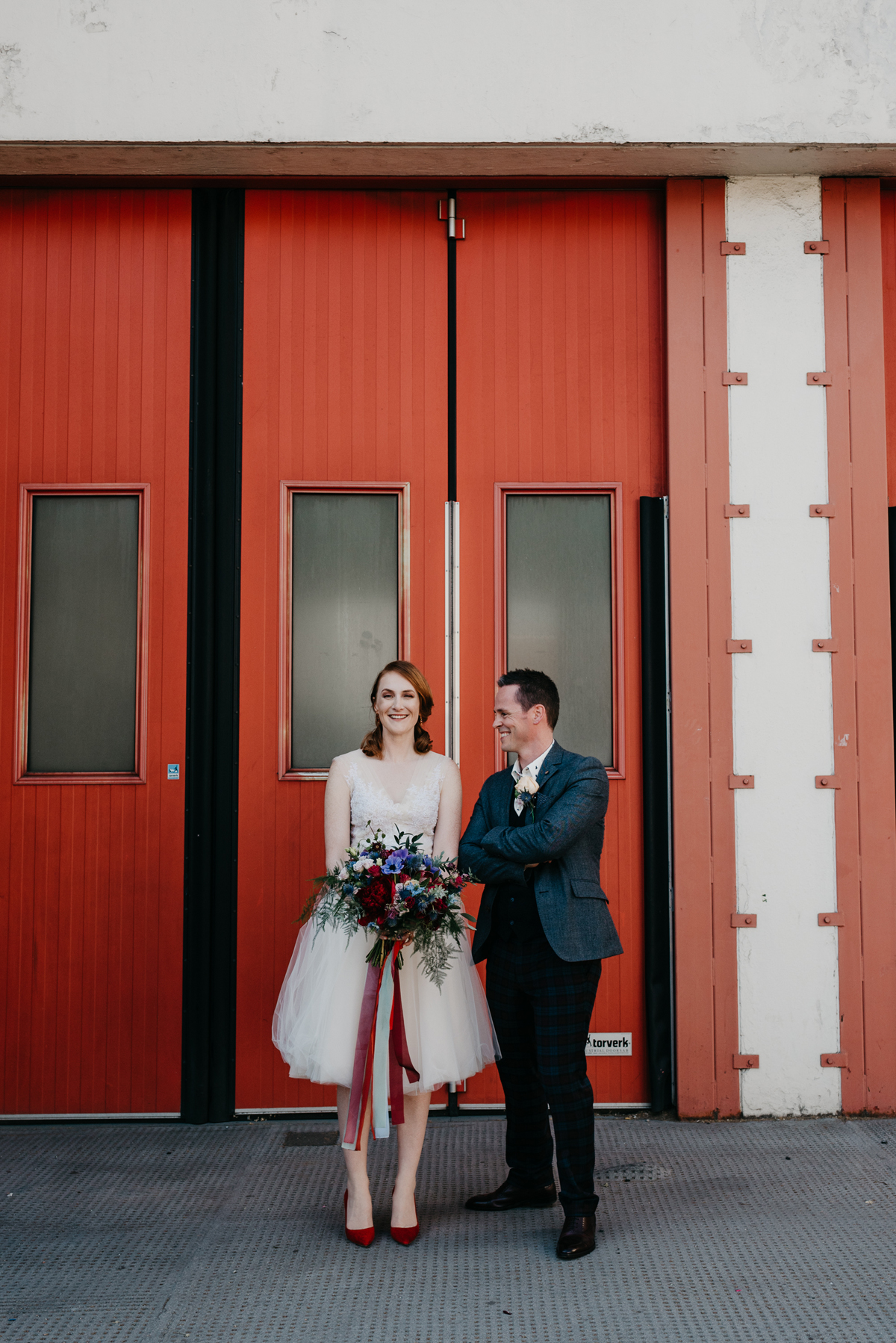 These beautiful photographs come from Elaine Williams Photography, whose work we've been so proud to feature previously in Love My Dress. She must have researched the area thoroughly to have located the amazing block colour backdrops and the iconic Albert Bridge for the sunset portrait shots.
"The lovely Elaine Williams took all our photography – we wanted to have our photography shot in a documentary and candid style. Elaine did a fantastic job catching all the small, special moments of our day!"
The bride and groom first met through work in 2013 and their daughter Isla was born in October 2017.
"We were very good friends and colleagues for years before finally getting together in May 2016. We had our beautiful daughter Isla in October 2017 and couldn't be happier. We were engaged for a year before finally tying the knot."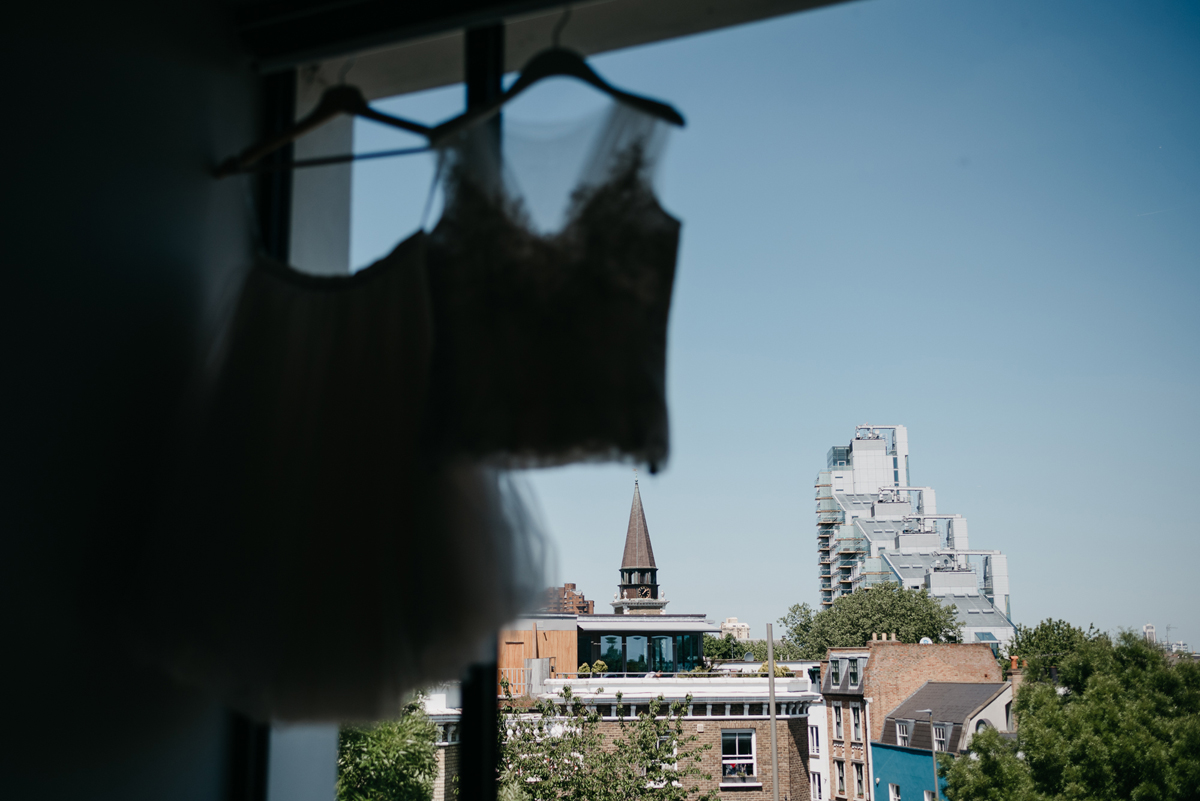 To suit the low-key affair, Gina chose to wear pretty bridal separates from MyWony Bridal; a tea-length tulle skirt with a fitted V-neck bodice with cap sleeves. And what about those shoes? I love the rich colour that they bring to her look.
[JP-VIDEO]
"We were having quite a low-key city wedding, so I wanted a short dress that still felt, and looked, bridal. I loved the look of a tulle skirt and top so started looking on Etsy. Some brides might feel a little uneasy about buying a dress without trying it on, but the seller and reviews made me feel like it would be perfect so I just went for it!"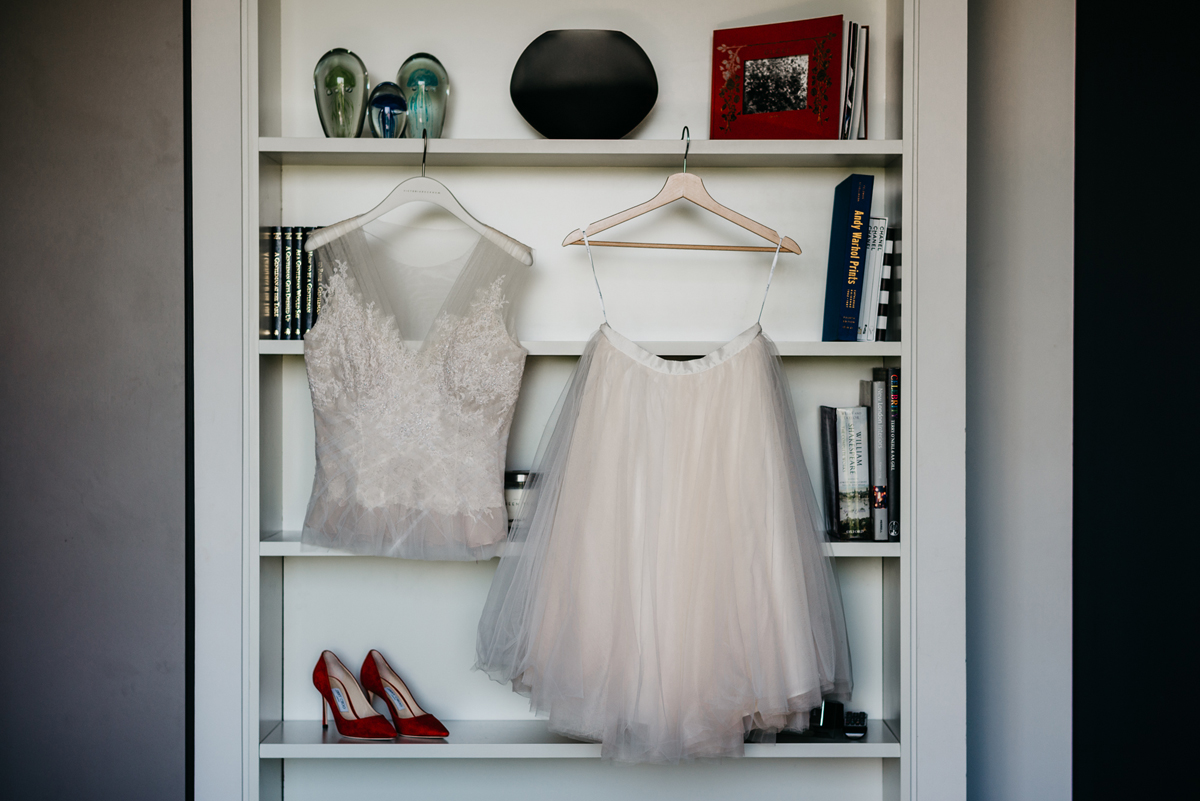 "We wanted to incorporate colour into our wedding and my wedding shoes were the perfect opportunity to have a bit of fun. Plus, I wanted to buy shoes I would wear again. not just for special occasions. I settled on some red suede Jimmy Choo pumps and I've enjoyed wearing them several times since!"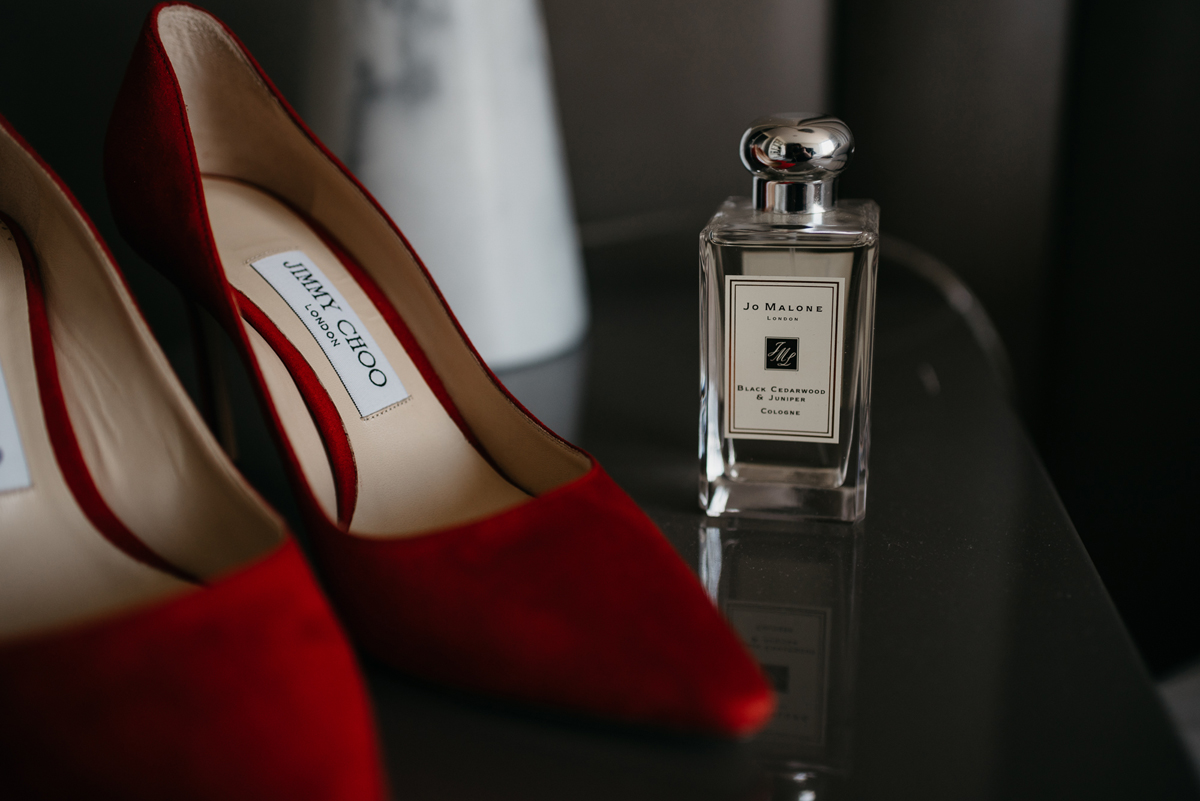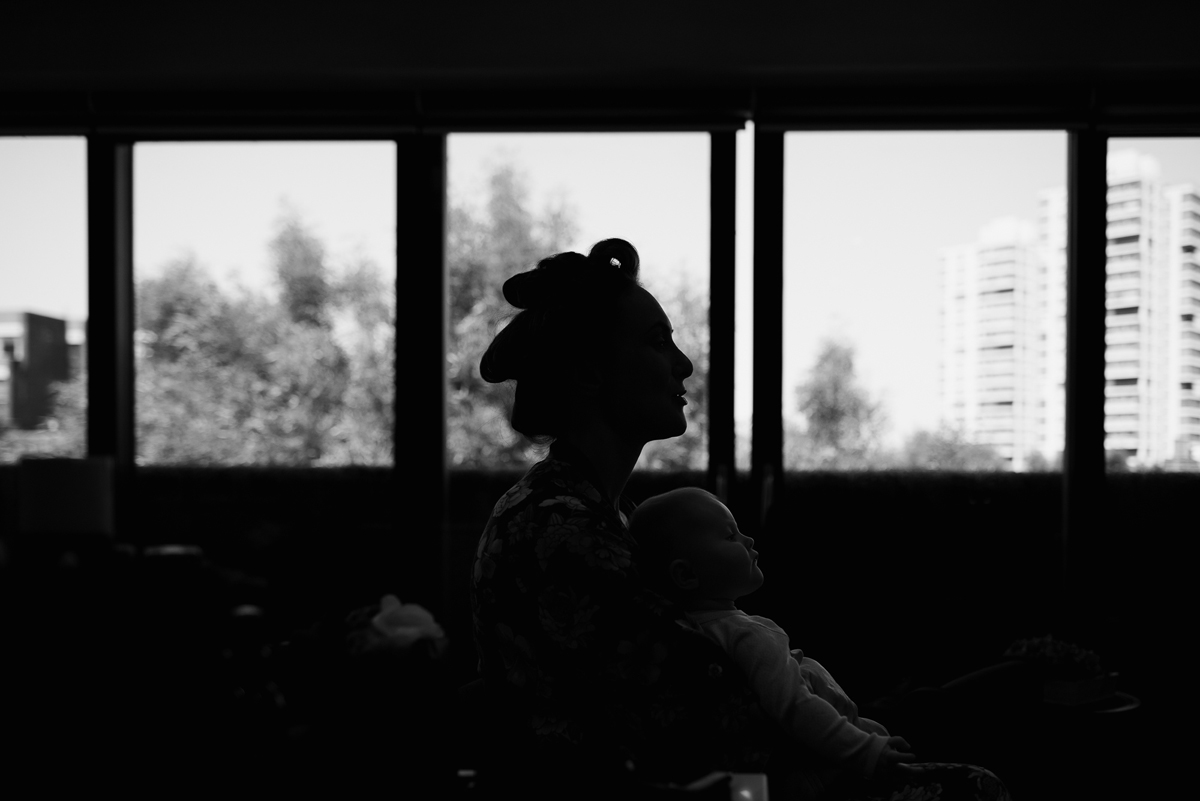 Gina's rich auburn locks were styled into a glamorous vintage-inspired half up and half down-do – worthy of any film star – and adorned with fresh flowers to match her bouquet. Her make-up was dewy and fresh, with a bold red lip. The final touches were a pair of red Les Néréides earrings and Gina's grandmother's gold cuff bracelet.
"I ended up using Alexyi Reneece, a freelance hair and make-up artist who I had met in Spitalfields market years before."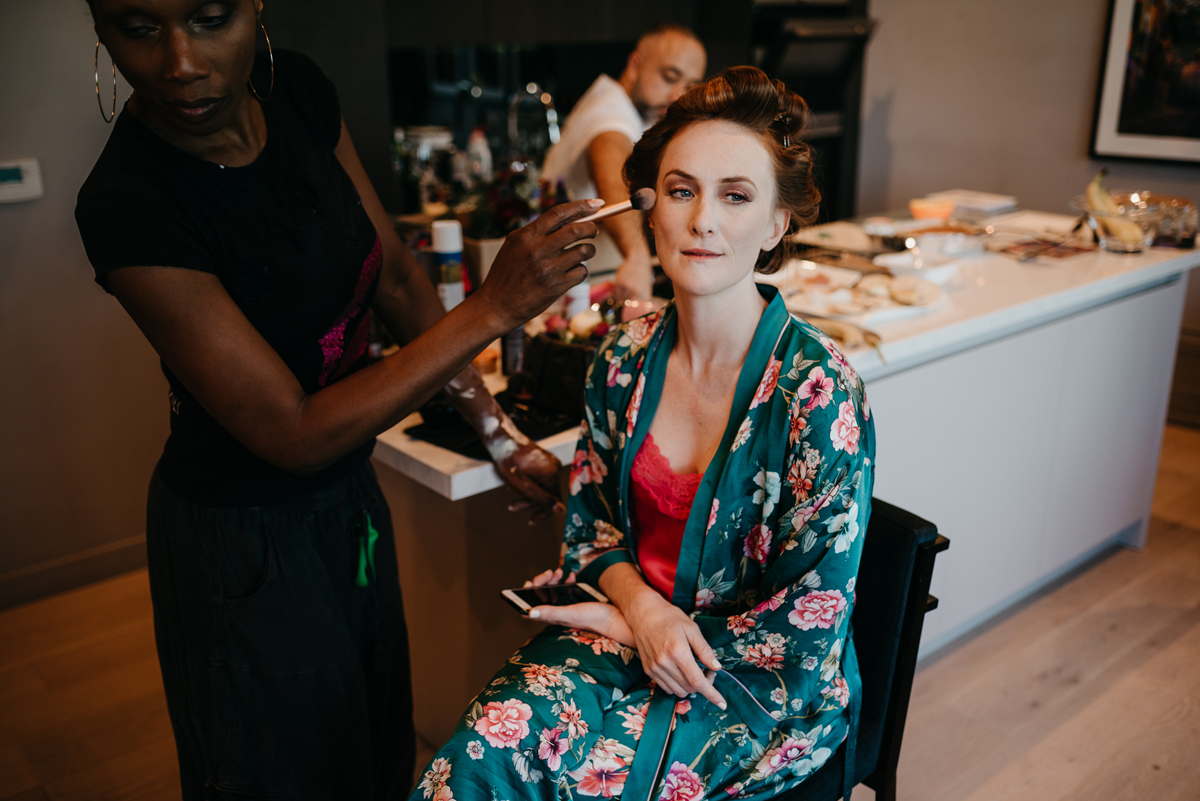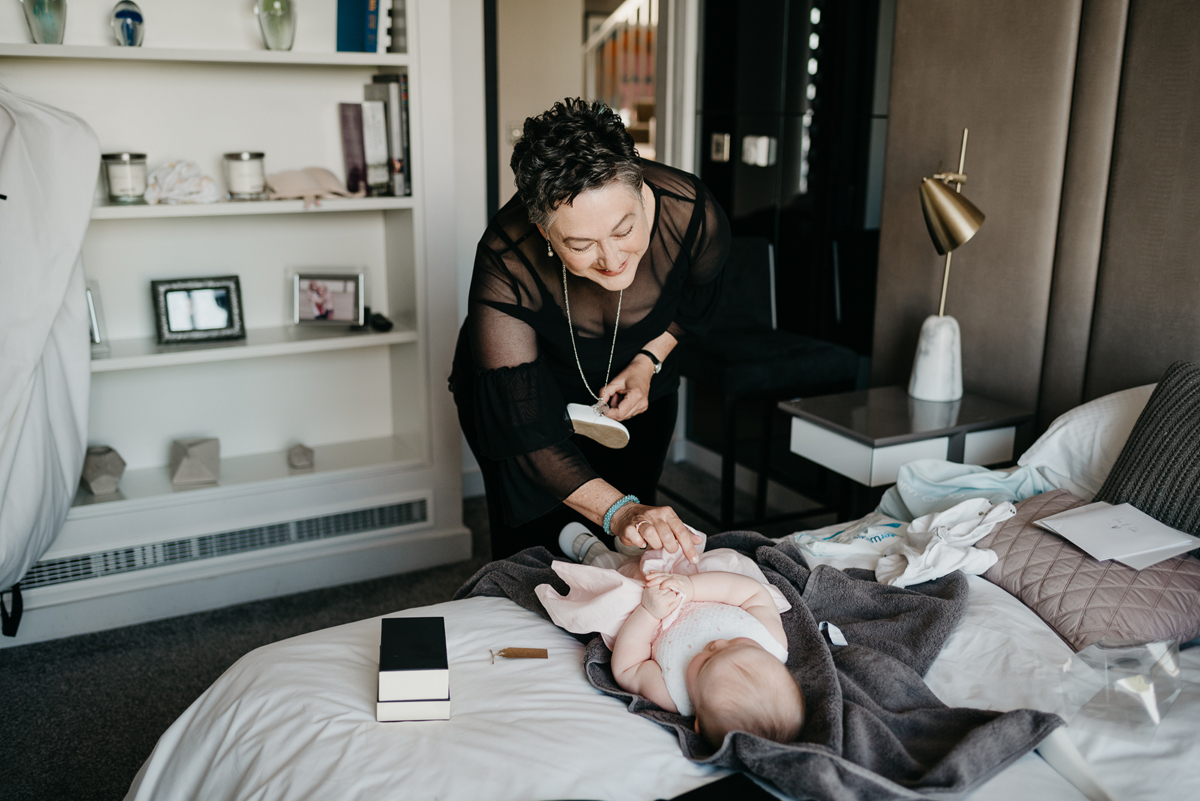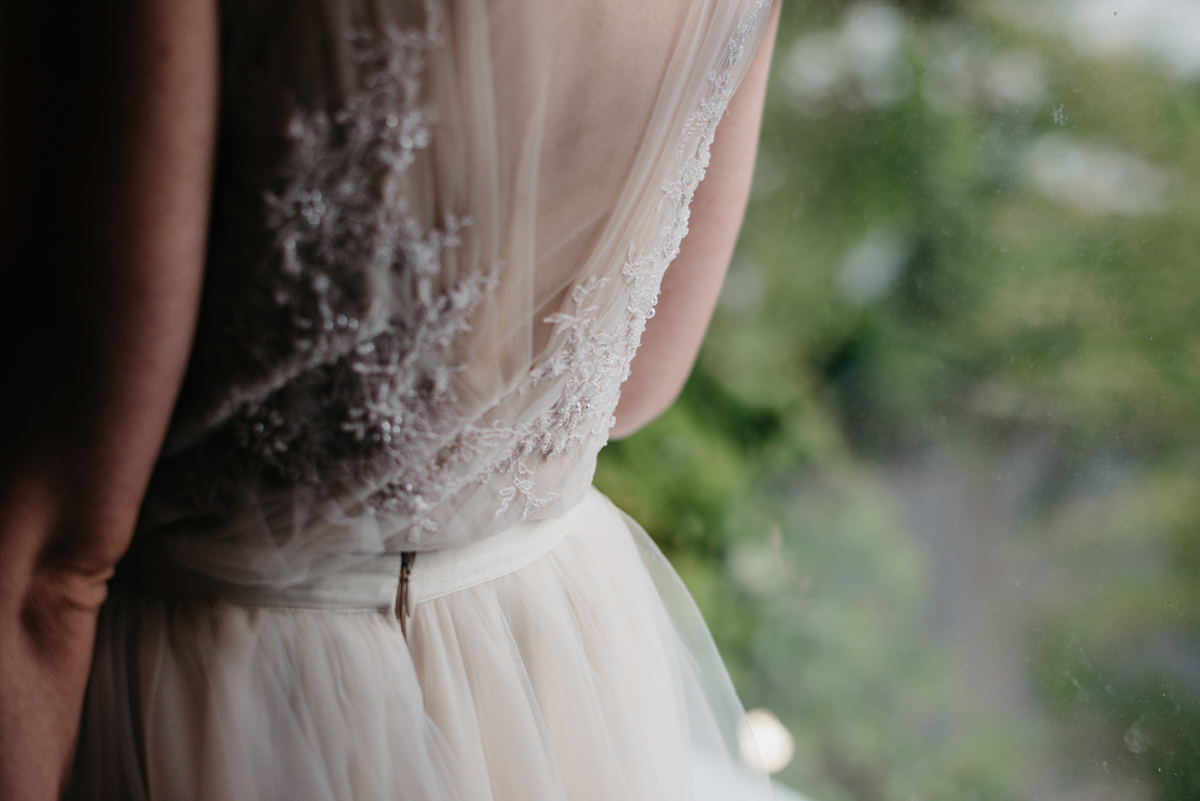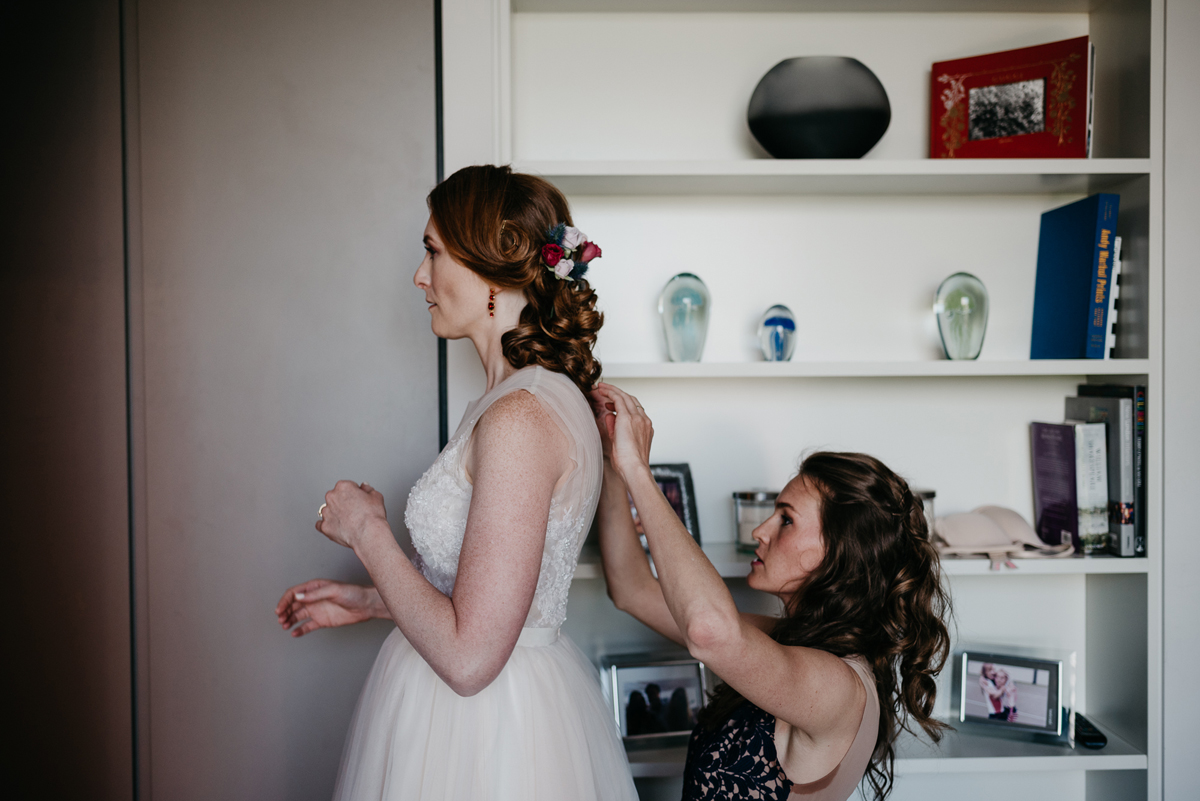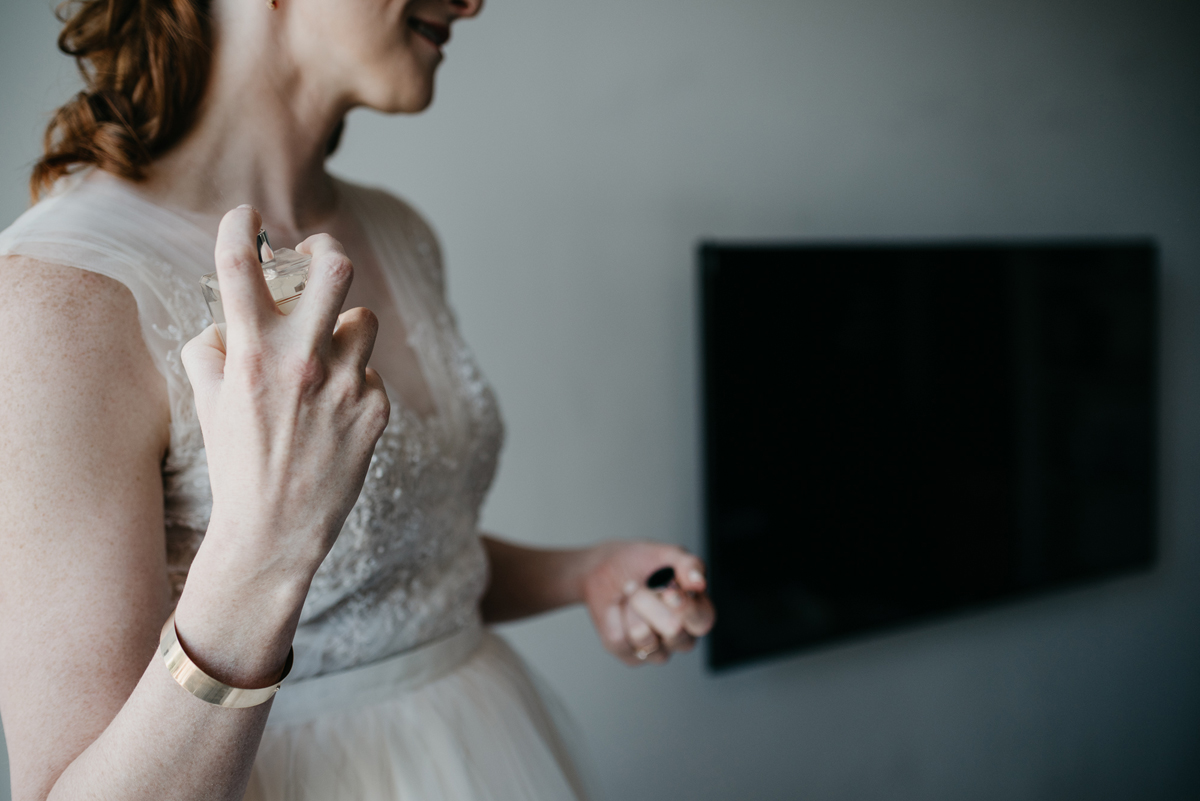 Although Gina didn't have a 'traditional' bridal party, she enjoyed getting ready at home with friends and family, and this looks like a really special time for her. Once ready, she hopped in to an UberLux to ride to Chelsea Town Hall, carrying her vibrant bouquet of deep red flowers and foliage.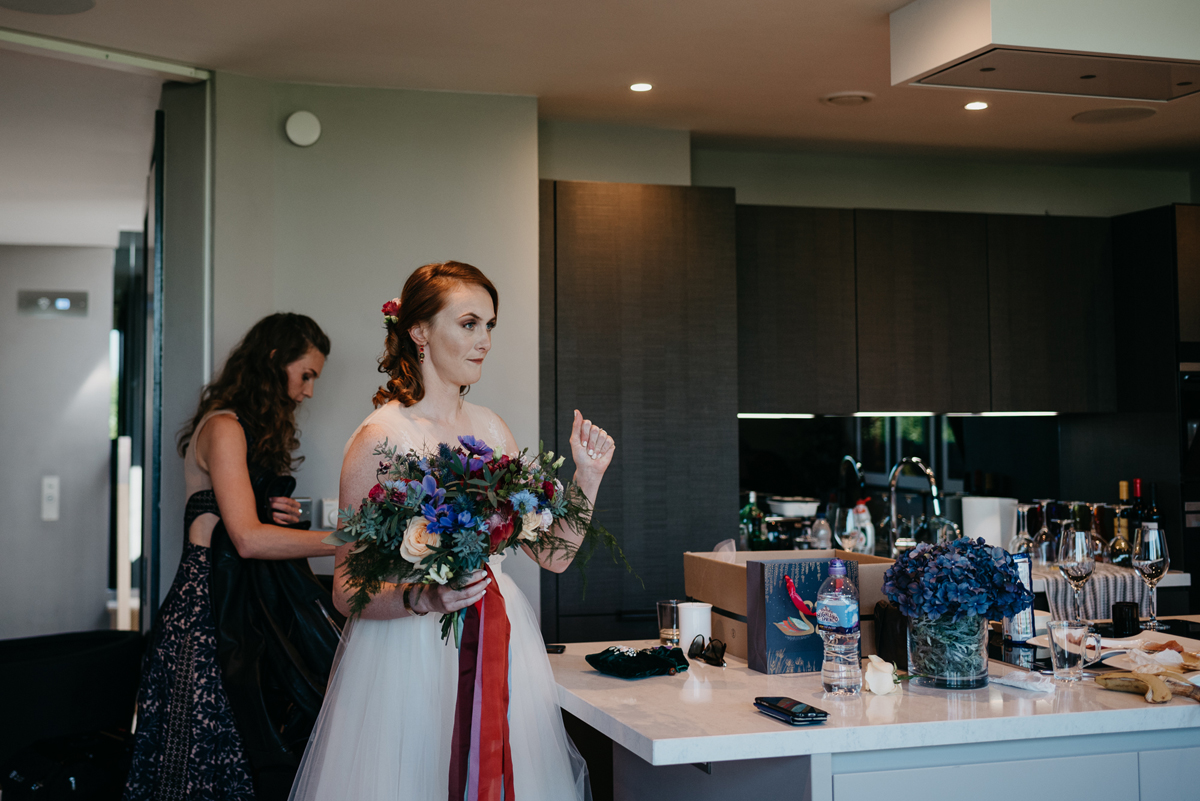 "Our florist came recommended by our events planner at The Phene. Jo from FloJo Flowers was amazing and really listened to my brief."
"We were blown away by the flowers on the day and my gorgeous bouquet. She added hand-died silk ribbons from Silk and Purl to match my shoes which not only looked pretty but added to tying everything together on the day."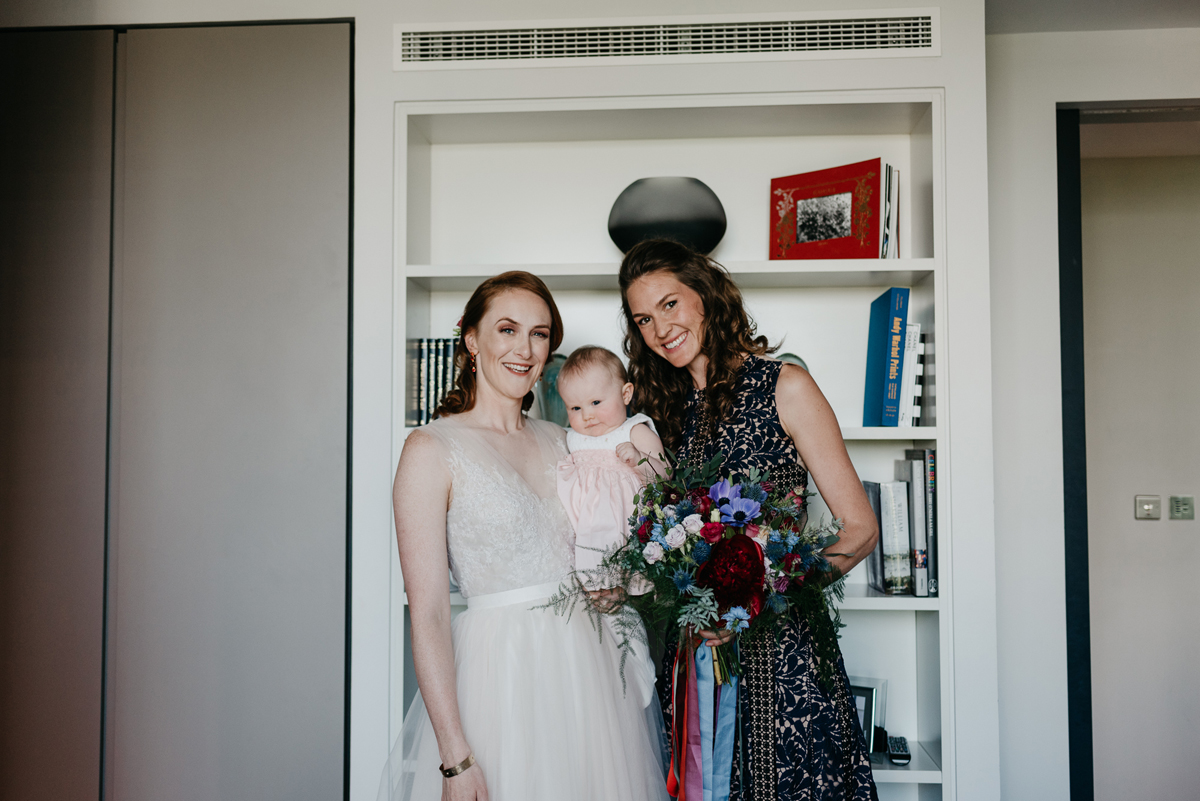 "Eddie is Scottish and I am South African. It was important that we had something in our wedding to symbolise our cultural heritage. We decided to do this through the use of our national flowers, the protea and thistle, in the illustration used on our invitation which was then carried through to the flowers on the day."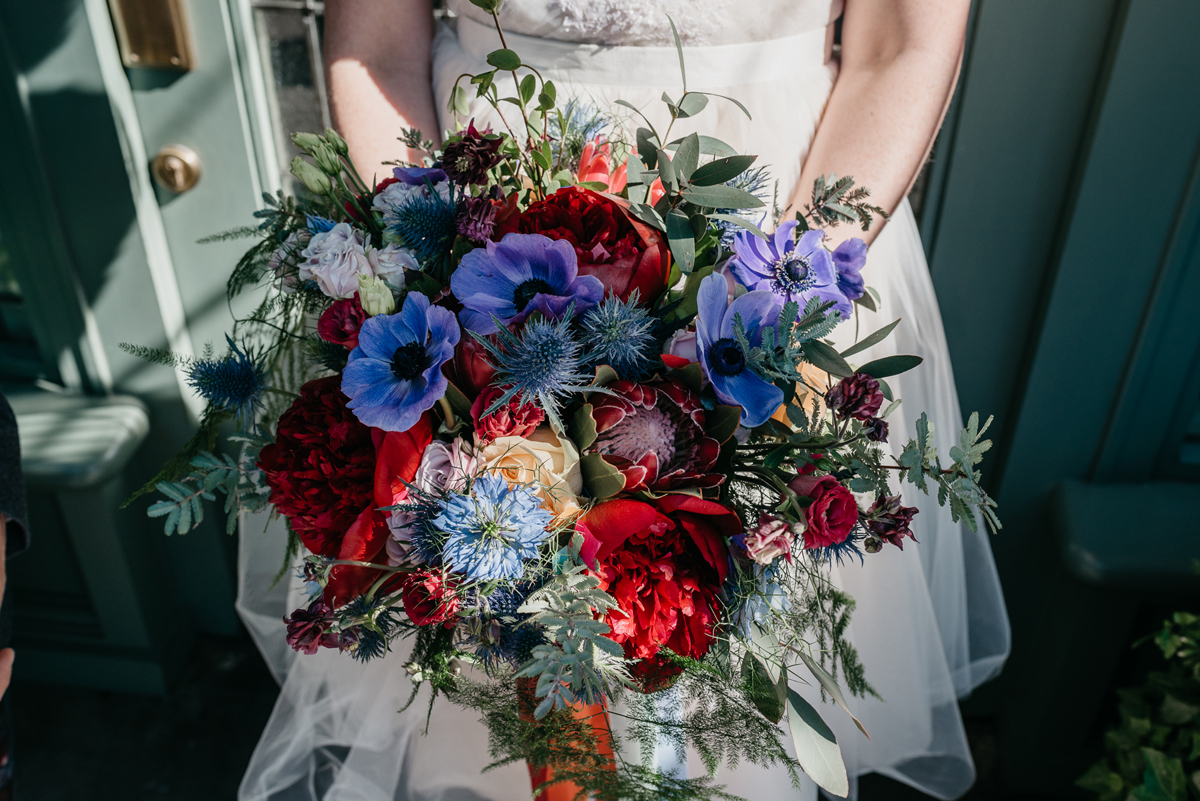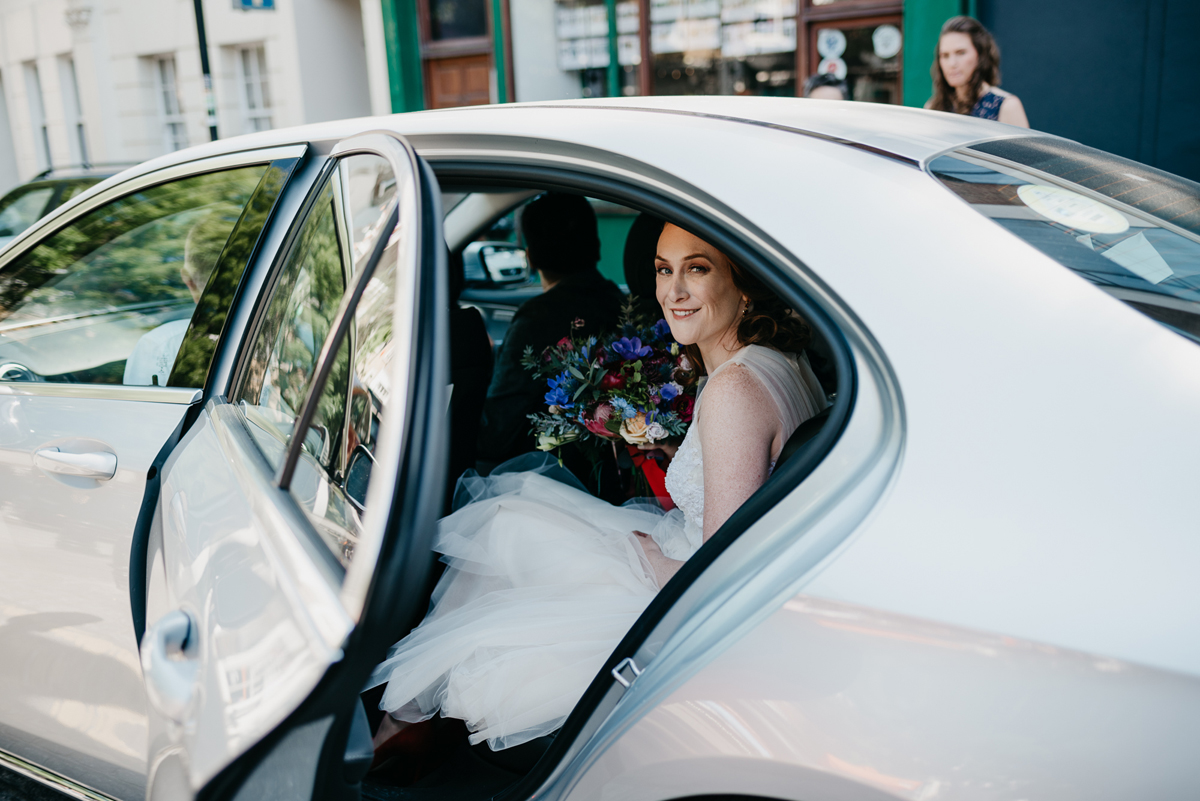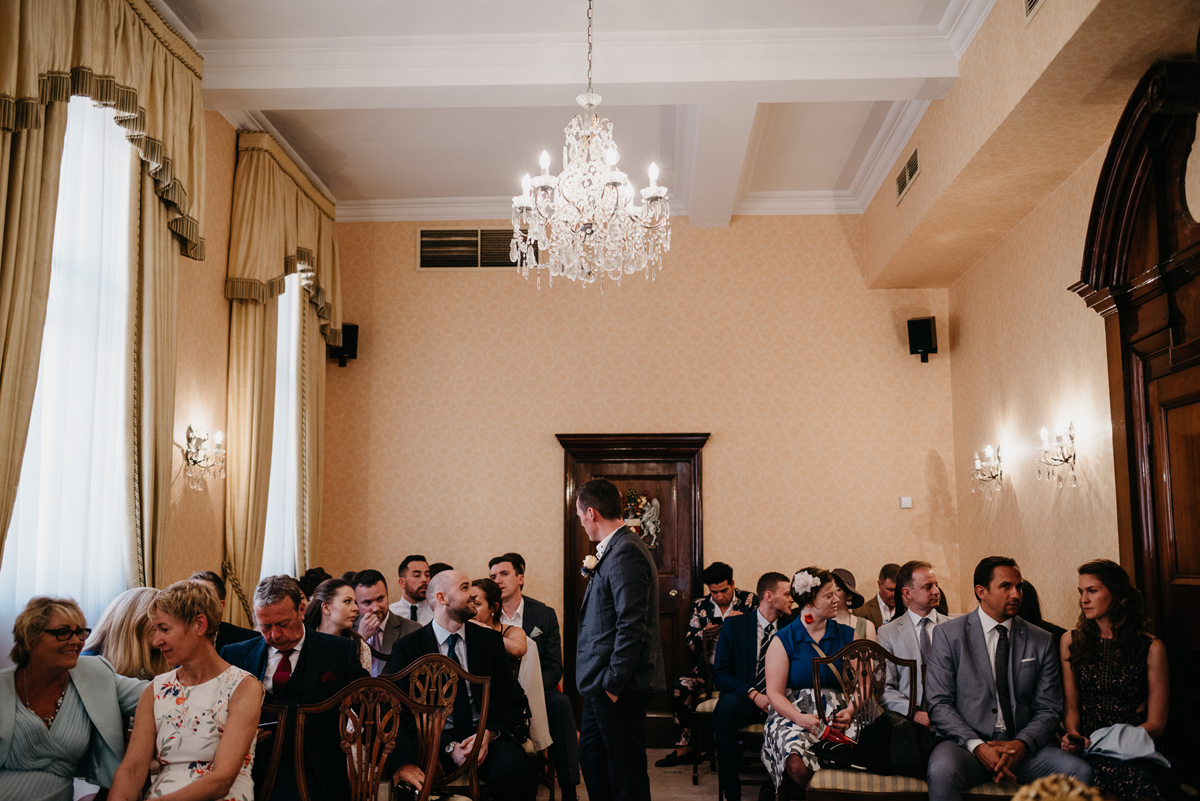 I think Eddie looks so relaxed and comfortable, as well as very cool, in his three-piece suit worn with an open-neck shirt. A nod to his Scottish heritage came from his tartan trousers.
"Eddie wanted to have an eclectic look that incorporated pattern and colour. His shirt was Paul Smith, blazer from Ted Baker, tartan trousers from Label Lab and his oxblood shoes from Sons of London. He had Tom Ford sunnies to help with the glare on a very sunny day."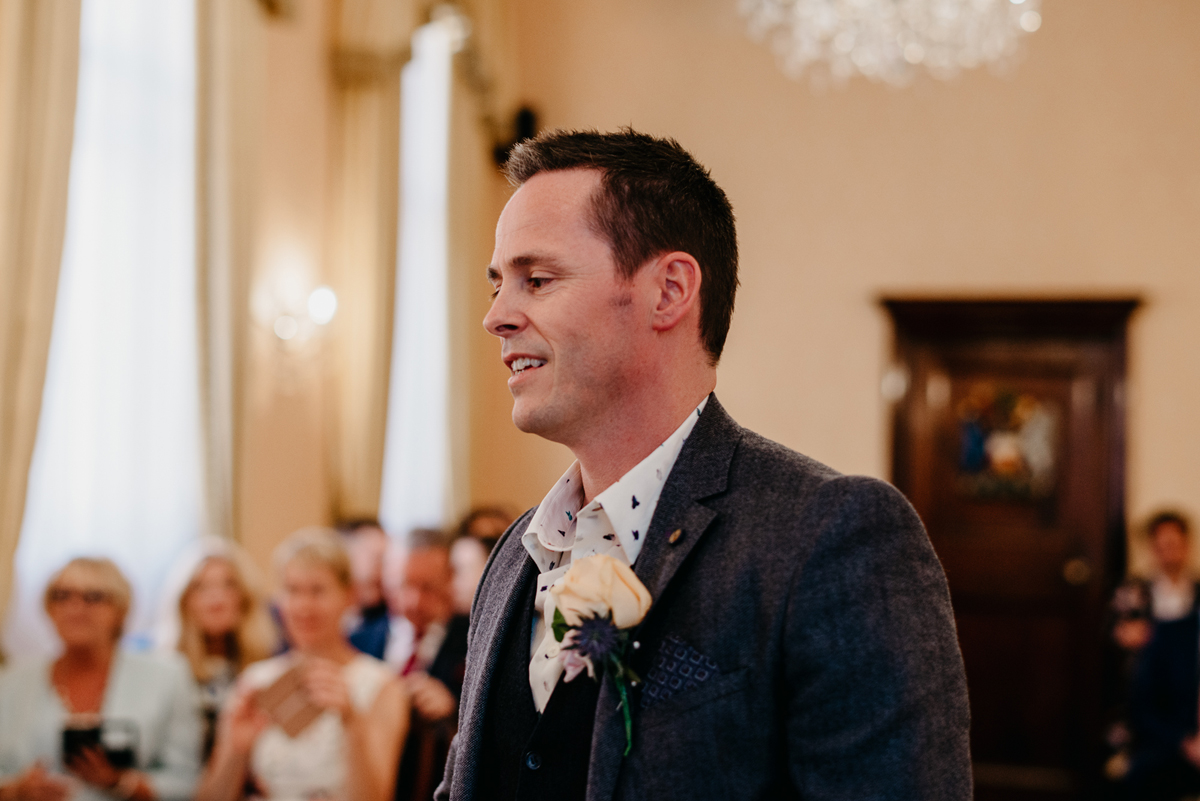 For Gina and Eddie, spending as much time as possible with their guests was of prime importance, so their ceremony was short but meaningful. The bride walked in, looking so radiant, with her father.
"I walked down the aisle to The Piano Guys' version of 'A Thousand Years'."
"We didn't want to hold back the partying with readings or speeches so chose to forgo these for more time enjoying the festivities with our guests."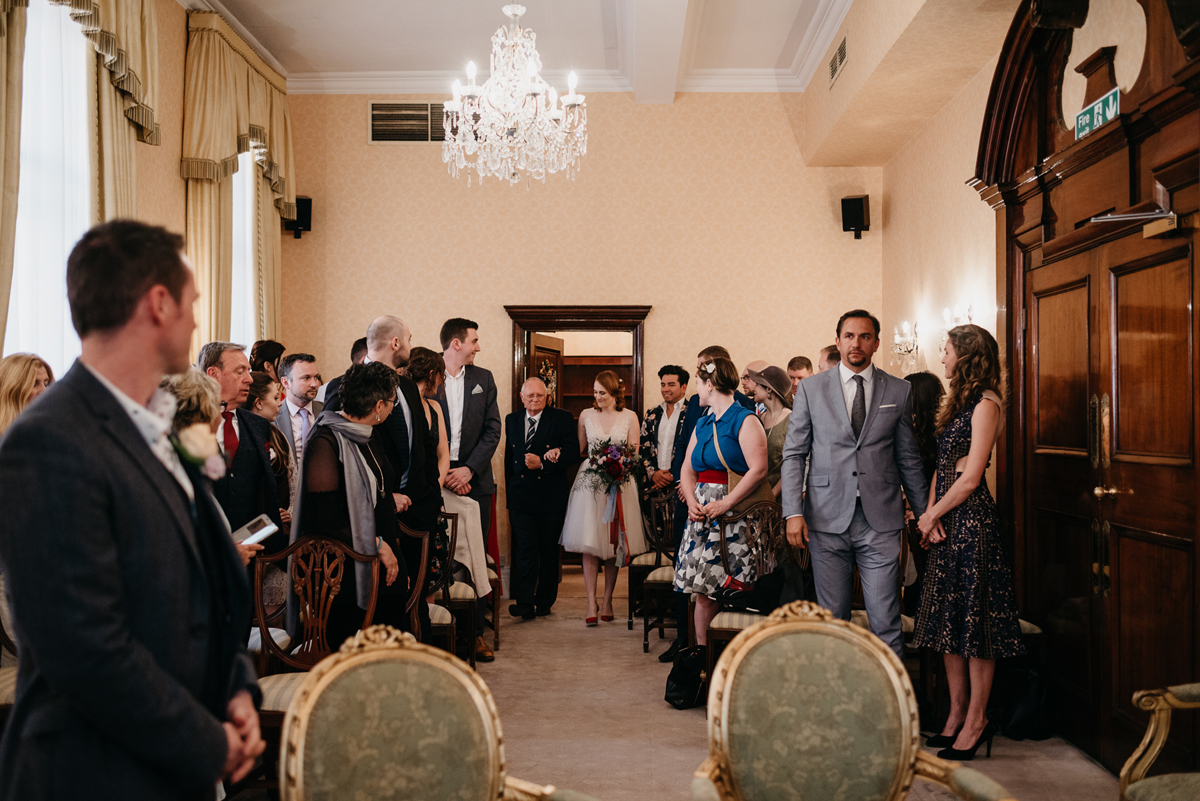 The couple went to Browns Jewellers for their wedding rings, and Gina touchingly chose to have two symbolic bands.
"I chose to have two rings flanking my engagement ring to reflect both my husband and our daughter Isla. We decided on Browns because it is a South African jeweller and thought it would be a nice touch to have wedding bands from a South African company to match the diamond chosen on holiday there in my engagement ring."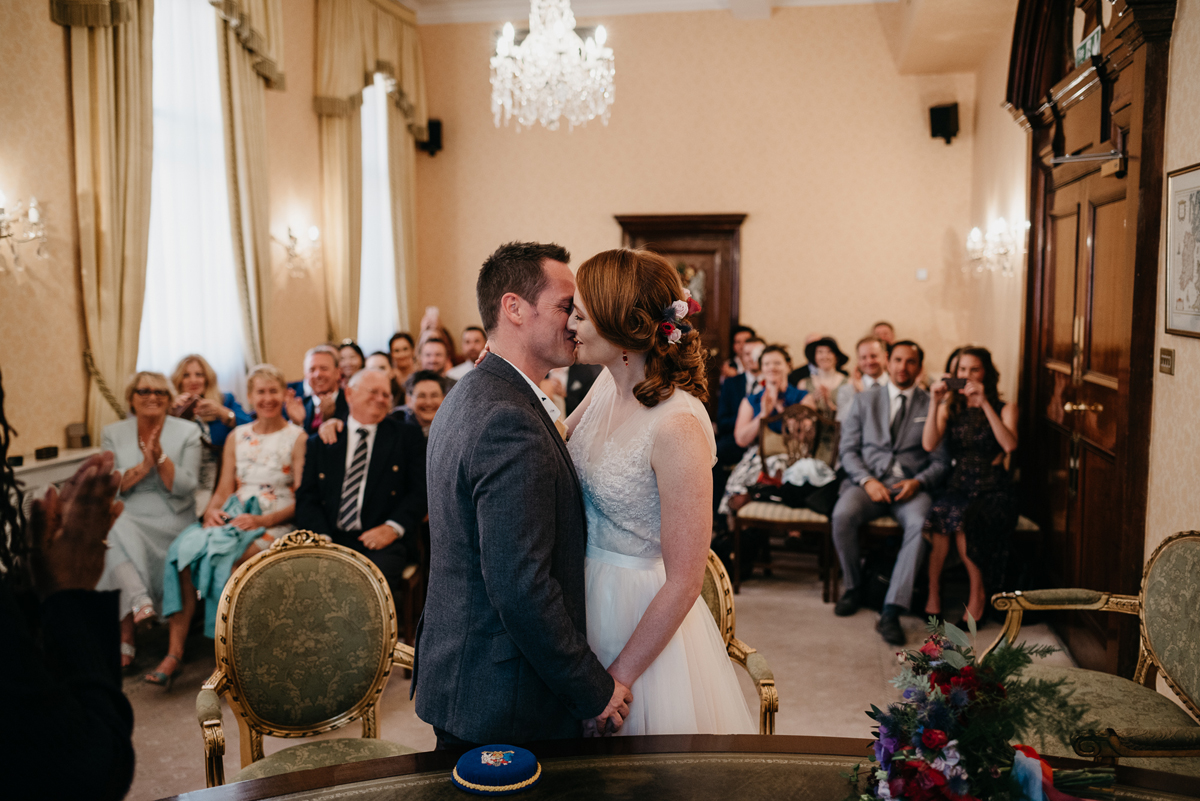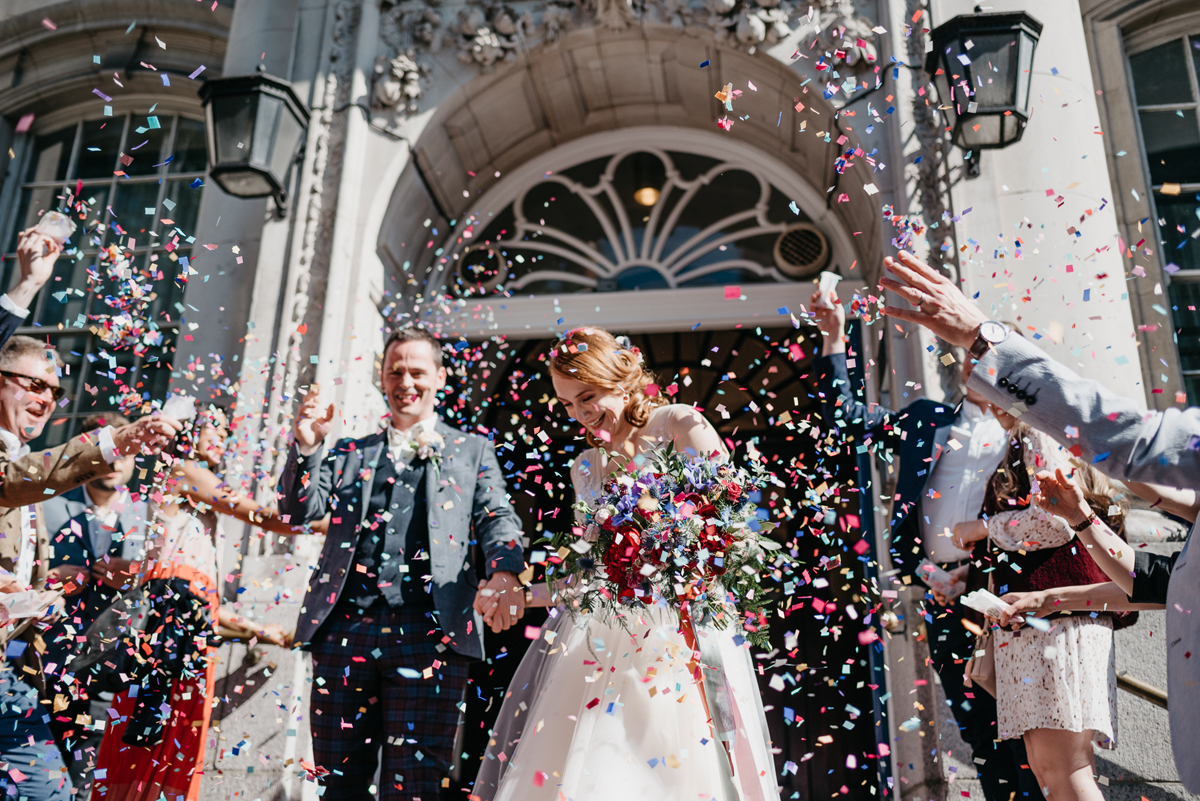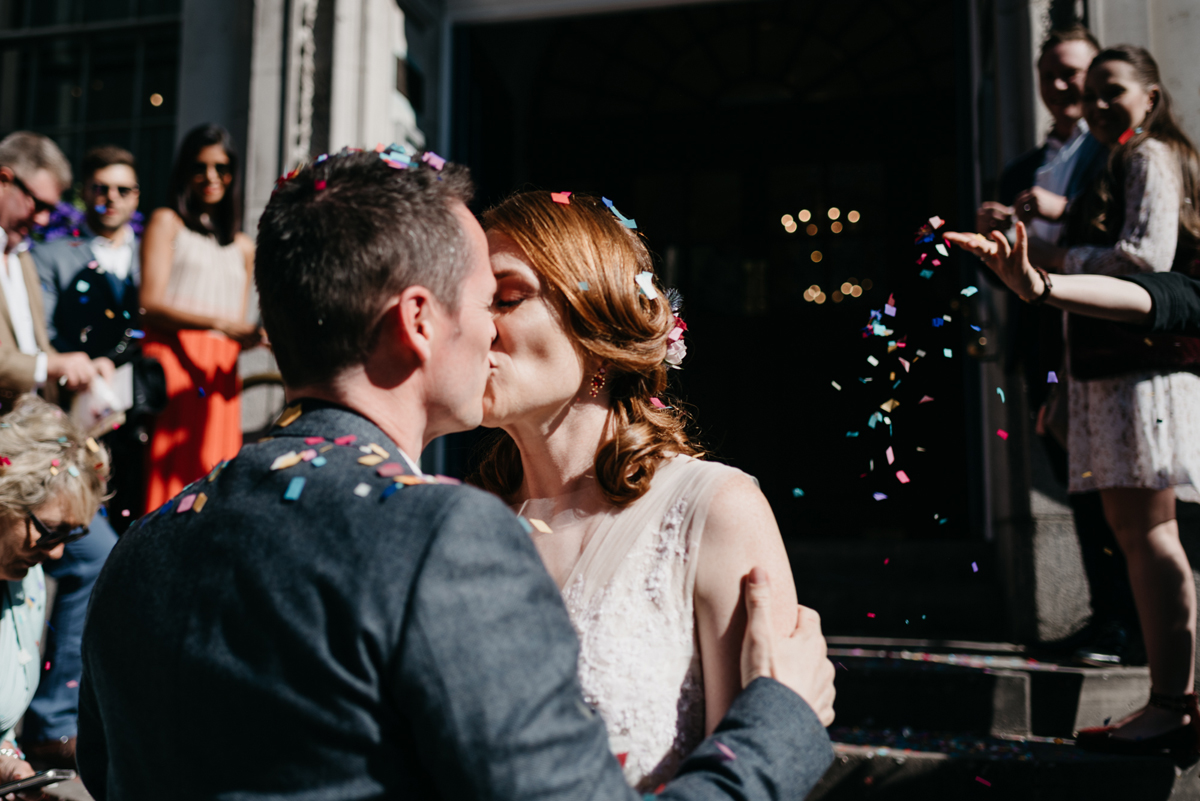 After the ceremony, the entire party made their way to converted pub The Phene for dinner, dancing and lots of fun.
"We were fortunate enough to have a fabulous event planner at the reception venue who did a fantastic job recommending suppliers and managing the set-up for our reception. The venue was already styled really well and so we only needed to add our beautiful blooms and favours to the tables to bring it all together."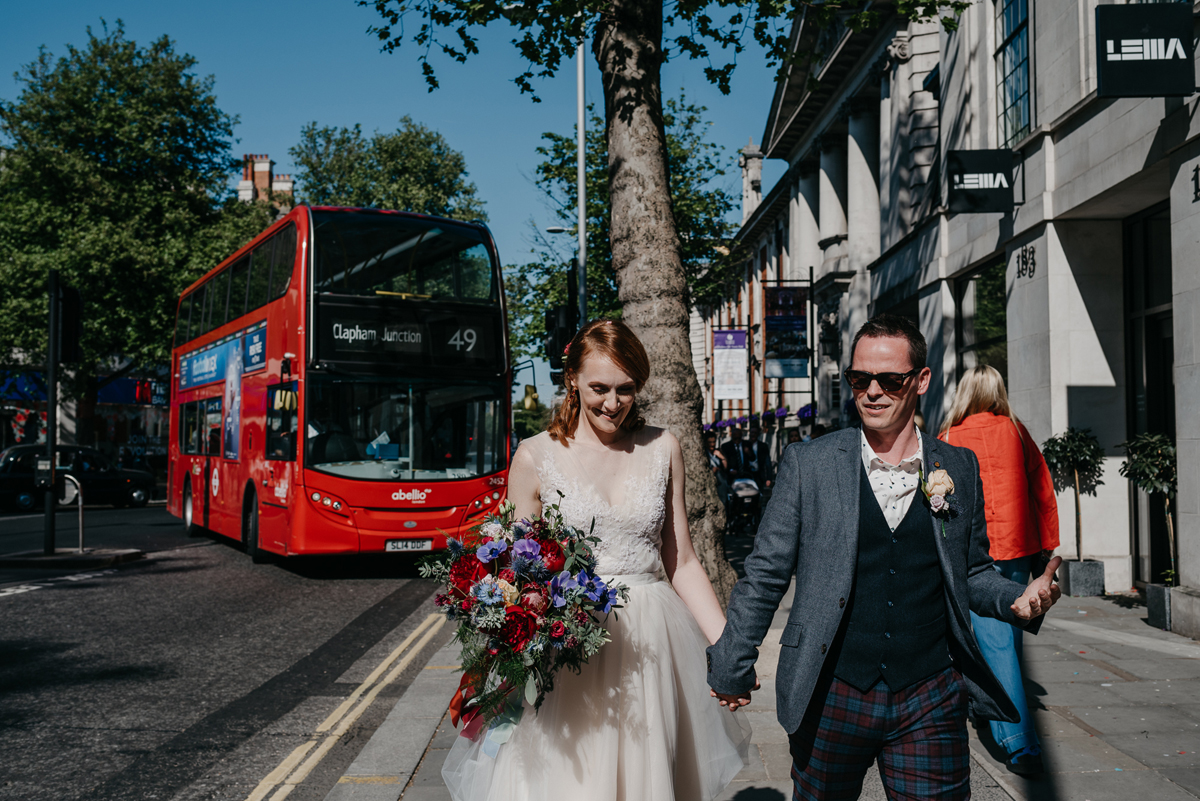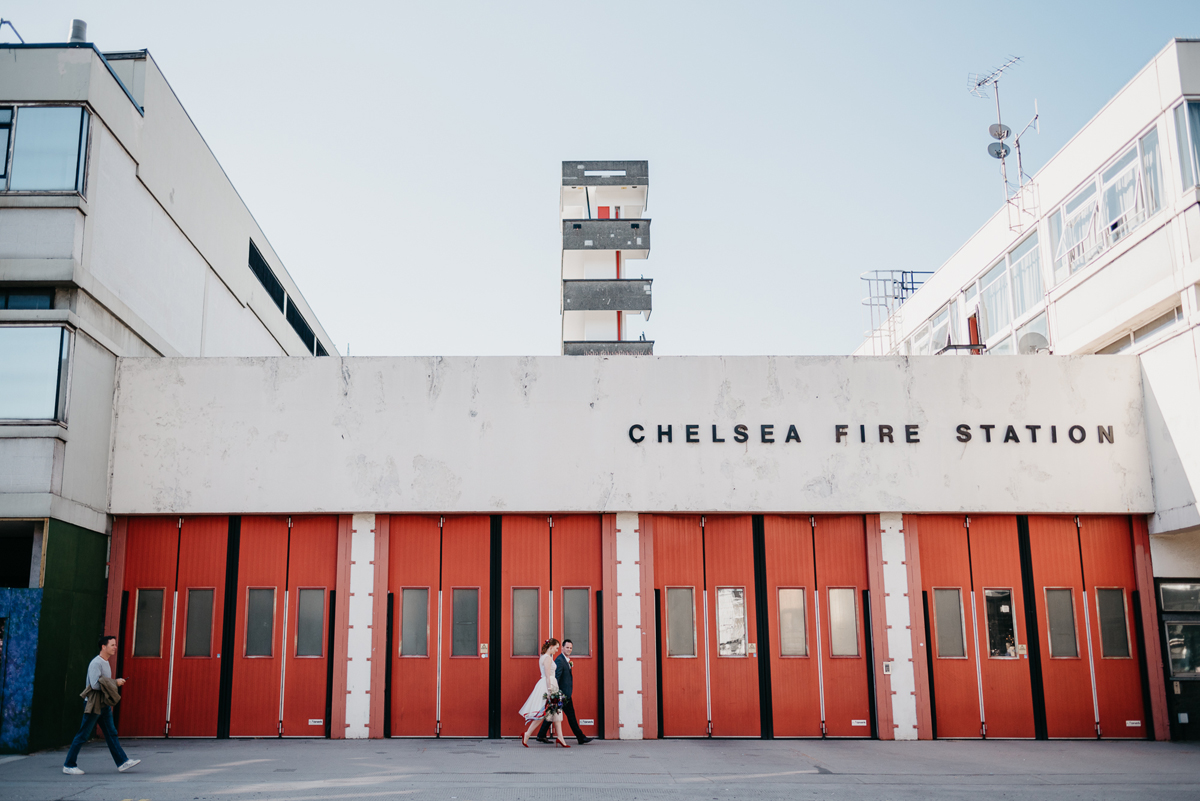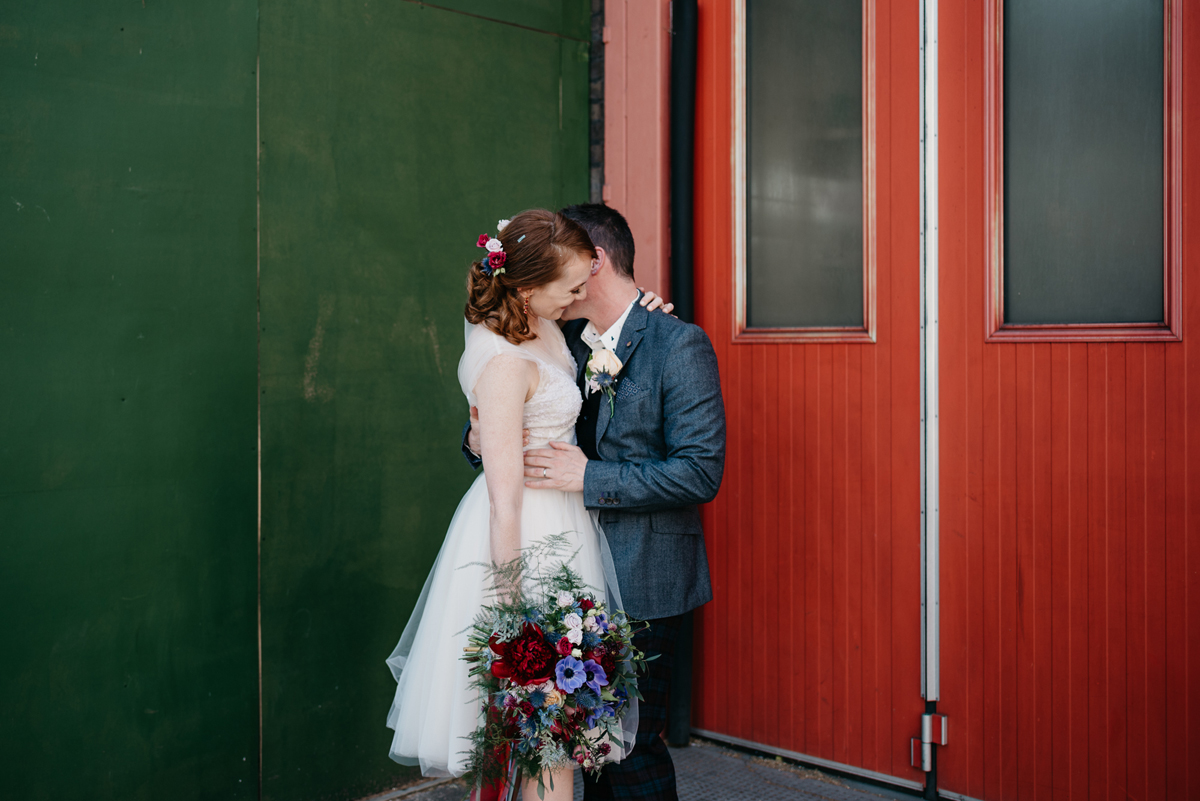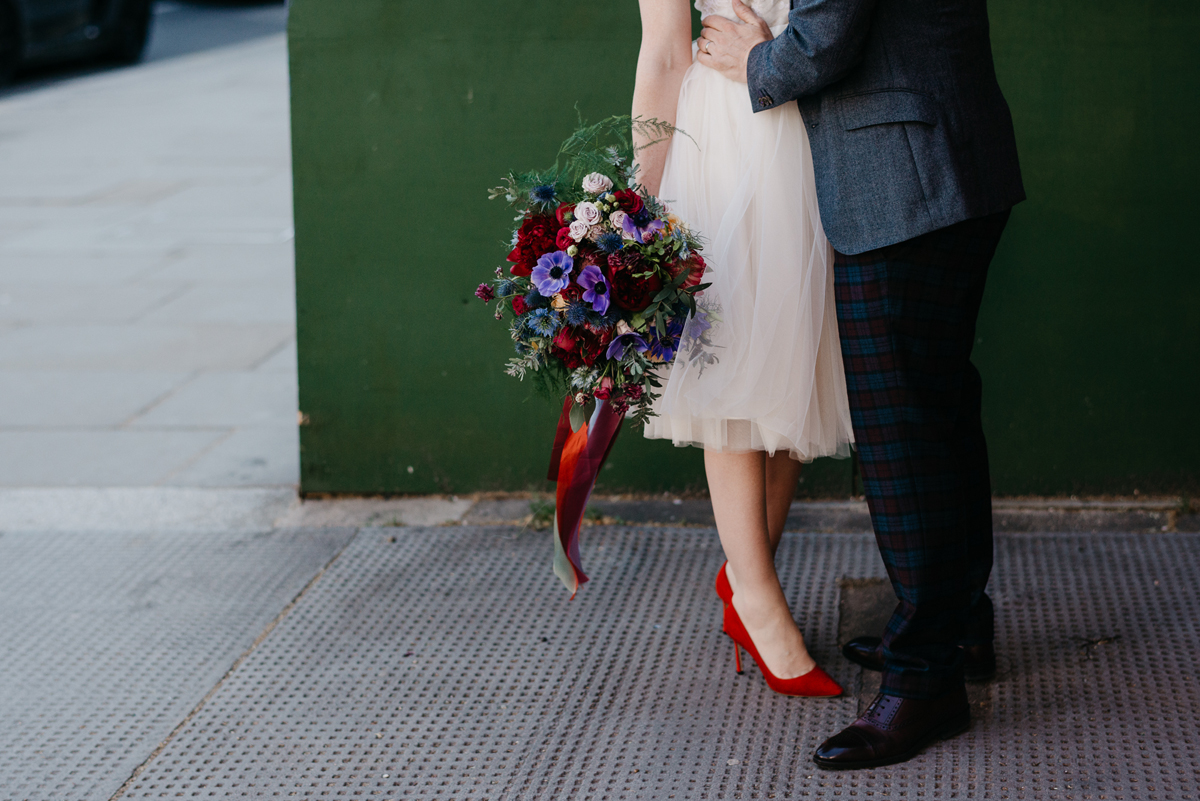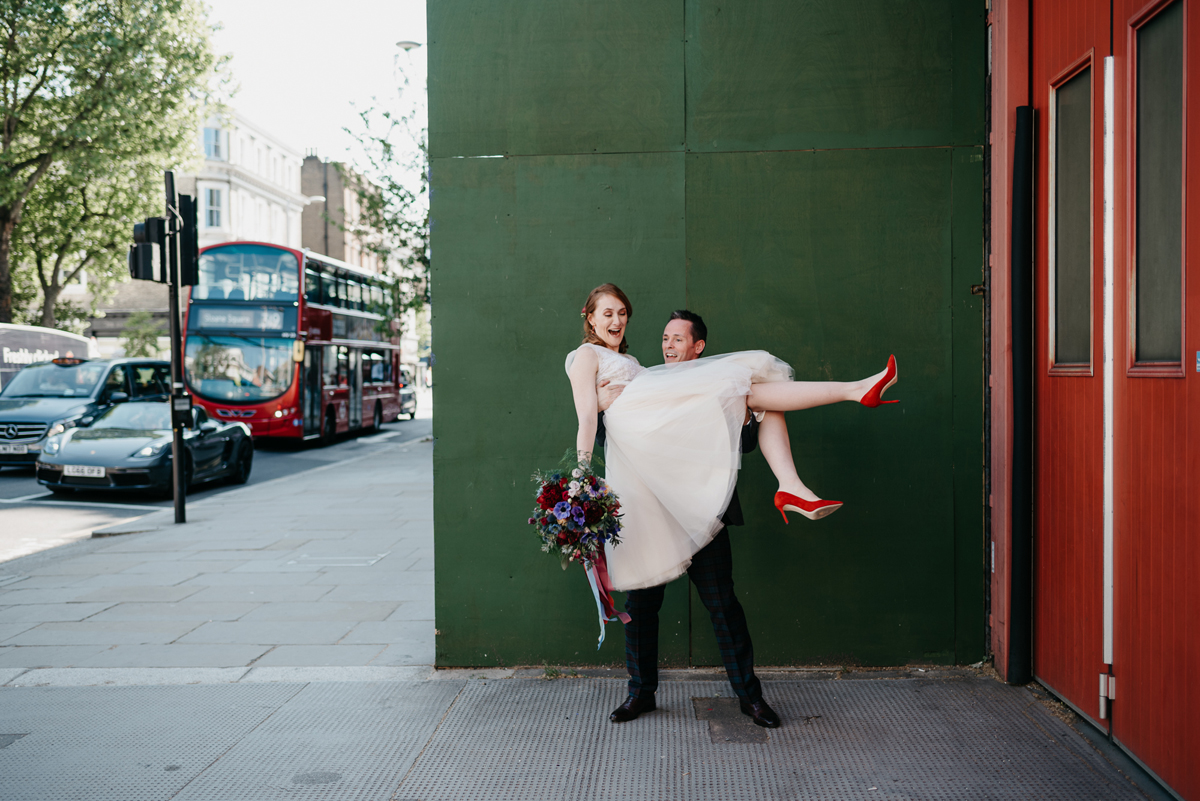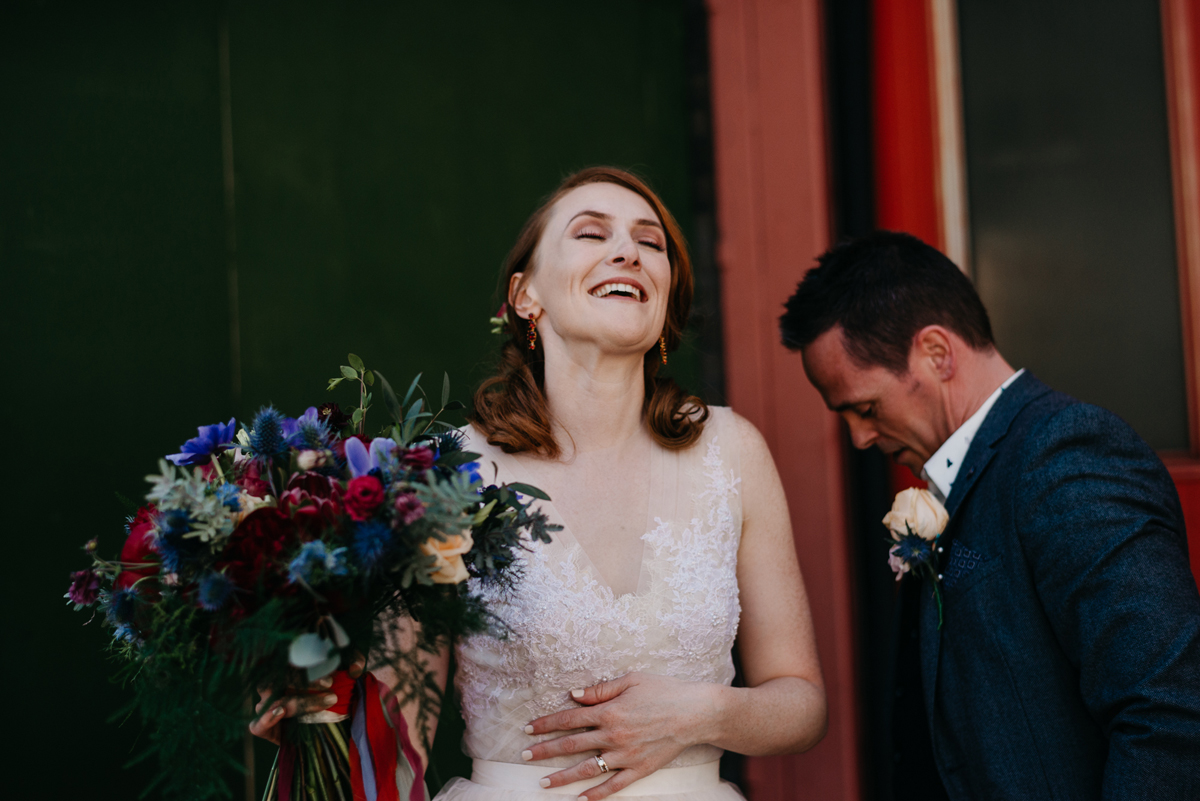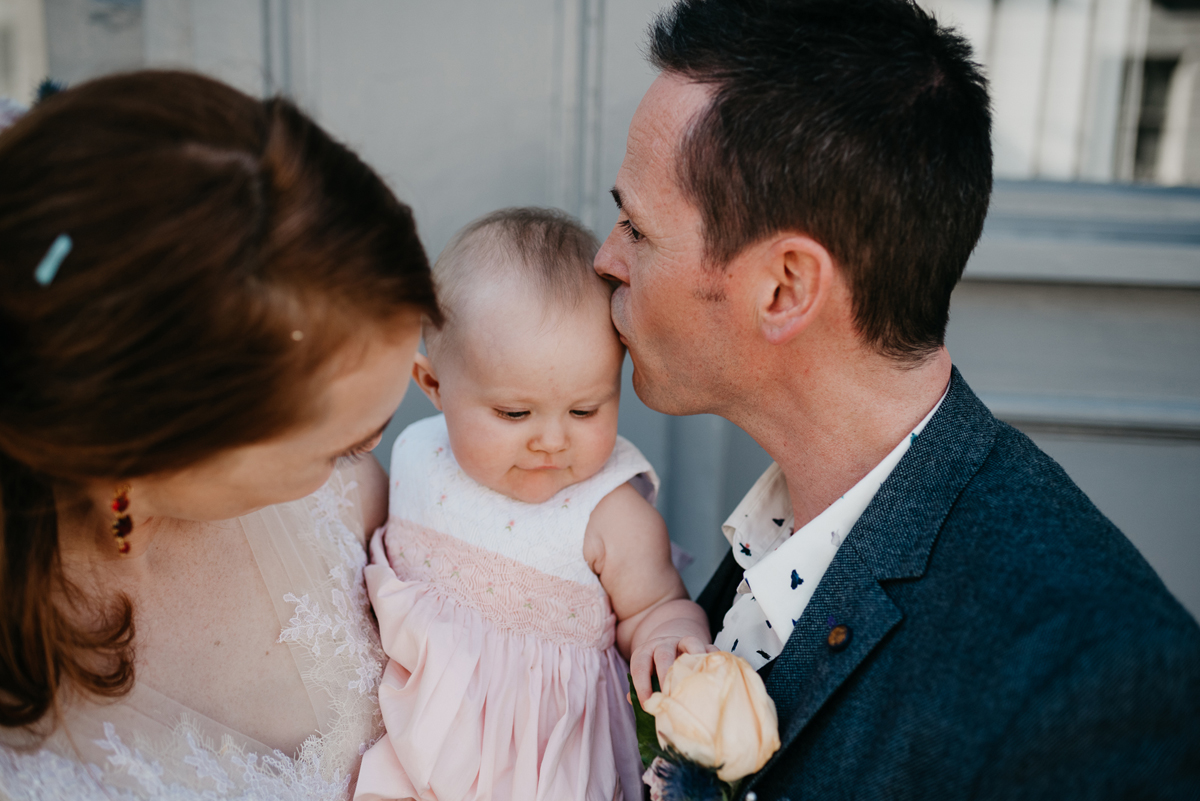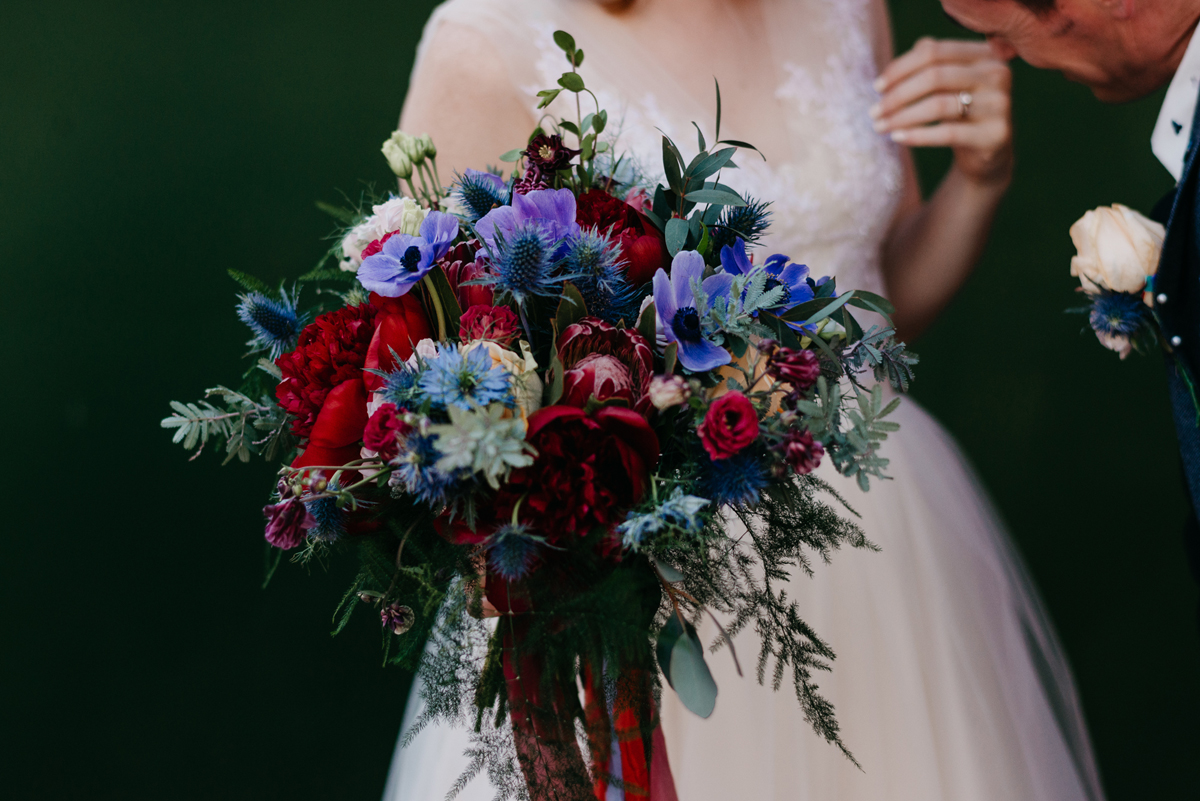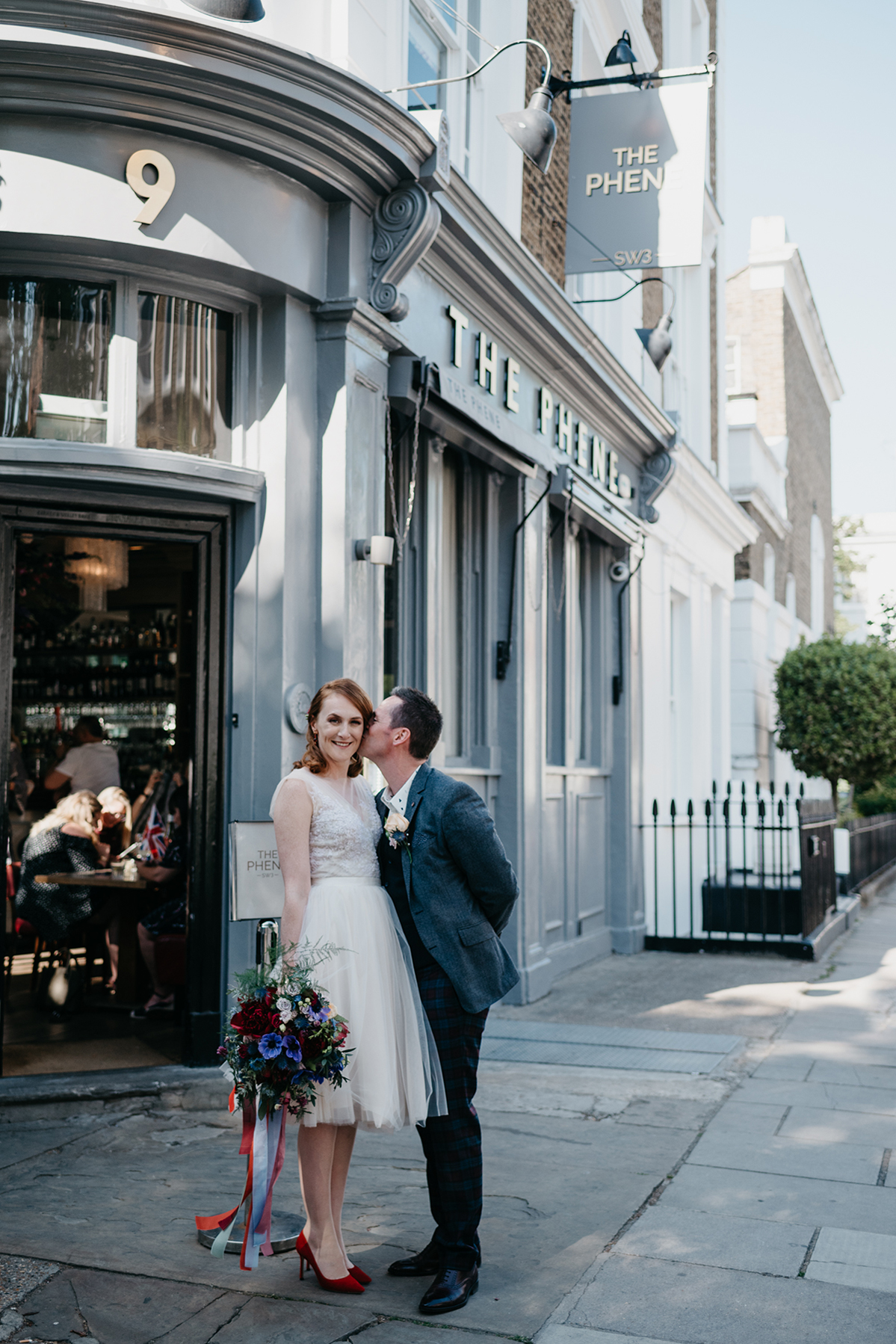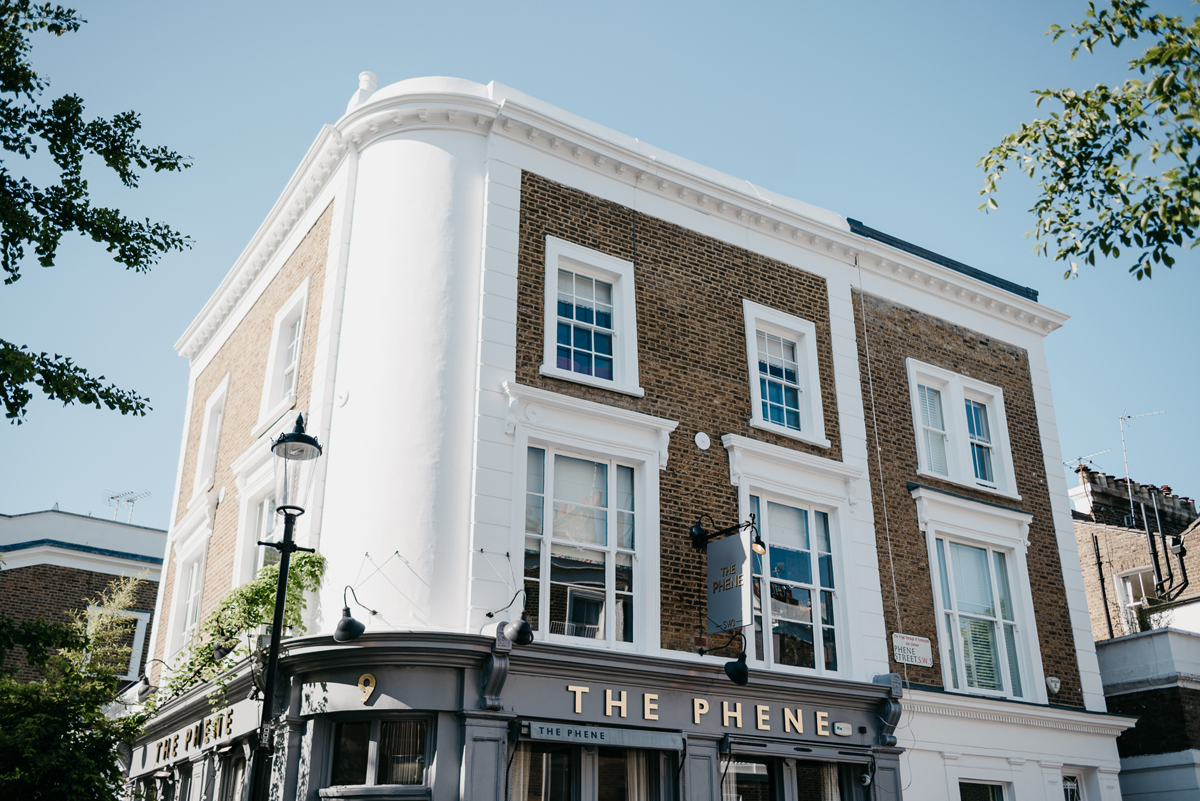 You might have noticed that Gina and Eddie shared their wedding day with a very Royal couple, and they  gave a nod to them in their choice of wedding favours.
"Because we were getting married on the same day as the Royal Wedding we thought it would be fun to make commemorative tea towels to match our wedding invitation for favours. They went down really well with guests."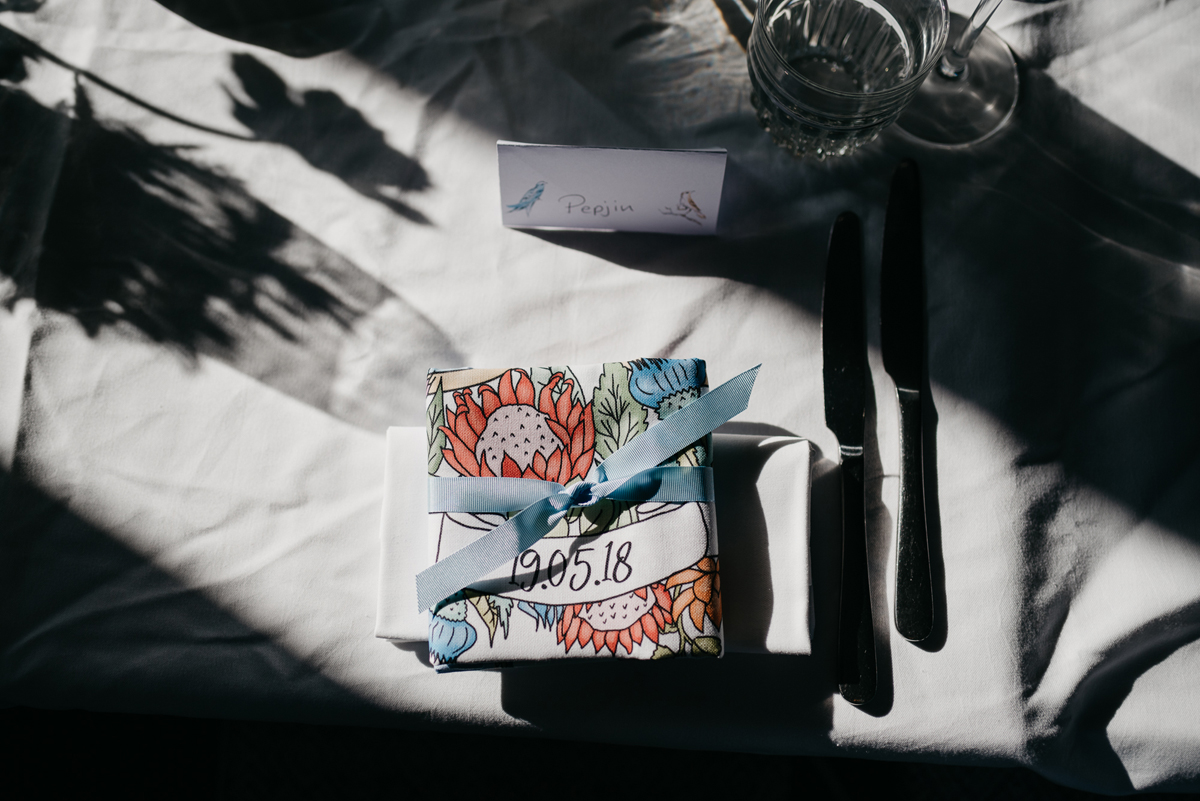 The pub's kitchen team supplied the luxurious banquet of food, whilst the magnificent cake of cheese and pork pie came from West Country Cheese Co, served with a variety of delicious chutneys.
"We're both big cheese lovers and so decided to have a cheese celebration cake instead of a traditional wedding cake which included a four kilogram pork pie as the bottom tier."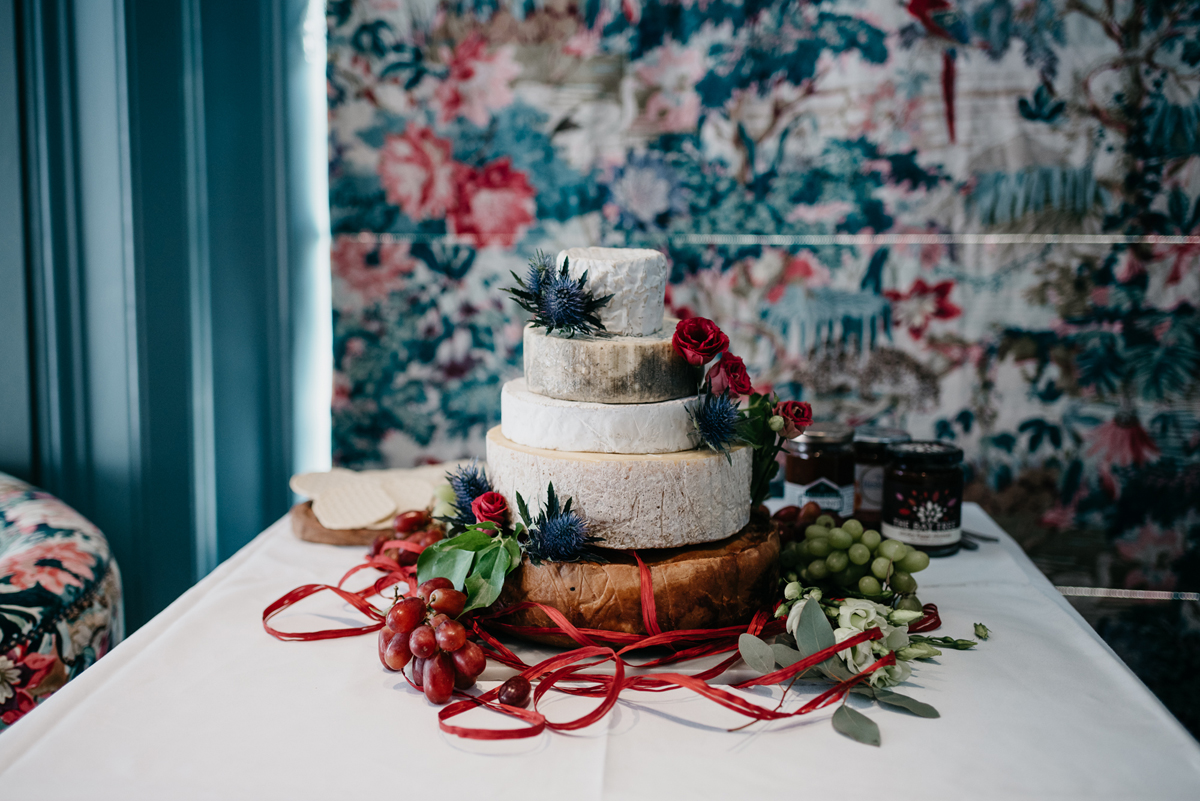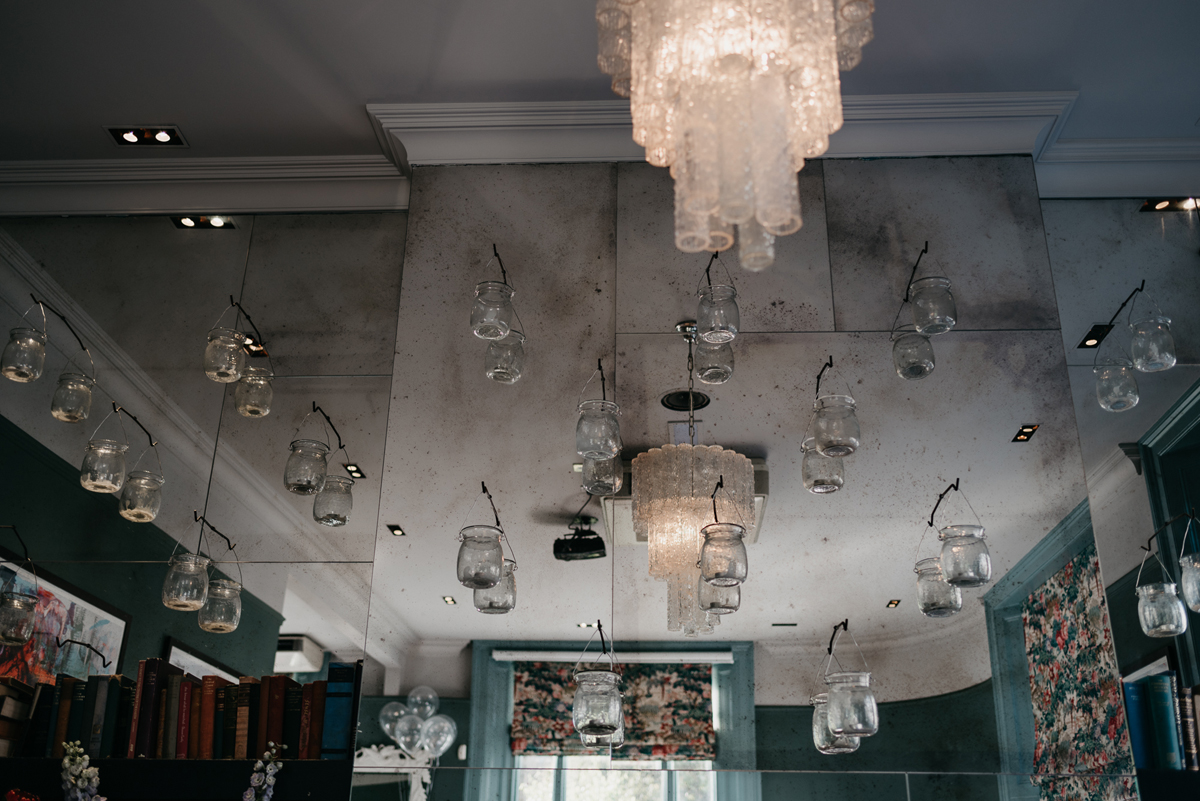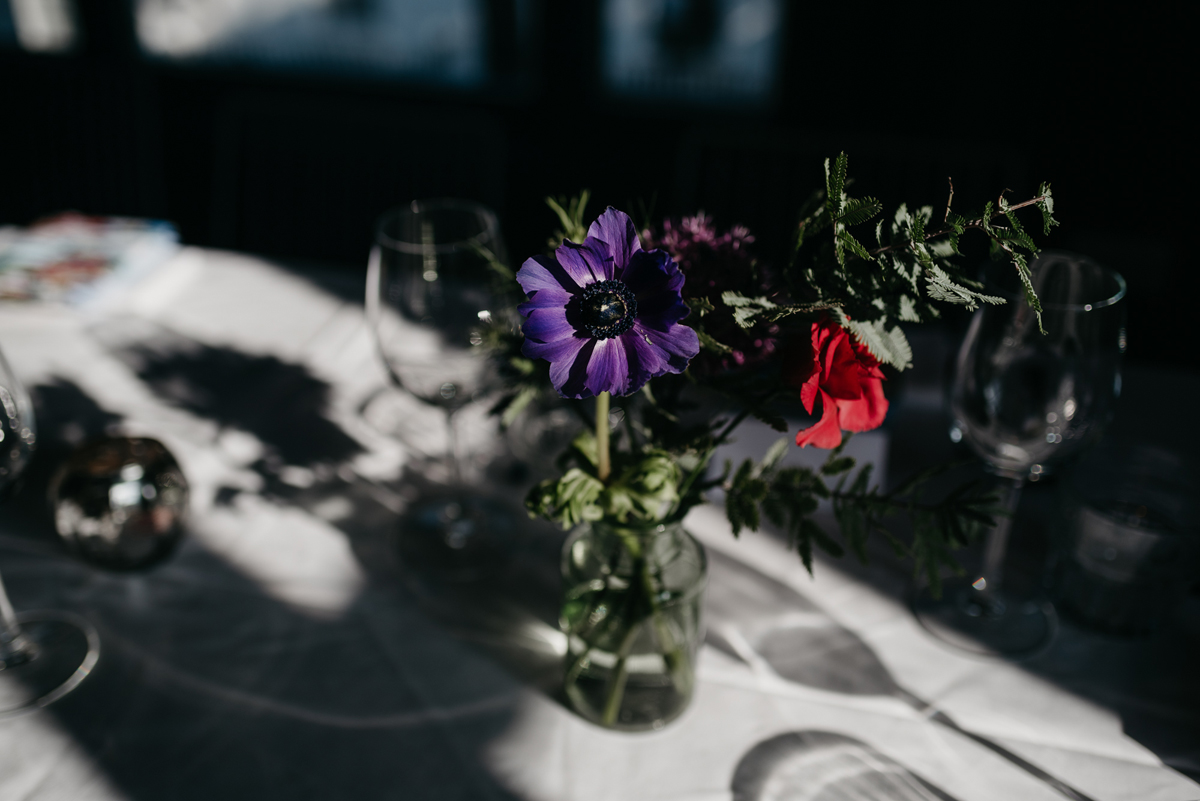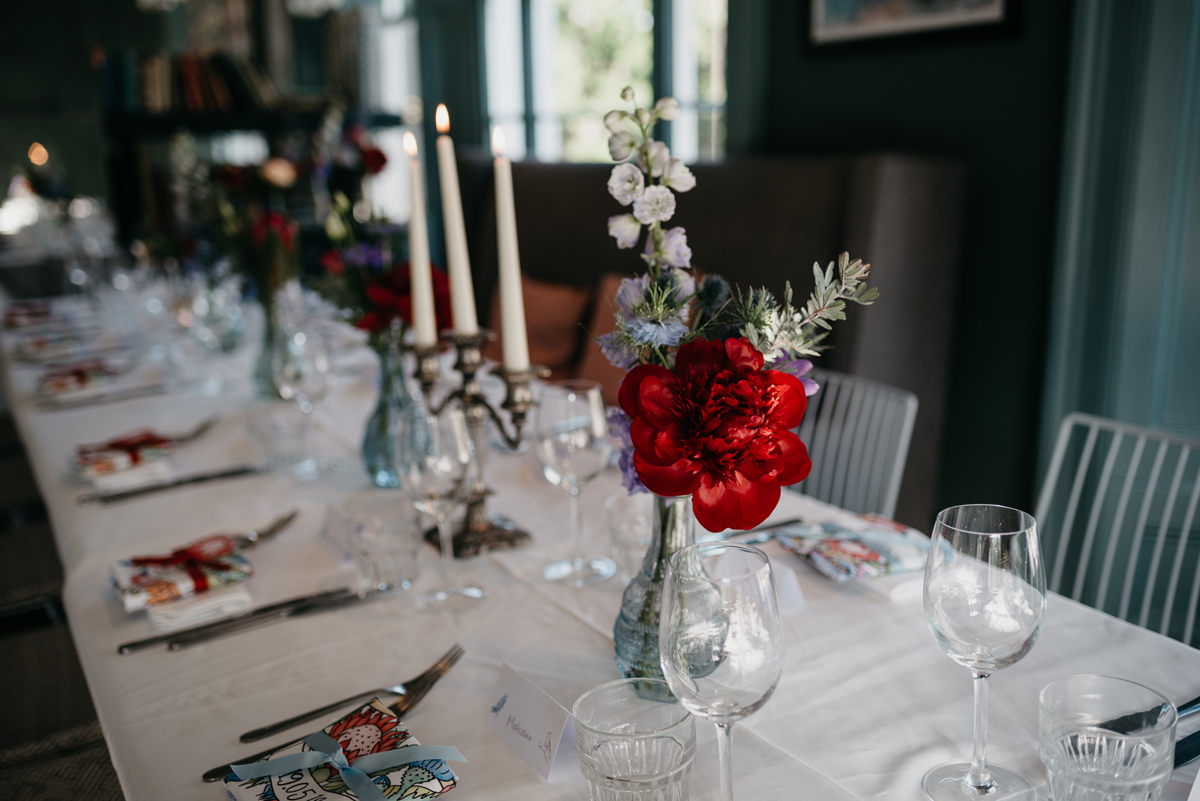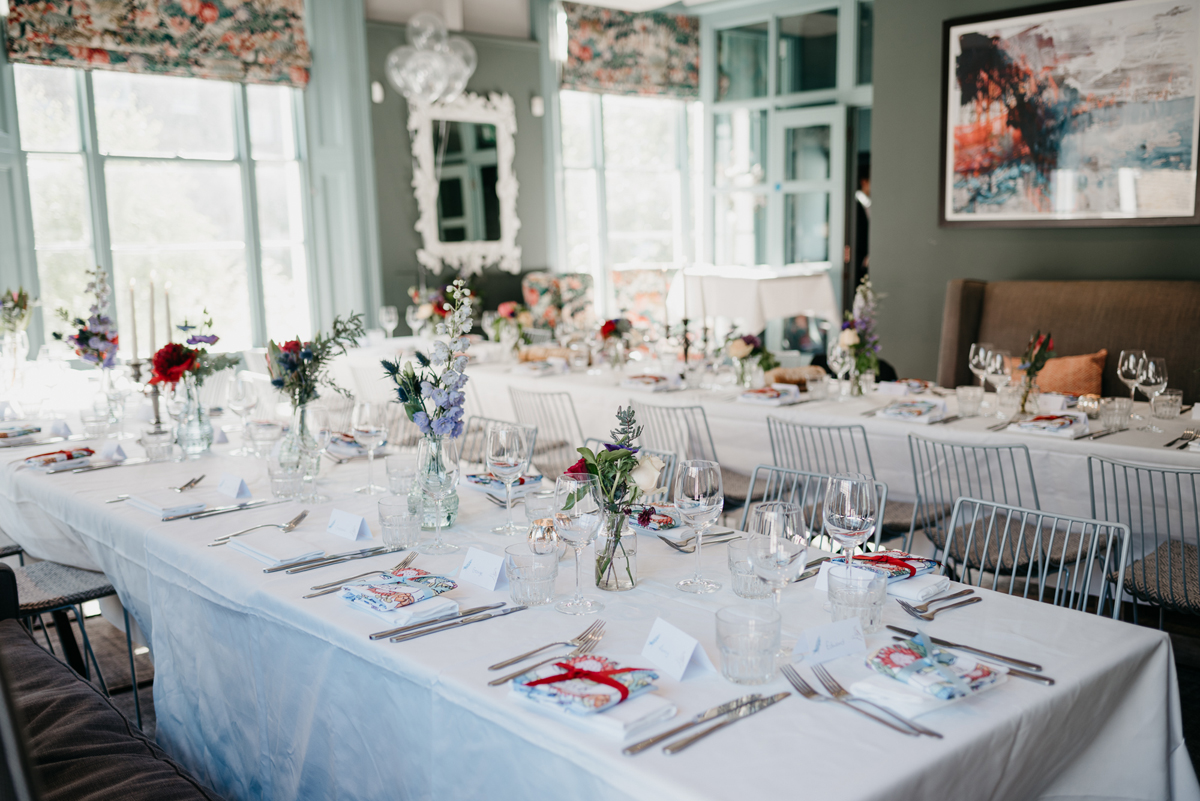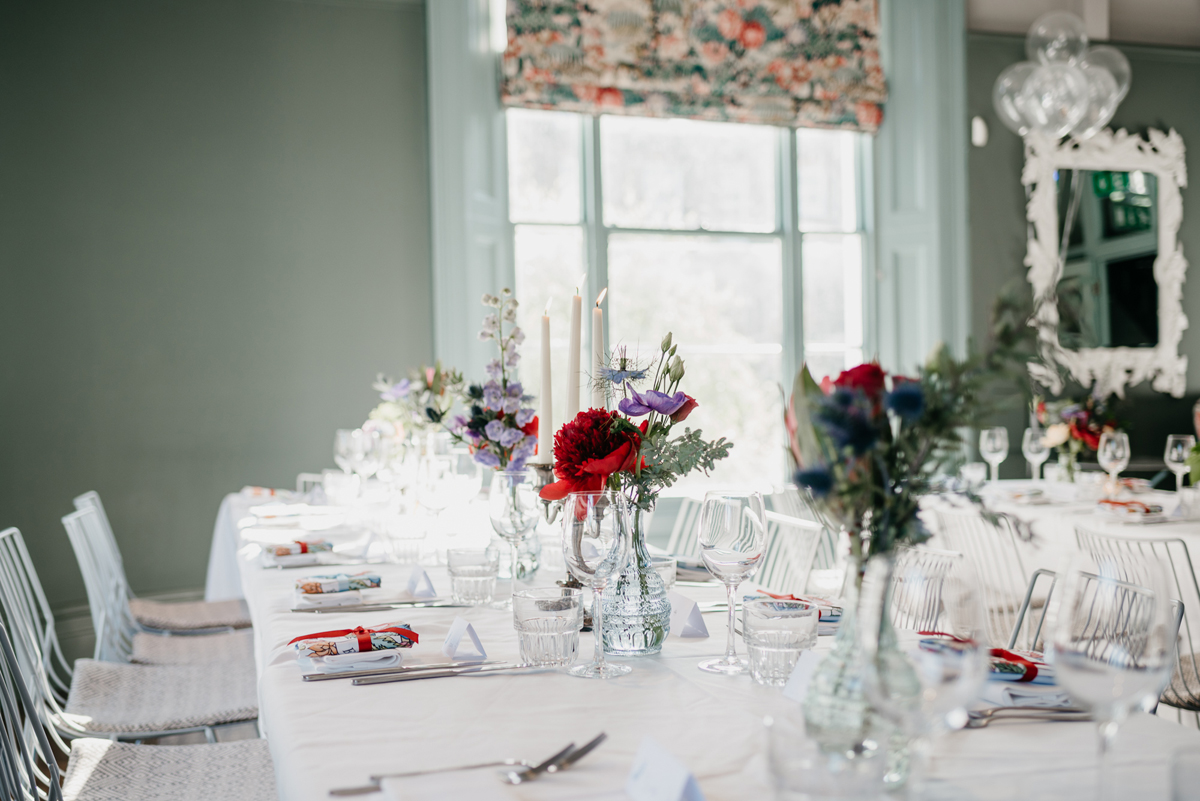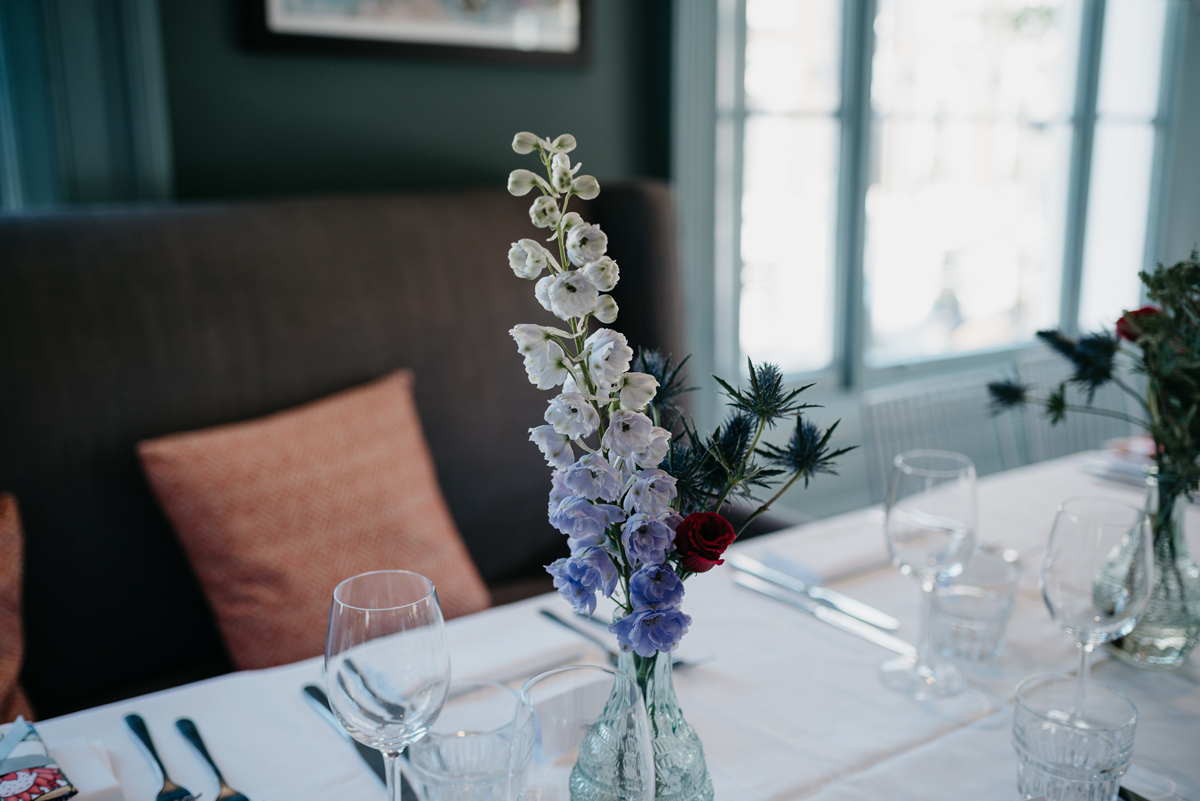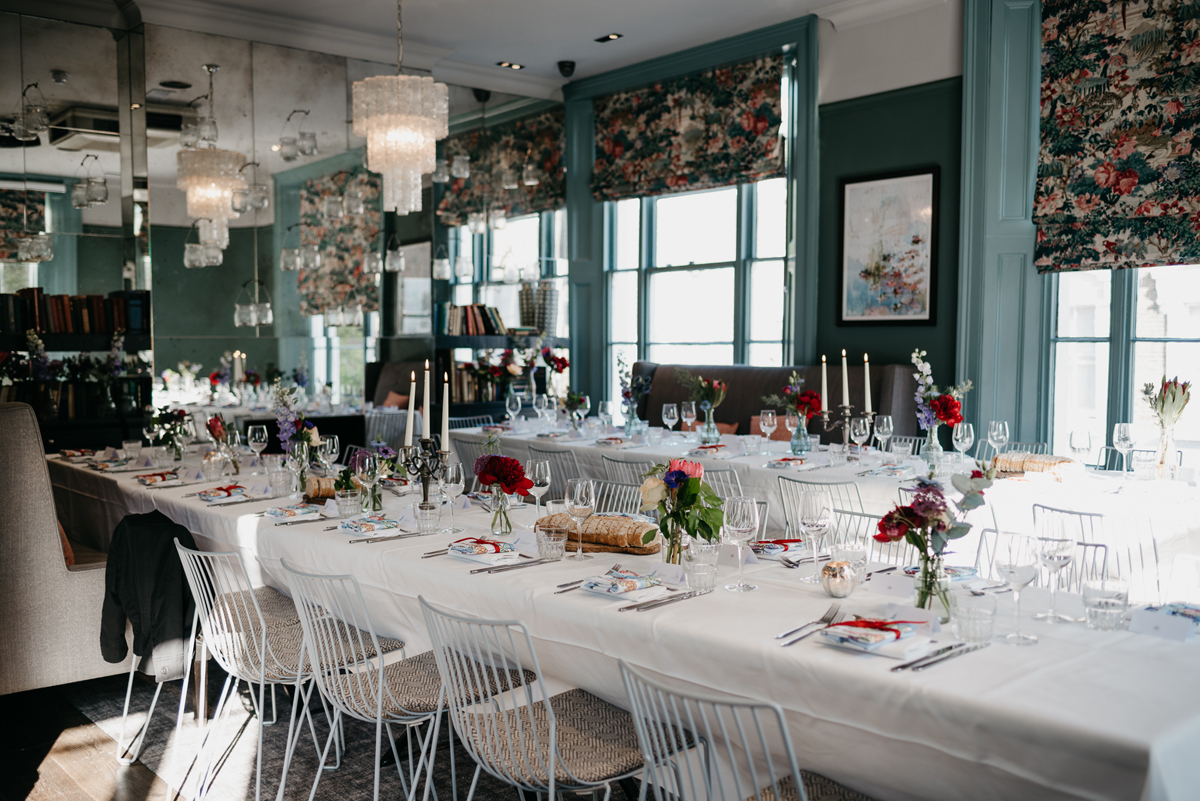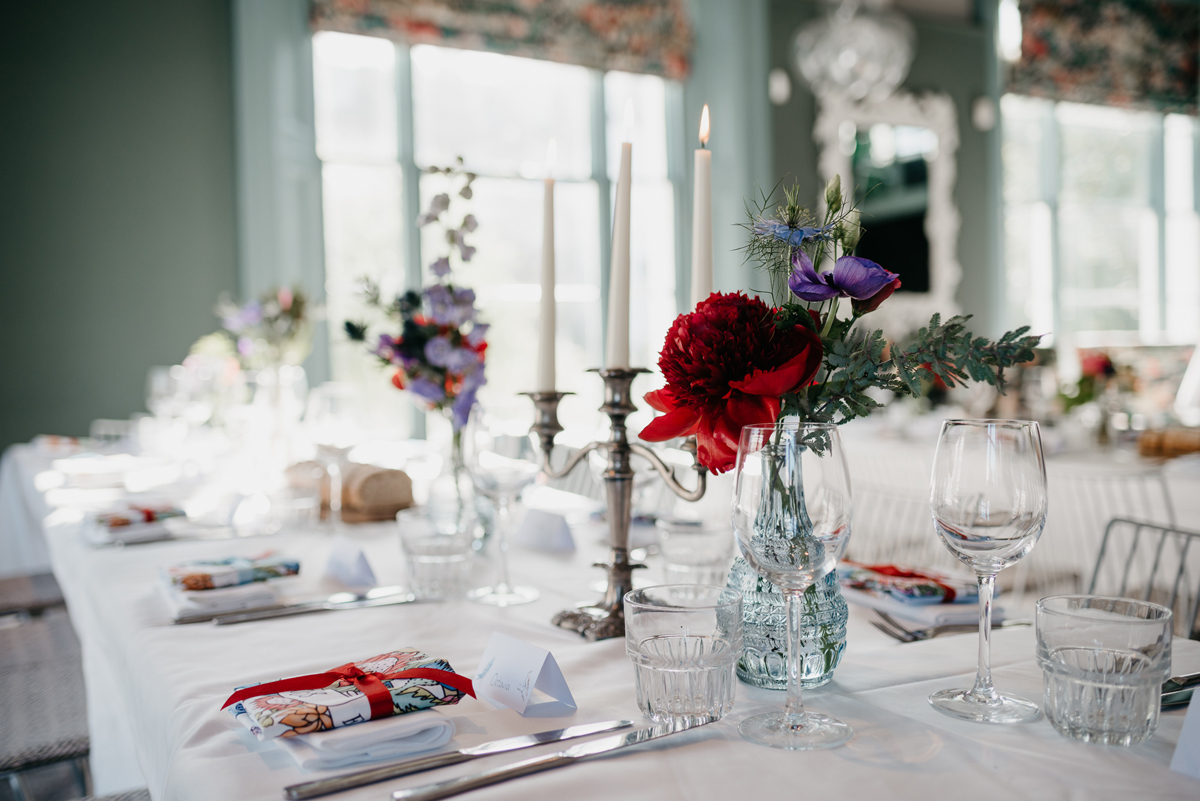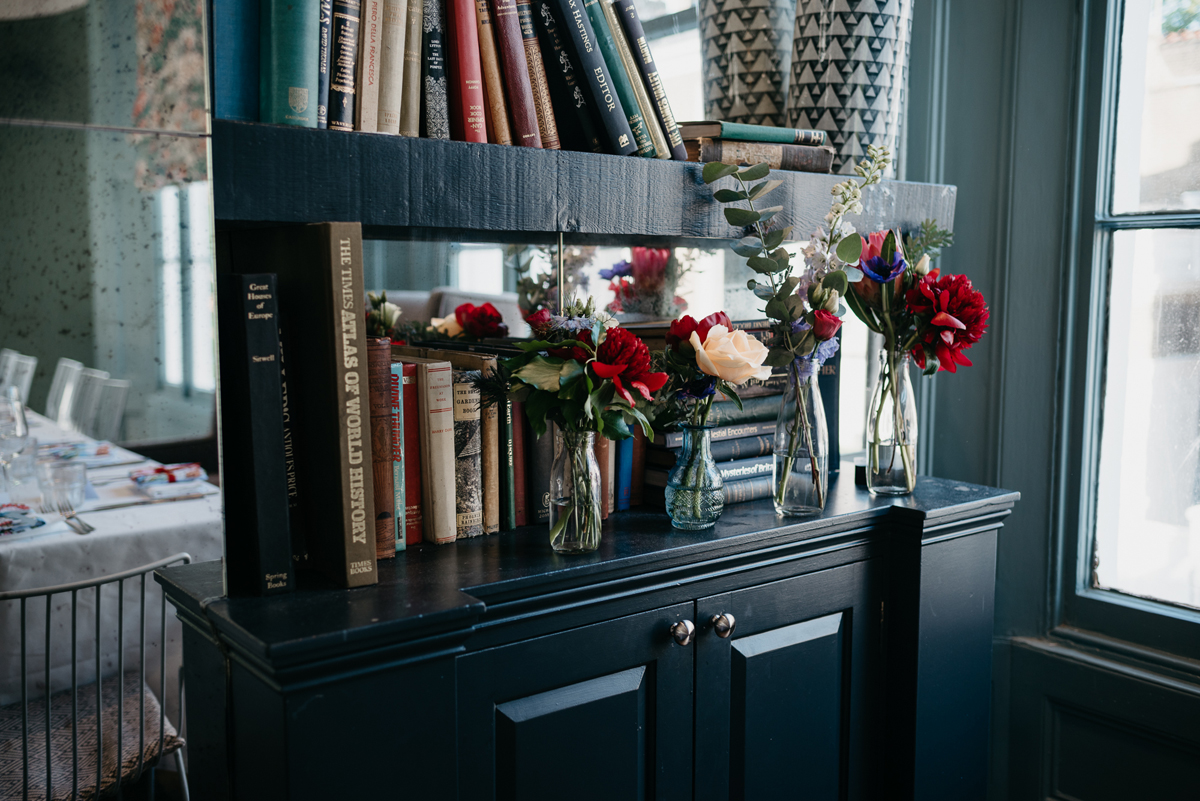 I'm so glad to see that the newly-weds were able to escape for a few minutes together, and take stock of the day.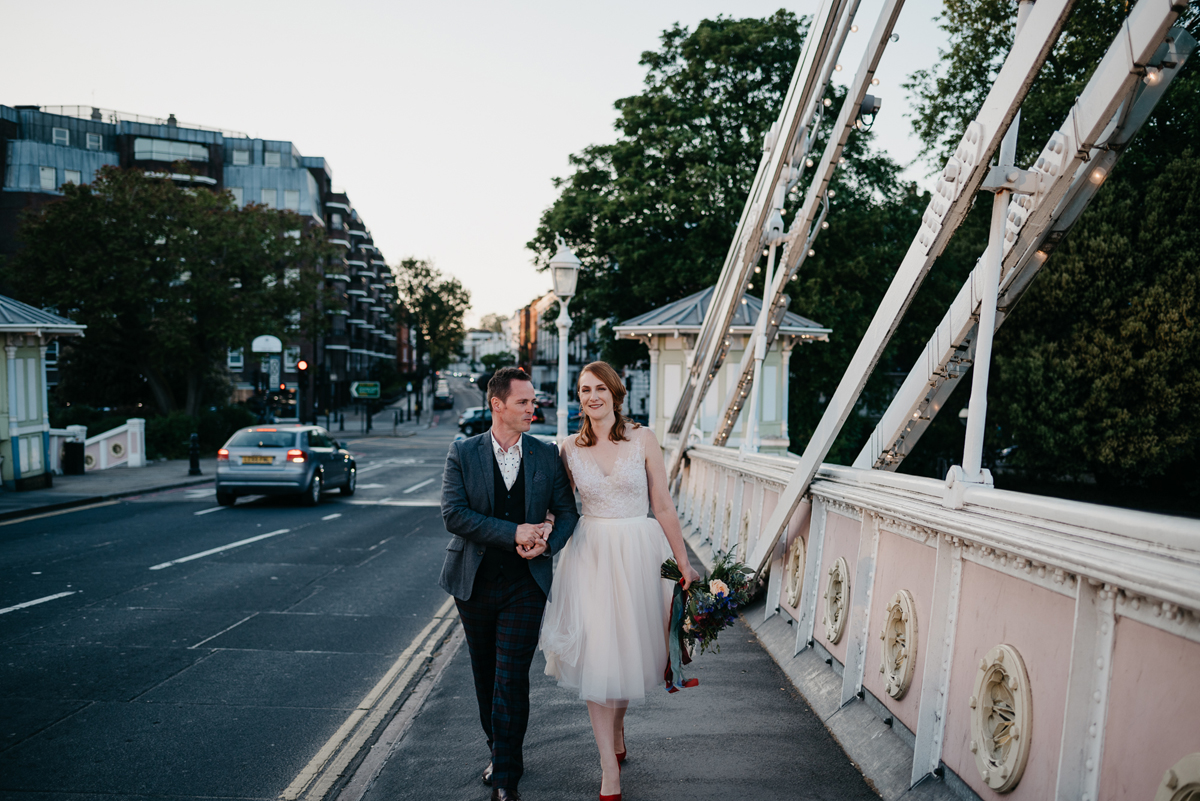 "My favourite part of the day was taking pictures at sunset on Albert Bridge. The setting was beautiful, and I am so grateful to live in London with the people who matter most to me."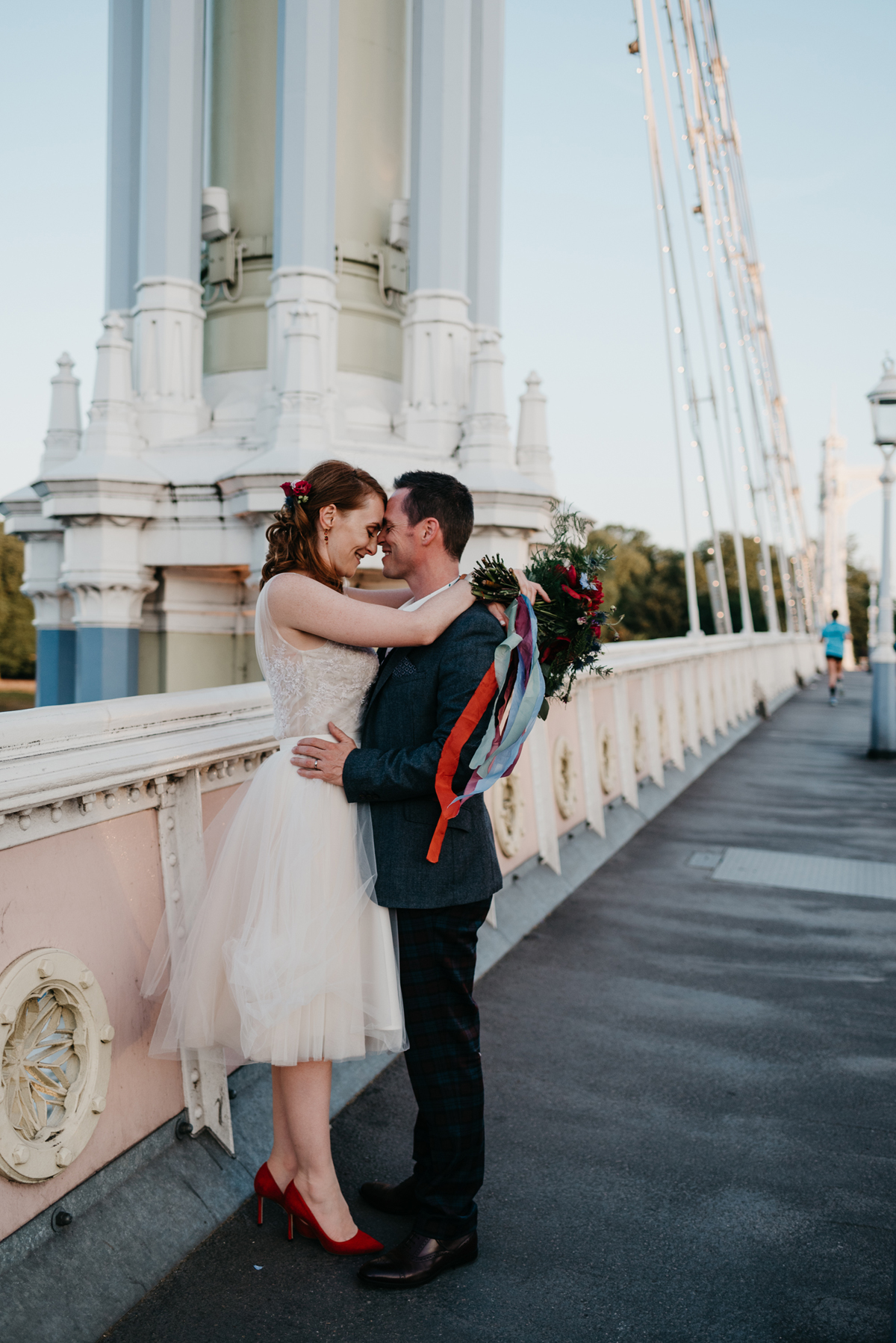 The couple had a small budget, but still created a beautiful day to enjoy with their loved-ones.
"We were hoping to do our wedding for £7k all in (rings, food, open bar, outfits, photography etc.) but as we got into the detail we realised we might want to splurge on a few more items so ended up spending £9k in total. We are really proud of what we managed to achieve on a small budget."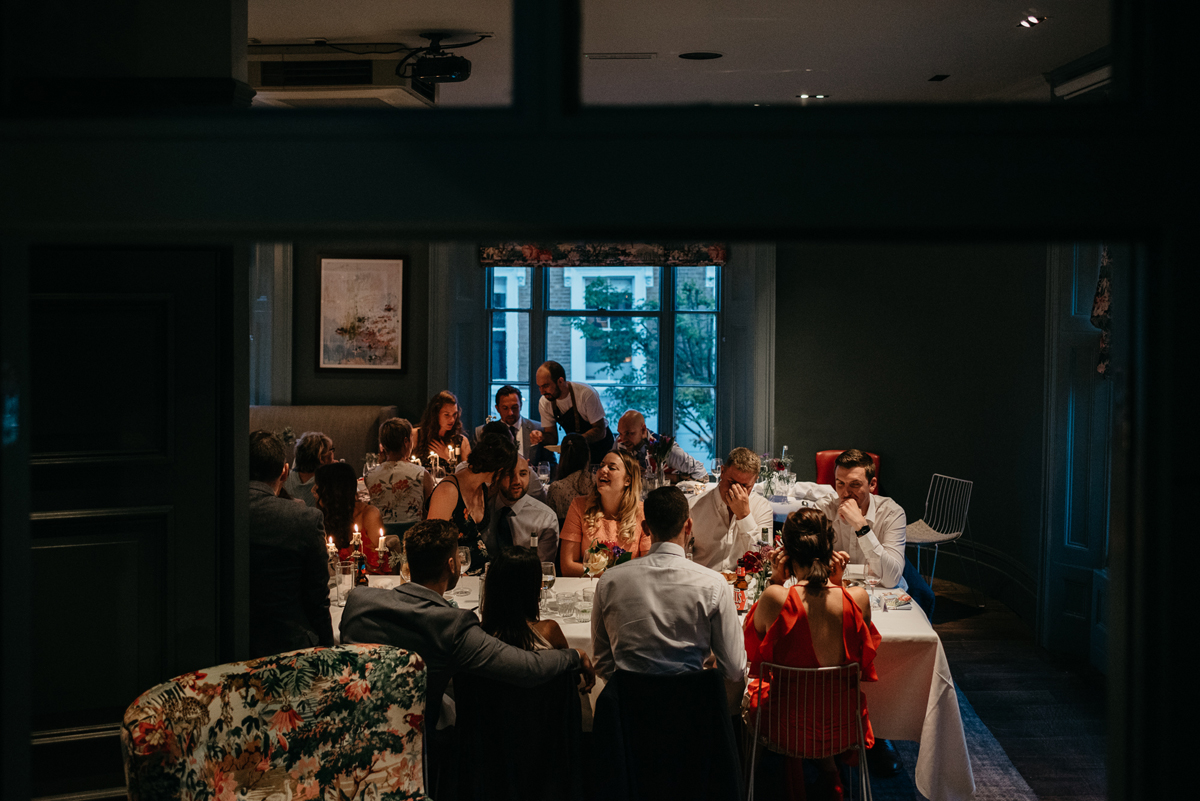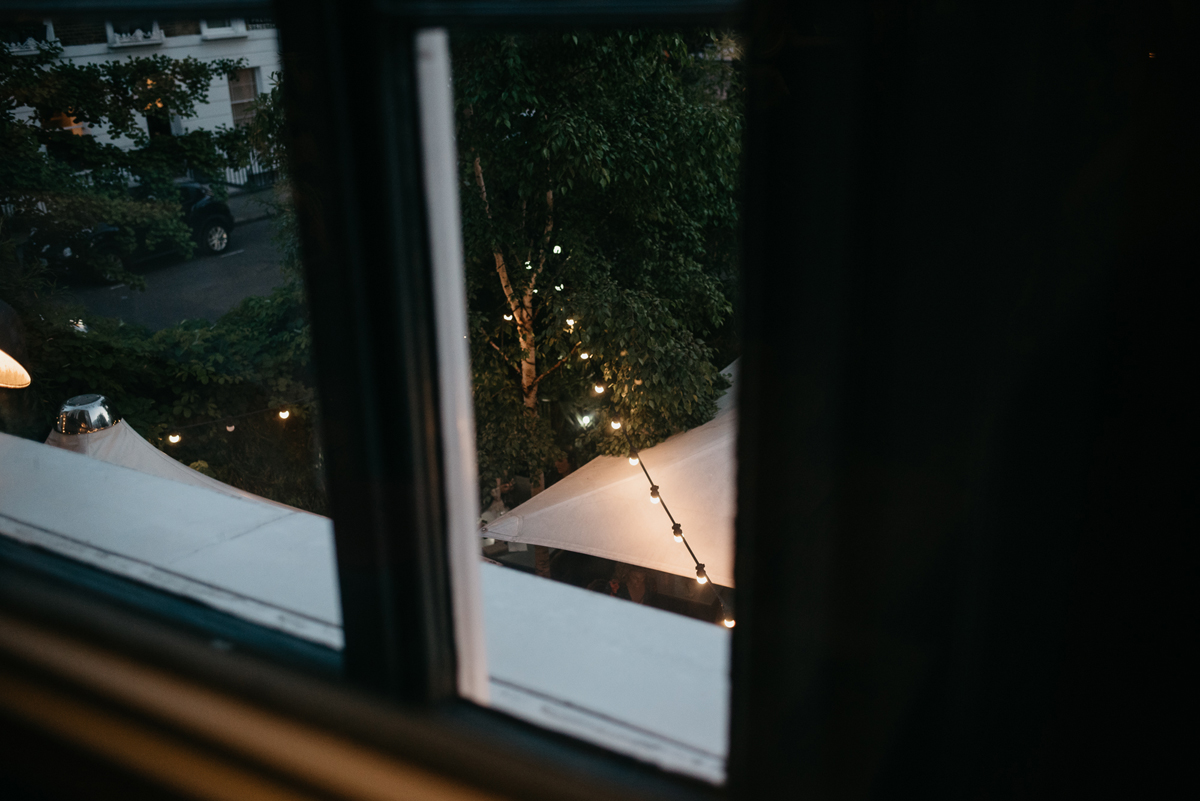 Words of Wedded Wisdom
"People may be flying in from far and wide. It's tempting to fill the days in the lead-up to your big day with too many activities involving a lot of hosting and entertaining."
"If you're not careful you could easily feel a bit burnt out by the busyness. Just remember it's about you or your little family unit and don't feel obliged to do too much."
"I might have liked to have the wedding with Isla being two years old instead of six months – it added quite a lot of stress to the experience, not to mention dark bags under my eyes."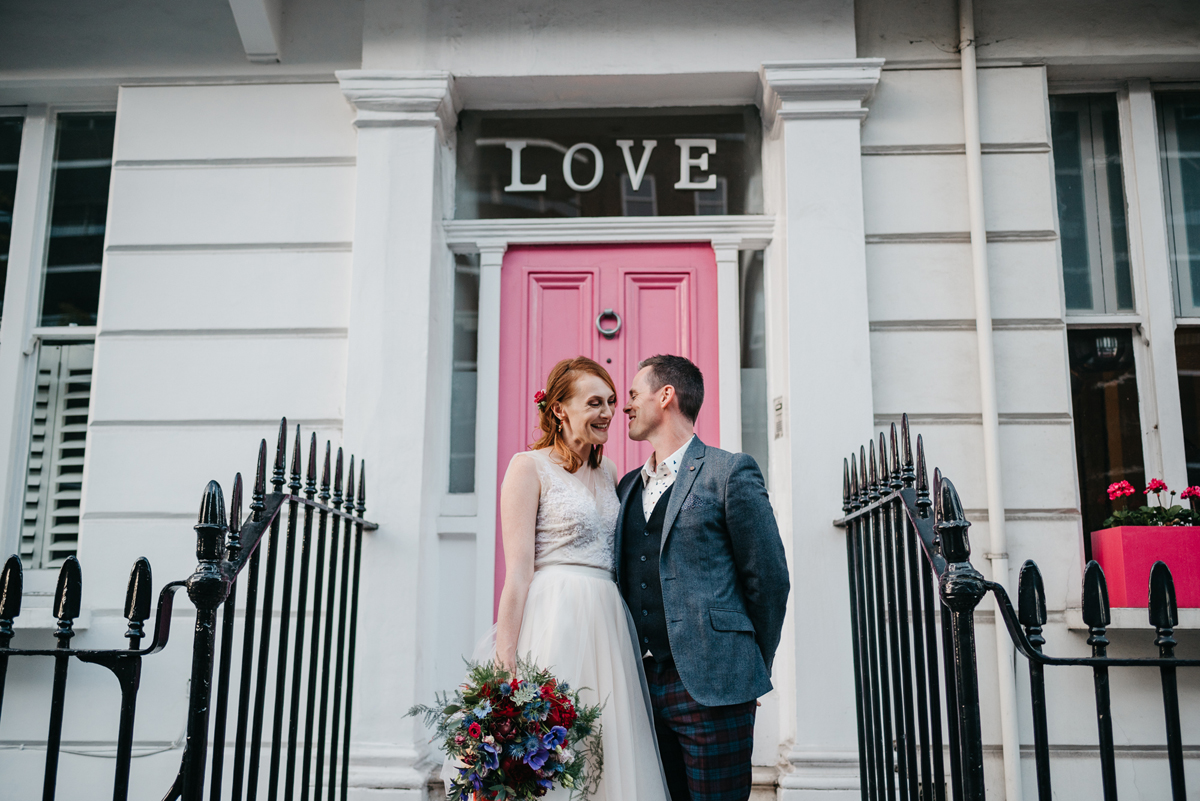 Thank you so much Elaine Williams Photography for letting us share these photographs today; it's always a real pleasure to feature you on Love My Dress. Please join me in sending love and congratulations to Gina and Eddie too; I hope you had a wonderful time with your guests. For more city wedding inspiration please be sure to head here.
Ele xx