It's a rainy Sunday afternoon as I write this – dull and damp as Storm Callum moves on.
Opening up this folder of light, crisp images has brought with it some much-needed brightness to this decidedly grey day – a wedding with brilliant personalised touches, and a couple who were guided by their mutual love of minimalism and clean lines, greenery, the fabulous Art Deco town hall where they married and the cool East London setting.
Meet Becci, a Consumer Insight Director and Jochem, who is an Architect. They were married on the 16 June 2018 in a joyful ceremony in the Committee Room at Hackney Town Hall, followed by a reception at Stour Space, a multi-purpose creative venue with a wonderful view of the Olympic Stadium.
Images by Katie Palmer Photography
In the end, she chose the gorgeous 'Sewell' gown by Rime Arodaky, which she purchased from The Mews Bridal in Notting Hill.
"I tried on a lot of dresses in a lot of different shops both in London and Northern Ireland, even going back several times to the same shops. It was harder than I thought it was going to be and I started to feel a bit disillusioned about the whole thing, which started to become much more 'bridal' than what I wanted. This was the last dress I tried on."
"The shape was perfect because I suit more high neck dresses and I wanted something with a simple shape at the top and to accentuate my waist and figure. Plus I loved the buttons down the front with the lace inset, so although I ended up going for something bridal, the bottom added that 'Je ne sais quoi', which takes this dress from lovely to stunning. It did end up much more than I had in mind for my budget but I absolutely love it!"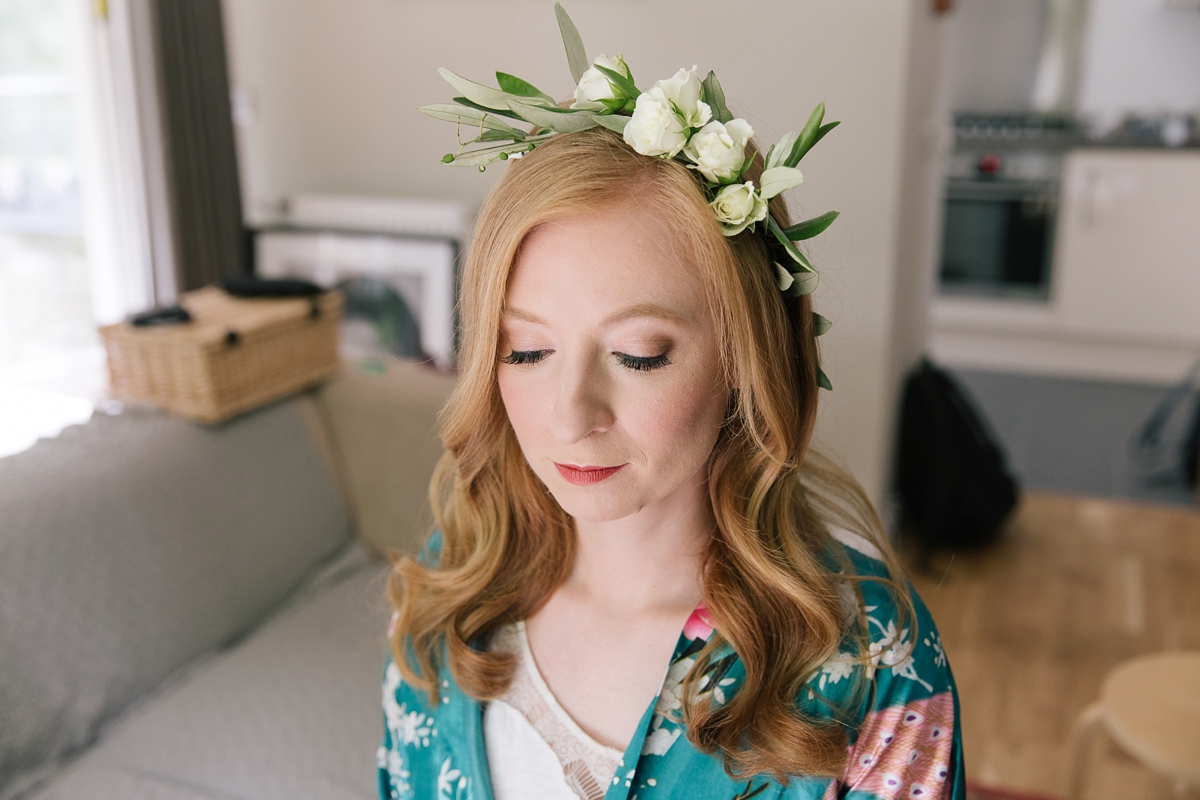 Konstantinos at Blow Ltd styled Becci's beautiful hair to perfection. Wearing her hair long and loose, she added a fresh flower garland of white roses and olive leaves, created by her florist.
"I found Sahar at the counter in Bobbi Brown in Selfridges. She did an impromptu trial for me one Saturday and I loved it. I found out she also did freelance so I booked her! They were both great on the day and helped make the morning very relaxed and fun."
For her gown, Becci felt she didn't want anything too 'bridal', and tried on a lot of different dresses in her search. She also used Love My Dress as a source of inspiration.
"It took me a while to decide on my dress so I used Love My Dress to look at dresses from designers which I had tried on. I also loved to read about the little touches others had done for their wedding, especially the ones in London. I searched a lot for East London weddings!"
[JP-VIDEO]
Becci wore her late grandmother's pearl earrings, which felt particularly special as she had been born in East London. Fragrance was Becci's everyday perfume, Jo Malone's Dark Amber and Ginger Lily. On her feet she wore a pair of towering gold platform sandals from Karen Millen.
"[They] were very, very high! Jochem is 6ft 10 and I am 5ft 2 (and a half) so I needed all the help I could get! They were platforms so were actually fairly comfortable but I couldn't walk long distances. I brought a change for dancing later on though!"
"We didn't have bridesmaids but my sister who was 'Chief person', my mum and my friend Léa were 'my team'. I couldn't have done it all without their help! We also didn't dictate what people should wear, we wanted everyone to be comfortable."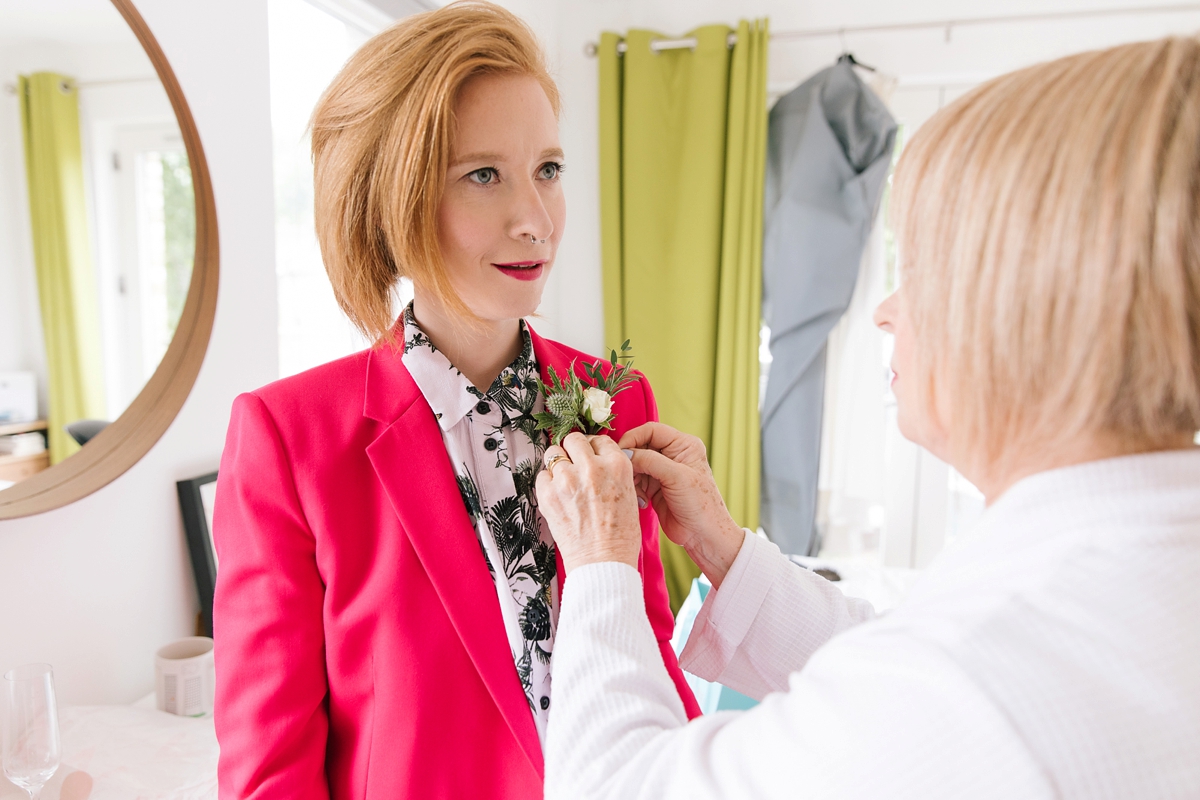 Becci's hair decoration, the buttonholes and her bouquet were all by Phil Perry at Rebel Rebel. I adore the peachy tones in Becci's wild bouquet together with the mix of meadow-fresh textures.
"I follow them on Instagram and loved the look and feel of a lot of the bouquets they have done in the past so it fitted with our style."
"It was also fairly relaxed because we only needed one bouquet, two buttonholes and my head-piece and there was no minimum spend, which I had found with some other places I had contacted. The studio was also within walking distance from our flat so made it easy to call in. I was really pleased with my bouquet and a lot of people have commented on how much they liked it."
"I am from Belfast and Jochem is from the Netherlands so we wanted to have Northern Irish and Dutch influences… We knew we wanted to have succulents as part of the decoration quite early on and have lots of greenery in the space. We were guided by… a desire to keep things as simple and unfussy as possible."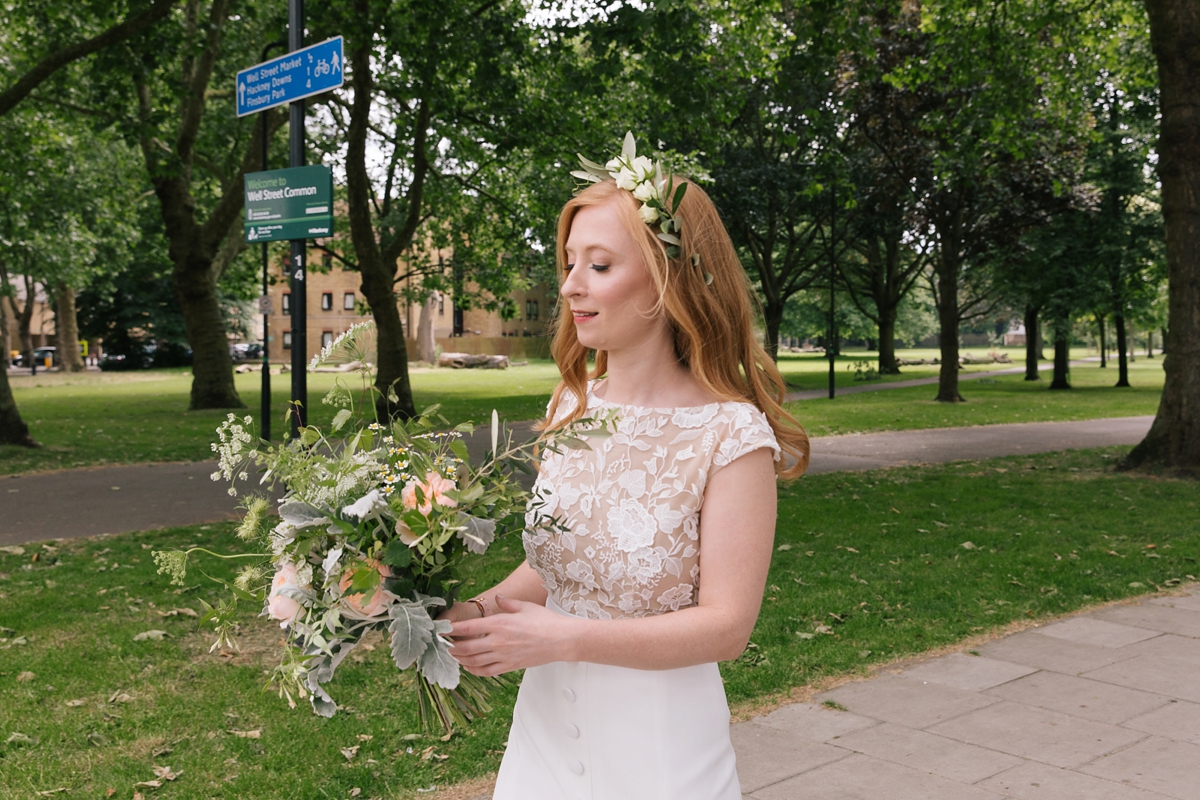 "We wanted a party with our favourite people and we wanted the space to be inviting and warm, relaxed and comfortable, whilst still being stylish and pretty. Succulents are hardy, white linen is simple, and personal design by Jochem and friends gave the space some fun and colour. The personal nods to where we are from and aspects of our personalities brought it all to life."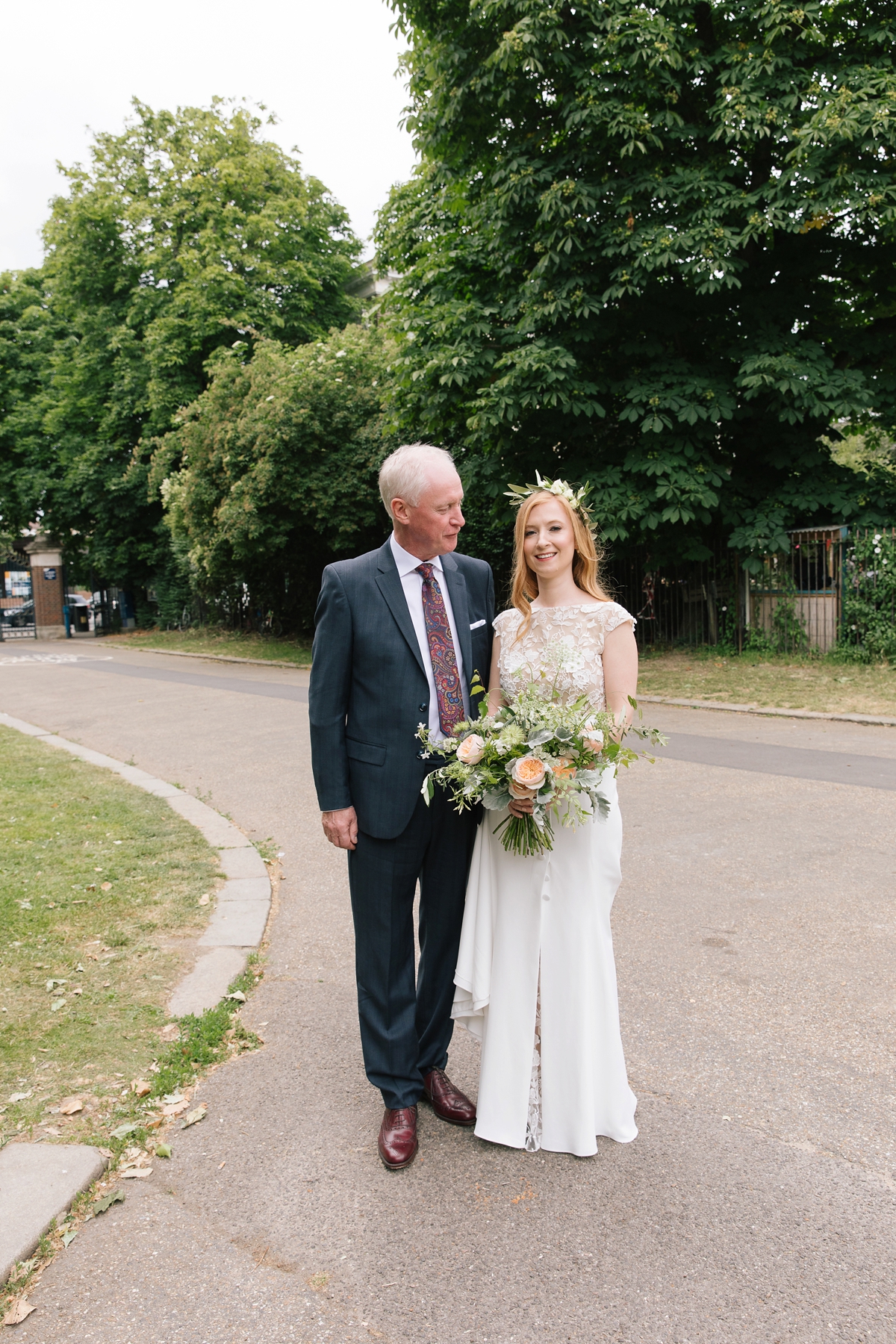 Before their wedding ceremony, the couple had a sweet 'first look', and they walked down the aisle together following both their parents.
"I had thought about whether or not to keep my dress a surprise for Jochem. My dad said I should because he loved seeing my mum in her dress for the first time on their wedding day. As we had decided to walk into the ceremony together we decided Jochem would go to the pub with my dad and brother whilst I finished getting ready."
"My dad met me at the gate of Victoria Park where we live, and walked me to where Jochem was waiting for the 'first look'. It was really sweet to see Jochem standing with his back to me waiting to see me. Katie our photographer helped orchestrate all of this and captured it all perfectly!"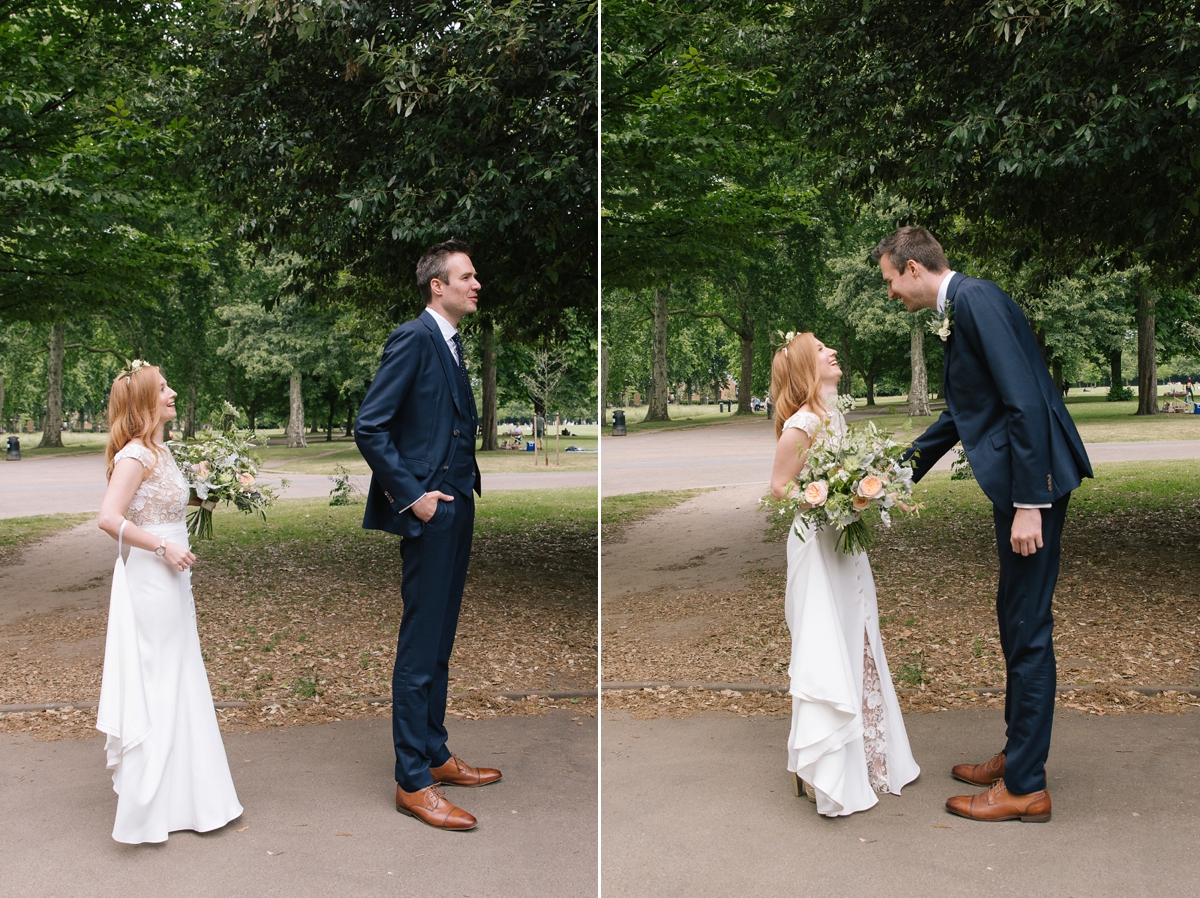 Jochem chose the made-to-measure service from Suit Supply on Vigo Street in London, and opted for a blue three-piece suit with a white shirt and polka dot tie, also from Suit Supply. Jochem also wore bee cufflinks from T.M. Lewin – a lovely touch as Becci's nickname is Bee!
"We didn't have a best man or groomsmen but instead had our family and friends help out with different parts of the day and take on different roles."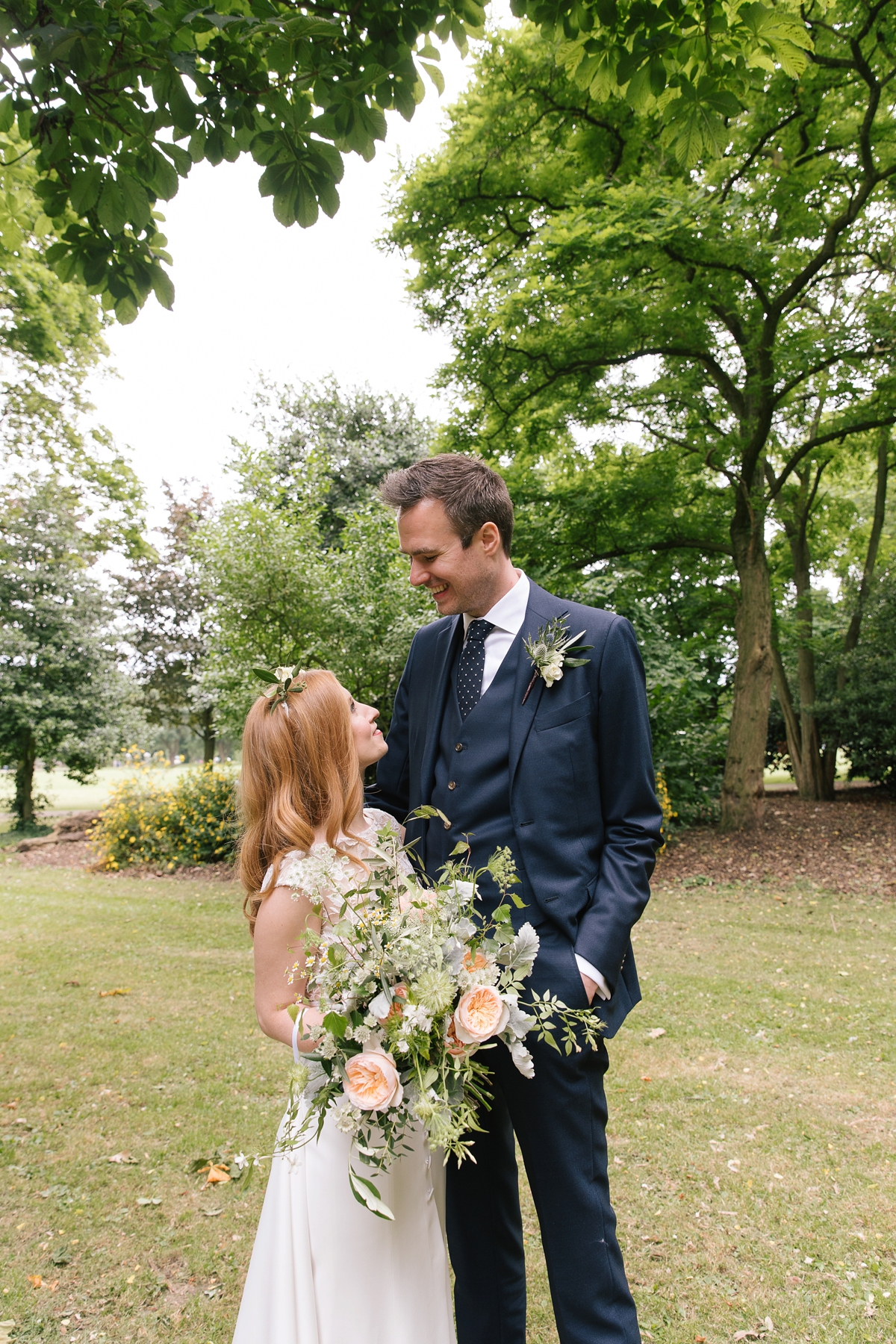 "We met when we were both living in Helsinki, Finland in 2008 on our Erasmus year abroad. We lived in the block of flats opposite each other and things started out as a friendship, fuelled by Finlandia vodka nights. After we left Helsinki, we both went back to university in separate countries but met up every new year with a group of our friends from Erasmus. After new year in the Alps we started talking on Skype every day and realised we wanted to be together."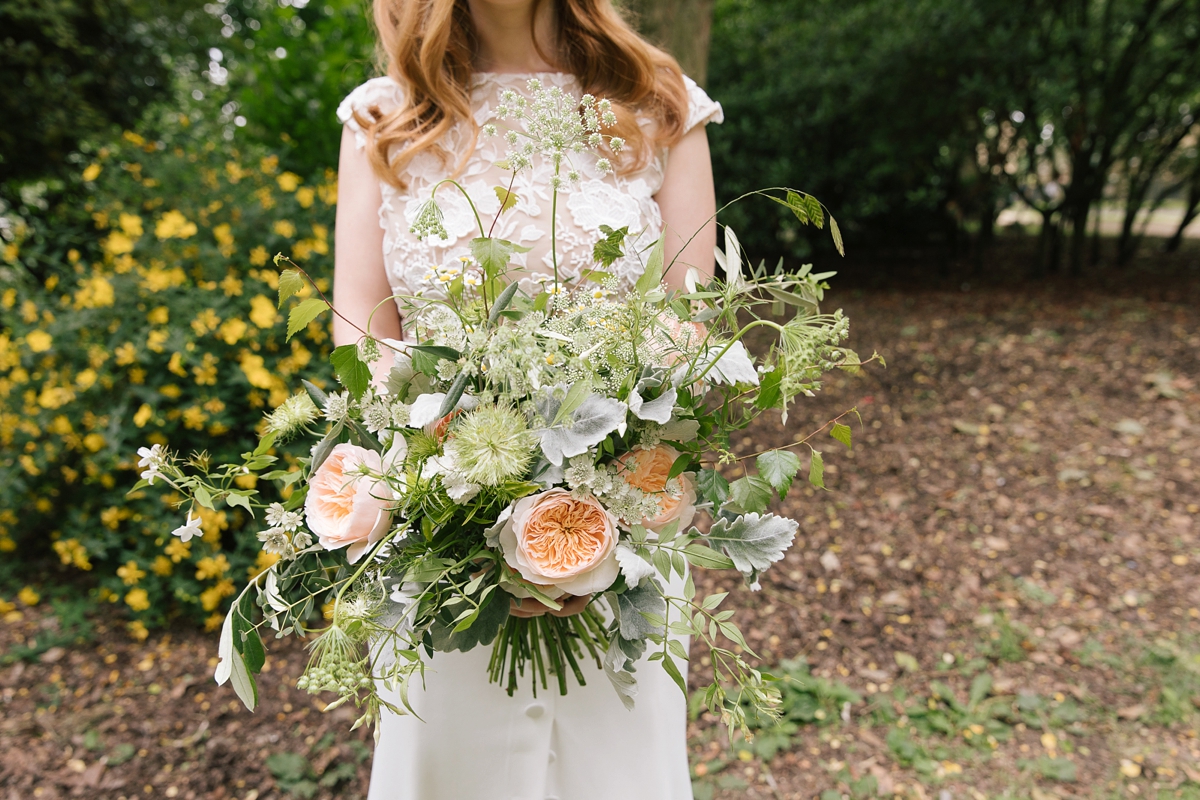 "The first 3 years of our relationship were long distance as I was living in Belfast and Jochem was at university in the Netherlands. We visited each other every month and moved to London in 2013 to live together."
"As we've been together for 8 years and living together for 5 years it felt right to walk in together and I loved that both sets of parents got to be part of walking down the aisle too."
"We asked our lovely friends Léa and James to sing and play guitar for the ceremony. We walked down the aisle to James playing the instrumental version of Heartbeats by Jose Gonzales/The Knife…"
The ceremony was conducted by celebrant Helen Mendez-Child, and she and her colleague made the ceremony lots of fun. Becci and Jochem personalised their vows, which they have been kind enough to share with us here.
"I give you this ring as a symbol of my love and commitment; I promise to be your friend and lover in marriage; To talk and to listen, to trust and appreciate you; To respect and cherish your uniqueness; I promise to make you laugh every day, and be there for you when you need me the most; I will share my hopes, thoughts and dreams as we continue to build our lives together."
"We had two readings at our ceremony, the first one was from a book called Delirium by Lauren Oliver and was read first in English by my brother Andrew and then in Dutch by Jochem's sister Maaike. My brother found this one and I loved the simplicity of it when I read it."
"Love: a single word, a wispy thing, a word no bigger or longer than an edge. That's what it is: an edge, a razor. It draws up through the centre of your life, cutting everything in two. Before and after. The rest of the world falls away on either side."
The second reading was from Hilary T. Smith's book, Wild Awake, first read in Dutch by Jochem's sister, and then in English by Becci's brother.
"I found this one and loved the sentiment in it, especially the final line. It also felt suited for our London city wedding."
"The ceremony was amazing and I think we were all a bit surprised at how smoothly it all went in the end! The registrars were great and really helped us all relax and enjoy it."
Becci had a custom-made wedding ring from designer Rachel Jones, which she bought via Gill Wing Jewellery in Highbury and Islington.
"It is an asymmetrical ring and has a pear shaped green sapphire as the main stone with a blue sapphire and diamond either side. I love it!"
Jochem chose his ring from Wedding Rings Direct, and was able to try on a variety at home.
While the couple were signing the register, friends Léa and James played a song very close to Becci and Jochem's hearts – Harvest Moon. 
We've shared the work of talented photographer Katie Palmer here before on Love My Dress, and it's fantastic to be able to add to that today with these beautiful images of Becci and Jochem's day.
"Katie was amazing! We are so happy with the photos – she captured the day perfectly! We found her as she had photographed another wedding at Stour Space which we saw online and loved the style of her photos. We first met her at her flat which is just down the road from where we live and we knew very quickly that we wanted her to capture our wedding."
"She kept in touch before the day and helped us plan the order of the day which was great. She even went on a recce the weekend before to suss out good spots near our venue! She also helped to keep us calm on the day. Katie also made an effort to know who was who in terms of our guests so she could capture different, special and funny moments. She is a complete professional but also lots of fun. We really appreciate everything she did, even running across bridges to get photos of us in a canoe!"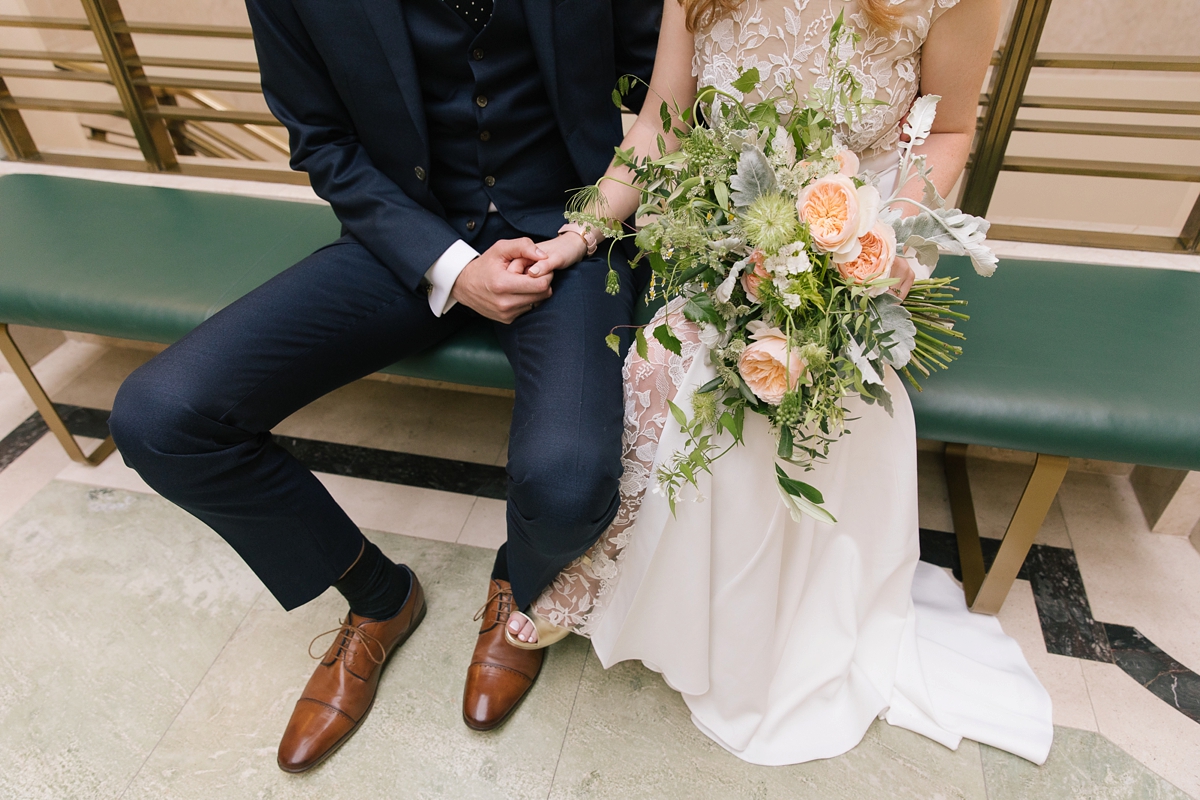 "We walked out holding hands to them playing and singing I Want To Hold Your Hand by the Beatles. It was perfect! The four of us spend a lot of nights together listening to music and dancing so it was very special to have them up there with us."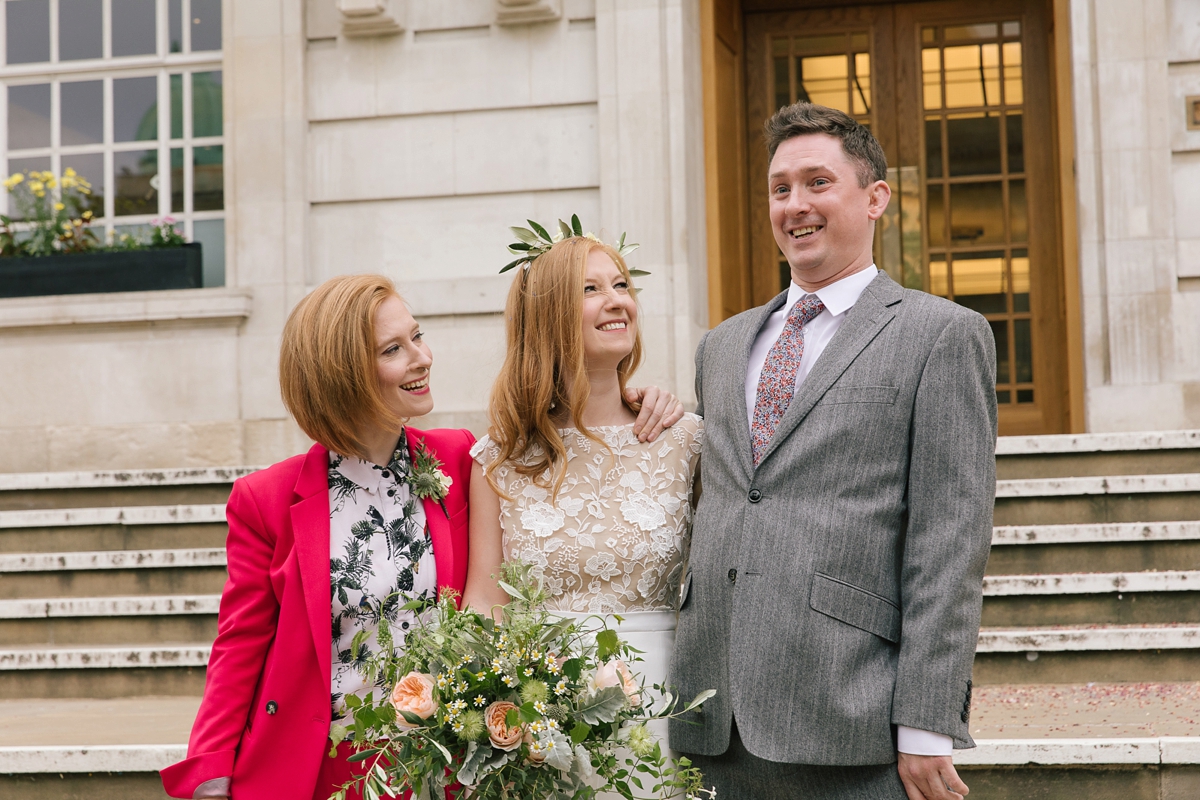 To get to their reception venue, there was a lovely surprise in store for Becci and Jochem, secretly arranged by Becci's mum and sister. Their entrance was a decidedly dramatic one, as they were transported along the River Thames by canoe!
"Our arrival to Stour Space was amazing! When we first started planning our wedding we had considered arriving by canoe, as we had got engaged on a canoe trip but with so much to organise (and a lot of 'are you crazy?' looks when we mentioned it to people), we didn't prioritise organising it."
"On the day, our photographer Katie took us to different spots for photos in Hackney Wick and then as we were walking to the venue she announced 'We've got a surprise for you'. And as we walked a bit further I looked down and saw the canoes by the water. It transpired that 2 weeks before the wedding my mum and sister decided that they couldn't let the opportunity of arriving by the river pass us up!"
"I am so glad they did this as this was probably one of the best surprises and a real highlight of the whole day! Our guests loved it too. The guys at Moo Canoes were amazing, and we stopped by their narrowboat for some champagne too. It was so much fun!"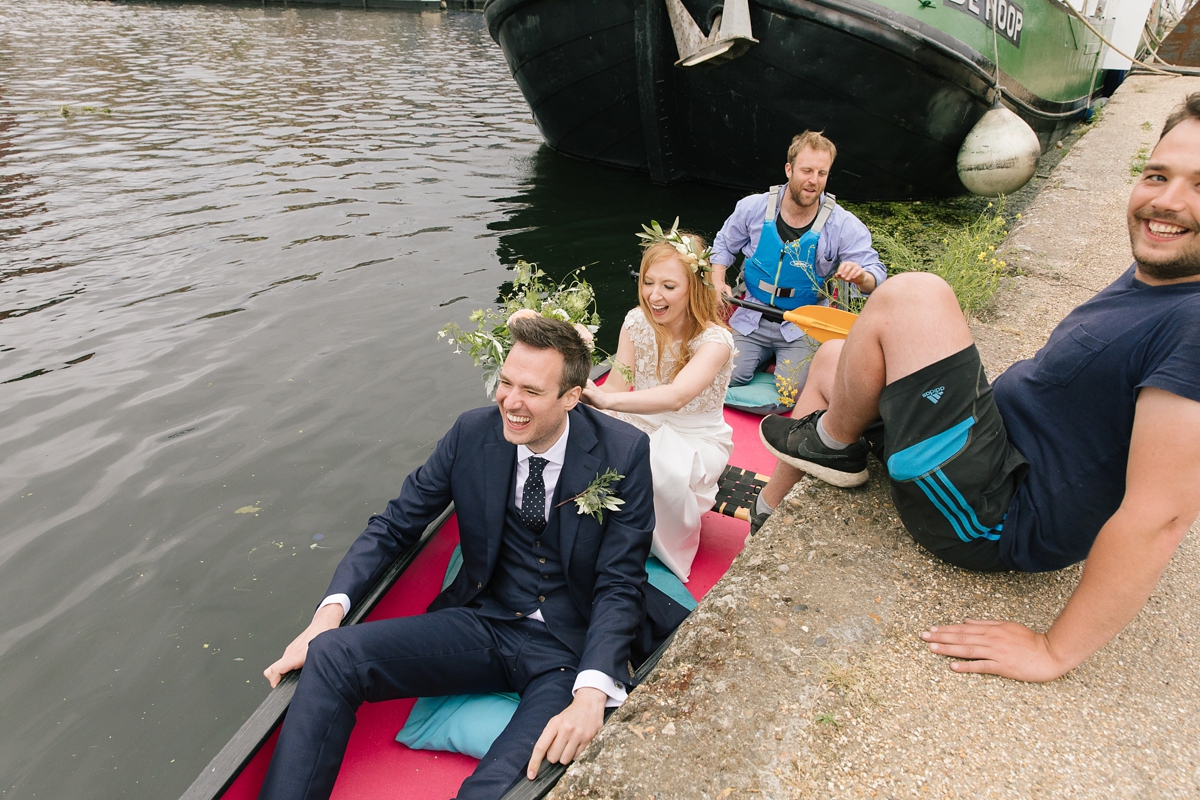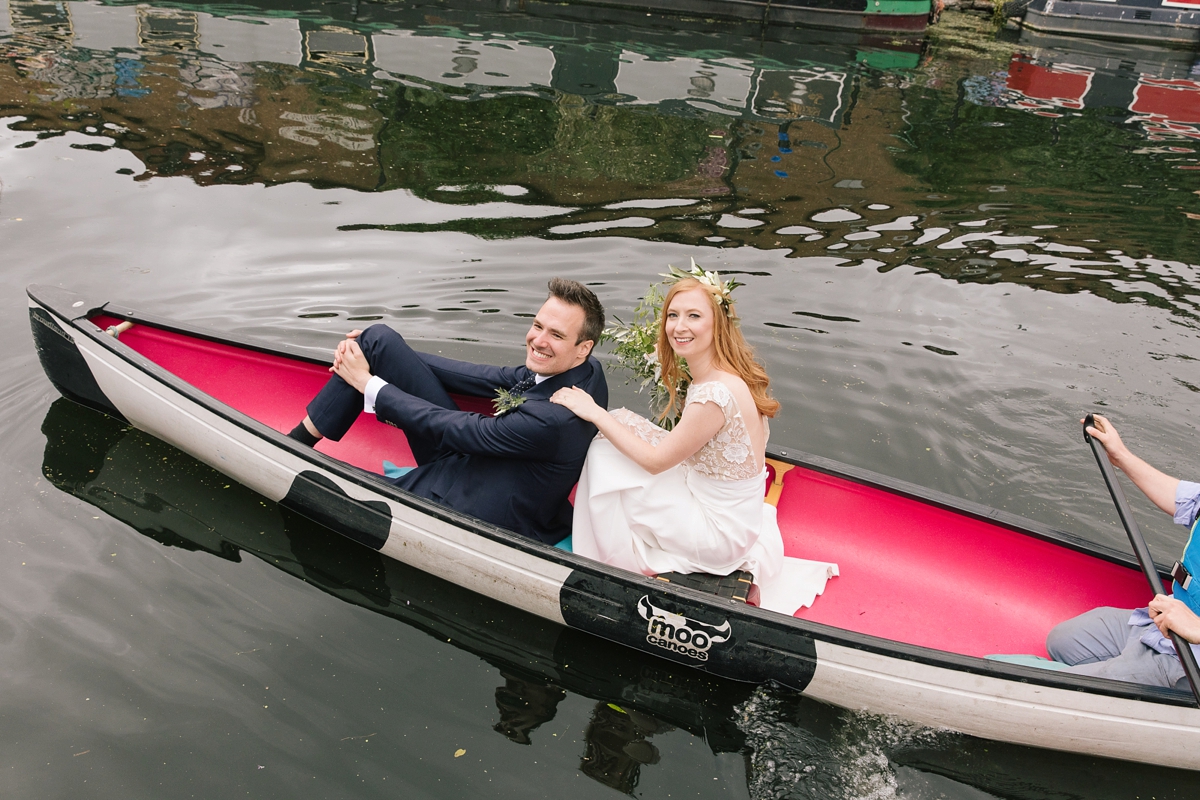 During the drinks reception, guests were entertained with music from jazz trio Outline Trio, who Becci and Jochem booked through our brilliant Little Book member Alive Network.
At Stour Space, there were some wonderful decorative details. As a nod to Jochem's Dutch heritage, and Becci's Northern Irish roots, the basket of Becci's bike was decorated with tulips and clover.
"We knew we wanted to have succulents as part of the decoration quite early on and have lots of greenery in the space…We planned to source ferns and monstera from a plant shop close to the day but decided to get fake plants instead off eBay – much easier and cheaper."
"We hung these up on strings across the dining area along with fairy lights provided by Stour Space and we decorated my bike with bunches of tulips from the local Tesco and made a welcome sign to hang from it with greetings in the various languages of our guests, including Spanish, German, Irish, Norwegian, Italian, Ukrainian and of course 'Bout Ye!', 'Welkom' and 'Tervetuloa', which are standard greetings in Belfast, Dutch and Finnish!"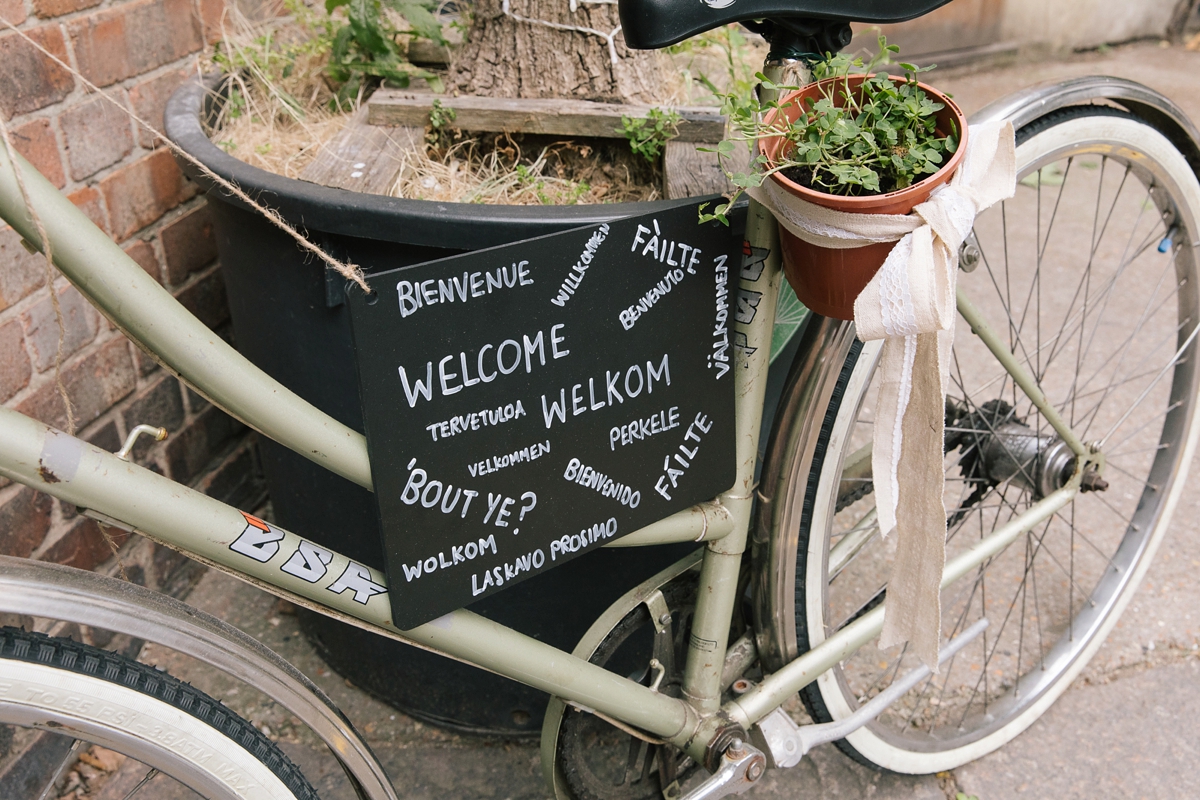 Jochem designed most of the on-the-day stationery, using Adobe Illustrator to create a Tube map themed table plan, as well as designing name tags for the favours and having their food menu printed onto beer mats sourced from Amazon.
"We also had friends design the sign for our photobooth area and our Instagram hashtag poster."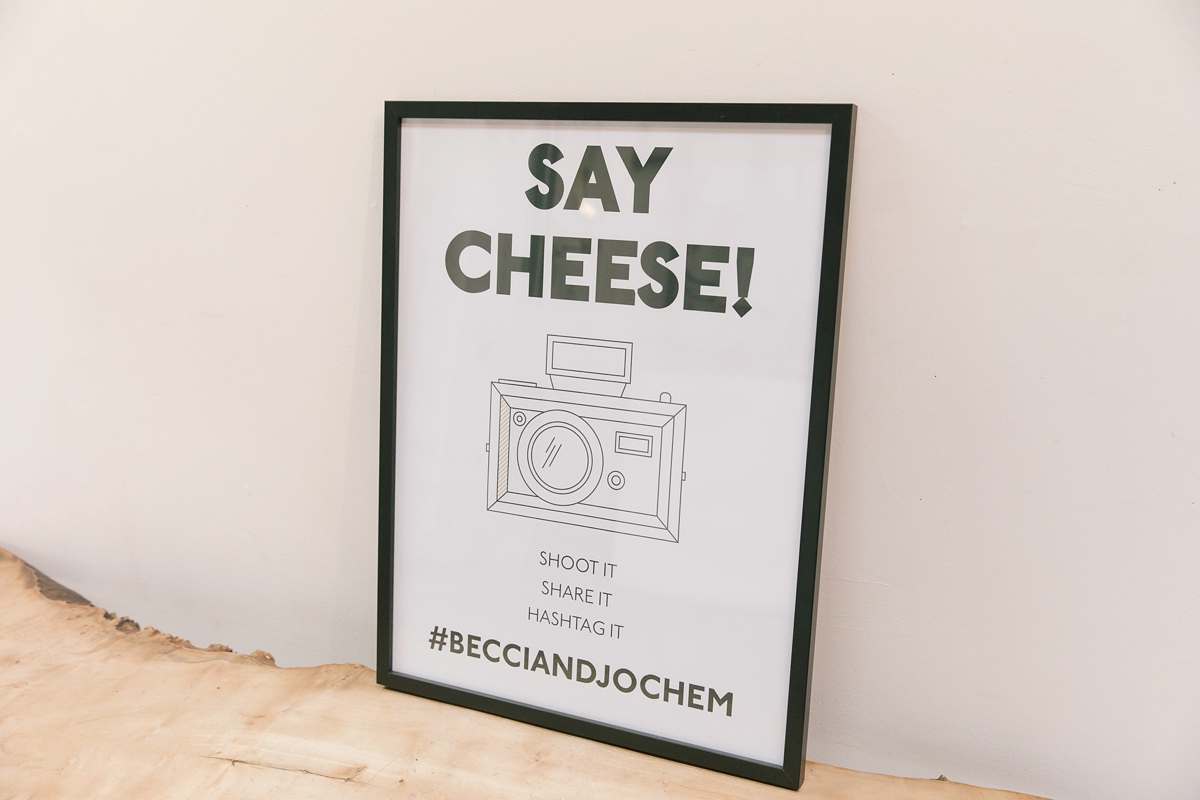 Favours also doubled as table decorations, with succulents in glass planters with moss, by Becci's mum. The succulents came from Hannah's Florist, IKEA and Plant Warehouse in London (sadly, no details supplied), with vases from IKEA. Becci's mum also made centrepieces with more succulents and moss in larger glass vases from Sostrene Grene. The whole effect in the light and airy space is fresh, modern and clean.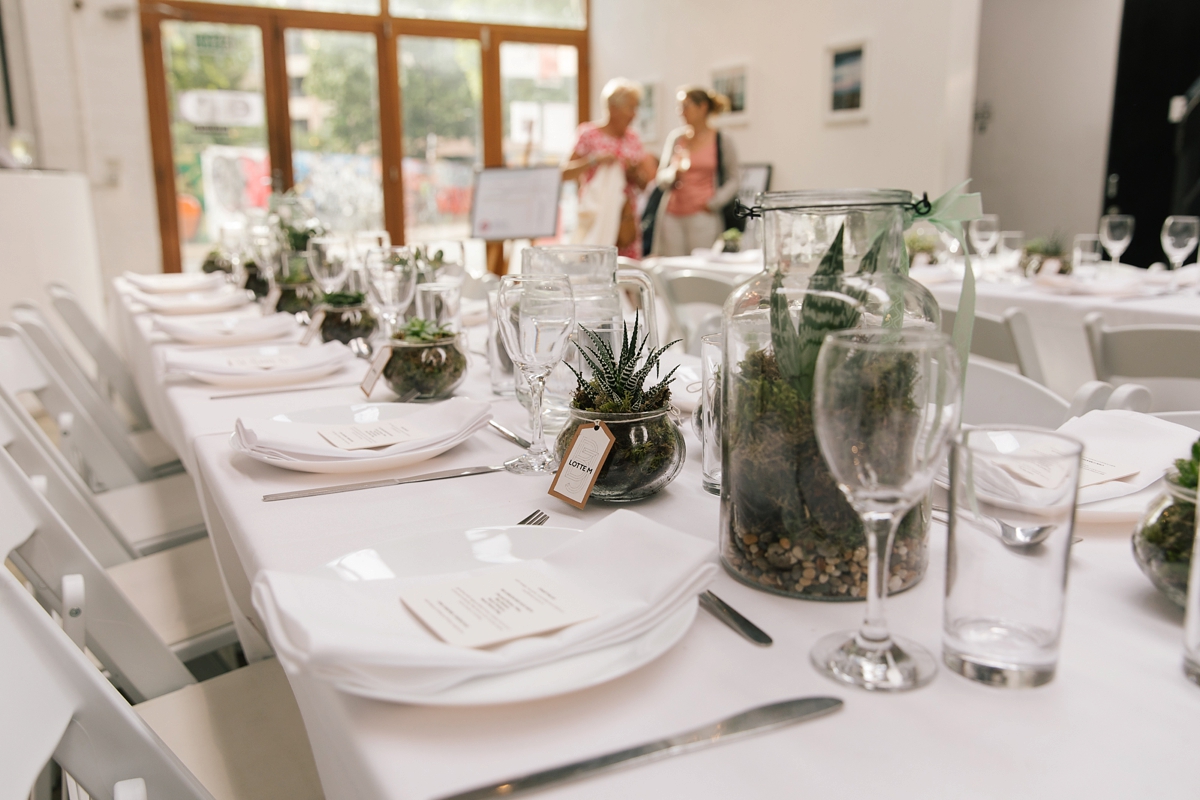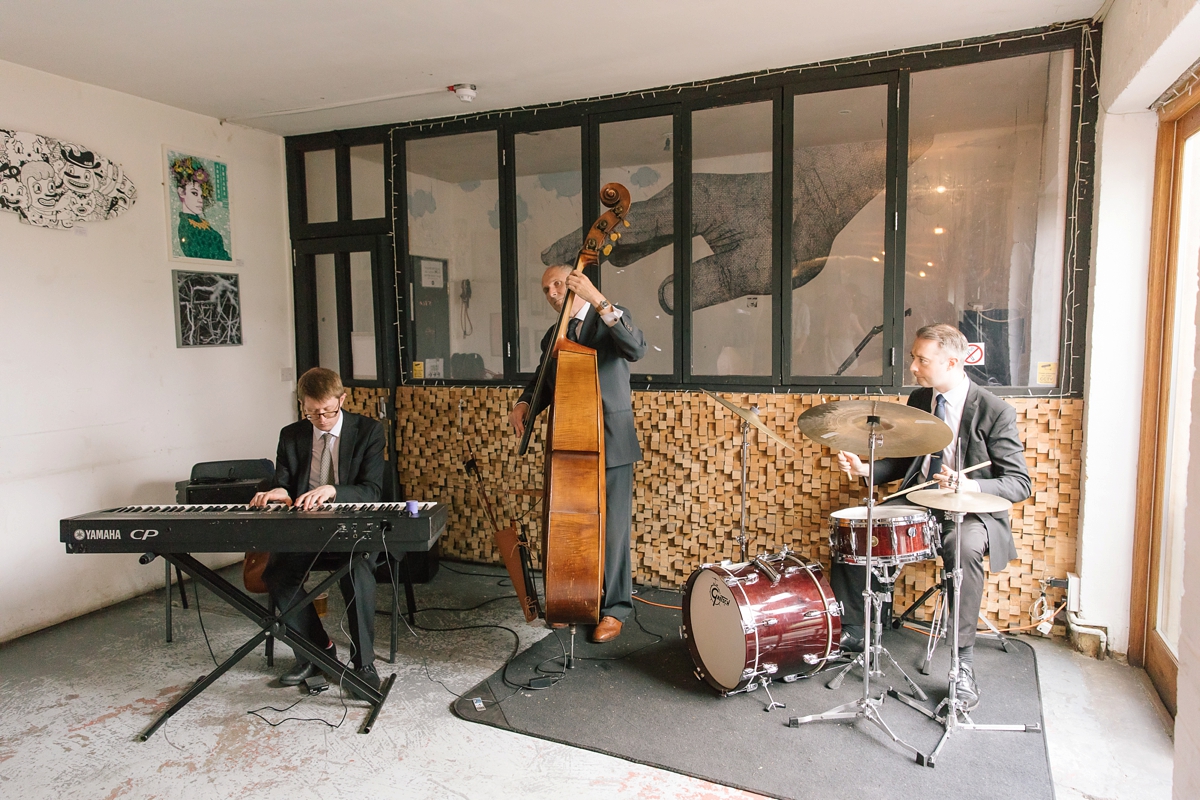 "We went to a food tasting at Stour Space and Rola Wala was one of the companies there. We love Indian food and wanted something a bit different. They supplied the canapés for the reception, the starter was chaat salad, mains were a choice of charred chicken tikka, beef brisket, black chickpea or sweet potato saag. We wanted to have a good choice of vegetarian/vegan options for our guests. Dessert was an amazing chai caramel cheesecake."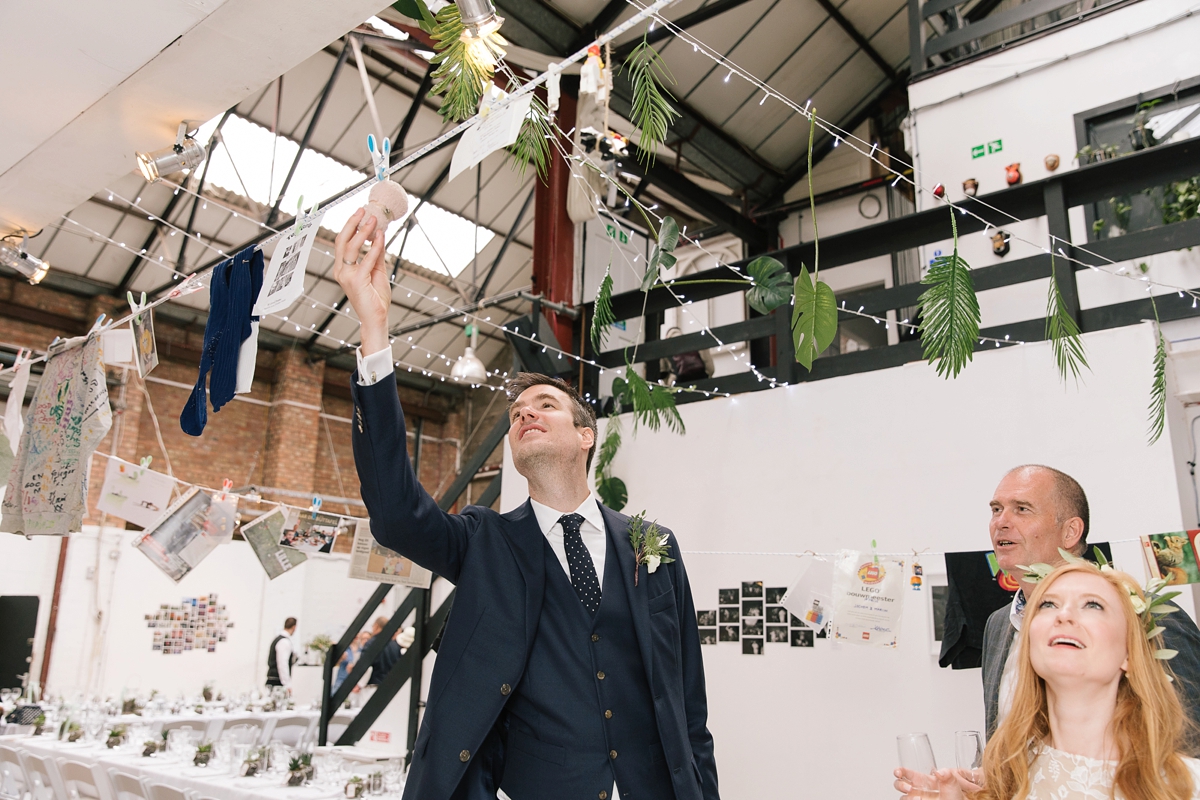 There were more Dutch, Northern Irish and Finnish influences in the evening drinks and snacks, including stroopwafels, Tayto cheese and onion crisps, Bushmills Whiskey, Bokma Genever and the Finnish liquorice vodka Salmiakki Koskenkorva.
"My favourite part of other weddings is the speeches so I knew I wanted to speak at my own wedding. I opened the speeches and found I wasn't nervous at all!"
"The line from Jochem's speech '…and most importantly, your mother's hand knitted jumpers are, after you, the best fit for me she has ever created.' Also my dad reading The Pattern by Michael Longley, a known and favourite Belfast poet as part of his speech. It was very special and emotional."
"My sister's poem – she is an amazing writer and wrote a poem for us and performed it on the day. Although we had asked her to speak, the poem itself was a surprise. This was an absolute highlight and I don't think there was a dry eye in the house after."
"Receiving our clogs from Jochem's uncle was another favourite part – Jochem's great-grandfather used to make traditional Dutch clogs."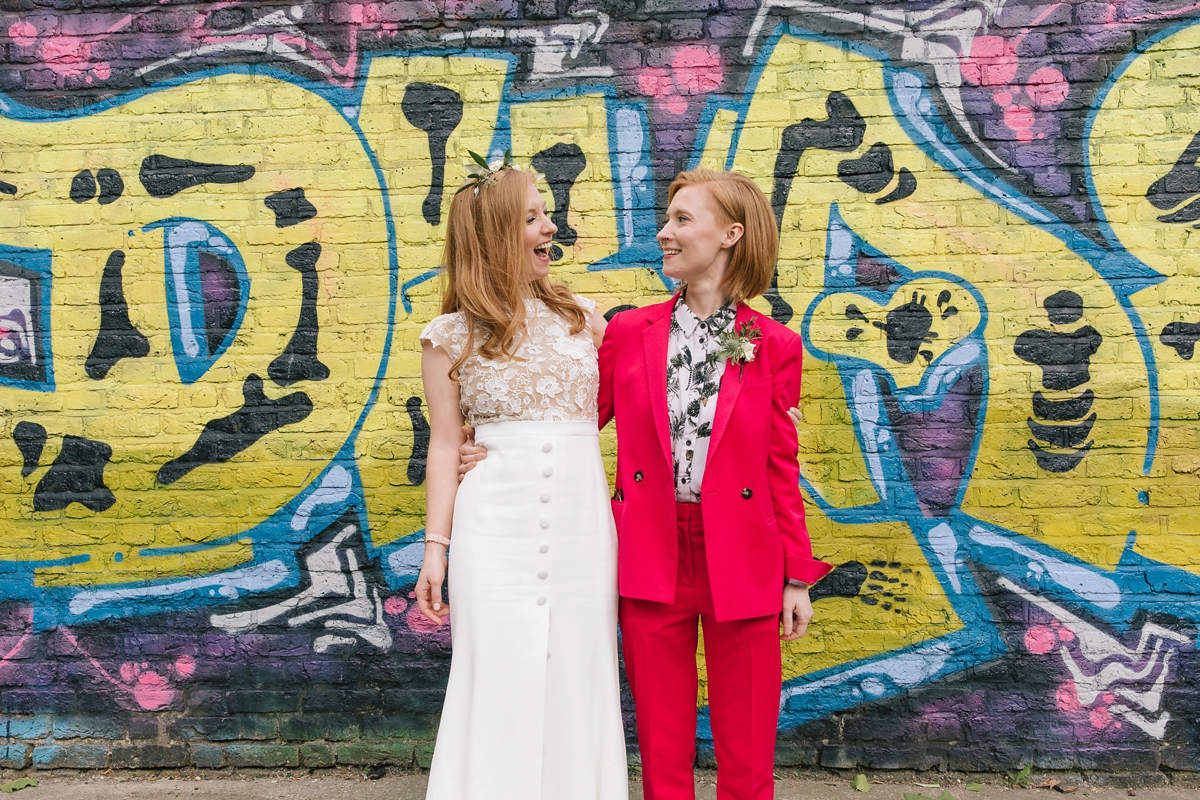 Rather than a cake, Becci and Jochem asked their loved ones to bake a special something for a cake table (always a great idea). Jochem made his famous brownies, there was heart-shaped shortbread and stroopwafel cupcakes from Sarah, Guinness cake, Black Forest Gateau, lemon polenta cake, banana tart, blondies and cookie dough caramel brownies from Darcy Dines Dublin.
"We love cheese so we also had a 'cheese cake' with a Dutch cheese, a Northern Irish blue cheese called Young Buck and a London cheese called Lord London and piled them up on top of each other to eat with chutney and crackers. The Dutch cheese known as a 'Bruiloft' (wedding) cheese was sourced in the Netherlands by Jochem's parents. The Young Buck was bought at Sawers in Belfast and is made by Michael Thomson of Mike's Fancy Cheese. The Lord London, crackers and chutney were from The Cheese Merchant."
One of Jochem's friends was DJ that night, playing a great mix of songs, including a list of must-haves provided by the couple.
"We thought a lot about the first dance song and there were so many we could have chosen. Before the wedding, we had asked guests to send us songs to make a playlist for during the dinner and dancing and one of our friends sent Sunny by Boney M. When we put it on a few days before the wedding with all my family around we all jumped up and started dancing and kept playing it over the next few days."We decided to pick this as our first dance song as it is so happy and you can't help smiling when you hear it! We hadn't practised dancing together to it and when it came around to it we found it really hard to dance to but that just made it even funnier!"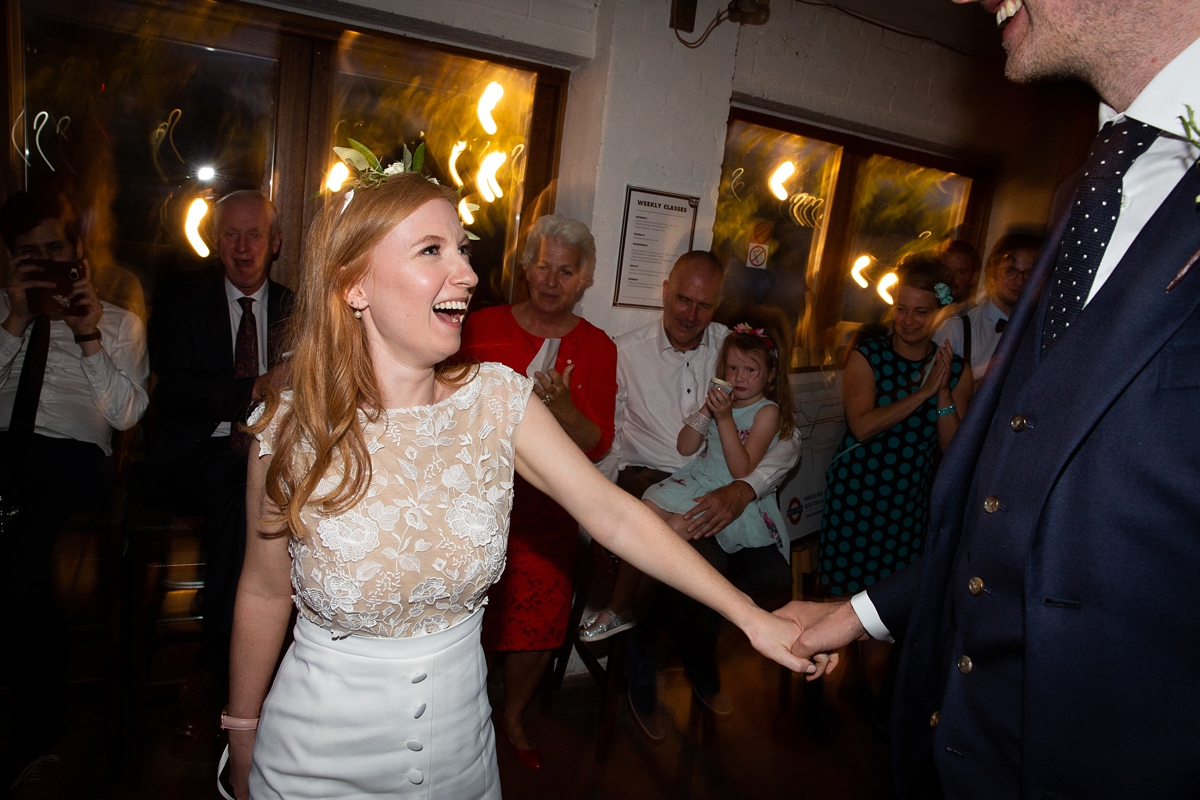 Words of Wedded Wisdom
"We gave ourselves just 10 months to plan the day which we thought was plenty of time. We did it but in hindsight I would have started my dress search a little earlier and also would have sorted my hair and make-up much earlier than I did too! I found the last few weeks of planning really stressful rather than enjoyable."
"I had a bit of a meltdown on the Thursday before but after that I was actually relaxed the day before and very relaxed on the actual day! In the end it all worked out perfectly and was probably even better than we could have imagined!"
"Overall, I would say try not to be a perfectionist as you'll only drive yourself mad! Think about the key things that you can't do without and get those sorted first. I would also say make sure you accept help from those around you and give people jobs to do! We couldn't have done it without our family and friends. We kept reminding ourselves throughout the planning when it got stressful that the most important thing was us getting married and everything else around that was a bonus."
Becci and Jochem – thank you so, so much. I've loved writing about your day, from that lovely first look to the elegant Art Deco ceremony setting, to your canoe voyage and so much more. Thanks also go to Katie Palmer for such beautiful, fun images.
Until next time!
With love,
Laura