Hello lovely, lovely readers and how the devil are you today? I hope you're super well and looking forward to the weekend.
But, before we get there, I've got a bit of a treat for you right now because this post features some of the most glorious gowns around AND some rather dreamy wedding venues. Today, in the company of Marion Mathews, UK Agent for the wonderful Jesus Peiro, we're going to look at dresses that are the perfect partner for some of the UK's favourite wedding venues.
So, why do you need to consider your venue when you're choosing your gown? Well, the two are naturally linked because you'll no doubt have chosen a venue that suits the style of wedding that you want. That means it naturally follows that your gown will work with the same vibe.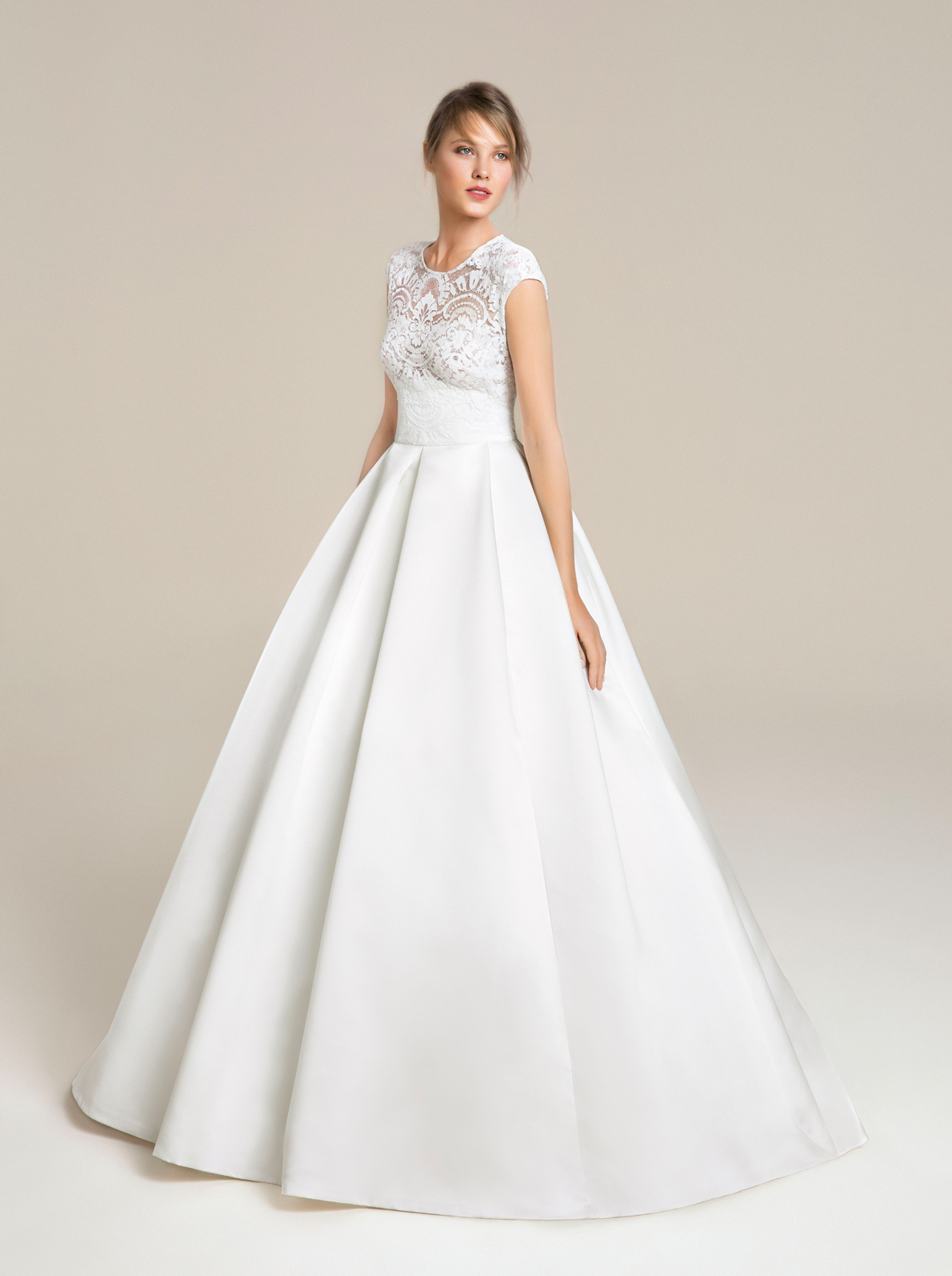 However, there's more to it than that because you also need to think a little practically too. For example, a venue with an intimate ceremony room might mean that a dress with a large train isn't going to be your best option. Outdoor ceremonies and receptions are undeniably beautiful but that gorgeous tulle skirt might end up with all kinds of twigs and leaves stuck in it. It's so easy to overlook things when you're in a lovely boutique trying on fabulous gowns but do try to listen to your head as well as your heart – you'll be glad you did come the big day.
I totally understand that thinking beyond the immediate rush of emotions that you experience when you try on a gown that you absolutely fall for is really tough but, as you're about to see, there really are gowns to suit every style of wedding venue so whatever quirks and features your venue has, you'll have plenty to choose from. So, for stunning inspiration, let's jump right in and look at the perfect dress for your venue wedding right now. Take it away Marion…
"Let's start with Pynes House, a romantic and elegant country venue in the Devon countryside. For this venue, I'd suggest Jesus Peiro style 907 – this combines classic and romantic lace with a full volume skirt where pockets bring a modern twist to a timeless silhouette. The skirt also comes in a choice of classic satin or textured cotton pique and the back can be traditional with tulle and buttons or open for a more contemporary feel."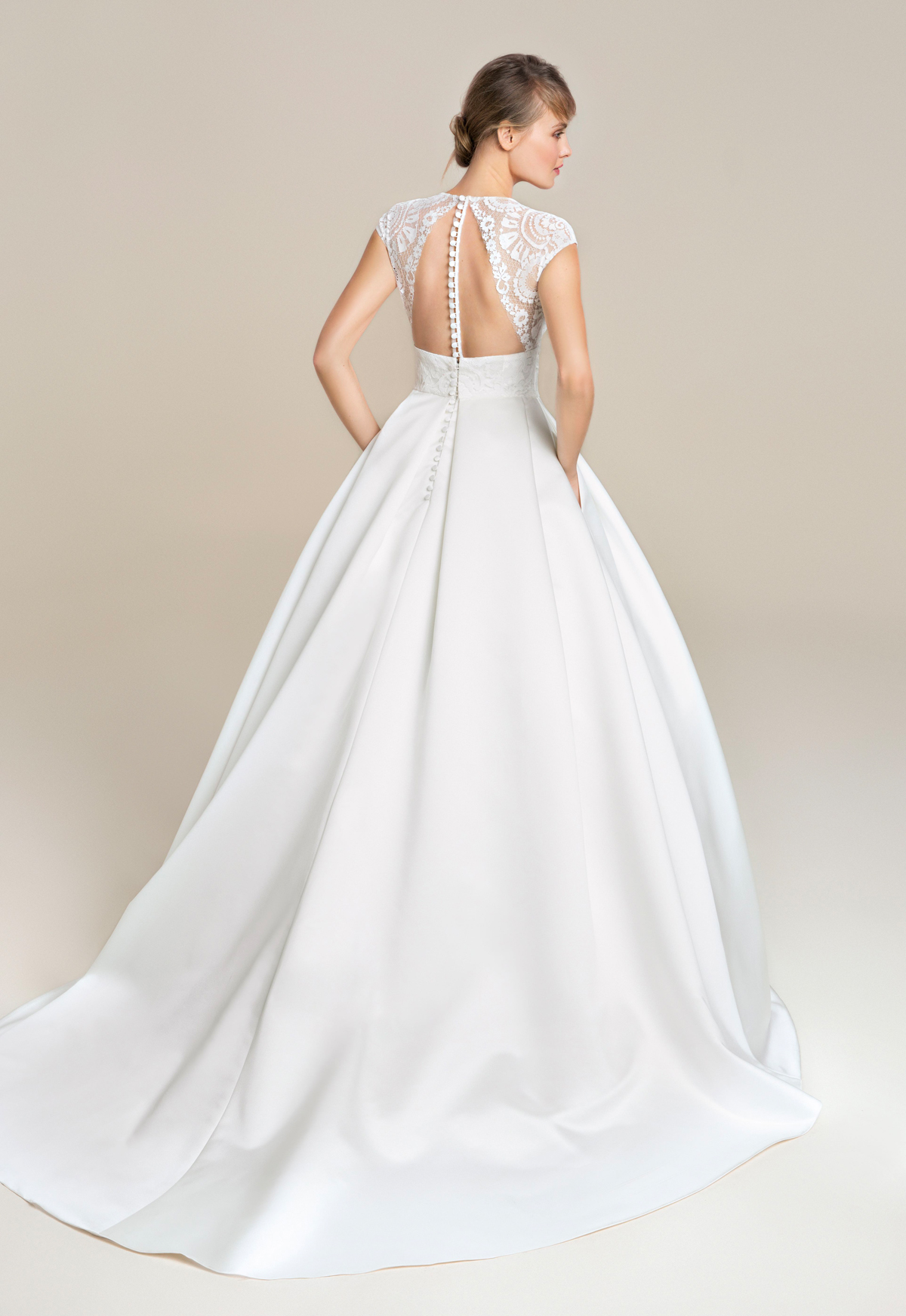 "The West Mill is a gorgeous converted mill on the banks of the river Derwent in Derby and style 900 is perfect. This quirky two-piece features divine dotty taffeta fabric and cute bows on the shoulders plus there are handy pockets in the full skirt. The top can be worn shorter if you'd like to display a little midriff or wear it long enough to meet the skirt for more modesty. This dress is quirky, rustic and utterly original, just like The West Mill."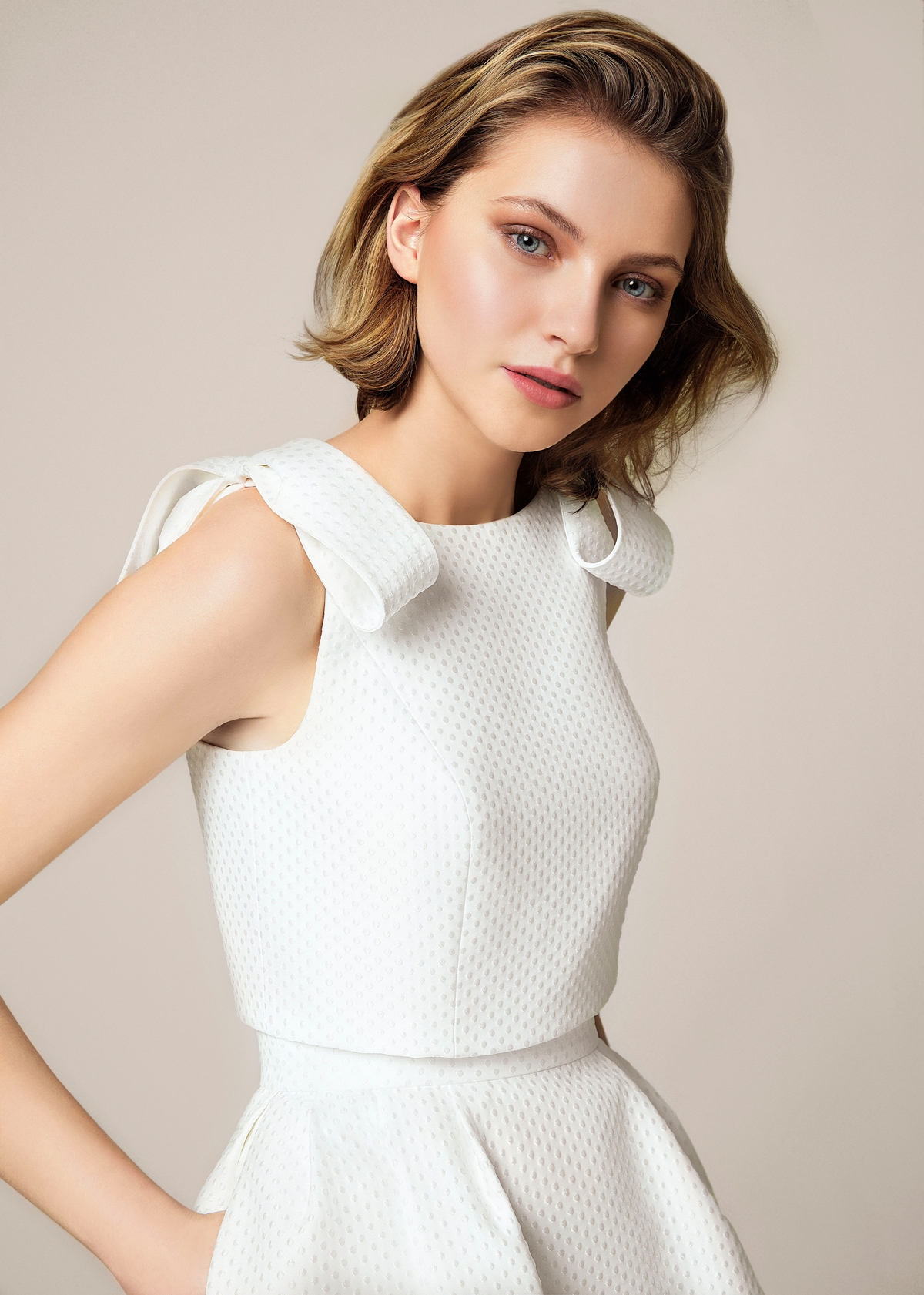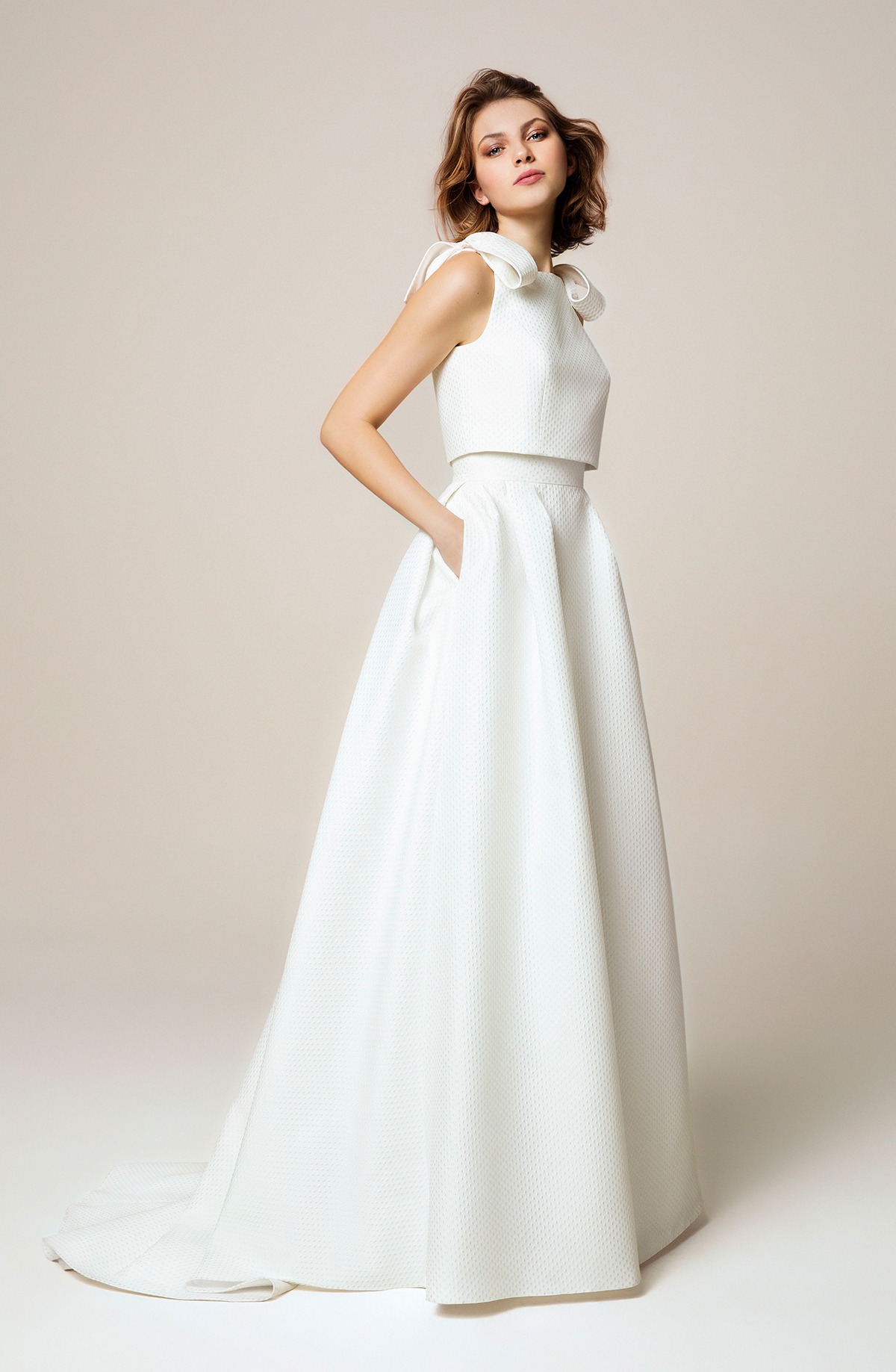 "For a fabulous countryside setting, Gaynes Park has it all and style 958 is total prettiness in a dress. The embroidered tulle features a floral pattern, reflecting the surrounding gardens and countryside at Gaynes Park and the transparent sleeves and easy fit of the dress have a relaxed vibe which is just superb for this barn setting."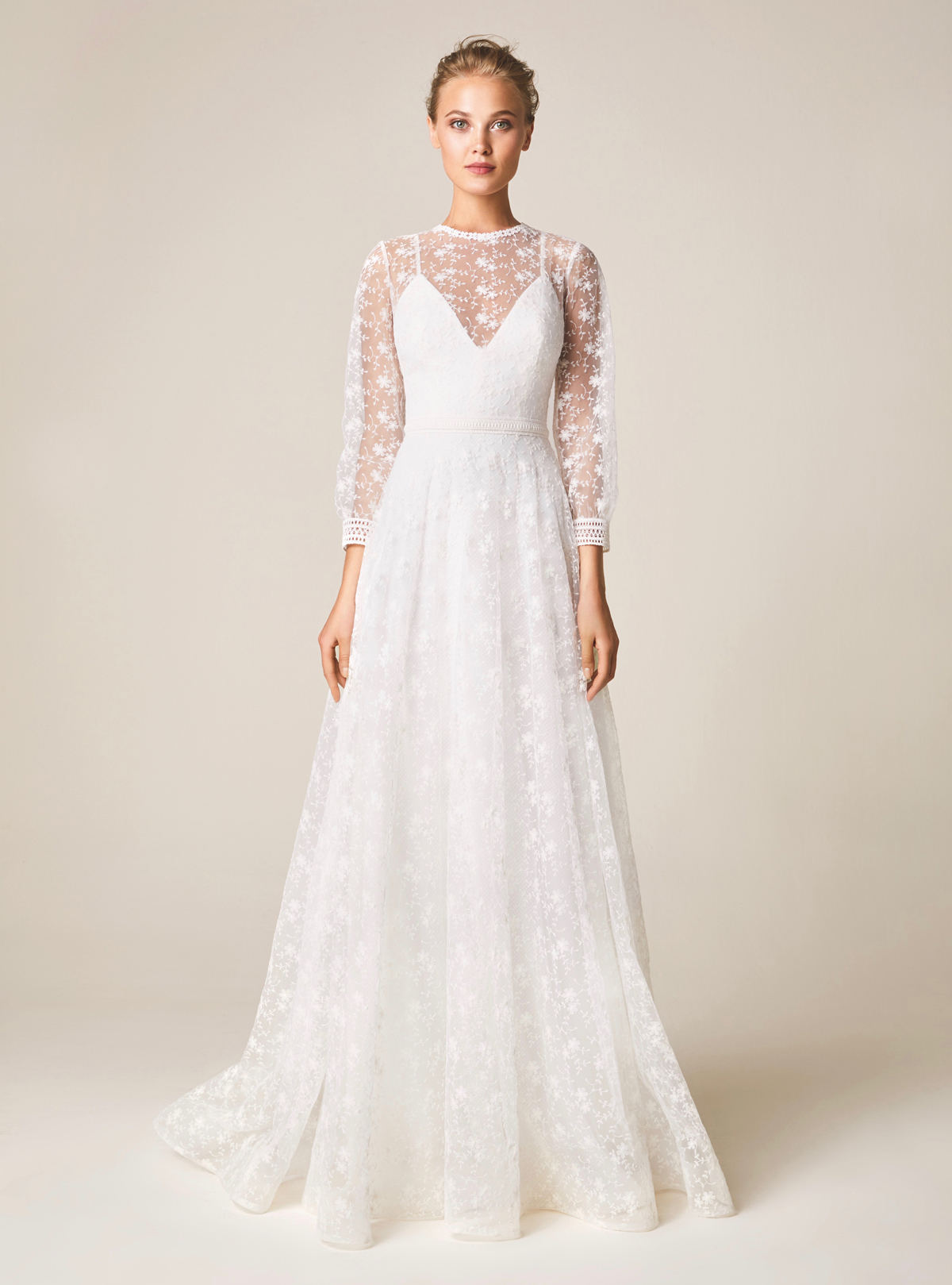 "If you've opted for a blank canvas venue, you need a gown that will make the perfect statement. Shoreditch Studios is an urban venue and for this, I'd have to choose style 956. The razor-sharp tailoring, the high collar and that dramatic bow just oozes an urban vibe.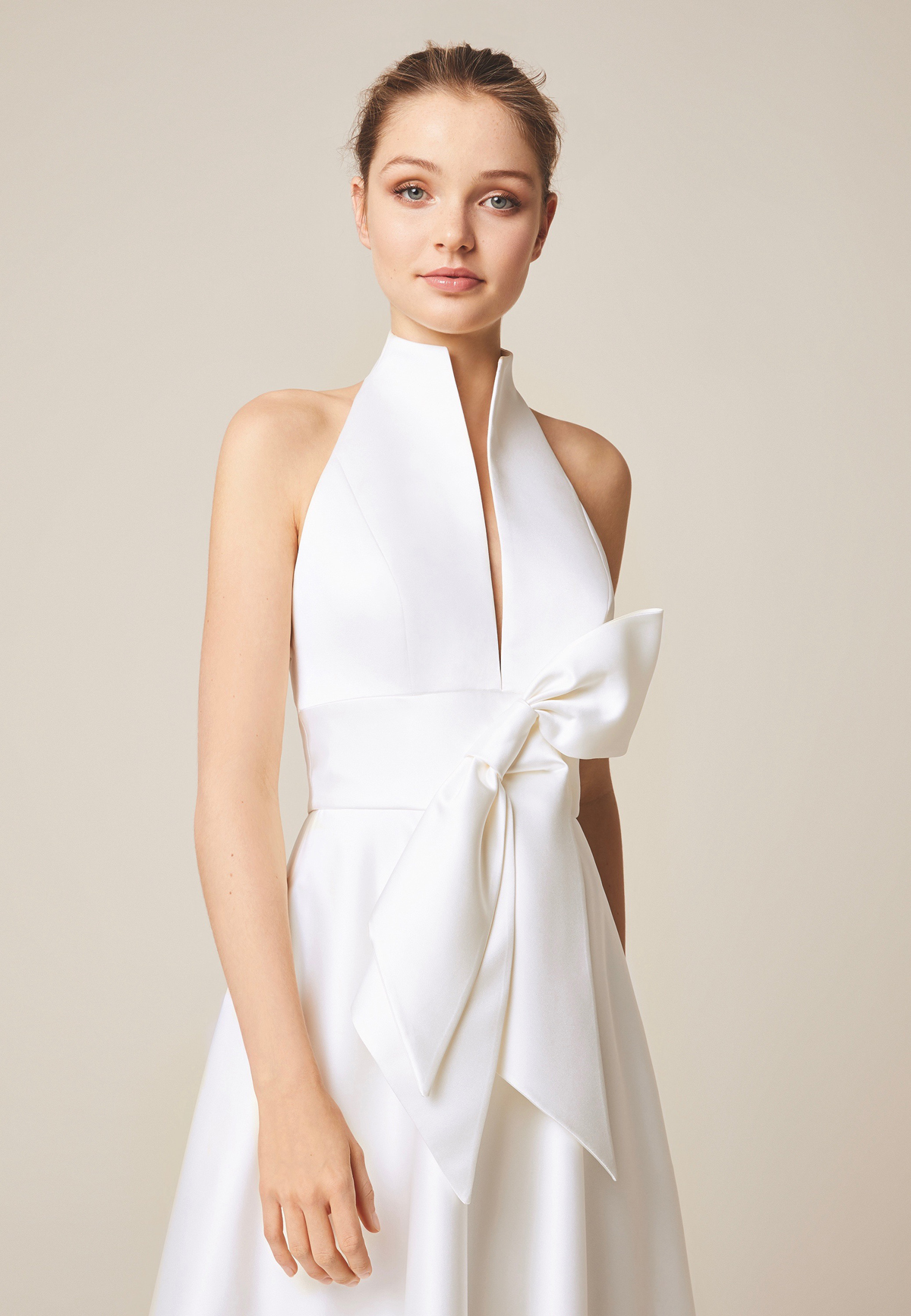 PapaKata's boho luxe tipis suit style 969 – this cool two-piece features an open tie back and a beautiful skirt that's still very 'bridal' whilst totally working with the relaxed boho setting."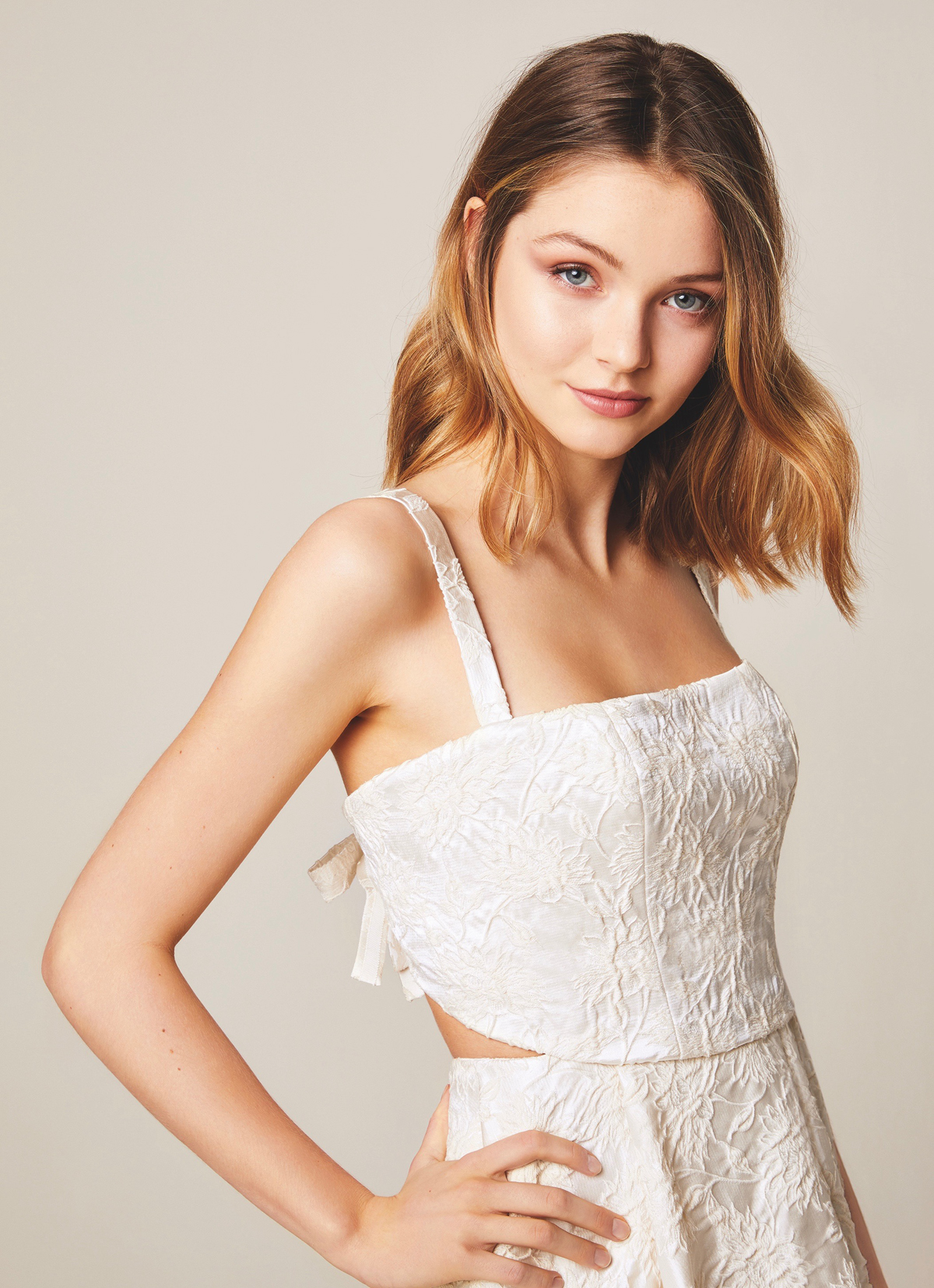 "Askham Hall in Cumbria is all about laidback luxury fused with charm and cool. Style 973 is a unique two-piece which offers a two-tone look with a hint of romance. The beaded waistband is so luxurious and the off-the-shoulder top is a classic flattering shape. This dress really works with the beauty of Askham Hall."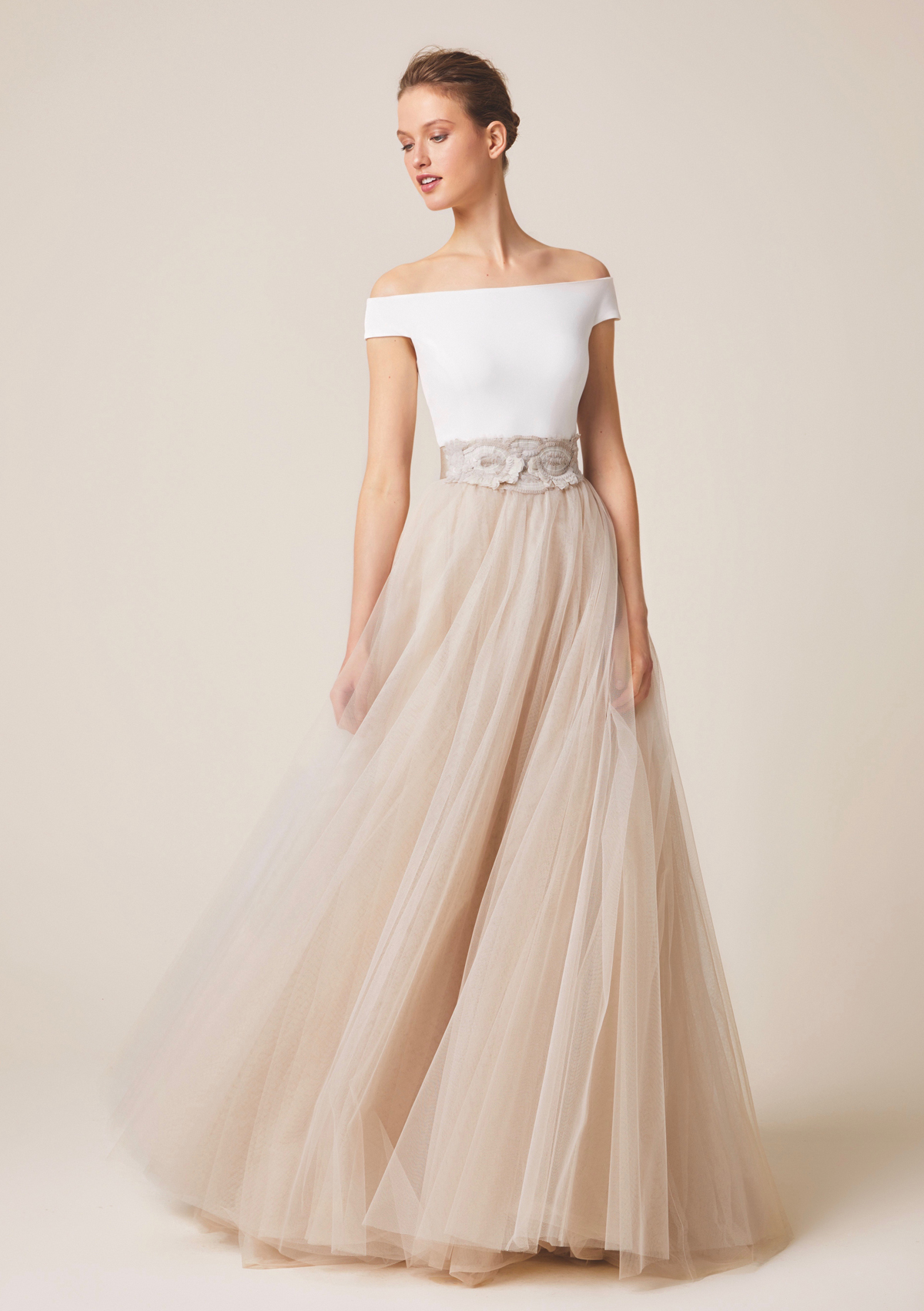 "Lastly, if you're a destination bride, you need something that really suits your chosen location. For a dreamy venue such as Il Faro in Greece, I'd recommend style 936, a simple and ultra-lightweight crepe gown with shoestring straps. The open needlework on the torso creates interest and the simplicity of the dress lends itself to statement accessories. This style also comes with a cute matching top – perfect for wearing whilst watching the sun set over the beautiful scenery later in the evening."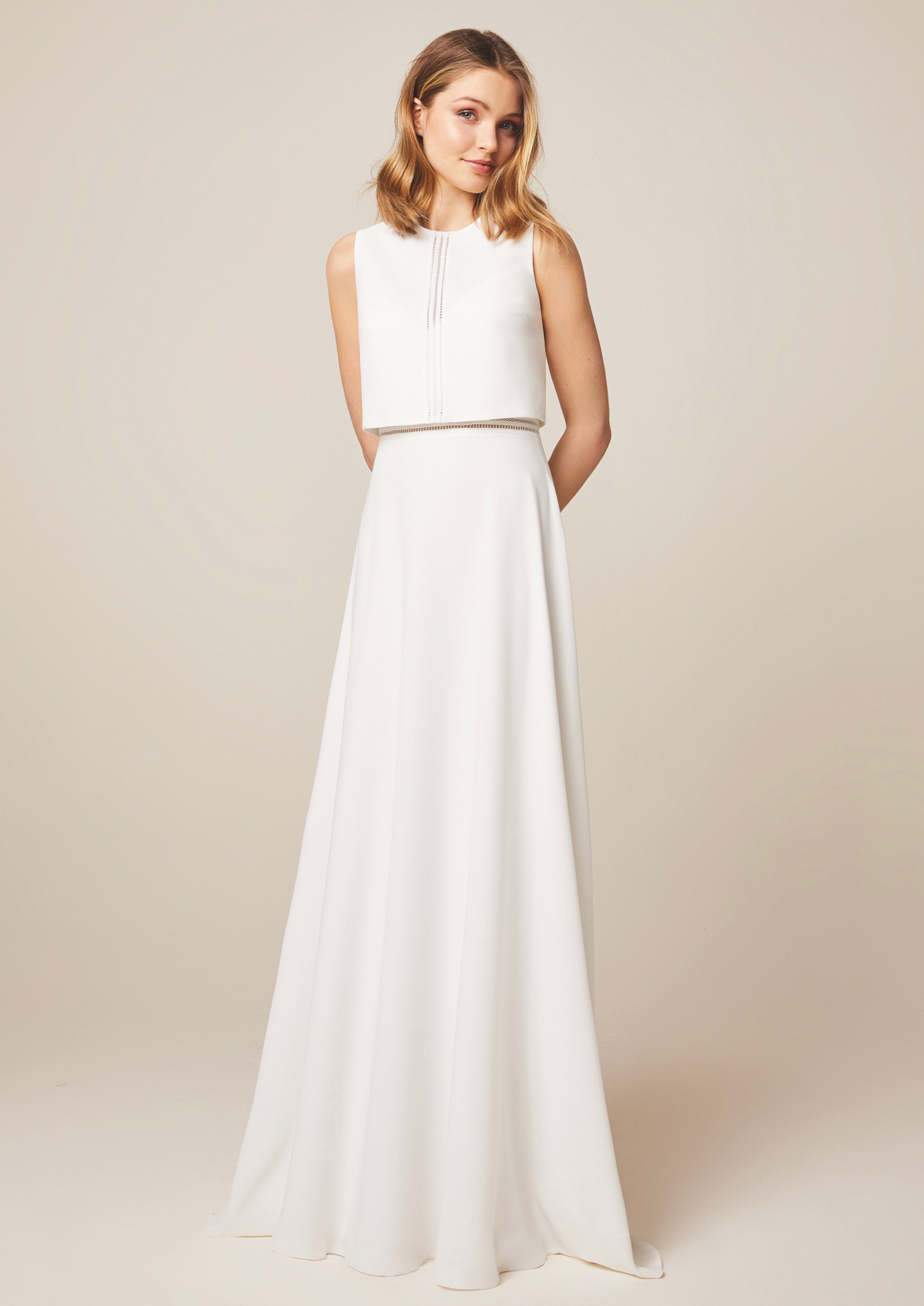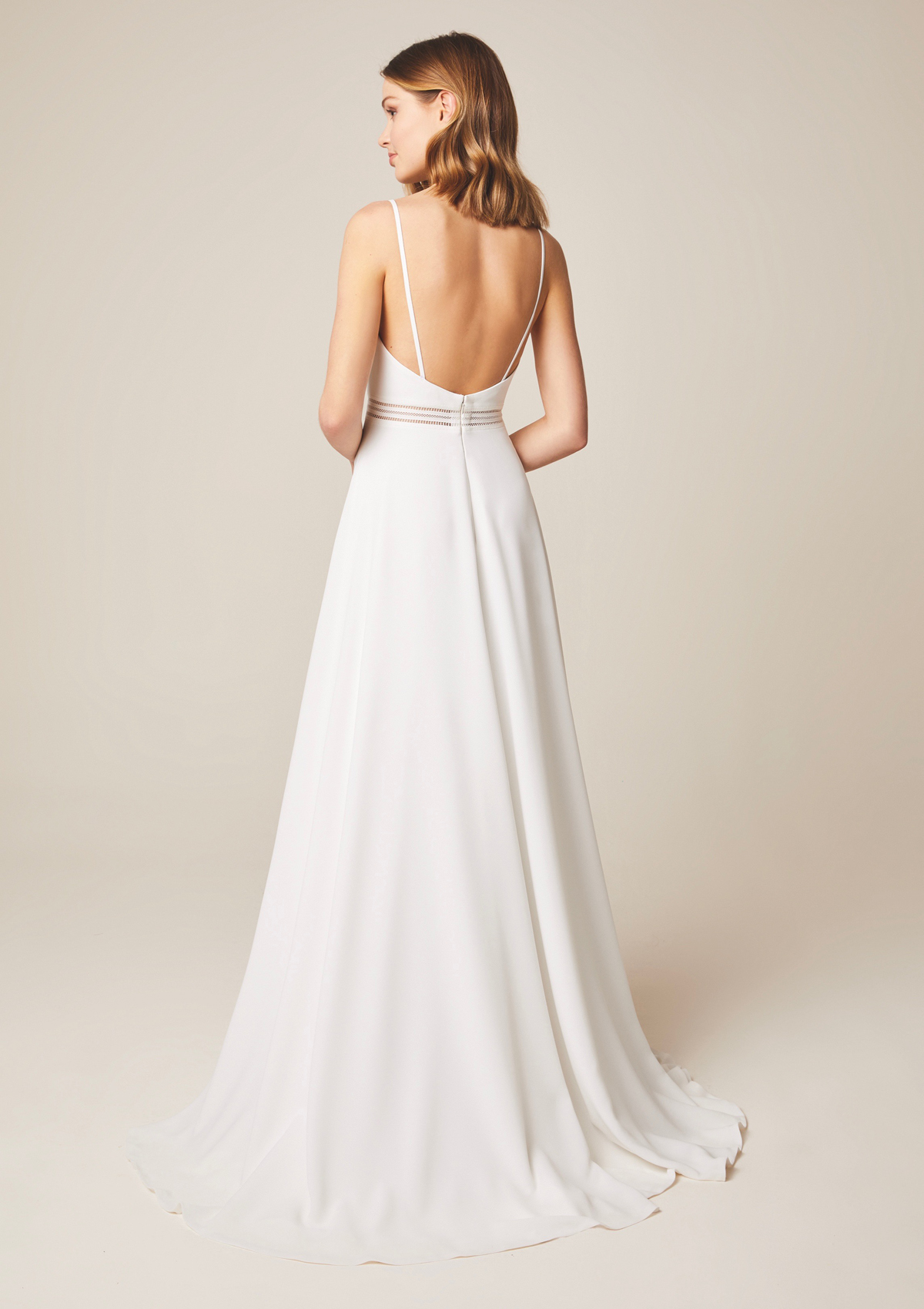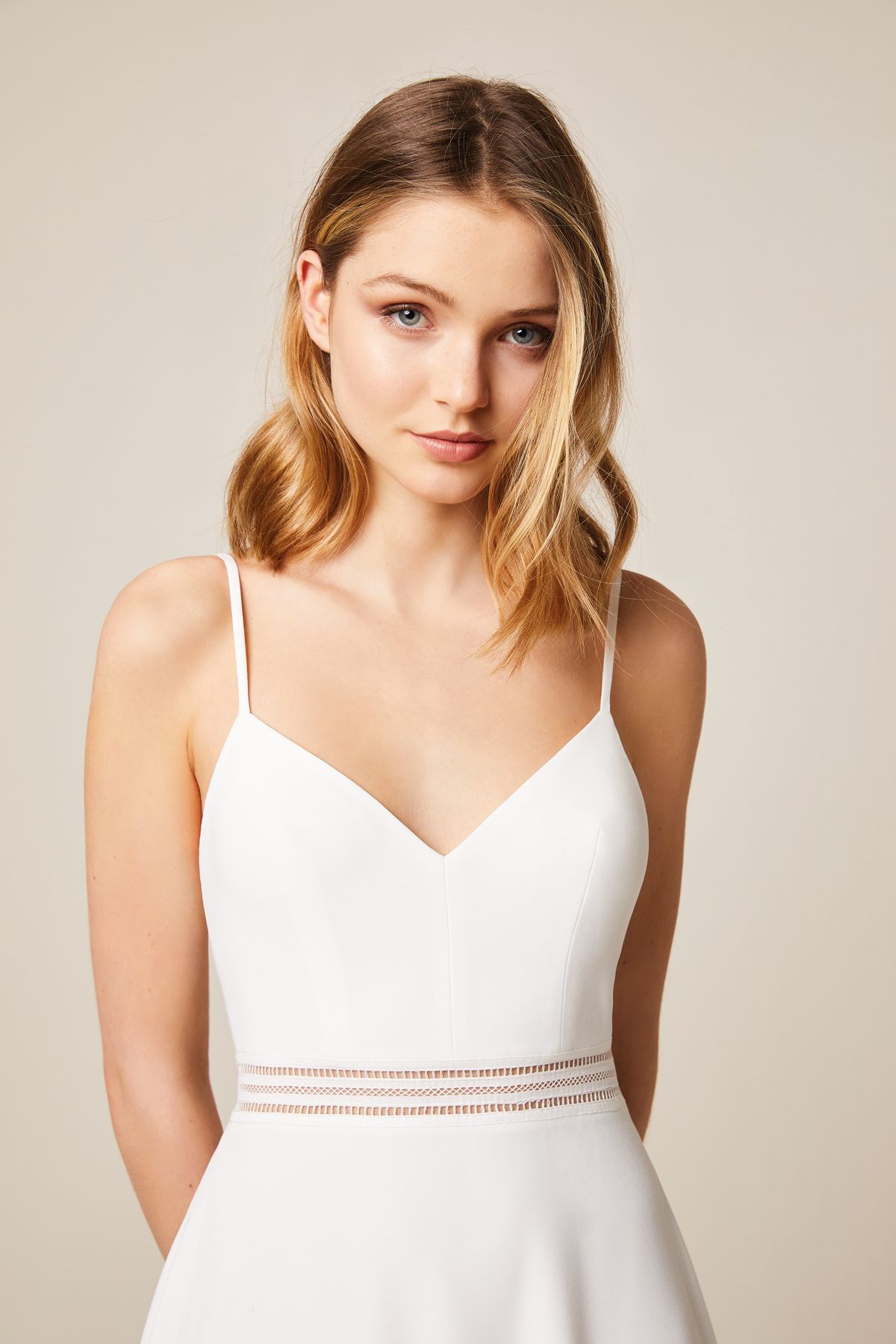 Oooh, thank you Marion, I absolutely adore how these dresses totally work with the venues and you just know that you'd feel so special wearing any one of these gowns at your own chosen wedding venue. Well, weddings are all about dream partnerships after all!
To find out more about wedding dresses by Jesus Peiro, do take a look at the website.
Love,
Tamryn x