Dear Readers – I hope you're well and having a wonderful day wherever you are. Today's wedding delivers a seriously stylish hit of contemporary cool, and although it's a country wedding on a working farm, the couple were keen to style it in a modern and fresh way, with lots of lights and shades of copper and glitter throughout.
Jade, a Communications Officer in local government, and Anthony, an electrical engineer in the food industry were married on the 28 July 2018 at St. Katherine's Church in the fantastic and aptly named Loversall, Doncaster, followed by a reception at Unique Occasions at Loversall Farm.
Images by Carrie Lavers Photography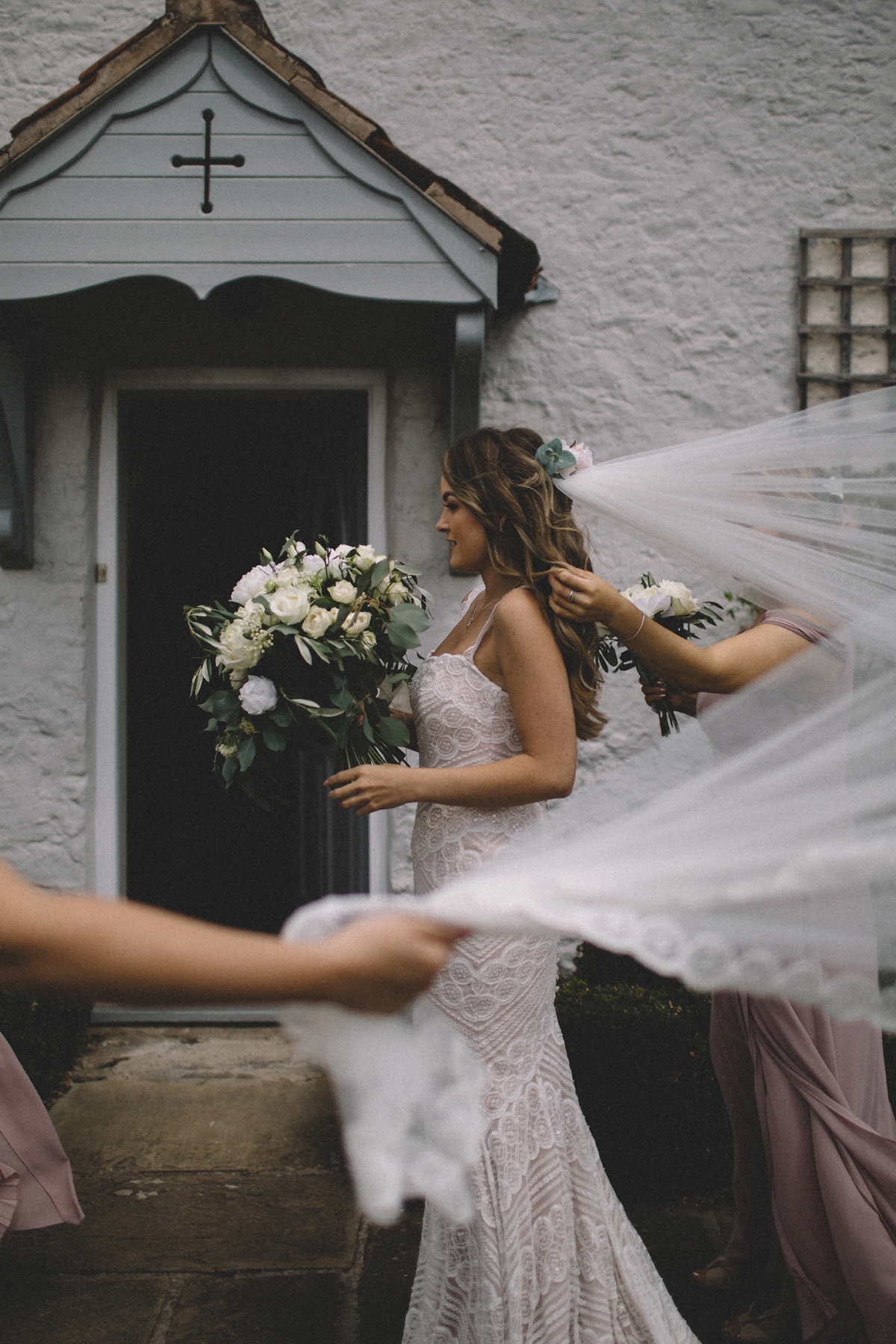 "I knew I wanted to honour tradition and marry in a church, but the rest of the day would essentially be one giant party with minimal formalities and non-traditional elements! We wanted the day to be easy for our guests, so we stayed local (we in fact stumbled across our venue by accident, and it was fairly new and less than ten minutes from our home!).""We got married on a working farm in a venue that was part-barn, and part-marquee. Whilst we knew we needed to honour its setting, I wanted to move as far away from farm and country style as possible. I became an avid (obsessed) reader of wedding blogs including Love My Dress and knew all along that I wanted a wedding that was somewhere between boho, luxury, contemporary, and fun! I wanted a combination of subtle, muted hues with pops of copper, lots of lights and glitter."
Jade's friend and florist Rebecca Hirst of Flower By Design created absolutely lovely, natural arrangements in neutral shades with fresh foliage.
"I wanted our flowers to complement the wedding rather than be the show piece, so I opted for all white roses and peonies and tonnes of eucalyptus and other greenery. They were perfect. Rebecca absolutely nailed it; they looked so elegant and classic, and really complemented the colour of our dresses."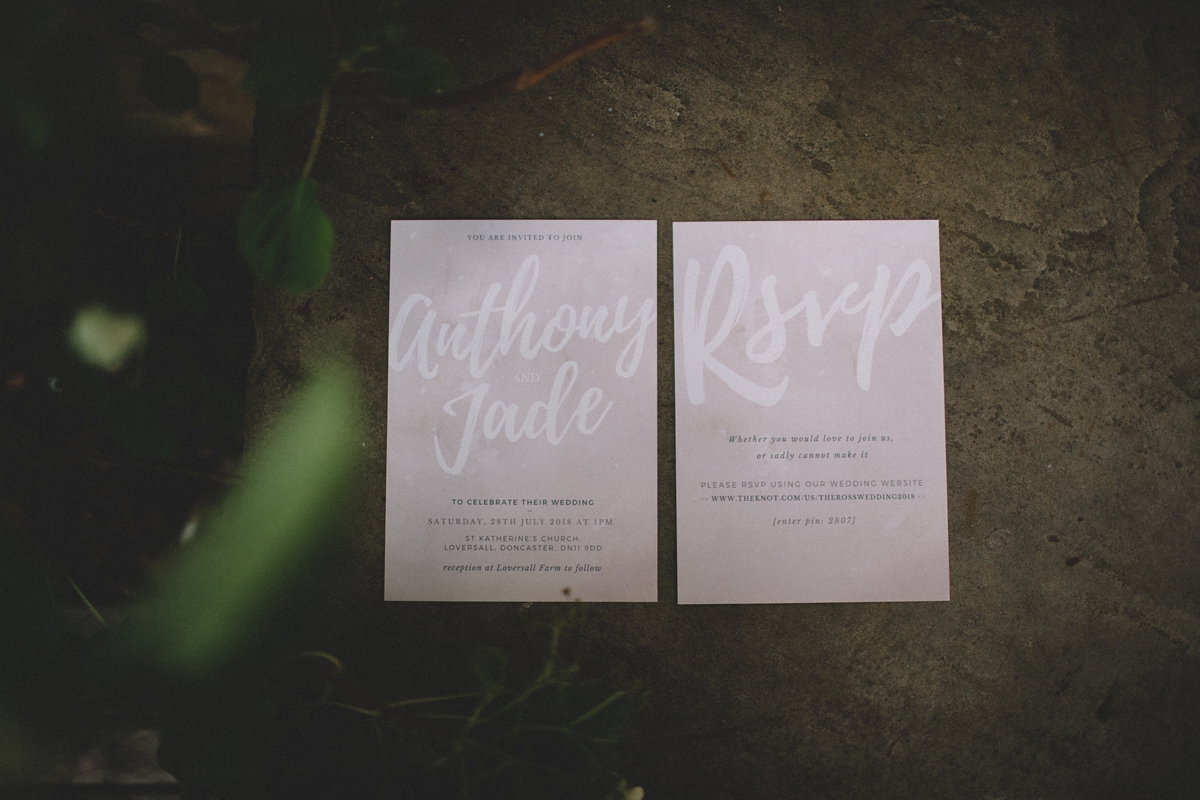 Usually a fan of sweeter vanilla and coconut perfumes, for her wedding day Jade wanted something a little different and also chose to make this element her 'something borrowed', by asking her grandma to choose a fragrance for her from her own collection. The perfume she chose was Flora by Gucci.
[JP-VIDEO]
"…Samuel Burley of Samuel Burley Salon in Doncaster… my regular hairdresser and is known locally as the hair god, and he truly lived up to his name! He gave me a soft, boho half up-half-down hairstyle with soft waves and braids, and the bridesmaids all had chignon style up-dos with their floral combs to suit."
"Sarah Turgoose did my makeup with the brief of flawless and glow-y but still able to spot my freckles, a subtle bit of drama on the eye and I chose a lip combination of MAC's 'Dervish' lipliner and 'Viva Glam II' lipstick, which was the perfect mauve shade that matched my dress."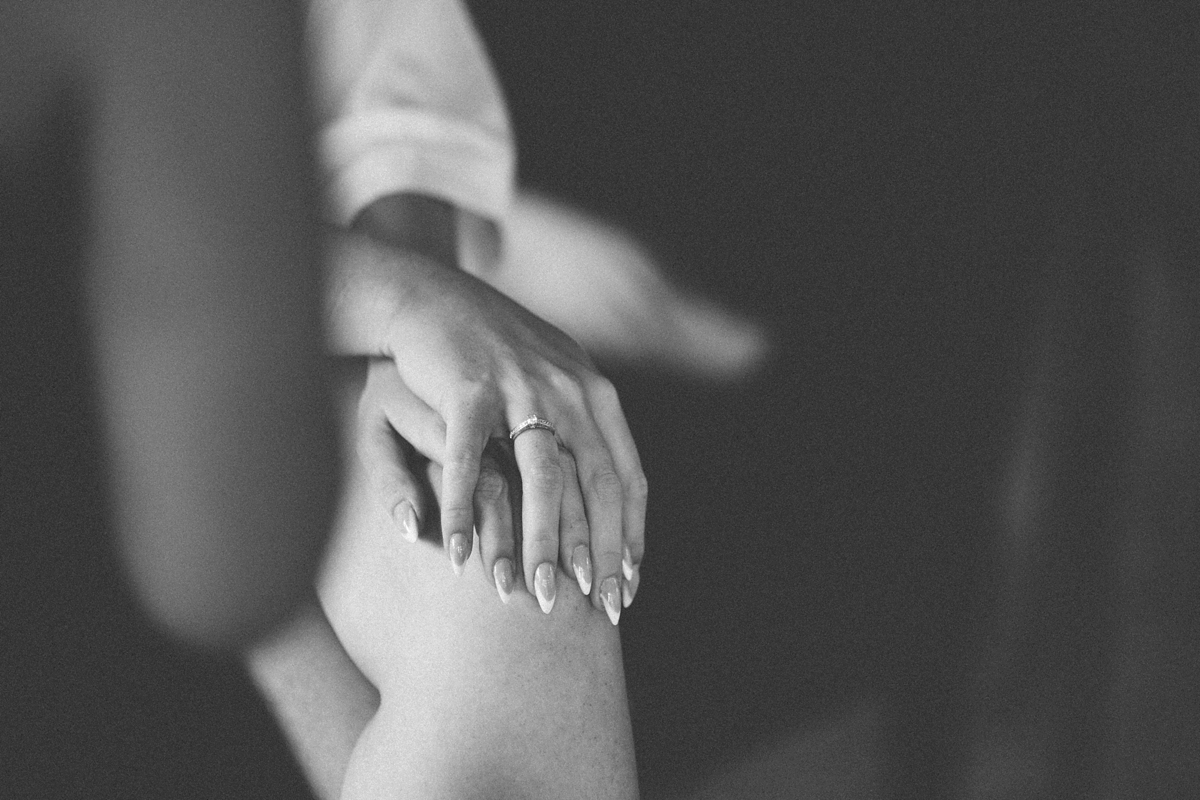 Jade wanted some very special shoes for her wedding day, and chose the perfect pair by Jimmy Choo – the Romy Pump 85.
"…in full coarse glitter, in the colour 'tea rose' and they were so unbelievably comfortable. They are true princess shoes, and whilst they are designer, I still bagged them in the Christmas sales!"
Jade chose the gorgeous 'Pippin' gown by Wtoo by Watters, purchased from The White Yard in Barnsley. The dress is dreamy and romantic while still having a cool and contemporary edge, with its geometric lace design and subtle sparkle.
"Working in Communications, I'm a sucker for good social media and The White Yard drew me in with a dreamy Instagram feed…I spotted the most unusual dress on The White Yard's social media, with circular lace and a very subtle rose gold lining; not me at all, but still very beautiful."
"I booked a visit and walked into a bridal boutique of dreams. The first dress I spotted on the rails was the very same dress from their Instagram, I picked out a few others and but also asked Claire if I could take in the first one as a wildcard."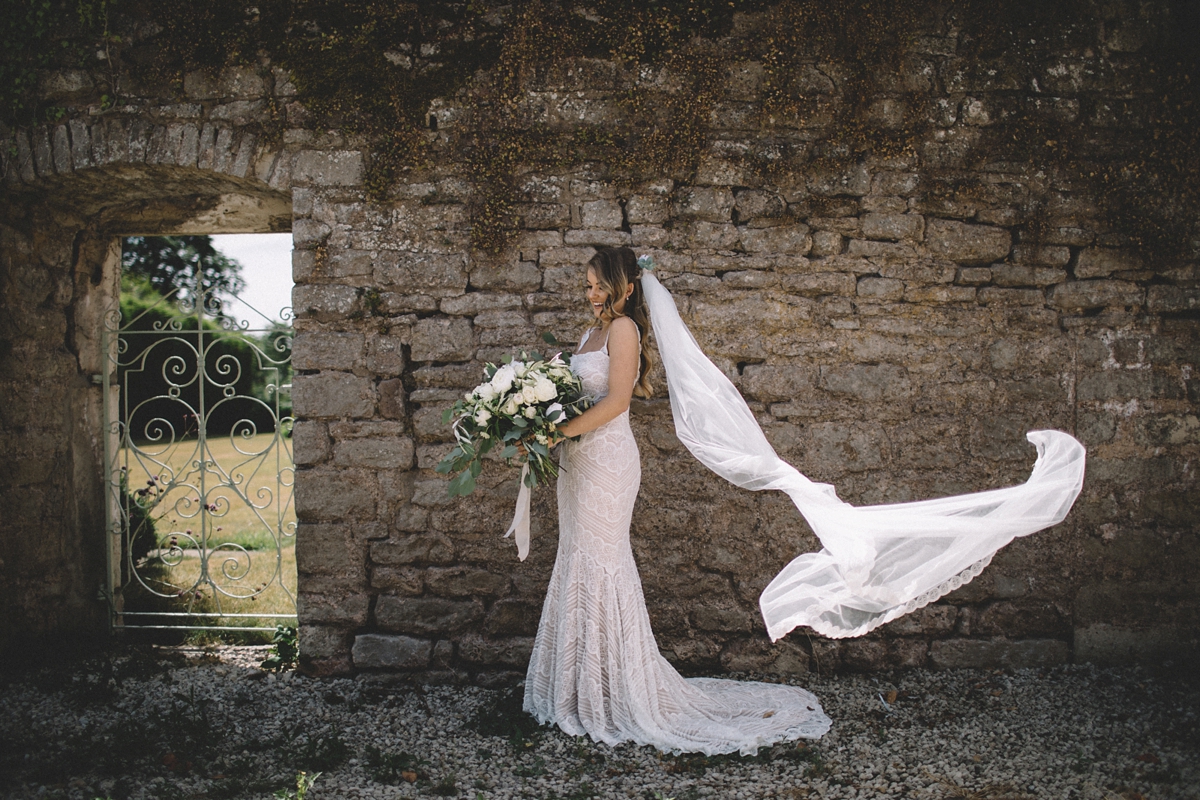 "I tried that one on first in fact, and you can see where this is going, I walked out of the changing room and my grandma's reaction of a simple 'Wow' (she's very honest) confirmed it to me. Claire's boutique is a mixture of the American brands I had lusted over on Pinterest, and small British designers… the 'Pippin' by Wtoo by Watters had me sold."
"The unusual circular shaped lace was somewhere between super contemporary but also a little Art Deco, completely beaded, which caught the light beautifully, with covered buttons, and I chose the rose gold underlay that made the lace pop even more…the way the lace framed my body really made me feel special."
The bridesmaids teamed their dresses with their own shoes and accessories, including jewellery gifts from Jade. She also handmade their hair accessories, using combs bought from eBay decorated with silk flowers and greenery from The Range.
"I had eight beautiful bridesmaids, and each meant the absolute world to me for different reasons. However, having eight bridesmaids means that the budget can be blown very quickly! It also means pleasing eight different styles. I opted for three dress styles to suit their individual shapes, and they were pleated, soft nude-mauve in colour, and full length dresses from the TFNC range at ASOS, with a mix of halterneck, off-shoulder, and v-neck styles."
"My sweet little two-year-old flower girl wore a simple white bodysuit, a nude-blush tulle tutu from an Etsy seller named FlowersandConfetti and a matching flower crown."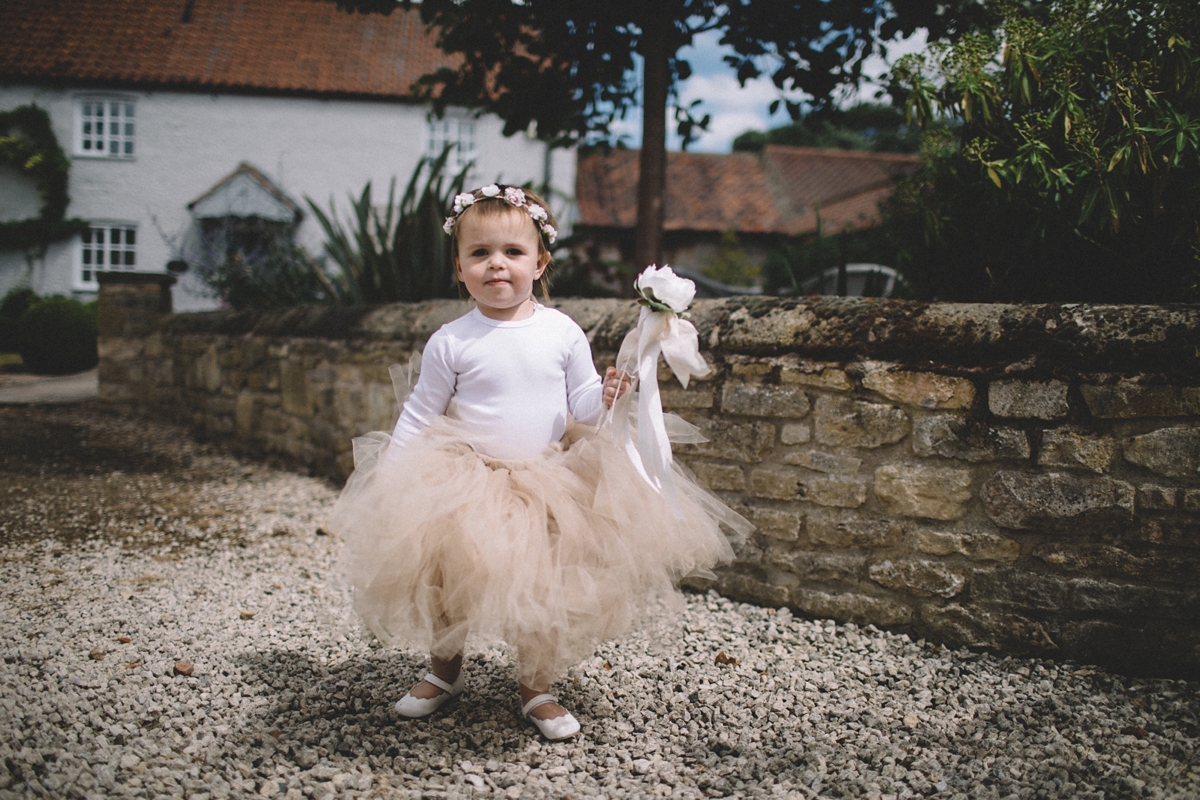 Wedding transport was something rather special, courtesy of Jade's grandad, who is passionate about classic cars. Jade and her dad were driven to the church in a Rolls Royce Silver Shadow, which had also been her parents' wedding car, as well as the car she was picked up in from the hospital after being born, and her Christening car – how wonderful!
To go with her gown, Jade opted for a simple but dramatic single-tier cathedral length veil by Joyce Jackson, also from The White Yard – where the team there also added some coordinating trim in the same geometric lace as the 'Pippin'.
"I wanted to bring in a little boho to my wedding day look, and stumbled across an Etsy seller named GypsyRVintage. She hand makes very pretty, floral hair combs, crowns, and other pieces, and I had a bespoke comb made with a blush coloured rose to match my dress, and eucalyptus to match my bouquet. It sat at the top of my veil and complemented it perfectly."
For jewellery, Jade wore pretty drop earrings and a delicate silver bracelet (she also bought the same pieces for her bridesmaids, but sadly no details provided).
"The starring piece of jewellery was a necklace Ant had bought me for the wedding as a gift for my birthday a few months prior. He purchased it from a jewellery store in Iceland, Aurum. Strangely enough, he coincidentally chose a delicate circular pendant, which matched the lace of my dress."
The couple first met through friends about a year before Jade headed off to university in York, officially becoming a couple in 2009. In 2015 they bought a house together and welcomed a new puppy into their family. One evening in November 2015, Jade returned home late from work to be presented with an early Christmas card from Anthony.
"I opened it our passports fell out and the card read 'Pack yer bags, we're going to Iceland!' I have always wanted to go to Iceland so this was a total dream and I assumed he'd probably booked to go between Christmas and New Year. We were in fact going that very evening; luckily he'd thought ahead and bought me some rather delightful walking boots and had managed to book some time off work with my manager!"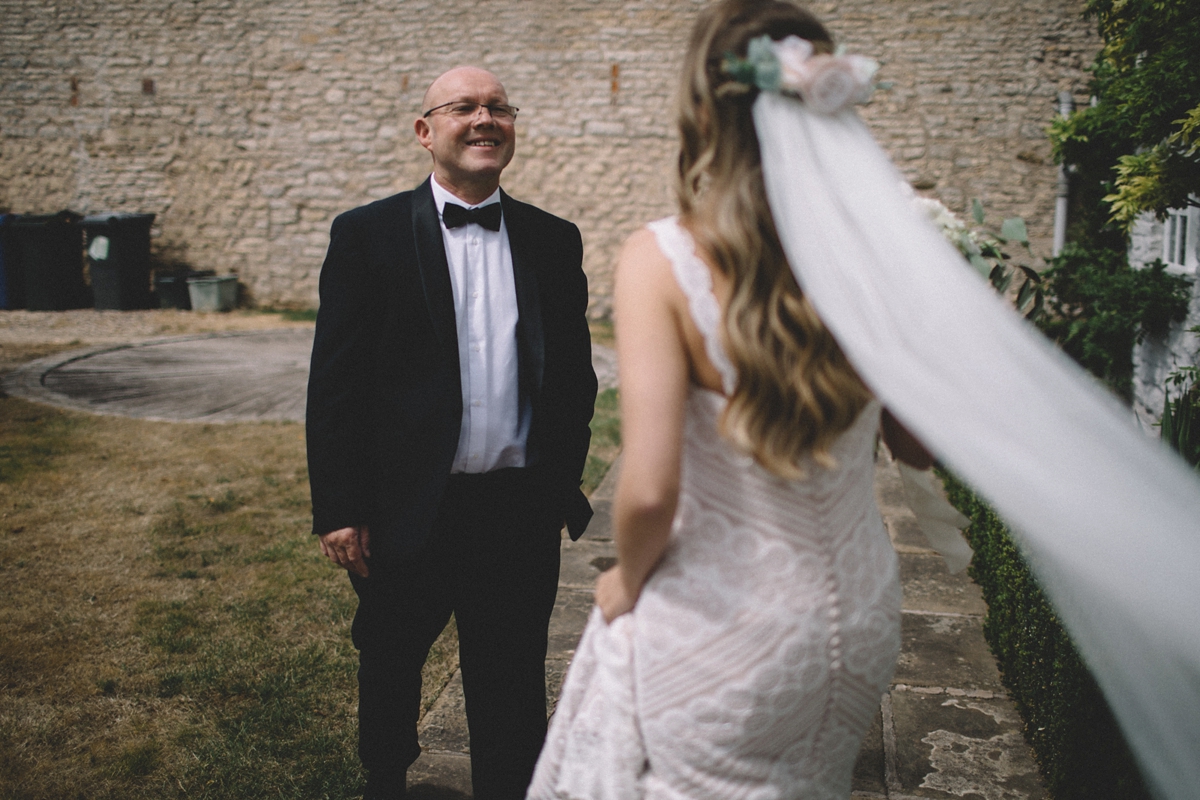 "We arrived and spent five lovely days falling in love with Iceland seeing the breathtaking sights, and on the fourth day at the insanely beautiful Gullfoss waterfall, Ant took my camera and asked the Icelandic guide to get a photo of us in front of the incredible scenery… I posed for the photo and just as I realised that the red light on the camera which indicated it was actually recording was on, Ant whipped me round and grabbed my hands, he said a few very sweet things, dropped to his knee and popped THE question.I couldn't dream of a better place to become my best friend's fiancée…"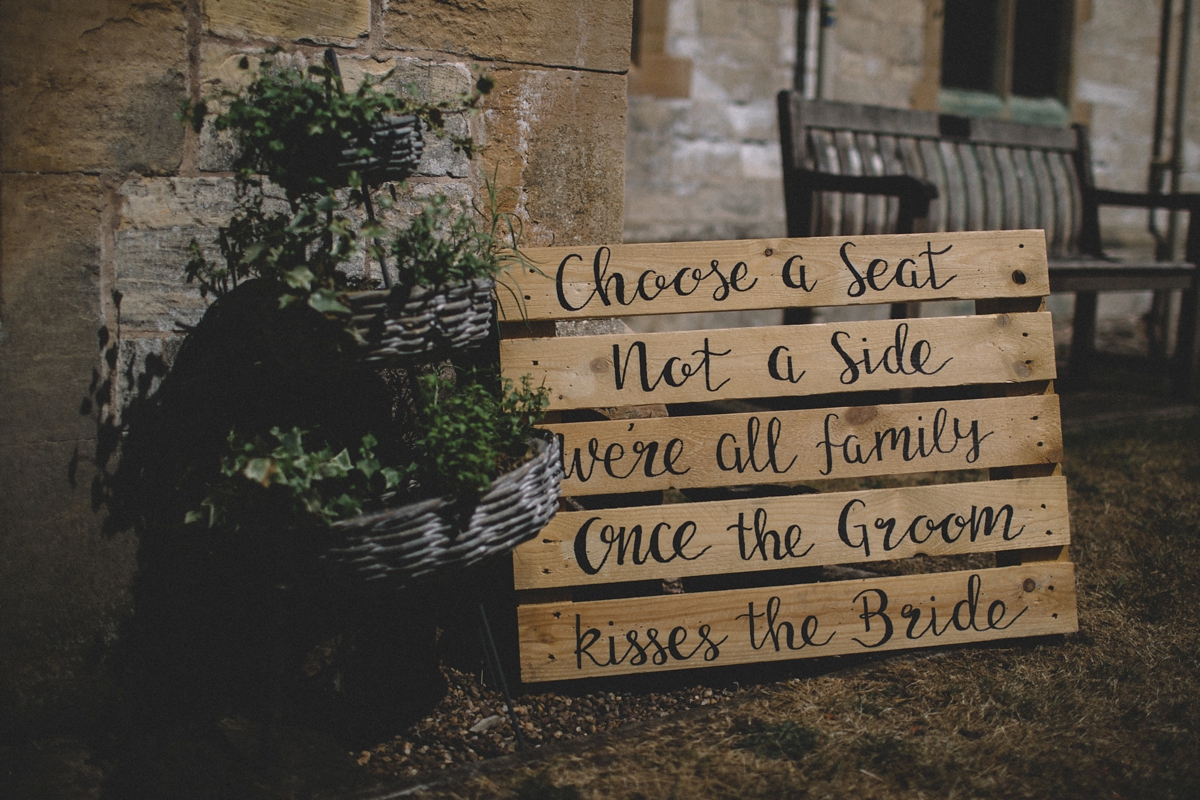 Jade was accompanied down the aisle by her dad, and chose a live acoustic version of Elvis Presley's Can't Help Falling In Love With You performed by Daniel Sams – a touching surprise for her grandfather, who is an avid Elvis fan. The couple exchanged vows and rings, both from Rox.
"I wanted something totally non-traditional and unique, that was more of an eternity band-style and Rox Jewellery offered just that. I chose a marquise and round diamond band, with Ant opting for a brushed palladium ring."
Anthony had been picked up for the ceremony in another beautiful classic car belonging to Jade's grandad – a perfectly polished cherry red Jaguar E-Type. Following the ceremony the happy couple jumped in for a spin to the reception venue, which turned out to be one of their favourite parts of the day.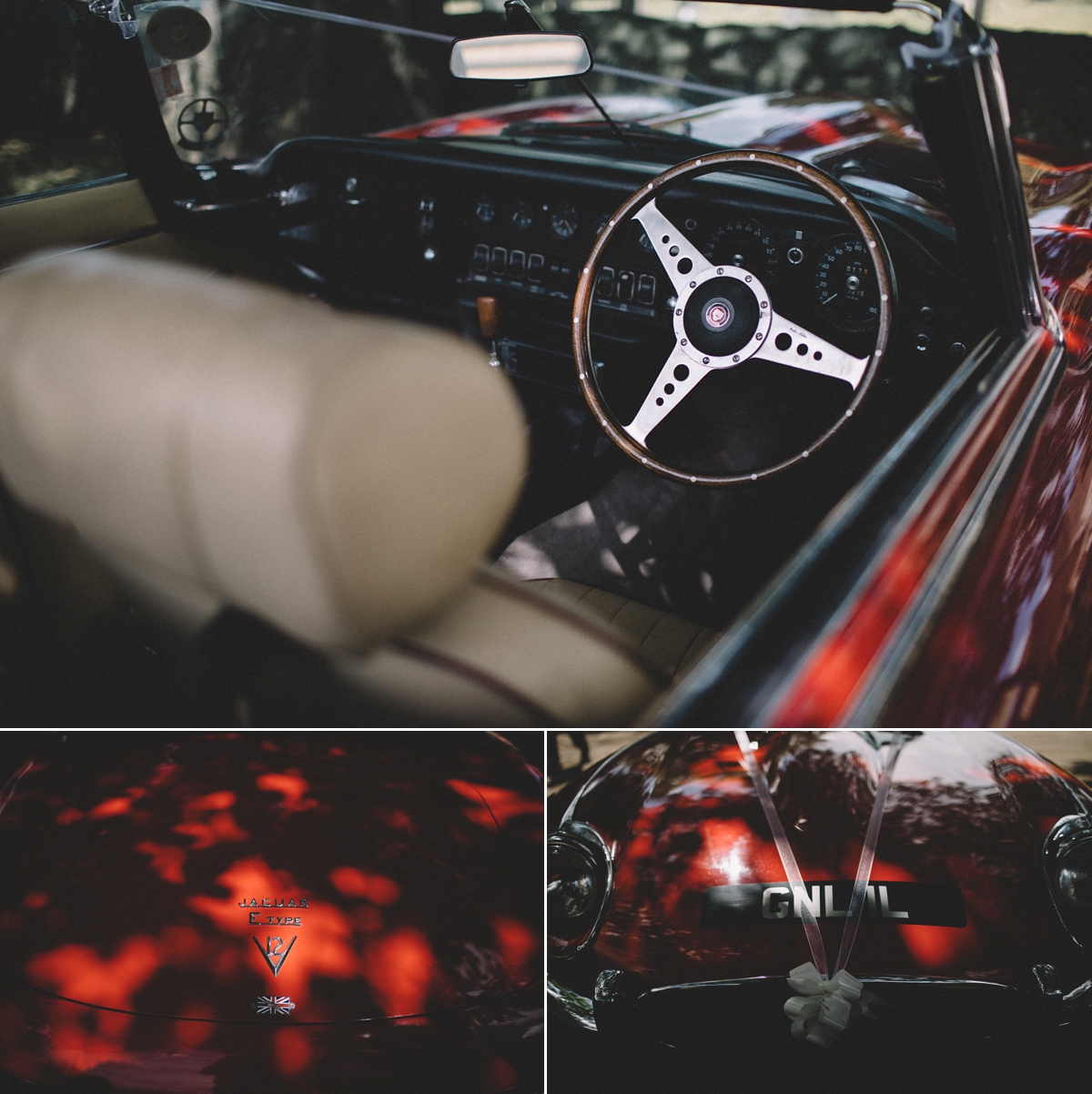 "It became the real show piece of the day, and we got to have our own version of a 'Harry and Meghan' moment, when Ant drove us just up the farm road from the church to the barn…really special and not really planned so it took everyone by surprise, and our photographer got our confetti moment in the car, which I love, and I could tell my grandad was chuffed to bits, as he would say!"
I love the atmospheric use of light and shade in these beautiful images by photographer Carrie Lavers, and the couple also chose videographer Jordan of Blanc Canvas Films, too.
"Our photographer, Carrie Lavers is an absolute dream. She was the second wedding booking we made after booking our venue; I knew I just had to have her capture our day! I can't really do her work justice, she's amazing at framing and finding the perfect light."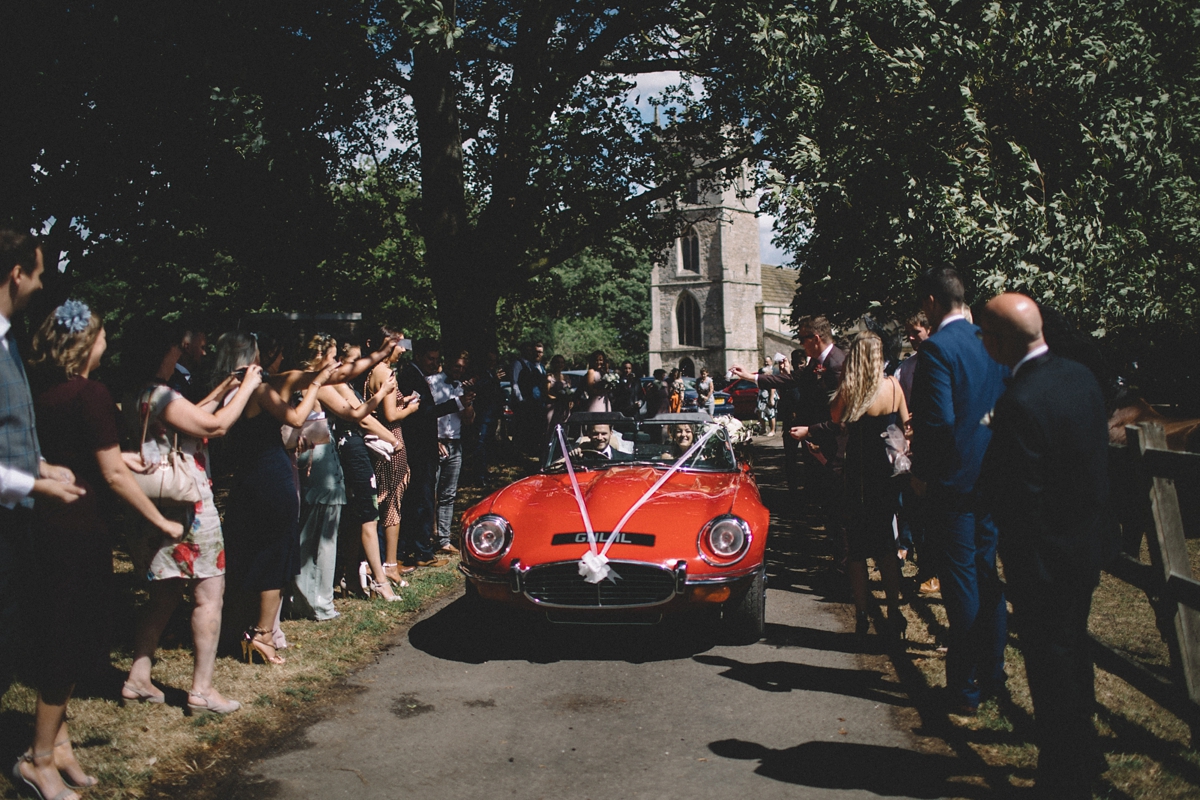 "She really captures true emotion, and the best part is the way she tells a story using her documentary style (and doesn't like traditional, pose-y wedding shots that we wanted to stay away from!). And she's also a fabulous person to boot. We had the best day with her in London capturing our engagement photos and she was a dream to have with us on the big day!"
The venue space was transformed with a stylish, paired back palette of white and green flowers and greenery with accents of warm copper in the table settings and flatware, signage and floating candles. Jade designed all the stationery herself, as well as place settings using clear acrylic discs with rose gold paint and table names (each one a romantic Icelandic word).
"Our wedding décor was a complete mixture of professional venue dressing by Imagine Events, my own sourced pieces and some DIY projects…I created my dream dancefloor backdrop with some copper pipe (Ant may have done this bit!), some artificial florals and eucalyptus, and a gorgeous white neon sign saying 'Forever and Always'. I love neon and really wanted to bring it into the day somehow."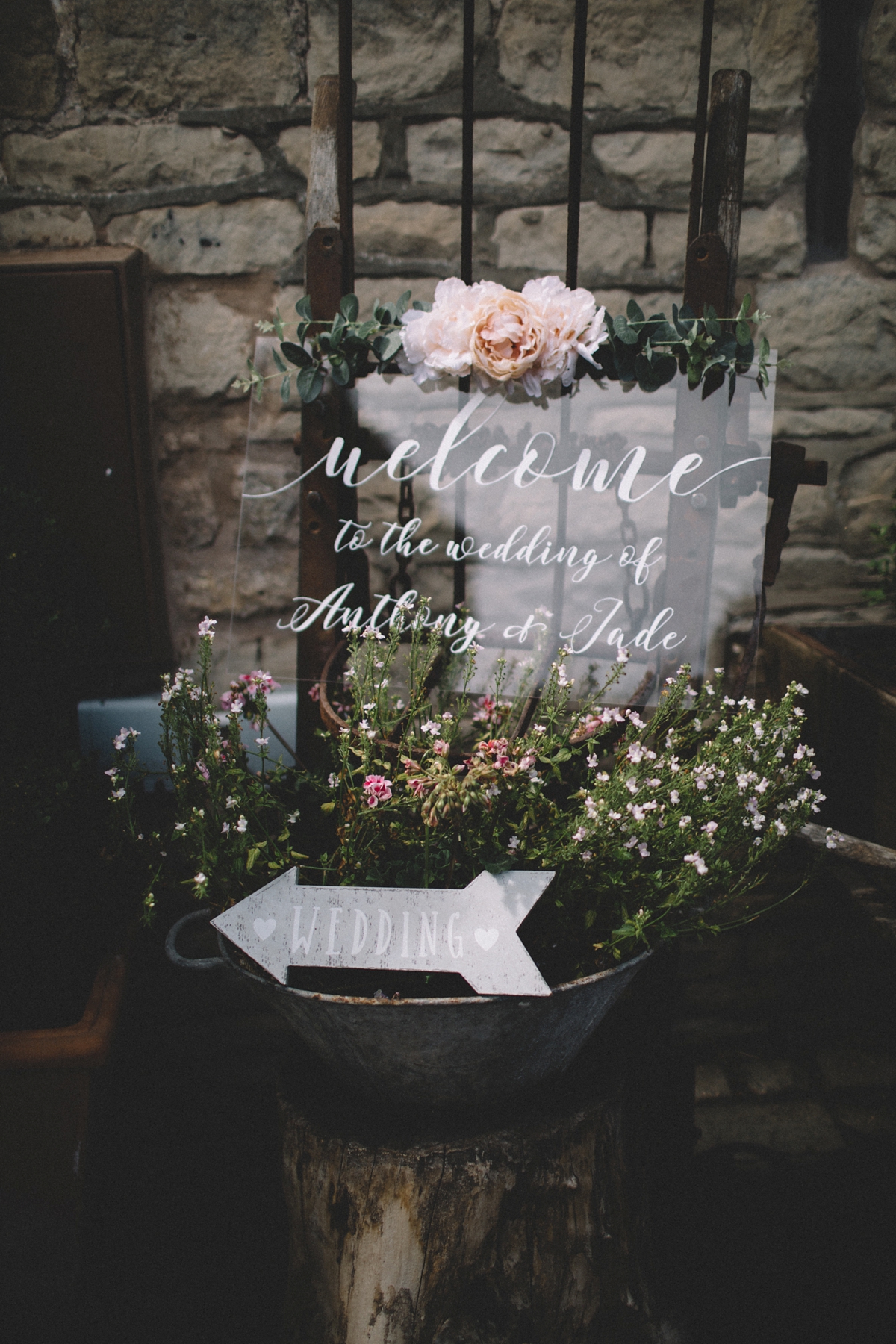 We wanted a sit-down meal but with a twist. I discovered Fizz and Fire after a lengthy search for non-traditional caterers, and they served a beautiful Yorkshire-themed and locally sourced menu including canapes and a barbecued banquet of hickory-smoked pork ribs, barbecue chicken, slow-cooked pulled beef brisket on brioche buns, cheese and beetroot skewers,maple-glazed corn, potato salad, and this was all followed by a full platter of delicious desserts. It was every-day food done well, it completely suited our venue and wedding style and our guests raved about it!"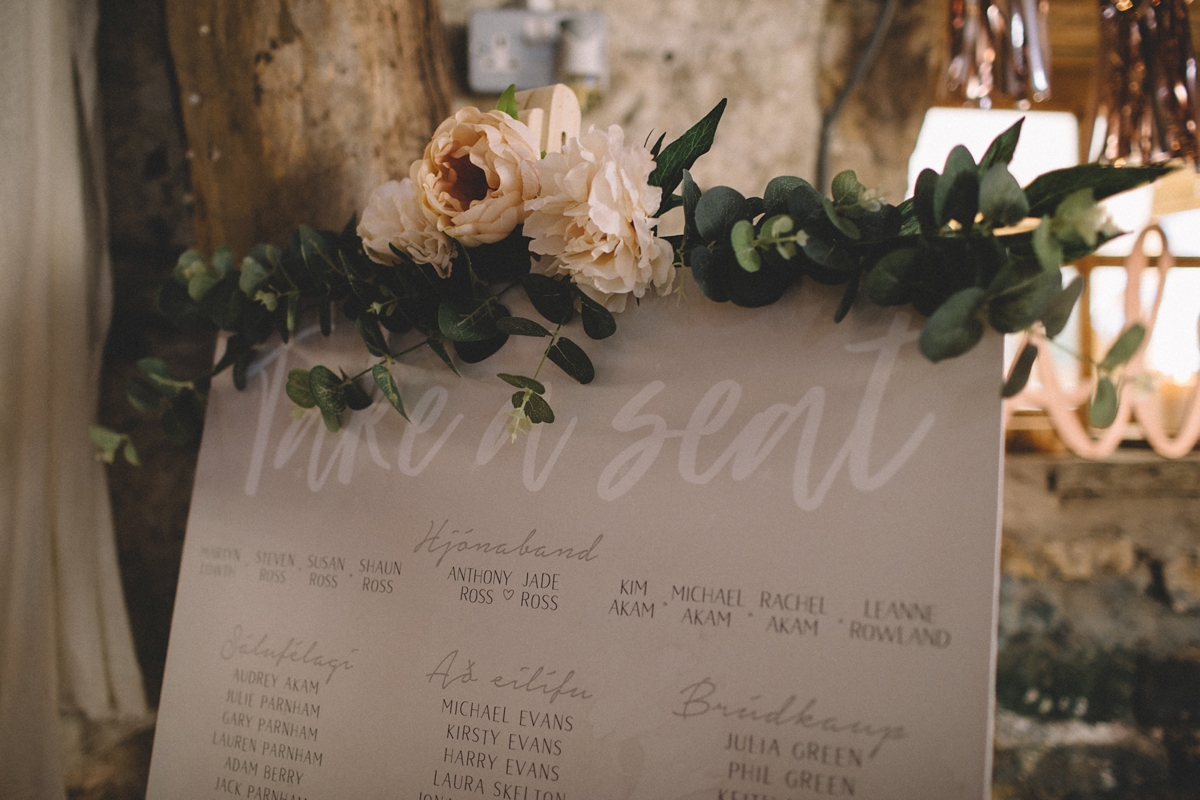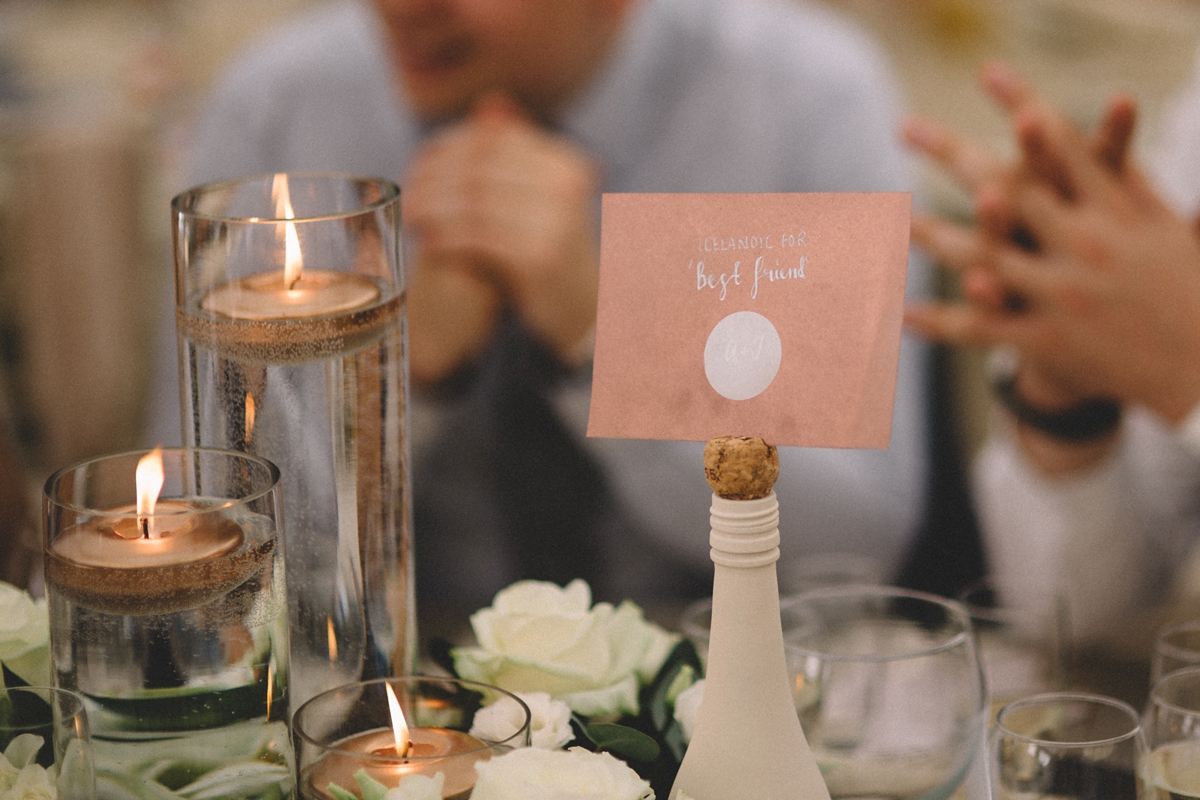 "Sara at The Bake Lab made a delicious four-tier semi-naked cake, decorated with macarons, fresh flowers and a copper cake topper from All Her Glory.
"It was so classy and elegant. Our flavours were lemon, chocolate fudge cake with salted caramel, berry and almond, and a gingerbread latte wildcard layer after Ant's favourite drink."
Later in the evening there was more amazing food – this time wood-fired pizzas courtesy of Pizza Party People, as well as time spent around a cosy fire pit toasting marshmallows.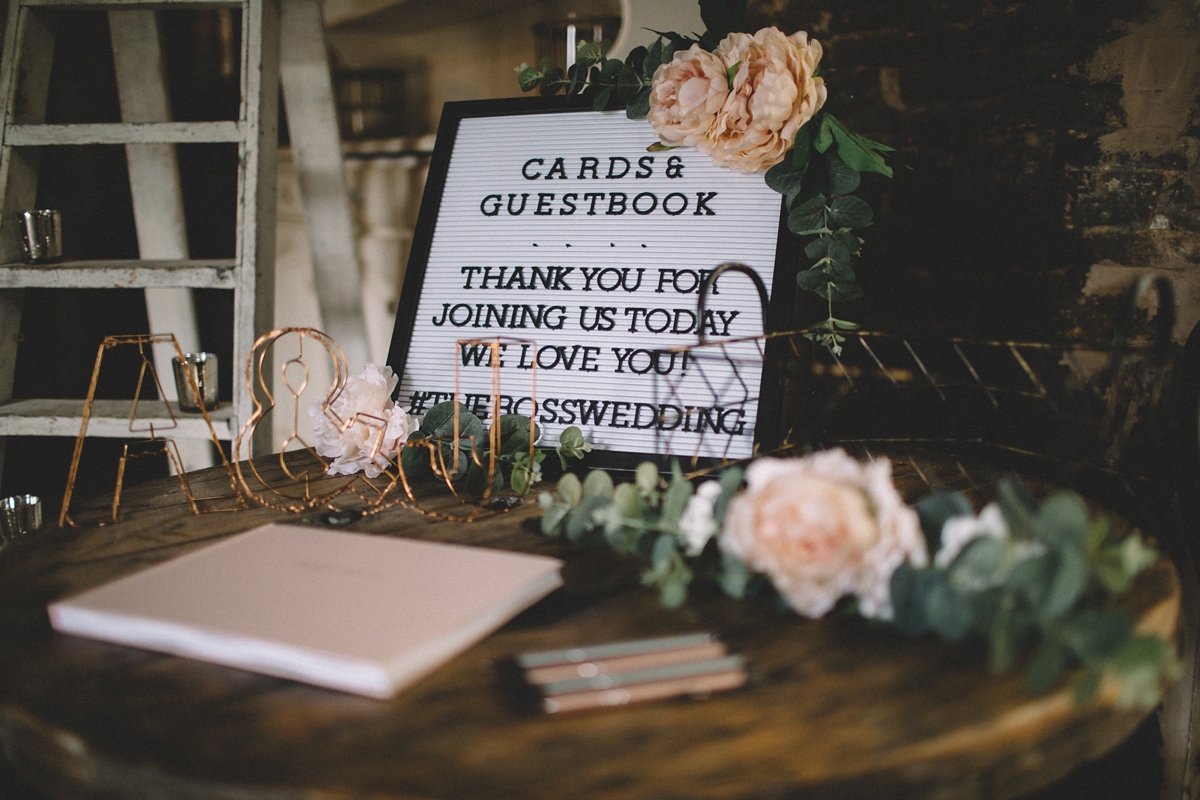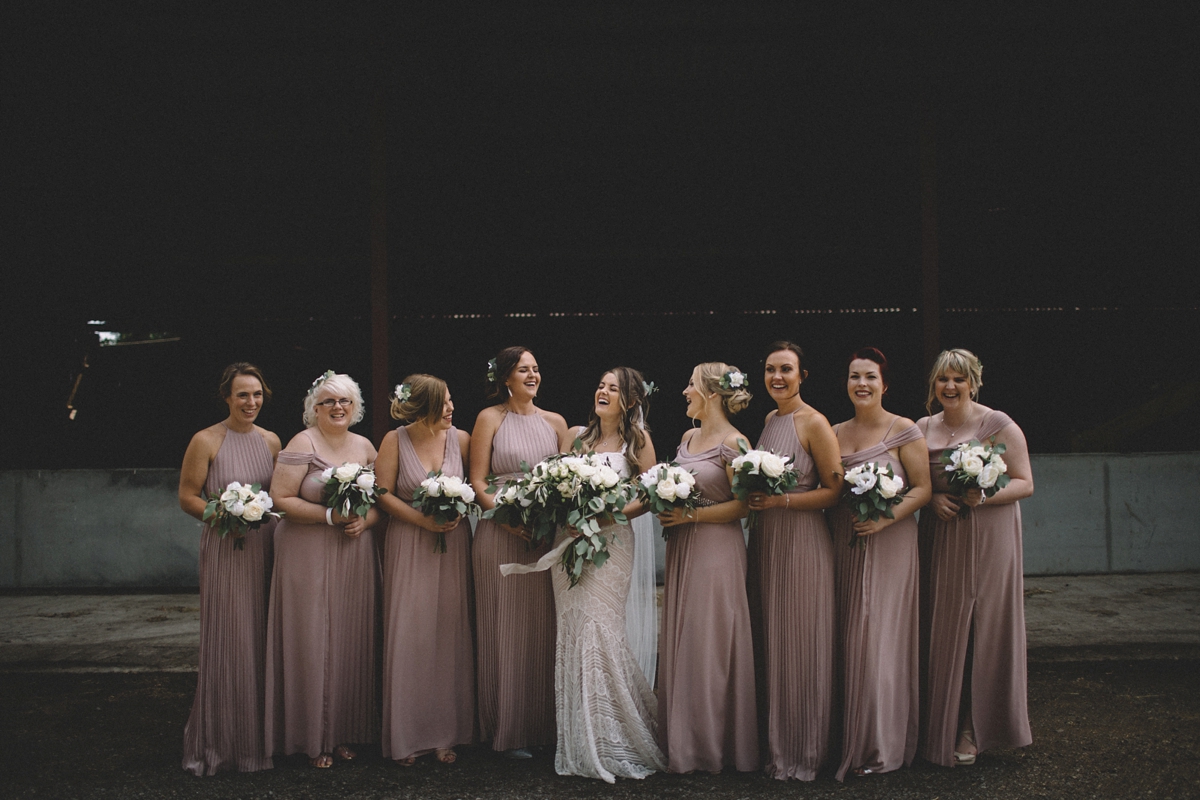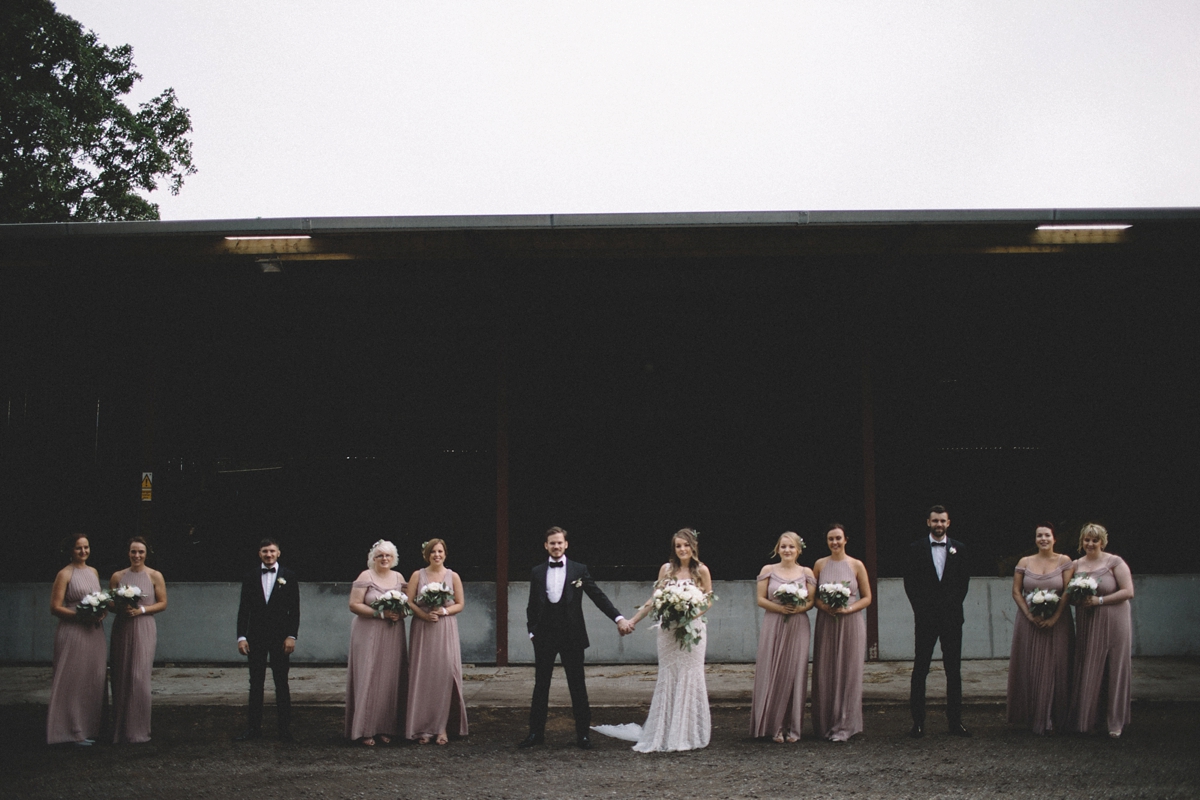 Anthony looked handsome in a classic three-piece tuxedo from Charles Tyrwhitt, and this sartorial choice took Jade by surprise! Together with his tuxedo, Anthony wore a velvet Paisley print bow tie, shoes from Dune and a pair of personalised cufflinks from Highland Angel at Not On The High Street, which Jade gave to him on their wedding day.
"Ant's choice of occasion wear can often be a little quirky (including an interesting burgundy velvet blazer that found its way to a day out at the Races one time) so when he told me he wanted a classic black tuxedo, I was surprised, if not a little relieved! … It's cheesy I know, but I genuinely have never seen him look so handsome in all of our nearly nine years together."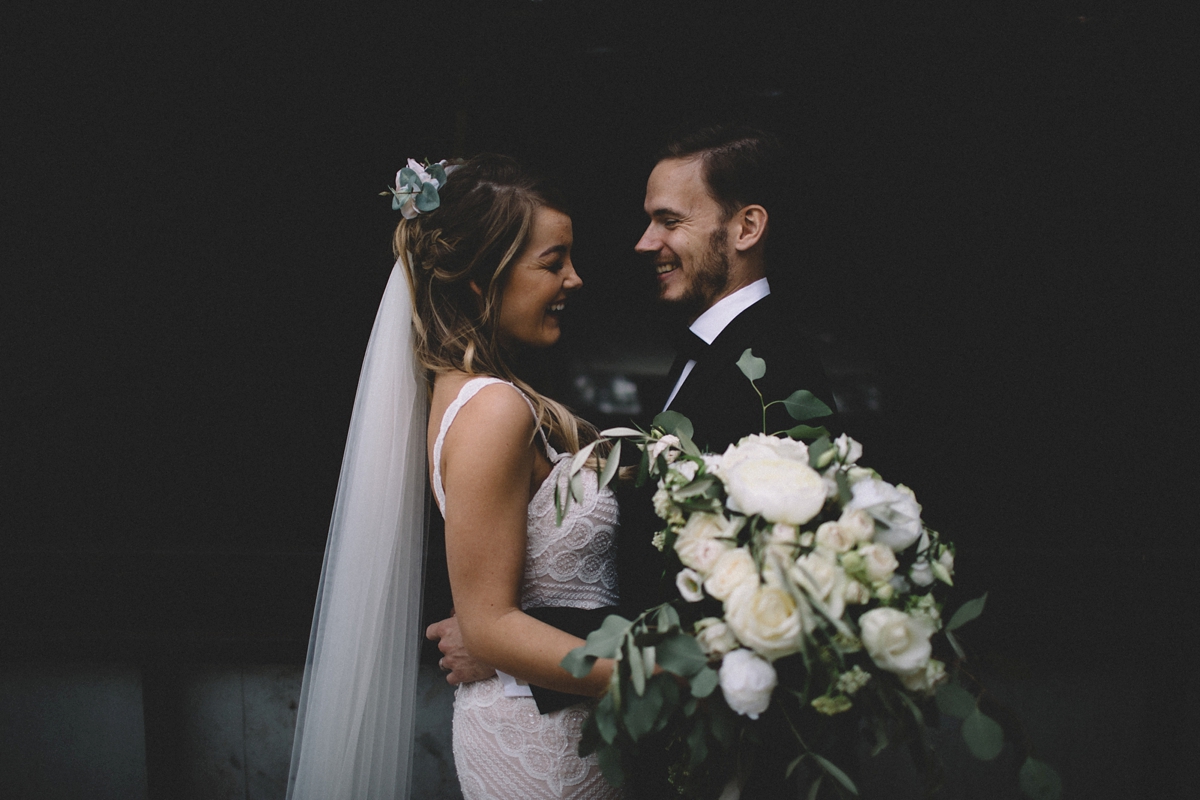 As well as this, there was a brilliant variety of entertainment, with more acoustic music from Daniel Sams, a disco from WDC and make-up artist Erin Make Up Design creating glittery festival inspired looks on lots of guests.
"…which went down an absolute storm and we saw many glitter beards on the dancefloor. We also had the coolest, retro-looking photobooth from Boothomatic. It was a tripod-style, open air booth so we could get a good ten or more of us in the shots…
"Our first dance song was In Your Hands by Eliza Doolittle. We have both always loved her songs and used to belt out this particular tune in the car, going back and forth from York when I was at University, and it inadvertently became our song."
"Dancing with Ant on the dancefloor surrounded by all our loved ones was amazing, as was listening to my dad's speech. He's a true Yorkshire bloke of very few words and doesn't show much emotion, but he really went to town researching speech structures and perfecting it. I was so proud."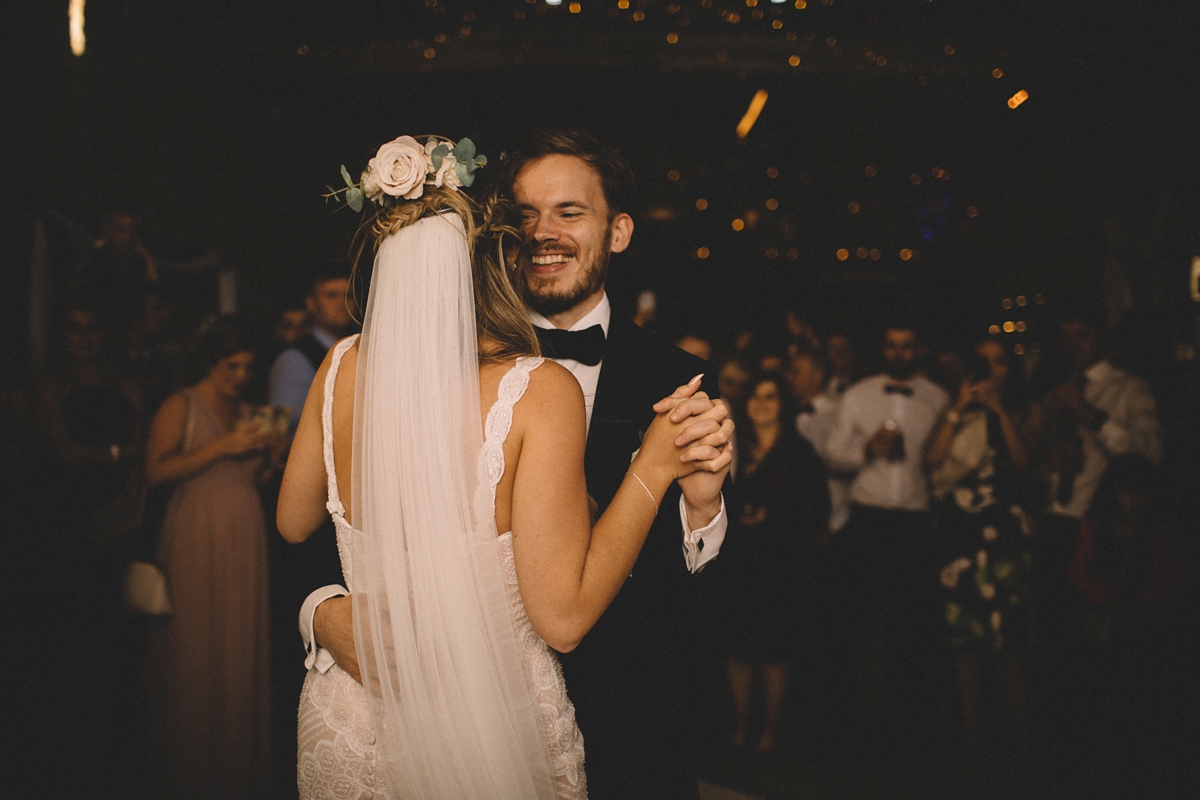 Words of Wedded Wisdom
"Make every single moment of getting married count. That's not just the day, it's the build up, the appointments, the hen dos, the milestones. The day goes as quickly as everyone says, so make the most of each moment you get."
"I had several dress appointments with different loved ones so that everyone was involved, we made a point of turning appointments such as cake consultations and food-tastings into date nights, we had a bridesmaid WhatsApp group that we talked wedding in for the entire two and a half years, and regular bridesmaid appointments at the pub where we hashed out the massive to-do list over pizza and wine. It's so much more than just the day!"
"Practically speaking, try and book a venue where you have access the day before the big day, particularly if you want to be involved in the décor part. My eight bridesmaids and I spent nearly the full day before decorating and tweaking and then retired to our accommodation to get excited. I enjoyed it nearly as much as the wedding day itself! It's also quite strange seeing it all come together after months of worrying what it would look like. It always looks better than you can ever imagine! Etsy is fantastic for personalised, handmade decorative pieces and I tried to choose ones I could display at home afterwards."
"Finally, make sure your guests feel they can take lots of photos. I know that there has to be a balance between enjoying the day through their own eyes and through their phones or cameras, but there's no joy like it when you have a touch of wedding blues and you spot a photo of your day that you've never seen before!"
Thank you so, so much Jade and Anthony, for sharing your day and for your sweet and thoughtful words. Many thanks also to the talented Carrie Lavers for these fabulous images. You can see more of her work on Love My Dress here.
With love,
Laura