Do you believe in fate? Or do you fall in to the 'coincidence' school of thought? Whatever you believe, I think you're going to be touched by the story behind the Maggie Sottero gown worn by bride Laura. She bought it the day before her long-term partner proposed. Fate or coincidence? Read on to decide.
The bride and groom are Laura, head of partnerships at Clipper Races, and Dave, a secondary school teacher, who married on 29 July in a humanist ceremony at the bride's beautiful family farm in Abbotsleigh, South Devon. Creating a relaxed, personal day was especially important to the couple; Laura's mum passed away the year before the wedding so getting married in the garden she created helped the bride to feel that she was part of the celebrations. The garden setting was the ultimate backdrop for the day's botanical inspiration, which had subtle boho influences and a gorgeous, modern colour palette of blush, copper and sage green.
Photography Liberty Pearl Photography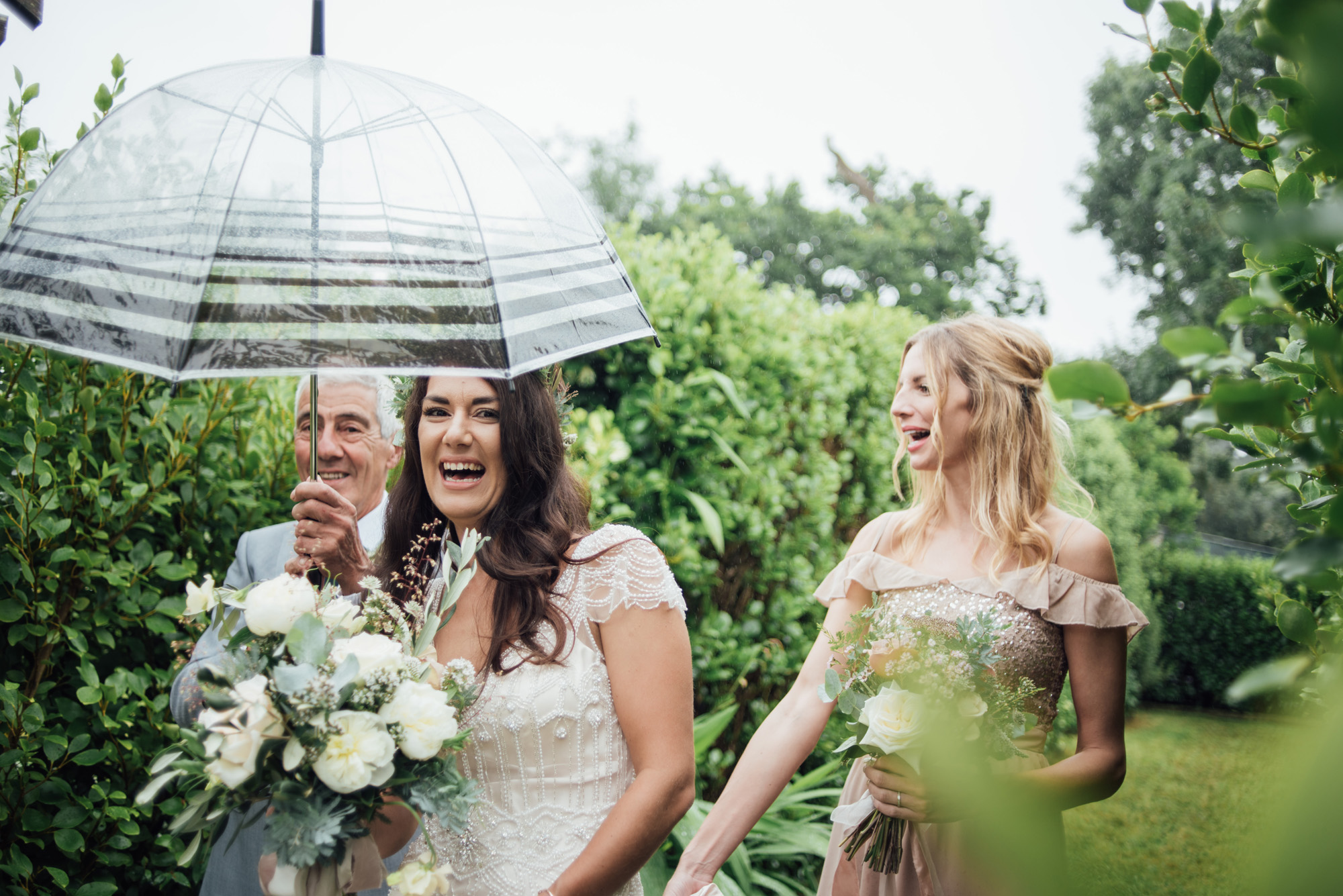 To capture the day, Laura and Dave contacted Amber Leach of Liberty Pearl Photography. Amber's work is simply beautiful; a true celebration of the Devon countryside and its summer flowers. Despite the rainy day, the images have so much clarity and those of the couple and their guests caught unawares are so special.
"Amber was great – she accommodated all of our requests, and fitted in with our plans and guests. She captured lots of moments as well as the details."
For a relaxed, boho touch and to fit in with the overall botanical feel, Laura balanced the exquisite beaded detail of her dress with a fresh flower crown from Marta Matson Flowers. Again, its base held some special meaning for her.
"The base of the wreath was also my something old; it was the same wreath that my mum used forty years before. She had it dried and kept it above her bed all those years."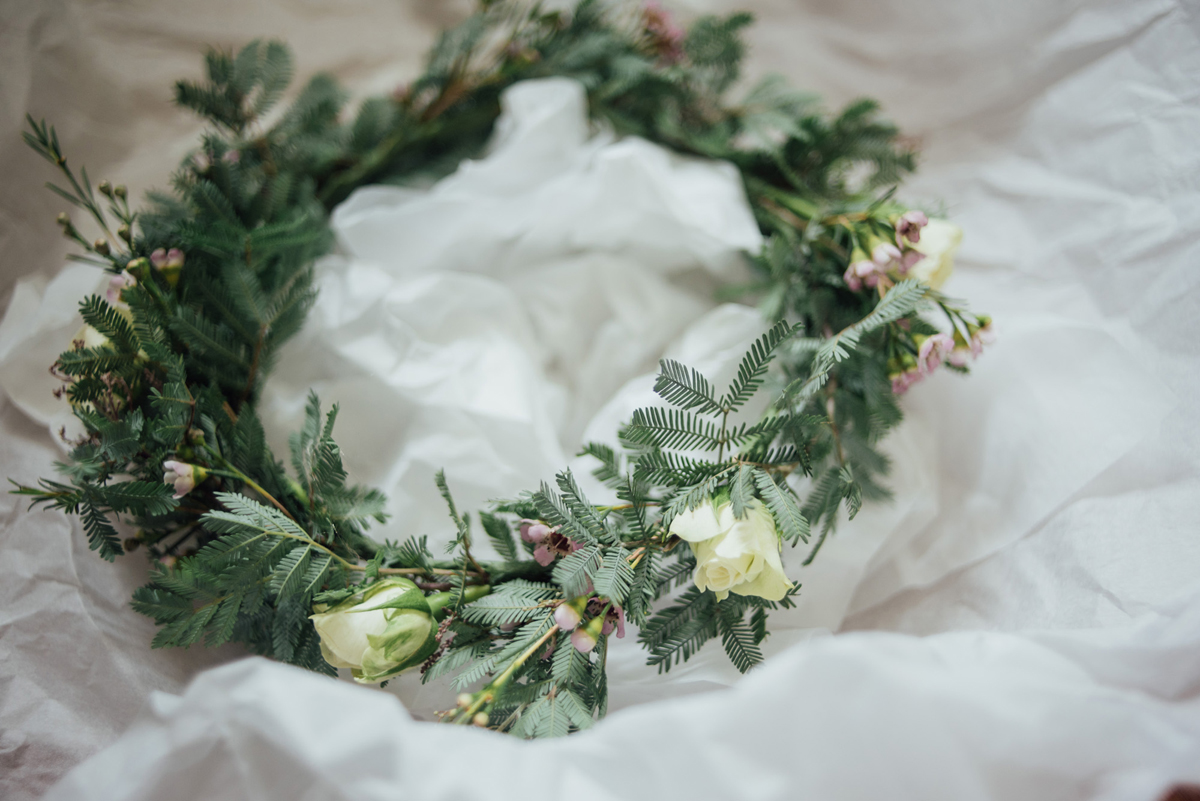 "Marta – with her incredible skill – recycled it and created the most perfect botanical crown. The flower crown was a circlet of small foliage with scattered rosebuds and a cluster of foliage and flowers, mostly roses, covering roughly one quarter of the circlet, all to echo my bouquet."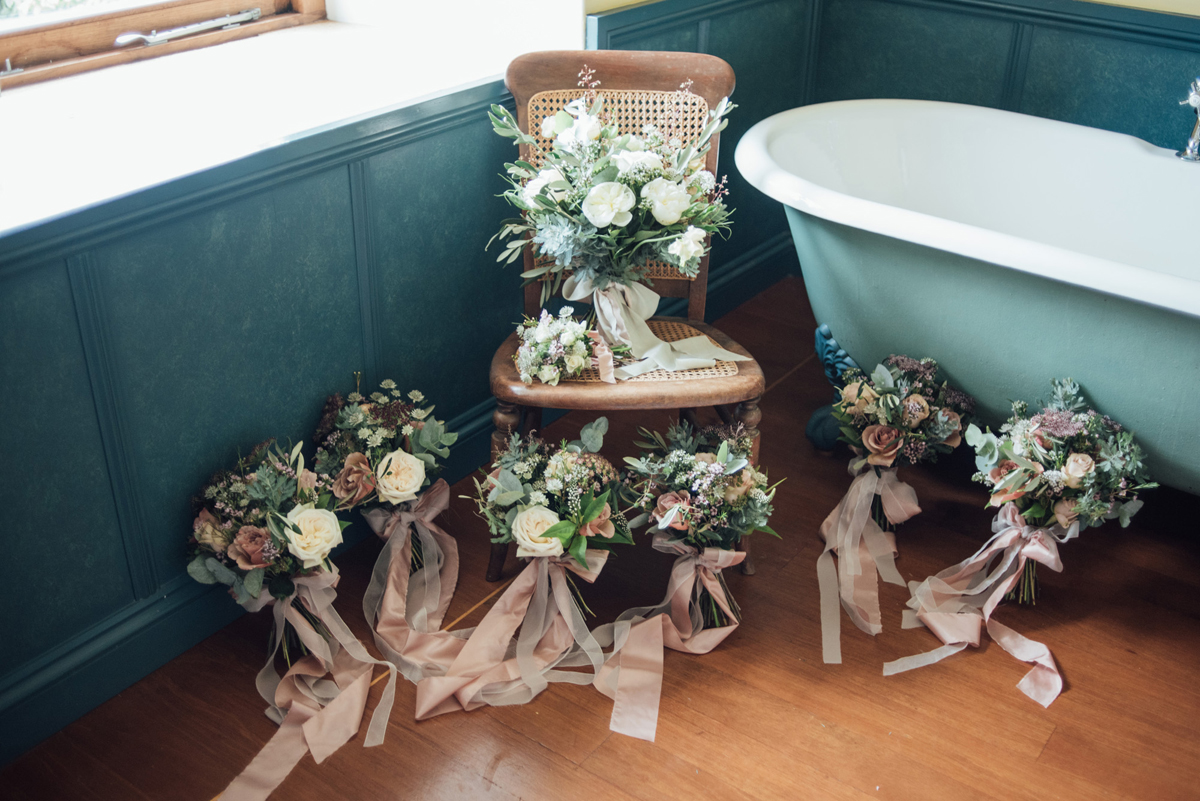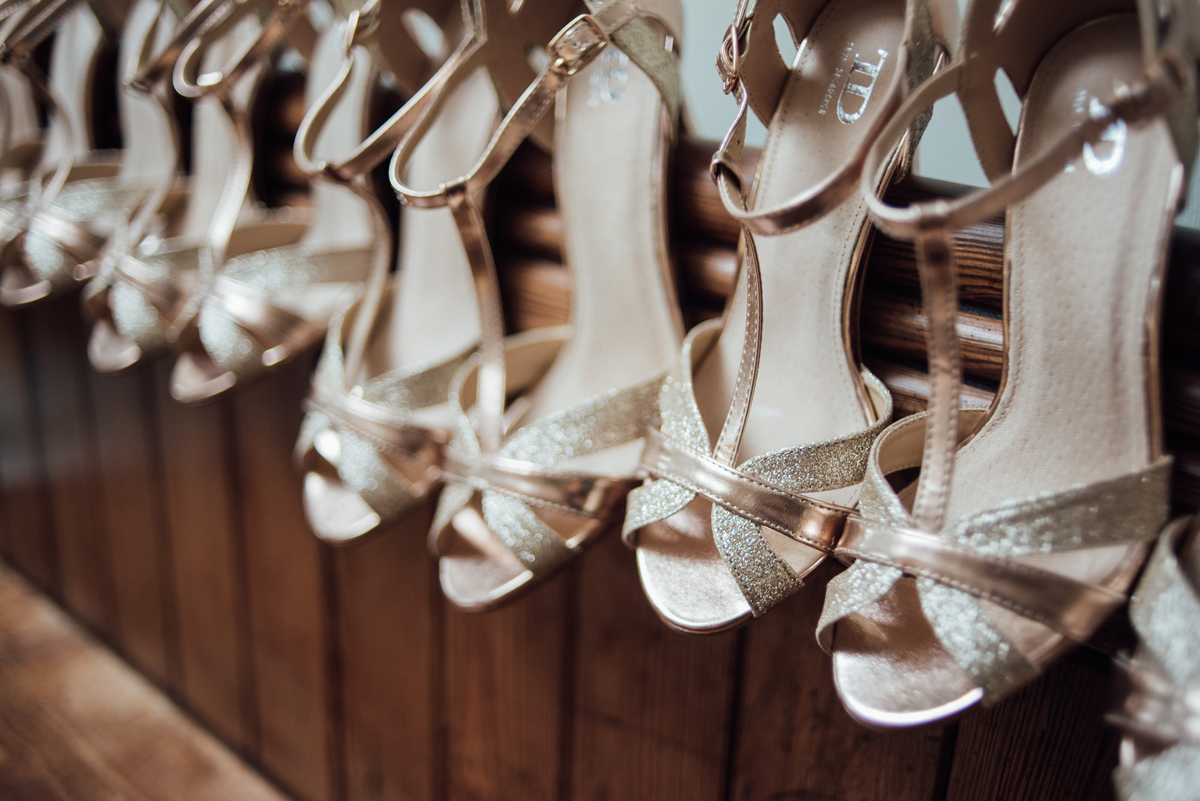 The six grown-up bridesmaids wore a mix and match selection of gowns from ASOS, Maya and Needle & Thread, all of which echoed the bride's in their beading. The colour palette was a pretty selection of blush and copper shades and they wore the same True Decadence shoes as Laura.
"I wanted the girls to feel comfortable and reflect their personalities."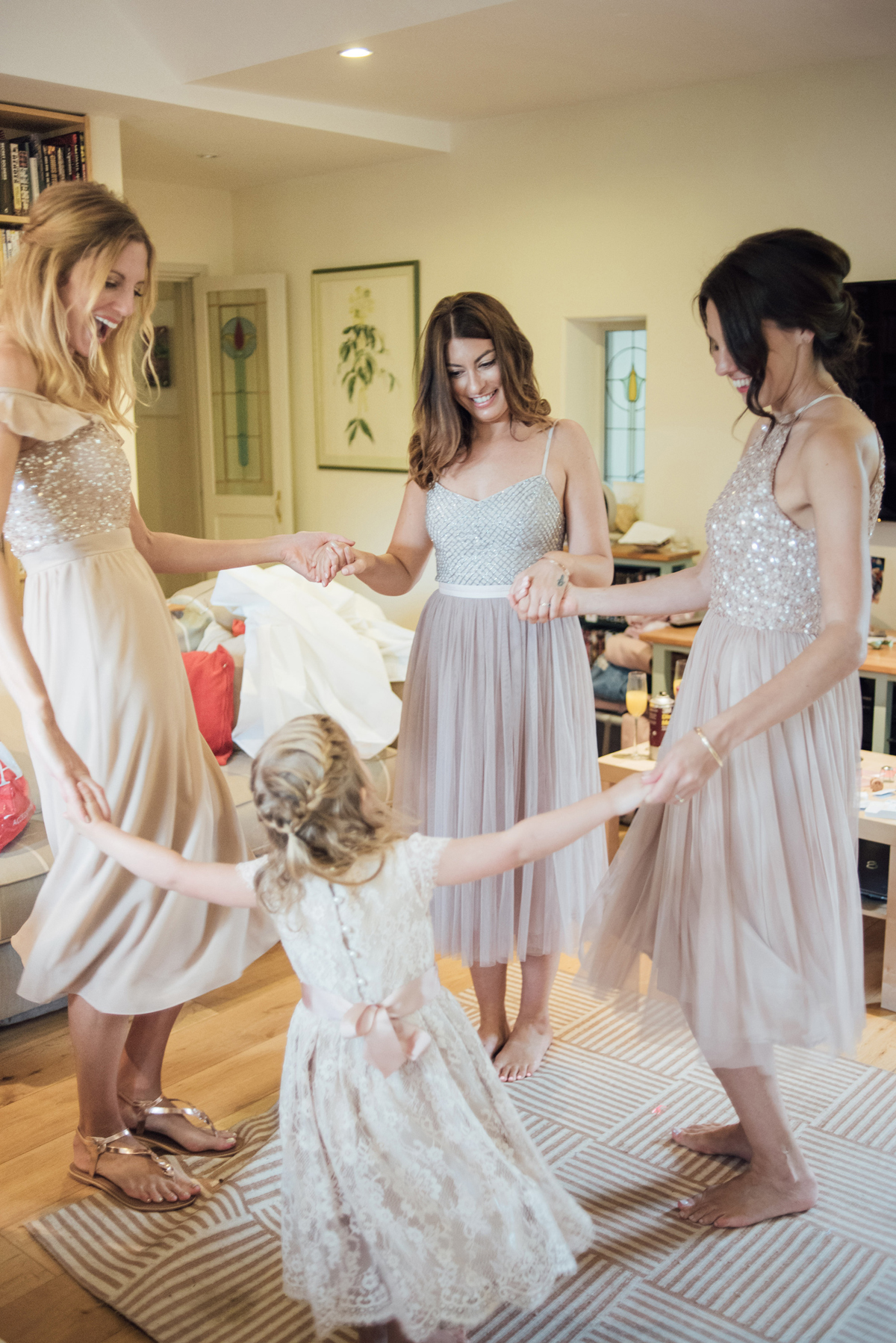 Her accessories were kept simple, especially important as the dress is so detailed. She wore an engraved rose gold bracelet –  a gift from Dave – and sandals from True Decadence at ASOS.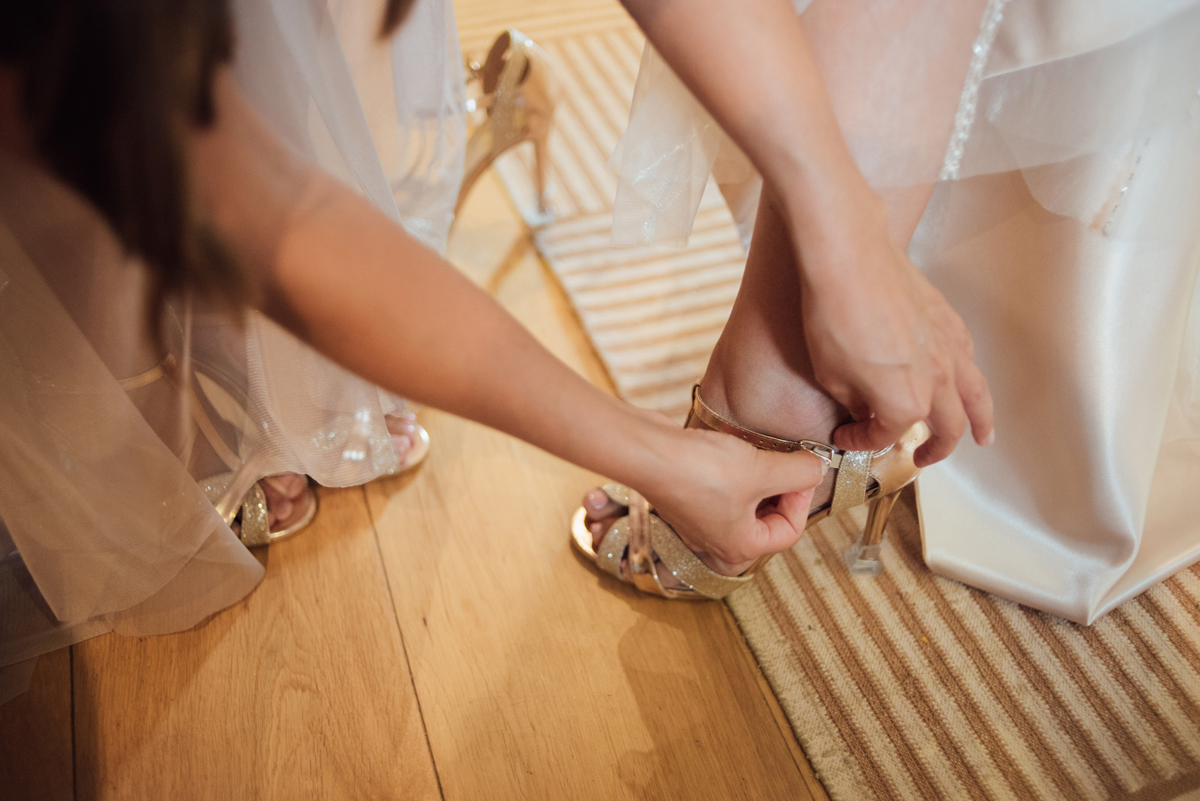 The girls chose a relaxed, boho style for their hair, styled by Sinead Larkham at No.9 Hair and their make-up was applied by a close friend, Sophie Medhurst.
"Sinead was incredible, listened to everything I wanted, really flexible and just so lovely to have as part of our morning getting ready. Make-up was done by one of my close friends Sophie, making the whole experience so much more personal, it helps that she is also really good!"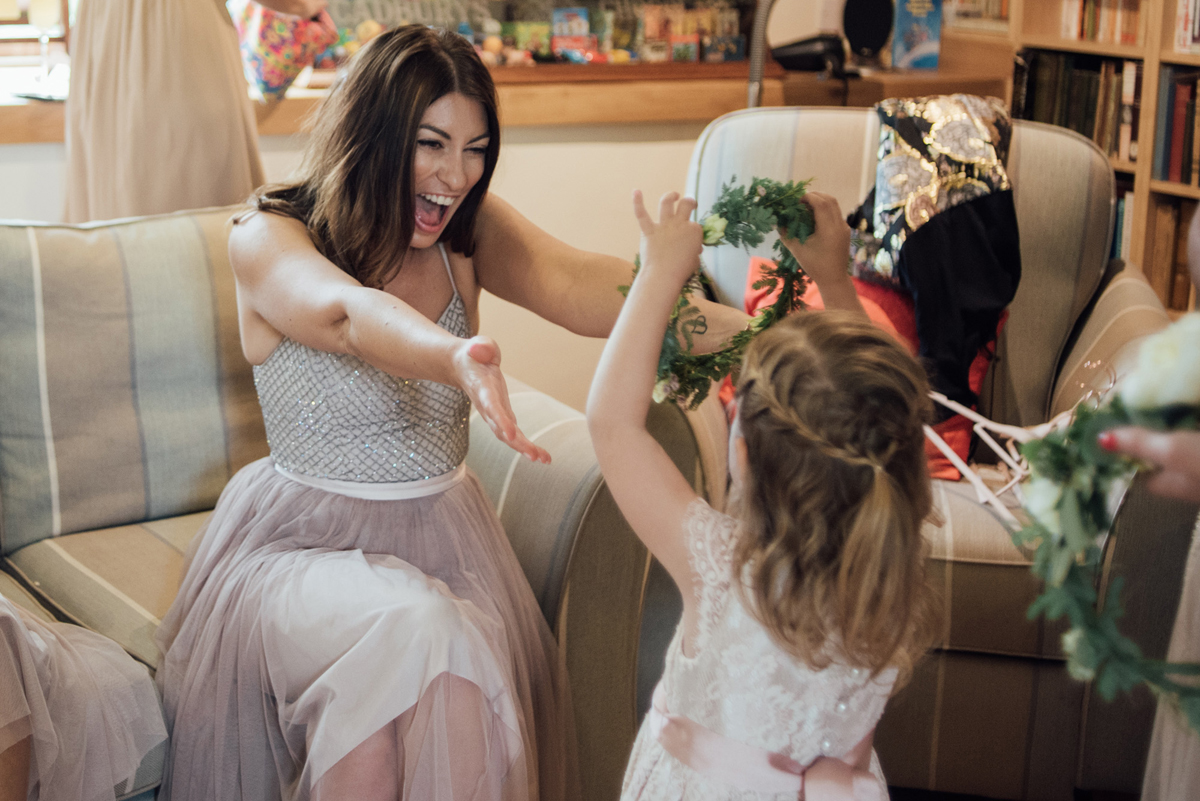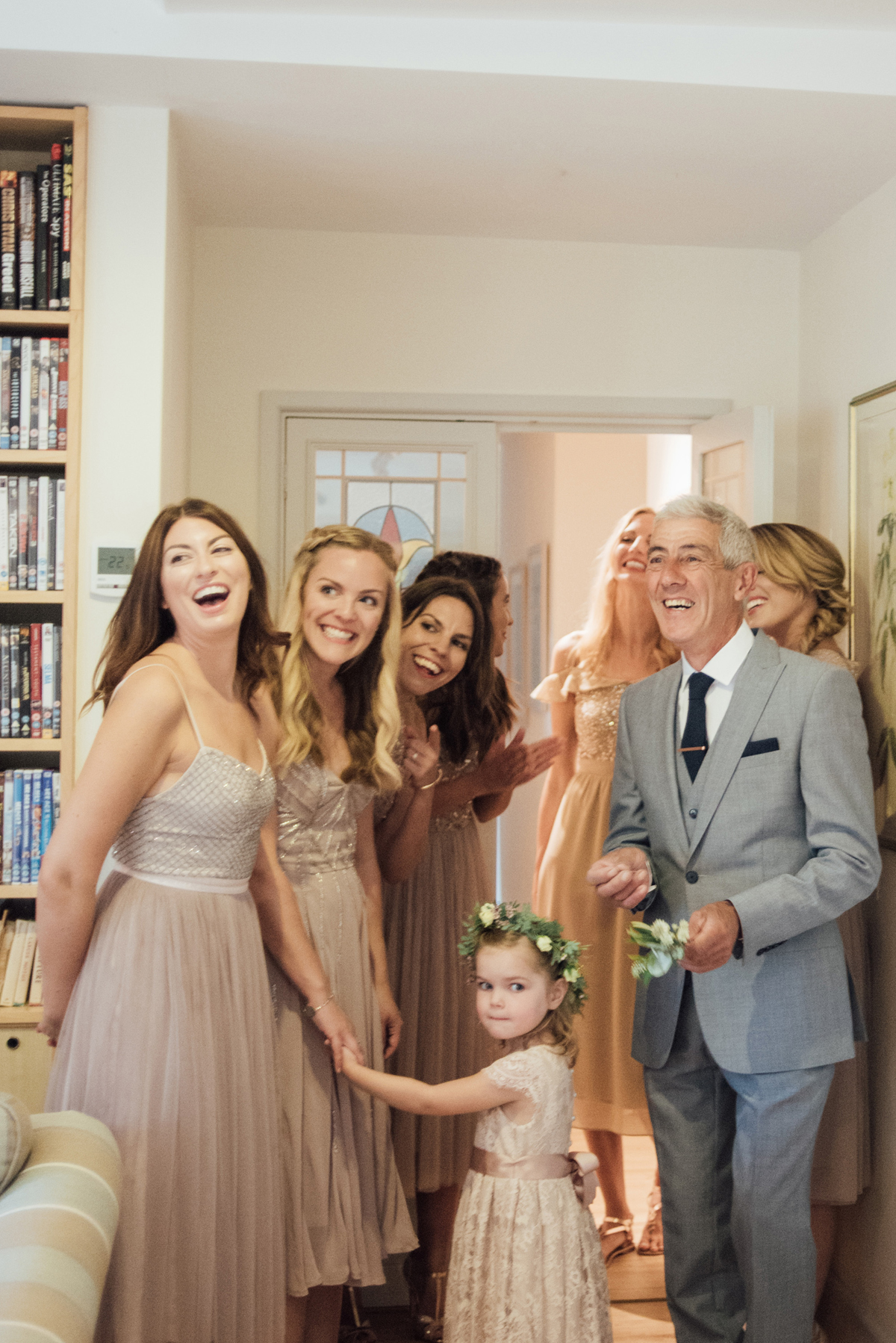 Even before Dave had proposed, Laura had selected this beautiful wedding gown with the help of her mum. She visited Brides at Waterfields in Torquay where she found a beaded, open-backed number from Maggie Sottero, which features a bodice embellished with pearls and Swarovski crystals and the most beautiful tulle cap sleeves. I love the ethereal look. It sounds as if the dress shopping experience is a lovely and very special memory for Laura to cherish.
"When my mum knew her illness was terminal, we were all very honest about what it meant. I thought about the things that I may not get to share with her, one of which was my wedding day and choosing 'that dress'. Even though we weren't engaged at the time, we decided to go dress shopping! We spent a hilarious day trying on all sorts of dresses from the ridiculous to the beautiful."
"In the last shop and the last dress, I tried on the Ettia by Maggie Sottero, and my mum's face told me everything I needed to know. It was the most perfect and heart-breaking day, and one of her last trips out. The team in the shop were brilliant – they let me pay a very small deposit and said they would let me know if it was going to be discontinued."
[JP-VIDEO]
"Fast forward to nearly a year on, late October 2016 – I was still not engaged – and I received a phone call from the shop, saying the dress was going up in price and then would not be carried by the shop, did I want to secure it and commit to buying it? In panic I rang my dad whose very sensible advice was… buy it, you can always sell it if you don't get married! So, the next week on the Friday, I went in for a fitting and ordered the dress – all this time, Dave was completely unaware. The next day, he proposed! Some call it coincidence, I call it fate."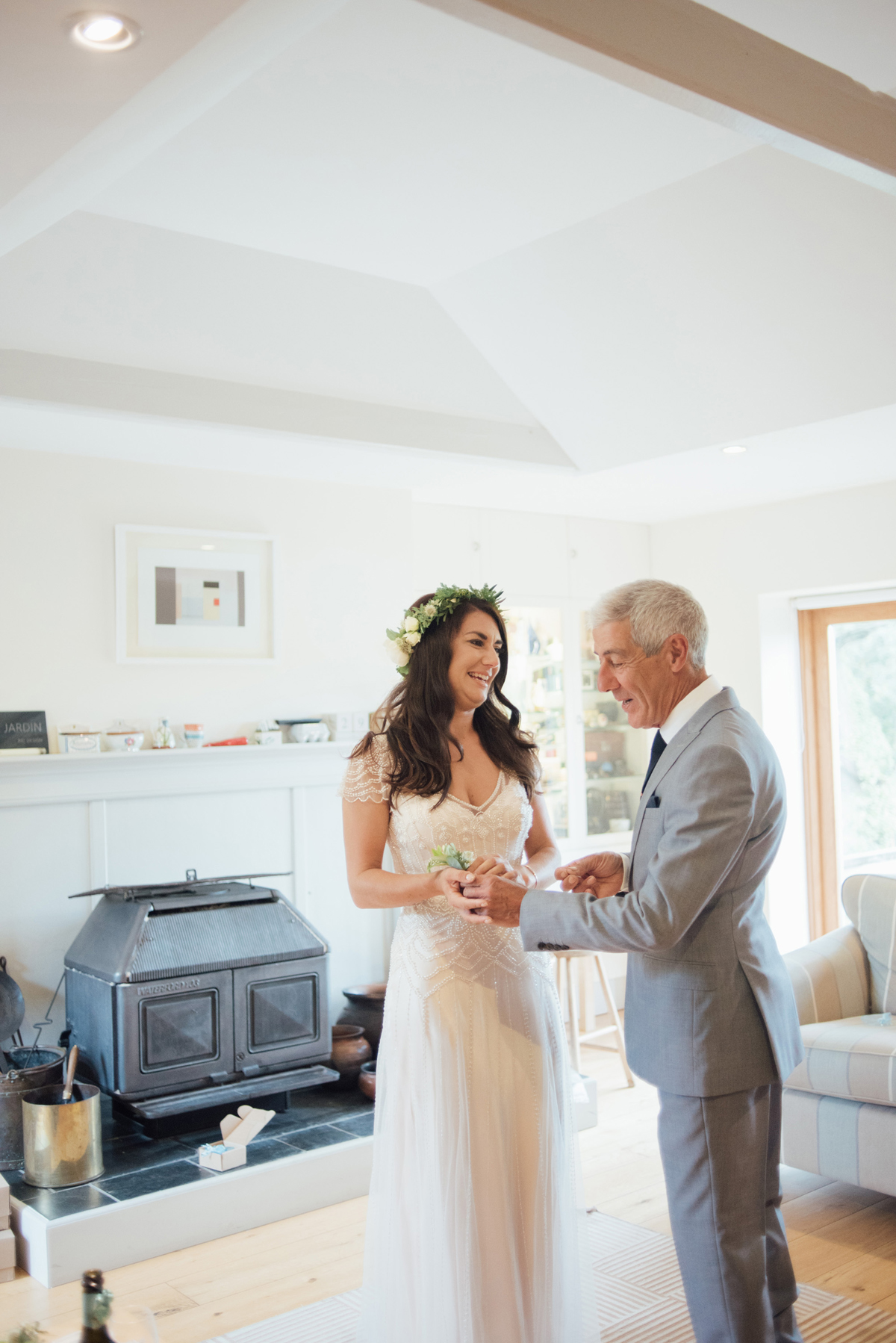 The couple had originally planned to marry outside in the farm's circular flower garden, but had to relocate to the marquee due to summer gales and torrential rain. It was beautifully styled, and Laura shares details of how she achieved her boho, relaxed look.
"We had a big Capri-style tent provided by Godney Marquees who went above and beyond to get up and keep up the tent in July gale force wind and torrential rain! Inside the marquee we had lots of rag bunting following the curved lines of the tent, all in blush, copper and sage. We had a couple of Victorian sofas with throws and cushions. We recycled a cattle feeder and created a circular copper bar area."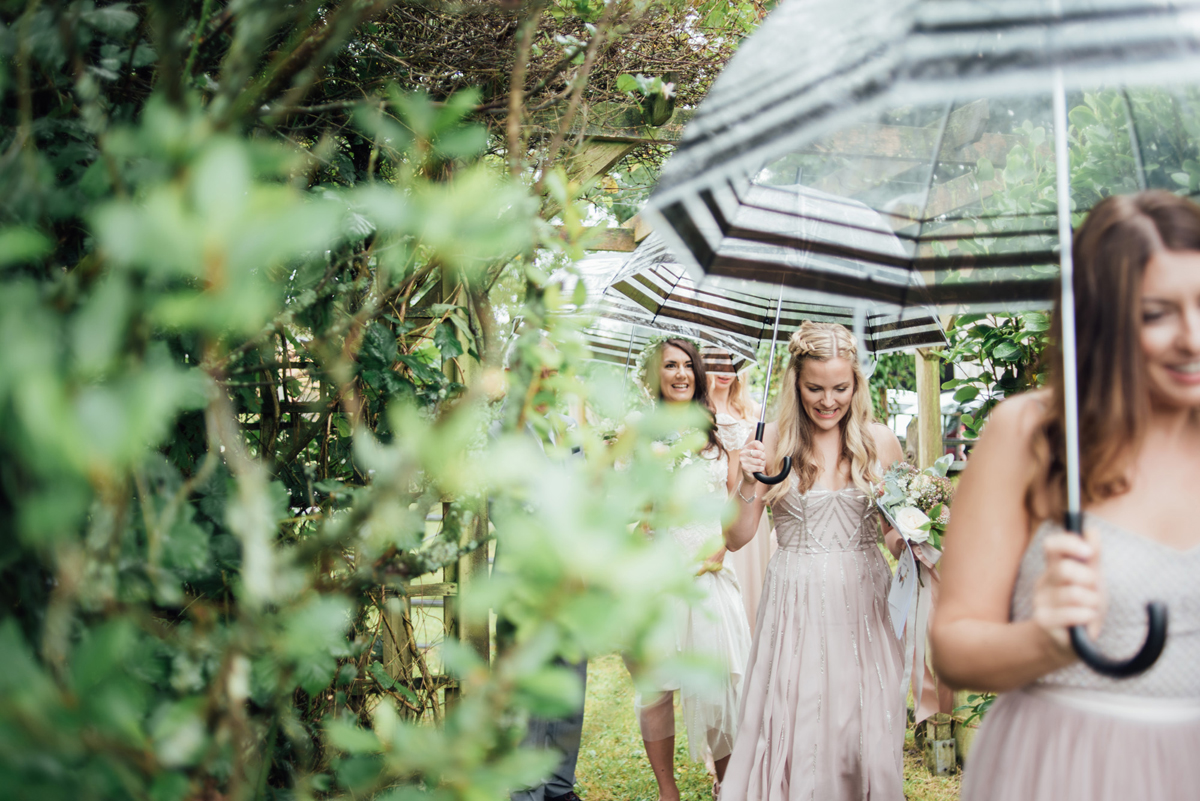 "There were pallets around the room with various hand painted signs, as well as large L & D letters made out of tensioned wool. Tables had candles, copper charger plates and masses of eucalyptus. Suspended from the ceiling were various sized coloured lanterns as well as the perimeter being lit up by fairy and festoon lights. Not to mention the flowers – the whole place was adorned by all the beautiful home grown summer flowers – it was incredible and smelt amazing."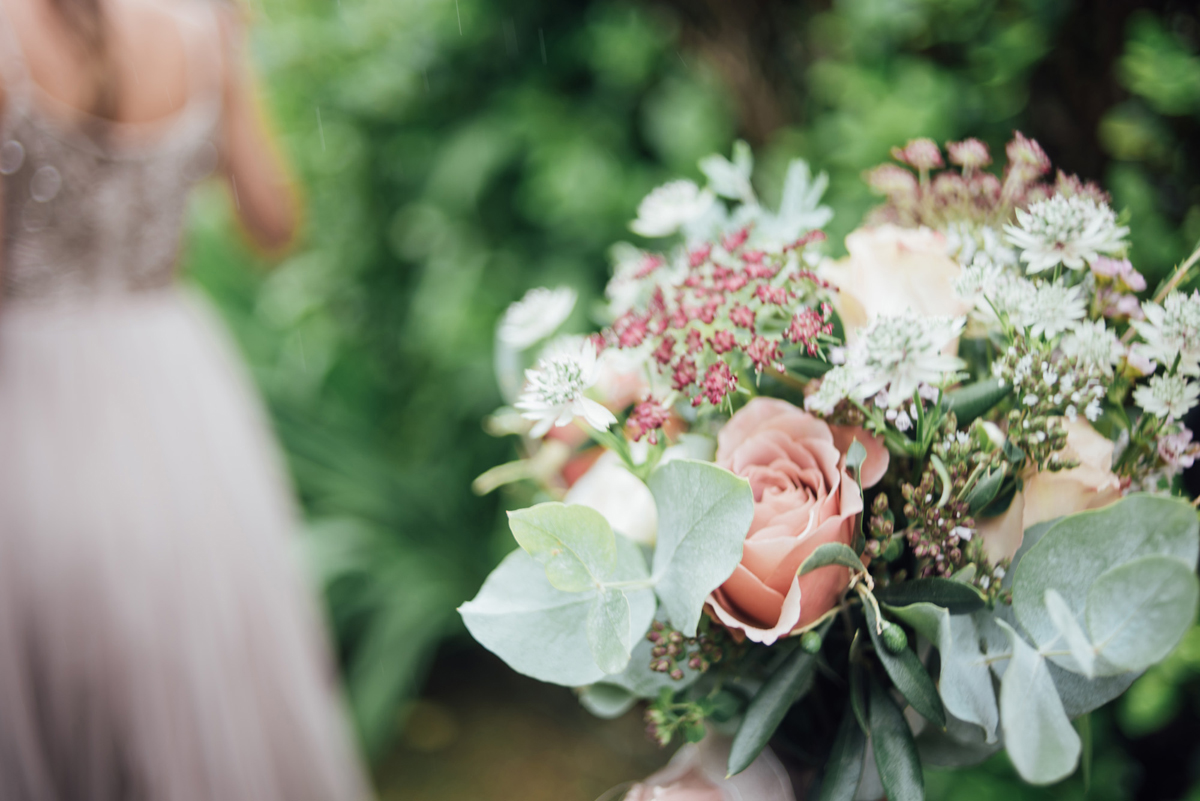 "We originally met ten years or so ago, on a night out with mutual friends, however we only know this by the power of social media – which shows us in a photo together that night, however neither of us remember it! Fast forward five years and we met again on a similar night out with the same group of mutual friends. The rest as they say is history."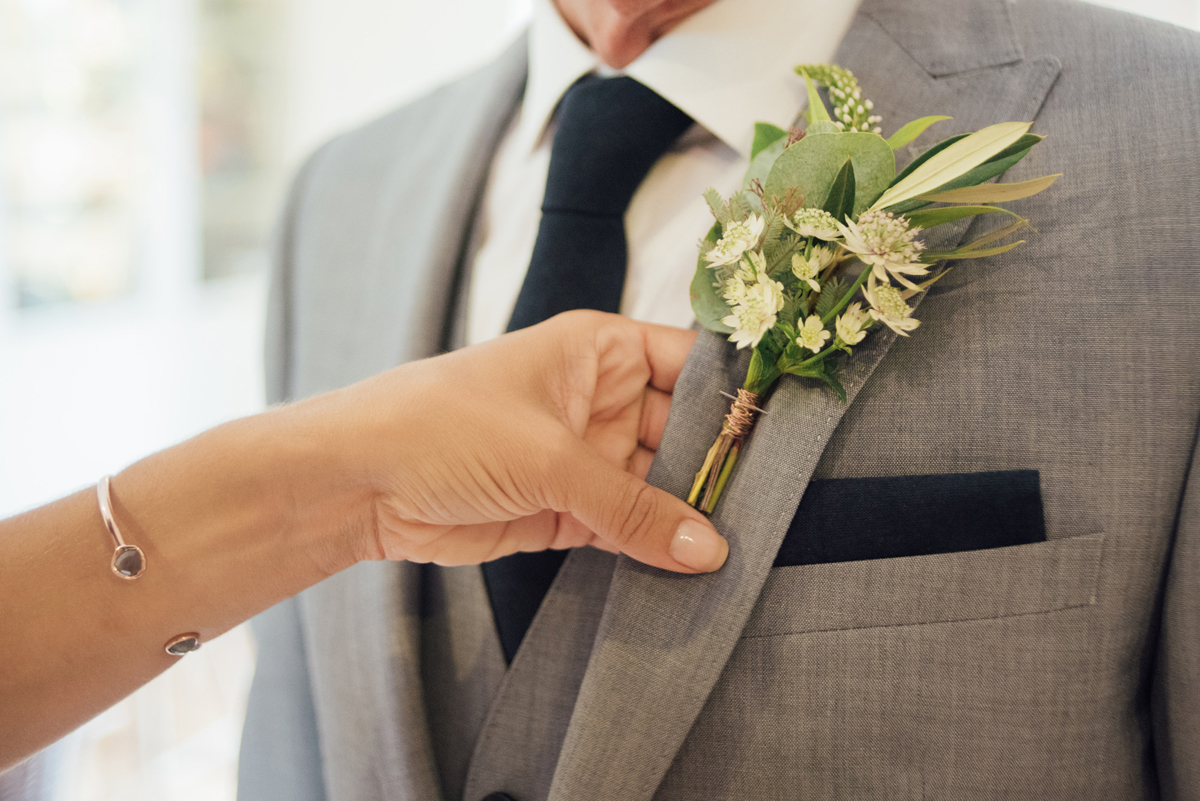 "Dave asked my dad if he could marry me in the April, but didn't propose until the end of October – apparently, I kept ruining his plans by inviting friends to our weekends away. When it finally happened, it was at home in Devon, on a walk along the coast by Matiscombe beach that we had frequently been on with my mum."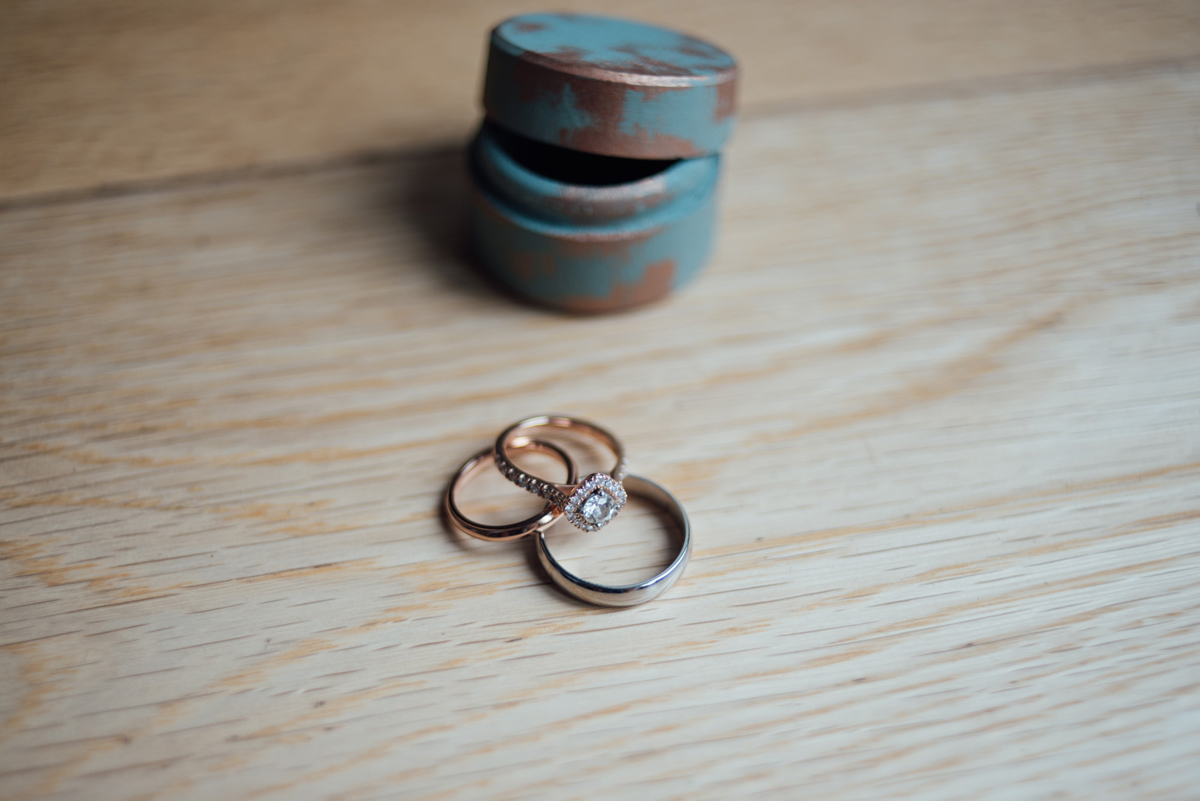 "Even more special than the location was the ring. He had taken the stone from my grandma's engagement ring and worked with a family friend jeweller to design and create the most beautiful new setting for it, unique to me. It's absolutely perfect and I still look at it every day with pure happiness."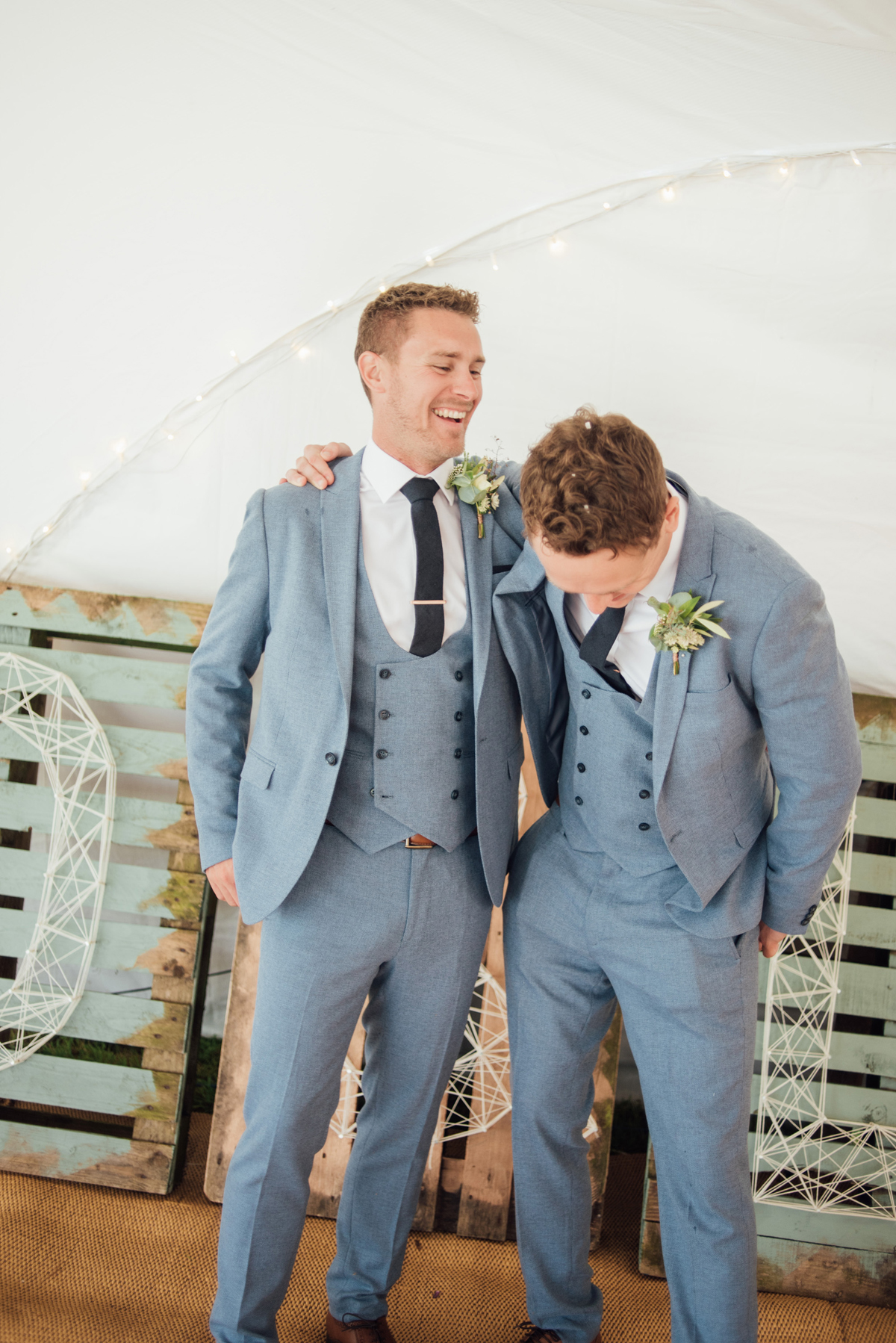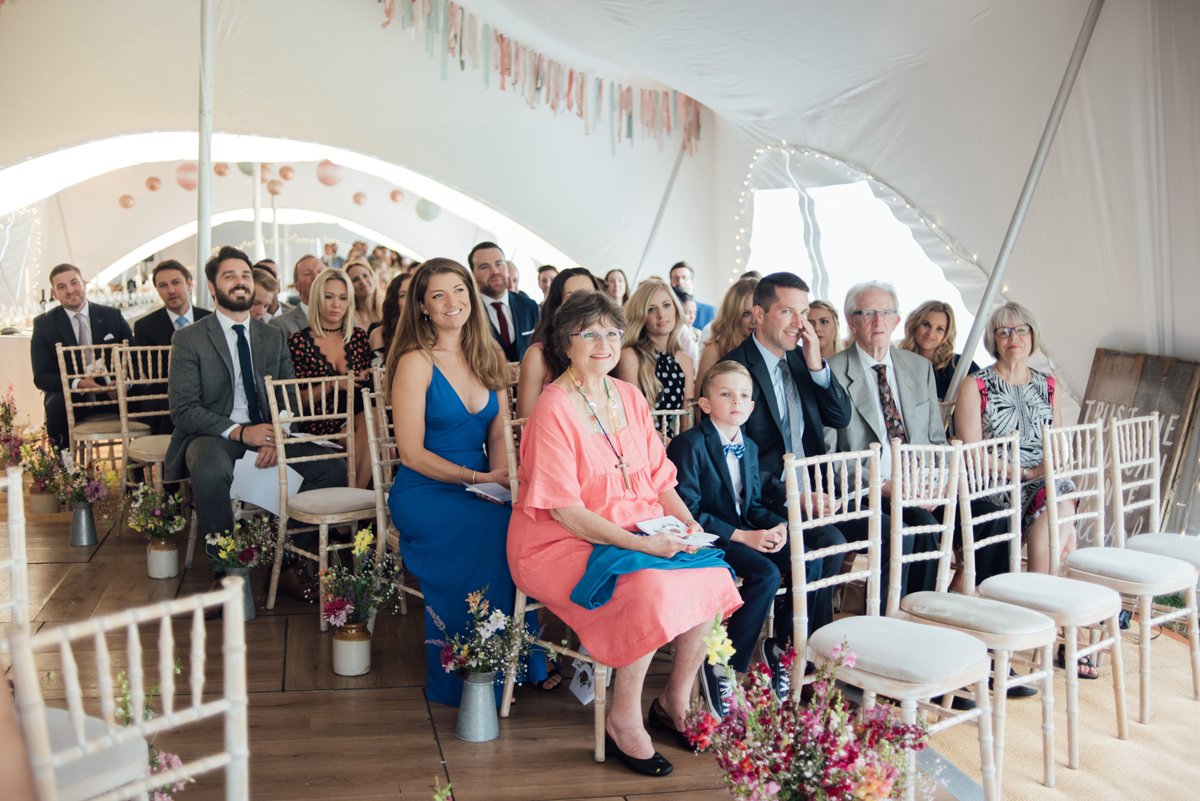 The couple opted to marry in July and the choice of venue had to be the family farm in Devon. Although the weather wasn't a perfect summertime day, the magnificent Capri tent allowed them to marry and hold their ceremony in the grounds.
"There was never anywhere else – we as a couple have incredibly strong links to Abbotsleigh and feel it is synonymous with us a couple. Only the people who have been there will understand the magic of the farm; not only is it a beautiful and luscious setting, it truly is a special place."
"My parents got married there forty years ago that same month and I have dreamt of getting married in the garden there since I was young. My mum died last year and Abbotsleigh is a reflection of her, so it was the perfect way of ensuring she was a part of our celebration. We wanted a relaxed day personal to us; what better way than to be lucky enough to get married at home?"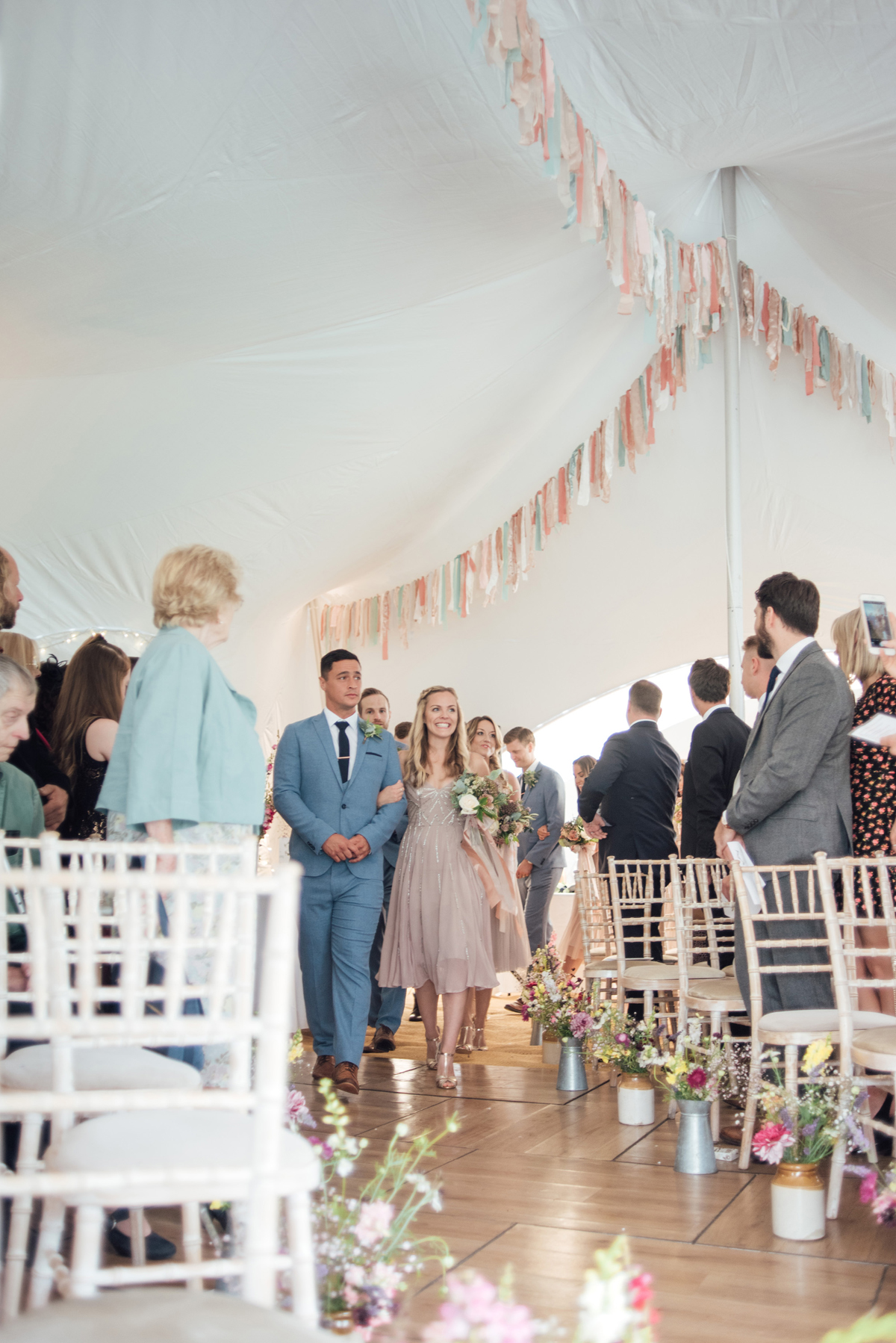 Laura entered the tent on the arm of her father, and walked down the flower-lined aisle to meet Dave.
"This wedding would not have happened without him. His devotion to me and the day were unfathomable – he worked day and night to ensure everything was perfect."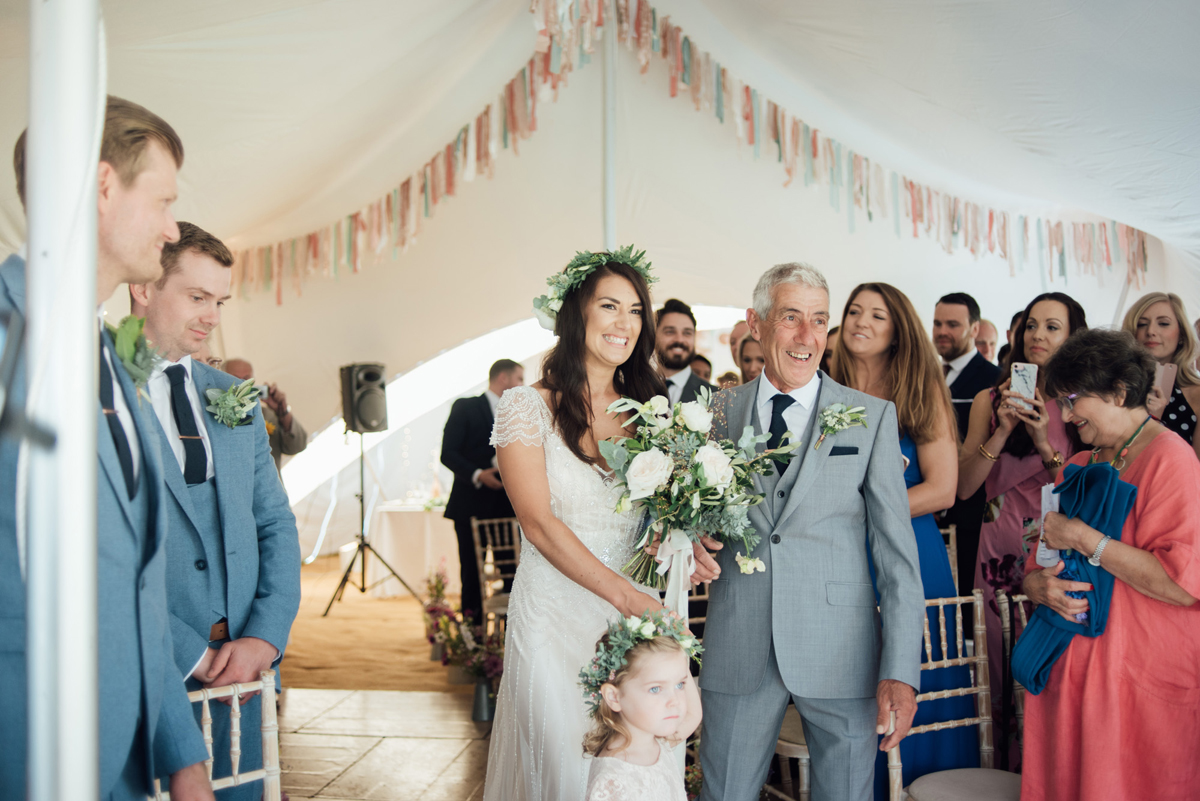 "I walked down to 'Wait for Me' by Kings of Leon – a song that means a lot to Dave. It was played on the piano by our incredibly talented friend Scott. I kept this a secret from Dave, in a bid to make sure he cried when I walked down the aisle… he did!"
The humanist ceremony was led by the couple's close friends.
"We decided to have a humanist ceremony with one of Dave's best friends, Jay, and my cousin Rachel as our Celebrants. It was perfect – it was relaxed, real and made everything so much more personal."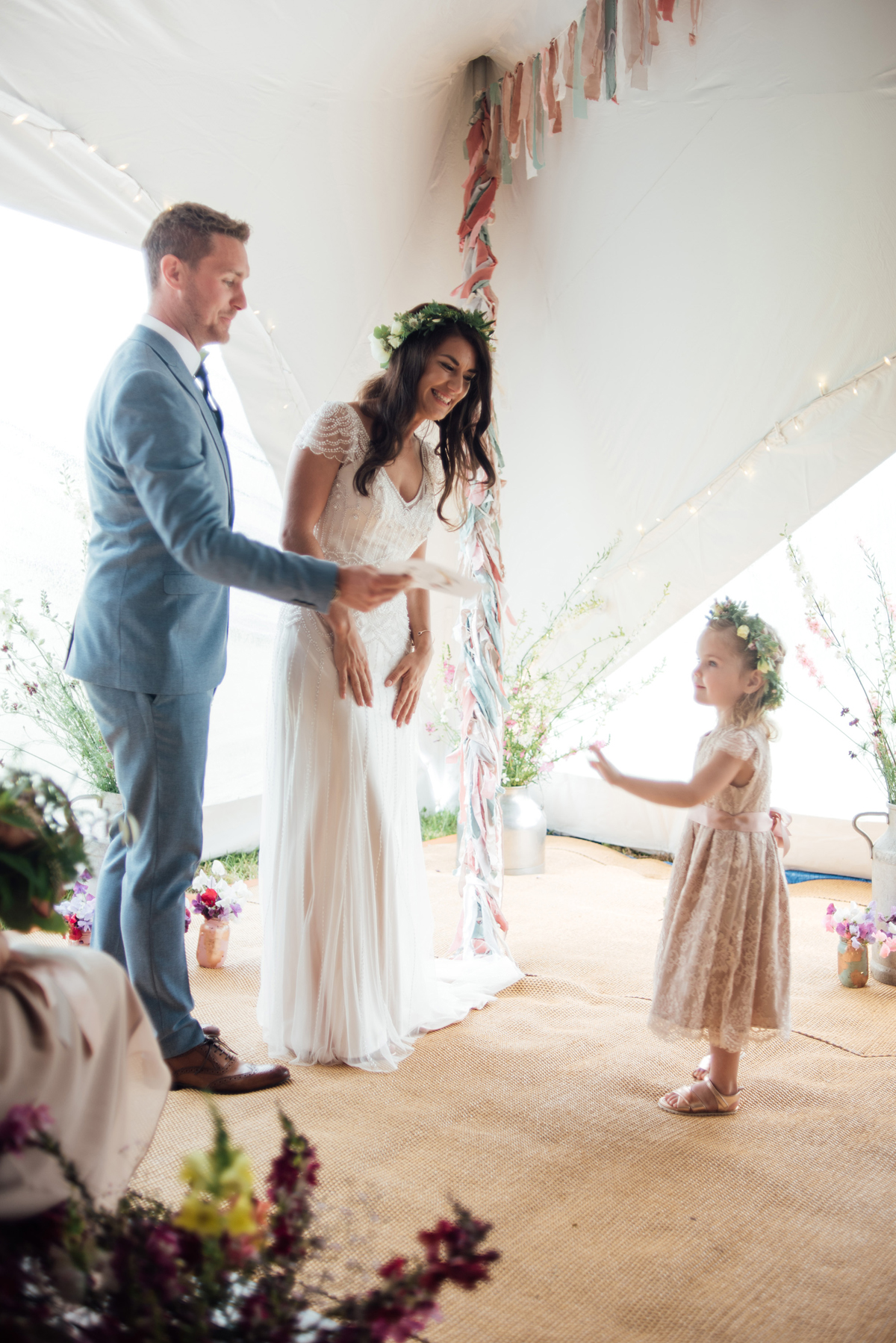 "We wrote the whole service ourselves [after a lot of research and reading] and it was a true reflection of us as a couple and our lives together. We had a few readings from friends and a blessing from a family member."
"We had four readings. We both picked our favourites and they were mostly the same. They are non-religious, relatable and each individual with a different take-away. They were; 'Union' by Robert Fulghum, 'Love' by Ray Croft, 'All I Ever Really Needed to Know I Learned in Kindergarten' by Robert Fulgham and 'The Art of Marriage' by Wilferd Arlan Peterson."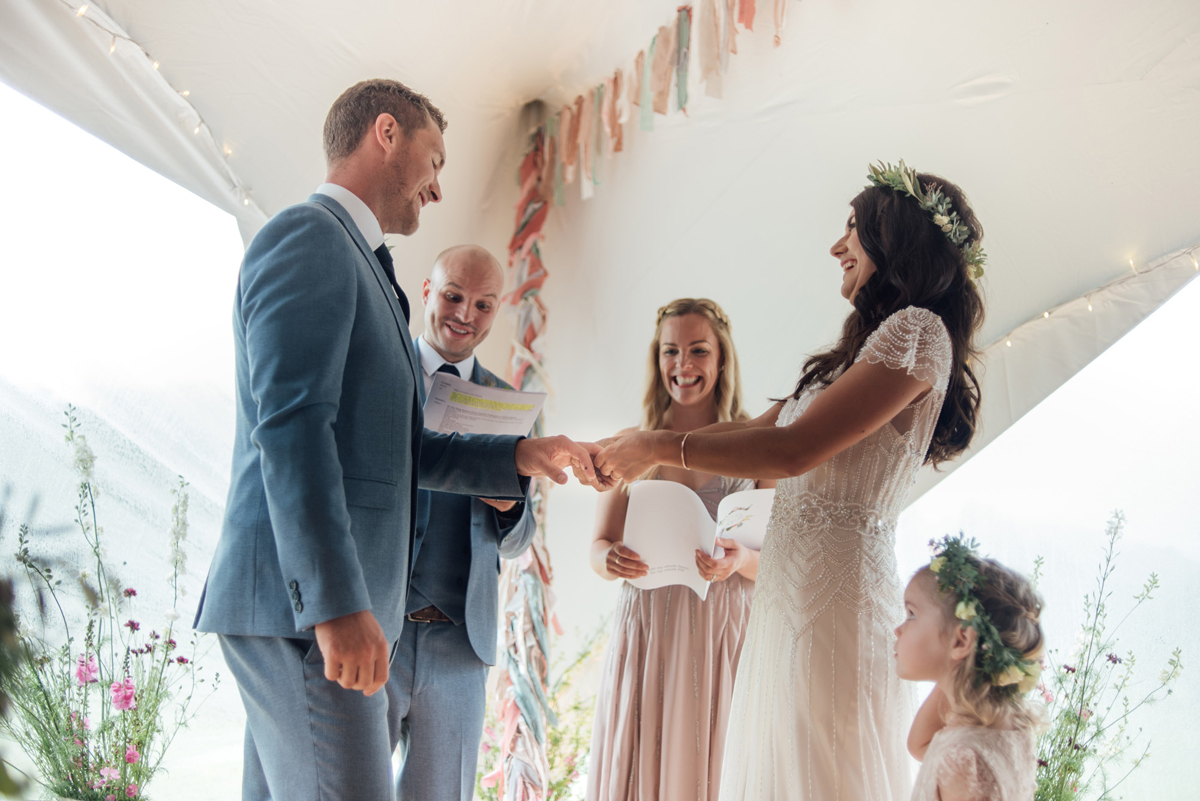 The engagement ring was designed by Dave and made by family friend Larry Ho, and Laura chose a simple 18 carat rose gold wedding band to complement her intricate engagement ring.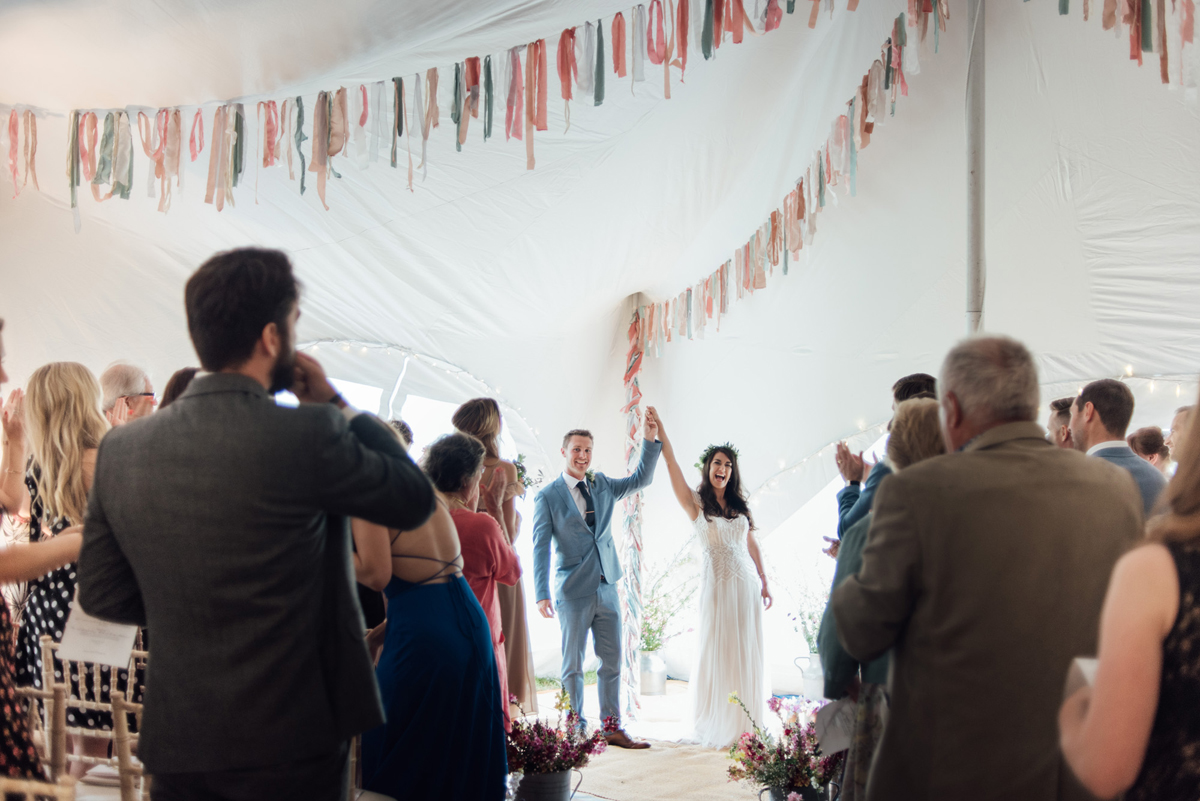 "It's a beautiful unique rose gold engagement ring. It has a central vintage diamond from my grandmothers' engagement ring, surrounded by a halo of smaller diamonds. Our wedding bands were from Ebony Jewellers in Chichester. Dave went for a 4ml platinum band."
After the ceremony, the newly-weds made the most of a break in the weather to get some romantic shots together in the Devon countryside. The rain had made the green of the hills appear so fresh and the colours of the country garden flowers pop , a lovely backdrop for these photographs.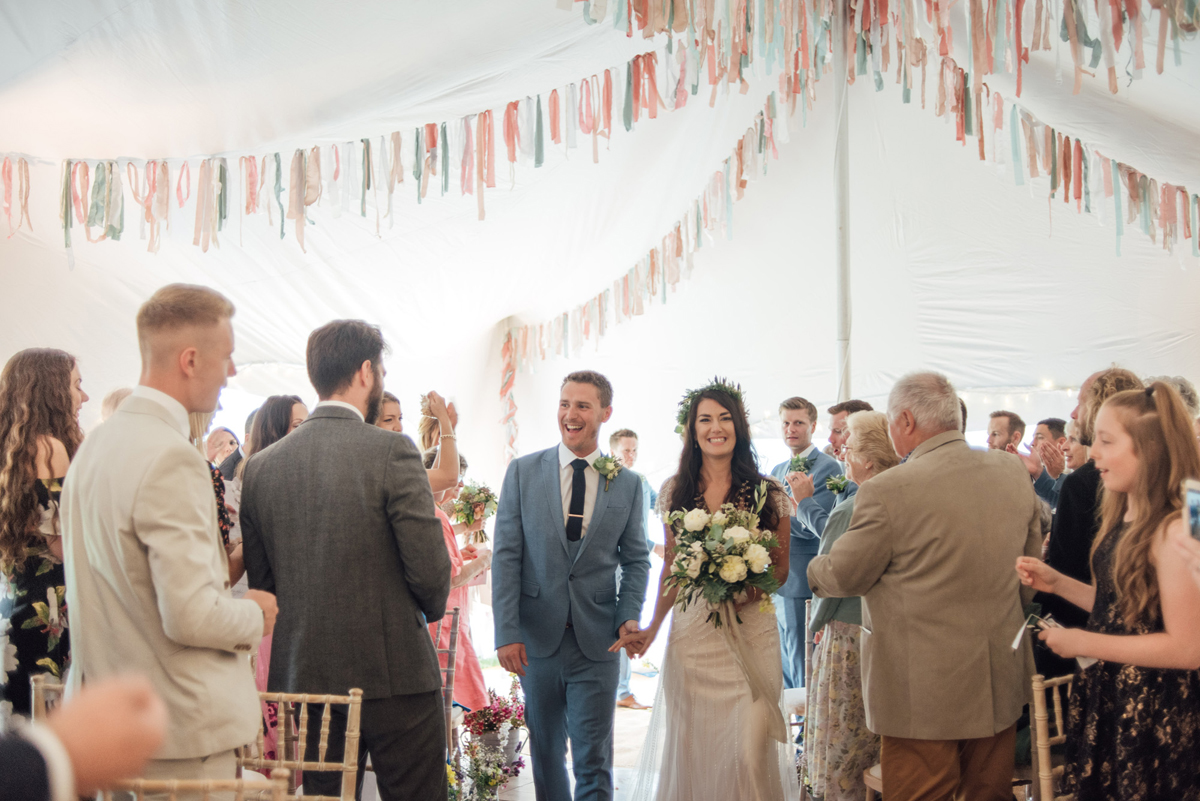 Laura and Dave are lucky enough to have an incredible florist right on their doorstep. Marta Matson Flowers has such a creative, abundant style and her work is characterised by its profusion of foliage and blooms and sense of movement.
"Marta's studio is less than a mile from Abbotsleigh, and I liked the idea of staying as local as possible for all suppliers. She grows a proportion of her flowers in her garden, and her knowledge and understanding was amazing. My bouquet was a relaxed hand‐tie of soft white and silver green with a touch of dusky blush colour."
"Several structural flowers including white delphiniums / antirrhinums to create a flowing, somewhat asymmetrical bouquet; with foliage like cinerea, olive, senecio, mimosa, and jasmine tendrils, and with scented English roses and flowers such as veronica, astrantia, and nigella. It was tied with streaming ribbons in soft mink shades. My bridesmaids were similar but smaller and more posy‐ like, and with more dusky pink included to echo their dresses; including rose café latte and scented stocks. Ribbons were dress offcuts and soft sage. Buttonholes were little mixed ties of foliage and flowers in white and green wrapped in copper wire."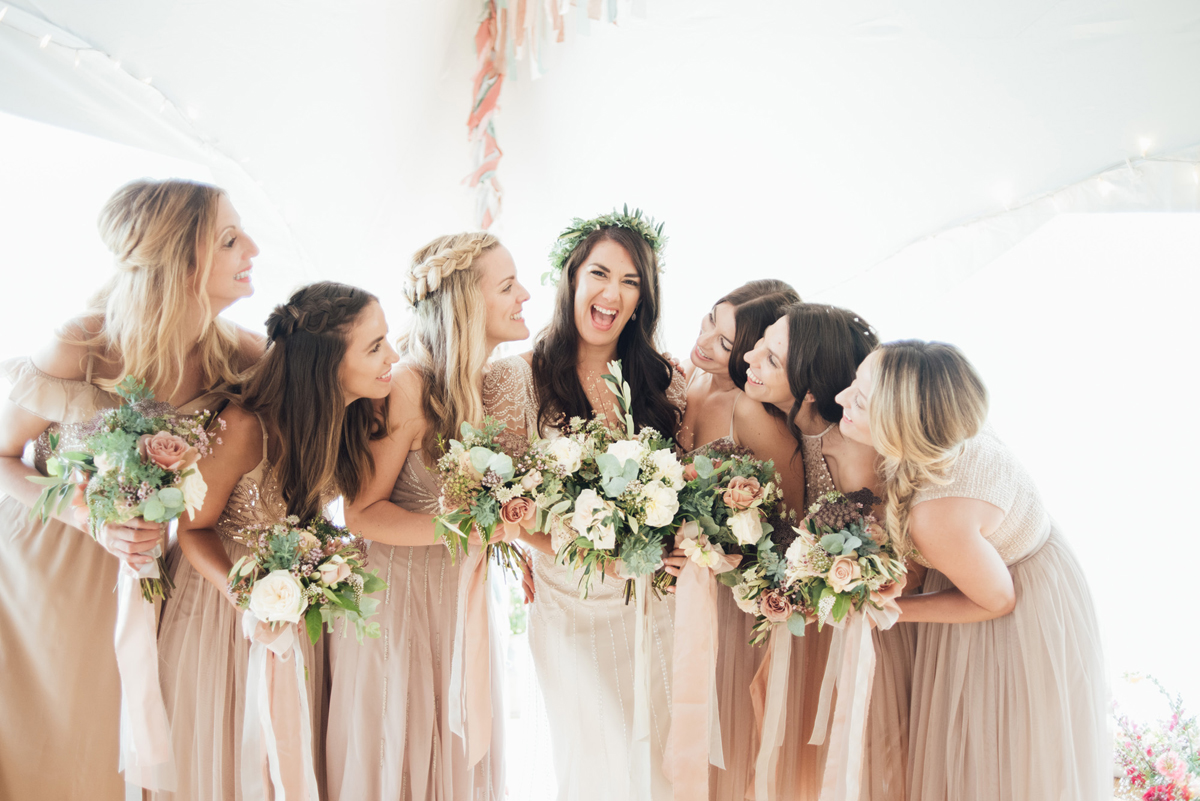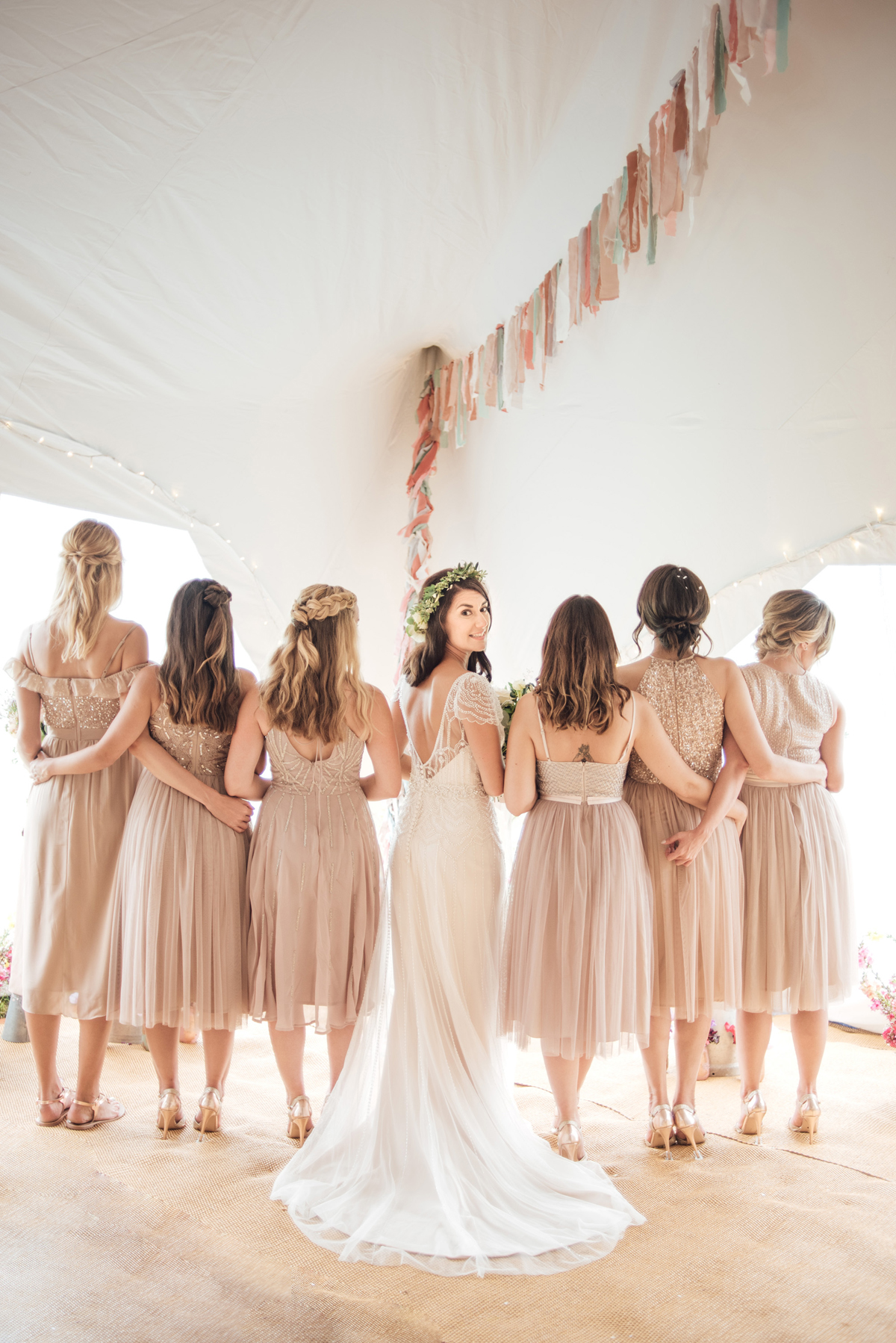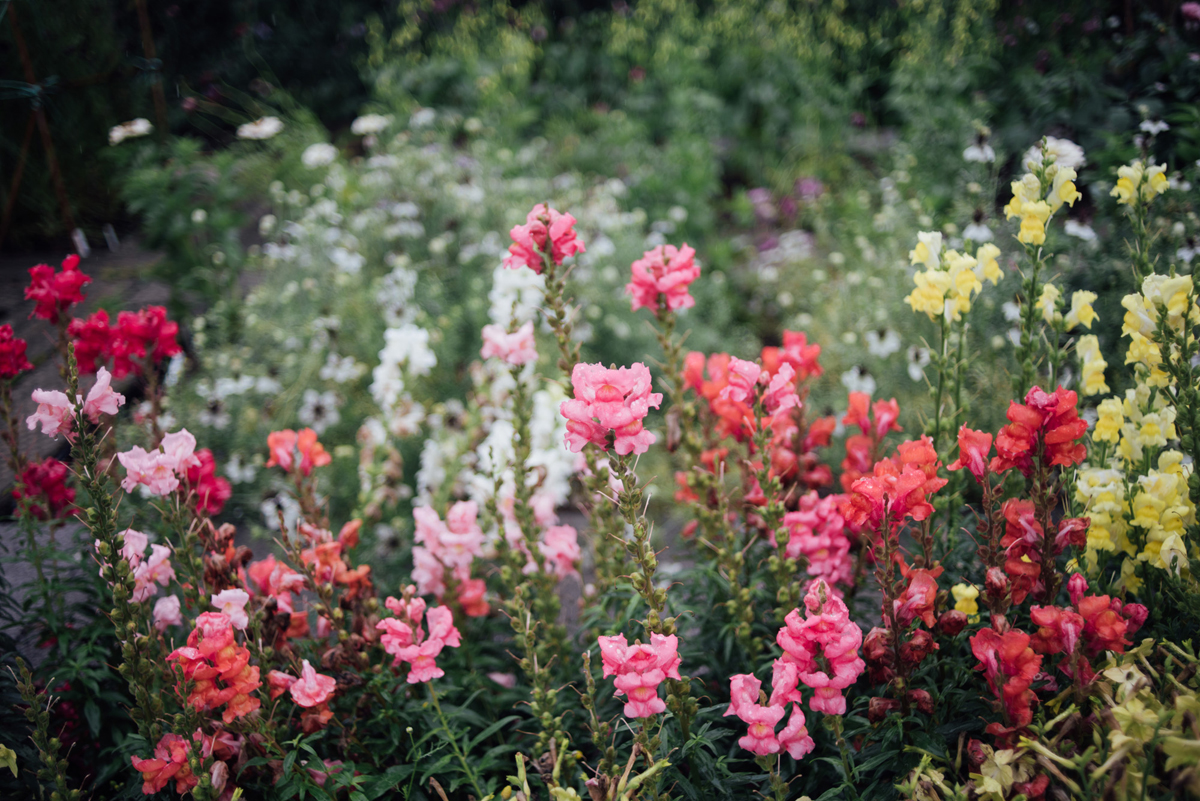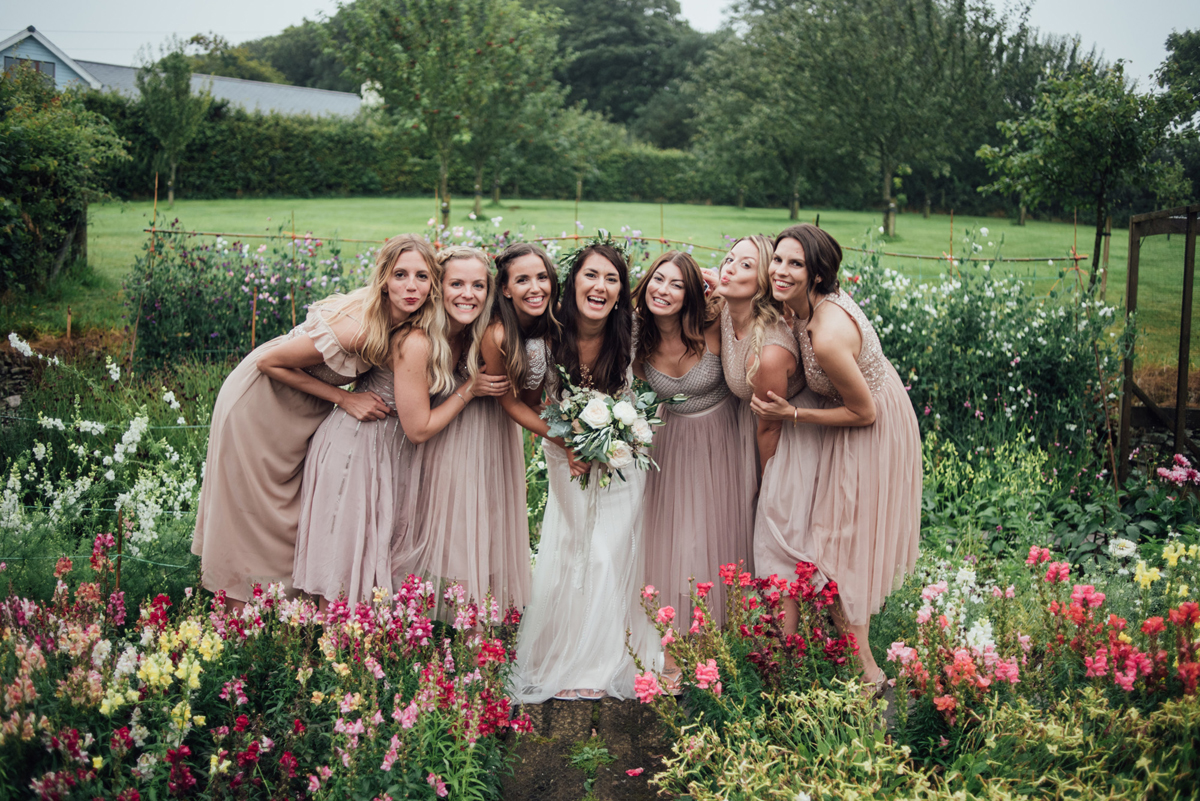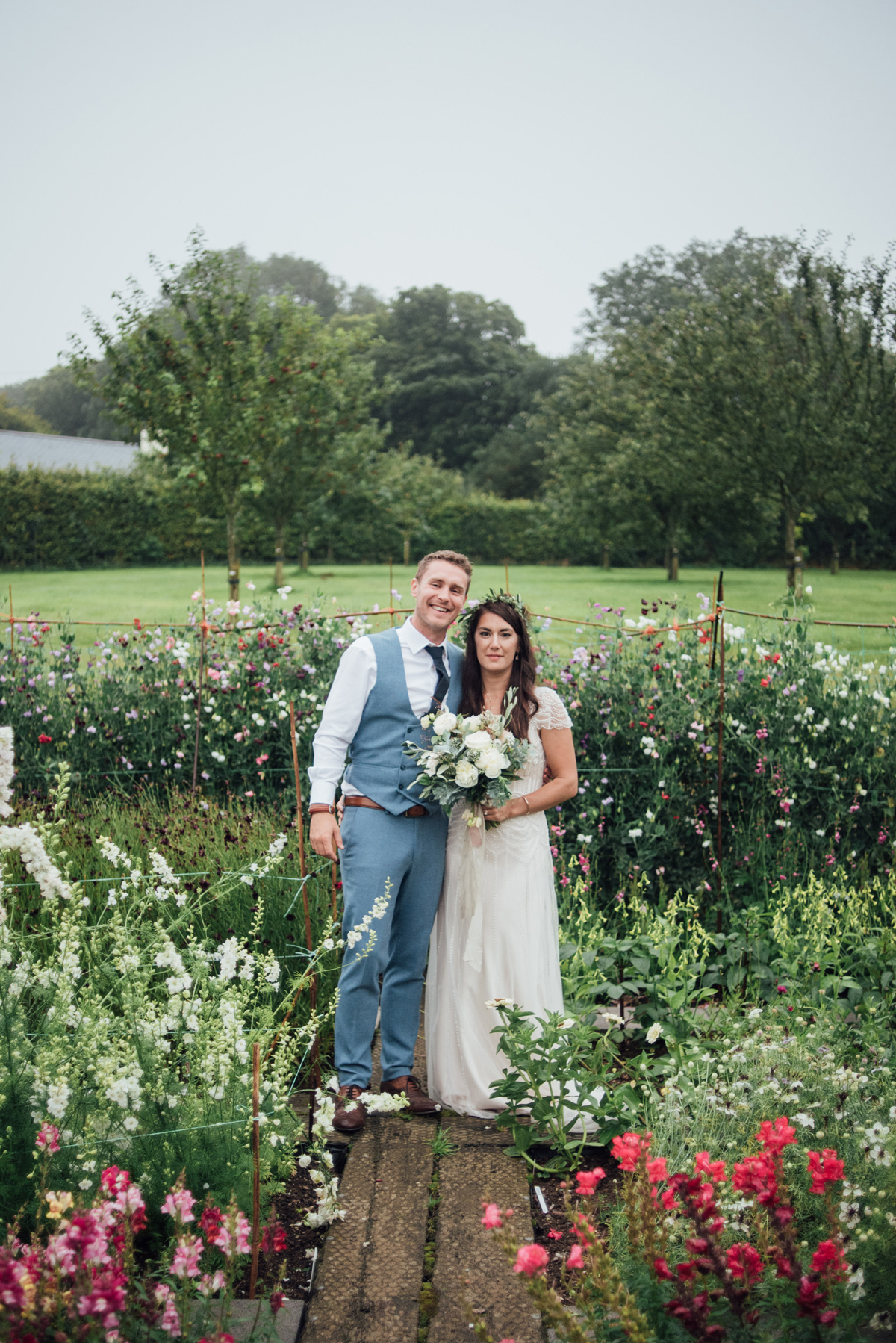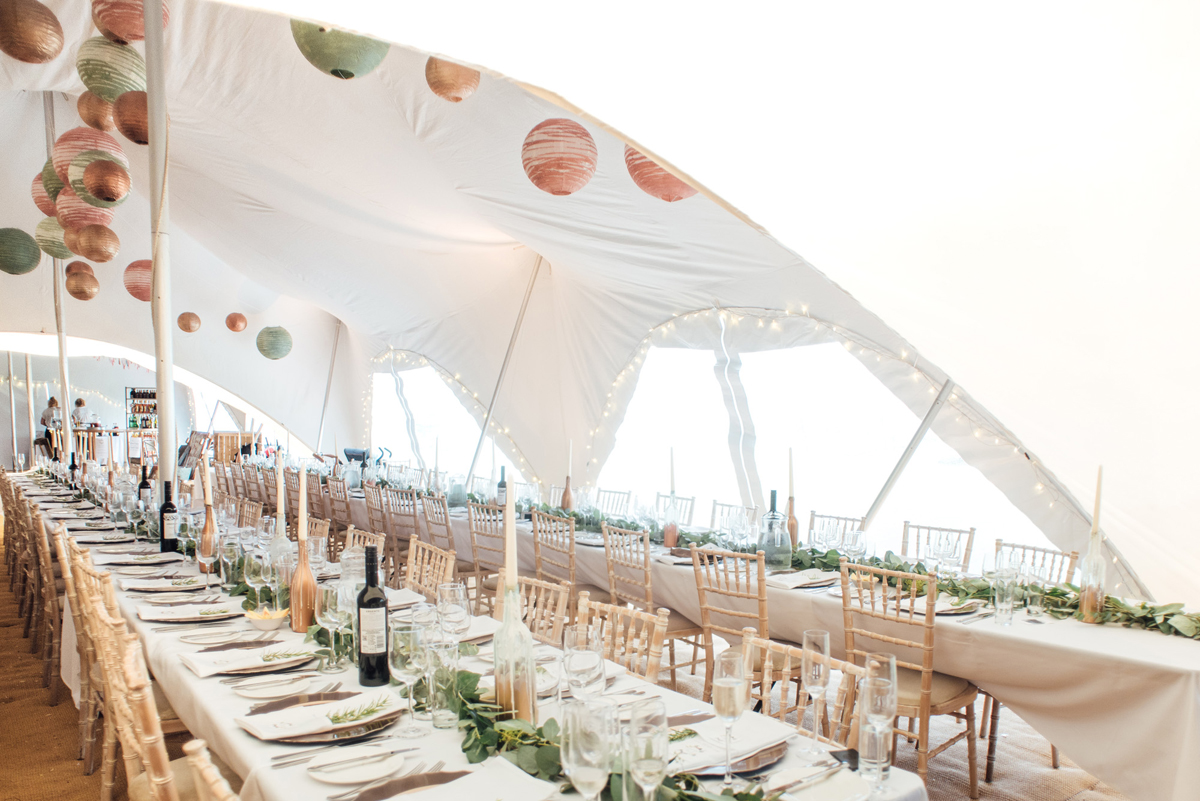 As a starting point for the day, and the stationery which Laura designed herself, the couple chose a strapline (also used as a hashtag) – 'Love is in the Ayres'.
"I did all the stationery myself including all the design work, printing, cutting, stitching and wax seals. It was all themed on circles and botanicals."
Back in the tent, it was time for the party to begin, kicking off with an absolute feast from Fego Food Co.
"The three important things for us on the day were good food, lots of drinks and great music."
"What can I say – WOW! Fego Foods were incredible – absolute food porn. Coming from an events industry and a complete food enthusiast, food to me was one of the most important elements of the wedding. My worst nightmare would have been beige dull food that you eat at every average event. Fego Foods were so far from that it was incredible. They are inventive, original, local and their food blew my mind. The family team in North Devon had the perfect approach to catering the wedding; they were flexible and honest. It was amazing."
Now how about a macaron-tower as an alternative to a traditional wedding cake? It was constructed by Kate Salmage at Centrepiece Cake Company in Plymouth. Love, love, love.
"We aren't big cake eaters – it's all about the cheese for us – however, we did still want a sweet element. We went for a macaron tower in flavours to match our theme; pistachio, raspberry, salted caramel and coffee. It was topped off with a seven-inch salted caramel drip cake adorned with lots of goodies, including sugarwork, caramel sauce and more macarons. It looked spectacular and tasted even better."
"Bring the Noise! were epic. They had everyone dancing all night and played a huge range of tracks, from classics to current hits. We had everything from knee slides to dancing skipping ropes – and even my dad ended up with a tie round his head and his shirt buttons undone dancing with the ushers to Mumford and Sons."
"We had an acoustic version of the house track 'When I Met You In The Summer' by Calvin Harris. We met and fell in love in the summer, and this track has always reminded us of this. We also wanted something a little bit different and upbeat."
"It's a cliché, but having everyone together was a favourite part of the day. We have an incredible group of friends and family – and having them all together at Abbotsleigh was beyond happiness for us."
Words of Wedded Wisdom
"Make your day as long as possible. It was over too quickly; our day was twelve hours long and still too short! You will be exhausted but you won't want it to end."
"Think about what you remember from other weddings; there are so many 'extras' that are unnecessary so keep it simple."
"Always remember it is about the two of you; it has to be what you want and a reflection of yourselves."
"Be timeless, not on trend."
"Make time for each other. Weddings are stressful so make sure you put time aside to spend time just the you two in the lead up and on the day."
Just beautiful; what a special day for the couple. It must have been wonderful to marry in a place that means to much to them both. Thank you so much Laura and Dave for sharing your story with us. Amber, I love your romantic style so thank you for allowing us to publish your photographs. For more English country garden wedding inspiration, take a peek here.
Ele xx