Hello lovelies! At Love My Dress we love hearing from brides who are inspired by the weddings that we feature. Alex, whose wedding to Ali we are sharing today, found her venue, photographer and her beautiful silk gown all on these pages; isn't that wonderful?
On 12 May 2018, Alex and Ali married in a wild, natural humanist ceremony at the beautiful, coastal Crear in Argyll, Scotland. The couple, who are both media lawyers, chose to return to Alex's native Scotland for a sunny weekend of celebrations with their loved-ones.
Crear drew them in with its relaxed atmosphere, incredible sea views and its light-filled spaces, which were perfect for the couple's vision of a minimalist wedding with fresh greenery and white flowers which celebrated the local landscape. How lovely too, to read that the couple found their photographer Caro through Love My Dress, and in turn found their light-filled venue.
Photography Caro Weiss Photography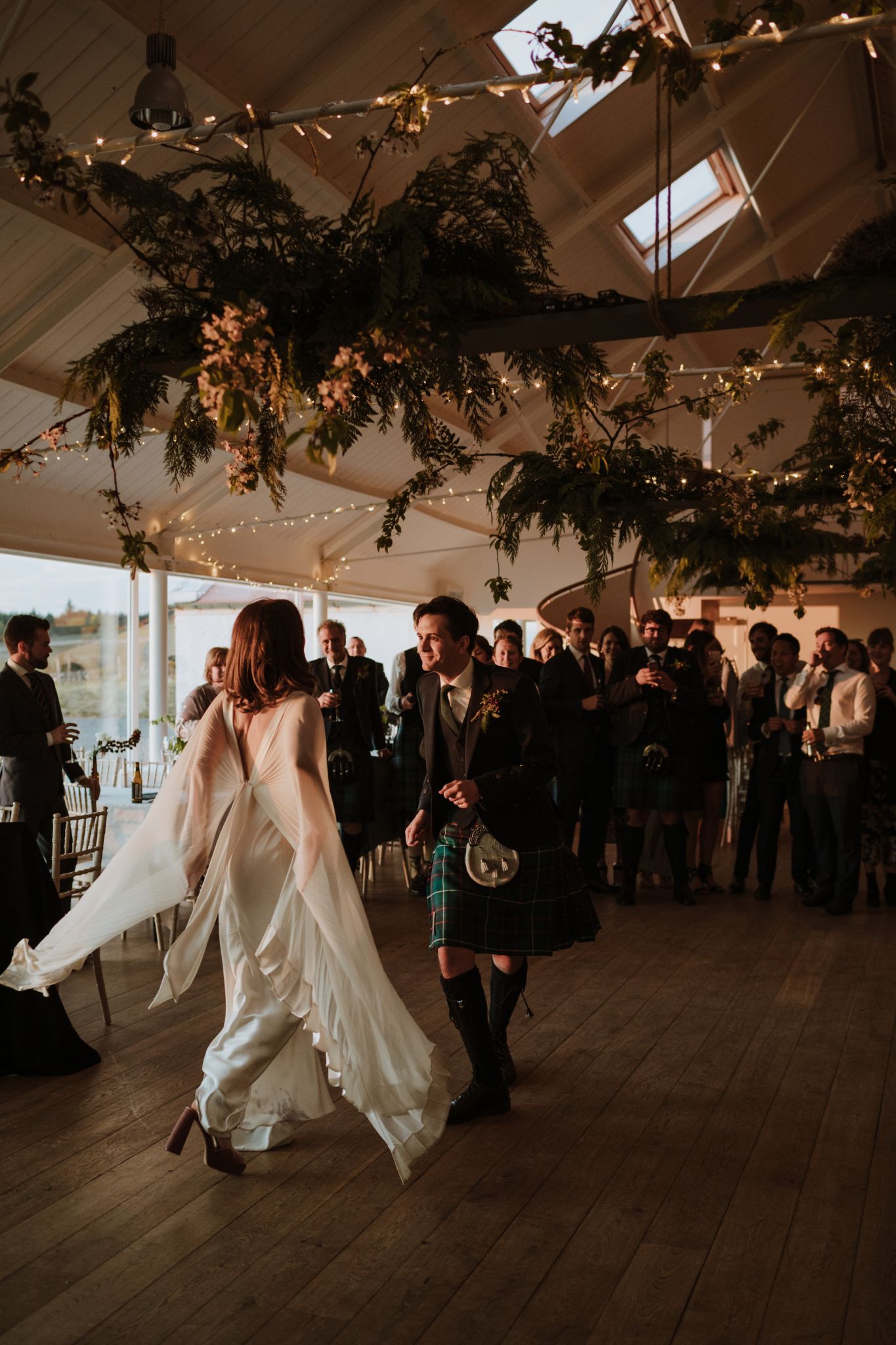 "One of the reasons we visited Crear was a Love My Dress feature of a wedding there which was photographed by Caro. When we got engaged we knew that we would get married either in Scotland (I am Scottish) or in London where we live, but we ultimately felt that a Scottish wedding was irresistible and we only viewed venues in Scotland. Crear was the first place on our list and the first place we saw. We were drawn to it because of the location, incredible views and sense of space, the relaxed atmosphere and its proximity to the sea – I grew up beside the sea and we were keen to make the most of Scotland's countryside."
"It was also a real plus that we could have the house for three days and completely relax and enjoy the weekend. And, because it is in Scotland, we could have a humanist ceremony inside, outside or on the beach. It was important to us not to be in and out of a venue in under a day, and to be able to have some concentrated time with our friends and family given we don't live near lot of them."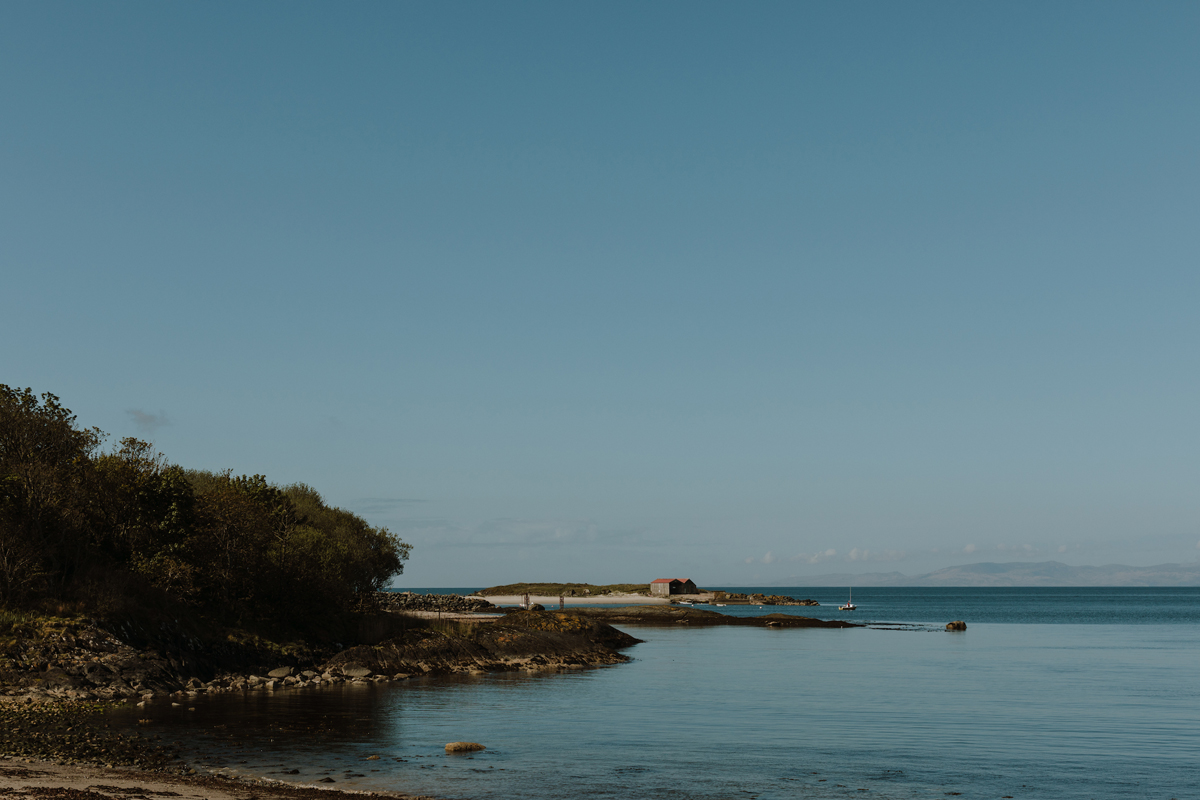 "We came up to visit on a weekend where we visited some other wonderful places, but we actually called back and booked our date within twenty minutes of leaving, before we visited the rest. There is something really unique about it, which nowhere else in Scotland is quite replicating in terms of delivering on location, views, space, food and giving the bride and groom freedom to do what they want to do."
"After some tears of joy (and a yes) we went straight to the pub for a celebratory drink. We initially really wanted to get married within six months and were adamant about it being under a year, but we knew to make the most of Crear we wanted a date after the clocks went forward and May was the earliest date. In the end we really enjoyed having a bit longer to plan than we expected."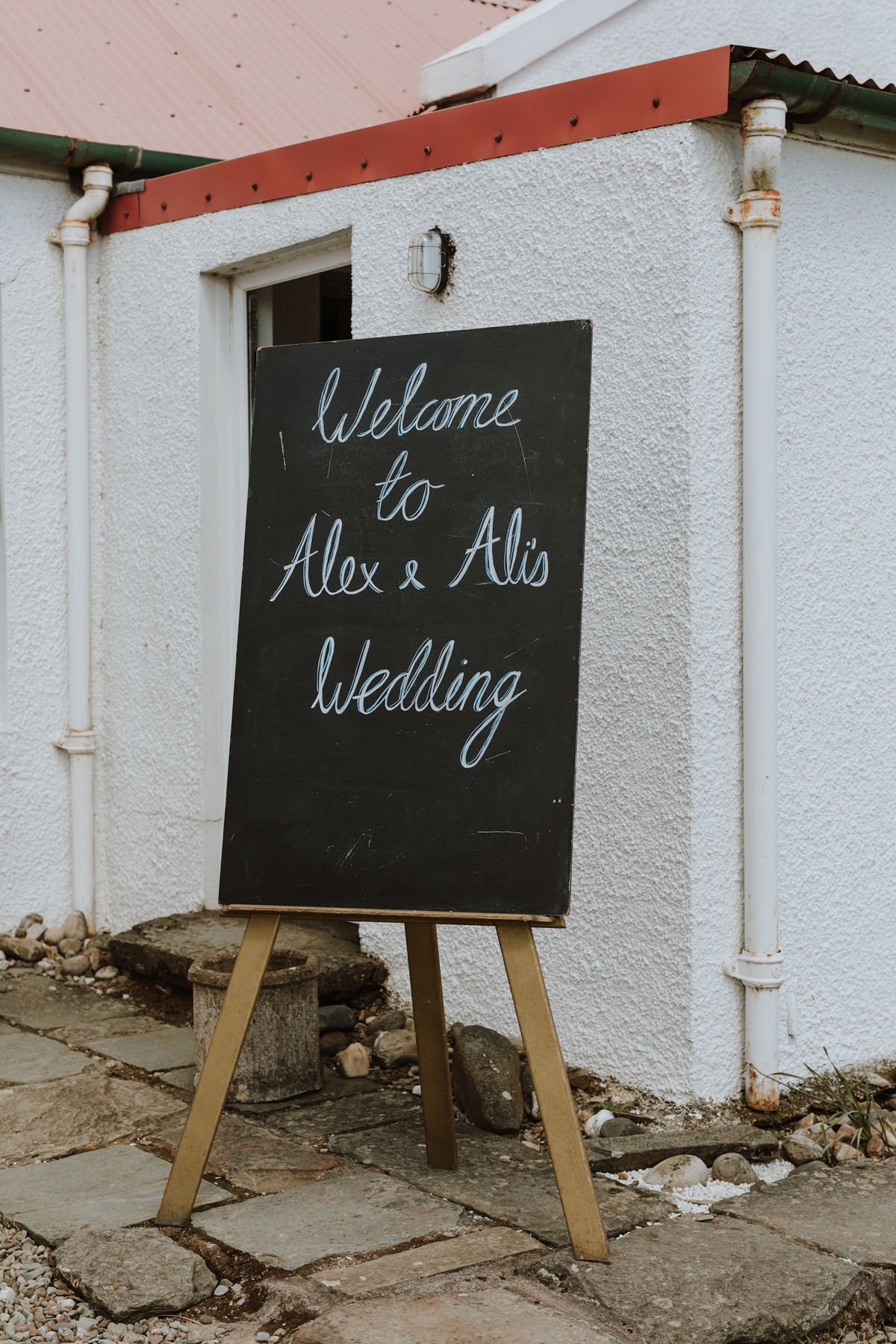 In celebration of the outdoor theme, the seasonal florals gathered together deep red ranunculus with pale daffodils, blossom and country garden flowers, in a loose and organic style.
[JP-VIDEO]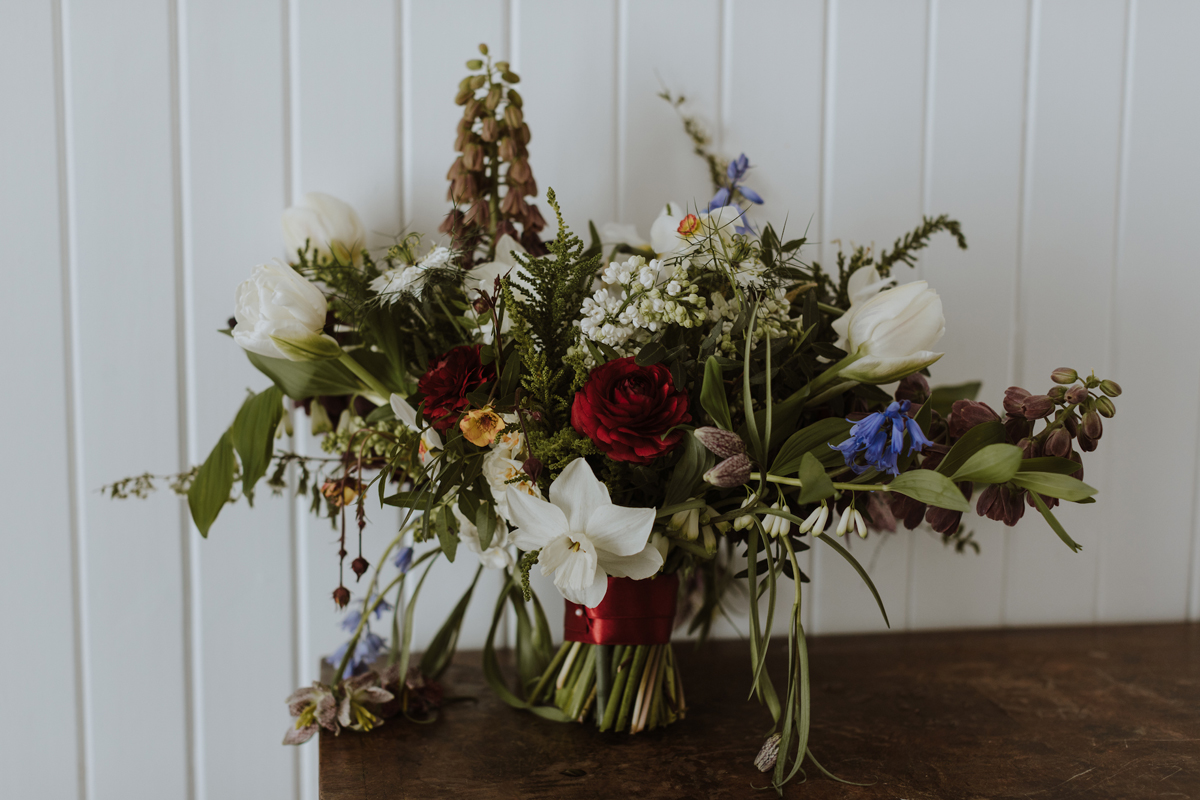 Lesley from Pamper & Polish came to Crear on the morning of the wedding to style Alex and her bridesmaids. Alex opted to leave her thick, wavy hair down, accessorising with a simple pearl and gold headband.
"Lesley from Pamper & Polish did my hair and make up and some of the bridesmaids' make up, as well as my mum and auntie. Louise from Salon 66 also did hair and make up for the bridesmaids."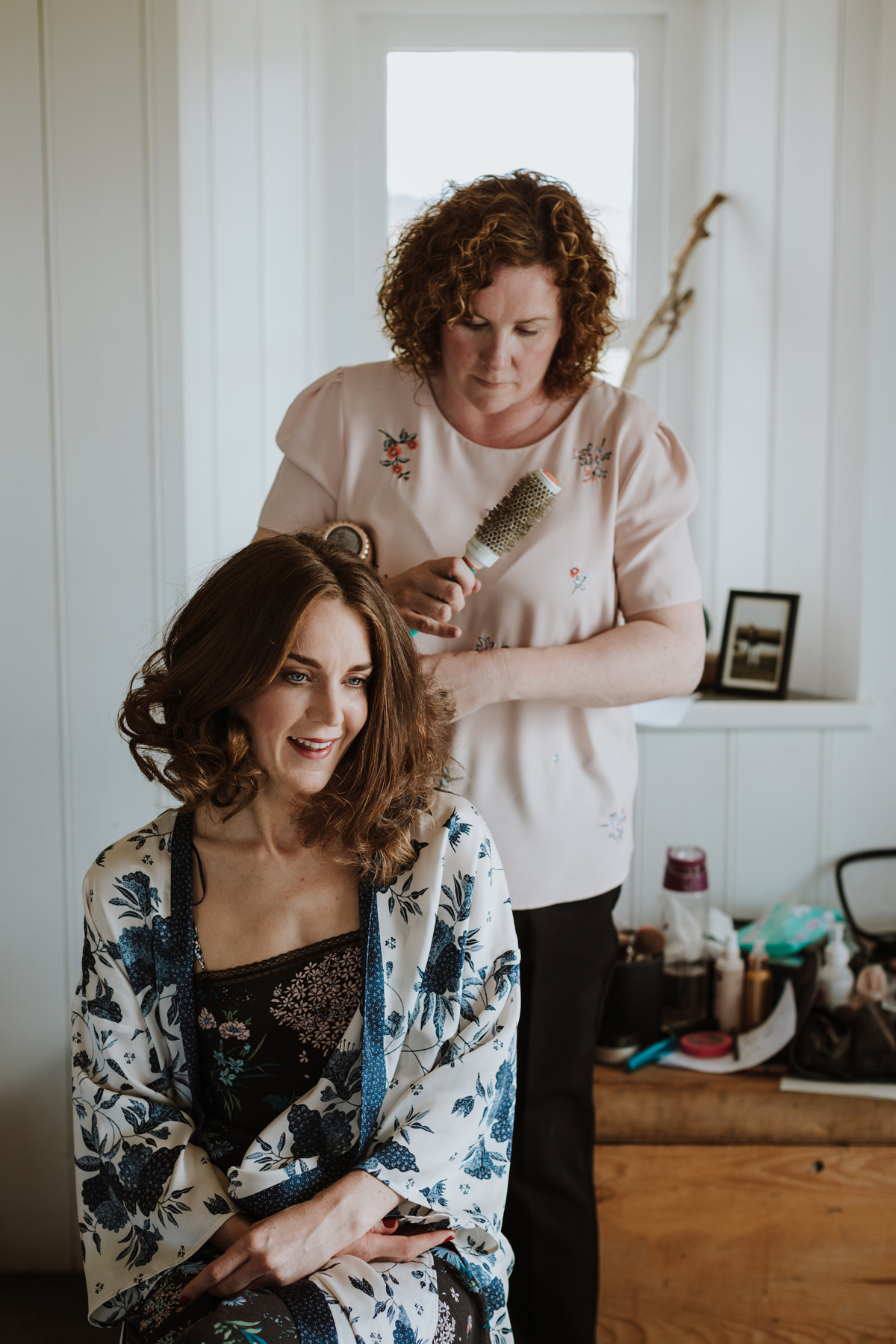 "Lesley completely understood what I wanted on the day – despite the fact we decided to do something quite different from the trial. She was a pleasure to work with throughout the process. I felt completely myself but more polished than usual which was what I was after."
The couple's choice of clean, minimal look was also evident in Alex's beautiful choice of silk gown; a flowing made-to-measure design with such incredible movement and grace. Cut so simply, it is understated yet luxe, elegant yet ethereal. The bride originally saw and fell in love with it on Love My Dress before even seeing it for real at the fabulous Hope & Harlequin.
"My dress was from the wonderful Hope & Harlequin in Brighton and made to measure. The dress I chose was the Delphine by Sarah Arnett, which wonderful seamstress Martha made to fit my measurements exactly. The whole process was wonderfully personal from start to finish."
"All the dresses I tried on before going to Hope & Harlequin were quite modern in style – my second choice was a simple jumpsuit from Charlie Brear – and I was sure I would get something with a simple Scandi look, possibly not full length, and possibly not white, almost definitely with sleeves. The dress I went for wasn't what I expected to choose. I saw the Delphine dress on a Love My Dress real wedding (also in Scotland, also a girl called Alex!) and kept thinking about it."
"Eventually I decided to take a trip to Brighton before I went for the jumpsuit. I tried on a number of beautiful vintage or vintage-style dresses in Louise's lovely studio above the shop and I just felt great in them. The cuts were flattering to my figure (30s dresses are good if you have hips!) and the fabric and handiwork were beautiful. I was dithering between two but in the end I went for the Delphine. I loved the simplicity of the silk dress alongside the more dramatic aspect of the pleats which can be pinned up or let down."
"Another reason I chose to buy my dress from there was that it was completely made-to-measure by a wonderful seamstress, Martha, so it fit like a glove and there was no eight month order time for a made-to-order standard size (which then still needs adjustments…). The whole process was the opposite of the experience I had in some shops where there was a more 'production line' feel going on and which initially put me off from the idea of actually buying a 'wedding dress'."
"Between ordering the dress and picking up the final product, I doubted myself a couple of times and wondered whether the dress was too much or too formal – but when I tried it on at the last fitting I remembered why I loved it so much. I only planned to have the pleats (or wings as my friends kept calling them) pinned up for the ceremony but I never got round to actually taking them down and it was easier to dance with them up."
"The incredibly talented Di at Myrtle & Bracken did our flowers. We love her style and Di and her husband got married at Crear so we knew she would make the best of the space. On the day the flowers could not have been more wonderful.
When we arrived on Friday and saw that Di was already there and late cherry blossom was blowing through to the back door, we had a good feeling straight away!"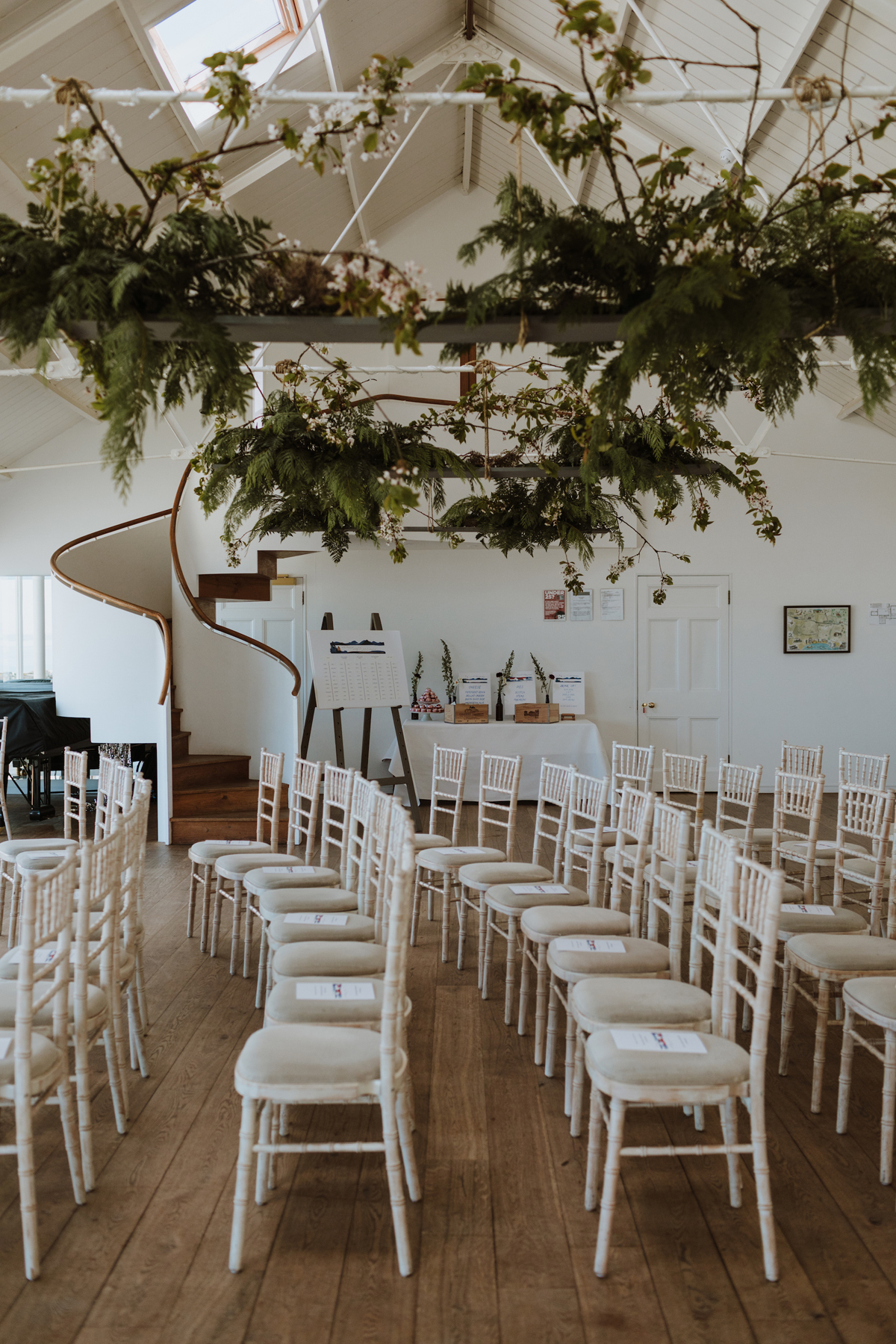 "We gave Di an incredibly loose brief – hanging pieces, some kind of arch or piece for the ceremony (which we weren't sure would be inside or out) and stems in bottles – but with not much more direction than that."
"We sent her some pictures of our outfits and the stationery and said we were happy to go with whatever was in season and around, especially important given the late snow this year. There was no brief on the bridal and bridesmaid bouquets, again just seasonal flowers."
"They were so much better than we imagined; she completely 'got' us and the look we wanted and used beautiful deep Scottish grown red ranunculus and pale fritillaria on the tables, and created beautiful hanging pieces with blossom branches and ferns."
"The whole room looked and smelled beautiful. We thought the flowers really made the most of the vaulted white space and brought the outside in. One of the saddest parts about leaving on the Monday was leaving the flowers."
The groom chose to wear a kilt in Alex's family tartan, and looks incredibly distinguished on the day. The ushers and best man also wore hired kilts, in Black Watch tartan. Ali's accessories were full of personal meaning, so the perfect touch for his wedding day.
"Ali bought and wore a kilt from MacGregor MacDuff in Glasgow. He went for the Arran Tweed blue jacket and a kilt in McIntyre tartan (my family name) with a green tie."
"On the morning of the wedding I gave Ali a custom kilt pin made by Islay Spalding, an artist based in Dundee. The pin has notches on it to represent the date of the wedding and the shape reflects the view over to Jura and Islay from Crear. Islay worked from a photo I sent and did such a fantastic job in a short turnaround time. Ali's parents gave him a beautiful horn sgian dubh (dress knife) the night before the wedding. It was from The Real Sgian Dubh Company."
Ali and Alex first met at a Christmas party in 2010, had a first date a couple of days after and have been together ever since.
"We moved in together in London in 2014 (after Alex had some time abroad) and got engaged in March 2017. We went for a stroll on Hampstead Heath – a place close to both of our hearts and near where we live. Ali proposed in the woods whilst we were sitting on a fallen tree."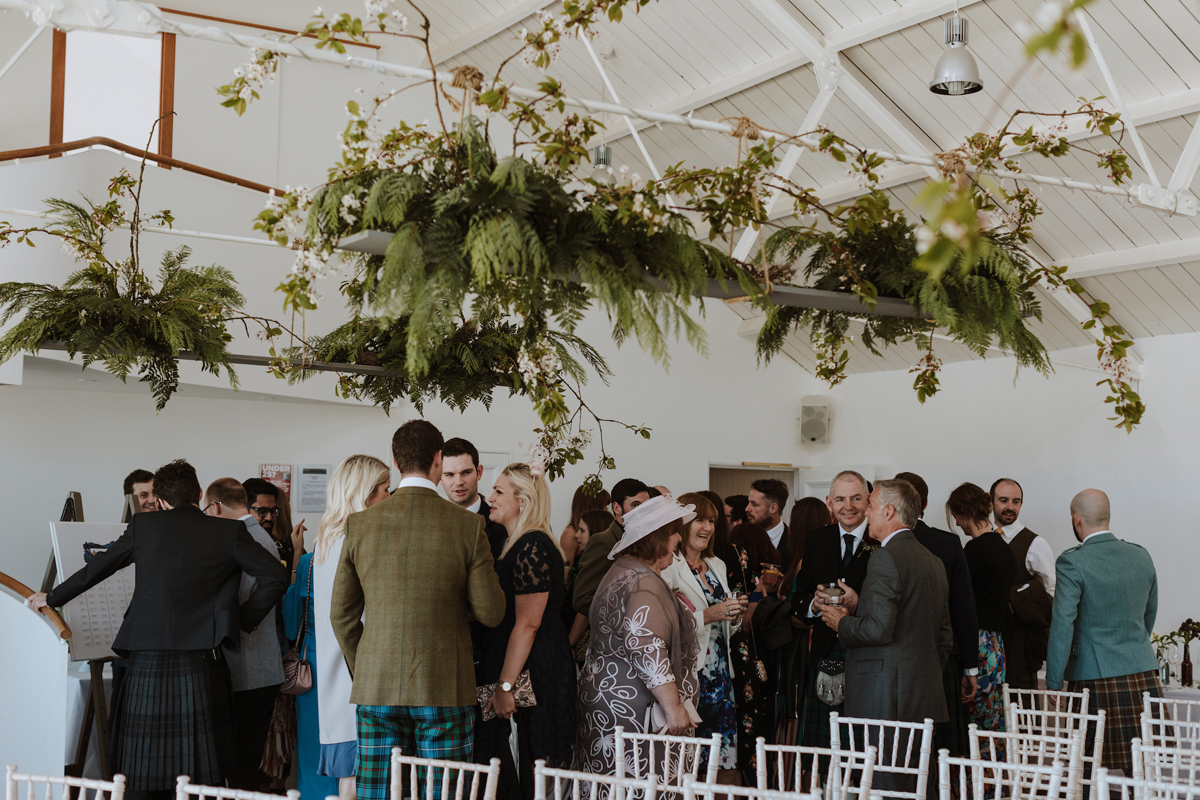 The pared-back look was matched by the bridesmaids who wore a variety of gowns, all in a similar silvery-grey hue.
"The bridesmaids chose their own dresses (and a jumpsuit), each to suit their style – they were variously from COS, ASOS, Marks and Sparks and Reiss. It was important to us that the bridesmaids could wear something they liked and suited them."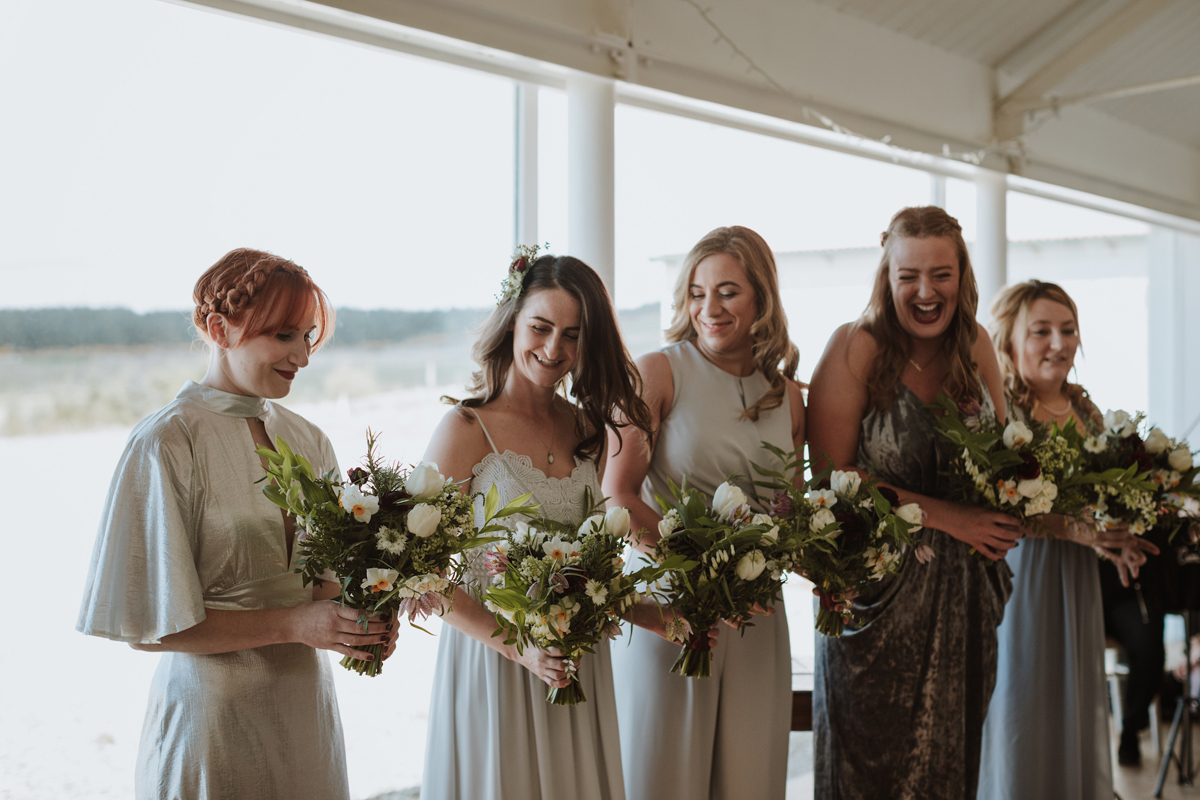 "We asked that they pick something in a silvery grey palette, thinking it would all tie in – the first time we saw all the dresses together (and any of them in the 'flesh') was the day before the wedding, and two of them changed their dress in the days before. We thought it really worked and everyone really suited their outfit. The bridesmaids wore their own accessories. and I gave them silver necklaces from Botanique in Exmouth Market."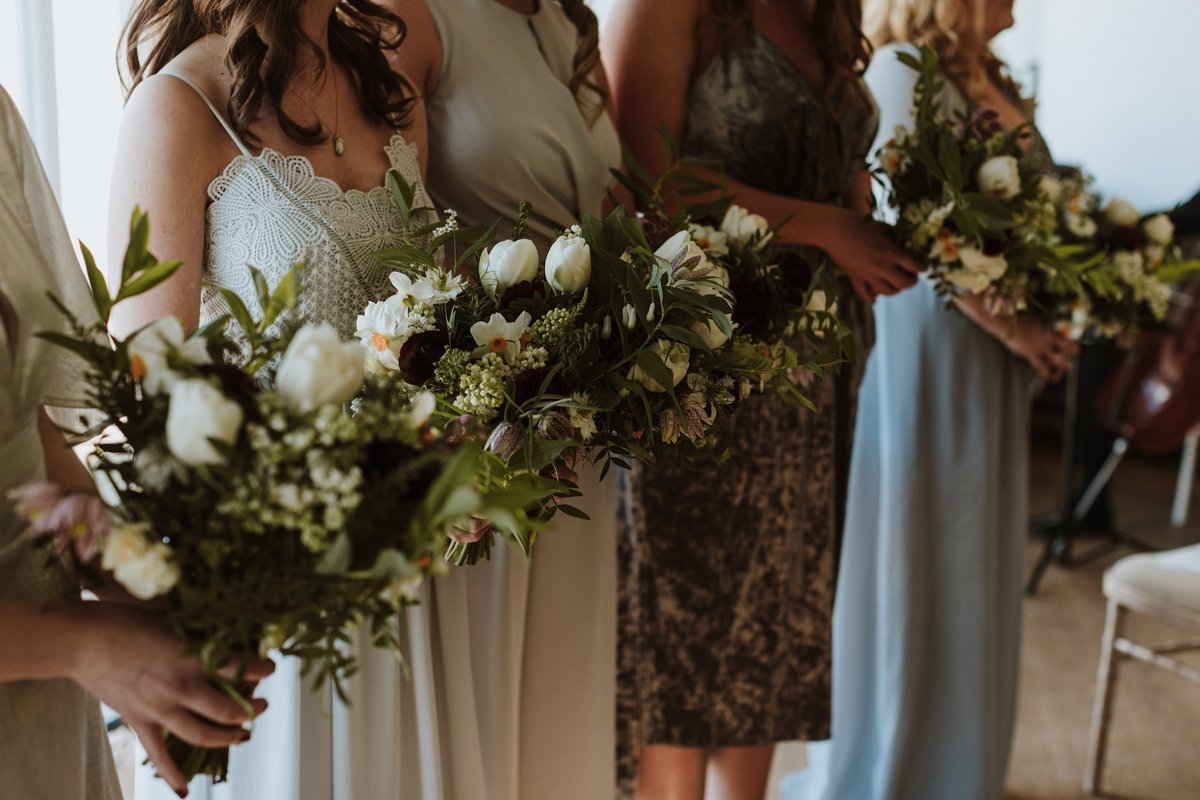 "My mum Anne accompanied me down the aisle. For a while I considered walking down on my own, or Ali and I coming in together, but my family is tiny and it has always been just me and my mum (I have no siblings) and it seemed right that we would be together for that moment."
"I am so glad that's what we did; it was such a lovely moment to squeeze mum's hand just before we came into the room (and she was there to tell me to slow down when I was rushing to get to the front!)."
"We walked in to 'Good Vibrations' by the Beach Boys, played by The Cairn String Quartet who played during the ceremony and also at the drinks reception. We wanted to set a relaxed, upbeat and joyful tone rather than an overtly emotional one."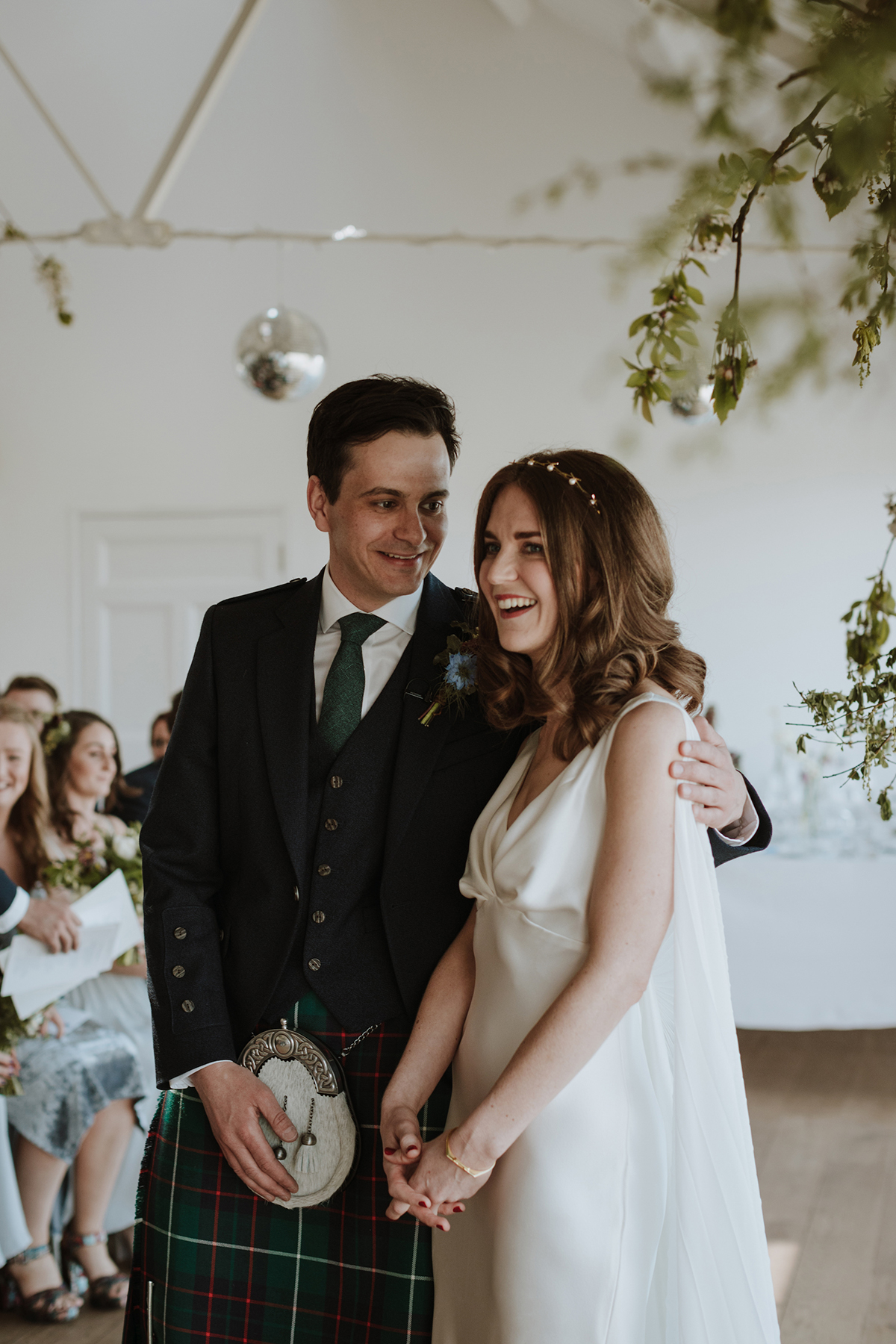 Alex and Ali were keen to have a humanist ceremony, which was led by celebrant Annie Loughlin.
"We met Annie a few months before the wedding and got to know her a bit – she put together a lovely service based on what we told her about why we were getting married, how we met and so on. It was completely personal to us, funny and informal. Annie again was someone who we clicked with as soon as we met her and she has such a thoughtful, open approach."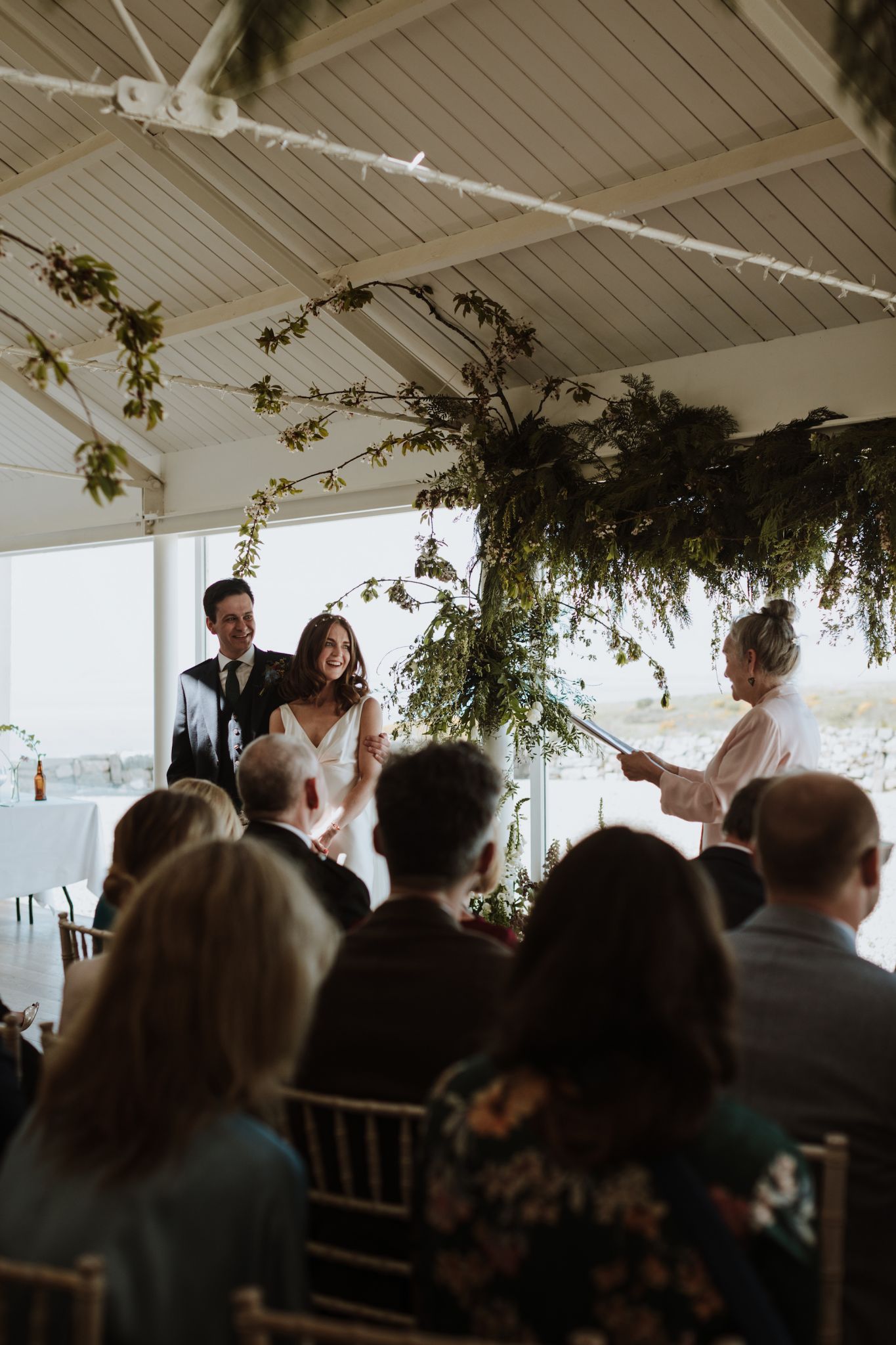 Having a humanist ceremony meant that the couple had free reign over their vows, which they wrote themselves, and readings.
"The readings were really important to us and we spent a lot of time choosing the ones which we felt were the best reflection of how we view our relationship and what we want from marriage. We had three: 'Song for J', a poem by Iain Banks which our friend James read; Ali's mum Katie read an extract from the Julian Barnes book 'Levels of Life'; and our best friend Siobhan read a poem by Jackie Kay, the Scottish Makar (Scottish poet laureate), called 'A Lang Promise'."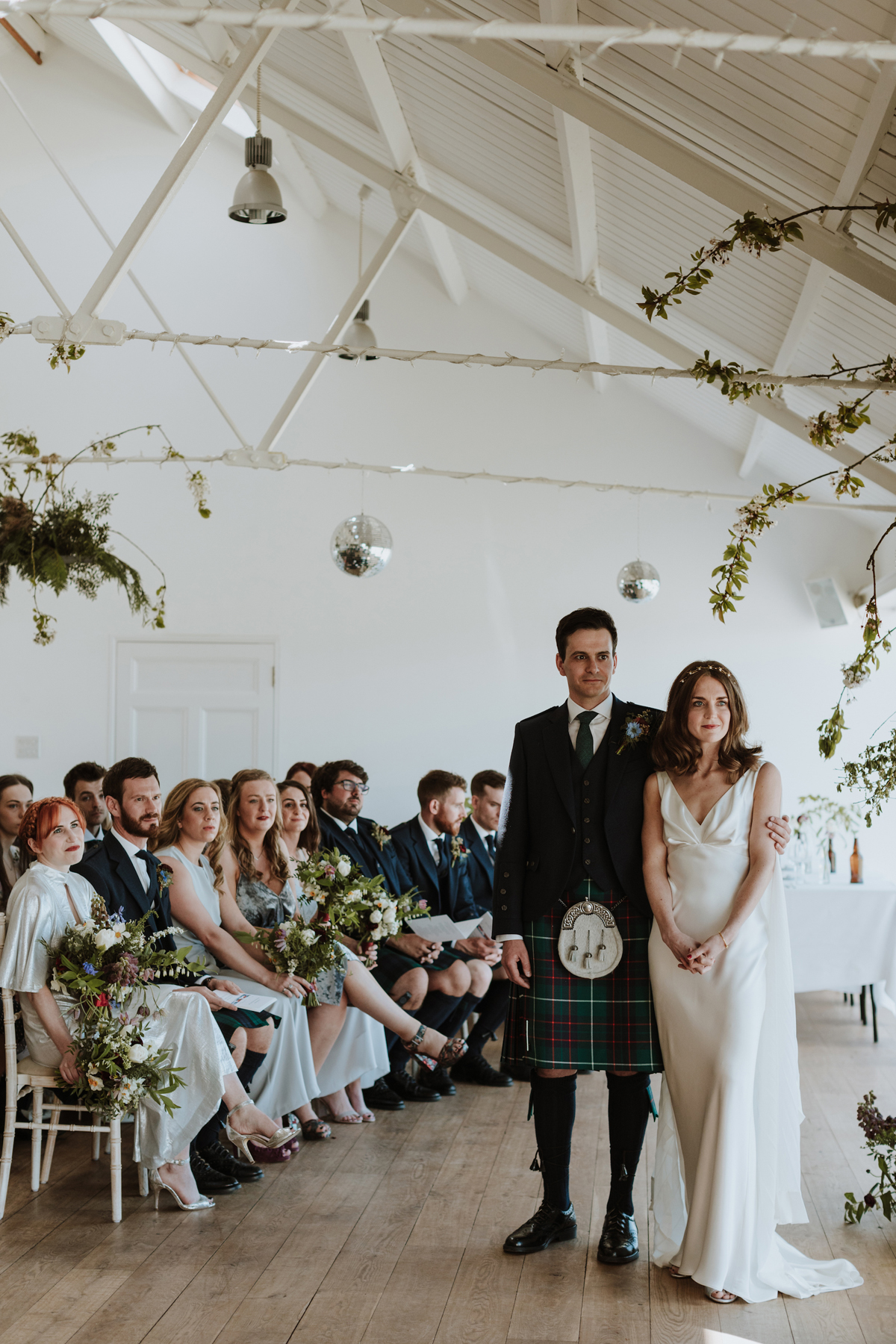 "I wore gold and pearl earrings from Maria Black, a Danish designer. My bangle was also by Maria Black and was a gift from my brother-in-law Matt (the best man). I chose not to wear a necklace for most of the day, but in the evening I put on a slim gold choker from Net a Porter."
"Ali said that he found writing the vows one of the hardest parts of the planning of wedding and was playing around with what to say right up to the day before. Both of us definitely found distilling the right words into something concise, whilst avoiding clichés, harder than we thought, but it was one of the best decisions we made and whenever we think of the vows we are so delighted we made the choice to write our own."
"It gave the ceremony a lot more meaning than it otherwise would have if we were saying someone else's words. We approached it by agreeing on a rough format – five or six promises – before writing them separately. We kept them as a surprise from each other, but there were some striking similarities – both of us vowed to be honest, support each other but challenge each other, and to face life's ups and downs together."
What do you think about the idea of a 'singalong' which Ali and Alex wove in to the ceremony?
"We had two singalongs – 'I Wanna Hold Your Hand' by the Beatles and 'I Only Want to Be With You' by Dusty Springfield – both of which the quartet played. Both songs went down really well and did a great job of relaxing people. I felt emotional coming in and after James' reading, so I was very glad of some joyful singing. Everyone really went for it and it was wonderful looking out and seeing everyone singing along and laughing."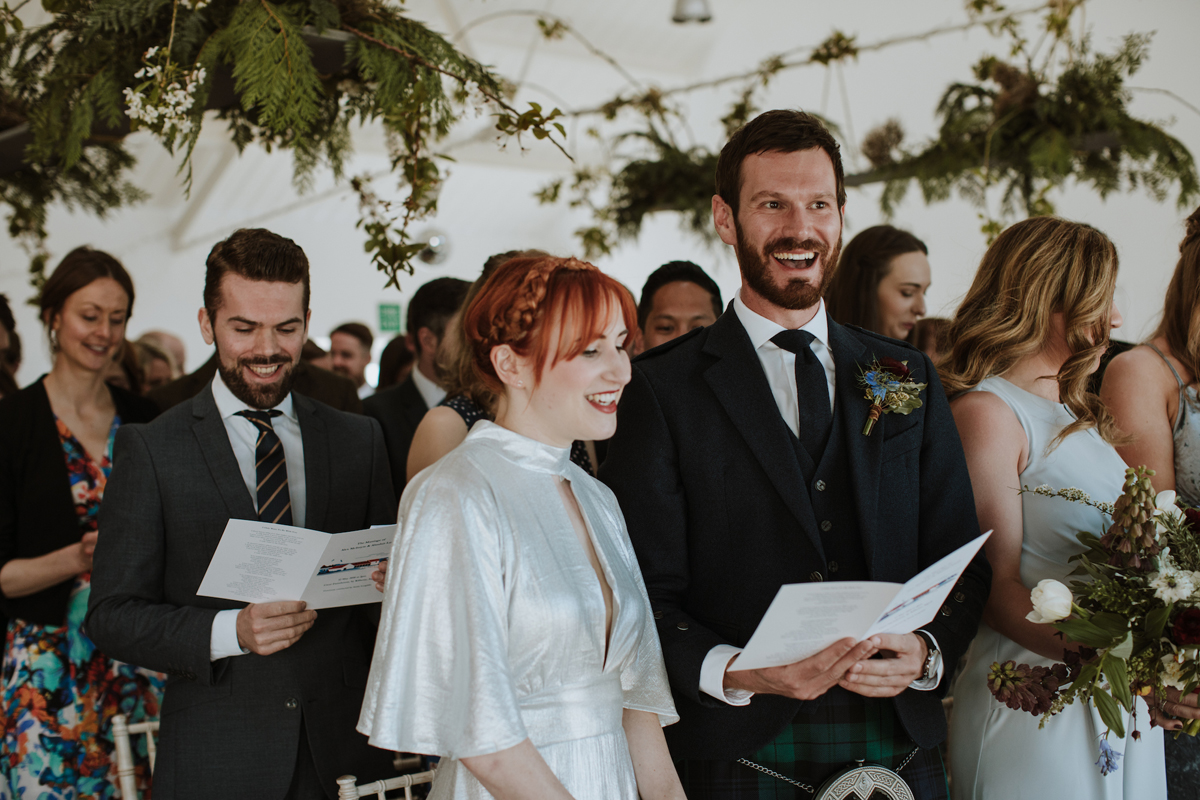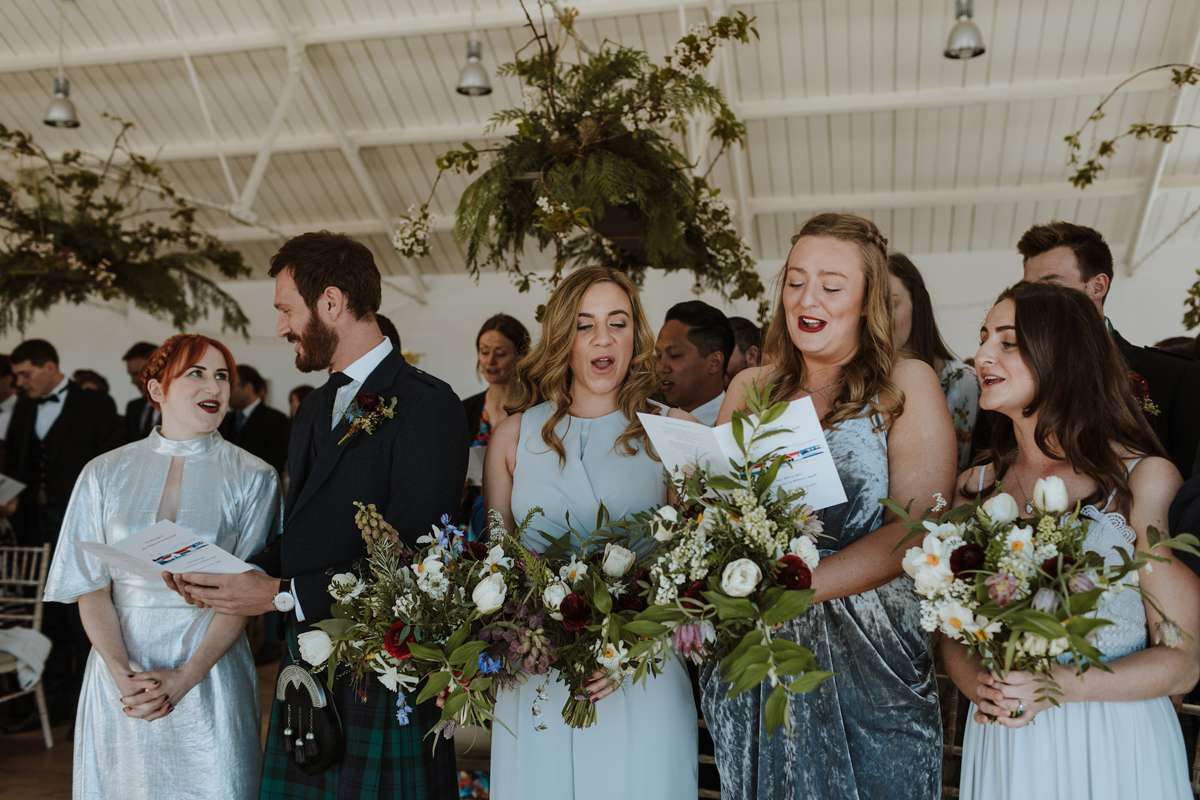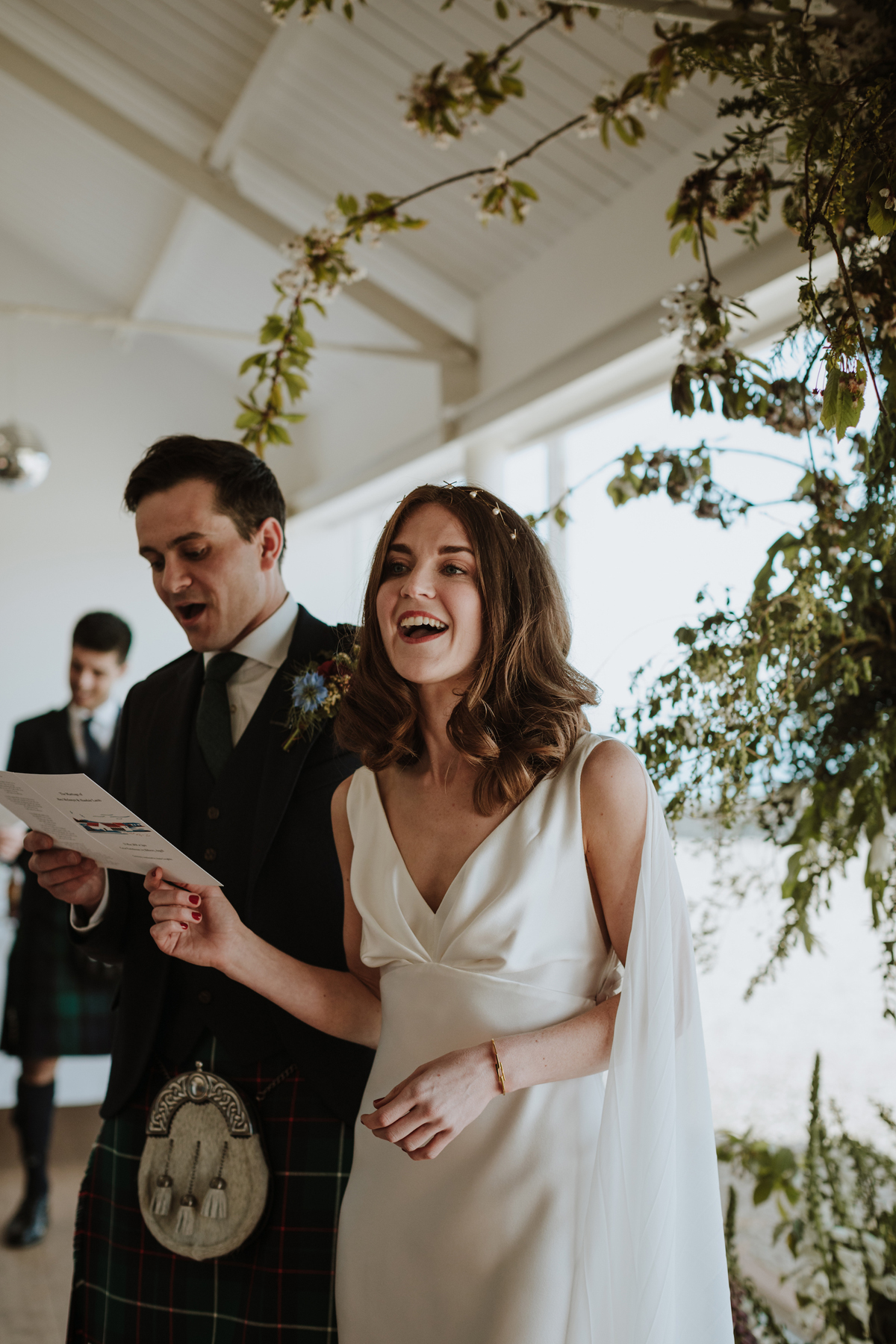 "I bought two complementary headpieces gold-plated by LELET NY on Net a Porter. I planned to wear them together, but in the end I only wore one – my bridesmaid Siobhan said she thought the slimmer one with pearls looked more striking on its own. She was right!"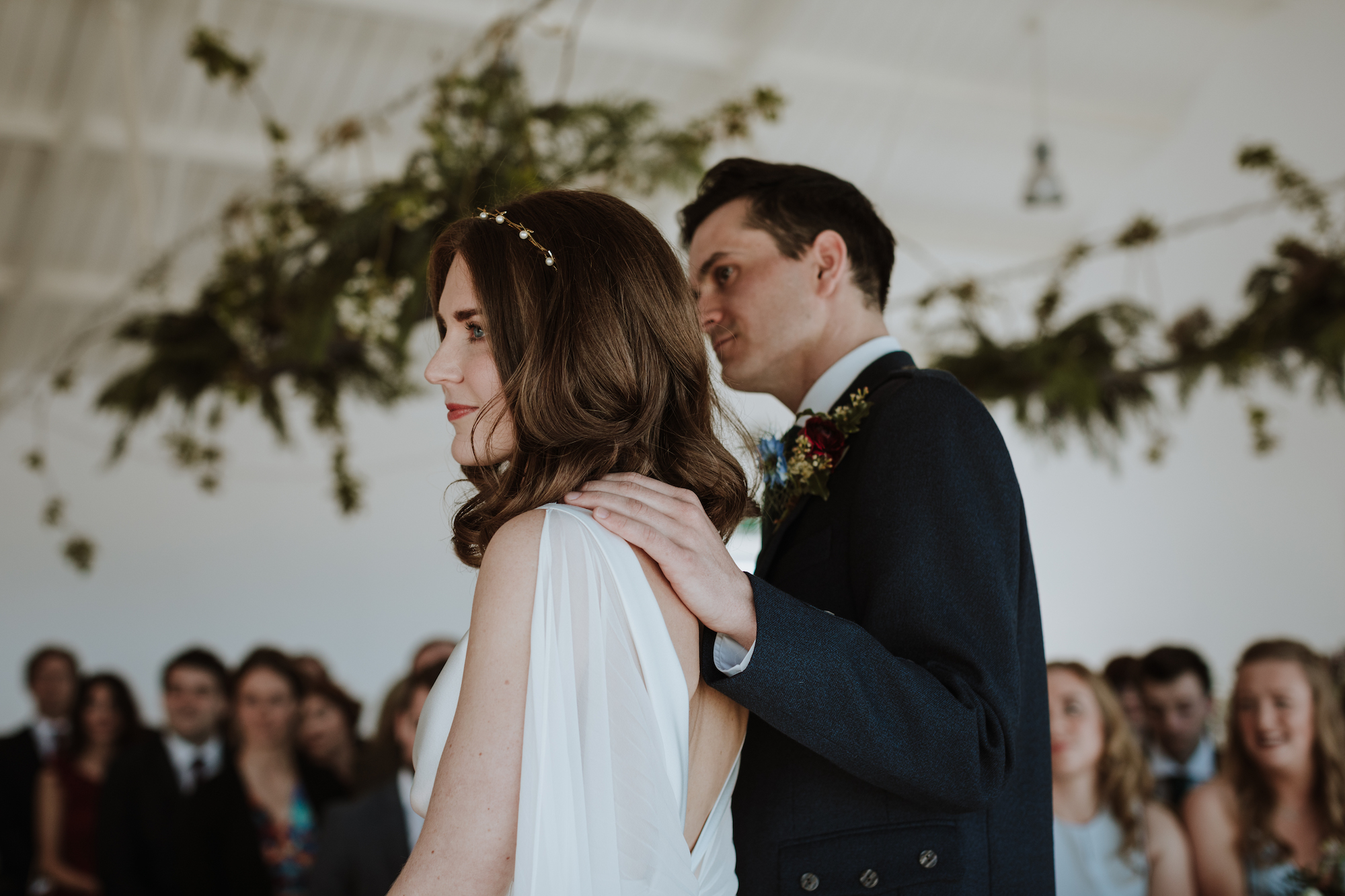 The bride and groom exchanged rings bought at London's Hatton Garden. Alex's was a made-to-measure piece from the workshop which made her engagement ring, The Diamond Shop, and Ali's band was from Regency Jewels.
The couple contacted Boda Productions to record the day on video.
"Initially we weren't sure about getting a video as Ali was worried that it might be a distraction. Eventually we went for it – in part so that Ali's grandpa, who couldn't be there on the day, could have more of a sense of it than through photos alone. Simon could not have been more professional and friendly and he was so discrete we actually forgot he was there for most of the day. Simon also recorded some guest messages before and after dinner to weave into the film."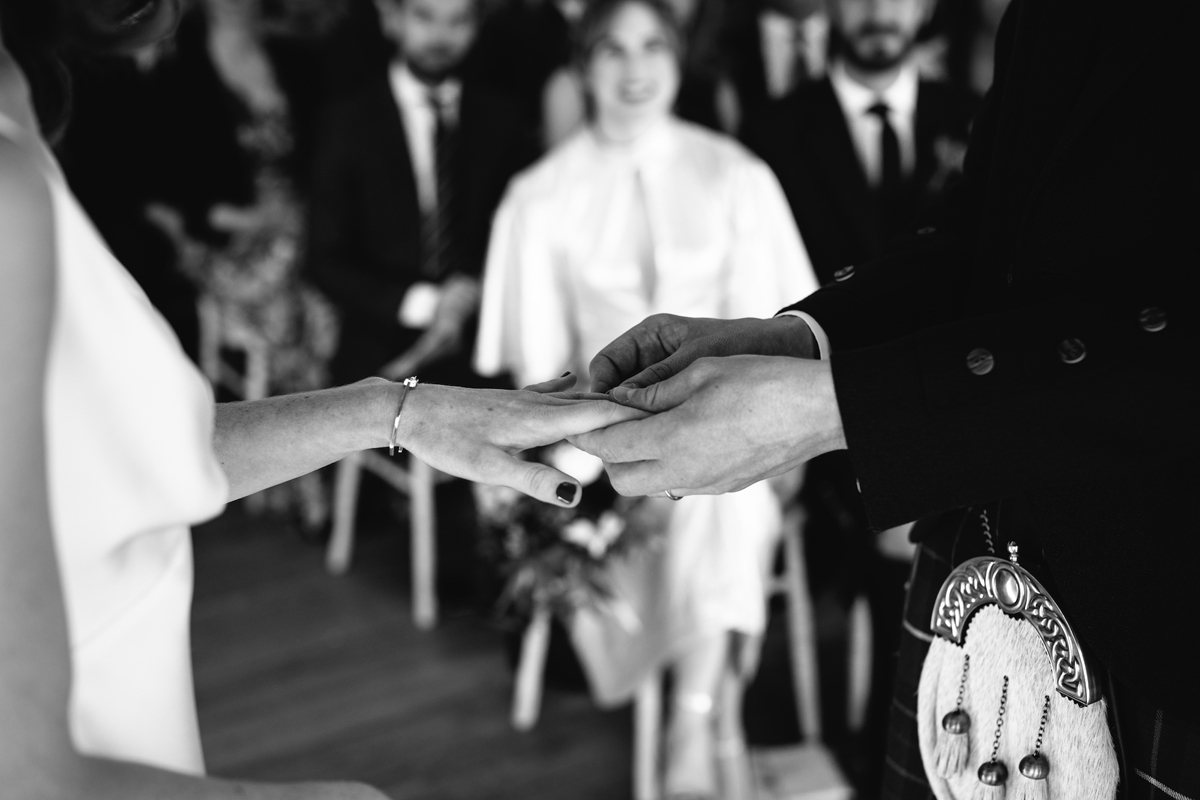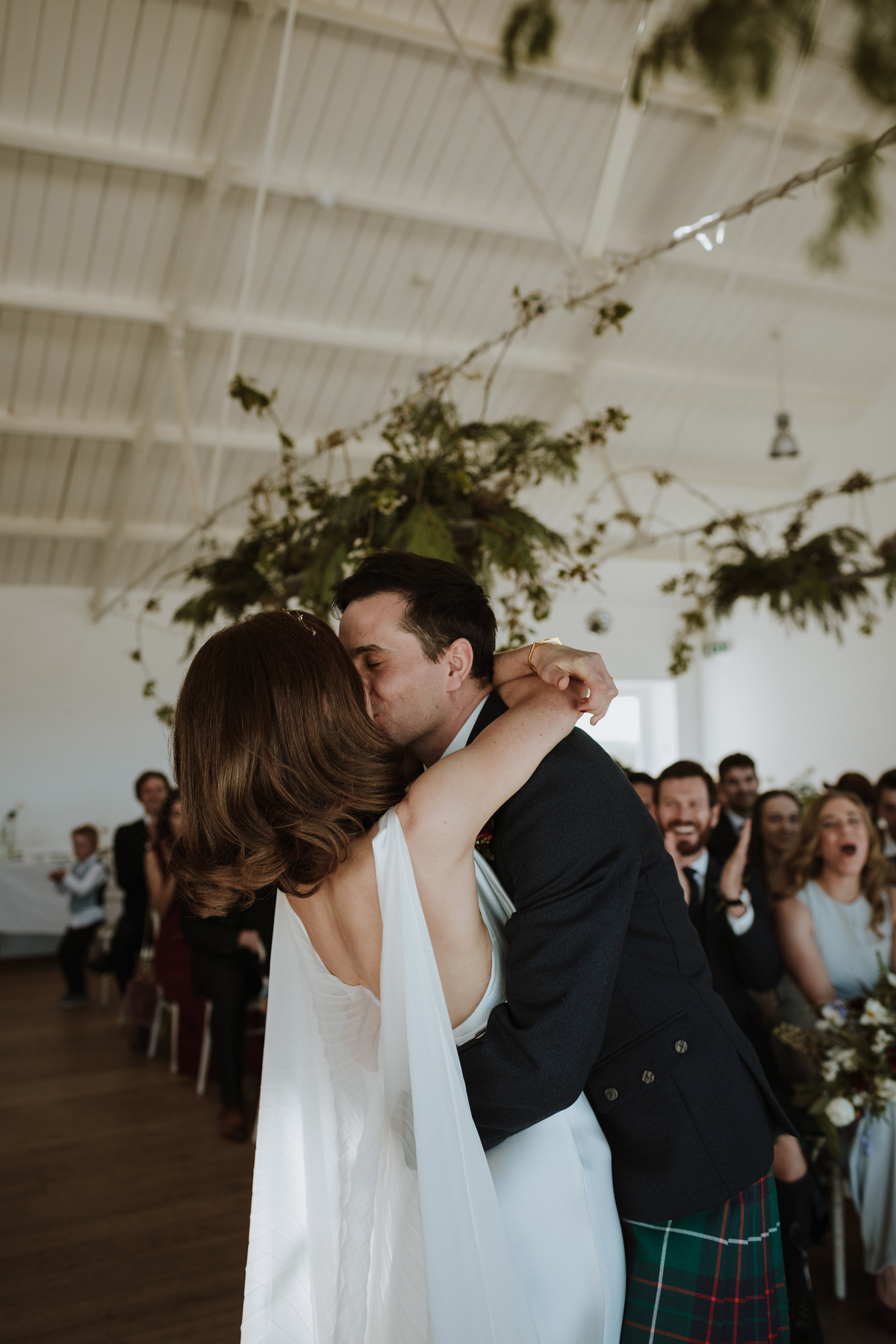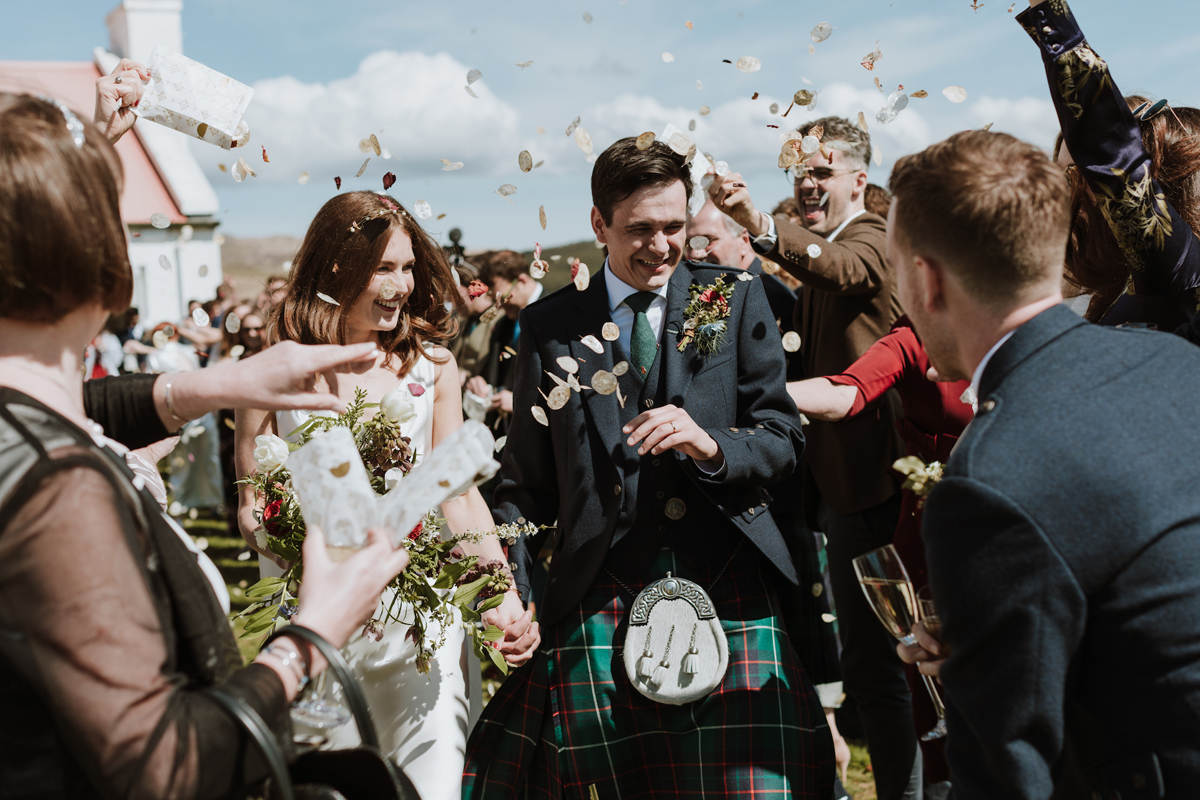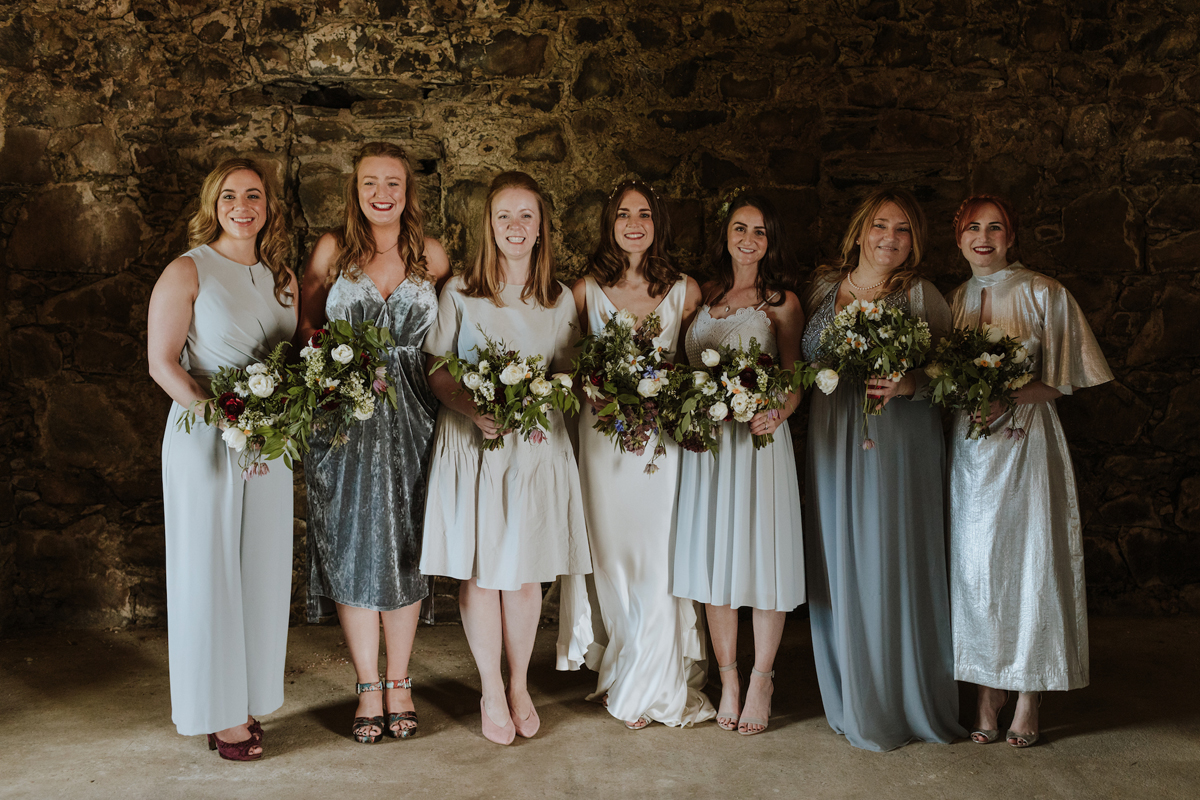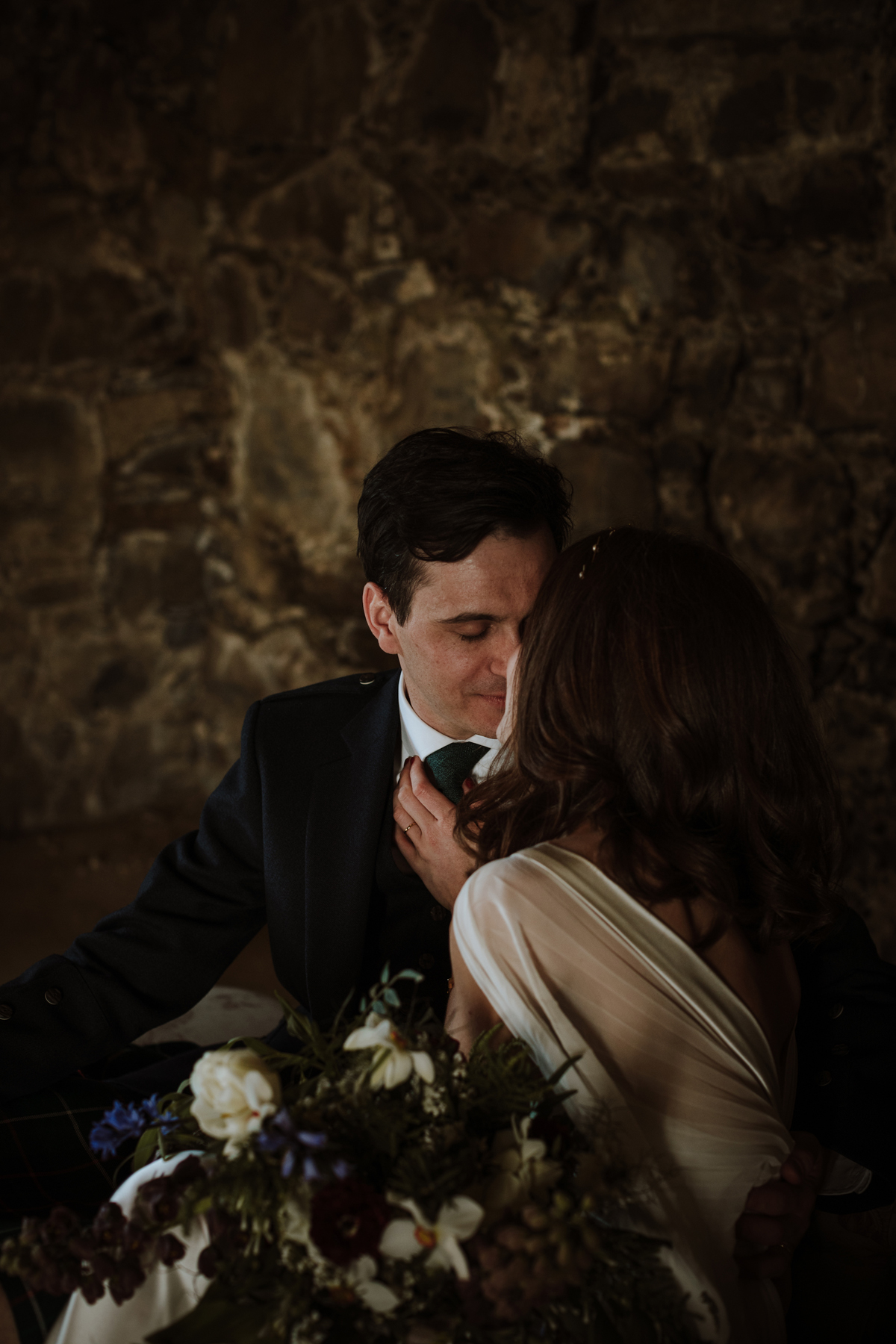 "I wore a pair of silver block heels from Whistles. I wanted shoes I could walk in, which wouldn't sink into the grass outside, and that I could wear again. For the dance and the evening I changed into some very 70s velvet platforms which were a Mango bargain."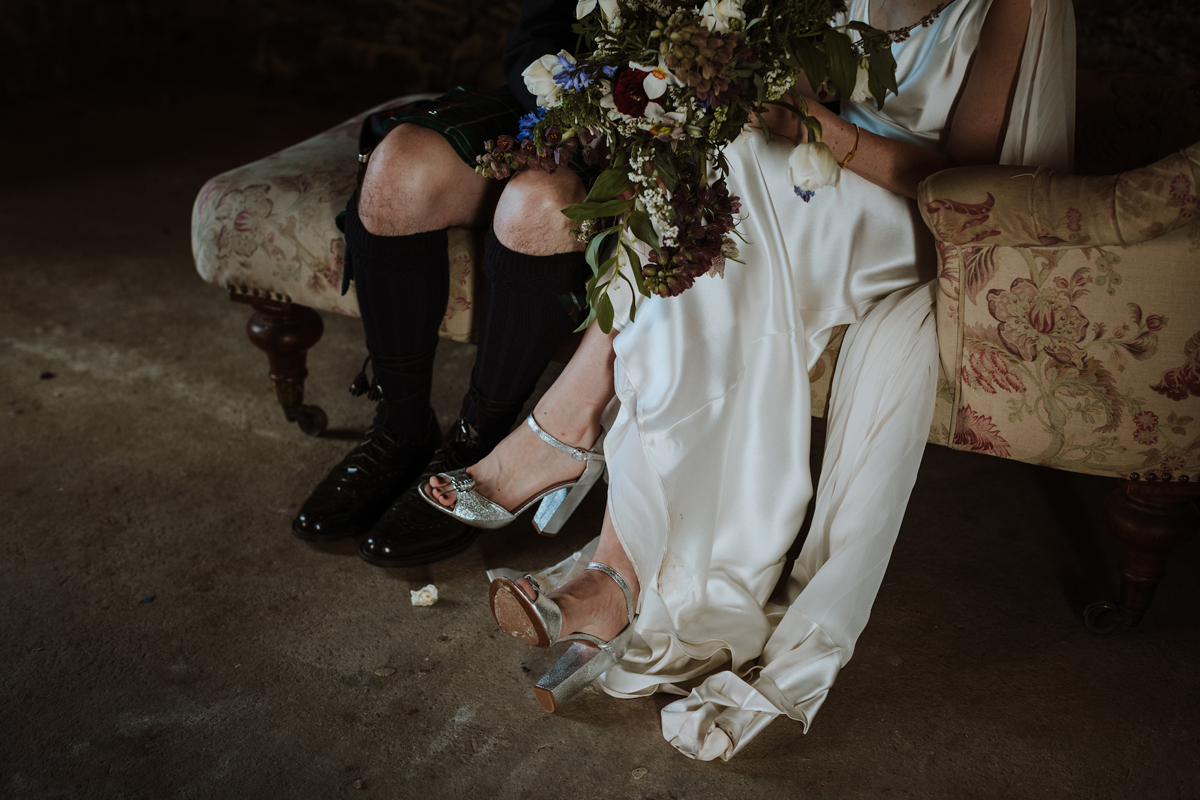 Caro Weiss Photography is the super-talented lady behind the camera who's captured these raw, organic photographs. You may have seen Caro's work on Love My Dress in the past, and we are huge fans of her clean, crisp, beautifully composed, artistic photographs.
My personal favourites are those of Ali in her wedding gown on the beach; the movement captured is just exquisite and there is such clarity in the springtime light. We are so proud to list Caro on our Little Book, so please take a look at her listing for more examples of her wedding photography and an exclusive offer, too.
"Our photographer was Caro Weiss, who there is not enough space or time for us to wax lyrical about! Caro was the very first supplier we booked and we knew throughout the process that her photographs would be wonderful, but she still surpassed our expectations."
"She captured the whole day so well. When we got our photos back, we were so grateful and delighted. We had seen how beautiful her shots were of other weddings, but ours were even better than we could have ever hoped for and we think they really convey how beautiful the day was, how relaxed it all felt, and she captured so many beautiful moments between guests that we didn't see."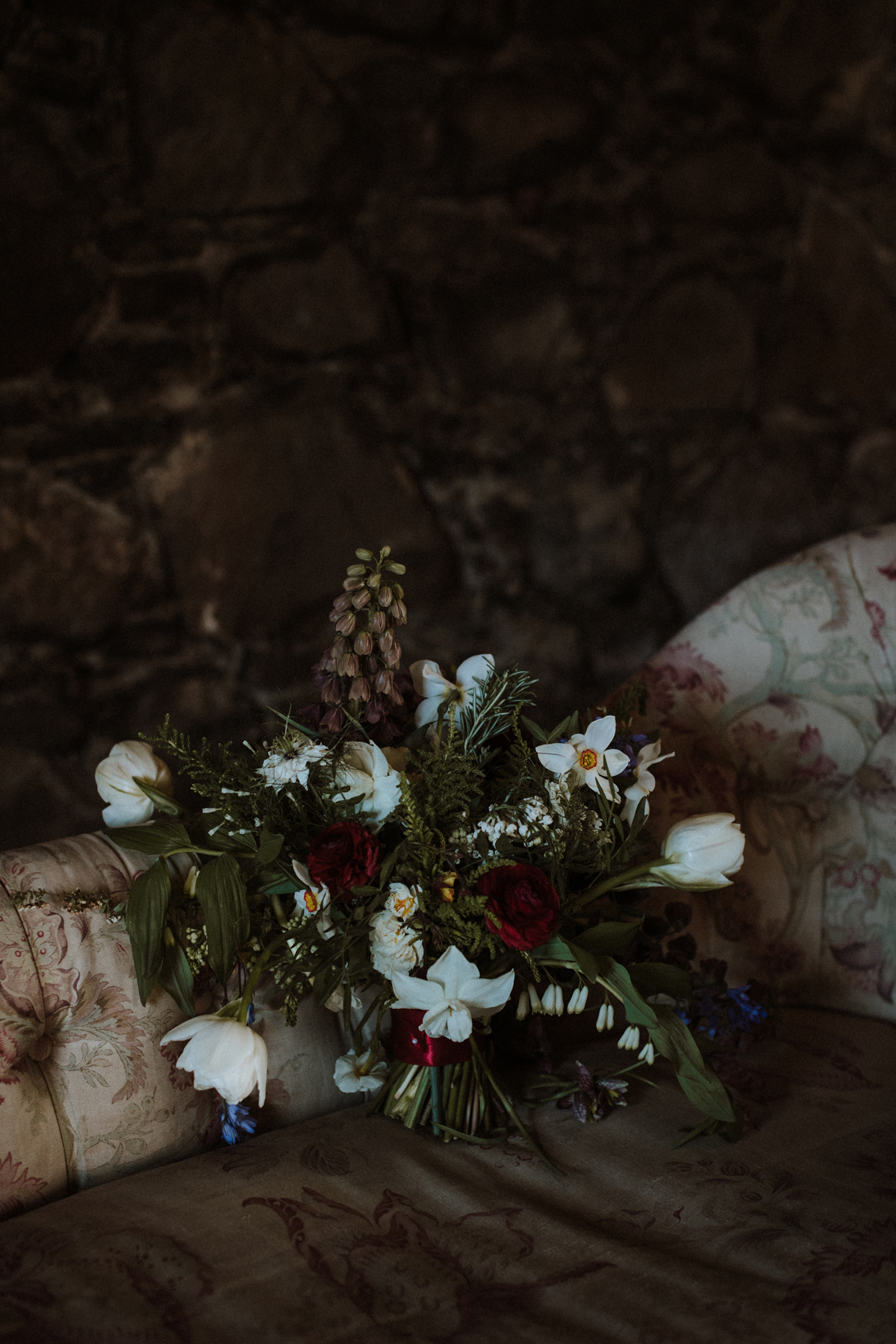 "Normally we are not big fans of photographs of ourselves but we like these ones! As soon as we first spoke, we knew that we were going to get on brilliantly and it was great to have her warm, relaxed presence on the day. She made us feel at ease – we didn't do an engagement shoot beforehand so we thought we would be self-conscious about pictures, but it would be impossible to feel that with Caro."
"We genuinely could not have asked for a better photographer or for a better record of the day. Crear at that time of year is a gift in terms of evening light and Caro more than did it justice."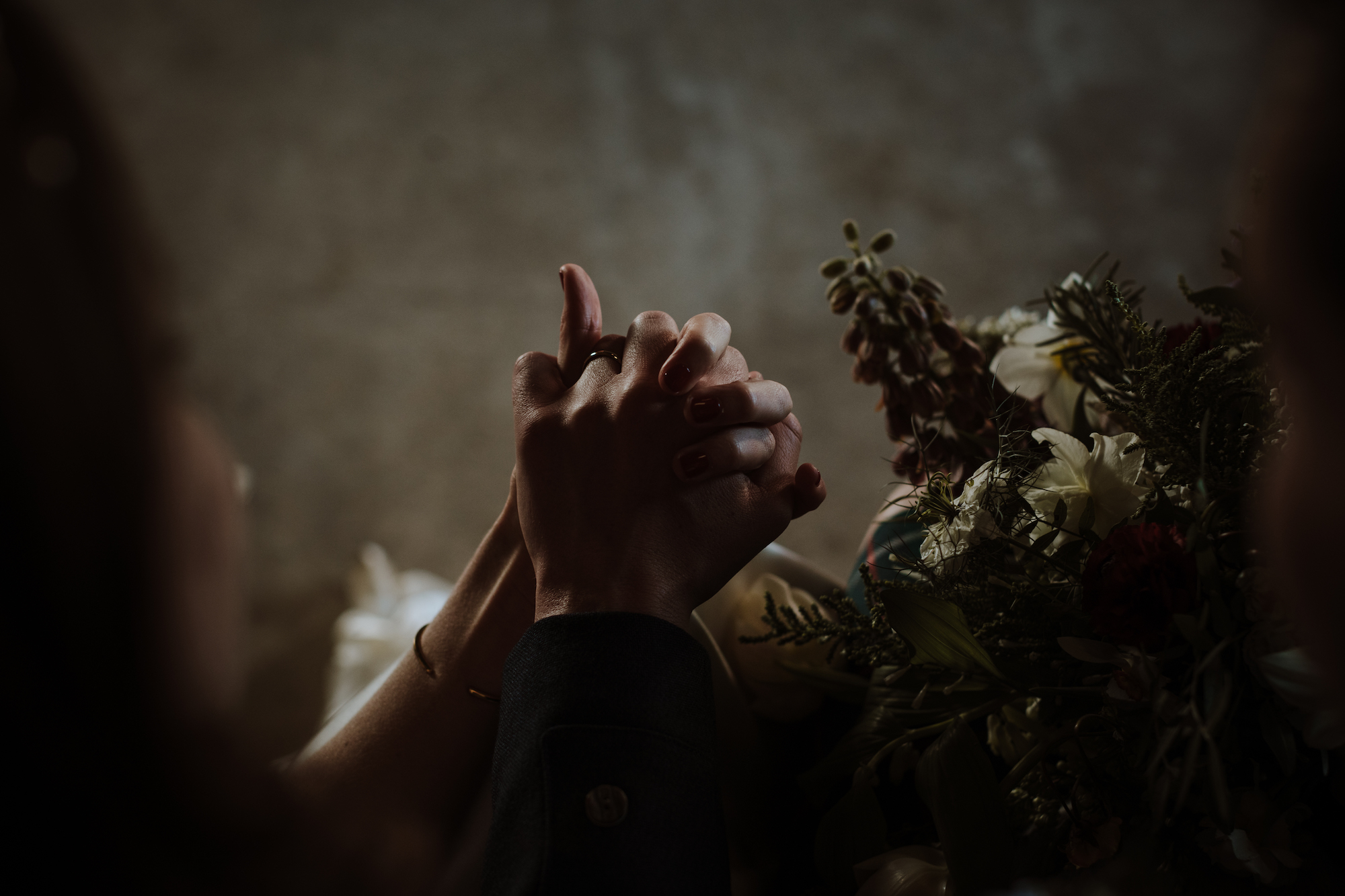 Alex and Ali opted for a minimal, unfussy feel for their wedding weekend.
"We wanted to make the most of the beautiful studio at Crear – which is a bright, airy, blank canvas. The main inspiration for the look of the day was honouring the outdoors and the views which to us felt like the main event. We picked Crear in part because even if the weather had been wet and windy, the outdoors always feels very present inside."
"We were clear from the start that we didn't want a 'theme' of any kind, or for outfits to match flowers and that kind of thing. In truth, at first we probably knew more clearly what we didn't want than what we did (fussiness, anything too formal, too much pink), and then we decided on elements as we went along and it all seemed to slot together. We wanted quite a clean look with greenery and flowers, and for the tables to be quite minimal so that the focus could be on the beautiful surroundings and the outdoors. Early on, Alex found a pack of vintage Faber postcards which we decided to incorporate onto the tables (writing personal messages for all our guests on them and leaving them at their places on the tables) so we had those in mind throughout too.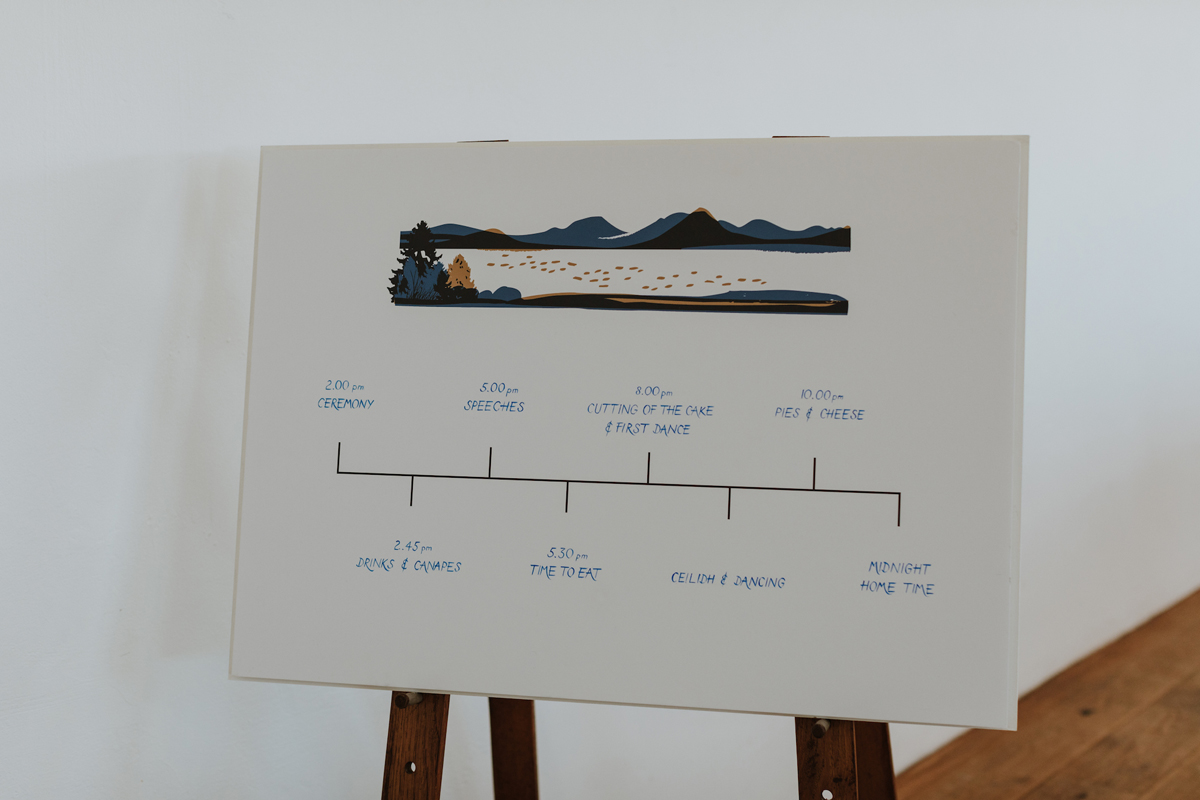 "The space at Crear – along with the amazing floral decorations courtesy of Di at Myrtle & Bracken – doesn't need to much else to make it look good. We hung some disco balls for the dancing, however, and Ali's mum made the table plan and order of the day boards."
"My bridesmaid Vicki also made a welcome sign on one of Crear's chalkboard. We had old photos of us and our friends and family dotted around the living room and house, and a Polaroid corner which best man Matt constructed. We also had vintage book post cards at each table place with a personal message for each guest on the back."
The wedding feast was created by chef Alan Boslem at Crear Kitchen, and the menu included seafood ravioli, beef Wellington and sticky toffee pudding.
"One of the reasons we chose Crear was how delicious and generous the food was. We weren't disappointed – everyone ate very well throughout the day and they are very accommodating for vegan, gluten-free guests and children."
"We both spoke at the wedding – we did a joint speech thanking everyone together and short speeches of our own (one more polished than the other!). My mum also spoke and Ali's brother did the best man's speech, when there wasn't a dry eye in the house. Our friend Rob also MC-ed and had everyone in stitches – something you can see so well in Caro's photographs."
Instead of a sweet cake, Alex and Ali chose a cheese tower from I.J. Mellis in Glasgow, built from a variety of Scottish and French cheeses.
"It was accompanied by a load of fruit and delicious bread from Freedom Bakery, who we also got trays of pastries from to feed the house all weekend. Freedom Bakery is a social enterprise which started at HMP Low Moss. Their bread is as good as any cake. There was also a stack of Tunnocks tea cakes for anyone still hankering for anything sweet after the sticky toffee pudding!"
I cannot get over the incredible coastal views which Crear enjoys. I love the post-ceremony images so much; they are full of romance and so unique. Back at Crear, the guests were able to enjoy the venue which was filled with light. It needed just a few touches for a personal feel.
The couple have some wonderful memories to share from their wedding day.
"I really enjoyed every moment of the ceremony. We put a lot of thought and love into it, and I loved coming in with my mum, facing our guests throughout and seeing everyone looking back, saying our vows and then singing to Dusty Springfield with everyone surrounded by Di's beautiful greenery and with the sun behind us."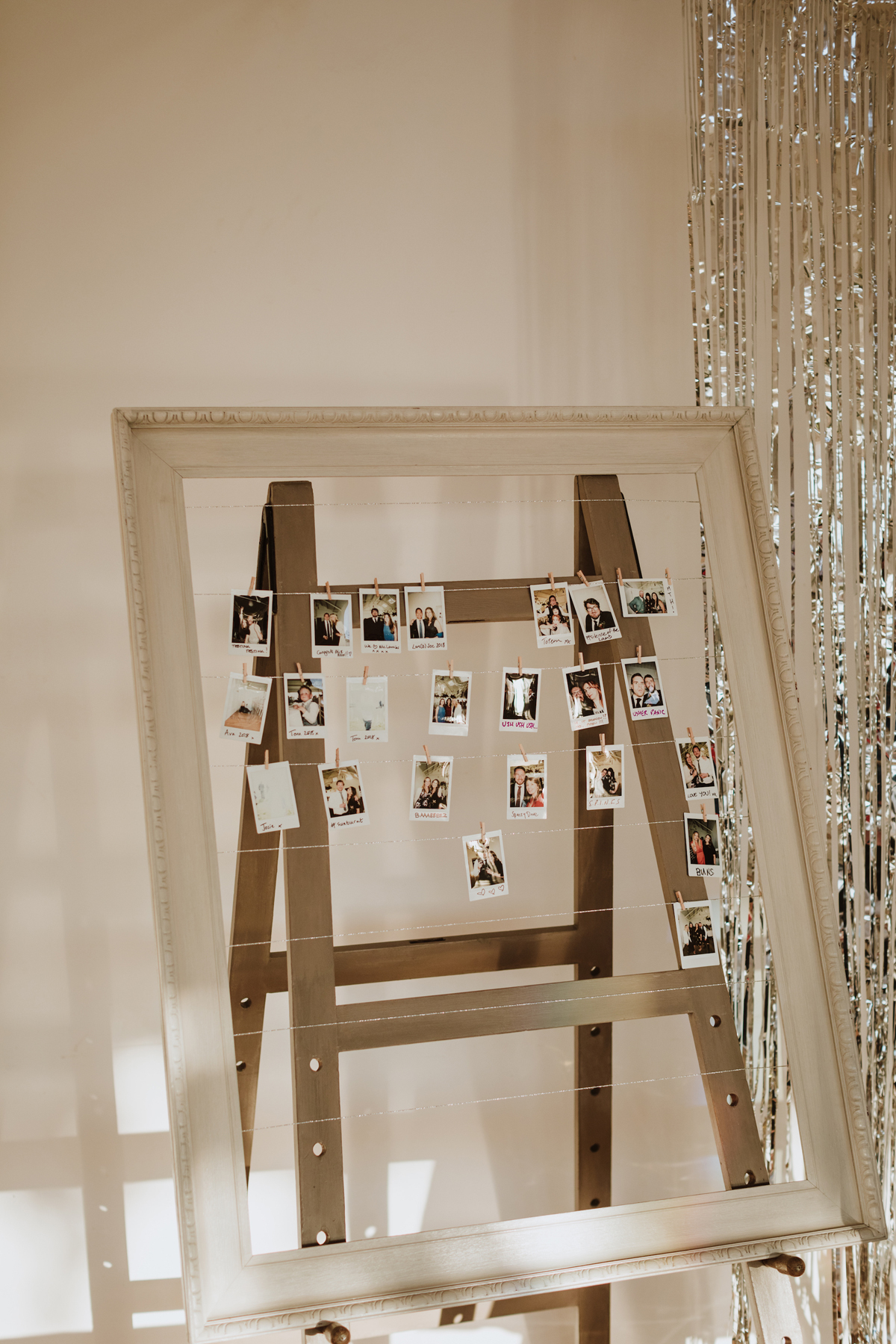 "Two other wonderful moments were in the evening on the beach when it was just the two of us looking out over to Jura and Islay, soaking up the day – and later watching the incredible west coast sunset with our guests. The only thing I would do differently is to have made it to the macaroni pies in time!"
And the groom?
"I think the time immediately after the ceremony was the most overwhelming (in a good way) part of the day for me. To realise that we had just got married, and to have our family and friends there with us – everyone congratulating us and so happy for us – is something that I will never forget."
Having booked Crear for the whole weekend meant that the celebrations could continue the next day.
"One of the wonderful things about Crear is the fact you have the house for three days, and it is two minutes from a beautiful secluded beach. On the Sunday, which was sunny again, we had a BBQ which around 70 of our guests came back to and then ended the day on the beach. The Sunday was almost as good (if not quite!) as the wedding day itself. It is a real advantage of the venue (albeit that even after three days you don't want to go…)."
The newly-weds were so distracted by the sun setting over the beach that their first dance, played by The Riffreshers, was over an hour behind schedule.
"It was 'You Make Loving Fun' by Fleetwood Mac and the sunset light was still filtering in when we danced at 9.30pm! The dancing was not very slick – halfway through we got all of our guests to join in."
The evening continued with more dancing to music from The Riffreshers, and a late-night feast of macaroni and scotch pies.
"They did a short ceilidh and then a host of classics. Their version of 'Teenage Dirtbag' was a particular hit."
Words of Wedded Wisdom
"Don't feel that you have to have one overarching idea or vision for the day, how you look, that the tables have to match the outfits, or other things that simply are not important. Don't fall down an Instagram / Pinterest rabbit hole or hold yourself to other people's standards of a wedding. Some of the things we did which were not traditional were the things people appreciated the most."
"Enjoy all the planning and do it all together and make decisions together – it is a privilege to be able to spend time and money on having a party, but don't lose sight that the reason for it all is to get married to the person you love."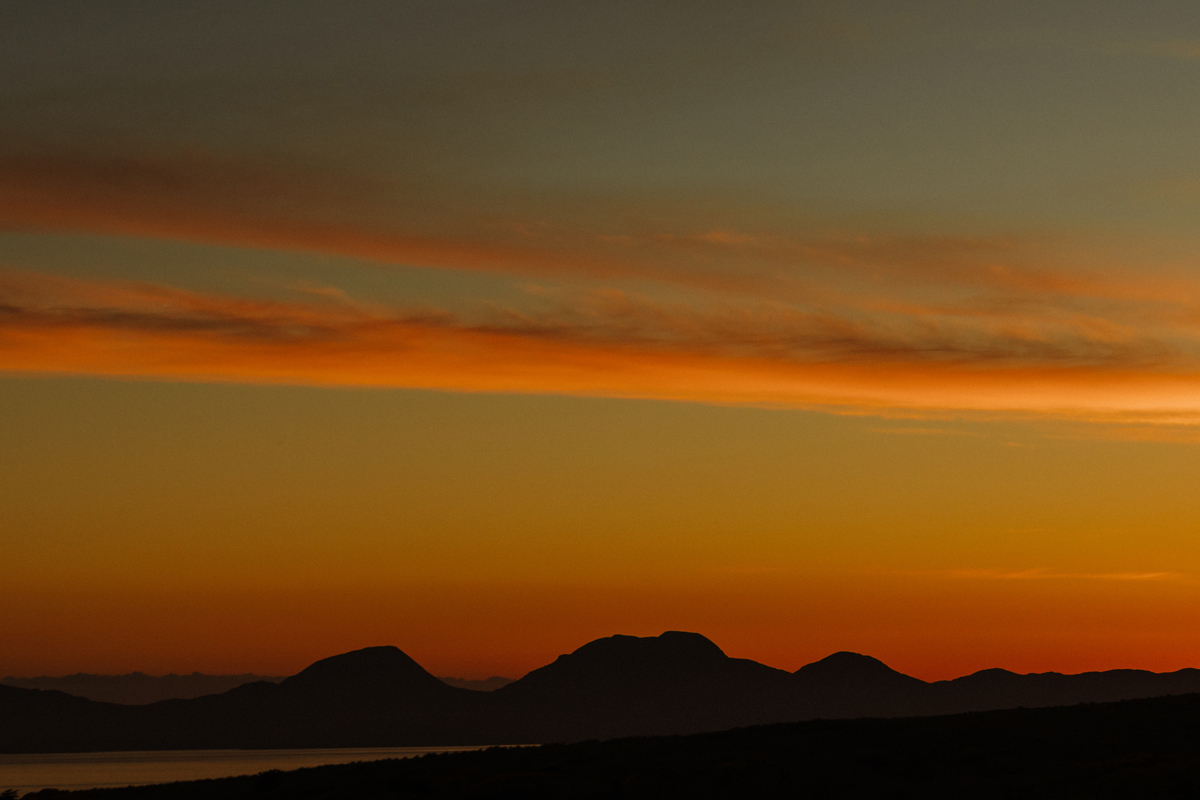 Have you fallen in love with Crear? We have so many more couples' weddings here for you to enjoy here. If you're inspired by Alex and Ali's beautiful minimalist styling, then we can also help with more ideas. Thank you so much Alex and Ali for sharing your wedding with us; I've enjoyed every single part of it and am so glad that you found Love My Dress a source of inspiration.
Thanks, as always, go to Caro Weiss for your incredible work; I hope to see you on our pages soon.
Ele xx