Happy Tuesday lovelies, how are you all today? As I'm writing this the morning sun is streaming in through my windows but the ground outside is frozen solid. Much as I adore the heat and long days of summer, I do enjoy the crisp freshness of December mornings. I can't wait to get out for an invigorating breath of fresh air at lunchtime. How about you?
We have an early Christmas present for you today; a gloriously summery wedding filled with vibrant colours, unrestrained joy and an exquisitely embroidered gown. Meet Sophie, a fashion buyer and Patrick, a teacher, who married on 22 June 2018 at St Nicholas' Church, Studland, Dorset with a casual DIY farm reception afterwards at Manor Farm Tea Rooms, Studland Bay.
Photography Sarah Morris Photography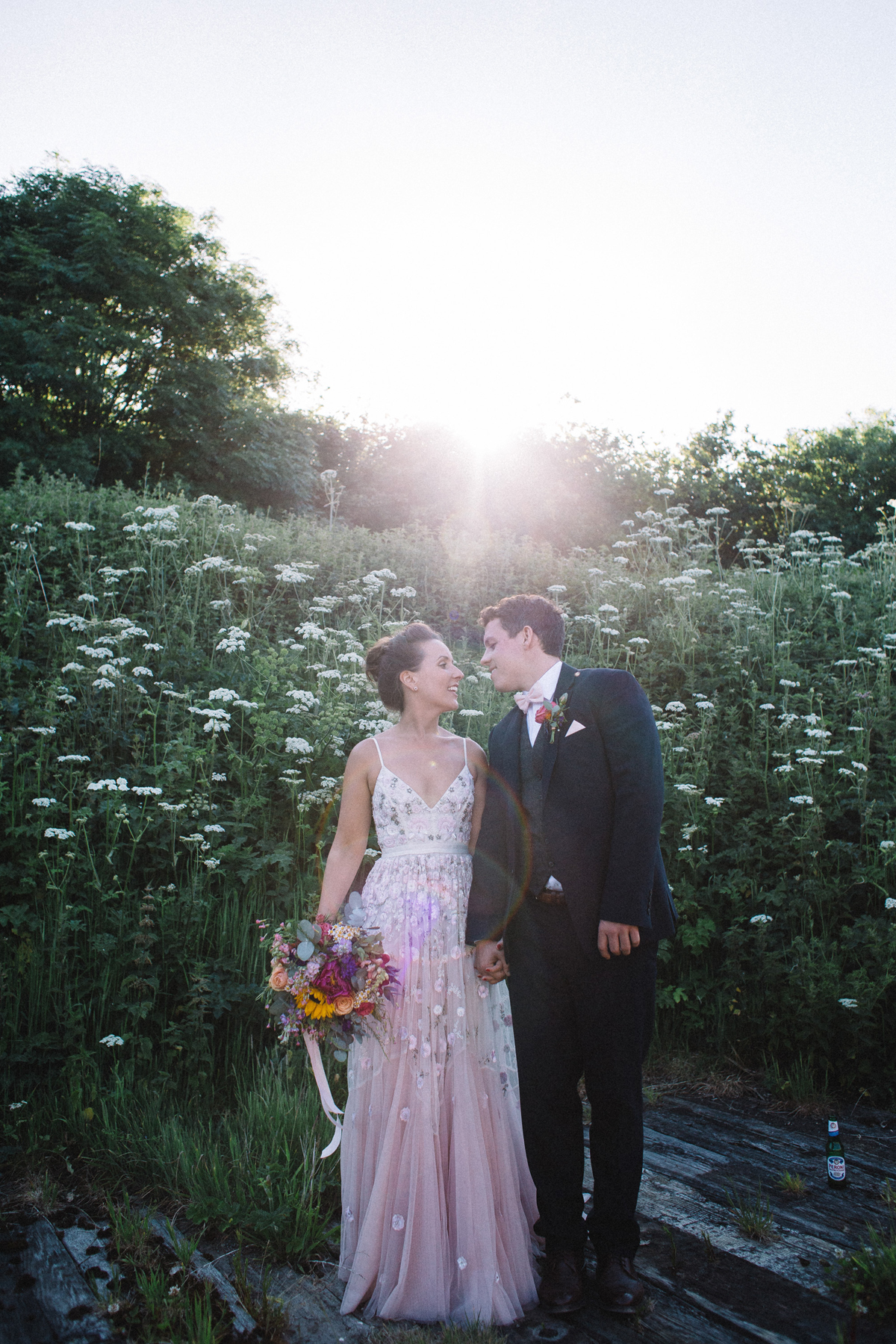 The church was the very one that Sophie's parents married in 43 years ago and Sophie has spent many happy summer holidays in the area with her family, and Patrick, since then. Sophie decided to inject her love of bright, vibrant colour into her wedding day; cue a joyful scheme of bright pinks and purples for the couple's laid-back relaxed day.What do you think of this glorious bespoke stationery which sets the tone of the day so well?
"My clever friend Elle (The Painted Bouquet) who is a print designer painted a floral design for our order of services. Another clever friend – Kilkie Sands Calligraphy – did the place names.
It's time to talk about Sophie's choice of gown, and isn't it a beaut? I was delighted to read that Sophie came across designer Needle & Thread on Love My Dress, and found her perfect gown there. She tried it on at Harrods before ordering it online.
"I wanted something different. At first I was tempted by a two piece or jumpsuit, but it was incredibly hard to find something that wasn't too structured and tailored for our venue. After trips to about six wedding dress shops I stumbled across Needle & Thread on one of your blogs, which then led me to make a mad dash to Harrods that evening to see them in the flesh. I loved my dress's subtle ombré into blush as well as the beautiful embroidery and embellishment. It felt like a princess dress but in a cool way."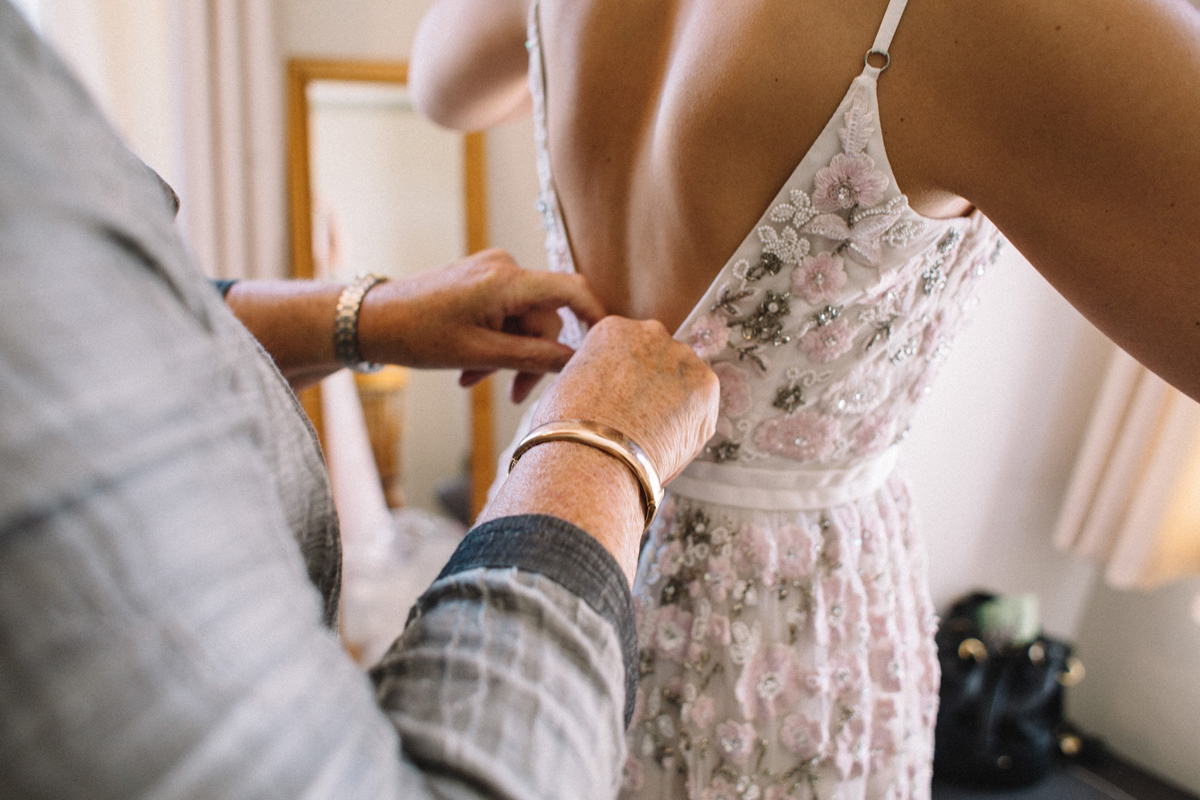 I agree with Sophie that her gown combines classic bridal styling with a really modern approach. I'm in love with the exquisite embroidery, and I adore the gown's clean, simple lines and fitted waist, too. Sophie's sheer veil was hand-made by the lady who altered her gown to hug her perfectly and in keeping with the relaxed vibe, she wore block heeled  Dusky blush velvet sandals from Kurt Geiger.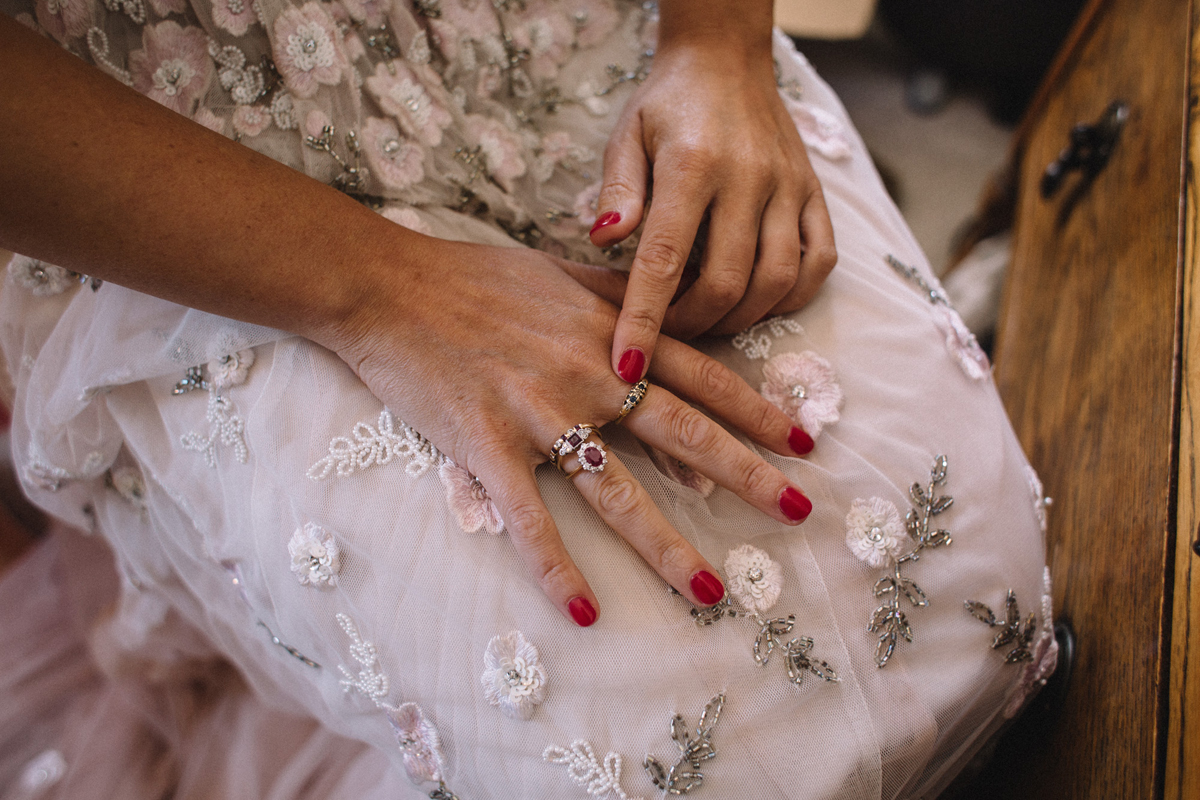 "I wore diamond and ruby earrings that were a wedding present from my parents to match my engagement ring."
[JP-VIDEO]
Sophie applied her own make-up for a natural yet flawless finish and recruited her sister to style her hair into a pretty, twisted up-do.
The couple's chosen floral designer was  Stephanie Jevons Floral Design.
"She was recommended to me by Jennifer Poynter who was already fully booked. Stephanie sent over some Pinterest images to me which completely matched my wedding board so I knew we were on the same page straight away. She helped create a wildflower unstructured look with lots of bright colour and impact… all whilst balancing having a brand new baby!! She was amazing. She did the bouquets, table plan flowers (on the bicycle wheels) and button holes."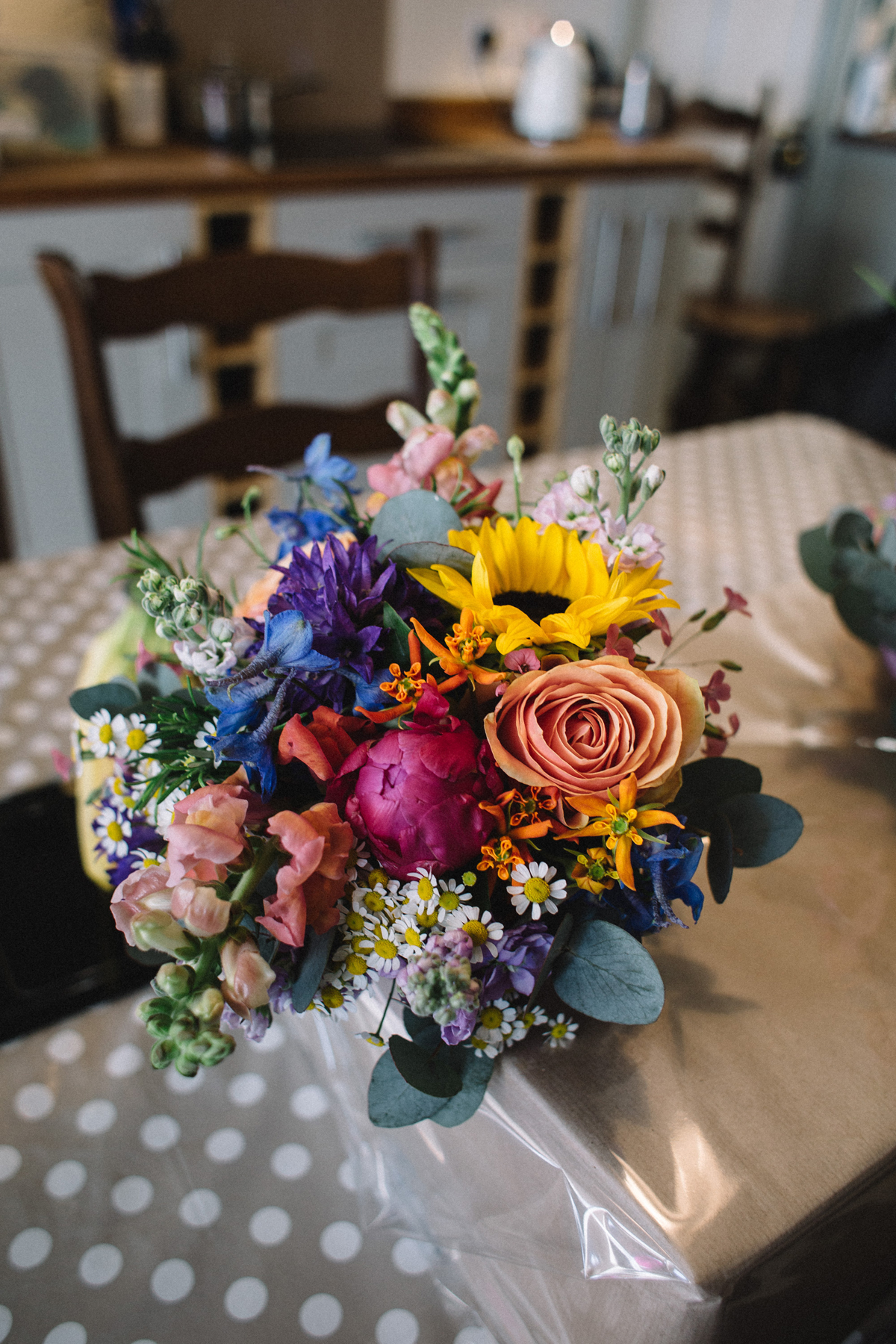 Sophie and Patrick both went to Newcastle University but didn't know each other until being set up on a blind date by their best man-to-be Niall just over four years ago.
"Patrick asked me to marry him on the first day of our holiday to Crete last summer. I was on a sunbed in a swimming costume, completely surprised! The rest of my family and some friends were joining us on holiday later that day so we had the most amazing ten days celebrating. We were engaged for ten months."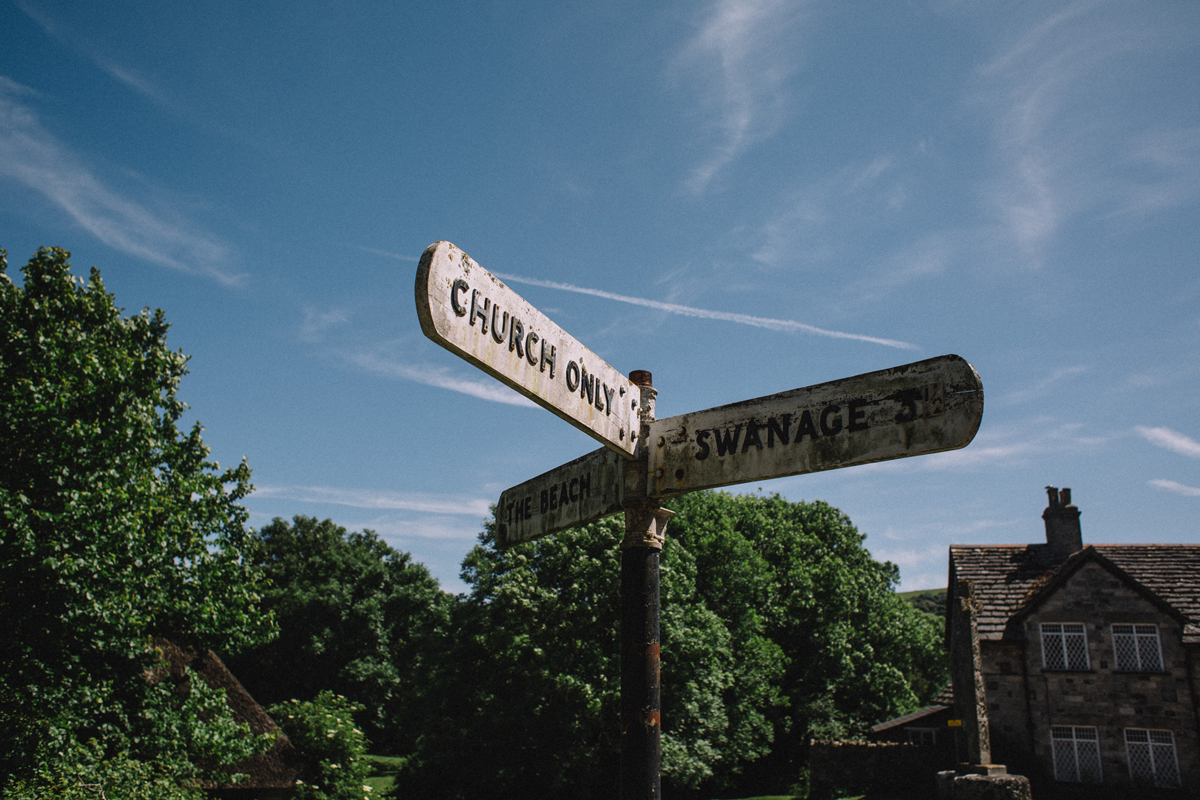 Sophie's love of colour is plain to see in her bridesmaids' gowns – a range of jewel-toned dresses.
"All different; one from Coast, one from Oasis, one from House of Fraser…. The only brief I gave them was to wear something they actually really liked that was a bright pink or purple in colour. They thought I was mental when I suggested the mis-match in bright colours but I think they agreed in the end that it turned out looking amazing. Plus, everyone felt comfortable and confident in a style that suited them."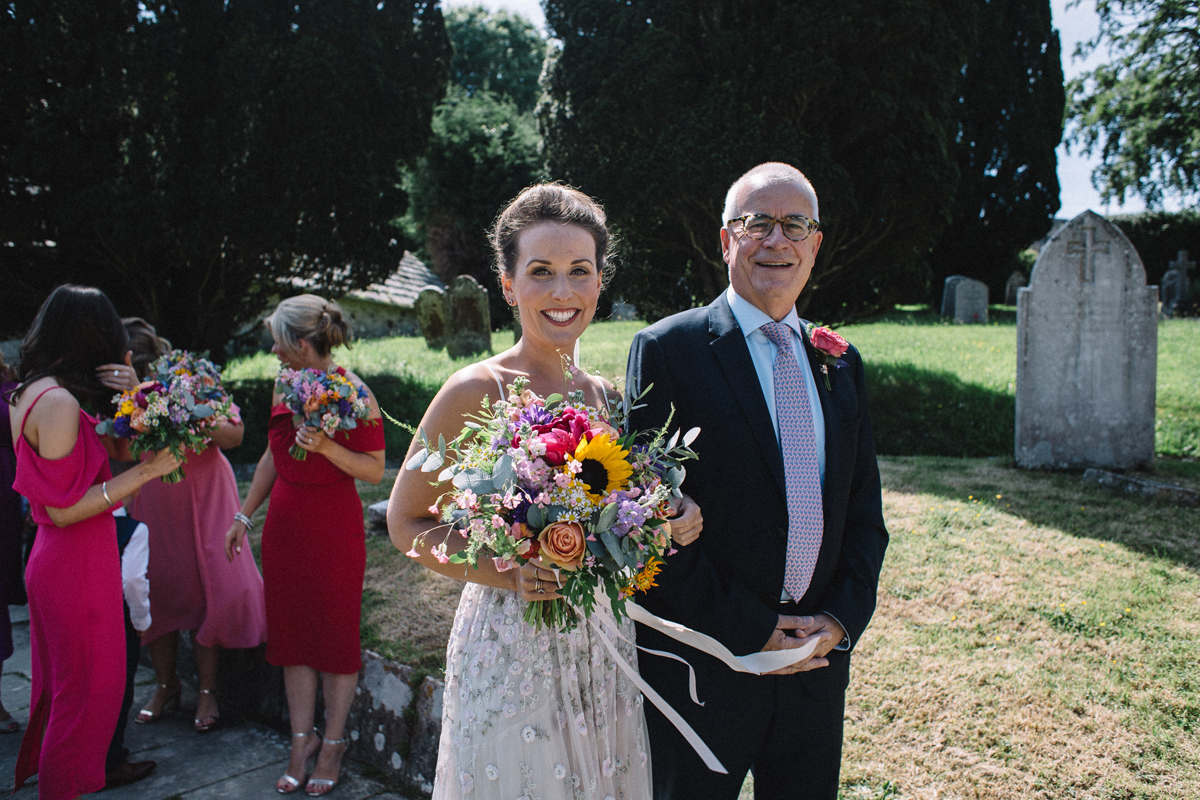 These super-relaxed, joyful photographs are by Sarah Morris Photography. I love their laid-back vibe and documentary style, as well as their vivid use of colour.
"I loved Sarah's approach from when I first spoke to her. She sounded chilled out and easy to get along with, which is exactly what she was on the day. All of our guests keep telling me how lovely she was without being at all intrusive. She got gorgeous shots of pretty much all of our 150 guests which is quite a talent. I never saw her sit down for more than a second, even when we made her have some dinner. She was also super-quick with the editing and got the photos back to us within three weeks, as well as quite a few Instagram teasers along the way."
In tribute to the bride's parents, Sarah Morris also made sure that the newly-weds recreated their photographs from four decades ago – such a lovely touch.
Patrick visited high street store Marks & Spencer for his three-piece suit in dark grey, matched with a pale pink bow tie and pocket square from Mrs Bow Tie. A flash of colour came from his cute buttonhole.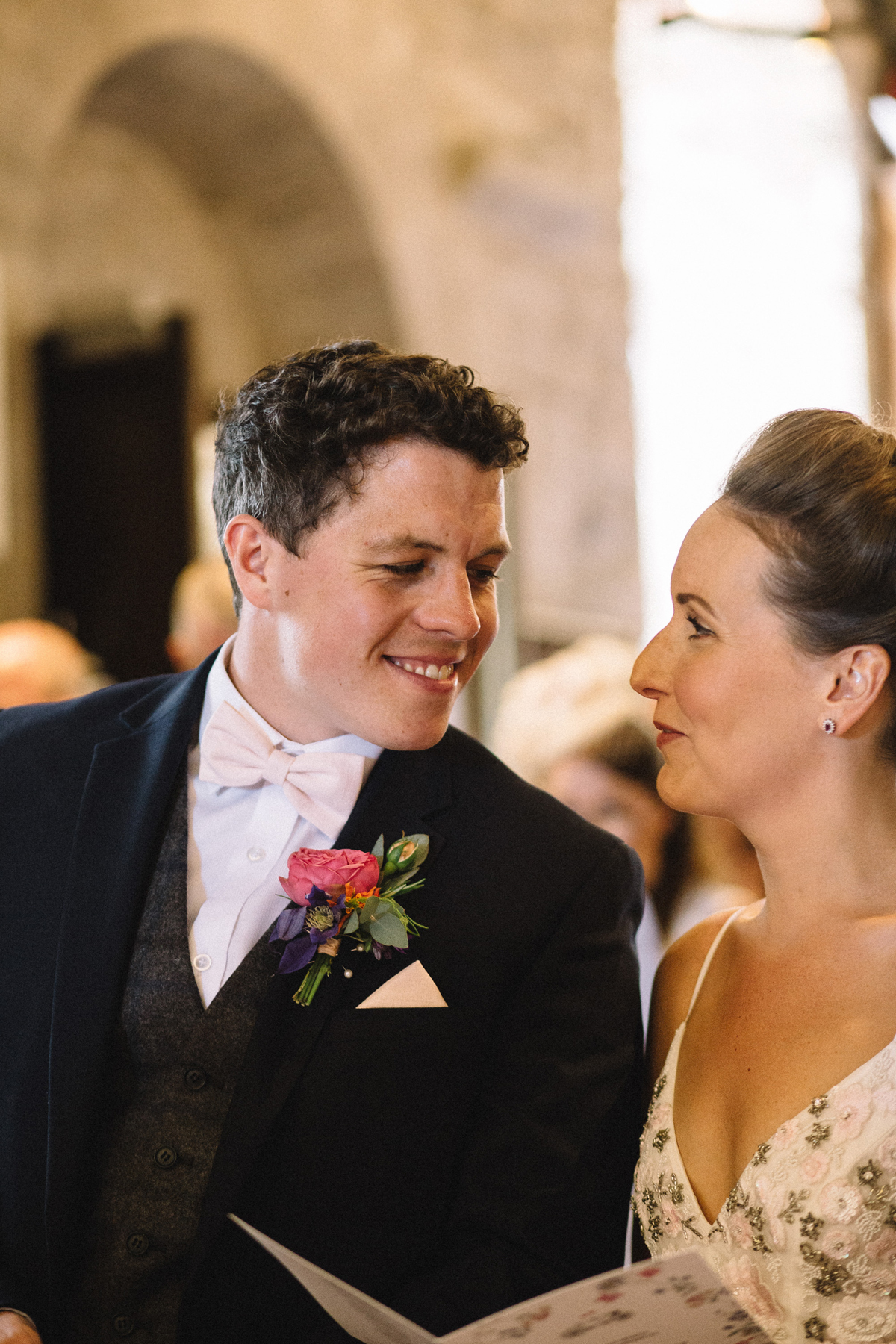 The couple chose to have an afternoon wedding, spending the morning getting ready, relaxing on the beach and enjoying a lazy breakfast. When it was time to go to church at 3pm, the bride travelled with her dad in his classic Mark 2 Jaguar before walking down the aisle with him.
Patrick and Sophie married in a traditional Church of England ceremony, adding a personal touch with their beautiful choice of reading from 'Mark Twain's Letters'.
"This will be the mightiest day in the history of our lives, the holiest, & the most generous toward us both — for it makes of two fractional lives a whole; it gives to two purposeless lives a work, & doubles the strength of each whereby to perform it; it gives to two questioning natures a reason for living, & something to live for; it will give a new gladness to the sunshine, a new fragrance to the flowers, a new beauty to the earth, a new mystery to life; & it will give a new revelation to love, a new depth to sorrow, a new impulse to worship."
"Patrick's ring was his grandfather's wedding ring. Mine was from Premier Diamonds in Birmingham's Jewellery Quarter."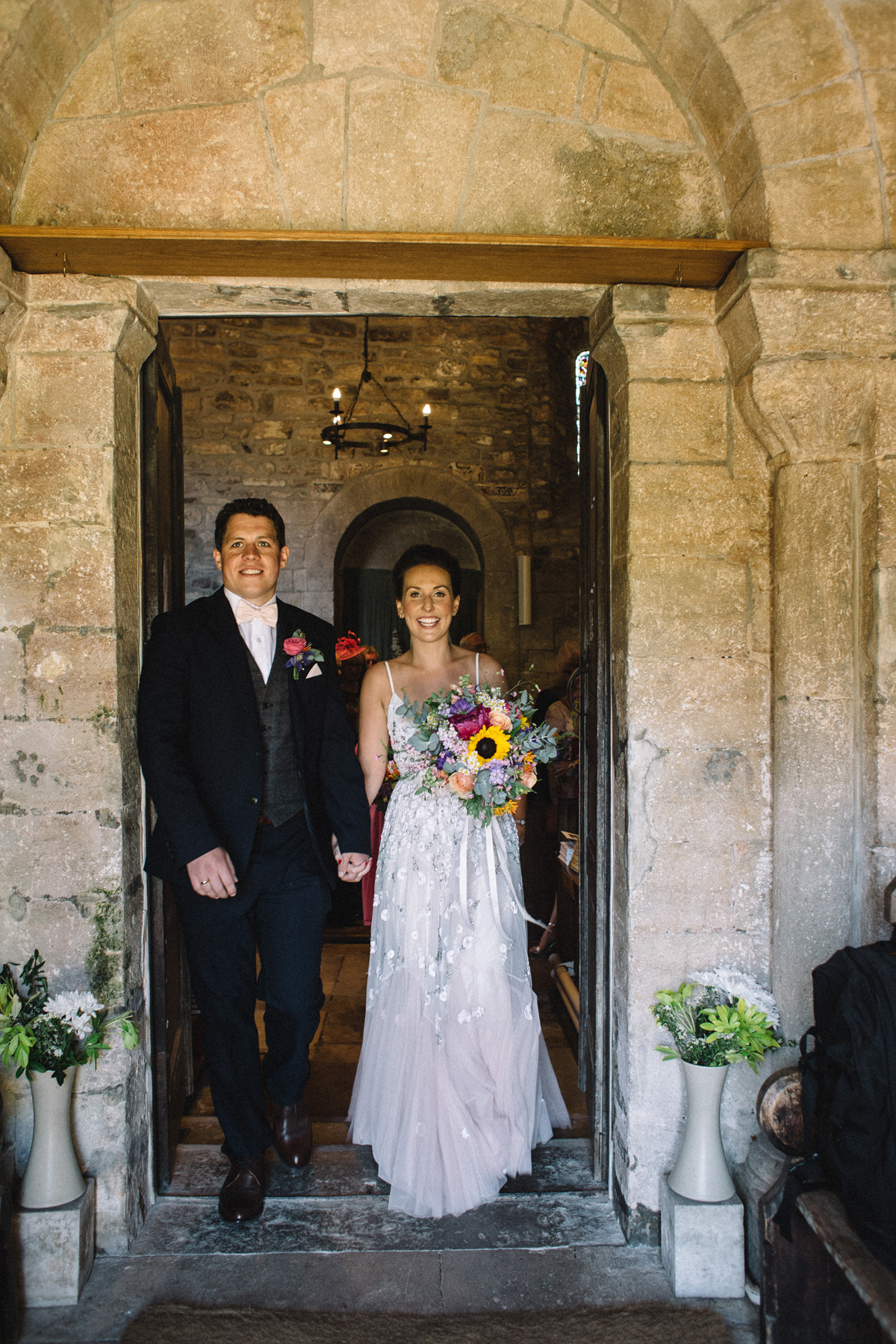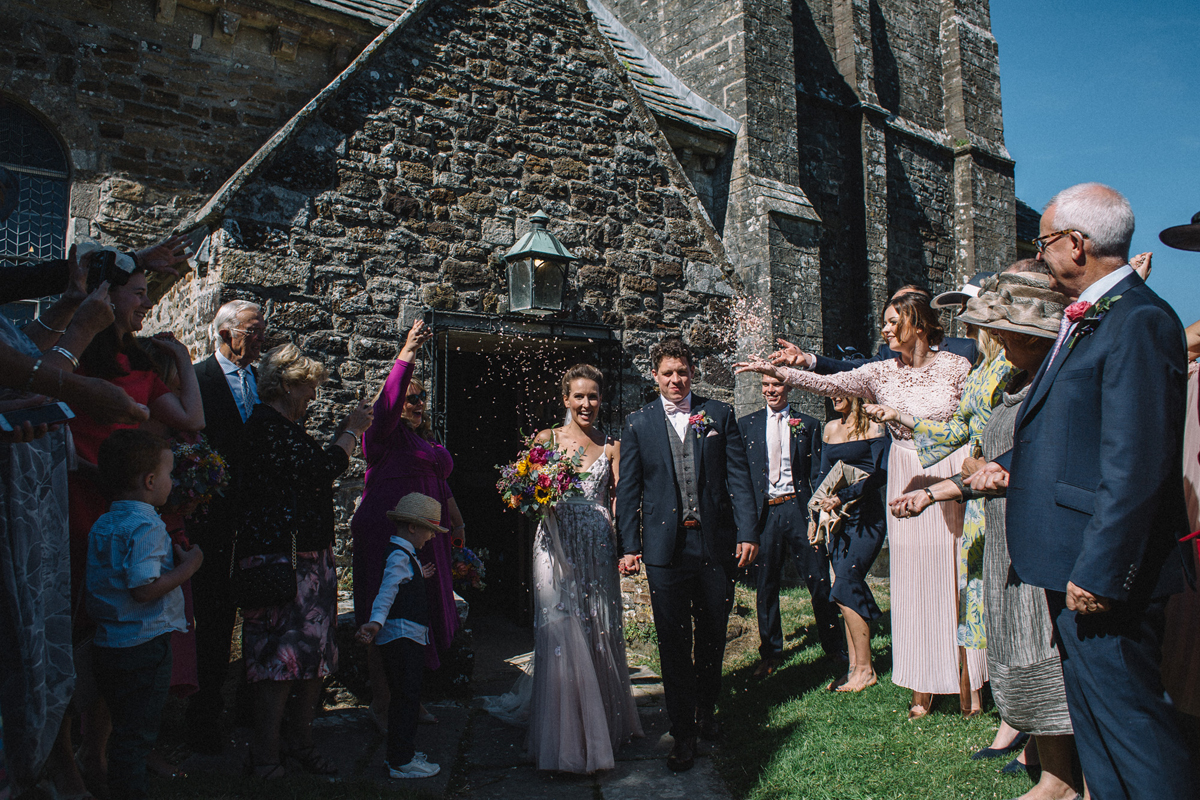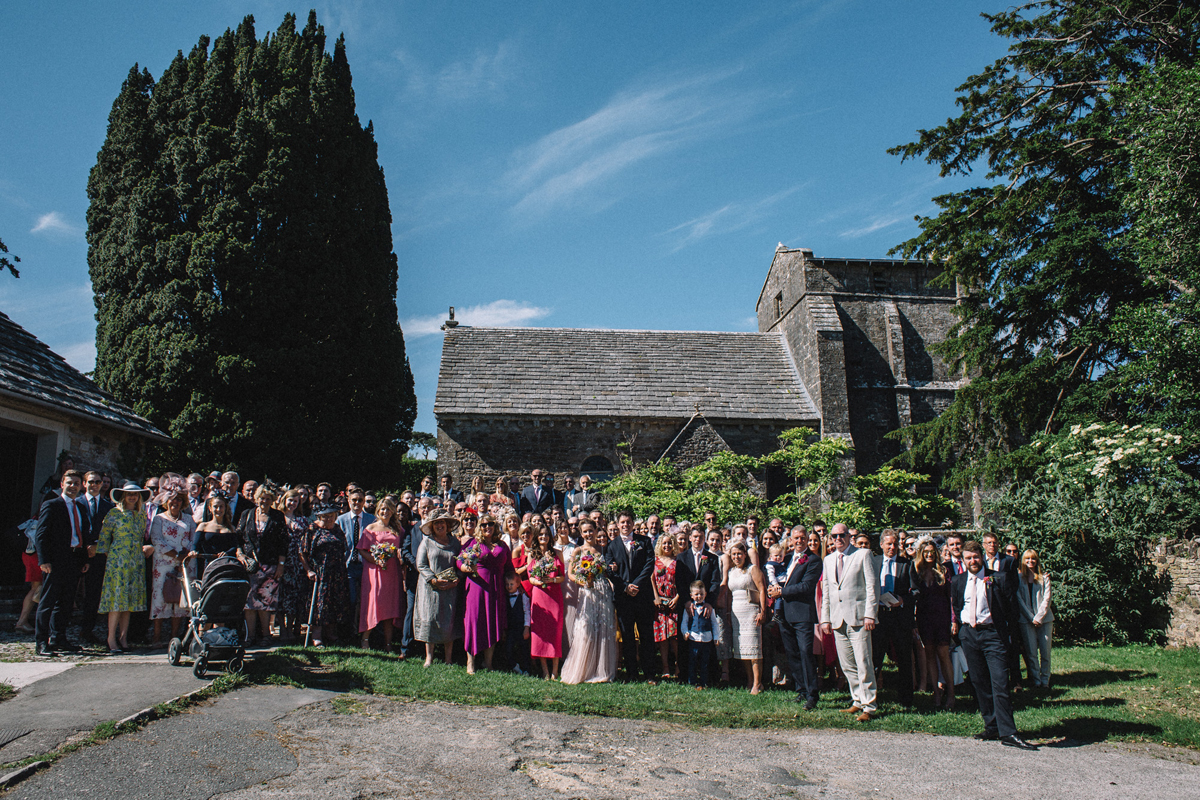 I can't tell you how much I love the sound of the relaxed late afternoon reception on the farm. Sophie has shared details of how they and their army of helpers created this fun, colourful style. My favourite detail is the array of paper lanterns that sway in the breeze.
"My clever dad helped recreate a Pinterest-inspired table plan for me. It was five old bike wheels wired together on a wooden stand. Stephanie then did some gorgeous flowers to go round it. It looked amazing! We also had a P&S gold piñata hanging in the dance-floor barn, lots of gold fringe curtains and as many tassel garlands as I could get my hands on! The centre pieces were done by a family friend. Our budget was £15,000 and we stuck to it, just about."
The beautiful weather meant that the guests and newly-weds could mingle in the farm-yard, enjoying Champagne and live music in the sunshine.
A relaxed dinner of fish and chips from Long Johns, hog roast from Dorset Porkers and salads awaited the wedding party. In a nod to the World Cup, the place names concealed the 'betting' favours.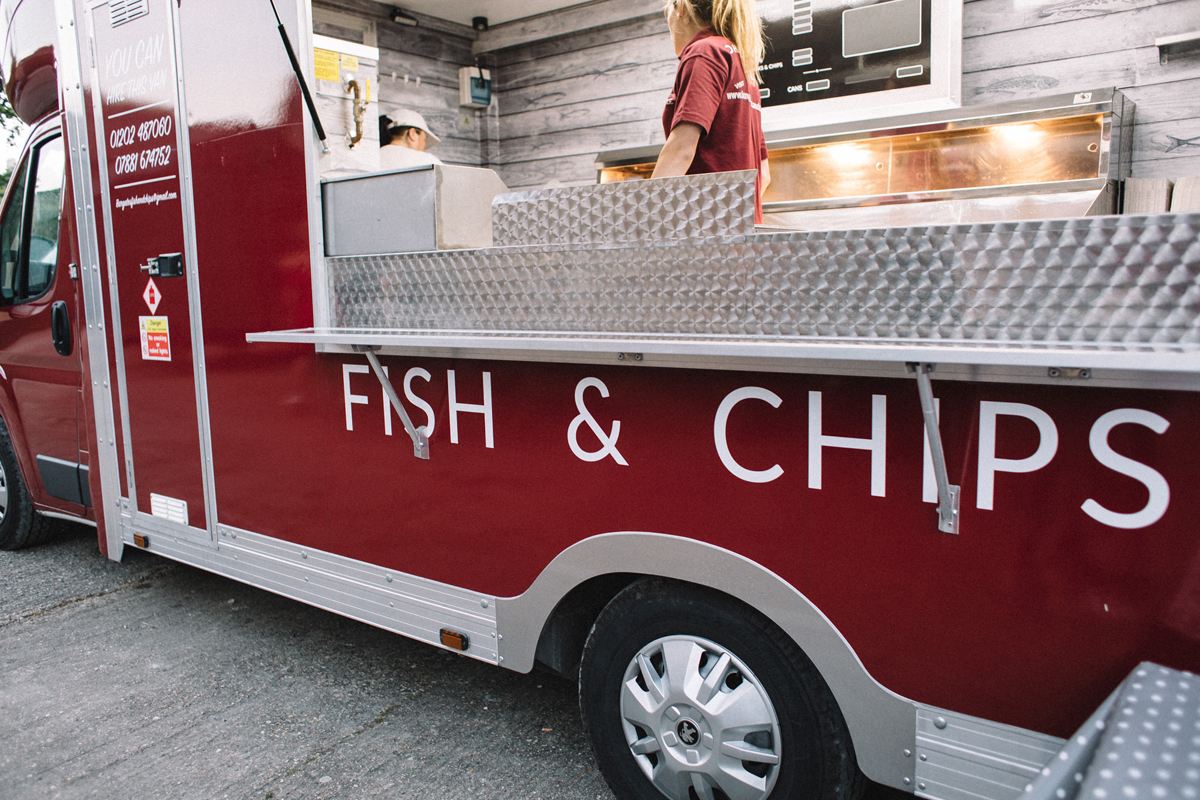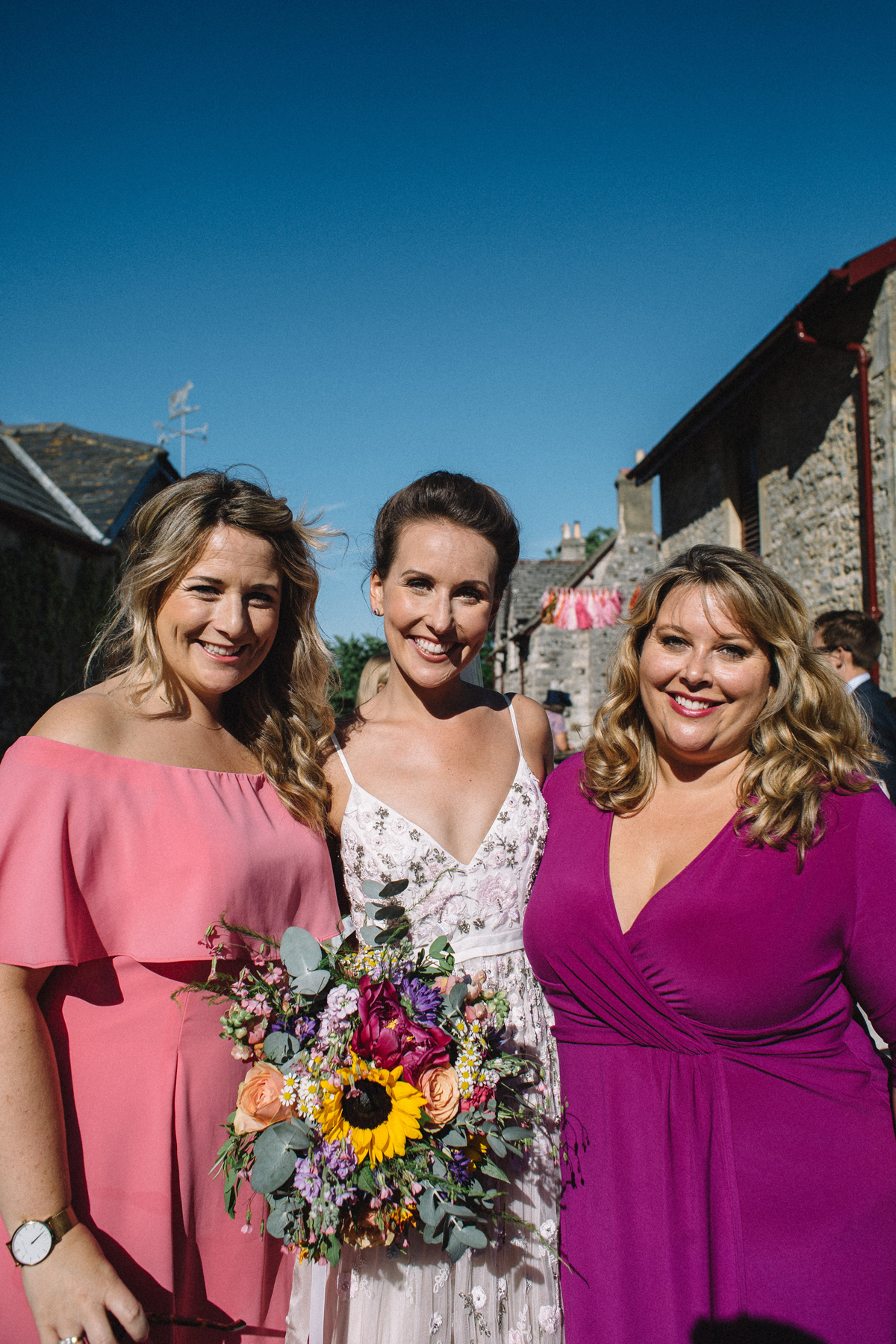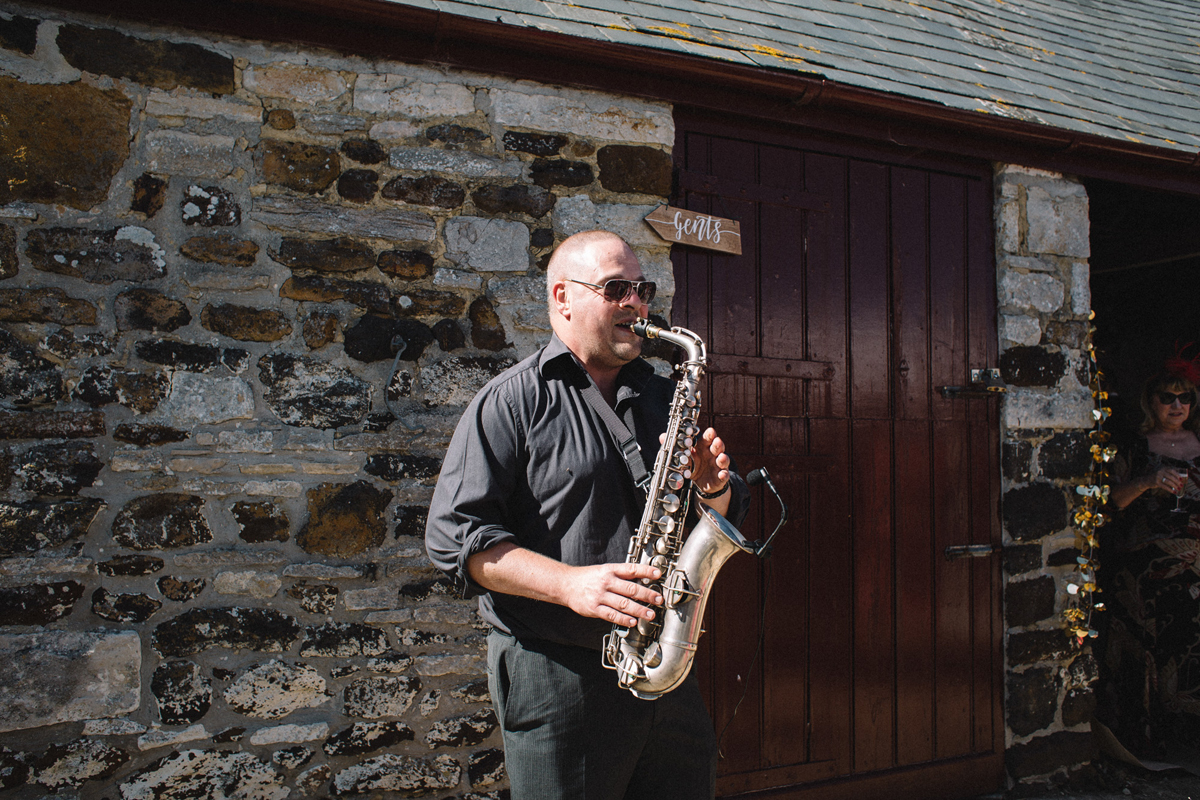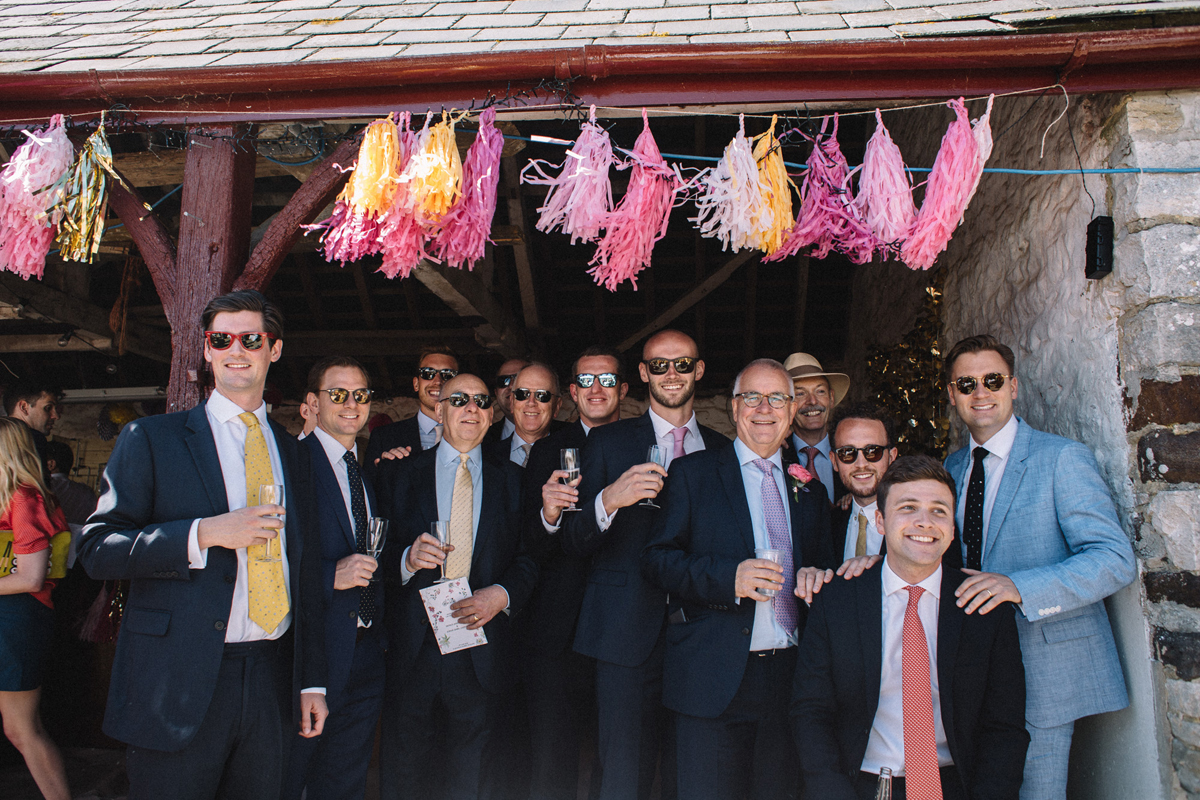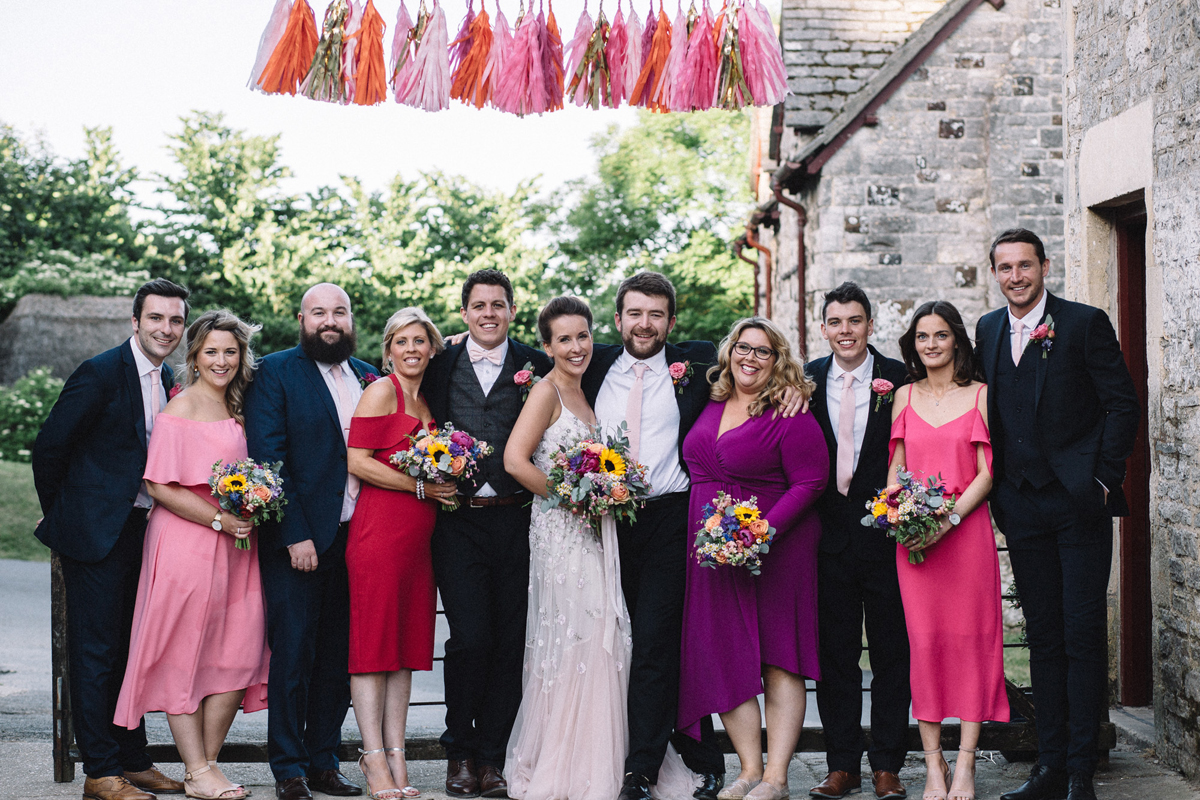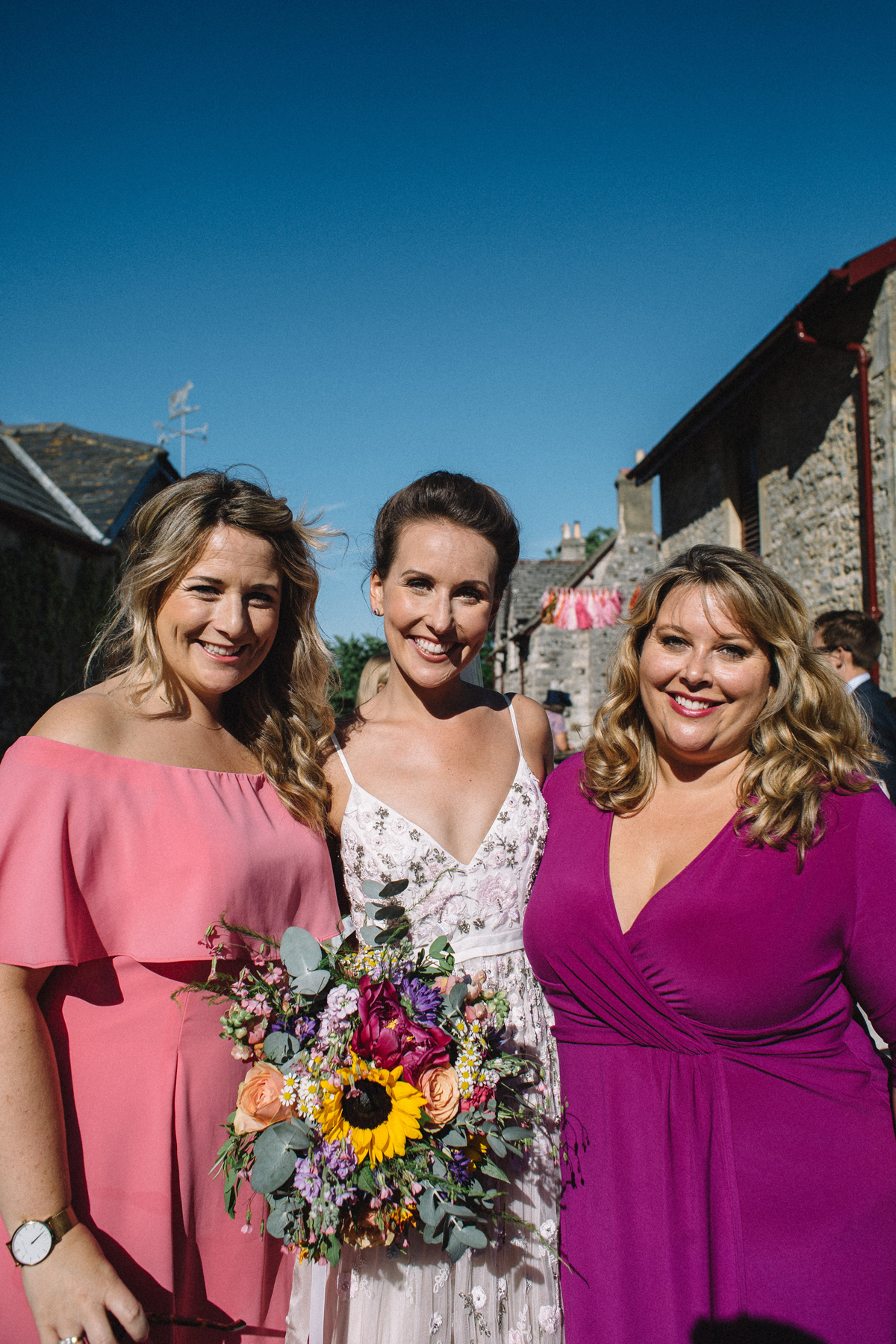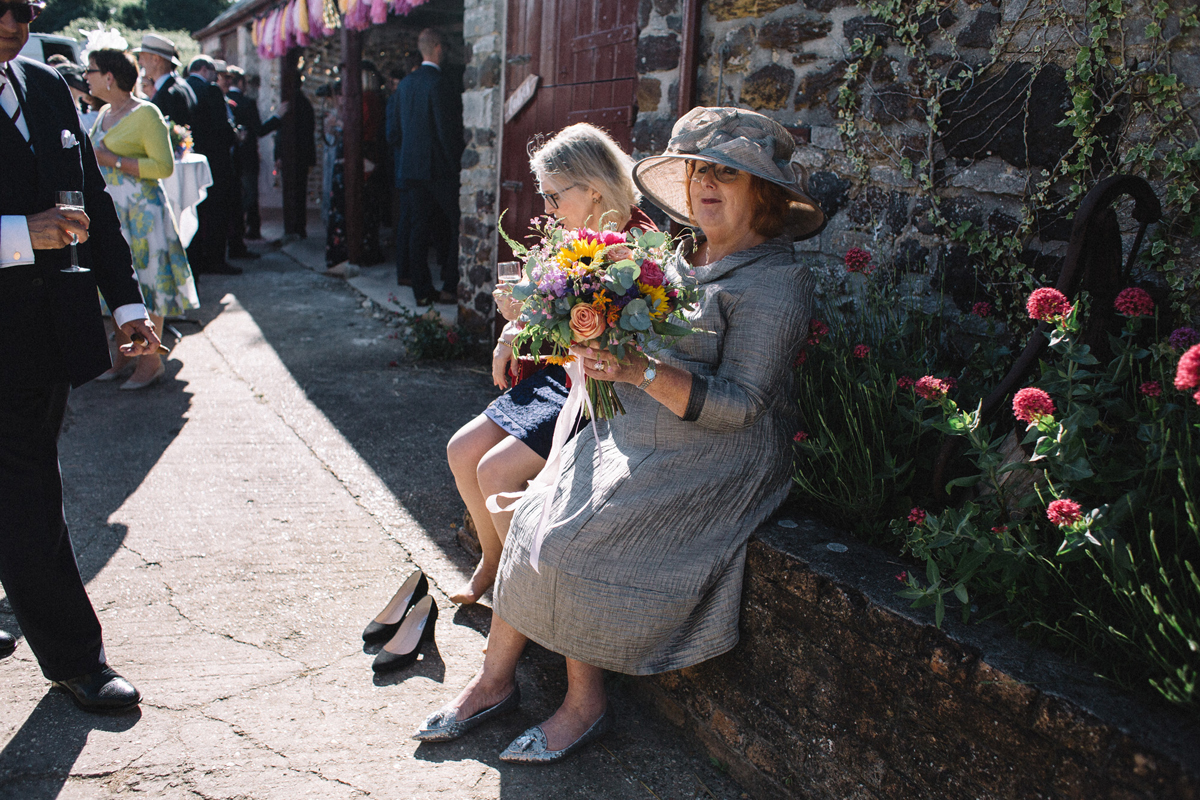 Happy summer holiday memories, and her parents' connection to St Nicholas' church, meant that choosing a venue was an easy process. They had three days to transform it from working farm to beautiful wedding venue, and they've done such a wonderful job.
"I grew up spending summer holidays in Studland and still do with my whole family. In recent years Patrick's family have joined us too so it's become a special place we share. Manor Farm Tea Rooms was a local recommendation."
"They are a farm with tea rooms who occasionally rent out the space for a weekend. Because it isn't a wedding business as such it was the most reasonably-priced location we could find in the area."
"When we got down to the venue on the Wednesday it was very much still a working farm. Transforming it into a wedding in three days was hard work, but it looked AMAZING in the end. Julie and Steve who own the farm couldn't have been more helpful and kind in these few days. We are going back to the venue in a few weeks to spend a night in a shepherd's hut they have on site to relive the memories!"
"I love bright vibrant colours and always wear colour myself. Looking at a lot of wedding inspiration the market is flooded with dusky pastel colour schemes. These look gorgeous but I really wanted different!! It felt like a summer casual wedding on a farm was the perfect location to inject some colour."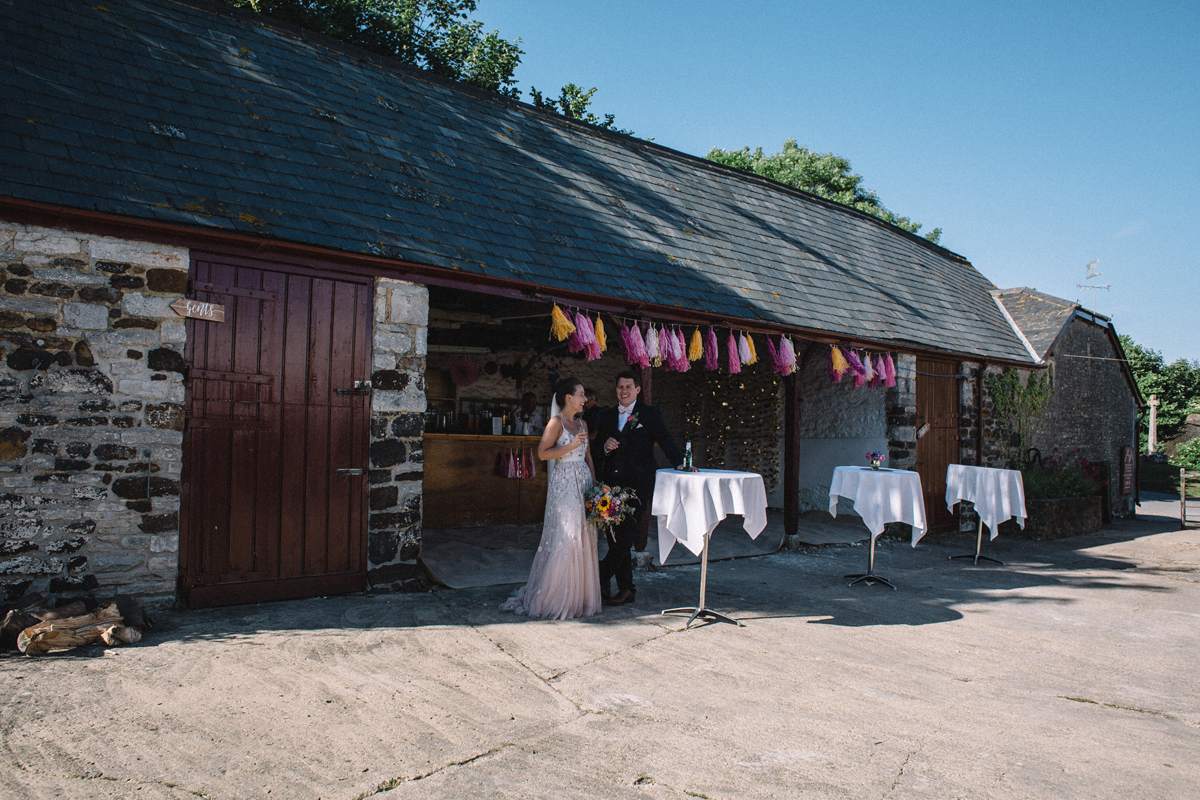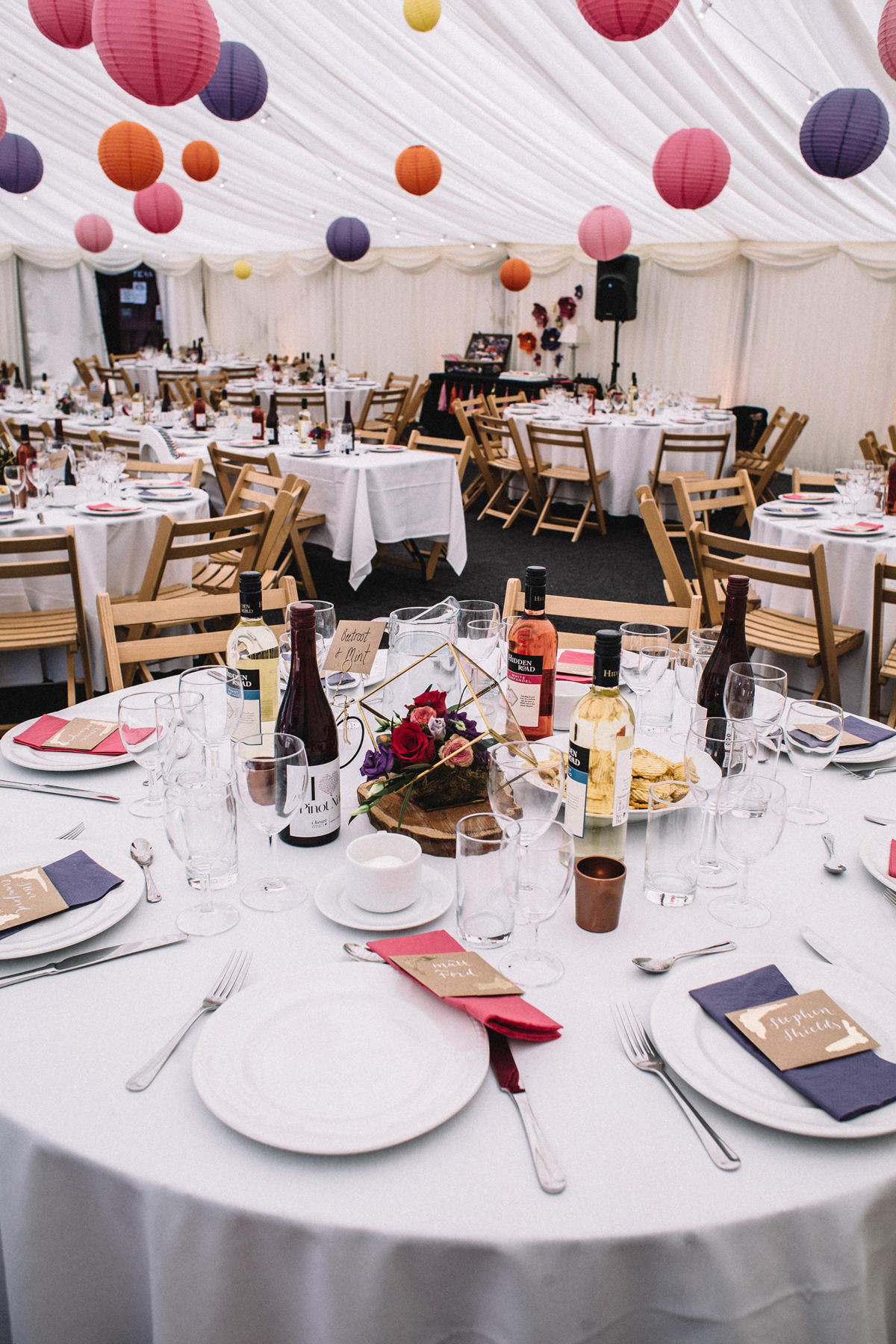 "Patrick organised a 50p bet for every guest on a team from the World Cup. He is football mad! Each betting slip was tucked into the brown envelopes we used as place names."
The party got started with a first dance to 'Love Me Now' by John Legend before a glam outfit change for the bride. The turtables were manned by DJ Maj-ik from Storm DJs.
"We had 'Love Me Now' by John Legend for a sway around the dance-floor together before inviting everyone to join us for 'Despacito' by Justin Bieber and Luis Fonsi. Despacito was on constant repeat on our Greek holiday last summer when we got engaged."
"I loved every minute! It was really great having a 'destination' wedding because it meant that our friends and family had all come for the whole weekend. The Sunday was almost as fun as our actual wedding day. We met back at the venue at 1pm before doing a walk out to the cliffs and spending the afternoon basking in the sun and having local cider at the Bankes Arms beer garden."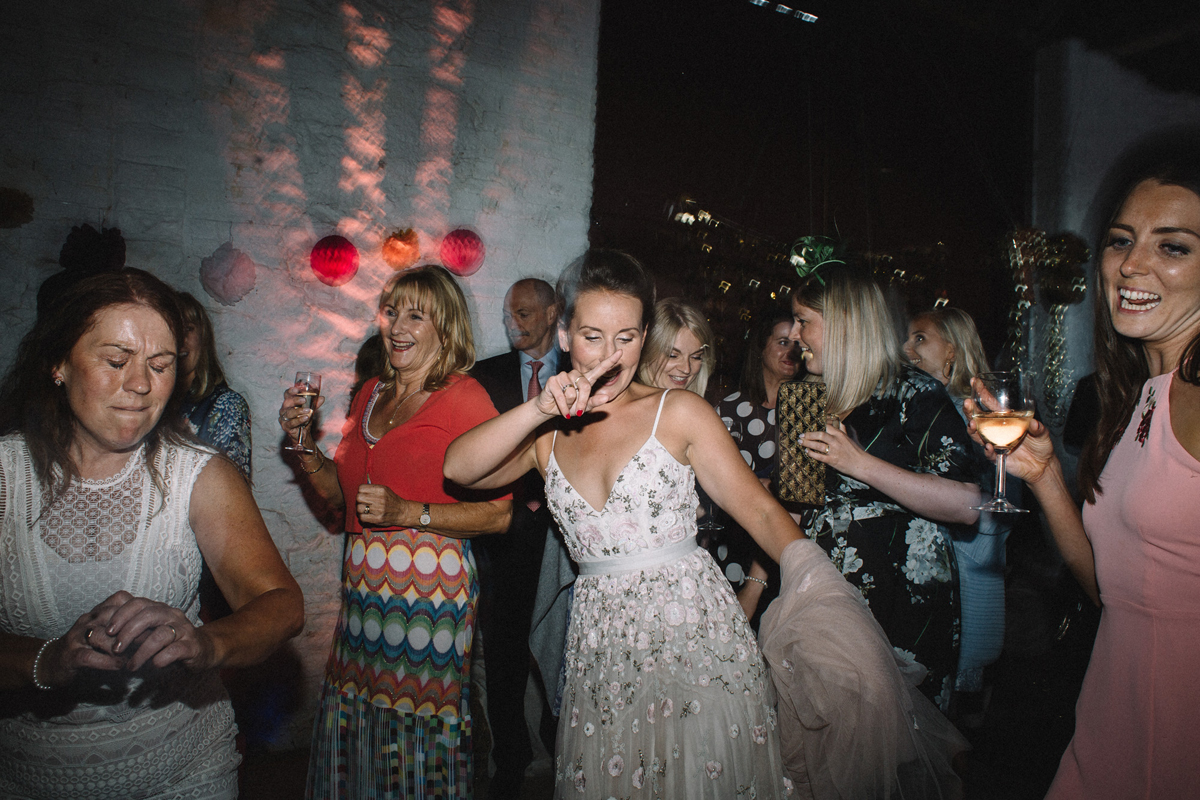 "I had an outfit change later in the evening into a sequinned crop halterneck top and wide leg trousers. I had originally thought I wanted to wear a jumpsuit to get married in so I was desperate to still get a bit of wide leg dance-floor action in!"
"I was lucky enough to stumble upon a sample of some trousers at work, which with the help of a tailor became my evening outfit."
Words of Wedded Wisdom
"Something I would really recommend was having a later wedding. We were married at 3pm which meant the morning was really relaxed. I went with my family to have a swim on the beach and had a fried breakfast at our favourite beach café."
"If you are doing it DIY like us, make sure you have an army of helpers for the days before. We wouldn't have had a wedding if it wasn't for all the amazing friends and family who gave up their Friday to help decorate the barn and marquee. I worried at times we had bit off more than we could chew with making the venue work but it was totally worth it and all came together in the end."
Sophie and Patrick, sending so much love, many congratulations and thanks to you for sharing your beautiful day with us. It truly has injected a dose of colour and energy in to my day. I love the bold, bright colours you chose and you look so incredibly happy in each and every photograph. So many thanks too to Sarah Morris Photography for your work; what a treat it's been. Lovelies, if you've been inspired by this DIY farm wedding then take a look here to get even more ideas. And, for more Needle & Thread loveliness, please follow this link to take a look at the new 2019 gowns.
Love
Ele xx