There are so many charming, meaningful wedding traditions around the world, and I do so love the snapshots that the weddings we feature here on Love My Dress give us into different cultures and ways of doing things.
Today's couple were inspired by their travels together and engagement in Japan and wove subtle Japanese influences into their thoroughly modern London wedding. So, sit back and drink in these gloriously bright, crisp photographs from We Heart Pictures.
Photography We Heart Pictures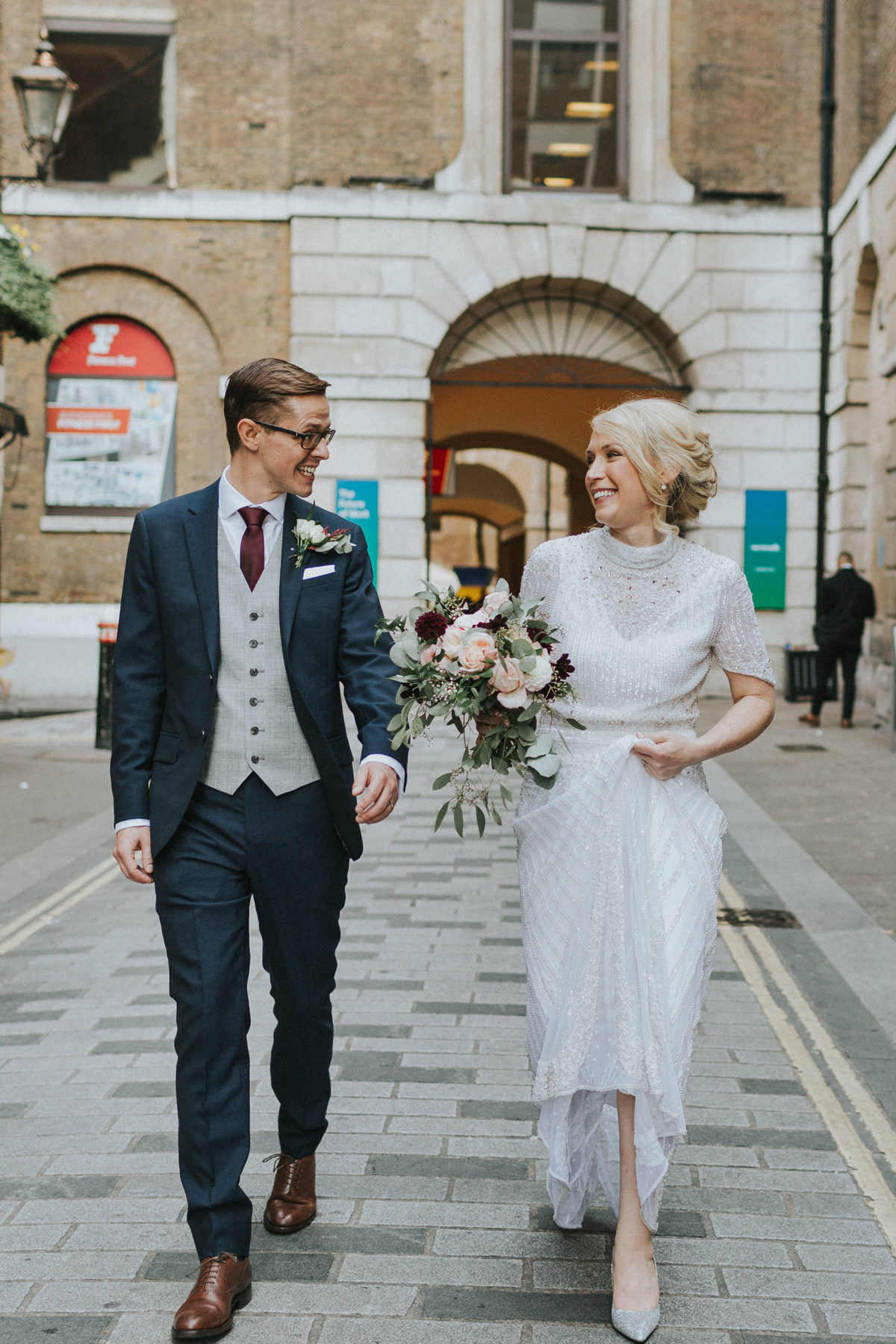 On 1 September 2018 Sinéad, an analyst for a pharmaceutical company and Michael, a banker, wed in a Roman Catholic service at St Mary Moorfields Church, Moorgate with a reception at Devonshire Terrace, London. They loved the light-filled blank canvas of Devonshire Terrace, as well as its impeccable cocktail and food offering, and styled their day to include influences from Japan – cherry blossom and origami cranes – set against a modern, bold palette of burgundy and blush.The girl's own tastes also shone in their choice of hair style. The bride opted to have her long blonde hair piled into an elegant knotted up-do for a real splash of glamour whilst one bridesmaid had a relaxed boho plait and the other embraced her curls in a half-up and half-down do. Their hair and make-up was applied by Victoria Percival and I love the sophisticated, glowing look she has created.
Sinéad used our Little Book Wedding Directory to search for some of her suppliers, and here she found the wonderful Debbie Carlisle. Debbie crafts the most exquisite hair accessories for brides, influenced by ethereal, bohemian and vintage style, and Sinéad chose a set of three delicate hair grips, but ended up forgetting to actually wear them on the day. If you want to take a look, click here to visit Debbie's Little Book listing.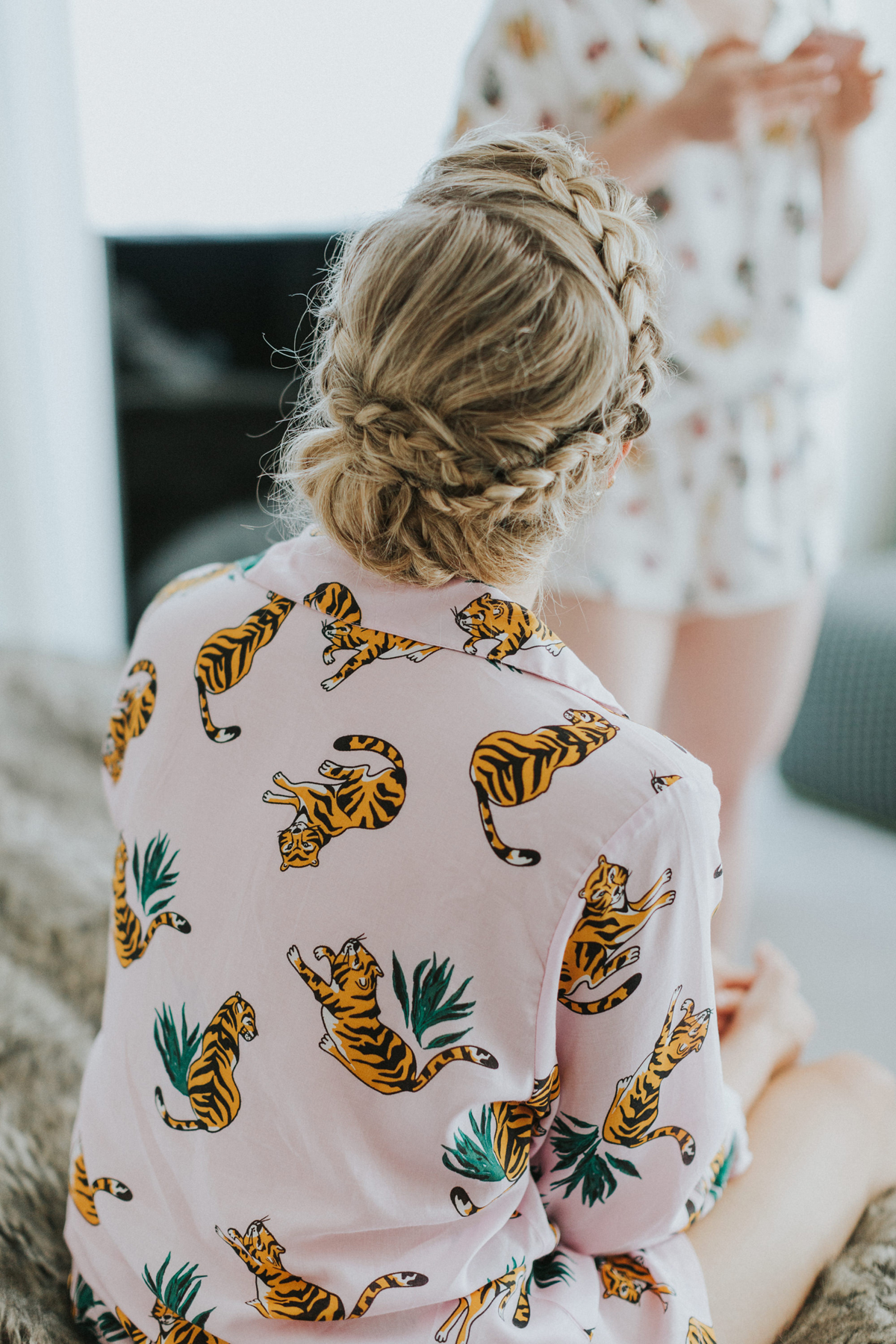 For a feel of modern femininity, the bride wore sky-high Jimmy Choo heels in sparkling silver. The detail of the gown lent itself to simple accessories, so she wore just diamond halo earrings, given to her by her mum, as her 'something new'.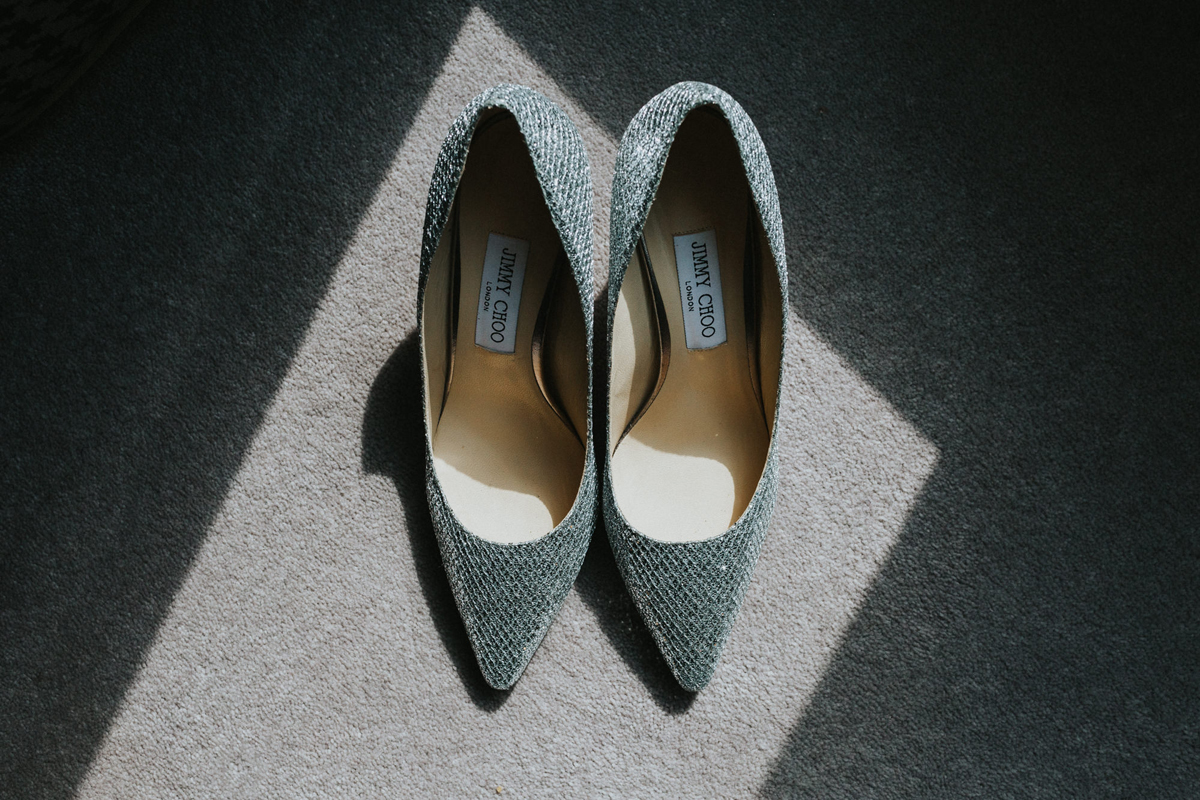 Sinéad visited Luella's Bridal in Wimbledon where the team helped her to find the 'Charlotte' gown by Vicky Rowe. It really is the epitome of understated elegance with a touch of Edwardian charm with its high-neck and tear-drop open back, all decorated with lace-like beading and Swarovski crystals.
A spritz of fragrance bought for the day, and Sinéad was ready.
"I've never worn one specific perfume, but I liked that idea of having something new to remind me of the day, so I chose Jo Malone Peony & Blush Suede as a last-minute decision, the afternoon before the wedding. I also bought myself and two bridesmaids candles in the same scent as keepsake."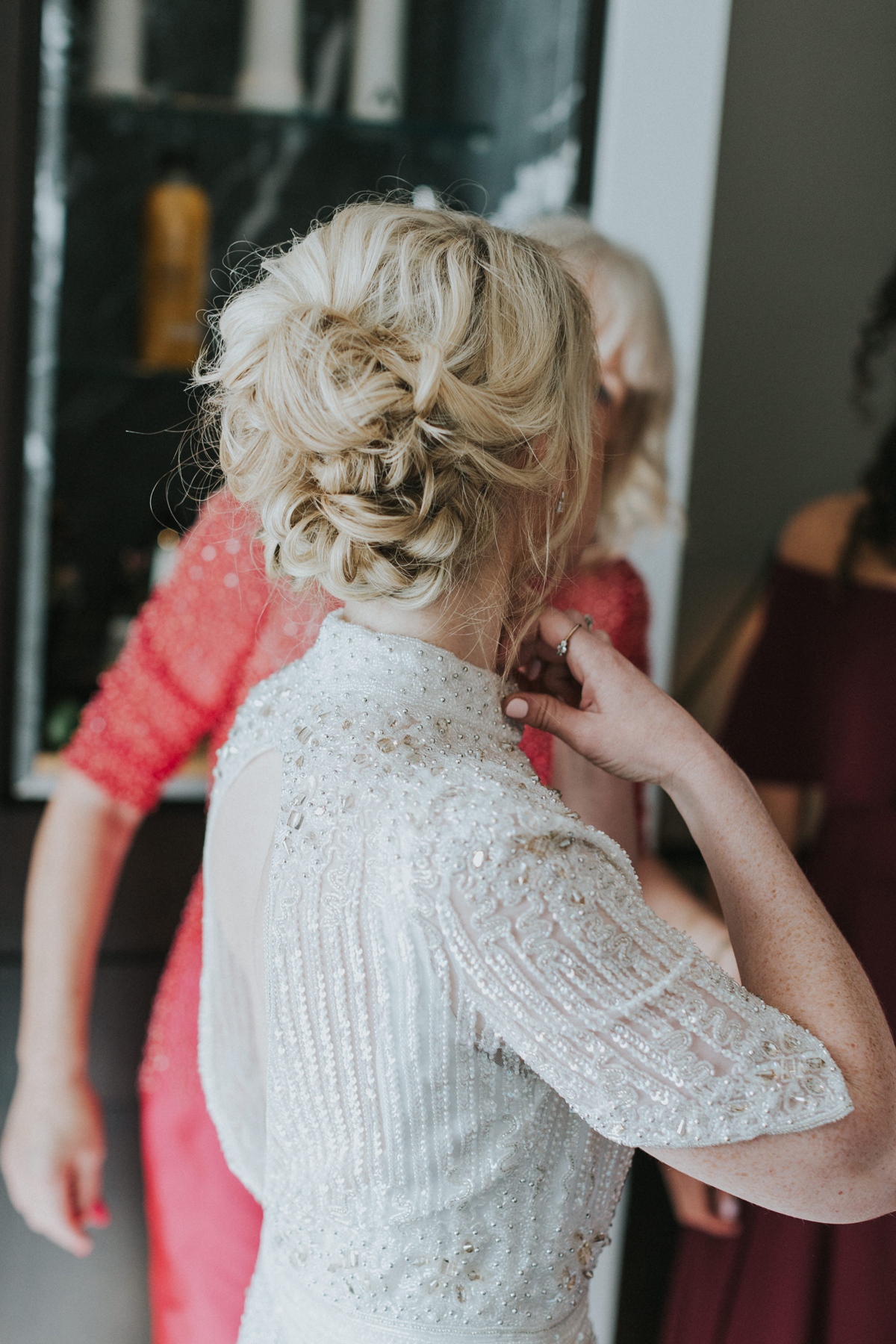 "I thought I wanted a long-sleeved, lacy number but none I tried on seemed to suit me. The dress was nothing like I thought I wanted, but I absolutely loved it when I first tried it on."
[JP-VIDEO]
"The vintage-style and high neck of the Charlotte dress gave it a touch of elegance I was looking for and the tear-drop back added a modern element that I thought would suit our London wedding. I also loved that I'd never seen anyone wear anything similar, so I knew Michael wouldn't guess."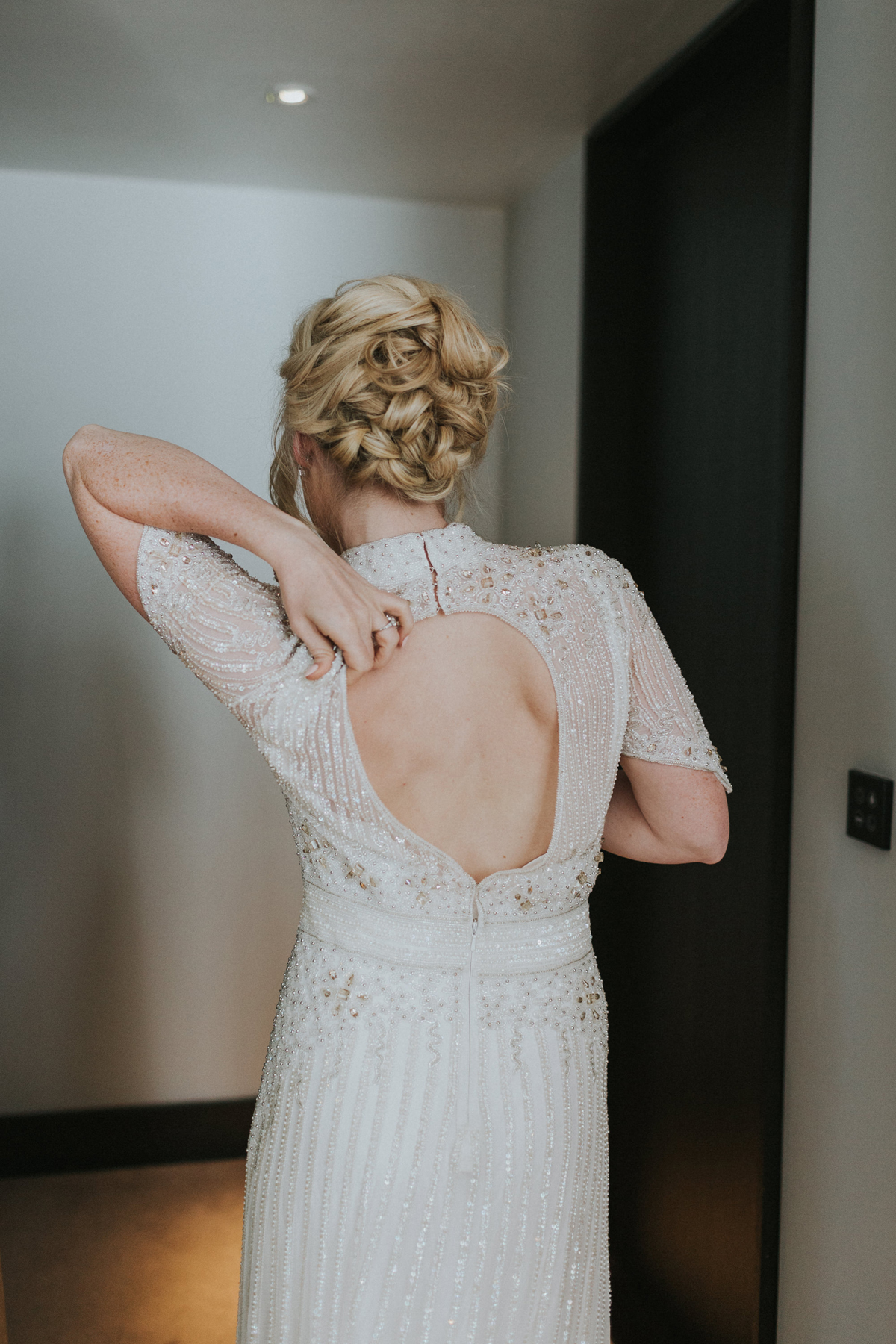 Do you follow Love My Dress on Instagram? It's where we share some absolutely beautiful images of the weddings we feature, as well as give you inspiration for different wedding styles and suppliers.
"I love seeing the huge variation in wedding styles. I started following Love My Dress on Instagram so the pictures would catch my attention and then I wouldn't be able to resist reading the whole blog post. It's the personal nature of the blog that I love, and even now we've had our special day, I still love reading about others."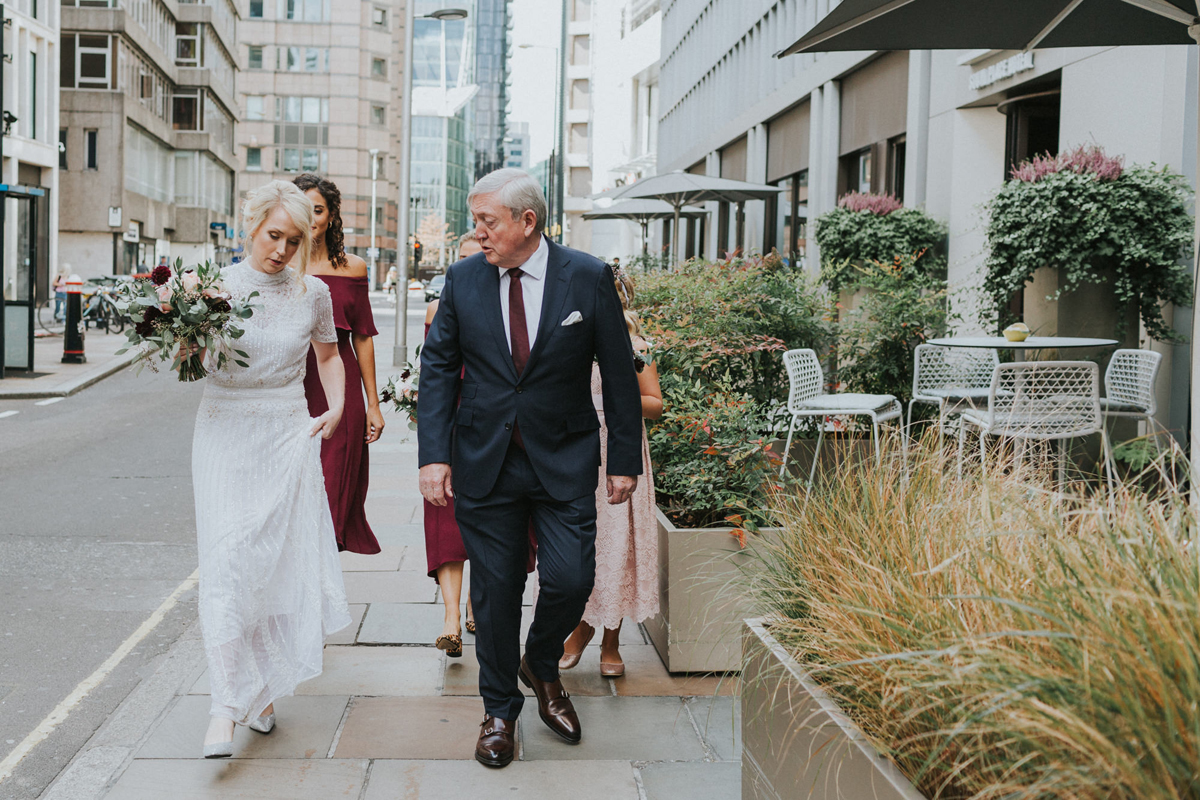 To fit in with the modern style of the day, Michael chose a dapper navy suit from Reiss, pairing it with a soft grey waistcoat and a dark burgundy tie.
"We didn't want everyone to wear the same suit so just told the best men and groomsmen to wear navy suits, and we supplied the burgundy ties from Reiss. Our page boys were Michael's twin nephews; they also looked so cute in their blush dickie bows and navy braces from John Lewis."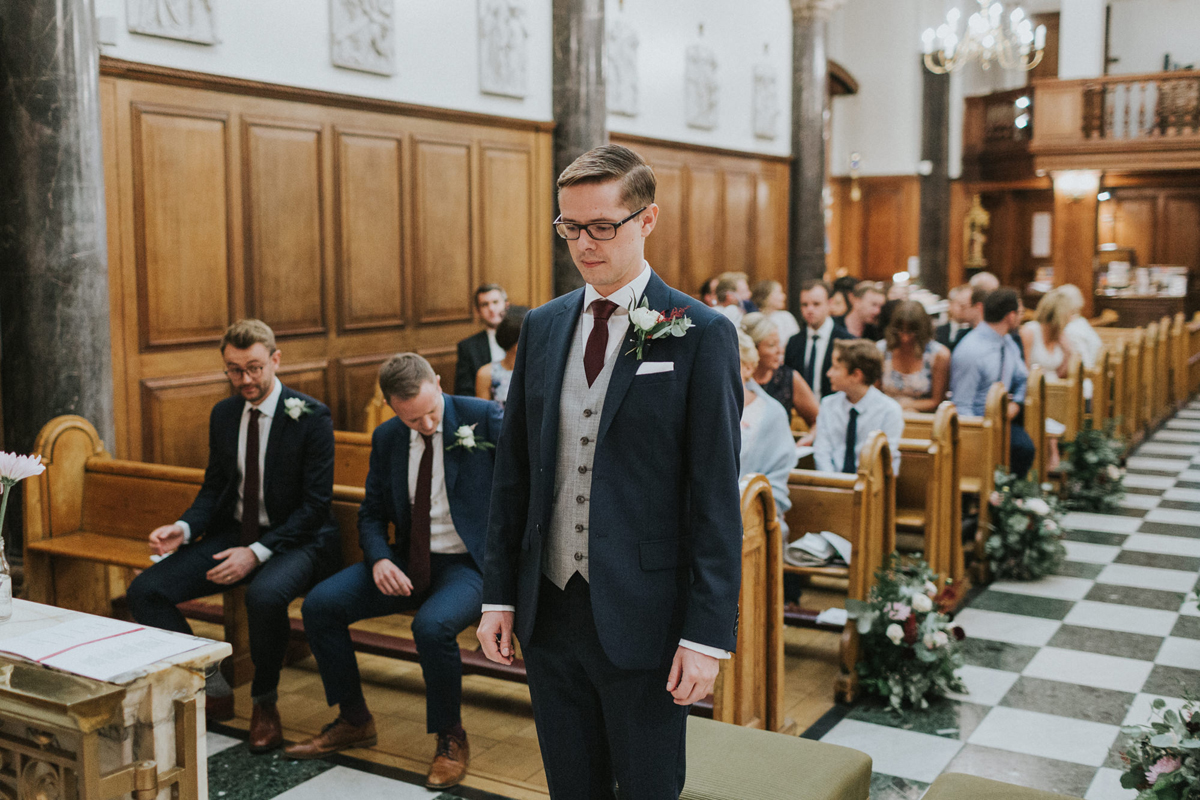 Sinéad and Michael first met on a chilly Saturday night out at Hoxton's The Book Club in January a few years ago.
"Michael made the brave move across the dance-floor. After a few awkward moments and Michael's apparent inability to say 'hello', I stepped up! Fast forward four years and during a trip to Japan, Michael decided to pop the question."
"After one failed attempted to find the perfect spot up a misty mountain near Mount Fuji, he found a quiet spot in a tea garden, overlooking Kyoto. During the proposal speech I didn't even realise what was happening until Michael got down on one knee – I thought he was just saying nice things. Not wanting to rush planning a wedding for the next summer, we set the date 22 months later for September 2018."
"We decided early on that we wanted to get married in London; it's our home and we love how quiet the city is during the weekend. Having a church wedding was important to us, and with only one Catholic church in the City of London, it was an easy decision."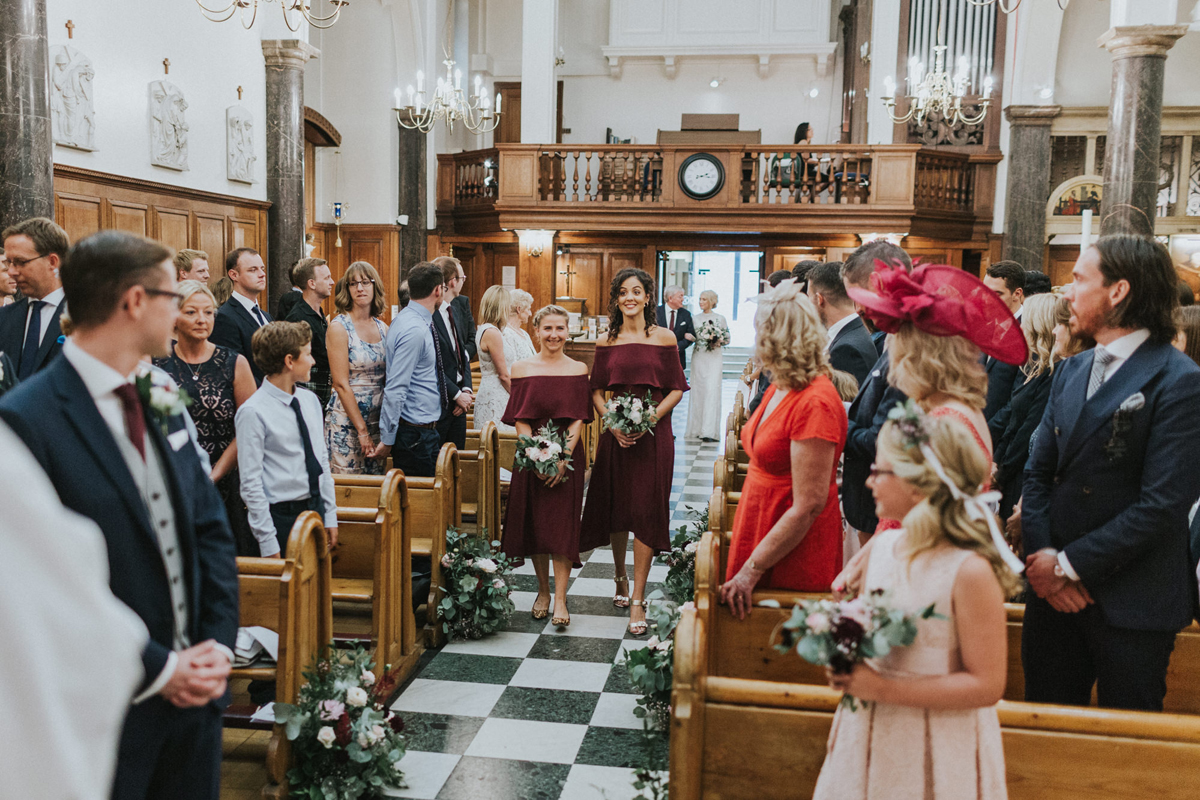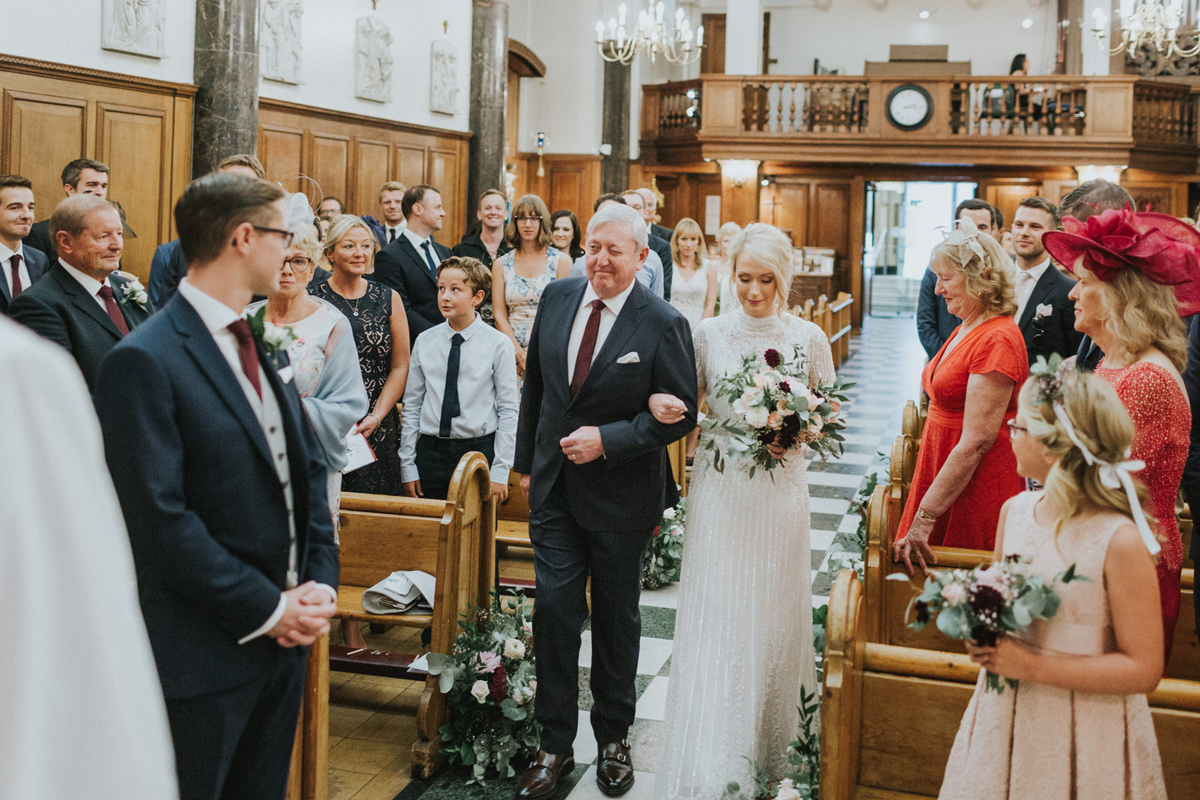 Sinéad and Michael chose a colour palette of burgundy and blush, falling in love with the look after scrolling through Pinterest. The bridesmaids' gowns were the perfect match; short gowns with a Bardot neckline from Coast which look clean and modern.
"These were one of the first things I bought for the wedding, a whole year and a half before the day! I loved the burgundy colour and was afraid I wouldn't find the same shade the following season, so I just bought them and just hoped they still fitted. As my bridesmaids have different styles, I didn't mind them wearing different shoes. One of my bridesmaids wore gold strapped sandals from Topshop and the other wore leopard-print courts from Aldo."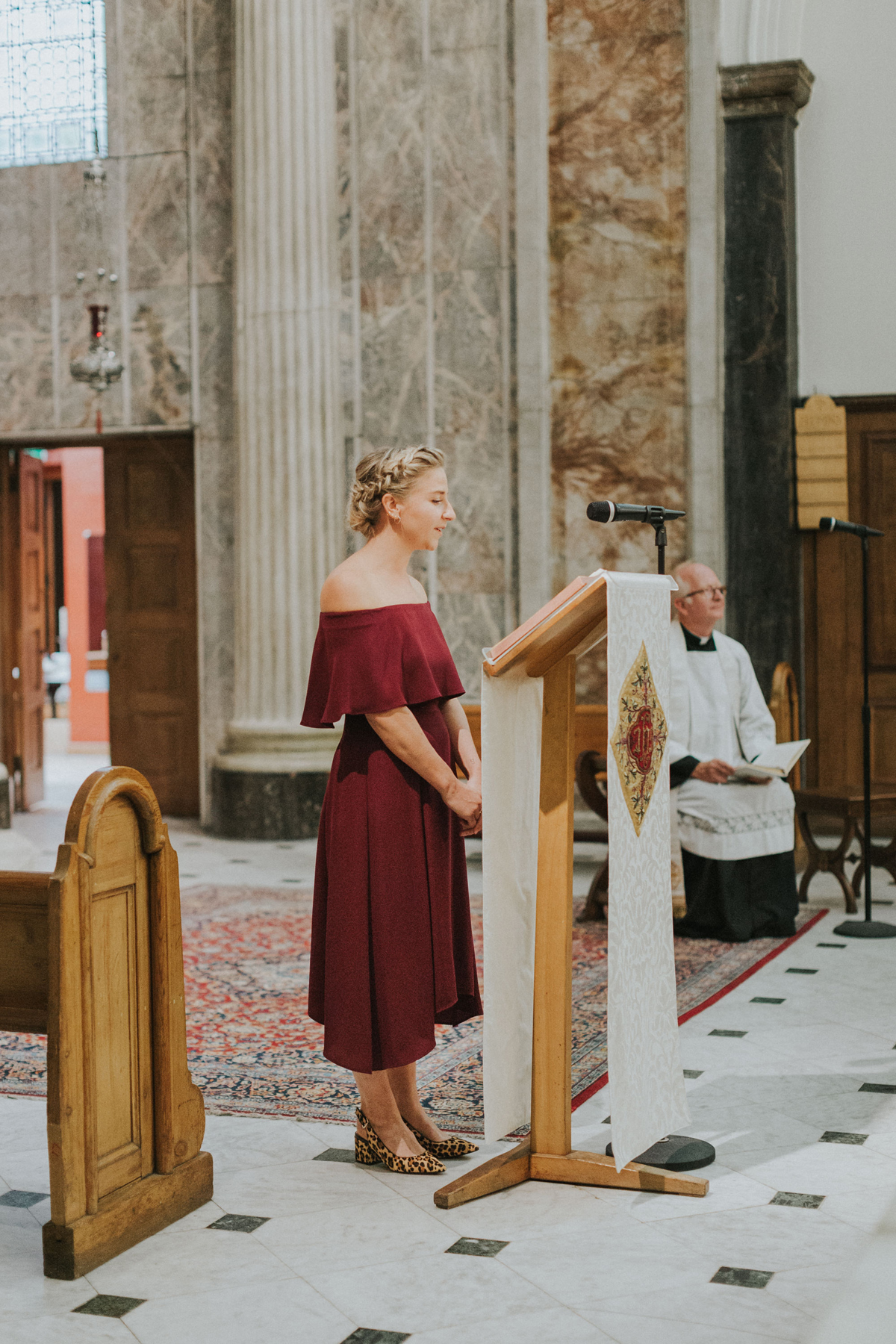 Sinéad and Michael both stayed locally to St Mary Moorfields Church, and the bride entered with her father.
"I stayed at the South Place Hotel, which was a minute's walk from the church. Michael got ready with his best men at our flat in Borough, so jumped in the taxi to the church."
"As most of the wedding was fairly modern, I wanted the traditional element of walking down the aisle to 'Here Comes The Bride' (The Bridal Chorus) played on the church organ. In the year leading up to the wedding I would get emotional every time I heard that music, either on TV or at other weddings, but somehow managed to keep the tears at bay when walking down the aisle."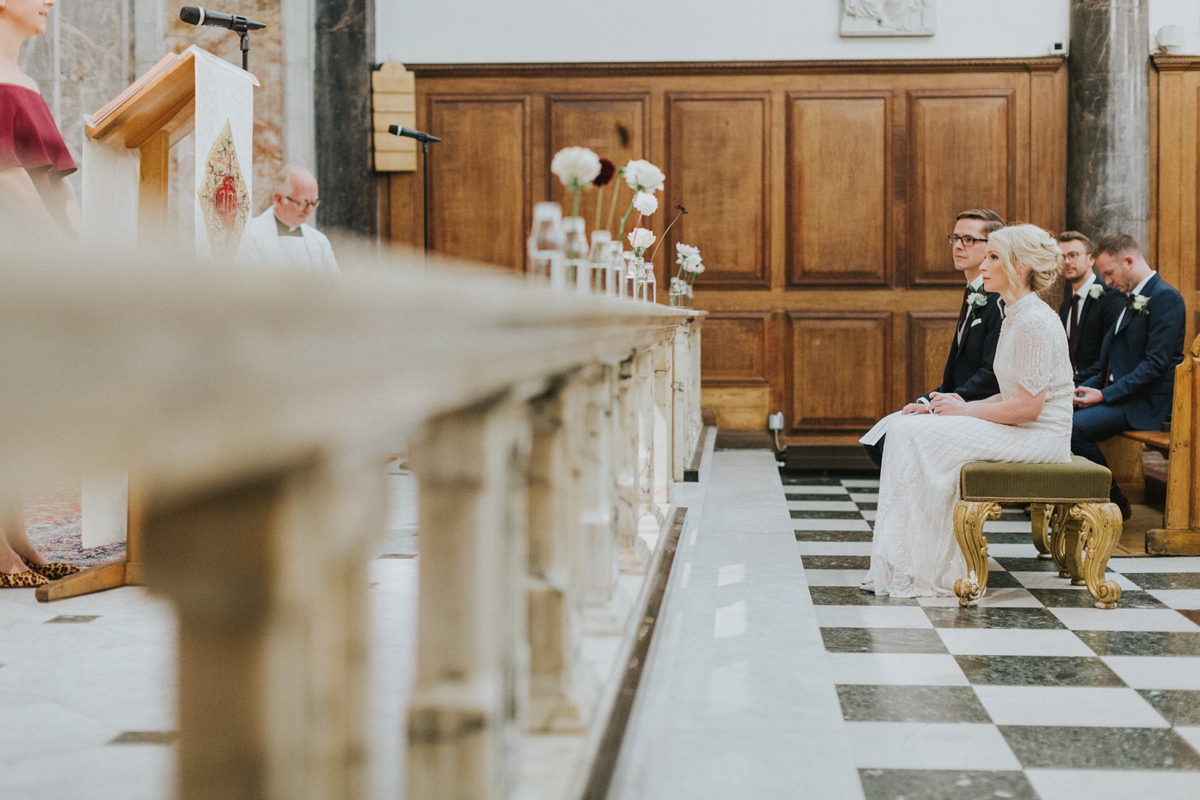 The couple opted to keep their vows traditional but added a personal touch to the ceremony with their choice of readings and music. They exchanged rings from Ernest Jones.
"We chose to keep our vows traditional as we were getting married in a Catholic church. We had a rehearsal a few weeks before the big day and we actually rehearsed the vows then, so when it came to the real thing we both weren't as nervous."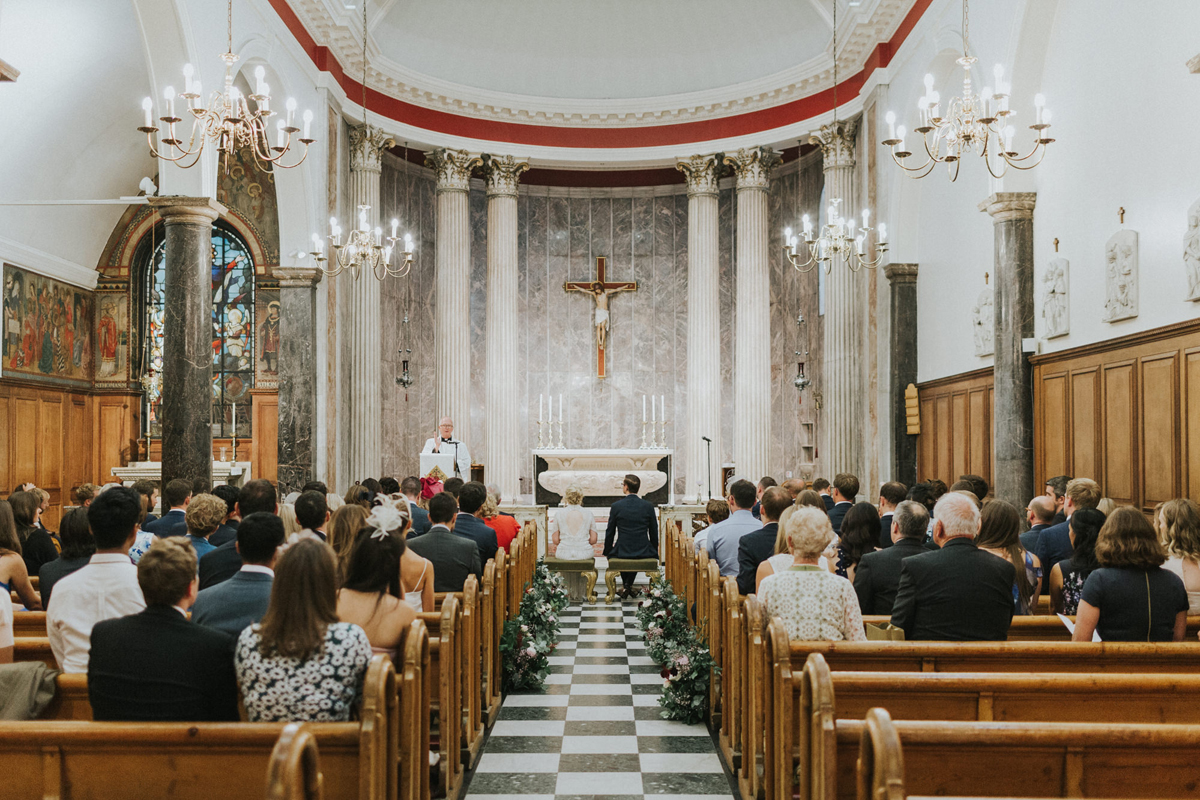 "Beforehand Michael was a bit worried about the church ceremony, that he might say or do the wrong thing, but on reflection this was probably one of our favourite moments. Father Chris at St Mary Moorfields was so funny and down to earth, that he instantly made us and our guests feel at ease and allow us to enjoy the moment."
"My bridesmaid did the first reading – A reading from the 'Song of Songs' (2:10-14, 16) and my brother read a prayer by St Thomas More – 'Prayer for Good Humour'. As neither of us are very religious, we didn't want the readings to alienate our guests, so we choose the first reading because it spoke about love and nature. The prayer of good humour was a bit of fun to show how important it is to laugh together."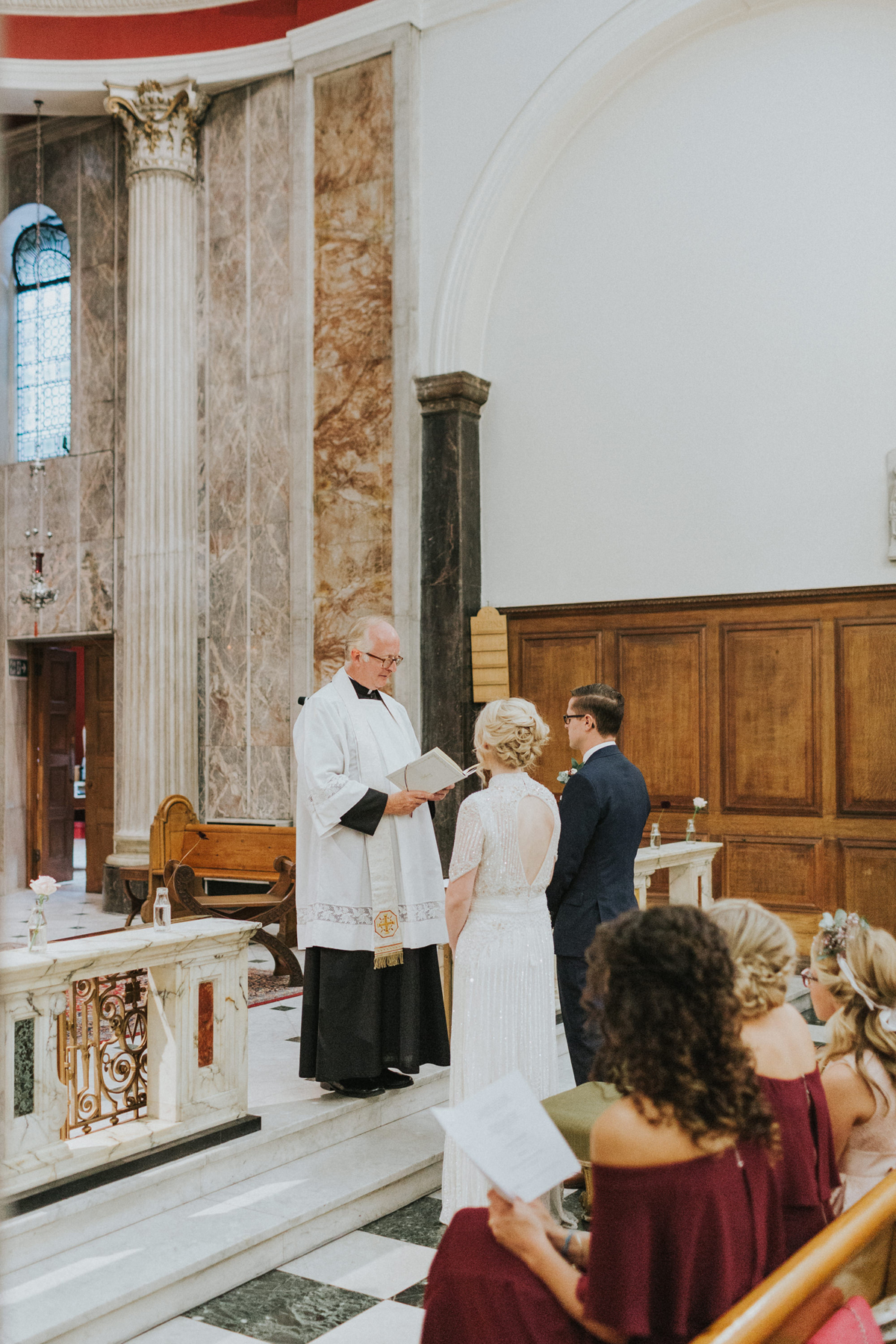 The day, from the girls' preparations to the ceremony and reception, was captured by the We Heart Pictures team. Their style is creative and modern, with crisp photographs that convey the essence of the moment.
"We found Hector and Charlie on Instagram and loved their style of photography, their London influence as well as their love of Wes Anderson (also a fav of ours!). From the first Skype call we had with them, they made everything so easy. Having seen the photos, Hector got some incredible shots and truly captured our day perfectly."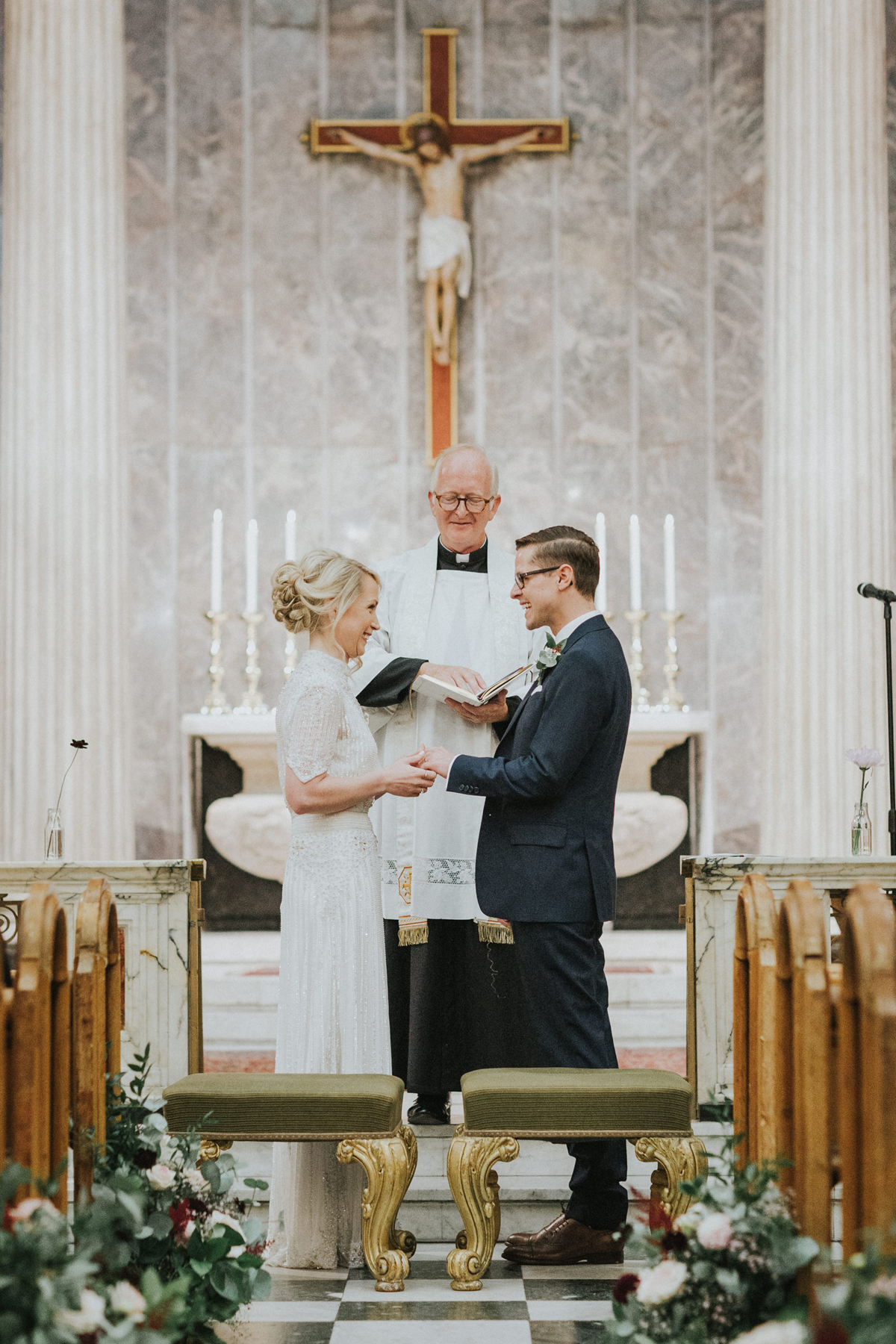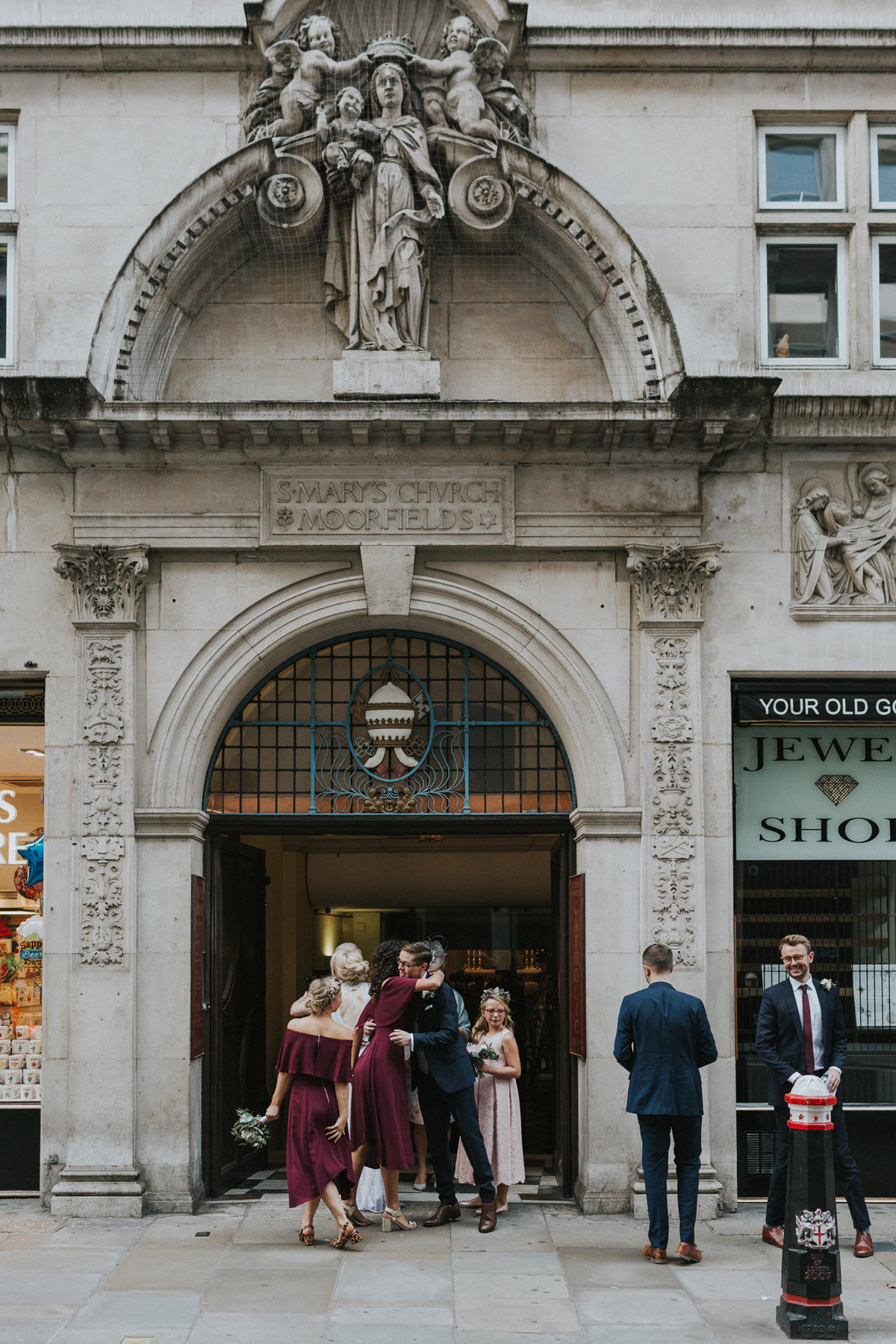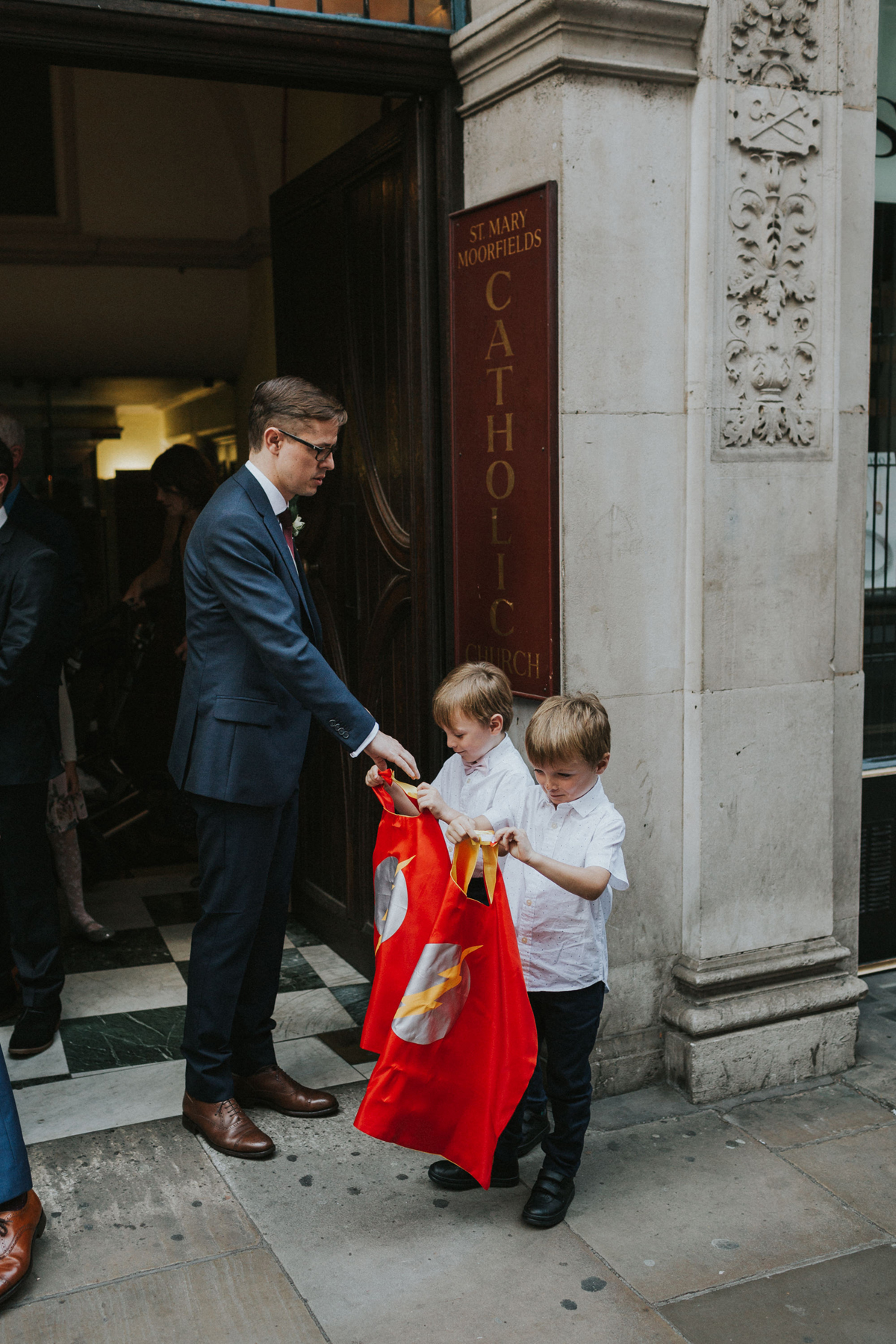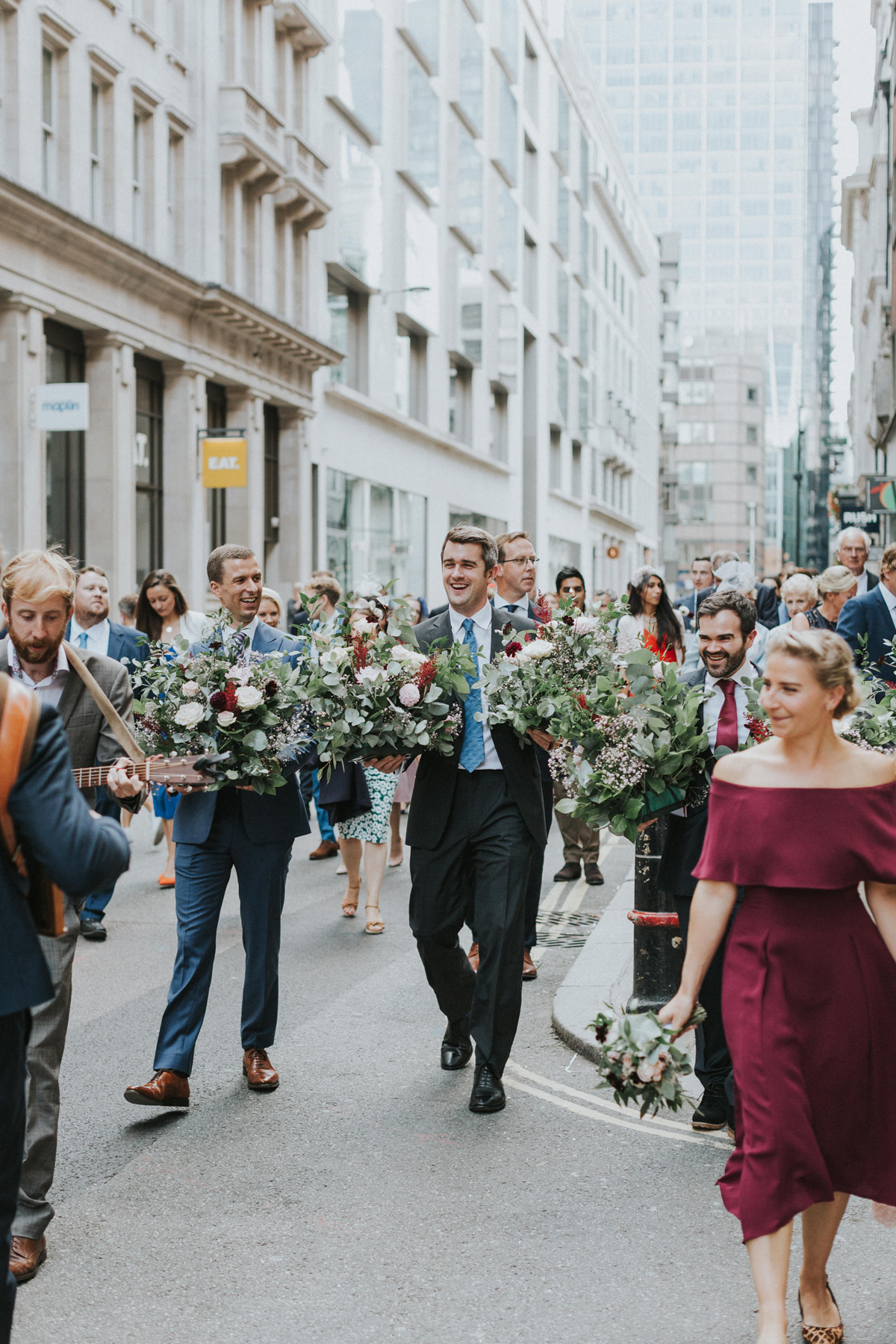 Some of my personal favourite photographs are of Sinéad and Michael emerging from the church as newly-weds, then walking through London's iconic Liverpool Street Station with their guests, preceded by a folk band. So much fun.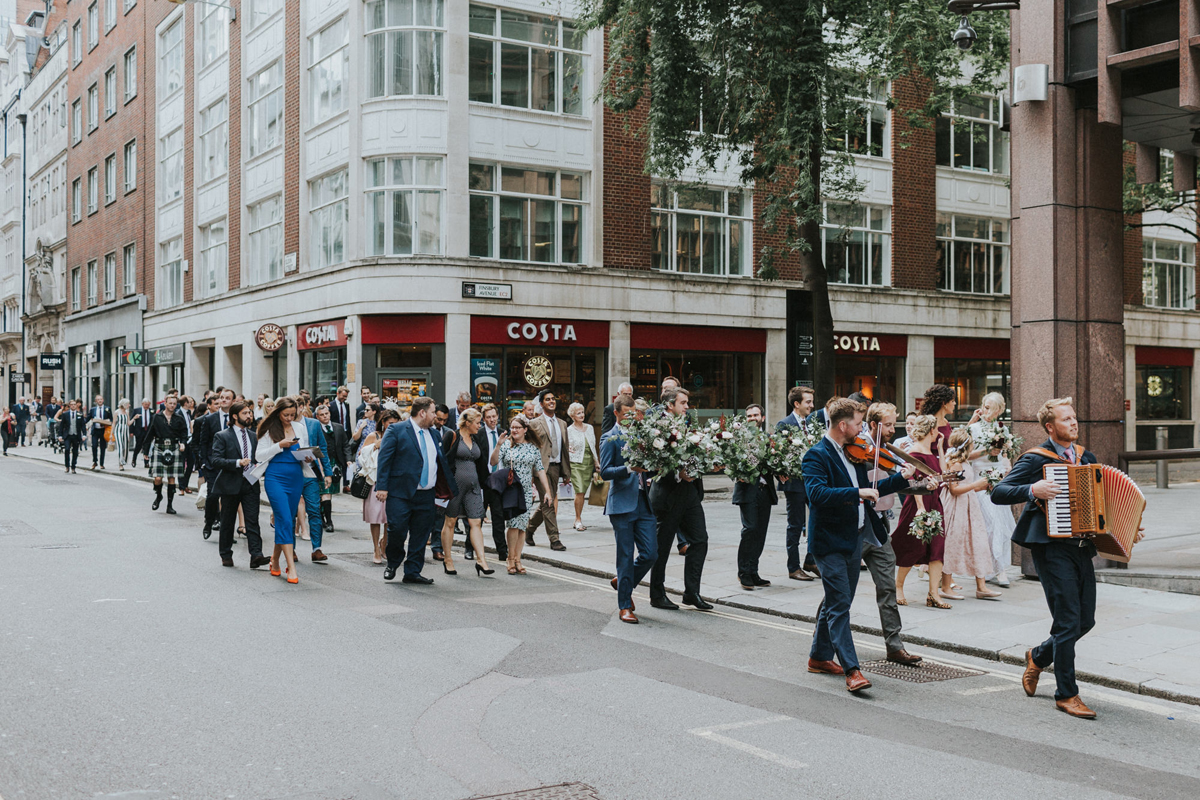 "During the day we had my old school friend's folk band, as their sound really reminds me of the Irish music I grew up with. We decided to walk from our church to the reception and have Inlay play along the way, and walk through Liverpool Street Station."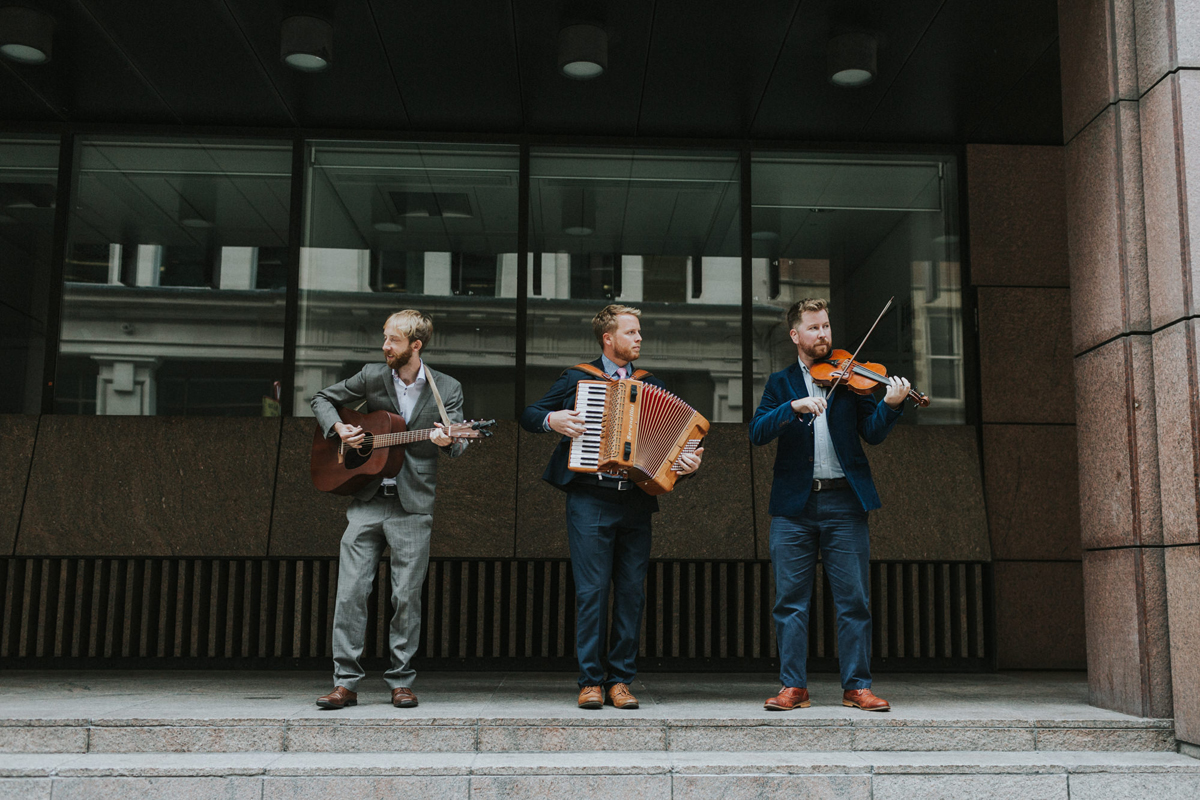 "Before the ceremony there was a bit of confusion whether we'd be able to do this as planned, as building works were blocking our route. But after the ceremony, it was magically opened so we walked with our group and band through the station, much to the amusement of the commuters in the station. Michael and I were leading at the front and we had a little 'we've done it!' moment which we loved."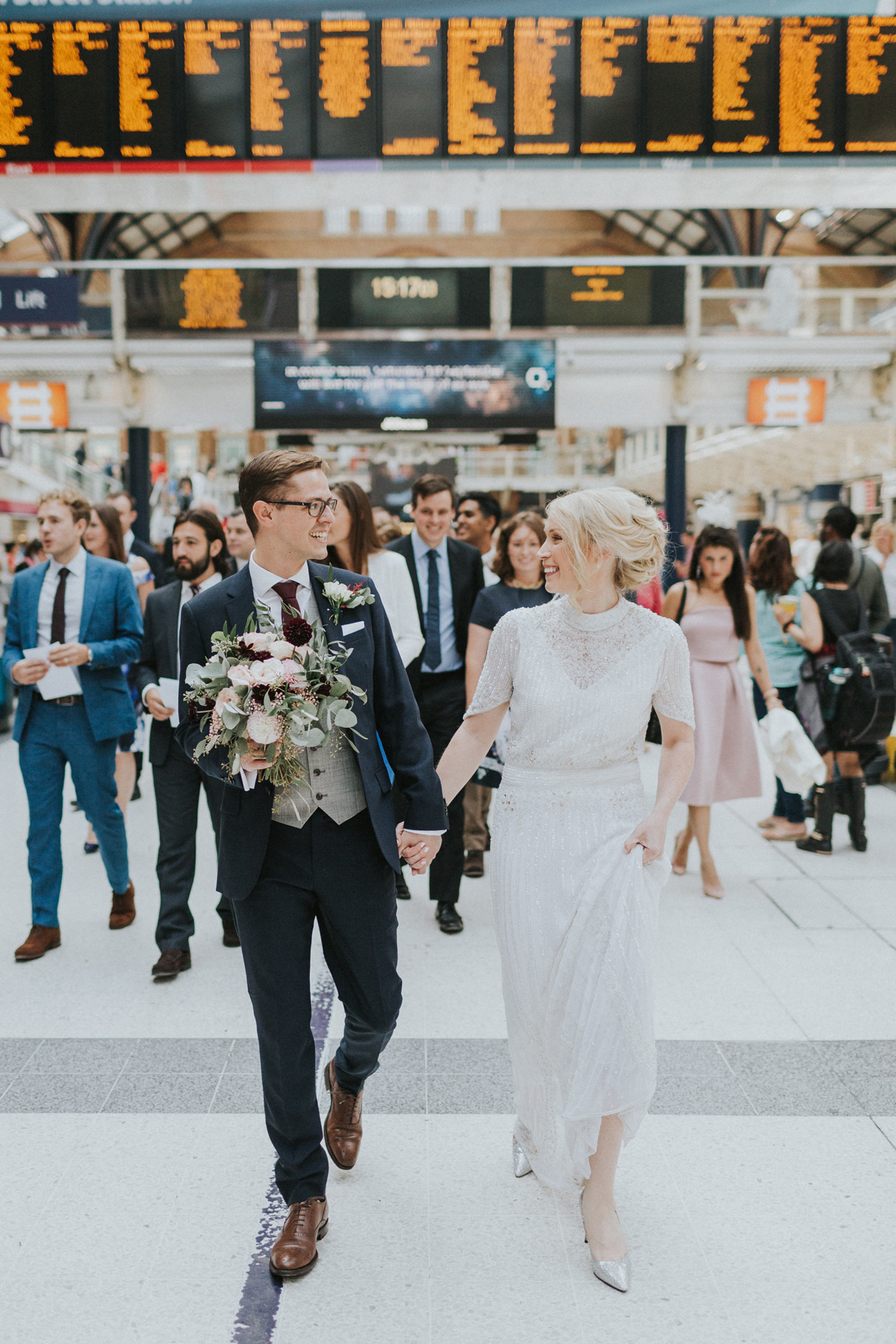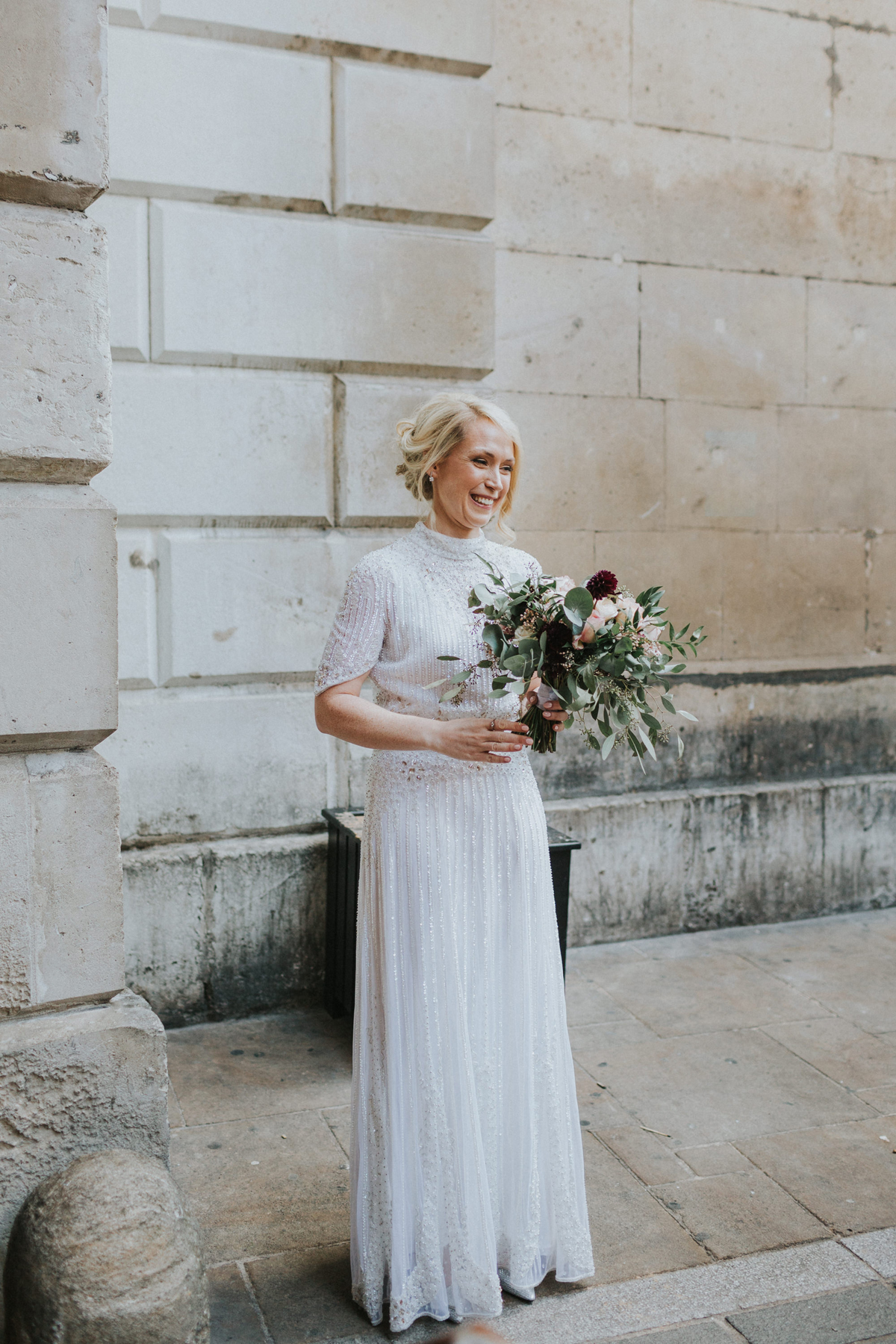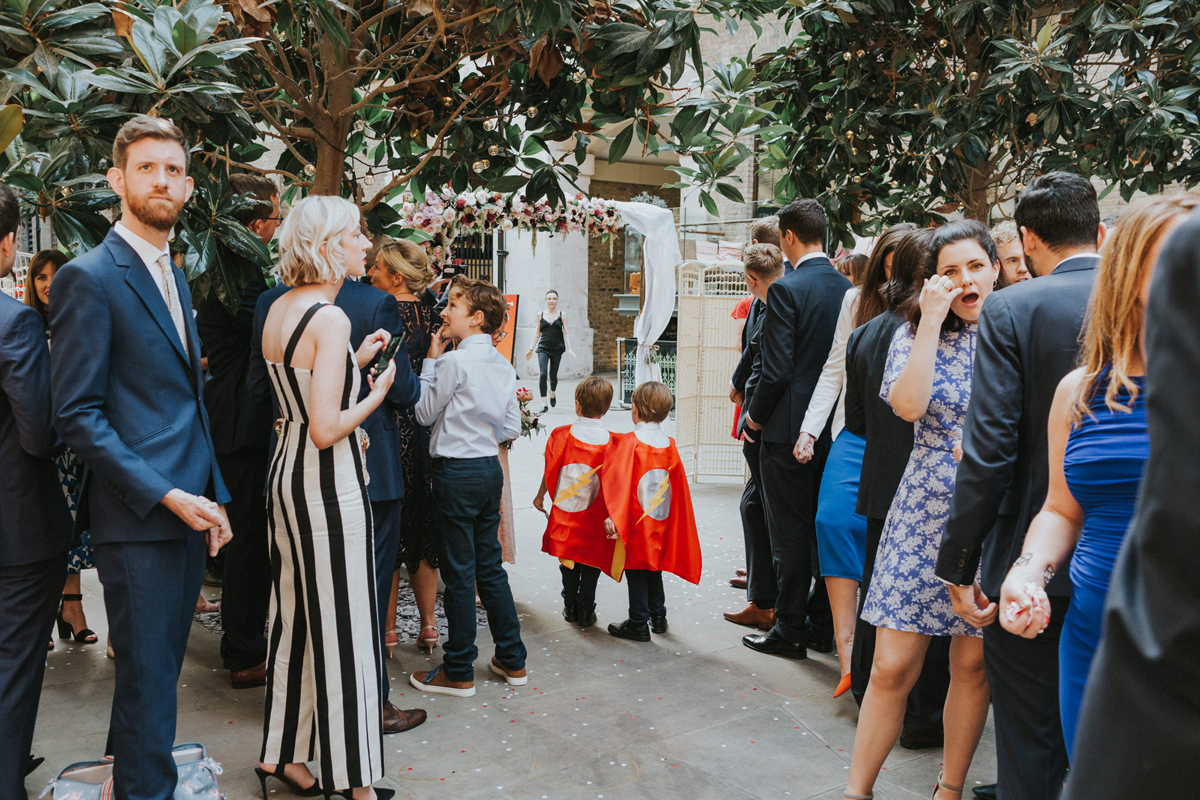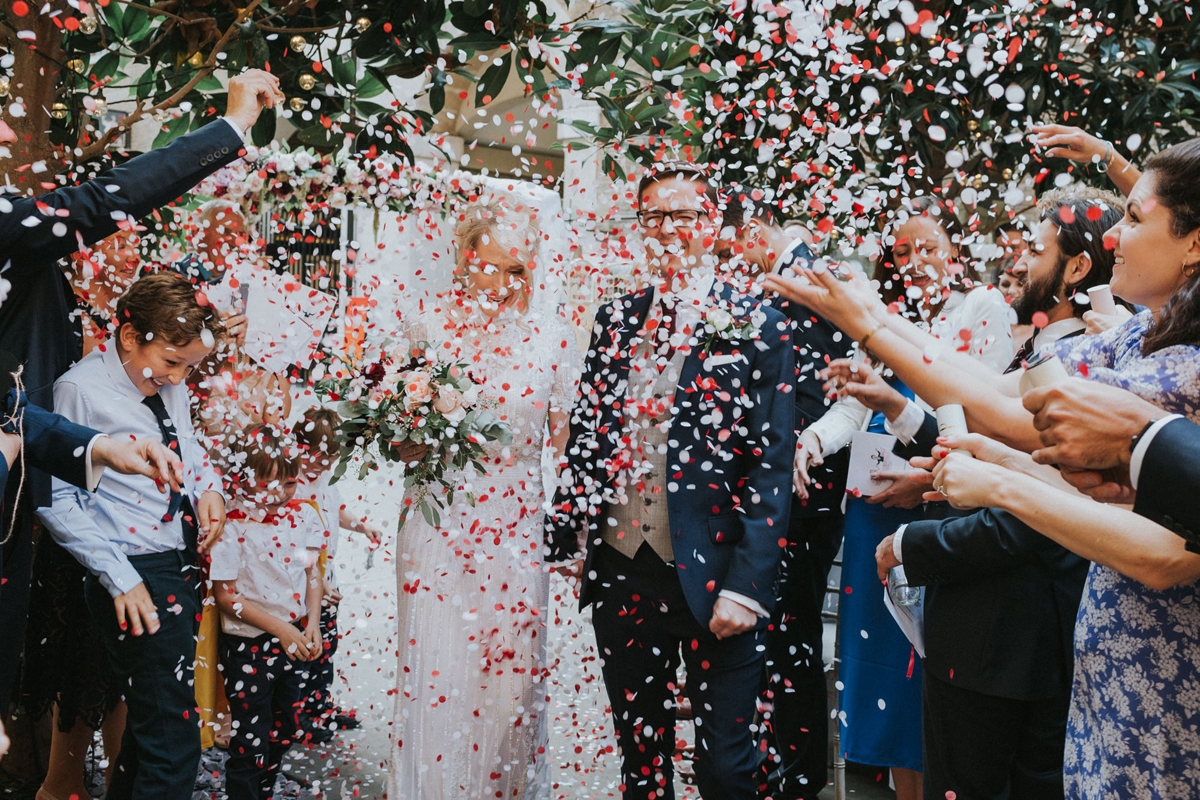 "Our reception venue was trickier. We wanted somewhere unique and looked up quite a few venues online, but Devonshire Terrace was the only place we visited in person that we fell in love with it straight away. The light in the venue was incredible and gave the outdoor feel we wanted but with the security of not getting caught out by the Great British weather."
"Getting the food and drink right was important to us and we knew we wouldn't have to worry with Devonshire Terrace – the menu and cocktail tastings didn't disappoint."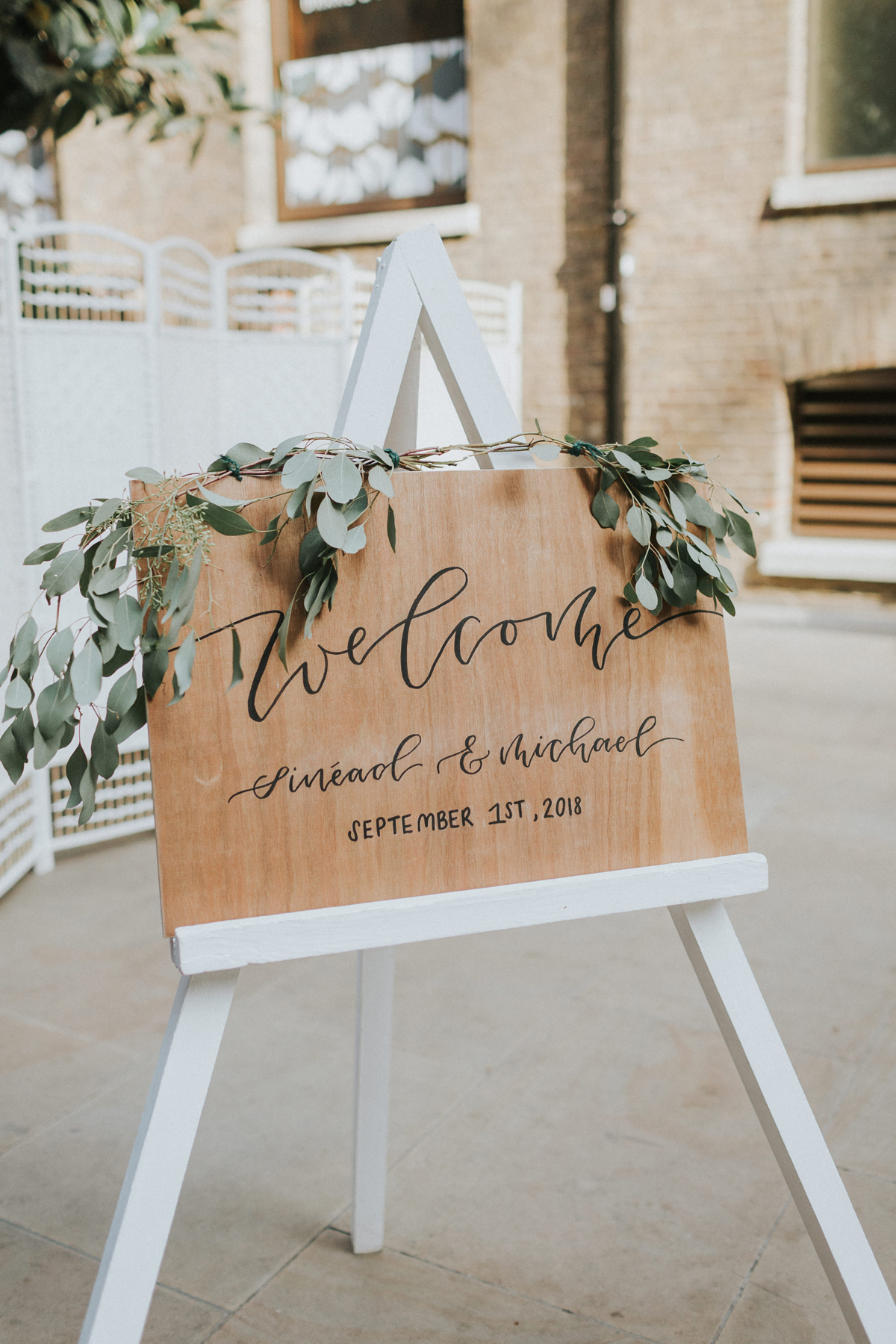 The wild, organic flowers with their tones of deep red and blush pink were gathered together and styled by Sapphire of The Flower Arranger. She was recommended by Nina at Occasion Queens, whom the couple enlisted to help plan and style the day.
"Our wedding coordinator, Nina, recommended Sapphire when she heard that we wanted a flower arch and the colour scheme we choose. We didn't know much about specific flowers so Sapphire helped us decide exactly what we wanted, based on shades. On the day, we were blown away by how beautiful the venue looked, particularly the flower arch at the entrance."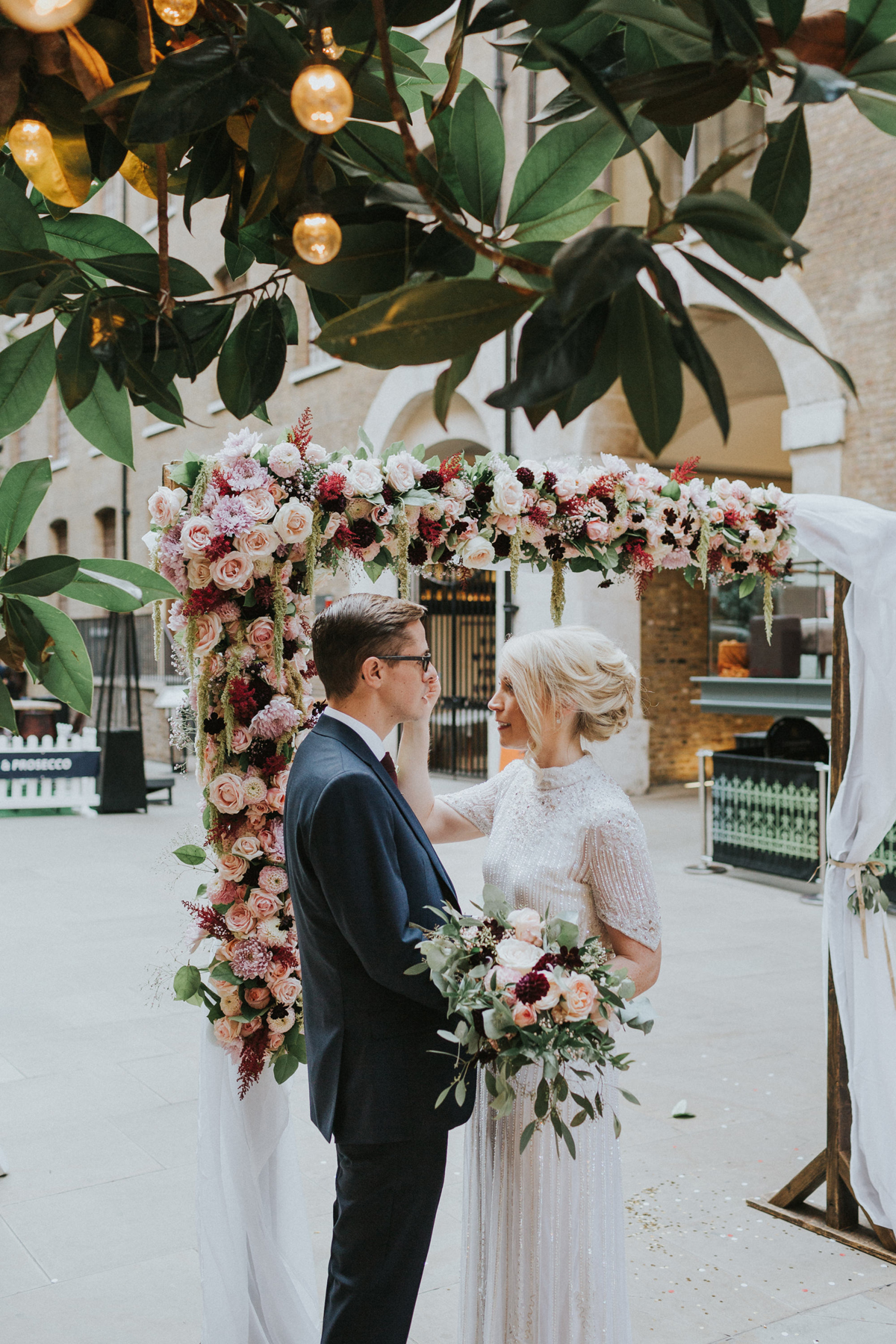 At the beautiful Devonshire Terrace, the couple's Japanese inspiration really came to the front. The modern lines looks so beautiful with the cascade of origami cranes and delicate pink blossom.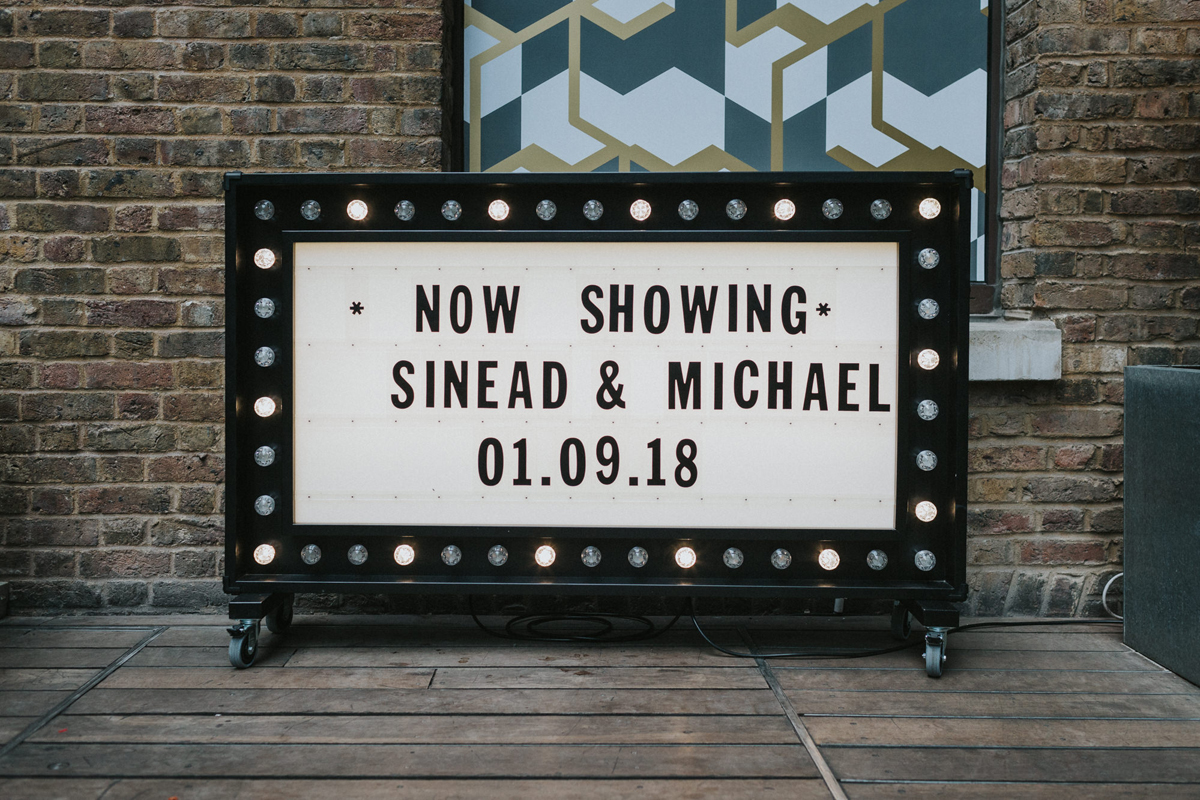 "Having got engaged in Japan and falling in love with the culture and style of the country, we knew we wanted to incorporate that into our big day. Cherry blossom and origami cranes were at the top of the list. I read about a Japanese tradition to make 1,000 origami cranes a year before our wedding, so ordered some paper online and started learning from YouTube videos. Luckily I managed to convince my dad and bridesmaids to help."
"The cherry blossom trees, table cherry trees and easels were from Dress It Yourself and the cinema sign from Locke and Busby. Michael is a big cinema and film fan so I organised this sign as a little surprise on the day."
The colour scheme continued in the modern, bold wedding stationery.
"We designed our own orders of service (on Papier) but got Charlie from Hey Draw Me to design a cartoon banner of us and an order of the day image, which we loved."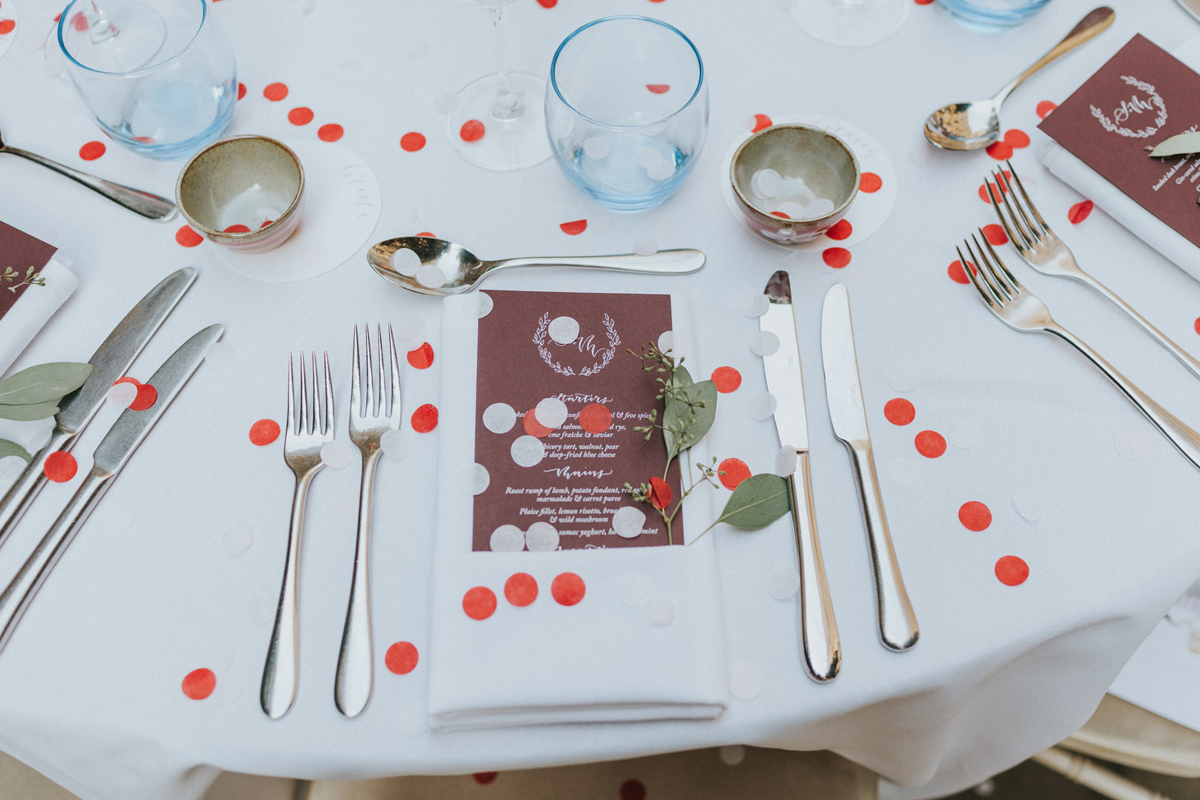 From the sake cups to the blossom, the fun gin and tonic drinks station to the menus, the modern, Japanese-inspired styling of the venue is absolutely on point. Over to Sinéad to explain the look.
"Our menus, table plan, welcome sign and place cards were all designed by Lauren at Oh Wonder Calligraphy. We decided on burgundy menus with white calligraphy to match our theme, and had round coasters with personalised blush writing for the place settings, as we had sake cups as favours and wanted to make these a feature on the tables.  We both love cocktails so having 'his and hers' cocktails  and sign (from Wedding Sundae Studio) was a nice nod to this."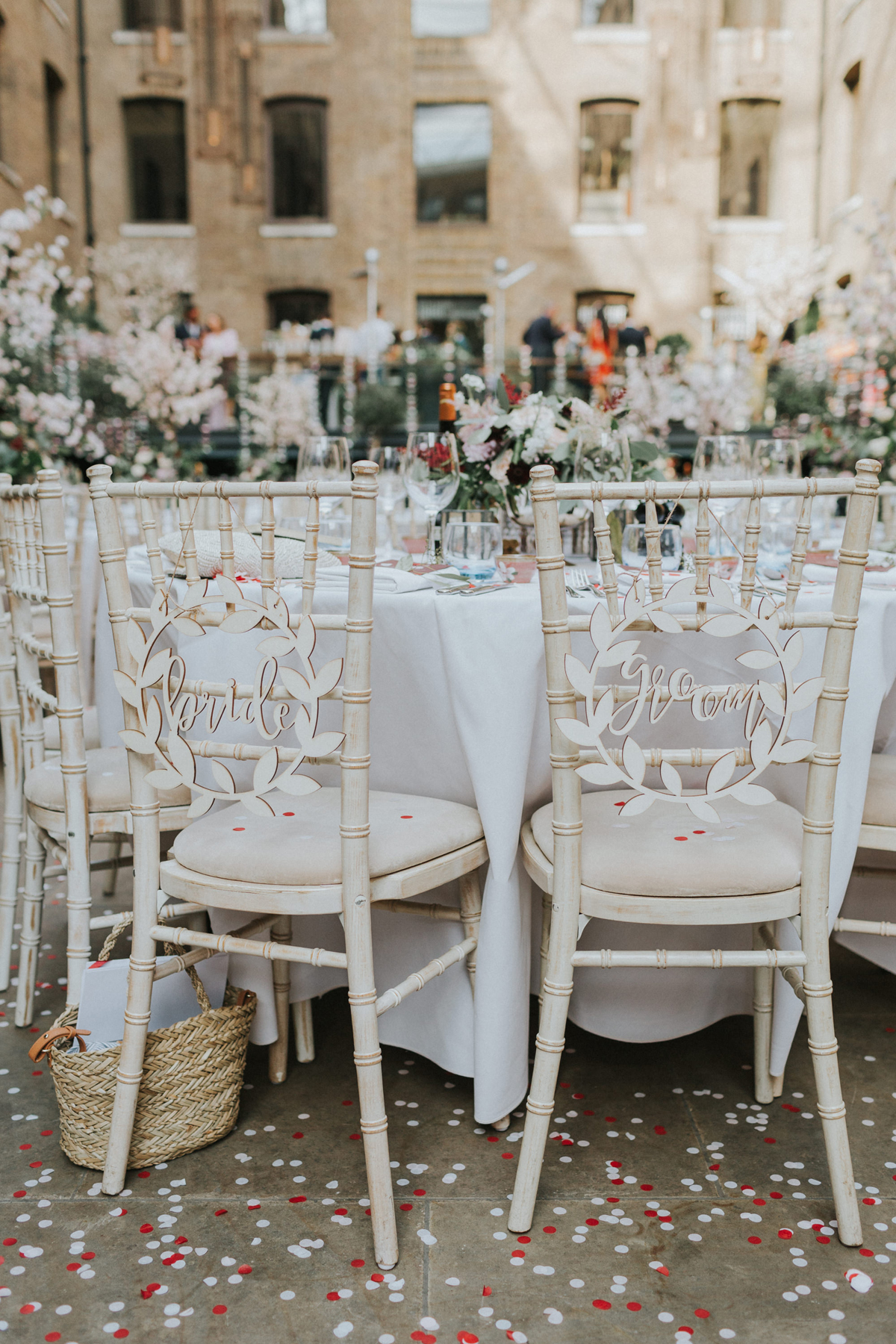 "I started collecting wine and champagne corks (from our own consumption as well as friends, family and colleagues) about 18 months before the wedding to use for table numbers."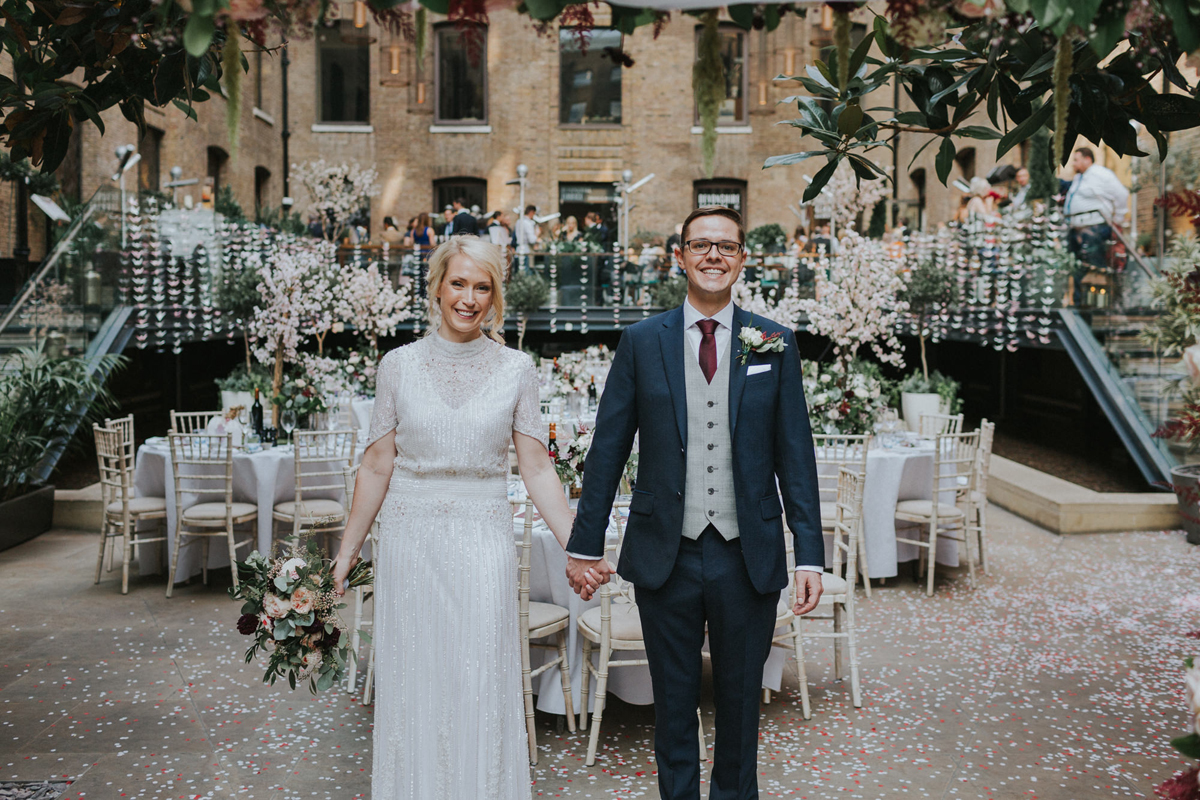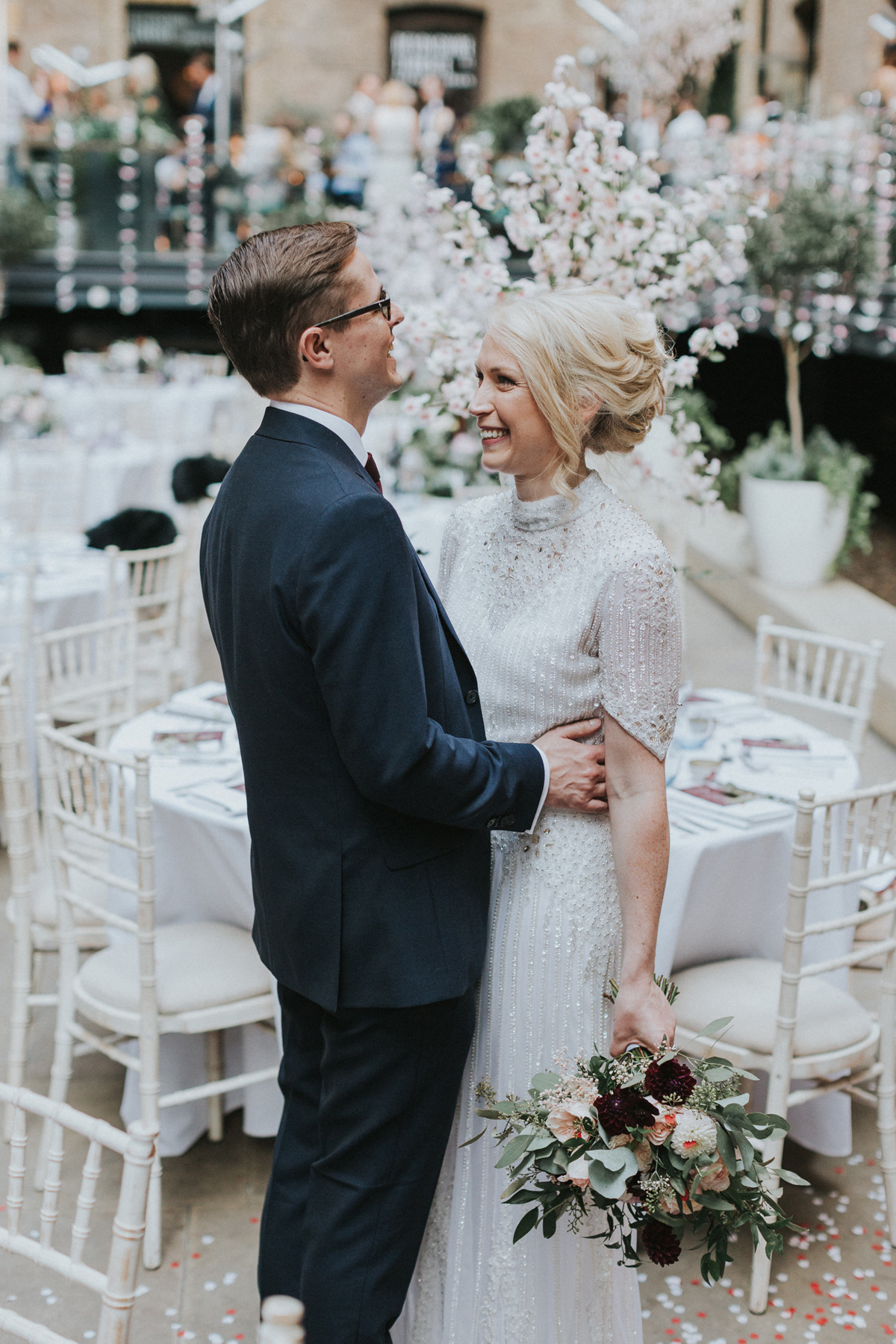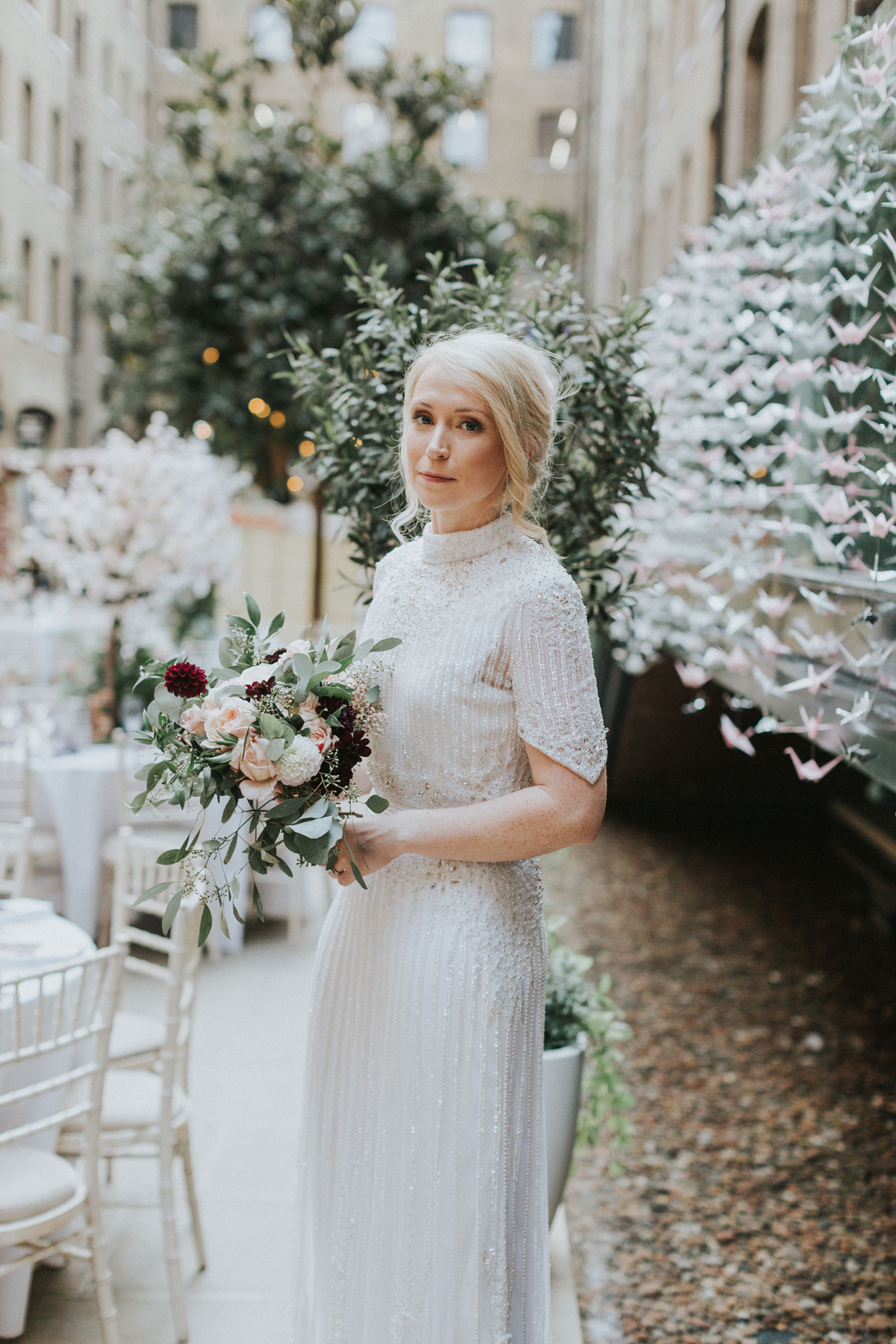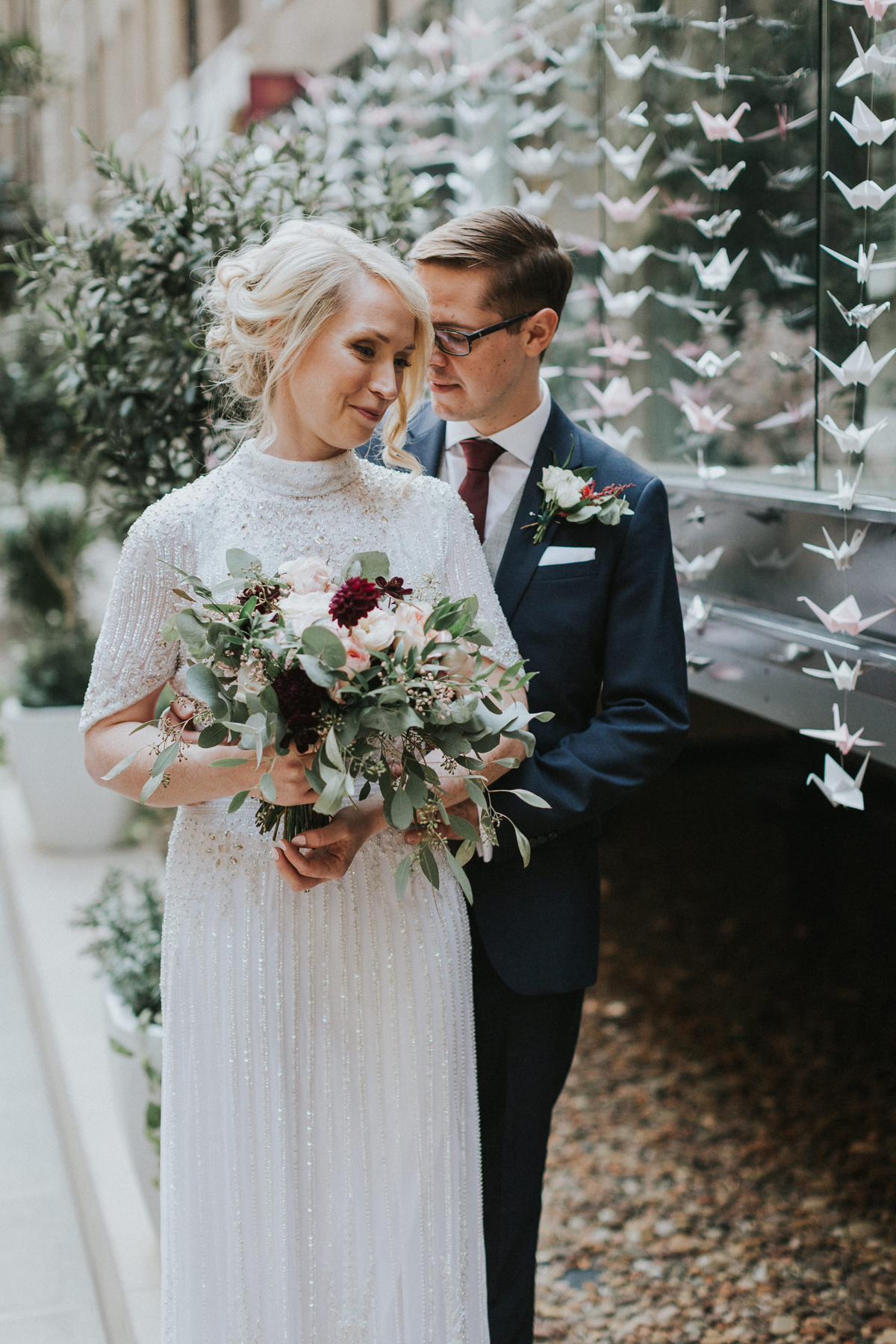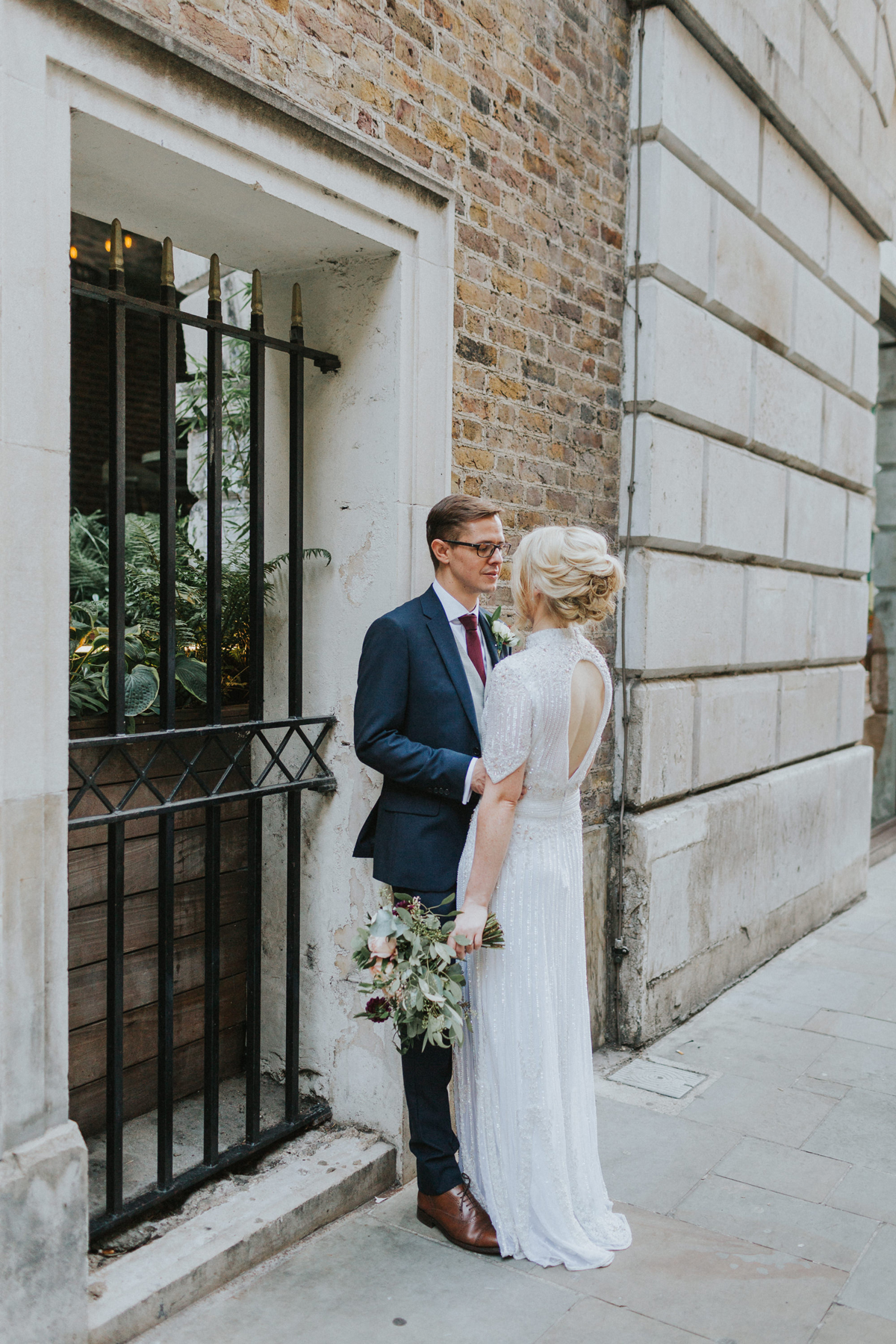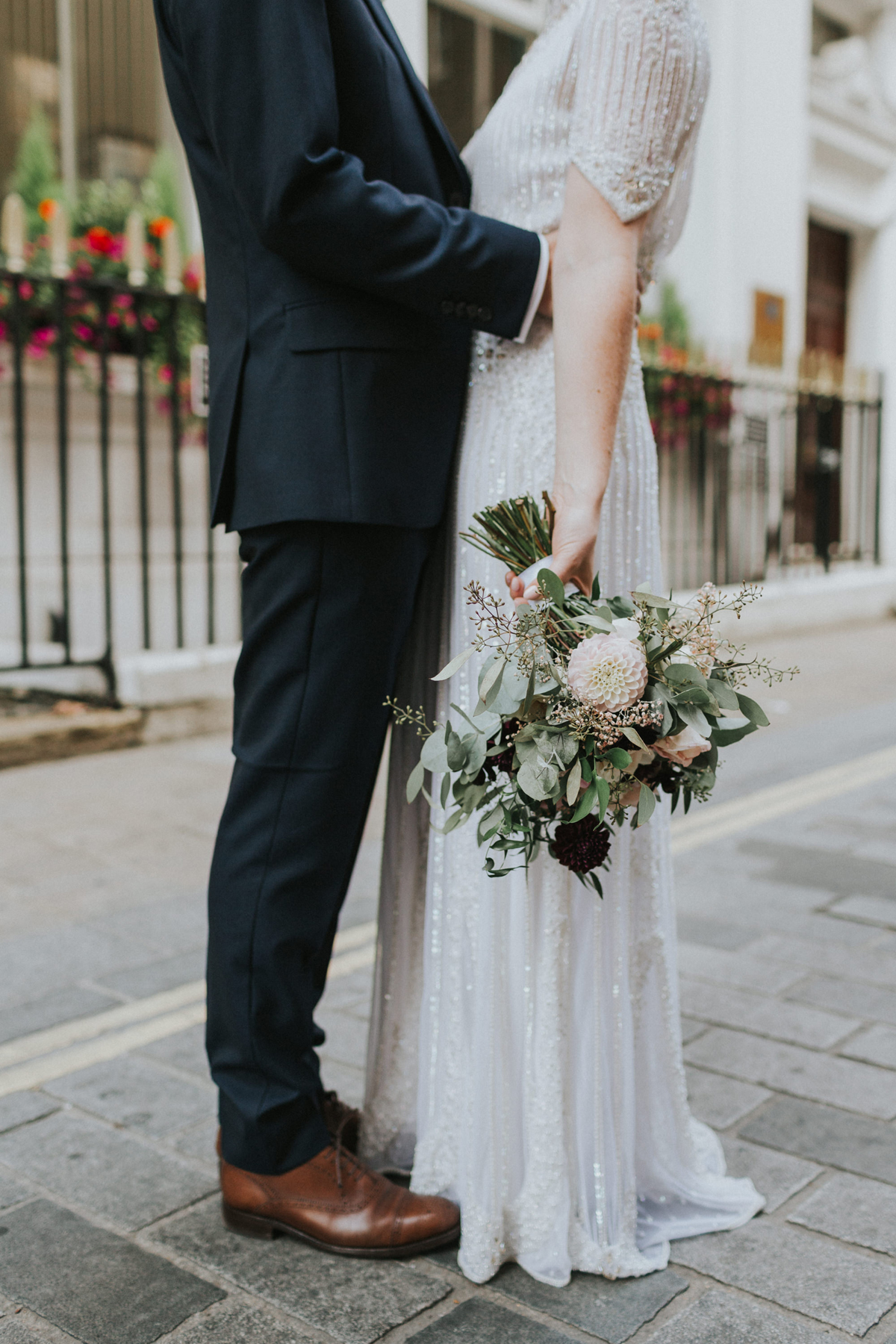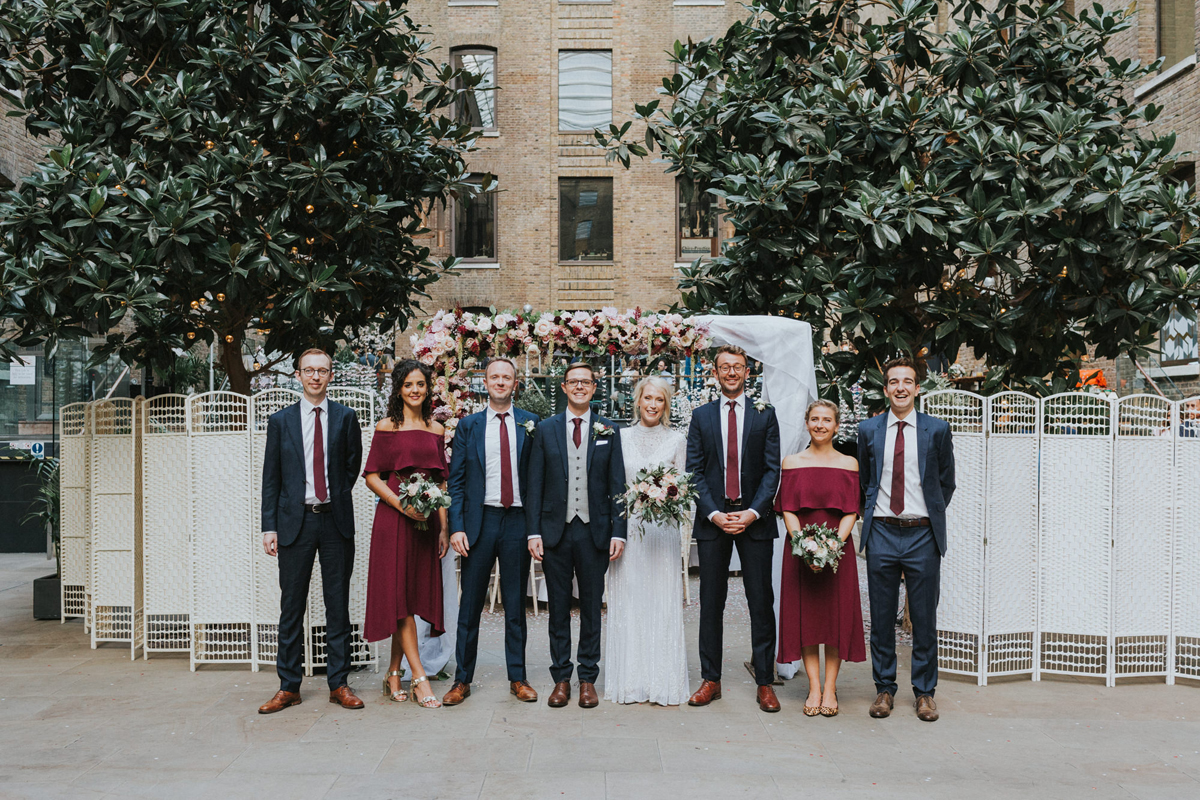 The couple engaged the catering team at Devonshire Terrace to supply the wedding breakfast and asked Hannah at Butter Beautiful to create this wonderful wedding cake. I'm so inspired by its clean lines, modern 'drip' finish and decoration of fresh flowers and dainty macarons.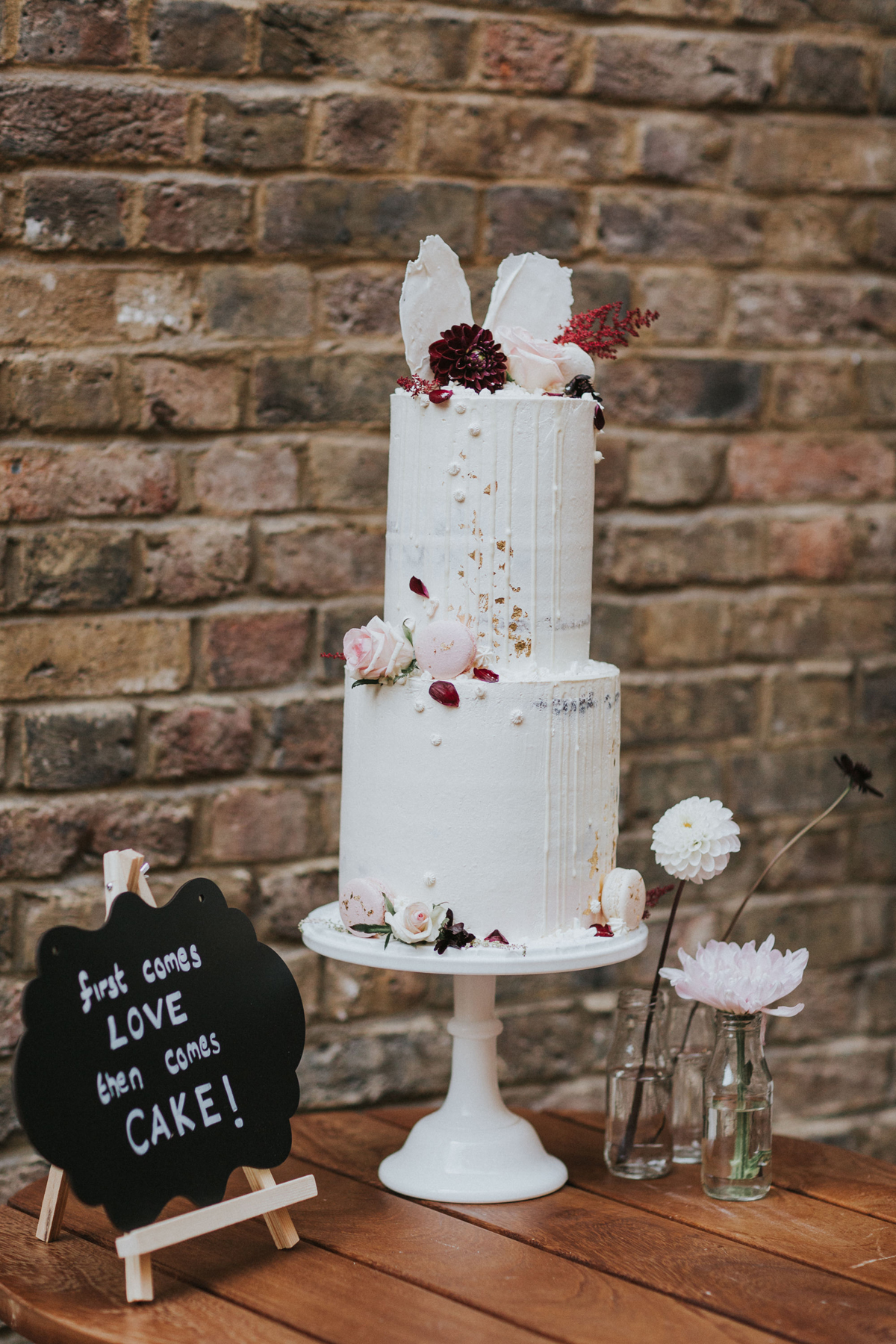 "As a fellow cake lover, this was high up on my list. Also recommended by Nina, when I mentioned I loved buttercream, Hannah knew exactly the style I was after – a tall, modern, show-stopper. The cake tasting was one of the best parts of the wedding planning, but also one of the trickiest as all the flavours were amazing. We decided on chocolate and hazelnut praline for the bottom tier and vanilla and passionfruit for the top tier."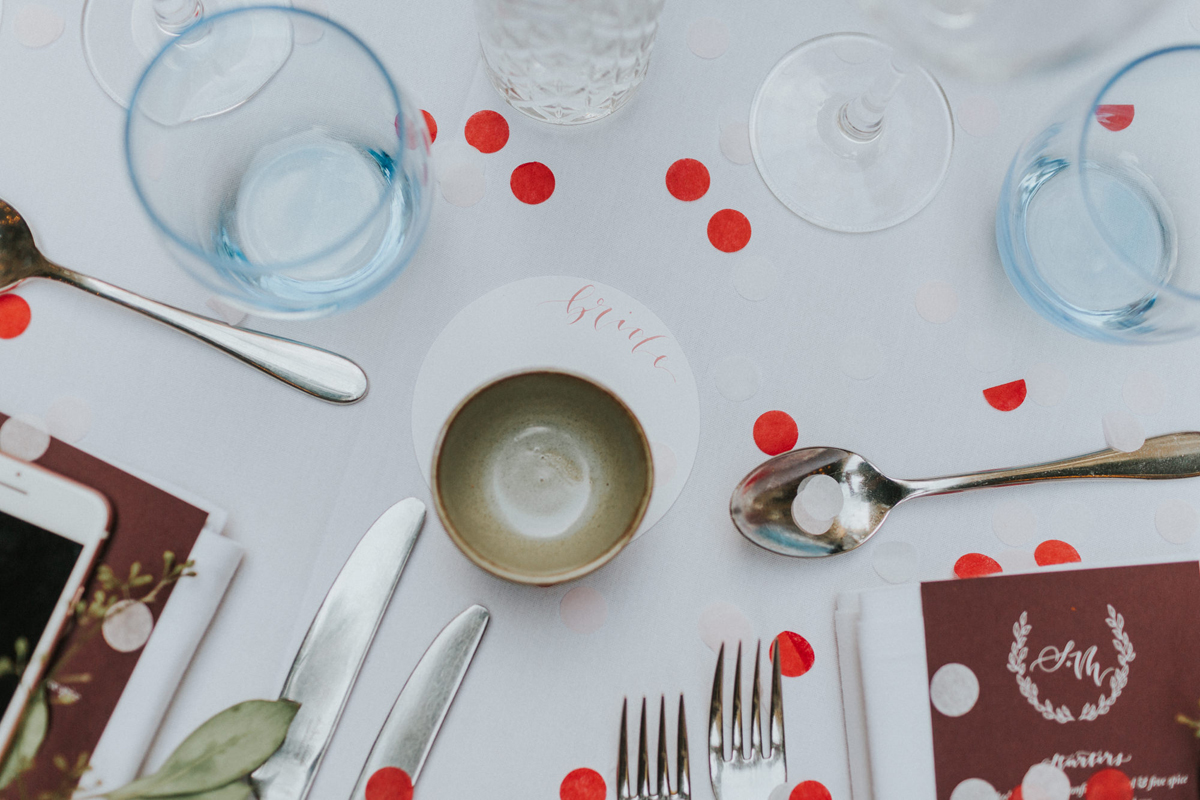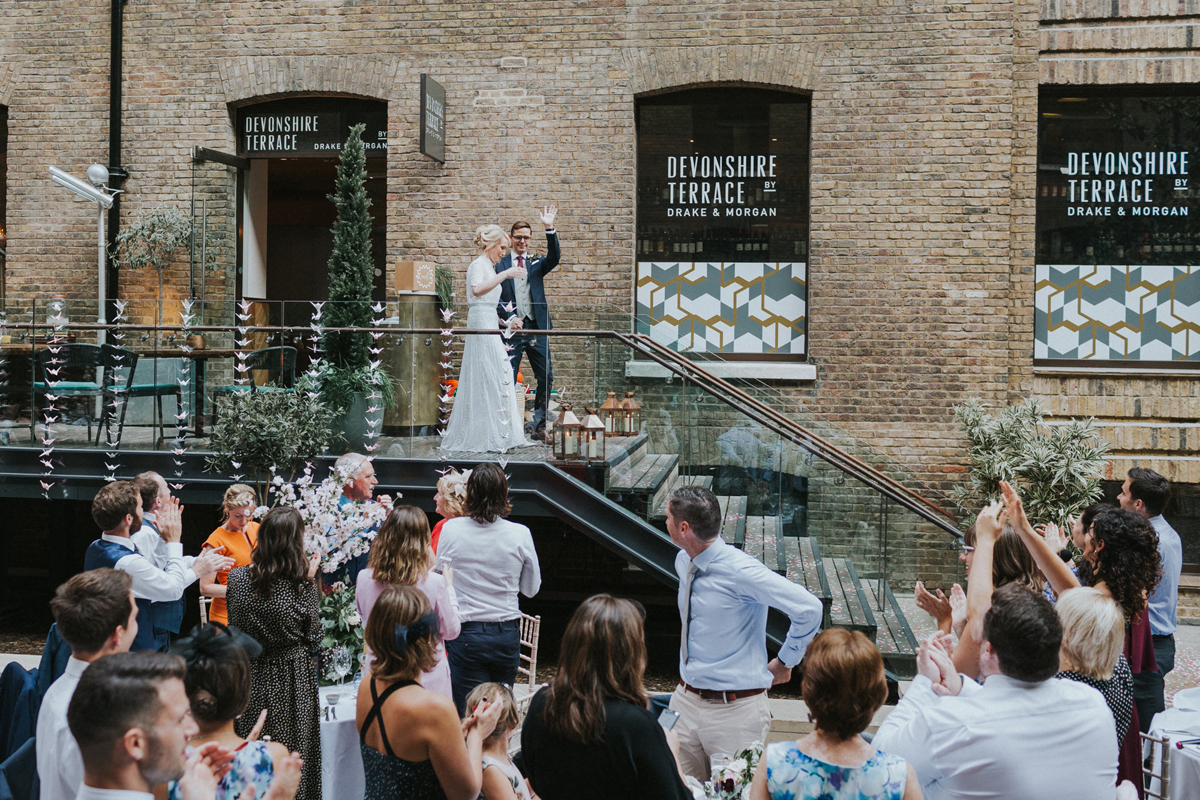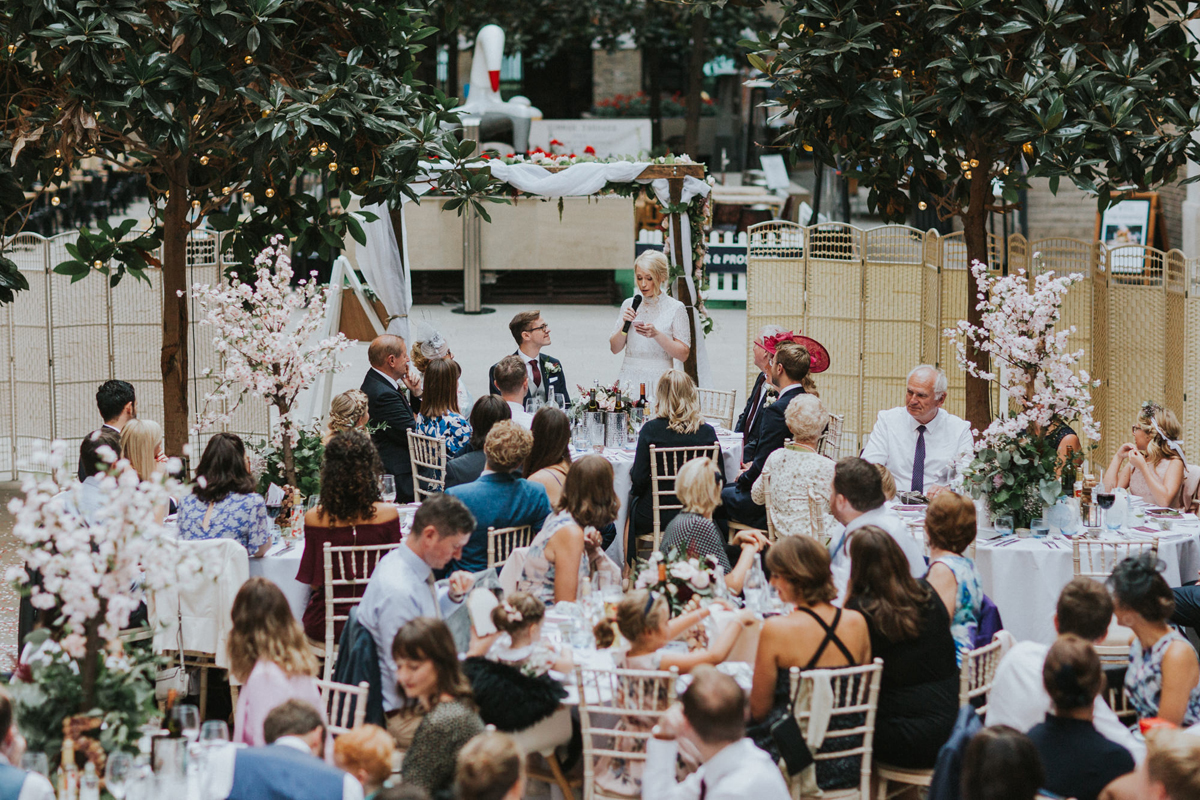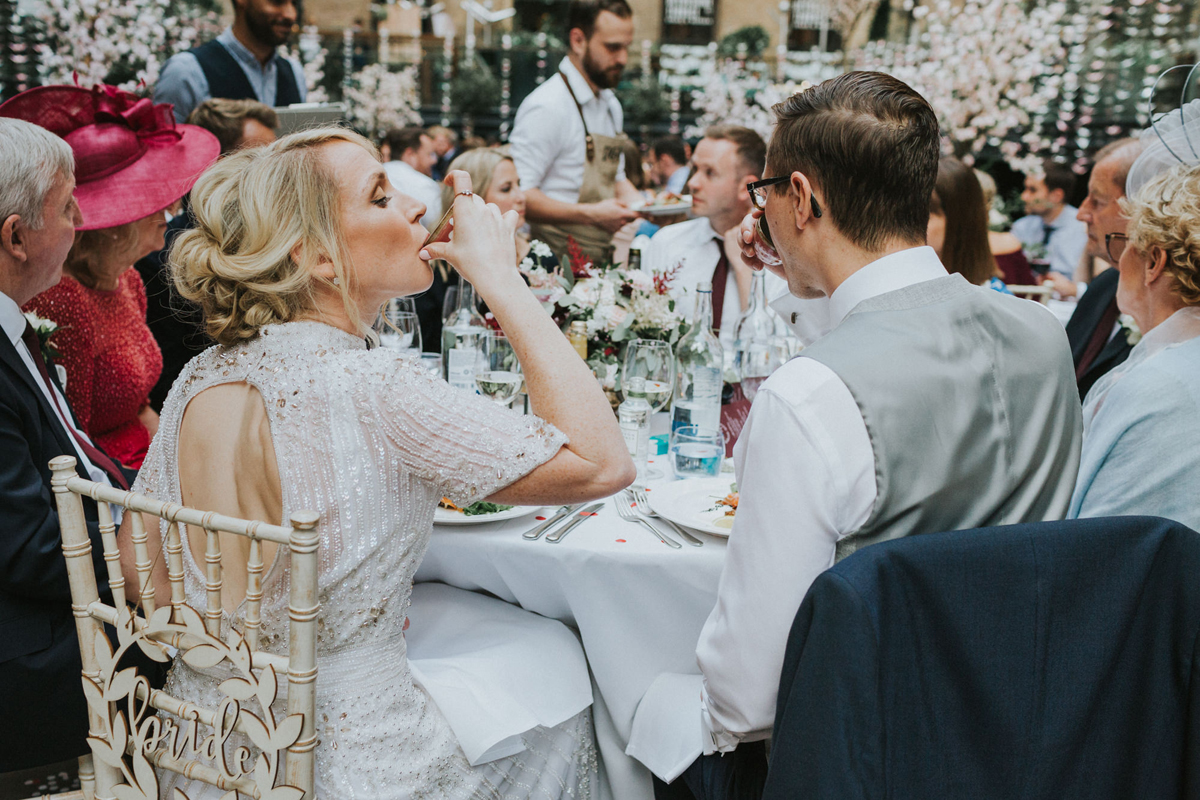 The sake cups on the tables were taken home by the guests as little wedding favours.
"We ordered these online from Japan and had them shipped over. My friend, who speaks Japanese, ordered them for us. We then bought some sparkling sake from the Japan Centre, to have in the sake cups as a toast for the bride's speech, rather than Champagne. We liked the idea of giving our guests a little reminder of Japan and our wedding."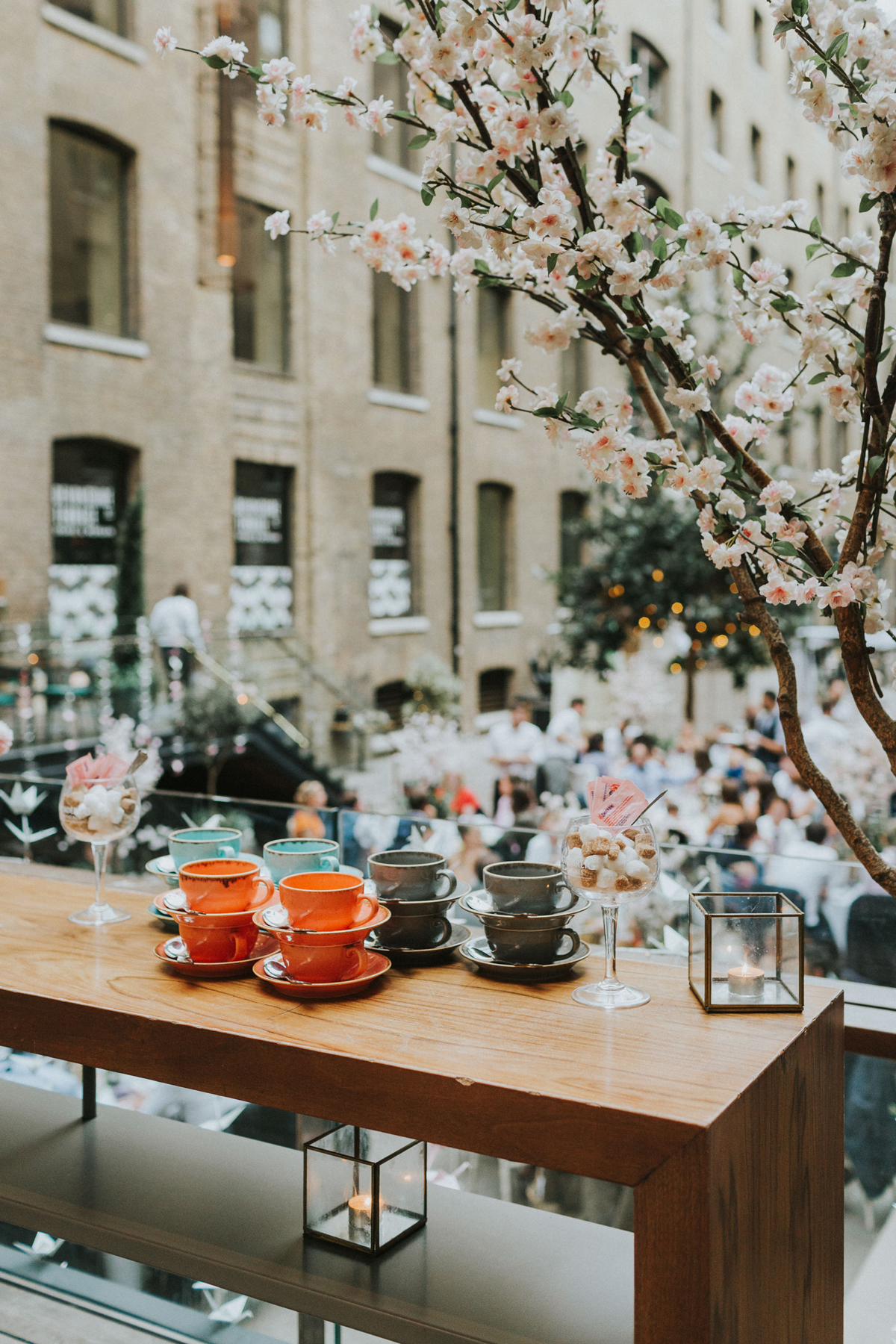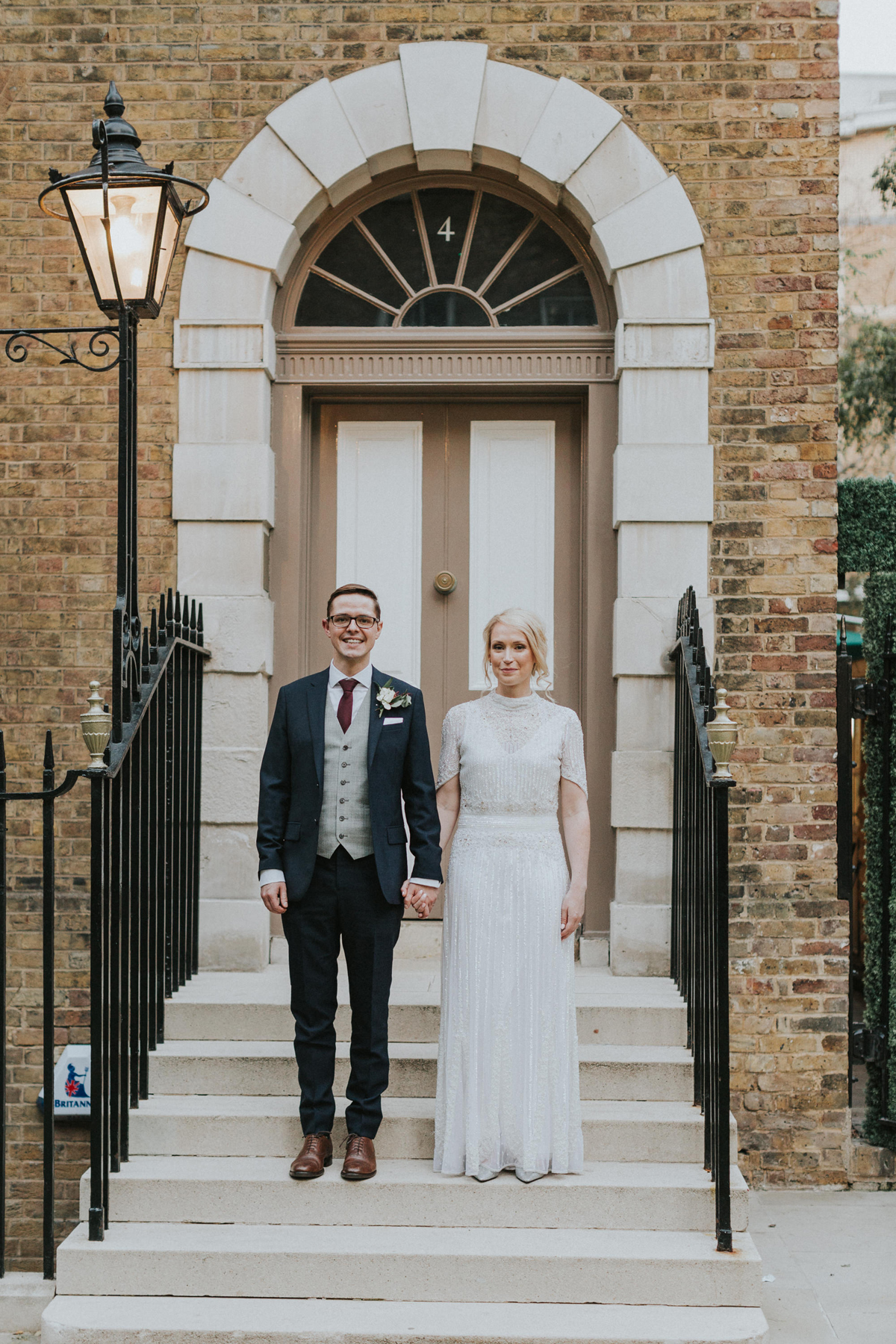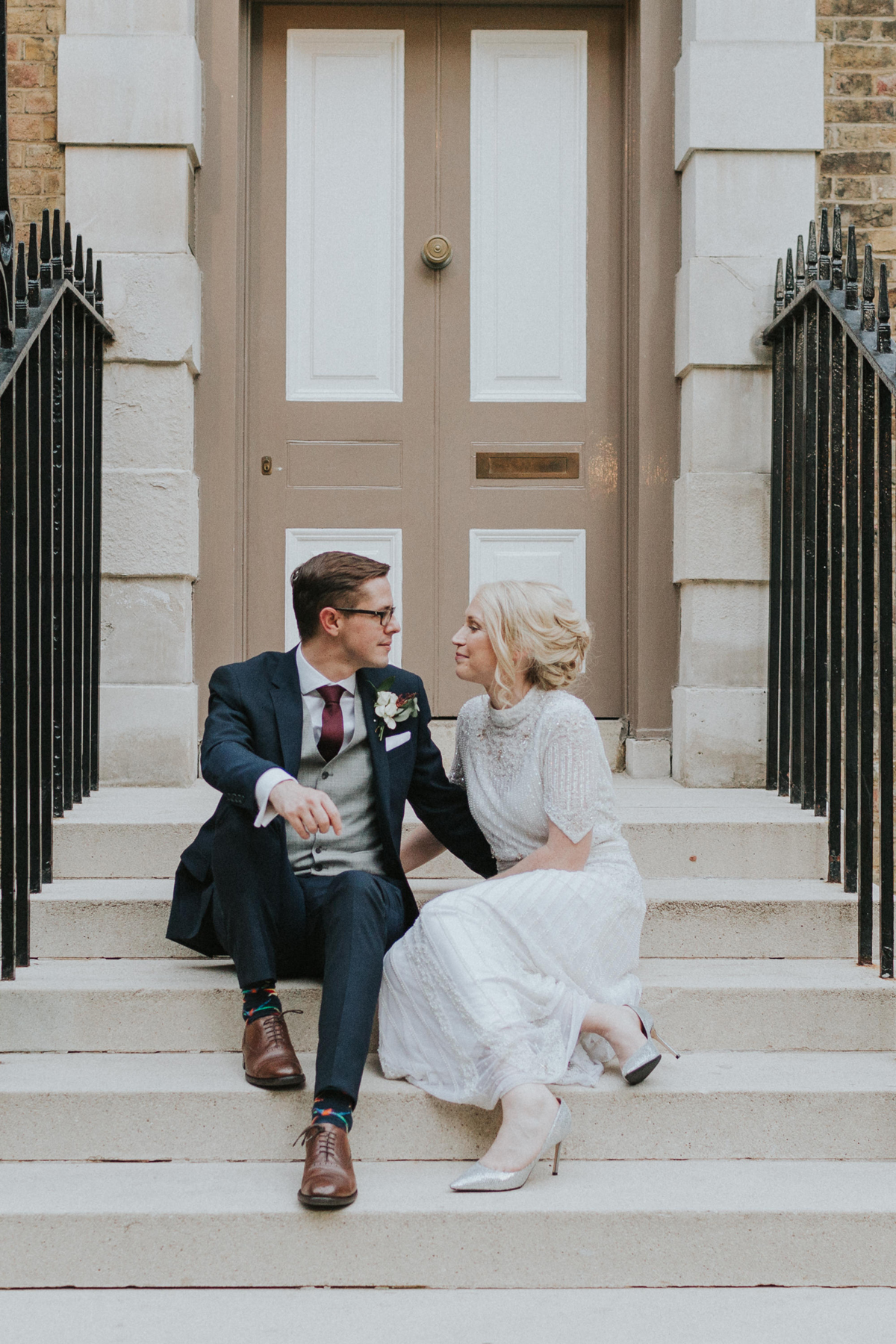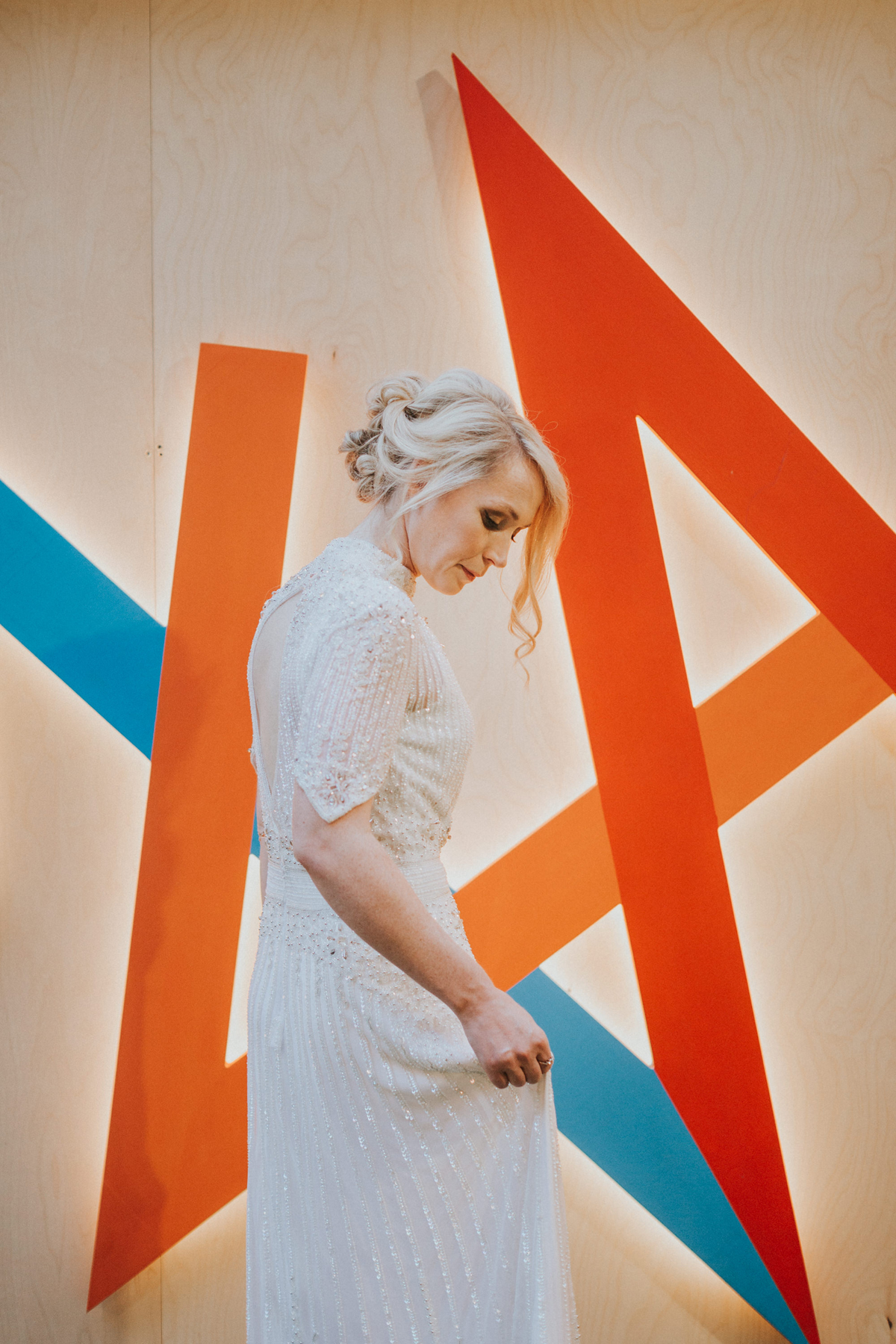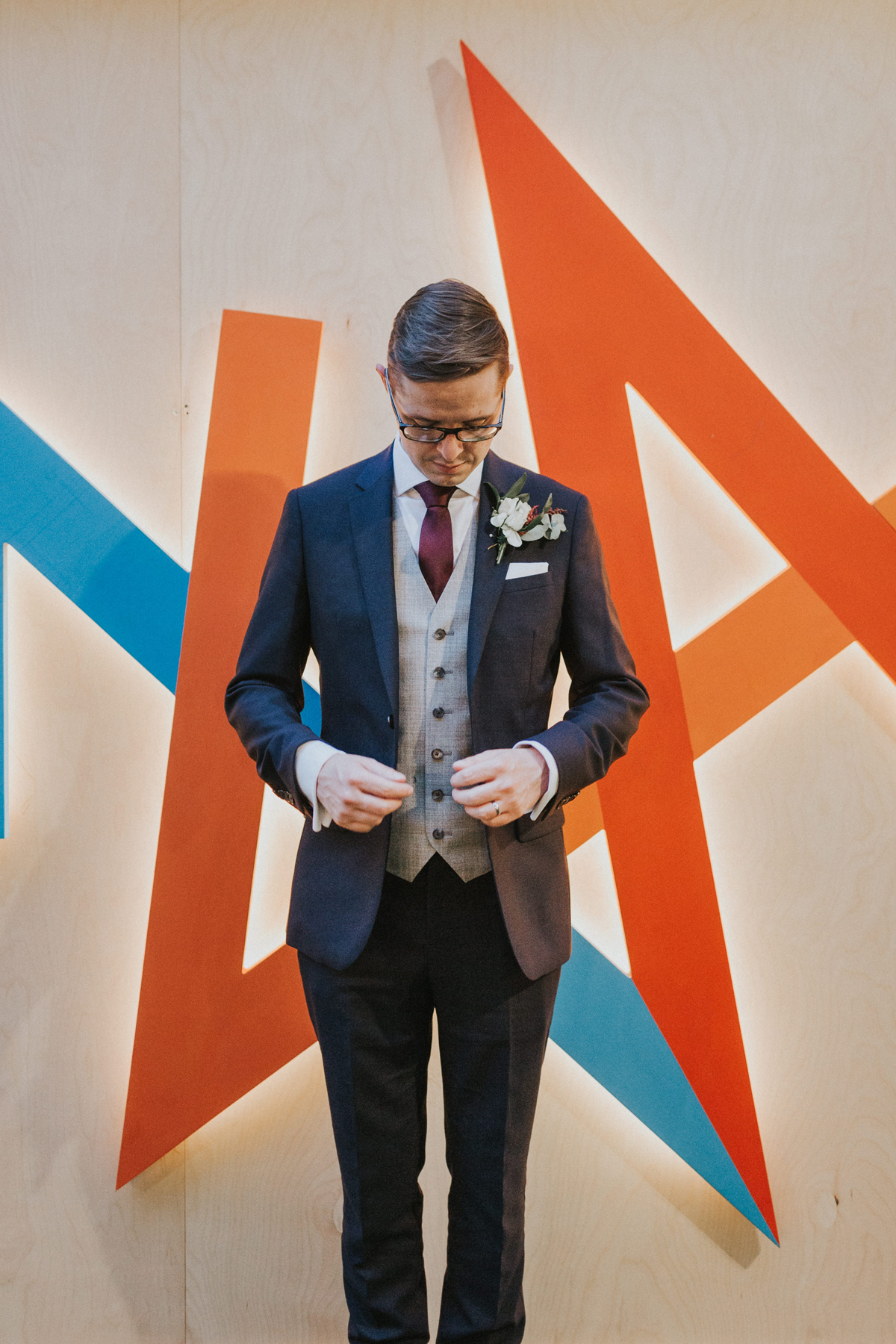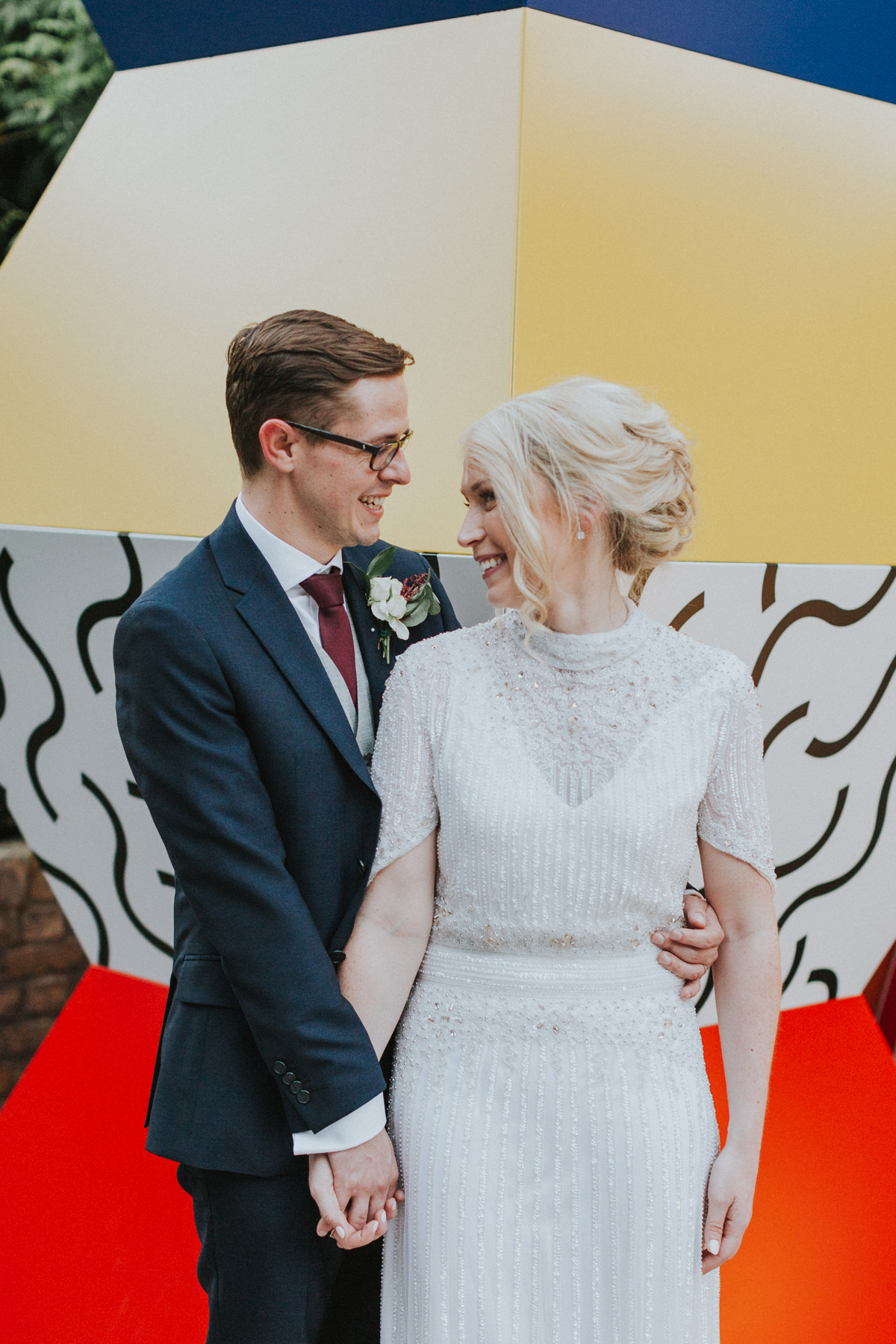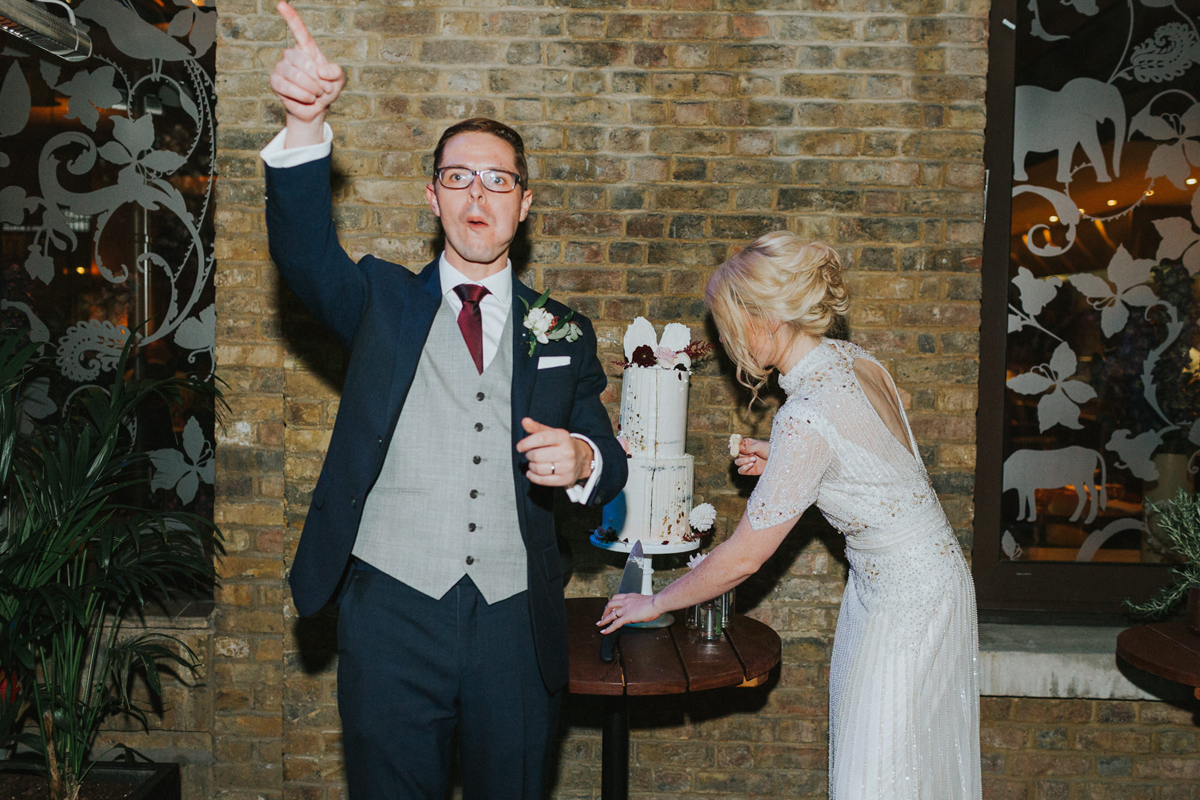 Devonshire Terrace is ideal for dancing, so the tables were cleared away to get the party started. The first dance was to Gregory Porter's 'Holding On' with the saxophone solo played by Jimmy & The Jets.
"Picking the first dance song was a hard task, as we have a lot of songs that we love and share together. Gregory Porter is a big favourite in our house so we knew we'd feel comfortable dancing and singing along to it."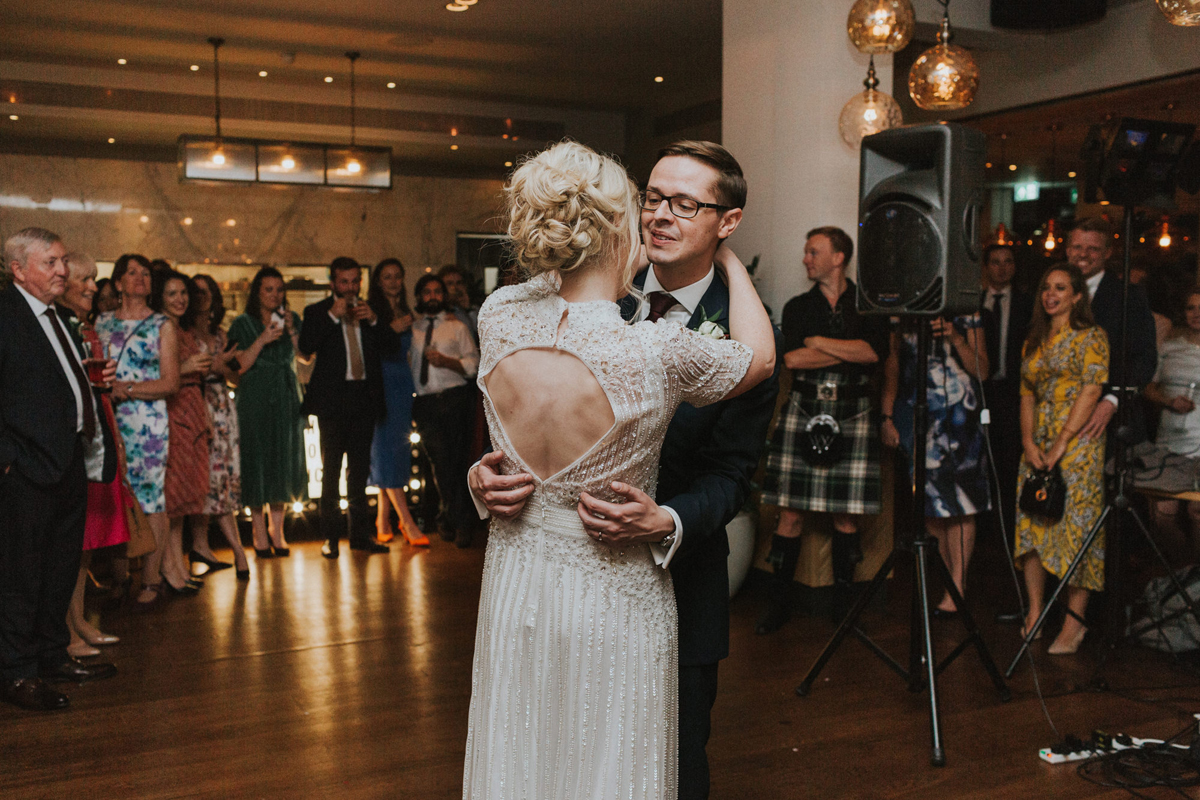 "For the evening band, and after a lot of searching online, we found Jimmy & The Jets. We thought everyone would love dancing to their 50's rock and roll style and we weren't wrong. We got so many compliments about how great they were and the dance-floor was constantly full."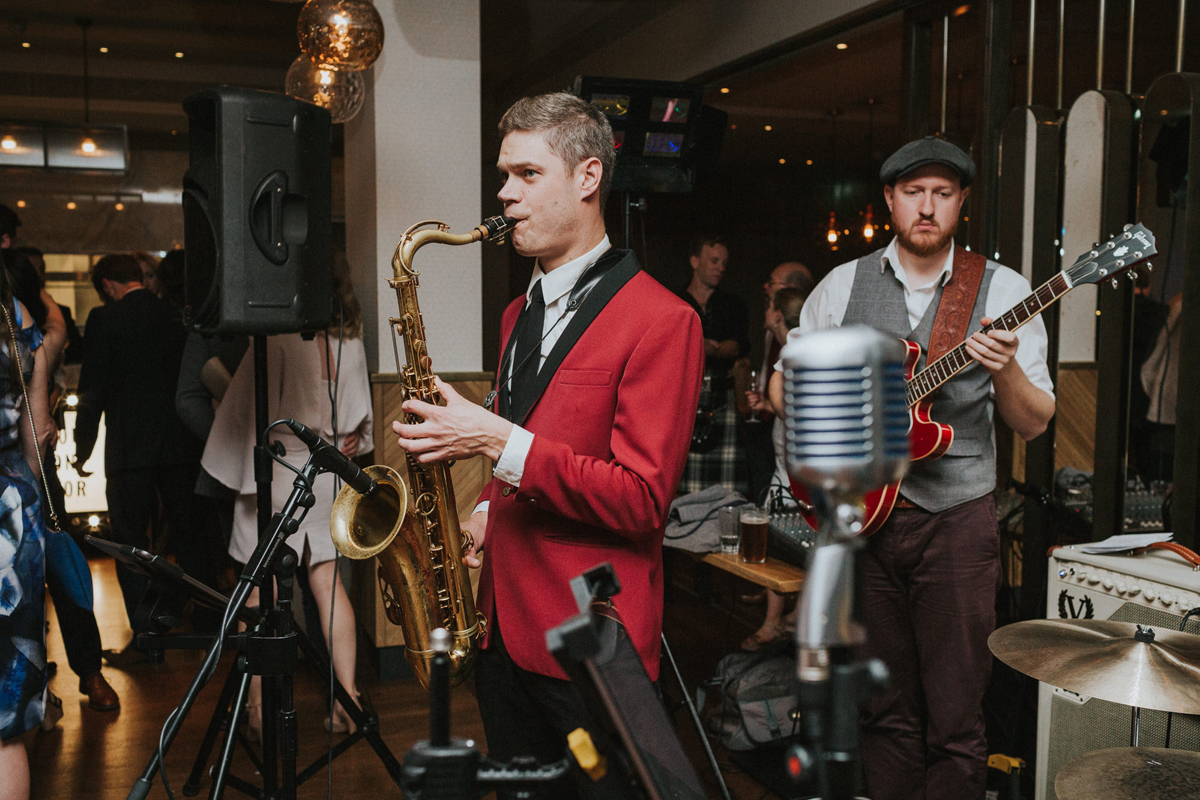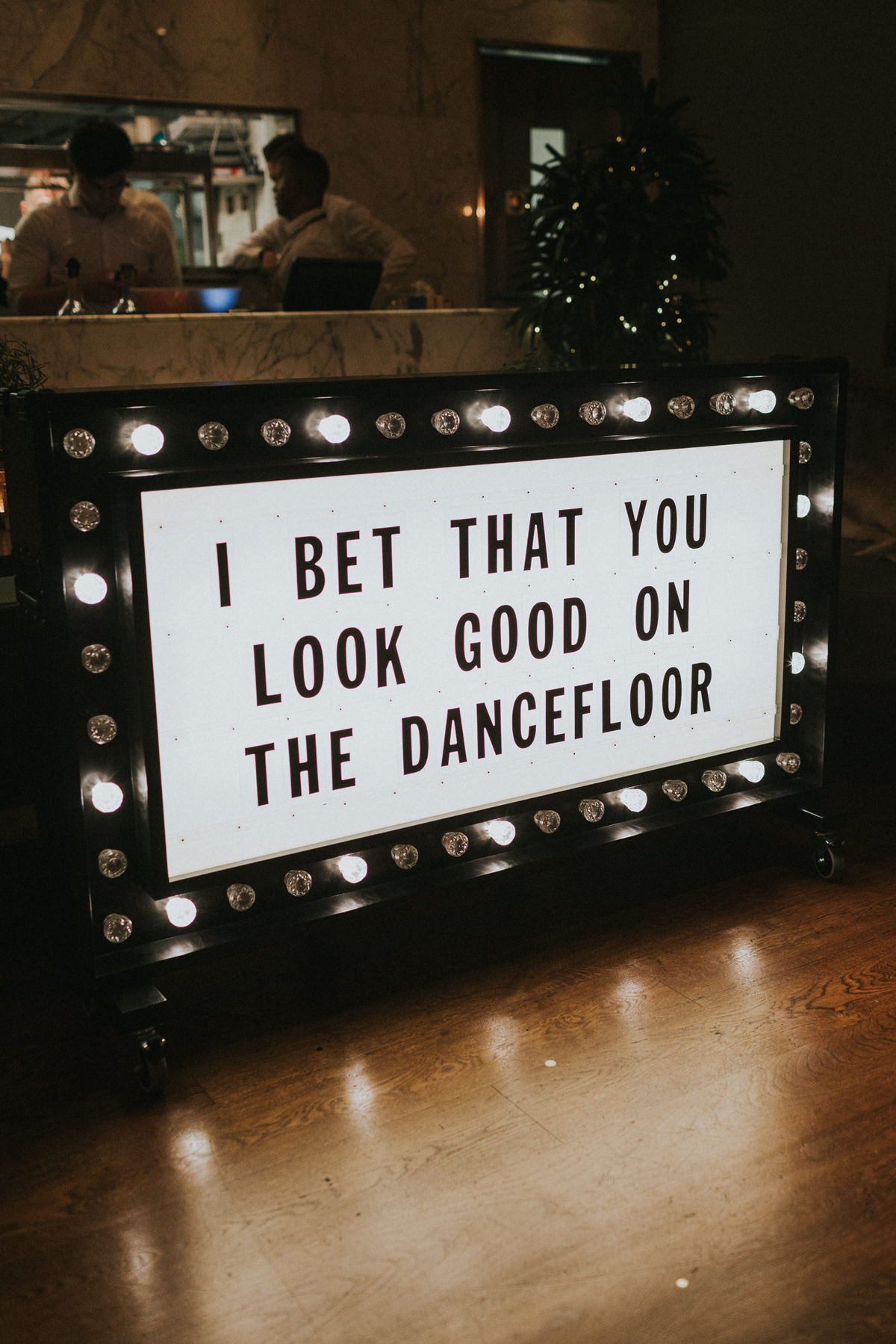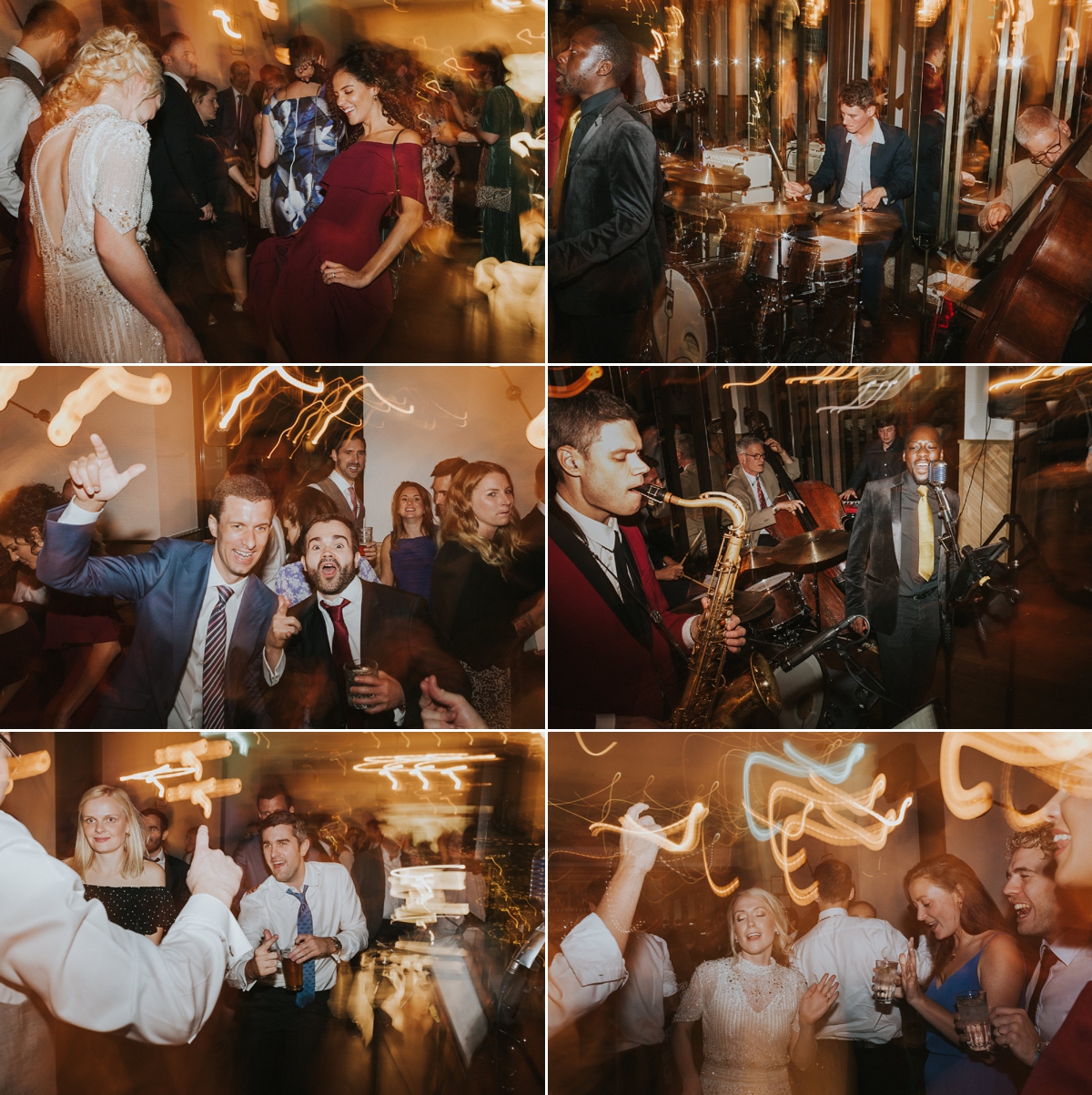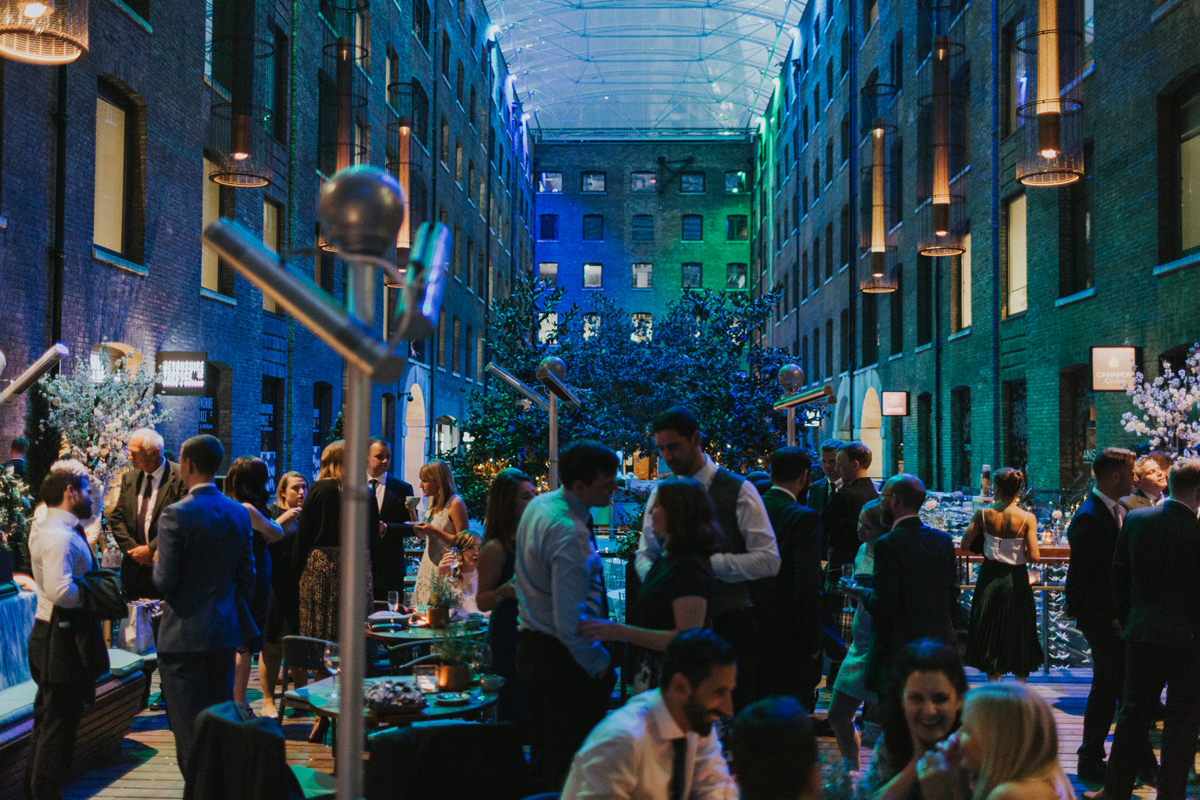 Words of Wedded Wisdom
"In hindsight, I wished I'd given myself more time to plan and practise my speech. I had a few last-minute jobs to do in the days leading up to the wedding which meant that I started writing my speech on the morning, with the help of my bridesmaids."
"I managed to steal five minutes after our photos and before the meal to practise and in the end it all went ok. But, I'd say to other brides, that if you're planning on doing a speech don't leave it to the last minute!
Our original budget was £30k, which we exceeded slightly. My parents ended up very generously paying for the meal and drinks reception, which we hadn't originally budgeted for, so I like to tell myself we were under-budget (although Michael doesn't seem to agree!)."
Oh Sinéad and Michael, so much love and thanks for sharing your day with us. I love the combination of modern and Eastern elements, which have been so skilfully captured by We Heart Pictures. Many thanks to you too for your work.
With love,
Ele xx