Dear Readers, I hope you're having a wonderful weekend wherever you might be. I'll be busily wrapping presents, shopping for a couple of last-minute items (oops) and seeing friends before a spot of festive baking ahead of travelling north to spend Christmas with my family.
Before all of that though, I have this brilliantly fun and relaxed London wedding to share with you, featuring the most stylish of gowns, a winter flower crown of dreams, lots of delicious food and wine and some truly beautiful handmade elements.
Meet Faye, a Senior Account Director for an advertising agency and Jimmy, a consultant for an IT company, who celebrated their marriage on the 22 December 2017 (happy anniversary!). They held their ceremony in the elegant Art Deco surroundings of Stoke Newington Town Hall in north east London followed by a reception in the wonderful Clapton Country Club, a former tram shed turned event space, lovingly filled with reclaimed and recycled materials.
Images by Eclection Photography
These modern, fun and fresh images come to us courtesy of Eclection Photography, who can be found on our directory of talented and trusted wedding suppliers, Little Book, and whom Faye and Jimmy discovered through Love My Dress.
"I found Heather's portfolio online and fell in love with her ability to capture beautiful photographs in an urban environment. They're not just stylish but there's a nod of individuality / personality to each picture –something funny or cute, or even awkward that (in our case) felt true to us. Nothing formal or staged, but still elevated above a 'snap'."
The fantastic, quirky stationery was designed by Faye's friend, illustrator Nelli Gronroos, and the couple rented a 'Til Death Us Do Party' sign, which was hung from the ceiling from Vowed and Amazed.
"We were really lucky to have lots of very talented friends that helped – my Mum made the cake, our close friend illustrated the wedding stationery, Jimmy's brother brewed the ales, a friend is an amazing chef and catered the wedding. My bridesmaids spent hours making Christmas crackers. Without them there's no way we would've had the mind-blowing day we did."
On her feet Faye wore a fantastic pair of sparkly silver block heels with rhinestones from & Other Stories. She also wore her everyday perfume, Jo Malone's Wood Sage and Sea Salt.
"I had my Mum's diamond earrings that I pinched when I was 18, but I don't think anybody would've noticed them! I wore nearly black nail varnish, which I loved!"
I've written about quite a few Rime Arodaky brides so far this year, and have been consistently impressed by the contemporary cool of their designs. Faye chose her Rime Arodaky gown – the 'Olsen', with its amazing contrasting lace chevron design and low scoop back from The Mews Bridal in Notting Hill.
"I wanted a dress with sleeves and I really wanted something a bit more modern that still felt timeless."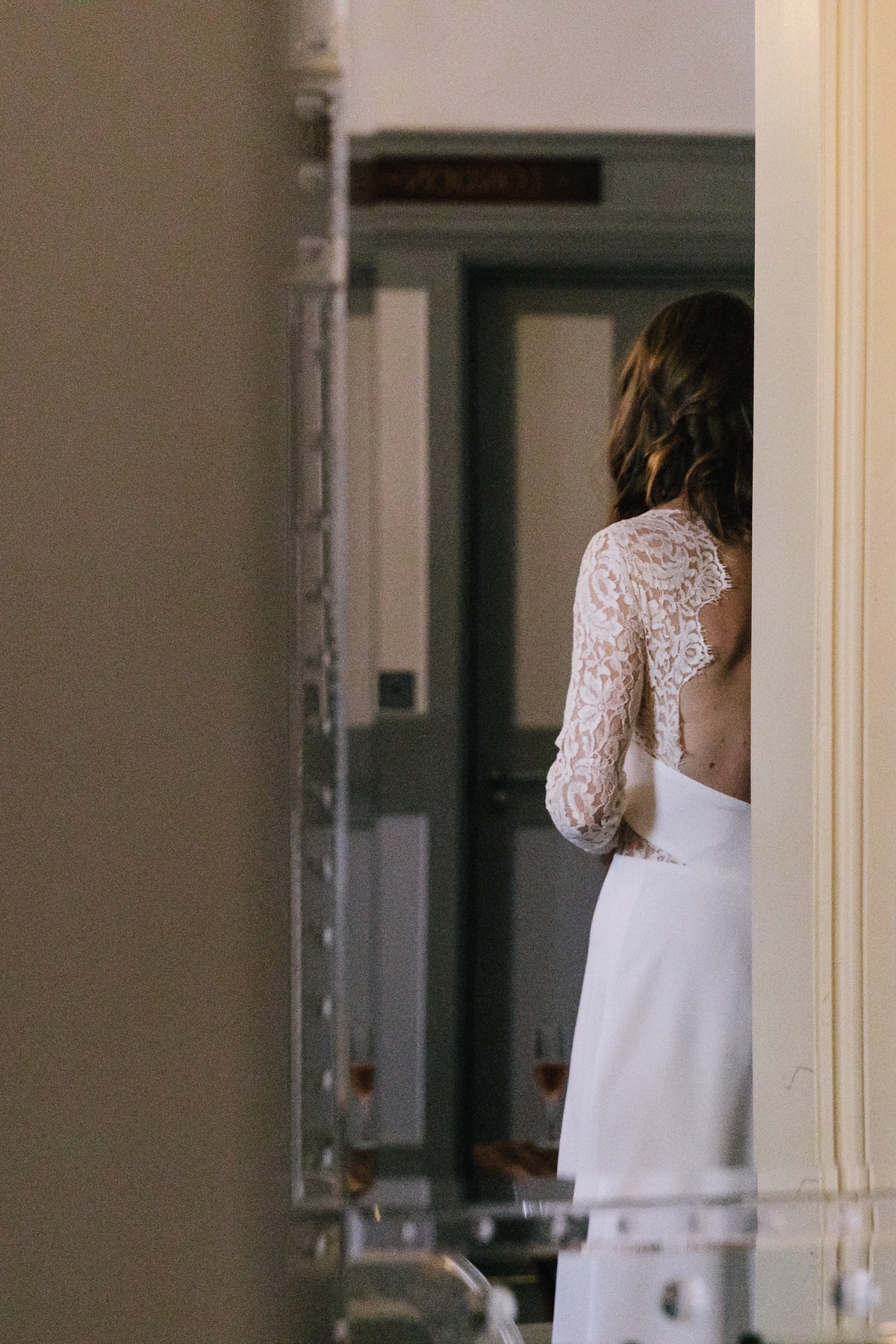 Gorgeous hair and make-up came courtesy of Rebecca Lloyd, with whom Faye had the best time getting ready with on the morning of the wedding.
"Rebecca was AMAZING! I can't believe how lucky we were to have such fab people with us on the day. We had a proper giggle and she entirely understood that I didn't want to look like I had a loads of make up on. She individually applied hand cut false eyelashes so they weren't any longer than my own – but gave me a bit more definition."
I love the asymmetric design of Faye's floral crown in shades of winter white with lovely greenery and timeless wax flowers. This, and all the lovely flowers for the day were created by the wonderfully named Petalon.
"We toyed with getting married in the South of France (Jimmy's parents live there so we spend a lot of time there and love it) but after looking at a few venues we just felt like a London wedding was more 'us'. Neither of us are from London but we met here and we want to live here as long as we can possibly afford to."
[JP-VIDEO]
"So as soon as we made that decision it was easy – we wanted somewhere that felt like the London we love, and as soon as we walked into Clapton Country Club we knew it was right. It feels like your favourite local but with a little more grandeur to it."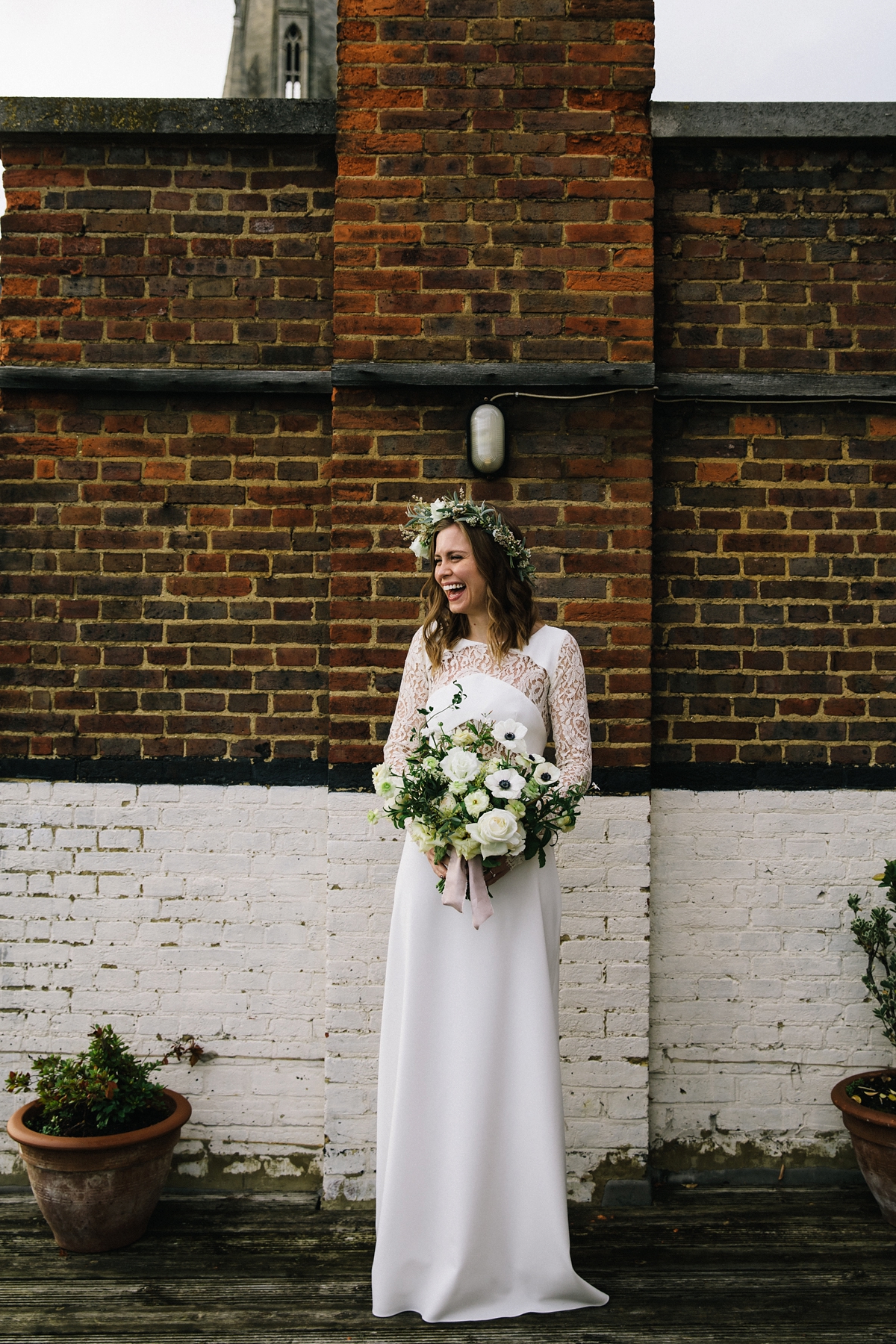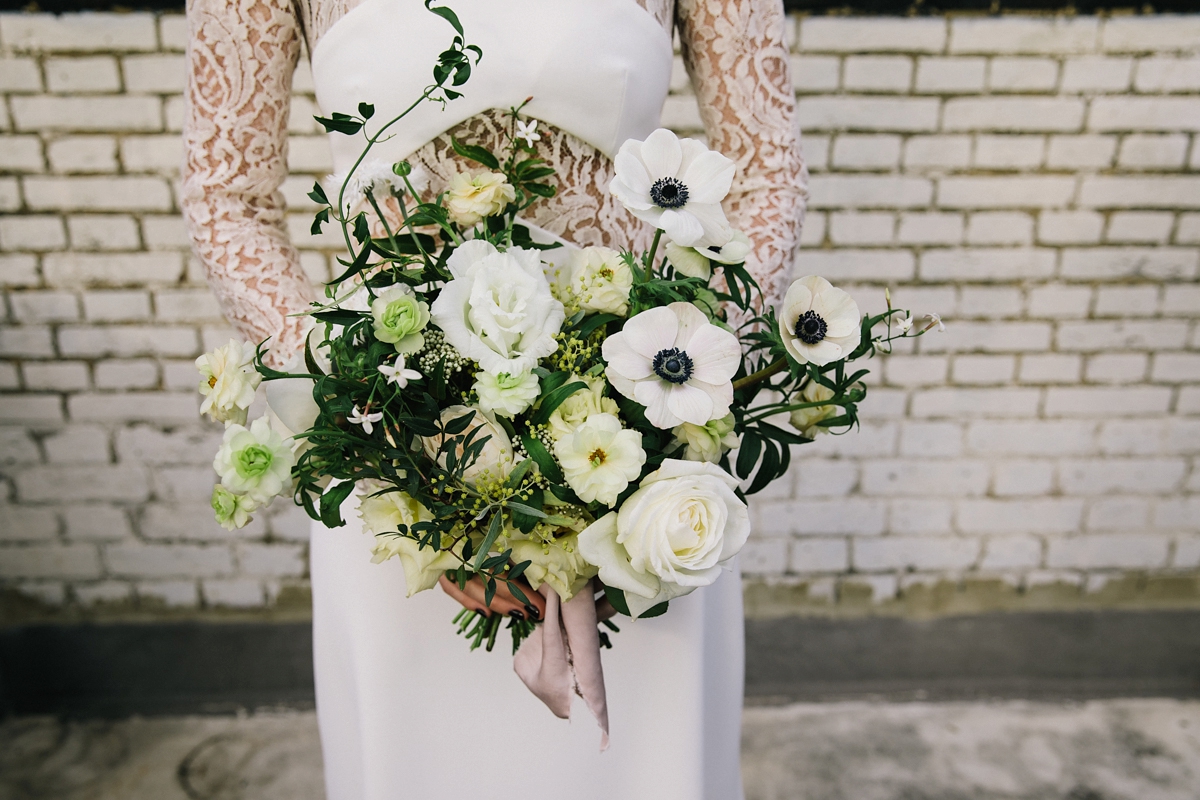 The bridesmaids wore their own choice of silver shoes and boots paired with navy blue wrap dresses from H&M.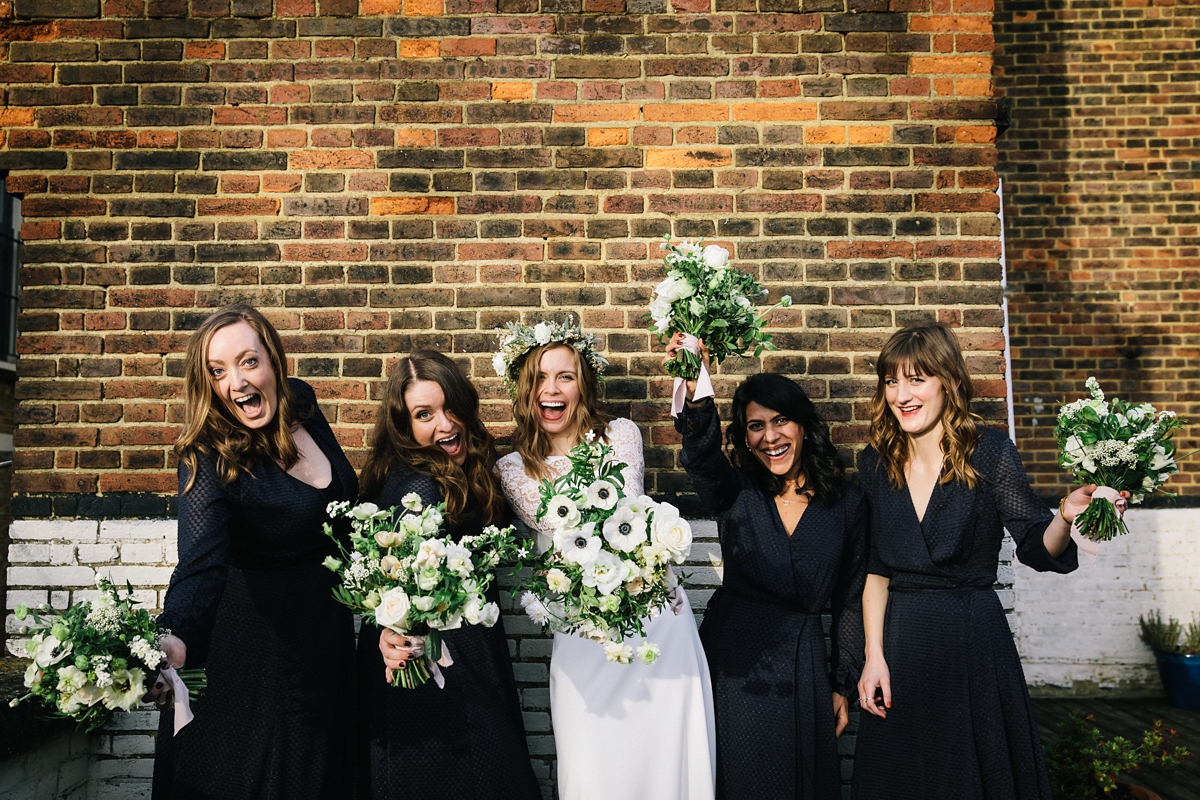 "We just wanted something simple and relaxed. Nothing stuffy or formal, we wanted everyone to have fun and be themselves. I think the most important thing for us was that there were some personal touches, and (maybe most importantly) that the food and wine were incredible. We are both self-proclaimed 'foodies' so that was the bit we didn't want to scrimp on."
"I am a bit of an over-thinker but I honestly didn't even think about the photographs on the day because Heather was so perfectly in charge. Present but not in the way, piping up with valuable advice (i.e. to take our bouquets out the water in good time) and managing to get amazing photos out of two giddy people. And importantly I didn't feel like we spent hours away from our guests having staged photographs taken."
"We just went for a really fun ten minute wander around and Heather managed to work her magic with that. Heather not only made my day, she made the days after the wedding. Almost a year later I still find myself casually scrolling through the album online every other day. I love the pictures and the memories they come with so much."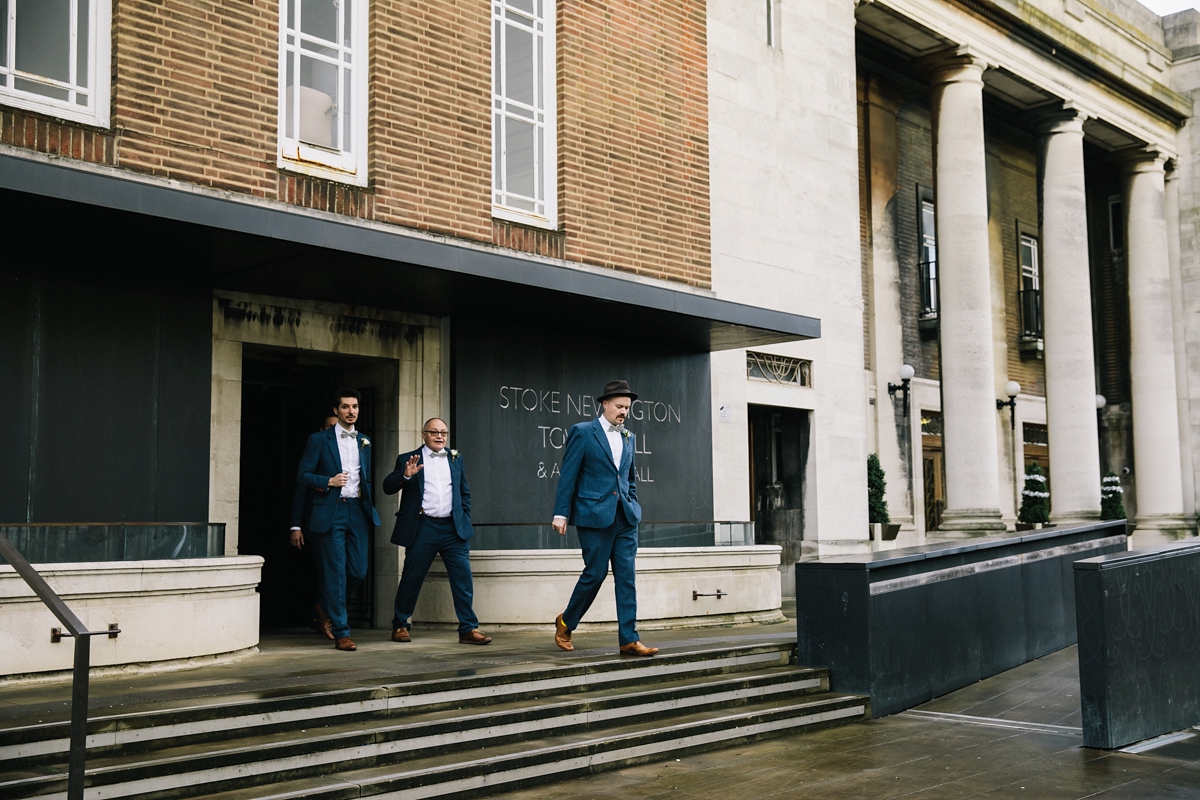 Jimmy and his groomsmen wore matching blue suits from Vintage Suit Hire, each with funky printed bow ties.
"We were in the same friendship circle, so technically we knew each for years before we got together. In reality we were just at the same parties but didn't really say anything more than hello and goodbye."
"And then one New Years Eve (maybe 2012?) we just seemed to hit it off and we stayed up chatting until about 5am. Not long after that Jimmy bought a ticket to a festival I was going…That festival was the start of it all. Happiest weekend ever."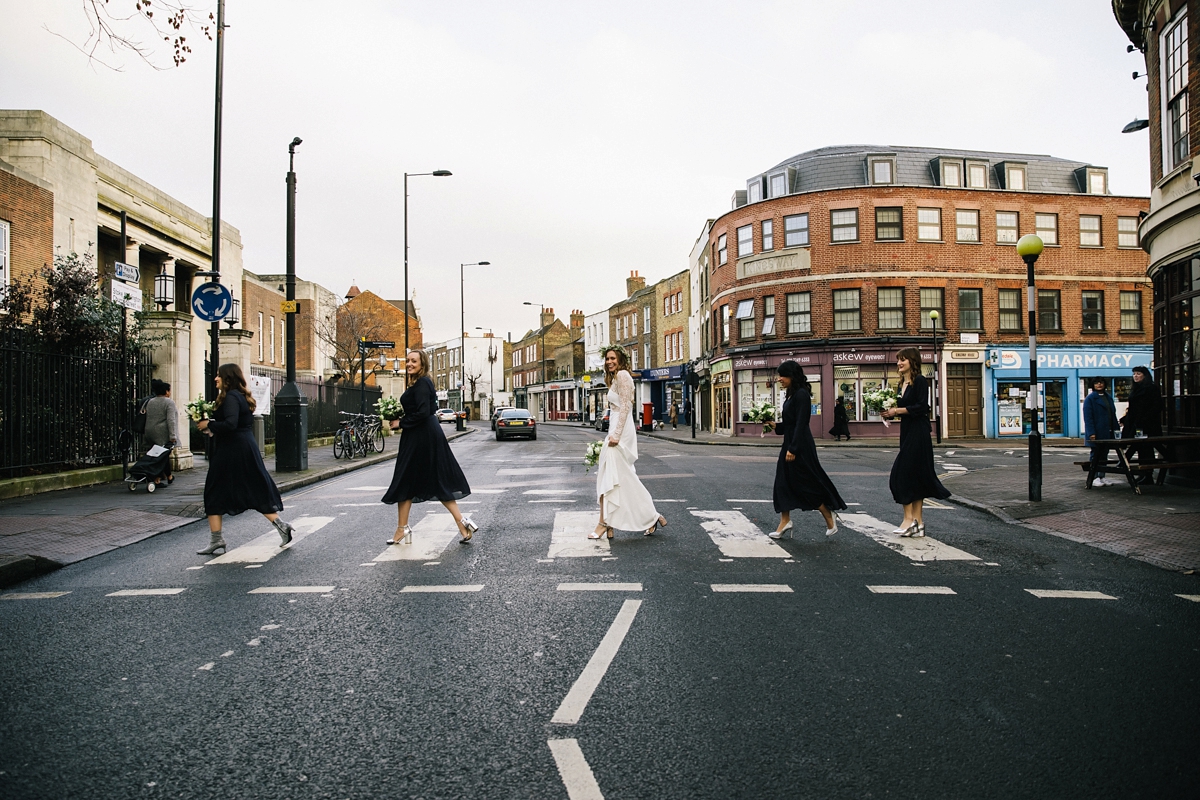 Faye walked down the aisle accompanied by her lovely dad, Stephen, to an instrumental version of the song There She Goes by The La's.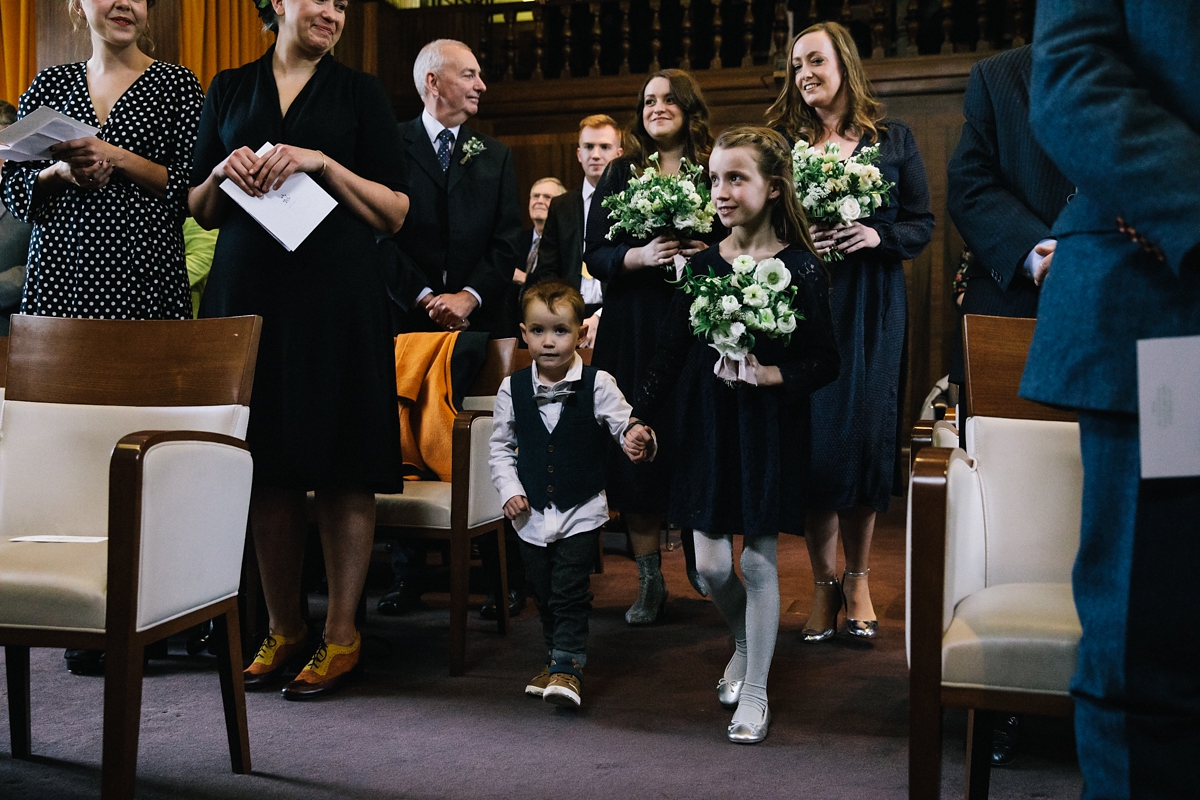 "We didn't tailor vows ourselves but the registrar asked us questions and built in some really lovely mentions of our cat, Hamish. He's a little terror that keeps us up all night, so that got a few giggles."
Faye chose her wedding ring from Tiffany & Co and Jimmy went for a black carbon fibre ring from an Etsy based designer (no further details supplied).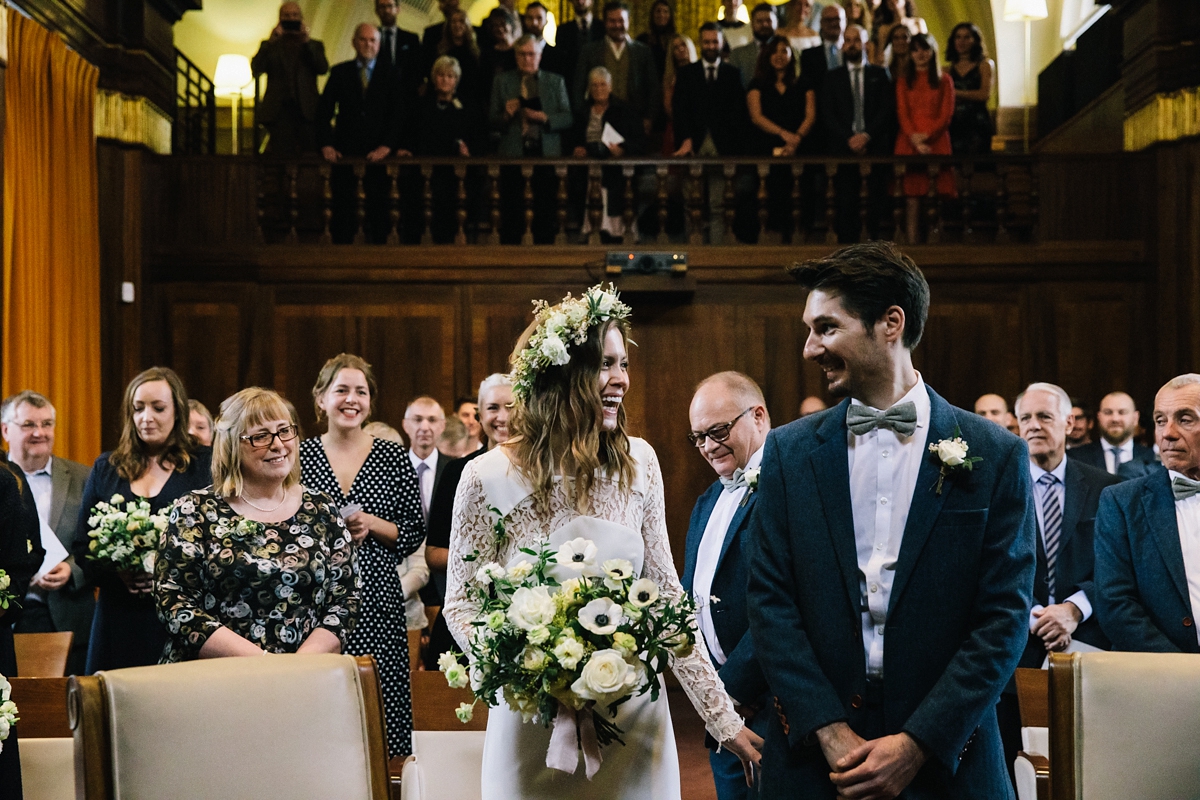 The couple chose two readings for the ceremony, wanting something heartwarming but also funny and not too serious. They chose Yes, I'll Marry You by Pam Ayres and Edward Monkton's A Lovely Love Story.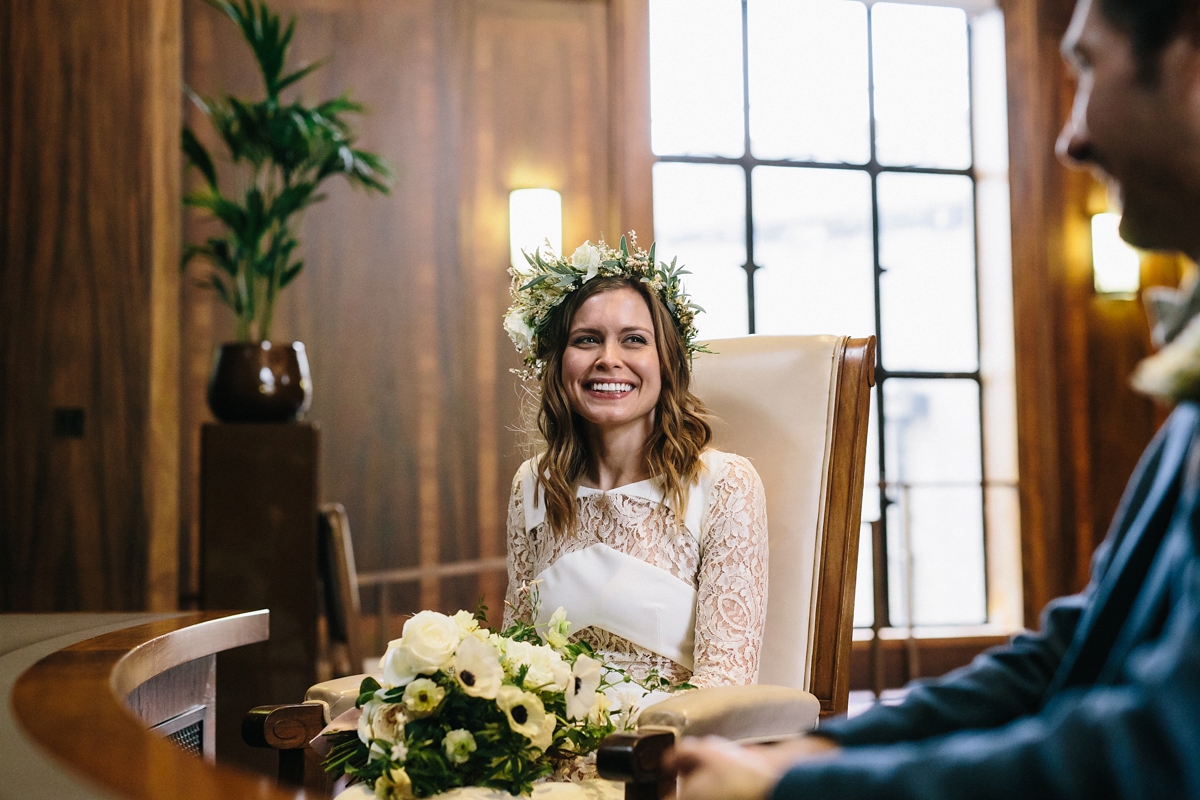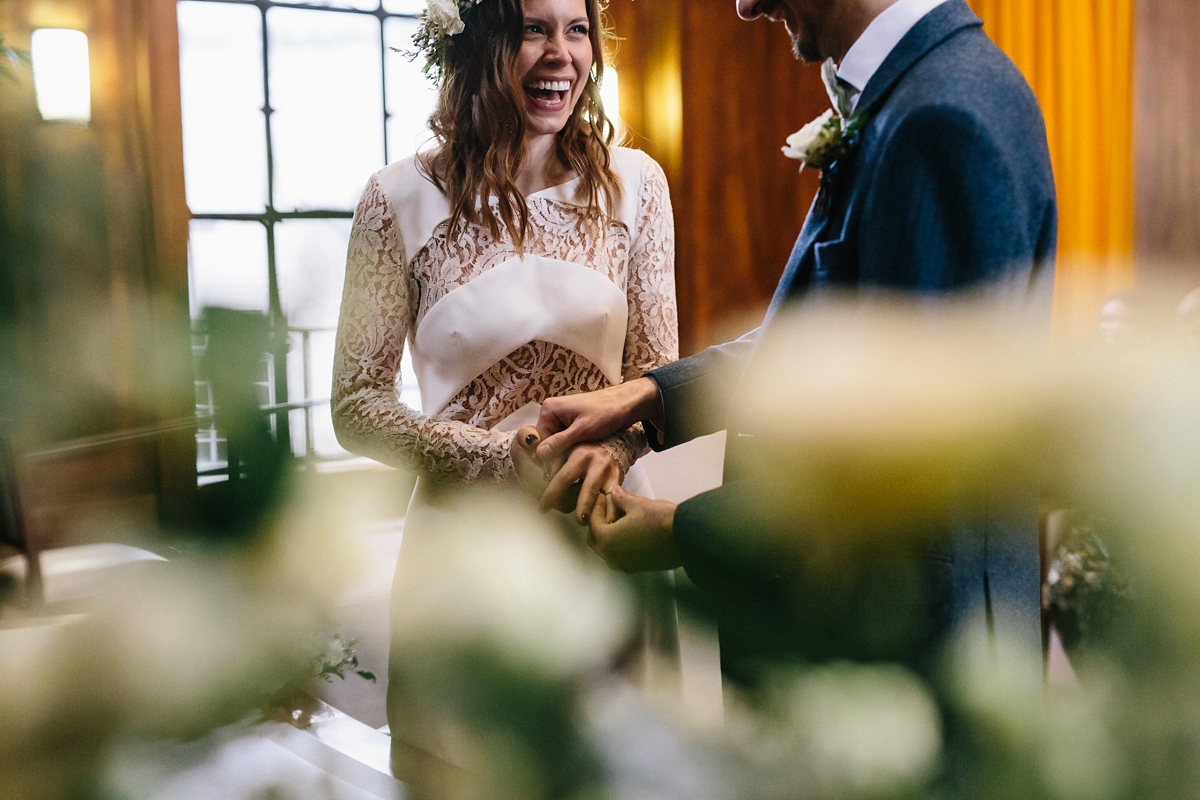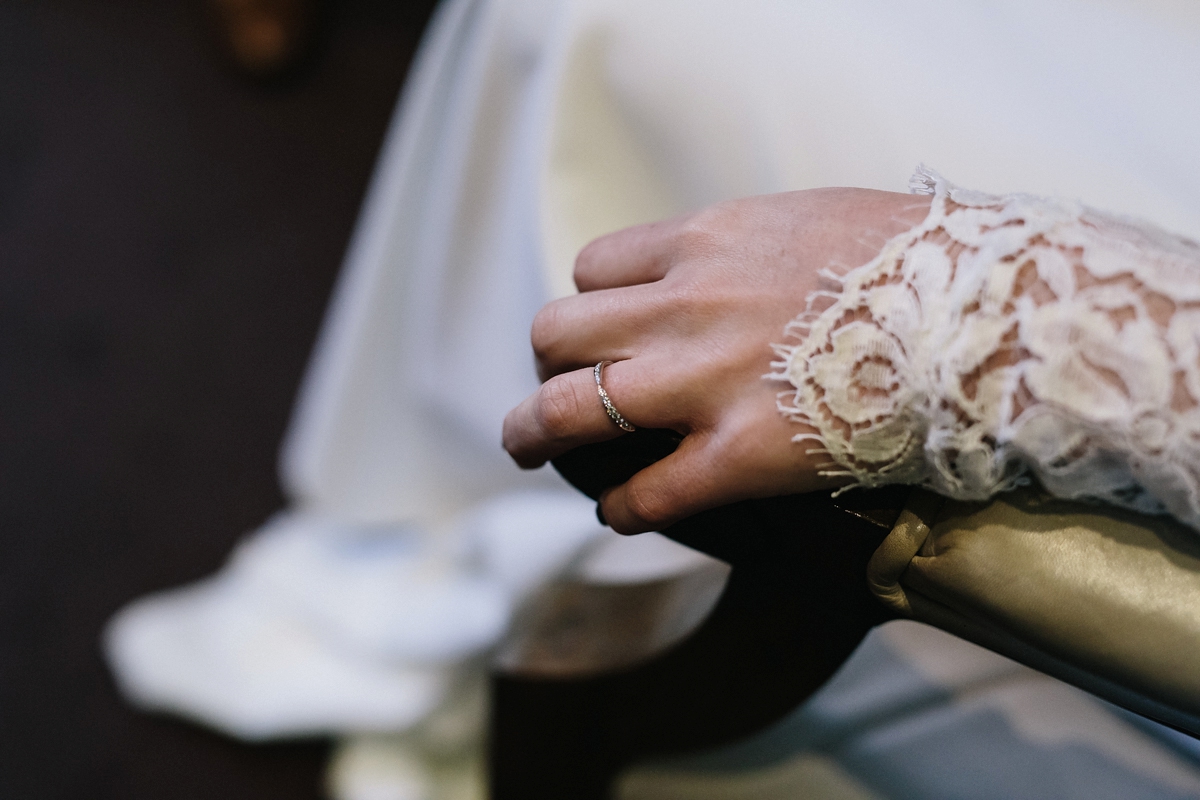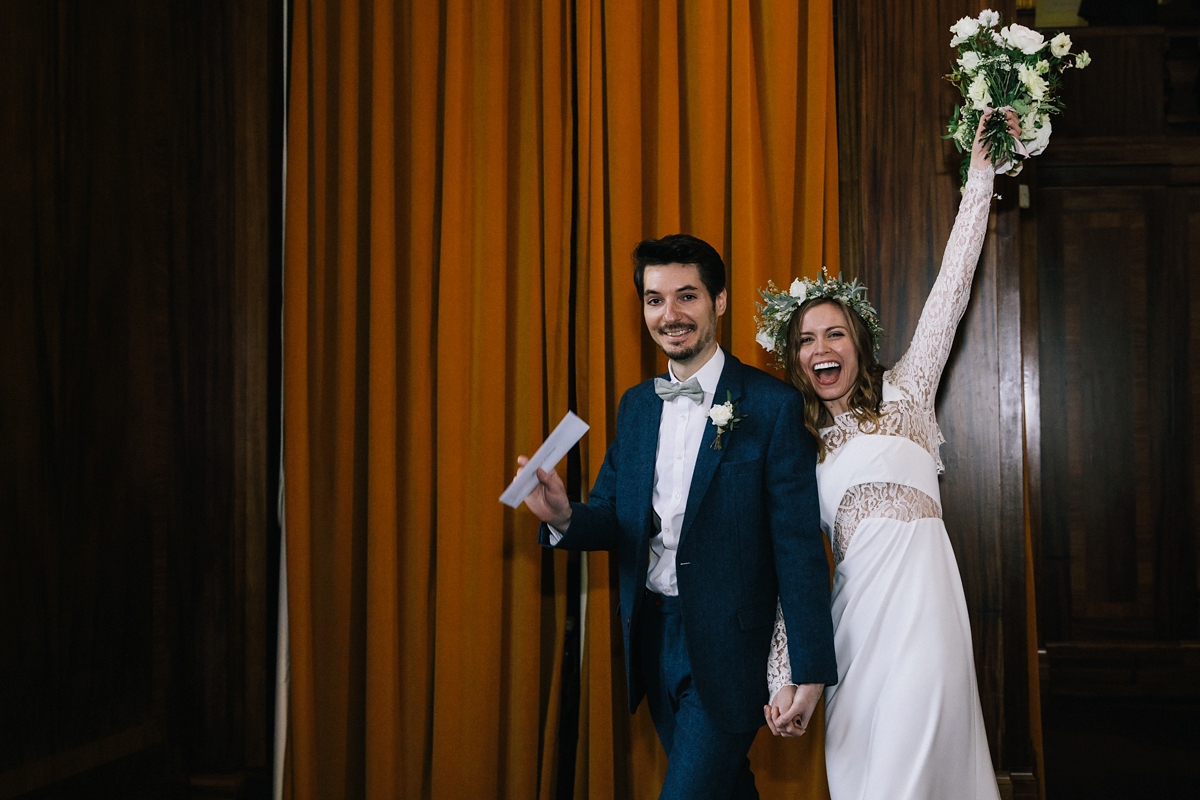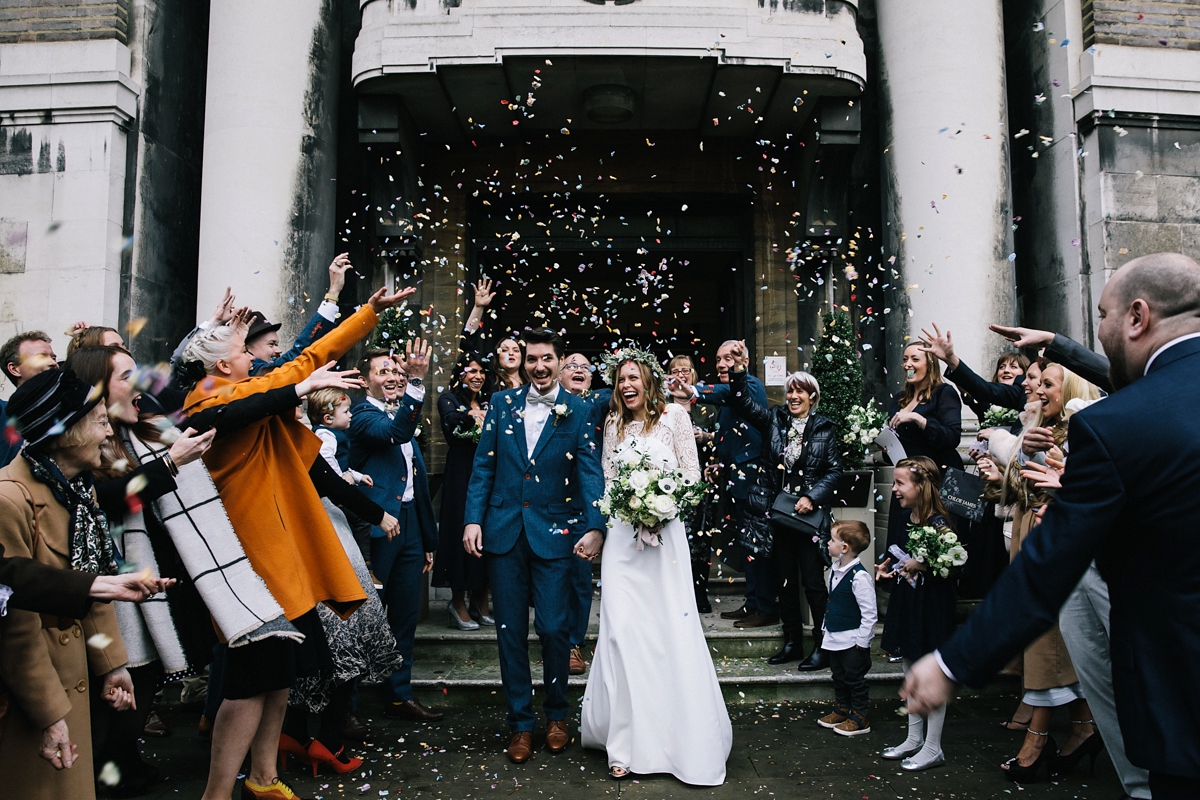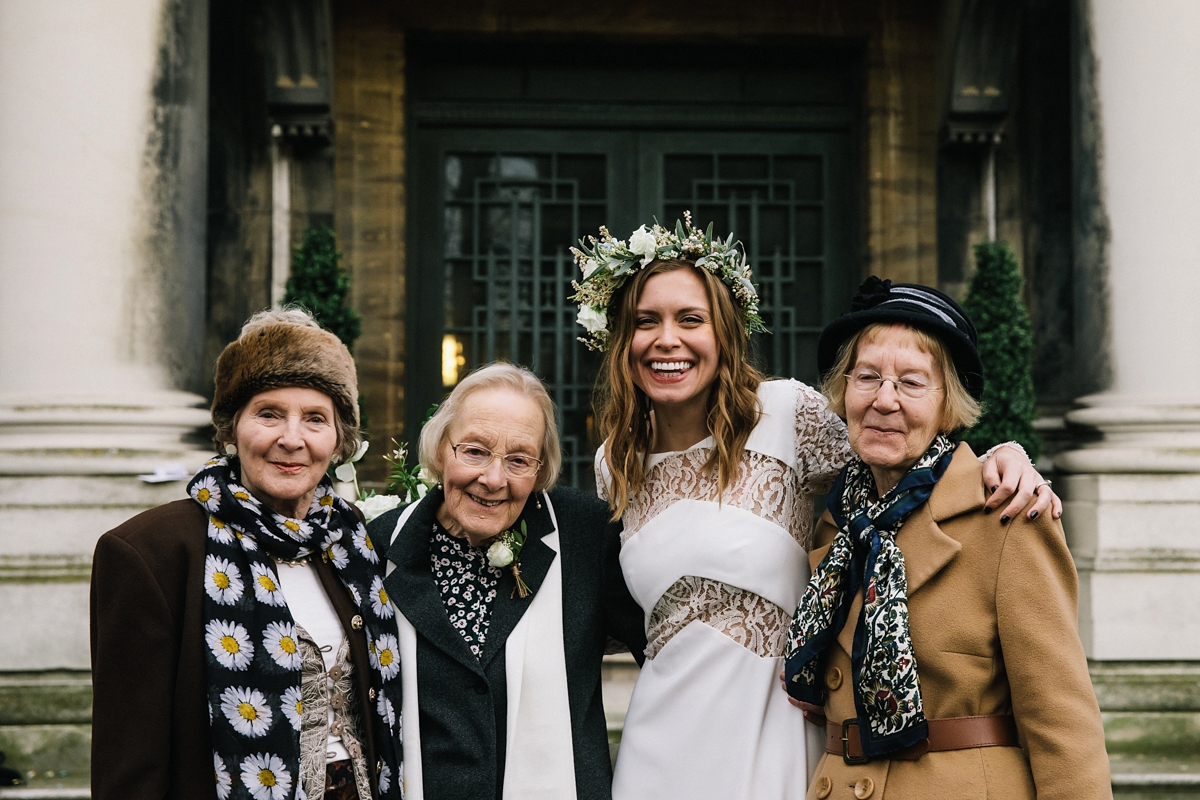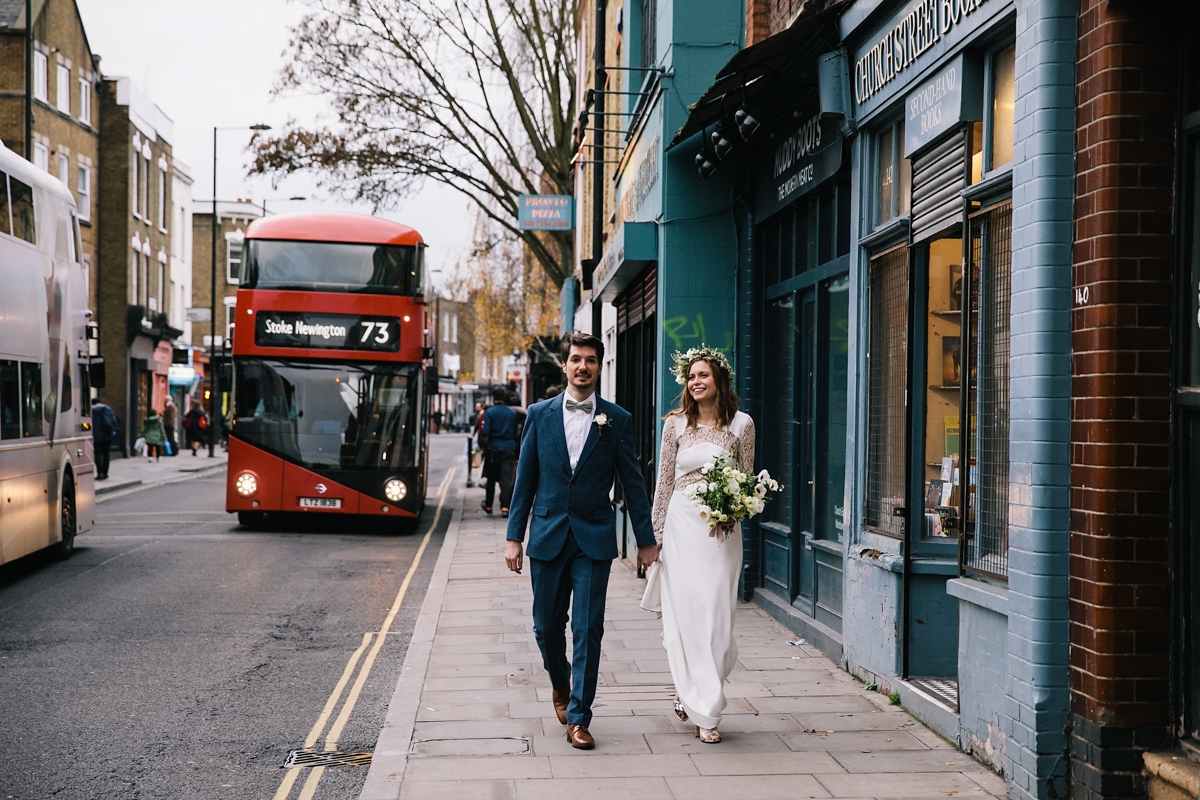 After the ceremony everyone boarded a red vintage Routemaster double-decker bus (sadly no hire details supplied) for the journey over to Clapton Country Club, enjoying shots of warming homemade sloe gin on the way!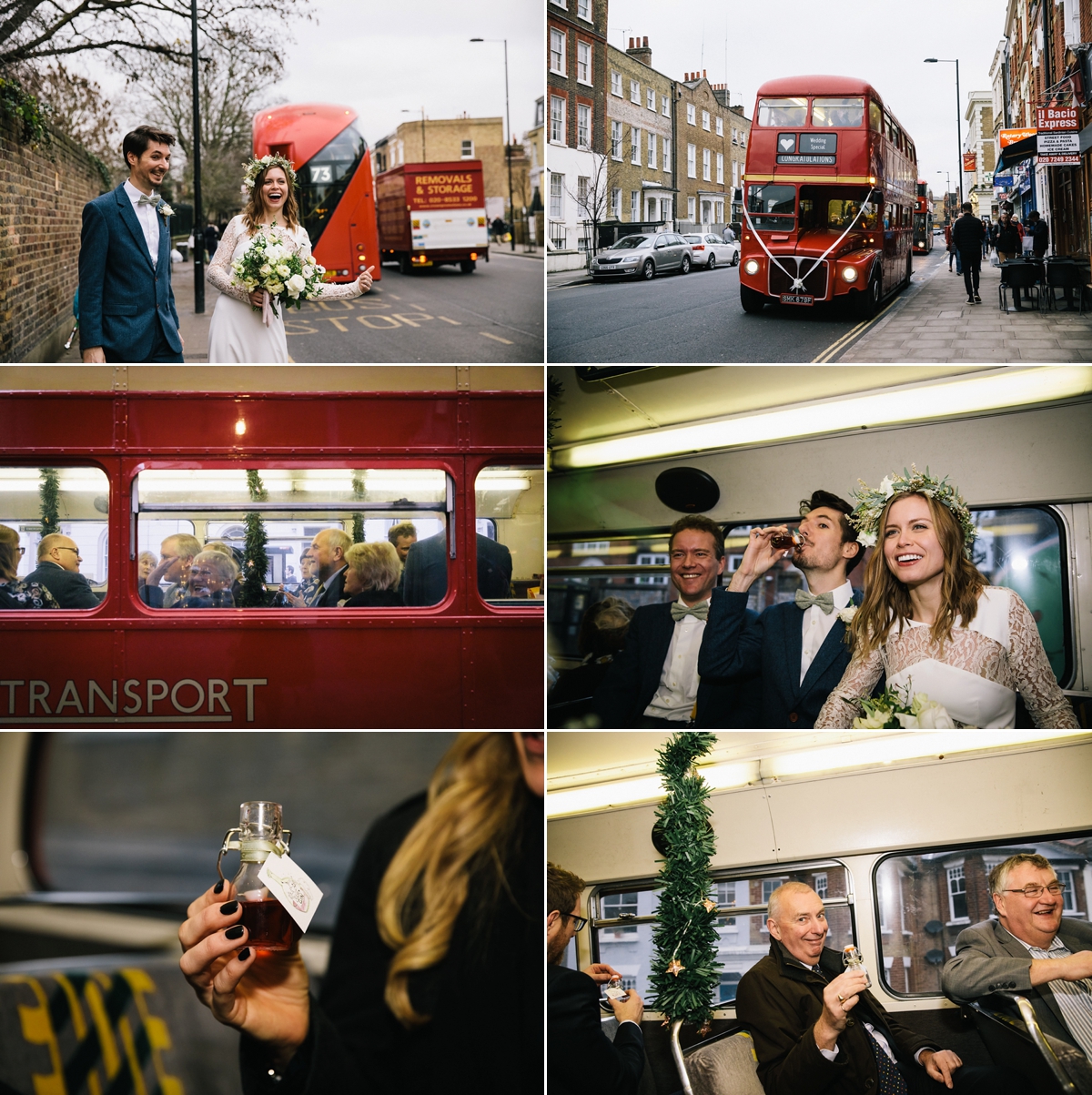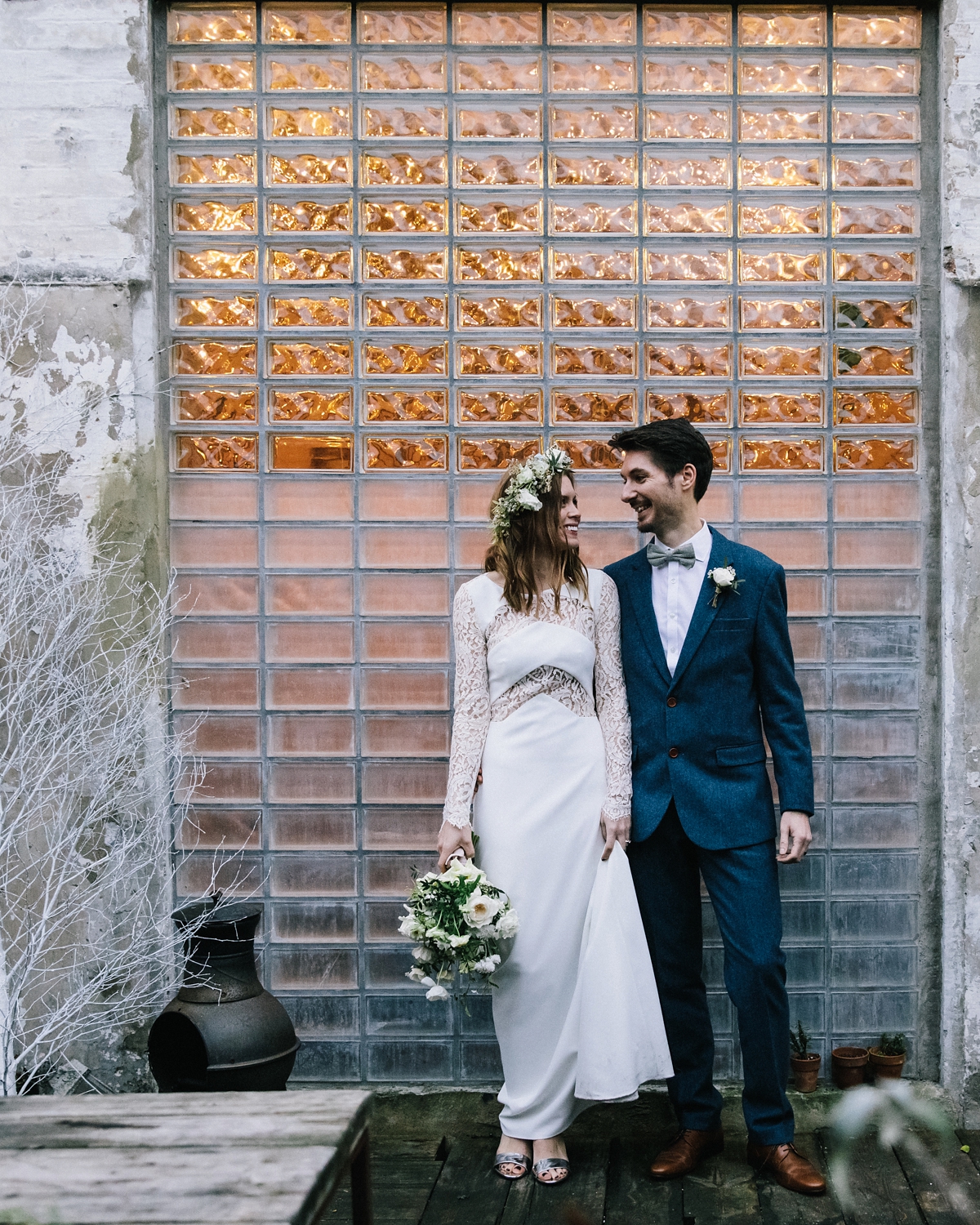 The interiors of the country club are ultra cool and industrial but still incredibly cosy and inviting too, with weathered pillars and brick and beautiful wooden panelling and floorboards. The space was laid out with long tables for feasting beneath festoon lights and a twinkling Christmas tree.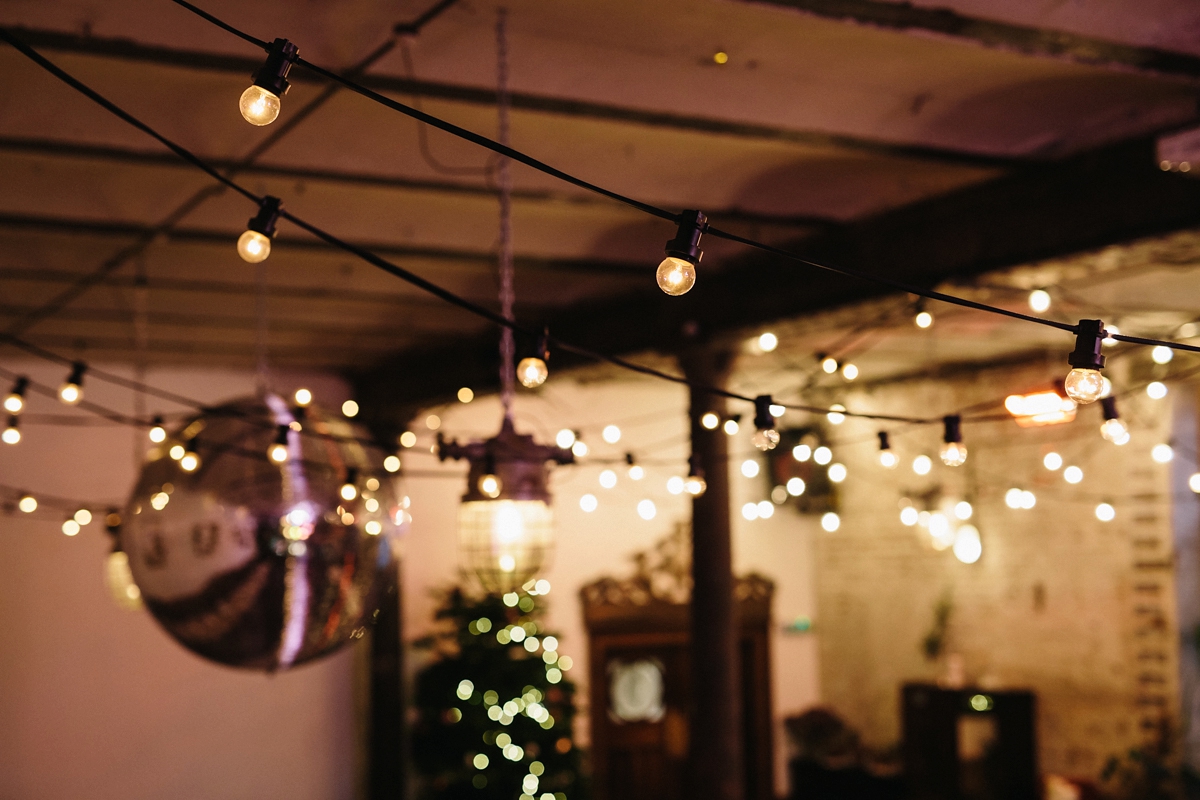 "The food and wine were so important to use – we had menus on the table, which detailed all the canapes that had been eaten as well as the menu (Chateaubriand and triple cooked chips for the main!) and drinks available, I loved having that there and it's a lovely memory to keep."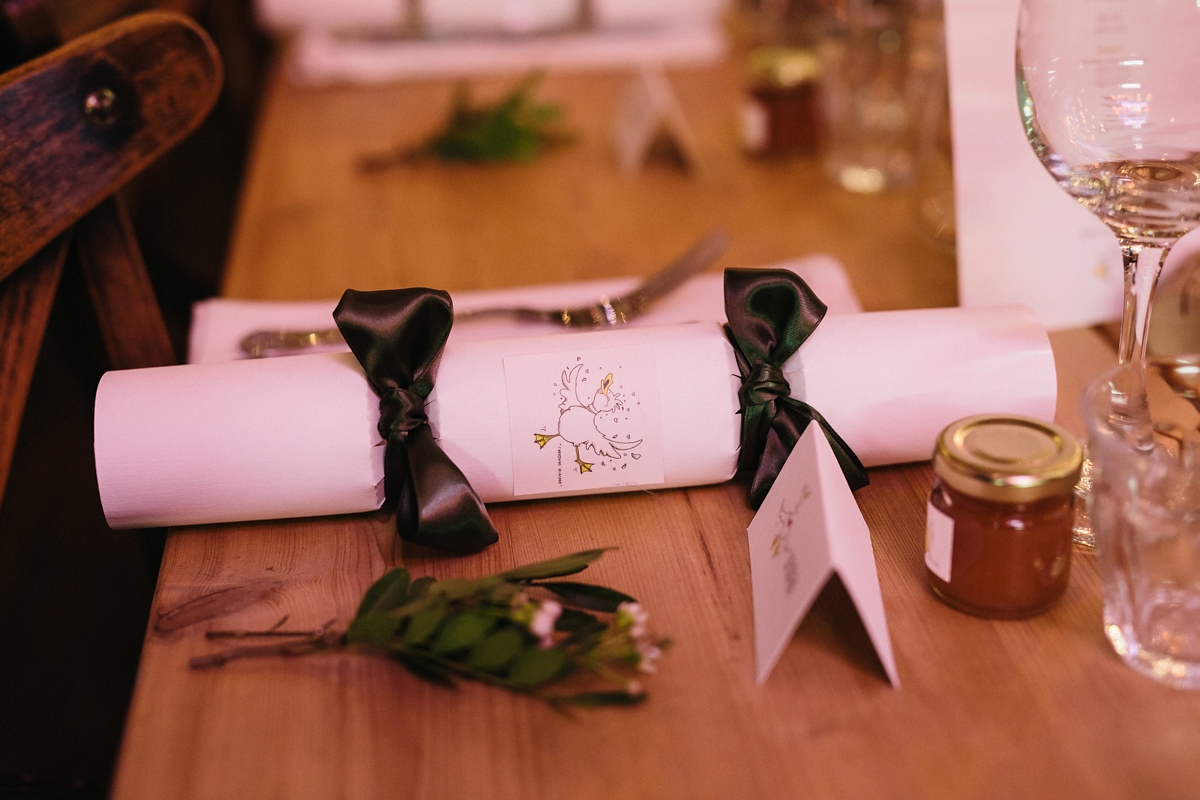 As a talented cook, baker (and cheese lover), Faye handmade the wedding favours – little jars of tasty quince jam. There was a cheese and port pie 'cake' from The West Country Cheese Co. and Faye's mum made the wedding cake, incorporating the couple's favourite flavours in its tiers – carrot for Faye and chocolate for Jimmy.
"My lovely, amazing Dad hates being centre of attention – he would have absolutely done a speech if I'd asked him to, but I wanted him to enjoy the day. So I asked my fabulous bridesmaids to do a speech and it made such a lovely symmetry to have best men and bridesmaids speeches and both myself and Jimmy doing a speech."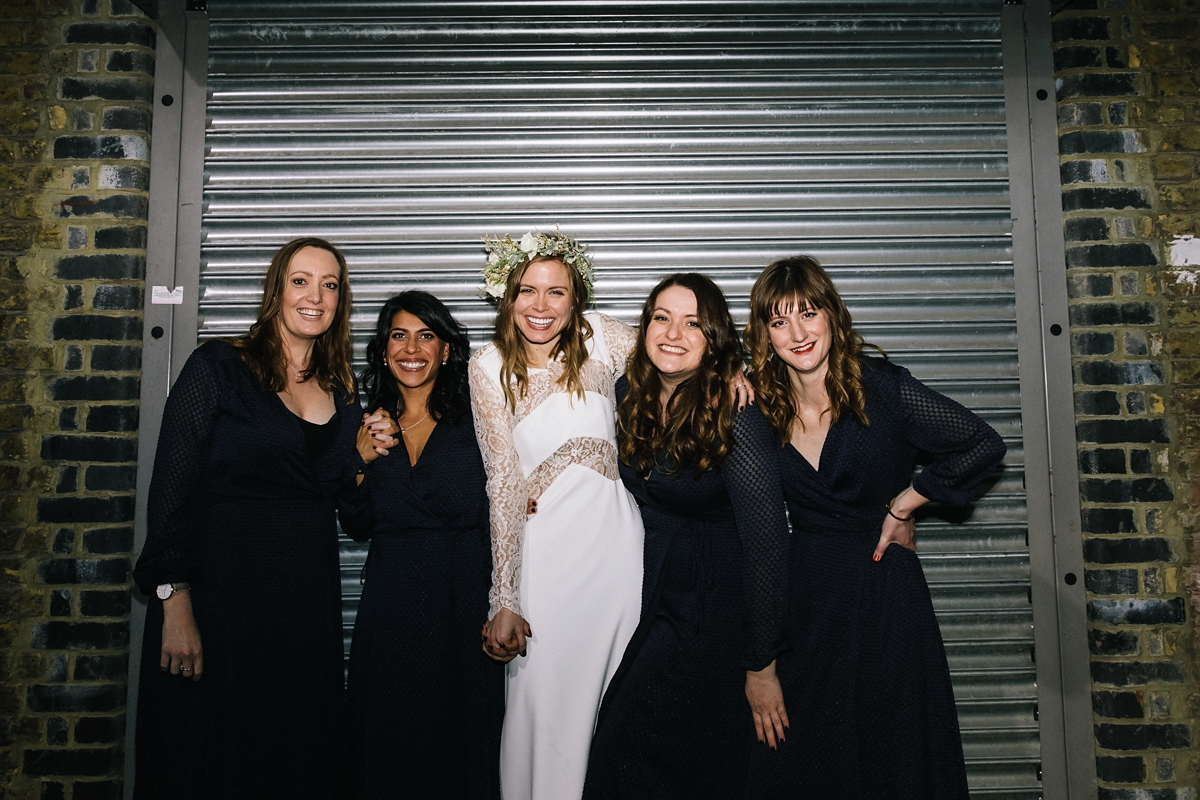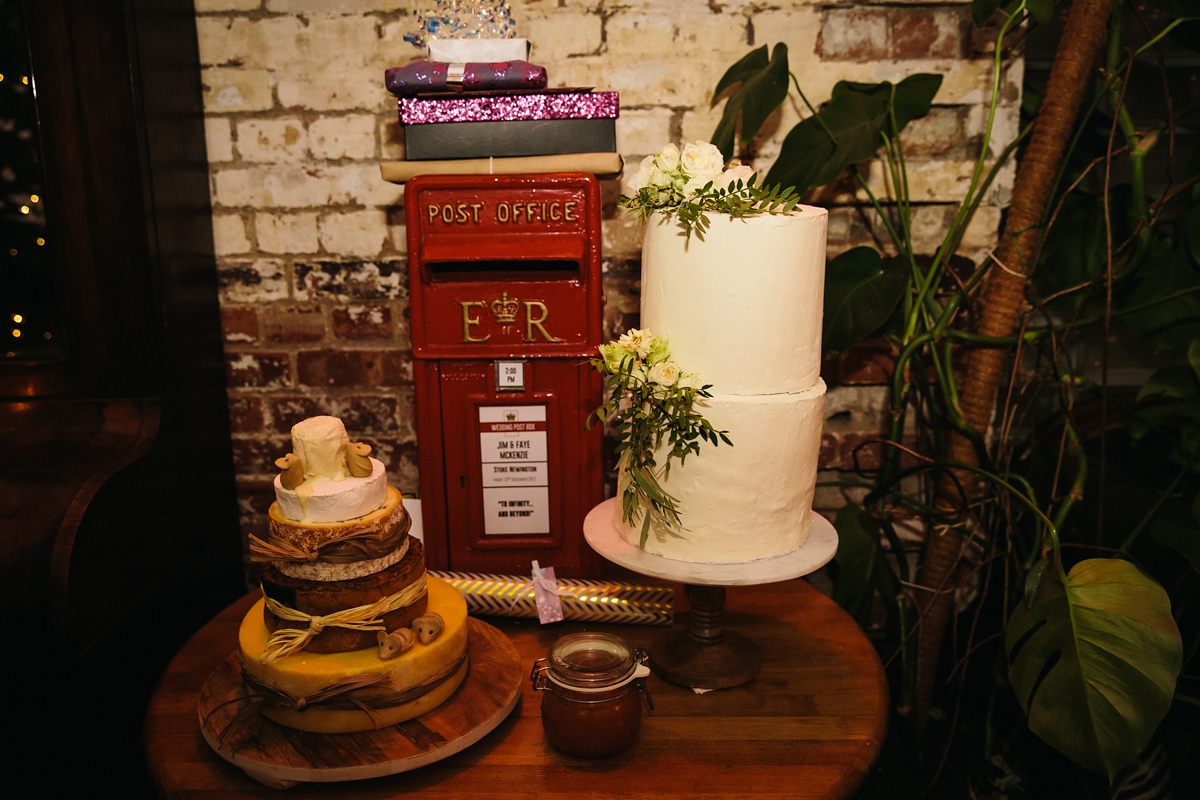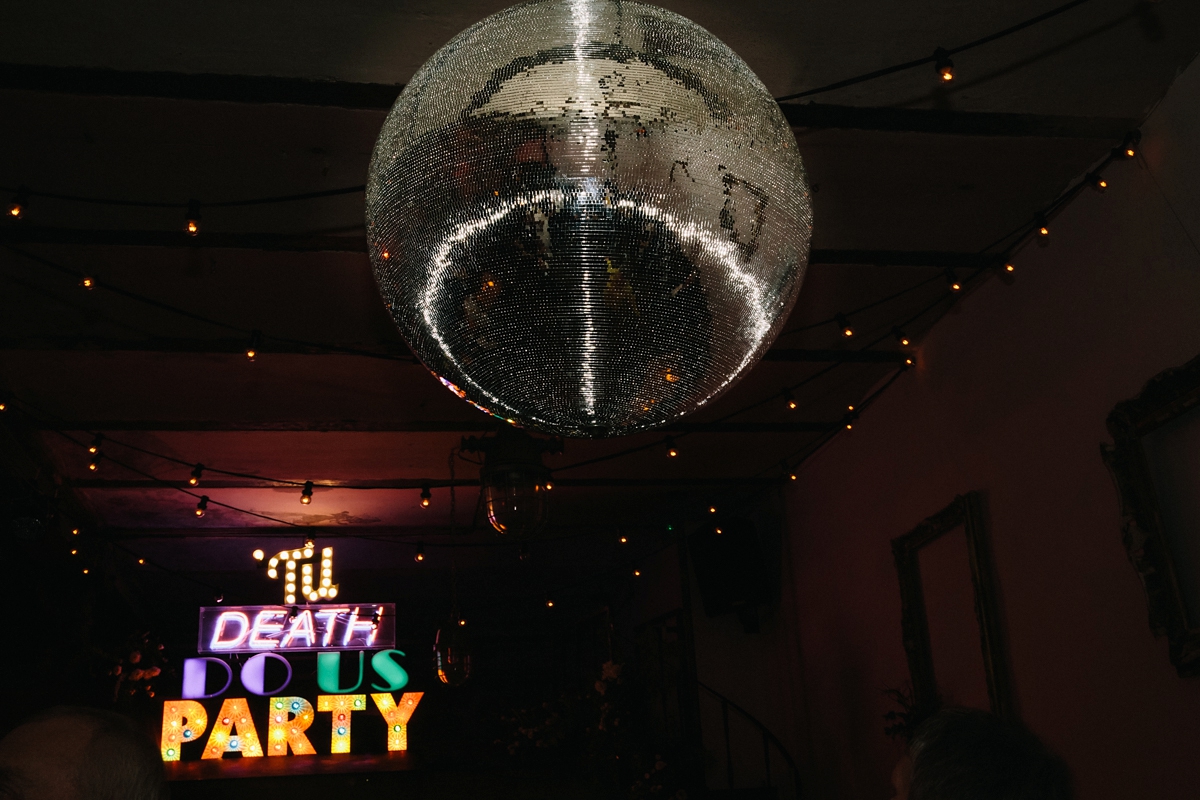 "I was terrified about the first dance as we wanted something upbeat that we could do 'silly' dancing, rather than awkward slow dancing. Also easier to get people up on the dance floor so there was less focus on us! We chose Crazy Little Thing Called Love by Queen."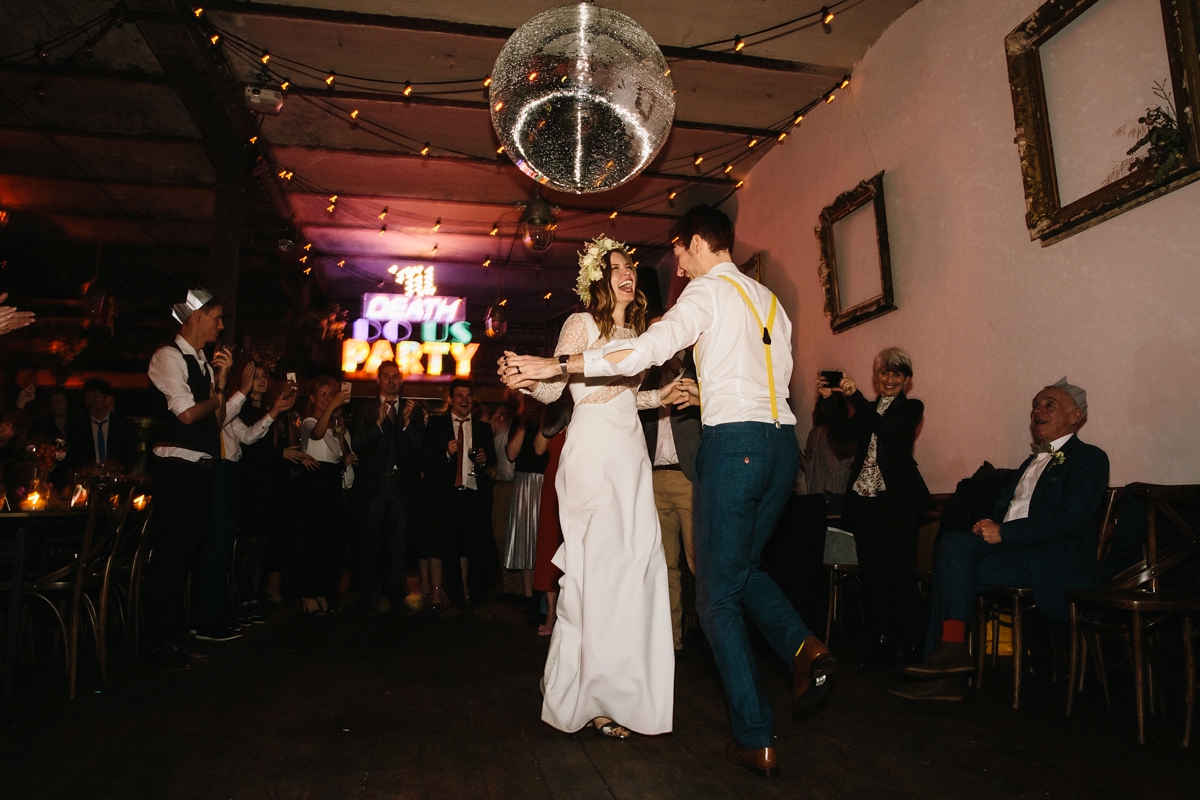 "I loved getting ready, I loved the moment I held hands with Jimmy after I walked down the aisle before the ceremony started, I loved giggling with him whilst signing the registrar, I loved the speeches, I loved doing a speech, I loved drinking little shots of sloe gin my Mum made on the vintage bus to the venue, I LOVED the food and I loved the feeling of being surrounded by everyone you love in life and knowing that everyone is there to have fun and be lovely to each other.""
'It's the best feeling ever. I was just brimming with happiness all day. I also loved drinking only champagne all day! I wouldn't do anything differently. It was perfect."

Words of Wedded Wisdom
"Before you book or buy anything (i.e. a few months before) follow all the best photographers, bridal shops, florists, wedding planners, stationary companies."
"Do this for a few months and just watch what they post and the different styles of things –I swear it's the best way to get new ideas and work out what you like / don't like."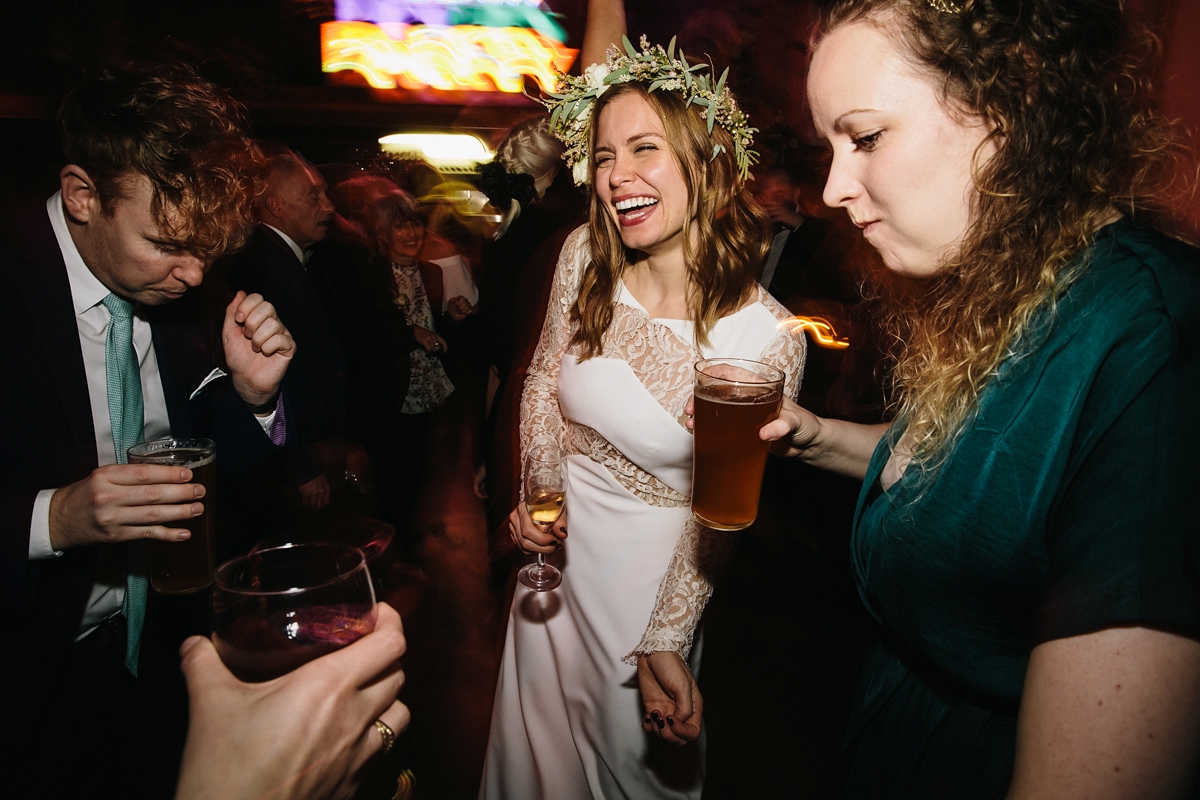 Thank you so much Faye and Jimmy, and happy first anniversary for this weekend! Many thanks also to Heather at Eclection Photography for these lovely, joyful images. You can see more of her work on our blog pages here.
With love,
Laura