All the weddings I write about for Love My Dress are wonderful, but this one holds an extra-special significance for me because it takes place at my very own wedding venue – a beautiful country house in the Cotswolds, but decorated with a contemporary and bright twist.
This was a fun and family focused day designed to entertain and delight all age groups. Hannah and Ben are the owners and directors of Carnall Farrar, a management consultancy dedicated to improving health, care and public services. They celebrated their marriage on the 7 July 2018 at the wonderful Cowley Manor in Gloucestershire. Wedding planner Jenna Hewitt provided invaluable support, helping Hannah and Ben envisage, plan and style their perfect day.
Images by Modern Vintage Weddings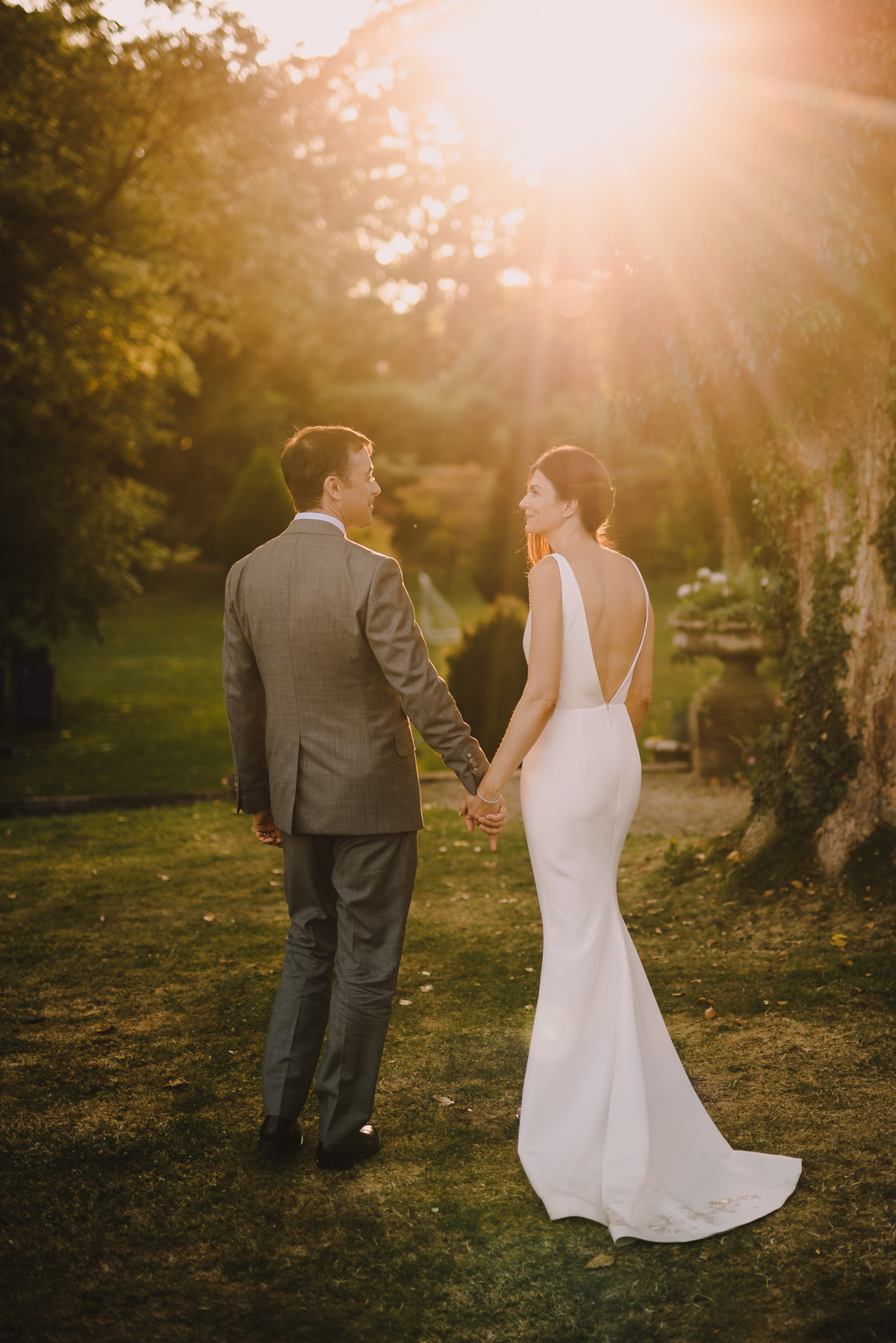 "We have 5 children between us and, with a lot of little ones on the guest list we knew that we wanted our wedding to be fun-filled for all age groups not just the adults. Our venue, Cowley Manor, is also very brightly styled in terms of décor and, although something a little more subtle is our natural style, together with our wedding planner, Jenna Hewitt, we decided on a contemporary bright theme with orange and teal as the lead colours! Ben even wore orange shoes on the Friday evening for our welcome BBQ!"Tanya from Bureau Design set the tone for the day by designing funky orange and teal stationery, and the light and colourful spaces of Cowley Manor were filled with breathtaking floral displays from Emma Soulsby.
"We trusted dream team Emma and Jenna entirely to put together something that worked with the styling that we'd planned with Jenna. I did know that I wanted something statement as our ceremony back drop and Emma designed an amazing asymmetric arch construction!"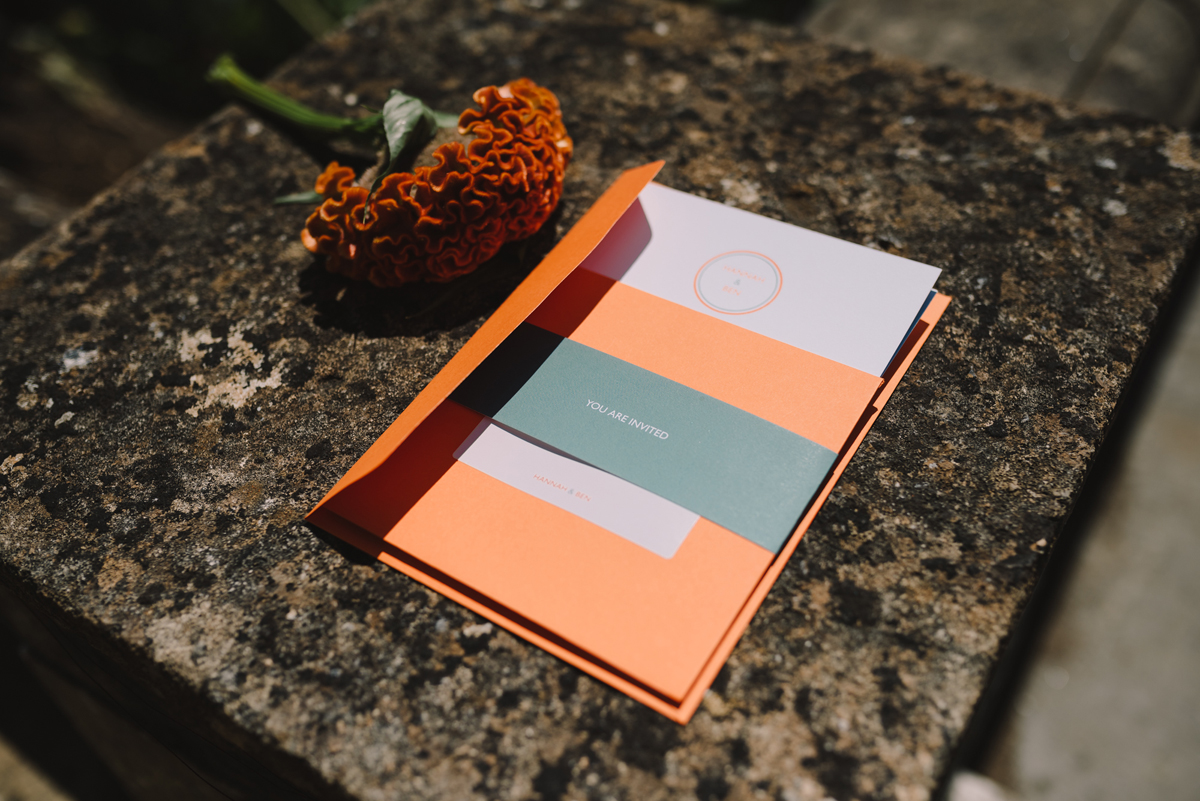 Hannah chose a stunning gown from Romona Keveza at Browns Bride, with a simple yet stylish fishtail silhouette. The detachable train was a dramatic and beautiful addition.
"I thought the dress was simple and elegant but with the back and the outer skirt it also had just a touch of the wow factor – to make it memorable."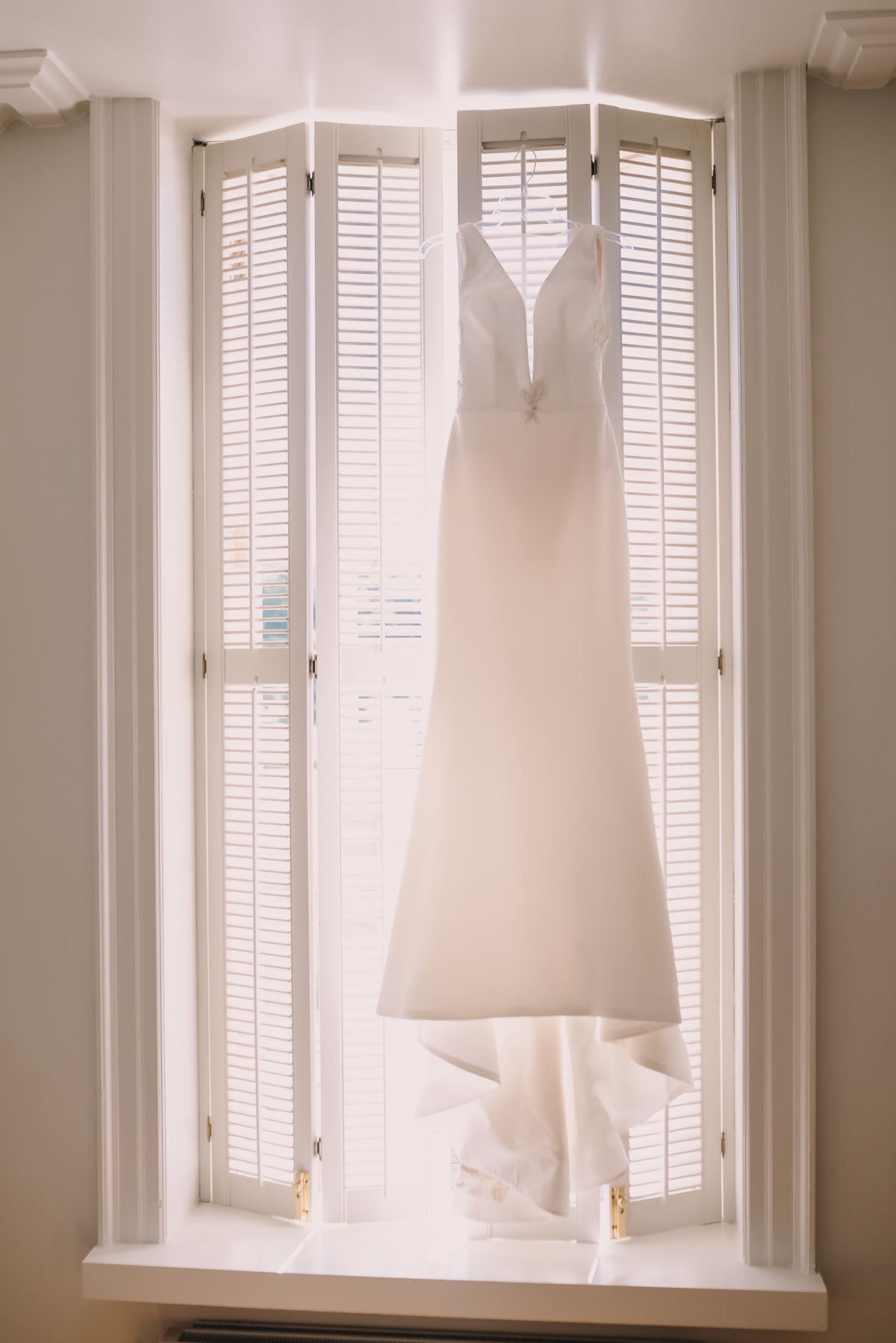 To complete her look Hannah wore silver glitter sandals from Jimmy Choo and a bracelet and earrings, both from Tiffany.
[JP-VIDEO]
"Ben bought me the earrings and I bought myself a matching bracelet. I don't really buy myself special jewellery and this seemed like a moment to have something memorable – that will last forever and which I can pass on to my daughter with all the memories it holds."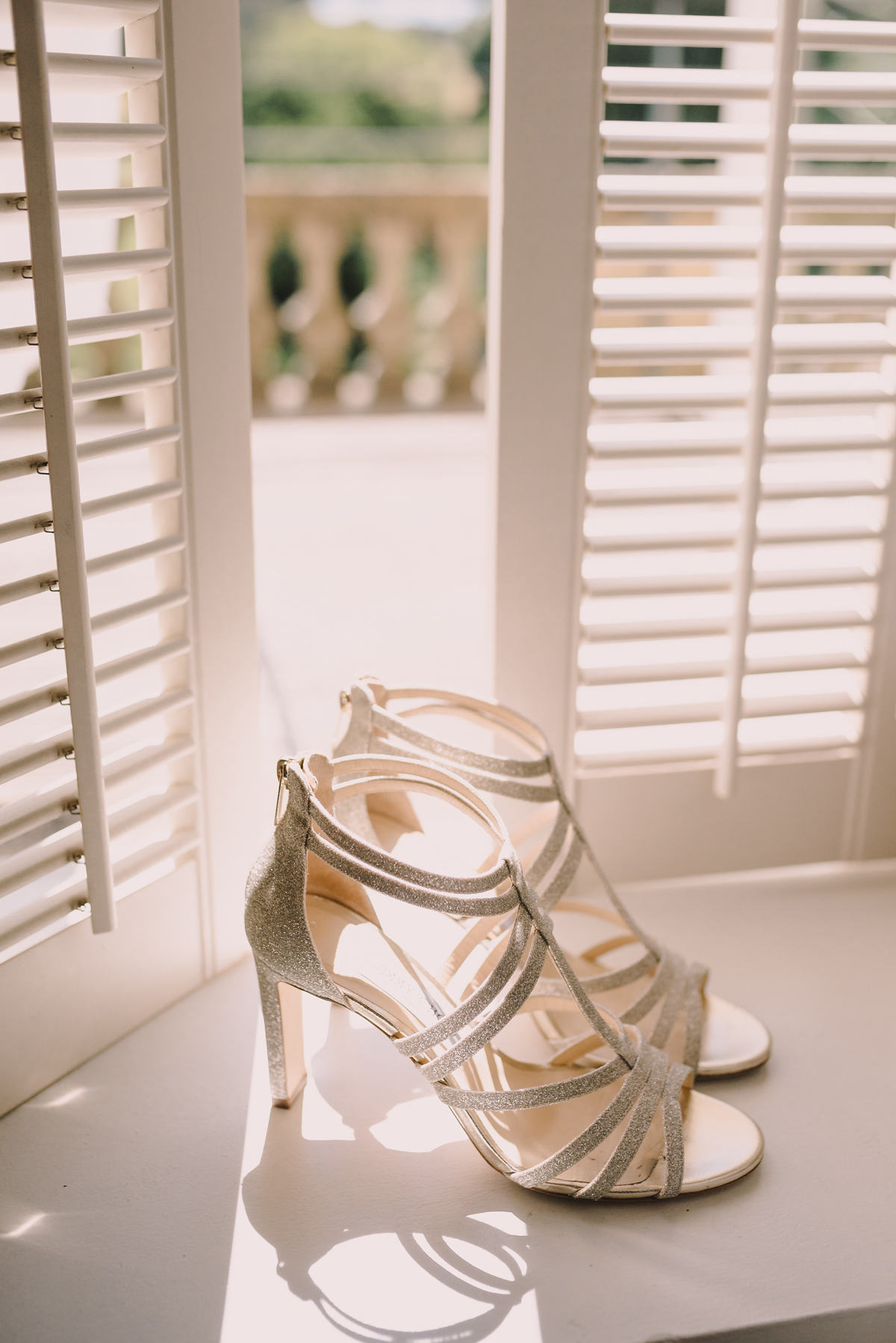 Hannah and Ben first met through work, getting to know one another professionally, and then personally, before entering into a relationship.
"In February 2015 we were in South Africa on safari. It was a holiday of a lifetime and the first safari I had ever been on. It was also a rare break away from our kids. We both had two kids from previous relationships. Ben popped the question and I said yes. Busy lives, managing kids and work and having a baby in January 2016 meant the wedding itself was put on the back burner.We finally focused on planning it in 2017 and we got married in July 2018. We are very happy that we prioritised it!"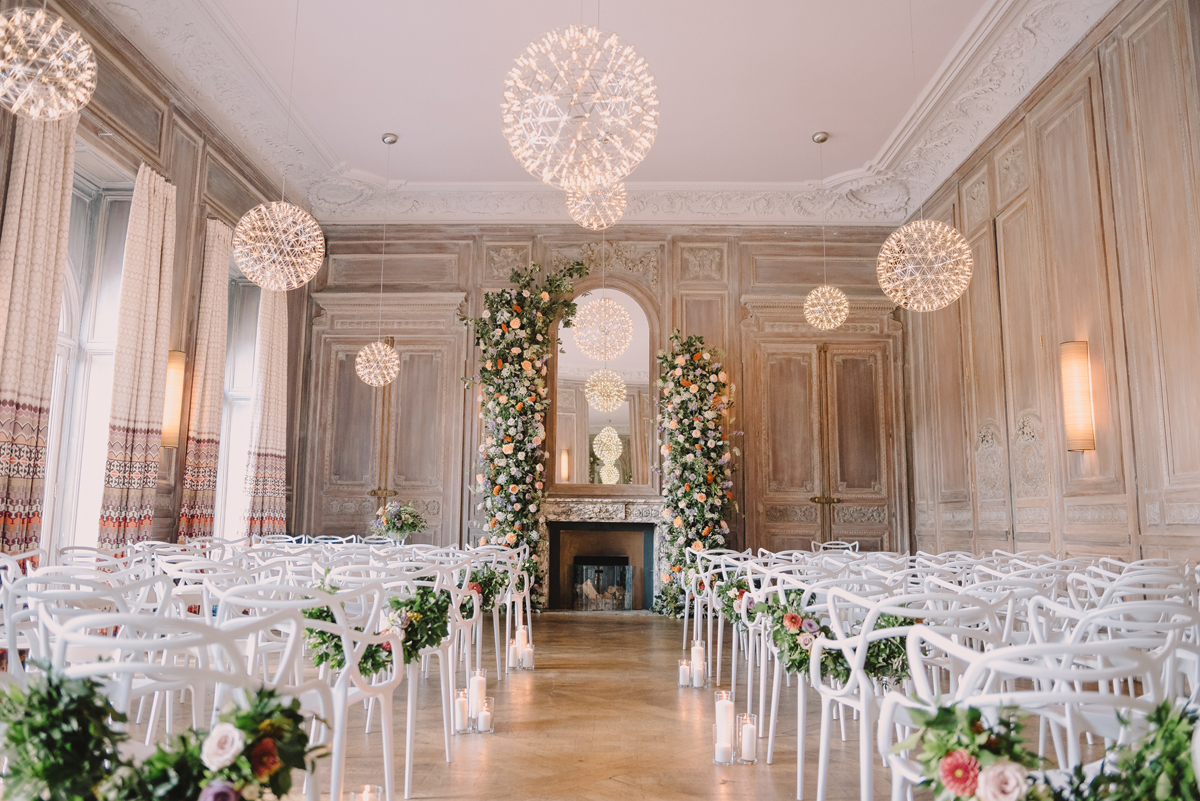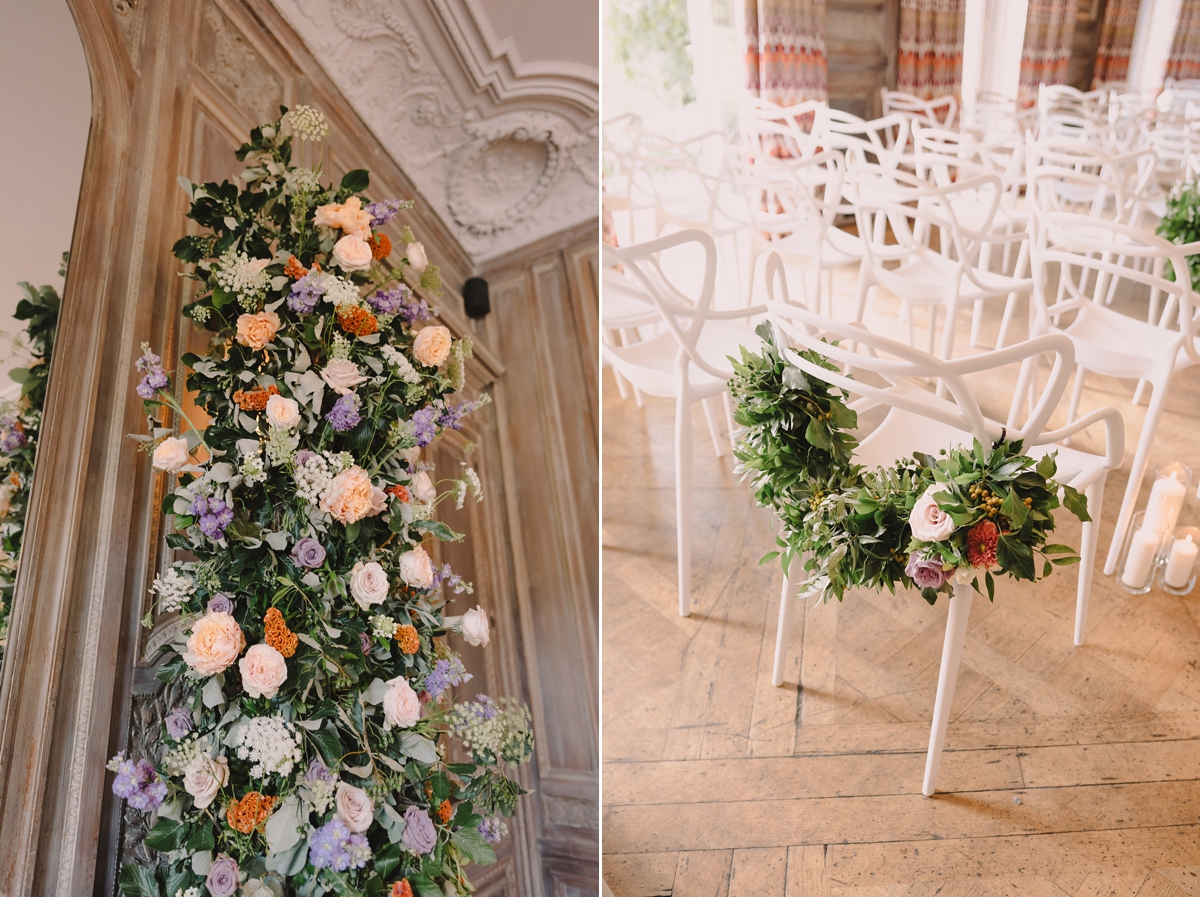 The couple's lovely bridesmaids, flowergirls and page boys accompanied one another down the aisle. The bridesmaids and flowergirls wore pretty lace dresses in vibrant orange from Children Salon. The page boys wore suits and shirts from John Lewis with bright floral print ties from Next and shoes from Marks & Spencer.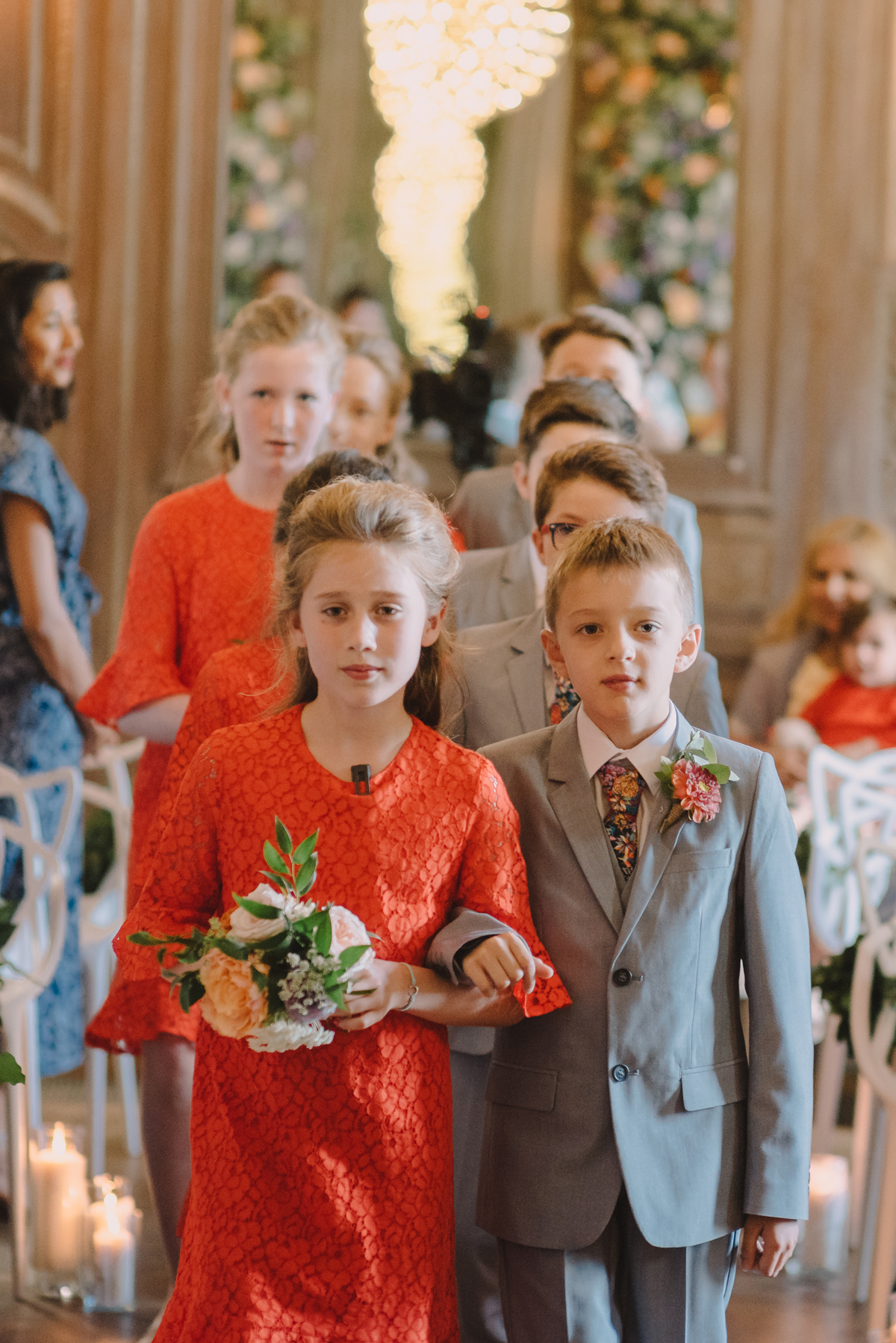 Hannah and Ben held their ceremony in the magnificent panelled dining room at Cowley, which has the most amazing lights (reminding me so much of dandelion clocks!) and floor-to-ceiling windows on one side overlooking the terrace and garden.
The couple's lovely bridesmaids, flowergirls and page boys accompanied one another down the aisle. The bridesmaids and flowergirls wore pretty lace dresses in vibrant orange from Children Salon. The page boys wore suits and shirts from John Lewis with bright floral print ties from Next and shoes from Marks & Spencer.
Hannah's hair was swept artfully to one side by stylist Louise Leaves of Love Hair By Lou, with radiant make-up from Pamela and Andrea Make Up.
She was accompanied down the aisle by her dad, David, and chose the song Marry You by Bruno Mars as her entrance music. Standing in front of that fantastic floral arch, the couple exchanged vows and rings, which they had chosen from Tiffany.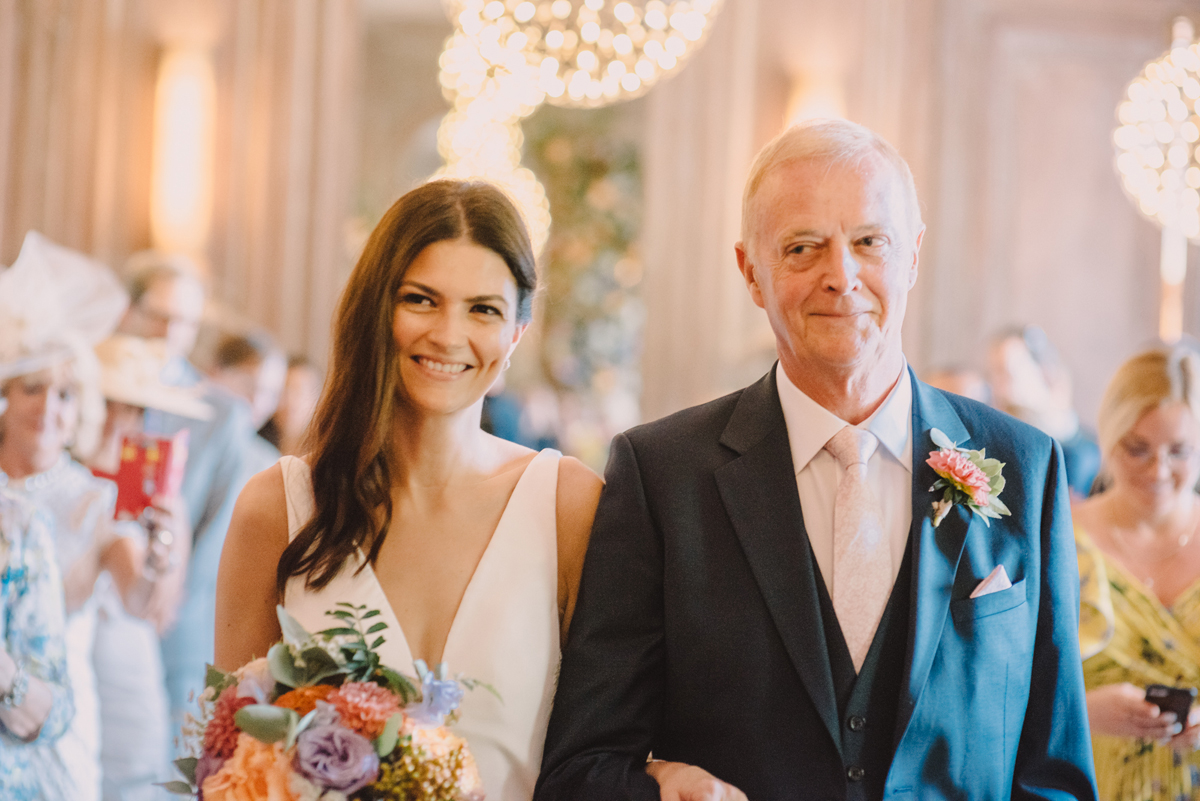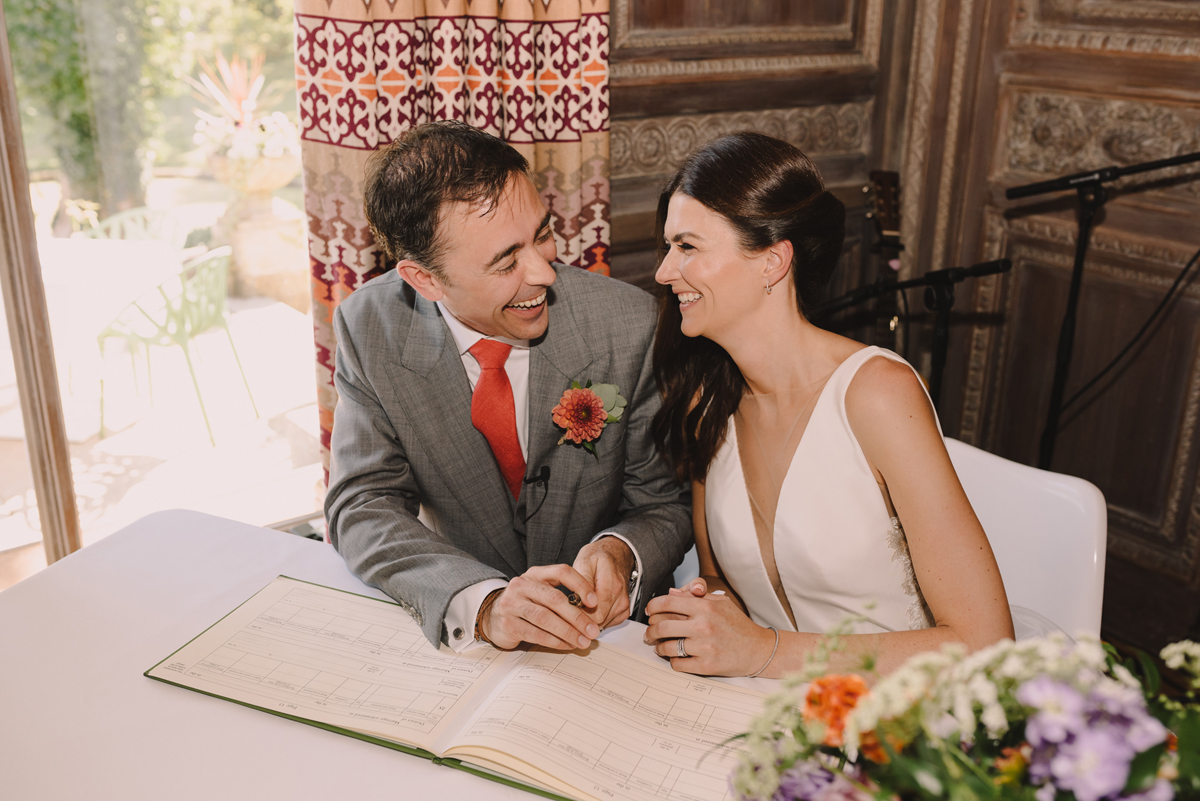 Ben's daughter Alexandra read Weddings, and his son Joshua read the song lyrics to I Will Be Here by Steven Curtis Chapman.
"My eldest son, Harrison, sang a really special acoustic version of 'This Is The Best Day Of Our Lives accompanied by Ben's best man on guitar. It brought tears to my eyes."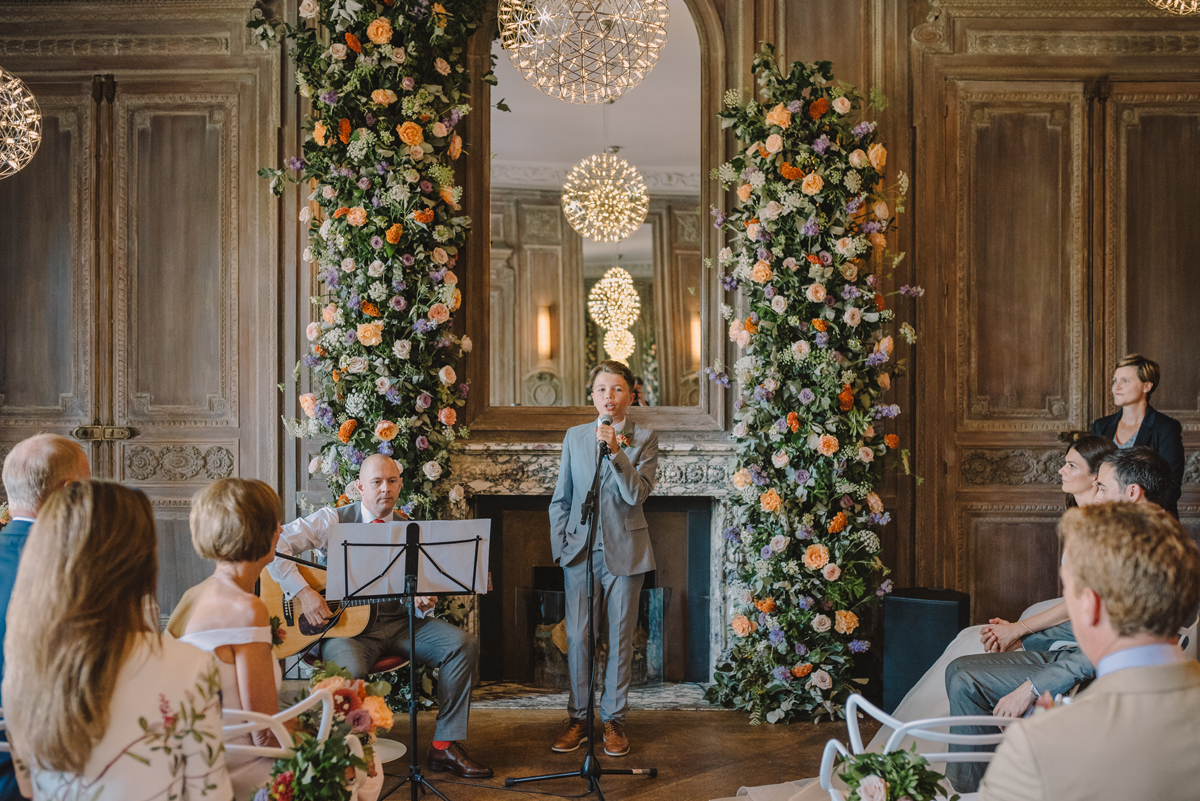 "It was important to us to have a role for each of the kids and in some ways we chose something that suited each of them and what they would be proud and happy to do. We also wanted a mix of fun but to also draw out some heartfelt messages we wanted to share with each other and with our guests."
Ben wore a dashing grey suit from Tom Ford, shirt from Thomas Pink and tie from Drake's. He completed his look with shoes from Russell and Bromley.
"We really enjoyed the ceremony. Having every one of the kids play a part was special for us and we will remember it forever, as will they."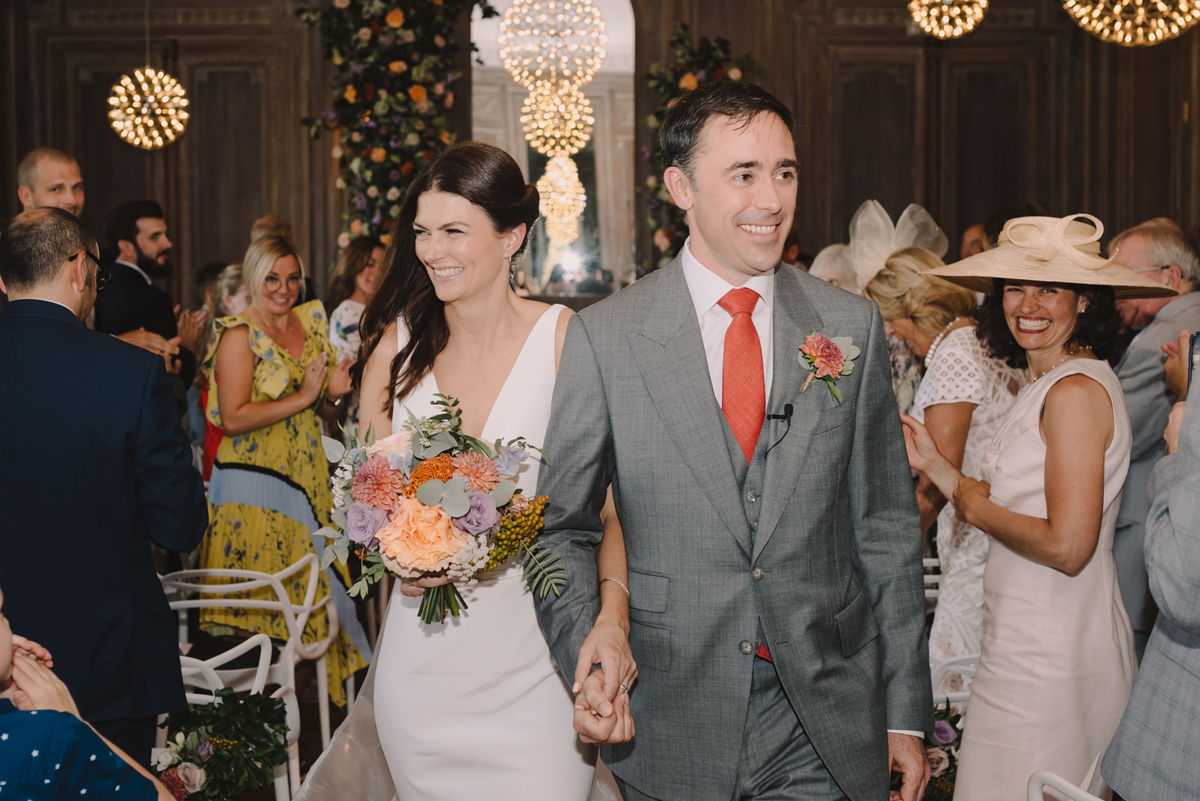 These beautiful, sun-drenched images come to us courtesy of photographer David Wickham of Modern Vintage Weddings, whose heartfelt and beautiful work we've featured before here at Love My Dress.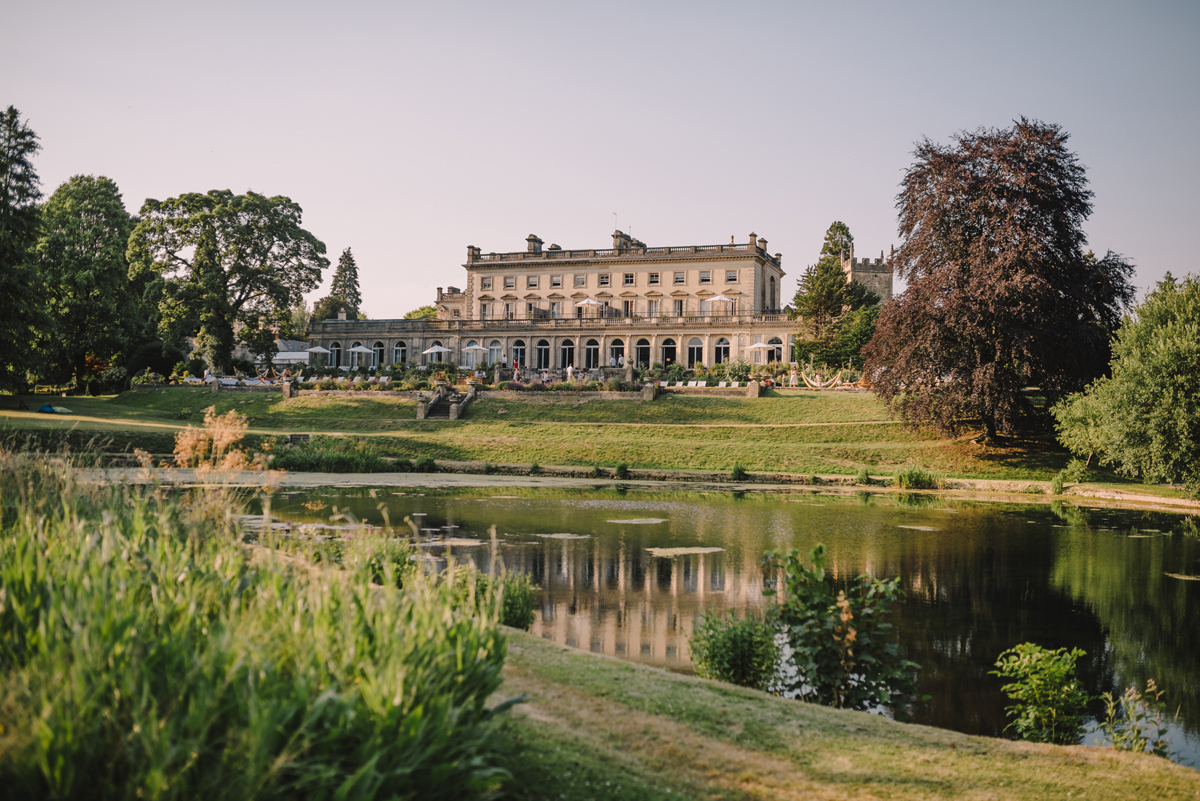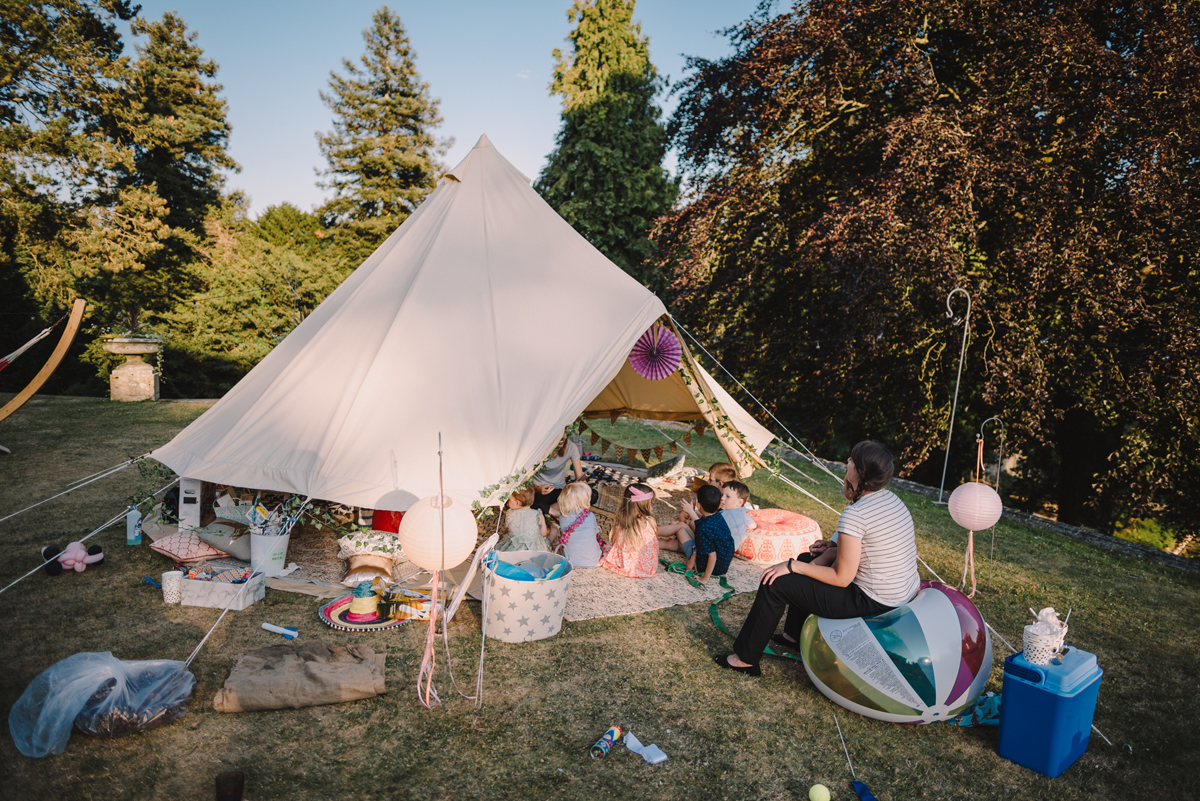 Outside in the garden, The Little Top set up a sweet tent and took care of childcare and entertainment across the wedding weekend.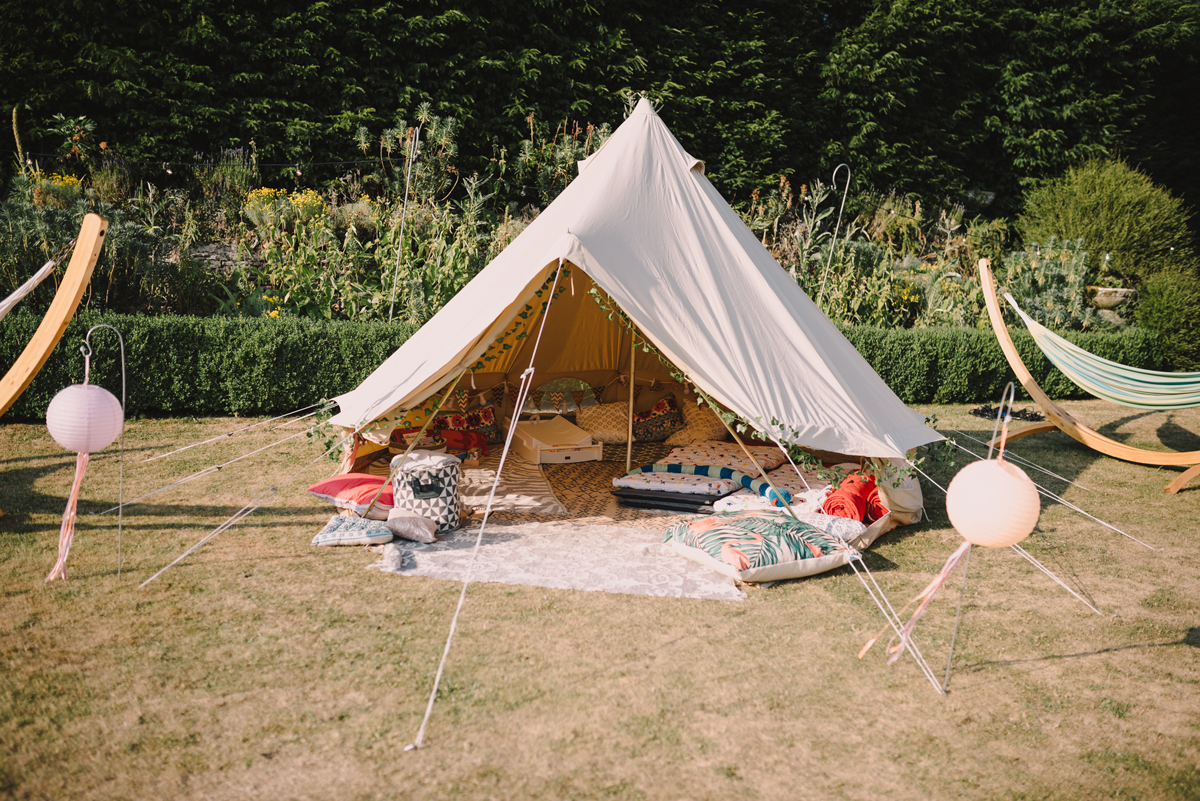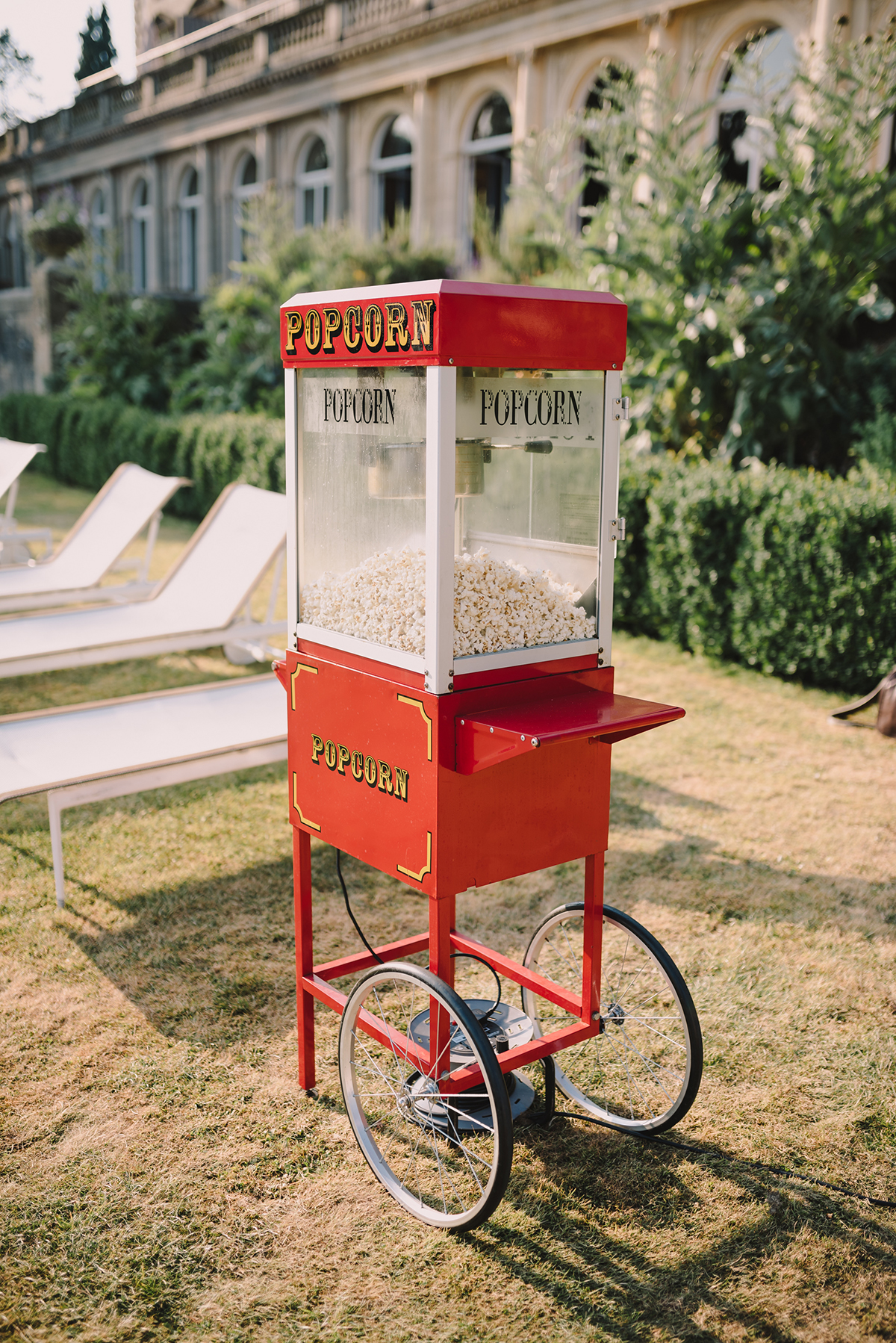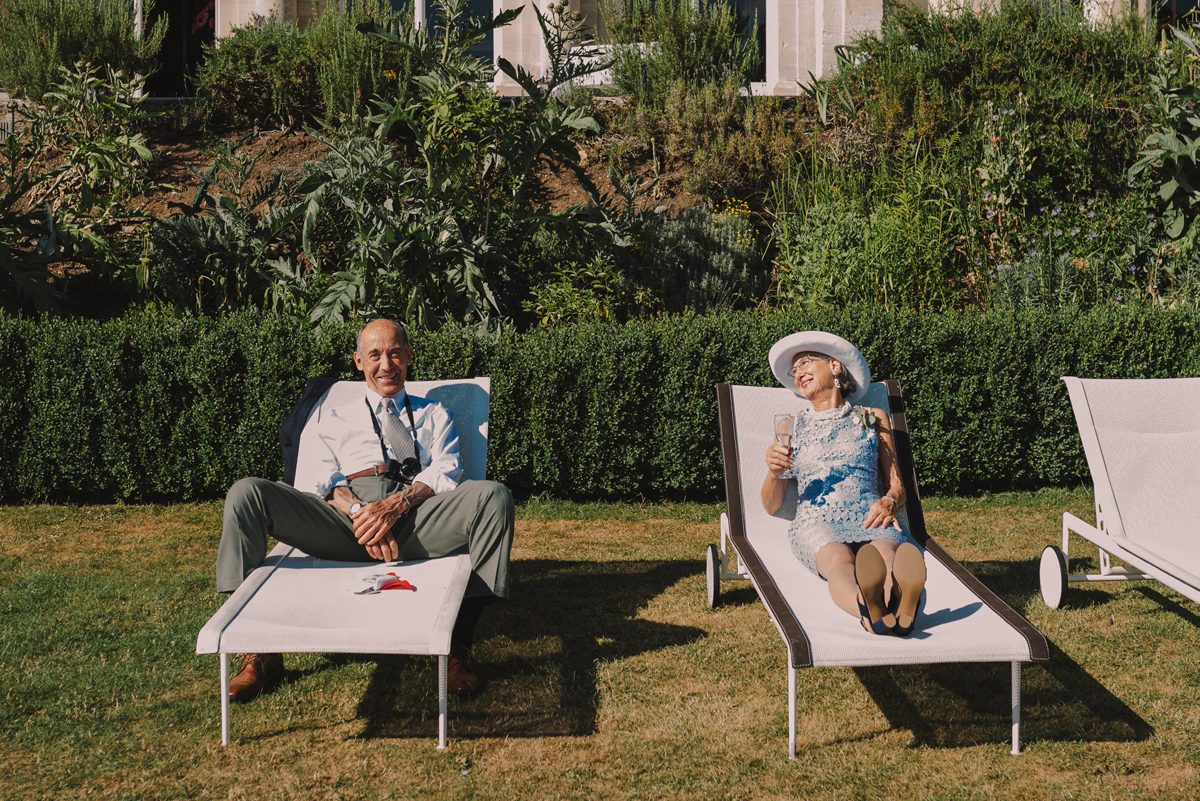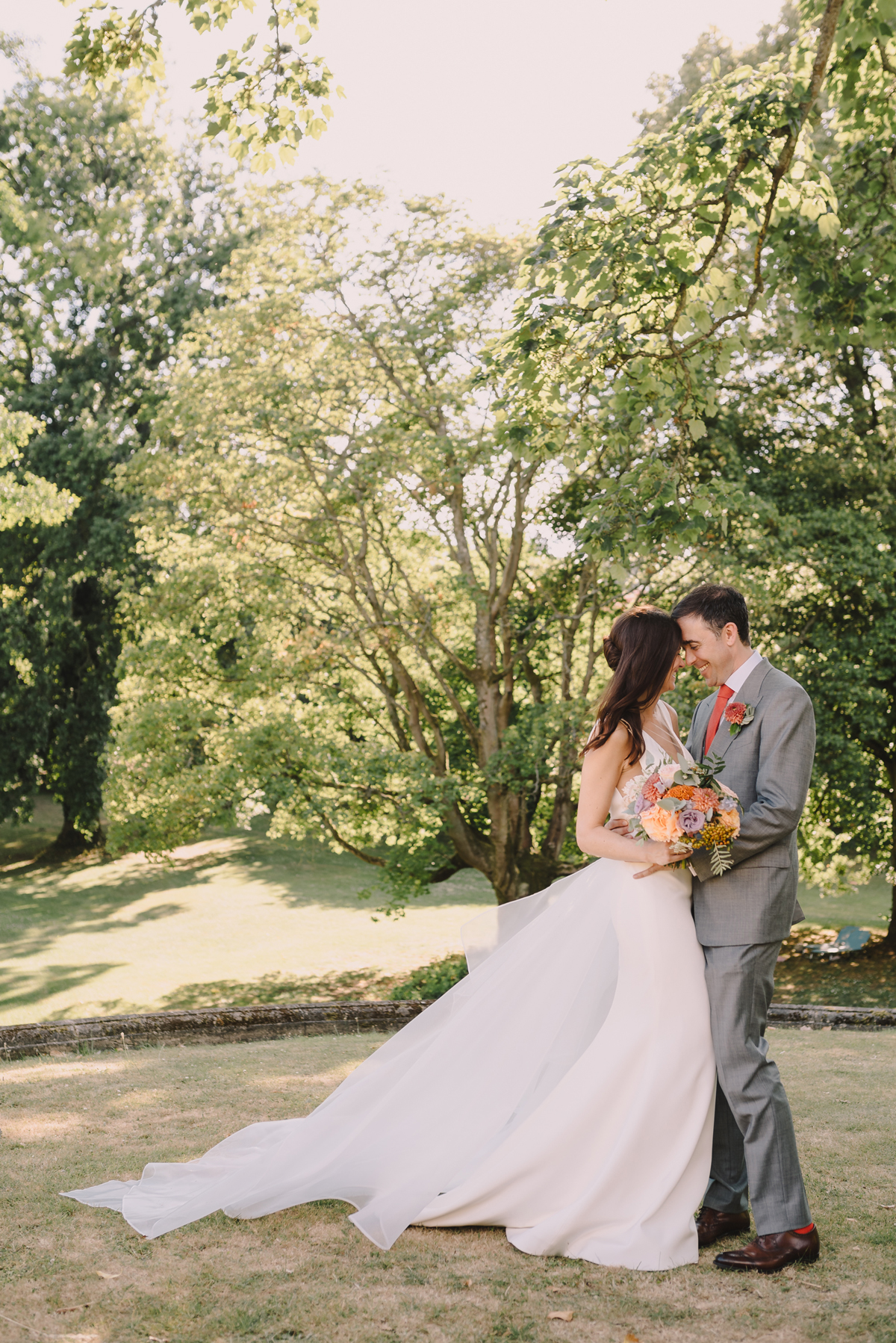 After the ceremony, the ceremony room was transformed for the wedding breakfast, with dining tables laid for a feast, with more incredible flowers from Emma Soulsby, as well as brightly coloured taper candles from Ester and Erik.
"The statement piece was the asymmetrical arch created by Emma Soulsby. I wanted something wow as a backdrop for the wedding ceremony and wedding breakfast – the arch Emma created was incredible. I had so many comments from the guests."
The talented chef team at Cowley Manor created a delicious wedding meal, and the brilliant cake was made by Trudy of JellyCake, who also provided individually boxed macarons, which were placed in guests bedrooms at Cowley.
"We wanted something simple but fun! Trudy came up with the idea of the white cake with macarons 'dripping' down the side in the wedding colours."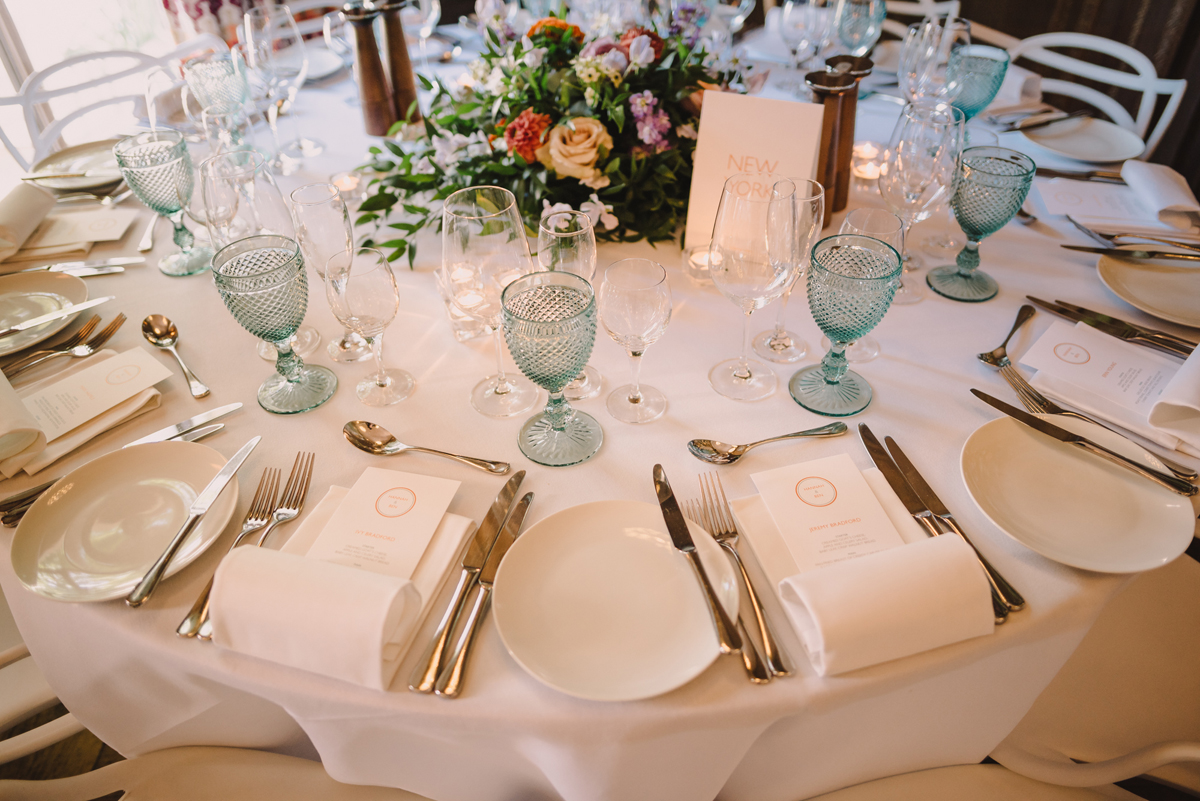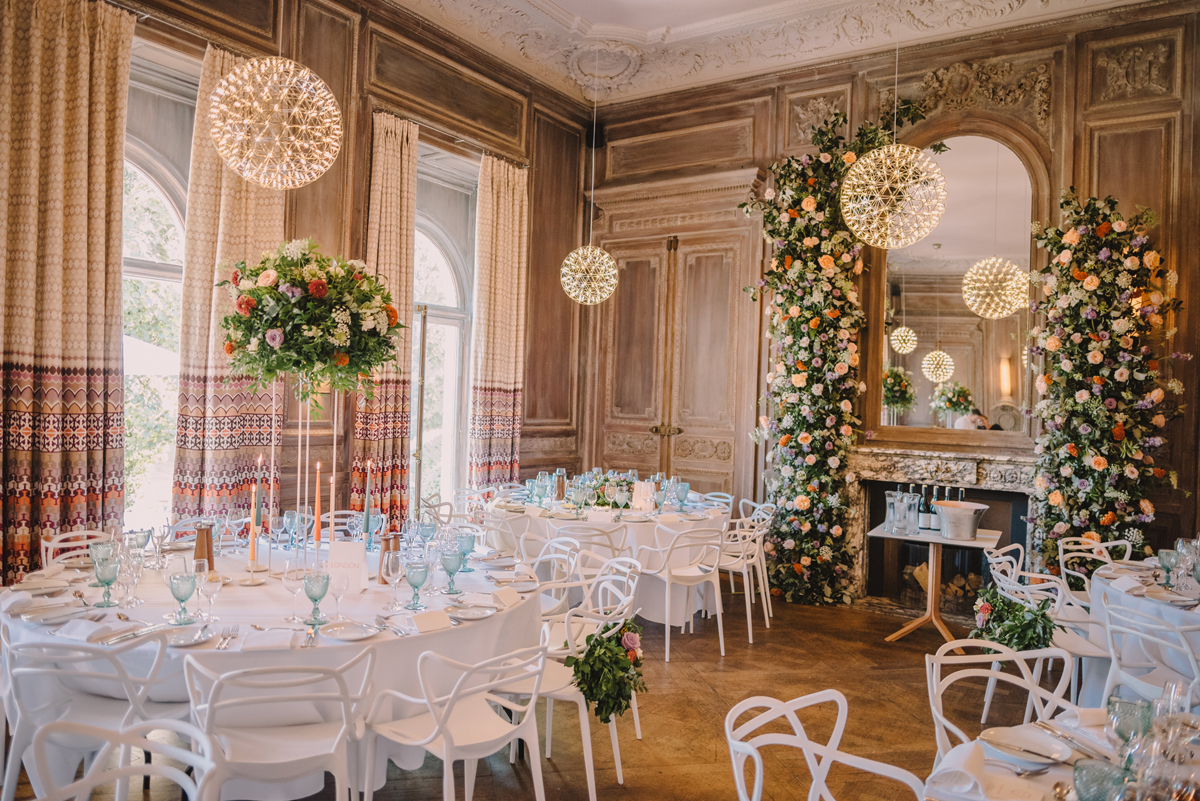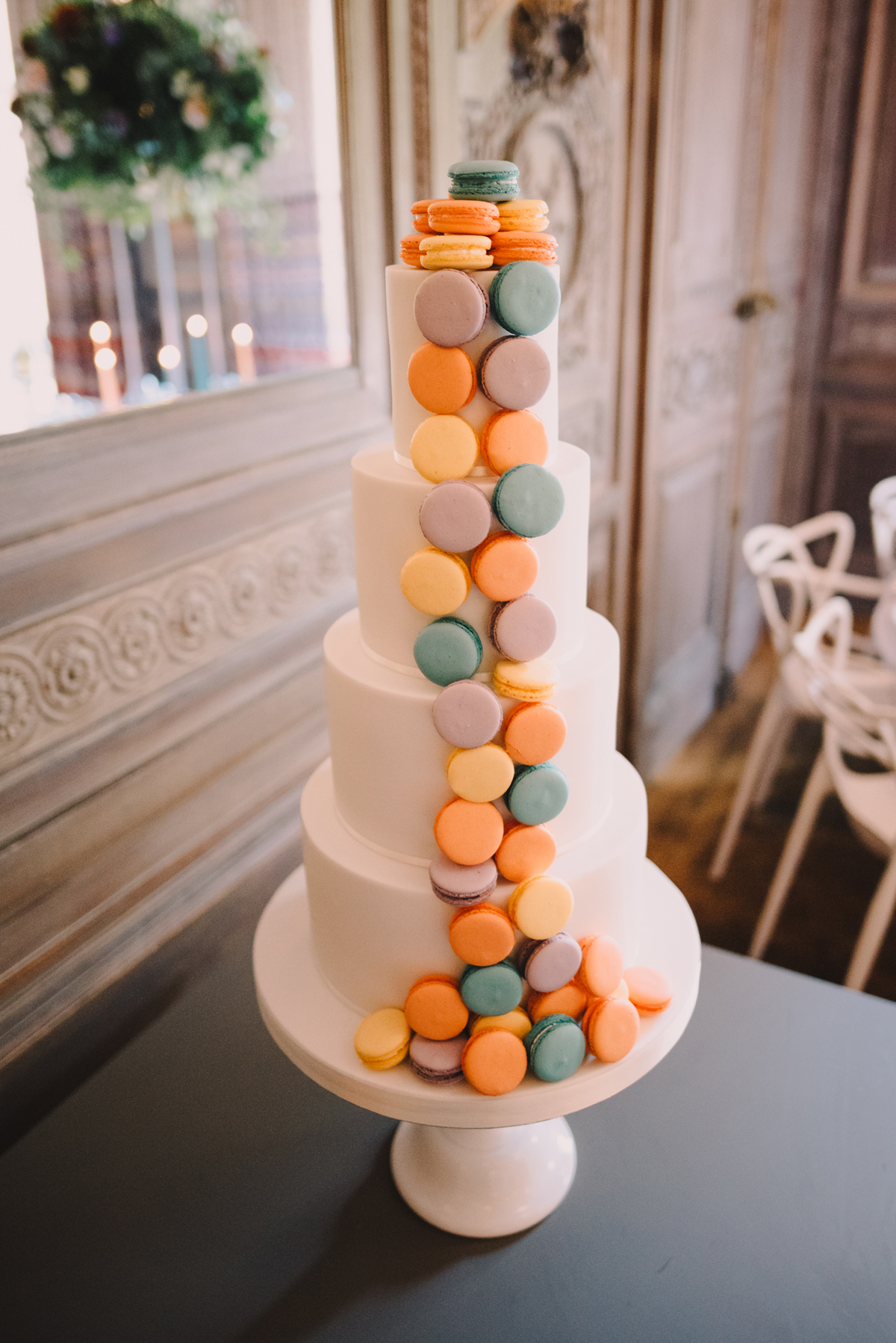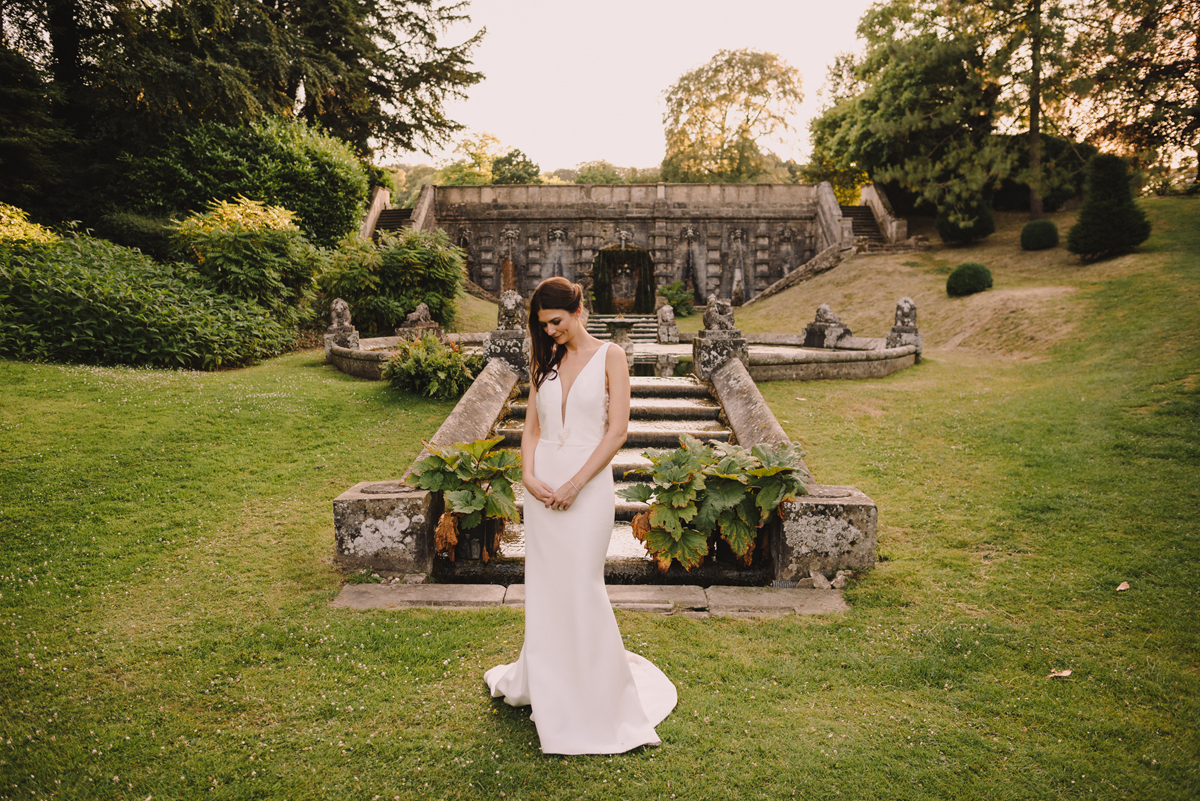 Live music came courtesy of the Roaming Revels and The Revue, booked via Eight Ray Music. Hannah and Ben's first dance as a newly married couple was to Come To Me by the Goo Goo Dolls.
"The lyrics touched us, they seemed so appropriate and the whole song just resonates for us."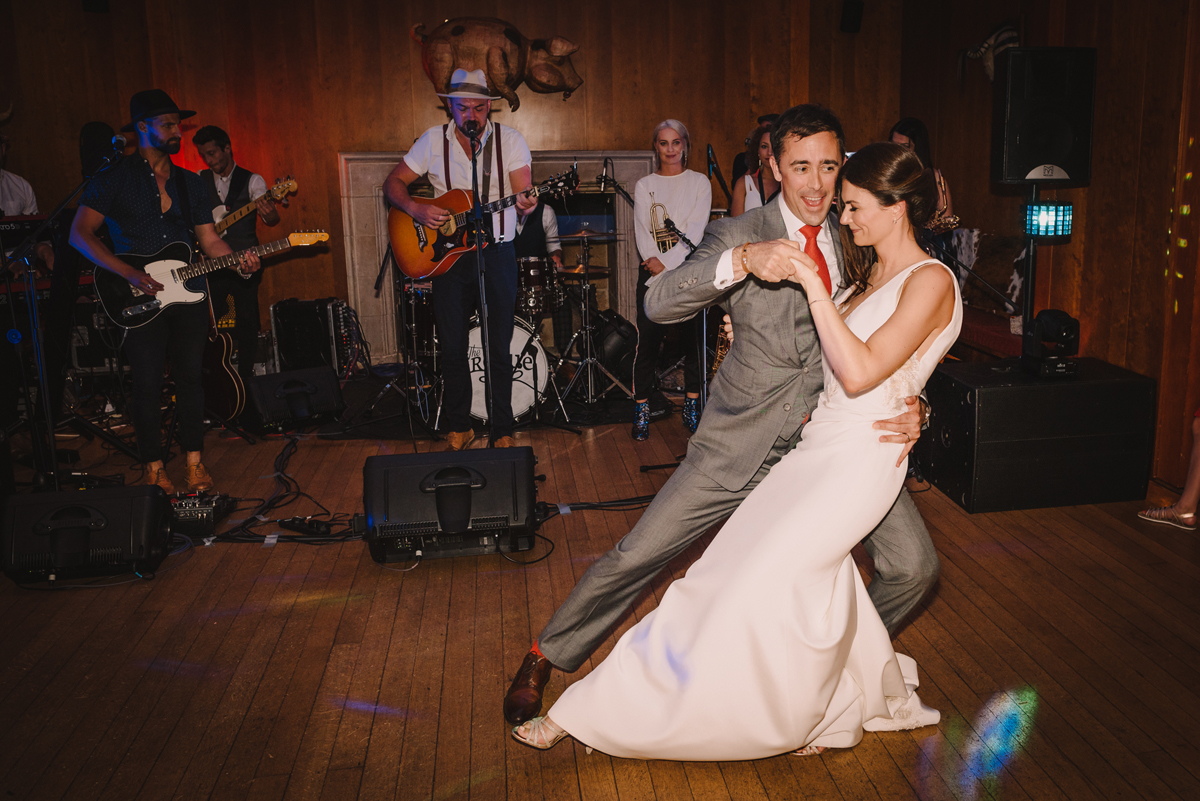 Words of Wedded Wisdom
"Get a wedding planner. When I was contemplating it at the beginning it felt like an extravagance and I thought I was capable of doing it myself. I might be capable, but I am not expert in weddings. I don't know the best suppliers or the best plan. I don't know the tricks of the trade. You aren't just getting someone who can manage an event you are getting someone to advice you on what will work best, someone who knows the best suppliers, who enables you to enjoy the process and not see it as a chore."
"It also isn't possible to do two things at once – manage an event of 100 people and then also participate in it fully enjoying every moment. I am a host who worries about my guests and whether they are happy and have what they need. That matters to me and therefore to my ability to relax and enjoy. But I had Jenna and I knew she was doing that for me and I can trust that I could just enjoy my weekend knowing it was going to run and any hiccups would be sorted."
"We loved making a weekend of the event. It goes so fast and the opportunity just to slow it down over two days in one venue meant we got to spend time with all our guests and enjoy the whole celebration. We started it at 4pm as I didn't want people to get bored. However, I would probably start it at 3.30pm just to allow both the meal and the evening party a little bit more space. And then I would obviously have avoided the clash with England's world cup match!"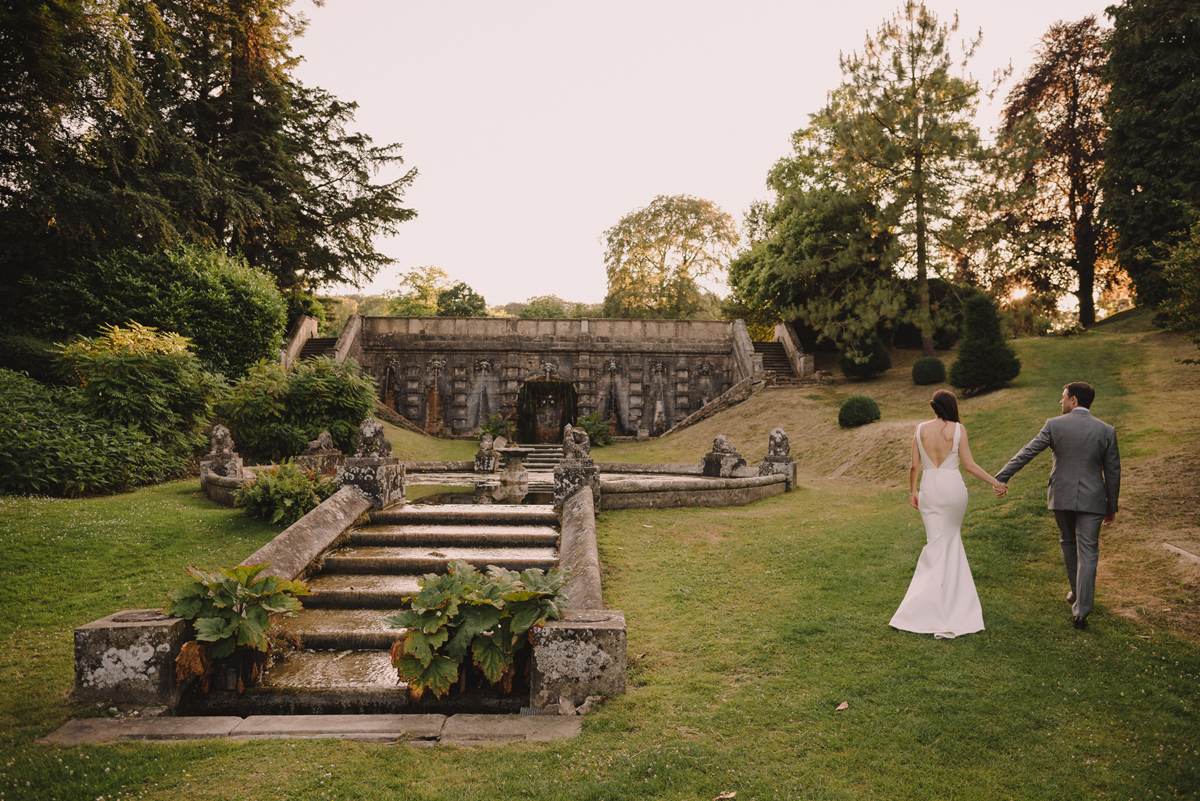 Congratulations and huge thanks Hannah and Ben for sharing your day with us. This has been slightly surreal (seeing another couple getting married right where I did, too!) but very touching and has brought back lots of happy memories for me, too! Many thanks also to David of Modern Vintage Weddings for these breathtaking images. You can see more weddings at Cowley Manor on our blog pages right here, including my own!
With love,
Laura