Are any of you lovelies planning a city wedding? I hope that you find lots of inspiration in today's feature.
We're sharing a truly hip, totally beautiful London wedding. So, make a cup of tea and enjoy. Today's bride and groom are Kate, who is the talented editor of Sorbet Magazine (a quarterly fashion and pop culture magazine) and Kim, a fund manager. They married in the long hot summer of 2018, on 15 June, at the elegant Mayfair Library, Westminster and held their wedding dinner and party in Bistrotheque in Hackney, London. Their shared love of books inspired their choice of ceremony venue, and they planned a simple 'non-weddingy' day filled with family and friends, and beautiful flowers.
Photography A Thing Like That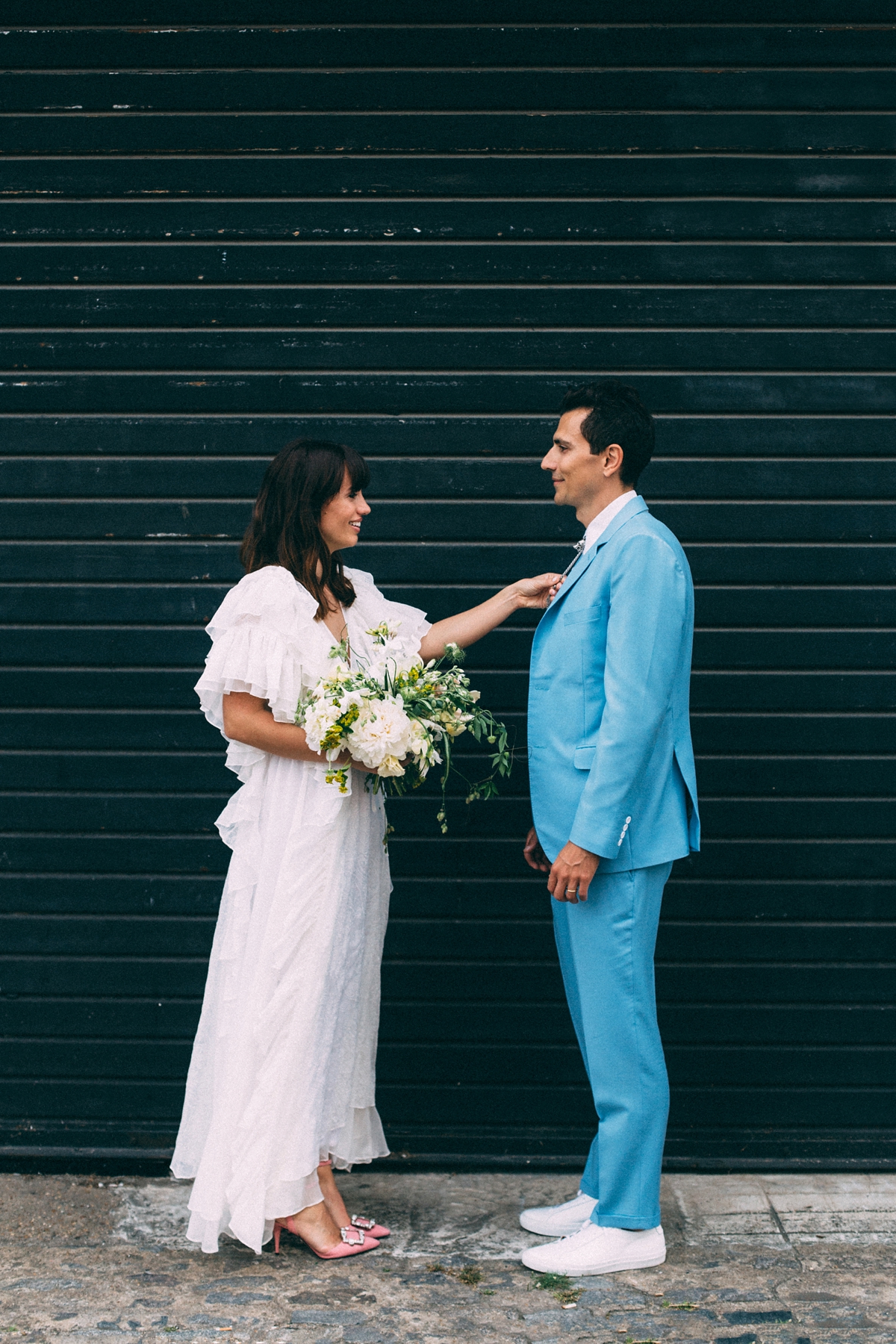 "Although I'm from London and Kim's from Calgary, Canada, we both live in Dubai. We met through a mutual friend's birthday party seven years ago and moved in together shortly after. We'd been talking about getting married for a few years and decided to get our marriage license when we were in London visiting family and planned the wedding in about three months. There was no official proposal; we made the decision to get married together and we just told all our closest friends that we'd set a date. He did actually get down on one knee the morning of the wedding and ask for my hand in marriage as a cute gesture. Does that count?"
Photographer Becky of A Thing Like That has captured such beautiful emotional moments of the day, and the ceremony in particular. I love her bright approach, the candour of the images and her beautiful use of light in all of these documentary-style photographs.
"I used to work with Becky at Harpers Bazaar Arabia so already knew she was a legend. She left the magazine to go back to the UK and start her own photography business, so I'd been keeping my eye on her progress and work and loved everything she was doing. As soon as we booked a date, Becky was the first person I emailed as I not only love her work and her style of photography, I couldn't think of a nicer person to be with us on the day. She rules so much. I love how she doesn't do the traditional staged wedding shots, but has more of a documentary style to her work and we completely trusted her. She captured the day in the most perfect way and all our friends were obsessed with how lovely she was too. It felt like she was a part of our friends and family."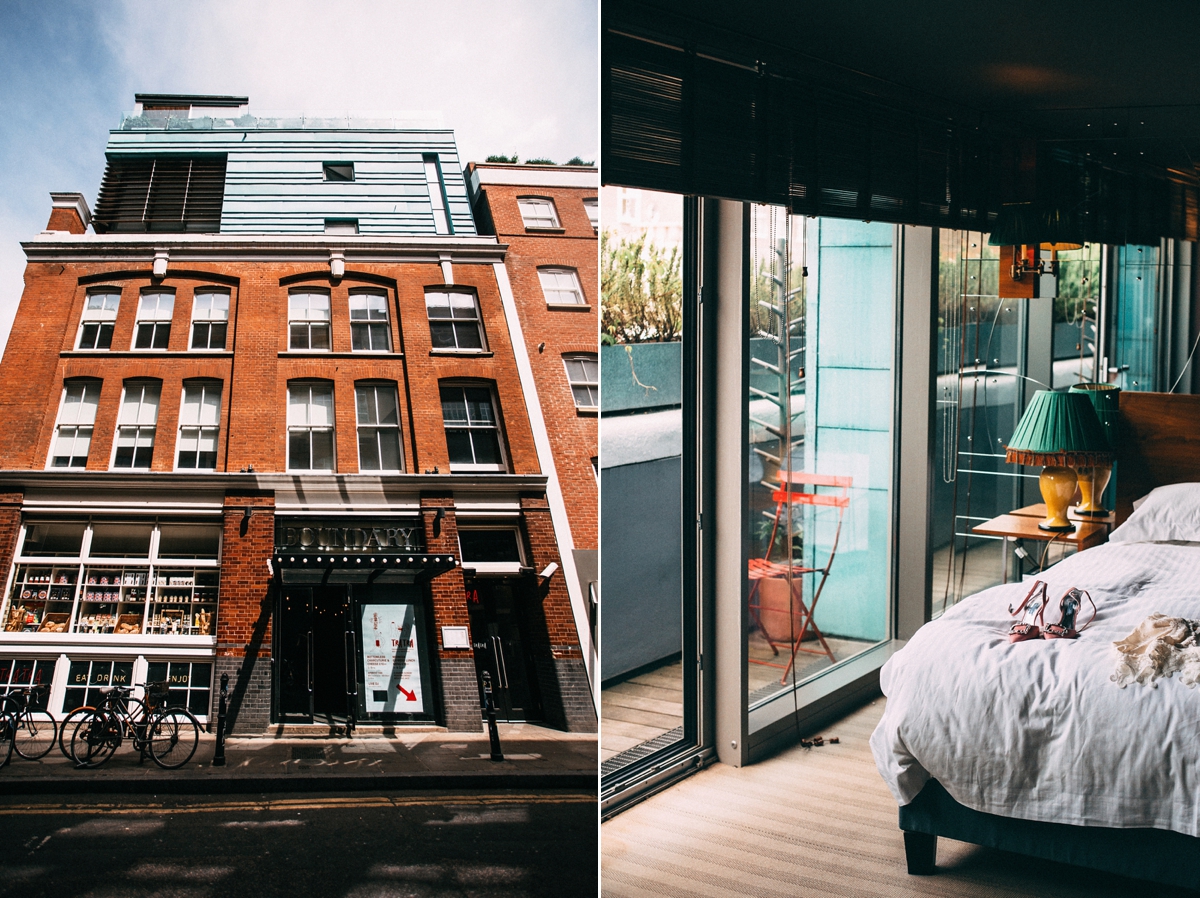 The couple's wedding was filmed by Gianni Diliberto – though sadly we don't have access to the film itself.
[JP-VIDEO]
"I've worked with videographer and photographer Gianni Diliberto on fashion shoots at work and he is just the nicest guy. He doesn't usually do weddings, so he was doing me a huge favour by capturing our day for us, but he did a fantastic job and again, was so lovely to have around."
"Flowers were from That Flower Shop. I follow Hattie on Instagram and love everything she does, so I knew I wanted her involved. I gave her a really vague brief of wanting flowers that looked like they'd been picked from a field that morning, and she hit the nail on the head. They were perfect."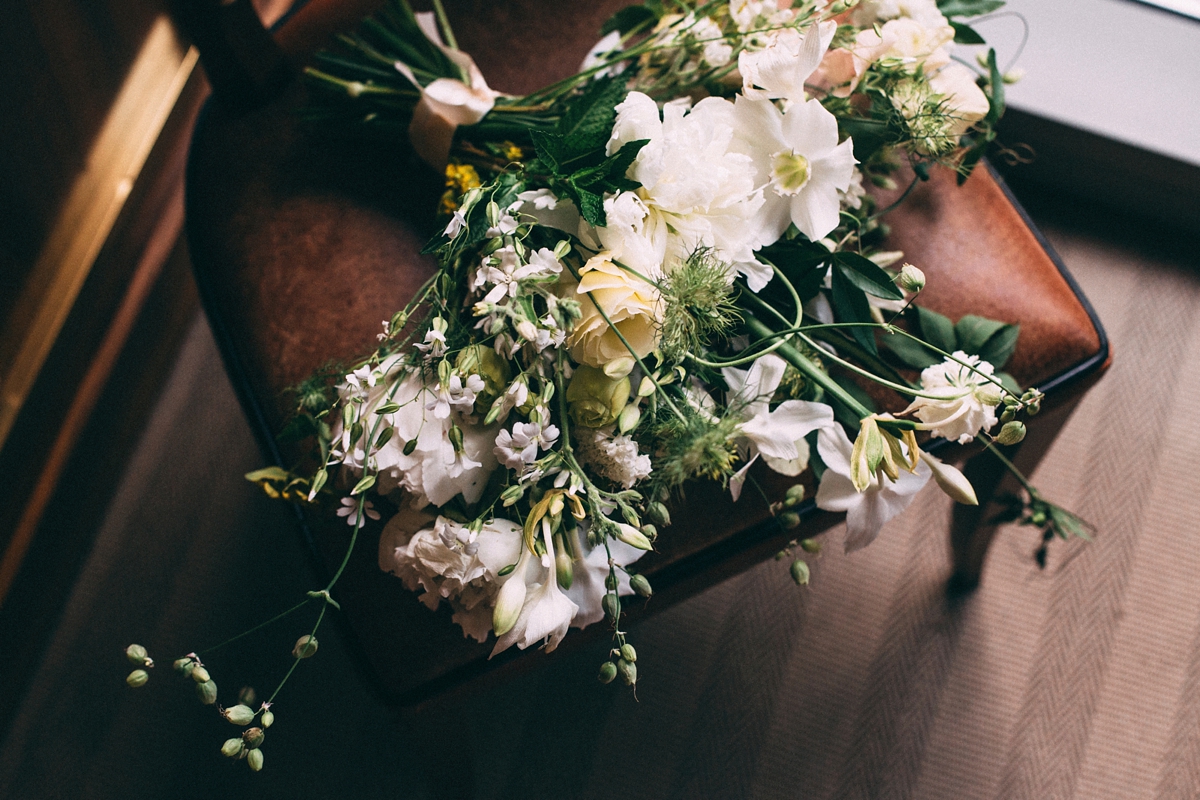 "Hair was Ashley at Kennaland – he's an expert at doing non-wedding wedding hair. I wanted someone that wasn't specialised in wedding make up and I loved Mariam Jensen's portfolio."
"She is an editorial/fashion make-up artist that does do the odd wedding (so knows all the tricks to long-stay make up) and I loved her from the second we spoke on the phone."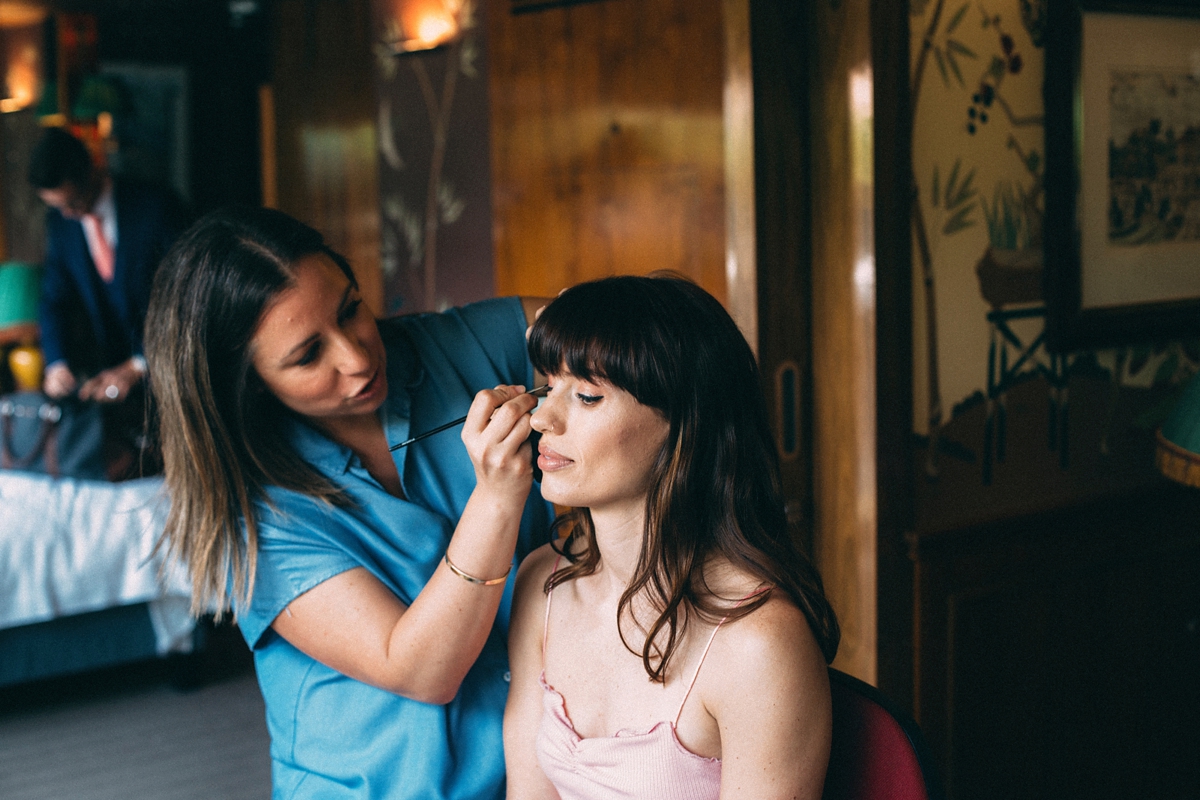 "I wore the selection of Maria Tash diamond-studded hoops I wear every day and Gucci Bloom. Just because it's the scent I'm obsessed with at the moment."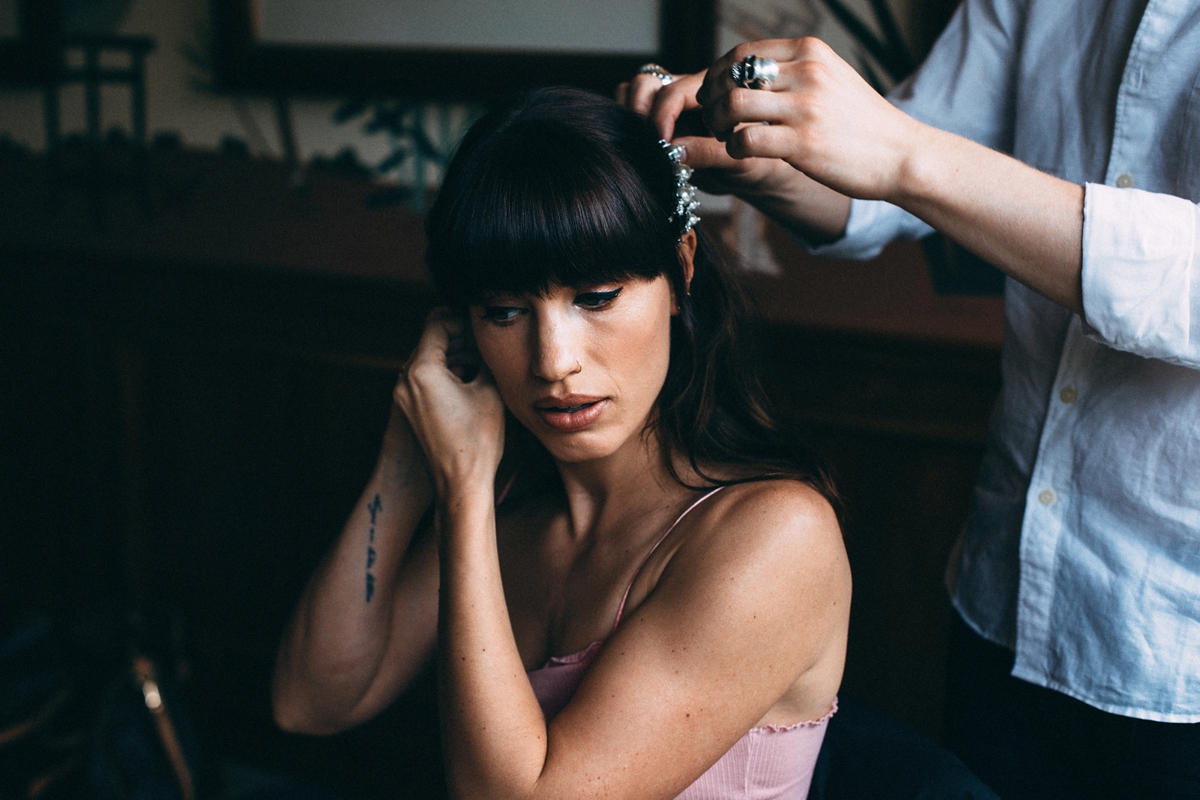 Her squad of bridesmaids were dressed in pale hues of peachy nudes; their gowns were from Zara, Asos and & Other Stories.
"I gave each bridesmaid, all of them life-long BFFs, a small gold star necklace with their initials on it."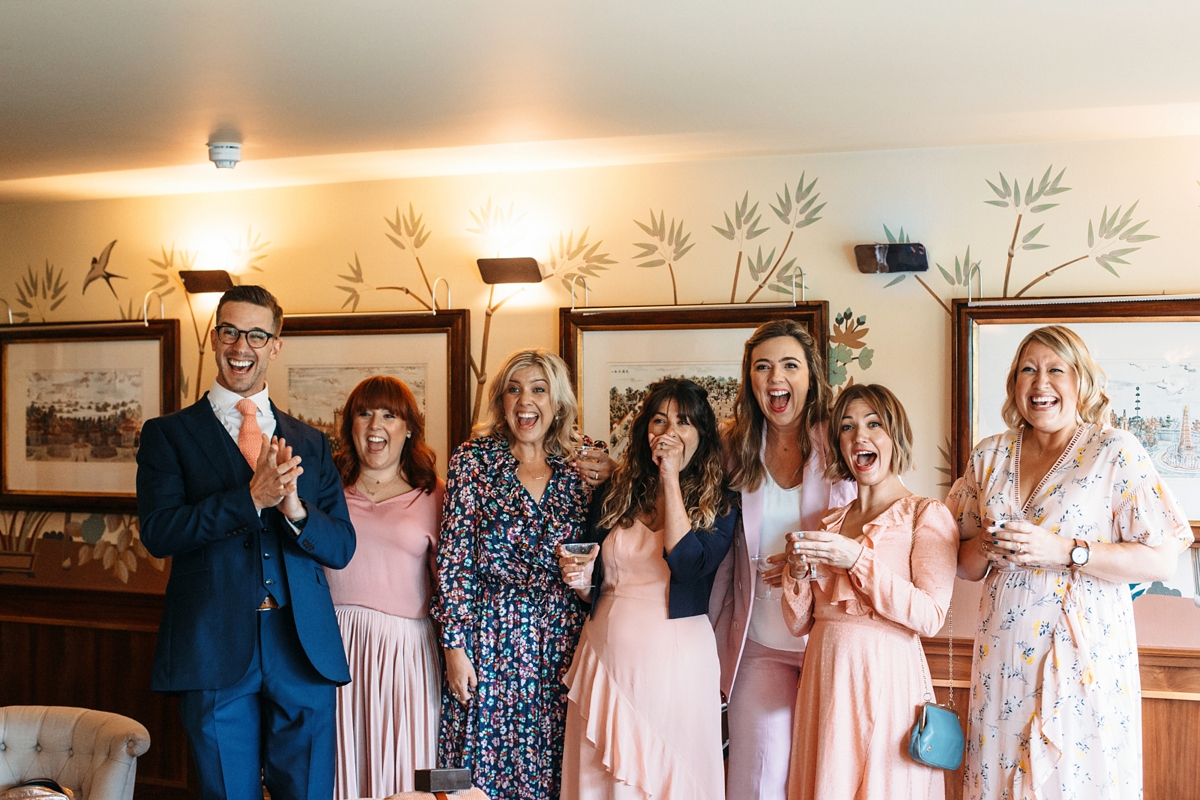 Kate's pure white gown, with its floaty layers on front and back, sexy deep V-front and effortless elegance, was bought online just four weeks before the wedding. It's by Australian designer Shona Joy.
"I really wanted a dress that was bohemian in spirit but also suitable for a city wedding (which ruled out anything too beachy) and that I could feel 100% comfortable in all day long. As soon as I tried it on I knew it was the one. I also loved that I didn't have to wear a bra with it. Massive result."
Kate has the cool, chic vibe down to a tee, pairing the gown with pinky-coral heels from Prada and Simone Rocha hair slides. Her dark hair had a beautiful boho vibe with its curls, yet her fringe was sleek and modern. With pared-back make-up and defined eyes, she looks utterly beautiful.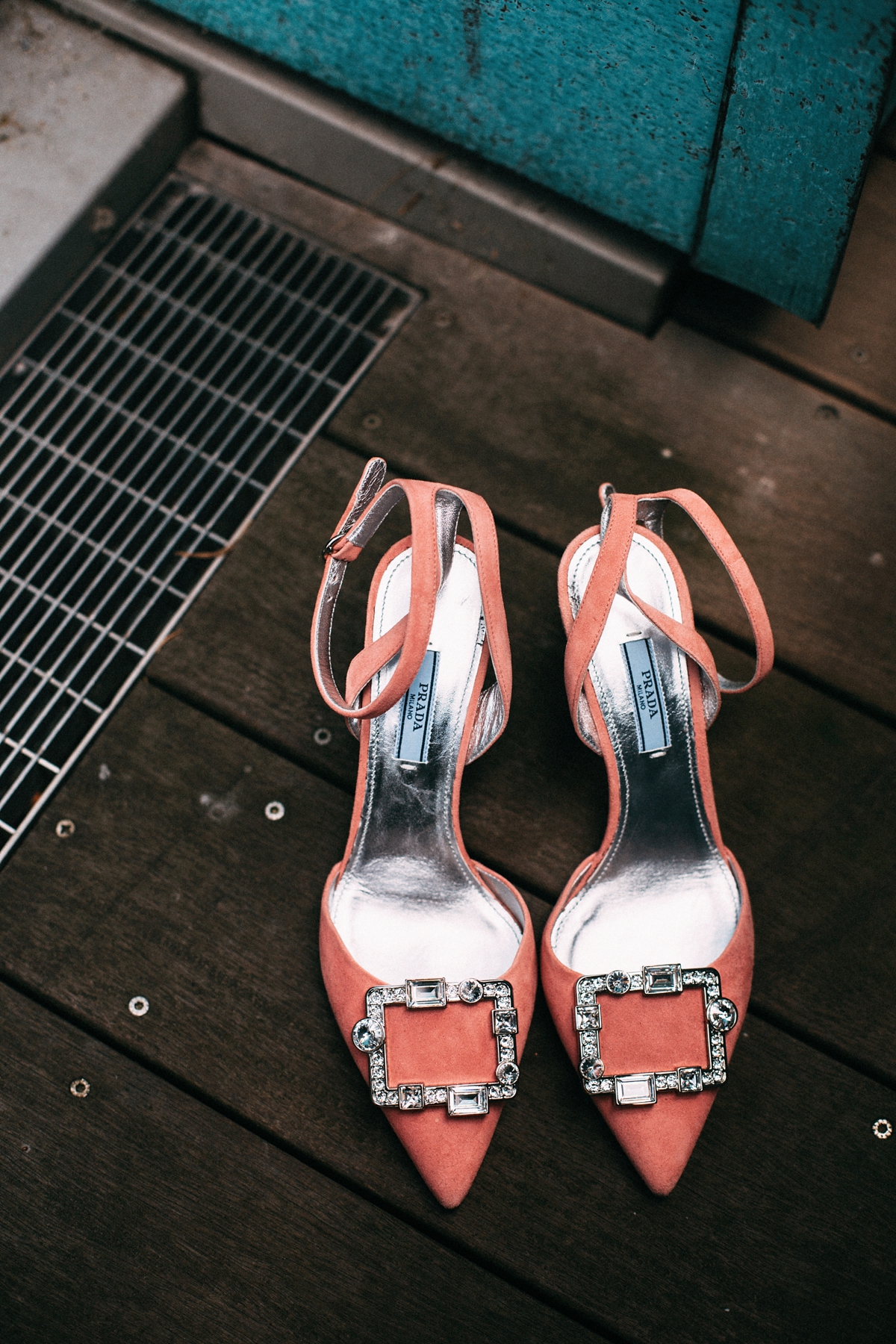 The venue for the ceremony itself was the splendour of Mayfair Library.
"Neither of us are religious, so we just wanted something that was simple and non-dramatic. We're both avid readers, Kim more so, and have walls of books in our apartment, so it seemed fitting that we got married in a library surrounded by books."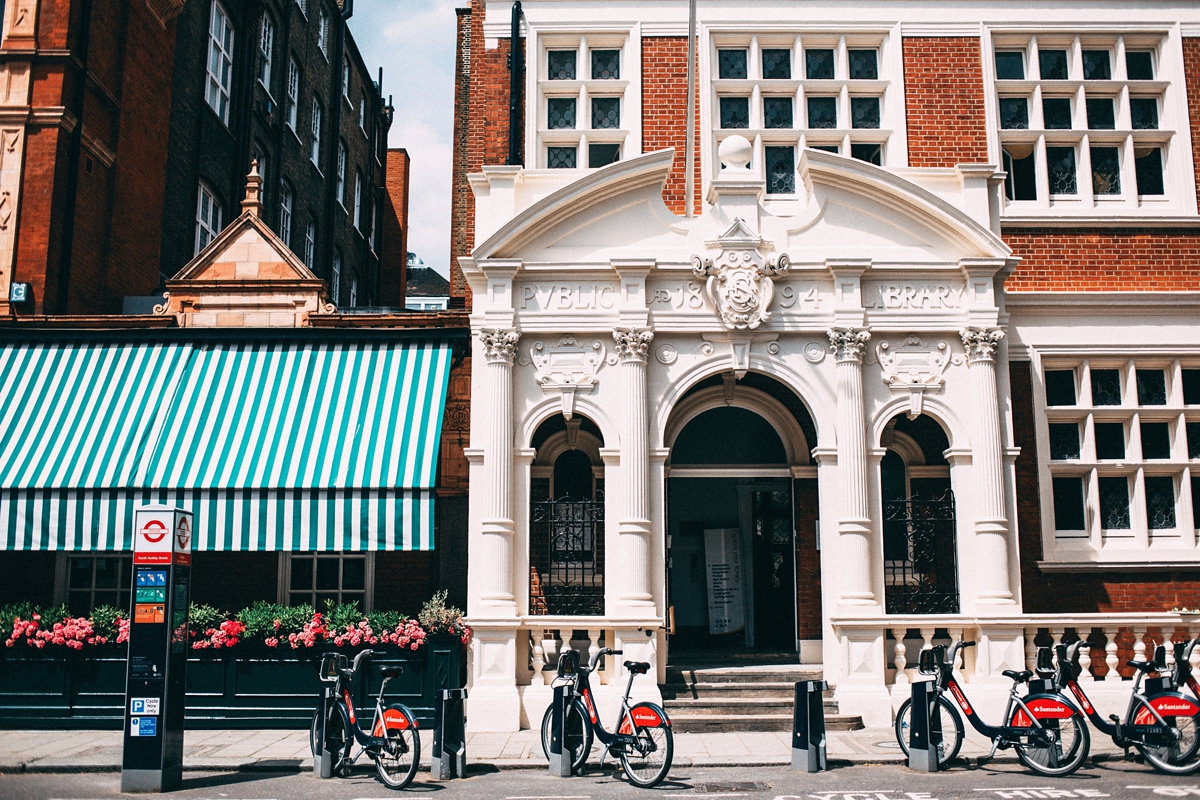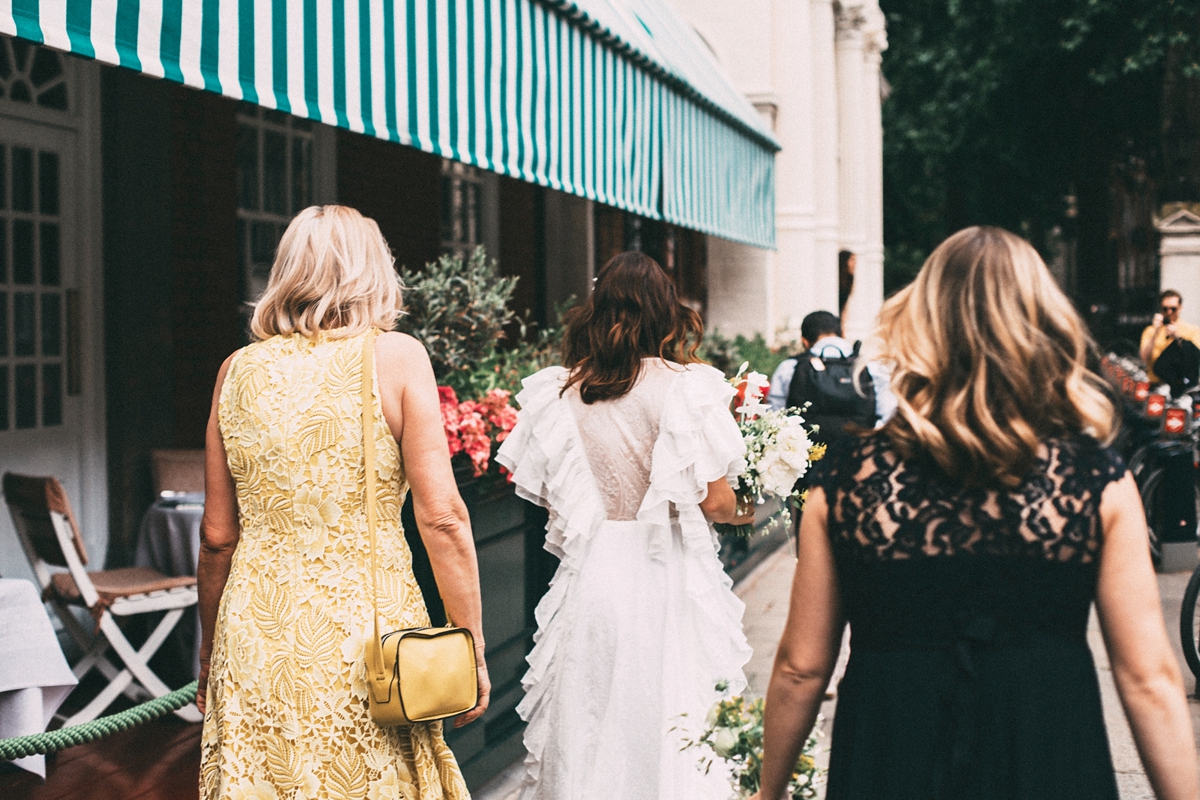 Kim also rocked a unique, non-weddingy style in a crisp blue, bespoke suit and white kicks.
"He wore a Gucci shirt and metal tiger head neck tie also from Gucci."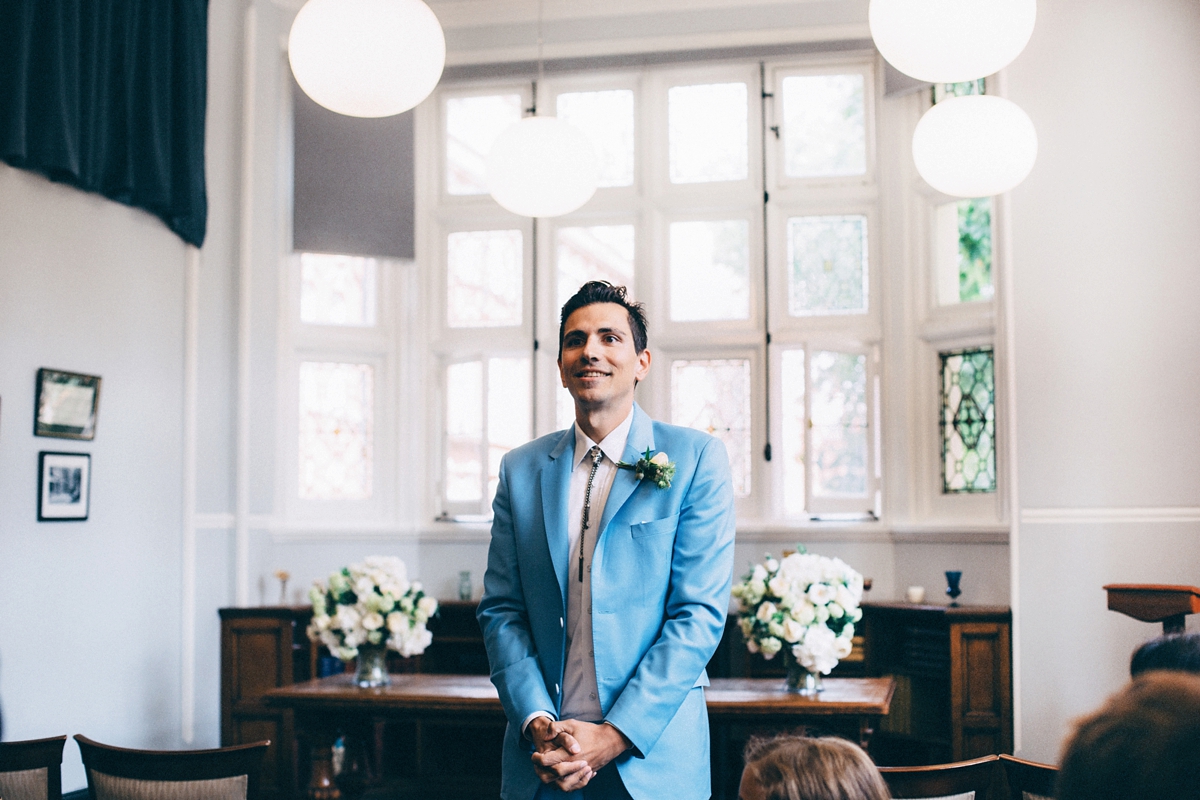 Kate entered on the arm of her dad, to the gloriously joyful song by Tom Odell, 'Grow Old With Me'.
"We wrote our own vows, which was so emotional and special. We wrote them together a week before the wedding, and it was such a lovely moment when we got to read them out loud to each other. We knew we wanted to write our own vows but it was a bit daunting when it came to it."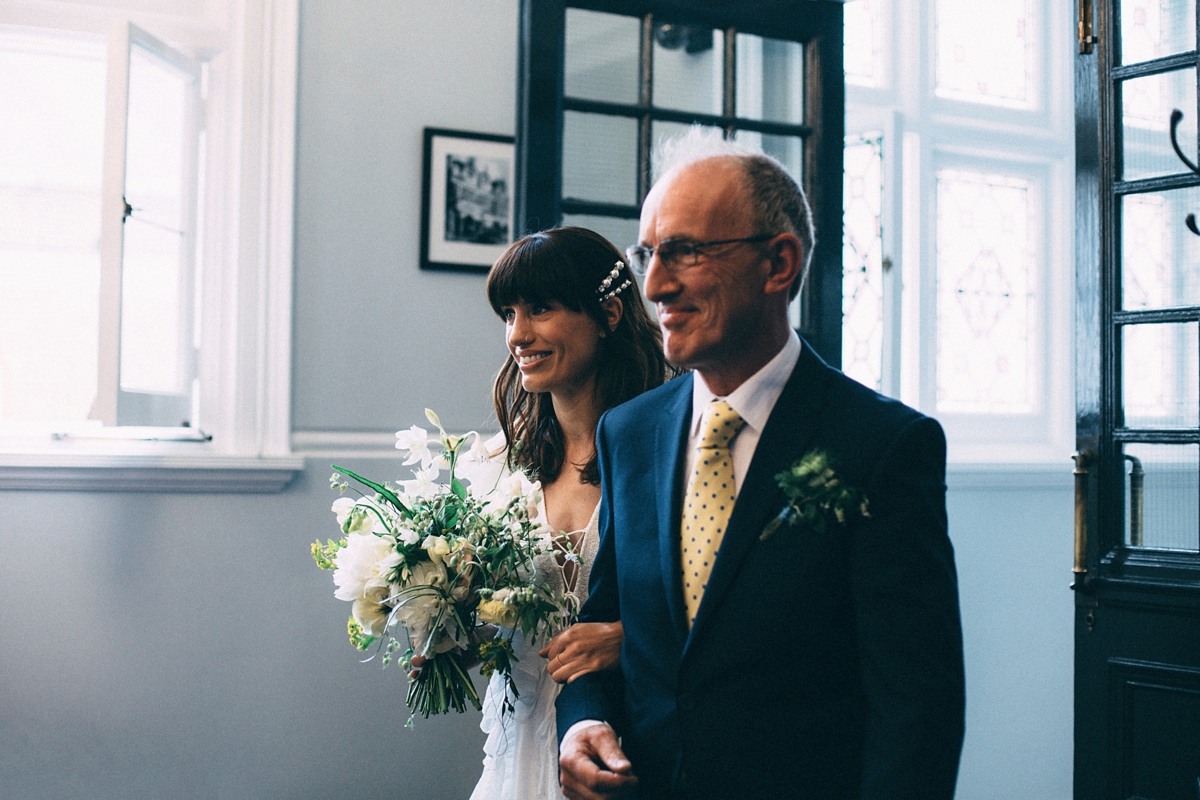 "After researching for a bit, I think the best advice I read was to stick to the same tone (which is why we wrote them together), and both choose three promises that you want to make to each other. After that, they came together really quickly."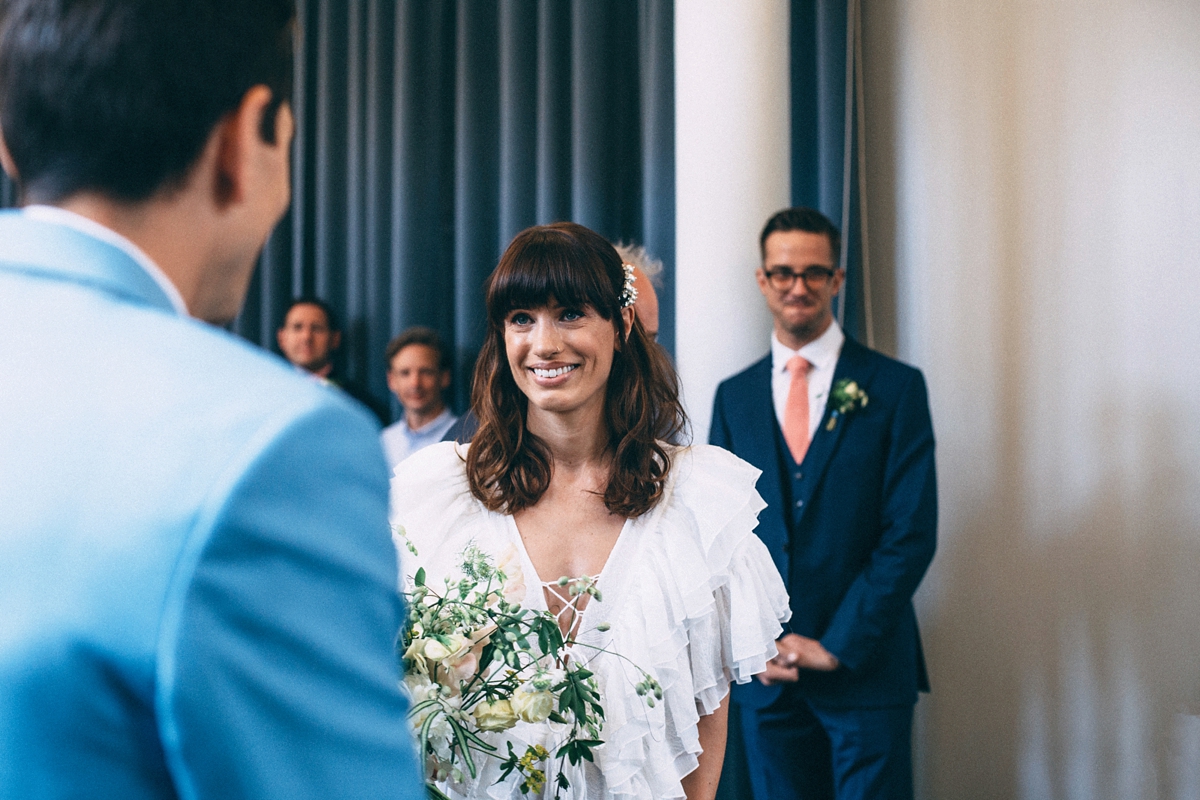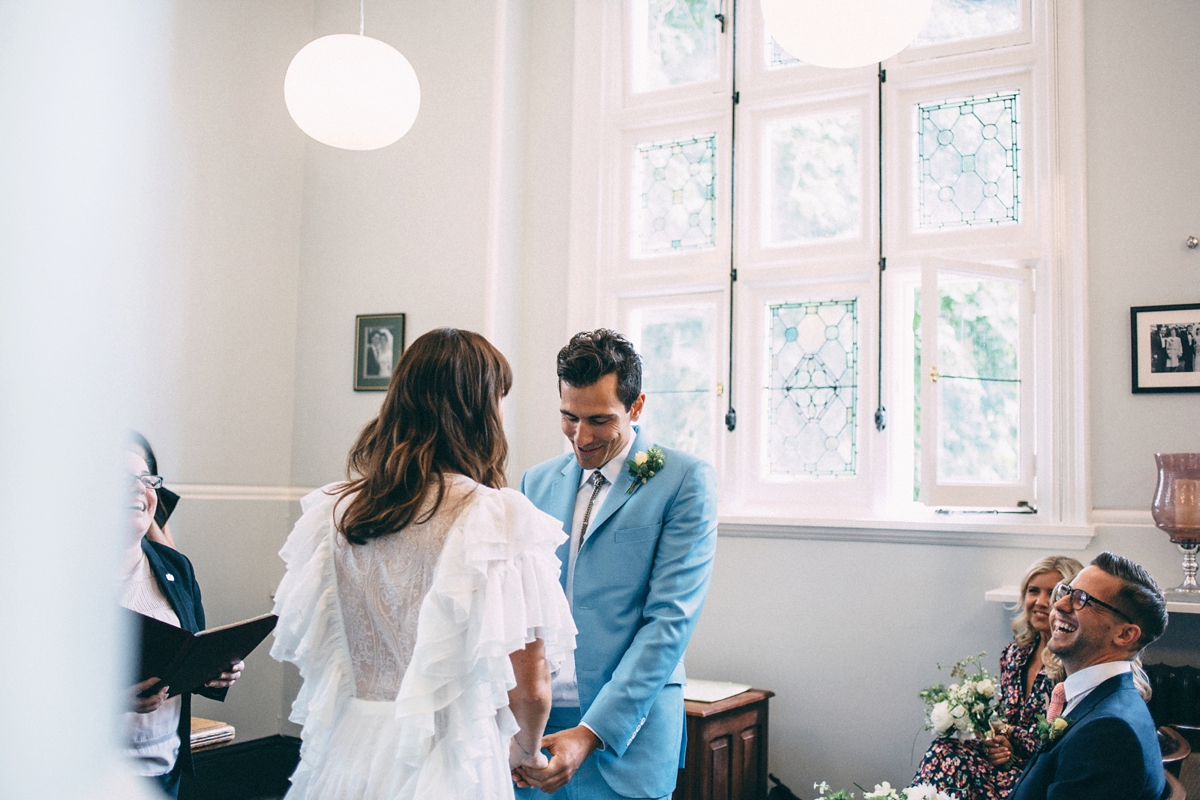 During the ceremony Kate's mum read the lyrics to Bruce Springsteen's 'If I Should Fall Behind'.
"Why? Because we both love The Boss. Kim's friend Alex also wrote a poem for us and read it out at the ceremony. One of my best friends from London and one of Kim's best friends from Toronto also came together and sang a song at the ceremony, which was so touching. They sang Everything But The Girl's 'Day & Night'. It was such a lovely moment."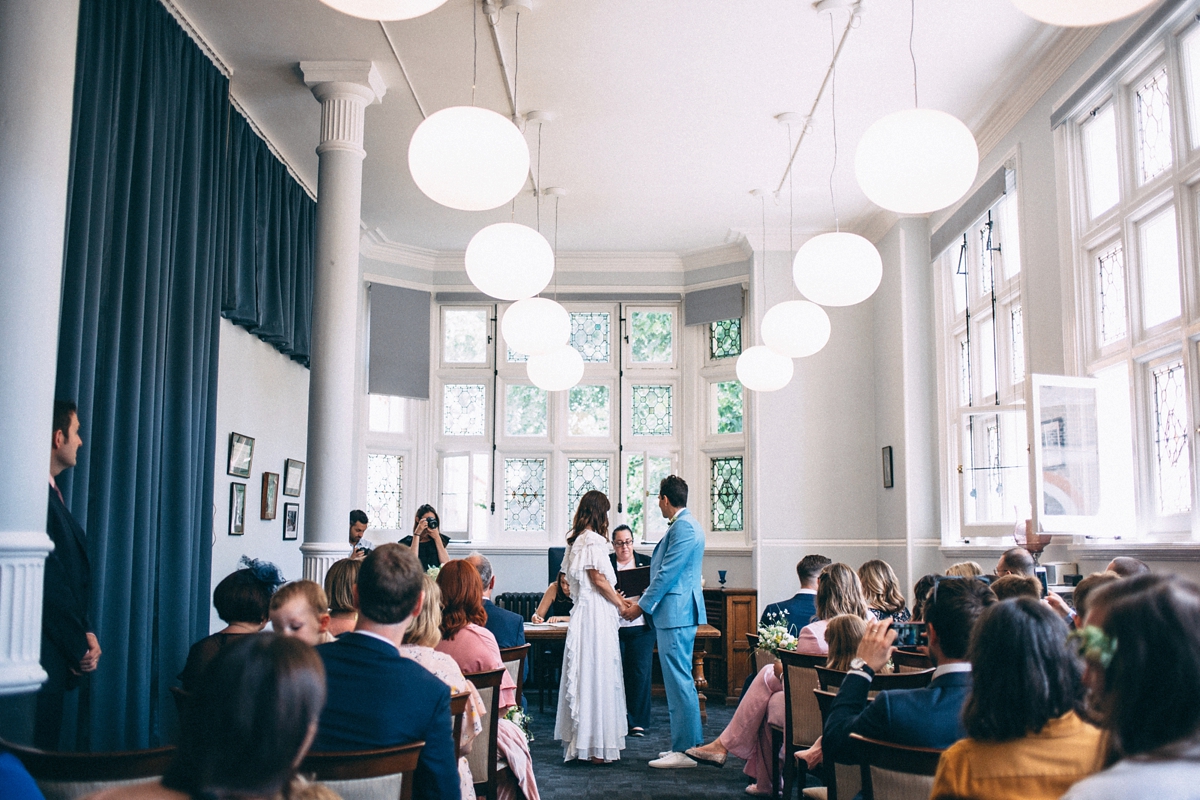 Rings were bought in the home city of Dubai; I love the personalisation.
"We got them made in Dubai at the Gold & Diamond Park initialled with each other's names in each other's handwriting."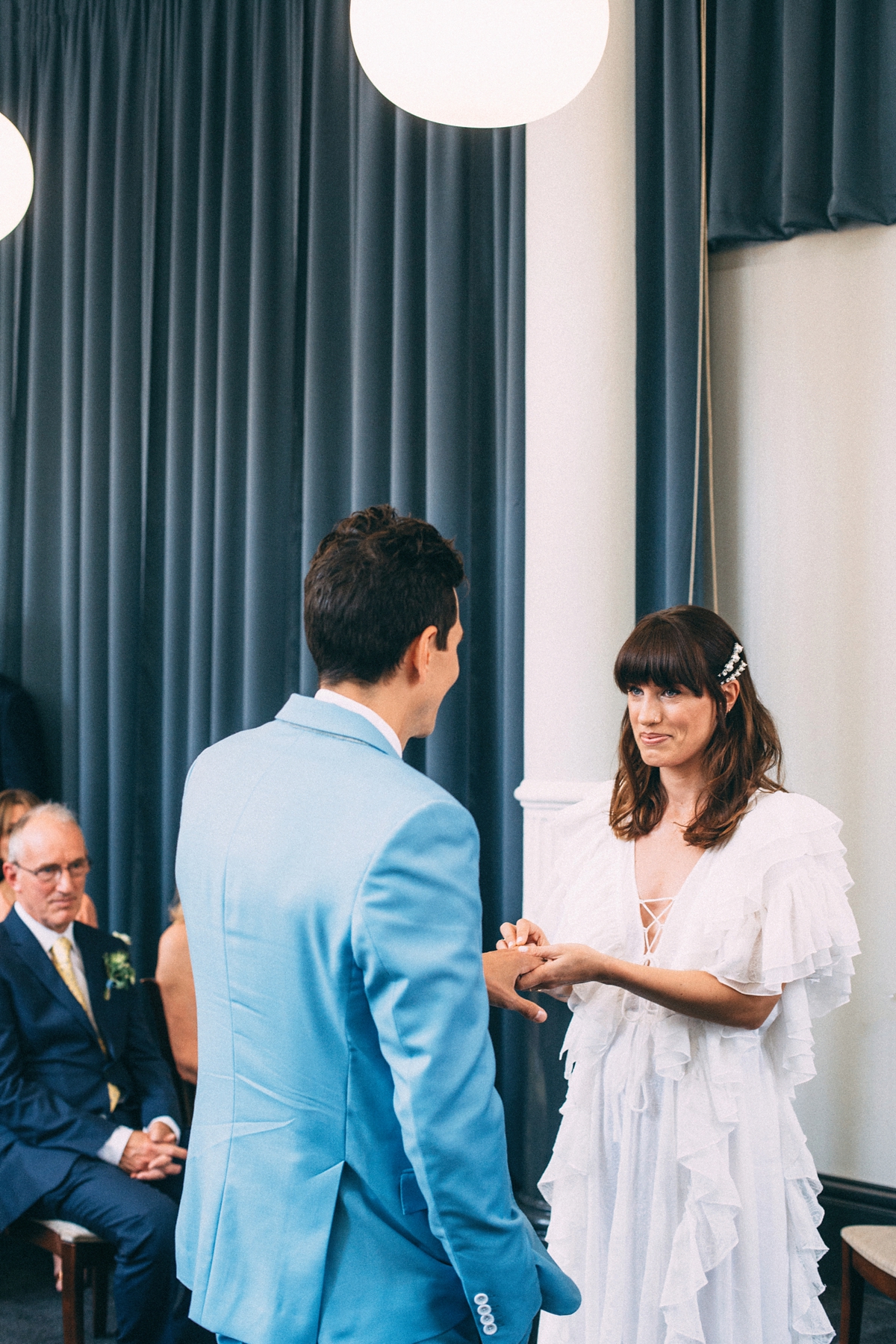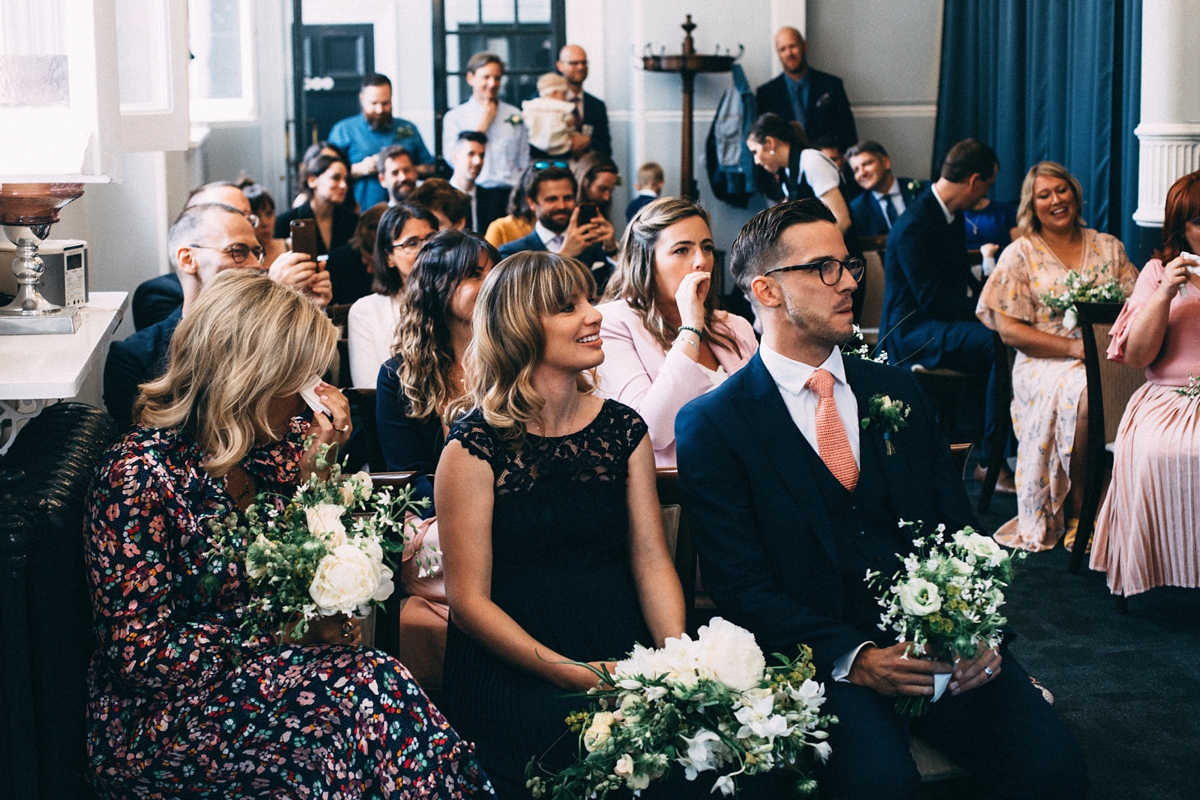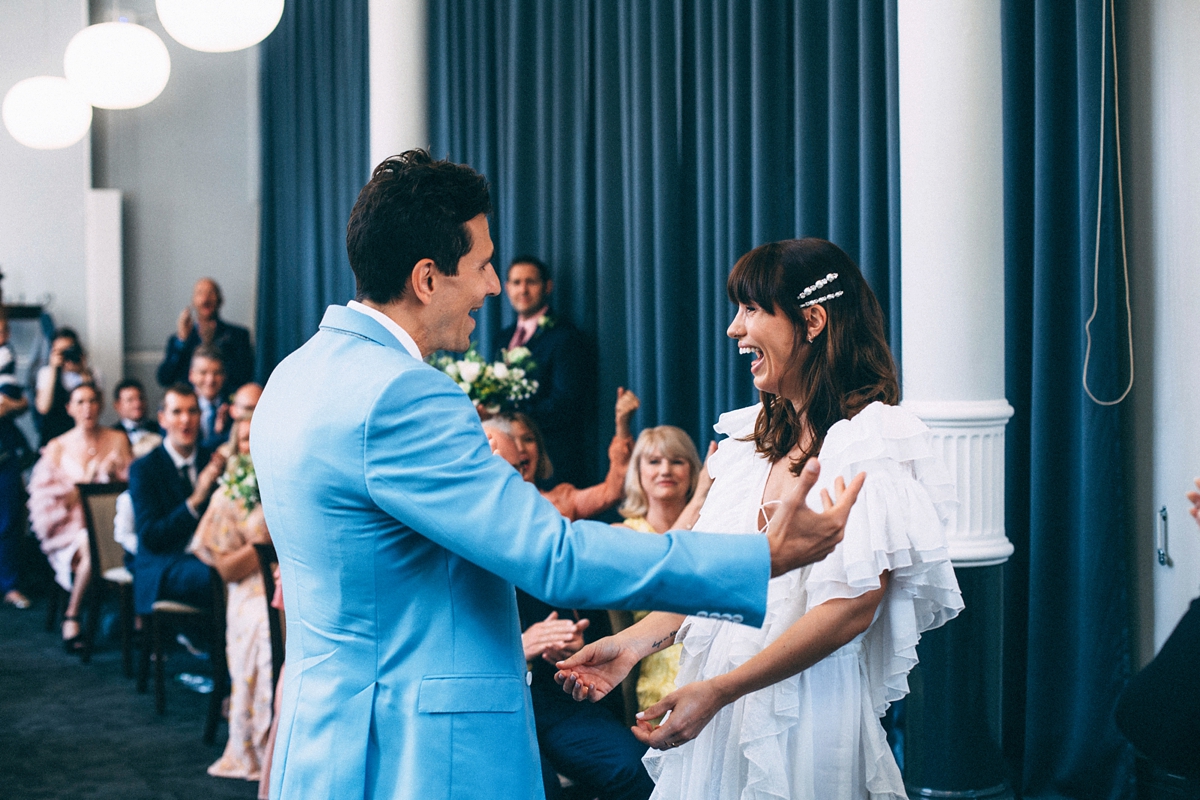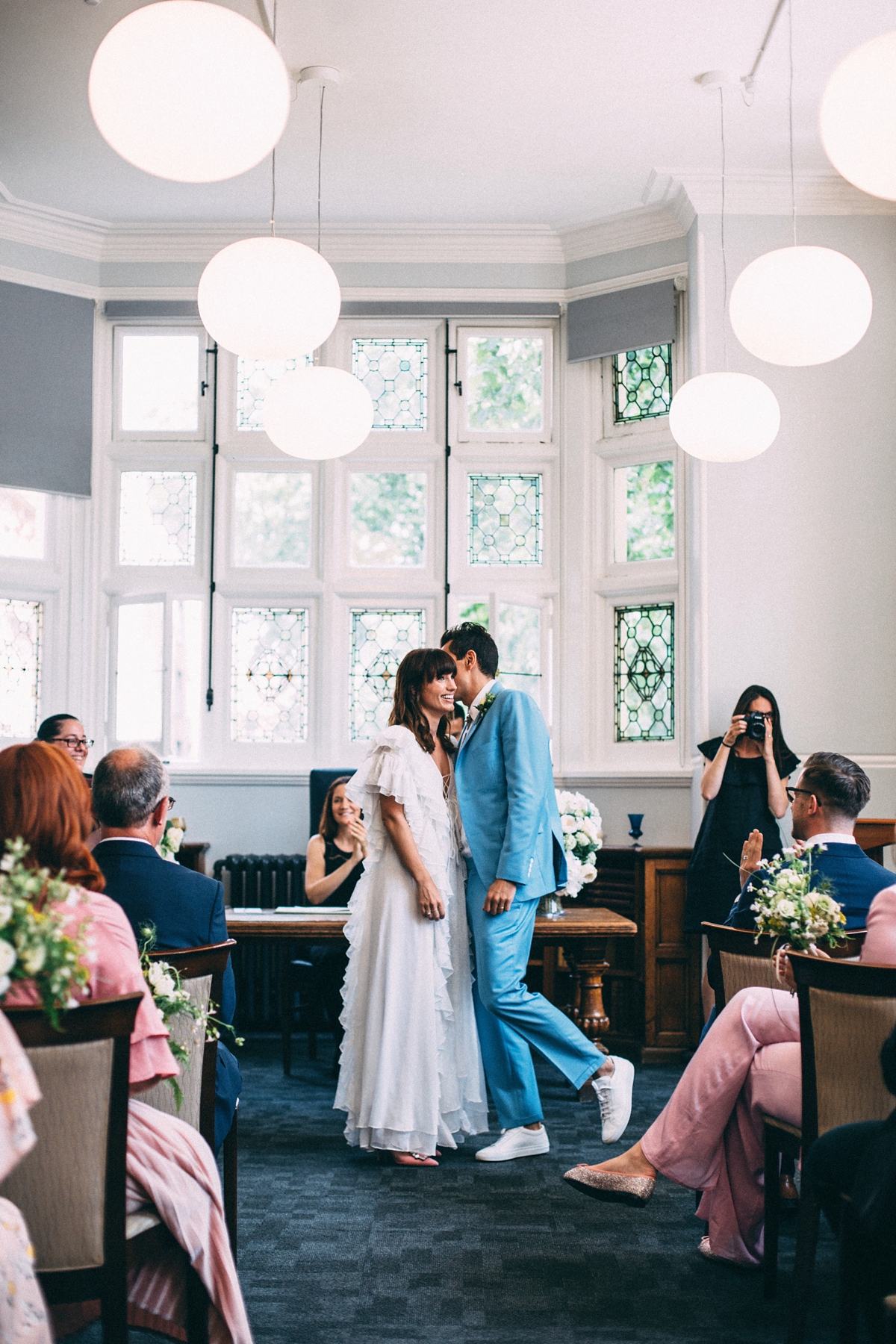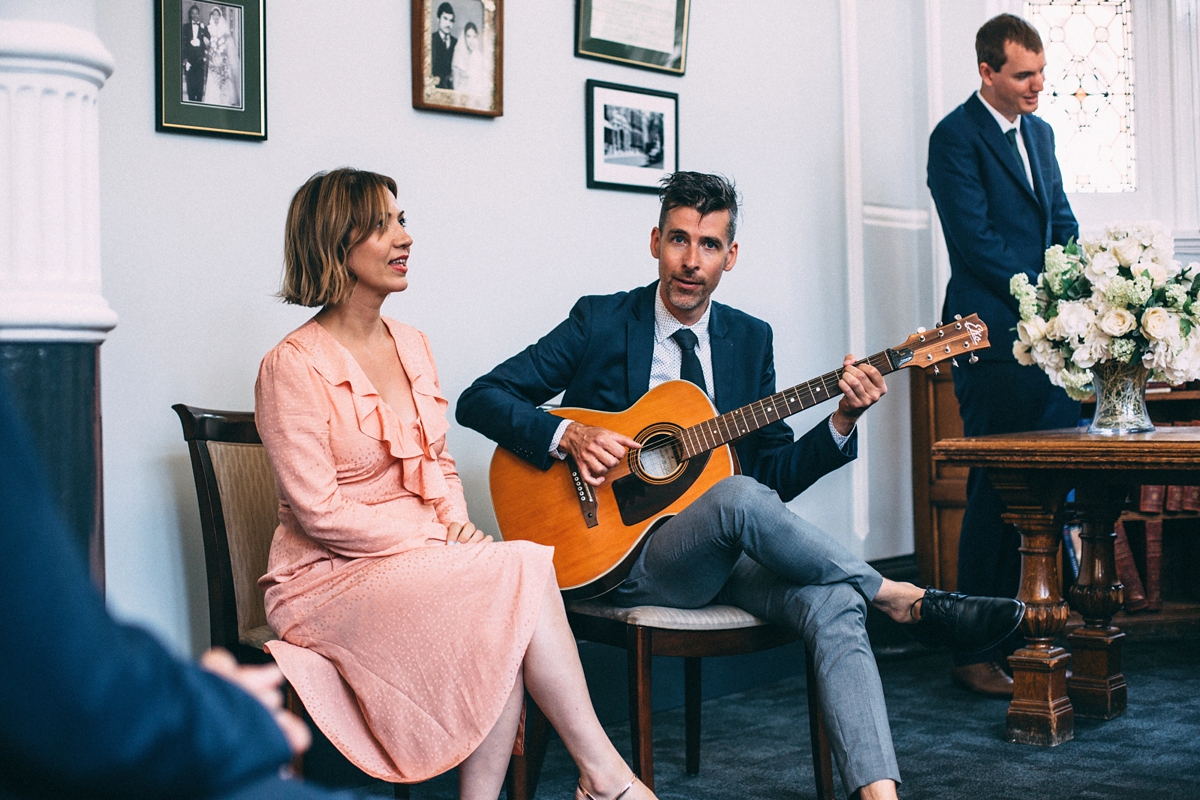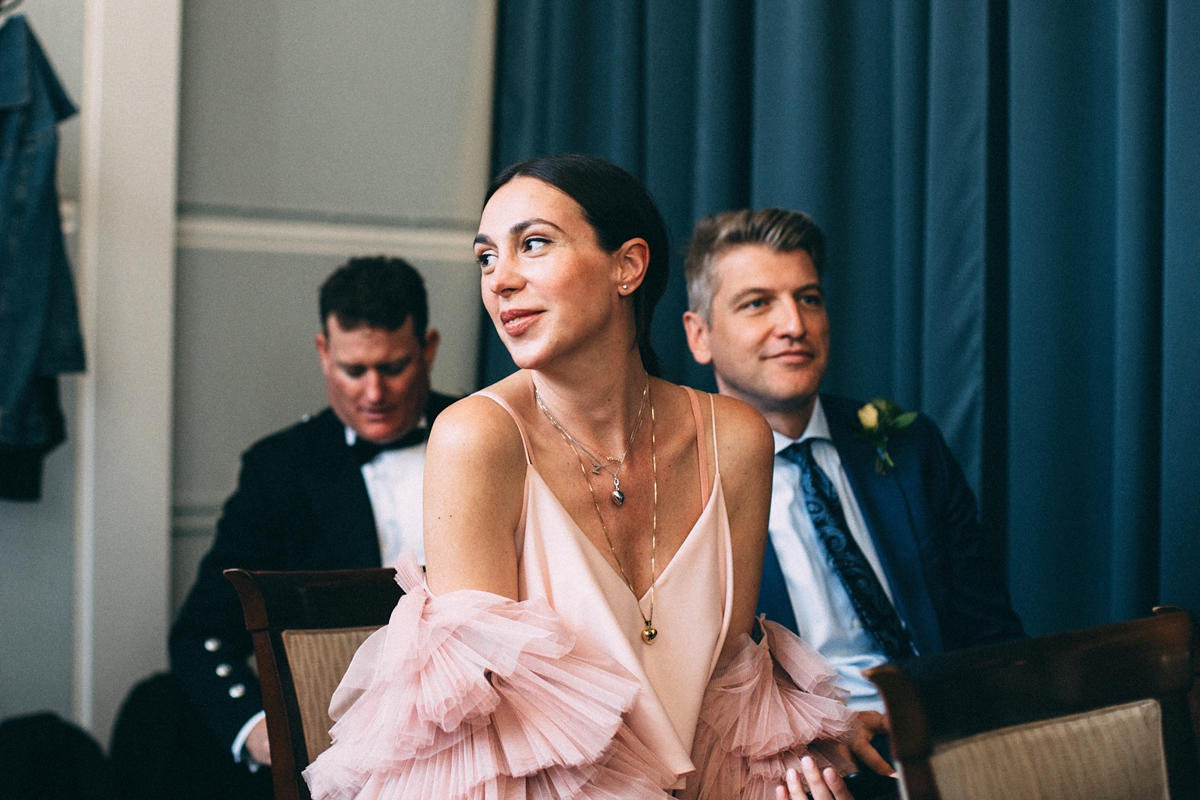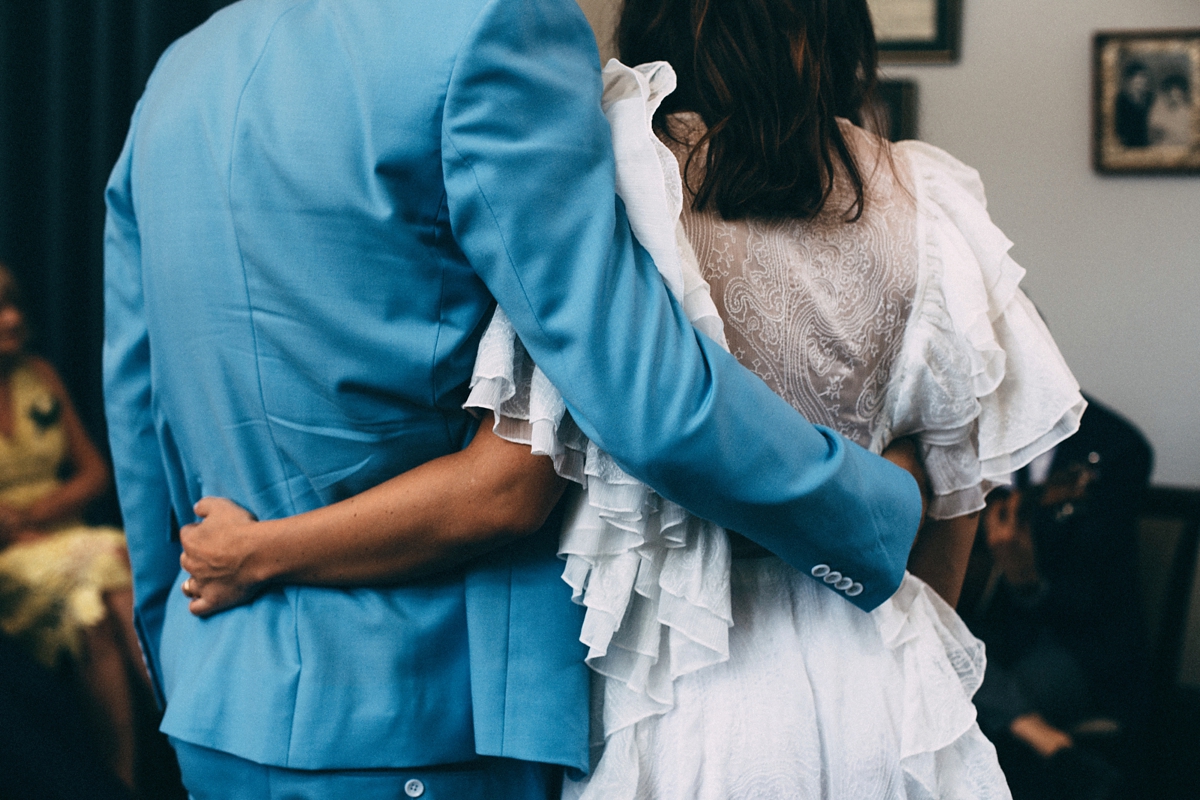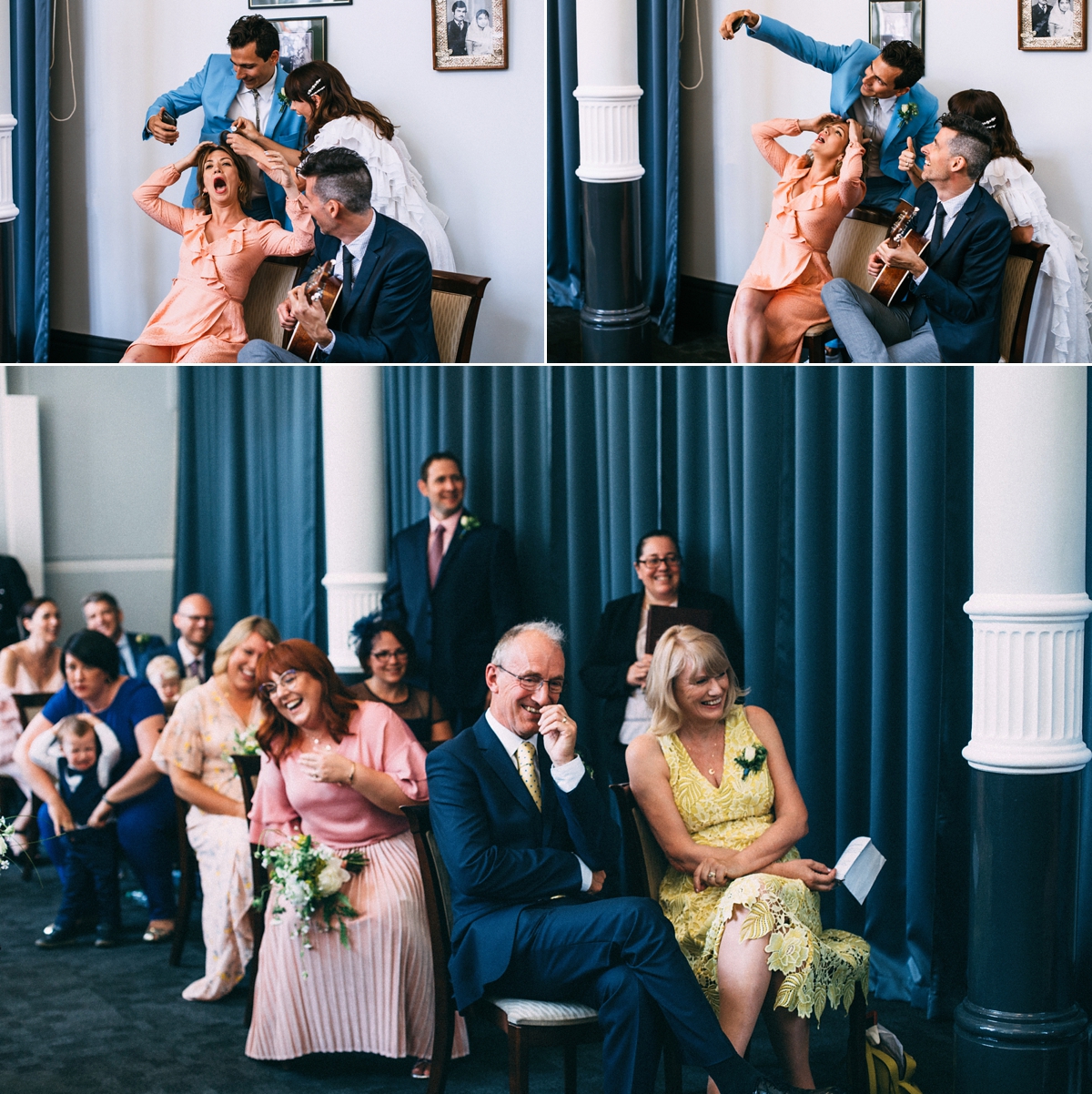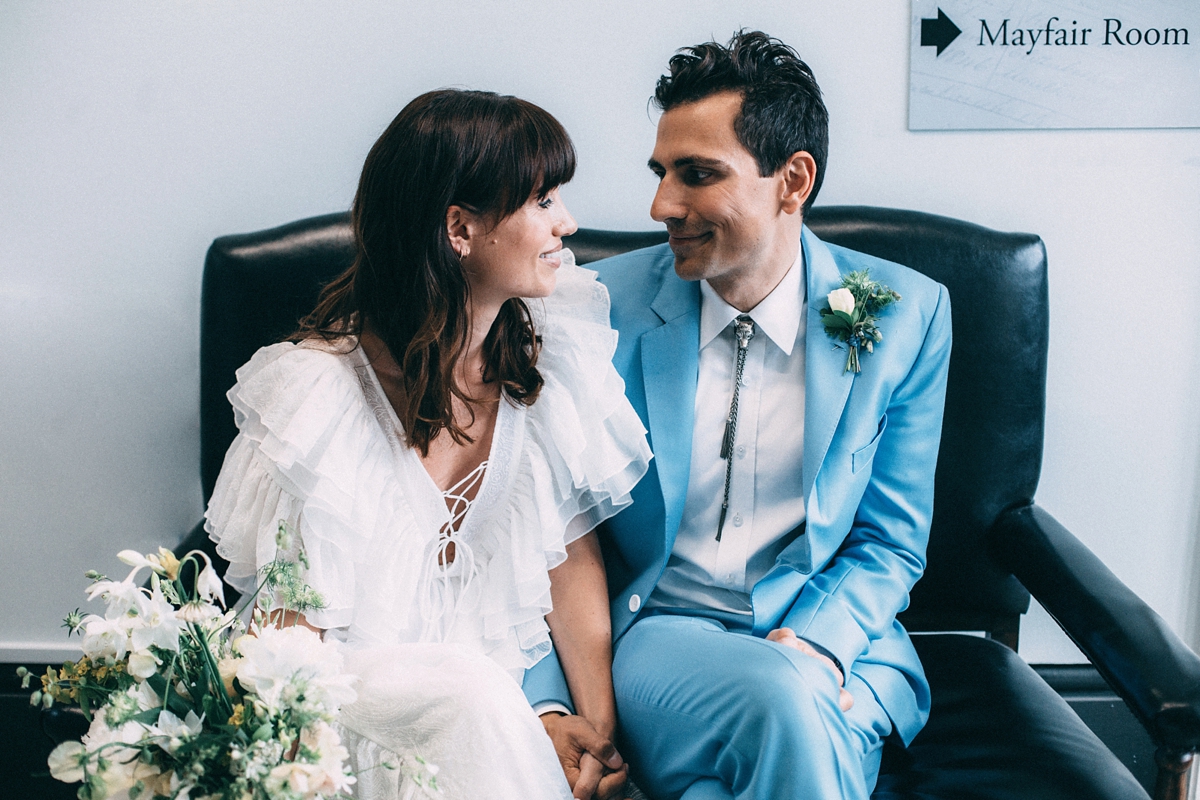 Travelling from Dubai, and having lots of friends travelling internationally, meant that the couple dedicated the whole weekend to spending time with them.
"We both have really close friends in London, Canada and Dubai and a lot of them were meeting for the first time so I loved seeing them all becoming friends and partying together. Because we had people travelling to London from all over the world, we had pre-wedding drinks at The Albion in Islington the night before and a brunch at Jones & Sons in Dalston the day after."
"Having everyone get to know each other and meet firstly the night before was so lovely as it meant that friendships had already formed on the wedding day and people knew each other. Doing something either side of the wedding day also meant that there was less pressure to spend quality time with everyone and the day flew by so fast, it was nice to prolong the celebrations."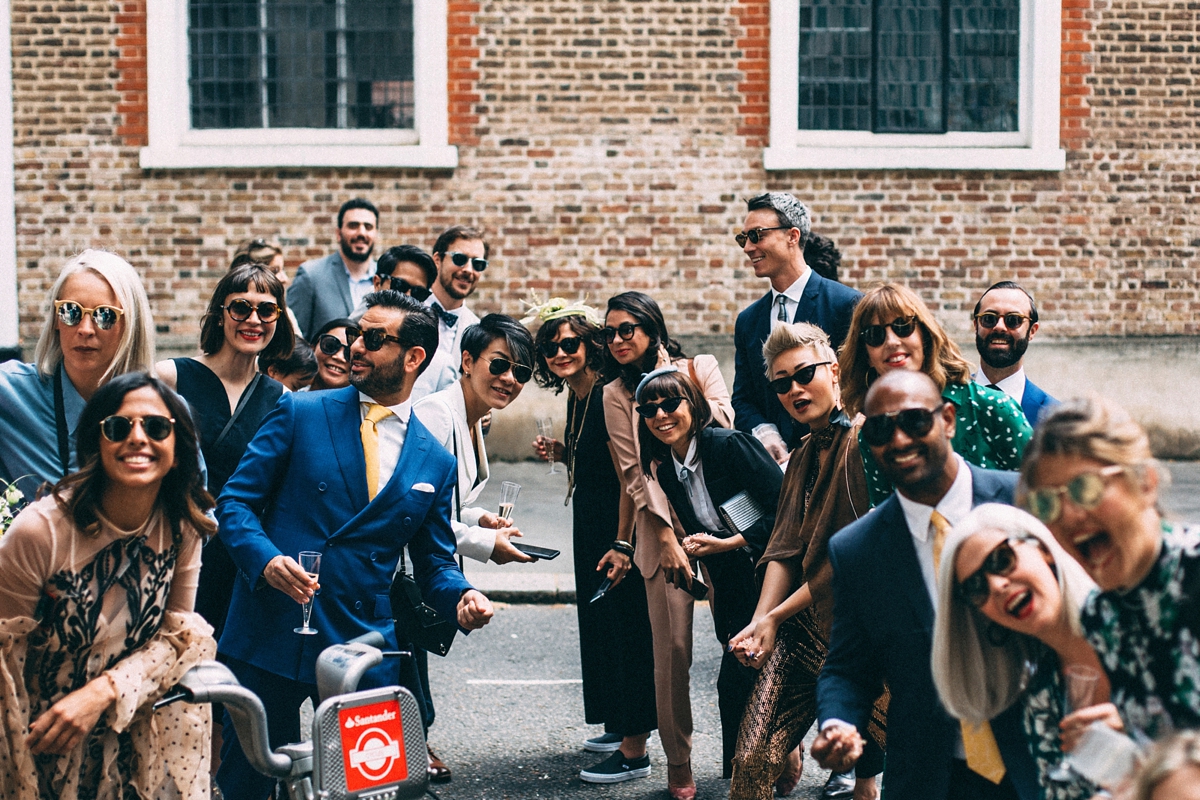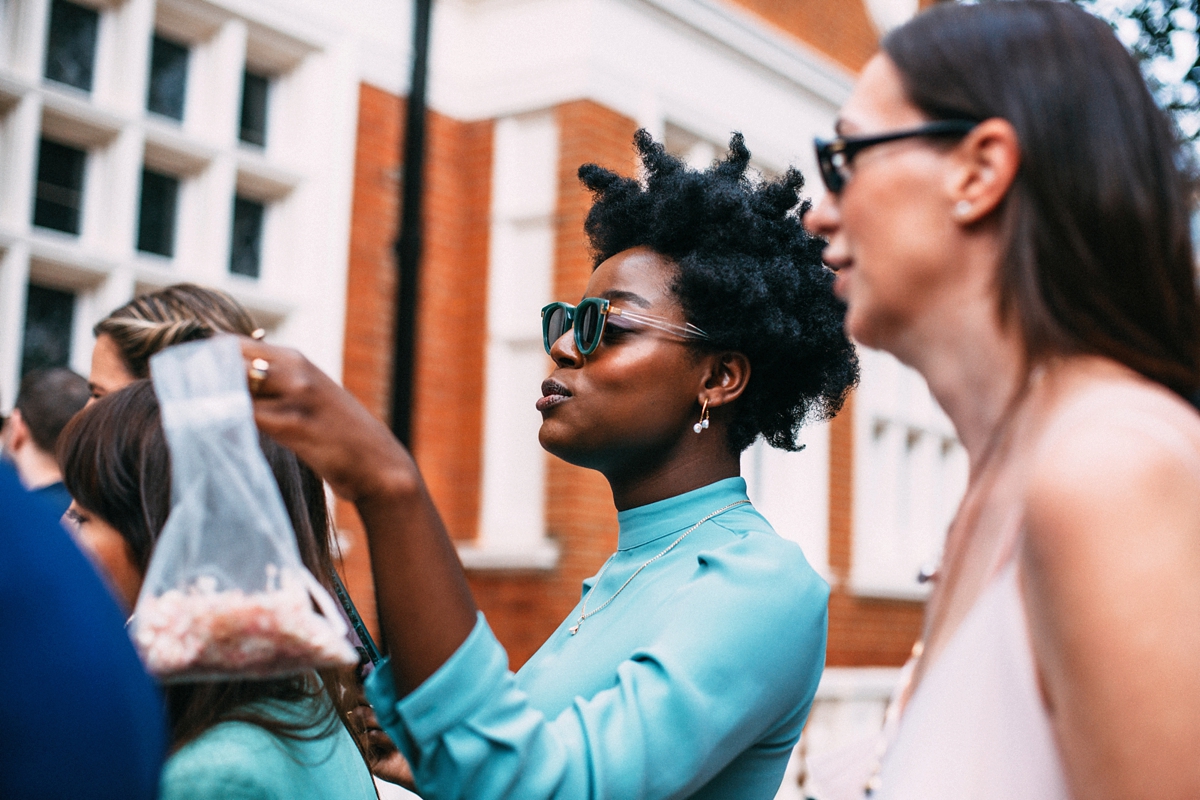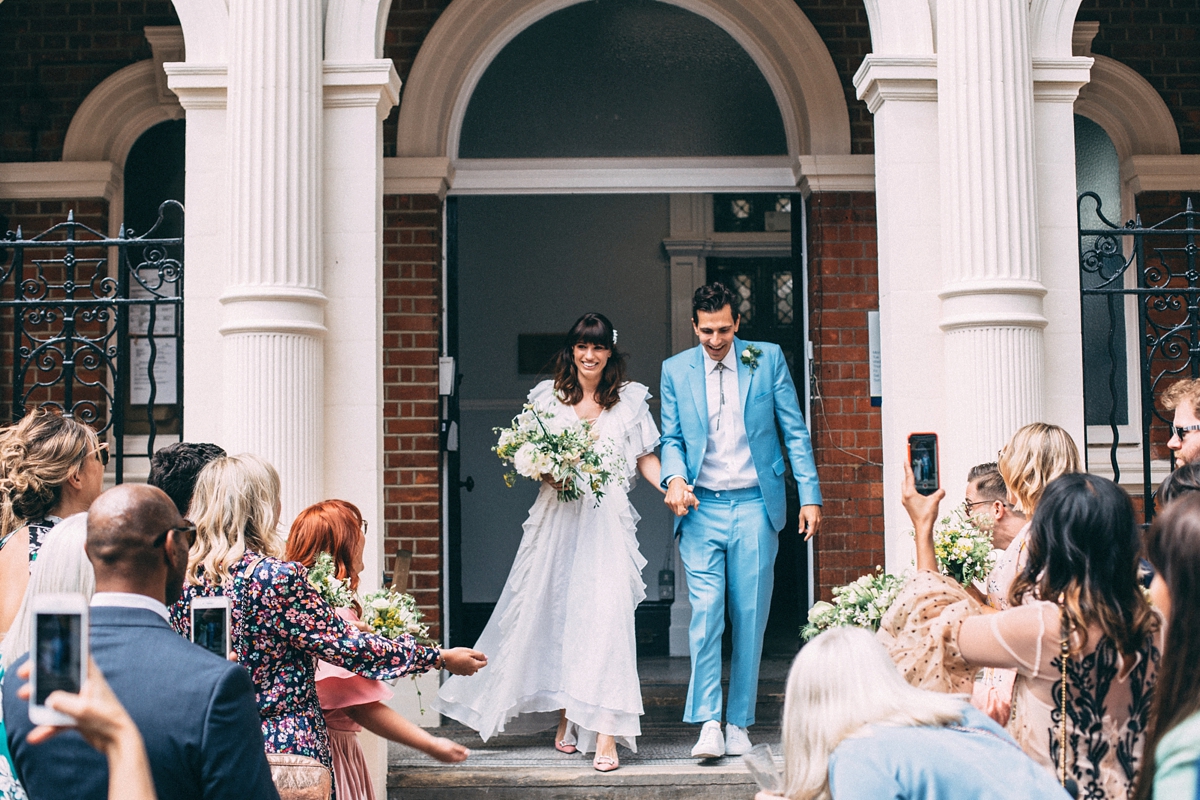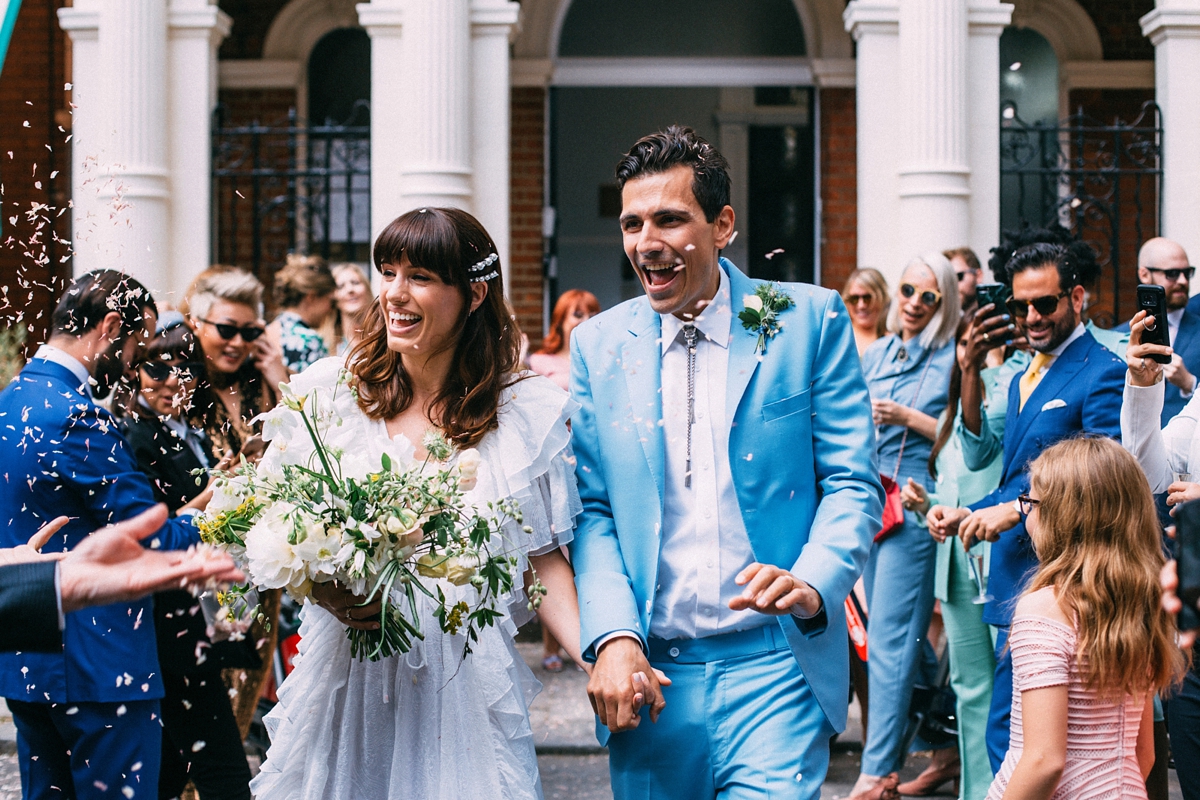 After the ceremony, vintage 1960s London buses carried Kate, Kim and their guests from Westminster to Hackney's Bistrotheque.
"I loved the urban and industrial feel of Bistrotheque, which is one of the reason's why we booked it, so it only needed Hattie's flowers to brighten up the place. She placed an assortment of wild flowers in mis-matched jars and bottles along the tables which added a nice touch."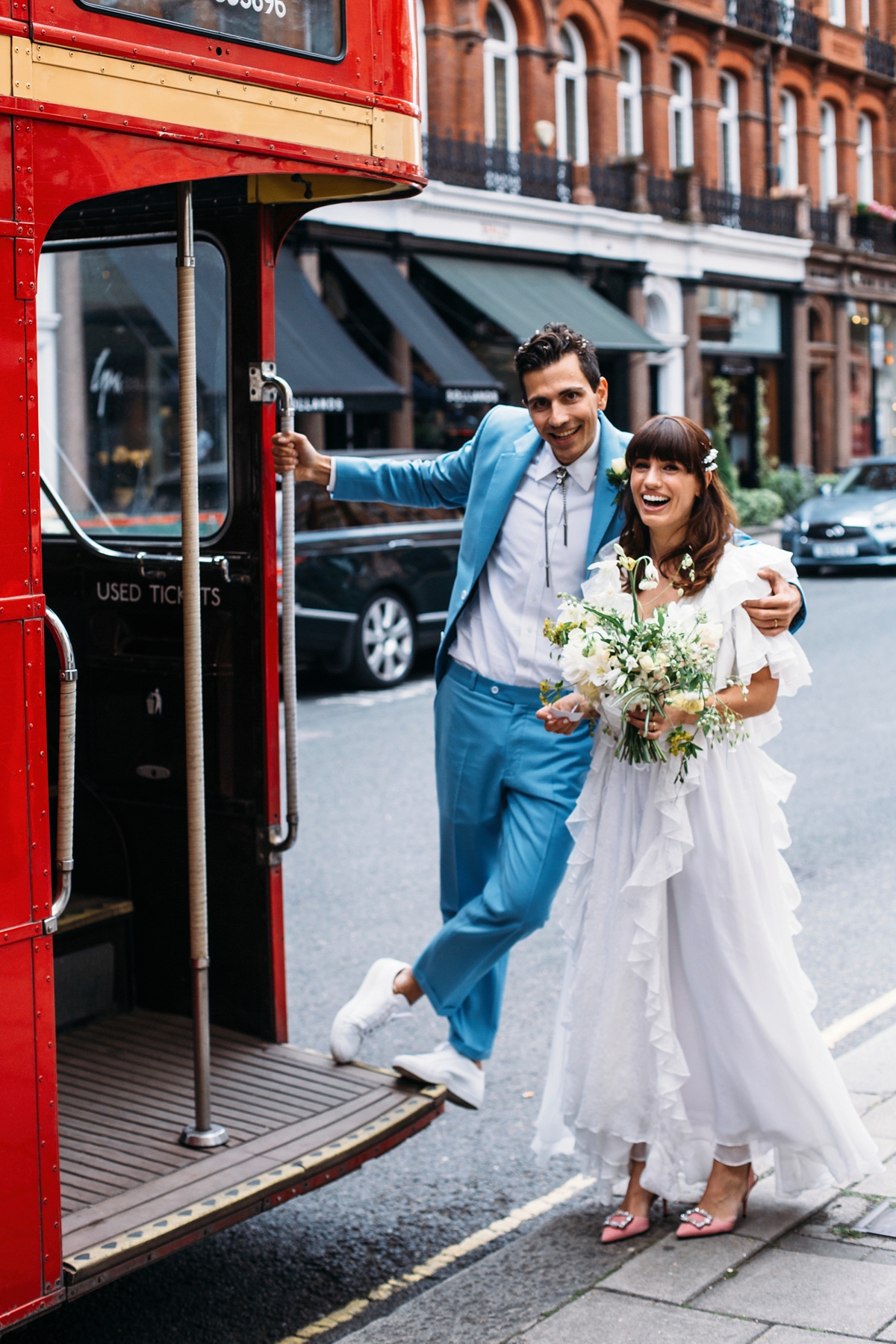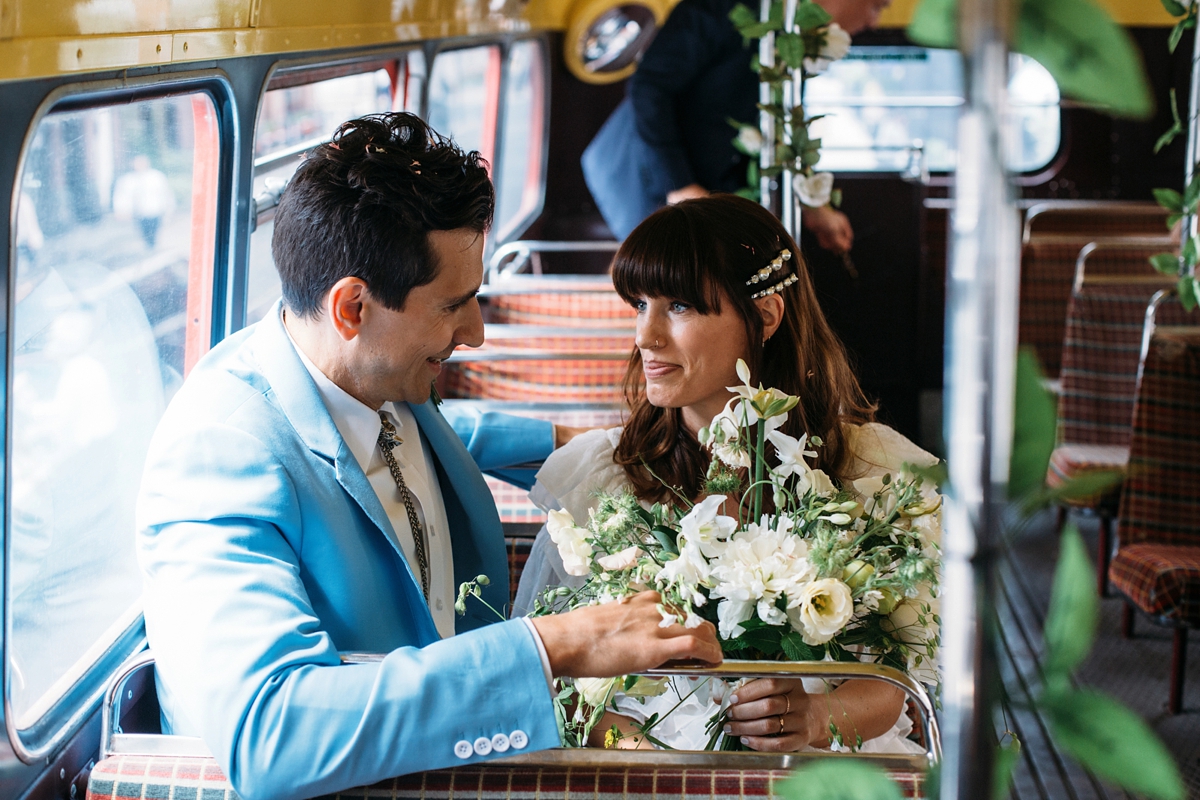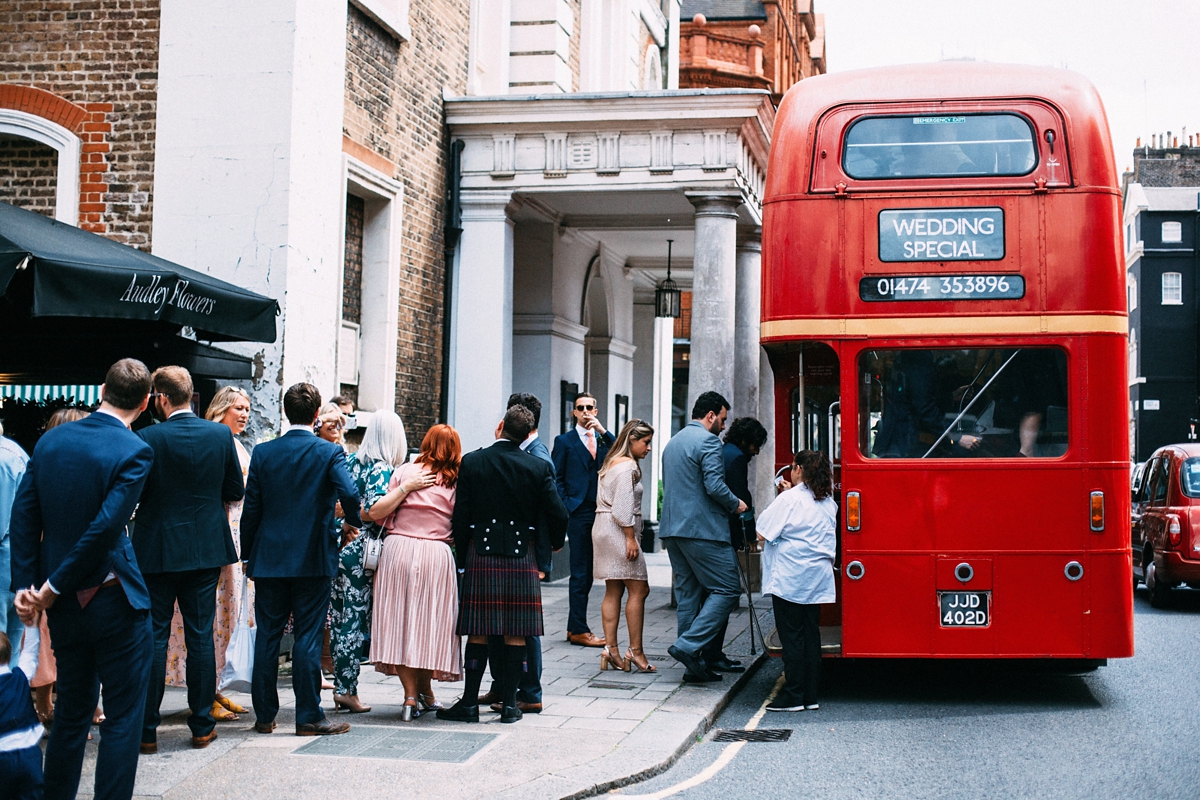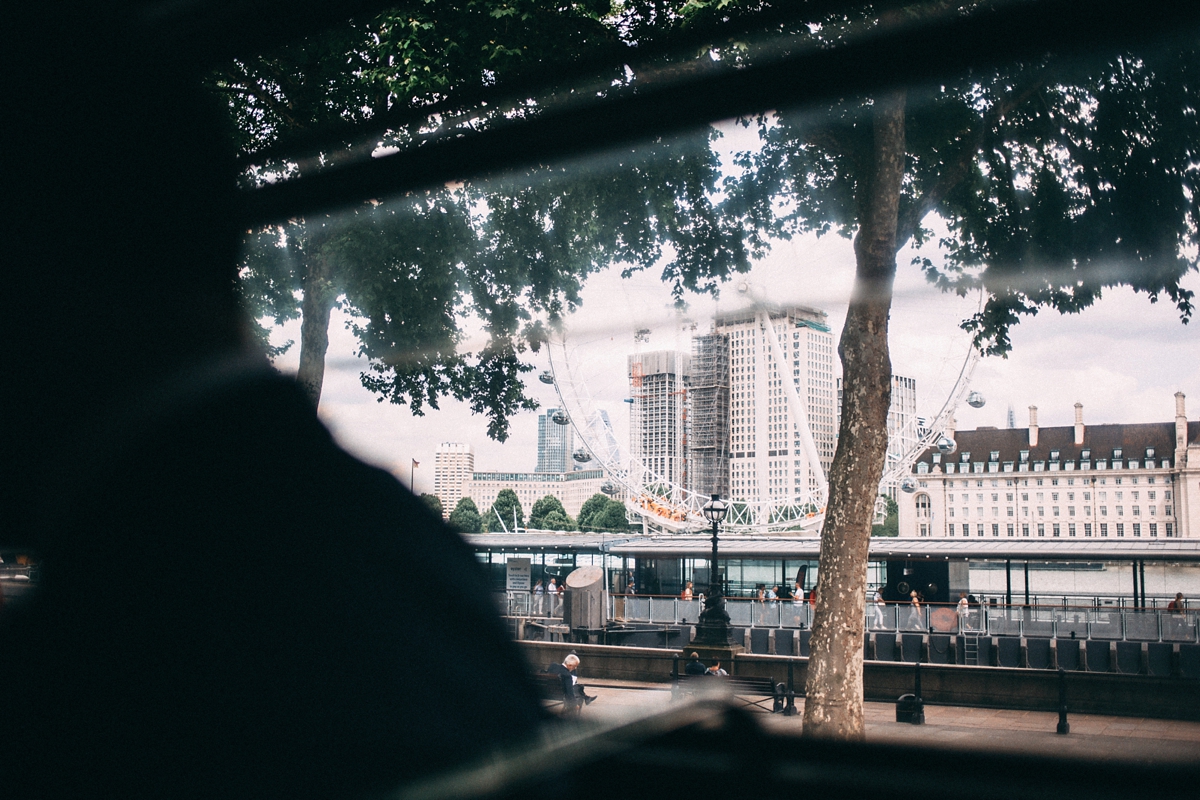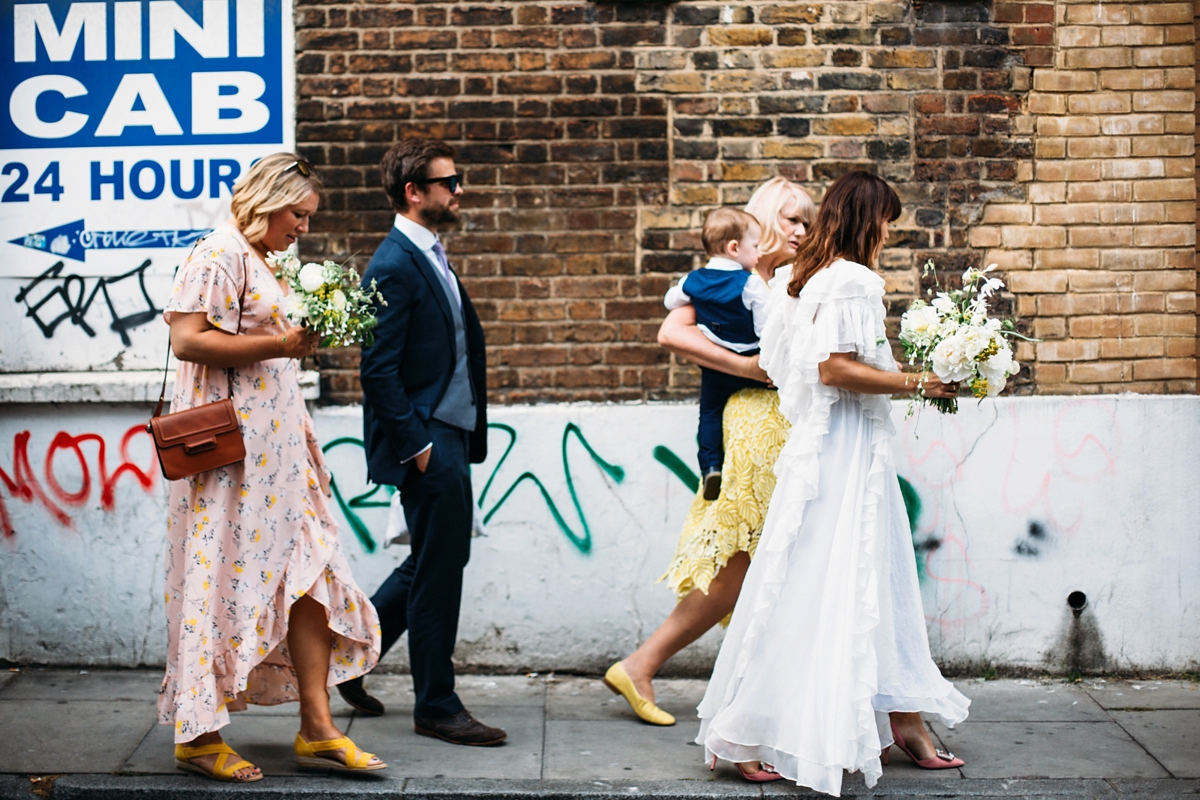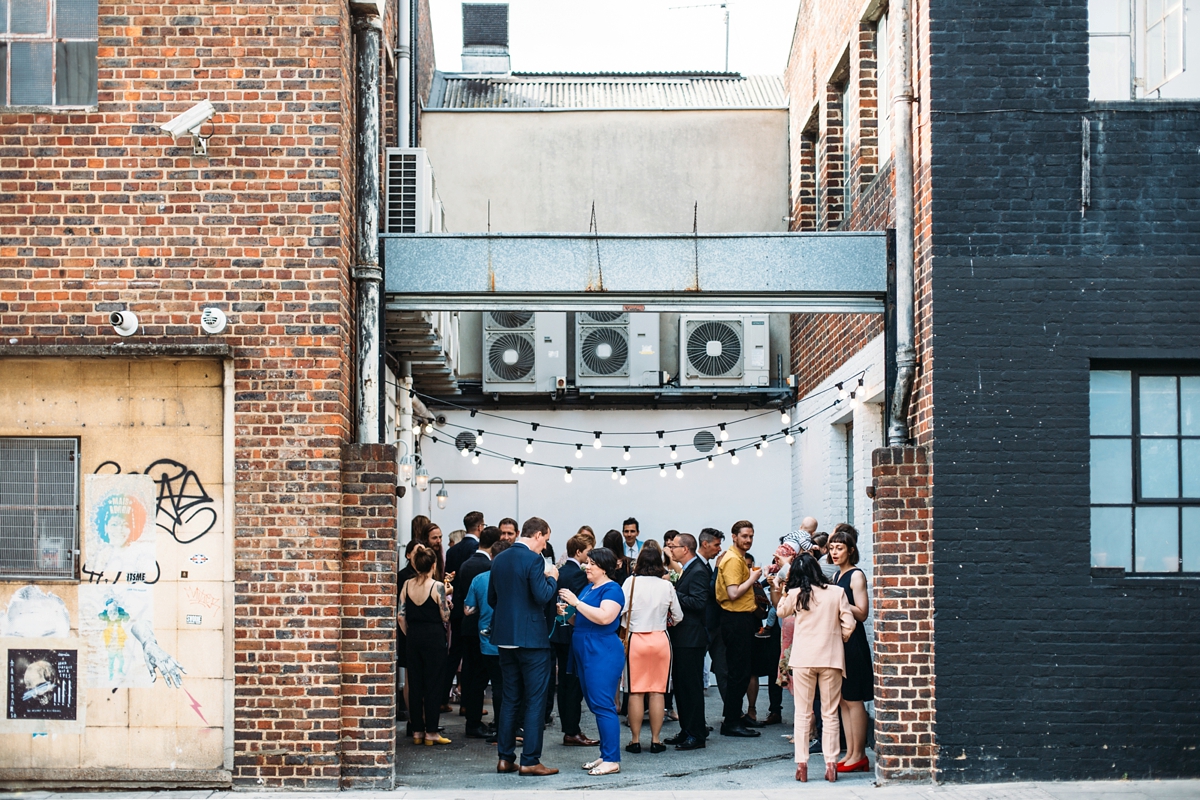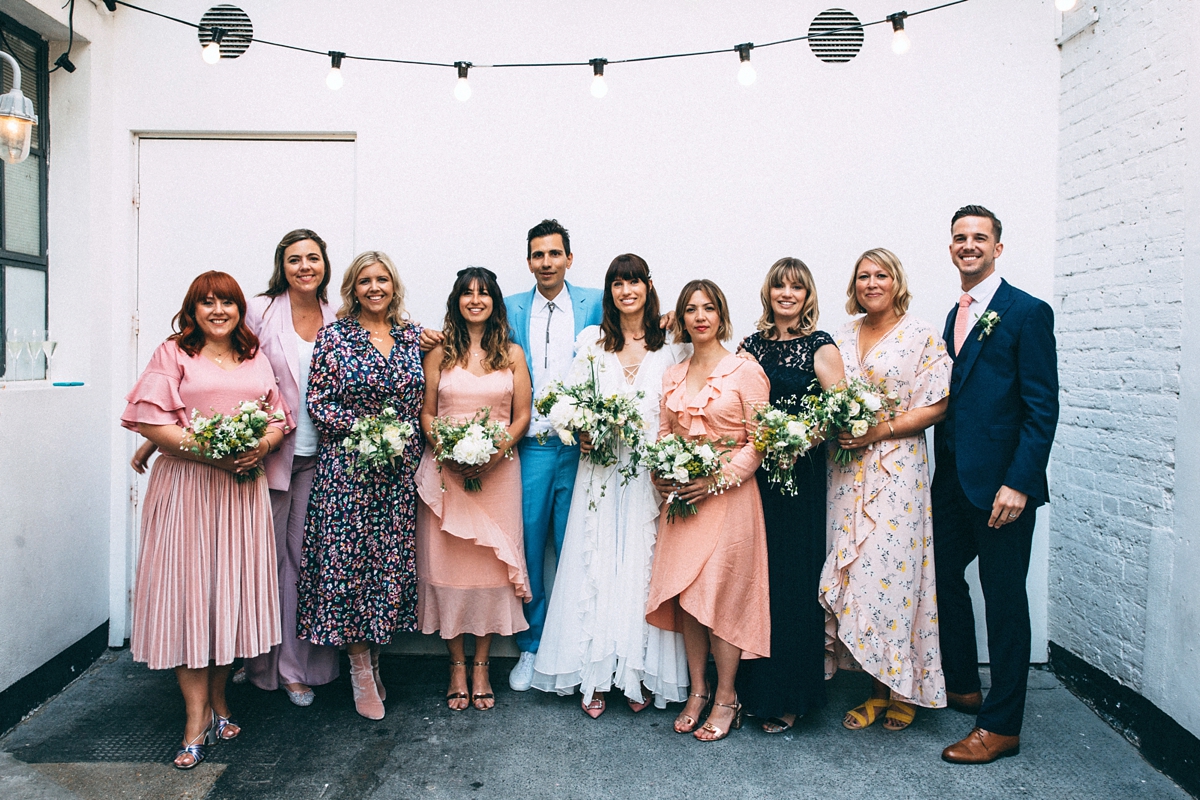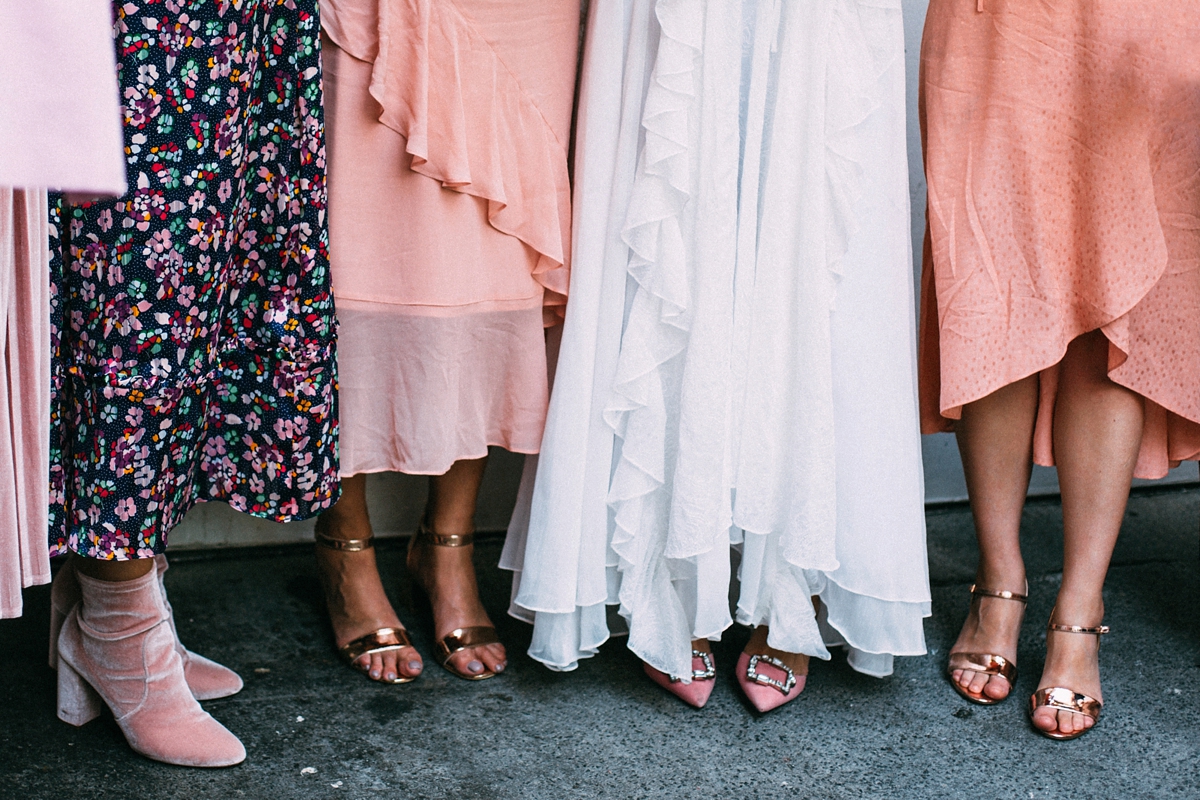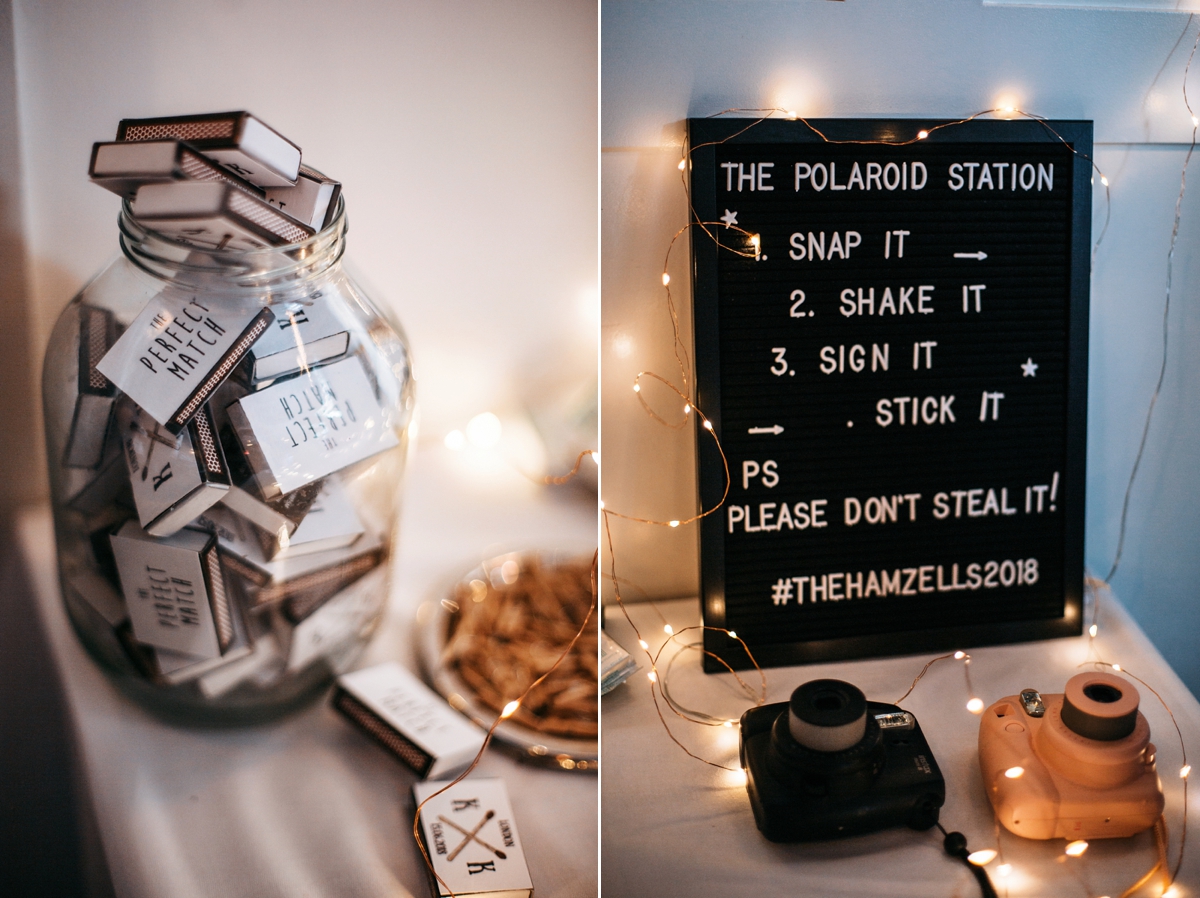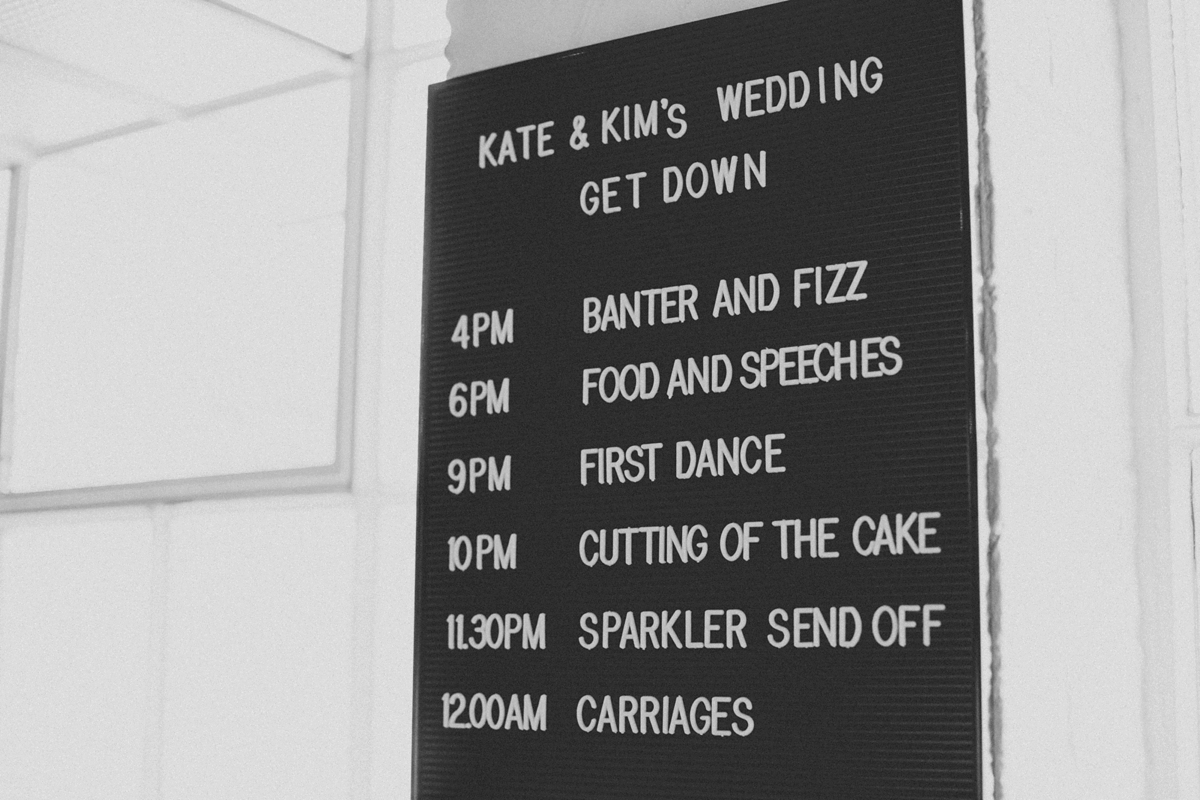 The dinner was provided by the Bistrotheque team.
"Our close friend Dan provided the evening DJ set and during the sit-down dinner we had Bistotheque's pianist Xavior playing pop classics. Our first song was The Beach Boys' 'God Only Knows' as it's one of our fave songs and we thought it would get everyone on the dance floor too."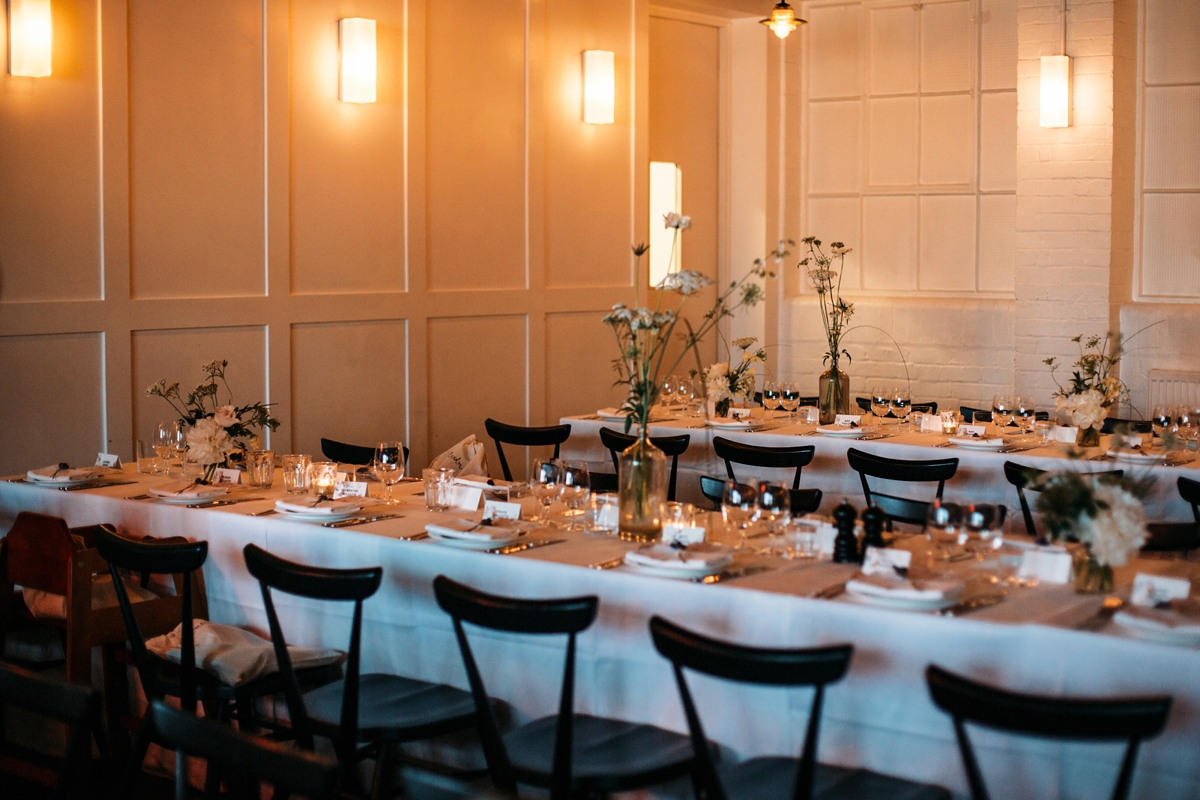 The simple, relaxed day had an overarching theme of wild and organic flowers in tones of cream and very soft yellow. The stationery set the tone beautifully.
"My genius friend Celeste Marsh offered to do all the design elements of the wedding. She designed everything from the menus, the little booklets I wrote for all our guests, name cards, and even the vinyl signs we had printed out and stuck on the walls. She was so good at suggesting little personal touches with the design too and curating a design theme that was very in line with our style and not too 'weddingy'."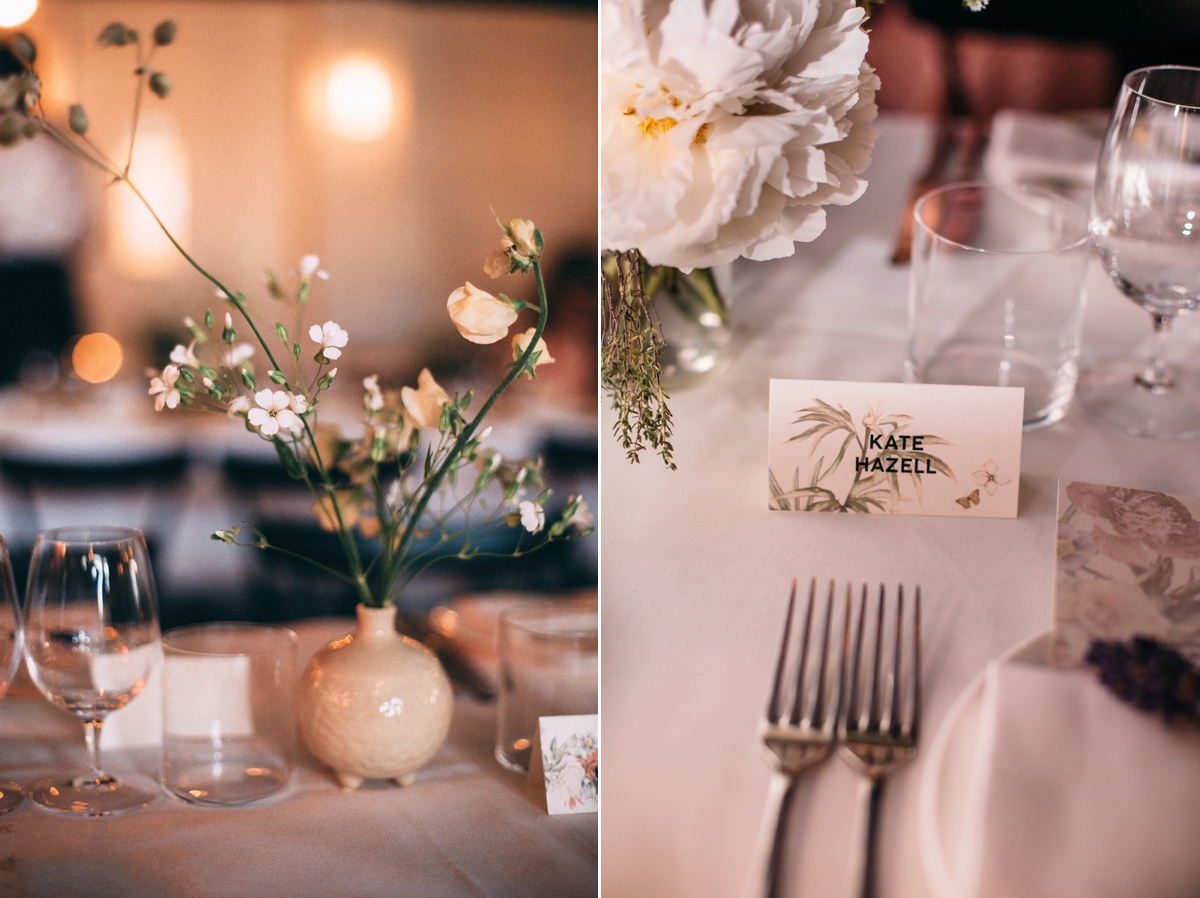 "We love collecting match boxes from our travels, so we had boxes of matches made up with the date and our names that the guests could take away as a momento. I got them off Etsy."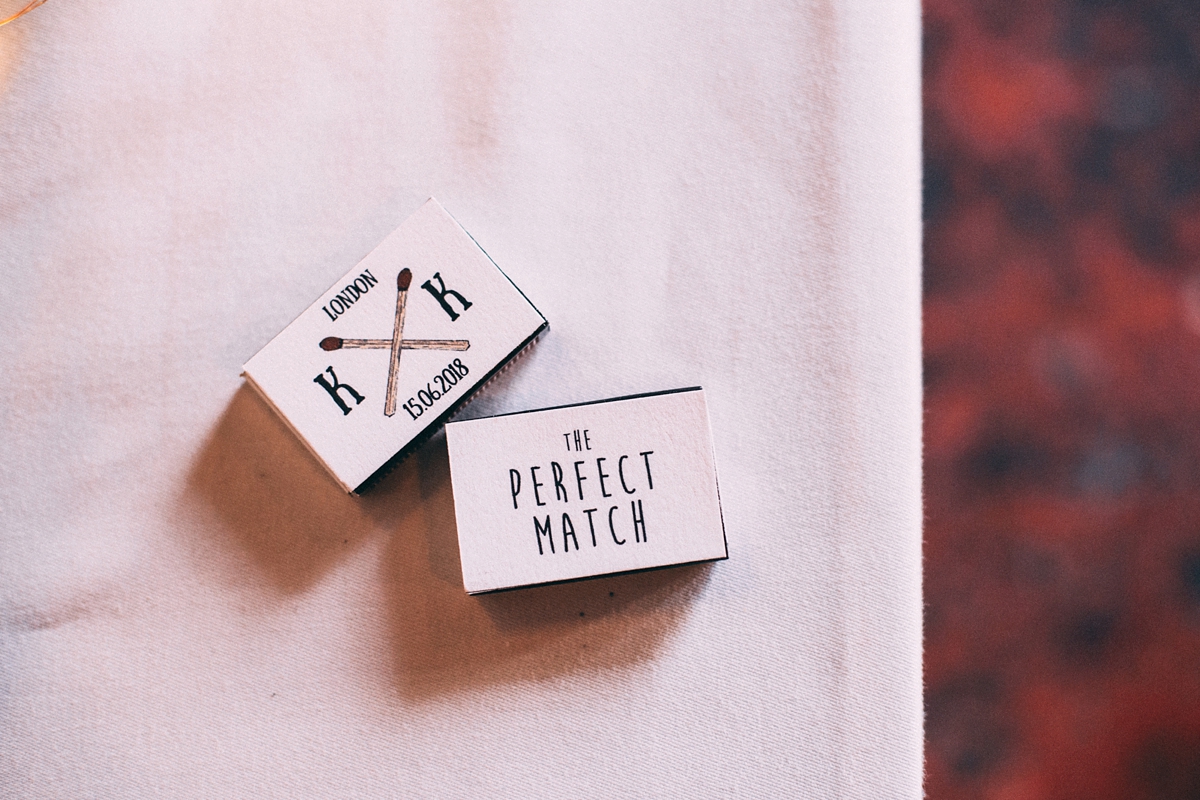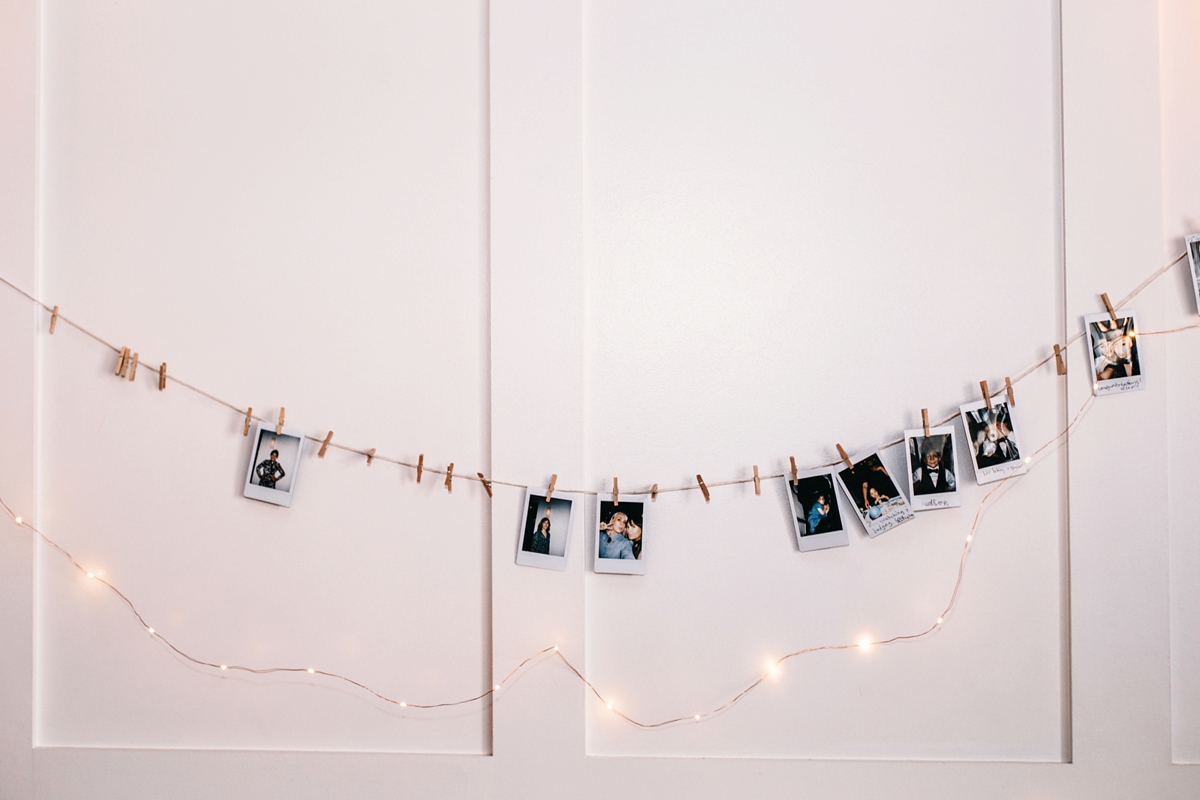 "I couldn't honestly choose a favourite moment, the whole day was a big bundle of love and lols."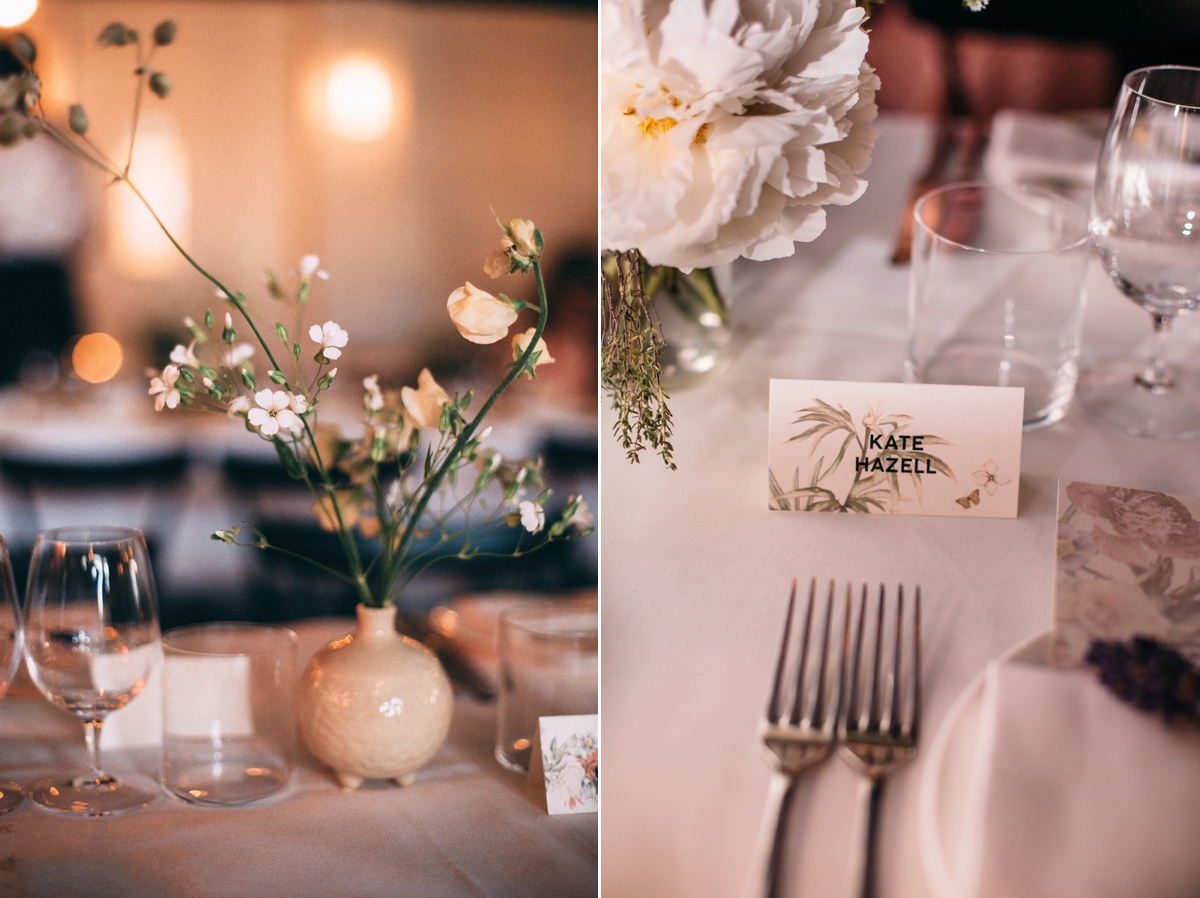 "Bistrotheque's in-house team were so amazing when it came to the wedding reception. When it came to having the cake and flowers delivered, wanting to put up some personalised vinyl signs, customising cocktails for the guests, catering to vegetarians etc., nothing was a problem for them. They were so organised, helpful and lovely to work with they really made the entire process of planning a party super easy. They really were absolutely fantastic."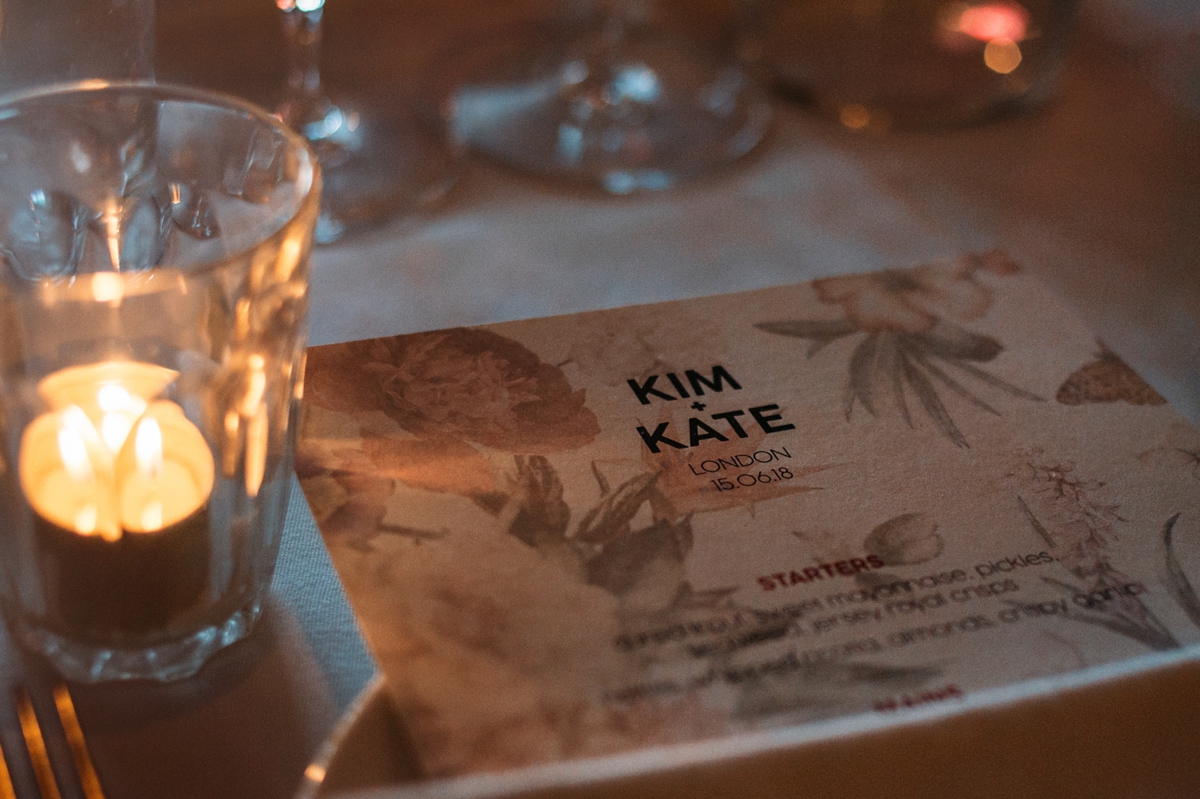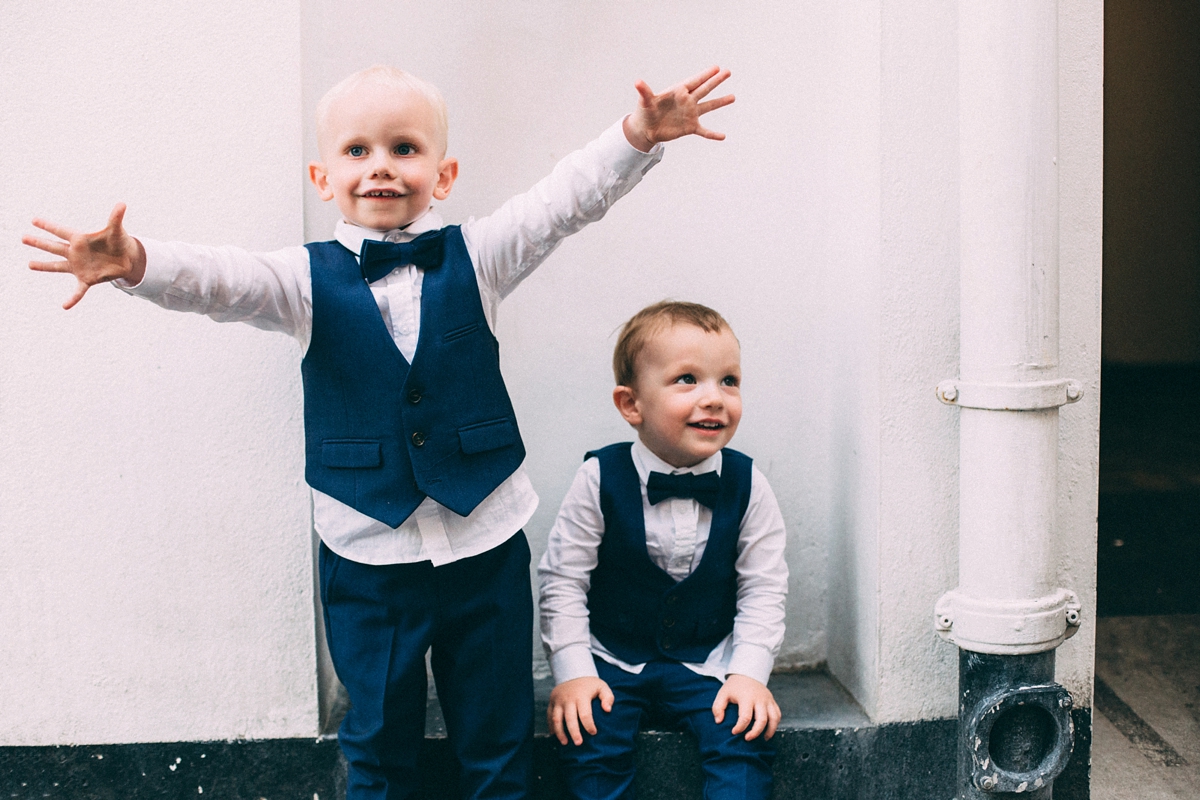 The venue's look was clean and modern, with trim table settings and a fresh botanical feel from the stems of flowers. The cake was in pride of place; a tiered creation with contemporary drizzle decoration and masses of fresh blooms. Can you spot the cute little cats?
"I follow Cake of Dreams on Instagram and love her work so knew straight away that I wanted her to do our cake. She also didn't bat an eyelid when I asked if she could source a couple of cats for cake toppers (as an ode to our two cats, Sunshine and Rainbeau) and asked me to send pictures so she could find accurate figurines. The cake was vanilla with a vanilla cream and fresh berries filling and vanilla frosting with salted caramel drizzle."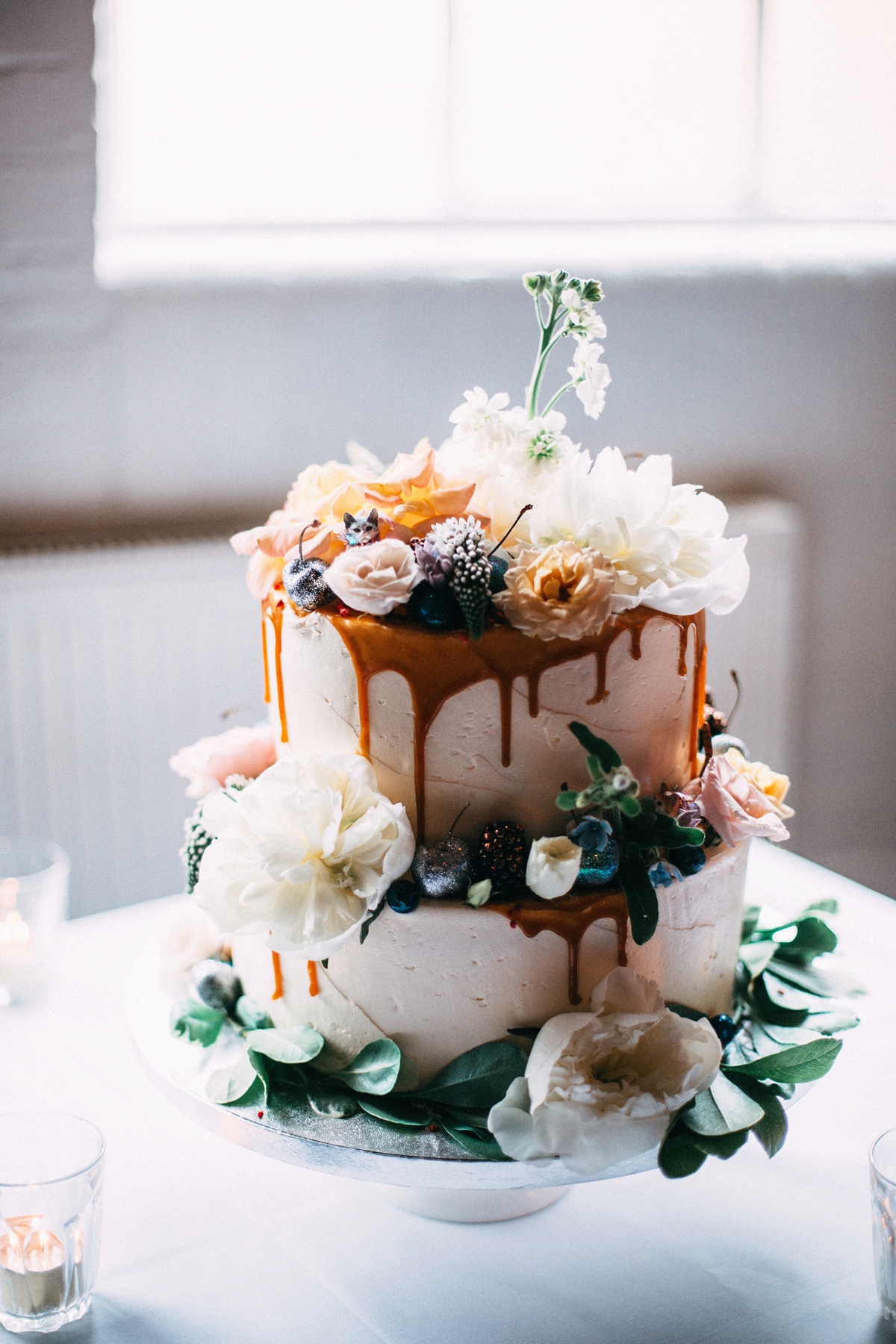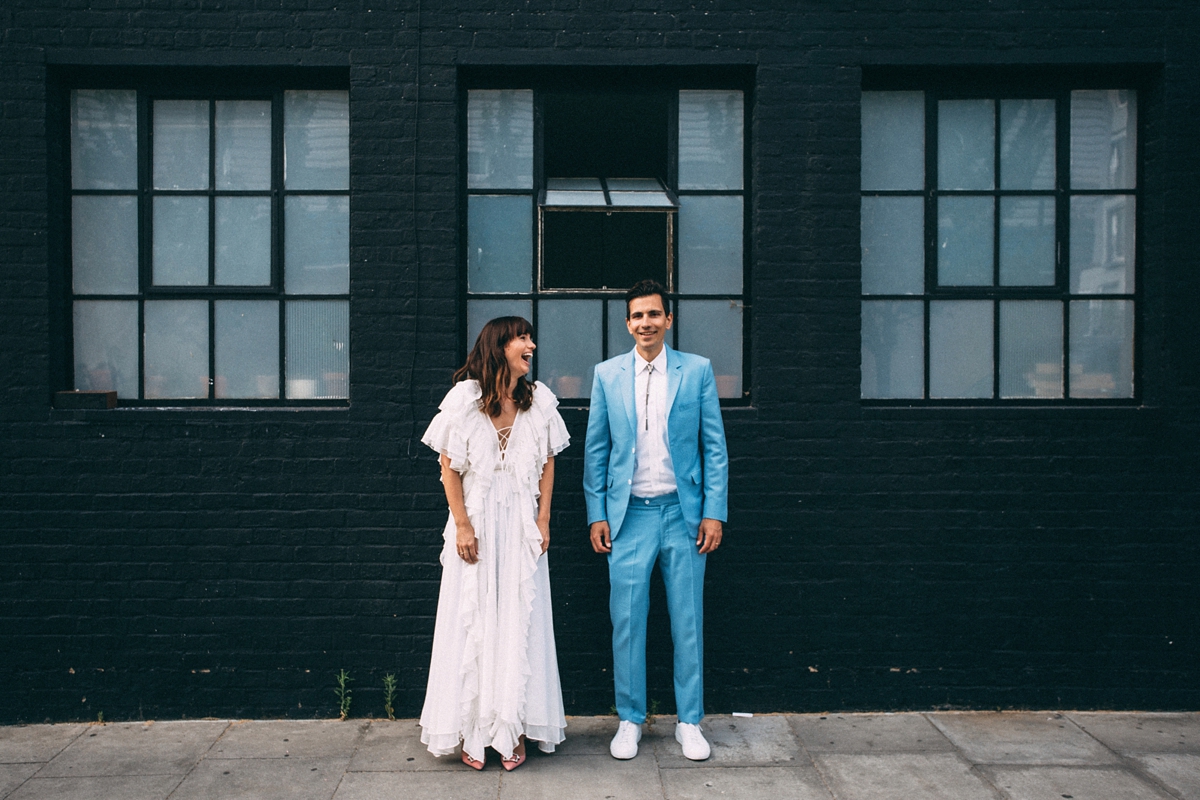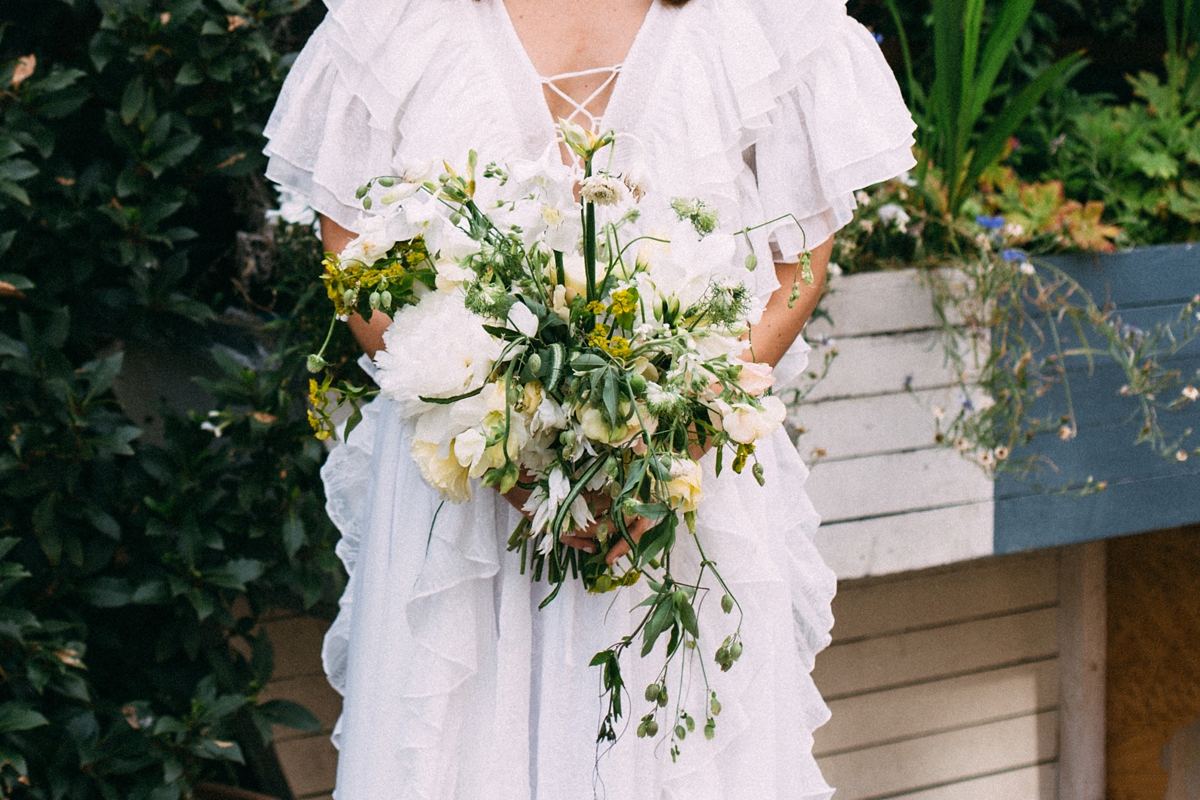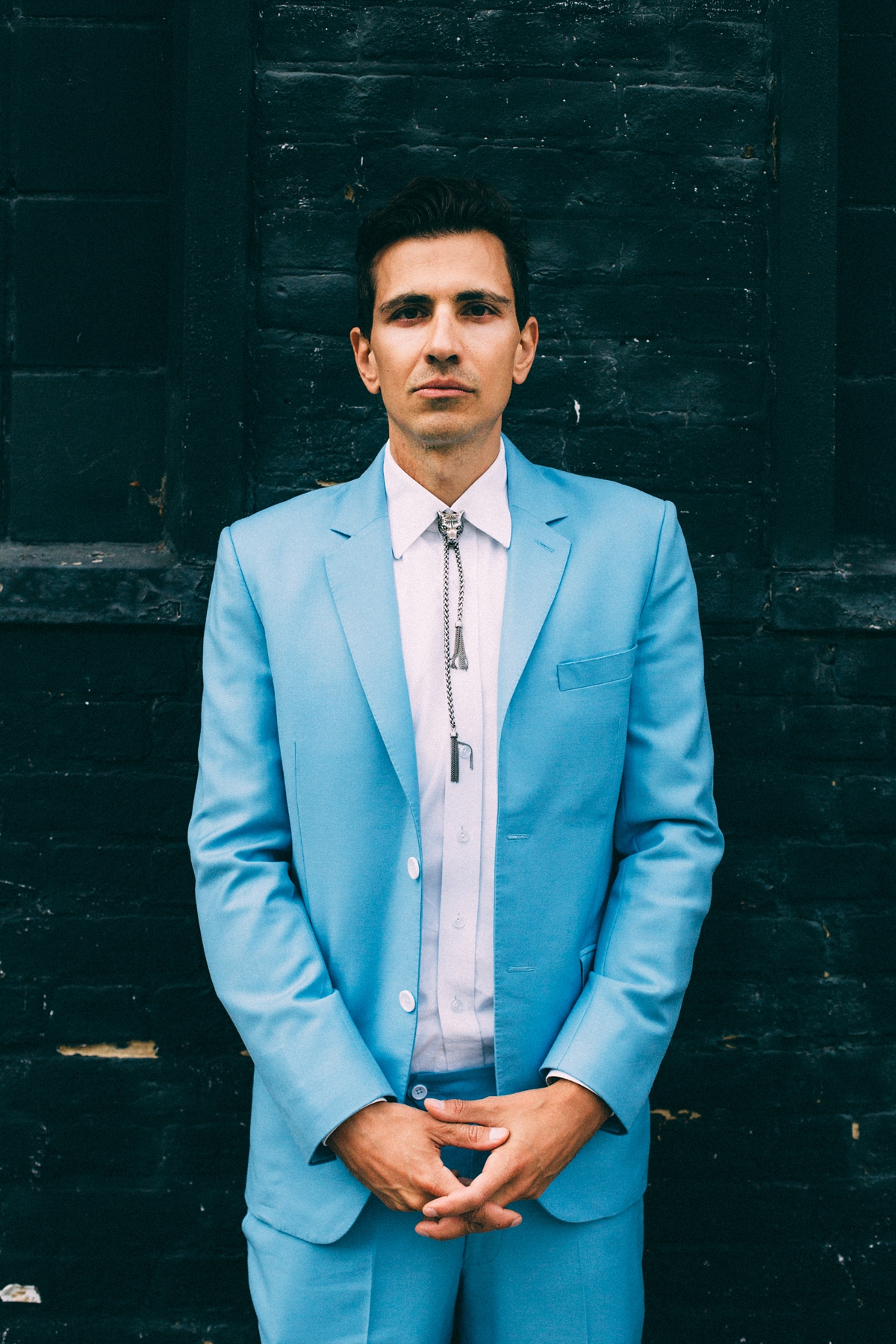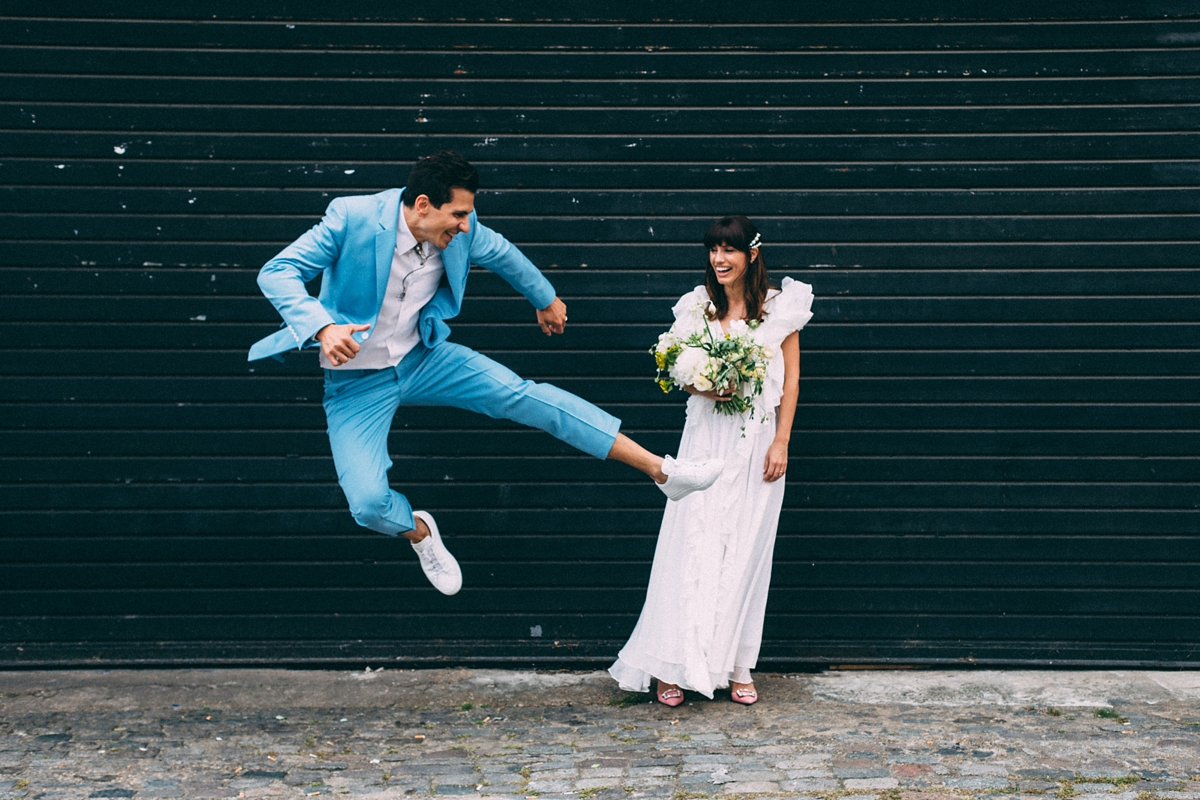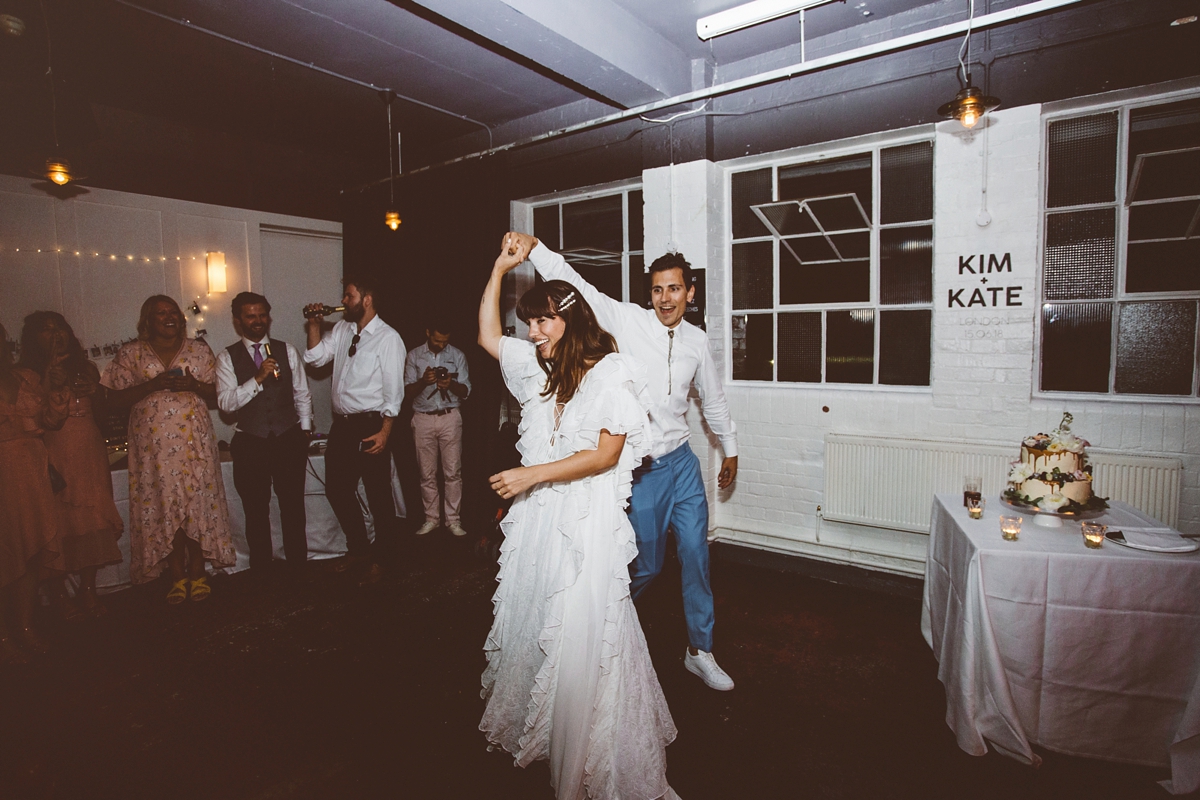 Words of Wedded Wisdom
Kate has some down-to-earth words of advice for all of you lovelies.
"I read a lot of blogs for inspiration at the beginning but to be honest, I personally found it over-whelming. I read about brides that wrote personal poems to every one of their guests, weddings with multiple live bands and entertainment options, couples that hand-made favours etc and it all felt too much. While we both wanted it to be a fantastic day, we didn't want (or have the capacity, as both our jobs are pretty all-consuming) planning to take over our lives so I guess my advice would be not to read too many blogs (just stick to Love My Dress!) or assume that you have to go above and beyond to create the most perfect day."
"Having all your closest friends and family together in one room is special enough, so I would say not to sweat the small stuff. The only person that really cares about menus/table clothes/décor is you; everyone is there to have a good time, so don't take it all too seriously."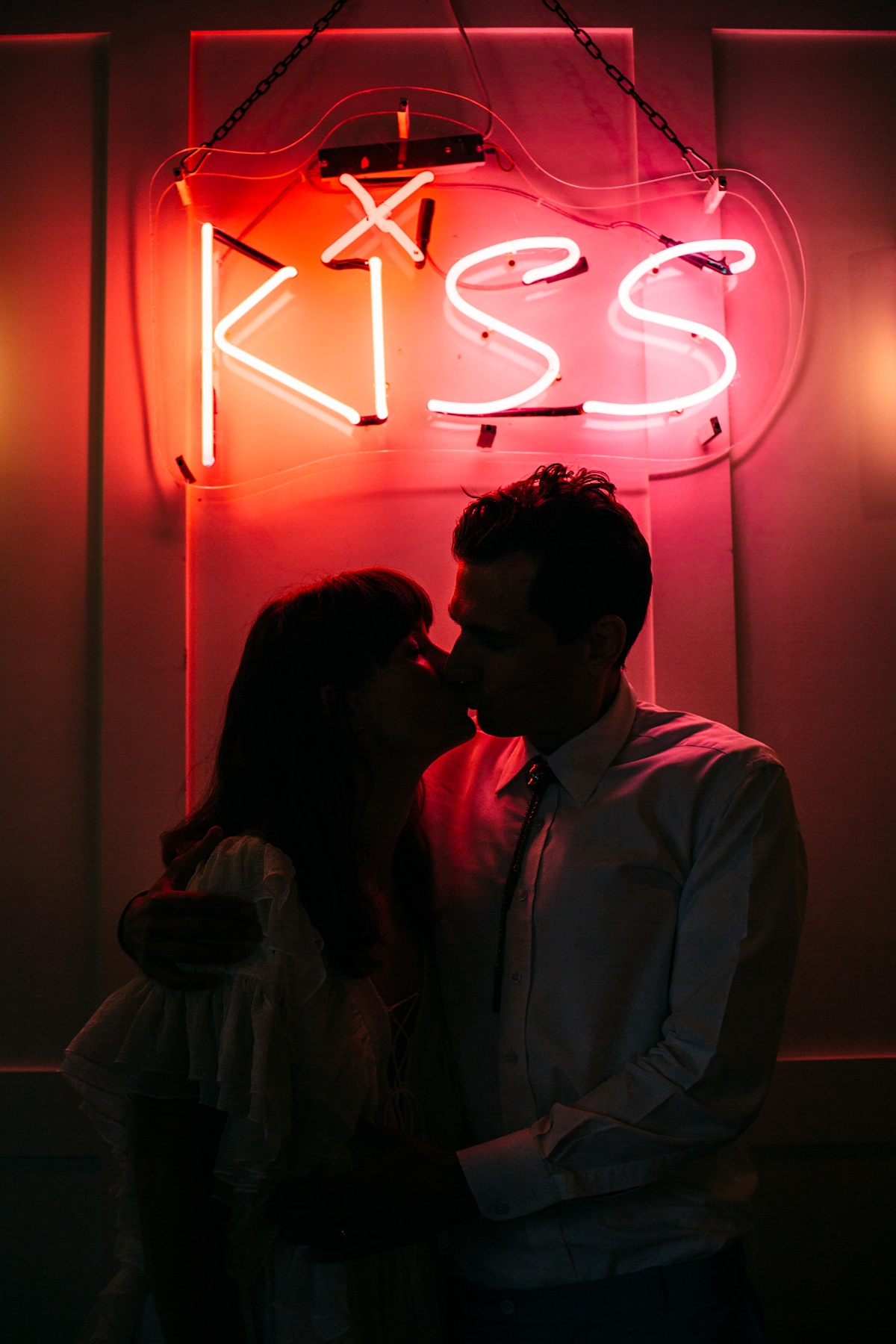 Kate and Kim, thank you so much for sharing your glorious day with us all. It's been such a pleasure to kick off 2019 with your beautiful wedding, and that dress.
Becky at A Thing Like That, many thanks for your work which is, as ever, so wonderful. For more of her work please click here or for more City wedding inspiration, take a look here.
Love Eleanor x