I was so intrigued when designer Caroline Arthur, an independent wedding dress designer based in London and Surrey, shared these images with me last month.
Featuring two recent newlywed brides, both clients of Caroline's who had kindly agreed to model for the occasion, the purpose of this editorial shoot was to inspire other brides to embrace their inner strength and confidence on their wedding day, through their chosen dress and bridal accessories. The editorial as a whole was inspired by the National Trust's 'Women and Power' exhibition – a fascinating celebration of the anniversary of female suffrage.
It fascinates me how the culture of weddings and bridal fashion has changed so much over the years and I love that we are now in an era when brides can be as fierce and as bold as they want to be on their wedding day – that said, there is nothing ostentatious or flashy in these images, simply exquisite attention to detail and a strong sense of modern day bridal glamour and opulence. I hope you'll enjoy these images as much as I have, and if you are a bride in the London and/or Surrey area looking for a designer to create something perfect for you to wear on your wedding day, may I thoroughly encourage you to book an appointment to meet Caroline. You won't regret it. Caroline's words follow…
Photography by Alexander J Collins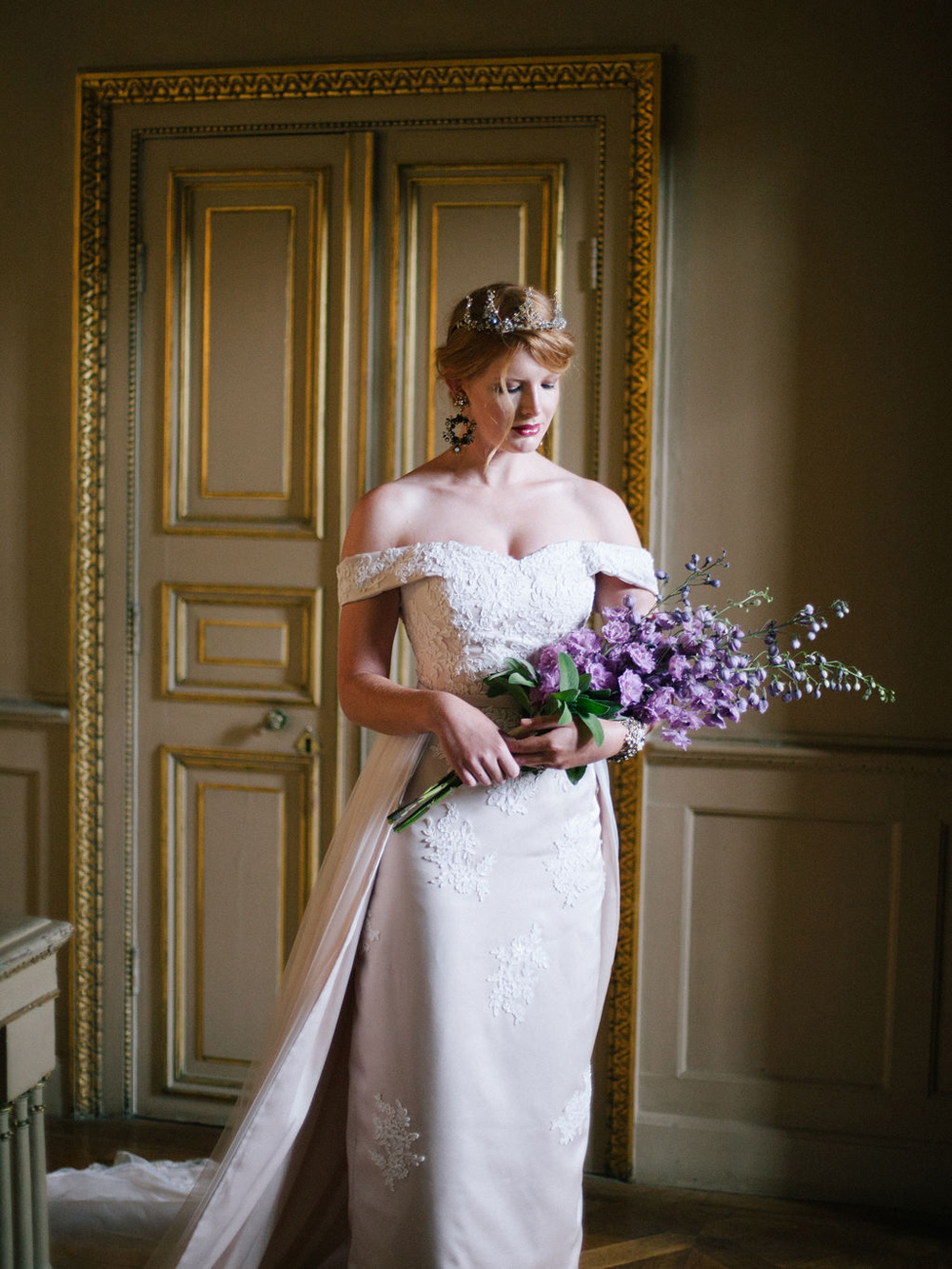 The Story & Setting
Steeped in history and intrigue, the magnificent  17th century property of Ham House in Richmond is described as 'Unique in Europe as the most complete survival of 17th Century fashion and power'. At this prestigious location, complete with well-documented ghosts (we kid you not!), our photoshoot took place in and around The Great Hall, where weddings once took place, presided over by the dominating portrait of Duchess Elizabeth Murray, who lived here 400 years ago.
Spy, socialite and fashionista of her day, she was known to be a member of the Sealed Knot  – a secret Royalist association which met at Ham House gardens to plot for the Restoration of the Monarchy in the 18th Century.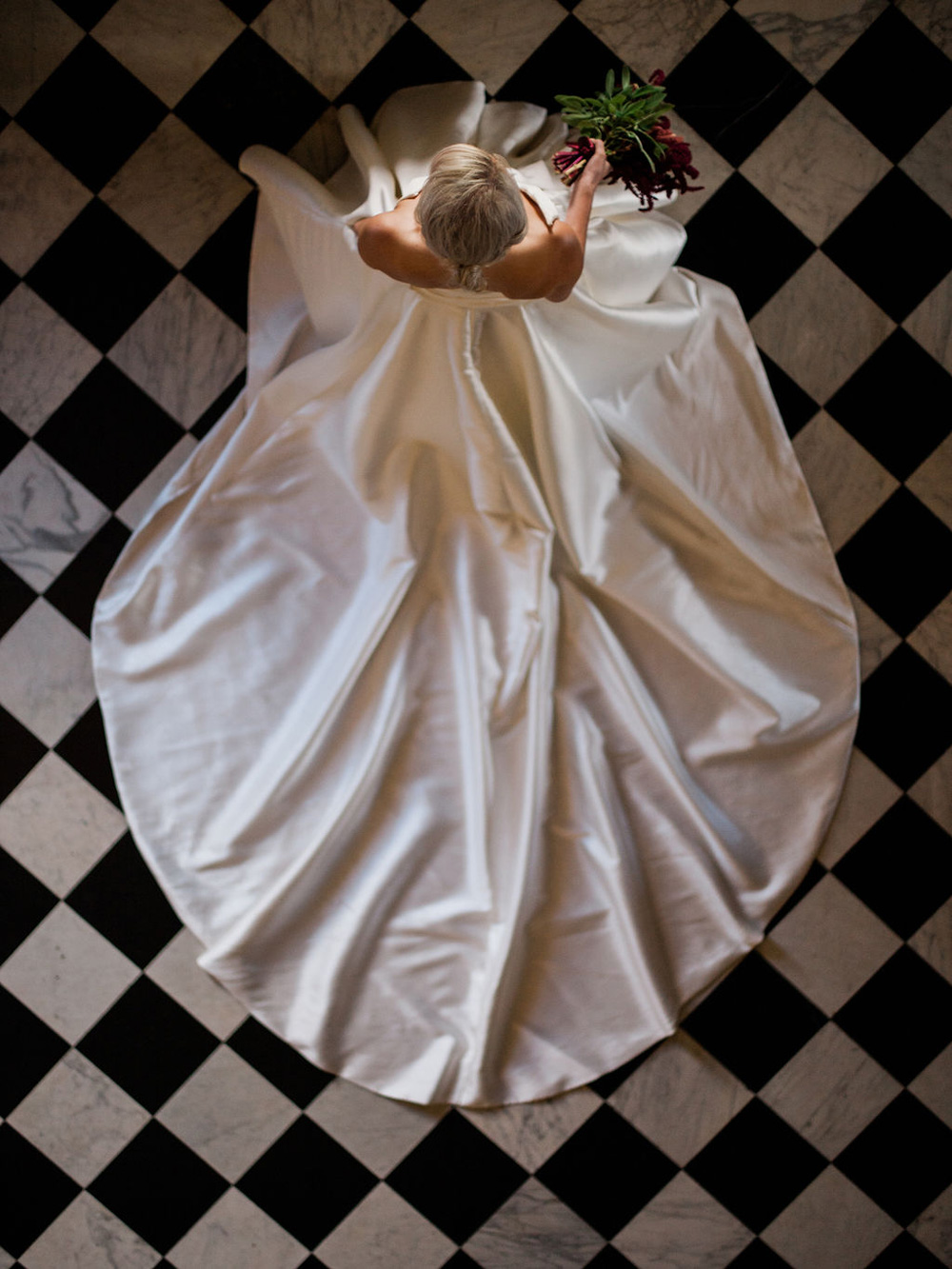 In our story, we take you back in time to celebrate the increasing power and equality of women, a cause championed by some of our recent Royal Brides. Elizabeth Murray is just one of the women whose contribution has been celebrated by the National Trust in their 'Women and Power' exhibition.
Courage calls to courage – (Millicent Fawcett)
These women's voices were often silenced, but they persevered so that now, one hundred years since women first gained the right to vote in the UK, we can be inspired by their strength, and how they shaped our modern world.
The Dresses
There is of course a couture story here, two 'real life' designer brides with extremely specific ideas, which perfectly reflected their personalities, exactly as if should be when it comes to having a dress designed on a 'bespoke' basis for you. Both my former clients exuded the presence and confidence which perfectly embodied the 'Women and Power' concept, and could not wait to come and re-wear their wedding dresses again for the day!
Danni's ivory architectural gown was partly influenced by modern culture, but mostly a collaboration in which we progressed through multiple iterations before arriving at the final version of the dress. The clean lines, crisp pleated zibeline, deep slouchy pockets and one of the longest trains I've ever made, were exact reflections of the bride's vision. A fashionable disruptor and a dream to work with, Danni was like a breath of fresh air.
Beckie's champagne soft crepe gown was all her own design, with a classic sweetheart neckline, offset by super-modern side straps and a detachable train.
The column silhouette of the dress was lightweight and easy to wear. Each and every ivory appliqué was carefully considered and personally placed by this very thoughtful and discerning bride. Her eye for detail was exceptional and she was a joy to work with.
The Photography
Just as for a wedding day, finding the right style of photography for the setting was vital – in this case, we wanted to capture the incredible presence of this extraordinary space. Ham House itself was almost like having an extra model.
Persuaded by my passion for the chiaroscuro style, and sharing an appreciation of the power of architecture, fine art photographer Alexander J Collins rose to the challenge of producing this exceptionally dramatic and atmospheric set, using only natural lighting, and his preferred Kodak Portra film.
Working on film is not for the faint-hearted! But as Alex says, "it translates as close as possible with how light feels when you photograph it. Skin tones are clean and golden light remains golden".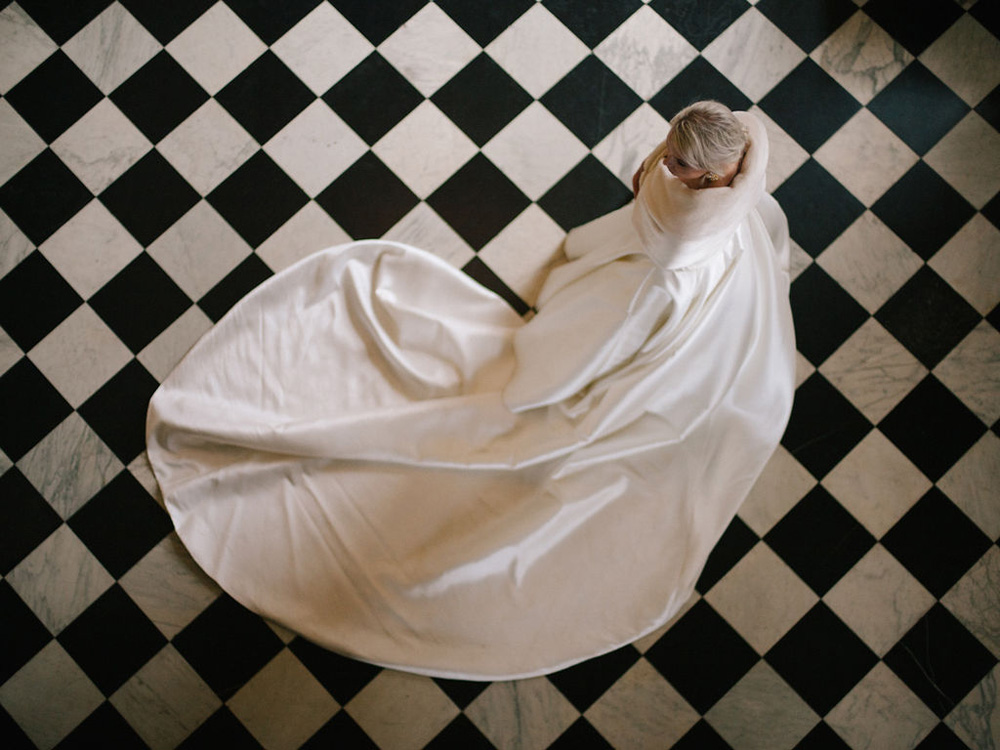 The day was planned carefully to chase the light, so the East facing staircase was used in the morning, to make the most of the soft, late summer, morning sunshine.
The Flowers
The subtle and experienced guiding hand of Janne Ford, was most welcome in suggesting we showcase here the floral design trend seen at the two British Royal Weddings in 2018, which looks set to continue – where seasonal blooms are sourced sustainably, and fresh British flowers are picked from the garden, for the brides' bouquets.
In our case, these would be just the same flowers as would have been grown at Ham House over centuries.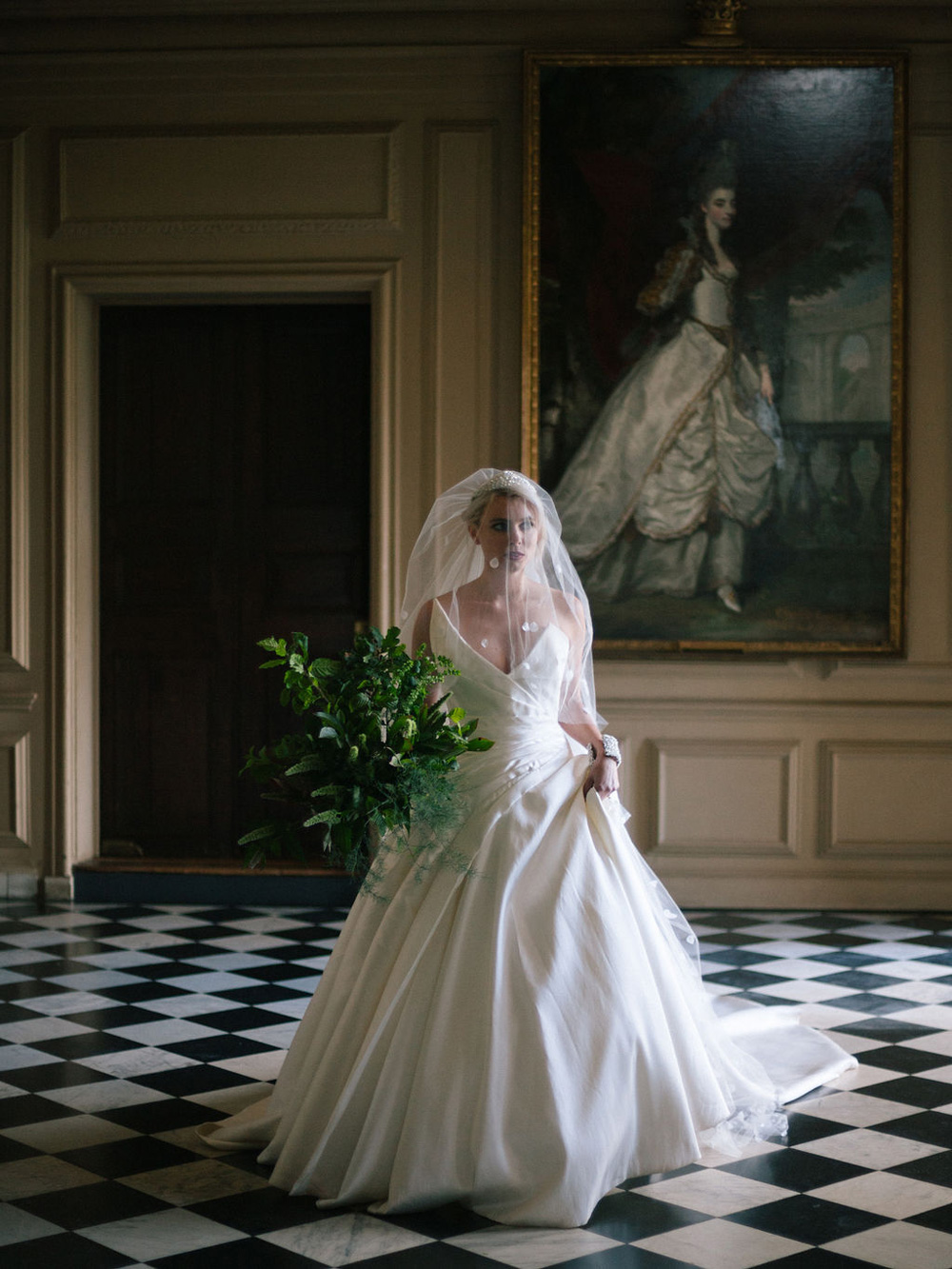 I have a unique collaboration with The National Trust – my bridal boutique is in fact located within Ham House (yes – you really can come and try on wedding dresses here!). Thus, the flowers were all picked from the actual Ham House gardens on the day before the photoshoot, by "A little wild and very romantic"  Leigh Chappell, who creates nature-inspired, garden style flowers for your wedding; and Sarah Whiting of Nettlewood Flowers, Artisan flower grower and florist.
These talented floral creatives then worked throughout the day, in a cavern beneath this 17th Century National Trust property, to create, re-use, re-style and re-cycle what they had gathered, to create the breathtaking bouquets you can see.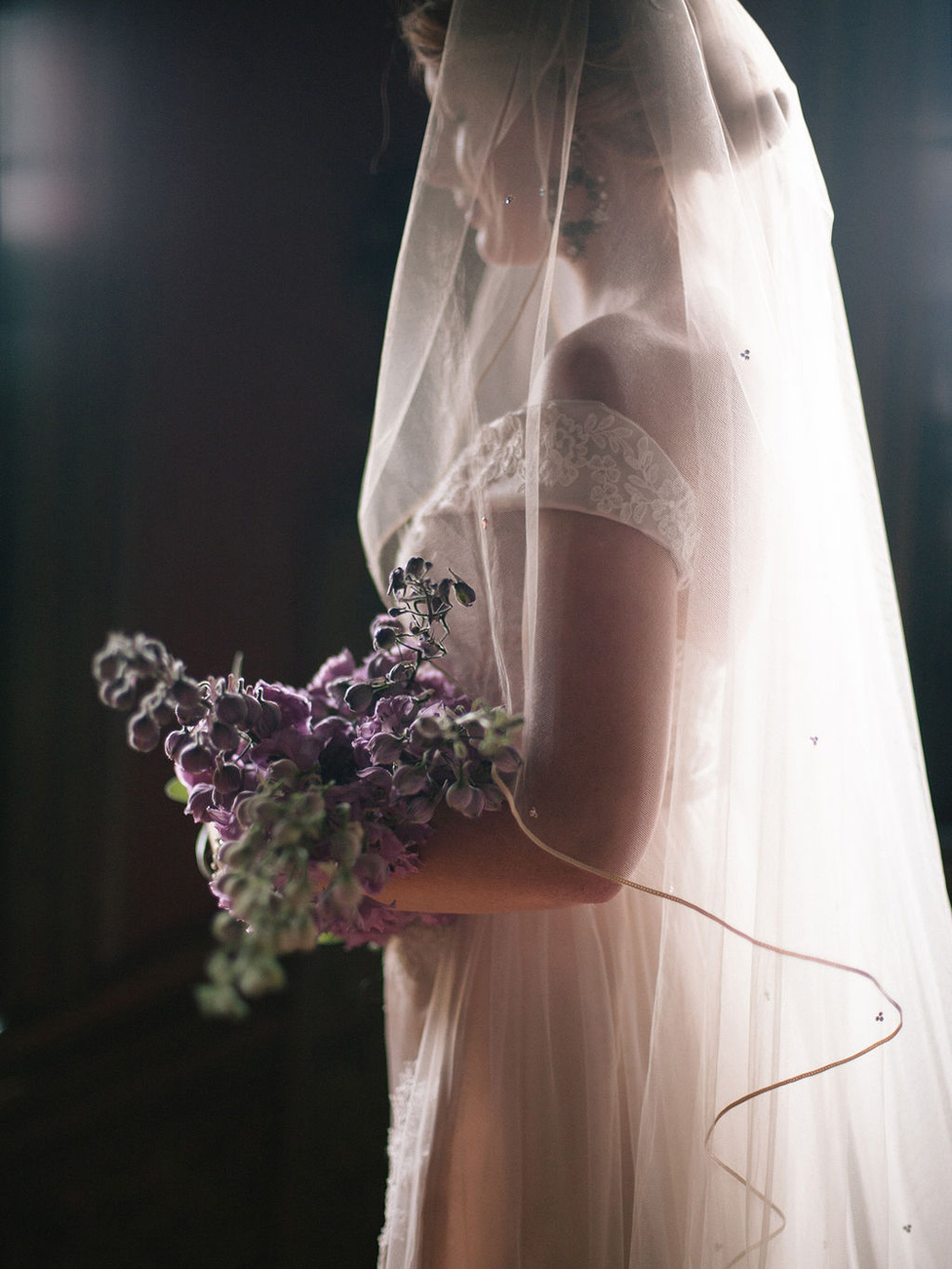 Resourcefulness and sheer design intuition was called for here – there was nothing staged, or contrived in these bouquets, just making the most of the foliage and late summer blooms that these two talented floral artists were able to forage from The Orangerie kitchen garden at Ham House, loosely tied with simple silk ribbons by London based specialist V V Rouleaux.
The Look
Captivating areas were skilfully chosen by stylist Emma Joy, whose flawless wedding planning and beautiful design are reflected in her luxury style. Working closely with designer and photographer, every detail was considered, and on point with the concept.
The photo shoot was an utterly original hybrid, propelled (at times) by sheer force of creative will, encompassing a unique but dark historic space, two very different, strong and regal-looking brides, an authentic  National Trust theme, and flowers which were unknown until that morning. Alex brought the whole concept together in one inspiring story.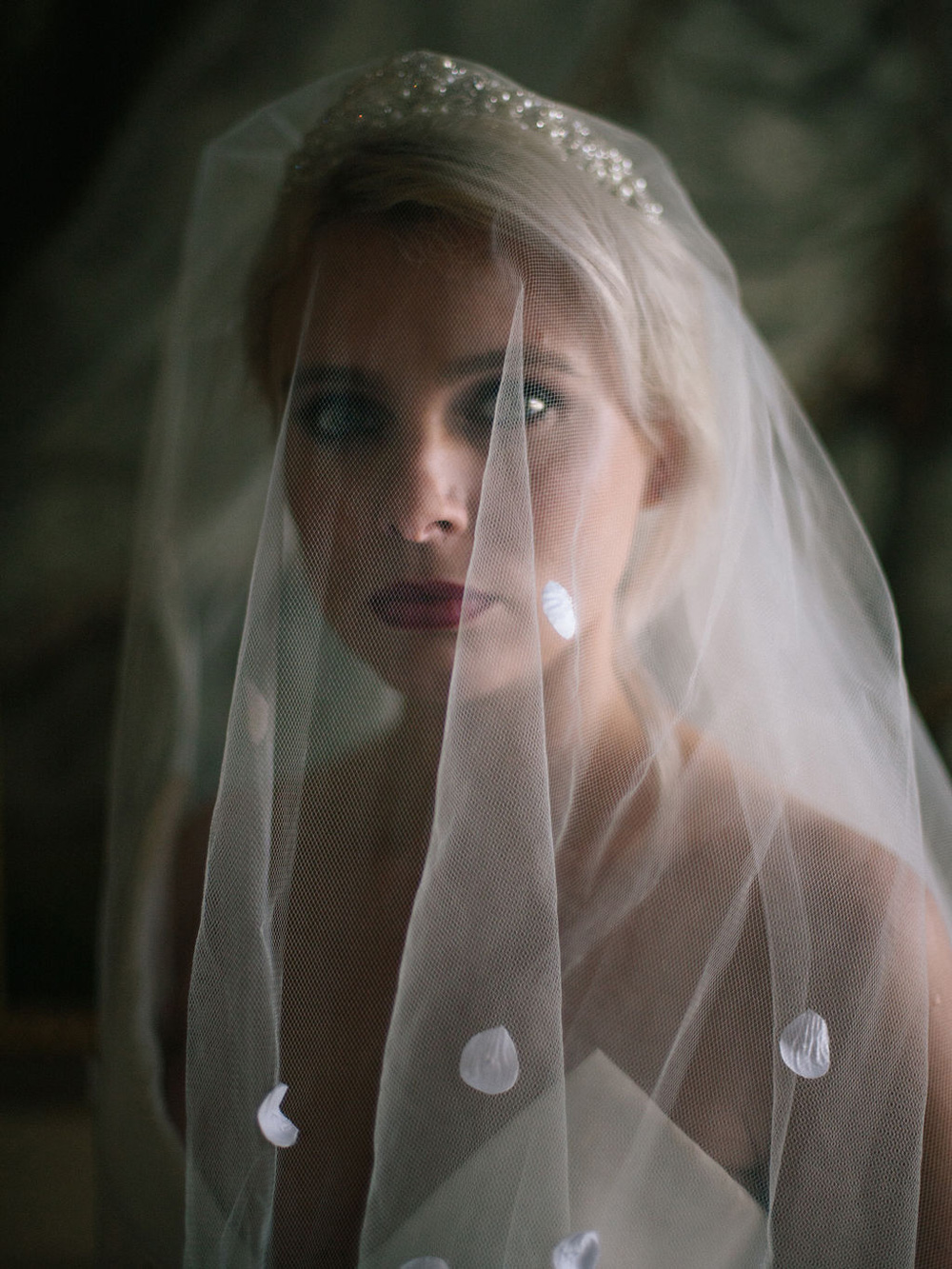 Design consultant Sarah Hallett worked alongside the two brides and Caroline to create their gowns, and arrange their fittings at Ham, so was the natural choice when it came to selecting accessories to style the photoshoot.
Sarah chose these from Teddington-based bridal goldmine Gillian Million ("use whatever you like, so long as it's glamorous!") and British bespoke jeweller Halo & Co, who provided exactly the right impact in their jewels to compliment the bold, gold, dramatic look we had in mind.
All pieces had a regal, look to them – statement tiaras and dramatic veils.
Hair and make-up by Ann Marie of Lawson Makeup brought the look to life, with bold, fashionable glossy lips and smoky eyes.
She also understood my desire not to just replicate the wedding day make-up of Danni and Beckie. But to give them something different, an image of how I saw them, which they might want to hang on their wall at home, on a day in which they wore their gown again and tasted history and royalty.
A warm welcome awaits all Love My Dress readers and followers who may wish to visit me for a chat over a lovely cup of tea to talk about their wedding plans and more importantly their wedding dress ideas. I look forward to hearing from you.
________
Visit the Caroline Arthur bridal website to find out more.