I'm completely smitten by the ideas behind today's wedding, as well as the fact that it takes place during my favourite season – autumn – with that unmistakable golden hue.
The setting is a stunning landscape garden in Wiltshire, originally designed in the late 1800s, and our couple were inspired by the setting, and by the idea of Victorian botany with a modern twist. Not to mention they chose an outdoor ceremony – saying their vows to one another in the doorway of a Roman temple, no less. Intrigued?!  Let's meet the couple; Karen, a photographer and David, a designer. They celebrated their marriage on the 19 October 2018 at Larmer Tree Gardens near Salisbury in Wiltshire. They had been together for 9 years, first meeting through work and becoming engaged in New York City in March 2018.
Karen chose a beautiful sleeveless silk gown by Jesus Peiro – and this design perfectly sums up what we love about them here at Love My Dress – stylish clean lines, elegance and impeccable craftsmanship.
"I had been trying on lots of lace figure hugging dresses as I felt this suited the bohemian look I wanted. They all looked okay, but I didn't love them. The dress I bought couldn't have been further from this! I tried this dress on in the first shop I went into, it was out of budget but fell in love with it! I loved the simplicity and modernity of it and it was cut just perfectly. Everything I tried on after it just didn't compare. So I stalked it down in a sample sale and took the 2 hour drive to get it!"
Images by Big Bouquet Photography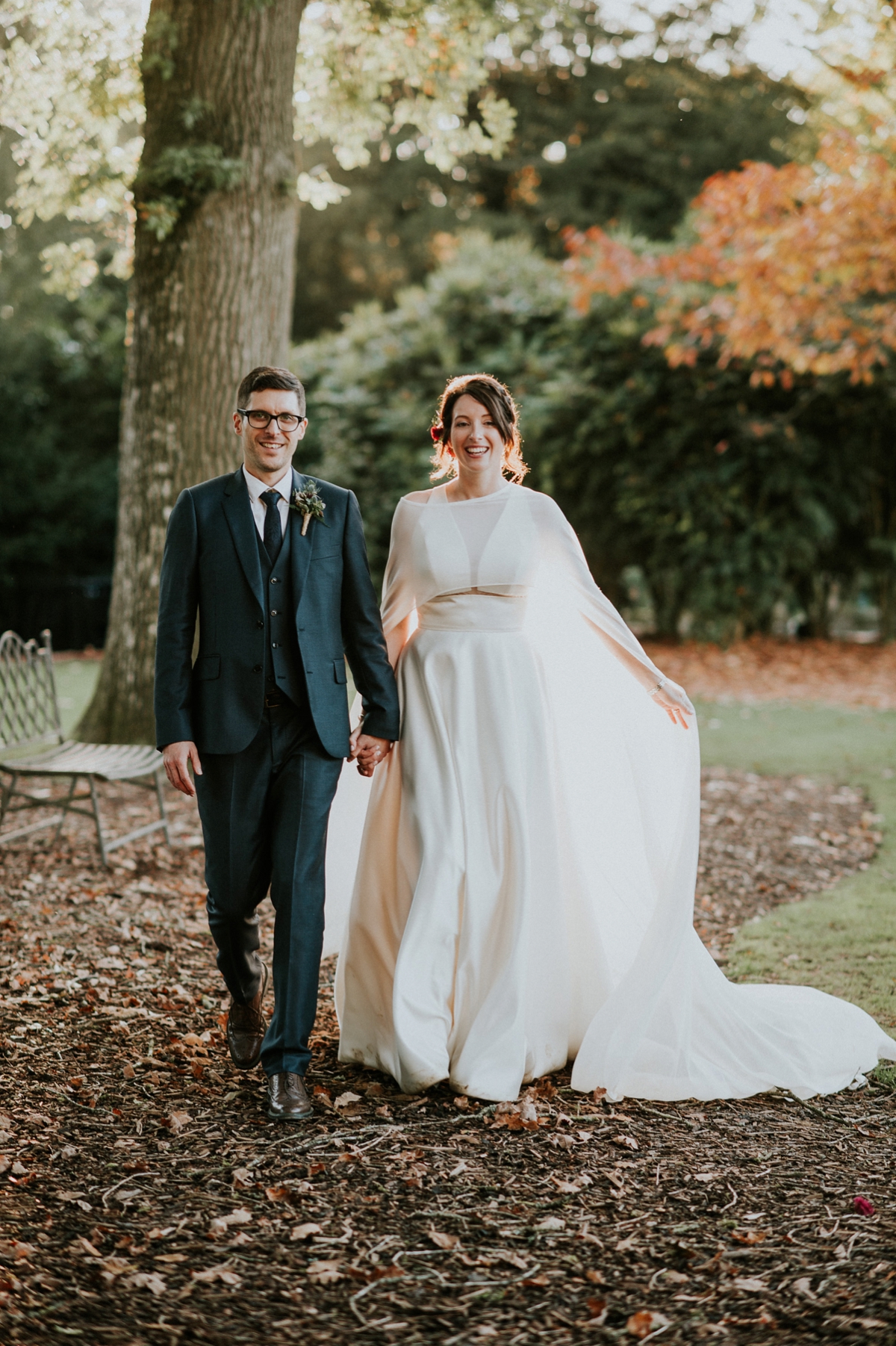 These glorious images are by highly valued Little Book members, Big Bouquet Photography, and Karen and David could not have been more pleased with their choice.
"As a photographer myself, this was going to be one of the hardest decisions for us to make. Luckily we had been to a couple of weddings that Emma and Ian had shot, so we knew we were in safe hands. They were fantastic. They guided us seamlessly through the planning stages even helping out with supplier recommendations. We even chose our wedding date based on what they had free!"
"They blended in perfectly on the day. We absolutely love how they have captured the mood of the day. We can't stop looking back at the photos and reliving the day, we have such great memories to look back on."Make-up and hair were taken care of by Michelle Needham and Kirstie Clark and all that remained was the addition of some pretty fresh flowers (that orchid – wow!).
David designed all the stationery for the day, and it fits brilliantly with the essence of Victoriana that the couple wanted to capture, setting the scene for a beautiful day to come.
"We chose this venue as it was quirky and unusual. It has multiple beautiful buildings, which enabled us to choose the structure of the day exactly how we wanted it, rather than conform to the norm.We chose to have our ceremony outside by the Roman Temple.This was a gamble for an October wedding but the indoor option would have been equally as nice."
"The best part was that it was created by General Pitt Rivers, who also has a museum in Oxford. This is where I grew up and visited the museum as a child so it was a great connection. To top it off, they had a team of fantastic wedding planners, who were so on the ball in the planning and on the day, they even organised the sunniest October day too!"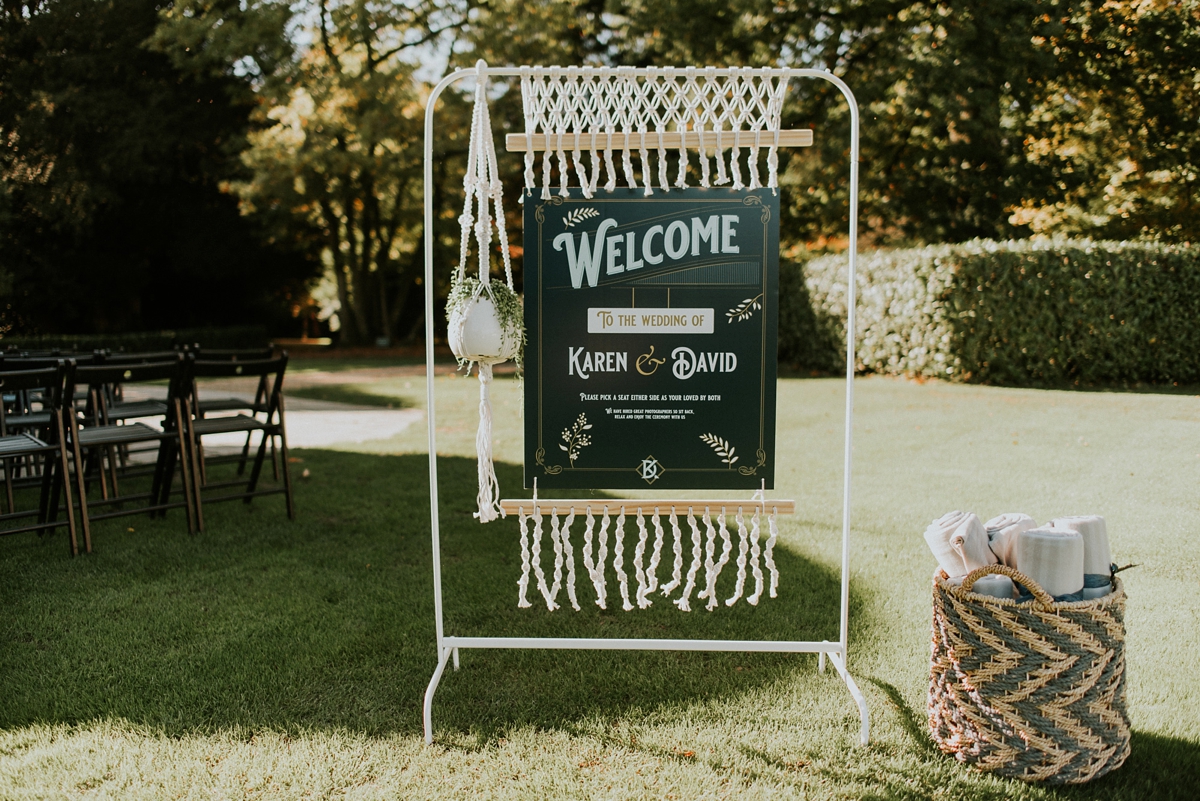 "It was snowing loads and felt really magical as it was lots more than we ever get in the UK. We walked across Washington Square and got to the arch. He sent me away to take a picture of him under the arch, this was the decoy to get the ring out of his pocket. On my return, he asked me to marry him! We got married 7 months later."
"We opted for a botanical feel from the Victorian era, which was when the venue was being used as a pleasure gardens. We took inspiration from the way the Victorians used plants in their homes and gave it a modern twist."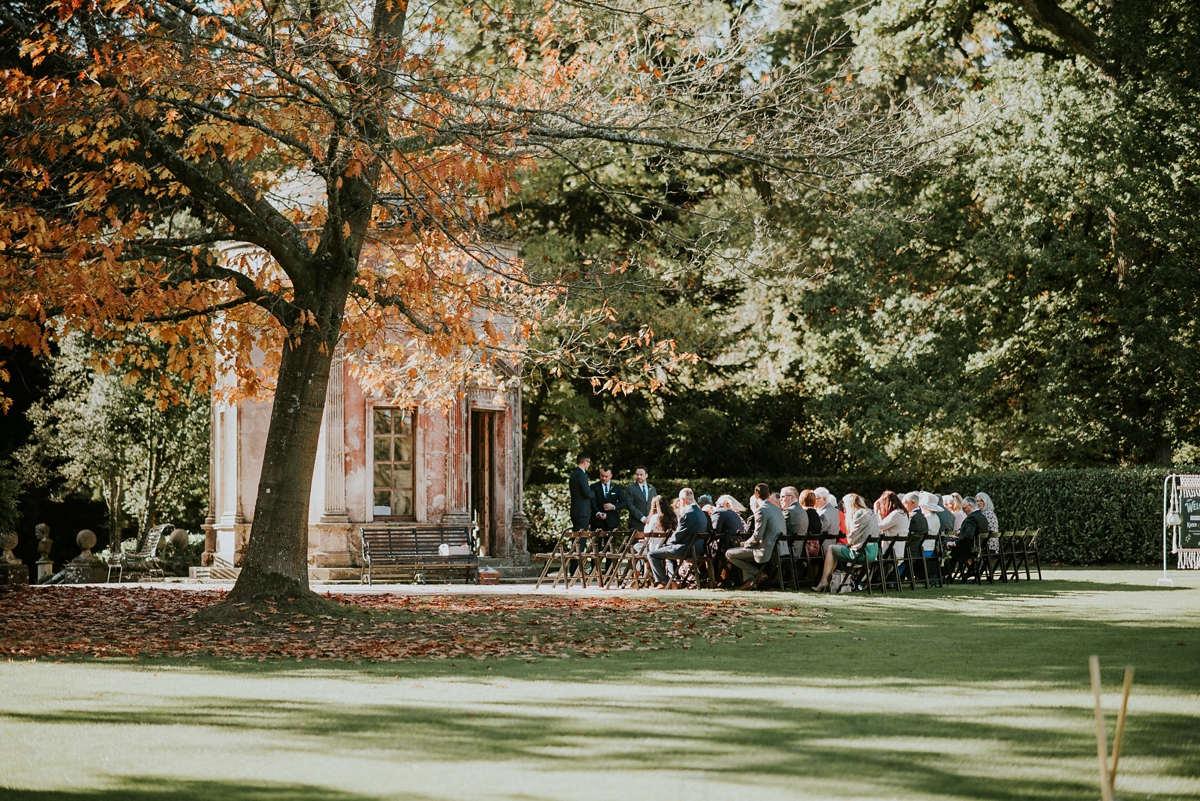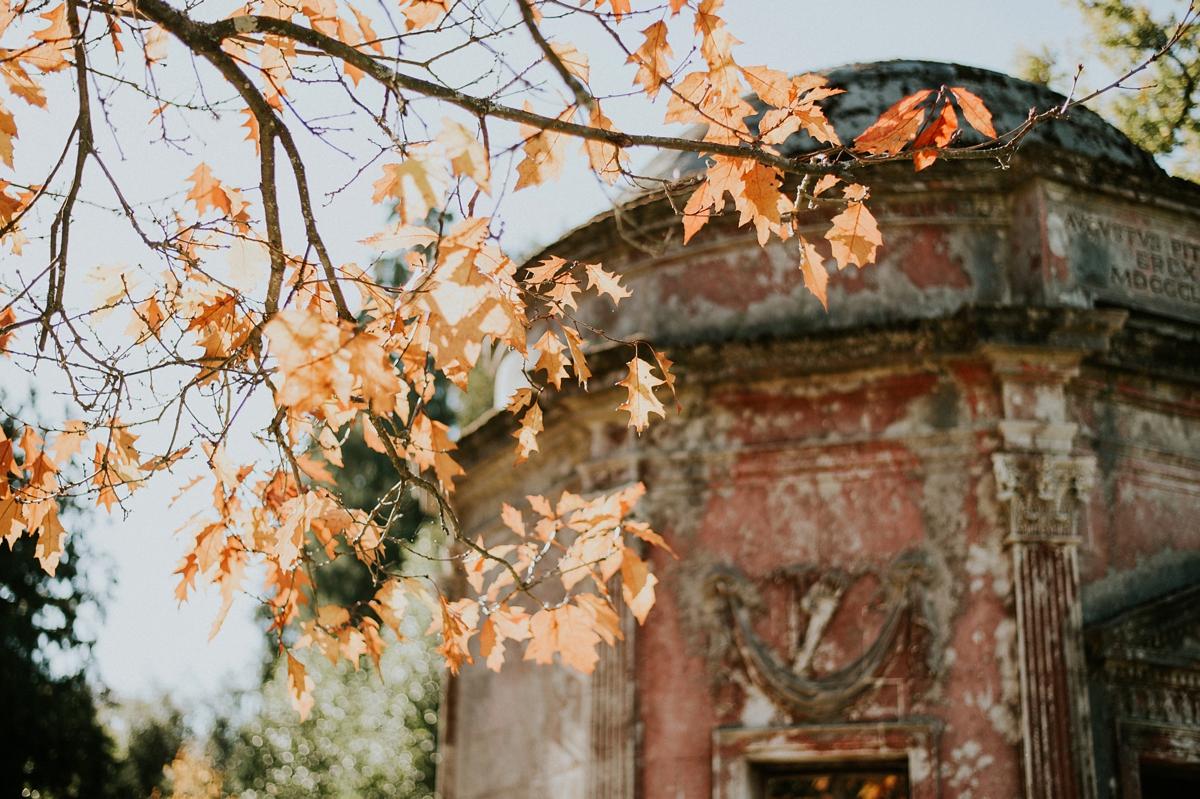 Karen also wore shoes from L.K. Bennett, and for fragrance, Bamford's One Evening Body Splash.
"A few years ago we stayed at Daylesford in the Cotswolds, which has the Haybarn Spa. Everything smells amazing, it instantly relaxes you, since then we are slightly addicted to all things Bamford. The girls took me there for part of my hen do as I'm obsessed! It smells so unusual."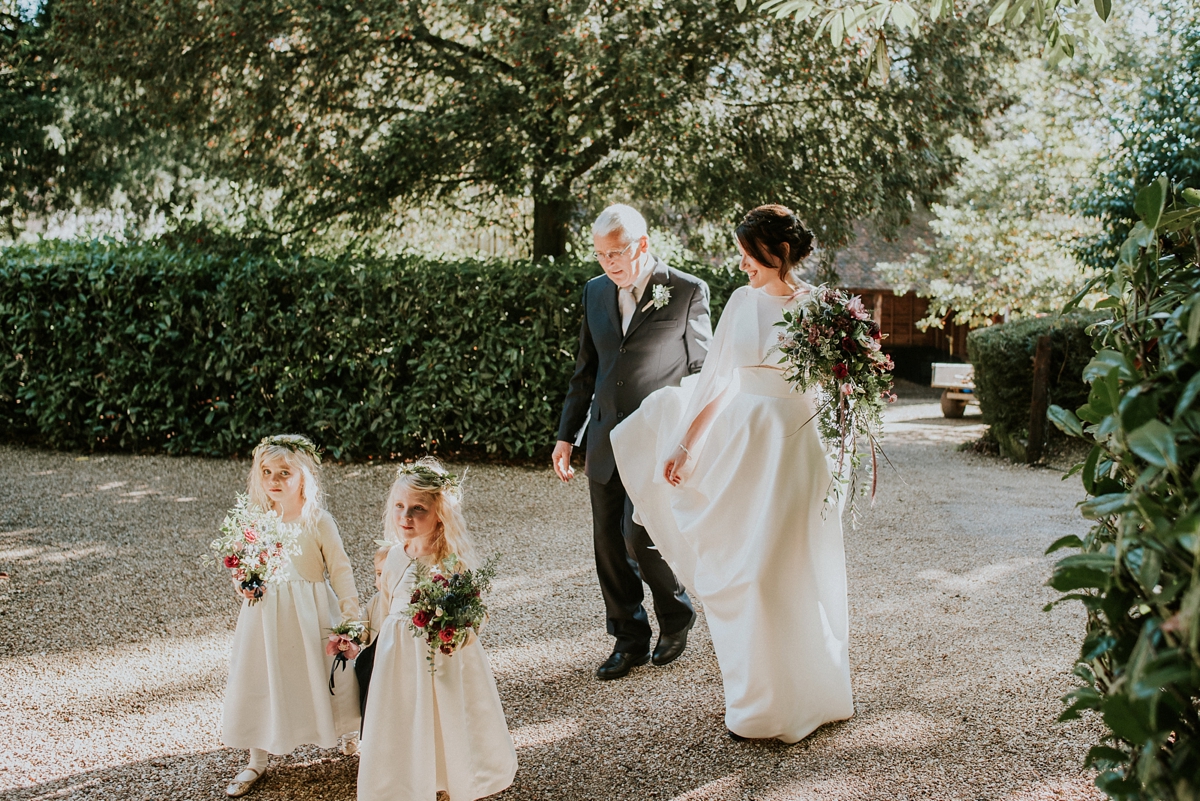 Guests gathered in the shade of an amber leaved oak tree to begin the ceremony, and Karen's bridesmaids were first to make their way down the aisle, wearing glamorous asymmetric ruffled gowns from House of Fraser. Next were the lovely flowergirls wearing ivory dresses made by Karen's mum, wearing pretty floral crowns.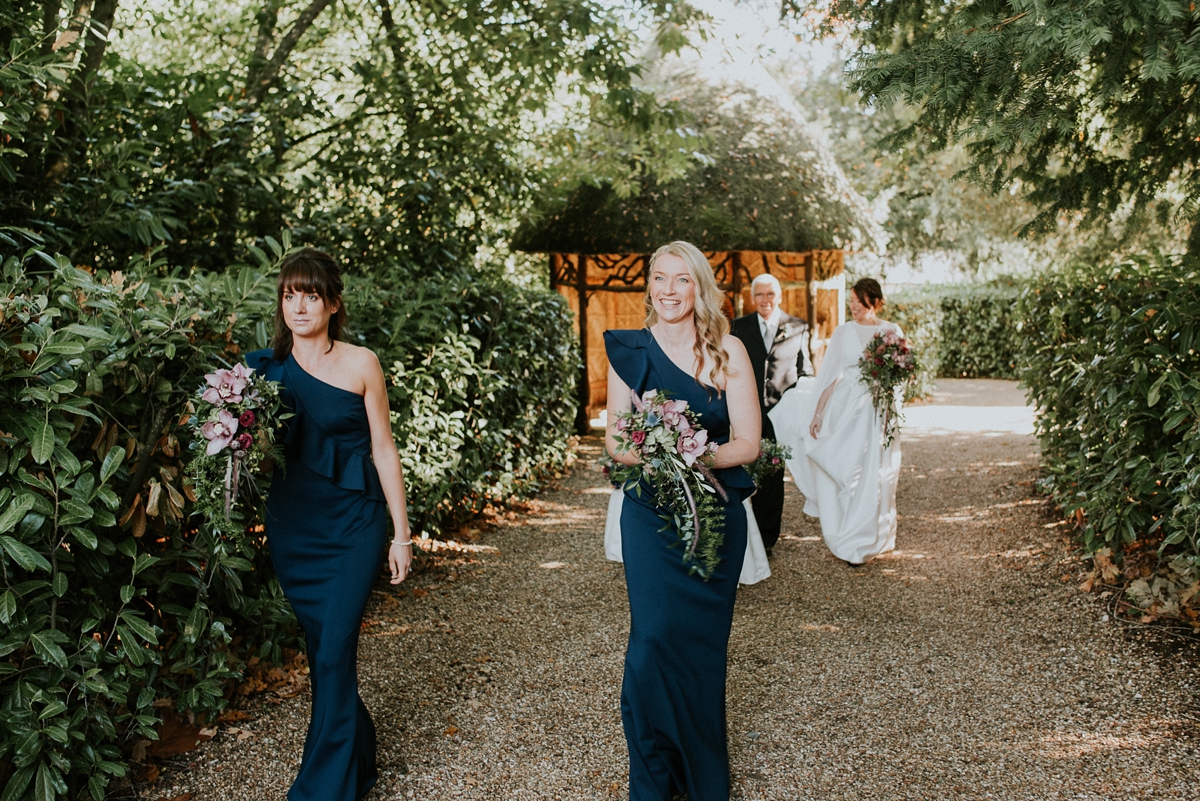 Karen was accompanied down the aisle by her dad, and chose a special song for the moment – Norah Jones' Come Away With Me.
"It reminds us of a holiday that we had in Marrakech. In the Riad that we were staying in they played Norah Jones all day and night. It made us laugh at the time, and has made it special since; the lyrics seemed perfect for the day."
Florist Debra Marsh created these, along with all the floral arrangements for the day. I love the natural style of Karen's bouquet and the varied nods to autumn in the subtle colours and varied textures.
"I wanted to have lots of textured foliage with touches of plum to bring in some autumnal colour. I wanted to have a loose whimsical feel to my bouquet. It (accidentally) coordinated beautifully with the colour of the temple, which we had the ceremony outside of."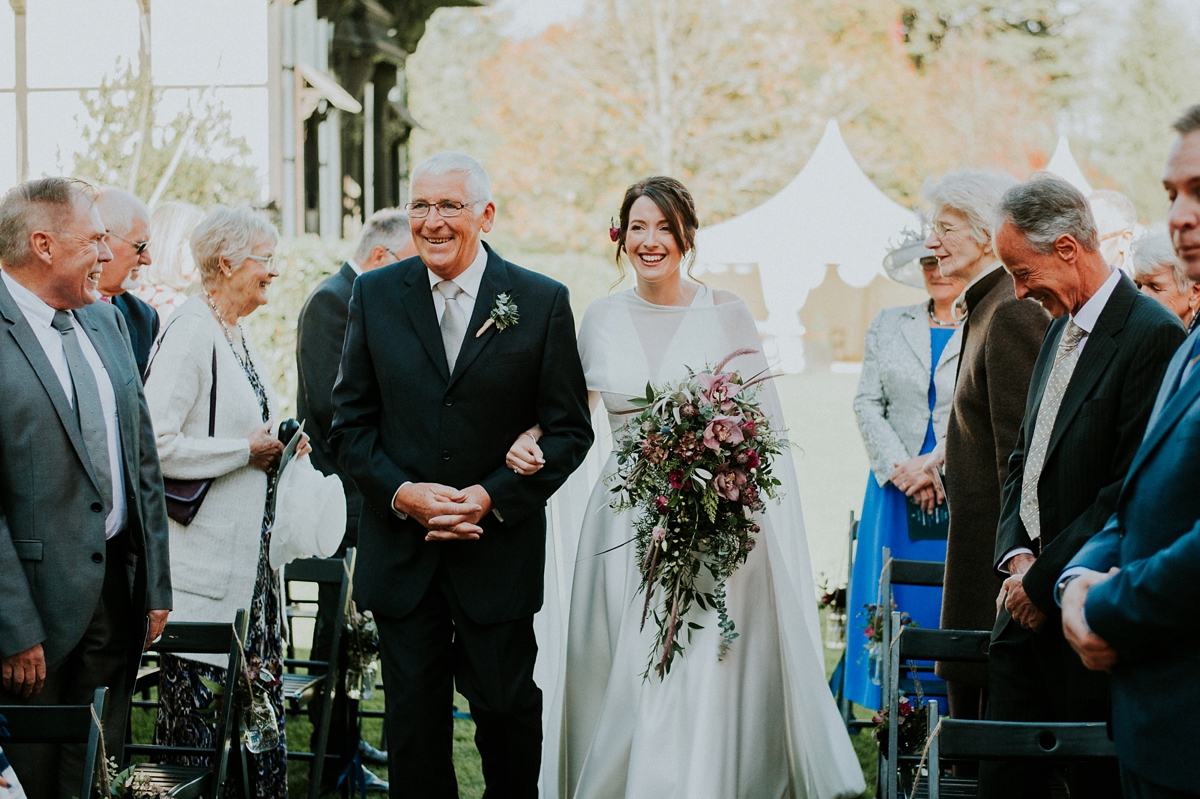 David wore a sharp suit from Paul Smith along with a damask tie and shoes, and a shirt from Ted Baker. His groomsmen wore their own suits along with Ted Baker ties.
Karen and David said their vows to one another in front of the spectacular Roman temple, and exchanged rings from Charles Nobel.
There were heartfelt readings, too, an anonymous poem On Your Wedding Day and Getting Married Means You'll Have by Nicholas Gordon.
Karen debated for a while as to whether or not to wear a veil, and in the end chose a long chiffon cape instead from George Anthony Bridal.
"It was really hard to find as I wanted a long length one in the UK for a reasonable price, I had pretty much given up and wasn't going to wear anything and then I found it just 2 weeks before the wedding!"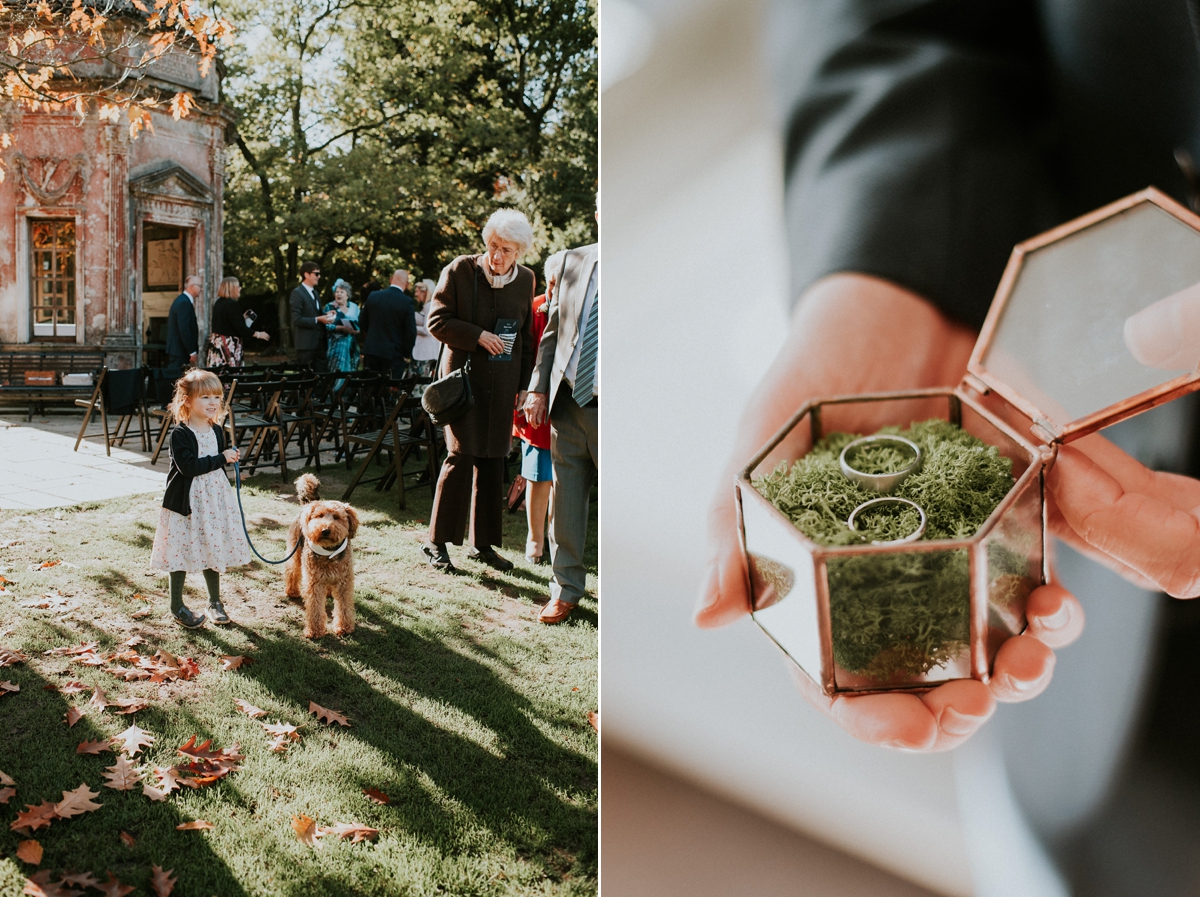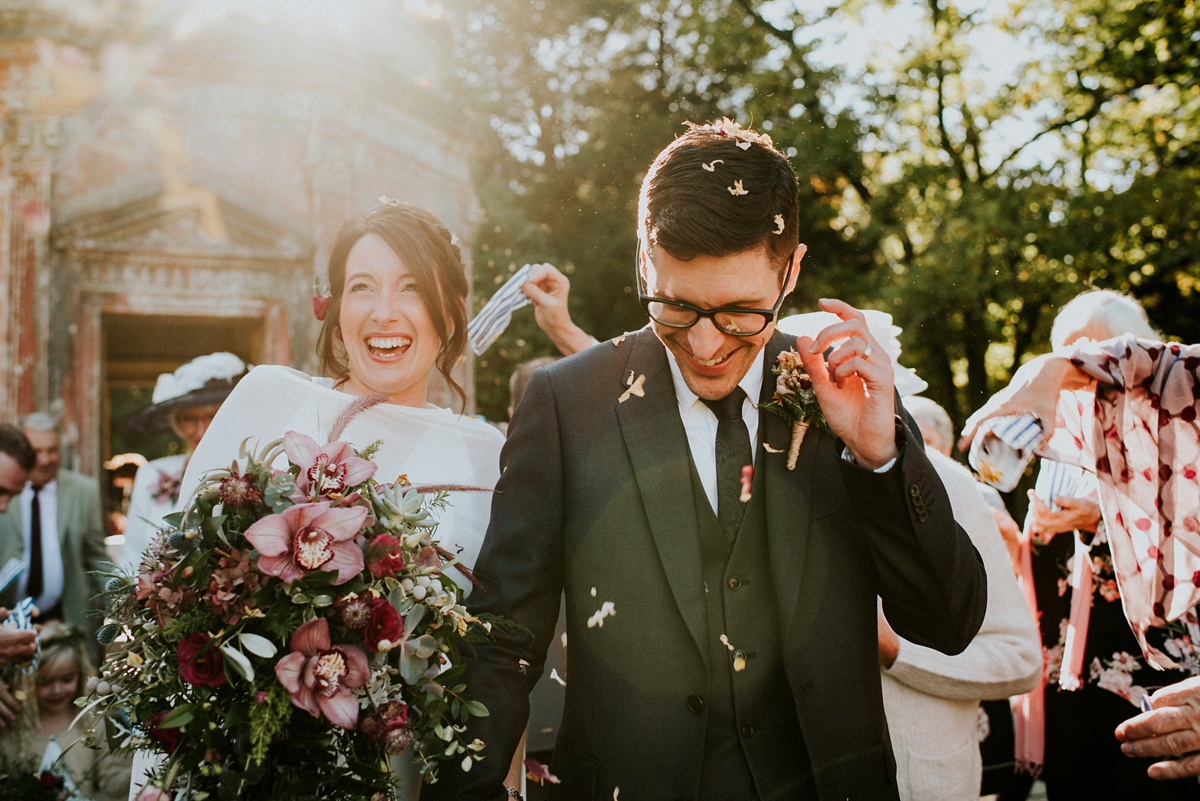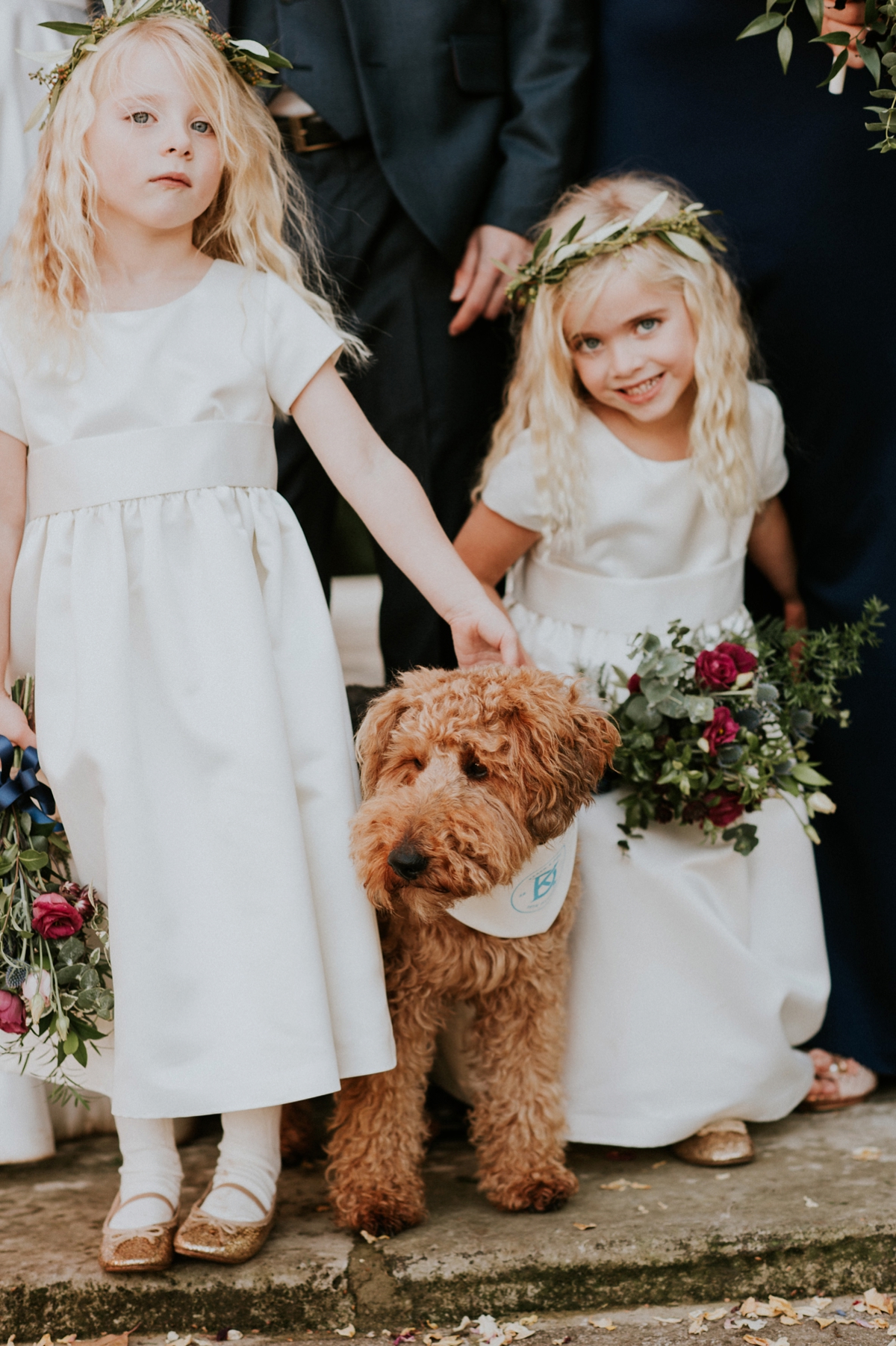 The fantastic reception space with its lovely high ceilings was decorated beautifully – greenery and flowers from the chandeliers, and some modern botanical twists.
"We are massive succulent fans, so we have been growing them for months to make sure we had enough to decorate the wedding breakfast tables. We mixed modern terrariums with simple terracotta pots to create a botanical feel. My friend and work colleague Becky who is a stylist, set up the tables and added the finishing touches…We made place names, which doubled as favours. We imprinted ferns and guests names in to air dry clay which they all took home."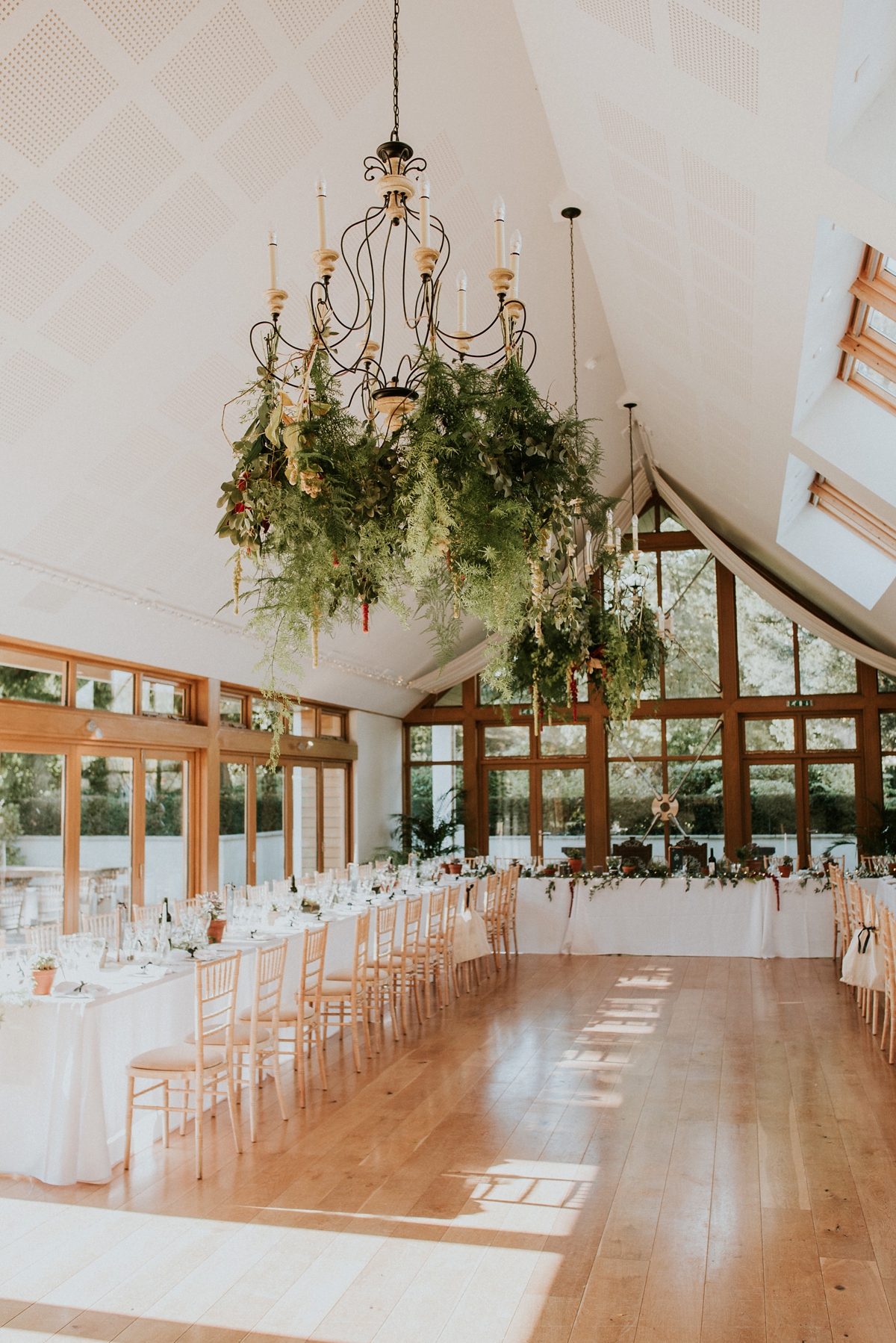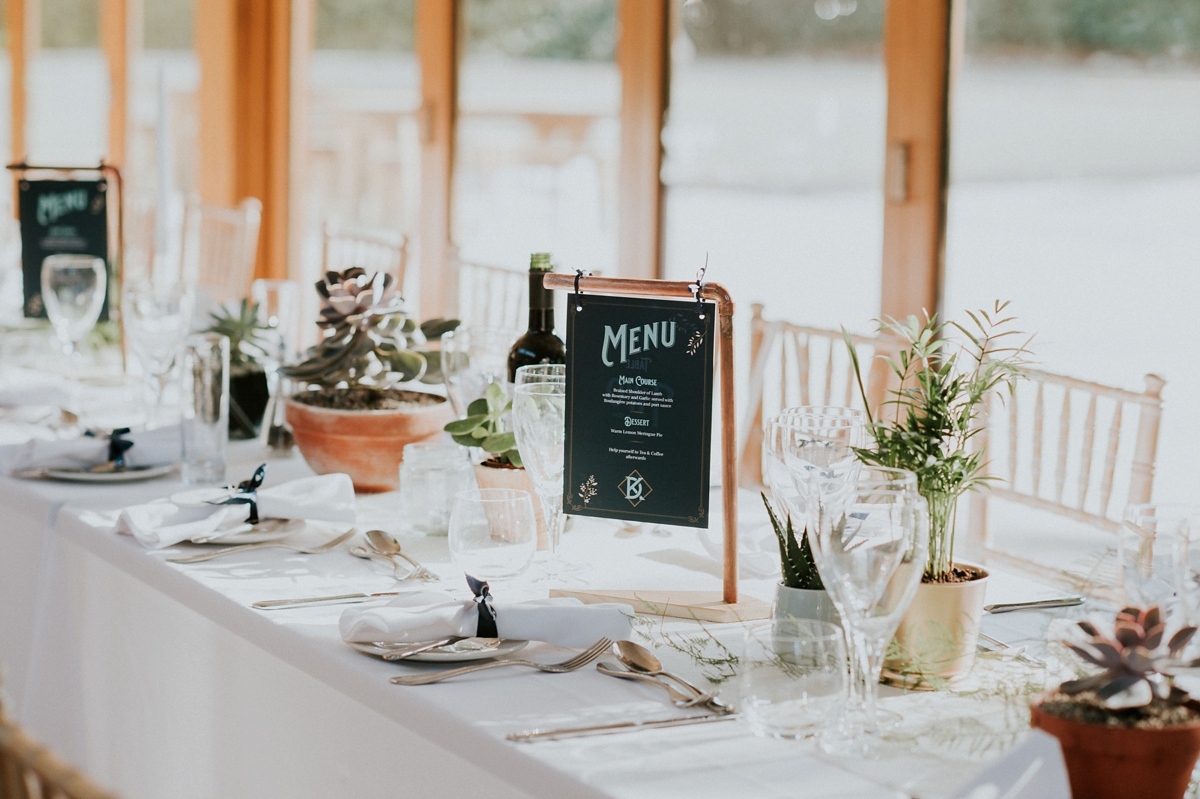 Forking Out made the wedding feast – shoulder of lamb with garlic and rosemary, followed by lemon meringue pie. There was delicious cake too, from Karen's friend Lucy of Lucy's Sugar Shack. They came up with a neat idea so as to save some of the cake for evening guests later on and separated the tiers with a terrarium filled with flowers!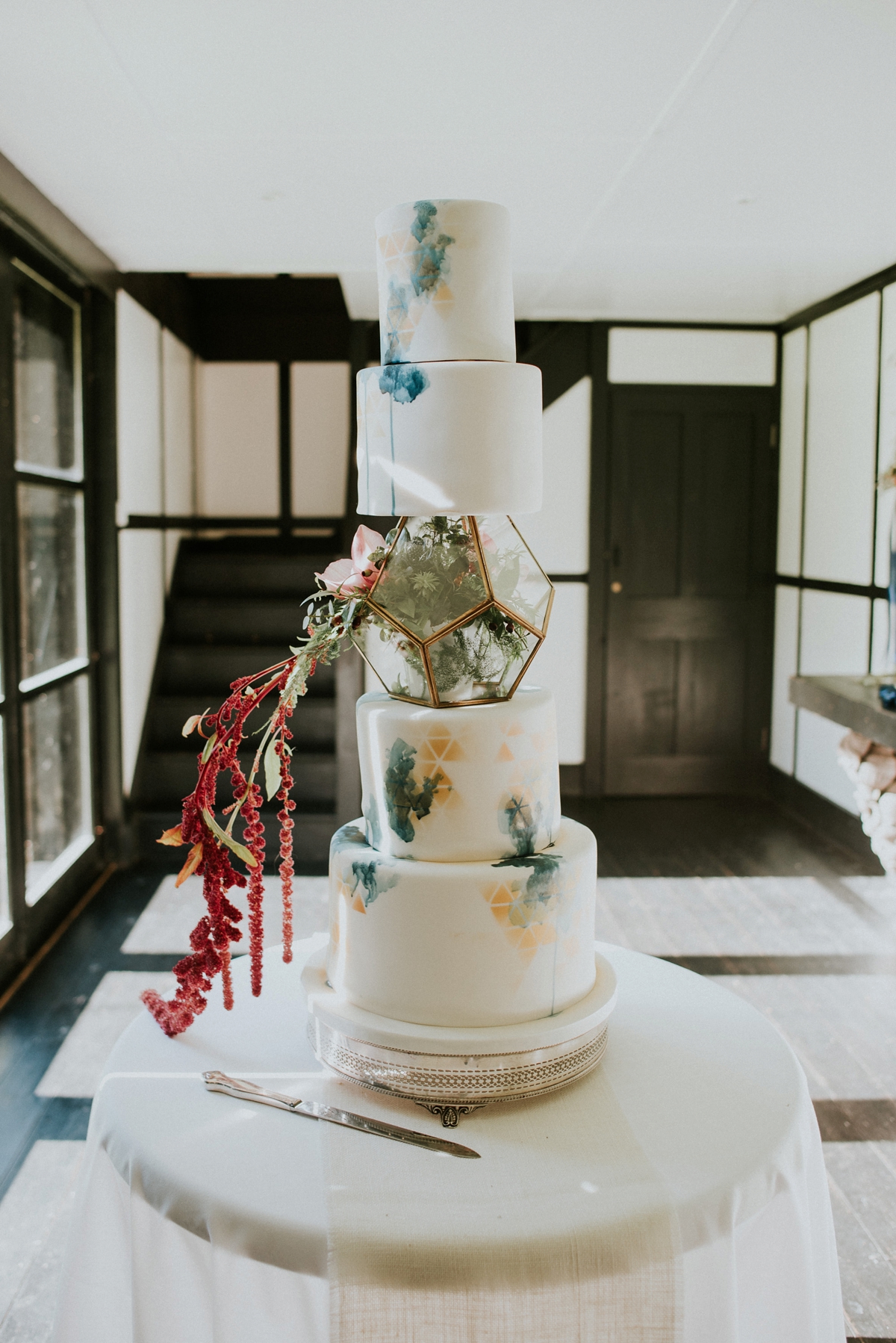 "I knew Lucy was capable of creating a show-stopper. We wanted something that was big so that we could have it cut in the day to serve afternoon tea, but keep the bottom half for the evening guests to see intact. So we opted to have a terrarium to separate the top and bottom sections (it became the top of the cake in the evening). This also tied in with the table decoration for the wedding breakfast."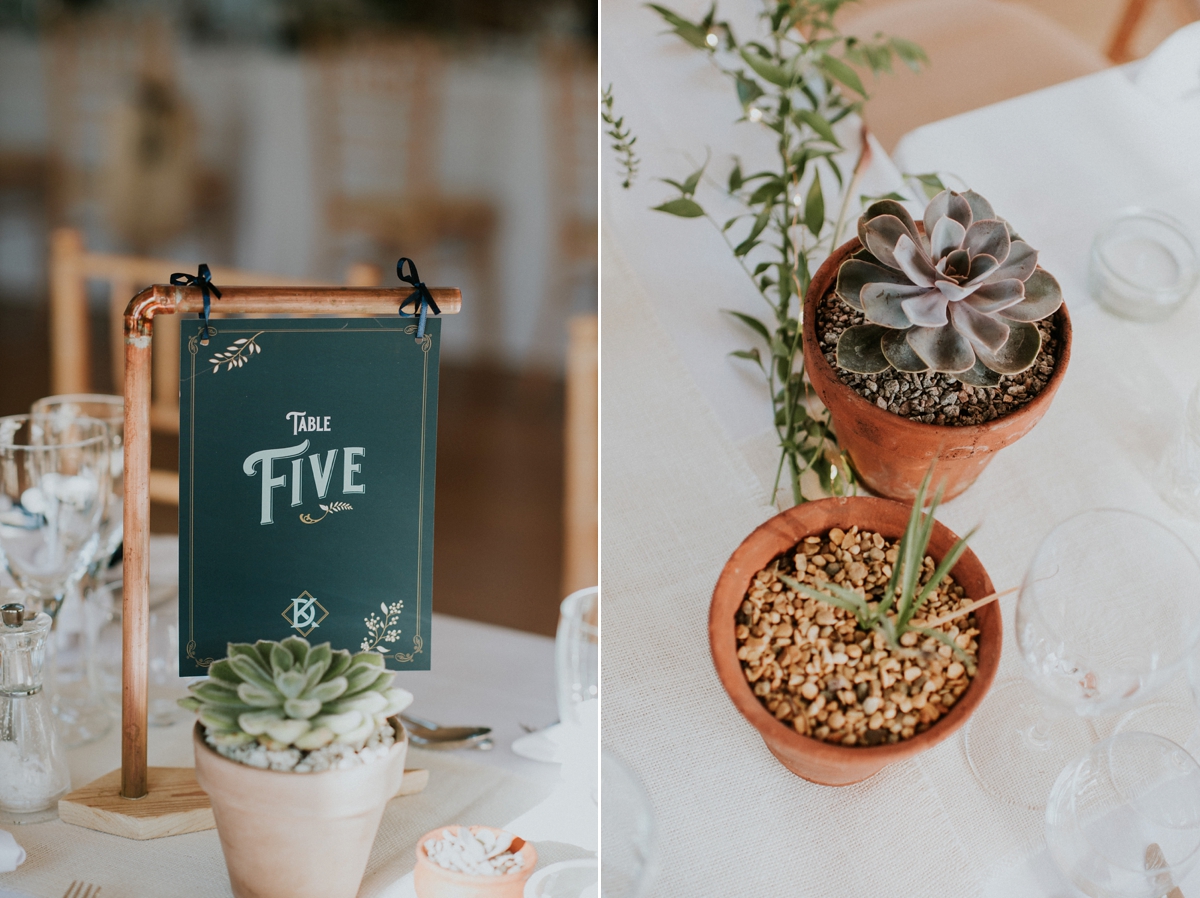 "For the evening my sister Claire had made all the macramé planters to hang in the ceiling along with paper lanterns from Ikea which we hung LED light's in. She also made the macramé for the signs and the table plan."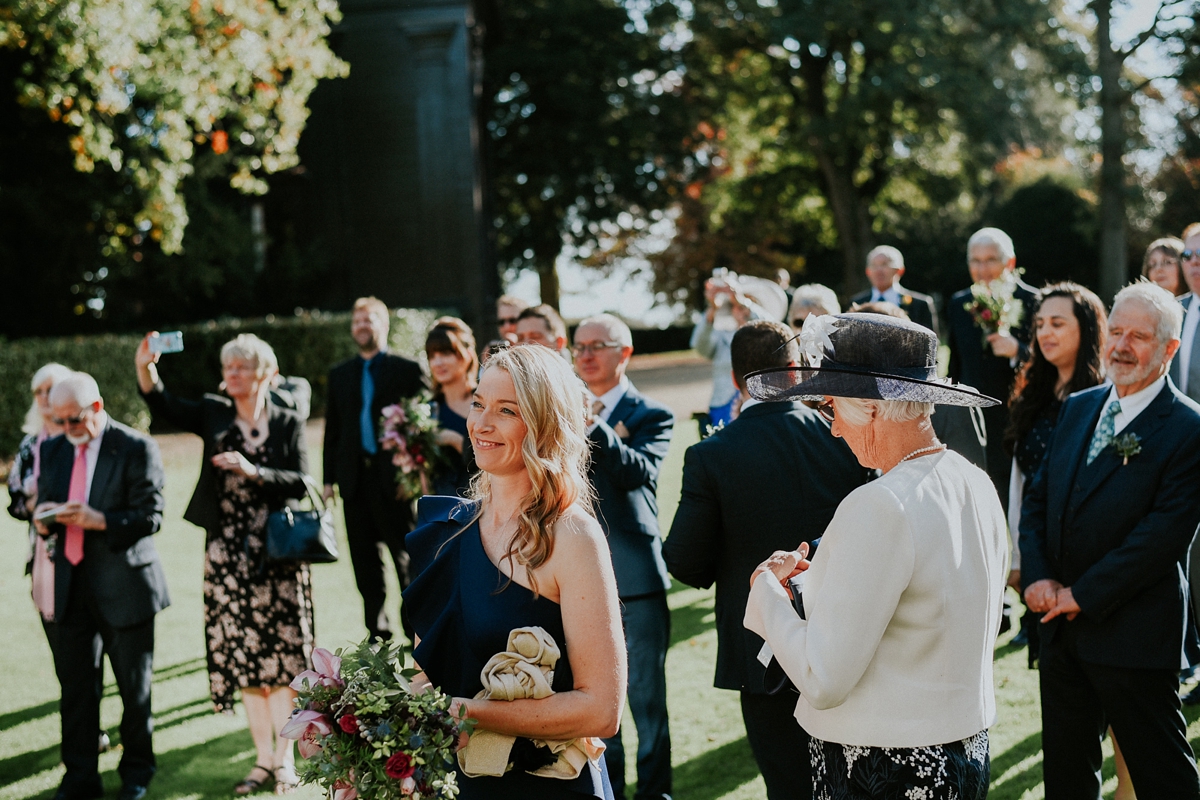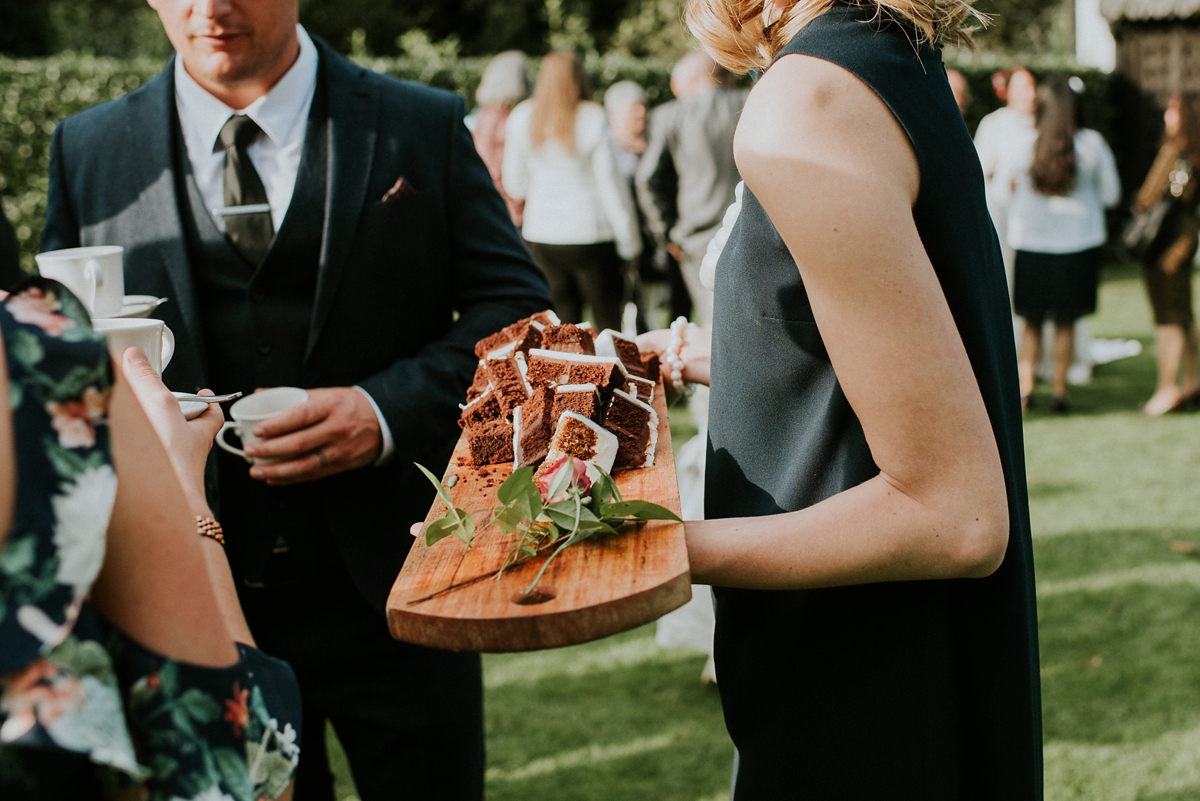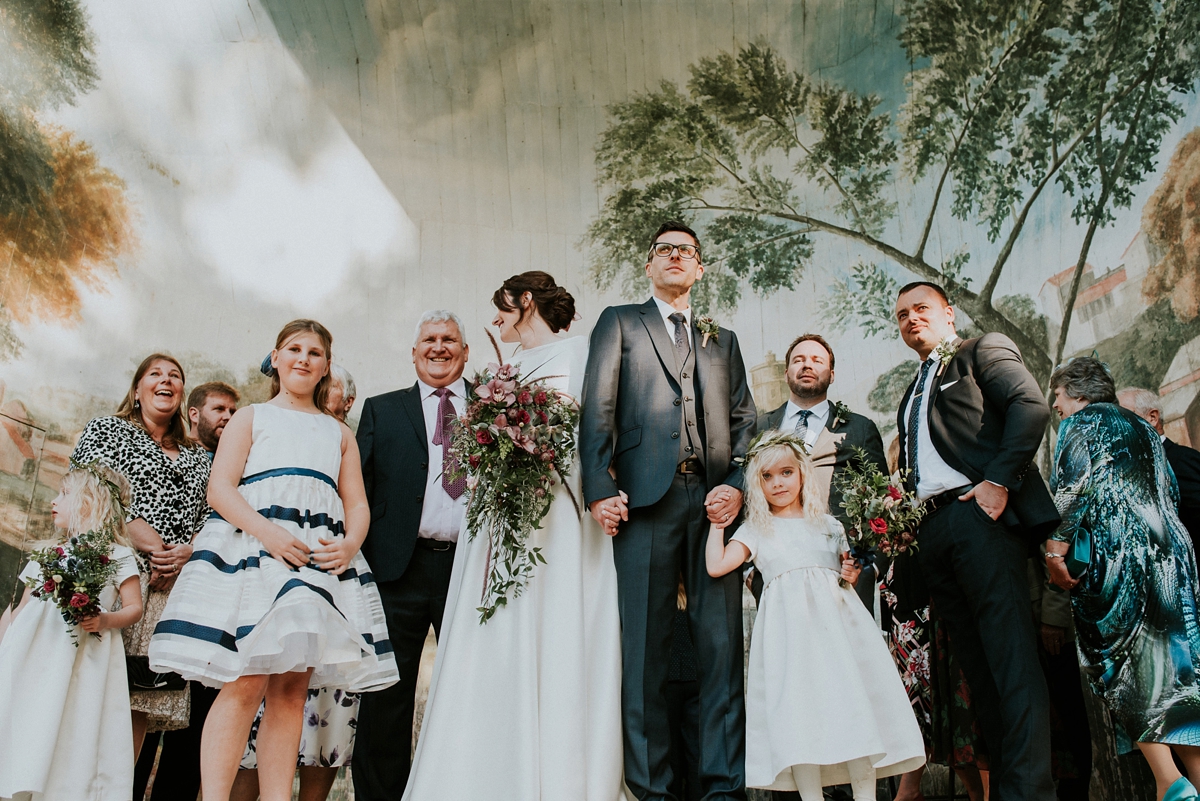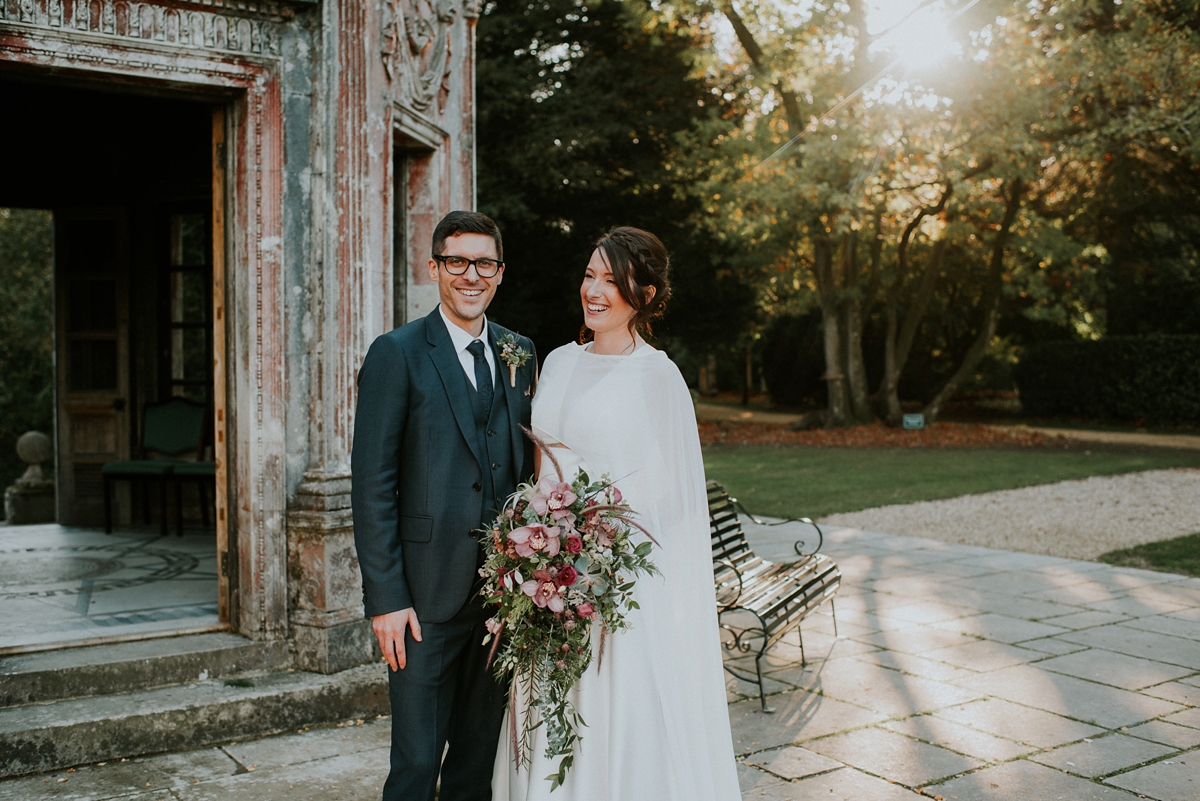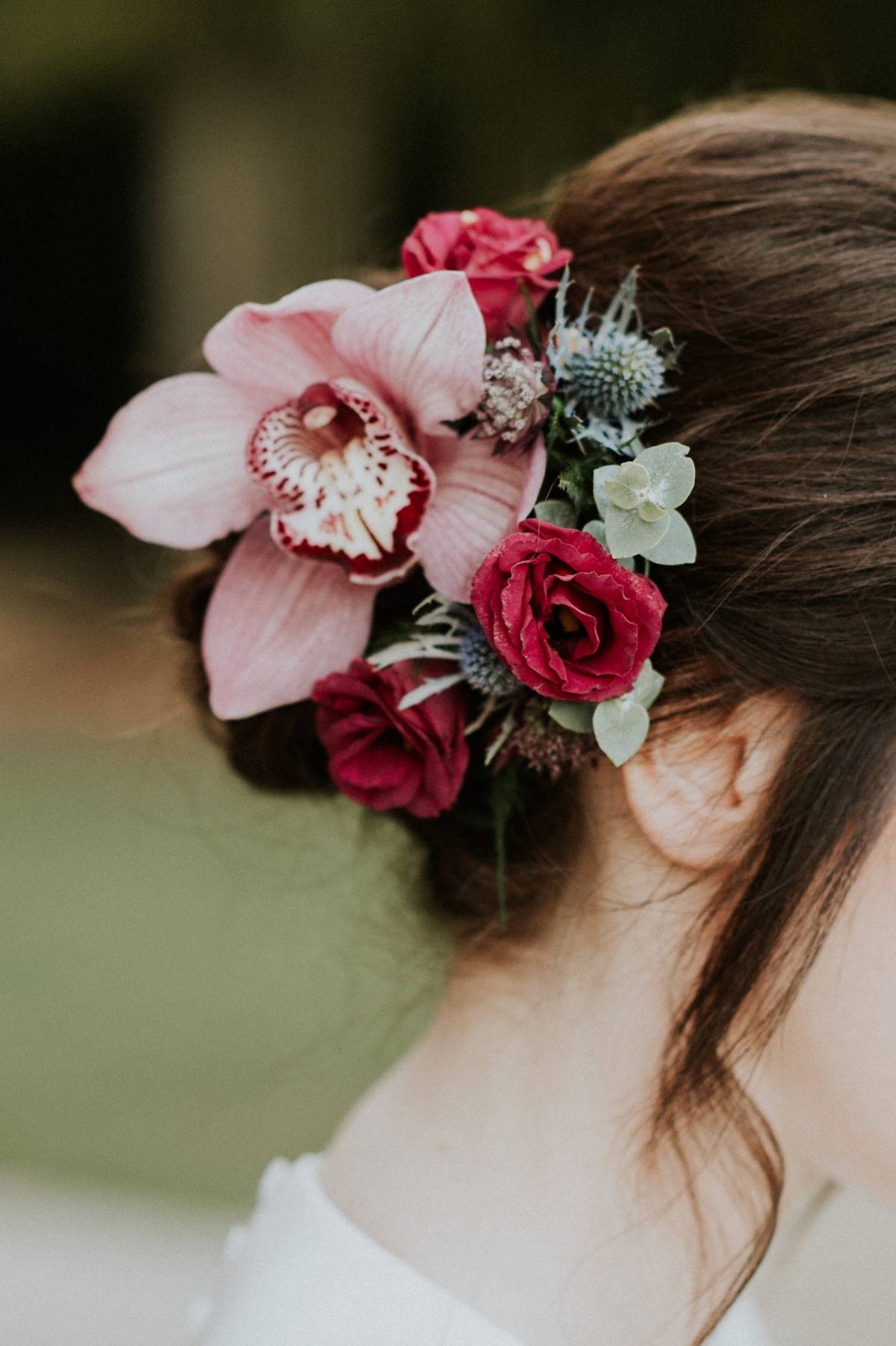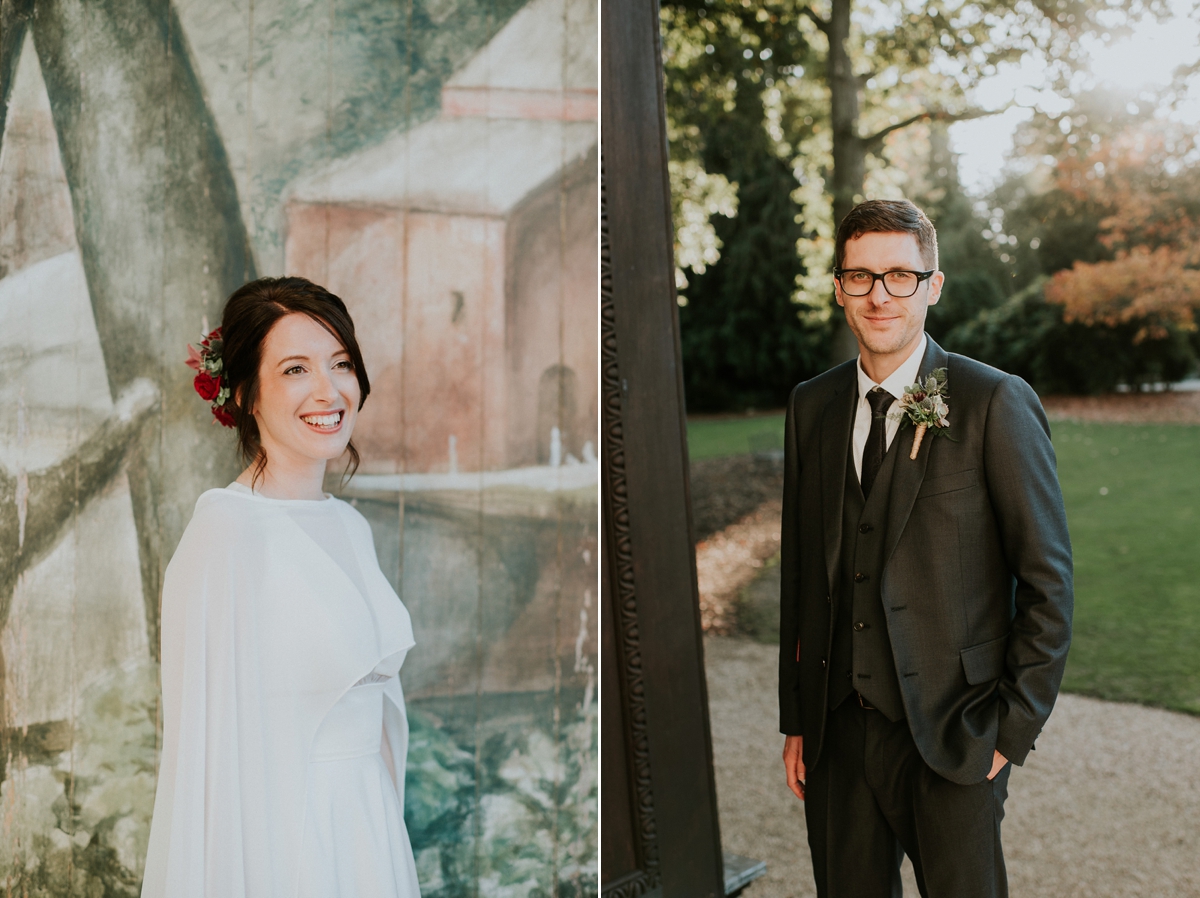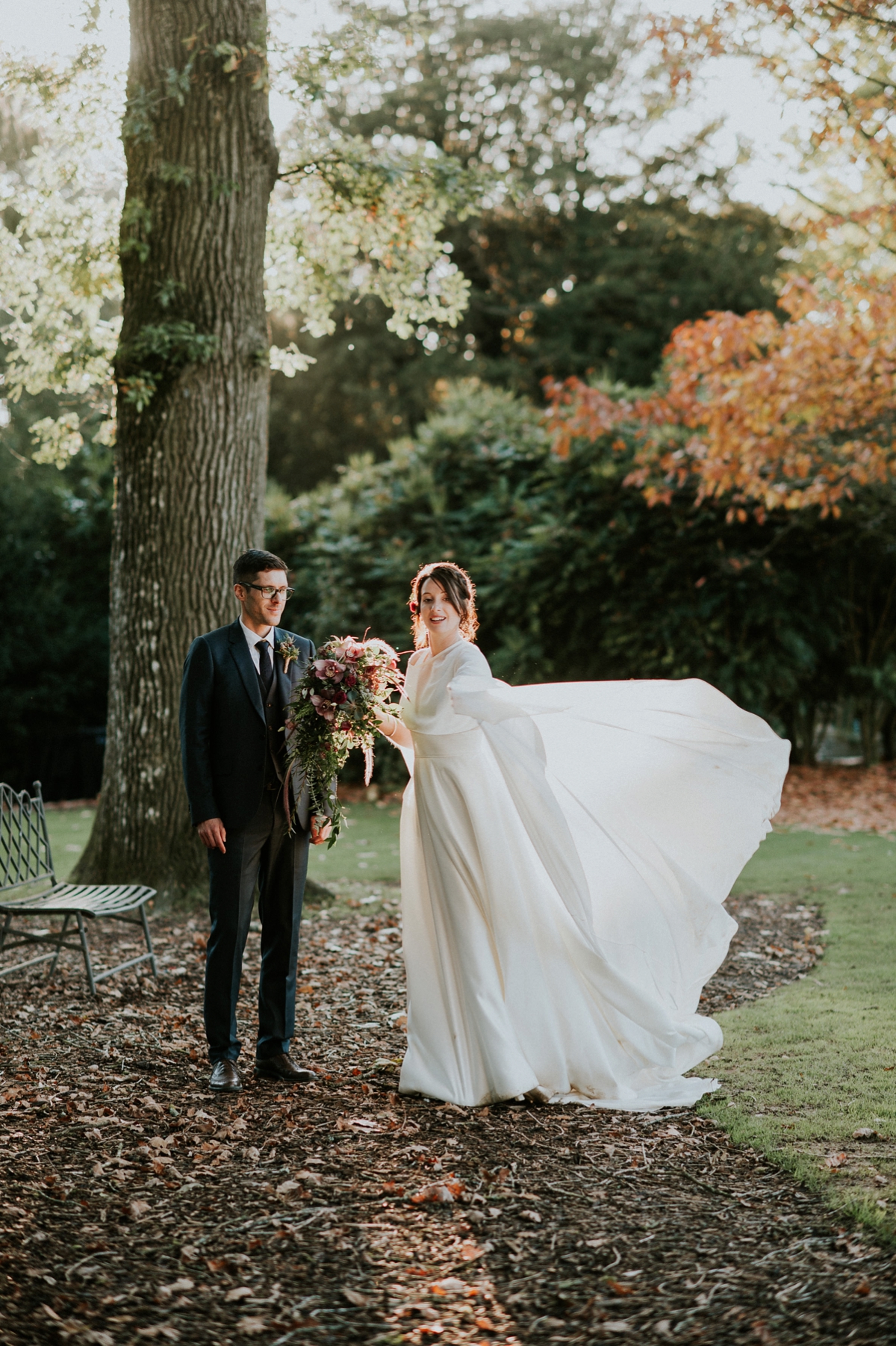 In the evening Karen swapped her cape for a fabulous embellished jacket from Topshop ready for dancing. The couple didn't really want to have a traditional first dance, so instead chose a song that everyone could get up and join in with – Everybody Dance by Chic.
This was performed by the evening band, Le Freak, who are a Chic and Nile Rogers tribute!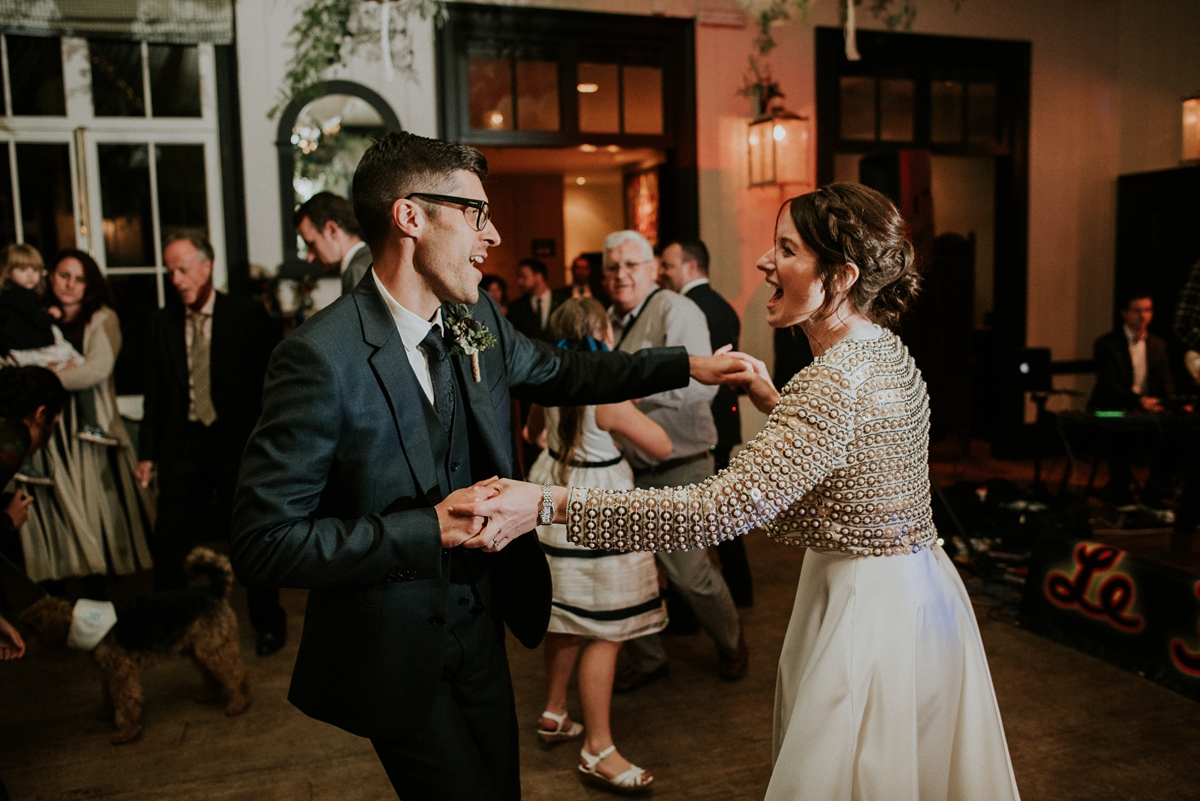 "We loved every part of the day, but it goes so quickly! It was so lovely to have all our favourite people in one place to celebrate with us."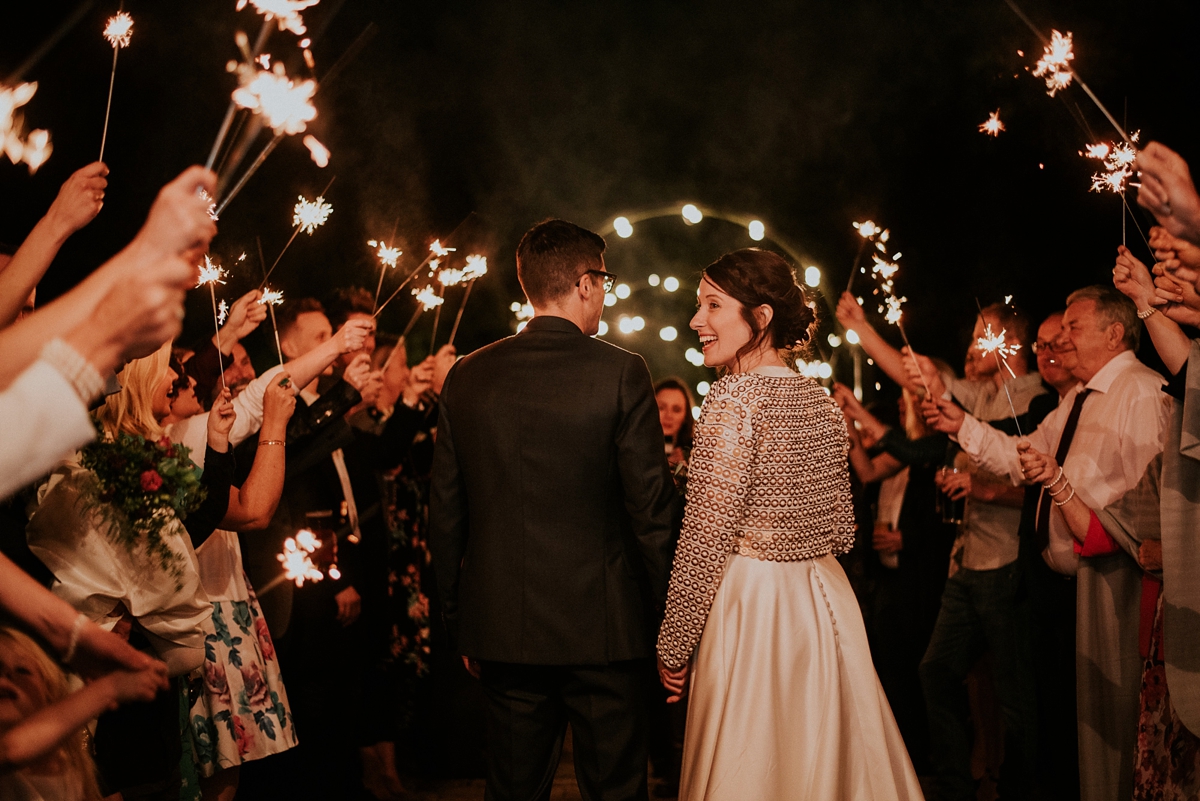 Words of Wedded Wisdom
"Set yourself a budget and use it as a challenge to stick to it. I had great fun bartering with suppliers to bring it in on budget."
"It's never too early to start making and buying things for the wedding, the more of this you can before the last month, you will be able to sit back, relax and enjoy."
Congratulations Karen and David, and thank you so much. What a pleasure it's been to write about your incredible autumnal wedding. Many thanks to Big Bouquet Photography, too, for these fantastic images. You can see more of their work on our blog pages right here, too.
With love,
Laura