As I sit to write this, I'm over in Canada visiting family. The sun is rising (hello, jet lag!) and it's set to be a beautiful day, but my goodness, it's a cold one (currently -12c and that's warmer than the past few days!).
This magical rural country house wedding is transporting me to the warmer days of August, and I know you're going to love it too! Let's meet our couple – Tanya, a Maintenance Planner and Oli, a Speech and Language Therapist. They were married in an outdoor ceremony at the wonderful Pennard House, Somerset on the 14 August 2018. This was a celebration which took inspiration from nature and an English country garden, but also from Tanya's Malaysian heritage and a wish to include her much-missed father in the day.
Images by Jason Williams Photography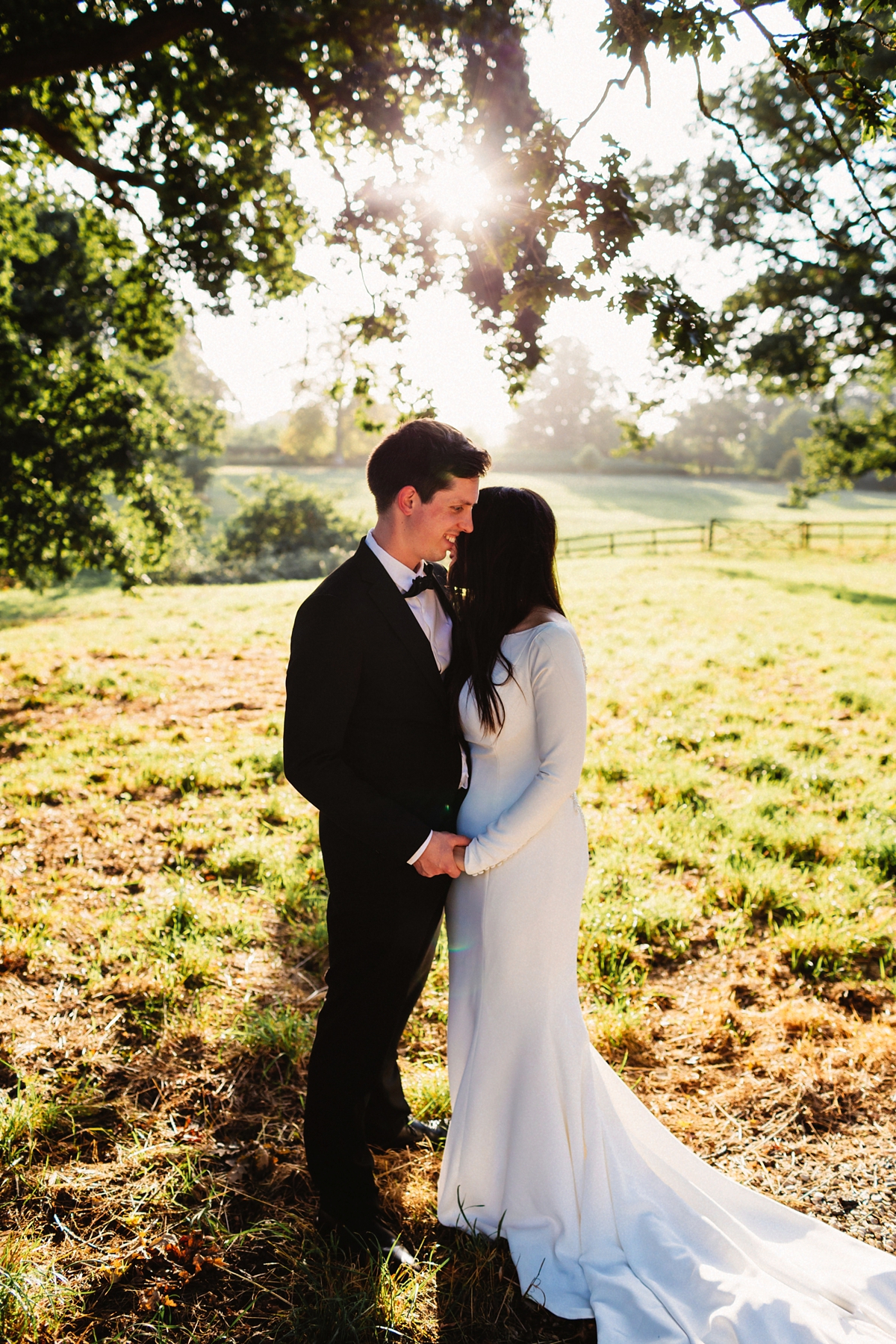 Gorgeous, botanical inspired stationery came courtesy of Papier, a simple and stylish table plan from Etsy-based Lilac & White and table numbers from Typo. The dining tables were filled with romantic blooms and candles, and there were the most incredible hanging arrangements above from florist Shirley, with added dried Delphiniums from Shropshire Petals.
"We wanted something that provided outdoor space – we've always loved a woodland theme and wanted to be married somewhere surrounded by trees. The venue had a beautiful lawn and little nooks in the garden that guests could sneak off to, which was fun. The wedding ended up being mix of a classic English garden wedding with a bit of Asian influence.This was incorporated with the greenery and flowers hanging over the tables and the sugar flowers on the cakes."
"We also had frangipani floating candles (something I had grown up with at home in Malaysia). The colour scheme was blush/mint green with hues of rose gold, all themed off of the rose gold engagement ring Oli had bought! I'm not even a fan of pink but thought blush provided a subtle addition to neutral colours."
Isabel from Bridal Styling styled Tanya's lovely long hair, while her sister (and freelance professional make-up artist) Julia took care of make-up.
[JP-VIDEO]
"Luckily my sister Julia has done make up for weddings and runways so she helped out on the day and did my make up, the bridesmaids and a fair amount of guests!"
For her gown, Tanya chose an elegant long-sleeved crepe design by Justin Alexander, which she found via Wedding World Kent after visiting the National Wedding Fair in London. I love the clean lines contrasting with the beaded lace detail on the back.
"I knew I wanted a long sleeved lace dress with back detail. The back detail I had to have, but I felt more elegant in crepe than I did lace (lace seemed to age me!). I loved how it was classic but almost a bit more modern. I thought I would have gone with a fuller skirt."
"Once I tried them on I realised they did not like me! I loved people's reaction when I put the dress on for the first time, that's something I won't forget."
Tanya added a veil, too – an exquisite hand beaded creation from Jakarta based Maia Fashion Design.
"Maya designed and made my prom dress, so it was quite fitting she was involved with my next important day. My mum stitched in the final comb once we tried it on with the dress."
With the veil Tanya included hair accessories from Accessorize and ASOS, and wore a sparkly pair of crystal drop earrings from Liberty In Love and a diamond tennis bracelet, which was a gift from Oli and her mum for the couple's Nikah ceremony, which had taken place at the London Central Mosque near Regents Park prior to their Somerset celebration.
On her feet Tanya wore white 'barely there' sandals from ASOS, and for fragrance, Hermès 24 Faubourg eau de parfum, which has been her favourite perfume ever since her first bottle as a teenager.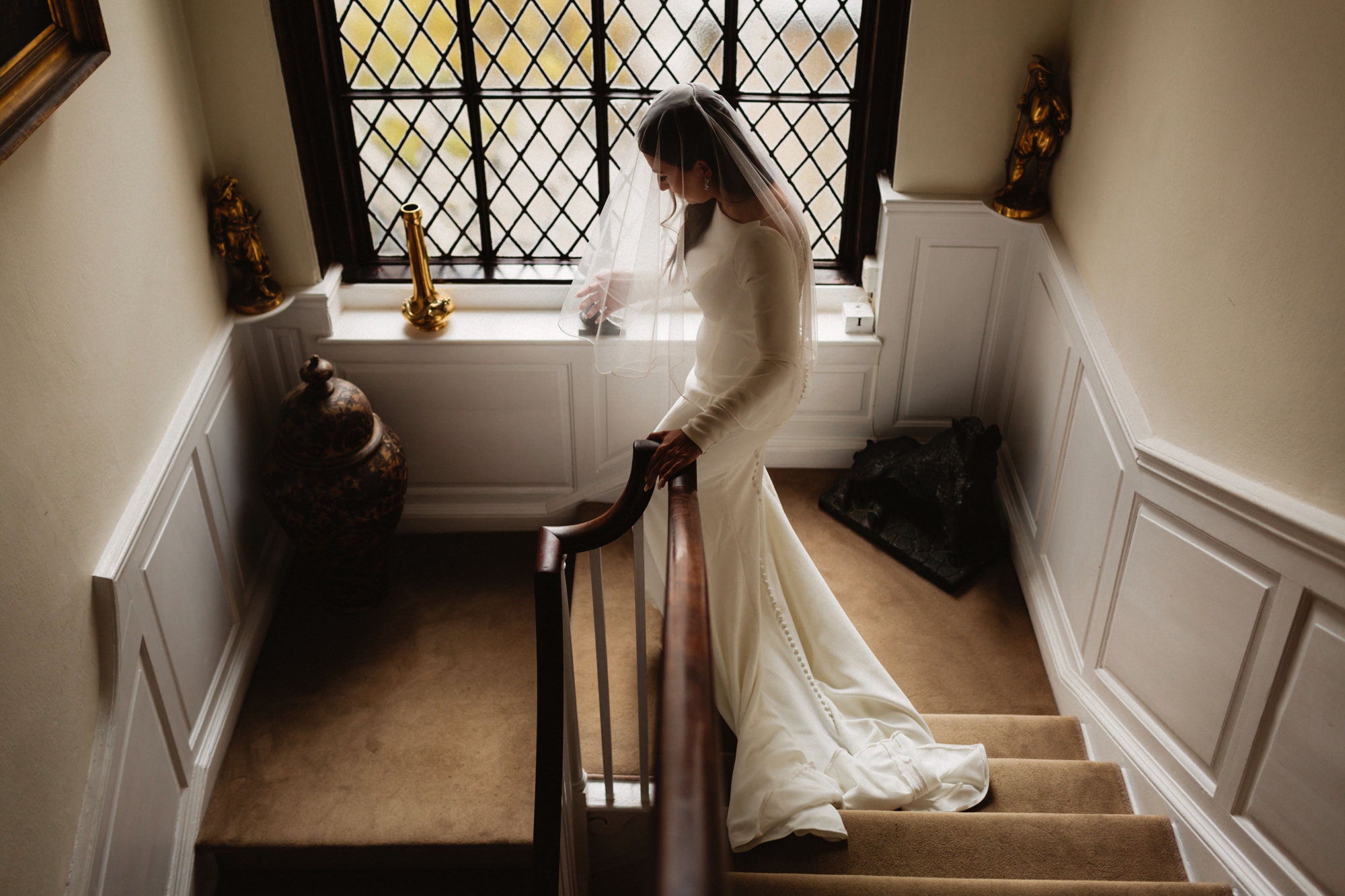 "My dad had passed away when I was younger from cancer and I wanted him incorporated into the day, so we had lots of family photos everywhere; we managed to have Polaroids made of our parents' and grandparents' wedding photos."
"An interesting fun fact from the photos was that there was Malaysian heritage on my side (my mother is Malay) but Oli's English grandparents had lived and taught in a school in Malaysia before the Second World War."
The couple chose Pennard House as their venue, a generous old country house in the rolling Somerset Hills, and one of our brilliant Little Book members, too.
"We chose Somerset because Oliver is from there… We visited around 6 different venues across Somerset and Pennard gave us the option of having an outdoor wedding with all the amenities we wanted in one location…Booking Pennard House came with a wedding planner and Tess was absolutely perfect."
The bridesmaids wore lovely off-the-shoulder dresses in blush rose pink from Folkster with rose gold 'barely there' sandals from ASOS. In their hair they wore accessories found in Malaysia and at Accessorize, tassel earrings from Topshop and rings from Sugar and Style at Boxpark in Shoreditch.
Oli wore a smart slim fit tuxedo from Moss Bros., with his bow tie, shirt and shoes all from ASOS, while the groomsmen also wore classic black tie, with socks from Next gifted to them by Tanya and Oli.
"We met on Tinder…went for a drink the day after we matched and it worked out alright! Engaged two and a half years later. Oli was driving me home after taking me to Marcus at The Berkeley for a birthday dinner."
"He stopped the car and parked up, suggesting we go for a walk. I reluctantly agreed and we made our way to the Albert Bridge where Oli popped the question.It was his favourite bridge! We were engaged in June and married in August the following year."
"We had registrars from the Shepton Mallet Registration Office who performed a civil ceremony and stole the show, it was great!…We tailored vows from the different options available in the…in the civil registry packet."
To go with her rose gold, morganite and diamond engagement ring, Tanya chose a complementary wedding ring from an Etsy seller (no further details provided). Oli chose a simple silver band from Wedding Rings Direct.
"We loved every minute of it – in particular seeing each other at the end of the aisle was like, we are here, we are doing this. All the planning and stress was over, we could just sit back and enjoy the ride. I was so nervous and overwhelmed with friends and family watching, as I had to have my back to them, but when I look back – it was such an elated feeling."
Tanya carried a petite bouquet in dreamy pastel hues – this and the other spectacular florals for the day were by Shirley Designs.
"She was great! And knew when to rein me in! She kept us updated with the flower choices, colour and even origin! She picked out all the vases, candle holders and props and kept us informed all the way, even with picking candlestick colours. It was as easy as showing her a picture of what we wanted and it magically appearing on the day!"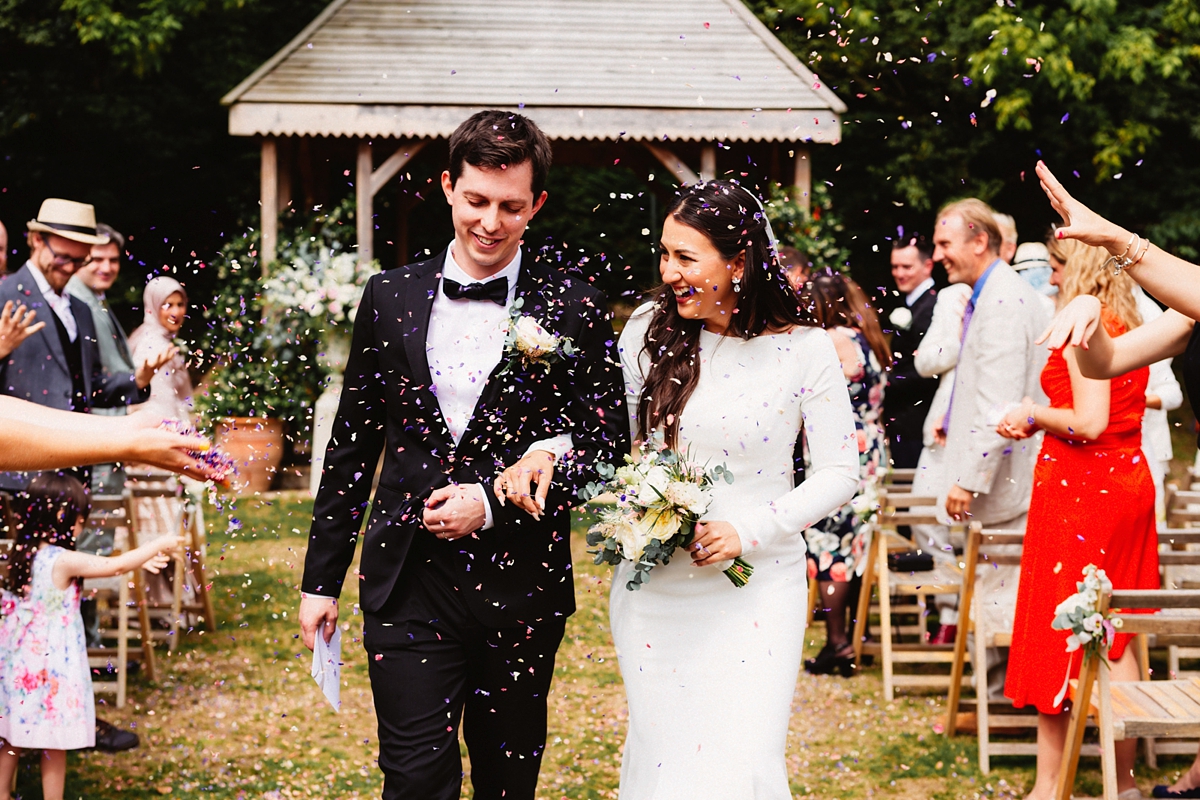 Following the ceremony, there were drinks and canapés on the lawn – Prosecco in stylish saucers decorated with edible flowers, colourful cocktails (with funky umbrellas from Joessa) and ice-cold soft drinks, too – perfect for a warm summer day.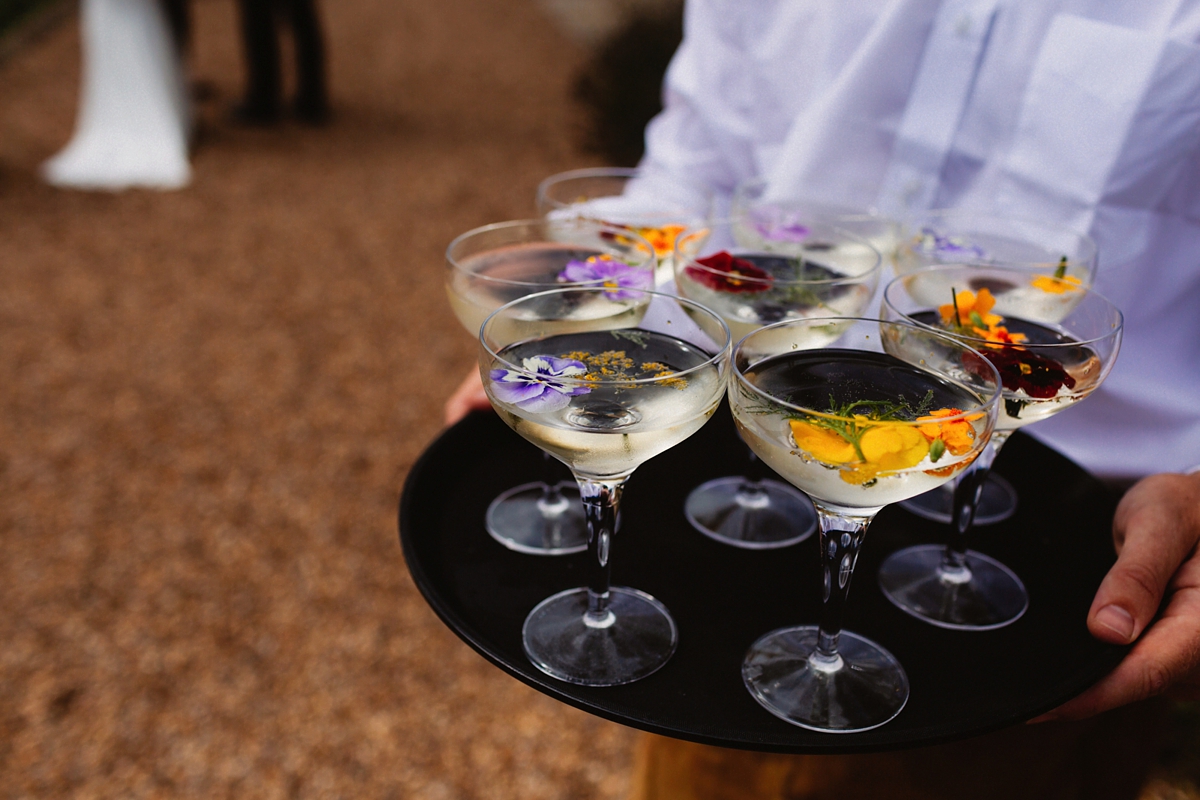 To capture their day, Tanya and Oli chose Jason Williams Photography, and what a wonderful, creative and sensitive approach he took.
"Jason was so accommodating with our vision, our budget and when we met on the day, it genuinely felt like he was one of us! He fit in with the entire party so well, it was like having a friend take our photos."
There were so many amazing personalised touches throughout the day – there were even heart-shaped sugar shapes for the coffee from Sugars By Leonor, midnight snack bags from Sixpence Paperie and extra long multi coloured sparklers from Wedding Sparklers.
"There were no ceremony readings but Oli's parents did a great collage of pictures (of both of our families) to play during their speech. It was very meaningful as it brought my father visually into the day."
"We love to eat, so we made sure all the guests could eat a little (or a lot) of everything, Michael at Wild Fork West was great in helping us pull together a wedding menu. WFW prepared the drinks, canapes, main meal and a lamb tagine for evening food. Faultless."
Instead of set courses, guests could help themselves to Halal spice grilled chicken tahini yoghurt and Halal topside or medium rare beef with honey mustard, pulled salmon with fennel and radish slaw, grilled courgette, artichoke, lentil and chilli salad, green beans with toasted almonds and feta, miso glazed potatoes, heritage tomatoes with shallots and herbs, and bread and butter (wow!). And after that feast, there were beautiful desserts and cake from Joanna Pyda Cake Studio.
"We love cake! From the start of the wedding, we wanted the food and cake as the focal point. I couldn't settle on a single cake so we had a main two tier wedding cake, another separate single tier with three mini semi naked cakes, surrounded by meringue, biscuits, fondant fancies and mini domes!… Loved the dessert table. We had more than needed for all the guests and there wasn't a crumb left by the next morning! Jo was fantastic, everything looked incredible and we couldn't tell apart the sugar flowers from my bridal bouquet."
As favours, there were personalised seed packets from Wedding in a Teacup, hangover kits for guests staying at Pennard House and marshmallow flavoured glitter and edible flower lollipops from The Little Lollipop Shop.
"We used Ginger Ray for balloons, picture props and hanging curtains – we also supplied disposable cameras on each table for the guests to take pictures…Tattoos for a bit of fun at the wedding from Paperself, cut up individually and left for guests just outside the bathrooms."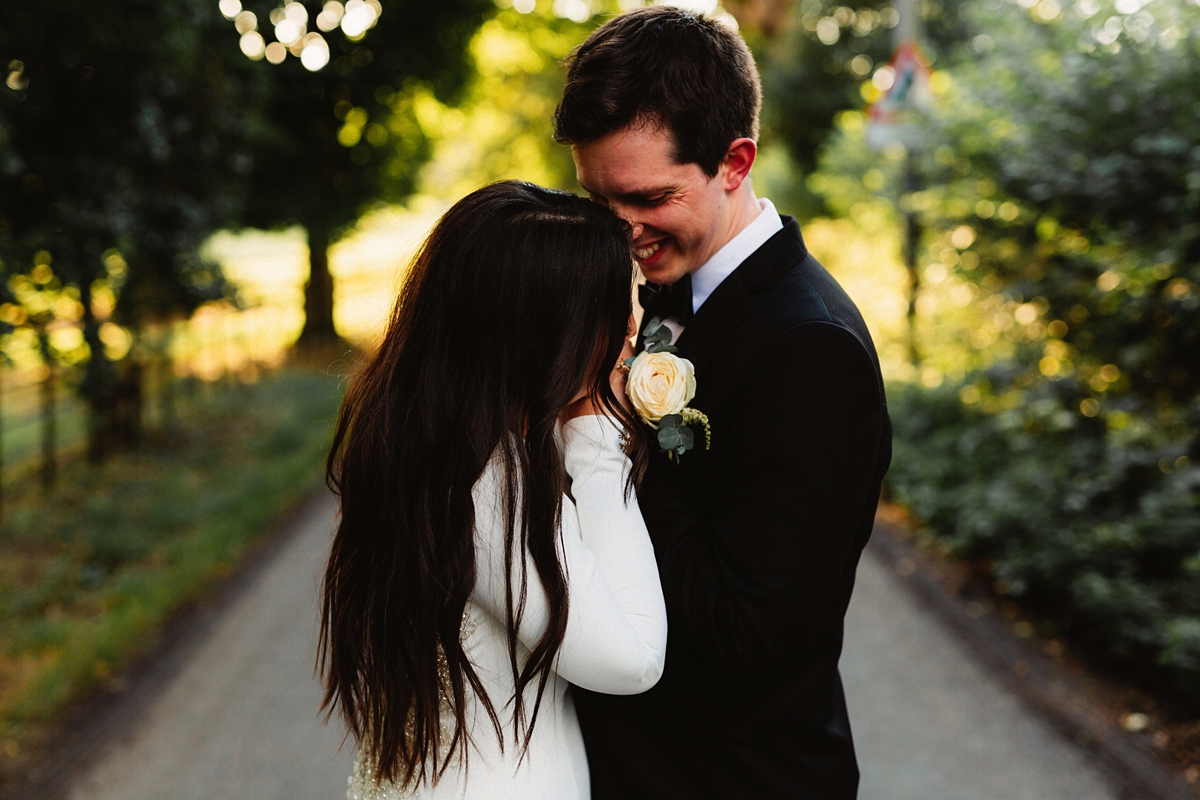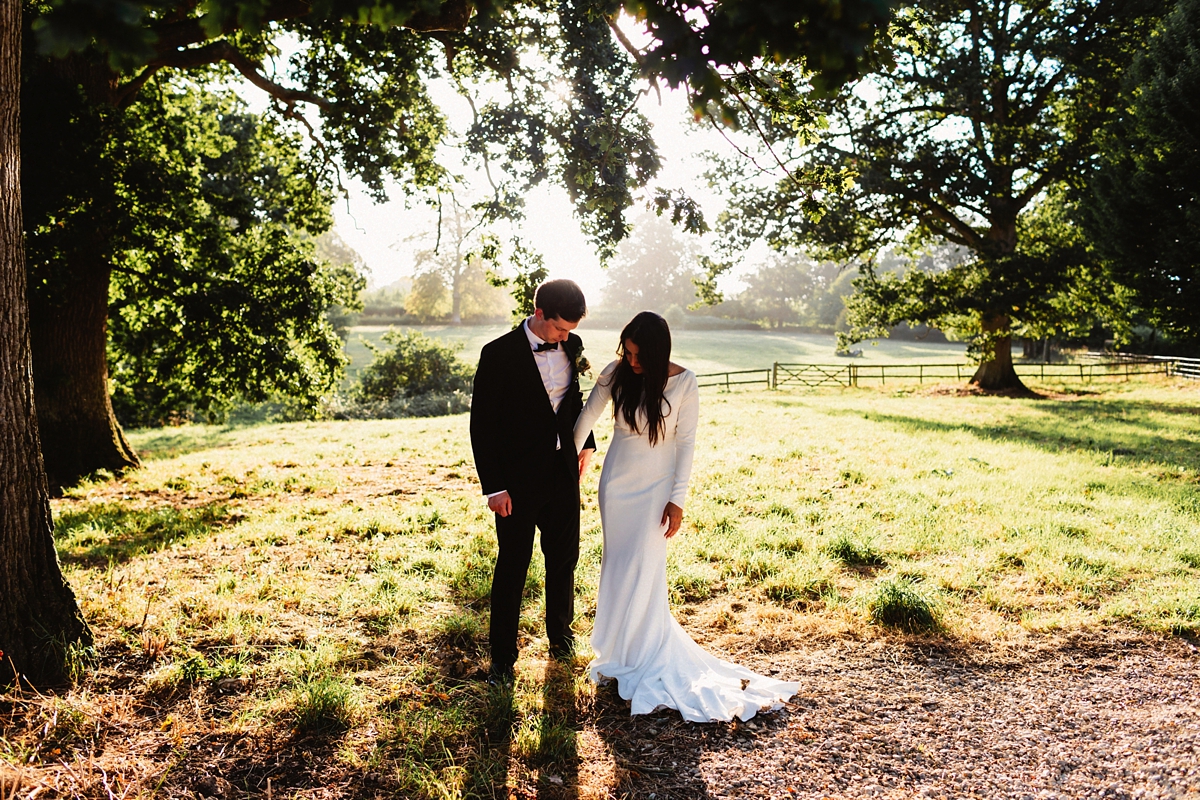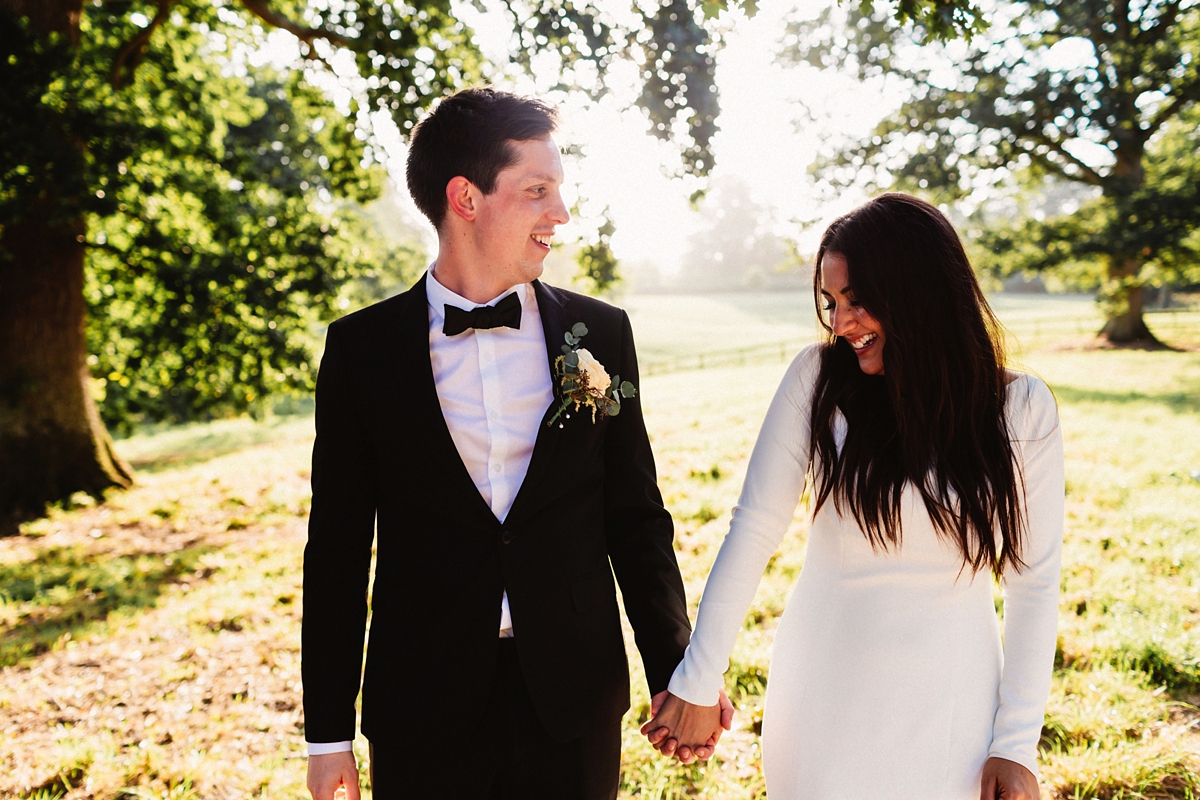 In the evening, George Buchanan Ceilidh Band got everyone moving, and instead of a first dance, Tanya and Oli were keen to get everyone involved and having a good time!
"On reflection, I think I would have loved to start the day earlier just so I would have more time with the guests! The ceremony started at 2pm, which we thought would be a long day, but since we were up very early in anticipation; I would have liked it to have started sooner. Maybe that way we could have had longer to enjoy each part of the day. Can weddings start at 10am?!"
Words of Wedded Wisdom
"Take. It. In. Everyone says it goes by fast and it does, but it is about enjoying it all."
"The one thing I noticed with ours was all the months we put into planning and adding details from the sugar cubes, flower tealights to DIY picture boards, we didn't even notice them on the day. We hope our guests did but there is no need to get worked up over making every single thing perfect, because there is no time to go through everything with a fine tooth comb! Just enjoy the massive party you get to have with the people you love."
Tanya and Oli, thanks so much! It's been brilliant to share your magical day. Many thanks to Jason Williams for these super images, too. You can see more designs by Justin Alexander on the pages of Love My Dress here, too.
With love,
Laura