One of the many things I enjoy about writing for Love My Dress is reading about what inspiration couples take in the planning of their day, and then seeing how beautifully it all comes together in the images captured.
I also have a huge soft spot for anyone who takes their cue from a bygone era, and today's bride is no exception, she loves 1970s fashion, and that really shines through in her style here. Harriet, a dental hygienist and Andre, a carpenter celebrated their marriage on the 7 July 2018, with a ceremony at St. John the Baptist Church in Cookham, Dean located in Berkshire – the village church right across from Harriet's dad's house.
Images by Emily and Steve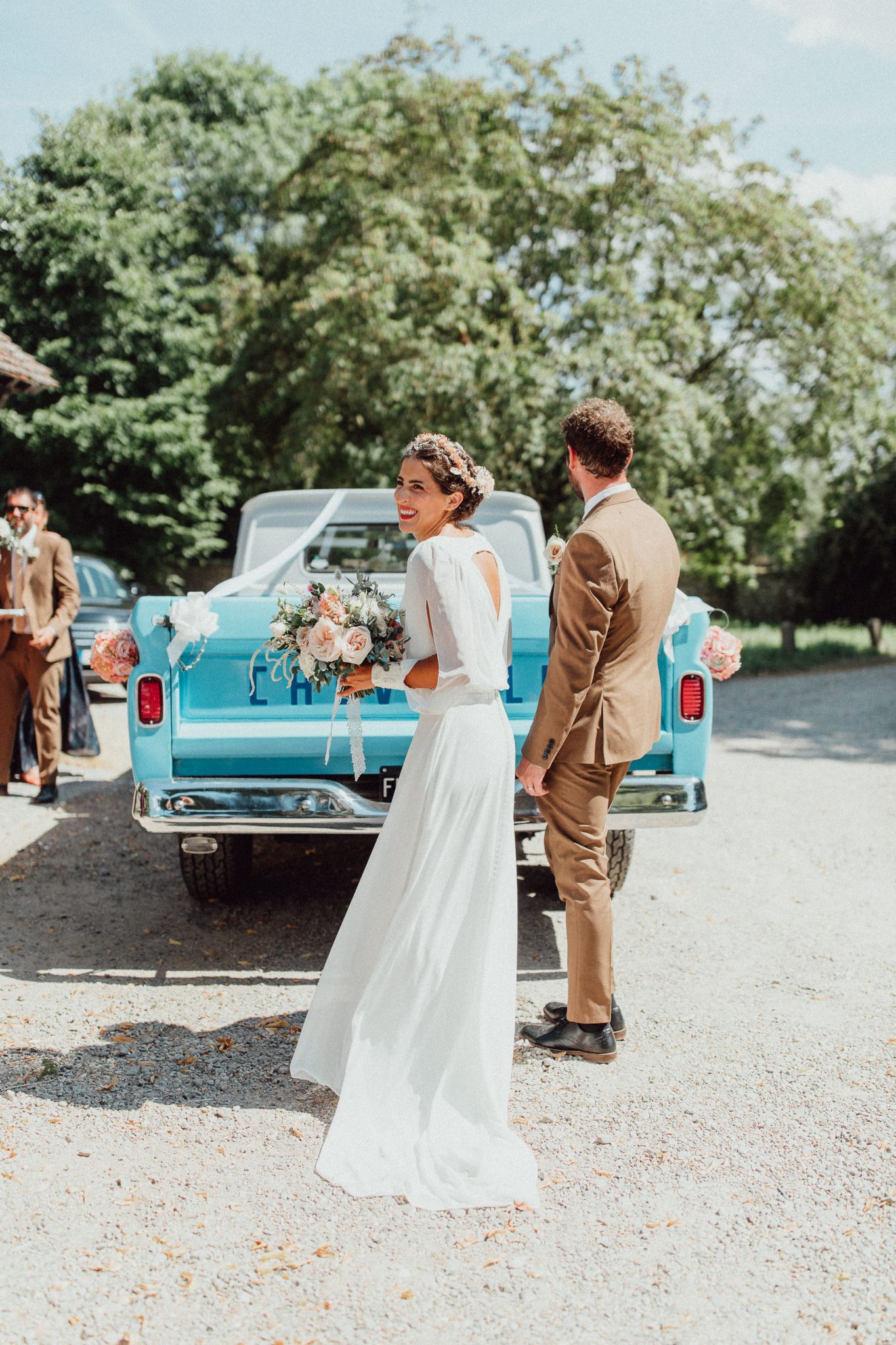 "My dad's neighbour has a field behind my dad's house and said we could use it for the day for our reception. It was probably about a minute walk from the church to the field so that it was ideal. We really wanted a tipi reception so the whole thing just seemed like the perfect combination."
Wildflower Illustration Co. designed exquisite invitations with delicate hand painted flowers, as well as other beautiful on the day stationery.
"We met on Tinder. We were together a year and half before getting engaged – Andre popped the question on Christmas morning. I love Christmas so he wrapped up the ring as a present. We then got married a year and half later."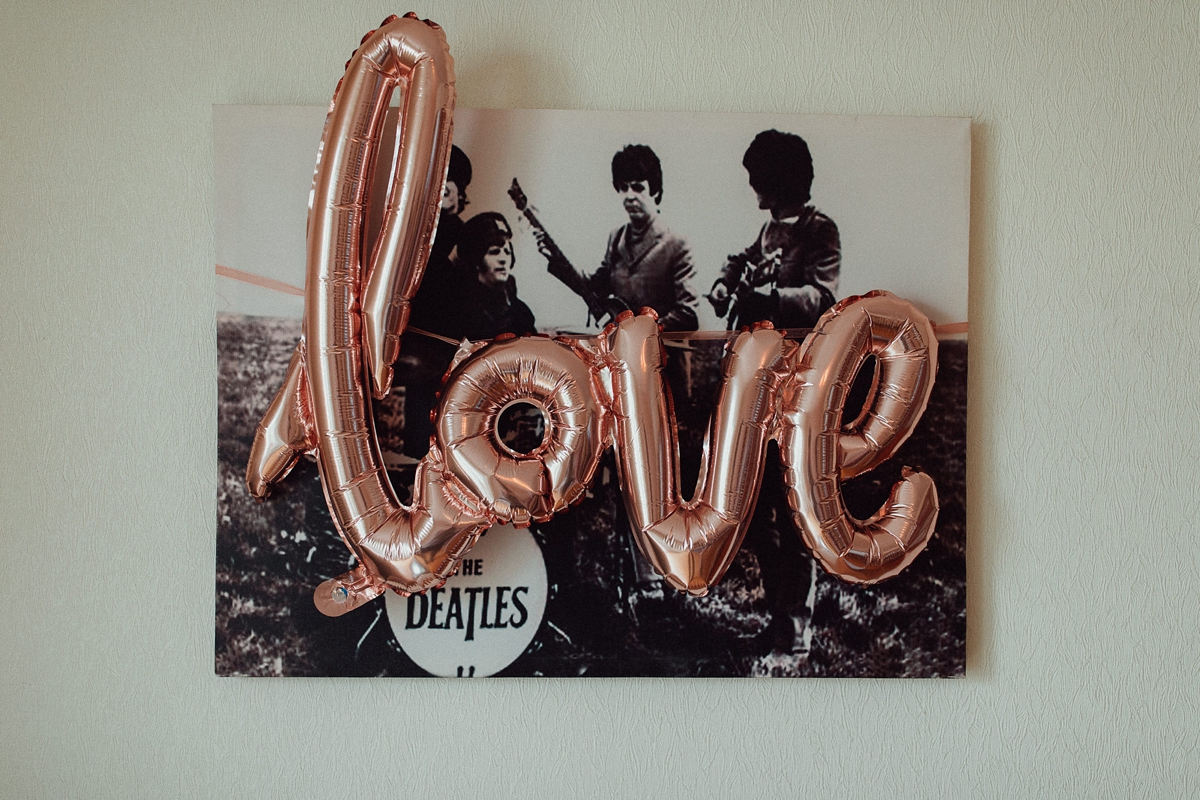 Harriet's hair was put up and styled with lots of lovely braids and twists by the hairdresser mum of one of her bridesmaids, and to this she added an incredible crown of vibrant dried flowers by Sophie and Luna, which as Harriet says, will 'last forever.'
[JP-VIDEO]
"I wore my grandma's old Tiffany gold knot earrings in my first hole and in my second hole I wore some cute heart Estella Bartlett earrings, which I unwrapped on the morning of the wedding- a present from Andre – very cute."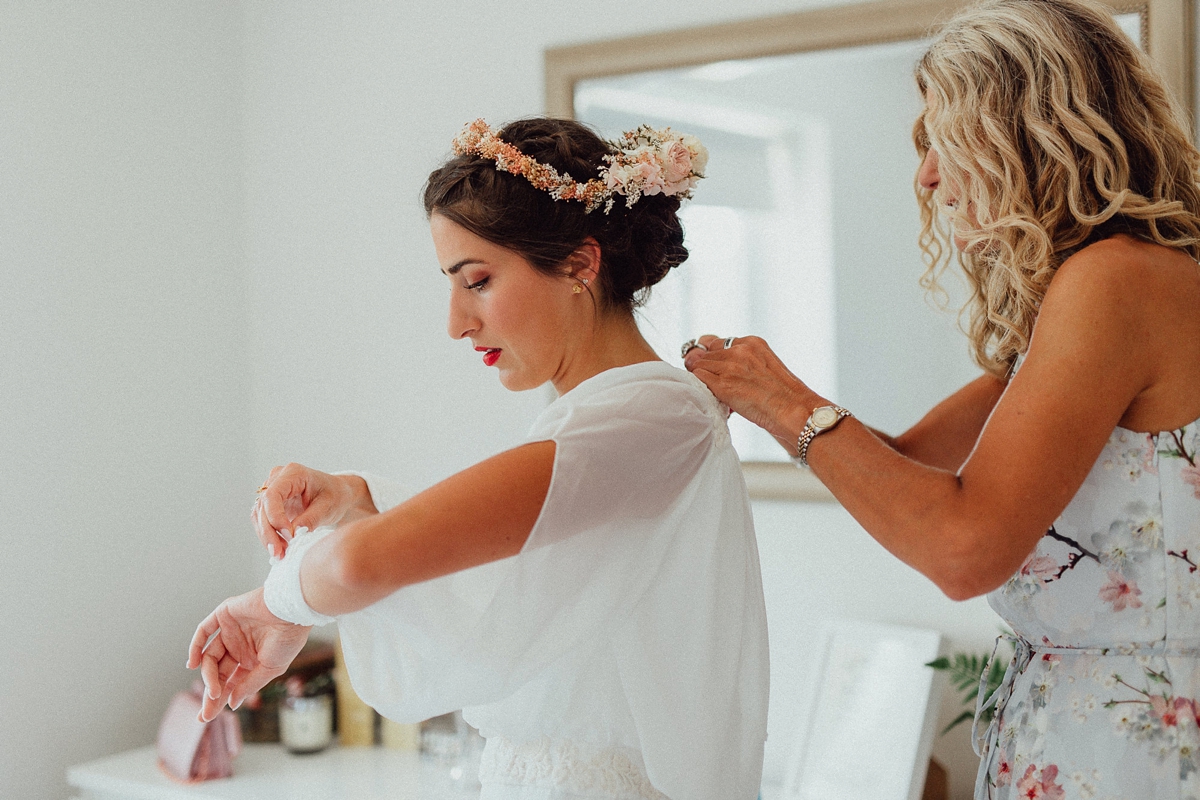 For her gown, Harriet wore a 1970s boho inspired design with softly billowing slashed sleeves by Lillian West from White Lace & Butterflies Bridal Boutique in Great Missenden.
"I felt very 70's in it – I love 70's fashion. I fell in love with the sleeves and the back. I knew instantly it was the one as soon as I put it on. I also had never seen a dress like it. I have since found out it has been discontinued so I probably won't see anyone else in it!"
Continuing the cool 70s theme, Harriet wore a pair of white clog sandals from Swedish Hasbeens.
To complete her look, Harriet took care of her own make-up, using products by Chanel, including a bright pop of red lipstick, and finished off with her favourite perfume, Miss Dior Cherie.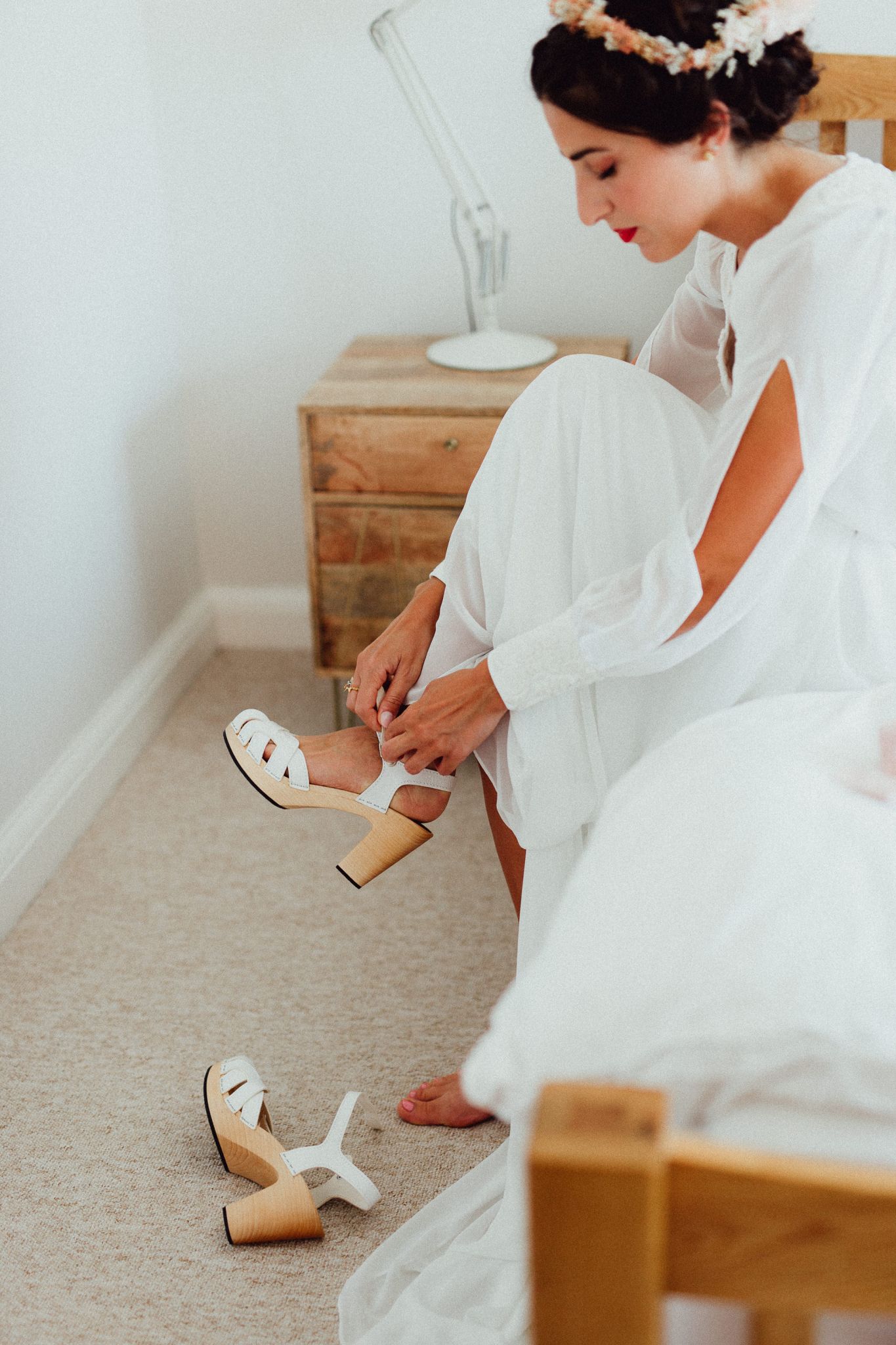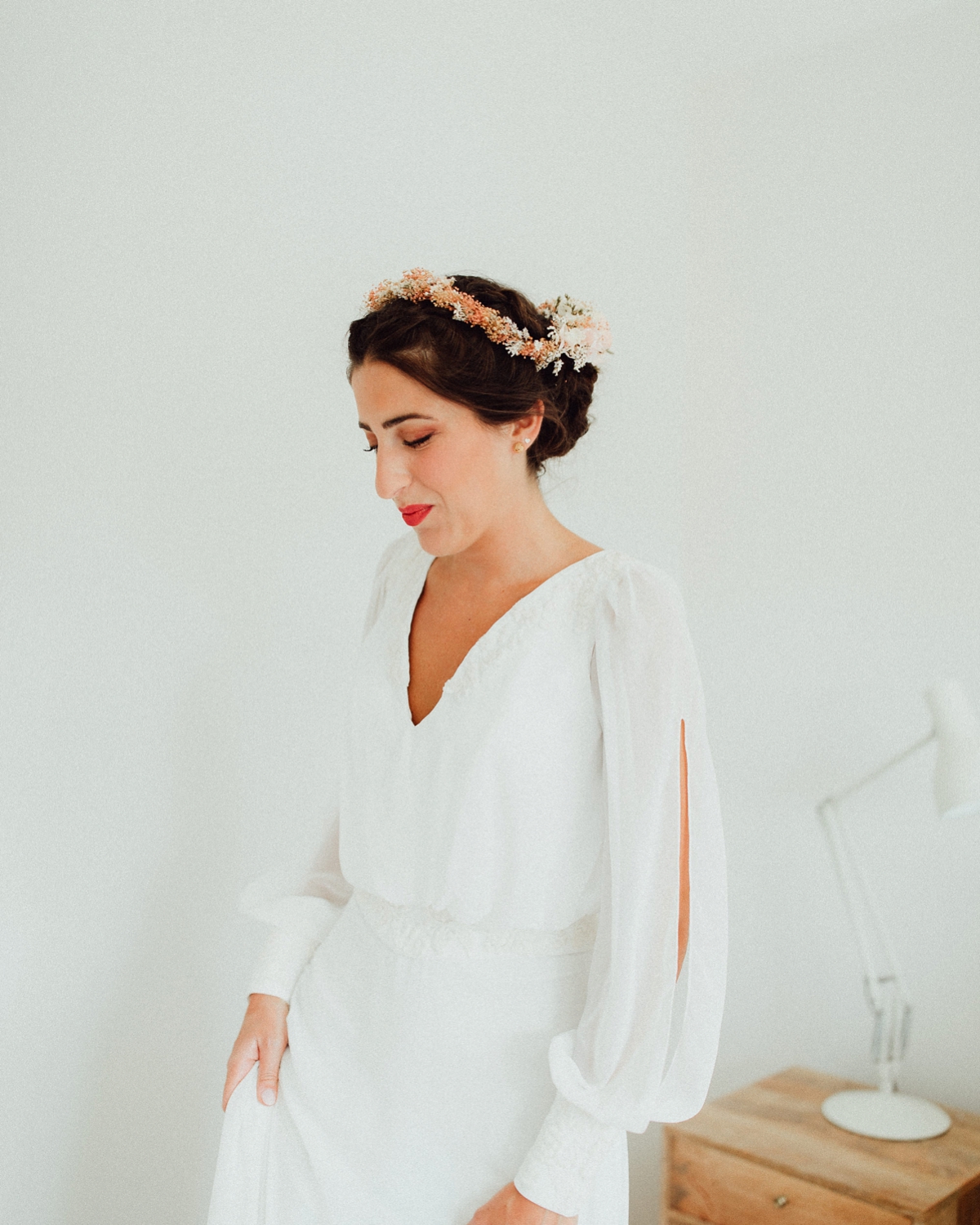 The bouquets by Herbert & Isles were likewise beautiful, with a mixture of peachy and dusky pink tones.
"I fell in love with one picture on a flyer in the bridal shop where I got my dress and went to see the girls – they are two young women who used to work in florist shops and decided to start their own company. They are very cool and seemed to understand exactly what I wanted. I picked pinks and greens as the colours, and roses and peonies."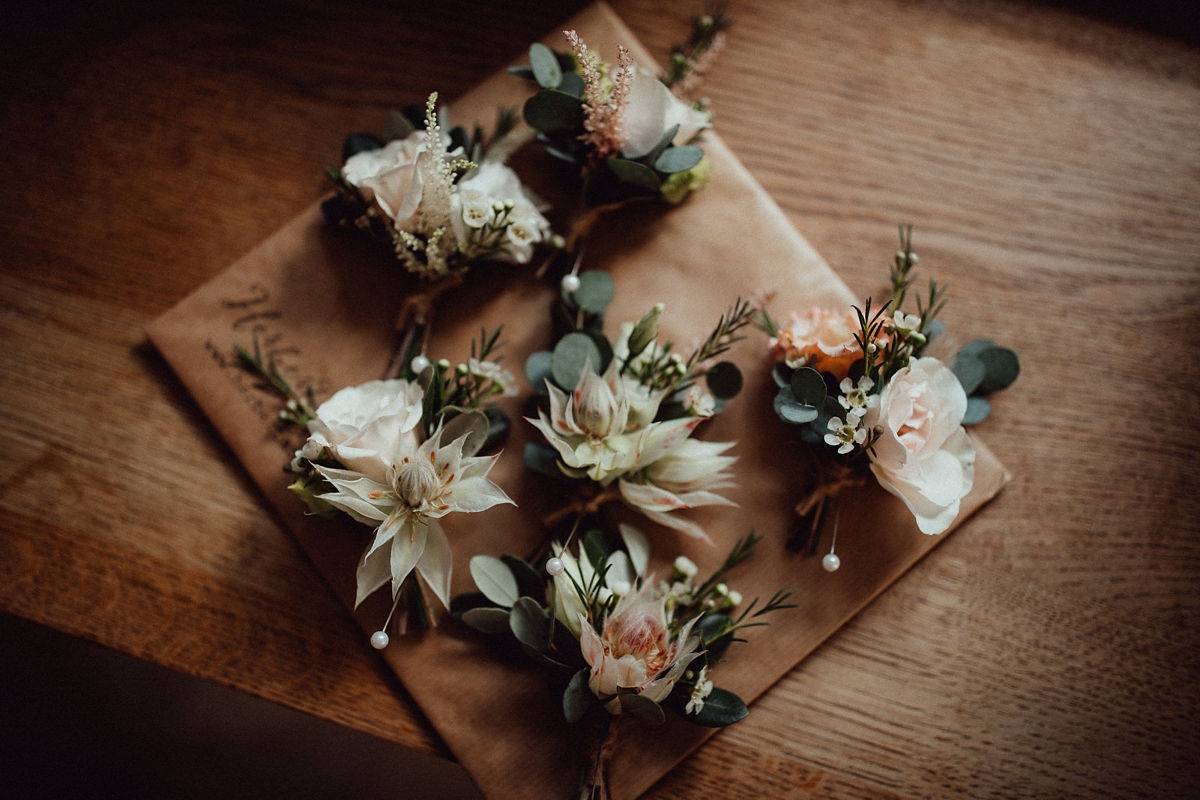 Andre wore a smart brown suit from Next, which he wore with a white shirt and a cool knitted tie from ASOS, and the page boys wore coordinating beige suits from H&M with blush pink ties from River Island.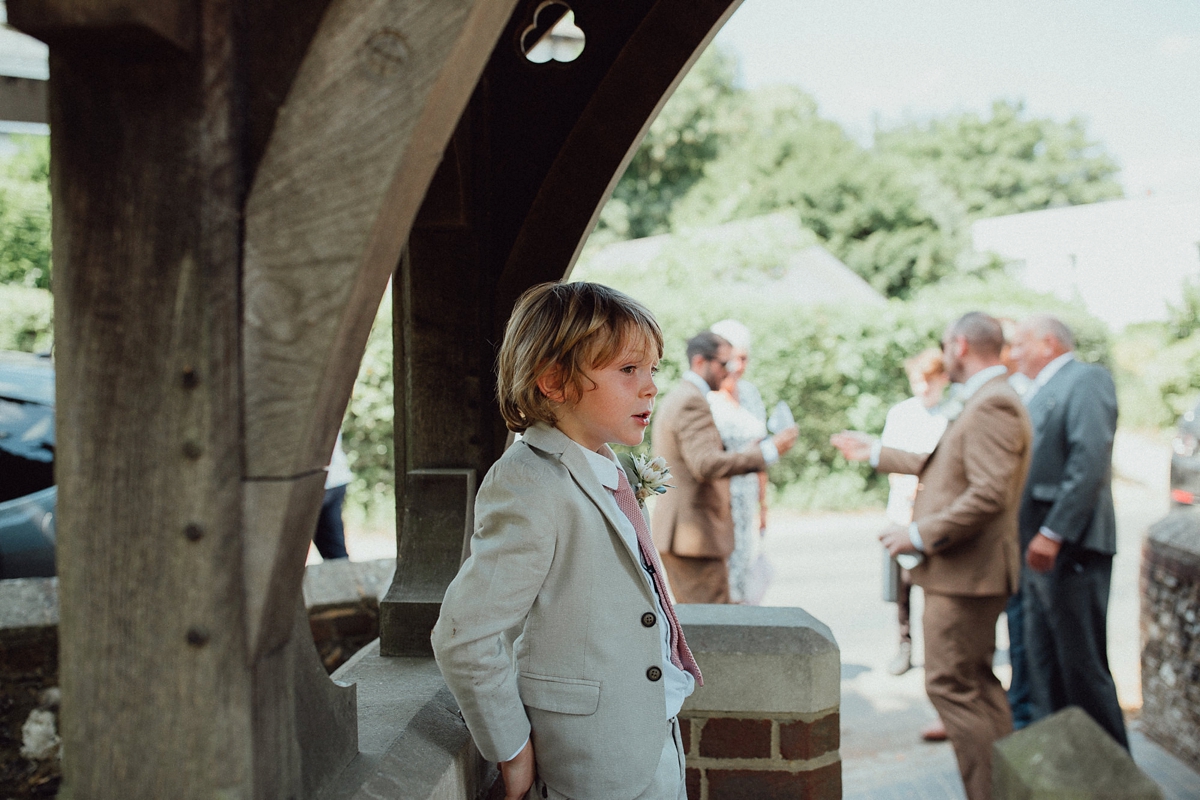 Harriet's car-loving dad drove her to the church in a sensational blue vintage Chevrolet pickup adorned with ribbons and flowers, and he accompanied her down the aisle to the Maccabees' song Happiness.
"Andre and I bonded over our love of the Maccabees when we first met. The Maccabees had also just released 'Happiness' as a single so it was on the radio all the time. It starts with them repeating 'you just know when you know….' That says it all really."
During the ceremony, the couple said their vows to one another, exchanging plain, simple wedding bands from Ernest Jones.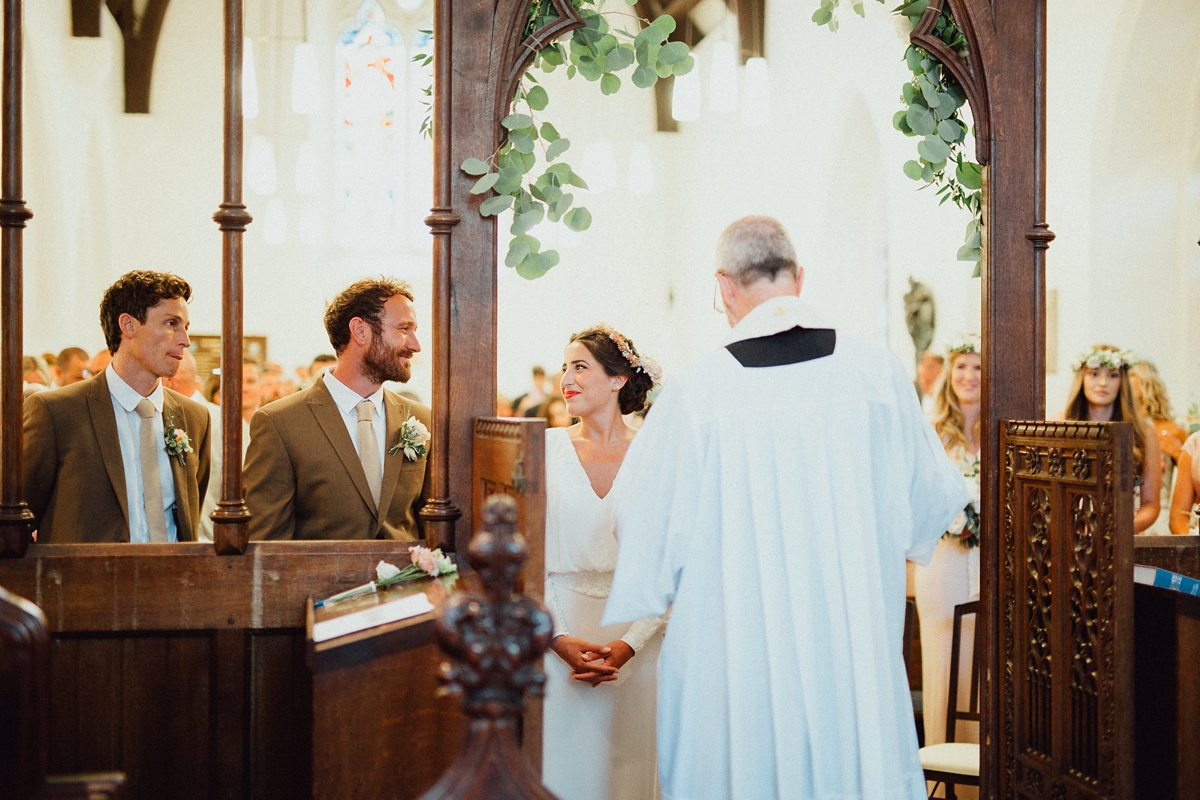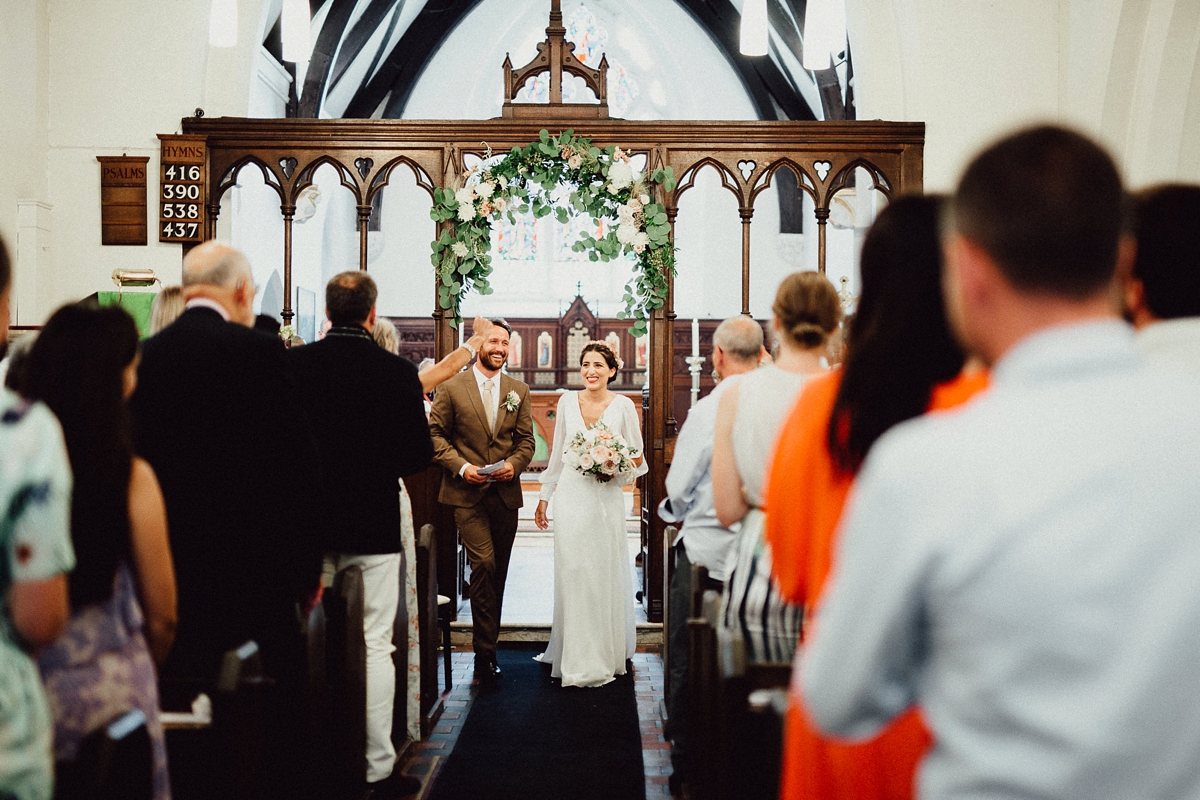 After some enthusiastic confetti throwing, it was into the Chevy pickup for a spin and some gorgeous, intimate shots with photographers Emily and Steve, while their guests enjoyed welcome drinks and entertainment from a magician organised by Harriet's dad (no details supplied).
"Emily and Steve were amazing. I have had guests look at our wedding pictures and say they didn't notice the photographers at all. They were so lovely and really did blend in to the day. They felt like guests. The pictures are incredible and they captured the day perfectly. I couldn't have asked for more."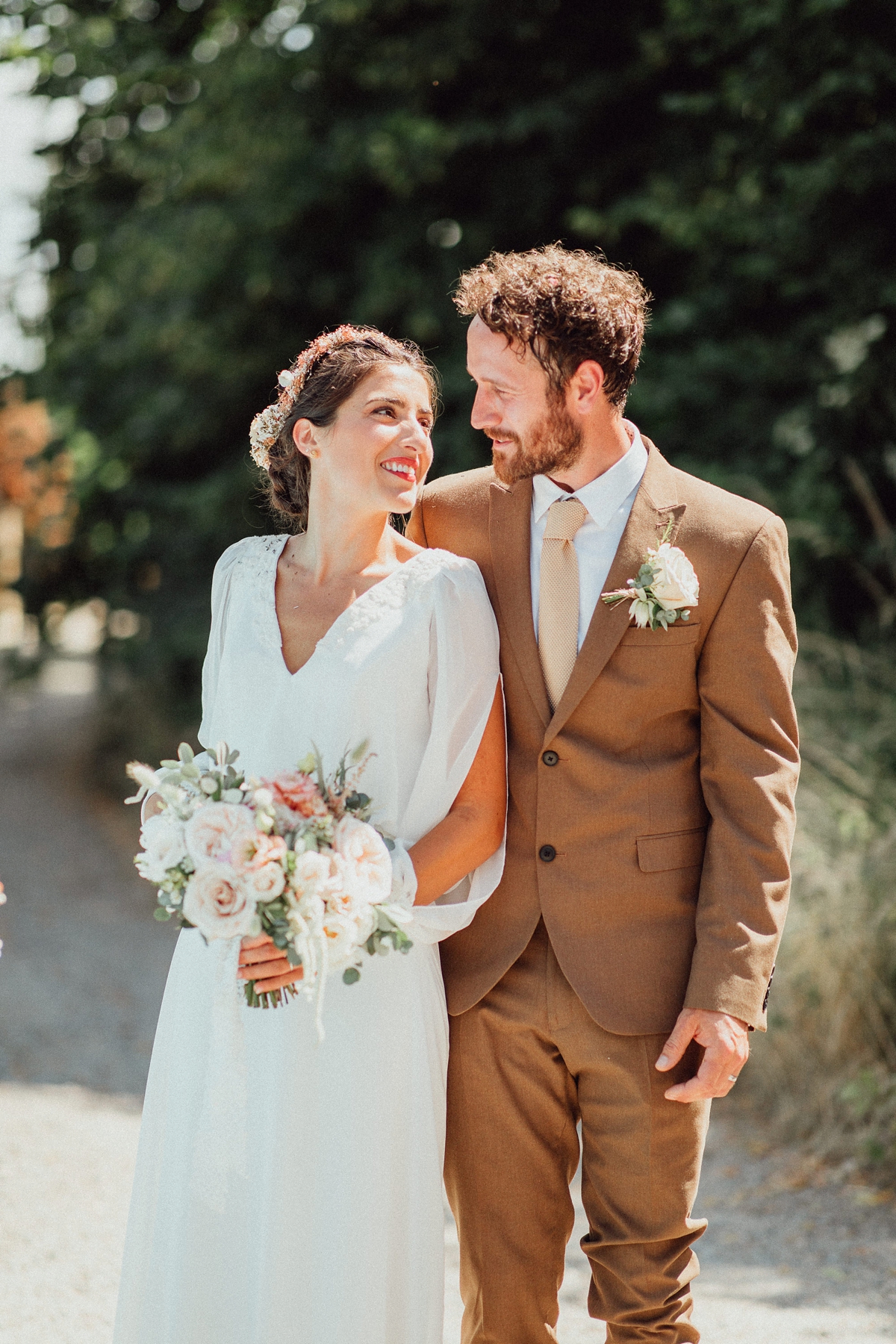 "We went for a photoshoot after the ceremony and arrived at the tipi on the back of the pickup half an hour later while everyone was having a drink. The picture that Emily and Steve captured of this moment is my favourite picture of the day by far. We have had it printed poster size and it is on our wall in our hallway."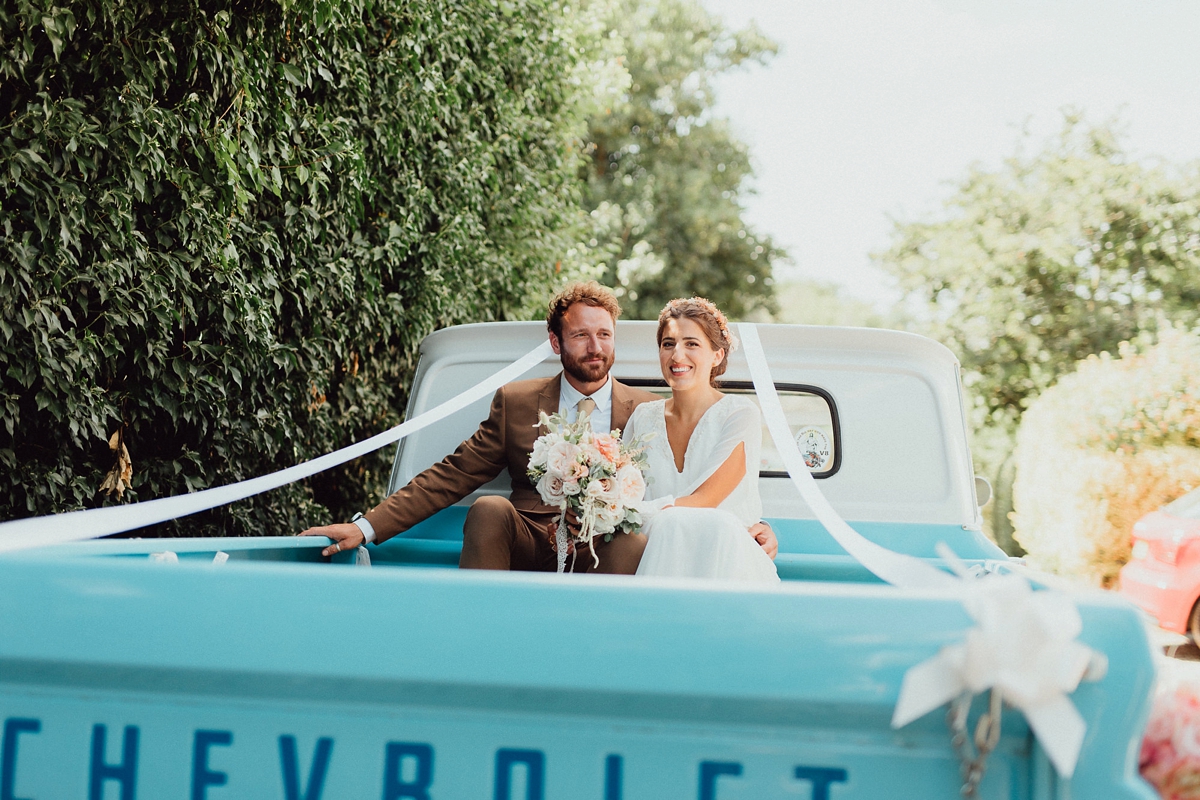 The tipi set up in the neighbour's field looked fantastic, with a path flanked with hay bales.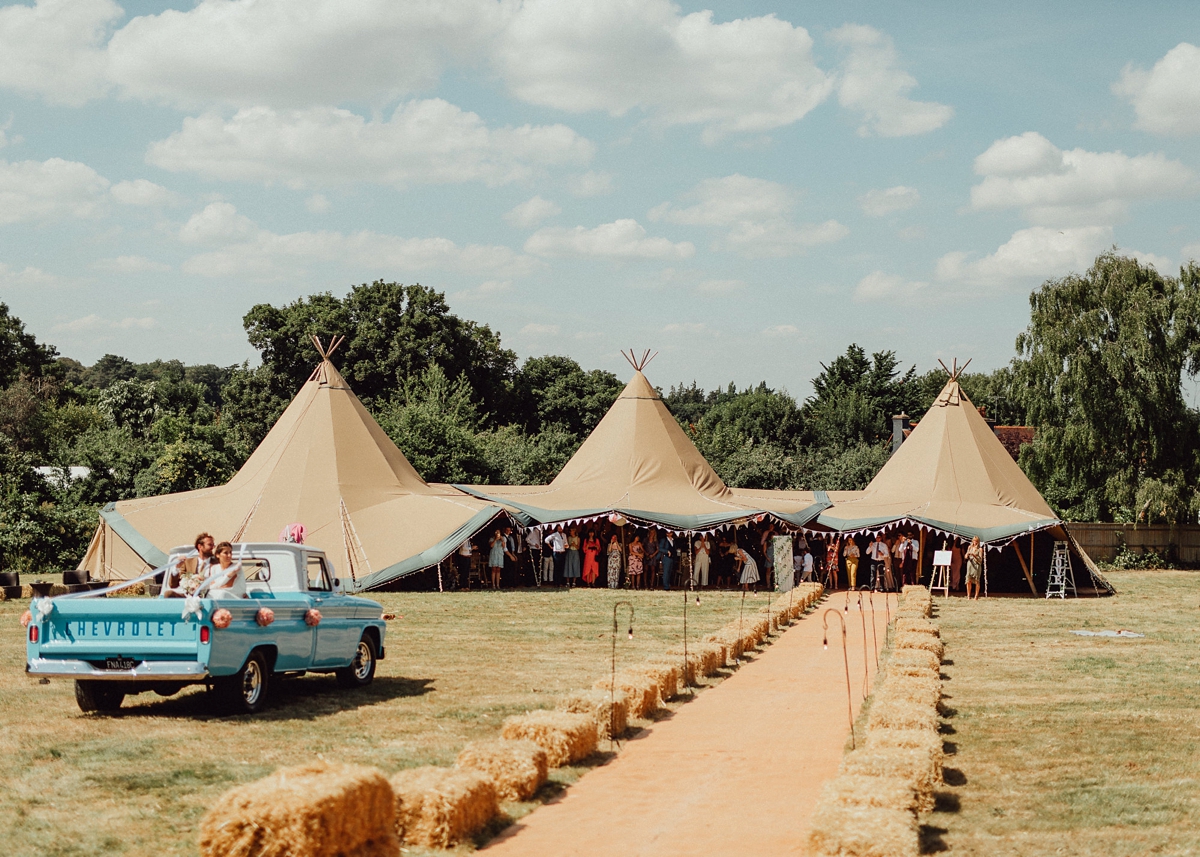 Harriet's bridesmaids each chose their own gown in a blush pink shade, opting for dresses from Whistles, John Lewis and Ghost.
They also wore their own choice of footwear and gorgeous fresh flower crowns with roses and waxflowers by florist Herbert & Isles.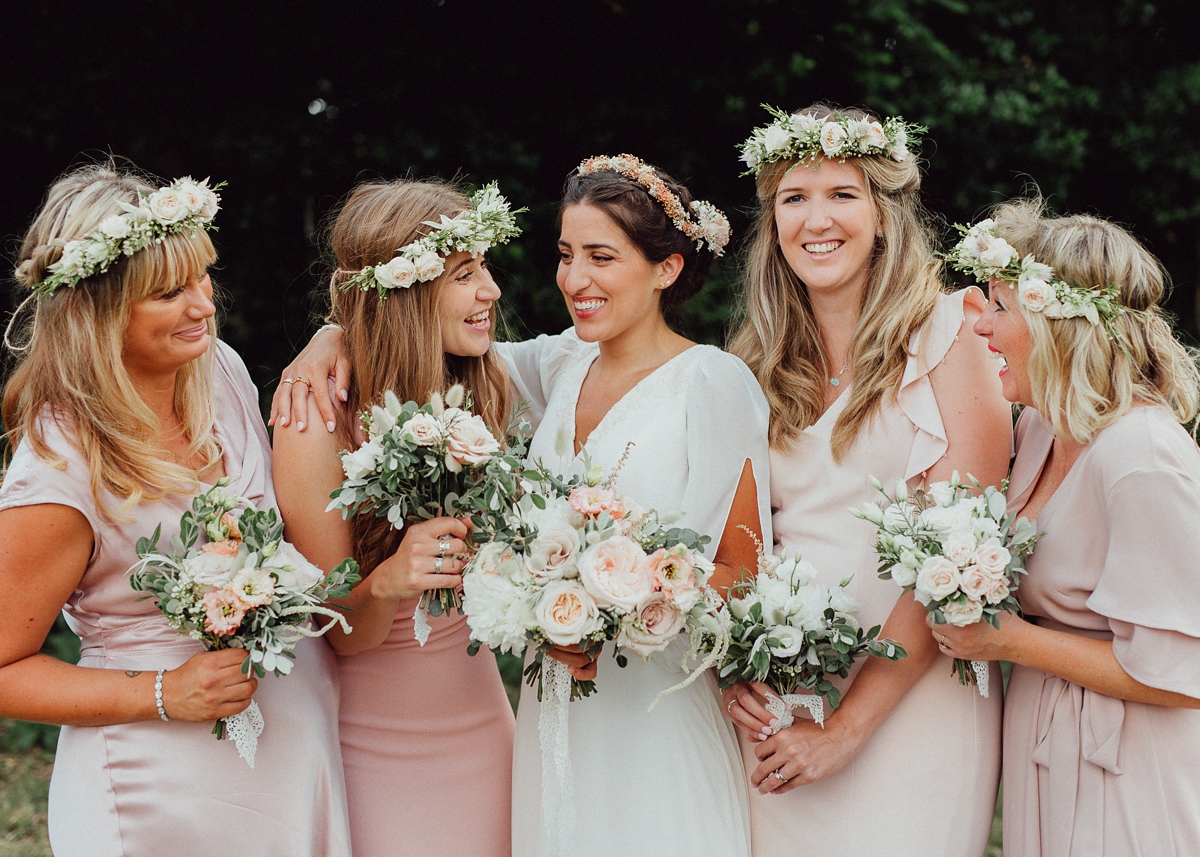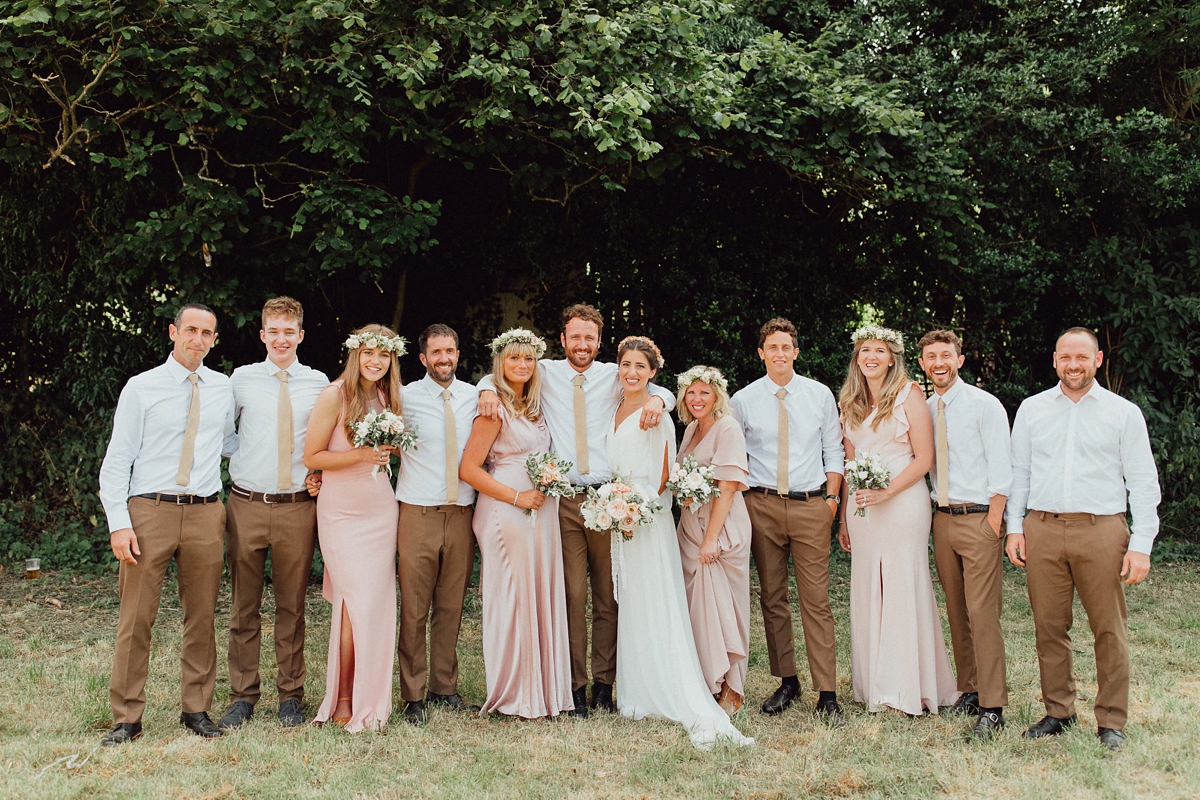 Inside the tipi was decorated with festoon lights, garlands of flowers and ivy trailing around the wooden beams and paper pom poms.
"Andre's aunty made the place cards. We printed the table plan names and hung these on a door. The door was from an old shed, which was falling apart in the garden of the house we bought together. I then painted it white and Andre put door hooks on and drilled some wood in the back so it could stand free. We used the as our table plan."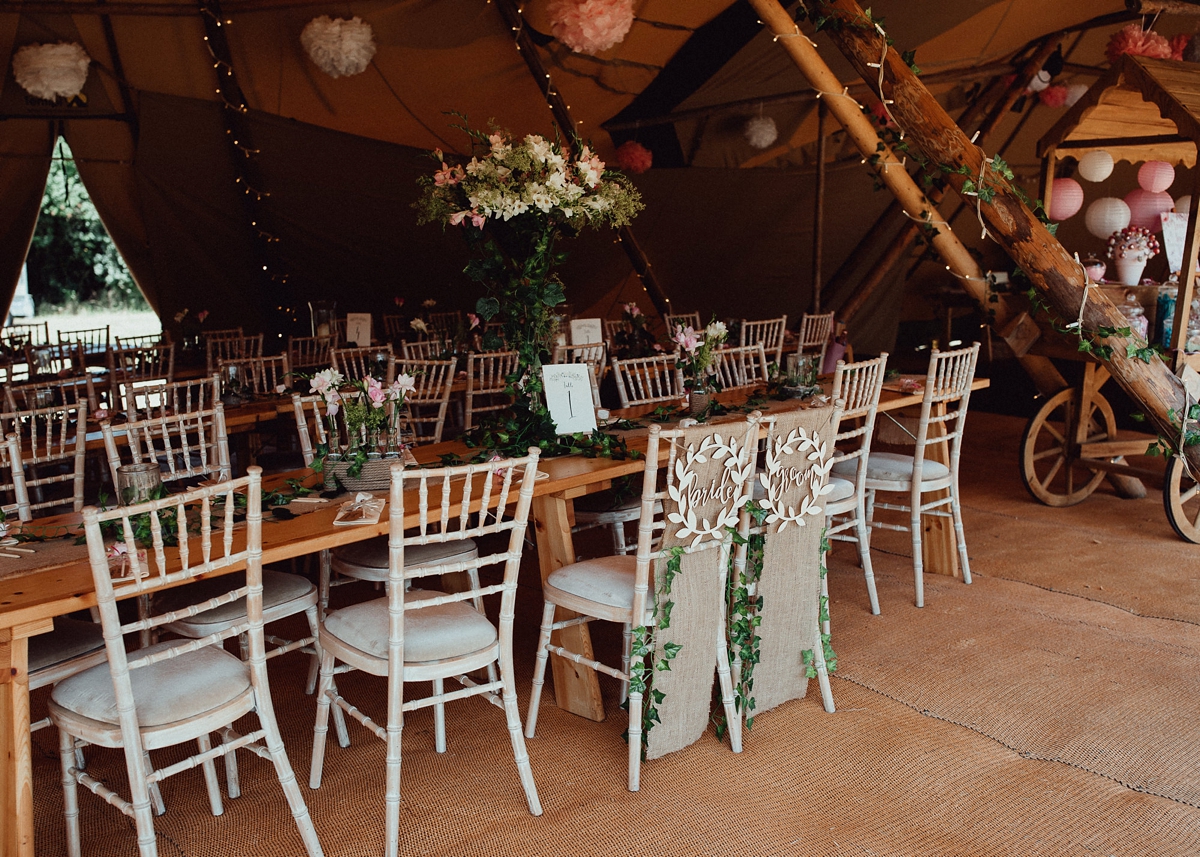 Main Ingredient were on hand to provide delicious gourmet chicken burgers for the wedding feast, and dessert came courtesy of The Bournville Waffle Co.
"My mum makes the most amazing Christmas cake every year so she made the cake, it is my favourite cake in the world. My extremely talented friend Rachael Cordice decorated my cake. She currently has a small business on the side of her day job called Small's Cakes… She doesn't just decorate, she bakes cakes as well and they are delicious as well as beautiful."
Purveyors of gourmet street food, Kurbside Kitchen provided fuel for the evening ahead, with amazing sounding menu, too.
"The most insane posh hot dogs you will ever eat with a side of deep-fried mac 'n' cheese balls."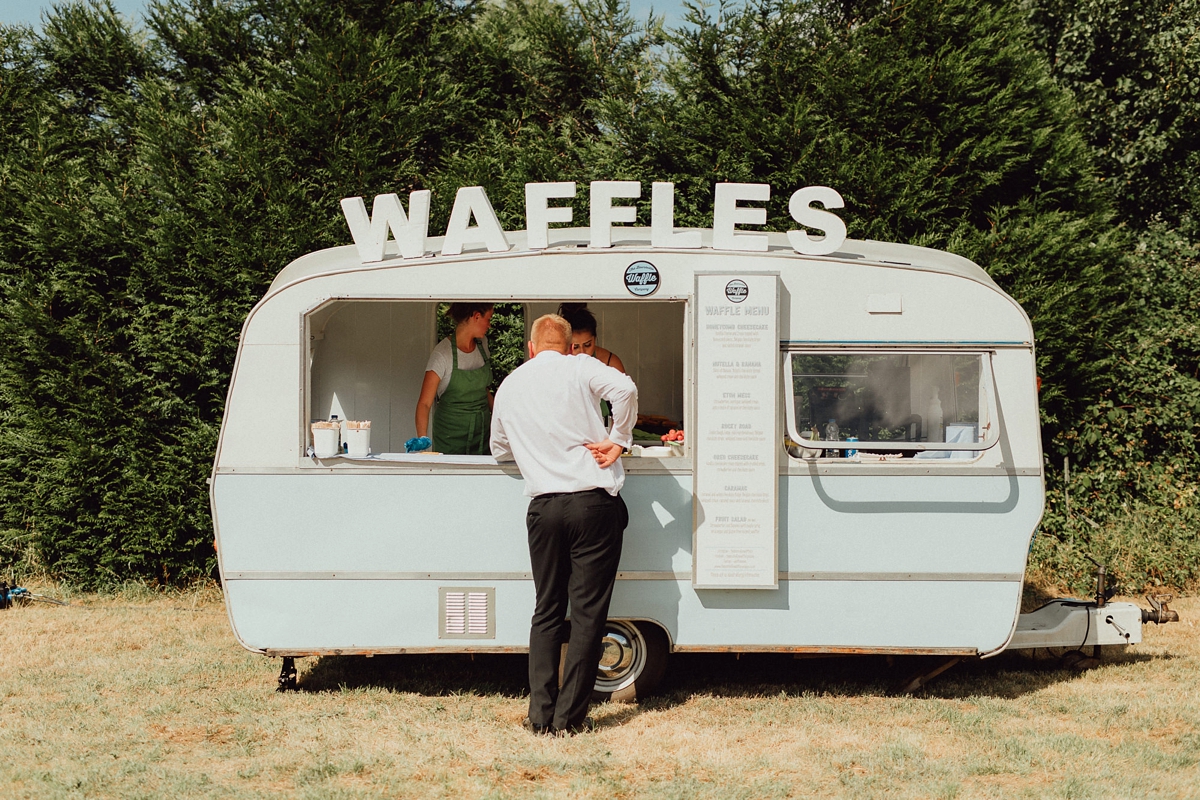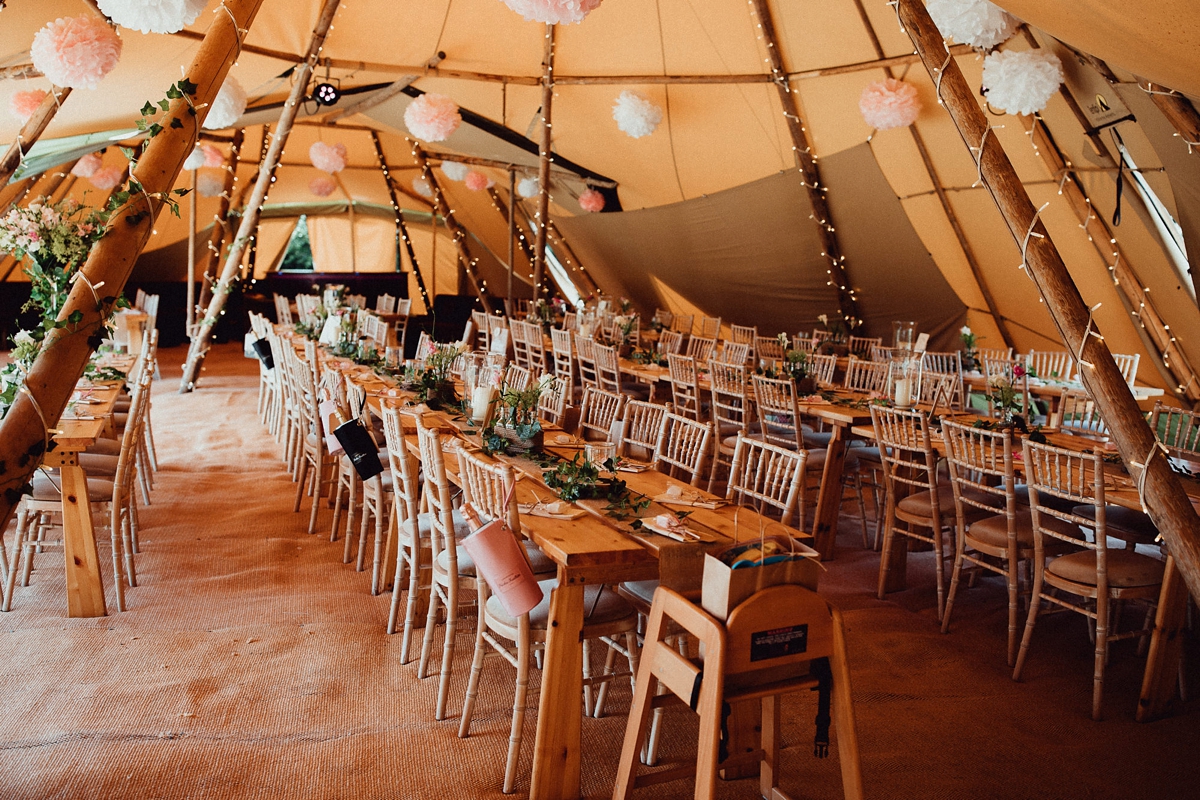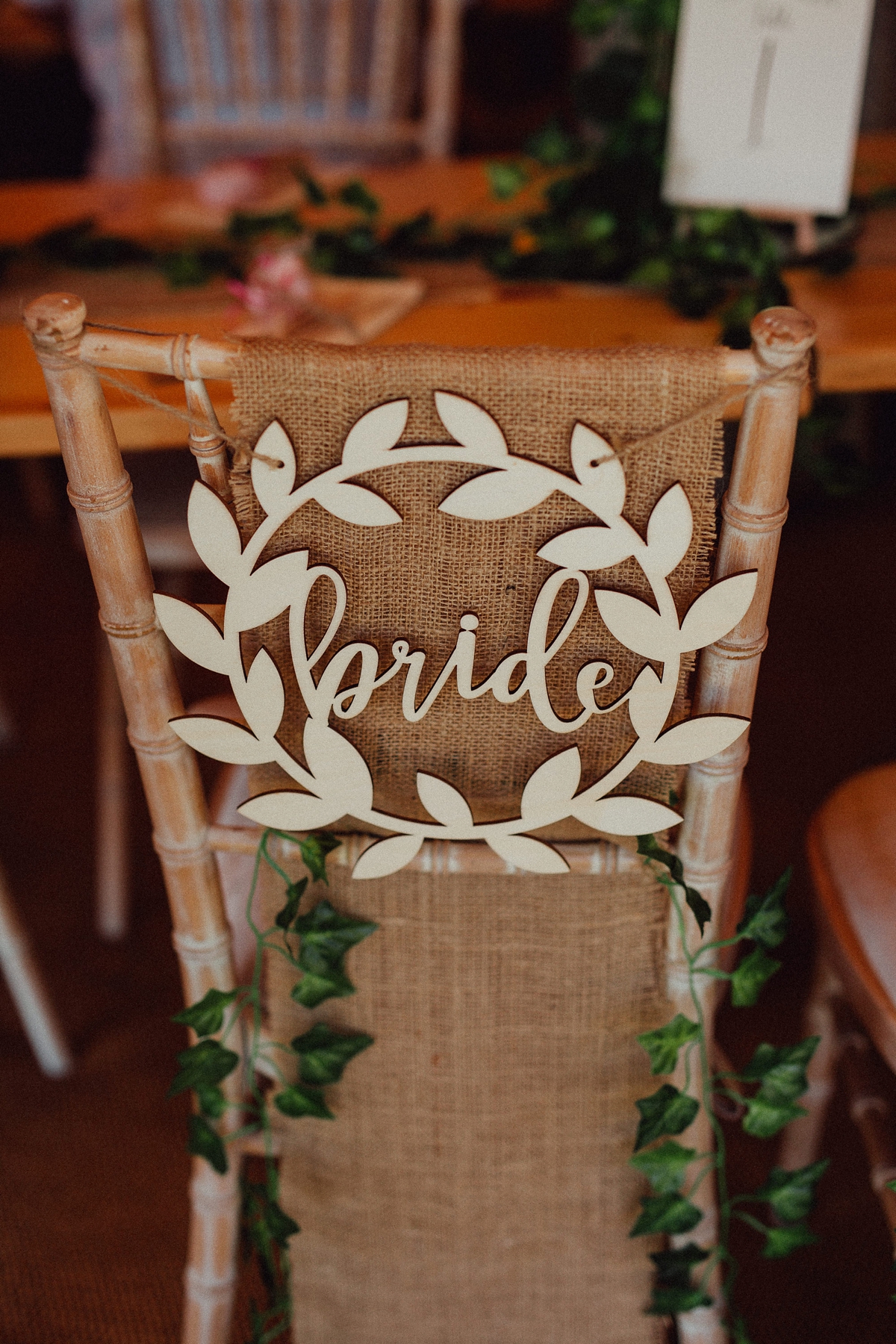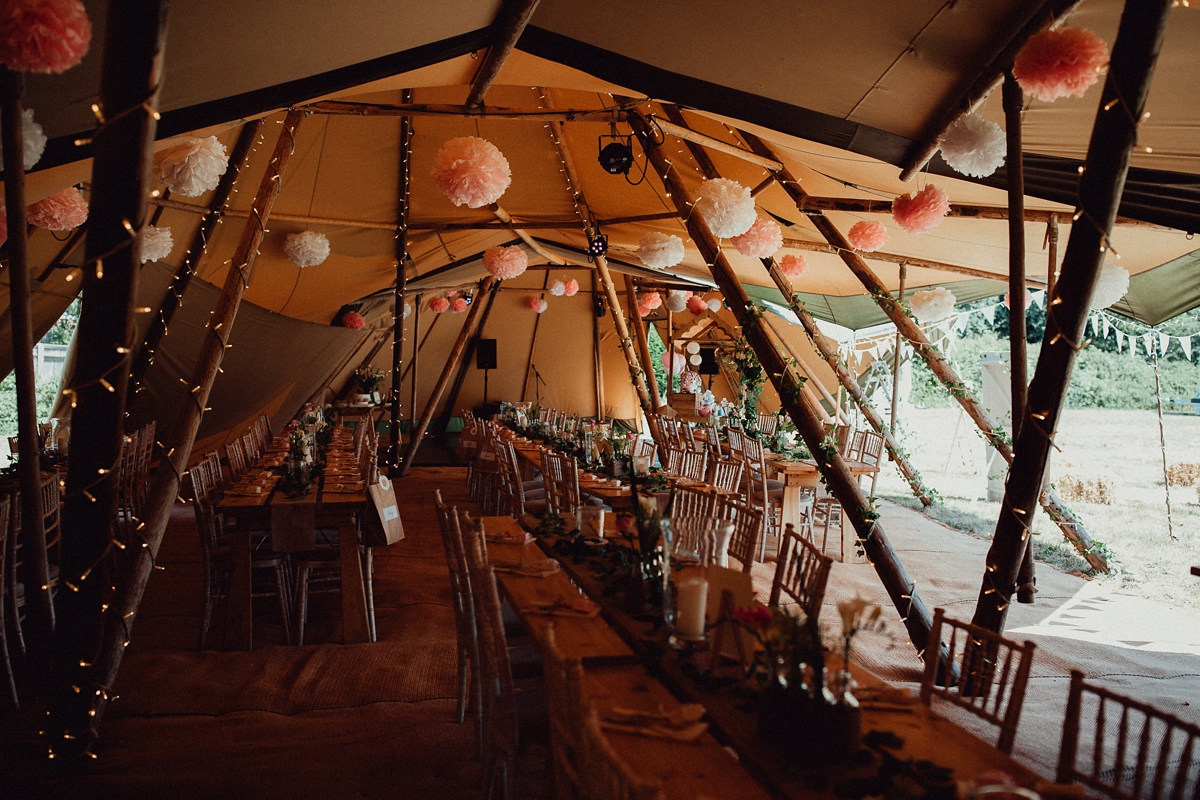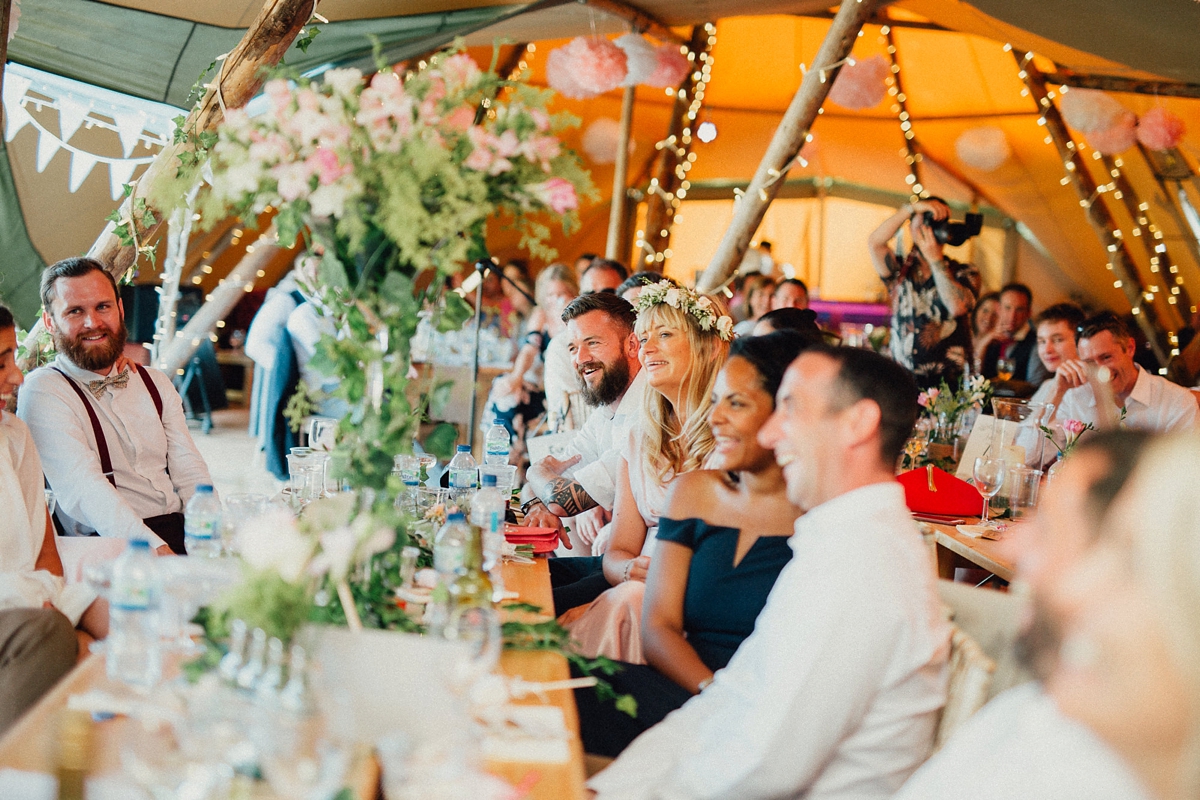 As evening fell on a hot summer day, Harriet and Andre took to the floor for their first dance together as a married couple, choosing the song Something by Band of Skulls – a song Andre had played as he proposed to Harriet.
"It was such a hot day, it got up to about 30 degrees. We were worried that everyone was going to be cold in the evening so bought lots of blankets but we knew they weren't going to need them so everyone used them as picnic blankets. There was a point in the day I looked out onto the field and so many groups had formed on blankets in the sun, eating, chatting, drinking. It was so lovely to see."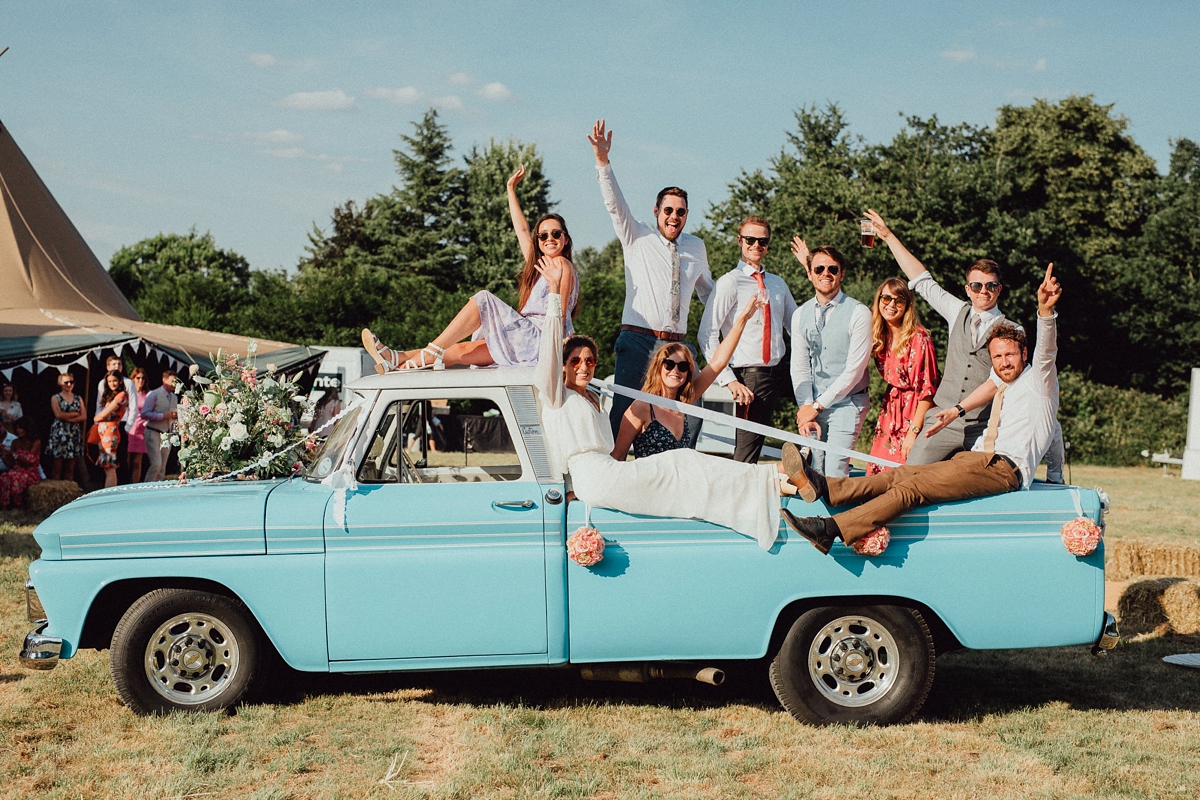 "Andre's mum had also bought lots of paper umbrellas for decoration but they didn't look right anywhere. So we told people to used them for shade and they loved them and looked fab. It is the little things you don't plan that end up being lovely or funny moments that you remember."
"My favourite part was the ceremony, the speeches and the dancing. Oh and the hot dogs! Arriving on the back of the pickup was great too."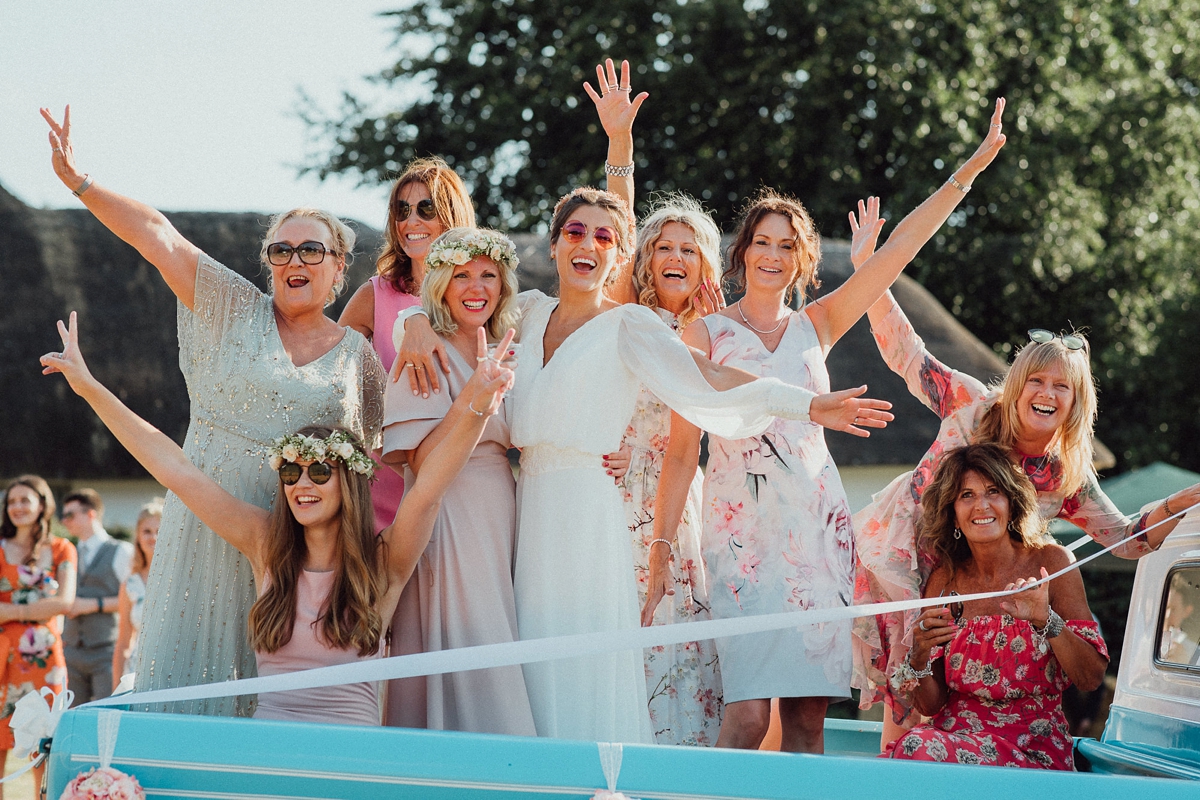 Words of Wedded Wisdom
"Let people help with the planning in any way they can and don't feel bad giving friends/family tasks to do. Everyone I asked was delighted to be involved and to be part of the day. Start bridesmaid dress shopping very early!"
"Don't feel stressed if thing go wrong on the day. The things that didn't go exactly to plan have been funny to talk about after the wedding and definitely didn't spoil anything."
"Go on a honeymoon 3 days after the wedding. We had to do this for the flights (were only going to do 2 days after) but an extra day was absolutely needed."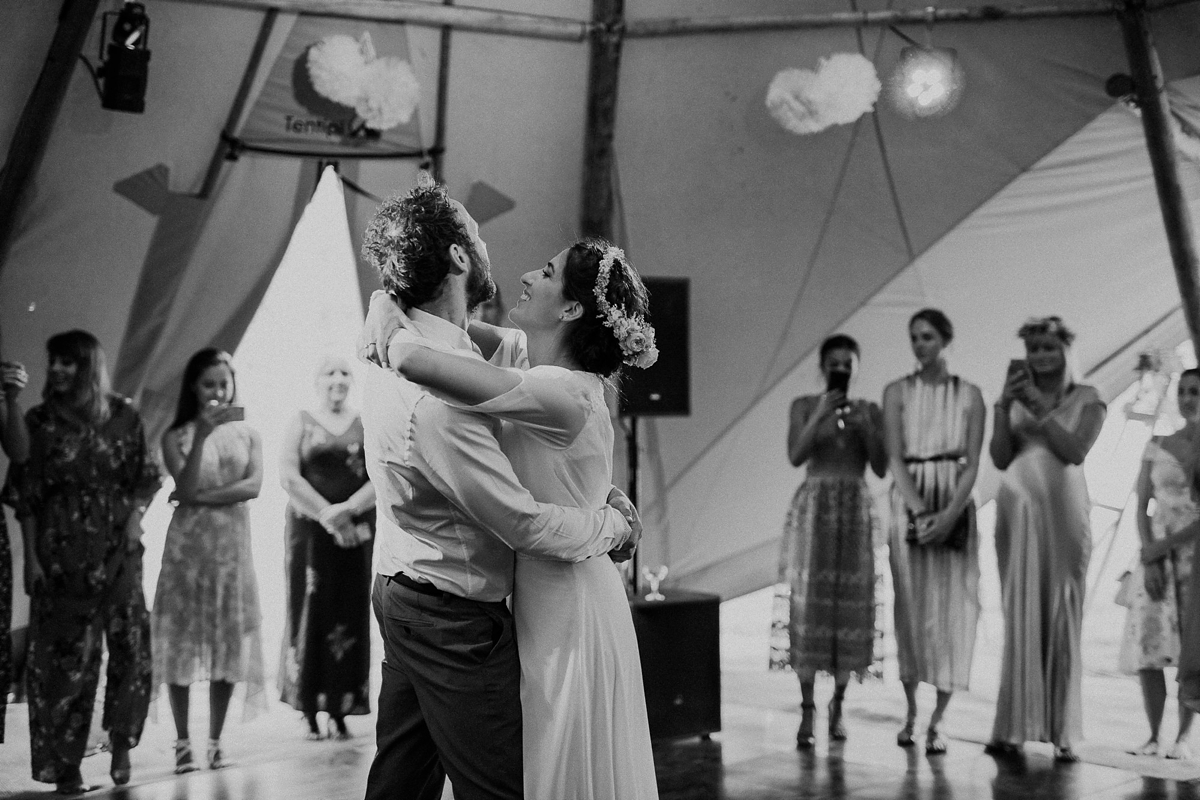 Thank you so much Harriet and Andre, what a magical dose of summer sunshine and fun this has been! Thanks also to photographers Emily and Steve. You can see more of their wonderful work on our blog pages right here.
With love,
Laura