Hello, lovelies. We've got barn wedding vibes galore to share with you lovelies today, along with a cool sprinkling of macramé to get your handicraft juices flowing.
Are any of you craving to try your hand at DIY wedding decor but are just a little too nervous to try? I hope that today's wedding will give you the confidence boost you need, as well as inspire you to join our Love My Dress Facebook group, where bride Hilary found plenty of inspiration and support.  Oh, and the gown is the most gorgeous blend of lace detail and modern sass which I think you're going to love.
Film by The Wedding Video Guys
On 5 May 2018 Hilary, a financial controller wed Néill, a chartered tax advisor at Gate Street Barn near Bramley, Surrey. The barn and its idyllic farm setting was the perfect space to host their springtime, countryside wedding, for which many of Néill's family travelled from Ireland.
A colour palette of spring pastel colours was the backdrop for their relaxed, boho celebrations, along with a few nods to their shared love of rugby, wine and music.
Photography Sarah Legge Photography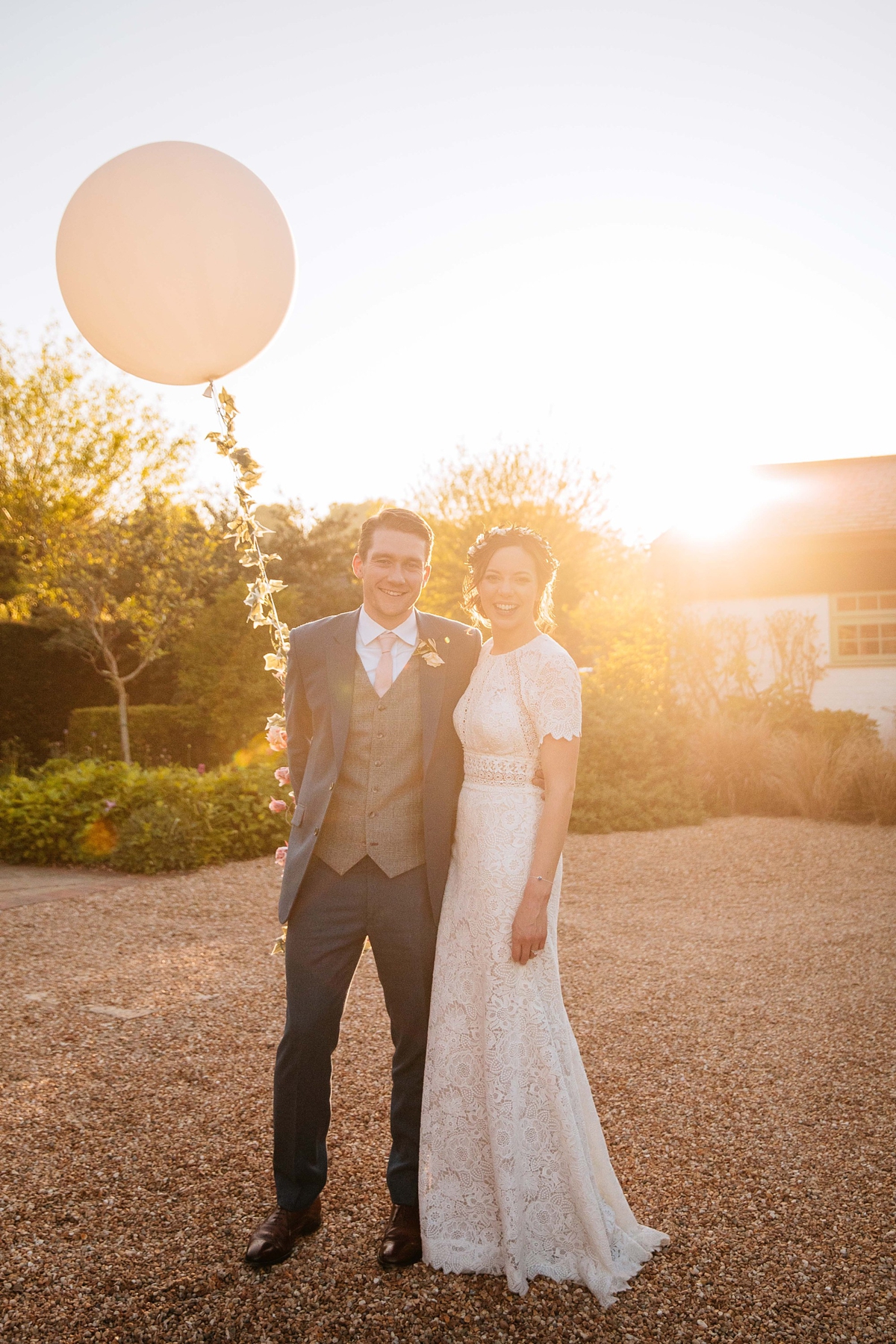 "We wanted a relaxed, countryside wedding at a venue that was well-run and could fit Néill's large Irish family. We fell in love with the beautiful barn, the cows roaming around outside, and Basil (the venue's resident dog) and knew it was the down to earth place we were looking for."
The couple met back in their teens, when eighteen year old Néill played 'chaperone' to a fifteen year old Hilary and her best friend Ami.
"My best friend Ami and I wanted to go to a gig – Jimmy Eat World at Brixton Academy – and our parents would only let us go if we were supervised by her older brother Tom and his best friend, Neill. For a few years we went to the same concerts, festivals and parties but at that age we never said more than a few words to each other."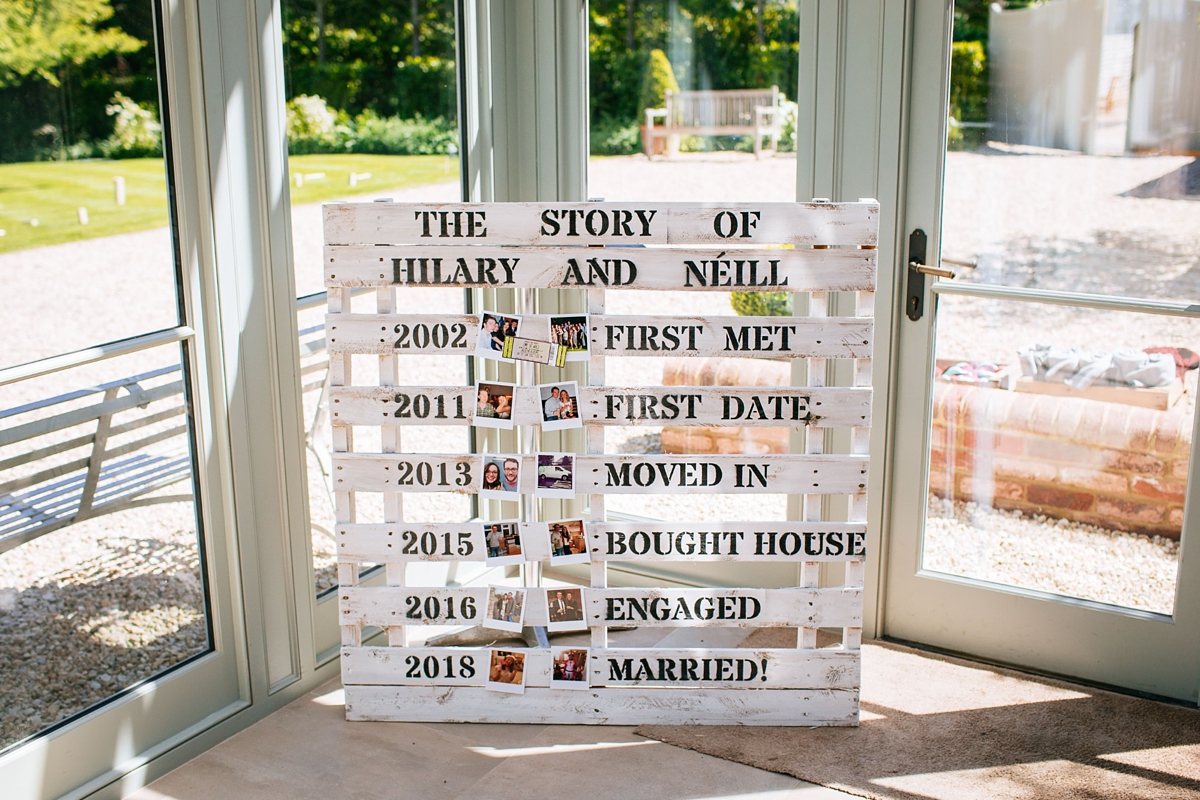 "We then didn't see each other again for ten years until I moved in with Ami and she invited Néill along to our housewarming party."
[JP-VIDEO]
"The slightly embarrassing part for Néill is that he very clearly remembered me and my memories of him were a little hazier…."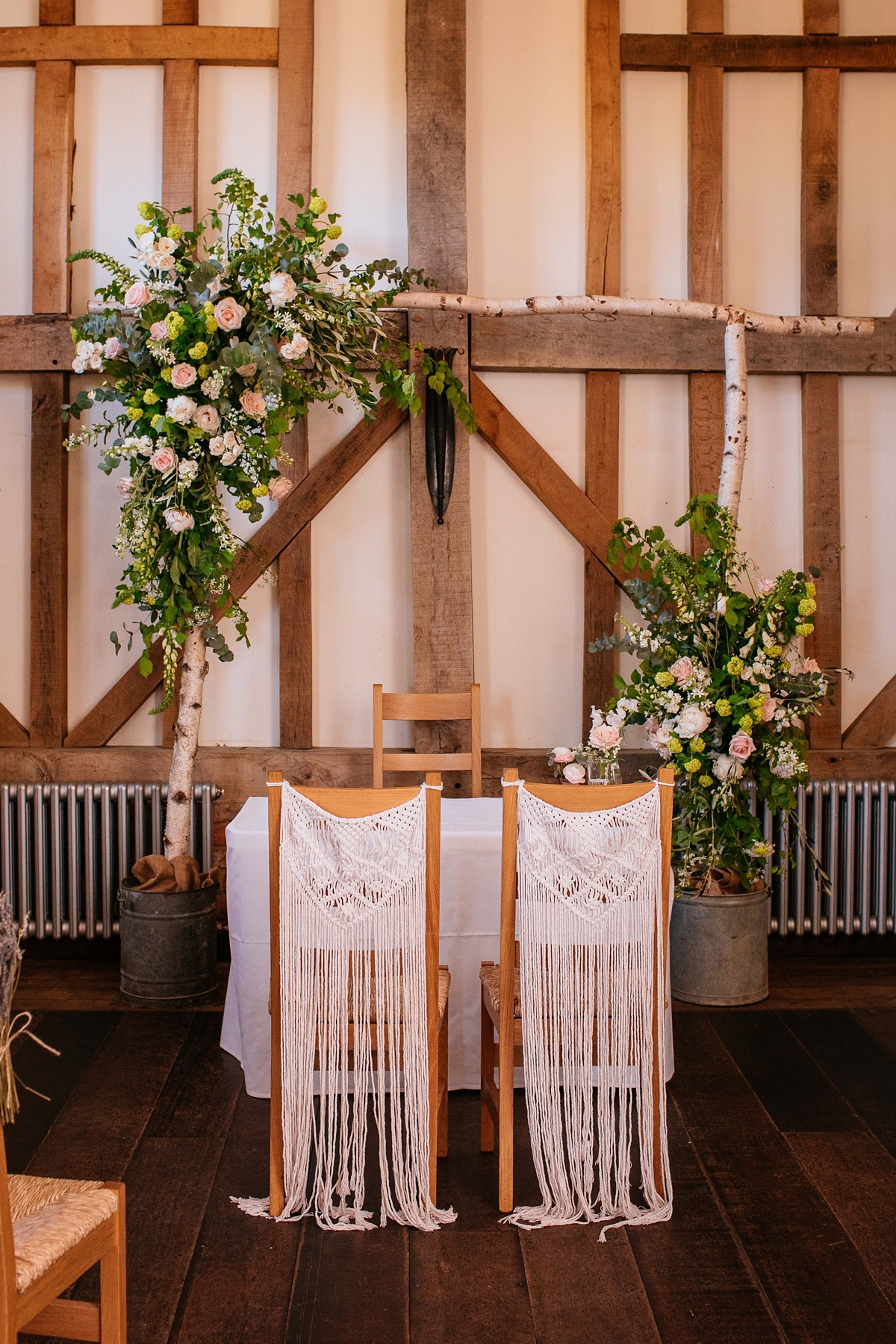 During her engagement Hilary was an active member of our private Love My Dress Facebook group, finding it an indispensable place to get supplier recommendations and support from other brides to be.
"I found a huge number of my suppliers through the Love My Dress Facebook group which was an incredible source of recommendations and advice. My videographer, The Wedding Video Guys, and my flower crown from Folky Dokey were the two suppliers who kept getting mentioned by other brides."
"I got so much inspiration from looking through other people's weddings on Love My Dress and picking up little ideas from all of them."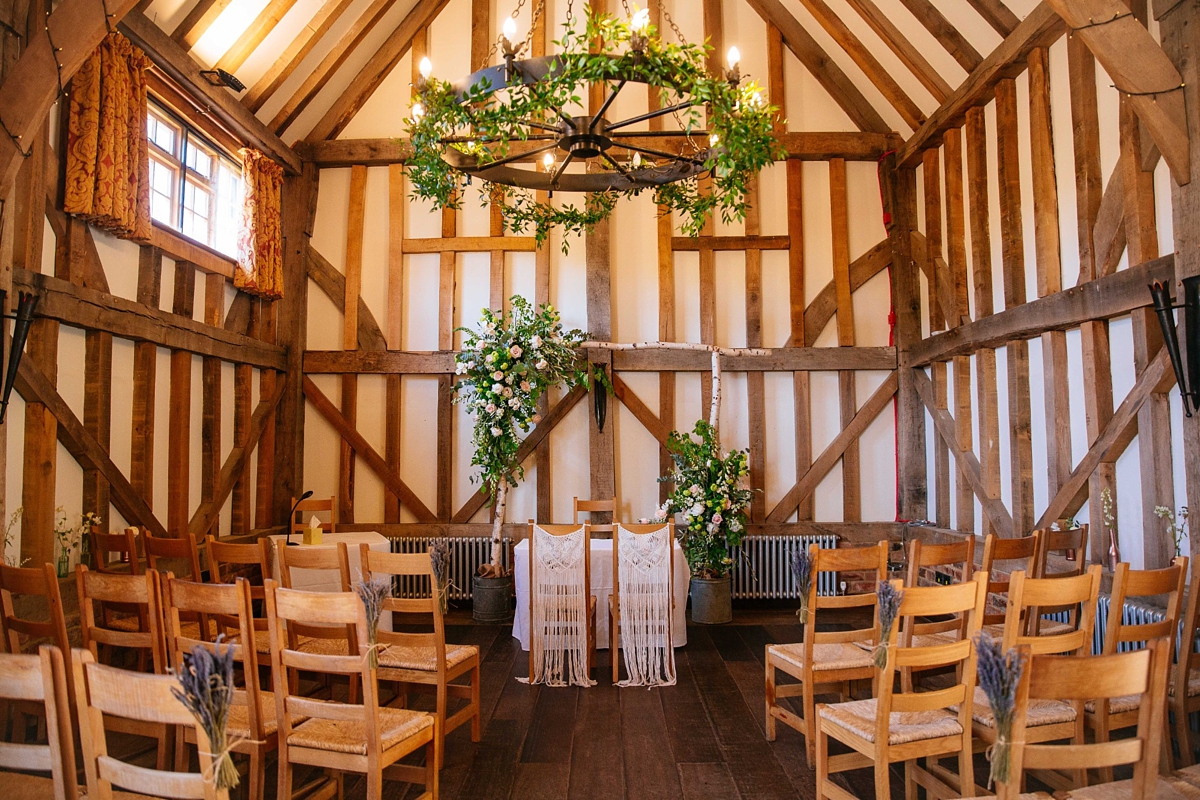 The bespoke leafy invites and orders of service set the tone for the countryside-inspired day and was ordered from Paper Arrow Press. Hilary created the wine-themed table plan, place cards and menus herself.
"Overall the style we were aiming for was a relaxed, countryside, boho wedding with spring pastel colours."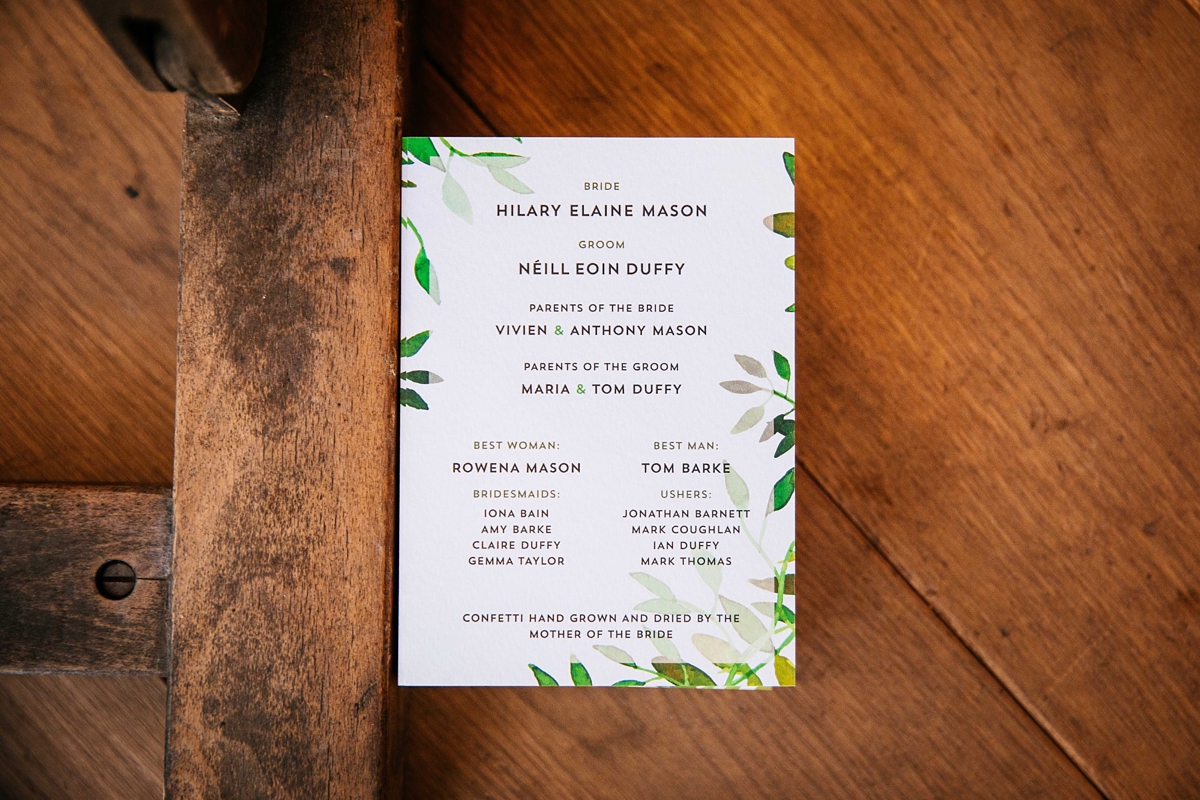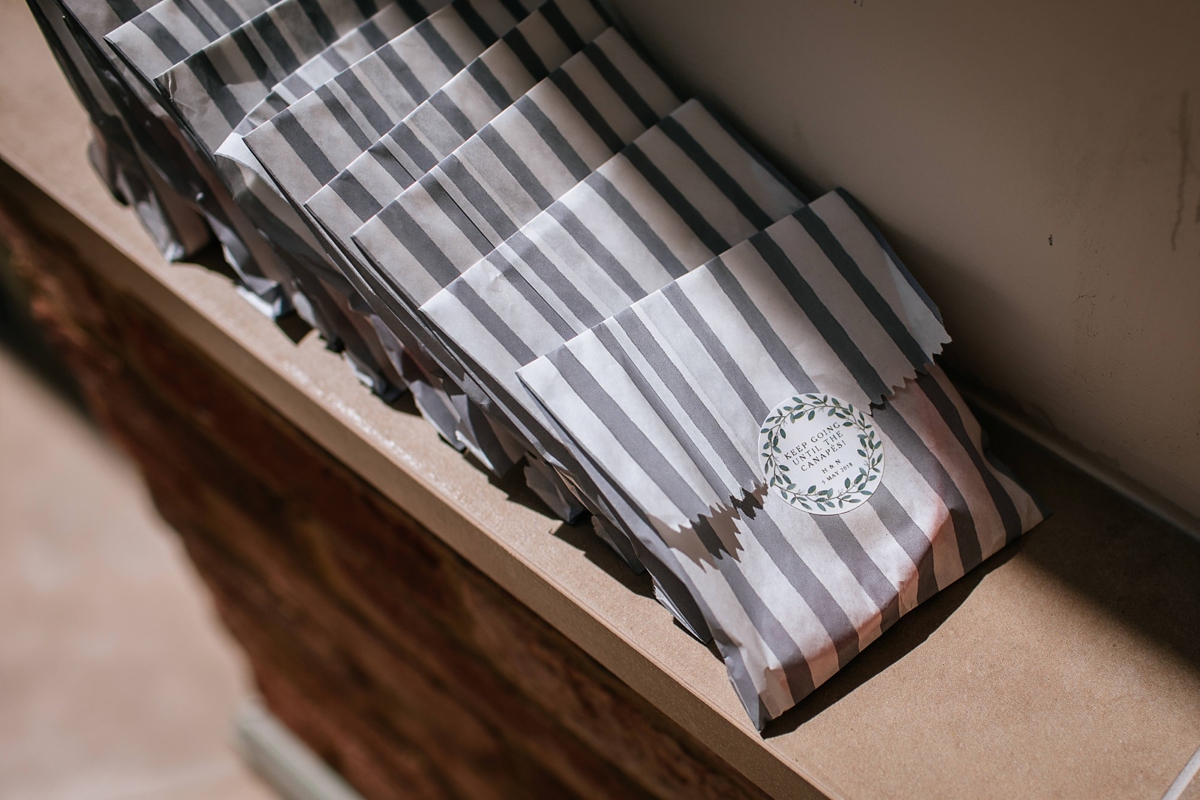 A classic bridal perfume, Jo Malone Peony and Blush Suede, was a luxurious touch.
"It was a gift from my sister when I was maid of honour at her wedding last year so I wore it again this time around with me as the bride and her as my maid of honour."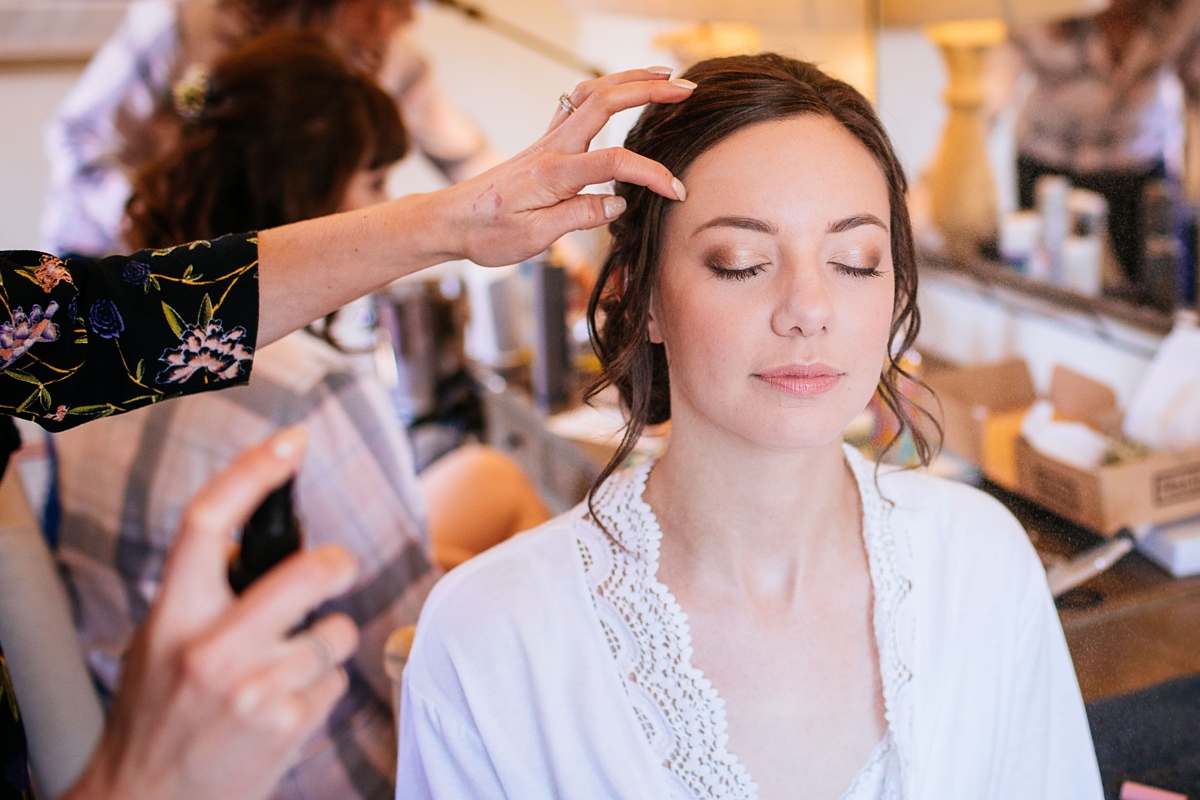 Folky Dokey crafted this dried flower crown especially for Hilary. Worn to the back of her head, it's a lovely boho nod to the quintessentially English countryside vibe. Her hair was styled into an intricate low bun by Jules of Not Another Stylist and her fresh, glowy make-up applied by Melissa Oldridge.
Hilary visited Emma Elizabeth Bridal in Twickenham, whose mother and daughter team helped her to select her divine Watters gown; a fitted number with crochet lace detailing, a short train (perfect for dancing!) and a sassy open back.
"When I walked into Emma Elizabeth Bridal I knew I was going to find my dress there as they had racks upon racks of beautiful and classy lace dresses."
"I'd seen another dress on Instagram by Watters which was the dress I went in specifically to try but I ended up actually not liking it in person. Emma's mum Carol pulled out another Watters dress and it was just everything I had been looking for. I had only popped there in my lunch break from work so it was quite unexpected."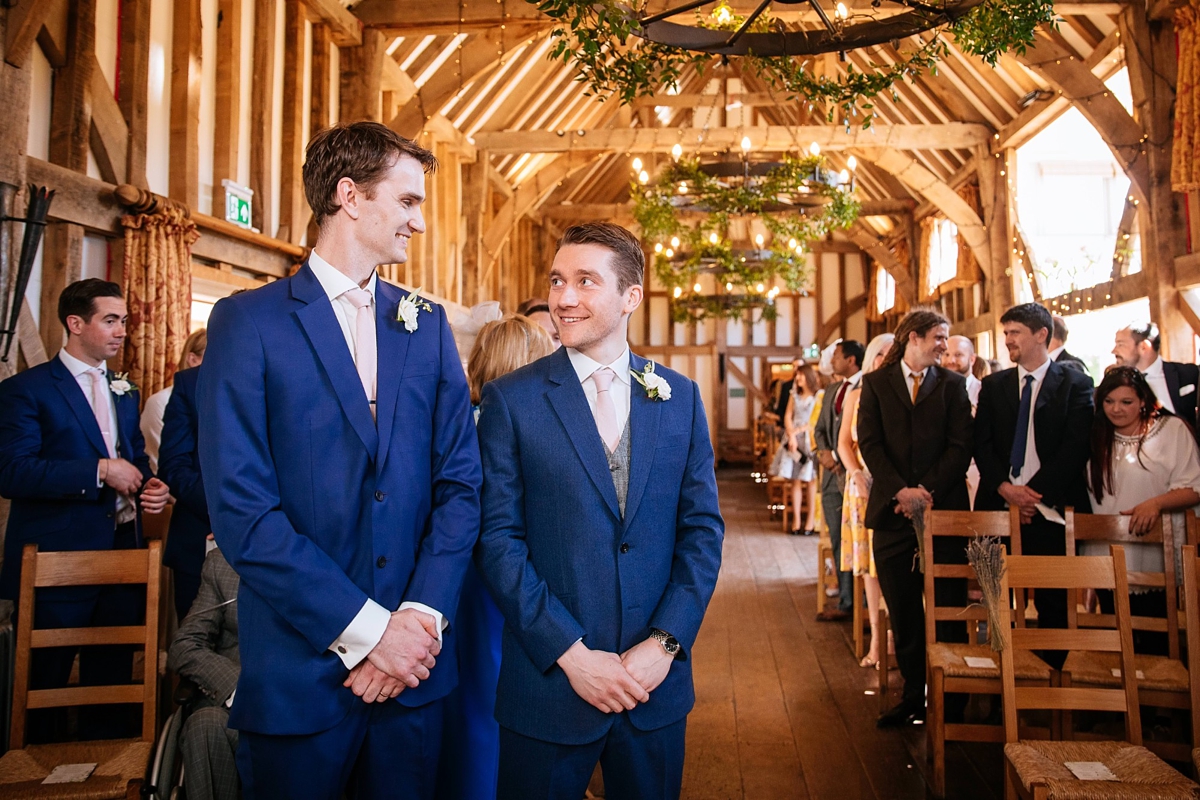 The civil ceremony was held in the airy, beamed barn which had been beautiful decorated with fresh leaves and flower displays, wooden furniture and macrame chair backs. Hilary put a lot of thought in to how she would walk down the aisle. I love her vision of family support during this special time.
"I thought long and hard about my walk down the aisle, as being a feminist I wanted to make sure I was comfortable with which wedding traditions I was going to keep and which I was going to ditch. I am extremely close to both of my parents and I would not have wanted to do the walk without them. My mum walked down the aisle first with one of the ushers, followed by my bridesmaids and then me and my dad. For me this was just about having my parents' support, rather than any 'giving away'."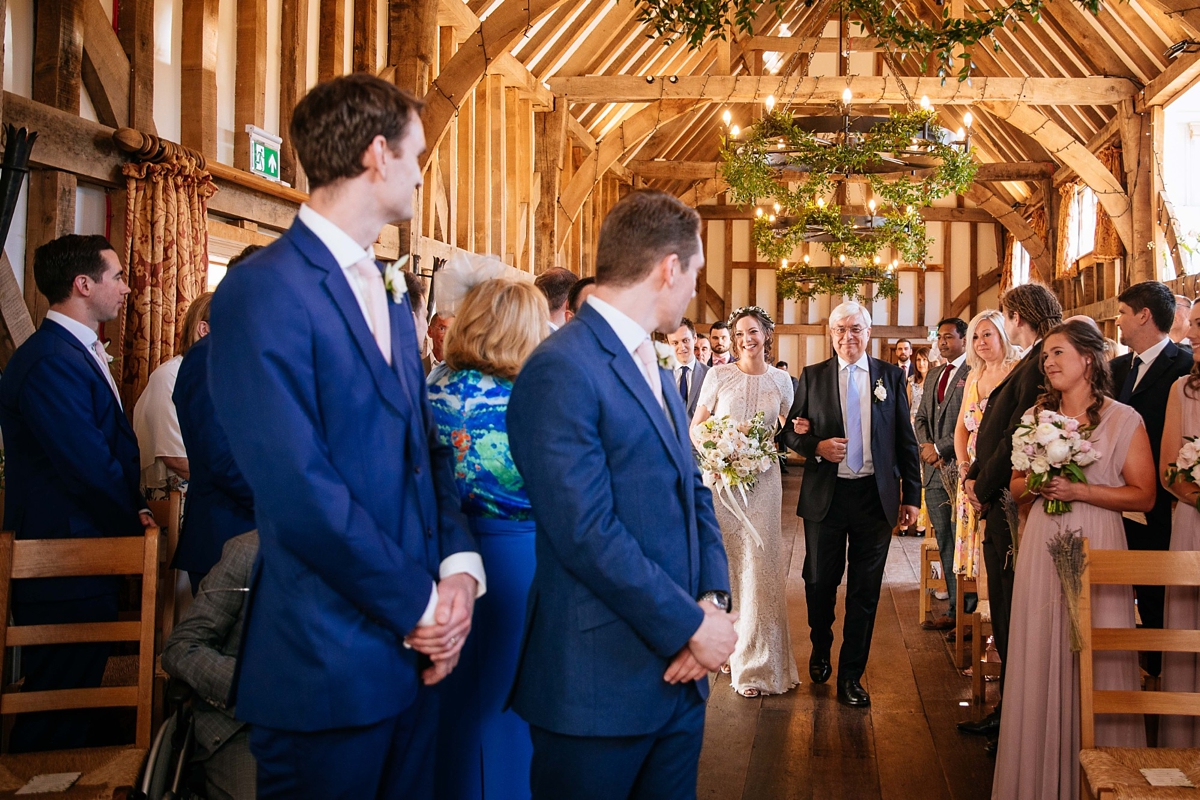 The couple were married in a civil ceremony which included two readings; 'He's Not Perfect' by Bob Marley and an extract from 'A letter to my husband' by Caitlin Moran.
"We chose Bob Marley as Néill's a big fan and for the first few years of our relationship he had 'Two Little Birds' as his alarm tone, so it always reminds me of him. I am a big fan of Caitlin Moran (and also 'Pride & Prejudice' and 'Jane Eyre') and found an article she wrote in The Times about her husband, which was perfect. We took an extract from it for the reading."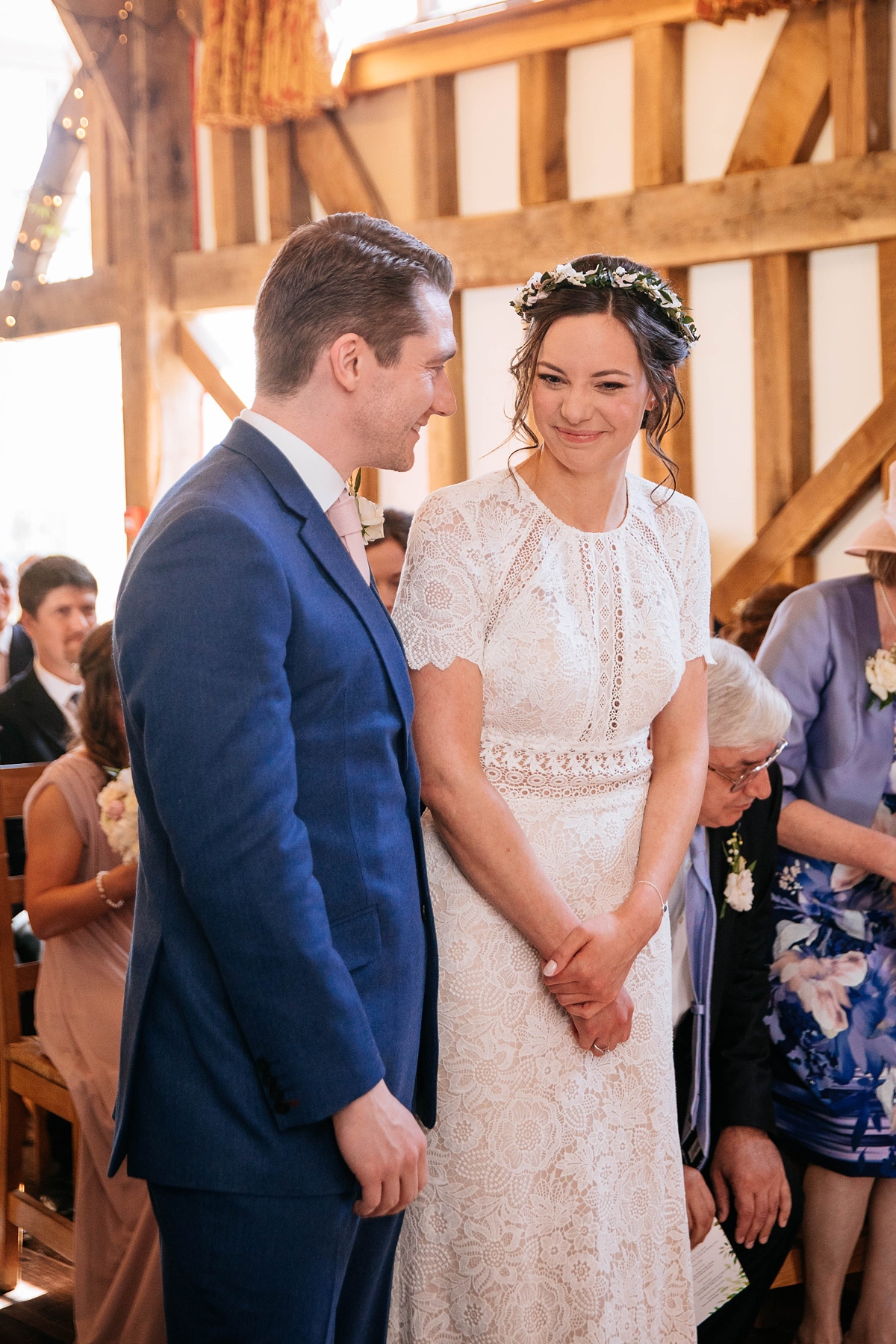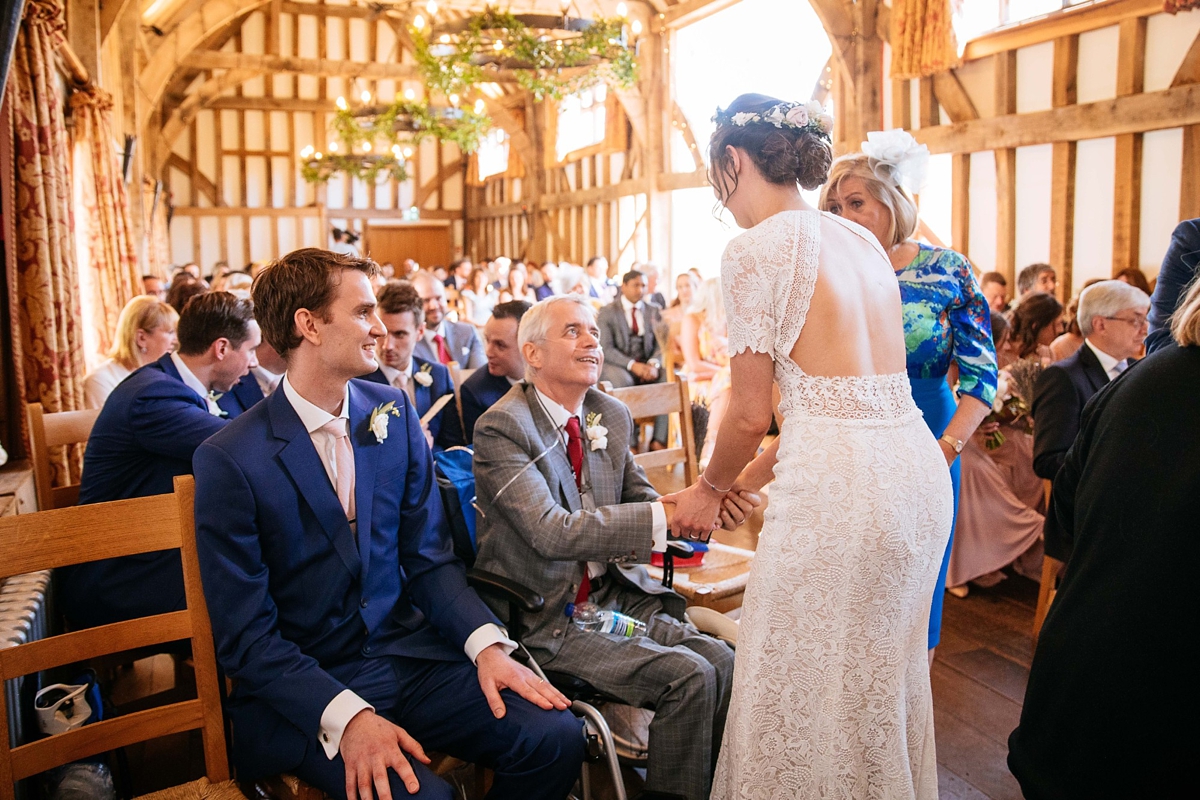 "I always thought the best part would be the dancing and the celebrating but when we got back to our suite at the end of the night and asked each other what the best part of the day had been, we both said the ceremony. It was such a special, nerve-wracking, exciting moment that is a once-in-a-lifetime experience."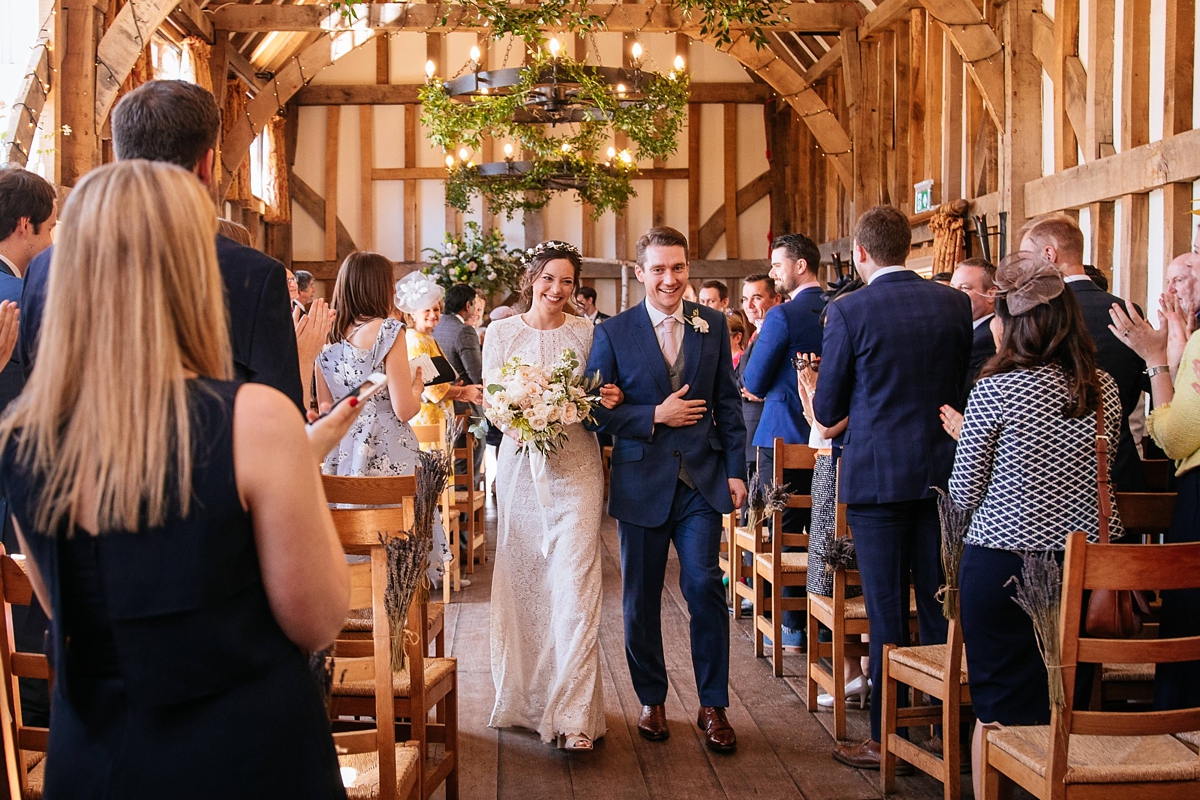 The bride and bridesmaids carried opulent hand-tied bouquets created by florist Rosie Orr.
"Our Florist Rosie Orr is 'quintessentially country' which was just what we were looking for. I am not a flower expert so we relied on Rosie for suggestions and ideas and what she was produced was even better than we had imagined. The bouquets were beautiful with sweet peas, lily of the valley and O'Hara roses. She also made us a birch floral archway for our ceremony."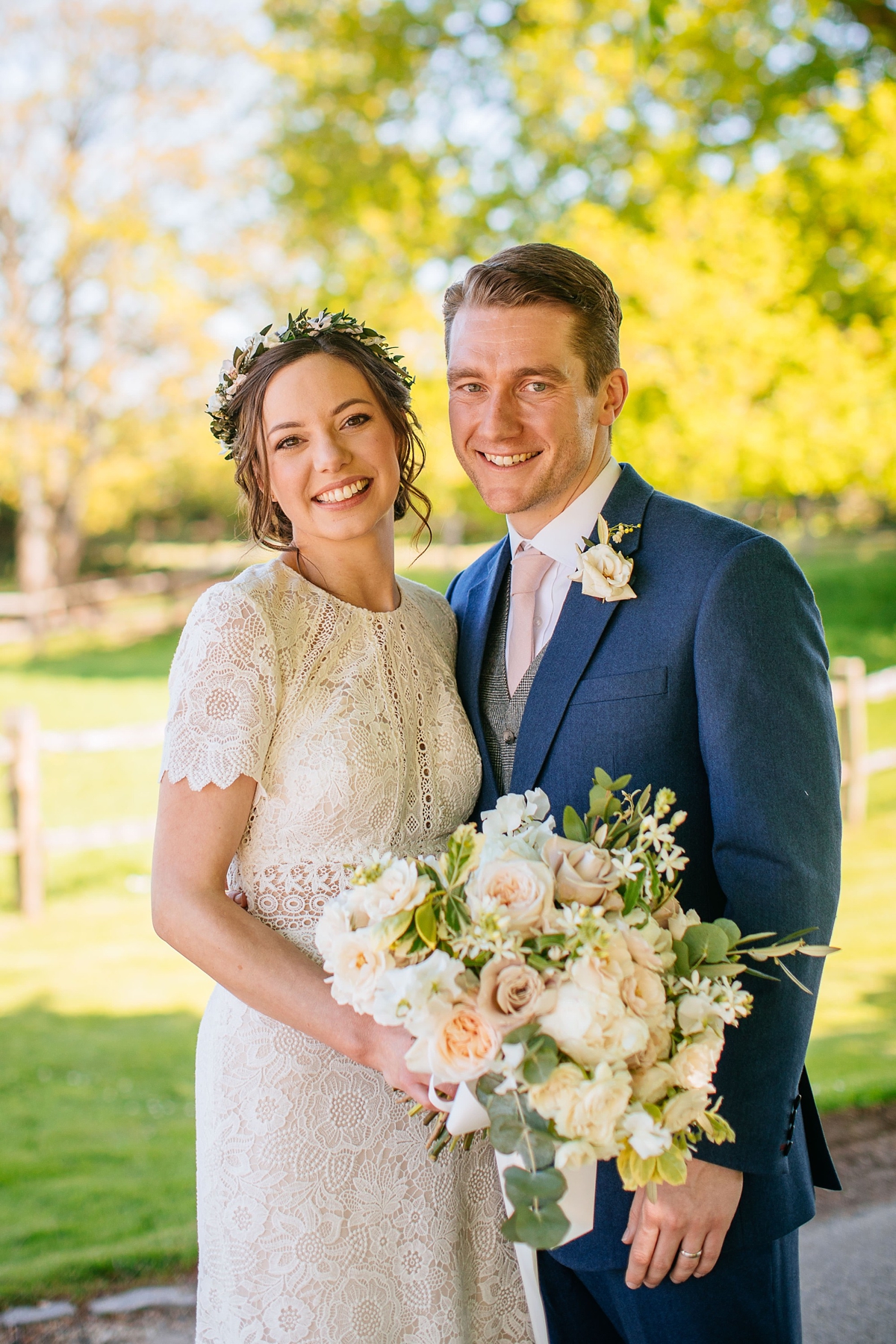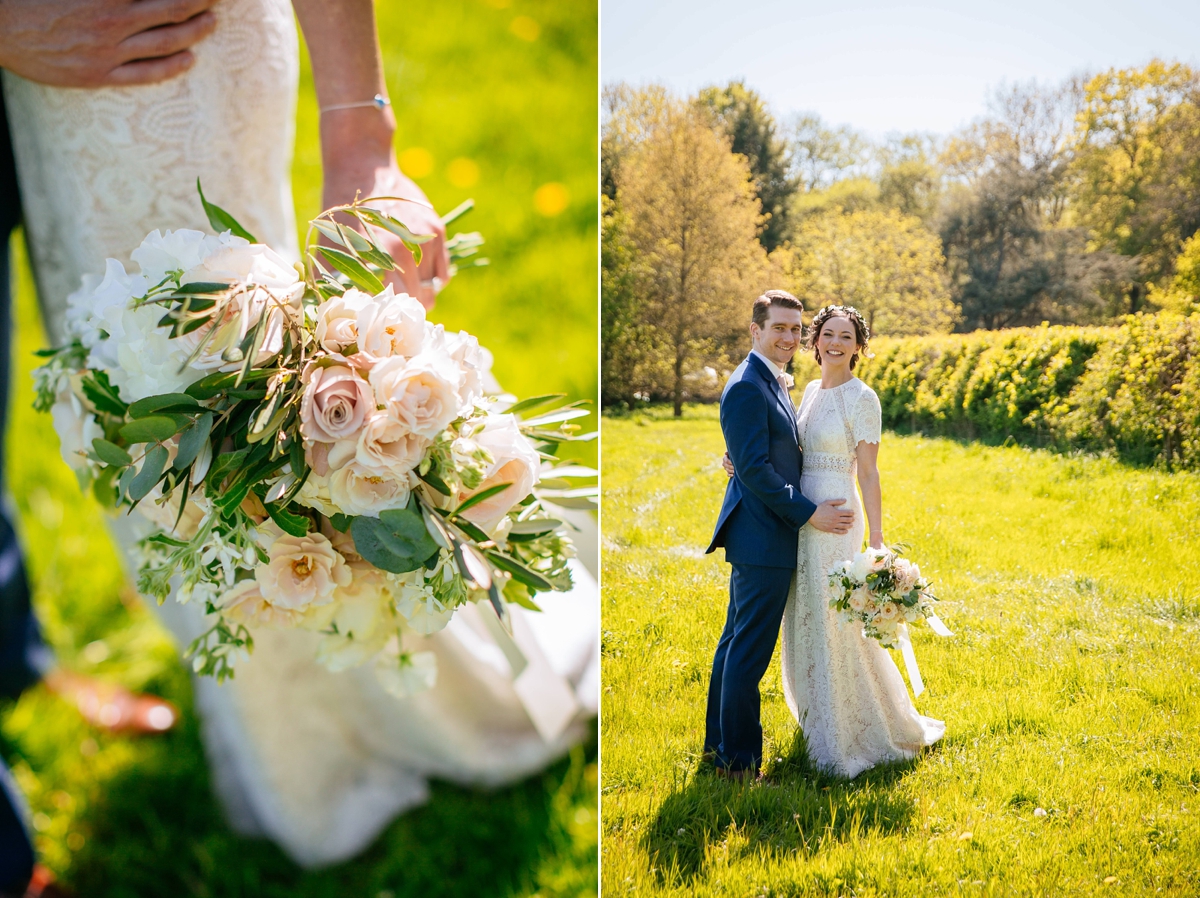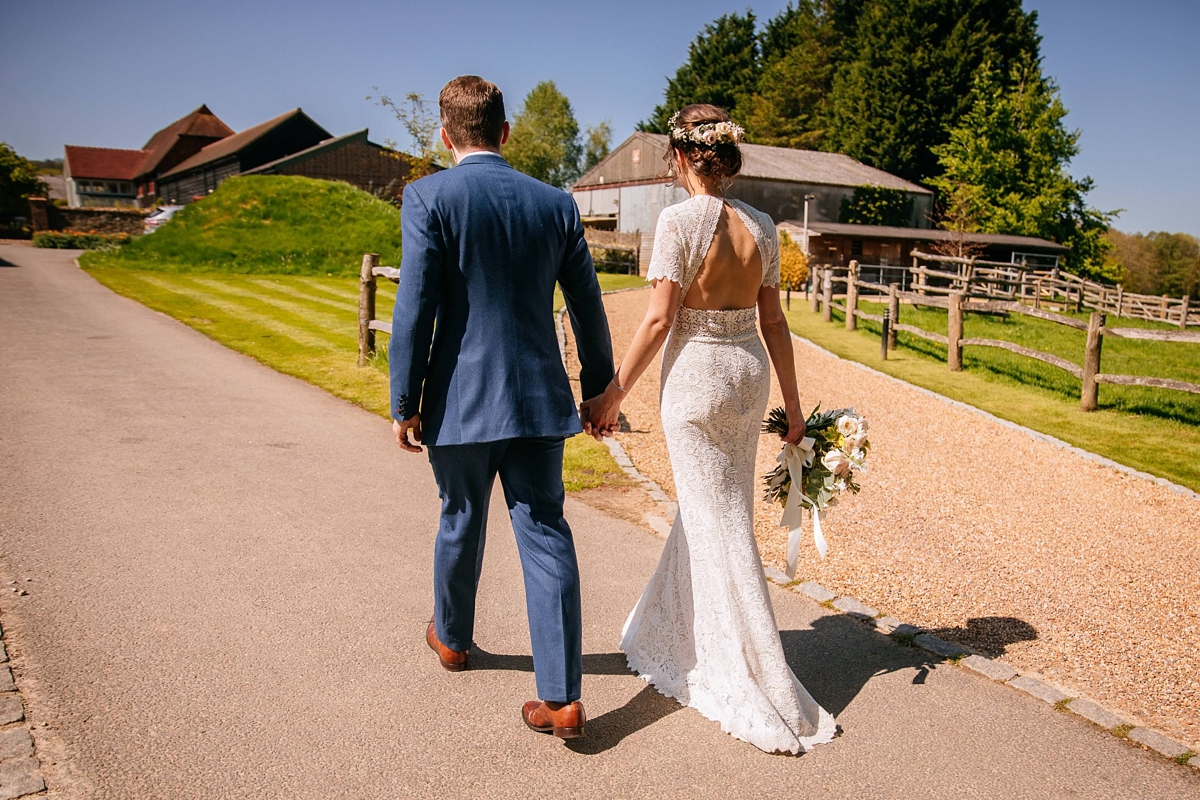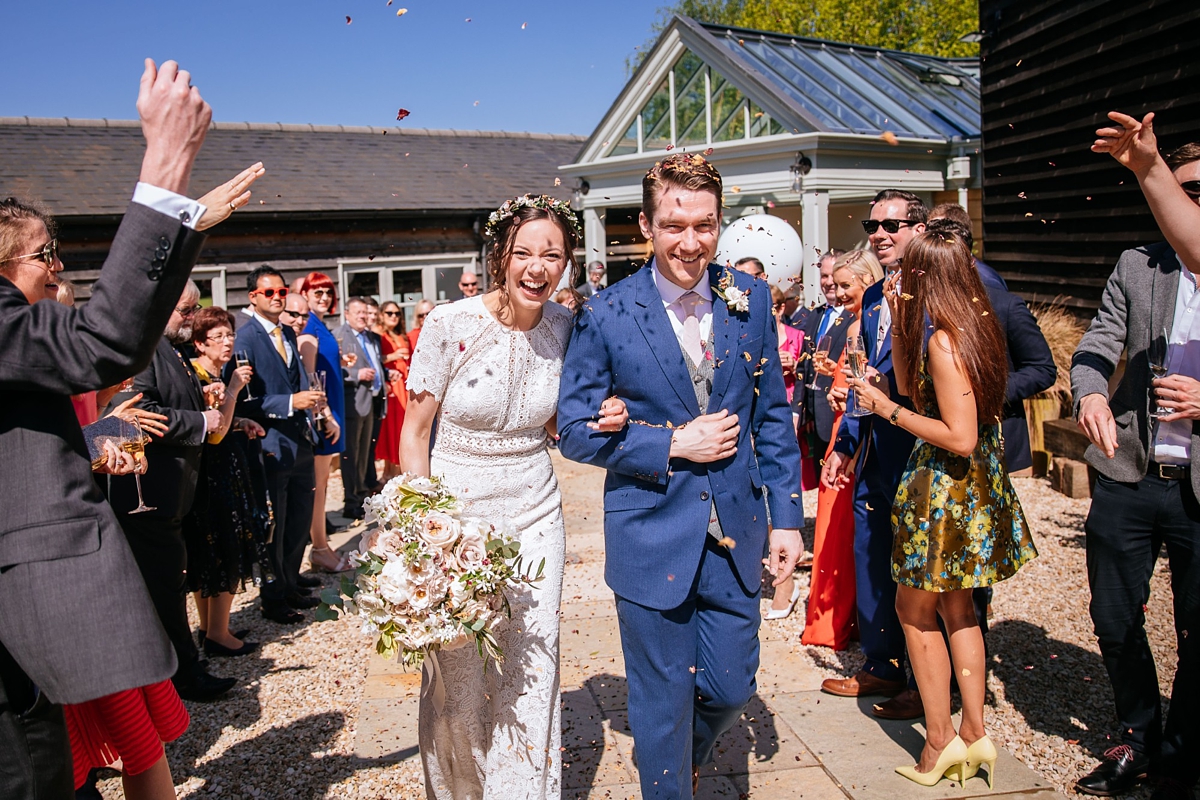 The sunny May weather meant that the large party of guests and newly-weds were able to spill out into the barn's grounds for the drinks and canapé reception, as well as lots of garden games.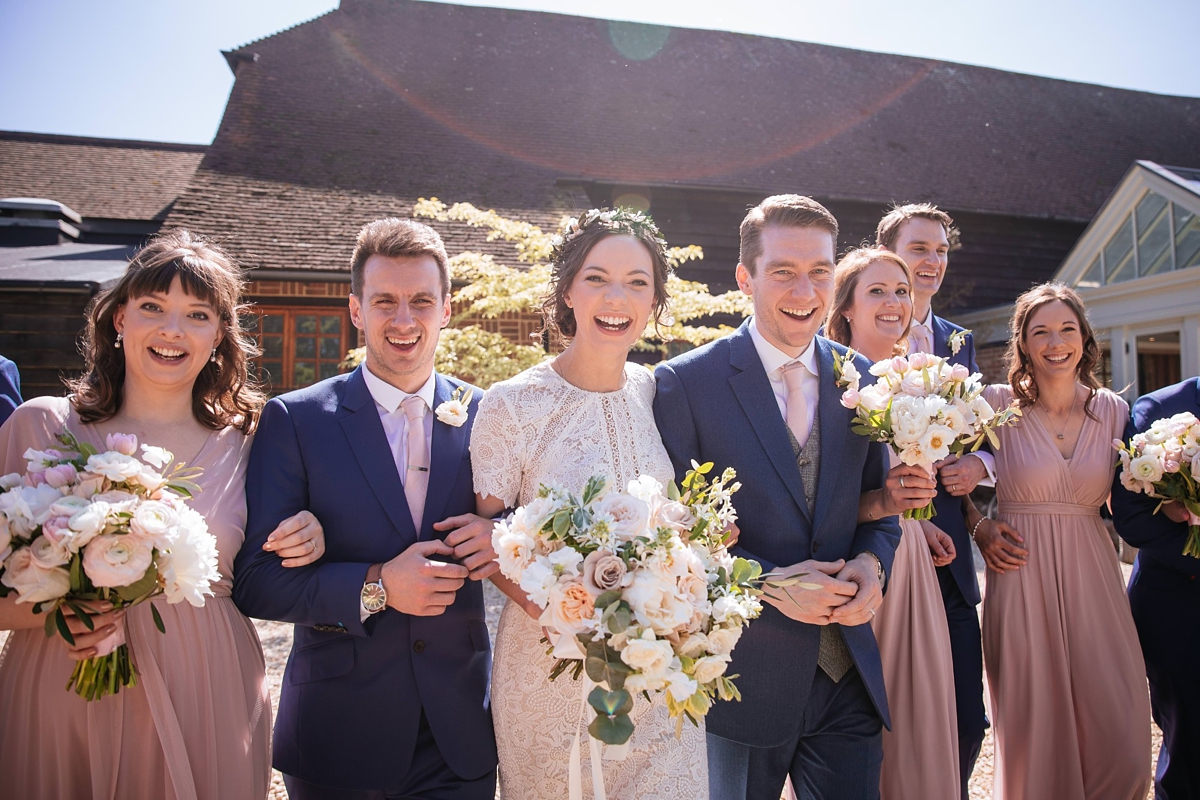 The canapés and wedding breakfast were catered by the wonderful Kalm Kitchen, and enjoyed with live music from Rollercoaster.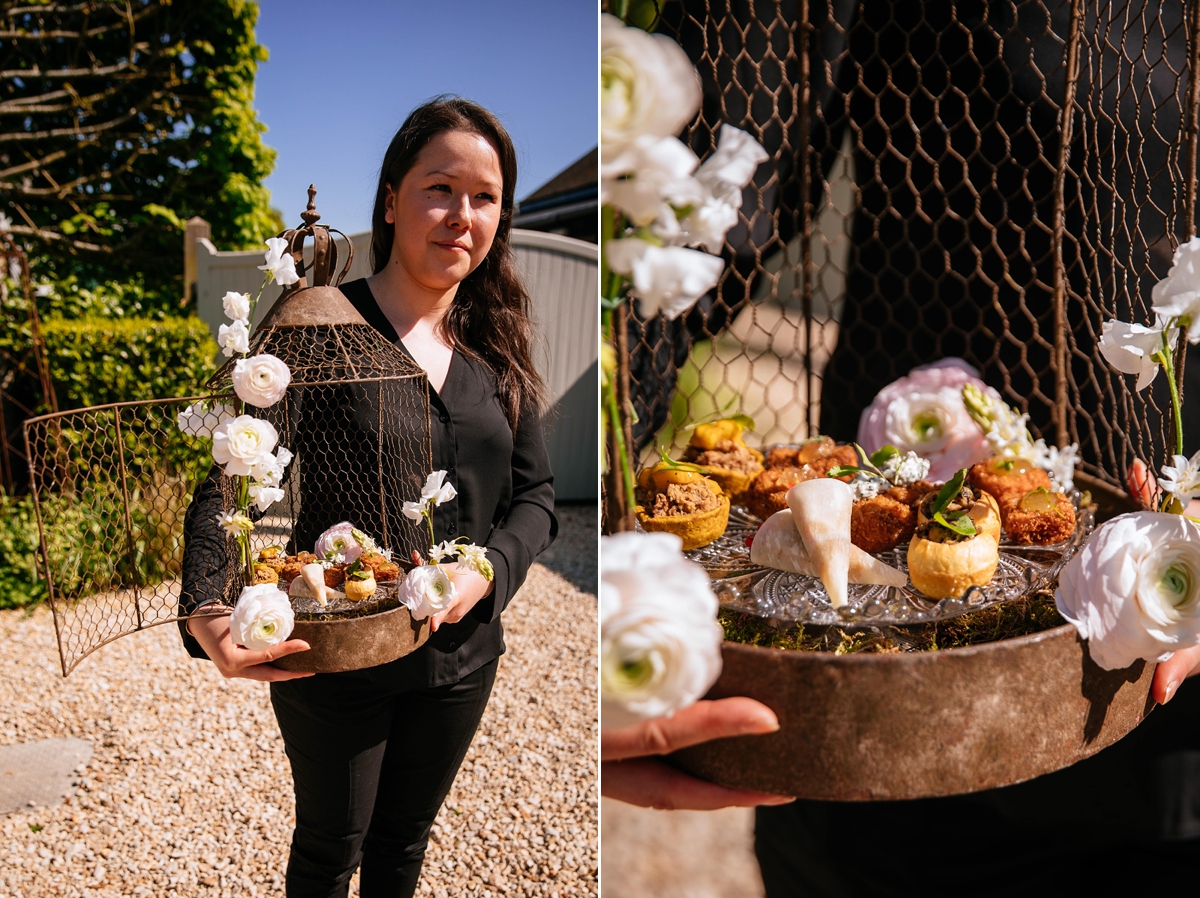 The barn was made ready for the wedding breakfast which was held on long, long trestle tables adorned with yet more foliage. Hilary has shared some inspiring details about the decor, and its rugby influences, with us.
"We are both huge rugby fans so we incorporated that into our wedding by having a rugby-themed table plan, and for our cake topper our figures were wearing England and Ireland rugby shirts."
"By complete coincidence the professional Welsh rugby player Adam Jones, who plays for our home team Harlequins, happened to be staying at the same hotel as us. On the morning of the wedding my dad managed to go over to him and explain that I am a big rugby fan and he wrote me a personal good luck note.
We took that as a good sign that the day was going to go well!"
"My mum Viv made 60 metres of bunting. She also hand-dried all the confetti herself from roses in her garden. Balloons were from Bubblegum Balloons and the chalkboard signs were made by me. The mismatched bottles for the ceremony and table centrepieces were our own, spray painted copper by Néill."
"The main thing I learned from the Love My Dress Facebook group was that you are not a bride unless you own a Posca pen! Before I started wedding planning I thought I was incapable of anything DIY but by the end I completely embraced it and really enjoyed hand-making a lot of the decorations myself."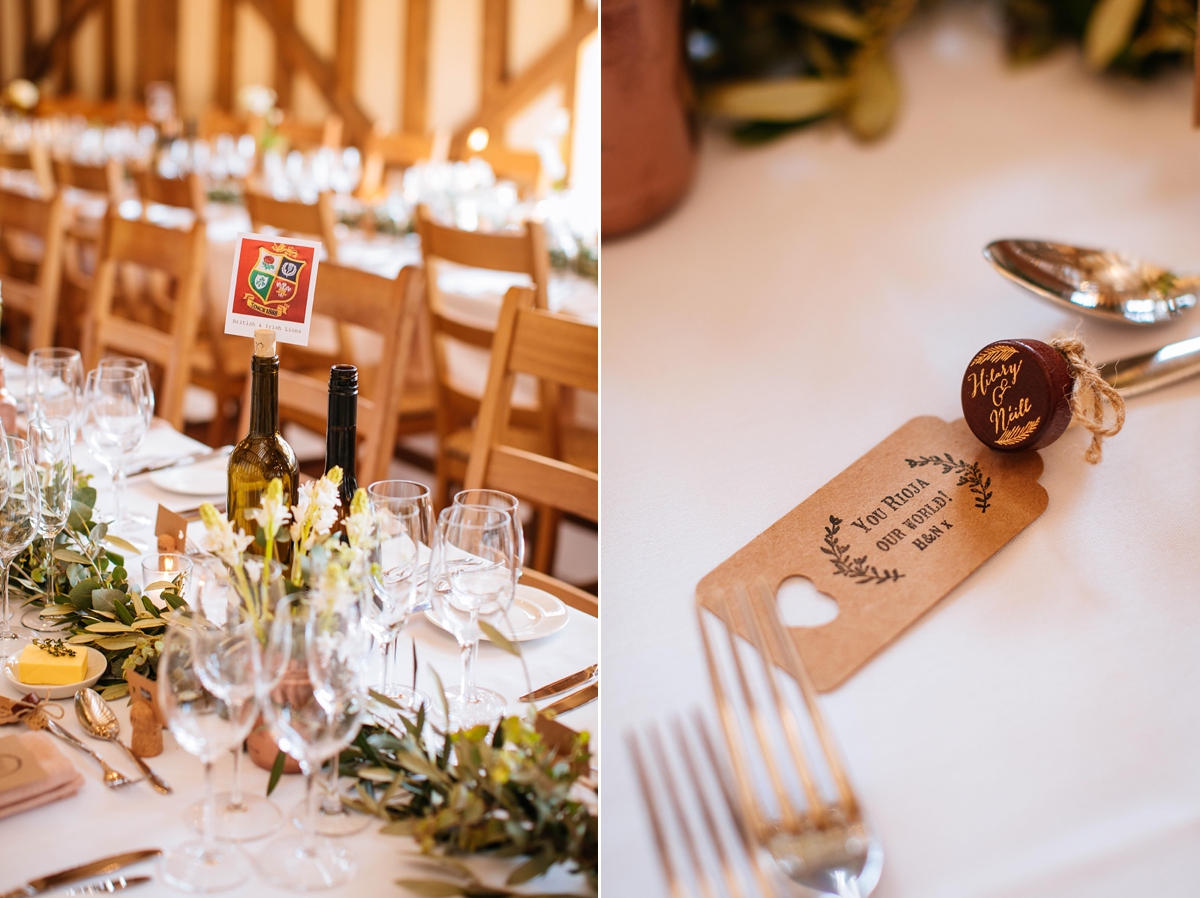 It looks as if there was so much entertainment for the guests, from garden games and music to fun photo props and keepsake favours.
"We wanted to provide favours that guests would actually find useful and that were 'handbag sized' so people would remember to take them home. We continued the wine theme of our table plan by gifting cork wine bottle stoppers, engraved with our names."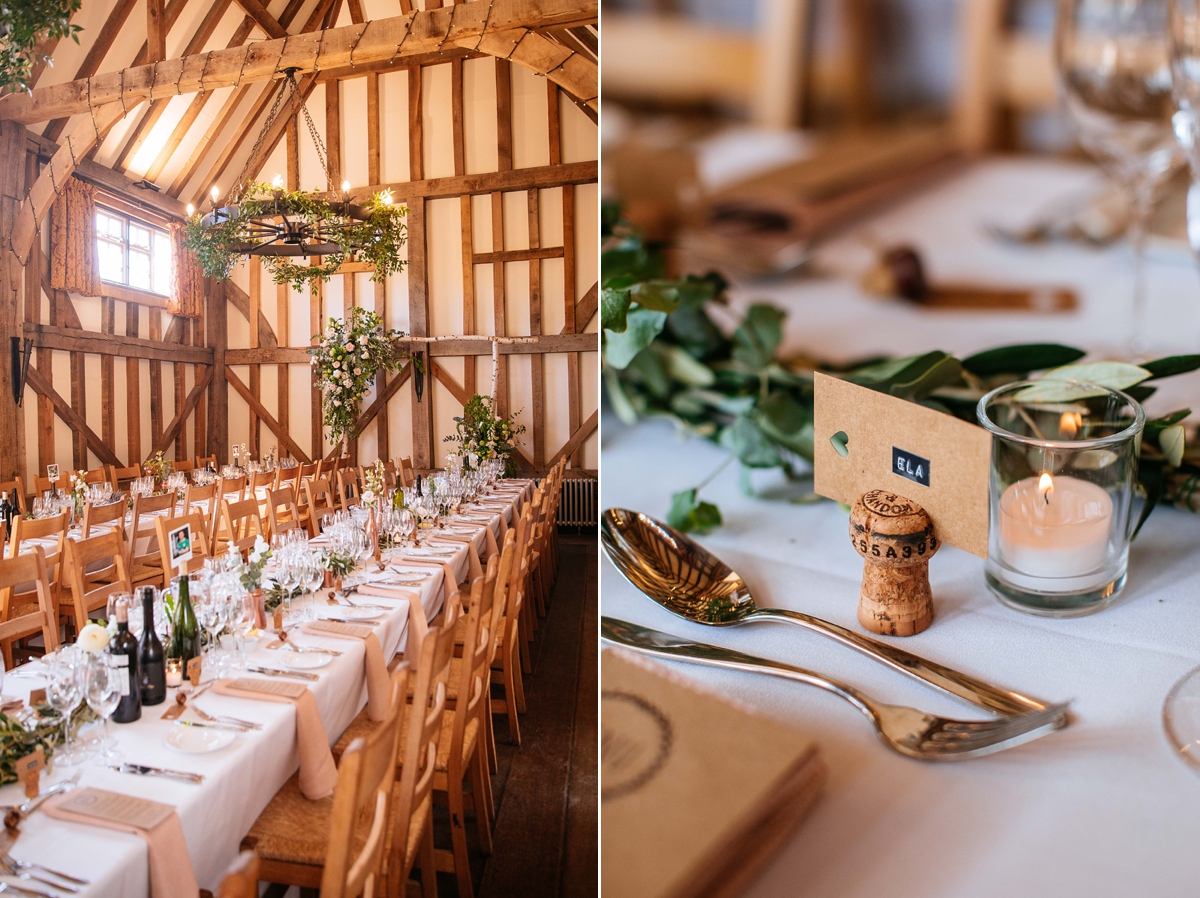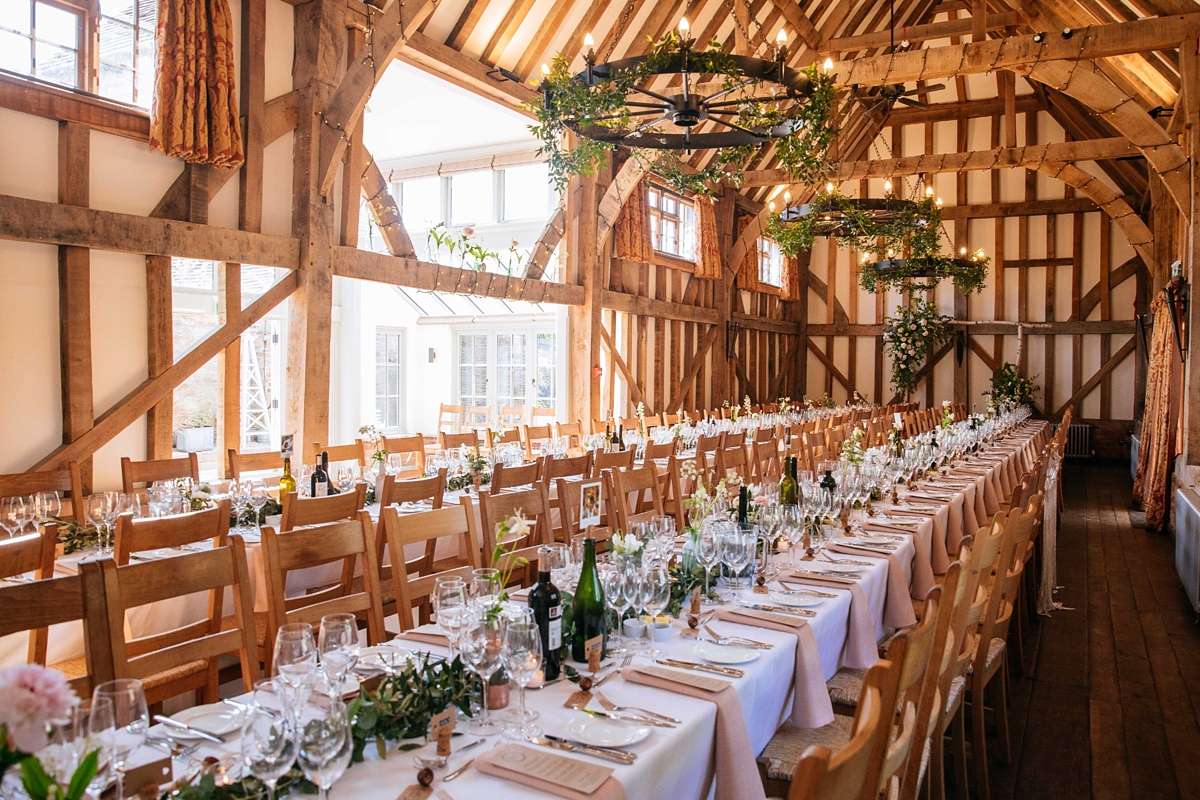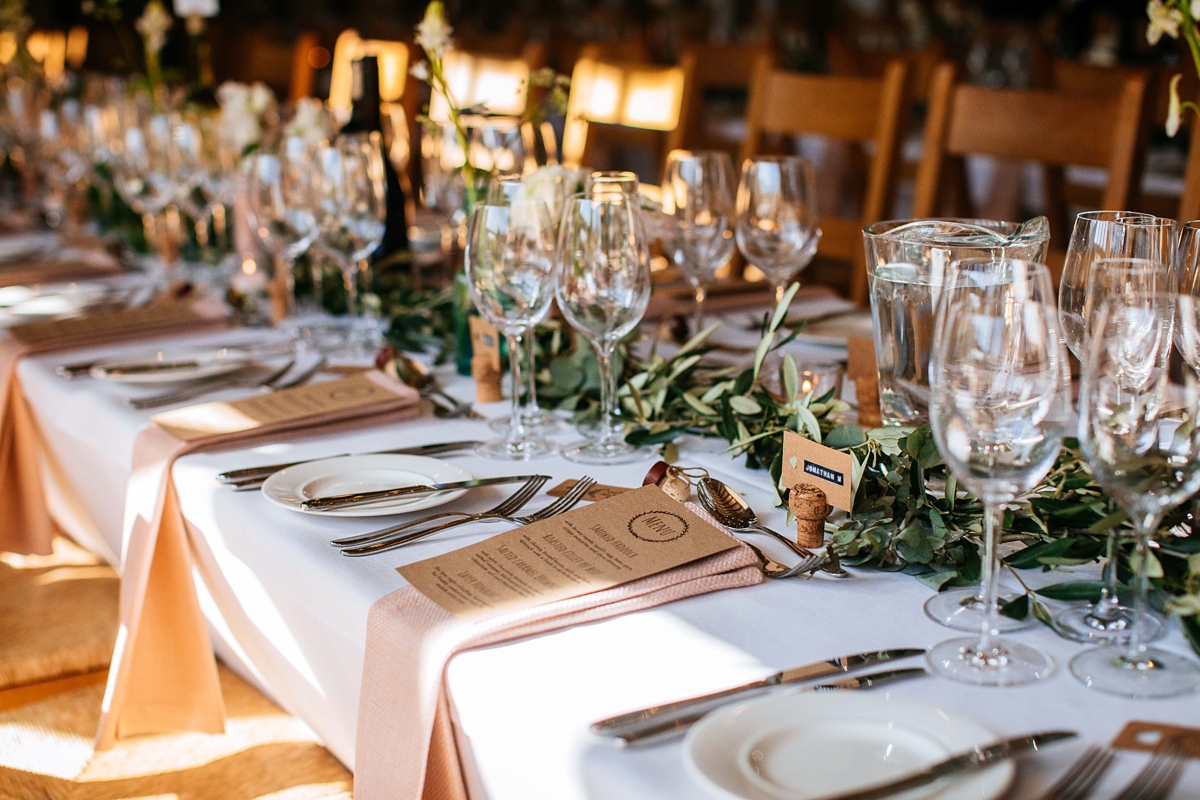 "The cake was so delicious that we heard afterwards of many guests having third helpings! Every last piece got eaten by our guests. I unfortunately never got round to tasting any on the day which meant I never got to have a slice of it."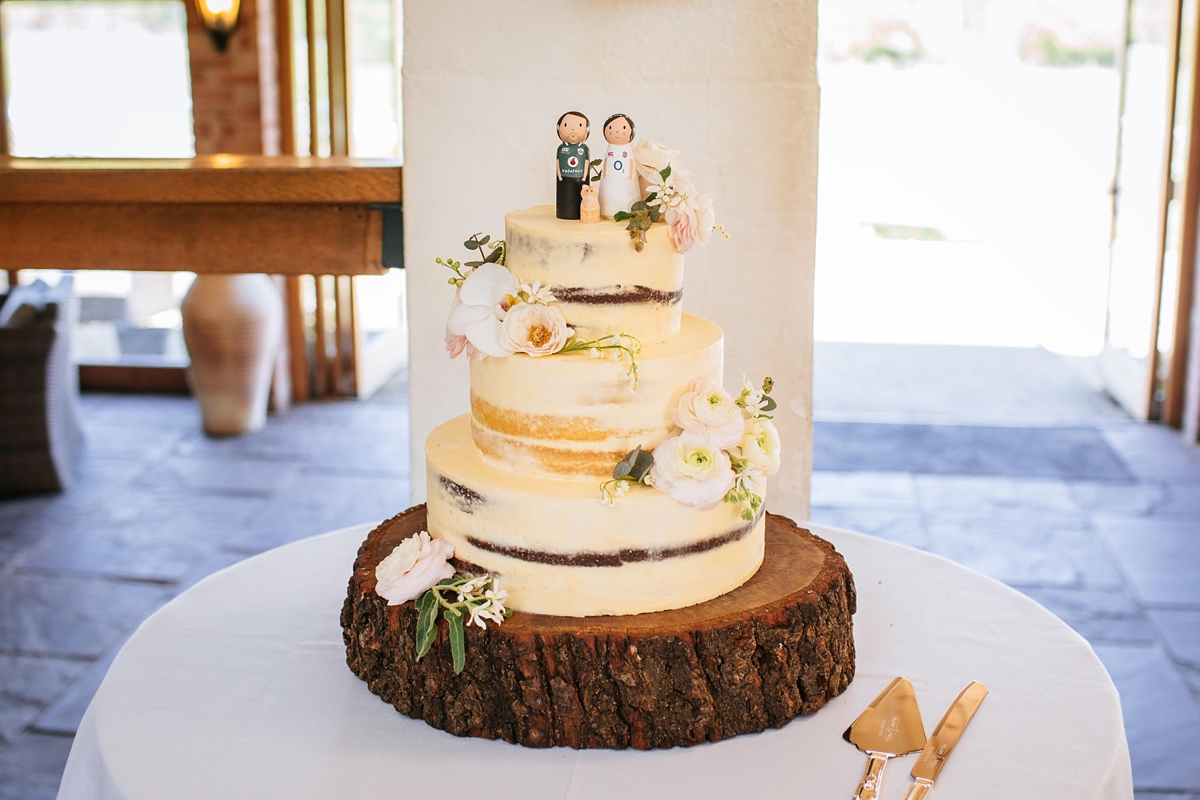 "I was so upset at missing out that Néill sneakily contacted Andi while we were away on honeymoon and asked her to make me a mini replica cake which was ready for when we got back – it was such a lovely surprise."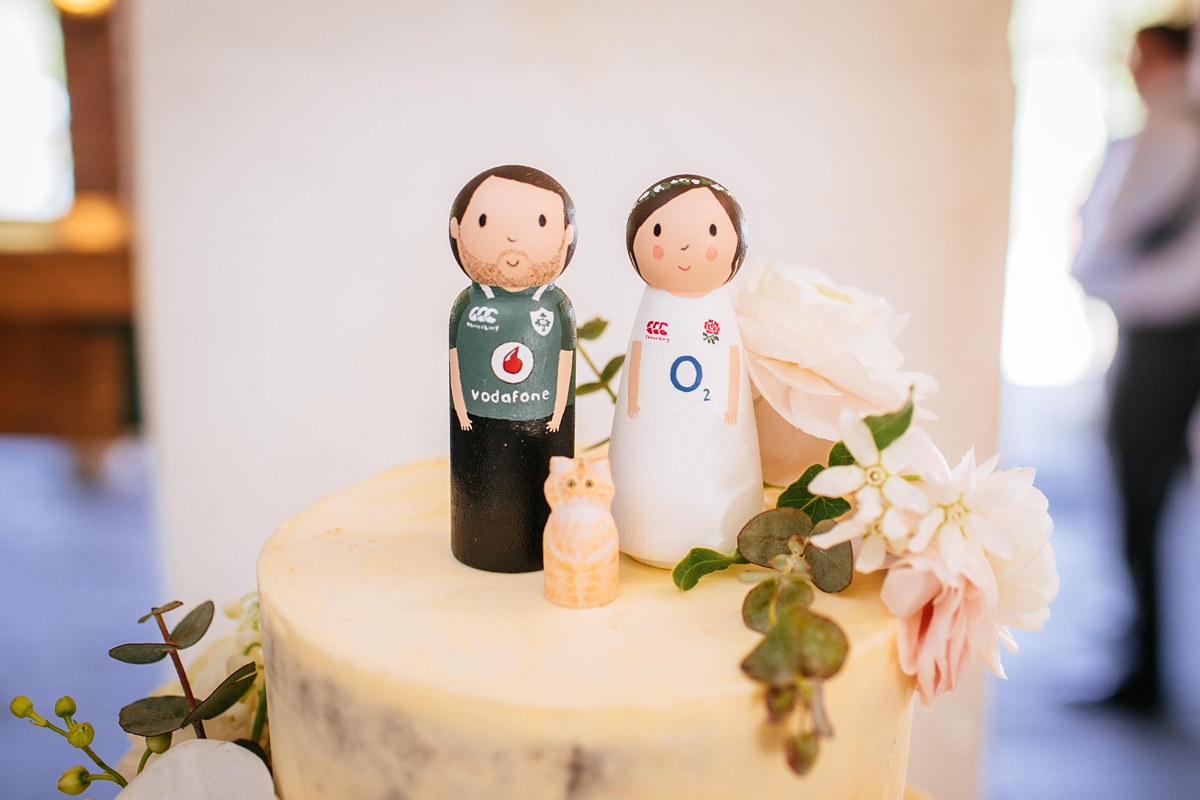 "We wanted to include the fluffy third member of our family, Paddy, so we found this amazing shop on Etsy, Lovecats CakeToppers, who painted little figures to go on top of our cake."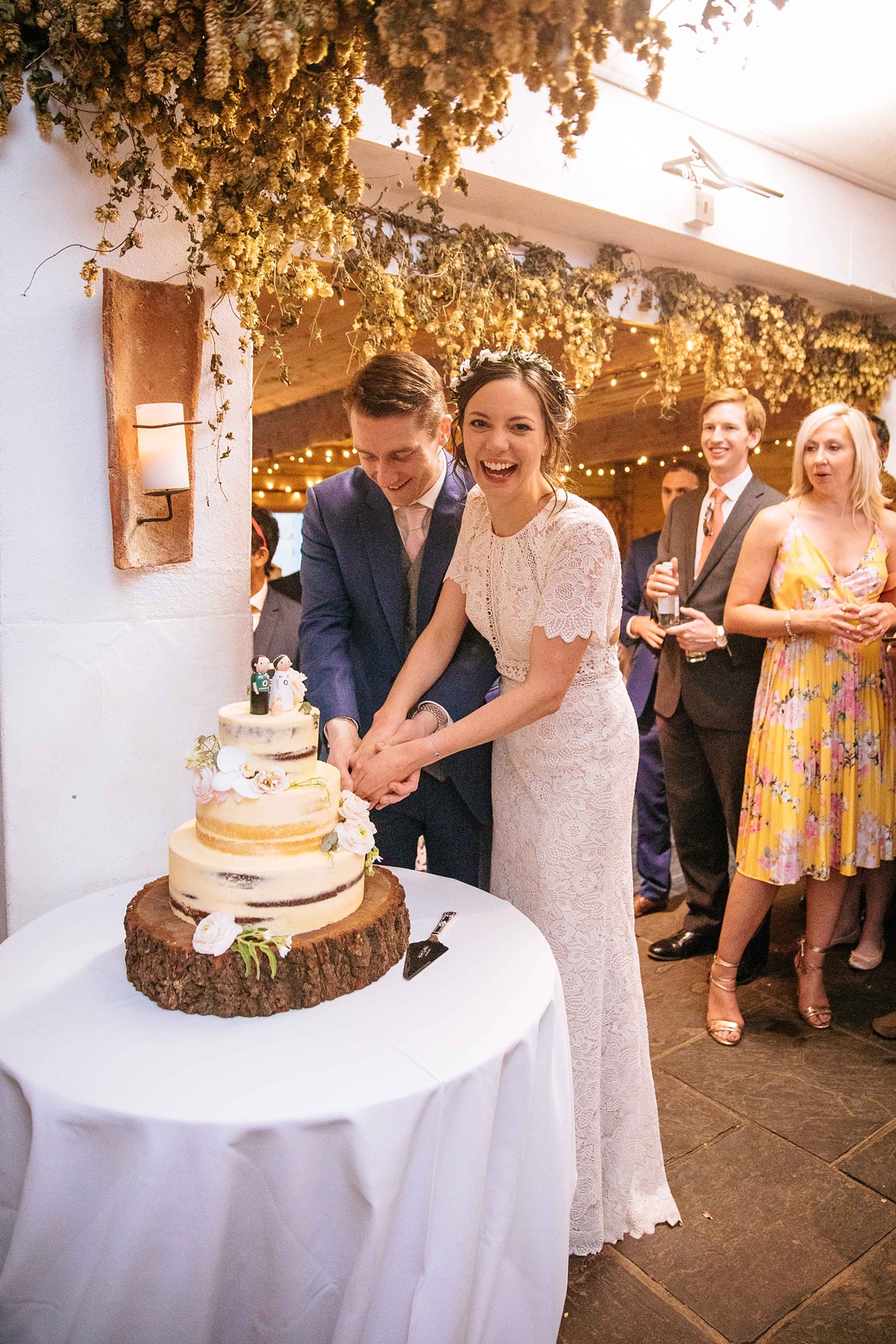 To capture the wonderfully sunny May wedding, Hilary and Néill hired the services of Sarah Legge Photography. I feel that her work totally does justice to the fresh green countryside and absolute beauty of the barn venue, and the photographs of the newly-weds are so incredibly romantic. Just look at those taken as the sun sets in the late evening.
"Sarah was an absolute dream to work with from start to finish. I had a long list of potential photographers and as Sarah didn't live far from us we popped round to her house one evening to meet her."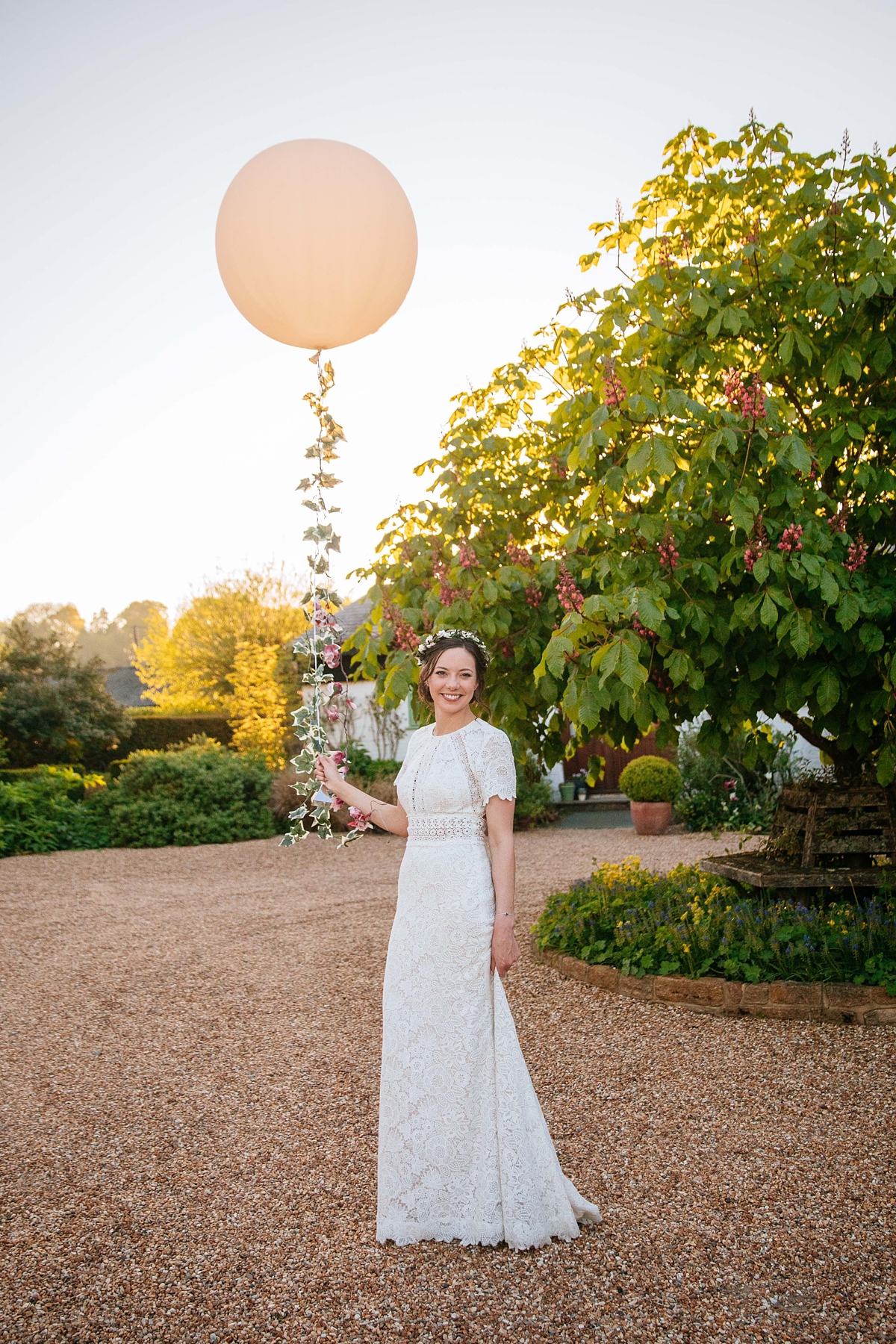 "After a glass of wine and a chat we knew she was just what we were looking for – friendly, funny, relaxed and a very talented photographer. On the day she put everyone at easy and it was like having another friend at the wedding. So many of our guests commented afterwards how lovely she was."
"We really appreciated her having the perfect balance of taking natural, unobtrusive shots, but also grabbing us when the light was right to take some beautiful couple photos."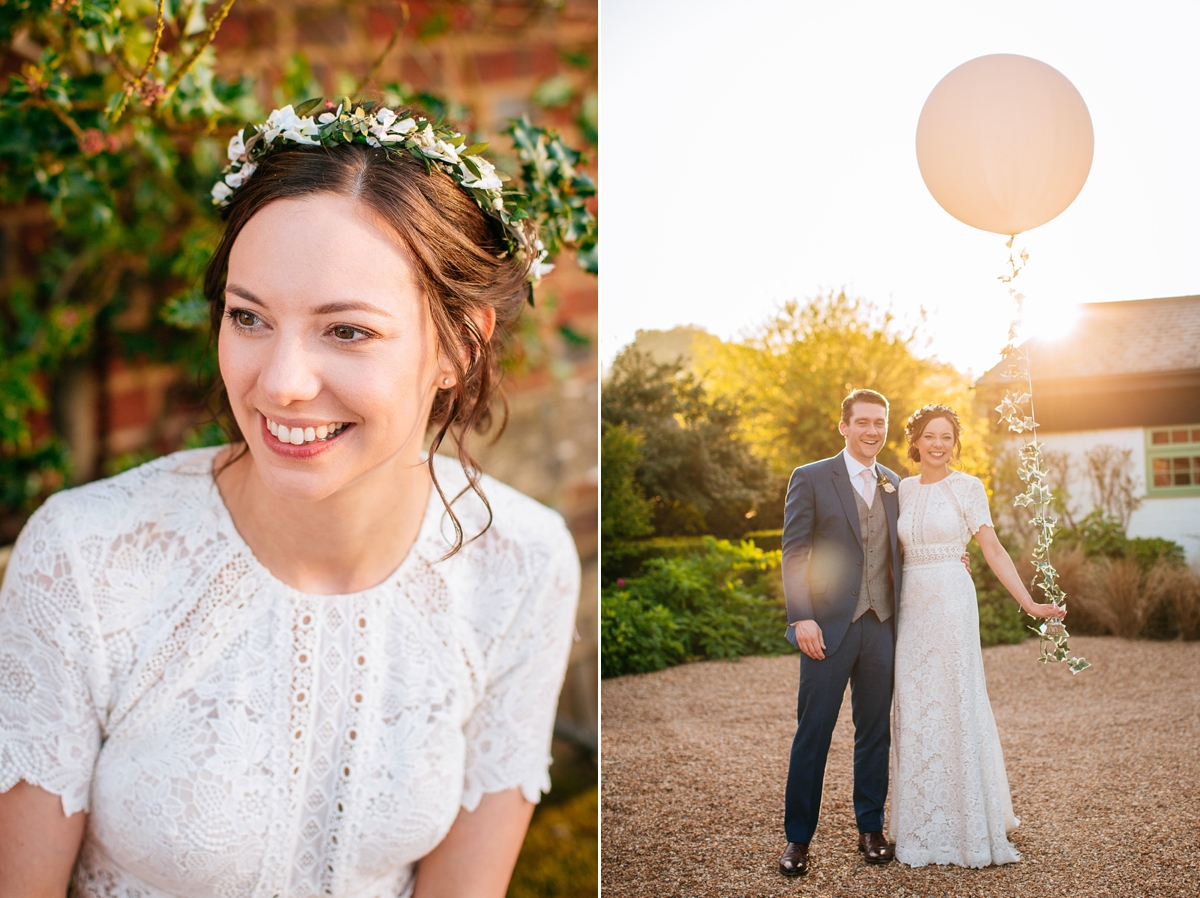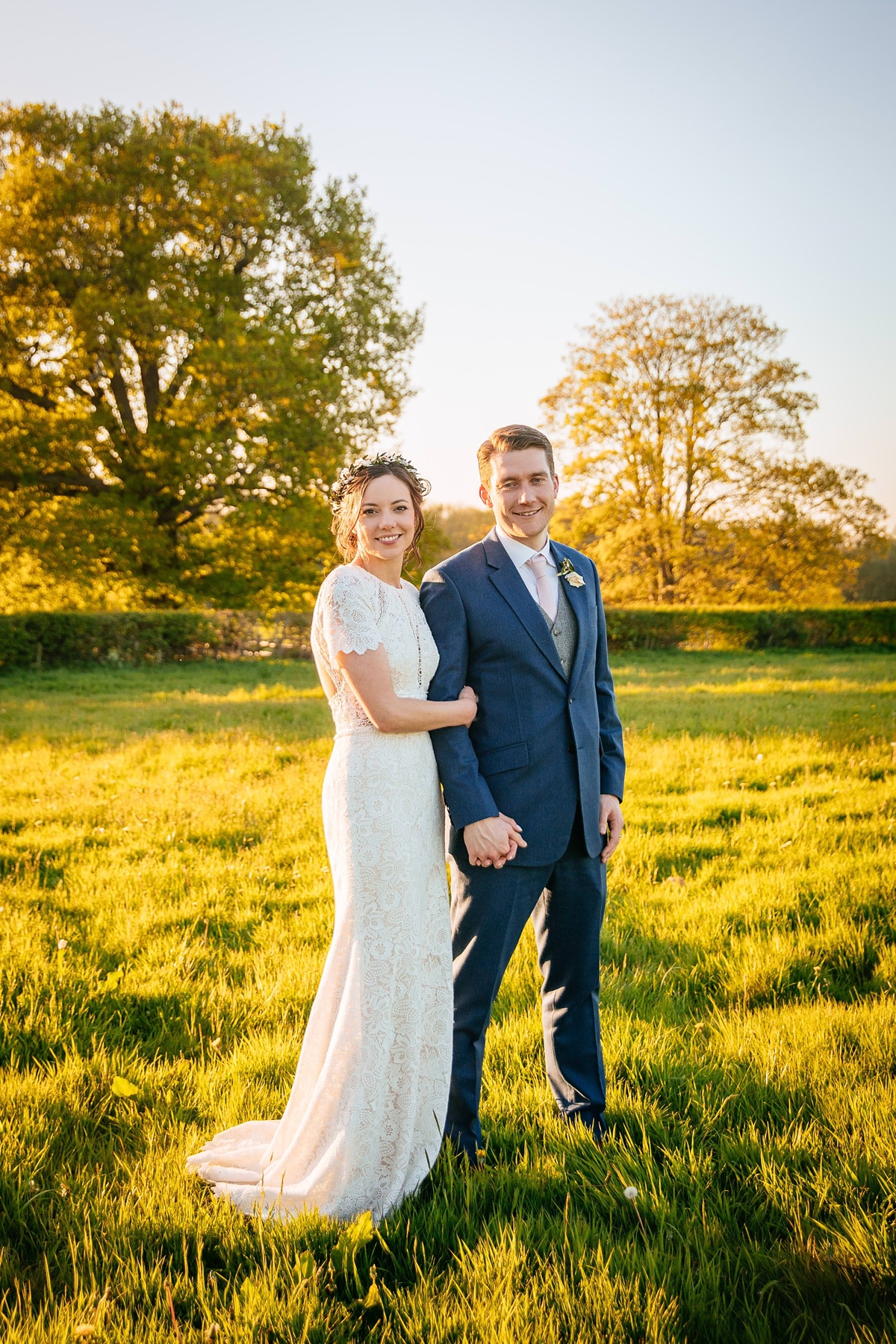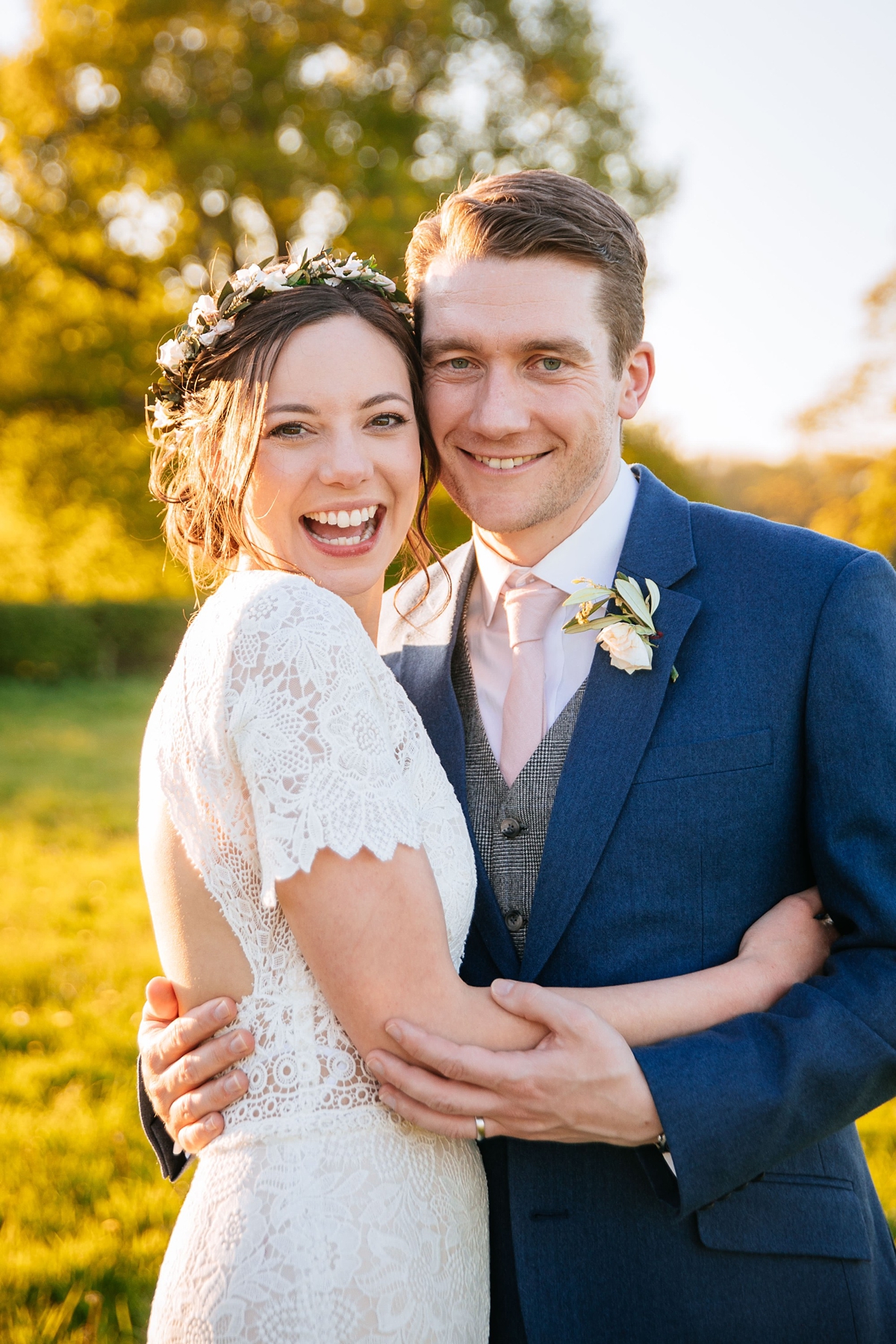 The bridesmaids look so elegant and relaxed in their soft pink Grecian-inspired gowns, ordered online from Etsy shop Blush Fashion.
"The only moment in wedding planning when I had to ask myself 'Have I gone completely mad' was when I decided to order my bridesmaids dresses from an Etsy shop in Israel but the gamble paid off as they were absolutely beautiful."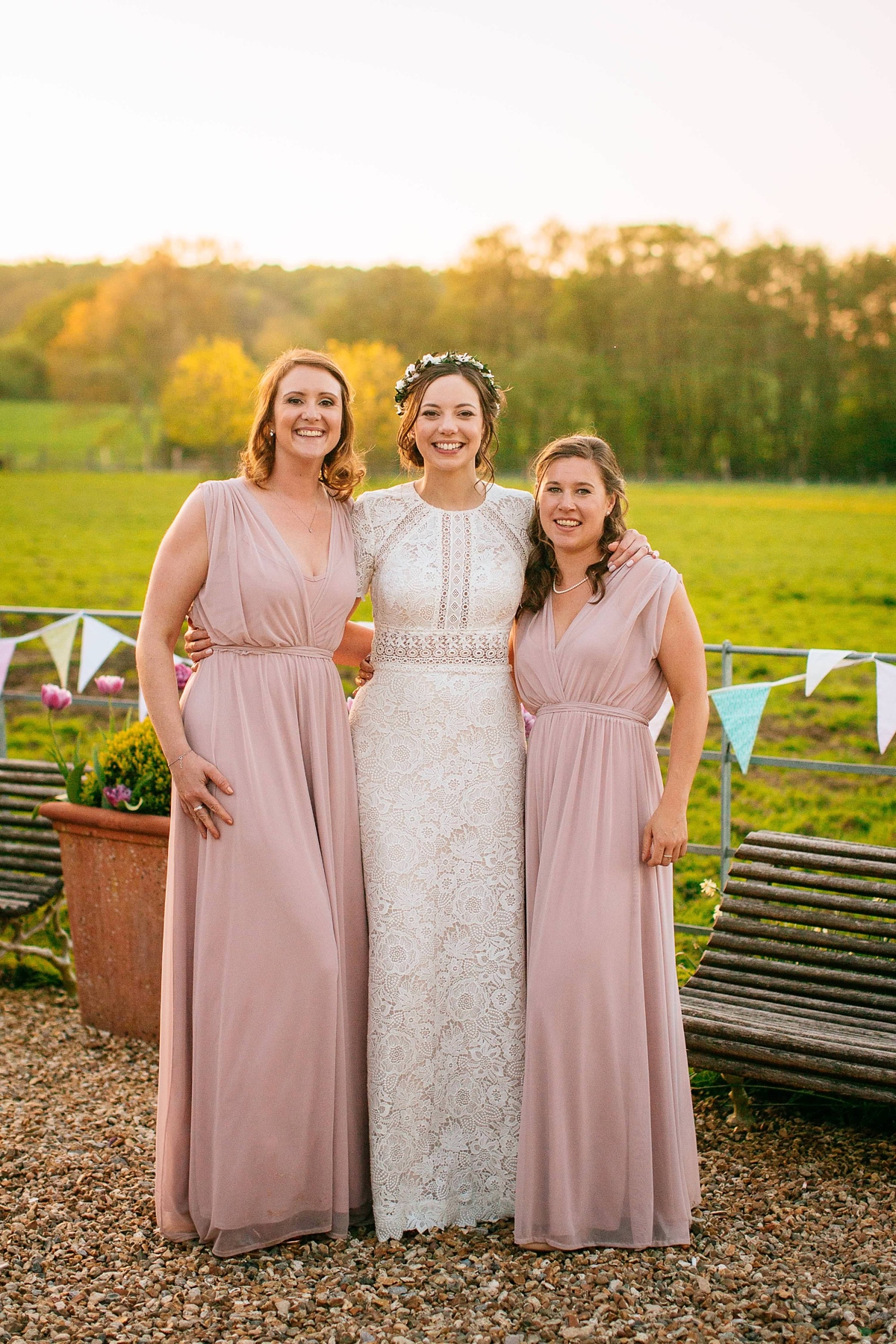 Come evening, the wedding party got on the dance floor to more music from Rollercoaster as well as tucking in to fresh pizza from The Mobile Pizzeria and lots of delicious cake. Their choice was a tiered semi-naked creation by Andi Freeman Cakes crowned with models of the couple and their dog, Paddy.
"Our first dance was to Imagine Dragons' 'On Top of the World'. We wanted something upbeat rather than a slow dance, and having seen Imagine Dragons together at Glastonbury we thought it was the perfect fun song to dance to."
"Music was one of the most important aspects of our day, and a great live band was top of our priority list for the wedding. I wanted live music to walk down the aisle to so the fiddle player and guitarist from the band came early to play during the ceremony and at our reception. In the evening the rest of the 5 piece band came and they were incredible."

Words of Wedded Wisdom
Plan in advance and be organised. We had 18 months between our engagement and wedding, and people laughed at me when I started booking suppliers and making things right away…. But with everything planned and organised well in advance it meant that the days before the wedding were calm and the day went without one thing going wrong or being missed.
Make something – even if you are not a typical 'DIY' bride, it will give you a huge sense of satisfaction to make something and see guests enjoying it on the day."
"Don't be afraid to delegate – I started off trying to do everything myself but with a few months to go it became very challenging trying to juggle long hours at work and wedding planning. After a (literal) cry for help, my bridesmaids and parents came to help immediately and took things off my plate. People want to help, so just ask them.
Join the Love My Dress Facebook group! This group was an invaluable source of inspiration and ideas and was a fantastic support network. The best takeaway I have from the group is two brilliant new friends. I met Clare and Emma on the group as we discovered we were all getting married on 5 May 2018. We started up our own Facebook messenger conversation and they soon became an absolute lifeline throughout the whole process. Even now, months after our weddings, we still chat almost daily. I couldn't have done it without them."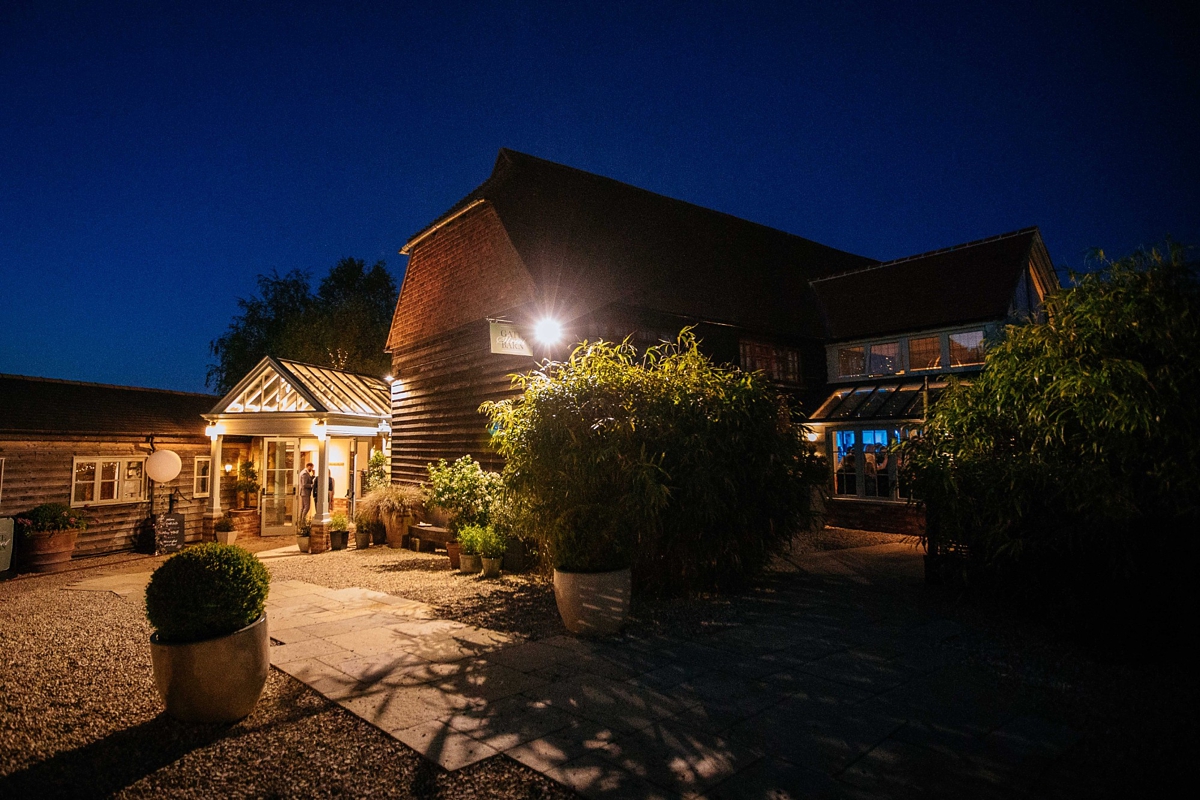 Hilary and Néill, thank you so much to you both for letting us share your wedding today. I love the relaxed springtime vibe you created, as well as the subtle hints to your love of rugby. It's been a real pleasure to feature it, and I'm so happy to hear how useful you found both the blog and our Facebook group in your months of planning.
Many thanks of course go to Sarah Legge Photography for these images; so, so beautiful.
Ele xx