Well hurrah lovely readers, the weekend is getting closer. I hope you've got fab plans for the next few days – we have a weekend of invitation writing ahead of us and I have to admit that I can't wait.
The big day is getting closer! If you're currently contemplating your bridal look, then it's time to think accessories and is there anything more bridal than a gorgeous veil? Today, I'm here to share the latest collection of stunning veils and bridal capes from Needle & Thread with you so, without further ado, let's indulge…
If you've not yet had the pleasure of meeting Needle & Thread, let me introduce you because this British label really is something special. Offering both ready-to-wear and bridal collections, their aesthetic is most definitely one of modern romance.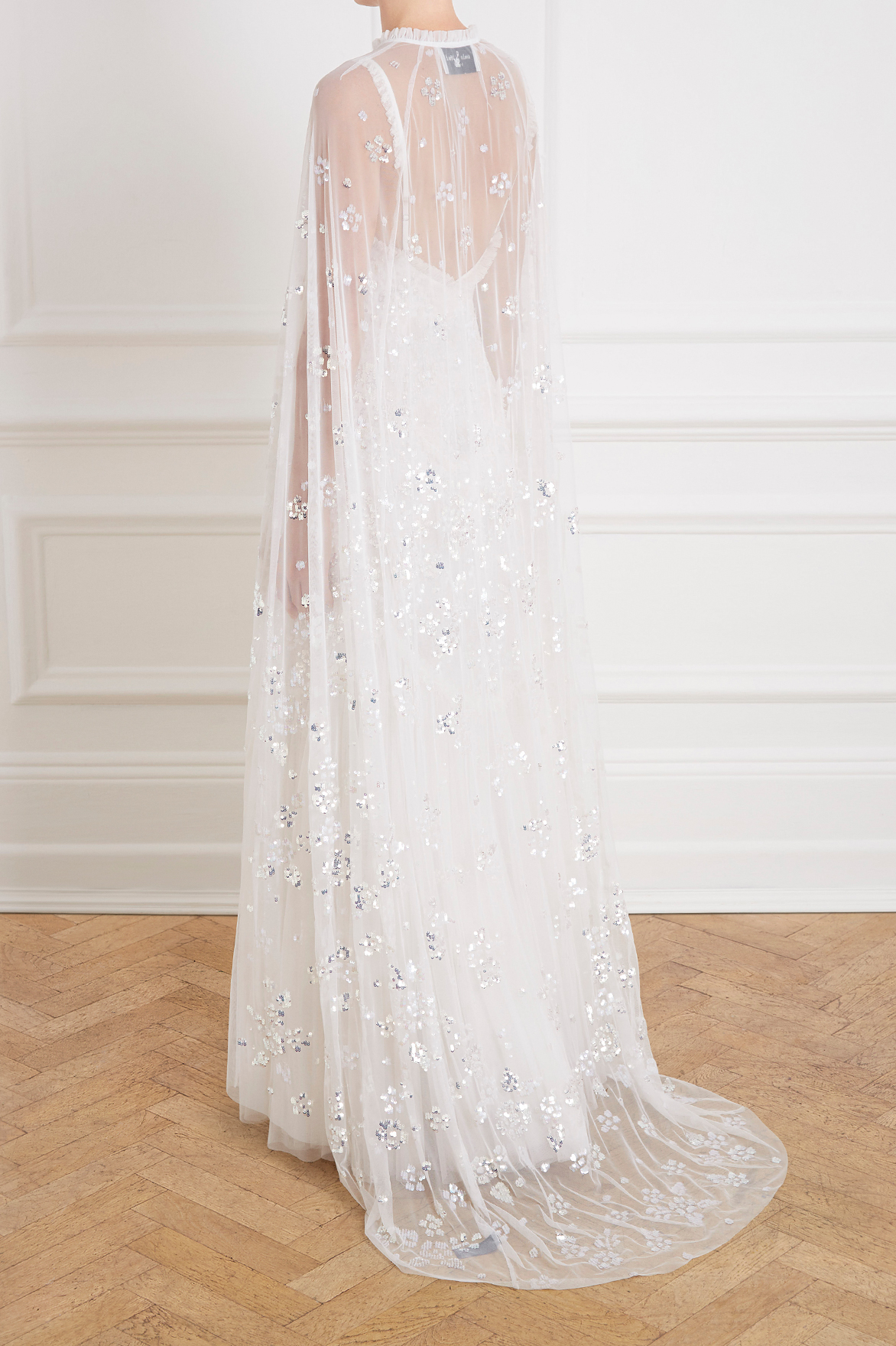 Their bridal gowns, for example, feature soft palettes, statement bows and their signature voluminous tulle skirts. The high quality and undeniable beauty of all their designs, coupled with surprisingly affordable price tags, has seen Needle & Thread pieces snapped up by some of the most prestigious stockists in the world.
Whilst veils have been a part of the Needle & Thread bridal collection since 2015, the new SS19 collection sees the introduction of the most glorious bridal capes and these are absolutely spectacular. Hannah Coffin, founder of Needle & Thread tells us more:
"Capes offer our loyal consumer a contemporary cover-up. We've launched three capes for SS19 to style with our key bridal gowns. The Degas Maxi Cape is a romantic, sheer layer of dotted tulle with a delicate diamante fastening."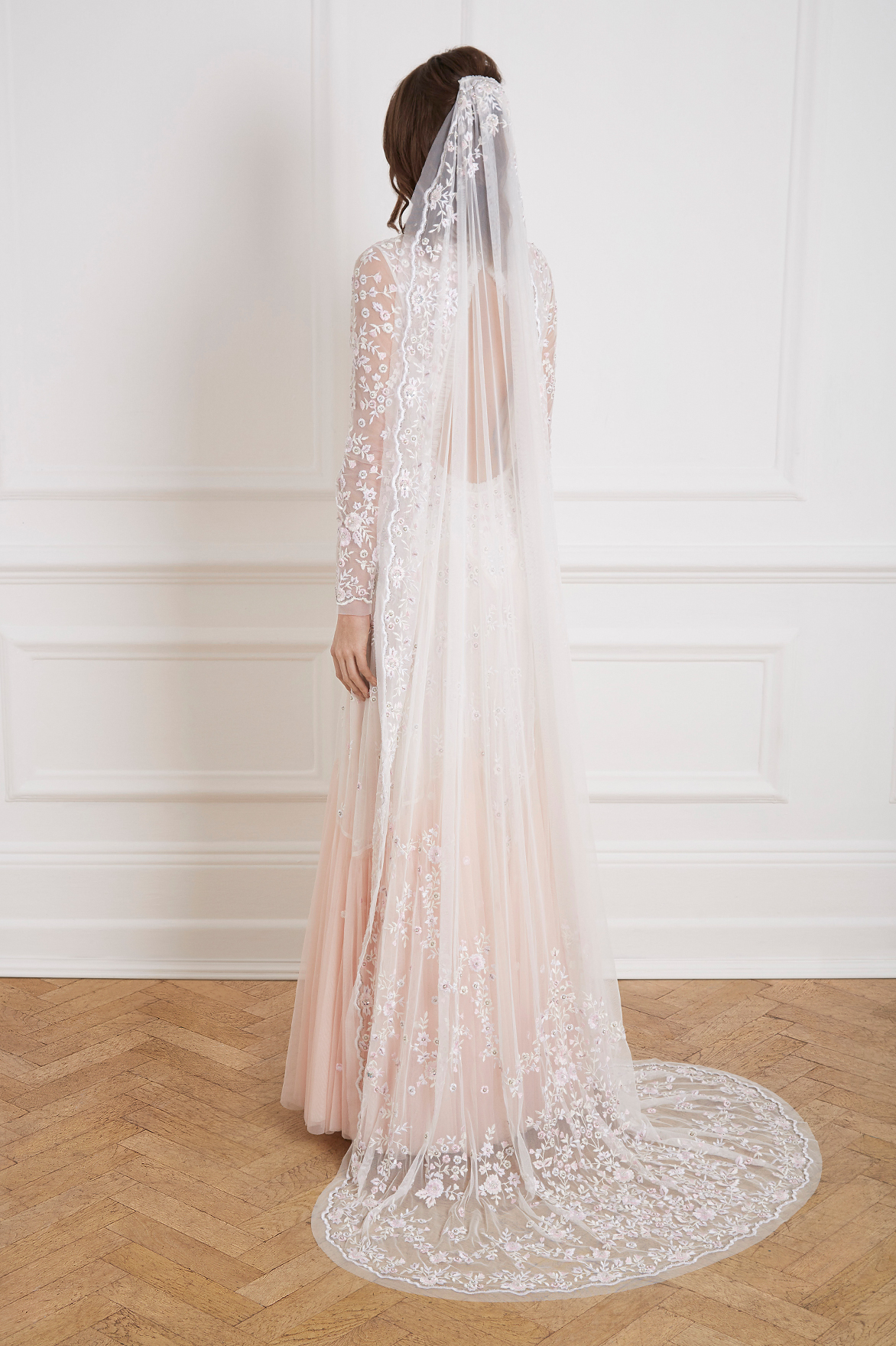 "My personal favourite is the Gloss Maxi Cape which was inspired by Victorian floral and lace motifs. This style is adorned with silver, shimmering sequins for the ultimate glossy Bridal moment. It fastens with a specially sourced crystal flower buttons at the neck."
There's no doubt about it – capes are definitely making a come-back with more and more brides opting to wear one on their big day. The wider range of styles is definitely drawing in more brides and capes give even more choice and provide another option when it comes to creating your own individual look.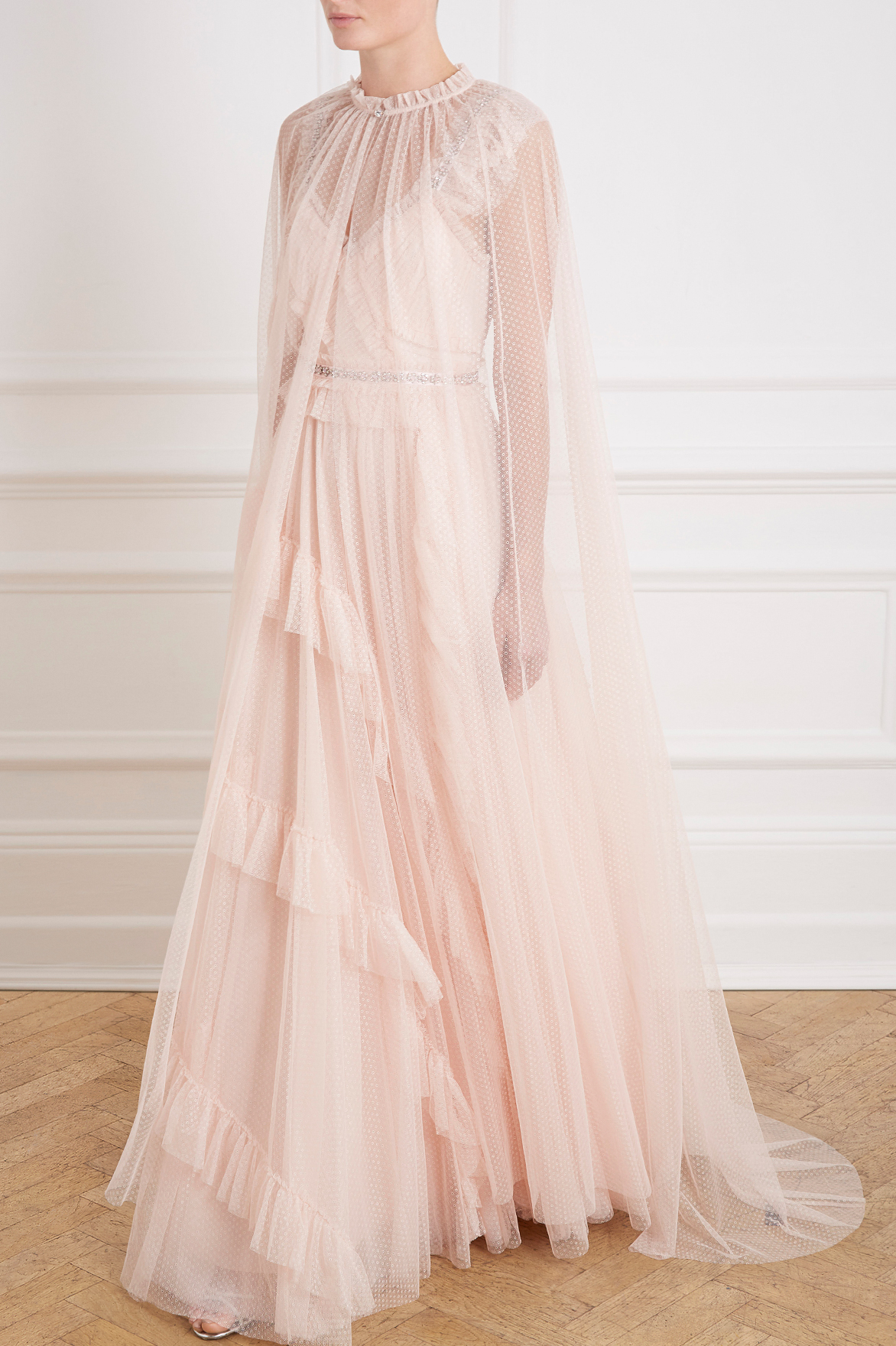 "The bridal landscape is changing and brides are now turning to their favourite social media platforms for their bridal inspiration," says Hannah. "Brides are becoming more fashion forward, and capes are definitely having a moment for us, offering the prettiest of modest layers. They're also so versatile – perfect for city, destination or country weddings alike. I'm excited to see capes perform well for us, especially as we broaden the collection and add more non- traditional colours through 2019."
"Capes are a modern and contemporary alternative to the veil, whereas veils still maintain their iconic place in our collection. Lots of Brides still value the traditional element of a veil and they continue to perform very well for us."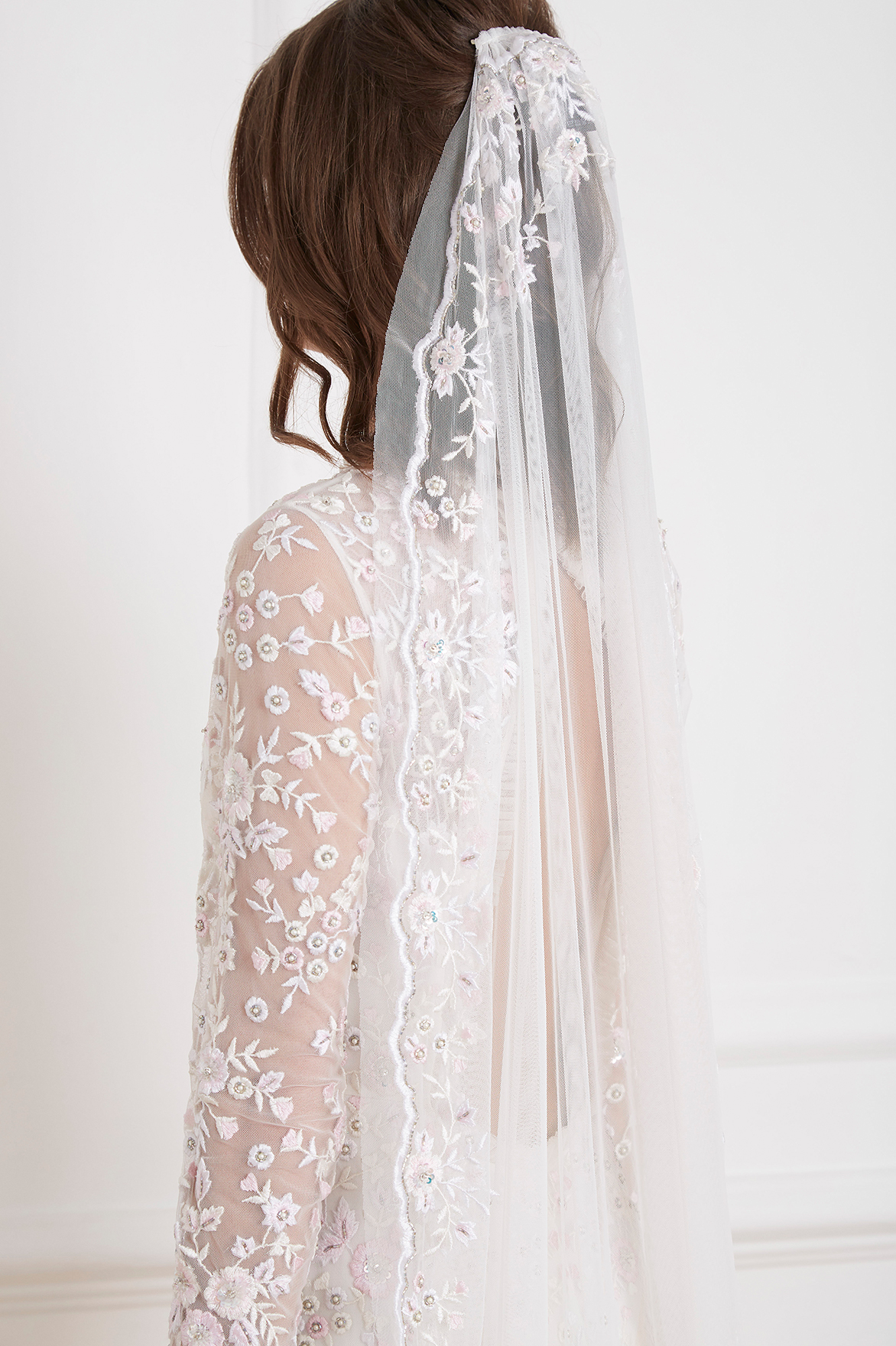 So, what should you choose to complement your gown? Are their certain dress styles that work well with a cape and some that are better with a veil? Hannah offers this advice:
"Certain brides want to embody a timeless look on their wedding day and may choose a classic look that's simple but elegant. For this style, looks finished with a veil ooze elegance and style (matched with our Tiered Gloss gown for example) This works really well for church and traditional marquee weddings."
"For brides who what to consider something more contemporary and unique, opt for a cape over our Degas gowns – perfect for a city wedding. We offer non-traditional colour gowns in shades of pinks."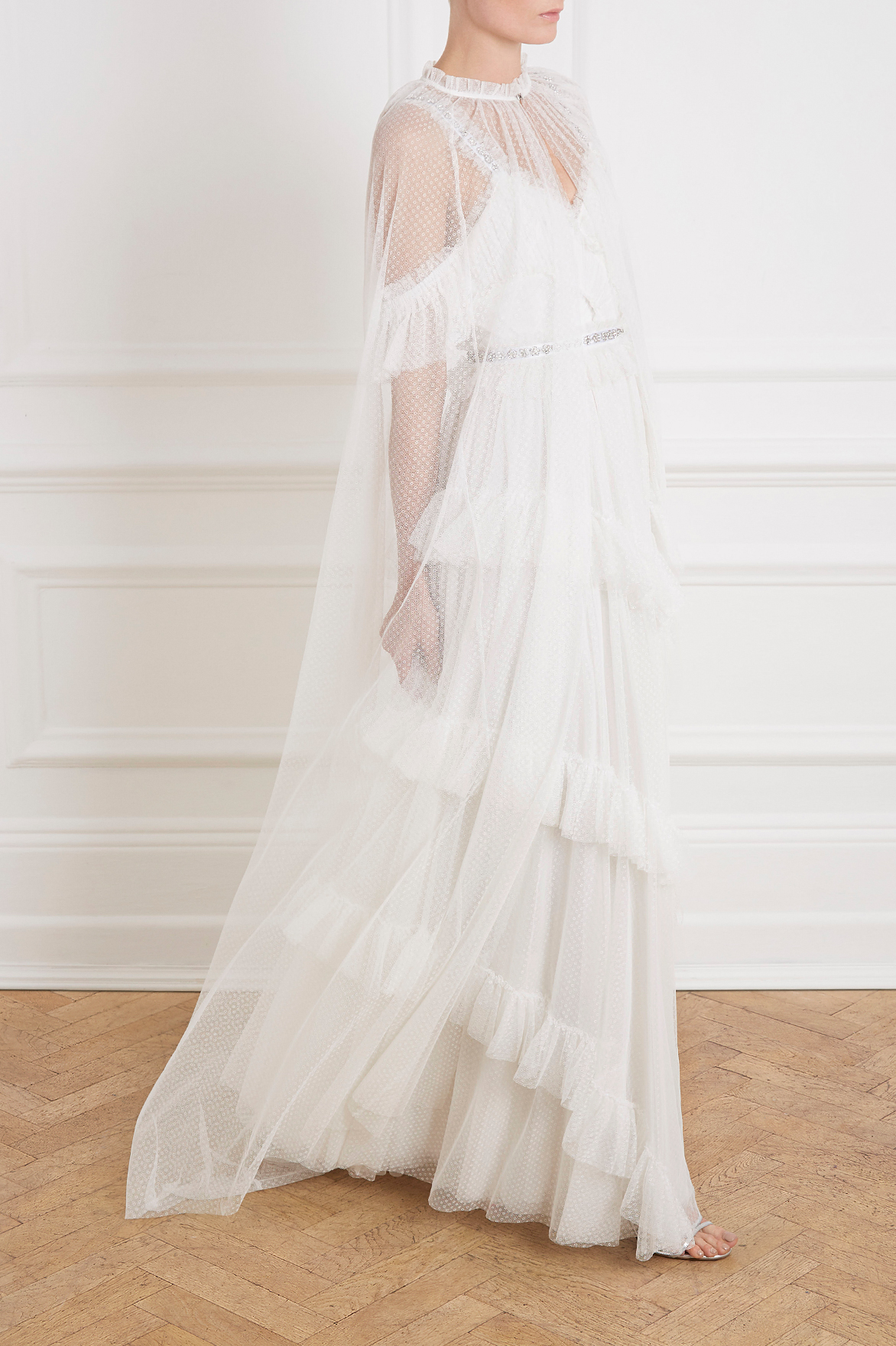 OK, perhaps my weekend is now going to involve writing invitations and finding some time to swoon over capes and veils…
To find out more about the capes and veils in the current collection from Needle & Thread and their entire bridal offering, do take a look at their website. You can shop online and find your nearest stockist too. Enjoy yourselves!
Love,
Tamryn x