Well hello and welcome, dear readers. I'm with you today to talk about that iconic bridal accessory – the veil. There's no doubting the fact that veils are enjoying a renaissance at the moment.
We're seeing more brides wearing a wider range of styles than ever before and whatever veil you choose, there's something so romantic about a beautiful veil. Today, we're joined by the accessories experts from Britten who are sharing their top twenty veils for 2019 with us and it's a joy to have their company.
Let me take a moment to introduce you to Britten as they really are a wonderful team. Based in the extraordinarily pretty Wiltshire town of Bradford-on-Avon, Britten's exquisite range of handcrafted wedding accessories are sublime; beautifully handcrafted, delicate pieces, made with love.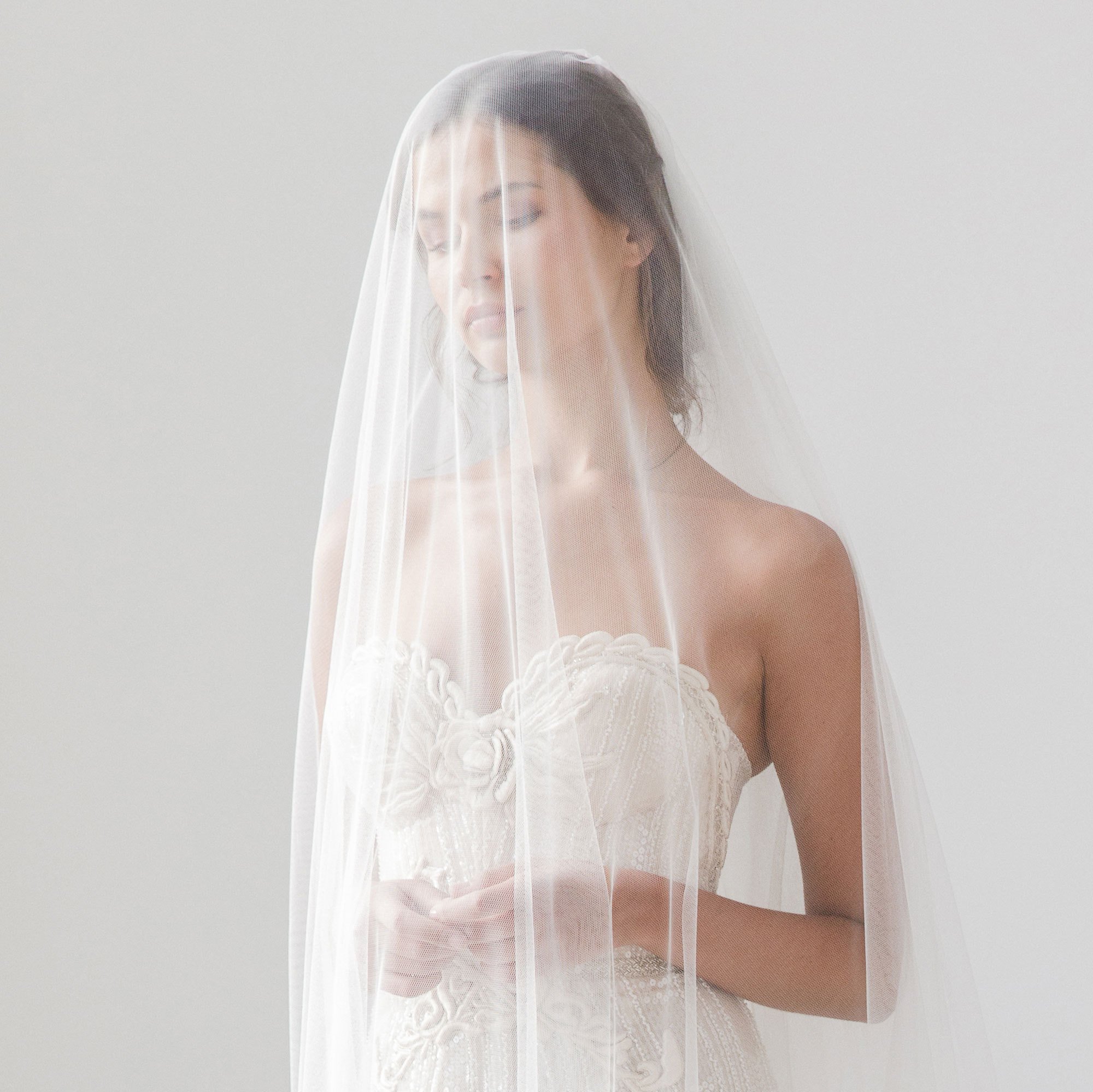 From jewellery, hair accessories and headpieces to wedding day scents, gifts and veils, their collections are perfectly designed and made in their fabulous studio.
Also, as Britten sell direct to clients, they're able to use first-class materials and luxe packaging but still keep their prices brilliantly competitive. As the team are also obsessive about great customer service, it's easy to see why Britten are super popular with brides and industry professionals alike.
So, with the introductions complete, let's turn our attention to Britten's edit of truly delightful veils, all perfect for 2019.
1. Layla
Layla is veil is perfect for romantic brides with its extra-long blusher. It comes in a range of lengths and is made from the softest silk style tulle. I love the beautiful cut edge on this two-tiered wedding veil.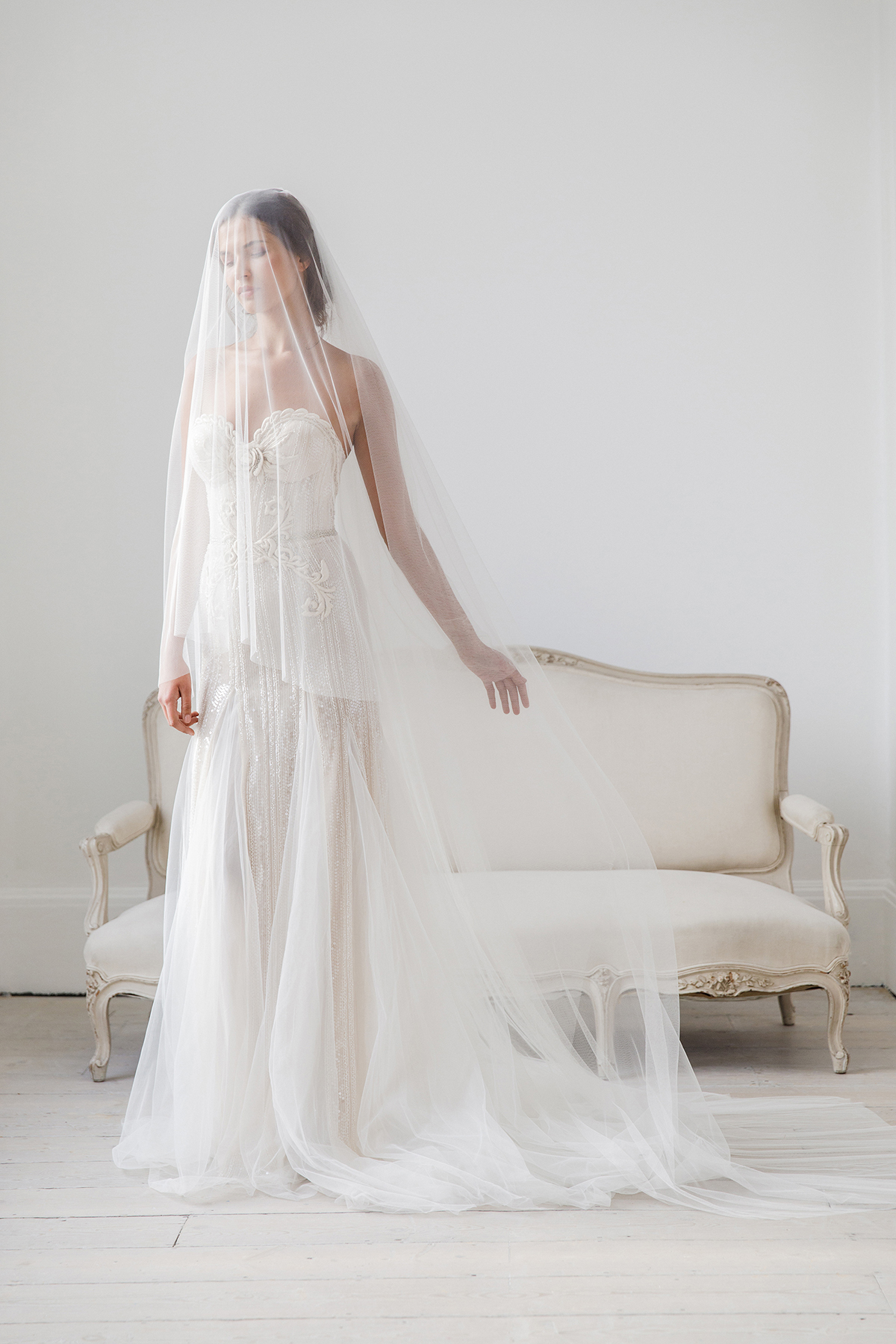 2. Amara
The lace motifs appliqued around the train of the Amara veil give it a 'Duchess of Sussex' vibe and the barely-there style of this veil makes it a joy to wear.
3. Mai
Oh, the beauty of the hand beaded crystal Juliet cap veil that is Mai! It's inspired by the veils originally worn by actors playing Juliet in the 16th century and it certainly is a timeless, classic choice.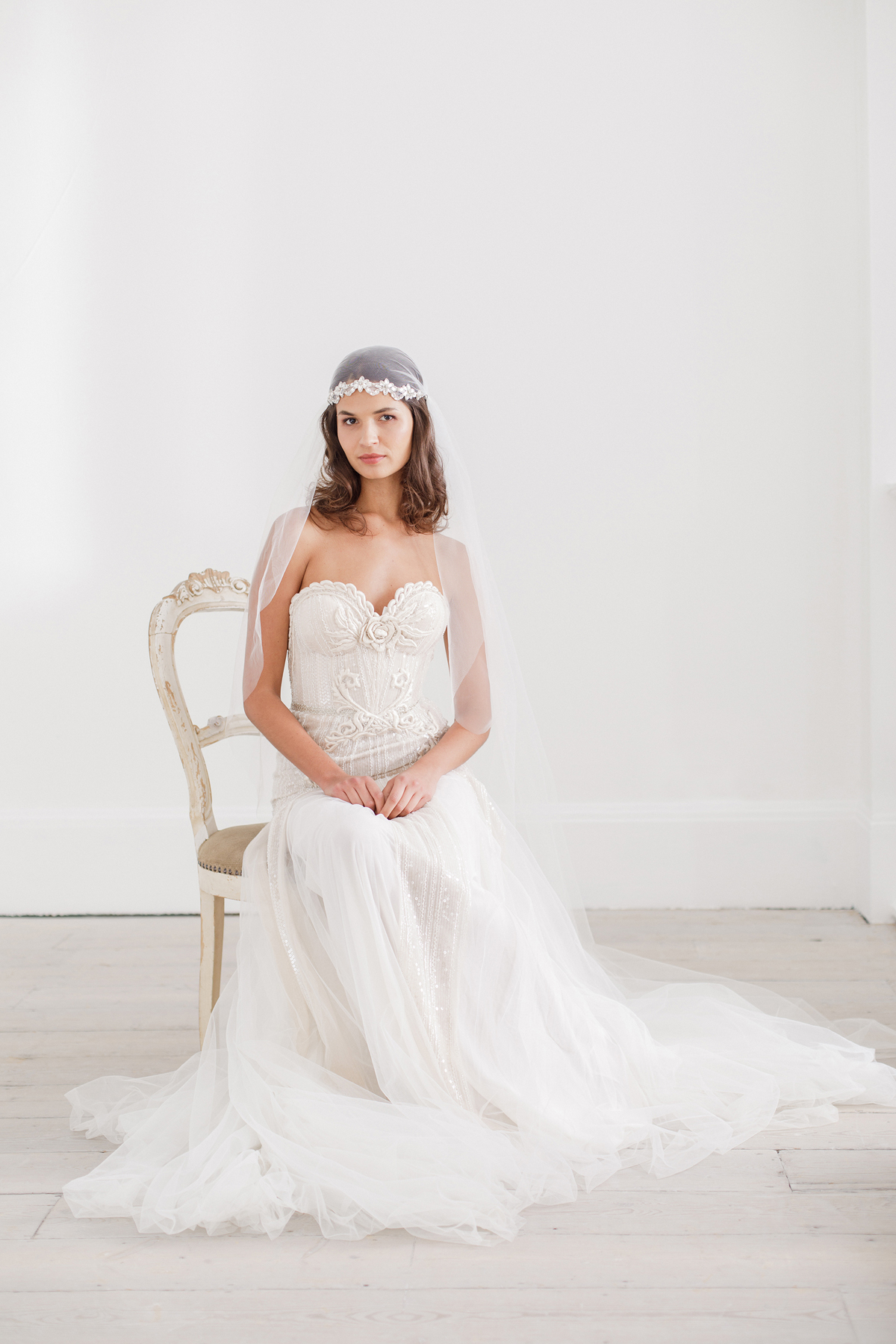 4. Mia
Mia – edged with French eyelash lace, this silk style tulle veil is the epitome of elegance. There's a range of lengths available and there's even a matching garter too.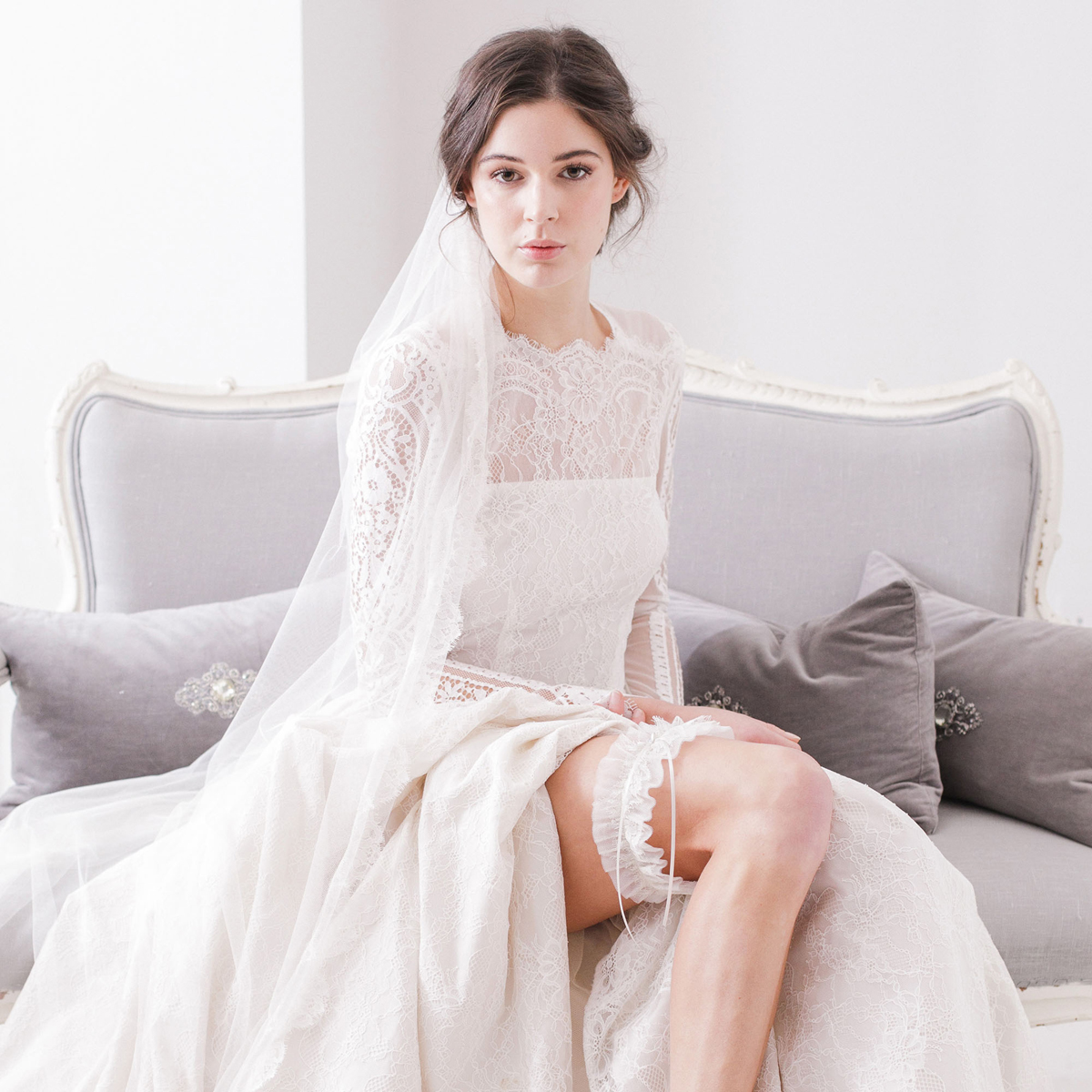 5. Imogen
Imogen – hand made in traditional tulle, Imogen comes in a choice of colours and lengths. You'll even find a tiny hand-covered hook and eye on the veil for a tiny touch of 'something blue'.
6. Mabel
I love the silk organza veil that is Mabel, and again, the barely-there look really appeals. Choose anything from a fingertip length through to a statement cathedral length veil for real impact.
7. Clarence
Clarence – a pure silk tulle gives this drop veil with a cut edge a really luxurious appearance and it feels as good as it looks. You can also choose to add a comb attachment to this veil to help you wear it securely.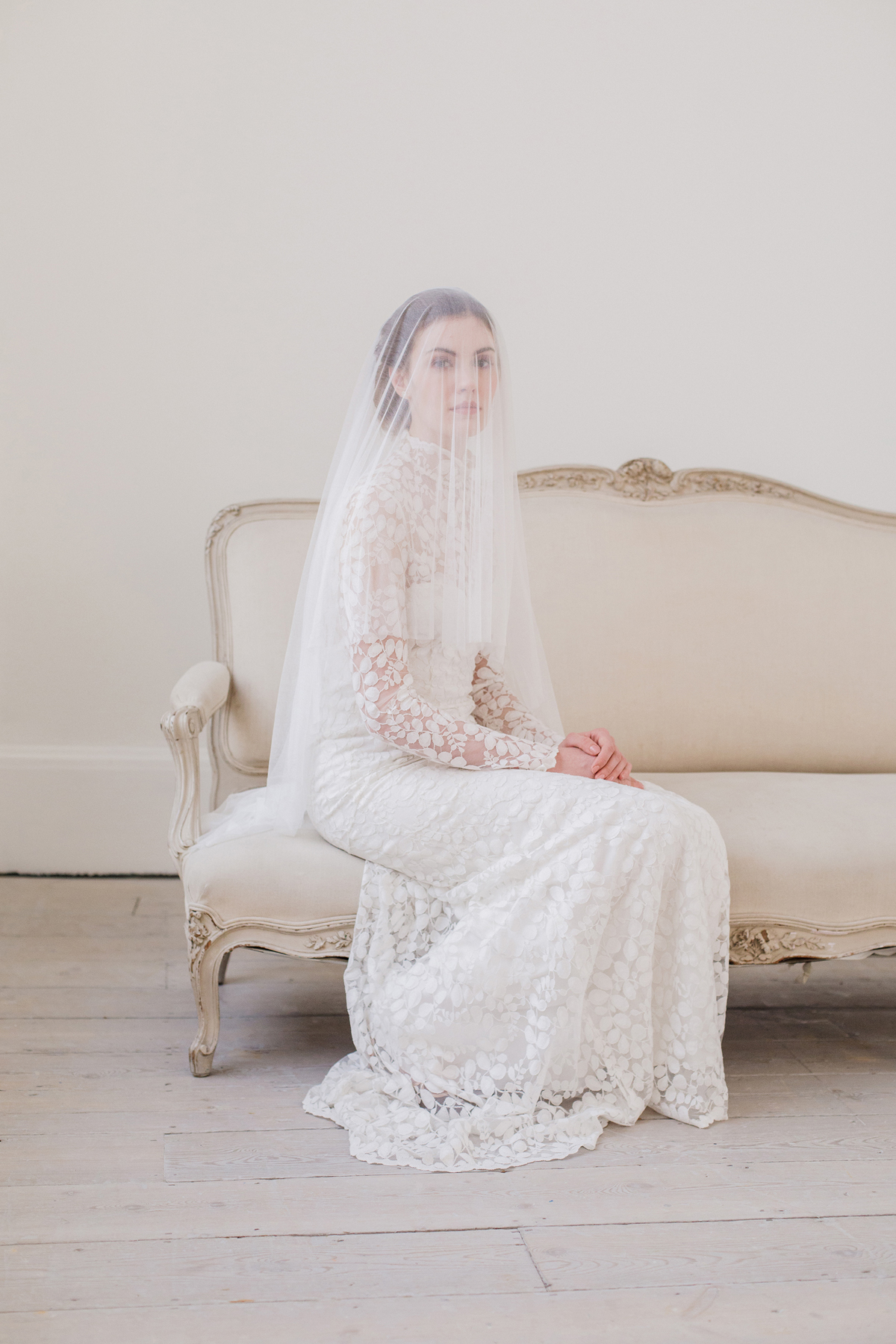 8. Jana
If you love lace, Jana has to be the veil for you. The full-length lace is edged with even more lace and as it has no gather, it's the perfect fingertip veil.
9. Atlas
Traditional tulle and a horsehair edge, Atlas is a two-tier veil with a romantic blusher.
10. Margarette
Margarette is a simply glorious wedding veil. The two-tier, pure crisp silk tulle veil has lace edge and lace motifs appliqued around the train. If you're looking for a veil with a little body, this is it.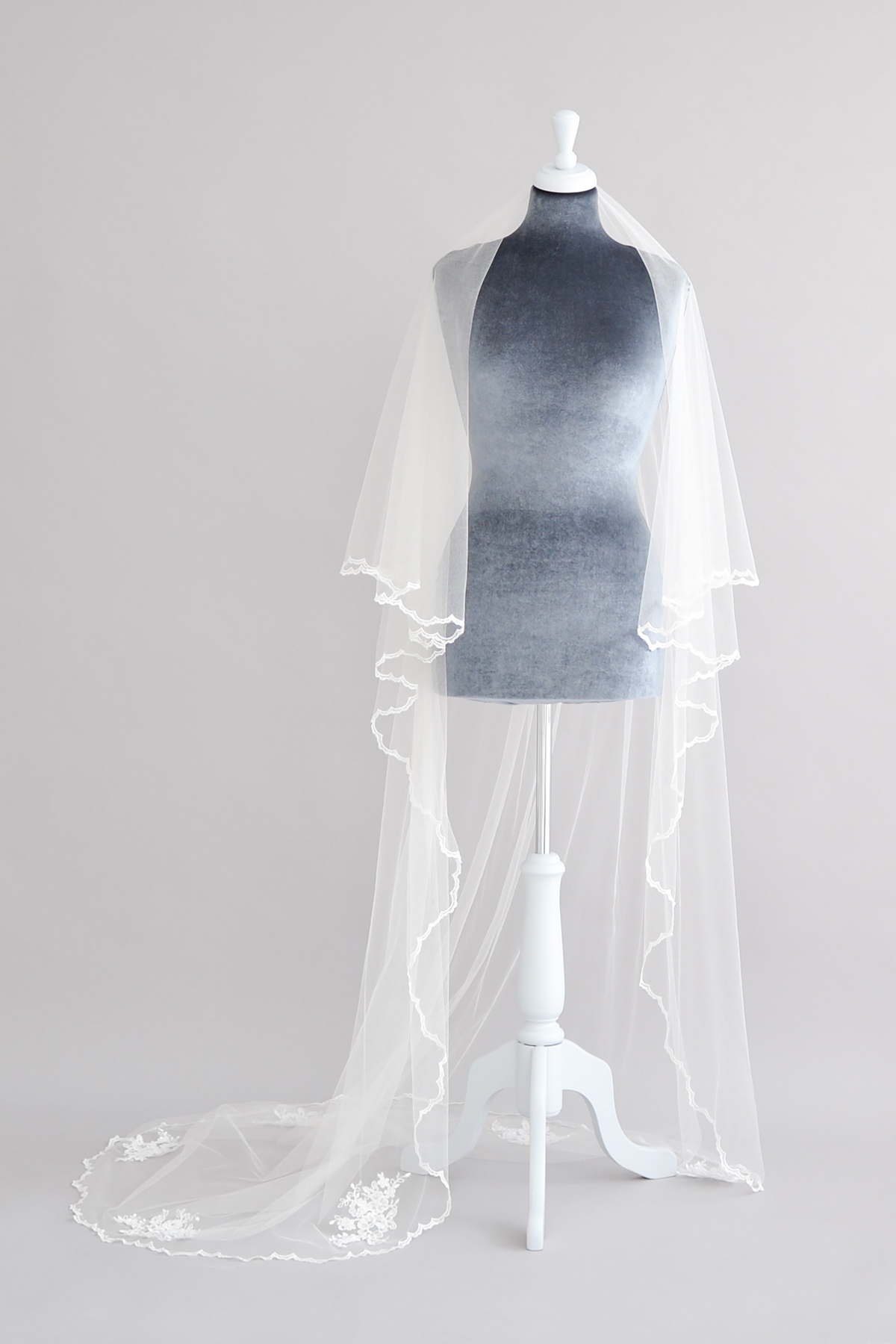 11. Prudence
Edged in Sophia lace, the Prudence veil is probably everyone's vision of a stunning bridal veil. Again, it's available in a selection of lengths with a beautiful blusher, ready to be lifted in your ceremony.
12. Ferne
If the bodice of your dress is embellished or heavily decorated, Ferne is the perfect choice of wedding veil as the lace edging starts around 50cm from the comb so there's nothing to distract from the beauty of your bodice.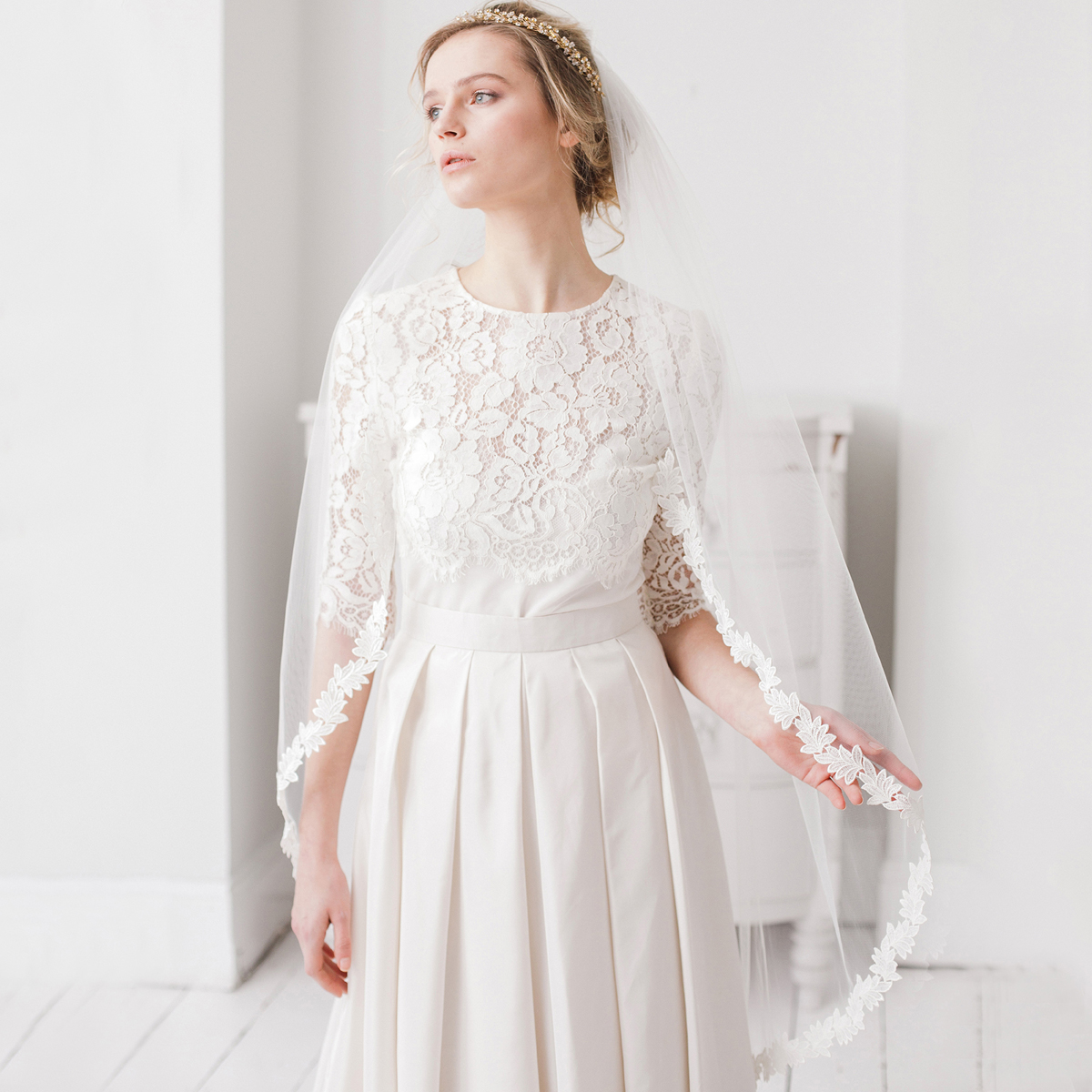 13. Jessie
For a little sparkle, Jessie offers a scattering of crystals across the top half of the veil. These twinkling additions will catch the light wonderfully, particularly in candlelit ceremonies.
14. Adeline
Adeline – the delicate lace edging to this veil is just heavenly. It's another of the 'barely there' veils so you can also add a hair vine or delicate headpiece to your look.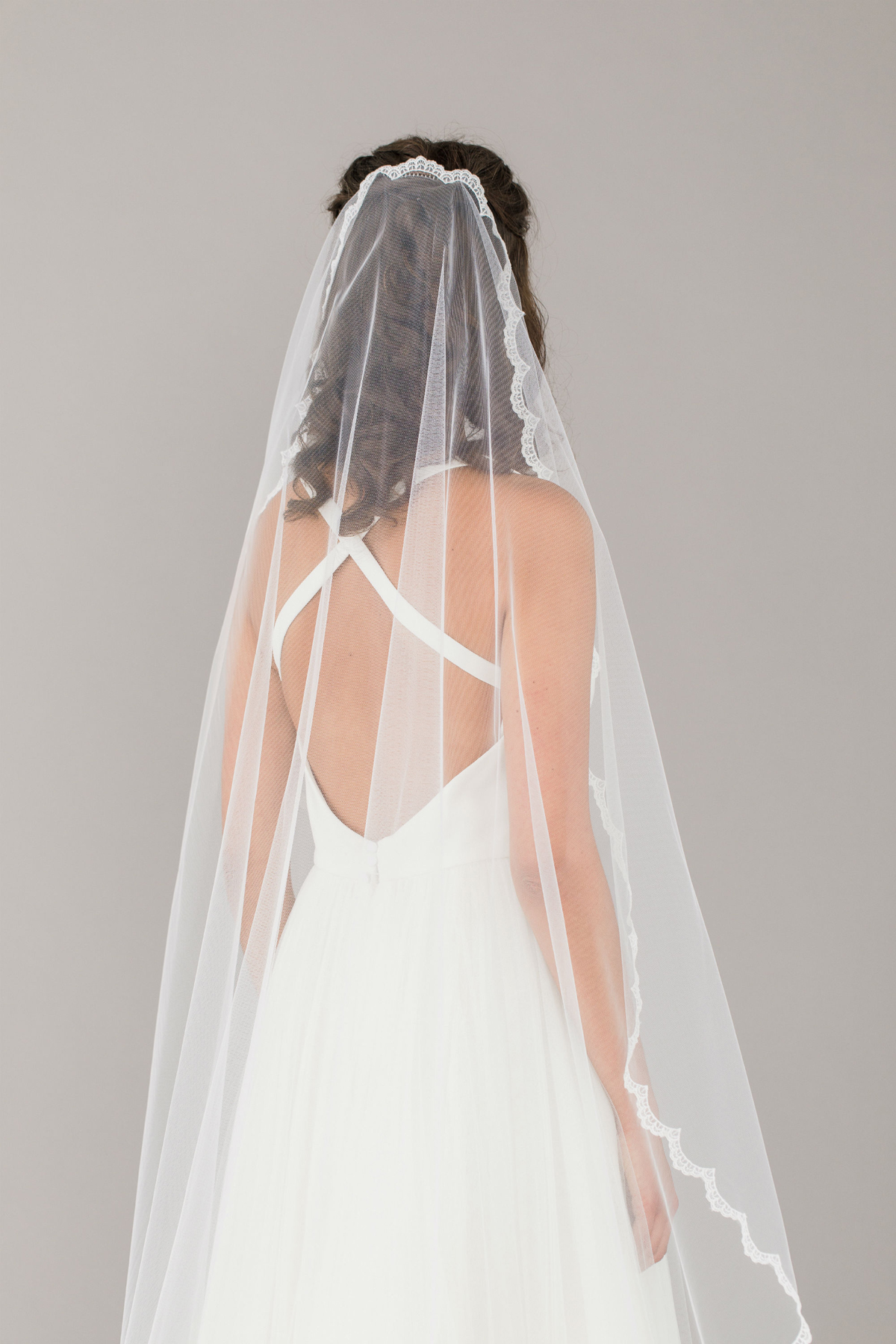 15. Honor
Made from the purest soft silk tulle, Honor has a cut edge and is also slightly narrower than other veils, ideal if you'd like to add just a hint of veil to your bridal ensemble.
16. Ilona
Ilona – this barely-there veil falls in the most adorable way and again, can be worn with a multi-piece or hair vine. Silk style tulle makes this a truly gorgeous veil.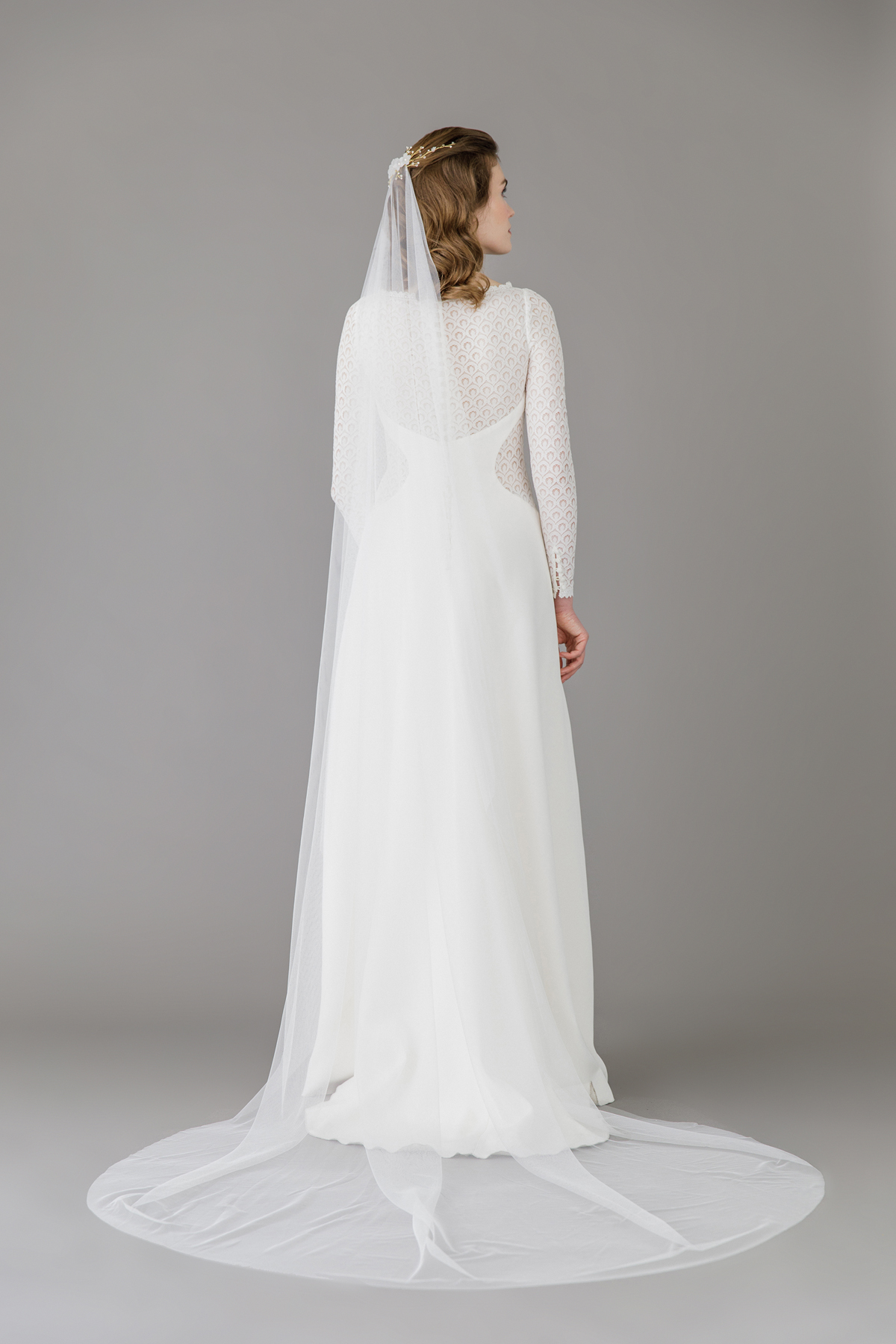 17. Elena
Elena – for a touch more shape and structure, this pure crisp silk tulle veil could well be your perfect accessory. The blusher also gives this design a real touch of bridal elegance.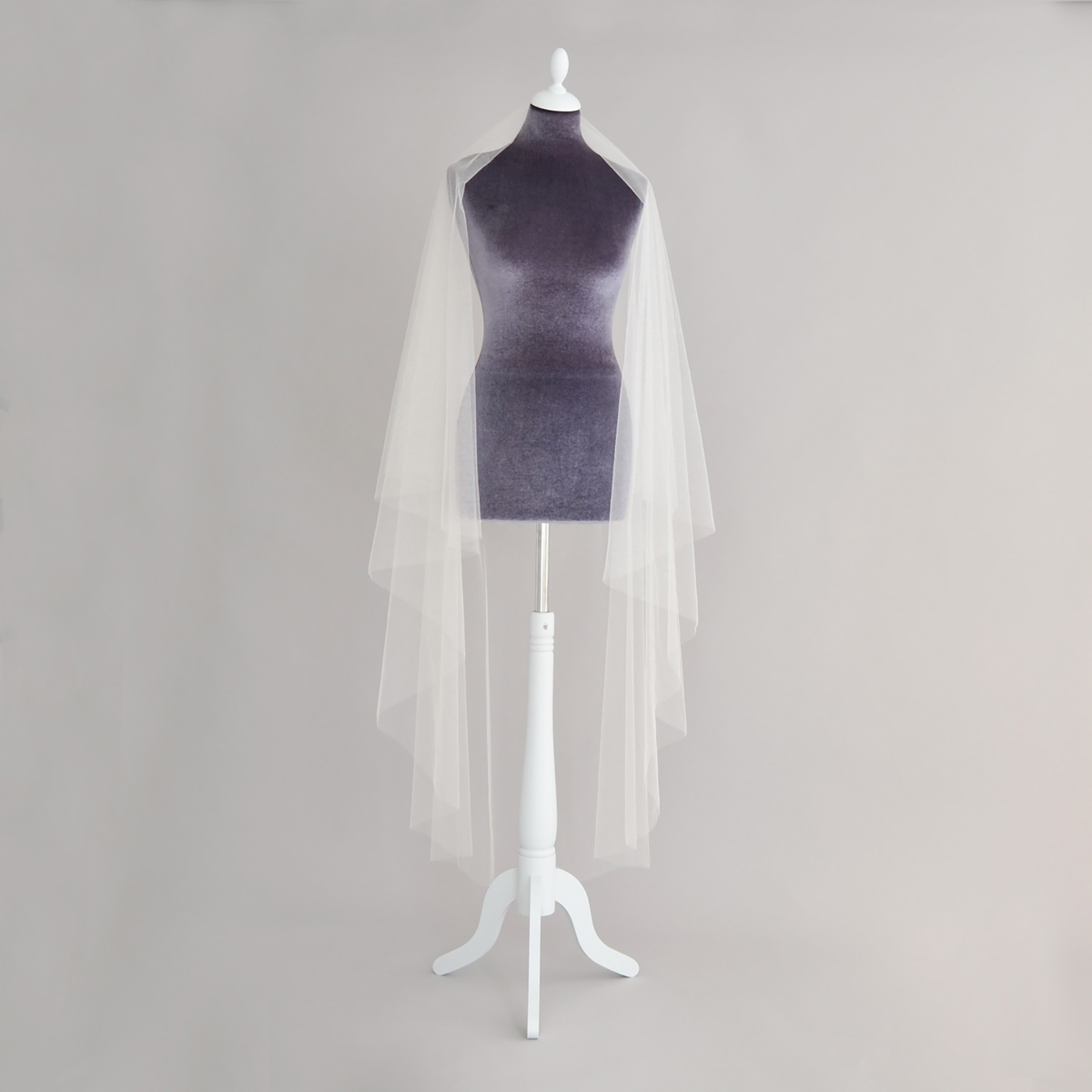 18. Marina
Marina – stunning illusion tulle, crystals and a 70cm blusher all combine to make this veil something very special indeed. You can wear it with hairpins or a headpiece or request that a comb is added to the veil for you.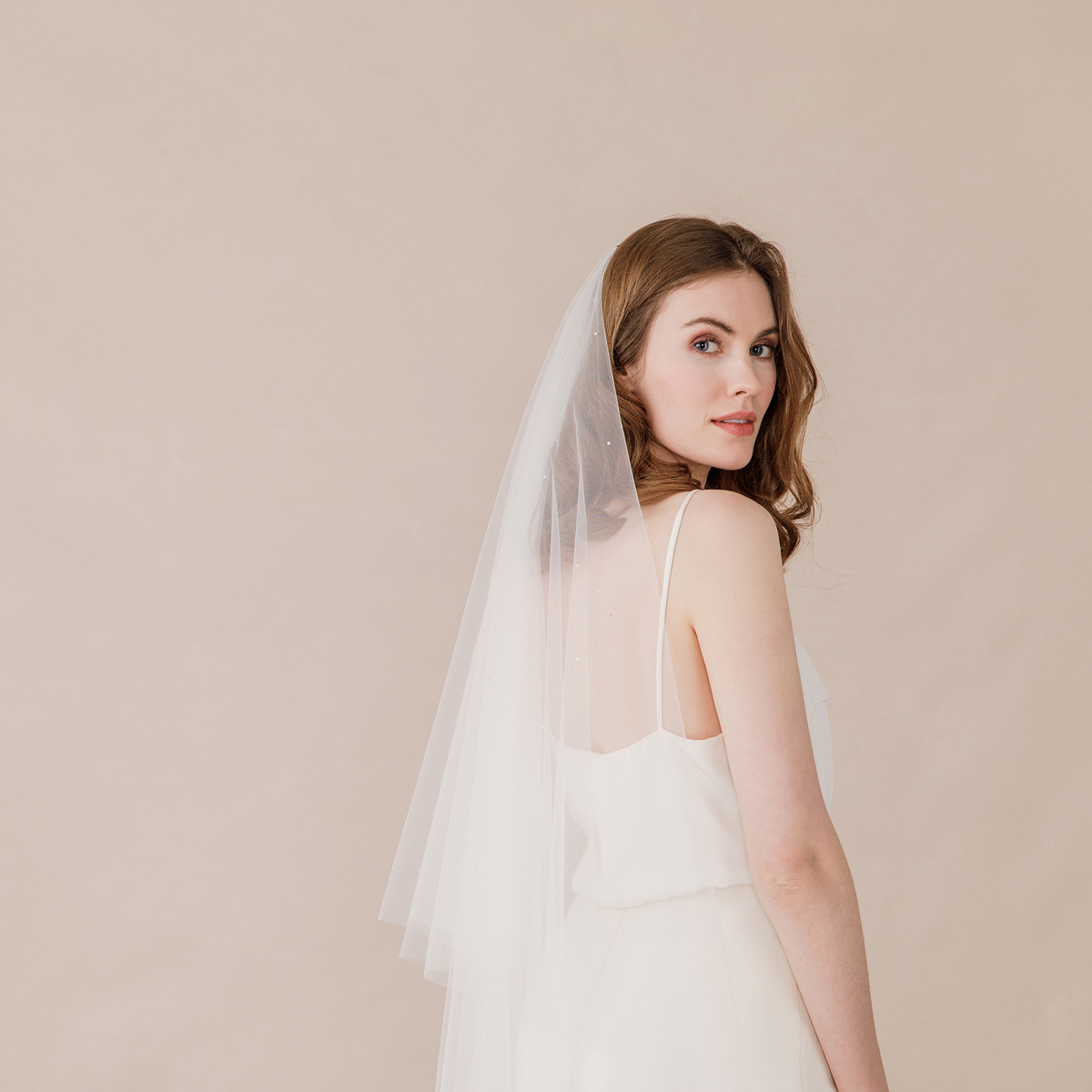 19. Paisley
Paisley – the floral lace motifs appliqued along the edge of this veil are made all the more special as they come with silver metallic thread running through them. This cut edge design comes in a range of lengths and will arrive beautifully packaged.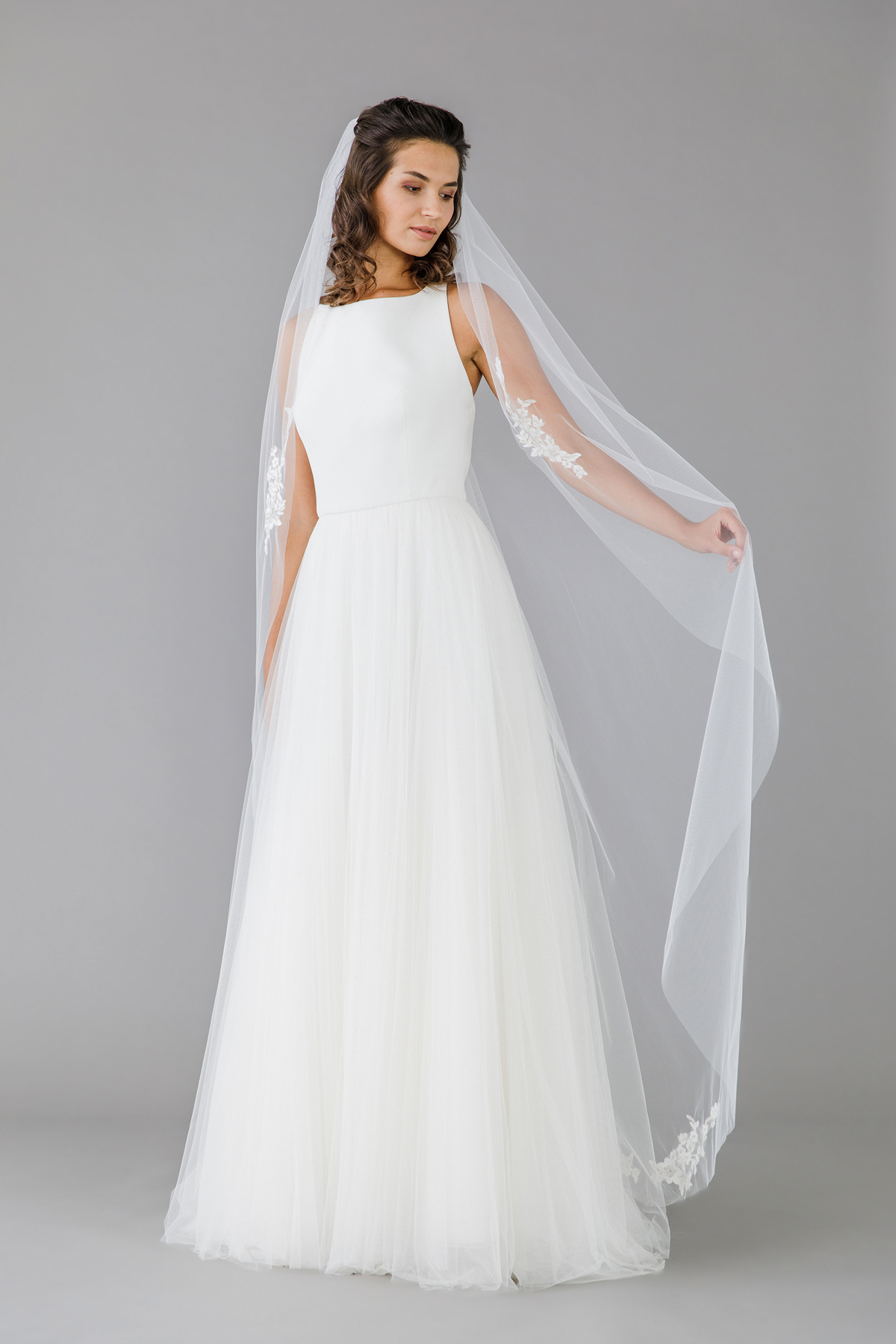 20 – The Bespoke Option
Finally, I just have to mention Britten's bespoke option. If there's something you'd really like or if you'd like to customise a design to suit your style, just get in touch to talk more. Prices for bespoke veils start from £148 and you'll also receive samples along with the final design.
_____
To find out more about bridal veils and accessories from Britten, do visit their dreamy wedding veils and accessories website to view and shop the collection.
Love,
Tamryn x