Hello lovelies! I do hope you're all well. I've been on a little hiatus from writing wedding features recently as we welcomed a beautiful baby boy into the world in early November, but my how I've missed them!
I'm now back with a 3-month old in tow and ready to dive right in again, with today's gorgeous wedding making my job an easy one. Taking place in one of my favourite wedding venues in my home city of Manchester, it's a vintage love affair and a celebration of friends, family and commitment. So without further ado, shall we meet the happy couple?
Make up artist Lisa and physiotherapist Clive said their I Do's on 23rd June 2018 at the uber cool Victoria Baths in Manchester; a recently restored old Edwardian swimming pool and Turkish Baths complex.
"We chose the venue for its Art Deco vibes, vintage style and Manchester heritage. We visited a lot of venues but this one really stood out to us as it has a large room and the most beautiful jade green coloured tiles and slight decrepitude."
Images by On Love And Photography
"When planning the wedding and looking for my dress, I browsed Love My Dress daily and found a lot of suppliers via the blog, which I took a lot of inspiration from. I found The White Closet, a bridal boutique in West Didsbury, Manchester, on The Little Book and I'd also seen them featured on Love My Dress. The dress I chose was by Halfpenny London and was the third dress I tried on. It was perfect."
"Made from satin, flattering on an hourglass figure, simple yet extremely glamorous and had an elegant bow at the back. I also love the designer and was hoping to find something from them. I wanted something that was uncompromisingly my style, very old Hollywood and simple yet effective."
"My shoes were from Charlotte Mills and I had a half penny in them on the day. The soles read 'something old, something new and a half penny in her shoe', which I loved. They were cream with a gold trim. I  wore Hypnotic Poison by Dior as my wedding scent. It's a very dark vanilla and bitter almond fragrance and the regular smell I wear. I love that it's a very strong, assertive scent and it has vintage gusto."
"Planning the wedding myself was a really fun but quite challenging experience. I love old Hollywood and my partner loves rustic local food so I managed to incorporate the two into our day. It was basically a big vintage tea party! We hired vintage china, which really created the look and reached out to local suppliers to supply the catering."
[JP-VIDEO]
"Other accessories included a nice, ornate Art Deco style hair slide I bought from Claire's. I browsed really expensive hair slides but in the end, this one was perfect. I didn't wear much other jewellery because I wanted to focus on the waved Hollywood hair by Bethany at the Vintage Beauty Parlour. As I'm a make up artist myself, I did my own make up."
"To get to the venue I hailed a pink black Manchester cab and Clive was dropped off by his family."
"We only wanted to spend money on things we really cared about and transport wasn't really as essential to us as the venue was, which was very extravagant!"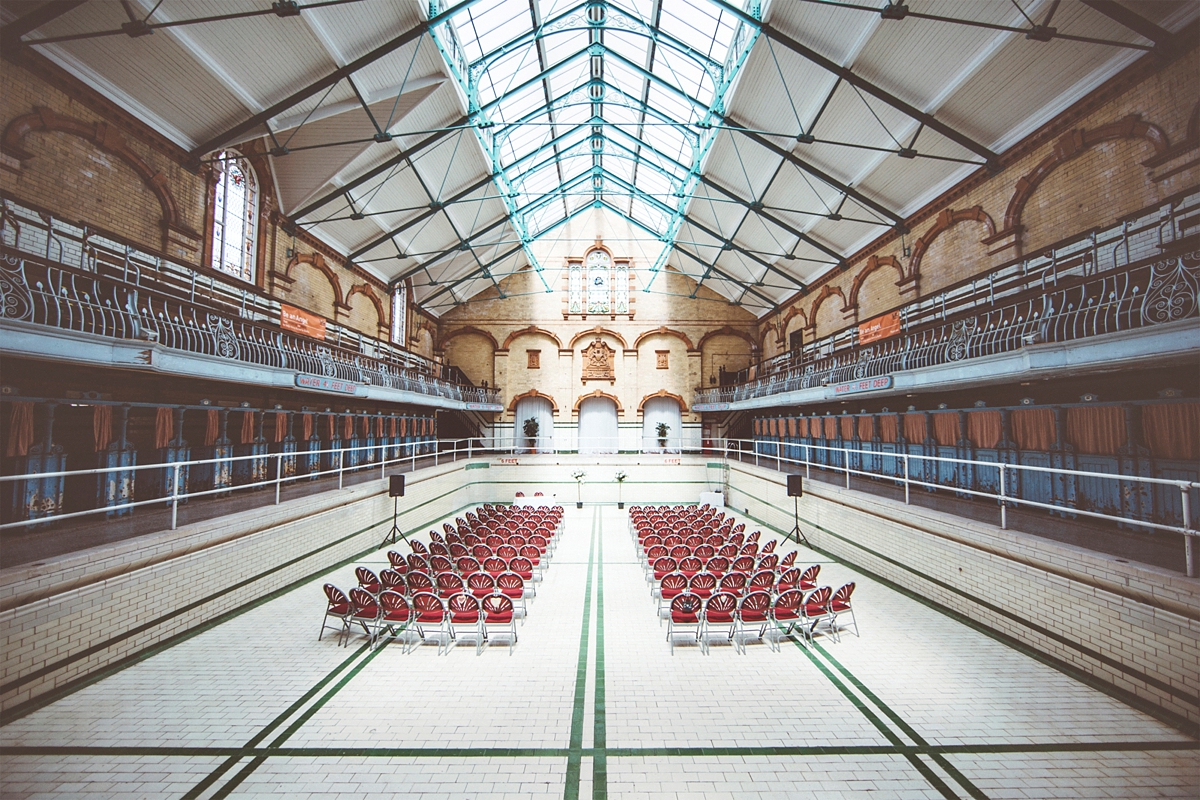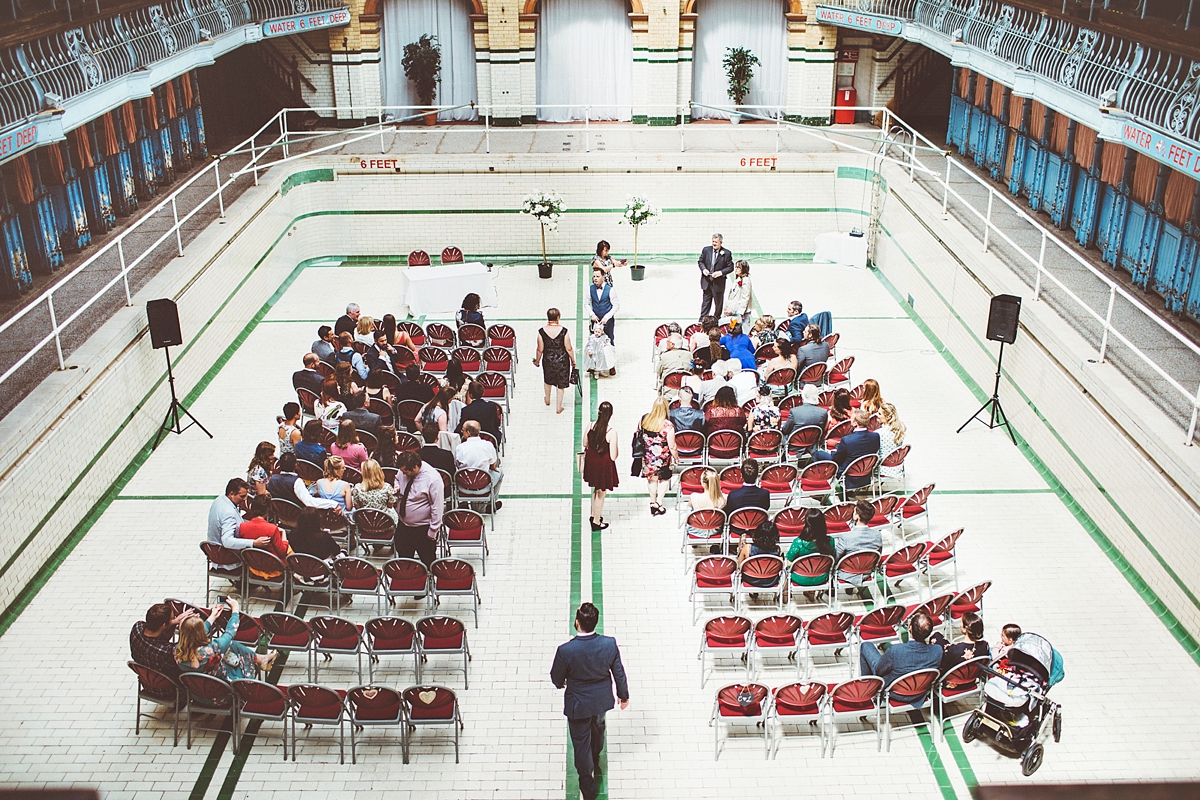 Having vaguely met in passing whilst at school, the couple eventually reconnected via mutual friends and Facebook 10 years ago and were engaged 4 years before getting married.
"Clive proposed to me in Death Valley in the USA. I had told him if he was to propose then to do it somewhere private and Death Valley was the most deserted place! And it's beautiful. I think we knew pretty much straight away once we'd reconnected that we really liked one another and would end up together."
"Once I arrived at the venue, my dad walked me down the aisle to an acoustic version of Soft Shock by the Yeah Yeah Yeah's who are one of my favourite bands. We didn't write our own vows as we were quite happy with the regular ones."
"In a way, we're quite private people and felt we just wanted to do the formal joining of people vows and keep our private intimacy to ourselves. We're also not very 'lovey-dovey' people and are much more sarcastic, but it was still all very romantic and a very sentimental day filled with intimate moments. The speeches in particular were lovely."
"I loved the whole wedding day but I think the best moment was when I saw the look of pride on Clive's face when he saw me. I also really liked the whole getting dressed up at the hotel with Bethany the hair stylist and Giulia before the wedding and having breakfast with my mum. Walking around the old building with my new husband taking pictures was also a highlight and seeing the little children playing and dancing – my daughter was a darling."
"We're both non religious so in terms of the ceremony, it was very important to us to avoid any form of religion and to instead celebrate our family and friends and the union of commitment and equality."
"We kept some traditions such as my dad walking me down the aisle, and we used a local registrar from Manchester City Council, who was a very lovely man, to officiate the ceremony."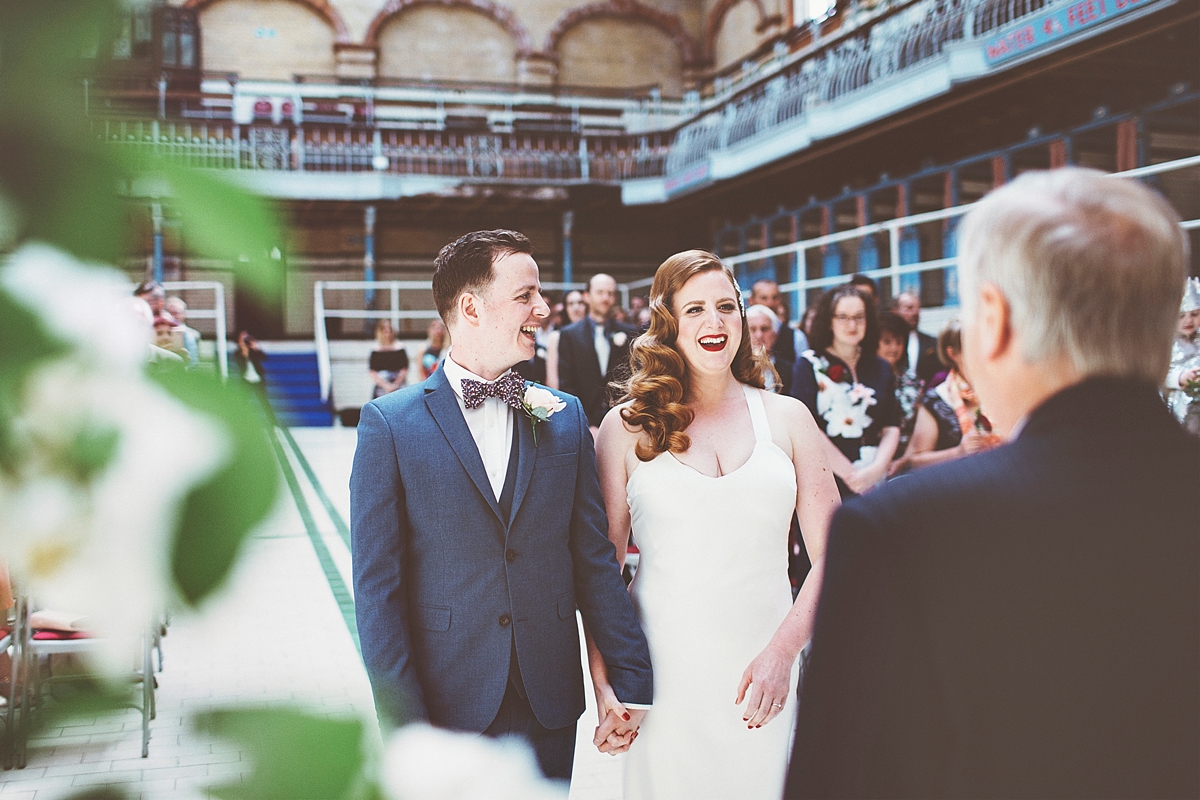 "For our readings during the ceremony, my dad read 'I Want To Be Yours' by John Cooper Clark. Neither Clive or I are gushingly romantic people and the poem is about a very tangible kind of love. Having been together ten years, I wanted something to reflect the every day, but also highlight how important it is to have humour in a relationship. John Cooper Clark is also a local Salford lad."
"My engagement ring was a heart shape diamond from Fraser Heart. I did quite a lot of shopping around as I knew I wanted a heart shape and kept coming back to this one. We got our wedding bands after the wedding day from Baroque Jewellery in Brighton."
"I got this incredible five diamond half-crown shape we just stumbled upon on our family holiday. It fit like a glove even though it was a random find. Clive had a silver band from Topshop but I'm getting him a silver band made."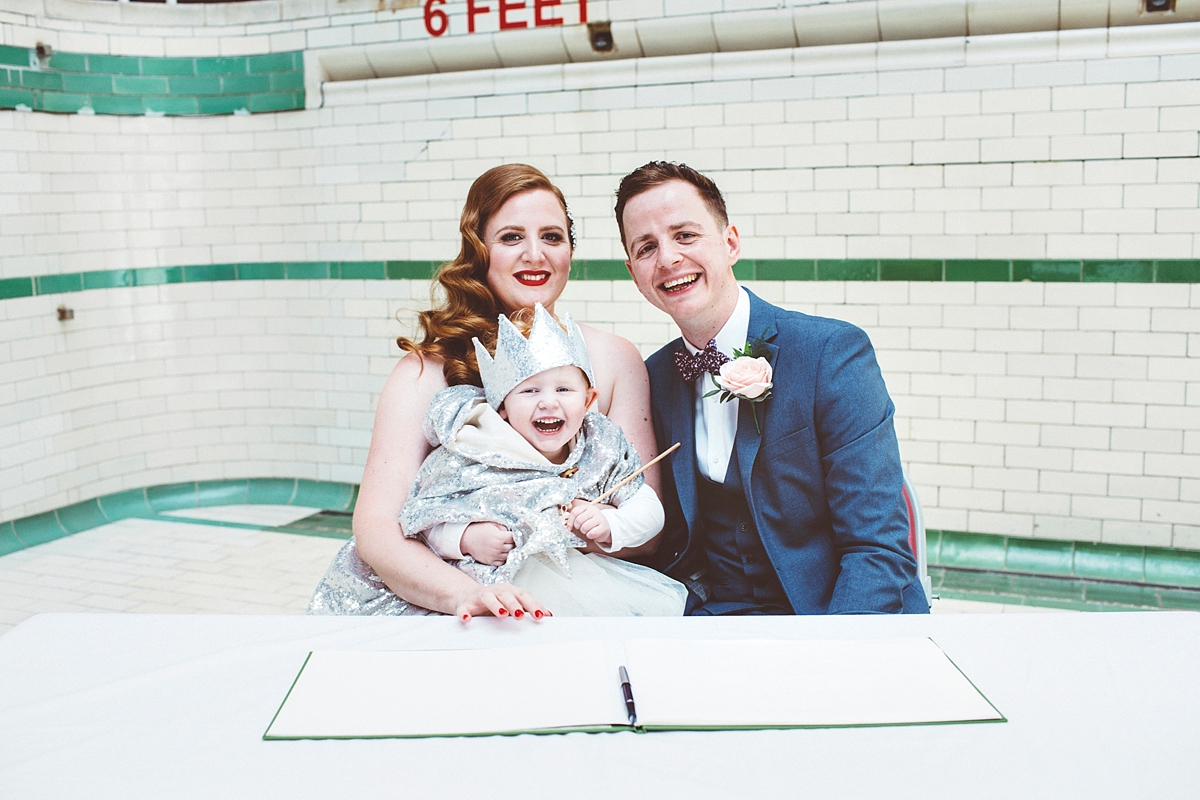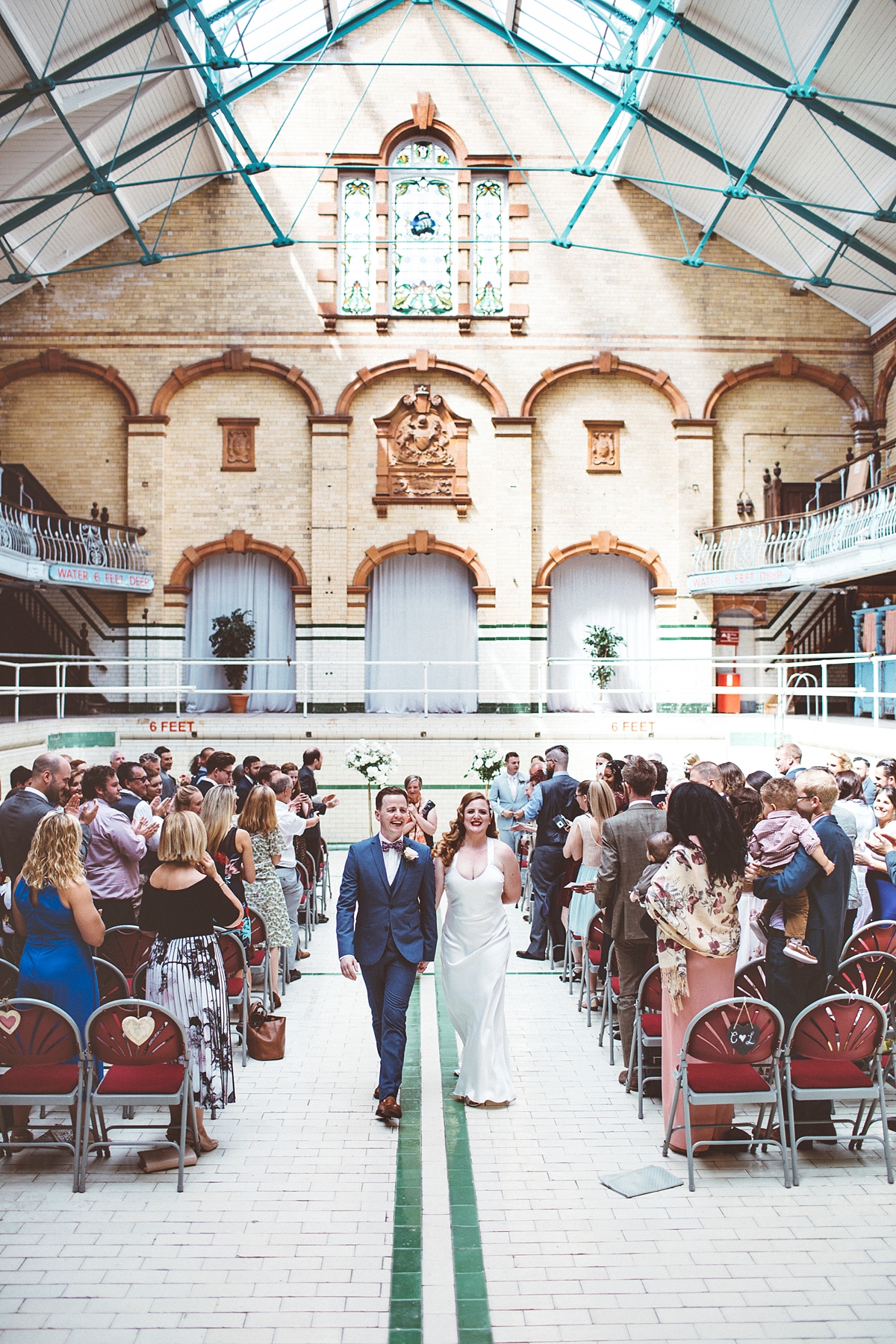 "Clive wore a lovely blue suit from Next with brown loafers and no socks. We had originally bought him a suit from Hugo Boss but it just wasn't perfect and Next suits fit him so well."
"He also got a tie from Moss Bros and wore Chanel Allure Sport as his fragrance, which I love."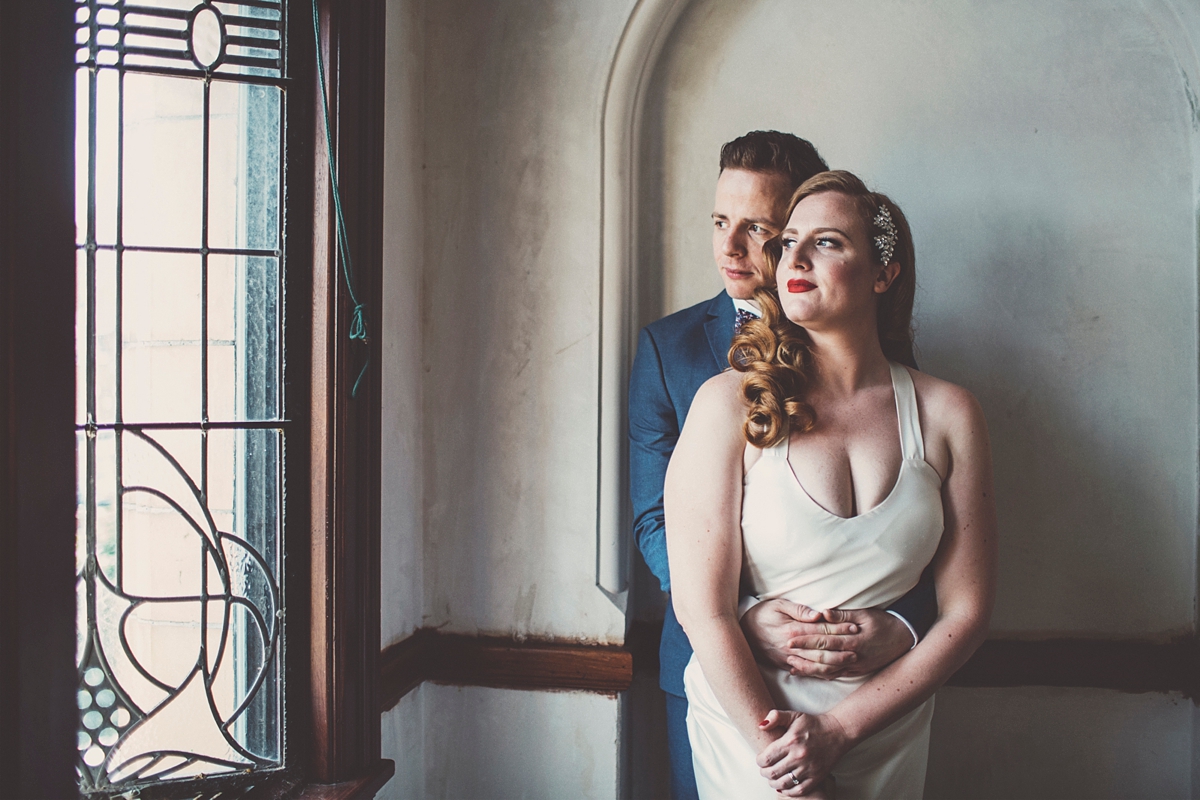 "Clive's groomsmen all wore mismatched suits with red rose pins from Flower Studio MCR to give some unity to the bridesmaids and groomsmen. Alison at Flower Studio MCR also provided all of our flowers on the day."
"I did a class of wreath making with her at the Manchester Women's Institute and I was determined to use a supplier I had a connection with. She was patient with me and seemed to really care about making it perfect for us. I did some research on Pinterest and she picked up on some of the flowers I'd pinned and also made some suggestions herself. My bouquet was beyond exceptional."
There to capture the day on camera was husband and wife photography duo Giulia and Ben, from On Love And Photography.
"Giulia and her husband were amazing. I met them at the Magpie Vintage Wedding Fayre at Victoria Baths and fell in love with them instantly. One photo of theirs caught my eye in particular."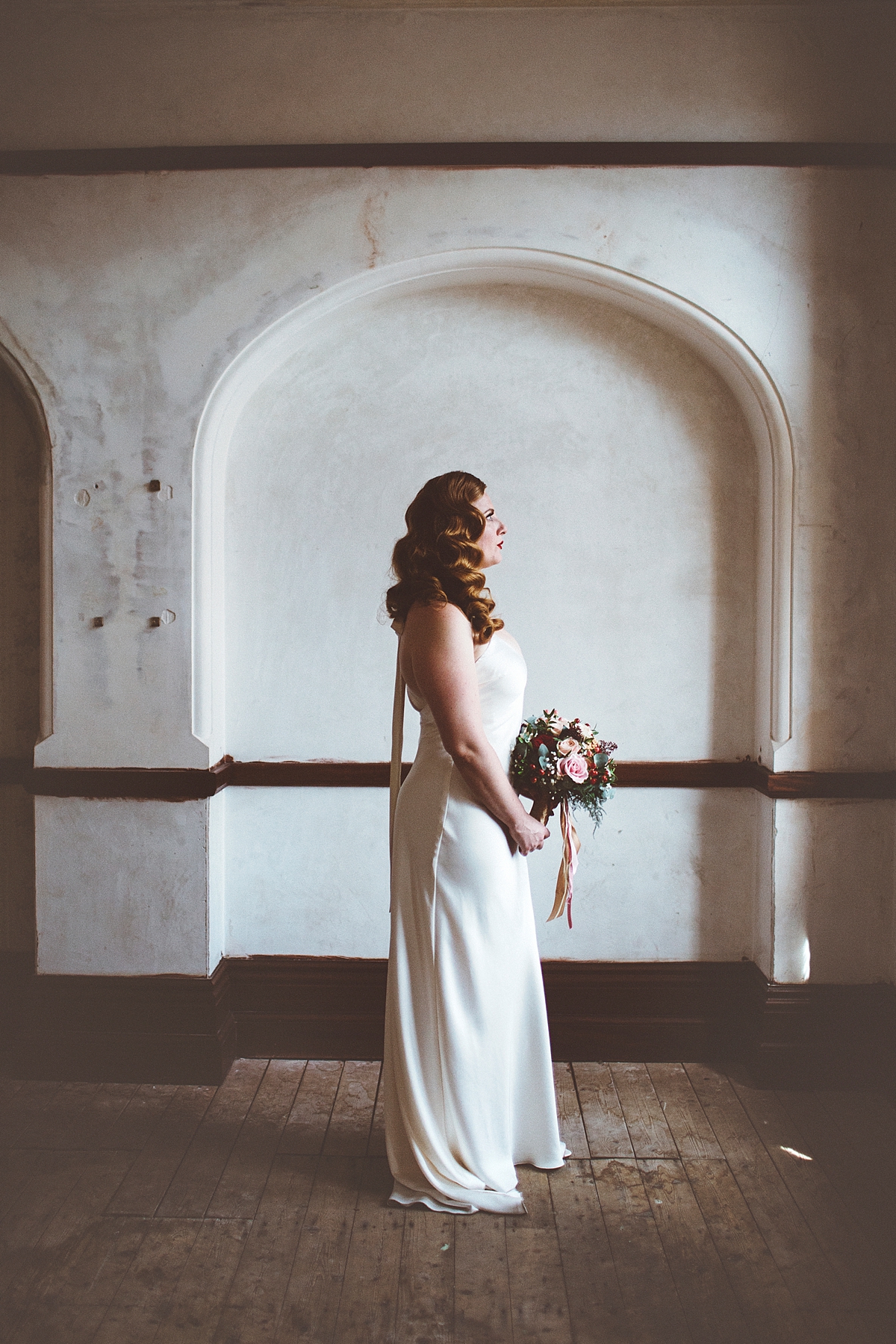 "It was a bride with her back to the camera and it was just so beautifully simple. Also the quality of their prints was exceptional and I have a real thing about paper. All of their prints were soft and dreamy but with a real intimate feel. I also looked at their website and Instagram but I was already sold."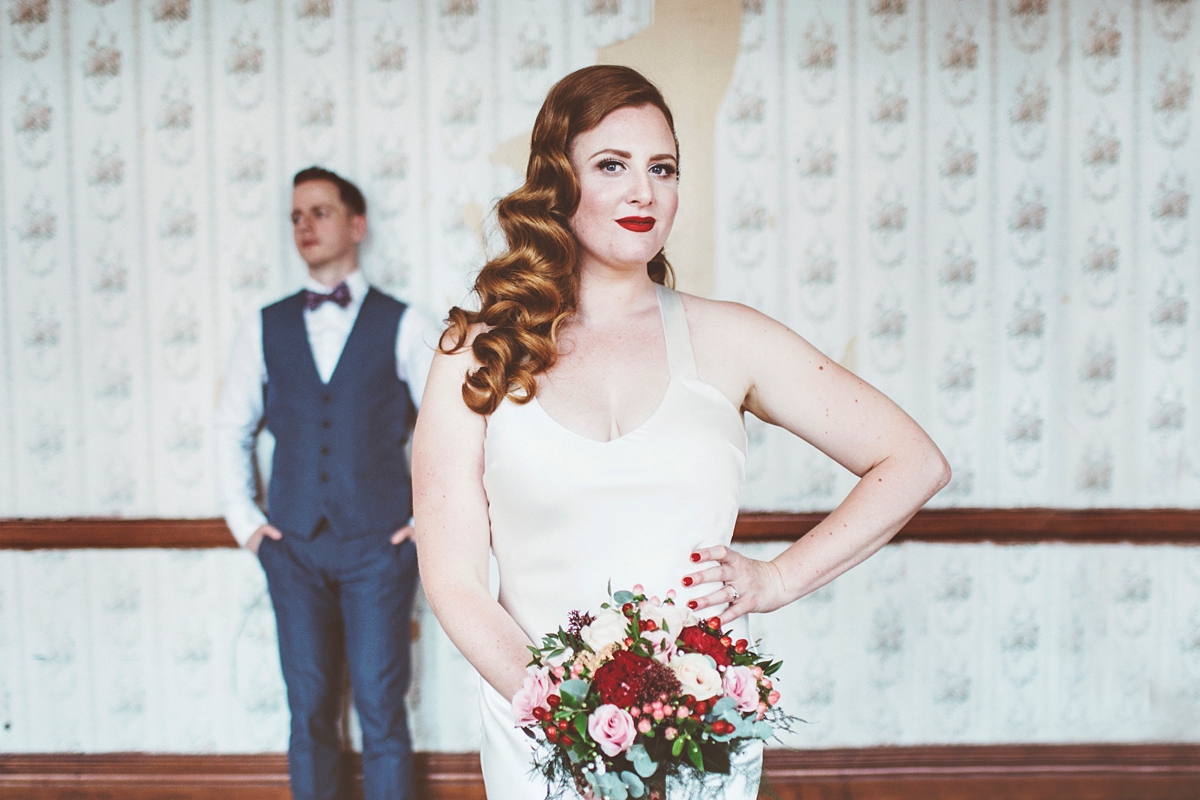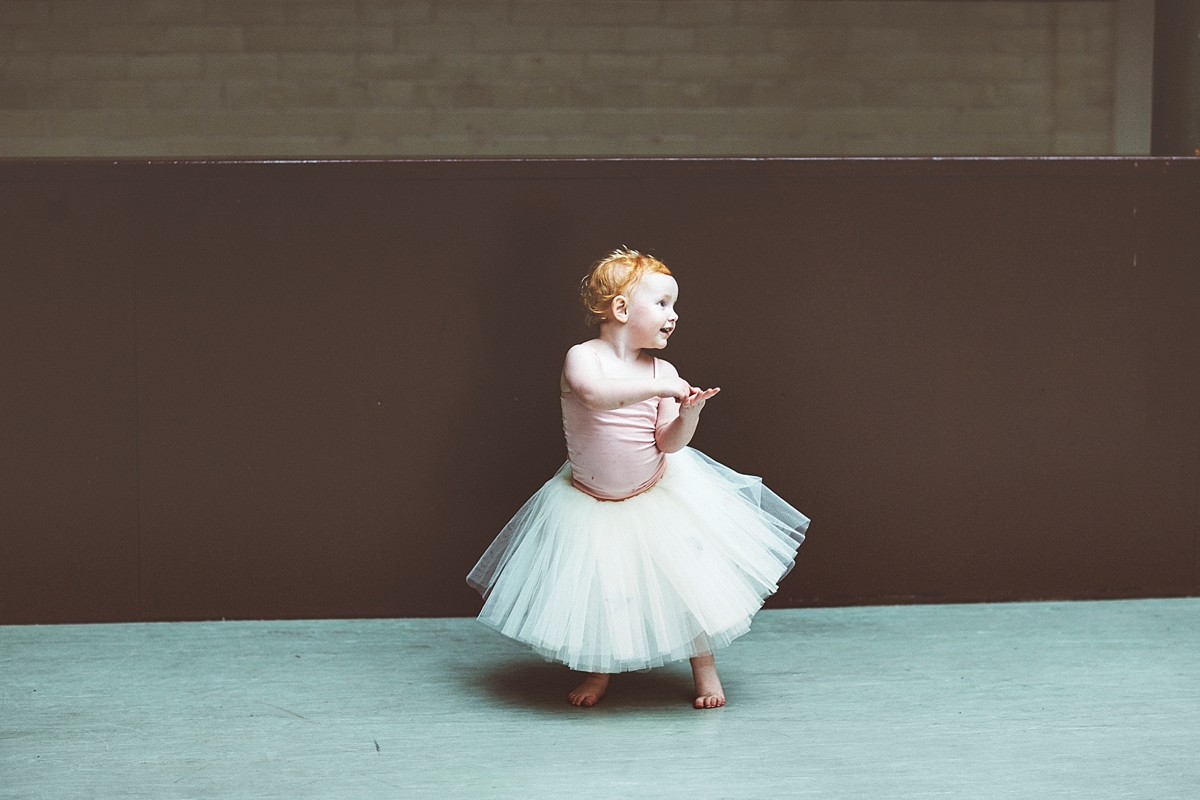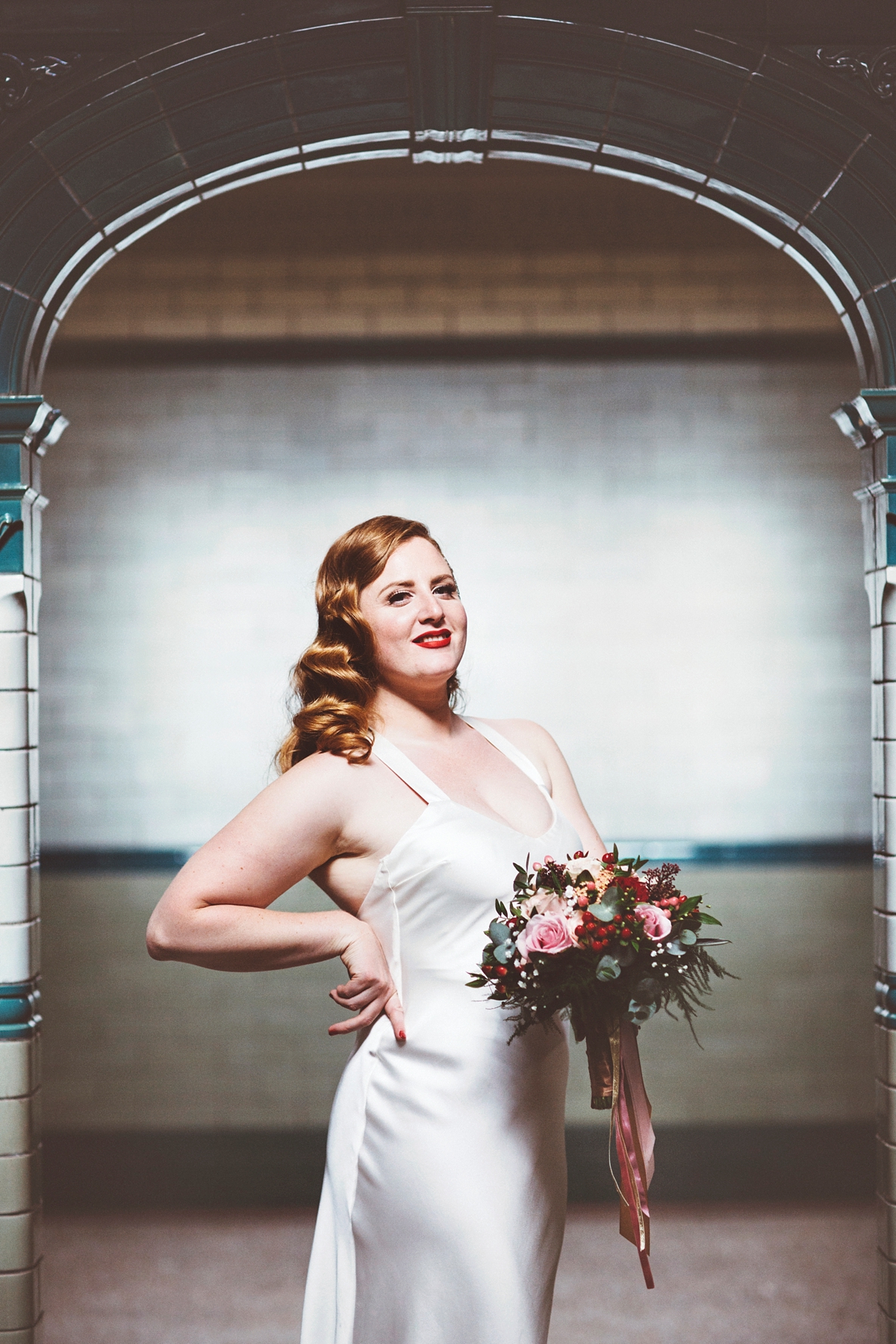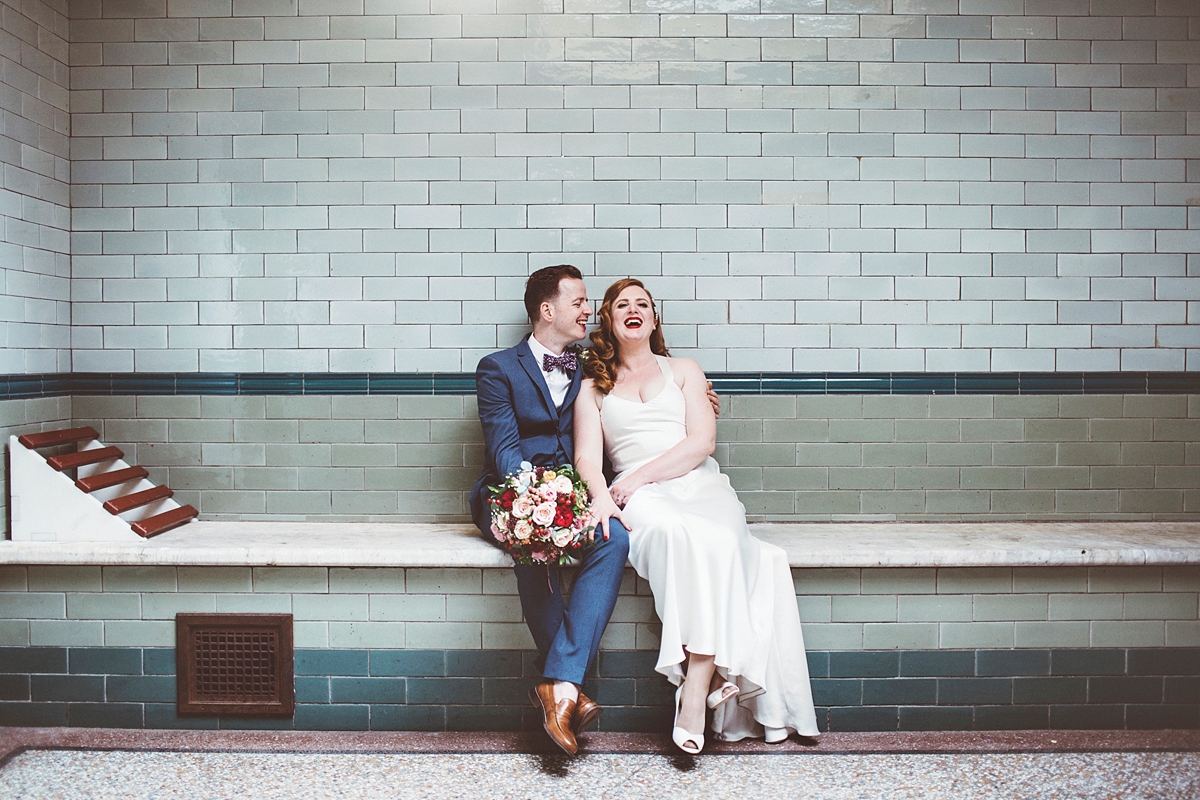 "My bridesmaids each wore their own dresses and shoes but my friend Sarah made false flower corsage's for them, which were beautiful!"
"My daughter wore the most gorgeous tutu, crown, cape and wand from Fable Heart, which were all made from organic cotton and magical."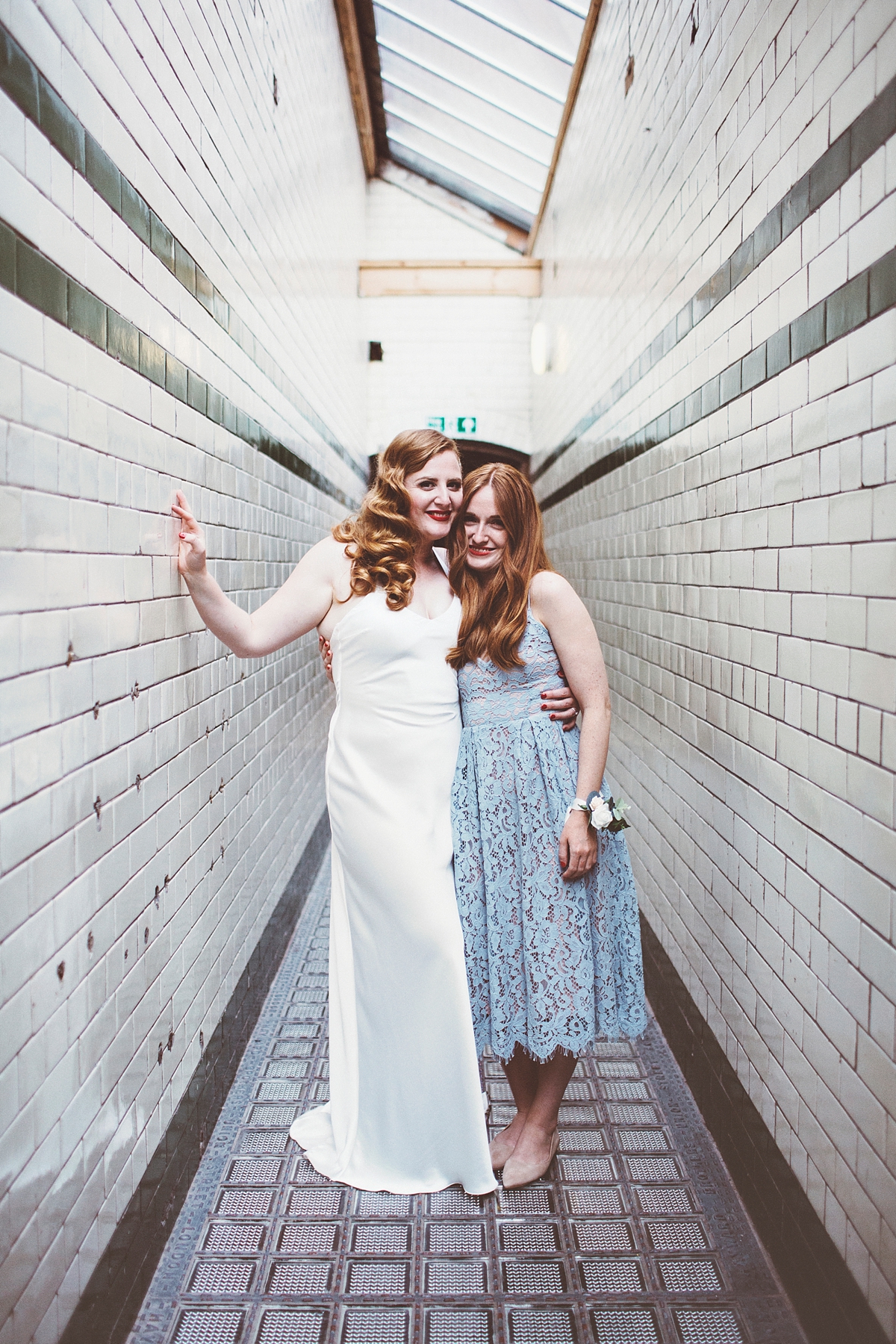 "To style the venue my mum brought in fresh flowers to dot around the room. My friend Rouaa lent us some accessories but most of the work was done by Alison at Flower Studio MCR. She created beautiful flower centrepieces on the tables using dark red, jade and blush pink coloured flowers."
"They were absolutely breathtaking and the mismatched vintage china from Pebble In The Pond finished off the look nicely."
"For the stationery I ordered the invites, RSVP's and place names from Papier. They were pink and red with a vintage style rose pattern and were really beautiful. I regularly use Papier as I love paper and design and studied art at St Martins."
"Our wedding cake was made by The Dish Ran Away With The Spoon. It was a three-tier buttercream, raspberry and rose cake. We frequent their local cafe so I enquired about making us something for the wedding and it was delicious! My mum added the final touches with fresh roses."
"We didn't do favours but I bought two vases for my mother and my dad's wife from a botanical collection at John Lewis. The bridesmaids each got Mac mini lipsticks in Ruby Woo as it's my favourite lipstick, and I got my dad personalised cufflinks from Not On The High Street."
"The Dish Ran Away With The Spoon also catered our afternoon tea. On top of that we also had 100 cold filled pies delivered from the Great Northern Pie Company, who we discovered at a local Makers Market in West Didsbury. Again we really wanted local suppliers of good, quality food. We also had a cheese tower cake by The Cheese Hamlet in Didsbury Village, a local cheese specialist, as Clive loves cheese!"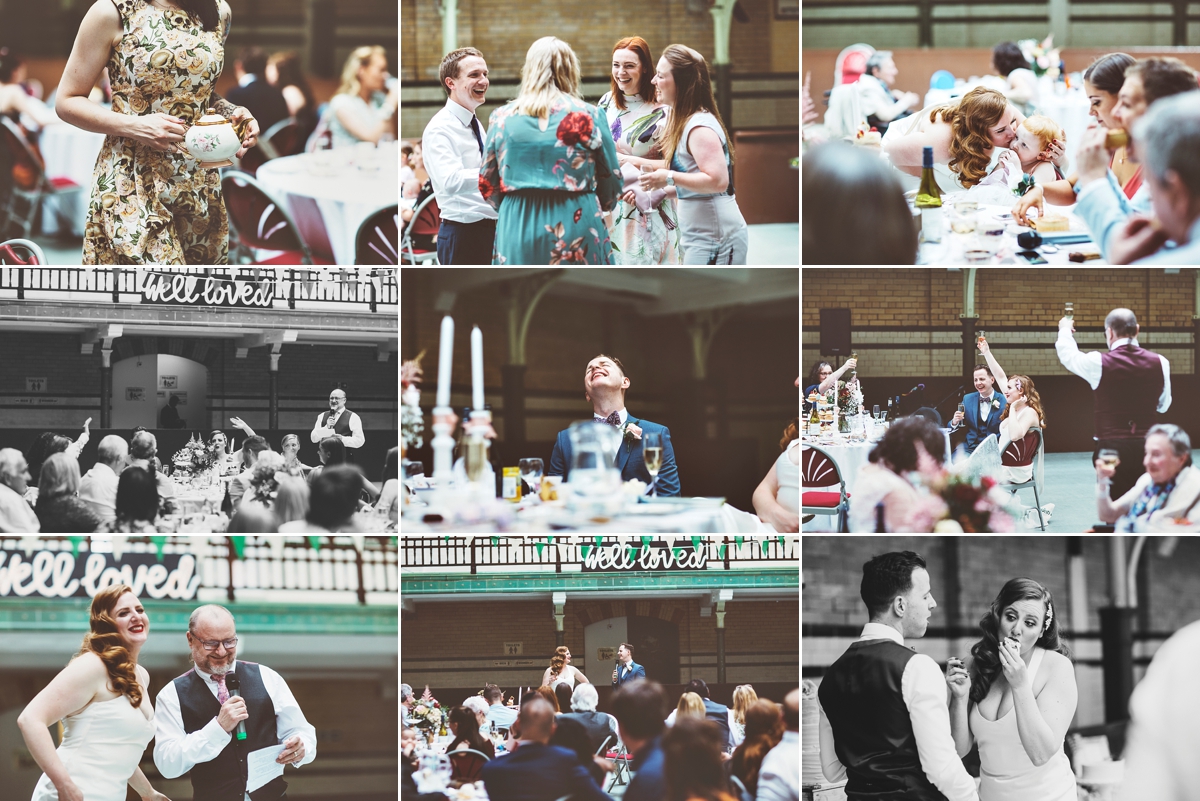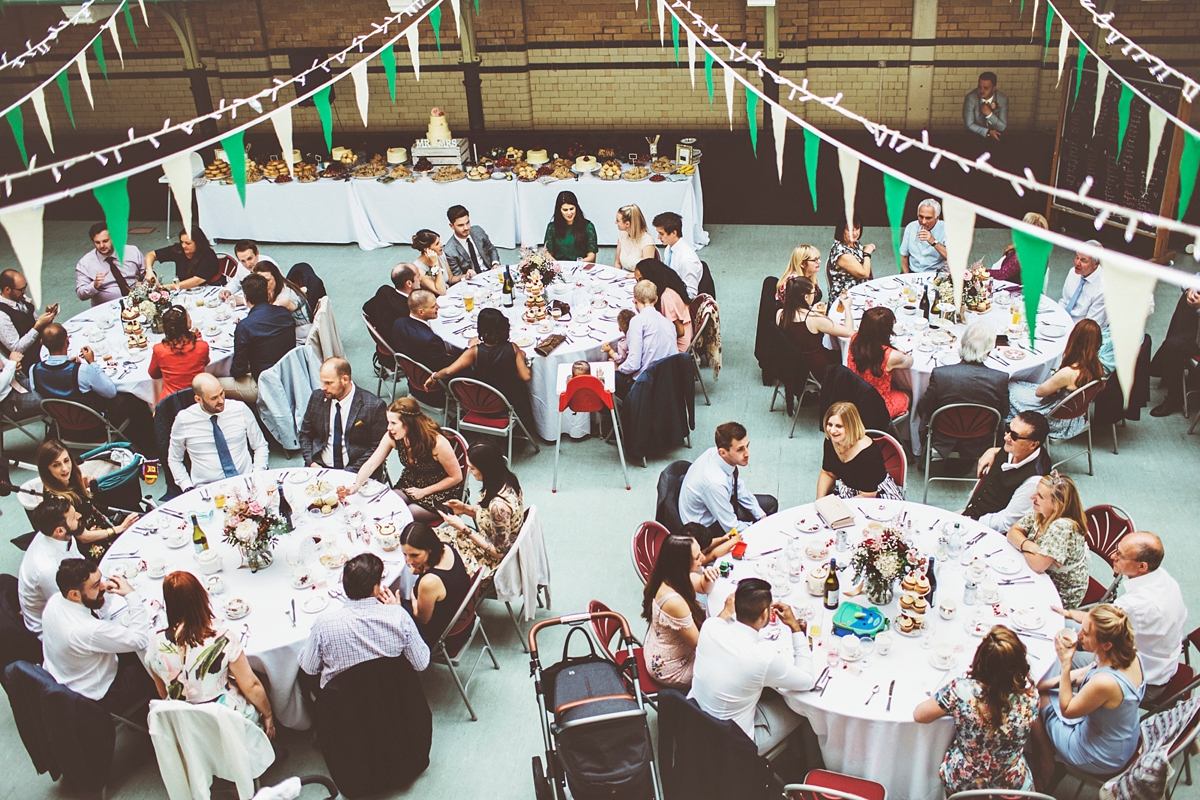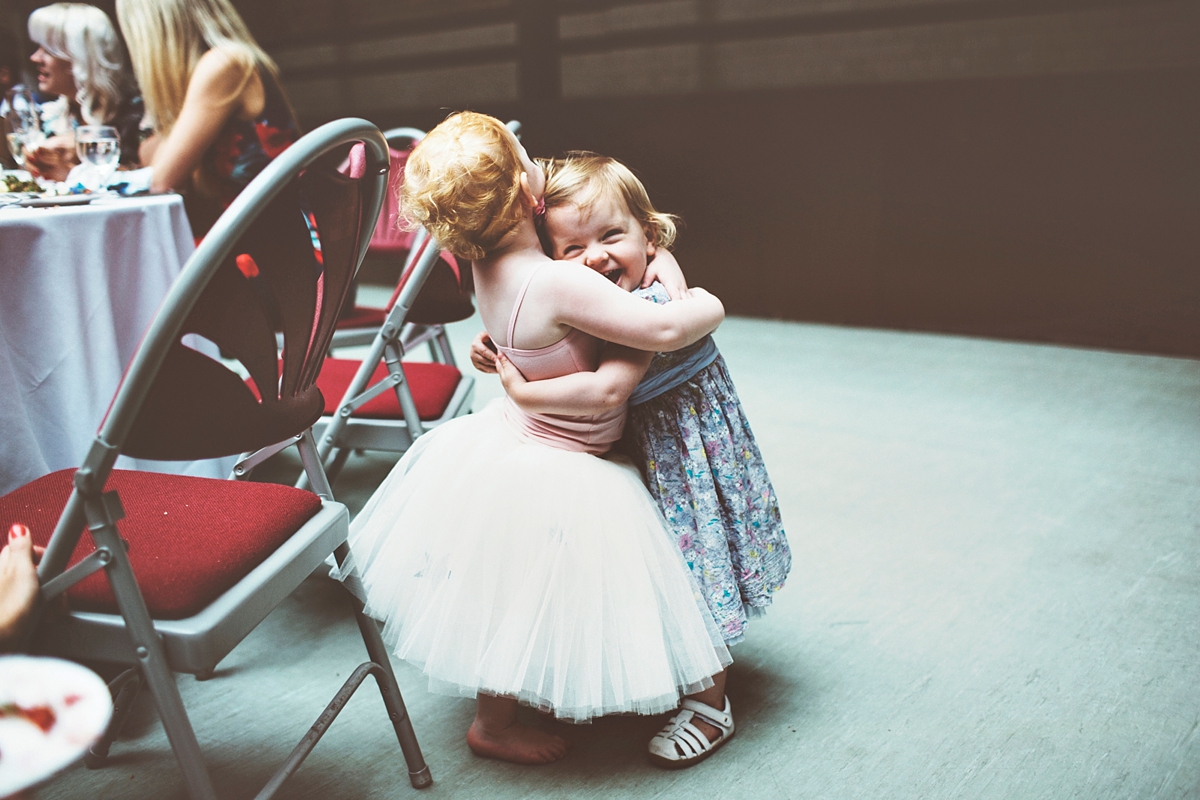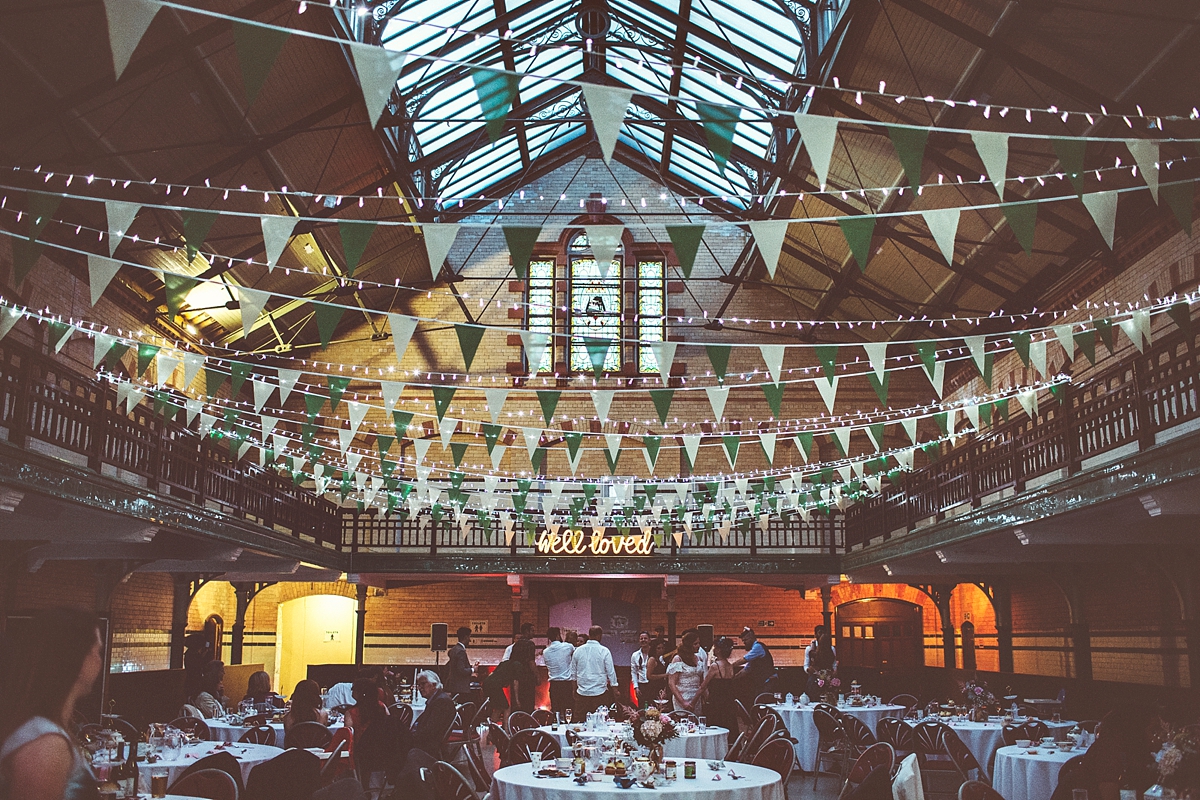 "Our entertainment was provided by a band called The Retrosettes who were really brilliant. We discovered, after we'd already sourced them, that a friend of ours played base for them sometimes and he did us a base solo on the day – it was epic!"
"They play vintage style 50s, 60s and 70s modern jukebox style covers. For our first dance we asked them to play a cover of 'I've Got Everything I Need' from The Muppets film. Clive and I love that movie and song; it's quite silly but sentimental to us."
Words Of Wedded Wisdom
"Do everything your way and don't compromise, if you love it, do it. All the suppliers we used were either local or had some significance to us and didn't necessarily fit the wedding mould, they were just what we wanted. Also, don't obsess over things that aren't actually important to you."
"Not everything needs to be lavish, but if it's really important to you then spend the money. Make it about you and your partner. Also, don't forget to thank the people who really helped. A wedding is hard work so don't under appreciate people."
A huge thank you to newlyweds Lisa and Clive for sharing their gorgeous day with us – what a wonderful way to ease back into weddings. A shout out to Giulia and Ben from On Love And Photography is also well deserved for capturing the day so beautifully on camera.
Until next time…
Much love,
Holly x