Dear Readers, I hope you're all having a fantastic week so far. If you've found your way to these blog pages in search of inspiration for a timeless and classic celebration but with a modern twist, you're exactly where you need to be!
This gorgeous day features a beautiful country house venue, a show stopping gown (with pockets, no less) and a romantic colour palette of pastels and gold, perfectly in keeping with the setting.
Chloe, a G.P and Phil, a surgeon, were married on the 15 September 2018 in a ceremony at the Church of St. Andrew in the grounds of Prestwold Hall, Leicestershire, which is happily where the reception later took place.
"The inspiration behind our wedding day was a modern take on a classic English wedding with a timeless fairytale feel. We were influenced by the period décor of the venue and this inspired our colour choices of soft pastels and gold."
Images by Sarah Salotti Photography
"We loved the magic of the venue – the beautiful ornate gold mirrors, the library  (the dance floor!) full of old books and the perfectly maintained gardens. When we saw the conservatory it sealed the deal! It ticked the practical boxes too – The church is in the grounds of the venue and there are 10 bedrooms in the hall meaning family can stay too."Make-up Artist Caroline Barnes worked her magic, while Mon Amie Wedding Hair styled Chloe's hair beautifully. A soft, cathedral length veil by Joyce Jackson was added, along with pretty fresh flowers in Chloe's hair.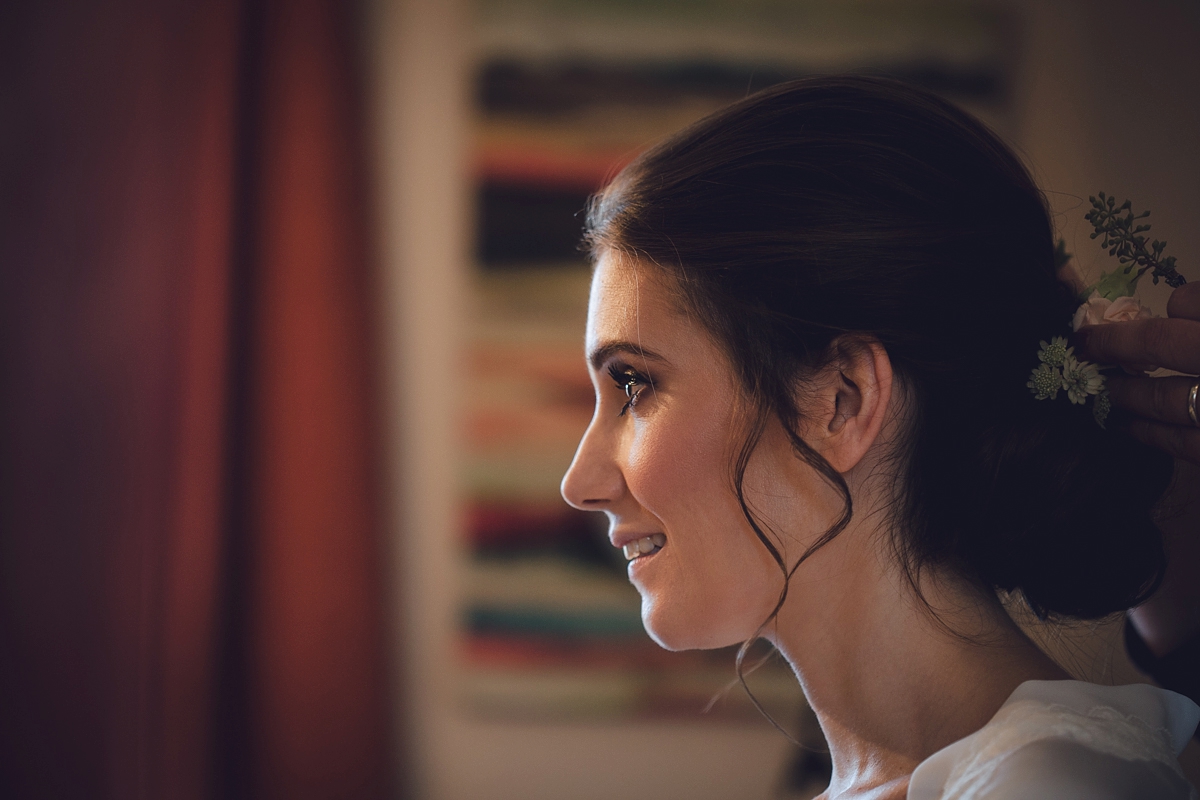 Chloe chose the most graceful of gowns by the fantastic Jesus Peiro, whose designs we adore here at Love My Dress. The superb craft and attention to detail are shown to perfection here in Chloe's gown, which she chose at Frances Day Bridal.
[JP-VIDEO]
It has a timeless ballgown shape and delicate bodice of lace and spotted tulle.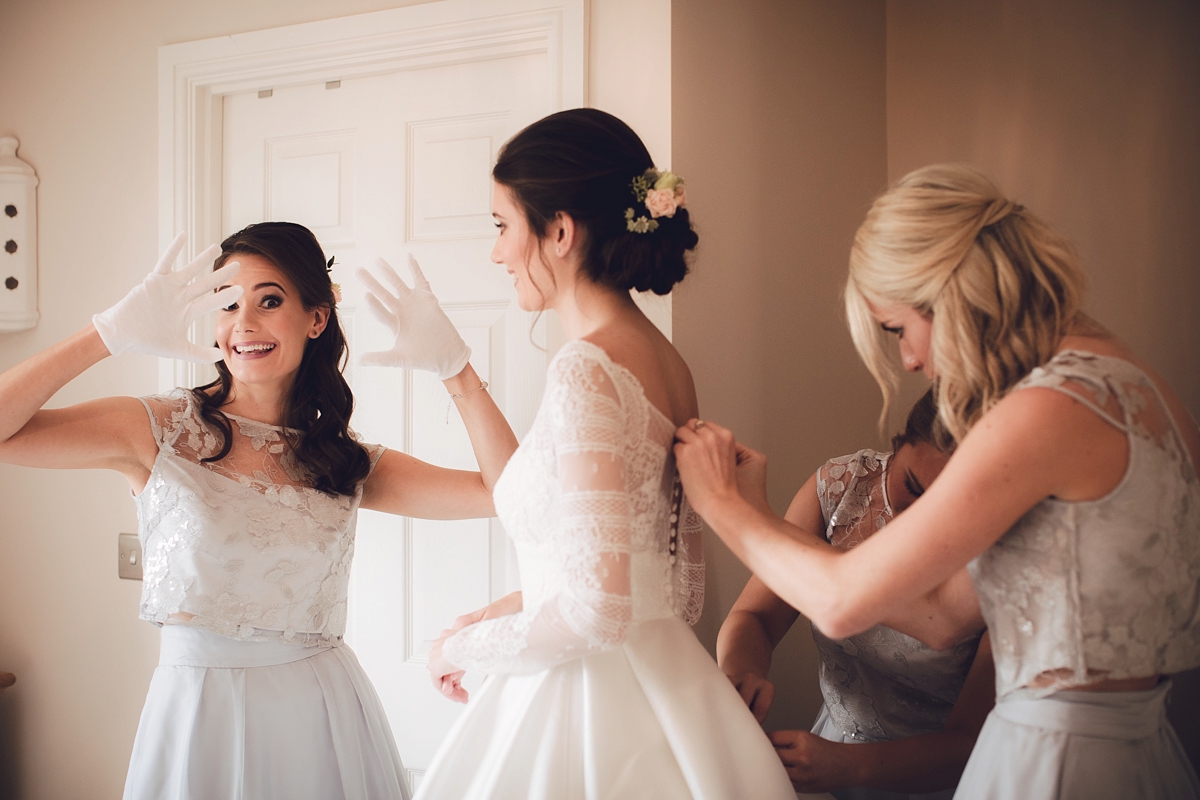 "As soon as I spotted Jesus Peiro on Love My Dress I knew it was the brand for me. I love their contemporary take on classic styles with clean and bold silhouettes."
"I wanted a timeless, elegant dress but with the wow factor and my dress had just that! I adored it from the moment I set eyes on it. It had just the right amount of lace and was both bold and delicate at the same time. Nothing else came to close to it!"
"Julia and her team at Frances Day Bridal were absolutely fabulous and made my dress experience a dream. We loved the boutique so much that my identical twin sister bought her wedding dress from there too…!"
Chloe carried a wonderful bouquet in an exquisitely soft colour palette of pale pink and ivory with accents of lovely foliage. The floral creations for the day were all by Big Day Blooms & Cakes.
"We opted for soft pink tones for our wedding flowers with large headed garden style roses to fit in with our chosen colour palette and classic English feel. The roses in my bouquet were complemented by eucalyptus, berries and trailing Veronica giving it an organic feel and shape."
For wedding day fragrance, Chloe was gifted a bottle of Jo Malone's Peony and Blush Suede by Phil.
"Because who doesn't love Jo Malone?! After a few not so subtle hints, Phil gifted me the perfume on our wedding day along with a small wooden box containing 'a dozen reasons why I love you' engraved on little hearts! This included: I love you because…'you clean Bluebell's litter tray'!"
The bridesmaids wore tulle skirts with camisole tops (with lovely sparkly tops over) from Coast. They wore shoes from Kurt Geiger, fresh flowers in their hair and were given earrings by Chloe from Holly Blake Jewellery via Not On The High Street.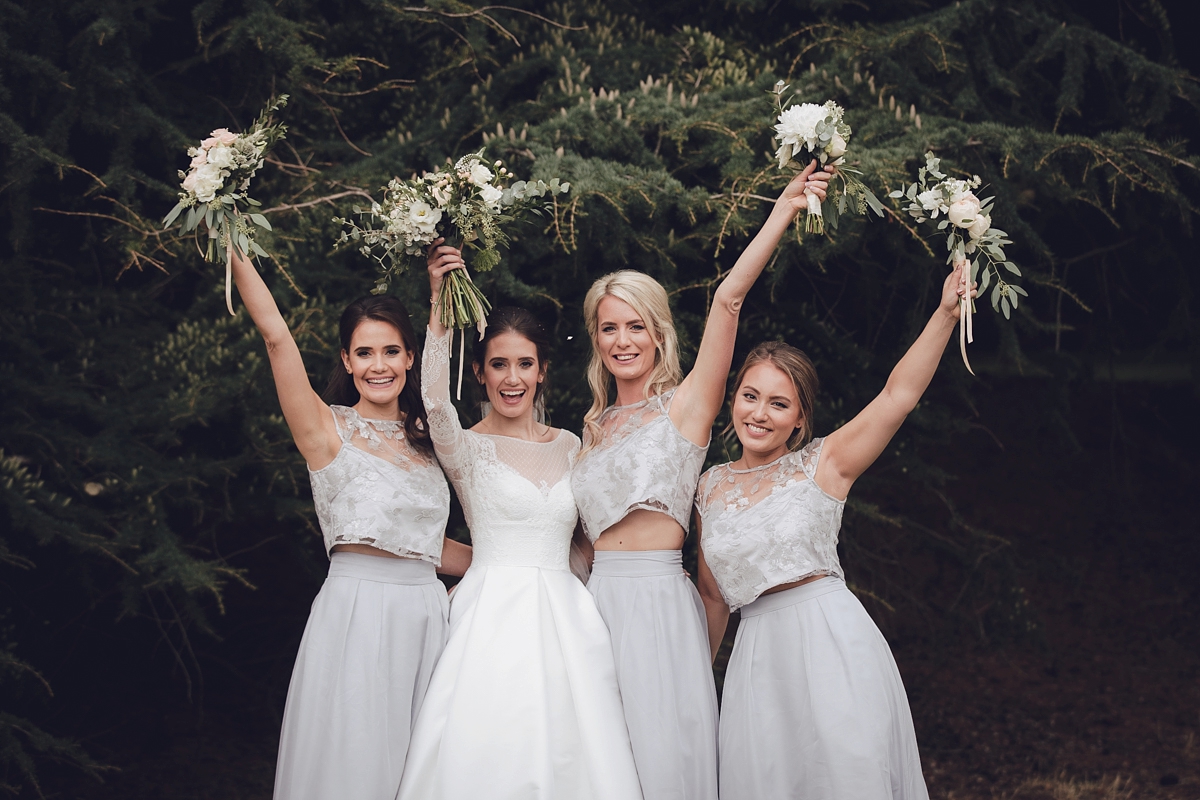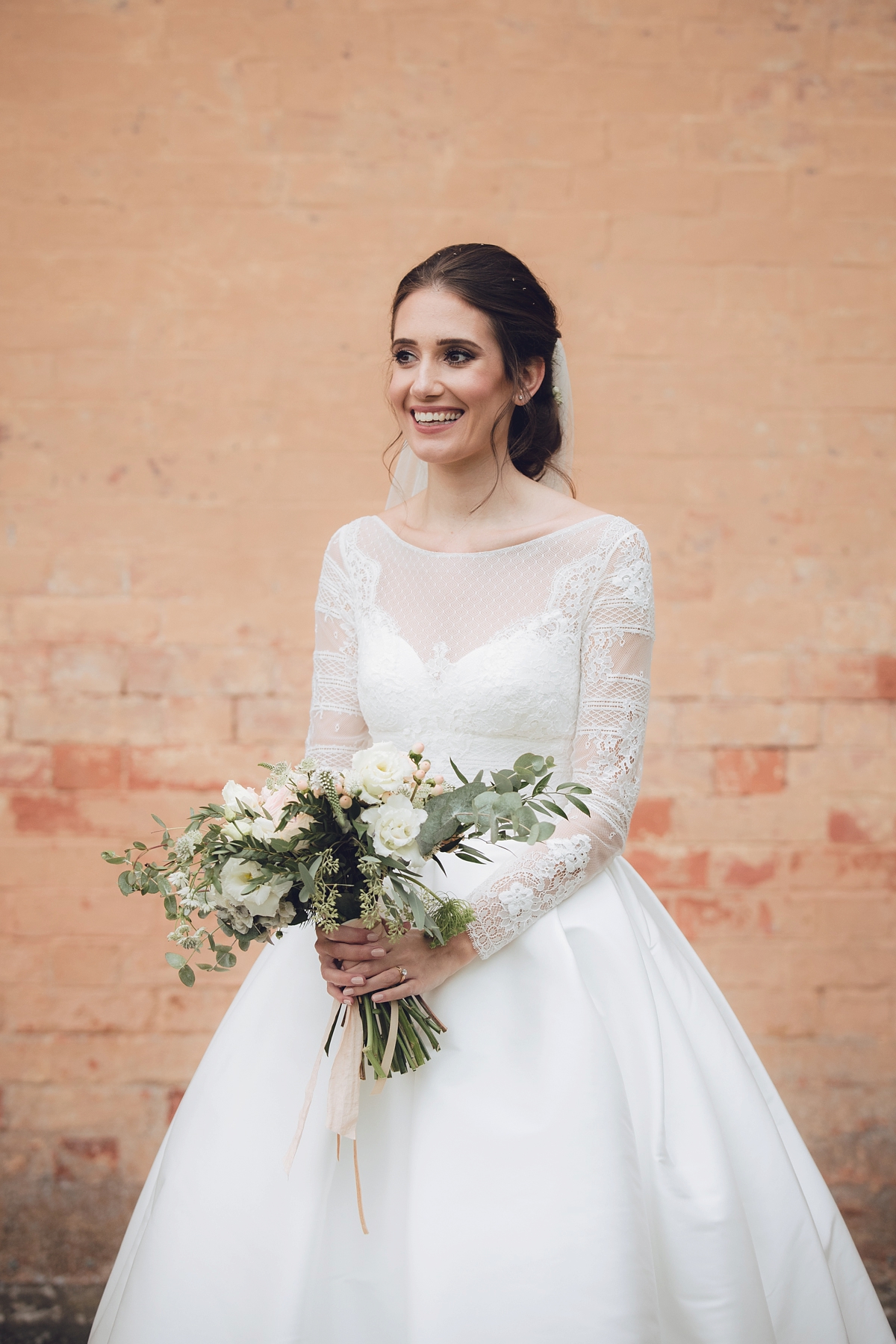 Phil wore a blue three-piece suit, white shirt and blush pink tie, all from Paul Smith, while the groomsmen wore complimentary suits, all from Slater Menswear.
"Phil and I met on a hospital ward in 2011 when I was a medical student and he was the hotshot junior doctor. I needed someone to supervise me perform a clinical procedure and Phil was on hand to assist a girl in need! Our paths crossed again the following week in the more relaxed setting of the 'Doctors Mess' night out and the rest is history!"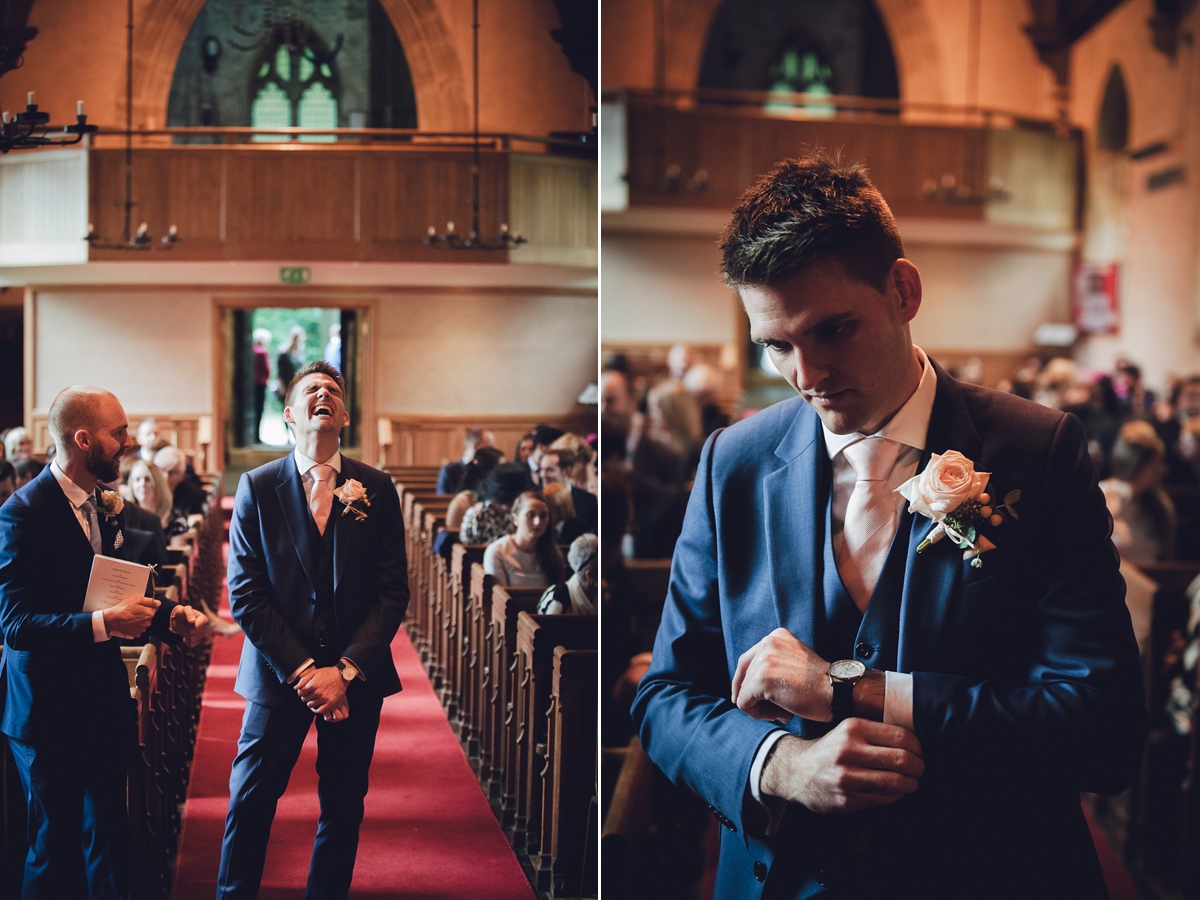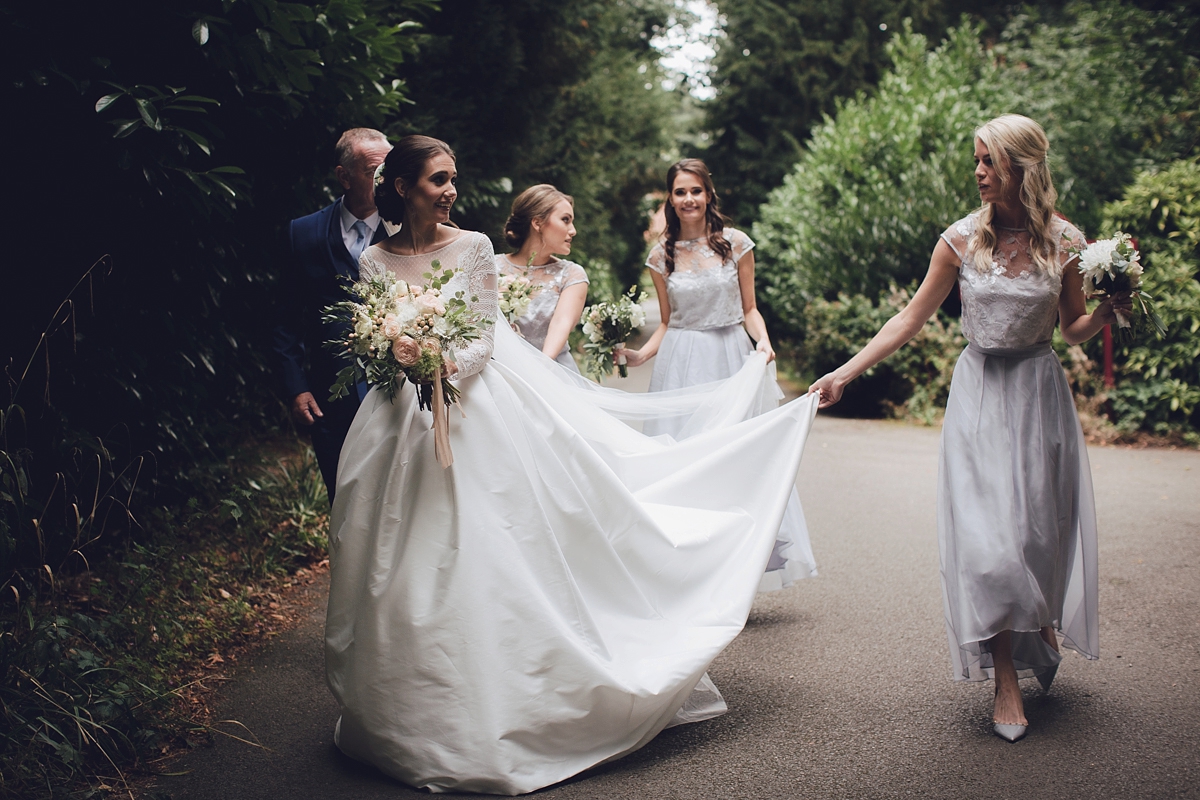 "Six years later on a quiet post-Christmas weekend in January, Phil, with our Siamese cat Bluebell, took me into the back bedroom of our house and asked me to pull up the window blind. Outside in our garden was an array of fairy lights that spelled 'Marry Me'."
"Bluebell was the perfect ring bearer with the ring attached to her collar. It was the best surprise of my life! 18 months later we were to be wed at Prestwold Hall."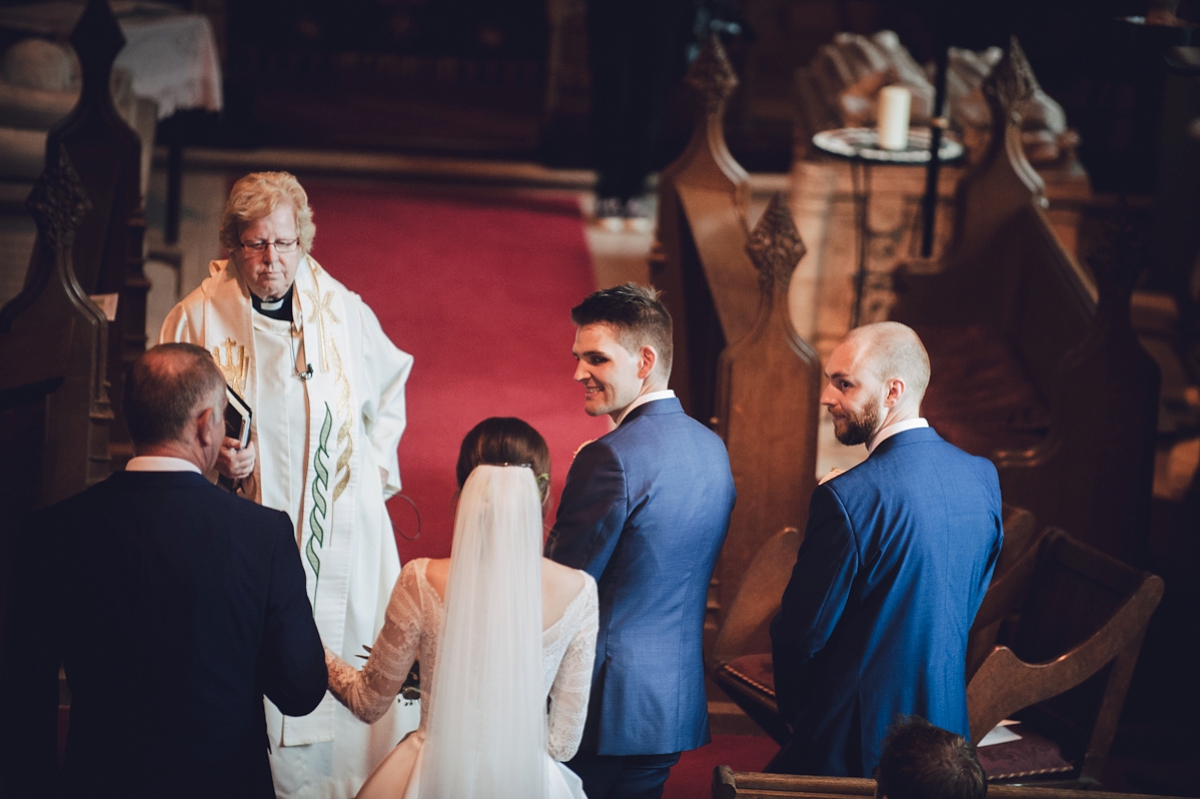 Chloe and her dad walked down the aisle together while the church organist played Pachelbel's Canon in D.
The couple chose two heartfelt readings for the ceremony; a Bible extract, 1 John 4:7-12, and an extract from Pooh's Little Instruction Book by Joan Powers.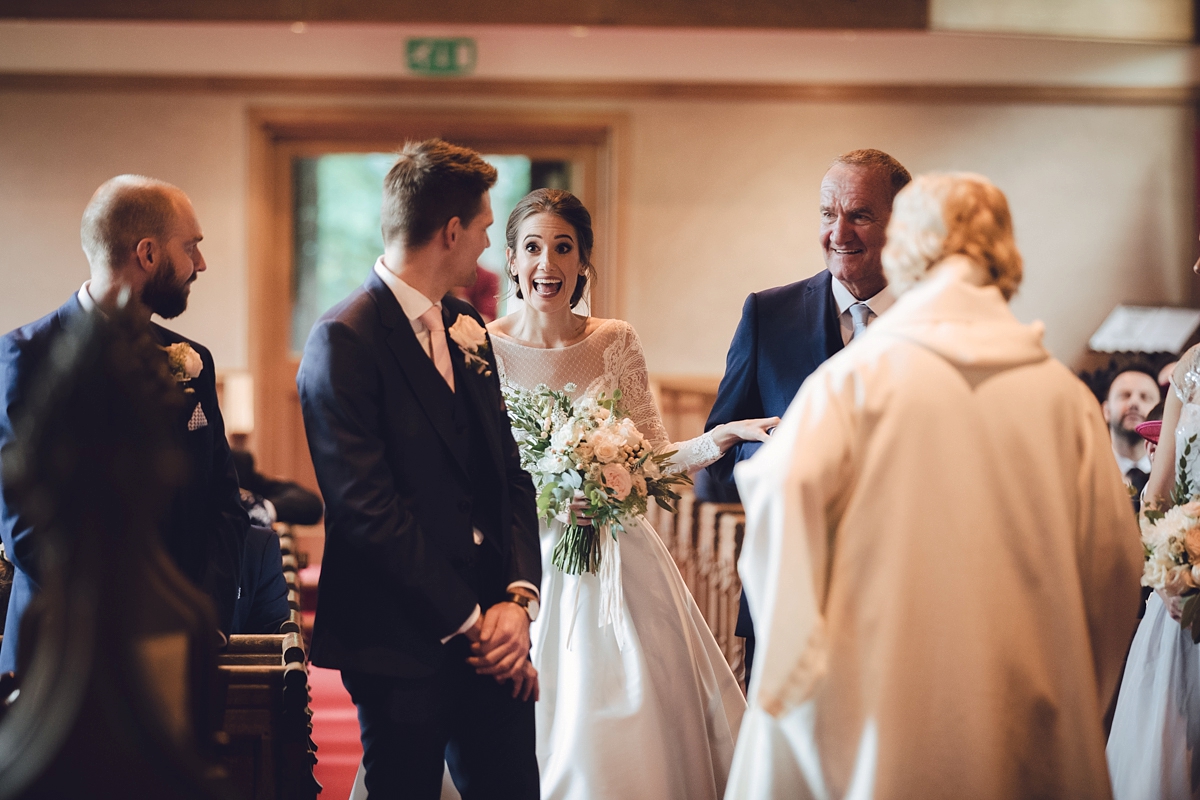 "We chose this reading as it touches on love and loss and this was particularly poignant to our families having lost several close family members in the run up to the wedding."
"We loved reading our vows to each other – it felt as if no one else was in the church and we looked each other in the eye and meant every word."
Chloe and Phil also chose to give rings to one another, and chose them from Marlow's Diamonds.
"We both chose plain classic gold wedding bands from Marlow's Diamonds, which was the same shop that Phil purchased my engagement ring.We wanted a style that would last the test of time."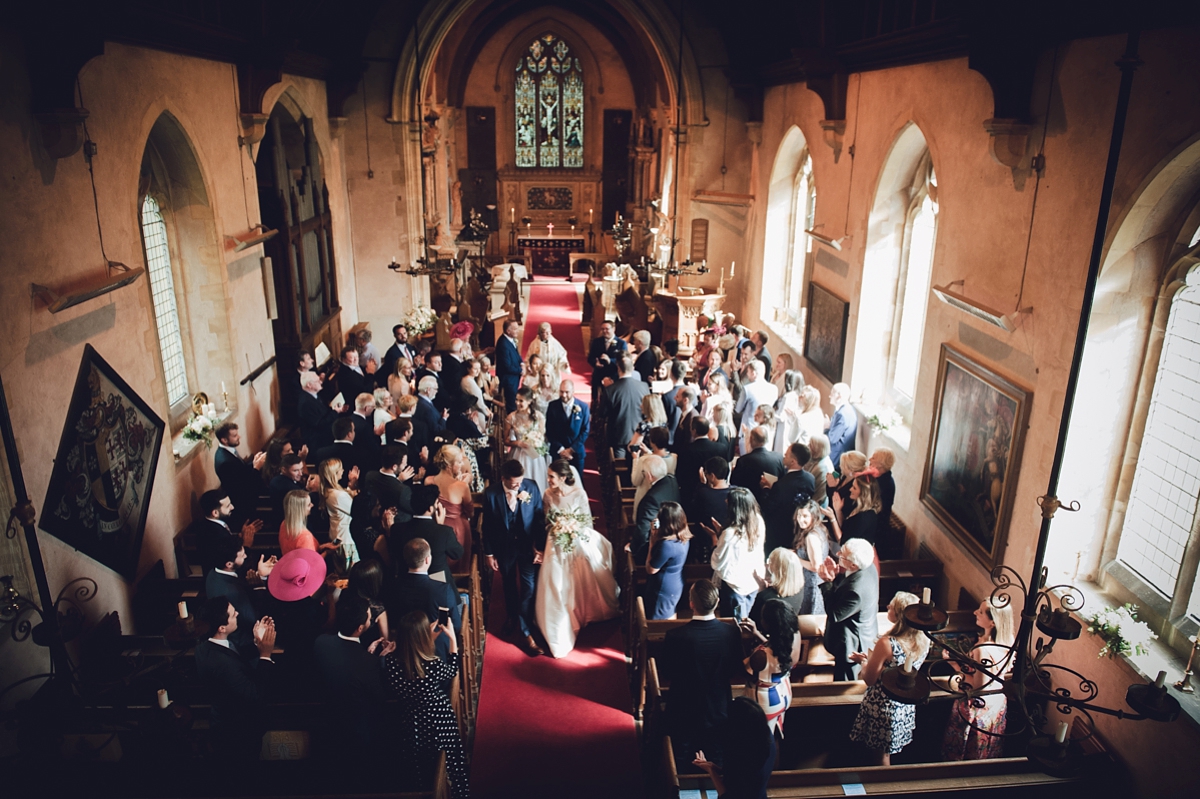 Photographer Sarah Salotti captured the heart of Chloe and Phil's beautiful day, and it's wonderful to be featuring her work on our blog pages again (you can see more here).
"Sarah Salotti is the wedding photographer of dreams! From the moment we met her, she was so warm and friendly and we felt at ease with her straight away. She kept in touch with us throughout the planning process and was super organised which really took the stress out of it all. We loved our engagement shoot and it was a great way to get to know her better and feel more relaxed in front of the camera!"
"Sarah was a joy to have around on the wedding day and all my friends and family loved her! We are so thrilled with our wedding pictures – they tell the story of our day so well and we loved that she captured the precious moments she knew were close to our hearts (especially our cat Bluebell and my gorgeous Nanny who is unwell with cancer). I really can't recommend her highly enough."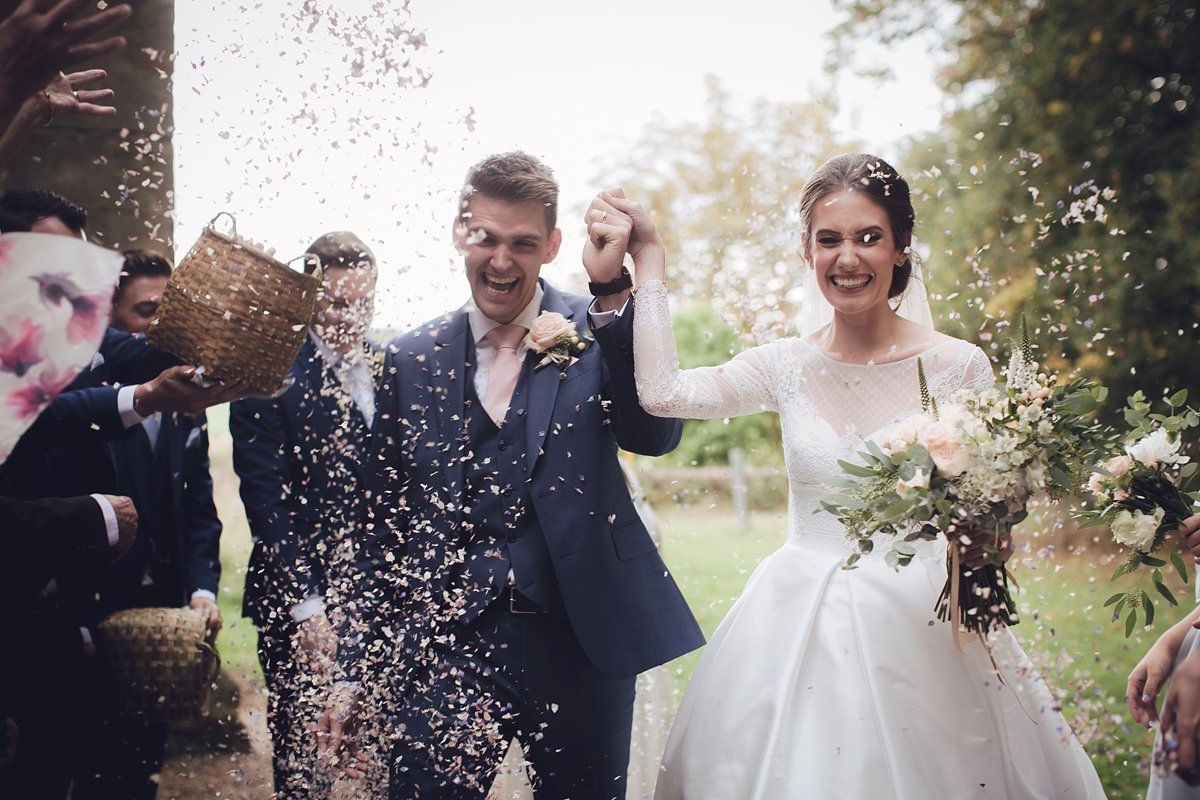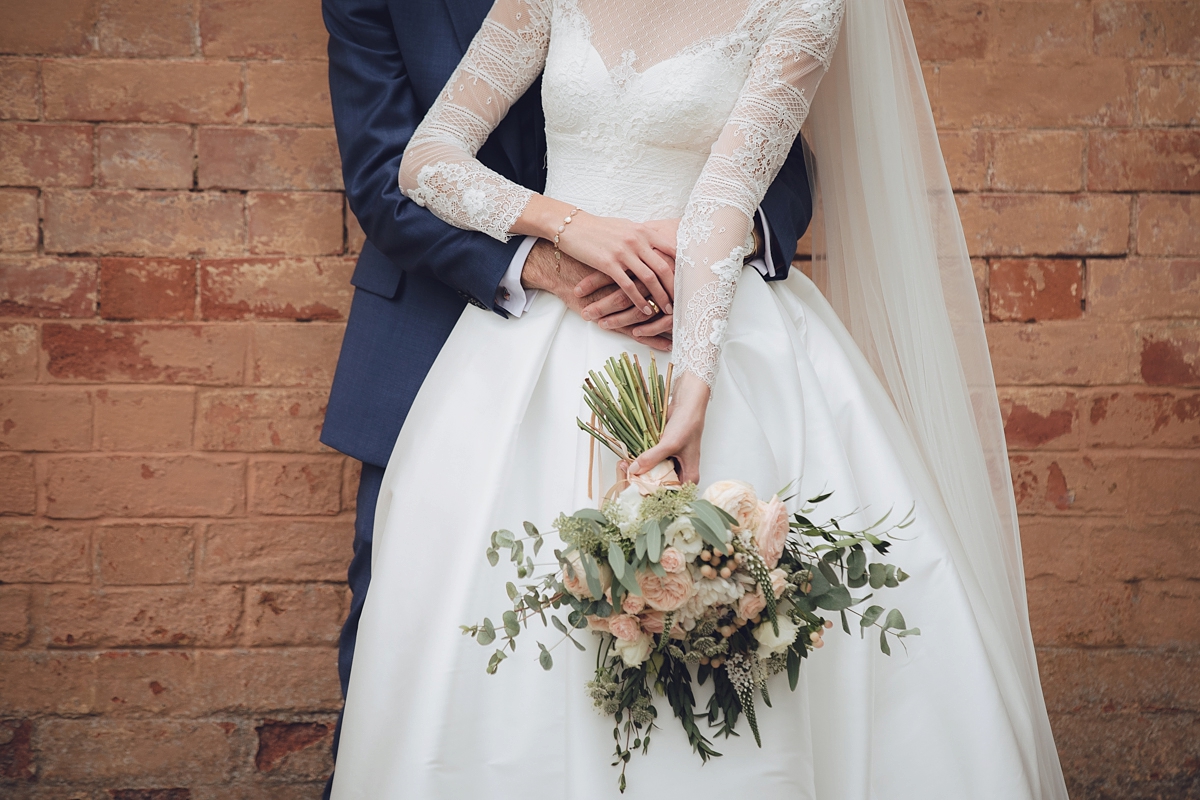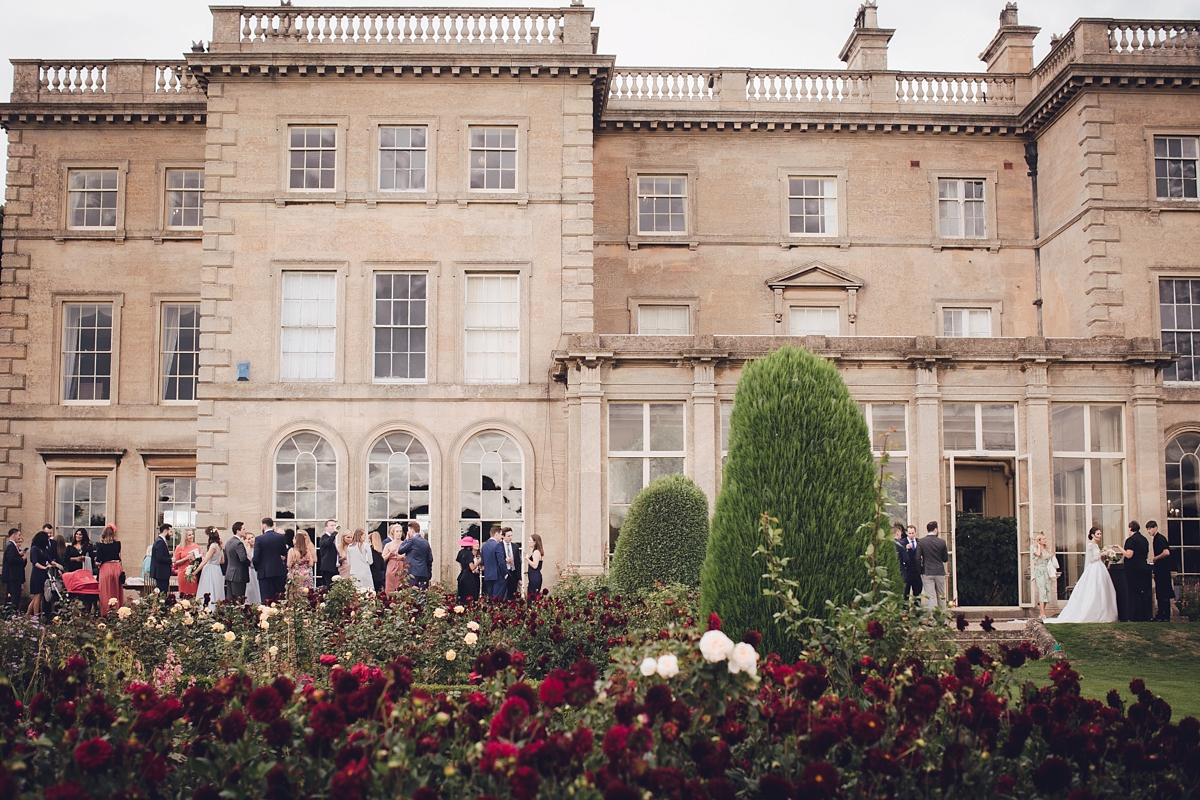 Maverick Venues, who oversee Prestwold Hall cooked the wedding feast, and there was cake, too – a fantastic three-tier blue and white marble effect creation from Big Day Blooms & Cakes.
"The inspiration for the chosen flavours were a modern take on an English country garden tea party: Elderflower sponge laced with freeze-dried blackberries and an Italian meringue buttercream; Pistachio with a light hint of rose-water and a vanilla buttercream; Blueberry with white chocolate chips and white chocolate ganache filling."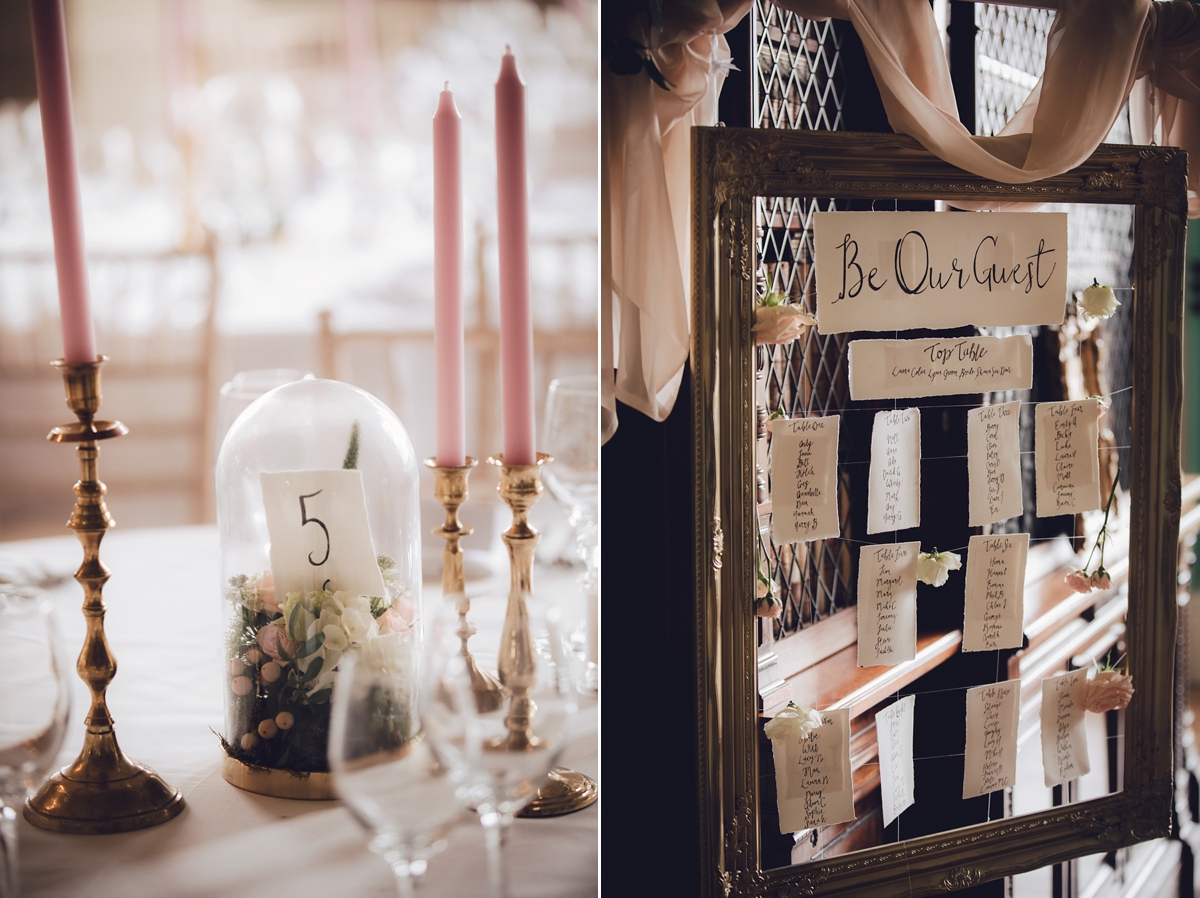 After the ceremony, it was a short walk over to Prestwold Hall for a drinks reception, and guests were entertained with live music from Unity String Quartet.
I love the romantic decor Chloe and Phil chose, sympathetically reflecting the look of the historic venue, with blush pink candles and beautiful floral arrangements on the dining tables.
"For our table centres, we chose glass cloches filled with flowers as a subtle nod to Beauty and the Beast and we really loved how they complemented the period decor of the dining room."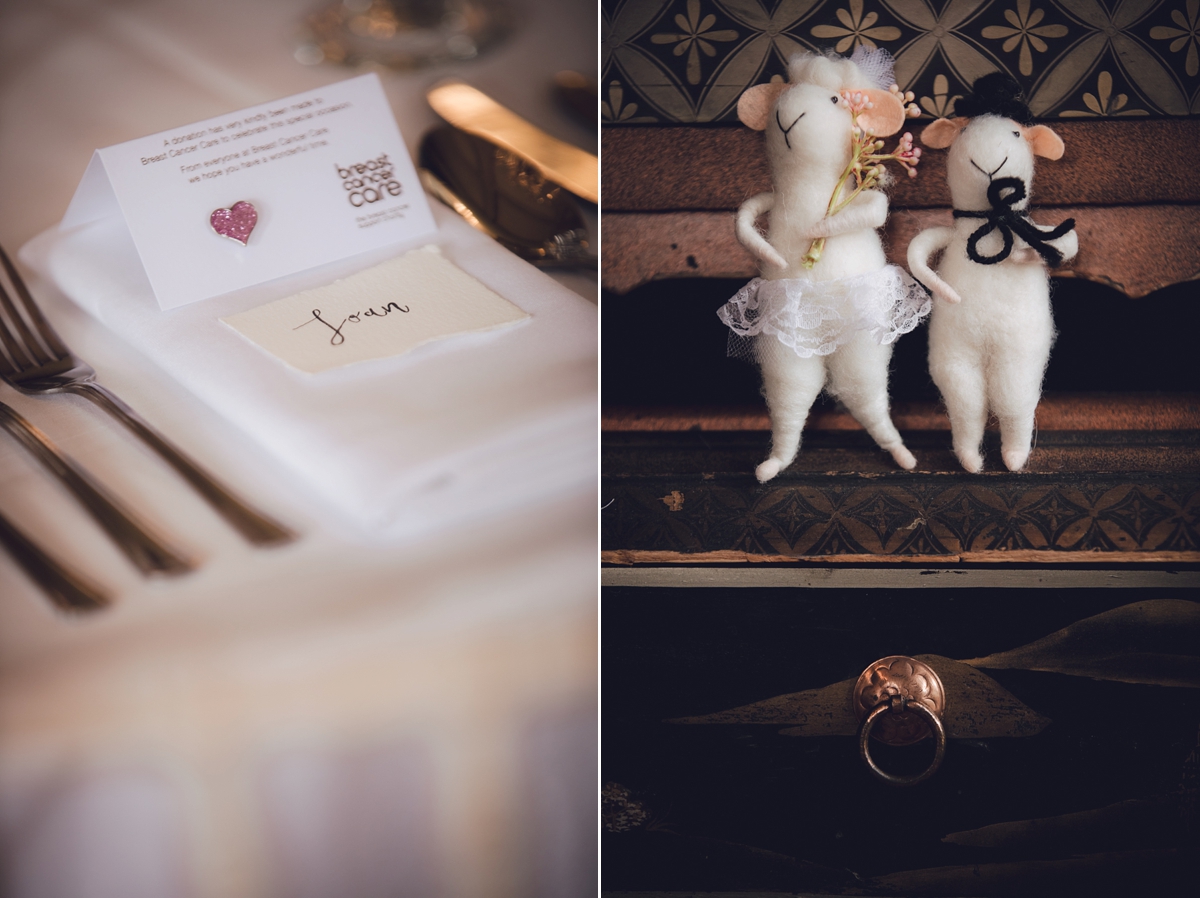 Orders of service came courtesy of Rosemood Atelier, and table plans and place cards from Big Day Blooms & Cakes.
"Sophie from Big Day Blooms & Cakes not only provided our cake and flowers, she also sourced, styled and hand wrote all of our on the day stationery including our table plan."
"We donated money to cancer charities and gifted our guests with charity pins for our wedding favours. We chose prostate cancer pins for the men and breast cancer badges for the women. Cancer research is close to our hearts both in our professions as doctors and through our personal experiences of relatives living with the illness."
Chloe also sourced gilt mirrors from charity shops, as a nod to the beautiful mirrors at the venue, as well as a postbox for cards, upcycled with paint and vinyl lettering.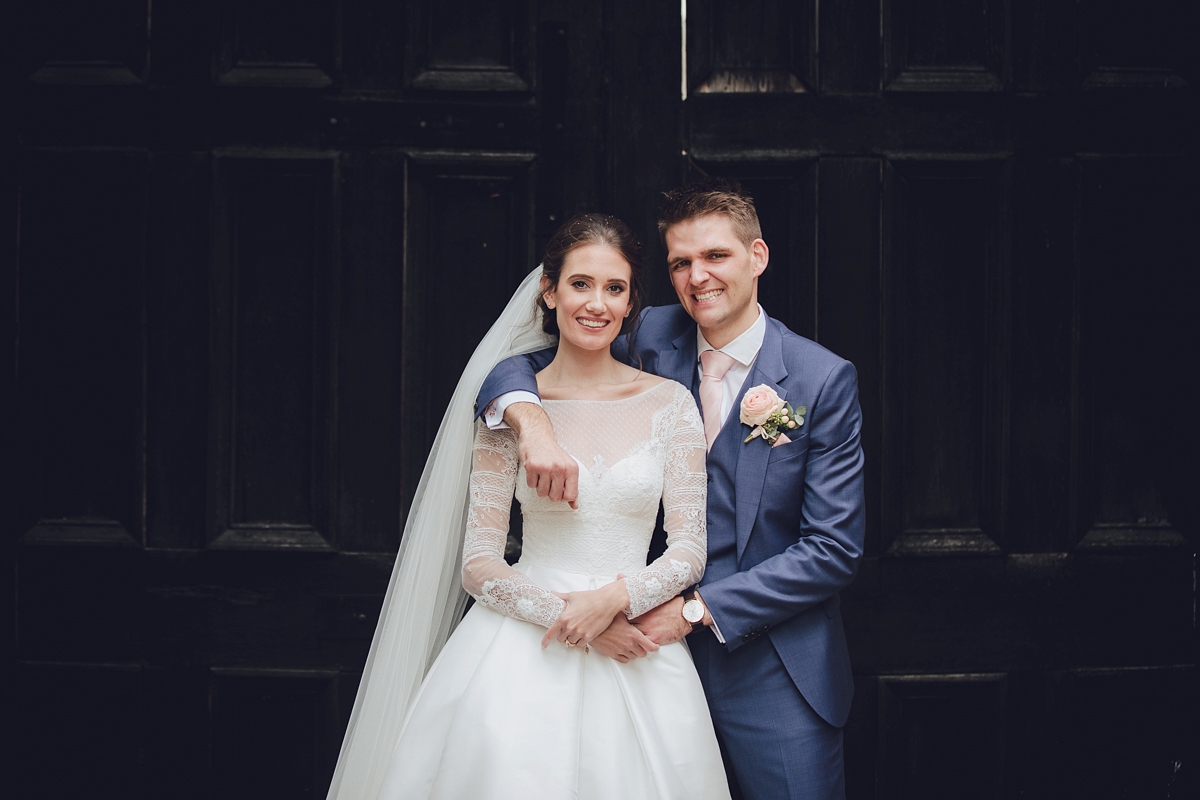 Evening entertainment was provided by Johnny Ross Music – a DJ and saxophonist, and Chloe and Phil took to the dance floor for their first dance together, choosing Hannah Grace's version of the song Praise You.
"We chose Hannah Grace's version of Praise You because we love how the lyrics are a celebration of each other and the song is a timeless classic that we can still dance to in decades to come!"
"Our favourite part of the day was the evening celebrations where we could really let our hair down and party with our friends like there was no tomorrow!"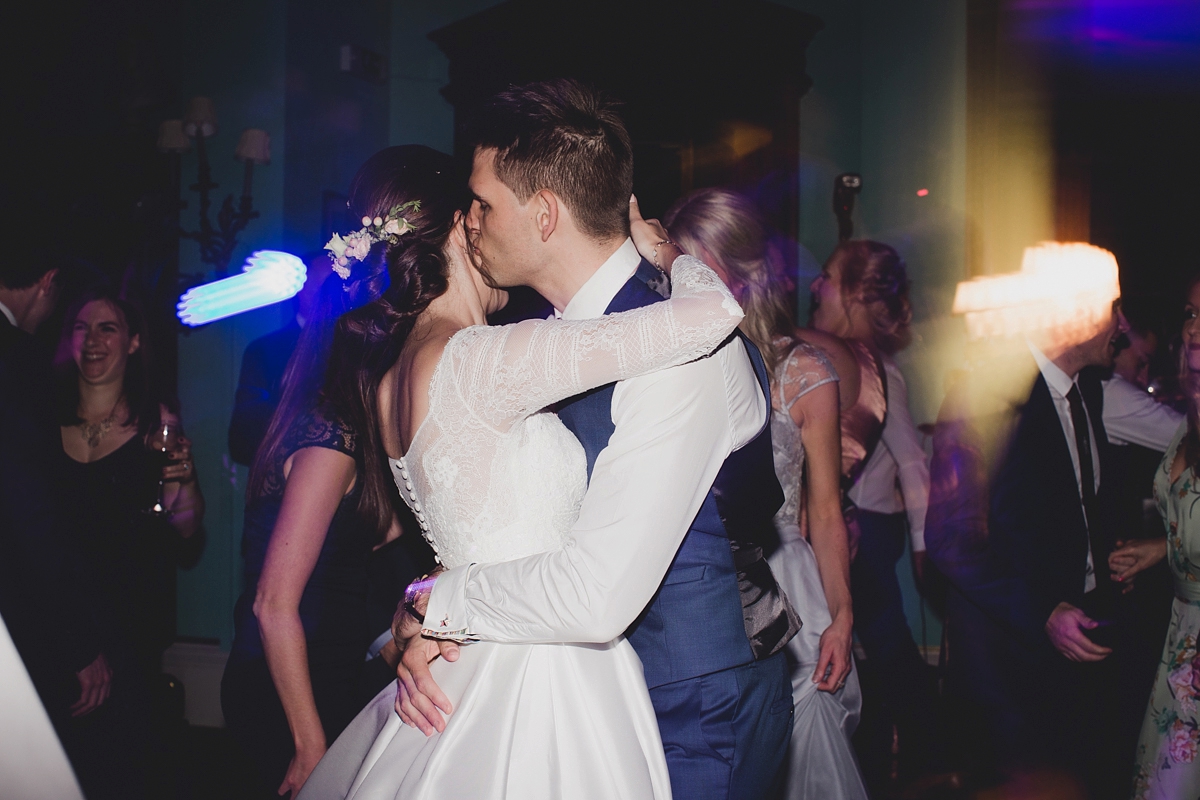 Words of Wedded Wisdom
"If you are getting married in peak season, email suppliers well in advance – it is so frustrating when you find someone you love and they are already booked up."
"I'm not an organised or a creative person so wedding planning didn't come naturally to me! I set myself monthly goals as I went a long and made a last-minute list of things not to forget. Don't feel pressure to do things 'DIY' if it's not your thing, there are some amazing and reasonably priced suppliers out there who can help you with the styling and it really takes so much of the stress away!"
"Stay true to how you want to look on your wedding day-it's easy to get side tracked by the opinion of others and external pressures. I wanted to feel like 'me' so I chose not to wear false eyelashes or fake tan. Oh and bring a pair of flats!"
"Having an early wedding ceremony at 1pm enabled us to make the most out of our wedding day with plenty of time for guests to enjoy the reception drinks and music. However, it meant early starts for me and the bride tribe especially as we were getting ready at my house, which was a 45 minute drive to the wedding venue. On reflection, perhaps a slightly later ceremony would have given us a little more leeway in the morning."
Chloe and Phil, huge thanks for giving us this enchanting glimpse into your day – truly a modern fairytale! Many thanks also go to Sarah Salotti for her beautiful images. If you'd like to see more incredible designs by Jesus Peiro on Love My Dress, do take a look here.
With love,
Laura