Now before we go on, I want to tell you that the photographer behind these images, the fantastic Claudia Rose Carter, is currently running a special offer for Love My Dress readers/followers getting married in either June, July of August this year.
If you have yet to book your photographer, then book Claudia during THIS month (February 2019) to receive a 20% saving. Good luck darlings! I hope that Claudia is free on your wedding date.
My eye was immediately caught by the abundance of autumn colour in today's wedding, so apt for a September wedding on the farm. Oh and the bride looks every inch the pre-Raphaelite beauty in her long-sleeved lace gown.
Photography Claudia Rose Carter
Mary and Chris, who work as a global IT communications manager and management consultant, married on 15 September 2018 in the beautiful surroundings of Saint Mary & All Saints Church, Dunsfold, Surrey with a reception afterwards at Rumbolds Farm, Plaistow, West Sussex. The couple wove reams of seasonal foliage, flowers and berries in to style their outdoorsy English countryside barn wedding, with a touch of boho at its heart.
"I think the style I was going for was romantic bohemian. I wanted photos with lots of green, in nature, with a rustic, fun feel – luckily for us the weather was perfect all weekend."
Rumbolds Farm was the perfect location for their vision, with a rustic barn to host a sociable dinner and a wonderful rural setting for these beautiful photographs by Claudia Rose Carter. Claudia is one of our much-loved Little Book suppliers, and is expert at working with natural light to create the most evocative, romantic and sensuous images.
My favourites are those of the newly-weds in the deep green shadows of the forest; they are so magical.
To achieve the boho vibe she was after, Mary worked with bridal designer Daalarna to create this bespoke, unique piece. I love the deep V-neck of the fitted bodice, and the pure white of its skirt.
[JP-VIDEO]
Oh, and the longer sleeve is so sexy too. Worn with a pair of brown wedges, her look is bridal and romantic yet effortless and relaxed.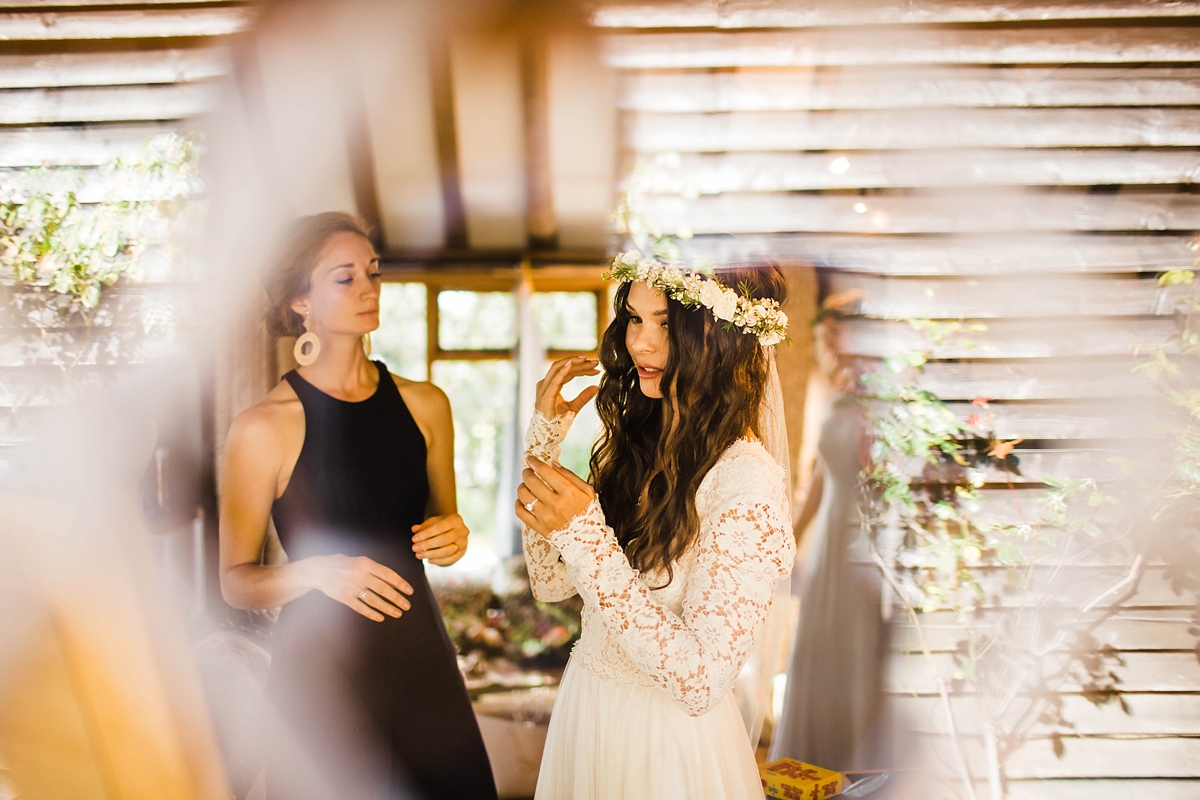 "I had a particular style of dress in mind which would work for a romantic, rustic,  slightly bohemian wedding look. I also really love lace and long sleeves. I wanted a modest dress, and I found a few Daalarna gowns on Pinterest which I loved, then I had two different gowns combined to make mine."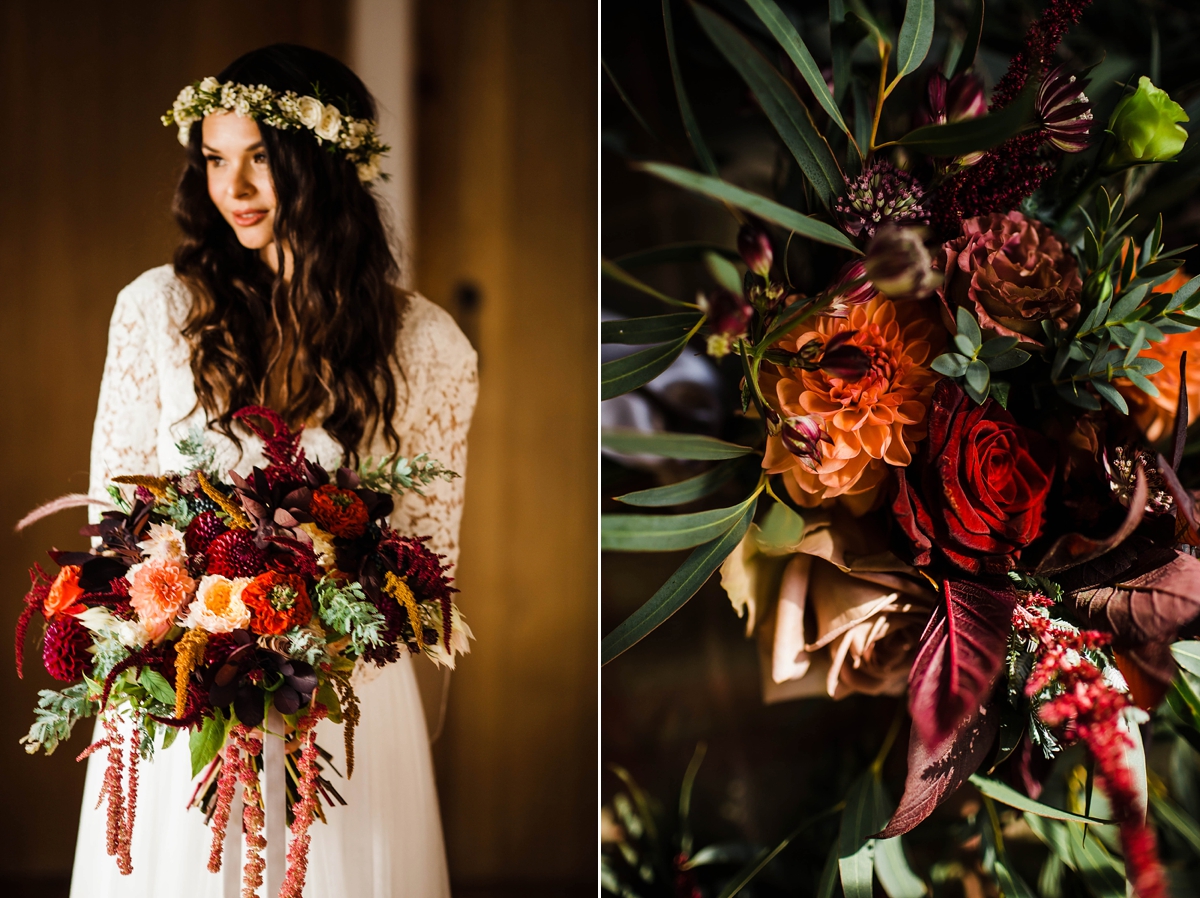 "I bought my veil at the last minute from Reigate Bridal as I was unsure if I was going to wear one as I had a flower crown. We decided on the day that it would be nice to have a veil for the ceremony."
"My friend Laura from Laura May Flowers created my flower crown and all of the bridesmaid crowns."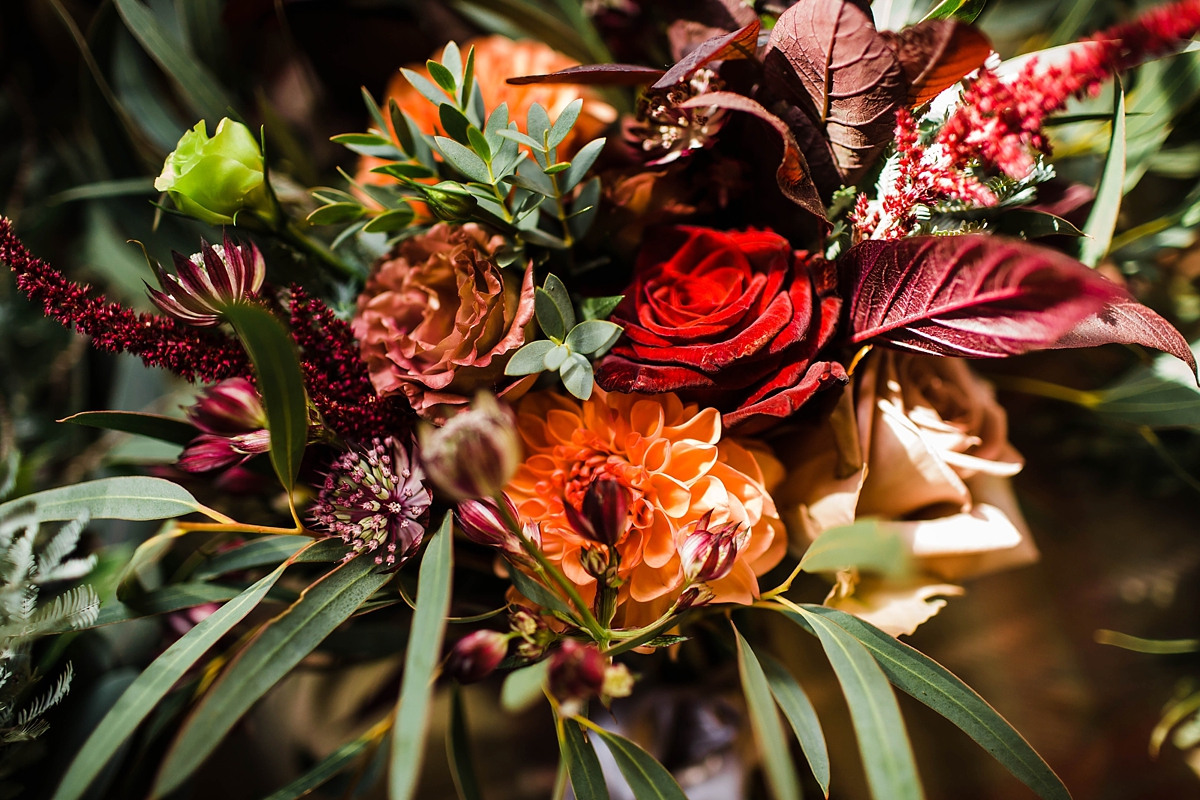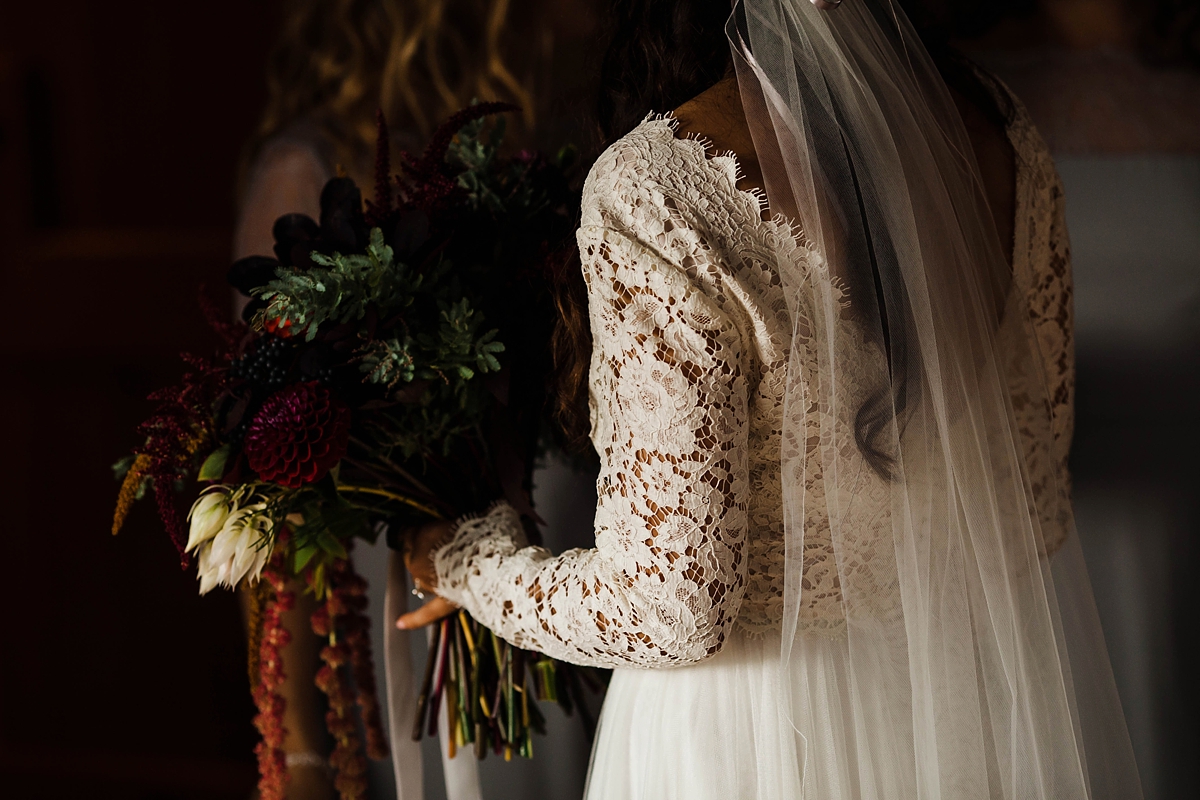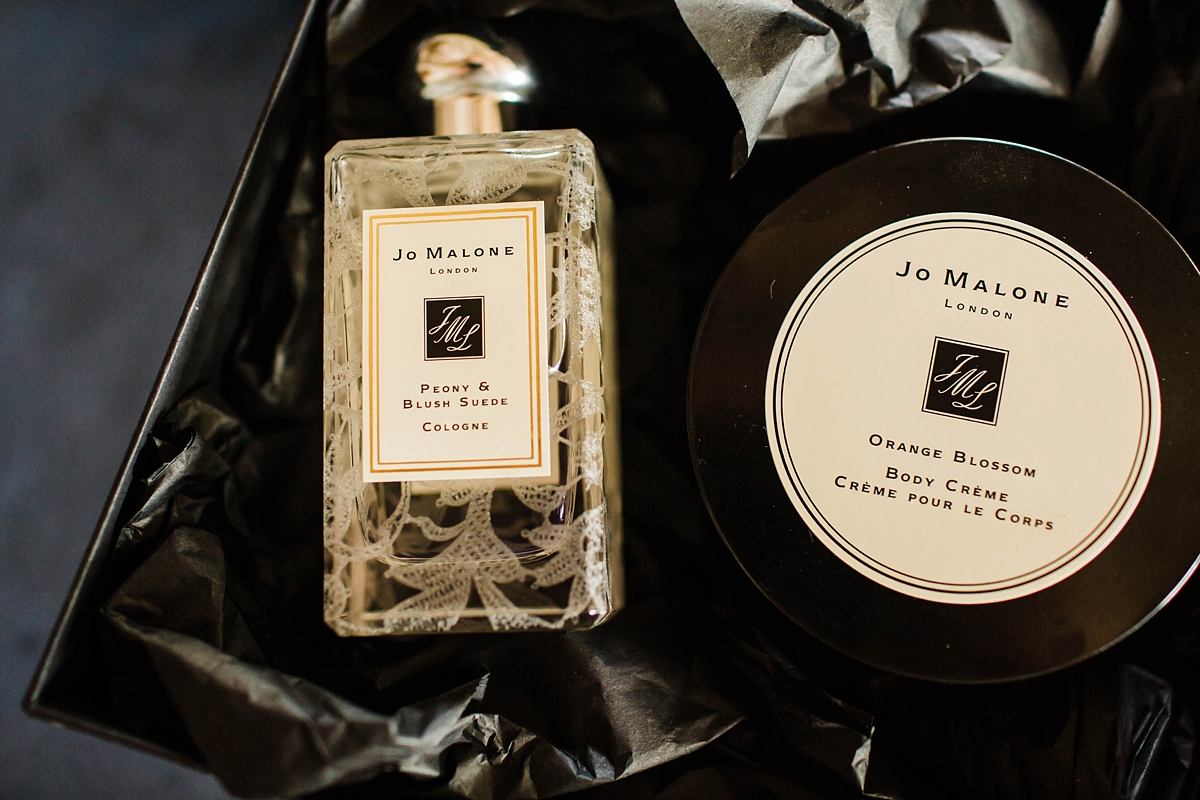 For a dainty look, the five grown-up bridesmaids wore short-sleeved ASOS gowns in the palest bluey-grey, along with their flower crowns and opulent seasonal bouquets. Meanwhile, the flowergirls wore pure white dresses found on Etsy.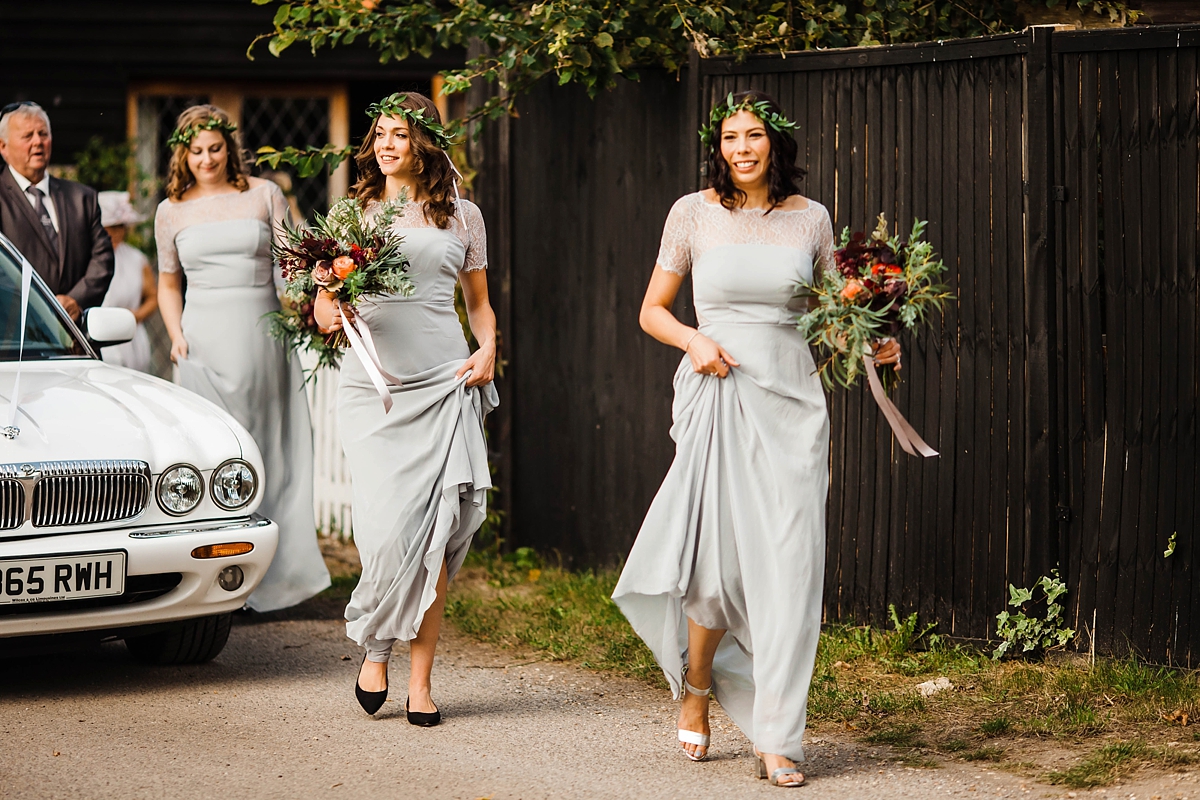 Catherine Bailey Make-Up Artist was in charge of creating Mary and her girls' looks; she opted to keep their hair in soft, romantic waves and emphasised the bride's eyes with a subtle smokey finish. Catherine Bailey is another of our Little Book members, and is adept at creating such diverse looks.
Find out more on her listing here.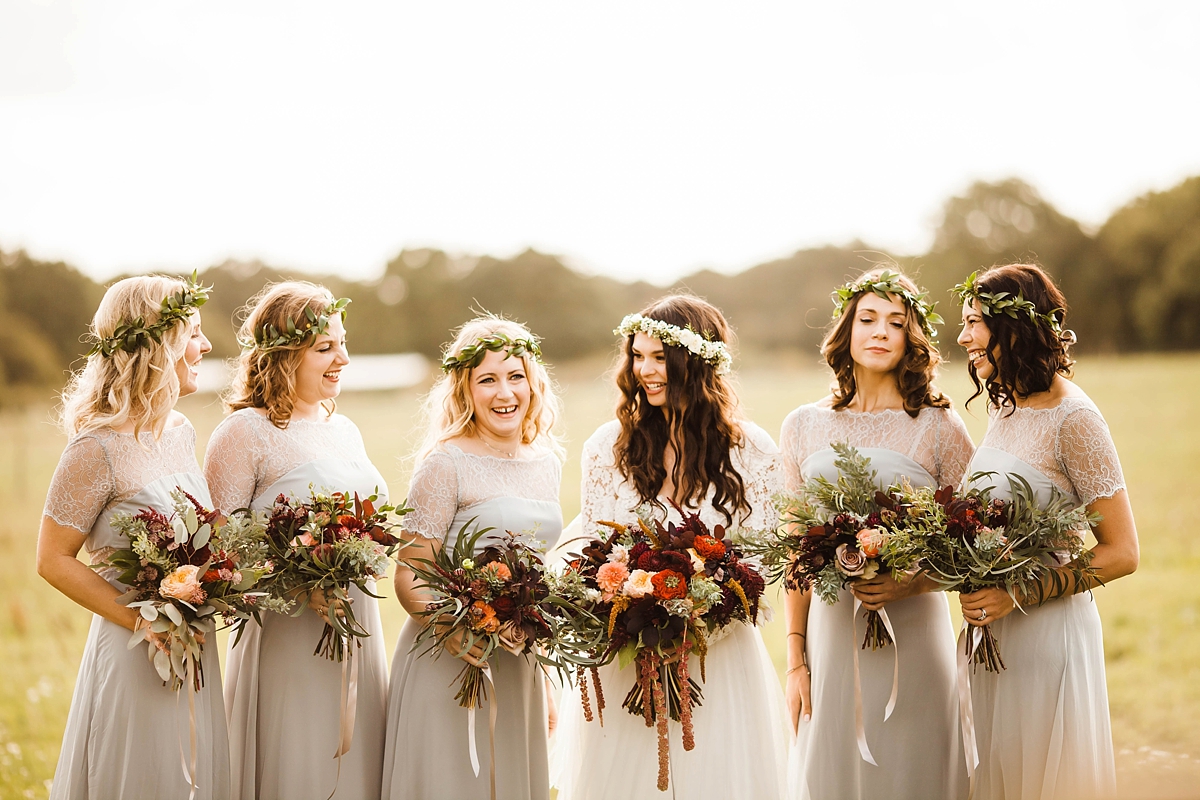 The couple originally met at work seven years ago.
"We worked in different departments but had to complete a project together and sparks flew. We didn't start dating officially until I left the company for another job three months later. We got engaged a year ago in New York on Thanksgiving."
"Chris proposed by hiding a ring in my cup of coffee that morning. We had approximately nine months of being engaged and to plan our wedding, which was quite stressful, but neither of us wanted a long engagement."
The bouquets and rest of the wedding flowers were created by one of Mary's friends; Laura May Flowers. I'm head over heels for this sumptuous look which makes such great use of seasonal flowers and berries – roses, dahlias and trailing sprays of blooms too.
The floral arch around the entrance to the church is just magnificent.
"Laura is one of my good friends and I just love her work so it was an easy decision."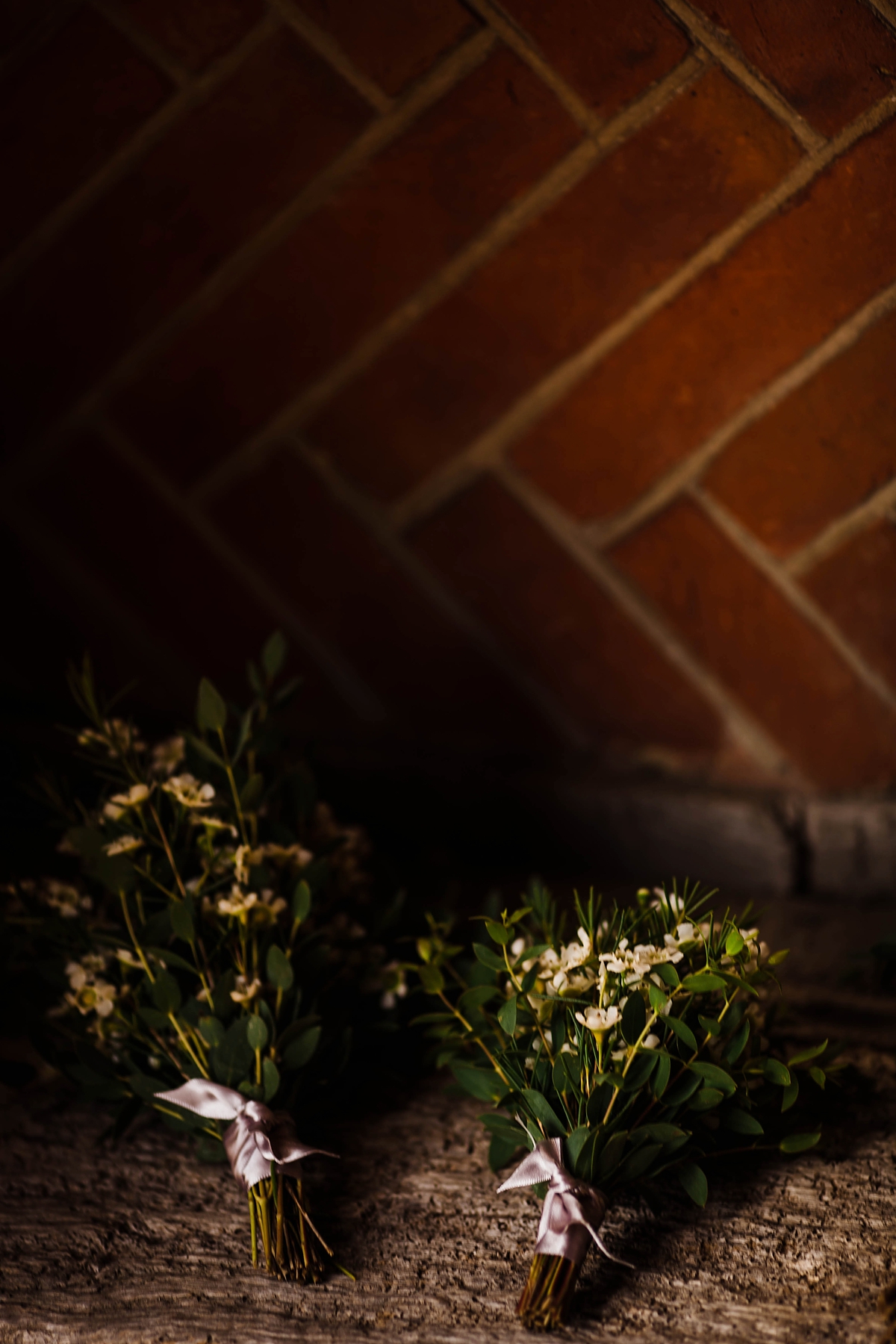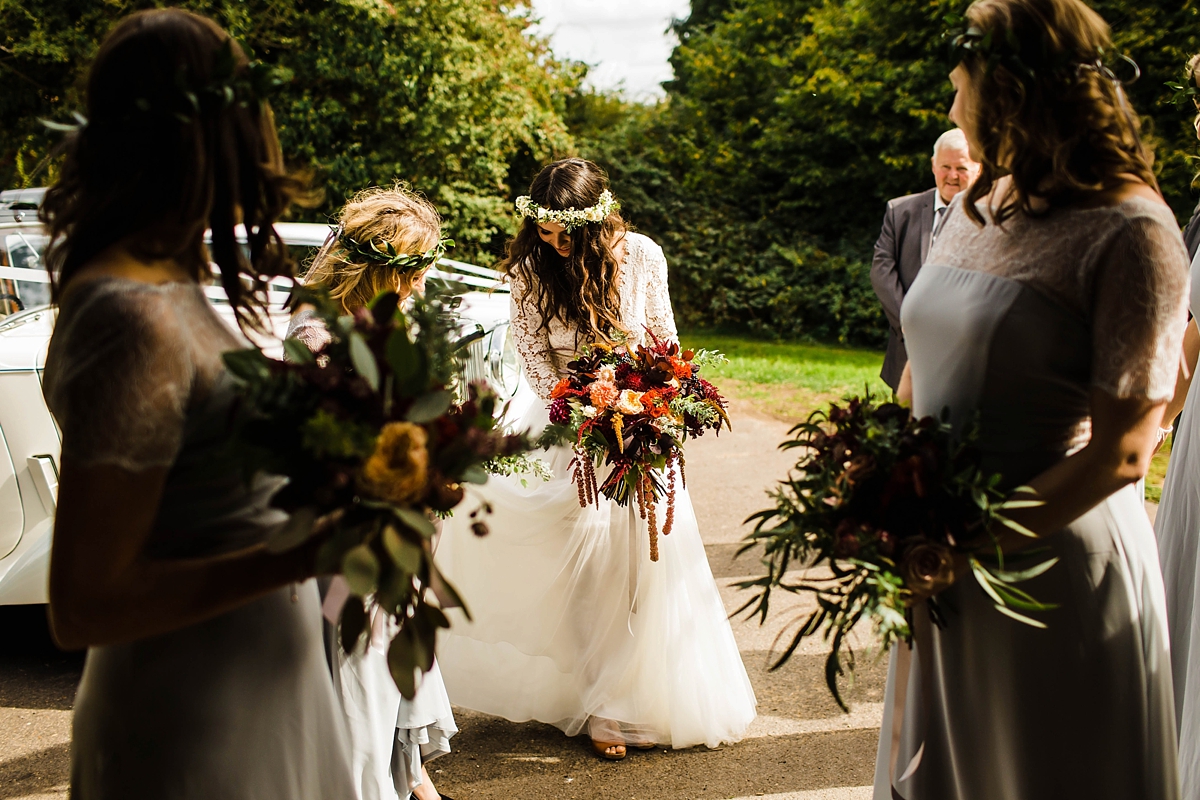 Chris chose a crisp suit in deep blue from Marks & Spencer, worn with a grey Penguin waistcoat to match his groomsmen. He waited in the church as Mary and the rest of the bridal party arrived, in a vintage Bentley and a vintage Daimler limo hired from Premier Carriage.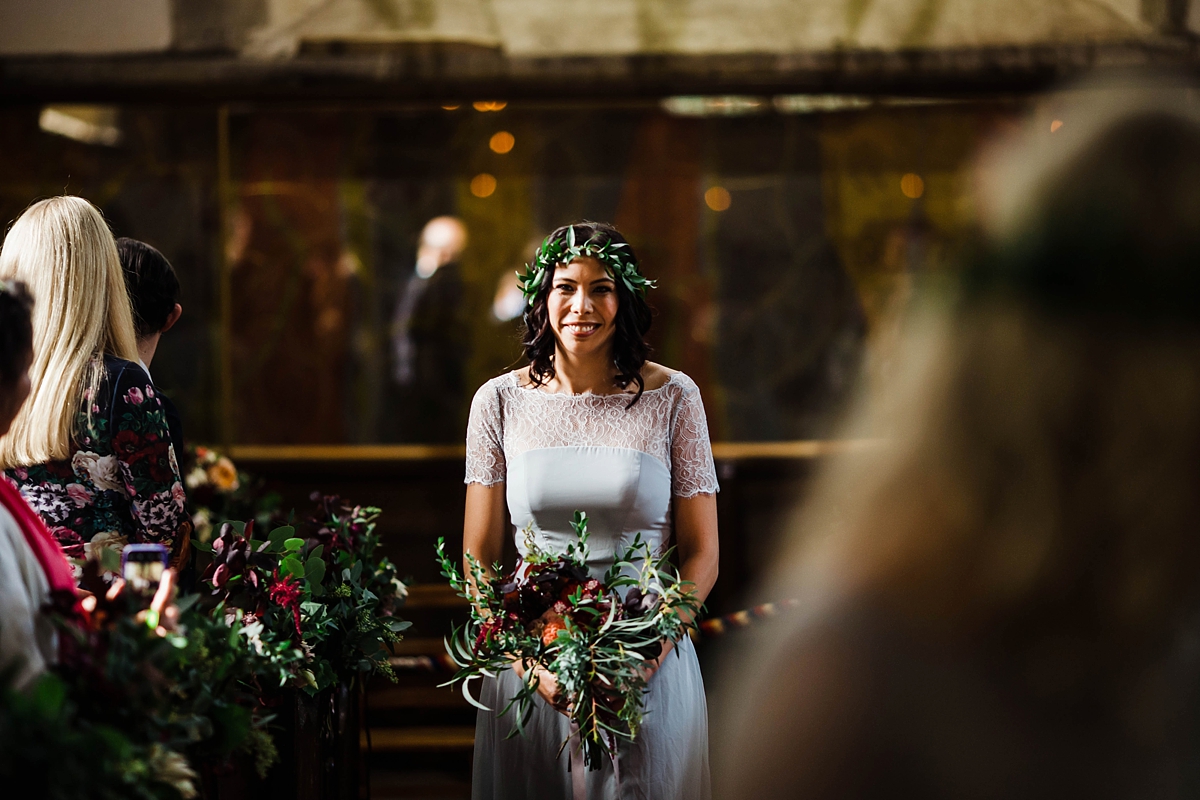 Mary entered the church with her mother, as Pachelbel's 'Canon in D' rang out from the organ.
"My father was too ill to travel from Australia unfortunately so my mum walked me down the aisle."
"Hands down my most favourite and least favourite part of the day took place within the same two minutes! Walking down the aisle was so nerve-wracking, my heart was racing and I was overcome with emotion, trying my best not to cry."
"I found it uncomfortable for sure. In the same breath, the second I arrived at the altar and saw Chris's smiling face, he was beaming. In that moment I was filled with complete joy and it just made me so deeply happy."
"Again cliché, but that was one of the most special moments I've ever had in my life, totally caught off guard by the intensity of it all."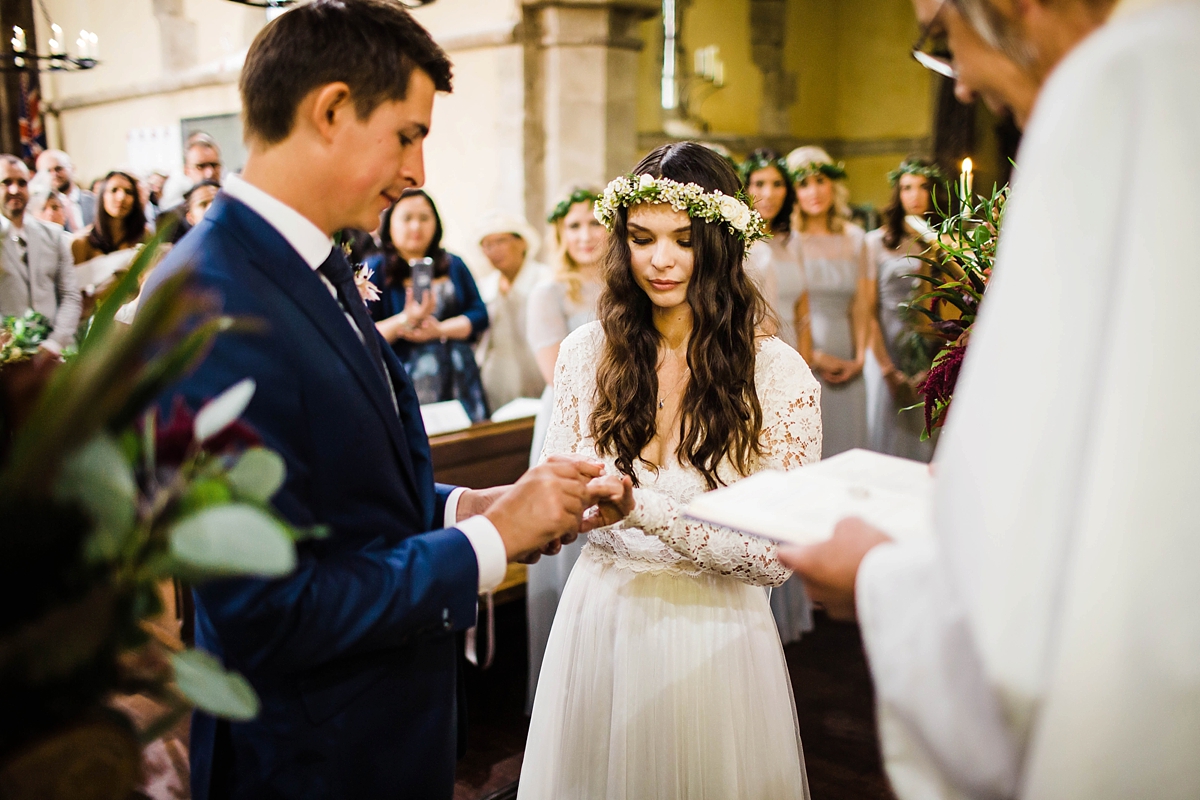 The couple married in a Church of England ceremony, using the standard traditional church wedding vows.
"Three of my bridesmaids read a verse each of a poem called 'The Apache Wedding Blessing' and we also had a family friend read 1 Corinthians."
"We bought my engagement and both wedding rings in New York when we got engaged from a shop in the diamond district in New York called ID Jewelry."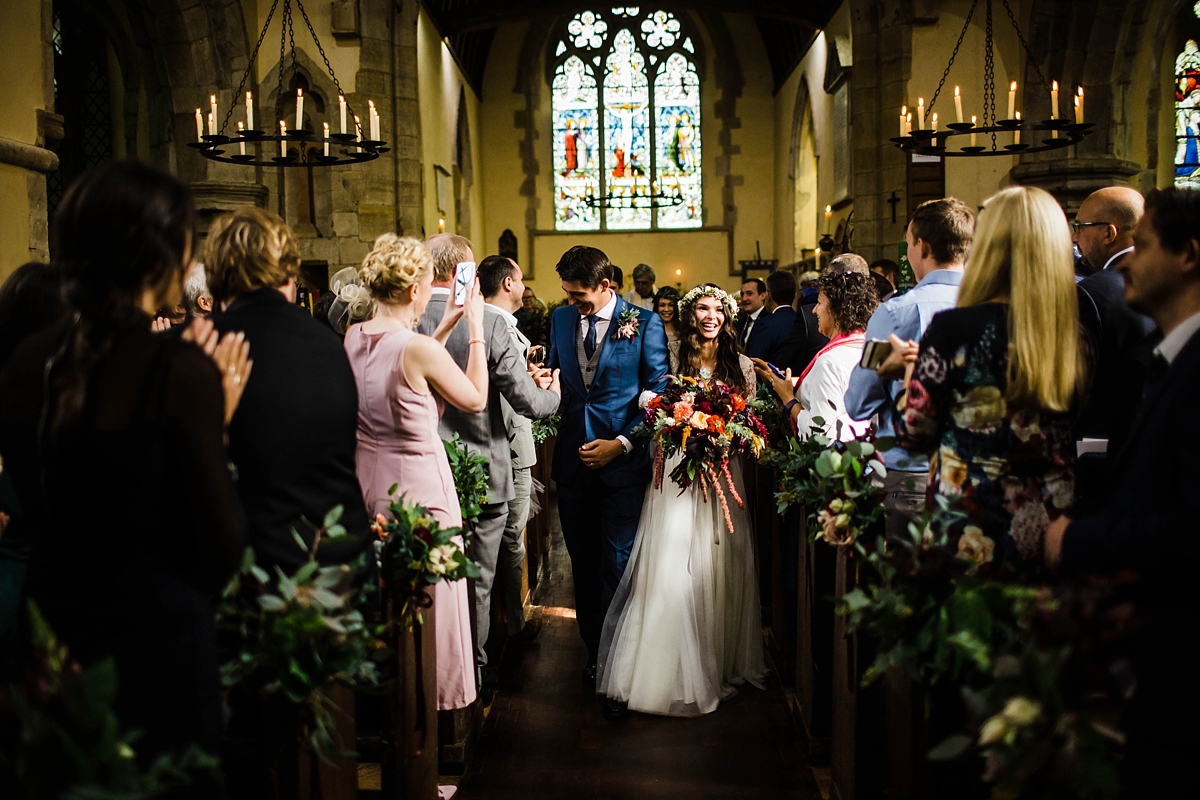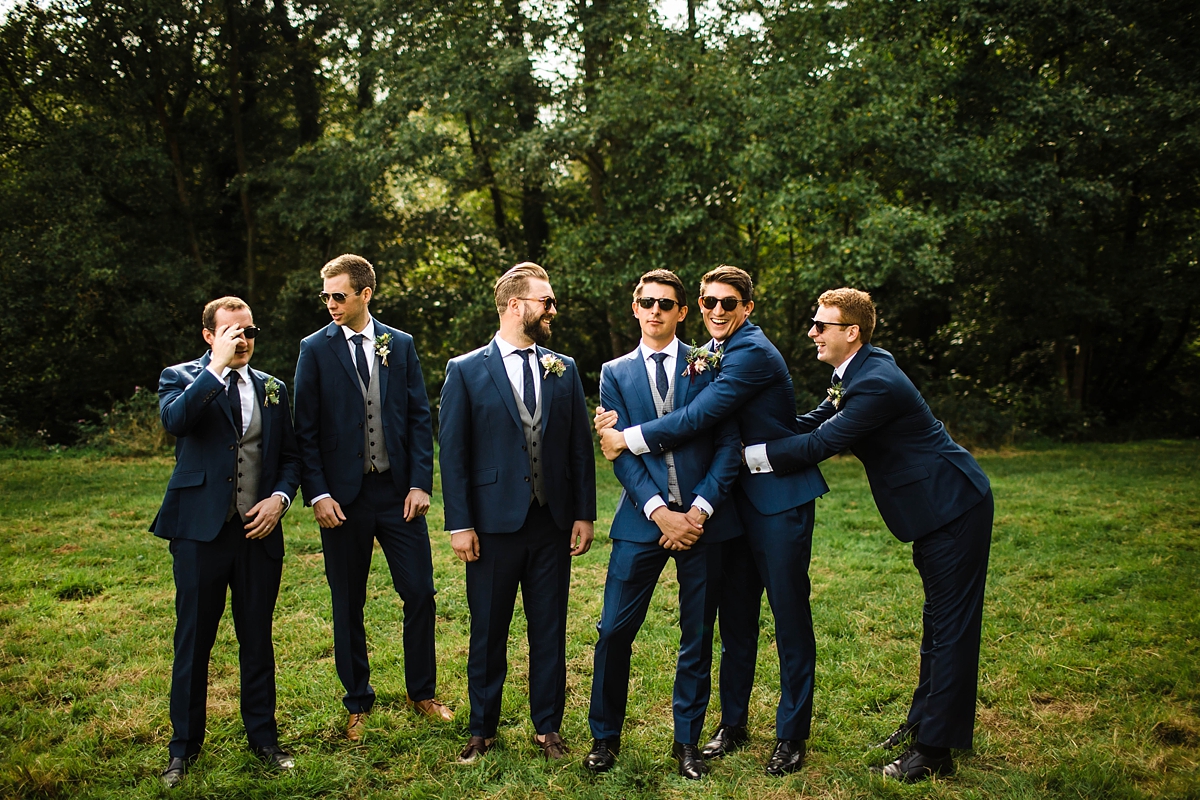 The reception at Rumbolds Farm truly was a celebration of the English countryside, with everything from music and drinks to decor and food inspired by the September season.
I love the touch of humour in the couple's leafy wedding stationery, which Chris designed himself.
"Chris created all the stationery, all the invitations, menus, order of service then had it all printed. He also created our wedding website from scratch."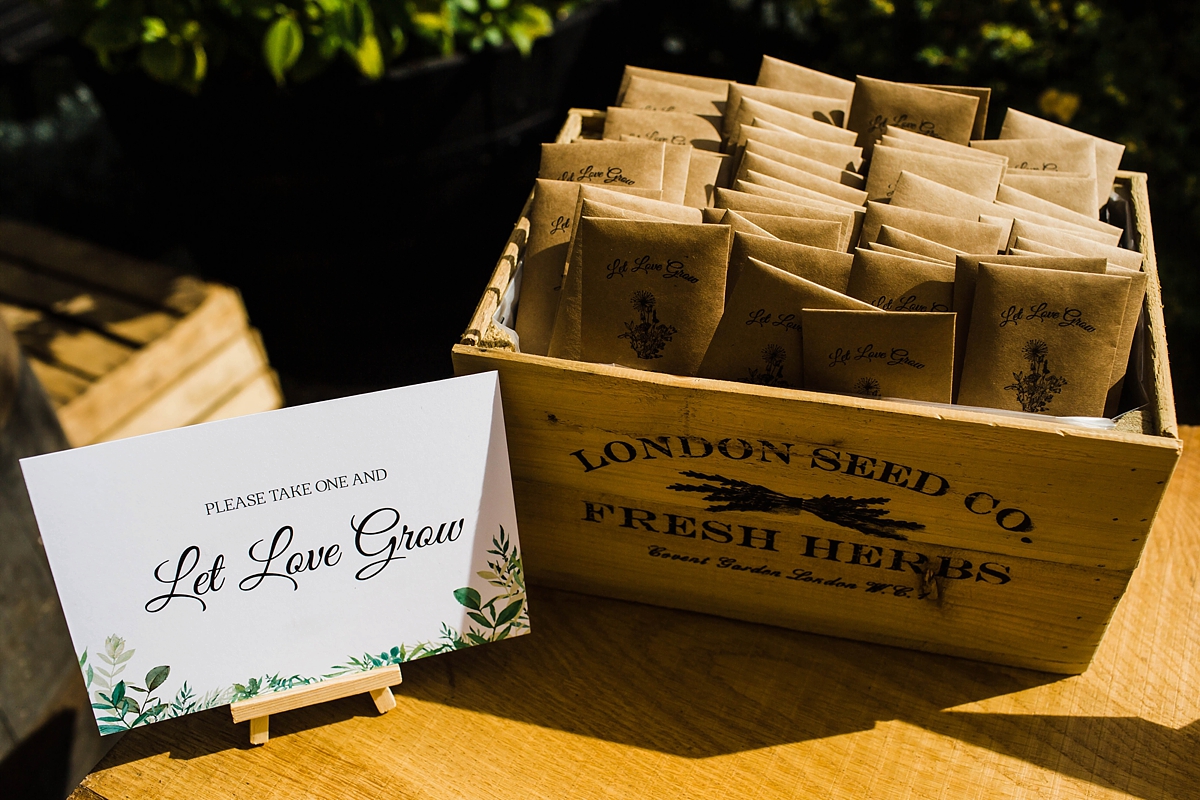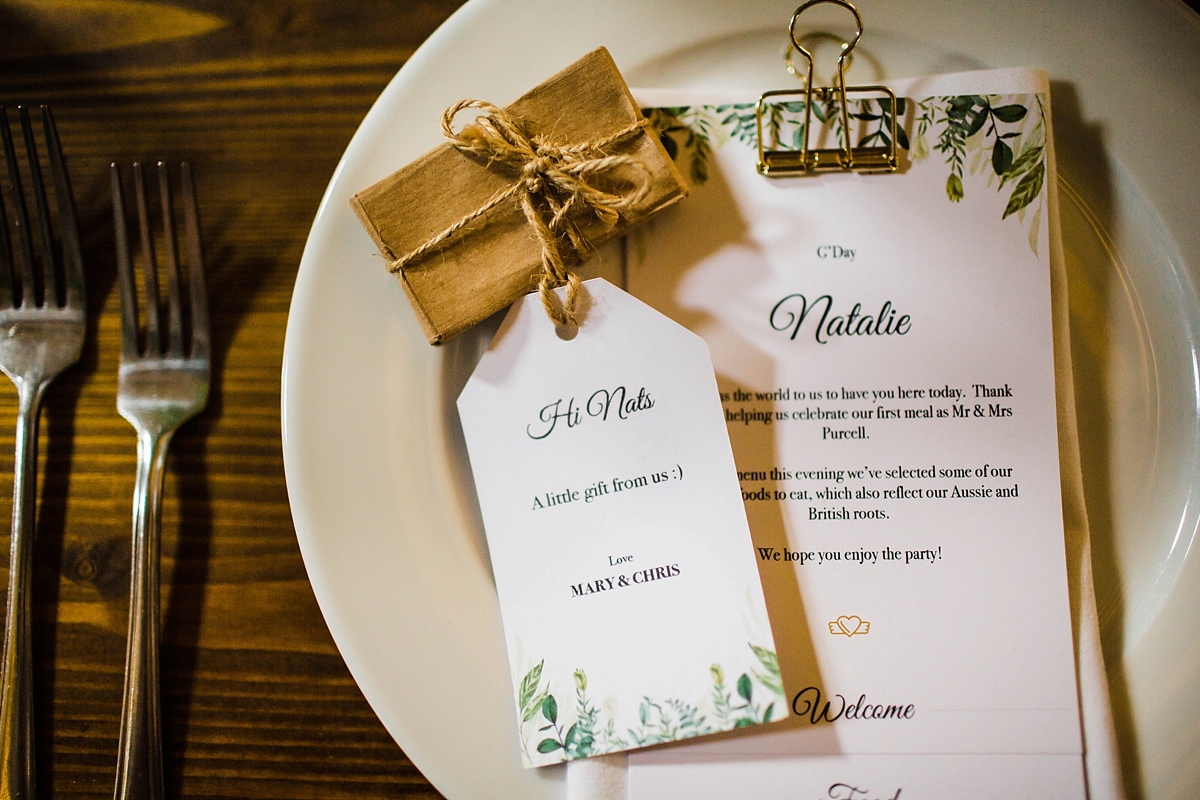 "We were very much inspired by rustic countryside barn weddings. We made our own wooden cheese boards and used apple crates to display our family photos."
Before the wedding breakfast, provided by Buzz Events & Catering, was served up on the beautifully dressed trestle tables (just look at those beautifully rustic tea light holders), the guests relaxed over drinks to live music from gypsy jazz group Alex Bishop.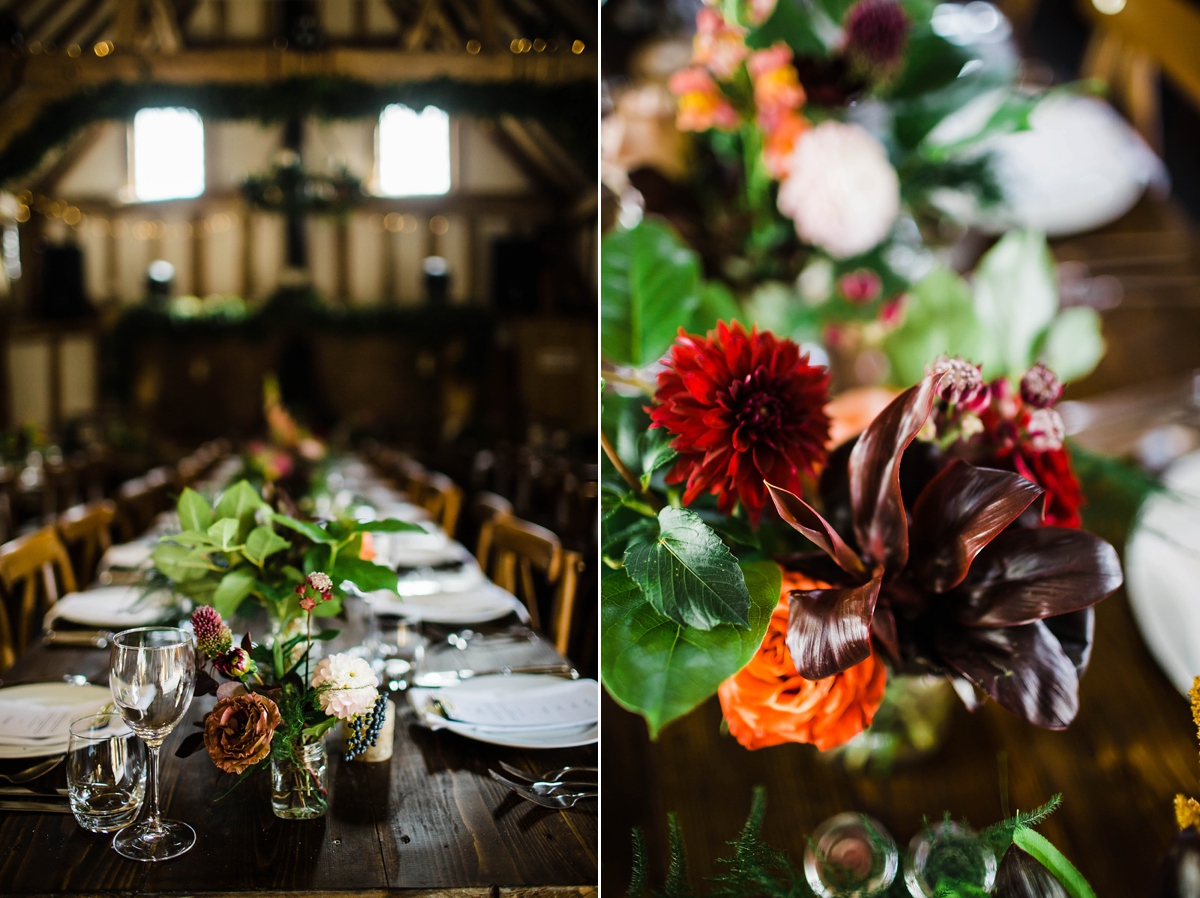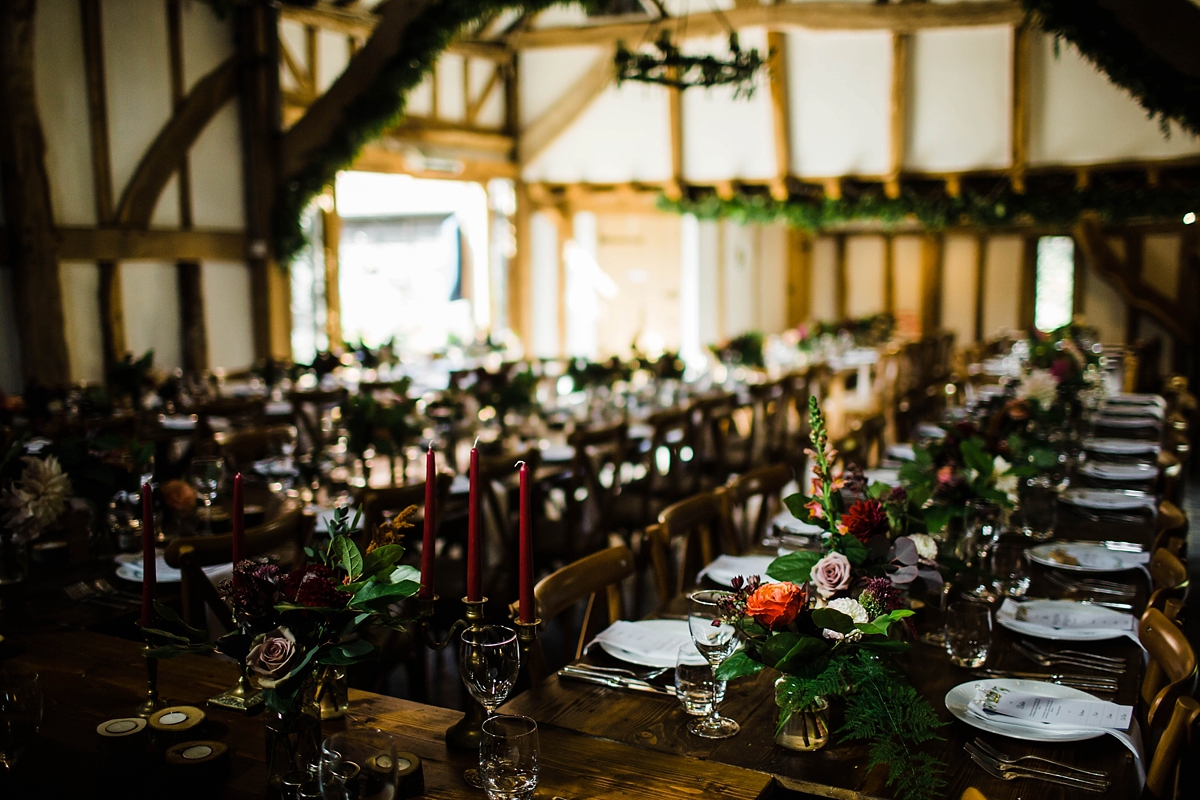 The tiered wedding cake by Nic's Slice of Heaven was adorned with yet more seasonal flowers.
"It was a semi-naked three-tier cake, decorated with fresh flowers by my florist, Laura."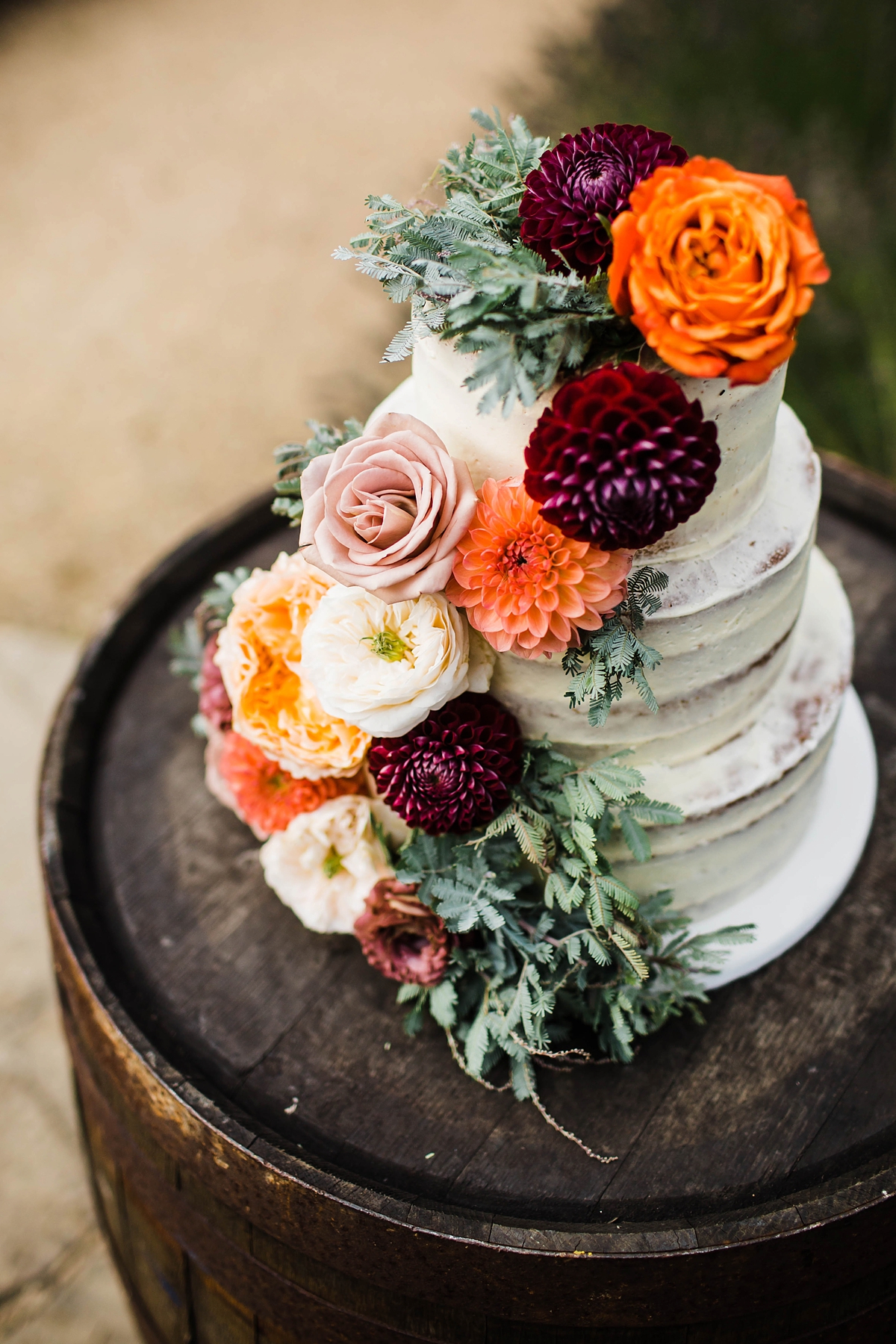 "We made our own favours. We had a hangover kit and we also had little bags of seeds (wildflowers) for people to take and some custom-printed tea towels with our hand drawn map."
The evening party had yet more live music, this time from folk Indie band Festival Sons.
"Our band played our song 'The Sweetest Thing' by Allman Brown."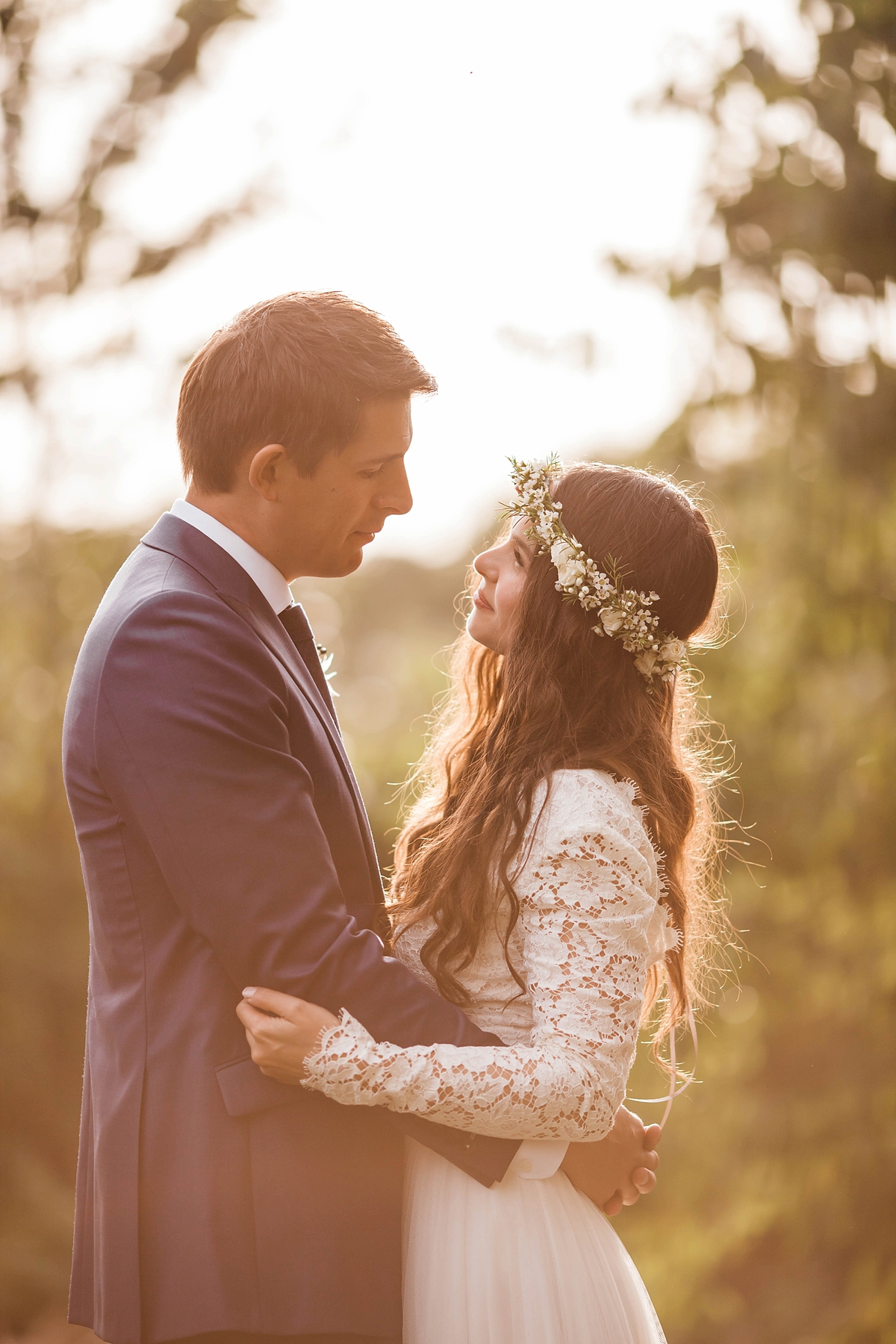 Words of Wedded Wisdom
"Chris and I decided that we would try to catch some private moments with each other, even if only for a couple of minutes throughout the day."
"Your wedding day is so hectic and timed to strict precision in most cases, and it's easy to get caught up talking to everyone you can and making sure that your guests are enjoying themselves. Stealing a few moments with each other allows you to appreciate the day."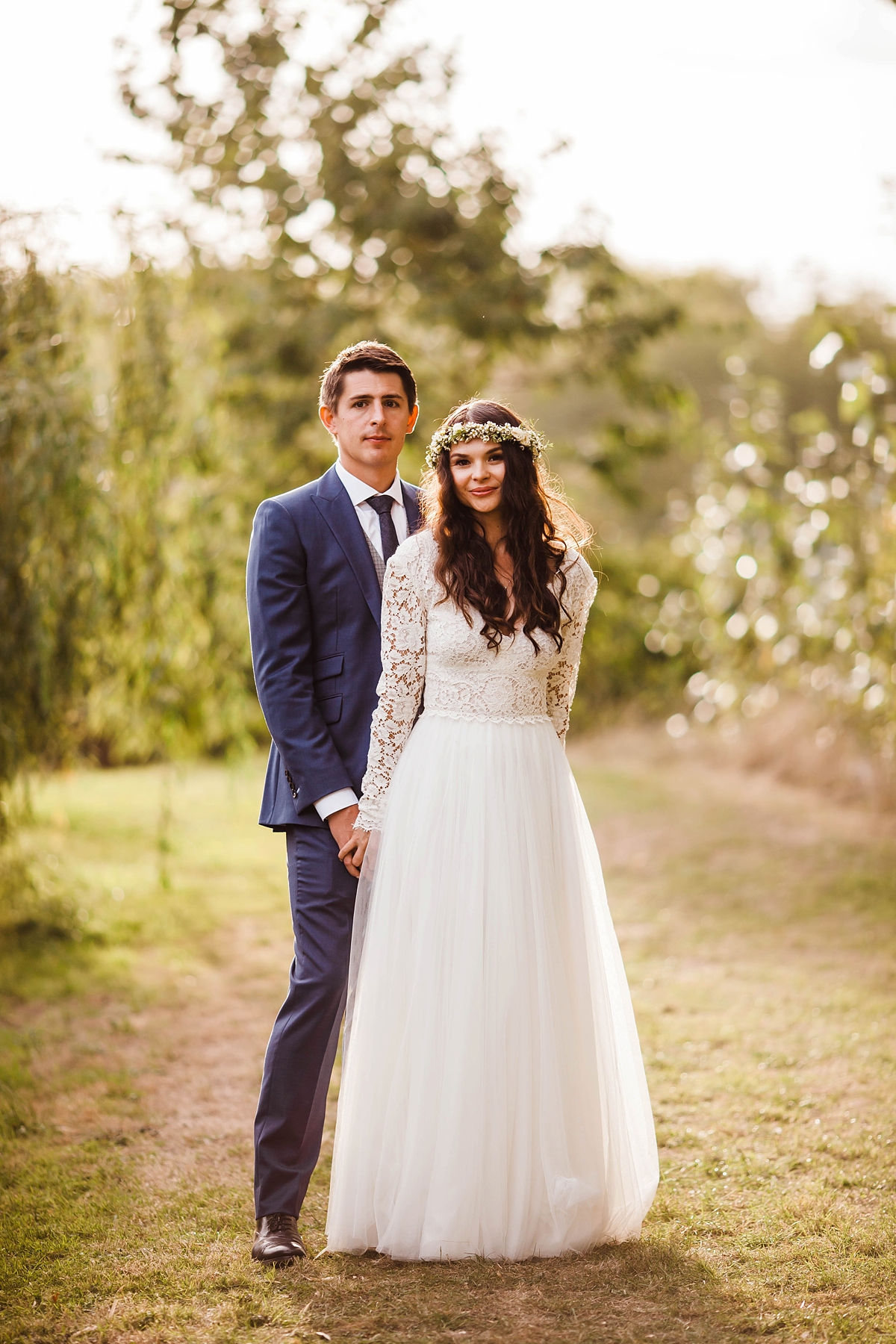 Mary and Chris, I'm totally in love with your day and send heartfelt thanks for sharing it with us here. Thank you of course to Claudia Rose Carter for your beautiful, atmospheric imagery – it's always such a pleasure to see your work.
Lovelies, if you've been taken by this bohemian-style look then you can get plenty more inspiration with these weddings here.
Ele xx